There is nothing more rewarding but to dress your baby cute. So, skip buying expensive baby clothes that are often low in quality, and start sewing your own baby clothes. Find these 40 free baby clothes patterns that allowing you to sew all types of baby dress designs at home. If you are handy at sewing, these projects will be a piece of cake to sew and make super cute baby showers and baby birthday gifts to newly became mothers. From beginner to intermediate to advance sewists, there are baby clothes patterns for all skill levels.
Explore this collection of 40 easy and free baby clothes patterns to see a collection of readymade baby dress designs for baby girl, baby boy and toddler. The collection will cover a wide range of highly trendy baby clothes, and go for a cute and great fashion statement. The list will cover a wide range of the dresses like rompers, sleeveless dresses, onesies, and lots more. Moreover, you will learn to sew here a big range of baby pants sewing patterns also. They will include sewing footed pants, skirts, and even the diaper coves like a pro.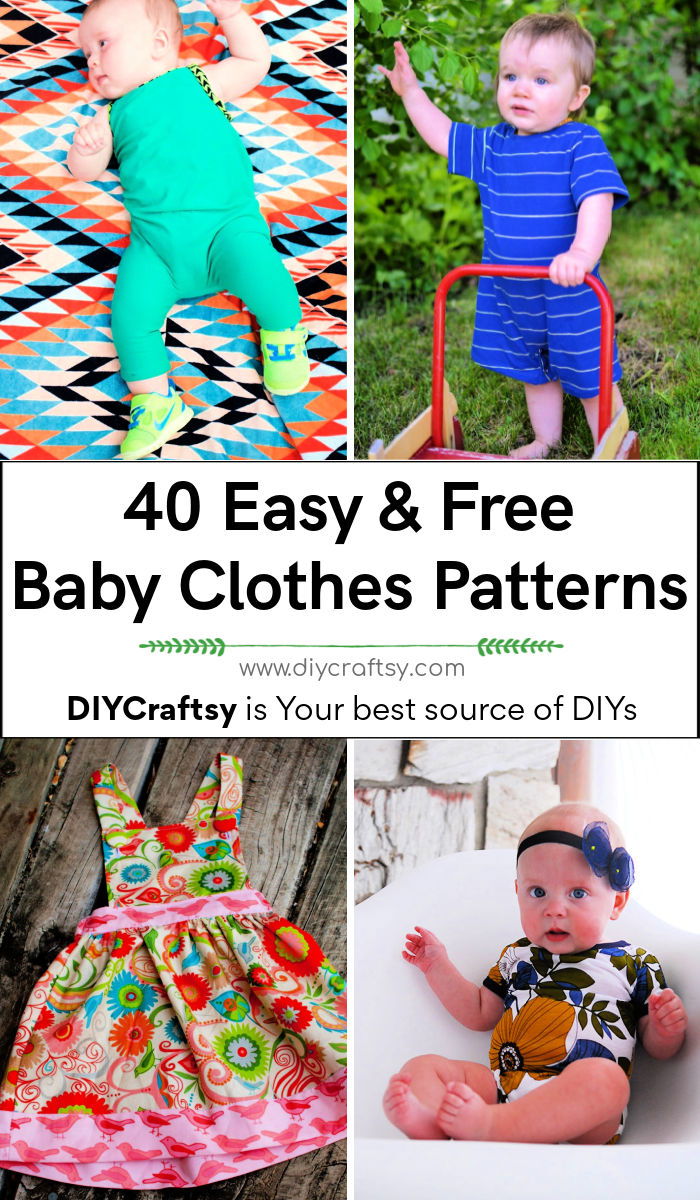 40 easy and free baby clothes patterns:
These baby sewing patterns will guide to sew the baby pants for both genres, like boys and girls. Make a quick button-up pretty style shirt for a stylish little boy using the onesie and one button-up t-shirt. Repurpose the fabric scraps to sew outstanding baby booties, which will bring tons of comfort and style to those tootsies.
Get here instructions to hook up the best faux fur vests for the little boys and girls in the home, and they will make the best baby shower and baby birthday gift for sure. Explore this entire collection of 40 best traditional and modern baby clothes patterns to learn to sew the super cute baby gown dresses, and you will have here guides to easily sew the diaper covers.
1. Baby Peasant Dress Free Pattern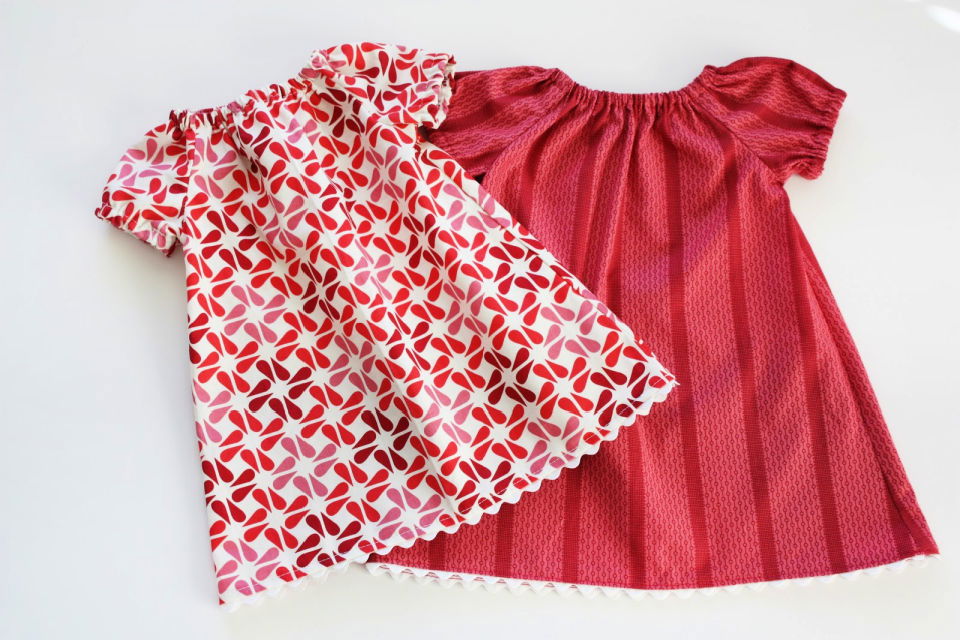 No doubt, baby clothes and garments are expensive to buy. However, you can make beautiful baby's garments at home also. Follow here guides to make a beautiful infant peasant dress like a pro. You need the 3/4 yards of 100% quilting cotton fabric having 45″ width. Next, you need the 1/4″ wide elastic about 30″ long to work up these baby clothes, will make an epic handmade present to a newly became mother. sewmuchado
2. Infant School Spirit T-Shirt Dress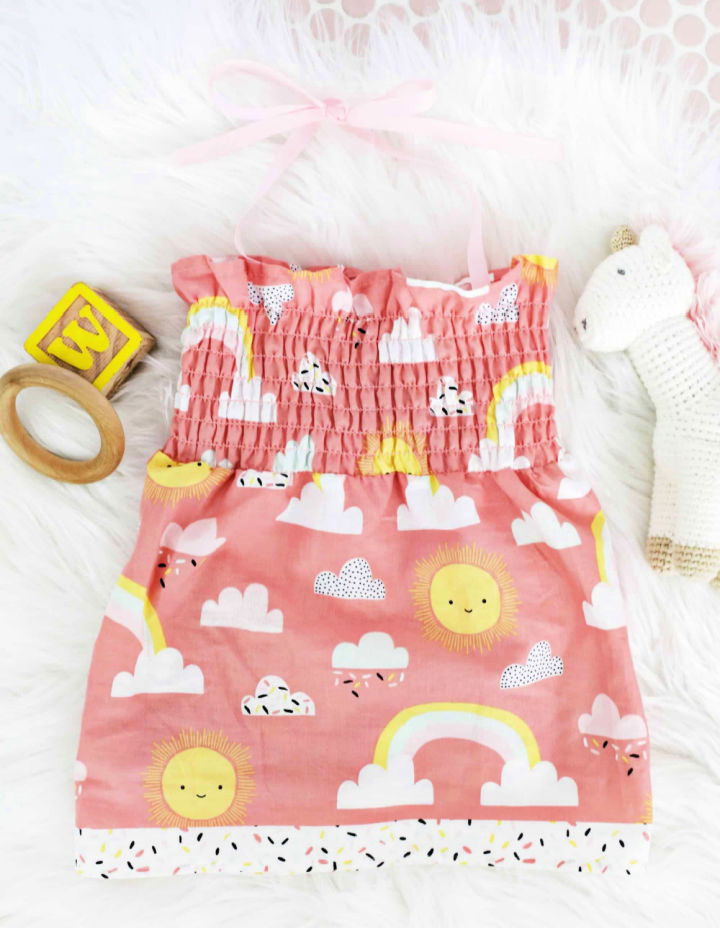 Lacking lacey baby summer dresses? Why not sew your beautiful one in just 20 minutes or less. Follow here guides to sew the best lightweight and cute baby summer dress in no time, will make the cutest handmade gift to a favorite person. You need pre-smoked shirred cotton fabric, grosgrain ribbon, fabric, and straight pins to sew this dress. abeautifulmess
3. Sew Easy Diaper Cover in 4 Steps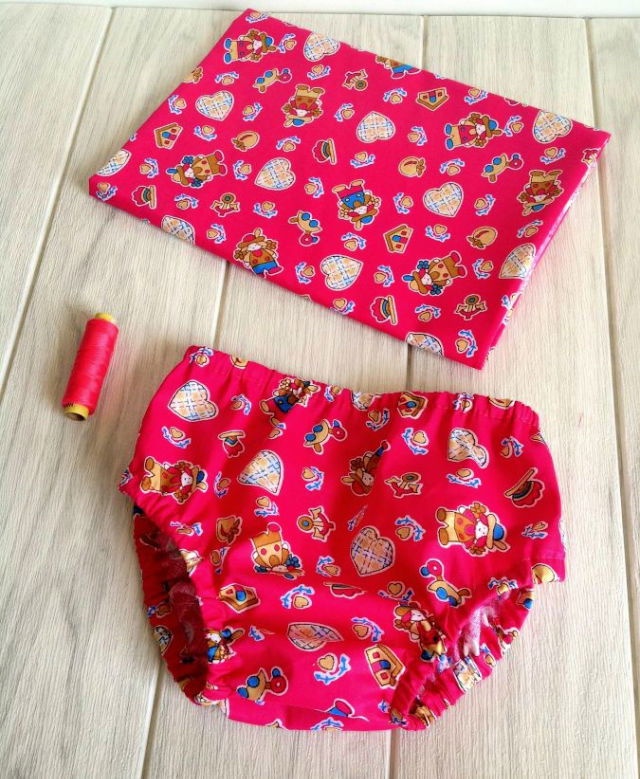 The diaper covers are the most crucial and vitally important baby accessories. So, follow here guides about how to sew your beautiful baby diapers at home. The project will complete in just 4 easy steps. The diaper cover pattern will provide instructions about how to sew this diaper and add the ruffles to edging. You need medium-weight cotton fabric, 3/8″ elastic requirement specified, 1/4″ elastic, sewing notions and a pattern template to sew this diaper. sewcraftyme
4. Baby Hat Sewing Pattern In Sizes Preemie 24 Months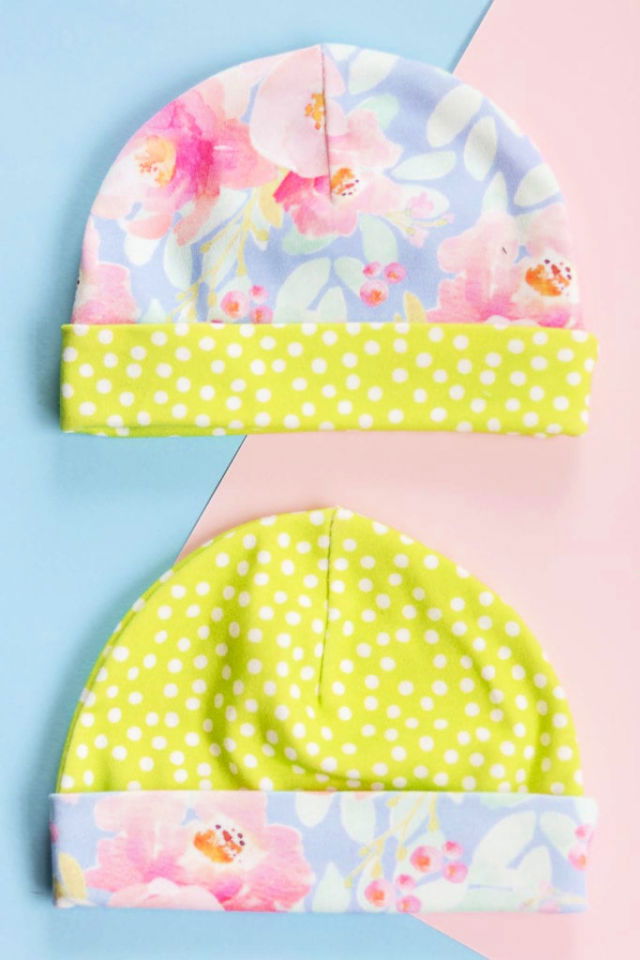 While intending to sew the best baby costumes, how you can forget about the hats? They are always an accessory that makes the babies look double cute. So, get here instructions to sew the best baby hat at home while using the fabric scraps. Here you need the jersey knit fabric, self-healing cutting mat, clear plastic ruler, stretch thread, and baby hat pattern to do this project. One of the best sewing projects to do for your baby's protection and cuteness. coralandco
5. Oliver Baby Pants Sewing Pattern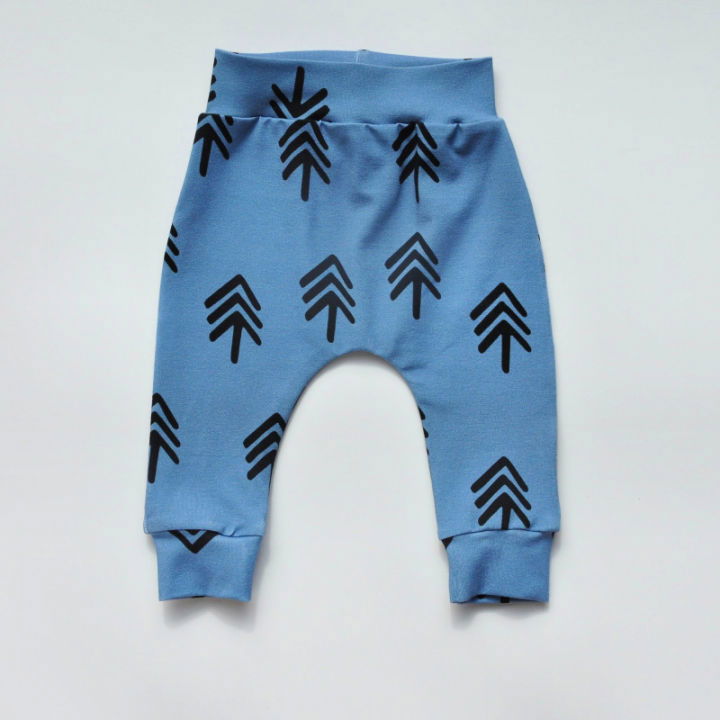 Every baby-loving mom will fall for these baby pants that are looking truly magnificent and beautiful. With little tight and loose fittings, these pants will provide ultimate comfort to the babies. You can easily clone these pants by downloading the free pattern here. Take your fabric, cut the front and back panels first, and sew them to whip up these baby pants. One of the easy and free baby pant patterns ever. myminniemie
6. Baby Ringer Onesie Free PDF Pattern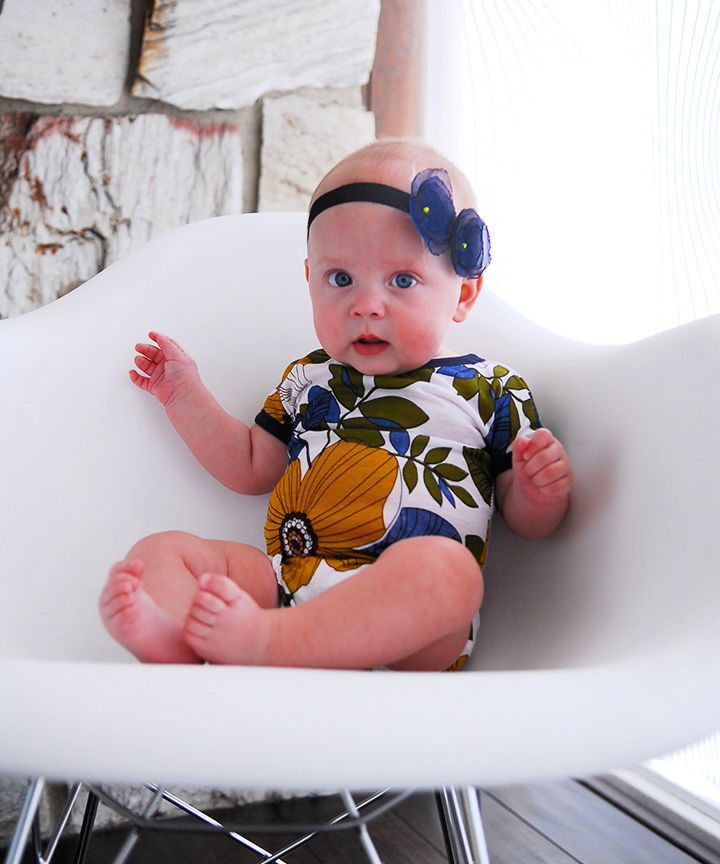 The best baby shower gift, the baby onesie, is sewn at home and is a beginner sewing project. It will only take 1/2 yard of knit fabric, 1/4 yard of rib knit, matching thread, and 3 snaps to sew this very beautiful baby ringer onesie. First, cut the onesie pieces, sew them well, and then add the ribbing around the neckline and armholes for added visual charm and stimulation. Do sew this onesie to gift to a mama-to-be or a newly became mother. shwinandshwin
7. Boho Baby Romper Pattern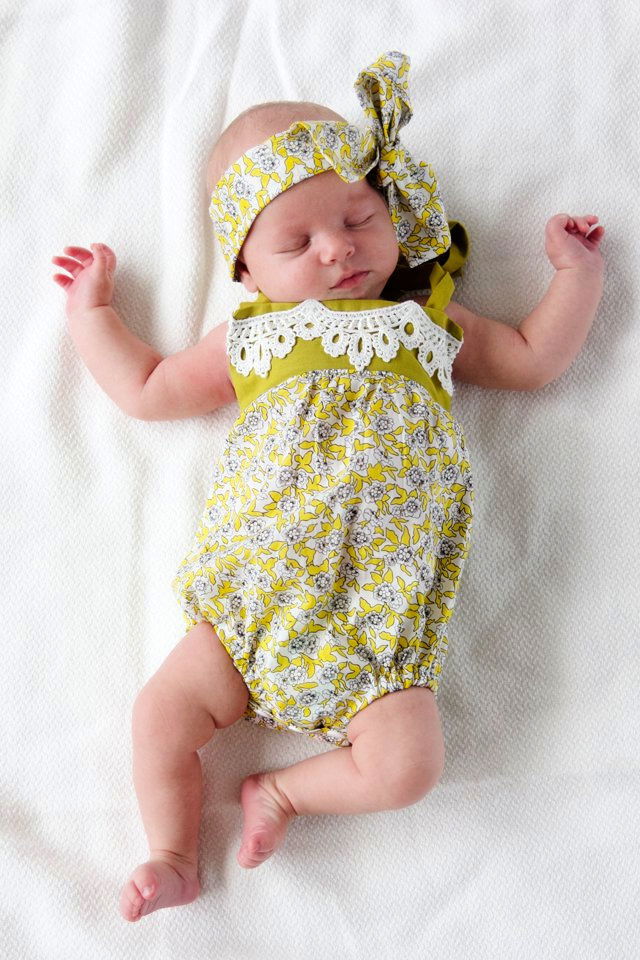 Are you deeply in love with Bohemian fashion? Sew these bohemian fashion-inspired boho rompers, will be a pleasure to sew. These vintage-inspired boho rompers will be a big love of all the moms and will go cute and gorgeous around the body of your baby. Here you need, 1/2 yard of fabric, 1/4 yard contrast, 1/4″ elastic, 3 Kam Snaps with size 20 snap, 1/2″ single fold bias tape, 1 yard 2 1/4″ Lori lace trim, lightweight fusible interfacing, and the pattern to sew this romper. seekatesew
8. How To Sew A Baby Romper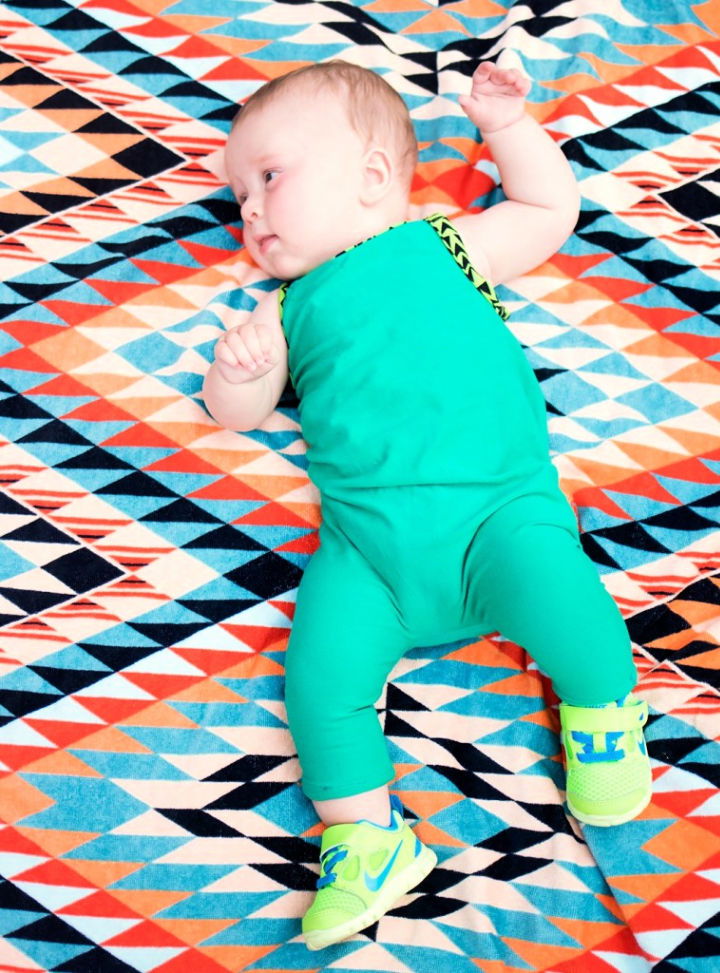 There are baby clothes patterns out there allowing you easily sew a romper without any pattern. The project is going to be magical and will be a favorite for all beginners. You need t-shirts, pants, cotton jersey fabric, contrasting jersey, fray neck, and sew-on snap to sew this romper. The finally completed romper appears with the decorative neckline and armholes and will make a great handmade baby shower present also. Everyone beginner will love sewing it. gina michele
9. Make A Baby Bonnet from Two Fat Quarters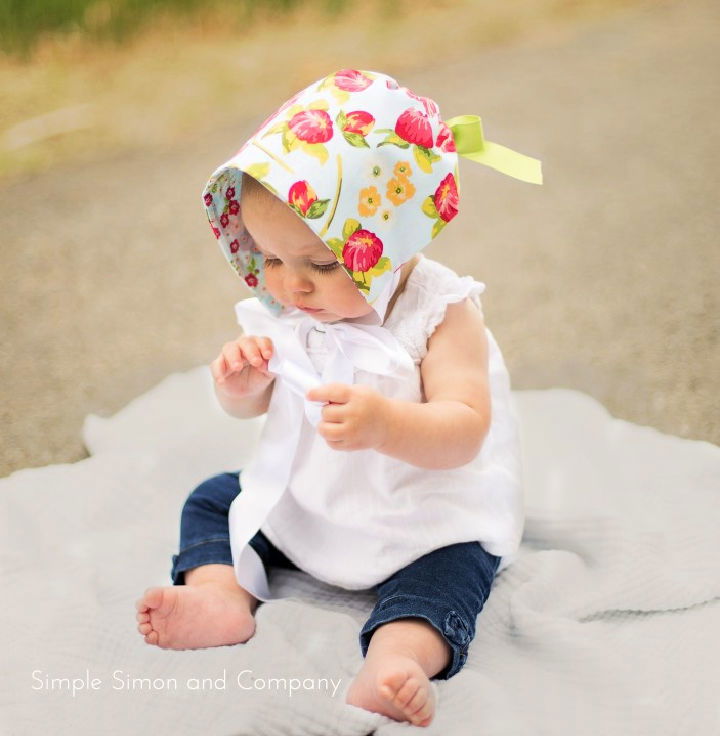 The baby bonnets are the cutest hat-like accessories that look like the hoodies also. You will get instructions here to sew the bonnet for the 3-12 months old baby, and you can use any fabric for the project, even the scrapped and leftover ones. You need 2 coordinating Fat Quarters, 1.5 yards of ribbon to whip up this very beautiful bonnet. The best fabric accessory to double up the cuteness of the baby. It will not take much time to complete this hoodie-style hat. simplesimona
10. Baby Sundress Sewing Pattern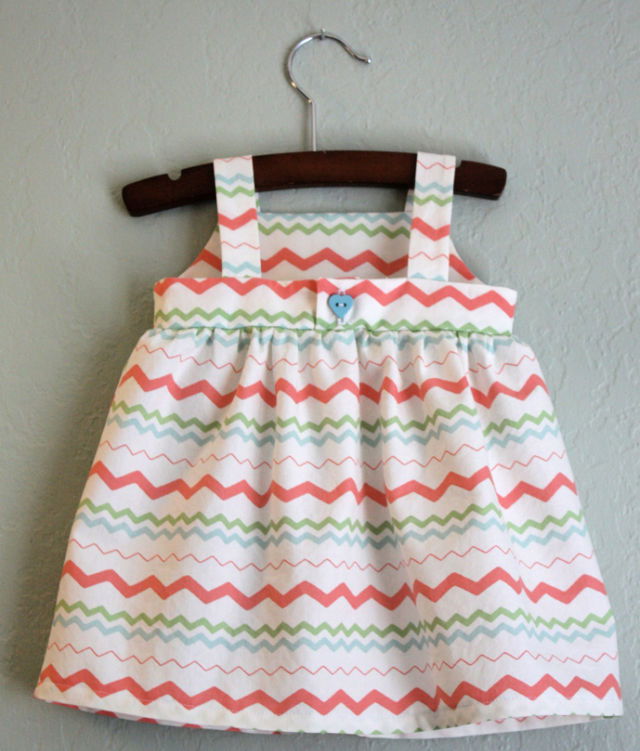 Are you a big chevron lover? If you love the chevron baby clothes patterns and stripes, then you will fall for this chevron sundress. It comes with beautiful straps and is sleeveless. Hence, it will rock to beat the summer heat. Just grab the pattern for the dress and then start cutting the pieces according to the pattern. The final step will be to sew together all the pieces to make the dress. Sew the bodice separately and then sew the skirt to attach to the bodice. craftinessisn
11. Sew A Beach Baby Tankini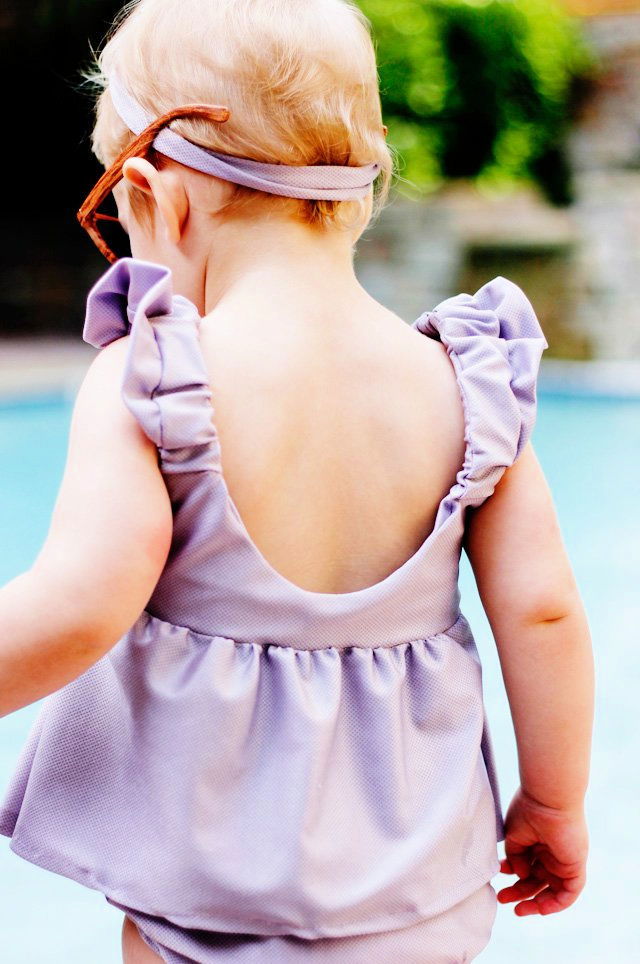 You can simply crochet all the popular and favorite kids' summer dresses at home with ease. Grab the ultimate free pattern here to whip up a Tankini, rill rock for the little ladies' beach fashion in the home. The very first thing you need is the free Tankini pattern for 18/24 month size. Next, you can cut the fabric pieces according to the pattern. Sew the pieces together and finish with elastic where needed. The swimsuit material fabric will rock for this sewing project. seekatesew
12. Classic Jumper Sewing Pattern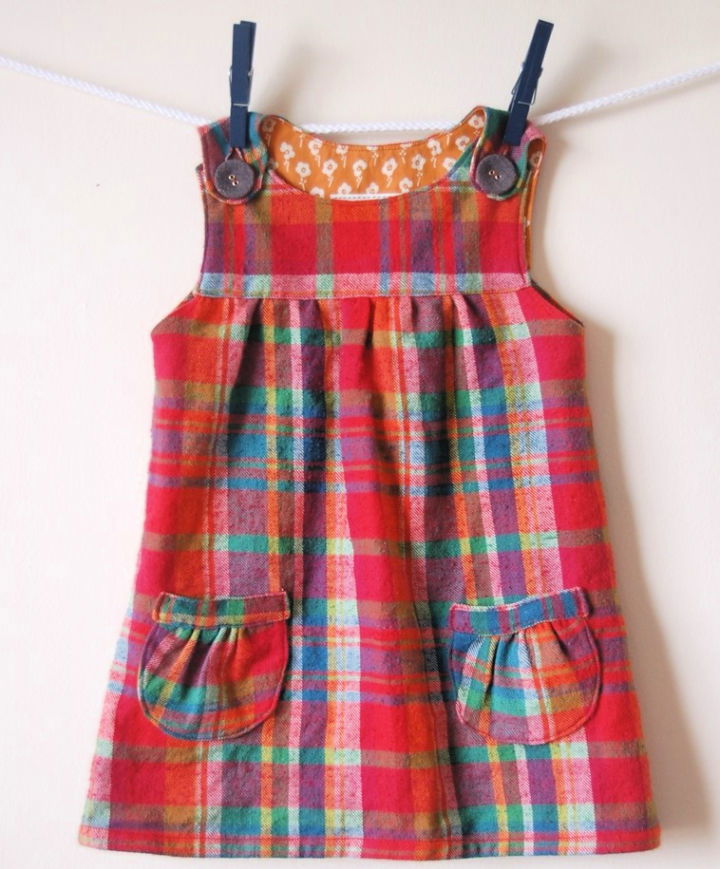 The babies' outfits are super expensive to buy when selected with custom styles and details. Follow here tutorial to work up a classic jumper that comes with buttoned straps and features lovely pockets in fronts. Pick your favorite fabric and the provided free pattern to work up this classic jumper. It will pair up nicely with any baby's pants and even with jeans pants. You need main fabric, lining fabric, and 2 buttons to sew it. It will take 3/4-1 yard of fabric for the 12-18 month size. youandmie
13. DIY Drop Bottom Baby Pants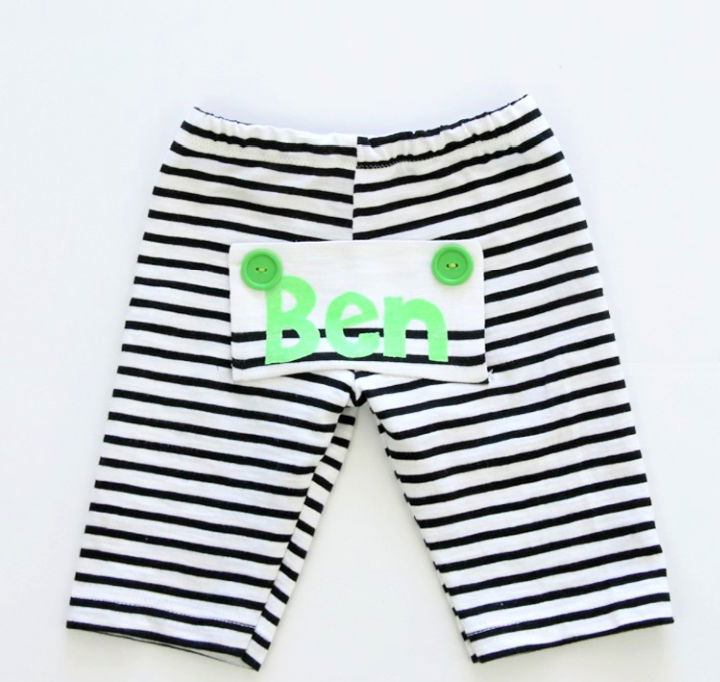 Are you a sewing beginner and want to sew some lovely pants for the toddlers and babies in the home, you will fall for this sewing pattern. It will allow you to sew the best drop bottom baby paints, and you can pick your favorite fabric with custom design print to sew these pants. First, you need to download the free provided pattern, then scrap piece of knit fabric, wonder under, buttons, 3/4″ elastic, and basic sewing essentials to sew this pant. mesewcrazy
14. Pattern for Little Birdie Pinafore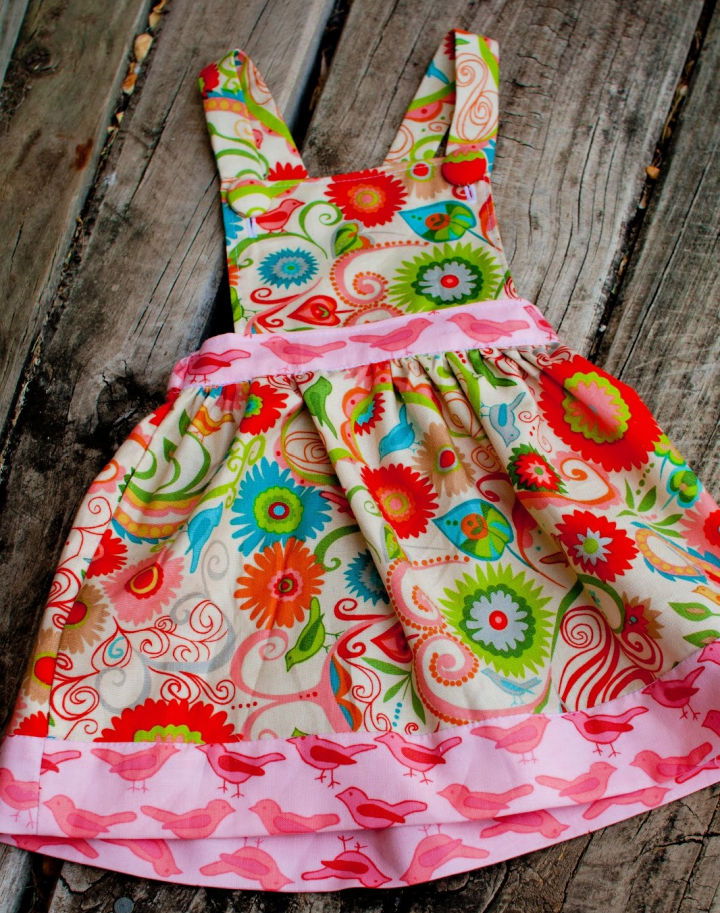 Looking for the best baby shower gift? Follow here guides to hook up this baby dress, shoes and headband, set, which will create an adorable personality for all the little girls. The bodice sleeveless is closed with buttons, and it impresses with the lovely accent lining all around. Here again, you need the fabric of choice and the accent lining to sew this very beautiful dress. So, grab the 1 yard of fabric, 2 buttons, 1″ wide elastic, cotton, sewing machine, and other sewing supplies to make it. whatsmummy
15. Wrap Skirt Onesie Pattern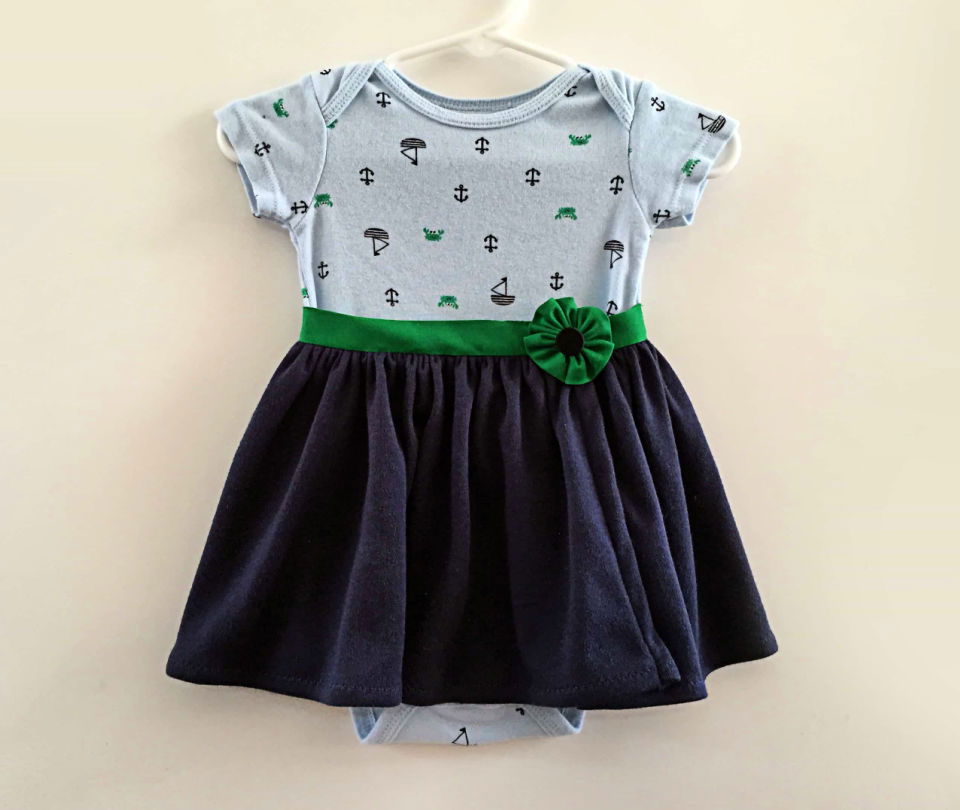 While talking about the best kids' outfits and clothes, the onesies come at the top of the list. Follow here instructions and guides to sew a beautiful wrap skirt onesie, will create a cuter personality of any baby girl. The best baby birthday costume to sew in no time. You need an onesie, cotton jersey fabric, double-fold bias tape, velcro, and sewing supplies to sew this beautiful onesie. The better handmade gift to give to a favorite kid. craftingcheerful
16. Sewing For Baby Pants Fitting For Diapers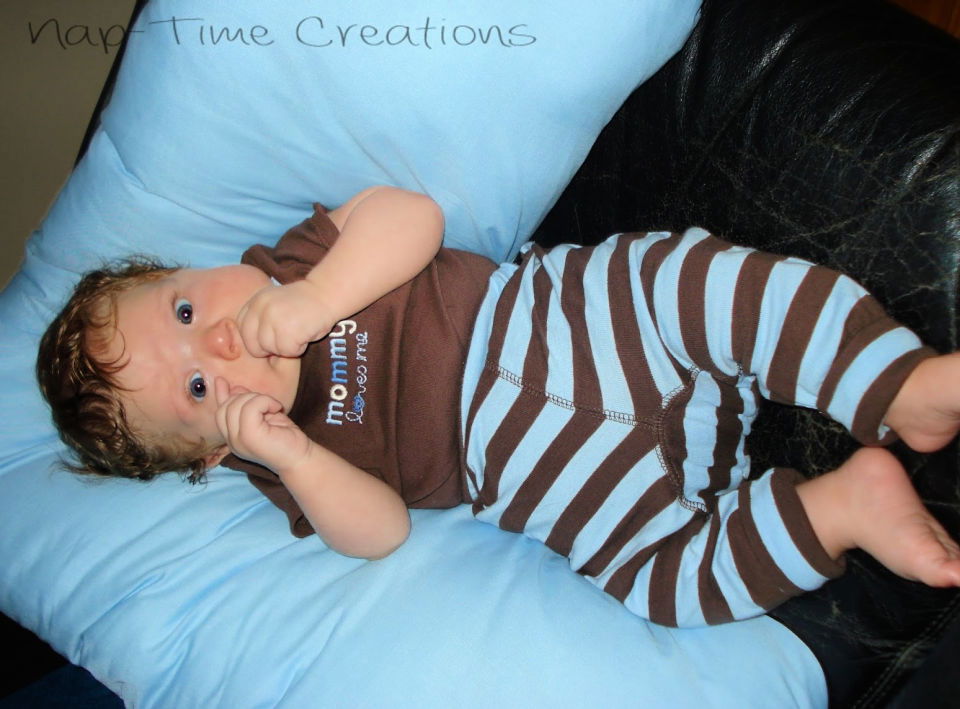 We are always to face some problems when the pants are not fitting for diapers. So, find here the ultimate pattern guides to sew the perfect baby pants fitted for cloth diapers. You need first the pattern to make these monkey pants that impresses with the striped appeal. The whole project is easier to do for all beginner and avid sewists, and the pants will make epic handmade baby shower presents. The completed pants will be super comfortable also. lifesewsavory
17. The Rose Baby Dress Pattern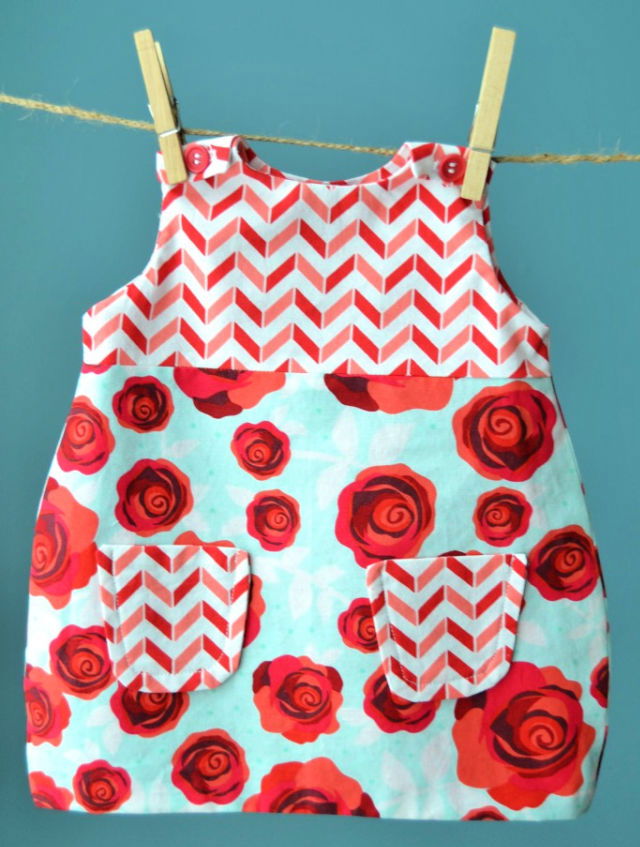 Learn here to sew the perfectly cute dress for a newborn to a 3-month-old baby. Look at the given sample, the Rose Dress that features the chevron white and red stripes also. Moreover, it provides a pocket in the front side and gains attention with the Rosey skirt also. You need woven cotton fabric, lining fabric, thread, buttons, and a free dress pattern to sew this dress. Opt for the buttons or snaps for the shoulder strap closure. marymarthama
18. DIY The Gentleman Onesie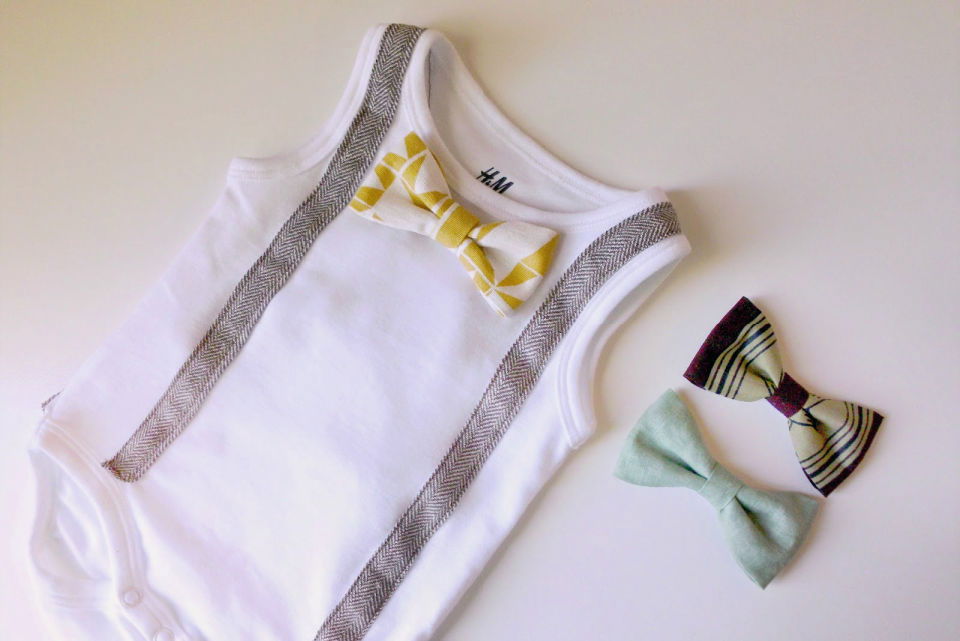 Nothing will make the little boy look cuter than this gentleman onesie that comes with super cute details. The vertical accent fabric lines, the bow accent, and buttoned bottom closure are the main features of this lovely gentleman onesie. Mainly the outfit appears in the chic white color, and you will love the pretty beautiful and distinguished look of this onesie. Do gift it to your favorite kid or baby in or around the home. curiousandcat
19. Baby Shoe Pattern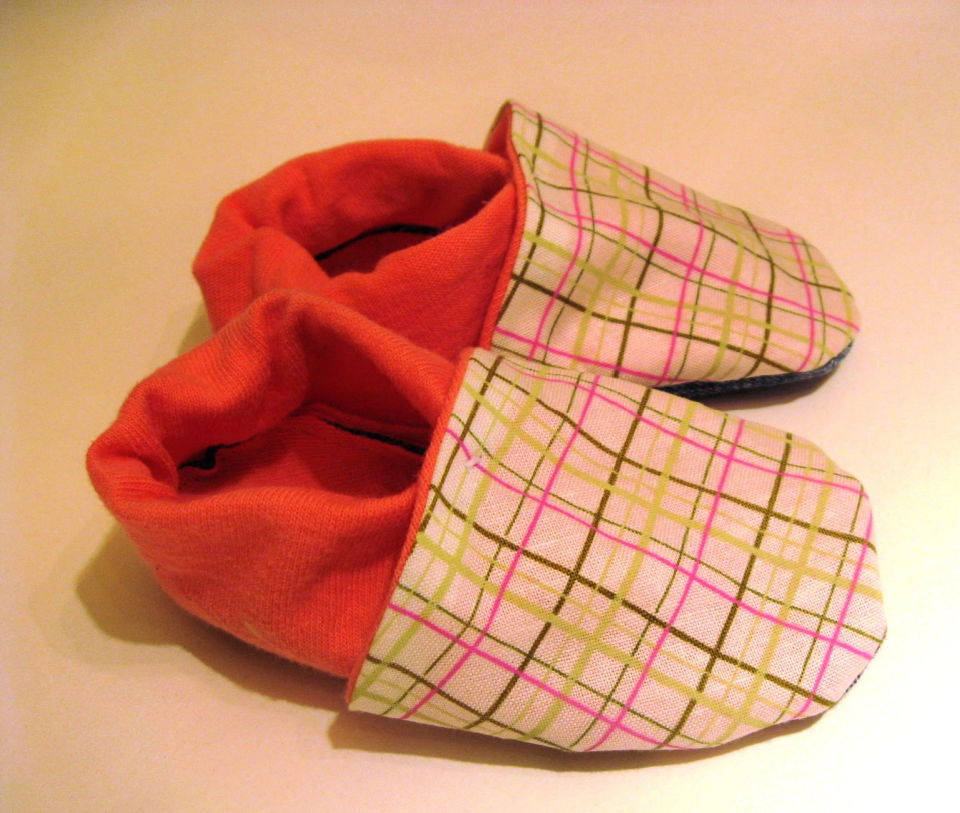 Repurpose the fabric scraps and leftover pieces to make cute and comfortable shoes also. Use the old pieces of denim for the shoes' soles and make the rest by sewing the fabric of choice. The completed shoes can be added to your baby gift sets for added value and grace. The upper part of the shoes comes in 2 different fabrics, one is plain orange and the other features the grid style design pattern. monkeyseemon
20. DIY Baby Faux Fur Vest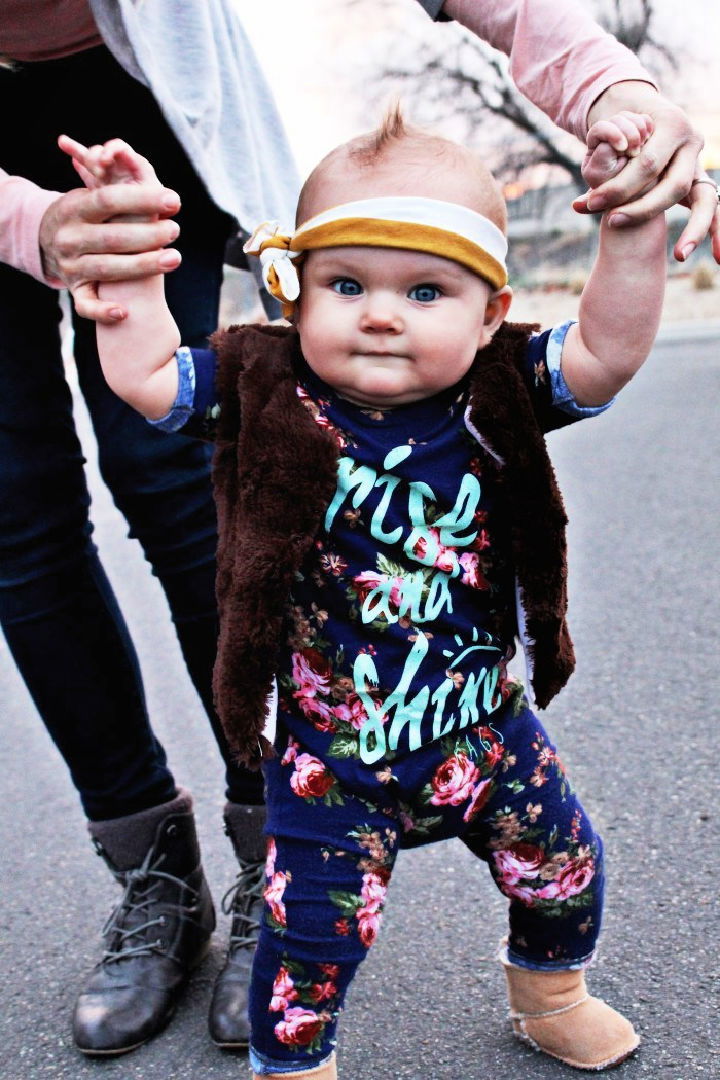 Every cute and stylish baby outfit you buy highly expensive from the market can be sewn at home. Follow here the professional baby clothes patterns guide to sew a faux fur vest, which will help provide the ultimate winter protection to your baby, and it will also pair up nicely with all the little kids' outfits. You need faux fur, cotton fabric, a sewing machine, and a sewing pattern to duplicate this beautiful baby dress. ajoyfulriot
21. Easy Sew Baby Harem Bloomers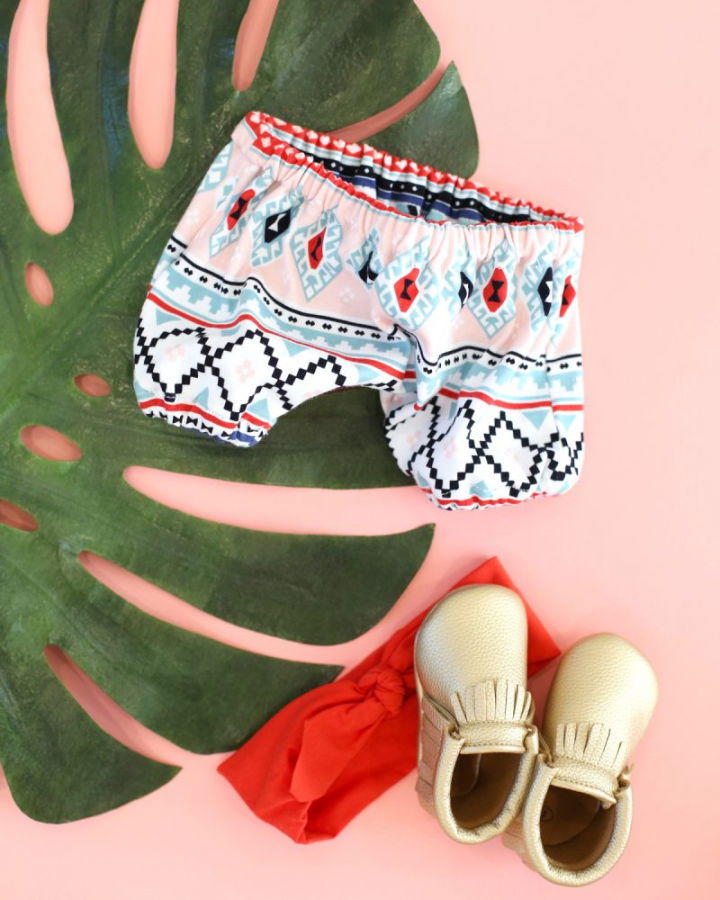 Load tons of cuteness more to the babies by making them wear these baby boomers that are quite easy and quick to sew. These little shorts are amazingly cute and beautiful and make a worthy handmade gift to a favorite baby in the home. You need soft fabric, 1/2″ elastic, 1/8″ elastic, a sewing machine, scissors, safety pins, iron, and printable bloomers pattern. The whole project will complete in an hour. lovelyindeed
22. Preppy Style Shirt From A Onesie Outgrown Button Up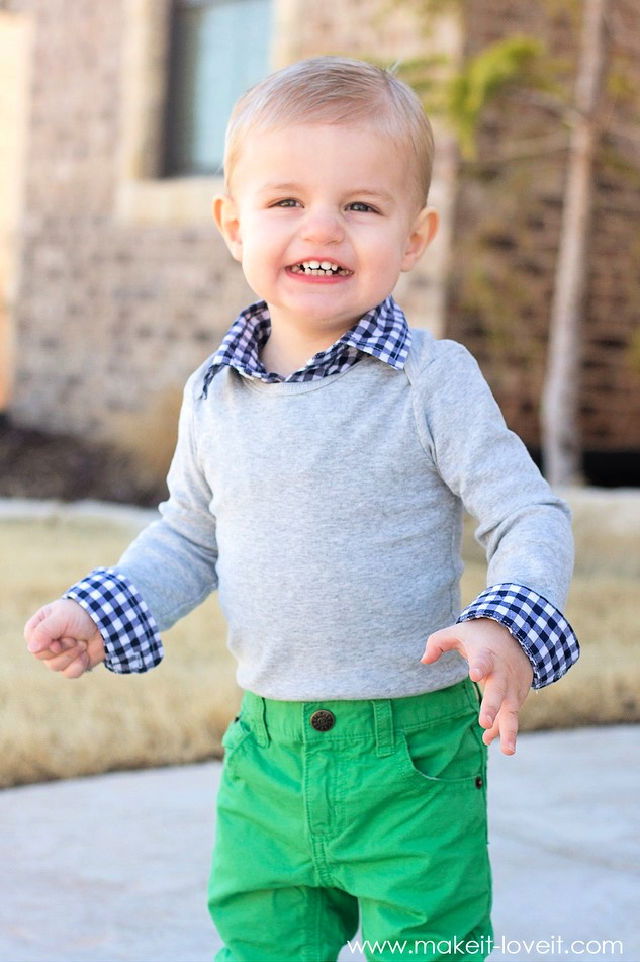 Everyone baby lover will praise this super cute and adorable baby shirt, sew in the preppy-style. The 2 in 1 baby shirt will make the best baby shower gift and is wholly easy to work up with beginner sewing skills. You need a onesie and an outgrown button-up shirt to make this 2-in-1 preppy shirt. The best gift for the little boys in the home. Every beginner will love sewing this preppy shirt. The idea is to cut the shirt sleeves and collar down and then sew them on the onesie to make it. makeit loveit
23. Freshly Picked Baby Hats Free Pattern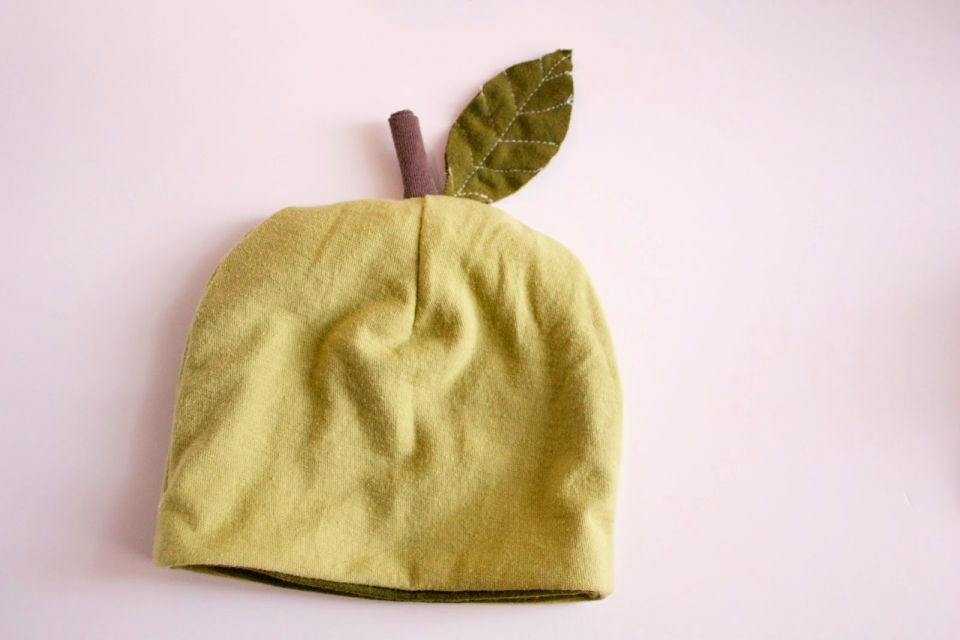 Every baby-loving mom will love to clone these sweet and lovely baby hats inspired by different fruits like apple, strawberry, and pineapples. The pattern will guide you to work up these hats like a pro, and they will make epic handmade baby shower presents. These hat projects are easier to sew and can also be seen with the fabric scraps. Get inspired by any of your favorite fruity while crocheting these nesting freshly picked baby hats. deliacreates
24. Free Baby Knit Pants Pattern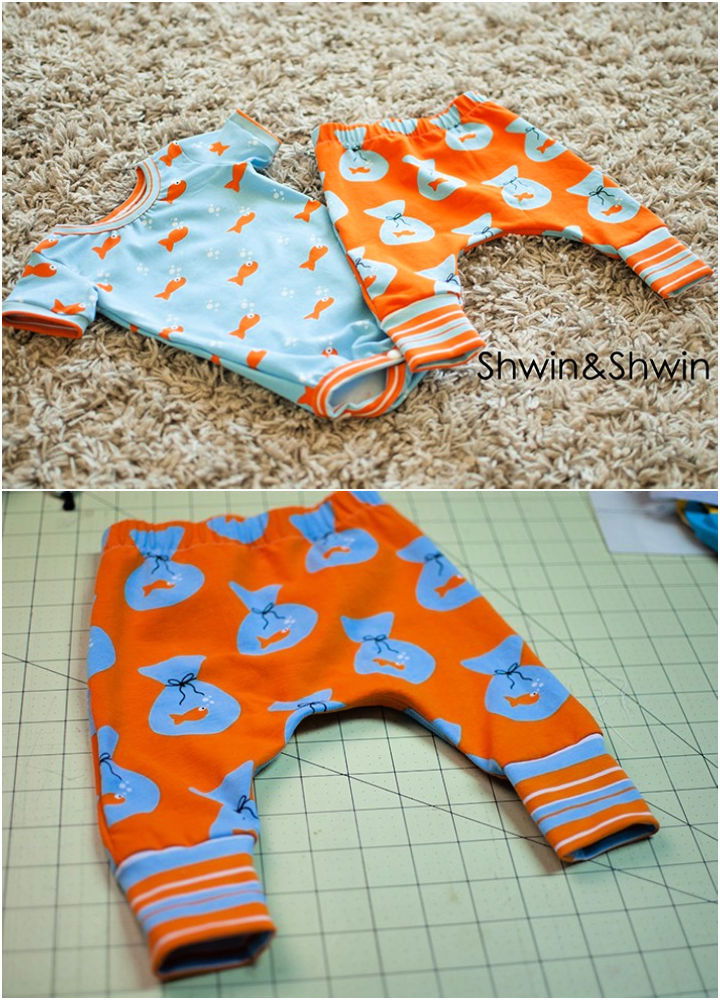 Sew the whole beautiful baby costumes at home without getting expensive and using small amounts of fabrics from home. Here you need the knit baby pants pattern that you can easily download and 1/2 yard knits to sew this very beautiful and graceful pair of shirt and pants. From adding the waistline to cuter cuffs, bottoms, and neckline, you will learn to sew here all. One of the best DIY baby outfit ideas. Gift these pants as a lovely gift on a baby's birthday. shwinandshwin
25. Simple Baby Gown Pattern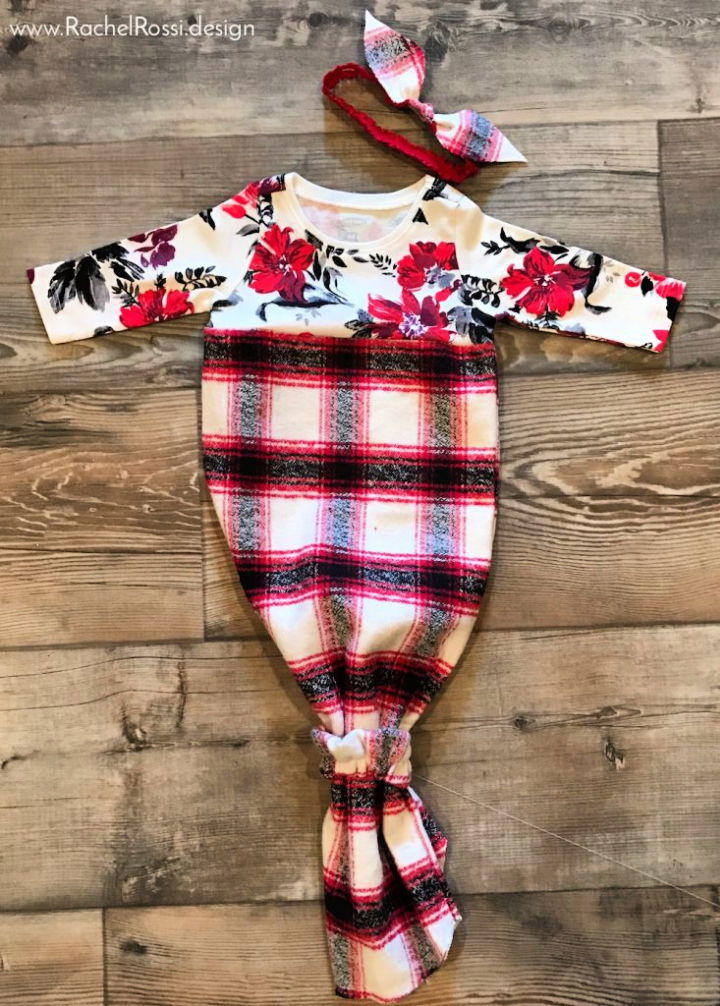 Rock the first photo shoot of your baby by sewing this quick and easy knotted baby gown. The pattern is simple, quick, and free and provides comprehensive instructions to complete this knotted gown with a matching bow headband. You need 3/4 yard fabric, a onesie, and 5″ of 1/2″-1″ elastic to sew the whole beautiful knotted baby gown that features a lovely grid and floral design print. You need 5/8″ Ruffled fabric and scrap fabric for the matching headband. rachelrossi
26. Double Top Knot Baby Hat Sewing Pattern
From lovely costumes to pants to beautiful shorts, you can sew all at home for your cute and innocent babies. This time, you will get the pattern to sew the best baby hats that will be cute and beautiful enough to give as a sweet handmade present. Even if you are not an avid sewist, you can easily hook up these knotted hats, the best stash buster sewing project. The pattern will guide you through sewing this baby hat in 6 different sizes. You need knit fabric, a sewing machine, a baby hat pattern, and other sewing supplies and tools to sew these hats. sweetredpoppy
27. Free Diaper Covers Pattern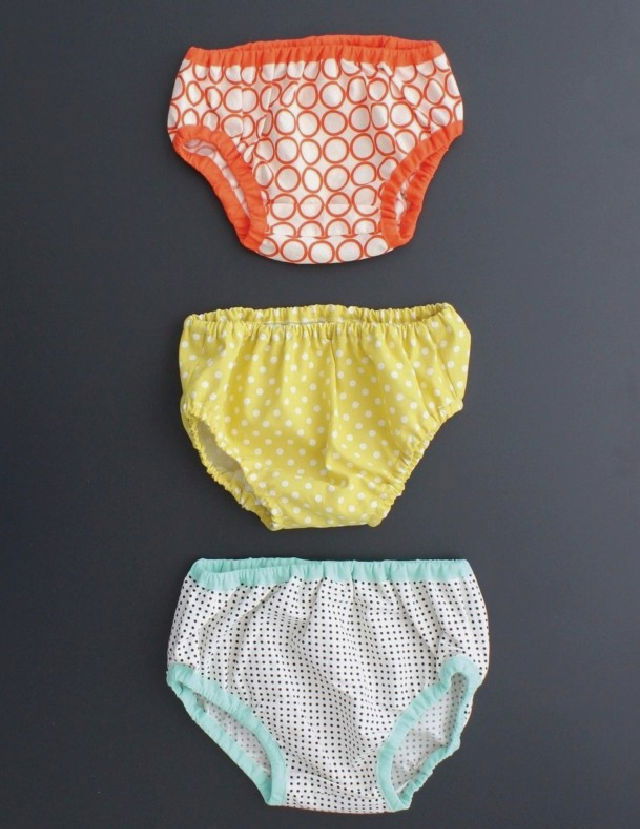 Feel free to clone these cute and lovely baby diaper covers, the very needed baby accessory. The pattern is easy to follow and provides professional instructions to sew the diaper covers. You can simply download the free pattern to try out these easy and quick baby clothes patterns. Moreover, the pattern will also guide you through sewing this diaper cover in 4 different sizes. The pattern will cover lots of amazing details, also like adding bias tape edging and custom patches. madeeveryday
28. Simply Summer Infant Romper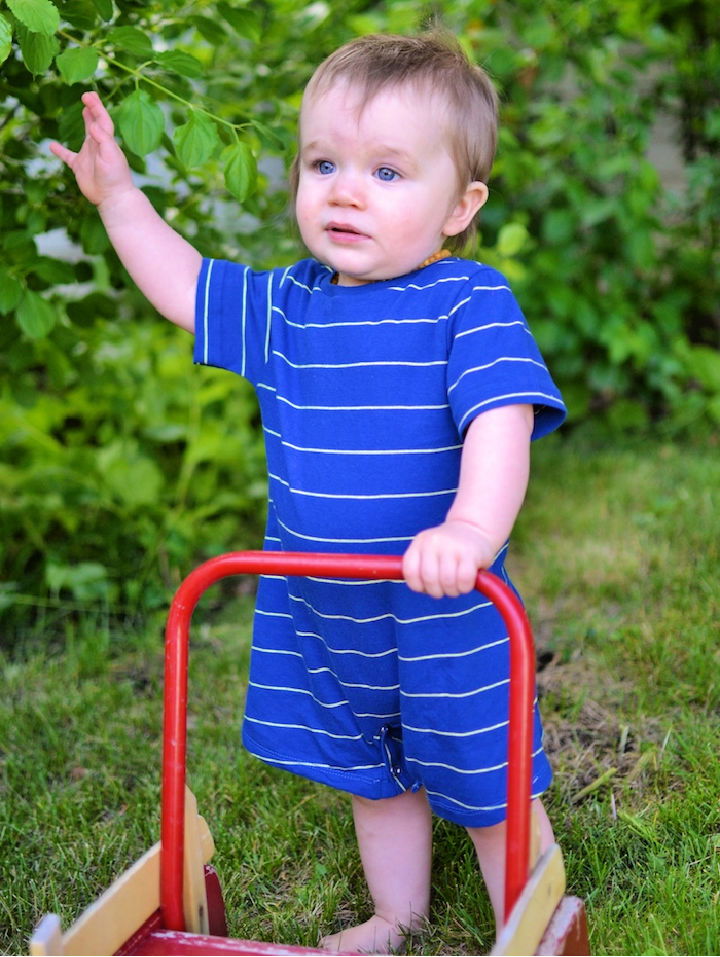 The lightweight and breezy rompers are the hottest summer kids' fashion. So, if you can't cope with the romper prices, then why not consider sewing the beautiful ones at home. These summer rompers are much like the same you buy from stores. Use a t-shirt and a pair of shorts to tracing and taking the right side of the romper to decide the seam allowance and a nice fitting size of the romper. You will get the complete visual guides also for the romper. siloandsage
29. Shark Baby Robe Pattern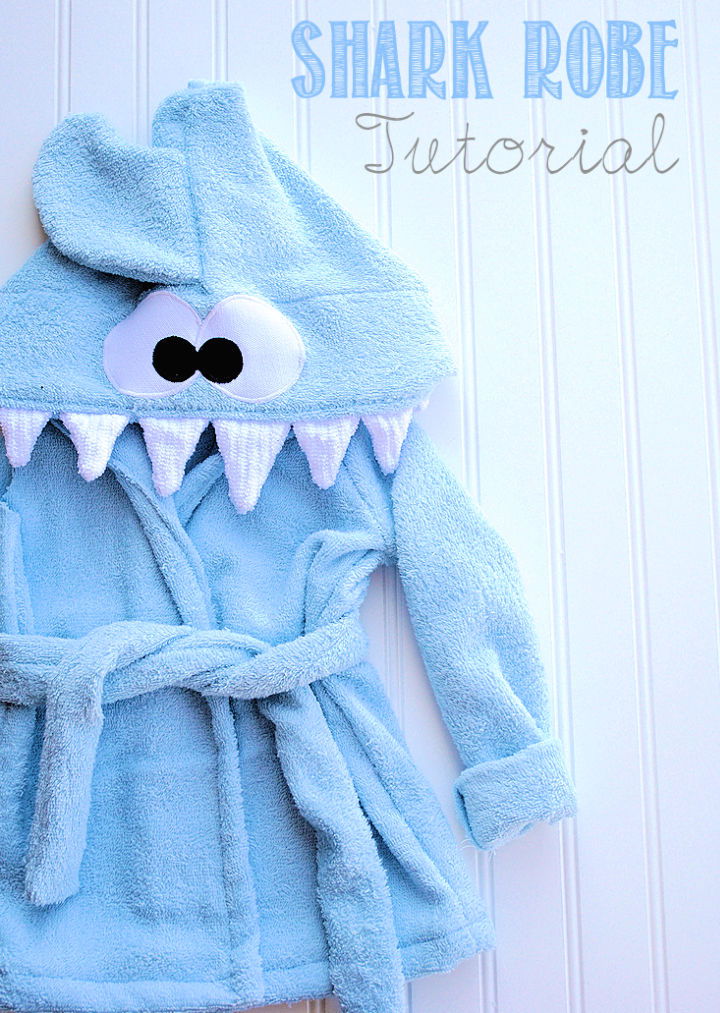 Remove all the shark fears from the hearts of your kids with this shark baby robe, an amazingly beautiful and stylish self-sew baby outfit. You need terry cloth, small amounts of white and black fabric, white terry, and Heat n Bond to sew this shark baby robe. The free pattern will also provide the shark robe cutting guide and shark face pattern pieces to easily cut and measure all the pieces. The pattern is just perfect for the 0-12 months. The cute and fun-making baby gift idea. crazylittleprojects
30. Baby Bow Headband Pattern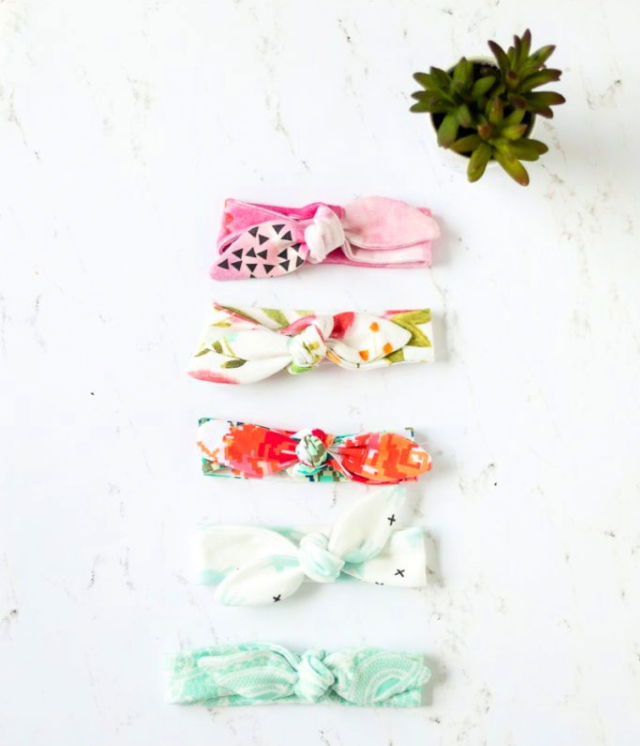 The headbands are also among the cutest baby accessories, and they can be a piece of cake also if you sew them at home. So, follow the here guides to sew the best headbands at home in just 15 minutes or less. So, these DIY headbands are going to be the best last 15-minute gift idea for a baby shower or baby birthday. Here you need the sewing pattern for both wide knot bow and narrow knot bow, stretch thread, 1/4 yard knot fabric, and starch if needed to sew these beautiful headbands. coralandco
31. Knotted Baby Head Tie With Free Pattern
Create that cuter personality of your baby with this knotted baby headband that is amazingly cute and precious to look at. Again the pattern will provide you the free baby head tie pattern that you can download to follow the instructions. In supplies, you need an old t-shirt or knit fabric and sewing supplies to complete this very beautiful and pretty baby knotted head tie. It will take much less yarn to sew this knotted head tie. howdoesshe
32. Easy Upcycled Sweater Baby Booties
Having nothing to do with your sweaters? Why not make beautiful baby accessories with them? Upcycle the old sweaters and make them super soft and stylish baby booties out of them. Follow here guides to make a pair of baby shows out of a sweater by spending only an hour. The pattern is totally easy and beginner-friendly, and you need a thrifted sweater or 1/8 yard of heavyweight fabric, 1/4 yard of coordinating no-fray fabric for liner, 1/8 yard lightweight Iron-On adhesive, 1/8 yard suede or leather and printable pattern etc to sew these shoes. In addition, you will require the leather and 1/8″ elastic cord also to sew these shoes. wholefully
33. Mary Jane Baby Shoe Pattern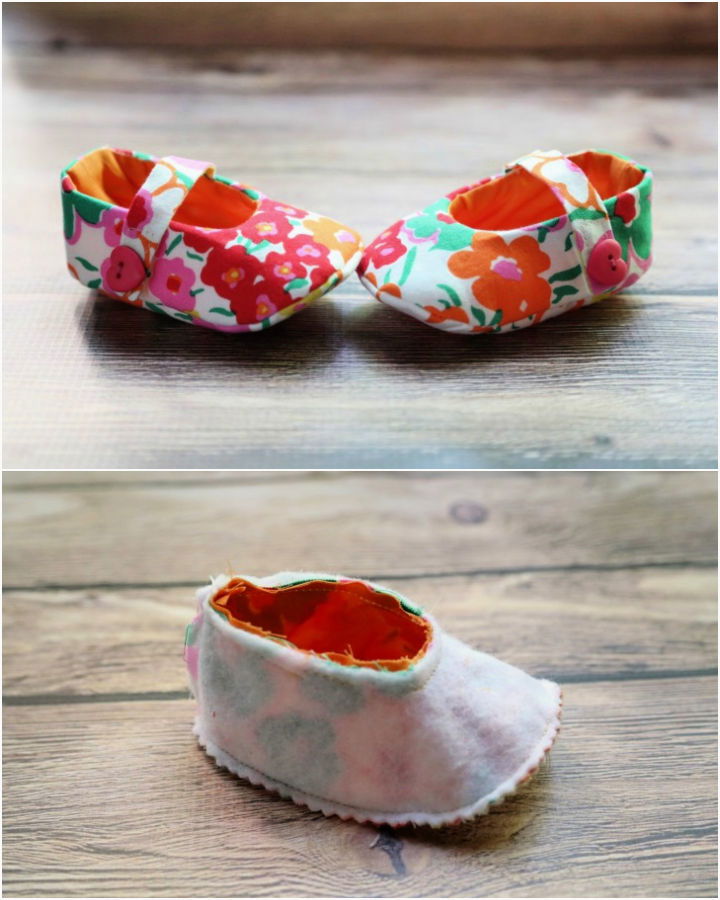 Repurpose the old fabric scraps from home and whip up these sweet little shoes and booties for the kids at home. They will go super soft around those little toes of the babies and make epic handmade presents. To make these super beautiful floral Mary Jane shoes, you need 1/4 yard exterior fabric, Pellon fusible fleece, lightweight single-sided fusible interfacing, velcro, buttons, and basic sewing supplies to whip up these Mary Jane shoes. thecottagemama
34. Easy Baby Girl Dress Sewing Pattern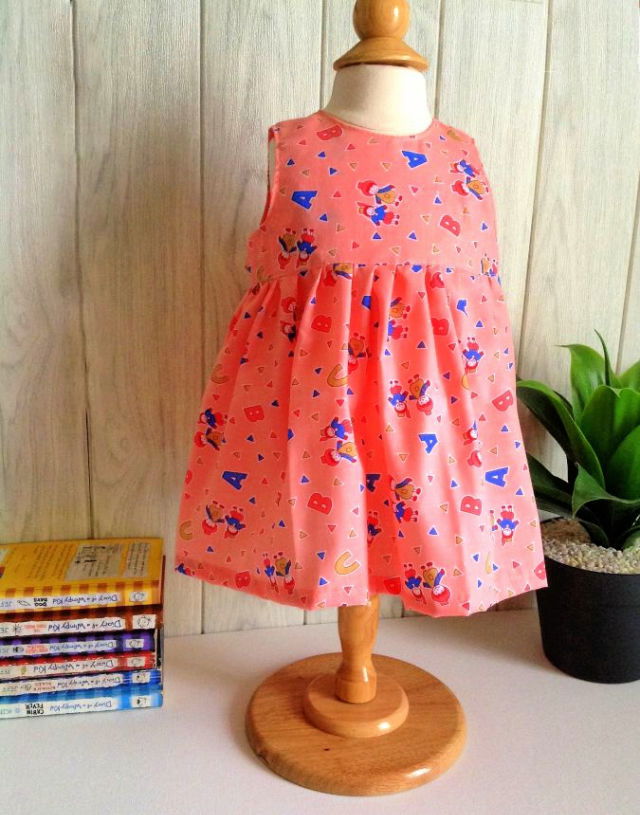 Get the professional baby girl dress sewing pattern here that will provide instructions to hook up the classic style dresses for the babies and toddlers in the home also. As a big bonus, you will get the free templates, allowing you to sew the dress in 4 different sizes, like a newborn to a 12-month-old baby. To sew this dress, pick the medium-weight cotton fabric, buttons, or velcro and sewing notions to complete this project. sewcraftyme
35. How to Sew a Knit Baby Dress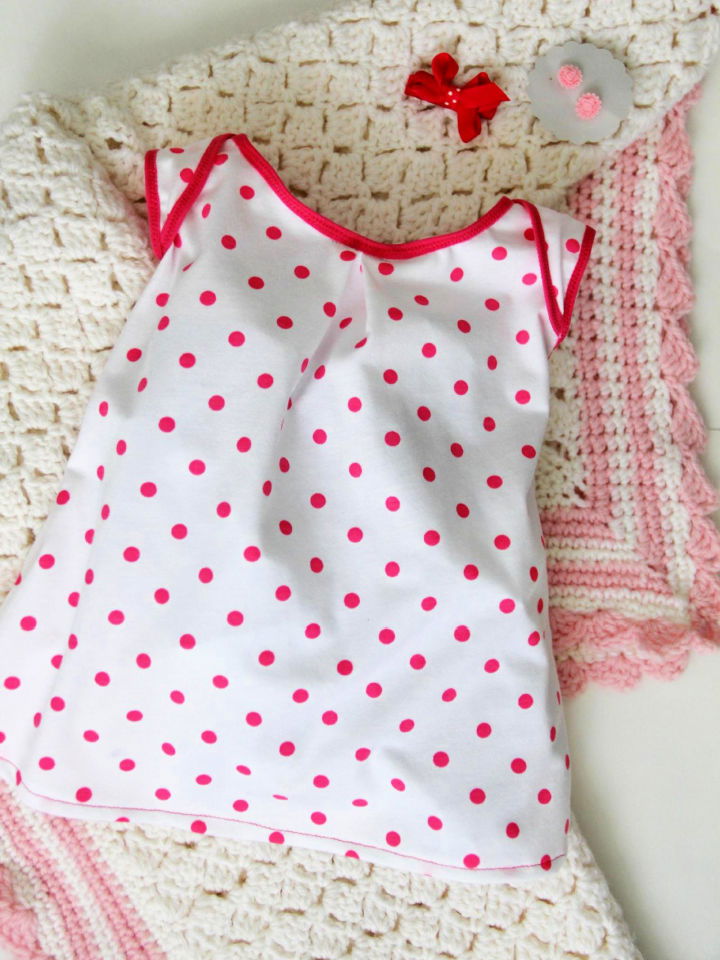 The newborn dresses are often come with high price tags. However, sewing baby clothes patterns at home will help save a lot of money. You need the 3/4 yard knit fabric, sewing machine, 2 yards fold-over elastic, thread, pins, and downloaded baby dress pattern to work up this very beautiful knot baby dress. Here the completed dress comes in white with pink polka dots and neckline edging. The whole dress is praise-worthy and gift-worthy and will complete quickly. diynetwork
36. Pattern For The Baby Dress 6 9 Months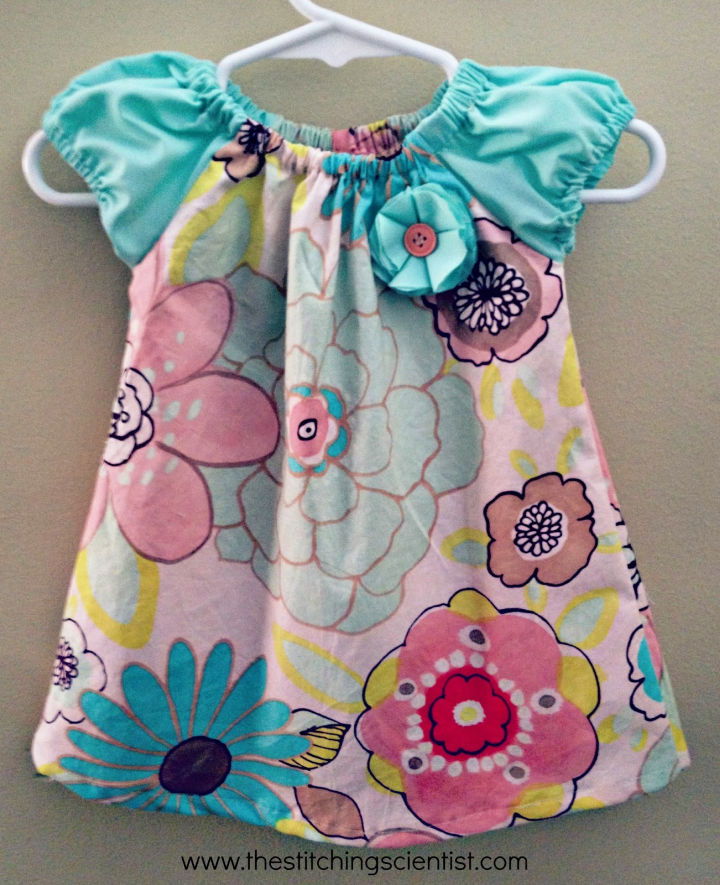 Sorting out the cute dress pattern for a 6-9-month-old baby? Get a one from here, provide all the professional techniques and tricks, and sew the best dress for a 6-9-month-old baby or little girl. You need 1/2 yard coordinating fabric for sleeves, 15″ of 1/2″ wide elastic for neck, 7.5″ of 1/2″ wide elastic for sleeves, and a free dress pattern to work up this very beautiful dress. Repurpose any leftover or old fabric from home to sew these cute dresses embellished with buttoned flowers. thestitchingsci
37. Free Footed Baby Pants Pattern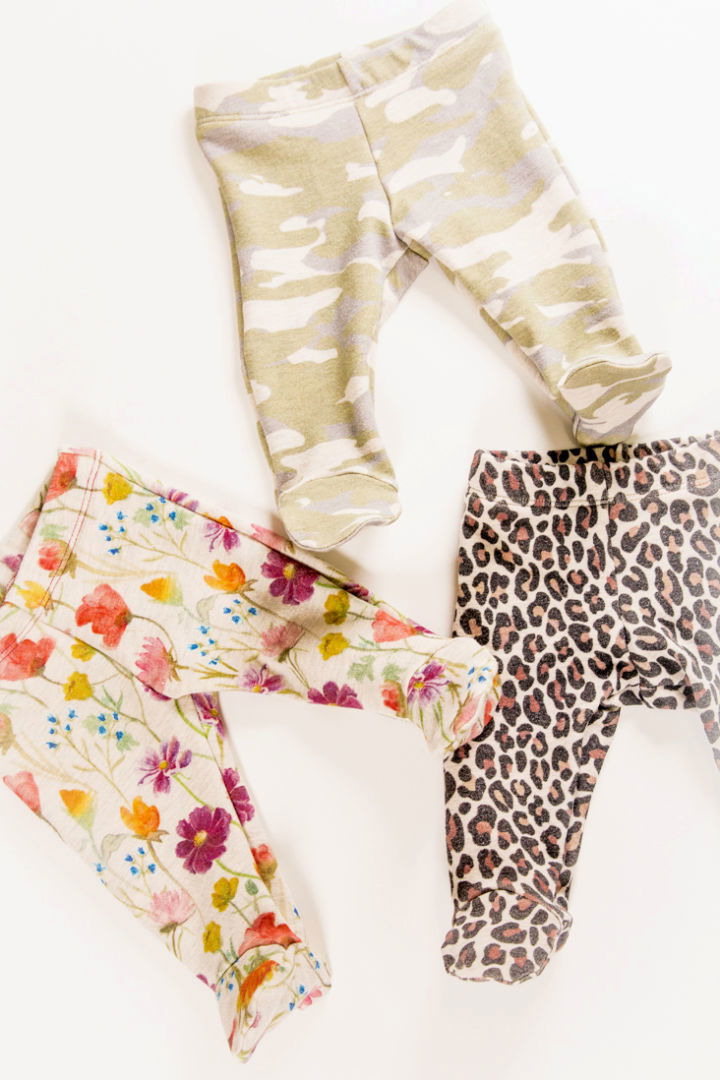 The footed baby pants rock for the winter fashion as they help keep the babies' feet warm without any additional need for socks. Look at the given project samples of footed baby pants, amazingly cute and beautiful, and make super cute and fun gifts for a mother-to-be. Along with the free list of supplies, you will get here complete free guides to sewing these footed baby pants, will be the quickest DIY handmade gift. sewmuchado
38. Button Up Baby Romper Pattern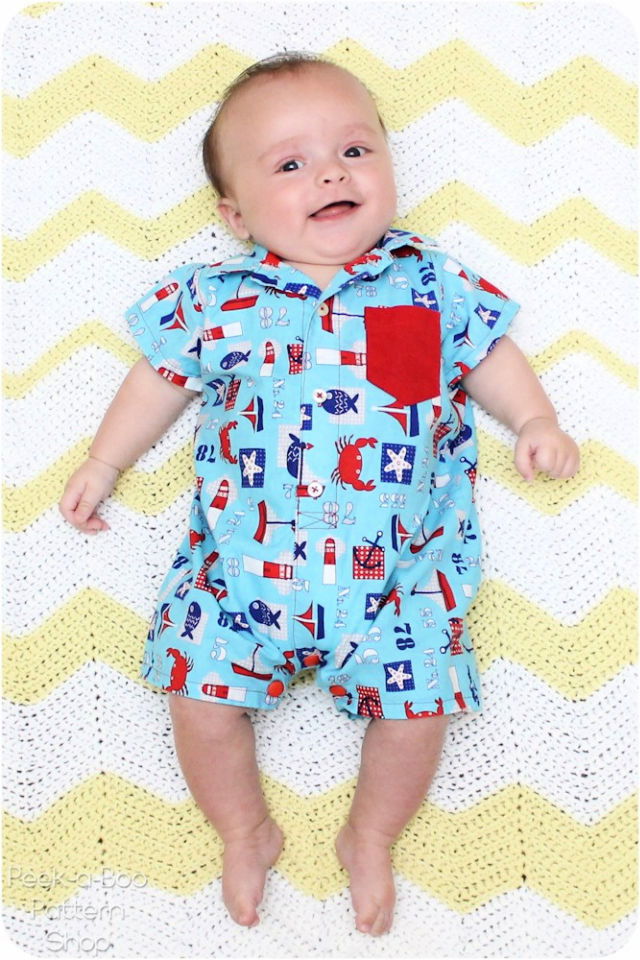 you will love to duplicate this very beautiful and cute baby romper that is amazingly cute and beautiful to look at. Here, the button-up baby romper impresses with the amazing fabric design print, short sleeves, and a pocket on the front side. You need the 3/4 yard fabric, lightweight fusible interfacing, 4 buttons, single fold bias tape, and 3-4 snaps for inseam to sew these baby rompers. This baby romper is the most precious gift out there to give to a special person. peekaboopages
39. Reversible Baby Skirt Pattern
Feel free to duplicate this super cute reversible baby skirt that comes with a nice elastic waist and also a lovely bottom lining. Here, it is the best little gift for the baby girls and will never get out of style. You need 2 corresponding fat quarters, basic sewing supplies, extra-wide double-fold bias tape, 13″ of 3/4″ elastic, fabric pencil, and a large safety pin to sew this skirt. Pick the fabric in your favorite colors and also with a custom design print to work up this lovely baby skirt. whistleandivy
40. Little Summer Baby Dresses
Rock the little girls' summer fashion in a home with these summer dresses that come with lovely shoulder straps. The big skirt and the sleeveless designs make this dress out of the ordinary, and you can follow the provided free guides and patterns to sew it like a pro. You need cotton muslin wrap, one reel of shirring elastic, lace, scissors, and a sewing machine to work up this very cute and adorable summer baby girl dress. whatsmummy
Conclusion about Baby clothes patterns:
Are you preparing the baby's summer fashion wardrobe? Sorting out the best dresses to add to the baby's closet? Go with these 40 simple and free DIY baby clothes patterns to see a variety of self-sew baby dresses. You will get here free sewing patterns, tool lists, material lists, and even step-by-step instructions to sew all of the given dresses like a pro in your spare time. These dresses will make epic handmade baby birthdays, and baby shower presents and will never quit the style trends.
Moreover, you will sew the very special fruit-inspired baby hats and cover the head cutely. Finally, You will get instructions here to sew cute-looking baby shoes. However, you can pack all these items to make a lovely gift set.