Find 34 free baby bib patterns include step by step instructions and printable baby bib pattern template with PDF to download. The baby bib sewing pattern is designed for babies from about 6 months up to 2 years. This list of baby bib pattern is a perfect way to help show your little one's personality and love.
If your little one is on the way! Or your best friend or any siblings are expecting a baby, these adorable free baby bib patterns can be the best gift ever that you can give to any newbie parents! With these lovely baby bib patterns, you can keep the squishy and cute babies clean from the mess they make while having food! In fact, not just food, but even if your little man or little princess is teething, there must be a lot of slobbering in the picture. But, if you don't like to cover up your kiddo's dress with a bib all the times, we have also added many dashing and pretty bandana bib patterns. To make him look like a hero and keep his dresses clean at the same time!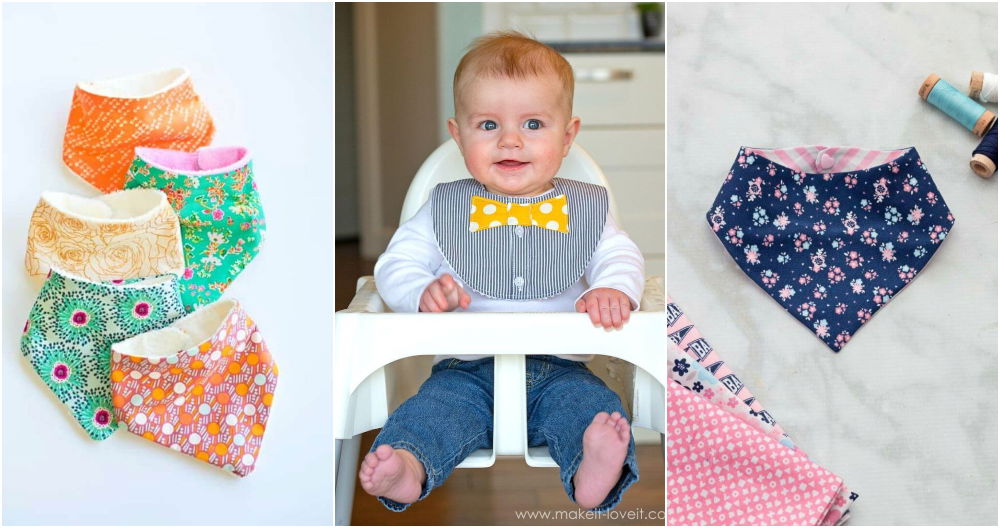 Free Baby Bib Patterns + Printable Sewing Pattern PDF
Explore through our special collection of these 35 adorable free baby bib patterns that can make your baby look dashing! You would love our bow tie drool bib and polka dot bibs, which you can easily sew in any towel cloth fabric and blocked pattern! You would like to explore our pocket bibs, old shirts transformed into totally chic baby bibs! The best part about exploring these baby bib sewing patterns is that you can work around the sizes like you would want to! Make it bigger in size, and you can even make multiple bibs at a time and never have to run out of the bibs emergency! Let's start exploring free bib patterns!
1. How to Make a Baby Bib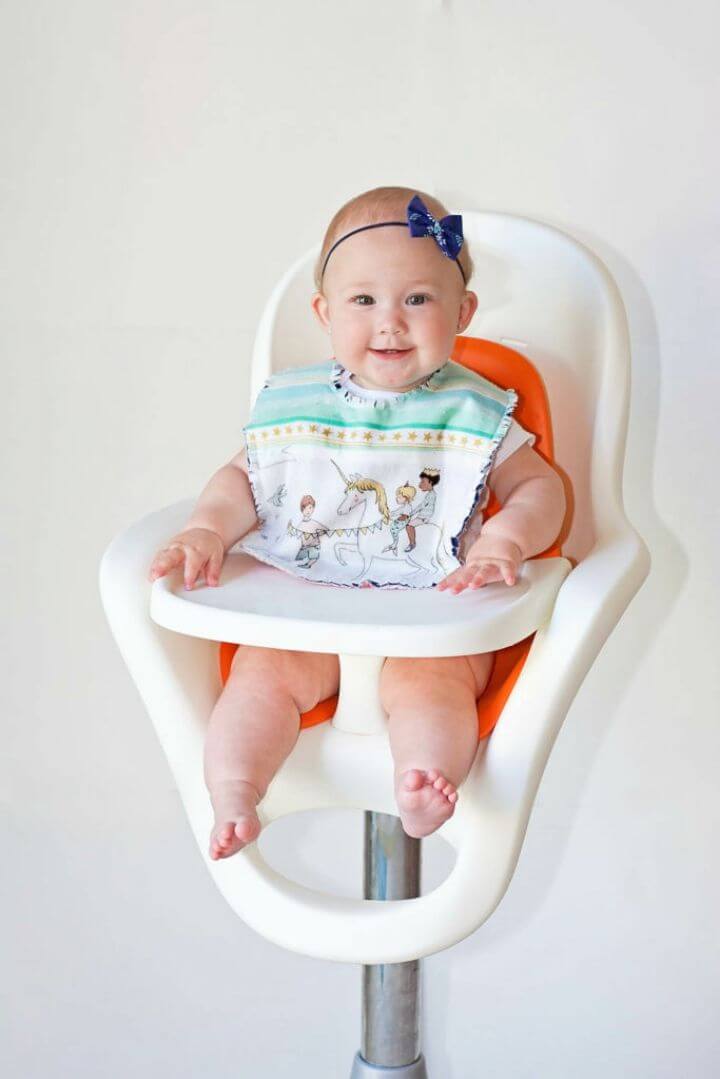 If you are someone who is going to be a parent soon, or if you want to gift to a newborn baby. This colorful free baby bib pattern is perfect to gift to newbie parents. It takes only a few minutes to make one by using small flannel fabric piece. crazylittleproj
2. Free Cloth Baby Bib Pattern
Babies are these cute creatures who just eat and sleep! While they eat they make a lot of mess on themselves too. That's when babies bib came into life. Create your very own baby cloth bib in just simple steps, like done here.
3. Easy Baby Bib Sewing Pattern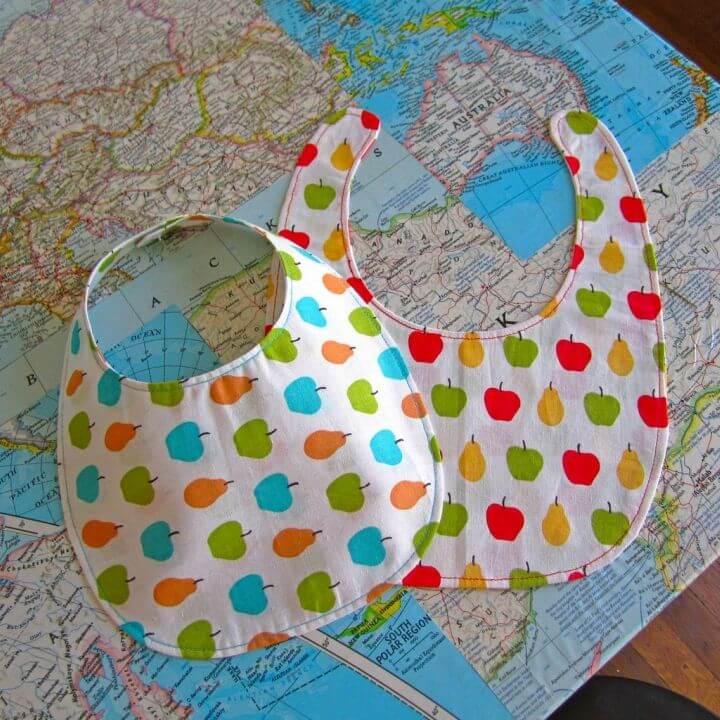 If you have a friend who is expecting, there can be no better gift than gifting a Baby Bib. This one piece of cloth is very easy to make. It doesn't require a heavy sewing machine to create one but just a few sewing accessories. instructables
4. DIY Absorbent Homemade Bibs
Whenever you are trying your best to feed a baby, all they do is eat less and spill more. This creates the mess at lunchtime. But with this DIY Absorbent Homemade bibs now, you don't need to worry anymore. thewillowmarket
5. Fat Quarter Baby Bib Sewing Patterns
Shopping for the baby is sometimes a hassle for parents, you can't decide what perfect cloth to buy that will fit or what accessory to take for the baby's use. But, with this fat quarter baby bib, you can take care of the drooled clothes pretty much!
6. Free Baby Bib Sewing Patterns
Crafting sometimes can be stressful and time-consuming. Especially when you want to create something yourself. This easy DIY Sewing patterns for baby bibs is something you must try, its best to be ready with baby gifts beforehand. aliceandlois
7. How to Sew Baby Bibs
For a parent to be, one always gears up in advance while prepping for the baby. You choose the perfect accessories and clothes for them. But sometimes you don't get what you are looking for. So you can create one for yourself, like an easy baby bib creation pattern right.lifewithmylittles
8. Make Your Own Bandana Bib
Kids always are seen rocking some adorable clothes with some nice hats and shoes. Why should we neglect one most important accessory for a baby that is a baby bib? Create your very own cool Bandana baby bib for your little one that he can use while dining in. projectnursery
9. DIY Baby Bandana Bibs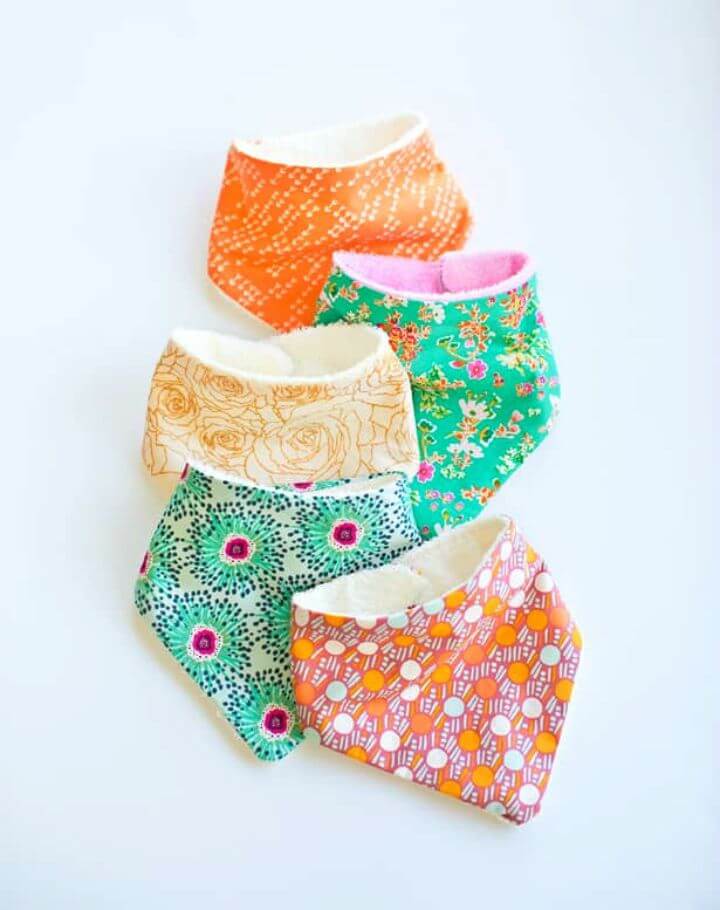 Sewing sometimes comes up with a lot of nerves, and it also is pressure work sometimes. But with this DIY Baby bit pattern tutorial now, you don't need to worry about a baby shower gift for your friend. All you have to follow some simple steps like. hellowonderful
10. How to Make Bandana Bib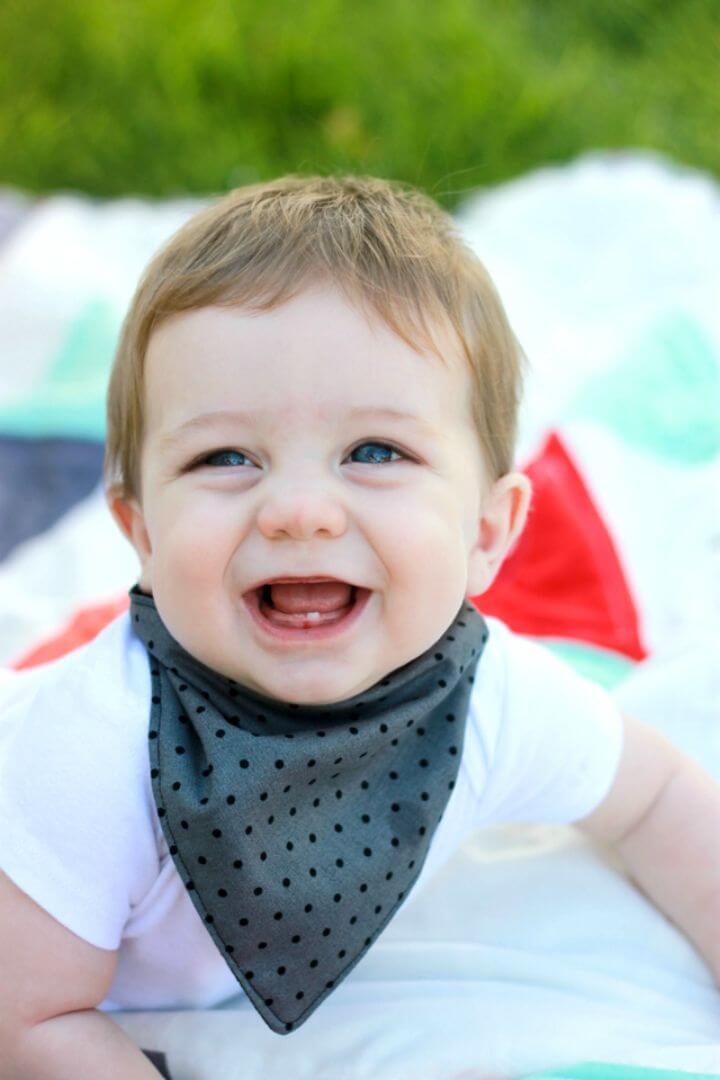 If you have a baby in your house who is teething but is covered in slobber. This Bandana shaped bib tutorial will help you out to make him less mess out of himself. The bib is designed in a way that you can show those cute clothes to him too. seekatesew
11. Awesome Baby Bib and Hat Sewing Pattern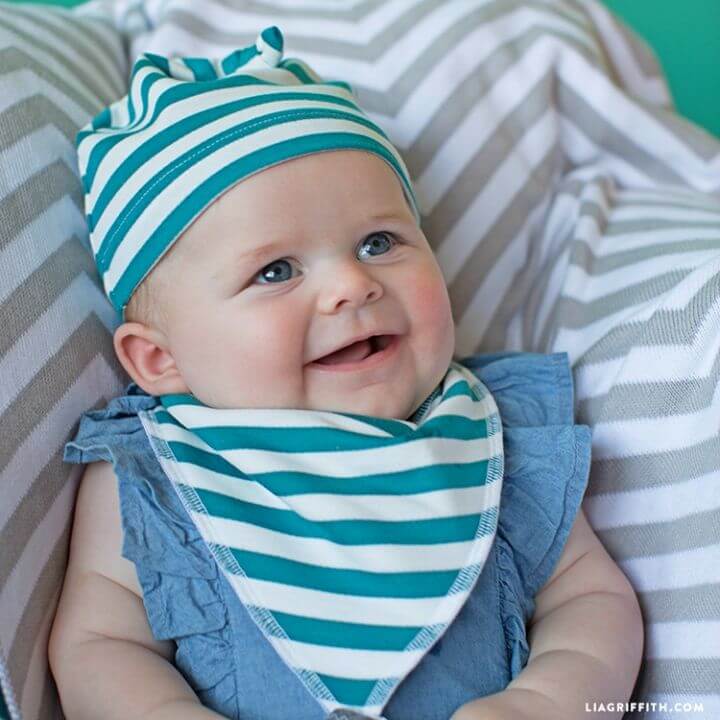 For parents matching baby clothes is one necessary thing to ensure, since it looks cute on the side of babies. This tutorial on DIY Baby hat and bib is something similar that focuses on how you can get an awesome baby hat and a baby bib. liagriffith
12. DIY Color Block Baby Bibs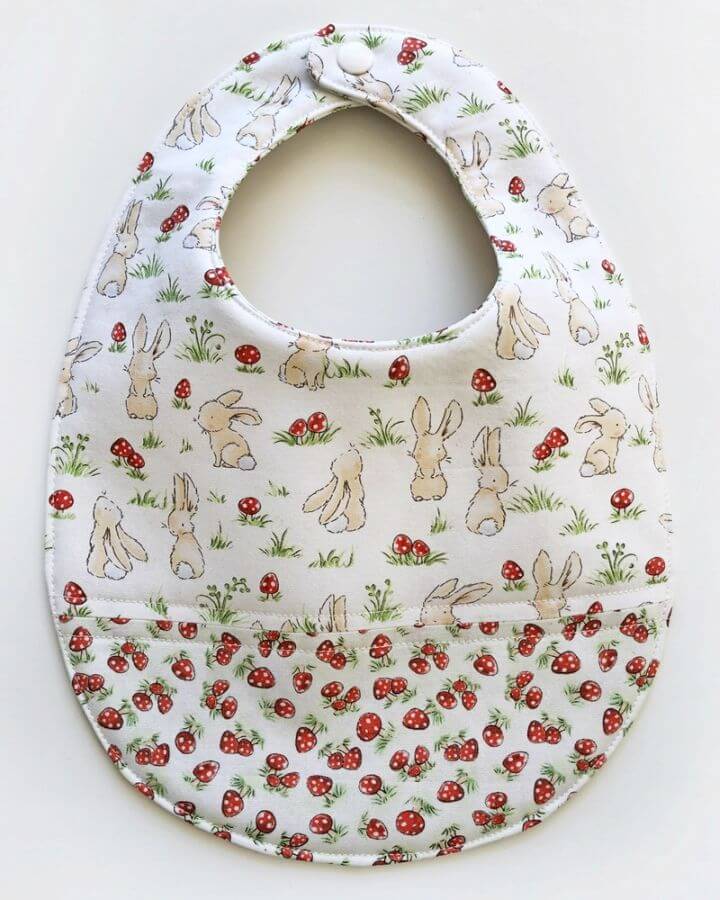 If you are invited over a baby shower by your friend, who is expecting a baby soon! And you are worried as to what to gift the baby. This color block baby bibs tutorial is tailored for you to create the bib all by yourself by using some supplies. ttfabrics
13. Bow Tie Drool Bibs for Boys Sewing Pattern
It's always fun and exciting to craft something with your own hands, like when you craft something for your baby by just using some basic sewing techniques. Like a bow tie drool bib, an easy tutorial is personalized for your needs to create one all by yourself. makeit loveit
14. Bandana Bib – Sewing Pattern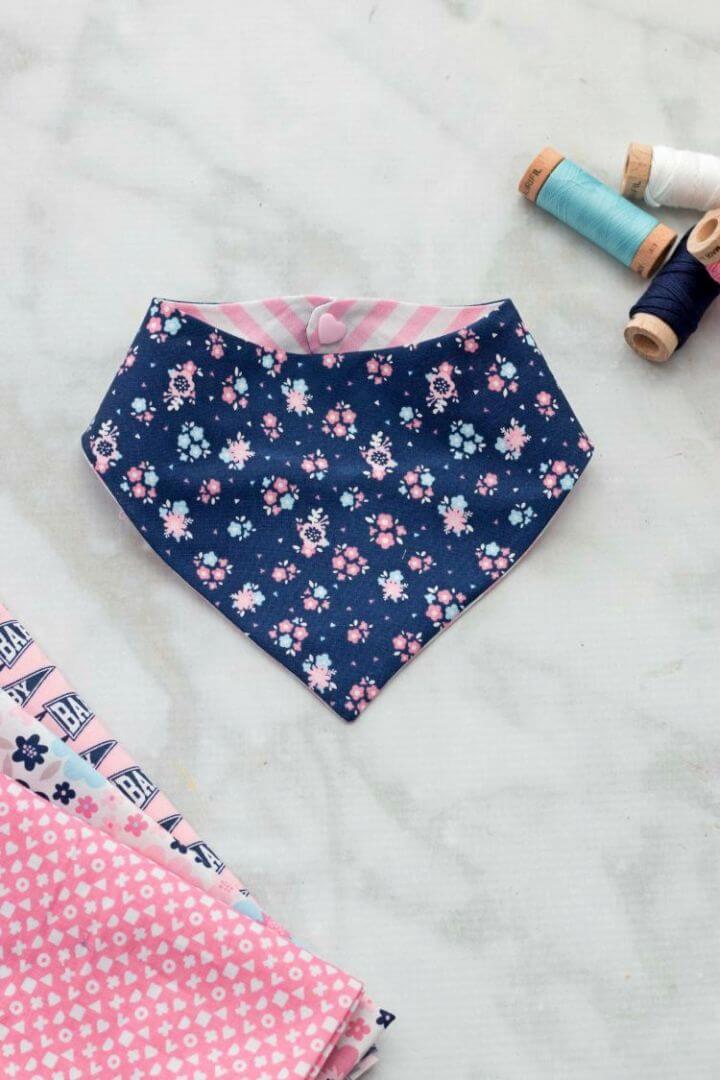 There are a lot of things to take care of when you are becoming a parent, especially a new parent. Since you don't have any past experience to rely on. This bandana shaped bib tutorial is for all those new to be parents so they can be ready when things get messy. sweetredpoppy
15. DIY Towel Baby Bib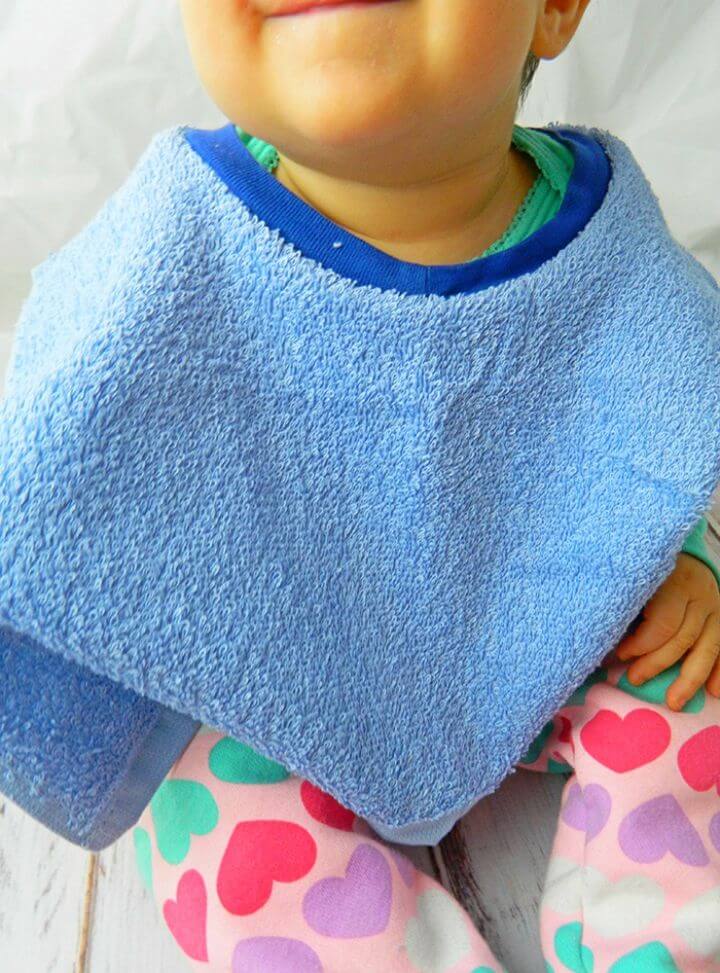 For all parents out there, it's a very hard time when a kid starts weaning. This tutorial on Towel baby bib for all those babies who are about to shift from milk feed to diet feed. These bibs come handy when your kids make a lot of food mess on him. littlehouseliving
16. Easy to Sew Polka-dots Baby Bibs
Everyone once in their lifetime has owned a polka dots accessory, from being a kid to an adult. These polka dot styled Baby bibs are something to consider if you are going to a baby shower party, and want to gift your friend something nice and handmade. madeeveryday
17. Simple DIY Baby Bibs
Keeping in trend is all that everyone desires, so are the babies with their Bibs and fancy clothes. But with this simple DIY Baby bib tutorial, you can create one bib from a simple piece of cloth and some sewing essentials. madeitonmonday
18. How to Turn Old Shirt Into Baby Bibs
If you have a newborn baby boy in your house and you can't get the desired baby bib from the baby store nearby! This tutorial on creating a baby bib by using an old shirt is something you should look for in creating a customized baby bib. alittletipsy
19. How to Make Pocket Bibs
There comes a time when kids start to make a mess out of their food when they eat, and for parents out there, it's so difficult to manage. But with this pocketed baby bib tutorial now, you don't need to worry anymore. justanotherhan
20. Knotted Pass Through Baby Bib
What's a better gift for a baby shower than a baby bib? The baby bib is one of the perfect accessories to keep things handy for a baby and parents, of course. This knotted pass through baby bib tutorial is a baby essential every parent should look into. deliacreates
21. DIY Ruffle Bib – Sew Pattern
For all those newbie parents out there, making kids stop drooling is something that is one difficult task because that's what kids do all the time when they are teething. This easy DIY sew pattern on Ruffle bib is for you to create your own baby bib. seekatesew
22. Baby Bibs From Old Jeans and Tee Shirts
Art and craft go side by side always. Transforming your old unused denim jeans and t-shirts to make baby bibs out of them is one the artsy thing to do it yourself. The tutorial is here to get you started from scratch as to how you can do so. happyhooligans
23. Pretty Embroidered Baby Bibs
Embroidered patterns for babies always look cute on their cute baby clothes, shoes, and other baby accessories. These patterns can be used to make a customized baby bib with nice text on it. Or you can even put the baby names on it. momtastic
24. Easy to Sew Muslin Baby Bib
Whenever kids eat, they make a mess out of it, this either leave stains on their clothes or on the floor. With this easy DIY Muslin baby bib printable pattern now, you can wear your kid one, handcrafted all by yourself in just some easy steps. fleecefun
25. How to Make Vinyl Baby Bib
There are days when your kids are cranky, and all they want is to either cry or either make a mess everywhere. Especially with their food, they ruin their baby clothes. This tutorial on DIY vinyl baby bibs is for those parents who want to lessen the pressure of all the mess. thatswhatchesaid
26. Sew Your Own Baby Bib
Sometimes it gets challenging to get the best baby clothes from a baby store. The fabric is sometimes not right, sometimes it takes time to order an accessory. But with this DIY Sewing technique on baby bibs, you don't need to worry. tutsplus
27. DIY Baby Bib for Drooly Babies
For small infants, most of the time, it's difficult to stop them drool since that's what they do all the time. To help them and yourself too, this DIY Baby bib pattern is for you, this pattern is simple to achieve, and you can easily stop your kid from drooling all over the place. merrimentdesign
28. Make Drool Proof Baby Bib
Babies in early age drool most of the time, it's either they are having their food or either they are teething drooling is for them. With this easy DIY drool-proof baby bib, you can lessen up your tension of seeing the food mess around the baby all the time. stitchedbycrystal
29. Scrappy Bibs and Bundles
If you are someone who is new to DIY Sewing, it's not as difficult as it looks. You can always start by creating something small and handy. Like some scrappy bibs and bundles right here. They are easy to make and are a perfect for baby shower gifts. thesewingloft
30. Up-cycle Baby Clothes Into Bibs
A budget-friendly mom knows how to cater to things around. If you are one of those moms, then this Tutorial on using old baby shirts is for you. The tutorial will help you to create a baby bib out of an old shirt in some easy, simple steps. scratchandstitch
31. Bib Pattern for Beginners
For those people who are new at sewing, it can be a daunting task to get acknowledged to basic sewing techniques. But with these easy DIY baby bib patterns to sew a baby bib is something you should start working with. marymarthamama
32. How to Sew Baby Bandana Bib
Your baby is rocking a new attire, new shoes and everything fine. You don't want him to make a mess out of them when he eats. A bandana shaped baby bib is what your baby needs to make the outfit create an impression as chic as the one. gina michele
33. Adorable DIY Baby Bib
Babies are cute, adorable creatures that have no clue what their parents go through just to make sure they get fed properly. In all these scenarios, they make the mess out of what they eat. This DIY Baby Bib pattern is all for those parents who want to solve this issue as per their liking. shinyhappyworld
34. DIY Ruffle Bib Tutorial
Baby clothes vary as per the fabric and style. Baby bibs are the same sort of baby accessory that every parent needs to have with them. A ruffled baby bib is one of them, made up of terry cloth and piece of fabric. This pattern here will help you to sew it for yourself. marymartham
Related Free Sewing Patterns
Free Diaper Bag Patterns: These free diaper bag sewing patterns make it easy to sew your own stylish and practical diaper bag.
Baby Clothes Patterns: Sew adorable baby clothes for a special occasion, or a cute outfit for everyday wear with these free baby clothes patterns, including instructions for beginners. You'll find sweaters, skirts, pants, dresses, and more. Sizes include preemie, 0-3 months, 3-6 months, 6-9 months, and 12-24 months and for older kids too.
Baby Carriers Pattern: Follow these simple DIY baby sling ideas, and you'll have a carrier that's perfect for you and your baby.
Mei Tai Baby Carrier Patterns: Here are free mei tai baby carrier patterns for you to try. Each mei tai baby carrier pattern is an ancient, time-tested way to carry babies and toddlers.
Baby Pants Pattern: Sewing baby pants is not a difficult task with a free and easy baby pants pattern to sew or modify one of our patterns.
Baby Quilt Patterns: Download these free baby quilt patterns for beginners to create an adorable baby blanket, a crib-size quilt, or a lap-size quilt. These easy quilts are perfect for beginners, and they're all in PDF format.
Crib Sheet Pattern: Here are free crib sheet pattern, tutorials and ideas to make your own crib sheet with materials you have at home.
Teddy Bear Patterns: Sewing a teddy bear is a great way to spend time with your kids. Here are free teddy bear patterns that can be downloaded and sewn with your children and would make delightful gifts or decor for any nursery.
Baby Blanket Ideas: Making a baby blanket is a great project for those with sewing skills. This collection of easy baby blanket sewing patterns from around the web is designed to make your sewing experience easier and more enjoyable.
Conclusion
So, what are you waiting for? Instead of spending money on buying bibs from the market, why not make them by yourself in a more budget-friendly way? Plus, with our 34 DIY baby bib patterns, you can never get out of ideas or designs for pretty baby bibs!