Are you looking to create creative and easy crochet coasters? Look no further than these 35 free crochet coaster patterns! They are great for all skill levels, from beginners just learning how to crochet, to experienced crocheters looking to create beautiful home decor pieces. Each crochet coasters pattern includes detailed step-by-step instructions with diagrams so that anyone can make them. Make a unique set of crochet coasters for yourself or as a gift that will last long after the holiday season is gone. With so many different and creative crochet coaster patterns available, there are sure to be unique crochet coasters everyone will love!
These free crochet coaster patterns for all skill levels are perfect for any crocheter, from beginners to experts. Whether you're looking to mix up your home decor or make something handmade as a gift, these 35 patterns offer endless possibilities. From bright and cheerful motifs that bring the summertime vibes indoors all year round to elegant lace designs that can be used as doilies or runners, there're crochet coasters for every taste and skill level.
Enjoy getting creative with these fun crochet coaster patterns – each one just takes a few hours of work! With step-by-step instructions and color photos to guide you, you'll have no trouble creating beautiful crochet coasters perfect for accenting tables at home or giving away as gifts. So grab your crochet hook and get ready: it's time to start stitching up some eye-catching crochet coasters and get more style into your home decor!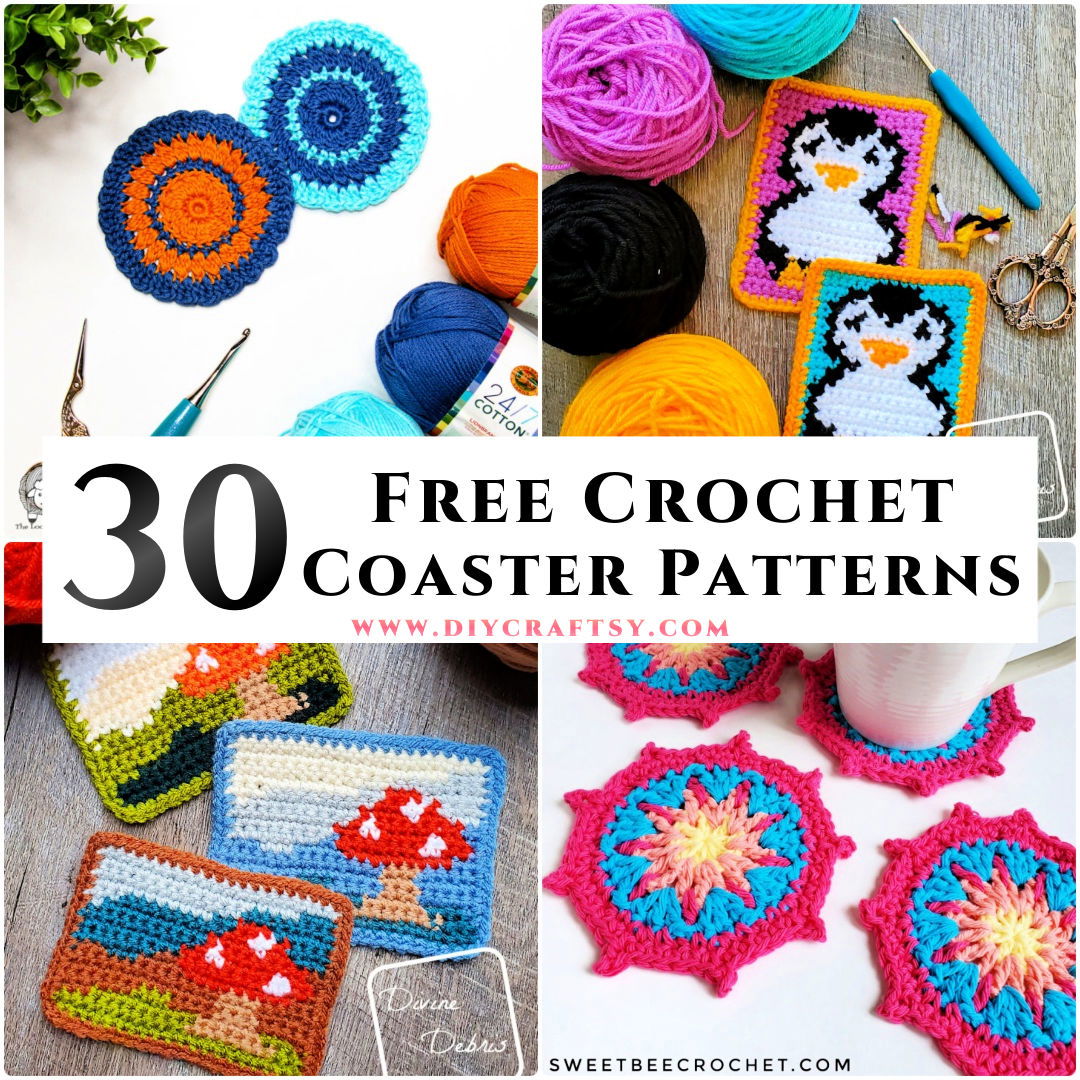 Easy-to-Follow Free Crochet Coaster Patterns for Every Season
Crochet coasters are a great way to add beautiful pieces to your home decor while flexing your creative muscles. Learn how to make crochet coasters with 35 free crochet coaster patterns, including easy-to-follow step by step instructions, diagrams, and recommended yarns for each pattern. From strawberries and flowers to blossoms and bobbles, there are free crochet coaster patterns that any skill level can find joy in creating.
Whether you want to add a cozy autumn vibe with pumpkin crocheters or jazz up your living room with floral creations, these free crochet coaster patterns offer endless possibilities. With varying difficulty levels, any Crocheter at any skill level can find the perfect crochet coasters to suit their needs. So grab your hooks and dive into this collection of free crochet coaster patterns!
What Are Coasters?
Coasters are small mats, typically made of absorbent materials, that are placed under beverages to protect the surface of a table or counter. They can be made from various materials, including cloth, paper, cork, and even plastic. Coasters are usually round or square in shape and often have a decorative design on them.
The History of Coasters
Coasters have been around for centuries, with the earliest known use dating back to ancient Greece. In those days, coasters were made from pieces of leather or cloth that were soaked in water and then wrapped around the base of a drinking vessel to protect the surface beneath it.

Over time, coasters evolved into more decorative items and became popular gifts during the Victorian era. By the early 1900s, coaster sets were commonly given as wedding presents. Today, coasters are still frequently given as gifts, and they remain a popular item for entertaining at home.
How to Make a Crochet Coaster
Assuming you have some basic knowledge of Crochet, making a coaster is a very easy process.

Materials needed:
Yarn
Crochet hook
Scissors
Instructions:
Chain 4 stitches and slip stitch to the first chain to form a ring.
Chain 2 more stitches (these will count as your first double crochet) and then make 10 more double crochet into the ring. Slip stitch into the top of the first double crochet to join.
Chain 2 stitches and then make 1 double crochet in each stitch around. Slip stitch into the top of the first double crochet to join when you come back around.
For round 4, you will work in BLO (back loops only). To do this, insert your hook into the loops furthest from you on the previous round (they will look like little "bumps"). Make 1 single crochet in each loop around and slip stitch to join when you come back around.
Five rounds of single crochets in BLO should be enough for most coasters but feel free to add more if you want it to be thicker/heavier duty. When you're finished, cut your yarn and weave in any ends!
The Benefits of Using Crochet Coasters
Crochet coasters can be used for many different purposes, such as decoration, protection of surfaces, and insulation. They come in various shapes, sizes, and colors to fit your needs. Coasters made with natural materials like cotton or wool can absorb moisture and protect your furniture from water damage. They can also add a bit of insulation to keep hot drinks from damaging your table. Crochet coasters are easy to care for and can be machine washed and dried on a low setting.
Crochet Coaster Patterns
There are tons of free crochet patterns for coasters out there! Whether you're looking for something simple or more elaborate, there's definitely a pattern for you. Check out some of our favorites below.

1. The Classic Crochet Coaster: This basic coaster pattern is perfect for beginners or anyone looking for a quick project.

2. The Ripple Crochet Coaster: This pretty coaster features a ripple stitch design and can be made in any color combo you like.

3. The Lace Crochet Coaster: If you're looking for something a little fancier, try this lace crochet coaster pattern. It's perfect for special occasions or everyday use.

4. The Granny Square Crochet Coaster: These coasters are made with classic granny squares and are great for using crochet scrap yarn.

5. The Tunisian Crochet Coaster: This coaster pattern uses the Tunisian crochet technique to create a beautiful textured fabric.
Crochet coasters are a great way to add personality and style to any space. Plus, they are super easy to make! Spruce up your home with these free crochet coaster patterns to protect furniture from spills and hot drinks. With these 30 free crochet coaster patterns available below, you'll surely find something that suits your style perfectly! So grab some yarn, get comfy in your favorite crocheting spot and make yourself some beautiful crochet coasters today!
1. Crocheted Thermal Coasters – Free Pattern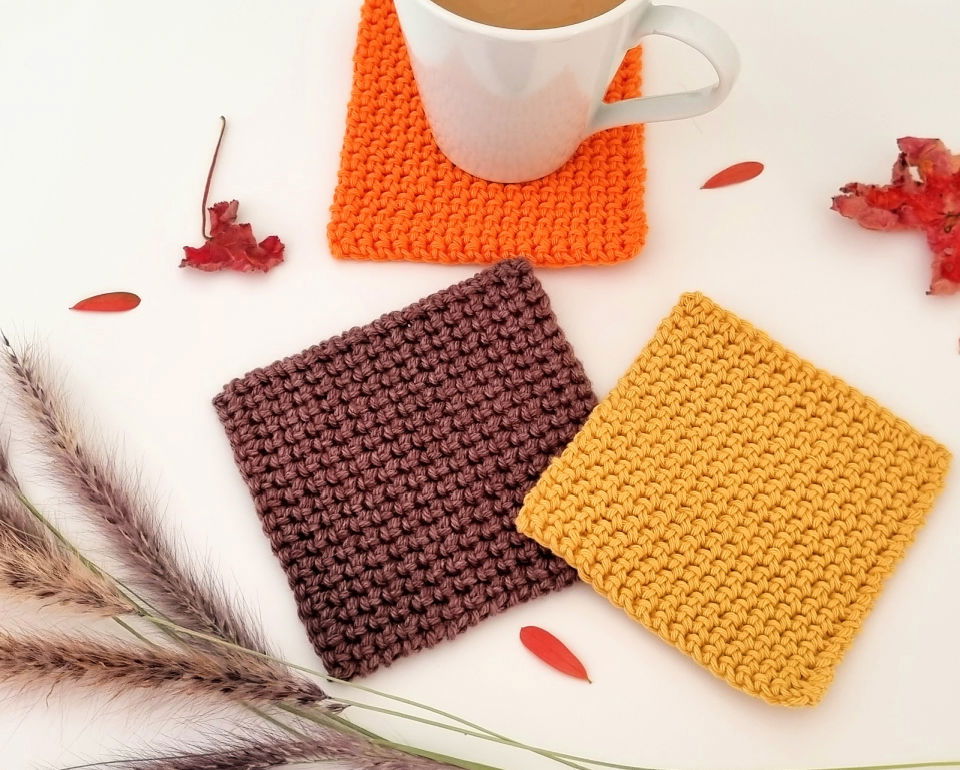 Make your home cozy and stylish with this free thermal crochet coaster pattern! This intermediate-level crochet project is perfect for a quick gift or to give your space some added warmth. Use four seasons flinders cotton 8ply yarn and 4.5mm (7) hook to make beautiful coasters that measure up to 4 inches wide and long but can easily be adjusted as needed. Mix and match different colors according to the season for an ever-changing selection of vibrant, handmade pieces. Make something special today – download this free thermal crochet coaster pattern now! mycrochetspace
2. How to Crochet Picot Points Coasters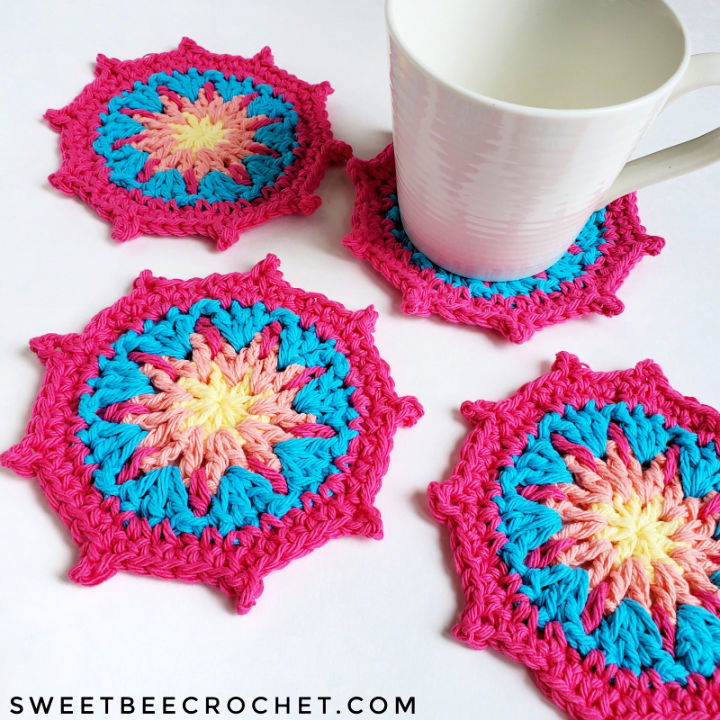 These free crochet coaster patterns add a touch of handmade magic to your home! With only five rounds and 18 yards of worsted-weight cotton yarn, these projects are super easy to make and the perfect stash buster. Plus, they're easily customizable in colors for added personal touches and can be used under plant pots to help protect your table tops from getting scratched. Get started today by gathering some Bernat Handicrafter Cotton Solids, a 5mm hook, yarn needle, and scissors – have fun creating beautiful coasters that will add something extra special to your home decor! sweetbeecrochet
3. Beautiful Crochet Boho Coaster Pattern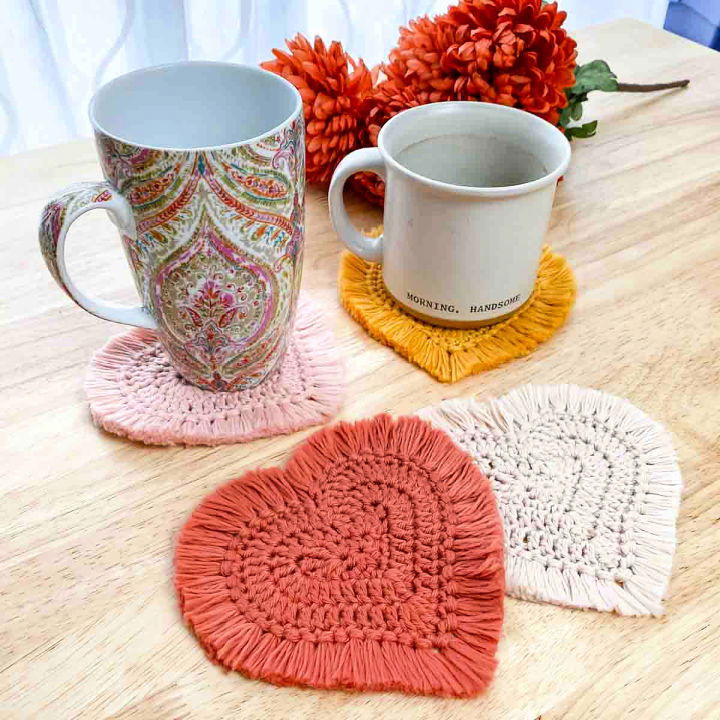 This free and adorable boho crochet heart coaster pattern brings romantic charm to your home. All you need is a 7, 4.5mm crochet hook; i love this cotton yarn; and a large eye yarn needle. Follow the step-by-step instructions starting with a magic ring; no chain is required for rows 2 – 4 – easy! Make several cute coasters that will look great in your space year-round, or give them as thoughtful gifts for valentine's day or any other special occasion. stitching together
4. Quick Easy Crochet Coaster Patterns
Make a last-minute gift or add a colorful touch to your home with this quick & easy crochet coaster pattern! Worked in any worsted-weight cotton yarn, these coasters look great in multiple colors or as one color. With just a 4mm (G-6) crochet hook, lion brand 24/7 cotton, and other supplies, you can have them ready before you know it. Follow the free step-by-step instructions and watch the video tutorial if needed. Get creative and make some now! theloopylamb
5. Crochet Mushroom Landscape Mug Rug Pattern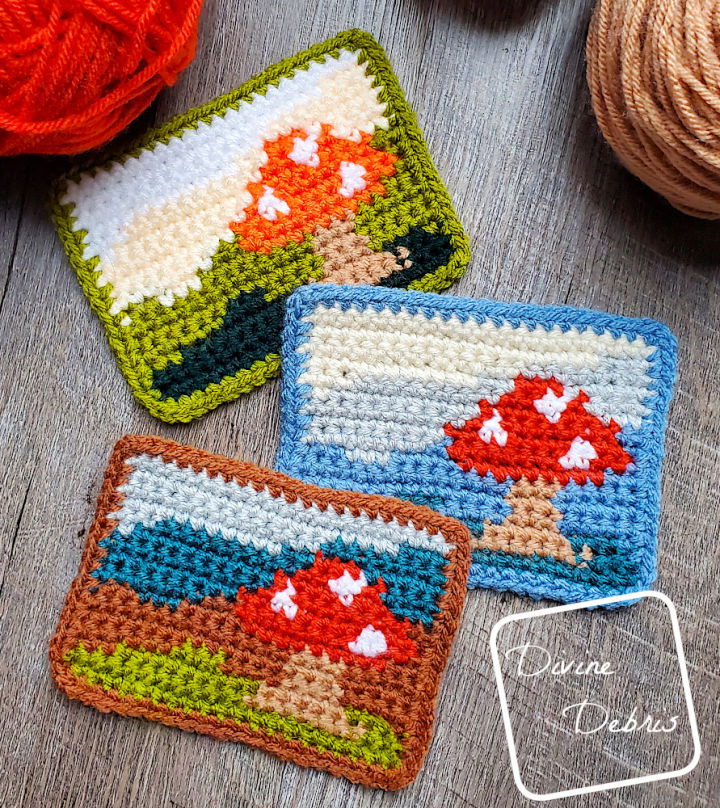 Crochet a fun and unique mug rug with this free mushroom landscape mug rug pattern! Perfect for stash busting, all you need is yarn, a crochet hook, and some notions. This pattern works quickly with the rows from the bottom up in single crochet stitches. Remember blocking to give it that extra special touch! Make one for yourself or your favorite mushroom lover today! divinedebris
6. Crochet Granny Square Coaster Pattern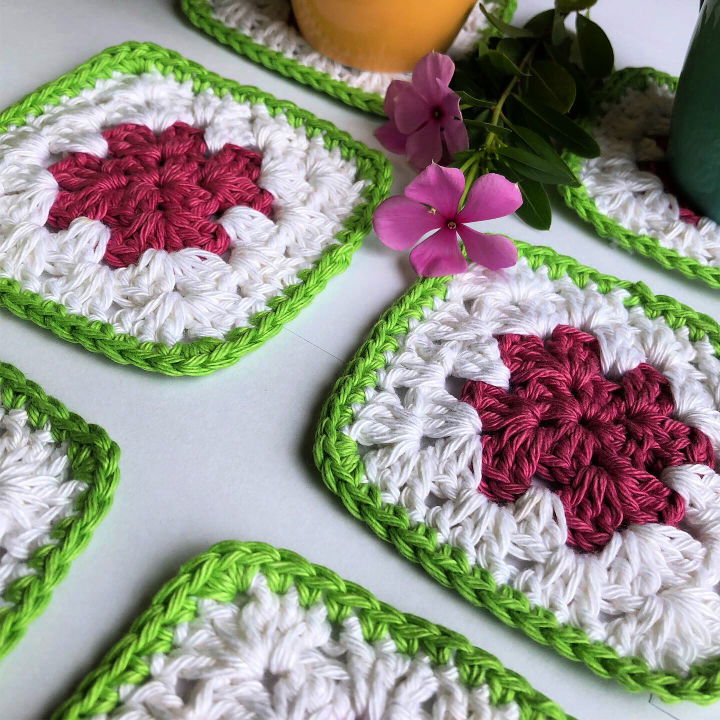 This awesome free crochet granny square pattern is perfect for home decor projects! Learn step-by-step how to make a beautiful two-color granny square with easy instructions. You can easily add more colors if you wish, grab your 3mm crochet hook and anchor 4-ply knitting yarn and get creative! Crochet this timeless classic today – it's sure to bring warmth and charm into any room in your house. aseemcreations
7. Free Crochet Doily Round Coaster Pattern
Brighten your home this winter with our free crochet winter blues table mat and coaster set! This easy-to-follow pattern uses caron little crafty yarn for a vibrant, colorful look. The circle shape gives it a unique touch, and the medium-weight yarn makes it perfect for small projects like pompoms and other crafts. Slip stitch to join at the end of each round or work it in wider stripes of color; either way, you can create a beautiful set of mats and coasters that will enhance any dining experience. Get yours today! oombawkadesign
8. Thread Crochet Monogram Coaster Patterns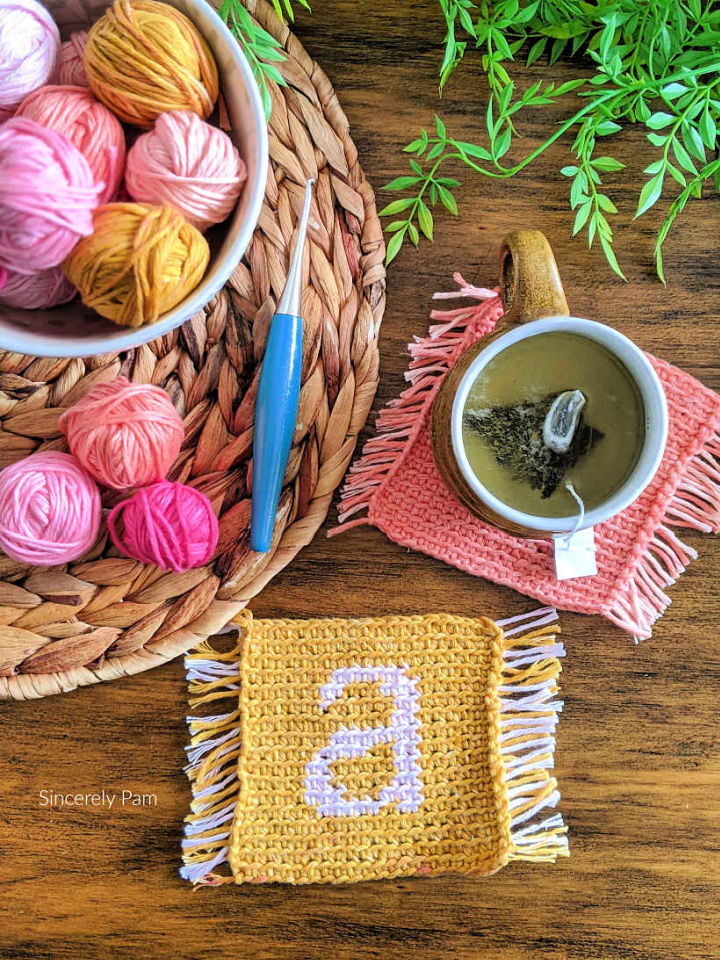 Protect your tables with personalized monogram coasters/mug rugs! This free crochet pattern has step-by-step instructions to create stylish and functional home decor. With the right materials – yarn loops & threads cotton colors, hook 3.5 mm (e), tapestry needle – these coasters are worked in rows from the bottom up and back loops only, plus a reattaching at the beginning of the row with slst into both loops. These will be the perfect addition to summer barbecues and dinner parties! sincerelypam
9. Crocheting Square Heart Coaster Pattern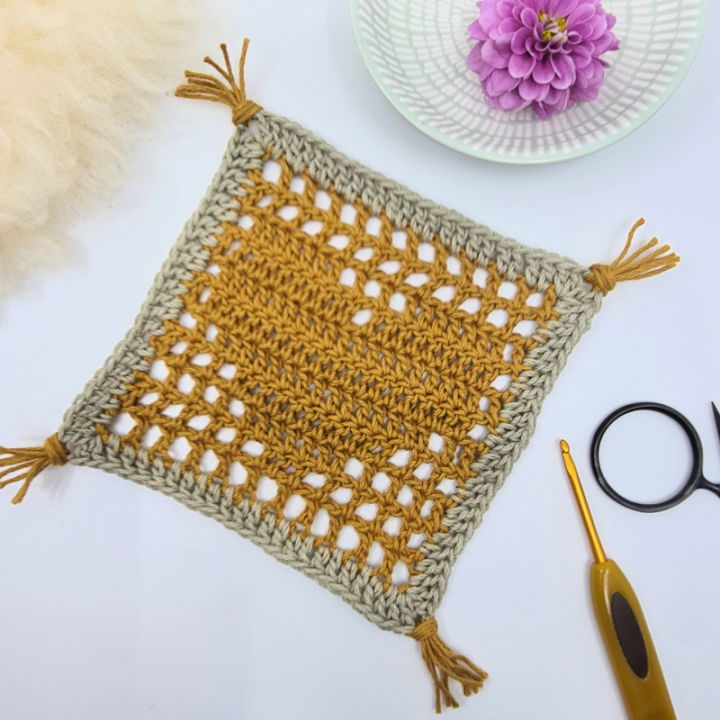 Create a special gift with this free crochet square heart mug rug pattern! It worked up in two parts, the inner square and one round of double crochet stitches around the square. It is simple and quick to make. Choose from yarns like garnstudio drops safran, scheepjes catona, or Korea deluxe organic cotton, and add fringes or decorations for a personal touch. The perfect handmade present for someone special! lostincrochet
10. Funky Crochet Coaster Set Pattern
Are you looking for a fun and modern project to up your crochet game? Look no further! These free, funky crochet coasters only take between 30 minutes to an hour and make the perfect advanced beginner project. All you need is a free pattern, scheepjes catona yarn, a 3.5mm hook, scissors, and a needle – then you're ready to go! Get creative with colors or patterns and show off your new skills by using the finished products as decoration in any room of your house. offthehookforyou
11. Modern-Style Crochet Yarn Coaster Patterns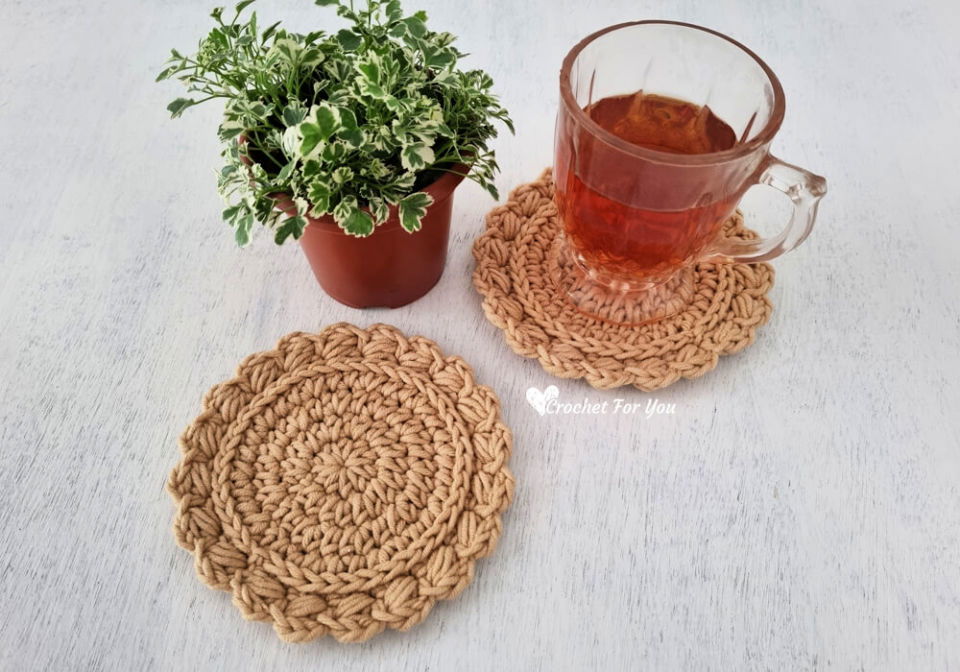 This free modern crochet coasters pattern is a great project for those who want to add a simple and minimalistic style to their home decor. With step-by-step instructions, you can easily make these single crochet and puff stitch coasters with the third loop technique. The materials needed are ice yarn lorena worsted yarn, an H-8/5mm crochet hook, a tapestry needle, and scissors. Although this pattern is suitable for intermediate-skill level crocheters, it's easy enough for those with basic crocheting to complete it quickly – making it a perfect stash buster! crochetforyou
12. Halloween Eyeball Coaster Crochet Pattern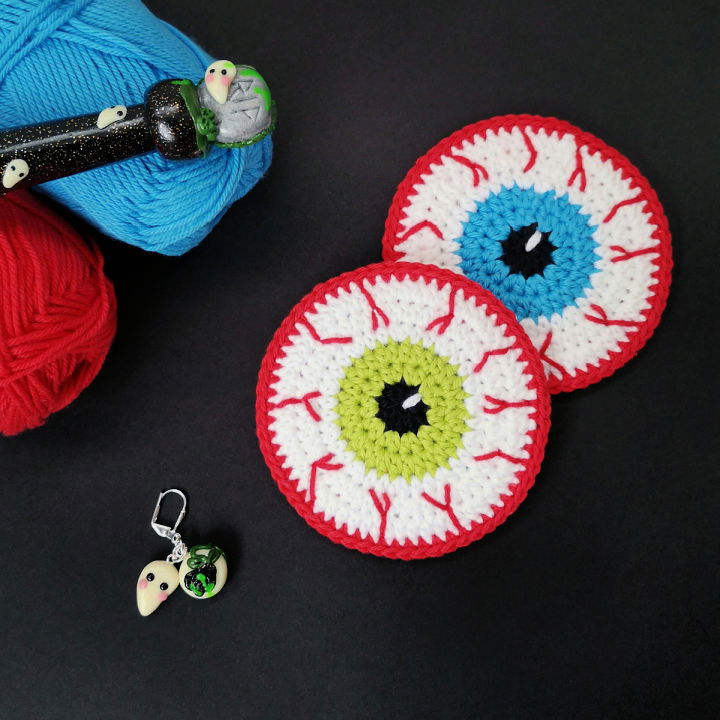 Decorate for Halloween with these free, fun, and homemade eyeball coasters! This crochet pattern is quick to make and uses a small amount of yarn, so it's perfect for craft fairs or last-minute gifts. Double-sided for added thickness and absorbency, the back looks just as good as the front. Made using paintbox yarns cotton DK, a 3mm crochet hook, a yarn needle & scissors – this pattern measures approximately 3.5″ x 3.5″( 9cm x 9cm). Get creative and start making your own today! stitchbyfay
13. How to Make a Drink Coaster – Free Crochet Pattern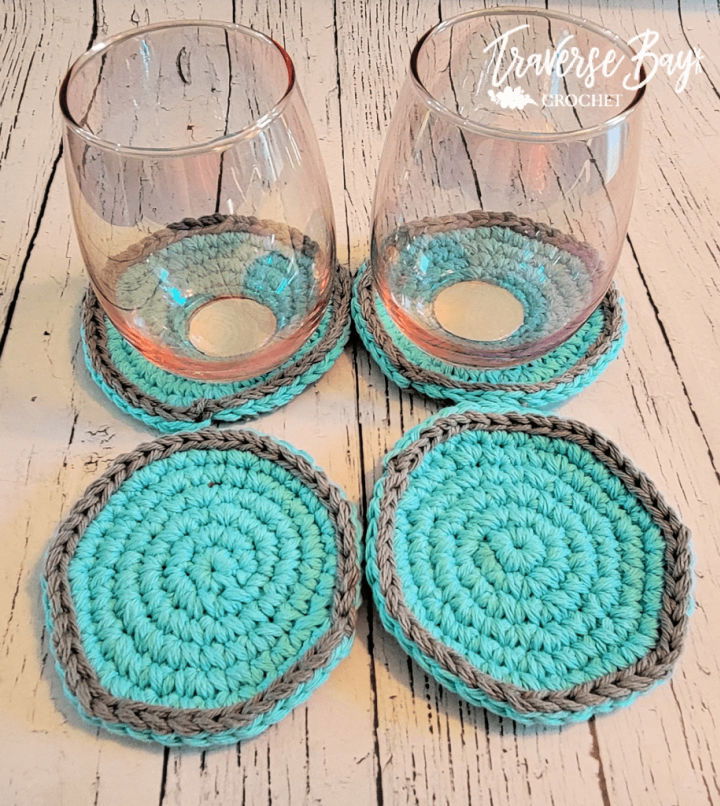 Create a unique set of coasters with this free and easy crochet pattern! Quick and simple to make, you can finish crafting a set in just one evening. The instructions come with a PDF, so you have all the information at your fingertips. The finished coasters measure approximately 4″ x 4″, giving them an eye-catching look that adds extra flair to your home décor. All you need is some Lily sugar'n cream solids & denim yarn, along with a 5 mm crochet hook and tapestry needle. Get started on this cute project today! traversebaycrochet
14. Crochet Coffee Cup Coaster Diagrams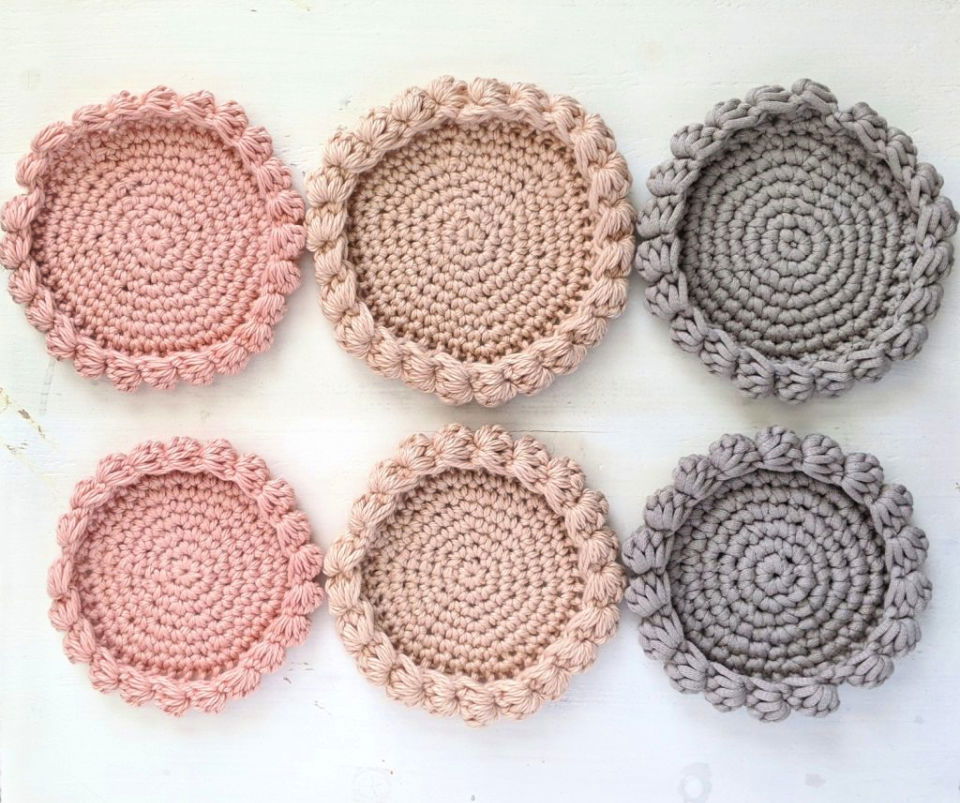 Crochet an eye-catching and practical home decoration with this free pattern for a mug nest coaster. With two different types of yarn and three varying styles, you can make small or large coasters that are perfect for any room in the house. Advanced beginners need to know how to work with double strands to get started and will be delighted with the final product! All you need is hobby lobby i love this cotton, bernat maker home dec, a 5 mm hook, scissors, a tapestry needle, and some skill level – now start crocheting your own unique Mug Nest Coaster! jessicapazcreates
15. Crochet Spring Flower Coaster Pattern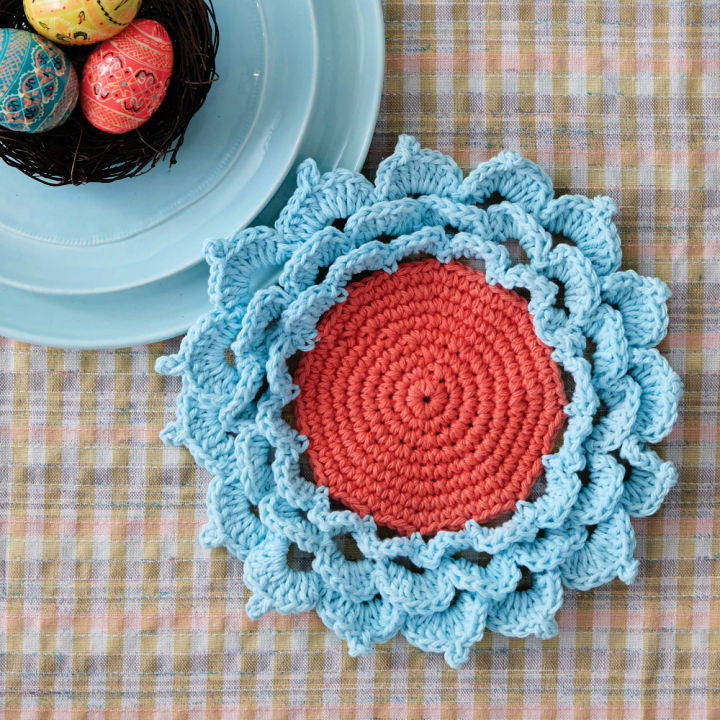 Protect your furniture with this beautiful, 3D petaled crochet bernat spring flower coaster. This crochet flower coaster pattern is easy to make with step-by-step instructions and requires only bernat handicrafter cotton yarn in the color of your choice. Choose from tangerine, robin's egg, or any other shades that inspire you! All you need is a 5mm (H) hook for this coaster. Join all rounds with a slip stitch to the first single crochet, then draw new colors through the last two loops when changing colors on each round. Make something special for springtime today! yarnspirations
16. Fun and Easy Crochet Circle Coaster Pattern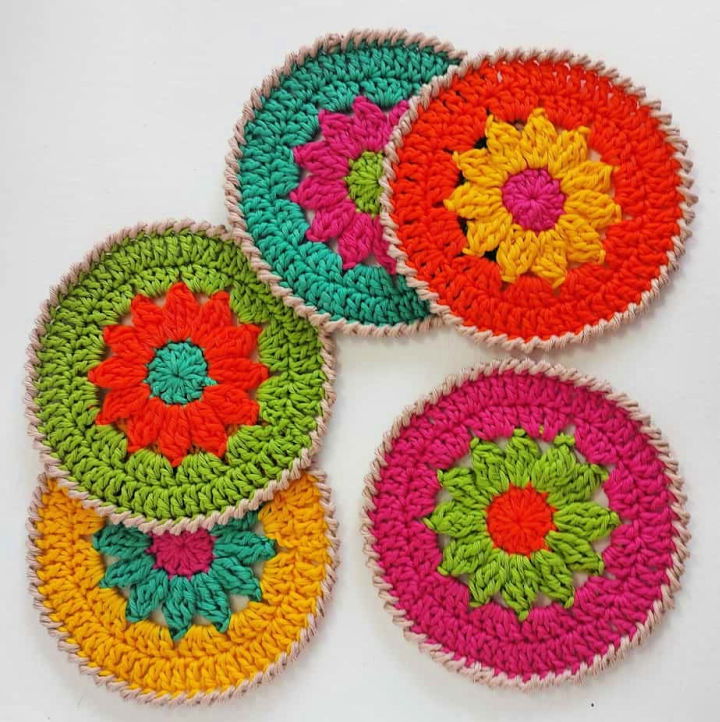 Brighten up your coffee table with these fun and easy crochet flower coasters! An assortment of vibrant colors makes them a perfect addition to any home decor. Plus, with the free pattern, you can use small amounts of yarn in your stash! These 15cm (6in) across coasters are great for outdoor dining, too – they look wonderful in bright color combinations on summer tables. You need a 4.5mm hook, yarn needle, and scissors. So why not add some cheerful crochet flowers to your home today? anniedesigncrochet
17. Easy Crochet Coaster Pattern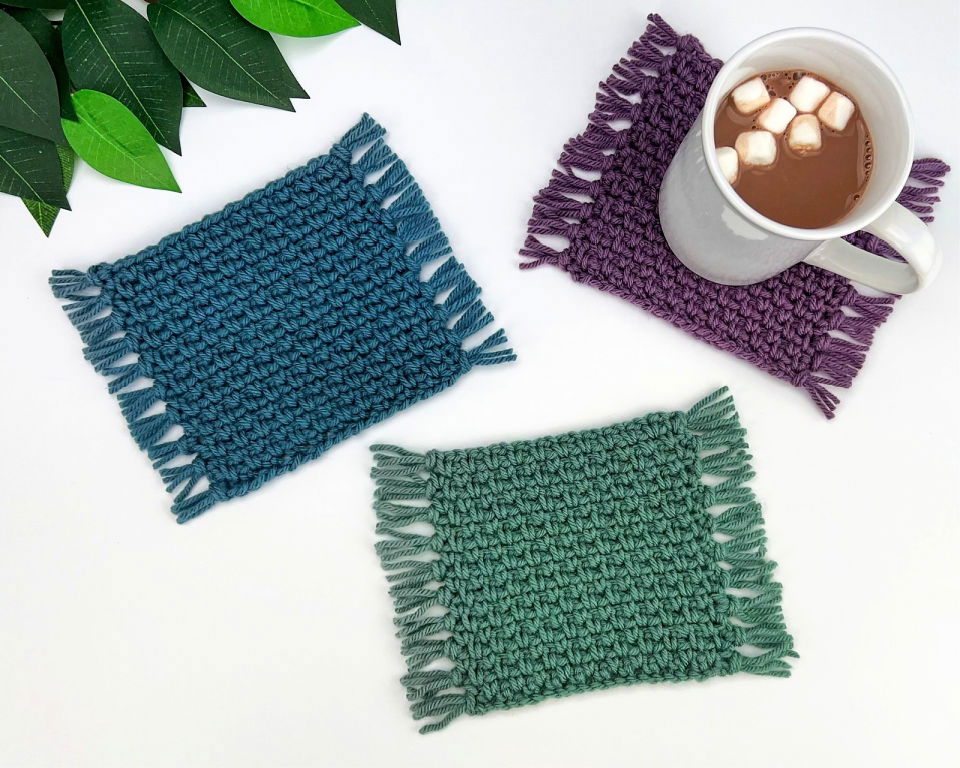 Looking for a fastand easy crochet project? This free pattern creates a crochet mug rug that is approx. 5″ x 5″, perfect for adding extra coziness to your home! With only 35 yards of worsted-weight yarn and basic materials like a crochet hook, scissors, measuring tape, and yarn needle needed, this is an easy project that makes it in no time. The included instructions also show you how to make and attach the tassels quickly – so grab your supplies now and get crochet with this simple yet stylish mug rug pattern! jototheworld
18. How to Crochet Apple Coaster – Free Pattern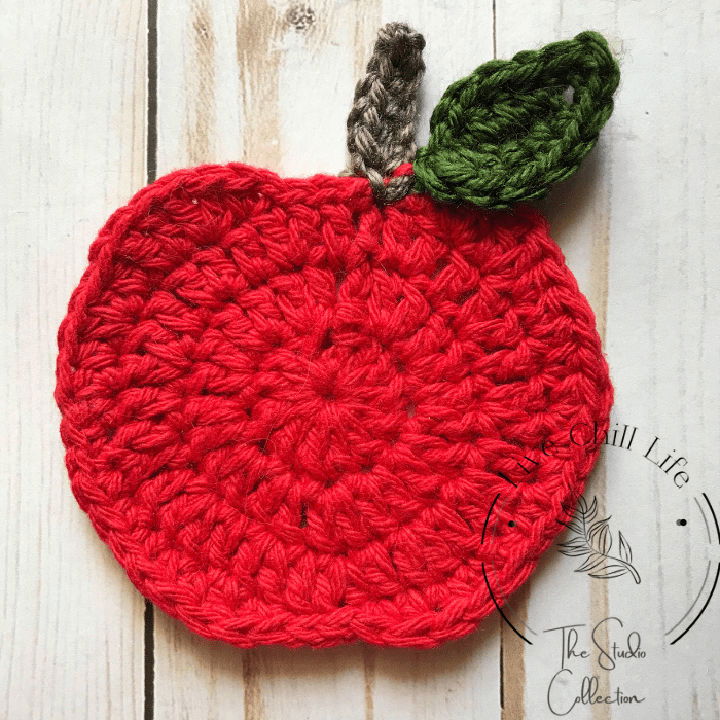 Learn how to make these sweet apple coasters with a free pattern! You'll love this easy crochet project, perfect for gifts, stringing together over the hearth, or as seasonal coasters. Video tutorial included helping get perfect results. Supplies needed are 100% cotton yarn, 4mm/4.5mm crochet hook, and big twist cotton yarn – all easily found in any craft store. So grab your supplies and follow along; it will be soon that these adorable coasters will be ready to use! livechilllife
19. Crochet Your Own Fruit Coasters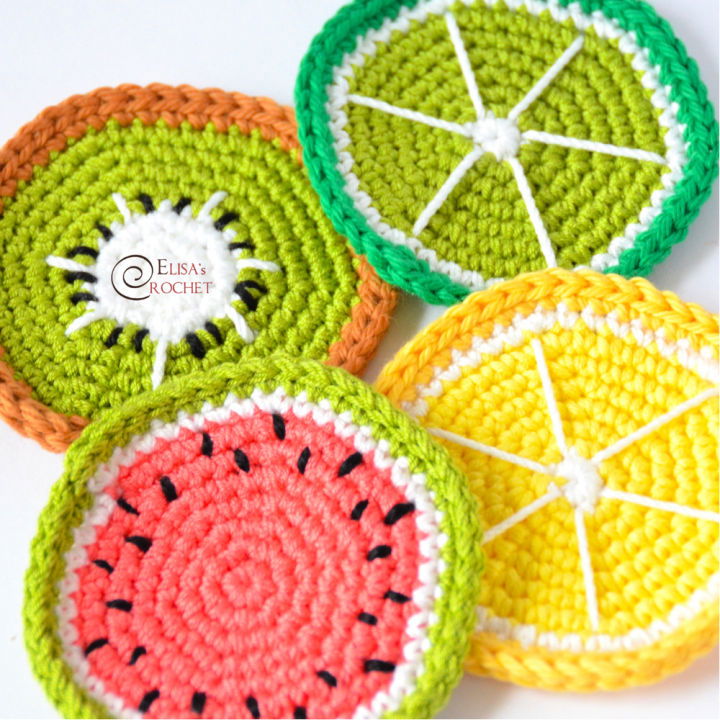 Whether you are a beginner or someone already experienced in crocheting, this free pattern is perfect for bringing an extra splash of color and fun to your outside table! Get ready to be amazed by the four cute fruit crochet coasters you can make with just some yarn from hobby lobby i love this cotton and lion brand zz twist, as well as hook E/3.50 mm. So don't hesitate anymore- try out this easy craft project today and impress everyone with your new fruity home décor! elisascrochet
20. Free Crochet Sunflower Coaster Pattern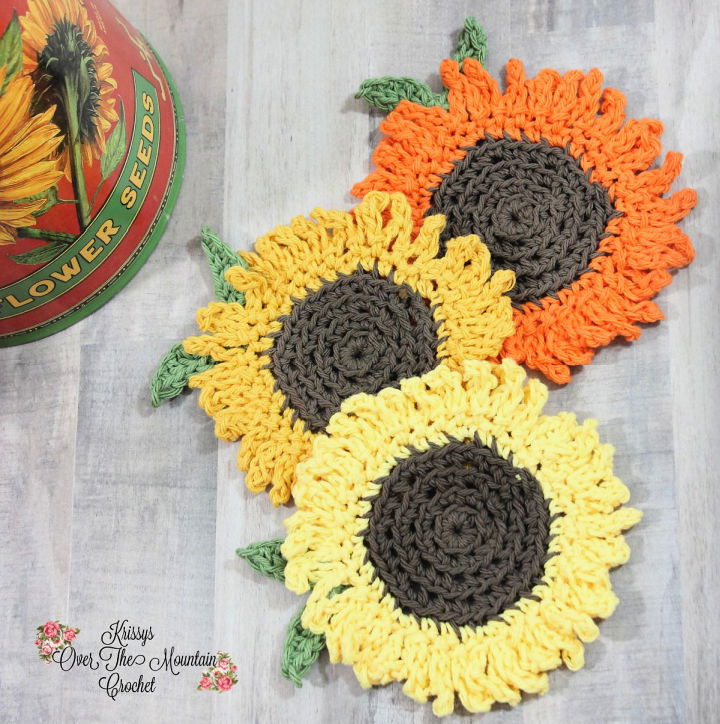 Start crocheting this free and adorable sunflower coaster pattern with the Thirsty dishcloth yarn for a perfect absorbent accessory to your glass or mug. Get step-by-step instructions and supplies like pisgah yarn & dyeing Co. peaches & creme solids, along with a size H/8 5.00mm crochet hook that is required! This coaster is so fast and easy to make you'll want to whip up more in no time. Perfect for any occasion, add the cute finishing touch of a sunflower crochet coaster today! krissysoverthe
21. Free Crochet Fall Pumpkin Coaster Patterns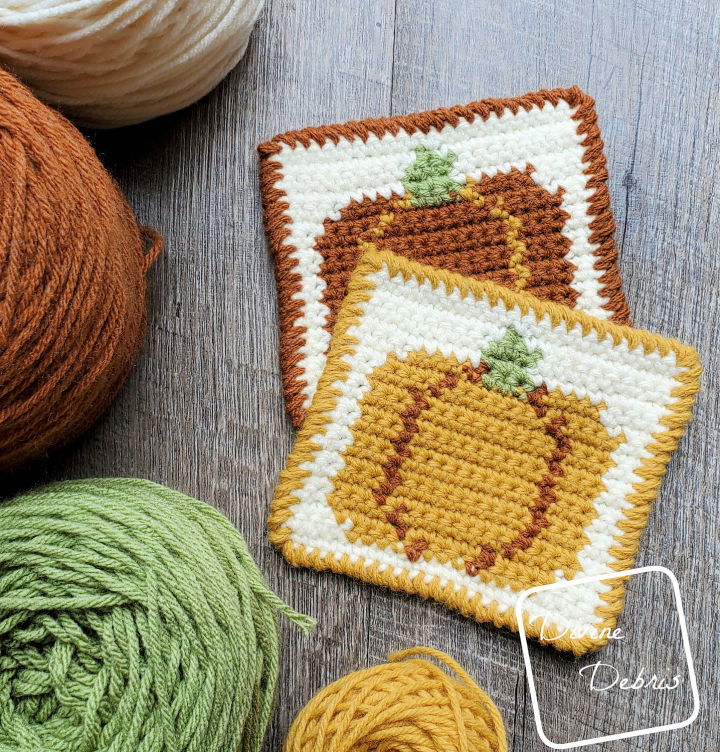 Welcome the fall season with this festive and stylish handmade coaster that you can make yourself. With our free Fall Pumpkin Coaster Crochet Pattern, you'll have a great way to decorate your home while showing off your crochet skills. This intermediate pattern is worked from the bottom up in rows and uses lion brand pound of love yarn. Gather your supplies, such as a 4mm crochet hook, scissors, measuring tape, and yarn needle, to start crocheting! divinedebris
22. Candy Corn Coasters Crochet Pattern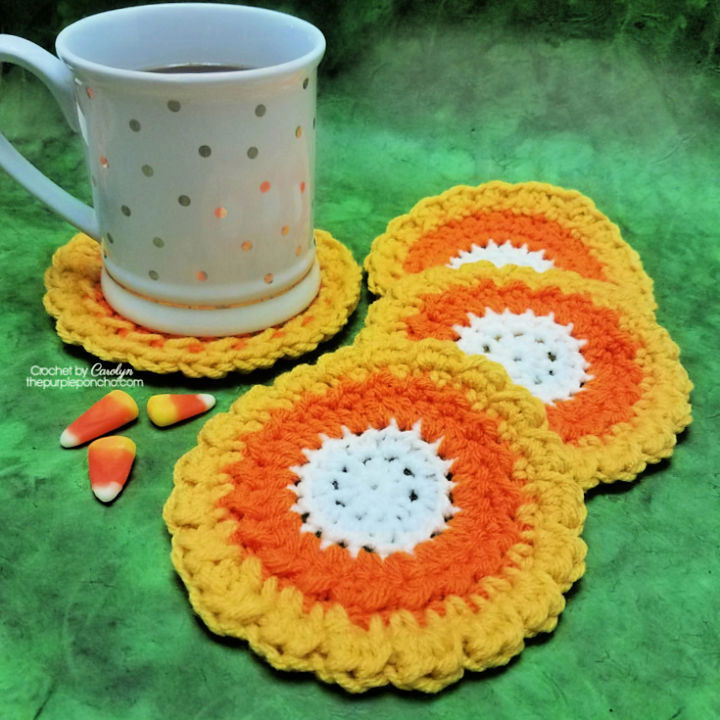 Add festive fun to your Halloween decor with these cute crochet Candy Corn Coasters. This free pattern is perfect for beginners, as it only requires basic stitches such as half double crochet, chain, and slip stitches. You'll need red heart super saver solids yarn, a hook H/8 – 5.00 mm, and a yarn needle to make this adorable Halloween decoration. Worked in the round with stitch counts at the end of each round and turning after each one; you'll be able to create these coasters quickly and easily! Crochet over tails when changing color too! Get ready to spook up your home décor today with this free candy corn coaster pattern! thepurpleponcho
23. How to Crochet Wordle Coasters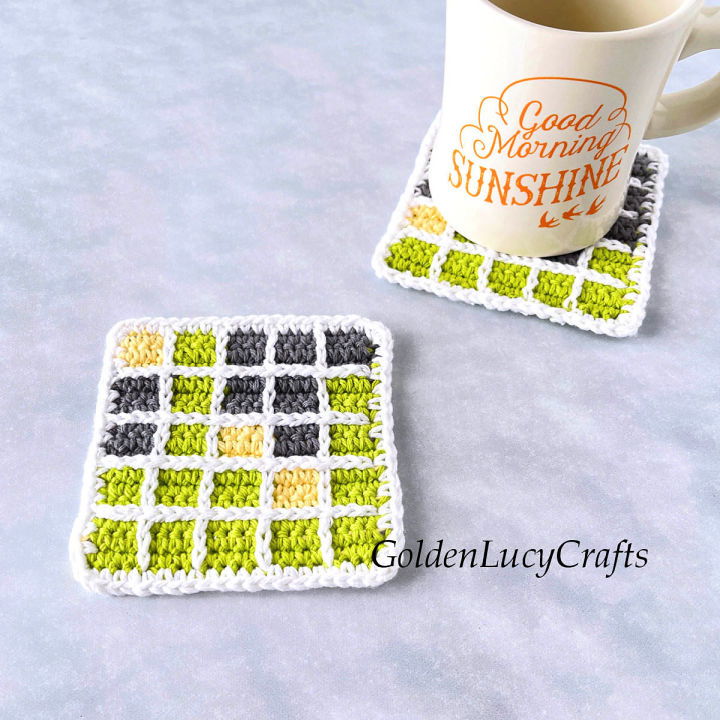 Make your home unique with this free crochet Wordle Coasters pattern! This adorable set of coasters is perfect for giving as a gift or keeping for yourself. The step-by-step instructions are easy to follow and complete with the materials needed, including sugar'n cream cotton yarn, size 7 (4.5 mm) and E/4 (3.5 mm) crochet hooks, and a stitch marker. Your friends and family will love playing their favorite word game on these fun coasters you made yourself! goldenlucycrafts
24. Easy Crochet Square Coaster Pattern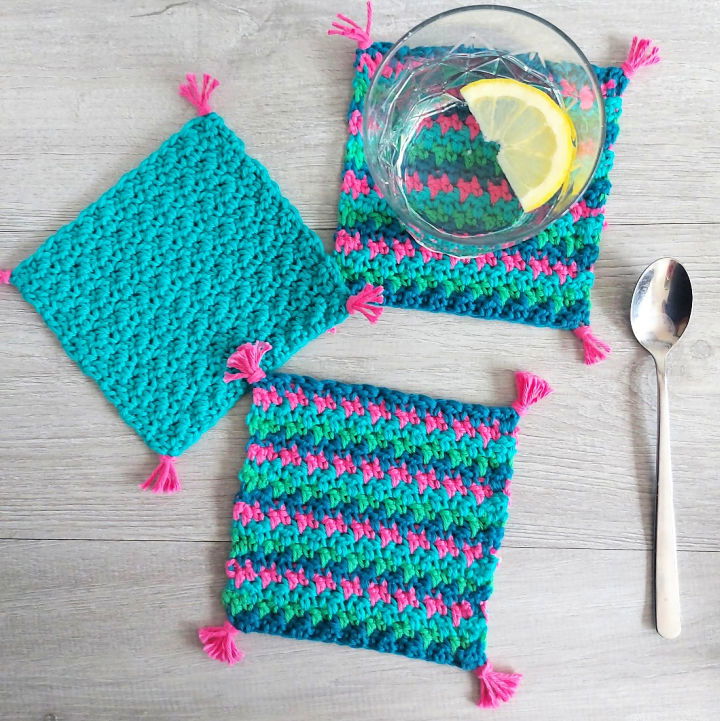 Create stylish and durable crochet square coasters with this free pattern! Perfect for protecting coffee tables, kitchen tables, and more. Make them in different colors to match any season or home decor, adding fun tassels or fringes for a unique touch. It's easy to customize the size of the coasters; all you need is some yarn, a 4mm crochet hook, a yarn needle, and scissors. Start crocheting today and add a beautiful handmade gift to your home! anniedesigncrochet
25. Free Square Crochet Coaster Patterns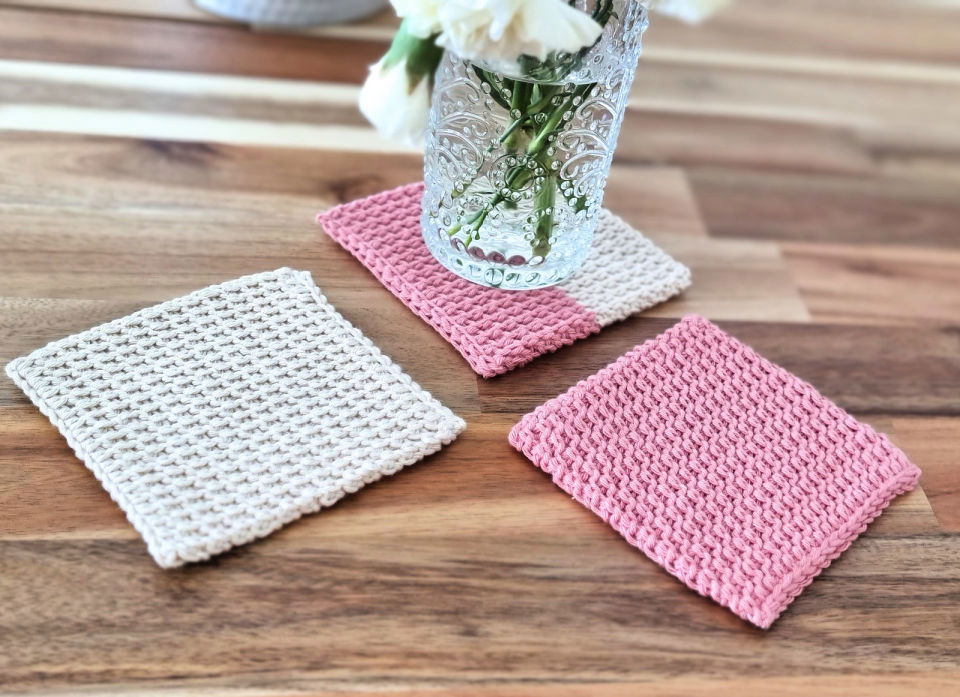 These modern square crochet coasters are an ideal last-minute gift for any occasion! They look great on your kitchen or table and will stay in shape due to their thick texture. The pattern uses the thermal half double crochet stitch. Just grab four seasons flinders cotton 8ply yarn, a 4mm (G) hook, some scissors, and a yarn needle, and you're ready to go. Each coaster measures 4.5″ wide x 4.5″ long but can be easily adjusted by adding more or fewer chains & rows. Get creative with colors & patterns – perfect for home decorations that make a statement! mycrochetspace
26. Super Simple Crochet Coaster for Beginners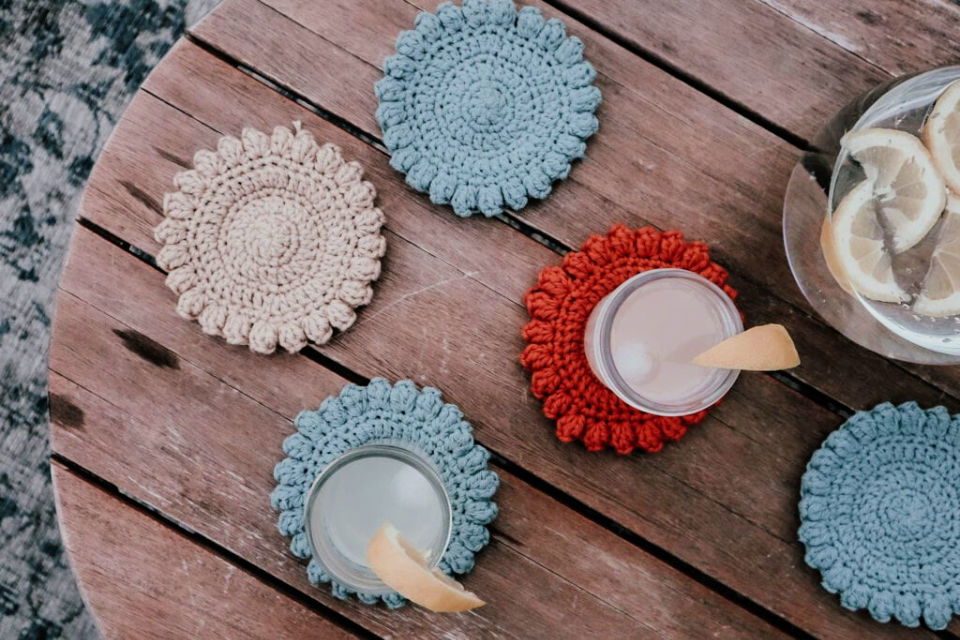 Start your crochet journey with these super simple coasters! Perfect for beginners, this free pattern is easy to follow and uses just two stitches. Choose beautiful colors of paintbox yarn, recycled cotton worsted yarn, or use some scrap yarn to make them uniquely yours. With a 4.5mm crochet hook, tapestry needle, and scissors, you can quickly create the perfect housewarming gift or last-minute present in no time! Download the free PDF today and get started on your cozy coaster project now! sigonimacaroni
27. Crochet Moss Stitch Cup Coaster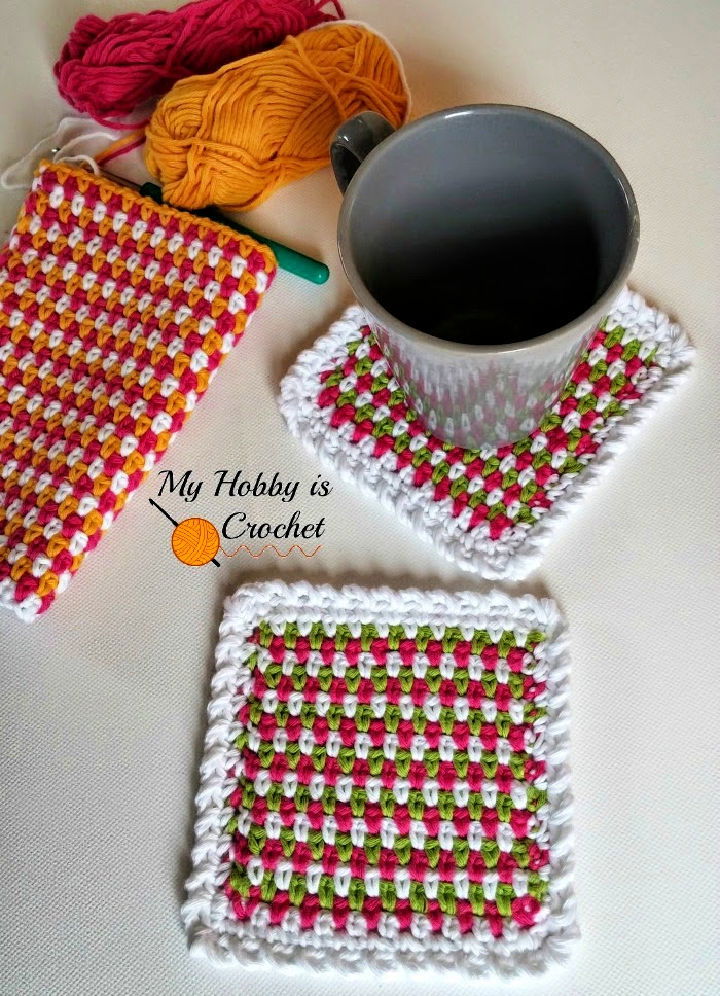 Upgrade your coffee table with this free crochet pattern for making beautiful moss stitch coasters. These cheerful coasters will add a touch of color to any room! With step-by-step instructions and an accompanying tutorial, you'll learn how to work the tricolor woven stitch in no time. All you need is some cotton yarn DK, a 4 mm crochet hook, a tapestry needle, and scissors – it's that easy! Follow this pattern and start your first project now – perfect for beginners or experienced crocheters alike. The woven stitch (aka the moss stitch/linen stitch) is a multiple of 2 + 1 – so make sure to start with an even number of chains. Get creative as you mix colors and create unique pieces every single time! myhobbyiscrochet
28. Vintage Crochet Coaster Pattern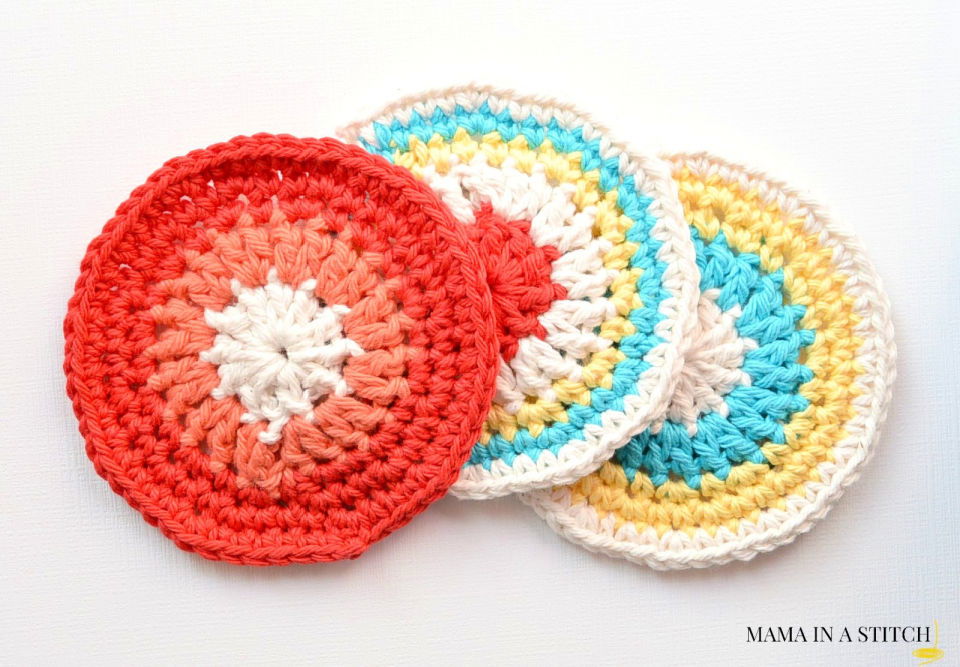 Looking for a crochet pattern to give your home more life and color? Try these colorful little vintage coasters! It's an easy project, perfect even for beginners – all you need to know is single and double crochet. Use up those bits of yarns or partial skeins sitting around the house with this awesome pattern that won't break the bank. You'll need a 3.75 mm crochet hook, lily sugar cream yarn (or comparable worsted weight), scissors, and a tapestry needle. Get crafting today and make your living space just a bit brighter! mamainastitch
29. Free Crochet Pattern for Coaster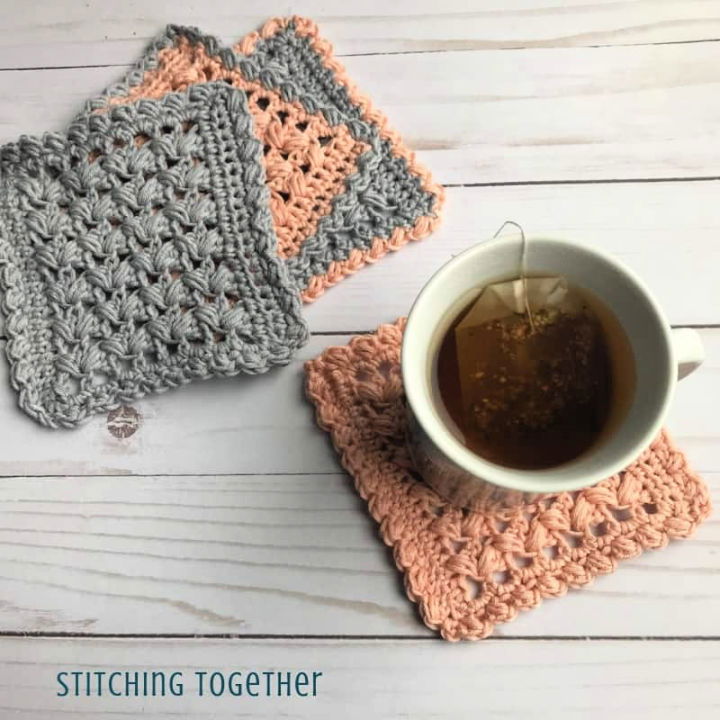 Crochet coasters – upcycle your old mugs with this designer remix square crochet coaster pattern. This project is easy and simple, perfect for anyone starting in crochet or an experienced crafter looking to add a unique decorative touch. With step-by-step instructions, you'll be able to make these stylish crochet coasters in no time! All you need is some Premier Yarn Cotton yarn, a 4.0 mm hook, and a large eye needle – then get crocheting! stitching together
30. How to Crochet a Car Coaster – Step by Step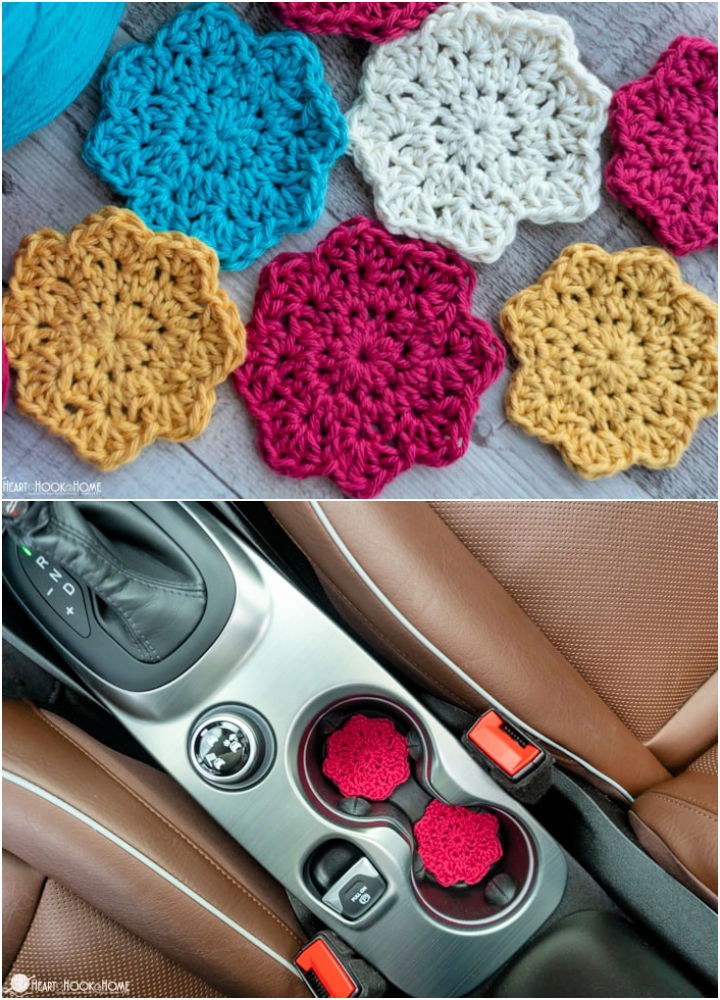 These free crochet coaster patterns allow you to make a car coaster quickly and easily. This small, useful item is great for keeping the condensation from your cold beverage off the cup holder in hot weather. All you need is cotton yarn and a 4mm (G) crochet hook – so why not try it out today? It's an ideal project for anyone looking to get started with easy crochet patterns or perfect their skills. So grab some supplies and start crocheting now! hearthookhome
31. Free Crochet Sunrise Coaster PDF Pattern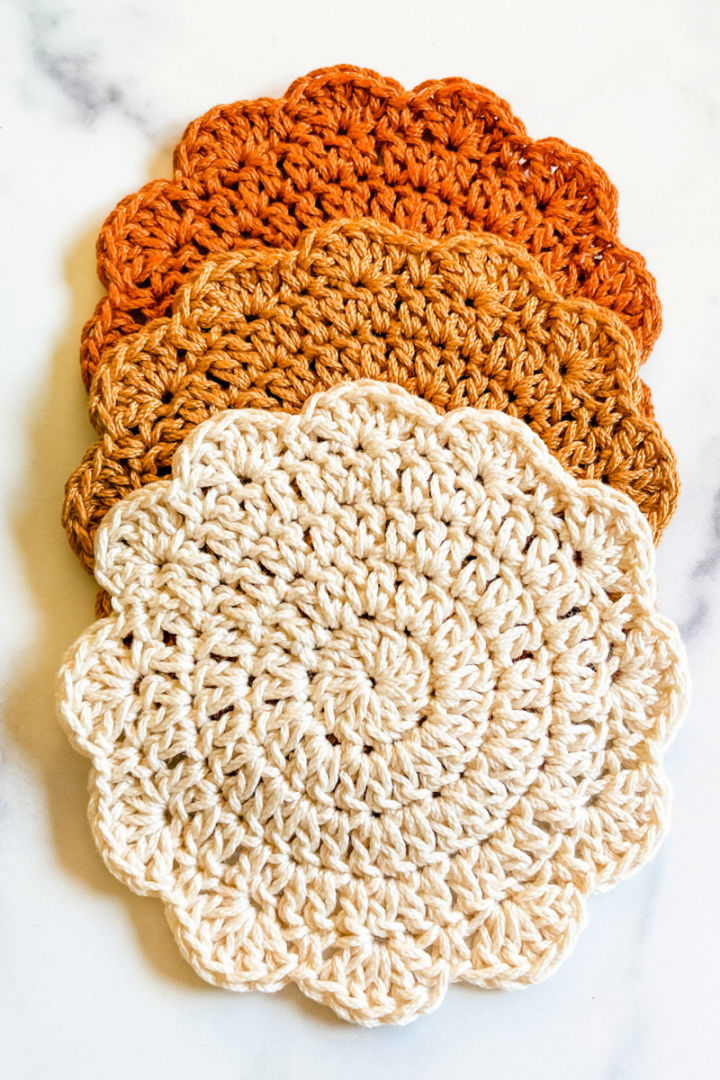 Fall in love with the awesome sunrise coaster! This free crochet beverage mat pattern is perfect for crocheters of every skill level and can work quickly. You can make your coaster set in solid colors, or get creative by changing color each round – endless possibilities! You'll need lion brand yarn, a 4.5mm crochet hook, scissors, a tapestry needle & stitch markers to complete this awesome project. Starting ch-2 counts as a dc throughout the pattern & this pattern uses crochet shorthand – make sure you know what "2dc" means before starting! Get started today & add some handmade beauty to your home. tlyc
32. Cute Penguin Coaster Crochet Pattern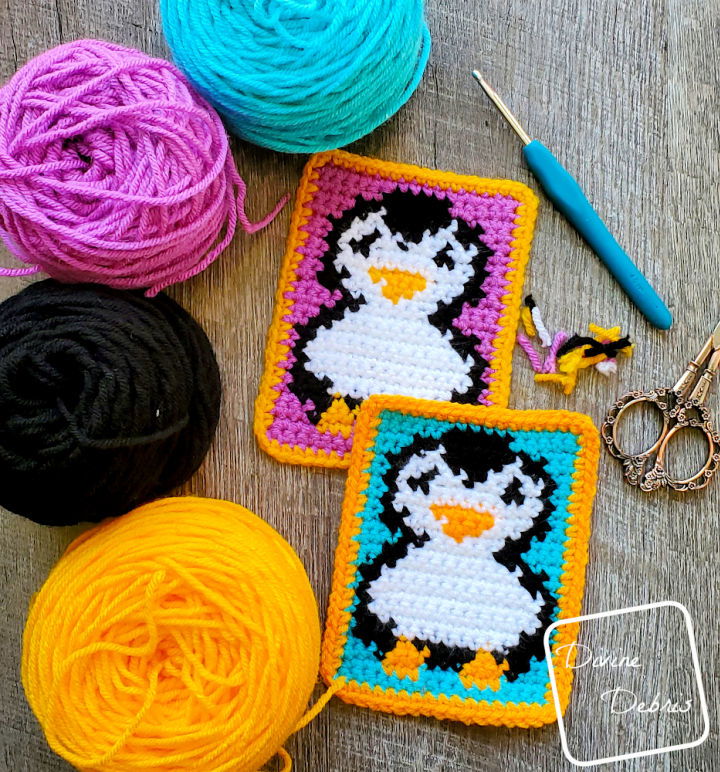 Snuggle up for winter and make a cute penguin coaster with this free crochet pattern! Perfect for intermediate-level crocheters, you will need a US G (4.00 mm) crochet hook, worsted weight/ size #4 yarn in four colors, scissors, measuring tape and yarn needle to complete the project. The finished piece measures 5.5″ x 4″ – follow the instructions row by row with a turn at the beginning of each one as you work from the bottom up. Ch 1 at each start does not count as a stitch. Get cozy this season and make your very own penguin coaster! divinedebris
33. Free Crochet Farmhouse Coaster Pattern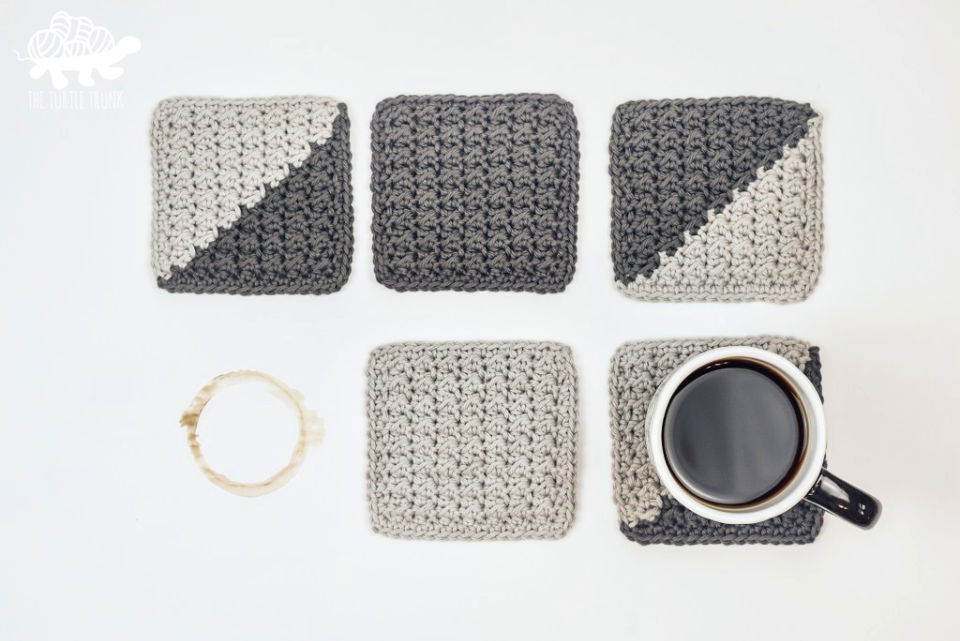 This adorable crochet coaster pattern adds the perfect touch to your farmhouse style! This easy, beginner-friendly project uses only a small amount of yarn, making it a great stash buster. The ridged texture is eye-catching and modern – make in solid colors or two tones, or mix them both for added contrast! This pattern includes detailed instructions (with photos), gauge info, supplies needed and a link to the free video tutorial. Finished size: 4.5″ x 4.5″ (can easily be adjusted). Get all you need for this stunning home décor add-on today! theturtletrunk
34. Crocheting a Turtle Coaster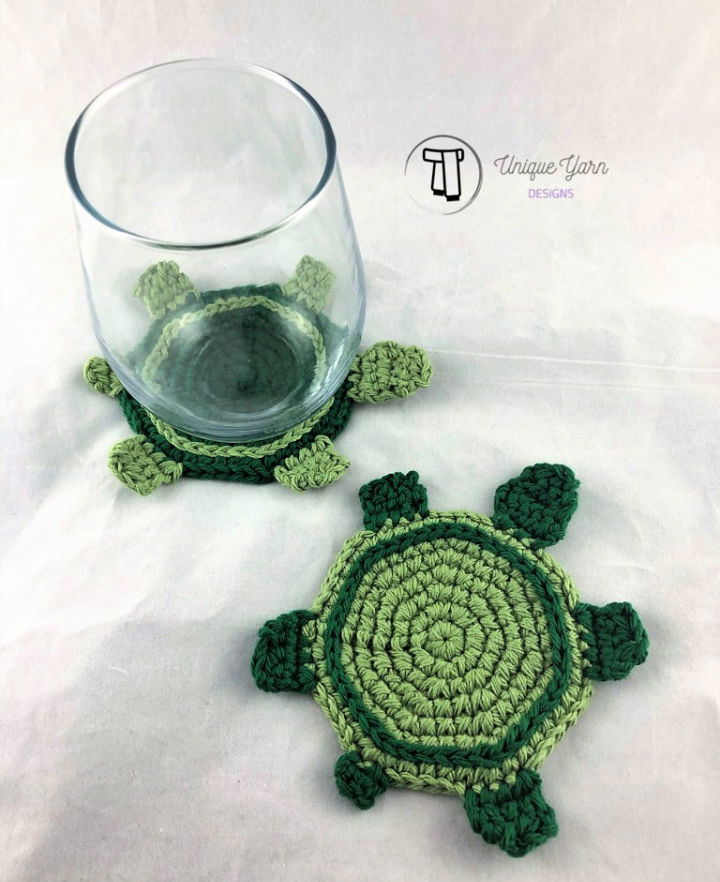 This free turtle coaster crochet pattern is inspired by a trip to the beach and makes a beautiful addition to your home. Made with a 4.5mm crochet hook, yarn lily sugar'n cream solids & denim peaches & creme original solids used in this pattern, it's easy to make with step-by-step instructions. This timeless turtle coaster uses a chain, single crochet, and slips stitch stitches for a look that will last more than 100 years! Get started on your unique turtle coaster now! uniqueyarndesigns
35. Free Crochet Cat Coasters Pattern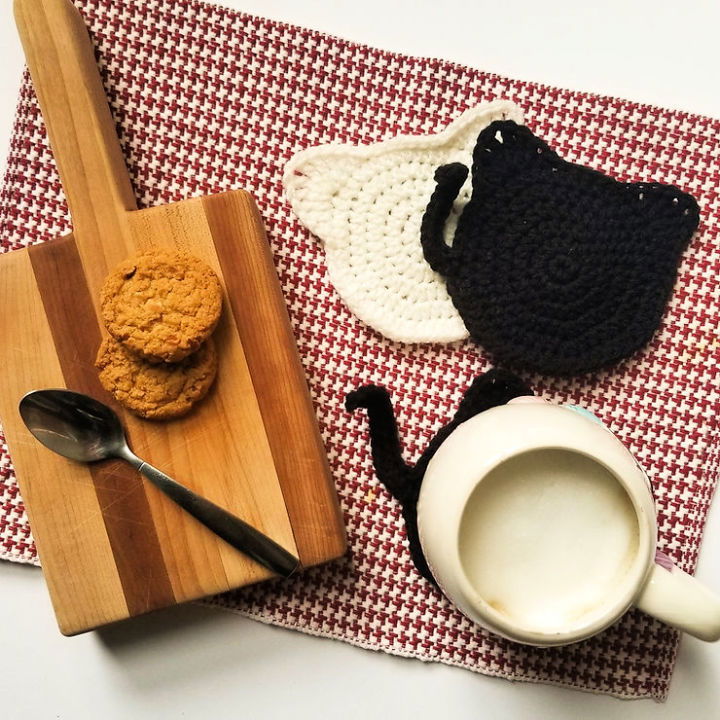 Welcome, crochet beginners! Get ready to crochet something special with this free, fun pattern: hades the black cat coasters. Make it in any color you'd like, and offer it as a gift to those you love. You'll need a size 7 / 4.5mm hook, less than 10g of worsted weight yarn, stitch marker – plus all the stitches, including half double crochet, double crochet, treble crochet and more! The coaster is 4.25″ (not counting ears or tail), so make crochet cat coaster today and show off your crocheting skills! lesmaillesamail
Frequently Asked Questions:
Discover free crochet coaster patterns for all skill levels. Get answers to your frequently asked questions about the crochet coasters pattern, materials needed & more! Find the perfect pattern to start today.
Which yarn is best for crochet coasters?
Cotton yarn is the best choice for crochet coasters. It is light and absorbs moisture quickly, making it ideal for absorbing liquid spills from drinks. Cotton also stands up well to wear and tear and won't stretch or pill over time like other fibers. Plus, cotton comes in various colors, textures, and weights, so you can find exactly what you need for your project.
What size should crochet coasters be?
The size of crochet coasters can vary depending on the pattern and stitch used. Generally, they should measure between 4 to 6 inches in diameter and be thick enough to absorb any liquids. Making them too small may not provide adequate drink coverage, while making them too large may take away from their decorative value. Experiment with different sizes to find the perfect fit for your project!
Are crochet coasters useful?
Yes, crochet coasters are extremely useful for protecting your furniture from hot and cold drinks. Not only do they look attractive, but they also provide insulation to keep the drink at a pleasant temperature. Furthermore, their texture helps absorb any accidental spills quickly, making them easy to clean. All in all, crochet coasters are both practical and stylish!
Can acrylic yarn be used for coasters?
Yes, acrylic yarn can be used for making coasters. It's a great way to add texture and color to any room. Acrylic yarn is also very durable and easy to clean, making it an ideal material for creating items that will last a long time. You can make beautiful and practical coasters out of acrylic yarn with the right combination of stitches and designs. Have fun exploring the possibilities!
How do you stiffen crocheted coasters?
Crocheted coasters can be stiffened by using a diluted mix of equal parts white school glue and water and then brushing it on the coaster. Once the glue has dried, use a hot iron to set the glue and provide additional stiffness. This method will help to make sure your crocheted coasters stay sturdy and long-lasting.
How do you keep crochet coasters flat?
To keep crochet coasters flat, use blocking techniques such as stretching the fabric and pinning it out on a foam board. Squaring off edges will also help keep them from curling up. Wet-blocking is recommended for best results, but dry-blocking works too. Additionally, acrylic yarn or starch spray can help ensure your coasters stay flat.
What do you put on the bottom of crochet coasters?
When crocheting coasters, use a slip stitch to secure the last round. This will help ensure the coaster is firm and prevent it from unraveling. Be sure to weave in any loose ends before using or gifting the coaster. This adds a professional finish and keeps your work looking tidy. Happy crocheting!
Related Crochet Patterns for Home Decor:
Related Free Crochet Patterns
Crochet Baby Hat Patterns: Create adorable baby hats quickly and easily with our selection of crochet baby hat patterns! Free, easy-to-follow instructions are included.
Crochet Infinity Scarf Patterns: Looking for an easy project to start your crochet journey? Try one of these beginner-friendly crochet infinity scarf patterns. Perfect for any season!
Crochet Cowl Patterns: Create a cozy and stylish cowl with our free crochet cowl patterns! Choose from easy to advanced designs and make the perfect handmade accessory.
Crochet Top Patterns: Unlock your inner fashionista with these free crochet top patterns, including crop top, tank top and more. Simple and easy to follow instructions.
Crochet Sweater Patterns: Discover free and easy crochet sweater patterns with our PDF pattern. Choose from a variety of styles to create the perfect handmade garment today!
Crochet Gifts for Men: Looking for the perfect handmade gift for him? Check out our free mens crochet pattern and create unique crochet gifts for the special man in your life!
Crochet Gifts: Make unique, handmade gifts with easy crochet patterns! Find ideas and inspiration for crocheting perfect presents for any occasion.
Crochet Shell Stitch Patterns: Discover free crochet shell stitch patterns for every occasion! From bags to scarves, find the perfect pattern for your next project.
Conclusion:
These free crochet coaster patterns offer a great way to make something unique and special. Whether you are a beginner or an experienced crocheter, there is sure to be a pattern that fits your skill level. From lacy designs to more intricate shapes, these crochet coasters can add beauty and practicality to any home decor. With so many options available, it's easy to find the perfect crochet coaster pattern for you – no matter your skill level!