We always need some coasters on our dining or coffee table to not let the food and beverage spills spoil the elegance of our modern furniture furnishings! From the dining table to side table and also from the party table to coffee table or any DIY furniture, crochet coasters can be used as the safety mediums between the table surface and your food utensils! If you love to work with your hands and are passionate about DIY projects, then you can also craft beautiful coasters at home! One can use various kinds of home materials to make cute DIY coasters but to crochet to coasters using your favorite yarn weights and colors would be above all!
If you are also a big fan of the softness of yarn and colors of thread, then you can also create beautiful crochet coasters using your crochet hook! We have shared here are 70+ free crochet coaster patterns with all instructions that are all adorable and super beautiful, and you can easily choose your favorite ones from the given collection! For free pattern for each of your favorite coaster project, just hit once the below-pasted link, this will also give you're the details project information, step-by-step tutorial and complete free instructions in some cases!
You can go with custom crochet stitches for beautiful textures that can result in graceful circles, hexagons or squares which would work great as beverage coasters! You can vary the yarn colors to change the decorative theme of your crochet coasters, for example, you can go with neutral hues of yarn to crochet farmhouse style coasters!
At the same time, you can also create beautiful rainbow coasters that may come in floral shape and also in the circle-in-circle, circle-in-square, and square-in-circle shapes! Moreover, you can even crochet a set of your favorite coasters that can be given as a gift to someone special! One can also pack them for a great housewarming DIY gift!

Next, you can crochet beautiful coasters that may be inspired by custom shapes you love a lot; a great example is the lovely heart shape coasters! Next, you can crochet coasters that may be inspired by the custom animal or fruit shapes, and a precious sample is the watermelon coasters showcased below!
You must go for a short visit of the entire collection to see a lot of inspiring free crochet coaster patterns that will be a delight to view on your tables! These free crochet coaster patterns are the most accessible and most straightforward one free crochet patterns ever, so do give them a try!
DIY Farmhouse Style Coasters Free Crochet Pattern:
You can continue hooking also for some brilliant coasters! Neutral hues will work great in a farmhouse style interiors, so here are the coasters, crocheted in neutral hues and would work great in a farmhouse style interior! These crochet coasters are super easy to crochet if you know the basic crochet skills! Complete tutorial and free crochet pattern here thepaintedhinge
DIY Free Crochet Coasters Pattern: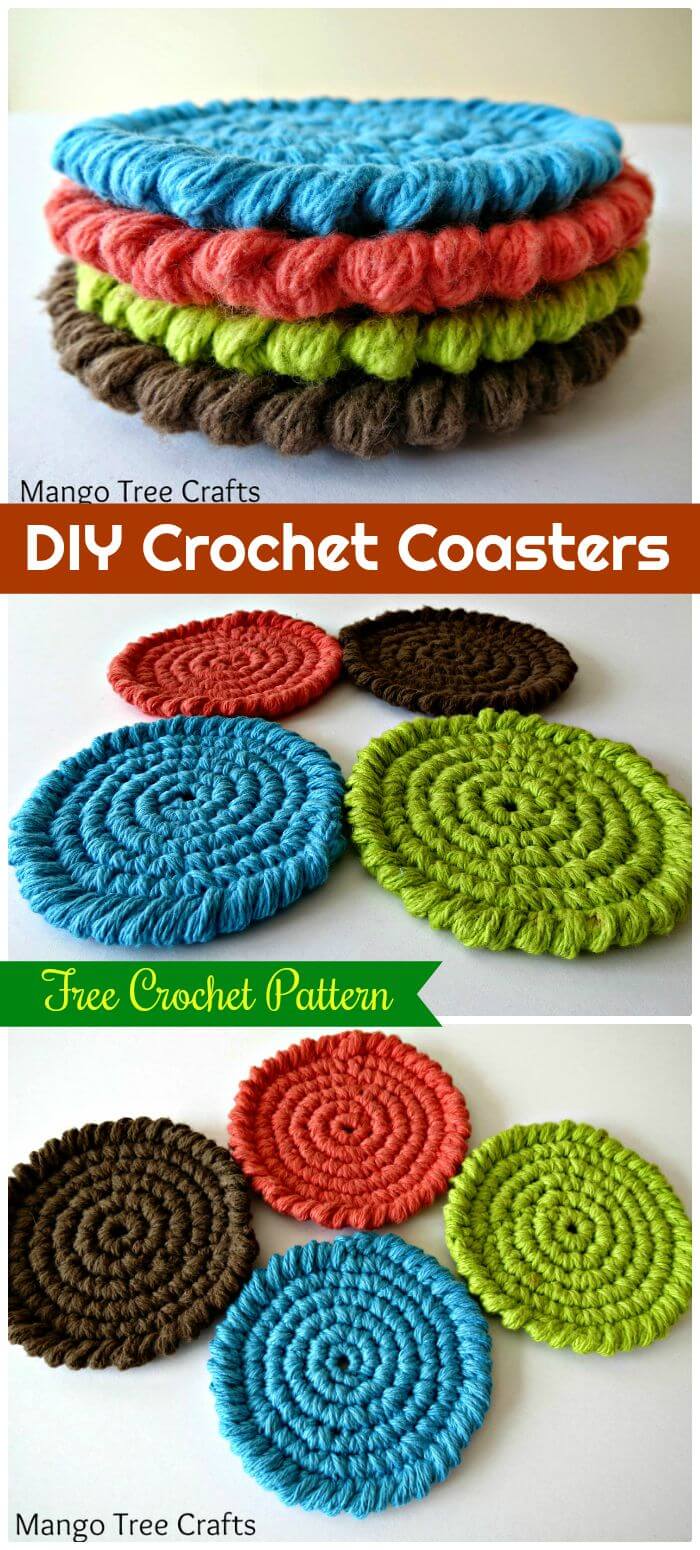 Just by going with crochet loops and then with a little coiling, these new gorgeous coasters have been made that are truly fascinating and adorable! You can create a set of such a coasters which can be packed to make a beautiful gift! Brilliant coaster designs to crochet at home! Complete project details and step-by-step instructions here mangotreecrafts
DIY Make Crochet Flower Coasters: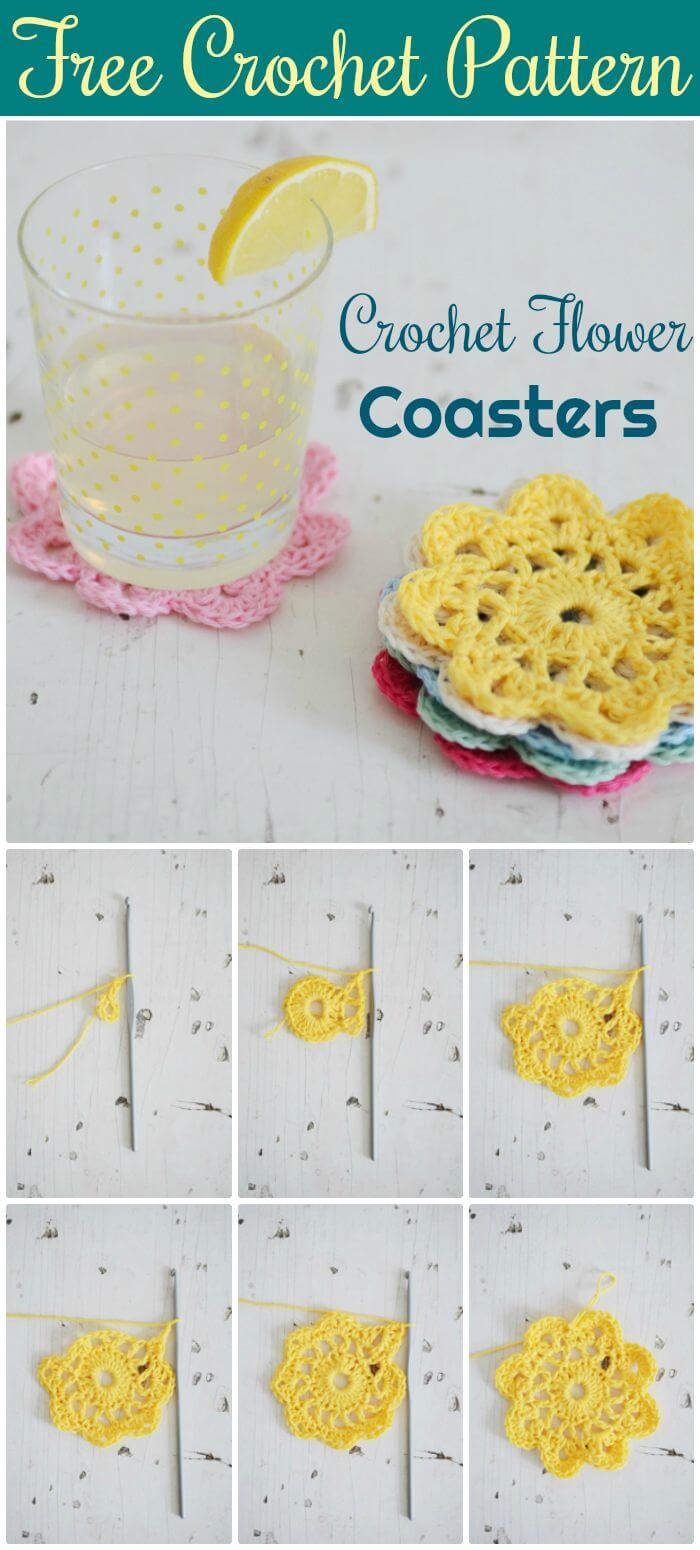 Crochet some beautiful and colorful flowers also that can also be used mind-blowing coasters! Get inspired of the given coasters and just clone them to see them next to your tables! Perfect crochet project to protect your furniture from beverage spills! Free crochet pattern and instructions here molliemakes
DIY Crochet Doughnut Coasters And Holder Set Free Crochet Pattern: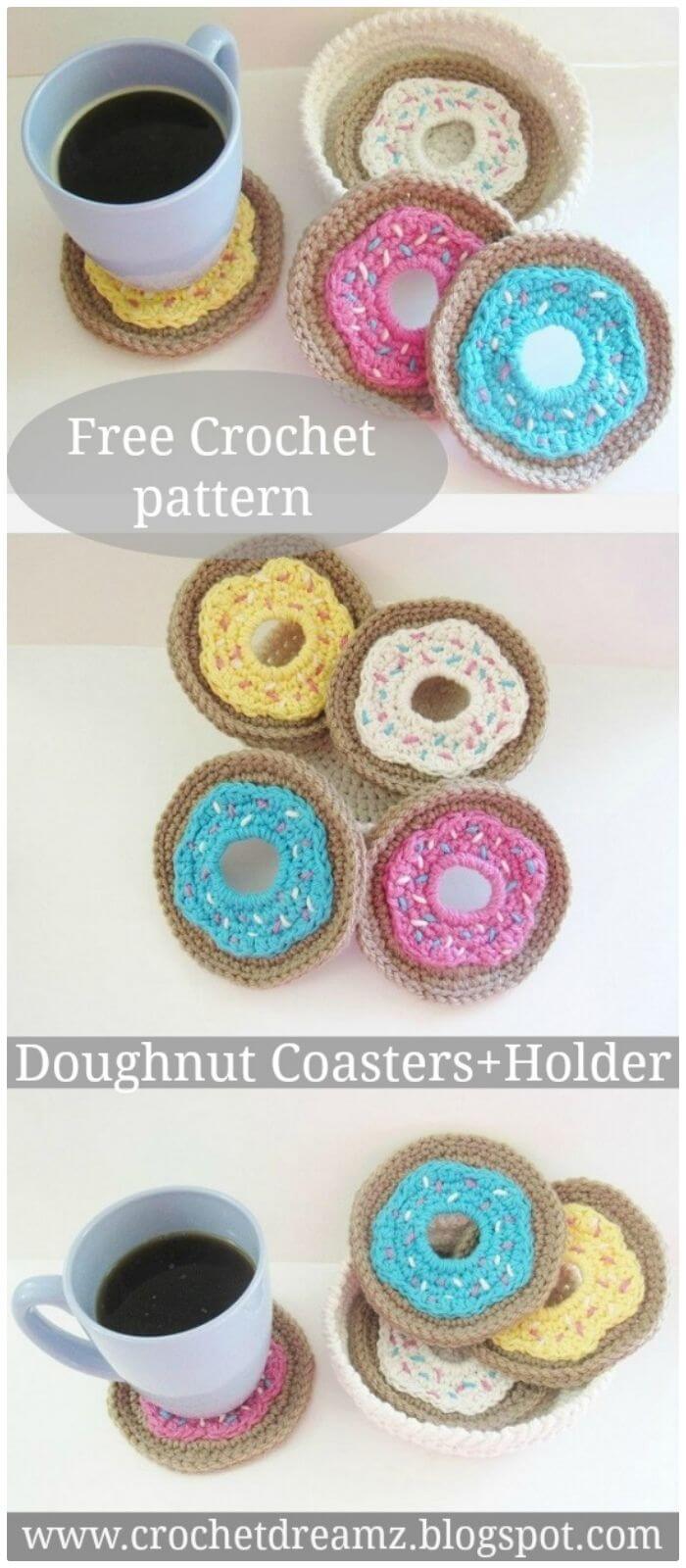 Look at these yarn doughnuts which are damn cute and are serving here as mind-blowing coffee cup coasters! Another great crochet pattern and design for awesome looking coasters, you should try this out! Complete project details and free crochet pattern here crochetdreamz
DIY Two Lacy Crochet Coasters:

Check out this another single layer crochet lacy flower that will rock as a table coaster! Crochet a set of these coasters and rest your beverage mugs upon these coasters, if you create a set of these coasters, you can simply pack them for an outstanding housewarming gift! Go with your yarn colors and try crocheting these beautiful coasters! Complete project details and step-by-step instructions here craftbits
DIY Daisy Coasters – Free Pattern: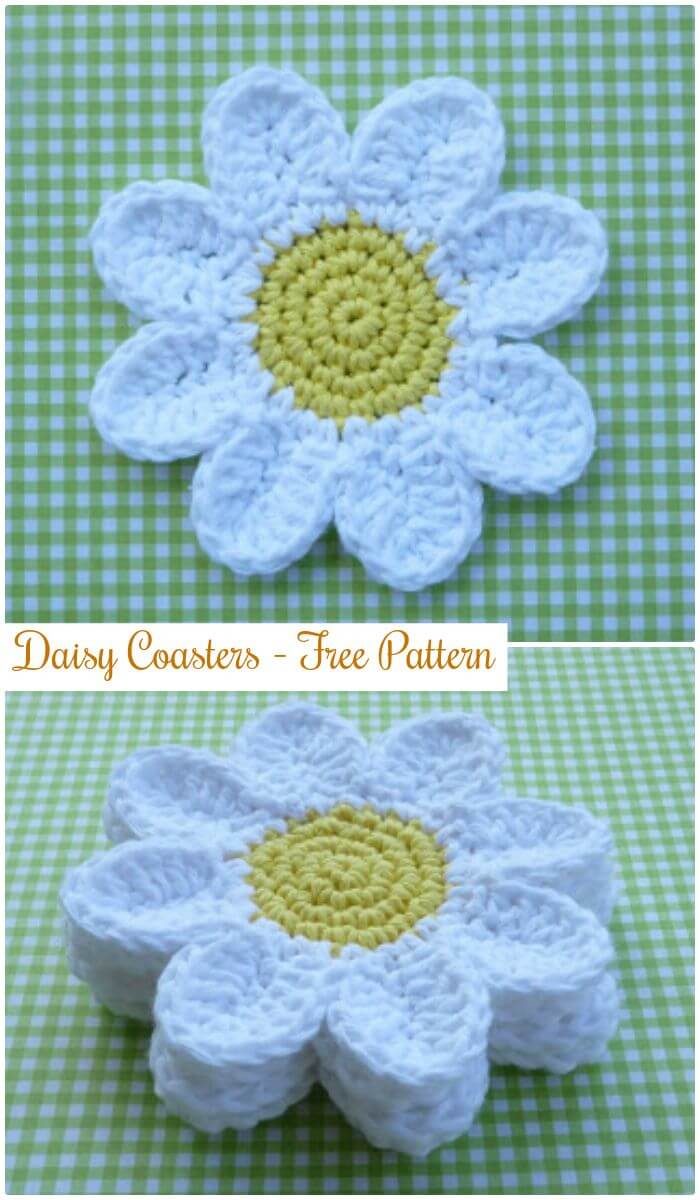 If you know how to crochet a little then here is another sweet project you can experiment with! Crochet some great looking daisy flowers by starting from a mini circle and then just crochet the petals! Not only the perfect embellishments, but these flowers will also make outstanding coasters! Another great crochet coaster design inspired of daisy flower! Complete free crochet pattern and step-by-step instructions here whiskersandwool
DIY Colors of the Rainbow Coaster Set of 6 Crochet Coasters:

Check out here amazing coiled rows of crochet that results into beautiful coasters, a set of colorful six coasters would make a great gift! This is going to be a perfect circle-in-circle coaster design! All you need to crochet some mini circles with some colorful stripes! Complete free crochet pattern and step-by-step instructions here lakeviewcottagekids
DIY Four Free Coaster Crochet Pattern: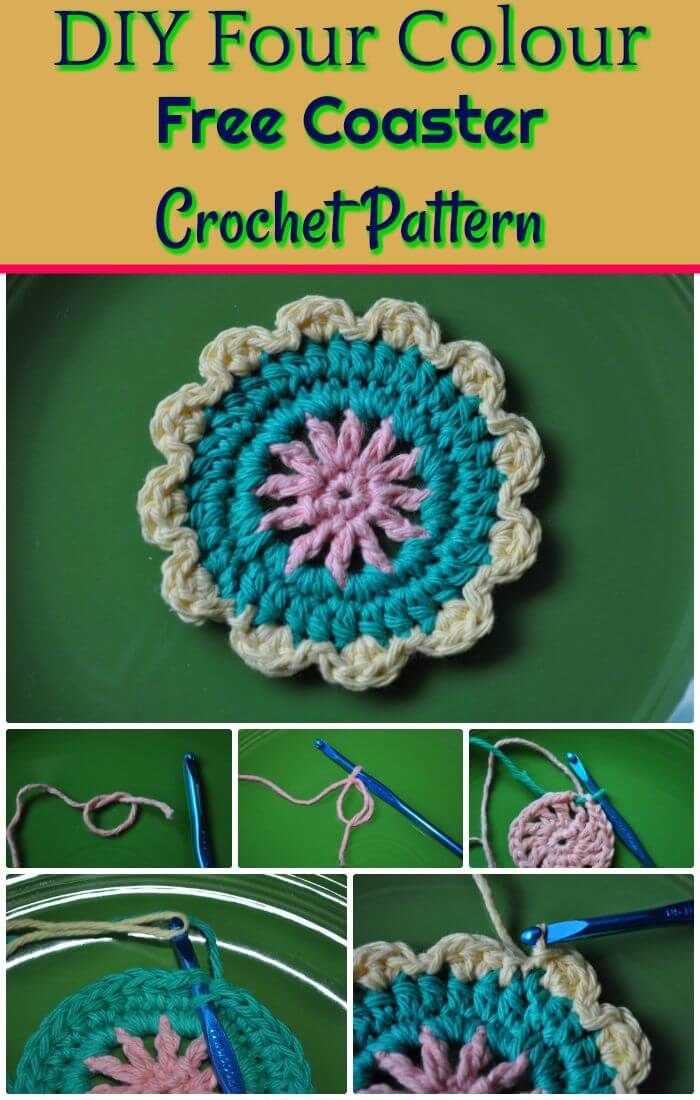 Check out here another great coaster design; it is going to be a flower in circle-crochet coaster design, four different colors of yarn have been used to crochet these praise-worthy coaster design! Complete free pattern and step-by-step instructions here turtleweenies
DIY Vintage Coasters Updated Free Written Instructions And Graphic: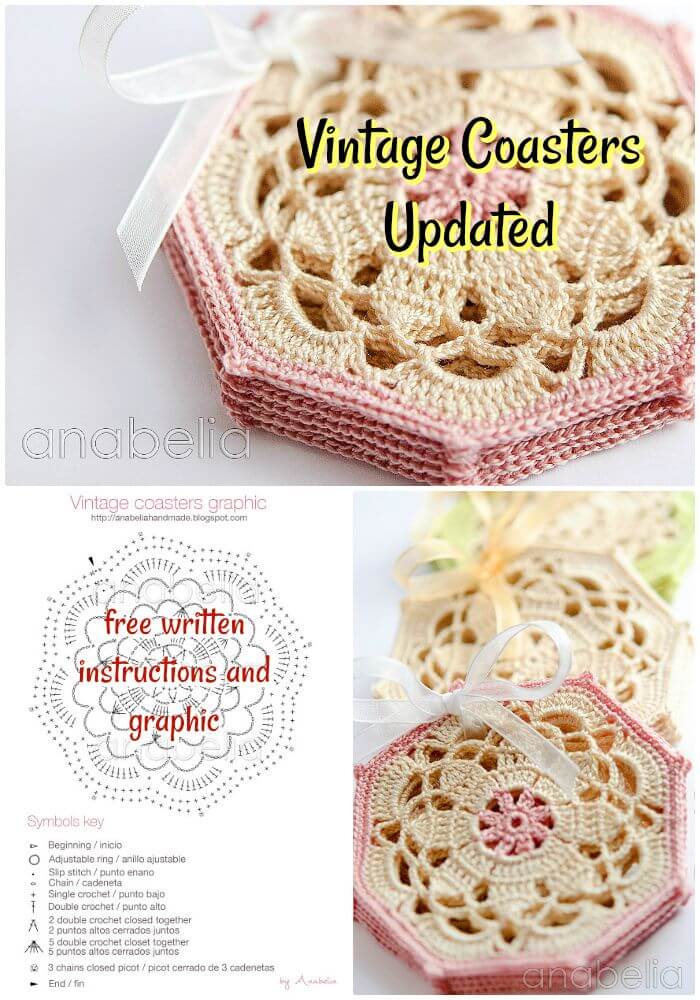 If you all like the geometrical curves or shapes and are sorting out a thins kind of crochet project, then this lovey honeycomb coaster design is only for you! Brilliant coasters ever crocheted with hook and are damn beautiful! Complete free pattern and step-by-step instructions here anabeliahandmade
DIY Free Crochet Easy Square Coaster Pattern:

Crochet also the granny square motifs for awesome looking coasters, a circle-in-square coaster design that will go lovely to ever tabletop! You can combine the two colors to bring out the more charm and fun out of these so cute coasters as here you can see the squares in pretty bright hues and the middle flowery shape to be done in the dazzling white.Here is the link you can grab the complete details of the project crochetforyoublog
DIY Free Crochet Fancy Flower Coaster Pattern: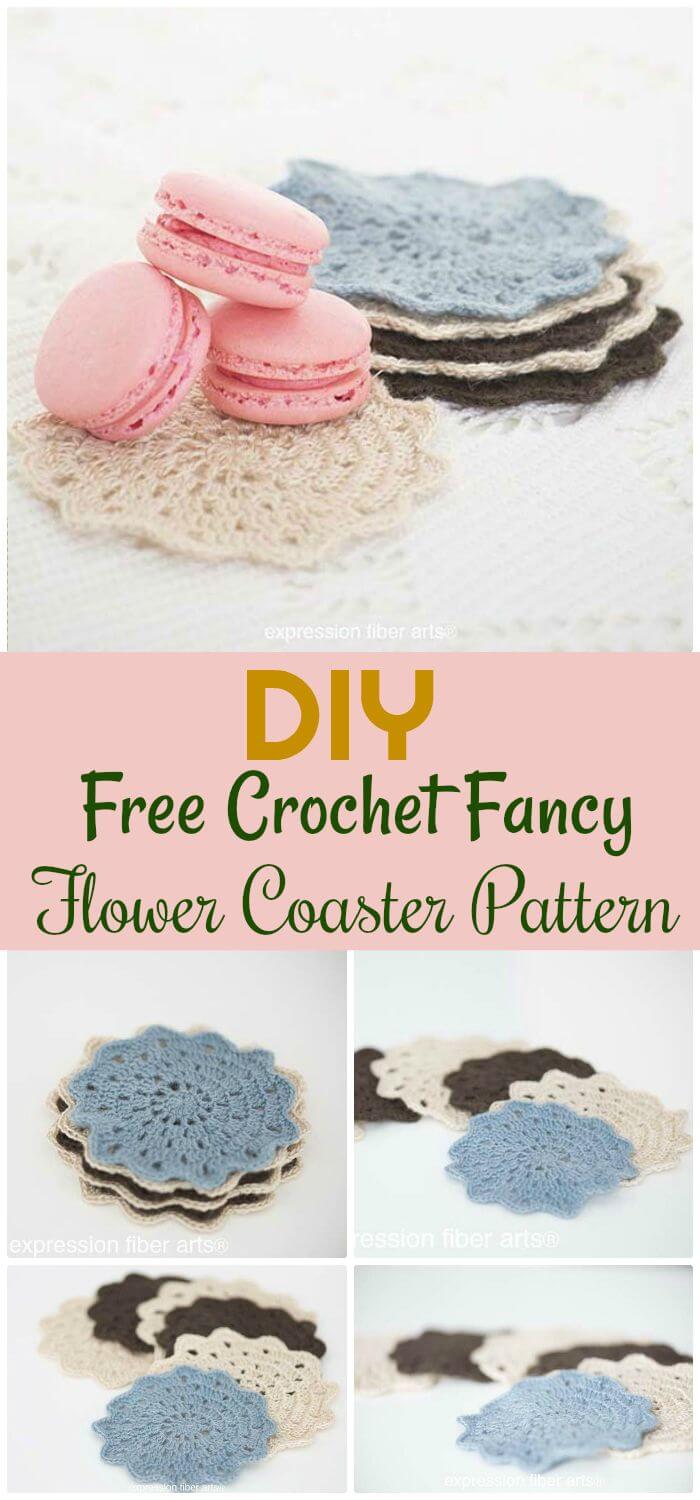 Check out these amazing coasters to rock your coffee tables this summer when guests are enjoying the cold and tasty beverages, and these coasters are making a great safety spot under the glasses along with their overloaded cuteness. These are the square coasters but with the color half twist and that is half of white and half of the other pretty and bright hues. Here is the link to check out the details of this fun coaster project expressionfiberarts
DIY Modern Crochet Coasters-Free Pattern:

The fancy coasters are those with the close-knit or crochet patterns with intricate lacy details and in lovely colors to brighten up the décor of your dining and coffee tables. Here is this gorgeous set of fancy coasters to crochet at home on your own and impress the guests with your perfectly styled table setting for the dinner or the beverage party in the summer. Grab the easy pattern details of these chic coasters right here 5littlemonsters
DIY Pinks & White Colour Crochet Coaster: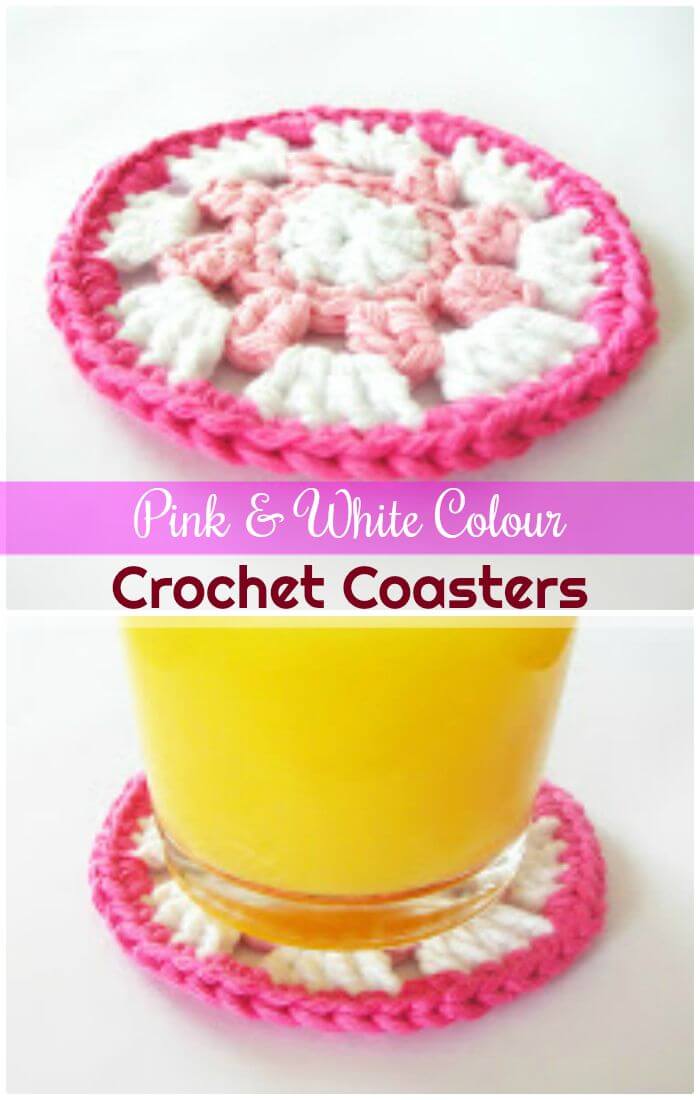 The coasters are no more just the drink or coffee mug holders they have become an important part of your home decor and table setting for being super chic and cool in the colors and the patterns. Especially the crocheted ones are the most gorgeous and the most adored coasters ever, and you can make them in this pretty pink and white flowery pattern to add the simple attraction to the tables of yours. grab the pattern and the details here for free annemarieshaakblog
DIY Heart Shaped Coasters-Free Pattern: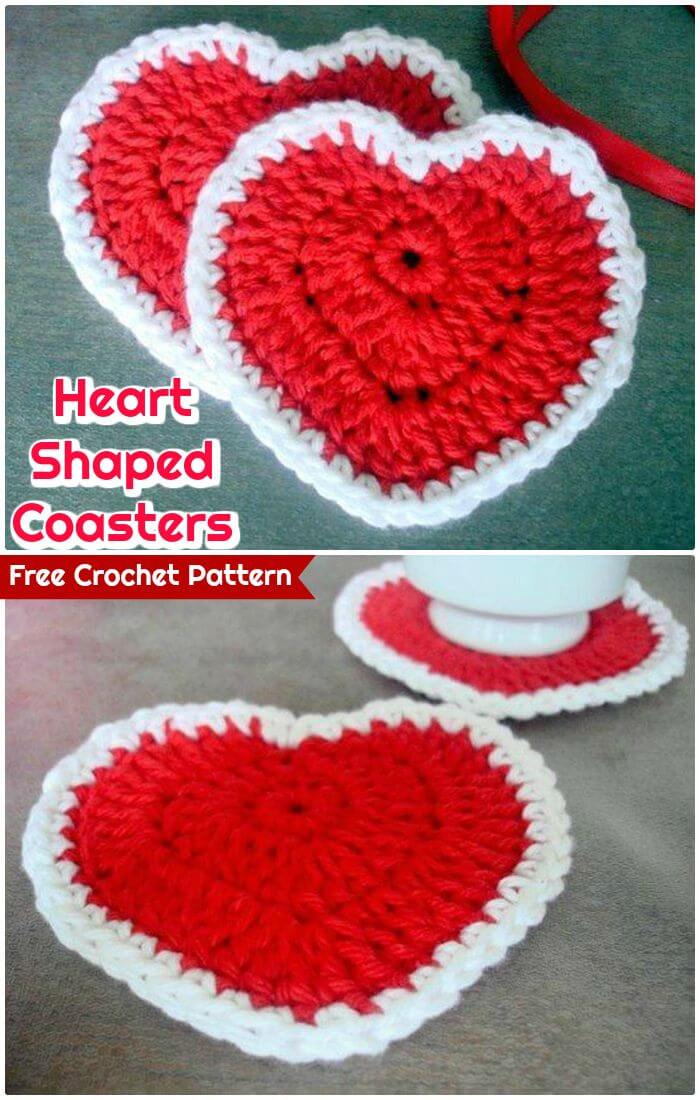 These pretty and dazzling white coasters are just the perfect thing to work on this weekend and enjoy some cute holders to your coffee mugs and cold drinks. The yarn used to make these easy, and gorgeous coasters is cotton so it would have a larger capacity to absorb the spilled liquids on it. SO grab the yarn and get to see the free pattern details here to make them for yourself or use them as the cute gifts craftsy
DIY Free Crochet Pattern Roller Coasters: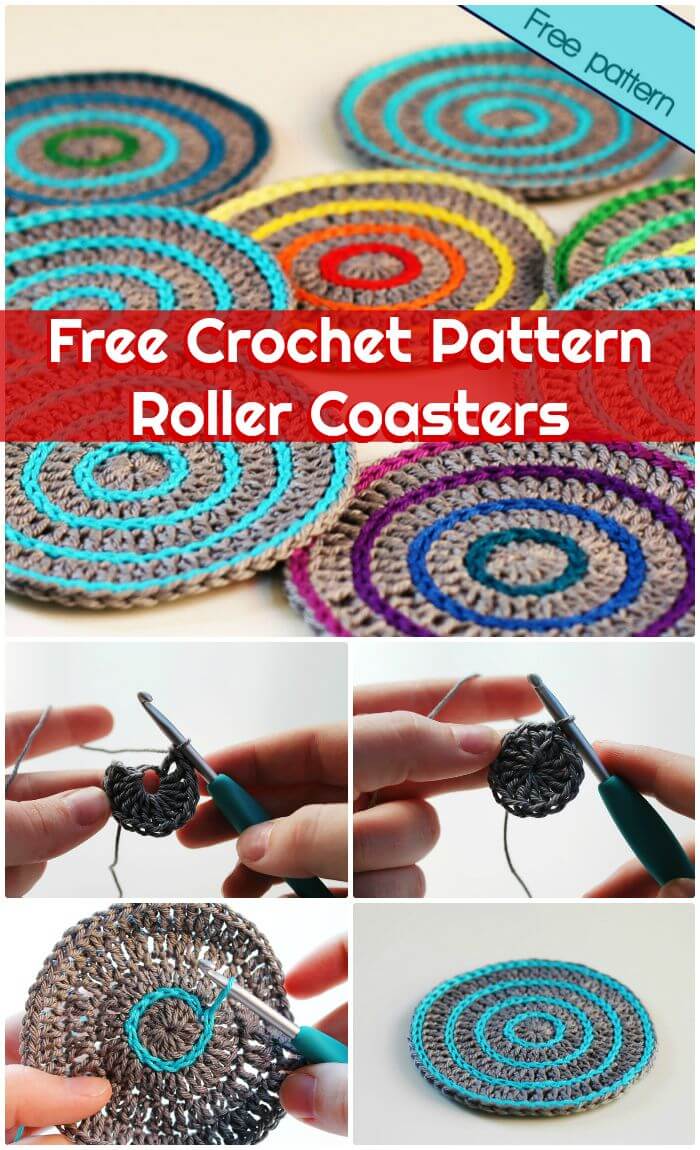 Bring some colors to your dining table and coffee table decor with these pretty and brightly colorful coasters being nicely displayed there to spruce up the table setting and the look. The colors used here are the dark brown, green, blue and orange to crochet those cute rollers inside the round coasters. So you can pick up the colors of your choice and crochet these fabulous and fun coasters and the free crochet pattern can be gained from this link haakmaarraak
DIY Crocheted Watermelon Potholder And Trivet: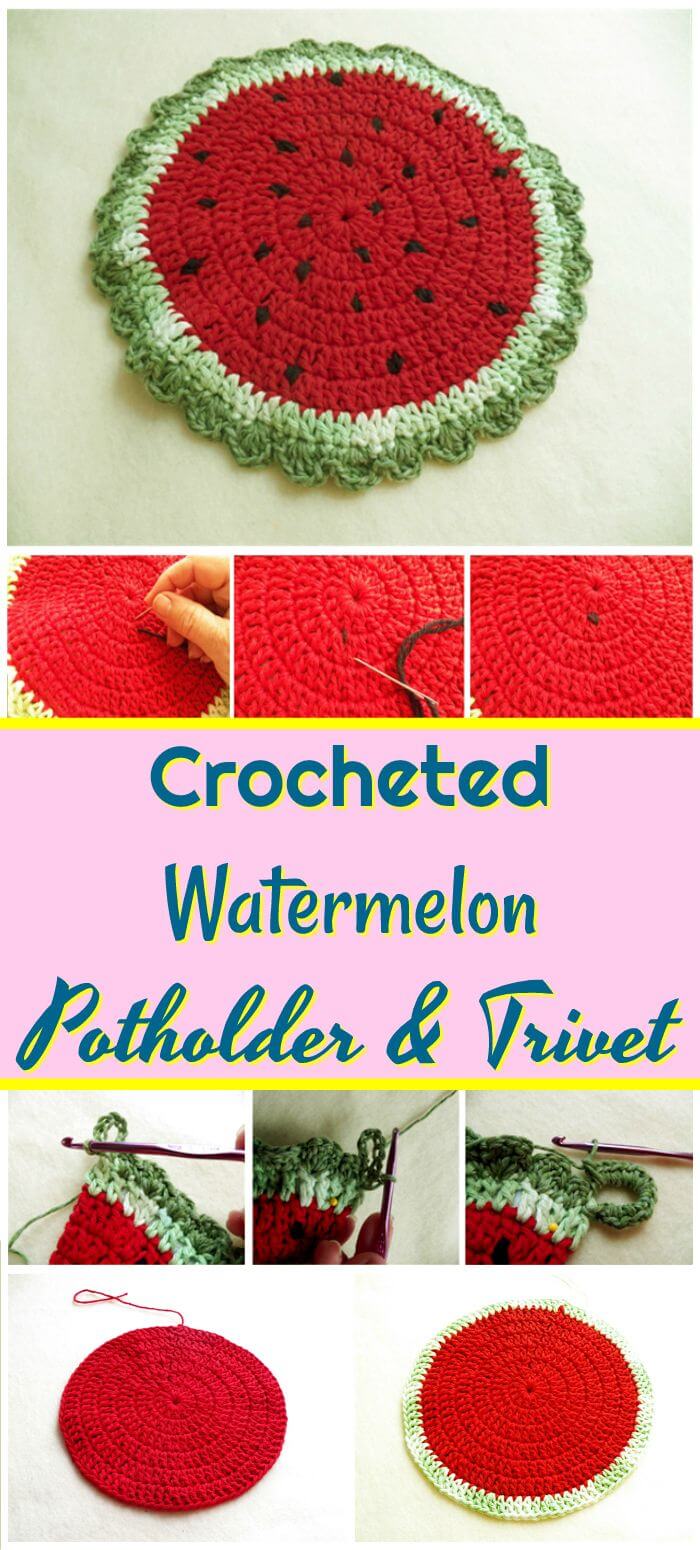 Summers are all about the outdoor fun and beverage parties and now you can spruce up the decor of your summer table setting with these so cute and adorable coasters which are easy enough to be made at home and save you a lot of money. SO getting inspired from the yummiest summer fruit the watermelon this bright in looks and colors watermelon coasters have been nicely yielded and so you can easily and cheaply make them using green, red and black yarn along with your crochet hooks. Free pattern here artthreads
DIY Flower Coasters Pattern-Free Crochet Pattern: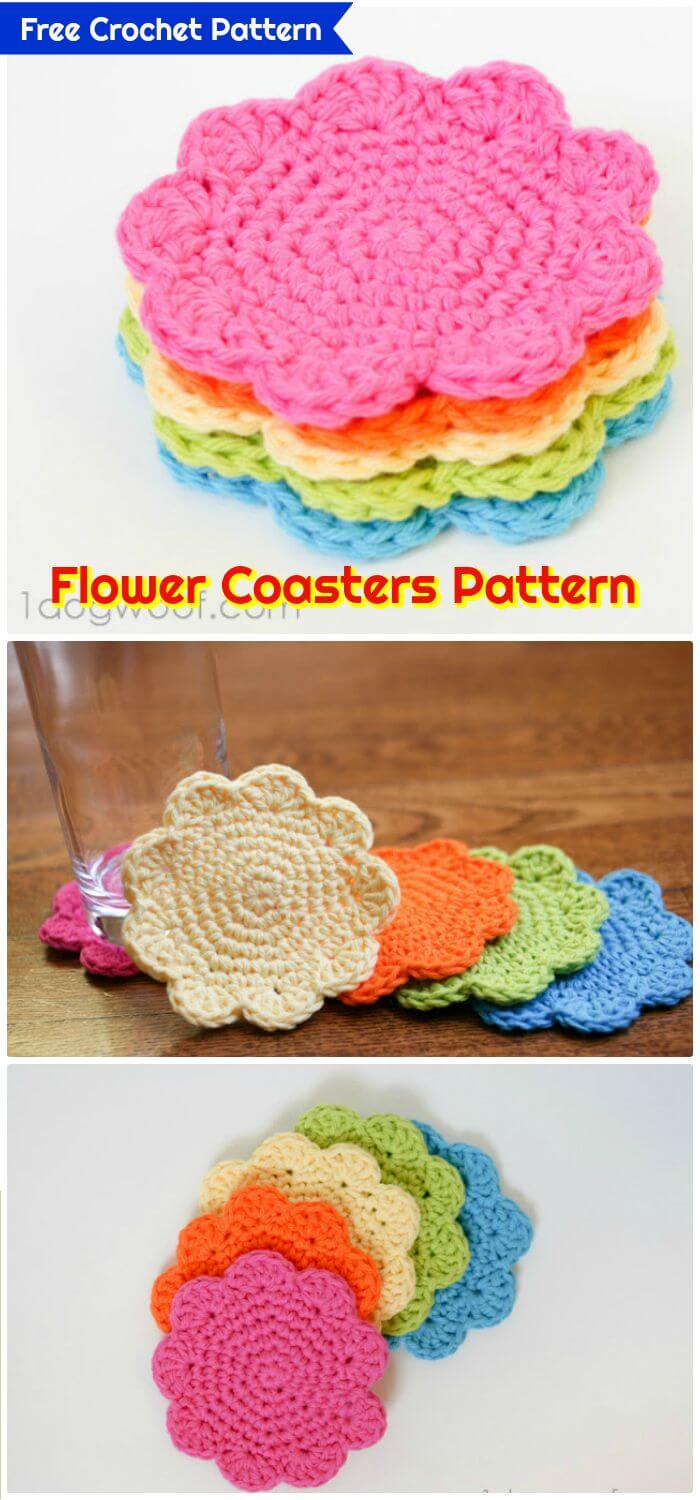 We love the colorful blooms in the garden and now you can enjoy the same kind of color beauty on your tables by making these utterly gorgeous and simply awesome flower coasters. You can choose your favorite yarn hues and get your hands on this really cool and pretty pattern of the flowers with multiple petals to crochet your coasters and flaunt them nicely on the tables of yours. Details of the pattern here for free 1dogwoof
DIY Crochet Free Caps Pattern: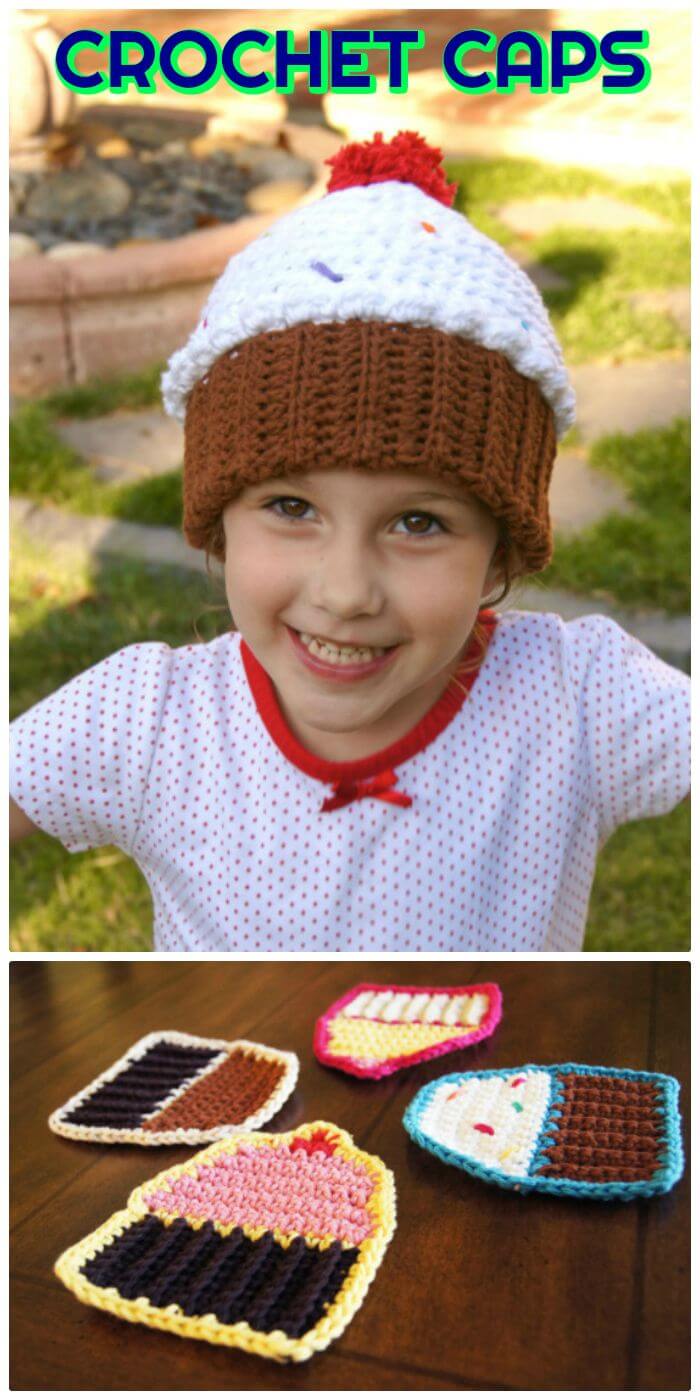 Women just love making these two things, one is the crochet coasters, and the other is the cupcakes and here both favorites have been combined to create a lovely table decor for your spaces. These are the cupcake coasters in multiple yarn hues and would be just perfect when there is beverage party for the kids in the summers. You can grab the free pattern and the details of this project right on this link to create them for the next kids party sweetsimplestuff
DIY California Crochet Coaster Rolls:

The coasters are related to the kitchen stuff for holding the coffee mugs, drinks and the beverages on them so you should really take up the inspiration from your kitchen while working on the handmade coaster projects. These California crochet roll coasters are just the perfect food inspiration to yield the most cute and unique kind of coasters for your table decors and embellishing. You can check out the details of the idea here crochetdynamite
DIY Free Crochet Pattern Drinks Coaster Set: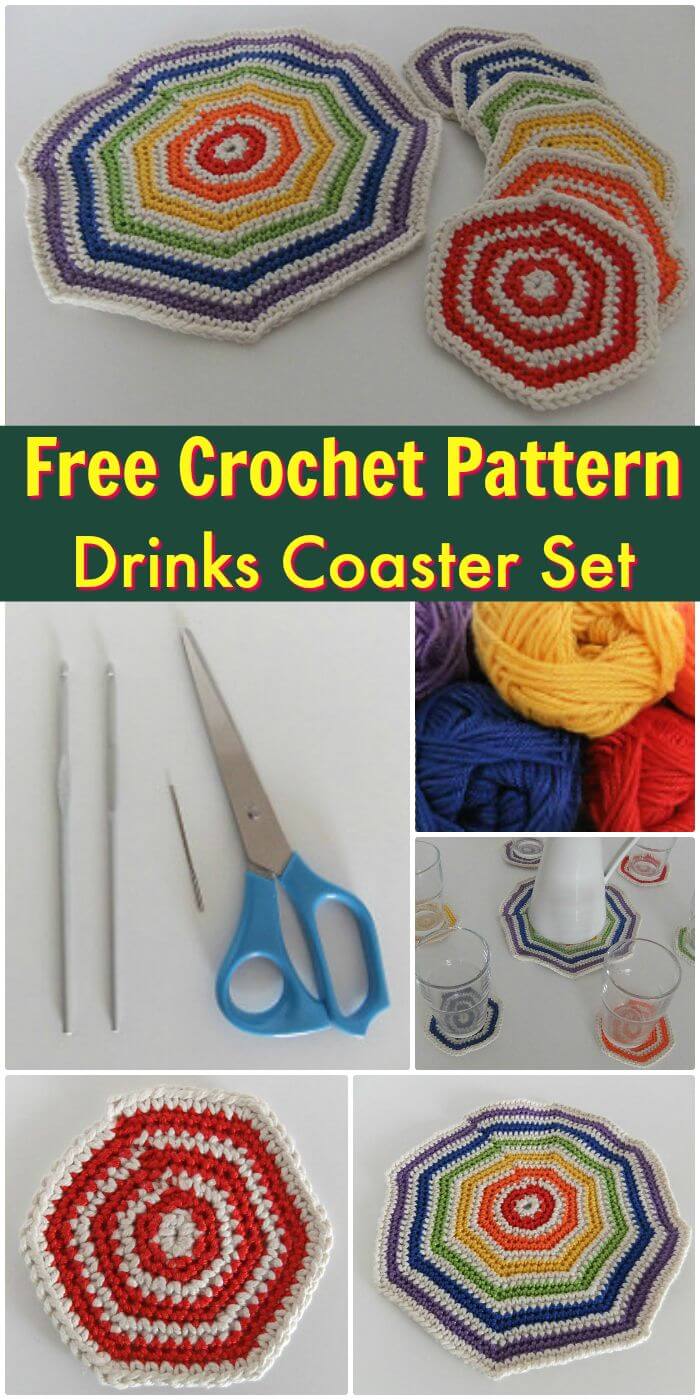 The coasters are always the most handy gift for the short notice celebration and events but this time you can make this gift the most special and valuable by crocheting the coasters on your own. You can choose the pretty and vibrant rainbow hues to create the complete set with each color nicely displayed in the small coasters and the prefecture mix up of them in the big one to go under the jugs. Check out the easy tutorial of these coasters in rounds right here sionakaren
DIY Easy Apple Crochet Coaster Free Pattern: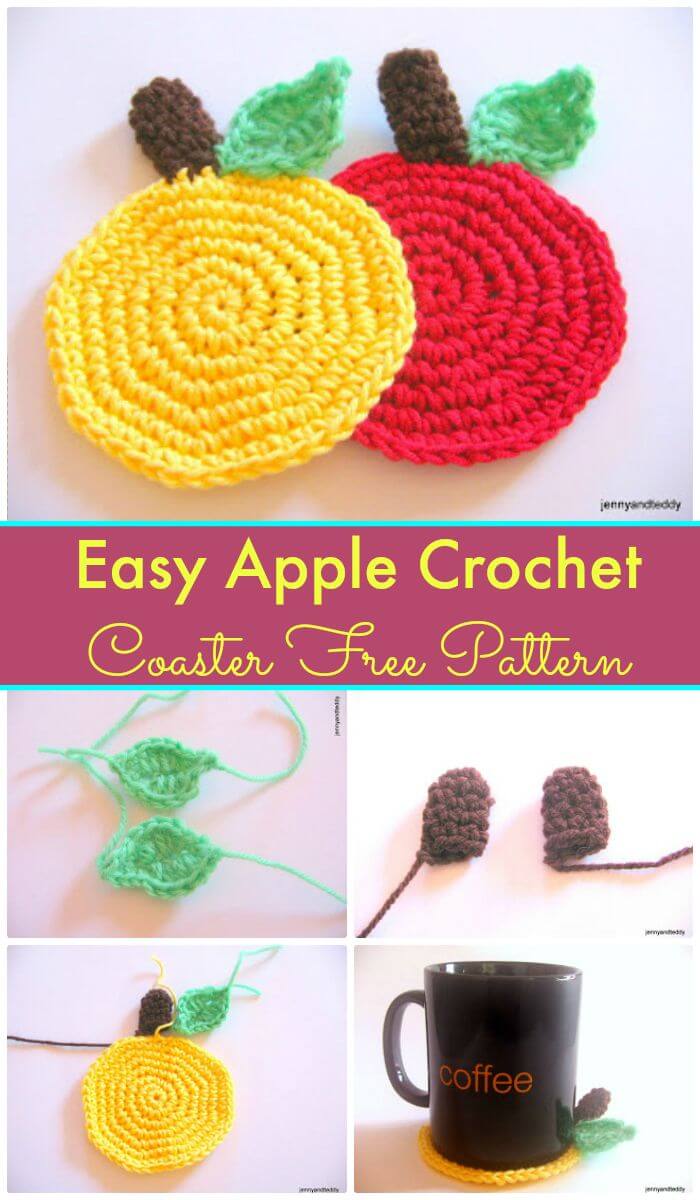 The colors have a great impact on your mood, health and even in the home decor so always pay an extra care to the things you make or bring home that which color they have. when the summers are around the bright and delightful colors should be dominating in your home style and embellishing and these pretty apple coasters in vibrant yarn hues would perfectly bring the color happiness in your dining room. Free pattern details here jennyandteddy
DIY Crochet Fruit Coasters Pattern: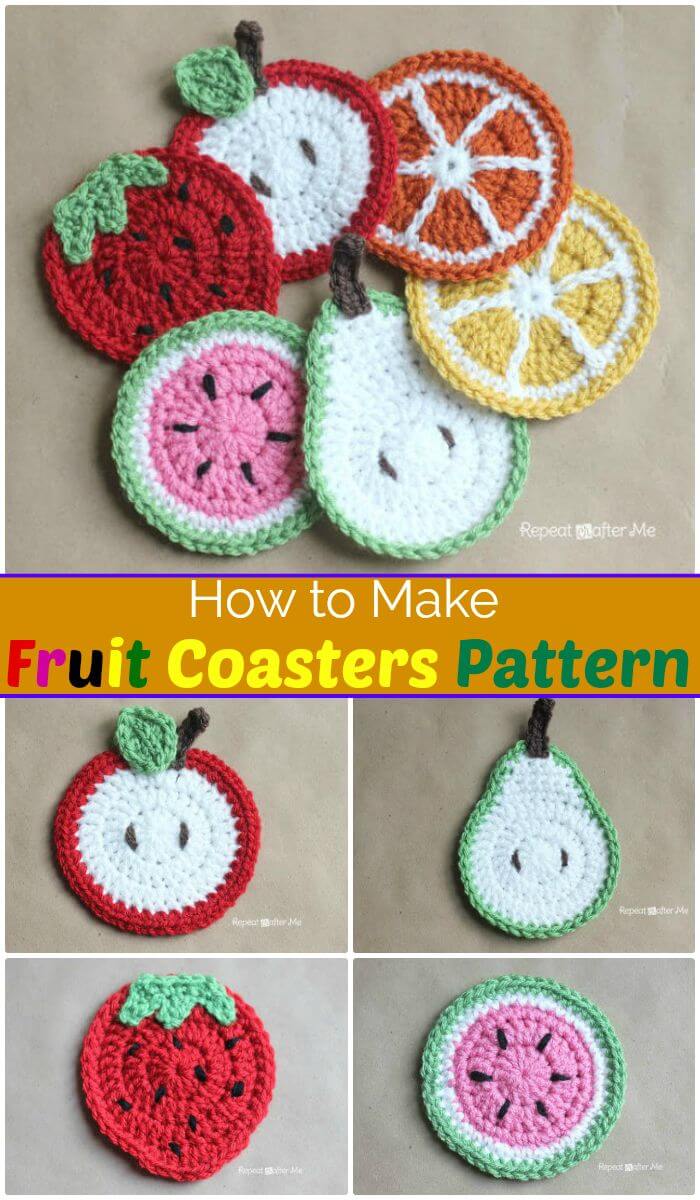 The small coasters can be played with a lot of shapes, patterns, and designs to get the most delightful results and these fruit coasters are just the cutest. Strawberry, apple, oranges, watermelon you can make all these fruits while crocheting the small and cute coasters either for the home user or as the gifts for your hostess. With the adorable colors and shapes these fruit coasters would make a great gift so do have the details of the free patterns here repeatcrafterme
DIY Owl Coaster Crochet Pattern:

If your kids spill the drinks and beverages on the tables then you should really work on these owl coasters. The kids would just love these cute and quirky kind of coasters and thus it would save your table surface to get damaged by the spillovers. You can combine all the pretty and chic hues to create the perfectly cute owl for your coasters set. It would a damn good gift idea too so do have the details of it right on this link provided craftsy
DIY Modern Mug Coasters (With Raised Edge):

These soft in texture coasters would be the perfect holders for the coffee mugs, tea cups, drinks and beverages on your gorgeous dining tables to not let any ugly ring be formed on the table surface and ruin its look. You can use two types of colors to crochet these modern and fancy coasters. One colors for the middle round base and the second for the outer edging to add more decor perks to the coasters looks. You can create a pack of six or twelve in your favorite hues to use or to gift as well craftsy
DIY Acqua & Vino Crochet Coasters: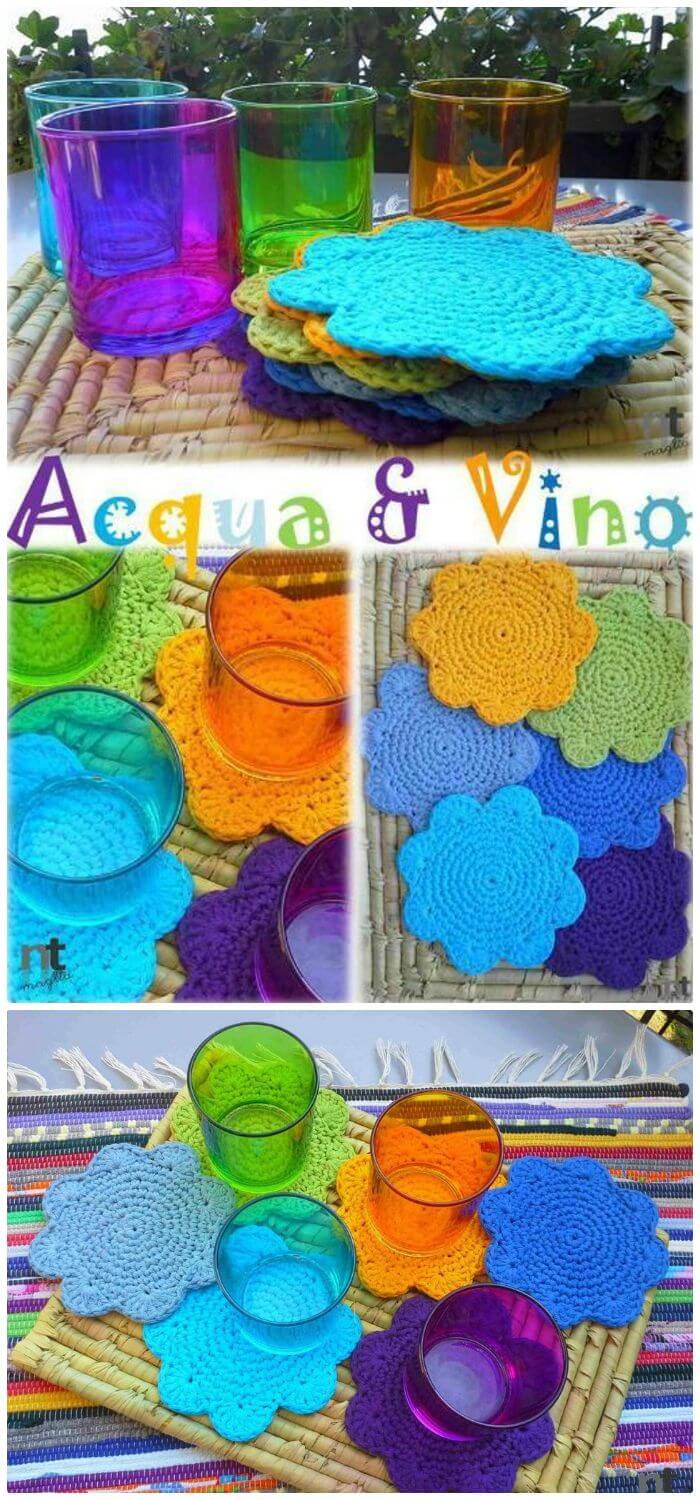 We love using those colorful party glasses for the drinks in the summers and if you make a set of colorful flowery coasters to go with them, it would like icing on the cake to spice up the decor for your summer outdoor fun. You can choose any of the vibrant hues to shape up these gorgeous coasters and brighten up the decor of your tables with them. Here is the link to grab the free pattern and the stitch details craftsy
DIY Colorful Flowered Coasters-Free Pattern: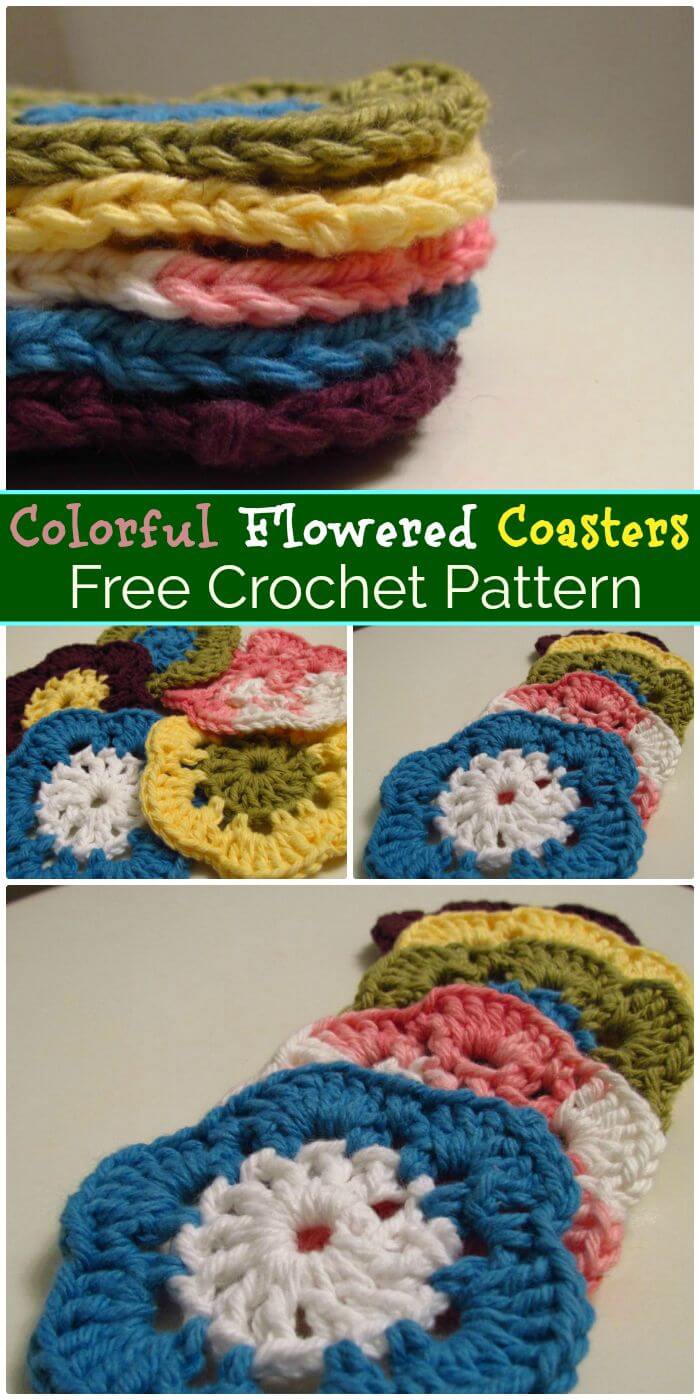 Coasters are super easy to create for being small in size and easy in pattern and so they provide a perfect practice to the beginners to polish their crochet skills. So here are these two cute and adorable flowery coasters for your crochet beginner and require only three rounds to work upon with two colors of the yarn. They can created in any of the hues to create an awesome set for stylish table setting so grab the free pattern from this link craftsy
DIY Aztec Inspired Tapestry Crochet Coasters:

A handmade gift though small is far better than those emotionless market bought expensive gifts and coasters are just the perfect ones to get your hands on. Here are these stripy coasters in cute color scheme to style up the table decor in a really traditional and cute way. Grab the yarn of your favorite colors, your crochet hooks and get along this link to learn the free pattern details here craftsy
DIY Mustache Coaster Set-Free Crochet Pattern: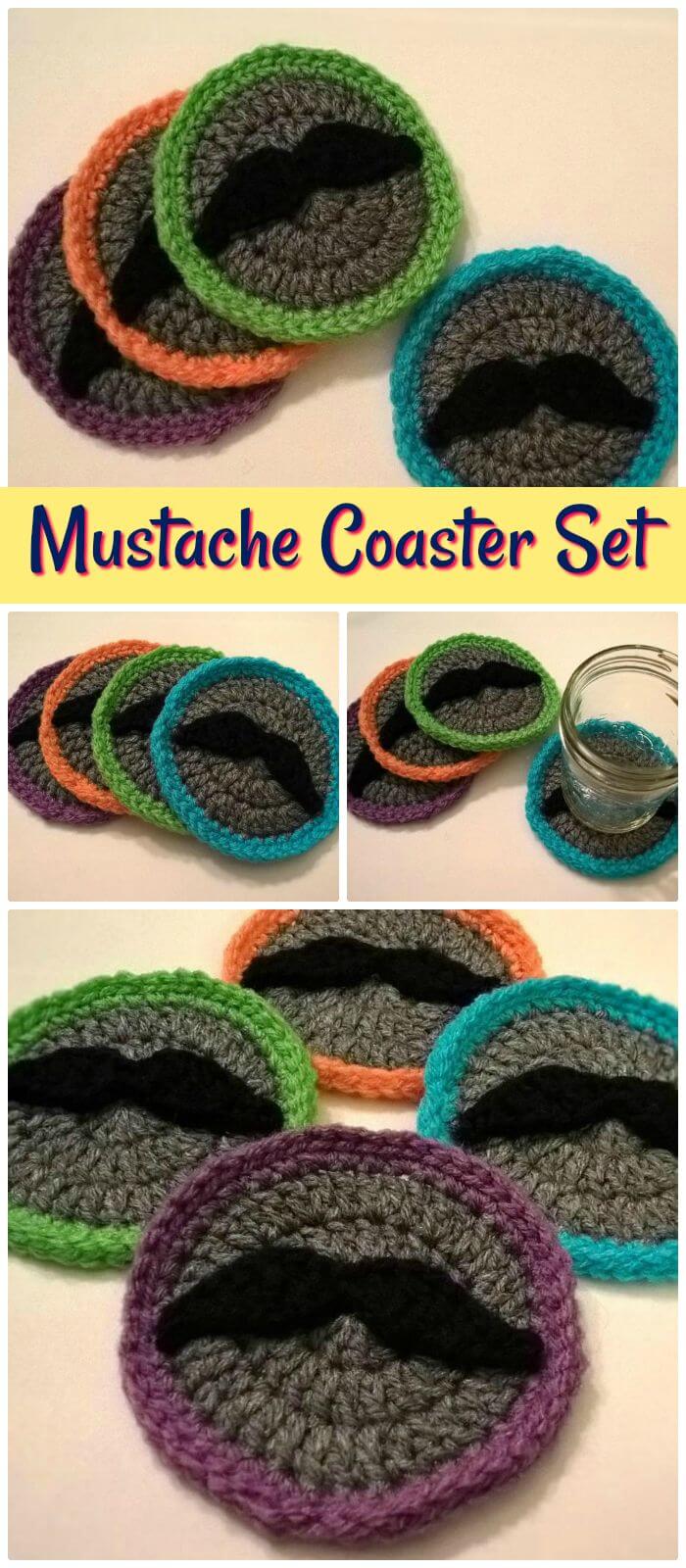 If you are planning some fun scene to create for the father's day then these cute Fathers day coasters with the mustache would really help you in so many ways. You can use them as the perfect beverage coasters for the party on the day to support the theme and it would also make a cute gift idea for the fathers and all the fatherly figure in your life too. So grab the colors of your choice to form up the base and crochet the mustache in black to be attached on top. Details here craftsy
DIY Leaf Coasters-Free Crochet Pattern: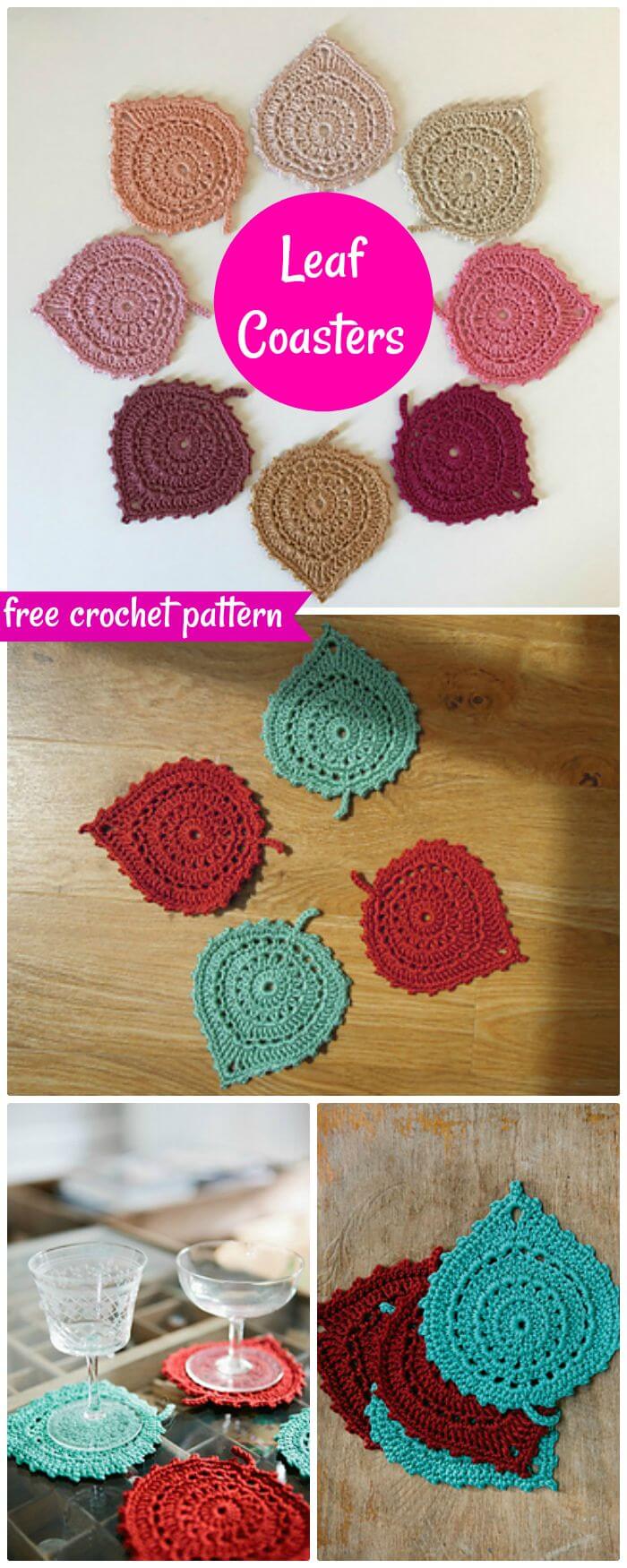 No would resist to say WOW after having a look at these hear warming and immensely gorgeous leaf coasters on your tables. They are just fabulous in their design and so much tempting in the crochet pattern; The best thing that you can easily crochet all coasters at home using the yarn and color of your choice.The elegant pattern is lying here for free with more details to help you enough to get this project easily ravelry
DIY Colourful Crocheted Coasters With Waterproof Backing: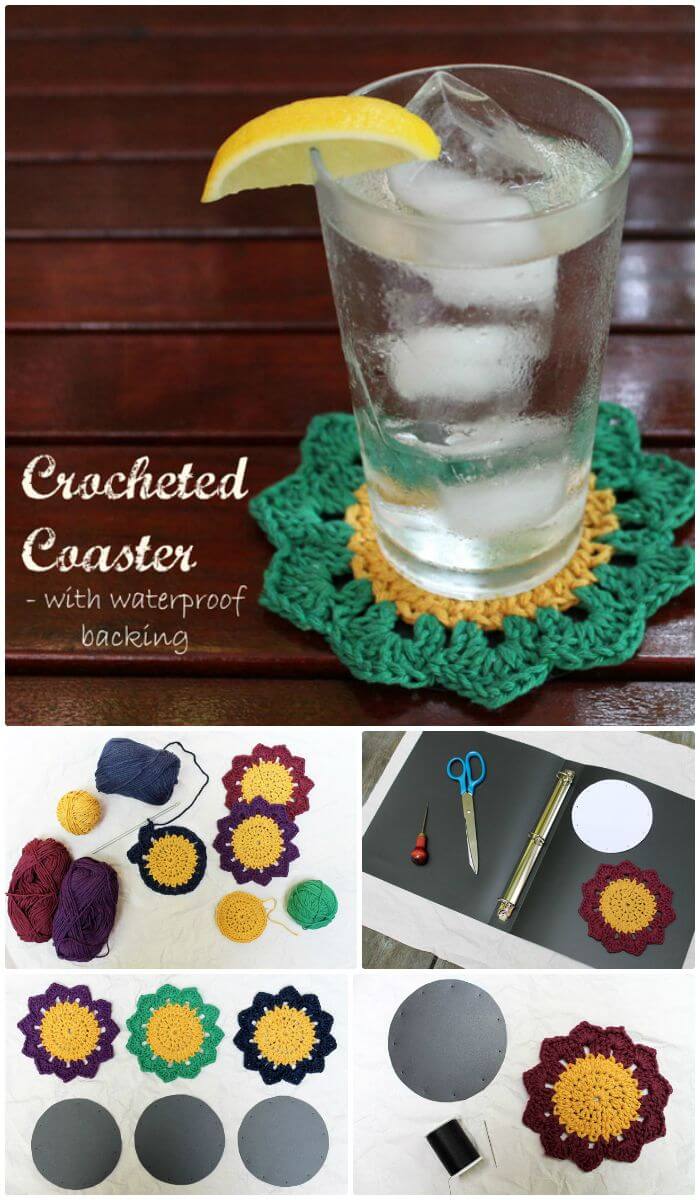 The best of the coasters are those which are more absorbing and cute in looks too so that they look inevitably good being on your tables. So use the cotton yarn to make the coasters as it can absorb so much of the moist and with this chic flowery pattern you can add beauty to the coasters too so that they clearly dazzle the table decor of yours. Check out the more details and find the free pattern here loulou
DIY Crochet Patterns for Coasters:

The hot coffee mugs in the winter and the cold drink glasses in the summer can leave marks and rings on your table surface so to make them damage proof you really the functional and cute coasters. Here are these vintage looking coasters in a plenty of soft hues to perfectly bring the vintage vibes to your dining room decor. They are just too as to crochet and thus make a perfect gift for your mother, teacher or aunt. Free pattern with more details here lululoves
DIY Winter Flowers Crochet Coasters-Free Crochet Pattern:

Crating flower from any of your learned art is the customary thing to do and so is the case with the crocheting. So here are these enchanting winter flowers to create with various color petals and then use as the useful and fun coasters for the winters. You can make the round flowers with a round base for the totally common yet pretty coasters or you can merge them with a square motif to bring out the more fun in the pattern and design. Free pattern details here anabeliahandmade
DIY Spring Flowers Crochet Coasters Pattern: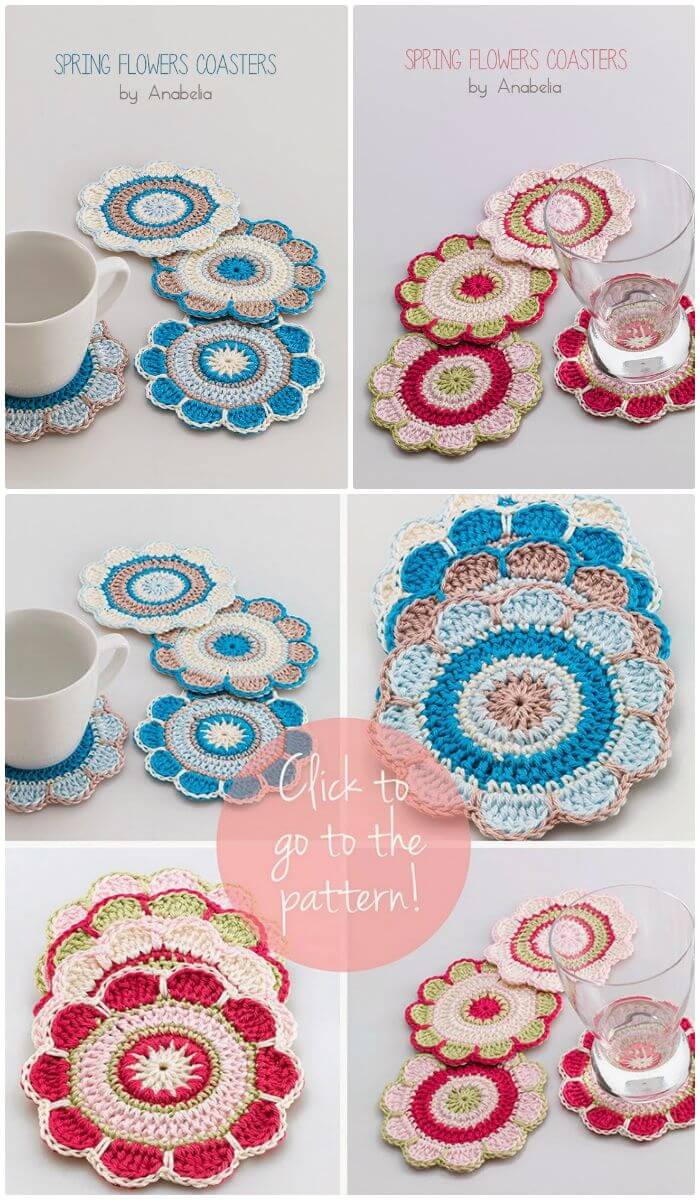 Springs are all about the colorful and gorgeous flowers and they seem to be so well themed in the house decor at that hour of the season. So her is another cute way to bring the more summer touches to the home decor especially to the dining room embellishing with these spring coasters in gorgeous flowery shapes and multiple colors of the yarn to be nicely involved.Here is the fully detailed tutorial with free pattern details of this attractive crochet project anabeliahandmade
DIY Square Shell Coasters-Free Crochet Pattern:
Check out these simple and elegant in style coasters int he single shade of the yarn to be a classy addition to your table settings for any of the party or the dinner. The pattern is just really easy and fun called shell pattern so just grab the yarn in those soft and textured shades of the yarn and start the easy hook work. Grab the easy details along with the pattern details here 1punto
DIY Lacy Crochet Coasters-Free Pattern: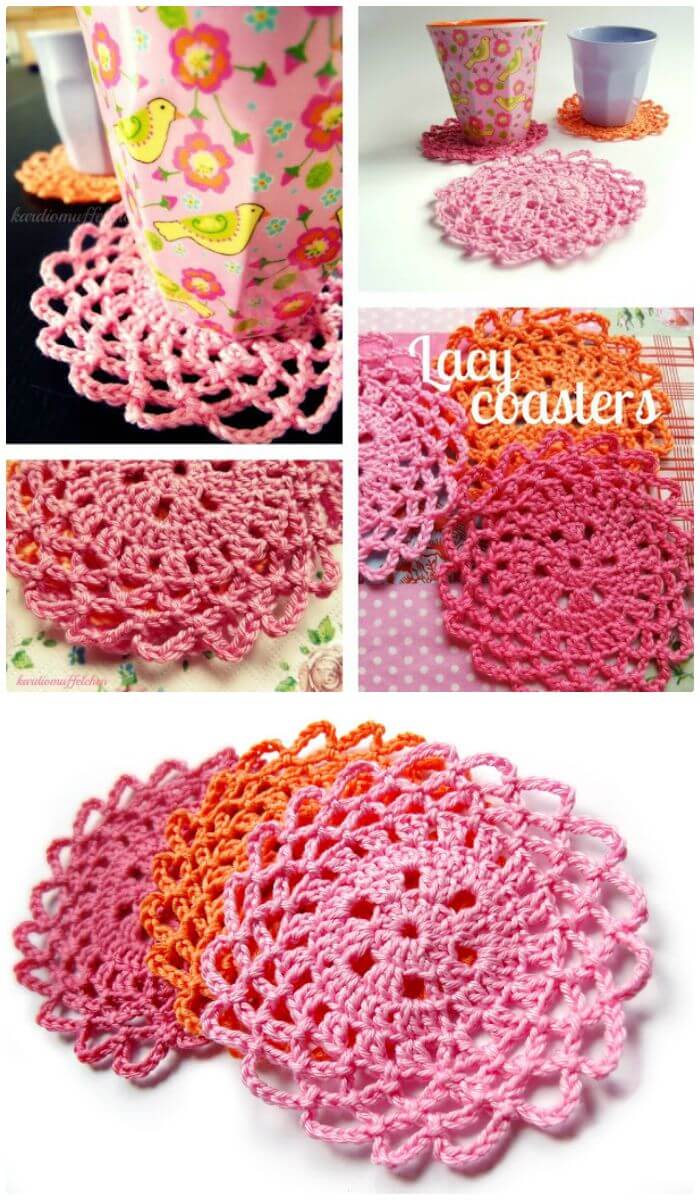 The lacy patterns are the just the most heart touching and the hear warming with their intricate design and lovely pattern details.You can adopt the lacy patterns for any of your crochet project and so for the making of these immensely gorgeous and textured lacy coasters for your dining table or for the coffee table in your living. The choice of the yarn colors and the size would let you enjoy more cute and interesting results kardiomuffelchen
DIY More Filet Crochet -Free Crochet Pattern:

Here is a fun addition to the coaster making crochet art and you would all just love it to the core. These are the pretty fillet coasters made out of the thread in the pretty hues to get you those enchantingly thin pattern and close-knit pattern. You can copy the idea and work on your own patterns and design with the thread and the hook to yield some really cool and personalized coasters. Check out the intricate details of the project here signedwithanowl
DIY Make A Set Of Five Ombre Crocheted Coasters: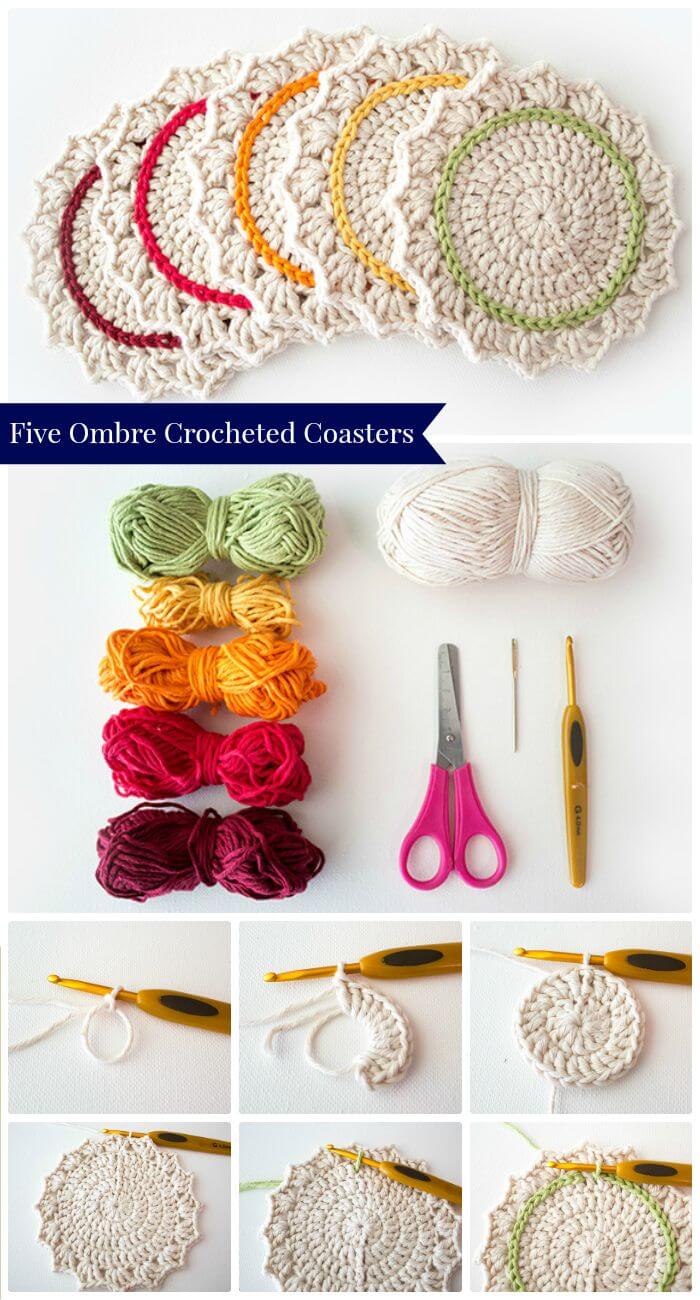 If the birthday of your mother, aunt or the teacher is coming up this week or the next and you have not thought of any exciting gift for them then we have something that would make a perfect gift for these pretty and loved ladies in your life. These are the impressive and chic kind of coasters made with an ombre effect of multiple shades on a regular round base. You can vary the colors to get the Omber effect of your choice, and for that, you have to peek into the free pattern details given here on this link crafts.tutsplus
DIY Leather + Crochet Coasters – Free Pattern:

The leather is also one of the most used crafting supplies after the yarn and here is this perfect idea of combining them both and create the utterly functional unique kind of coaster for your homey spaces. Cut out the circle from the leather, drill holes at the edge and work upon the yarn to get crocheted through the holes, Add a glued backing of the felt and your fun and quirky coasters are ready. Details of the project are given here for free makeanddocrew
DIY Sun Coaster Free Crochet Pattern: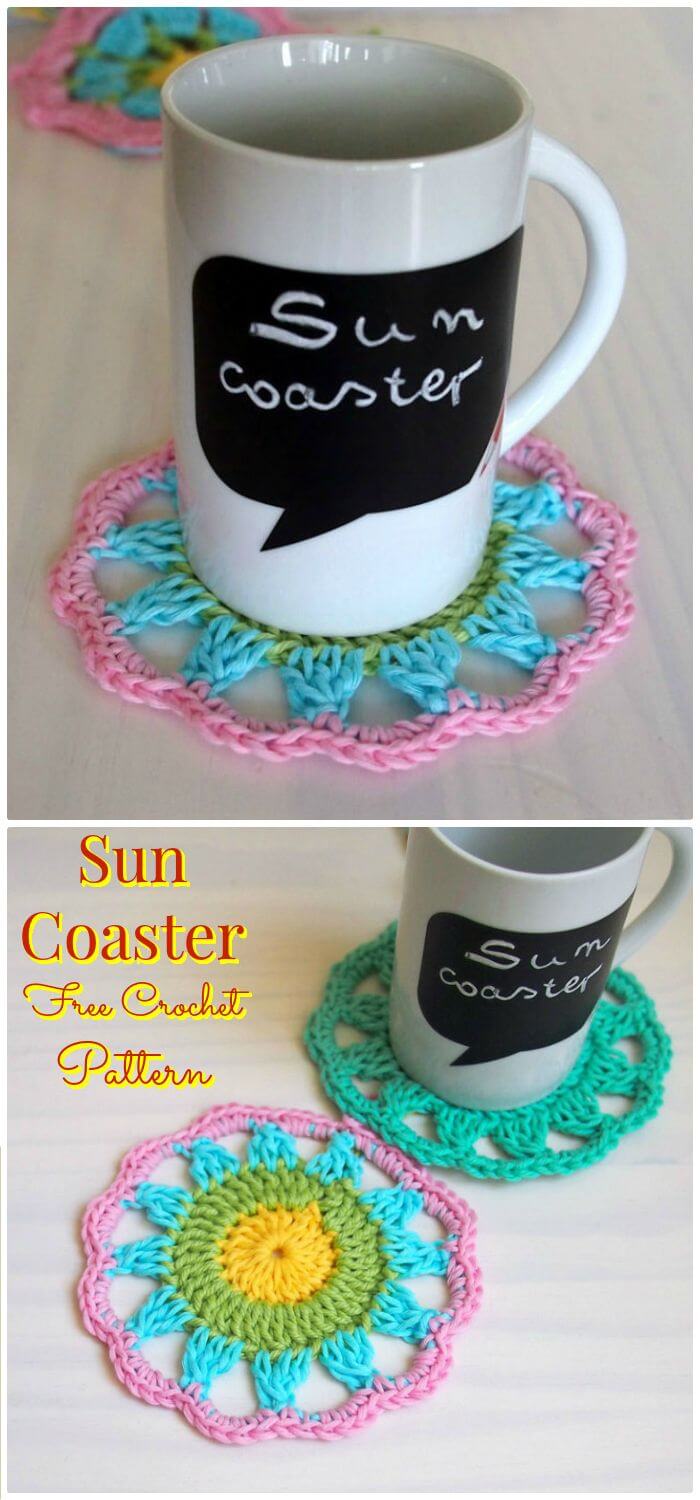 We love drawing the sun in so many arts and crafts and here is this pretty crocheted sun to be the cute part of your kitchen, dining table or coffee table decor. And instead of using that common sun color of the yellow you can play with multiple hues and thus create the most unique and cute kind of coasters on your own and let them reflect the most personalized touches to the decor of yours. You can check out the easy and fun tutorial here for free pattern and instructions here melodys-makings
DIY 8-Ball Applique or Coaster Crochet Pattern: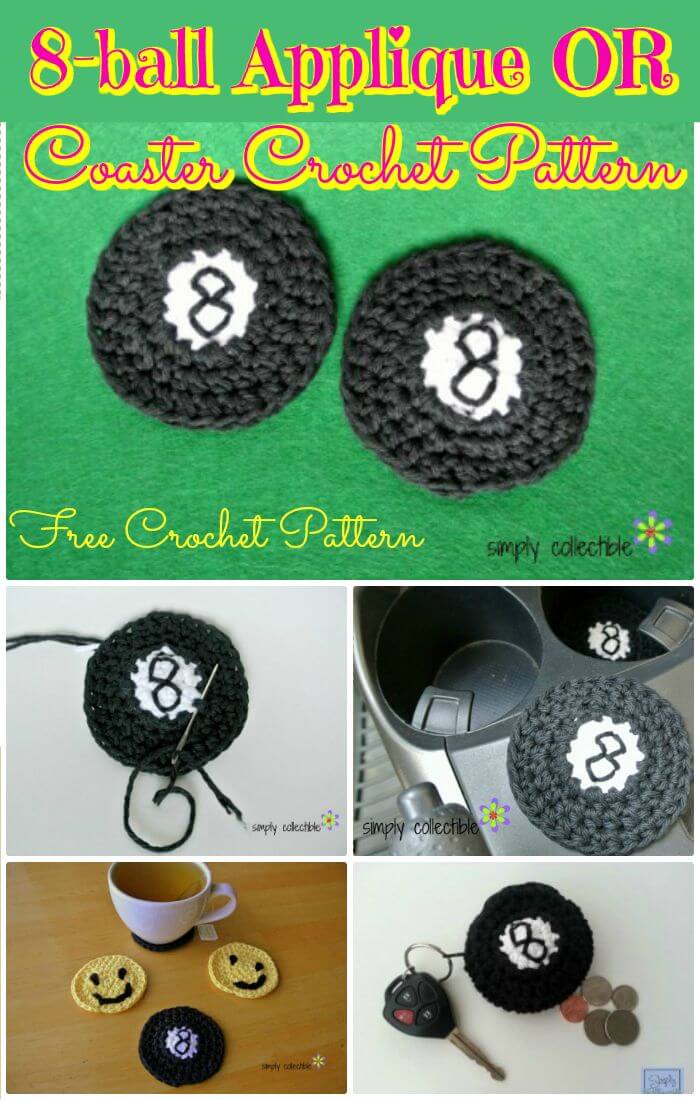 Fathers are just in great love with the eight ball pool game, and thus you can seek tremendous inspiration from it to make something fun, and functional for your father as a gift and these eight ball coasters are just perfect to make a father's day. You can choose the decent colors and dark yarn hues as the fathers like, to shape up your coasters and pack them as the quick and pretty gift for the fathers. Here is the link to grab the pattern details simplycollectiblecrochet
DIY Simple & Easy Crochet Pizza Coasters: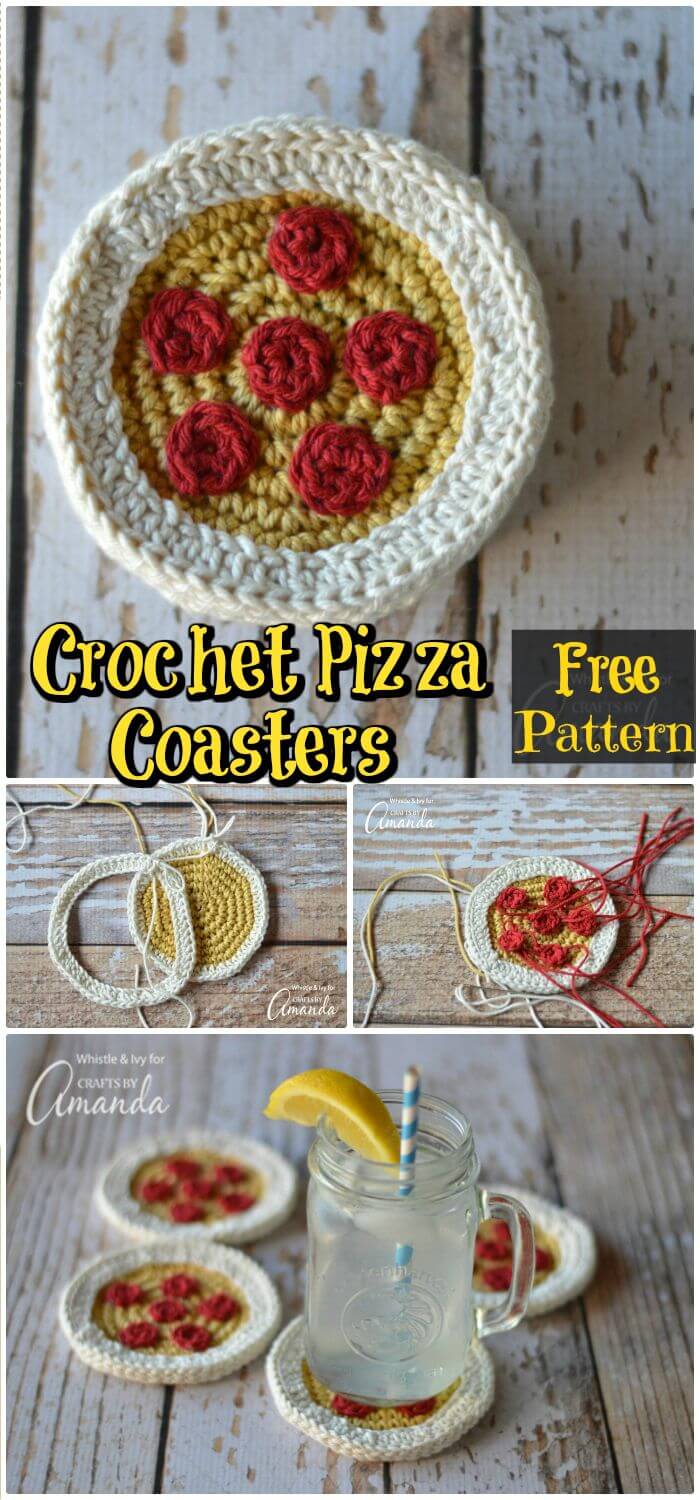 The pizza is not only tasty but hugely tempting for looking so beautifully gorgeous with the chicken pieces and the cheese that is the reason that it has become a huge inspiration and a kind of theme for so many home decor and styling especially for the kids.Here is another pizza creation with these cute and pretty pizza coasters that you can easily make with the two colored yarns. Here is the complete tutorial link to these mini pizza coasters craftsbyamand
Raffia Coasters – Free Crochet Pattern: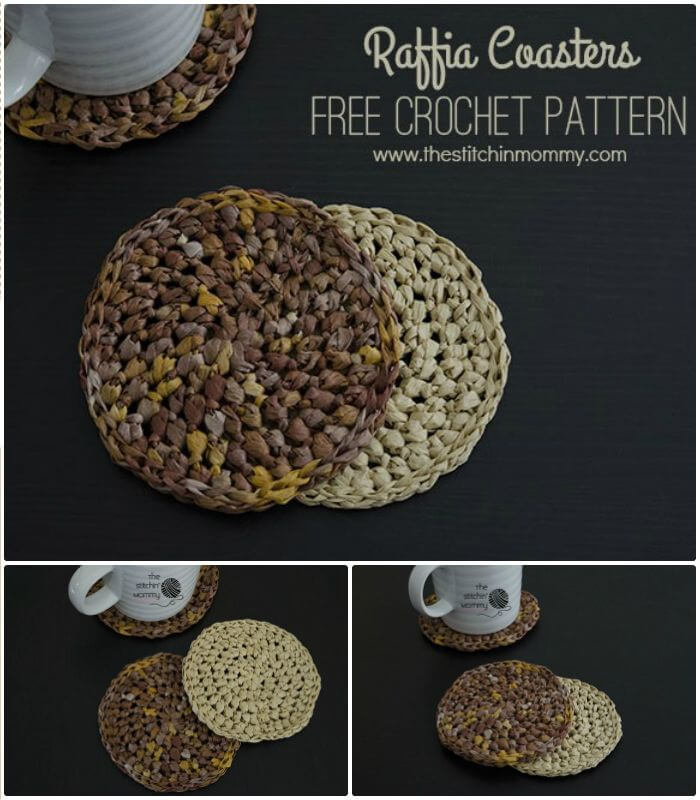 The yarn you use really matters the kind of coasters you want for your table decor. Here are these rustic and textured coasters made out of the Raffia yarn to look really stylish and impressive on your dining table or the coffee table.The pattern is just too simple and fun you can easily get it even if you are at the beginner level of your crochet crafting skills. Here is the link to grab the free pattern and the details thestitchinmommy
DIY Make Crochet Coasters With A Geometric Design: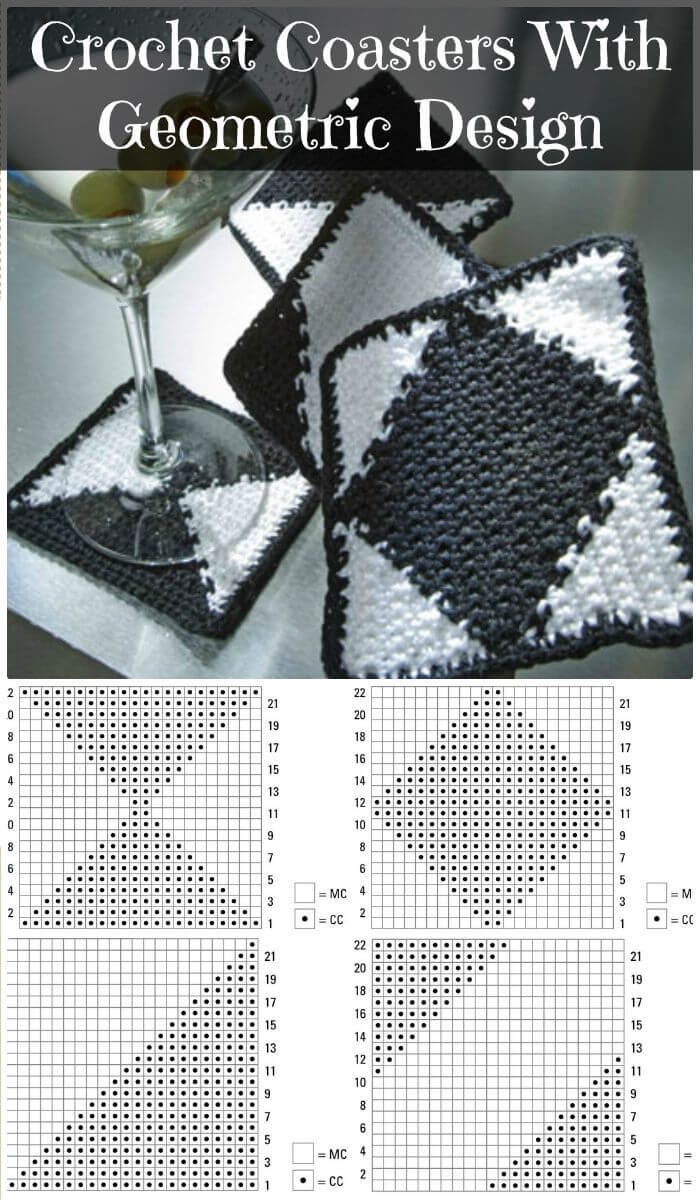 Bring some dramatic and super stylish touches to your dining room decor and your dinner serving with these cute square coasters and that too in the classical color combination of the black and white. The geometric shapes would really coaster shapes and the colors would make them look highly fashionable so do get your hands on them with all the details and free pattern lying here dummies
DIY Crochet Pumpkin Coaster Pattern-Free Crochet Pattern: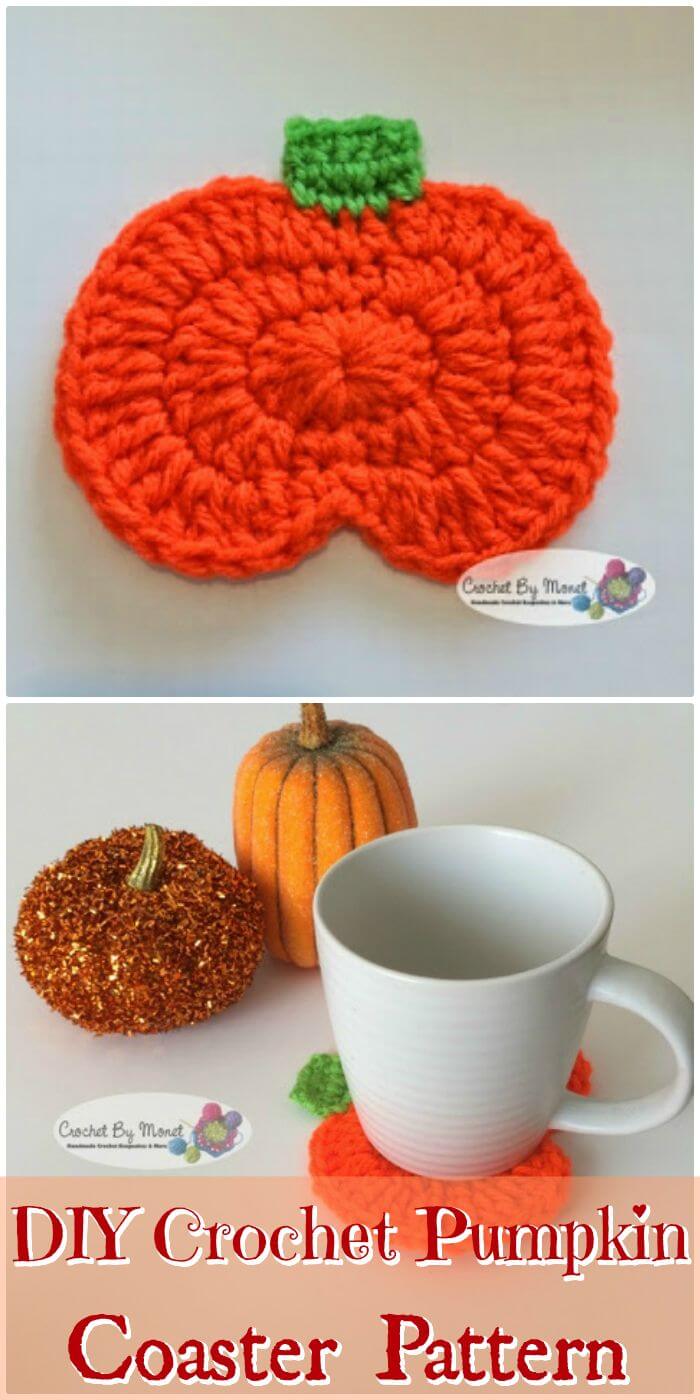 The pumpkins are the customary decorative items for the festive season so why not add another fun pumpkin craft to the festive dinner decor with these utterly cute and gorgeous pumpkin coasters. You would need orange colored yarn with the green cute top to crochet these little festive delights. They would also make the perfect gift for the host or any other persons when the festive season is around. Here is the link to grab the cute and fun free pattern crochetbymonet
DIY Crochet Easy & Beautiful Coaster: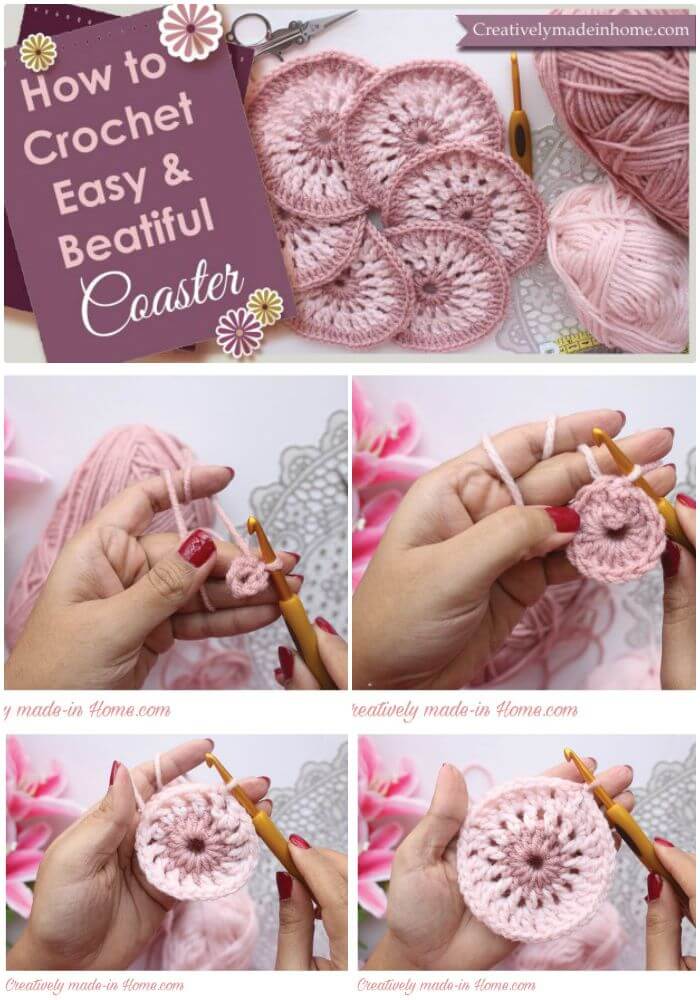 What a great delight it is to receive a cute set of coasters when unwrapping or unpacking a gift on any of the occasion or the events. The pretty hues of the pink colors have been combined together here to shape up this utterly gorgeous and simply stylish coaster set in the really pretty size and shape.You can crochet them and pack them as the gift for any of your dear and loved ones either on formal or the informal occasions.The link is here to catch all the details along with the free pattern of it creativelymadeinhome
DIY Coaster Gift Set Holder-Free Crochet Pattern: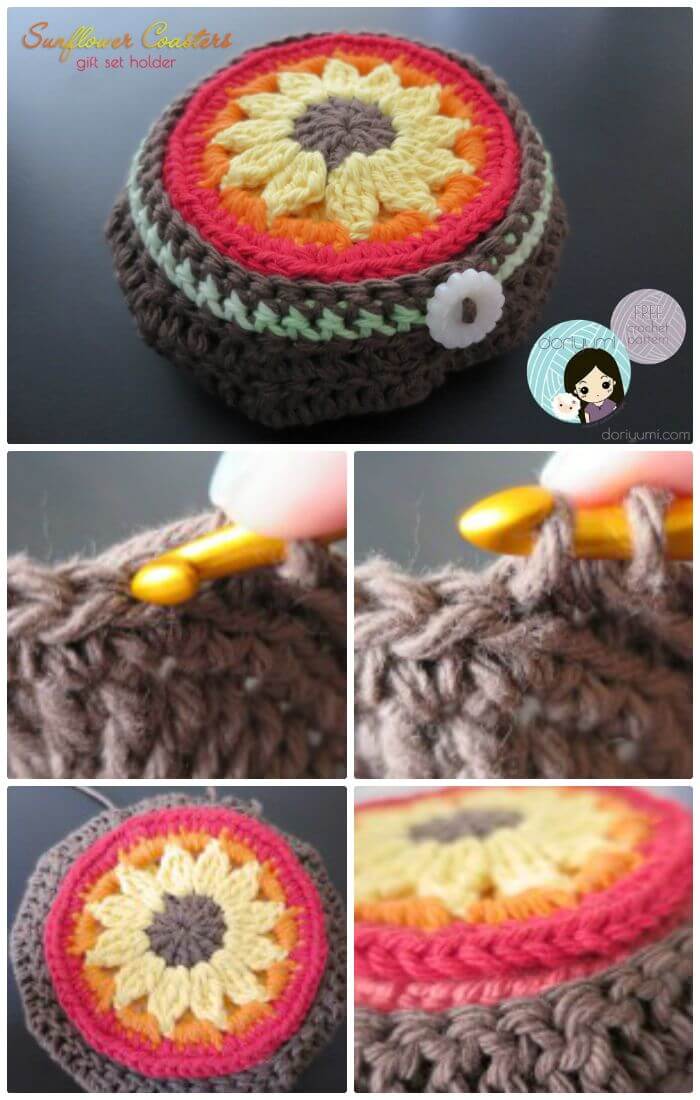 These pretty coasters are pretty cute and a bit different in looks too and that is what makes it look so tempting and gorgeous. The two kinds of shades have been mixed here which really brings out the beauty and style to these flowery patterned coasters. The base of the coasters is just dark brown and the top is made out of the bright and attractive shades of the yarn and hence a gorgeous combination of the pattern and the colors has been created. See the tutorial and free pattern heredoriyumi
DIY Twine Coaster Crochet Pattern-Free Crochet Pattern: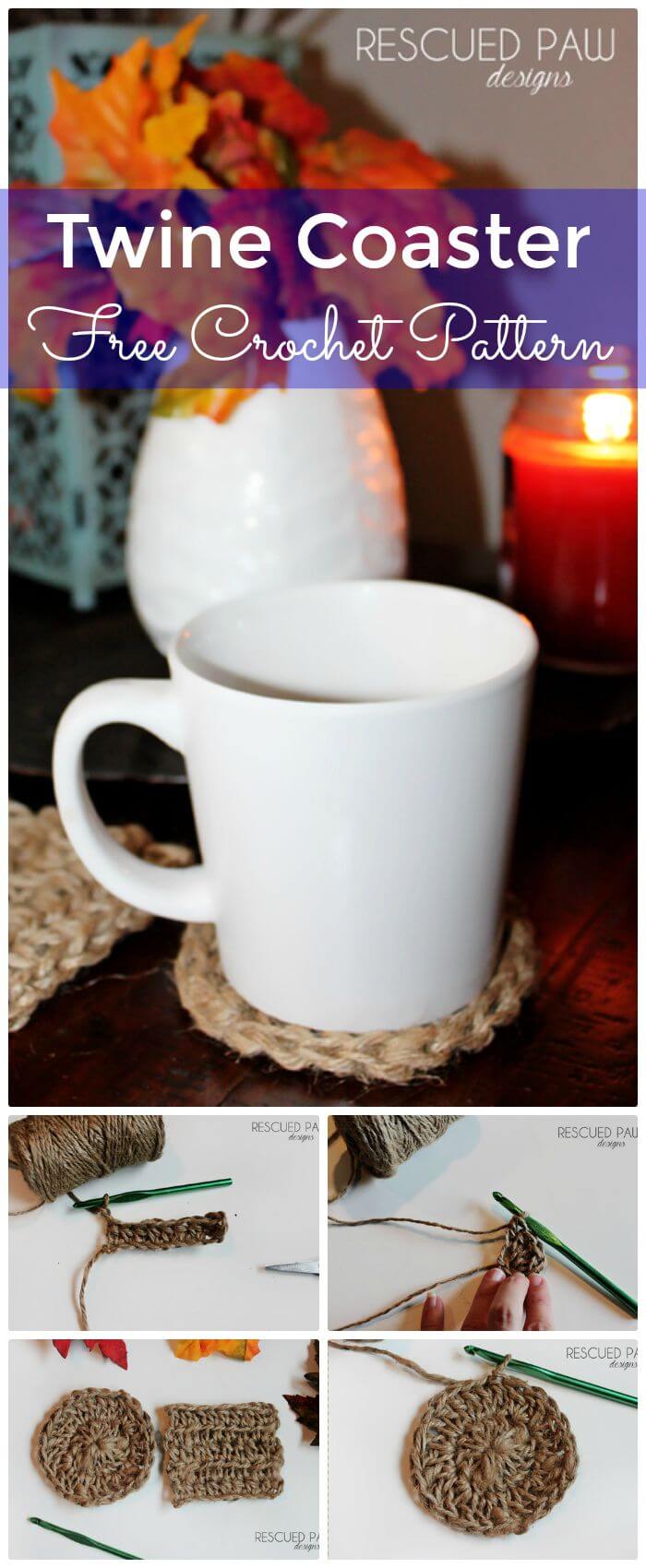 If you are in love with the rustic beauty and want them to be all over the house then making these dark textured coasters out of the jute twine would really bring the rusticity to your dining table decor for sure. The icing on the cake is that you can make them in multiple geometric shapes either circle or square with the quick and easy stitch method of the crocheting. Here is the link you can browse to garb the free pattern and the details of these mini and warming coasters rescuedpawdesigns
DIY Maisie Flower-Free Crochet Coaster Design: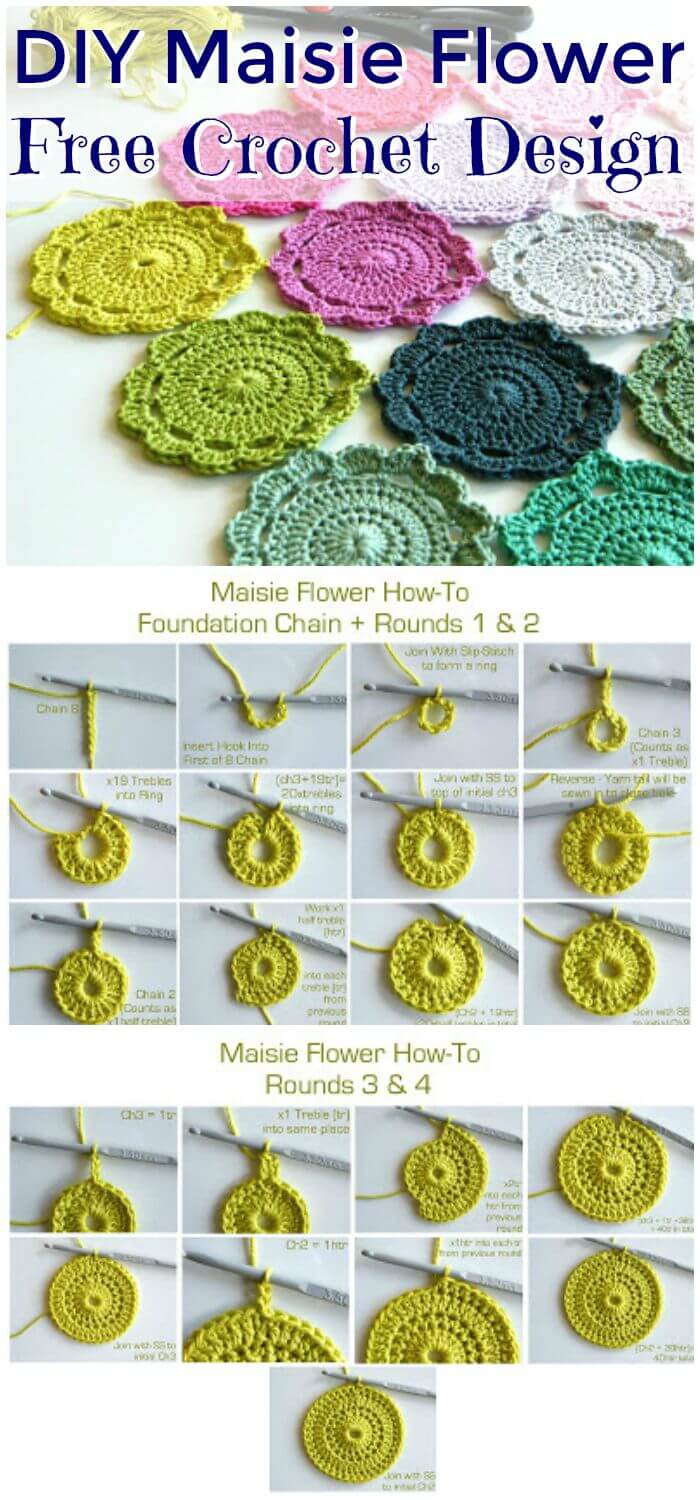 The Maisie flower coasters are just the perfect way to add the elegance and style to your dining table and the coffee tables for being so nicely stitched and crocheted with the center in round and the petals at the side. You can pick up the vivid hues of the yarn to shape up these immensely gorgeous and classical in design Maisie coasters.they are thin but being made out of the cotton yarn they would soak a lot water in them. So here is the pattern of this utterly functional and gorgeous coaster set to get your hands on hookandbake
DIY Crochet Coasters Set – Japanese Flower Motif:

Need the kind of coaster which are quick to crochet but immensely gorgeous and cute ones? Here are these pretty Japanese flower motifs to be used as the perfect kind of coasters in various exciting hues of your favorite yarn and thus bring the heartwarming beauty and fun to your table decor.You can check out the complete tutorial with only four rounds of the hook work right on this link provided daisycottagedesigns
DIY Crochet Daisy Granny Square-Free Crochet Pattern: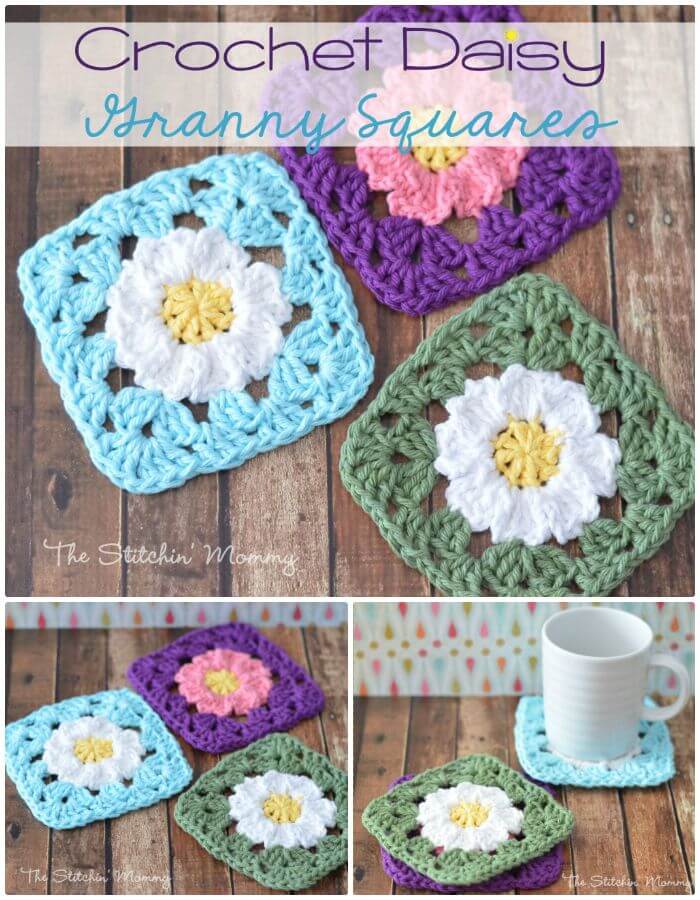 You would need nothing to embellish your tables for the summer but these gorgeous and pretty coasters coming with double pattern delights. One is the lovely daisy flower in the center of the coasters and the other is cute weaving square edges around the daisy and thus giving you the prettiest of the coasters ever. You can make the daisy in white and the square edges in any of the vibrant color for an instant eye-catching look. Free pattern with details here thestitchinmommy
DIY Crochet Circle Flower Coasters: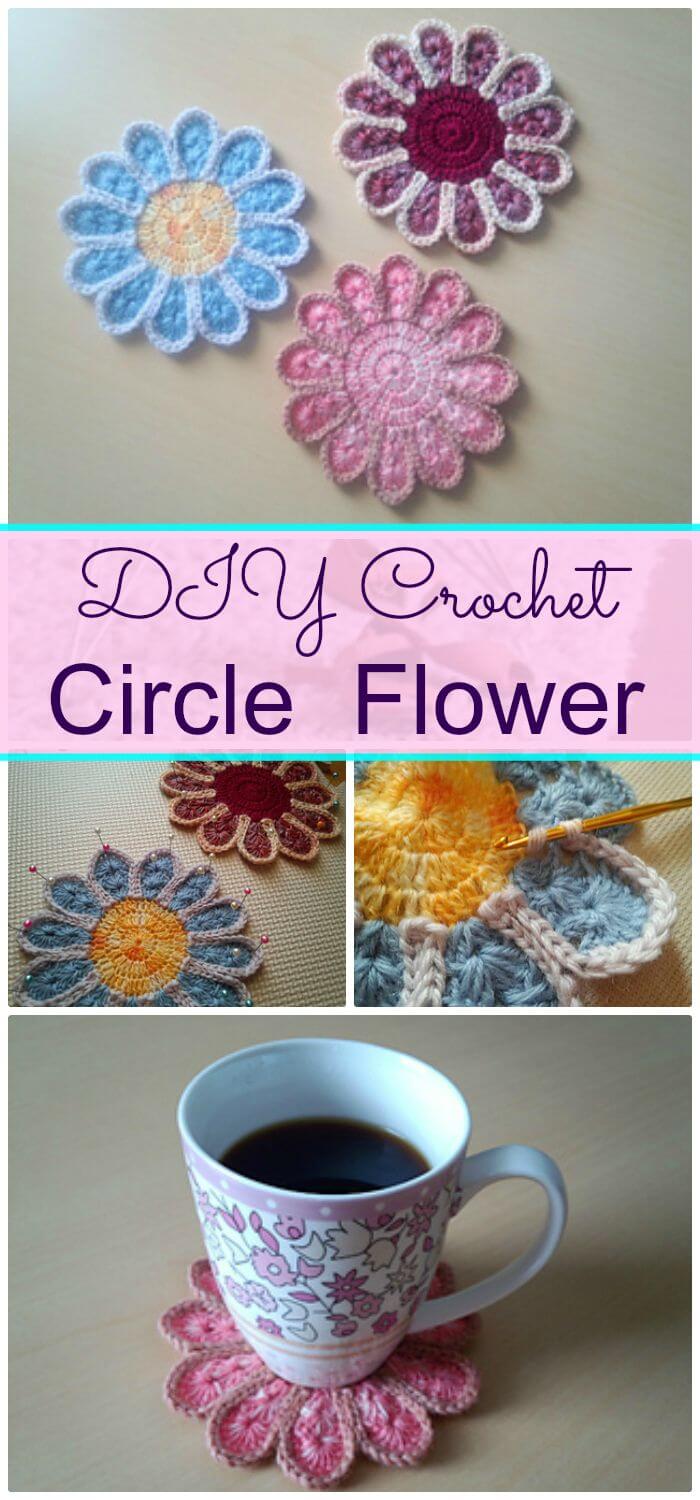 Flowers can add the instant visual boost up to any of your space and would these petal coasters would do to your dining tables, and the coffee table tops. You can choose the set of yarn and the color in it and then work upon these pretty petal pattern to get your pretty coasters to be nicely flaunted around or use as the perfect handmade gift. You can change the size by customizing the number of the petals and flowery center ravelry
DIY Crocheted Coasters Free Pattern: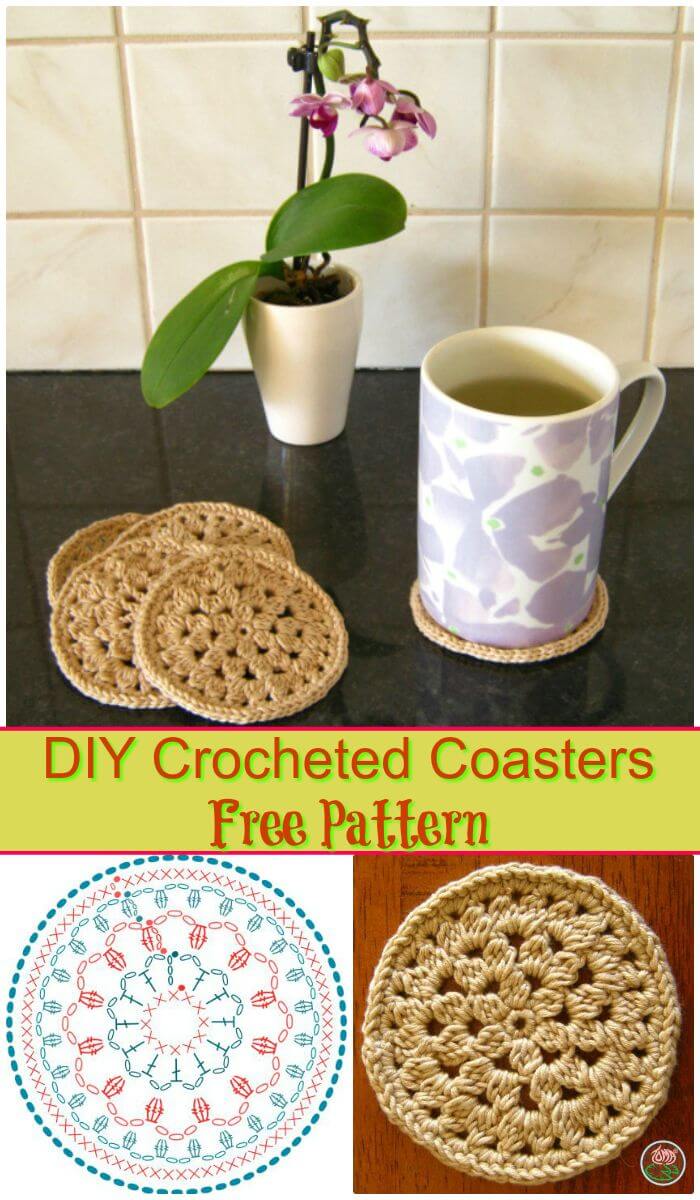 Here is another simple but totally heart touching design of the coasters that you would love to crochet on your own with the simple and light yarn colors and the crochet hooks. With more or less five rounds of the crochet hook work you can complete these mini and cute round coasters and display them proudly on your table decor. Here is the link where you can grab the complete details of the project and make it on your own this weekend tomacreations
DIY Pretty Coaster-Free Crochet Pattern: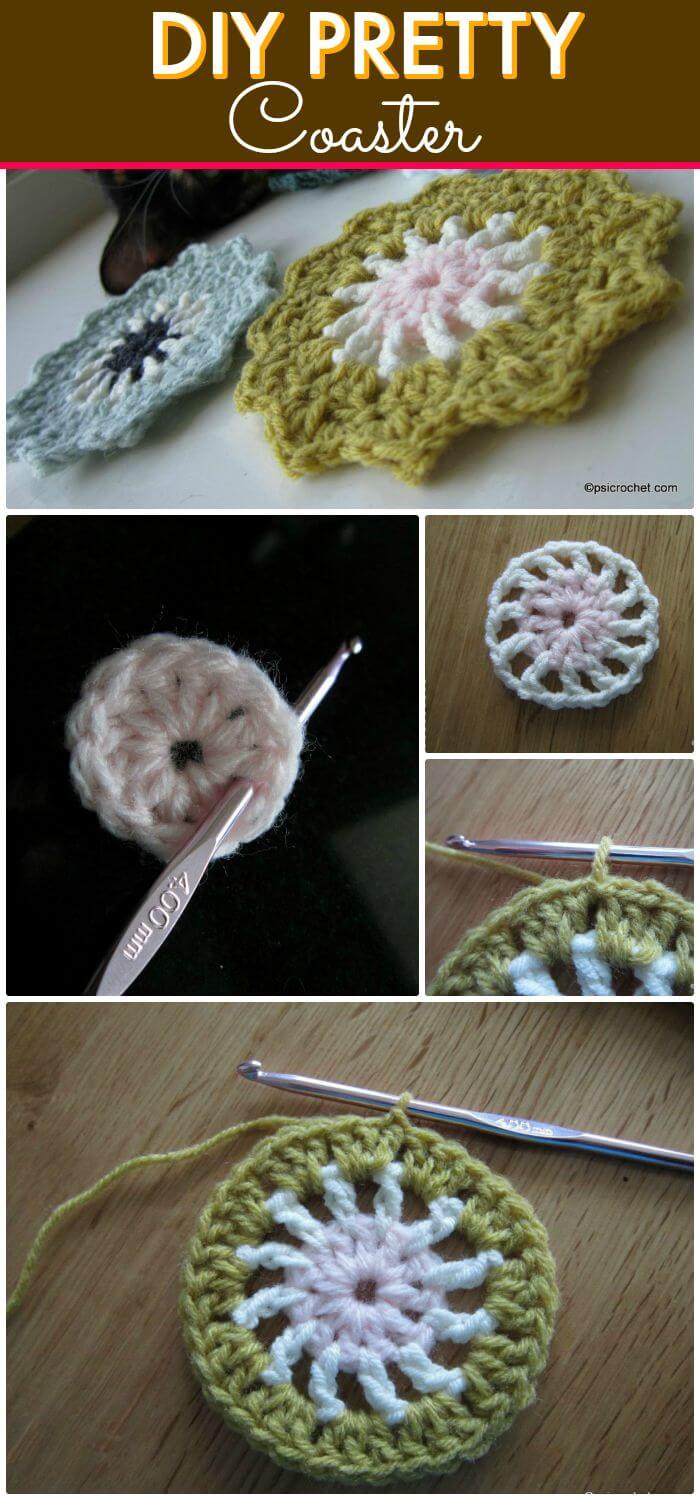 These star-like or flowery shaped coasters would look great on your simple or dull tables of the dining room or the living room and no matter you need them to hold the drinks or the cups or mugs they would look super cute resting there uselessly too. So grab the yarn of your favorite hues or you can use the scrap yarn pieces lying f around your crafting stash to use for the making of these pretty and fun coasters.Free pattern with details here psicrochet
DIY Summer Rose Coasters – Pattern: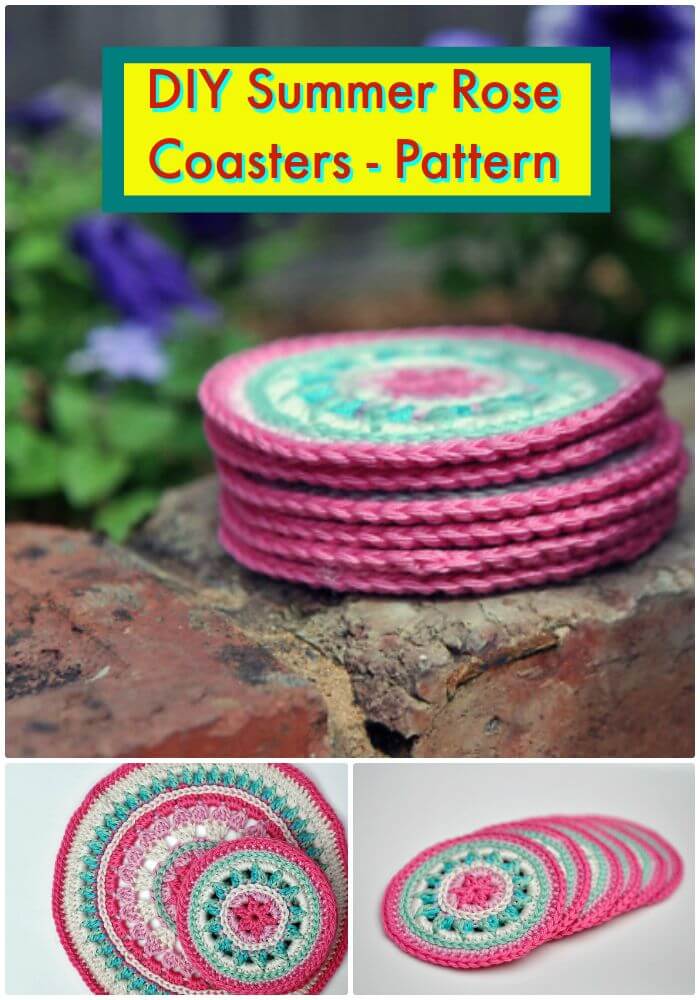 Summers call for lots of fun and that includes the fun beverage parties too. So when you are setting up a table for your party you really need to have these coasters around too so that you can shape up these rose coasters in gorgeous hues and exciting details of the pattern involving the starry rounds, flowery centers and the simple edges too. So do not wait more and get your hands on these immense gorgeous and chic in style coasters with free pattern and the easy details aconversationwithmoo
DIY Spiral Coaster Potholder Pattern:

If you have enough of those flowery crocheted coasters then this time you should really think of some new and quirky kind of patterns this spiral coaster pattern is here for free for you to peek into and grab the details of it to add them to your next do list. You can choose any pretty and vibrant color to be the round base and the white shade would get really noticed as the cute and easy spirals on them. Link here made-in-k-town
DIY Simple Crochet Coasters:

When you are a crochet lover then coasters re the most amusing things to get your crafting skills satisfied as they are not only super cute to crochet but too much functional too as you can use them for your personal need and also make the best kind of gift out of them too. Here are these adorable in pattern, design and colors coasters with a flower center and the simply edges closing. Two hues have been fused together to shape up each of these coasters and make a pack of four to go as the most heartwarming fit ever topped up with a yarn bow. You can catch the complete details of the project her claireabellemakes
DIY Super Simple Crocheted Coasters Are The Perfect Tiny Gift: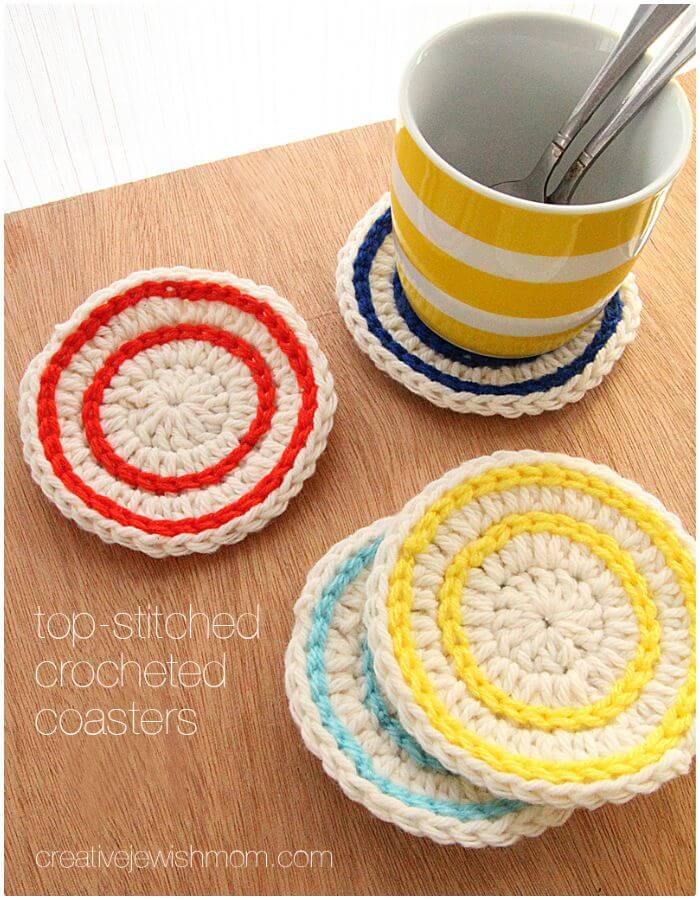 Here is this pretty coaster pattern that you can crochet in less than hour for being so easy, fun and quick to work with the hooks. Consisting of the 3 rounds of the crochet stitch these pretty, cute and simply stylish coasters would really look great on your plain and simple tabletops be it the dining table, party table or the coffee table in the living room. Here is the link you can browse to get the free pattern and the complete details of it creativejewishmom
DIY Make Your Own Crochet Coasters Pattern: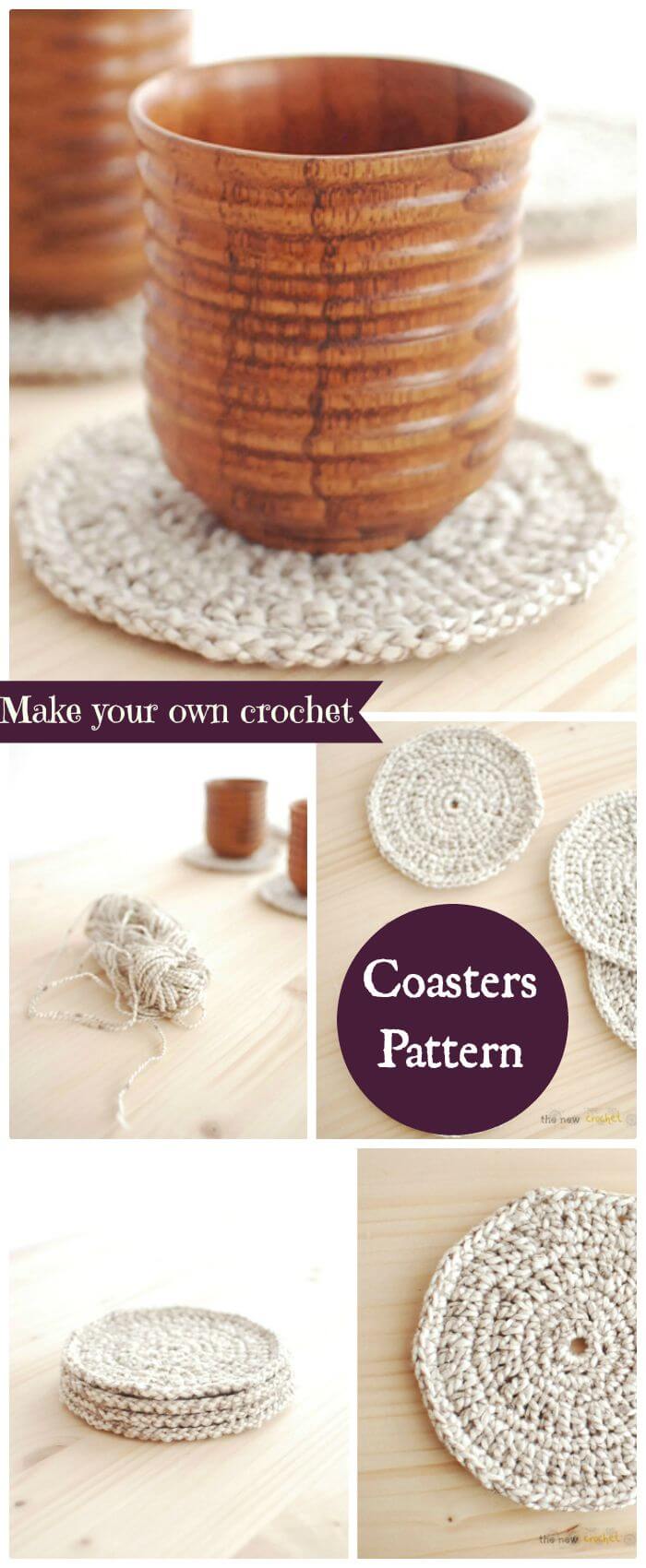 Making the simple coasters would really be good for your decor and table styling because such simply gorgeous coasters just compliment all types of decor and style setting. These round shape flowery coasters have been easily made of the fun hook or using the light cool yarn.It would also suit best a country styled party theme for your birthday, baby shower or the wedding too so do hack the free pattern and the details of it here newcrochet
DIY Coaster Set Tunisian Crochet Patterns: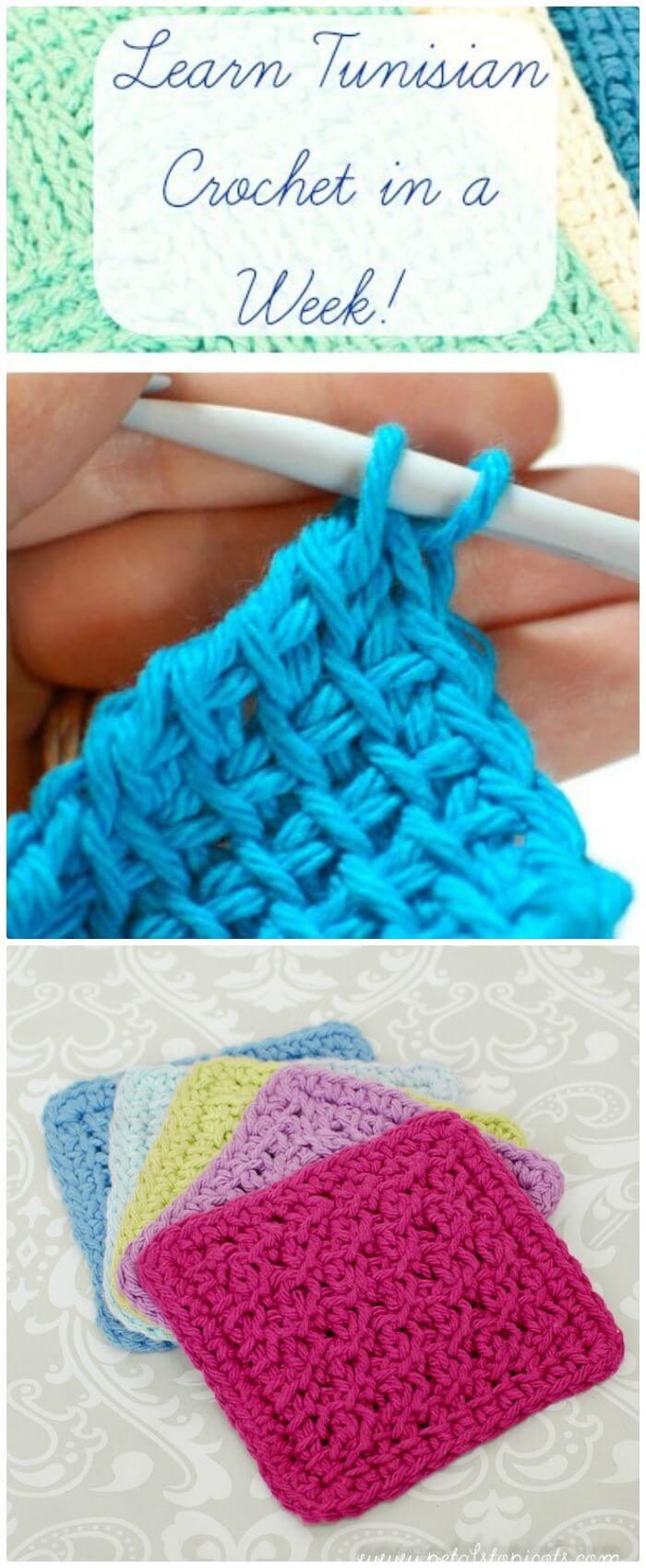 These Tunisian coasters would instantly spice up your table decor and party setting with their cute square shapes and the pretty vibrant hues used in the yarn to crochet them up nice and easily. You can easily get your hands on this fun and chic pattern and become an expert within a week to get them completely. on your fingertips. To help you more we got the free pattern and the details here petalstopicots
DIY Summer Spiral Crochet Coasters Pattern: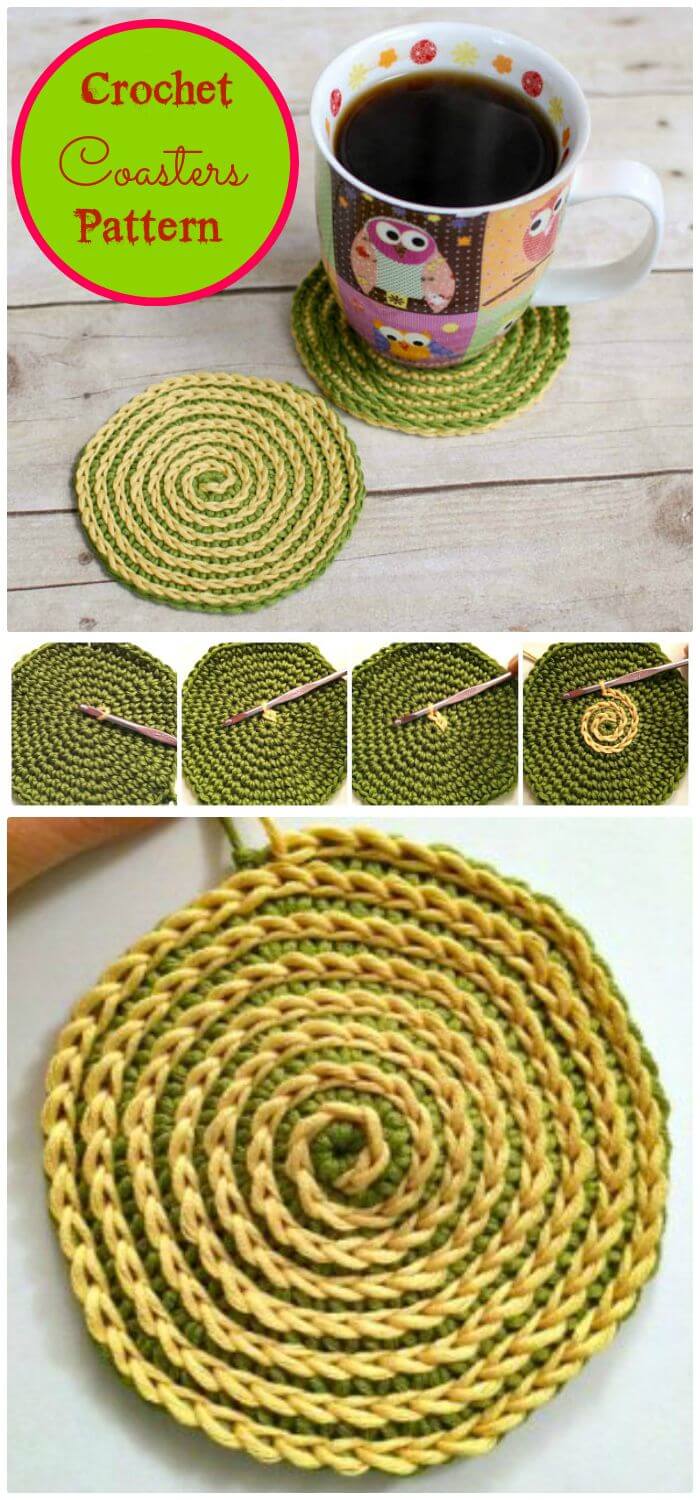 Spirals look really enchanting to the eyes and so they can easily whipped off in a project of crocheting coasters so that you can get the most pretty and the most feasible kind of coasters or your spaces. You can use two different shades of the same color or you can combine the multiple shades to shape up your spiral coasters and use them stylishly on your dining tables for the dinners and coffee tables for the fun get together times. Tutorial here with free pattern and its easy details petalstopicots
DIY Crochet Candy Flower Coaster Pattern: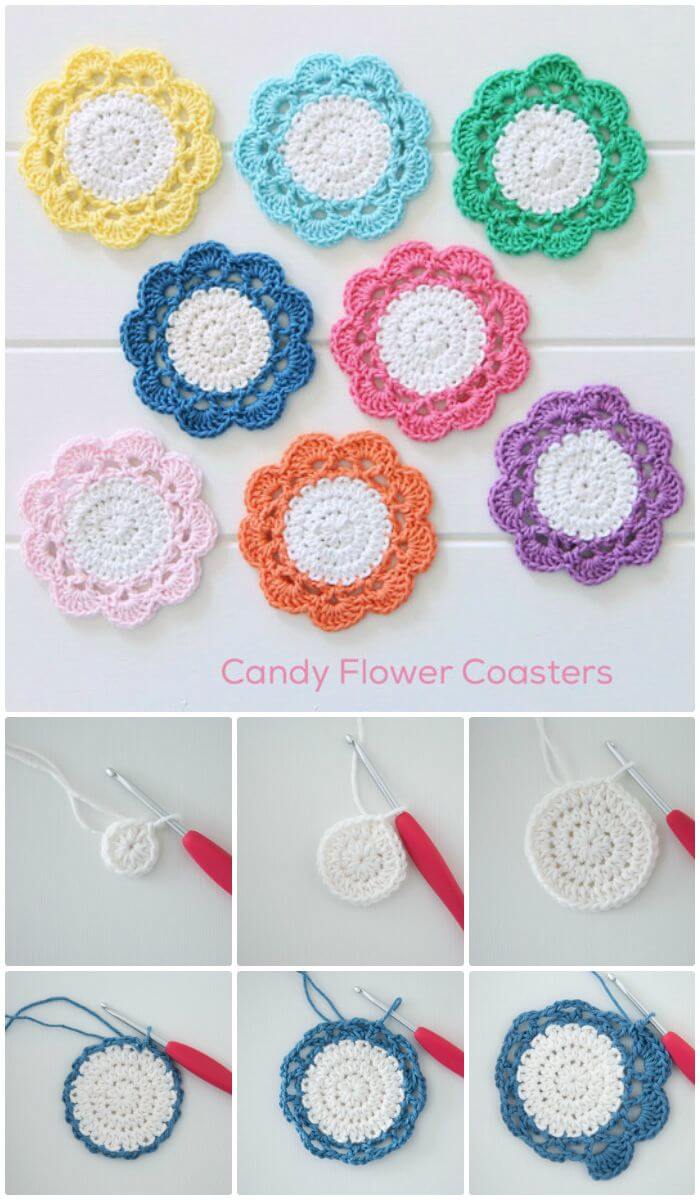 When you are continuously working on the crochet projects you are left with a lot of scrap yarn and the best way to use them is making these pretty and chic coasters out of them. To shape up the coasters in your pattern you can just mix up the colors in your desired way and get the pretty delightful results. These candy flower coasters are just the best way to use your yarn stash with the gorgeous pop out of colors to be added in your home style and decor. Free pattern with instructions here redagapeblog
DIY Make Crochet A Simple Coaster: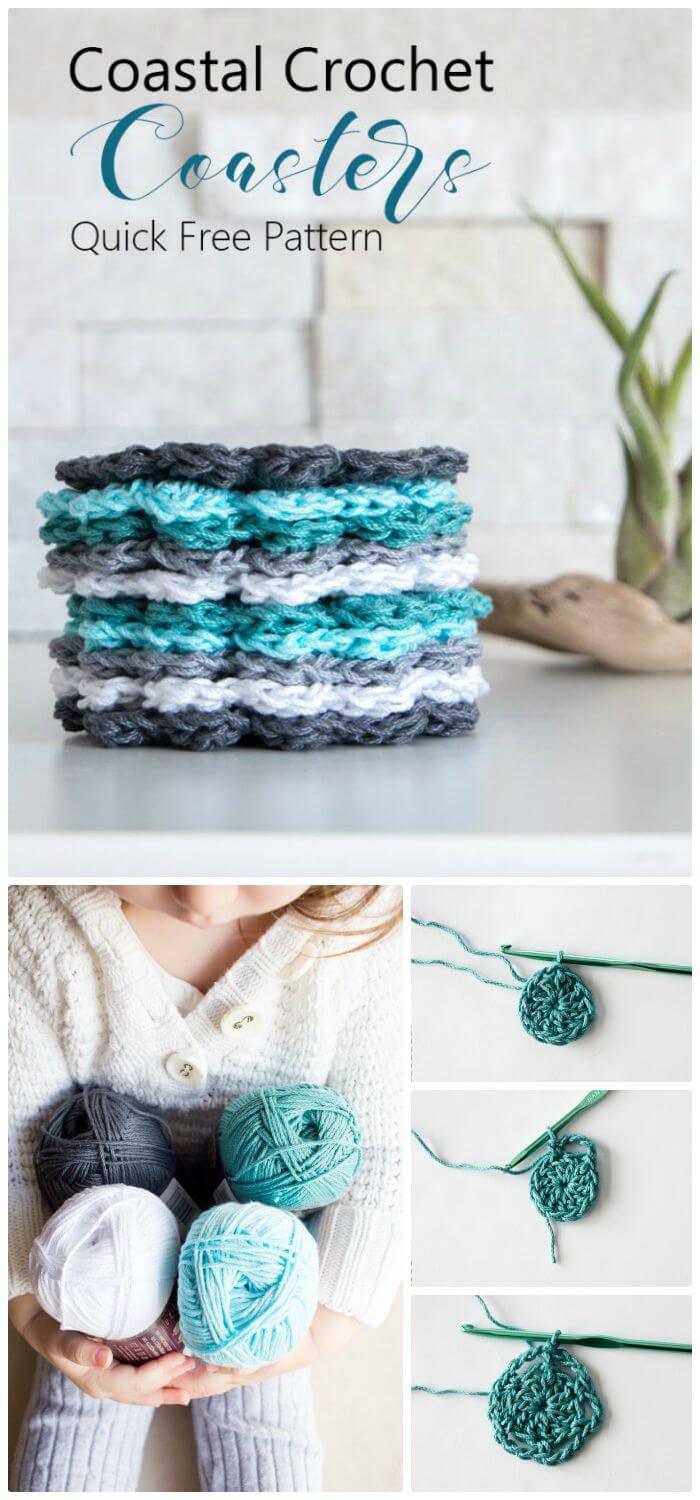 If there is a crochet aspirant in your family then let her practice on these pretty and chic kind of coasters so that she can be a good crochet in future too. You can use those first attempted coasters as the perfect gift and it would more than precious than any gift you could ever buy for yourself or anyone in the family. Here are the free pattern details which are just immense easy and totally of the level of the beginners sustainmycrafthabit
DIY Free Heart Coaster Crochet Pattern: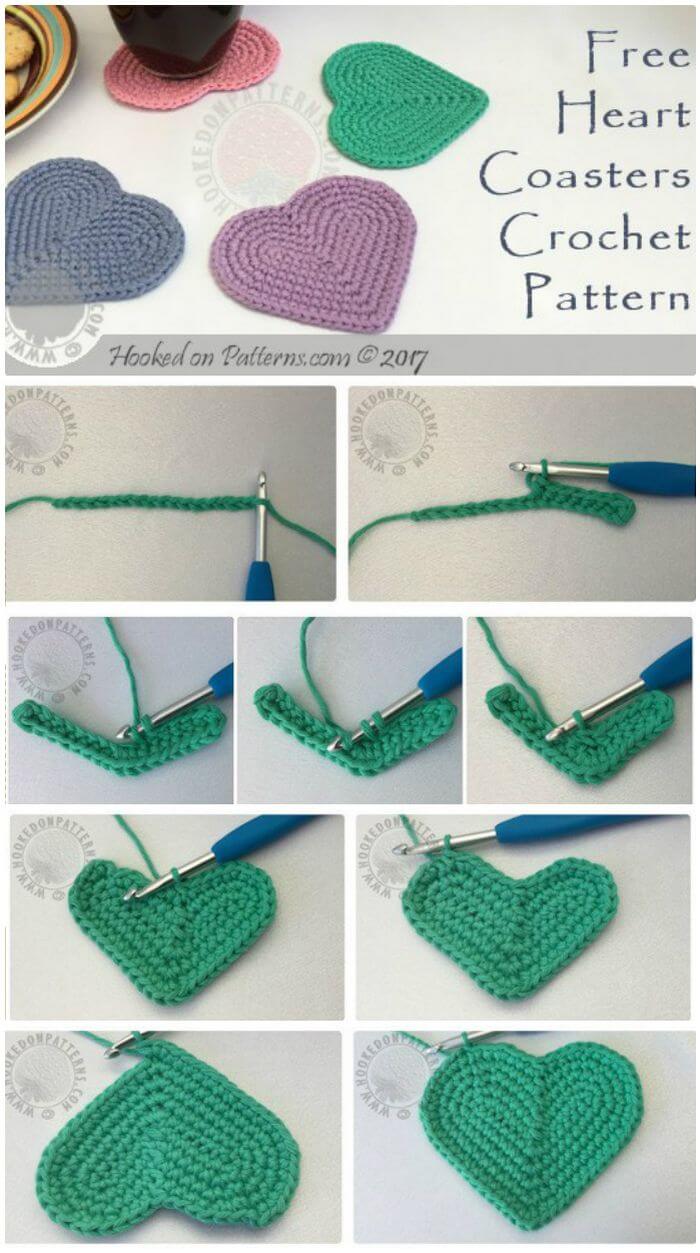 This valentine day you can plan a perfect coffee date at home with your partner if he is not free to go out and celebrate the day. And to charm up the date more you can make these adorable and totally whimsical pieces of the heart-shaped coasters to hold your coffee mugs on and thus spruce up the romantic setting and the date decor in a pretty and fun way.Using the colors matching your coffee mugs would add icing on the cake so hack the free pattern details right from this link and get your hands dirty with this project hookedonpatterns
DIY Crochet Flower Coasters:

The flower coasters are just the most gorgeous and the cute ones to whip off easily at home in the least of the time and money expenditure and the weather around is summer then making them in plenty of the colors would really bring the fun to the flowery shapes. You can use all the yarn scraps from your stash and thus make the most out of them. Here is the link to grab the details of the free pattern and more thinkcrafts
DIY Free Pattern For Oh So Colorful Summer Coasters:

The summers bring not only colors to our life but to the decor too so here is another cute idea to bring the colors in your table setting when the summers are around.You can make these totally cute and sight-pleasing coasters in pretty bright yarn hues and add them to your dining table for the dinners or to the coffee tables when you are there with your friends and enjoying coffee time or drinks. You can check out the complete details of the project right on this link provided lakeviewcottagekids
DIY Simple Free Pattern For Oh So Colorful Summer Coasters:

These pretty and chic styled coasters are just perfect Christmas gift for your dear and near ones to enjoy some warm and cozy vibes in the cold weather. The twist in the structure of this coaster set is that they are made up with double colors on the back and the top and you can just flip around and enjoy a completely new coasters. Between the coaster layers you can use pads to add the weight and volume. Here is the link for complete details of this coaster project yarniapdx
DIY Sea Shell Coasters-Free Crochet Pattern:

You would see nothing whimsical and charming than these sea shell coaster for your beverages and coffee mug holders and also bring the real beachy vibes to your home decor when the weather is starting to warm up.The colors and the shades of the yarn s are too coastal and beach-inspired and thus making them look perfect for the summers. The pattern is just quite easy and fun and you can learn it and hack it for free here ramsileighcrochet
DIY Grocery Bag Coasters Free Pattern: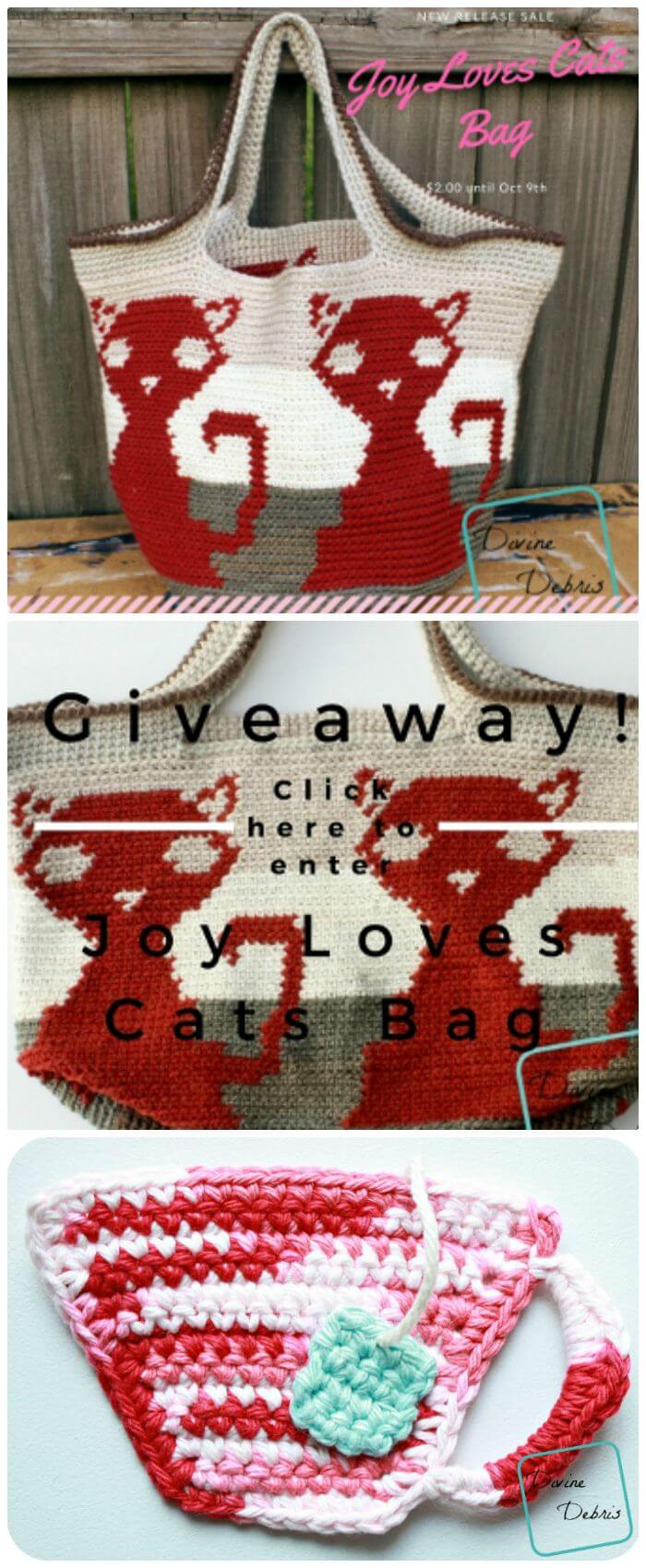 Hold your hearts as they would pound over these over loaded-ly cute and hugely adorable cup-shaped or coffee mug shaped coasters in exquisite colors and combinations. These cute cups are just too easy and fun to crochet as the coaster with the close weaving or knitting and you can work them up in less than 30 minutes so they really worth a quick hack. Here are the full details of the project divinedebris
DIY Basic Single Crochet Coaster: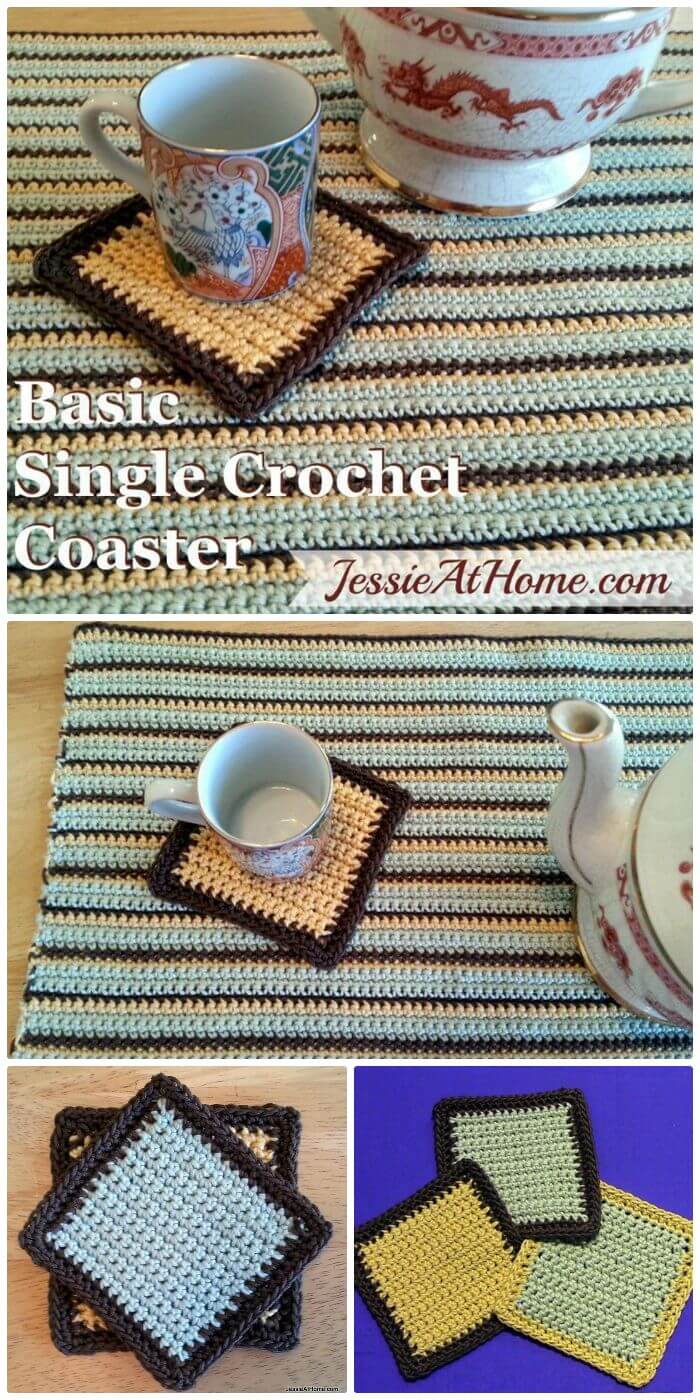 The crochet beginners can really have the fun while making these immense easy and cute single crochet coasters and present them as the most heartwarming handmade gift ever. The pattern is just too simple and easy with the rows of single crochet work but still the coasters have been managed to look gorgeous with the pretty bright color in the center and a dark one a the border and pretty square shape. Grab the easy pattern details here craftsy
DIY Heart Coasters or Appliques:

The heart is the symbol of love, affection, and loyalty so whenever you want to show off your feelings to someone special whipping off the cute gifts in heart shape is the best way to convey your feelings. So why not make these too soft, exquisite and textured heart-shaped coasters in a pack of six or twelve and present them as the loveliest of the gifts ever.Here are the quick and easy details of the project to crochet it right this festive season jessieathom
DIY Owl Coaster-Free Crochet Pattern:

giving anything some cute creative touches just really makes that thing look fun, chic and extraordinary to be enjoyed around. So instead of making those square or round shaped commonly styled coasters, you can get your hands on these owl coasters and that too in various colors and thus busting your stash in the coolest and fun way. Here is the link to catch all the details of the cute project and try it right this weekend ravelry
DIY Free Crochet Happy Foot Coaster: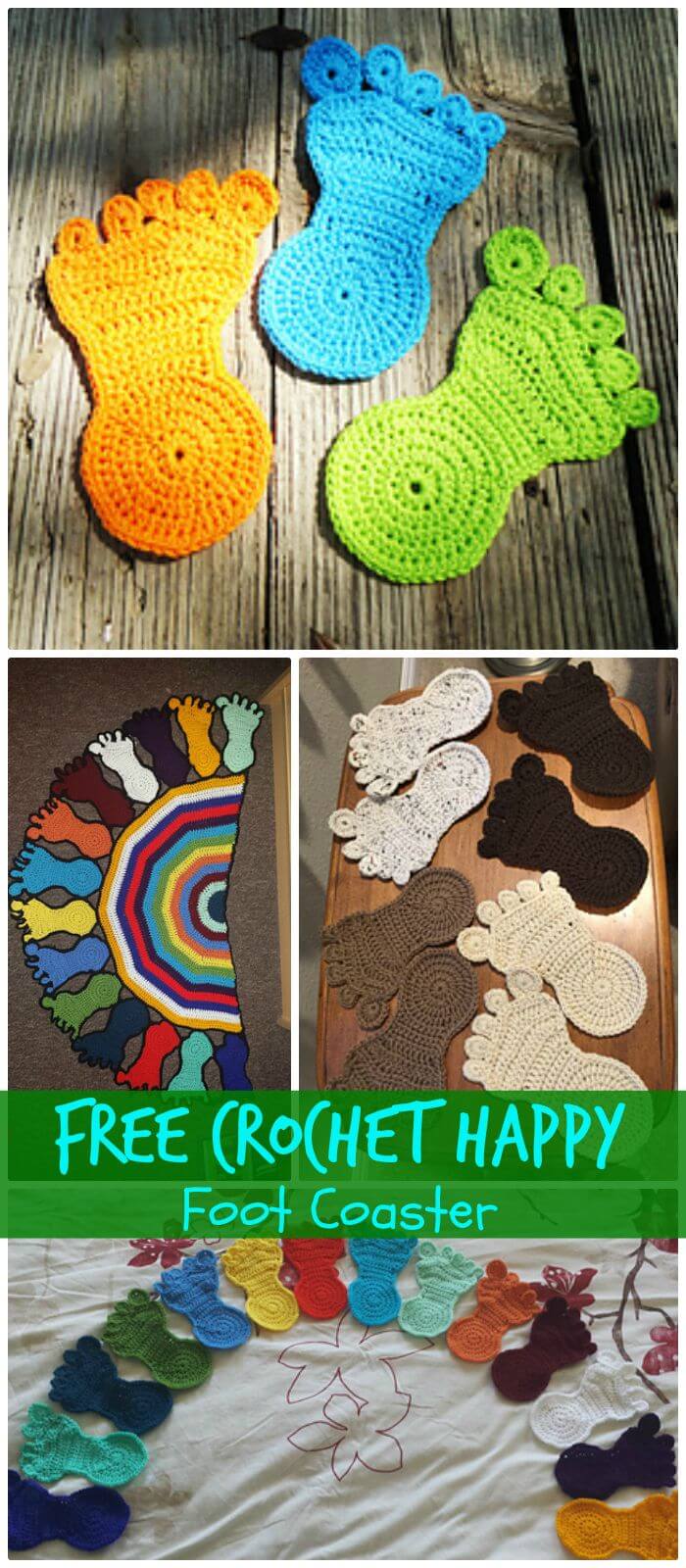 If you love crocheting then you would be all on your happy feet while crocheting these utterly unique and one of a kind coasters for your drinks and coffee mug holders on. These are the feet shaped happy feet coasters and would be the most quirky addition to your coaster collection for sure. You can make them in any of the bright hues you like, and for the pattern, you can just browse the link here and know all about the instructions, materials and the stitch details you would be in need for this project ravelry