Learn what to make with Tshirt yarn with these 15 15 free crochet T-shirt yarn patterns and projects with step by step instructions that take your crocheting to the next level. You can crochet with either made-from-scratch yarn or with pre-made t-shirt yarn. Not only is crochet with t-shirt yarn great for home decor projects, but also makes an excellent choice for transforming your favorite old t-shirts into something new and creative.
The possibilities are truly limitless when it comes to crochet t-shirt yarn patterns. With 15 free crochet tshirt yarn patterns to choose from, you can find something that fits any skill level, from beginner to advanced. So grab some made-from-scratch or pre-made crochet T-Shirt Yarn and start crafting today!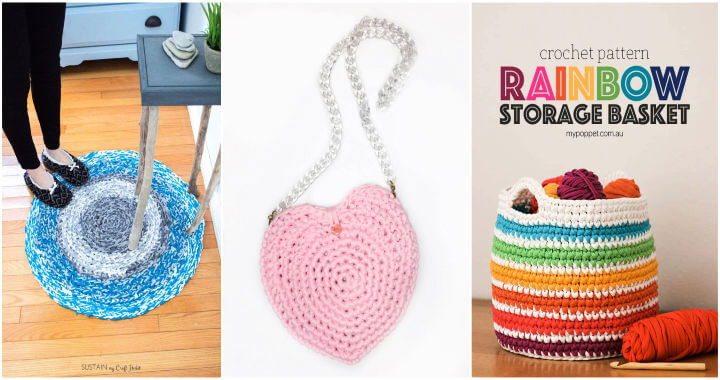 Free Crochet Tshirt Yarn Patterns – T-Shirt Yarn Projects
Create unique and stylish crochet patterns for your home with upcycled t-shirt yarn! From creating a beautiful basket to a cozy blanket, crochet t-shirt yarn projects make for fun and stylish home decor. With fifteen free crochet t-shirt yarn patterns ranging from a stylish hangbag to a practical bath mat, there are endless ways to get creative. T-shirt yarn projects allow you to upcycle your old fabrics into something new while bringing personality and chic style into your home.
What is t-shirt yarn?
T-shirt yarn is a type of yarn made from upcycled t-shirts. It's created by cutting old t-shirts into long, thin strips, which are then twisted and rolled together to form an eco-friendly and durable yarn that can be used for knitting, crocheting, weaving or any other craft project. T-shirt yarn is strong and stretchy – perfect for making home decor items such as rugs and baskets, as well as clothes like scarves and bags. It's also great for creating macrame jewelry pieces like bracelets or necklaces. There's no limit to what you can make with t-shirt yarn! If you're looking to reduce your impact on the environment, this is a great way to do it! Let your creativity shine! Enjoy!
How do I make t-shirt yarn?
Making t-shirt yarn is fairly easy. Begin by cutting the t-shirt into strips, or tearing it apart. You may use a rotary cutter or scissors to make even strips. Tie the strips together and stretch them out to create one long piece of yarn for knitting or weaving projects. It can be used for many crafts such as making placemats, rugs, baskets, pom-poms and more! Have fun crafting with your homemade t-shirt yarn!
What is t-shirt yarn used for?
T-shirt yarn is a popular material for craft projects. It can be used to crochet and knit into bags, purses, baskets, cushion covers, and much more. It's also perfect for macrame and other decorative accents like crochet wall hangings. The possibilities are endless with t-shirt yarn! Get creative and try using it in your next project!
What is the thickness of t-shirt yarn?
T-shirt yarn, also known as t-yarn or jersey yarn, typically has a thickness of around 1 cm-2 cm. It is made from cutting up old T-shirts into strips and then knitting them together to form one continuous piece of "yarn". The end result is a thick and durable material that is great for many crafting projects like crochet bowls, wall hangings, bags, and more! Furthermore, it can also be used in place of rope for making macrame pieces. T-shirt yarn is a great way to reuse old clothing and create something unique!
What size crochet hook to use with t-shirt yarn?
The size of crochet hook you should use with t-shirt yarn depends on the thickness of the yarn. Generally, a 6mm or 7mm hook works well for most projects. However, if your yarn is very thick, you may need to go up a size or two and use an 8mm or even 9mm hook. Experiment with different sizes to find the one that works best for your project.
What can I crochet with jersey yarn?
Jersey yarn is perfect for crocheting lightweight and drapey garments, such as shawls, scarves and wraps. It's also great for making accessories like hats, bags and purses. You can even make cozy blankets out of jersey yarn! The possibilities are endless with this versatile material. So get creative and have fun with your next crochet project!
What can you make out of t-shirt yarn?
T-shirt yarn is a versatile material you can use to make all sorts of crafty projects! From macrame wall hangings and plant hangers, to rugs and baskets, t-shirt yarn makes it easy to create a wide range of home decor pieces. You can also use it to crochet items like pouches, bags, and coasters. With just some basic supplies and creativity, you can unleash your inner DIYer with t-shirt yarn!
What is another name for t-shirt yarn?
T-shirt yarn is also known as jersey, t-yarn or rags. It's made from cutting up old t-shirts into long strips and forming them into a looped yarn that can be used for knitting, crocheting, weaving, macrame and other craft projects. It's an economical and eco-friendly way to create unique pieces of art without using more traditional materials like wool or cotton. The colorful variety available makes it perfect for creating all kinds of fun items!
What is the first thing to crochet using T-shirt yarn for beginners?
A simple, flat rug is the best project for beginners to crochet with T-shirt yarn. This project requires minimal skill and allows you to practice different stitches while creating something useful. You can make the rug in any size or shape, and it will look great in any room of your home. With a few basic supplies and some creativity, you'll have a cozy new addition to your home decor in no time! Good luck.
1. Crochet Chunky Hexie Rug – Free Pattern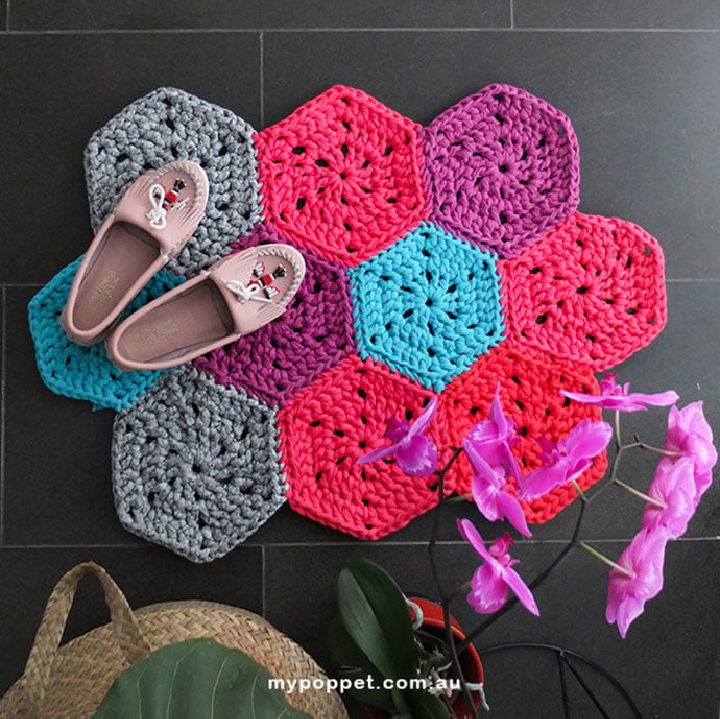 This gorgeous crochet chunky hexie rug is super easy and fun to crochet yourself at home. Using the t-shirt yarn of variously bright hues you can crochet up a bunch of the hexagons and then put them together to shape this honeycomb shaped gorgeous rug. Learn the step by step details of the idea here! mypoppet
2. How to Crochet T-Shirt Yarn Tote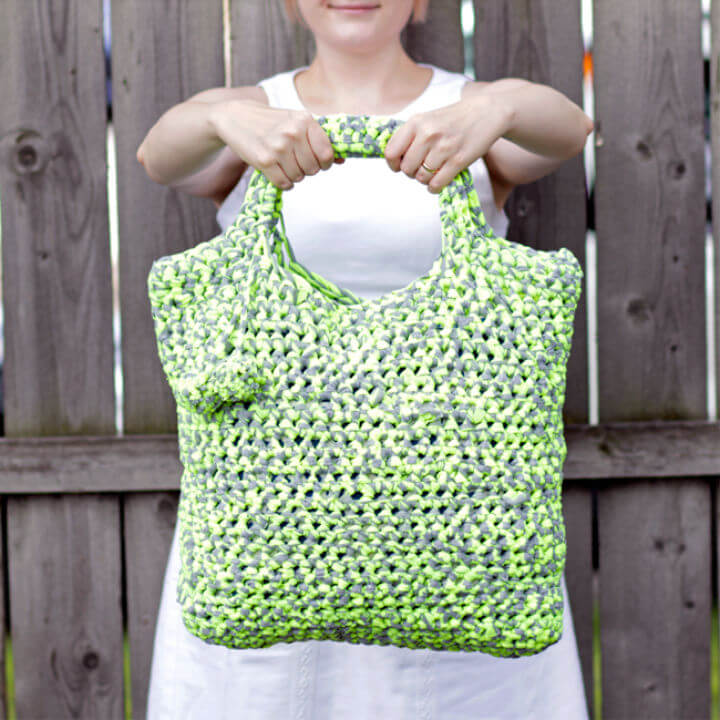 This gorgeous tote bag is super cute and adorable and also highly sturdy and strong as it has been crocheted out of the thick and heavy t-shirt yarn. You can use any of your favorite colors of the yarn to get the desired colors in your handmade tote bag. Catch the pattern and details here! handsoccupied
3. Make T-shirt Yarn Rug – Free Crochet Pattern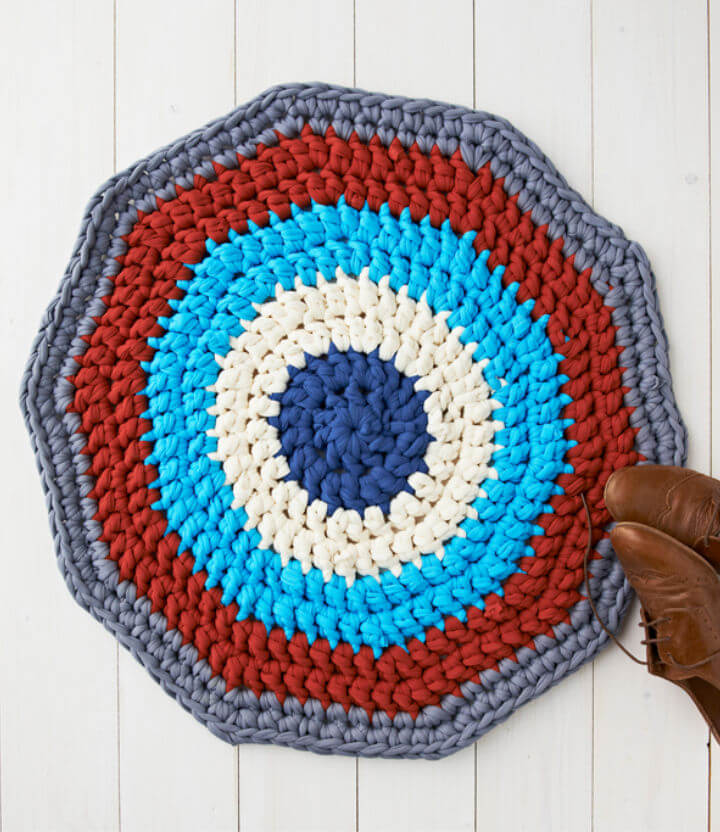 For the giant crochet projects, you need thick and bulky yarn just like this big rug has been shaped up using the t-shirt yarn. The rug has five layers of the different colored yarn from the center to the outer edge which can be totally customized to get you the desired results. Catch the pattern and details here! molliemakes
4. Free Crochet T-Shirt Yarn Hanging Planter Pattern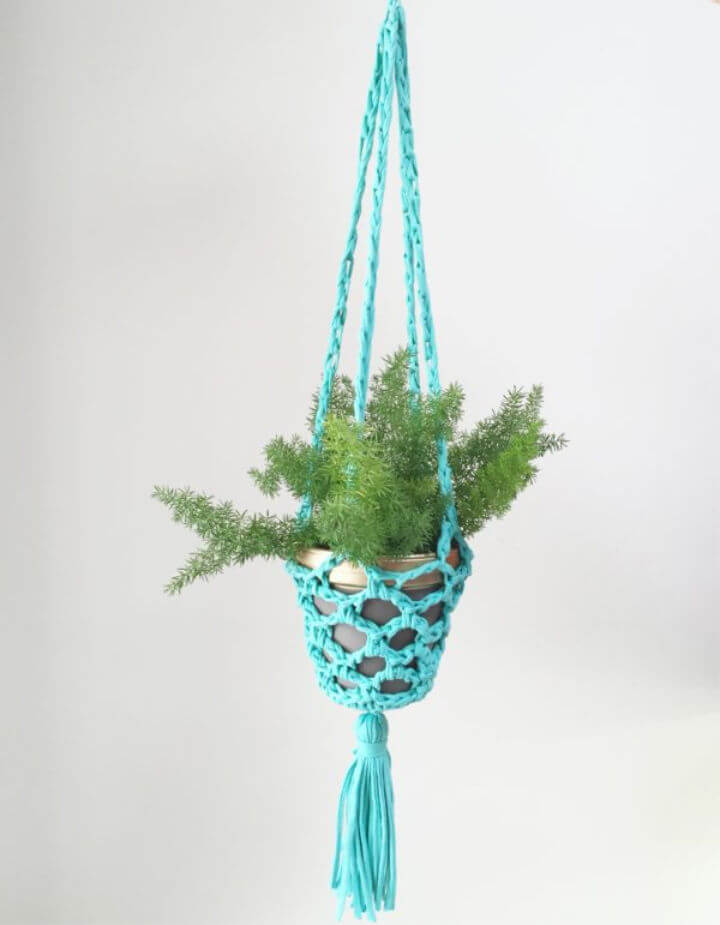 Here is this lovely crochet t-shirt yarn hanging planter that would really jazz up the beauty of your spaces and bring some fresh air of style too. You can pick up any of the yarn colors and crochet up this really simple and cute plant hanger which is surely going to sturdy and strong. Easy and fun details here! wordpress
5. Crochet Rainbow Storage Basket Pattern Using T-shirt Yarn
The beauty of this crochet storage basket lies in the choice of the colors of the yarn having been picked to crochet it up. Yes, the combination of rainbow hues with white yarn has really made this basket look handsome and adorable. Find out the details of the pattern here! mypoppet
6. Crochet Chunky T-Shirt Tote – Free Pattern
This gorgeous and stylish crochet chunky t-shirt tote bag is the perfect thing to crochet at this weekend and add some cuteness to your bag collection. The texture of the tote bag is due to the thick and heavy t-shit yarn that you use to shape up this adorable chunky tote bag. Free pattern and details here! loopingly
7. Quick Crochet Jersey Bracelet – Free Pattern
Like you can make yarn out of the t-shirt fabric you can also do the same with the jersey and this lovely crochet jersey bracelet is the proof. The cute and totally dainty white bracelet is super easy and quick to crochet in just a few minutes and would make a perfect gift idea for your friends too. Free pattern here! bhooked
8. How to Crochet T-Shirt Yarn Basket
These adorable colorful t-shirt yarn baskets would be the perfect things to store your knick knack thing in any of the areas. The bright colored baskets with white top edges would look so charming while resting on your tables of any area be it living, bedroom or the even the homework station. Pattern here! francineclouden
9. Finger Crochet Round T-shirt Rag Rug – Free Pattern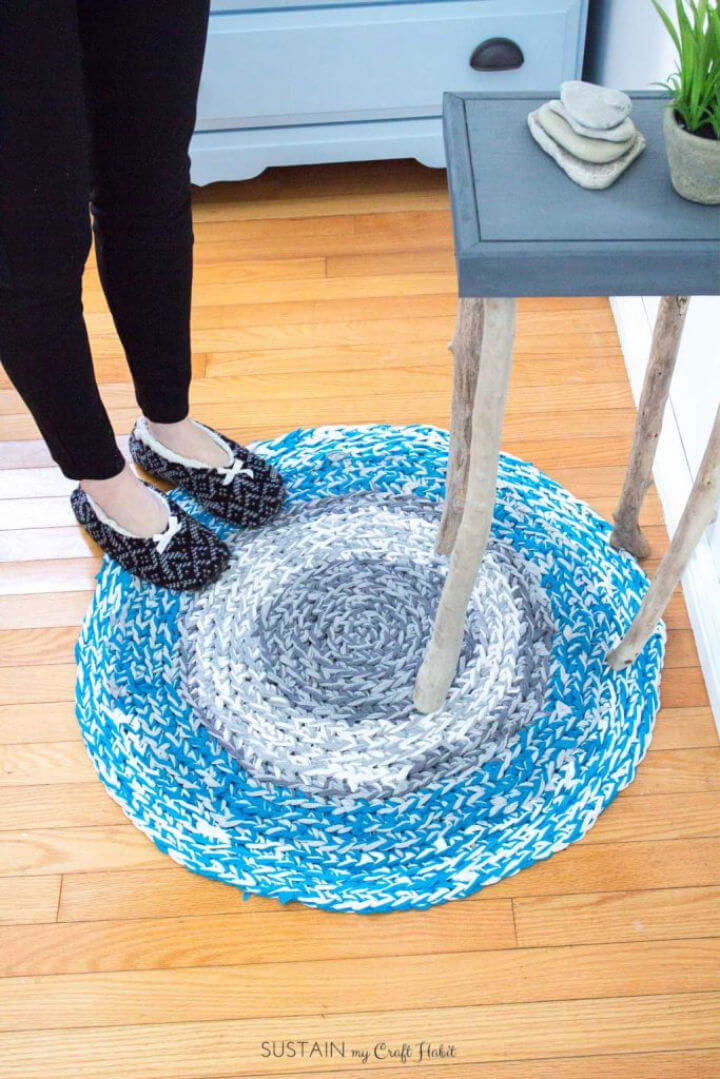 It's time to say goodbye to your crochet hooks for some time and put your fingers on work. Yes, it's time to get your hands on this crochet round t-shirt rag rug. With white and blue colored yarn It is really going to suit your summer home for sure. Check out the details and free pattern right here! sustainmy
10. Crochet Sweetheart T-shirt Yarn Purse – Free Pattern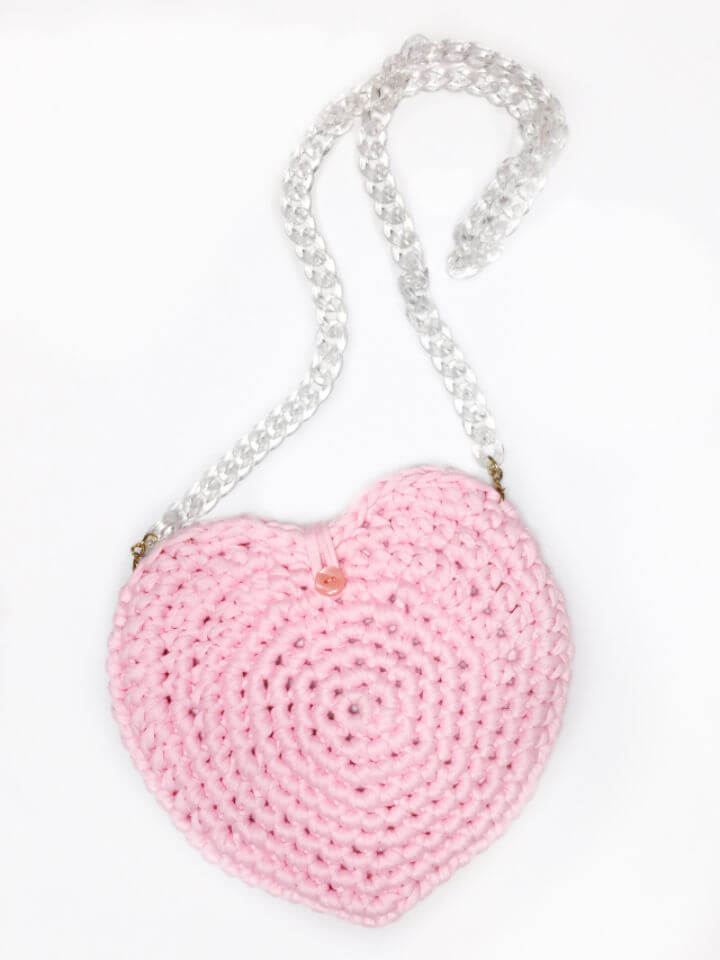 This adorable and heart-melting sweetheart t-shirt yarn purse that too in the shape of the heart would be your favorite thing to put across your shoulders around the summers. The gorgeous and girly shade of purse and the pearly white strip of the bag are really complimenting each other. Follow easy and fun details of the idea here! gwenstella
11. Free Crochet Basket Pattern Using T-shirt Yarn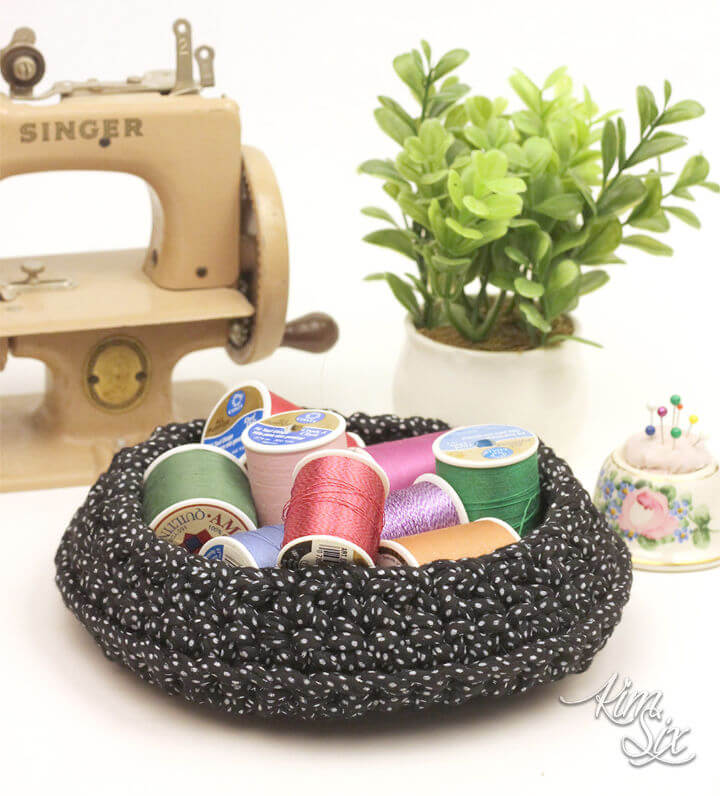 Your sewing table is going to look more organized and beautiful at the same time when you crochet this lovely basket. Using the t-shirt yarn in any of the colors you can easily crochet up this cute and small basket and house your sewing kit items in it. Get the easy free pattern right here! thekimsix
12. Crochet One Skein T-shirt Yarn Basket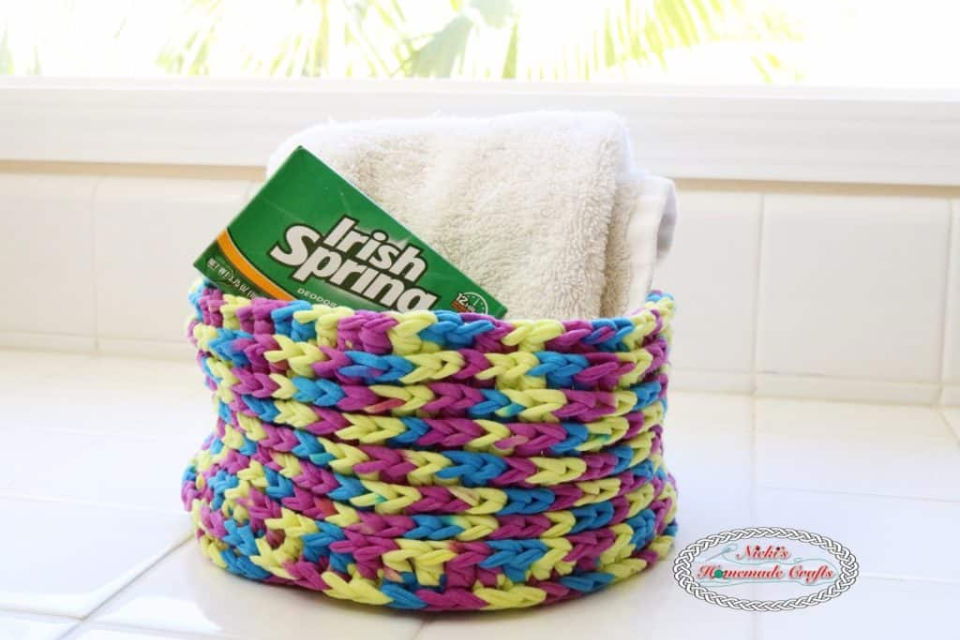 Organizing your homes can be really fun and beautiful when you have these adorable and cute yarn baskets to store your possessions in. This gorgeous and colorful t-shirt yarn basket is just super easy and quick to make and it would take only one skein of the yarn so would be cost efficient too. Get your hands on the free pattern here! nickishome
13. How to Crochet Basket with T-shirt Yarn
These crochet baskets are more than beautiful and much more than just adorable and cute. They have been made out of the chunky and thick T-shirt yarn that you can easily avail from the stores or even can make yourself at home from some old used tees. Organize your home beautifully with these baskets by getting the free pattern here! needlemaker
14. Crochet T-shirt Rug – Free Pattern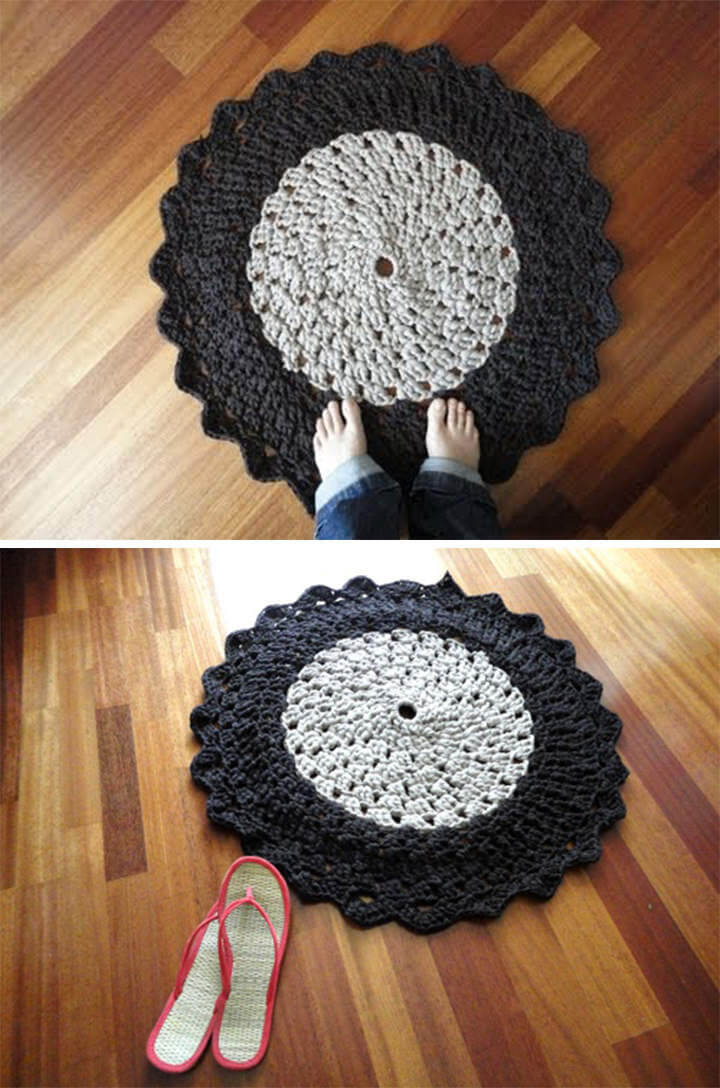 Rugs can really add more definition and meaning to the beauty and decor of your spaces and here is the idea of creating one piece of a gorgeous and stylish rug at home. Yes, using the white and black t-shirt yarn this super cute rug has been easily installed at home with round white center and black scalloped edging. Grab the easy and free pattern of the rug here! crochetbeja
15. Free Crochet T-shirt Basket Pattern
To organize your towels and blankets the yarn baskets are the best options to choose. You do not need to buy these baskets as you can easily and cheaply make them at home. So grab some t-shirt yarn and crochet up this adorable pair of the yarn baskets to bring organization and decor vibes at the same time. Free pattern lying here! yourfamily
Related DIY Projects and Ideas
Crochet Bag Patterns: This is a list of free crochet bag patterns that you can use to make the perfect tote for your next shopping trip or for a special occasion. These are all very easy to follow and are designed with beginners in mind.
Crochet Basket Patterns: Learn how to crochet basket with these free patterns for beginners. These crocheted baskets can be used in a variety of ways and are perfect for gifts, home decor, or as a stand-alone project.
Crochet Coin Purse Patterns: These free crochet coin purse patterns are a fun, practical way to make use of your leftover yarn. With these free projects, you can create something beautiful for yourself or give them as gifts to friends and family.
Crochet Keychain Patterns: Looking for a new crochet pattern? We have free crochet keychain patterns that are easy to follow and make a thoughtful gift for any occasion.
Crochet Boot Cuffs: Find free crochet boot cuff patterns that are the perfect accessory for any boot lover. They are a quick and easy project that can be done in an afternoon!
Crochet Garland Patterns: If you are looking for a crochet garland pattern and some free ideas, this is the place for you. Here is the list of free crochet garland patterns that will help you decorate any occasion.
Crochet Potholder Patterns: These crochet pot holders are the perfect gift for your friends and family this winter. Whether you're a crocheter or not, these free crochet potholder patterns will have you snuggling up on the couch in no time!
Conclusion:
These 15 free crochet T-shirt yarn patterns are perfect for summertime! Crochet t-shirt yarn is a great way to use up old t-shirts or fabric scraps. If you're looking for an easy, free crochet pattern, look no further than this list of fifteen t shirt yarn crochet patterns. These patterns are perfect for beginners and advanced crocheters alike. There's something for everyone on this list, so get started today!