A heart shape always comes as a big expression of love, and that's why every love gift and décor comes with a heart shape! Hearts can be made with any material like with paper, metal, and wood and also with yarn if you have some crochet skills! So, time to test your stitches by crocheting some glam yarn hearts which can be used in multiple different ways to highly the love! So, just to make you get with best of best yarn hearts, we have a collection here the 70 Free Crochet Heart Patterns that come in dashing yarn colors and are too beautiful to captivate your eyes! Just like other crochet motifs like a square or mandala motif, the crochet hearts can also be taken a motif and can help interesting Valentine's Day special patterns! So, just learn to crochet a sweetheart first!
Crochet hearts in comparatively smaller or bigger sizes and just put them decors for dashing heart shape decors, check out here some mind-blowing sample that comes with white yarn boundary all around! Start from a magic circle and crochet mini yarn hearts in multiple different colors that would make awesome mini Valentine's Day gifts, you can also crochet bigger stuffed hearts in this case, get inspired of some mind-blowing samples given in the collection! Furthermore, crochet also daisy centered hearts that will make a great design motif for various of love-themed crochet patterns!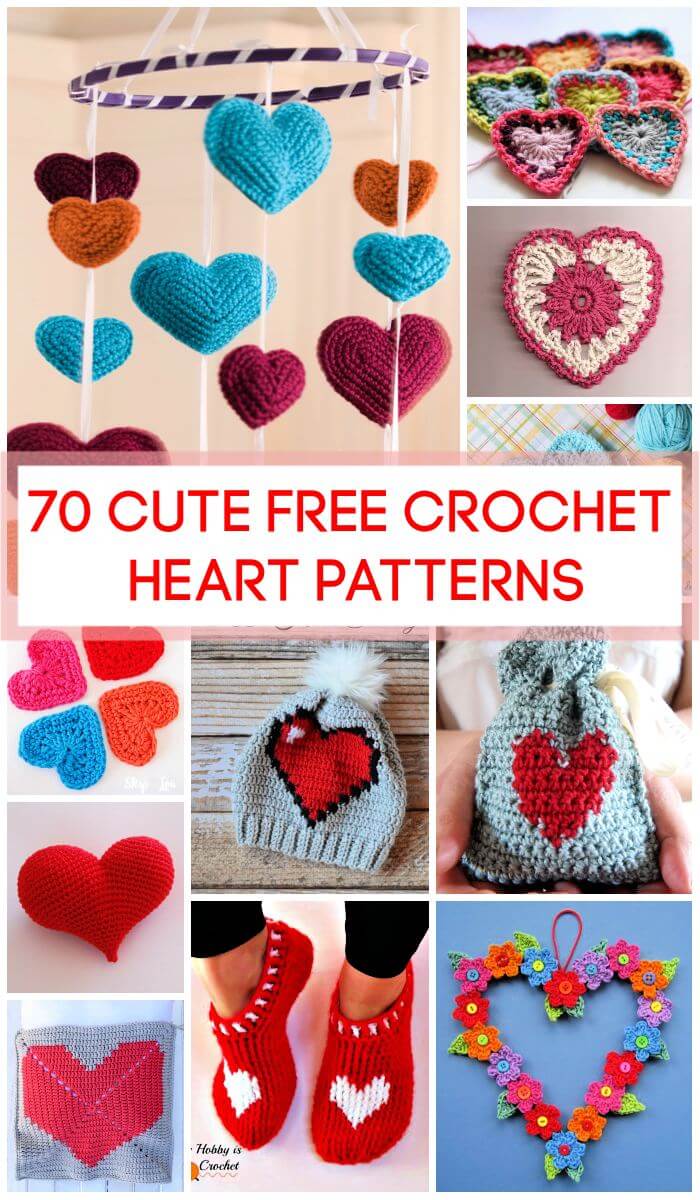 You can also do further various crochet projects based on crochet heart! Just precious heart wall hanging just by using crochet hearts and some tree branches would bring tons of focal stimulation to a particular interior wall! Crochet also Valentine's Day gift bags with a red heart motif that would be much focally stimulating and crochet also rose heart hangers that will be super eye-captivating and will make dashing pendant home decors! Crochet also the little heart amigurumi that can be added with keyrings for outstanding looking keychain gifts use them also as adornments for various other crocheted items like for hats, scarves, and blankets! Use also the miniature hearts as appliqués to adorn your several of your items of interest like the pillows, t-shirts, gloves and other items of this kind!
Crochet Patterns Free:
Crochet grandma's heart that will rock as pendant love wall art, crochet also floral hearts that for boosting your interior wall grace as they will make and colorful wall love sign, get inspired of a given sample! Crochet also heart motif dishcloths, the crochet heart headband and also crochet the lovely yarn shoes with precious heart motifs that will make a great Valentine's Day gift also! Checkout some awe-inspiring samples given below that are truly enticing! Crochet also heart shaped baskets and also the outstanding pom-pom hats with a precious heart motif that will make amazing gifts for the love day!
Check out the entire collection of these yarn heart patterns and try your favorite ones in your spare time! For complete free patterns for your selected heart projects, just hit the respective source links! Time to crochet love now with your hook, thanks for stopping by and just keep continue happy hooking!
Easy Free Crochet Hearts In 3 Sizes Patterns: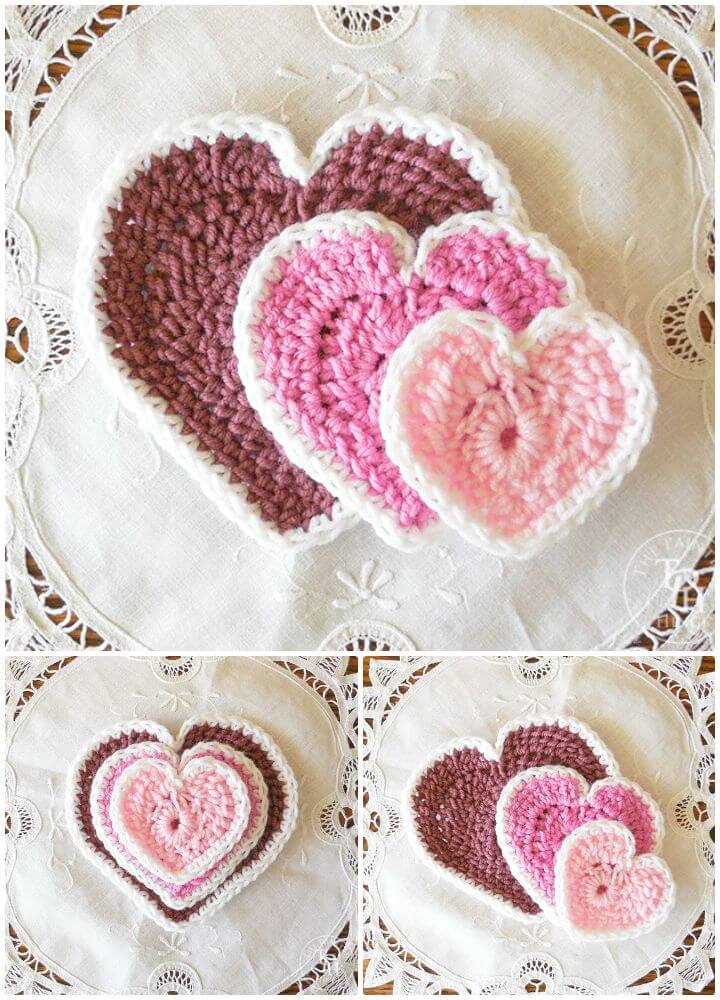 The heart shapes are always a big symbol of love, so they are always to use as embellishments to highly light hidden love of a gift or present! They can be used in numerous different ornamental and decorative purposes and how about crocheting some fab hearts at home using your beautiful yarn colors! Get inspired by these free crochet hearts that come in 3 sizes and would make a great gift and ornaments for a Valentine's Day! Further project details and free crochet pattern is here thepaintedhinge
Free Crochet Sweet Heart Pattern: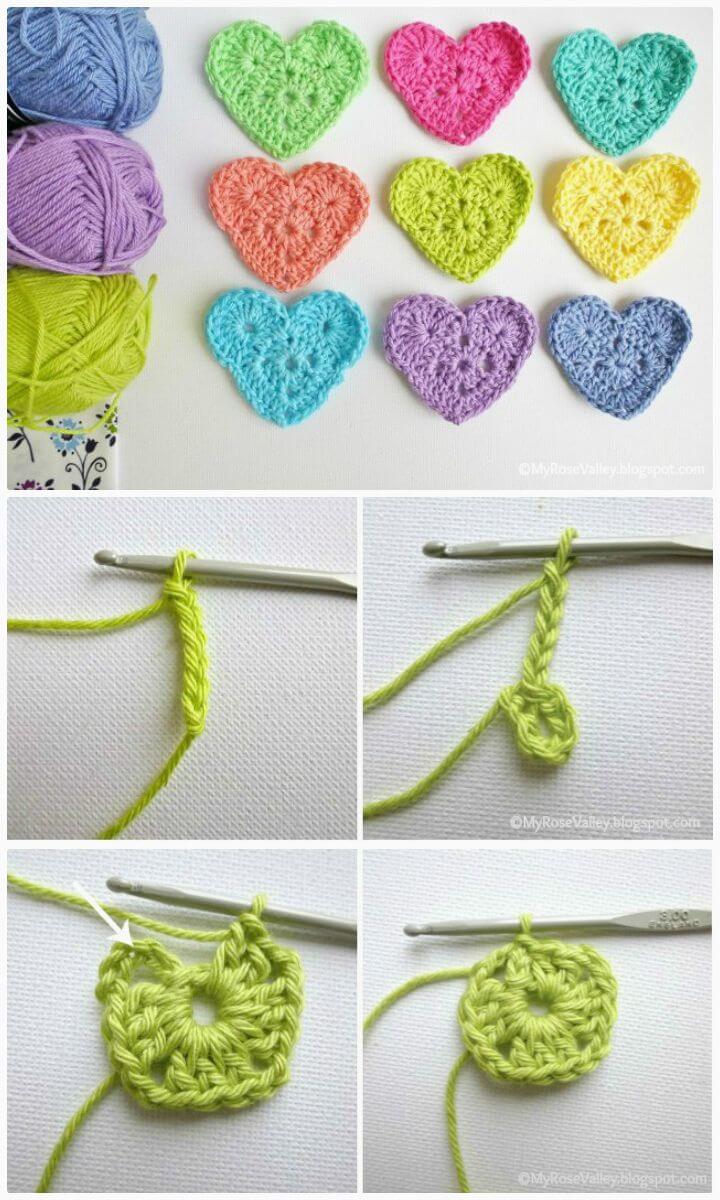 Looking for some colorful mini hearts for a decorative plan? You can simply get busy with your hook to crochet some enchantingly colorful ones sweethearts at home! Take a look at these given crocheted hearts that are mind-blowing and comes in multiple different colors! Use these miniature crocheted hearts as embellishments, as heart appliqués and also as pleasing Valentine's Day gifts! Here is how to crochet these cute little yarn hearts! Free crochet pattern and tutorial guide is here myrosevalley
Easy Free Crochet I Heart Valentine Pattern: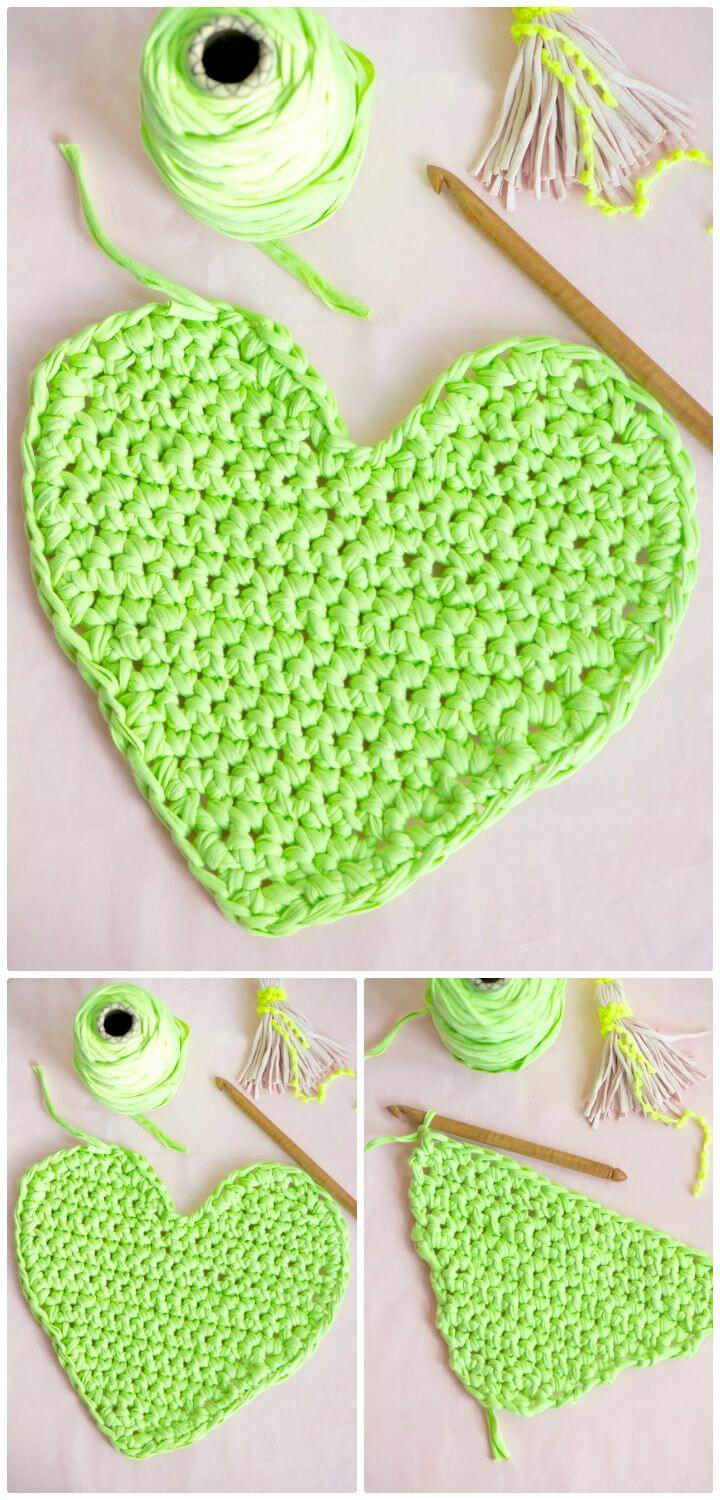 Looking for some pleasing gifts for an upcoming Valentine's Day? If yes, then your crochet hook can help you out in this case! Simply crochet your favorite weights of yarn and make super soft and beautiful looking hearts at home! You can simply get inspired by peeking into details of this big green crocheted heart that will make you a great fan due to its mind-blowing design texture! This is here a perfect gift to crochet for a Valentine's Day! Further project details and free crochet pattern is here lebenslustiger
Free Crochet Hearts Wall Hanging On A Limb Pattern: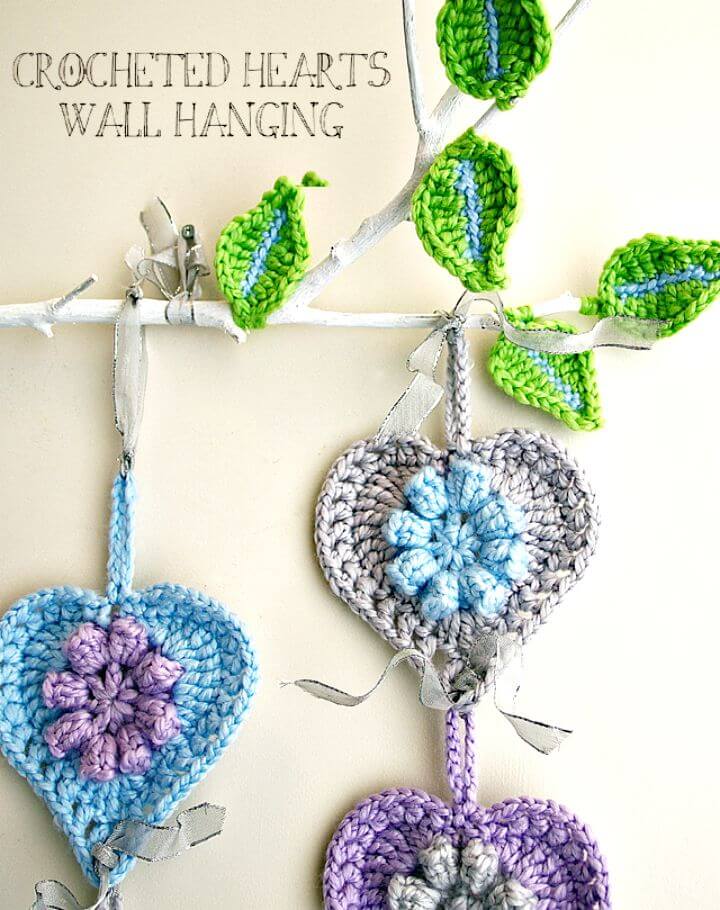 Willing to fancy up your interior walls for brilliant style statements? Here you can also go with crocheted hearts to spruce up your interior walls, just check out here these precious wall hanging hearts that come on a limb and are super beautiful to look at! These hearts are just amazing to the floral interior and also come with alluring design texture that creates a stunning appeal of them! Willing to crochet these beautiful heats now? Find the complete free crochet pattern and step-by-step tutorial from here creativejewishmom
Free Crochet Valentines Day Gift Bag Pattern: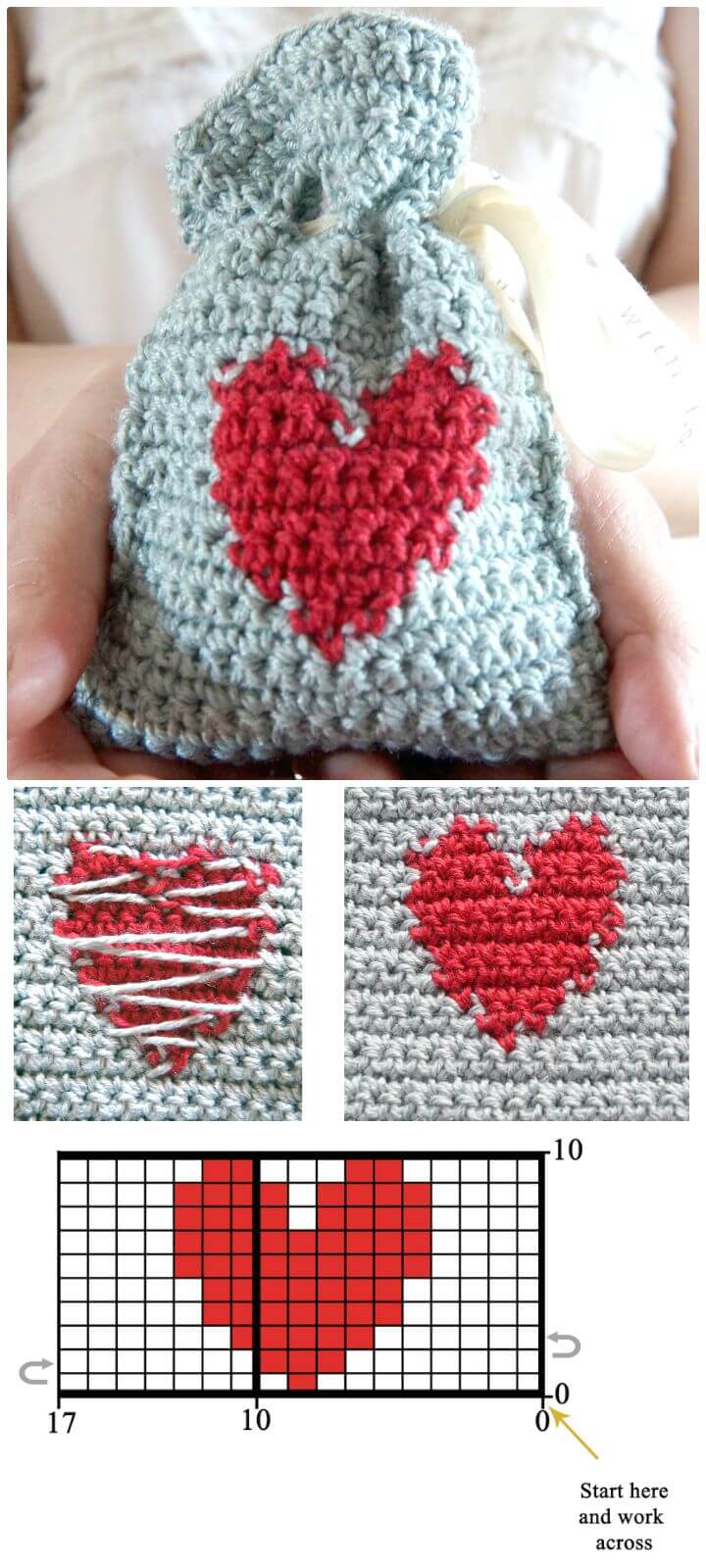 Looking for a precious love gift that will help win the heart of your beloved one on Valentine's Day? Just go with this mind-blowing crochet gift bag that comes with a precious red crocheted heart and can be filled with various items of mini gifts! Do crochet this handsome yarn bag to give on Valentine's Day to someone special as it would make a mind-blowing gift! Further project details and complete free pattern here littledoolally
Free Crochet Heart With Daisy Center Pattern: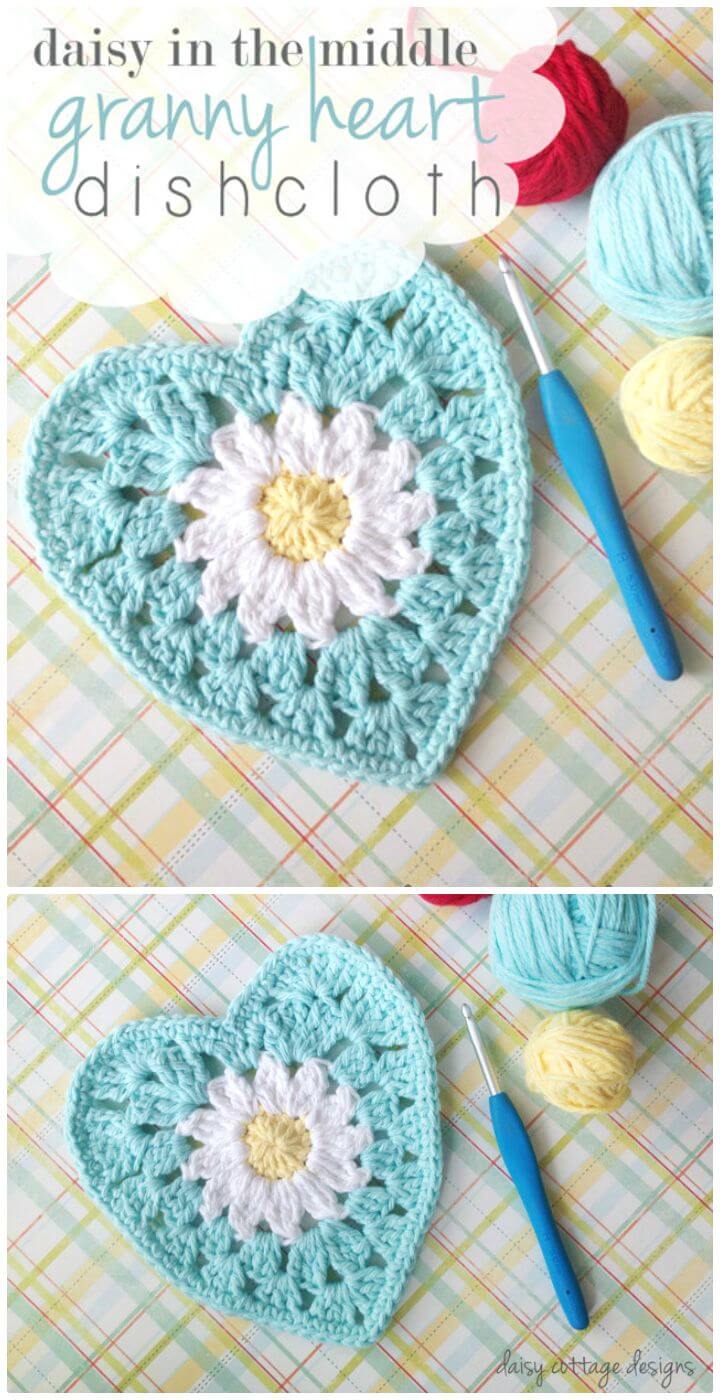 It makes you recall the love at very look at a heart shape! It is all amazing to crochet some beautiful hearts using your crochet hook favorite yarn weights! If you need to crochet a brilliant heart, then you must take a look at this daisy center heart that would make a lovely embellishment or decor for any crochet pattern and would itself be a mind-blowing gift for a Valentine's Day! Grab the full free crochet pattern and tutorial guide from here daisycottagedesigns
Free Crochet Rose Heart Hanger Pattern: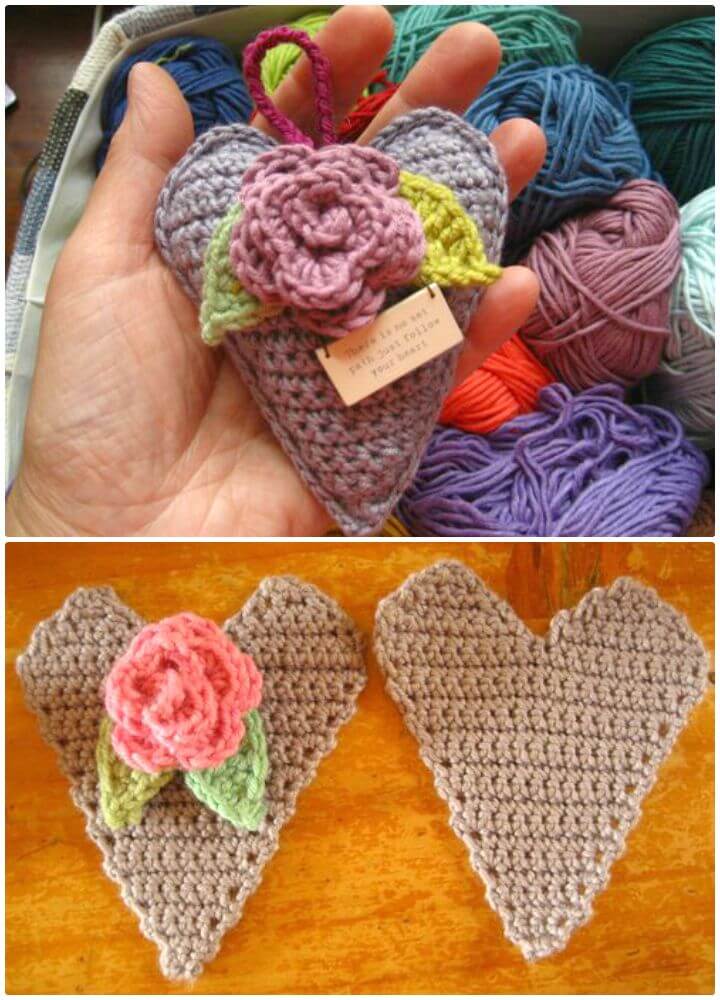 Grab another adorable crocheted heart design here, this one also comes with flower embellishment and hence these yarn hearts with central flower embellishment will just go bewitching to eyes! Here these miniature crochet hearts come with a loop at the back that gives various new possibilities for their smart uses! Fit a key ring to it to make a cool love keychain gift, pass a piece of string through it and start using it as a necklace, also add multiple such hearts on a string to make precious love garlands in just no time! Further project details and complete free tutorial here typepad
Easy Free Crochet Small Heart Pattern: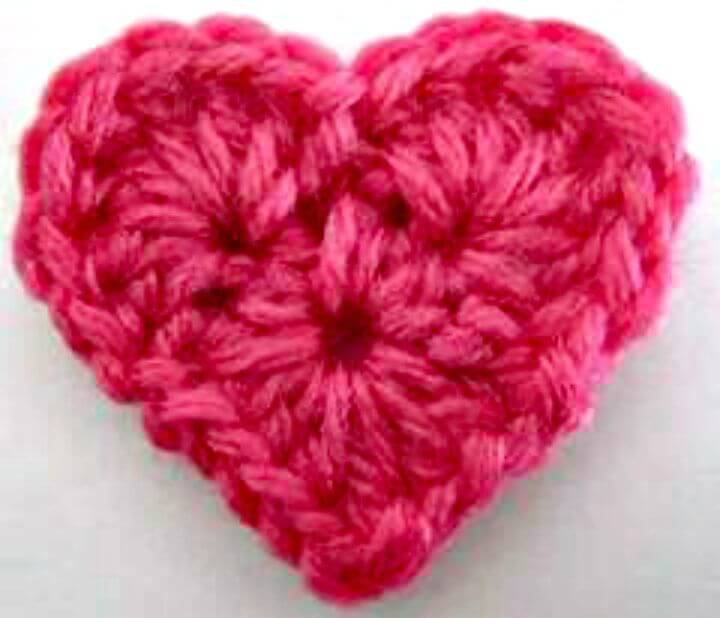 Take a look at this another adorable one, this one comes chunky and has been crocheted a little thicker! Here this small heart comes in hot red color and hence makes a terrific love gift! This can also be used as an embellishment to give any crocheted pattern especially the clothing a love a expression! Moreover, you can also crochet these miniature hearts with various loops at the back to use them as hanging ornaments! Further guide and complete free crochet pattern is here maggiescrochet
Easy Free Crochet Heart Garland Pattern: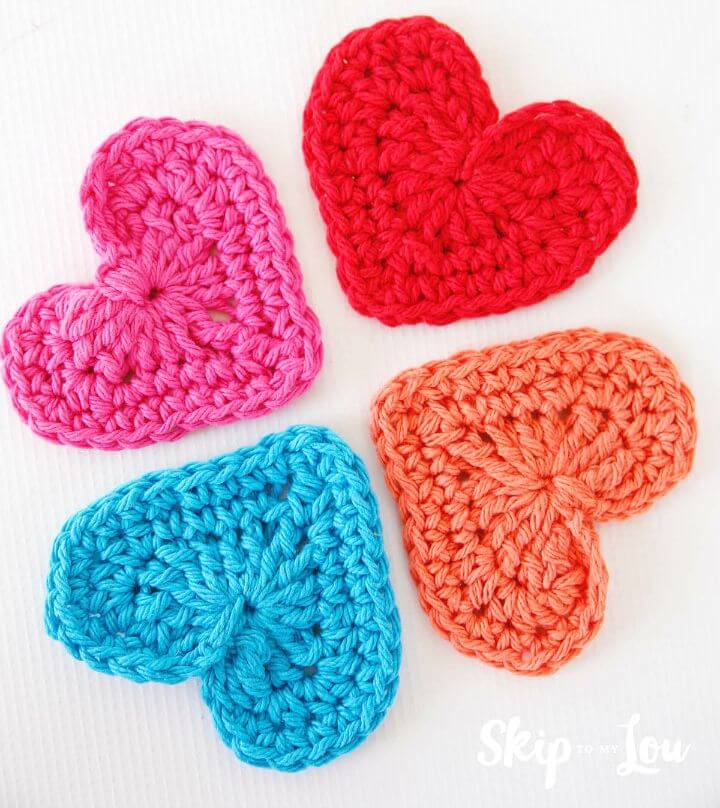 You art of crocheting can also help you to boost your interior home decors! You can various types of decors with your crochet like these mini hearts which can be put together for various different fetching centerpieces! Just at these crocheted hearts onto a piece of string for a beautiful garland! Hanging them aloft in the kids room as hanging ornaments and also in any Valentine's Day party area! Prefer different colors of yarn for different colored hearts and enjoy happy hooking! Complete free crochet pattern and instructional guide here skiptomylou
Easy Free Crochet Love Hearts Pattern: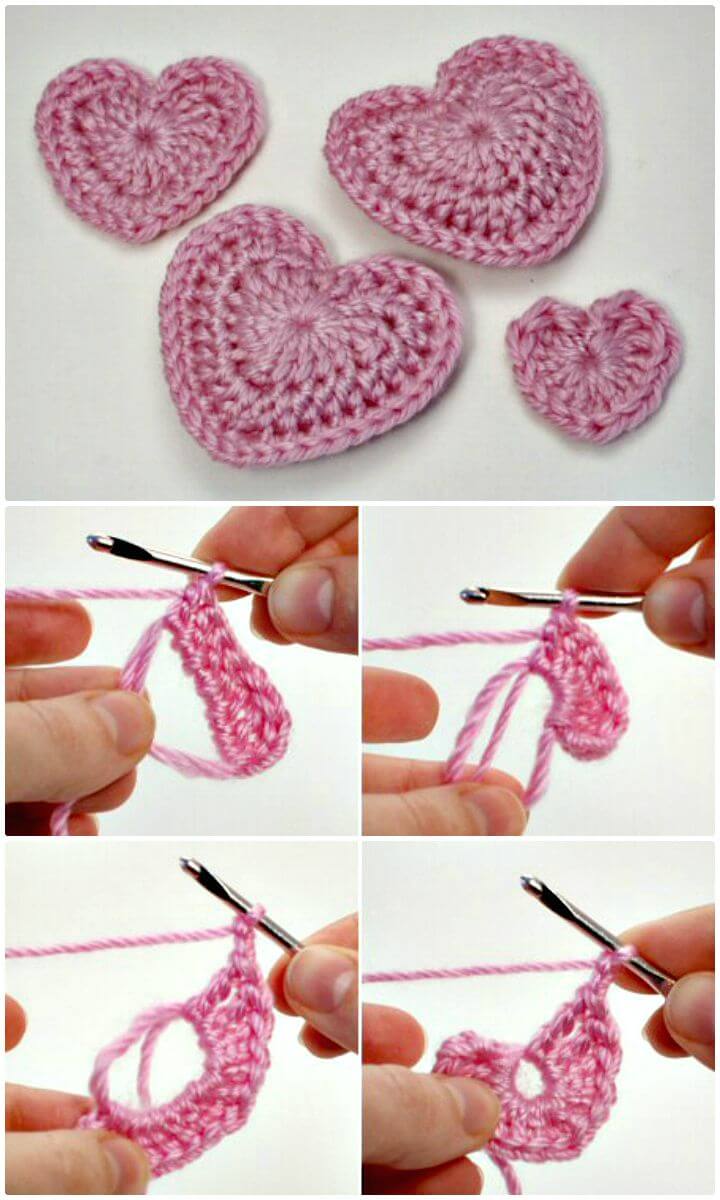 The shape of the heart is always taken as a meaning of love! So, every of your item of interest that need a decorative love treatment can simply be adorned with colorful hearts! Same will be true in the art of crocheting, just crochet some beautiful hearts and start using them as a love embellishments and also as precious love ornaments for Valentine's Day home décor treatments! Take a look at these given love heart shapes to get your crochet hook inspired! Further guide and free crochet pattern is here planetjune
Easy Free Crochet Itty Bitty Heart Pattern: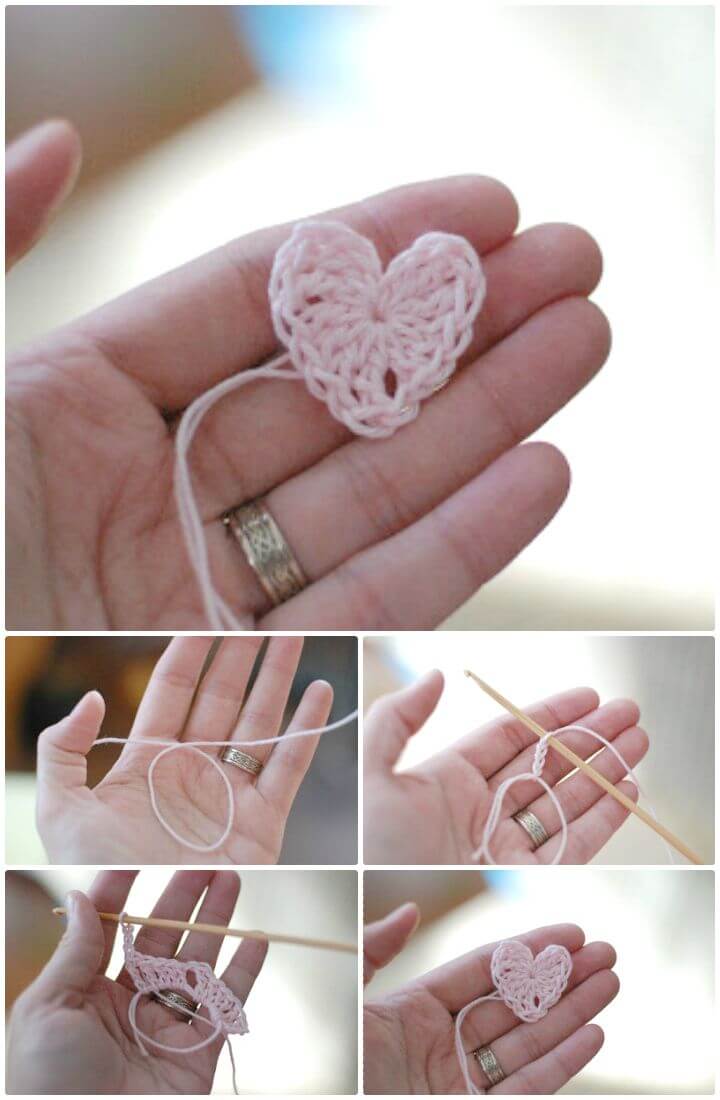 Every time you are going to crochet a love-themed pattern, you really need to incorporate some heart shapes in it, so you must know that how to crochet a heart! It can just be a breeze to crochet, just check out here this sample itty bitty crochet heart that will be ready in just not time! Further project details and easy tutorial here saltforthespirit
Easy How To Free Crochet Amigurumi Heart Pattern: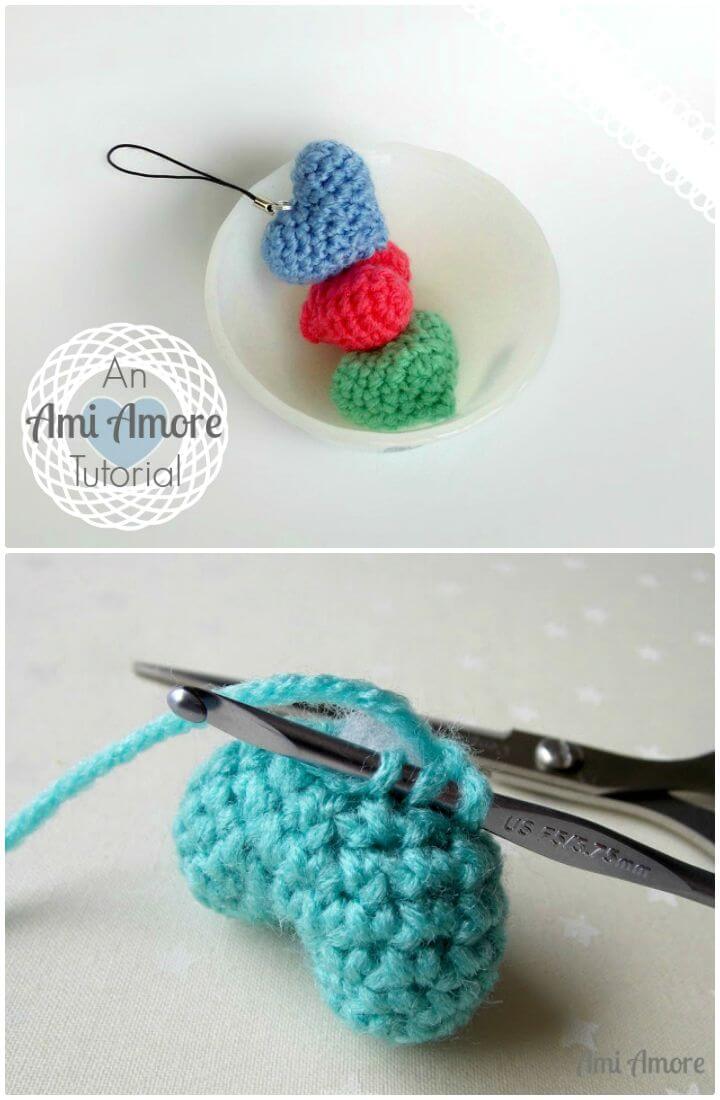 The stuffed crochet toys make great gifts to kids, and for everyone, so you can also crochet some stuffed yarn hearts that will make the precious love gifts also! Please your valentine with these crochet amigurumi hearts that are a delight to view and a big pleasure to hold in hands! Add keyrings to them and start using them as beautiful keychains which would also be super gift-worthy! Here is how to crochet these lovely stuffed yarn hearts amiamore
How To Free Crochet A Heart Pattern: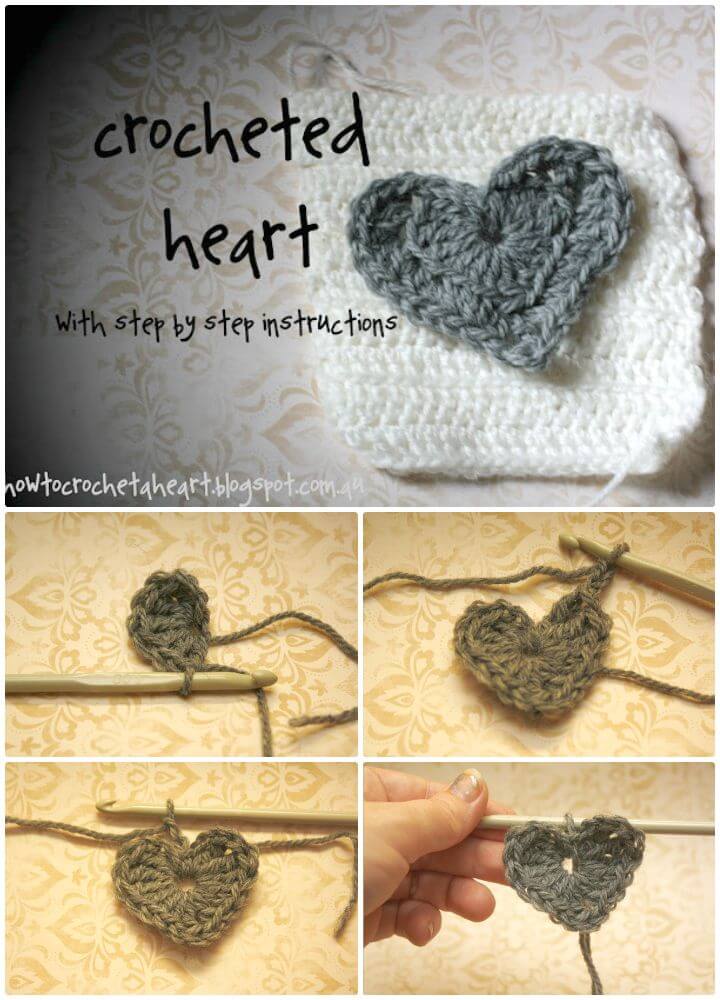 Crocheting yarn hearts is big fun, and you can do various love craft projects with them! Check out here another good looking crochet heart, crocheted in dark grey and would make a perfect heart motif for any romantic crochet pattern! Moreover, you can also use it as a heart appliqué to add some interesting love monograms to your winter clothing and other items of interests! Free crochet pattern and instructional tutorial here howtocrochetaheart
How To Free Crochet The Heart Pattern: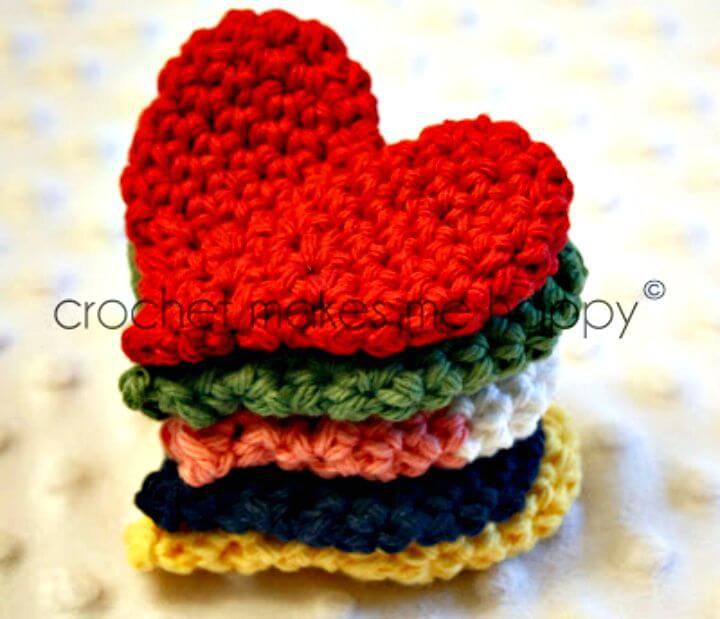 You must learn crocheting some fab looking hearts as it becomes a big demand while crocheting some love special Valentine's Day patterns! Check out here the lovely yarn hearts that have been crocheted with chunky yarn weights and hence come with sufficient thickness! The design texture is also rare here that makes these heart shapes look extra beautiful! These colorful hearts can also be a part of your various love themed home décor projects! Free crochet heart pattern and easy tutorial guides are here howtocrochetaheart
Easy Free Crochet Grannie Heart Pattern: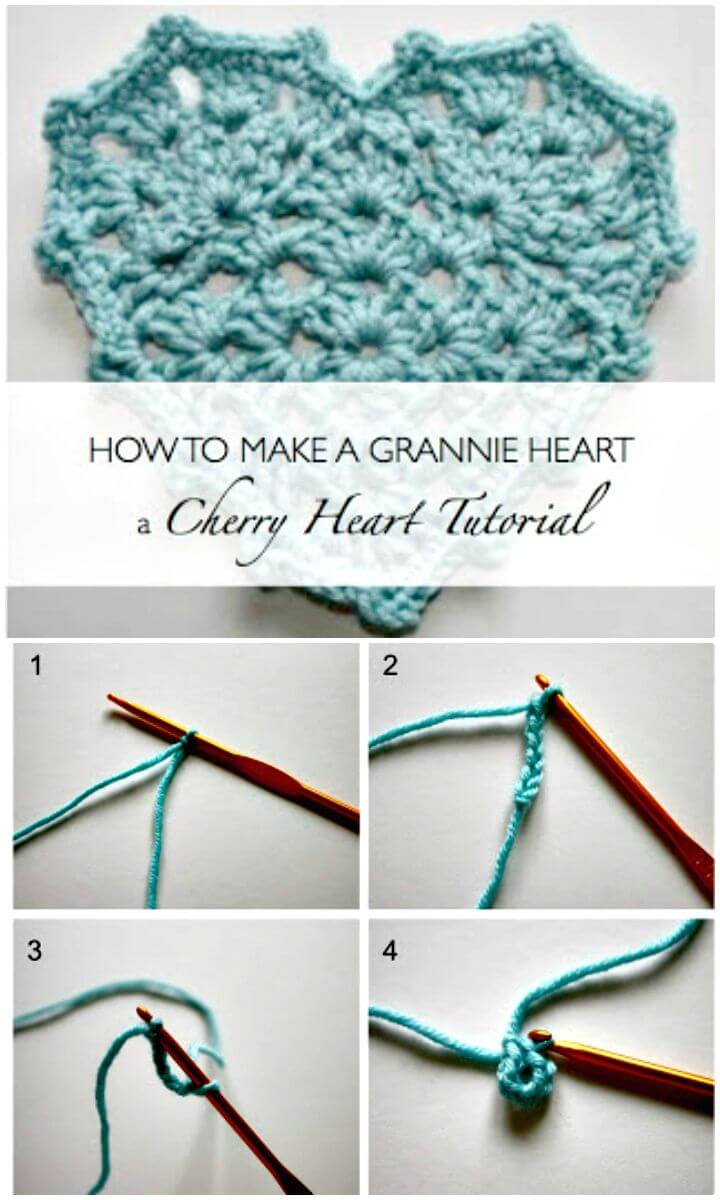 You can go with custom crochet stitches while crocheting some fab heart shapes, a great sample here is this crochet grannie heart that looks lovely due to lacey design texture and is utterly cute to look at! Another precious heart motif to crochet some perfect love patterns for the Valentine's Day! Willing to duplicate this very cute looking crochet heart? Grab the full project details and instructions from here cherryheart
How To Free Crochet The Perfect Heart Pattern: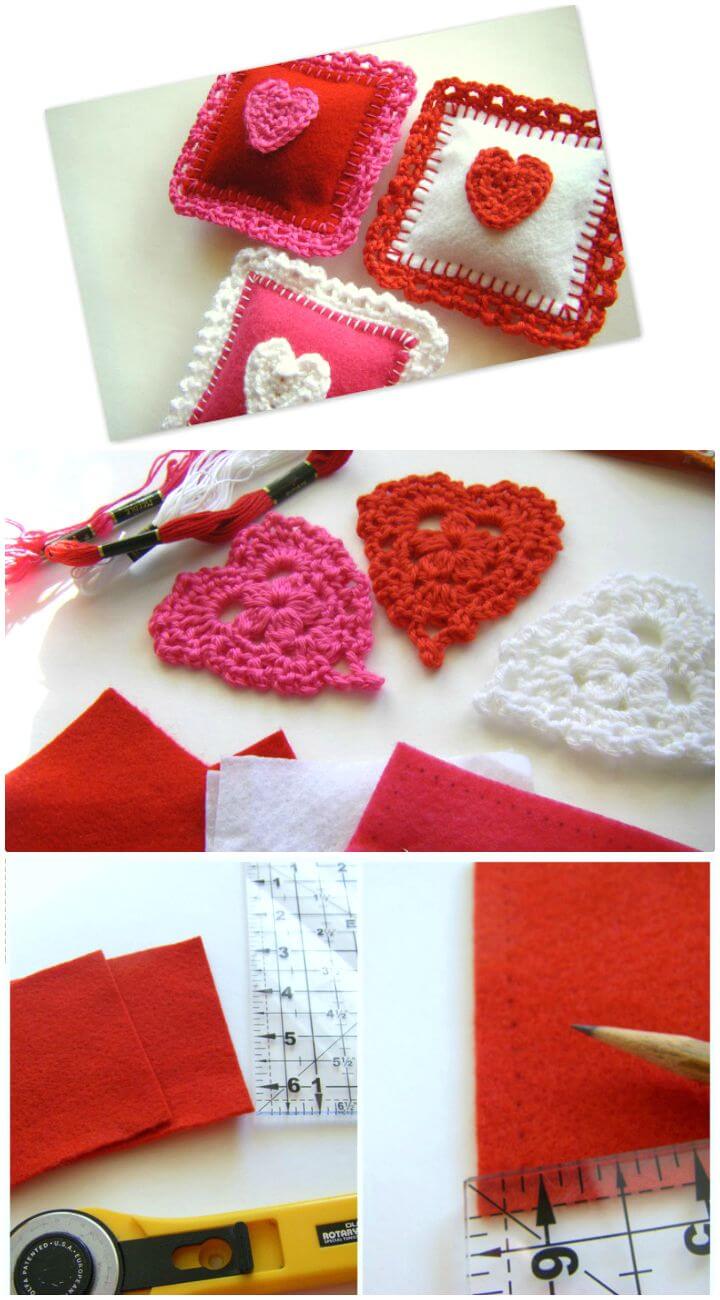 Looking for some beautiful love monograms? These brilliantly colorful crochet hearts will just work great in this regard! Check out here the flower centered crochet hearts that will make the utterly cute heart motif or appliqué for any crochet pattern! Here these love hearts have been mounted onto some pillows to get them in a love special look, and hence these pillows make outstanding gifts for the Valentine's Day! Free crochet heart pattern and visual tutorial here sewritzytitzy
Free Crochet Valentine'S Day Hearts Pattern: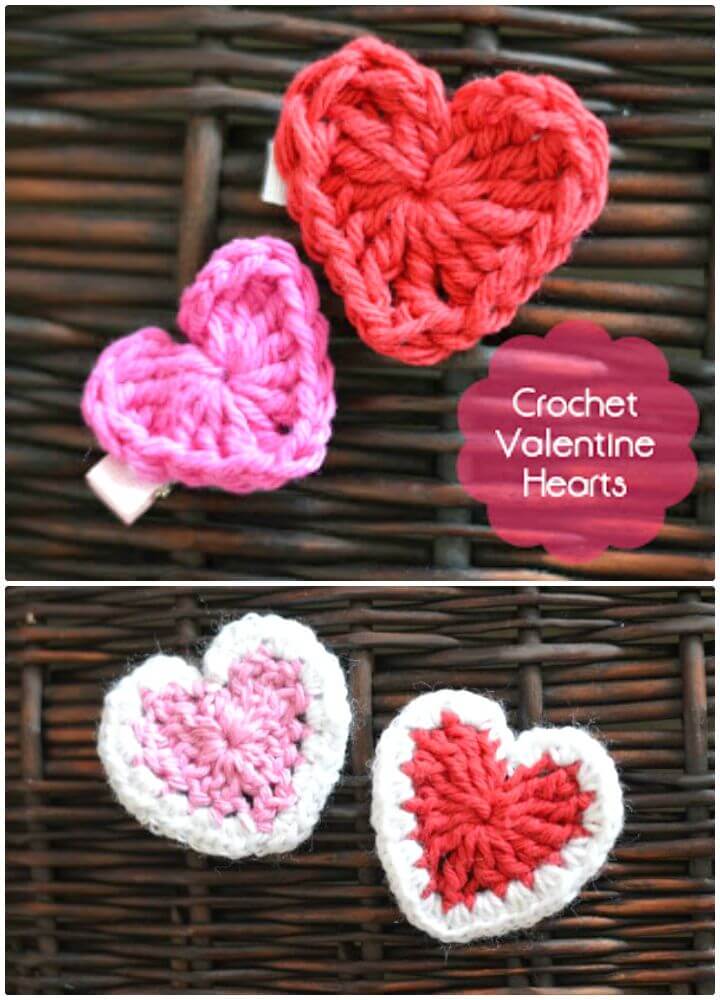 The sky is the limit for new designs for crochet hearts and here comes two more beautiful ones, the crochet Valentine's Day hearts that come with accent single color boundary all around and make the perfect heart appliqués! Even if you have the minimal crochet skills, you can still crochet these mind-blowing crochet hearts for numerous different uses in the home or in crocheting further love patterns! Free guides and easy crochet pattern here thestitchinmommy
Free Crochet Tiny Hearts Pattern: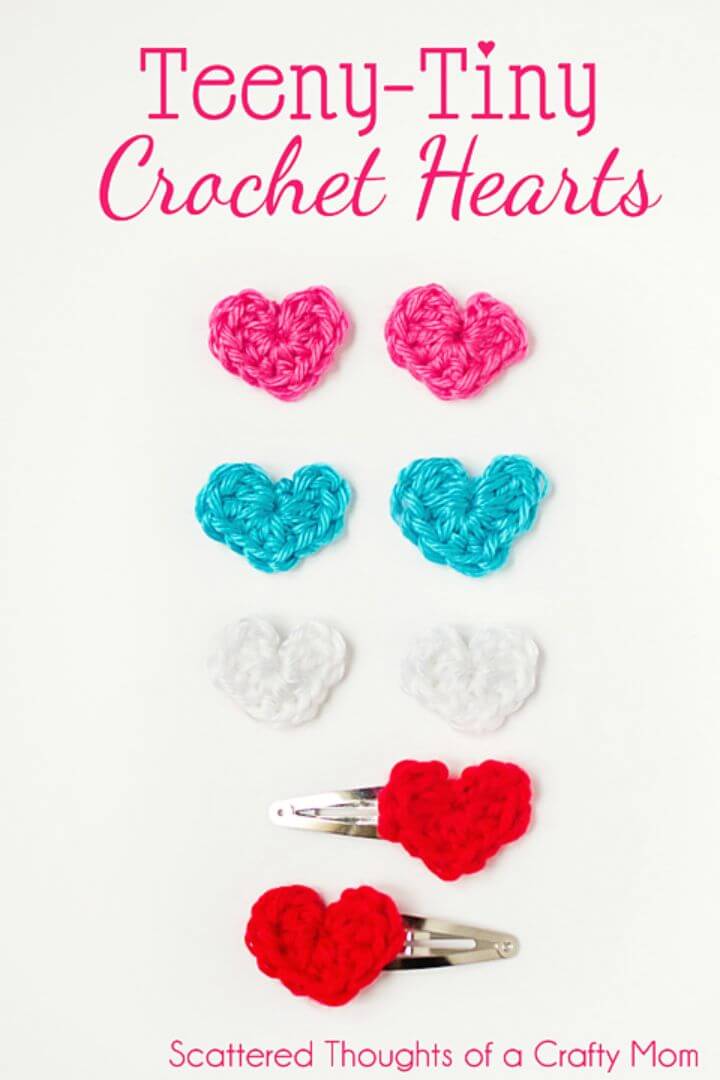 It is a heart shape that is mostly taken as a symbolic meaning of love! That's why the heart shapes are mostly the crucial part of various love decors and gifts! If you are also willing to crochet some patterns with exclusive heart motifs, then you should definitely know how to crochet a yarn heart! Check out here the sample crochet tiny hearts that are pretty easy to crochet and will make perfect love gifts and monograms! Want to duplicate these tiny colorful yarn hearts? Grab the full free guide and visual tutorial from here aascatteredthoughtsofacraftymom
Free Crochet Pink And Red Hearts Pattern: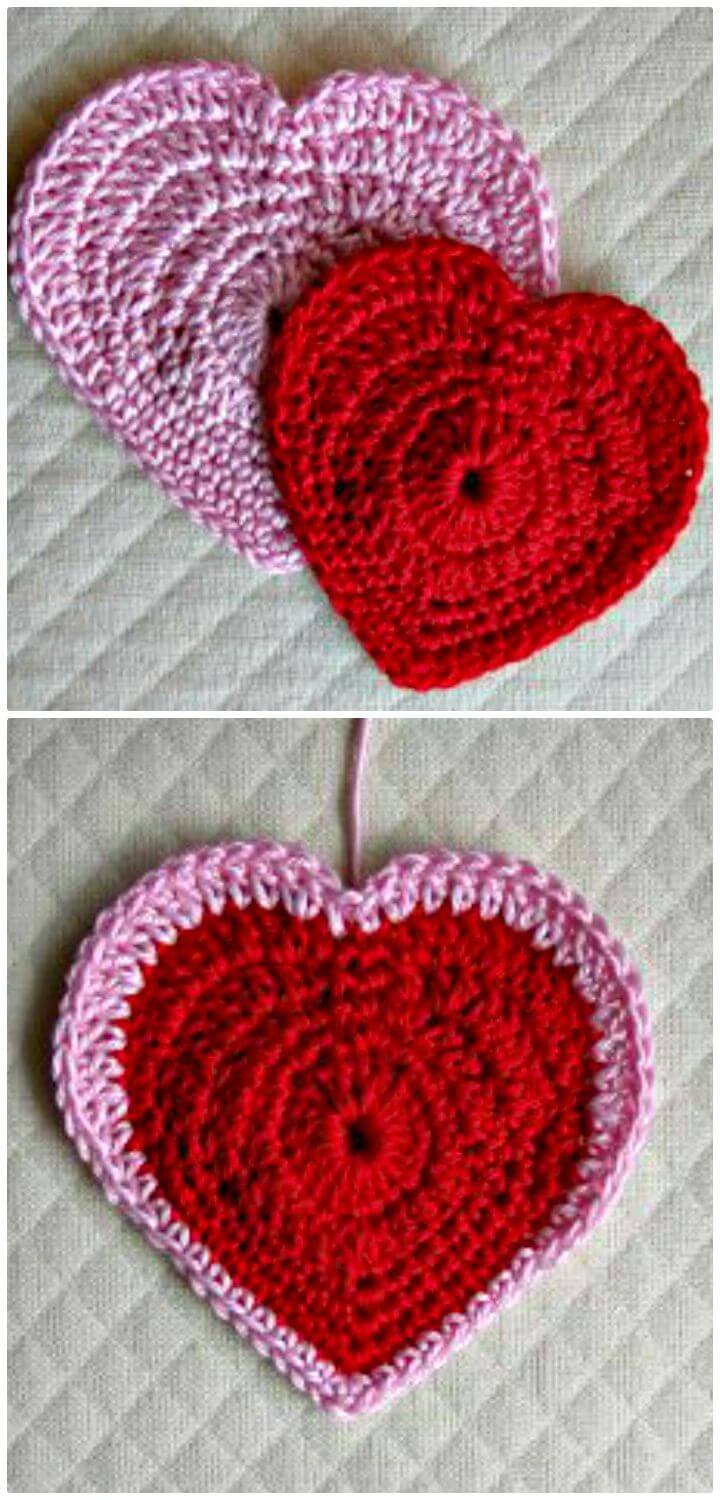 You can crochet various outstanding shapes with your crochet like the flowers, stars, and hearts! The hearts motifs really rock for love special crochet patterns! So, if you have decided to crochet some fantastic yarn hearts for the Valentine's Day then get inspired of these given sample hearts, the pink and red crochet hearts, that are insanely cute and good looking! These hearts can be enlarged to get perfect love coasters or potholders also! Further project details and free crochet pattern here favecrafts
Free Crochet Grandma's Heart Pattern: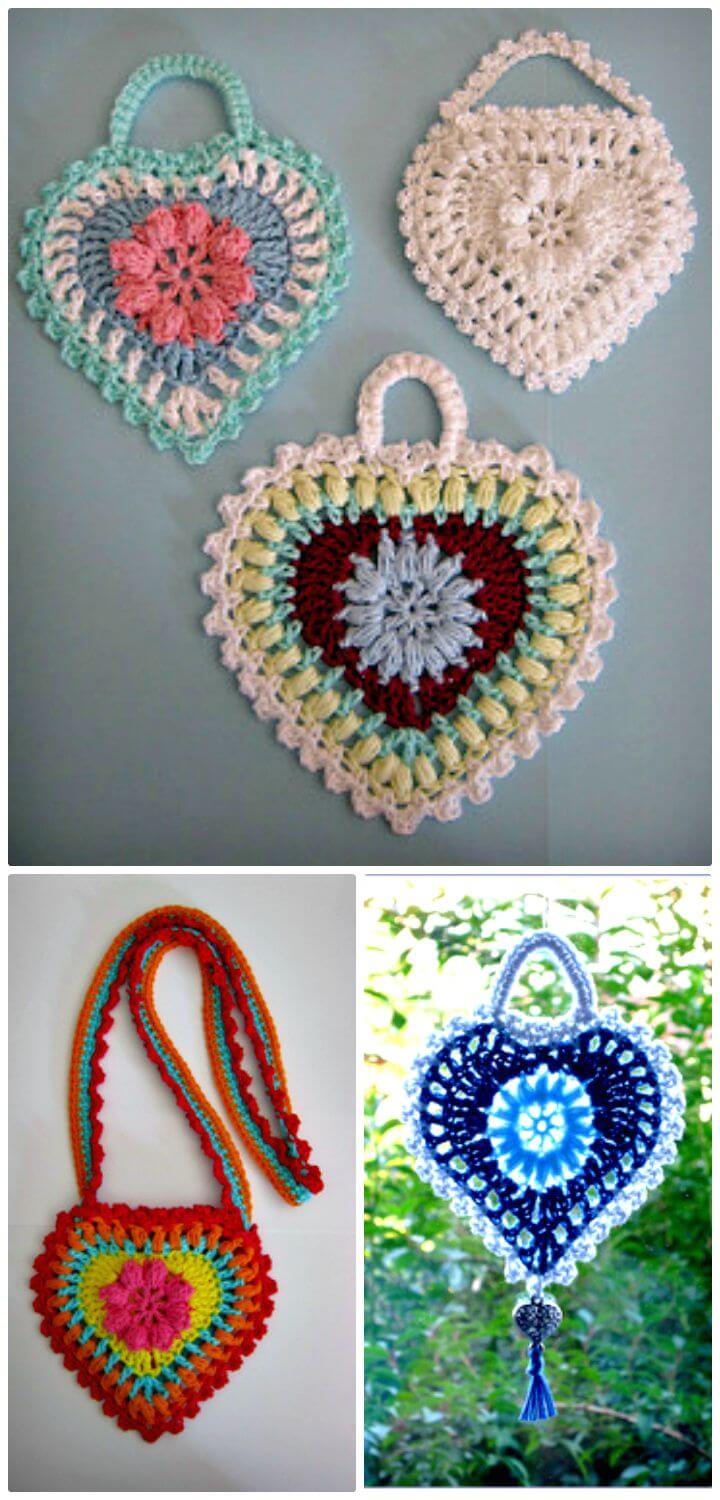 Duplicate these more good-looking crochet hearts that comes with outstanding loops at the back and will make outstanding hanging ornaments for the Valentine's Day! By starting from a flower, the multiple different rows have been crocheted around that flower motif in different yarn colors to gain a big yarn heart that looks stunning due to brilliant design texture! Interested in making a copy of this grandma's heart? Grab the full free pattern and instructional tutorial from here ravelry
Free Crochet Caron Hearts And Stars Pattern: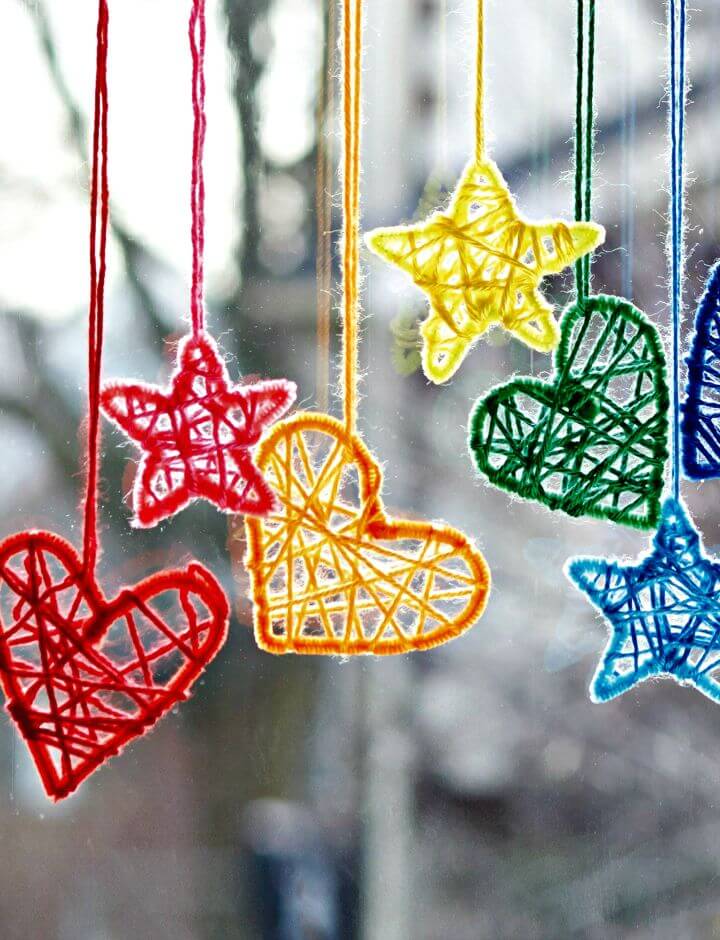 Looking for some gorgeous party ornaments or for new year baubles and trinkets? If yes, then just check out these lovely crochet hanging stars and hearts that will bring a festival vibe to any space you want to decorate! These are also the perfect dream catchers to hang in kids rooms, and kids can make them with their own cute hands at home! Complete project details and guides here yarnspirations
Free Crochet Flying Hearts Mobile Pattern: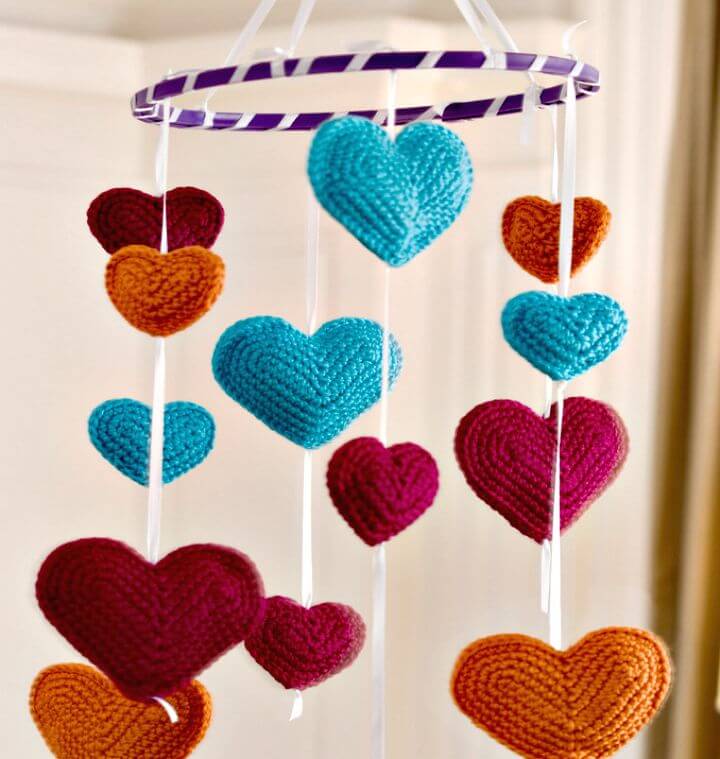 Make also precious hanging ornaments and centerpieces for your spaces using custom yarn hearts! A great sample here this flying heart mobile that will would help give any of your new space a great love theme! In the same way, you can also crochet beautiful love chandelier and wind chimes for the spaces you want to decorate or adorn! Here all you need to know is how to crochet a sweet crochet heart or a heart amigurumi! Want to clone this outstanding flying heart mobile? Grab the full free pattern and easy tutorial guide from here redheart
Free Crochet Floral Heart Motif Pattern:
Get inspired by this another beautiful crochet heart that will make outstanding appliqué also! This is here the floral centered crochet heart motif that will make a perfect love gift topper and will come in handy to make love garlands for a love theme party! Moreover, you can use it in a number of ways to on Valentine's Day as it will make perfect gift and décor! Free crochet heart pattern and tutorial guide here crochet
Easy Free Crochet Valentine Sweet Heart Pattern: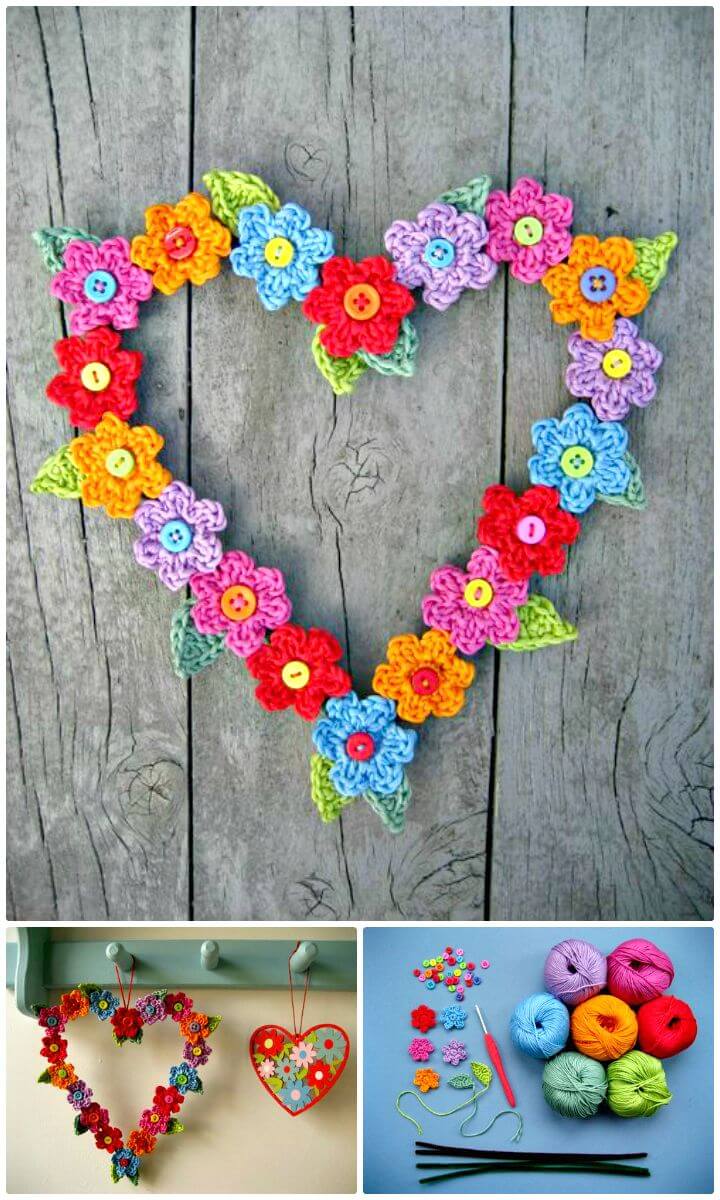 If you are concerned with the heart shape only then this not necessary that you have to crochet it using custom stitches, you can also gain a brilliant heart by using other crocheted items just like this Valentine sweetheart that is all made of crocheted flower that comes in multiple different colors! Perfect heart garland or wall décor idea! Another rocking crochet heart idea for Valentine's Day! Complete project details and easy crochet pattern here typepad
Free Crochet Heart Dishcloth Blanket Pattern: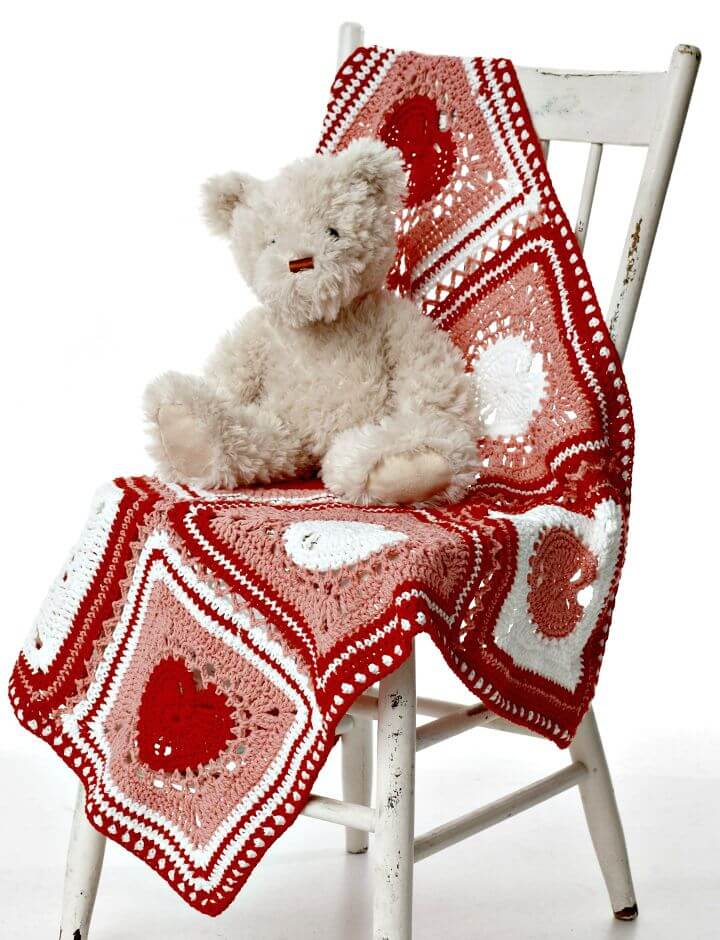 Take a look at the squares here that come with fetching heart motif, all these squares if used separately would make outstanding dishcloths and you can combine them all also to crochet beautiful love blankets, afghans and throws like done in this case! See the dominance of white and red color here that create a perfect love theme of the blanket, the heart motifs are icing on the cake! Another project to do with crochet hearts! Free crochet pattern and instructional guide here yarnspirations
Free Crochet Boho Hearts Pattern: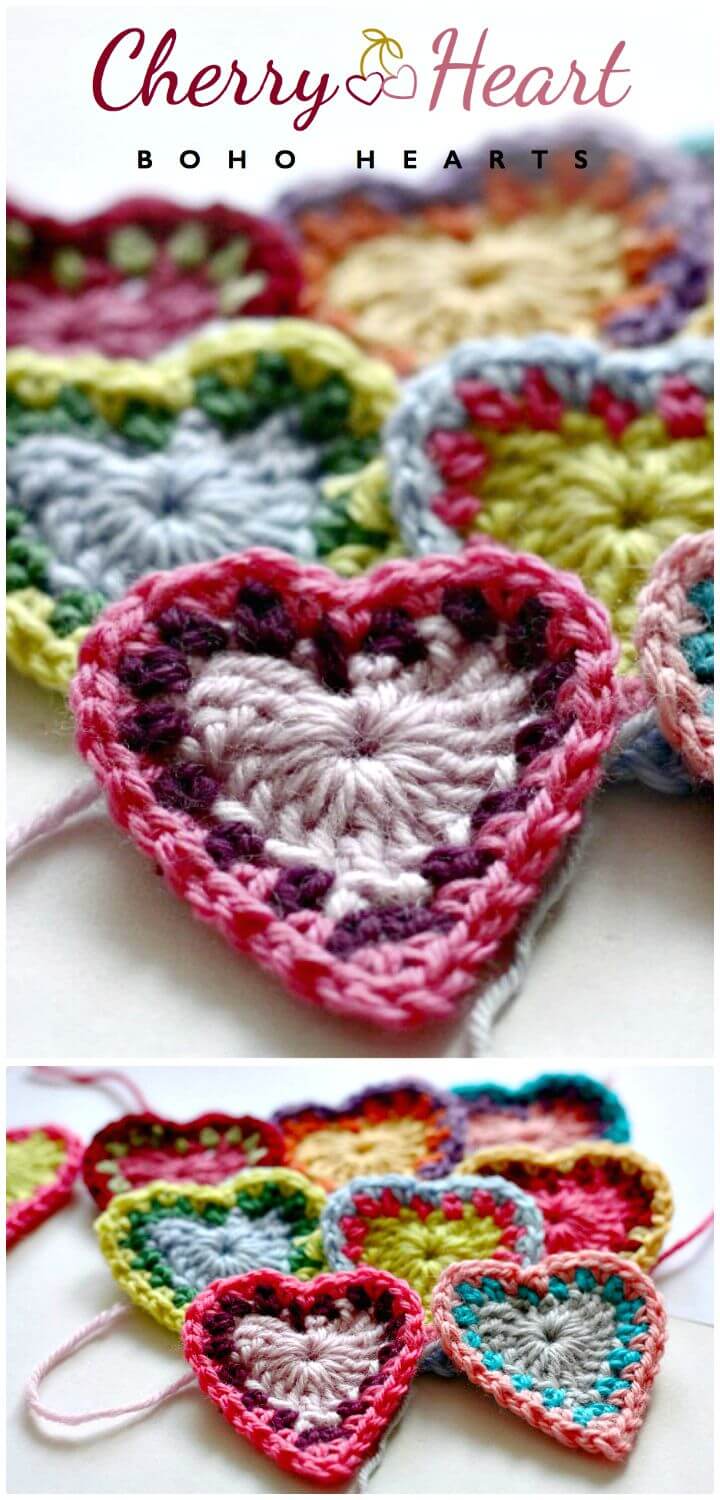 Just by varying the style of stitching, yarn colors and also the central motifs you can give amazing variations to heart shapes you are to crochet! Get inspired of these boho crochet hearts that all come in 3 different yarn color! Here each heart is having a dominant single colored center and then comes with 2 rounds done with different yarn colors as you can see! These hearts will making amazing hanging ornaments, love decors and also the love monograms for your hats and scarves! Grab the full free crochet pattern and visual instructions are here cherryheart
Easy Free Crochet Pop Heart Pattern: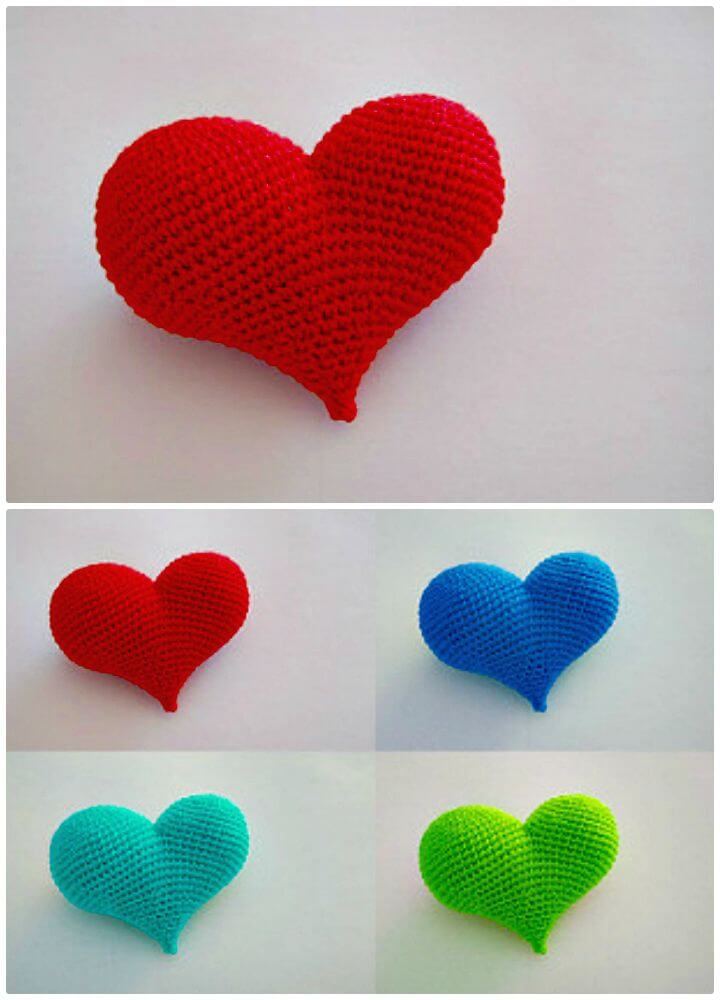 Looking for a perfect Valentine's Day gift that will speak volumes for you love? As it is a matter of expressing your love so we just can't go out of a heart shape, so presenting here the crochet pop heart, the best ever big heart amigurumi! The big stuffed red heart will definitely make an outstanding romantic gift for a beloved one! See here some interesting stuffed crochet heart samples that are insanely cute! Free crochet pattern and step-by-step instructions here ravelry
Free Crochet Granny Sweet Heart Pattern: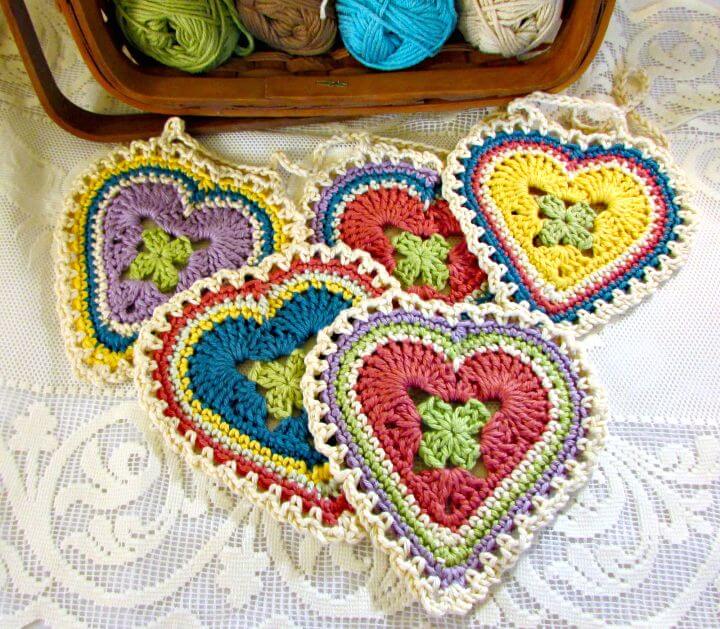 Include these granny sweethearts in your next Valentine's Day décor plans, add these precious hearts onto a thread to make romantic buntings or love special garlands or just them as love heart appliqués! Here these hearts come with a central floral motif and then with colorful rounds all around for a fetching appeal! These hearts are just super lovely to look and will be a big fun to crochet also! Free crochet pattern and visual guides are here nancydrewdesigns
Free Crochet Heart & Sole Slippers – Women Size Pattern: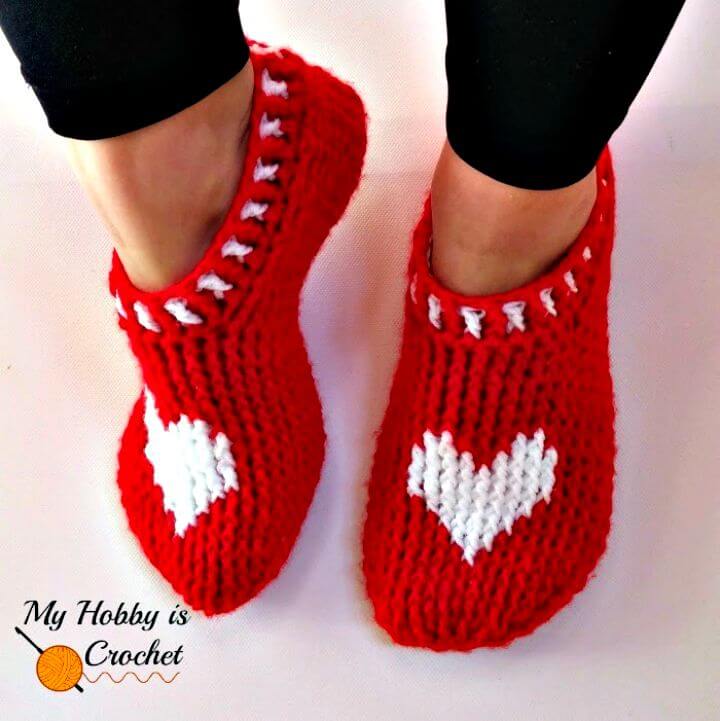 Everything you are going to crochet, may come with some precious heart motifs for a decent love theme! Here you are going to see the adorable love special pair of red crocheted slippers that come with white heart motif for an engaging appeal! Perfect crochet shoes to gift on a Valentine's Day to someone you love a lot! You can experiment these slippers by reversing the yarn colors and also by choosing different yarn colors and also the style of stitches! Grab the full free guides and complete free crochet pattern from here myhobbyiscrochet
Simple Crochet Sunburst Heart Tutorial: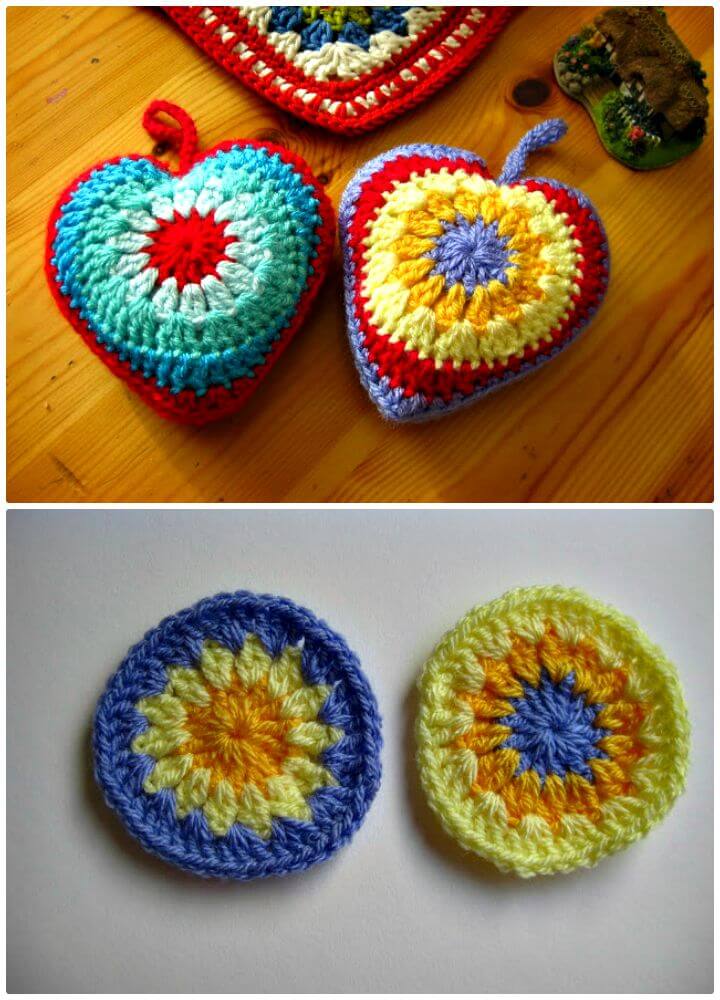 There can be so many different ways to crochet an outstanding yarn heart you like! You can simply change the central design motif and also the loops all around to customize the appeal and design texture of your crocheted heart! Check out here the beautiful sunburst crochet hearts that come with round sunburst central motif and look fabulous! More unique crochet heart that can be a part of several different decors! Here is how to crochet this beautiful sunburst heart bunnymummy
How To Easy Free Crochet A Heart Pattern: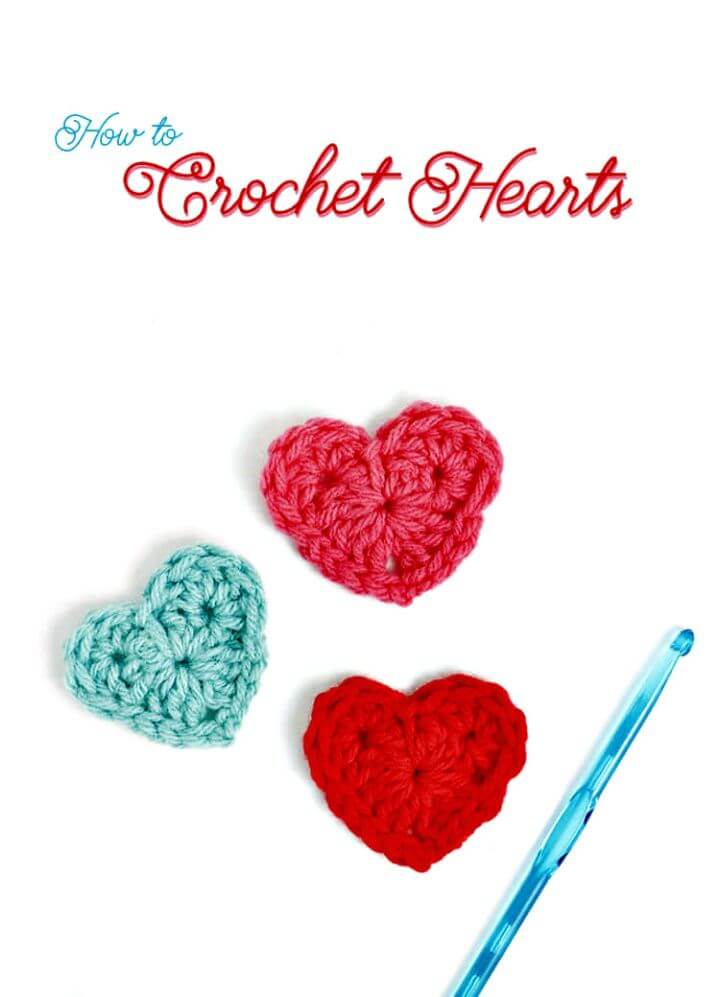 Sorting out some perfect love monograms or appliqués? Here are some beautiful ones that you can easily crochet at home by spending a little time with your hook and also with favorite colored yarn weights! These little hearts would make outstanding toppers for Valentine's Day gifts and will also rock if used as stunning heart appliqués! Willing to try out these lovely mini yarn hearts now? Grab the full free pattern and tutorial from here persialou
Easy Free Crochet Adorable Little Hearts Pattern: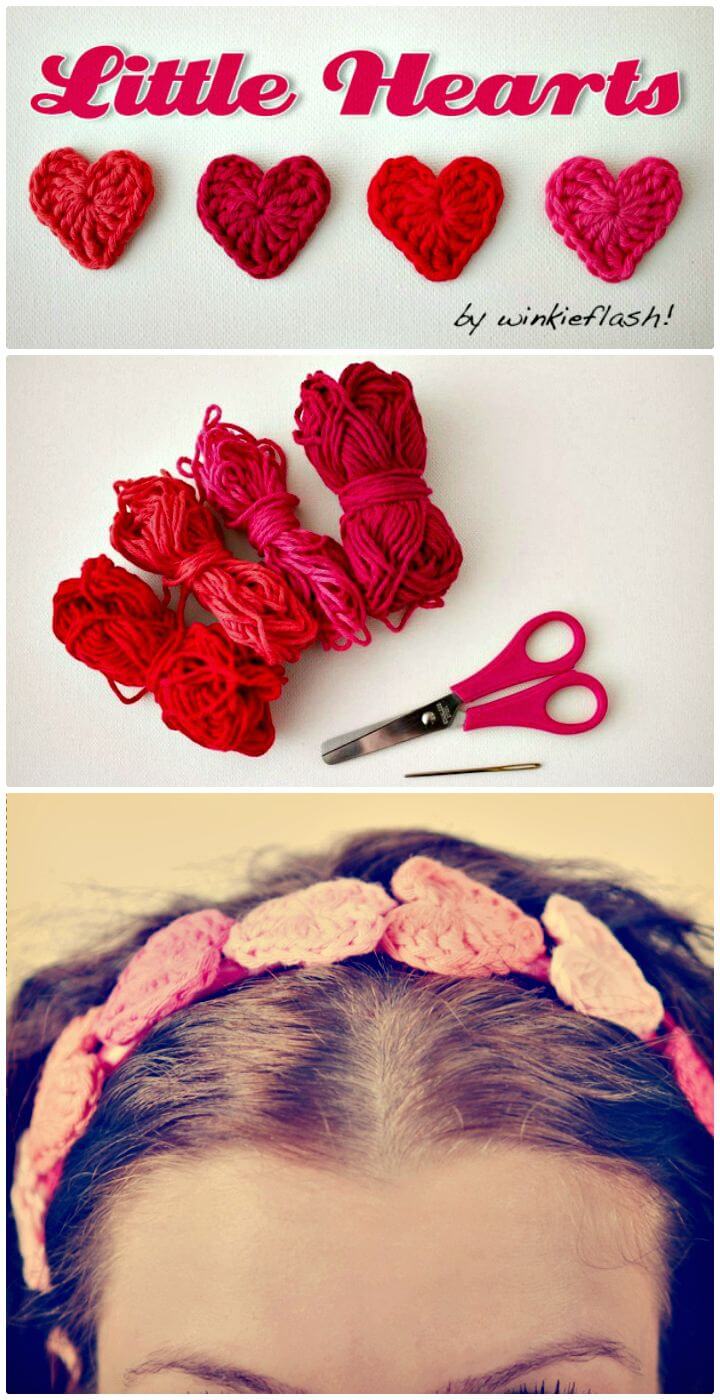 If you are a master crocheter, then it would just be a piece of cake to crochet a little heart! Take a look at the given sample hearts that has been crocheted in pink and in different shades of red! These miniature hearts would first make cutest love gifts and next can be used as heart appliqués in to give precious love monograms to your crochet hats, scarves, sweaters and other items of winter fashion! If hanging aloft through strings, these miniature hearts will also making outstanding love decors that will rock for Valentine's Day! Free crochet pattern and easy to follow guide is here acreativebeing
Free Crochet Heart Shaped Storage Baskets Pattern: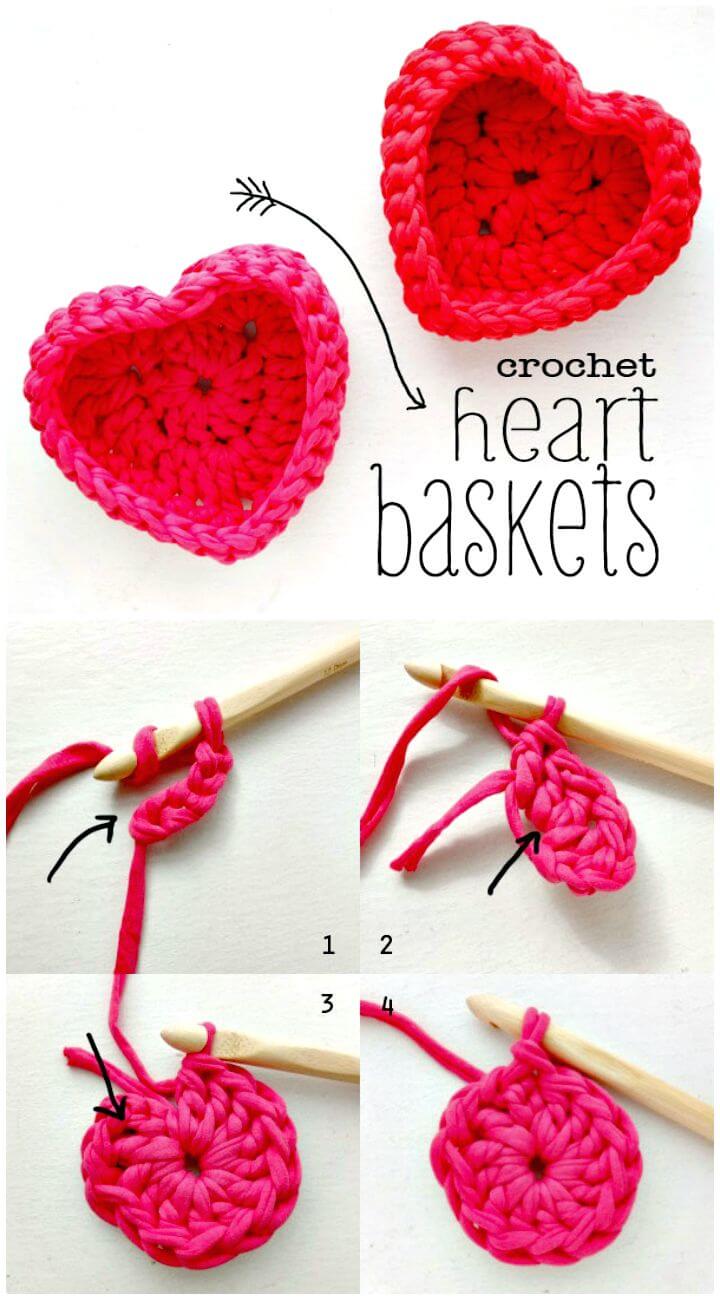 Check out here the perfectly romantic desk organizers, the loved heart-shaped crocheted baskets that will also come in handy to organize your craft room supplies beautifully! Here you all need to crochet a heart shape first then you can raise that heart shape from the edges by adding extra yarn loops to gain heart shape basket as you can see! Clone these baskets to give as love gifts on Valentine's Day! Grab the full free crochet pattern and instructional guide from here mypoppet
Easy Free Crochet Hearts – 3 Sizes Pattern: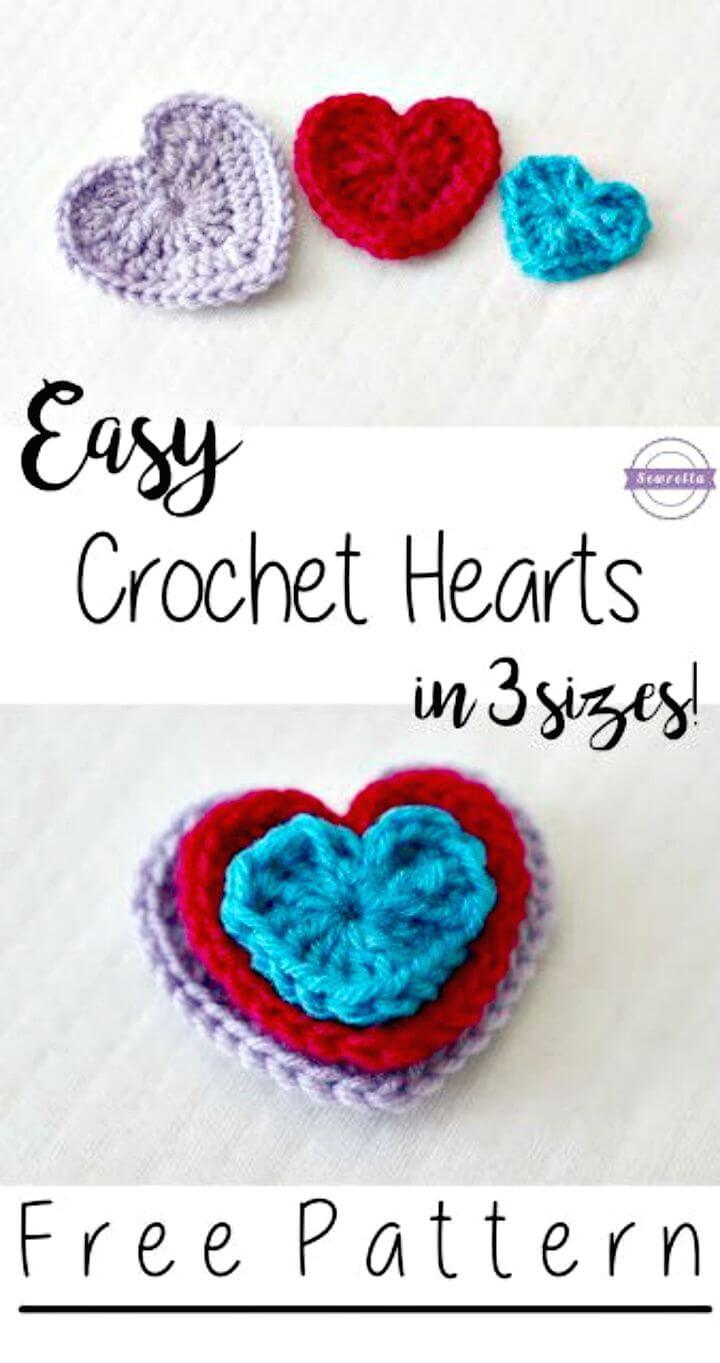 While crocheting some fab hearts, you can get puzzled at how to change the size of your hearts! Just check out here these easy crochet hearts that come in 3 different sizes and you will also get a perfect guide for it here! You can stack all these 3 sizes with the smallest on the top to gain fantastic heart embellishments or ornaments, check out here the given sample that has only been crocheted to inspire! sewrella
Easy Free Crochet 8-Bit Heart Slouchy Pattern: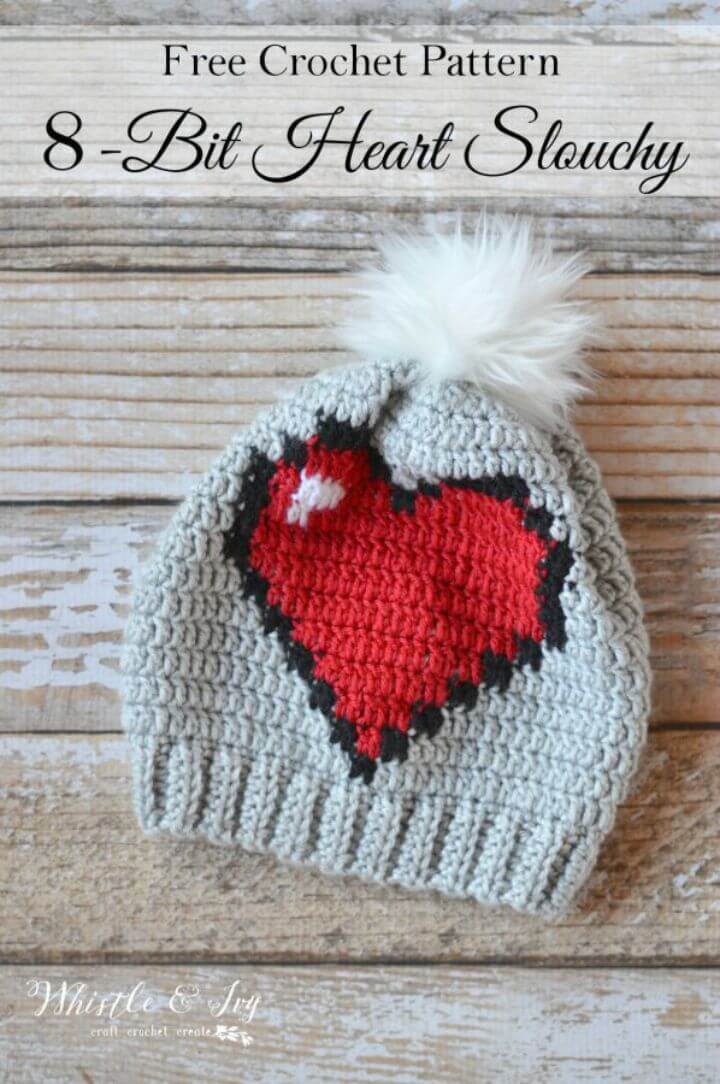 Sorting out a perfect Valentine's Day gift? This crochet slouchy love hat would make an outstanding choice! This crochet hat comes with a red heart motif and hence goes lovely to the eyes! Moreover, this hat has also been embellished with a pom-pom that creates the more gorgeous and cute look of the hat! Here the red heart motif comes with ba lack dotted boundary but you can go with your custom yarn colors! Grab the full free crochet pattern and easy tutorial guide from here whistleandivy
Small Free Crochet Hearts Pattern:
Check out here that what special and fantastic you can do with your mini crocheted yarn hearts! Take a look at these given mini crochet heart amigurumi that comes on the wooden skewers to decorate an old vase! The vase hence turned out into a stunning love centerpiece that can bring love vibes to any of your space and will also make an outstanding Valentine's Day gift! Grab the full free crochet heart amigurumi pattern and tutorial from here mallooknits
Cute Free Crochet Red Heart Pattern: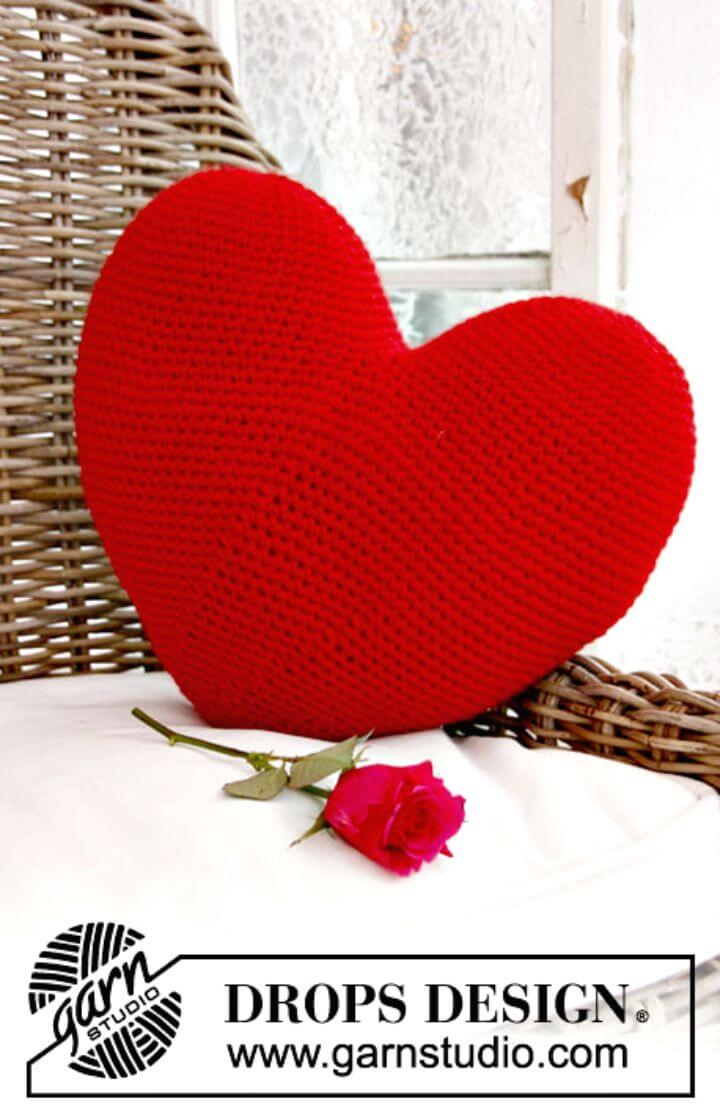 Win the heart of your Valentine by giving him/her this crocheted stuffed heart, a hot red heart amigurumi that would definitely express your love if given with a red rose to your lover! You can so many yarn hearts of this kind that can help bring a love theme to any of your new space and hence they will just rock also for Valentine's Day decors! Another mind-blowing crochet heart amigurumi that will just make an unforgettable gift for sure! Free crochet pattern and visual instructions here garnstudio
Easy Free Heart Head Warmer Patterns: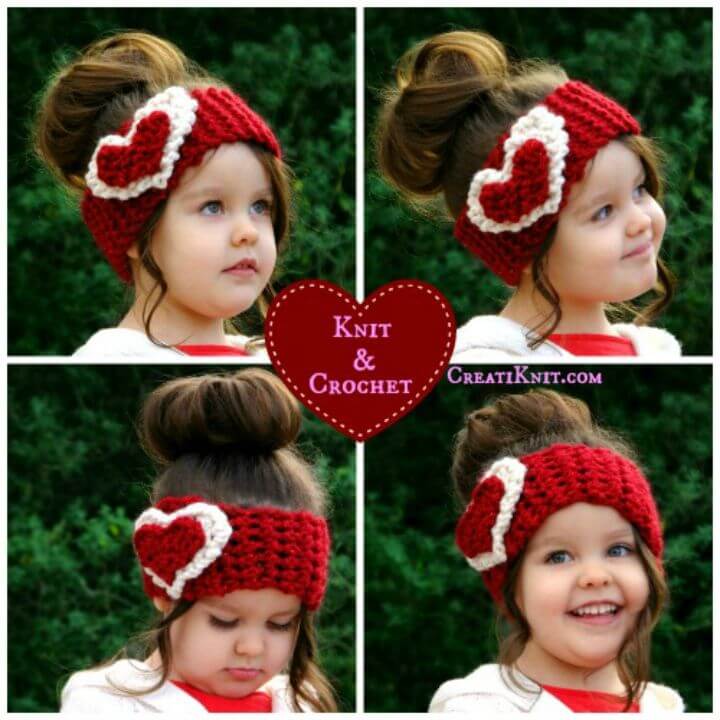 What you will call it, a headband, headwarmer or an earwamer? Actually, it will serve for all, a handsome, hot red crochet head warmer that comes with a crochet heart adornment or embellishment to one side that gives it an enchanting love theme! This crochet love headband will adorn any cute face of a little girl or of a teen and would make also a great love gift! Why not choose this head warmer as a pleasing Valentine's Day gift? Grab the full free pattern and easy tutorial from here creatiknit
How To Easy Free Crochet Heart Pattern: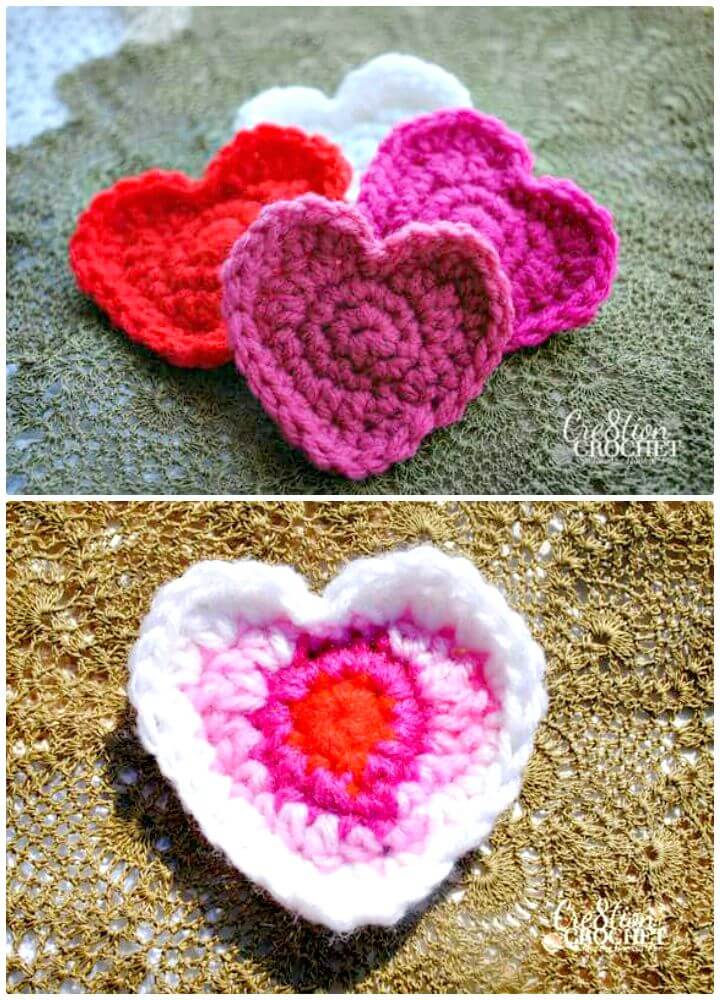 A great way to get adorable yarn hearts would be crochet different sized hearts in a different color which can then be combined to gain a thicker and big crochet heat that would also come in multiple different colors! Take a look at the given sample that is look amazingly cute and adorable and comes in white, red, pink and purple yarn colors that all speak for a romantic love theme! Another great crochet heart design pattern that you can easily clone! Grab the full free guide and free crochet pattern from here cre8tioncrochet
Free Crochet Heart Coaster Pattern: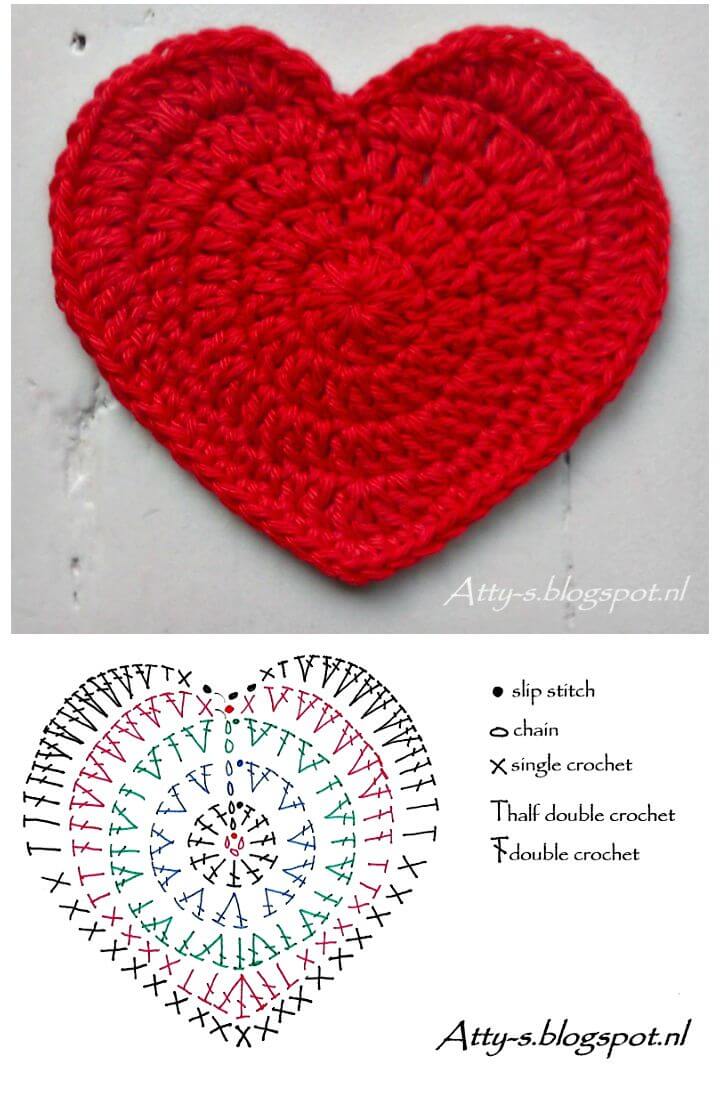 Look at this another visually attractive crocheted heart, this is here a little bigger crochet heart that will serve also as mind-blowing crochet coasters and is something super gift-worthy too! This precious red heart has been crocheted in rounds and will make a brilliant heart monogram, heart appliqué, a superior love ornament if hanged aloft and also an iconic symbol of love for any gift if used as a gift topper! So, you can use this crochet heart in either way you like! Grab the full free guide and easy crochet pattern from here coaster
Free Crochet Be My Valentine Heart Garland Pattern: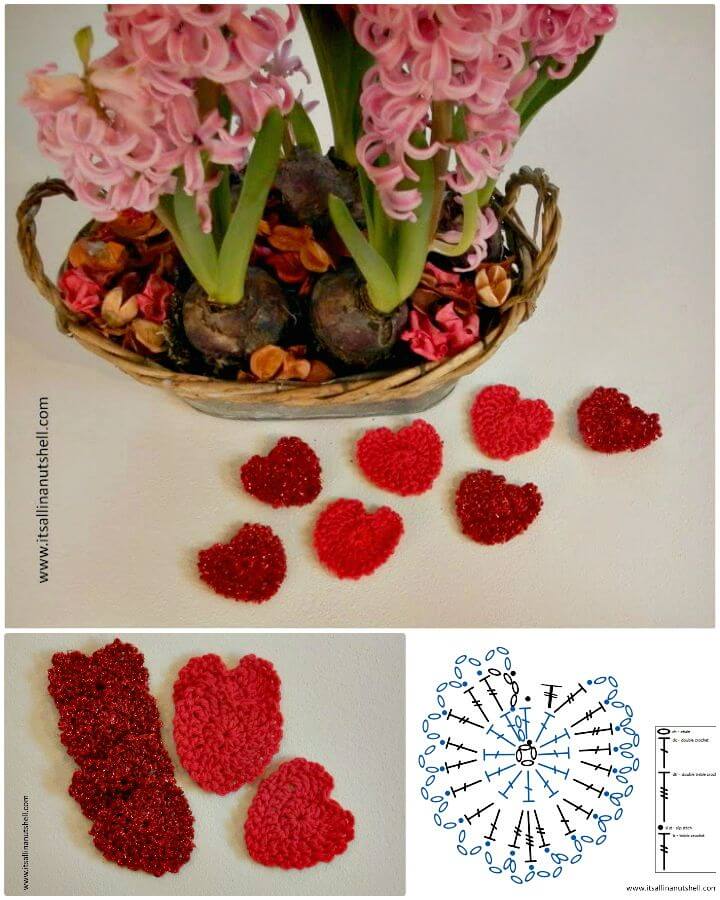 Crocheting mini yarn hearts can be good for various purposes! The very purpose can be to use them as enticing Valentine's Day decors as the heart shapes will definitely highlight the love if used as ornaments like as a love garland! Moreover, they can be got onto a thread to gain beautiful love bunting and next they can also be crocheted or sewn on custom items of clothing or crocheting as love monograms or appliqués! Free crochet mini heart pattern is here itsallinanutshell
How To Easy Free Crochet Sweet Hearts Pattern: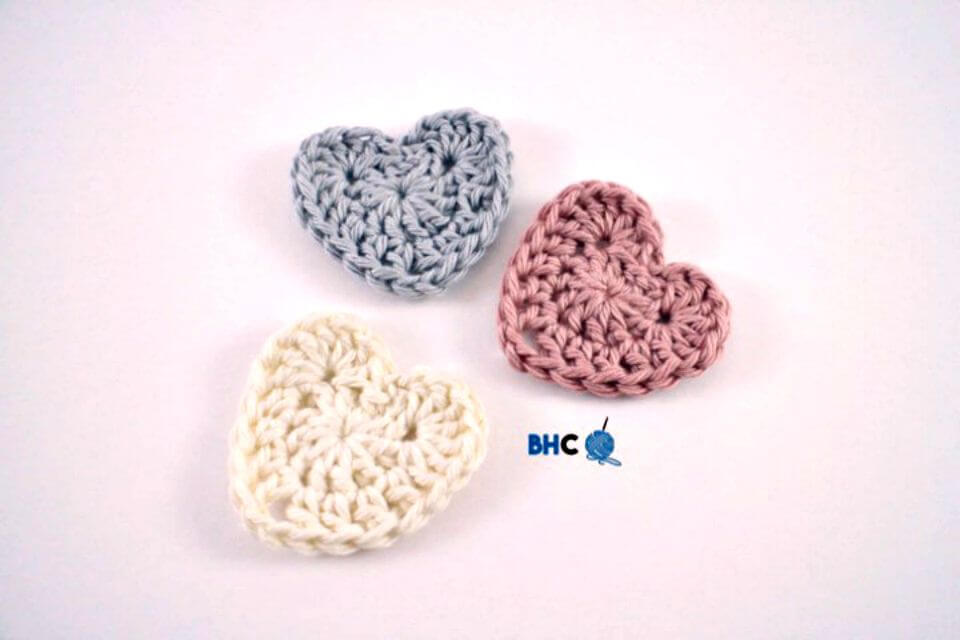 Another adorable heart shape creation done with the worsted yarn weights! Here the 5mm B-hook has been used to crochet these fantastic min hearts that are hold dear to eyes! Use these mini hearts as custom love adornments, as hanging love decors and also as beautiful heart appliqués! Go with your own special yarn weights and colors and crochet these beautiful hearts at home! Grab the full free pattern and tutorial guides from here bhookedcrochet
Easy Free Crochet Hearts Appliqué Pattern: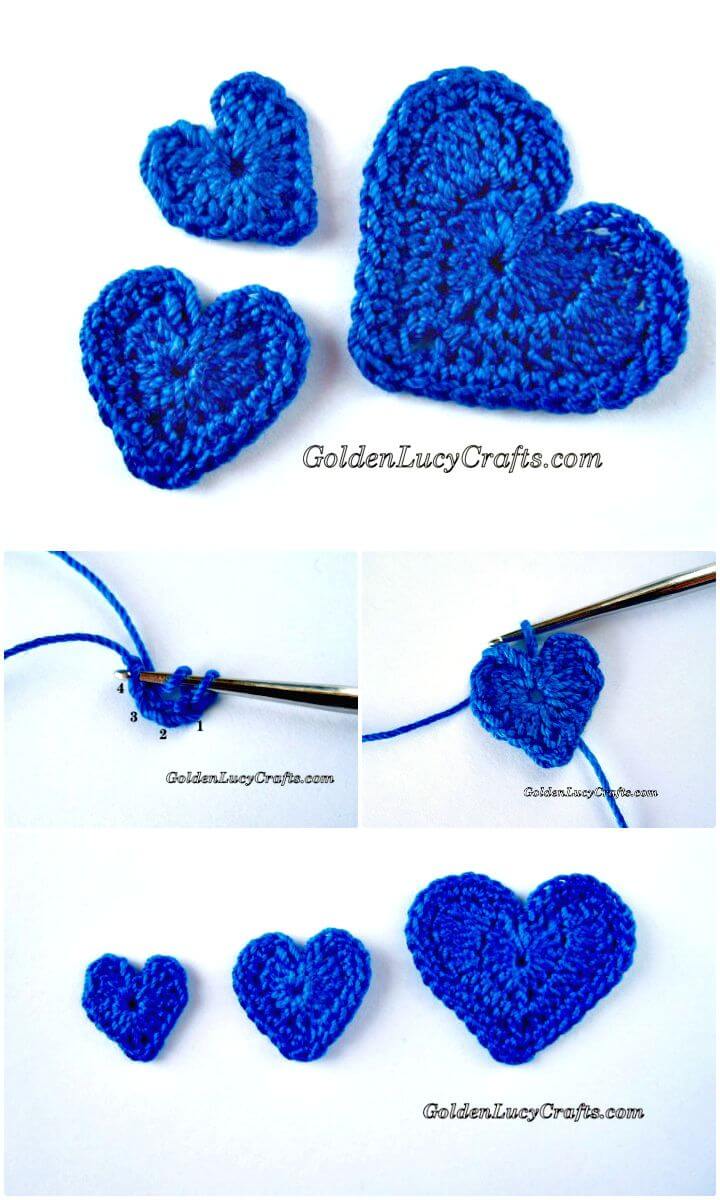 Get inspired of these teal blue love delights, the fascinating teal blue mini crocheted hearts that would make awesome appliqués! Use these hearts as gift topper and also as accent toppers to your hairpins and headbands! Moreover, you can also get them onto a thread as beautiful bunting and to sew them onto custom items of clothing or crocheting would also be a great idea to dignify them with precious love monograms! There can be several different more uses for these heart appliqués! Here is how to crochet them goldenlucycrafts
Crochet Heart Bunting For Little Hearts Matter: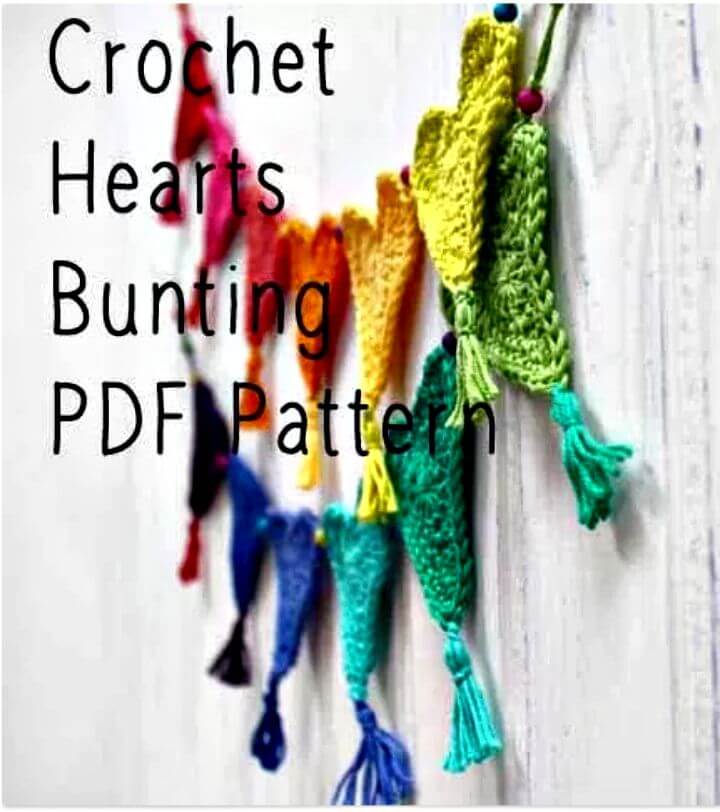 Bring love vibes to your interior home spaces by making genius use of crocheted hearts! Rather than using the crocheted heart shapes in making cute Valentine's Day gifts also use them making adorable items of decors like these gorgeous heart buntings! Here custom crocheted hearts have been added with beautiful tassels and then has been put together on a string for cool love buntings, will rock for Valentine's Day decors! Another great crochet heart project! Free crochet pattern and easy tutorial guide here planetpenny
Simple Free Crochet Hearts Pattern: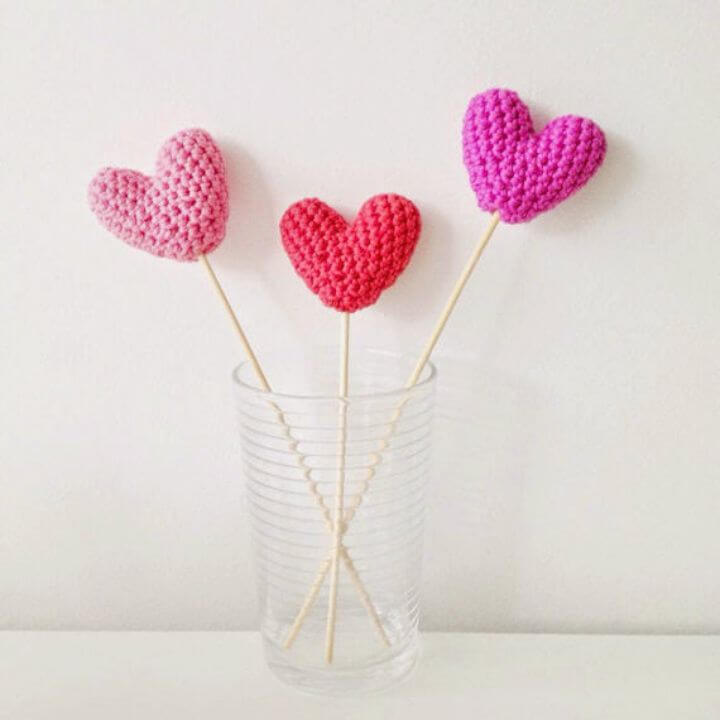 If you have learnt that how to crochet the beautiful yarn hearts then you can also try some beautiful mini heart amigurumi that will look more captivating to eyes! Check out here the sample stuffed mini hearts that are perfect to make love keychain gifts and can also be used as a topper to wooden skewers to add to custom home vases for outstanding love vibes! Willing to clone these miniature heart plushie? Grab the full free crochet pattern and easy guide from here annemarieshaakblog
Simple And Cute Free Crochet Heart Pattern: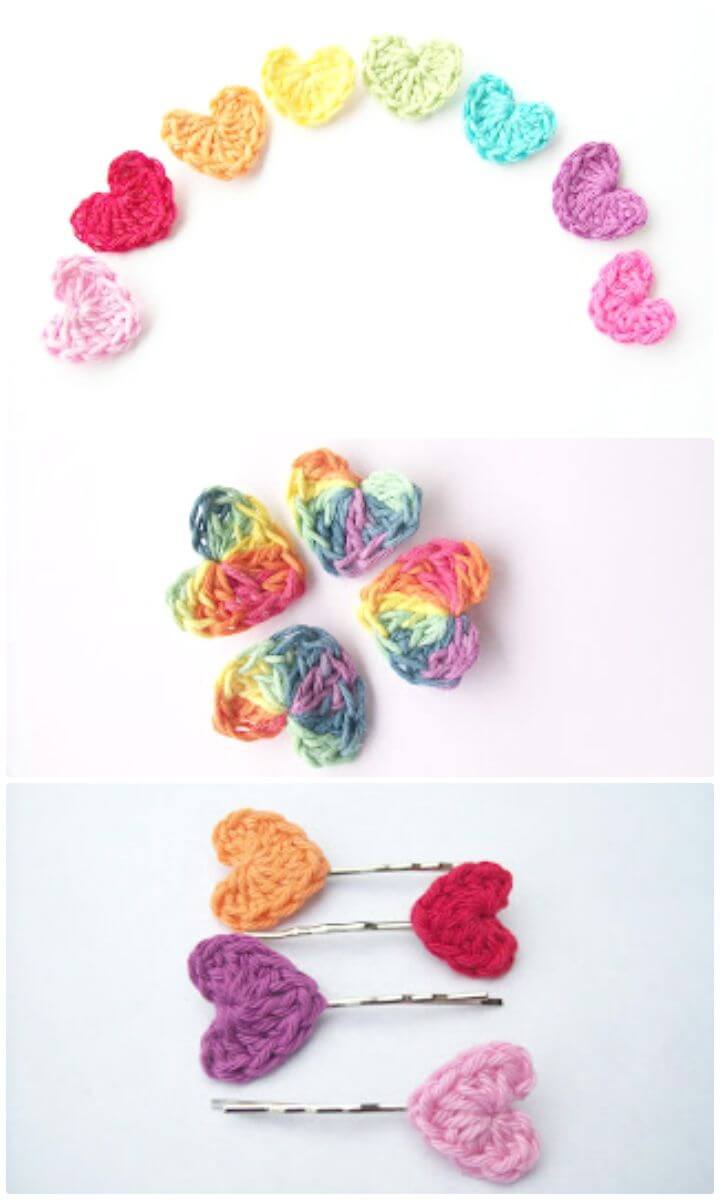 The designs for cool looking crochet hearts are just never ending! Check out here more eye-catching ones, the cute, sweet yarn hearts crocheted in so many different colors and are cute enough to win your lover's heart! Use these hearts as love appliqués to spruce up your custom items of clothing with precious love monograms! Moreover, these miniature crochet hearts will also make cute embellishments to your fashion accessories like to hairpins, headbands to hair catchers! Free crochet heart pattern and tutorial guide here flowergirlcottage
Easy Free Crochet Heart Pattern – Step By Step Instructions: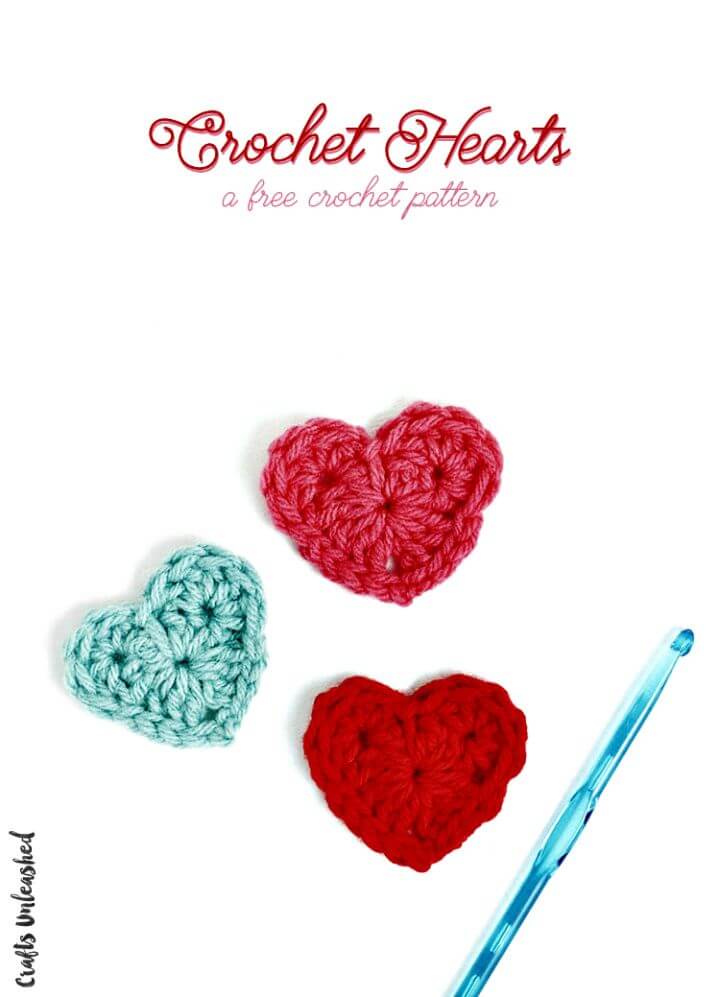 Even if you are a beginner, you can still try crocheting some outstanding hearts, check out here the sample hearts that will work up super quickly and are super pleasing to eyes also! These are the great looking colorful yarn hearts that will serve also as handsome yarn embellishments for various of your items of fashion and interest! Incorporate these yarn hearts to make outstanding love decors for parties or for Valentine's Day and give them also as sweet mini love gifts! Grab the free crochet pattern and tutorial guide from here consumercrafts
Easy Free Crochet Heart Mug Cozy Pattern: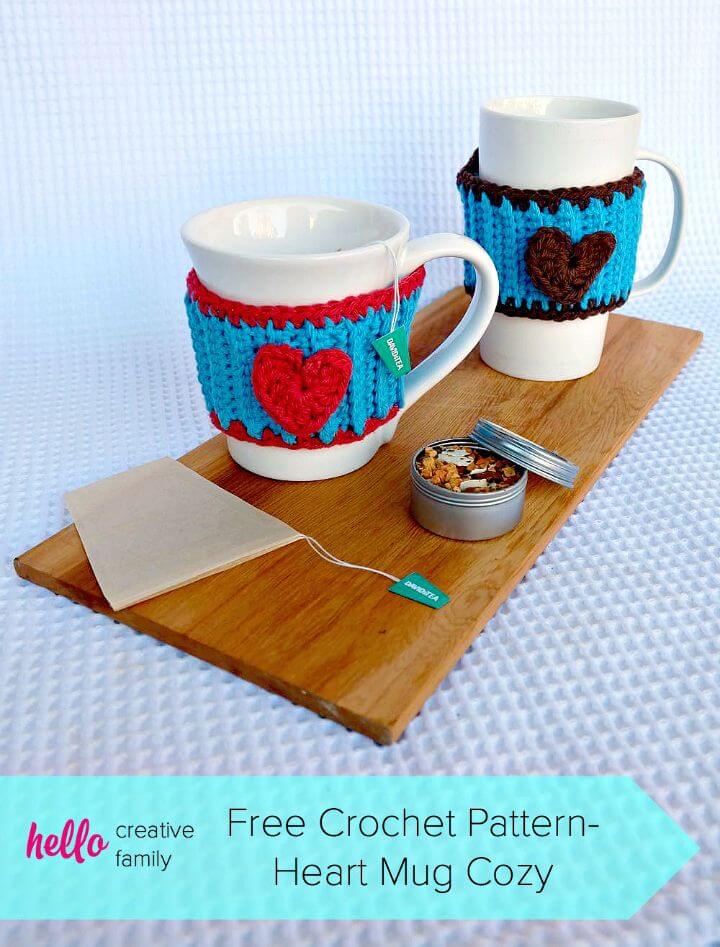 Willing to crochet a handsome gift for a beloved one or for your lover? If yes, then what you say about these heart mug cozies, will make the receiver recall your love every time he/she enjoys the coffees! Crocheting the coffee mug sleeves with heart monograms is just a piece of cake even for a dedicated beginner, moreover, they would also make great last hour gift! Get the free crochet pattern and easy visual tutorial from here hellocreativefamily
Simple Free Crochet Padded Heart Pattern: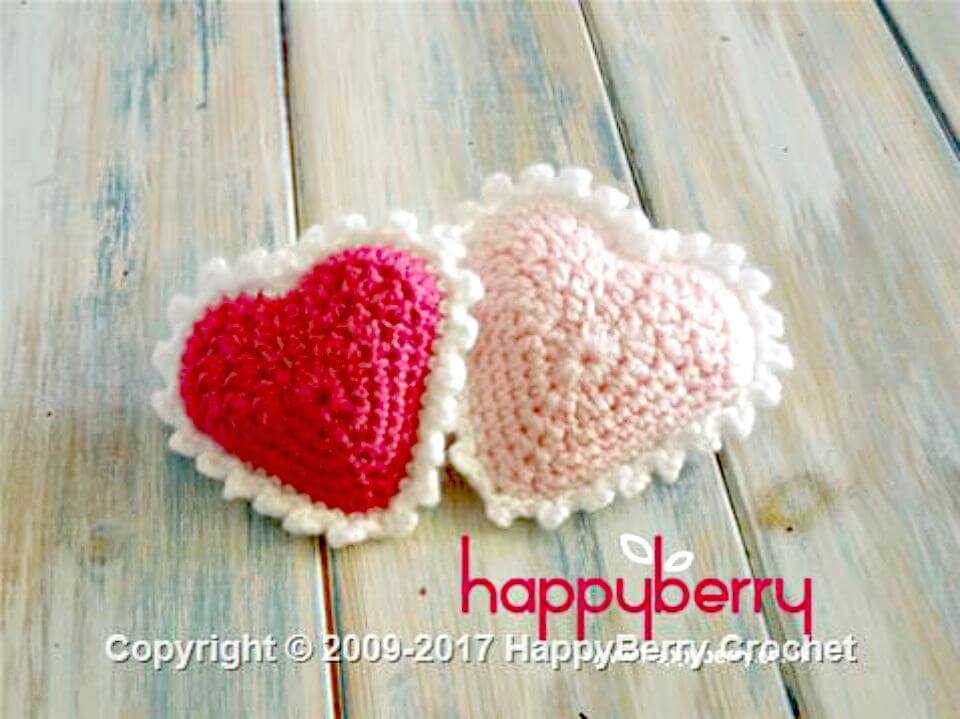 Take a look at these pink and red crocheted hearts that have been bought to distinction with a white crochet border! These miniature crochet padded hearts would make the cutest Valentine's Day gifts and will also be something you will love to incorporate to your home decors for some precious love vibes! Just go with your favorite yarn colors and crochet these lovely hearts to use as both home decors or appliqués! Get the full free crochet pattern and step-by-step visual guide from here happyberry
Free Crochet Valentine's Spike Stitch Heart Pattern: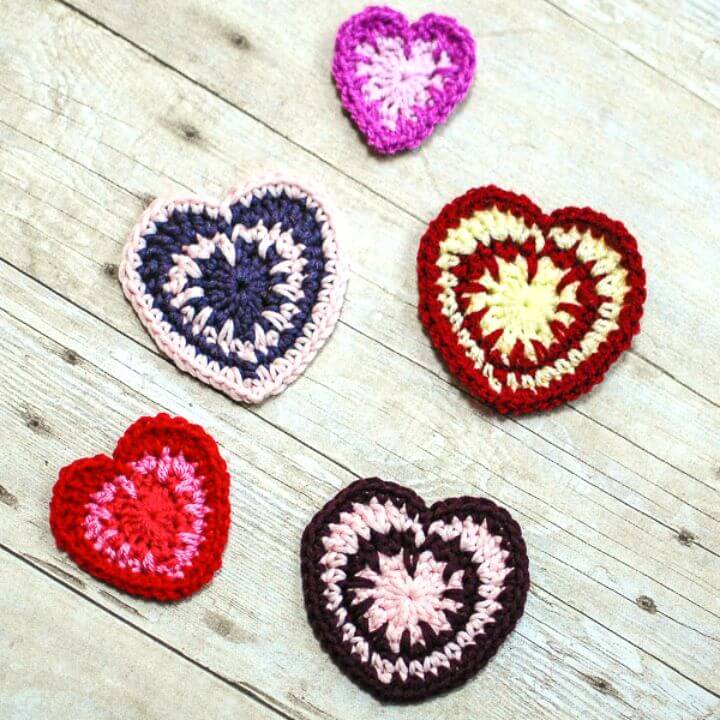 Crochet hearts can be simple and single colored and can also come with amazing design textures and enticing color combinations at the same time! Here by crocheting in spike stitch, these precious Valentine's Day hearts have been crocheted that can also be used in a number of different ways as embellishments, appliqués or decors! These special yarn hearts will just rock if used in making Valentine's Day garlands or buntings and will make best love tags or appliqués for your various crochet patterns like for hats, scarves and sweaters! Grab the full free tutorial and easy guides from here petalstopicots
How To Free Crochet Pillow Heart Pattern: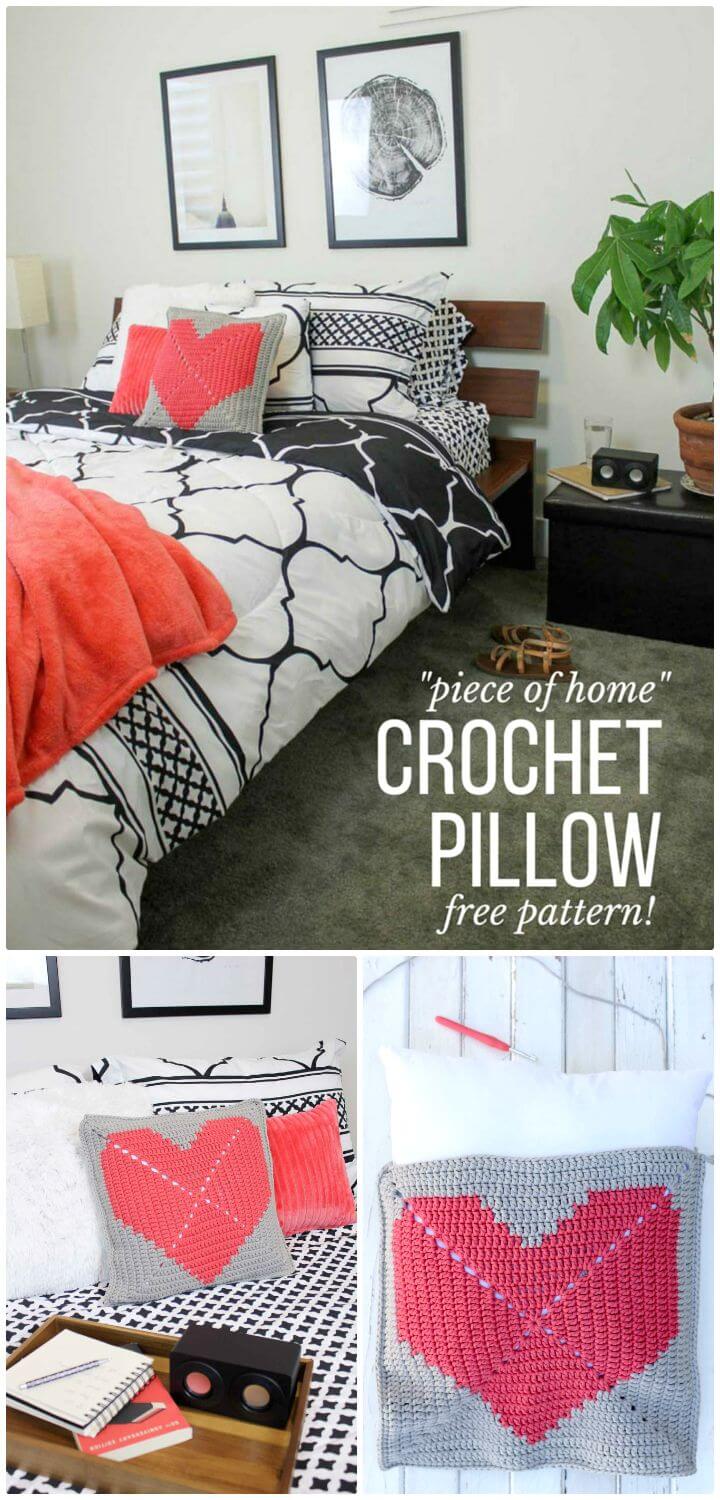 You can also crochet various different kinds of cases, sleeves and cozies for various of your items of interest! Crochet mobile cozies and coffee mug sleeves are very popular but this time we are here with a special crocheted pillowcase that comes with precious big heart motif and is looking damn beautiful! It is also what you can choose as a Valentine's Day gift and this type of pillows will also bring great love vibes to your bedroom also! Grab the full free guides and free crochet pattern from here makeanddocrew
Free Crochet Heart Appliqué Hat Pattern: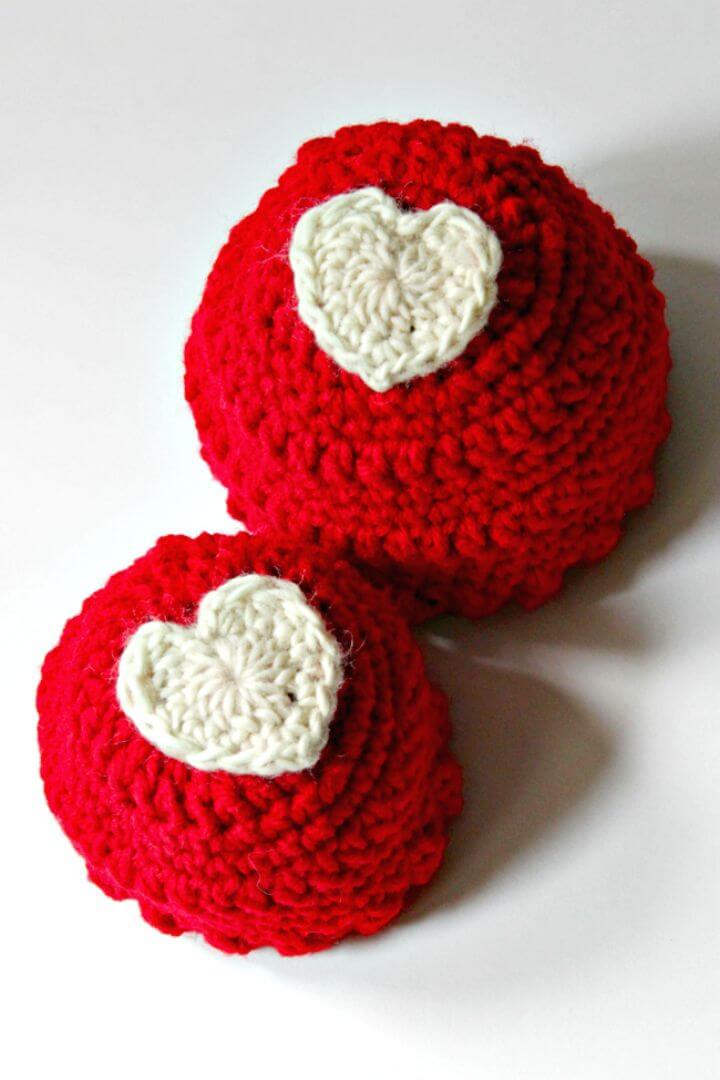 Perfect crochet winter warmer, perfect gift and an epic love accessory, the red hot crochet hat that comes with fascinating heart embellishment! If you know how to crochet beautiful hats, then you can simply learn how to crochet a beautiful heart appliqué that can be crocheted onto the hat for a romantic look of the hat! This is here the precious ever crochet hat that will speak volumes for your love if given as a gift to someone special! Free crochet pattern and easy tutorial guides are here handsoccupied
Easy Free Crochet Valentine Hearts Pattern: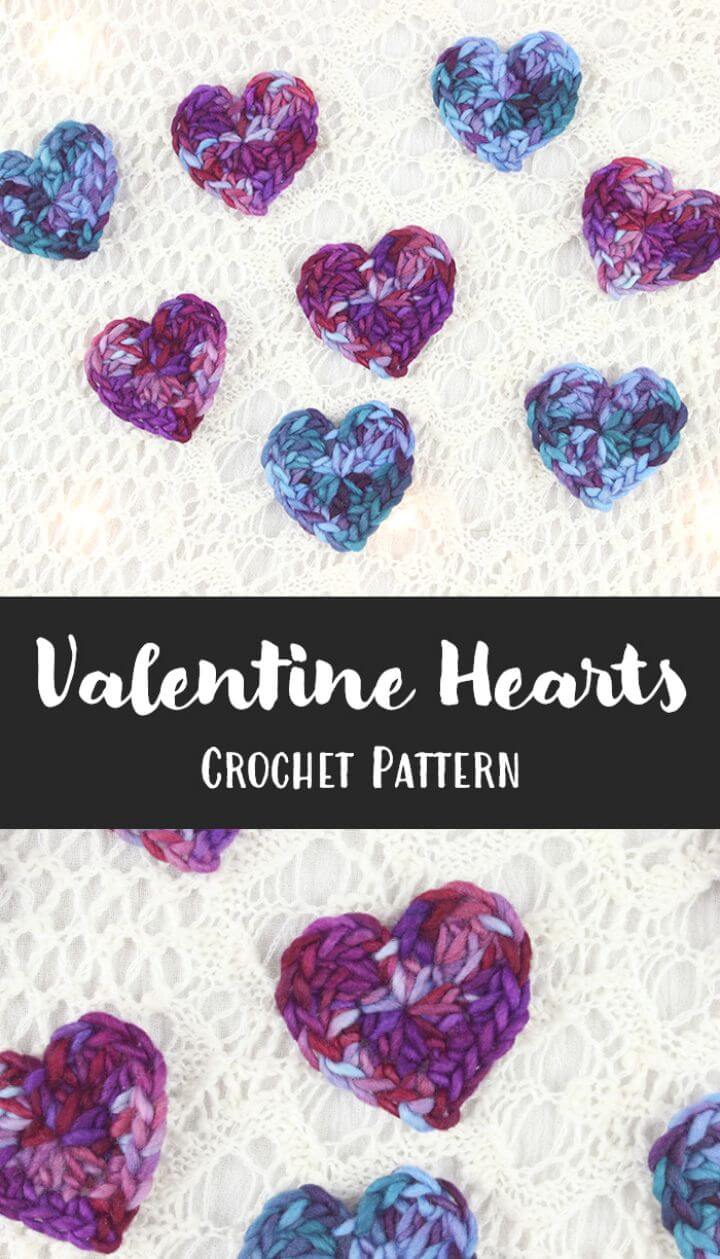 A fantastic crochet here done with the malabrigo worsted yarn, the special crocheted hearts that come in outstanding colors that repeat and change amazingly! These are the perfect hearts to use in Valentine's Day décors plans also to spruce up the Valentine's Day gifts! They will themselves make sweet mini Valentine's Day gifts! Let these hearts also come on your favorite t-shirts, crochet sweaters or crochet hats as love monograms and also use them to make love special decors like a wreath, hanging ornaments and love buntings! Free crochet pattern and easy tutorial here gleefulthings
Quick Free Easy Crochet Heart Pattern: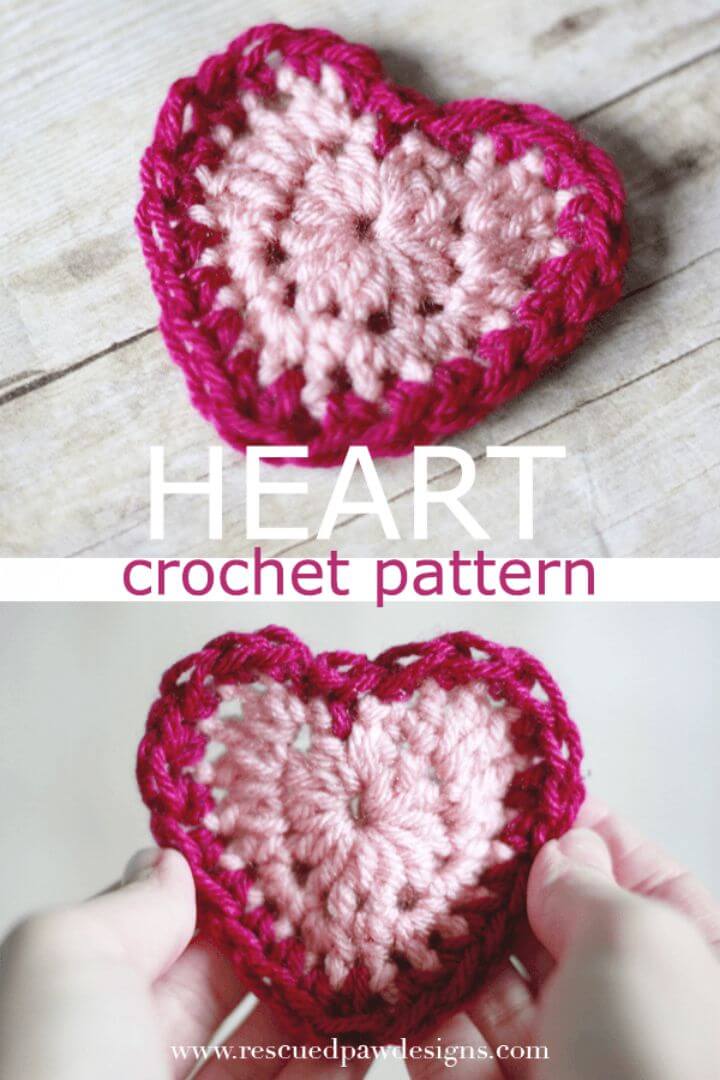 Willing to have some fun with your crochet hook? Just try crocheting some miniature hearts that will make great embellishments for various of your crocheted items like for crochet mittens, cowls and shrugs! Moreover, if you are busy in Valentine's Day decors, then those crocheted hearts will also be a must-have item! Get inspired of this very precious sample crochet heart that comes in a pink and red color that defines the love beautifully! Free crochet pattern and tutorial guide is here rescuedpawdesigns
Free Crochet Danish Heart Pattern: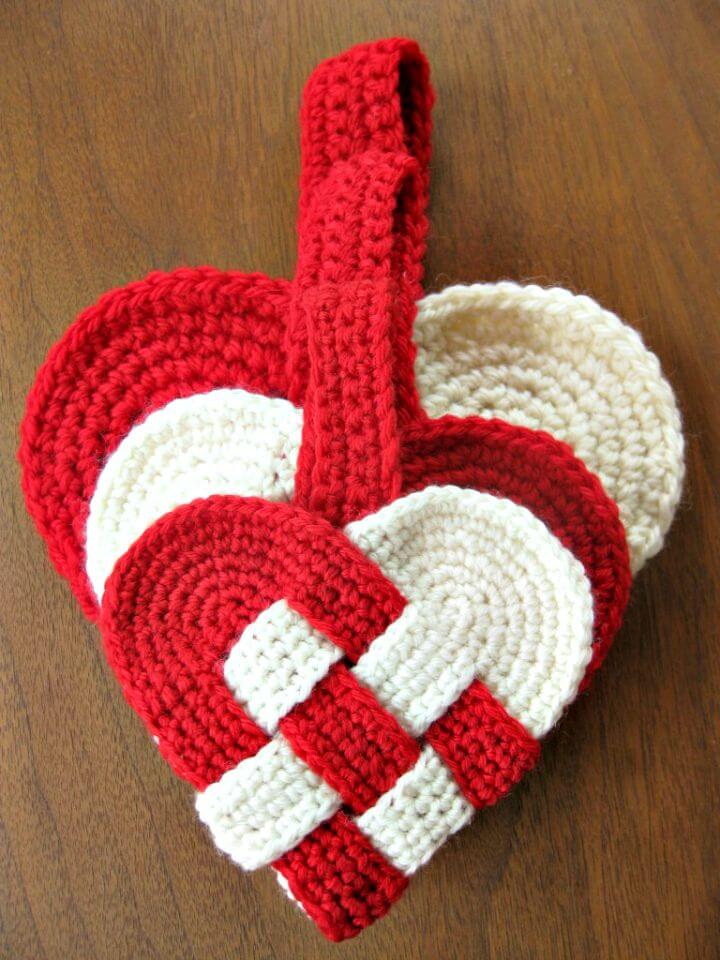 Here you will be puzzled at that whether this yarn heart is woven, crocheted or braided, this is just a supper fantastic crochet creation! Here a brilliant illusion has been created by showing that this special Danish heart is made of two crochet hearts red and white and intermingle beautifully! This is here a very rare crochet heart pattern and these precious heart hangers would also make outstanding hanging ornaments for any love event or for Valentine's Day party! Free crochet pattern and easy visual guide is here alipyper
Free Crochet Valentines Heart Pattern:
Just by giving some genius twists to your crochet style of stitches you can create amazing design textures in your finally finished crochet pattern! A great sample here is these Valentine's Day hearts, crocheted to inspire and come in pink, white and red appeal and are looking much graceful! Use these miniature yarn hearts as Valentine's Day gift toppers, as decors and also as sweet mini gifts for the love day! They will also make outstanding love appliqués! Further project details and free crochet pattern here hopefulhoney
Easy Free Crochet Vintage Hearts Pattern: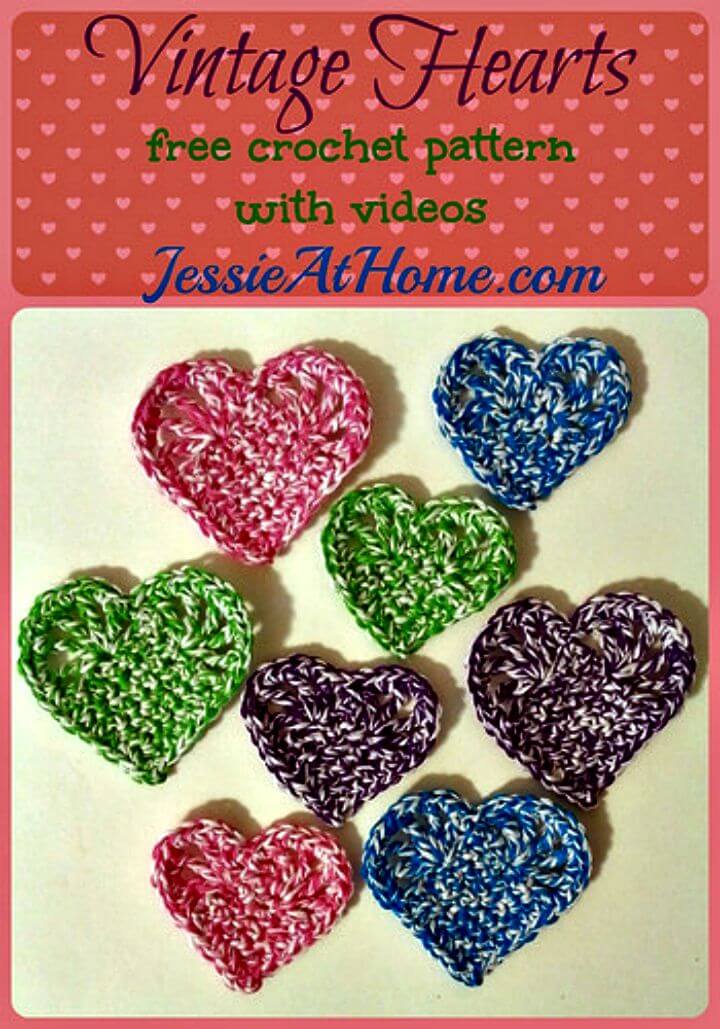 You will in love with the visual charm of these crocheted hearts, each heart come in two yarn colors that have been blended in beautifully! Here whit is dominant in all but all hearts are just looking fantastic! These are the exclusive vintage hearts crocheted to inspire and also to use as outstanding love appliqués! Moreover, you can also get creative with these hearts to produce heart-warming ornaments and decors for the love day, the Valentine's Day! Grab the full free crochet pattern and tutorial guide from here jessieathome
Crochet Kid'S Heart Headwrap – Free Pattern: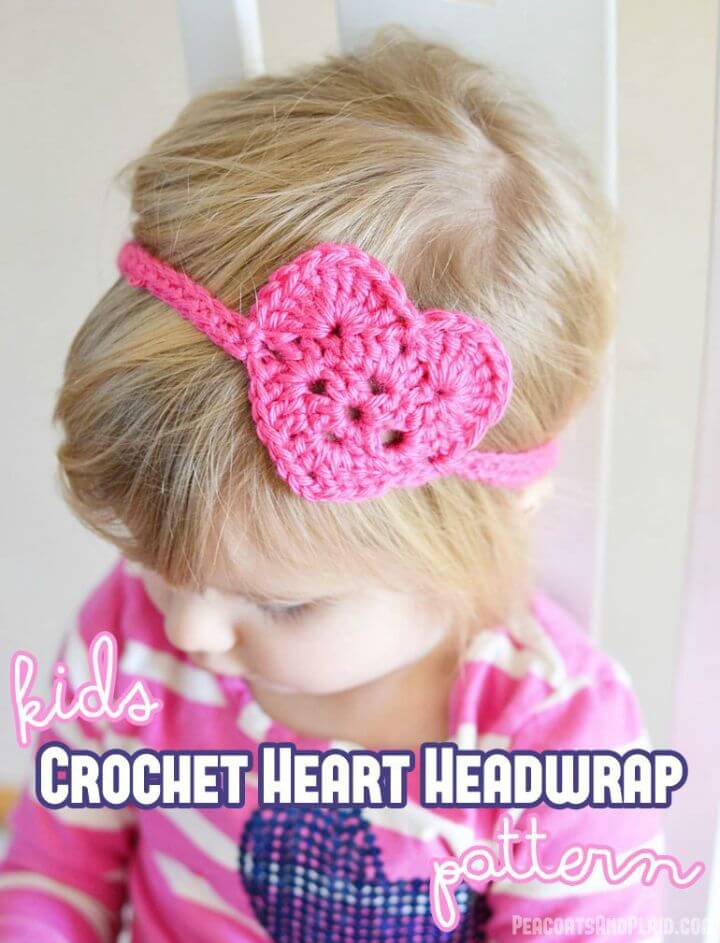 Here is what you can do amazing with your crocheted hearts! Rather than using them as love embellishments only, also make outstanding accessories and gifts out of them! Get inspired of this crochet kids heat headwrap that is super gift-worthy too! This love headwrap will turn any little girl into a lovely princess and you can easily duplicate it by just crocheting a heart shape! Further project details, free pattern and instructions are here brepea
Easy Free Crochet Corazoncitos Hearts Pattern: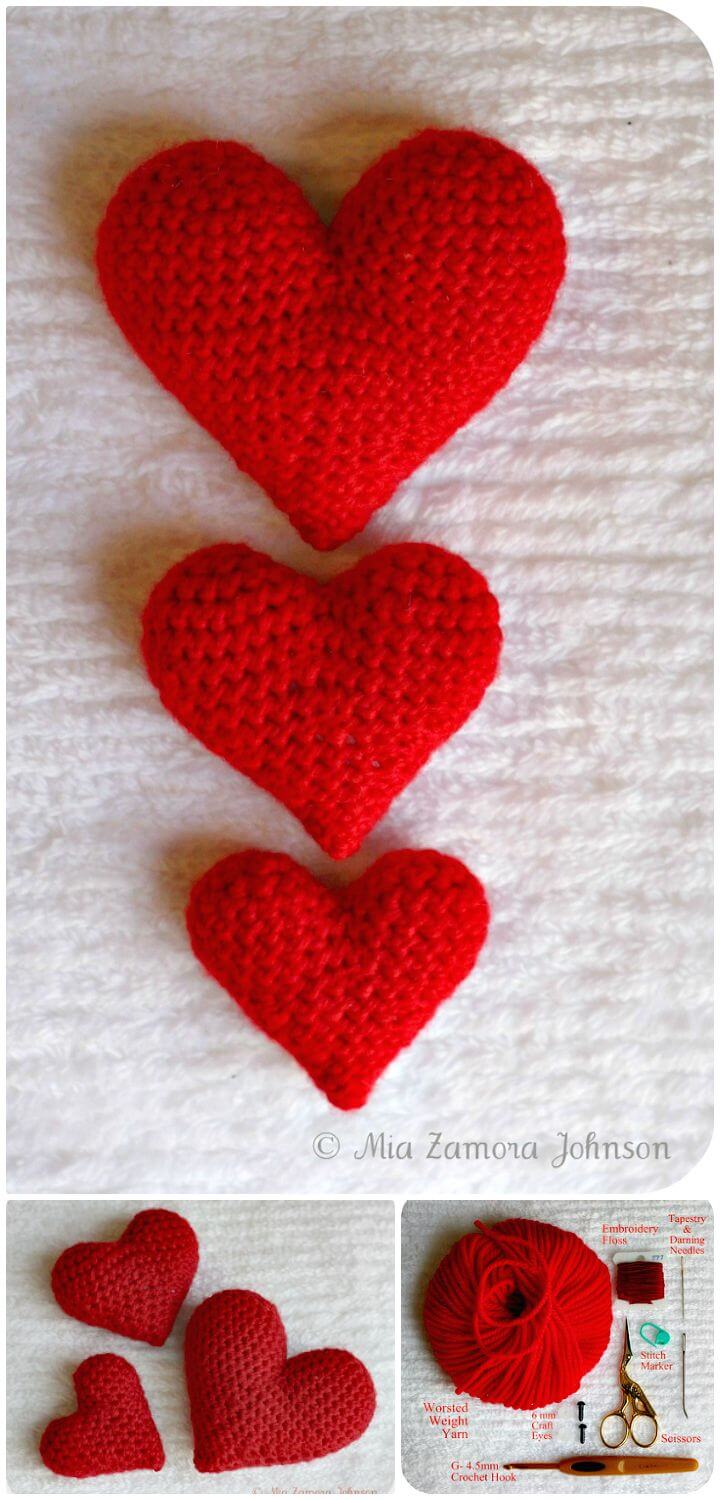 These crochet hearts looks much like the Valentine's Day love balloons! These are the special crochet stuffed hearts or heart amigurumi crocheted in hot red yarn color and hence make a big iconic symbol of love! If hanging aloft will bring love vibes to any space or party area and hence will also make outstanding decors for the Valentine's Day! Duplicate these crochet hearts via free pattern and tutorial provided here ravelry
Free Crochet Hugs And Kisses Heart Basket Pattern: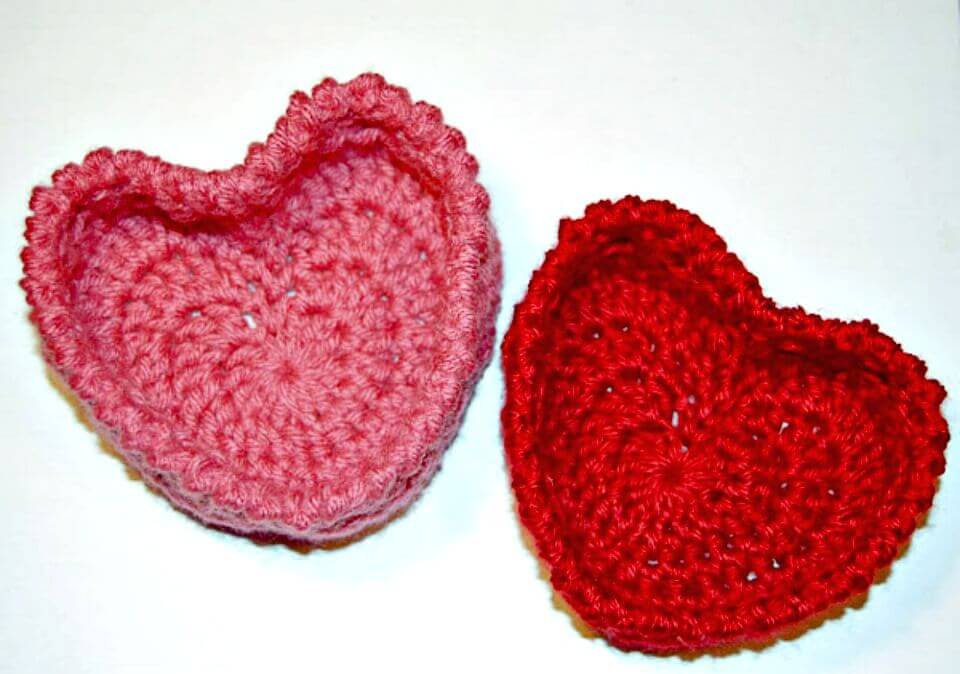 While being on a mission to bring a love theme to your home then you can also be attentive to tiny visual details of your interior and hence you can focus on miniature interior items to bring a love theme to your spaces! A great choice would be these hugs and kisses heart baskets that are outstanding to look at and will make perfect desk organizers and also the awesome storage baskets for craft room supplies! Willing to duplicate these yarn baskets? Grab the full free guide and easy visual tutorial from here petalstopicots
Easy Crochet Sweet Heart – Free Pattern: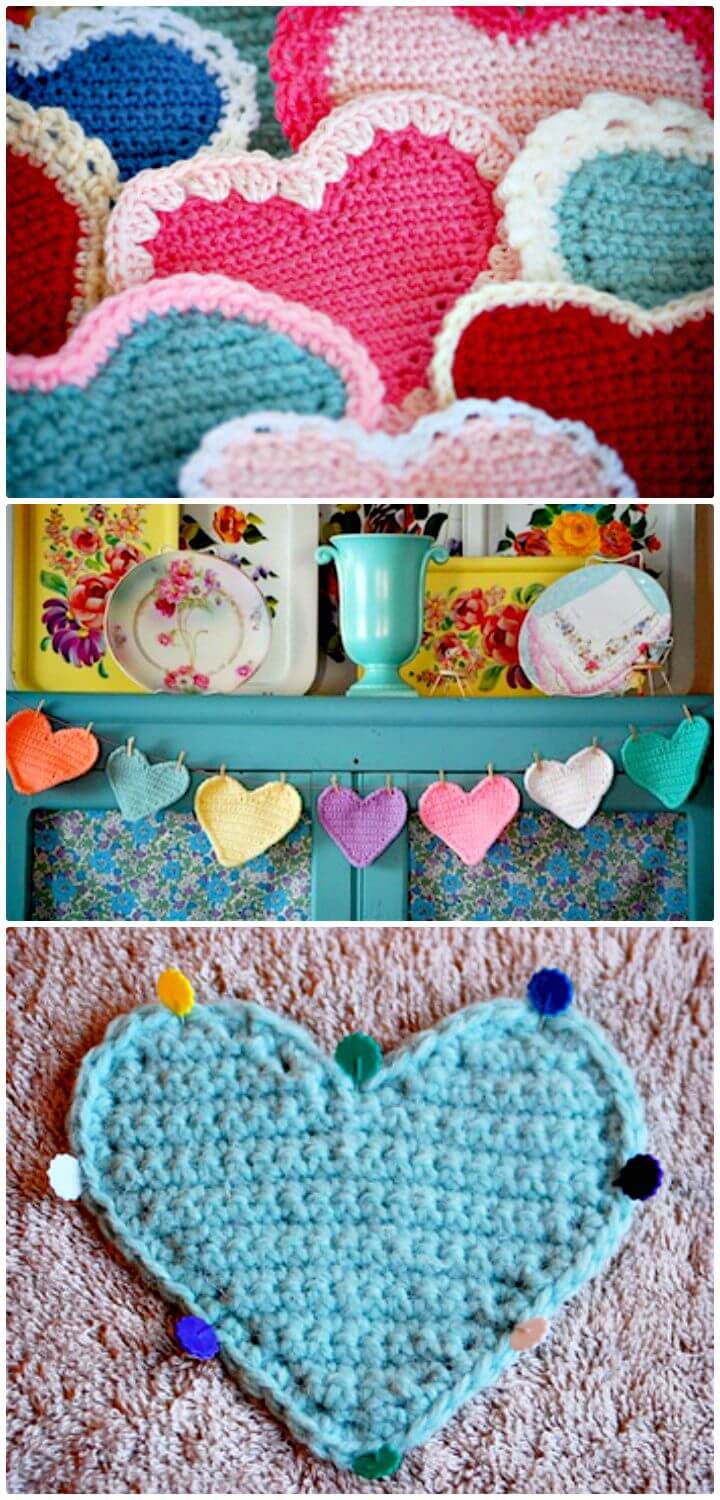 Another smart home décor hack using the crocheted hearts! Check out here the beautiful garland or bunting made of colorful crocheted hearts that come equally spaced on the string! Here these hearts come with unique visual details like they all come with a single color interior but with a chic white boundary! Go with custom yarn stitches and give outstanding variations more to your crochet heart patterns! Intending to duplicate these awesome looking sweet yarn hearts? Then just get the full free tutorial and easy guide from here typepad
How To Free Crochet A Heart Plus DIY Heart Garland Pattern: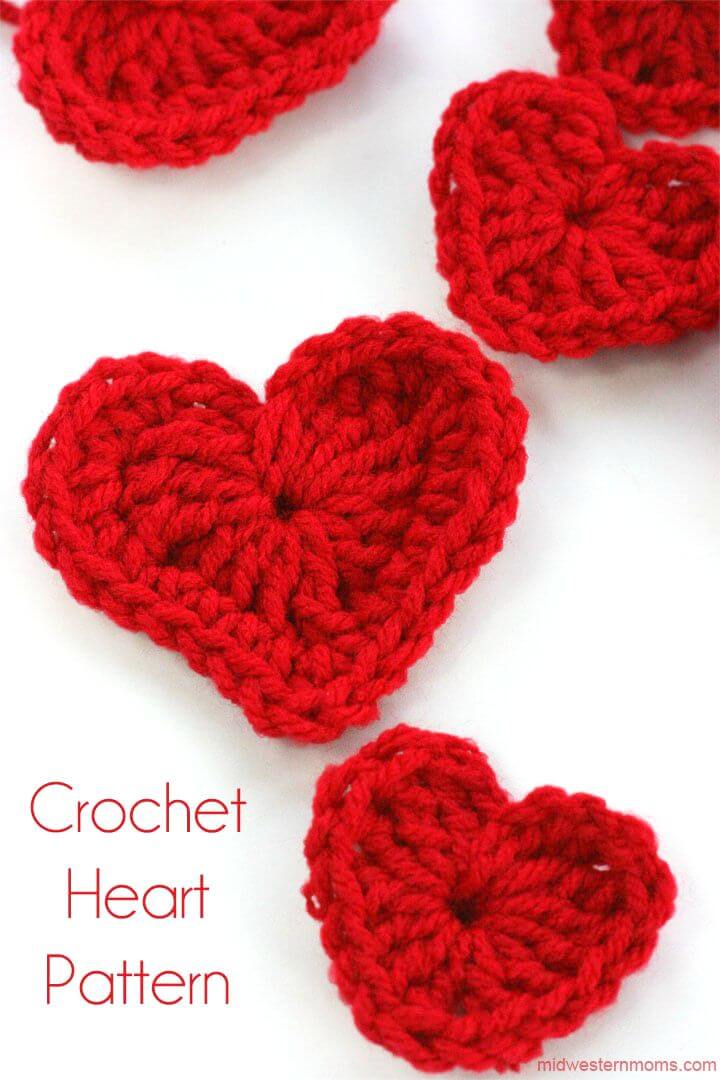 If you are going to crochet the beautiful yarn hearts for Valentine's Day, then they must come in hot red yarn color! So, check out here the very cute looking sample yarn hearts, crocheted to inspire and can also be made of scrapped yarn! You can further use these miniature crochet hearts for making outstanding Valentine's Day decors like they can be threaded onto a piece of string for making a cool and love special garland for the love day! Another interesting crochet heart pattern! Find the comprehensive project details and free crochet pattern from here midwesternmoms
Simple Free Crochet Heart Pattern: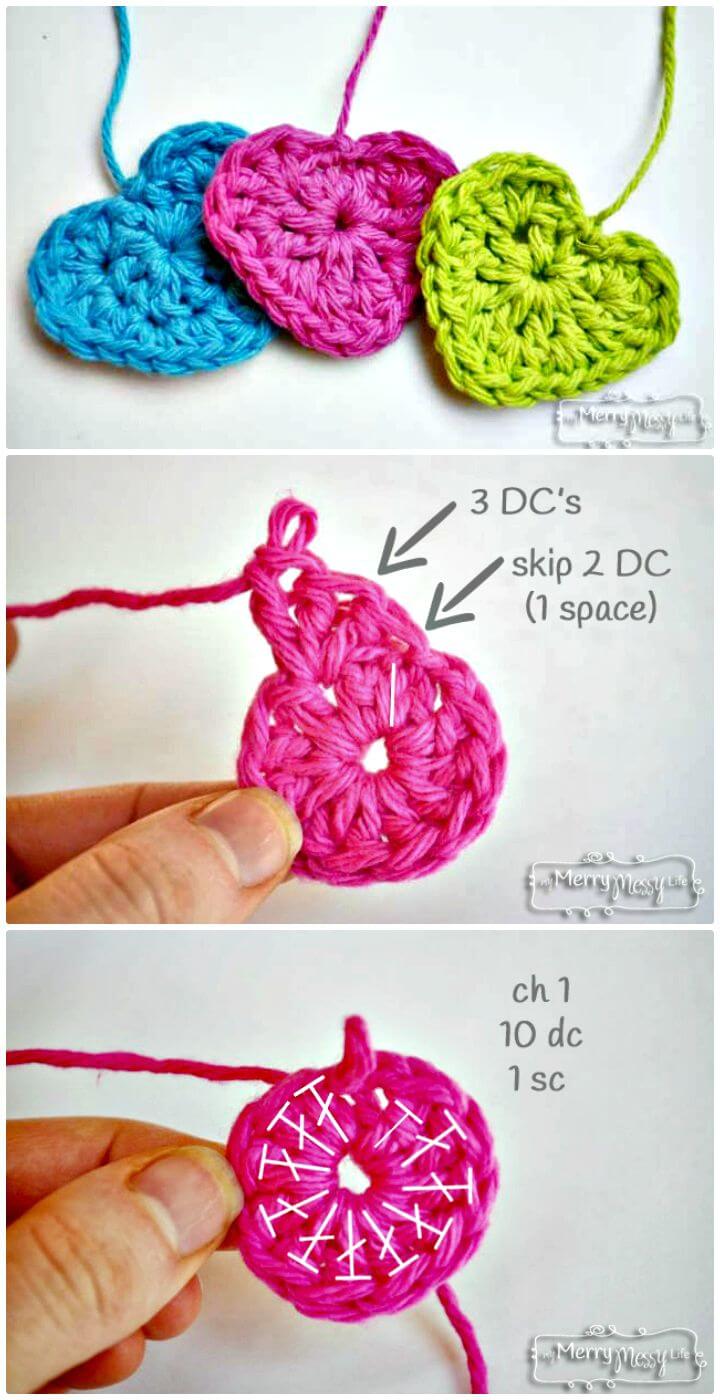 You can go out of the heart shapes while incorporating love to any of your items of home, clothing or décor! So, if you need some perfectly soft and long living hearts, then you can simply head over to the art of crocheting! It would be a breeze to crochet some hearts no matter if you are having the easy skill level! Peek into the design texture of these sample crochet hearts that will work up super quickly! Want own these handsome yarn hearts for custom home décor or Valentine's Day gift projects? Then just clone them via free pattern and tutorial given here mymerrymessylife
Free Crochet A Valentine's Day Pattern – Heart Full of Love: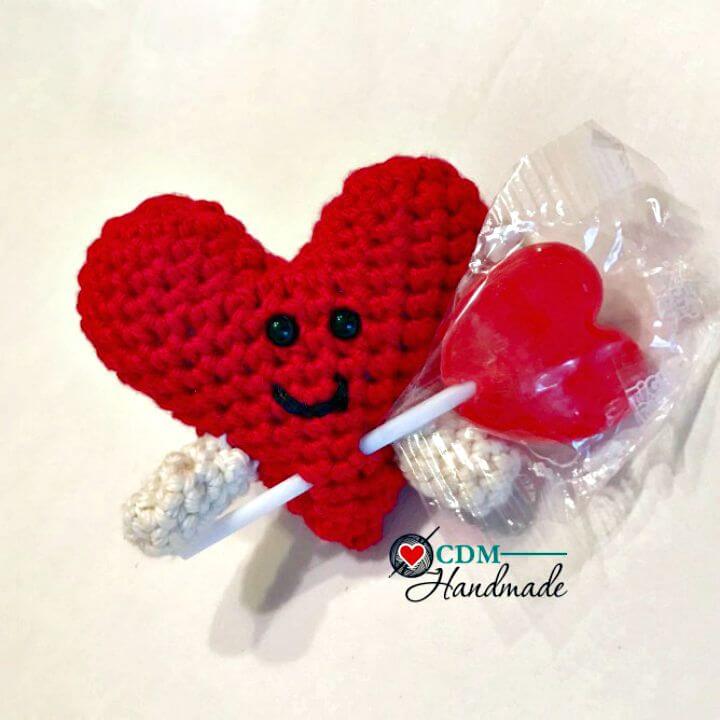 Sorting out a mini but super cute love gifts for the Valentine's Day? You can get it without getting expensive just by using your crochet skills! Just crochet a little sweetheart amigurumi and let it speak for your love to your Valentine, a great but easy crochet Valentine's Day gift idea! Take a look at the given sample crochet heart that comes with a smiling face and also comes with miniature white hands that double up the cuteness! Use this stuffed crochet heart shape also as an outstanding heart appliqué and embellishment! Complete free pattern and visual tutorial here cdmhandmade
Crochet Granny Hearts – Free Pattern: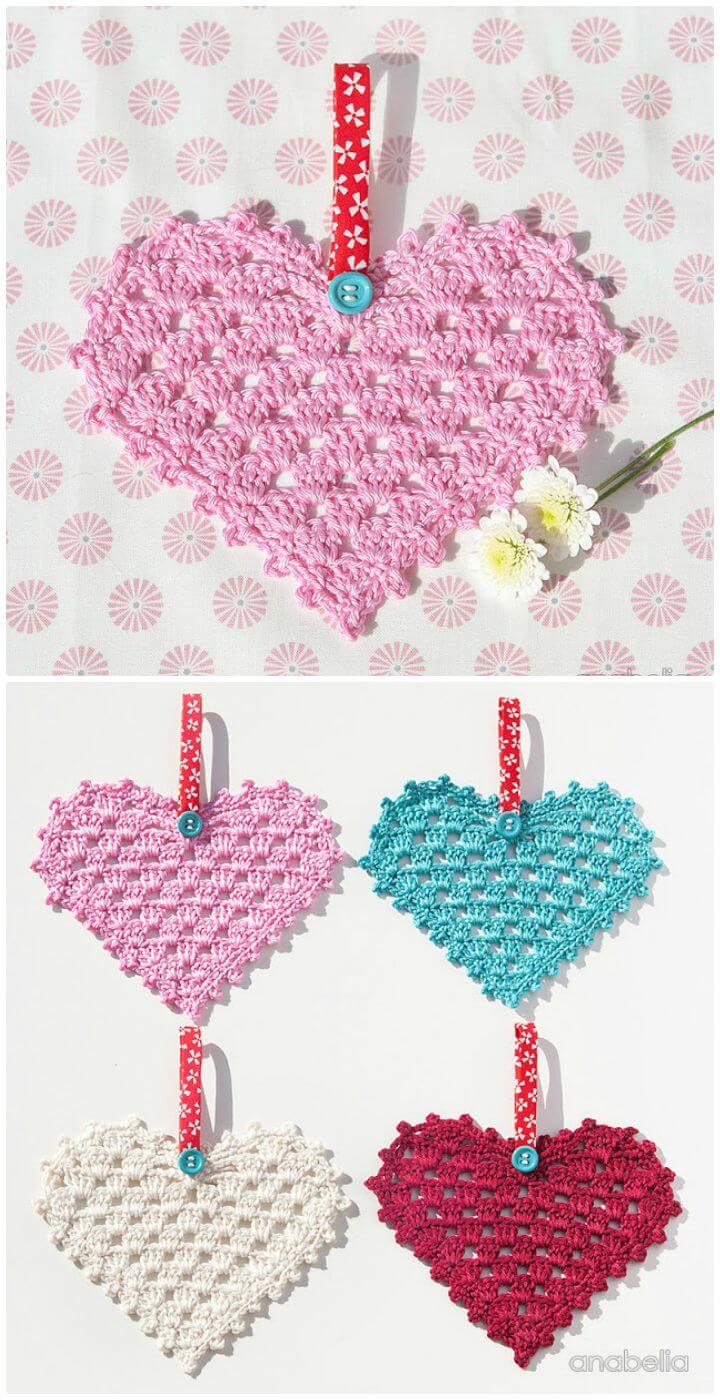 Se here an adorable crochet creation done with the modified granny stitch! This is here the crochet heart that comes lacey and is having a spellbinding design texture! You will definitely admire the little puffs that repeat throughout the pattern after holding these special hearts in hands! These bigger hearts will also make outstanding love decors and also the accent toppers for love gifts! Moreover, these hearts come with ribbon loops fixed to their tops using a button and hence they will make perfect hanging love ornaments also for the Valentine's Day! Free crochet heart pattern here anabeliahandmade
Crochet Floral Fantasy Valentine Heart – Free Pattern: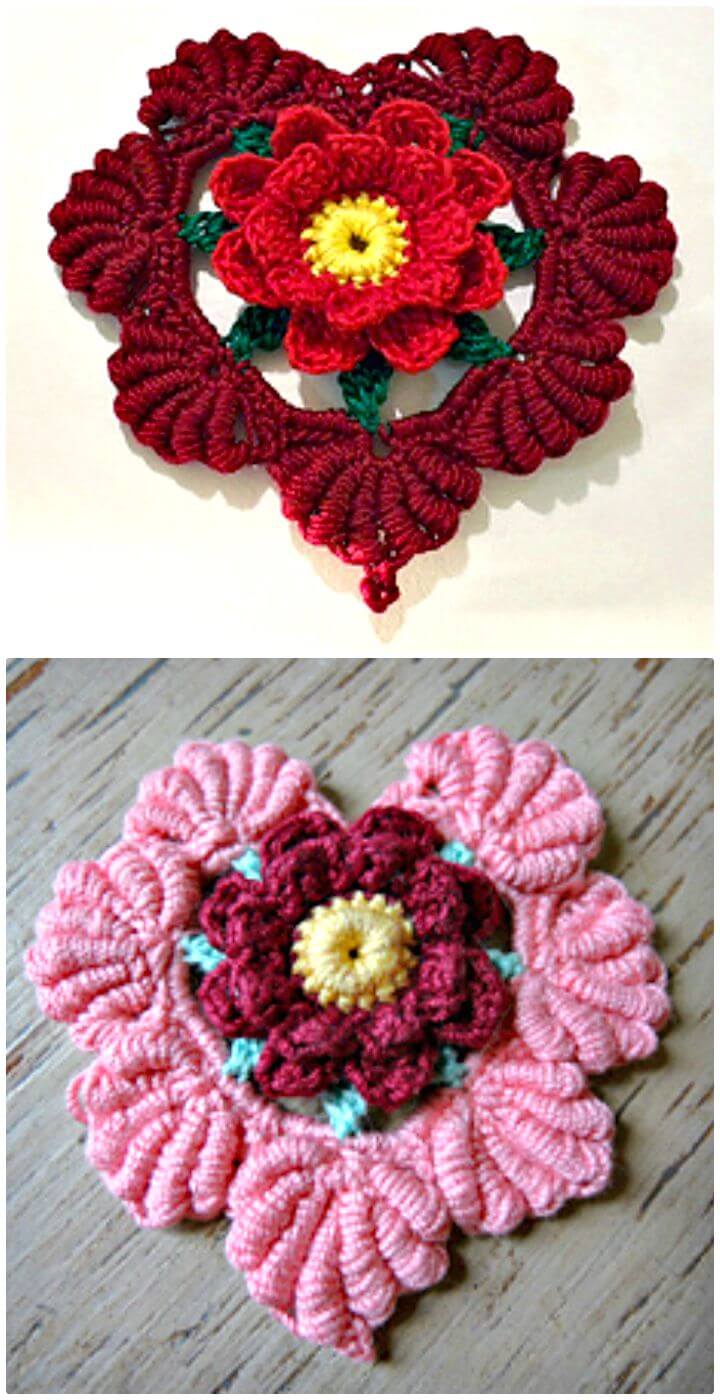 This is here the most unique and rare design of crocheted heart ever! It looks divine due to amazing floral fantasy and also comes with an accent flower in the center that turns it into a focally stimulating centerpiece! This design of crocheted heart is just unbeatable in beauty is an advanced crochet pattern! Moreover, this is what that would make a heart-winning Valentine's Day gift! Willing to clone this very great looking crochet Valentine's Day heart? Just grab the full free crochet pattern and tutorial from here ravelry
Crochet Sunburst Granny Hearts – Free Pattern: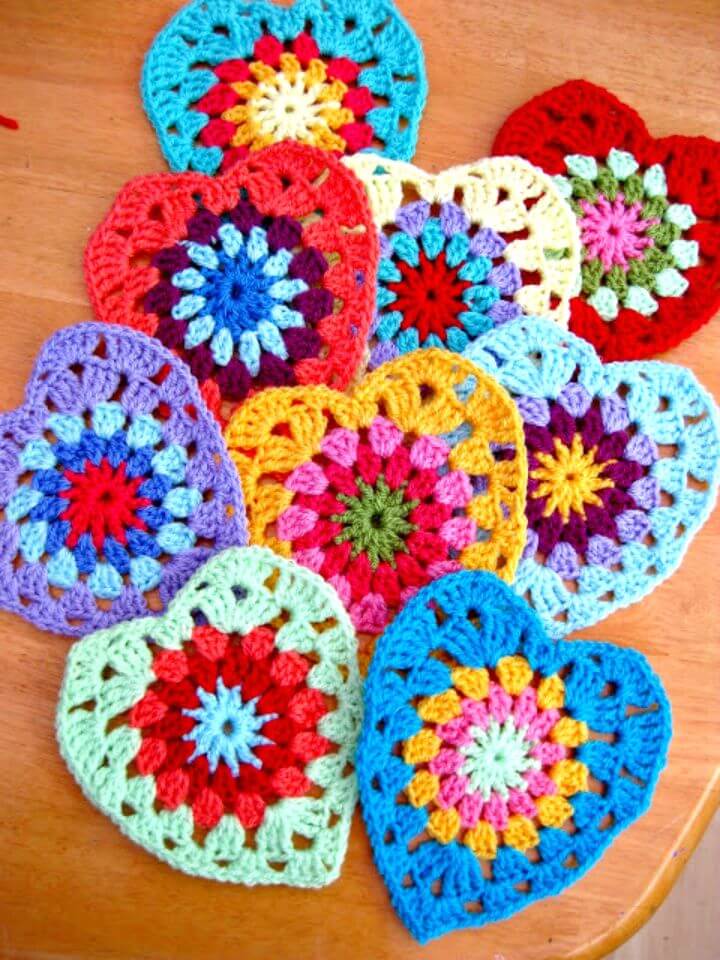 Another fancy artwork done with the special granny stitches! These are the lovely crocheted hearts that are circle based crochet patterns! Here the central heart motif is inspired of the sunburst pattern and that multiple rounds have been added around that finish making a beautiful heart shape! What amazing here is the addition of multiple yarn colors that appear as colorful heart rounds! Want to duplicate this very handsome granny heart that would make remarkable Valentine's Day decors or gifts? Grab the full free pattern and tutorial guides from here bunnymummy
Crochet Heart Cup Cozy – Free Pattern: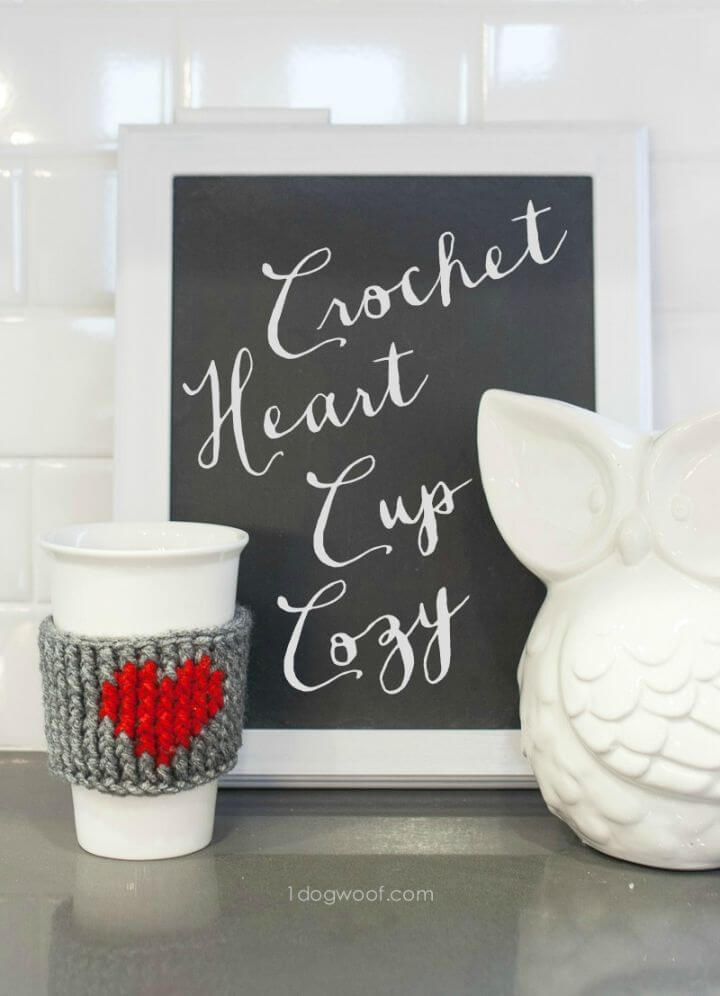 Another fab crochet pattern based on heart motif that will also make an outstanding gift for the Valentine's Day! This is here the special heart cup cozy, crocheted to inspire and to show your love for someone special who is a tea or coffee lover also! This heart cup cozy will go as a reminder of your love to the receiver and he/she will recall your love every time he will take the sips of coffees! Another interesting crochet heart pattern that you can easily duplicate even with minimal crochet skills! Grab the full free crochet pattern and tutorial guide from here 1dogwoof
Free Crochet Valentine Heart Earflap Hat Pattern: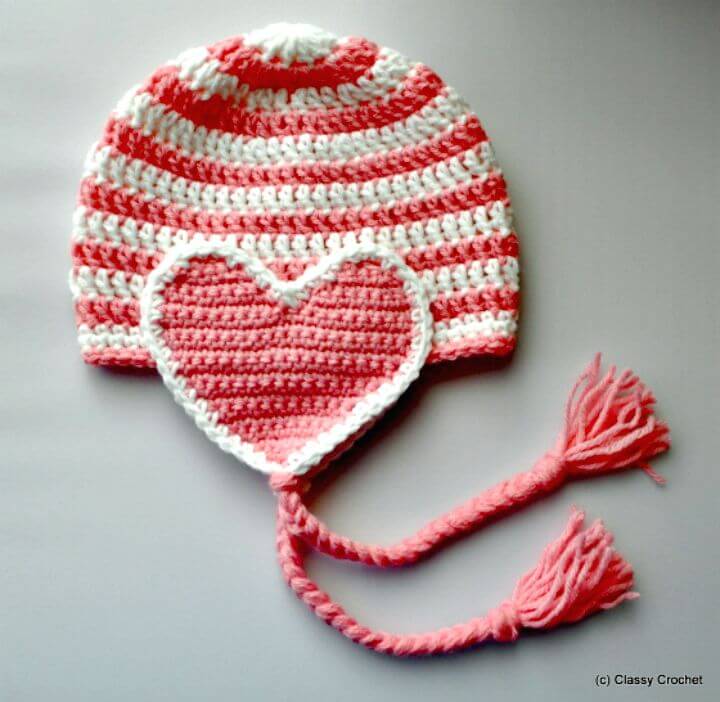 There are various interesting crochet patterns out there that come with heart motifs but here is something extra brilliant and special! This is here the precious crochet hat that comes with heart shape earflaps and also with custom braids to look baby special! Here the white and pink color yarn color stripes raise the beauty of the hat to peak level making the hat a big delight to view! This here another interesting crochet heart based pattern that you can duplicate even with easy skill level! Further project details and free crochet pattern here classycrochet