The winters, the coolest season of the year is back again! Now everything is going to change the way of dressing, the interior home decors and also the food items! There is only one reason behind all these changes to life trends, to feel warm and cozy! If we talk about the winter fashion, the bulky yarn products and clothes are all the rage now! In other words, we can say also that winter is a time to get busy with your crochet hook too to make some highly cool winter accessories!
With the arrival of killing cold days, all the loving moms will look more curious about their babies' health and winter protection! So if you are a mother with master hands in crocheting then this is not an issue! Make your baby winter-protective without losing the cuteness of your baby, by simply using the own crocheted winter accessories! The art of crocheting has so been flourished that people are making celebrity inspired fashion dresses, coats and mittens and even the veil beanies! Beautiful crochet shawl patterns, cowls, scarves, and shrugs are also a big hit and style loving girls all like them so much!
This time we'll talk about the cute baby winter accessories you can crochet without getting worried about your skill-level! In baby winter accessories, there is nothing more popular but the baby winter hats! So if you are going to crochet a baby winter hat, we wish you to take a look at these free crochet baby hats that are all adorable, comfortable and warm! So, winter protection in a style is guaranteed! All these ideas speak volumes about how to maintain cuteness of the hats, the main factor for a crochet hat to be beautiful and cherish-able!
Baby's forehead is always more sensitive to cold and we also release more amount of head from heads, so this is enough to tell that how worthy winter stuff is the crochet hats! All these crochet baby hats come along with complete 50 free crochet hat patterns for babies which would guide you through all the steps you are supposed to puzzle at! These free crochet patterns will also put out all the necessary information about the required style and type of crochet stitches!

In these crochet baby hat ideas, you will find all favorite hats like the hats inspired by fun animal and cartoon shapes, always a fun to wear! You will also find hats crocheted on a baby's fantasy theme and also many other unique hats you will fall in love with! Prefer the sweet berry hats, the splendid aviator hats and also the baby teddy bear hats to be a part of baby's winter outfits! And if you are going for a photo shoot of a newborn baby then the given Sherlock hat, cute baby stocking hat, and darling baby stocking hats will all rock!
All these free crochet patterns would also make the perfect gifts for a baby shower! For more unique hats, simply a take a short roundup of this precious crochet hat collection!
Cuddly Crochet Teddy Bear Baby Hat:
Double up the cuteness of your baby this summer! Let him wear this teddy bear hat which is self-crocheted using soft yarn threads! Put your hook out to crochet it and Full Pattern is Here!
Red Crochet Baby Brim Beanie: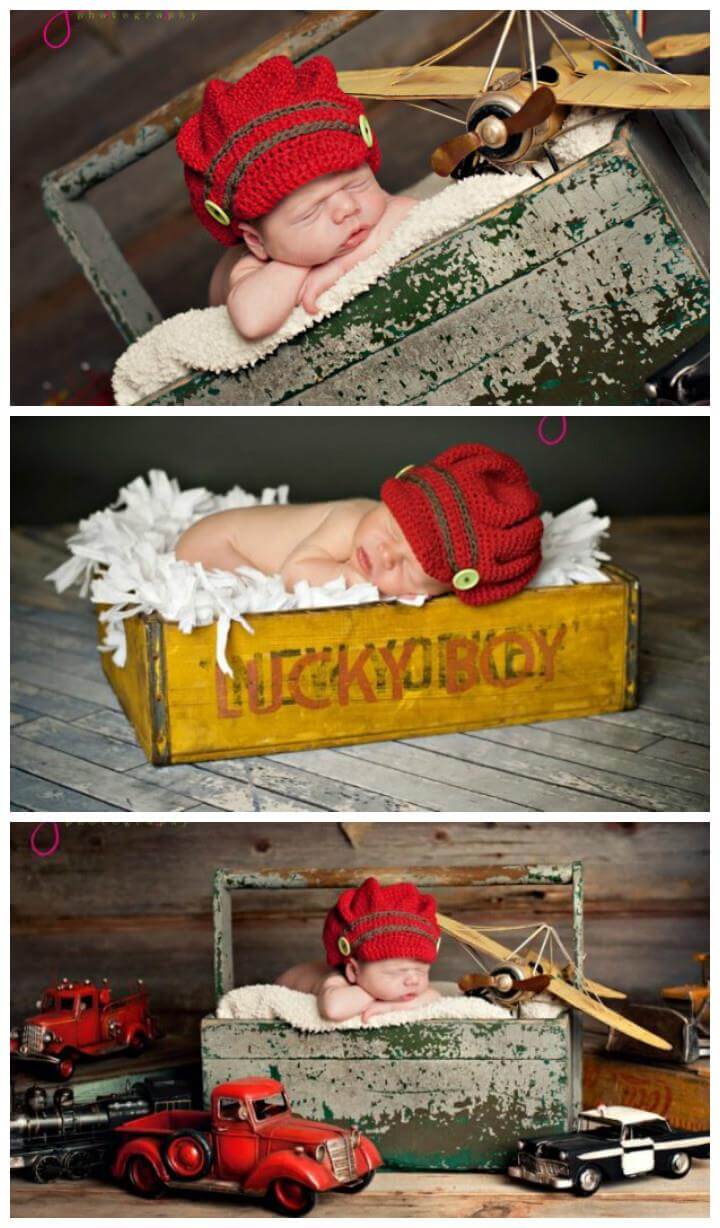 Best gift for a mother-to-be, a precious crocheted brim beanie with wooden buttons! Use it as a forehead winter warmer for you baby, will style up your baby too! Complete Pattern Here
Pretty Easter Chicken Crochet Baby Hat: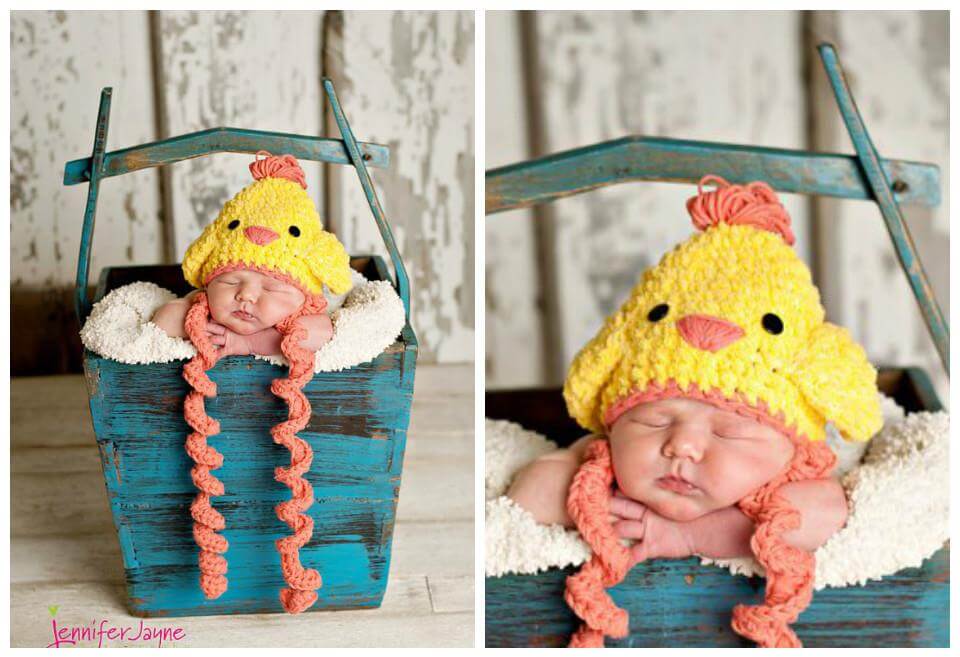 Go with the repeated easy single and double stitches with your hook and crochet this Easter chicken baby hat! Ever precious forehead winter warmer for a newborn baby! Full Free Pattern Here
Cute Bumble Bee Crochet Hat: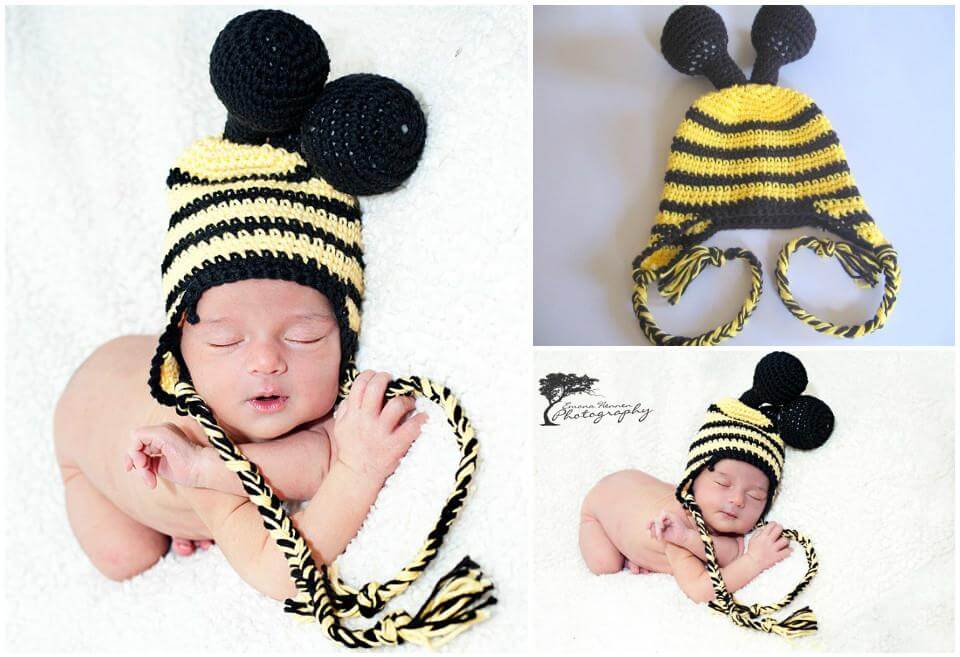 Don't forget to make your newborn baby wear this hat while going for his very first photo shoot! Will create a cute honey bee look for your baby! Clone it by getting crafty with your hook for further help Complete Guide and Pattern Here
Sweet Crochet Giraffe Baby Hat: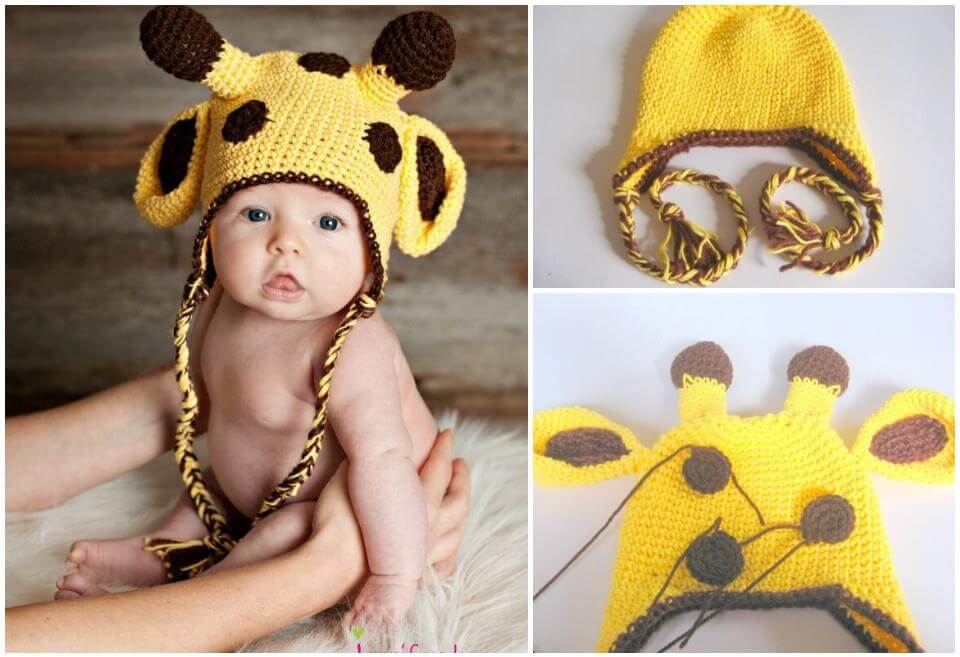 Make use of an easy chain, slip stitch and single crochet stitch to make this super cool giraffe baby hat! It is just a perfect you can make your own for a mother-to-be! Full Free Pattern Guide Here
Brave Baby Lion Crochet Hat: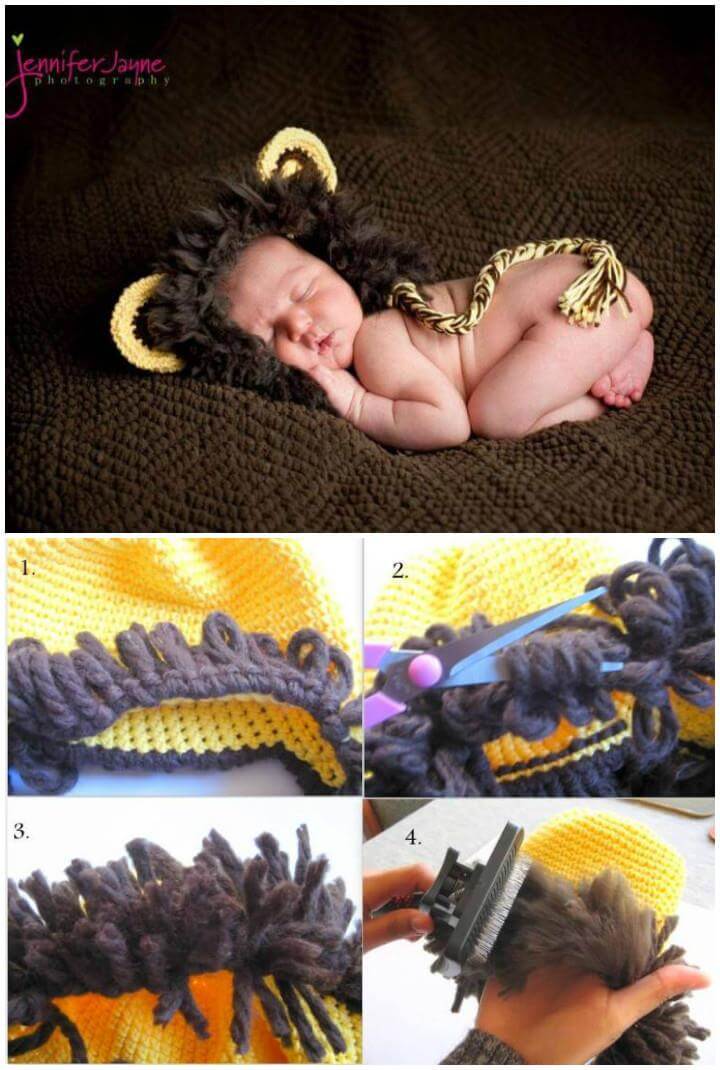 If you want your newborn baby brave then here is how you can take a first start with your hook! Crochet this precious lion baby hat and make him look like a sweet little lion! Full DIY Guide and Free Pattern Here
Crochet Winnie the Pooh Baby Hat & Diaper Cover: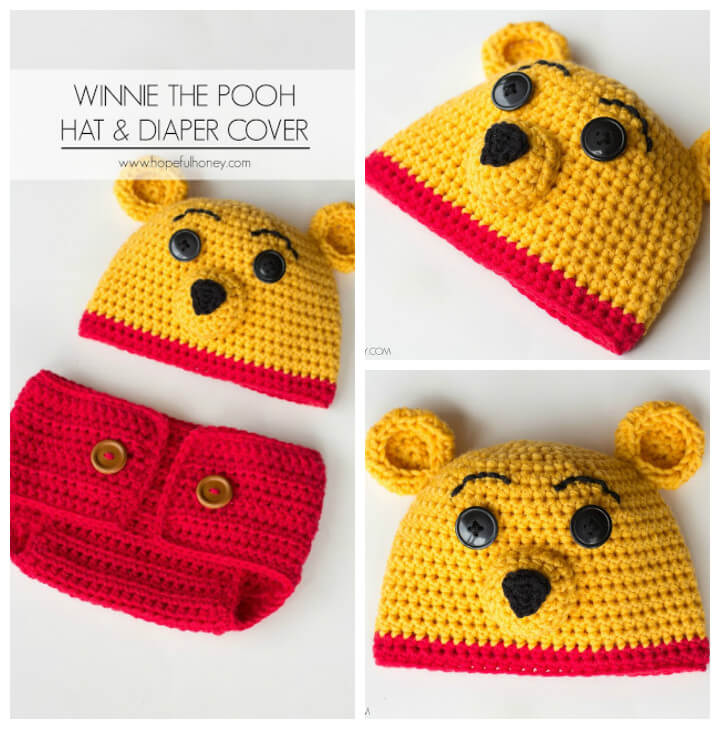 An ever sweet gift for a baby shower! A set of crochet hat and baby diaper cover! The hat is inspired by a cartoon character Winnie the pooh! Produce beautiful baby gifts with your own hook! Want to try out this crochet baby set? Complete Free Pattern Here hopefulhoney
Pretty Cool Crochet Baby Bird Hat: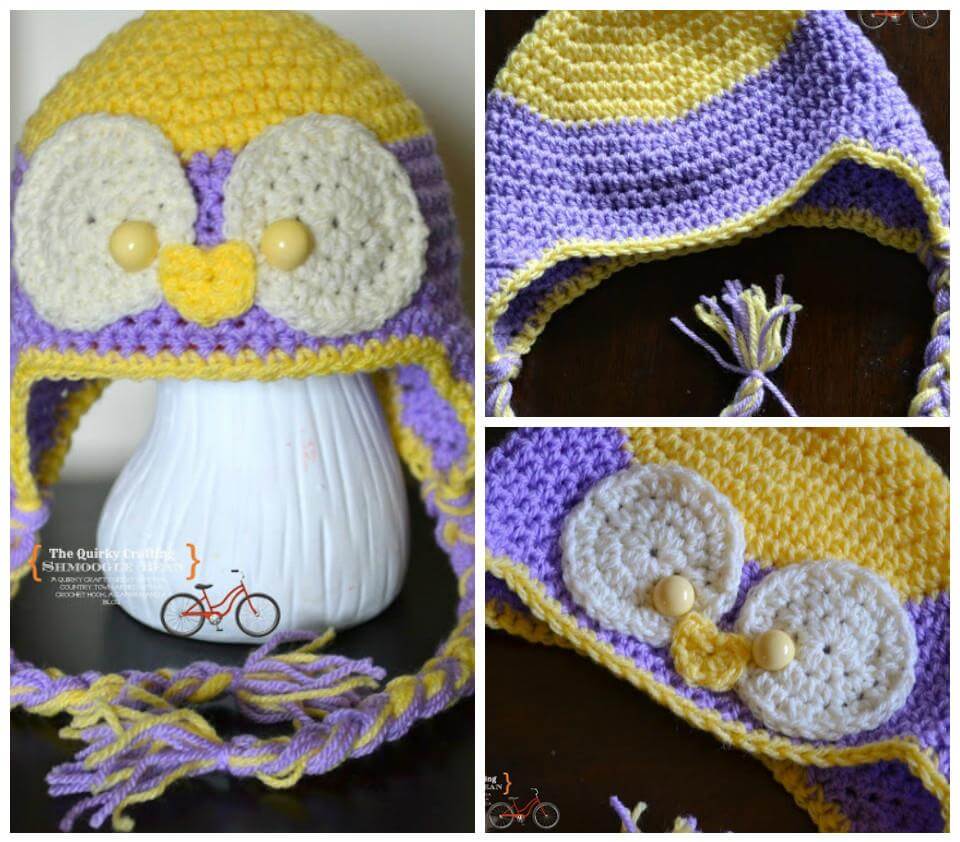 Crochet hats inspired of animals and birds the kids like the most, are a big hit! Here is a cool sample of it, a super cute baby bird hat! Crochet it now to let it next be on your baby's head for ever cute manifestation of your baby! For a total help grab Free Pattern Here quirkycraftingshmooglebean
Colorful Crochet Owl Baby Hats: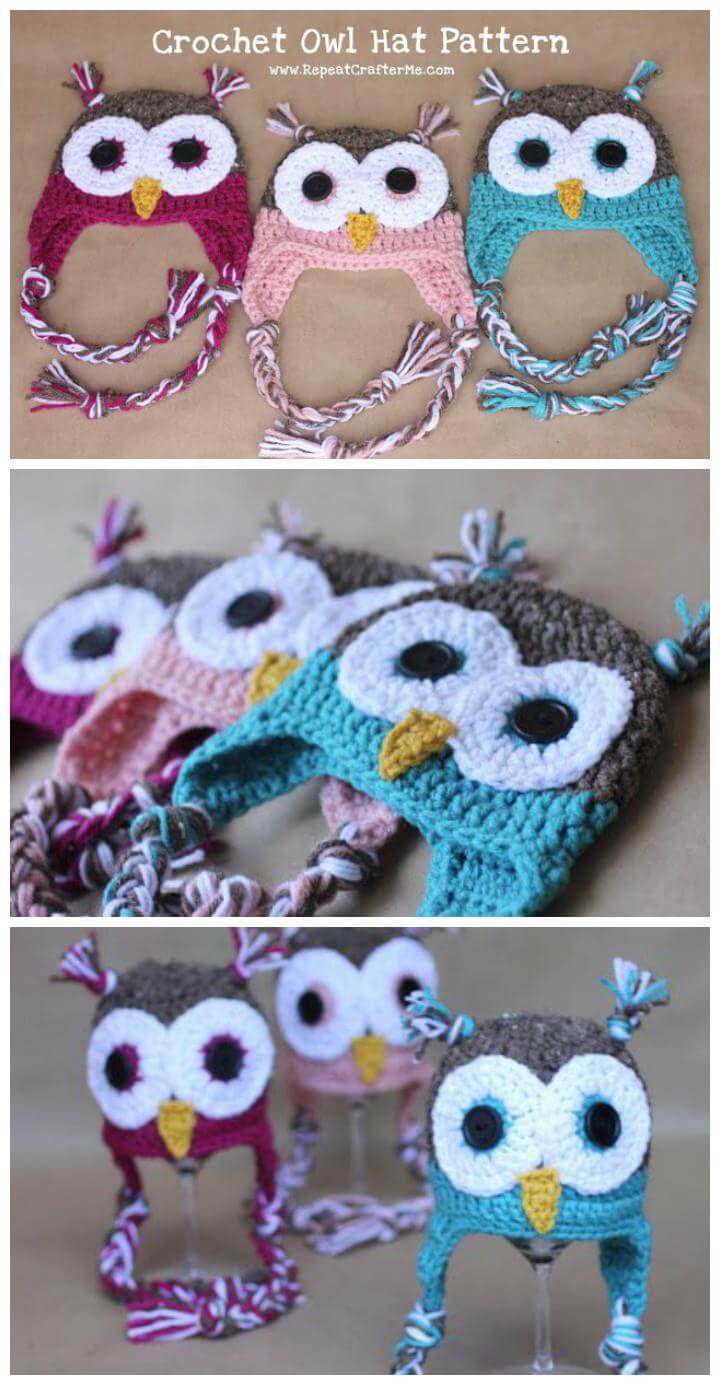 All the loving moms like to gain baby's stuff with custom animal or cartoon fun shapes! This crochet baby owl hat is one of the super cool baby's winter accessories you can produce with your own hook! Intending to clone it? Here is the Full Free Pattern repeatcrafterme
Alluring Crochet Stocking Baby Hat: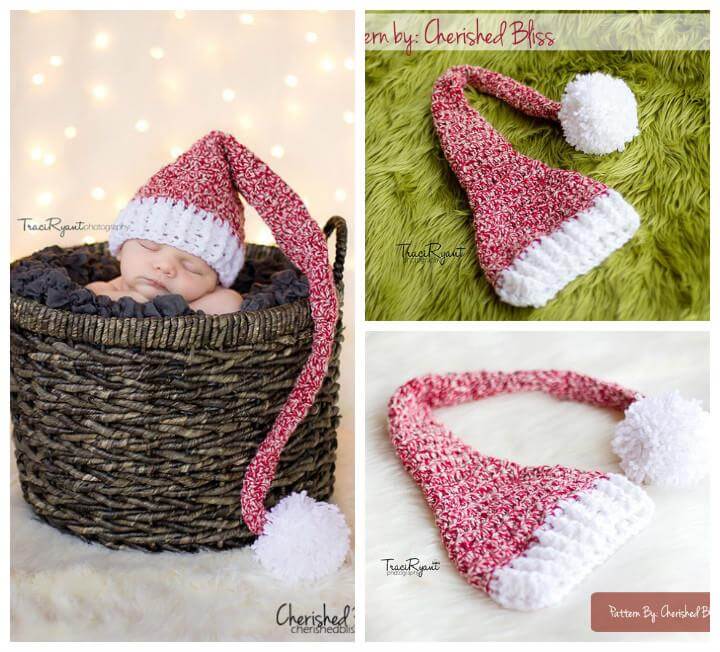 This stocking baby that will turn your baby into a darling! Crochet it with a lovely color combo of yarn and don't forget to end the tail with a pom-pom, fancies up the entire hat! An ever special and cute for a newborn! Complete DIY Guide and Free Pattern Here cherishedbliss
Beautiful Crochet Newborn Berry Hat: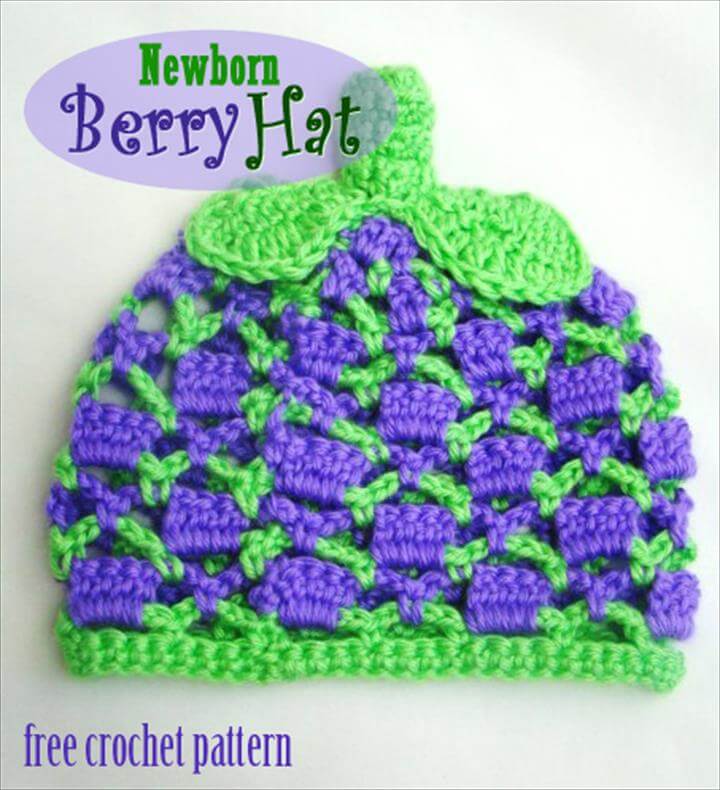 Here the precious blue berry winter baby hat! Experiment it using different yarn colors to mimic other kinds of berries you like! Will really be a fun to crochet at home! Make it a part of winter baby dress ups for more cute looks of your baby! Easy Guide and Full Pattern Here craftown
DIY Hershey Kiss Baby Hat: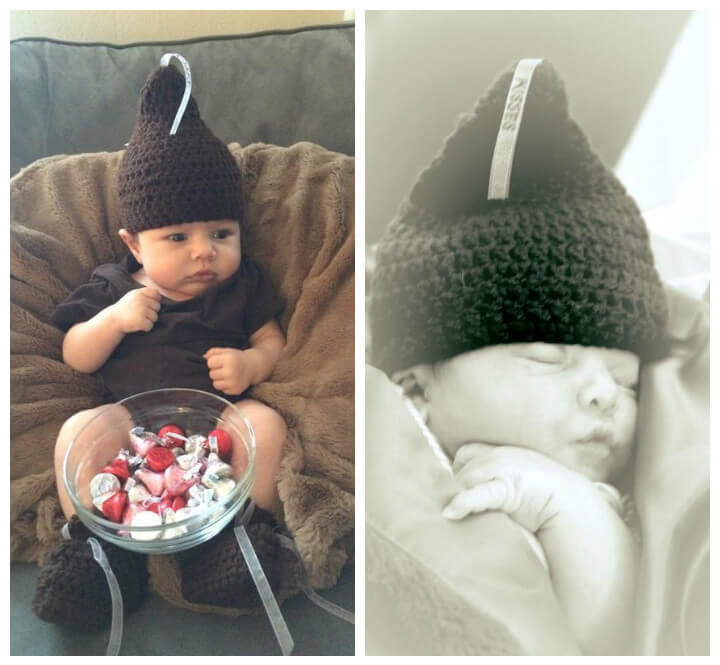 Perfect winter accessory for all sweetheart babies! Crochet it now to make it a part of winter's baby outfits! It is beautiful Hershey kiss hat crocheted with a chocolate colored yarn! Complete Free Pattern Here gratefullyinhisgrace
Infant Boys Crochet Beanies: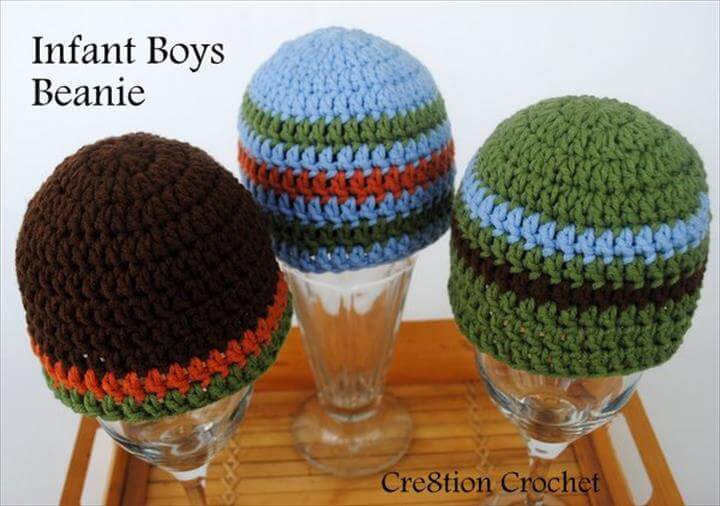 Want something highly cute which will fit tight also to your baby's head as winter warmer? These infant baby crochet beanies will be an awesome choice! A great gift from the art of crocheting! Also want to get these? Full Free Pattern is Here Via cre8tioncrochet
Micky and Minnie Mouse Baby Crochet Hats: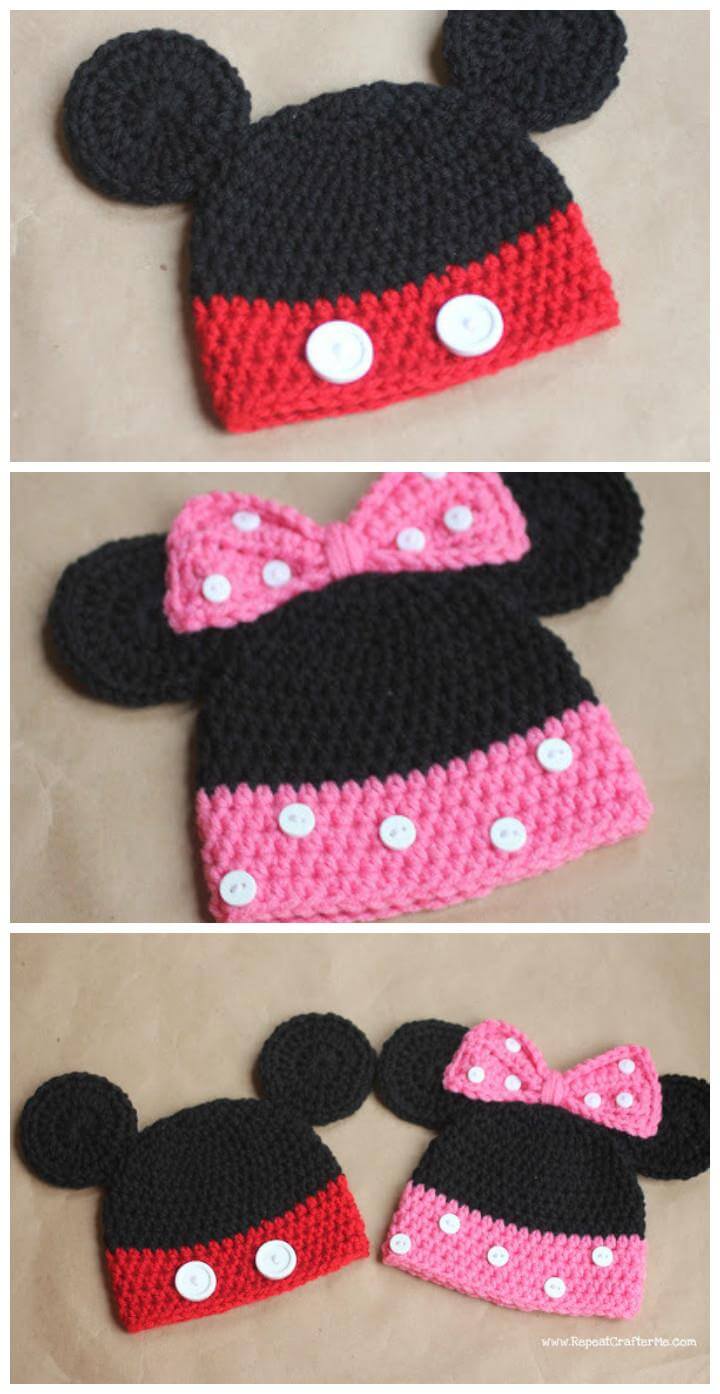 Another great crochet baby hat inspiration! Inspired by the all time loved cartoon characters the Minnie and Mickey Mouse! You will find no alternative to this pretty crochet hat while changing the look of your baby normal to funky and cute! Crochet it now and make it a funky part of your winter baby dress ups!  Easy Guide and Full Free Pattern Here repeatcrafterme
Crochet Baby Bird Hat: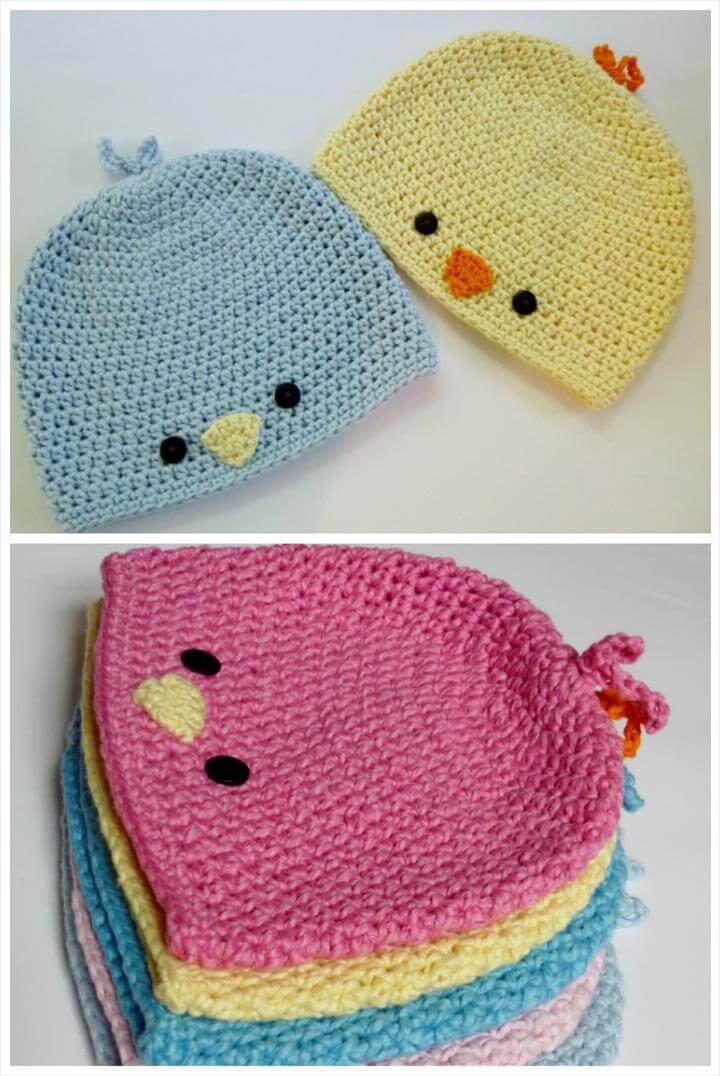 We all love the birds but how would you feel if your baby look like a bird? This is really going to be much special feeling and all you need these crochet baby bird hats to do so! Want to copy this lovely hat ever? Grab free and Full Pattern Here freecrochetpatternsbydarleen
Crochet Baby Elephant Hat: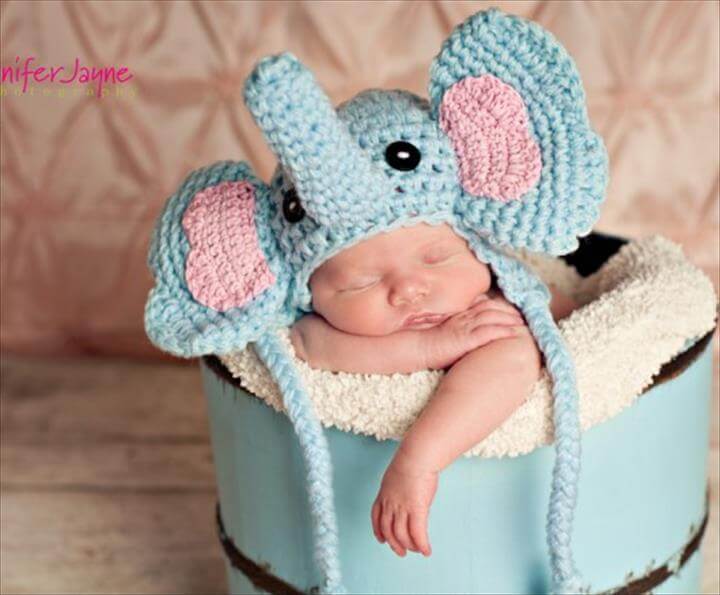 Another awesome crochet hat inspired of baby-friendly animals! A precious crochet winter warmer in shape of this bizarre crochet elephant baby hat! Would be an praise-worthy gift for a 6 month or a new born baby! Free Pattern Here jennyandteddy
Super Cute Newborn Bubble Gum Hat: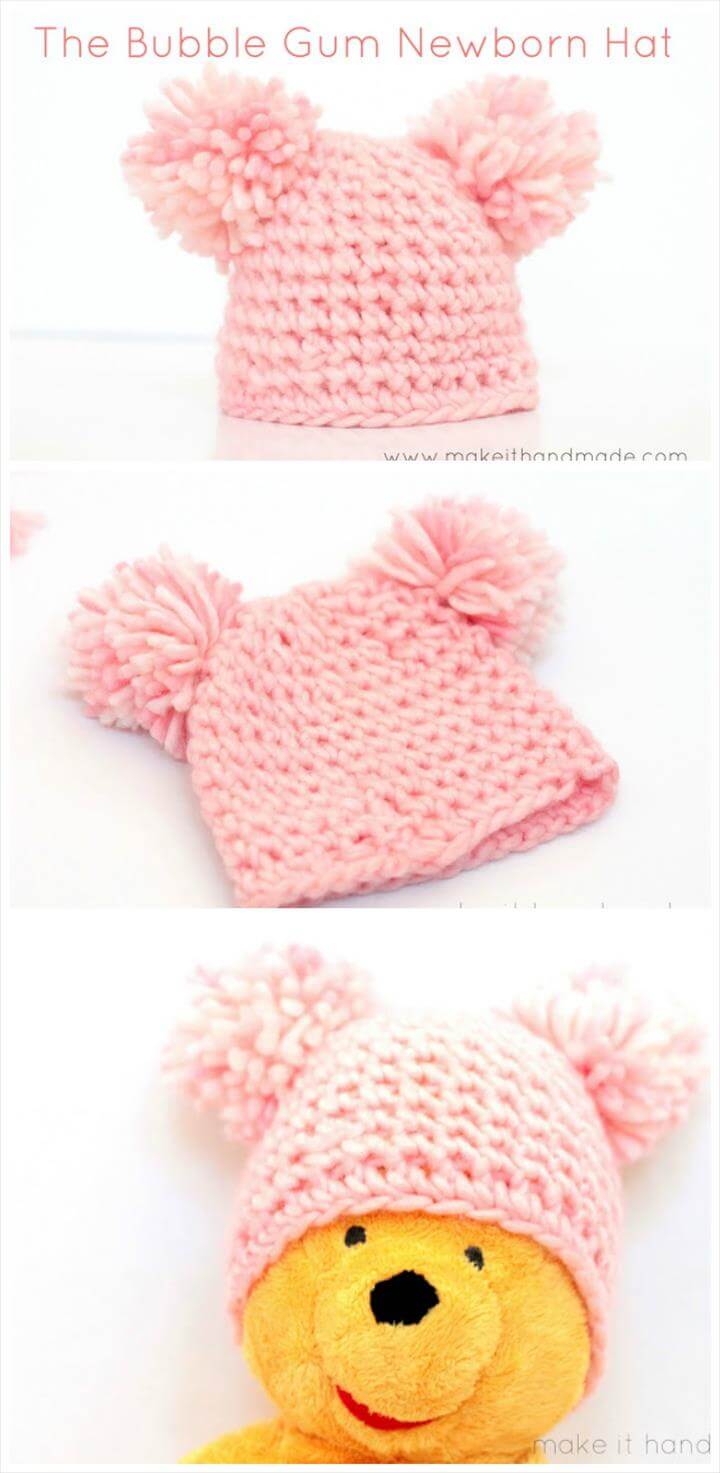 Create a sweet teddy bear look of your baby with this bubble gum crochet baby hat! It would be a best alternative to stretchy headbands this winter! Full Pattern Here makeithandmade
Simple Yet Beautiful Baby Crochet Flower Hat: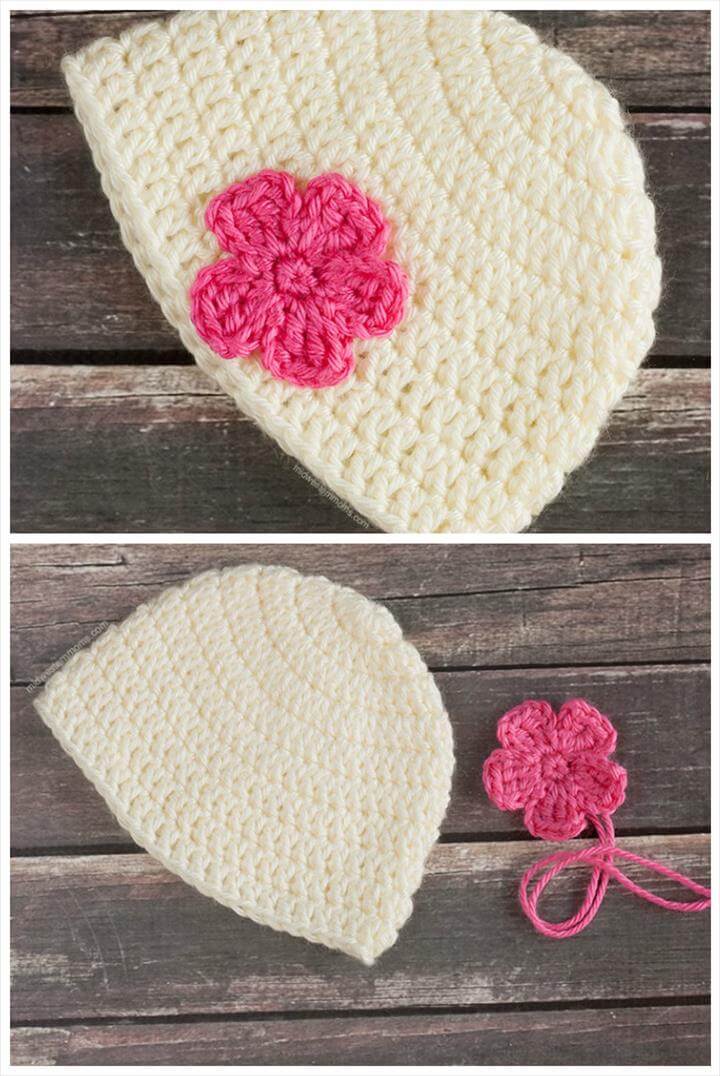 Want a fashion-worthy winter warmer for your baby's head? Prefer this cozy winter hat which is all easy-to-crochet! Use custom accents like the flower to grace it up more! Make a copy of here with the help of this Full Pattern Guide midwesternmoms
Crochet Minnie Mouse Baby Hat: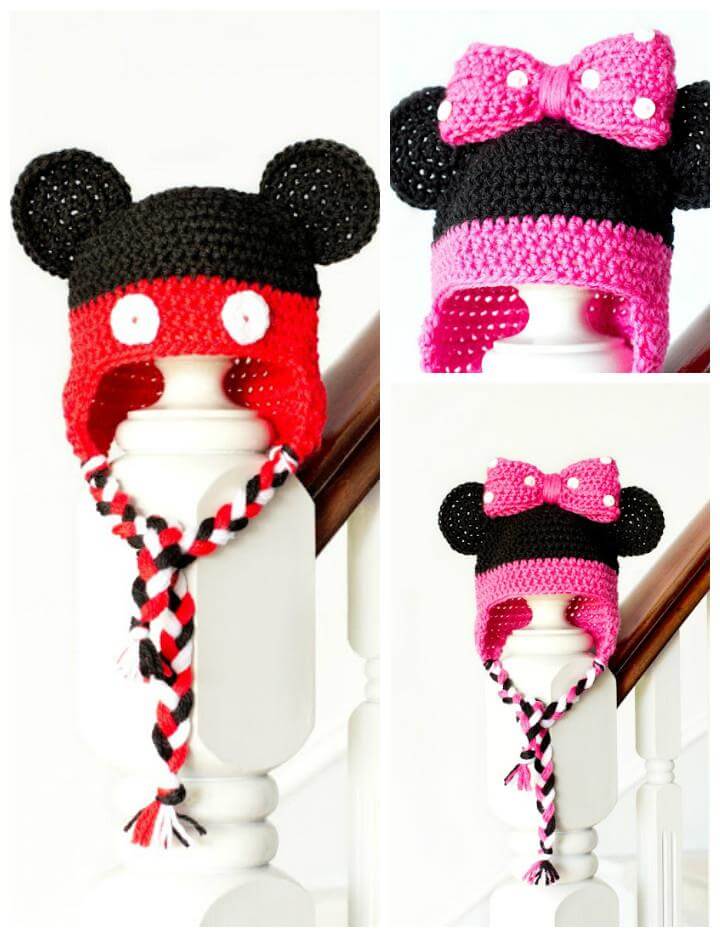 This Minnie mouse winter hat will be a fun for kids to wear! Comes with braided stripes that will be a total help to tie it tight over the baby's head! Experiment it by using different yarn colors! Full Free Pattern Here hopefulhoney
Easy-to-Crochet Acorn Baby Hat: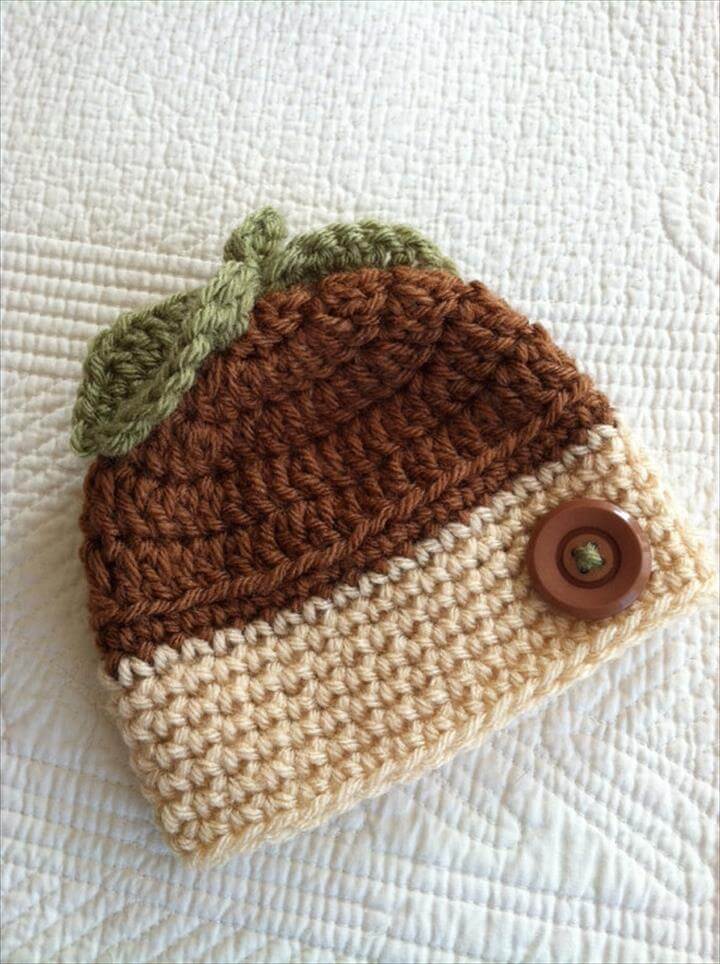 You just don't need to buy special winter accessories if you have a little crocheting experience! Spend sometime with your hook and crochet amazing winter crafts just like this warm baby hat! It is all soft-to-wear and easy-to-crochet! Full Pattern Here lakeviewcottagekids
Funky Crochet Baby Button Trapper Hat: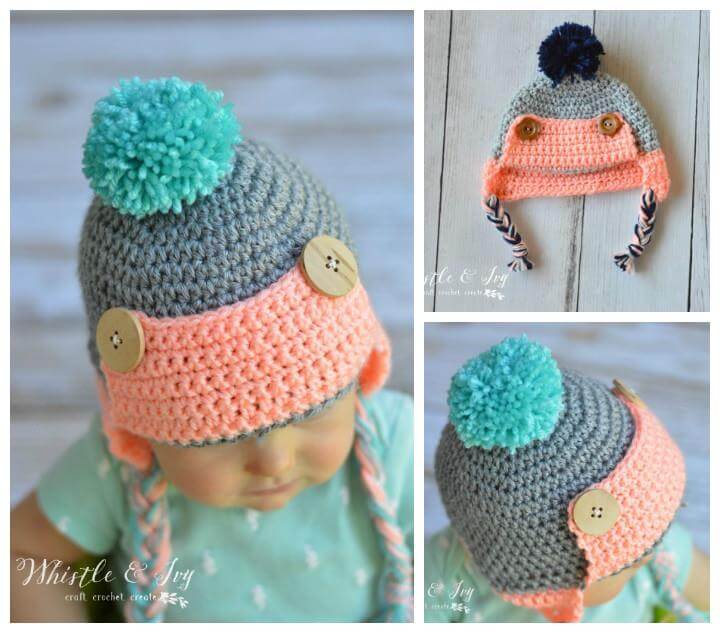 Getting bored by sitting useless for hours in home! Killing cold days often make you to do so! Crochet some fancy winter hats for your kids to avoid getting bored! This button trapper crochet hat is your next inspiration! Complete Free Pattern Here Via whistleandivy
Lovely Crochet Baby Penguin Hat: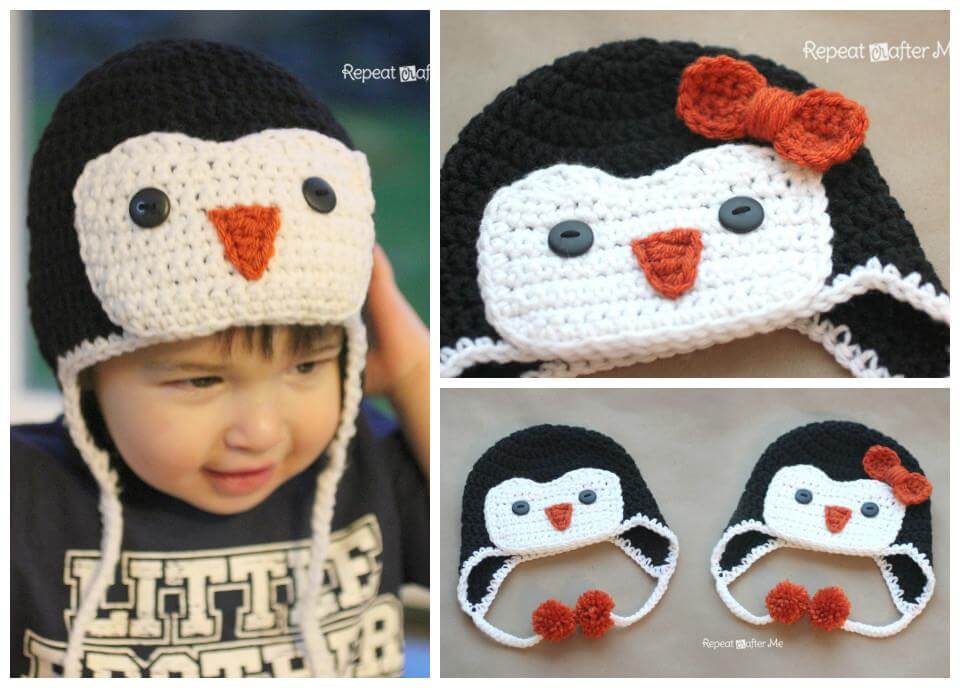 Worrying about cool looks of your child this winter? Solve such a problems with your crochet hook! Clone this winter crochet hat inspired of a penguin, will not let your kids cuteness die! Step-by-Step Guide and Free Pattern Here repeatcrafterme
Awesome Crochet Football Earflap Hat: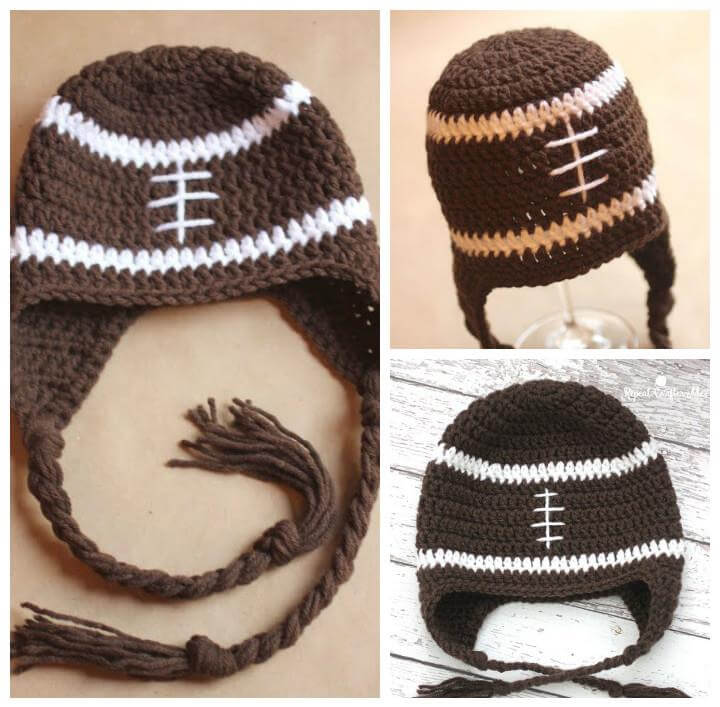 A ever inspiring gift for a newborn who has born to be a soccer! A lovely football winter crochet hat, clone it to put it next on your baby's head! Crochet it also for a baby shower gift! Complete Free Pattern Guide Here repeatcrafterme
Crochet Baby Hat & Diaper Cover Inspired of a Fox: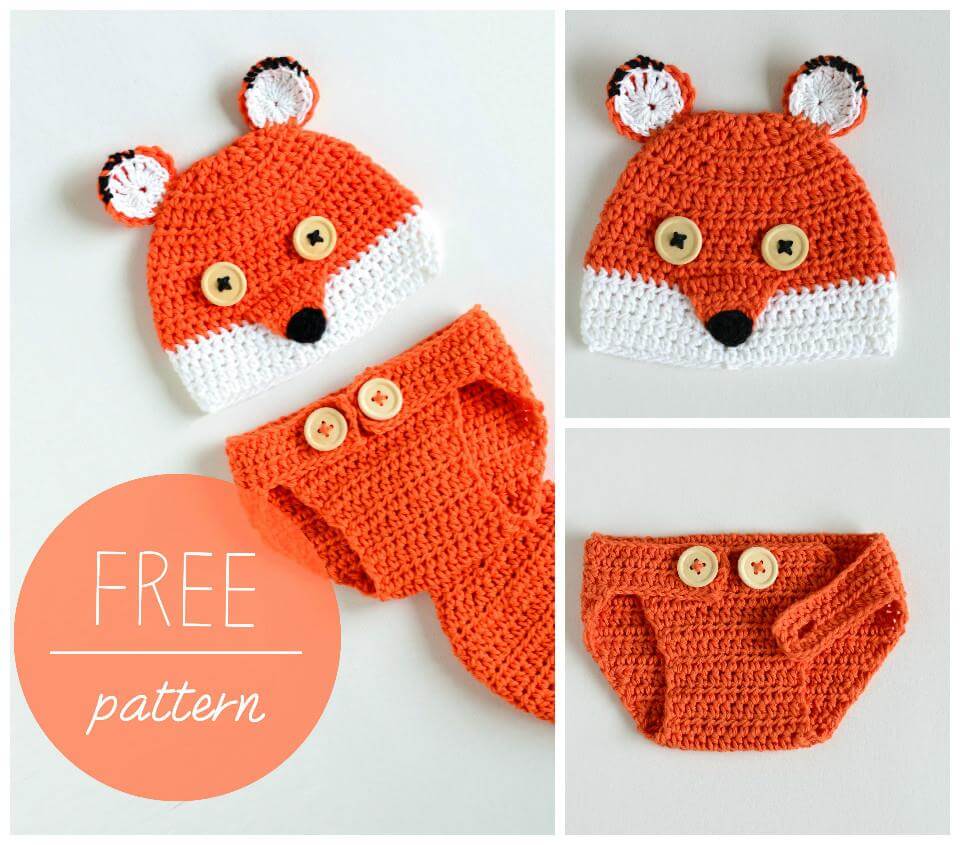 Create a sweetest ever fox look of you baby by making both this fox hat and matching diaper cover a part of winter baby's outfits! It is as beautiful and stylish as it is warm and comfortable! Complete Guide and Pattern Here crobypatterns
Free Crochet Julia's Hat Patterns: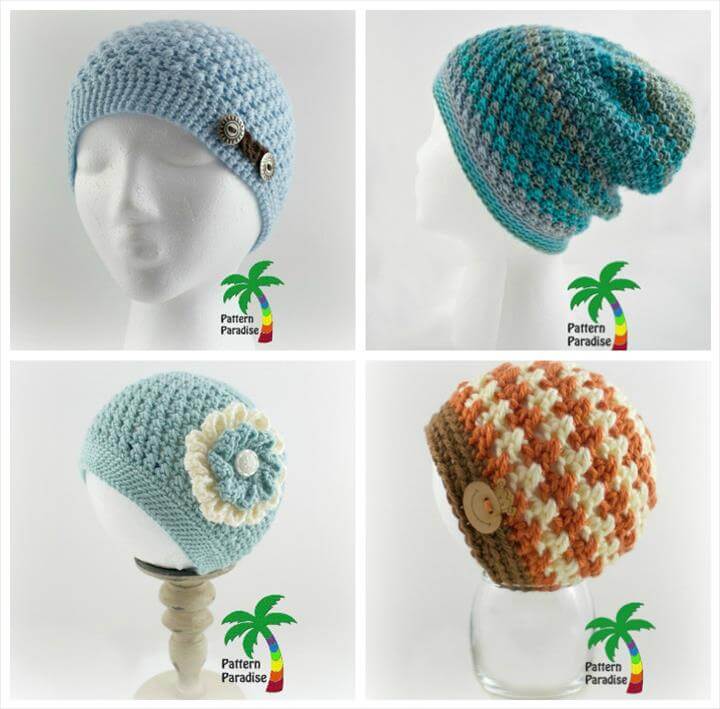 If you are a fan of slouchy crochet beanies and want them also for your newly born babies? Then these Julia's hat will be a rocking choice! Complete DIY Guide and Free Pattern Here pattern-paradise
Fetching Crochet Newborn Bow Hat: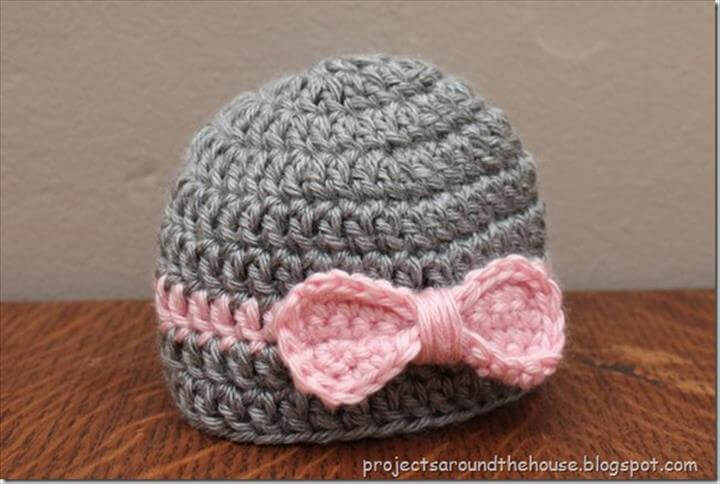 Go with your creative mind to give variations to your winter baby hats! You can grace up your finally finished crochet hats with slouchy buttons, flowers and other metal accents! This special one has been dignified with a bow! Full Free Pattern Here projectsaroundthehouse
Charming Toddler Puppy Love Hat: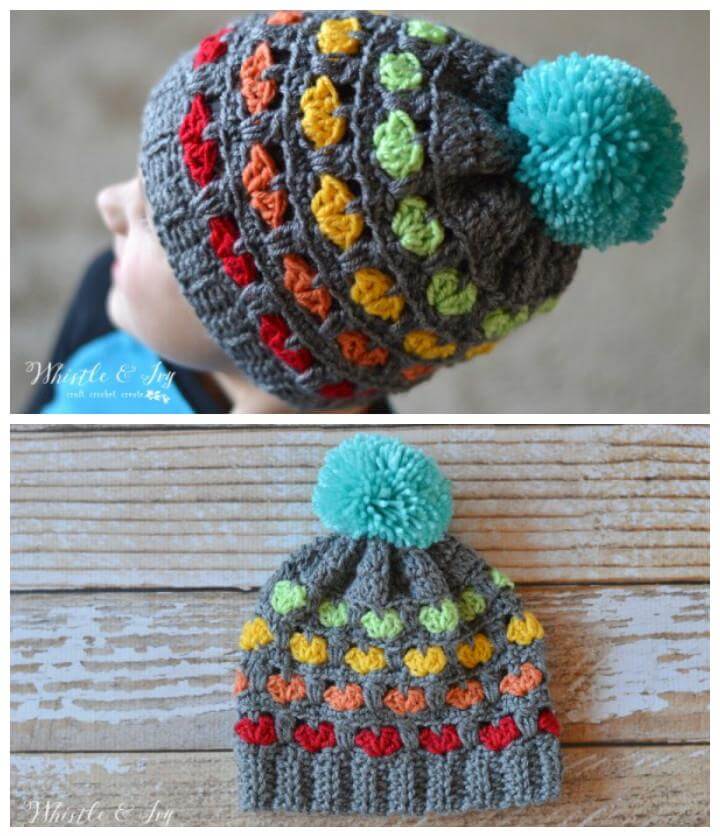 Here is something eye-popping which is also warm and comfortable for a baby's head! A multicolored crochet toddler puppy hat, crocheted to inspire! Best winter gift for toddlers who love the vibrant colors, the moms all know it well! Full Free Pattern Here whistleandivy
Precious Baby Herringbone Crochet Hat: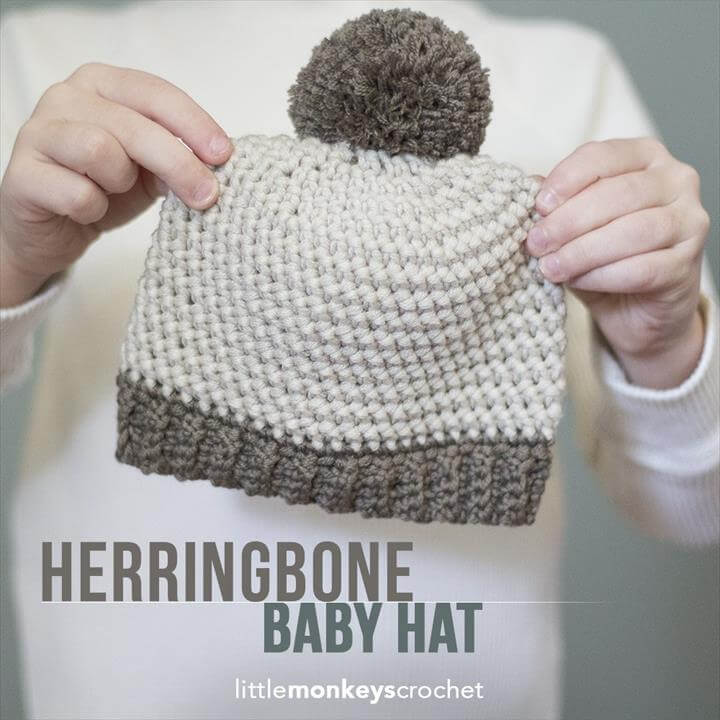 Want a unique and new inspirations about a crochet winter hat? Tryout this herringbone baby hat, experiment it also with different yarn colors and weights! Yarn weight will decide that how warm this hat would be! Full Guide and Free Pattern Here littlemonkeyscrochet
Long Tailed Crochet Baby Hat: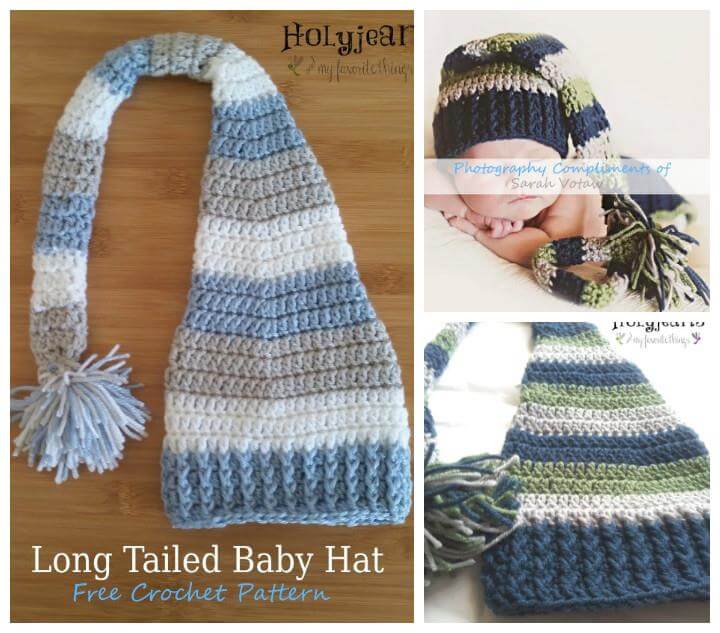 Grace up your newborn baby with this long tailed baby hat! Will be a fun to crochet even if you are a dedicated beginner to art of crocheting! Free Pattern Here Via holyjeansnmyfavoritethings
Delightful Striped Baby Crochet Hat: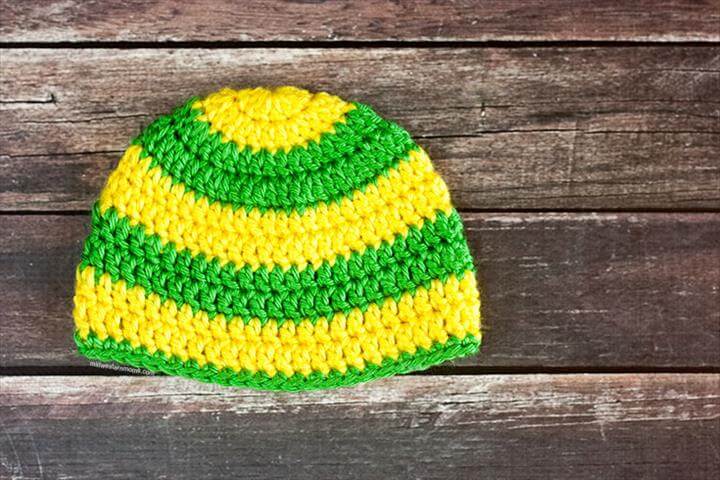 A cute baby winter hat, yellow & green color mixture just makes it a delight to view! Choose your yarn weight and a hook you are handy at and clone this eye-catching baby's hat! Complete DIY Guide and Free Pattern Here midwesternmoms
Cute Baby Bunny Hat Crochet: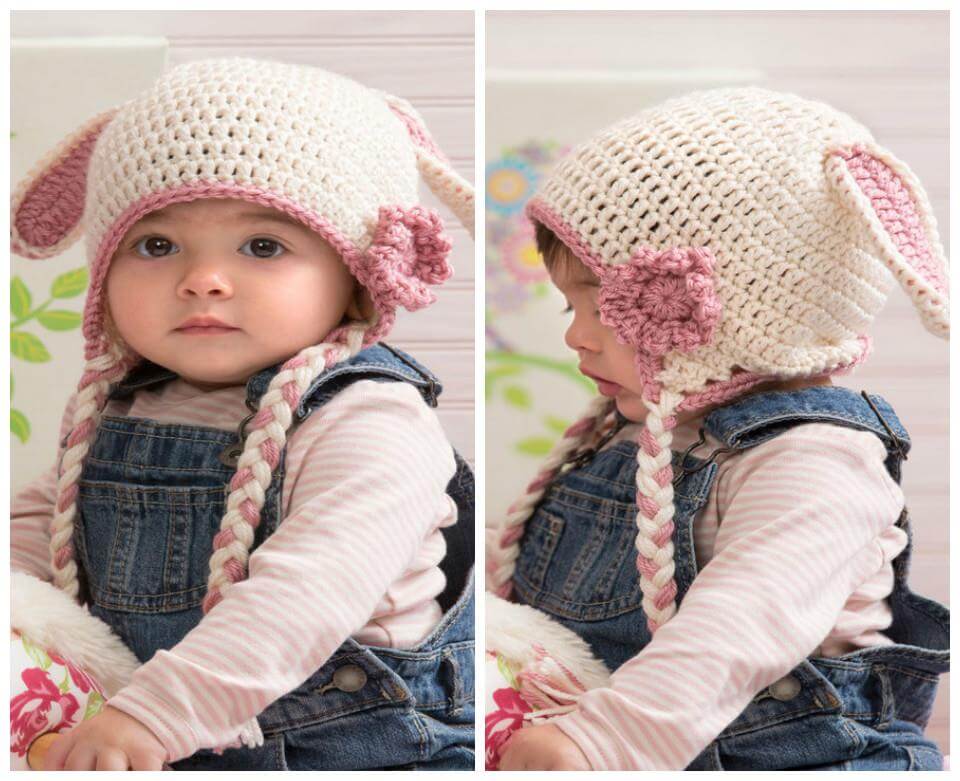 Want a comfy winter baby hat that should cover the baby's ear too? This given hat sample would be rocking, inspired of a bunny! The matching braids and a crochet flower grace it up to peak! DIY Free Pattern and Guide Here redheart
DIY Friendly Frog Crochet Baby Hats: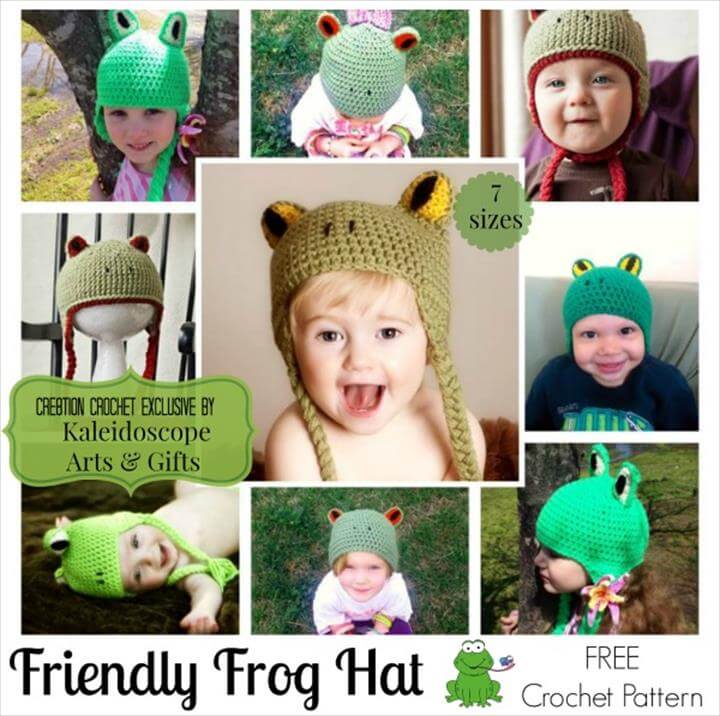 For strongly cute winter looks of you baby, this friendly frog hat will also rock! Choose from the given extra smart 7 samples and crochet your favorite one at home! Here is Complete Free Pattern For it cre8tioncrochet
Adorable Baby Granny Hat: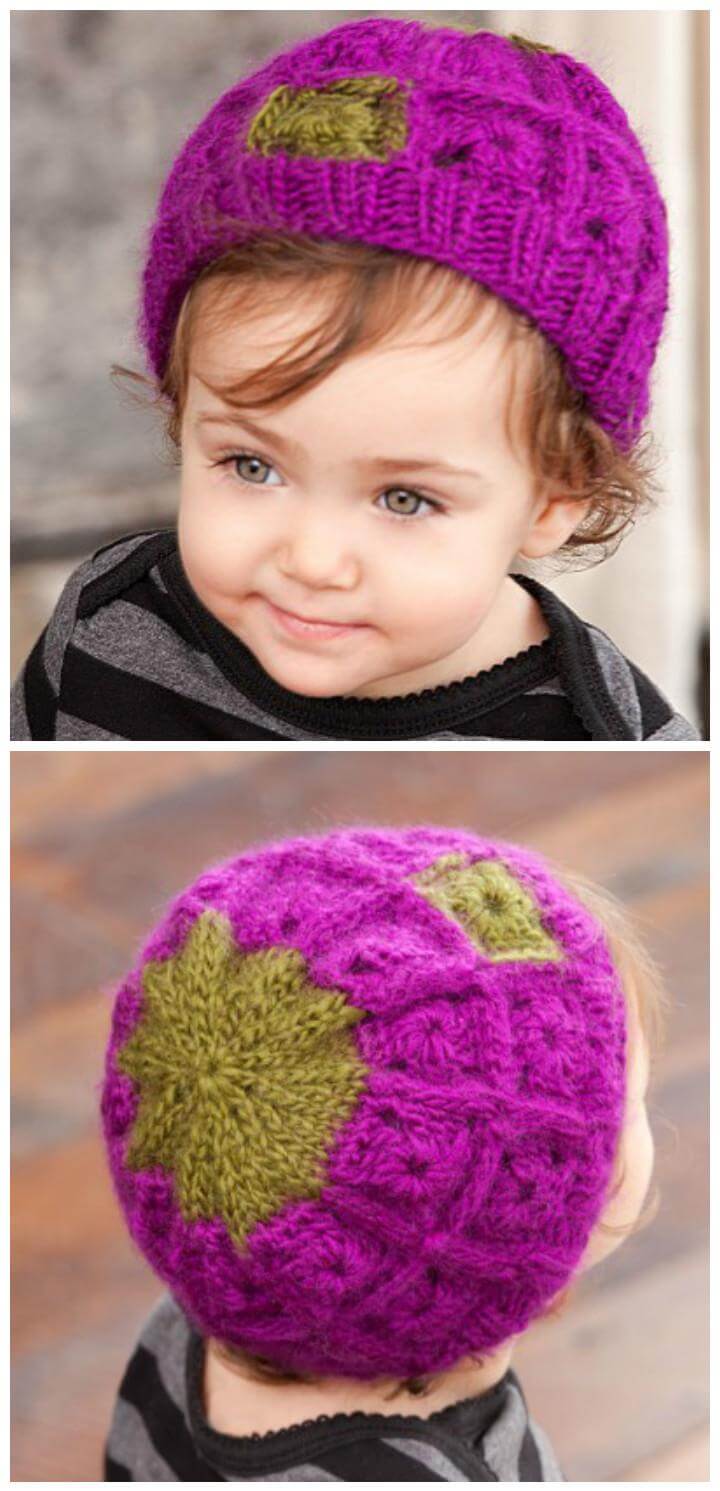 Adorable baby hat to make your baby look adorable! Will fit tight to your baby's head as a stylish winter warmer! A winter protective and stylish baby gift to make with your own hook! Free Guide and Pattern Here Via yarnspirations
Handsome Crochet Baby Sherlock Hat: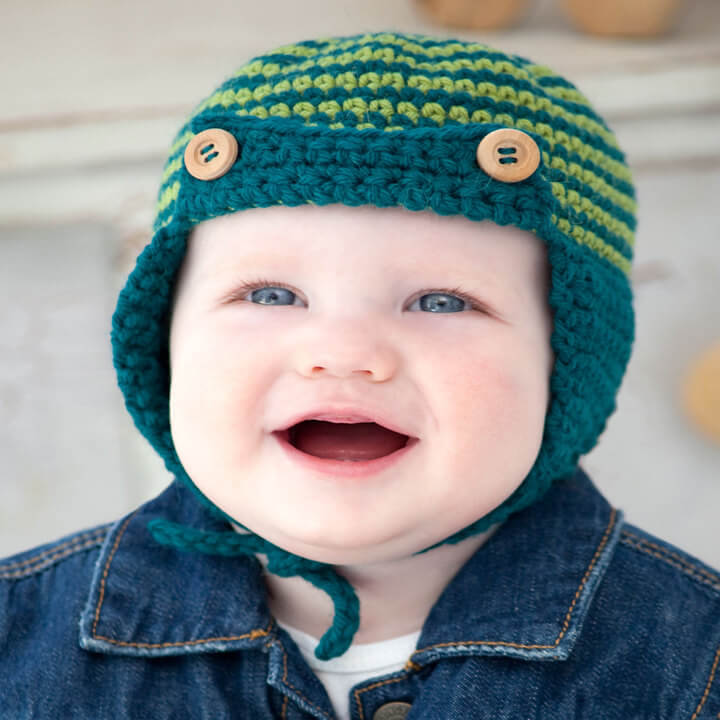 Want you baby look as smart as a Sherlock? This pretty Sherlock hat will all be a simple solution for it! Time to crochet it with your own hook, given free pattern will all help you to do so! Image and Pattern Credit to Redheart
Super Cute Baby Hat: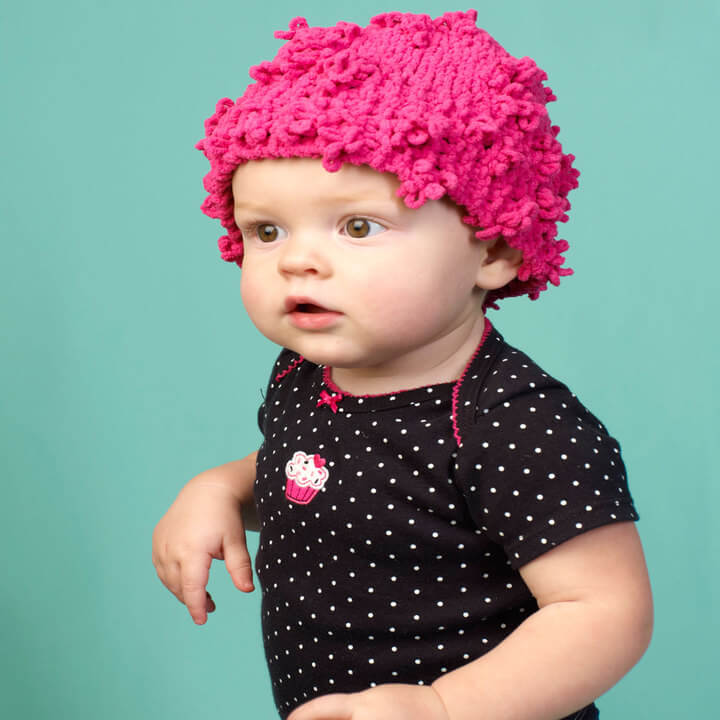 Adorable pink hat for daddy's girl!! Earn you baby's love through your knitting needles! Here loop texture is responsible for this hat to be Extraordinary! Knit it now using soft yarn!
Download Free Pattern Here Redheart
Adorable Baby Confection Hat: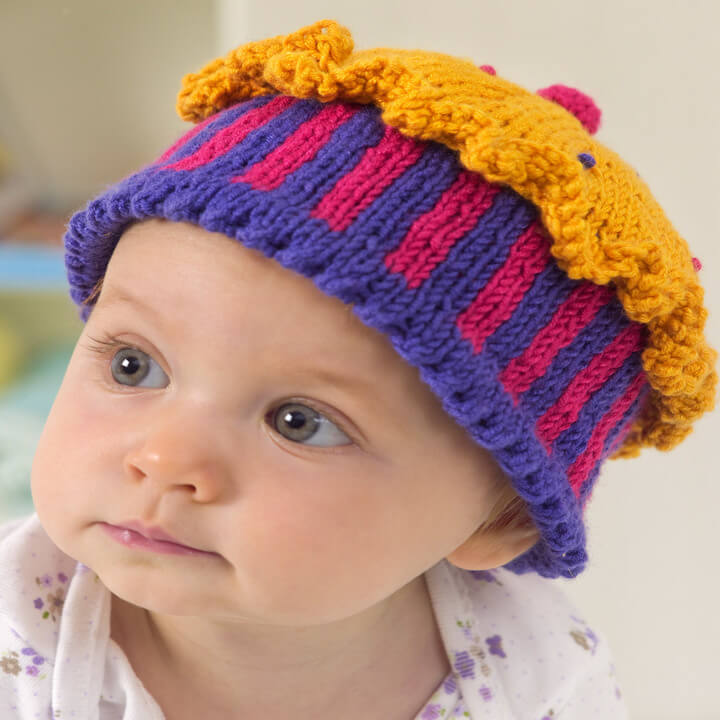 Another great baby hat to inspire your knitting needles! Knit it using multicolored bamboo yarn! Here yellow overlay to hat is the most special part of this hat project that beautifies the entire hat design! Full Pattern Here Via Redheart
Beautiful Baby Crochet Hat: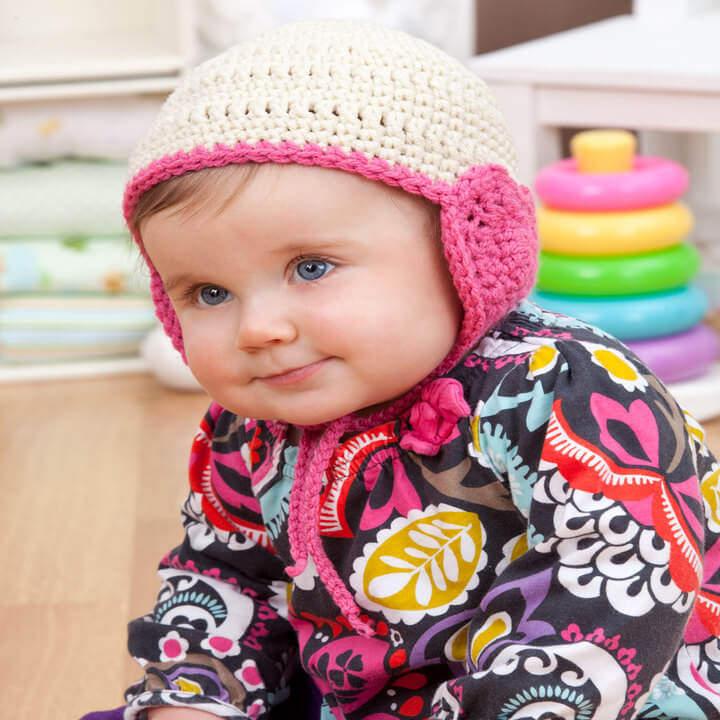 Babies are always beautiful, but a special dress up can make your baby look lovely more! So willing to make your baby's dress up more beautiful and special this winter? Involve this crochet hat also to baby's winter dress up! Don't forget to add the earflaps and braids! Image and Pattern Credit to Redheart
Cute Baby Crochet Elf Hat: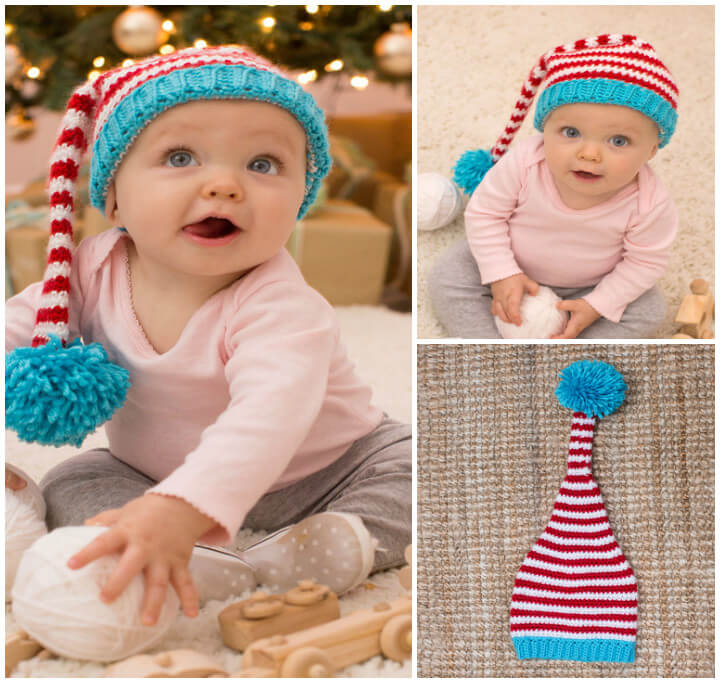 Gorgeous baby crochet elf hat with long tail that ends with a pom-pom! Will cozy up your baby in a cute style! Duplicate this hat if you want it next on your baby's head! For help Download Pattern Here for Free Redheart
Gorgeous Baby Panda Crochet Hat: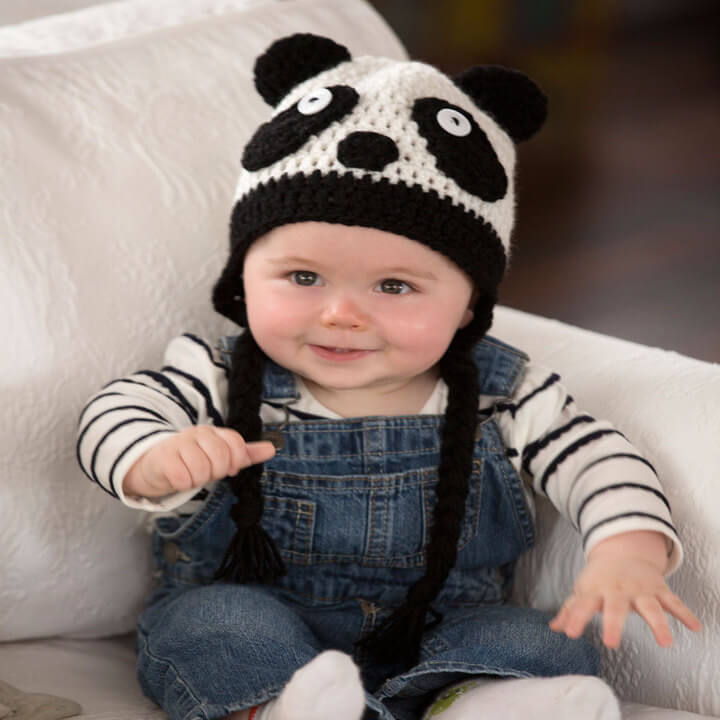 This panda hat must be a a part of your baby's wardrobe this winter! It will raise the cuteness of a baby to peak! Here white buttons make the eyes of the panda! Follow the free pattern to copy it! Image and Pattern Credit to Redheart
Crochet Darling Baby Hat: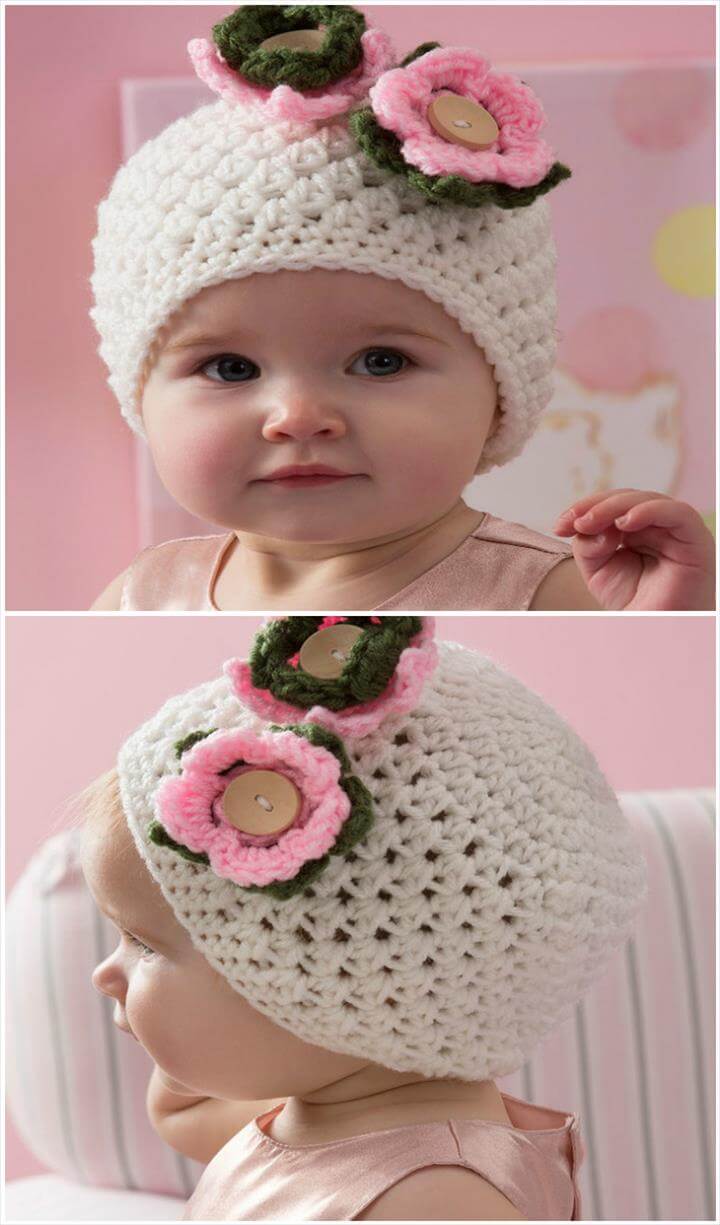 Going for a photo shoot of your baby? Make you little princess wear this special hat, will grace here amazingly for some memorable photos! Here crochet flowers with buttons in the center, are everything about the cuteness of the hat! Download Free Pattern Here Redheart
Arresting Sock Monkey Crochet Baby Hat: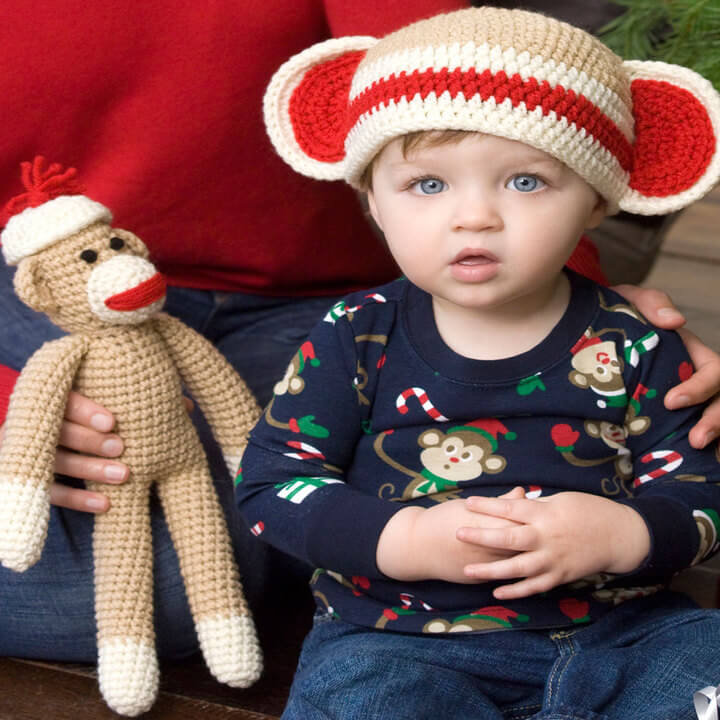 Make you baby look like a sweet sock monkey this winter! Just make him wear this sock monkey hat to do so! A fun way to make your baby winter protective! Download Complete Free Pattern Here Redheart
Cute Baby Bee Playsuit and Crochet Hat: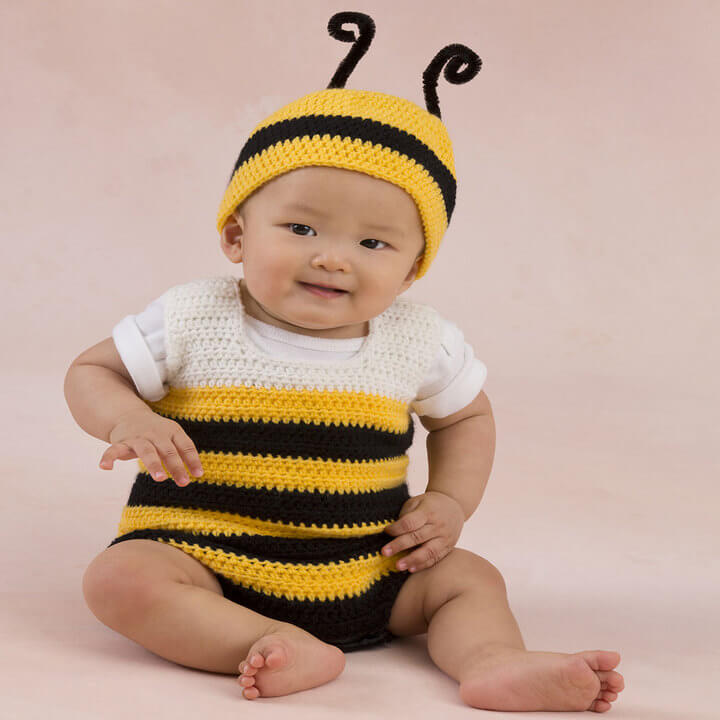 Here free patterns have been given for both the bumble bee hat and matching playsuit! Clone the entire set to pretty up your baby this winter in a unique way! Also a great inspiration for a baby shower gift! Free Pattern Here Redheart
Lovely Blue Crochet Baby Hat: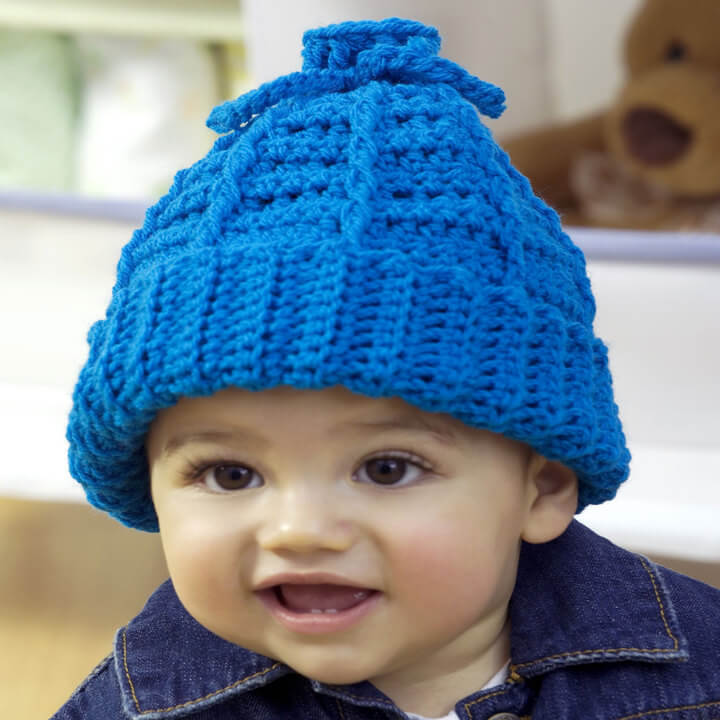 Sweet blue hat for darling babies! Try it up with different yarn colors! Easy skill level is required if you want to crochet it now! Get helped by the given free pattern! Pattern Via Redheart
Graceful Baby Hat: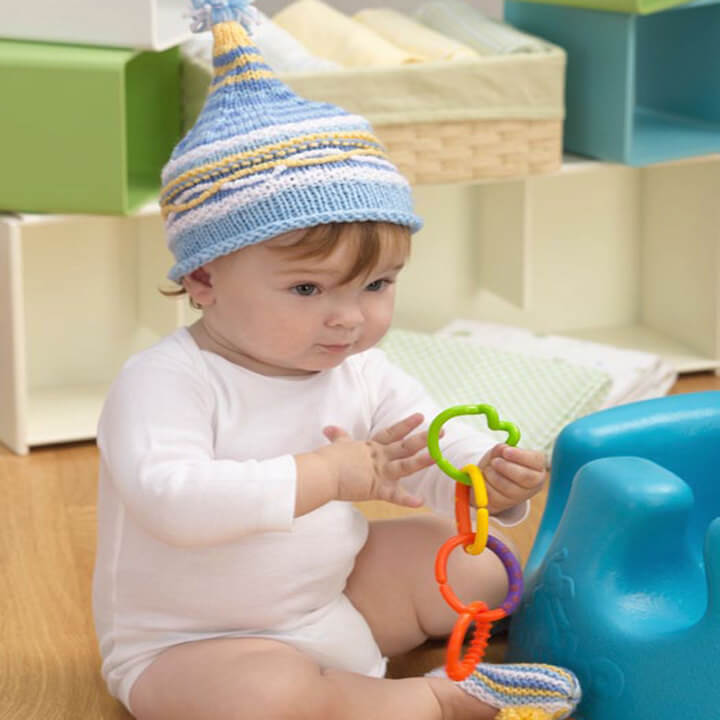 This is here the best hat project for your if you want to test you knitting and crocheting skills at the same time! The output will be a charming baby hat! Finish the hat with pom-pom for cute appeal! Want to know how to knit this hat? Download Free Pattern Here Redheart
Crochet Springtime Baby Dress with Matching Hat: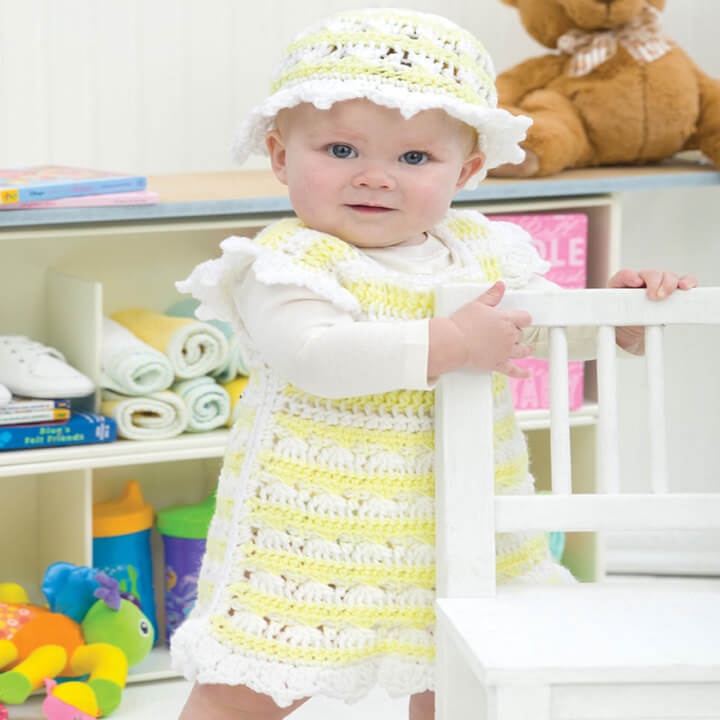 Want some more funky and cute looks of your baby for the photo shoot? Make this set of crochet baby hat and dress a part of winter baby outfits! Both are easy-to-crochet with the help of given free pattern! Image and Pattern Credit to Redheart
Cute Scalloped Baby hat & Mittens: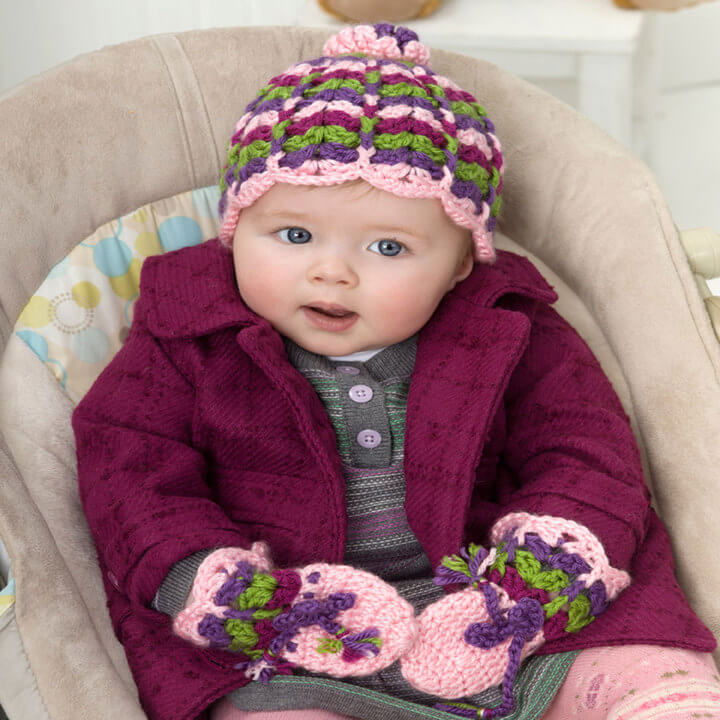 Want to protect those soft tiny hands and sensitive forehead of your baby in a cute way! We recommend you this set of scalloped baby hats and mittens! Checkout the given free pattern for complete guide and stitch details! Image and Pattern Via Redheart
Hunting Baby Vest and Crochet Hat: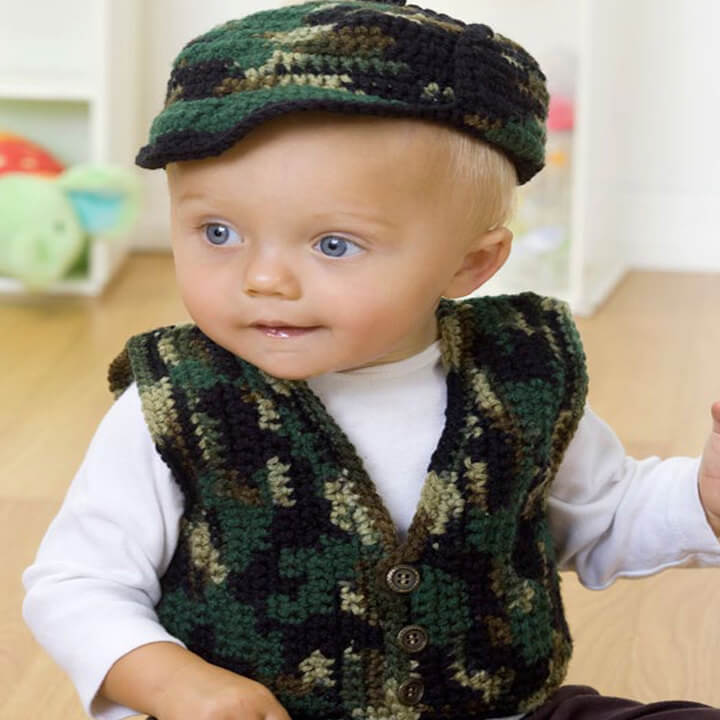 A hunter's look will be all great for baby photo shoot! So crochet this hunter baby vest with matching hat with you hook! Cool crochet stuff to make your baby look like a hunter or a army officer! Avail the given free pattern to clone the entire set! Image and Pattern Credit to Redheart
Beautiful Knit Intarsia Baby Hat: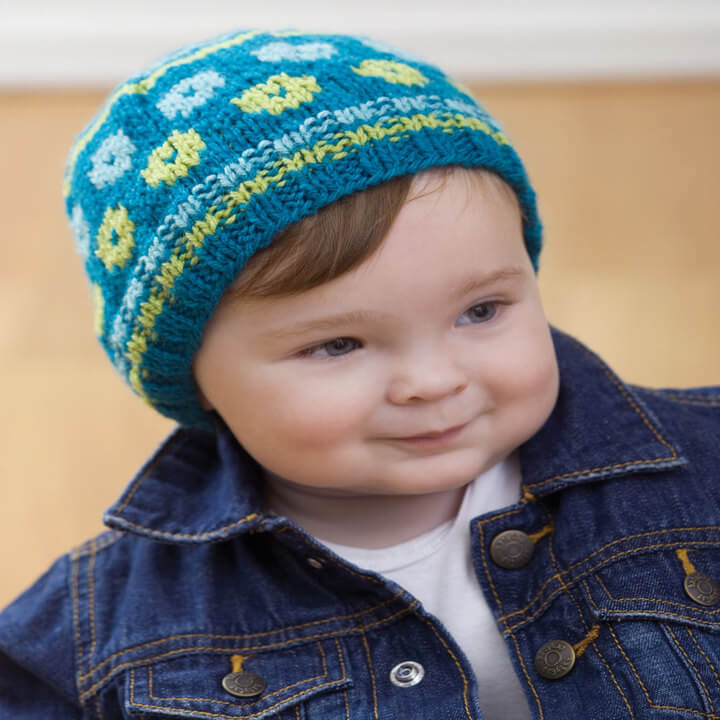 A project for intermediate knitters! Get crafty with your knitting needles and clone this lovely winter hat! Will warm up your baby's head in a style so will be strong candidate for winter protection to your baby! Given free pattern will all help you clone it easily! Image and Pattern Via Redheart