Learn how to crochet a baby's hat with these 30 free crochet baby hat patterns, including step by step instructions and a PDF pattern list! With adorable crochet baby hats, you can create something special for the newest family member or even as a thoughtful present for an expecting mom. From classic styles to trendy looks, plenty of crochet baby hat patterns will make any baby look stylish and cozy. Plus, each baby hat crochet pattern is easy to customize with colors or additional details, so you can truly make unique and memorable baby hats.
Whether you're just learning how to crochet or already an expert stitcher, there are beautiful crochet baby hat patterns in here that all skill levels will enjoy making. Help keep babies warm this winter with one of these 30 free crochet baby hat patterns below!
Crochet baby hats are the perfect project to welcome your little bundle of joy into the world with a handmade accessory. So find your crochet baby hat pattern and start crocheting – before you know it, you'll have an adorable little handmade hat for your beloved little one to wear!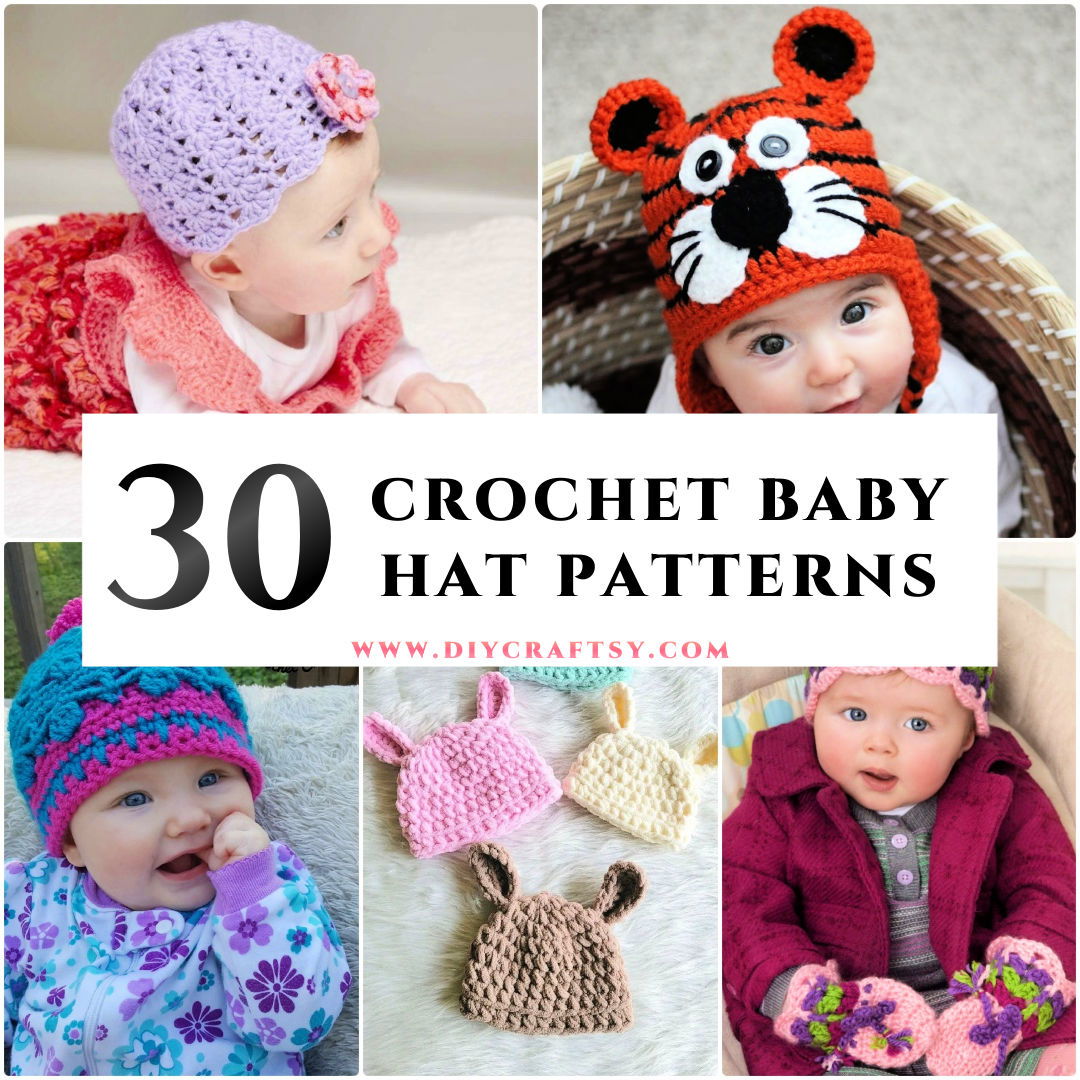 Free Crochet Baby Hat Patterns
Are you looking for a special way to celebrate the new arrival in your life? Look no further than these 30 Free Crochet Baby Hat Patterns! Whether you want to make something special for just-borns or something sweet and stylish for toddlers, this collection of crochet baby hats has got it all. You can choose from newborn beanies, girls' lace hats, pom-pom beanies, and aviator caps. No matter which design you pick and how much time you have – each crochet baby hat pattern will turn out as unique as the little one wearing it!
All our free crochet baby hat patterns are easy to follow with step-by-step instructions that will help novice crocheters get started with basic stitches such as single and double crochet. For more experienced crocheters, there is plenty of opportunity to get creative by mixing different yarns and colors or adding playful applique details like flowers or tassels. Each crochet baby pattern comes with its own unique charm, so no matter if you are after an eye-catching accessory for a birthday party or a simple gift idea – these free crochet baby hat patterns promise lots of inspiration!
Need free crochet baby hat pattern 0-3 months and 3-6 months for a new bundle of joy? These free crochet baby hat patterns are easy to make and will fit 0-3 months, 3-6 months, and one-year baby sizes. Find the free baby hat pattern that works best for you with detailed instructions to create something special in no time! From vibrant colors to classic neutrals, these free crochet baby hat patterns provide endless possibilities. Make sure your little one has the very best – start crocheting baby hats today!
1. Free Crochet Spirit Earflap Hat Pattern for Baby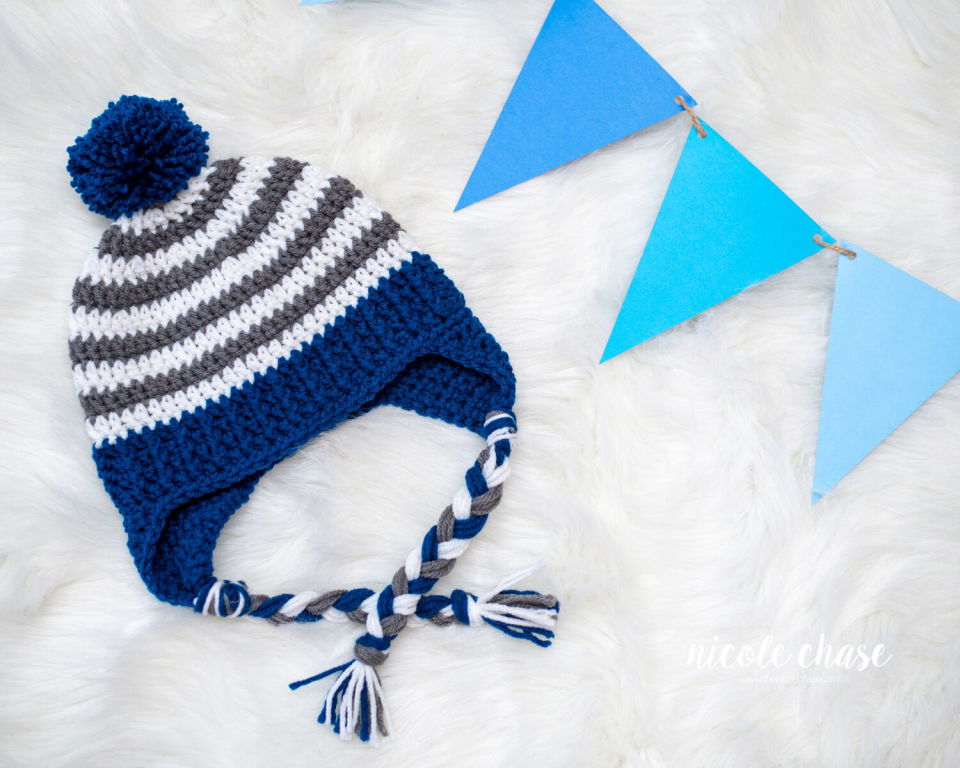 Are you looking for a cozy and stylish winter crochet baby hat? Look no further than the spirit earflap crochet hat! This free crochet baby hat pattern is fun and simple to make in any size from 0-3 months up to adult. The textured ribbing gives it a special touch, with braided ties and pom pom topping it off. There are no counting stitches either – just chain 1 or 2 at the start of each round, then measure your band to get the right circumference as you create this warm and comfy hat. All you need is a red heart with Love yarn and basic tools like a tapestry needle, scissors, and pom maker. Get creative with colors – stay warm all winter long! thenicolechase
2. Red Heart Crochet Scalloped Baby Hat Pattern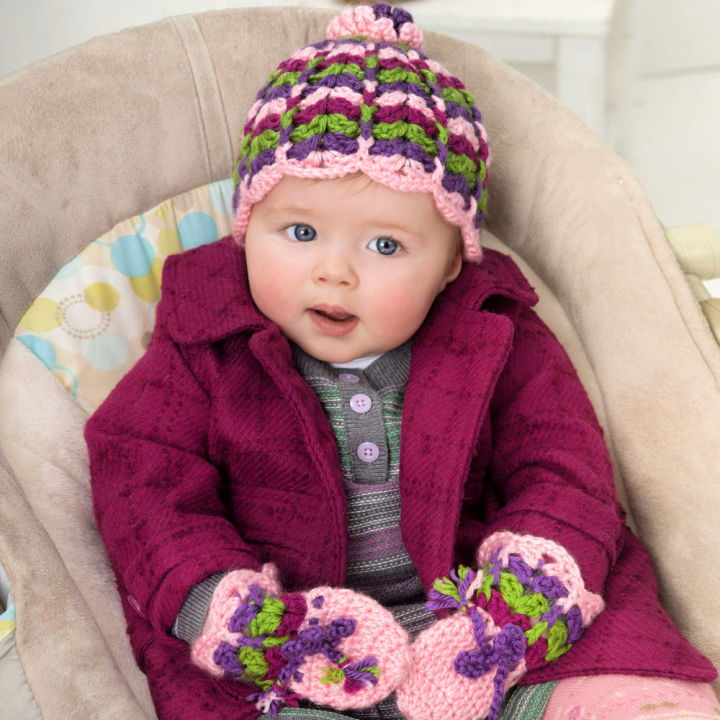 This free crochet scalloped baby hat and mittens pattern provides step-by-step instructions for creating the perfect little set. The hat and mittens are worked in the round and joined with a slip stitch at the end of each round. For best results, use red heart soft solids & heathers yarn with a 4mm (G) hook to achieve a finished hat circumference of 15″ (18″) and a finished mitten length of 5″. To change colors, insert your hook into indicated stitch, drop the current color and pick up a new one, then draw it through the loops on your hook – fasten off the old color! yarnspirations
3. How to Crochet Child Tiger Hat – Free Pattern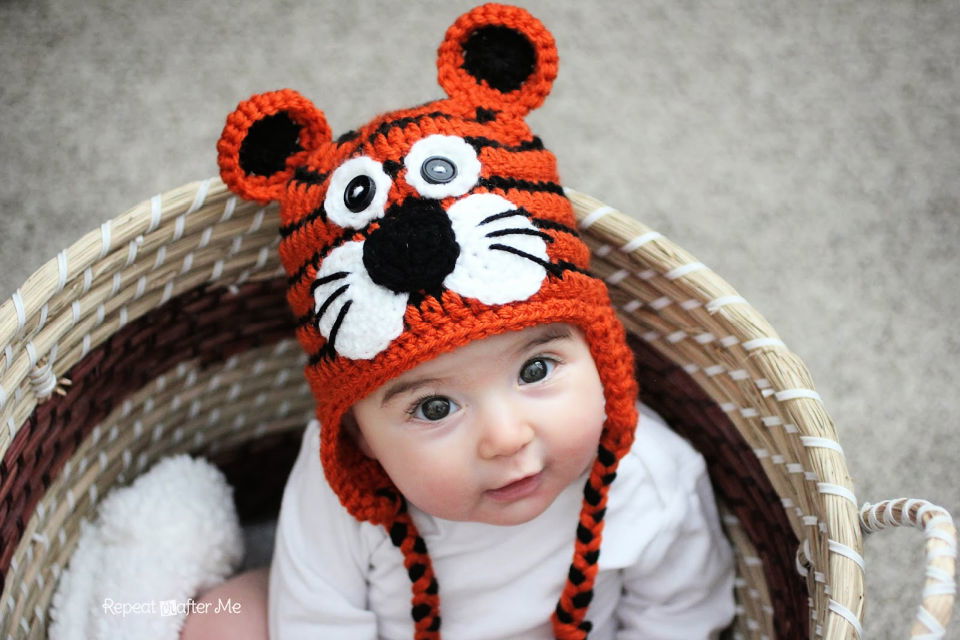 Are you looking for a fun, free crochet pattern to make an adorable tiger hat? Look no further! These step-by-step crochet baby hat instructions will help guide you through the process. It's perfect for newborns and babies aged 0-3 months. For Newborn sizes, follow our instructions but use a smaller hook (G6/4.00mm) and end with 11 rounds instead of 12. You'll need black worsted weight yarn, white worsted weight yarn, orange worsted weight yarn, two .5″ black buttons for eyes, a crochet hook size H-8 (5.0 mm), and a tapestry needle to complete this cute project! repeatcrafterme
4. Sunflower Baby Hat Crochet Pattern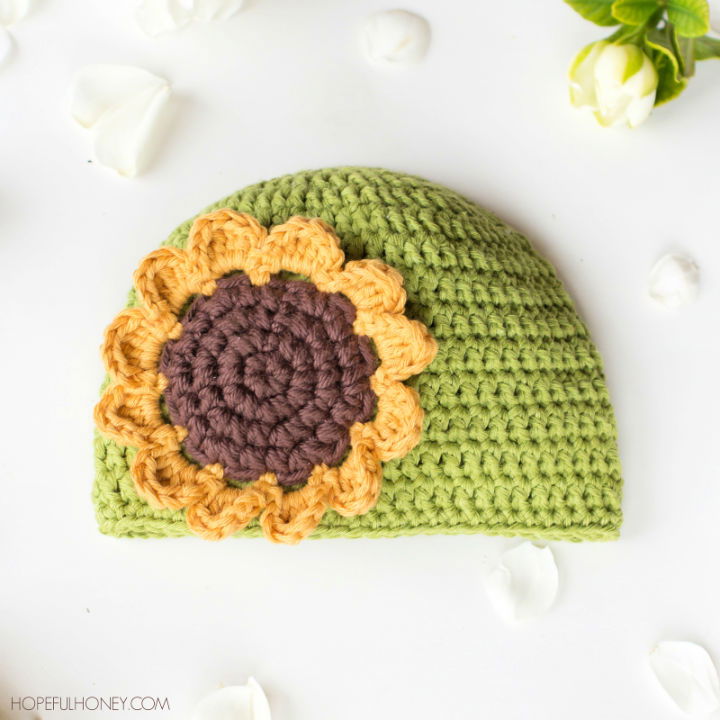 Put a smile on your little one's face this Spring with a cute and winsome sunflower baby hat! This baby hat crochet pattern is perfect for the season, featuring bright petals that will make any day brighter. You can pick out a handful of colors like you're picking flowers in a bouquet – the more, the merrier! You need DK yarn, a 3.50mm (E) hook, and a tapestry needle to complete this easy-to-make project. The hat is worked from top to bottom in rounds while the sunflower is seamed onto the front, making it look delightful! hopefulhoney
5. Cute Beauty Shell Stitch Crochet Baby Cap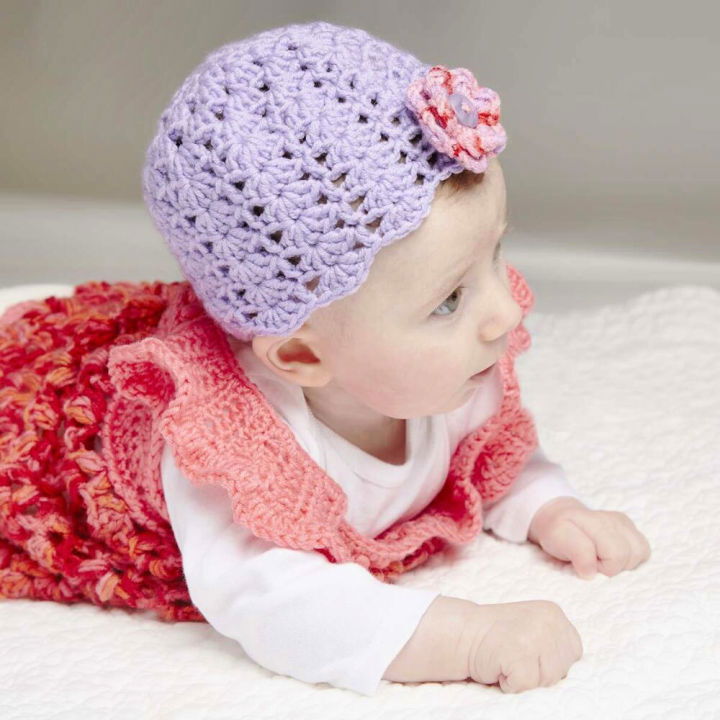 This gorgeous, free beauty shell-stitch cap will take your crochet skills to the next level. This intermediate baby hat crochet pattern uses premier yarns Isaac Mizrahi craft yarn in 4.0 mm (G) hook size to create a delightful hat of 0-3 months or 3-6 months sizes! Gain experience as you create 24 stitches and ten rows per 4 inches for an exquisite finish, topped off by attaching a button through the center of the flower for added detail. Download now and start stitching your beautiful baby cap! premieryarns
6. Crochet Spring Breeze Turban Baby Hat Pattern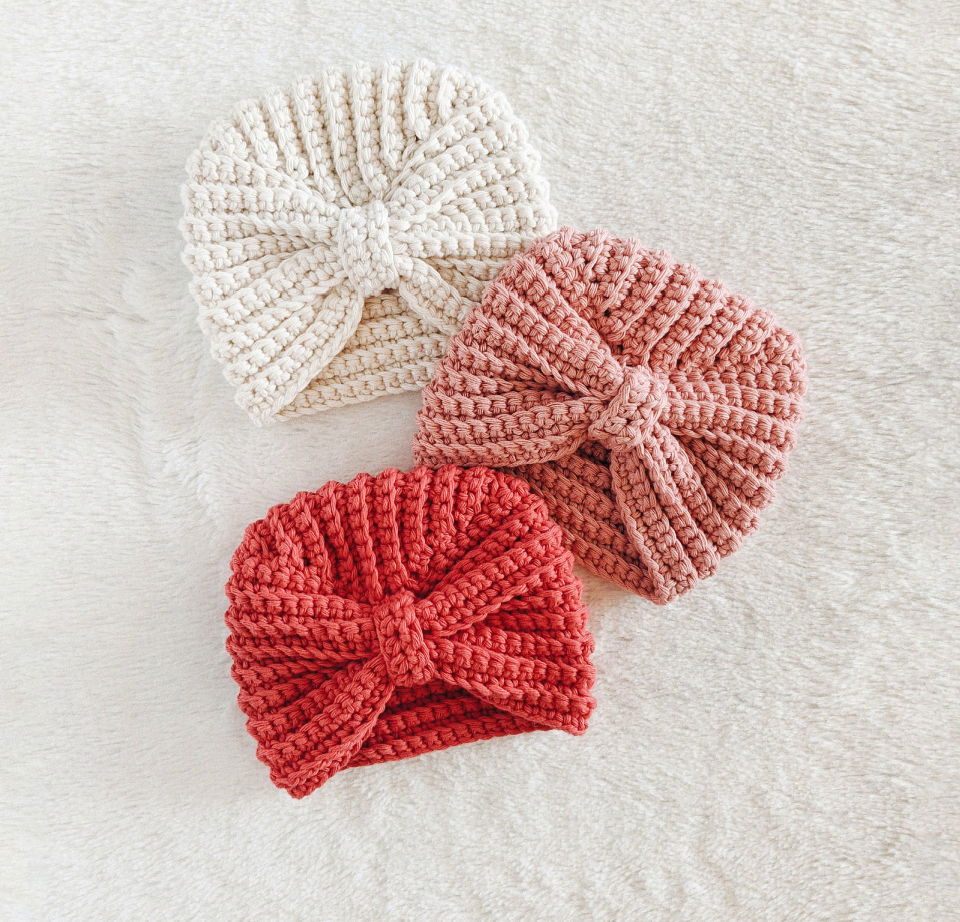 Create a cute and comfortable baby turban with this free crochet pattern – the Spring Breeze Turban. This easy-to-make beginner project features an Aran weight yarn and is great for newborns and adults. Learn how to read a crochet pattern, follow the instruction below, and use stitch markers, tapestry needles, and scissors to complete this baby hat crochet pattern in no time! Measurements: around head 37 cm (14.5″), hat height 13 cm (5″). Make this wonderfully cozy item for your little one's wardrobe. crobypatterns
7. The Parker Crochet Baby Hat Pattern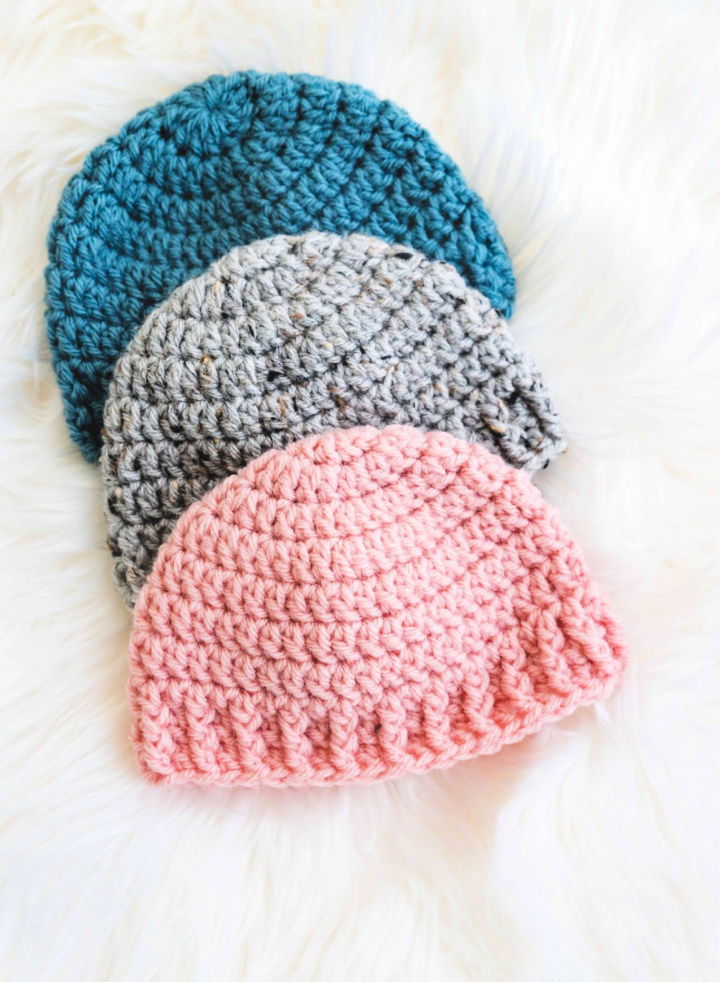 Make your little one look extra cute with the parker newborn crochet hat! This versatile, gender-neutral crochet baby hat pattern is perfect for any baby and makes a great base for adding embellishments. Beginner friendly and quick to make, this pattern is ideal for donating or gifting. The materials required are lion brand vanna's yarn, size H 5mm crochet hook, tapestry needle, and scissors – check the measurements against your gauge to get the perfect fit! sewrella
8. Free Crochet Infant Bear Hat Pattern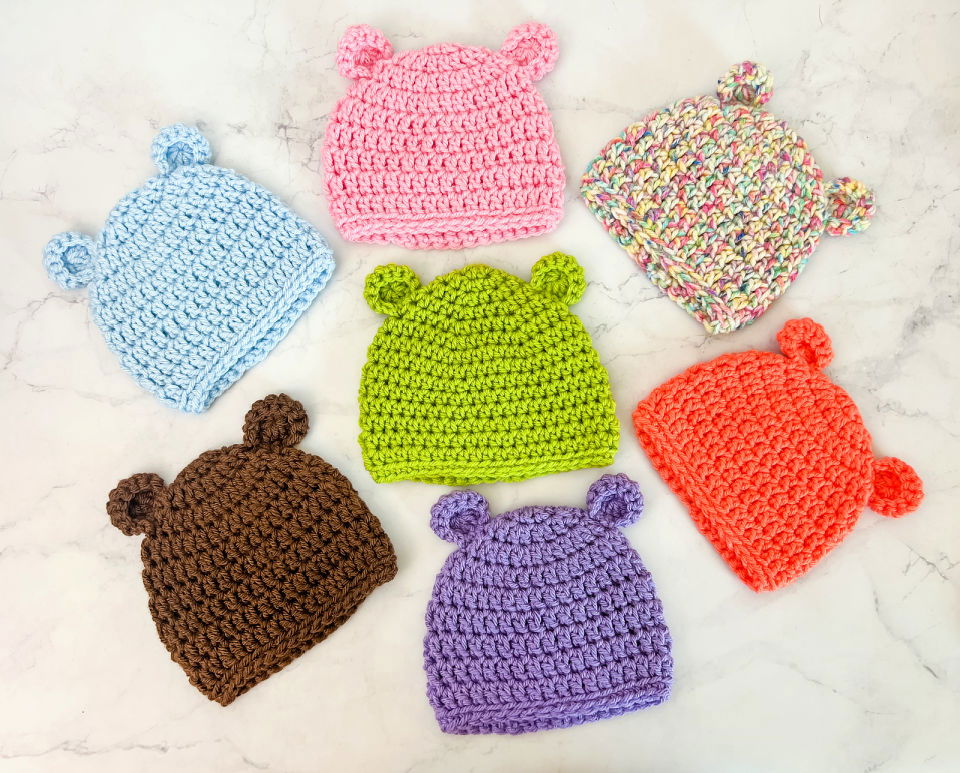 This crochet baby bear hat is the perfect gift for a special little one! This free crochet pattern makes an adorable bear hat in 5 sizes, so it's suitable for newborns up to 8 months old. Perfect for beginners, this fast-working pattern uses I love this yarn and a 5.00 mm / H hook to achieve the right fit – make sure you check your gauge before starting! The finished product will look great paired with our matching baby booties too. Make someone smile today by creating this cute and tiny baby bear hat! okiegirlblingnthings
9. Crochet Dancing Aspen Baby Girl Hat – 3-6 Months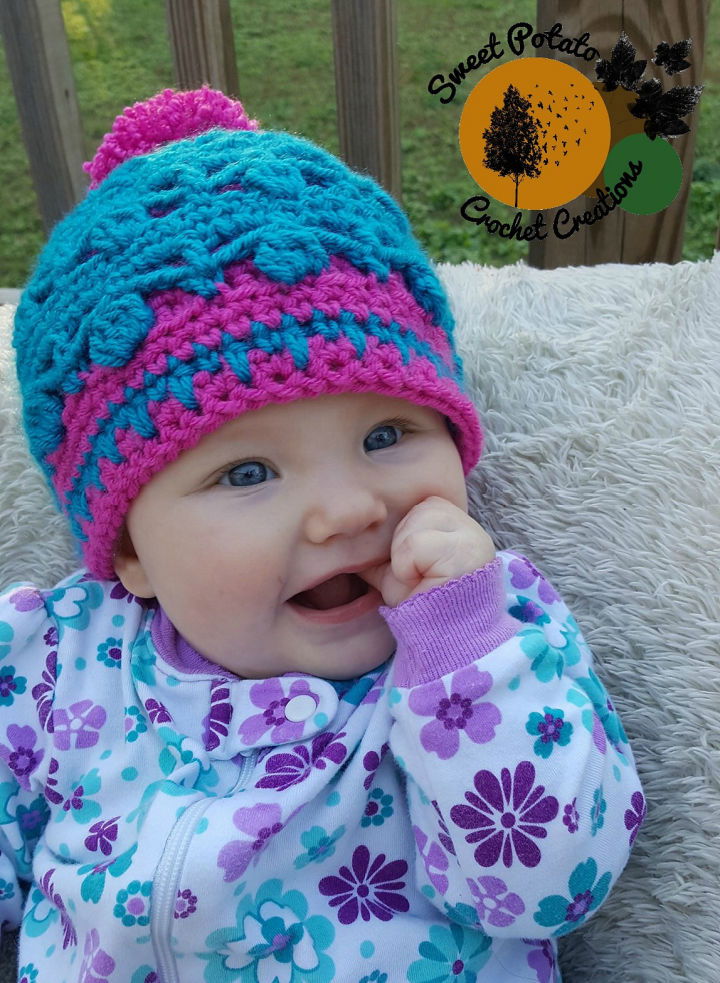 Keep your little one toasty in the dancing aspen beanie! This fitted beanie has a lacy overlay and is perfect for Fall. Crochet with hobby lobby I love this yarn; this free pattern is available in baby size (3-6 months). With endless color possibilities, have fun customizing this hat! All you need is an I Hook (5.5mm), J Hook (6mm), measuring tape, yarn needle, and scissors. Get ready to enjoy a cozy Autumn with your little one wearing the Dancing Aspen Beanie! sweetpotatocrochet
10. Littlest Monster Crochet Baby Hat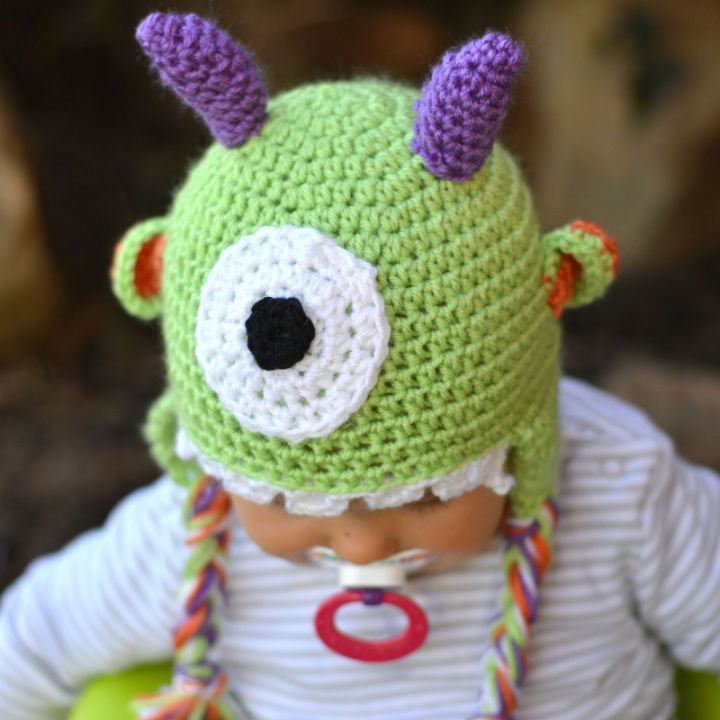 Create the perfect Halloween look for your baby with our free Little monster crochet baby hat! With just a G hook, worsted yarn, and a small amount of polyfill, you'll be able to craft this cozy and cute hat in no time. Get ready for compliments from friends and family (and maybe even strangers) when they see your little one sporting this adorable hat. Just add stuffing before sewing up to give it that extra bit of monster! whistleandivy
11. Crochet Pumpkin Baby Boy Hat – Free Pattern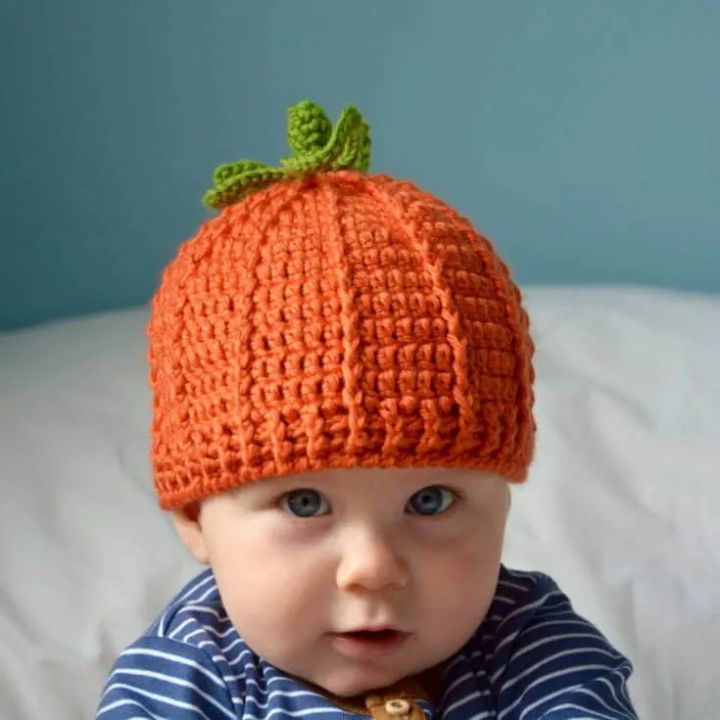 Stay warm and cozy with this free crochet pumpkin beanie hat pattern! It's an absolute must-have for any age and is perfect for beginners as it uses simple stitches like the front post to add texture. Materials include caron, soft solids yarn, a 4mm (G) crochet hook, scissors, and a tapestry needle. Choose from four sizes – baby to adult – or customize your fit by adding rounds. With this baby beanie crochet pattern, you'll be ready for the fall season in no time! hanjancrochet
12. Baby Heart Stitch Crochet Beanie Hat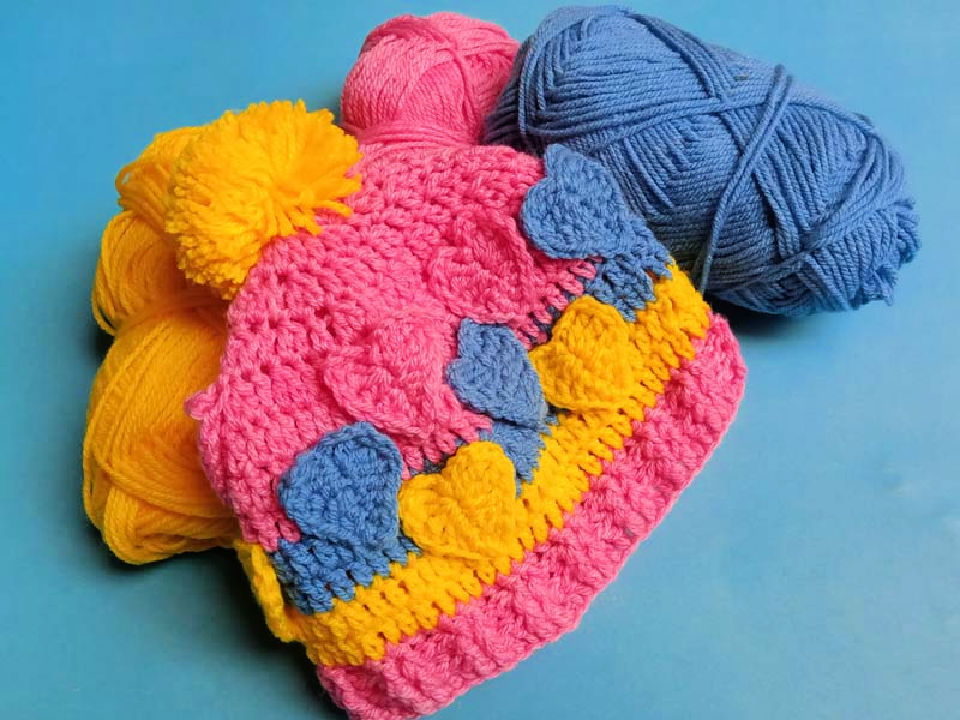 Create an adorable baby beanie cap with a 3D heart stitch! With this free step-by-step baby beanie crochet pattern, you can make your unique crochet hat for kids and babies in minutes. All you need is coldharbour mill DK weight wool, a 4mm (G) crochet hook, and some know-how to make this modern pattern that will give every crocheting item like blankets, sweaters, or caps extra flair. So grab your supplies and get started making something special today! crochetcrosiahome
13. Crocheting a Baby Hat in 20 Minutes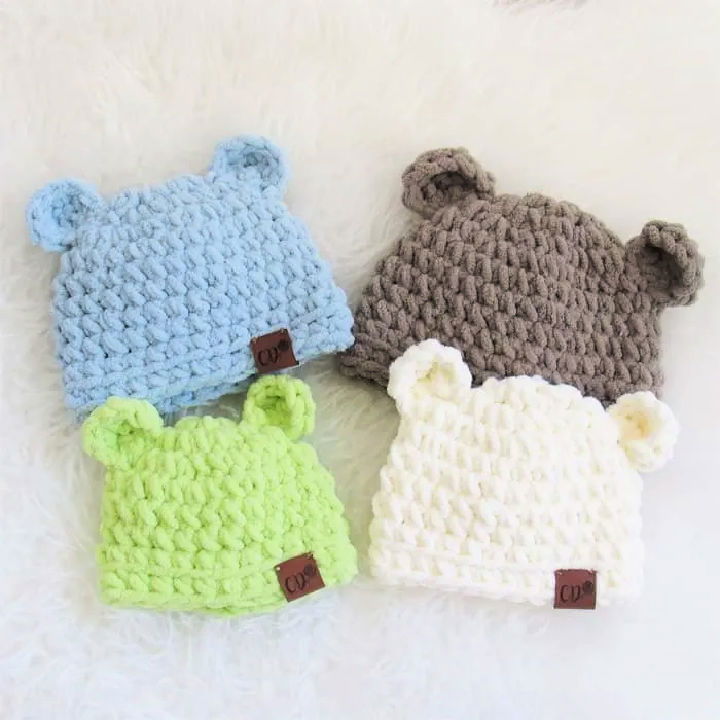 Crochet a baby hat with ease and free of charge! Make adorable teddy hats for your little one in only 20 minutes. This beginner-friendly pattern uses basic stitches and the soft bernat baby blanket yarn to make an irresistibly cute design. The ears add all the needed cuteness! Get this free pattern, plus video tutorials on how to make four different sizes of crochet baby hats. Create something special today with our easy-to-follow instructions! crochetdreamz
14. Easy Crochet Earflap Hat Pattern – 6-9 Months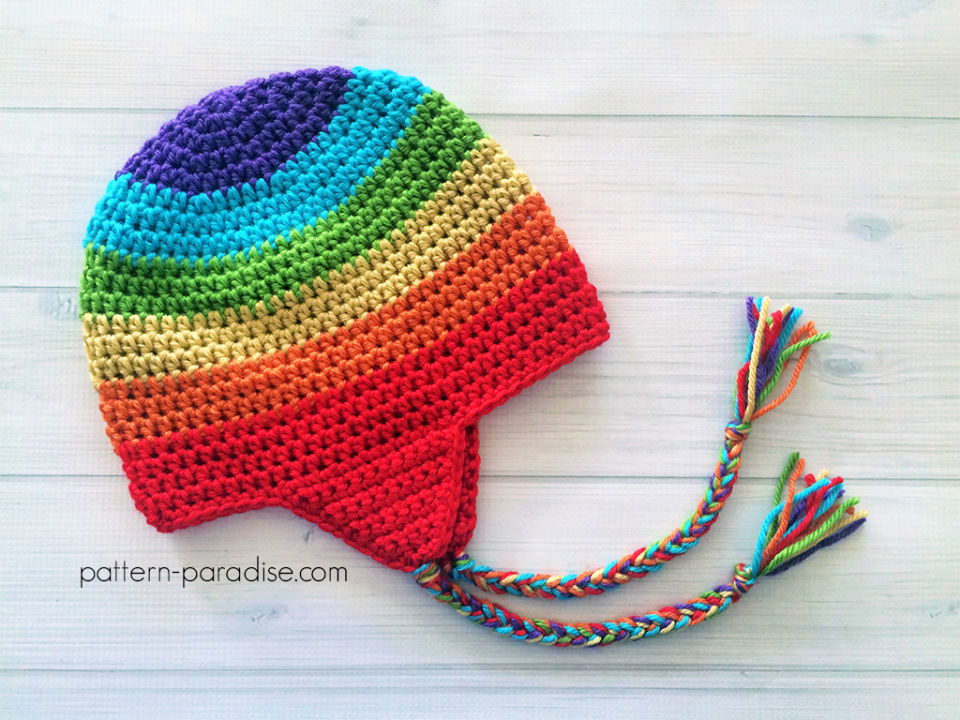 Make a fun, stylish, and versatile hat for your little one with this free crochet pattern. Perfect for girls or boys of all ages, the easy earflap hat is made with red heart soft solids & heather yarn and requires a 5.0mm (H-8) hook to work up quickly. This basic earflap design works great as a blank canvas to add embroidery or other embellishments, and it's also perfect for using up scrap yarn! Follow along easily as each round is started in the same stitch as the beginning chain and ended by slip stitching in the first stitch of the round – no counting necessary! pattern paradise
15. Simple Crochet Baby Hat With Ears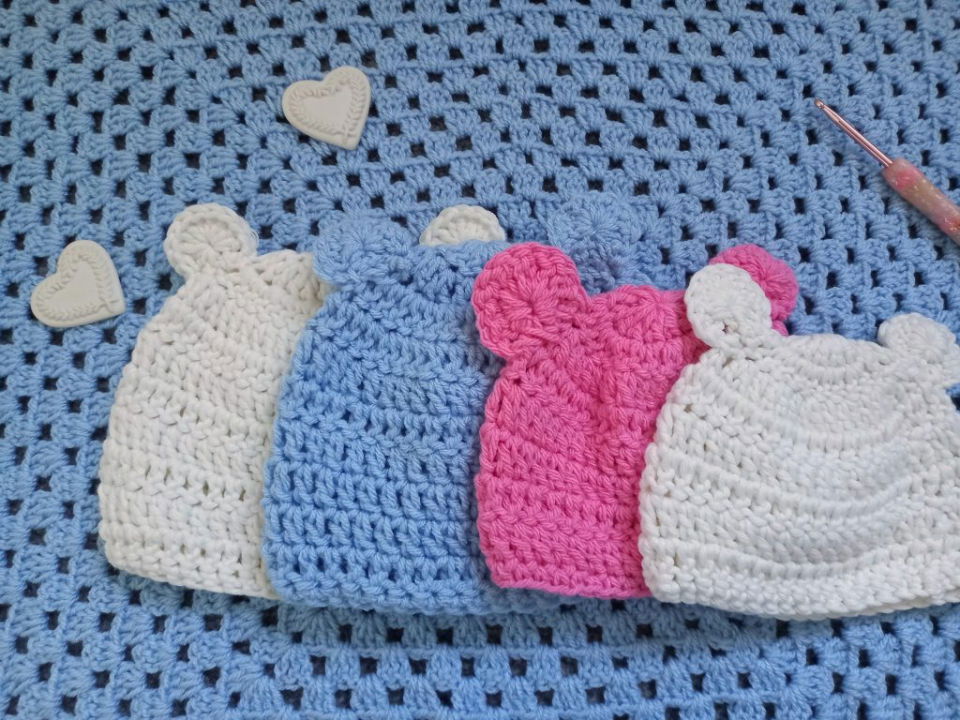 Are you looking for the cutest crochet baby hat with ears? This free pattern is perfect! Easy to make and fun to customize, You can crochet this delightful design in many colors. It comes in four sizes from 3 months to 6 years old so that you can find the ideal fit for your little one. For this project, you will need sirdar number 1, chunky yarn, a 6mm crochet hook, scissors, and a tapestry needle. Start crocheting today and make an adorable accessory that your child will love! selinaveronique
16. Quick and Easy Crochet Fox Hat for Toddlers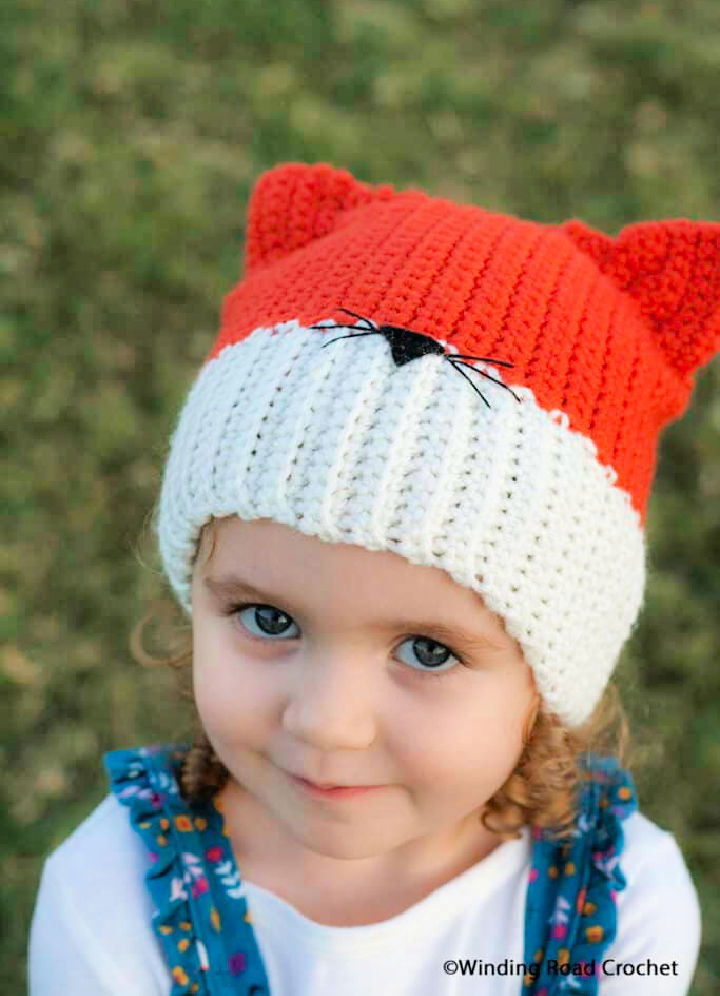 Keep your little ones warm this fall and winter with a crocheted fox or wolf hat. This fun and the creative project will make you, your family, and your friends smile! All you need is a red heart with love solids yarn, a 5mm crochet hook, scissors, and a yarn needle for finishing. The pattern includes instructions for four different sizes – Toddler, Child, Small Adult & Adult – making it perfect for everyone in the family! Even better yet, the pattern level is easy, so you can be confident that even beginners can complete it easily. windingroad
17. Easy Crochet Newborn Girl Hat Pattern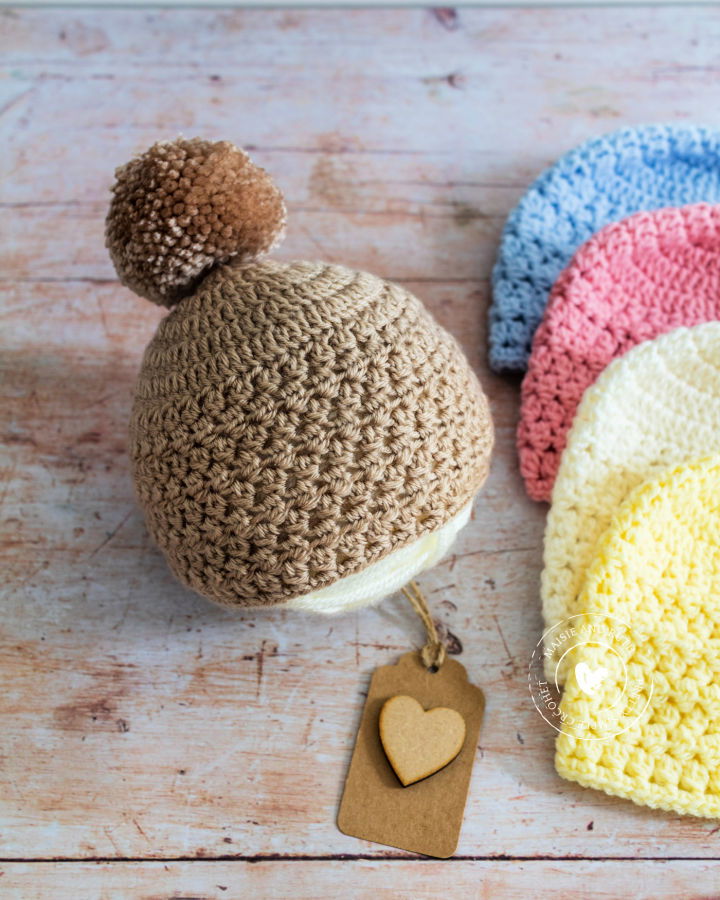 This free, easy crochet baby hat pattern is perfect for beginning crocheters! You need DK 8-ply yarn, a G (4mm) hook, a yarn needle, and scissors. With this one set of instructions, you can make sizes newborn, 0-3 months & 3-6 months. The hat features a lovely texture made up of double crochet stitches and is worked in rounds. Make this lovely present for any new mom-to-be today using the US terminology used throughout! maisieandruth
18. Red Heart Crochet Panda Baby Hat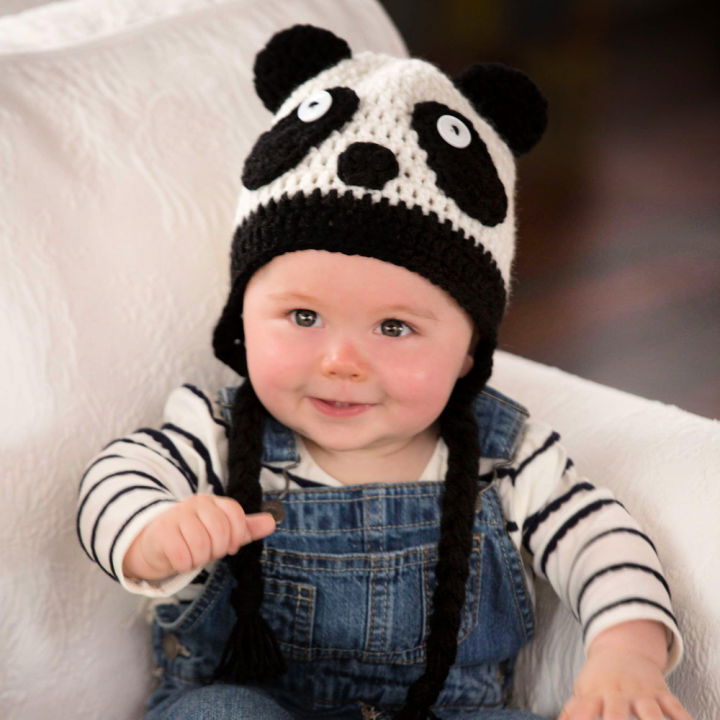 Welcome to crochet cuteness overload! This adorable red heart panda-theme baby hat will make your little one the star of any occasion. Crochet with soft and durable red heart super saver solids yarn, this delightful design is easy to make and comes complete with free instructions. From newborns up to 18 months old, it's an awesome addition to a crocheted wardrobe that you'll both love. Get stitching today for an ultra-cute accessory tomorrow! yarnspirations
19. Seashell Crochet Baby Bonnet Pattern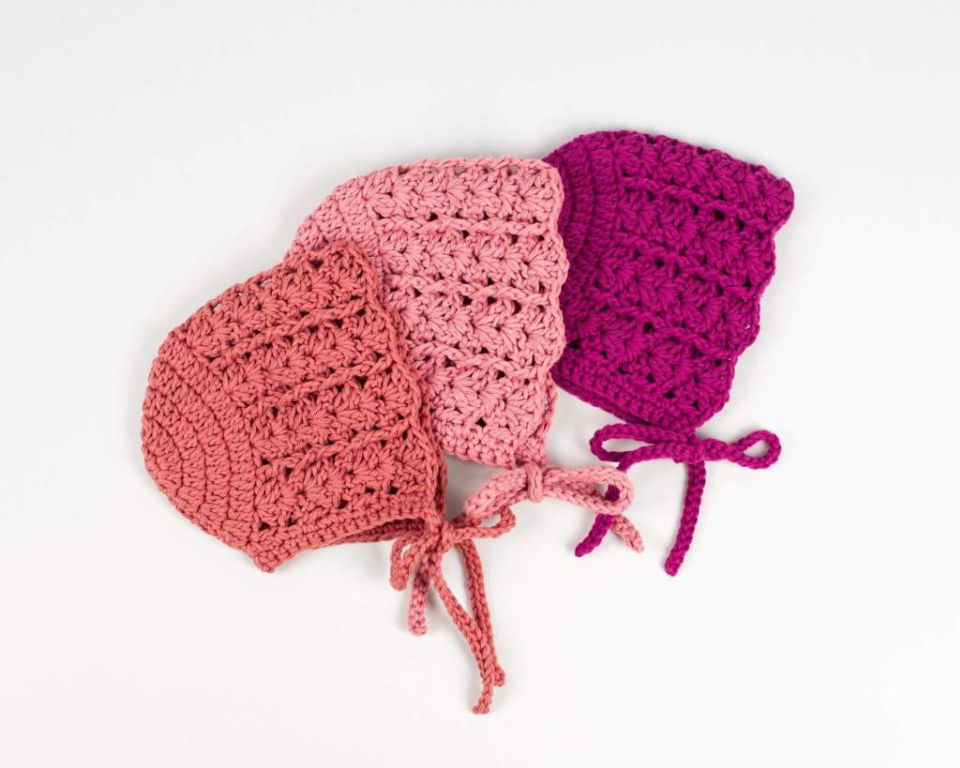 Are you searching for the perfect crochet baby bonnet? Look no further! this free pattern of a seashell crochet baby bonnet is easily made with one skein of aran yarn, only needing a 4.0 mm crochet hook, two stitch markers, a tapestry needle, and scissors. You won't need any special knowledge of shaping as no decreases are needed – just a few rounds of increases. Make this easy-to-make hat in no time to give as a gift or use at baby showers. Start crocheting today and create something unique for that special little someone in your life! crobypatterns
20. How to Crochet a Baby Hat With Ears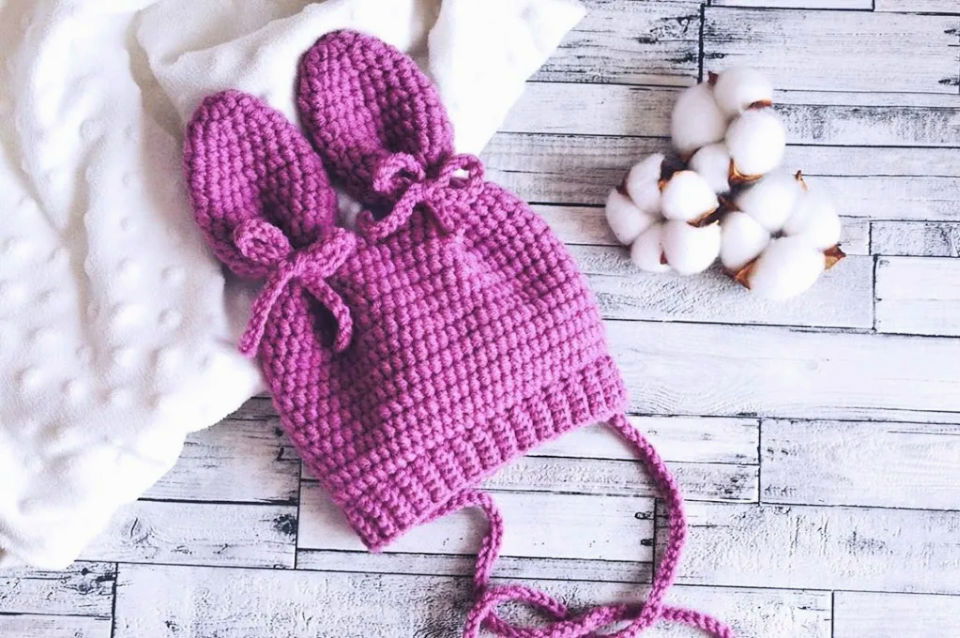 Looking for a cute, easy crochet baby hat with an ears pattern? This free pattern is great for beginner crocheters and includes instructions to make the perfect 2-year-old girl's hat. Materials needed: Alize lanagold classic yarn, 4 mm crochet hook, 3.5 mm crochet hook for ribbing, yarn needle, scissors. For height measurement, take from the center of the head to the top of the ear – there's an easy guide included in the pattern! Get ready to create this beautiful handmade piece that your little one can wear with pride! crochetbymery
21. Crochet Velvet Baby Turban – Free Pattern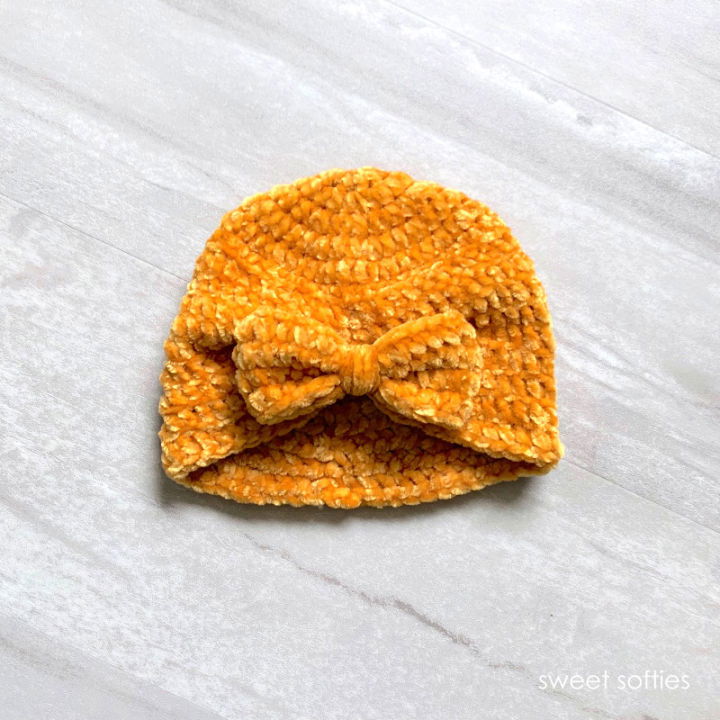 Crochet a stylish and practical velvet baby turban hat with a bow for your infant! Perfect for accessorizing the fashionable little girl in your life, this headwrap will keep her head warm while making a true fashion statement. Gather lion brand vel-luxe yarn, a 5mm crochet hook, yarn needle, and scissors – then start creating this adorable accessory today! sweetsofties
22. Children's Bunny Hat Crochet Pattern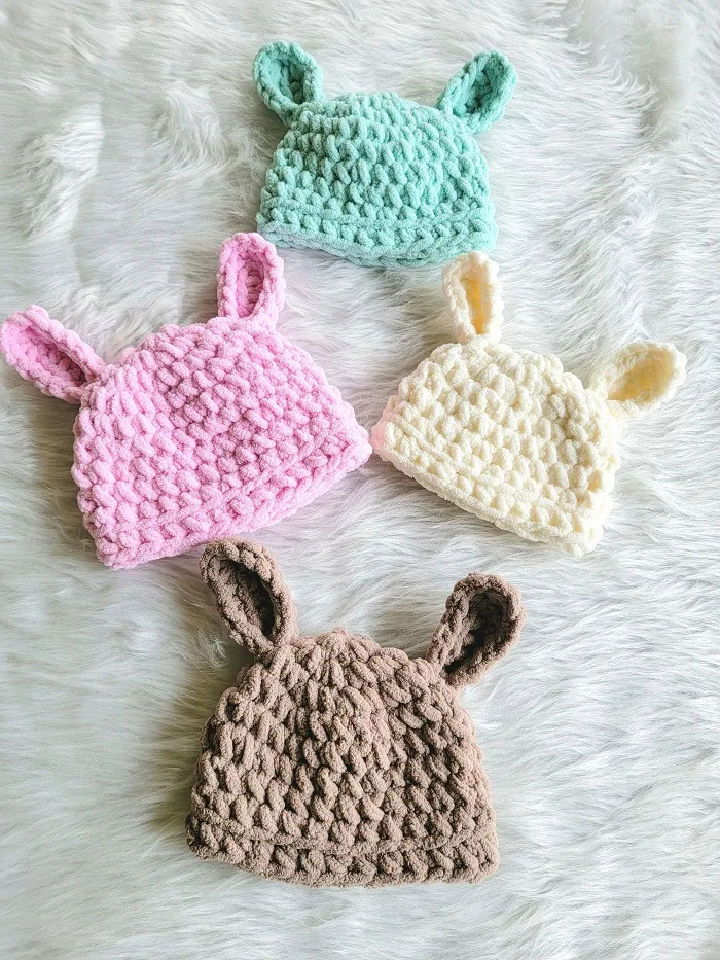 Try this free bunny hat crochet pattern to achieve an adorable look for your little one. This awesome, easy-to-follow instruction will help you make a perfect gift for a baby shower. You can create both for boys and girls, with the option to add flowers on the ears of bunny hats if you are making them for girls. All you need is chenille yarn, bernat baby blanket yarn, a (10mm) Crochet Hook, and a yarn needle! Try now this amazing pattern and get started creating an incredible piece! crochetdreamz
23. Free Lamb Baby Hat Crochet Pattern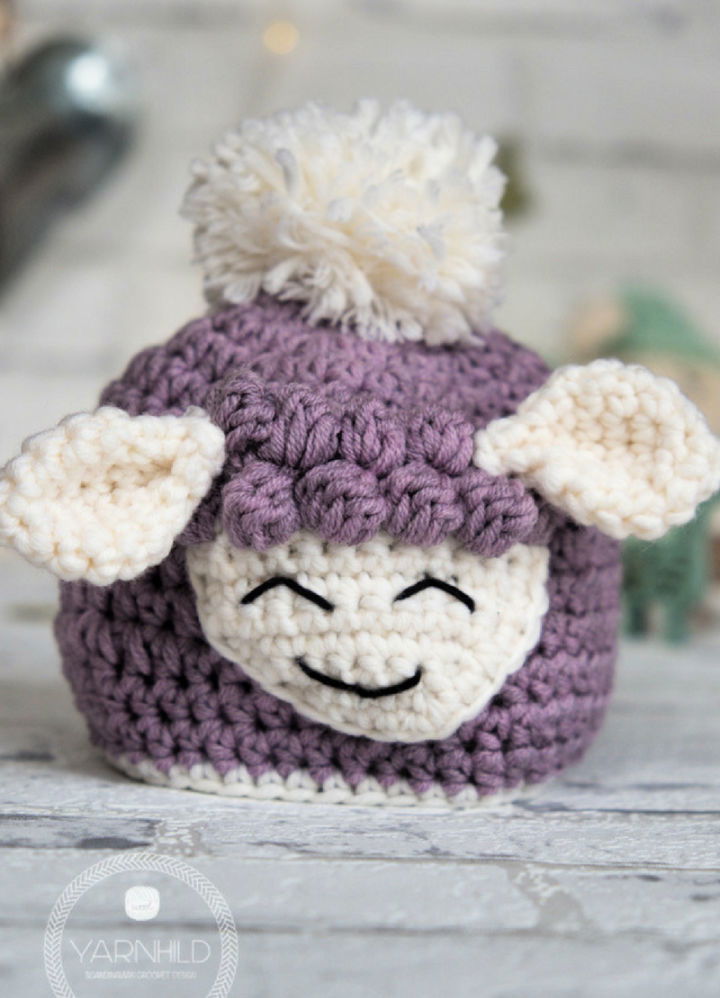 This free crochet pattern for an adorable baby hat brings life to a baby's wardrobe! Perfect for a newborn, this cute and unique design comes in 3 sizes: 0-3 months, 3-6 months, and 6-12 months. With half double crochet and single crochet bobble stitches, the hat will look beautiful in any color combination. The materials needed are garnstudio drops, big merino yarn, size H/8 hook, tapestry needle & scissors – making it easy to make as a gift or for yourself. Get creative & show off your skills today with this amazing pattern! yarnhild
24. Crochet Bird Earflap Hat for Baby's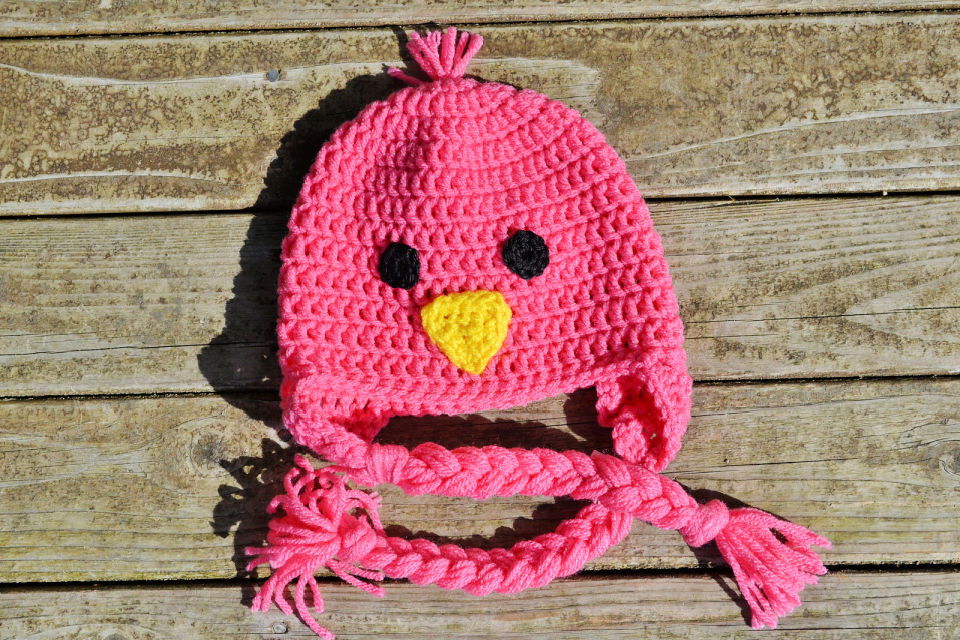 Crochet a beautiful and stylish baby bird earflap hat this Spring! These free step-by-step instructions make it easy to create the perfect little bird-inspired accessory for your little one. Here you will find instructions for multiple sizes to choose the right fit. All you need is a red heart with love solids yarn, a 5.5mm (I) hook, and a yarn needle – everything else is provided in the tutorial! So bring some style to your child's wardrobe today with this unique crochet baby bird earflap hat! thesequinturtle
25. Free Crochet Baby Bear Cub Hat Pattern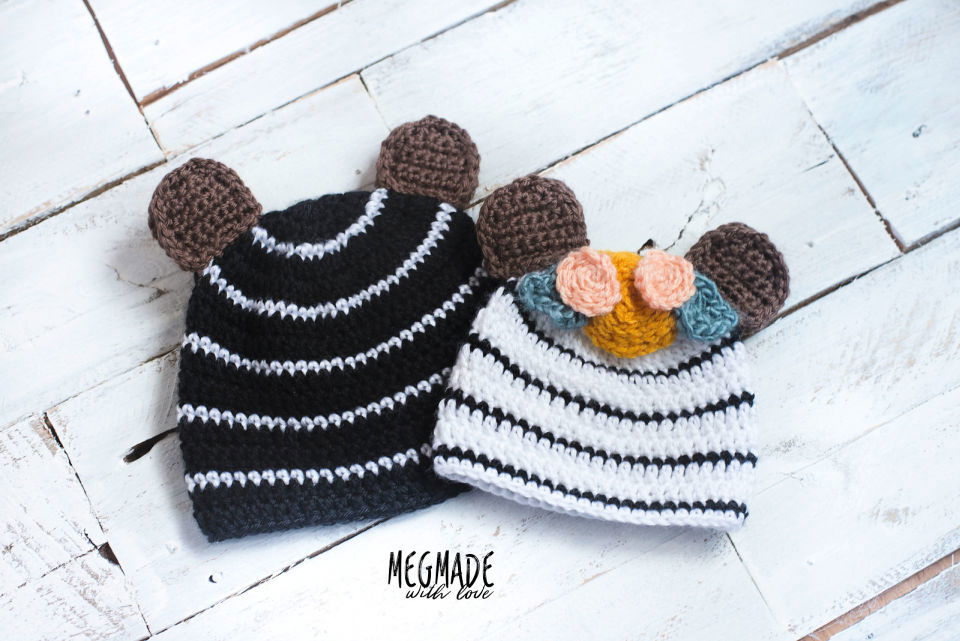 Make your own adorable crochet baby bear cub hat with this free pattern. Featuring a mix of double and single crochets, you can make the ears double thick for extra sturdiness. Perfect as a baby shower gift or an easy project for your little one! You need caron simply soft yarn, a 4mm (G) hook, a tapestry needle, stitch markers, and sewing pins. Finished sizes fit 0-6 & 6-12 months – plus instructions on how to work in the "3rd loop" when making flowers for extra cuteness! Start crafting now with this free pattern! megmadewithlove
26. Top Knot Crochet Baby Hat Pattern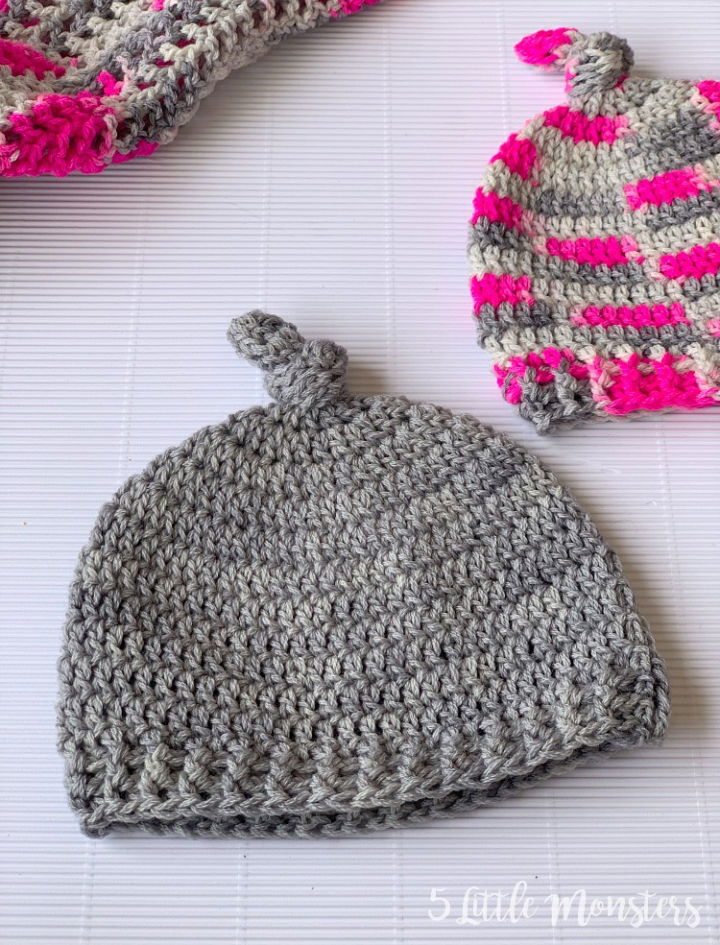 Adorable top knot baby hat adds a unique touch to any newborn's wardrobe. Perfectly crocheted with lightweight sarasota boca chica fingering yarn and featuring ribbing around the bottom, this free crochet pattern has easy step-by-step instructions for creating an unforgettable piece. With just a few materials, including a crochet hook and yarn needle, you can be sure your little one stays cozy all day long! 5littlemonsters
27. 0-3 Months Baby Hat Crochet Pattern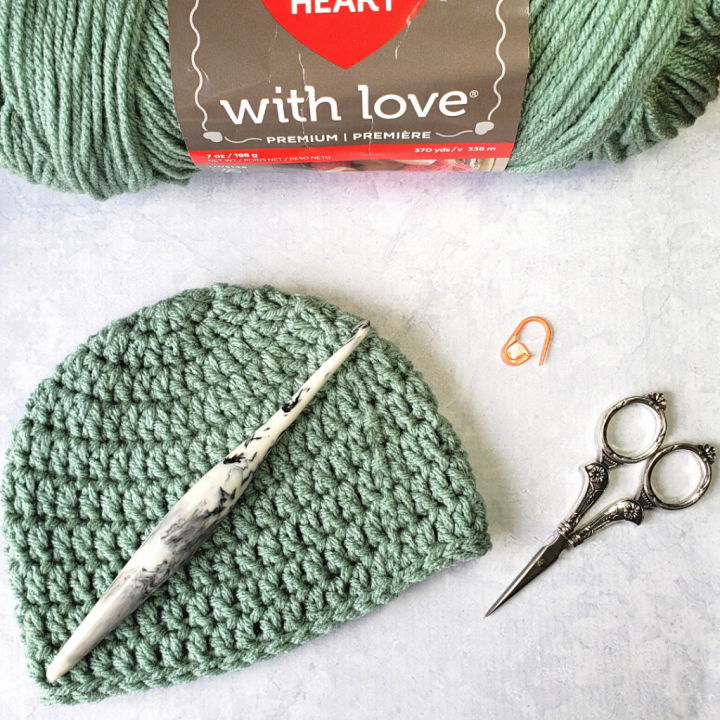 Are you searching for the perfect baby shower gift or something special to make for your little one? Check out this free crochet baby hat pattern for 0-3 months. The comprehensive instructions include written directions and a full video tutorial so you can effortlessly make an adorable 0-3 month size hat with only medium-weight yarn and a 5.50 mm (i) crochet hook, plus additional supplies like scissors, yarn needle, and stitch marker. Download now and start crocheting! oombawkadesign
28. 30 Minutes Crochet Baby Hat Pattern – Step By Step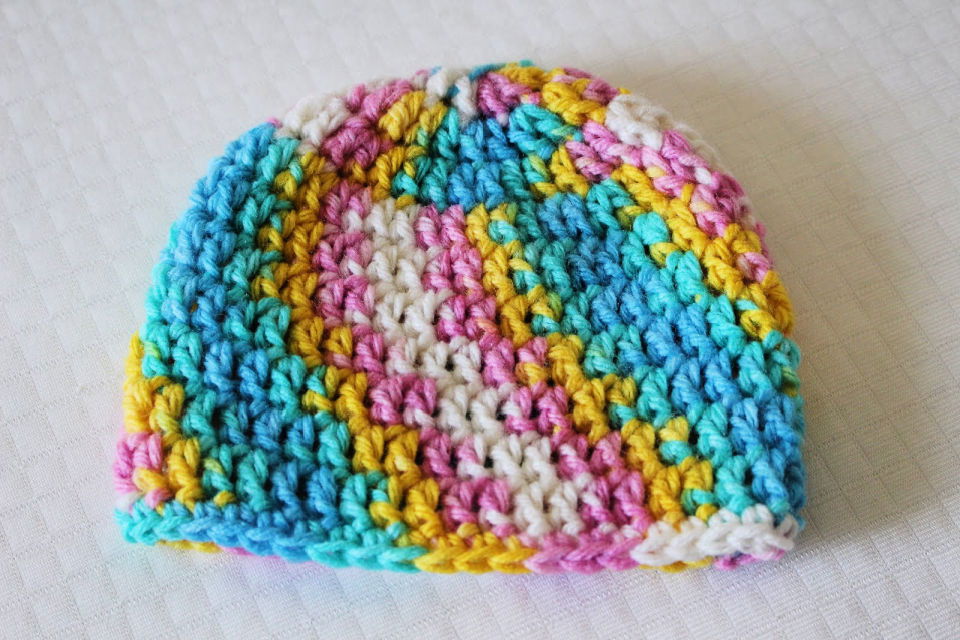 Need a quick and easy crochet baby hat pattern? Look no further than this 30-minute newborn baby beanie pattern! Perfect for any new bundle of joy, the pattern is simple enough that even beginners can easily make it. Plus, it's free, so that you can save money on materials like big twist value solids yarn, a 5mm crochet hook, and a tapestry needle. So don't waste any more time – grab everything you need and start making this adorable hat today! sewrella
29. Single Crochet Baby Hat Pattern for Beginners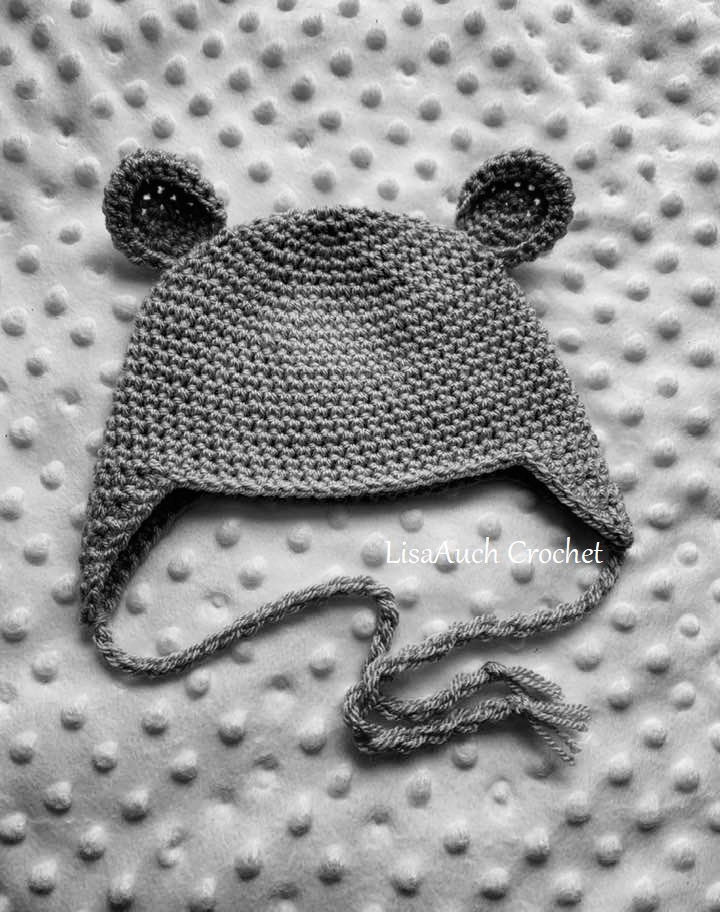 Get creative with your baby's wardrobe with this free crochet pattern for a cute animal baby beanie. Featuring earflaps and bear ears, this easy-to-follow step-by-step tutorial is perfect for all skill levels! All you need are some yarn, a 4.0mm (G) hook, and a tapestry needle to complete the project – you in any size you'd like by working more or less increased rounds. So get started on this fun pattern now! crochet patterns
30. How to Make a Baby Bear Beanie – Free Crochet Pattern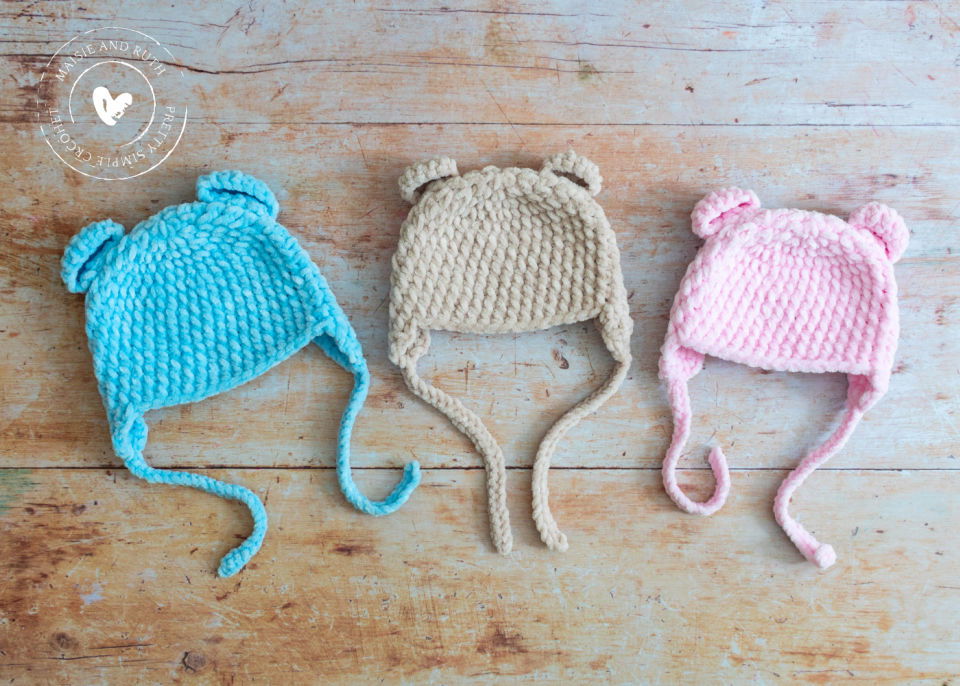 Make the cutest and coziest winter accessory for your little one with this easy and free crochet baby bear beanie pattern! Working mainly in the round, you'll use a j (6mm) crochet hook and chunky yarn to create a sweet, soft hat that's perfect for keeping your baby warm all season. All you need is James C. Brett Flutterby Chunky Yarn, a J (6mm) crochet hook, scissors, yarn needle and stitch marker – get started now! maisieandruth
31. Newborn Baby Crochet Hat for Hospitals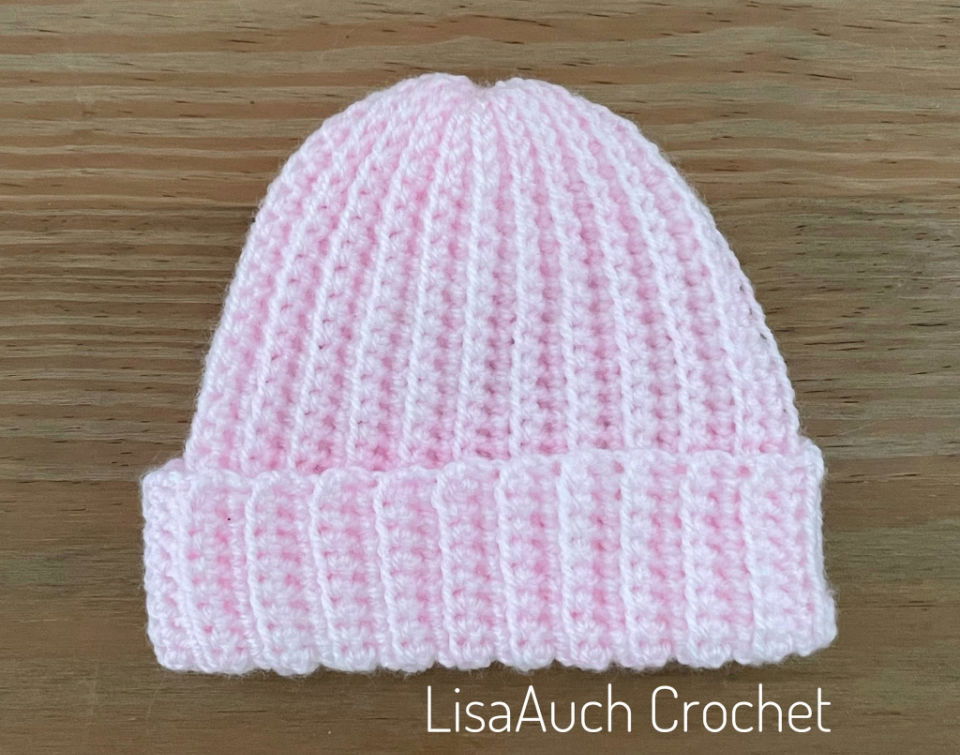 This free crochet newborn baby hat pattern is perfect for helping to keep babies warm in the hospital. It's simple and easy to make, so you can make a few hats in different colors and donate them with love! You'll need double-knit yarn and a 4.00mm hook – work in rows, remembering to always work into the back loops only. Keep those tiny ones snug with this adorable hat – donate it today or make one for your bundle of joy! crochet pattern
Frequently Asked Questions:
Find answers to all your questions about crochet baby hat patterns with this comprehensive guide below.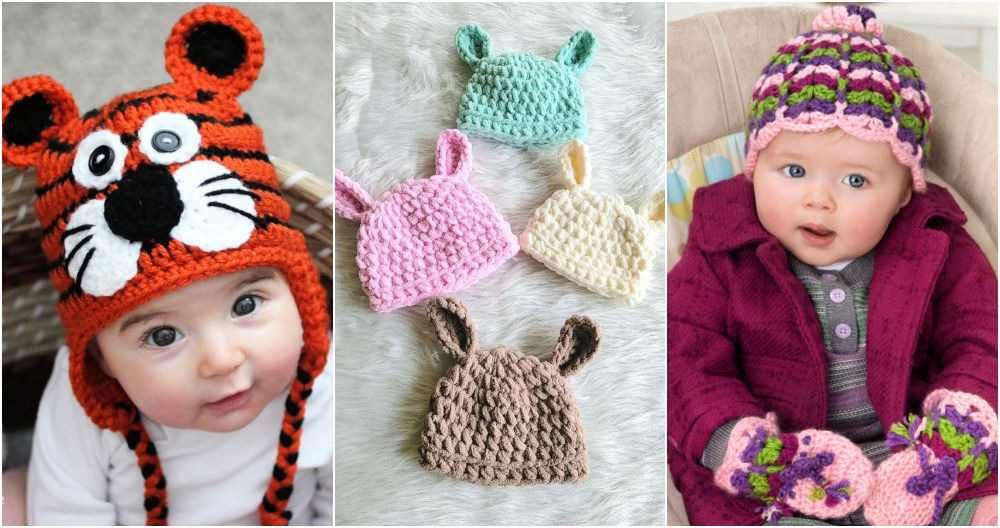 How do you crochet a simple baby hat?
To crochet a simple baby hat, you must start with a magic ring. This is made by chaining four or five stitches together and slipping them into a circle. From here, work one single crochet stitch in each of the chains to create your first round. Continue adding rounds until your hat reaches the desired length before fastening it off. To finish it off, add any decorations such as pom-poms or appliques. Enjoy!
How big should a crochet baby hat be?
The size of a crochet baby hat typically depends on the age and head circumference of the baby. Generally, for newborns (0-3 months), use a 13-15 inch circumference; 3-6 months, 17-18 inches; 6-12 months, 18-19 inches; 12+ months, 19-20 inches. Measuring the baby's head before beginning your project for accurate sizing is best.
How many stitches do you need to crochet a newborn hat?
The number of stitches depends on the size and design of your newborn hat. Generally, you'll need between 40-60 stitches for a basic beanie style cap. For more complex patterns, such as cables or bobbles, you may need to increase the number of stitches. Additionally, adjusting the hook size or yarn can also help adjust the number of stitches needed to crochet a newborn hat.
How many yards do you need to crochet a baby hat?
The amount of total yarn you need to crochet a baby hat depends on the size of the hat, but typically you will need around 75-100 yards of worsted weight yarn. You can also use lighter weight yarns such as baby or sport weight, but those require more yardage (generally around 100-125 yards). Be sure to check your pattern for specific recommendations. Happy crocheting! 🙂
=END=
How many stitches do you need for a baby hat?
The number of stitches needed for a baby hat depends on your size and pattern. Generally, newborns require 70-80 stitches, while babies who are 3-6 months old need 90-100 stitches. For larger hats, you may need up to 120 stitches. Be sure to read your pattern carefully to know how many stitches to cast on. Once you have completed the hat, check it against a sizing chart to ensure proper fit.
How long should a newborn baby hat be?
A newborn baby hat should be long enough to cover the ears and keep the head warm but not so long that it slides off or limits neck movement. Hats for newborns should measure roughly 6-7 inches in length. A hat with adjustable sizing is also a great option for ensuring a comfortable fit.
How many rows are in a crochet baby hat?
It depends on the size of the crochet baby hat. Generally, for a newborn, you need approximately 50-60 rows to obtain a good fit. For larger sizes, such as for toddlers or children, it is usually 70-80 rows. Once you know your stitch count and have measured out the desired circumference, you can estimate how many rows will be necessary to create a finished product.
For precise instructions, always refer to your pattern or look up tutorials online before starting your project! Happy crocheting!
How many skeins of yarn do you need for a baby hat?
The amount of yarn you need to make a baby hat will vary depending on your chosen size and pattern. Generally, one skein of worsted weight yarn is enough for an average-sized newborn or toddler hat. However, if you plan to knit a large or extra-large baby hat, two skeins may be necessary. Always check your pattern for recommended yardage and adjust accordingly.
How many stitches do you need to crochet a hat?
The number of stitches you need to crochet a hat will depend on the size of the hat, the type of yarn used, and the hook size. Generally speaking, most adults' hats require 80-100 stitches for the brim and about 100-120 for the body of the hat. However, this is just an approximate guideline; you may need more or fewer depending on your project. Experiment until you get the desired shape and size!
How big should a baby hat be?
The size of a baby hat will depend on the age and size of your baby. Generally, for newborns, a hat should have a circumference of 13-15 inches (33-38 cm). For babies 3 to 6 months old, the circumference should be between 15-17 inches (38-43 cm). A good rule of thumb is to measure around the widest part of your baby's head. This way, you can ensure the perfect fit!
What is the strongest stitch in crochet?
The strongest stitch in crochet is the double crochet. It is taller than other basic stitches, creating a sturdier fabric that can hold up against wear and tear. This makes it perfect for projects like bags, rugs, and even clothing items that require strength or durability. The double crochet also works up quickly and can be used to create any patterns with ease.
How long does it take to crochet a baby hat?
It depends on the complexity of the pattern and skill level. Generally, a simple baby hat requires 1-2 hours of crocheting for a beginner, while experienced crocheters can complete the same project in about half that time. It is likely to take several hours or even days for more complex patterns to finish.
How do you size a crochet hat pattern?
To size, a crochet hat pattern, measure the circumference of your head and select a hat pattern that is slightly smaller than the measurement. Consider the stitch/gauge count on the pattern as well to ensure you get the desired fit. Use stitch markers when crocheting to make sure your sizing is correct. Adjust for any differences in yarn weight or personal preference if needed.
What can I crochet for a newborn baby?
Newborns love soft, cozy items to snuggle up in. Crocheting a blanket, hat, booties and receiving a blanket are all perfect gifts for babies. You can also crochet toys like rattles and stuffed animals which can help develop their motor skills. Personalize with the baby's name or favorite color to make it extra special!
Do newborns always need a hat?
Newborns usually do not require a hat in warm weather, as they are usually kept cool enough through swaddling and other methods. However, if the room temperature is cold or the baby is exposed to drafts, then a hat can help keep the baby warm. It's important to note that hats should be loose-fitting and comfortable for newborns.
Does a 3 month old need a hat?
Yes, crochet hats can be beneficial for 3 month old babies. They help keep the baby's head warm and protect them from harsh weather. Furthermore, crochet hats come in various colors and styles to suit any taste or occasion, making them an ideal choice for keeping your little one stylish and comfortable. So if you're looking for a functional yet fashionable item to complete your baby's wardrobe, crochet hats are definitely worth considering.
A 3 month old needs to wear a hat when outdoors. Hats protect the head and face from sun exposure and keep them warm during cold weather. Look for hats made with lightweight fabrics that are breathable and comfortable. Choose something adjustable so it can grow with your baby. You can keep your little one happy and safe with the right hat.
What size should a crochet baby hat be?
A crochet baby hat should measure approximately 10-14 inches in circumference and 4-6 inches from the crown to brim. It should also have enough stretch to fit a range of heads easily. The size can be adjusted as needed for an individual baby by increasing/decreasing the number of stitches used or by changing the thickness of the yarn.
What is the size of a newborn baby hat?
Newborn baby hats typically come in one size, which is 0-3 months. This size usually fits babies from 2-15 pounds and can stretch up to 17 inches around the head. Some brands offer adjustable or multi-sized hats for larger heads or extended use. It's best to measure your newborn's head circumference before you buy a hat to ensure the best fit.
How many rows should a baby hat be?
A baby hat should have between 30-50 rows, depending on the size of the hat. For a newborn, start with 30-35 rows and increase by 5-10 rows for each size up you go. Remember to check your gauge before starting so your finished product fits correctly. Have fun creating!
What size hat for a 1 year old?
When purchasing a hat for a 1 year old, look for something adjustable and lightweight. Look for soft and comfortable styles to ensure the child's comfort. Choose hats with adjustable straps or ones sized specifically for infants such as newborns or 12-24 months. If you need help, consult sizing charts online for help selecting the correct size. The hat should fit snugly but not too tight, so it doesn't restrict movement.
What size crochet hook should I use for a hat?
When crocheting a hat, the size of your crochet hook depends on your type of yarn and how tight or loose you want the stitches to be. Generally speaking, an F (3.75mm) or G (4mm) hook works well for lightweight yarns, while heavier yarns require larger hooks such as J (6mm) or K (6.5mm). Test out different sizes to find one that gives you the desired effect. Happy crocheting!
What kind of yarn do you use to crochet a baby hat?
When crocheting a baby hat, it is important to use the right type of yarn. We recommend using Super Fine weight yarn (also known as Baby/Sport weight), which has a label of 2 or 3. It should be made from natural cotton, wool, or acrylic fibers for softness and warmth. Look for a brand that offers high quality and soft colors suitable for babies. With this type of yarn, you can make a durable, comfortable, beautiful hat.
Which yarn is safe for babies?
Only the softest natural fibers should be used for clothing and other items for babies. Look for yarns made of merino wool, alpaca, and bamboo, which are gentle on delicate skin. Avoid acrylic and polyester blends, as they may cause irritation or allergic reactions. Always check labels for care instructions and heed any warnings before using yarn on baby items.
Is cotton or acrylic yarn better for babies?
Regarding baby crocheting items, cotton and acrylic yarn have their advantages. Cotton is generally softer and more breathable than acrylic, making it better suited for hot climates. Acrylic is often more durable and stretchier than cotton, so it may be preferable if you need a longer-lasting item. Ultimately, it's up to you to decide which best fits your project!
Related Free Crochet Patterns for Babies
Find free crochet patterns for babies, including sweet baby blankets, hats and booties perfect for any new arrival.
Related Free Crochet Patterns for Beginners
Find free, easy-to-follow crochet patterns for beginners to get you started on your creative journey.
Conclusion:
From delicate lacy designs to warm and cozy styles, the 30 free crochet baby hat patterns featured a fantastic range of baby hats for any crocheter looking to create something special for their precious little one. Whether you are an experienced crocheter or just starting, these crochet baby hat patterns offer an array of stylish choices that can be easily customized with different colors and decorations. With these adorable crochet baby hats as inspiration, there's no limit to the possibilities!