The winters, the coolest season of the year is back again! Now everything is going to change the way of dressing, the interior home decors and also the food items! There is only one reason behind all these changes to life trends, to feel warm and cozy! If we talk about the winter fashion, the bulky yarn products and clothes are all the rage now! In other words, we can say also that winter is a time to get busy with your crochet hook too to make some highly cool winter accessories!
With the arrival of killing cold days, all the loving moms will look more curious about their babies' health and winter protection! So if you are a mother with master hands in crocheting then this is not an issue! Make your baby winter-protective without losing the cuteness of your baby, by simply using the own crocheted winter accessories! The art of crocheting has so been flourished that people are making celebrity inspired fashion dresses, coats and mittens and even the veil beanies! Beautiful crochet shawl patterns, cowls, scarves, and shrugs are also a big hit and style loving girls all like them so much!
This time we'll talk about the cute baby winter accessories you can crochet without getting worried about your skill-level! In baby winter accessories, there is nothing more popular but the baby winter hats! So if you are going to crochet a baby winter hat, we wish you to take a look at these free crochet baby hats that are all adorable, comfortable and warm! So, winter protection in a style is guaranteed! All these ideas speak volumes about how to maintain cuteness of the hats, the main factor for a crochet hat to be beautiful and cherish-able!
Baby's forehead is always more sensitive to cold and we also release more amount of head from heads, so this is enough to tell that how worthy winter stuff is the crochet hats! All these crochet baby hats come along with complete 50 free crochet hat patterns for babies which would guide you through all the steps you are supposed to puzzle at! These free crochet patterns will also put out all the necessary information about the required style and type of crochet stitches!

In these crochet baby hat ideas, you will find all favorite hats like the hats inspired by fun animal and cartoon shapes, always a fun to wear! You will also find hats crocheted on a baby's fantasy theme and also many other unique hats you will fall in love with! Prefer the sweet berry hats, the splendid aviator hats and also the baby teddy bear hats to be a part of baby's winter outfits! And if you are going for a photo shoot of a newborn baby then the given Sherlock hat, cute baby stocking hat, and darling baby stocking hats will all rock!
All these free crochet patterns would also make the perfect gifts for a baby shower! For more unique hats, simply a take a short roundup of this precious crochet hat collection!
Cuddly Crochet Teddy Bear Baby Hat:
Double up the cuteness of your baby this summer! Let him wear this teddy bear hat which is self-crocheted using soft yarn threads! Put your hook out to crochet it and Full Pattern is Here!
Red Crochet Baby Brim Beanie: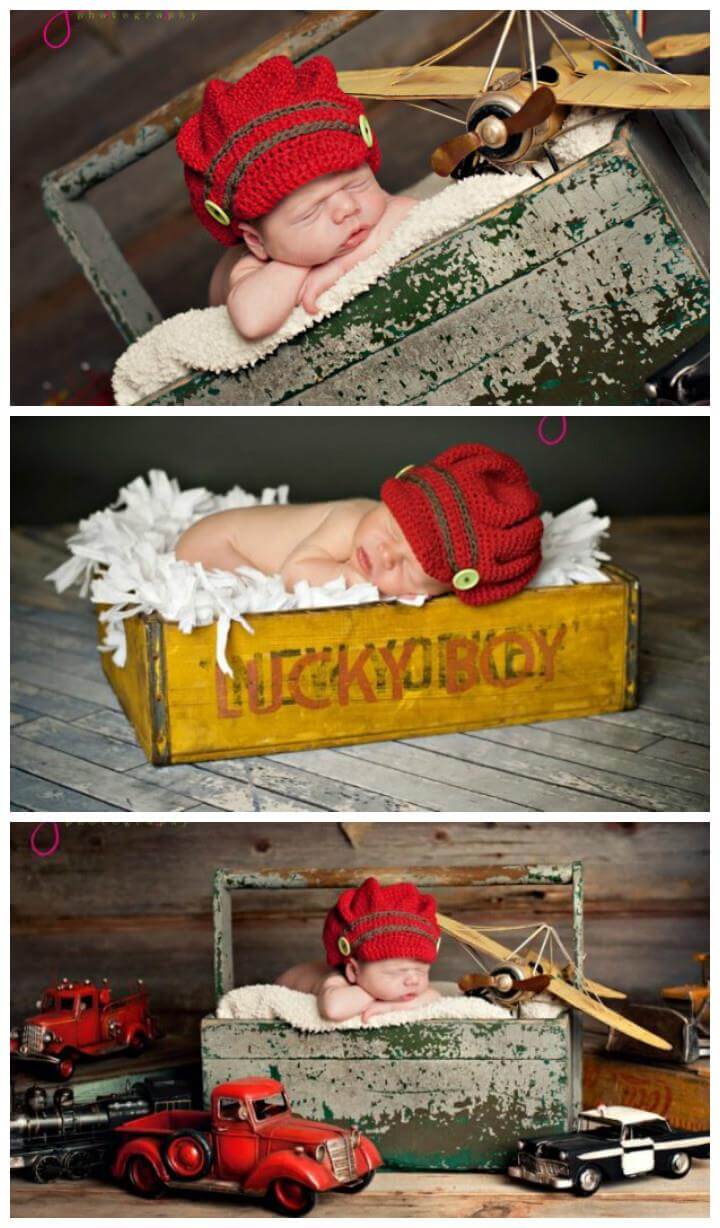 Best gift for a mother-to-be, a precious crocheted brim beanie with wooden buttons! Use it as a forehead winter warmer for you baby, will style up your baby too! Complete Pattern Here
Pretty Easter Chicken Crochet Baby Hat: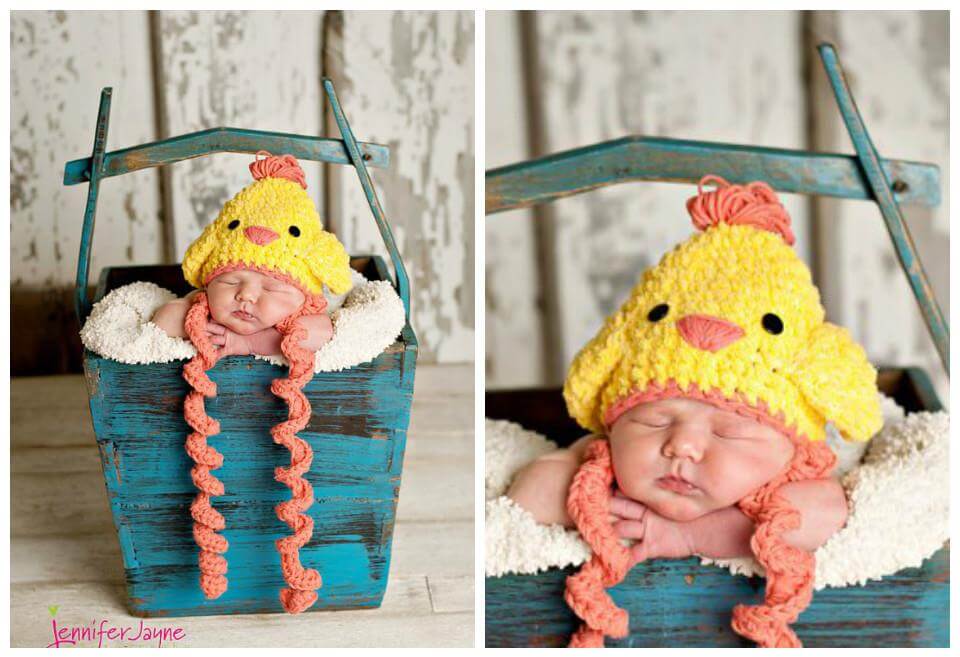 Go with the repeated easy single and double stitches with your hook and crochet this Easter chicken baby hat! Ever precious forehead winter warmer for a newborn baby! Full Free Pattern Here
Cute Bumble Bee Crochet Hat: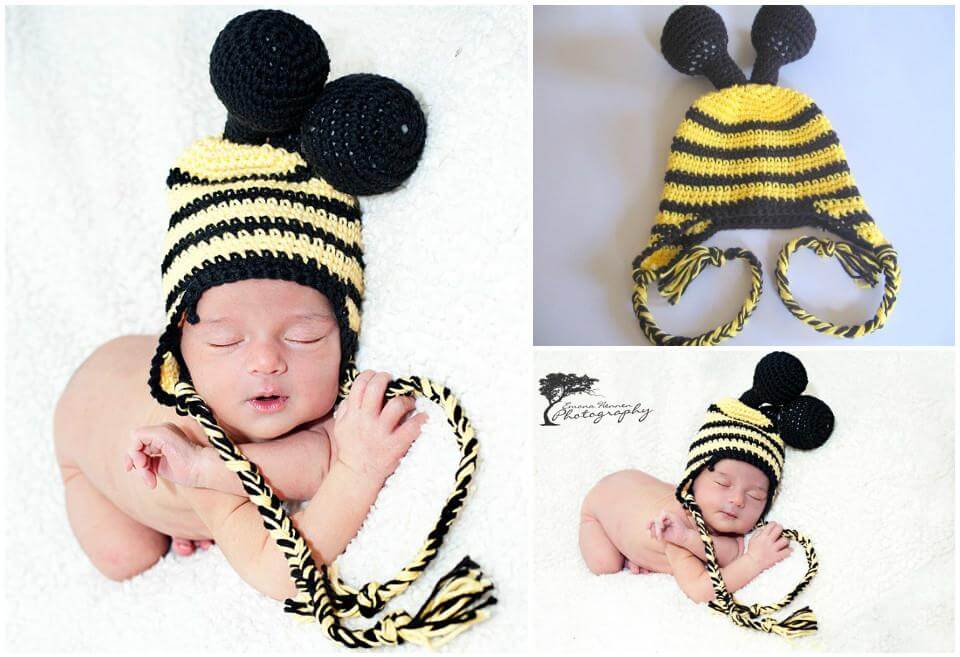 Don't forget to make your newborn baby wear this hat while going for his very first photo shoot! Will create a cute honey bee look for your baby! Clone it by getting crafty with your hook for further help Complete Guide and Pattern Here
Sweet Crochet Giraffe Baby Hat: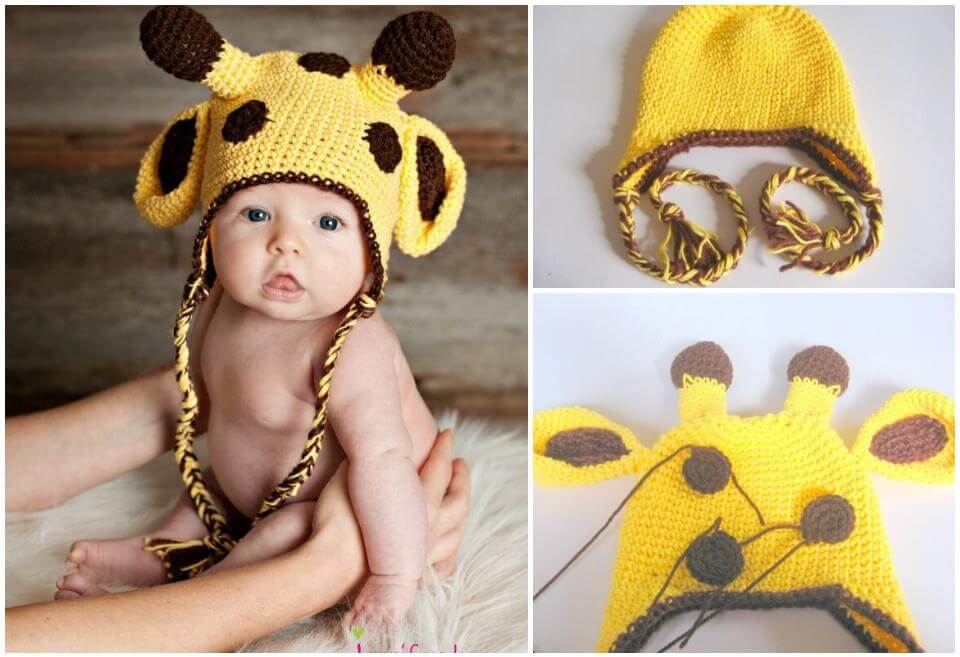 Make use of an easy chain, slip stitch and single crochet stitch to make this super cool giraffe baby hat! It is just a perfect you can make your own for a mother-to-be! Full Free Pattern Guide Here
Brave Baby Lion Crochet Hat: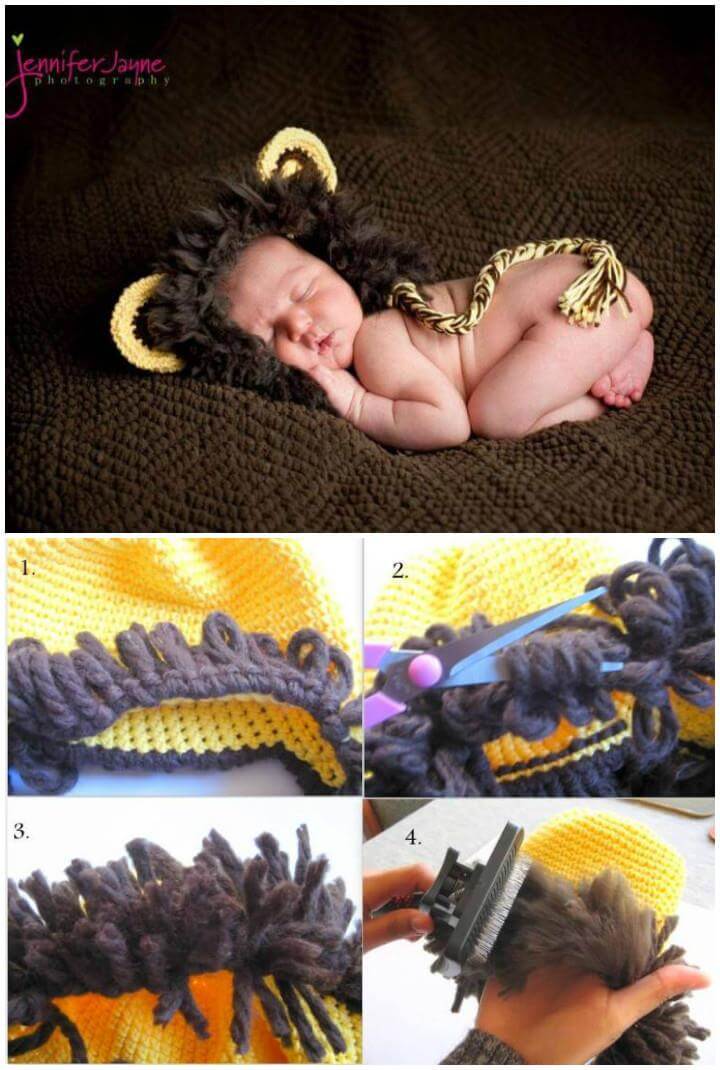 If you want your newborn baby brave then here is how you can take a first start with your hook! Crochet this precious lion baby hat and make him look like a sweet little lion! Full DIY Guide and Free Pattern Here
Crochet Winnie the Pooh Baby Hat & Diaper Cover: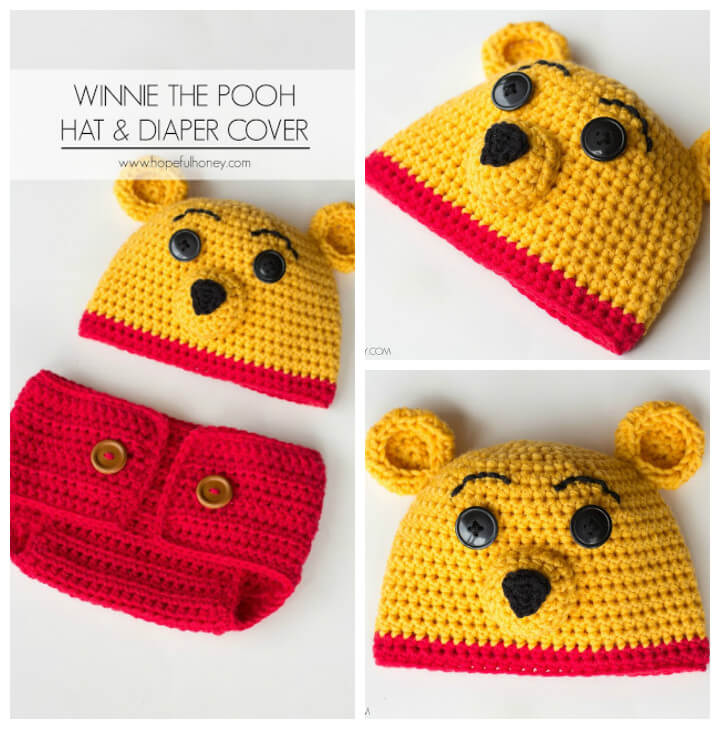 An ever sweet gift for a baby shower! A set of crochet hat and baby diaper cover! The hat is inspired by a cartoon character Winnie the pooh! Produce beautiful baby gifts with your own hook! Want to try out this crochet baby set? Complete Free Pattern Here hopefulhoney
Pretty Cool Crochet Baby Bird Hat: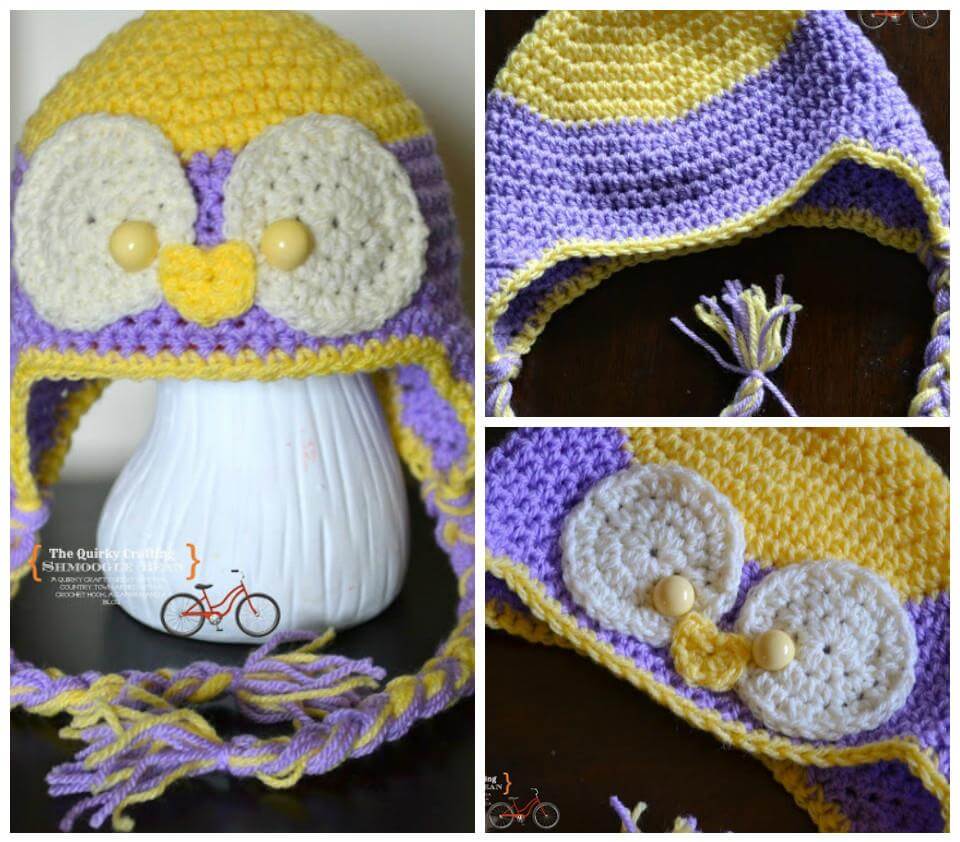 Crochet hats inspired of animals and birds the kids like the most, are a big hit! Here is a cool sample of it, a super cute baby bird hat! Crochet it now to let it next be on your baby's head for ever cute manifestation of your baby! For a total help grab Free Pattern Here quirkycraftingshmooglebean
Colorful Crochet Owl Baby Hats: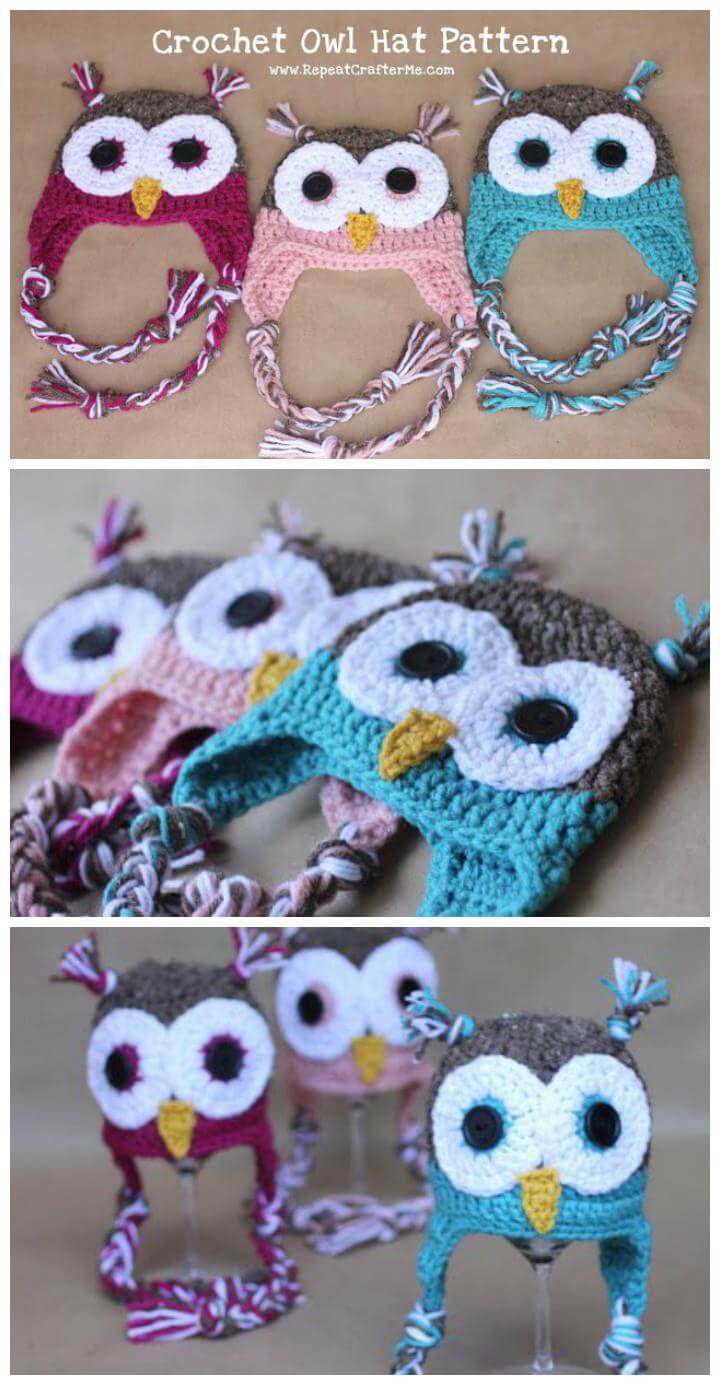 All the loving moms like to gain baby's stuff with custom animal or cartoon fun shapes! This crochet baby owl hat is one of the super cool baby's winter accessories you can produce with your own hook! Intending to clone it? Here is the Full Free Pattern repeatcrafterme
Alluring Crochet Stocking Baby Hat: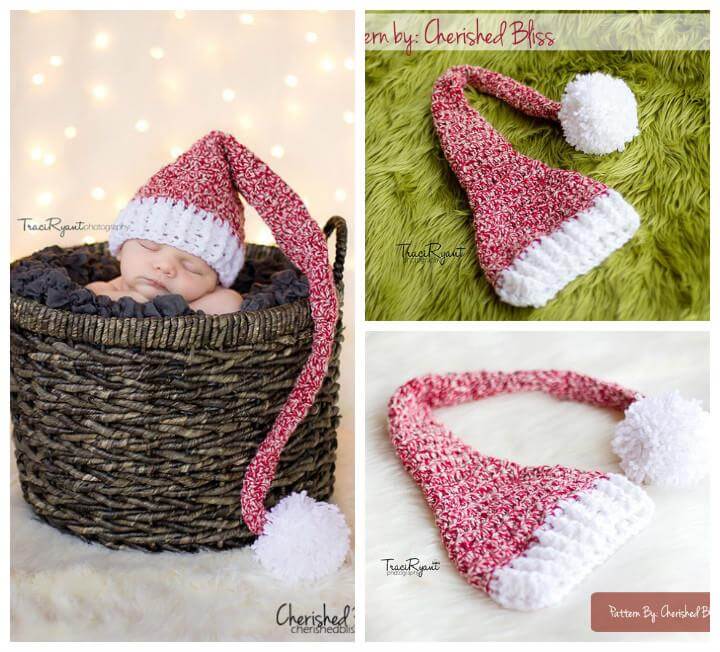 This stocking baby that will turn your baby into a darling! Crochet it with a lovely color combo of yarn and don't forget to end the tail with a pom-pom, fancies up the entire hat! An ever special and cute for a newborn! Complete DIY Guide and Free Pattern Here cherishedbliss