Do you a big lover of shells that appear in design texture of various different crochet patterns? They look complicated to crochet but you will be amazed to heart that they are pretty easy to crochet if you go with a little knowledge of crochet shell stitch in mind! Here we are share some great free crochet patterns and stories based on crochet shell stitch and you will definitely like them! Just checkout here the precious crochet shell stitch patterns that encircle almost all the beautiful accessories, winter warmers and other items of interest that you can crochet with this exclusive stitch! This collection promises to make you a crochet shell stitch expert so you will be crocheting amazing patterns next time with it!
However there are some amazing specialties of this crochet stitch! Like this is pretty simple type of crochet stitch that creates an adorable scalloped design texture in your finally finished crochet pattern! Another great feature of this stitch is that it comes with various variations and hence there are different versions of this special crochet stitch are available to inspire you hook! So, by learning all you can do brilliant crochet achievements and this collection will also throw light on all that exclusive versions of this shell stitch! After the straightforward crochet shell stitch, the reverse crochet shell stitch is the most popular!
You are going to find various sample patterns in the collection crocheted with this special stitch! Crochet adorable scarves, backpacks, baby blankets and outstanding hats with this stitch that will hold the attention of all onlookers with their mind-blowing design texture! Checkout some mind-blowing samples and examples given below that will truly leave you amazed! Crochet also the precious mittens, washcloths, dishcloths and brimmed beanies with this all popular crochet stitch and will find your finally finished patterns so visually attractive and eye-catching!
Here this list also having perfect guides for the shell stitch that also come with step-by-step visual instructions and tutorials to help you for every step where you can get puzzled! So, this entire post will make you first a crochet shell stitch expert and then will help you to crochet brilliant pattern based on it! So, a short tour of this entire collection is must to have all the tips and tricks for the shell stitch in hands!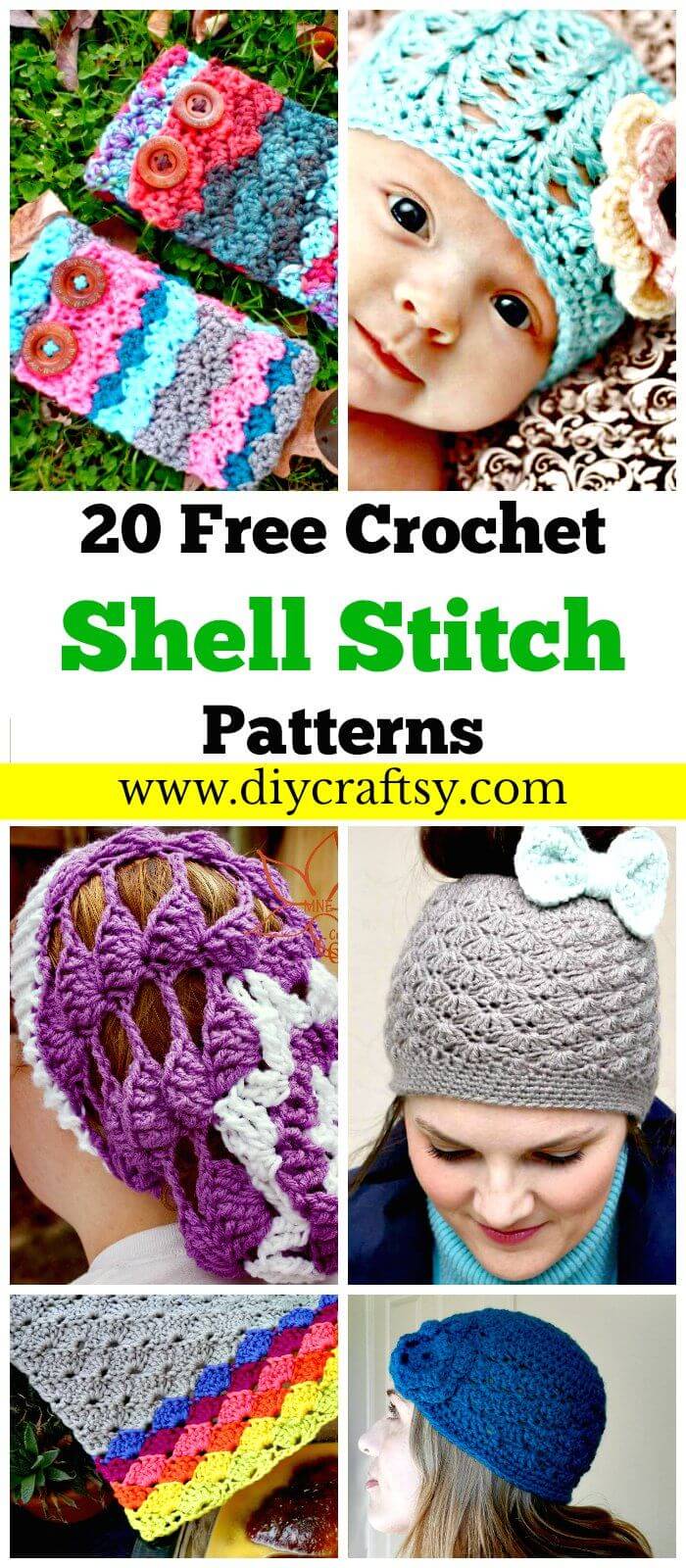 While browsing and visiting the collection you can be stopped by your favorite patterns or stitch guide tutorials, so without wasting a moment, you can hit those respective pasted links to open all the project details, free crochet pattern, visual instructions and all you need to know!
Free Crochet Patterns:
Easy Free Crochet The Shell Stitch Pattern For Beginners: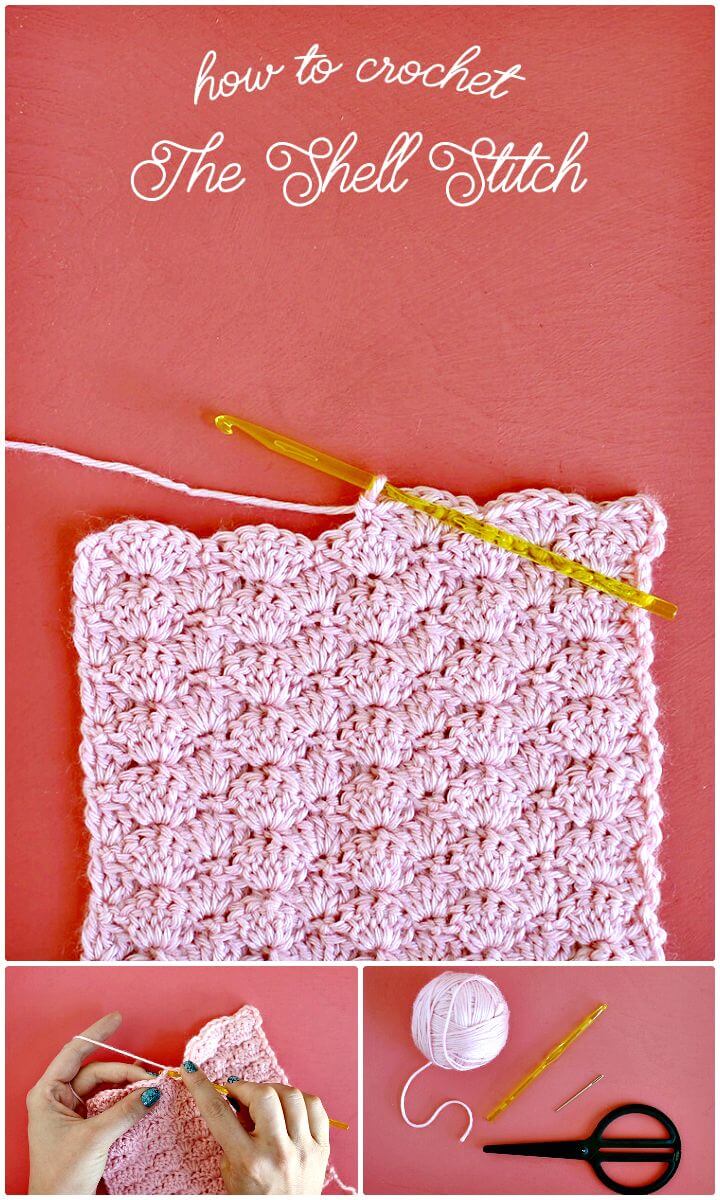 There are various different kinds of crochet patterns that go adorable only due to involvement of crochet shells as they create outstanding design texture in the finally finished crochet pattern! Do you know how to crochet the shell stitch? Are you a very beginner to crochet shell stitch? If you are willing to crochet the shell stitch like a pro then crochet shell stitch guides and free pattern are here persialou
Free Crochet Shell Stitch Baby Blanket Pattern: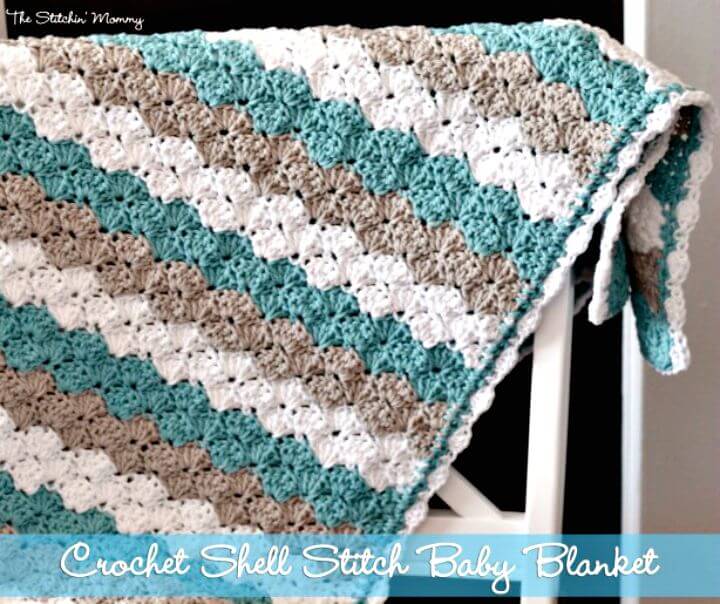 Do you know how to crochet in shell stitch? If yes, then here is a great assignment for you that you can do to boost your crochet skills! Just crochet this lovely baby blanket that grabs the attention more due alluring design texture that the crochet shells make! Here this blanket come sin white turquoise and light brown stripes and hence is just looking fantastic and bewitching to eyes! Willing to duplicate this very handsome design of crochet blanket? Grab the full free pattern and tutorial guide from here thestitchinmommy
Free Crochet Infinite Shells Cowl Pattern: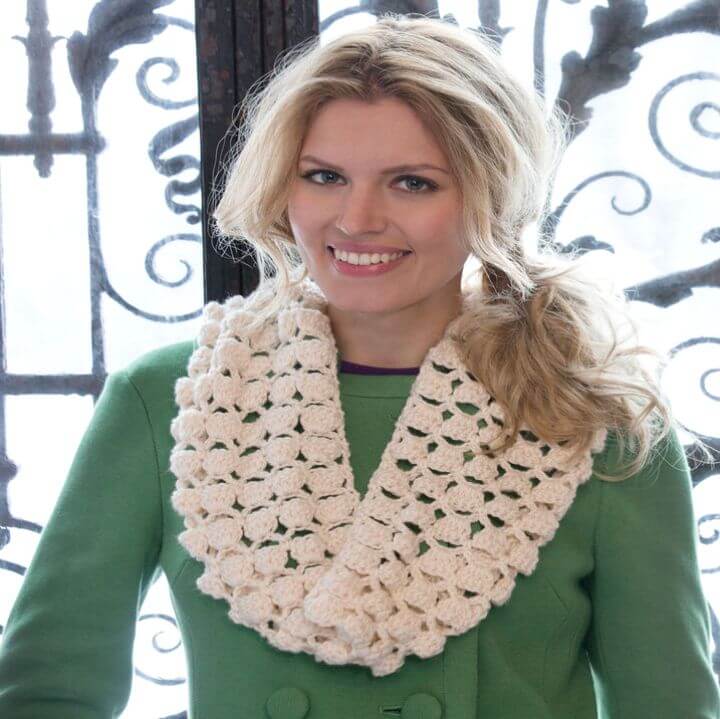 The shell stitch help creating amazing textures in your finally finished crochet patterns and hence is of great popularity! You will find it so true after taking a look at this lacey crochet shells cowl that is a here a infinity crochet cowl that would be around a women's neck as precious fashion accessory! Another amazing piece of crochet work has been done using the shell stitch! This special shells cowl is also super gift-worthy and will make an outstanding gift for a style loving lady! Want to clone this cowl? Full project details and easy crochet pattern here redheart
How To Free Crochet Alana Lacy Scarf Pattern: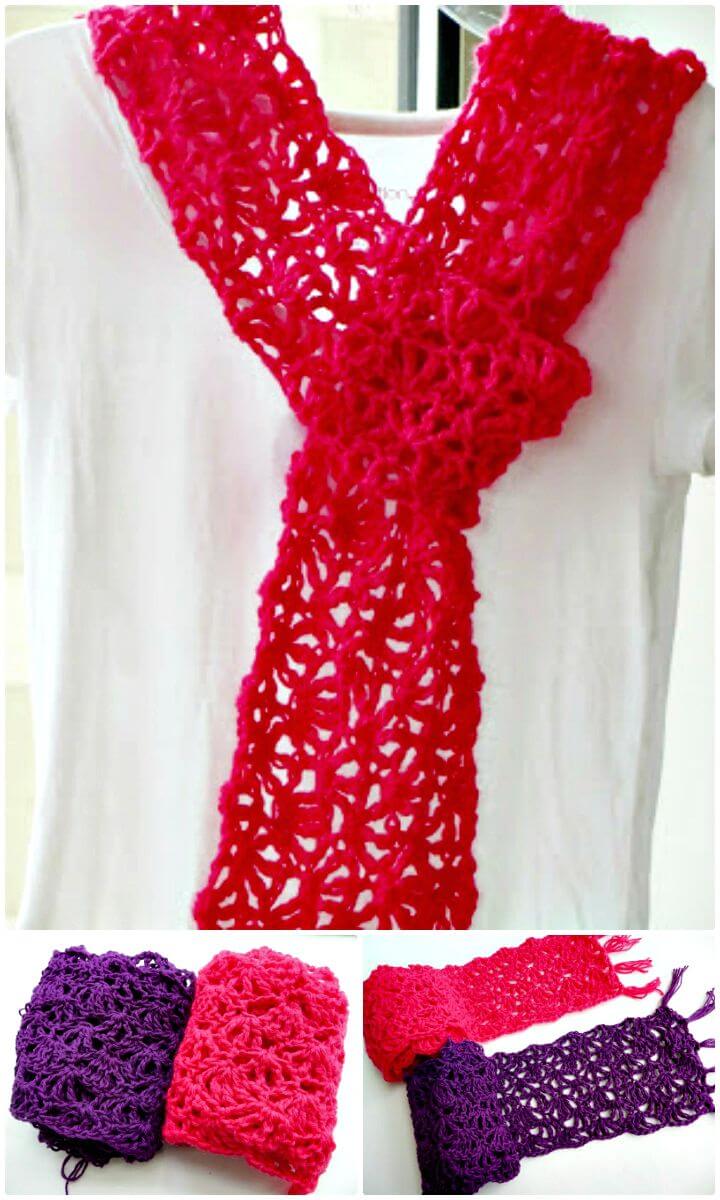 Another extraordinary crochet shells pattern here, this is here the Alana lacy crochet scarf is as easy to crochet as it is beautiful and comes as super airy crochet fashion accessory! This is here another amazing stuff crocheted with shell stitch and it would also make an outstanding gift for a fashion enthusiast! Willing to duplicate this charming crochet scarf now for a beloved one lady? Just grab easy guides and free crochet pattern from here crochetdreamz
Free Crochet Shell Stitch Cotton Hat Pattern: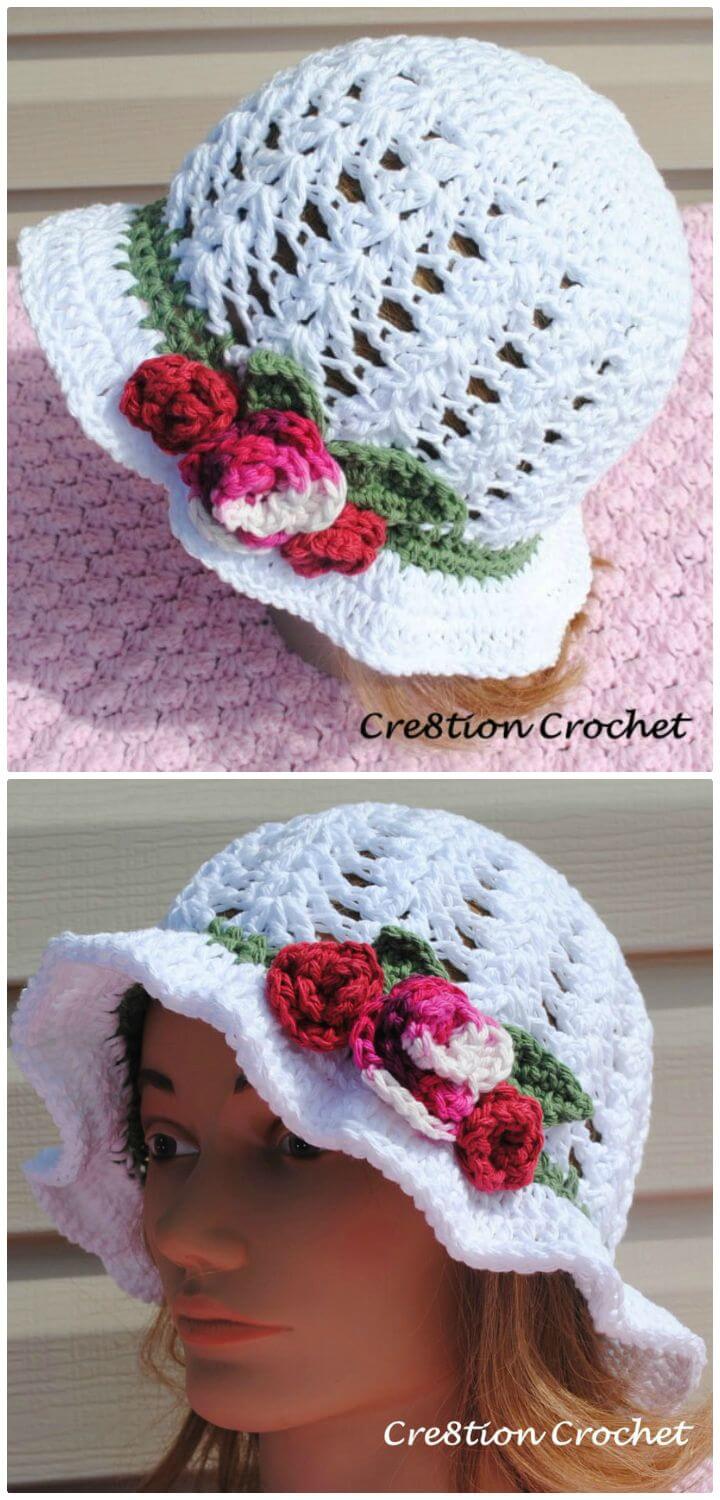 By taking a look at this crochet hat, you will definitely become a fan of crochet shell stitch! This milky white crocheted hat has been done using the shell stitch and it also comes with a  short brim to look extra beautiful and stylish! Furthermore, there are crocheted flower embellishments pasted in front of the hat that doubles up the charm and beauty of the hat! This hat would really make a great gift and is sure to create a super handsome look of any fashion loving lady or girl! Want to own this white cotton crochet hat? Grab the full free pattern and tutorial guide from here cre8tioncrochet
Easy Free Crochet Scrap Heart Finger Less Gloves Pattern: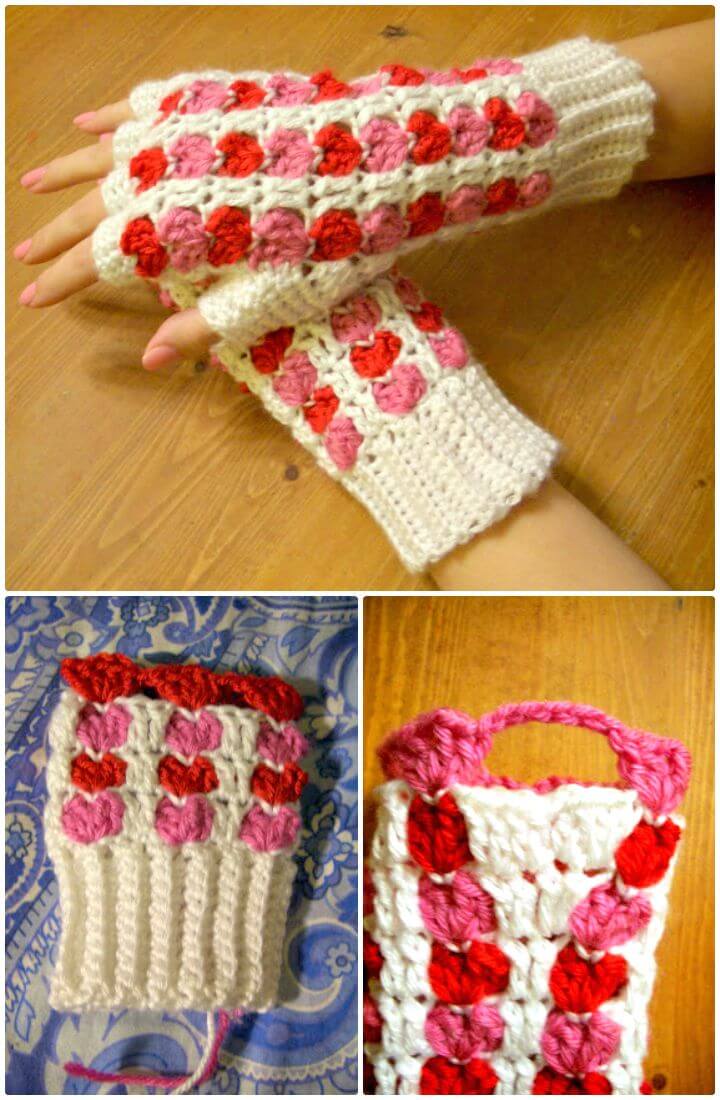 Checkout here the special puppy love crochet mittens, the precious every fingerless gloves that comes with brilliant heart motif! These crochet heart fingerless gloves have also been done by going with crochet shell stitch and are super cute to look at! These would make the perfect forearm and hand warmers this winter and will make a thanksgiving gift at the same time! So, if you know how to crochet some beautiful shells then you can easily duplicate this crochet pattern! Grab the full free crochet pattern and step-by-step visual guides from here crochetparfait
Free Crochet Quick Shell Stitch Pattern: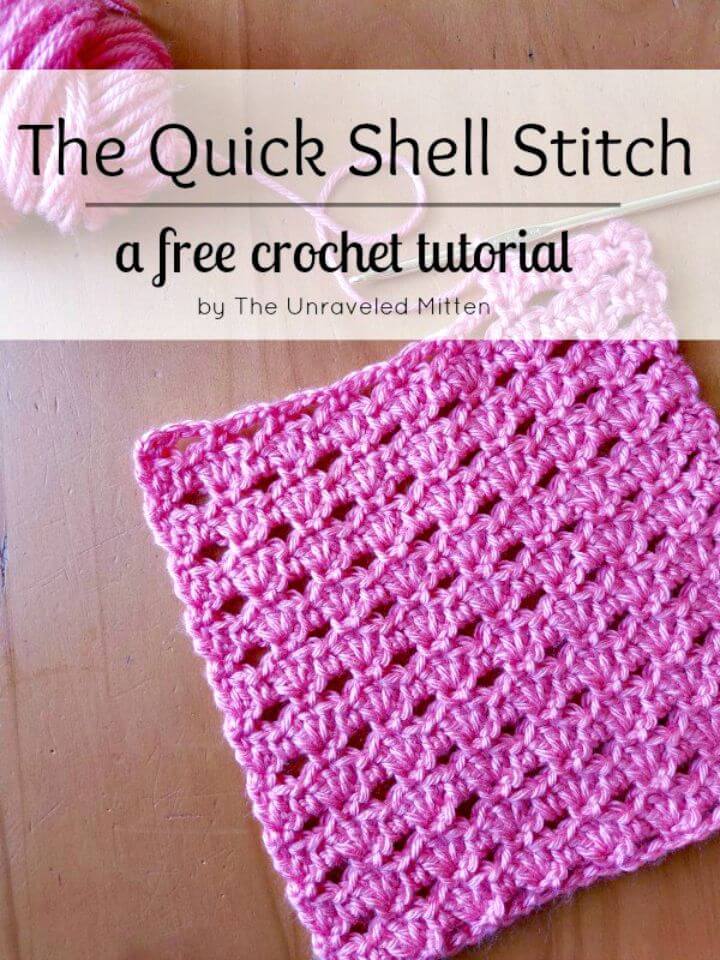 The very popular crochet pattern you see over the web, are mostly to crochet with the shell stitch! So, while being on mission to be a legendary crocheter, you must know how to crochet beautiful shells! Want to learn the quick shell stitch? Here you are all at a right place to get a satisfactorily help! Checkout here the complete free shell stitch pattern and tutorial guides theunraveledmitten
How Free Crochet Shell Stitch Hat Pattern: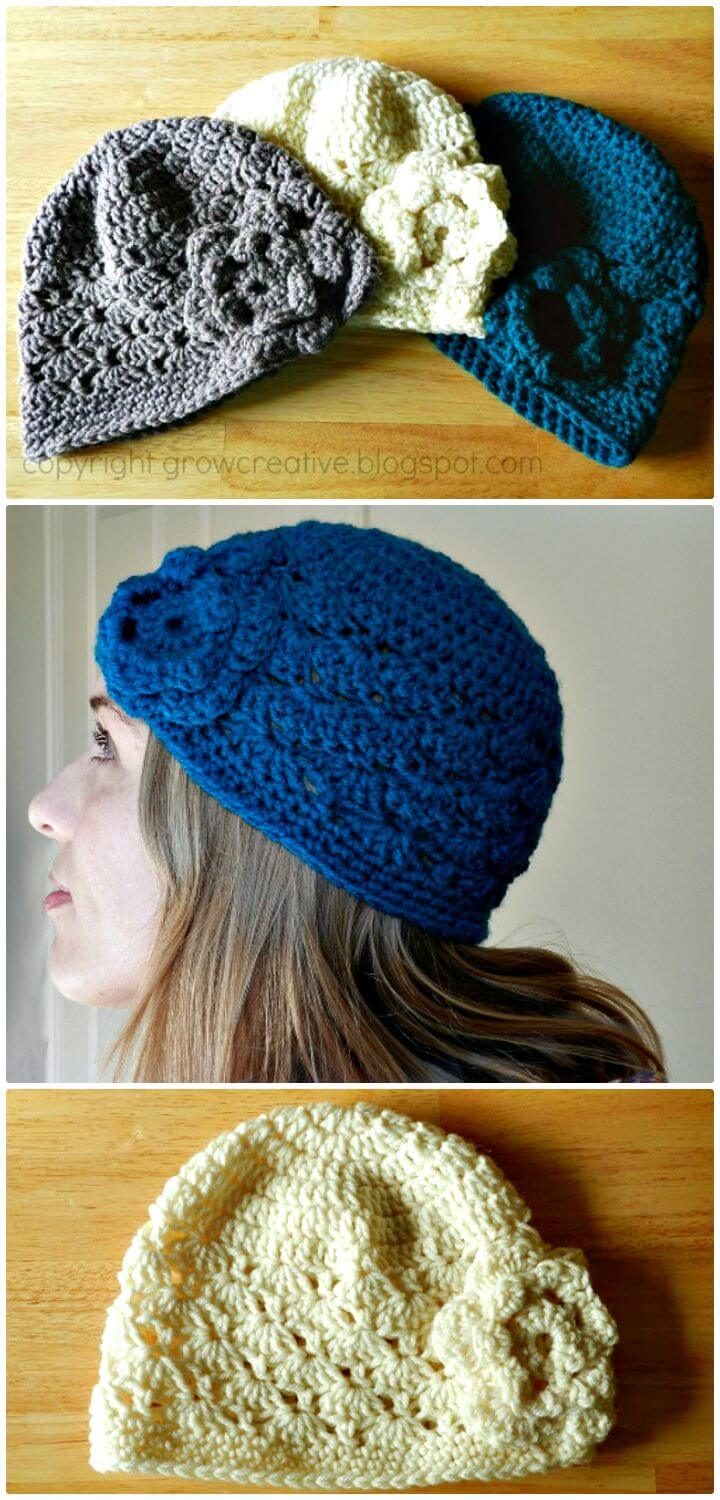 Looking forward for some utterly cute crochet patterns? The wait is just over now, take a look at this precious crochet hat, crocheted to rock any girl's head and is a fabulous crochet pattern that will create a cute look of any girl! You will be amazed to see the brilliant design texture of this hat and also the flower embellishment, both have been done by crocheting in shell stitch! This is here another mind-blowing crochet shell stitch pattern that you can duplicate easily! Grab the full free guide and easy crochet pattern from here growcreativeblog
Simple Free Crochet Shells Dishcloth Pattern: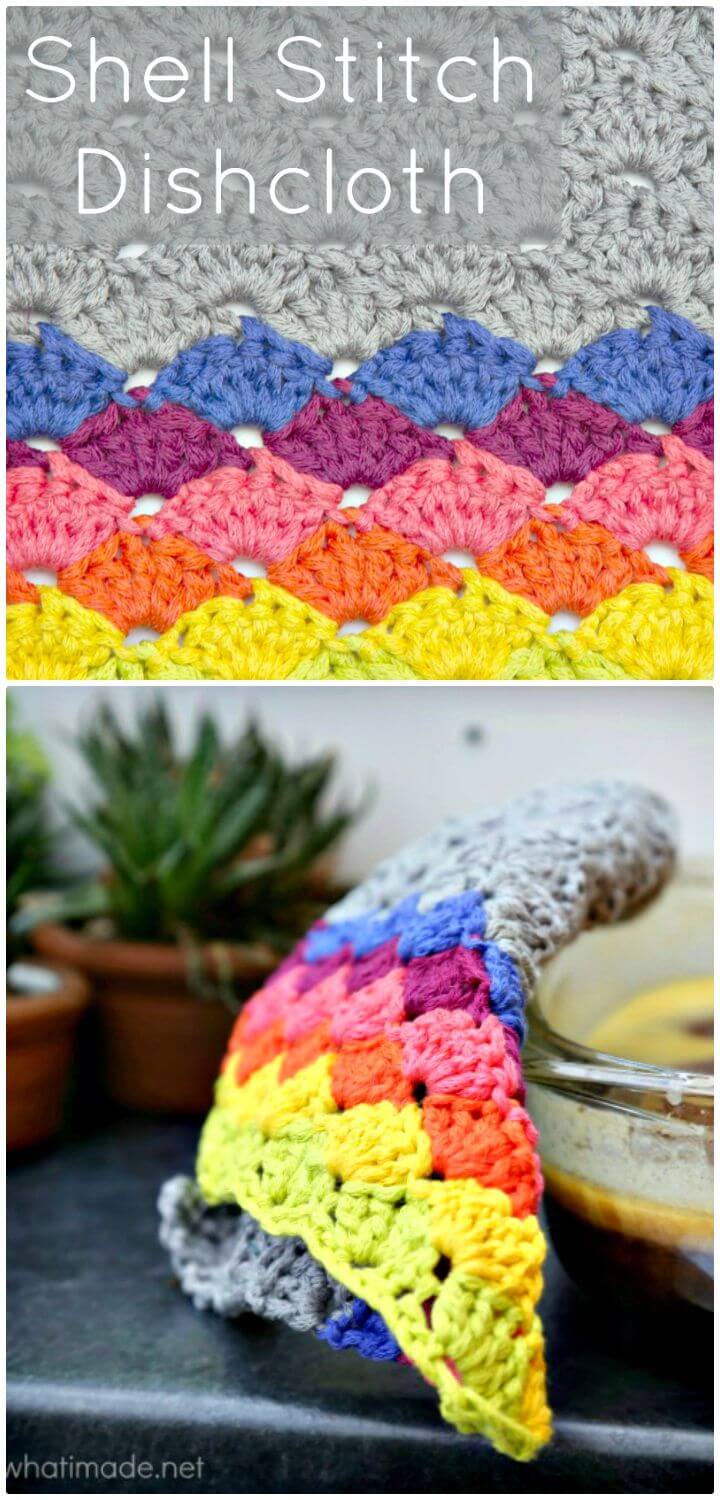 Another precious housewarming gift here done with special crochet shell stitch! This is here the crochet shells dishcloth that grab the attention due to enchanting color combo and is a perfect achievement of crochet art! This would also make a great gift to your kitchen loving mom! Furthermore, it would work great as alternative way to add colors to your kitchen! Want to tryout this crochet shells dishcloth? Grab the full free crochet pattern and instructional guide from here lookatwhatimade
Free Crochet Shell Stitch Messy Bun Hat Pattern: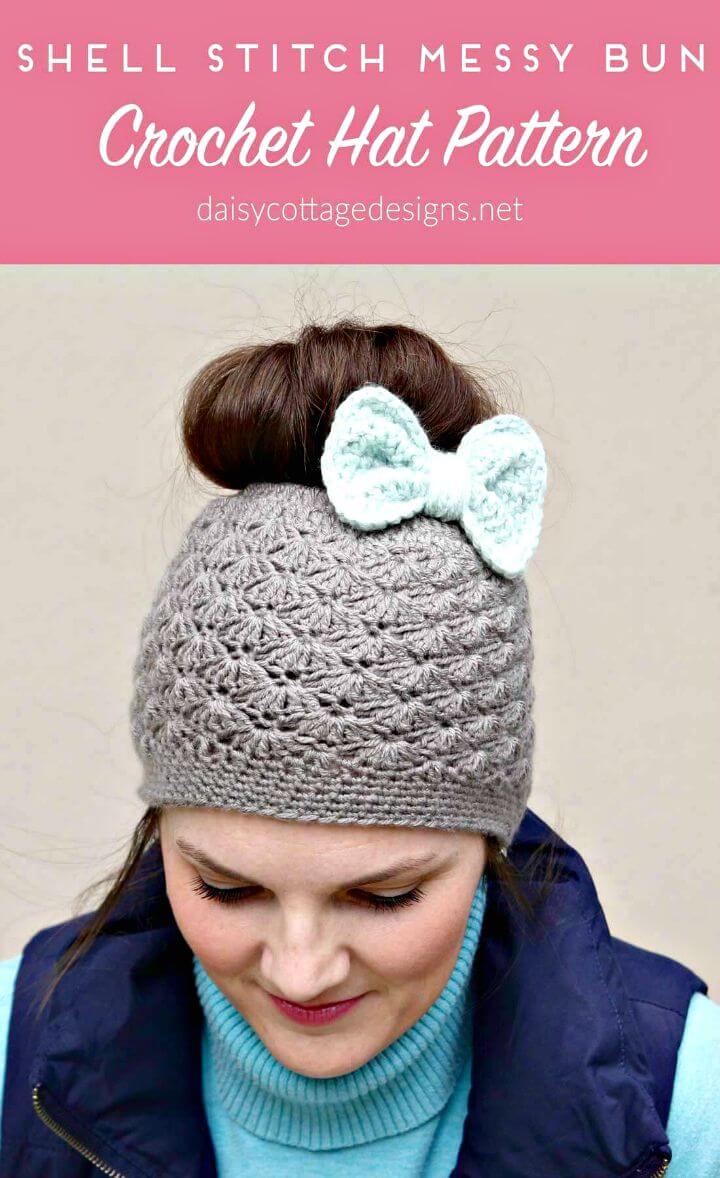 When you don't want to sacrifice your hairstyle while wearing head protection in winters, the messy bun hats always make a great choice! Here is a mind-blowing crochet bun that that will allow you bun to come out on the top making you look still beautiful along with providing warmth to your head! The very good news is that that fashion-worthy bun hat is also a great crochet shell stitch pattern and it would make a thanksgiving gift too! Experiment this hat with different yarn colors and embellishment rather than the bow! Full free guide and easy crochet pattern here daisycottagedesigns
Easy Free Crochet Shell Stitch Baby Blanket Pattern: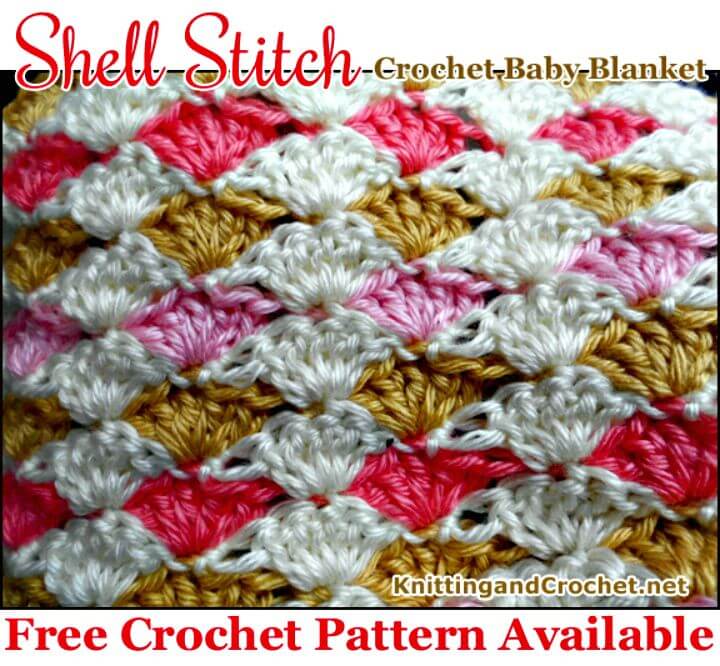 You can crochet various outstanding patterns using crochet shell stitch and this crochet baby blanket here is another mind-blowing one! Here the alternative shells come in different colors making the blanket design extra beautiful and charming! See here the very smart use of pink, white and wood brown yarn color that all create a fetching appeal of this handsome baby blanket! Willing to duplicate this blanket? Grab the full free pattern and tutorial guide from here knittingandcrochet
Free Crochet Top Iris Child Size 3-5 Years Pattern: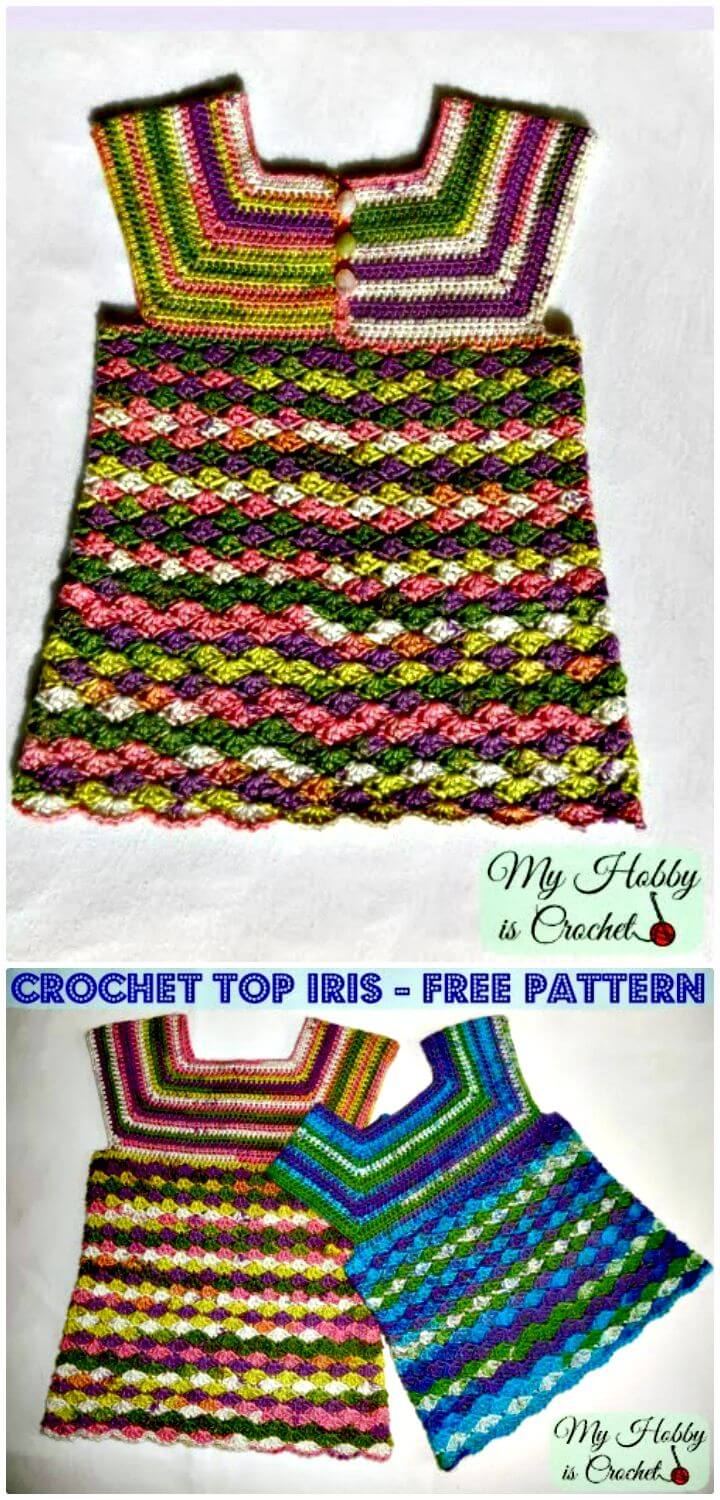 All loving moms take pleasure in adorning their kids or babies! The art of crocheting can help them in this case as you can crochet various cute patterns from kids from accessories to clothing! A mind-blowing example here is this crochet top that comes with amazing color stripes making the design look superior! These crochet yarn tops are just perfect for little girls and the thing that will amaze you is that these are also the crochet shell stitch patterns! Again the shell stitch is going to rock! Want to tryout these tops? Grab the full free pattern and instructional guide from here myhobbyiscrochet
Free Crochet Diagonal Shell Slouch Beanie Pattern: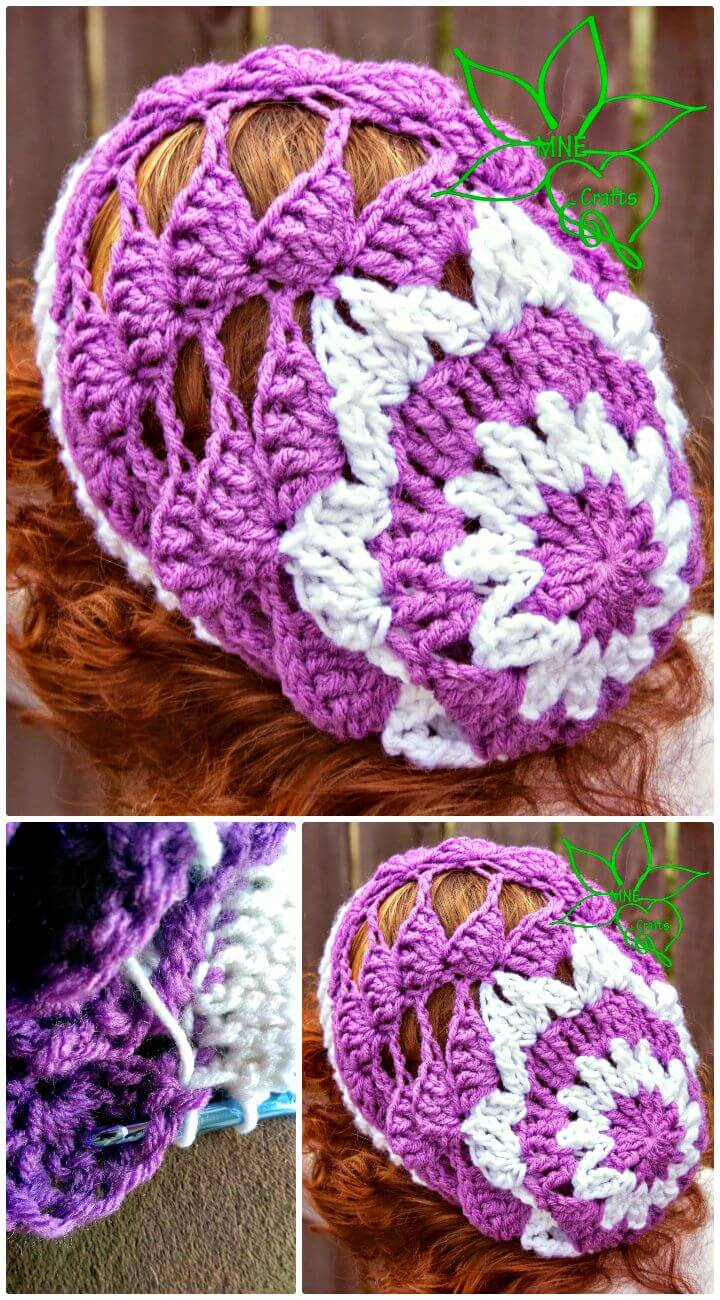 A big crocheted delight here, the beautiful slouch beanie that is lacey and comes with interesting visual details! By working up the shell stitch diagonally, this handsome slouch hat has been crocheted that will stay on back head of any style loving lady like a charm as you can see here! This hat will just rock for causal fashion and style loving teen can also wear it to generate funky look of their personality! This hat is amazing mix of crochet sunburst and crochet shells! Want to own this hat? Grab the full free pattern and visual instructions from here mnecrafts
Simple Free Crochet Shell And Button Ear Warmer Pattern: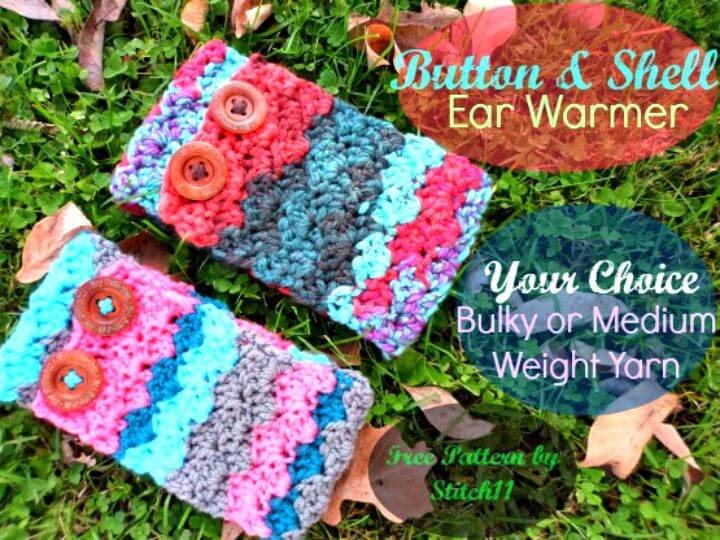 Intending to crochet mini gifts for the winter that everyone will like? Then you can simply crochet these colorful earwarmers that are a delight to view and will work up quickly! Again these adorable pattern have been done with the shell stitch and different yarn colors have been crocheted for an enchanting hue! Furthermore, there are wooden buttons that make these earwarmers look extra cute and fetching! Willing to copy these charming earwarmers? Grab the full free guide and free crochet pattern from here stitch11
Free Crochet Sunshine And Shells Summer Hat Pattern: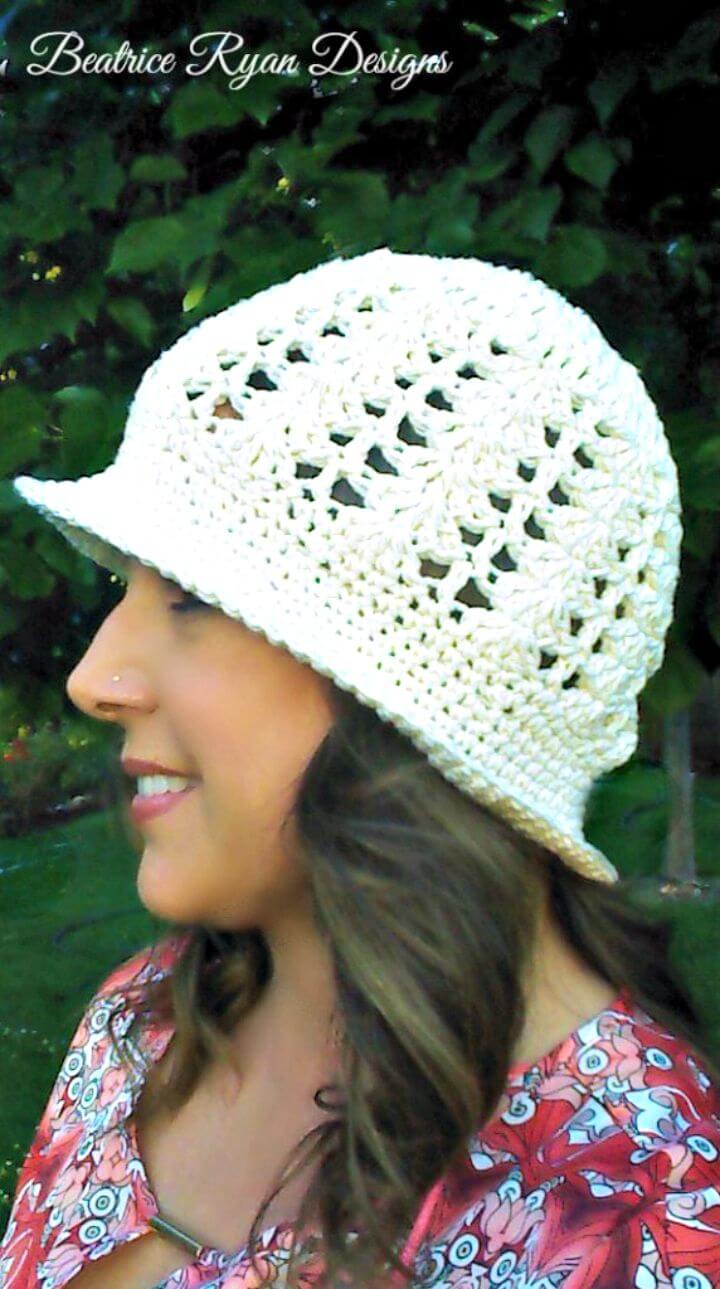 This is here another fetching and adorable crochet hat that will go eye-catching while being on any women's head! This is here the precious lacey crochet hat that has also been done with the crochet shell stitch! Moreover, this crochet sunshine and shells hat would just rock for summer fashion and you can also give it as a gift to someone special to earn more love of her! Intending to clone this handsome brimmed hat? Then just get the full free pattern and tutorial guides from here beatriceryandesigns
Easy Free Crochet Shell Stitch Baby Blanket Pattern: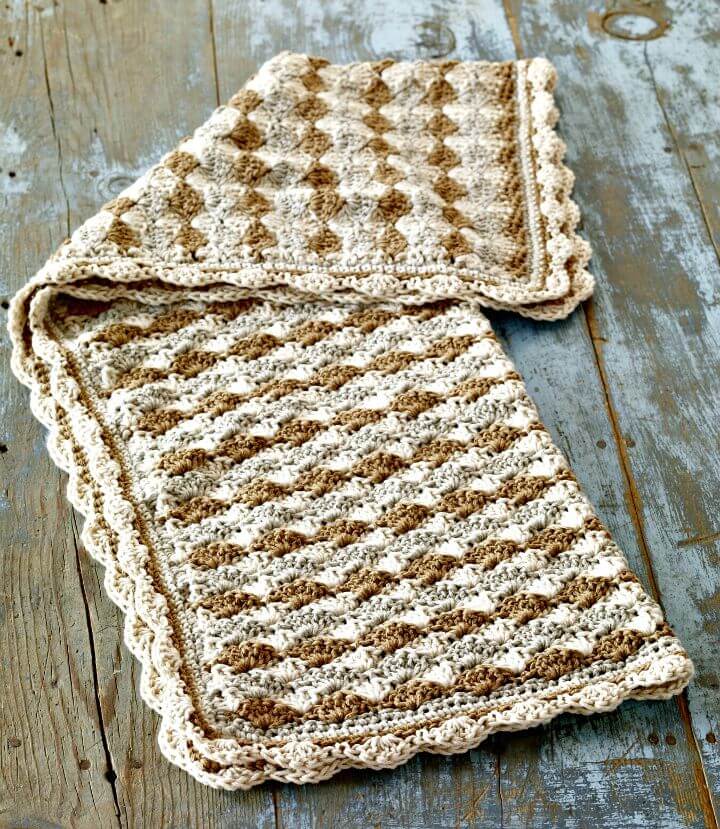 If you are crochet lover then you will definitely praise this handsome baby blanket! This is here another fetching and adorable creation done with the shell stitch and you are see here the amazing yarn color combo here that comes with light brown, white and grey and creates an overall neutral hue of the blanket! All moms will just love to wrap their babies in this crochet baby blanket and this blanket would also make a great gift for any mother-to-be! Grab the full free guide and easy crochet pattern from here lionbrand
Free Crochet Reverse Shell Stitch Pattern: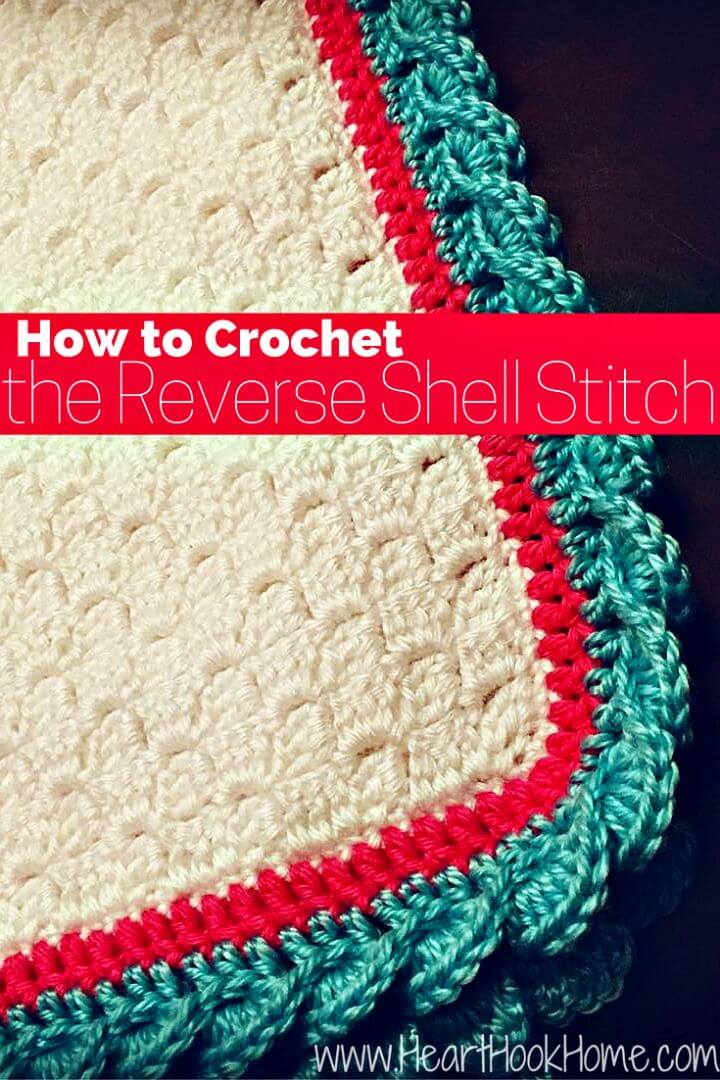 You can really go smart with style of crocheting stitching giving amazing changing to your finally finished patterns! Here you will see a genius use of crochet shell stitch that generates a super charming design texture! The shell stitch has been reversed here to give praise-worthy change to design texture and hence makes the entire pattern out of ordinary! Another amazing piece of crocheting work to do with reverse shell stitch! Willing to learn the reverse shell stitch? Checkout here the free pattern and tutorial here hearthookhome
Free Crochet Shell Stitch Beanie Pattern: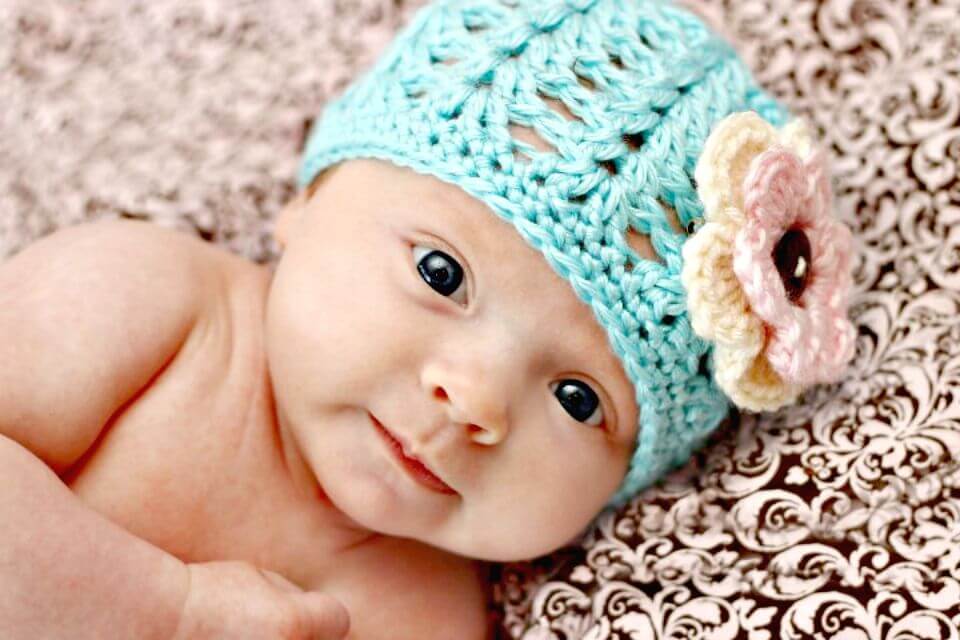 Go also with your shell stitch to crochet impressive gifts for baby shower or for a baby's birthday! A great samplehere is this crochet shell stitch beanie that would rock the head of newborn, infant or of a six month baby and comes lacey a little and hence will be perfect hat for less chilly days! Finally, this crochet hat has been adorned with a flower embellishment that creates a super cute look of the hat! Want to tryout this baby crochet hat with a different yarn color? Grab the full free pattern and tutorial guide from here thedaintydaisyblog
Free Crochet Shell Stitch Ear Flap Hat With Flower Applique Pattern: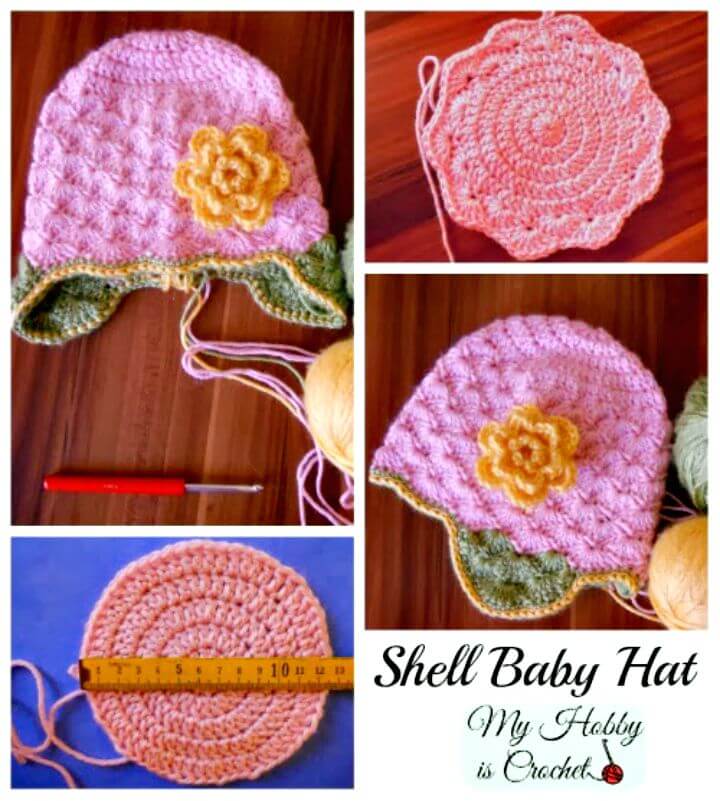 You will not find a best alternative to this precious crochet hat that comes in light pink color, the special girlish color! This crocheted hat also a circle based crochet pattern that has been crocheted half with the shell stitch making an adorable crochet hat! To ensure better winter protection, this hat has also been added with yarn earflaps and finished with a cute crocheted flower appliqué for amazingly cute appearance! Another great crochet pattern based on crochet shell stitch! Grab the full free pattern and instructional guide from here myhobbyiscrochet
How To Free Crochet Solid Shell Stitch Pattern: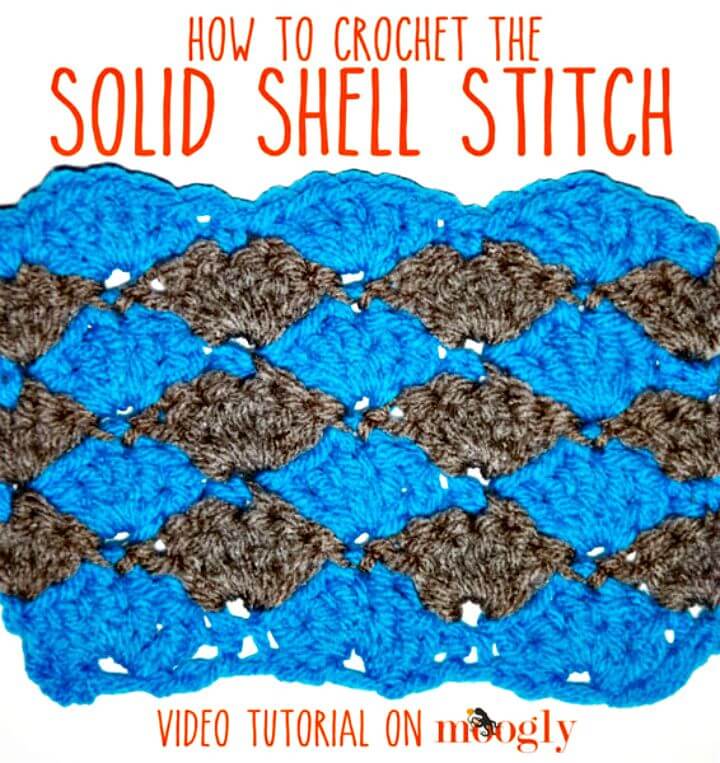 Before you start crocheting in shell stitch, you should learn it well first so you will crocheting amazing pattern like a pro! A single crochet stitch can be used in different style while creating adorable design textures are a demand, so here you will learn how to crochet shell stitch in solid way, so it would really make it easy for you to crochet some bulky yarn weights when intending to crochet some unbeatable winter warmers! Checkout the tutorial and free pattern here mooglyblog
Easy Free Crochet La Vie En Rose Ear Flap Hat Pattern: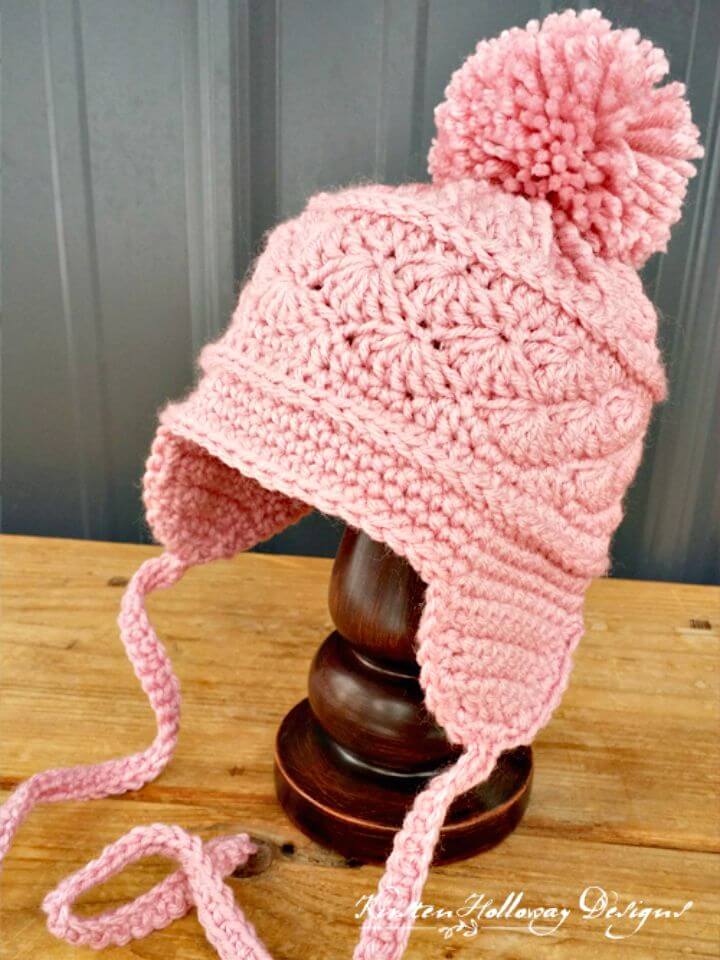 Another adorable creation done with the special crochet shell stitch, this is here a cute baby hat that has been turned into baby girl special headwarmer by using the pink yarn color, a color that is loved dearly by all girls! In this crochet hat you will find a lot more fetching like the interesting design texture, the ribbed lines and smart involvement of other crochet stitch that have bigger impacts on overall beauty of the hat! This crochet La vie en rose earflap hat is another mind-blowing crochet done with the shell stitch! Want to duplicate it now? Grab the full free guide and tutorial from here kirstenhollowaydesigns