Learn how to crochet kitchen dish towel topper with these 15 free crochet towel topper patterns with step by step instructions and PDF Pattern guide. Many little things in the kitchen play a vital role in our day to day routine, and towels are among them. These towels are just integral to have as they help us do many tasks, be it covering, drying, or cleaning. But they are tiny enough to get lost or misplaced if you have not a fixed place for them to rest on, so we are here with the solution. There are towel toppers rings used to hang the towels in the kitchen, but you can make some on your own by getting your hands on your crochet hooks and some yarn.
Crocheting is an enjoyable and creative hobby, and free crochet towel topper patterns can provide the perfect beginner project for anyone who wants to learn or improve their skills. These 15 free crochet towel topper patterns available below come with detailed instructions and step-by-step diagrams with helpful visuals, so you don't need to be a master crocheter to make your own beautiful crocheted towel toppers.
Many free printing services offer PDFs that are easy to download printable copies of your pattern so you can work on it anywhere. Whether looking for your first project or just wanting a bright addition for when guests come over, free crochet towel topper patterns provide all the materials and guidance needed for these cute little creations.
Yes, we have brought to you these adorable, cute, and totally functional 15 free crochet towel topper pattern ideas that you can easily work on and get yourself a lovely, colorful and textured towel topper to fix your towels on their respective places.
Free Crochet Towel Topper Patterns for Kitchen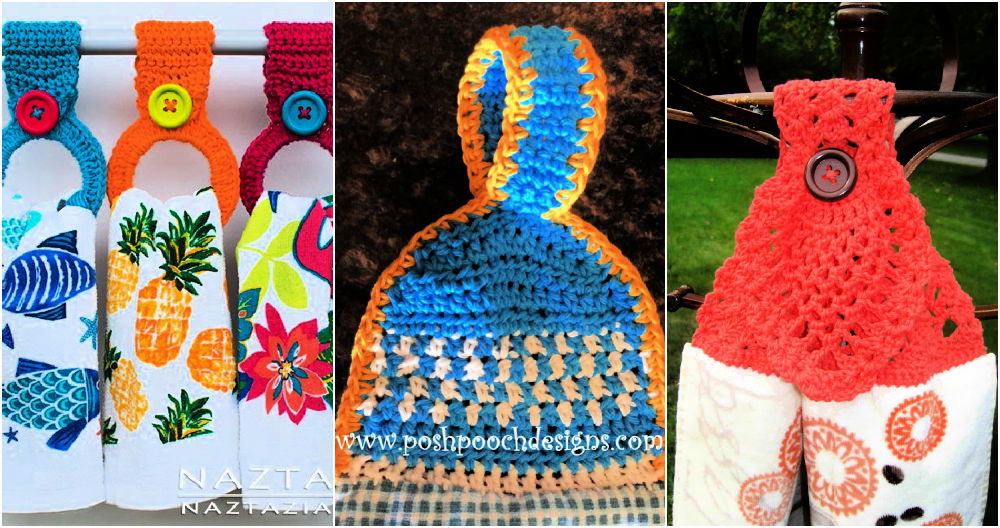 The pretty crochet towel topper ideas are adorable enough to steal your hearts with their catchy designs, textures, and the combination of the hues used. They are best to crochet around the festive season with the lovely hues and use as the perfect gift for your favorite ladies. These easy and quick to make crochet towel toppers with pretty free patterns are the most pleasing and love loaded gifts you can make this season of Holiday.
The towel toppers come with crocheted hooks and buttons for an easy and fun fixation over the oven rods and more. The gingerbread pattern towel topper, the daisy towel toppers, the pineapple towel topper, and the summer dress towel topper patterns are the most exquisite of the towel topper designs you could ever think of. Each of the crochet towel topper patterns has free pdf pattern to print and try. These lovely crochet towel topper patterns are easy to follow for beginners!
1. Crochet Gingerbread Towel Topper Pattern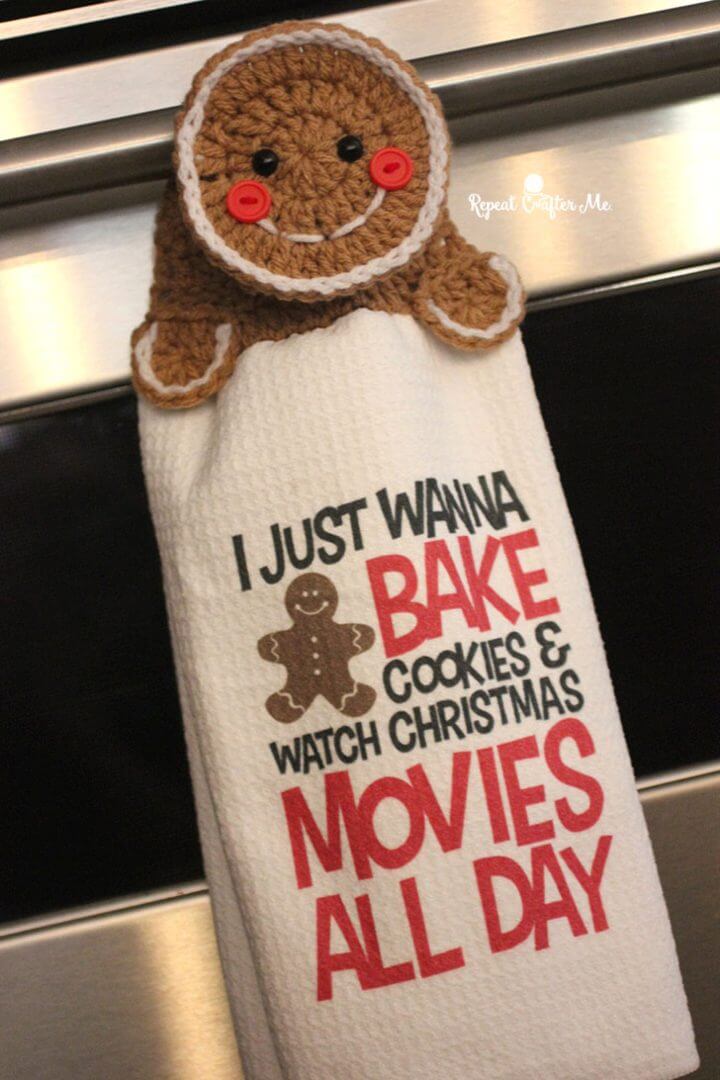 One of the things that we love to make around Christmas is the lovely crochet towel toppers, and there are so many patterns and designs for them. A gingerbread design has been made to shape up this adorable and totally festive-inspired towel topper for your kitchens. Check out the pattern here! repeatcrafterme
2. Crochet Dish Towel Toppers Pattern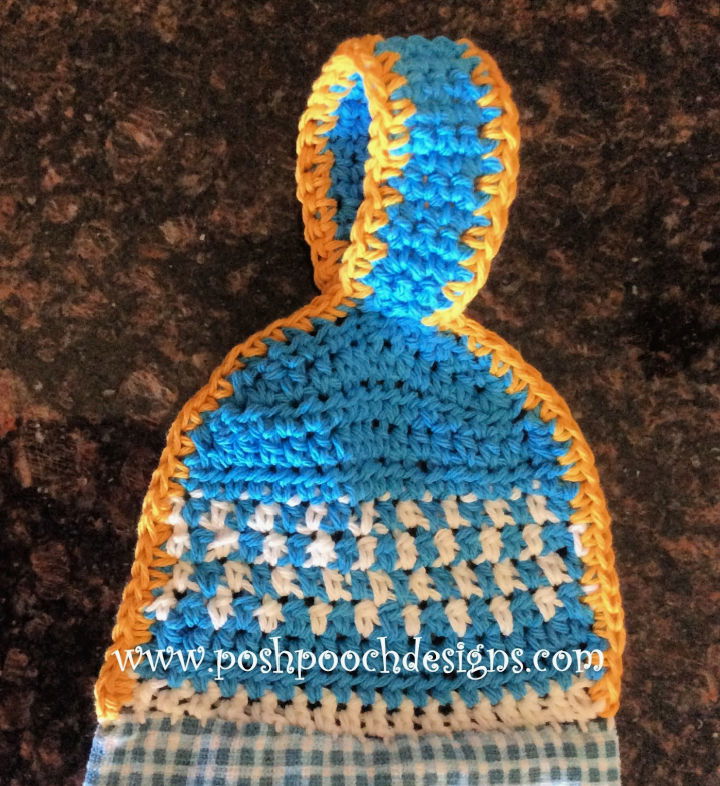 These cute and colorful crochet dish towels are super summer-friendly, and you can easily crochet them at home. The lovely dish towel topper has been crocheted with a button hook on the top to make it easily hang around your spaces. Check out the details of the pattern here! poshpoochdesign
3. Easy Crochet Towel Topper Pattern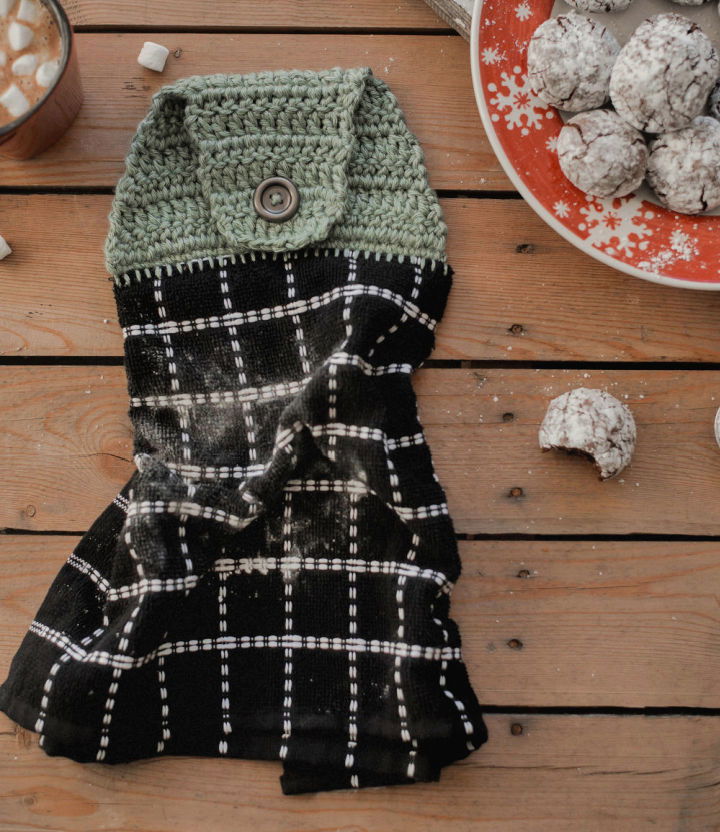 This simply gorgeous crochet towel topper is super quick to make within a few minutes, like 15 to 20 minutes. It has a button system to tie it around over your oven easily or the cabinets. You can also use it as the perfect gift for your dear and near ones. Follow the easy and free pattern here! megmade
4. Crochet Pineapple Towel Topper Pattern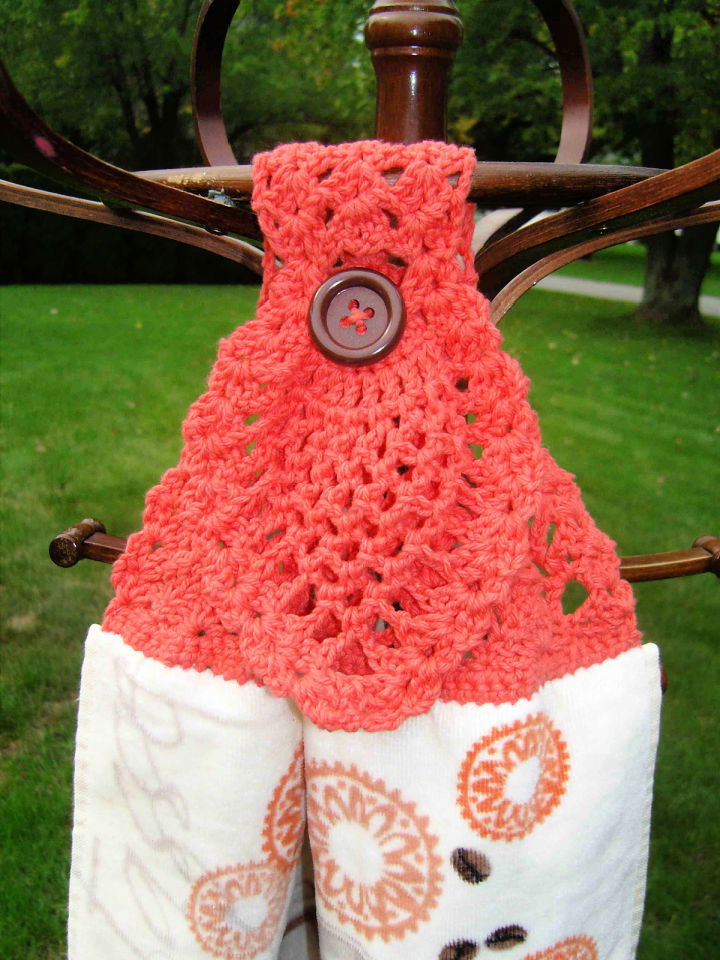 There are so many patterns that you can use to shape up a lovely towel topper, and this pineapple towel topper is so cute and fun to get your hands on. The breezy pattern is super easy and quick to work on, and the color red makes it look super hot and chic. A button tie-up makes it easily hang around your kitchen or where ever you want to use it. Free pattern details here! ravelry
5. Crochet Double Layer Towel Toppers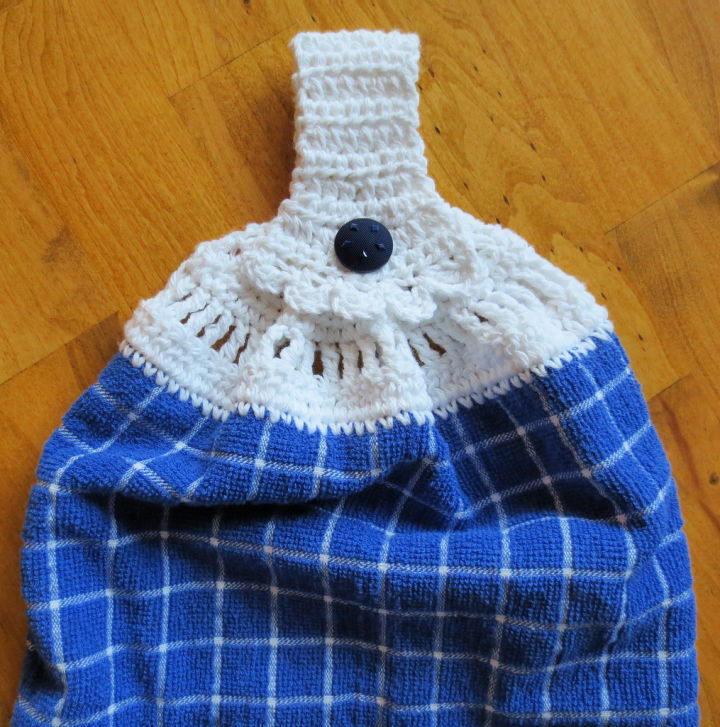 This green, red and white crochet double layer towel topper is perfect for Christmas to use as a lovely gift to exchange with your lovely ladies. It would look so pretty and would bring festive vibes in your spaces while hanging around. Check out the details of the idea here! myrecycledbags
6. Crochet Summer Sundress Towel Topper Set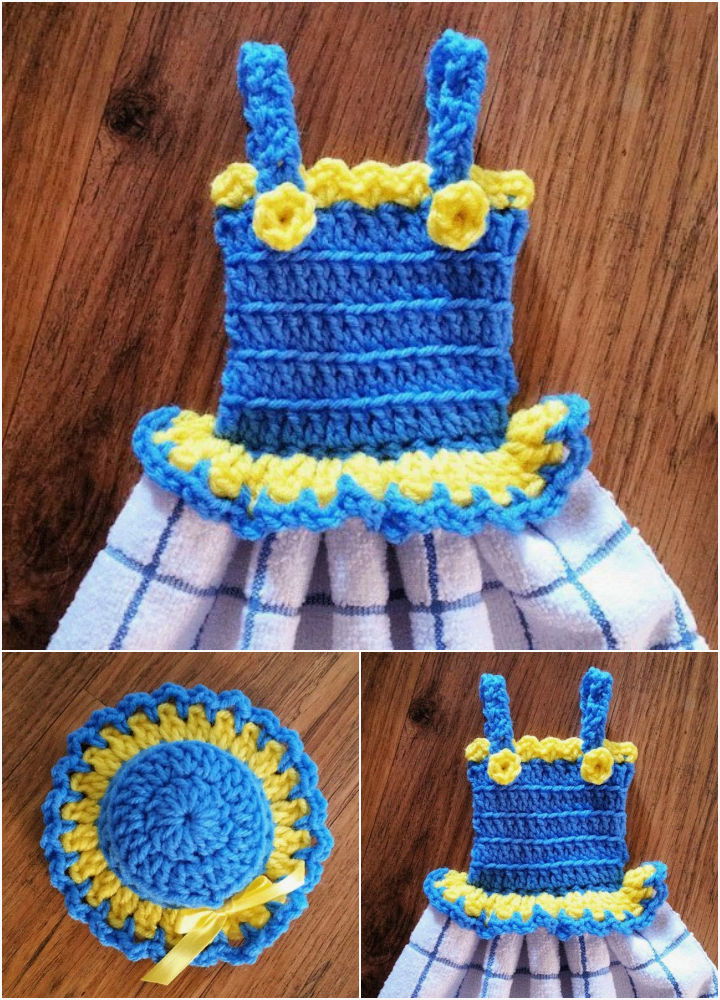 You are surely going to lose your heart to this adorable and cute summer sundress towel topper. The blue dress with pretty and vibrant yellow flowers looks just absolutely beautiful, fun, and unique as the towel topper. Check out the free pattern here! crochetmemo
7. How to Crochet Hanging Ring Towel Holder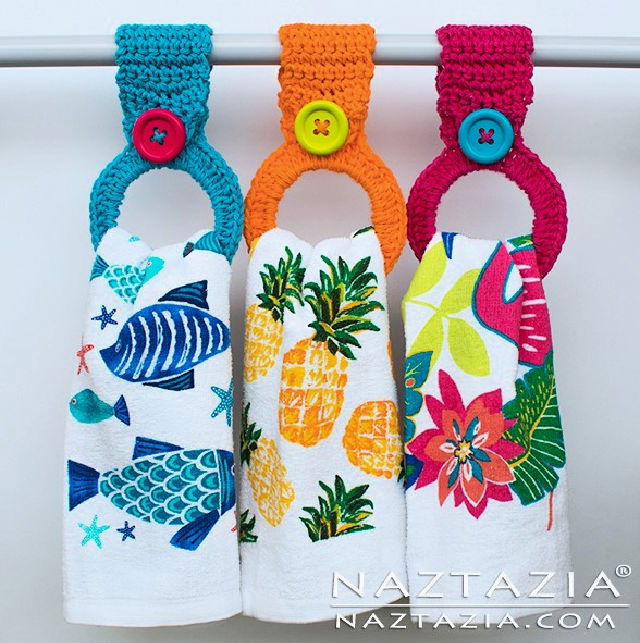 These ring styled crochet hanging ring towel holders are super easy, quick, and one of the most functional patterns to use when you need a towel holder or a towel topper. You can make them in any of the colors and buttons to easily use them in your kitchen spaces. Find out about the pattern here for free! naztazia
8. Crochet Daisy Towel Holder Topper – Free Pattern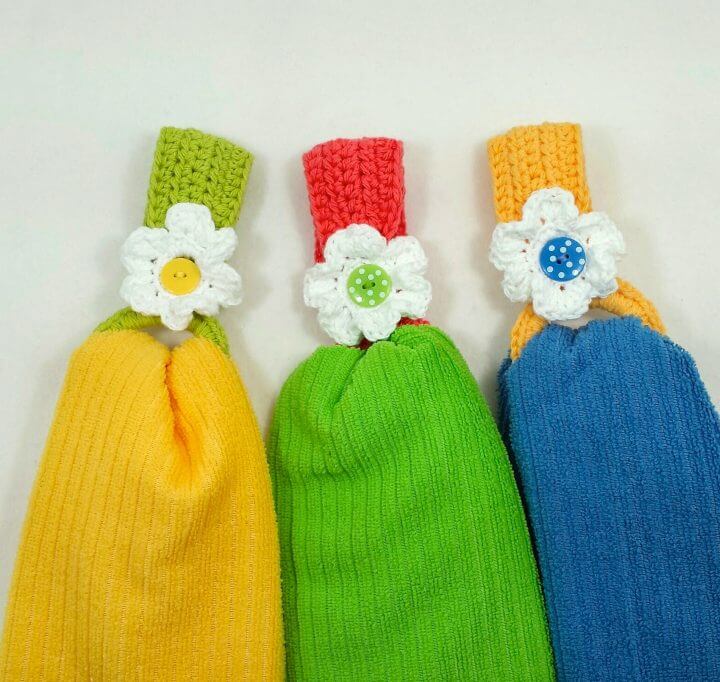 Here is another gorgeous idea of the fun looking and absolutely gorgeous daisy towel holder toppers. The towel toppers have been crocheted in the ring design so that you can put them in and slip through your towel. The daisy flowers instead of the buttons make these towel holders look so pretty and fun. You can use the matching towels to the rings for a more complimentary look. Free pattern and details here! delights gems
9. Bounding Towel Topper – Free Crochet Pattern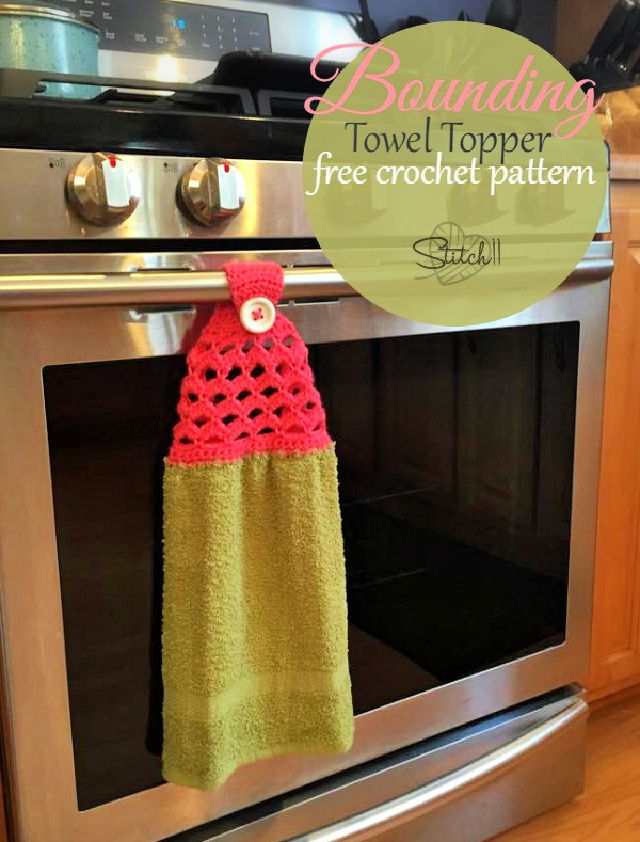 Here is another easy peasy pattern for you to crochet up yourself a lovely towel topper to use in the kitchen. The towel topper pattern is bounding so you can tie it up on your oven or to the other hanging pipes in the kitchen. You can work up this chunky pattern of the towel topper easily, and here are the details! stitch11
10. Crochet Towel Topper Pattern for Beginners
These adorable crochet towel toppers are so gorgeous and catchy that apart from being functional, they are surely going to add oodles of charm to your kitchen decor too. The pattern is easy enough to be tried out by the beginners too. Also, these towel toppers make the perfect gift for your beloved ladies. Check out the details here! taylor lynn
11. Basic Crochet Towel Ring Pattern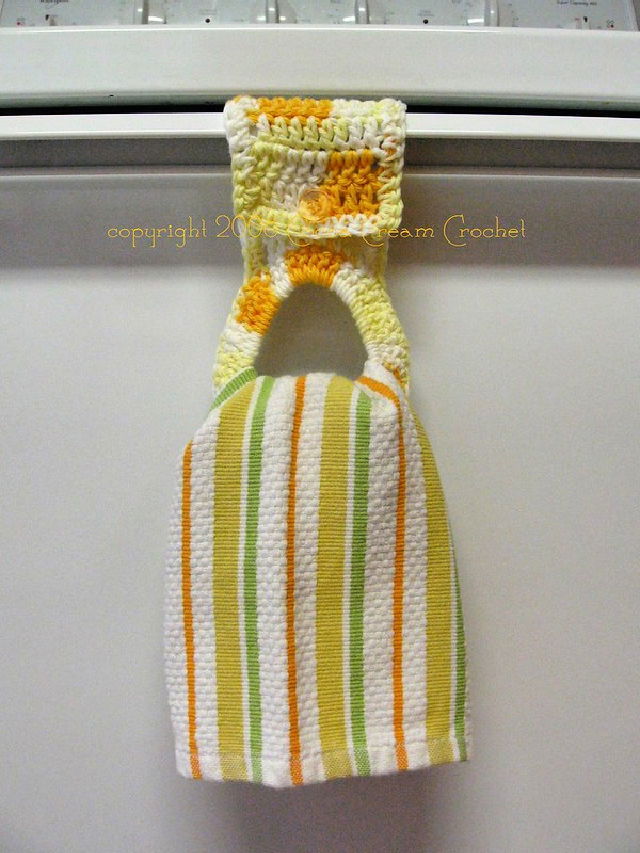 If you are tired of losing your towel now and then, here is the idea of creating this quick crochet basic towel topper for you. The pattern is super easy, simple, and quick to get your hands on, and here we have brought you the free pattern too! lemonlane
12. Crochet Towel Topper – Free Pattern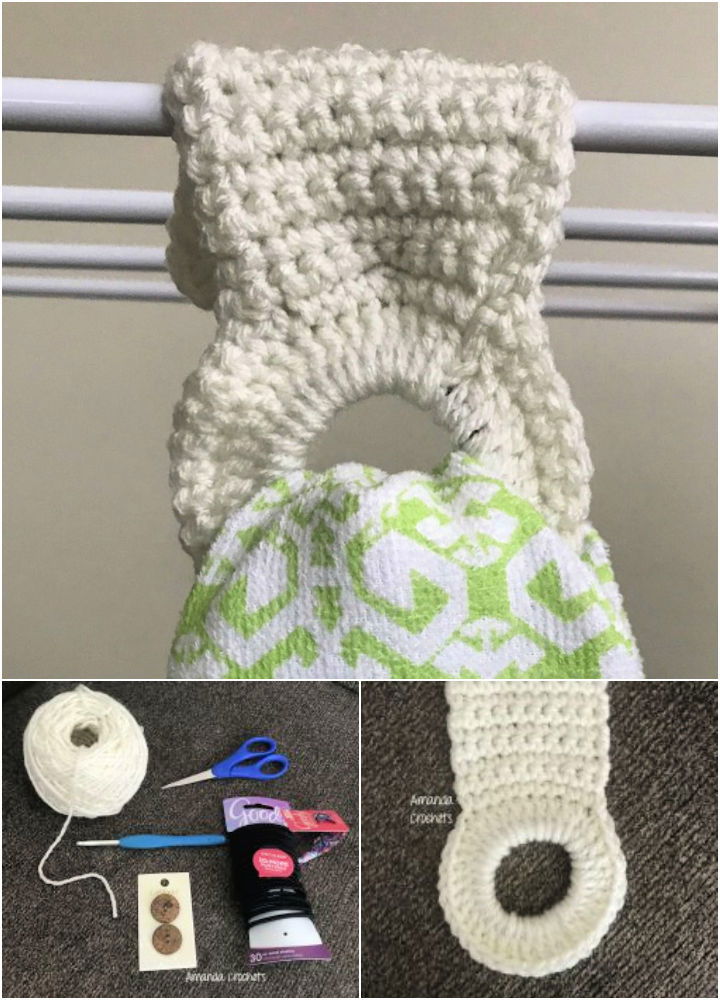 This one is the coolest and the easiest of the towel toppers that you can ever get. The pattern is tiny in size, with a ring and a button to be easily tied up on the pipes. You can quickly crochet it up, and here are the details of the idea so that even a beginner can crochet it up! amandacrochet
13. Crochet Hanging Kitchen Towel Topper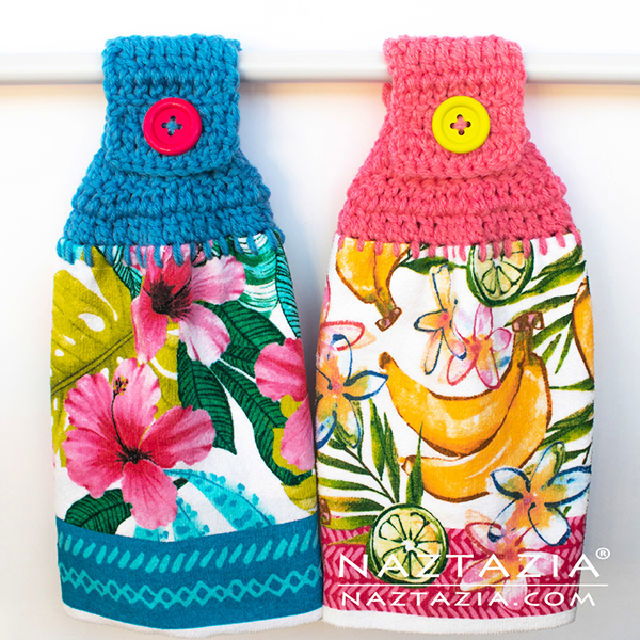 Towel toppers should be fixed so that you can easily find and use them in your busy cooking hours in the kitchen. So get your towels to hang up around you using these lovely and cute towel toppers, which are super easy and fun to crochet with any easy pattern and in multiple colors. Free pattern here! naztazia
14. How to Crochet a Towel Topper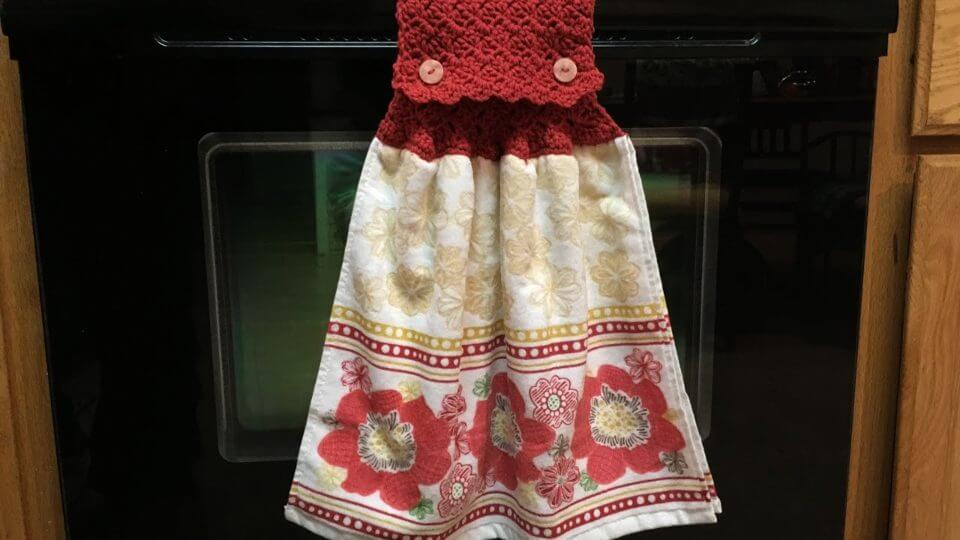 Hang your towel over your ovens in style and beauty by crocheting this super cute and functional crochet towel topper. Unlike the other crochet towel toppers having one big single button, this one has two small buttons hanging over the rod. Check out the free pattern with details here!
15. Crochet Towel Topper Beginners Pattern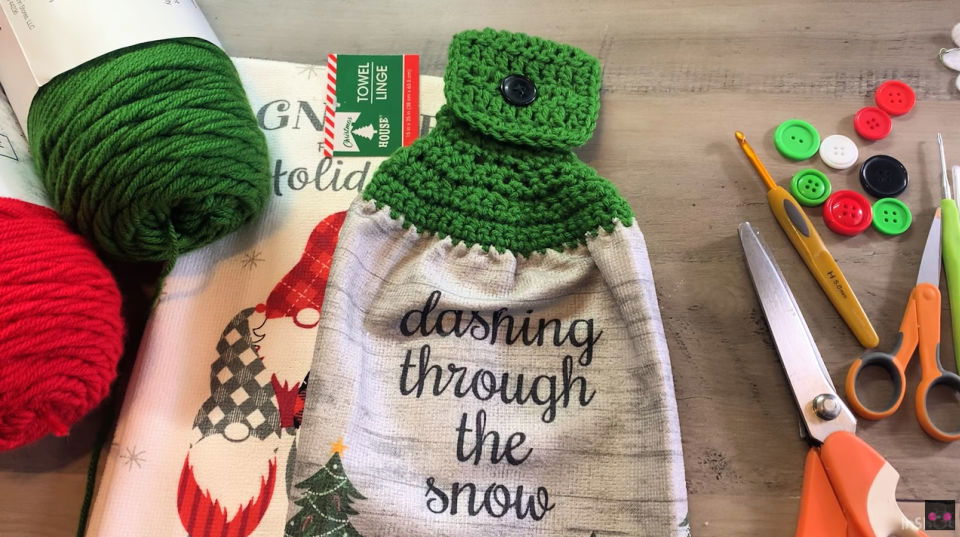 The beginners should get their hands on the smaller and easy projects at the beginning of their practice, and this crochet towel topper is the perfect plan to work on. You need your crochet hooks' basic work to work up this simple crochet towel topper, and here are the details.
Related DIY Projects and Ideas
Crochet Dishcloth Patterns: Learn how to crochet a dishcloth with these free dishcloth patterns that are easy to follow with pictures and step-by-step instructions, so anyone can make these easy crocheted dishcloths.
Crochet Apron Patterns: From breakfast to brunch to your favorite holiday, find the perfect apron pattern that's just right for you. This list of free crochet apron patterns includes wide variety of shapes and styles to suit your every whim.
Crochet Potholder Patterns: This article will provide you with free crochet patterns for potholders and hot pads. Whether you want to crochet a simple potholder or go all out with fancy ruffles, we've got you covered.
Crochet Hot Pads: These free crochet hot pad patterns are a great way to add a little style and creativity to any home. From modern to vintage, you're sure to find the perfect design for your style.
Crochet Cozy Patterns: Discover quick and easy free crochet patterns to learn how to make a cozy to keep your hands warm when you're drinking your morning coffee or tea.
Crochet Basket Patterns: Crochet baskets are a great way to store and organize all your favorite things. Whether you need a new basket for the office, kids room or just to store your yarn in, these free crochet basket patterns will have you inspired.
Crochet Mandala Patterns: Discover these free crochet mandala patterns to keep as a reference while you are crocheting. From basic shapes to complex designs, there are plenty of free crochet mandala patterns to inspire your next project.
Conlcusion:
Now that you know about all of the different types of crochet towel toppers, it's time to choose a pattern and get started! Even if you've never crocheted before, these free crochet towel topper patterns are easy enough for beginners. Each one comes with step-by-step instructions and a printable pdf so you can follow along. Don't wait any longer, find your perfect free crochet towel topper pattern and start today!