Have you piled up a bunch of crochet scrap yarn over the years and don't know what to do with it? Learn what to do with leftover yarn with these 35 free crochet scrap yarn projects and patterns for beginners you can use when looking for ideas! From lightweight summer cardigans to blankets for every season, there will surely be scrap yarn projects for everyone. So delve into our crochet scrap yarn projects catalog and find the perfect craft. With these crochet patterns, your little crochet scraps will look like a masterpiece in no time!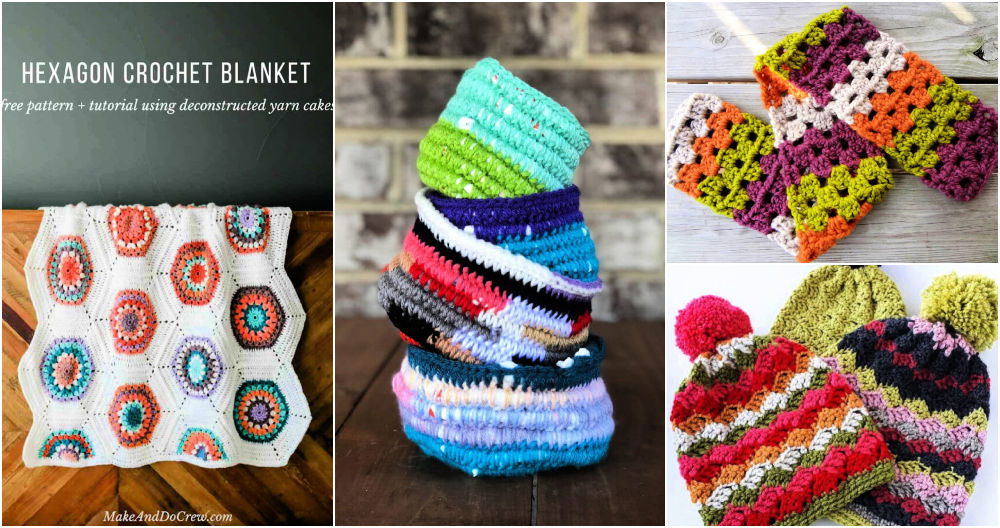 Free Crochet Scrap Yarn Projects and Patterns
Have leftover crochet yarn scraps? Put them to good use with one of these 35 crochet scrap yarn projects and patterns! From crochet dishcloths to scarves, these clever crochet projects are just perfect for utilizing every last bit of your leftover crochet yarn. Forget "wasteful" and celebrate crafting with a conscience – whip up a gorgeous piece today with your crochet scrap yarn!
1. Crochet Scrap Yarn Color Block Mittens Pattern
If you are left with some yarn scarp after your big crochet projects then here is how you can deal with it. Yes, you can crochet up this cute pair of the color block mittens for your kids or anyone around and thus making the most out of the yarn scrap. Free pattern here! leftinknots
2. Pretty Crochet Scrap Yarn Basket Pattern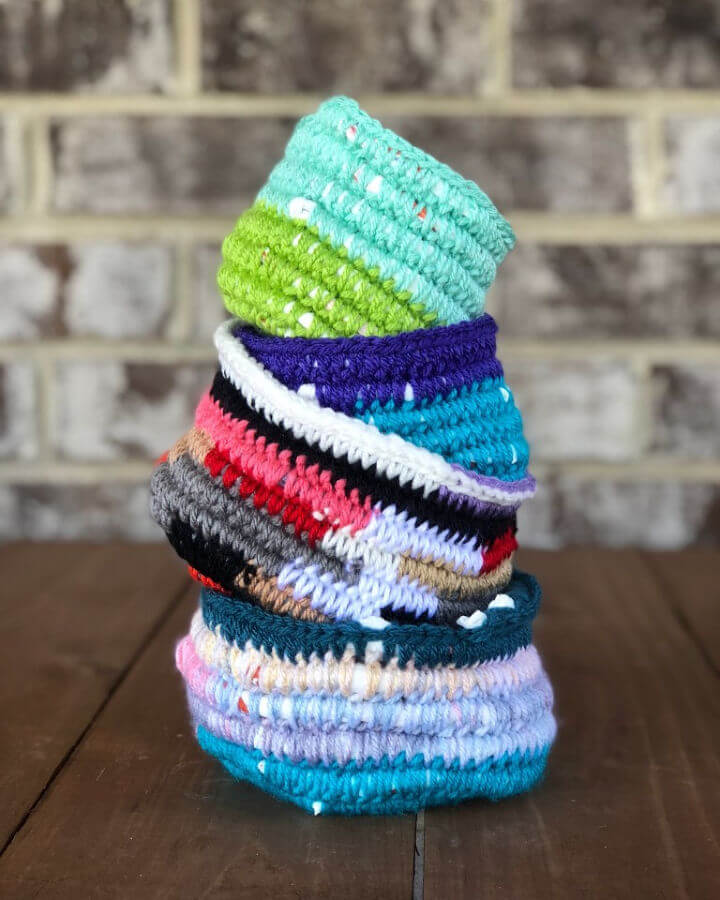 We are always left with colorful piece of the yarn when we are done with our main crochet projects. So using that cute and colorful yarn scarp you can make these adorable and cute little yarn baskets to use them around the house for storage and organization. Follow the free pattern here! acraftyconcept
3. Free Crochet Scrap Scallops Scarf Pattern
It's time to use your yarn scarp for the better and making these cute and colorful crochet scrap scallops scarf would be just perfect. The colorful scarf would be a perfect part of your summer or spring wardrobe with those vibrant yarn hues. Free pattern is lying here for free! handsoccupied
4. Crochet Rainbow Washcloths – Free Pattern
One of the best uses to get rid of your yarn stash or scrap is to crochet up some of these cute rainbow washcloths. Just combine the colorful yarn scrap with the rainbow theme and crochet these square-shaped small wash clothes to use in your kitchen or gift around. Free pattern here! mypoppet
5. How to Crochet Scrap Yarn Flowers
Those small skeins of colorful yarn that has leftover of your crochet projects should be used functionally and crocheting these lovely flowers would be a great idea. Yes, you can crochet up a bunch of these colorful flowers to use as the cute embellishing on your various possessions. Free pattern details here! picotpals
6. Leftover Yarn Scarf – Free Crochet Pattern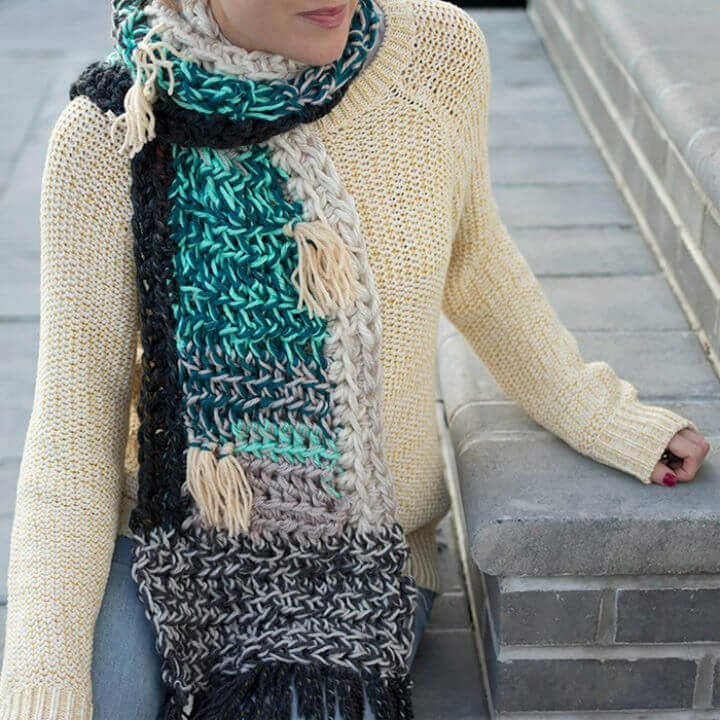 You can get this super cute and quirky scarf at no cost at all as it has been crocheted from the leftover yarn lying around you. Crochets, braids, and fringes you can add your yarn scarp to the scarf pattern in so many ways and get a really uniquely styled scarf. Grab the free pattern here! gina-michele
7. Easy Crochet Scarf – Free Pattern
This gorgeous and vibrant looking crochet scarf would make any of your dull dress look so pretty and chic in minutes. You can crochet up this scarf real cheap by using just the scrap piece of your yarn and that too with that thick texture for a really comfy and warm fee. Catch the free pattern here! simplicity
8. C2C Crochet Scrap Yarn Coasters – Free Pattern
One of the best ways to use your yarn scarp is to utilize them for some further crochet projects but smaller ones and these cute and colorful coasters are just great for the purpose. Easy and free pattern with all the details has been given here! craft-her
9. Crochet Scrap Yarn Rope Bath Mat Pattern
Combine y our yarn scrap with some of the rope and create this gorgeous and totally updated version of the bath mat for your spaces. This yarn and bath mat is sure to spice up the decor of your spaces so do make it and we got you the free pattern here! mamainastitch
10. How to Crochet Paint Splatter Square
Just like the vibrant colors of paint look so exotic on the white canvass same is the case with this crochet paint splatter square. The cute and simple white crocheted square has been beautified with the colorful splashes of the splatter. You can use these squares to create so many rainbow inspired possessions out of your yarn scrap. Details here! lookatwhatimade
11. Crochet Scrap Yarn Ring – Free Pattern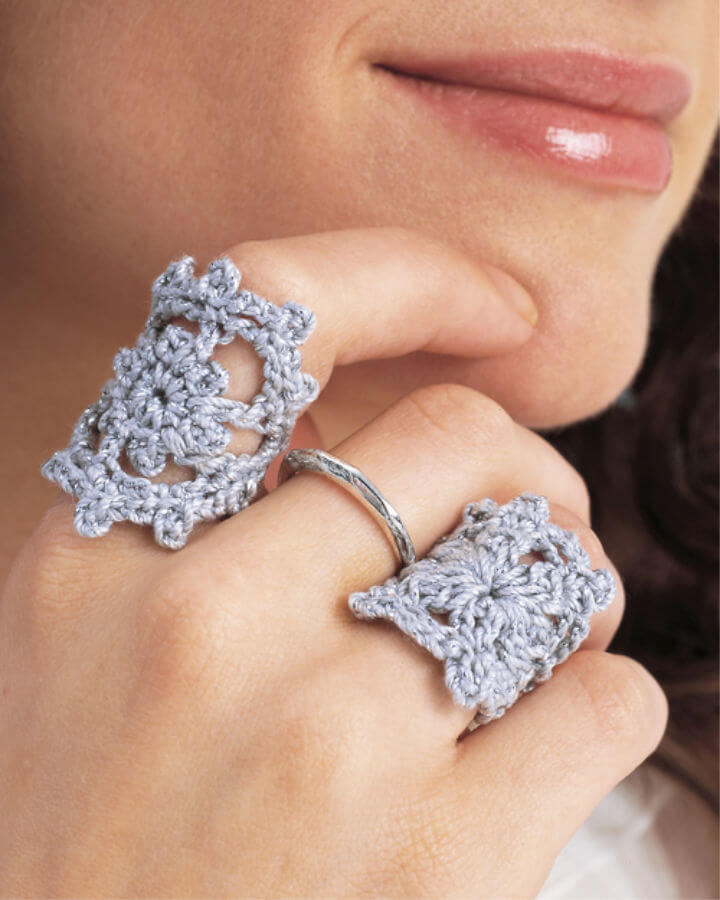 Bring some crochet fun to your jewelry collection with these cute and colorful crochet scrap yarn rings. Yes, this is the best thing you can make out of that small leftover skeins of the yarn and make your hands look so stunning and cute with these crocheted rings. Details here! favecrafts
12. Scrap Yarn Owl – Free Crochet Pattern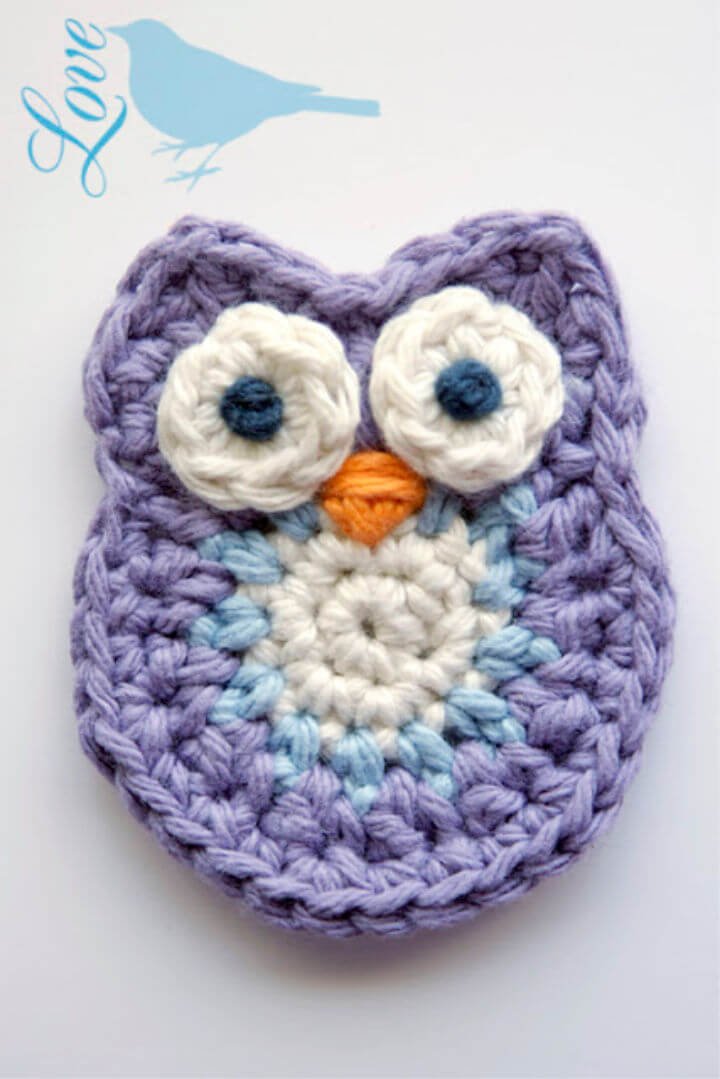 There are so many cute and fun projects that you can do with the leftover pieces of your yarn skeins from your previous crochet projects and this adorable little crochet owl is one of them. You can easily crochet up this lovely yarn own and use it as an applique, wall decor or as a cute embellishing. The free and easy pattern here! lovethebluebird
13. Free Crochet Clutch Pattern
That ball of yarn skein that is rolling in your yarn basket can be brought to use for the best by creating this simple and cute crochet clutch. You can crochet this clutch for yourself or you can gift to any of your dear and near ones to hold some everyday necessities. The damn easy pattern lies here for free! 5feetofstyle
14. Easy Crochet One Round Flowers – Free Pattern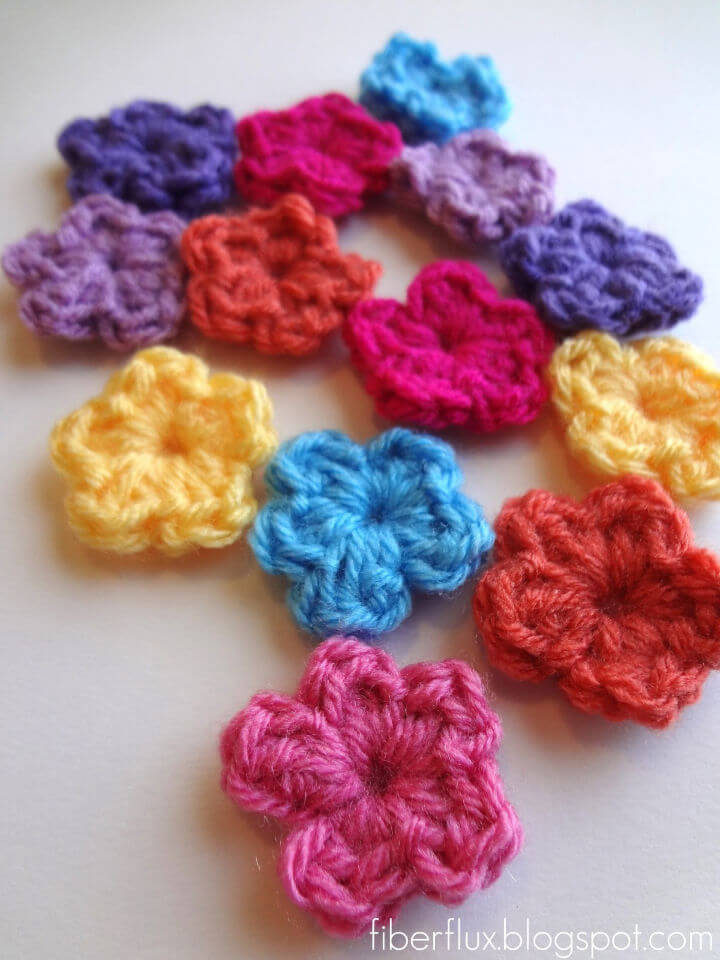 Crocheting these little and cute round flowers are the best thing you can do with your yarn scraps in multiple colors. These cute crochet flowers can be used on so many things around like the kid's dresses, on some wall decor project and so much more. Catch the easy and free pattern details here! fiberflux
15. Crochet Scrap Yarn Stash-Buster Blanket Pattern
It's time to bust your yarn scrap in the most useful and gorgeous way by creating this gorgeous and colorful blanket for your kids. No matter what colors of yarn you have in your stash basket, they are all going to be perfectly fit for this blanket pattern! crochetinstinct
16. How to Crochet Scrap Yarn Dishcloth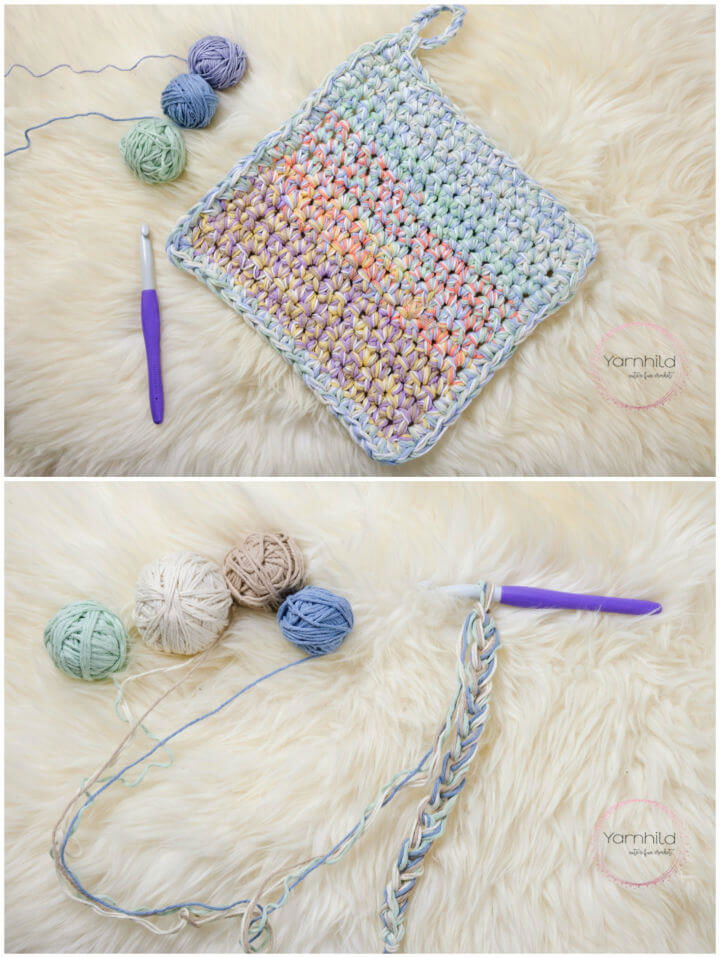 If the small skeins of your leftover yarn are rolling here and there then it's time to finish them off by using in some other crochet projects which demand less yarn such as these crochet scrap yarn dishcloth. You can use all of your yarn skeins and in all colors so do grab the pattern for free here! yarnhild
17. Free Crochet Color Block Basket Pattern
This gorgeous crochet color block basket has been made out of the yarn stash and can be yours to store and organize so beautifully and stylishly. You can use white colored yarn for the basket base and some colorful yarn scrap for the top and here is the free pattern. Catch out the details here! 1dogwoof
18. Scrap Yarn Children Hats – Free Crochet Pattern
With the simplest of the crochet stitches and using your yarn scrap you can easily crochet up these adorable children hats for your little ones and they are going to be so attracted by the colors. Single stitches, double stitches, and the chains are all you need to work on while crocheting this free pattern. anniedesigncrochet
19. Crochet Small Owl Using Scrap Yarn
Crochet owls are cute but this small crochet winking owl is the cutest and it's super easy and cheap to crochet yourself at home. You do not need to buy yarn to crochet up this lovely yarn owl as you can easily work it up out of the leftover yarn skeins lying in your yarn basket. Check out the free pattern with details here! engsidrun
20. Free Crochet Square Pattern Using Scrap Yarn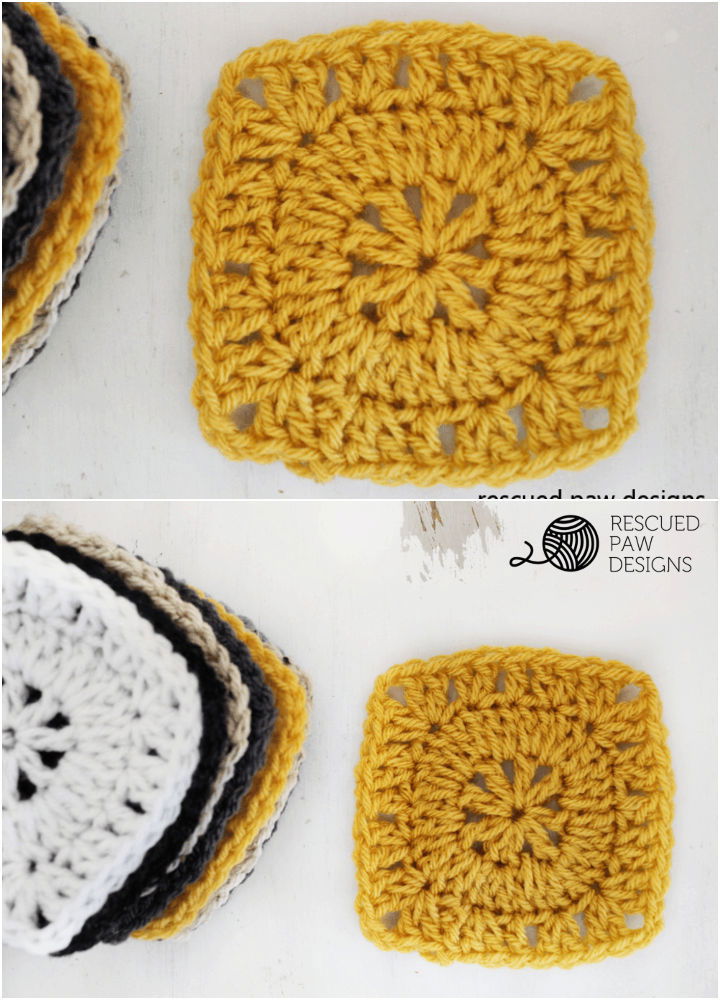 Free your yarn baskets from those small skeins of yarn which have been saved from your previous crochet projects by crocheting up this bunch of the crochet squares. You can create a bunch of these squares to get rid of all the yarn stash and then use these squares in some of your other crochet projects. The free pattern is here! rescuedpaw
21. Crochet Coaster Pattern for Beginners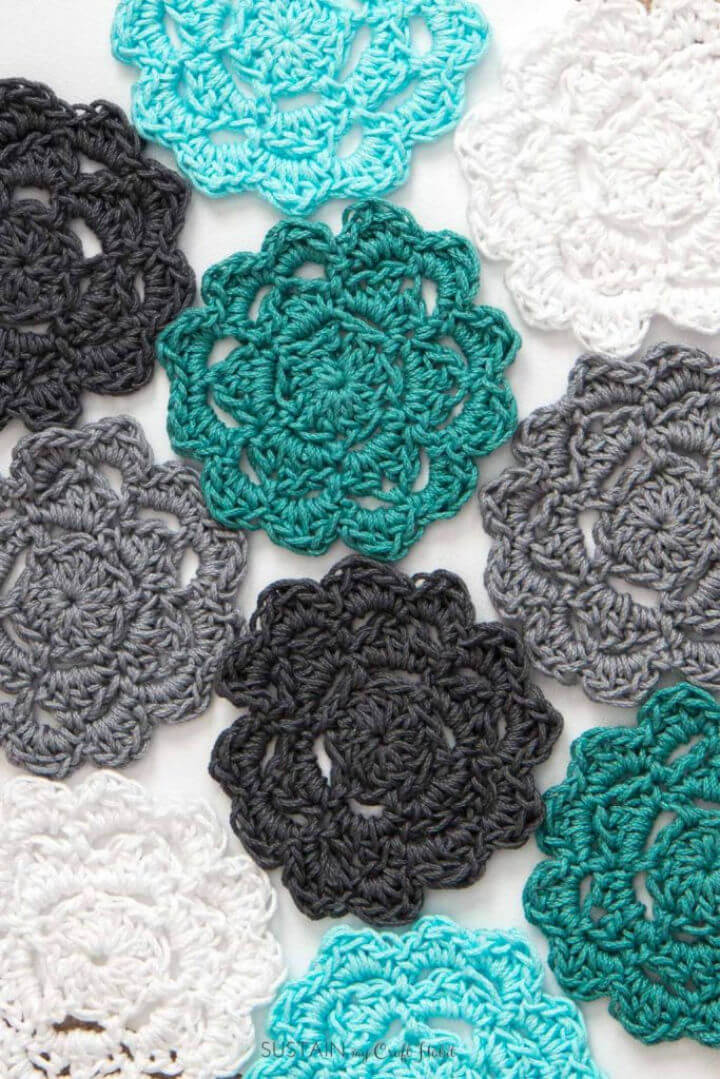 If you are a proud hostess then you must have a variety of the coasters to use on different occasions and impress the guests and your collection of the coasters is incomplete without the crochet coasters. So here we have this gorgeous and versatile pattern of the coasters that you can crochet out of the yarn scrap too. Easy and free pattern here! sustainmycrafthabit
22. Grandmother's Flower Garden Afghan – Free Crochet Pattern
When we are done with our crochet projects in multiple colors we are left with some small pieces of the yarn and here we have brought to this gorgeous flower garden afghan to use all of that yarn scrap. Yes, you can introduce these colorful hexagons to a white afghan and make it look so beautiful and fun. Details here! makeanddocrew
23. Free Crochet Starlight Toddler Slippers Pattern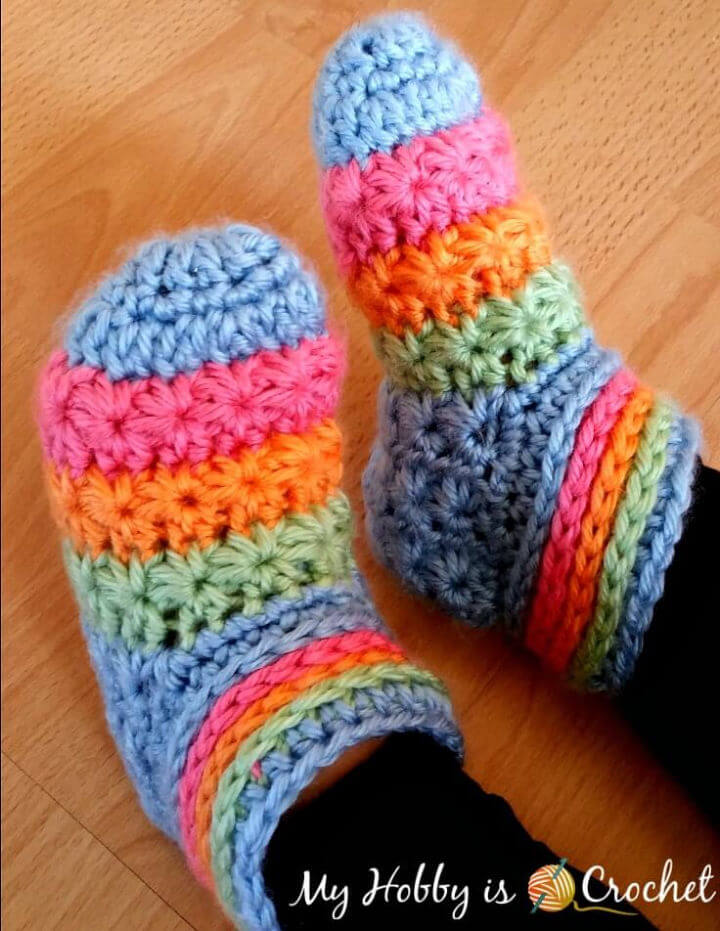 You can use all the colors at the same time when you are crocheting something for your little ones and here is the pattern of these cute and colorful starlight crochet toddler slippers. One of the best ways to use the yarn scrap, and make your kids feel warm and cozy cheaply is making this pair of these slippers. The easy and fun pattern here! myhobbyiscrochet
24. How to Crochet Blue Agave Phone Pouch
Why spend some money on the market bought phone pouch when you can make one at home using your yarn stash and thus saving yourself a lot. Using blue and creamy white yarn this pretty and cute phone pouch is super easy and quick to crochet and you can use it as the gift idea too. catch the pattern here! moogly
25. Crochet Scrap Yarn Basket – Free Pattern
Wondering what to do with that lot of white yarn that has been leftover of your blanket project? Crochet up this gorgeous basket from that scrap yarn in white. And get a gorgeous solution to store your next bunch of the bought yarn skeins. Follow the free pattern here for details! mybluprint
26. Easy to Crochet Rainbow Mug Cozy
It's time to get your hands into your yarn basket and pick up the colors of rainbow-hued yarn from your scrap to crochet up this gorgeous rainbow mug cozy. This adorable and cutely colorful rainbow mug can be used as a pretty and cute gift for your dear and near ones too. Do grab the pattern here! youshouldcraft
27. Free Crochet Colorful Coasters and Hotpads Pattern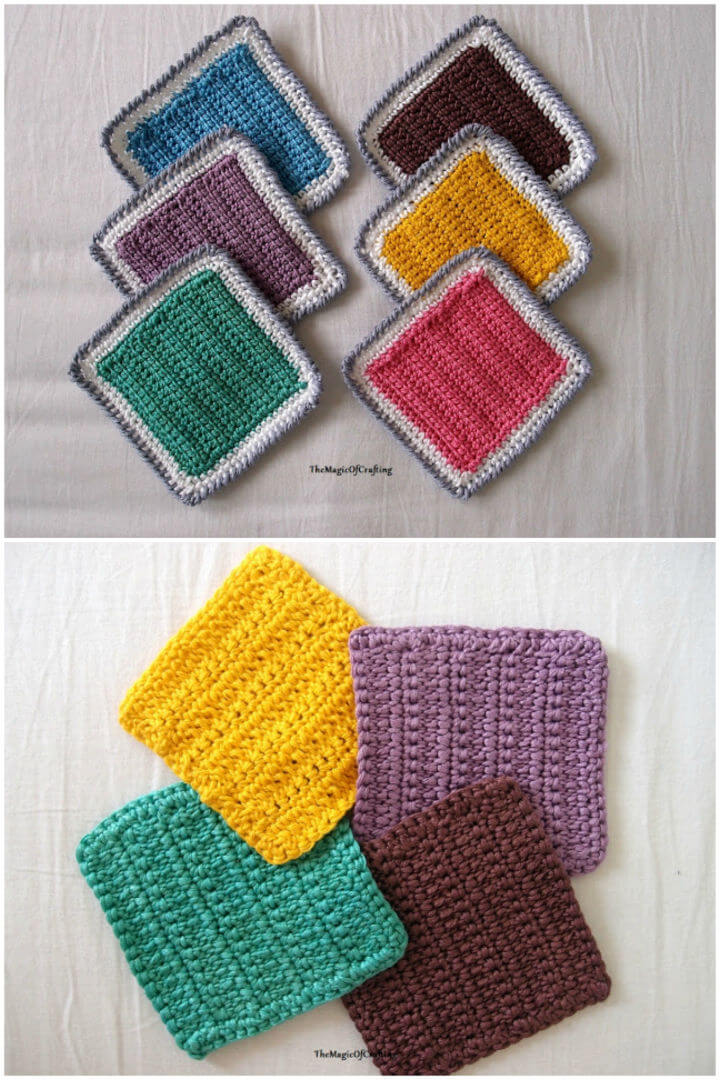 Small things can be easily crocheted from the scrap yarn and thus let you buy your new skeins of yarns. Crocheting up these cute and colorful coasters would a great idea to get rid of the extra yarn. The bunch of these coasters would make a great gift idea too. Follow the free pattern right here! themagicofcrafting
28. Crochet Ice Cream Cone Key Chain Using Scrap Yarn
Summers are here so you must have some ice cream projects on your to-do list and these cute and colorful ice cream come key chains are just too damn perfect and adorable. You can make as many as it would take you to get rid of your yarn stash and then gift them around to your dear and near ones. Catch the free pattern here! thefriendlyredfox
29. Quick Crochet Boho Coaster – Free Pattern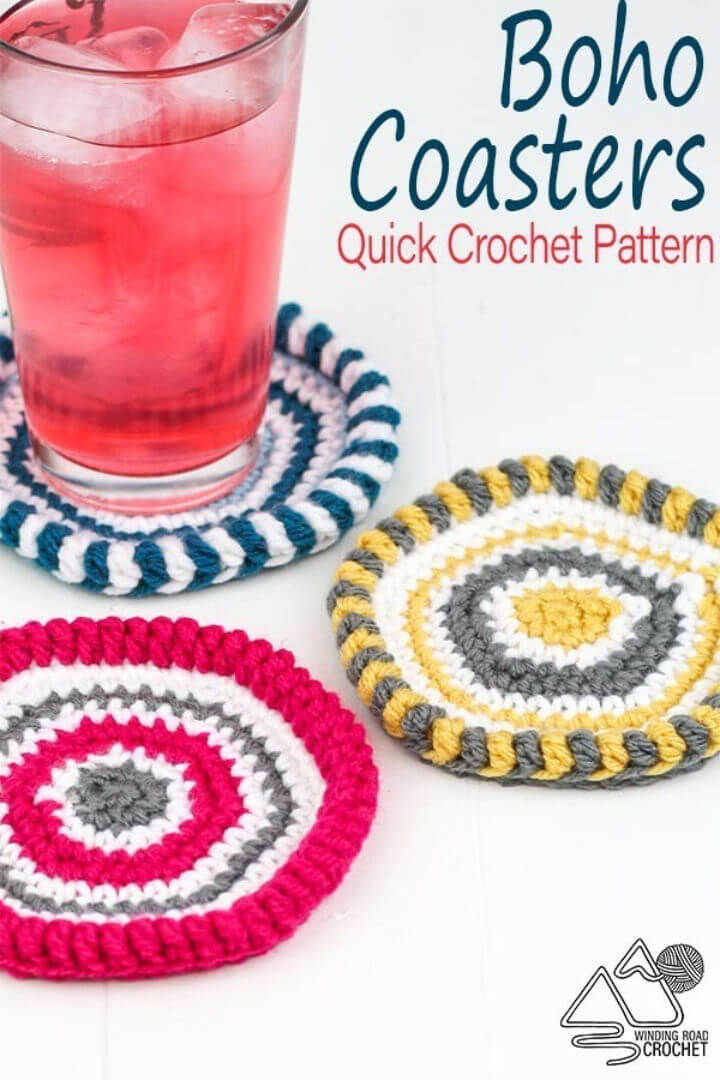 Save your tables from getting stained from your drinks and coffee by crocheting up this bunch of colorful coasters out of your yarn scarp. These lovely crochet coasters are too boho and chic and would perfectly fit your summer table decor. Grab the free pattern and tutorial here! windingroadcrochet
30. Free Crochet Scrap Yarn Steering Wheel Cover Pattern
It's time to bring to some charm and colors into your car with this handmade crochet steering wheel cover. The good thing about this project is that you do not need to buy new yarn for this as you can crochet it up out of the yarn scrap. Easy and free pattern with details here! thriftyfun
31. Crochet Floral Ear Muffs – Free Pattern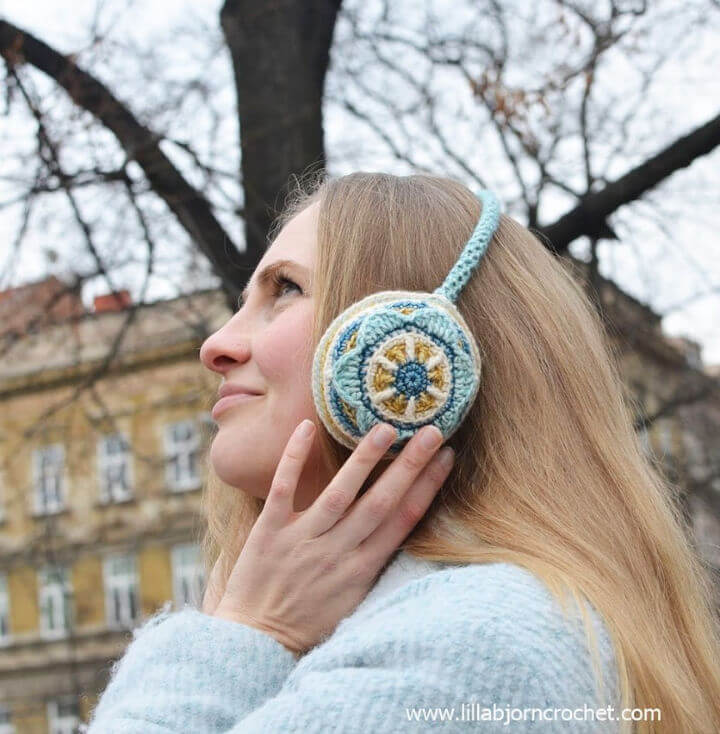 Some of the little things can really add to the comfort of your winter dress up just like this crochet floral ear muffs. Make this pair of ear muffs as you can easily make one out of your yarn scarp. Get the free pattern here! lillabjorncrochet
32. Crochet Ultimate Universal Electronics Cozy
You would love to bust your stash of yarn scrap after looking at these colorful pair of the ultimate universal electronic cozy for your tablet and phone. You can use as many colors as you like and get the funky and adorable cozy covers ever. The free and fun pattern with details here! moogly
33. How to Crochet Baby Rattle Blocks
Why should anyone buy those plastic blocks for your kids to play and learn when you can easily make the softest version of them at home? Yes, using your yarn scrap you can crochet up these adorable and cute crochet baby rattle blocks to develop their motor skills with. Easy and free pattern for blocks here! simplycollectiblecrochet
34. Easy Crochet Scrap Love Scarf – Free Pattern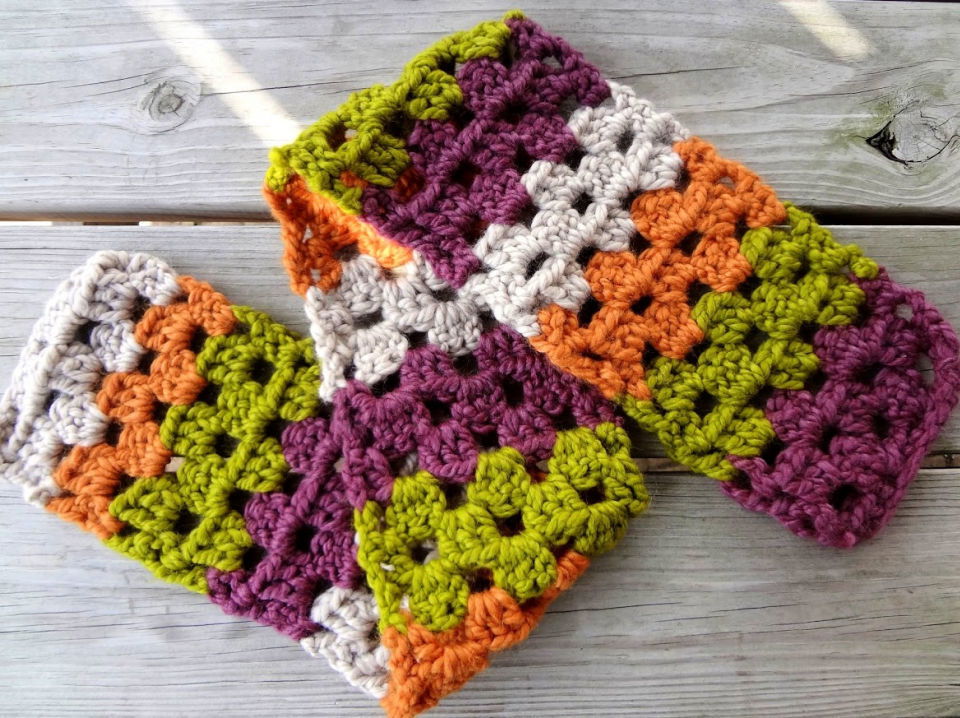 This small, cute and colorful chunky scarf is the best thing to get out of your yarn scrap. You can make it easily for your little girls and the chunky pattern of this scarf would let it crochet super quickly too. Follow the pattern here to make it right this weekend! fiberflux
35. Roseanne Reboot Scrap Yarn Granny Square – Free Crochet Pattern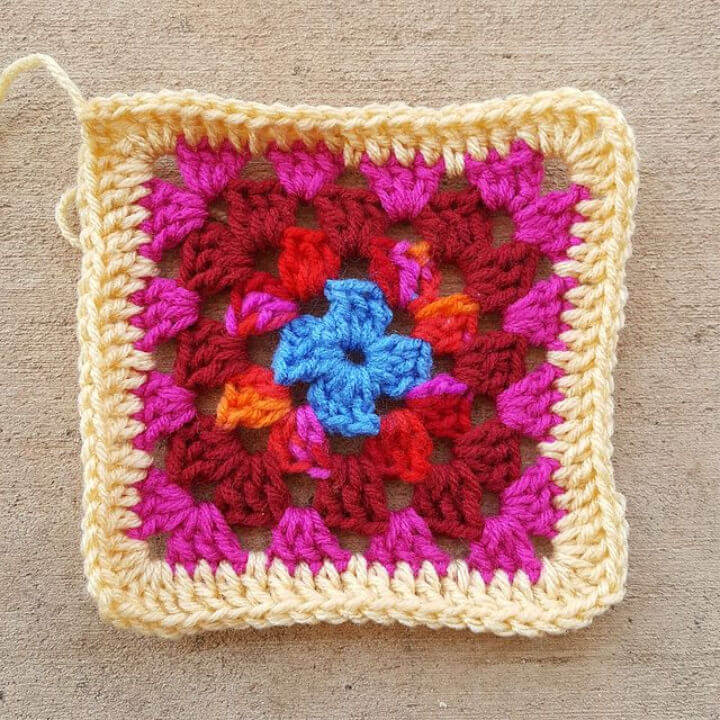 Colors can instanly delight up your mood so when you are next pissed off on something. You can get your hands on this super cute and colorful project of the Roseanne robeoot granny square. The reason behind it is so colorful and cute is the use of all the leftover yarn pieces from your previous project. Tutorial and free pattern here! crochetbug
Related DIY Projects and Ideas
Crochet Flower Patterns: Discover and download free crochet flower patterns for beginners, featuring flowers like daisies, roses, and sunflowers. They're easy to make and can be made in any colour you like and they look beautiful in a vase on your coffee table or on your windowsill.
Crochet Owl Patterns: Explore the world of free crochet owl patterns and make a cute decoration for your home in less than 30 minutes. These patterns are easy to follow and use basic stitches.
Crochet Infinity Scarf Patterns: These free crochet infinity scarf patterns are perfect for anyone who loves crochet! The patterns include a variety of shapes, textures, and styles so you'll never run out of ideas.
Crochet Granny Square Patterns: Whether you're a beginner or not, crocheting granny squares is easy and fun. This list includes patterns for top hats, amigurumi, sweaters, scarves, and more.
Crochet Lovey Patterns: Crochet loveys are a fun and easy way to show your love for your baby. These free crochet lovey patterns are easy to make and make the ideal gift for a little one.
Crochet Dishcloth Patterns: This is the ultimate list of free crochet dishcloth patterns that are easy to make and give your kitchen a fresh new look.
Crochet Basket Patterns: Find your next great crochet project with these free crochet basket patterns! Whether you want to make a colorful, chic, and stylish crochet market bag or a sturdy and durable crochet market tote, we've got the pattern for you.
Conclusion:
These crochet scrap yarn projects are perfect for using up those odd balls of yarn you have leftover from other projects. These patterns range from very easy to more advanced, so no matter your skill level, you're sure to find a project here that you'll love. And best of all, these crochet patterns are all free! So what are you waiting for? Get started on one of these 35 free crochet scrap yarn projects and Patterns today!