We all love the stars, and especially the kids look much obsessed with the galaxies and stars! Our so much love with the stars is wholly responsible that we love to make the faux stars with so many different things! The homemade stars are the perfect item that we love to use as decors for the parties and festivals, and they are also what that makes the extraordinary kid's playroom decor! You can make glittery paper stars, felt stars, wooden stars and lots of other using so many different materials and even the recycled items! Here we would show you that how to make beautiful stars using yarn!
Yes, you can also crochet stars at home that you can use for multiple different home décor projects! So, intending to make some lovely crochet stars at home? Then just check out here these Free Crochet Star Patterns / Stitches that are lovely and amazingly beautiful and would inspire your crochet creativity! Here crocheting these stars would be great fun and you will learn so many different ways here to crochet different styled stars!
Just like the granny squares, mandalas and crochet hexagon squares the crochet stars are a highly popular motif in the crocheting world and you can repeat it in several of your crochet patterns to create that lovely design texture!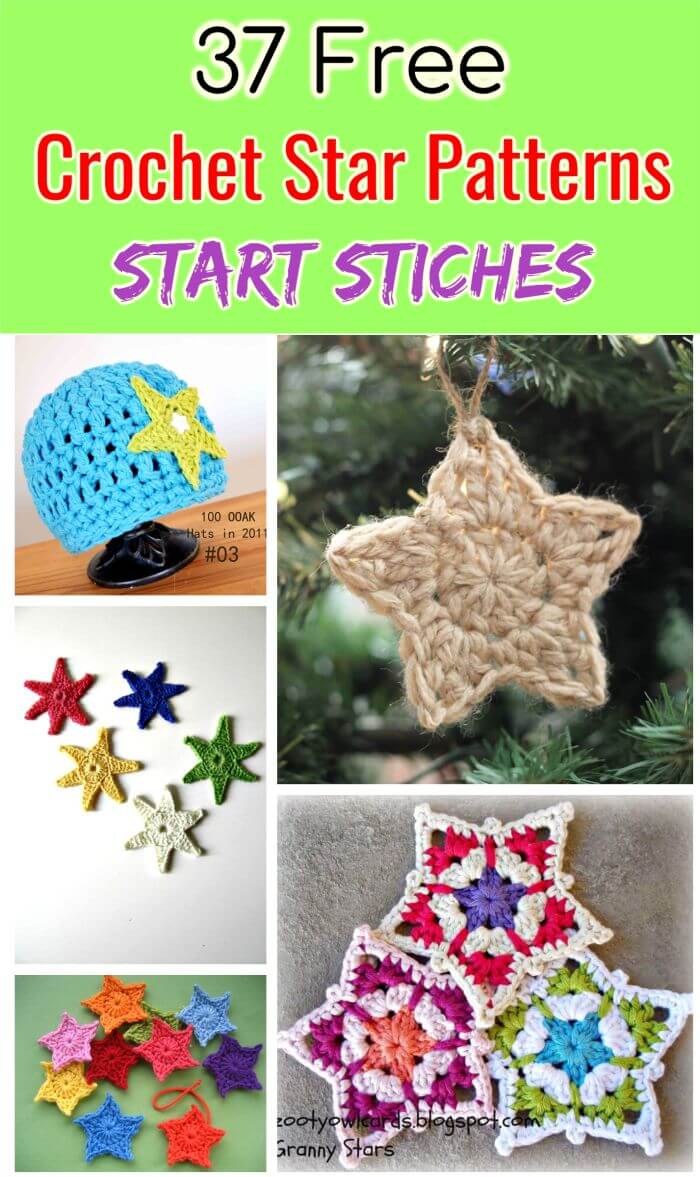 Just like a granny square, you can also star crocheting in round first to make a star and then you can crochet the star arms around the crochet round! Do, this using different yarn colors to create a unique star each time! Moreover, the list will also guide to crochet the stars with multiple arms that will dazzle the audience!
Free Crochet Patterns You May Like:
This just not ends here, you can use the crocheted stars also as appliqués! So, you can make use of the star appliqués to give any of your clothing or fabric item a lovely touch of galaxies or stars! Sew your crochet star appliqués on the baby blankets to make them look extra beautiful and also adorn your t-shirt with the crochet star appliqués and also boost your fashion by using the crocheted stars as embellishments for your crochet hats, sweaters and other items of this kind! Make also the striped crochet star blankets and also the lovely star shaped crochet baby afghans that will also make a great gift to a mother-to-be!
Hang the crocheted stars with matching yarn lengths on your interior blank walls as lovely decors and also string up the crocheted stars to make lovely star garlands that will rock as the party and home decors! Crochet the thick t-shirt yarn make star shaped trivets and hang the crocheted stars aloft as lovely party decors! Next also make the beautiful stuffed stars or the star plushies that would go as more special star decors or mini star gifts to kids! Checkout the entire list of these crochet star patterns and do duplicate your favorite ones! Visit the attached links to grab full free star patterns, visual tutorials, and step-by-step instructions!
Free Crochet Star Ornament Pattern: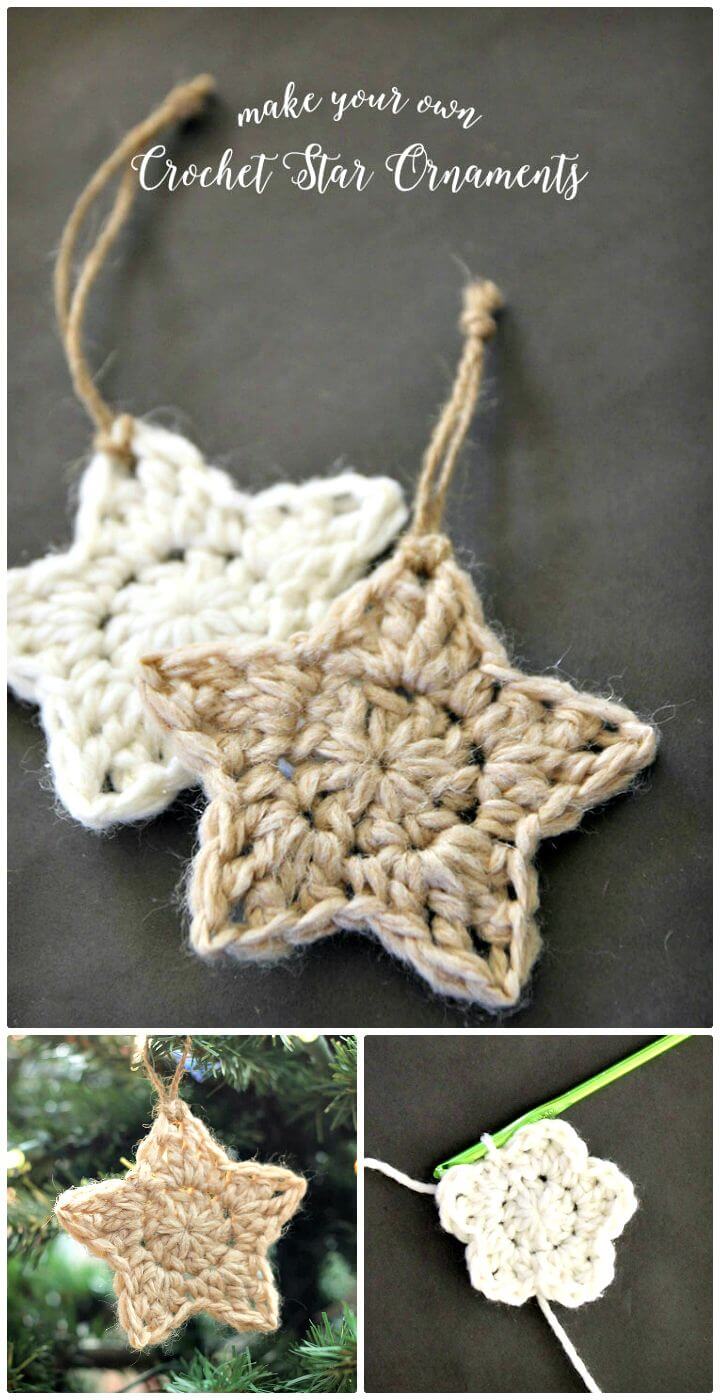 Crocheting some stars can be great fun as they can make precious star appliqués, ornaments and also the enchanting motifs for various of crochet patterns! Check out here the lovely crocheted stars that are here to serve as perfect hanging ornaments and has been done by taking a star with the magic loop! Here these stars feature a neutral hue but you can crochet them using any yarn color you like that will match your party theme! Complete crochet star pattern and tutorial here persialou
Easy Free Crochet Star Ornament Pattern: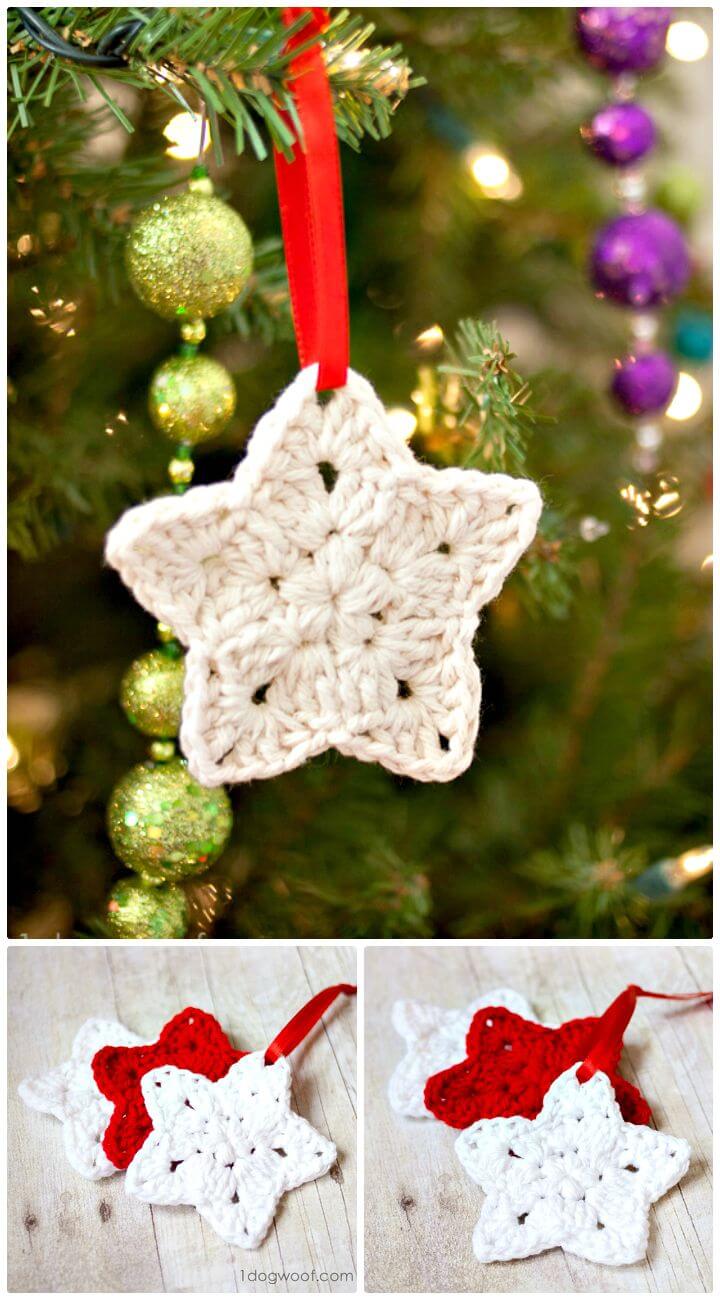 Looking for perfect baubles and trinkets to use in your festival décor plans? Just check out these lovely crochet stars that can add up with a ribbon length knotted to the top side to make as perfect hanging ornaments! Here these stars come in chic white and red yarn color but you can crochet them in any special yarn color you like depending on your festival theme and decors! Free crochet star pattern and instructional guide is here 1dogwoof
Easy Free Crocheted A Star Motif Pattern: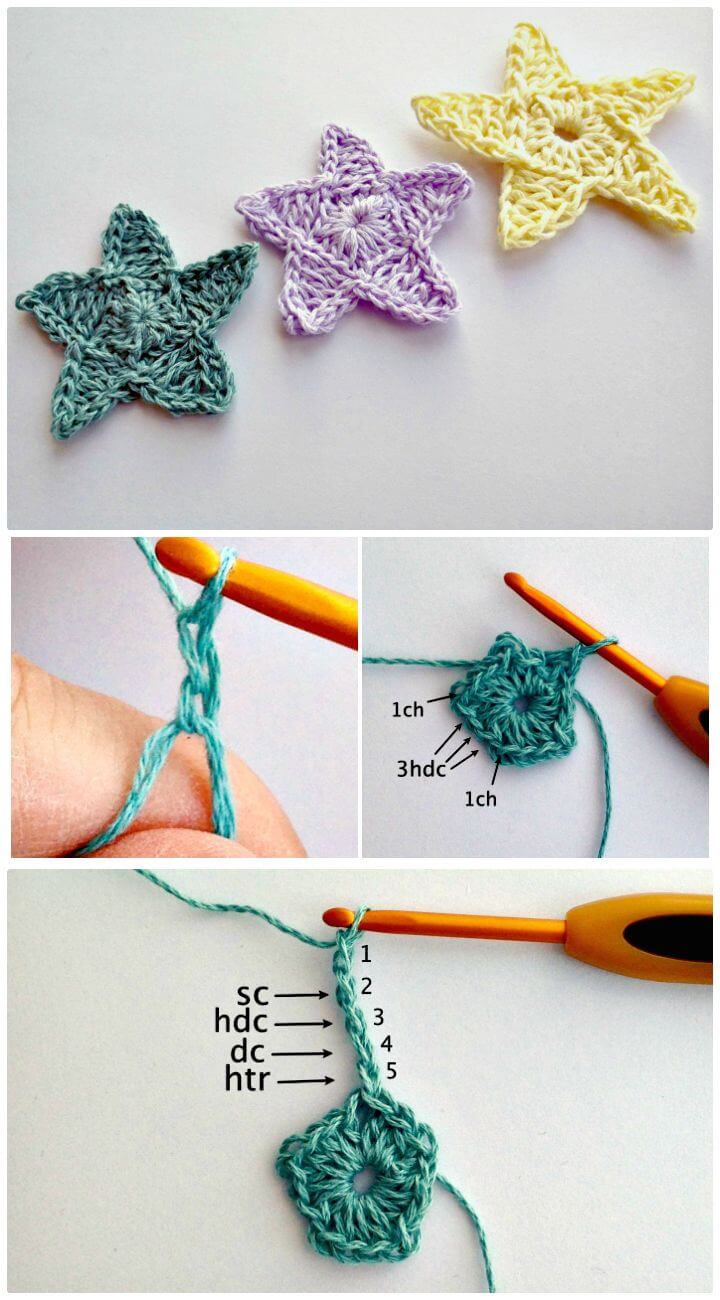 It will demand first to learn about crocheting some fab stars if you are willing to come up with star motifs in your decided crochet patterns! Check out here the colorful yarn star motif that is super quick to crochet and can spice up any of your decided crochet patterns! Here you also need to take start by crocheting a magic loop to make these lovey star motifs that will also work great as star appliqués for various of your crochet patterns! Willing to crochet these lovey star motifs? Grab the full free pattern and complete visual tutorial from here craftsy
Easy Free Crocheted Star Of Bethlehem Ornament Pattern: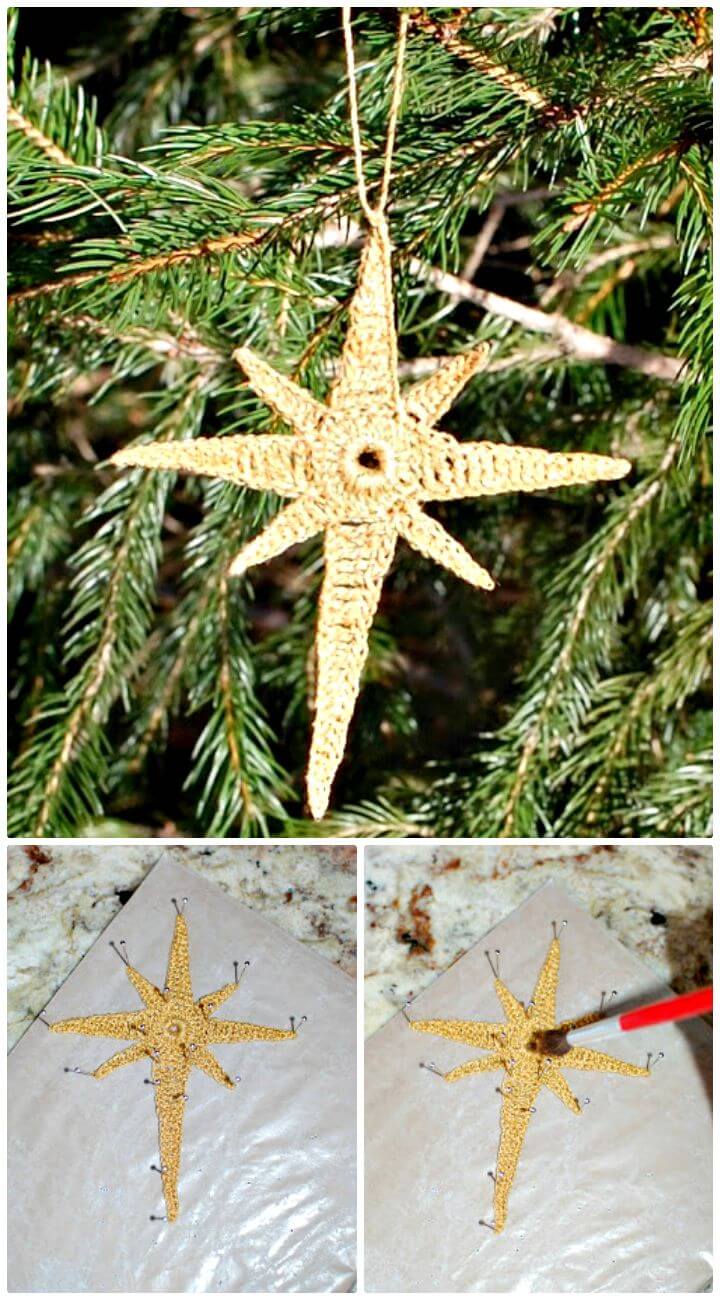 Check out here another custom crocheted star that is a star of Bethlehem ornament and comes with eight arms! It would make a perfect hanging ornament for kids rooms and also a damn enchanting star appliqué or monogram for your winter fashion clothing and other items of interest! This is here another lovey crochet star pattern you can try out with minimal crochet skills! Complete visual tutorial and free crochet pattern here petalstopicots
How To Free Crochet Granny Star Pattern:
Looking at these patriotic crochet star appliqués, the super sweet looking crochet granny stars that come in blue, white and red yarn color as per the demand of 4th July décor theme! You can crochet these stars for the 4th July part decors and these stars have also been crocheted by taking a start from the magic circle! Clone these stars with worsted yarn weights and don't forget to weave in the ends using the tapestry needle! Complete star pattern and tutorial guide is here thestitchinmommy
Free Crochet Star Christmas Ornament Pattern: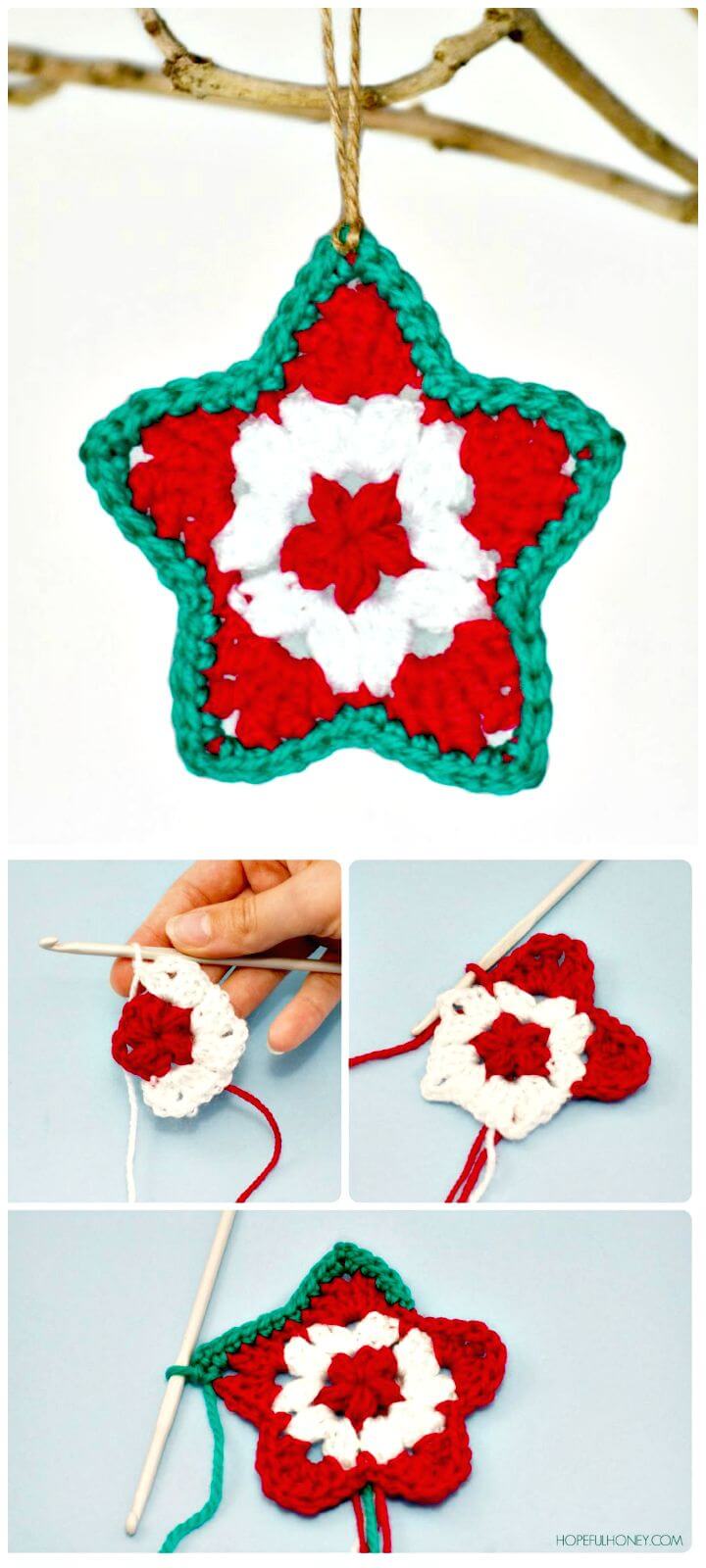 Another lovely crocheted star decors that come in 3 different colors and hence looks much enchanting and visually attractive! Here it comes in forest green, red and alluring white yarn color and makes an enticing hanging ornament! One can duplicate it to serve as a great festival décor, and it will also rock as a kids room hanging décor if you like to do so! Furthermore, use this colorful yarn heart as an appliqué, like a monogram and also as a cool star motif for several of your crochet patterns! Further project details and easy free crochet pattern here hopefulhoney
Quick Free Crochet A Star Pattern: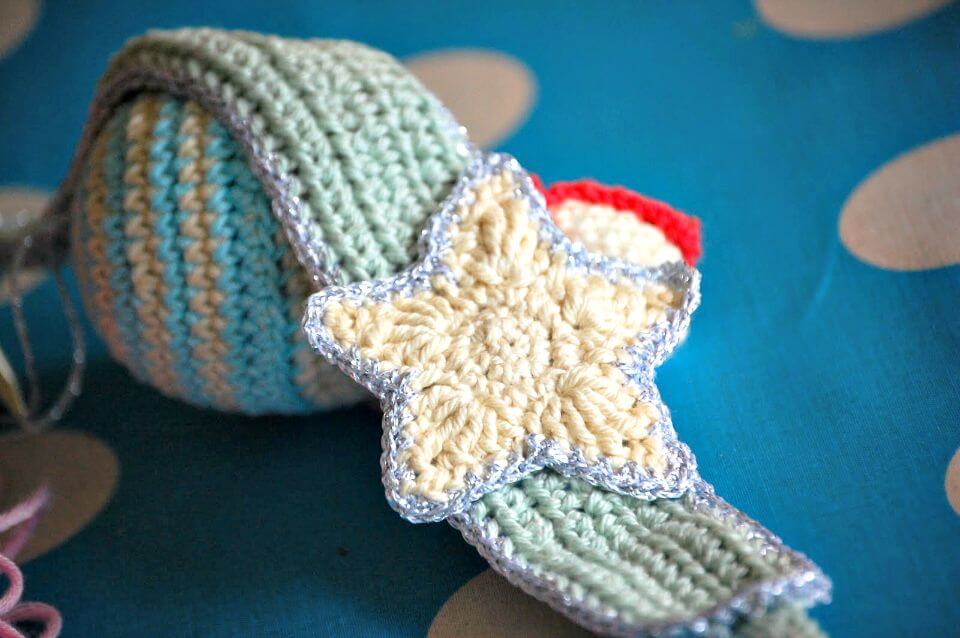 Checkout here another very beautiful looking yarn star that will be ready in just no time! Crochet in single and double and also in treble crochet stitch and duplicate this brilliant yarn start that would make a perfect festival ornament too! Once again take a star by crocheting a magic circle! Free crochet star pattern and tutorial here greedyforcolour
How To Free Crochet Stars Pattern: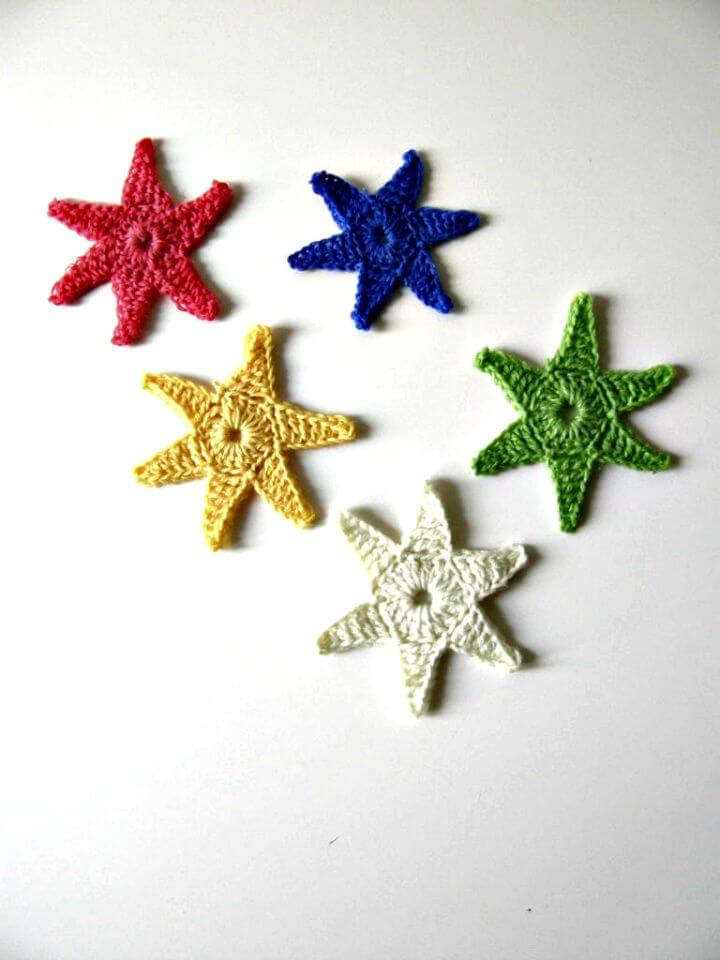 Crochet stars make great ornaments and work up quickly! So, if you have decided to come up with some lovely yarn stars while planning out some festival decors, so here are lovely ones, these are the bright stars that come with six arms and will make great hanging ornaments for sure! Furthermore, these stars can also be used as appliqués! Go with custom crochet stitches and duplicate these stars to use in multiple home décor plans and treatments! Complete project tutorial and easy crochet pattern here meetmeatmikes
Free Crochet Mini Star Applique Pattern: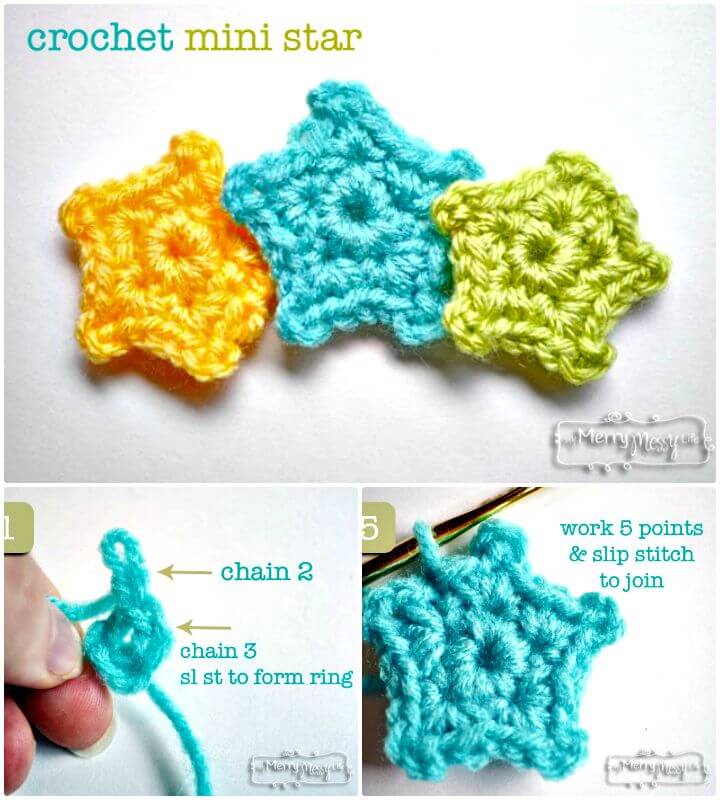 Looking for perfect adornments for you crochet scarves, sweaters, and hats? These mini star appliqués would make a great choice and are super easy and quick to crochet! Here the worsted yarn weights have been crocheted to crochet this fab mini stars that are looking beautiful in so many different colors! Just go with a chain, single and slip stitch and duplicate these min stars that would include great festival decors and also the hanging party ornaments too! Complete project details and easy crochet pattern is here mymerrymessylife
How To Easy Free Crochet Stars Pattern: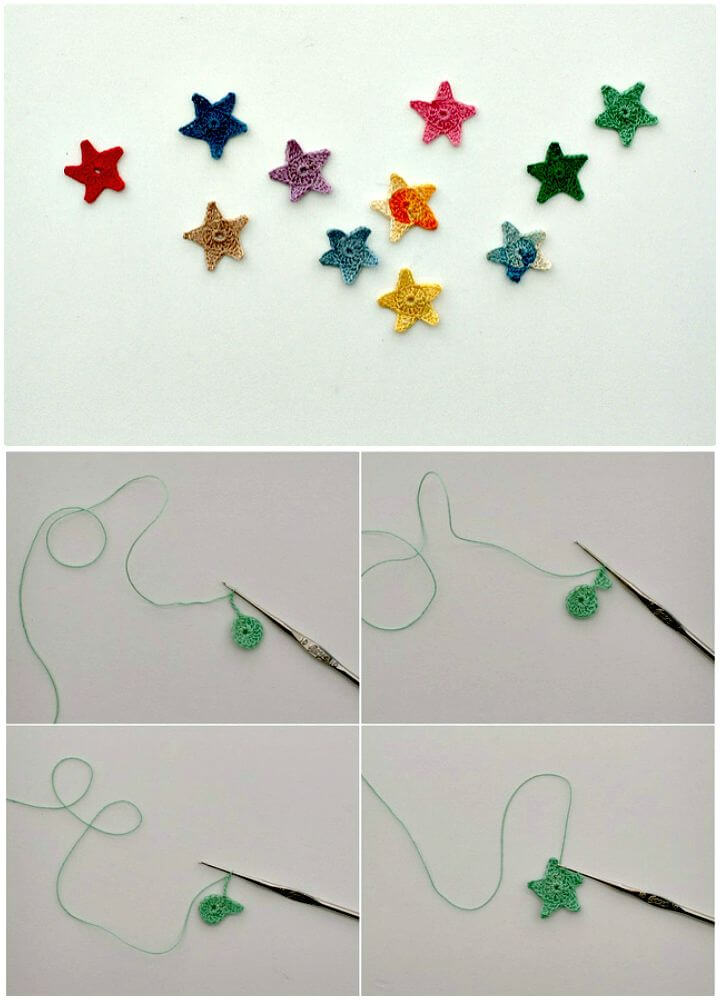 Just like flower and heart motifs, the star motifs also work great to create an alluring design texture of your decided crochet patterns! If you still not handy at crocheting some fab yarn stars then just take a look at these sample colorful stars that are looking extra beautiful and stunning! Crochet a magic loop first and then go with basic crochet stitches to completing the entire yarn star! Use these stars as appliqué, as the motif and also as hanging festival ornaments! foothillhomecompanion
Easy Free Crochet Twinkler Stars Pattern: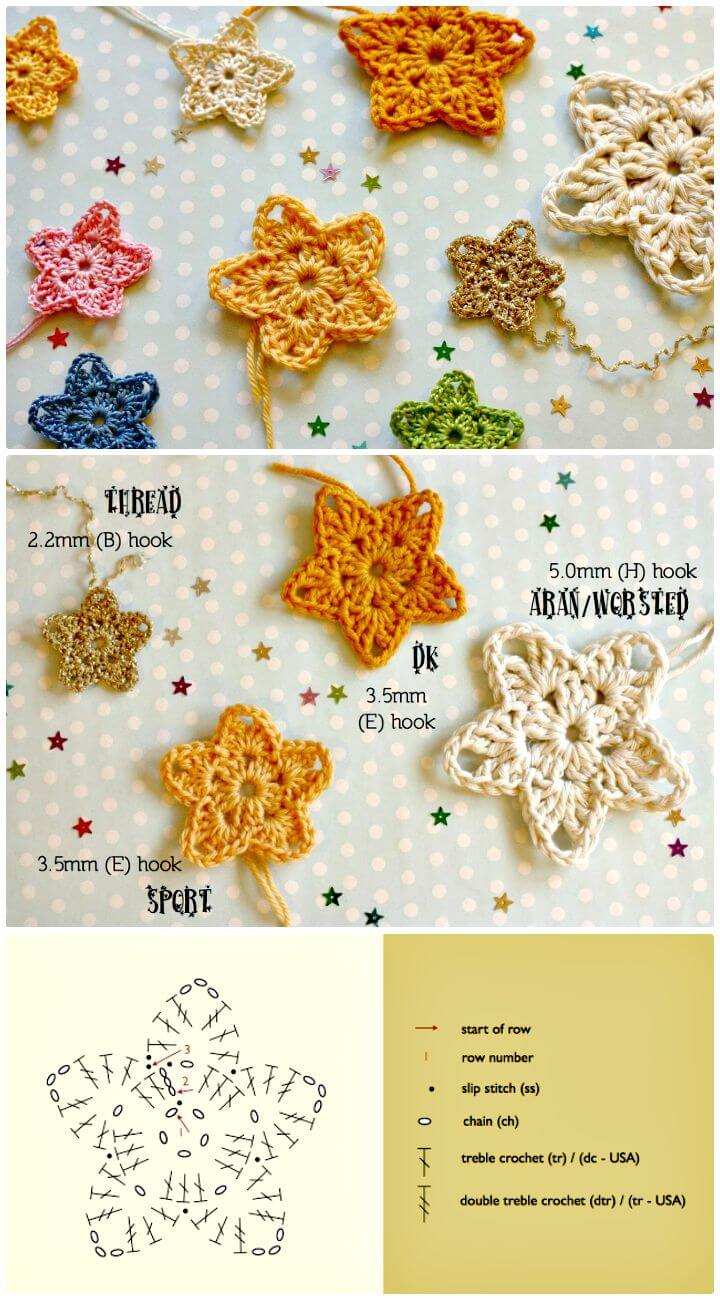 Look at this another lovely star design done by going with single treble and double treble stitch and is something beautiful to look at! Here the design texture f this twinkling star is spellbinding and you can crochet dozens of such stars to craft outstanding festival decors! This special star will work up quickly in less than 10 minutes! Put a set of these colorful stars onto a thread to make stunning party garlands and also the graceful festival wreaths for your new spaces! Duplicate these precious stars via free pattern and tutorial gave here cherryheart
Free Crochet Grannie's Star Pattern: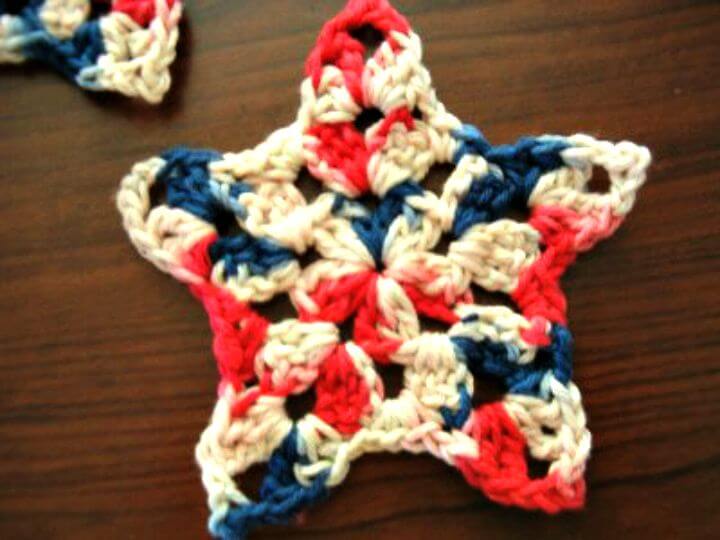 You can give amazing variations to your crochet stars by changing a style of stitching and also the lightness among the stitches! One great inspiration is here, the love grannie's star that is looking perfect in breezy but colorful yarn texture and is something that can be used for both decorative and useful purposes! Duplicate these stars and hang as charming trinkets and also use them in various types of home knickknacks! Adorn also your jeans, purses and other items of clothing with these stars as they make perfect appliqués too! Furthermore, these stars will also make perfect coasters! Complete free crochet pattern here freewebs
Free Crochet Tiny One Round Stars Pattern: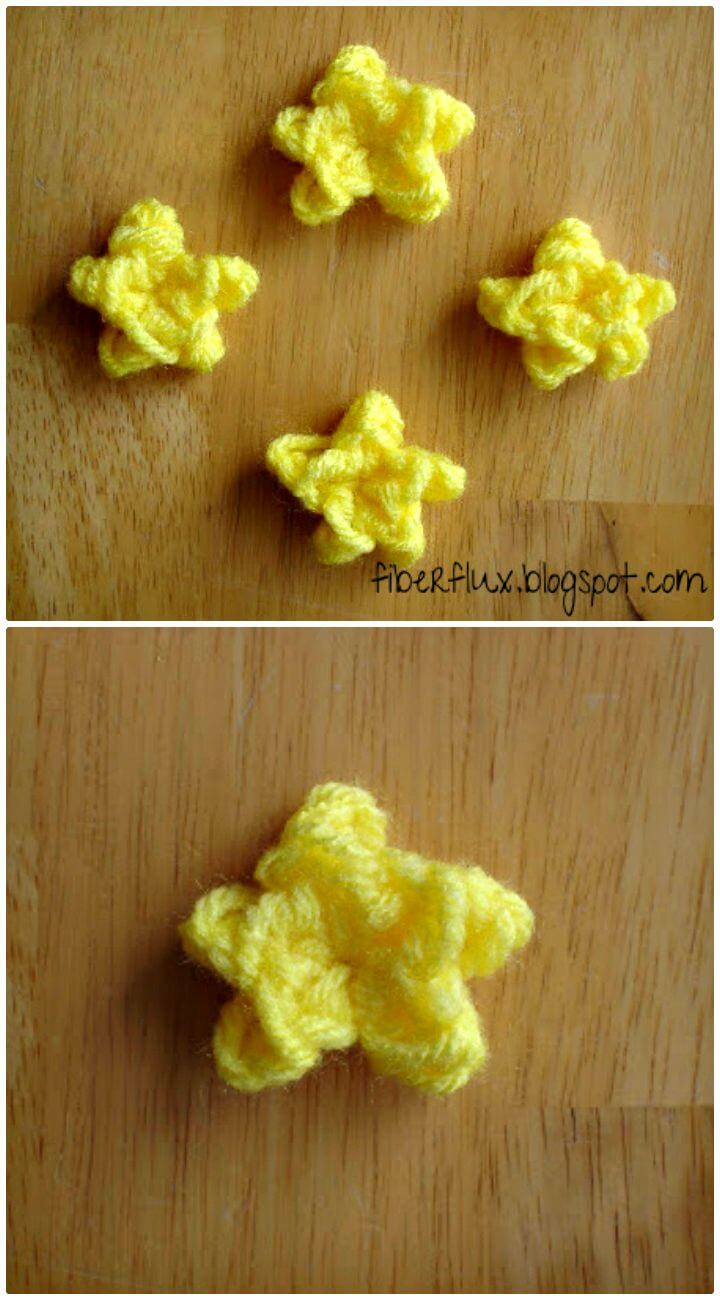 Looking for some perfect stars to use for ornamental home purposes? Check out here these tiny one round stars that will work up super quickly and are looking much visually attractive! Crochet these stars to make outstanding wreaths, hanging ornaments and also the brilliant festival decors! They can also be added to several of your fashion accessories like on the handbags, denim jeans and jackets and also on your t-shirts as graceful star appliqués! Duplicate these mini stars via free pattern and tutorial gave here fiberfluxblog
Cute Free Crochet Star Garland Pattern: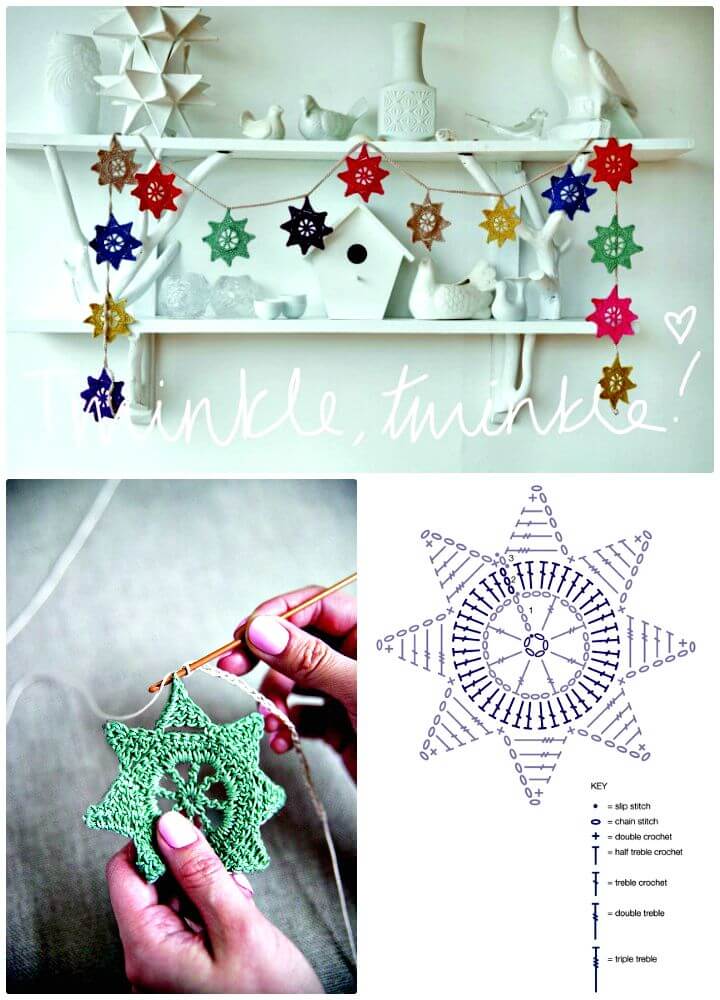 Crochet stars can be used further in various craft projects! They would be just perfect to use in an ornament craft project and here is a smart example of it, a brilliant garland wholly made of colorful crochet stars and is just looking fabulous! Here the crocheted stars are also circle based and each comes with six arms! Here all stars are looking enticing and can also be used in making precious wreaths for your front door and any party space! Complete free crochet star pattern and instructions are here madepeachy
Free Crochet Teeny Tiny Stars Pattern: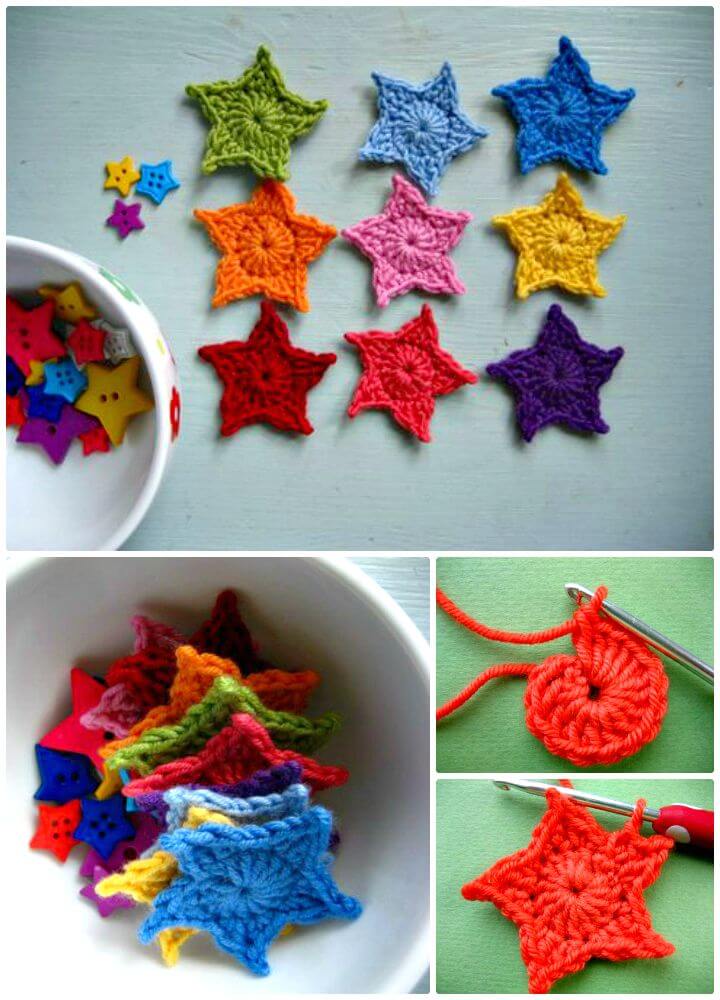 Crocheting stars is big fun and can be great for various ornamental purposes! Crocheted stars may come in multiple different colors and hence can be part of several different décor projects from home decorations to festival decors to party ornaments! They can also be used individually as precious coasters, monograms and also as appliqué for all your fashion accessories and clothing items! Furthermore, they will also be used in clusters to produce outstanding ornaments like the precious star garlands! Checkout here these sample stars that are looking fabulous and stunning! Free crochet star pattern and easy tutorial guide is here typepad
Free Crochet Glittery Stars In 2 Rounds Pattern: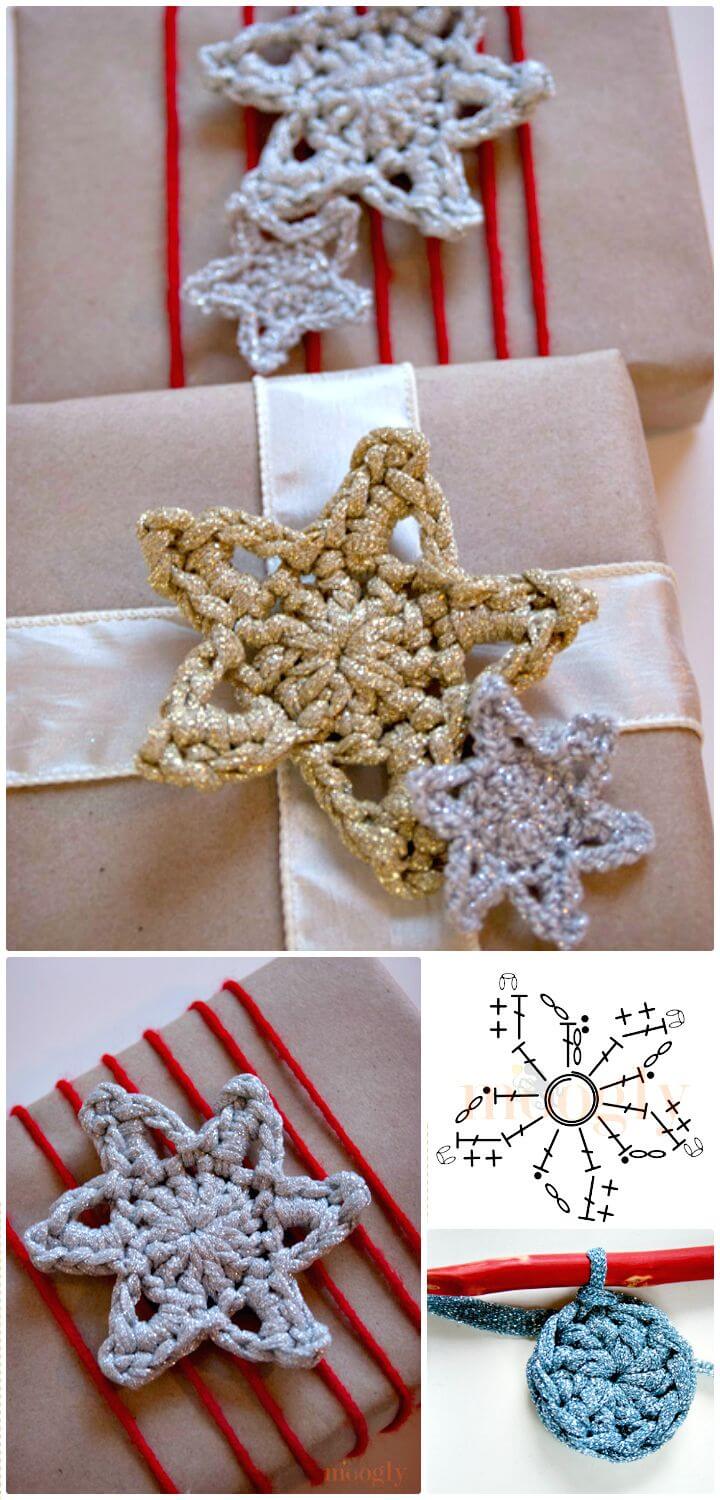 Looking for some glittery ornaments for holiday parties? If yes, then you are just at the right spot to get help! Just take a look at these crocheted glittery stars that are easy and quick to whip up and would make perfect holiday decors! The glittery appeal would be enticing and rock for any party theme! Here the crafts glitter ribbon has been crocheted for these fancy stars but you can experiment these stars with any yarn color, and they will just be ready after two rounds! Further project details and easy crochet star pattern here mooglyblog
Easy How To Free Crochet Star Pattern: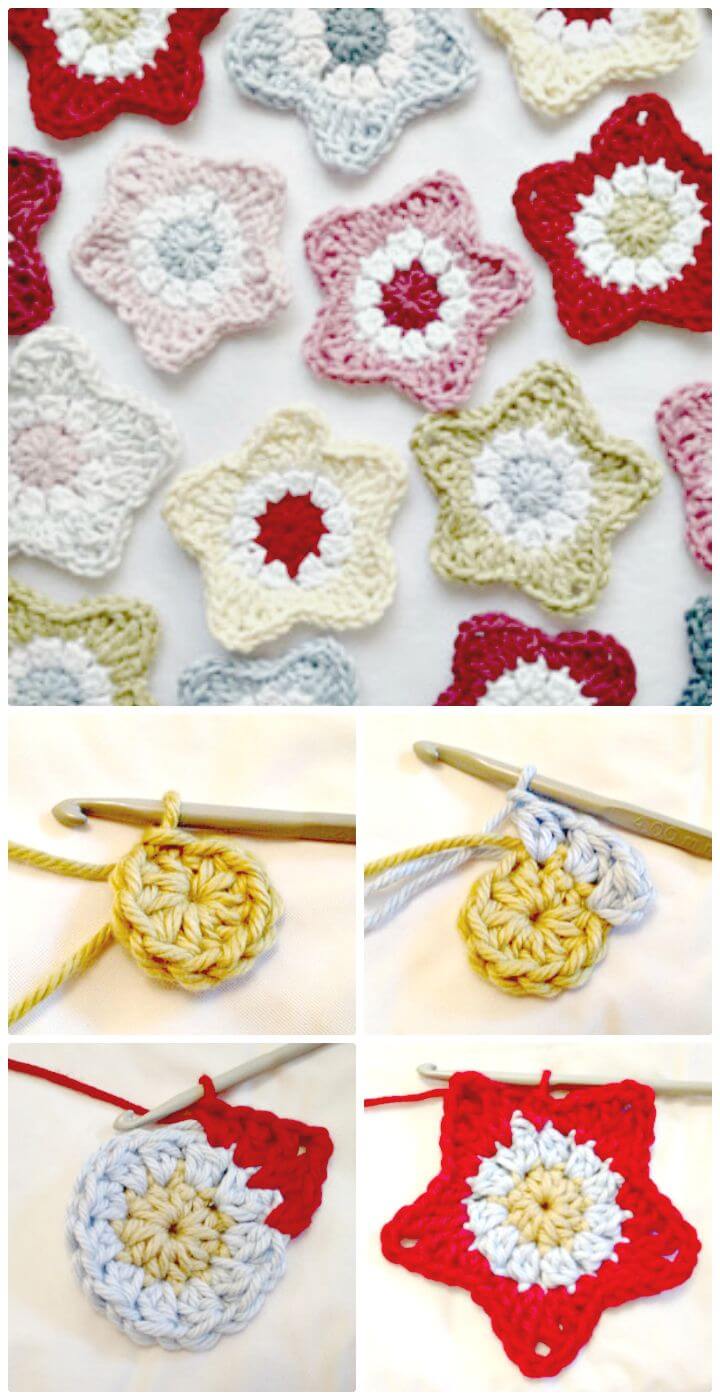 The very beginners can also try some fan crochet star patterns and a here is a lovely one! Just put your hook to test and crochet this colorful crochet star that has been done in 3 rounds and would make a great whimsical décor for your garden, for any new space and even for a party area! This is here a 5 pointed star that has been brought to completion by starting a magical circle first! Duplicate this star for making outstanding garlands, wreaths, and hanging ornaments and also use it as an enchanting star appliqué! Complete project tutorial and free crochet star pattern is here rubyandcustard
Free Crochet Star Making Pattern: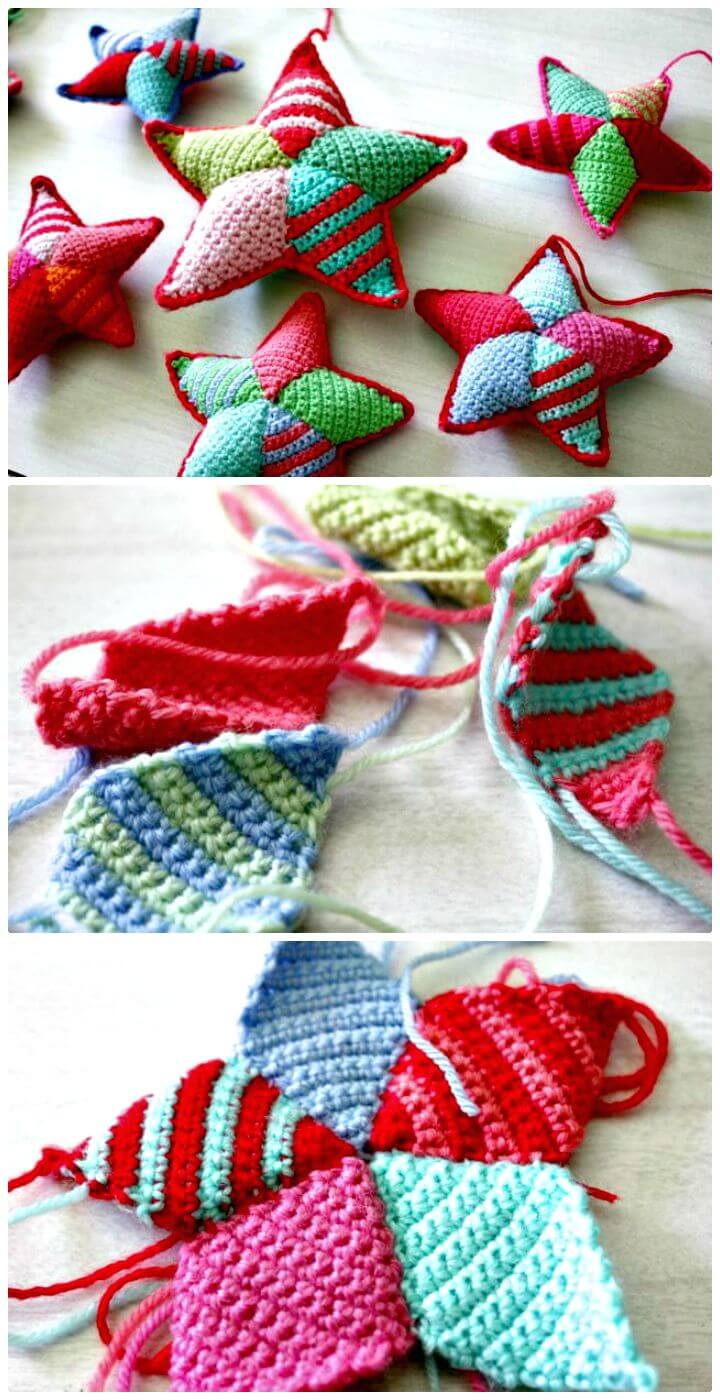 Not only the crochet star appliqués, but you can also crochet star plushie or amigurumi that will make classic decors and toys also for the kids! Here is another cool star-making project that results in a darling stuffed heart that is looking just lovely and fabulous! The line stripes all over the stuffed star go enticing to eyes, and this star plushie would make a dashing gift and a hanging ornament also! Looking forward to duplicating this star? Grab the full free guides and free crochet pattern from here littlewoollie
Easy Free Crochet Patriotic Stars Pattern: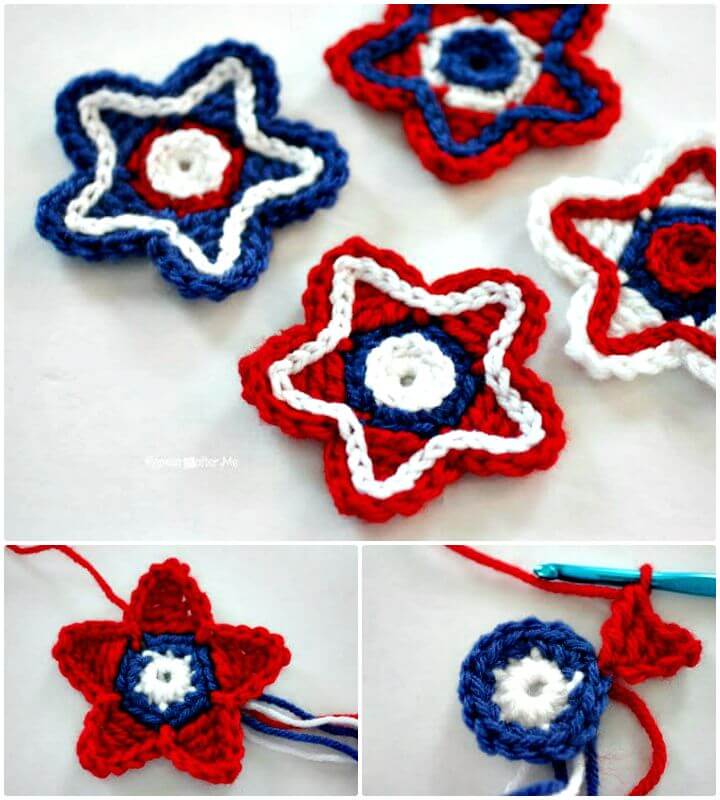 Check out here the lovely star ornaments that come in blue, white and red color and hence makes perfect decors for 4th July, the patriotic day! These are stars are circle based and are a super quick and easy crochet pattern and will add interesting details to your decided crochet patterns if used as motifs! Use these stars also as patriotic day logos and monograms as these hearts would also make outstanding appliqués! Duplicate these patriotic hearts via free crochet pattern and tutorial provided here repeatcrafterme
Easy Free Crochet Twinkle Star Pattern: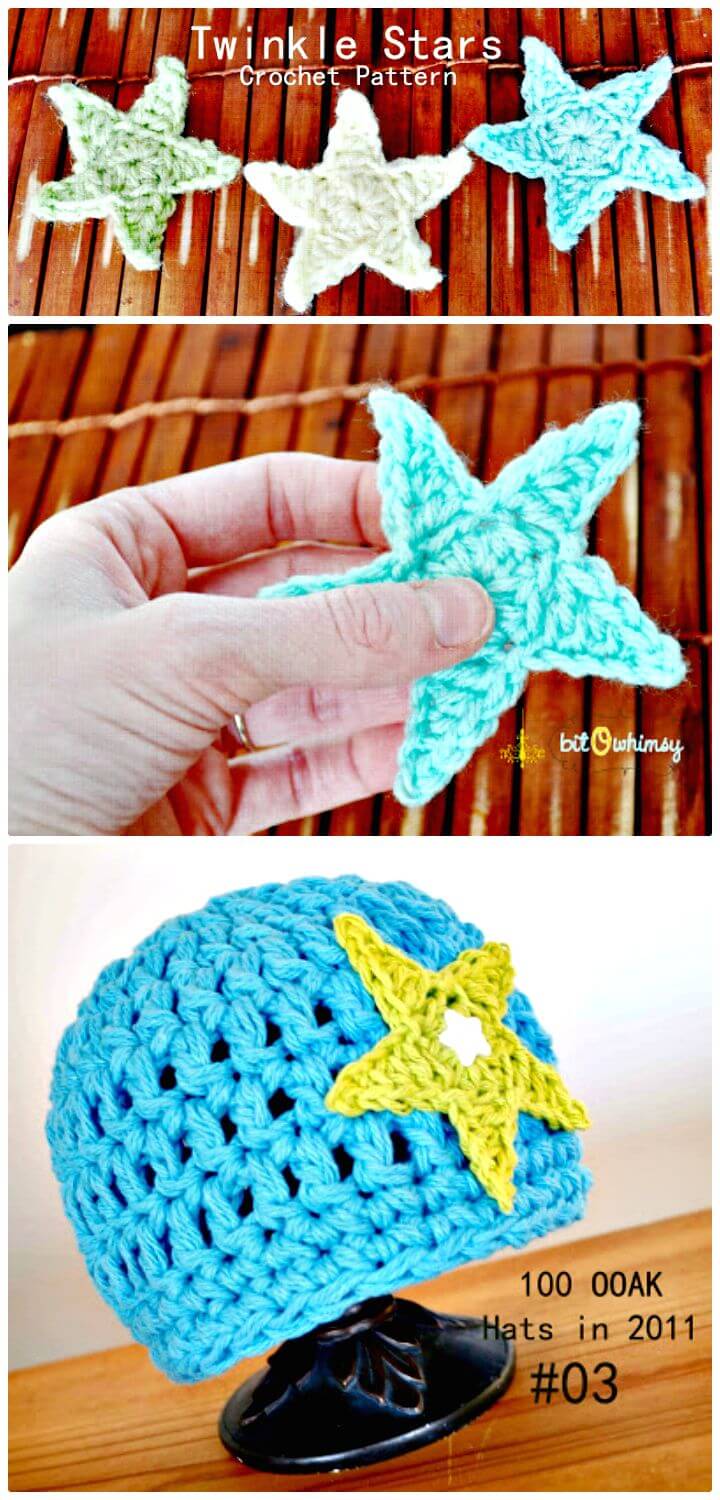 Looking for some perfect embellishments to adorn your crochet hats, sweaters and scarves and also the handbags? Just go with these twinkle stars that are would make a brilliant star appliqué and would looking outstanding also if hanging ornaments for any party space! Intending to crochet these handsome twinkle stars? Then go with your favorite yarn weights and basic crochet stitches and duplicate them! Make a magic circle or loop first! Complete project details and easy crochet pattern here bitowhimsyblog
Easy Free Crochet Stars Pattern: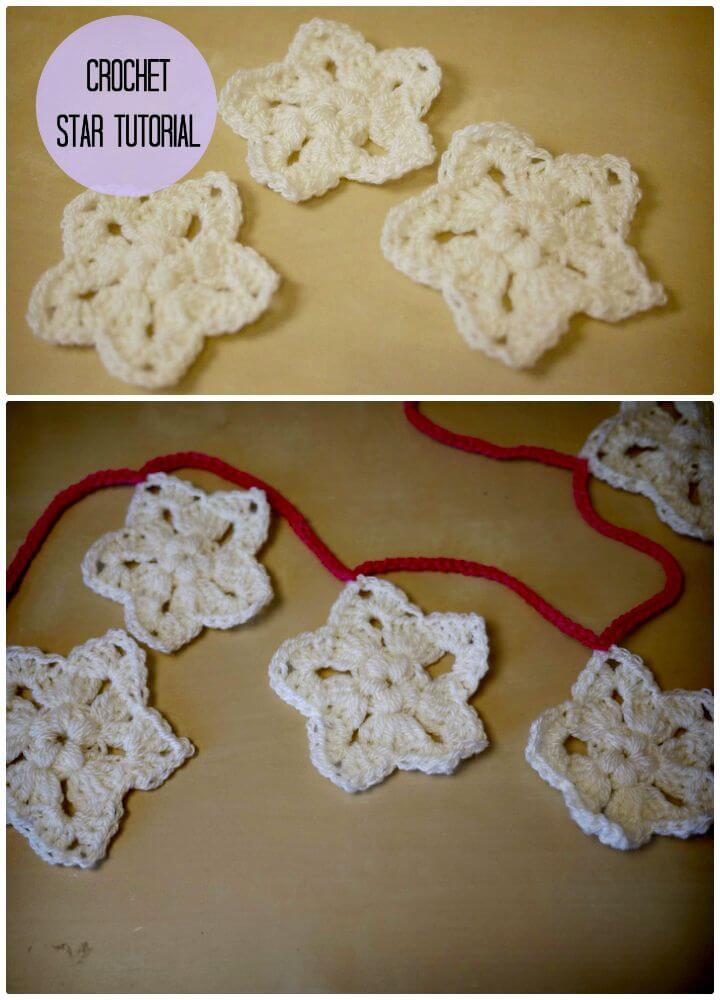 Go also with puff stitch to lovely crochet stars that will come with enchanting bouncy design texture! Just get inspired by these given white sample stars that are looking awesome and would make a great appliqué! You can also craft outstanding party, wedding or holiday decors by making smart use of these stars! Simply add them on to a piece of ribbon or string and make outstanding looking wreaths, garlands and another hanging ornament that will spruce up your party space! Complete free crochet star pattern and tutorial guides are here bellacoco
Free Crochet Granny Star Pattern: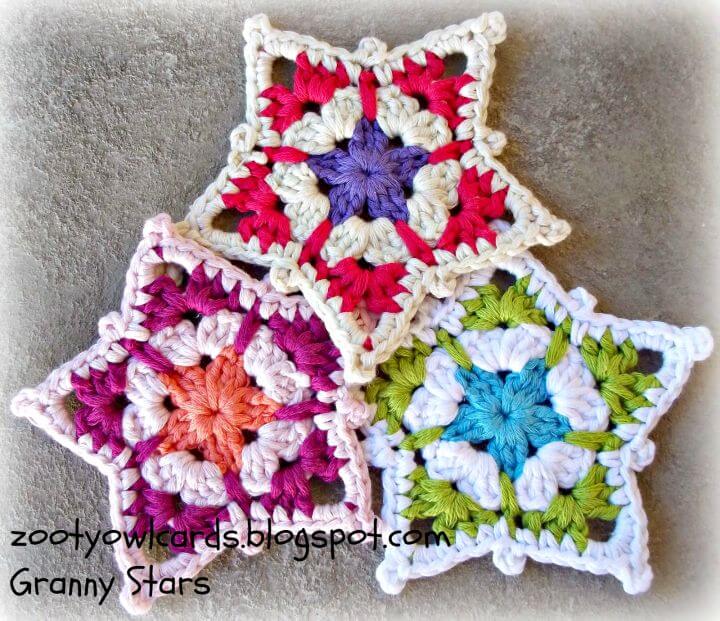 Want to crochet some yarn stars with interesting visual details? If yes, then you will fall in love with these granny crochet stars that are a beautiful sample here and can be a part of various home decors and party ornaments! First, make the foundation of the star that is going to be a circle and then you can go with multiple crochets round using different yarn weights and stitches to crochet a fab star! Here of these sample crocheted stars comes in 3 different colors and hence looks much focally stimulating! Willing to duplicate these granny stars? Grab the full free pattern and tutorial guides from here zootyowlcards
Easy Free Crochet Teeny Tiny Stars Pattern: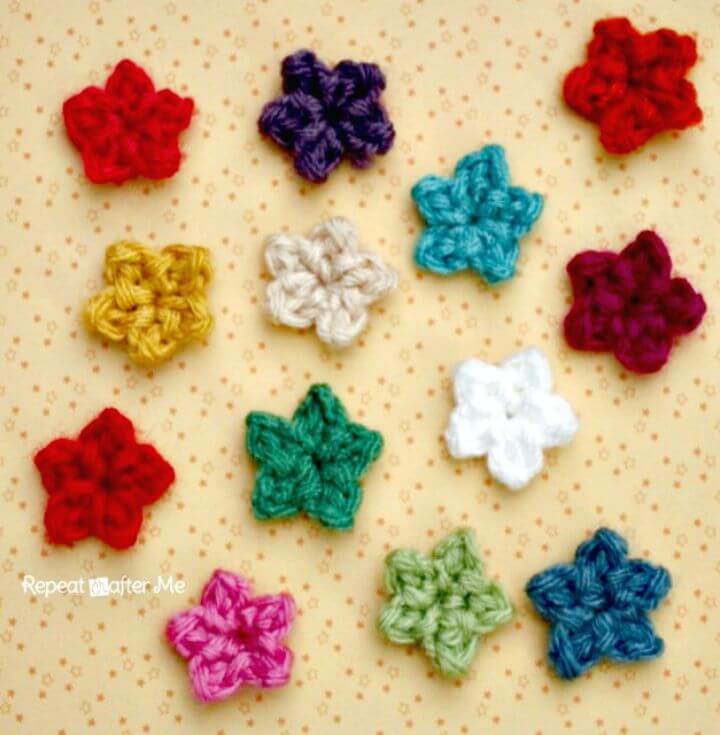 Crochet worsted yarn weights for a fab looking stars that can be used in multiple different ways like as an appliqué and for crocheting further different types of home and party decors! If you are concerned to crochet some stars in just no time, then these teeny tiny stars are a great choice, they will work up super quickly, and you can make dozens of them for crafting outstanding decors! Make dozens of these stars and thread them onto a piece of string making outstanding star garlands and wreaths! Free crochet star pattern and easy tutorial guide is here repeatcrafterme
How To Easy Free Crochet Star Pattern:

Different crochet stitches may help different crochet stars with different design texture! So, you can vary the style of crochet stitching to vary the design texture of your decided crochet stars! Check out here these outstanding crochet stars that have been crocheted to inspire your hooks! After using the basic crochet stitches, the special picot and treble stitches have also been used for a great design texture as you can see! Vary the yarn weights and colors to experiment these stars! Complete free crochet star pattern and instructional guides are here stitch4ever
Easy Free Crochet Star Blanket Pattern: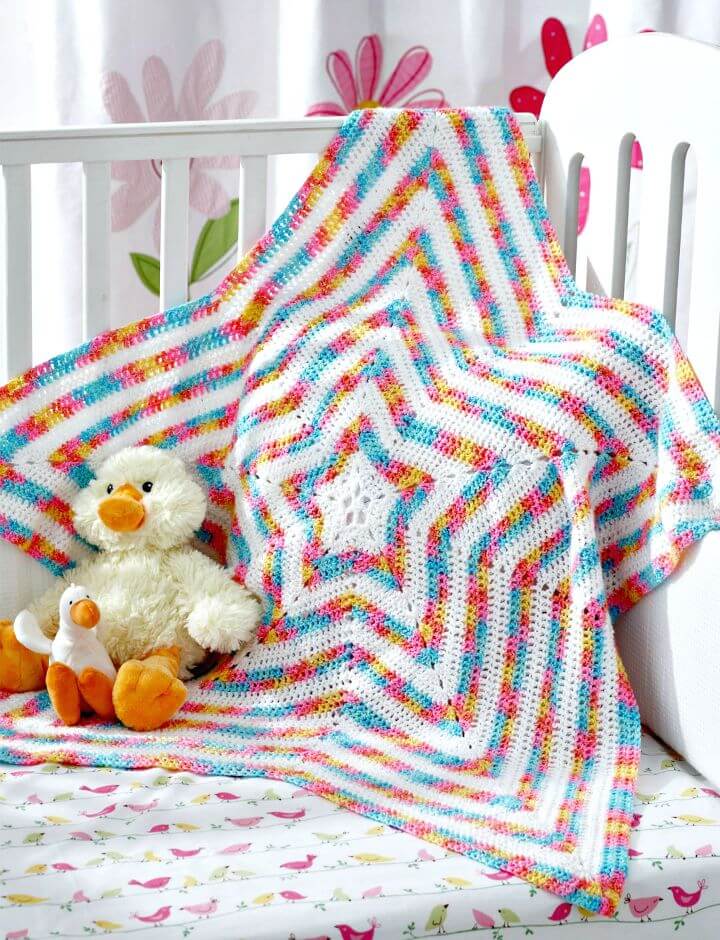 Crochet also different outstanding patterns based on a star shape! An exciting sample here is this star blanket that is looking lovey due to brilliant star stripes spreading out from the center! Theses star stripes are equally spaced and hence create an enticing visual of the blanket! This blanket would surely hold pleasing to all about-to-be-mothers, and you can also crochet it as an ultimate baby shower gift! Looking forward to duplicating this handsome blanket? Grab the full free guides and visual instructions from here yarnspirations
Free Crochet Adorable Star Blanket Pattern: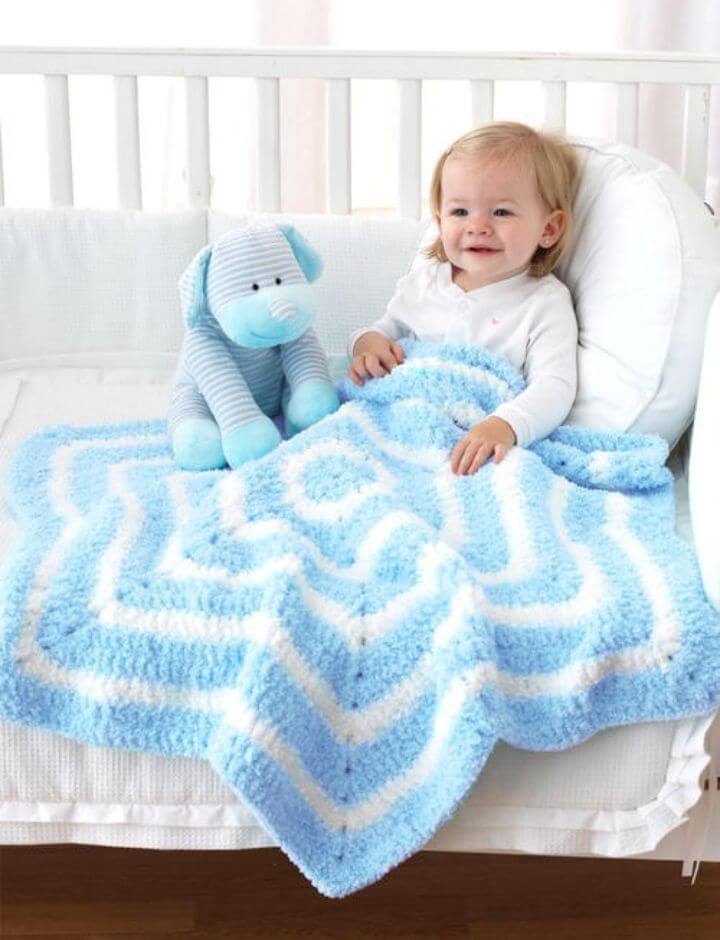 Love to crochet in rounds? If yes, then here is a beautiful crochet inspiration for you that will be done by crocheting in rounds, this is here an beautiful star blanket that also comes in an enticing star shape rather than a rectangle or square shape! Another special feature is the blue and white star shape stripes that radiates outward creating a lovely design texture! Want to duplicate this fascinating baby blanket design that will also make a great present to a mother-to-be? Then grab the complete instructions and free crochet pattern from here allfreecrochet
How To Crochet Star – Free Pattern: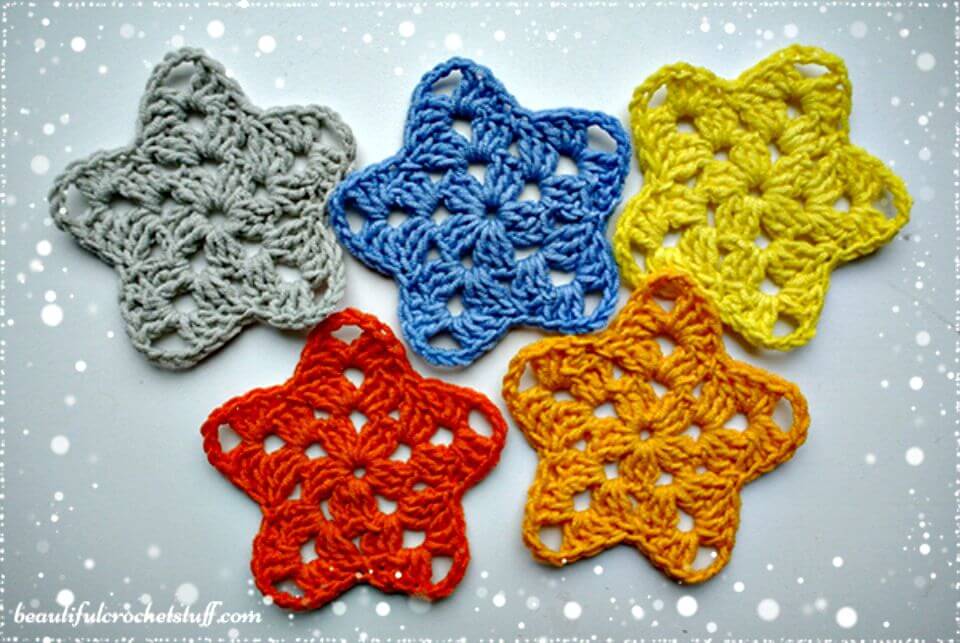 Some more enticing crochet stars are here that comes a little breezy but are sure to make visually attractive party decors! These crocheted stars would make outstanding festival tree ornaments and will also come in handy to make brilliant garlands, wreaths and star buntings for any of your new party space! All these stars are super easy to crochet and are unbeatable in beauty! If you learn how to crochet these stars, then you will also be able to crochet lovely doilies, snowflakes and other patterns of this kind! Grab the free crochet pattern and visual instructions from here beautifulcrochetstuff
Easy Free Crochet Star Applique Pattern: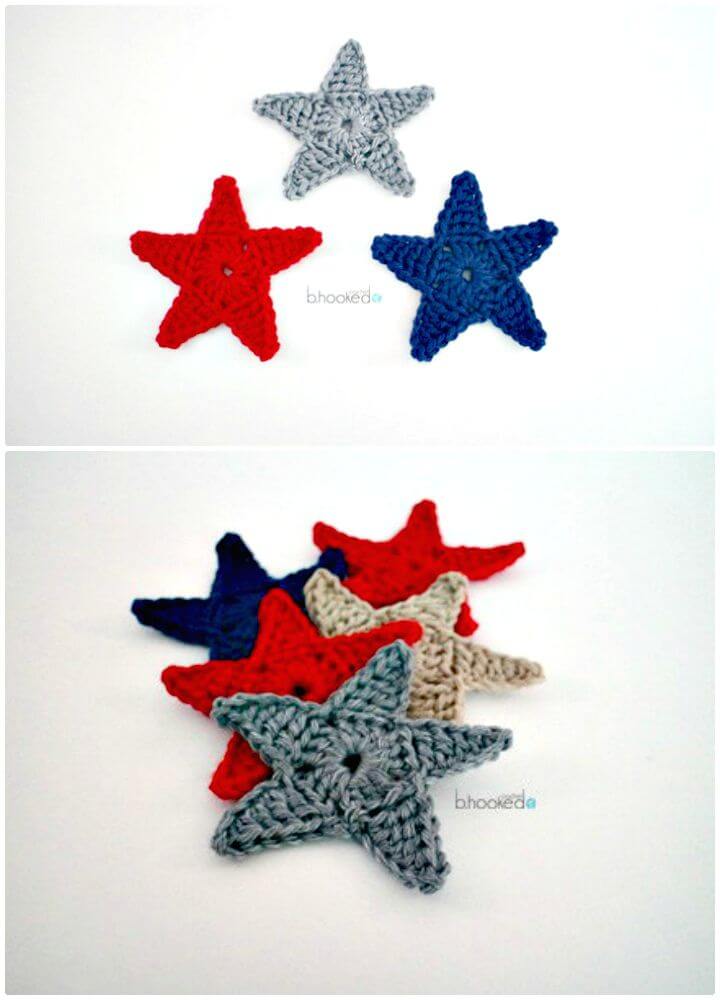 There is not limit for enchanting crochet star patterns! If you intended to adorn some crochet accessories or clothing items with beautiful star appliqués or monograms, then check out here the sample star appliqués, crocheted to rock and inspire! Here you will also see multiple presentations of crochet star appliqués in different colors! Want to duplicate these great looking crochet heart motifs? Grab the full free guide and easy crochet pattern from here bhookedcrochet
An Easy Free Crochet Star Pattern:
Clone this another beautiful chunky crochet star that would make a perfect décor for various party environments and can also be used as an embellishment to spice up your crocheted items and accessories! This is here another lovely crochet star that you can duplicate to adorn your hand-bags, denim jeans, headbands and various other items of this kind! Complete star pattern and instructions here potterandbloom
How To Crochet Hanging Stars – Free Pattern: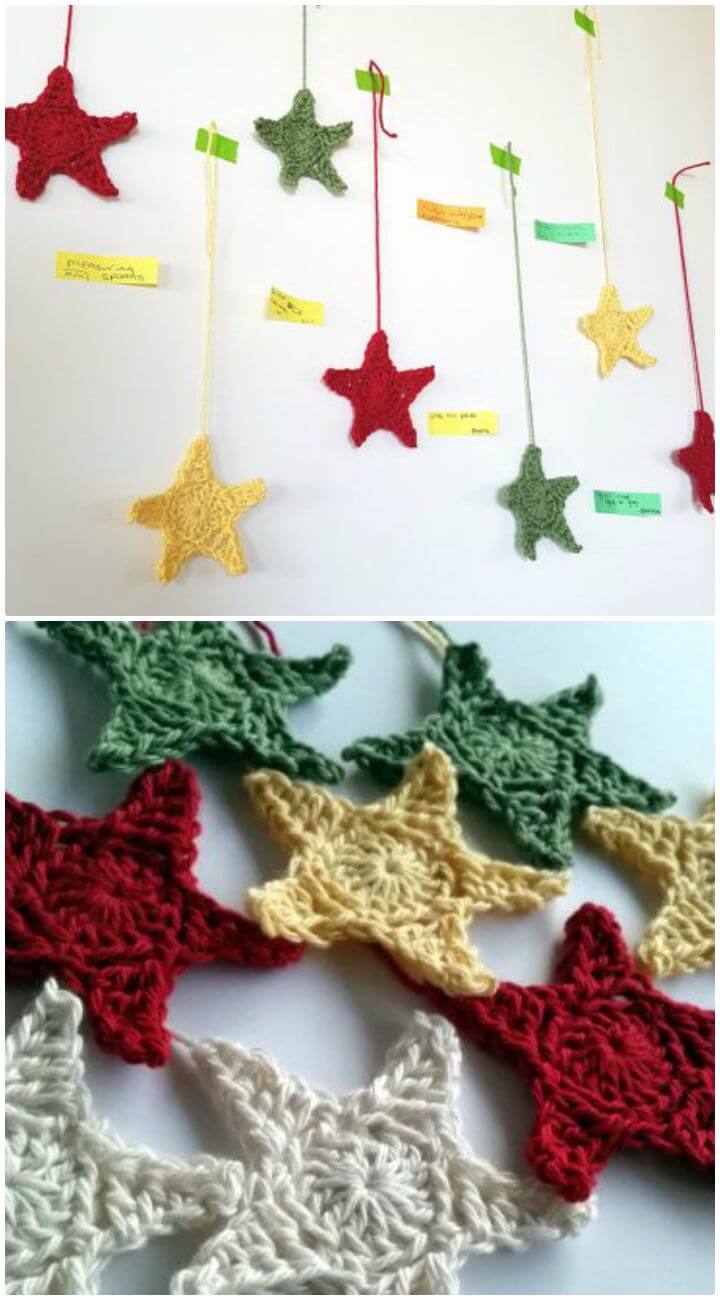 Striving for extra beautiful and good looks of your interior walls? It would demand some classic type of decors or decorations, and you can crochet also outstanding wall decors with your crochet hook! A great and smart example here are these hanging crochet stars that bring great focal stimulation to that targeted wall and are looking extra beautiful due to being colorful! So, you can also use crocheted stars to boost your interior home decors rather than using them just as an appliqué or embellishment! Complete free star pattern and easy tutorial here spincushions
How To Make A Crochet Star Pattern +Video Tutorial: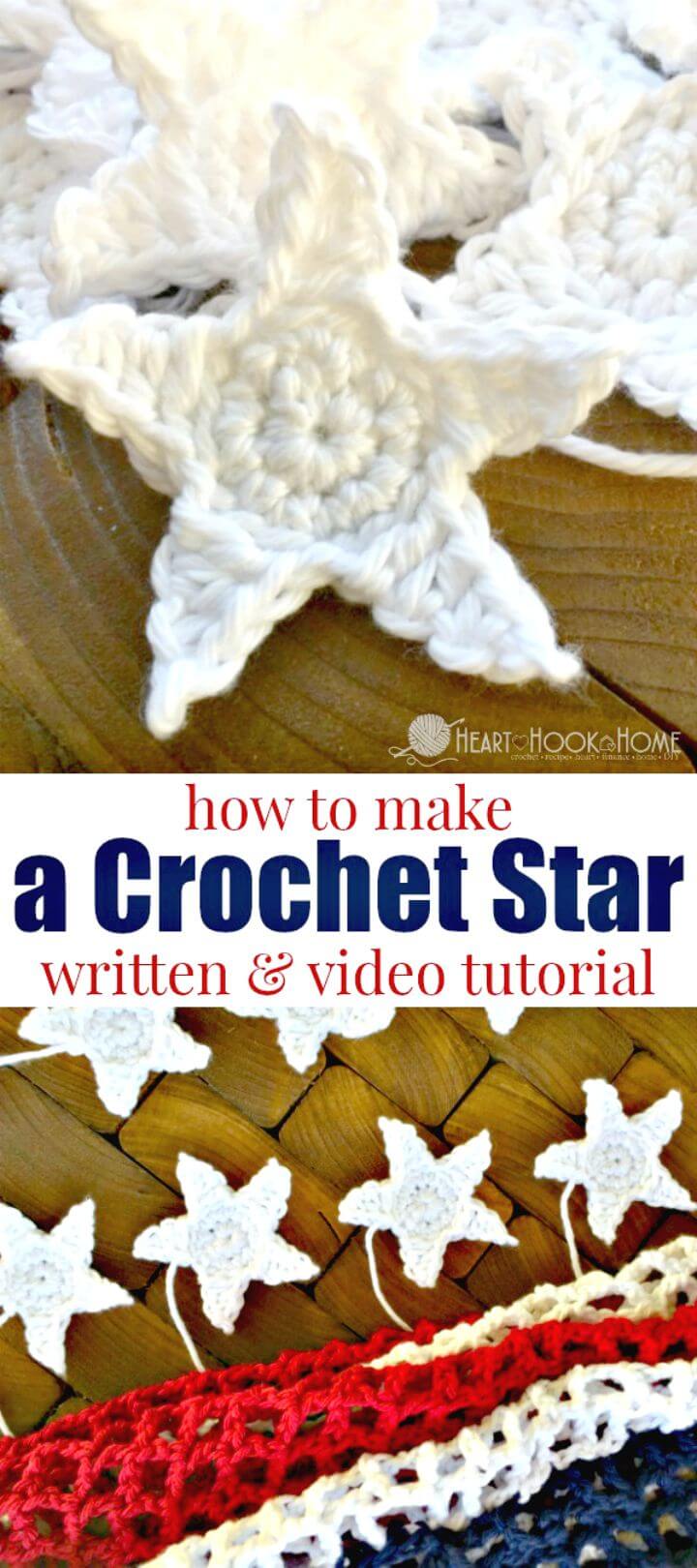 One more epic crochet star design is here that comes in milky white appeal and can be duplicated in any yarn color you like! It would be a big delight to crochet this beautiful star that will work up just at the drop of a hat! Here nothing is major or complicated in this crochet star pattern, all you need to use the basic crochet stitches like single, double and treble! If you have decided to use this star as handsome adornment for various of your crocheted patterns, then you can easily duplicate it the visa-free written pattern and video tutorial given here hearthookhome
Easy Free Crocheted Star Garland Pattern: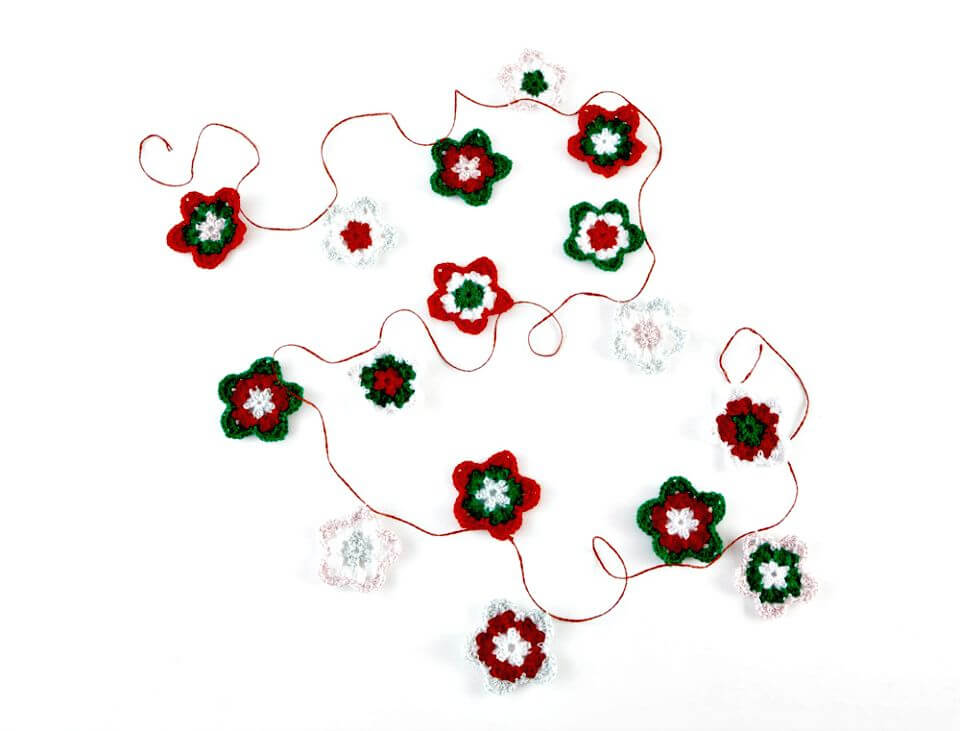 Crochet stars can be used individually in the number of different ways, and they can also be put together in clusters to make outstanding home decors! A precious and smart sample here is this crocheted star garland that can be used in numerous different interior décor treatments and will also rock as party décor or ornament! Here all you need to put together some crochet stars onto a piece of string or thread to make this eye-catching star garland in no time! Checkout the given sample here that comes with colorful yarn flowers and is damn looking great! Complete free crochet star pattern and visual instructions are here lionbrand
Easy Free Crochet Star Pattern: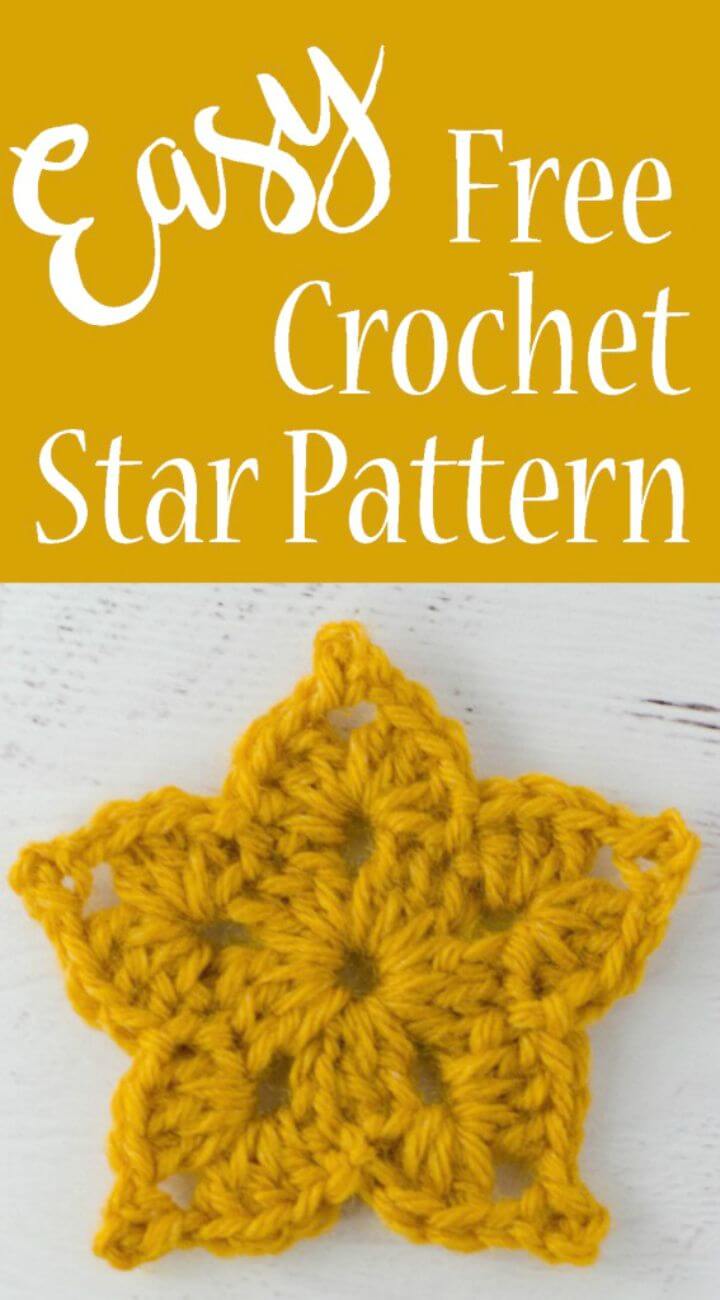 Having some scarp yarn that you are going to waste? Don't just destine it to the dumpster as you can still make amusing decors with them like this brilliant crochet star that can even be crochet in last 5 minutes! You can use this star in the number of different ways to boost your home decors like they can be used as perfect hanging wall ornaments and can also be used in making adorable star buntings for any news space of your home! The uses are just endless for crochet stars! Want to duplicate this fetching yellow crochet star? Just duplicate it via free pattern and tutorial provided here crochet365knittoo
Free Crochet Star Trivet Using T-Shirt Yarn Makes A Quick Unique Gift: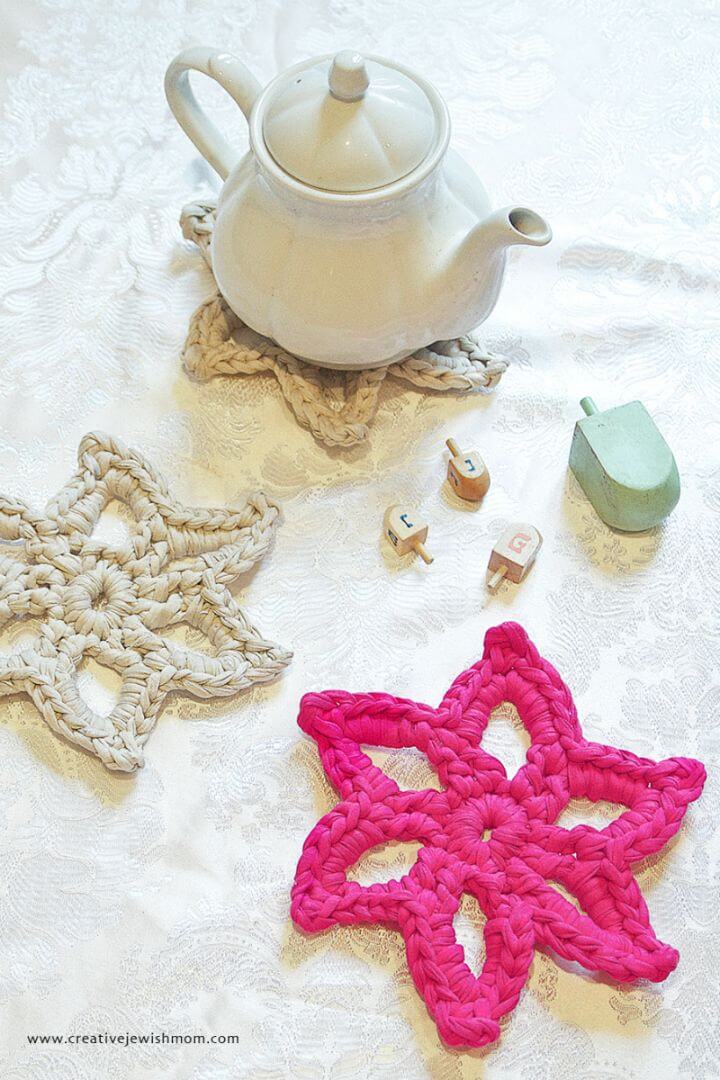 Looking for some bigger stars? You can vary the hook size and the yarn weight to vary the size of your decided crochet stars! Check out here this brilliant sample that has been done using t-shirt yarn and is all looking extra beautiful and stunning! Here this bigger star has been used as a pot holder or trivet, and you can also use it as a lovely coaster in your case! If you are to use it for some home decors, then the possibilities are just endless! Willing to duplicate this another handsome crochet star? Just duplicate it via free pattern and tutorial provided here creativejewishmom
How To Easy Free Crochet Stars Pattern:
Another quick hack is here to boost your interior home decors with the crochet stars! Just use your crochet stars in making fetching garlands or buntings that can easily be put around your mural or picture frames making brilliant décor statements! See here an interesting sample, done to rock and inspire and is looking extra gorgeous and lovely! Here these stars are also super easy to crochet and will work up quickly even if you want to make dozens of them! Grab the full free crochet star pattern and tutorial from here everythingetsy
Free Crochet Star Ornament Pattern With Video: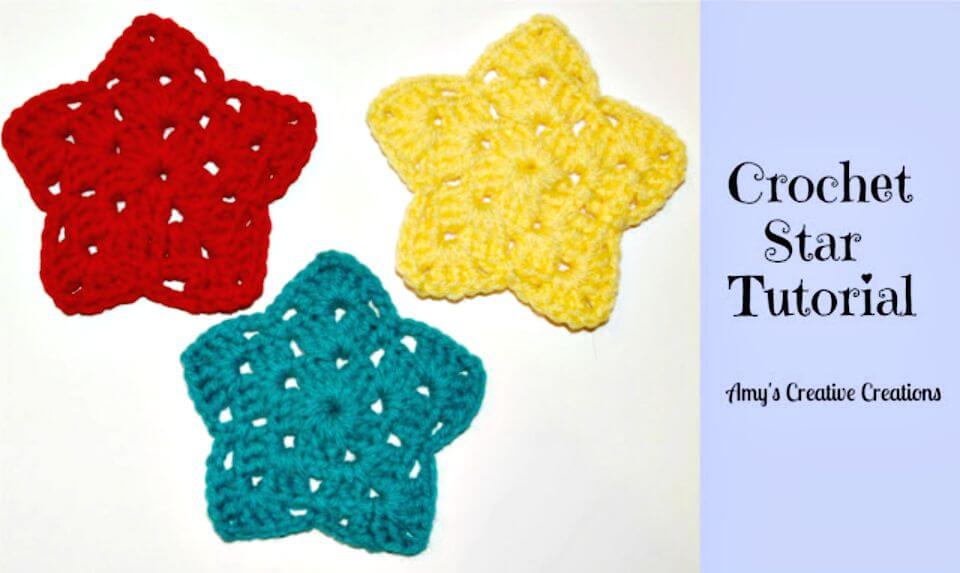 Another precious star décor and ornament to crochet with your hook and it is just looking damn lovely! Here these stars are a little wide and come with slight arms and will make a great coaster if you crochet it in a little large size! Moreover, you can also crochet a super large size of this crochet star that will make a great pot holder or trivet also! Here these sample stars come in three different colors and can be used as beautiful star appliqués, ornaments, and decors! Looking forward to duplicating this crochet star ornament! Get the full free crochet pattern and visual guide from here amyscrochetpatterns
Free Crochet Star – Makes A Quick Unique Gift: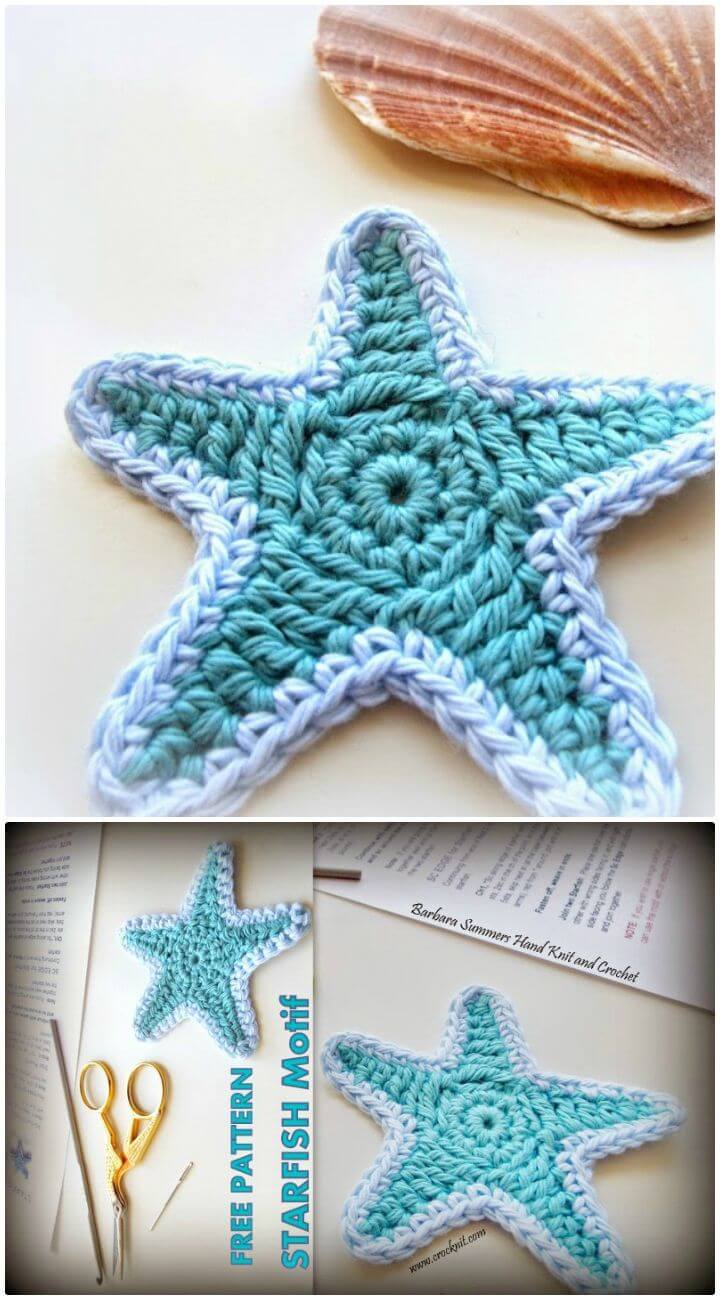 When you are crochet a lovely star, the very step is mostly to crochet a magic loop or circle, and here this unique crochet star has also been crocheted in the same way! The only difference is that it comes with three rounds of the central circle and it also comes with an accent line trimming done with light yarn color and this generate a more eye-catching and graceful look of the star! This crochet star will also make a great last-minute gift. Moreover, one can also use it as an outstanding appliqué! Want to own this handsome crochet star? Then just clone it via free pattern and tutorial provided here crocknit