Have you been looking for free crochet wall hanging pattern to liven up your walls? Look no further! If you're a fan of crocheting, these free crochet wall hanging patterns will spice up any room. From the modern and edgy boho style to vintage-inspired designs, these free patterns range from easy and beginner-friendly to intricate and complex. No matter what design or color scheme you choose, using free crochet wall hanging patterns will bring your walls to life with unique handmade decor that brings joy into your home.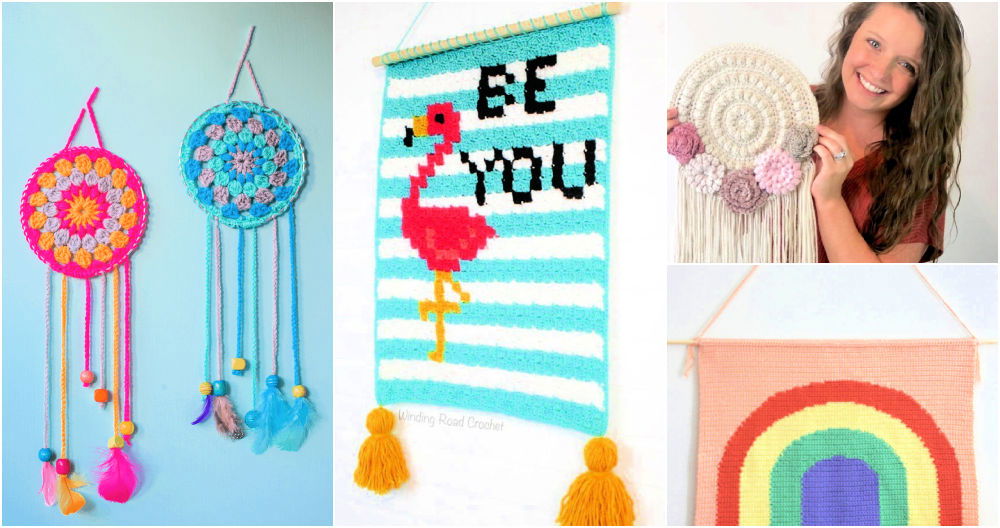 How do you crochet a wall hanging?
Crocheting a wall hanging is easy. Start by deciding the size and pattern for your wall hanging. Gather necessary supplies such as crochet hook and yarn. Begin with a chain, then create rows of single crochets to form the desired pattern. Modify colors and stitches to add texture and dimension. Once complete, attach a hanging loop on the back of the wall hanging for secure display. Enjoy your handmade work of art!
How do you crochet a boho wall hanging?
To make a boho wall hanging, begin by chaining the desired length. Single crochet in each stitch and add tassels or fringe for embellishment. Make chains of varying heights to create texture, and add any desired shapes or motifs with slip stitches. Finally, attach a hanging loop to the top of your wall hanging and you are all set! Enjoy your handmade boho decor.
Can you crochet a wall hanging?
Yes, you can crochet a wall hanging! With the right supplies and knowledge of basic stitches, such as single crochet, double crochet, and slip stitch, you can create beautiful and unique wall hangings that are sure to be a great addition to any home decor. You may want to use extra thick yarn and a much larger hook to make the wall hanging more sturdy. Have fun and enjoy creating your own unique work of art!
How do you hang crochet?
Crochet can be hung in a variety of ways. The easiest way to hang crochet is to attach a dowel or rod at the top of the fabric, and then use string or ribbon to attach it to a wall or other surface. Alternatively, you can use pins to affix crochet to a foam board or other surface. You can also hang crochet from rings, curtain rods, or hooks, depending on the size of your project.
How do you crochet a tapestry?
To crochet a tapestry, start with a foundation chain and then choose the desired pattern. Work stitches into the chain loops to create your desired design. For example, double crochet stitches form a mesh pattern while single crochet creates a more solid fabric. Vary the colors and yarn to create unique designs. Continue crocheting until your tapestry is the desired size and shape. Finish off with a slip stitch and secure the last loop. You now have a beautiful tapestry!
1. Free Crochet Wall Hanging Pattern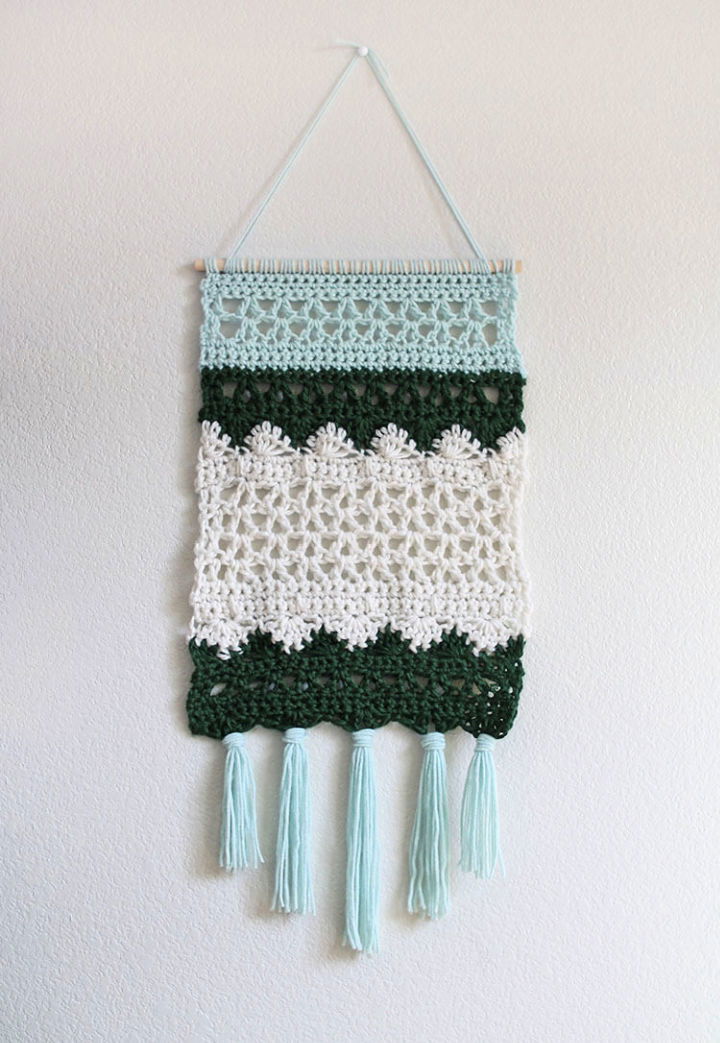 The crochet persons really love the kind of crochet projects where you can combine many stitches together. So we got you this project of a gorgeous wall hanging which is a project of so many combinations of stitches and colors and would look great on your summer homey walls. Details of the idea here! persialou
2. Boho Wall Hanging – Free Crochet Pattern
If you think your walls are not conveying that kind of decor statement that you want then you should really be getting your hands on this boho wall hanging. So grab your favorite hues of yarn to crochet up this lovely wall hanging to accentuate your walls with beauty and texture. Details here! desertblossom
3. How to Crochet Mandala Wall Hanging
Mandalas are the ancient of the crochet items and we love them so much. So it's time for you to get your hands on these quirky, colorful and pretty wall hangings having been made in the Mandala style. You can make these pretty mandalas in three sizes to create a catchier look on the walls. Details can be hacked here! cypresstextiles
4. Tapestry Crochet Floral Wall Hanging Pattern
This rich in style and cuteness tapestry pattern is surely going to bring the utter charm and magic to your homey walls. The lovely round tapestry with gorgeous flowers and the fringes at the bottom is just too adorable and visually pleasing. Grab your yarn and hooks and get your hands on the free pattern here! acraftyconcept
5. Free Crochet Retro Wall-Hanging Pattern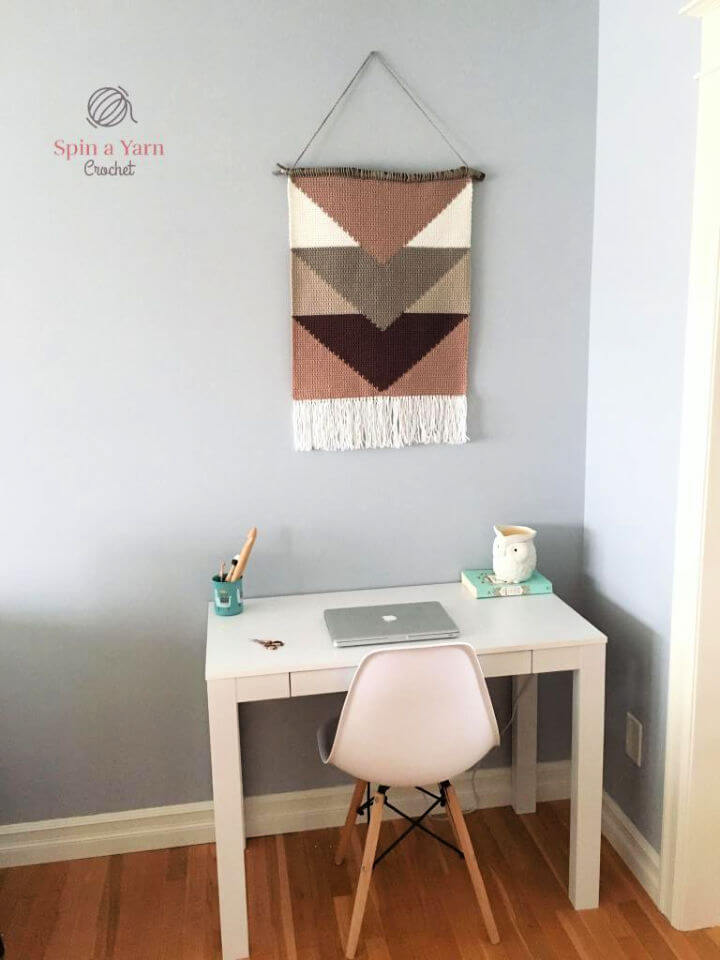 Bring some life to the boring office area of yours with this retro styled wall hanging to be hung over your working table or desk. The shades of the yarn that have been used to shape up this lovely wall hanging are totally retro and the pattern features the intermingling row or the triangles and you can get it all for free here! spinayarn
6. How to Crochet Bohemian Wall Hanging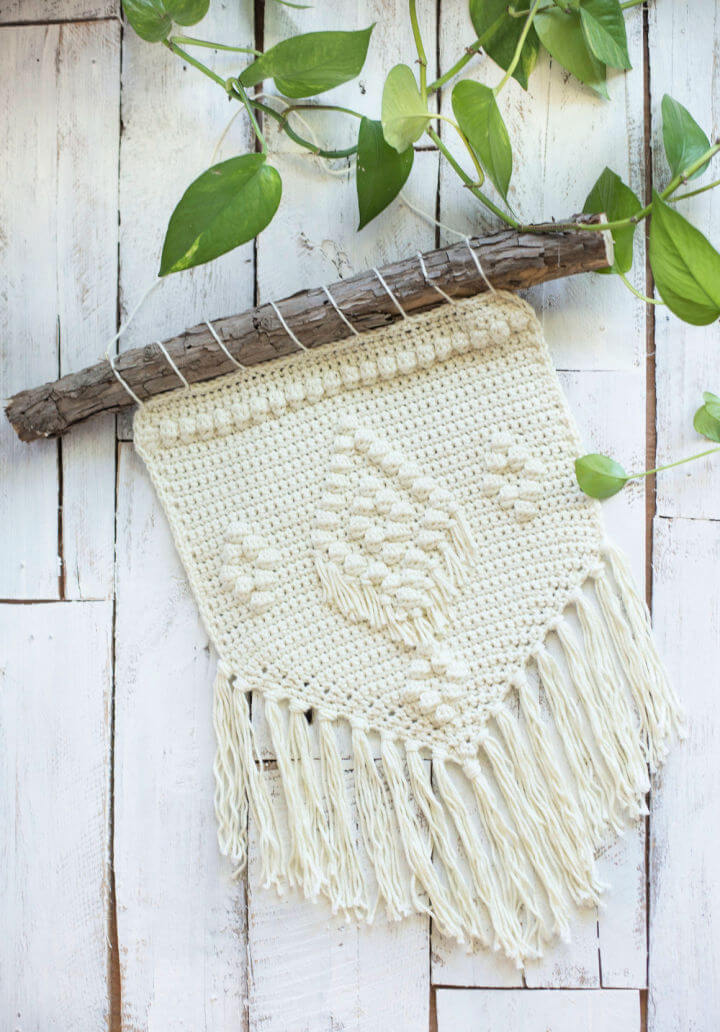 Crochet wall hangings are back in fashion these days and there is a huge variety of the designs and the pattern to get your hands on. So here is this lovely bohemian wall hanging that you can easily crochet at home yourself and grace up your walls with it. It has bobble like design and the fringes which really make it a jazzed up piece for your wall beauty! megmade
7. Free Crochet Dream Catchers Hanging Pattern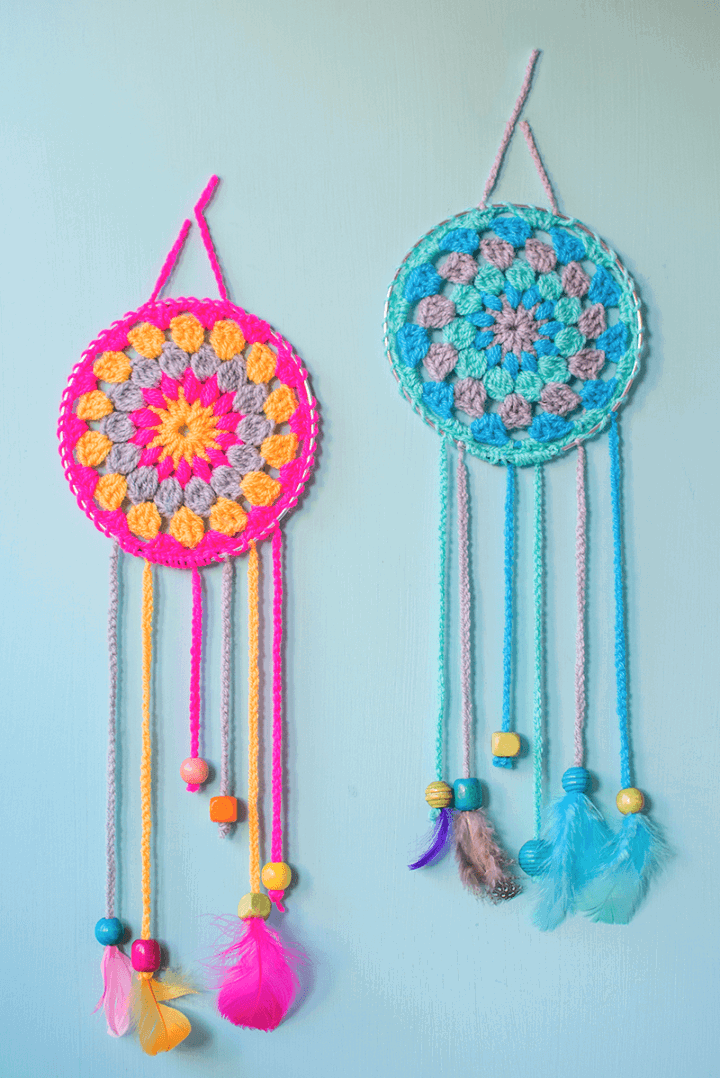 We love making the cute and colorful dream catchers and then hanging them around to our porch pillars or the windows. You can take inspiration from this idea and make these adorable and completely beautiful crochet dream catchers in bright yarn hues and then hang them around to any of your walls which need to be boosted up in the decor department. letsdosome
8. How to Crochet Woven Wall Hanging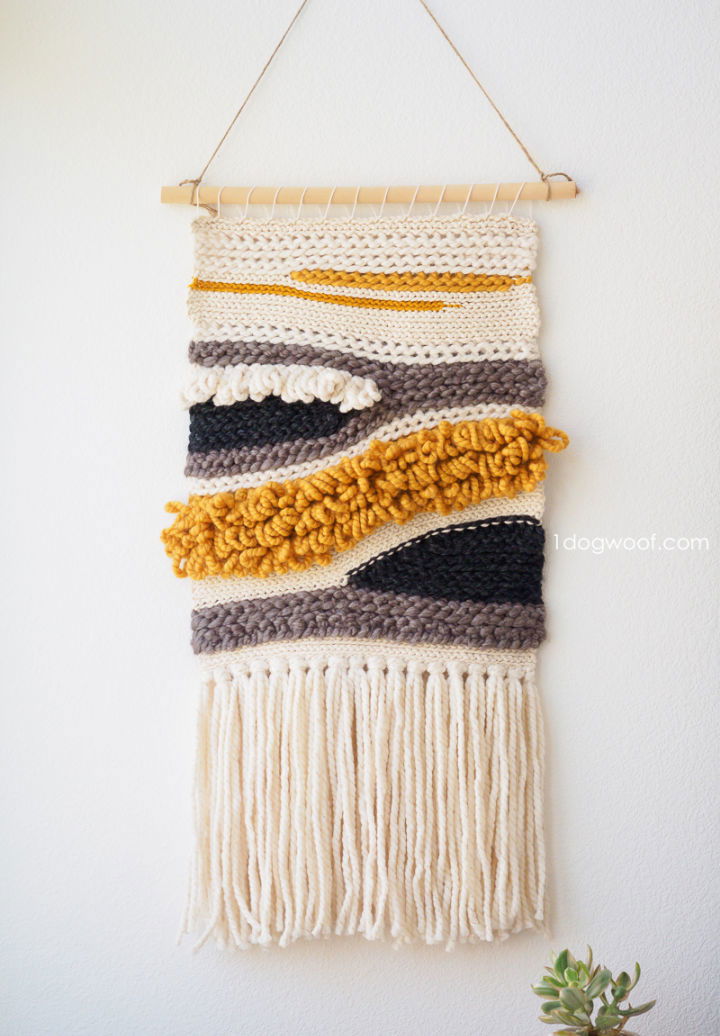 This is the quirkiest and the prettiest of the wall art pieces that you are going to adore for sure and crave one for your homey walls too. So the woven and gorgeous geometric touches of the wall hanging have been achieved with an exquisite color combination and the twist of a regular stitch and you can hack it all here! 1dogwoof
Related DIY Wall Decor Ideas
DIY Wall Art Ideas: Follow these easy DIY wall art ideas and create your own unique wall decor. The perfect way to decorate any blank space, for a fraction of the cost.
DIY Large Wall Art: Looking for cheap, unique, and easy wall decor? We found creative and affordable DIY large wall art ideas for all under $25. From rustic wood signs to colorful prints, there's a homemade large wall for every taste.
Pallet Signs: Create a pallet sign that is perfect for your home! This easy to follow tutorial will show you how to make a beautiful pallet sign for your walls in just a few simple steps.
9. Geometric Wall Hanging – Free Crochet Pattern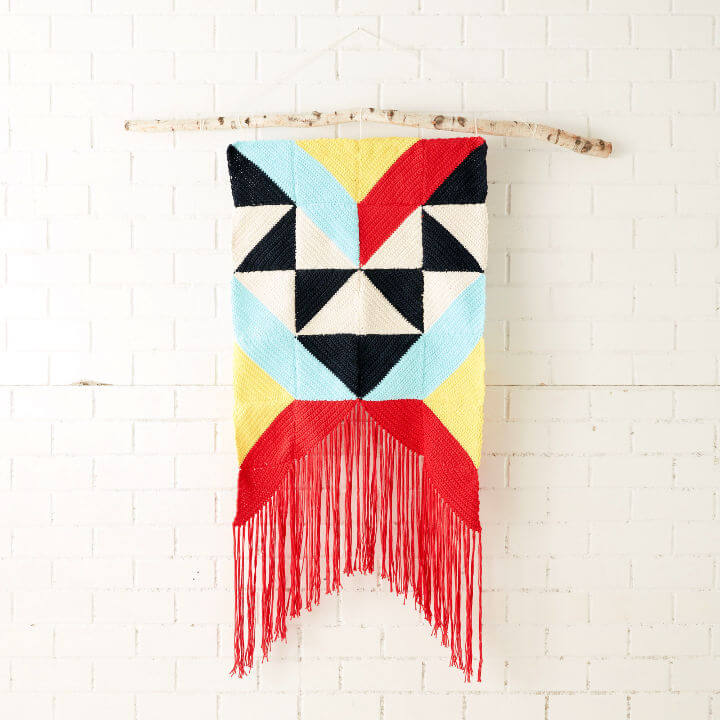 Here is another totally unique and modern looking piece of the crochet wall art and you would surely fall for it. The bright and cooler shades of the yarn have been used to crochet this lovely wall hanging having quirky geometric designs and shapes featured on it. The fringes at the end add a perfect finish. Catch the details here! yarnspirations
10. Quilt Square Inspired Crochet Wall Hanging
Another gorgeous crochet wall hanging to bring chic decor values in your house by hanging over your walls. The wall hanging has small squares all over and each square has a cute and bright colored triangle which really brings out the quirkiness of the pattern and design. You can have this pattern explored here! theunraveledmitten
11. Crochet Yarn Cuckoo Clock Wall Hanging Pattern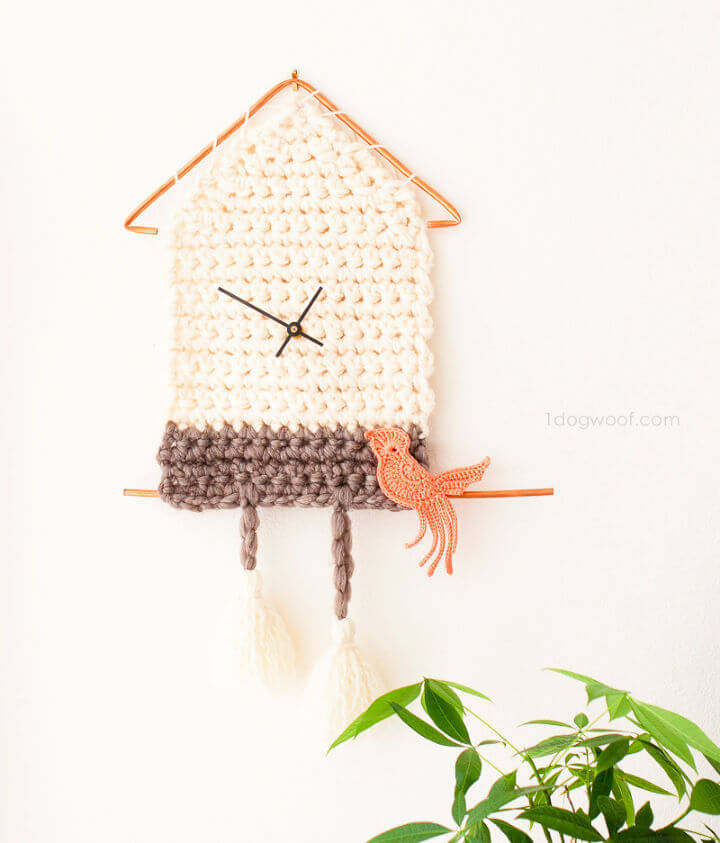 This crochet yarn cuckoo clock wall hanging pattern lets you bring a touch of old-world charm to any room in your home. By following the step by step instructions, you can create a charming decoration for your walls that will be sure to impress your family and friends! The pattern includes detailed diagrams and helpful tips so that even novice crafters will have success with their projects.
This wall hanging is made with worsted weight yarn, but you can use any type of yarn that is suitable for crochet projects. Not only does this make a lovely wall hanging, but it's also a great conversation piece! You can even personalize it with different colors or add beads or sequins to make it unique. The finished size of the cuckoo clock wall hanging is approximately 10″ x 12″. It's an easy and fun project perfect for using up leftover yarn. With this pattern, you can easily create a one-of-a-kind piece that adds character to your home decor! 1dogwoof
12. How to Crochet Flamingo Wall Hanging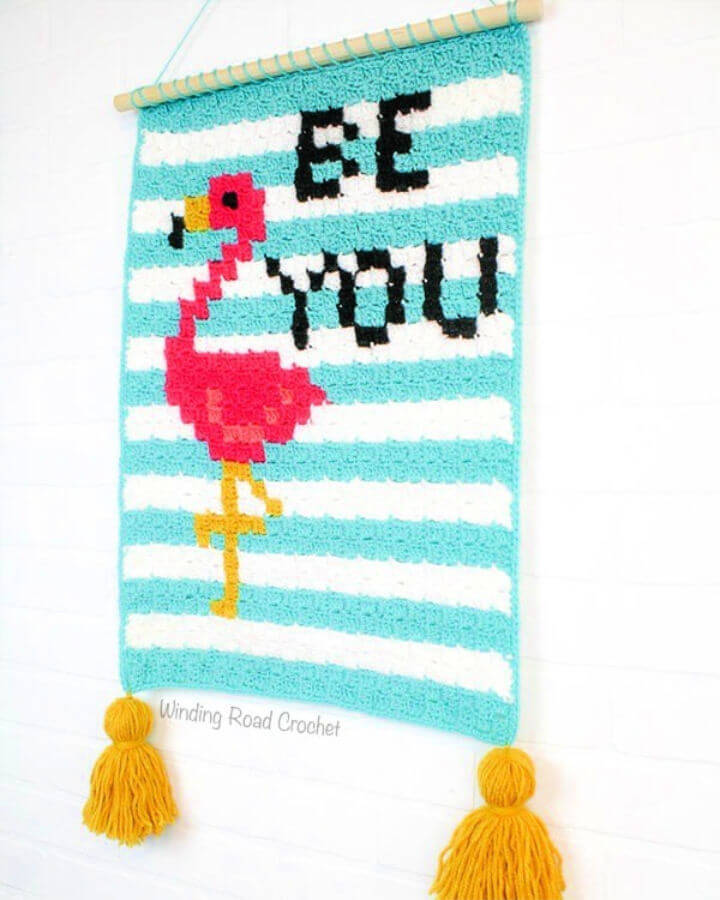 The more creativity you put into your crochet projects the more amazing results are assured and this crochet flamingo wall hanging is the proof. The crochet wall hanging has got a lovely flamingo and the quote Be You on it and the pixel crochet design has been used to create this awesome design with. Follow the free pattern with details here! windingroad
13. Colorful Crochet Wall Hanging Pattern
Your walls should be wisely decorated just like this beautiful Be Brave wall hanging to motivate you every time you have a chance to put your glances on it. The adorable yarn hues and the motivational words are surely going to make your wall decor rock with this stunning wall hanging pattern which you can have for free here! divinedebris
14. Free Crochet Rainbow Wall Hanging Pattern
Get some inspiration from the rainbow this summer and create this gorgeous crochet rainbow wall hanging for your bedroom, living room or the hall. On light and subtle base the bright and colorful crochet yarn has been used in rainbow hues in the same curvy pattern with which it appears on the sky. Learn the details of the idea here! repeatcrafterme
15. Crochet Twinkling Stars Wall Hanging – Free Pattern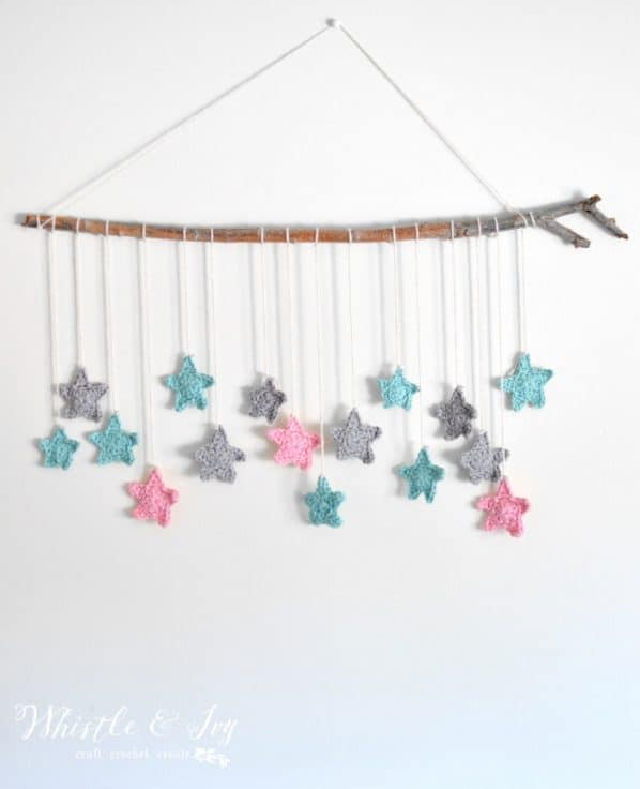 This gorgeous crochet twinkling stars wall hanging piece is an exquisite addition to your baby's room. So crochet a bunch of the stars in multiple hues and using a wooden twig hang them over your baby room walls with varying lengths of the rope. The idea is super fun to work on and here are the details of it along with the free pattern! whistleandivy
DIY Wall Decor Ideas: Discover easy DIY wall decor ideas that anyone can make! From rustic wood pallet signs to elegant canvas art, bring a personalized touch to your home's walls with these simple, budget-friendly projects. They make great gifts too!
16. Easy Crochet Textured Wall Hanging Pattern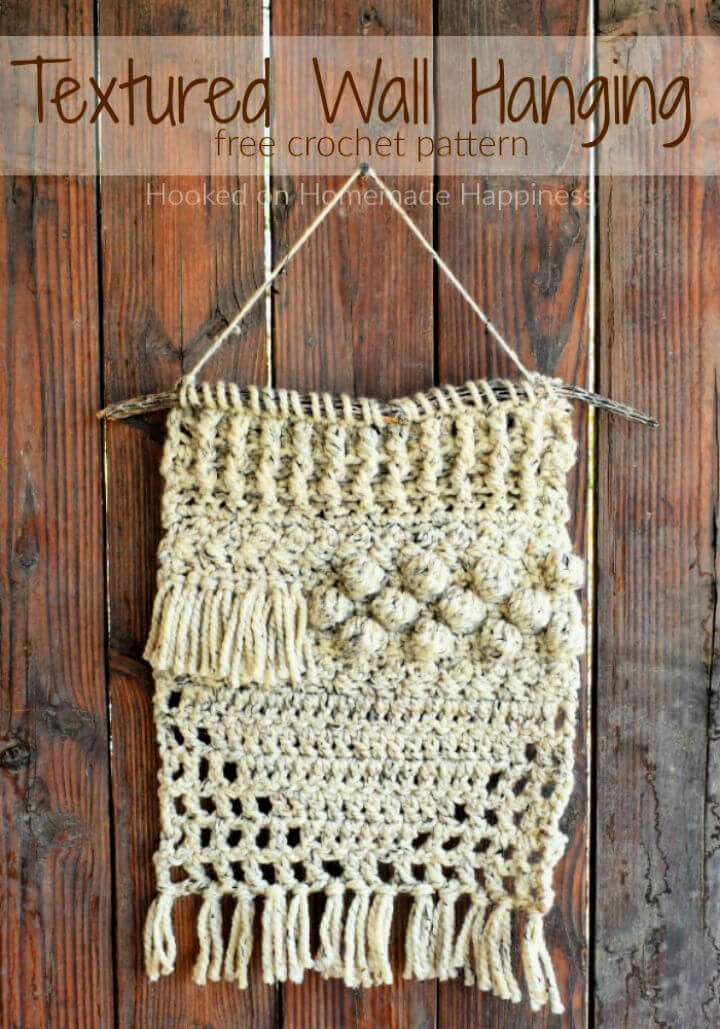 Not only the indoor walls but the walls of your outer spaces can also be made to look so gorgeous and unique with some handmade crochet wall hangings. Using multiple stitches and patterns this gorgeous and textured wall hanging is super easy and fun to create yourself t home and we are the details of it to grab for free! hookedonhome
17. Free Crochet Boho Wall Hanging Pattern
Here is another gorgeous idea of the wall hanging to let your bedroom walls feel all flaunted and fun. This boho wall hanging is super easy and quick to stitch with grey and pink yarn hues for that super cute look. The simple stitched base with bobble stitch designing has turned out to be the exquisite textured wall art piece. Check out the free pattern and details here! creamofthe
18. Crochet Popping Fringe Wall Hanging Pattern
Orange is the color of fall so this time you can get your hands on this absolutely stunning and eye-catching piece of the crochet wall hanging and charm up your spaces with. The bobble stitch pattern with the long fringes of the yarn really makes this wall hanging a complete visual delight for your walls. So make it and let your walls feel proud! Free pattern here! yarnspirations
19. Free Crochet Sunflower Wall Hanging Pattern
This beautiful and cheerful free crochet sunflower wall hanging pattern is sure to add a touch of sunshine and warmth to any room in your home. This delightful project is an easy-to-follow pattern that's perfect for the novice crocheter. It consists of 3 large sunflowers with vibrant petals, a textured stem, and two broad leaves. This pattern works up quickly and easily in just a few hours and makes a wonderful gift or decoration for your home.
The simple step-by-step instructions make it simple to assemble the flowers and hang them on the wall. The bright colors of these charming sunflowers will be sure to brighten any room in your home or office. With this pattern, you can create a unique wall hanging that's sure to be admired by all who see it. Whether you're a beginner or an experienced crocheter, this Free Crochet Sunflower Wall Hanging Pattern is an ideal project for adding some cheerful color to your space! eclairemakery
20. Crochet Caterpillar Picture Frame Wall Hanging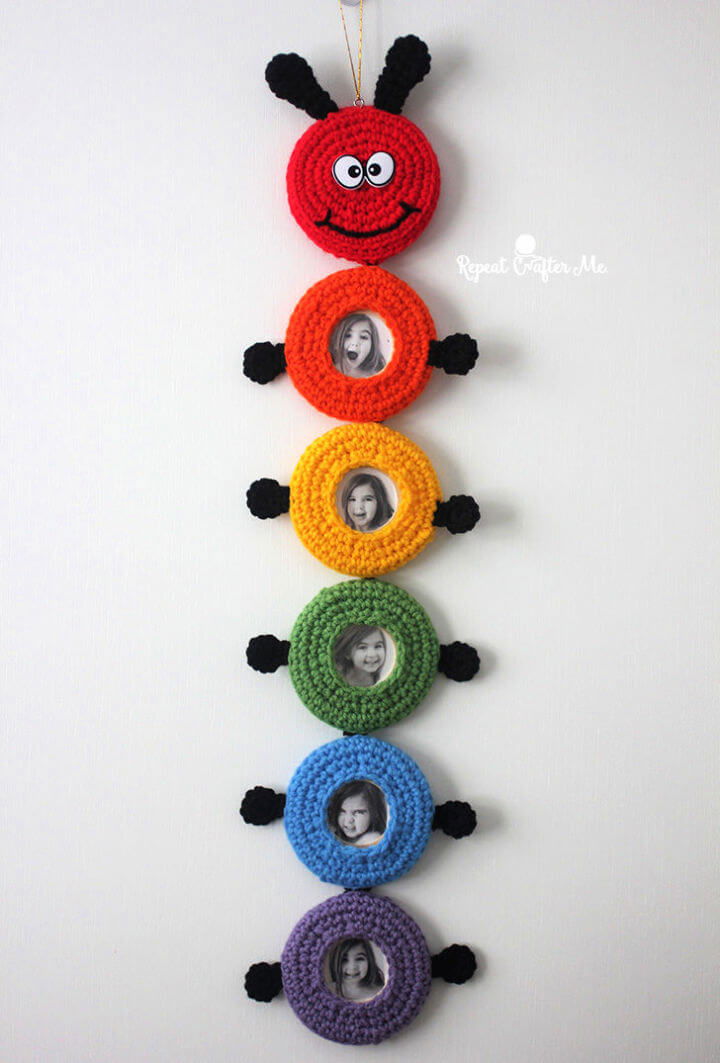 Hold your heart as it is surely going to pop over this absolutely gorgeous, unique and cutest caterpillar picture frame wall hanging that you can make and use in your kid's room. Wooden circle picture frames have been covered with colorful crochet slips and a caterpillar head on the top. This would make a great birthday gift with the pictures of birthday boy or girl attached. Easy and fun pattern details here! repeatcrafterme
21. Crochet Triangles Wall Hanging – Free Pattern
Make your summer home feel more fresh and colorful with this gorgeous crochet triangle wall hanging to be a part of your home decor. Just grab some pretty and bright yarn hues like red, blue, yellow, green and pink to crochet up this funky looking triangle wall hanging and jazz up the beauty and decor vibes of your walls! Follow the free pattern here! thelazyhobby
22. Free Crochet Grannytastic Wall Hanging Pattern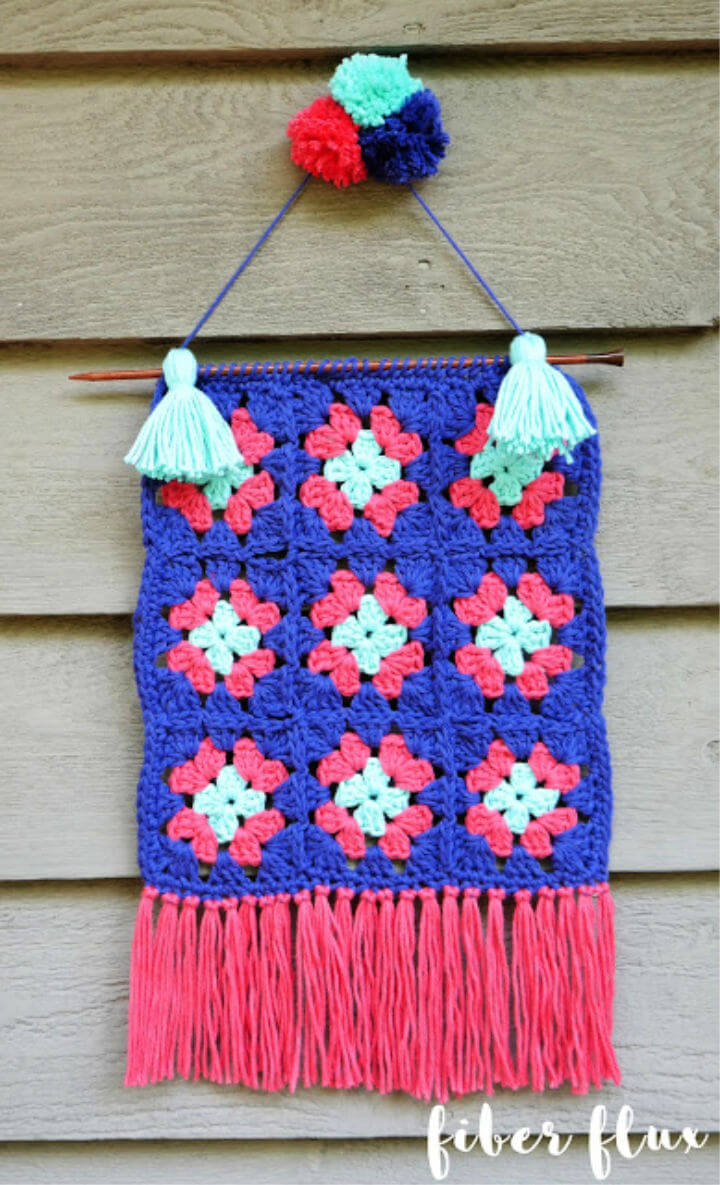 This gorgeous wall hanging instantly grabs everyone's attention for being so good looking and gorgeously color combined. Dark blue crochet wall hanging has a lovely and cute pink flowery motif inside the squares, fringes at the base, and also two tassels on the top. If you also want one then hack the free pattern and details from the link here! fiberflux
23. How to Crochet Star Mandala Wall Hanging
Wall hangings can be made custom for the ongoing event or festive too as the Independence Day is approaching you can make this lovely star Mandala wall hanging. The big crochet blue circle has the gorgeous red and white yarn star in the center and the same colored fringes at the bottom to look just awfully gorgeous and fantastic. Check out the details and instructions of crocheting this Mandala here! madewithatwist
24. Simple to Crochet Wall Hanging
Here is another gorgeous idea of the crochet wall hanging for you to get your crochet hooks on. The simple and one color wall hanging would look so chic and fun over your walls of the modern house. The simple stitches being combined with the bobbles looks just absolutely funky and cool. You can customize the wall hanging with your favorite hues too. Catch the free pattern here! stitching
25. Crochet Pencil Wall Hanging for Teacher's
Either the year is going to start or going to end the teachers can be gifted with this absolutely gorgeous and cute crochet pencil wall hanging. So get some colorful yarn hues and crochet this pencil shaped wall hanging with crocheted letters for a more popout look. It would look so great hanging over the classroom door. Catch the easy details and free pattern here! hearthookhome
26. Free Crochet Bunny Wall Hanging Pattern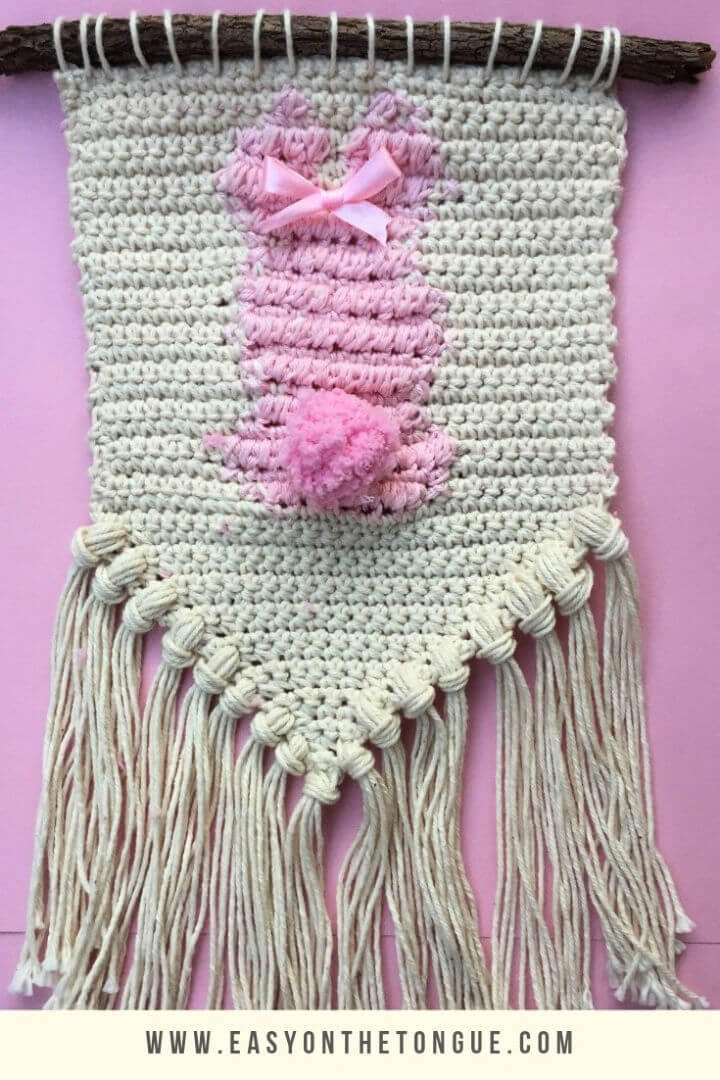 Here is another cute and kid's friendly crochet wall hanging so that you can decorate your baby's nursery with it. A simple crochet wall hanging base has the pink cute bunny design and turns out to be just so chic and adorable. Learn to make it all here with details and instructions! easyonthetongue
27. Crochet Granny's Cross Wall Hanging Pattern
Bring the Holy touches in your home decor with this gorgeous crochet granny's cross wall hanging pattern. Yes, the sacredness of the cross has been beautified with the colorful crocheted flowers to be the most beautiful and blissful wall hanging for your living or bedroom walls. Catch the easy free pattern here! poshpooch
28. Crochet Tribal Wall Hanging – Free Pattern
Bring some of the tribal cultural beauty in your modern home and let your walls breathe in the new and fresh air of decor with this gorgeous and colorful tribal wall hanging. The brighter shades of the yarn on white have turned out to be super catchy and cute with the lovely square pattern and the scalloped edging. Find the free pattern here! projectarian
29. Beautiful Summer Mandala – Free Crochet Pattern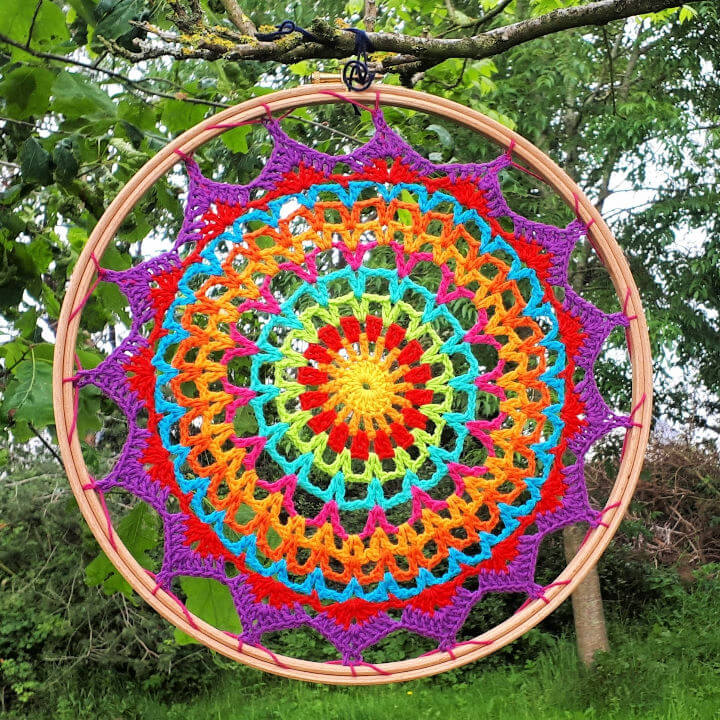 Let your garden spaces look more beautiful and decorated with this beautiful summer Mandala. The excessively colorful and bright looking summer Mandala has been fixed in an embroidery hoop to be hung over your trees to look a fantastic eye-catching piece. Follow the easy and free pattern right here! annie
30. Adorable Wall Hanging – Free Crochet Pattern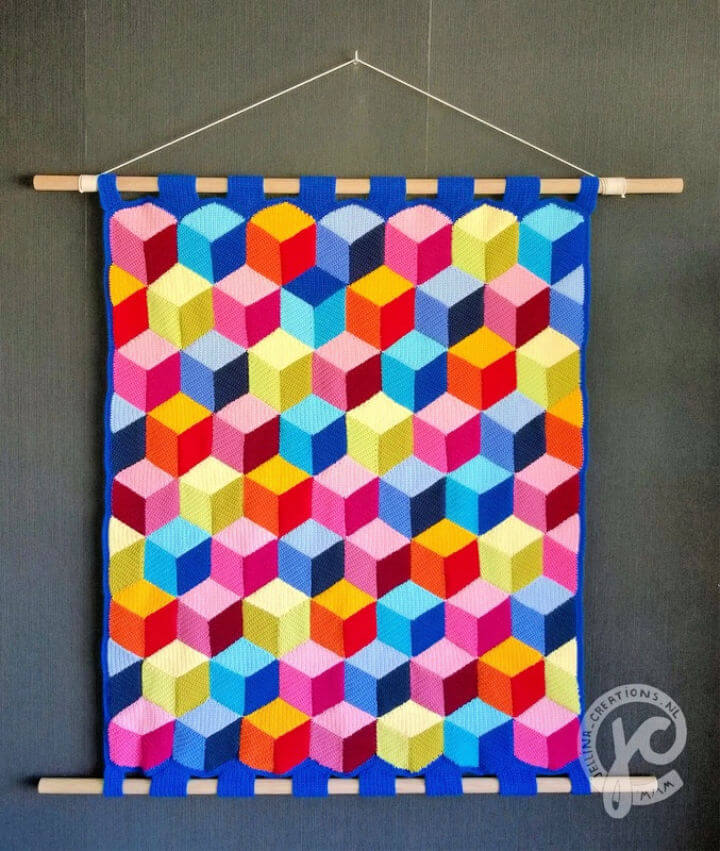 This gorgeous and colorfully unique wall hanging is the right thing missing from your homey walls. The diamond pattern has been used to create each of the diamond pieces which has been filled with the cotton balls before putting up the pieces together and create this stunning piece of wall art to spice up your wall decor with. Follow the free pattern here! jellina
Related DIY Projects and Ideas
Crochet Flower Patterns: Crochet flowers are a fun and easy way to add a bit of whimsy and color to your home. Here are free crochet flower patterns that you can use to make all sorts of flowers for your home.
Crochet Garland Patterns: Crochet garland is a beautiful way to decorate your home or give as a gift. These free crochet garland patterns are quick and easy to make, and they're perfect for any occasion.
Crochet Mandala Patterns: Here is a list of the best free crochet mandala patterns that you can use for your own personal, or commercial designs. These patterns are easy to follow and can be made in less than an hour.
Crochet Owl Patterns: Whether you're looking for a pattern to make your own crochet owl, or just want some ideas to keep you busy, this list of free patterns is perfect for you that are great for beginners and experts alike.
Free Crochet Amigurumi Patterns: Learn how to crochet amigurumi with this list of the latest and greatest free amigurumi crochet patterns, tips, and advice that can help you create your own handmade crochet toys.
Crochet Star Patterns: Are you looking for a crochet pattern that is easy to follow and doesn't require too much time? Here are free crochet start patterns are a great way to get started with your first project, or learn a new skill.
Crochet Heart Patterns: Crochet hearts are always a popular project to do with your friends and family, and these free crochet heart patterns will help you make some quick gifts. Choose from a wide variety of styles and sizes and create your own crochet heart today.
Conclusion:
These free crochet wall hanging patterns are the perfect way to add some personality to your walls! With so many different designs and styles, you're sure to find a wall hanging that suits your taste. And if you're looking for something truly unique, why not make your own design? Crochet is such a versatile craft, and there are endless possibilities when it comes to Crochet Wall Hangings! So get creative and brighten up your home with one of these gorgeous crochet wall hangings.