Crochet cowls are a great way to stay warm and stylish this season. Find 30 easy-to-follow free crochet cowl patterns that are perfect for beginner and experienced crocheters alike. Each crochet cowl pattern includes easy step by step instructions and a free guide. From modern takes on traditional designs to stylish, fashion-forward looks, you'll find a variety of cozy crochet cowls that will keep you warm all winter. Whether you want a classic crochet cowl neck or a more unique crochet cowl hood, these simple crochet cowl patterns have something for everyone. As a bonus, many included free crochet cowl patterns use inexpensive materials for budget-conscious crafters! Find the perfect project to crochet today with this collection of beautiful free crochet cowl patterns.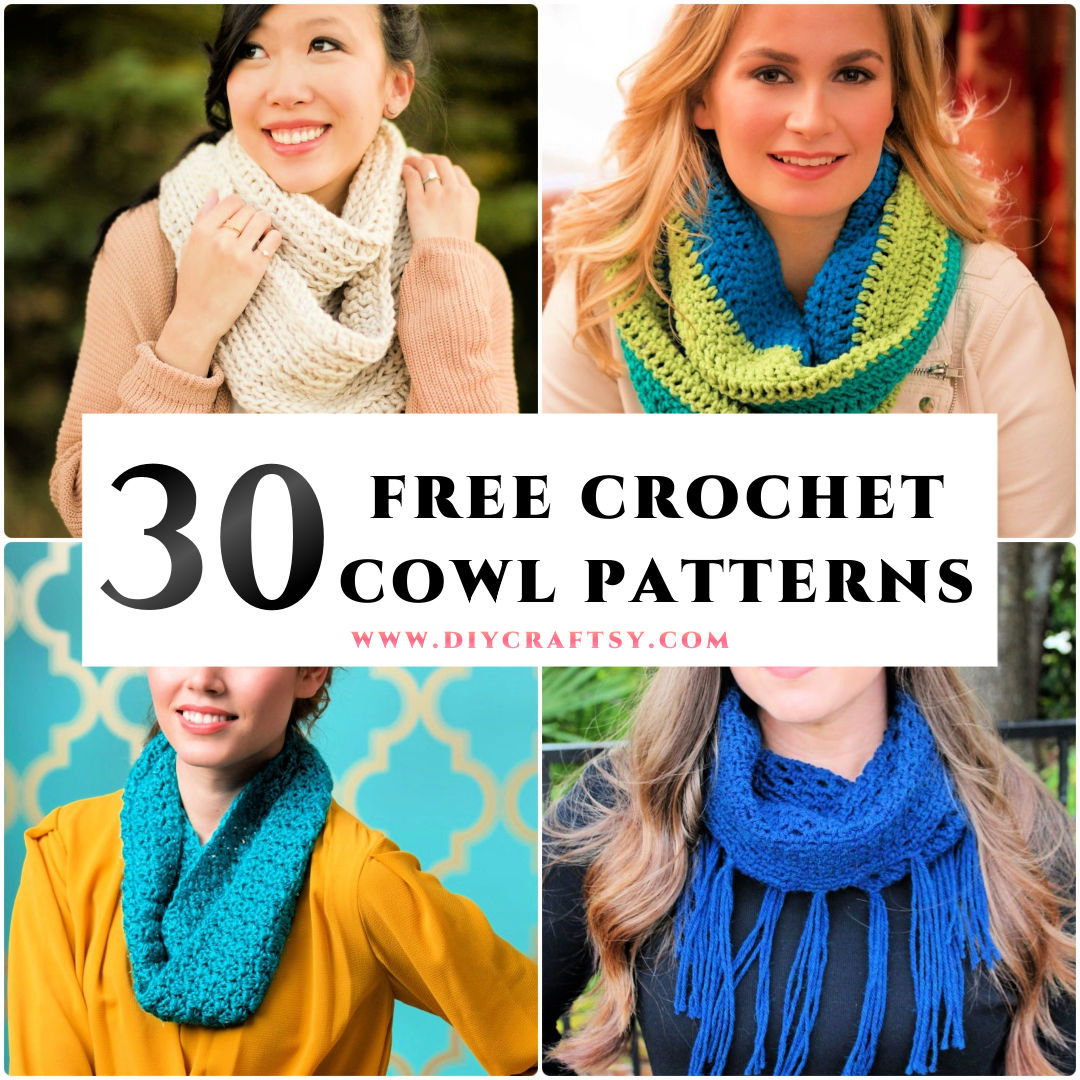 Free Crochet Cowl Patterns
Crochet a stylish and warm cowl to complete your winter wardrobe with these 30 free crochet cowl patterns for beginners that include step by step instructions and a pdf pattern. Whether you prefer a traditional cowl with buttons or a funky cowl in the round designs, each of these crochet cowl patterns provides detailed instructions so even beginners can easily pick up the basics of crocheting. These crochet cowl patterns make thoughtful gifts for family and friends or an eye-catching addition to your own wardrobe. With plenty of free crochet cowl patterns available below, it's easy to start working on your next project right away! So get creative and whip up one of these beautiful crochet cowl patterns today!
1. Free Crochet Triple Luxe Cowl Pattern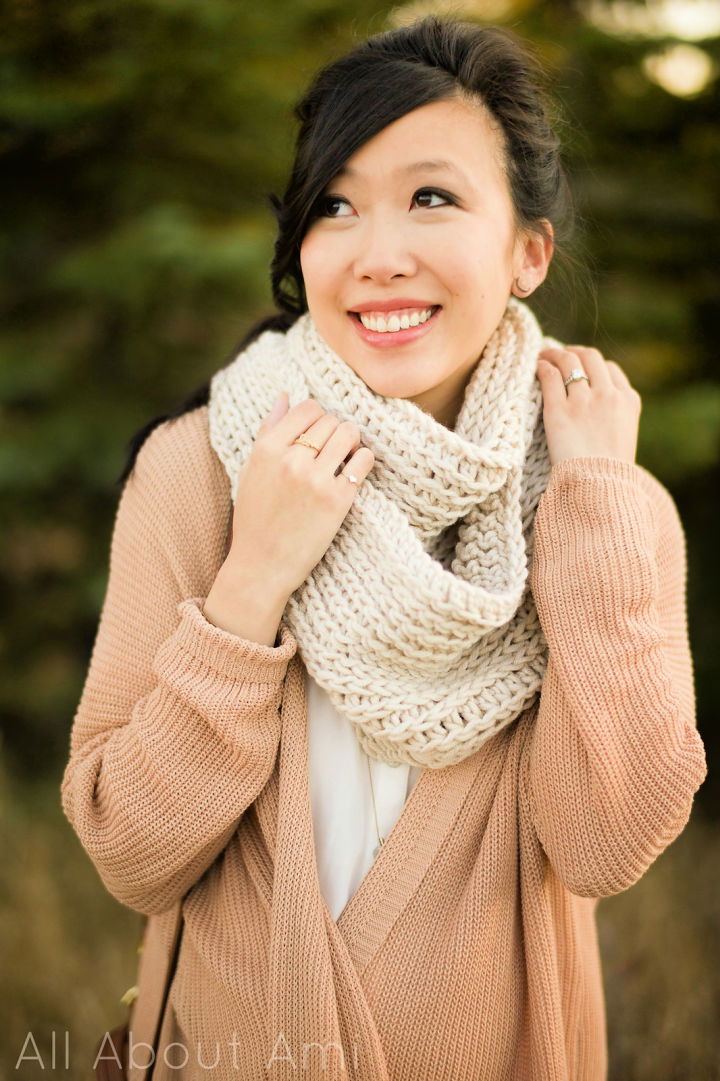 Make a statement with this beautiful crochet triple luxe cowl pattern! This pdf includes step-by-step pictures and two patterns (triple luxe cowl & jumbo triple luxe cowl) to make an infinity scarf with a luxurious drape. The stitches resemble the stockinette of knitting, giving it a sophisticated yet faux knit look. You can use bulky or super bulky yarn like Lion Brand Woolspun in "Linen" color with your 10 mm Clover Amour Crochet Hook to make this amazing piece of art. Get started now and enjoy wearing your new handmade creation! allaboutami
2. Downtown Button Cowl Crochet Pattern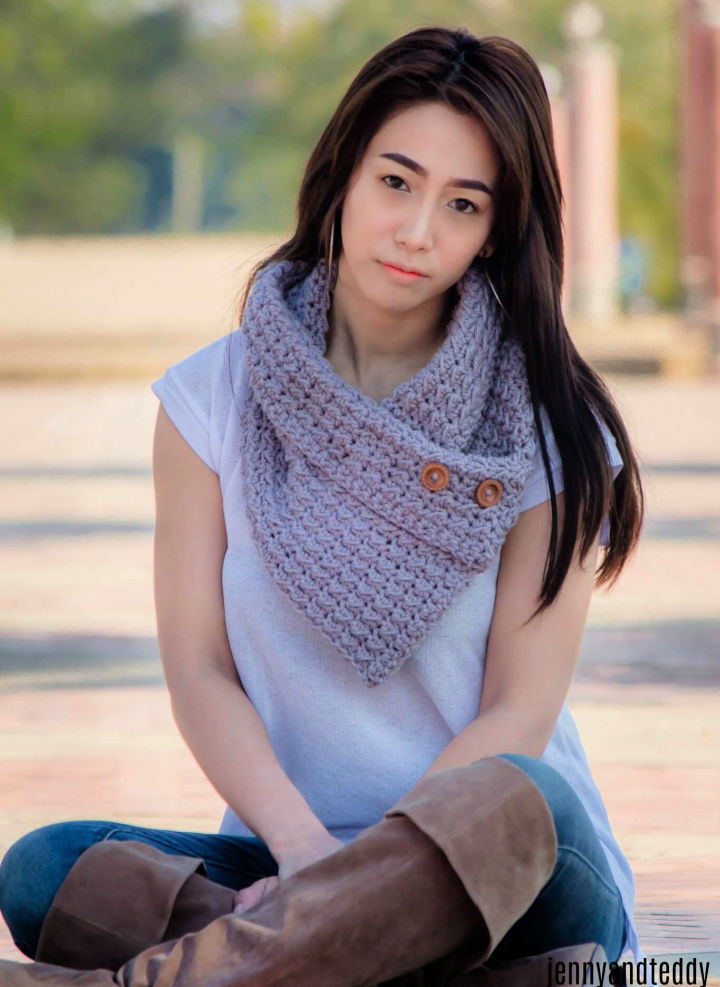 This easy downtown button cowl crochet pattern is stylish for ladies to wear around town but can also be worn by anyone as a unisex cowl. It's perfect for novice beginners with only basic skills needed, such as slip stitch and half double crochet. You can use any weight yarn of your choice, and it only takes a few evenings to complete – even less if you're an experienced crocheter! Recommended materials include lion brand wool ease chunky yarn or brava bulky yarn from knit picks, a 6mm (J/10 US size) crochet hook, a sewing yarn needle and two wooden buttons of 1-inch width. Make this pretty cowl today! jennyandteddy
3. How to a Crochet Rose Lace Cowl – Free Pattern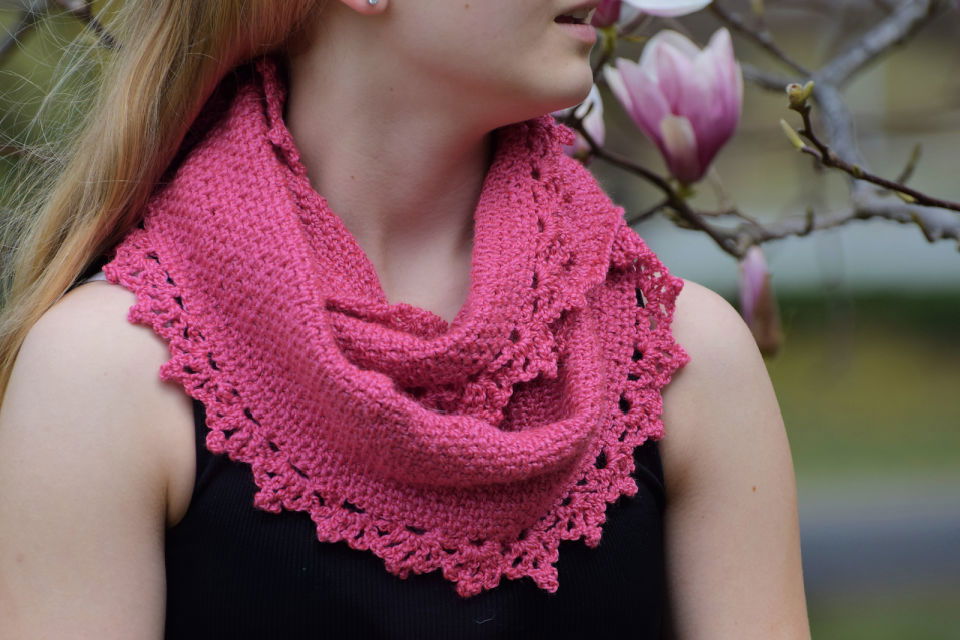 Create a beautiful and eye-catching crochet rose lace cowl with this free pattern & step by step instructions. This lacy cowl is perfect for spring, with its bright pink color, delicate lace edging and cozy double wrap around the neck. You'll need just over one skein of Simply Soft Light in Bubble Gum to complete it, plus a G hook – the finished size is 7″ x 54″. Learn how to make this stylish accessory today! undeniableglitter
4. Crochet Paradise Infinity Cowl Pattern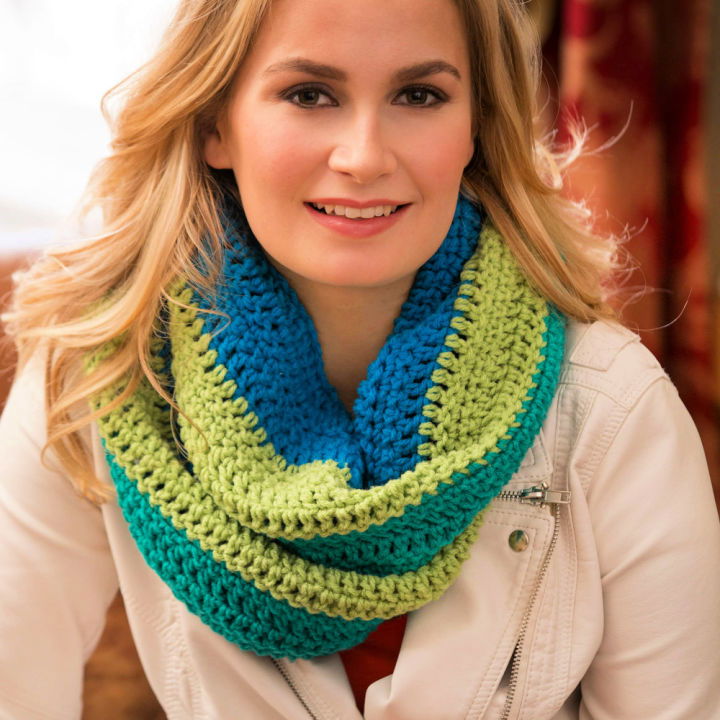 Are you looking for a stylish, free and adorable crochet pattern? Look no further! Create this unique crochet paradise infinity cowl pattern with red heart super saver solids & accent yarn. It's the perfect gift or addition to your wardrobe that adds warmth and style! This easy design can be crocheted quickly in just 4″ x 10 stitches of 6.0mm (J) hook size. The cowl measures 8″ wide x 60″ circumference (20.5 x 152.5 cm). So pick up your yarn and start this amazing crochet project today! yarnspirations
5. Easy Loops Cowl Crochet Pattern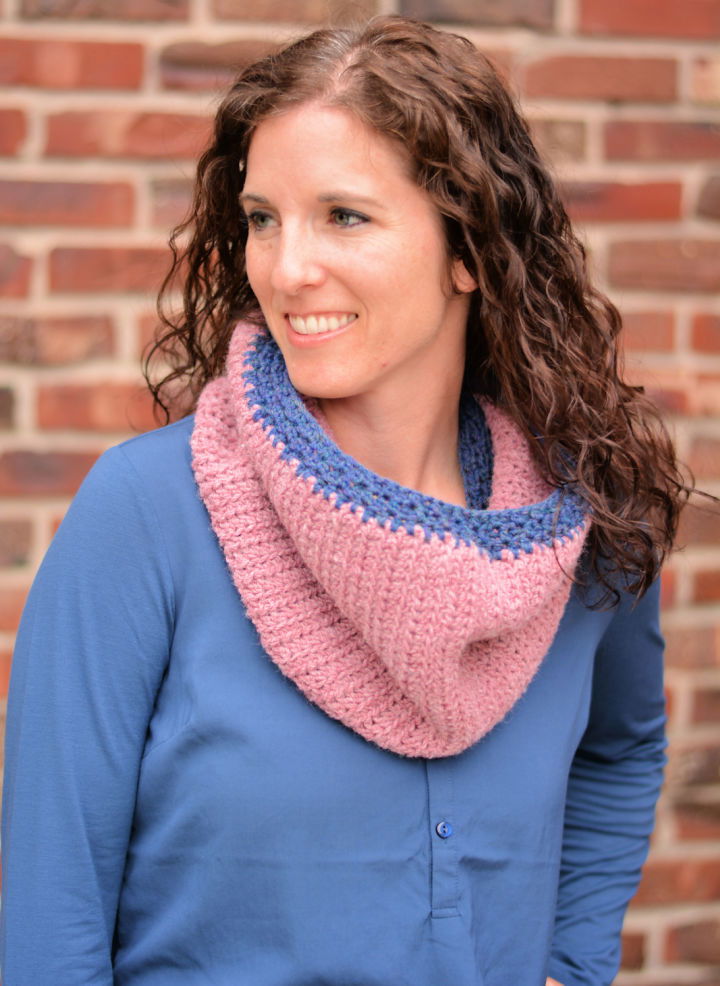 Discover the perfect way to accessorize for any season with our list of free cowl crochet patterns. This beginner-friendly loops cowl pattern is full of simple construction and basic stitches achievable by crocheters of all levels, including experienced ones looking for mellow projects in between bigger challenges. You'll be able to unwind with your favorite beverage while crafting this delightful accessory! To make it even better, you can choose from a range of colors – solid, two-tone or variegated – whichever suits your style best. With Lion Brand Wool-Ease yarn, you'll have everything you need to create this cozy cowl – and shine wherever you go! remingtonlane
6. Free Crochet Georgia Cowl Pattern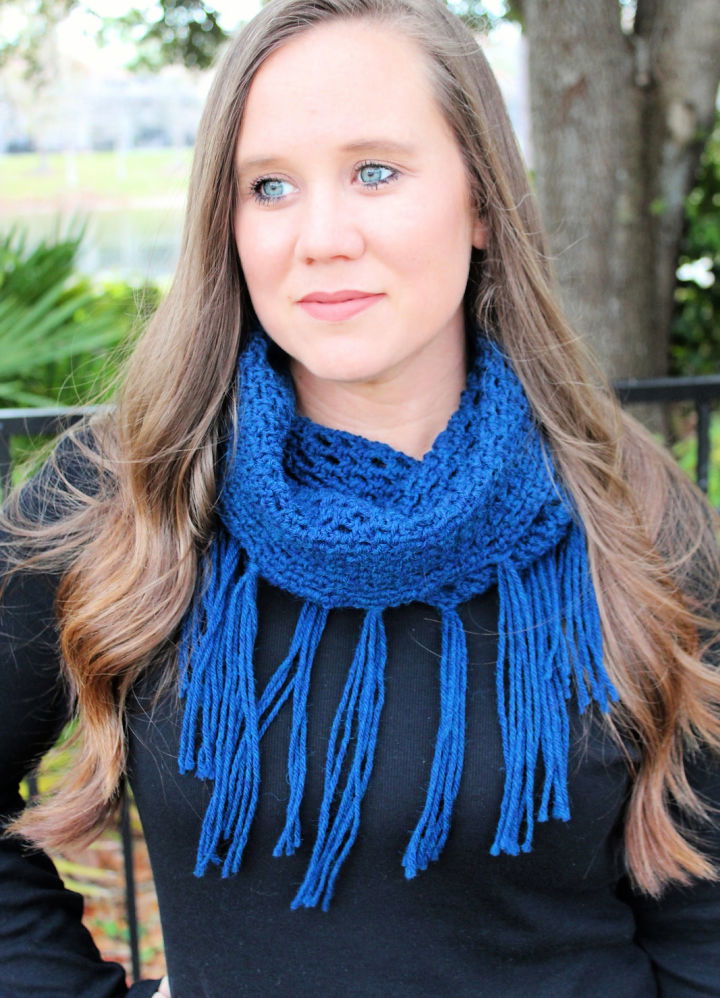 Crochet a warm and cozy cowl with this easy Georgia cowl pattern. It's perfect for beginners, as it only uses basic crochet stitches. You'll need 330 yards of worsted-weight yarn and an I/9 (5.5mm) hook to make it. The scarf measures 15 "x14", but you can adjust the size easily by changing the length of your starting chain or working extra rounds! And remember to add fringe or tassels for a unique look! Get creative and have fun making your one-of-a-kind masterpiece! twobrothersblankets
7. Free Crochet Pumpkin Muffin Cowl Pattern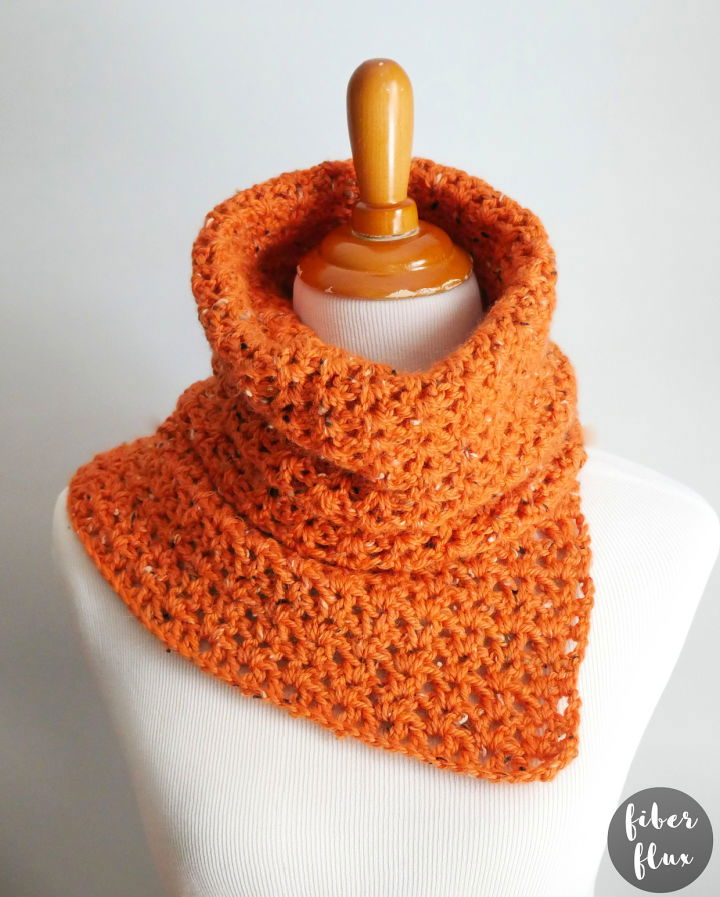 Stay warm and cozy with the crocheted pumpkin muffin cowl! This free crochet pattern features a unique split shoulder detail and thick foldover around the neck for extra warmth and is perfect for using up a special skein of yarn. You'll need a 6.5mm K crochet hook, 300 yards of Aran-weight yarn, a tapestry needle, scissors & tape measure to complete this 20″ tall (unfolded) cowl that's 23″ circumference – add more rounds to increase the size! Follow along with our video tutorial today & get ready to stay snug all season long. fiberflux
8. Diamond Ladder Tapestry Crochet Cowl Pattern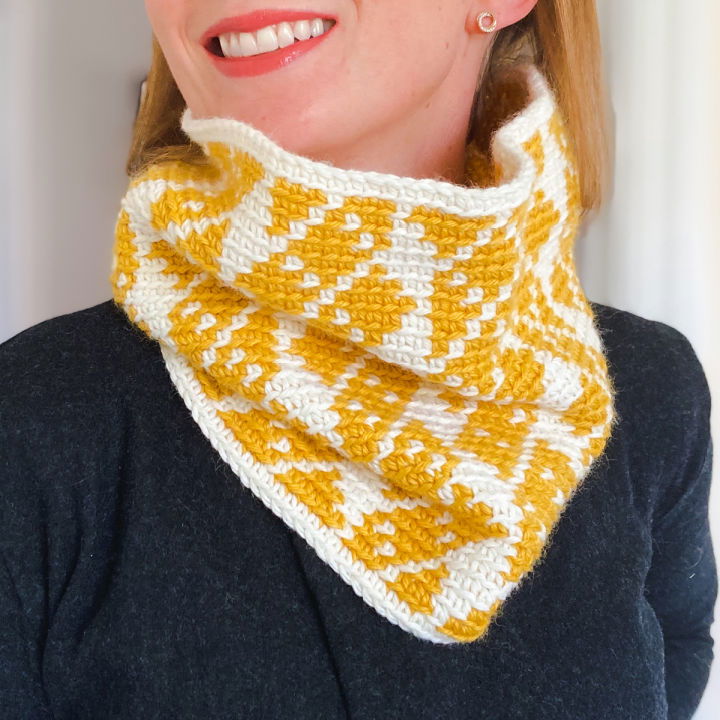 Be prepared for the cooler months with this stunning diamond ladder tapestry crochet cowl! It's a free pattern, written for one size (adult) and uses two colors of worsted weight yarn. The colorwork may look tricky, but it only requires carrying two strands of yarn in all the rounds – nothing too difficult! This cowl measures 25″ (63.5cm) around x 10.75″ (27.5cm) high, and you'll need a 5mm hook to make it along with some other supplies such as a yarn needle, stitch marker etc. Download the pattern today and start crocheting this stylish cowl now! nedandmimi
9. Classic Crocheted Cowl – Free Pattern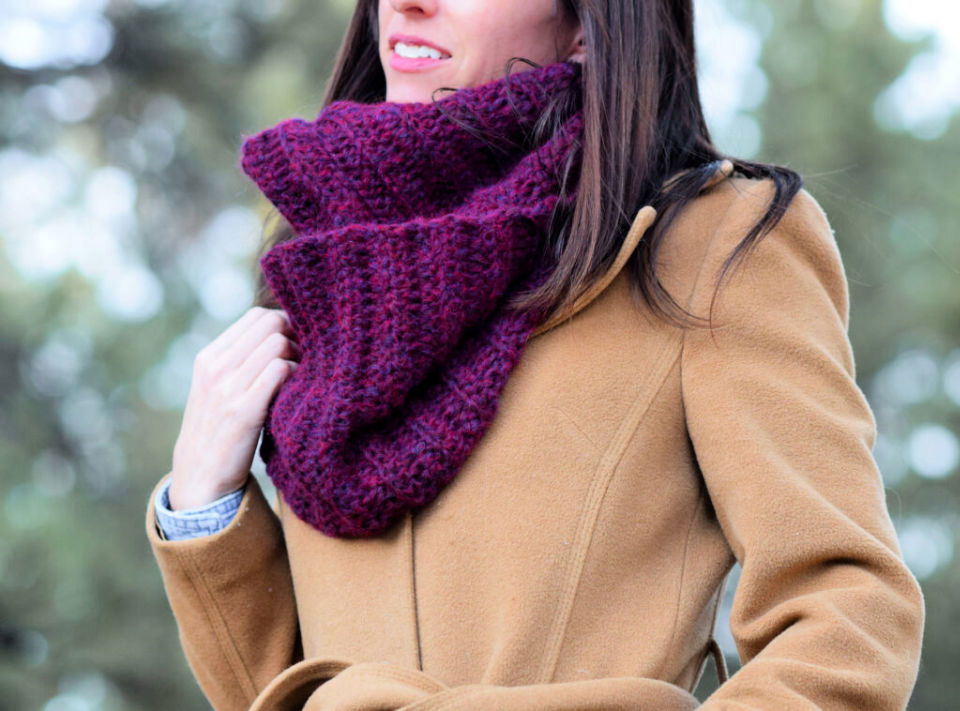 Are you a beginner crocheter looking for an easy project? This cozy cowl is a perfect choice! You can customize it to your liking by changing the length, width or stitch count. All you need is chunky weight yarn, a US size K 6.5 mm crochet hook, a tapestry needle, measuring tape and scissors. With this pattern's simplicity and the beauty of basic stitches, even novice crafters will enjoy creating their winter wardrobe staple or great gift in no time! So grab your materials and start making this classic cowl today! mamainastitch
10. Chunky Ribbed Crochet Cowl Pattern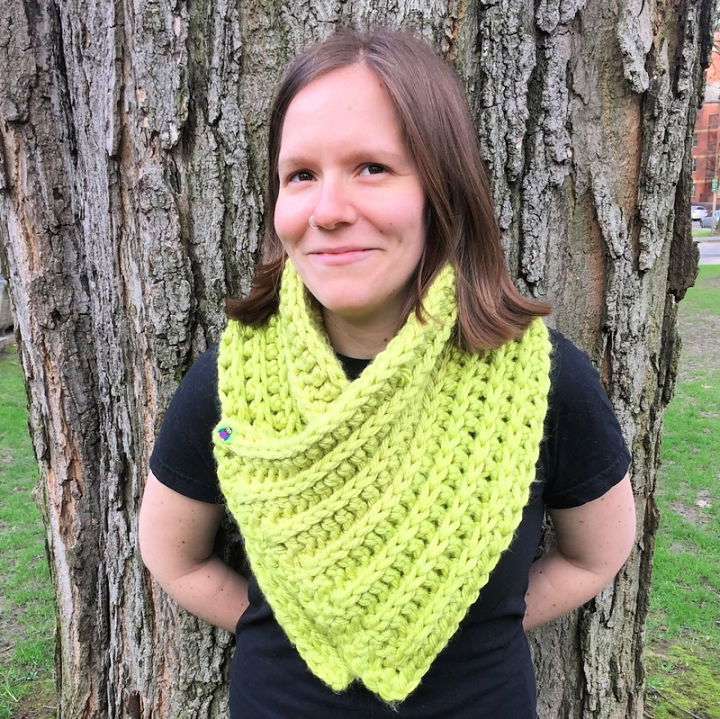 Unlock a new level of crochet with the amazing crocheting technique in the third loop and create your own chunky faux-ribbed cowl. This free pattern comes complete with a photo tutorial on how to properly crochet on the side loop to achieve this beautiful, unique look and ensure that you stay warm when temperatures drop. All you need is some Lion Brand Hometown yarn and a 12.0 mm hook – so go ahead and give it a try! Your friends will be amazed by your skills, plus you'll get cozy results every time! bowtiesandfezzes
11. How to Crochet a Candy Shop Cowl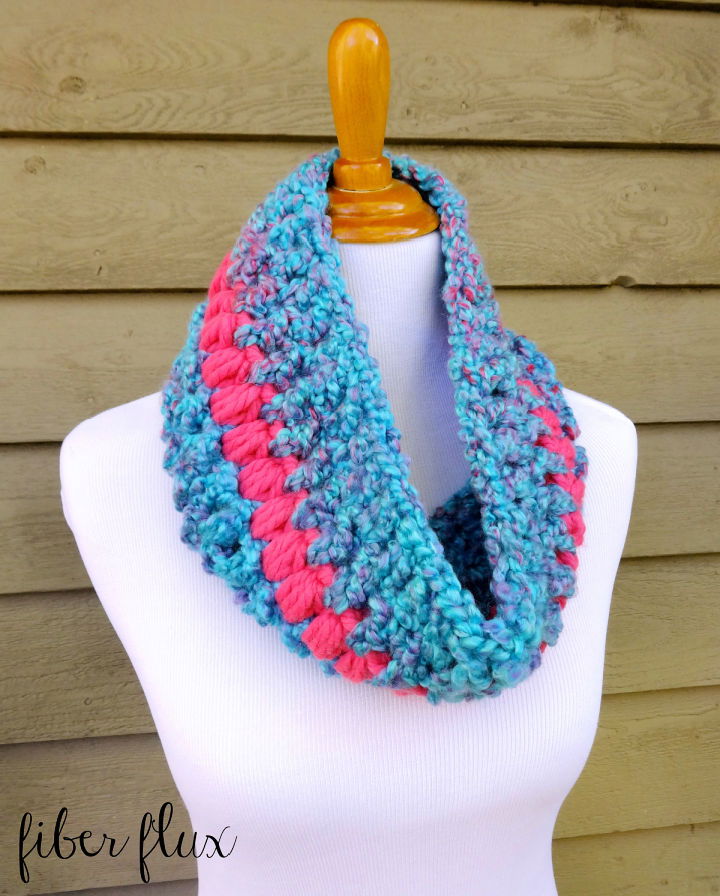 Add some sweetness to your closet with this free crochet candy shop cowl pattern! This colorful design is worked in just five rounds, making it a great project for quickly whipping up gifts. The thick and fuzzy blue yarn looks like cotton candy, while the bright pink puff stitches resemble small candies. Materials needed: 1 ball of red heart mixology swirl, 1/2 ball of red heart mixology solids, P (10mm) crochet hook, tapestry needle and scissors — any super bulky yarn can also be used. The finished size is 6 inches high by 32 inches long in circumference around. Get crocheting now on this fun and sweet crochet cowl pattern! fiberflux
12. Hexagon Granny Cowl Crochet Pattern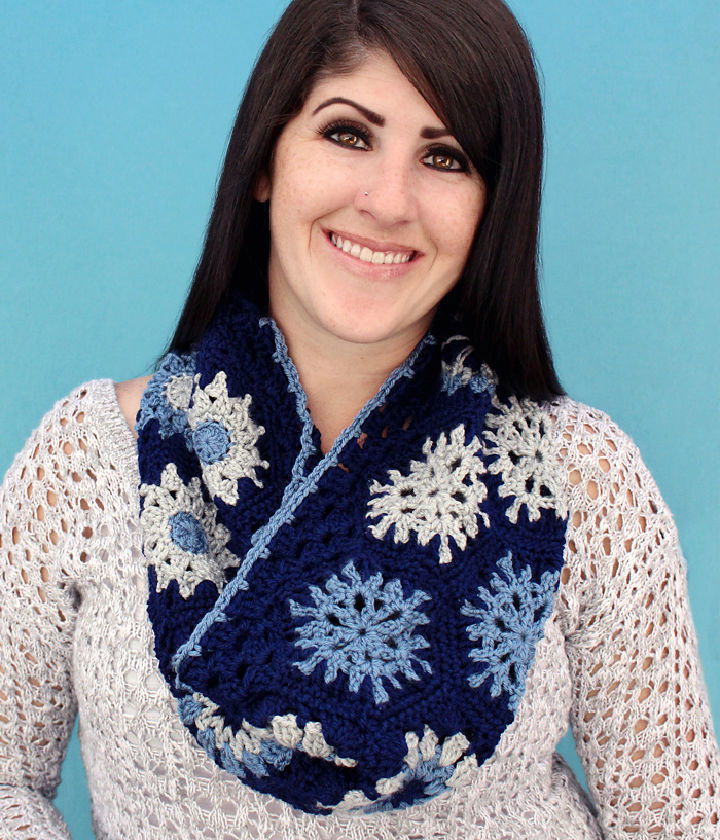 This free crochet pattern for a hexagon granny cowl is perfect for intermediate-level crocheters. The finished size measures 32 inches around and 12 inches tall – you can easily make it fit tighter by using fewer hexagons! You'll need a crochet hook, yarn needle and worsted-weight yarn in three colors to complete the project. This pattern includes instructions for 5-inch hexagons with nine stitches on each side – any other 5-inch hexagon pattern with nine stitches per side will also work nicely. Get creative and enjoy your beautiful handmade cowl! gleefulthings
13. Rustic Candy Corn Cowl Crochet Pattern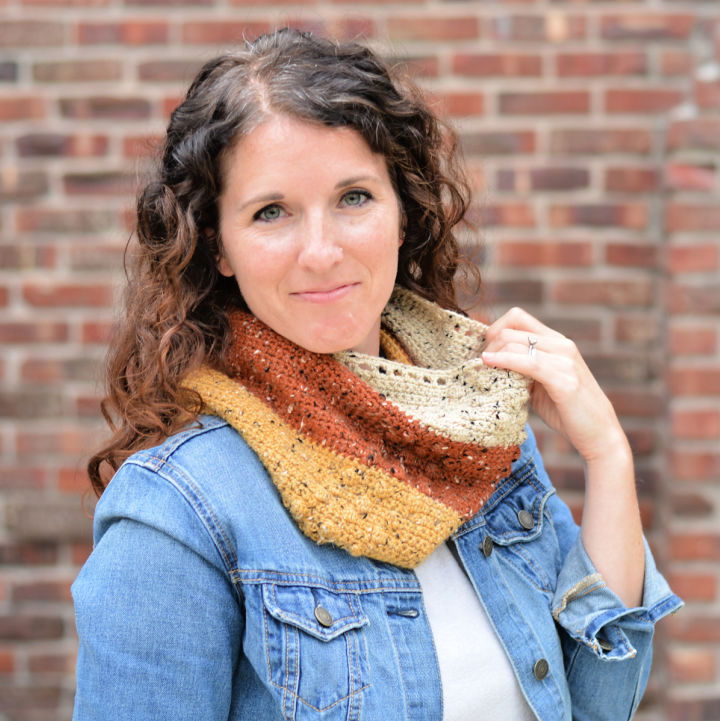 Bring out your inner Halloween spirit with the rustic candy corn cowl! This cozy crochet cowl pattern is perfect for all your fall activities like apple picking, hayrides to the pumpkin patch, trick-or-treating and Thanksgiving celebrations. The crochet pattern uses a mix of beginner and bobble stitches that work up quickly with DK weight yarn in 3 colors. You'll get a printable PDF pattern complete with the photo tutorial for bobble stitches and a pattern chart – perfect for advanced beginners. Get ready to look festive this Fall season in your handmade rustic candy corn cowl! undergroundcraft
14. Pumpkin Hooded Crochet Cowl Pattern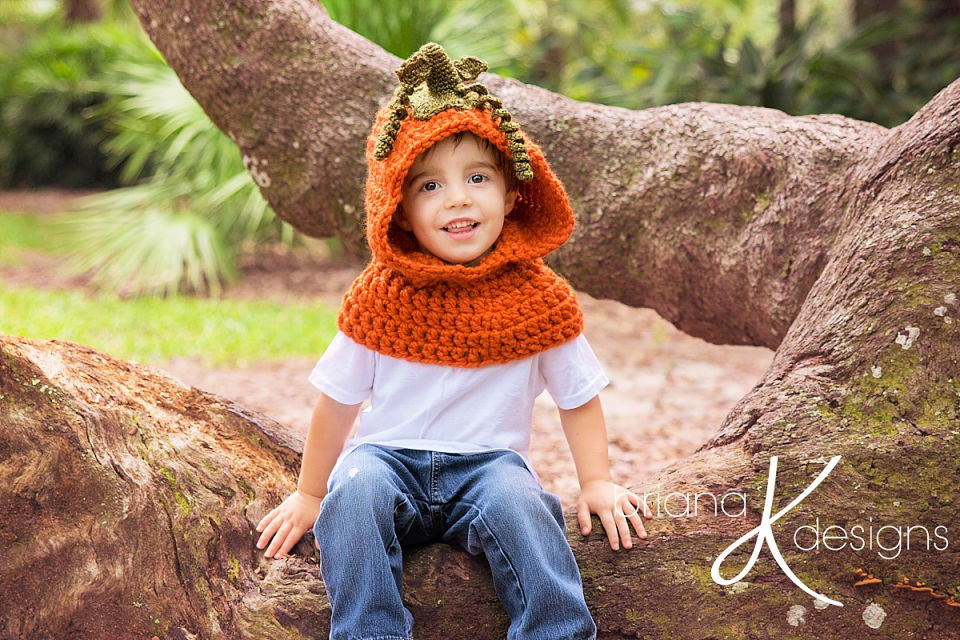 Welcome the fall season with a cozy and festive pumpkin crochet hooded cowl! This crochet pattern is perfect for adults and children alike. With just two skeins of lion brand thick & quick in color pumpkin, plus lion brand heartland in Joshua tree, you can make this cowl come to life – no matter your skill level! You'll need 9mm (MN) and 5mm (H) hook sizes, a sewing needle and a stitch marker. Get ready for cool breezes with 290-350 yards of yarn; the gauge is four rows x 8 stitches with the 9mm hook. Make your own or give it away; either way, you'll be sure to love this hooded cowl! brianakdesigns
15. Foxy Hooded Cowl Crochet Pattern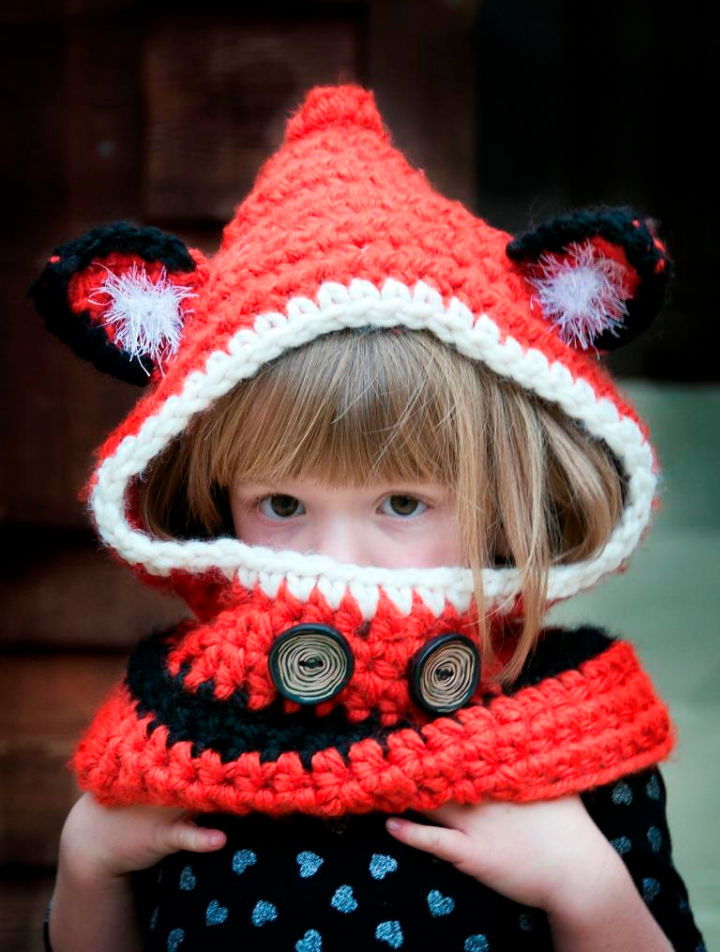 Are you looking for an easy, free crochet pattern that can be tailored to fit anyone in your family? Look no further than this foxy hooded cowl crochet pattern! Quickly modify the length and depth of the hood according to size requirements with only four chain increases or decreases. All you need is some Lion Brand yarn, a crochet hook size N or 9mm, two buttons and regular & large eye darning needles to complete the look. Sew on the buttons underneath the opening in whatever configuration you like, and tuck up all loose ends for a finished product that's practical yet stylish! Download now and try this incredible pattern today! nittinninja
16. Crochet Cowl Pattern with Worsted Weight Yarn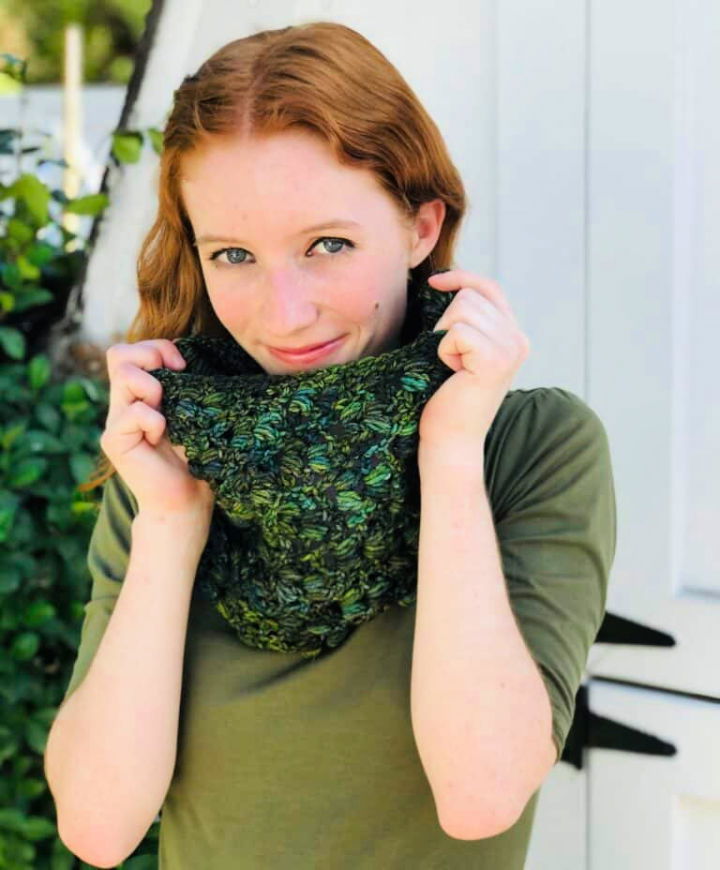 The everglade cowl is a stylish crochet pattern that uses worsted-weight yarn to create a beautiful cowl. The easy-to-follow instructions feature puff stitches, chains and single crochet to make a luxurious fabric. Flexible measurements make this the perfect project for everyone – adjust it for length or width as you like! Materials required: worsted weight yarn, I/5.5mm crochet hook, yarn needle and advanced beginner skills level. Get creative with the Everglade Cowl – start making yours today! desertblossomcraft
17. How to Crochet Textured Cowl – Free Pattern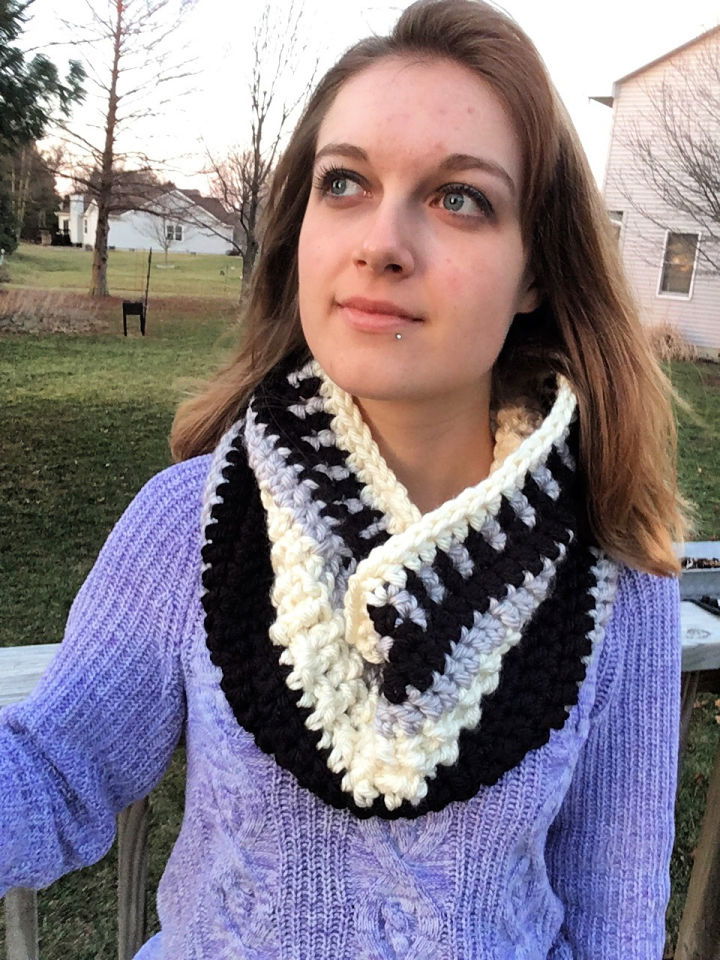 This free crochet pattern is perfect for making a cozy cowl to keep your neck warm in the fall and winter. The textured stitches make it fun and trendy, while neutral colors will match everything! All you need is super bulky yarn, a size 9mm (N) hook, and three Yarn Bee True Color Super Bulky Yarn colors – ivory, gray and black. You'll only use less than one skein of each color, so you can easily create this project from leftover yarn – plus, detailed step-by-step instructions are included! Get started on this quick & easy pattern today! rosecoloredlipstick
18. Cluster Stitch Cowl – Free Crochet Pattern
Feel the warmth of winter with this free cluster stitch cowl crochet pattern. The beautiful cluster stitch creates a lot of texture, plus the acrylic wool blend from Plymouth Hot Cakes adds even more visual appeal. This easy-to-crochet piece is perfect for a mountain vacation or as a holiday gift for someone special. Get started quickly with an I/9/5.5mm hook and one cake of Plymouth Hot Cakes Denim Mix (400 yds). Wrap yourself in warmth today! simplycollectible
19. Free Whitney Cowl Crochet Pattern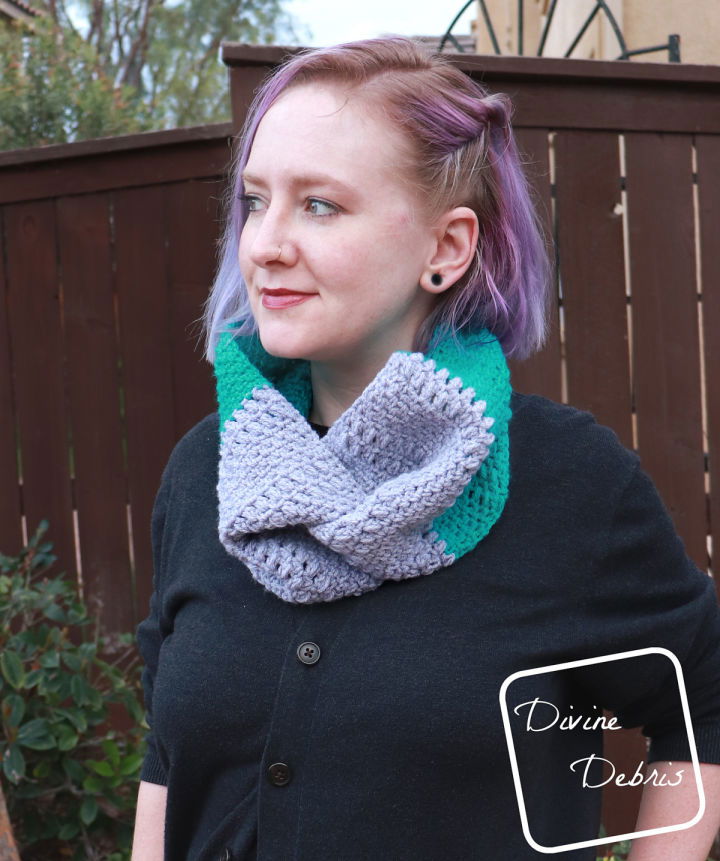 Make your next crochet cowl project something special with the eye-catching linen stitch. Combining single crochets and chain spaces with a simple puff and cluster stitch adds texture and color to any cowl. All you need is lion brand basic stitch premium yarn in two colors, a US I (5.50mm) crochet hook, scissors, a measuring tape and a needle. With 16 rows × 19 sc & ch1 across = 4″ gauge in linen stitch, you can create something beautiful! divinedebris
20. Crochet Puff Stitch Cowl Pattern for Beginners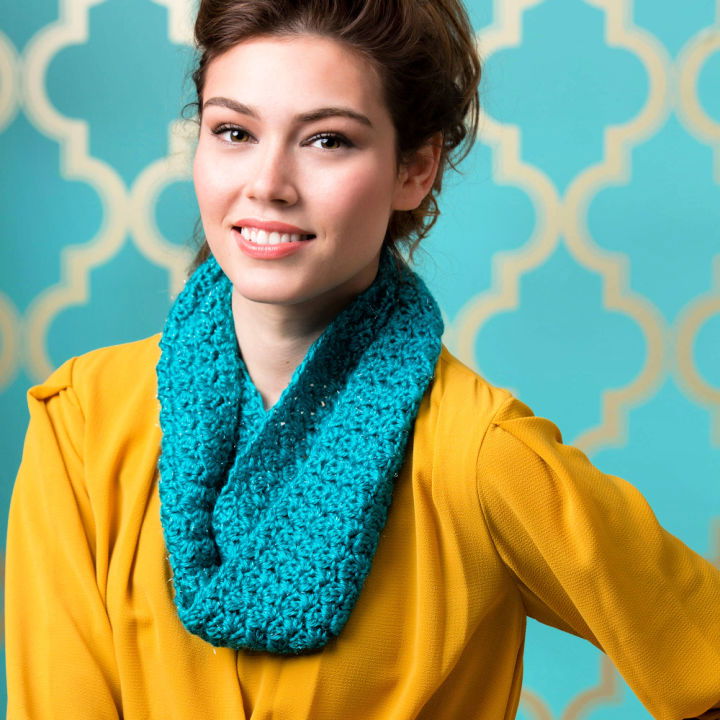 Discover the perfect free crochet puff stitch cowl pattern for beginners! This elegant and comfy accessory is sure to make heads turn. Made with red heart sparkles soft yarn that's frosted with a hint of metallic, this project will take you through easy step-by-step instructions to crochet a gorgeous piece in no time. The finished product measures 5″ x 60″ (12.7 x 152.4 cm). Grab your 6.5 mm (K) hook and get started today – it makes a great gift too! yarnspirations
Free Crochet Patterns to Try
Create beautiful projects with our range of stylish and easy-to-follow free crochet patterns.
21. Free Crochet Bead Stitch Cowl Pattern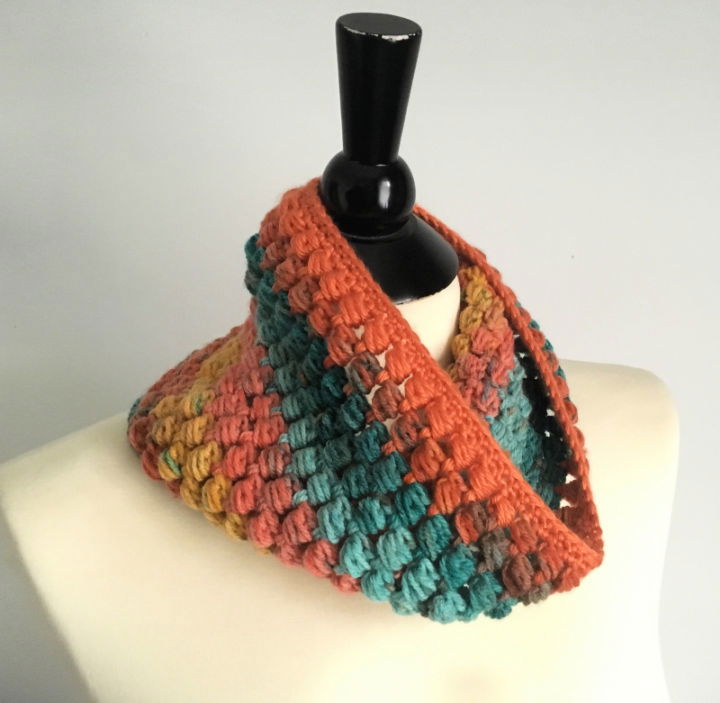 Enjoy a unique crochet project with this free bead stitch cowl pattern! You can create a lovely small cowl with only a 4mm (G) crochet hook and lightweight yarn. Try out this fantastic stitch, as we also include a video tutorial on how to crochet the bead stitch separately. Get your hooks and caron cupcakes in mango tango ready, and give it a go today! slipstitchhollow
22. Quick and Easy Crochet Crossrows Cowl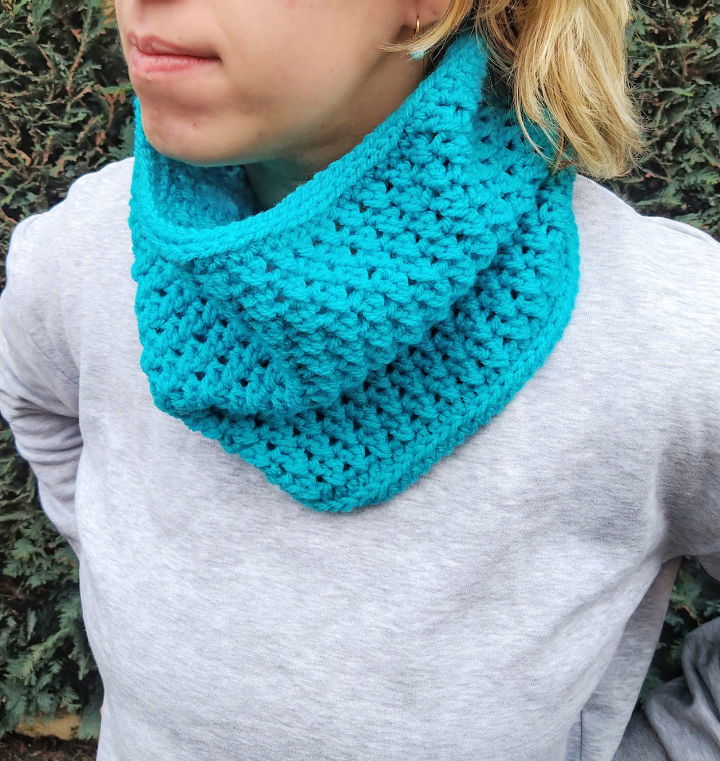 Are you looking for easy and quick free crochet cowl patterns? Look no further; this free, easy crochet crossrows cowl pattern is perfect for a quick project; it's simple enough that advanced beginner crocheters can make it without difficulty. The one-size-fits-most design can be easily adjusted to fit any size. All you need is a 5mm (H) hook, worsted/Aran weight yarn (218 yards / 199 meters – 108 grams), scissors, stitch markers & yarn needle – everything else comes in the free pattern! Make your unique style today with this fun and easy cowl pattern. kamecrochet
23. Lightweight Crochet Cowl Pattern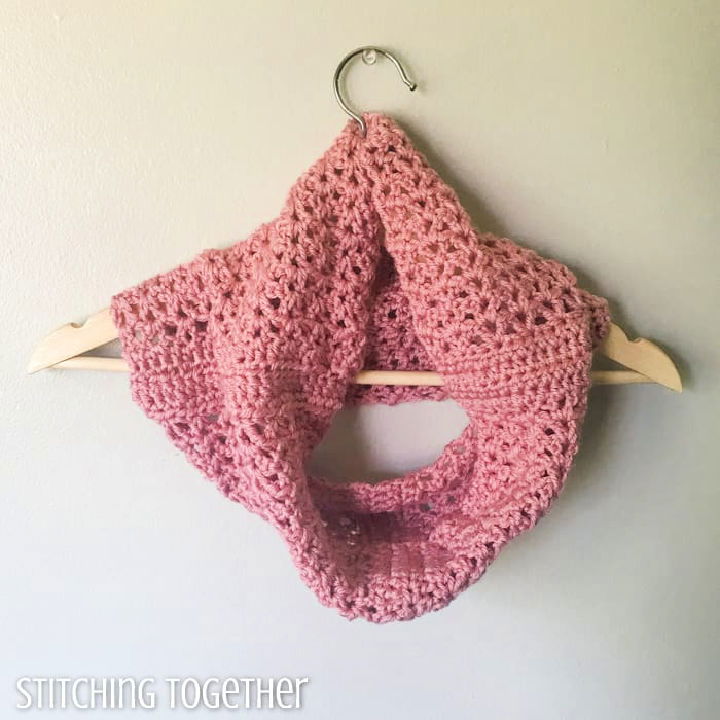 Crochet your lightweight and stylish cowl with this easy pattern! It's a great one-skein project which can be completed in just one afternoon, making it an ideal gift or personal treat! With its mix of simple stitches, the cowl has a rich texture and depth that will be sure to make heads turn. Easy enough for beginners, you'll need US-Size J/10 6.0 mm hooks, Red Heart Soft yarn and one skein of rose blush to get started. A gauge of 4″ x 4″ = 16 sts (open v-stitch) by eight rows ensures the right fit, while instructions are included on how to make it less loose if desired. stitching together
24. Crochet Cowl Neck Warmer Pattern
Stay snug and cozy with this free pattern for an easy crochet cowl neck warmer! This gorgeous textured design creates by tight stitching with beautiful texture, perfect for a last-minute gift. Combining single crochet and treble stitches makes mini bobbles that work up fast in any Aran weight/worsted weight yarn. With a circumference of 21 – 22 inches (53 – 56cm) to fit teen/adult sizes, it measures 10.5 – 11″ (27-29 cm) wide and 9.5″ (24cm) high. Make this stylish accessory now! anniedesigncrochet
25. Easy Peasy Crochet Cowl Pattern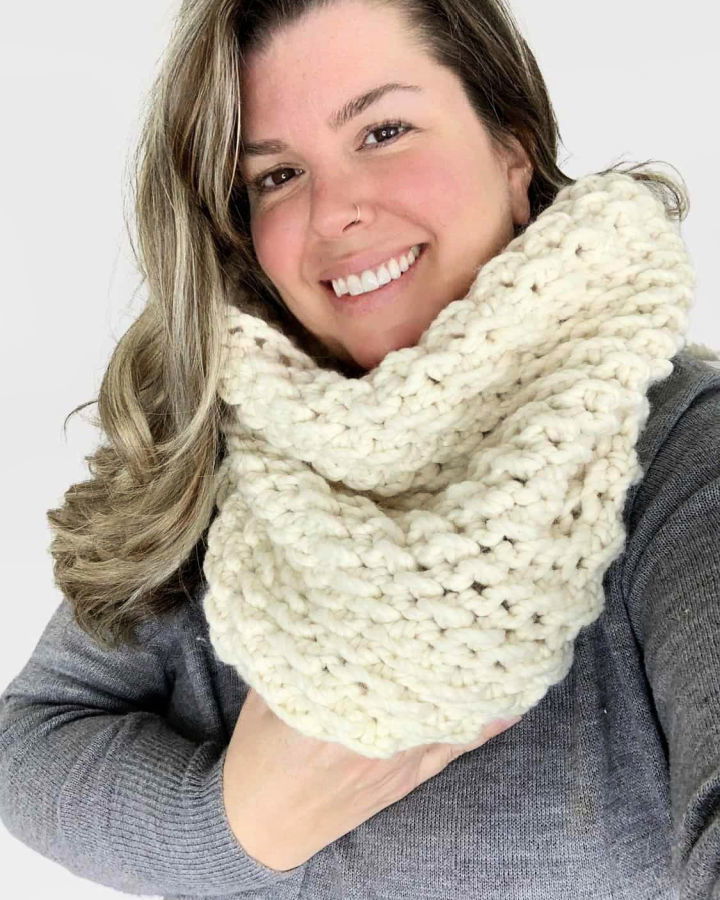 Unlock your creative potential with this easy-peasy crochet cowl pattern – the wellington! This unisex hat pattern is the perfect project for novice crocheters, featuring a simple stitch pattern throughout and made with super bulky yarn. It's quick to work up and will be sure to impress your friends and family – no one needs to know how effortless it was! Skill level is easy, and all sizes from 1 year old to adult are written individually in the pattern. Grab some yarn and a large hook, sit back, relax, grab a cup of coffee, and let creativity take over. You won't believe what you can create with little effort! prettydarnadorable
26. Free Printable Snood Crochet Pattern
Learn how to make the cozy crochet Enid's Snood with this free, beginner-friendly pattern! Inspired by Wednesday's snood on the show, the instructions will help you adjust it to fit any size and turn it into Wednesday's snood. We also have a step-by-step video tutorial available. All you need are a 9mm (M/13) crochet hook and yarn held together Aran+ Aran = super bulky, a tapestry needle/yarn needle, scissors, a stitch marker and a large clover tassel maker set to the smallest setting. Plus, get access to printable instructions for easy reference – grab your supplies now and start crocheting today! theloopylamb
27. Trinity Stitch Striped Crochet Cowl Pattern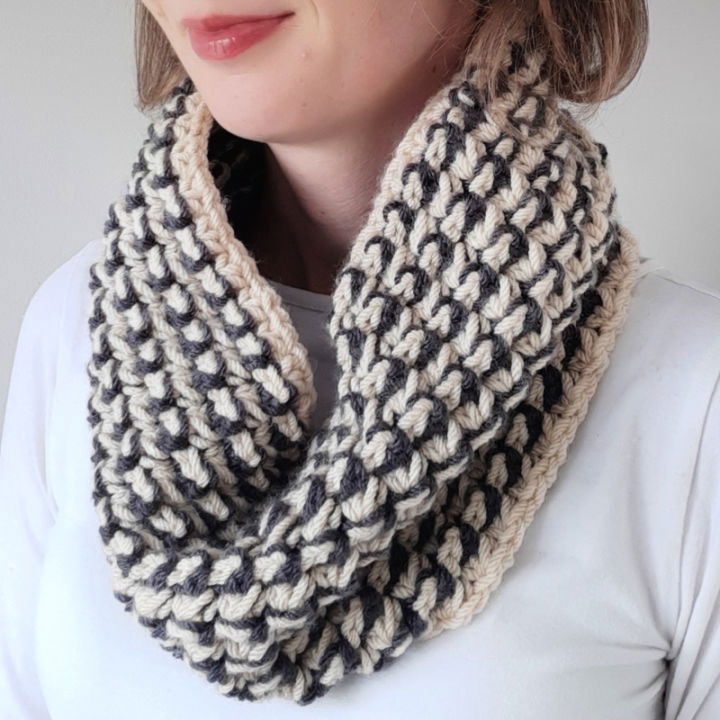 Stay warm and stylish with this free crochet pattern for a striped trinity stitch cowl! This chunky and cozy accessory is made with an easy trinity stitch that creates a beautiful texture. The striped effect comes from alternating rows of different colors so you can customize it to your favorite color palette. You can adjust the size by changing the starting chain length – every six sts adds/subtracts about half an inch from the circumference. To adjust the height, repeat rows 2 & 3 until the desired length. Make one now! nedandmimi
28. Celestia Crochet Cowl Scarf Pattern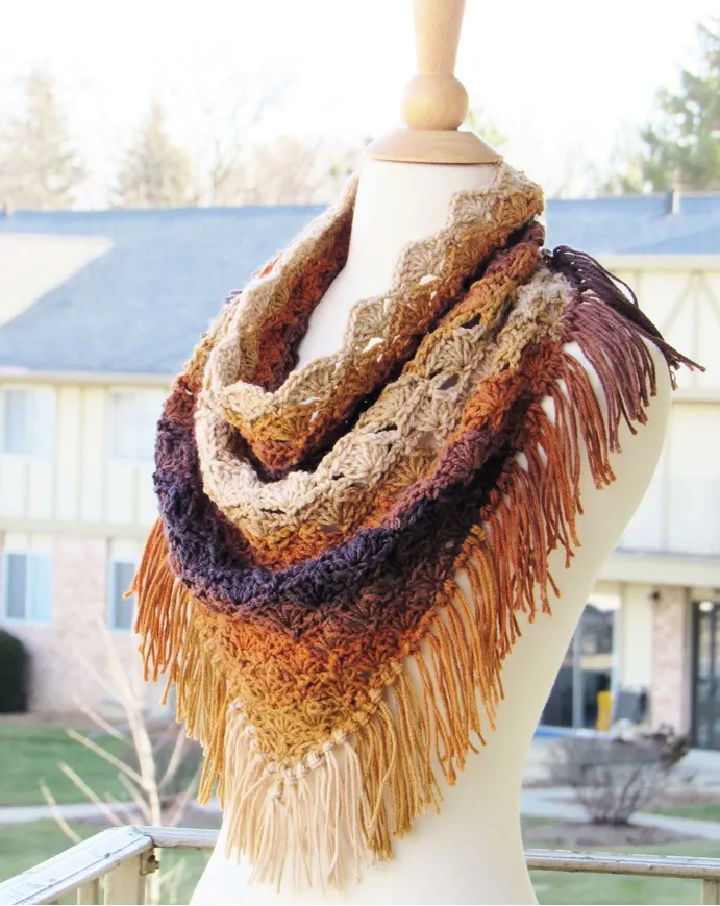 Be stylish and keep your neck warm with this unique cowl scarf crochet pattern, the Celestia cowl! This easy-to-use crocheting pattern comes in 3 sizes – toddler, child, and adult – so you can make a mommy-and-me pair. You need worsted-weight yarn, a hook J (6 mm), and a yarn needle to weave in the tails. When you're finished, enjoy the snug fit of these finished sizes: toddler – 22 inches circumference; child – 24 inches circumference; adult – 26 inches circumference. Get cozy today with this one-of-a-kind cowl scarf Crochet Pattern! crochetdreamz
29. Crochet Katniss Cowl – Free Pattern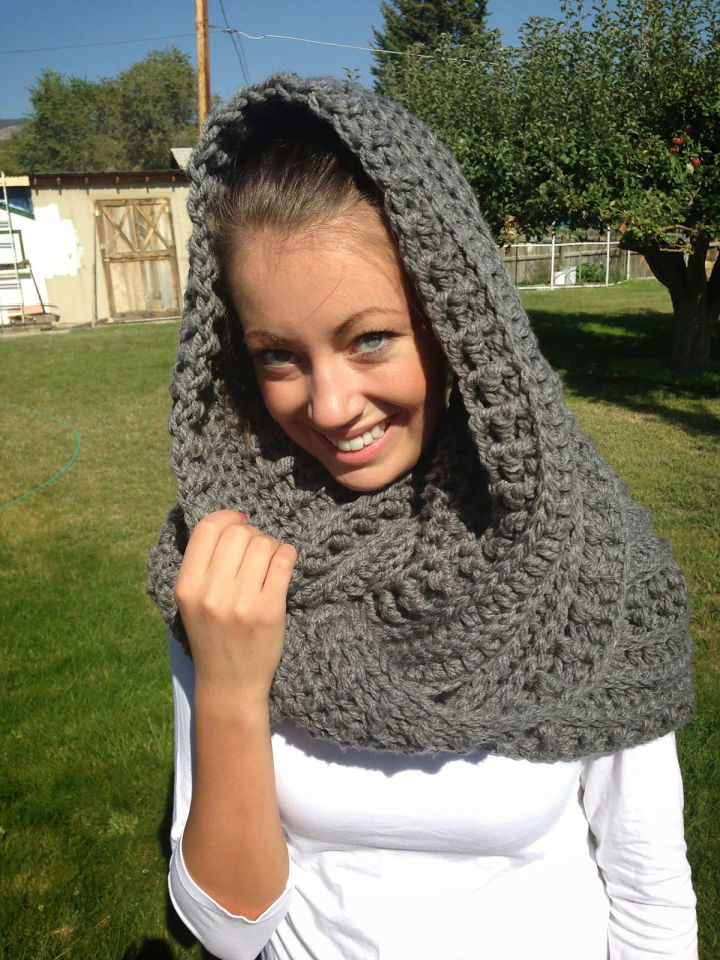 Create your cozy katniss cowl with this free crochet pattern! It measures just over 60 inches long and 13.5 inches high, made from almost 600 yards of yarn! The cowl wears three ways thanks to its ridged design, and the double crochet, front post single crochet, and front and back post double crochet stitches combine to make this piece truly one-of-a-kind. Make sure to measure it after the first row of post stitches when wrapping around yourself so you get the right length – you won't miss out on this beautiful scarf! thefriendlyredfox
30. Simple One Yarn Cake Spring Cowl Crochet Pattern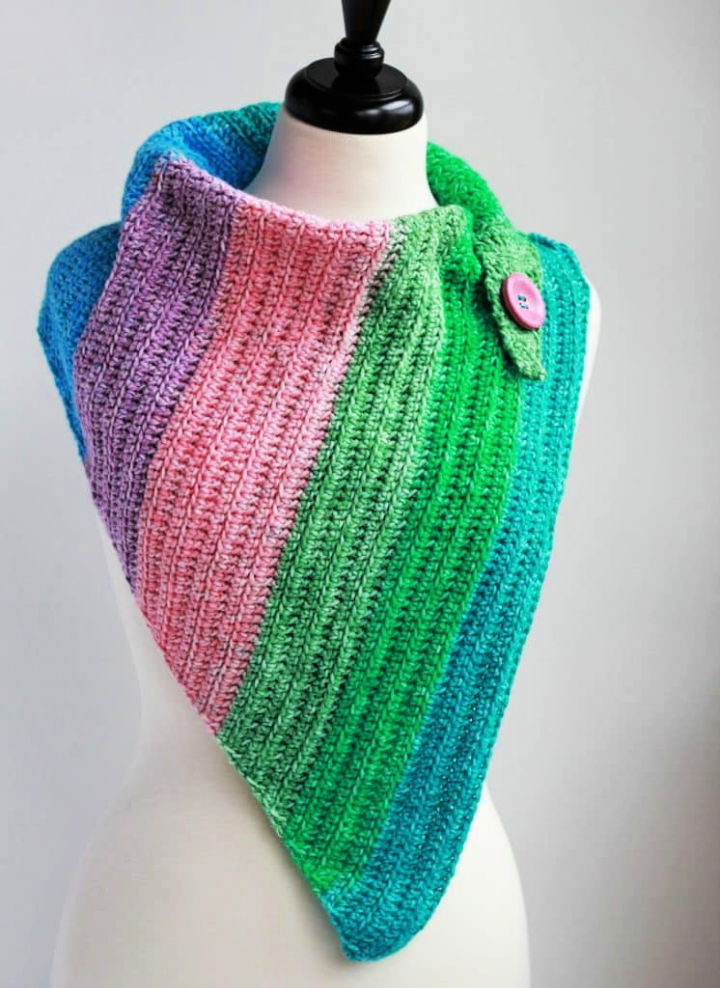 Make a stylish and unique cowl with one skein of yarn in no time! This free crochet pattern for a simple one-yarn cake spring cowl is perfect for beginners since it only uses one stitch – the linked half double crochet stitch. The increase on one side creates a triangle shape, folding it together to form the cowl. Add a large decorative button, and you're good to go! Supplies needed: lion brand mandala ombre balance 5.3 oz/344 yds, size H/8 (5.0 mm) hook, 1 1/2″ decorative button, tapestry needle, scissors; approximate finished size: approx 34″ wide x 21″ to point before sewing together. nanascraftyhome
Related Free Crochet Patterns:
Find and get inspired by our diverse selection of easy-to-follow free crochet patterns below!
Conclusion:
With these 30 easy free crochet cowl patterns, you'll be able to make a unique and stylish statement with your next creation. With various crochet cowl patterns, colors, and styles, it's simple to find the perfect accessory for any occasion or season. All these free crochet cowl patterns have something for everyone, from classic designs to trendy styles.
With so many choices at your fingertips, there is no excuse not to find the perfect crochet cowl pattern that keeps you looking stylish and warm all winter! Whether you're looking for something lightweight and airy for spring weather or something heavier and cozier for winter nights, there is sure to be a crochet cowl pattern that speaks just right to your creativity!