One of the tremendous benefits you can enjoy from your crochet skills is loading your wardrobe with the stylish possessions for the winters snapping up the pretty cowls, neck warmers and the infinity scarves for yourself because they are the signature fashion for the colder season! Hanging around your neck, these crochet cowls cozify not only your tender neck but also add a gorgeous style statement to your personality and the winters dress ups! So a bundle of these ravishing cowls or scarves is a must have for your winter closet and that too in a variety of patterns and styles to doll up yourself for different occasions and times! Consider this day the lucky one as we got you this plenty of 81 free crochet cowl patterns OR Crochet infinity scarf patterns to peek into and find some of the patterns just apt to your style statement! So wait no further just get some free time to calmly visit this pretty crochet cowl collection here and get yourself some gorgeous and functional neck warmers!
Not only for the shivering cold days these cowls would be just perfect to go around the neck in the summers when you are enjoying the outdoors the cold breeze hits you up! The icing on the cake is that from elder ladies to the teens and the small girl's everybody would find a suitable pattern here that exquisitely meets their style and personality needs! From simple cowls to vintage neck warmers and the cool scarves there is everything to fit the different personalities be it decent, modern or a complete boho! All you need to do is just visit this beautiful round up of the crochet cowls and enjoy the versatility of the designs and patterns and get wonder stuck with their charm, texture, and colors!
Skirts, jeans, tops, tanks and the dresses these crochet cowl would surely add a spice up to your every dress up be it formal or informal, and gladly you would find them all in here! Apart from styling yourself up, you can use these beautiful cowls as the heartwarming gifts for the Holiday season for your favorite girls in the family and the friend circle!
Don't you worry the crochet beginner as we got some easy to stitch patterns for you too and if you liked a sophisticated design and wanted to crochet you can do that also with the provided free crochet patterns and the stitch details in easy steps!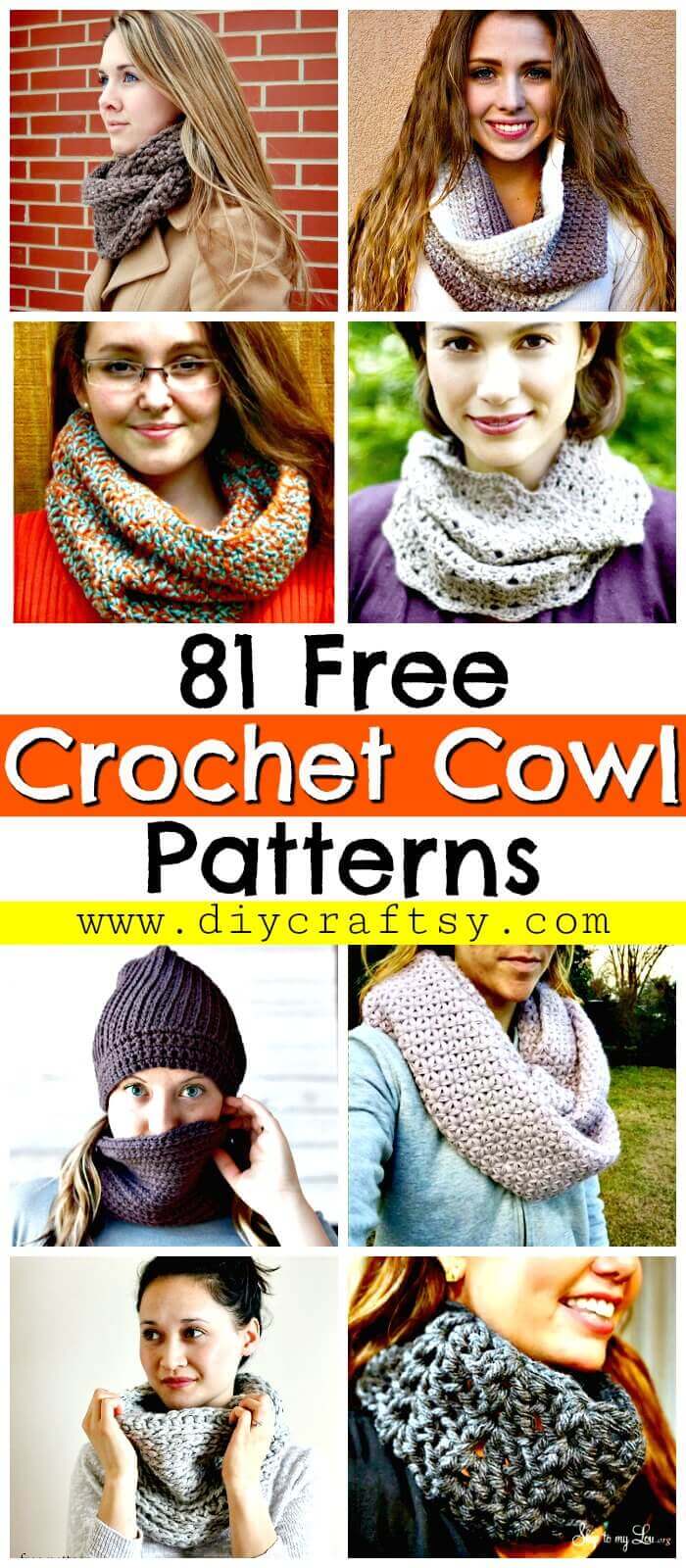 Each cowl idea explores the detailed tutorials and instructional learning of the patterns so just click, browse and enjoy free access to them all!
Want more Free Crochet Patterns?
Easy Free Crochet Calm Cowl Pattern: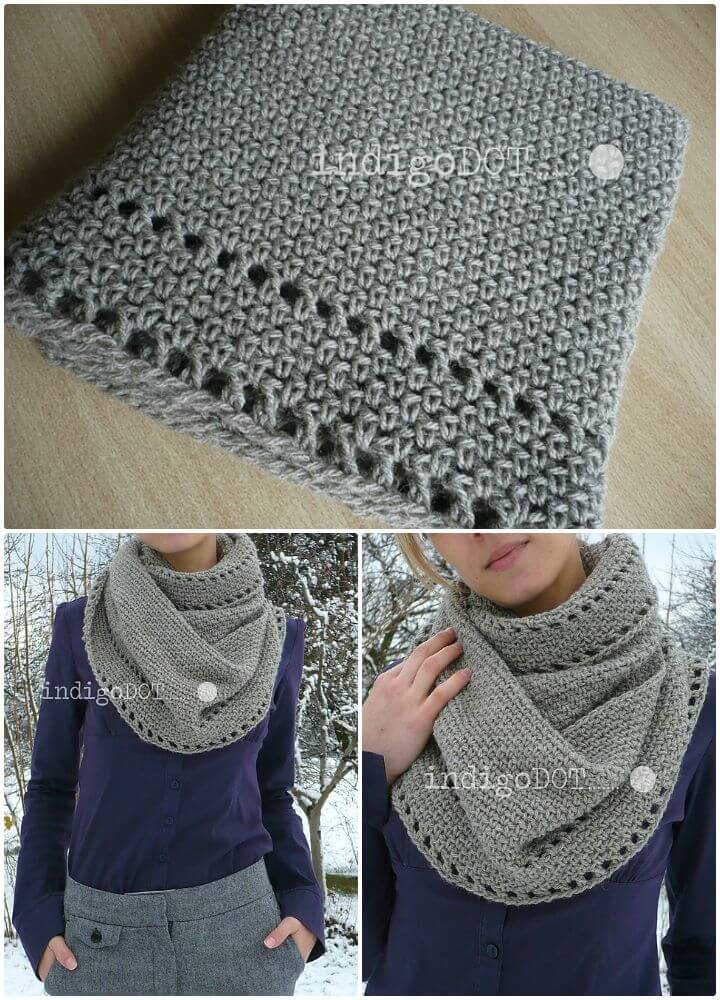 Cowls just make the perfect neckwarmer that also comes around your neck in a style! Check out here this grey crochet cowl that comes with a white button embellishment and is all beginner-friendly to crochet! This is here the calm crochet cowl that would make a perfect gift for a friend! You can also duplicate it to add to your winter wardrobe just to boost your fashion this winter! Free crochet pattern and free visual guides are here ravelry
Free Crochet Cardiff Cowl Pattern: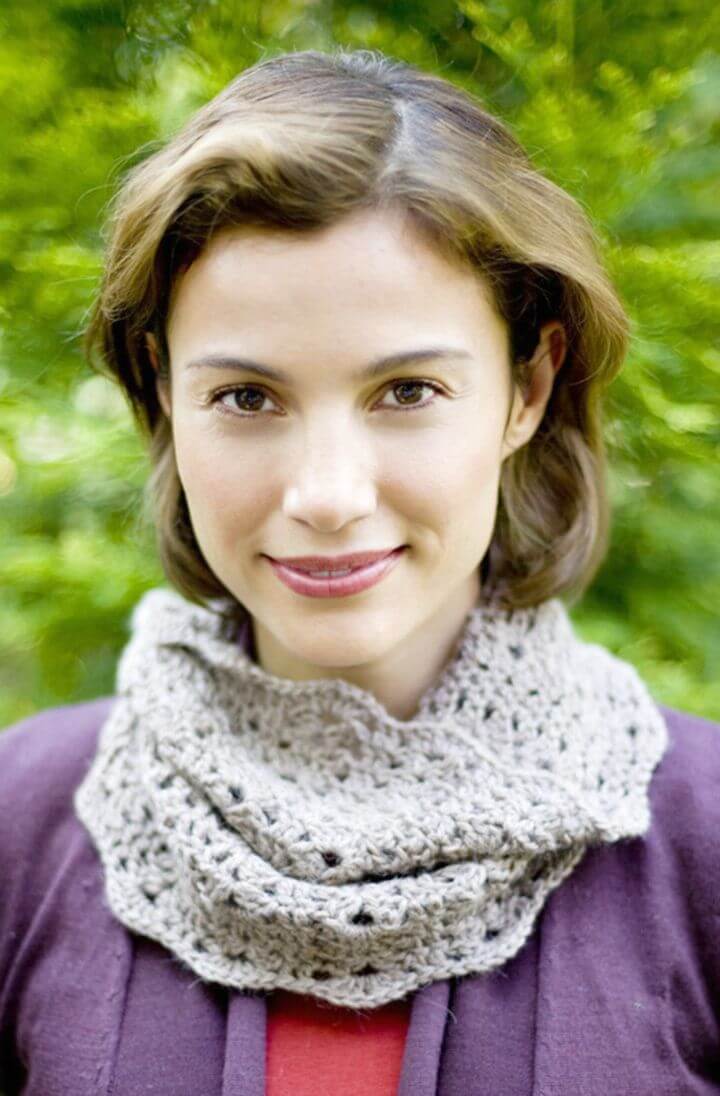 One more epic crochet surprise here, a mind-blowing crochet cowl that comes in a miniature size and also with scalloped edging! This is here a little Cardiff crochet cowl that is sure to add some interesting visual details to your winter outfit! Another handsome crochet neckwarmer to copy for your winter wardrobe! Free crochet pattern and easy tutorial is here lionbrand
Easy Free Crochet Diamond Cowl Pattern: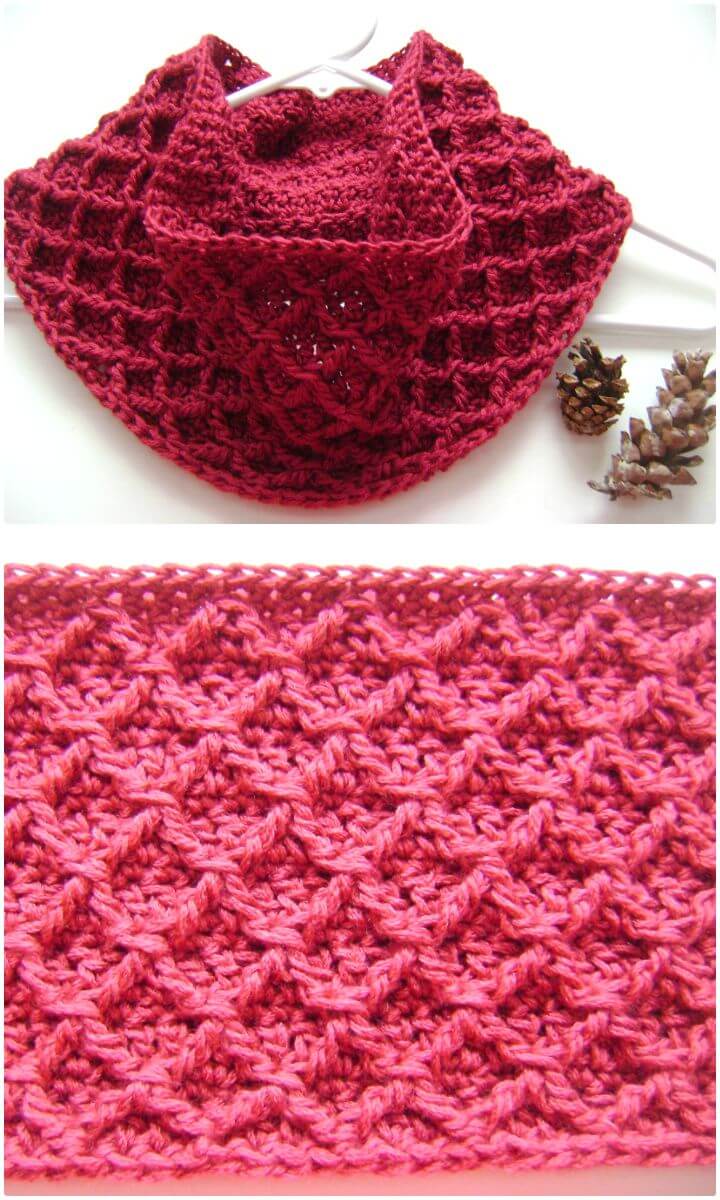 These are different design texture that adds tons of focal stimulation to a crochet pattern! An interesting and remarkable sample here is this crochet diamond cowl that is outstandingly beautiful and gorgeous due to alluring diamond yarn texture! It has been crocheted in rich dark color that is close to pink and red! Another handsome design of crochet cowl that will make a huge surprise too for a style loving friend! Free crochet pattern and easy instructional guides are here mooglyblog
How To Free Crochet Broomstick Lace Cowl Pattern: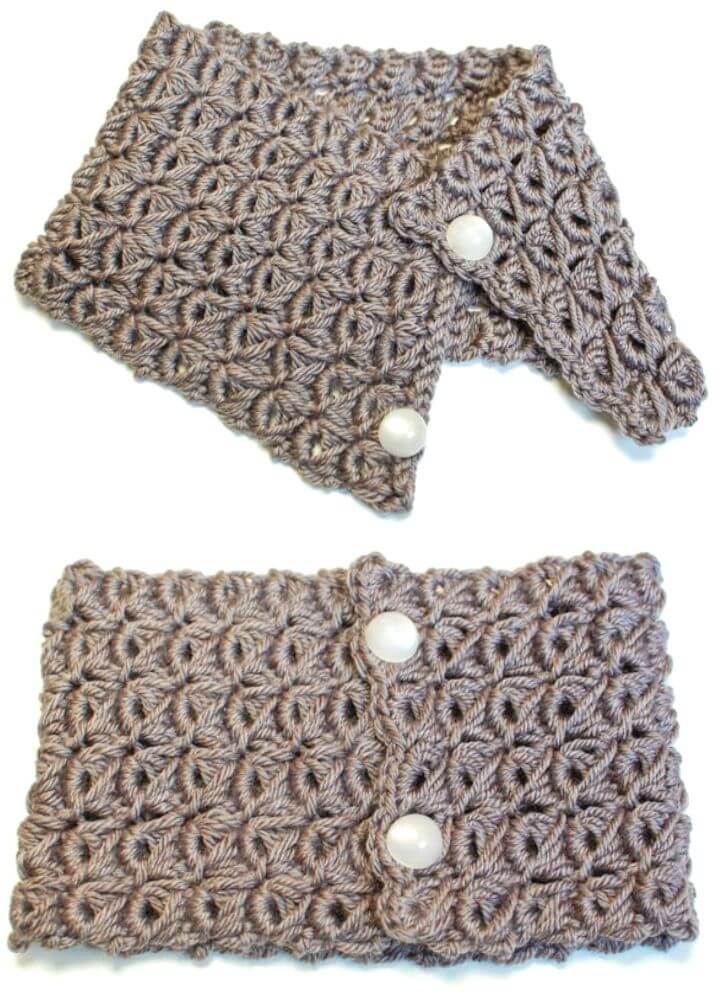 The whole beauty of a crochet pattern depends on the design texture that comes from the different styles of stitching! Here you are definitely going to praise this very interesting broomstick lace cowl that is a big pleasure to view in bright grey yarn color! Moreover, the further dignification has been done with using white button embellishments, another interesting design of crochet cowl to inspire your hook! Find the complete free crochet pattern and free visual guides from here petalstopicots
Easy Free Crochet A New Cowl Pattern: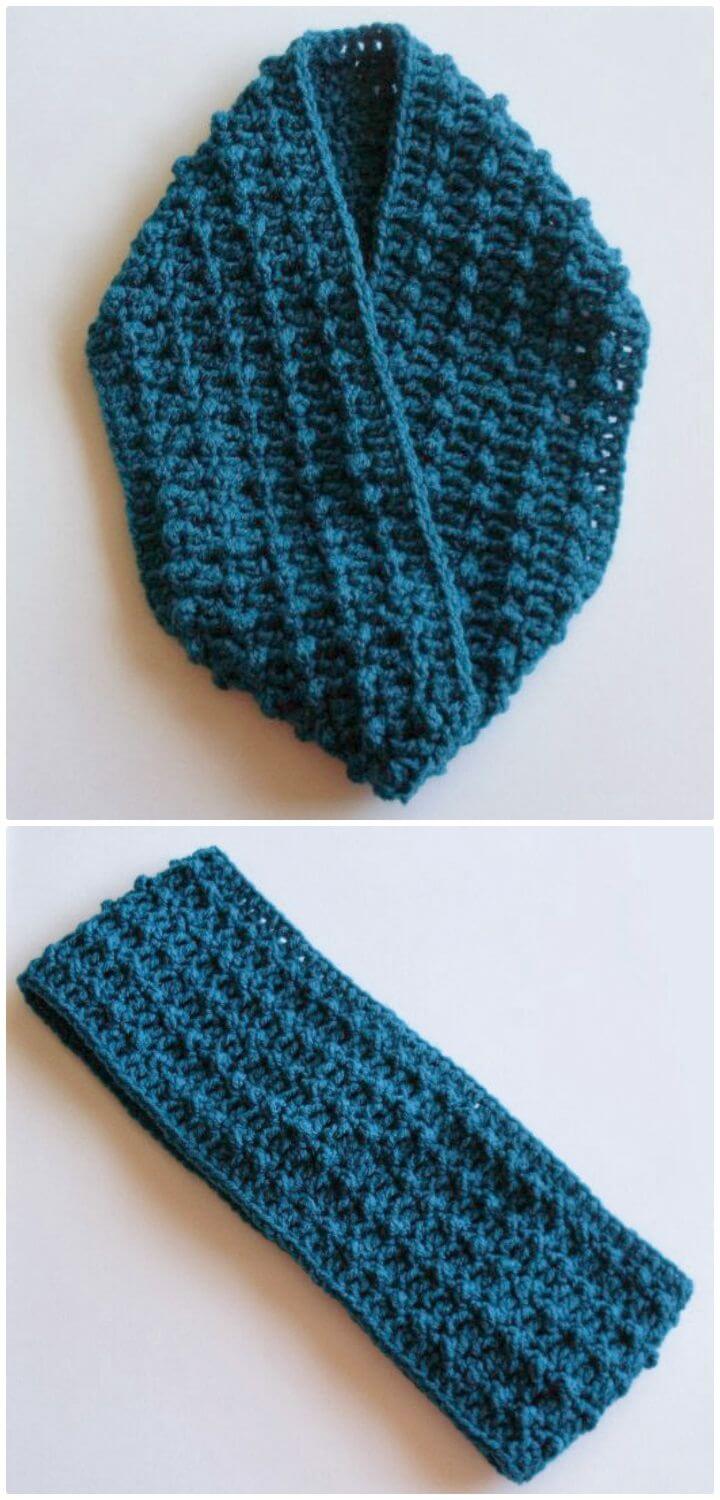 Another simple and beautiful crochet cowl that comes in enchanting teal blue color! It only require the easy skill level to be in your hands and is something extra beautiful and cute! Crochet this cowl for a friend who can't sacrifice her style even in dead of cold! Free crochet pattern is here craftybegonia
Crochet All The Squish Cowl – Free Pattern: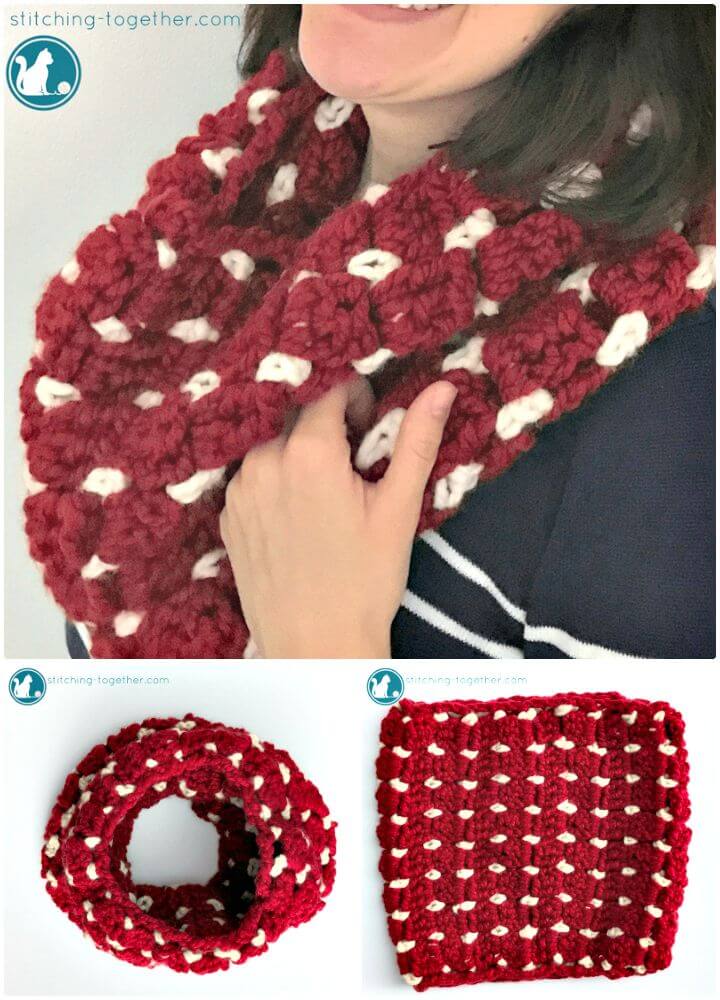 The crochet cowls are a great accessory that simply around your neck providing the necessary amount of winter warmth and just make your sacrifice your style and fashion! Checkout here chunky cowl sample that will just go best to any outfit and will surely add great visual details to your personality! The special squish crochet cowl that is amazingly beautiful due to white and red yarn color combo! Free crochet cowl pattern is here stitching
Free Crochet Linked-Up Cowl Pattern: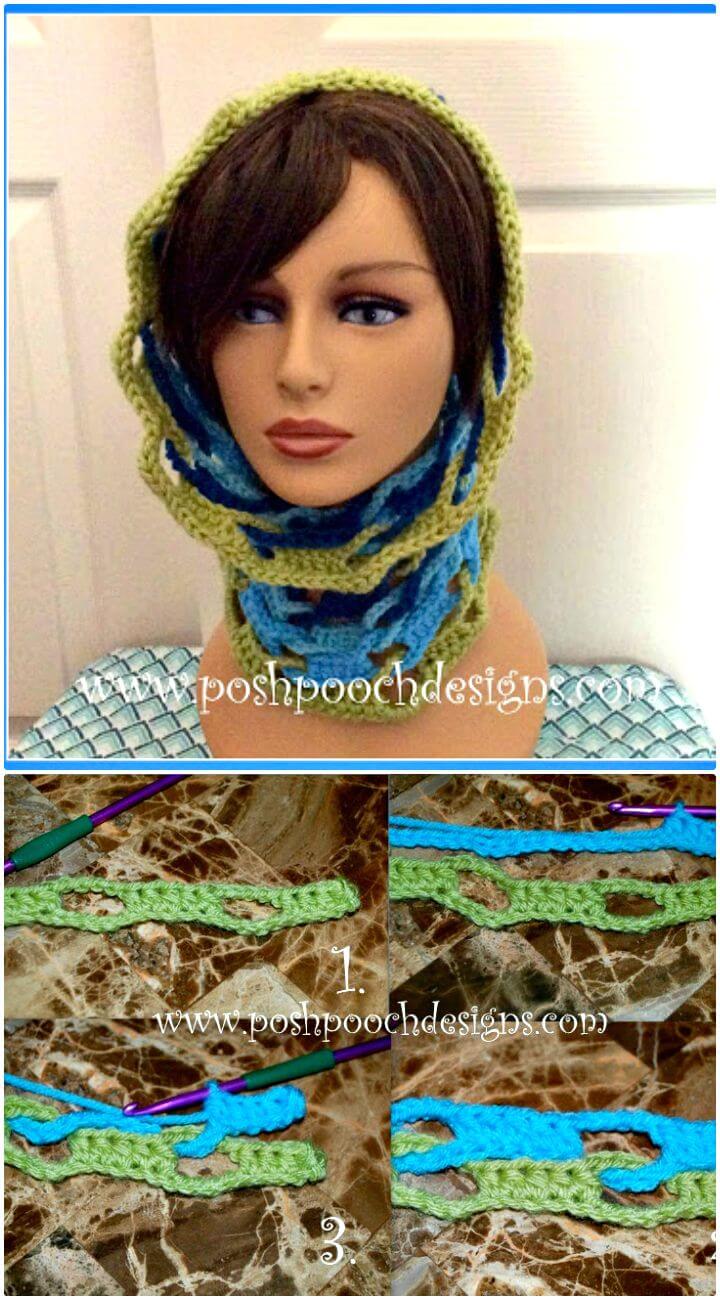 Add sophistication to your winter dress up by wearing this linked-up cowl around your neck and it would cover you like a loose hood! It is graceful and is something mind-blowing to add to your winter wardrobe! Another mind-blowing crochet cowl design that all crocheters would love to duplicate! Free guide and easy crochet pattern is here poshpoochdesignsdogclothes
Easy Free Crochet Textured Cowl Pattern: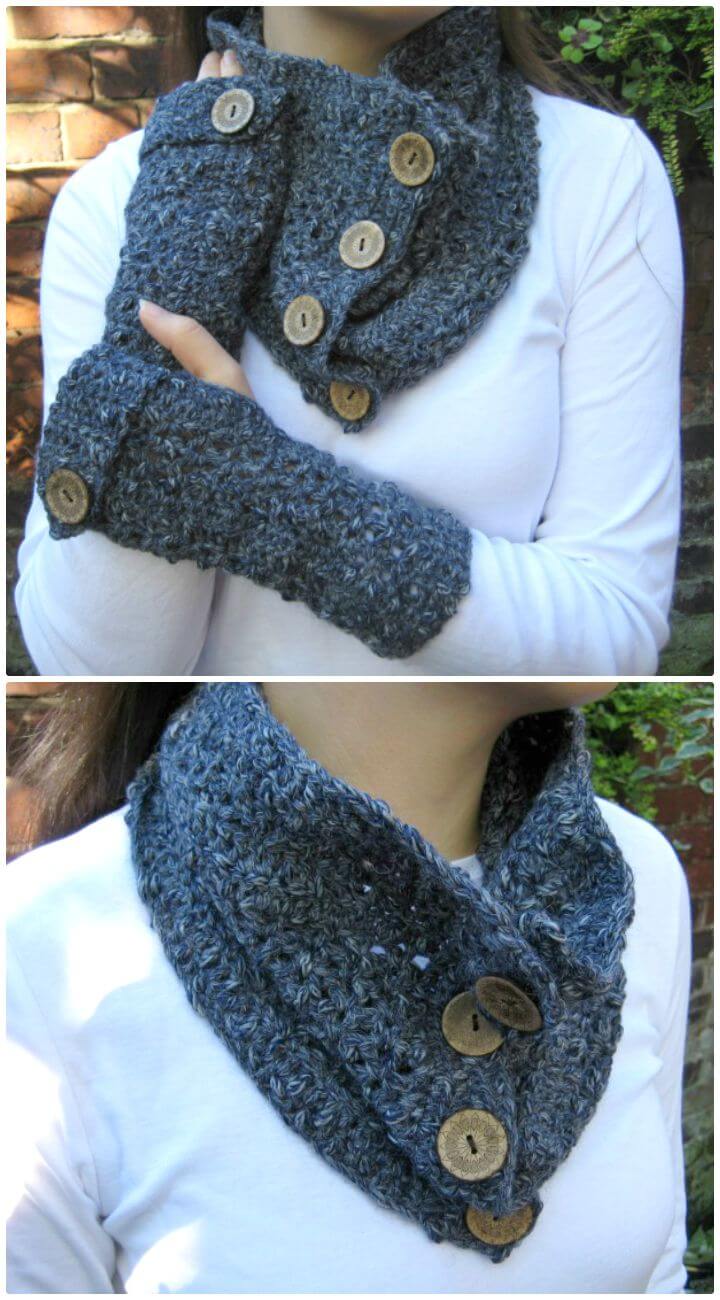 This crochet cowl would just look fantastic while peeking out of your winter shirt or sweater! It would just cover warm your neckline without making you loose any fashion points! This can be your new fashionable winter scarf if you like to do so! Furthermore, the amazing design texture and slouchy button embellishments just make it look double cute and enchanting! Free crochet cowl pattern and visual guides are here makemydaycreative
Chunky Crochet Cowl Pattern … Perfect for Beginners: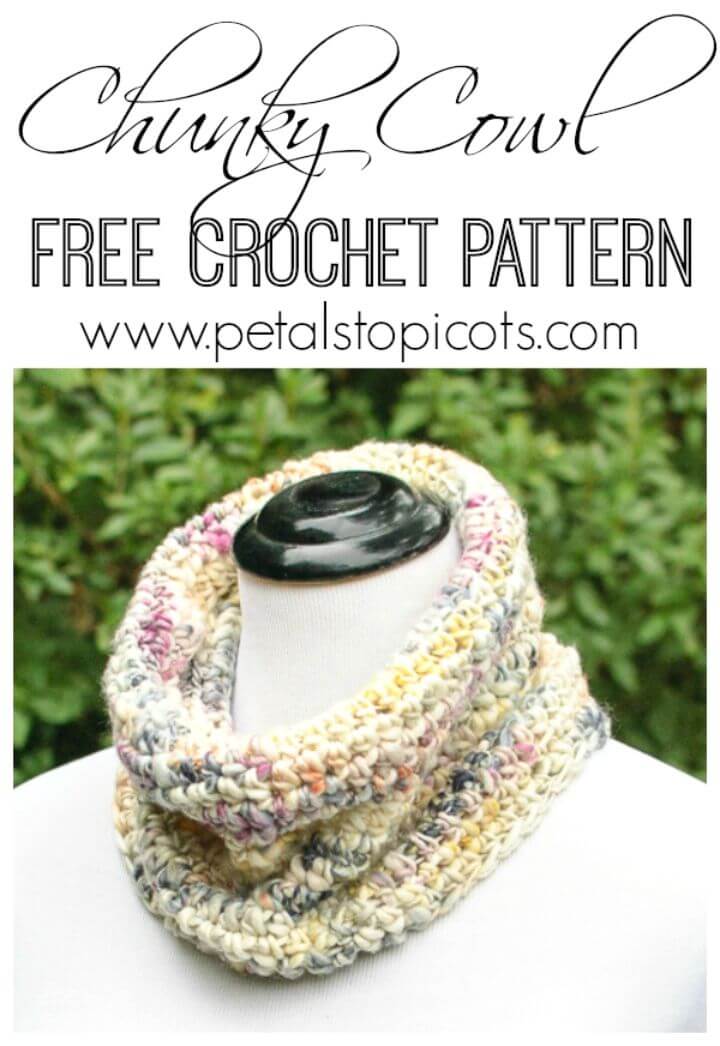 Create a super cute and fashionable personality of you this winter by wearing this crochet chunky cowl! It is all beginner-friendly to crochet and is something lovely that would make a great winter gift! Want to see this cowl next wrapped beautifully and cozily around your neck? Then just duplicate it now with the help of free guide and crochet pattern provided here petalstopicots
Crochet Patterns You'll Love:
Free Crochet Cilantro Cowl Pattern: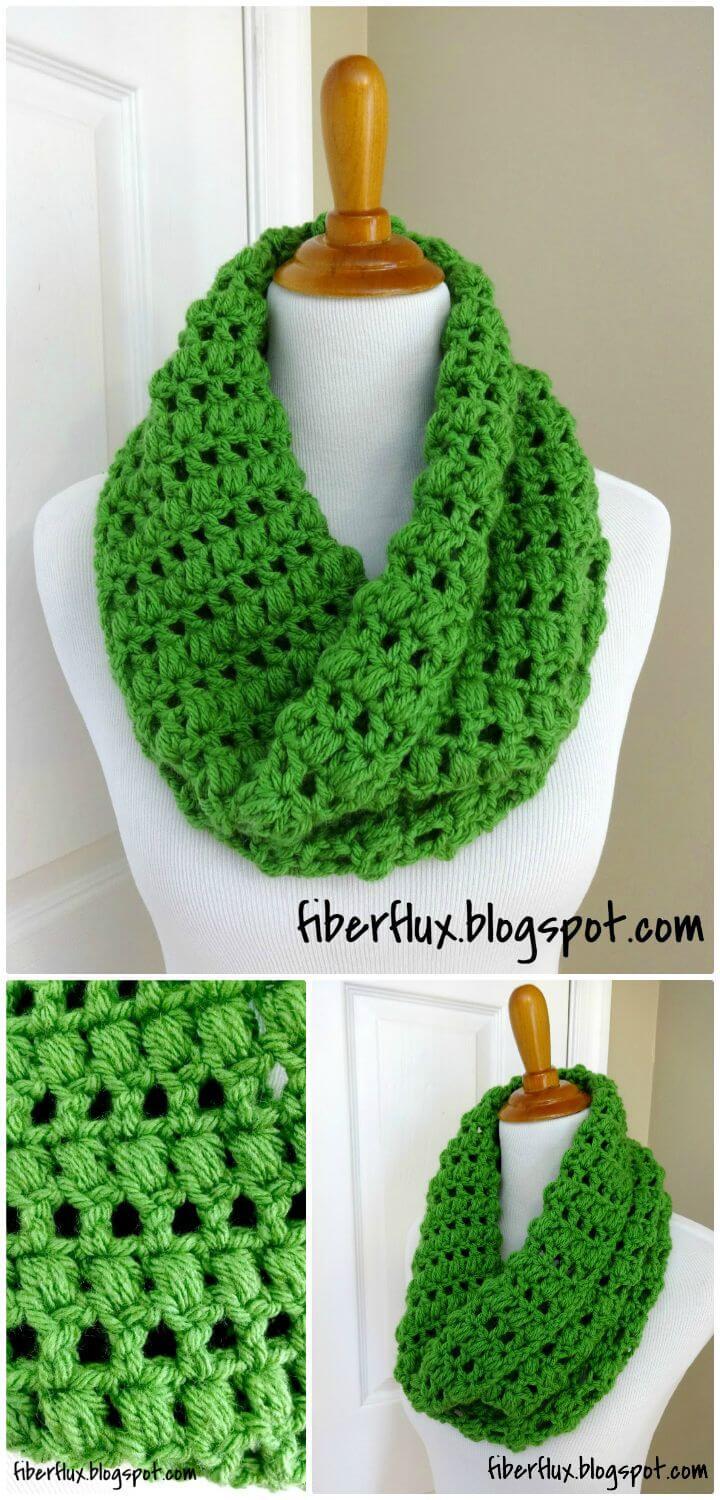 This one would just drape stylishly out of a women's neck and is something preciously fashionable to wear this winter! This is here the cilantro crochet cowl that is sure to jazz up any winter dress or outfit along with your keeping your neckline warm and cozy at the same time! You must get this special crochet cowl to boost your style this winter! Free crochet pattern and visual instructions are here fiberfluxblog
Easy Free Crochet Classic Cowl Pattern: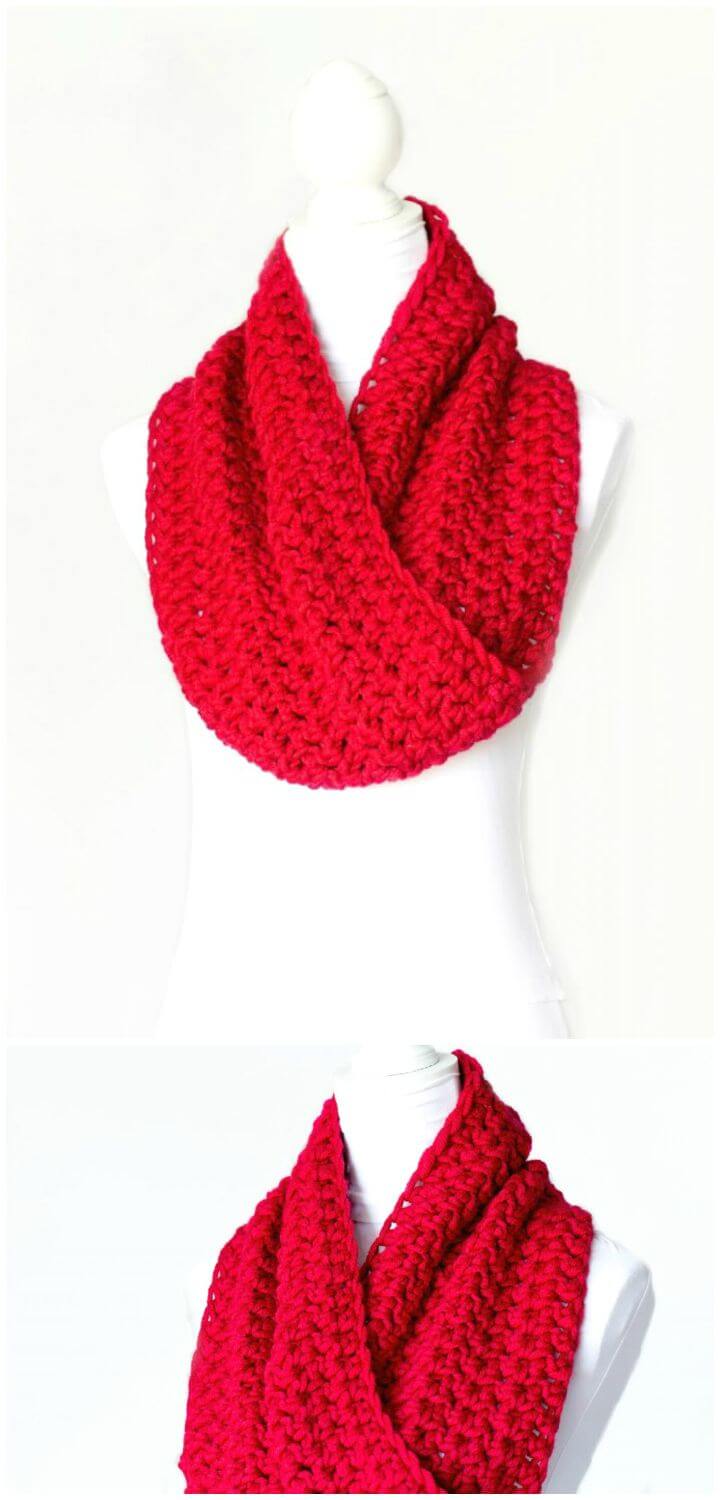 This is here the pretty and classy crochet cowl that is sure to raise the feminine factor of your personality! This is here the red beautiful cowl that will look like stylishly folded scarf around you neck and is something not to miss out this winter! Crochet this precious yarn cowl and just score extra fashion points in dead of cold! Free crochet pattern and step-by-step visual guides are here hopefulhoney
Easy Free Crochet Basic Multi-Coloured Cowl Pattern: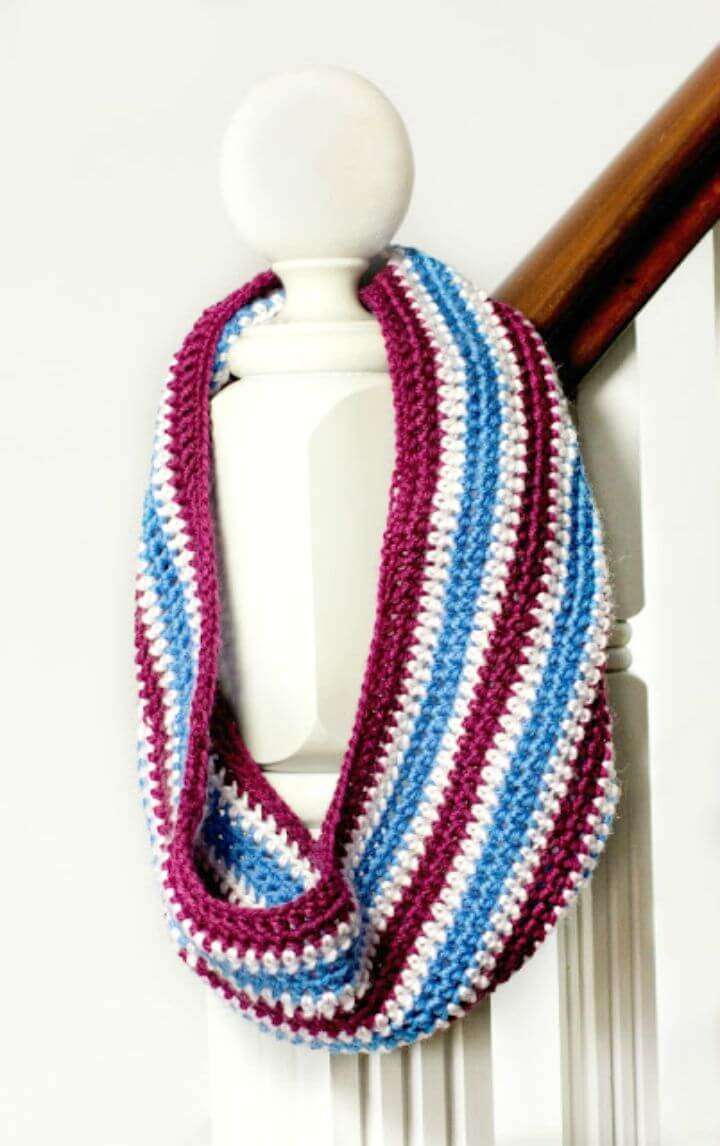 This fantastic crochet cowl will also make you stay warm and cozy in a style, this special one will also add beautiful colors to your winter dress up as it comes with multiple yarn colors! The very special striped crochet cowl that will be around your as a great neckwarmer and stylish folds around your neck would just make you look extra gorgeous! This is something highly beautiful here to own this winter! Free crochet guide and easy free crochet pattern is here hopefulhoney
Free Crochet Bandito Cowl Pattern: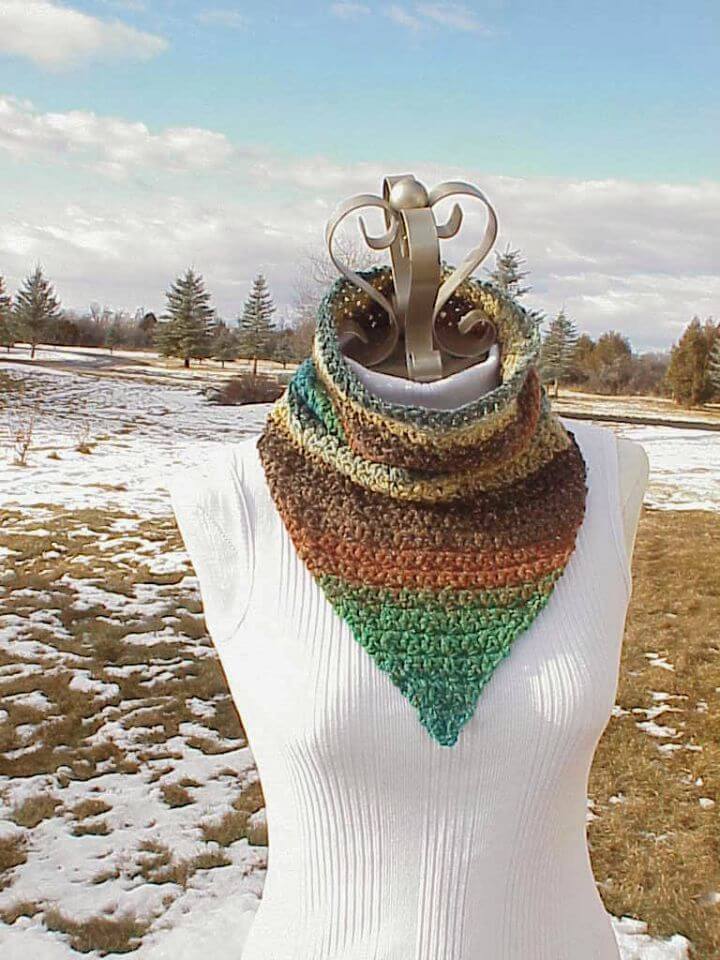 Just catch more eye-ball also this winter by getting this perfect neckline adornment! This is here the stylish bandito crochet cowl that will cover your neckline warm and cozy and is something extra beautiful and adorable! Just crochet your won favorite yarn colors and simply duplicate this gorgeous model of crochet cowl that is utterly cute and amazingly beautiful! Intending to duplicate this very amazing crochet cowl? Grab the full free pattern and tutorial from here auntekristy
Free Crochet Luscious One Skein Cowl Pattern: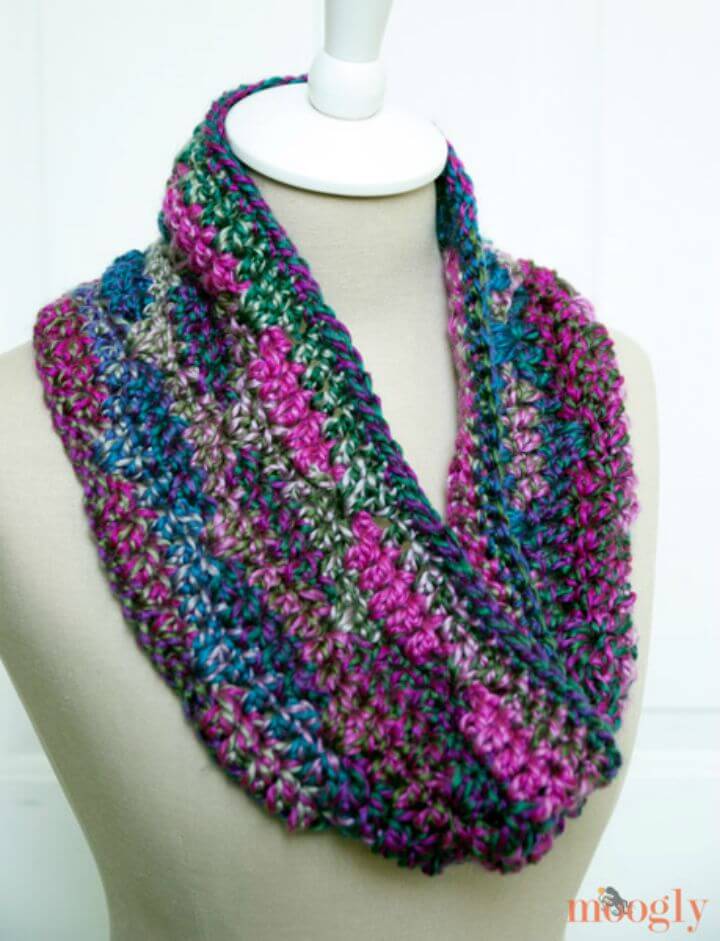 Having a chunky yarn skein in your stock? This can be enough yarn supply to crochet a perfect neckwarmer! Just have a look at this luscious crochet cowl that has all been crocheted using one skein of yarn only! This is something here extra beautiful and charming and is sure to inspire you hook! A chunky crochet cowl that will make a stylish winter warmer! Easy free crochet pattern and visual tutorial is here mooglyblog
Easy Free Crochet Victorious Cowl Pattern:

Another well appealing design of crochet cowl that also promises to keep your warm and cozy! A special white crocheted victorious cowl that comes with an accent row of buttons is something to have in your winter wardrobe this winter! Want to see this stylish victorious cowl around your neck next? Just duplicate it now with the help of free guide and tutorial provided here designsbydiligence
How To Free Crochet Fringe Cowl Pattern: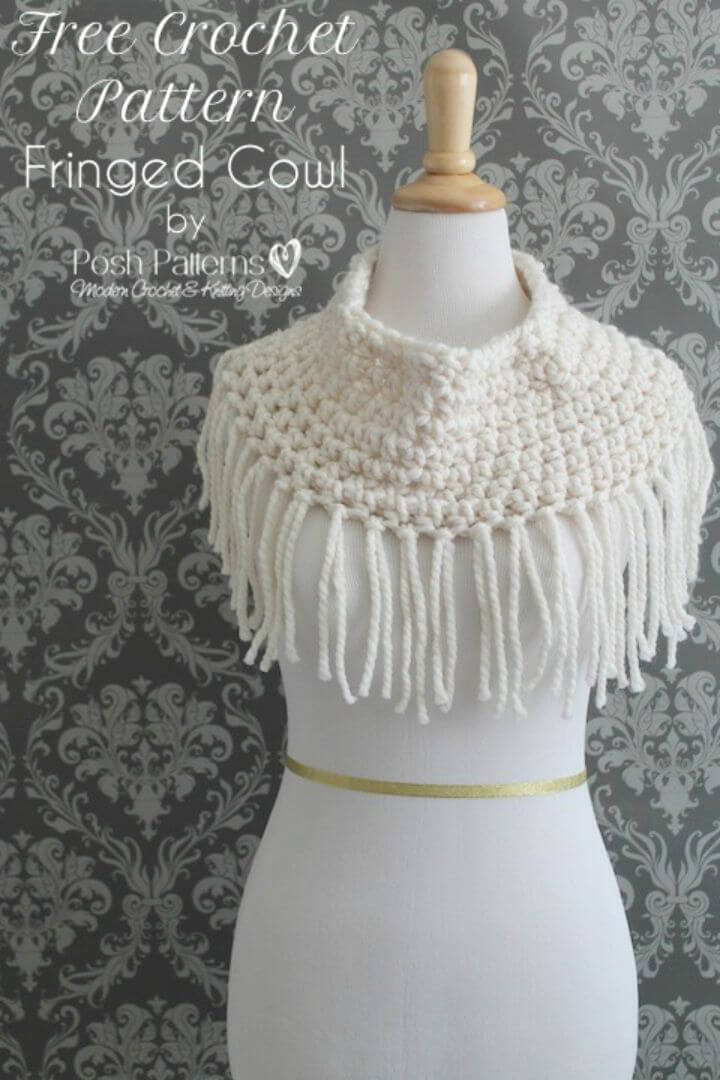 Let this crochet cowl spruce up your winter outfit this weekend! This is here a fantastic white fringe cowl that is having a mind-blowing design texture and alluring fringes that will drape beautifully out of your crochet sweater and outfit! This is here another cool and fantastic looking crochet cowl that will be ready in just no time! Intending to duplicate this very new crochet design now? Just grab the full free pattern and visual guide from here poshpatternsblog
Free Crochet Emma Trifecta Cowl: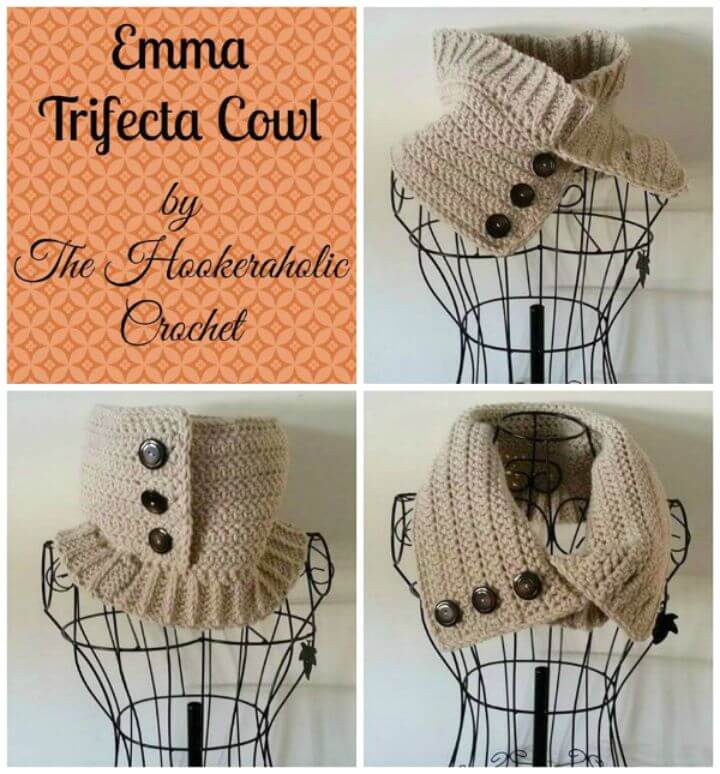 Just give your personality a fashionable boost this winter by wearing this emma trifecta cowl this winter that features a neutral hue and is a gorgeous winter accessory to own in your wardrobe! It comes with a line of buttons at one side that makes it look double cute and eye-catching! Another beautiful crochet cowl or neck warmer, crocheted to amaze and inspire! Willing to duplicate it now? Find the complete free crochet pattern and complete free visual tutorial from here cre8tioncrochet
Free Crochet Winter Waves Chevron Cowl Pattern: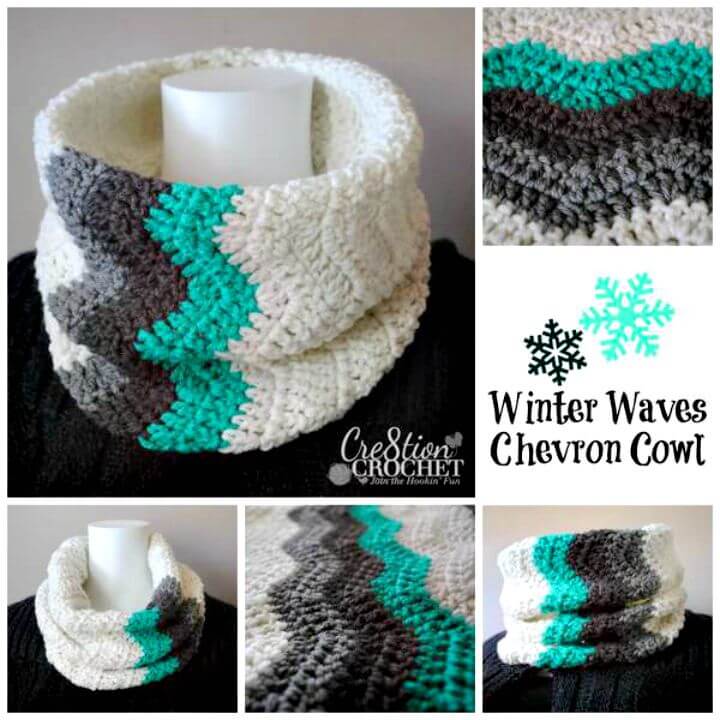 This one is just perfect for chilly days, it comes with stunning chevron waves and that mix blend it beautifully to white color of this crochet cowl to create a beautiful look of the cowl! This crochet cowl will just make a precious draped neckline around a woman's neck and will also provide extra amount of warm due to being chunky! Another extra gorgeous design of crochet cowl that would make a great gift for any style loving lady! Free crochet guide and easy free pattern is here cre8tioncrochet
Free Crochet Chunky Cowl Pattern: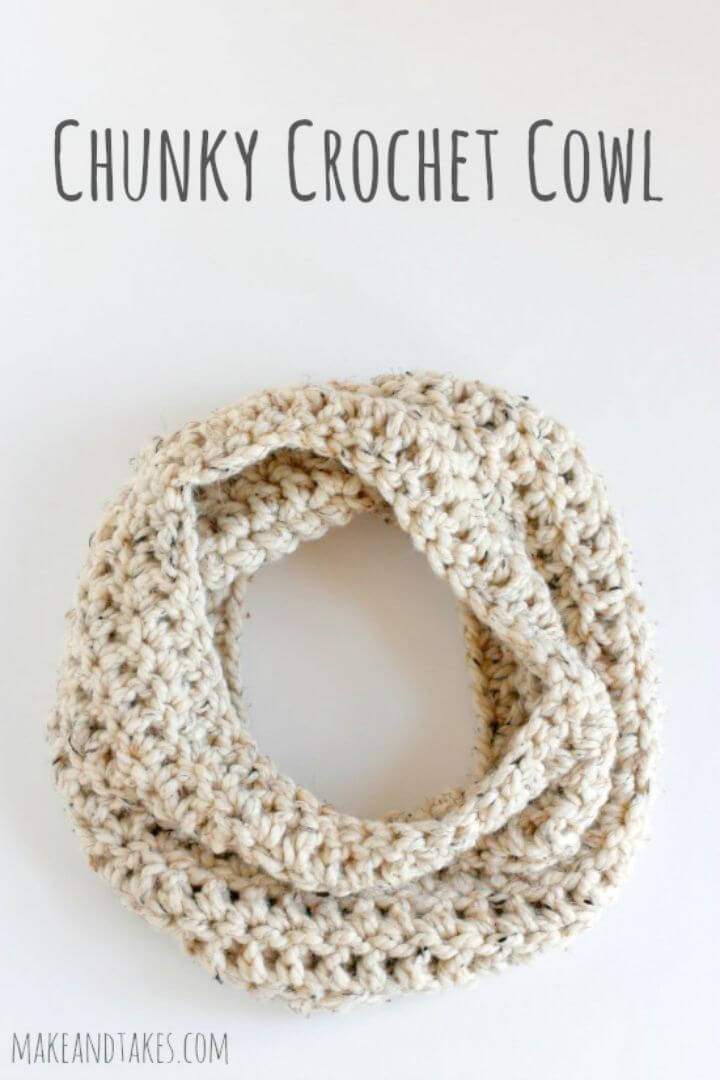 Willing to look extra beautiful in dead of cold? Then here what that will rock your neckline and would make also a perfect winter warmer! This is here a chunky crochet cowl that has been crocheted with chunky yarn weights and is something precious and adorable to look at! Neutral hue of this crochet cowl would just be rocking in fall season and this is something precious to give to style loving teen! Another mind-blowing design of crochet cowl! Find the complete free crochet pattern and tutorial from here makeandtakes
Free Crochet Cathedral Convertible Cowl Pattern: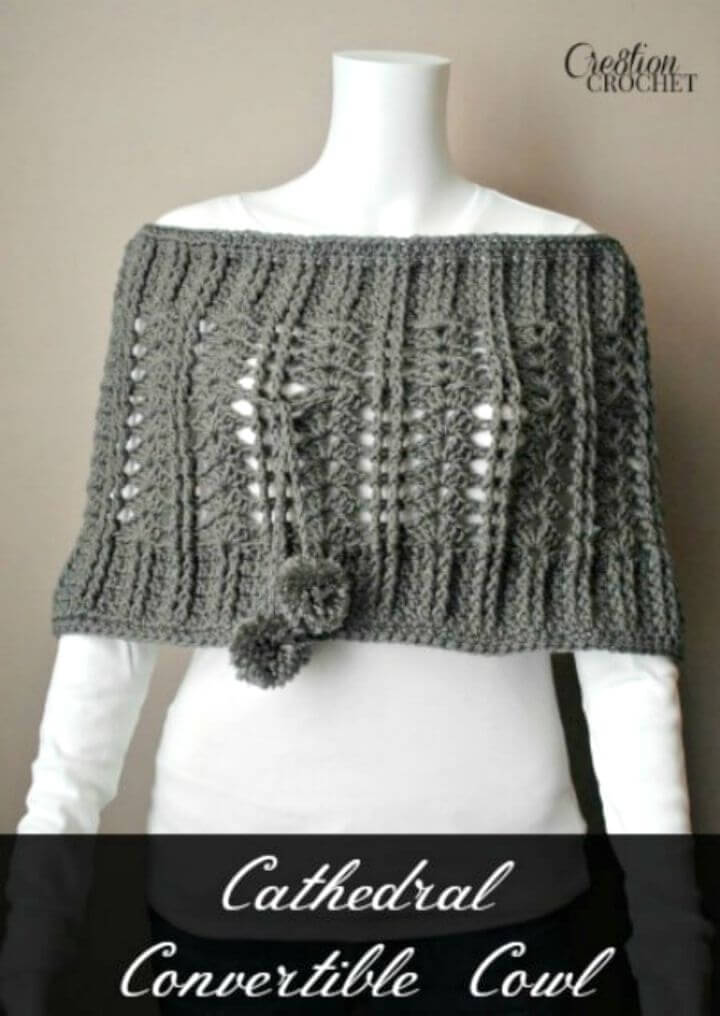 Get inspired of this super fantastic design of crochet cowl that is convertible and is damn beautiful! It comes in lovely grey yarn color and hence looks much appealing! It can be around your as loose folds keeping your neck warm and cozy and it also cover your warm your chest and shoulders in a style at the same time! You should definitely clone this dual purpose convertible crochet cowl to look great this winter! Free crochet pattern and tutorial is here cre8tioncrochet
Easy Free Crochet Outlander Cowl Pattern: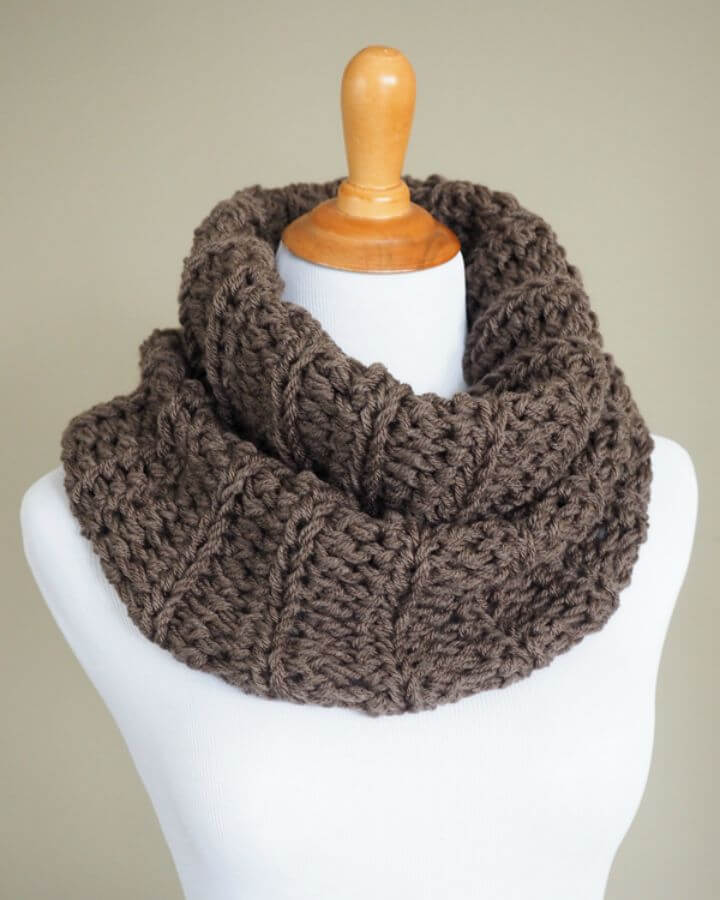 Choose this another fantastic crochet cowl that promises to make you look great by being draped beautifully out of your winter sweater or shirt! The chunky crochet outlander cowl, crocheted to keep your neckline warm and cozy without losing the style! A must-have crochet accessory for every style loving teen! Intending to duplicate it in custom yarn colors? Just find the free crochet pattern and easy visual tutorial from here dabblesandbabbles
How To Free Crochet Cowl Pattern: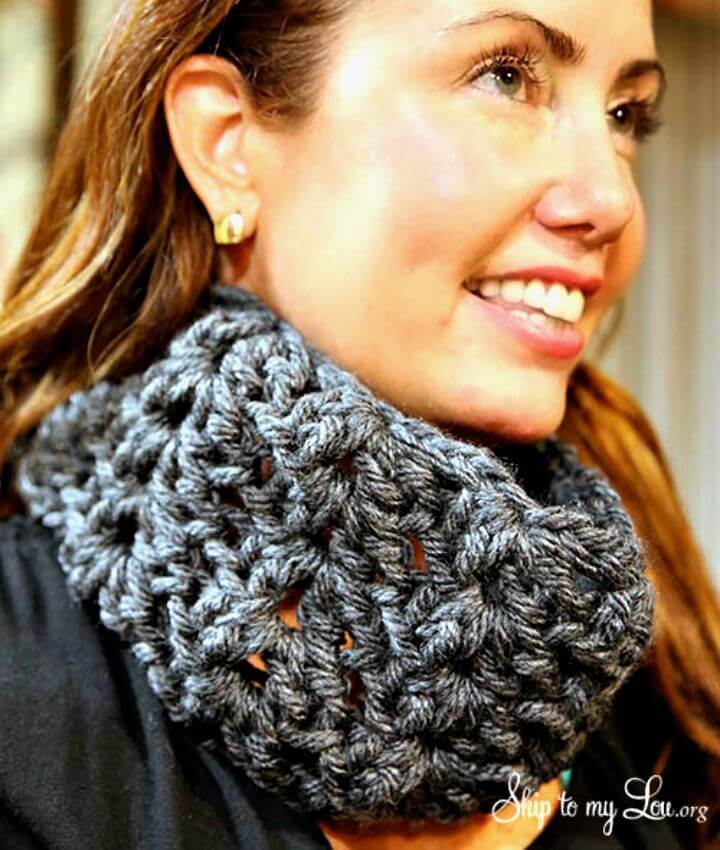 It is airy and chunky at the same time, a terrific crochet cowl, ready to create a divine look of your personality by being cozily around your neck! Just crochet some chunky yarn weights to duplicate this very handsome design of crochet cowl! Want to see this crochet cowl next in your winter closet? They just crochet it now without concerning about the skill level it is all beginner-friendly to crochet! Free crochet pattern and instructional guide is here skiptomylou
How To Easy Free Crochet Rippling Waves Cowl Pattern: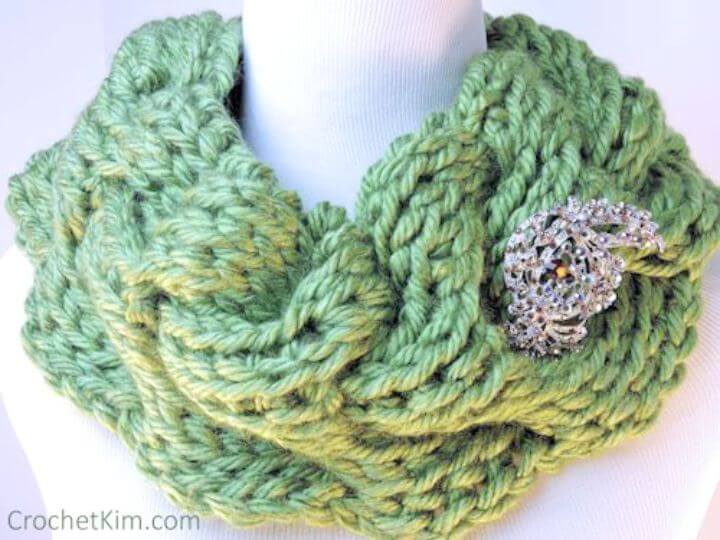 This is here another handsome crochet cowl design that promises to boost your style and fashion! This crochet cowl comes with a pattern like small waves and hence looks super eye-catching, a pretty cool rippling waves crochet cowl that is sure to inspire your hook! One more praise-worthy and gift-worthy crochet neckwarmer! Duplicate it now with the help of free crochet pattern and guide provided here crochetkim
Easy Free Crochet Cowl The Best Idea You'll Love Pattern: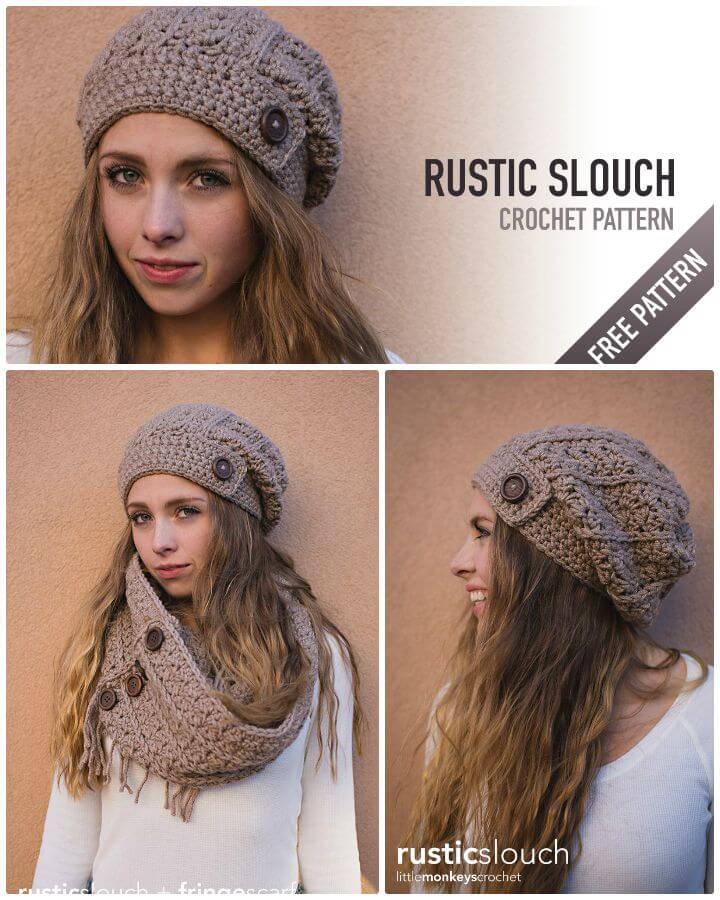 Are you a big fan of rusticity or rustic fashion? If yes, then why not add some vintage vibes to your personality by wearing this precious crochet cowl around your neck, a perfect crochet cowl that comes in grey and with precious button embellishments! There is also a matching slouchy hat, so you can duplicate this entire crochet set to give as an epic present to a style loving teen! Free crochet pattern and guide is here littlemonkeyscrochet
Easy Crochet Our Solomon Cowl – Free Pattern: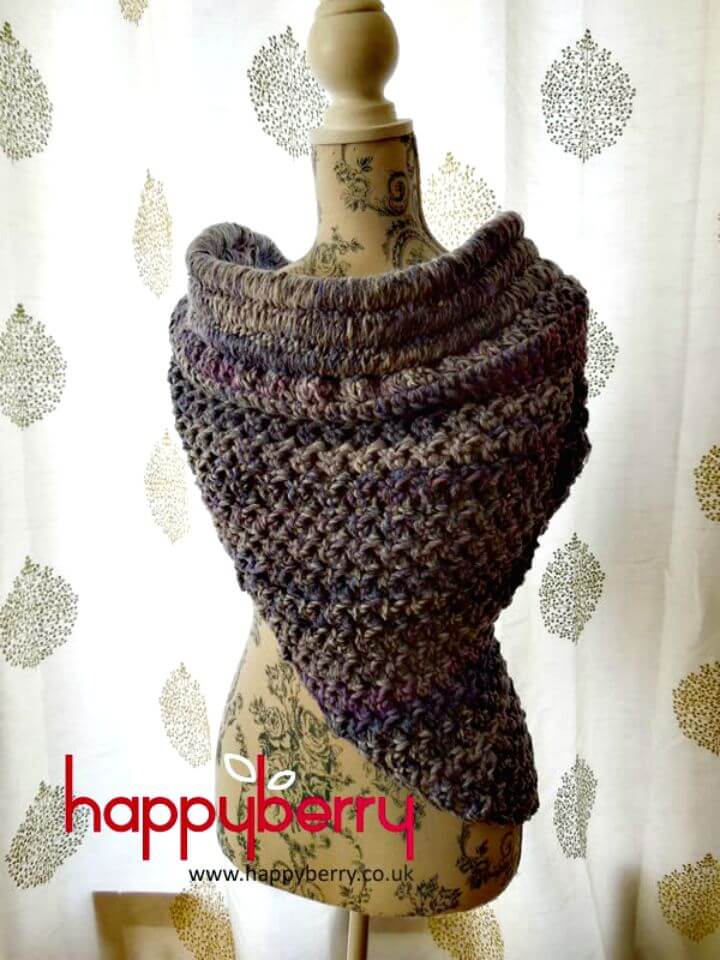 Are you on a mission to be warm this winter without compromising your style? This crochet Solomon cowl is a perfect solution here, another gorgeous crochet cowl design to inspire your crochet hook! Do wear this crochet cowl to add a precious statement to your winter outfit! Want to won this very adorable model of crochet cowl now? Just find the full free crochet pattern and tutorial guide from here happyberrycrochet
Quick And Easy Infinity Cowl – Free Crochet Pattern: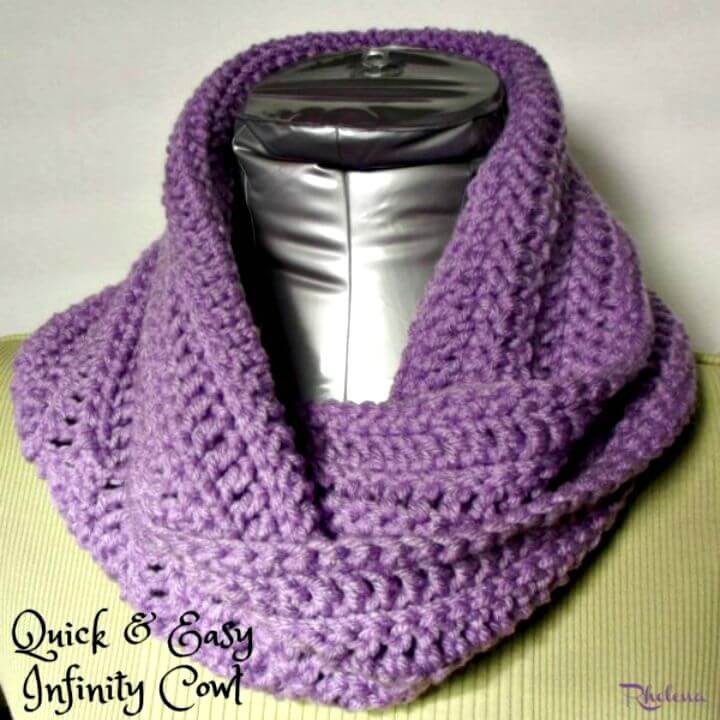 Crochet cowls just differ from the infinity scarves that come with a single end! On the other hand, the crochet cowls can be pulled up to wear also over the head creating a cute look of your personality! So, you can next go with this crochet infinity cowl rather than an infinity scarf to get winter protection in a brilliant style! Another handsome design of crochet cowl that you should definitely duplicate for a style loving lady! Free crochet pattern and visual instructions are here crochetncrafts
Free Crochet Ribbed Mesh Cowl Pattern: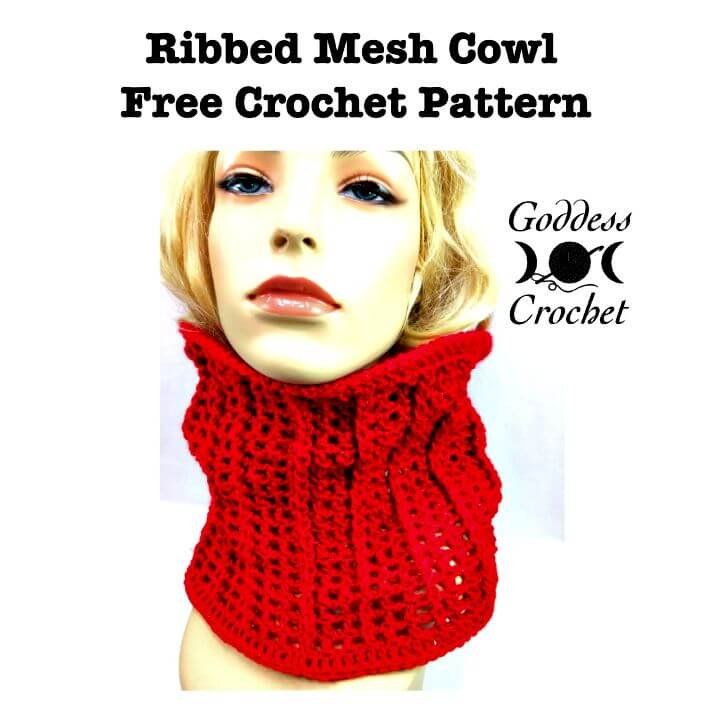 This one will fit your neck snugly and comes with a precious design texture to create an eye-catching personality of you! This is here the hot red ribbed crochet cowl that is another mind-blowing crochet achievement! This is all a beginner-friendly design of crochet cowl that everyone style loving teen can wear around her neck! Want to copy this ribbed mesh crochet cowl? Find the complete free crochet pattern and tutorial guide from here goddesscrochet
Free Crochet Laura Gingham Cowl Pattern:
Make your winter closing, dress up and outfits look more interesting by adding a top layer of this crochet gingham cowl that is a pretty handsome crochet accessory to wear around the neckline! Here the design of the cowl is eye-catching that comes in white and pink yarn colors and is just enticing! Looking forward to make a copy of this crochet Laura gingham cowl? Just get the free crochet pattern and tutorial from here divinedebris
Free Crochet Striped Cowl Pattern: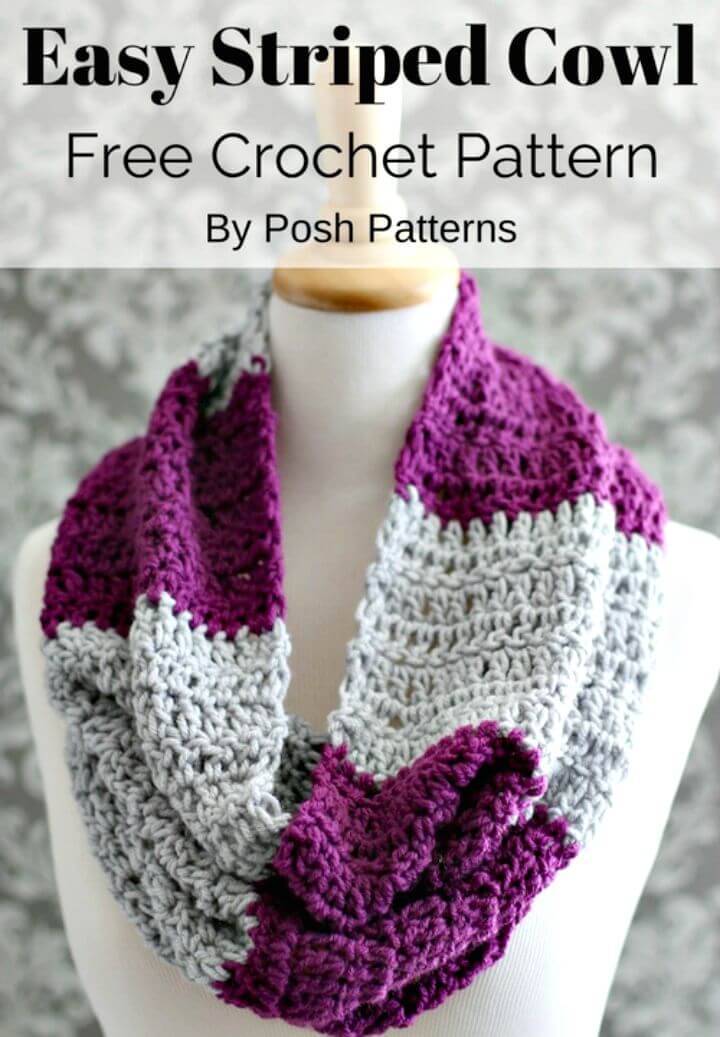 You can simply get addicted to crochet cowls if you are style lover! They just come around your neckline as lose yarn folds or loops and hence will be like an accent layer on your winter outfit or sweater! The striped or colorblock appeal just go super eye-catching to eyes making the design delightful to look at! Here it comes in grey and purple yarn color but you can experiment this cowl with any fab yarn color! Free crochet pattern and instructional guides are here poshpatternsblog
Free Crochet Rambling Cowl Pattern: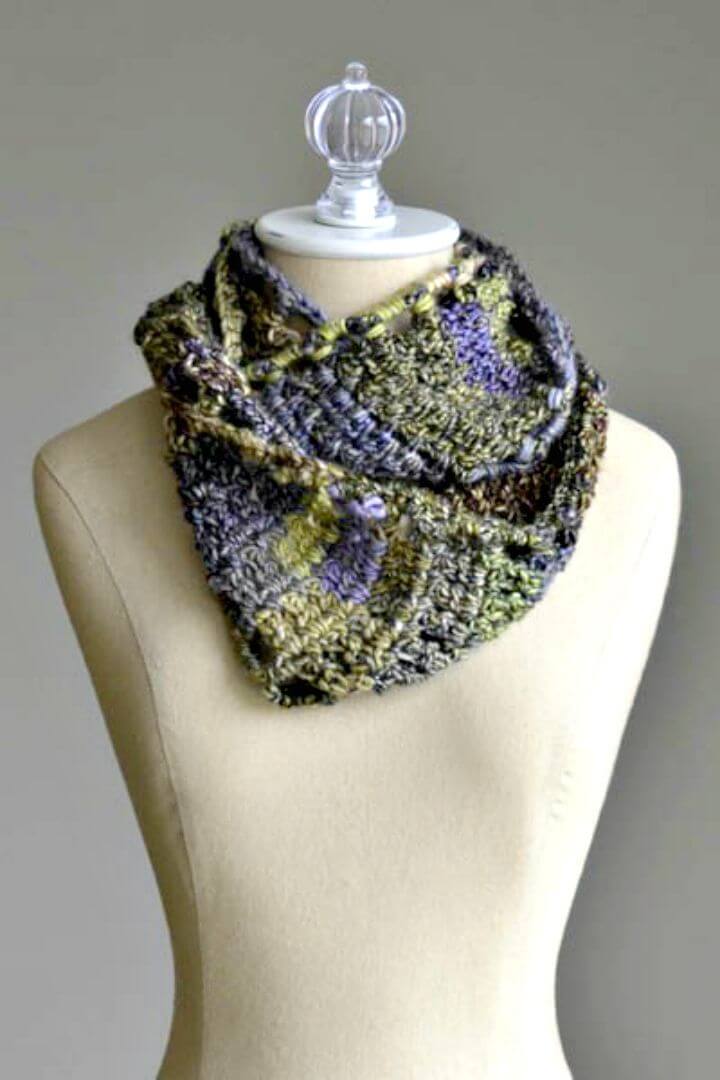 Get inspired of this another unique and confused design of crochet cowl that comes with complicated folds and has been crocheted with chunky yarn weights to be a perfect winter neckwarmer! This is her a both praise-worthy and gift-worthy crochet cowl that is sure to inspire you hook! Full free guide and easy crochet pattern is here nobleknits
Free Crochet Cowl – A Fan Of Fall Pattern: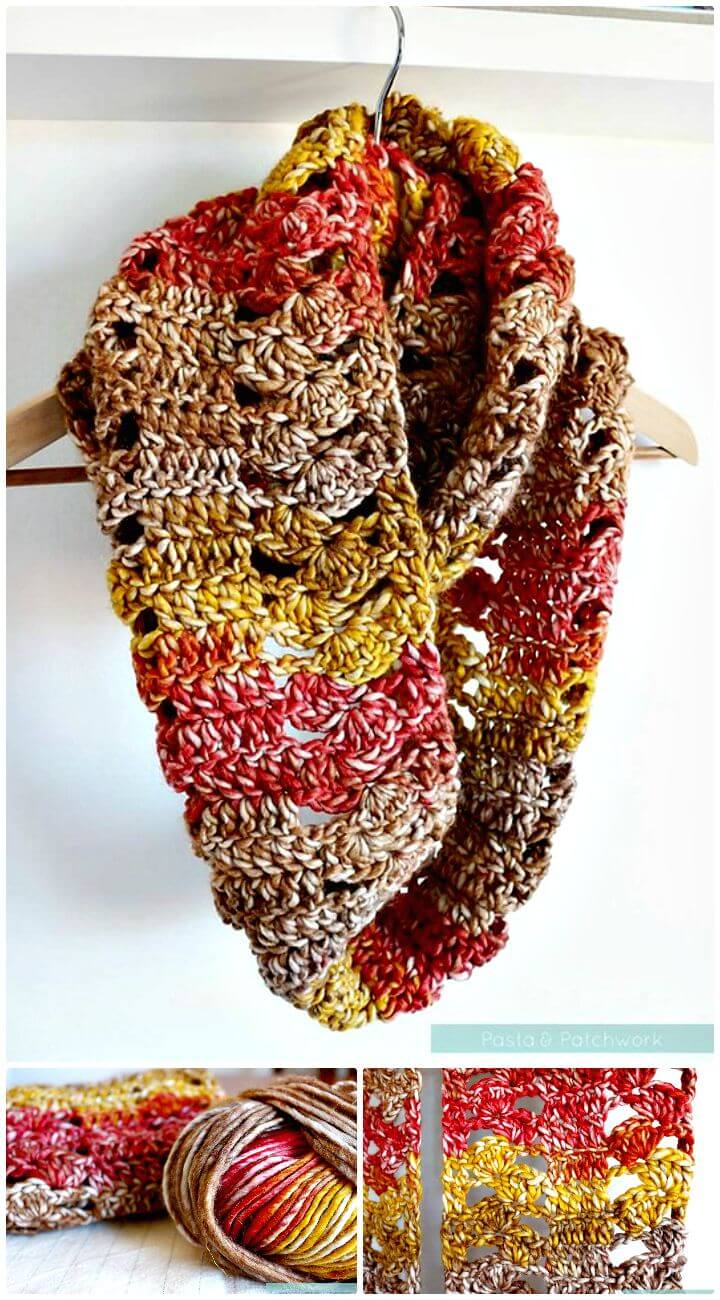 Enjoy the winter brisk air of fall by wearing this crochet cowl and just feel the refreshing sensation! This crochet cowl will just help you gain a unique style this winter and will also provide durable winter project by being around your neckline snugly! This crochet cowl is a perfect gift for a fashion-loving teen and for a style loving lady who is also a big fan of fall! Duplicate this another interesting design of crochet cowl with the help of free crochet pattern provided here pastaandpatchwork
Basic Chunky Cowl – Beginner Crochet Pattern: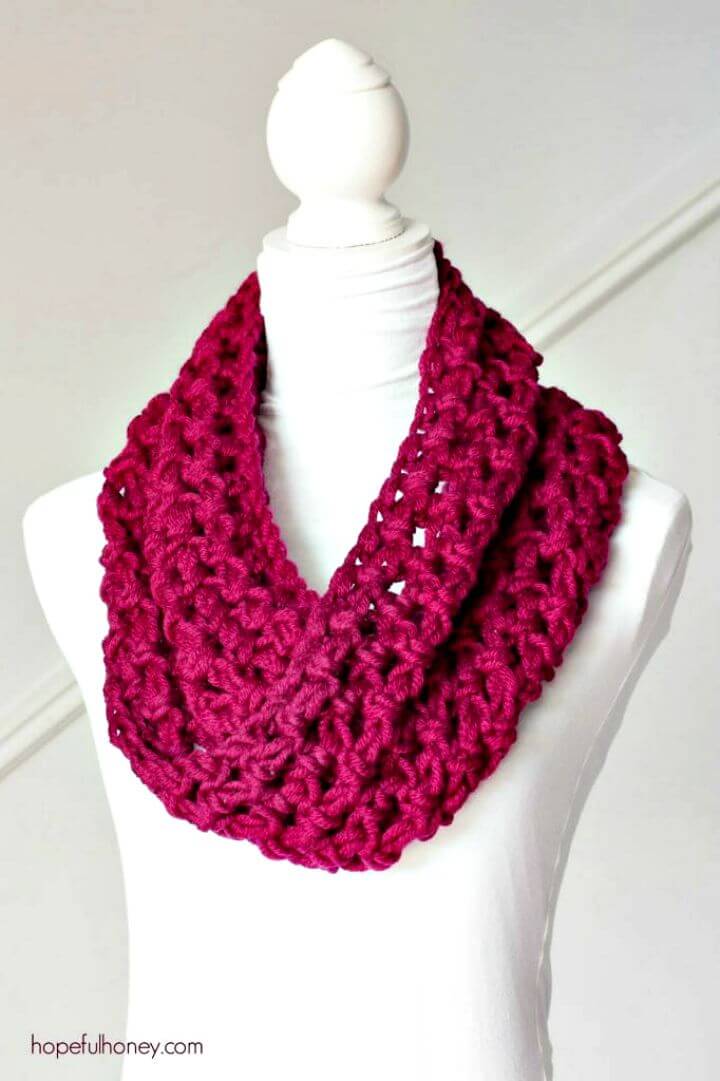 Want to enjoy the fall or winter season without feeling cold? Just get some amazing winter warmers that will not make you lose your style too! A great sample is this crochet chunky cowl that will be like wearing a stylish scarf loosely around your neck! Here single yarn color appeal makes it look extra beautiful and gorgeous but you can also try it with different yarn colors! A beginner-friendly crochet cowl pattern is here! Further project details and free crochet pattern is here\ hopefulhoney
Free Crochet Skyscraper Cowl Pattern: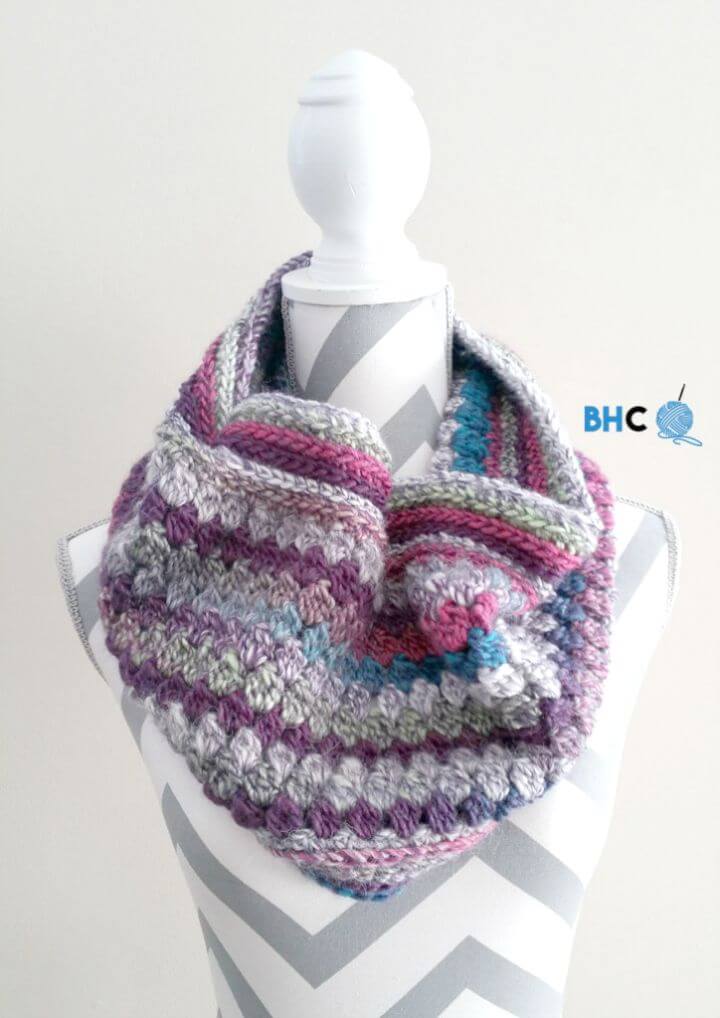 If you are an art lover then you are guaranteed to fall in love with the design texture of this crochet cowl that is perfectly artistic! The very innovative striped cowl design that would be an interesting layer of over your winter clothing! Another handsome design of crochet skyscraper cowl that every advanced beginner can crochet for personal use and to gift someone special! Grab the full free crochet pattern and easy visual guides from here bhookedcrochet
Easy Free Crocheted Rib Cowl Pattern: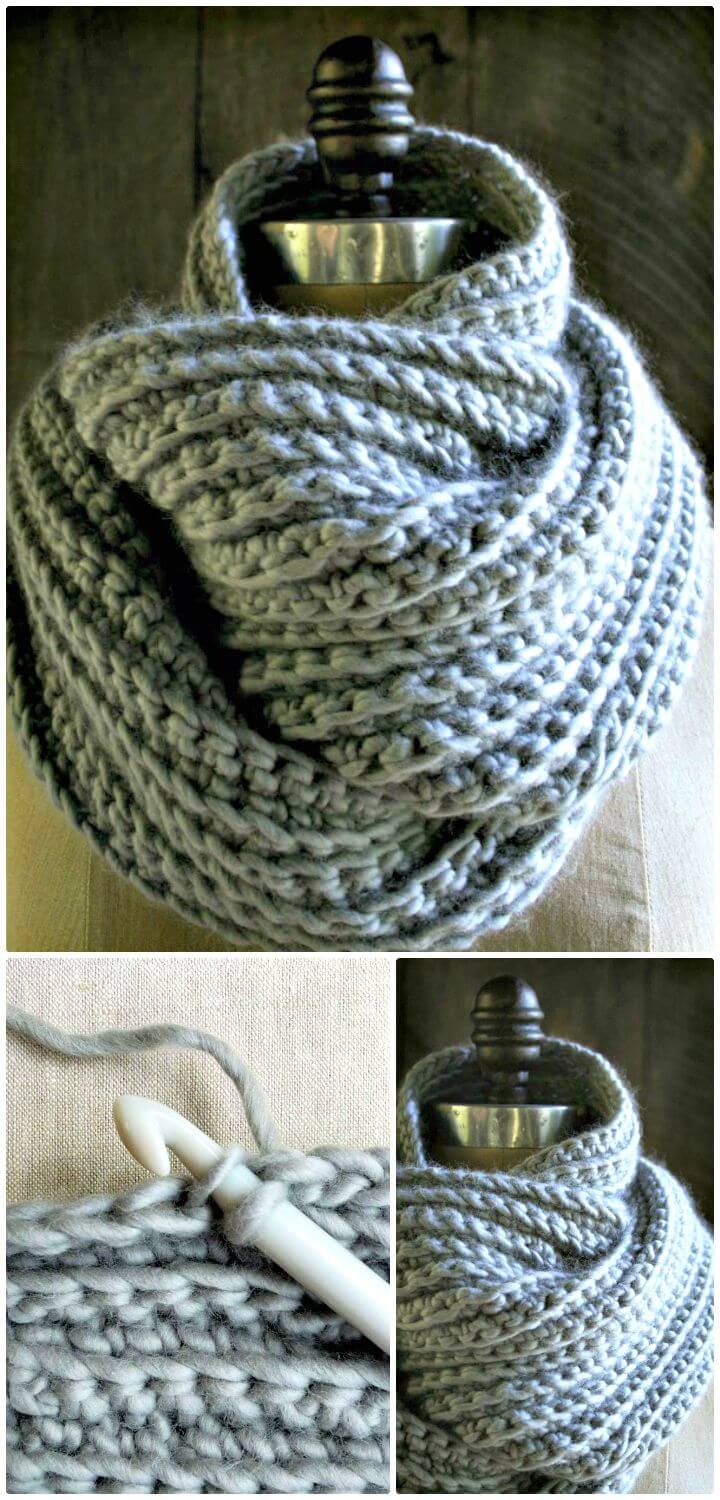 You just can't enjoy the winter season with your legs trembling! Just wear winter protection first and then you can enjoy the invigorating brisk fall air by wandering outside! If you concerned with the wearing the winter protection around your neck then this crochet rib cowl will be a mind-blowing sample! Want to tryout this handsome crochet cowl pattern now? Just grab the free crochet pattern and comprehensive project details from here purlsoho
Free Crochet Slanting Shells Cowl Pattern: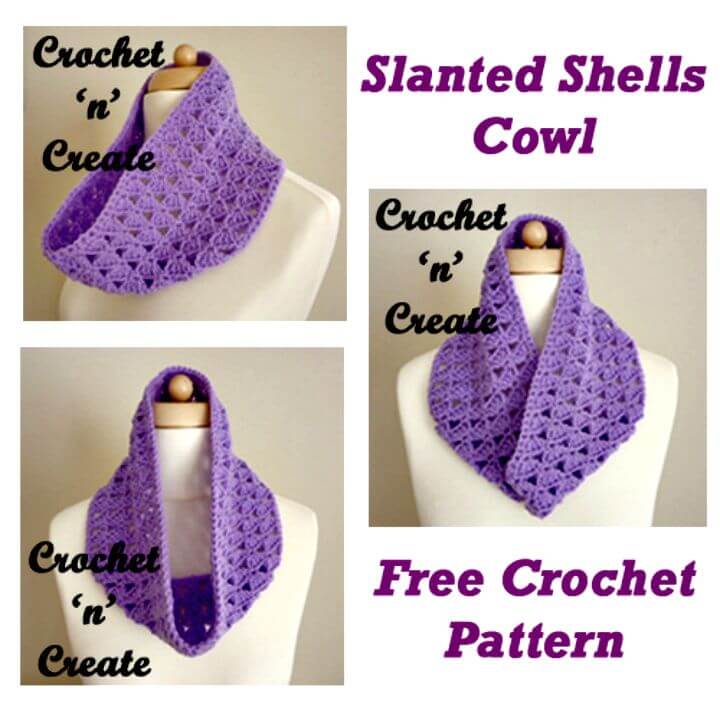 Praise the breezy design texture of this crochet cowl that is comes with arresting purple appeal! Here the slanting shells are all responsible for so raised beauty of this crochet cowl! That is mind-blowing and beautiful to look at! Wear it along with your winter outfit and go for bigger fashion statements this winter! Another precious and cute looking crochet cowl to go into your winter closet! Further project details and free crochet pattern is here crochetncreate
Free Crochet Cookies And Cream Cowl Pattern: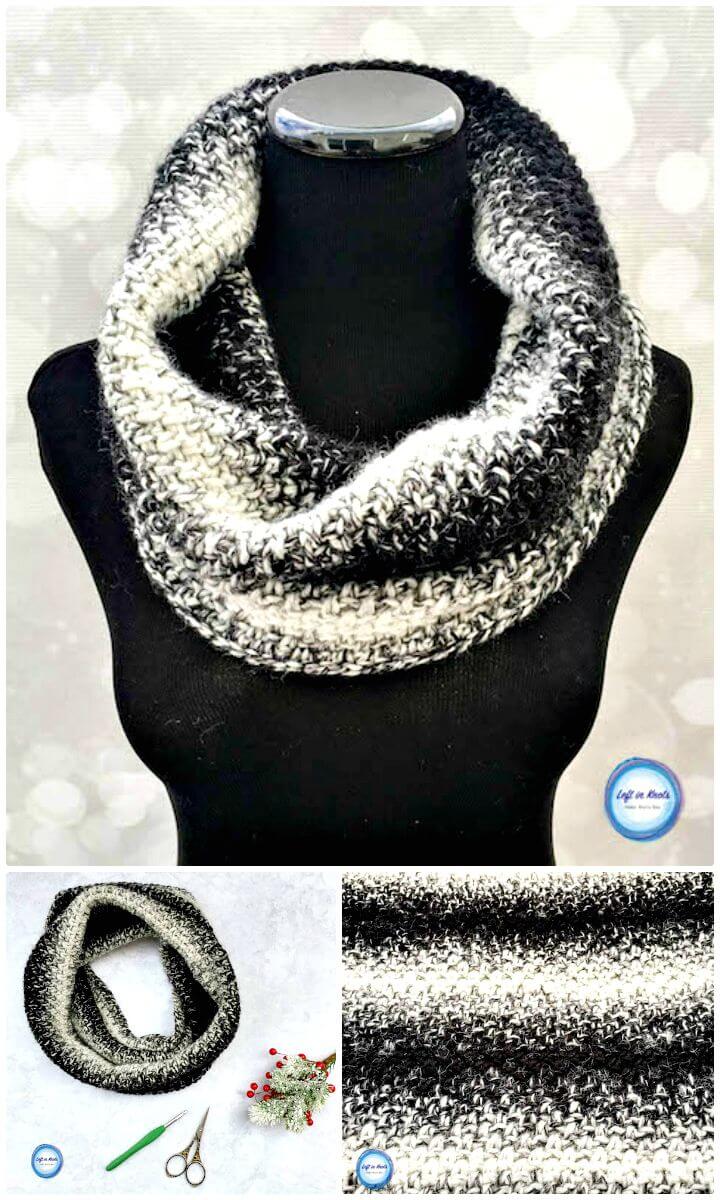 Like the black and white color mixture? If yes, they you are going to like this crochet cookie and cream cowl also! This is here a fantastic crochet cowl that will enchant everyone with its fancy appeal and extra brilliant yarn texture! A perfect crochet neckwarmer and a perfect crochet winter gift here, the black and white crochet cowl! Duplicate it by following the free guide and crochet pattern provided here leftinknots
Free Crochet Shell Stitch Cowl Scarf Pattern: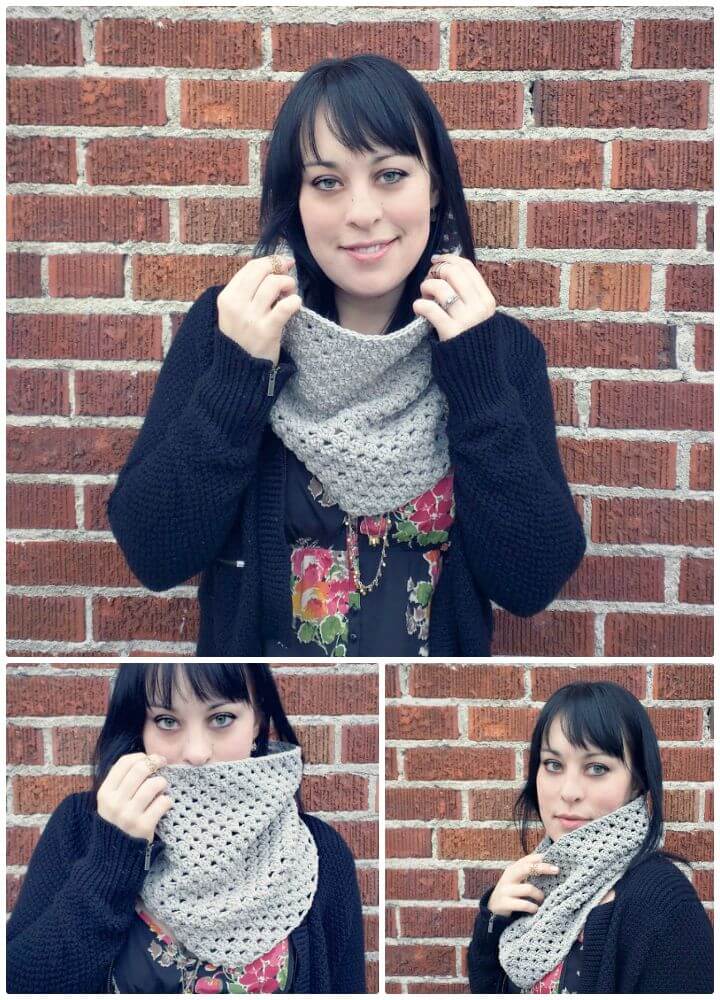 The design texture that comes from the shell stitch also go enchanting to eyes! Moreover, the shell stitch helps the pattern to be a little air and let this crochet cowl scarf tell the rest of story! A precious grey winter neck warmer that is breezy and is just a perfect winter accessory to boost your fashion to peak! It is also something you can wear to spice up your winter dress or outfit! Grab the full free details and free crochet pattern from here domesticbliss2
Free Crochet Long Double Cowl Pattern: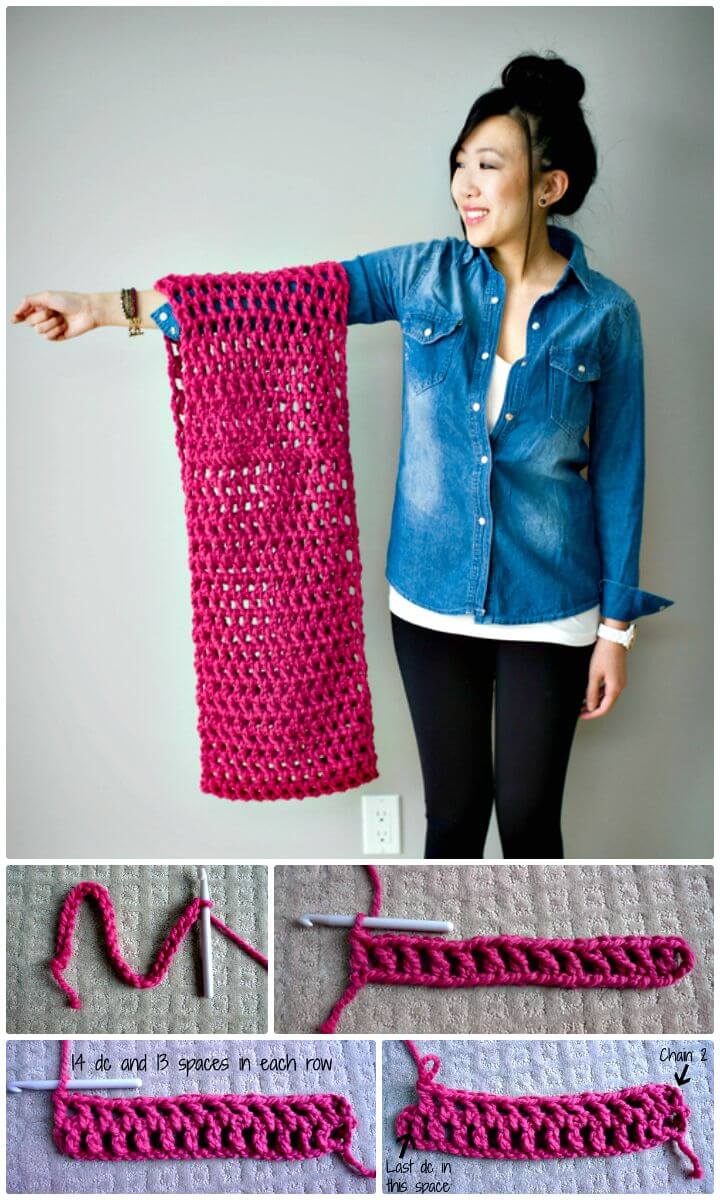 Add interesting details to your winter outfit or dress by going with this crochet double that is breezy and is all beginner friendly to crochet! This is here a long double crochet cowl that comes in rich purple yarn appeal is just perfectly fashionable accessory for less chilly days! Want to make this arresting design of crochet cowl yours? Just grab the full free tutorial and easy crochet pattern from here allaboutami
Free Crochet Emily Cowl That Looks Like Knitting: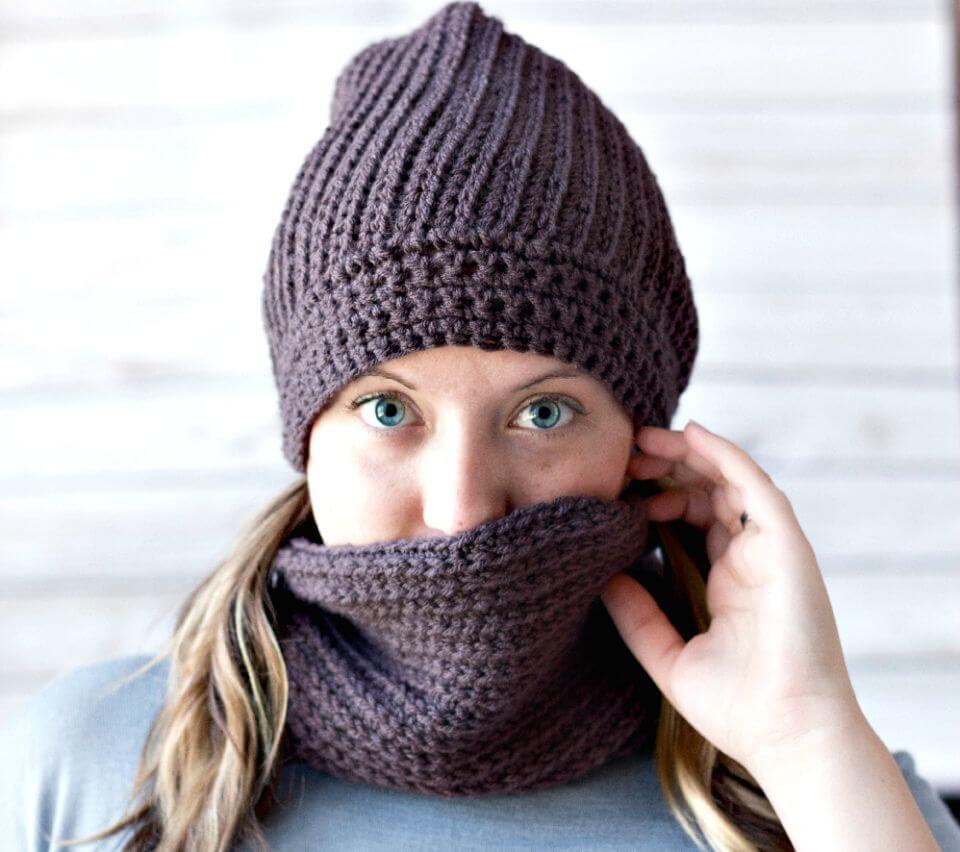 This is something extra beautiful and interesting is here, the Emily crochet cowl that looks knitted but is purely a crocheted pattern! The cozy loops around your neck would bring winter protection and style to your personality just in no time! This Emily crochet cowl and hat set is just a perfect winter gift for any style lover, so you can easily duplicate it to please something special! Find the free crochet pattern and visual tutorial from here margoknits
Free Crochet Orange Sorbet Cowl Pattern: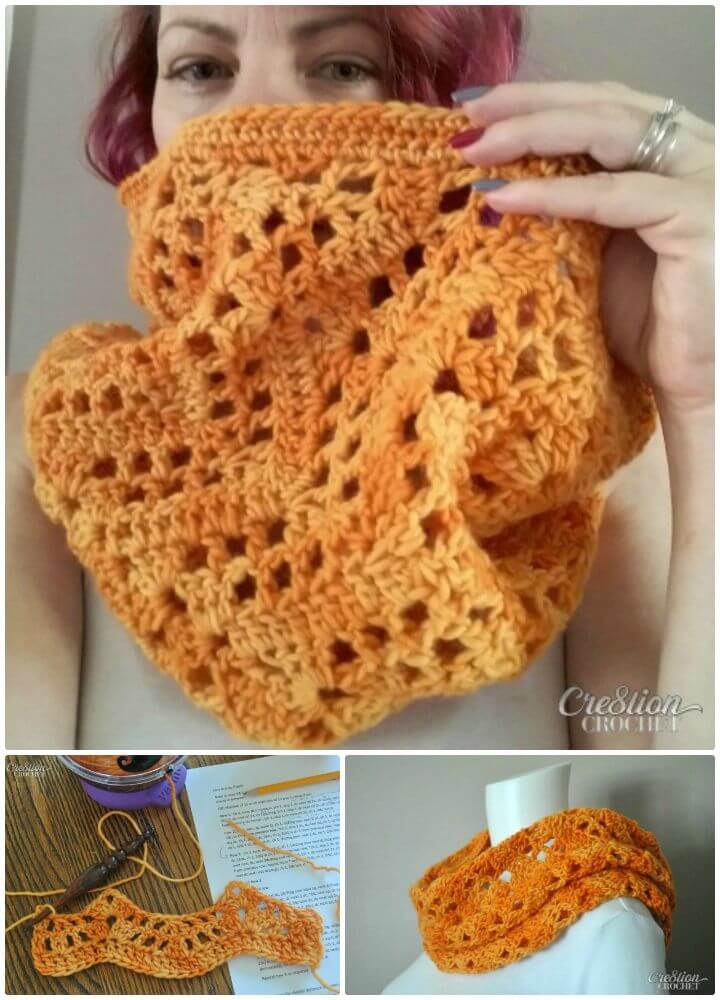 Crochet cowl patterns can be versatile and this is here another great one, the orange sorbet crochet cowl that is a little air but comes with lovely design texture! Another handsome design of crochet cowl to inspire you hook! Add amazing visual details to your personality by wearing this crochet cowl which would also make your neck feel warm and cozy! Looking forward to duplicate this very interesting crochet cowl? Just get the full free guide and pattern from here cre8tioncrochet
Free Crochet The Hiking Moose Cowl Pattern: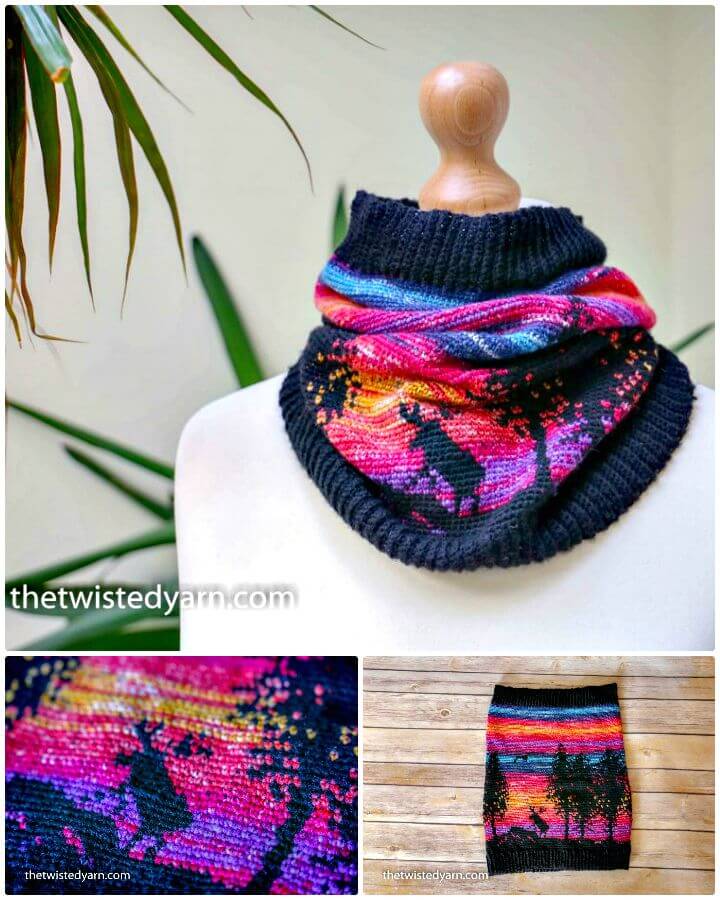 Checkout here the perfect art scenery or painting that surely get lots of appreciation for sure! But here this artful crochet work has been done to crochet a super unique and spell binding crochet cowl design which is just before your eyes, a special hiking moose crochet cowl! This is here something extra beautiful, eye-catching and stunning to crochet with your hook! Want to duplicate this crochet cowl design for a special one who is having the winter fashion on brain all the time? Just get the free crochet pattern and free tutorial from here thetwistedyarn
Free Crochet Spacey Chevrons Cowl Pattern: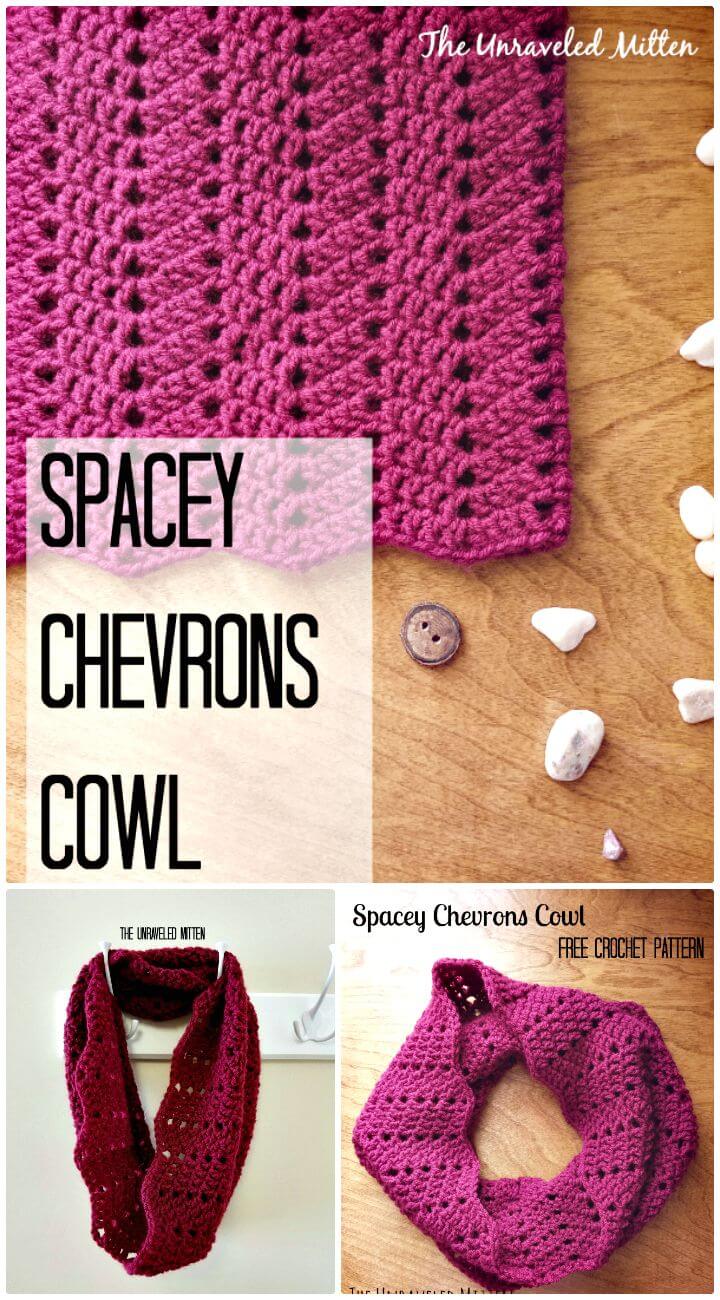 Own this another special crochet cowl that is just perfect to match with your any special winter dress or outfit! The spacey chevrons crochet cowl that is having a bright purple appeal and an engaging yarn texture! Moreover, it comes with a accent scalloped edging that bring more cuteness and an artistic vibe to entire crochet cowl design! Another good looking cowl that you can easily clone in no time! Find the complete free tutorial and easy visual instructions from here theunraveledmitten
Super Duper Chunky Crochet Cowl Pattern: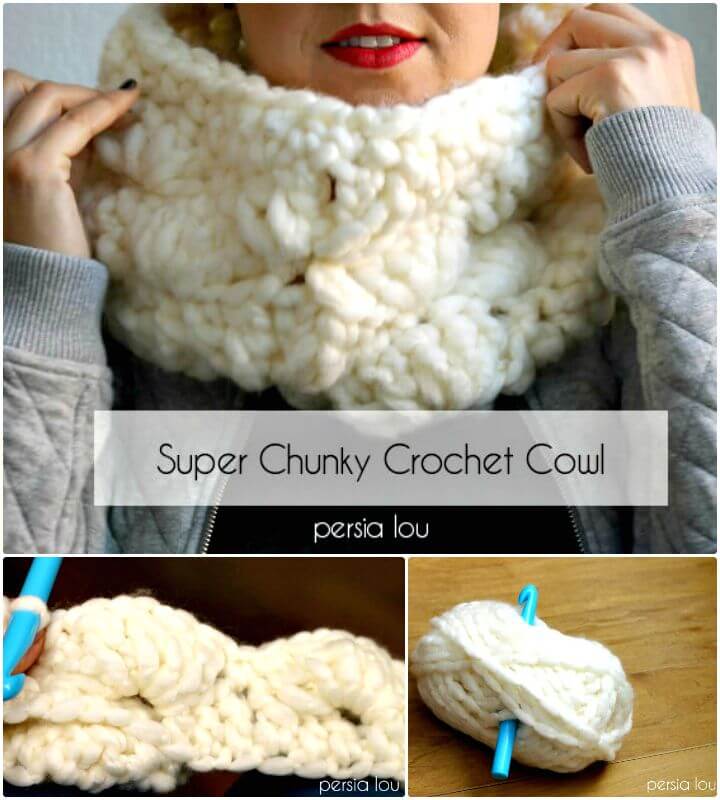 If you there is a deadly cold weather in your region then time to go with chunky yarn weights to crochet some custom winter warmers! If you are intending to keep your neckline warm then this crochet super duper chunky cowl will just rock and will make a super soft neck warmer! The milky white appeal makes this crochet a bit more gorgeous and ravishing! Another handsome design of crochet to hold your attention! Grab the full project details and free crochet pattern from here persialou
Free Crochet Cowl Pattern Effortless: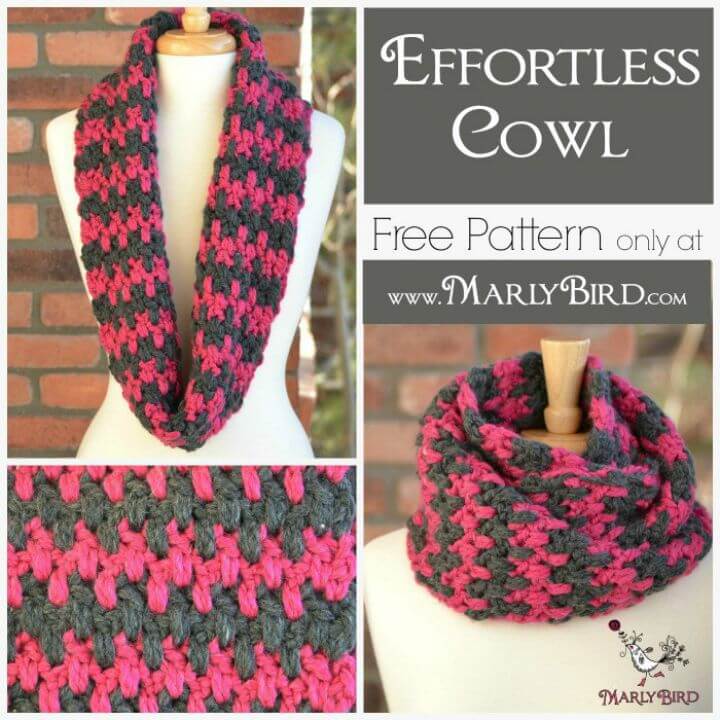 This is here another beautiful crochet cowl that comes with interesting visual details! This design of crochet cowl gain lots of visual attractiveness due to brilliant black and purple hue and also due to enchanting design texture! This is here an effortless crochet cowl that is all easy crochet also by a dedicated beginner! Easy guide and free crochet pattern is here marlybird
How To Free Crochet Mystic Cowl Pattern: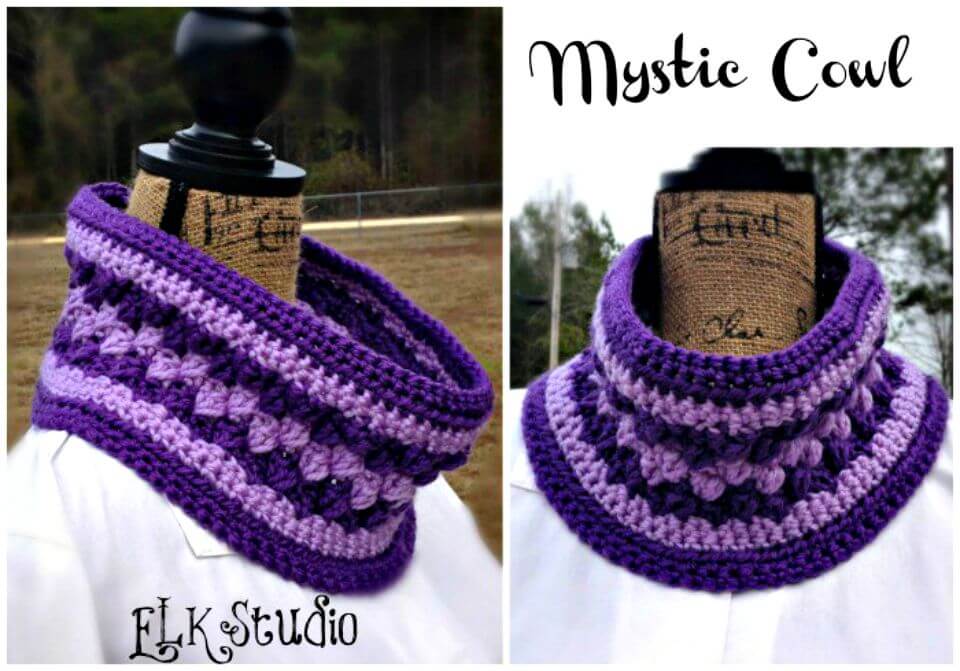 Adorn you neck also with this fetching crochet cowl that comes with utterly cute design texture and stripes! It has been crocheted in purple and grey and is just super eye-captivating! This cowl is having a remarkable design and is sure to fit snugly and tightly to your neckline! This is here a super handsome crochet cowl that will definitely inspire your hook! Willing to duplicate this flawless crochet cowl now? Just grab the full free tutorial and guide from here www
Easy Free Double Crochet Cowl Pattern: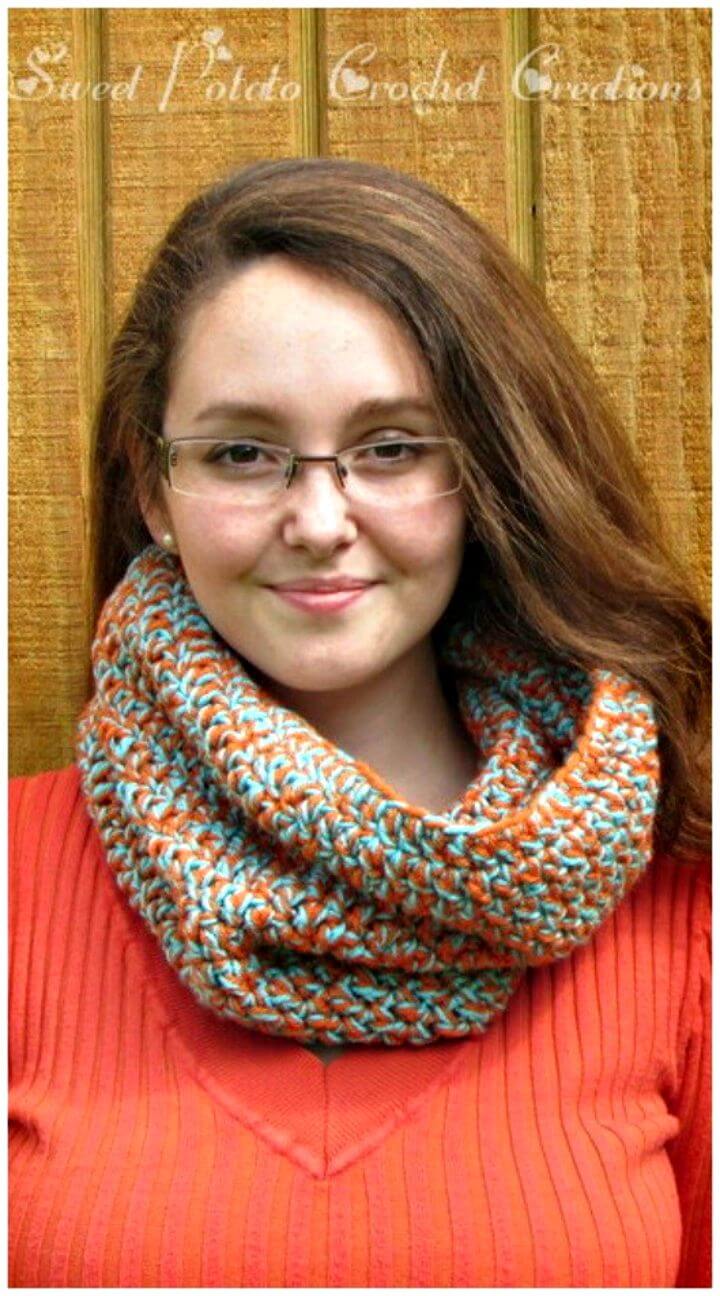 Wear also this beautiful cowl for a gorgeous yarn neckline draped on your winter outfit! This crochet cowl comes chunky and is something very pretty to gift someone or to wear as a winter fashion accessory! Here the tightness of stitches and different yarn colors mix together to make a handsome crochet cowl design as you can see! Another lovely crochet cowl to own for lovely winter fashion statements! Easy free crochet pattern and tutorial is here katiescrochetgoodies
Free Crochet Knot Knit Cowl Pattern: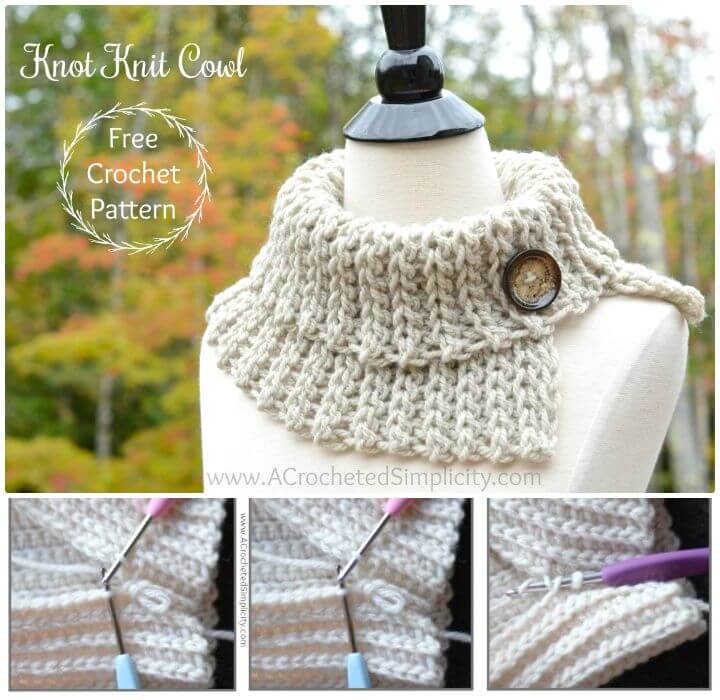 This crochet cowl is just like a chunky t-shirt collar, the very pretty knot knit cowl that will also help to ensure better winter protection! This pretty awesome crochet cowl also comes with a button accent that bring extra uniqueness and beauty to entire design! Another rare but super good looking crochet cowl pattern that is all beginner-friendly! Intending to duplicate this very charming design of cowl? Just grab the full free project details and visual tutorial from here acrochetedsimplicity
How To Easy Free Crochet Cowl Pattern:

Are you willing to look funky this winter? This will all demand for a funky crochet accessory and nothing would just work great in this case but this pink and grey crocheted cowl That is inanely cute and beautiful! The real beautiful of this aesthetically pleasing crochet cowl comes from the scalloped edging that also gives an artistic look to this entire design of crochet cowl! Intending to duplicate this very precious design of crochet cowl for a fashion enthusiast in home? Free crochet pattern is here beautifulcrochetstuff
Free Crochet Cowl Pattern Cowgirl Meets Minneapolis: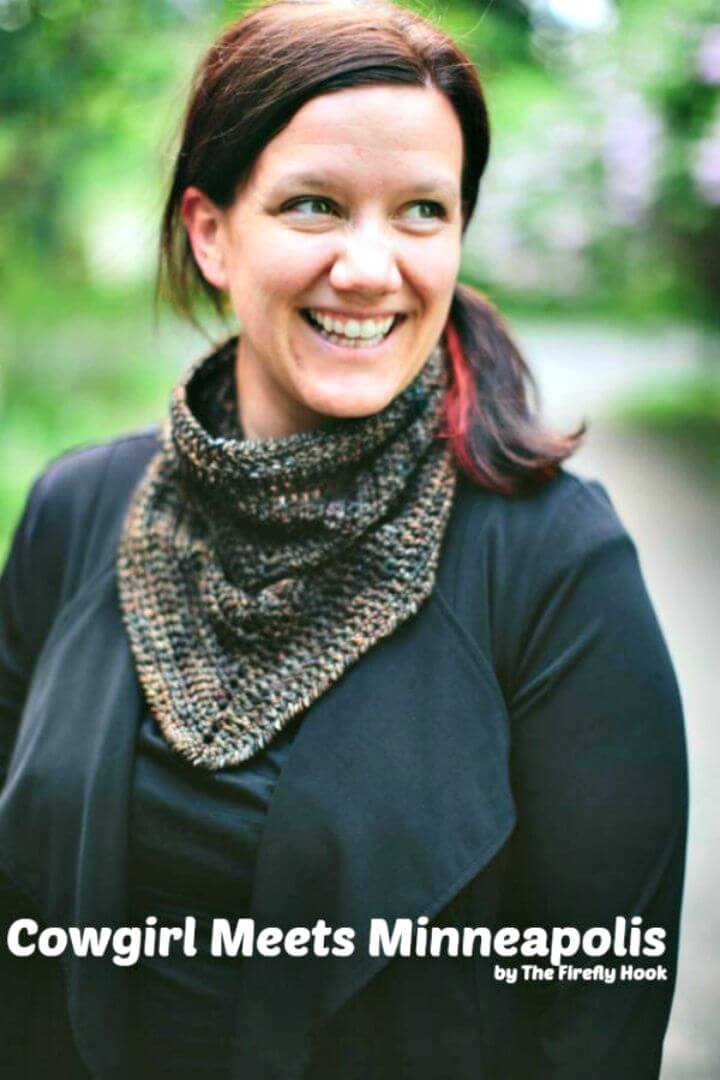 The crochet cowls can be of various shapes and designs and this is here another very genuine looking design of crochet cowl! Wear extra beauty this winter by going with this precious crochet cowl design that is super easy to crochet! This is here a very rare design of crochet cowl that comes with amazing tightness of stitches that will make it long lasting for sure! Free crochet pattern and further project details are here whistleandivy
Free Crochet Sweet 'n Sassy 1 Skein Cowl Pattern: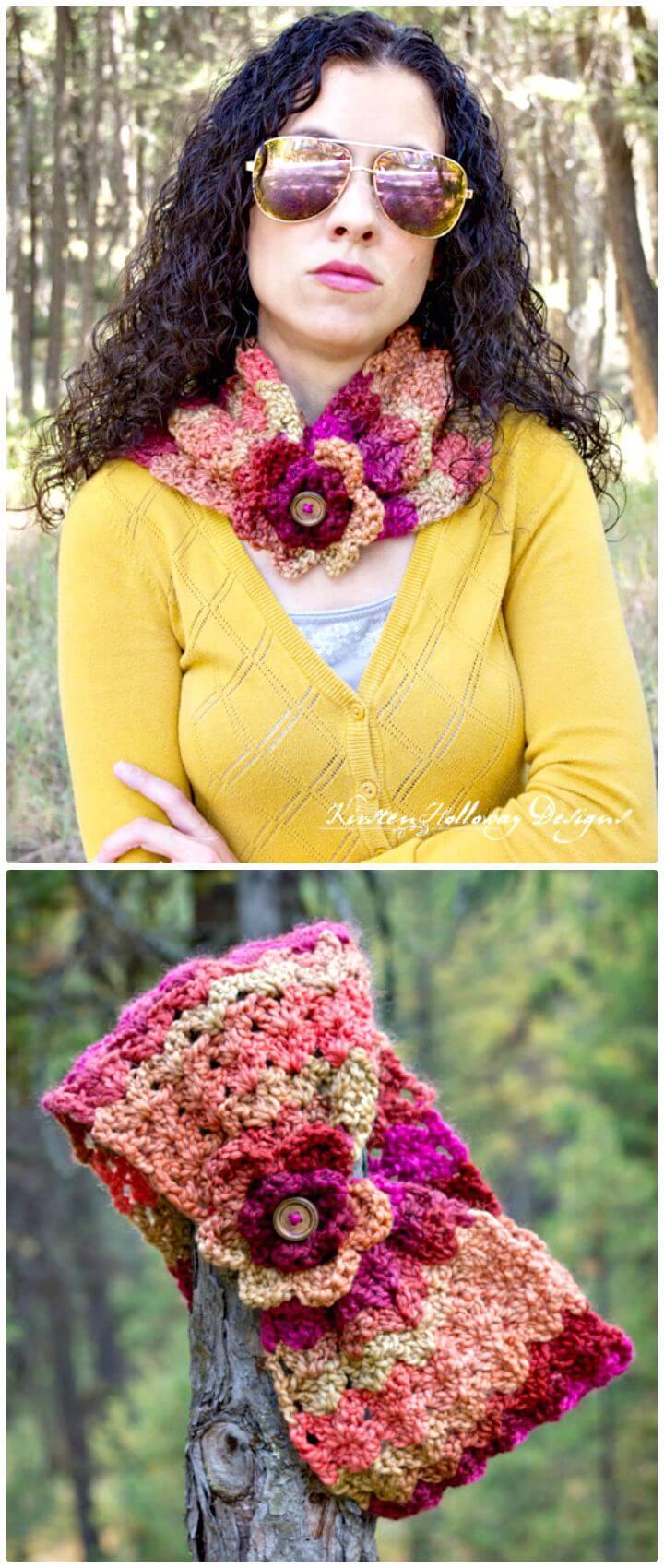 If you are having master hands in art of crocheting that you can crochet your own beautiful winter fashion at home like from stylish crochet accessories to good looking clothing and also from crochet babies booties to remarkable crochet winter warmers! One amazing winter warmer is here, the sweet crochet cowl that has been crocheted using only one skein of yarn! Finally it has been embellished with a crochet flower embellishment as you can see! Another mind-blowing crochet cowl pattern to hold your attention! Free crochet pattern and tutorial guide is here kirstenhollowaydesigns
Free Crochet The Jamie Cowl Pattern: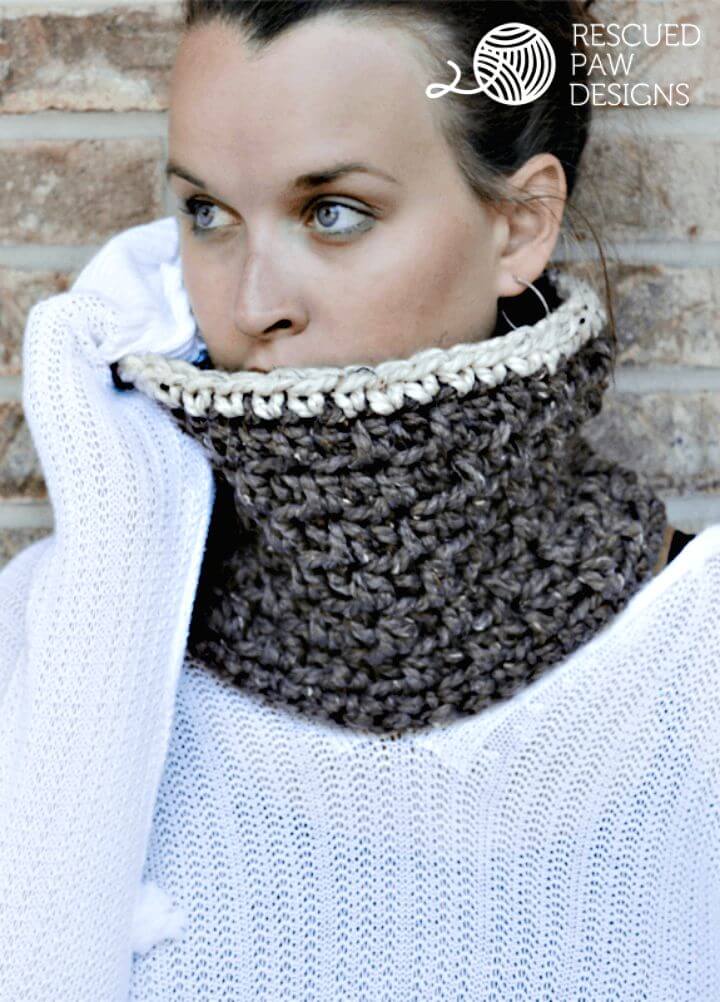 Put extra grace to your winter sweater or t-shirt by topping it up with this Jamie cowl that promises to fit snugly around your neckline! Here bulky yarn weights have been crocheted to make this chunky Jamie cowl that is something style-boosting for every style conscious lady! Details guides and free crochet pattern is here rescuedpawdesigns
Easy Free Crochet Thai Cowl Pattern: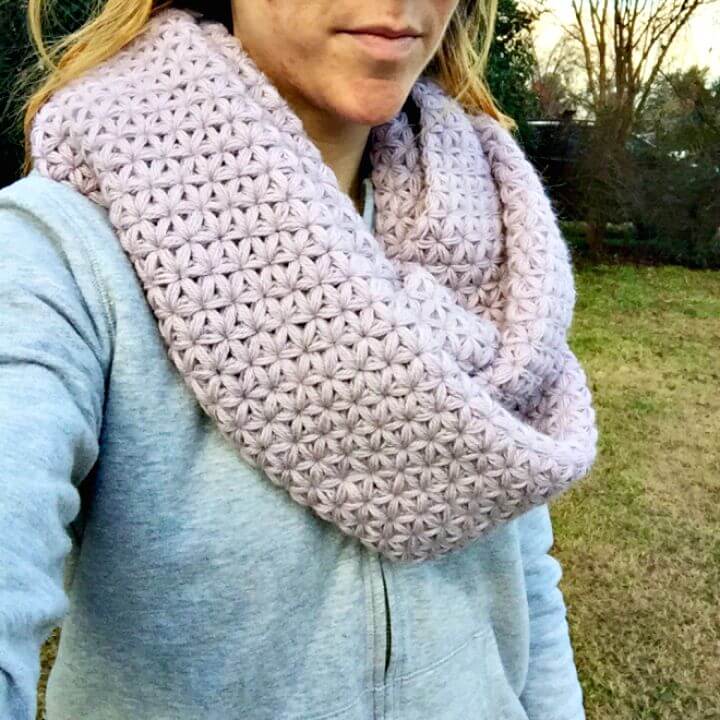 You will definitely feel cozy after wearing this crochet thai cowl, it would be like a stylish scarf wrapped around your neck in form of loose loops! The alluring design texture of this cowl is what that brings tons of focal stimulation to this crochet cowl and you can also experiment this gift-worthy crochet cowl with your own special crochet stitches! Grab the full free guide and tutorial from here notyouraveragecrochet
Free Crochet Paris Cowl Pattern: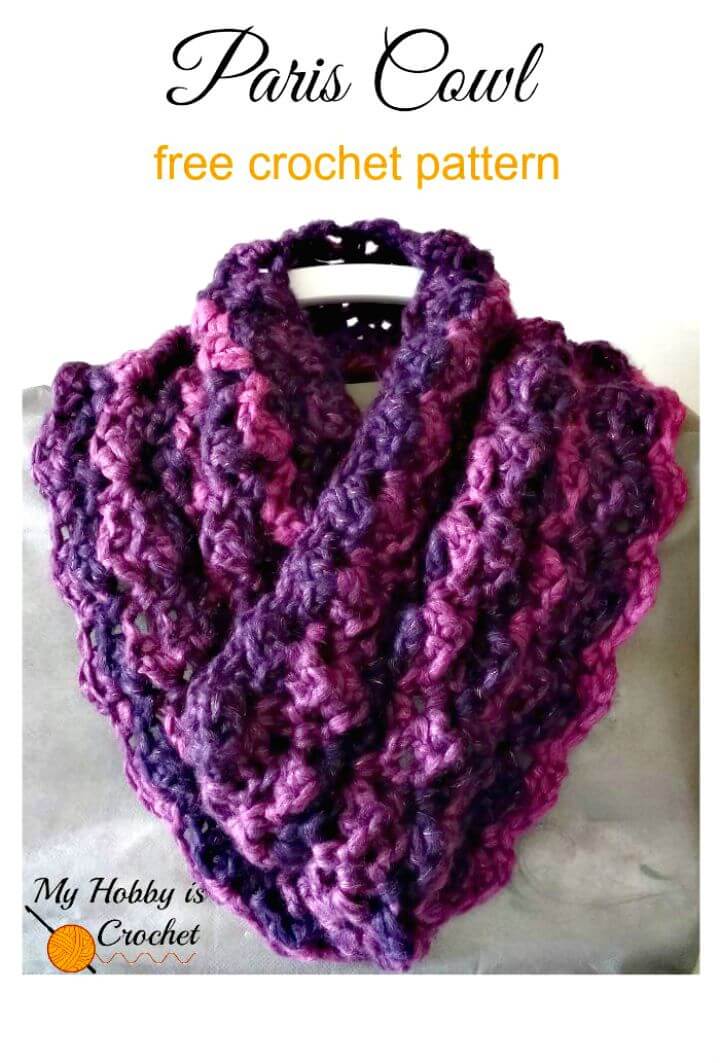 Fall in love with the colorful chunks of this very cute crochet Paris cowl, a big delight when comes to eyes! If you are struggling to look fashionable this winter then wearing this crochet cowl will make you catch dozen of eye-balls for sure! An arresting cowl design to go in your wardrobe and the very good news is that it is super easy to crochet! Experiment it with any yarn color rather than purple and blue! Free crochet pattern and easy guide is here myhobbyiscrochet
Free Crochet Plum Skies Cowl Pattern: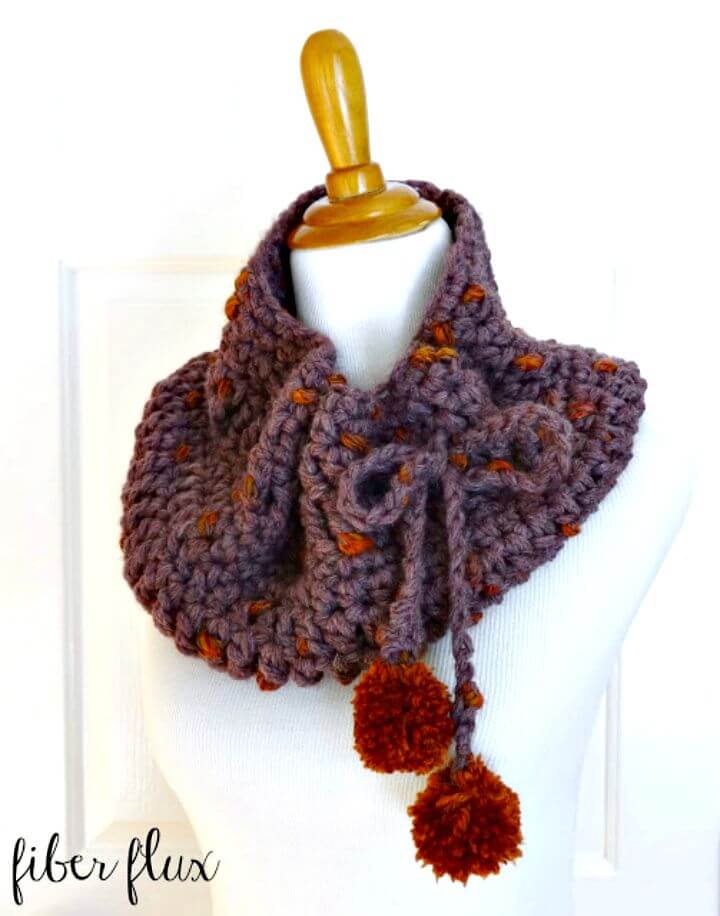 Satisfy your craving for winter fashion with this adorable crochet accessory! This is here a neck snuggy, the precious crochet plum skies cowl! This is fun to crochet and a pleasure to wear! It has been crocheted with very light purple chunky yarn and also comes with a little mix of bright brown! Final finish has been done by adding two silky brown pom-poms as you can see! Another stylish crochet cowl to go around your neckline! Free crochet pattern and step-by-step guide is here fiberfluxblog
Easy Free Crochet Squish Cowl Pattern: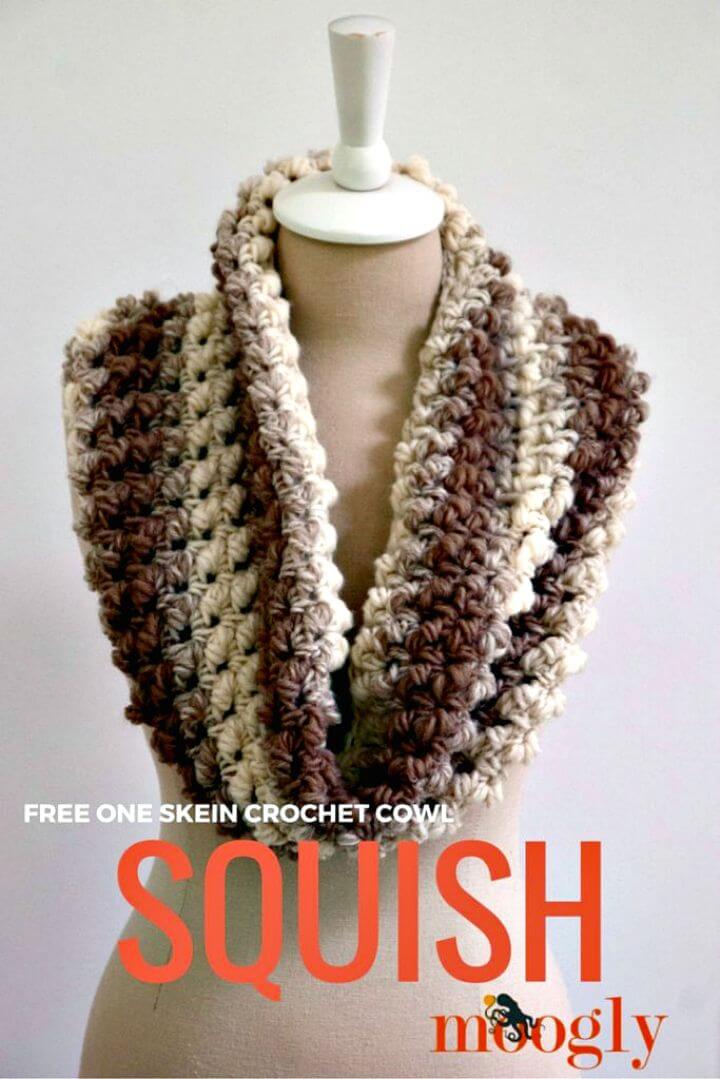 If you are a lover of unique crochet design texture then the given crocheted accessory will definitely enchant your eyes! Just choose this squish cowl as your next winter fashion and let its bouncy design texture make you look extra gorgeous and well appealing! Moreover, there are yarn color stripes making this cowl much visually pleasing and attractive! Do duplicate this another handsome design of crochet cowl for personal use or to gift someone special! Free crochet pattern and easy visual tutorial is here mooglyblog
Crochet The Macchiato Cowl – Free Pattern: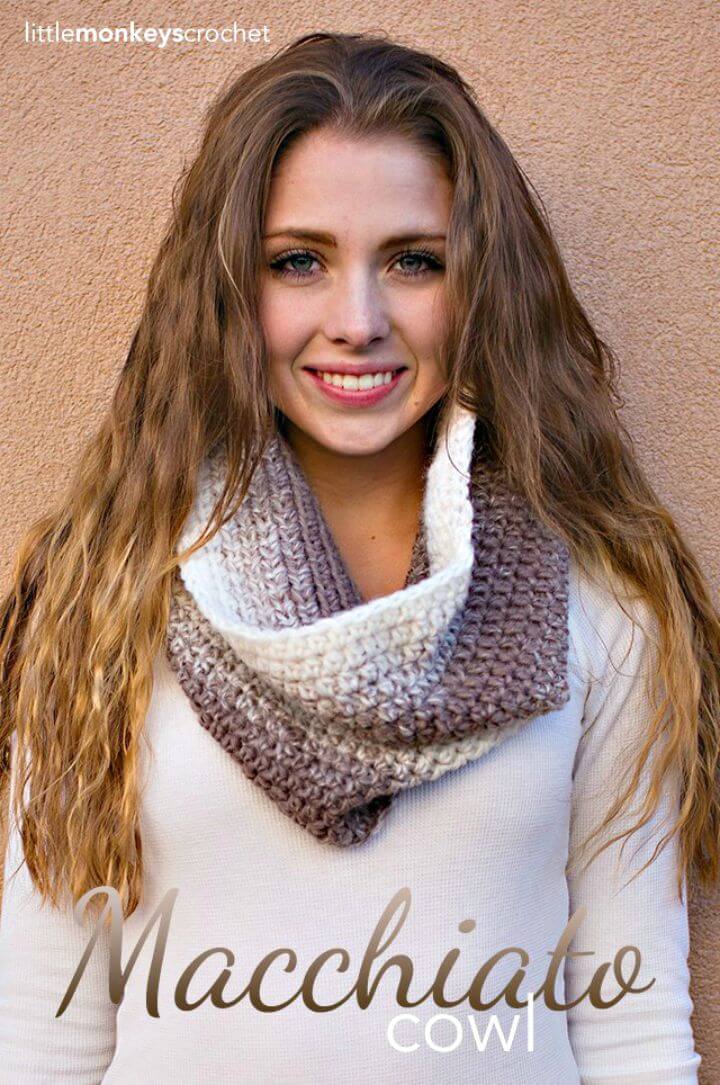 When talking about the enchanting color patterns we do include the ombre effect in our conversations! The gradual fade of a single color definitely hold dear to eyes and same you are going to view in this macchiato crochet cowl! It comes in brilliant ombre appeal and is something special to gift to a style loving teen! A beginner-friendly crochet cowl pattern that is guaranteed to create bigger fashion statements of your personality this winter! Duplicate it via free pattern and tutorial provided here littlemonkeyscrochet
Easy Crochet The Macchiato Cowl – Free Pattern: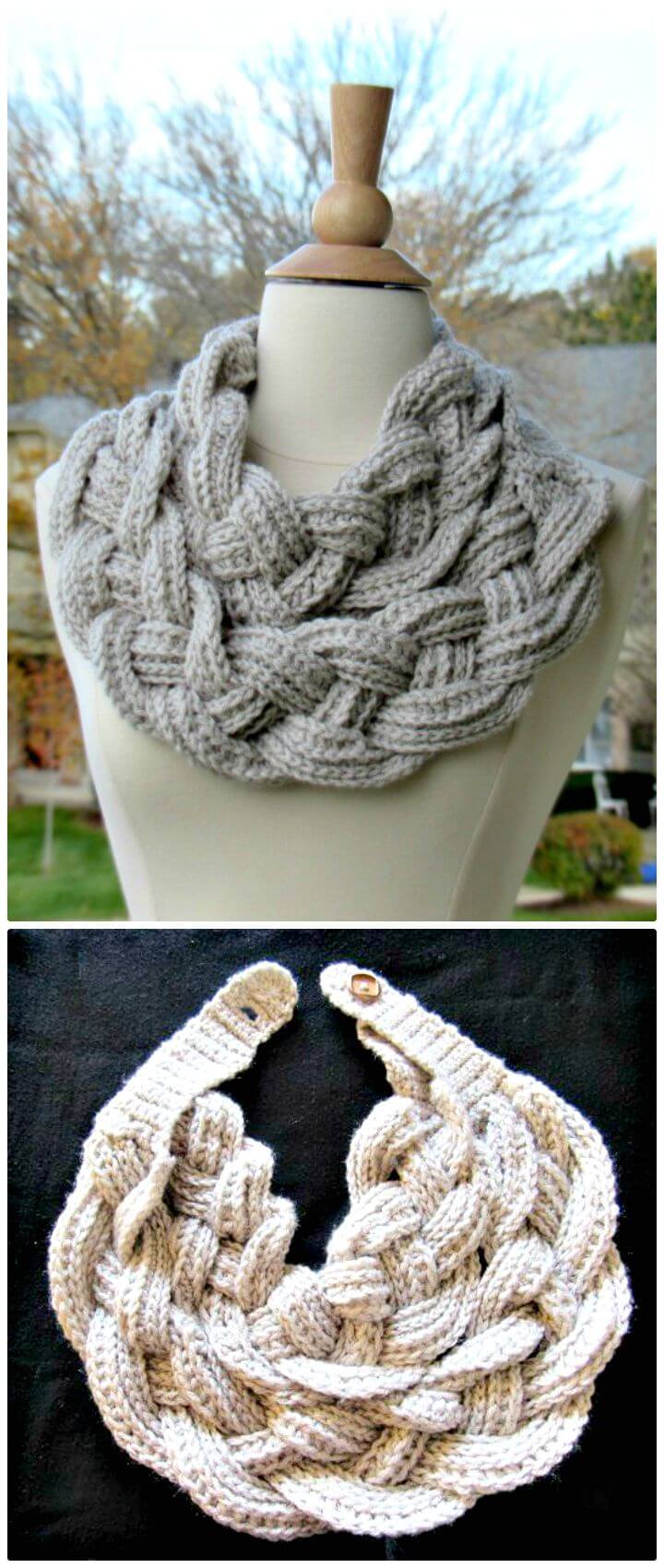 Willing to wandering at outside in chilly days? This would be a fun to do if your body is not feeling cold! Stop feeling cold by wearing this another mind-blowing crochet cowl, the macchiato crochet cowl that is a having a little confused design due to tight braids! This twisted neckwarmer is sure to hold dear to all onlookers and will definitely add a fashion statement to your winter outfit! Duplicate this crochet cowl via free pattern and guide provided here myhobbyiscrochet
Crochet Apple Crisp Cowl – Free Pattern: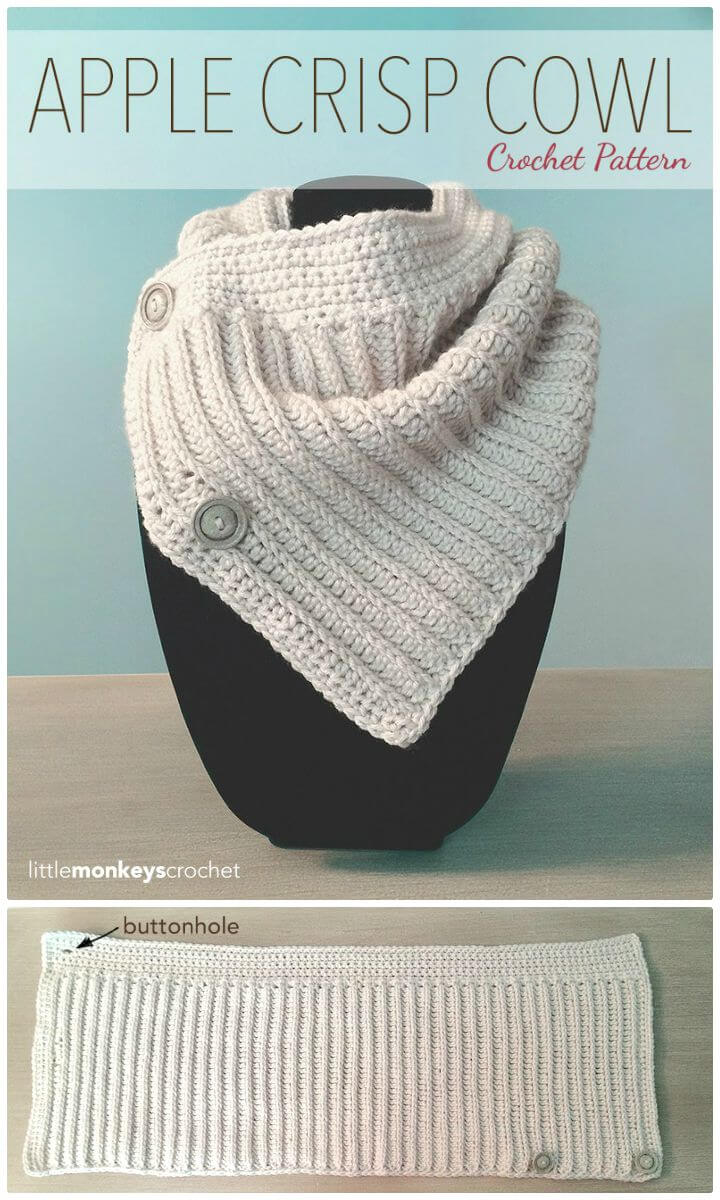 Fall in love with the raised design lines of this crochet cowl that generates a mind-blowing texture! This is here a very good looking crochet cowl that will loved dearly by any style conscious girl or lady! If you have become a fan of this apple crisp crochet cowl then you should definitely add it up to your winter wardrobe! Clone it now by getting smartly busy with your hook! Free crochet pattern and guide is here littlemonkeyscrochet
Free Crochet Sherbet Cowl Pattern: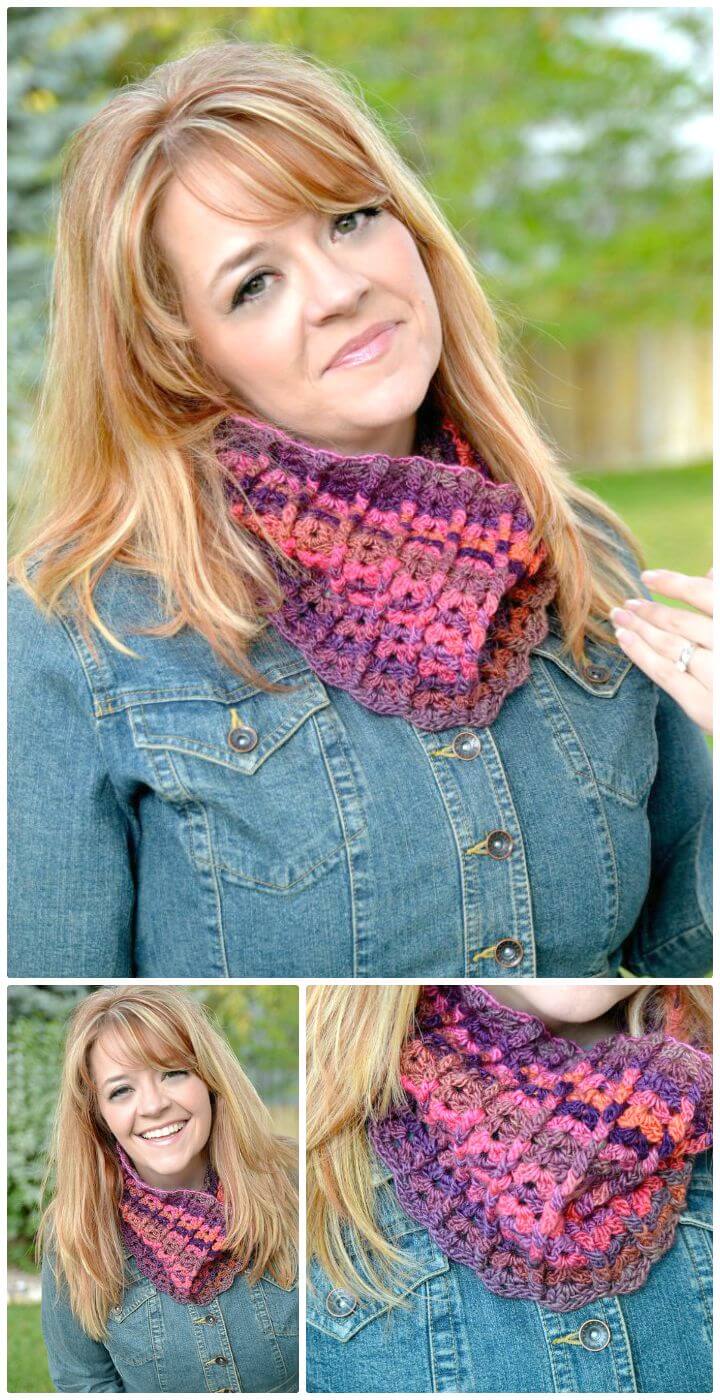 Add an accent layer to your winter denim jackets and sweaters with this crochet sherbet cowl that is a eye-catching and will put extra charm to your personality too! Amazing design pattern and perfect yarn color combo are the praise-worthy features of this handsome crochet cowl and this would make a great neckwarmer without making you lose any fashion points! Clone it via free pattern and guide provided here marlybird
Free Crochet Mommy And Me Infinite Twilight Cowls: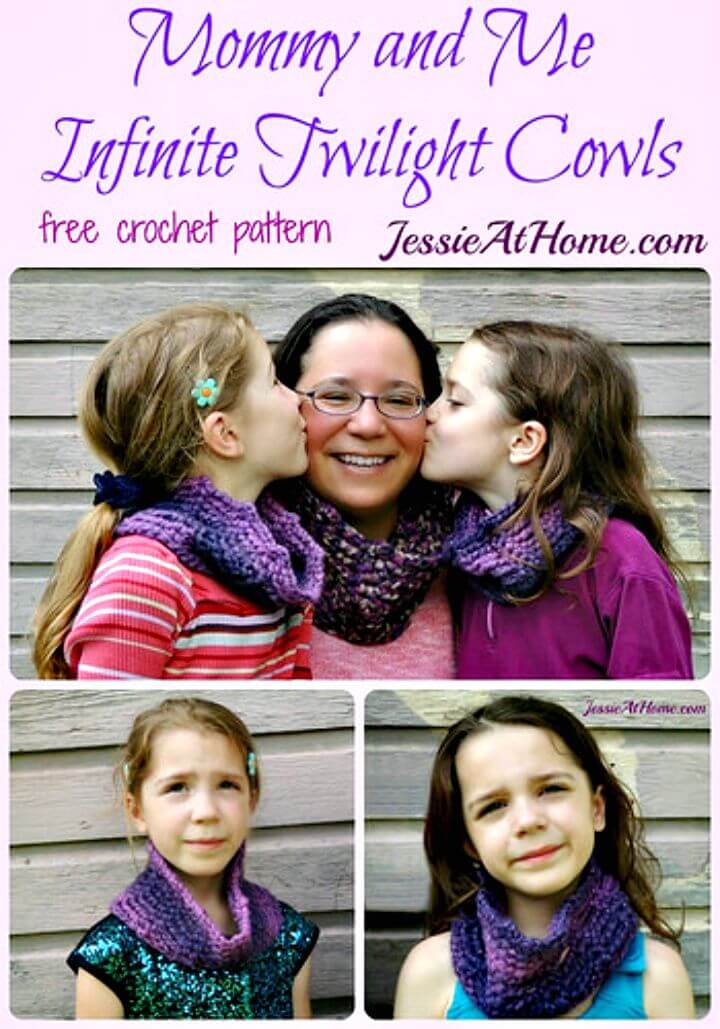 In winter no one is safe, you need to provide winter protection to each member of your family, so how about creating a set of crochet cowls for a family? Just check out here a set of 3 crochet cowls, this is here the infinite twilight crochet cowls crocheted for a mom and two little girls to enjoy the winter happily! You can also enjoy the sungly fit of these crochet cowl just by spending a little time with your hook! Free crochet cowl pattern and tutorial is here jessieathome
Free Crochet Patterns for Beginners:
Easy Free Crochet Granite Cowl Pattern: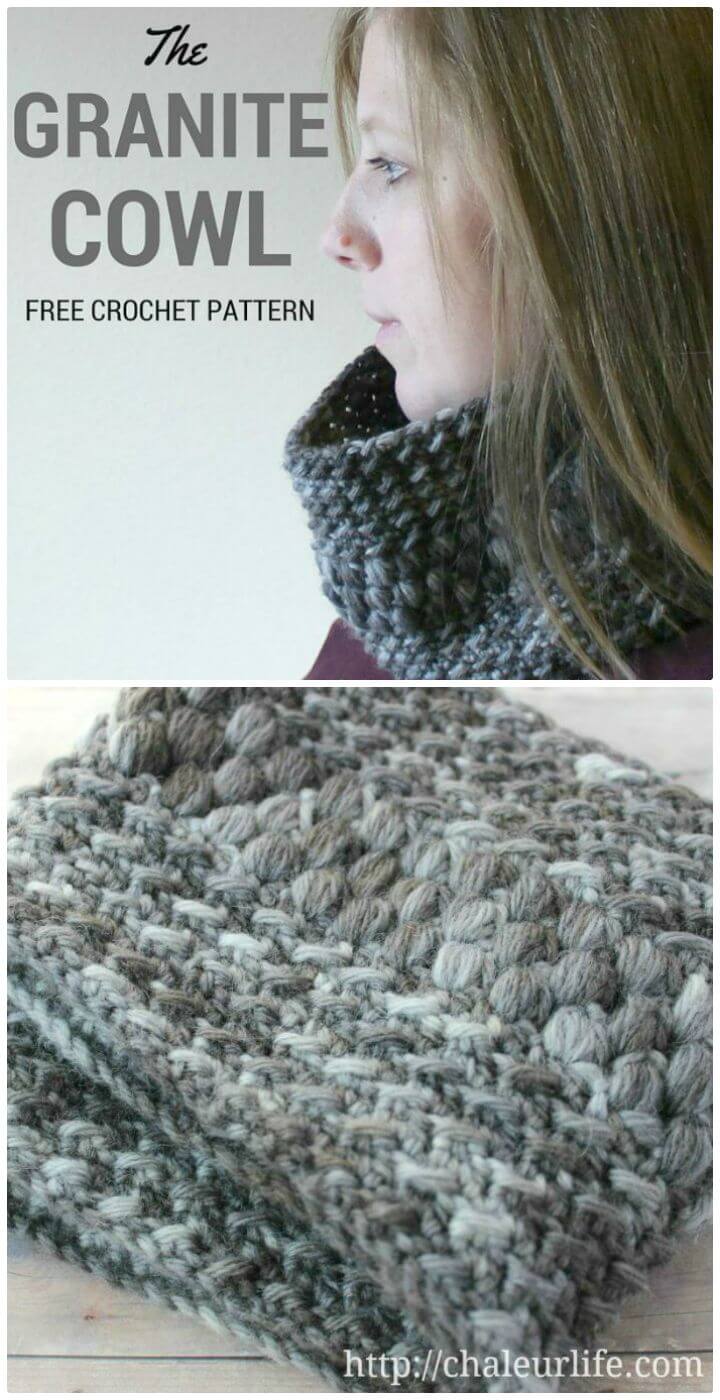 If you are a passionate lover of art of crocheting then you will be knowing much about the granite stitch for sure! If yes, then why not crochet a cowl using granite stitch that make your pattern appeal in precious design texture, just see this sample granite cowl to get yourself inspired! Another handsome crochet cowl design for the fashion enthusiasts! Free crochet pattern and tutorial is here myhobbyiscrochet
Free Crochet Platinum Cowl Pattern: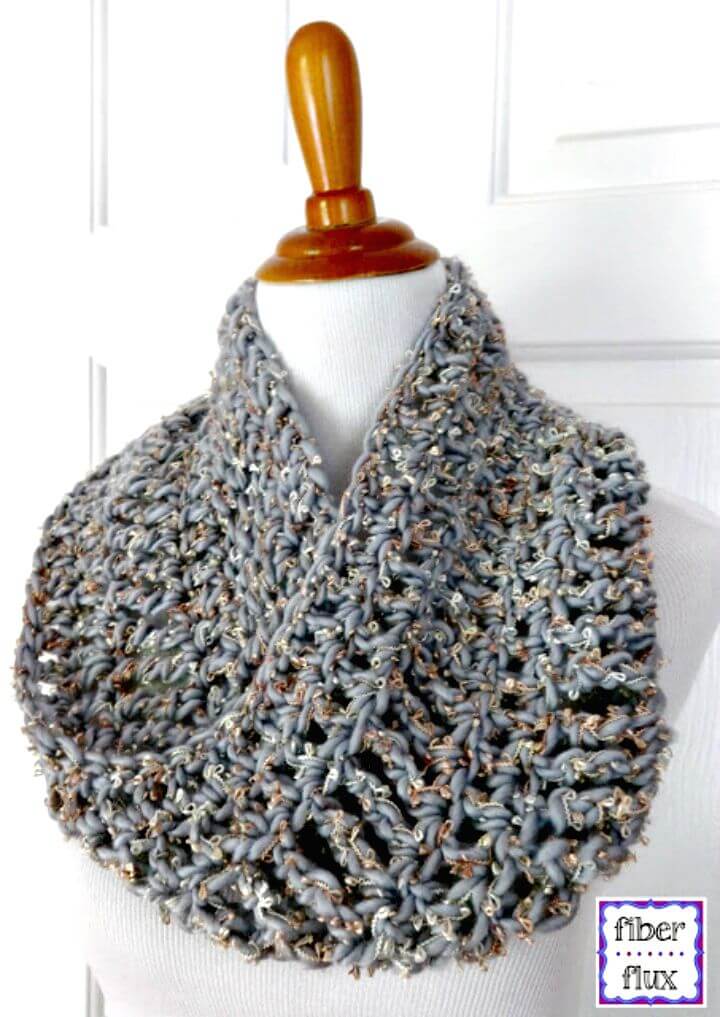 Checkout here the another epic design of crochet cowl that add an accent layer to any of your winter outfit making you look perfectly stylish at the same time! This will look great also while peeking out from your denim jackets or winter sweaters! This is cowl is what that add a gorgeous draped neckline to a fashion loving lady! Even if you are having the minimal crochet skills, you can tryout this cowl pattern at home! Free guides and free crochet pattern is here fiberfluxblog
How To Free Crochet Linen Stitch Mobius Cowl Pattern: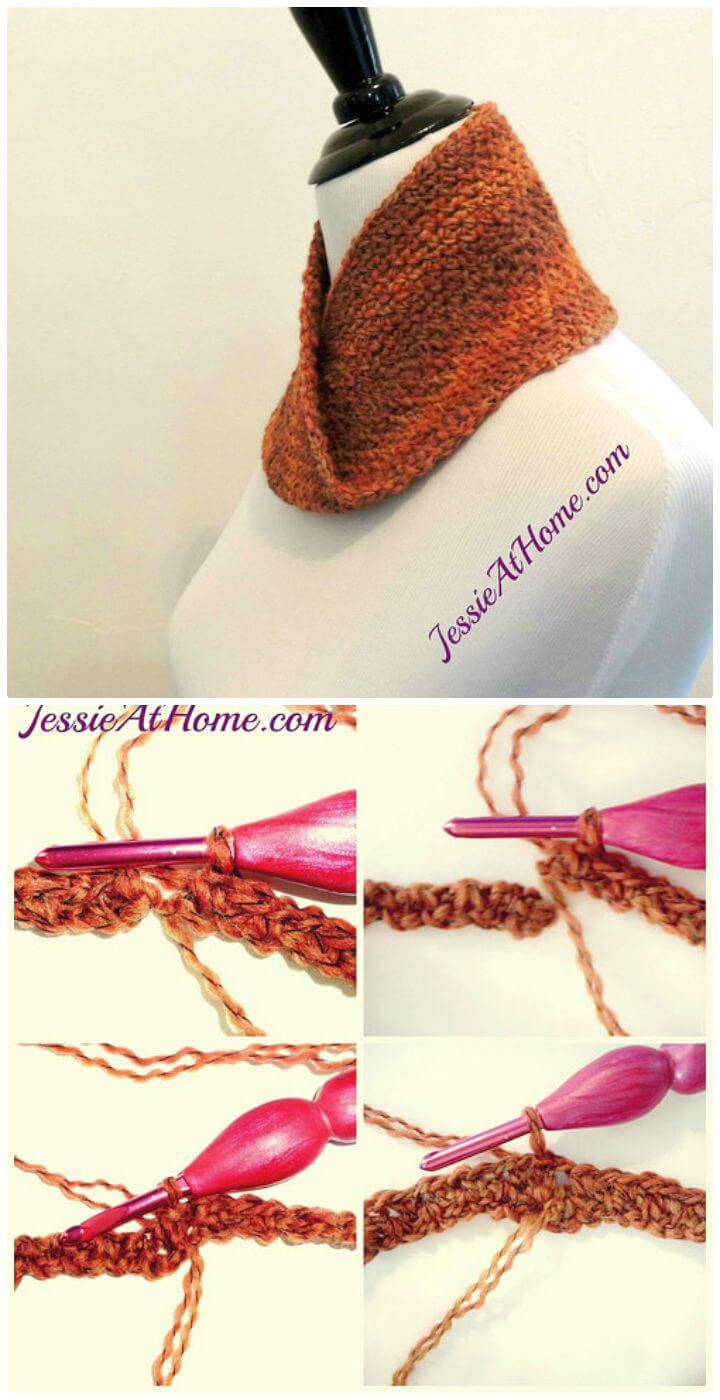 Let this another crochet cowl add sophistication to your winter outfit! This is here a linen stitch crochet cowl that comes with tight yarn stitches and is something you will just love to wear around your neck! The striped crochet cowl that would also make an epic winter present for a special friend! Complete crochet pattern and free guide is here jessieathome
Free Crochet The Raspberry Cowl Pattern: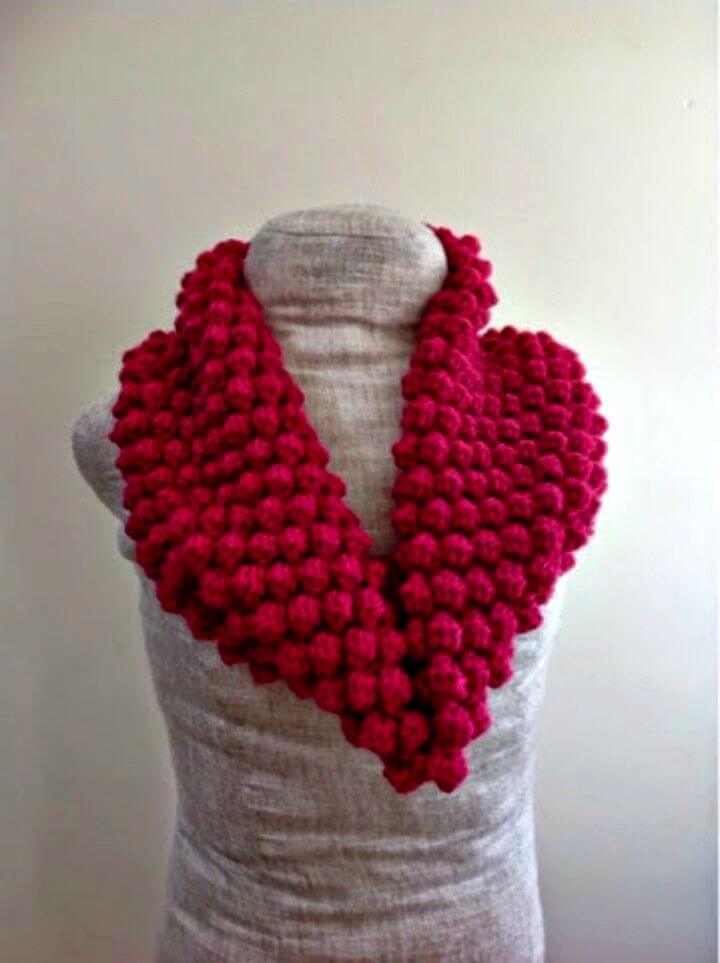 Checkout here the amazing bouncy texture of this crochet cowl, the brilliant crocheted puffs that look like the raspberry making the design super visually attractive! The single yarn color, the dark pink, make this crochet cowl a bit more focally stimulating but you can also duplicate it with your own favorite yarn stitches! Intending to duplicate this pretty handsome design of crochet cowl? Just grab the full free tutorial and complete details from here undeniableglitter
Free Crochet Lookin' Lovely Cowl Pattern: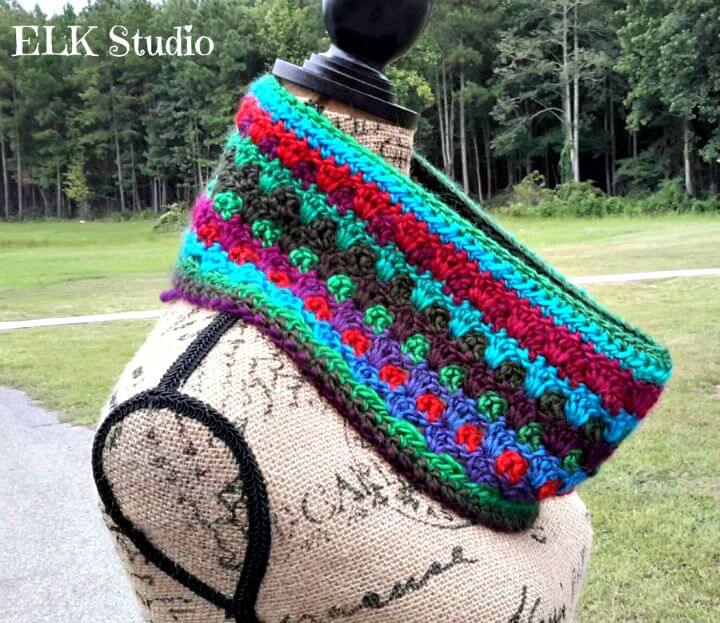 May be you are a beginner but you can still crochet this lovely cowl that comes with multiple colorful stripes that are simply artistic due to not having a simple straight line shape! This crochet cowl is something mind-blowing to look at and will also make an epic present for a style loving lady or girl! Willing to own this very special design of crochet cowl? Just grab the full free pattern and easy guide from here lkstudiohan
Free Crochet Chunky Violet Stashbuster Cowl Pattern: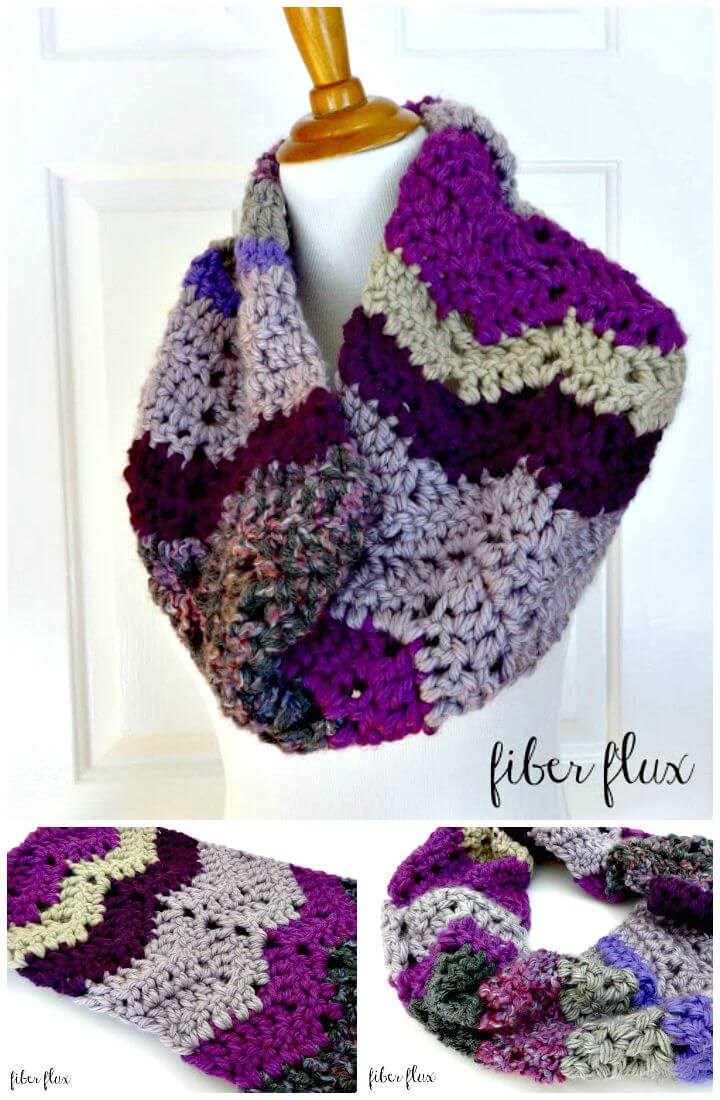 There is just no limit for good looking crochet cowl designs, another precious one is here, the violet and grey crochet cowl that has been crocheted chunky and is sure to provide extra winter warmth! This will layer up beautifully with any winter sweater or t-shirt and would be something to crochet as a gift for a special friend! Free crochet pattern and easy tutorial guide is here fiberfluxblog
Free Crochet Cowl With Infinity Loop Pattern: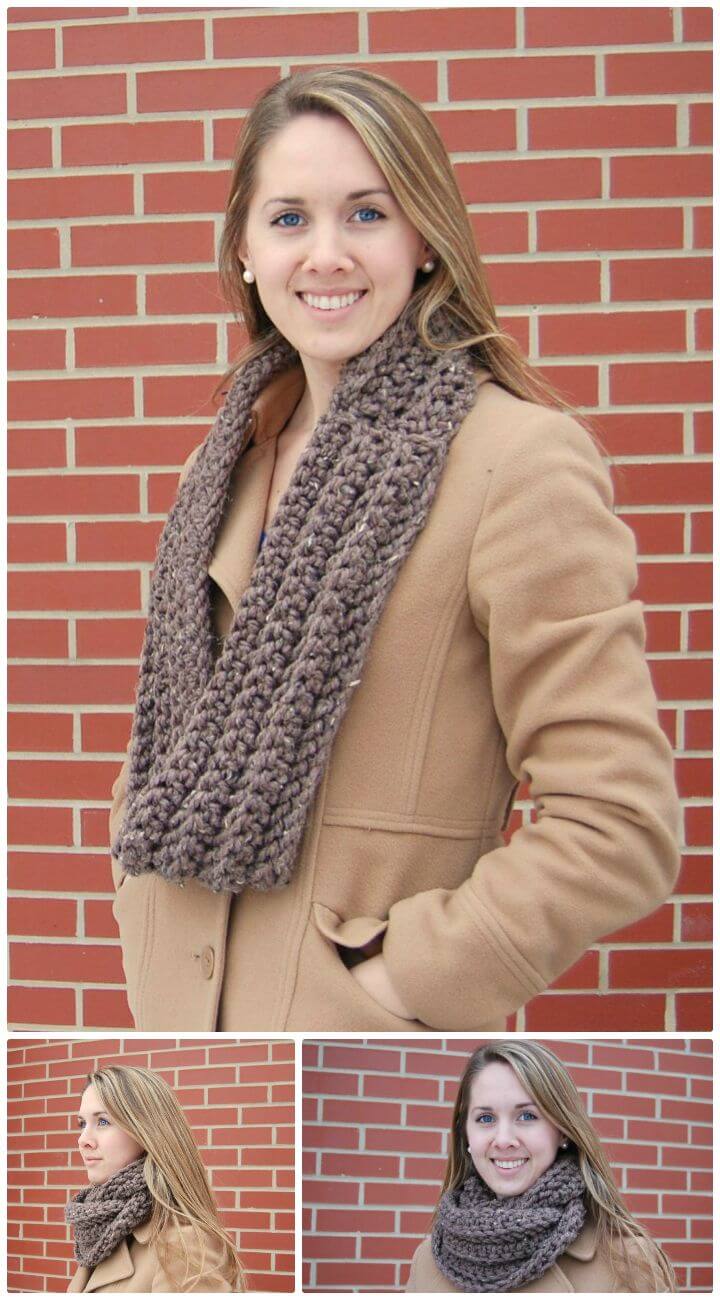 Look at this another chunky edition of crochet cowl, a big crocheted yarn loop that can be fold for double loop to be around your neck as a precious winter warmer! Whether you are willing to gain an arresting winter personality or you are willing to get perfect winter protection, this crochet cowl will serve for both purposes just in a great way! Full free crochet cowl pattern is here jjcrochet
Free Crochet Knit Look Cowl Pattern: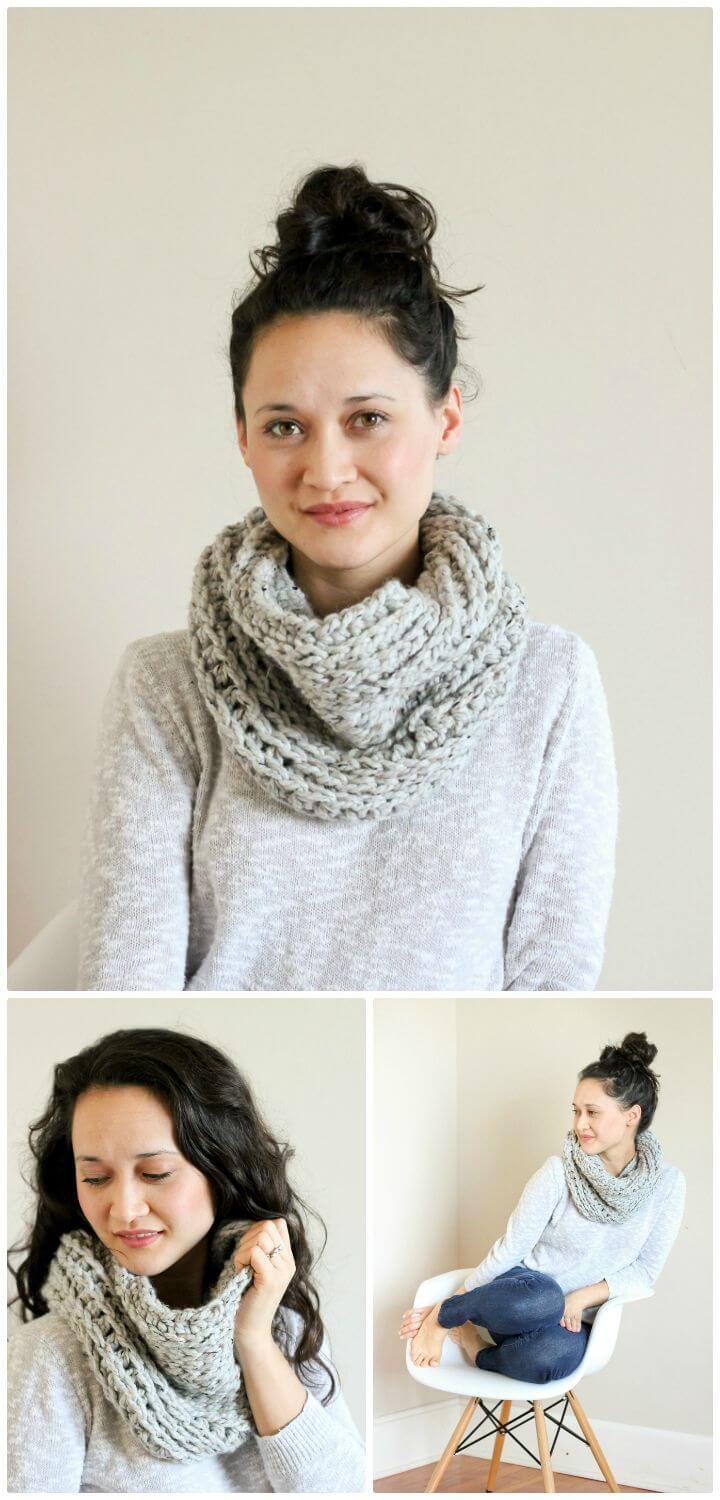 You can use both your crocheting and knitting skills to make some outstanding cowls and other winter fashionwear at home! But here comes a special design of crochet cowl that looks knitted but is wholly crocheted! A little airy design of crochet cowl that features a neutral hue and is just perfect for fall fashion! Do clone it for a special friend and for any style loving girl in your home! Free crochet pattern is here deliacreates
Free Crochet Sassy Autumn Ribbed Cowl Pattern With Video Tutorial:

This crochet cowl is simply irresistible, the whole beauty of this special crochet cowl comes from the ribbed texture that comes in multiple colorful lines creating an awesome fetching look of the cowl! A stylishly beautiful crochet neckwarmer, embellished with a button accent and will also fit snugly around your neck! Looking for free crochet pattern and guide to duplicate it now? Just find it here nanascraftyhome
Free Crochet Just Peachy Cowl Pattern: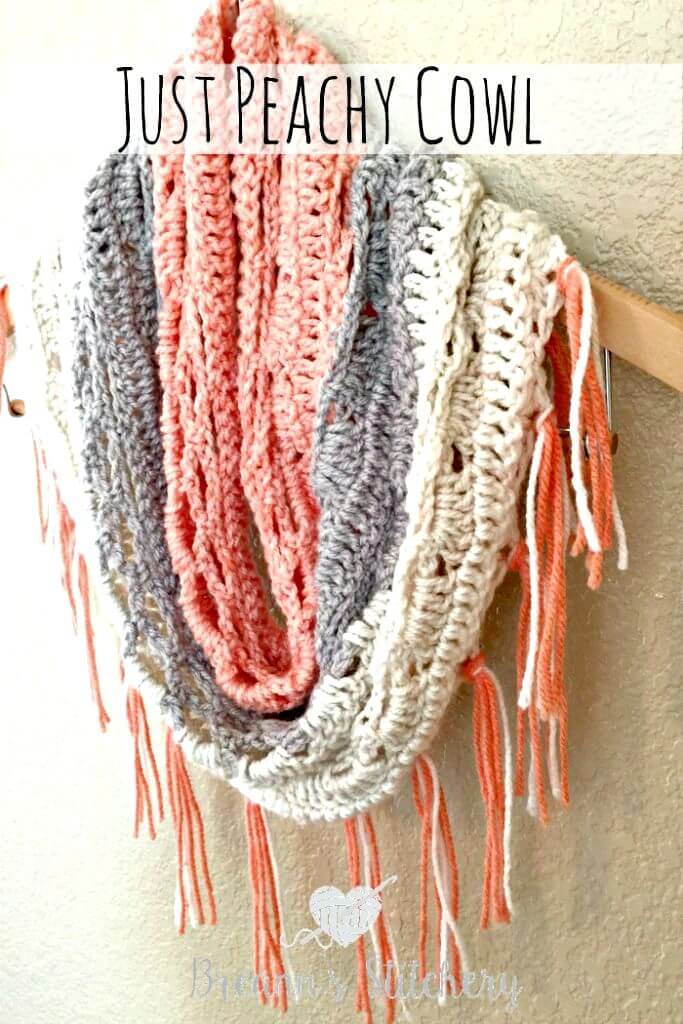 Art of crocheting just helps you to crochet your own beautiful fashion in just no time! An interesting example is this crochet cowl that will also add interesting visual details to your winter outfit! It comes in peach and grey hue and looks double cute due to tassel style fringes! This is here one more unique and extraordinary crochet cowl design that is sure also to make a stunning gift! Free crochet pattern and detailed instructions are here adehappiness
Free Crochet Beginner 1 Hour Cowl Pattern: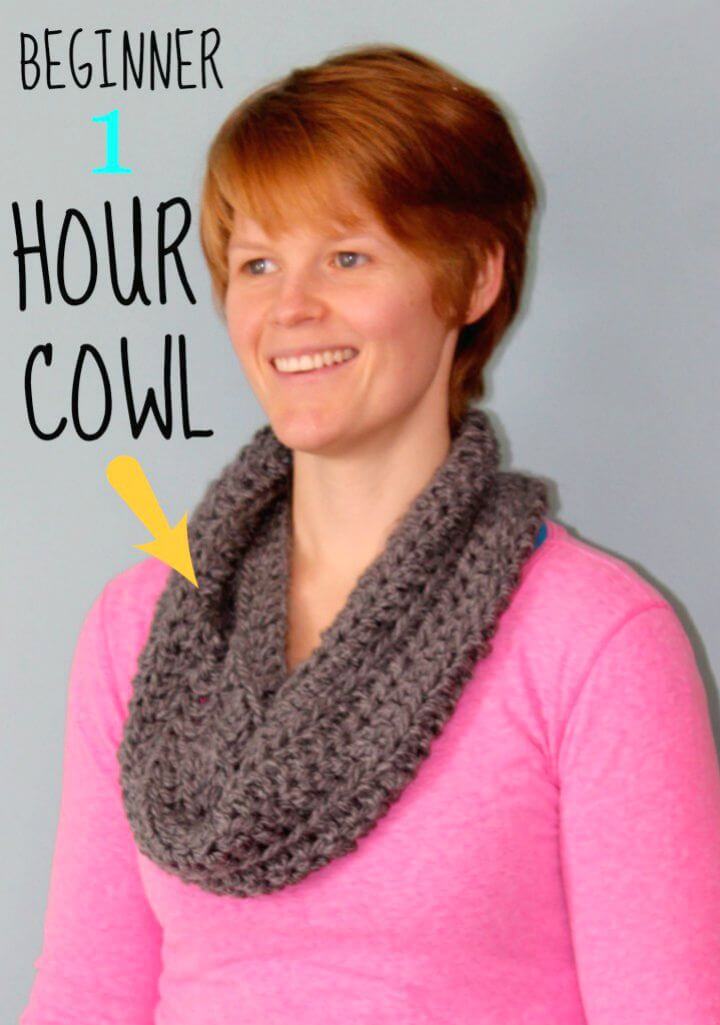 Here is another adorable crochet pattern that all beginner can tryout! Just by fireside on a cozy couch and spend only one hour with your crochet hook to crochet this very handsome looking cowl! A very handsome design of crochet cowl that will layer up with any winter outfit beautifully making you look stylish and fashionable at the same time! Further project details and free crochet pattern is here fynesdesigns
Free Crochet The Bixby Cowl Pattern: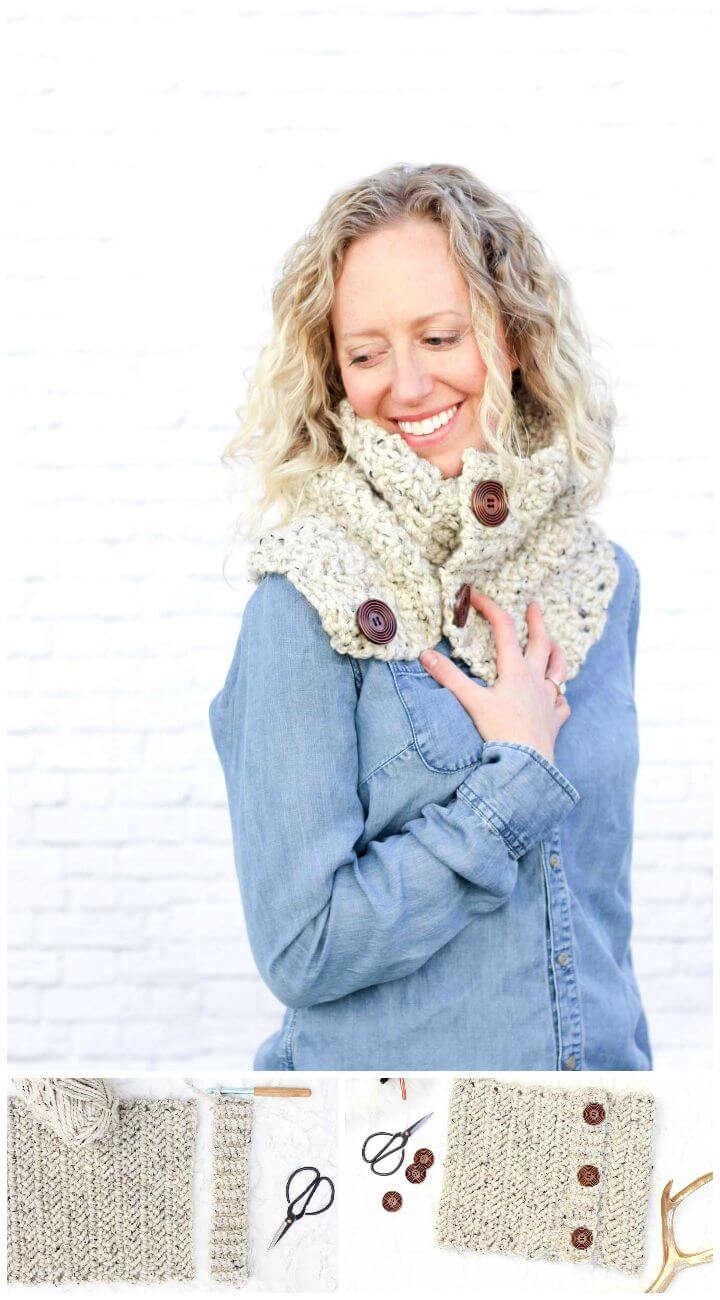 Neutral hues just rock for fall season and hence this crochet bBixbycowl would also be a perfect fashion accessory for fall fashion as it also comes in a neutral hue! This crochet cowl design has been embellished with custom button accents and hence gains tons of focal stimulation! Another handsome crochet cowl design here to inspire your hook! Further guides and free crochet pattern is here makeanddocrew
Easy Free Crochet Hat And Cowl Pattern: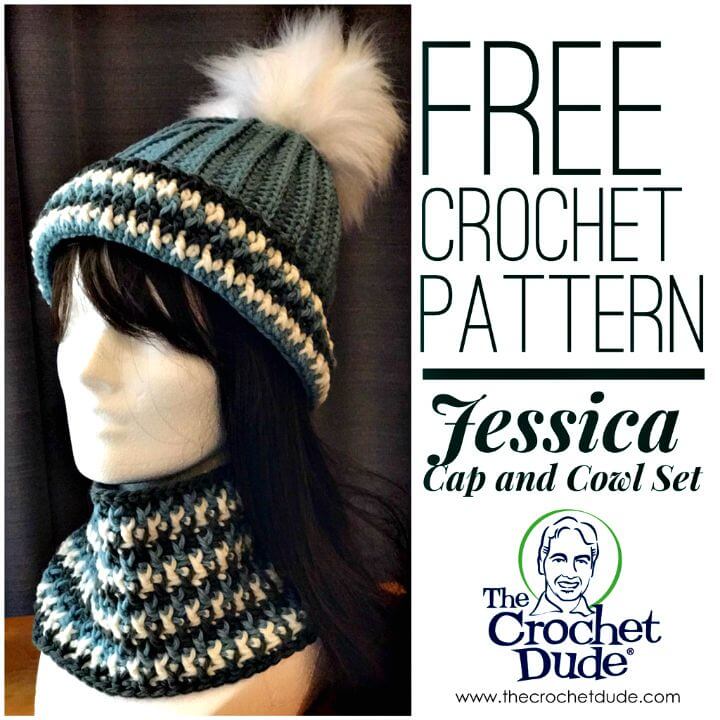 Only a handsome crochet cowl peeking out of a winter sweater, shirt or jacket can make you look adorable but if you wear also a special crochet hat matching to cowl that it would be like to create a super handsome personality of you in winters! So, if you are willing to do so then check out here this crochet hat and cowl set, crocheted to inspire and it comes with both ribbed design texture and with colorful yarn stripes! Free crochet pattern and tutorial is here thecrochetdude
Free Crochet Piece Of Cake Cowl With Caron Cakes Yarn Pattern: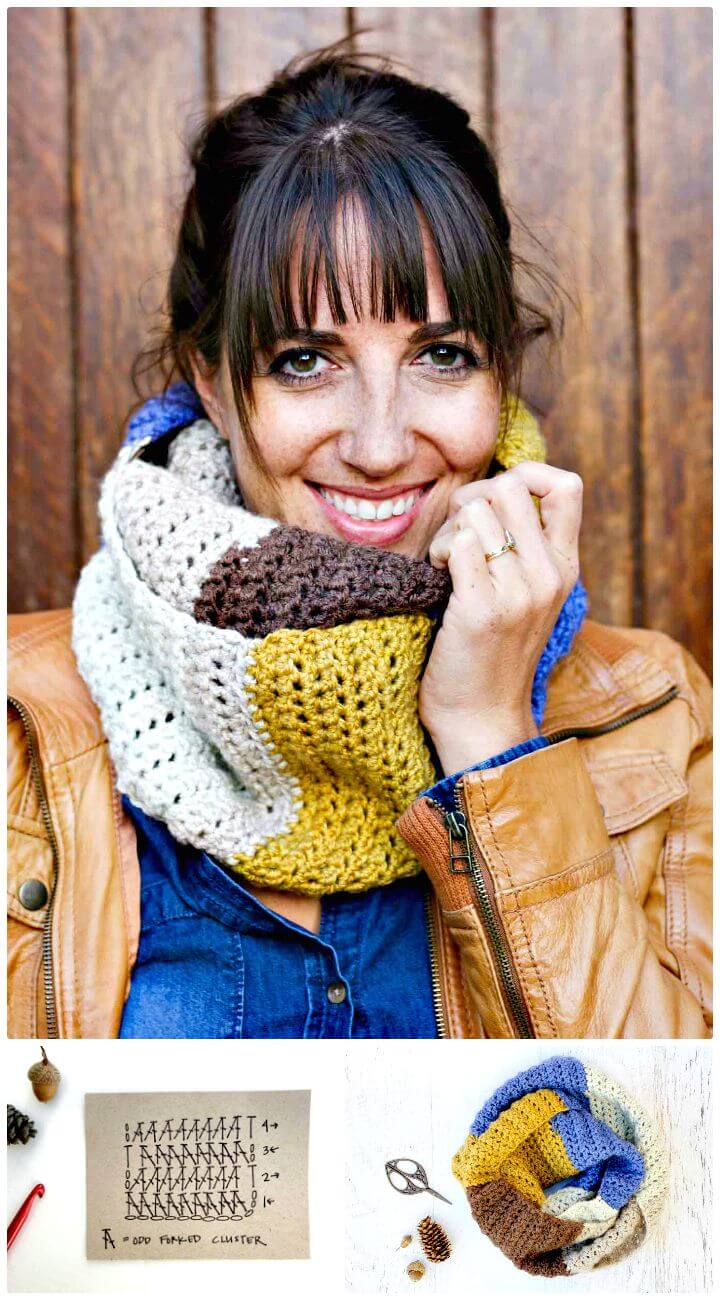 Here you are all going to praise the color block hue of this very special crochet cowl that is a piece of cake to crochet! The idea here is to crochet a big crochet loop that can be folded double to serve as a snug neckwarme! If you are all on a mission to boost your style and fashion this winter then this crochet cowl will really be a must-have winter accessory! Complete project details and free crochet pattern is here makeanddocrew
Free Crochet Primrose And Proper Cowl Pattern: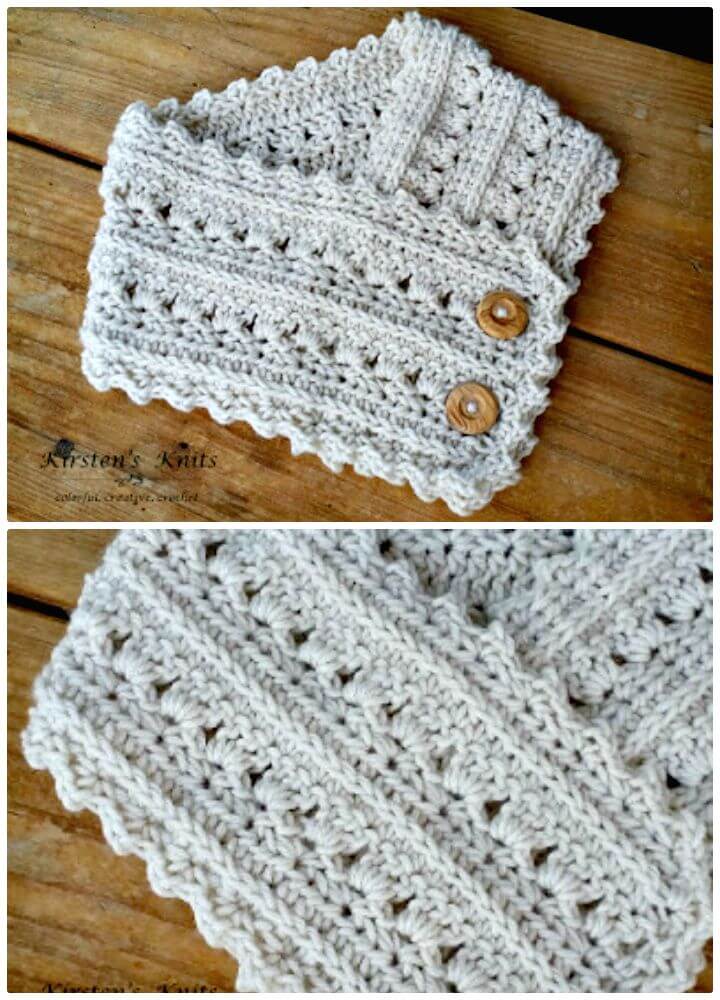 One more adorably cute crochet cowl is here that also features a neutral white hue! It is a little less chunky and has been given a dignified look by adding two wooden buttons! A perfectly stylish crochet cowl that is just perfect to give as a winter present to someone special! Here is how your crocheting skills can help you to boost your style! Free crochet pattern and guide is here kirstenhollowaydesigns
Free Crochet Wintergreen Ombre Cowl Pattern: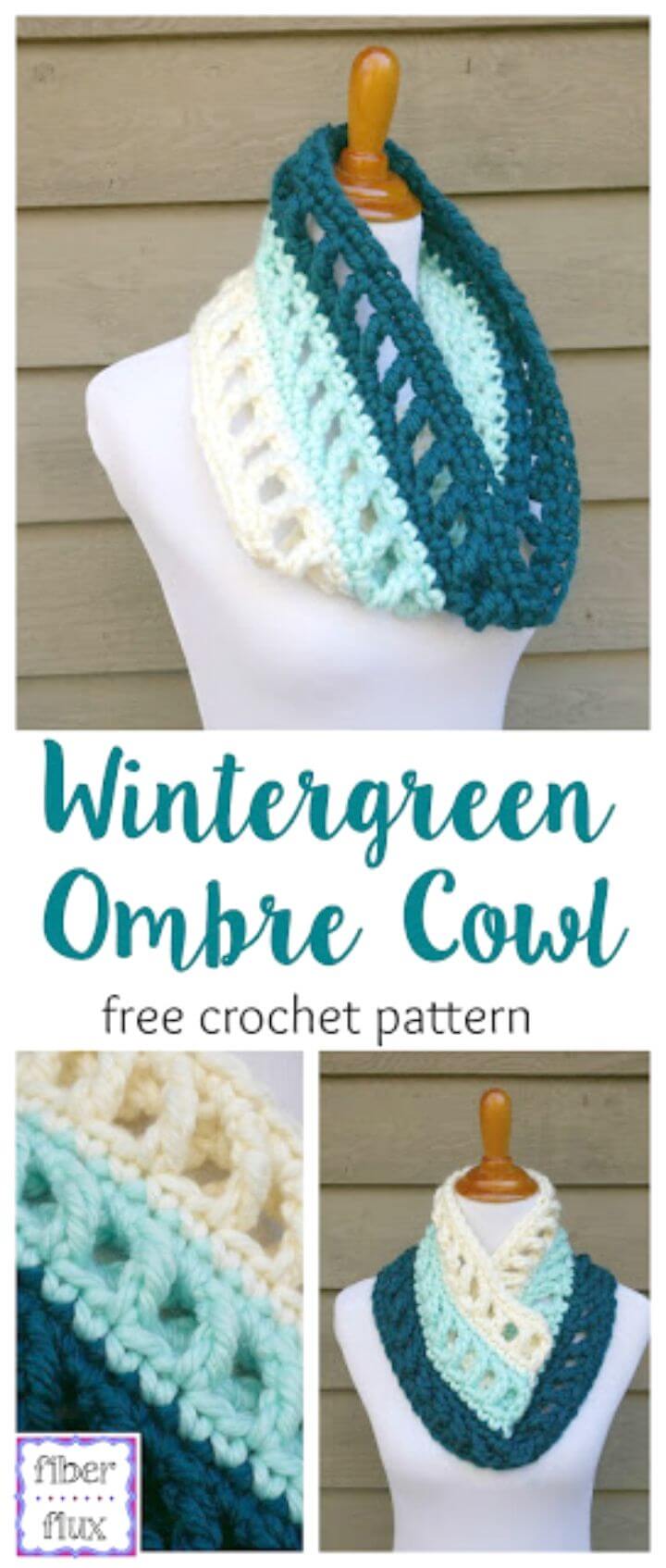 These are colorful hues of crocheted patterns that make them look extra beautiful! Same you are going to find this wintergreen ombre crochet cowl that comes in color green, light green and white and hence gains a perfect green ombre appeal! This is here another special crochet winter neckwarmer that will go eye-catching around your neck! Free tutorial and easy crochet pattern is here fiberfluxblog
Free Crochet Comfy Squares Buttoned Cowl Pattern: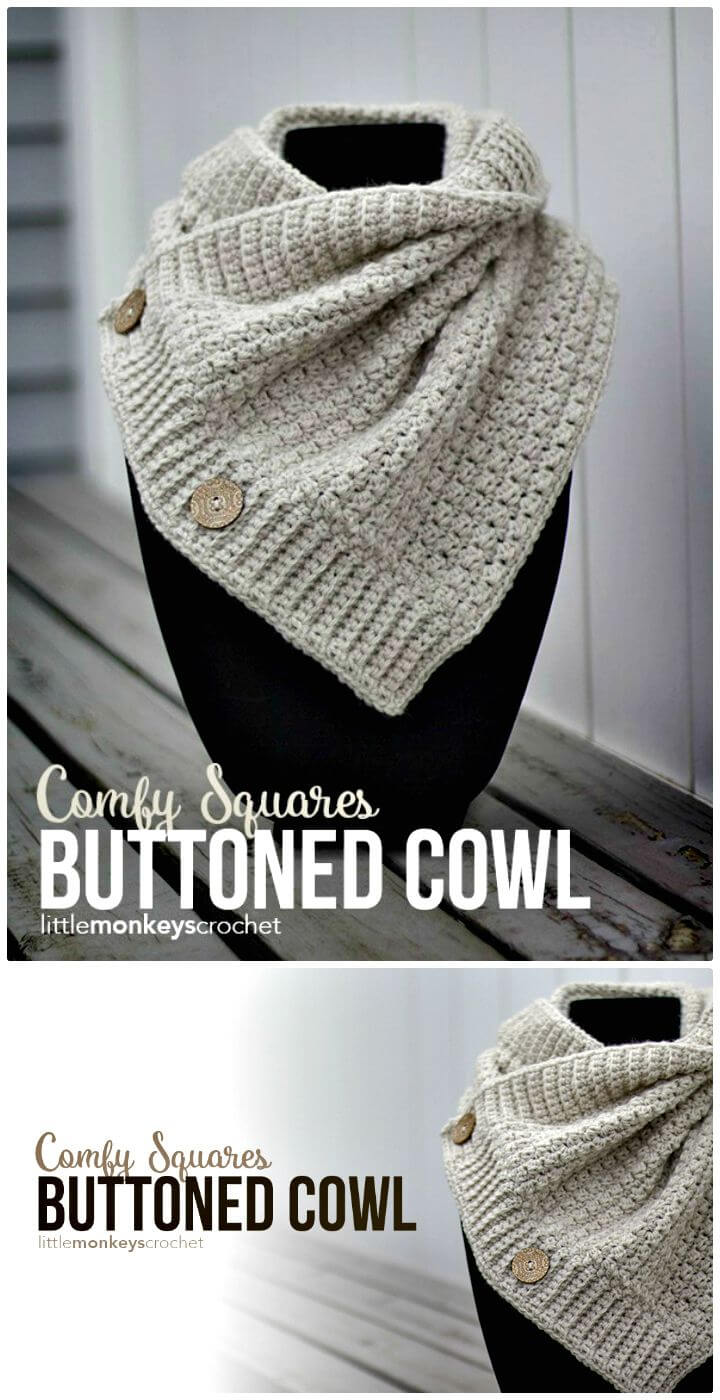 Fall in love with the square texture of this crochet cowl that is just perfect for all due to its neutral hue! The header and footer of this crochet cowl come with ribbed yarn texture that adds also tons of focal stimulation to this crochet cowl design pattern! It would truly be a big fun to crochet and it is all beginner friendly! Free crochet pattern and easy free guides are here littlemonkeyscrochet
Free Crochet Cross Hatch Button-Up Cowl Pattern:

Sorting out a simple and straightforward crochet cowl pattern? Just check out here this crosshatch button up crochet cowl that is pretty simple to crochet and is something that will make you well appealing this winter! Whether you are willing to enjoy the refreshing fall weather by walking outside or just intending to go for an extraordinary casual winter fashion, this crochet cowl will be rocking for every purpose! The wooden button finish put extra grace to entire design! Free crochet pattern and easy tutorial guide is here dabblesandbabbles
Free Crochet Textured Boho Cowl Pattern: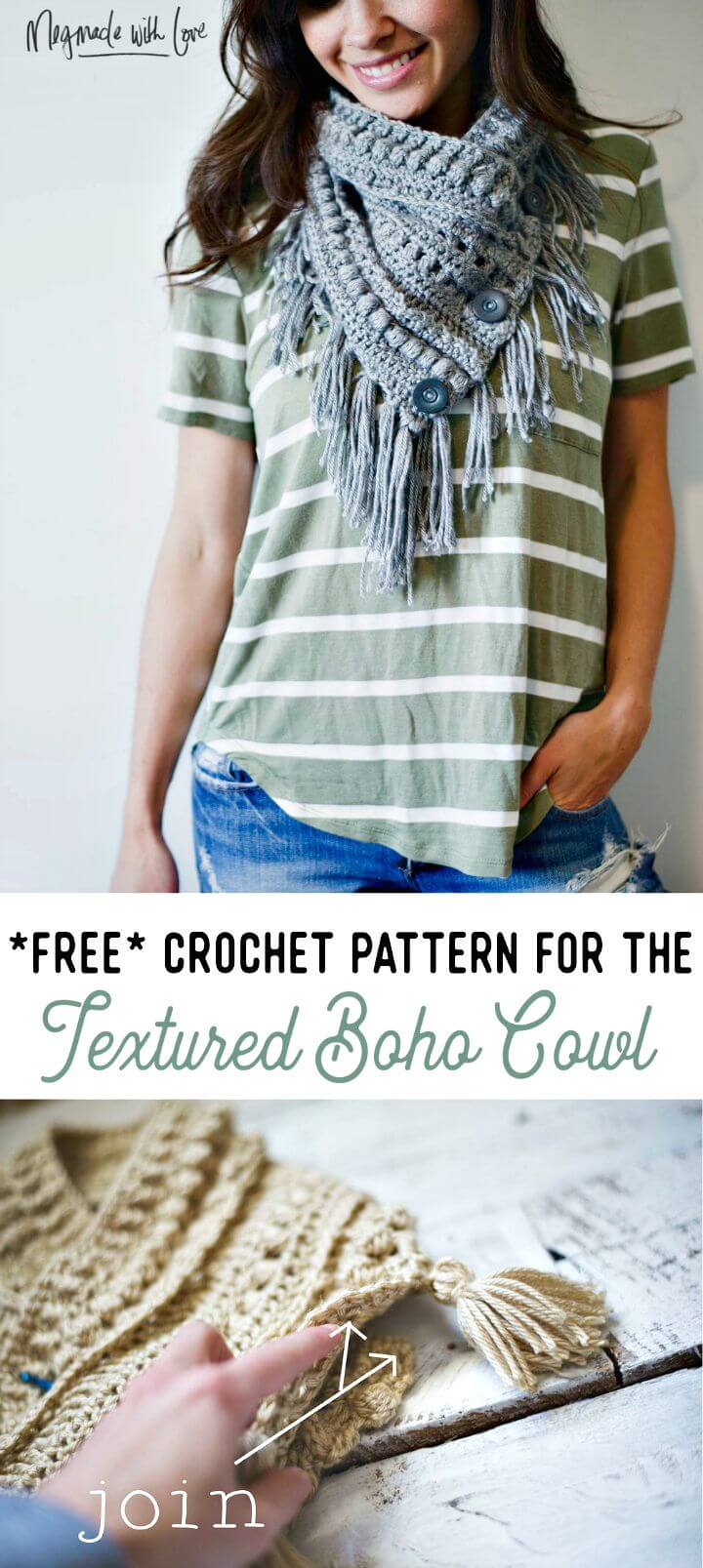 Look at this fetching cowl design that is inspired of bohemian fashion! The lovely textured boho cowl that is sure to give any style loving lady a nice draped neckline, it would also make an accent top layer to any winter jacket or sweater you are wearing! This what the girls need for cute looks this winter! Free crochet cowl pattern and tutorial is here megmadewithlove
Free Crochet Plaid Triangle Cowl Pattern: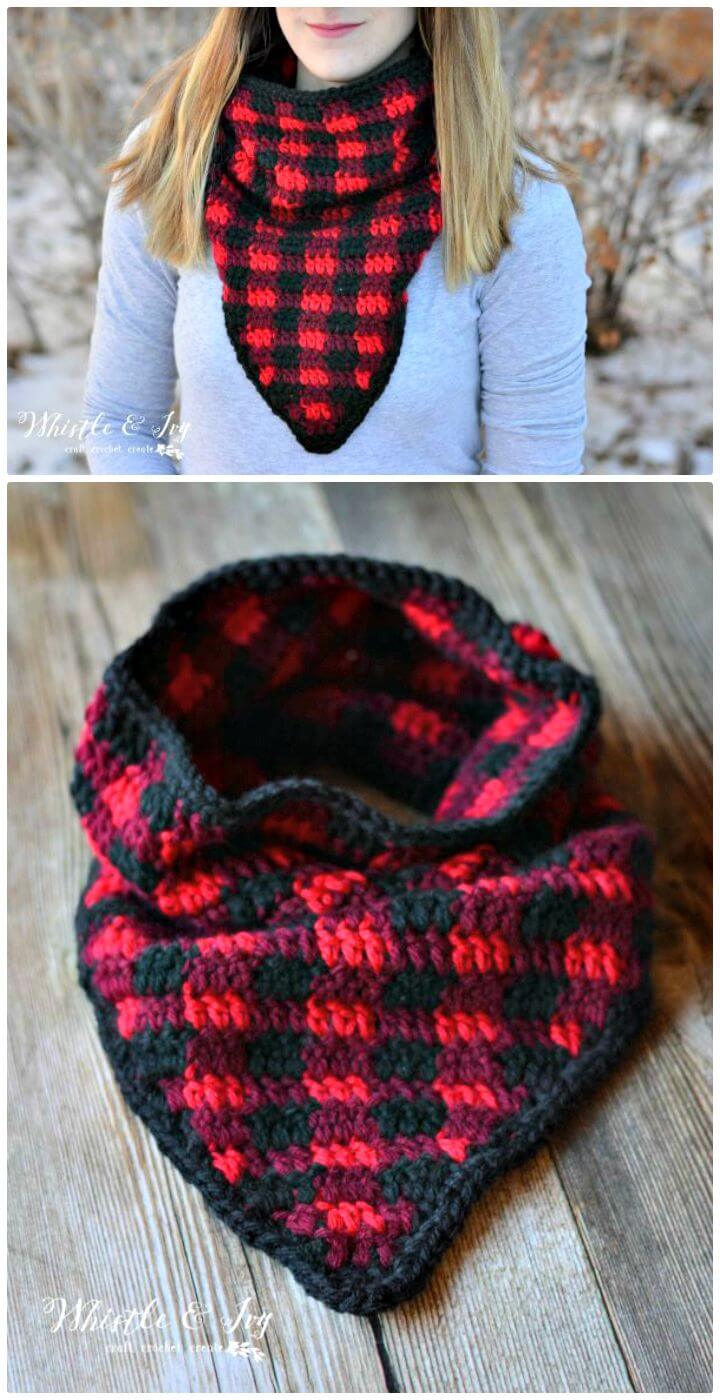 Fall in love with the alternate red and black squares of this crochet cowl that create an interesting and engaging appeal of it! This is here the plaid triangle crochet cowl, a perfectly stylish accessory to go for bigger winter fashion statements! This what you need to keep you neckline stylish warm this winter! Free crochet pattern and tutorial guide is here whistleandivy
Free Crochet Chunky Color Block Cowl Pattern: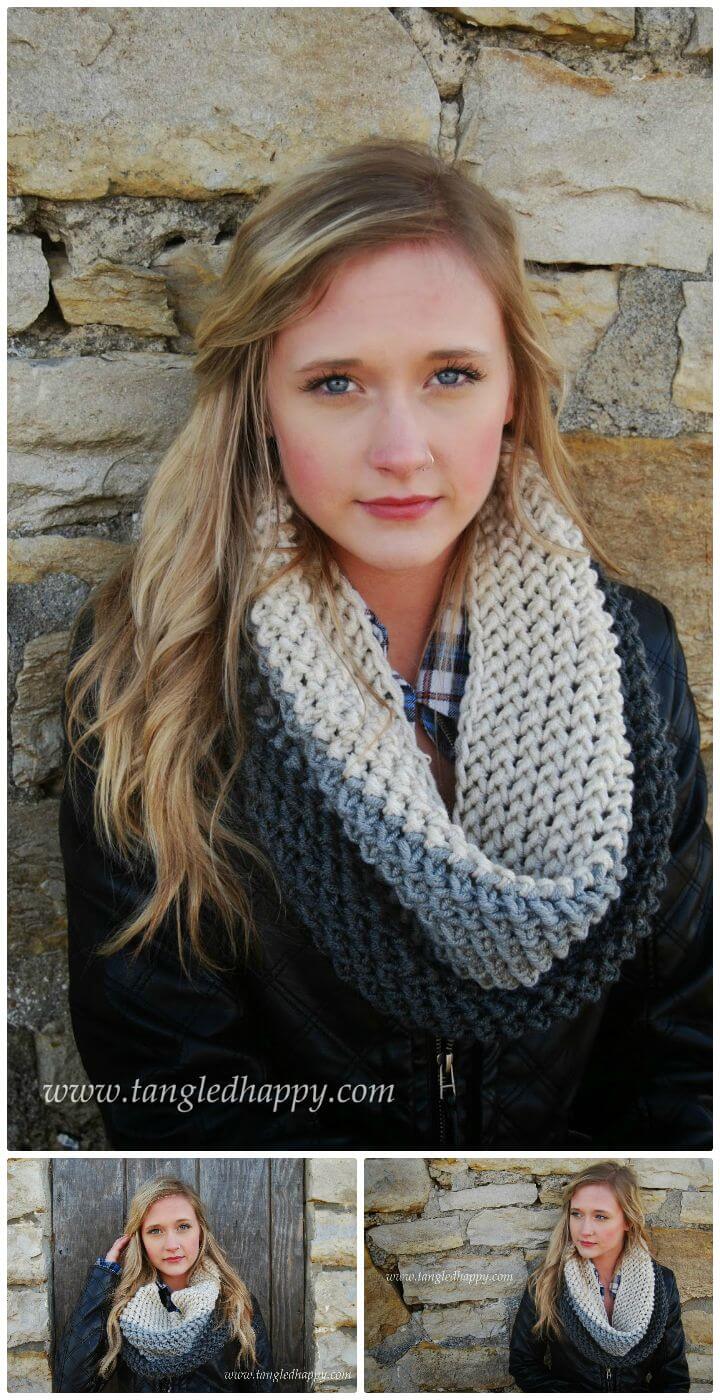 You should definitely go smart while choosing the yarn colors for a special crochet pattern as the whole charm and beauty of your finally finished pattern would depend on it! An amazing example here is this crochet chunky cowl that comes with a color block appeal and is really looking handsome in it! Time to catch more eye-balls this winter by creating a funky of you with this ombre crochet cowl! Further project details and free crochet pattern is here tangledhappy