Learn how to crochet a hexagon with these 18 free crochet hexagon patterns for beginners with step by step instructions and PDF pattern guide. It looks like the art of crocheting is really smitten by the fun geometric shapes and designs. After drooling over the cute and awesome crochet squares for ages, the crochet hexagons are doing the big rounds these days. The multiple hexagon patchwork can lead you to some super gorgeous and quirky patterns for your favorite crochet possessions. Here we have brought these 18 free crochet hexagon patterns to get your eyes and hooks fixed. Name a thing you want in crocheting, and these hexagon patterns can nicely yield it to you with pretty hues and lovely texture.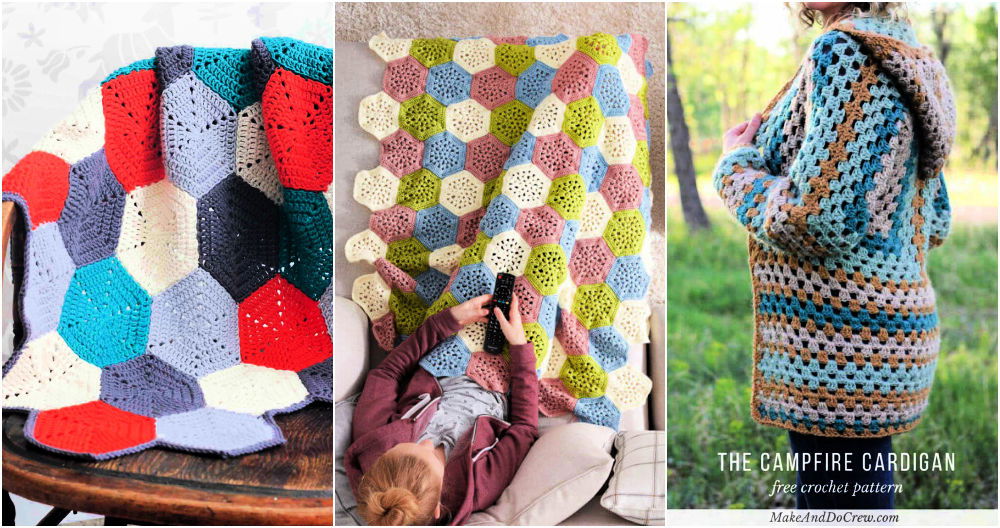 The best thing to make out of these hexagon patterns is a pretty and warm afghan or a throw blanket for your armchair and the sofa. Next, you can spruce up the charm of your sofa or bed setting with that adorable crochet hexagon heart pillow and that too in your favorite hues. Not only the patchwork of these colorful and cute hexagons is fantastic, but the single hexies look just utter rich on your walls as the gorgeous decor hangings. Rugs, tote bags, and coasters, there is just so much more to do with the crochet hexagon patterns. Explore all the crochet hexagon pattern fun right below!
How do you crochet a simple hexagon?
To crochet a simple hexagon, start by chaining 6 stitches. Join with a slip stitch to form a ring. Work 1 single crochet in each chain, then slip stitch to join the round. Chain 3 and work 2 double crochets into the same stitch. Repeat this 5 more times around the ring. Slip stitch on the last round then cut yarn and fasten off. You now have a completed hexagon!
How many hexagons do you need to make a crochet blanket?
The number of hexagons you need to make a crochet blanket depends on the size of your blanket. Generally, using between 100 and 200 hexagons for a single-sized blanket is recommended, while larger blankets may require more hexagons. It also depends on how closely you want the individual hexagon pieces to be connected in the finished blanket. If you want the individual hexagons to be very close together, you may need to use more hexagons than if they are farther apart. In any case, it is best to plan out the layout of your blanket and calculate how many hexagons are needed before starting your project.
This answer totals 60 words.
How do you whip stitch a hexagon in crochet?
To whip stitch a hexagon in crochet, you will need to start by making 6 single crochets into a magic loop. Make two single crochets in each stitch around the loop. Join with a slip stitch and chain one. Single crochet the next round, increasing each time at the corners of your hexagon to shape it properly. Join with a slip stitch and cut the yarn. Finally, whip stitches around the edges to close your hexagon.
How do you crochet hexagon squares together?
Once you have crocheted all the hexagon squares, join them in a chain. Make sure to use a slip stitch for each row. Start at one corner and work across, then turn your work and continue with another slip stitch in the same corner. Continue this pattern until you reach the opposite corner of the first hexagon square, then move on to the next square and join it to the first one. Repeat until you have joined all of your hexagon squares together.
Happy crocheting! 🙂
How to crochet hexagon squares?
To crochet a hexagon square, you'll need to start by making a chain stitch. Next, single crochet six stitches into the first chain stitch. Then, double crochet two stitches in every single crochet stitch from the previous row. Repeat this until you reach your desired size, and finish off with a slip stitch. Finally, fasten off and weave in any loose ends. With some practice, you'll be making hexagon squares like a pro!
How to crochet a hexagon granny square?
To crochet a hexagon granny square, begin by making six chain stitches. Join the end to form a loop and make three double crochets in the center of it. Now chain two and make two double crochets in each chain stitch around. Repeat this round twice more, making three double crochets in every other stitch in the third round. Fasten off and weave in ends to complete your hexagon granny square.
What is the best hexagon crochet pattern?
The best hexagon crochet pattern depends on your skill level and design preference. For beginners, a basic hexagon pattern is great for practicing the fundamentals of crochet, while more experienced crocheters can use complex hexagon patterns with intricate stitches or create their own unique designs. Many free crochet hexagon patterns are available below for all skill levels. So grab your crochet hook and explore the possibilities!
How much yarn do I need to crochet a hexagon Afghan?
The amount of yarn needed for a hexagon Afghan will depend on the size you are making. Generally, hexagon Afghan requires about 3750-4125 Yards of Yarn Weight 1 and 3000-3500 Yards of Yarn Weight 3. If you're using heavier-weight yarn, you may need less yardage per hexagon. Plan accordingly and have plenty of yarn on hand before starting your project!
What can you do with a crochet hexagon basket?
A crochet hexagon basket is a versatile and attractive way to store items. You can use the basket to hold your keys, jewelry, trinkets and other small items. It's also great for adding texture and color to any room in your home. You can even hang them on the wall for decoration or for a unique way of displaying your favorite items. Moreover, you can use these baskets to store fruits and veggies or make a larger one to store blankets and pillows. The possibilities are endless!
Is This crochet hexagon granny square scarf pattern easy?
Yes, this crochet hexagon granny square scarf pattern is easy to follow. With detailed instructions and clear photos, it's suitable for beginners or experienced crocheters. The stitch combinations used are simple but create a stunning effect when combined. It's an enjoyable project that adds style and color to your wardrobe! Give it a try, and you'll be amazed at the results. It's a great way to express your creativity!
1. Crochet Heart-Shaped Hexagon Pillow Pattern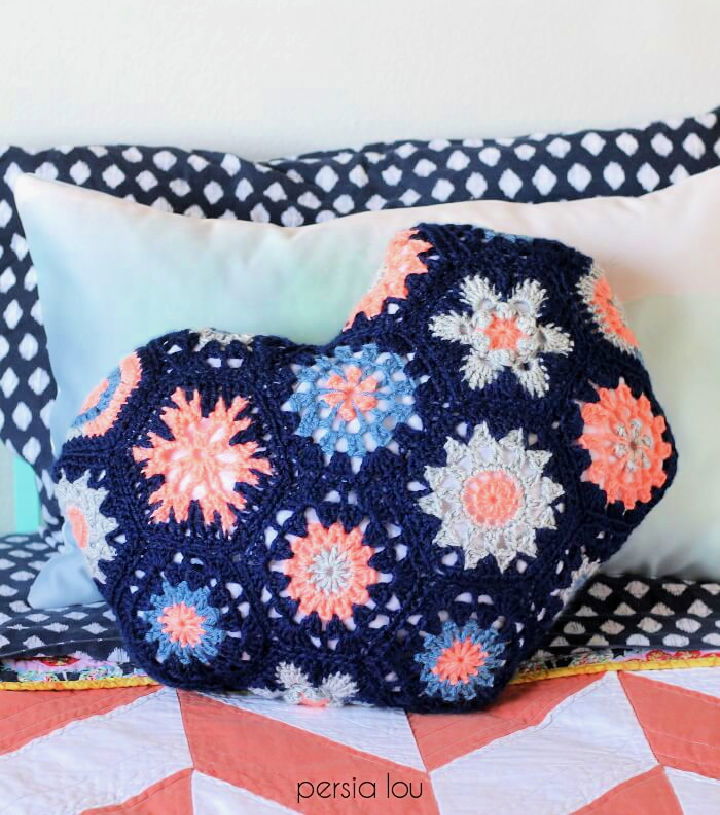 It's time to bring some geometric fun to your crochet projects, and this hexagon heart pillow is just perfect. The gorgeous blue heart-shaped pillow has colorful hexagons to make it look just so exciting beautiful. The pillow would look super cute resting on your sofa seats. Free pattern here persialou
2. Crochet Happy Hexagons Afghan Pattern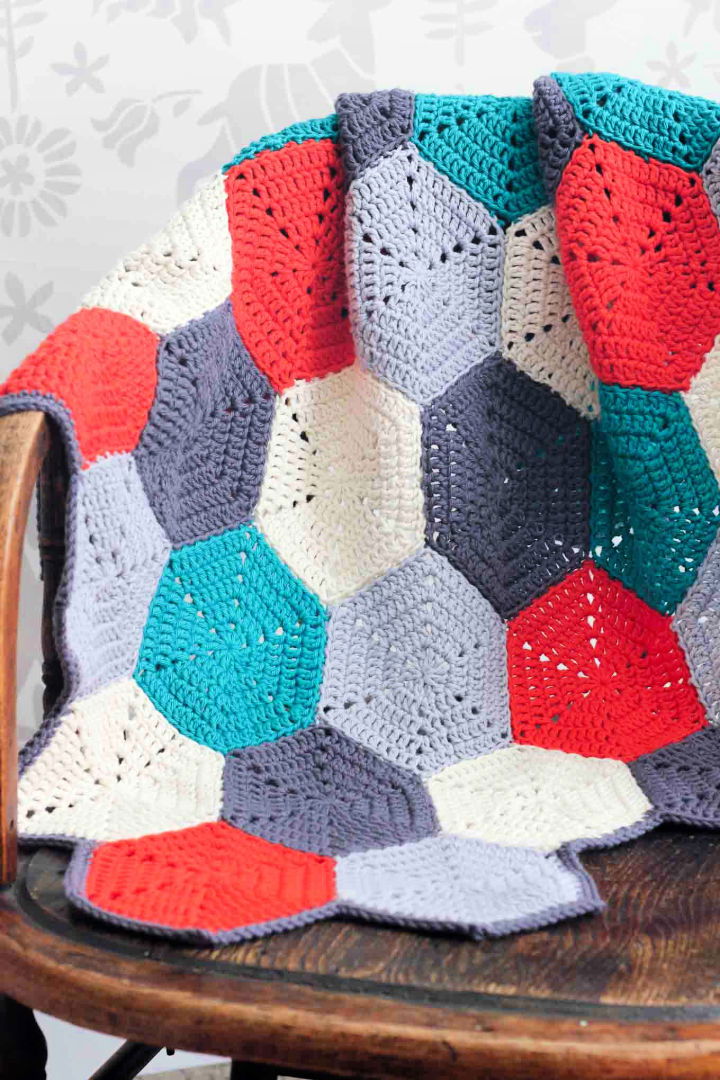 We love making gorgeous and colorful crochet Afghans, and this crochet hexagon afghan is the best thing to get your hands on this time. The giant-sized hexagons have been yielded in multiple hues and then sewed together to shape up this fantastic looking afghan. Get the free pattern here makeanddocrew
3. Hexagon Puff Seat Cushion – Free Crochet Pattern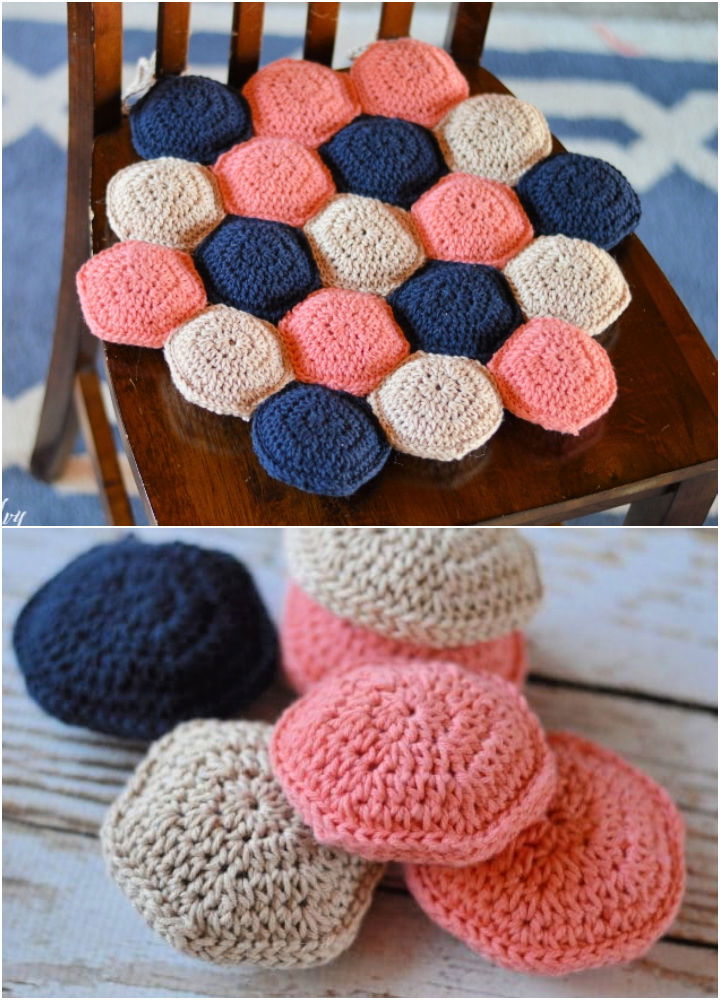 Make your wooden chairs more gorgeous and soft to sit in with these crochet hexie seat cushions. The little hexagons in gorgeous yarn hues have been crocheted and puffed up to feel soft when you sit on it. You can make and gift to your favorite people too. Free pattern lying here whistleandivy
4. How To Crochet Chunky Hexie Rug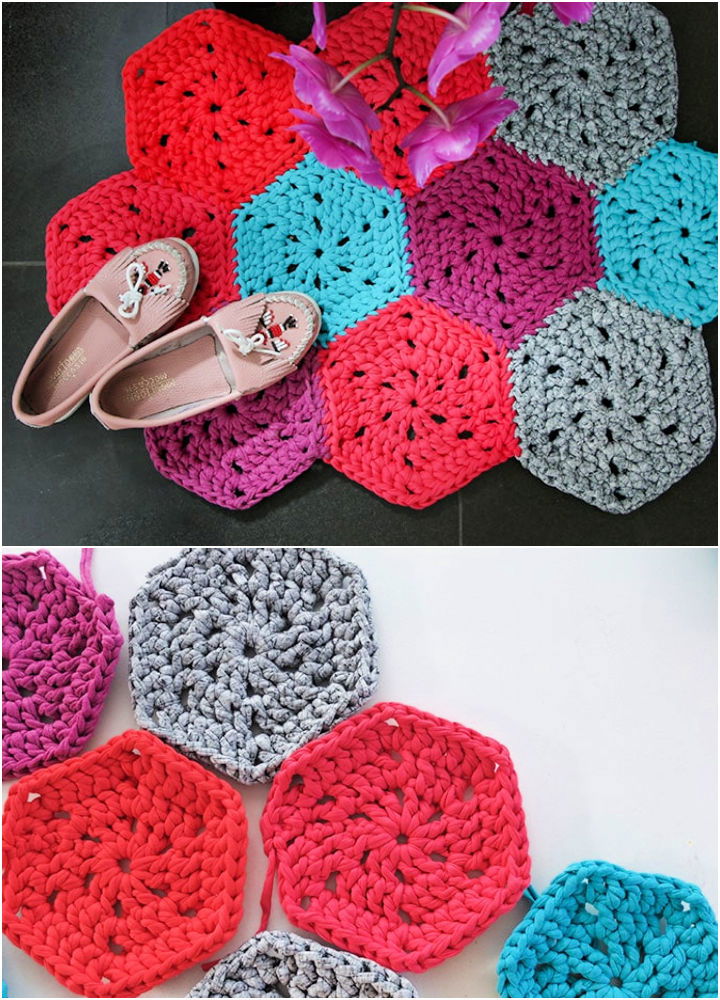 Bring the intimacy of colors to your summer home with this adorable and super cute crochet chunky hexie rug. Grab all the bright and summer-friendly yarn hues to shape the hexagons, and then install this lovely rug out of them. Follow the free pattern here mypoppet
5. Crochet Granny Hexagon – Free Pattern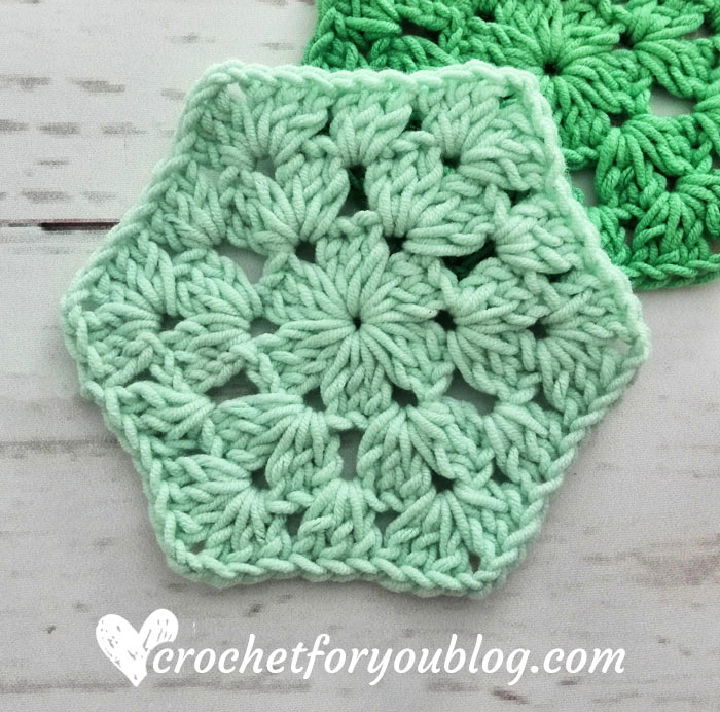 We love making granny squares, but it's time to twist up this crochet tradition and make these adorable crochet granny hexagons this time. You can bust all your yarn stash to do this fun project. The hexagons can be used for so many purposes of the décor and embellishing around. The free pattern is here crochetforyou
6. Caron Crochet Hexagon Afghan Pattern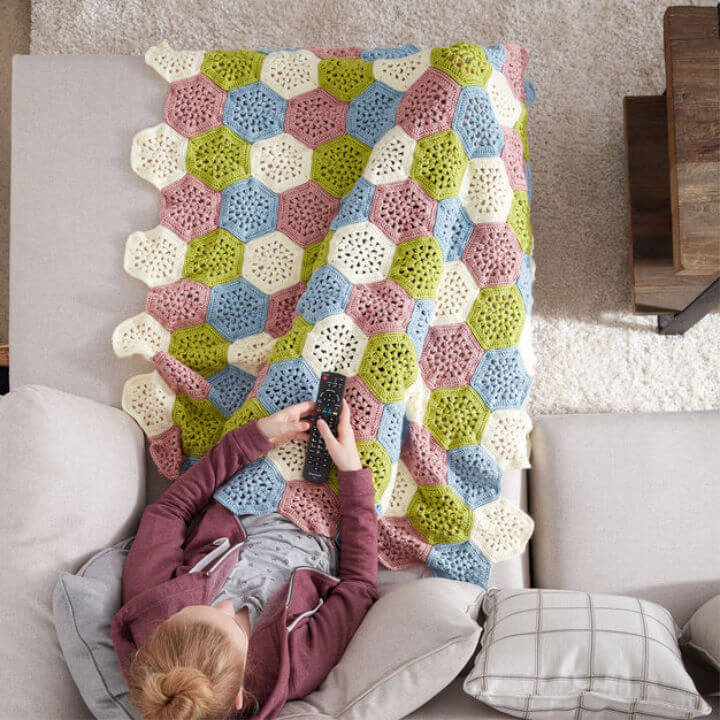 Your winter lounging would be much more fun and relaxing when you have these free crochet hexagon afghan to wrap around. The cute and colorful hexagons have the gorgeous appeal and texture to be lent to your afghan. You can make it for the kids too. Details and free pattern here yarnspirations
7. Free Crochet Starburst Hexagon Pattern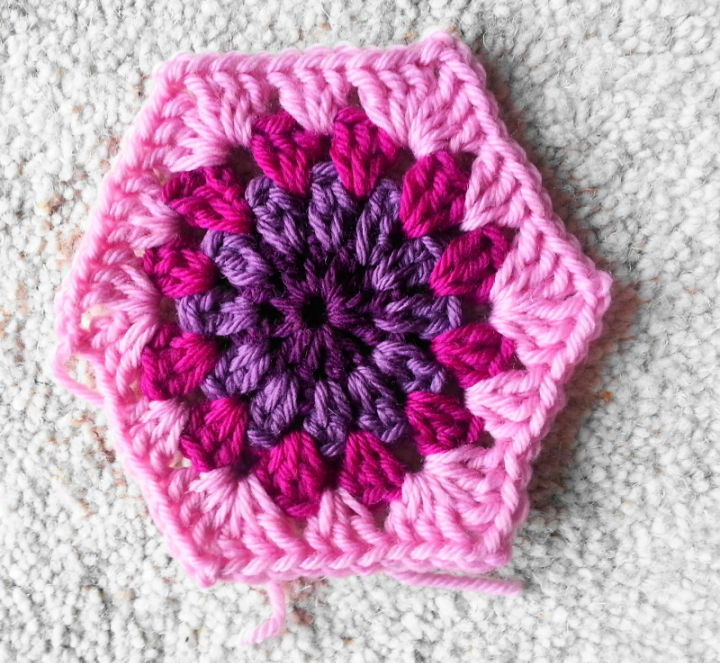 Creating the colorful hexagon pattern is the new rage in the crochet world, and you can twist it up too. With the colorful crochet starburst stitch pattern, your hexagons will turn out just so gorgeous and fun. You can use these textured crochet hexagons for a lot of crochet projects. Free pattern here lavenderwild
8. Star Lily Crochet Hexagon Pattern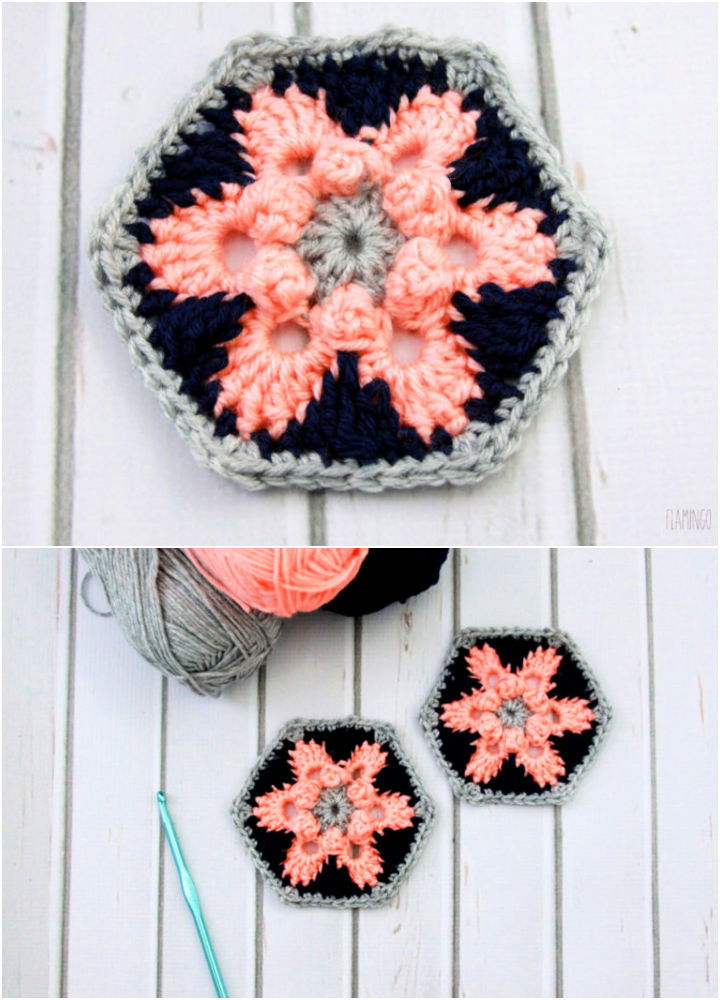 You are surely going to lose your heart to these visually delightful crochet star lily hexagons. The color combination and the fusion of the stitch pattern really make these hexagons stand out. You can follow the hexagon pattern with the star stitch inside but with your favorite color combination. Details here flamingotoes
9. Crochet Snowflake Hexagon Pattern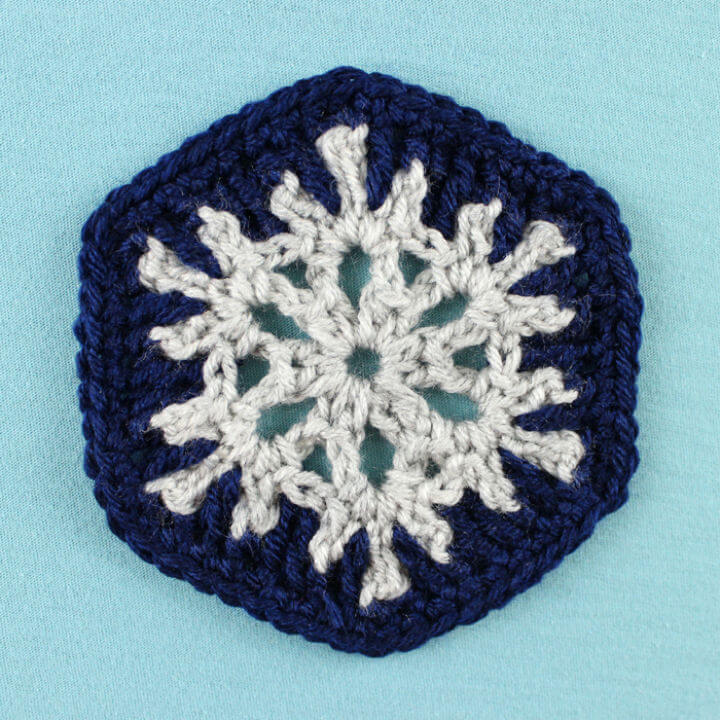 If you have ever observed a snowflake closely, you would be amazed to know the creativity and the art having been put in its pattern by nature. It's time to get inspiration from this beauty of nature and crochet up these adorable and cute crochet snowflakes and that too in hexagon pattern. Learn the pattern here gleefulthings
10. Hexagon Wall Hanging – Free Crochet Pattern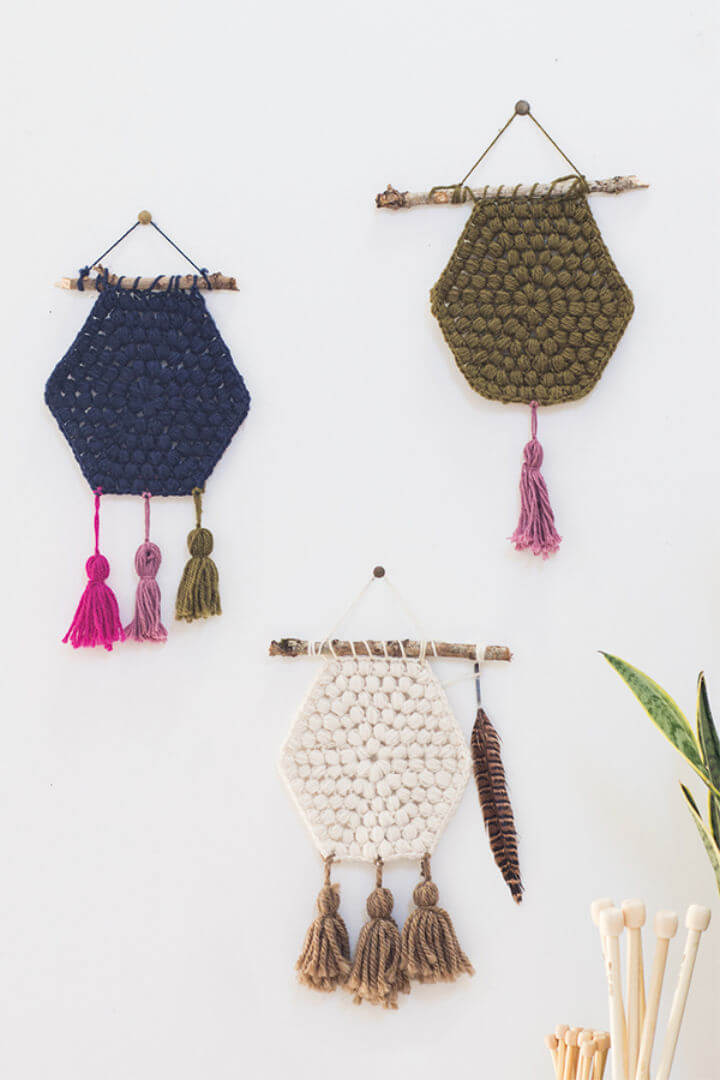 These hexagon wall hangings are just absolute beauties to bring the air of fresh décor and styling to your summer home. Just grab some chunky yarn to shape up these biggie hexagons. Wood branches have been used to hang them over the walls with hanging tassels of pretty colors at the bottom. Free pattern here molliemakes
11. Crochet Strawflower Hexagon Tote Pattern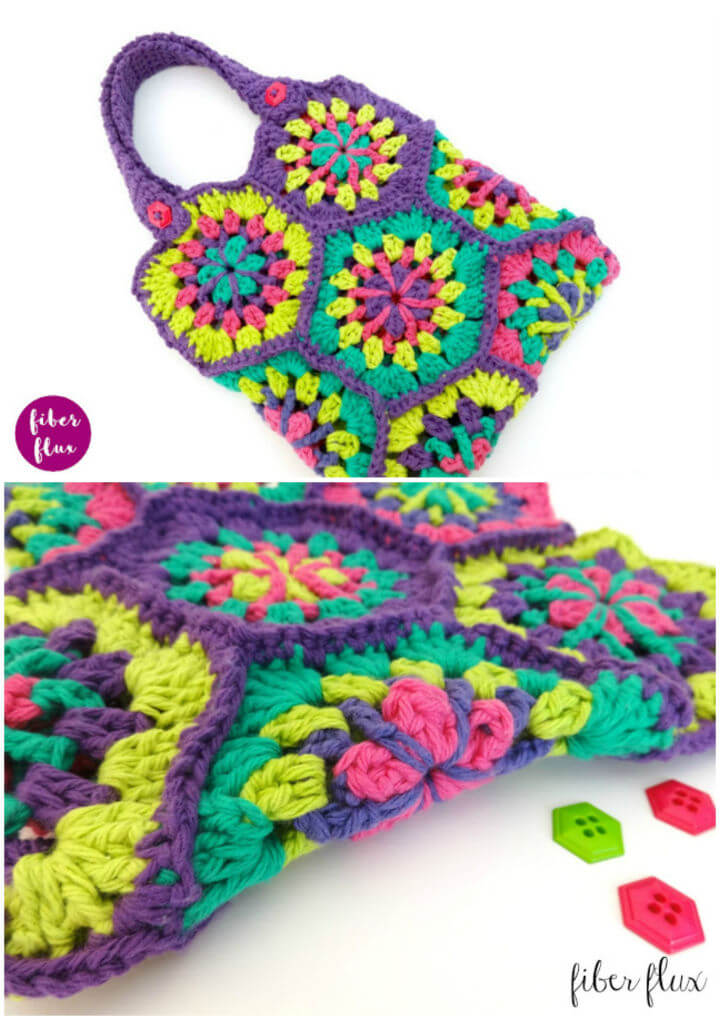 Another gorgeous crochet project is here to make your drool over it. Yes, we are talking about this pretty crochet strawberry hexagon tote that you can easily make at home. The colorful yarn hues, the starburst stitch, and the hexagon pattern make this tote turn out glam and gorgeous. fiberflux
12. Simple Solid Hexagon Crochet Pattern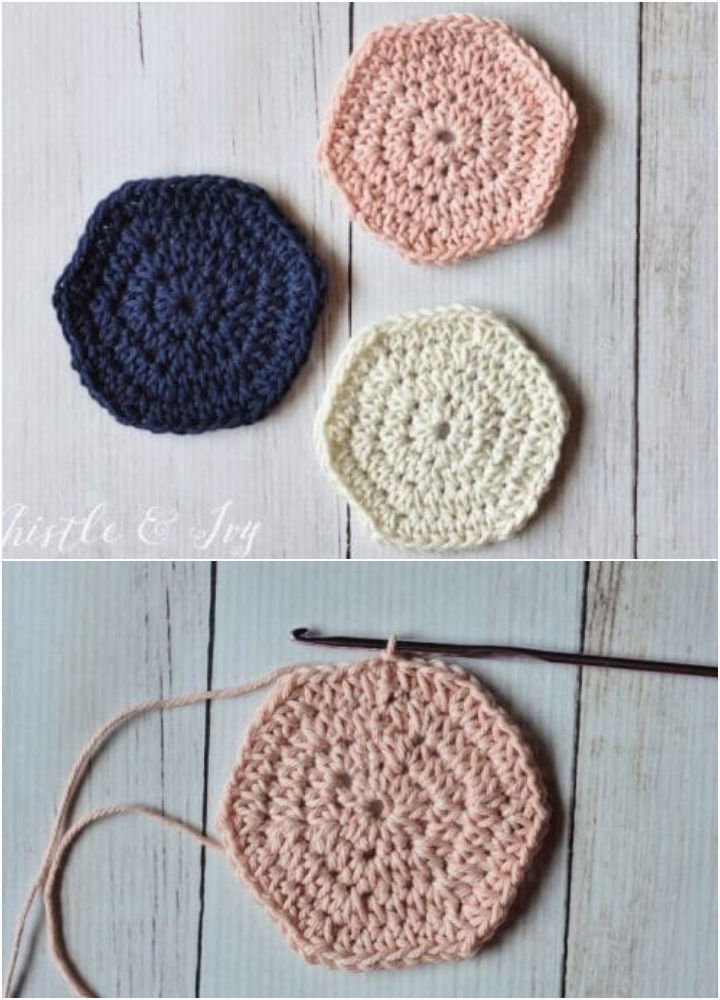 Here are these simple and solid crochet hexagons to be made in your next crochet project at home. This project would be a great way to get rid of all our yarn pieces from your previous crochet projects. You can use these variedly hued crochet hexagons as the coasters for your winter tables. whistleandivy
13. Crochet Hexagon Campfire Cardigan Pattern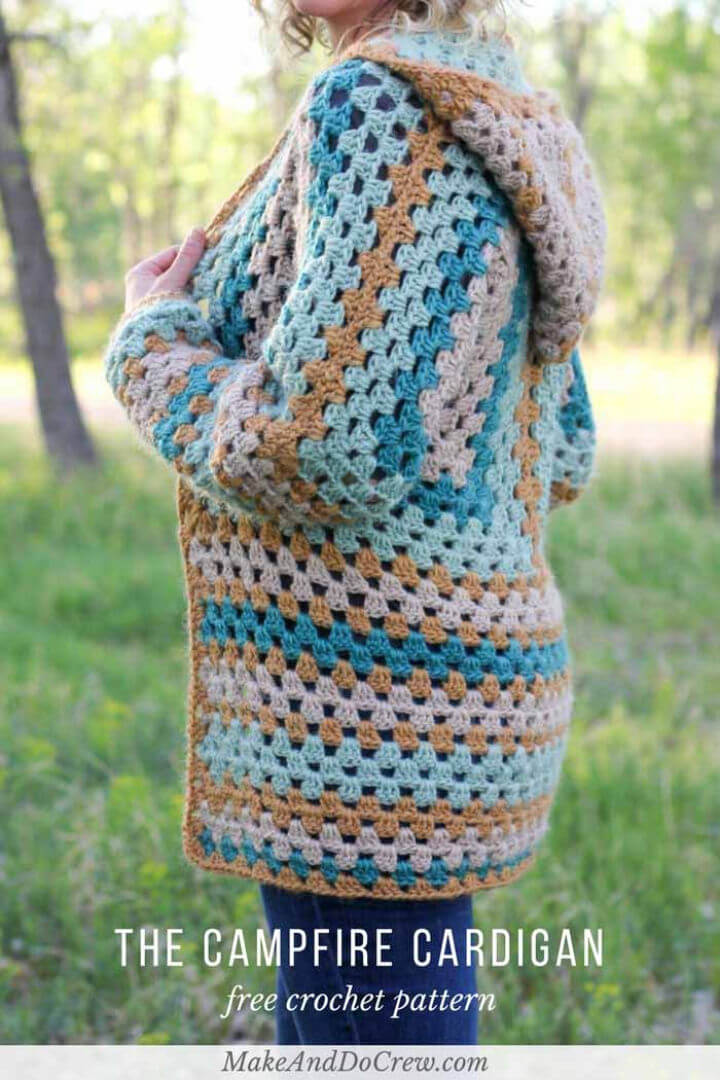 Hexagon is the new shape and pattern that the crochet world is going crazy about these days. So if you need a sweater, make this adorable crochet hexagon sweater with pretty yarn hues of your choice. The chunky pattern of the sweat you in the late fall and on the cool summer evenings too. makeanddocrew
14. How to Crochet Hexagon Wall Hanging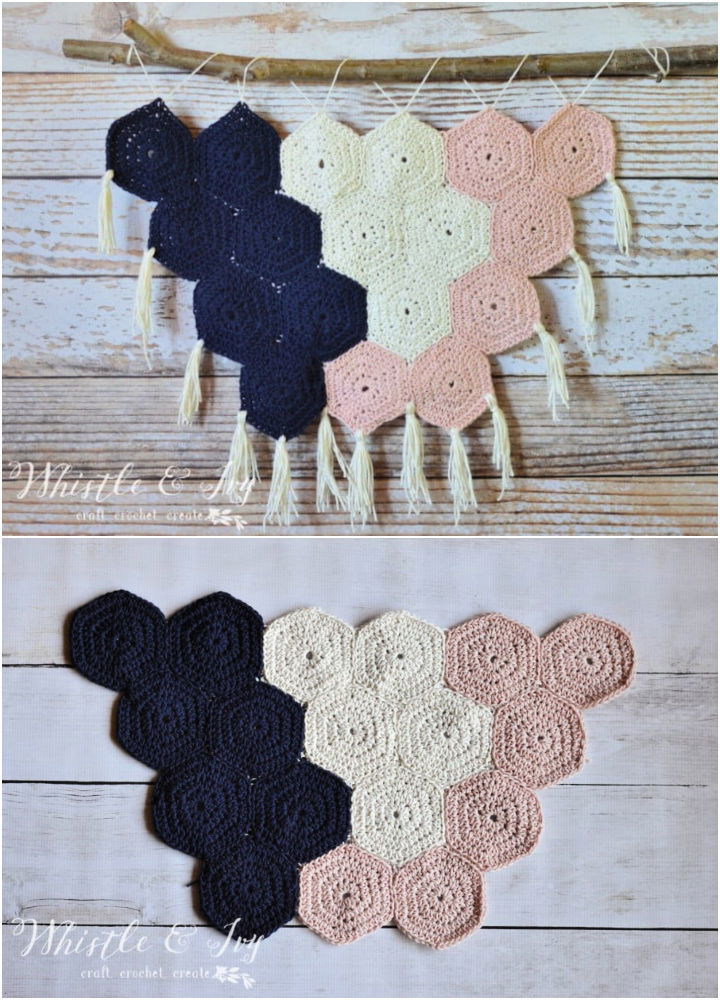 Crocheting is not only for sweaters and scarves, as you can do a lot with this art. Here is the pretty crochet hexagon wall hanging to bring oodles of charm and beauty to your spaces. The combination of light pink, dark blue, and the white hexies have really adorned this wall hanging a lot. prettyprovide
15. Crochet Hexagon Motif – Free Pattern
Making crochet motifs is so much a smart idea as you can use them for many projects around when needed. So add this pretty and simple crochet hexagon motif to your other crochet motif collection too. You can get your hands on the free pattern here crochetncreate
16. Dahlia Hexagon Crochet Handbag Pattern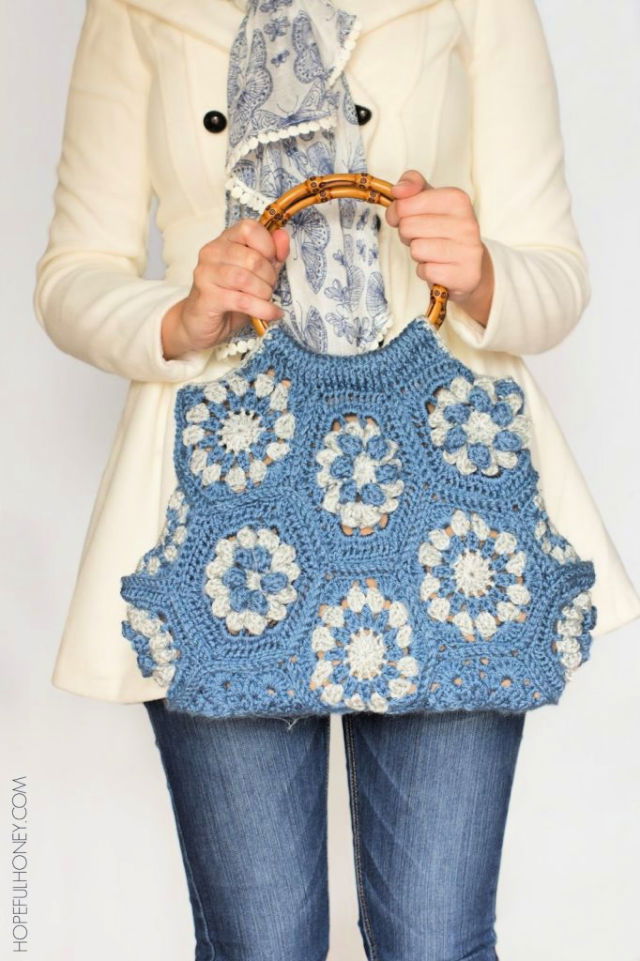 Flowers are the most adorned things when it comes to seeking inspiration for crochet patterns. This gorgeous handbag is inspired by the dahlia flowers but with a twist. Yes, these crochet dahlia flowers have been done in funky hexagon shapes instead of the round shape. Free pattern lying here hopefulhoney
17. Crochet Hexagon Granny Cowl – Free Pattern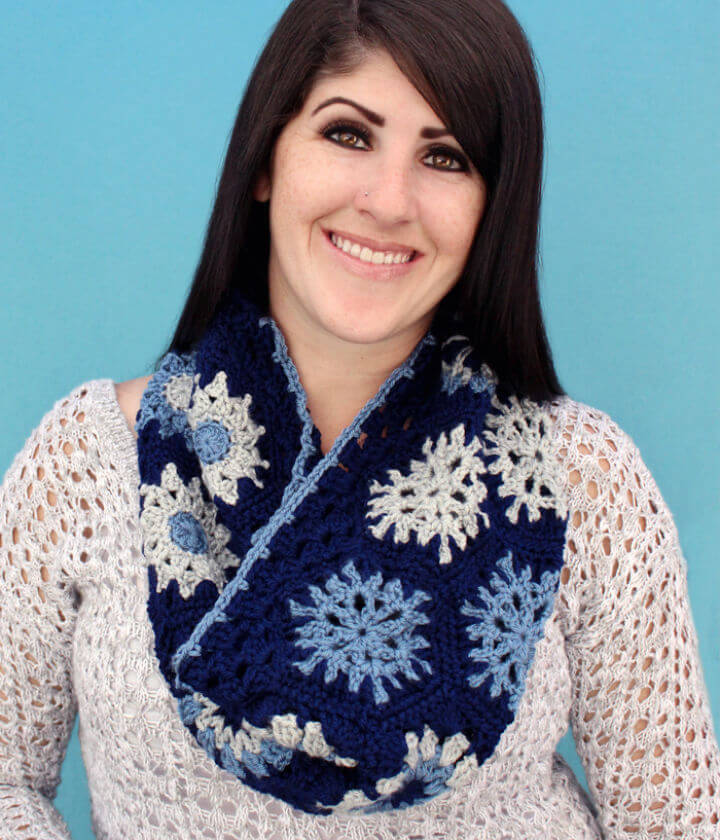 Why should we make a simple and boring cowl when you can easily twist up the cowl with some added hexagons? Yes, this blue cowl looks just so tempting and beautiful with the light blue and white hexagons being introduced in the pattern. The free pattern is here gleefulthings
18. How To Crochet The Vintage Swirly Hexagon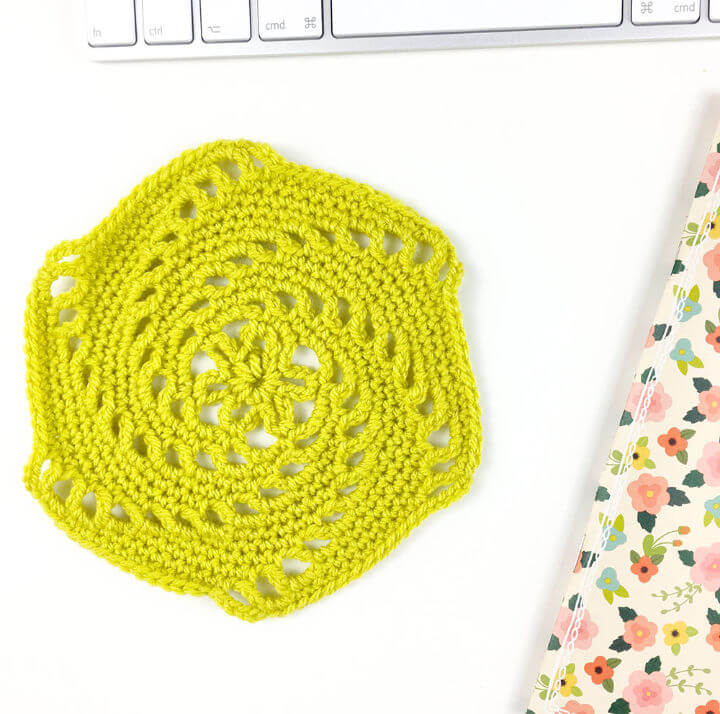 Here we have another gorgeous hexagon to win your heart and get a slot in the next crochet to do lits. The vintage style swirly design has been created but in the pretty hexagon pattern to turn out just so tempting and cute. You can follow the free pattern here potterandbloom
Related DIY Projects and Ideas
Crochet Pillow Patterns: Crochet is a fun, popular craft that makes for great gifts and decorations. These free crochet pillow patterns offer a range of styles & designs to suit any home decor.
Crochet Afghan Patterns: Learn how to crochet an afghan with these easy free patterns. These crocheted afghans are timeless, functional and can be made in a variety of sizes and colors.
Granny Square Patterns: Discover different but easy crochet granny square patterns for all skill levels. Crochet larger squares, or use the free patterns as a foundation for your own unique designs.
Crochet Bag Patterns: Crochet tote bags are perfect for any event or outing, especially if you're looking for a summer bag that is easy to carry and stylish. Browse our list of free crochet bag patterns and find the one that suits your personality.
Crochet Cardigan Patterns: These free crochet cardigan patterns are quick and easy to make, can be designed in any color or style, and are perfect for almost every occasion. Get your crochet cardigan today!
Crochet Coin Purse Patterns: Get your hands on these free crochet purse patterns and make a new accessory for yourself! These are all very simple to create, so they won't take too long.
Hooded Cowl Patterns: Learn how to crochet a hooded cowl for yourself or for someone on your list. These are the best free crochet hooded cowl patterns you can find online!
Conclusion:
Now that you know more about hexagon crochet patterns, which ones will you try first? We have plenty of free crochet hexagon patterns for beginners, so take your pick and get started today! Whether you're a beginner or an experienced crocheter, we have the perfect pattern for you. And if you're unsure where to start, our step-by-step instructions and diagrams will guide you through each stitch so you can create beautifulhexagon projects in no time. So what are you waiting for? Download our free PDF hexagon crochet pattern now and get started on your next crochet adventure!