Are you looking for a unique crochet project to take on? Look no further! With 28 free crochet donut patterns, you can crochet a variety of delightful donuts that range from pillow and cushion forms to jewelry and amigurumi.
Plus, with free crochet donut pattern, the possibilities are endless – Your crochet project will look good enough to eat! Put your crochet skills to the test, and try out these free crochet donut patterns today.
1. Crochet Giant Donut Cushion Pattern
You do not have to crochet the traditional things like scarves, caps, baby booties, etc. There are so many unique things to get your crochet hooks on just like these giant crochet donuts. You can crochet these big round donuts in any of the colors you like and let everybody in the family have to display them in their rooms. Check out the easy and fun pattern of this lovely donut here gathered
2. How To Crochet Donuts – Free Pattern
Donuts are the sweet delights for everyone, especially for the kids, so why not make them a cozy part of their room decor. SO here is the pretty idea of creating colorful and cute donuts for the babies, spruce up the decor of their spaces, and giving them new things to have fun with. You can learn the easy pattern and stitch details of these adorable donuts here helloyellowyarn
3. Crochet Donut Amigurumi Pattern
If you need a pincushion, then here is the idea of this cute and pretty donut-shaped cute pin cushion to be a lovely part of your crafting table and your other crafting supplies. You can combine any of the two shades of yarn of your choice to get this adorable donut pin cushion, which would also make a cute gift for the crochet lovers or that lovely seamstress in your family the friends. Get the free pattern and the details of the project here crobypatterns
4. Crochet Donut Pillow – Free Pattern
A comfy and cute pillow is all we need to have a sound sleep at night, so here is this unique idea of creating a donut styled pillow for yourself or any other family member of the house. These colorful round pillows would look absolutely fun and beauties resting on your beds and creating a chic and pretty look. You can choose any of the colors to crochet the donut pillow of yours for more custom results. Free pattern here christineswilliams
5. Crochet Amigurumi Frosted Doughnut
Those yummy and sweet donuts are just so damn hard to resist for being so delicious, and so they are for the decor of your spaces when beautifully crocheted. Here are these lovely crochet donuts with the frosting effect that you can use to spruce up the decor of any of your spaces, be it a kitchen, living, or the kid's room. You can personalize them with the yarn shades of your choice to enjoy their possession more. Find the free pattern and stitch instructions here lionbrand
6. Easy Crochet Donuts Pattern
The delicious donuts with the colorful sprinkles and frosting are not only delightful for the tongue but the eyes too for being so beautiful and colorful. So you can use them as the perfect inspiration and create this sweet bunch of donuts to use in your home decor for a charming and fun display around the house. Size and colors are your choices to get the perfect turnouts. Grab the details of the pattern and the stitch here littlethingsblogged
7. Crochet Doughnut Coasters And Holder Set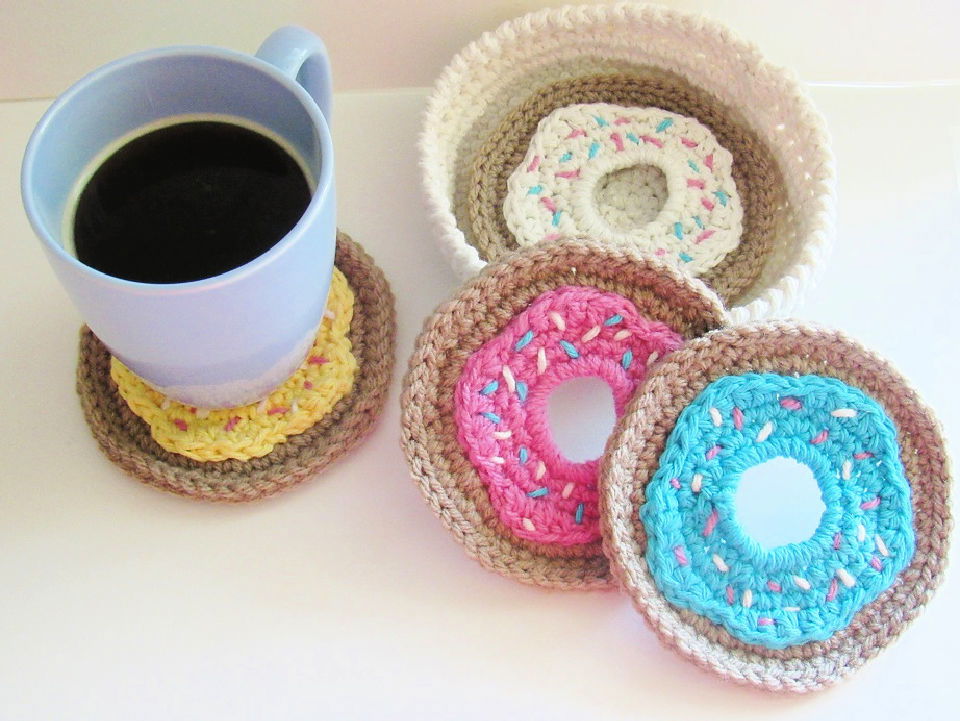 Crochet coasters are just so much in fashion, and they are utterly functional, too, as they are capable of soaking much of the drinks and coffees. So to get the perfect kind of coasters, you can crochet them in the shape of these cute and sweet donuts with pretty sprinkles. The base of each donut is brown, but the top is colorful, making the coasters look more fun and adorable. You can create many of them and use some as a gift for your dear and near ones. Grab the free pattern here crochetdreamz
8. Crochet Giant Donut Novelty Pillow
It's fun to have unique pillows, especially those having been inspired by your favorite things. So if your kids are in love with the donuts, which is just so obvious, then you should get your hands on this crocheted donut pillow that would be your kid's new favorite bedtime buddy that he/she can put under the head or hug to get a perfect snuggle time. You can find the step by step easy instructional tutorial for this donut pillow here okiegirlblingnthings
9. Crochet Donut Pin – Free Pattern
The pins or the needles can harm if they fell around, so you really need to keep them hold safely, and that is why the pincushions are used. The crochet pincushions are so common, but this crochet donut pin cushion is just pretty, cute, and unique to be on your crafting table, among other crafting supplies, materials, and tools. Learn the easy pattern details of this cute and mini-project here popsdemilk
10. Crochet Donuts Bracelet – Free Pattern
Kids love to have funky and colorful bracelets to flaunt around, and this time you can make them these donut bracelets that they would drool over. You can create the mini donuts with frosting, cream topping, and the sprinkles and that too in multiple shades and then combine crochet them to form a pretty bracelet for those delicate and cute wrists. They can also gift these bracelets to their friends as the cutest friendship day present ever. Free pattern here katthecraft
11. Crochet Sprinkly Donuts Pattern
Those creamy and chocolaty donuts with the sprinkles on the top are just so tempting even to look at. So here is how you can enjoy the fat-free version of them and get yourselves the calories free donuts to enjoy anytime. These are the cute and colorful crocheted donuts to be a funky and fun part of your home decor in so many ways, be it the cute pincushions, play food, or the coasters. check out the detail of the lovely and unique crochet idea here gingerschatz
12. Crochet Donuts For National Donut Day
The girls just play the chefs in their play kitchens, and this time, they can try making some new and yummy recipe for the donuts. You can help them out with these crocheted donuts that they can use in their kitchen as the cute and delightful play food that they would fall in huge love with. They are small and quick to crochet, so you can make a bunch of them so that they can serve their donuts to the whole family. Check out the details of the idea here repeatcrafterme
13. Free Crochet Donut Scrubby Pattern
Here are the cutest of the scrubbers that your kids would love to rub on and you would love to use in the kitchen too. So check out these adorable and awesomely colorful crochet donut scrubbers made out of the scrubby cotton yarn with browse base the colorful, creamy layers with multiple colored sprinkles on the top. They would be soft to your body and hands, so do make them right now, and some of them can be used as great gifts too. Free pattern here fiberflux
14. Free Crochet Scrumptious Donut Pillow Pattern
If you are going to attend a birthday party, you must be thinking of a good idea for the gift, so here is this idea of crocheting the lovely donut styled pillow and the birthday girl or the birthday boy would love it to have in his/her room and enjoy a cozy sleep on it. Here is the easy and fun pattern for the donut pillow, so do check it out here.
15. Free Sprinkle Donut Coasters Pattern
The coasters are the favorite of the ladies' things, and they want it to be cool, unique, and fun, and here is the type of coasters they would fall in love with. These are the cute and colorful donut coasters that would look pretty for your fun snack and drink parties and make you a hit host. Here is the link to grab the details of the poshpoochdesigns
16. Tiny Baby Donut Free Crochet Pattern
If you want to try something new and fun for crocheting this time, then these crochet donuts are the cutest of the things to get your hands on for this weekend. This mini and cute donut got everything to temp you up and delight up your senses, like the adorable and funky shades and the pretty sprinkle up. You can use it for your decor using it as the cute applique for so many of your possessions. Check out the details of the idea here sweetsofties
17. Free Crochet Funfetti Donuts Garland Pattern
If it's the birthday of a food lover, then we know what can help you create the best decor for them. Yes, this absolutely cute and delicious donut garland would be just perfect for hanging on the walls and making the food lover go all gaga over it. You can make many of the donuts in multiple shades of the yarn then string them to form this lovely banner or garland. check out the details of the idea here jenniferq
18. Free Crochet Extra Bonus Size Donut Pattern
There is a cute way that you can have a lot of donuts but do not get fat. Yes, we are talking about these adorable crocheted donuts that are sweet, delicious, and so tempting but all come with zero calories for sure. So grab some of your favorite yarn colors and your crochet hooks to work up this cute bunch of crochet donuts. Catch the complete details of the project here glamour-4-you
19. Crochet Sprinkle Donut Pillow – Crochet A Long
Crochet these adorable donut pillows and bring some cool and fun vibes to the decor of each room of the house. Especially the kids would love these pretty pillows, and making them in their favorite colors would add icing on the cake. So do not wait for more. Just grab the supplies get this really and fun crochet plan started. Check out the detail and the free pattern here poshpoochdesigns
20. Crochet Donut Day Applique Pattern
If you are left with some colorful yarn from your previous crochet projects, then here is how you can utilize them entertainingly and cutely. Yes, you can create these amazingly cute and small donut appliques with pretty layers and sprinkles and use them on your kid's dresses, headbands, and more. Here is the link where you can find the free pattern and the details of it knotsewscribbly
21. Free Crochet Donut Amigurumi Pattern
If you are a crochet lover and the donut lover, then these crocheted donuts are the perfect things to enjoy the awesomely joyful crafting experience ever. The bright and fun colors of the yarn and the lovely frosting lines really make these donuts look adorable and creatively delicious. You can check out the free pattern and the stitch details of the idea here crochetisfun amani
22. Awesome Crochet Donuts Pattern
The donuts are getting famous as the fun crochet decor craft for the places, and here is how you can mold this trend for your festive fun. Yes, you can crochet these scary donuts for Halloween with dripping blood red layers on the top, goggling eyes, horns, and tails. They would be so much fun to crochet, so get the details of the unique idea here krawka
23. Crochet Mini Donuts Cat Toy
There is something that can add oodles of charm to your kitchen decor and the dining tables too. Here are these colorful, cutely small in size and the yummy looking crochet donuts to keep on your tables and let them look all fun and gorgeous from the decor perspective. You can catch the details of the free pattern and more here ravelry
24. How to Crochet Tiny Donut for Party
There is something really cute and whimsy about the mini size. No matter what the thing is, if you make it in the miniature size, it would look way more gorgeous and adorable, and these mini crocheted donuts are proof of that. Along with the smaller size, the sparkly shades of the yarn and the colorful sprinkles make the donuts more drool-worthy genuinemudpie
25. Granny Square Crochet Donut Pattern
The granny square pattern is the most famous of all. You can do any of your new crochet projects with this pattern—this lovely crochet granny square donut bake shop blanket to celebrate the donut trend most traditionally and cutely. You can use any of the colors you like to enjoy the custom results. Here is the link of the details and the pattern sewrella
26. Crochet Sprinkle Donut Pincushion
Pincushions are common of the things to have in your sewing or crafting kit, but they can really look gorgeous and fun if crocheted with this pretty and cute donut style. Yes, you can make this utterly functional, comfy, and cutest of the cushions for your pins to rest on, and that too with great decor details to be added on your crafting table and more. Check out the free pattern and more here. thriftyfun
27. Free Crochet Mini Donut Pattern
The crochet donuts are creating the hype in the crochet world and in the crafts too, and you can make them in so many cute ways to introduce more fun and cute versions of them. Here are these adorable mini-sized crochet donuts with cute face features, and thus, they turn out to be really unique and lovely donut crafts ever. Learn the pattern details here. stellasyarnuniverse
28. Crochet Doggie Donut Dog Collar
Crocheted collars for the dog are really in fashion, and they are comfy and soft for your little fellow too. She is really cool and fun in this regard that you would love to crochet for your pet dog. This is the adorable collar for him, having been crocheted in the donut shape to fit around his furry neck and make it all warm. The easy pattern and the feasible details of the project are here hearthookhome
Related DIY Projects and Ideas
Crochet Pillow Patterns: Discover free crochet pillow patterns for decorating your home. They're not just for decoration, though, these pillows make great gifts and will look beautiful on your couch or bed.
Crochet Amigurumi Patterns: Create your own amigurumi with these free crochet patterns, each featuring a unique little creature. From flowers to teddy bears, penguins to hedgehogs, you can crochet anything you can imagine with these easy-to-follow instructions.
Crochet Coaster Patterns: If you're looking for some crochet coasters, then these free crochet coaster patterns is the resource for you. All you need are a few common crochet stitches, some thick yarn, and your favorite colors.
Crochet Garland Patterns: Get free crochet patterns and inspiration for making your own crochet garland that are a fashionable way to decorate your home or office.
Crochet Valentine's Day Gifts: Get creative with these free crochet patterns for valentine's day to make handmade gifts for your loved ones. From necklaces and bracelets, to cards and scarves, DIY crafts are easy with these projects on hand.
Crochet Octopus Patterns: It is time to use your crochet skills to make a cute and colorful octopus for your baby's room. All the best free octopus crochet patterns are here in one place, in sizes from newborn to adult.
Crochet Hat Patterns: Get the perfect crochet hat pattern for your next project. From basic beanies to intricate cabled designs, we've got collection of free crochet hat patterns for beginners that are fun, easy to follow, and require no prior experience.
Donut Wall Ideas: This is the ultimate list of easy DIY donut wall ideas to decorate your donut lover's home. Donut walls are a great way to jazz up your living space.
Conclusion:
If you're looking for a unique and fun crochet project, consider making one of these 28 free crochet donut patterns. These patterns include donuts of all sizes, from small amigurumi to large pillows, and a range of styles, so you're sure to find the perfect pattern for your next project. And what could be more satisfying than crocheting your own sweet treat?