Updating your home with crochet decor can be both cost-effective and fun! Learn What crochet items are trending for home with these 15 free crochet home decor patterns with step by step instructions in pattern PDF. All these crochet decorations will provide you with styles ranging from modern and whimsical to classic. Whether you need crochet useful household items or crochet decorations for your home, crochet allows you to create beautiful pieces. Mastering decorative crochet stitches add depth and texture to any room of your house. If you're looking for free crochet patterns for bathroom accessories, unique home decor ideas or just modern crochet home decor inspiration, there is a wide selection of ideas that can help make your space look more inviting.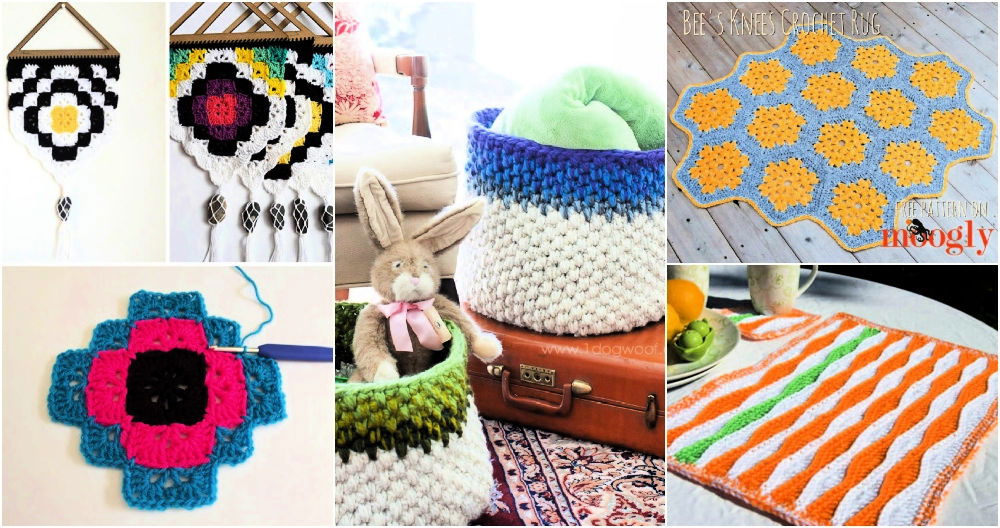 Transform your home into something extraordinary with crochet home decor! Whether you are just starting out, or have crochet experience, crochet home decor patterns are a great way to add unique and easy decor to any room. From lacy crochet throws to word art pillows, there is sure to be something that matches your creative eye while allowing you to acquire valuable crochet skills along the way. You can take on any project with 15 free crochet home decor patterns—from decorative crochet stitches and filet crochet curtains to whimsical wall hangings and charming crochet furniture covers. With the help of these crochet home decor patterns and ideas, you'll be amazed at the amazing transformation these projects can give your home!
What to crochet for the room?
Crocheting for rooms is a great way to add texture and personality to any space. Try crocheting a wall hanging, rug, or throw blanket to create cozy vibes. Pillows are always an easy and fun project that can instantly add charm to the room. You could also make curtains or other window treatments with your crochet skills. Finally, don't forget about accessories like baskets and wall hangings to really pull the room together. Whatever you choose, crocheting for your room can be a wonderful way to make it truly unique.
What can I crochet for my home?
Crochet is a great way to add unique and beautiful touches to your home. Consider making decorative throw pillows, rugs, wall hangings, blankets, and more. You can also create charming baskets in different sizes and shapes, or crochet a table runner for extra flair. With some creativity, you can make almost any type of handmade item for your home. Get creative and have fun!
What crochet items are trending?
Crochet is having a major moment right now. Popular crochet items include chunky blankets, beanies and slouchy hats, amigurumi stuffed animals, and cowls. Chunky scarves are also trending, as well as colorful mandalas and other wall hangings that can add a boho chic touch to any home. With so many options, it's easy to find something that suits your style!
How to decorate your home with crochet?
Crochet is a great way to add an extra touch of home decor. Start by selecting the desired color palette and yarn type for the project. Consider making wall hangings, rugs, cushions or curtains to make the room look more inviting. Measure the required area carefully before beginning your work and use stitch markers if needed. Finish with a touch of embellishments for the perfect look! With a little effort, you can create something truly beautiful and unique.
How to decorate a boring wall with crochet?
Crochet is a great way to decorate an otherwise boring wall. Start by measuring the wall and deciding on a pattern or design. Gather your materials and decide which type of crochet you'd like to use – Tunisian, filet crochet, etc. Determine the colors that will best suit the room and get started! Choose a backing fabric if necessary, and attach your design to the wall with nails or staples. Enjoy your new wall decoration!
How can I use crochet home decor patterns?
Crochet home decor patterns are a great way to add texture and color to any space. Choose from various design options, including rugs, pillows, wall hangings, throws, and baskets. With the right pattern and some basic crochet skills, you can easily create beautiful pieces that will be treasured for years to come. Have fun experimenting with different stitch patterns and color combinations to customize your home decor. Enjoy!
Crochet Wall Hanging: Crochet is great for beginners and experts alike, and these free crochet wall hanging patterns will help you creating your wall hanging a fun project.
Free Crochet Tshirt Yarn Patterns: These free crochet tshirt yarn patterns are all the rage, from blankets to baby hats, said patterns will help you in so many ways.
Crochet Scrap Yarn Projects: These free crochet scrap yarn projects are perfect for you to make a unique gift for your friends and family, or just yourself!
Easy Crochet Donut: Find these free crochet donut patterns perfect to make for a special occasion, like a birthday present, holiday present, or just want to make something fun for yourself.
How to decorate a small apartment with crochet?
Crochet can be a great way to spruce up a small apartment. Choose bright colors and patterns that reflect your personal style. Hang wall hangings in various sizes and shapes to add visual interest and warmth. Crochet baskets, rugs, coasters, and throws can also be used throughout the space for added texture and color. Utilize the small space to create a cozy and inviting atmosphere with crochet. Be creative and enjoy the process!
What makes crochet yarn unique?
Crochet yarn is unique because it comes in various thicknesses, textures, and colors, making it flexible and versatile enough to meet the needs of any project. It can be used to create anything from clothing items to home décor pieces. In addition, it's strong yet soft, allowing for various stitch patterns that offer either a light and airy feel or a heavier, sturdier finish. It's a great way to express creativity and make something unique.
1. How to Crochet Curtains for Home Decor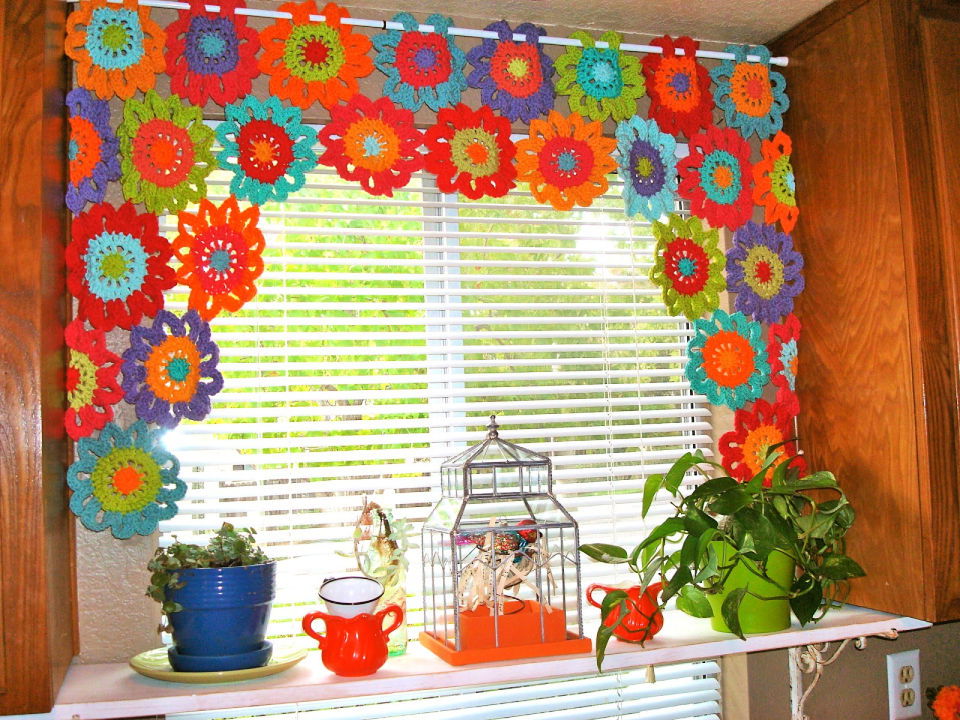 Bring the spring charm to your home with this gorgeous flower patterned crochet curtain for your home decor. Just crochet multiple colored crochet flowers in multiple sizes and then stitch them together to form up this stunning curtain for your window beauty. Pattern details here! onceuponap
2. Free Crochet Bee's Knees Rug Pattern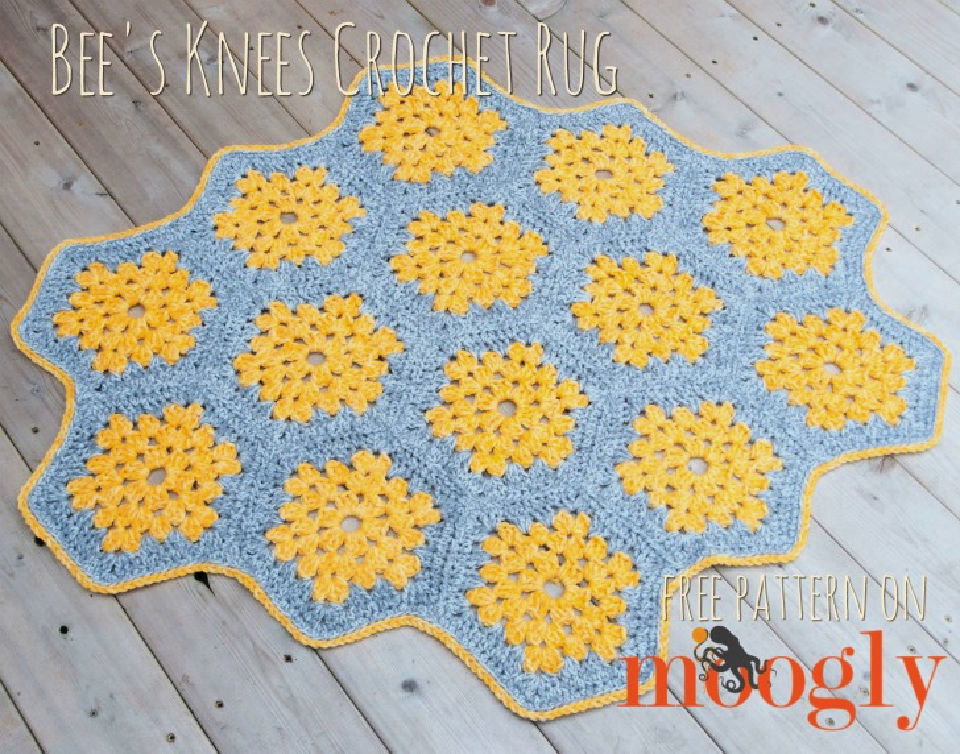 This gorgeous crochet bee's knees rug can be a part of your home decor to add oodles of charm to your spaces. All you need to do is crochet a bunch of granny hexagons and then stitch them together with that adorable edging, and you're unique styled, but the handmade rug is ready to rock your floor. Details here! moogly
3. Color Block Crochet Basket Pattern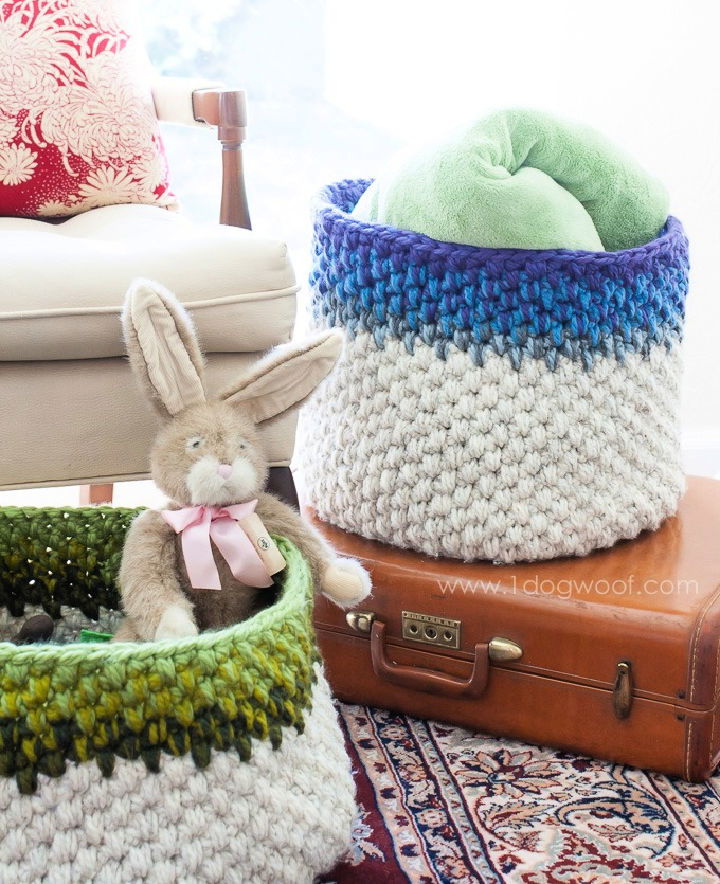 This gorgeous crochet color block basket would bring organization to your space by holding your blankets and adding a touch of pure chic beauty. The whole white yarn basket with colorful edging on the top really turns out to be gorgeous and catchy. Free pattern for the basket here! 1dogwoof
4. Free Crochet Tribal Wall Hanging Pattern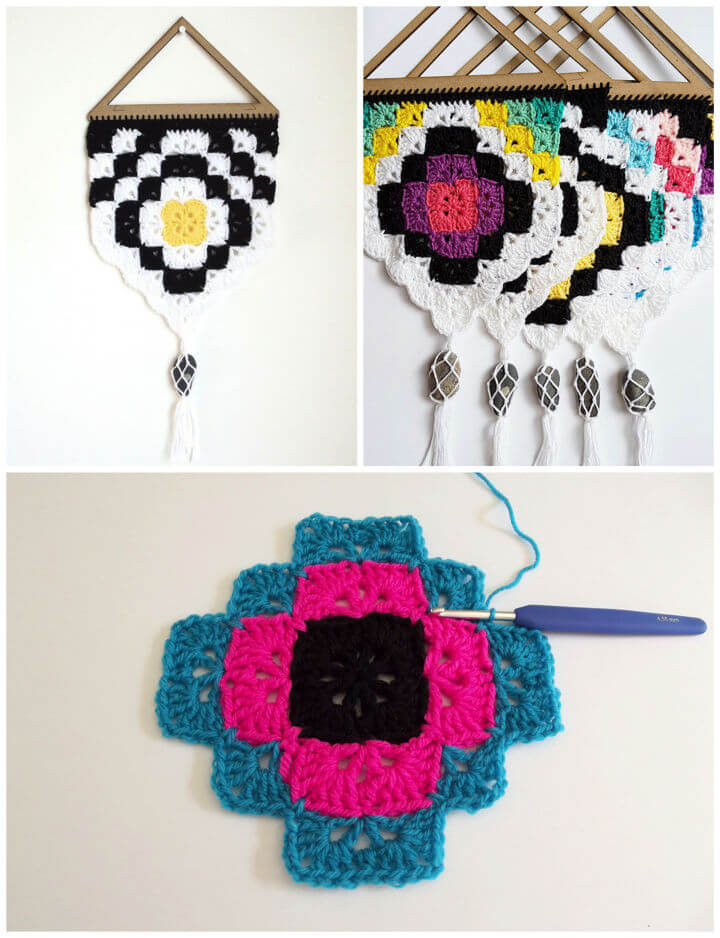 It's time to add some vintage beauty and appeal to your decor by adhering to this beautiful crochet wall hanging on your walls. The colorful granny squares being combined with a white yarn base and given a scalloped edge finish to look that exquisite and cute. Catch the free pattern with details here! projectarian
5. How to Single Crochet Blanket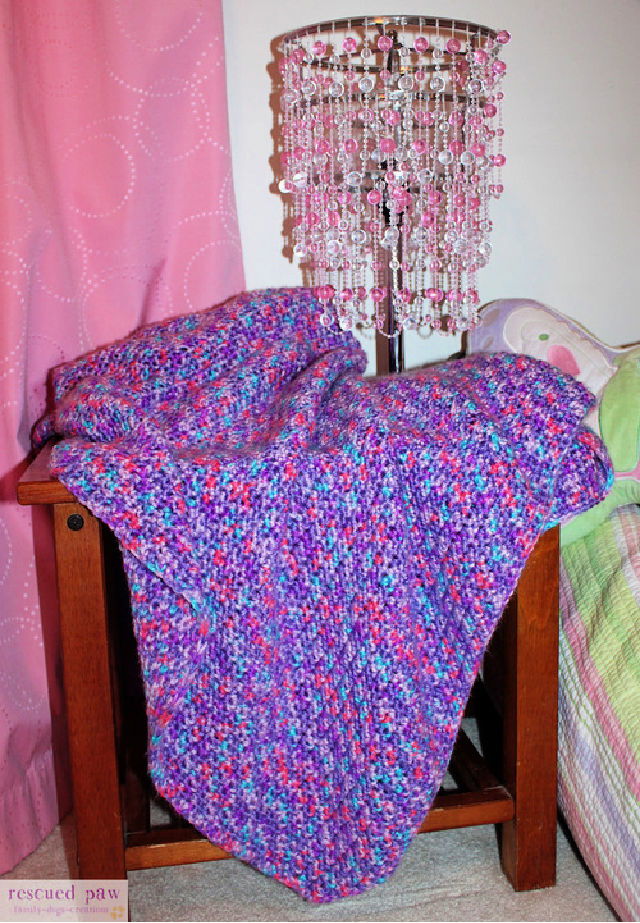 It's hard for beginners to crochet with multiple stitches at a time, so here we have brought them this easy peasy Elise's single crochet blanket. Yes, with only one stitch, this pretty and simple blanket can be easily crocheted to warm you up over your sofas while watching your favorite series. Get the details of the idea here! rescuedpaw
6. How to Crochet Granny Square Cushion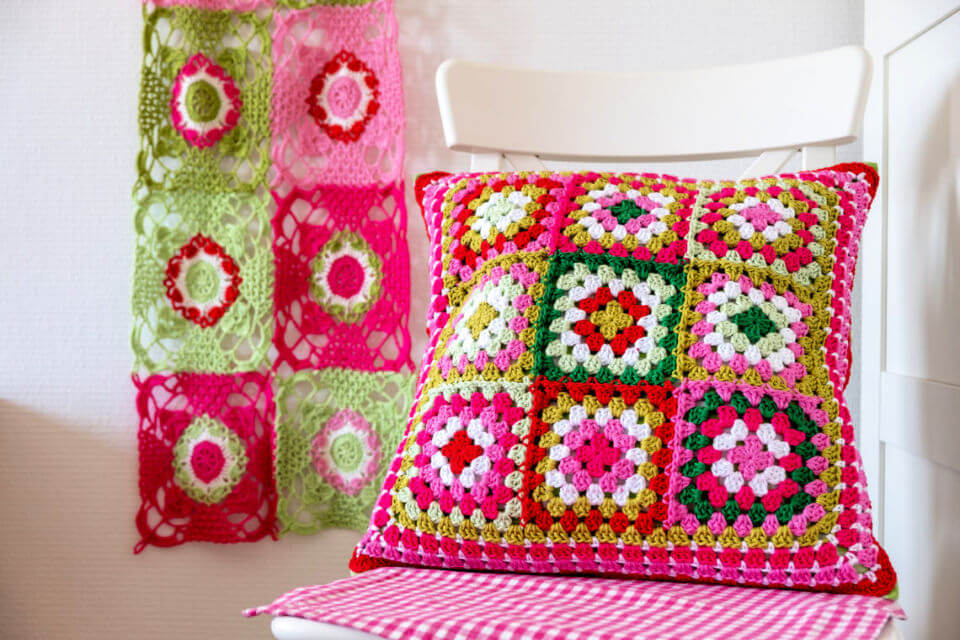 This pretty crochet granny square cushion would instantly brighten up your mood with its delightful colors and hues so it can spark up your home decor for the summer. So crochet colorful granny squares and stitch them together to get this granny square cushion. Check out the details here! merinoand
7. Crochet Doughnut Coasters and Holder Set Pattern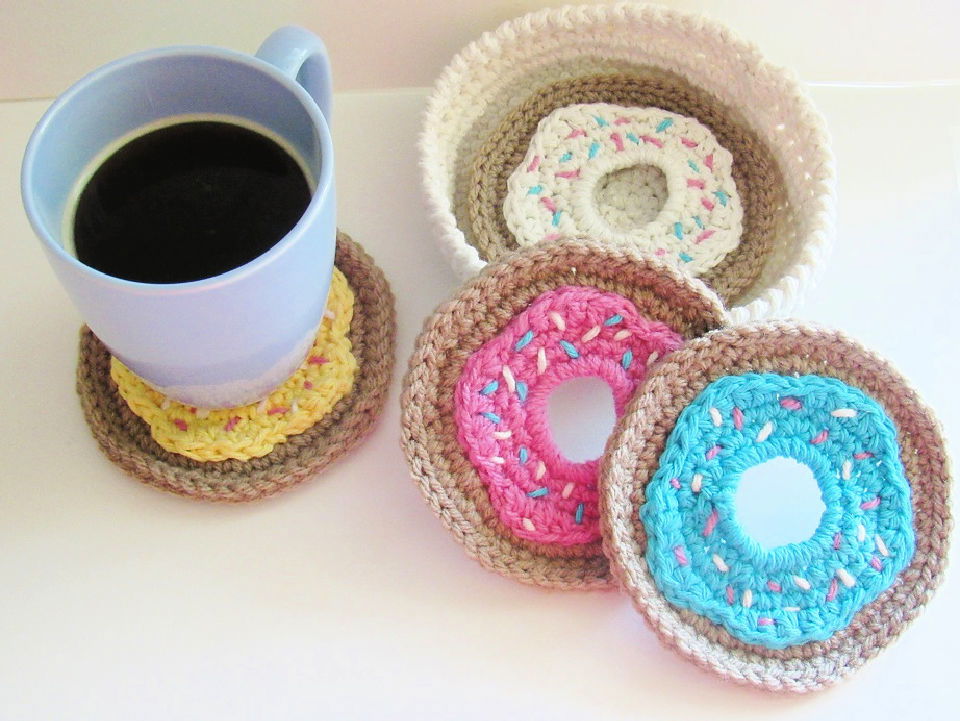 Coffee would taste much better when holding on to these gorgeous and cutest doughnut coasters. The colorful doughnut coasters are easy and fun to crochet with multiple yarn hues of summer colors and make a lovely gift idea for your lovely ladies. Easy and fun details of the coasters here! crochetdreamz
8. Crochet Diagonal Dishcloth Pattern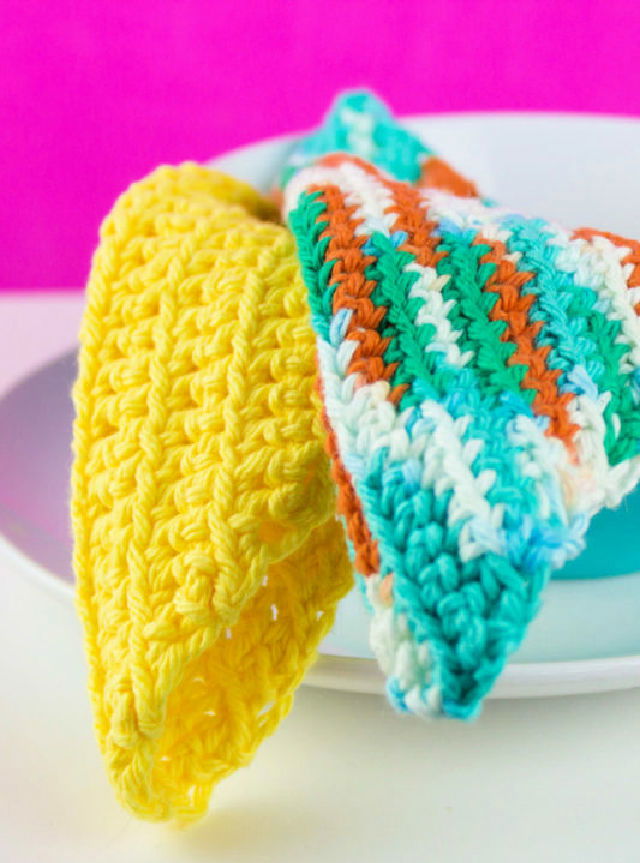 This cute and colorful crochet diagonal dishcloth is the pretty thing that you need in your kitchen to bring some lovely and colorful vibes. You can easily crochet this diagonal dishcloth at home in an hour, so you can make some extra to gift around your favorite ladies too. Catch the details of the idea here! doityourfreak
9. Crochet Bobble Heart Potholder Pattern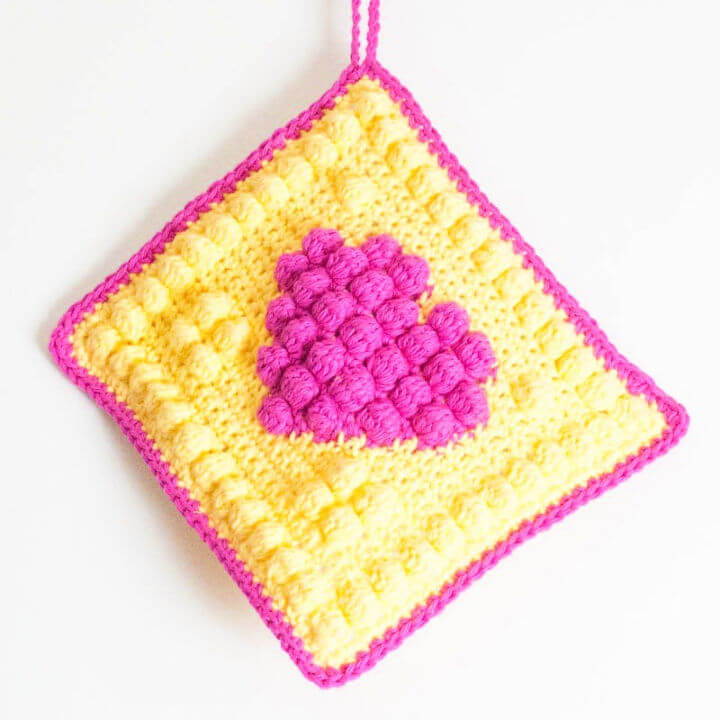 Here is another fun crochet item for your kitchen to let you experience more ease and fun there. So grab some bright colored yarn and your crochet hooks to work up this cute and utterly functional crochet bobble heart potholder. This can make a lovely gift idea for a kitchen lover too. Details here! youshouldcraft
10. Crochet Summer Waves Placemat and Coaster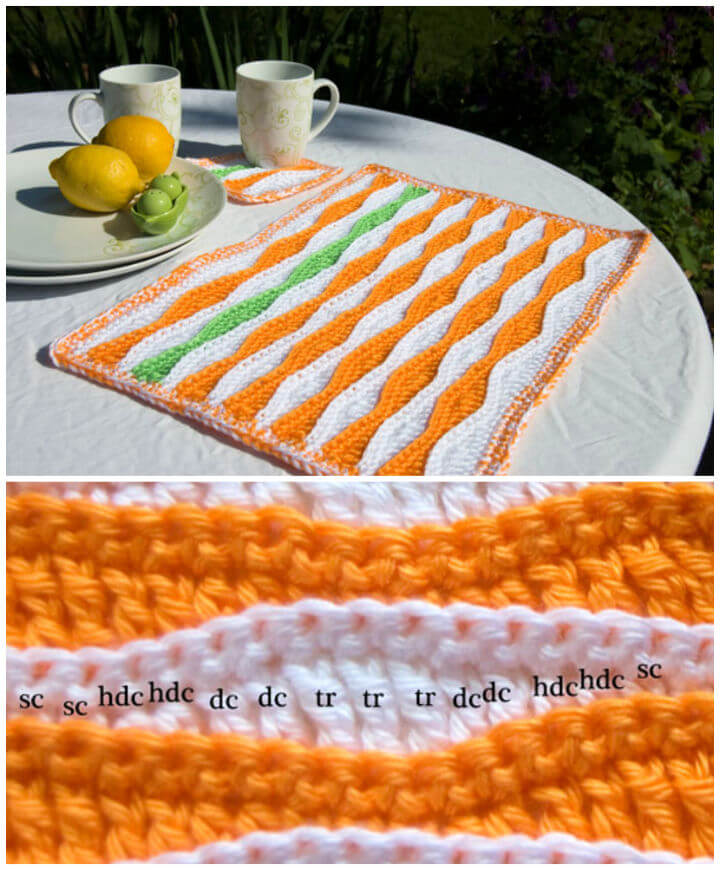 We cannot keep the waves out of our heads after visiting the beach, so refresh your memories with this crochet summer waves table placement and coaster. Yes, the cute and colorful waves have been created on this table placement and coasters to enjoy a quirky and cute set for your tables. Get the free pattern here! moogly
11. Free Crochet Tea Cosy Pattern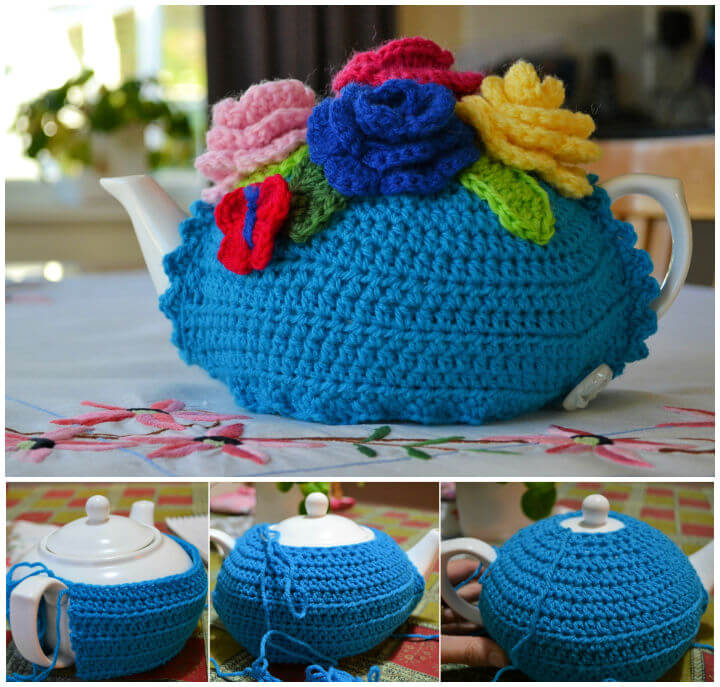 Serving your tea in your teapot and making it wear this crochet tea cozy would really win your appreciation as a host. Not only gorgeous to look at with those cute crochet flowers, but also this tea cozy would keep your tea warm for a longer time too. Follow the pattern and details here to make one! thegreendragon
12. Crochet Heart-Shaped Box of Face Scrubbies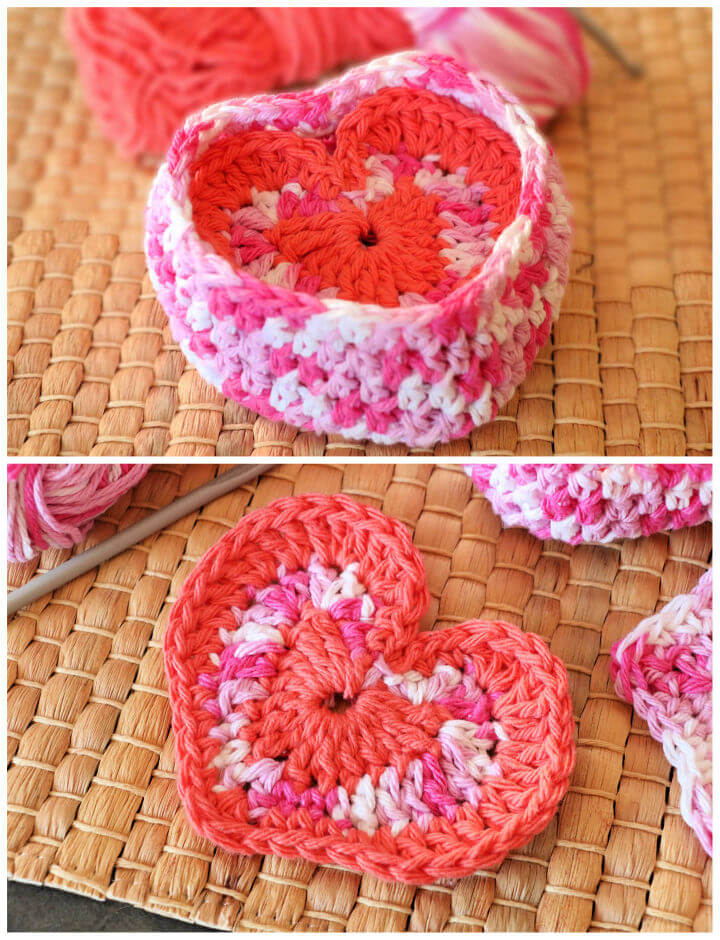 Scrubbing is an important part of skincare, and for the sensitive skin of the face, you can get your hands on these crochet heart shaped scrubbies. These scrubbers are super cute with their heart shape, lovely combination of the colors, and would feel so soft on your skin and can be reused to save your money. Get the easy and free pattern here! hometoheather
13. Modern Granny Square Crochet Potholder Pattern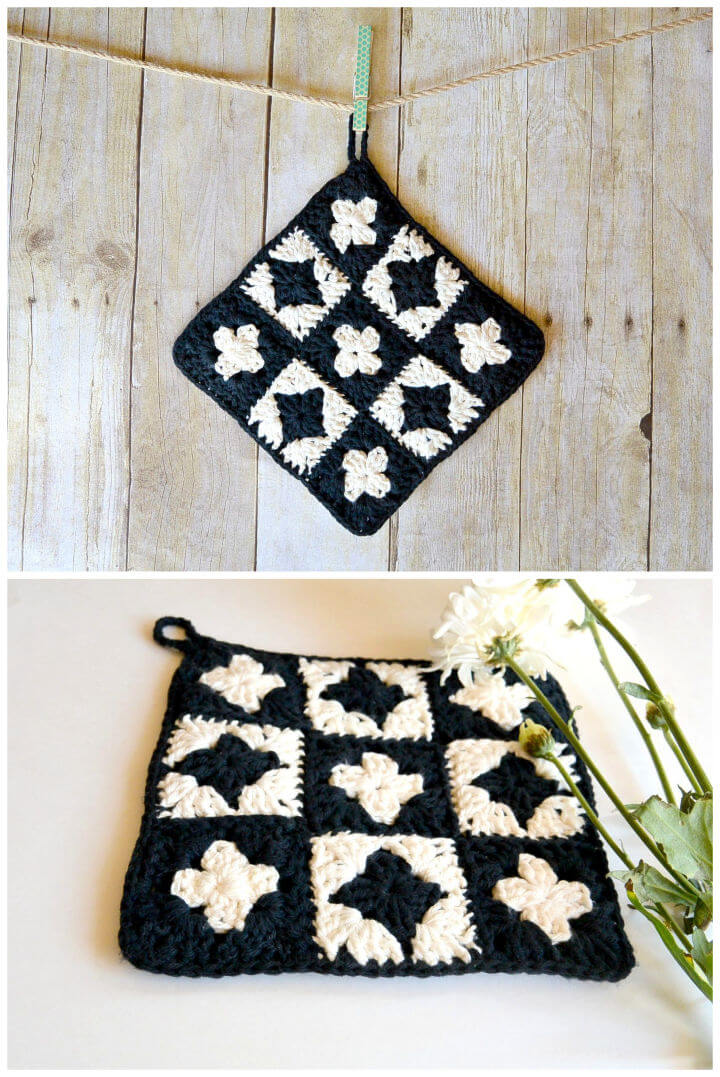 We love everything black and white, so this looking granny square crochet potholder has been made out of white and black yarn. The cute combination of the white and black granny squares builds up this pretty and functional pot holder to use in the kitchen and gift around. Free pattern with details here! mamainastitch
14. Free Crochet Wreath Pattern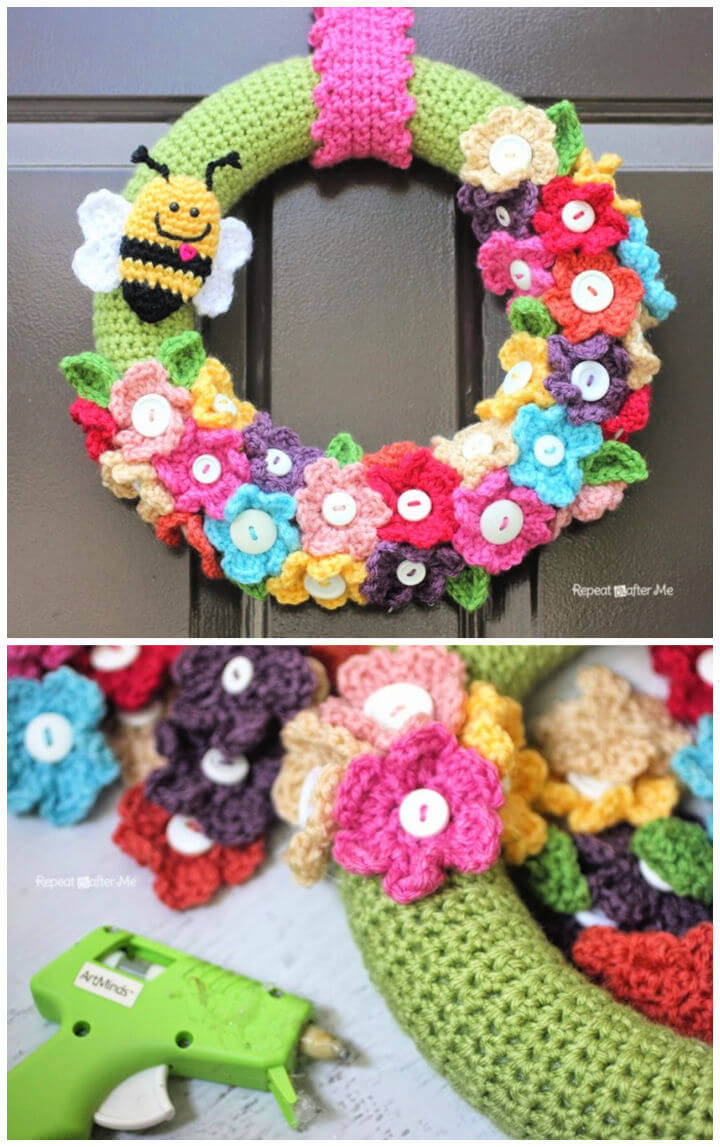 This crochet wreath is the cutest thing that you would see on the internet today. The bright and gorgeous yarn hues of the spring have been used to work up this lovely wreath for your spring and summer doors. The colorful crochet flowers, crochet bee, and the crochet wreath ring cover all have been described here with details. repeatcrafter
15. Crochet Secret Pearl Phone Cozy Pattern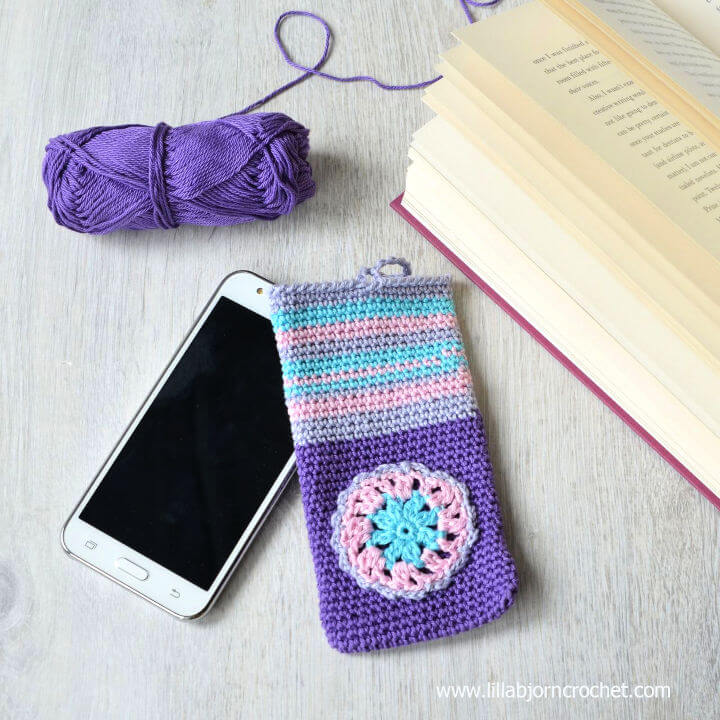 Use your crochet skills to save yourself a lot of money on the things that you can skip buying from the store and crochet them easily at home. Here is the idea of this gorgeous and cutely colorful secret pearl phone cozy, with colorful stitch strips and a flower! Details here! lillabjorn
Related DIY Projects and Ideas
Crochet Curtain Patterns: Find crochet curtain patterns for decorating your room and window coverings. These free crochet curtain patterns are perfect for beginners looking to create a new look.
Crochet Basket Patterns: Learn how to crochet a basket with these free crochet patterns that are perfect for decorating your home or giving as gifts to friends and family members.
Crochet Phone Case Patterns: Keep your phone protected with these crochet patterns. You'll find free crochet phone case patterns for every personality and preference, so you can personalize them as much as you want.
Crochet Flower Patterns: Find the perfect crochet flower pattern for your next craft project. These colorful and interesting flowers are so easy to make, and can be made into many different shapes and sizes.
Crochet Star Patterns: Get your hands on free crochet star patterns that can be used in many projects such as home decor, jewelry, and more. It is made with a combination of simple stitches and crochet increases so it's easy to follow.
Crochet Letter Patterns: Crochet letters are a quick, easy project that is both functional and decorative. If you're looking for free crochet letter patterns, this list has all of the letters you'll need.
Conclusion:
These free crochet home decor patterns are perfect for beginners and offer a wide range of easy and unique projects. From decorative throws and pillows to storage baskets and wall art, there's something here for every room in your house. So grab your hooks and get started on one of these beautiful crochet home decor projects today!