The old glass containers and jars to find in almost every home and the blasting good news is that they are just the perfect candidates to go for some outstanding DIY projects! Getting craft with Mason jar and other glass containers is a hot trend, and you can only make wonderful stuff from home decors to functional items with the empty and retired mason jars! If you are willing to get brilliantly crafty with recycled mason jars but you need some creative ideas and inspirations first that will give the spark to your creativity, then we are having some great inspirations here for you! Just check out these 130 easy DIY Mason Jar Crafts for Spring and Summer, and they will all make you think differently and uniquely toward the old Mason jars! After taking a short tour of this entire big collection of DIY Mason jar crafts, you are just not going to end up the mason jars in dumpsters!
If you are concerned with the low-cost DIY home decor projects then you can also go smartly handmade with Mason jars! Just paint the Mason jars in custom colors and put custom lights and even the candles inside of them to make gorgeous lanterns and light centerpieces with them! Next, you can also fill your finally decorated mason jar with custom faux or real flower stems to make outstanding vases that will rock on any flat tabletop and shelf!
Here the list is going to give you all the tips and tricks about how to decorate your Mason jars using paint, custom stencils, stickers, letter art, custom monograms, twine, ribbon and also the custom tags! Get inspired by some amazingly beautiful examples and samples given below that are smartly handcrafted too!
Next, you can also go handmade with Mason jars to make outstanding routine and festival gifts! Like you can just fill them with anything special and then can simply tie a twine or ribbon around its lid along with custom hanging logos, labels and embellishments! You can fill the mason jar with custom stationery items, food item and also with custom sewing materials or kits to make the own gifts just in no time!
Next, you can also fill the mason jars with custom homemade scrub mixtures so they will also make a great gift to a conscious beauty lady in your home or in surroundings! Check out some outstanding samples by scrolling down your mouse!
More DIY Mason Jar Ideas for Your Home: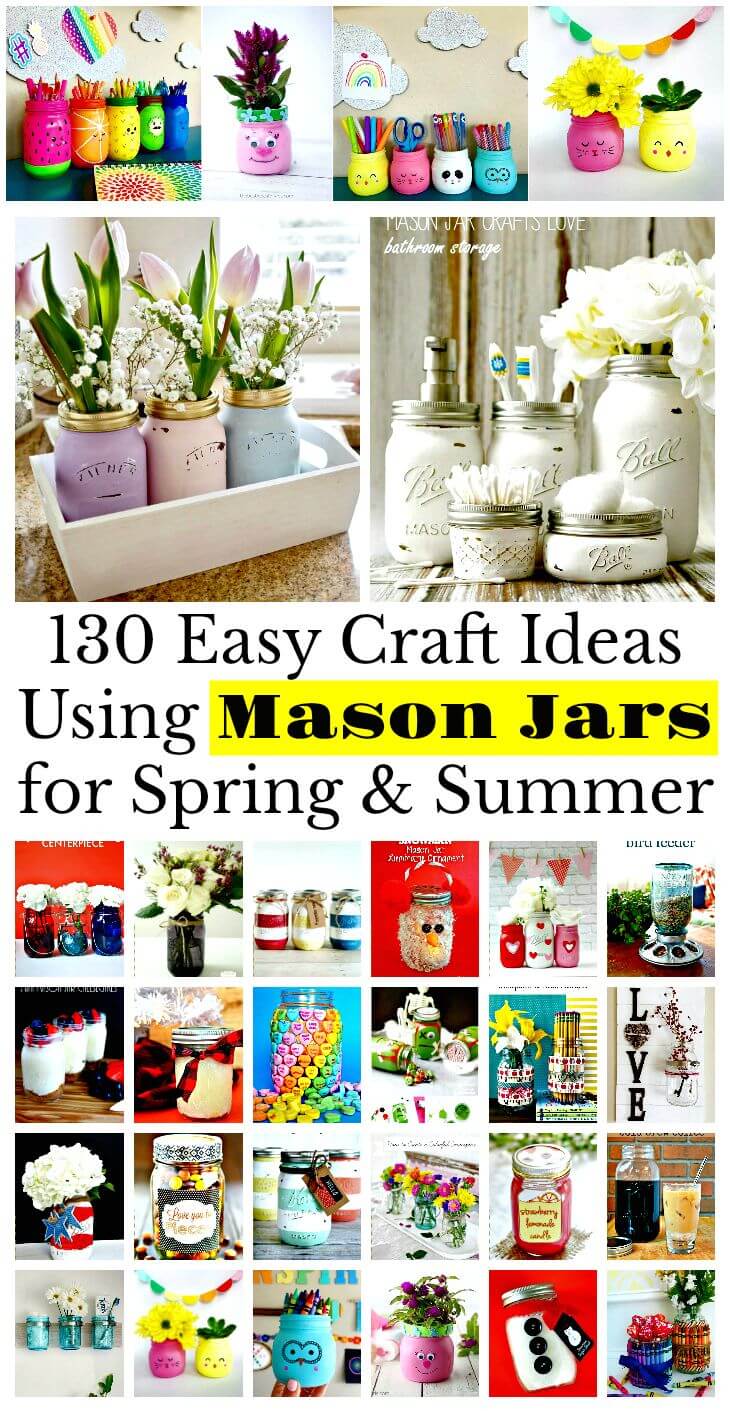 All these mason jars crafts are a big trash to treasure kind of projects and next you can also adapt the mason jars to overcome your storage problems, as you can also use the Mason jars to make adorable organizers and storage units for your home! The list will also provide you some creative samples in this regard! Click on the respective attached links to open up the complete project instructions and tutorial!
More DIY Home Decor Ideas and Projects for Your Home:
DIY Colored Glass Mason Jars Tutorial: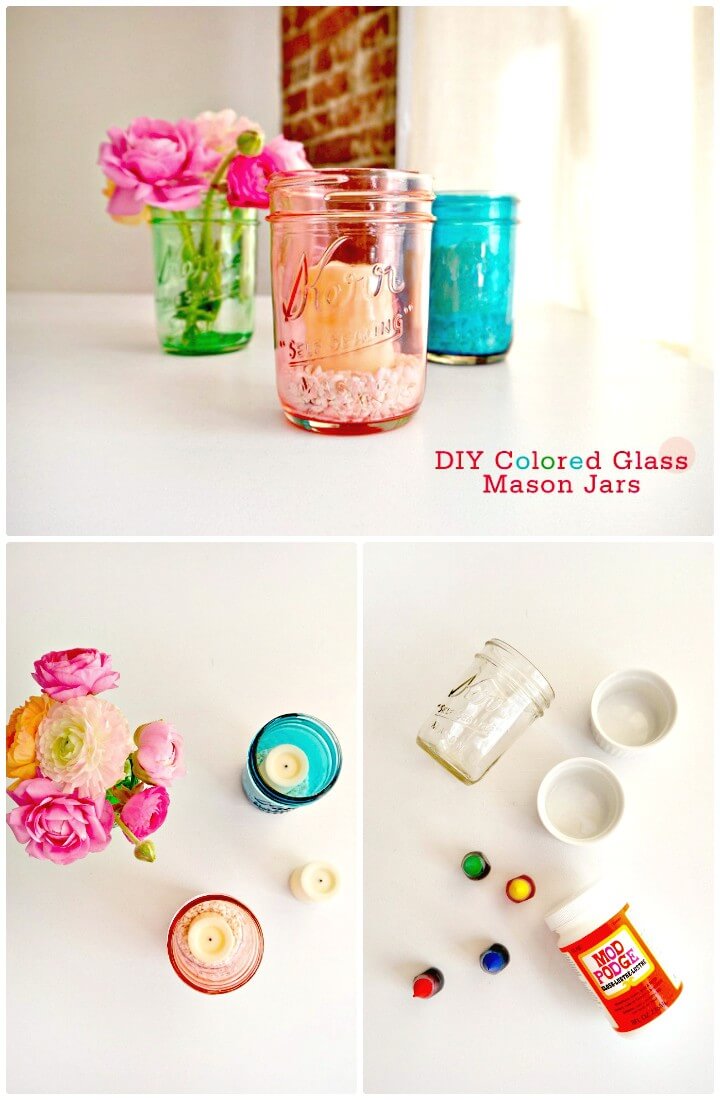 DIY Instructions: freutcake
Simple DIY Mason Jar Flower Arrangement: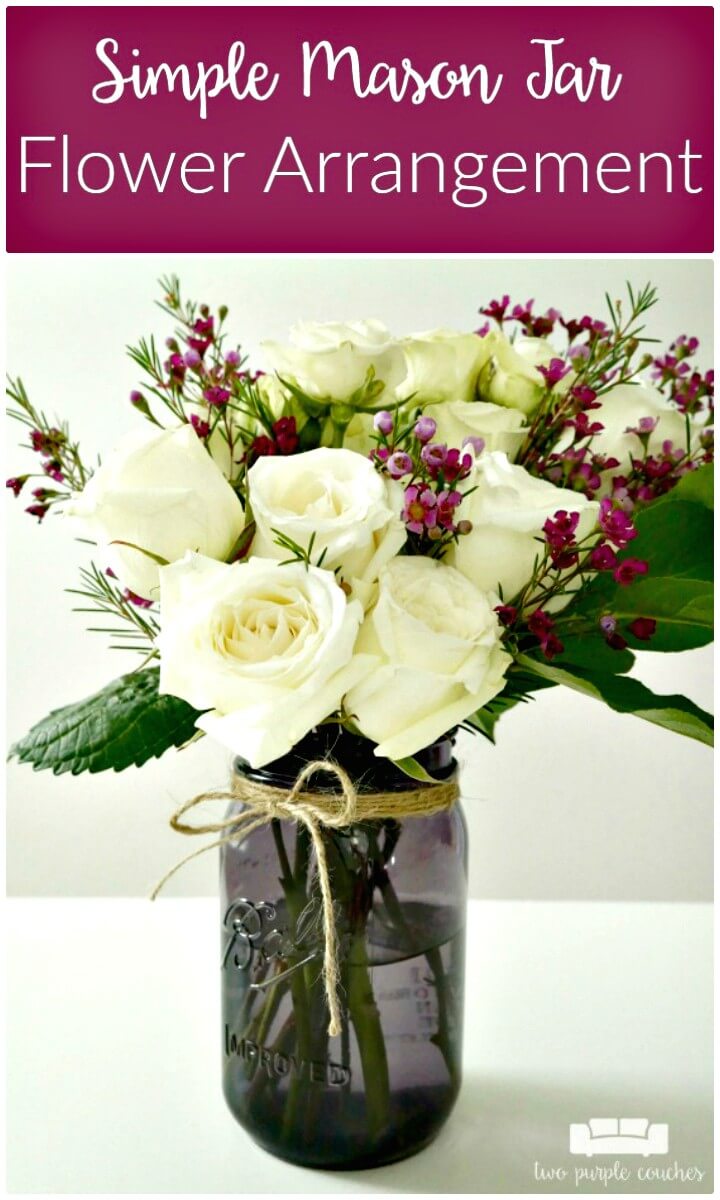 DIY Instructions: twopurplecouches
Easy Make Your Own Mason Jar Love Slat Sign: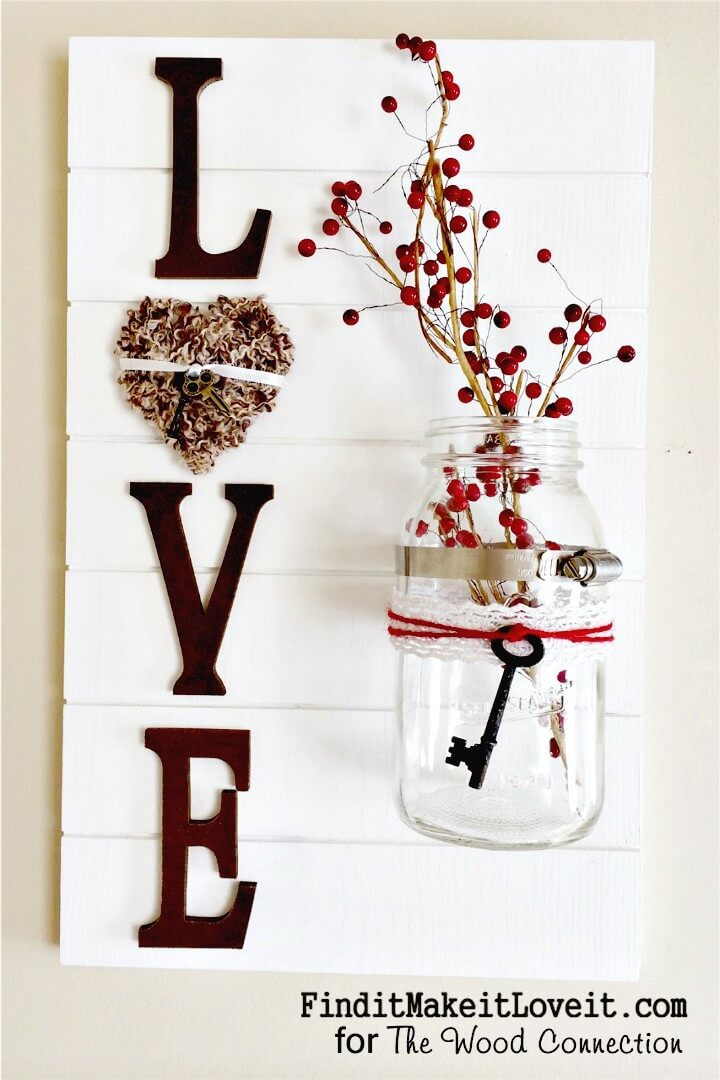 DIY Instructions: thewoodconnectionblog
How To Make Mondrian Mason Jars: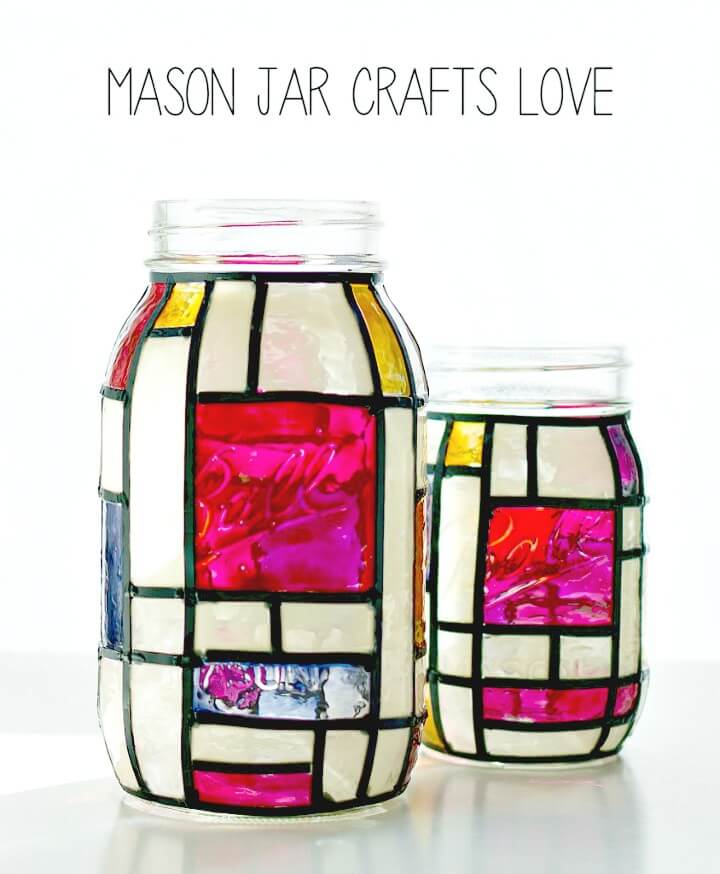 DIY Instructions: masonjarcraftslove
DIY Back To School Striped Mason Jars Tutorial: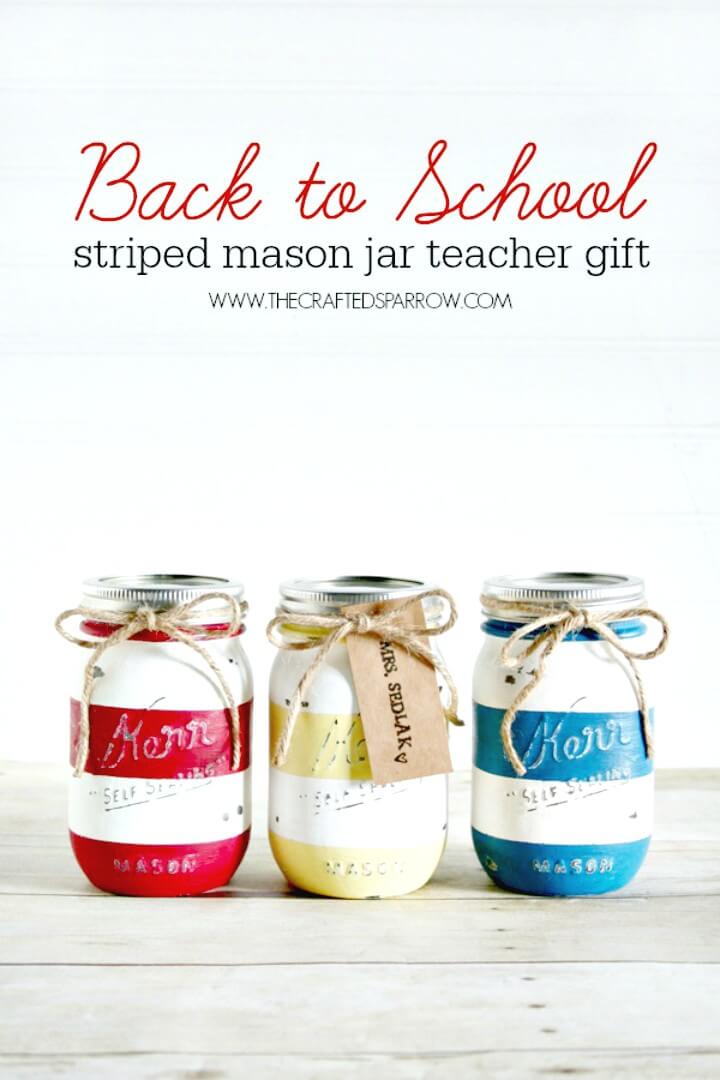 DIY Instructions: thecraftedsparrow
How To Make Mason Jar Infused Water Recipes: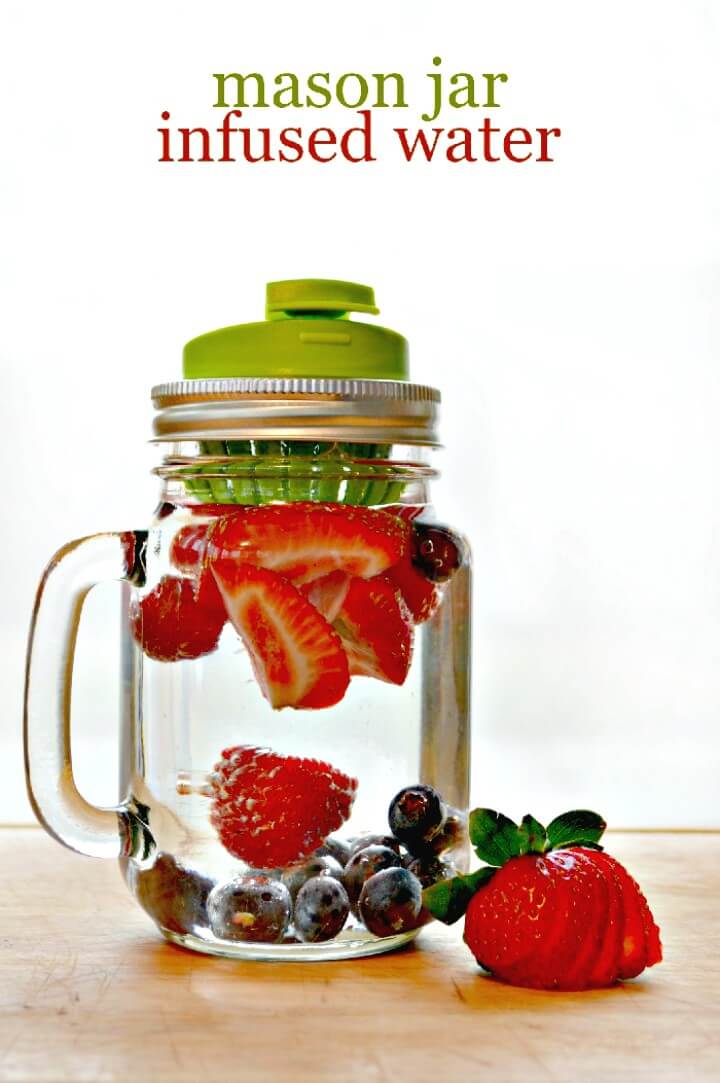 DIY Instructions: madincrafts
Easy How to Make Crayon-Covered Jars for Party Favors & Gifts: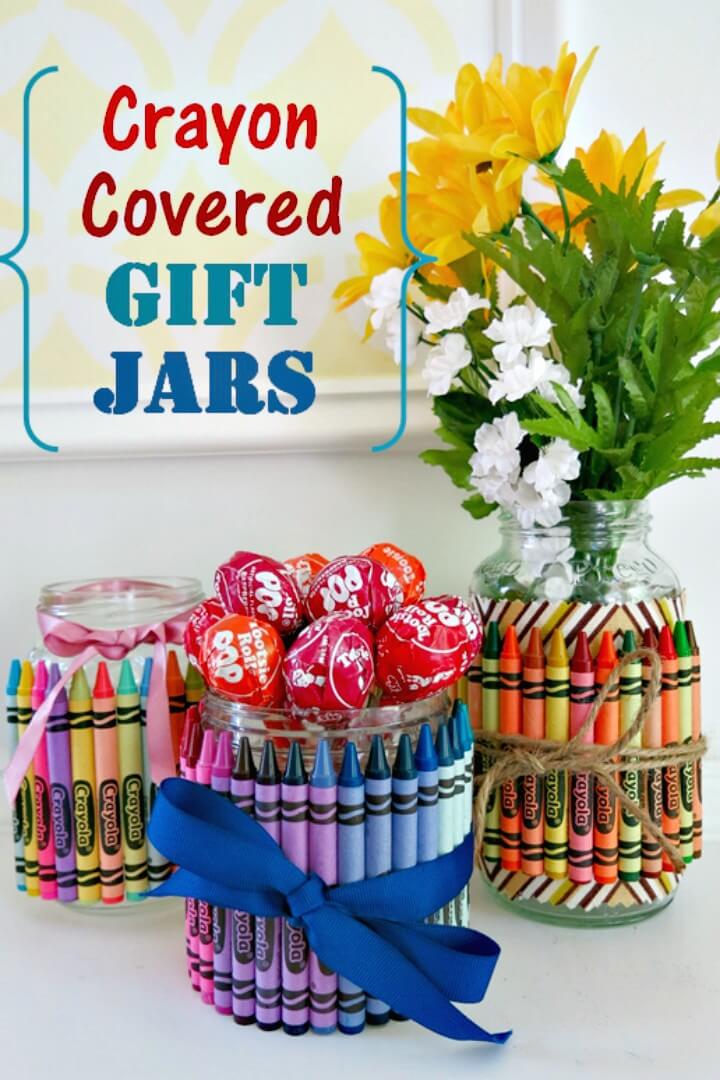 DIY Instructions: feltmagnet
Quick Make Your Own Patriotic Centerpiece In 5 Minutes: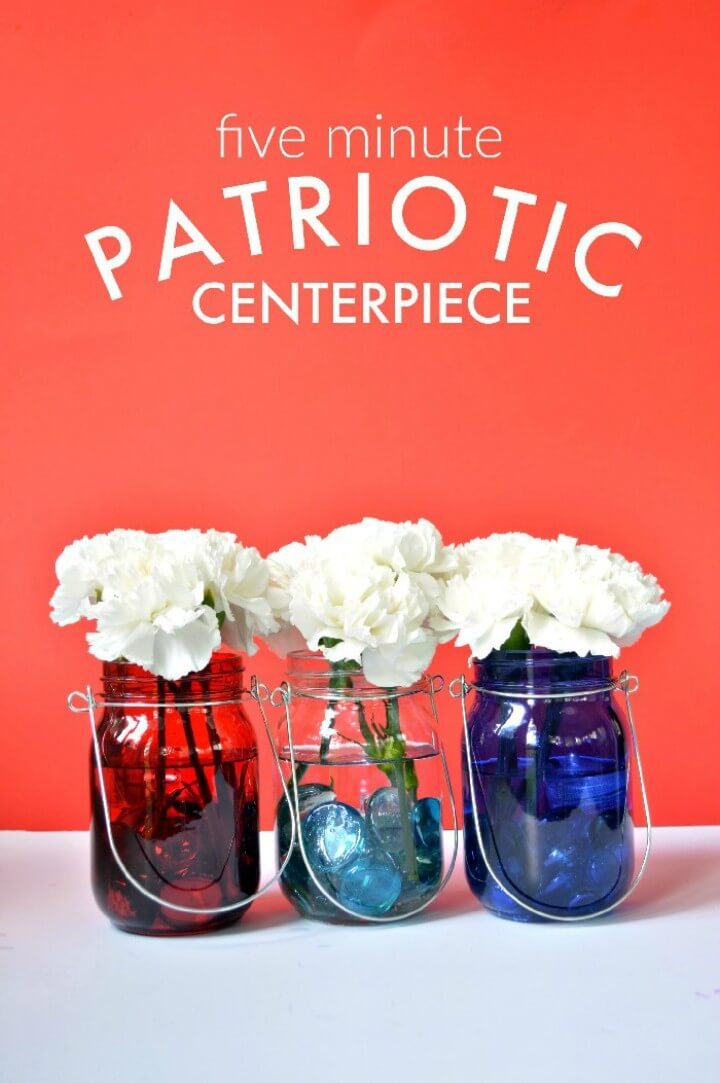 DIY Instructions: madincrafts
Beautiful DIY Snowman Mason Jar Luminary Ornament: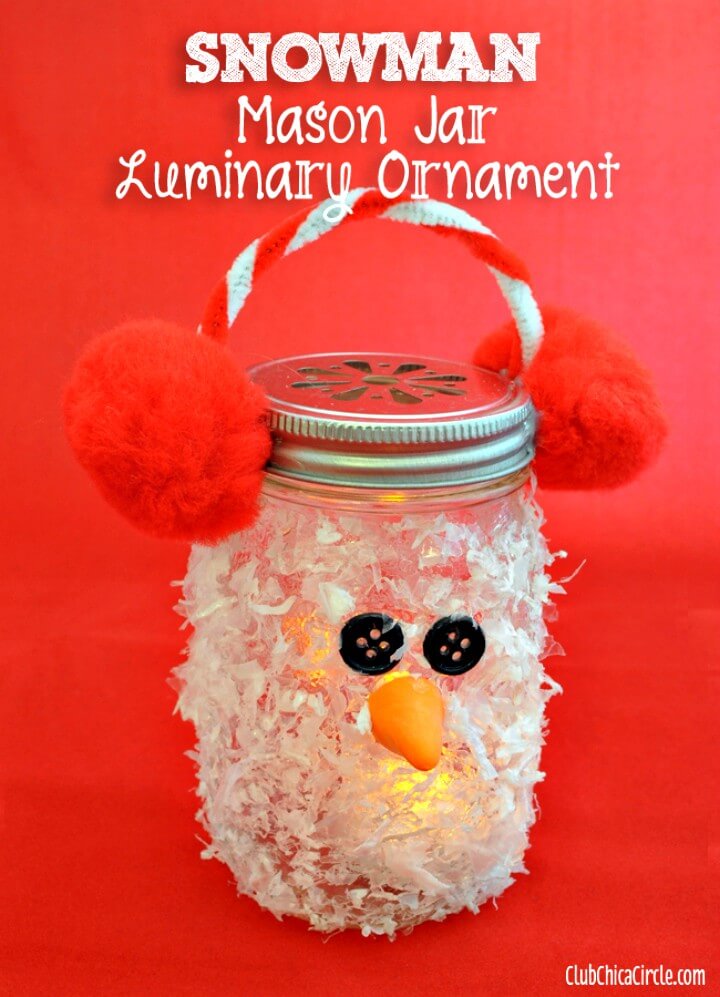 DIY Instructions: chicacircle
Make Your Own Colorful Mason Jar Centerpiece: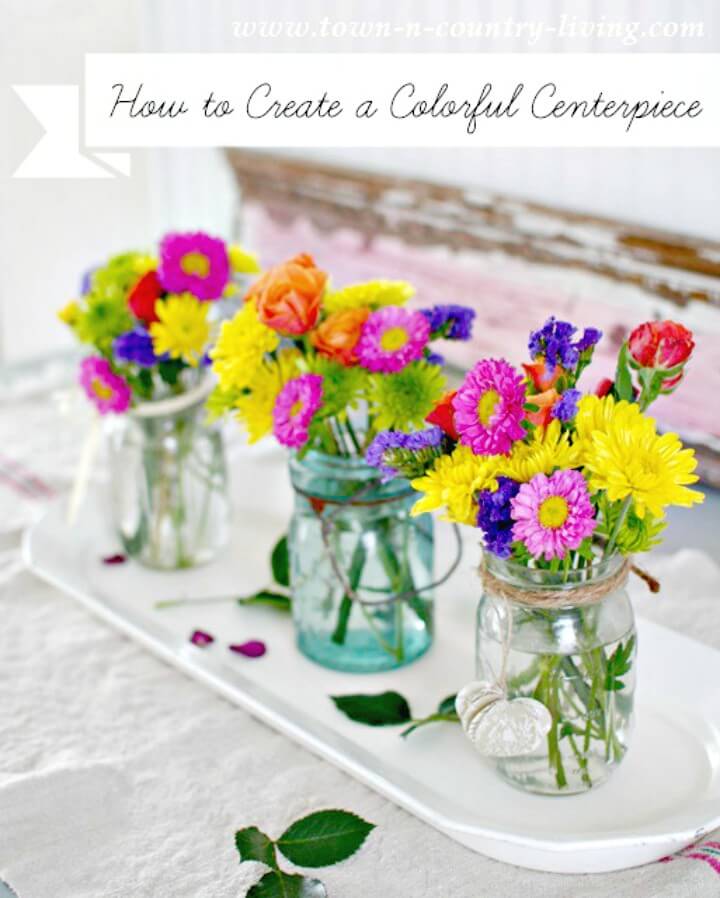 DIY Instructions: town-n-country-living
How to Make Your Own Mason Jars Craft: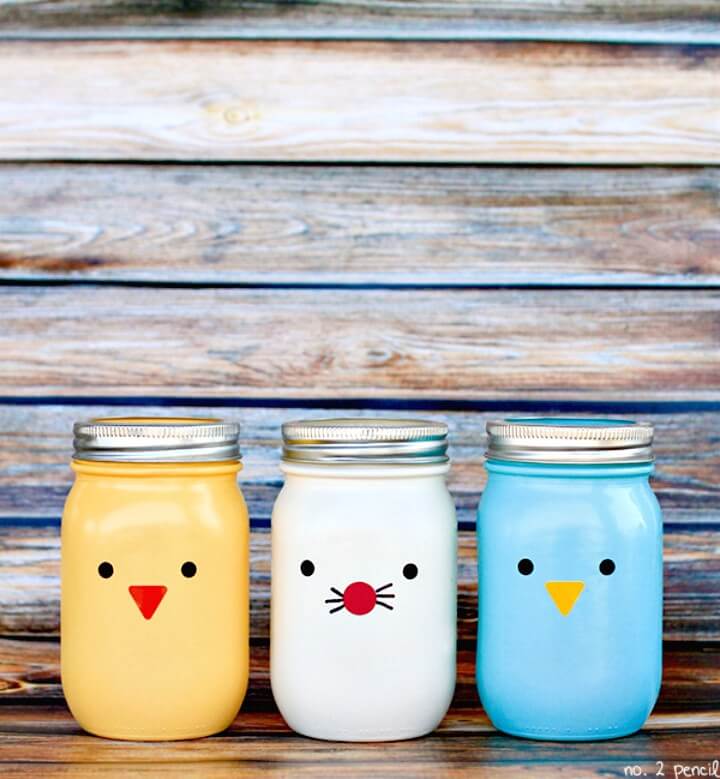 DIY Instructions: number-2-pencil
Easy DIY Spring Inspired Striped Jars: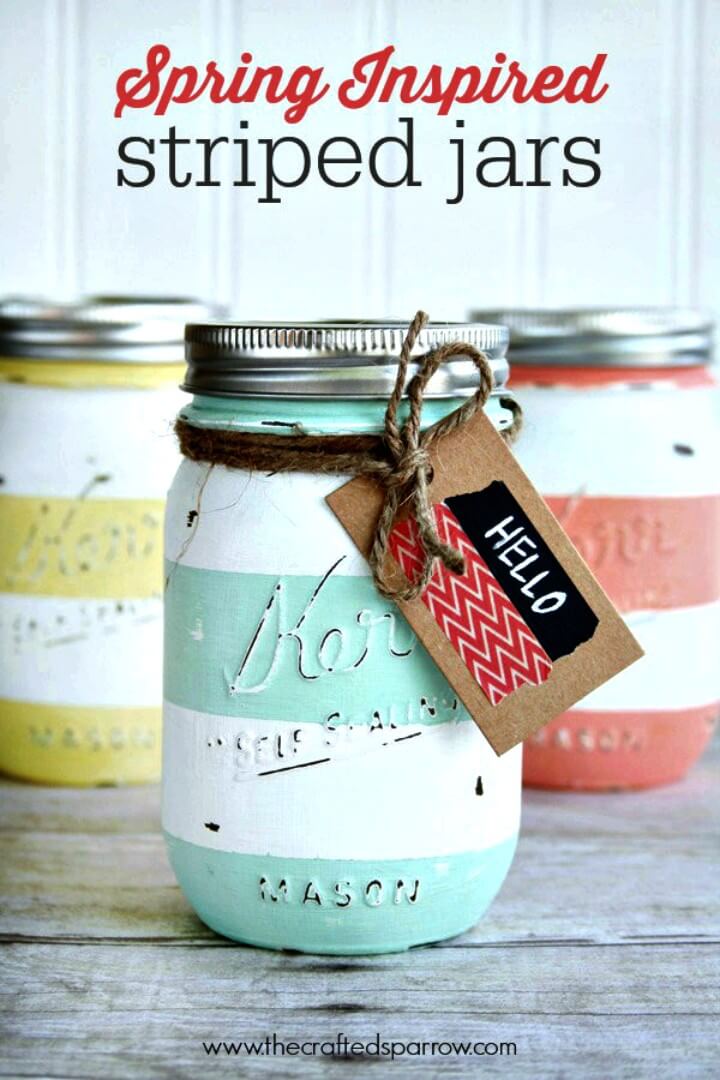 DIY Instructions: thecraftedsparrow
DIY Mirrored Mercury Glass Mason Jars Tutorial: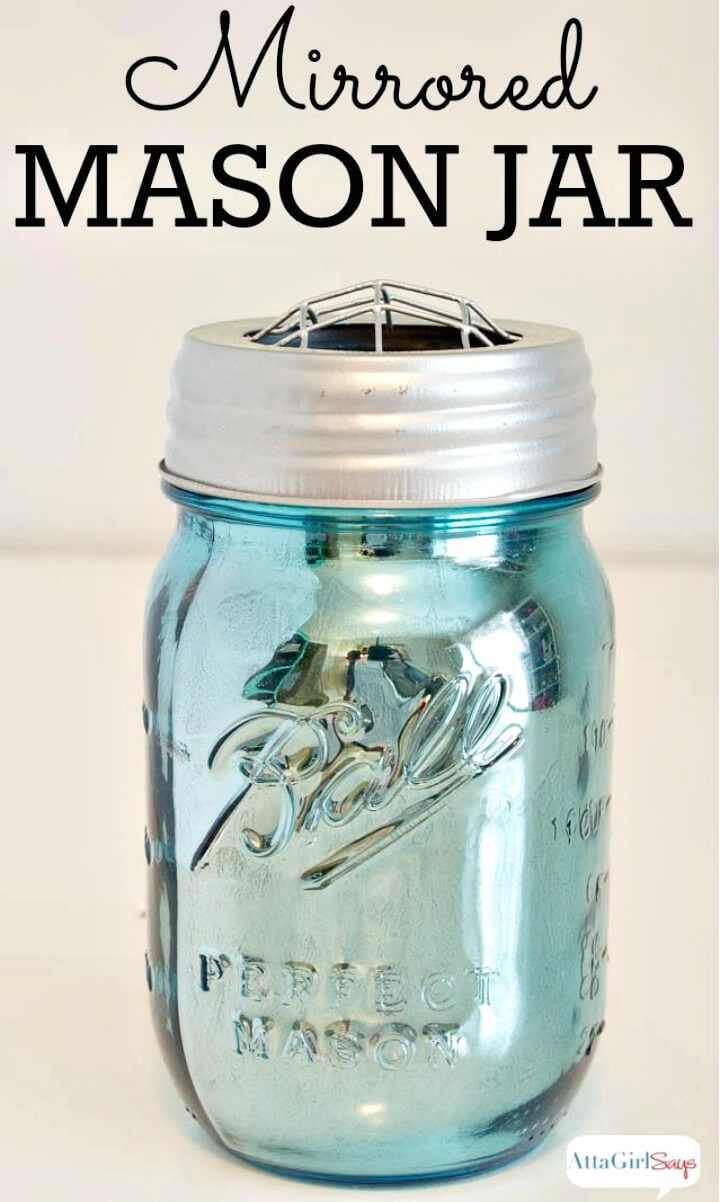 DIY Instructions: attagirlsays
How To Make Love You To Pieces Printable – Father's Day Gift: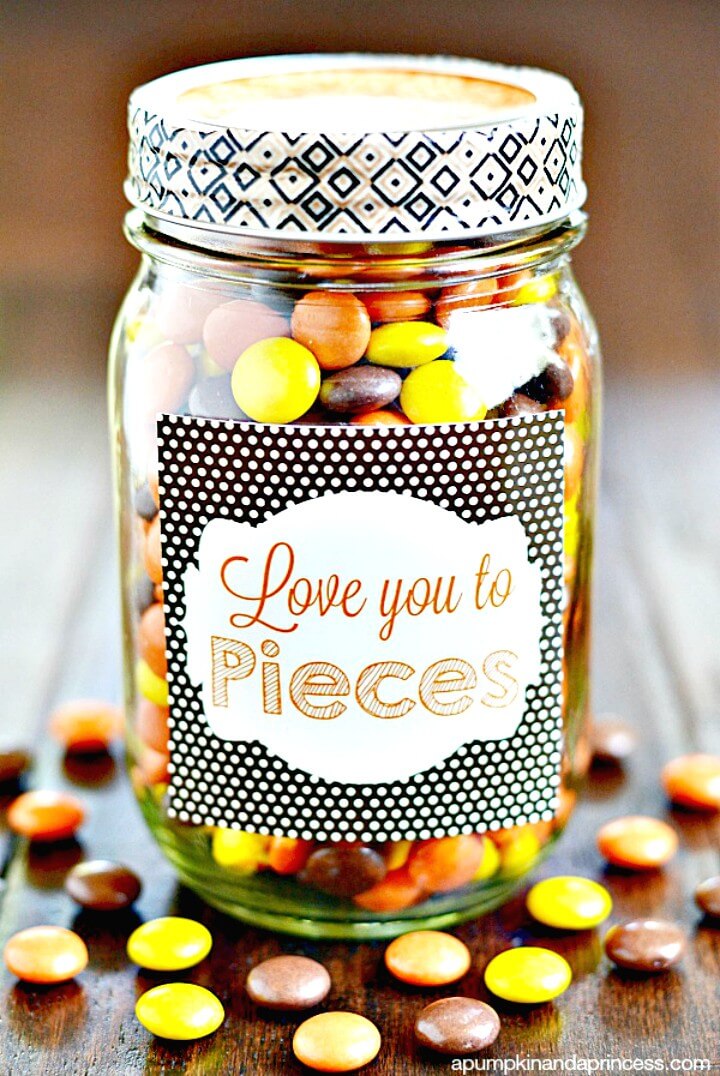 DIY Instructions: apumpkinandaprincess
DIY Pot of Gold Rainbow Painted Candy Jar: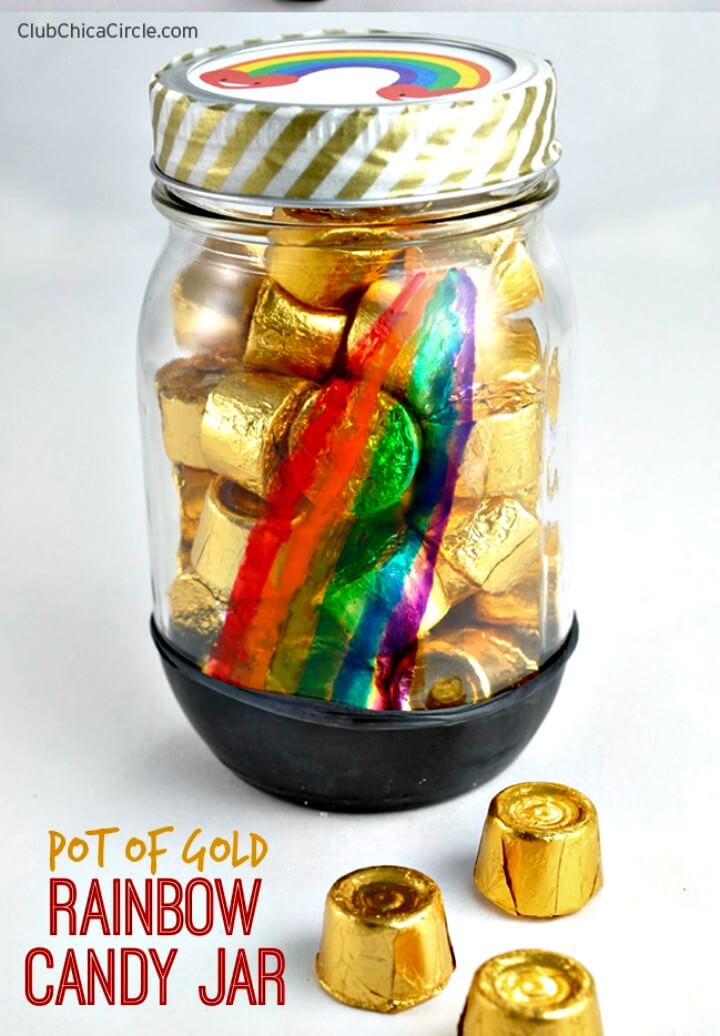 DIY Instructions: chicacircle
Make Your Own Patriotic Book Page Mason Jar Vases: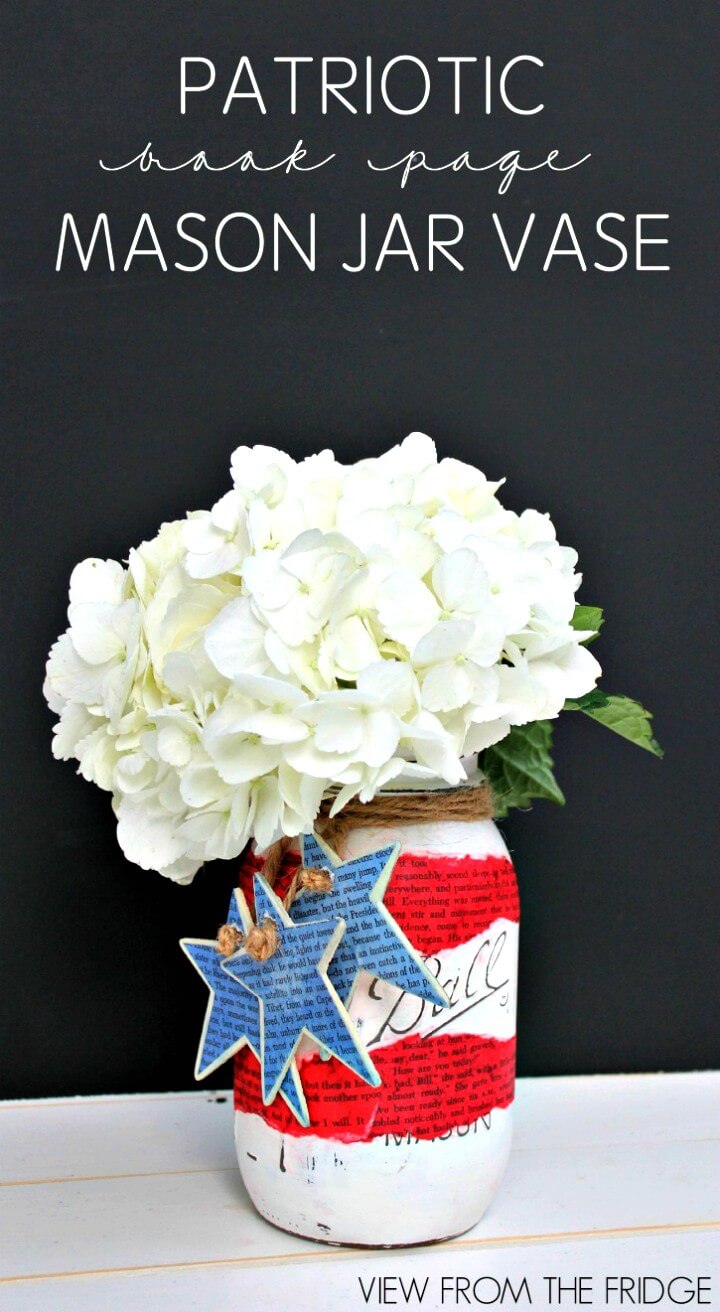 DIY Instructions: viewfromthefridge
DIY Mason Jar Bathroom Storage & Accessories: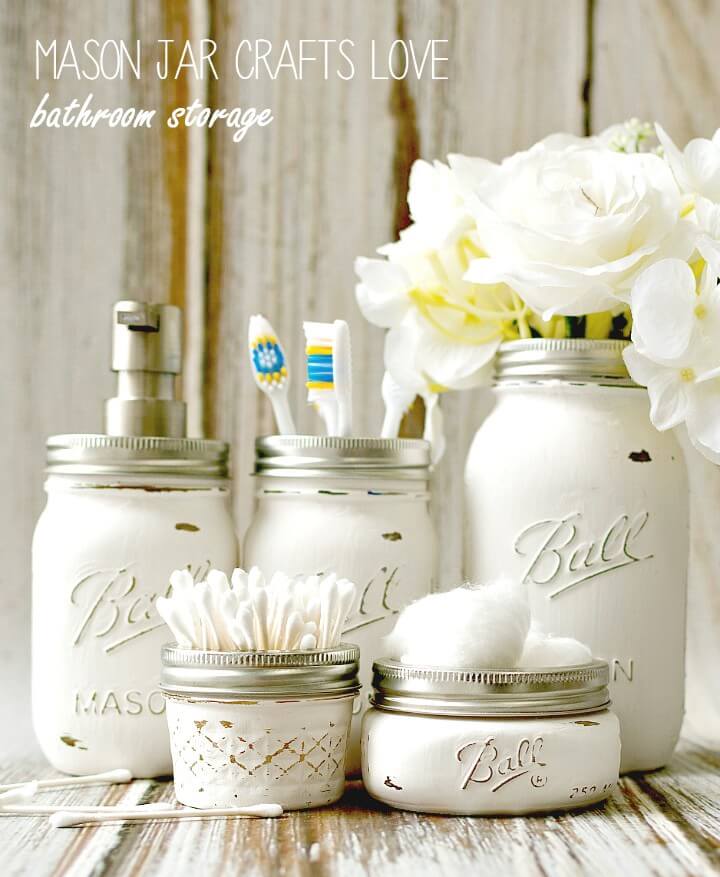 DIY Instructions: masonjarcraftslove
How to Make Strawberry Lemonade Candle: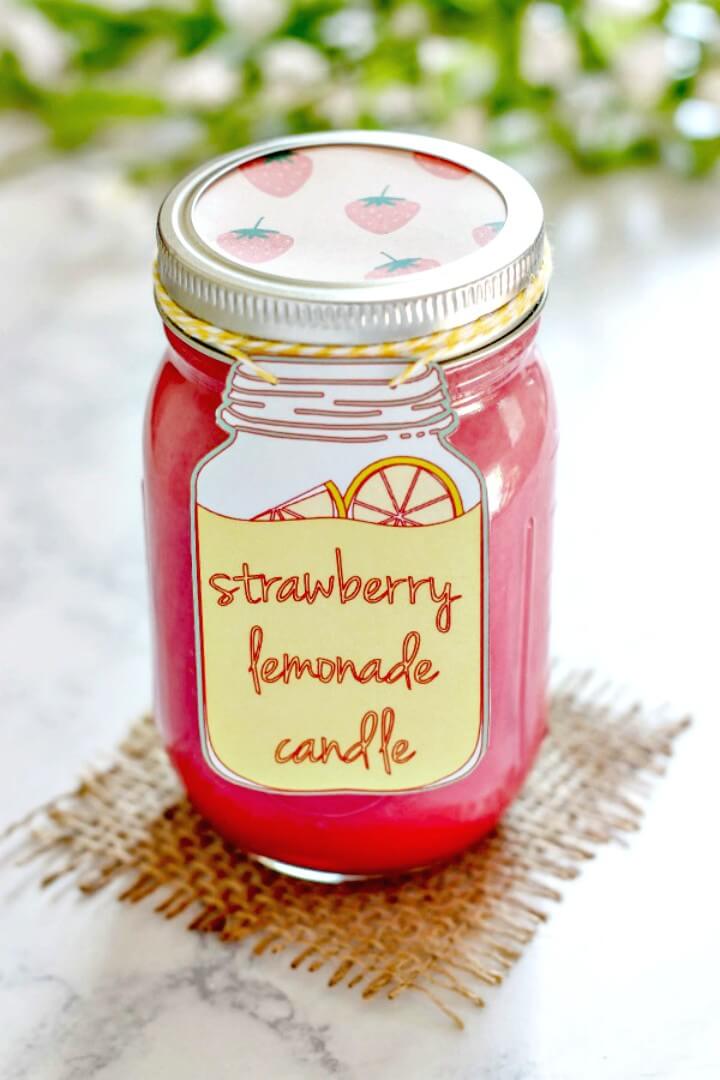 DIY Instructions: thecasualcraftlete
DIY Fairy House Mason Jar – A Fun Spring Craft Idea: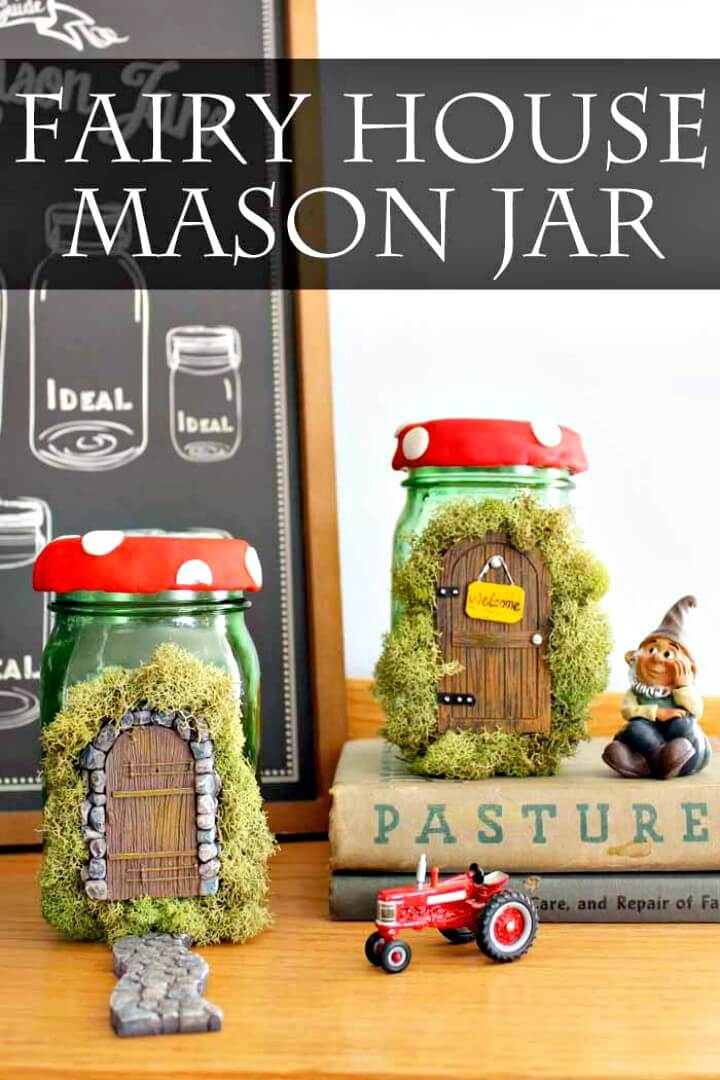 DIY Instructions: thecountrychiccottage
Make Your Own Homemade Cold Brew Coffee: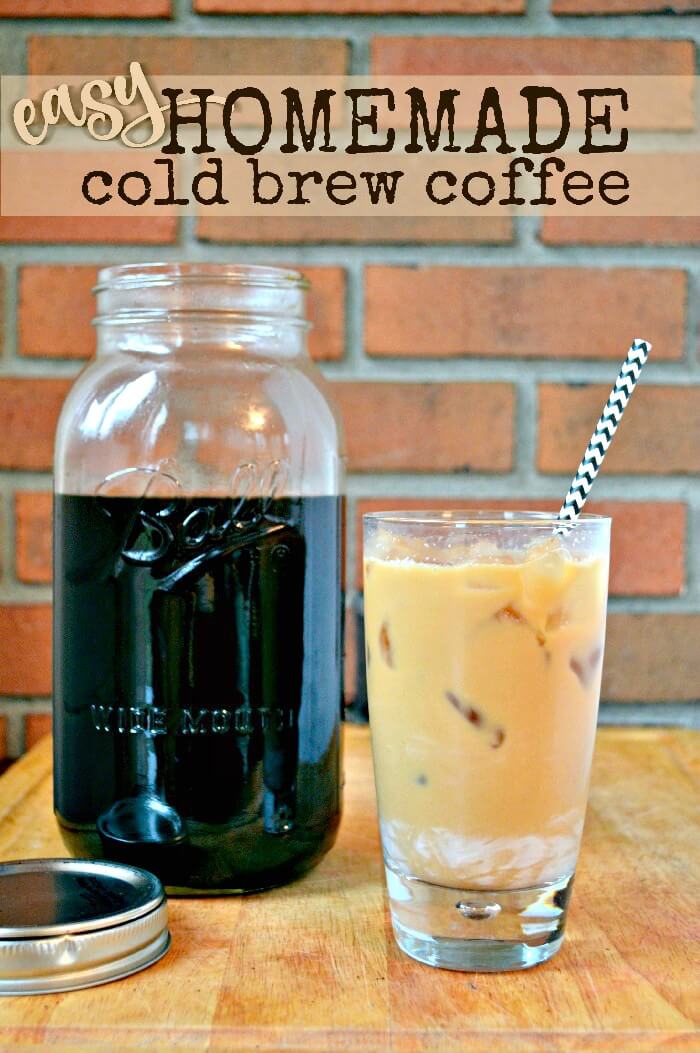 DIY Instructions: madincrafts
Make Your Own Vintage Blue Mason Jar Bird Feeder: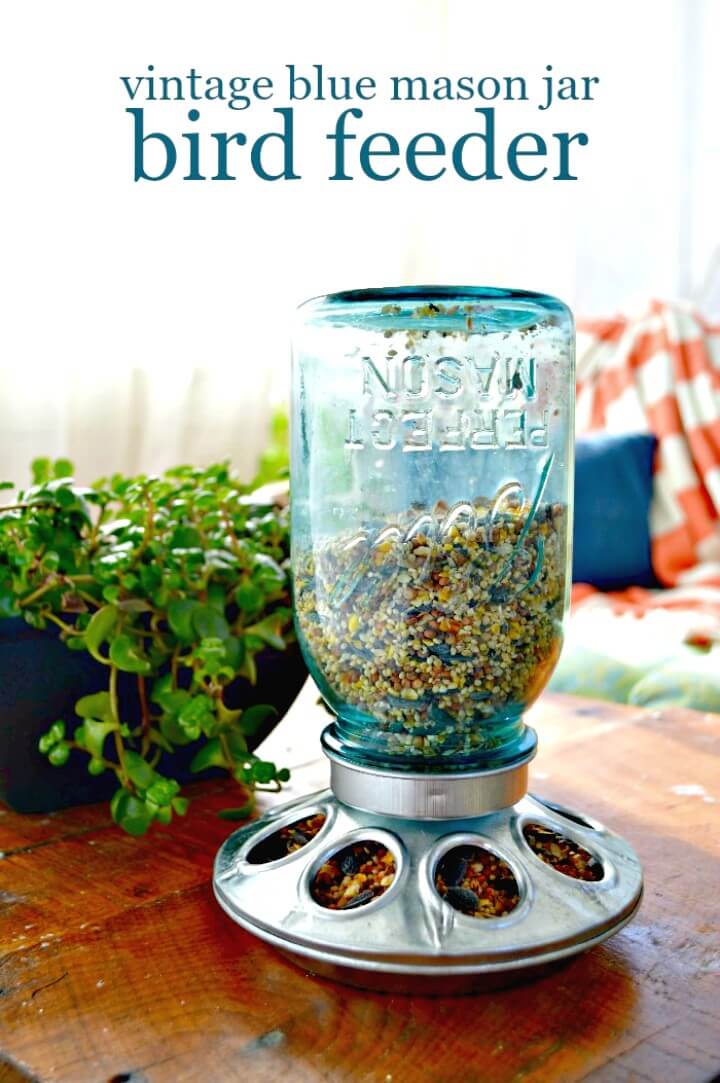 DIY Instructions: madincrafts
Easy DIY Mini Mason Jar Cheesecakes – Perfect For A Party: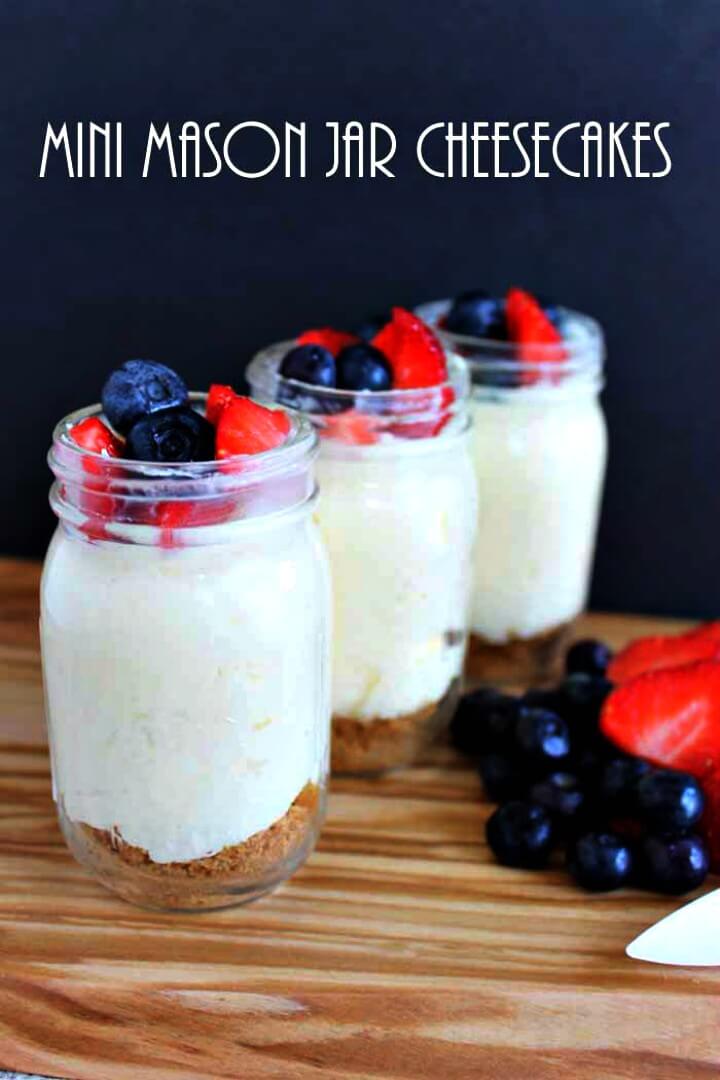 DIY Instructions: thecountrychiccottage
Easy DIY Homemade Scented Bubbles: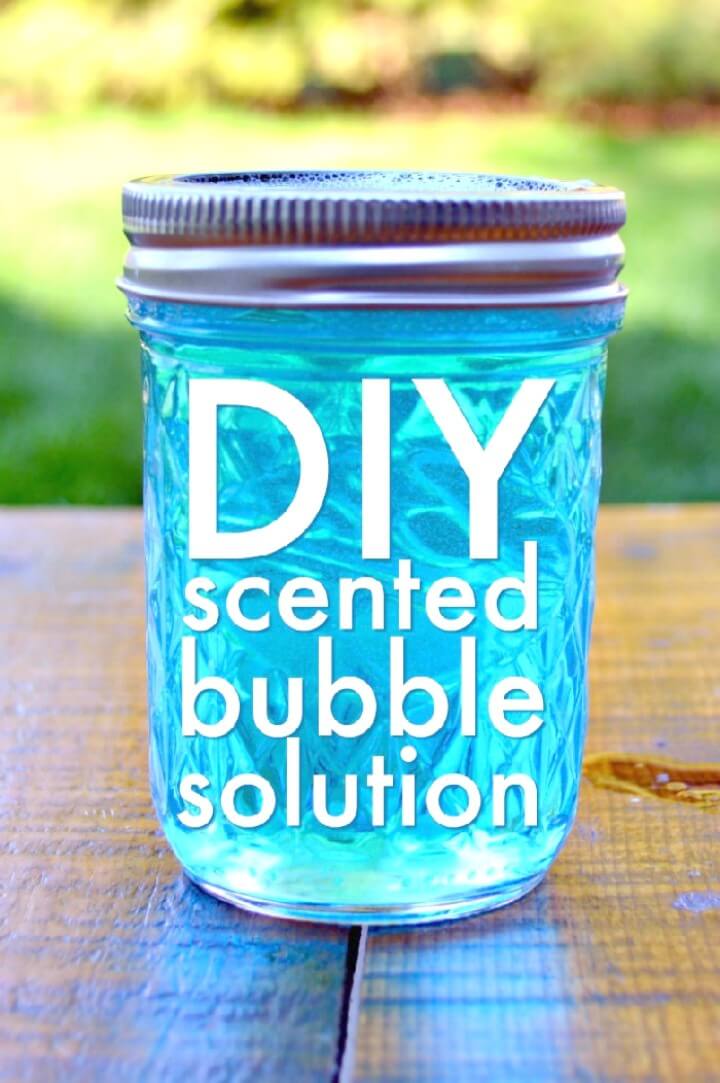 DIY Instructions: madincrafts
Easy DIY Mason Jar Tea Kit – Holiday Gift: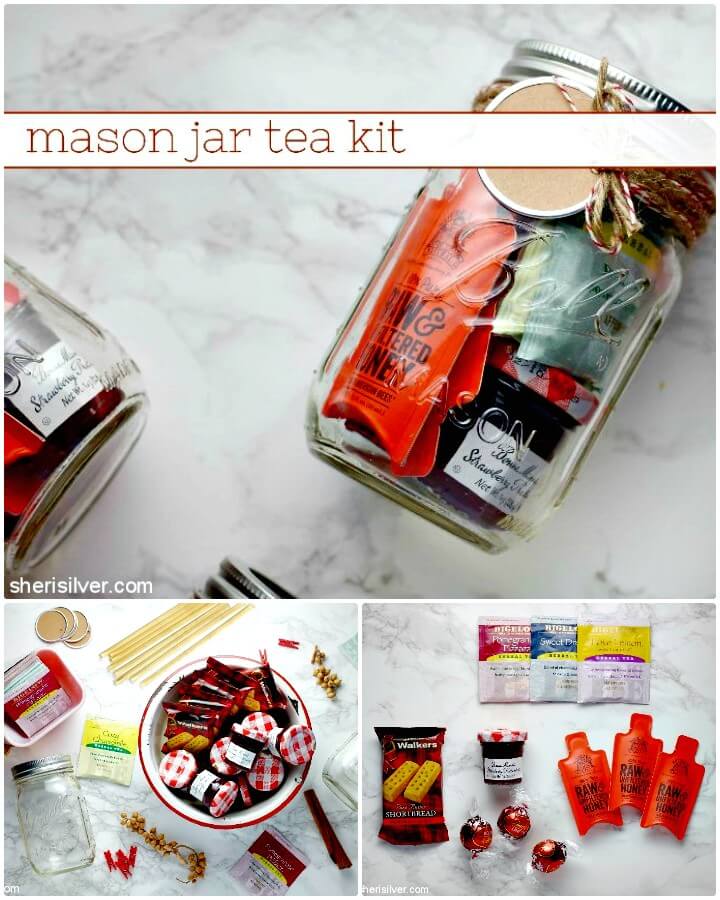 DIY Instructions: sherisilver
How to Make Rainbow Fruit Mason Jar Craft: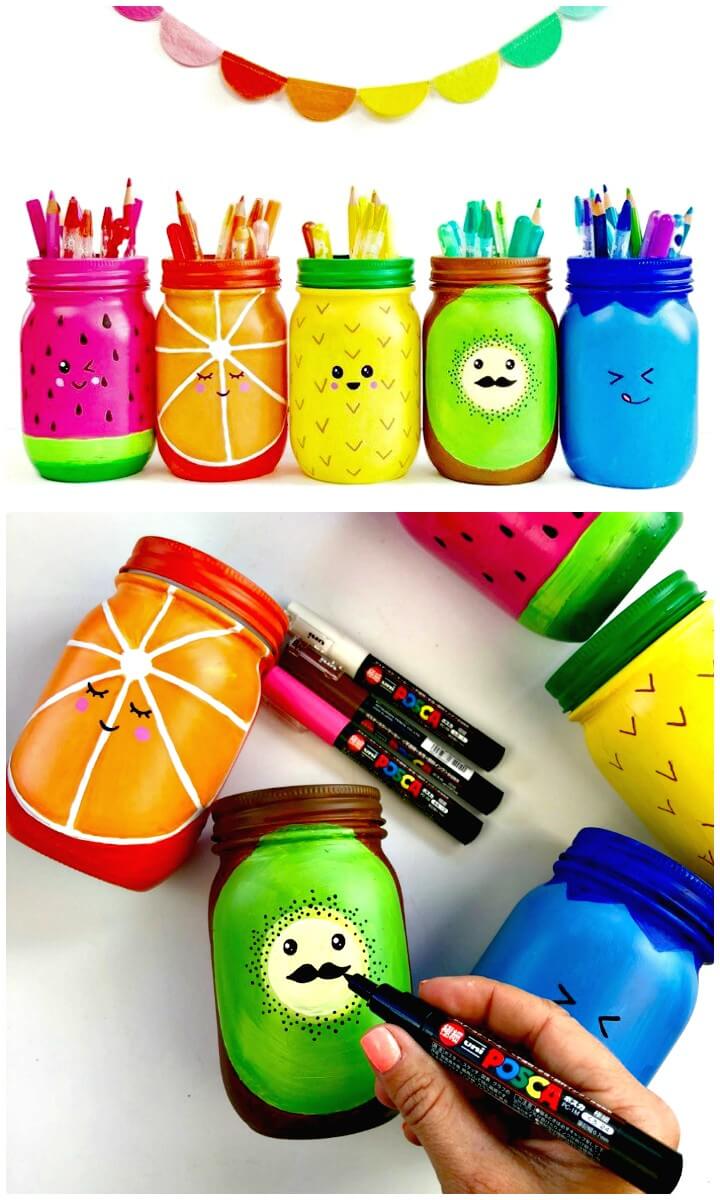 DIY Instructions: colormadehappy
How To Make Your Own Valentine Slime: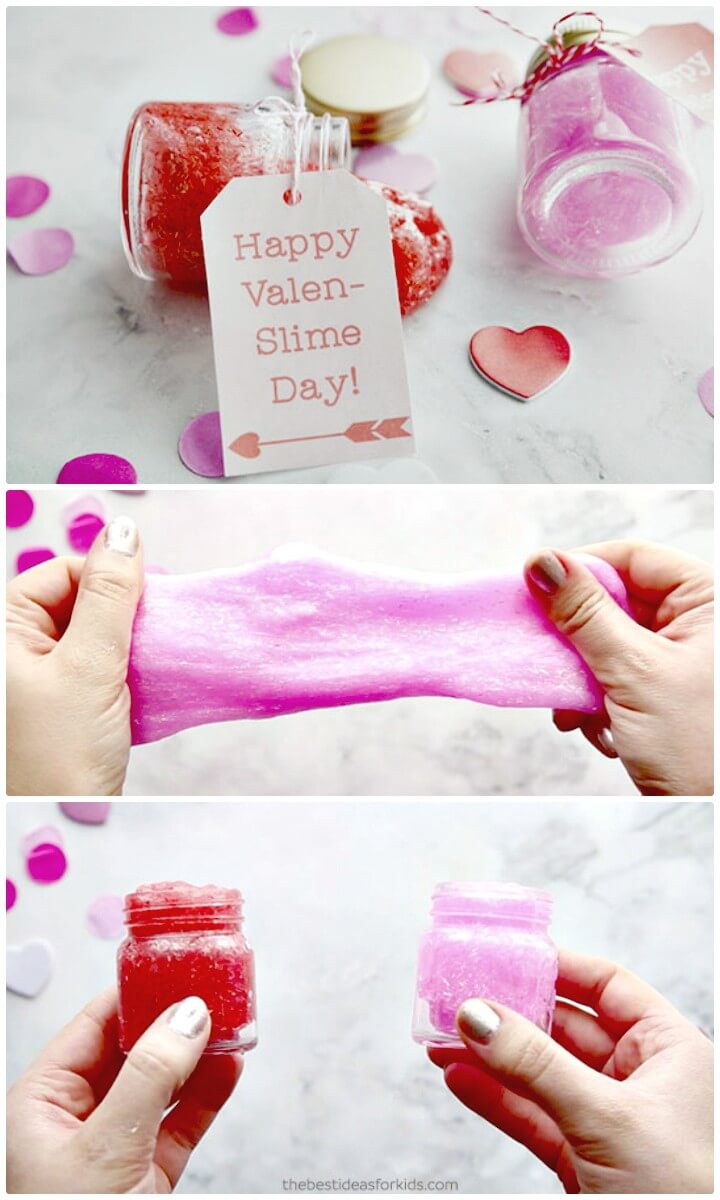 DIY Instructions: thebestideasforkids
Easy DIY Stove Top Citrus Potpourri Using Mason Jars: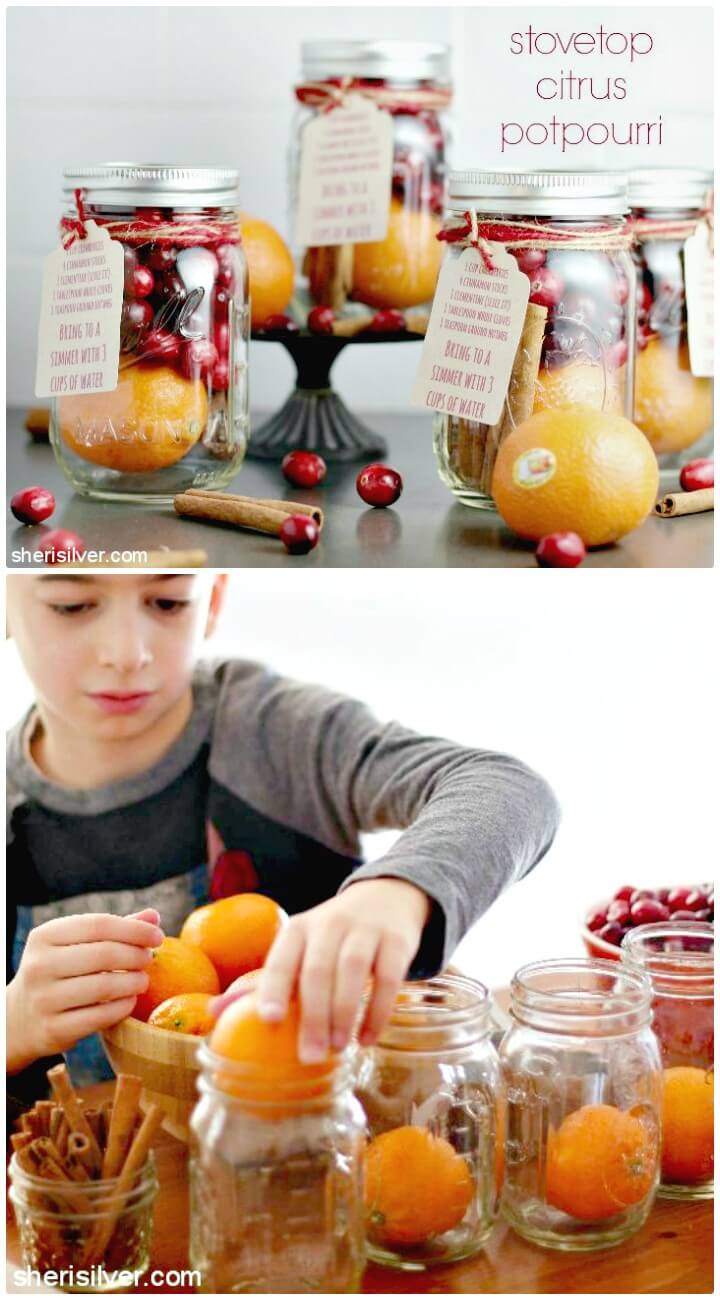 DIY Instructions: sherisilver
How To Make Bourbon Sugar Scrub – Mason Jar Gift For Men: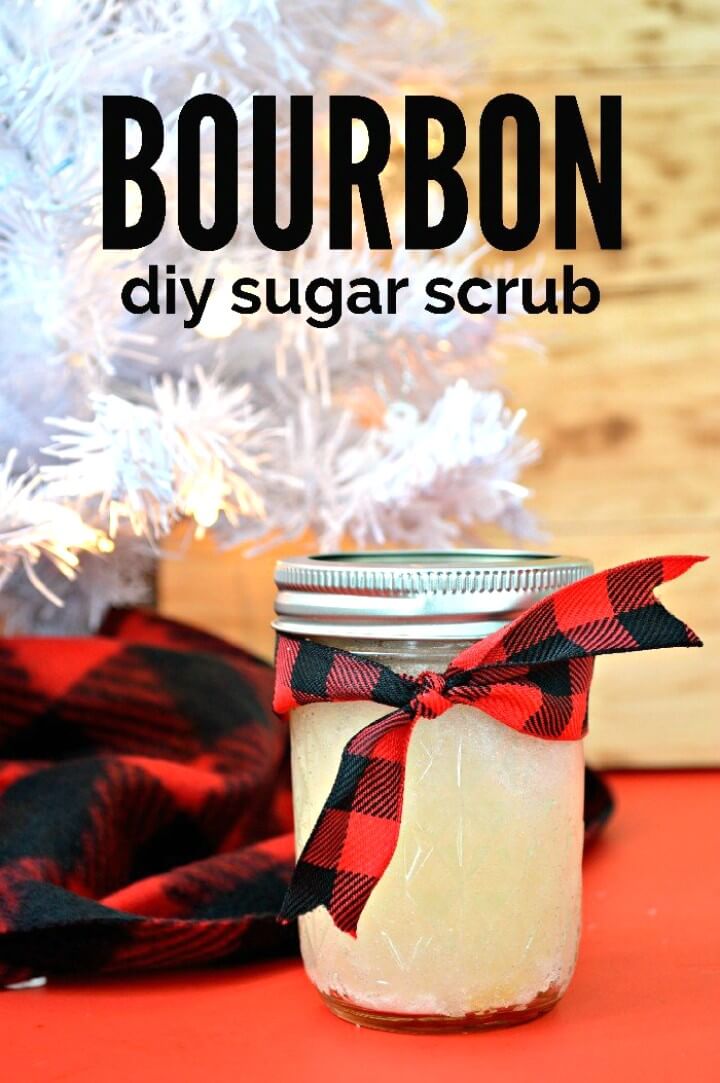 DIY Instructions: madincrafts
DIY Lavender Sugar Scrub – Handmade Gift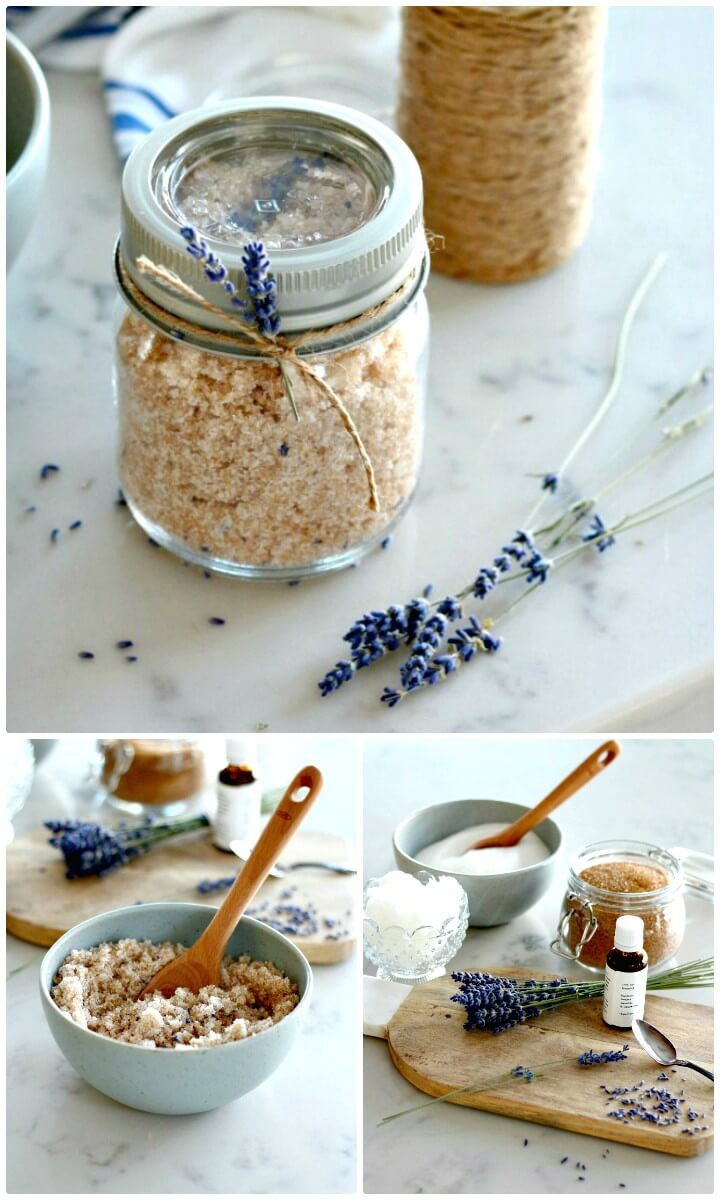 DIY Instructions: satoridesignforliving
Make Your Own Mason Jar Snowman Sugar Scrub: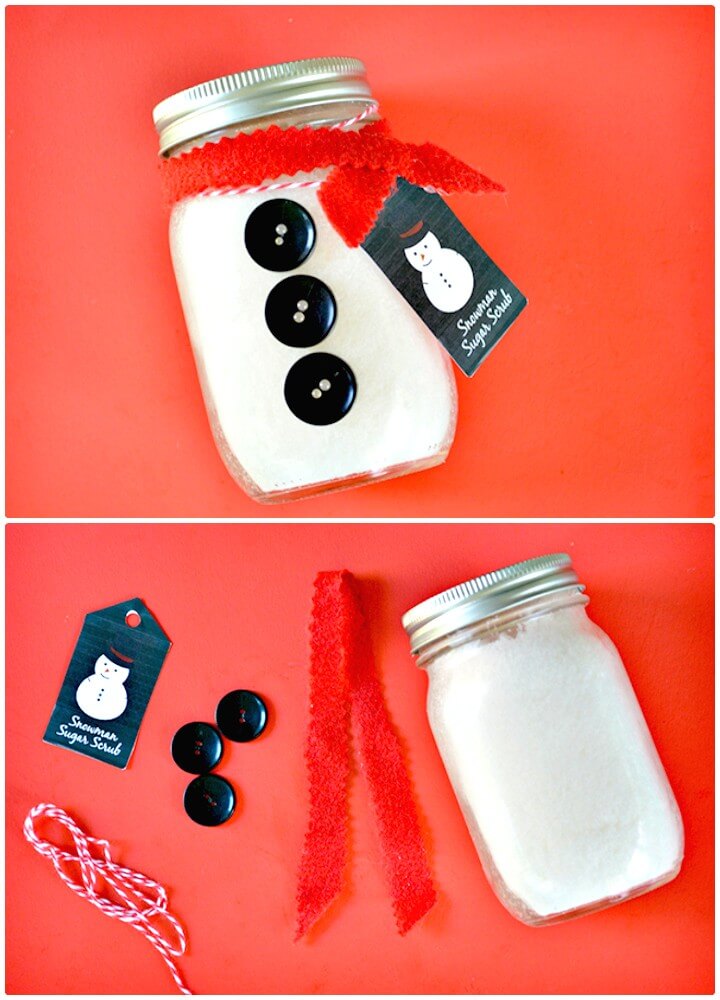 DIY Instructions: myprintly
Easy DIY Buffalo Check Painted Mason Jar: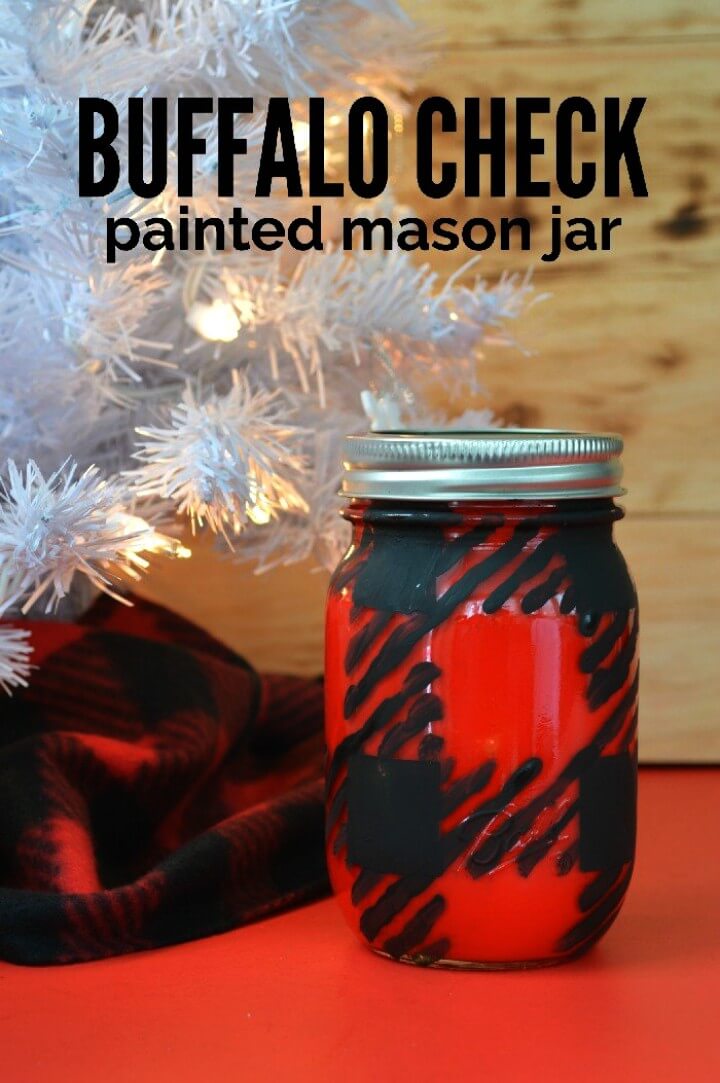 DIY Instructions: madincrafts
How To Make Candy Heart Mason Jar For Valentine's Day: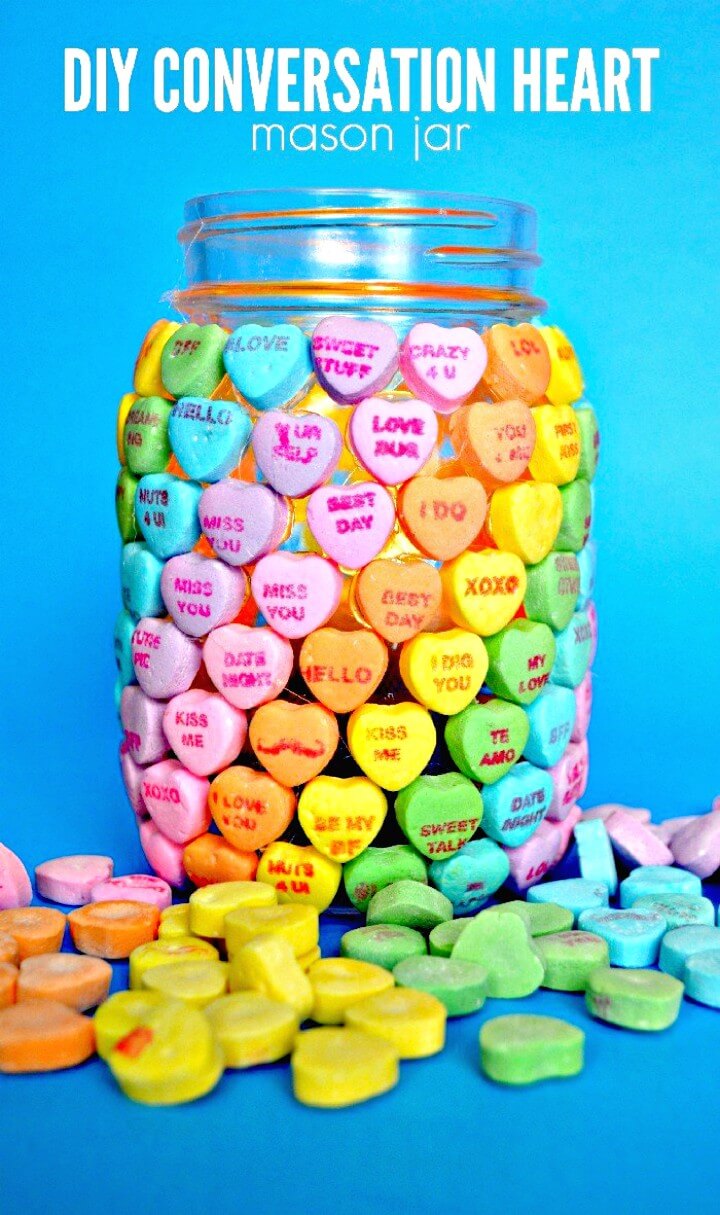 DIY Instructions: madincrafts
DIY You Make Life Sweet – Free Printable Jar Label: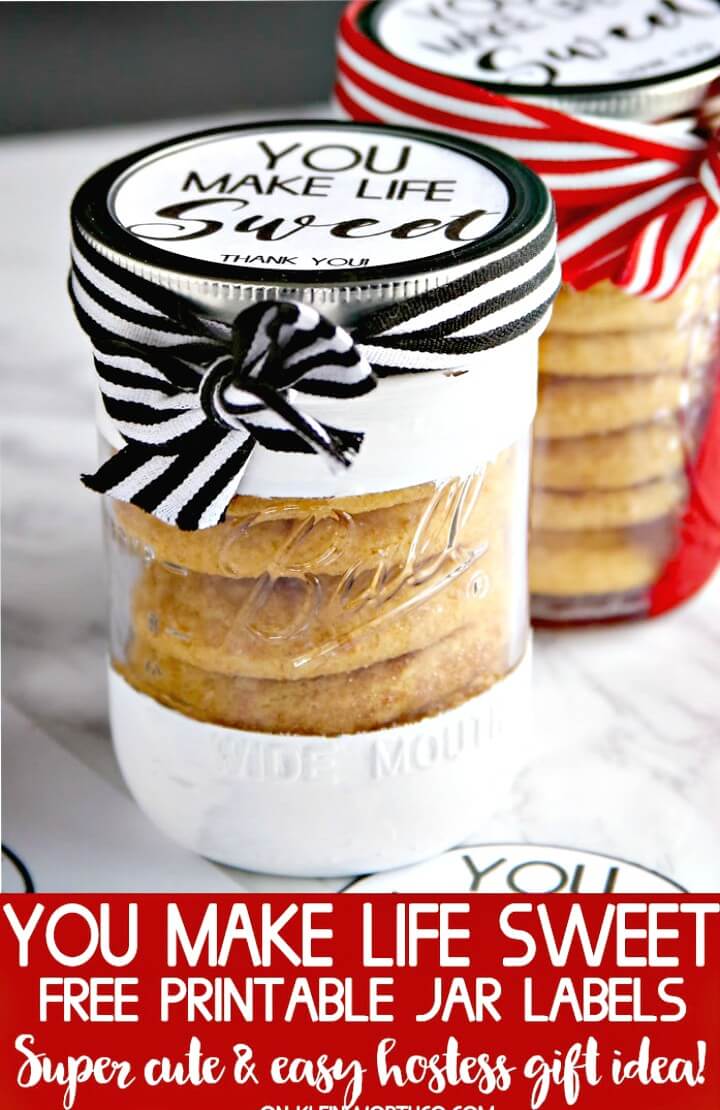 DIY Instructions: kleinworthco
Make Your Own Zombie Mason Jars:
DIY Instructions: craftsbyamanda
Easy DIY Mason Jar Pencil Holder: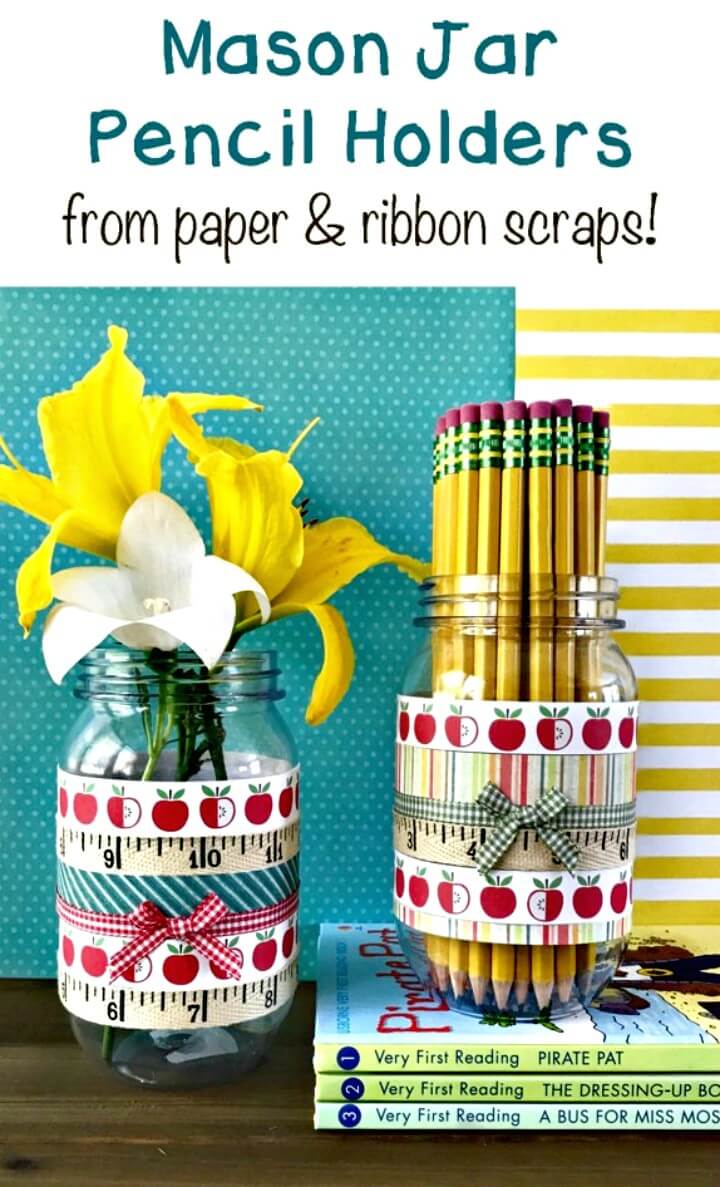 DIY Instructions: bugaboocity
How To Make Trolls Mason Jars: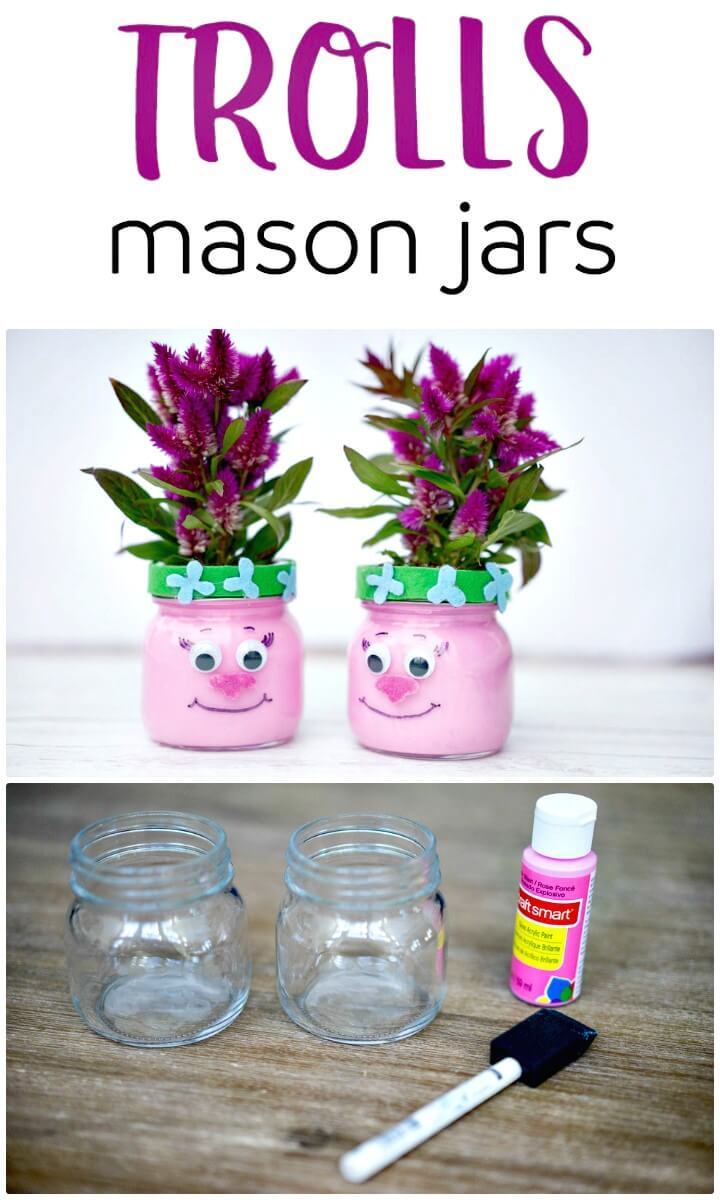 DIY Instructions: thebestideasforkids
DIY Summer Fruit Mason Jar Tutorial: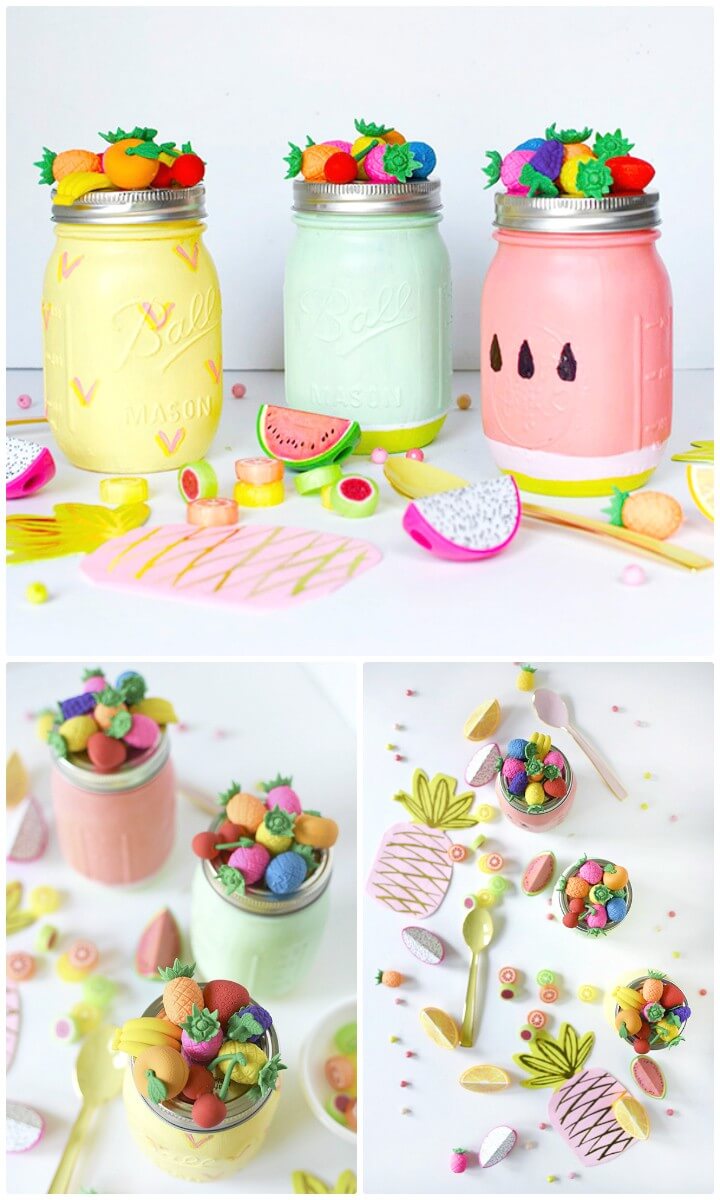 DIY Instructions: delineateyourdwelling
Easy DIY Animal Painted Mason Jars: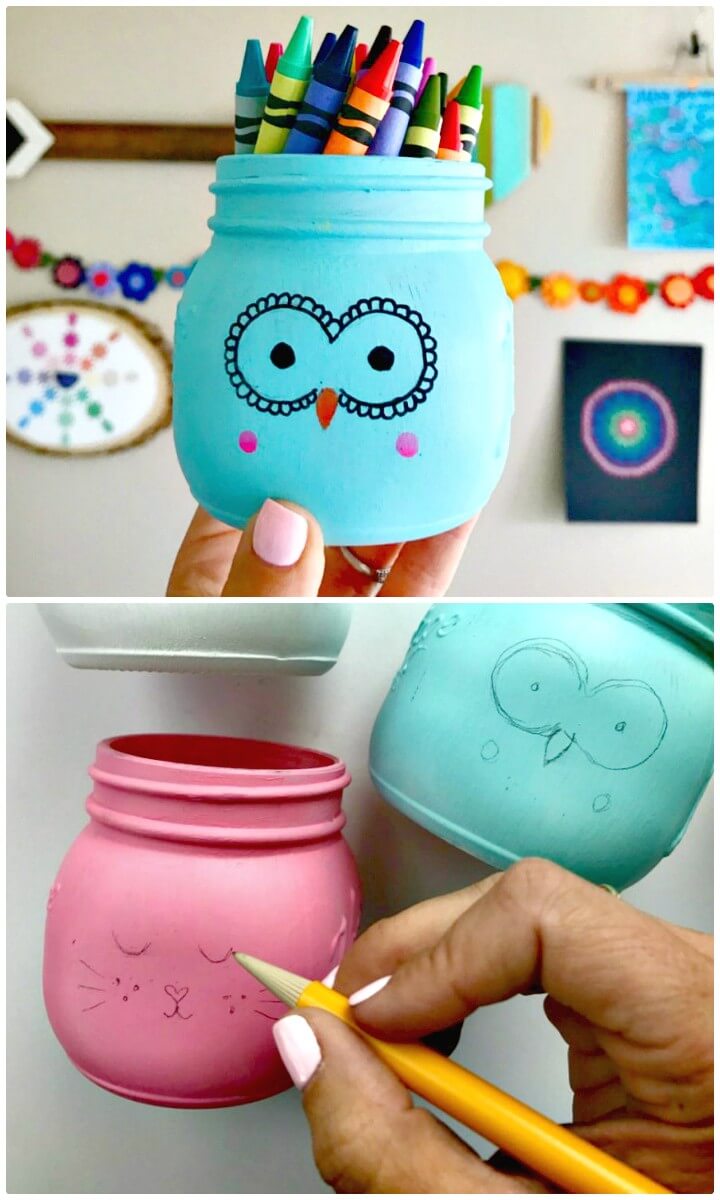 DIY Instructions: colormadehappy
How To Make Coastal Mason Jar Organizer: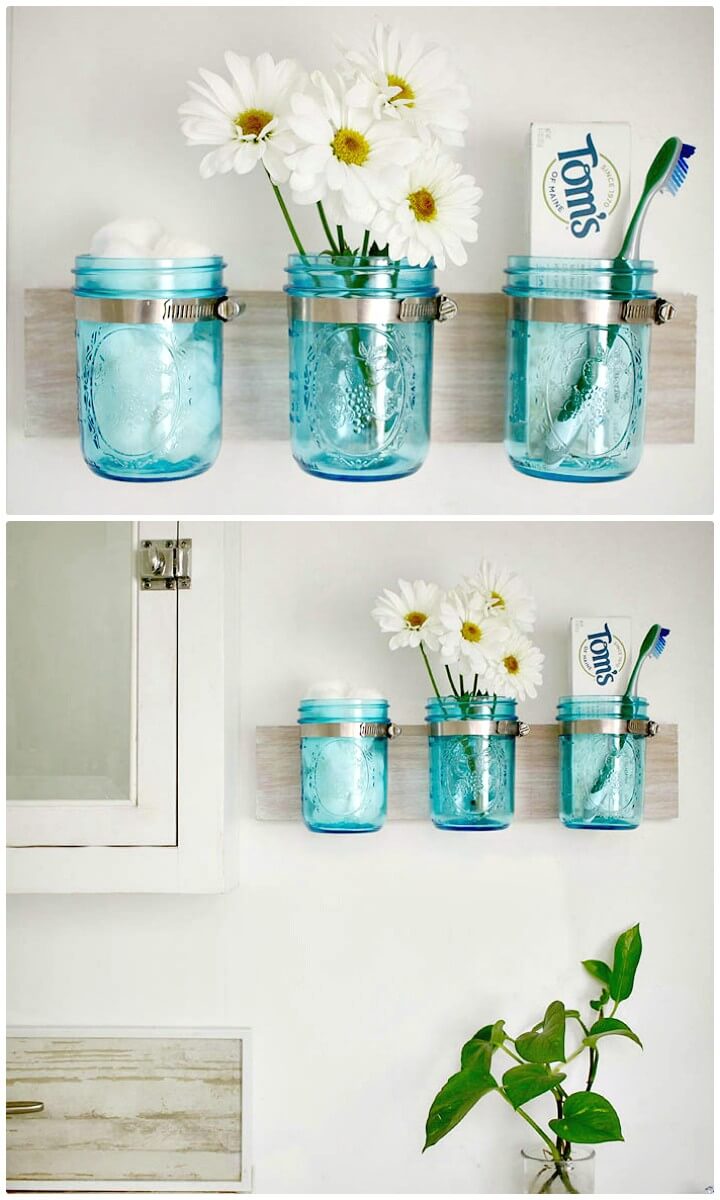 DIY Instructions: gina-michele
DIY Lavender Flower Painted Mason Jars: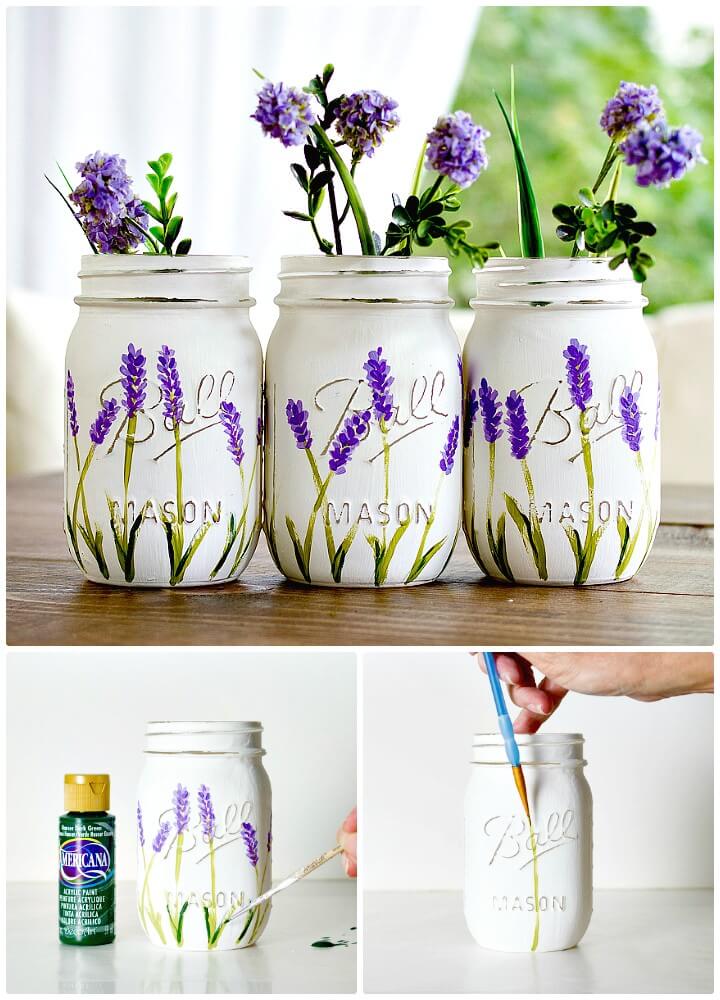 DIY Instructions: itallstartedwithpaint
Make Your Own 15 Bean Soup Mason Jar Gift: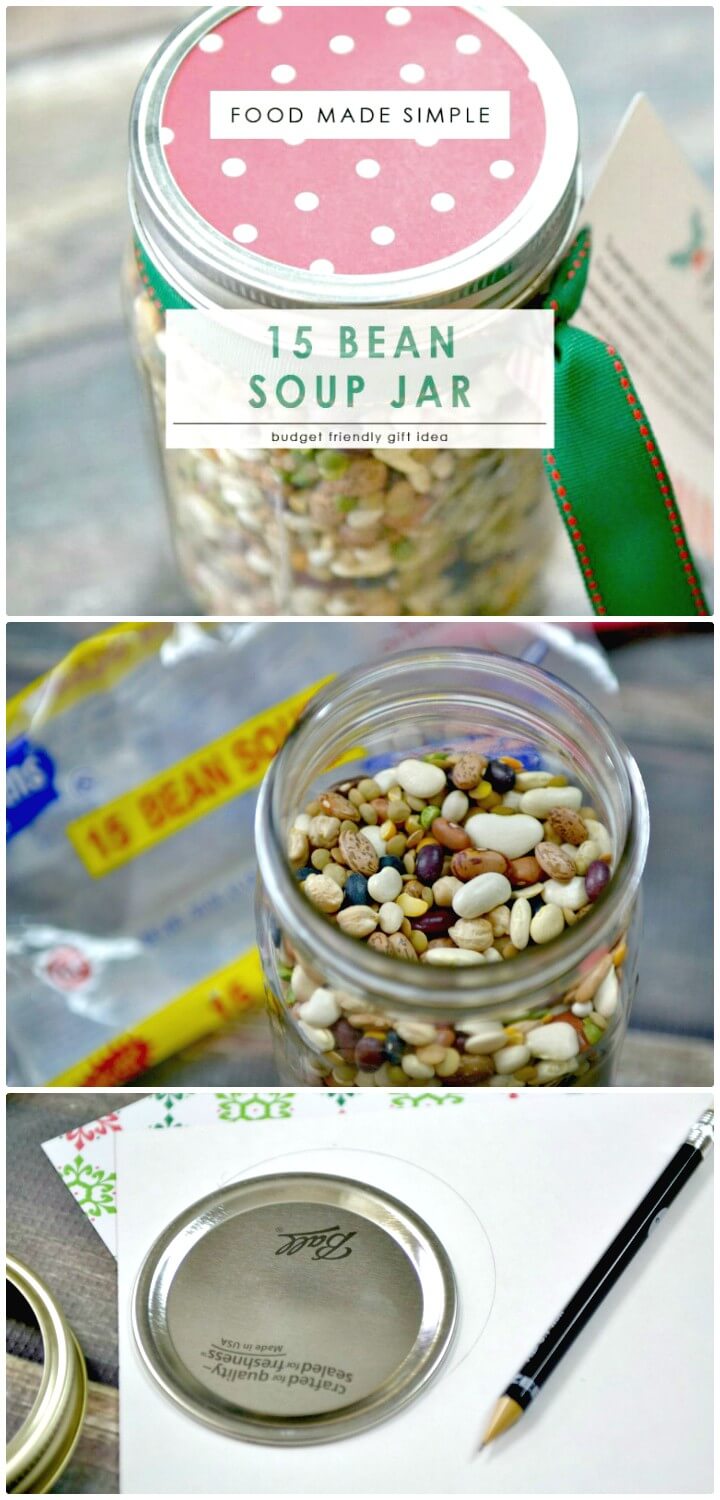 DIY Instructions: livingwellspendingless
Easy DIY Fairy Garden Mason Jar Terrarium: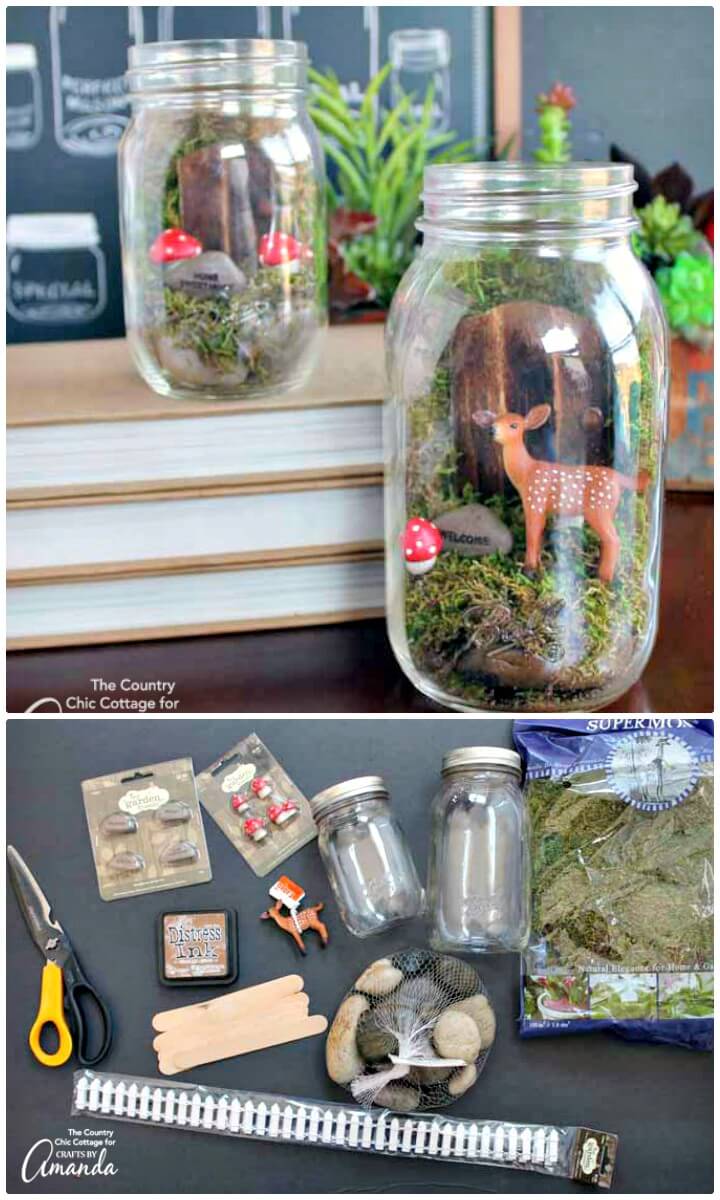 DIY Instructions: craftsbyamanda
How To Make Mother's Day Gifts Using Chalk Paint and Jars: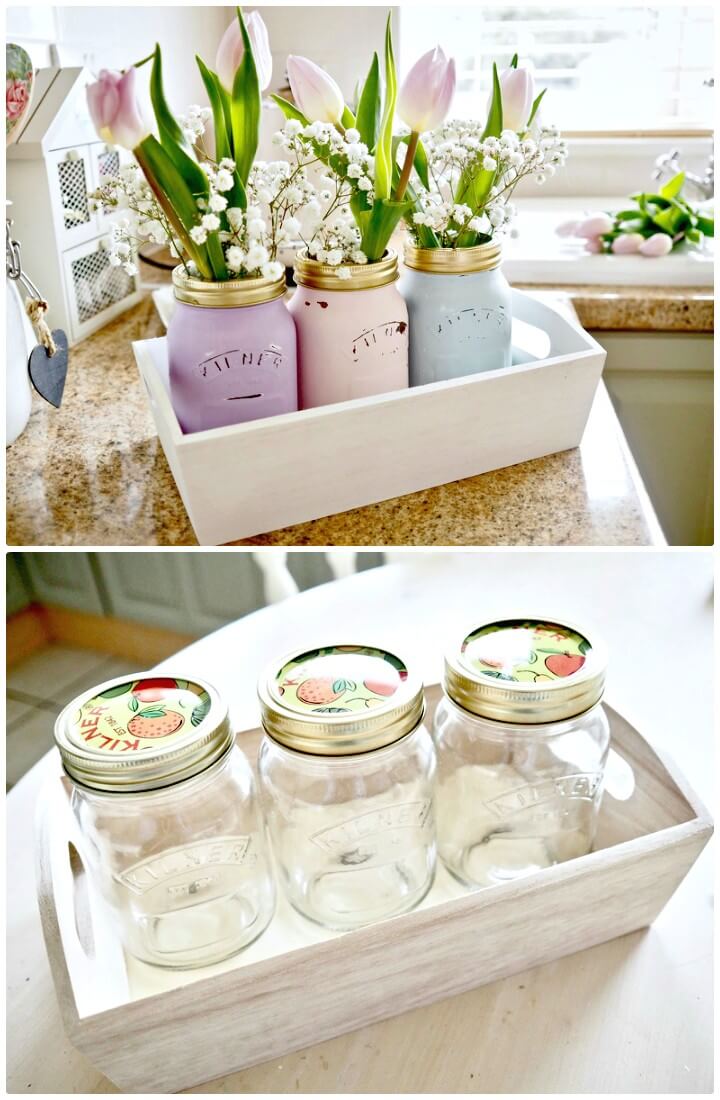 DIY Instructions: daintydressdiaries
Quick and Easy DIY Valentine's Day Treat Jars for Under $5: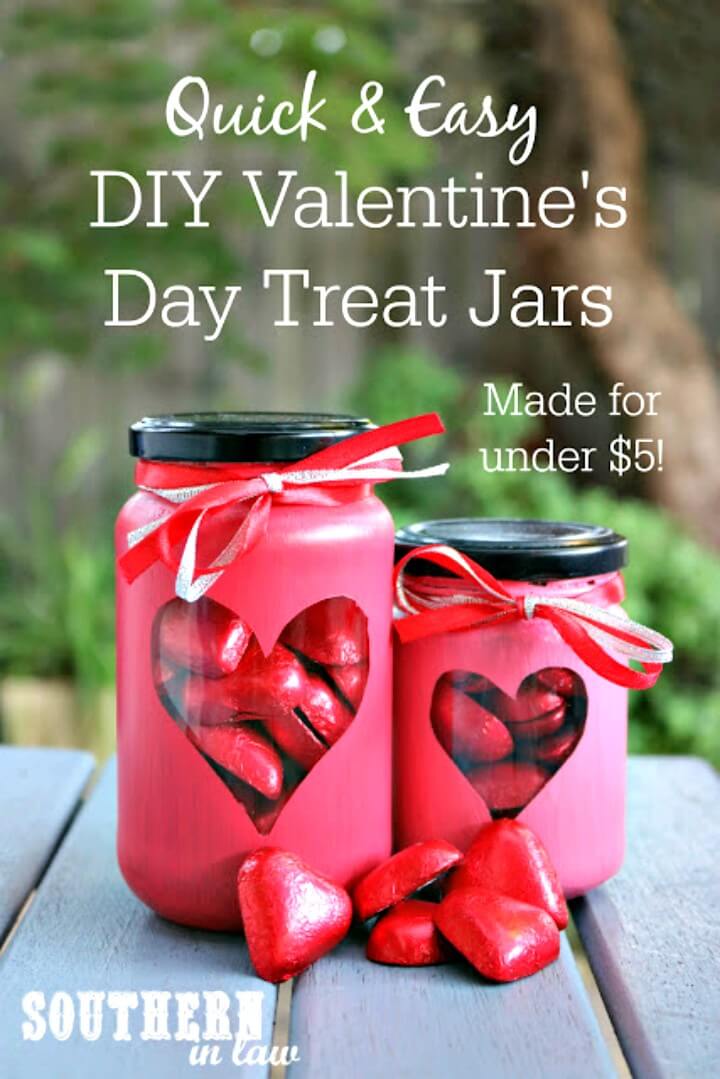 DIY Instructions: southerninlaw
Make Your Own Stars In The Sky Lantern: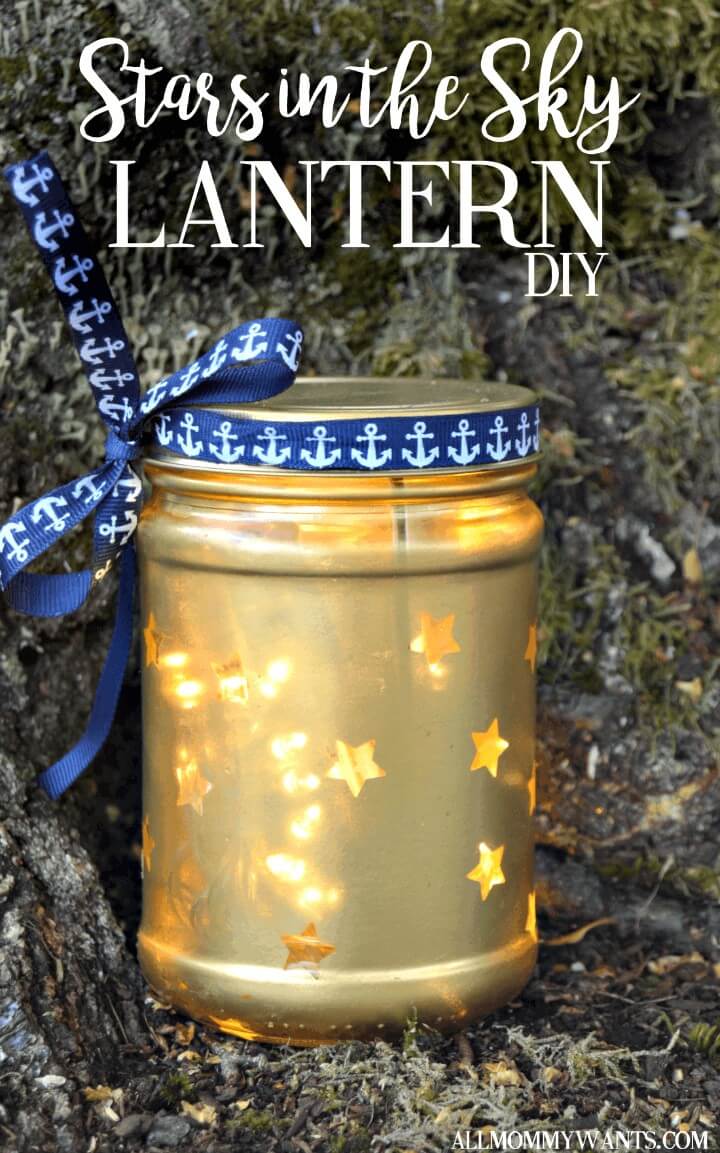 DIY Instructions: allmommywants
Easy DIY Mason Jar Ghost Candy Gift: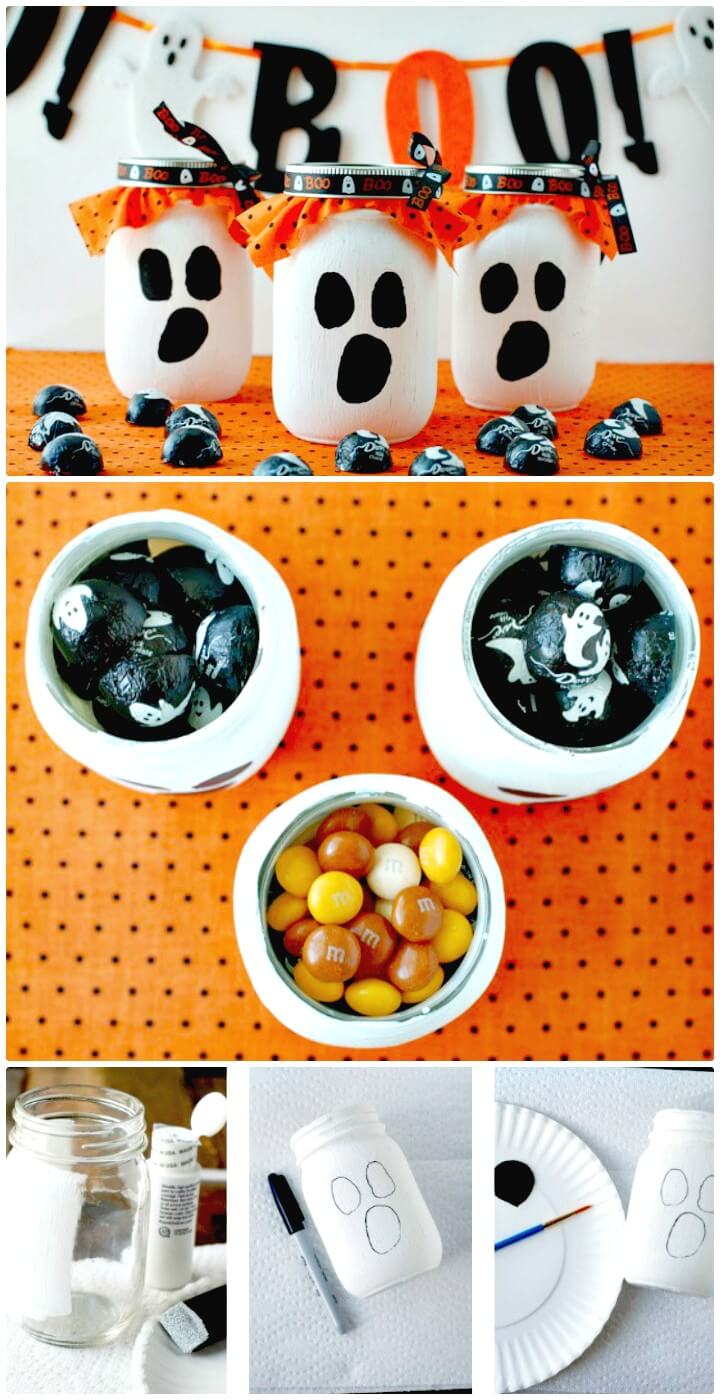 DIY Instructions: foodlovinfamily
How To Make Baby Loves Nursery Jars: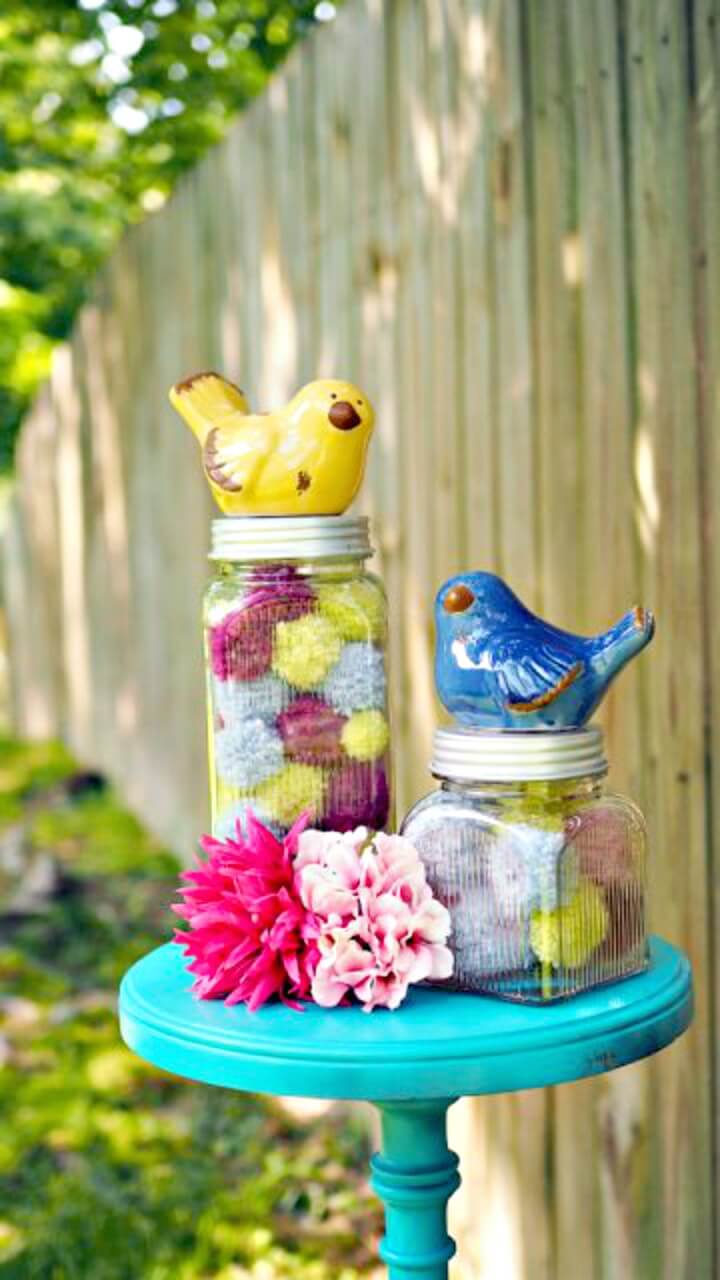 DIY Instructions: pattymacknits
How to DIY Mason Jar Centerpiece For Fall: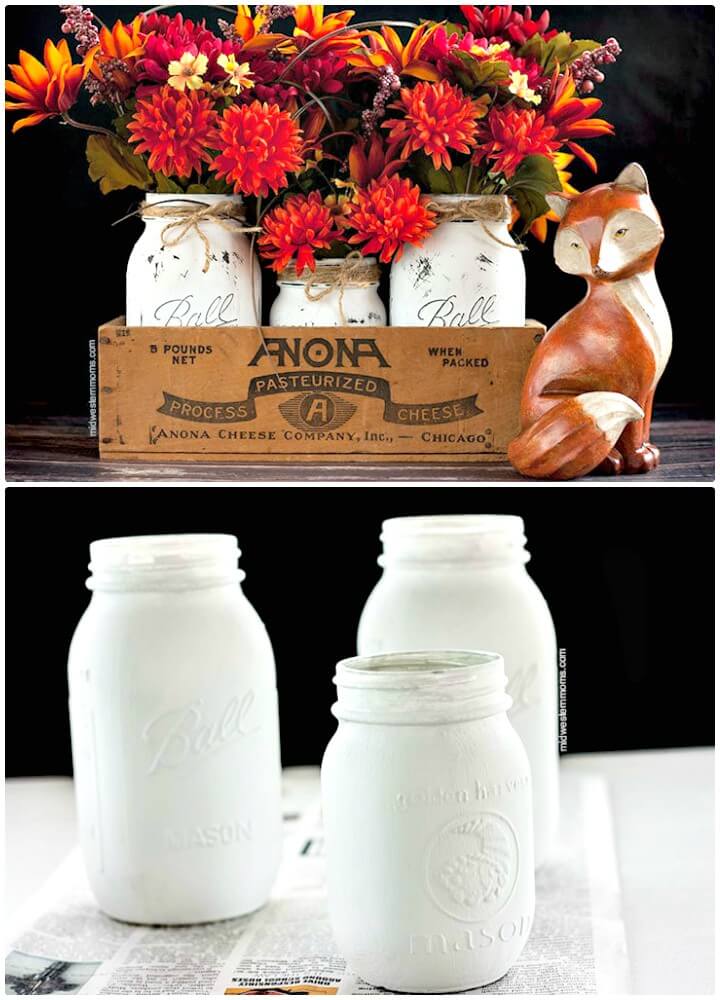 DIY Instructions: midwesternmoms
Make Your Own Painted Mason Jar Herb Garden: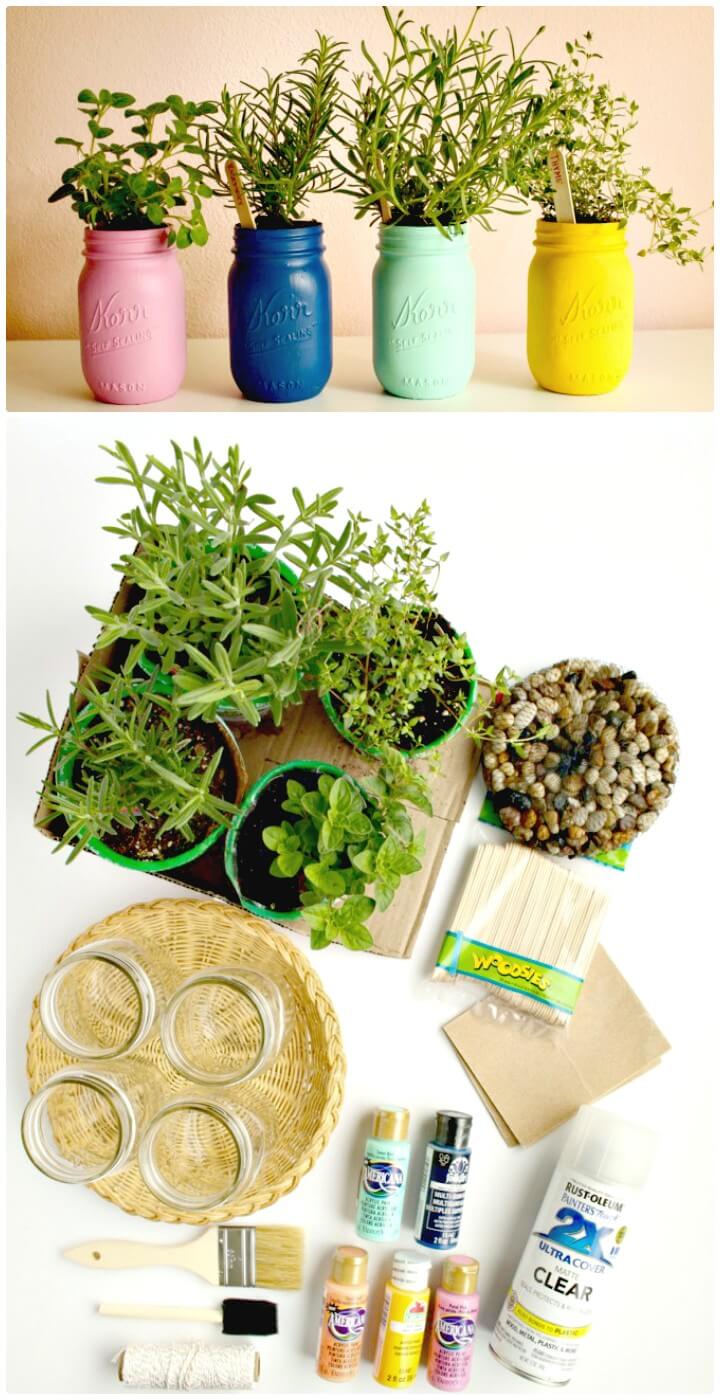 DIY Instructions: goldstandardworkshop
Easy DIY Patriotic Fabric Mason Jars: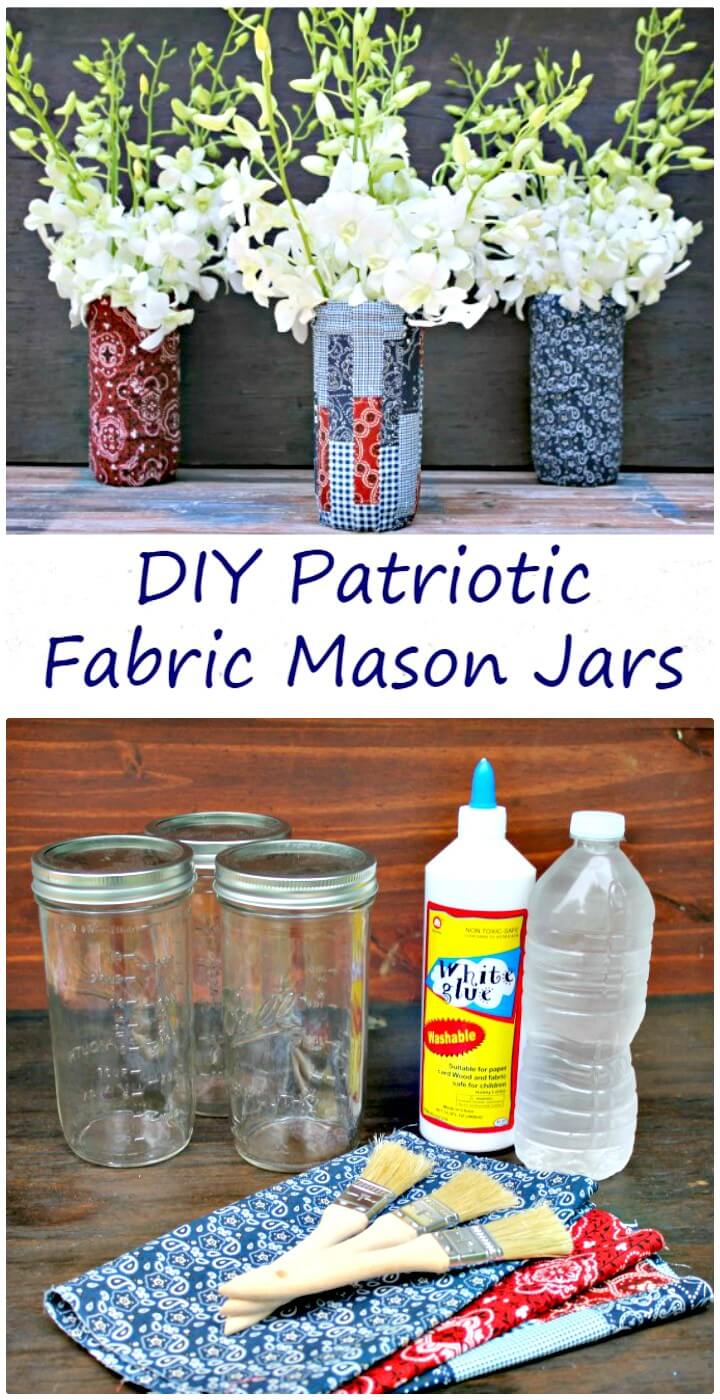 DIY Instructions: kickingitwithkelly
How To DIY Pressed Flower Mason Jar Candles: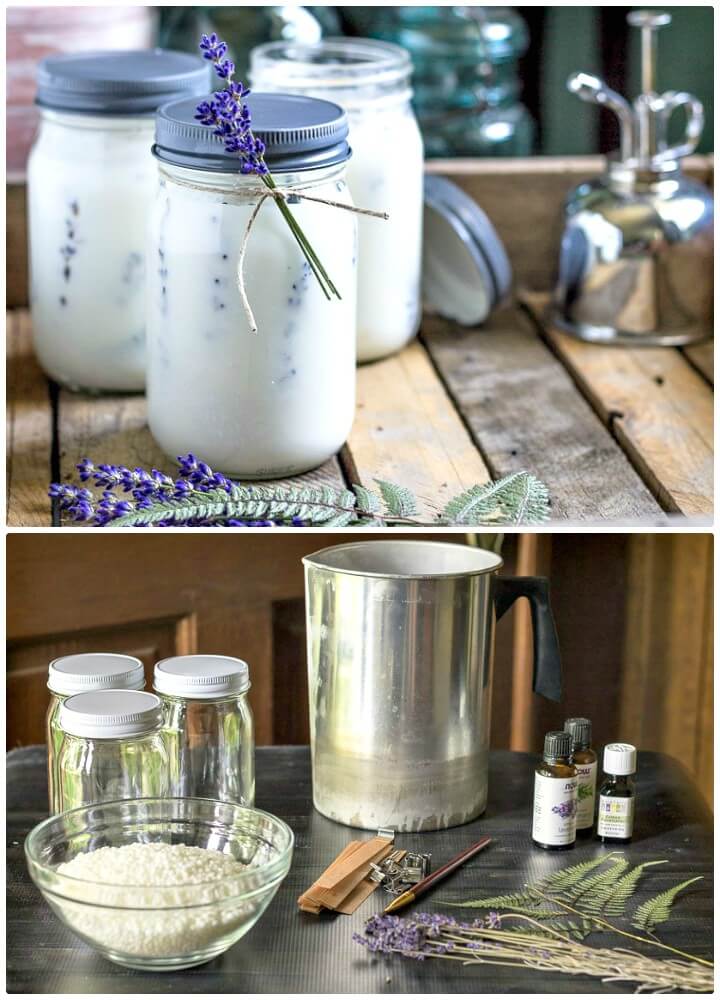 DIY Instructions: hearthandvine
How To Up Your Decorating Game With Metallic Gold Paint: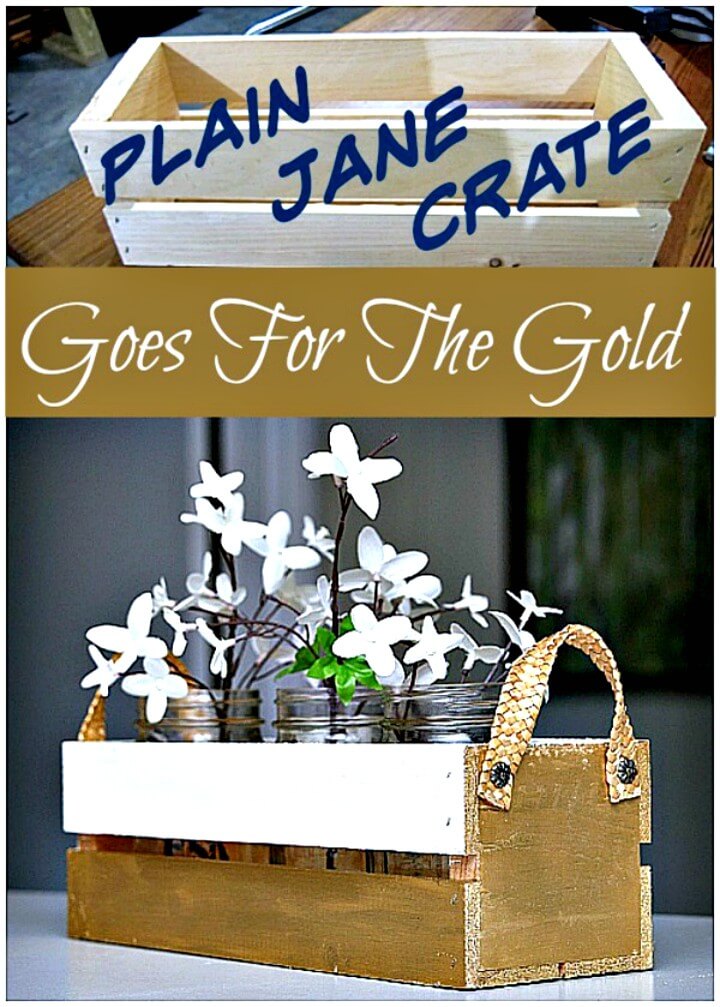 DIY Instructions: petticoatjunktion
How To DIY Mason Jar Centerpieces: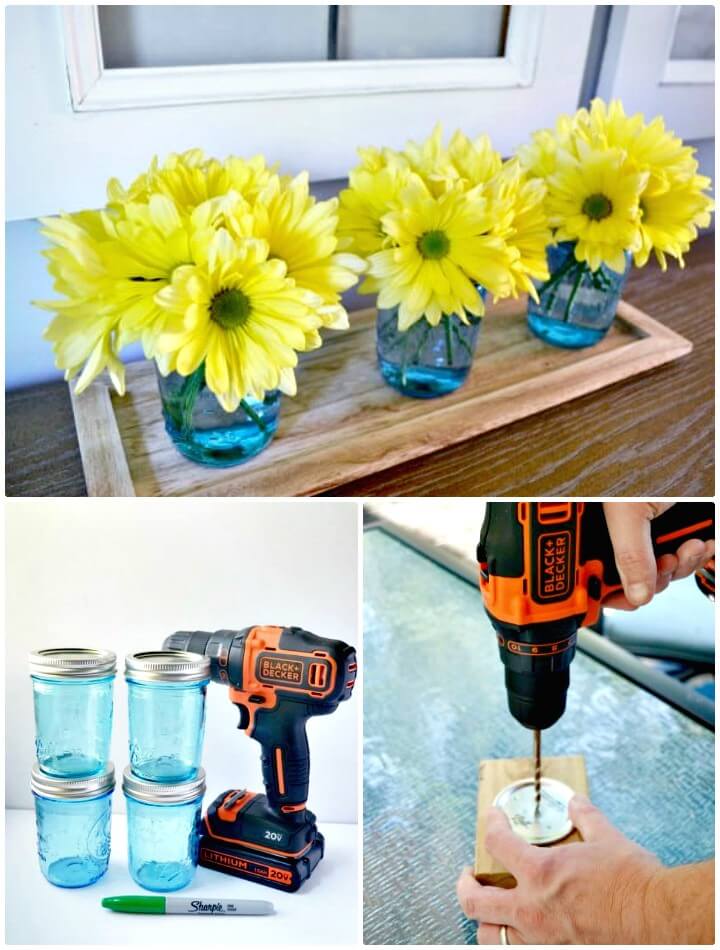 DIY Instructions: burlapandblue
Make Your Own Painting Mason Jars Using Junk Gypsy Paint: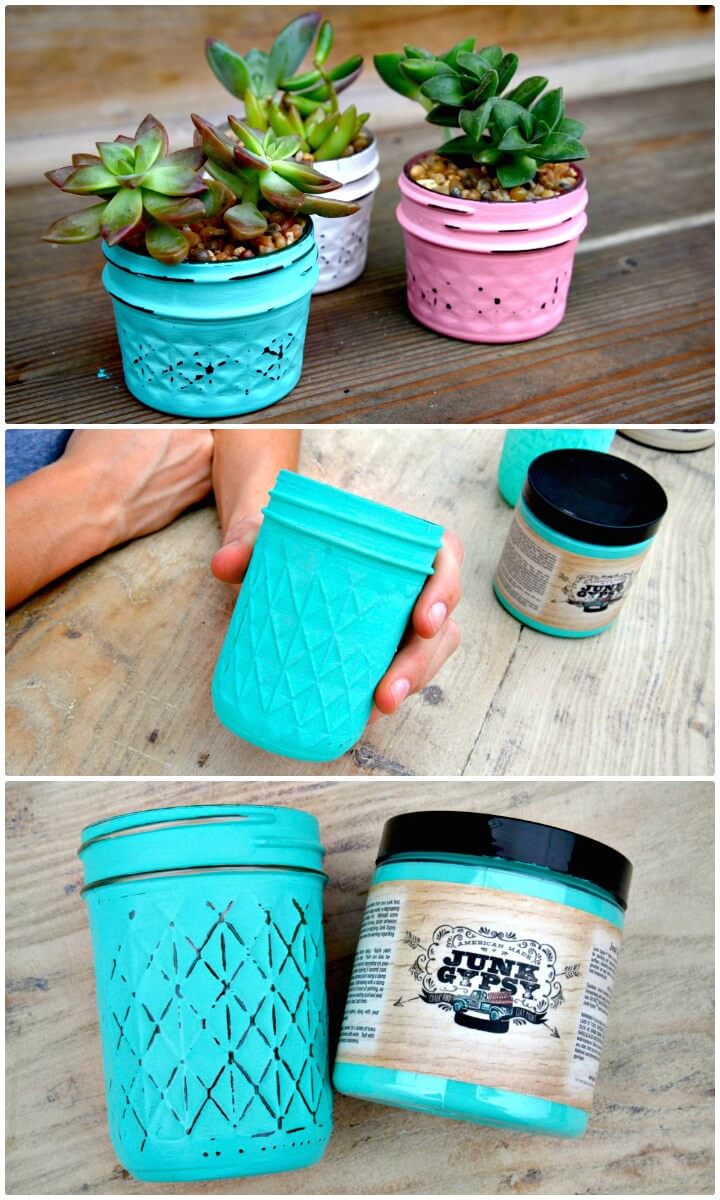 DIY Instructions: junkgypsypaint
Easy DIY Hanging Mason Jar Vase: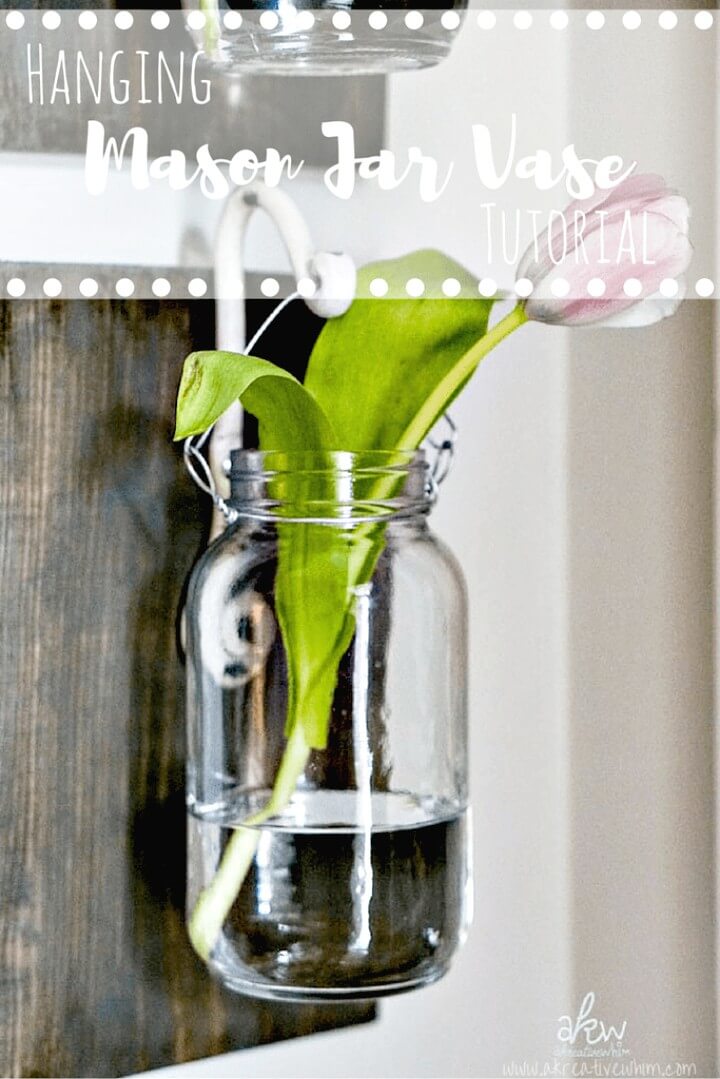 DIY Instructions: akreativewhim
How To Make Glass Painted Pineapple Mason Jar: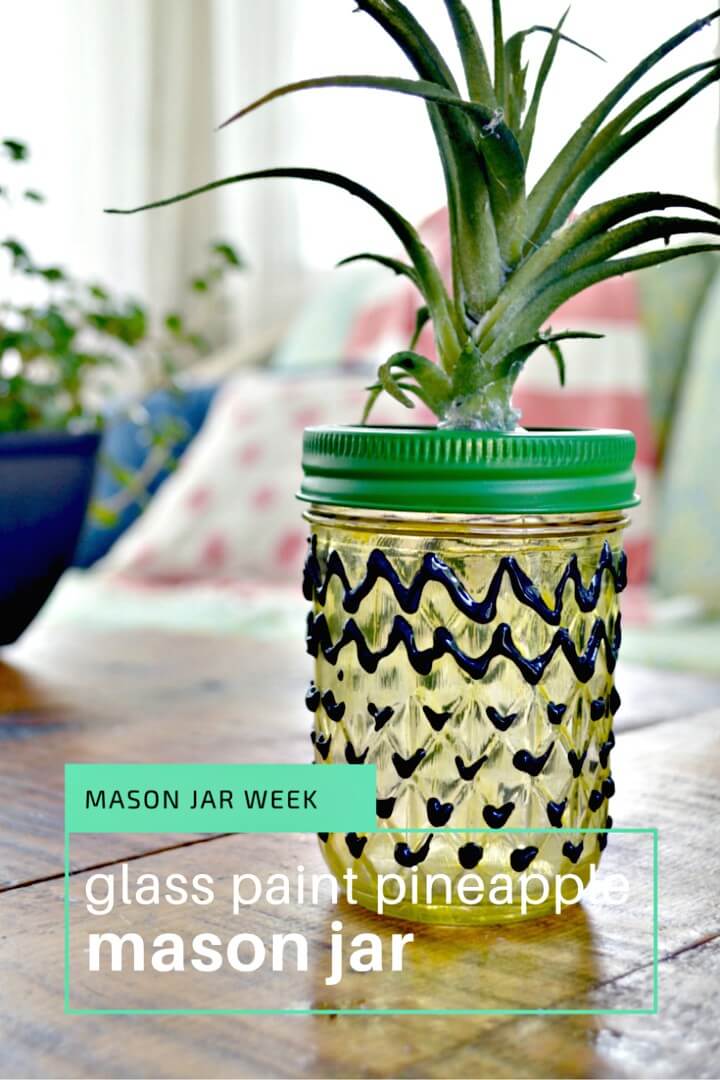 DIY Instructions: madincrafts
DIY Painted Cottage Chic Glass Jar Tutorial: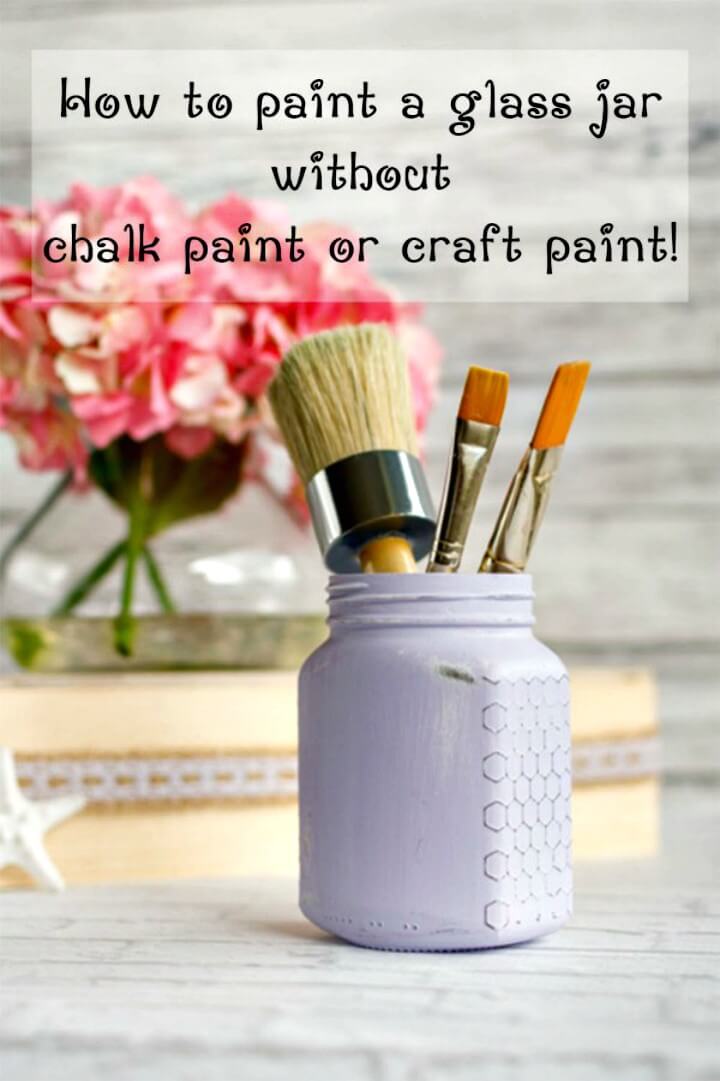 DIY Instructions: natashalh
How To DIY Painted Shamrock Mason Jars: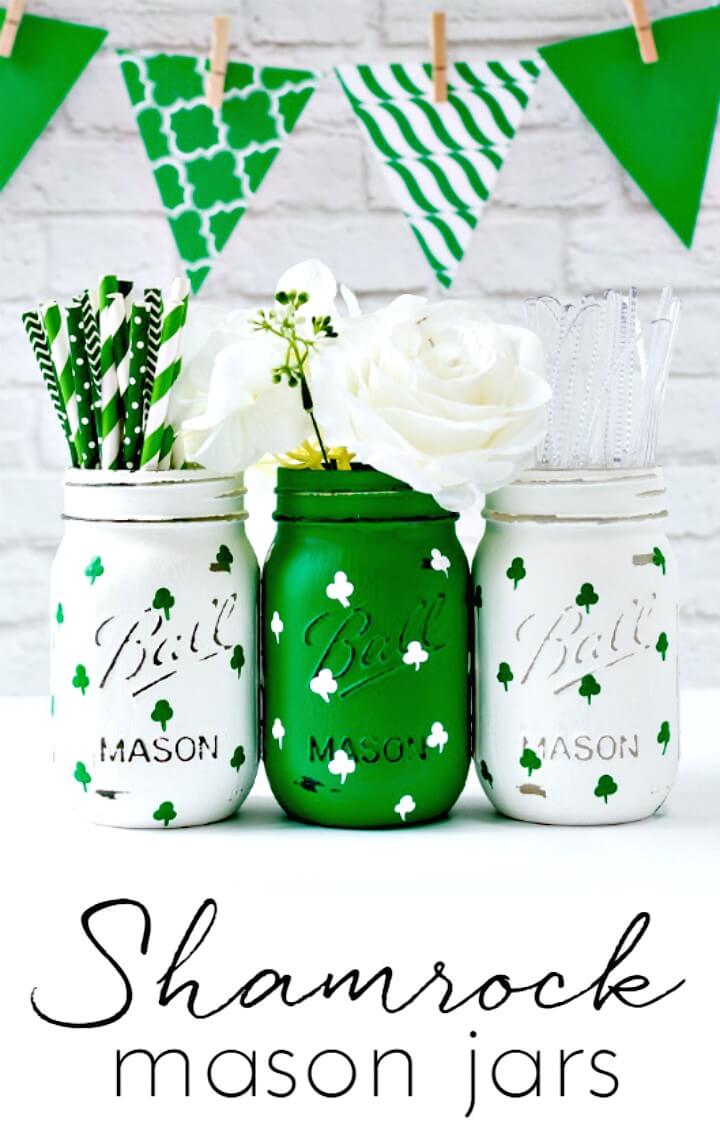 DIY Instructions: masonjarcraftslove
Make Your Own Valentine's Day Mason Jar Gifts: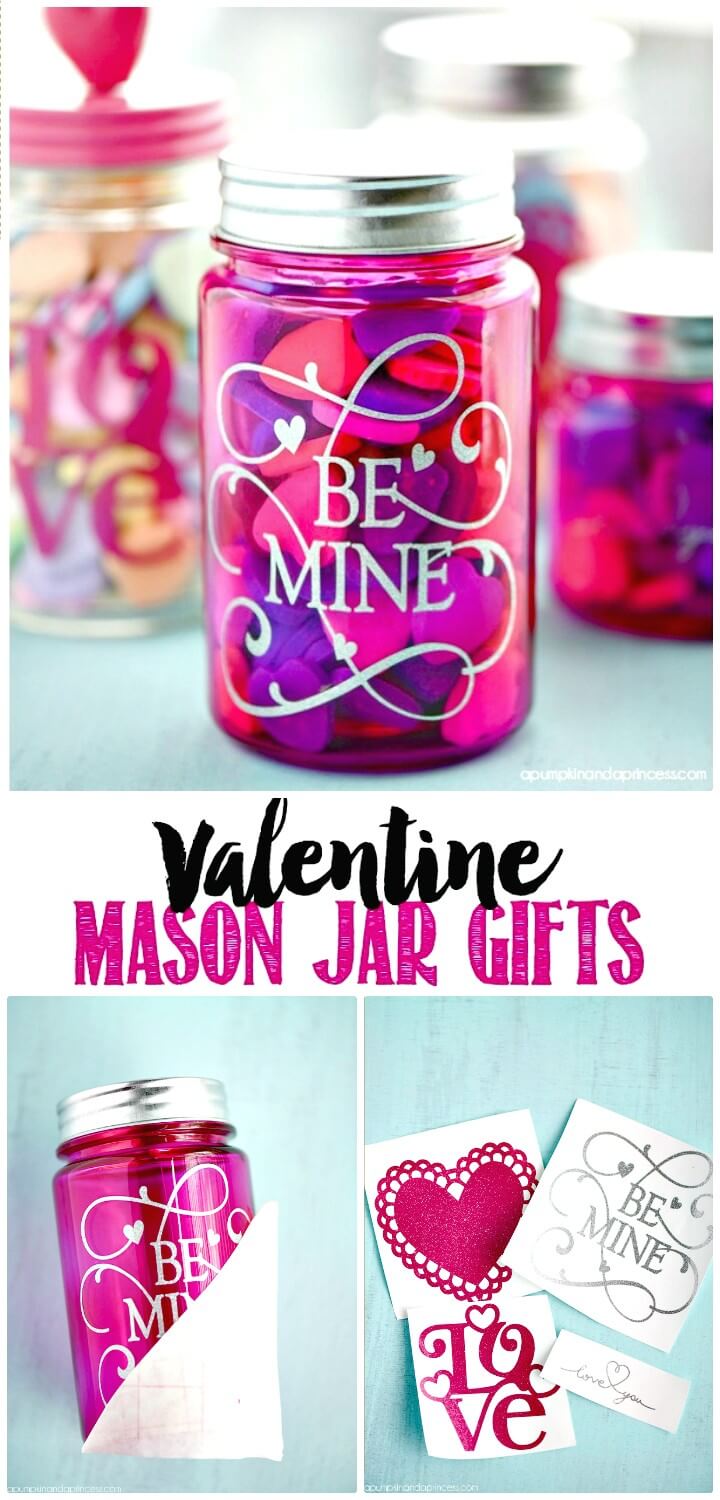 DIY Instructions: apumpkinandaprincess
Easy DIY Painted Mason Jar Votive Holders: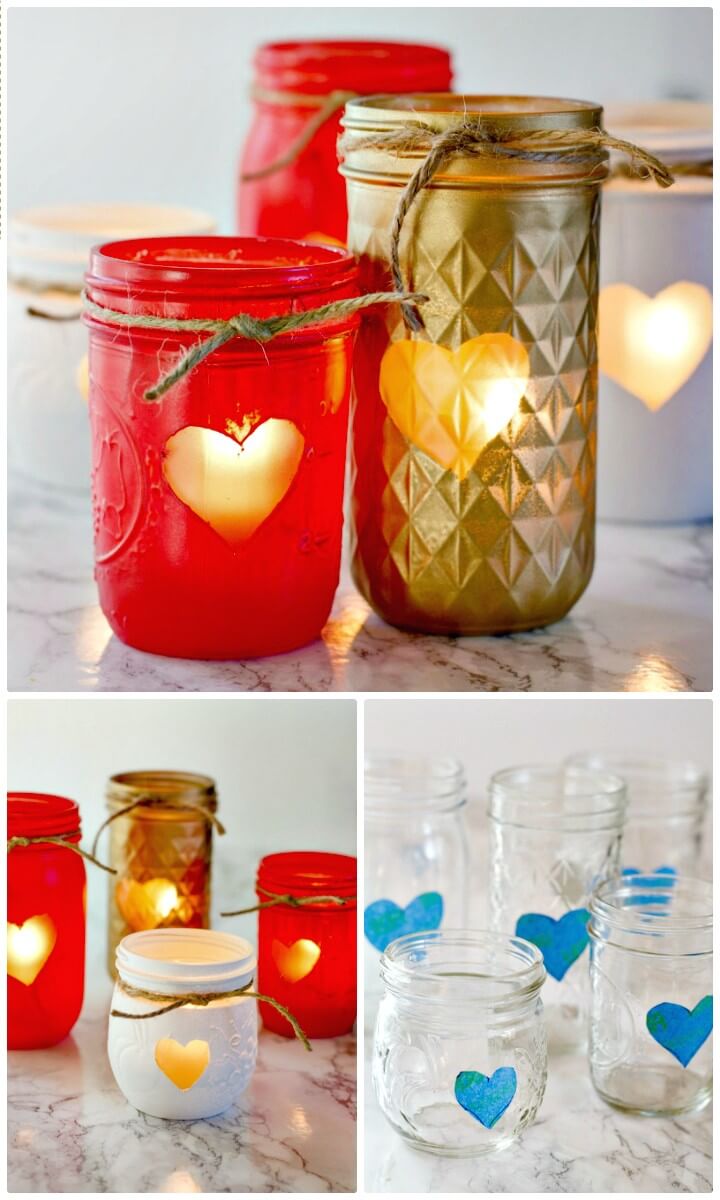 DIY Instructions: wholefully
How To Make Composition Book Mason Jar: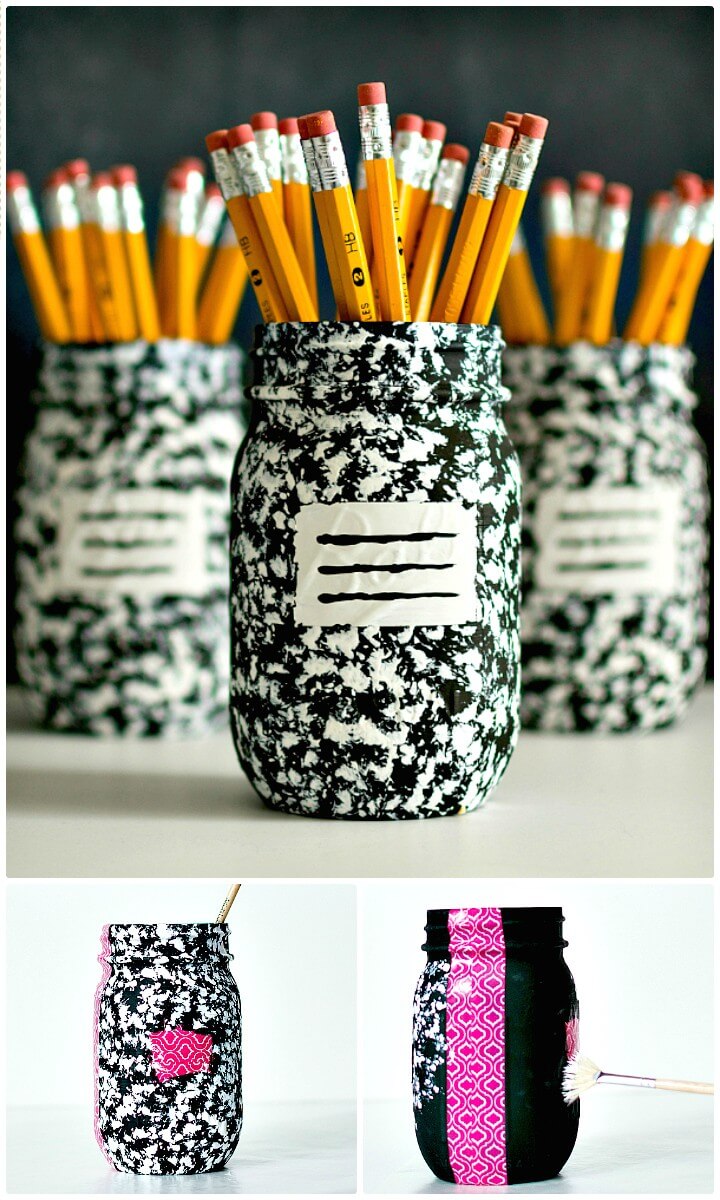 DIY Instructions: masonjarcraftslove
How To DIY Minion Mason Jar Gift: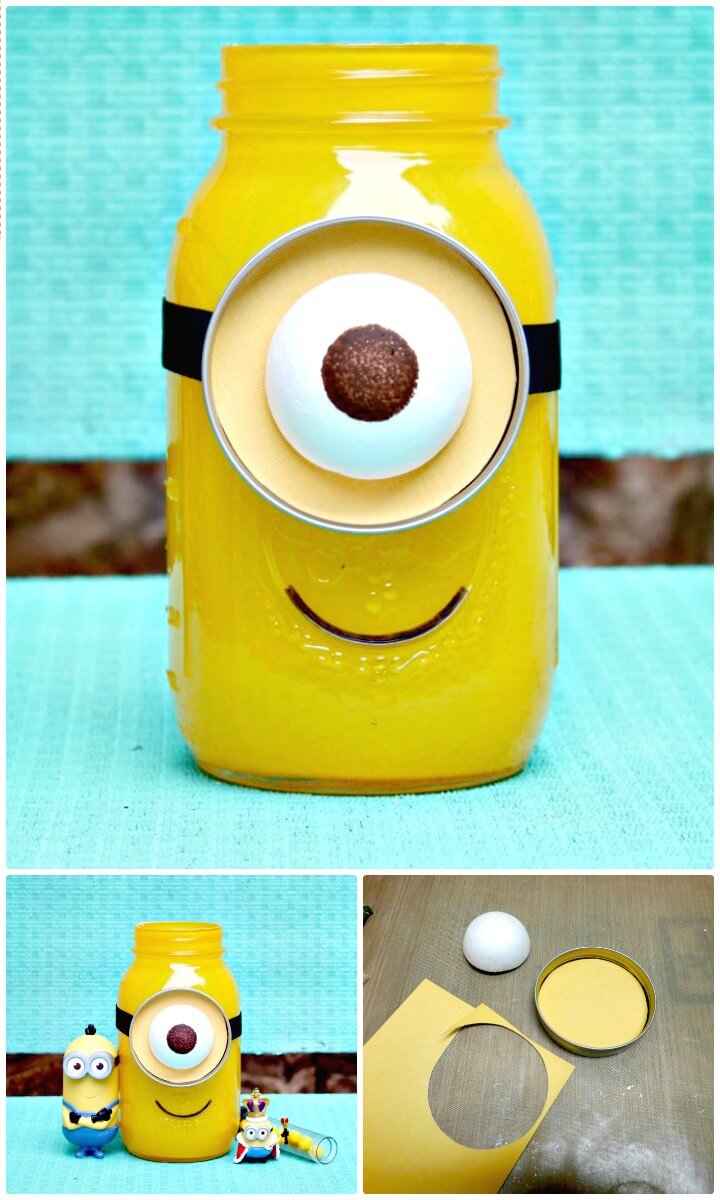 DIY Instructions: morenascorner
Easy DIY Homemade Aromatherapy Candles In A Jar: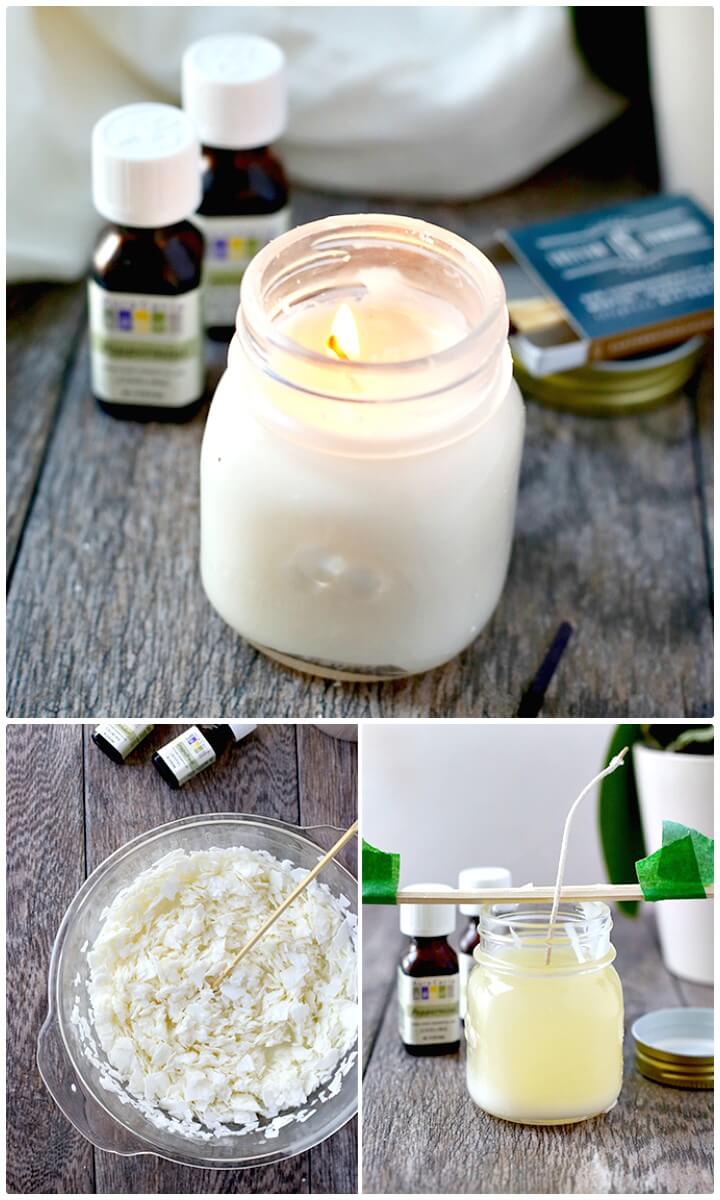 DIY Instructions: thehealthymaven
Easy How To Make Cranberry + Snow Centerpiece: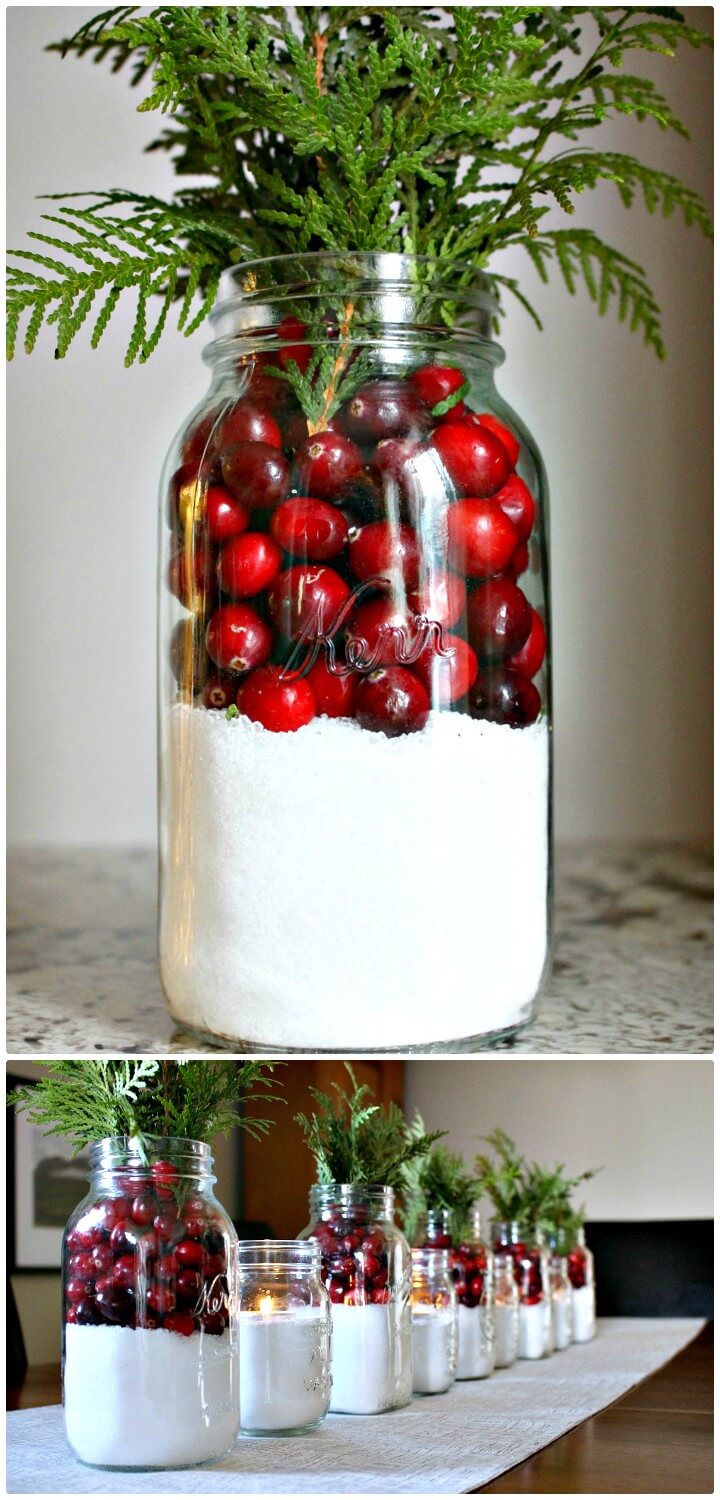 DIY Instructions: danslelakehouse
How To DIY Avengers Mason Jar Mugs: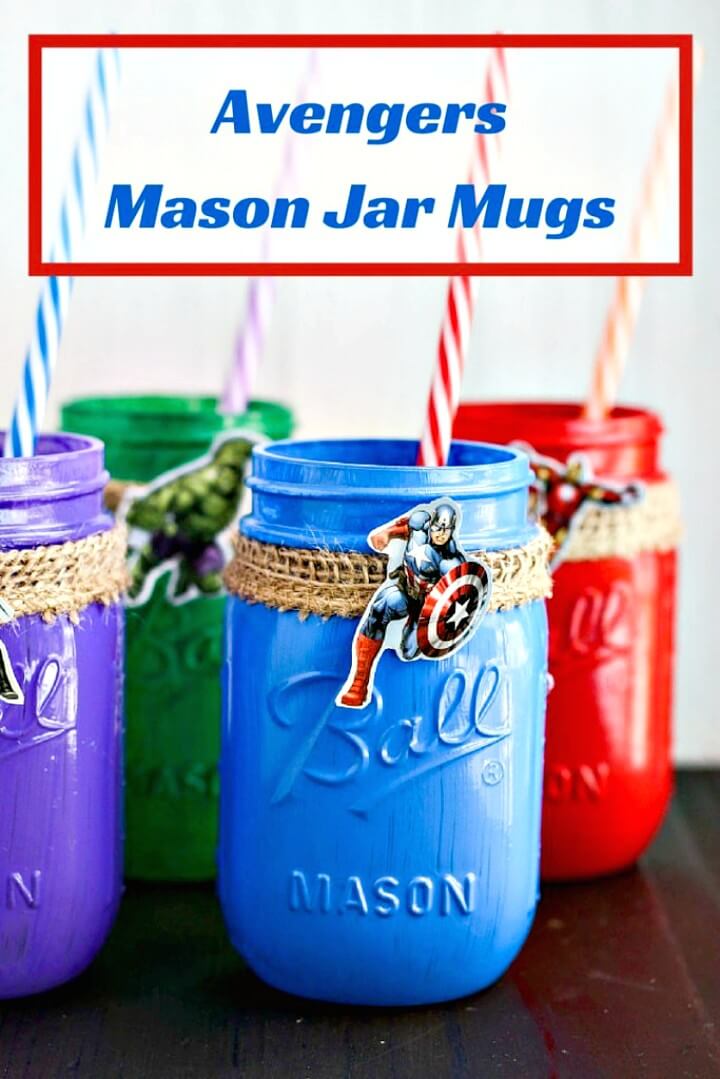 DIY Instructions: staceyhomemaker
Easy DIY Patriotic Painted Mason Jars Centerpiece: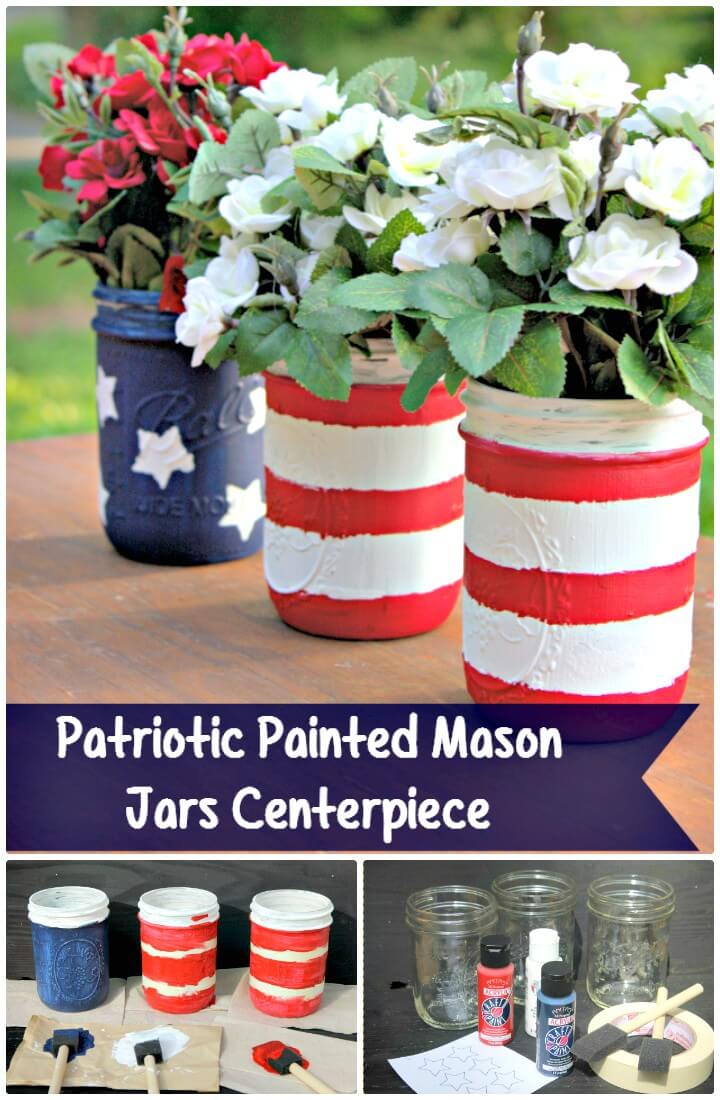 DIY Instructions: kickingitwithkelly
How To DIY Free Valentine Printable And Heart Candy Jar: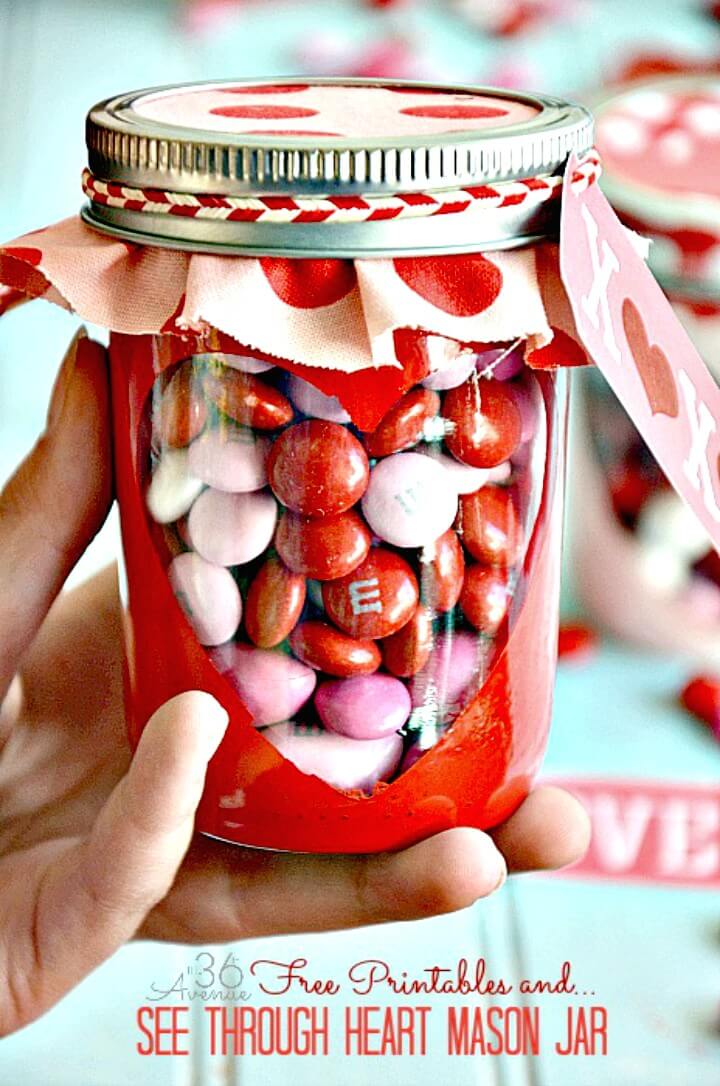 DIY Instructions: the36thavenue
Make Your Own Valentine Kid Craft Thumbprint Heart Jars: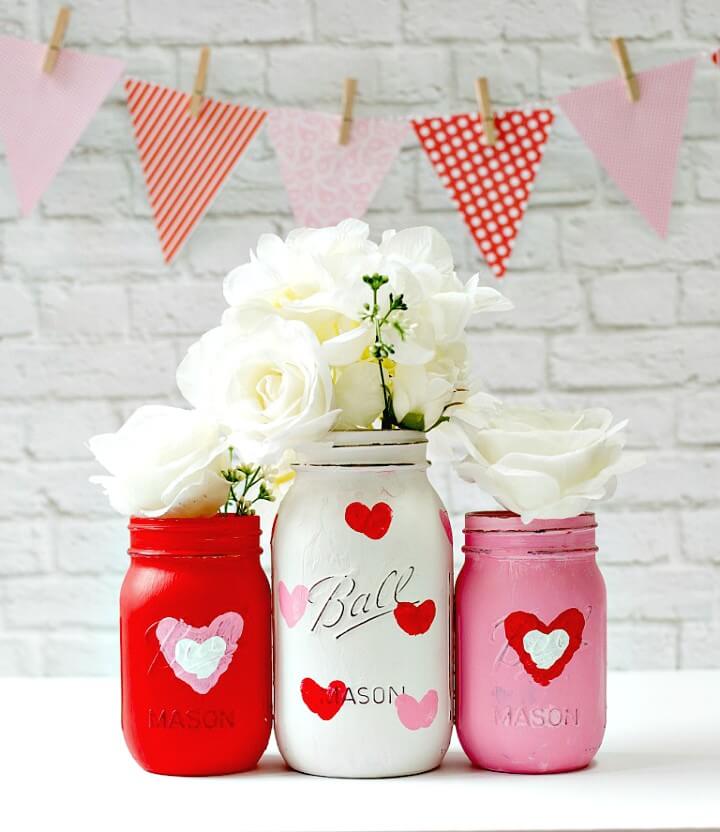 DIY Instructions: itallstartedwithpaint
How To Make Valentine Glitter Mason Jar Tutorial: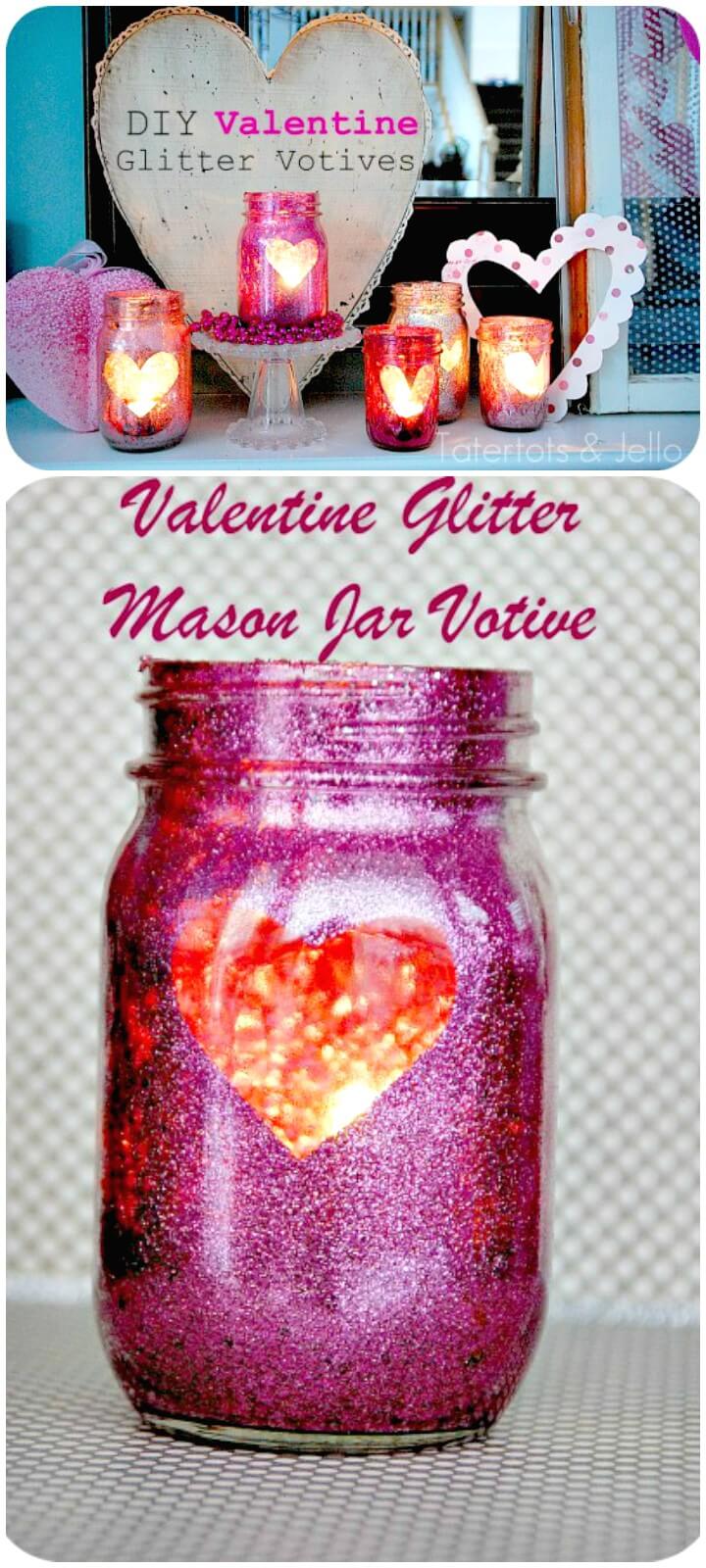 DIY Instructions: tatertotsandjello
How To Make Patriotic Mason Jar Lanterns: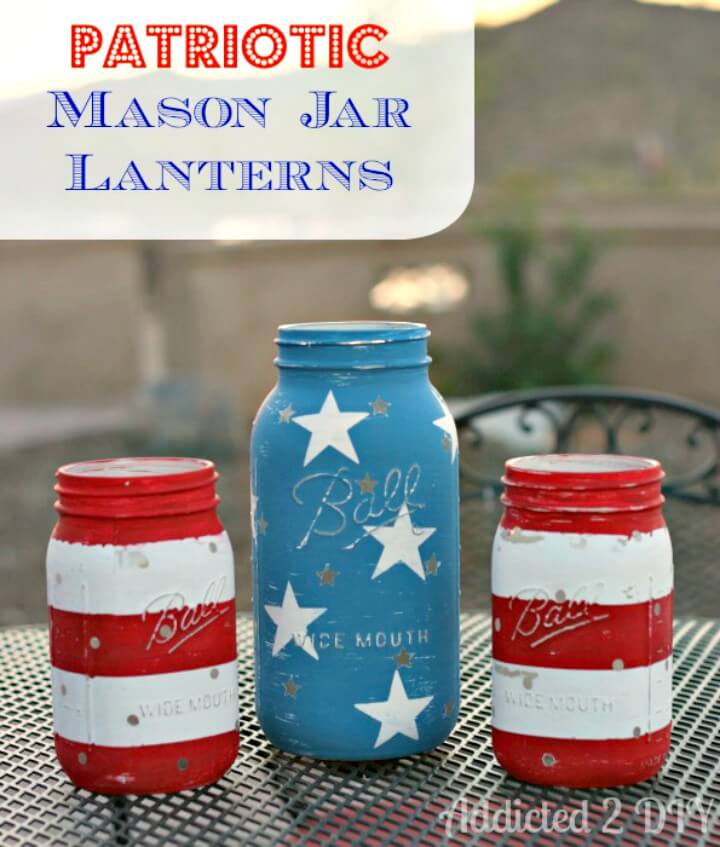 DIY Instructions: addicted2diy
How To DIY Mason Jar, Lemon, & Flower Centerpiece: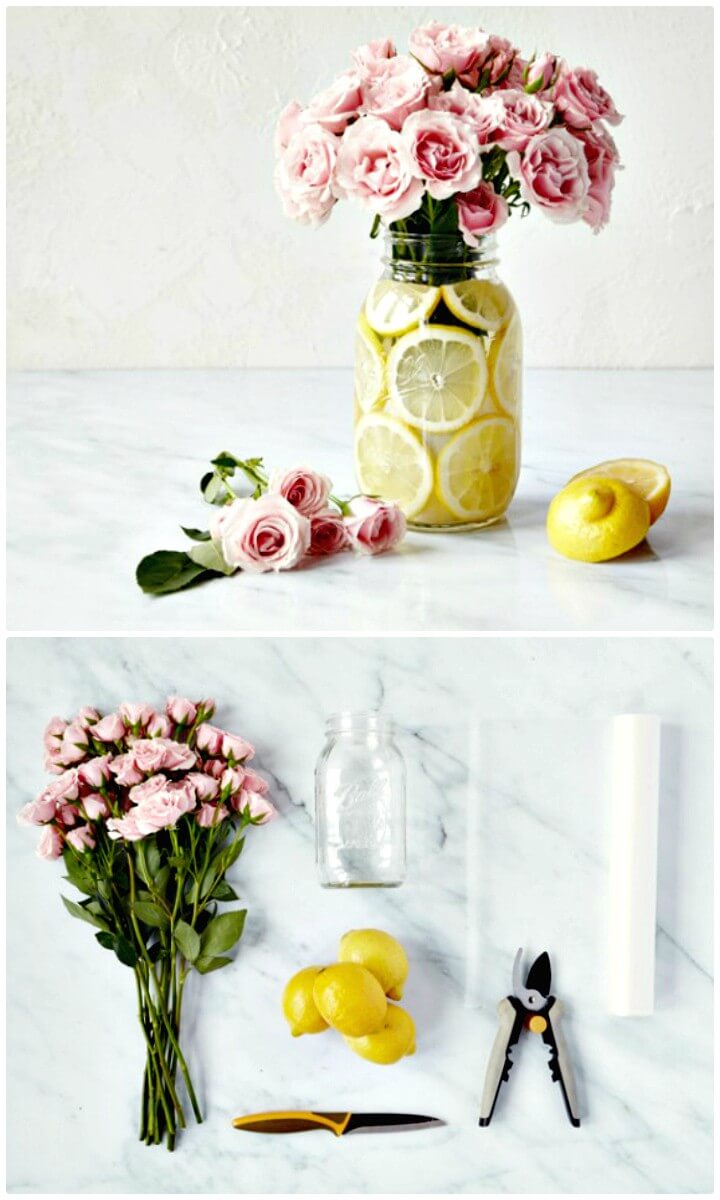 DIY Instructions: now.ruelala
How To Make Mason Jar Candy Pedestals: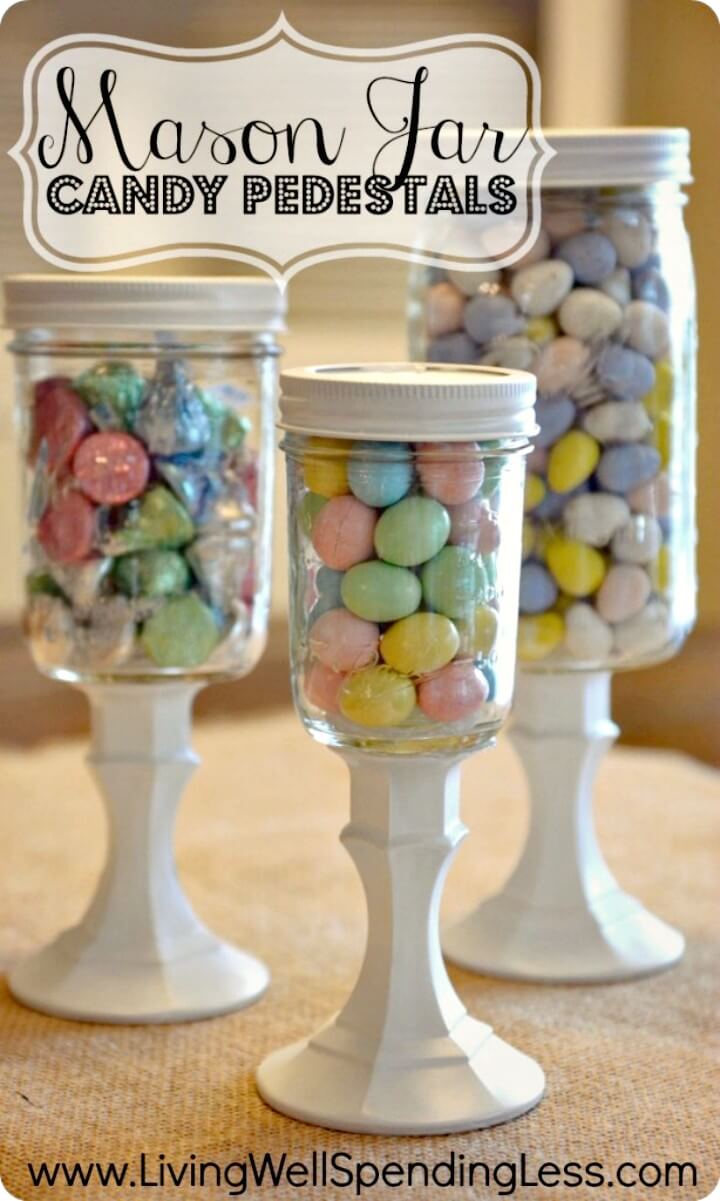 DIY Instructions: livingwellspendingless
How To DIY Spring Mason Jar Vases:
DIY Instructions: dwellinginhappiness
Make Your Own Mason Jar Treat Gifts: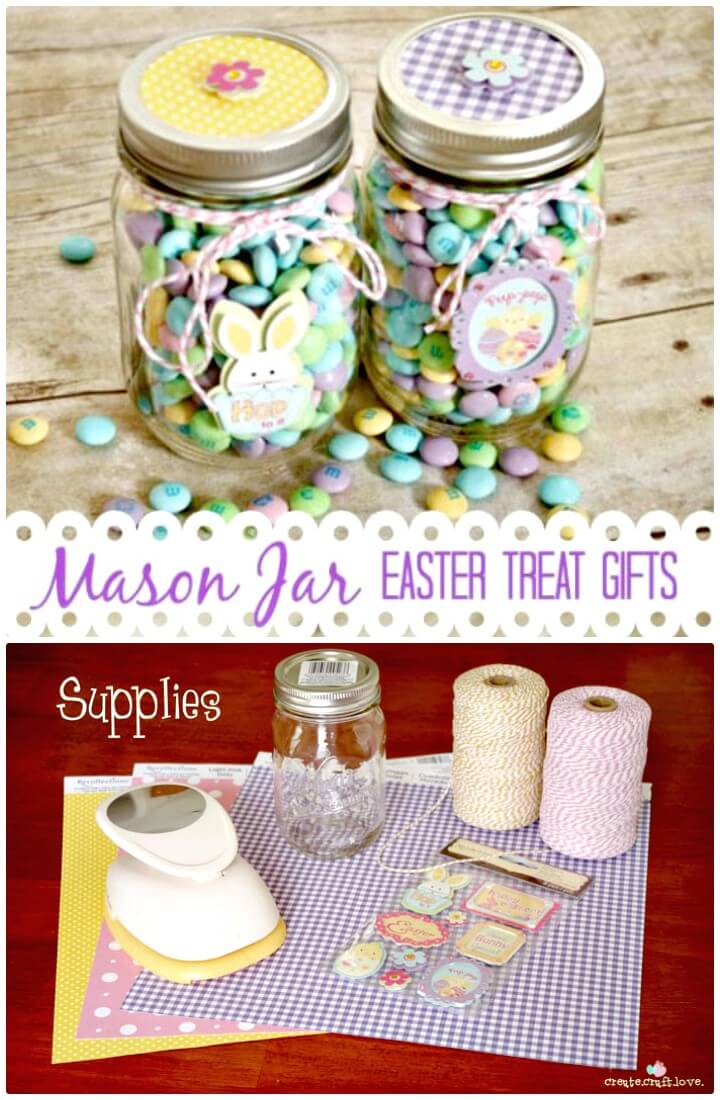 DIY Instructions: createcraftlove
Easy How To Create An Spring Centerpiece: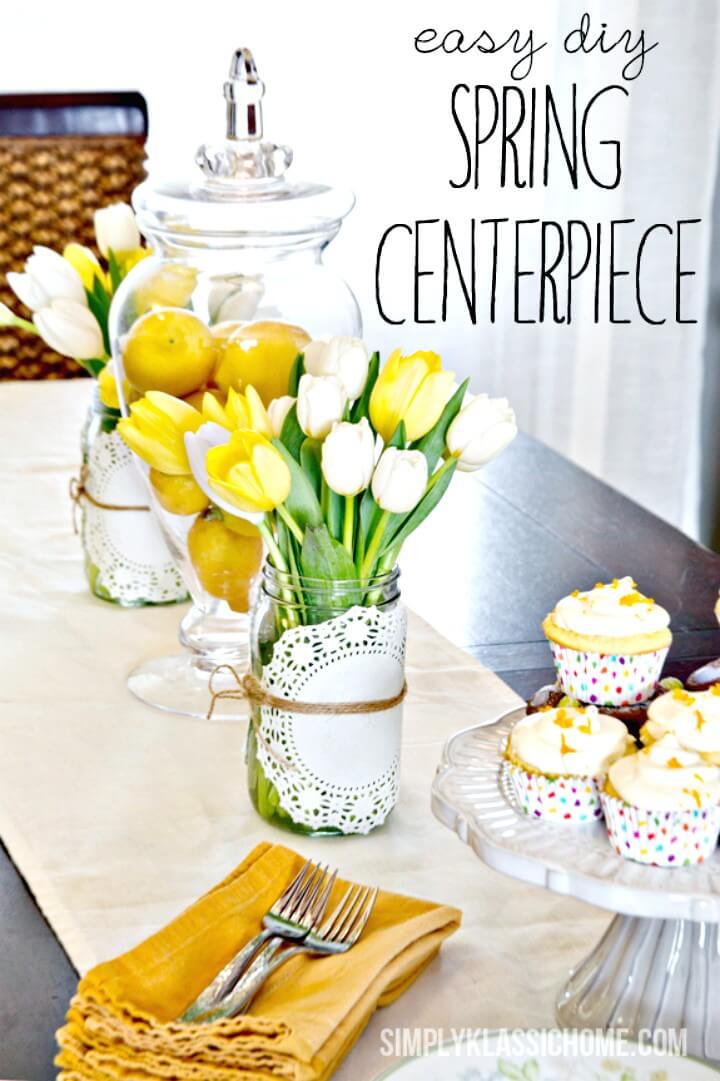 DIY Instructions: yellowblissroad
Beautiful DIY Mason Jar Chandelier: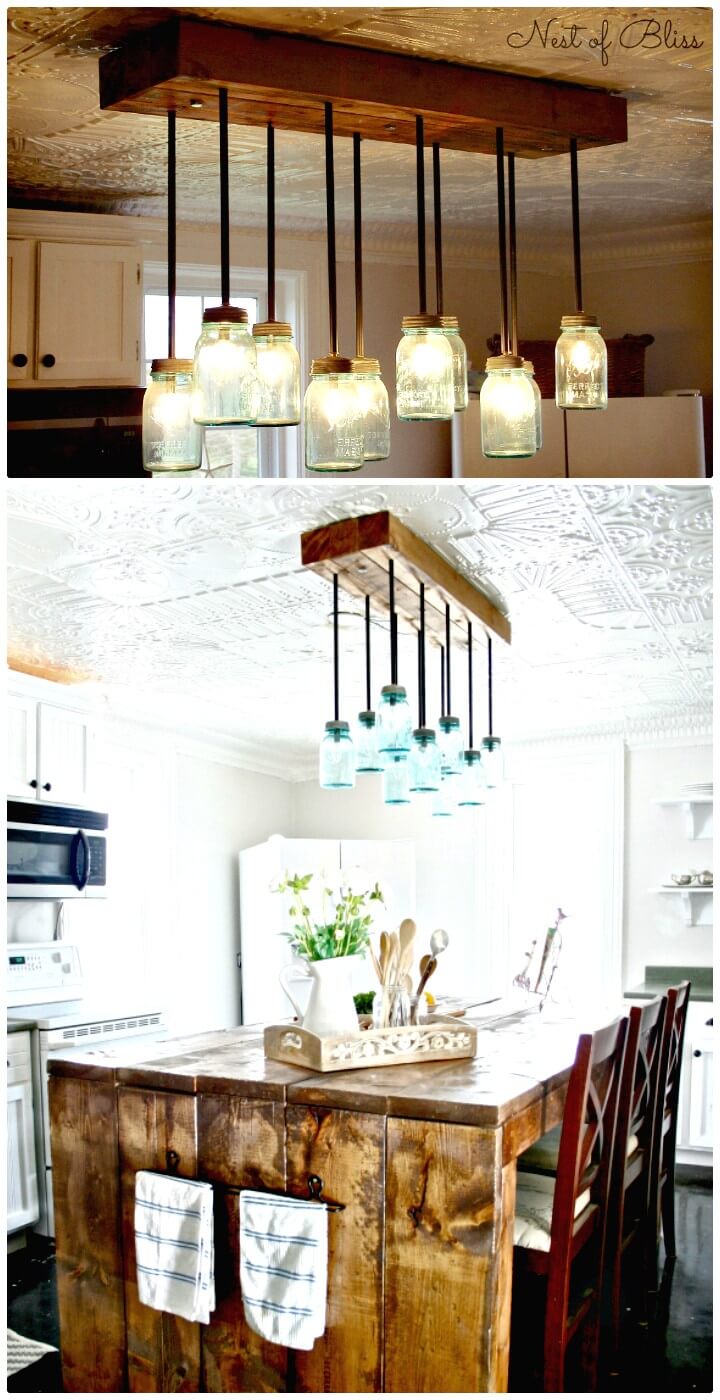 DIY Instructions: brandisawyer
Make Your Own Mason Jar Tissue Holder: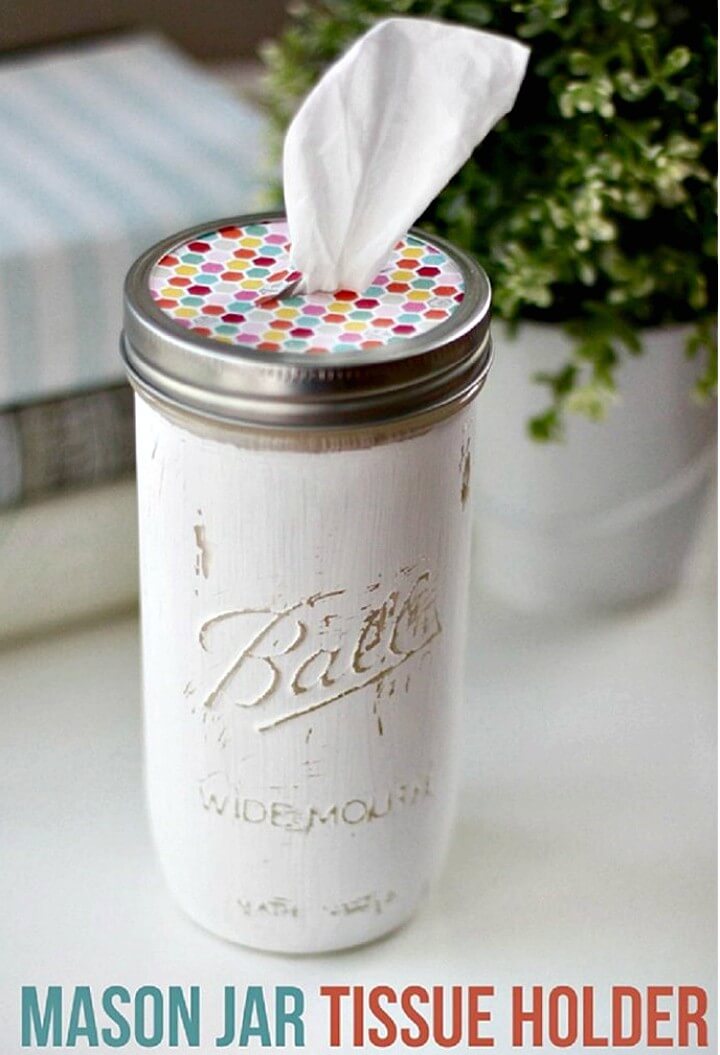 DIY Instructions: landeeseelandeedo
DIY Mason Jar Salt And Pepper Shakers Craft: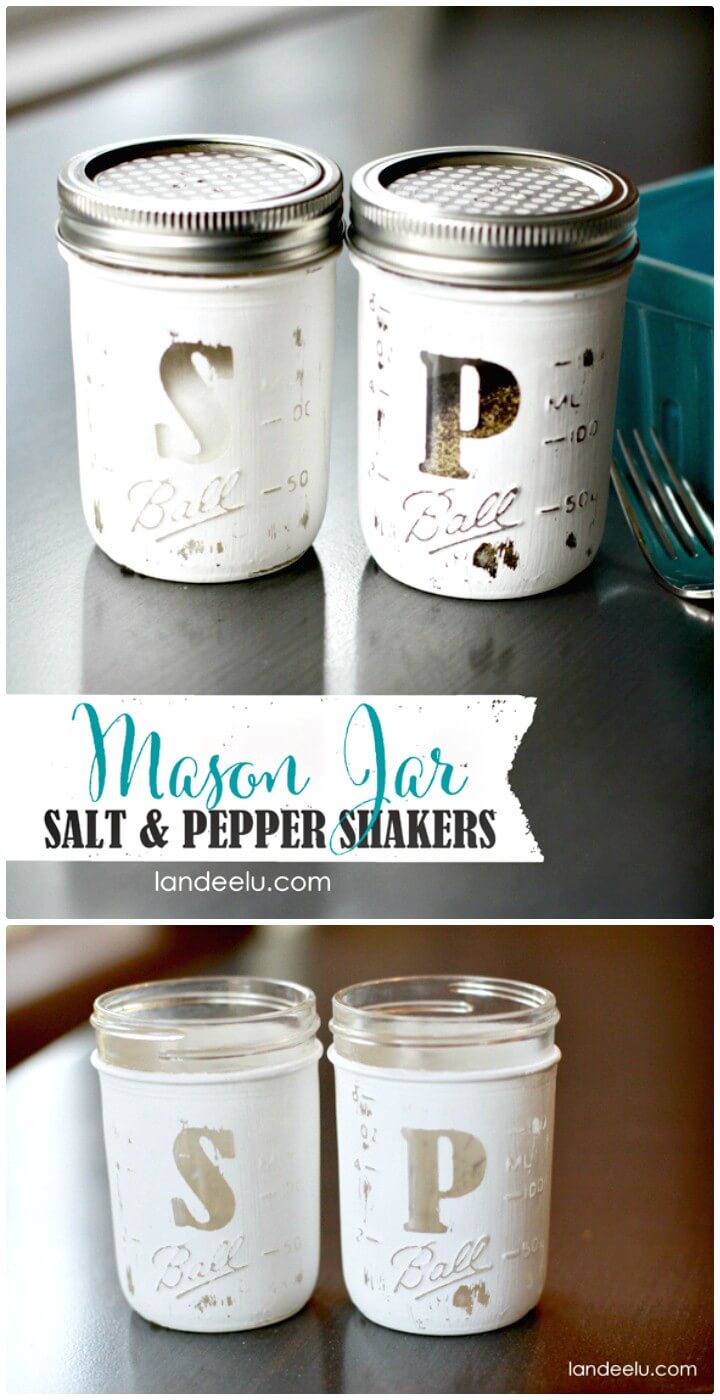 DIY Instructions: landeeseelandeedo
How To Make Painted Bunny Mason Jar: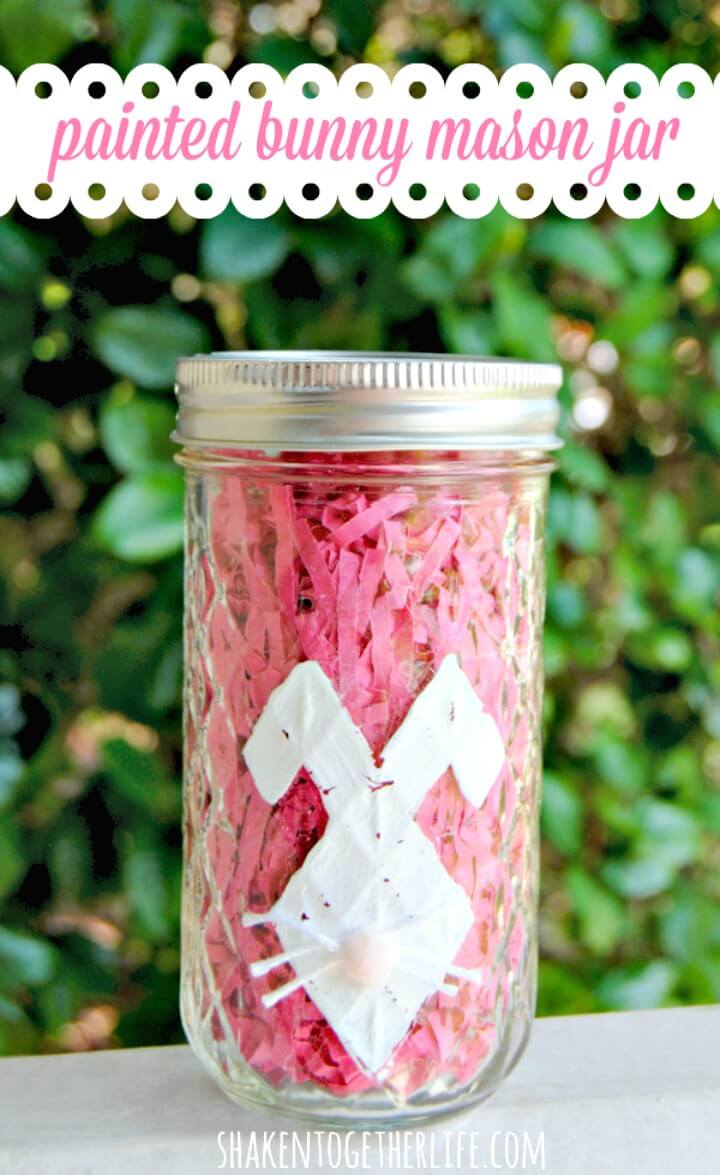 DIY Instructions: shakentogetherlife
Easy DIY Mason Jar Carrots, Crate & Flowers: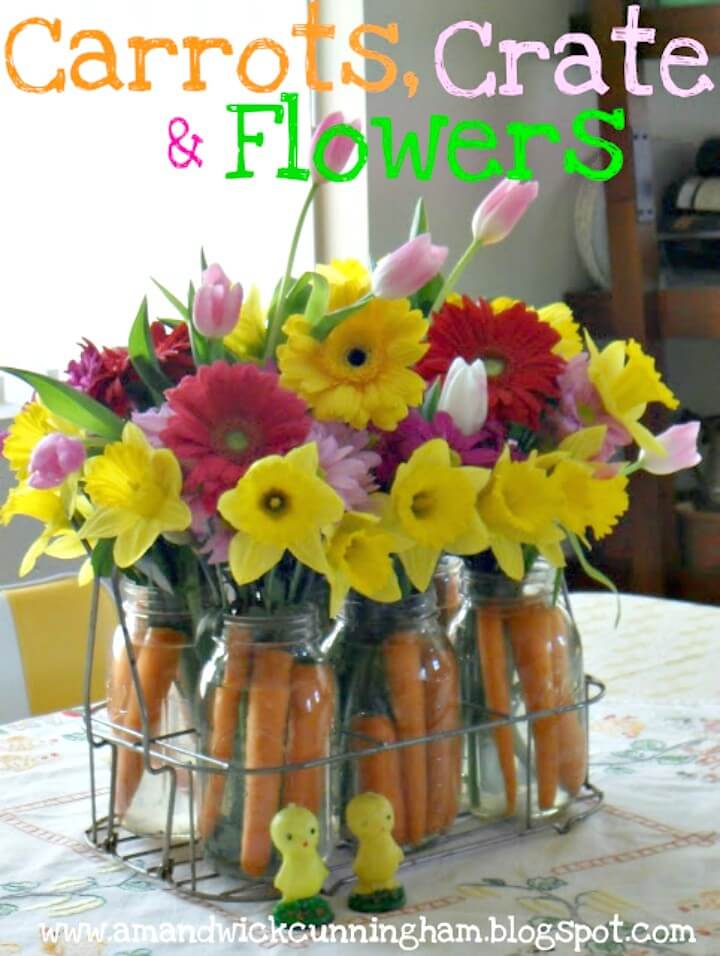 DIY Instructions: kaleidoscopeofcolors
Make Your Own Bunny Candy Jars Tutorial: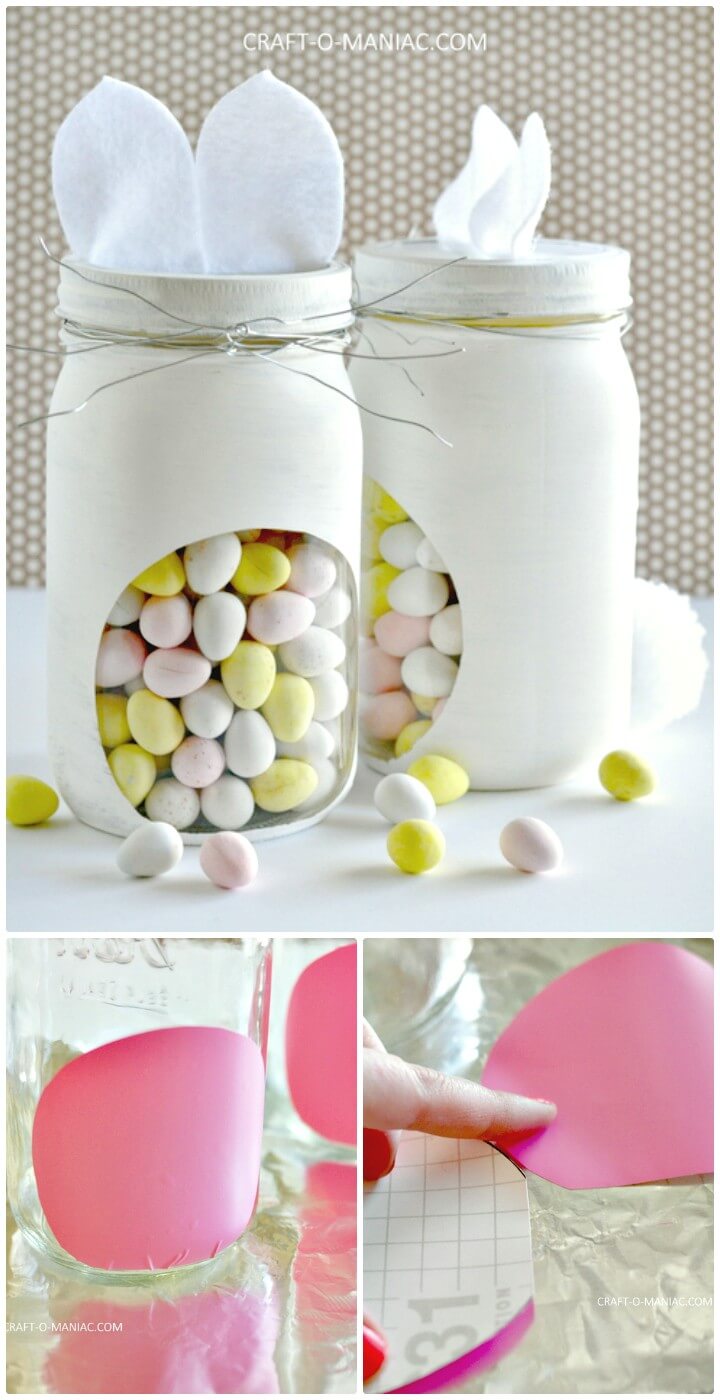 DIY Instructions: craft-o-maniac
How to DIY Carrot Inspired Mason Jars: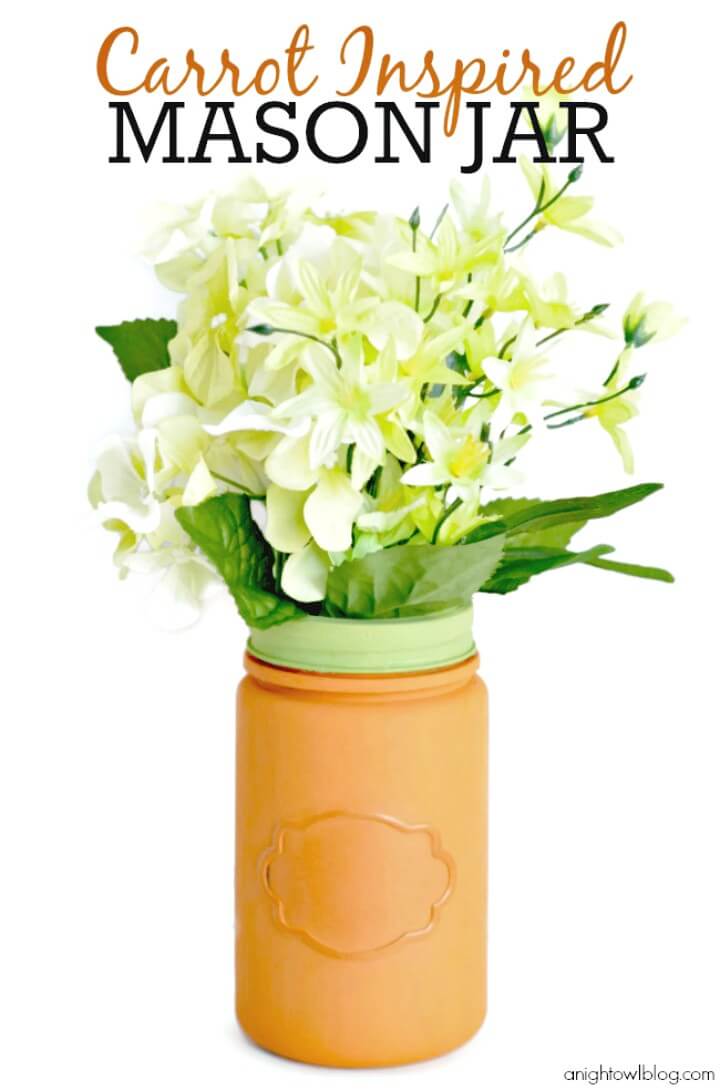 DIY Instructions: snapcreativity
How To Make Spring Mason Jars and Free Tags: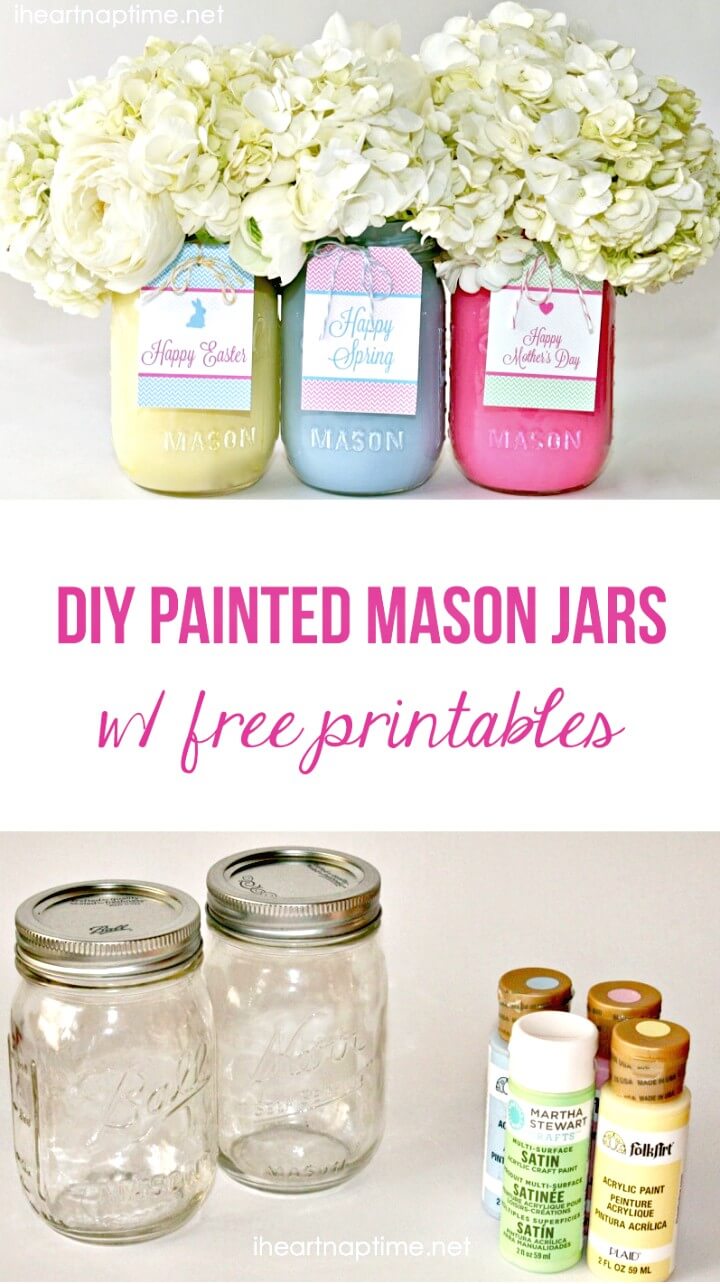 DIY Instructions: iheartnaptime
Easy DIY Shower Decorating Ideas With Mason Jars: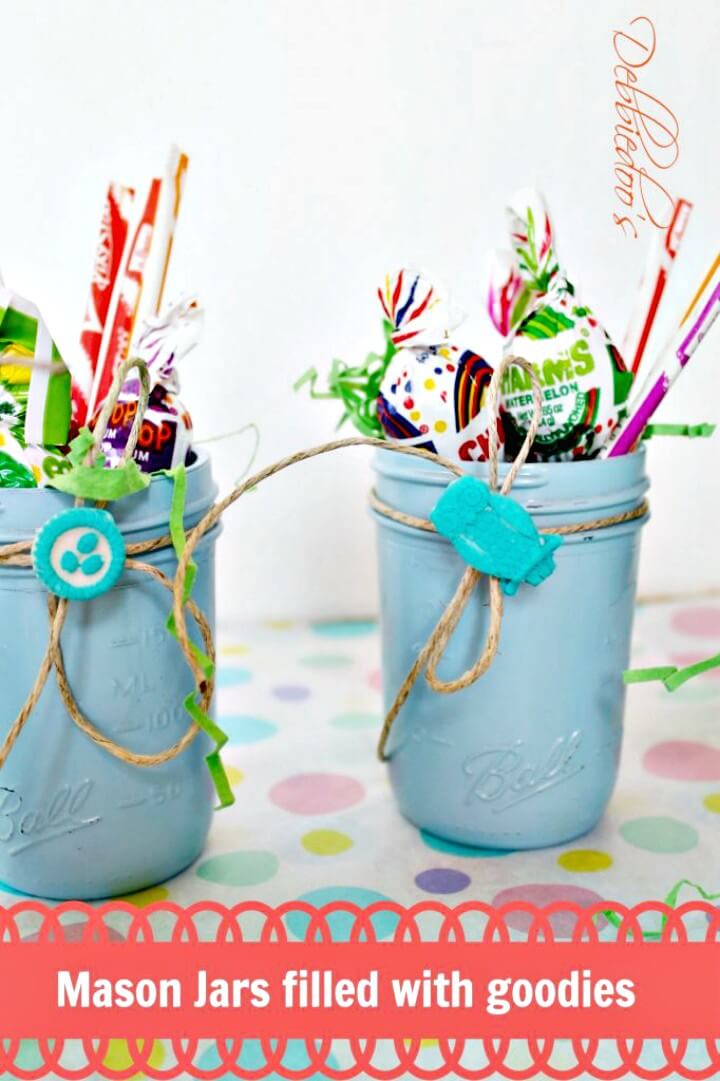 DIY Instructions: debbie
How To Make Polka Dot Mason Jar: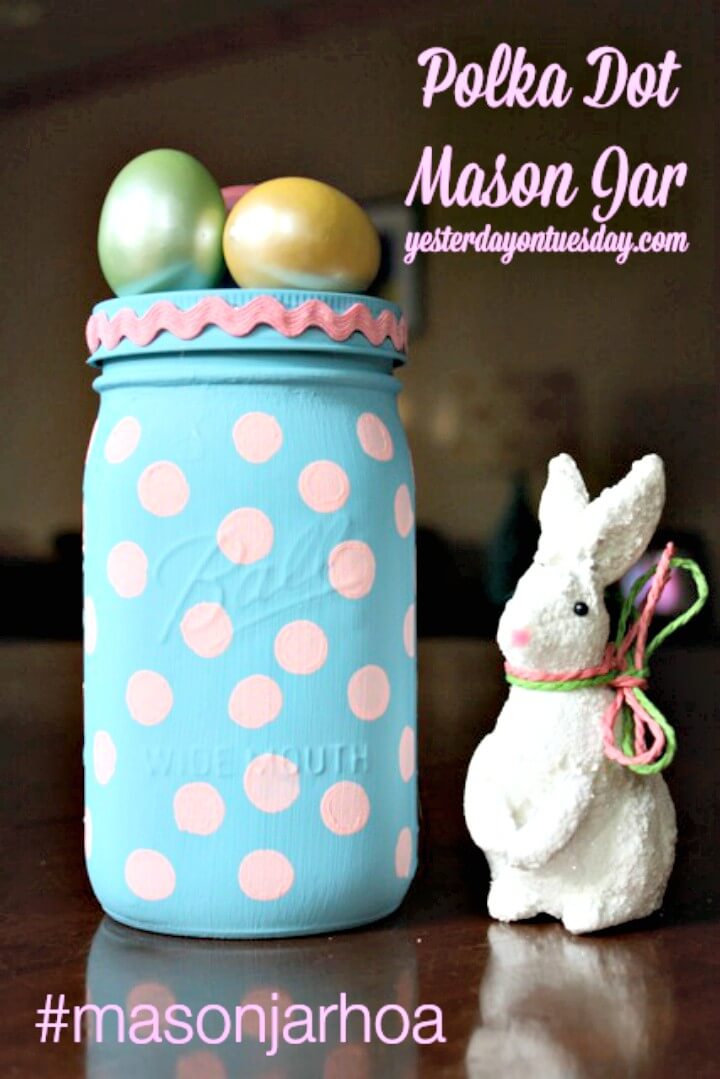 DIY Instructions: yesterdayontuesday
Make Your Own Mason Jar Citronella Candles:
DIY Instructions: onelittleproject
Beautiful How to DIY Glitter Vases Tutorial: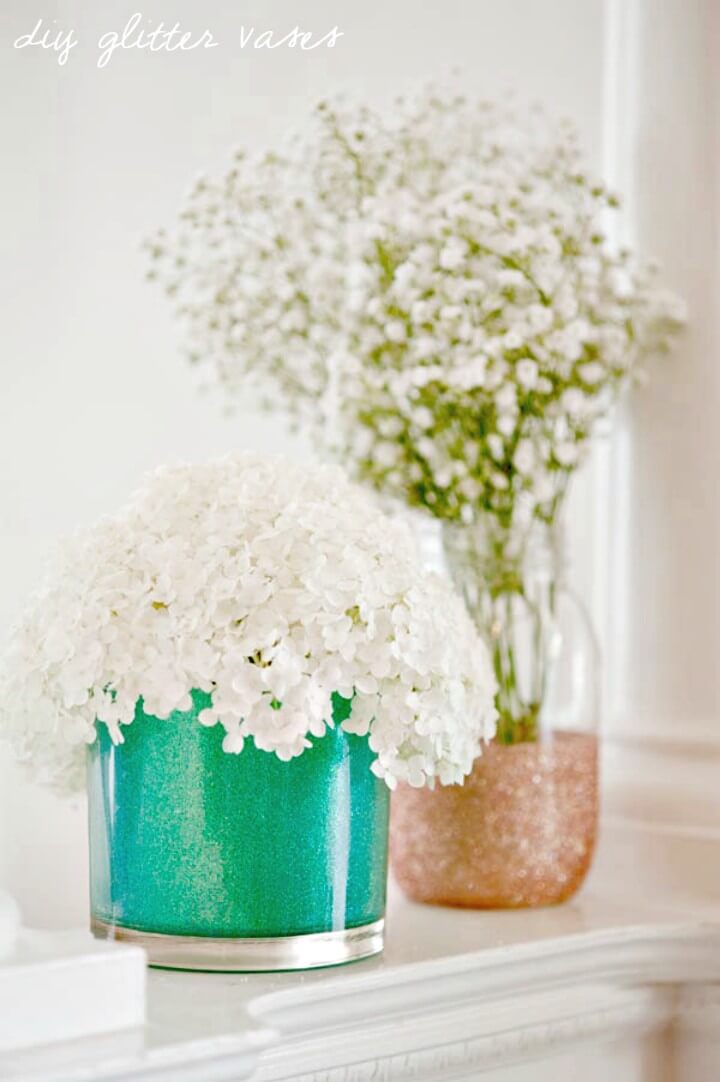 DIY Instructions: thesweetestoccasion
How To Make Speckled Robin's Egg Mason Jar: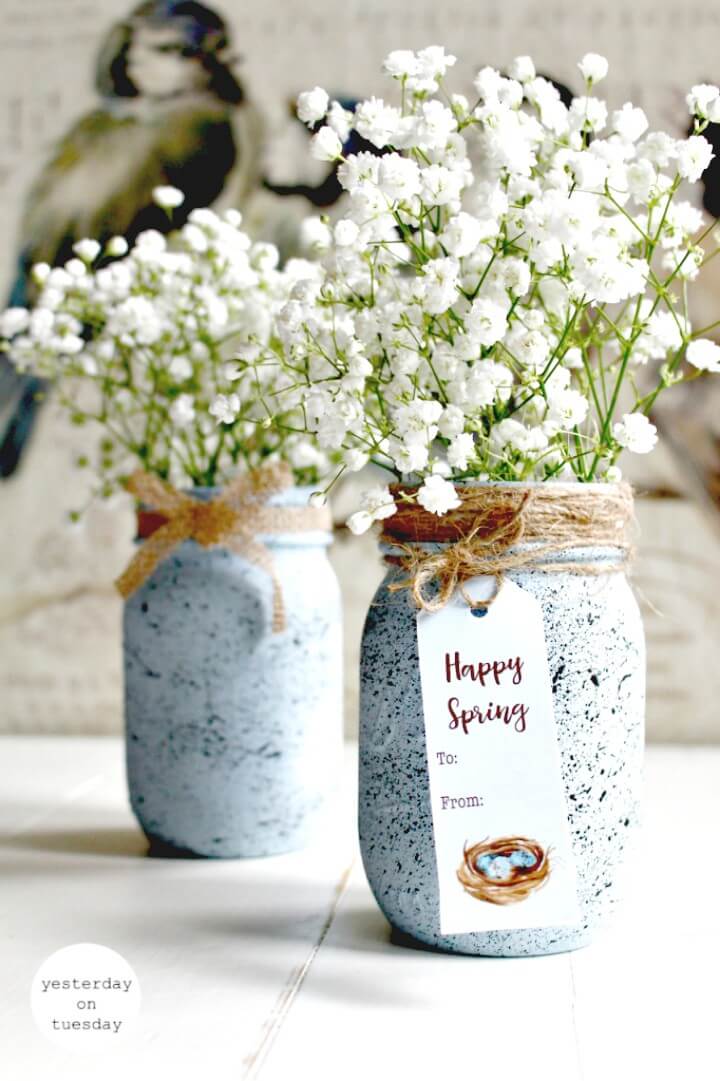 DIY Instructions: yesterdayontuesday
Easy DIY Mason Jar End Of The Rainbow Slime: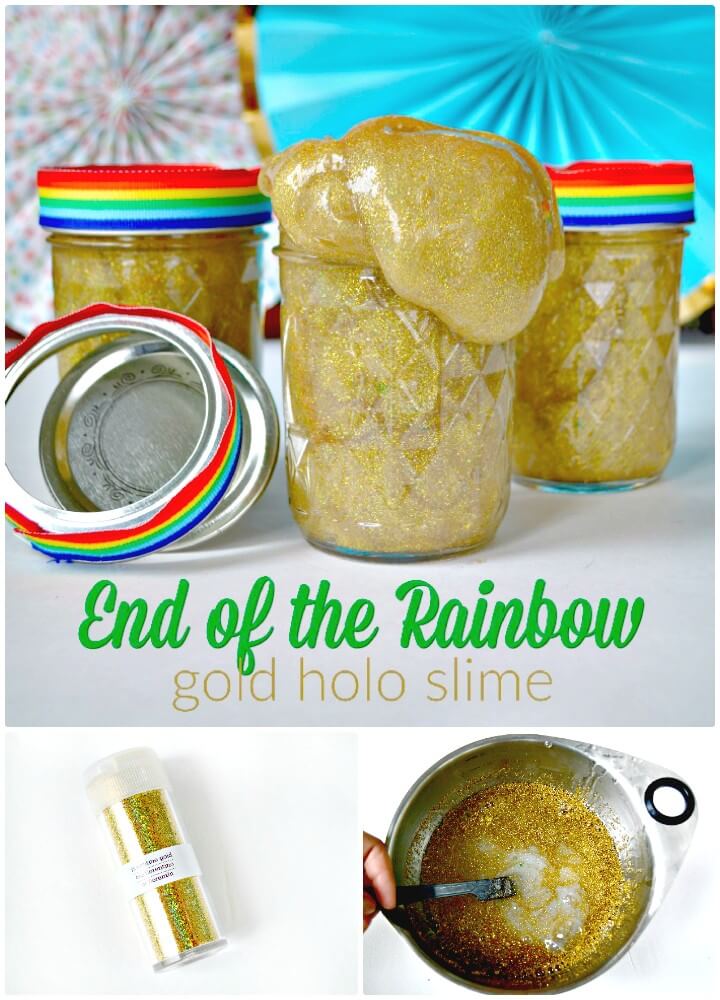 DIY Instructions: madincrafts
Make Your Own Lucky St. Patrick's Day Mason Jar: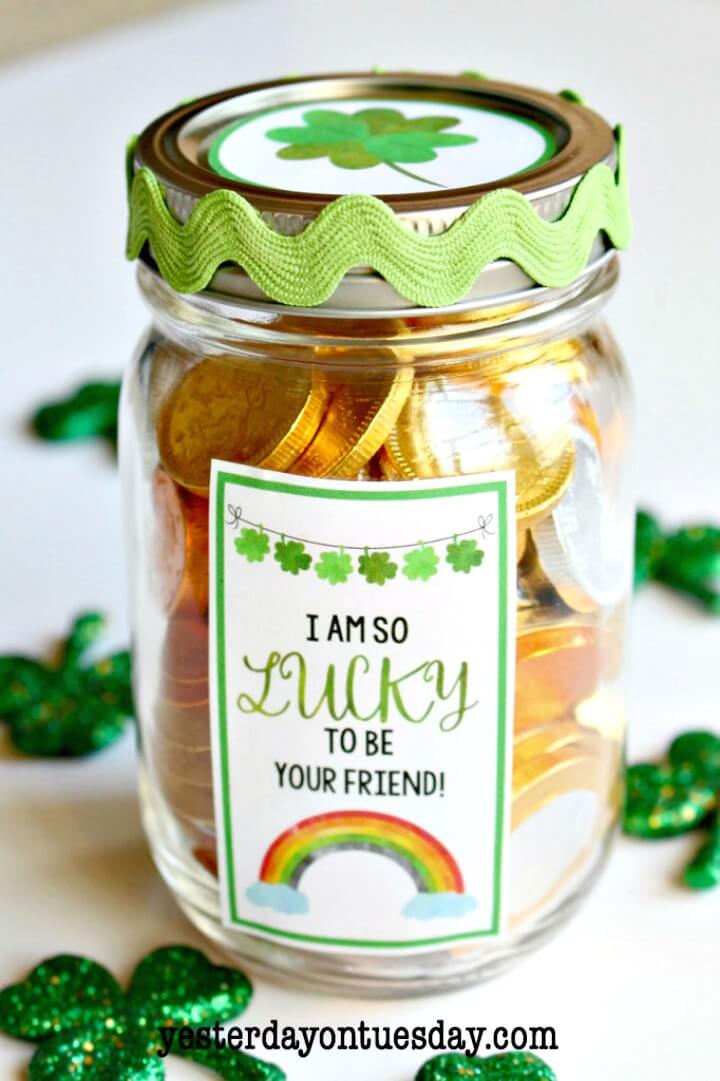 DIY Instructions: yesterdayontuesday
Easy How To Make Mason Jar Coasters With Resin: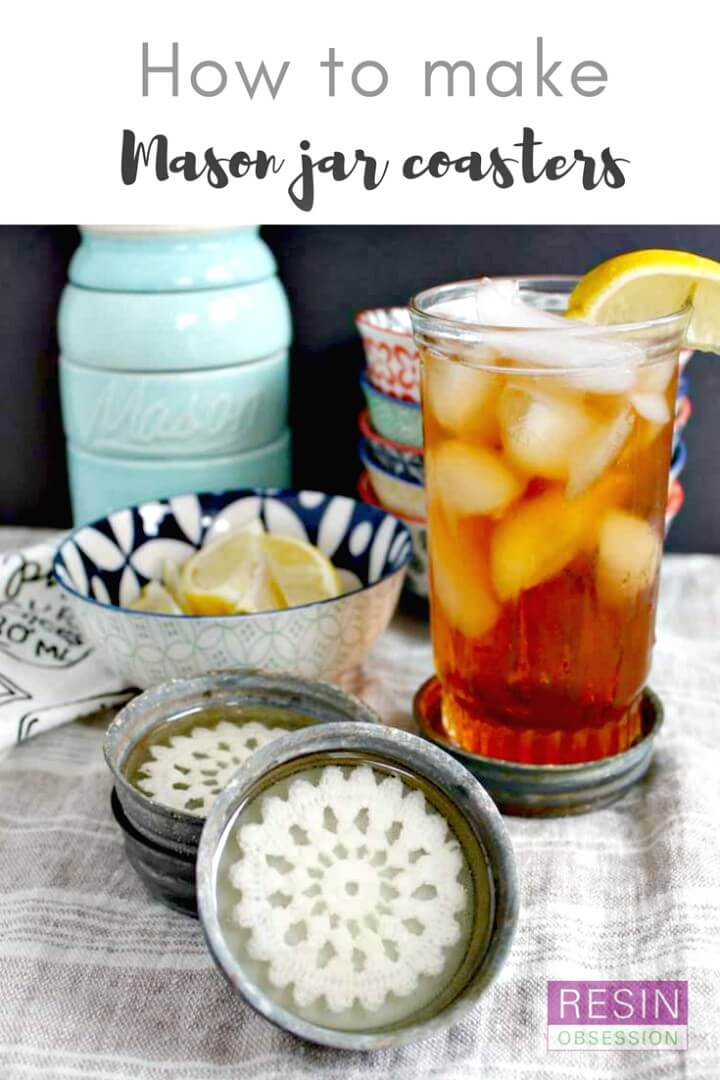 DIY Instructions: resinobsession
Easy DIY Espresso Kit in a Jar: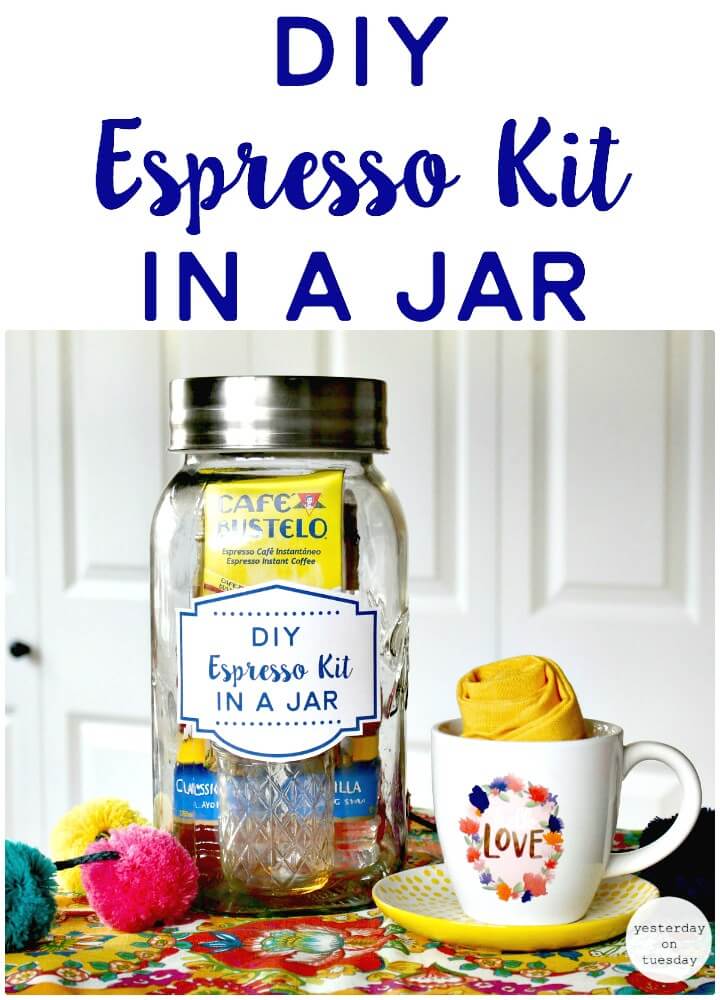 DIY Instructions: yesterdayontuesday
DIY Chocolate Chip Cookie Mix In A Jar Gift: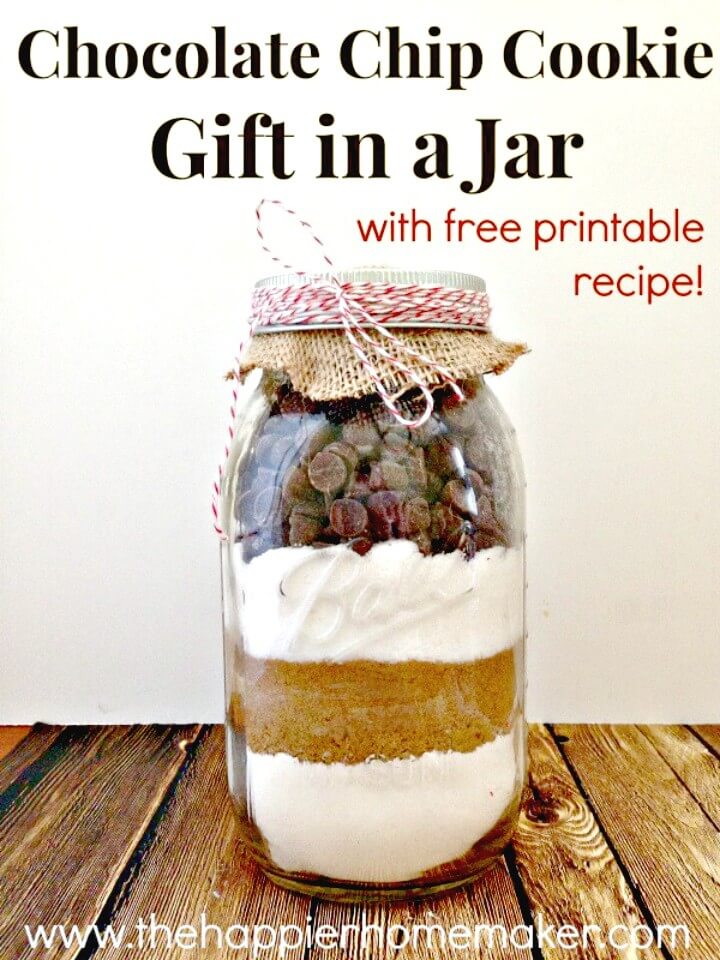 DIY Instructions: thehappierhomemaker
Make Your Own Bride Emergency Kit Using Mason Jar: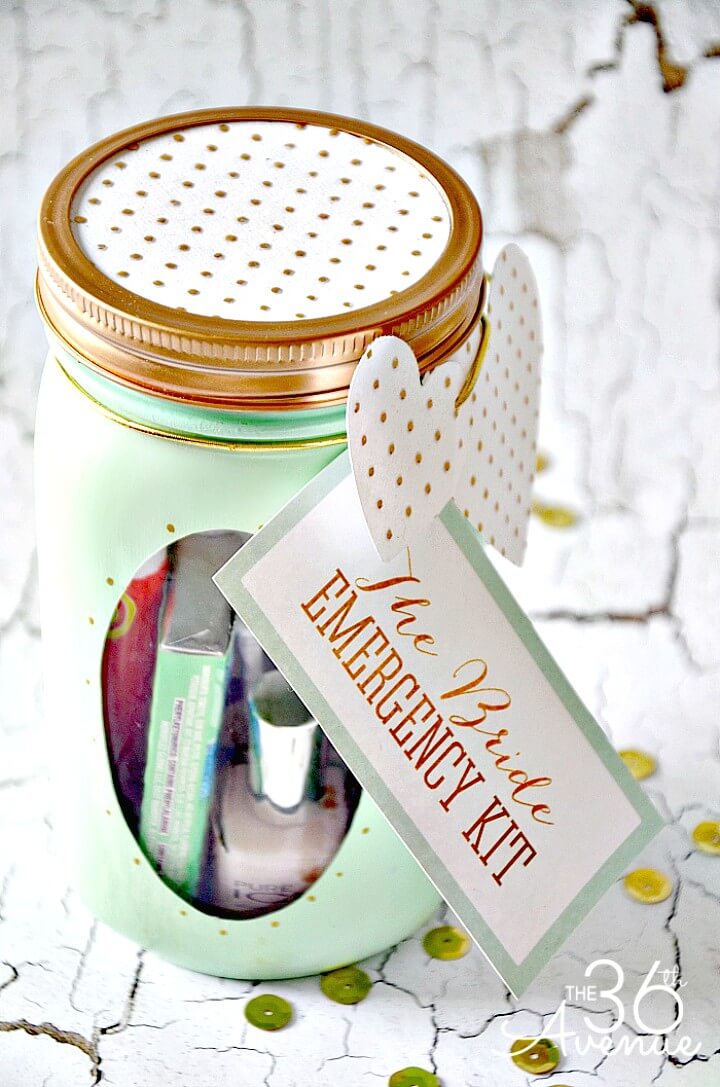 DIY Instructions: the36thavenue
DIY Green Themed Mason Jar Gift Tutorial: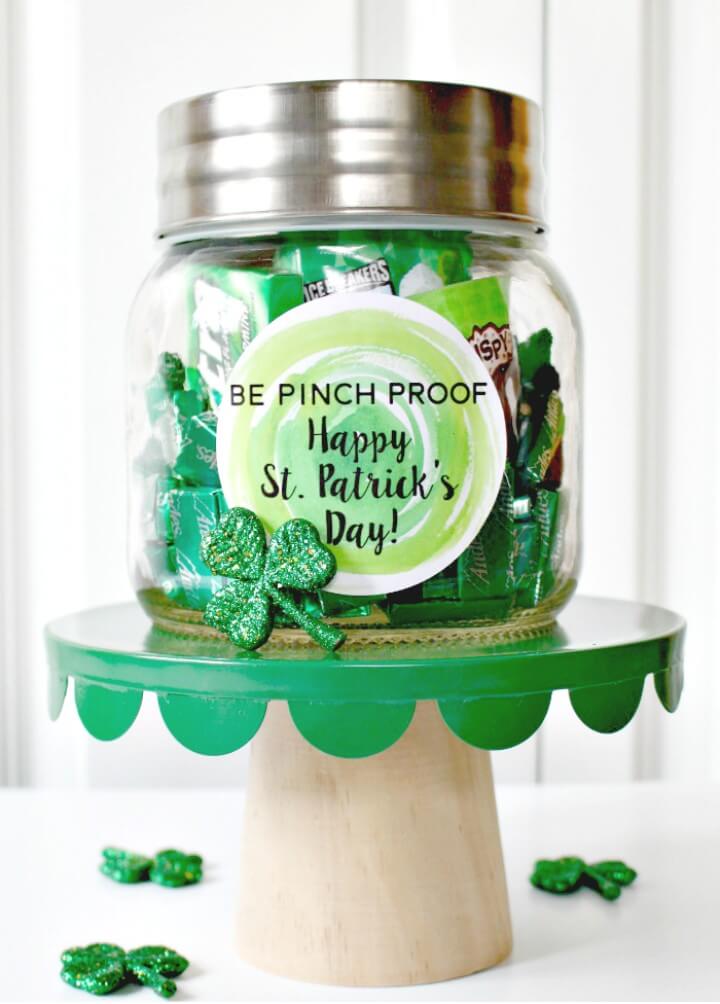 DIY Instructions: yesterdayontuesday
Easy DIY Mason Jar Superhero Banks: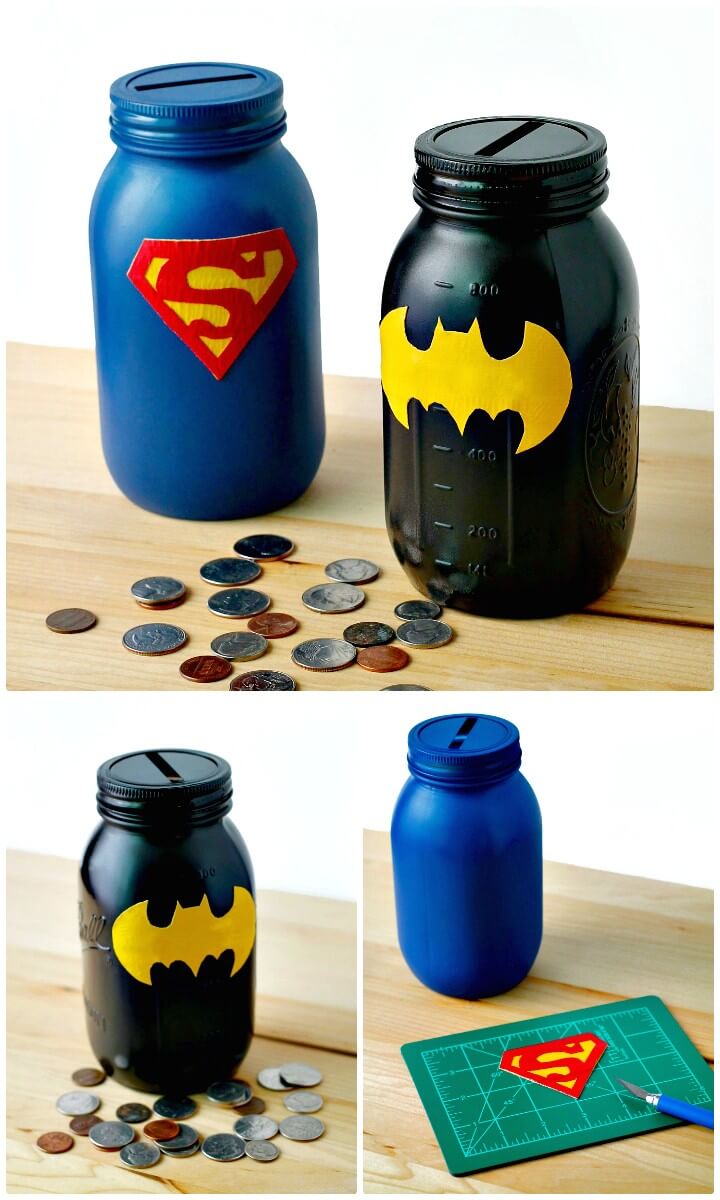 DIY Instructions: firefliesandmudpies
Make Your Own Mason Jar Soap Dispensers: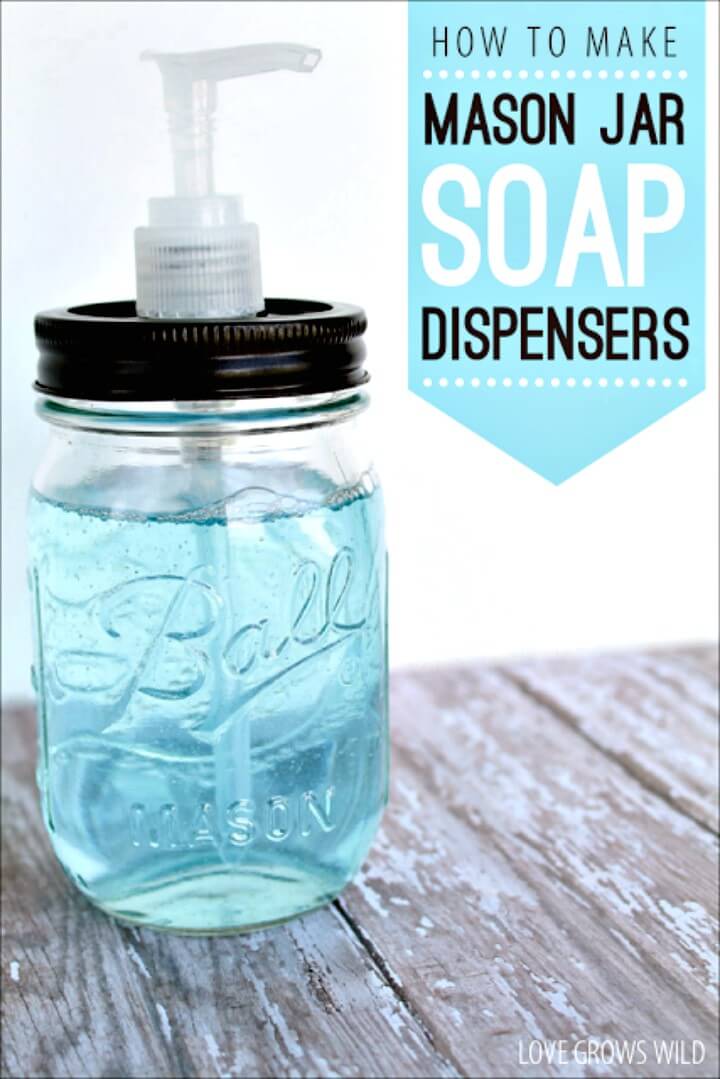 DIY Instructions: lovegrowswild
Easy How To Turn A Canning Jar Into A Lamp: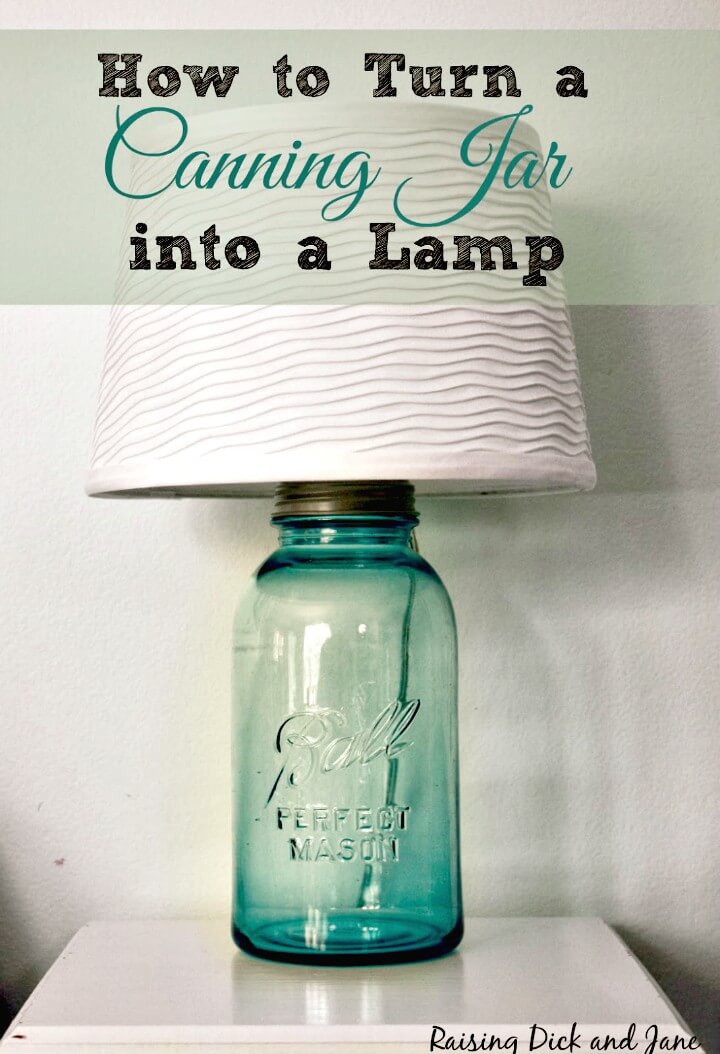 DIY Instructions: raisingdickandjane
Make Your Own Mason Jar Animal Cracker Cookie Jar: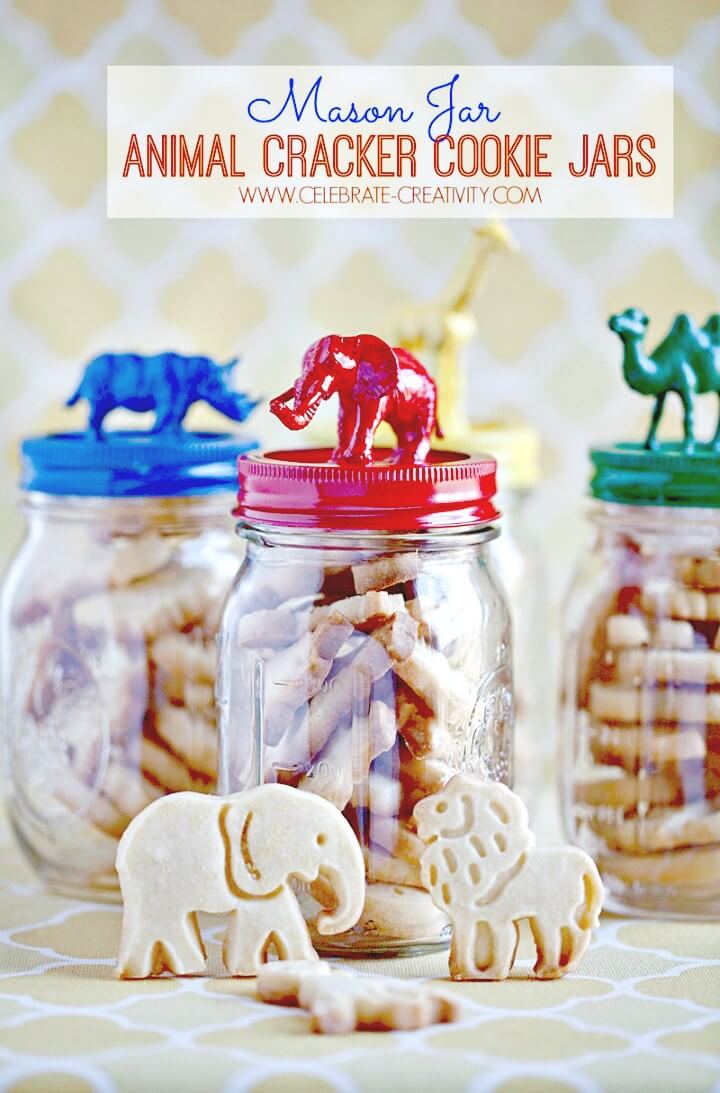 DIY Instructions: celebrate-creativity
DIY Mason Jar Soap Dispenser Tutorial: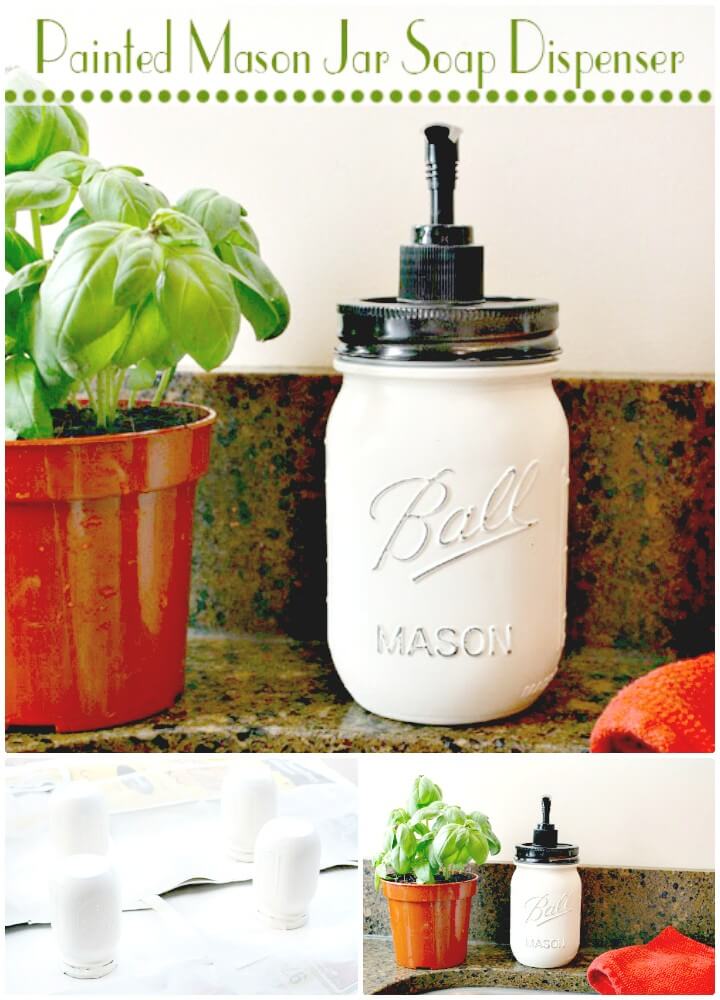 DIY Instructions: mycraftyspot
How To Make Glitter Monogram Mason Jars: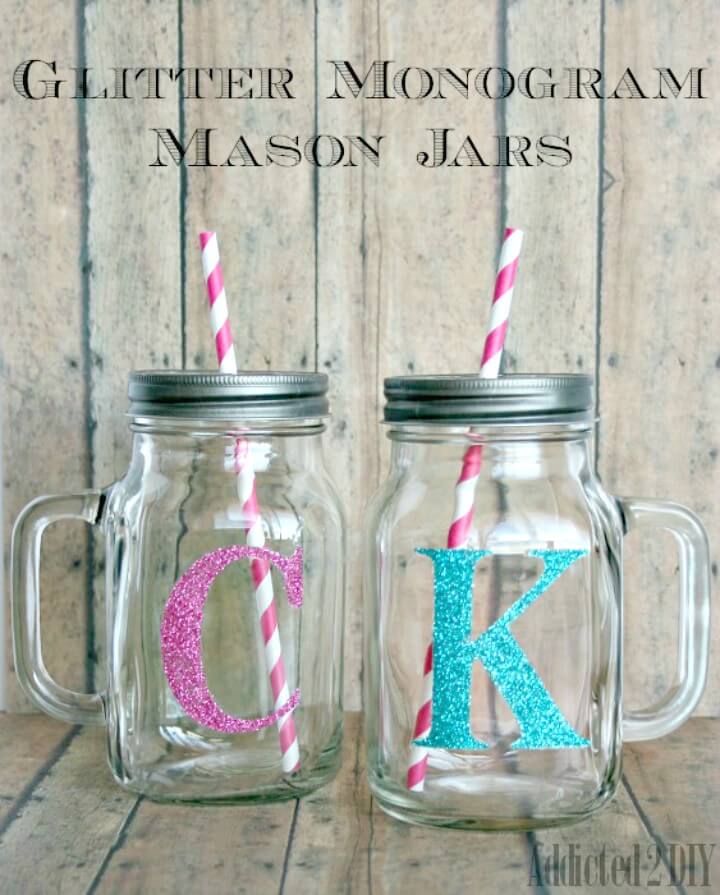 DIY Instructions: addicted2diy
Make Your Own Painted Daisy Mason Jars: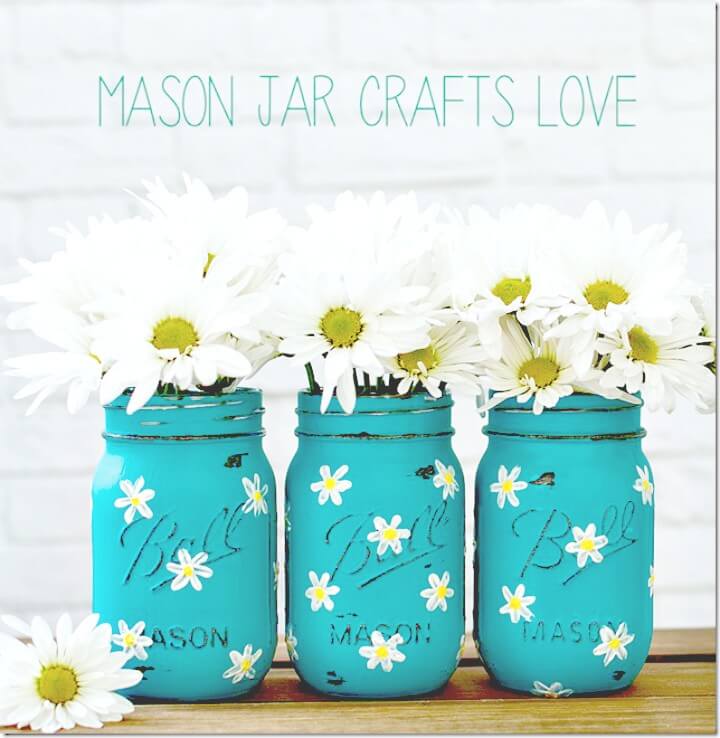 DIY Instructions: masonjarcraftslove
DIY Mason Jar Cookie Recipes: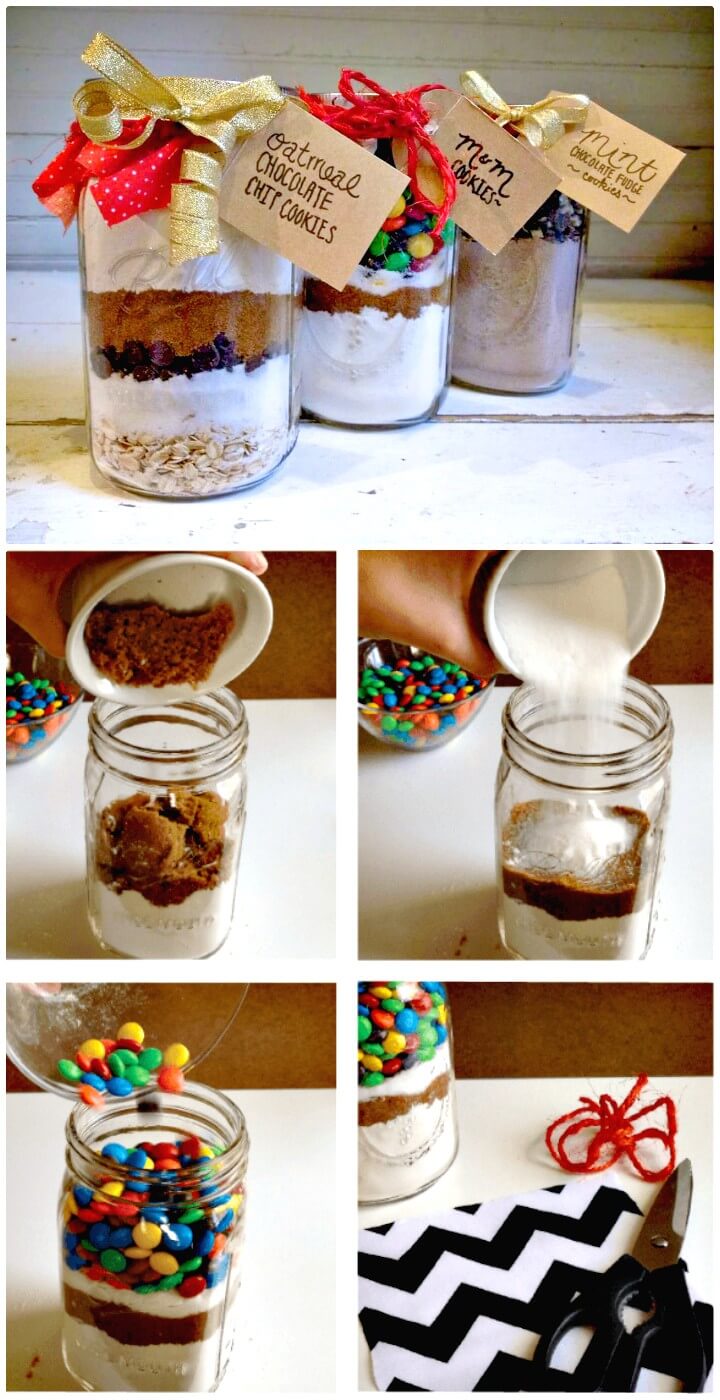 DIY Instructions: diyprojects
How To Make Mini Mason Jar Aquariums: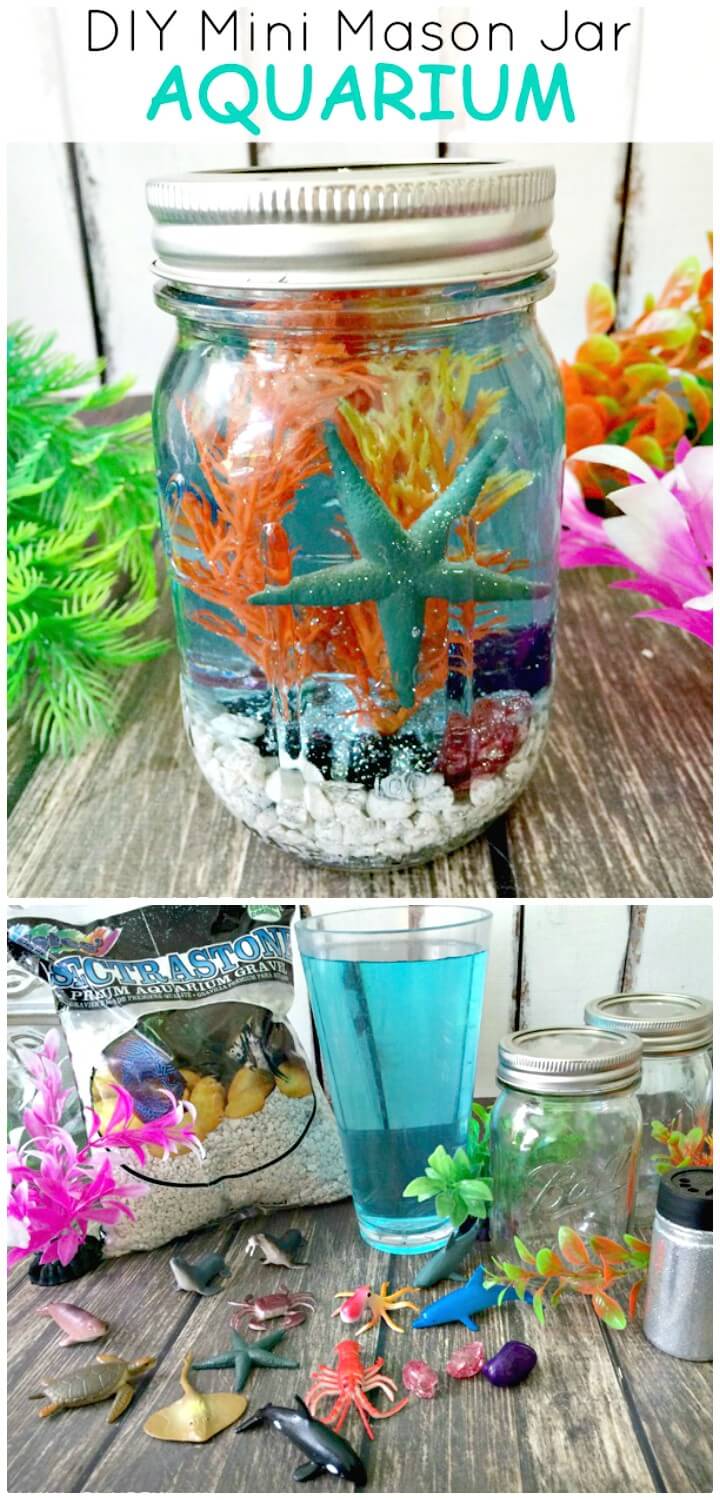 DIY Instructions: alittleclaireification
Adorable DIY Mason Jar Foaming Soap Dispenser: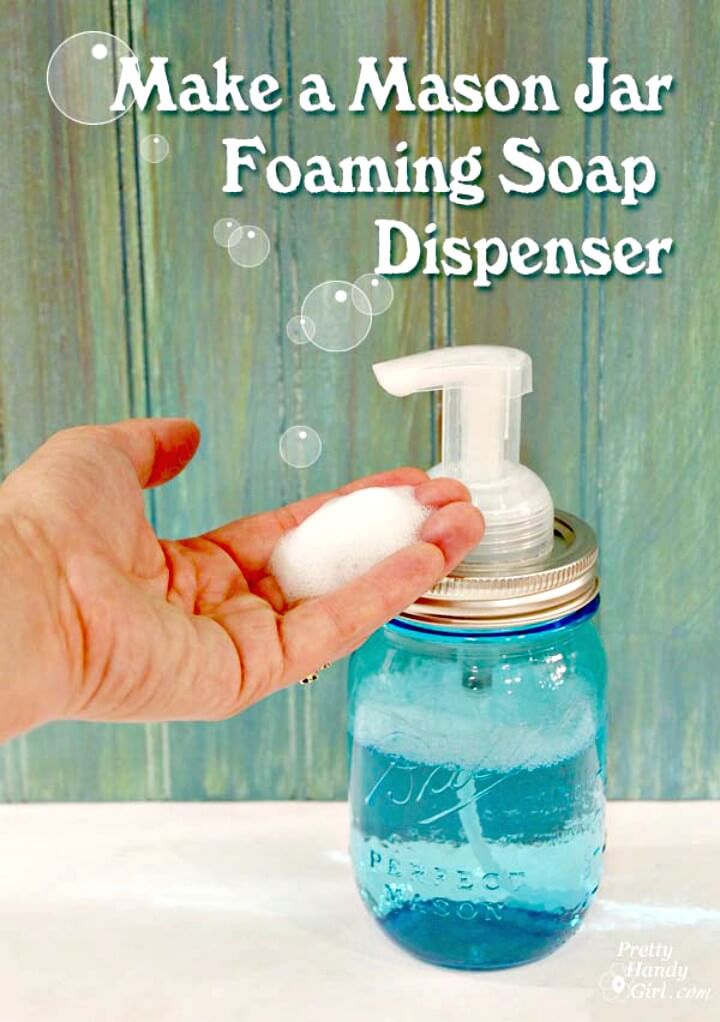 DIY Instructions: prettyhandygirl
Make Your Own Lovable Mason Jars: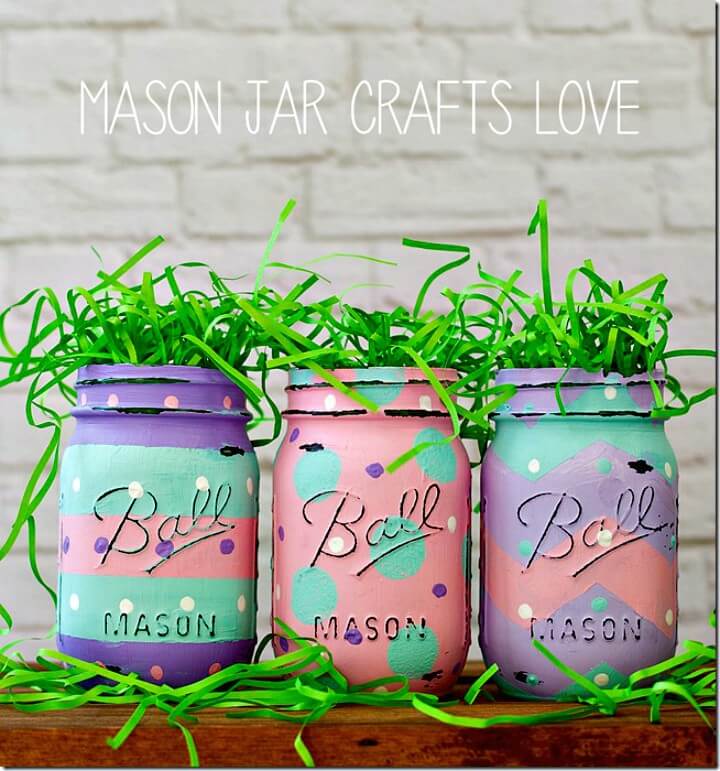 DIY Instructions: masonjarcraftslove
Easy How to DIY Crayon Candle Tutorial: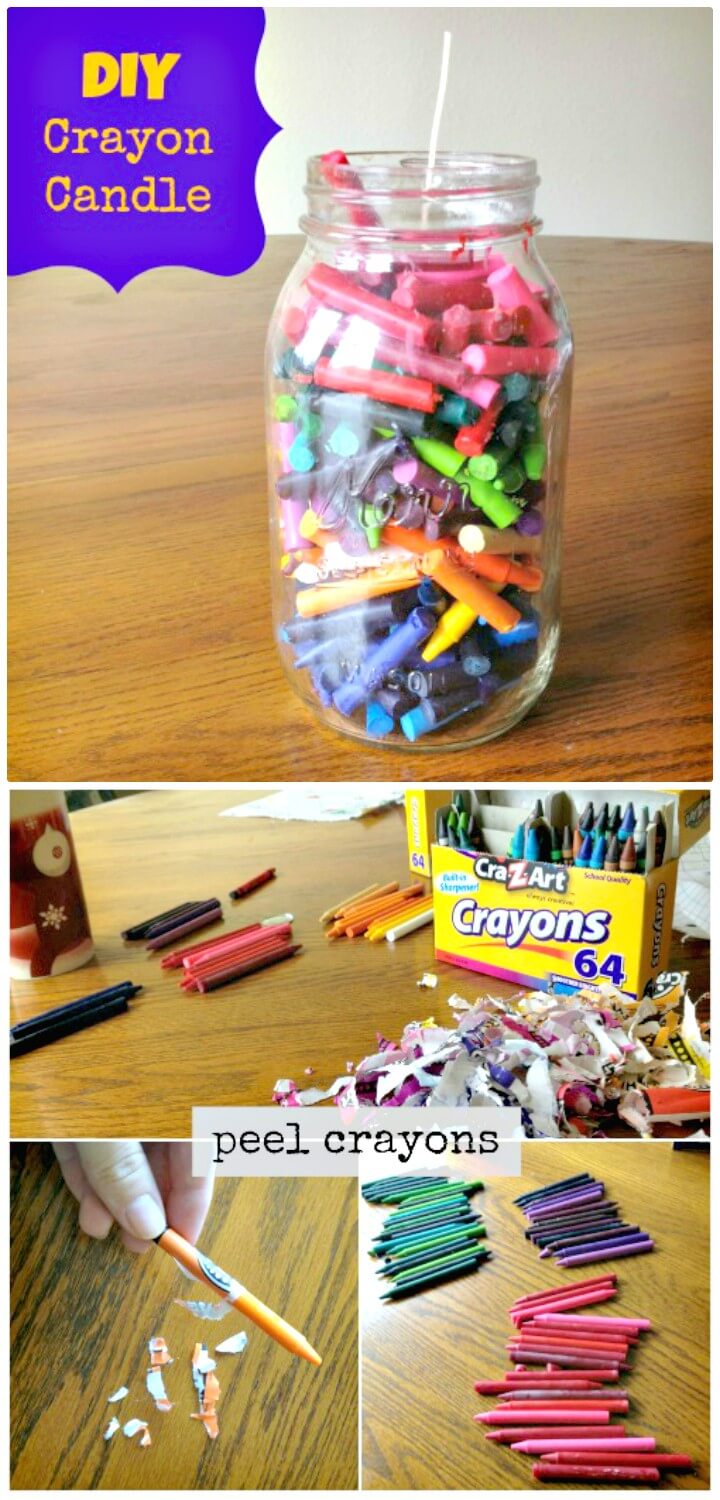 DIY Instructions: brittanyestes
How To Make Santa Painted Mason Jar: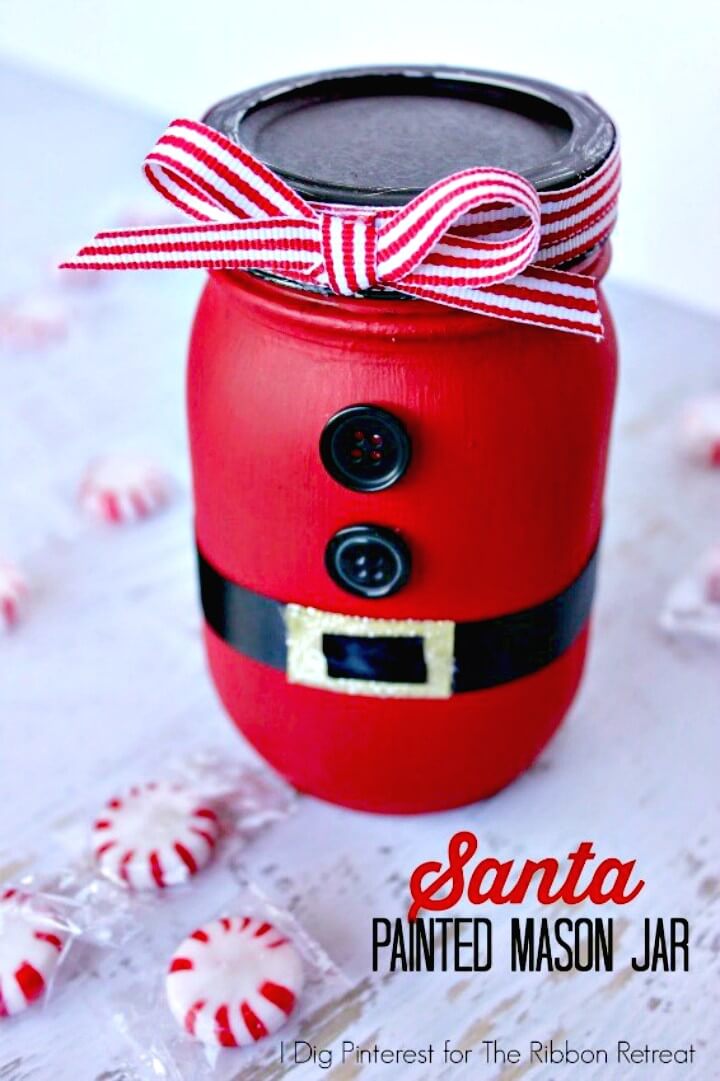 DIY Instructions: theribbonretreat
Fast and Easy DIY Mason Jar Citronella Candles: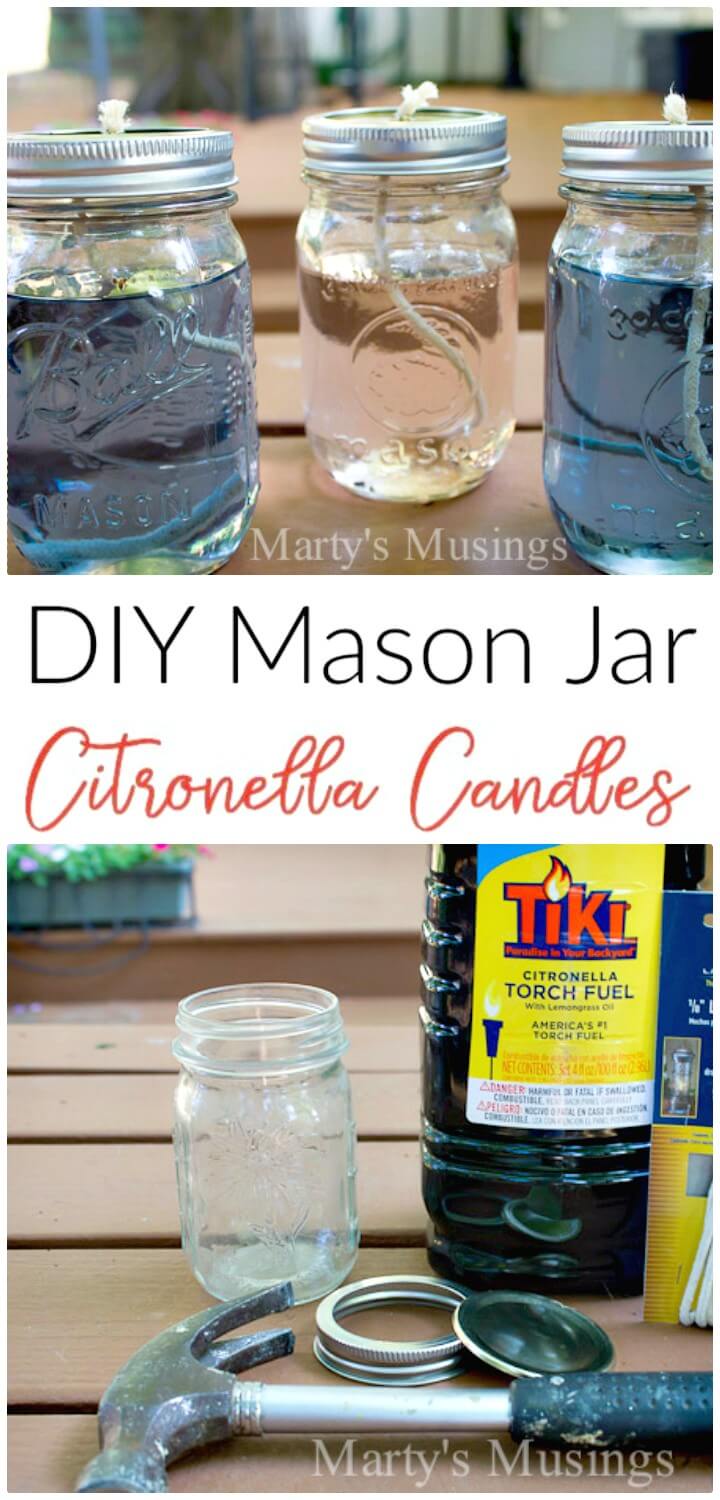 DIY Instructions: martysmusings
Adorable How To Make Milk Glass Jars: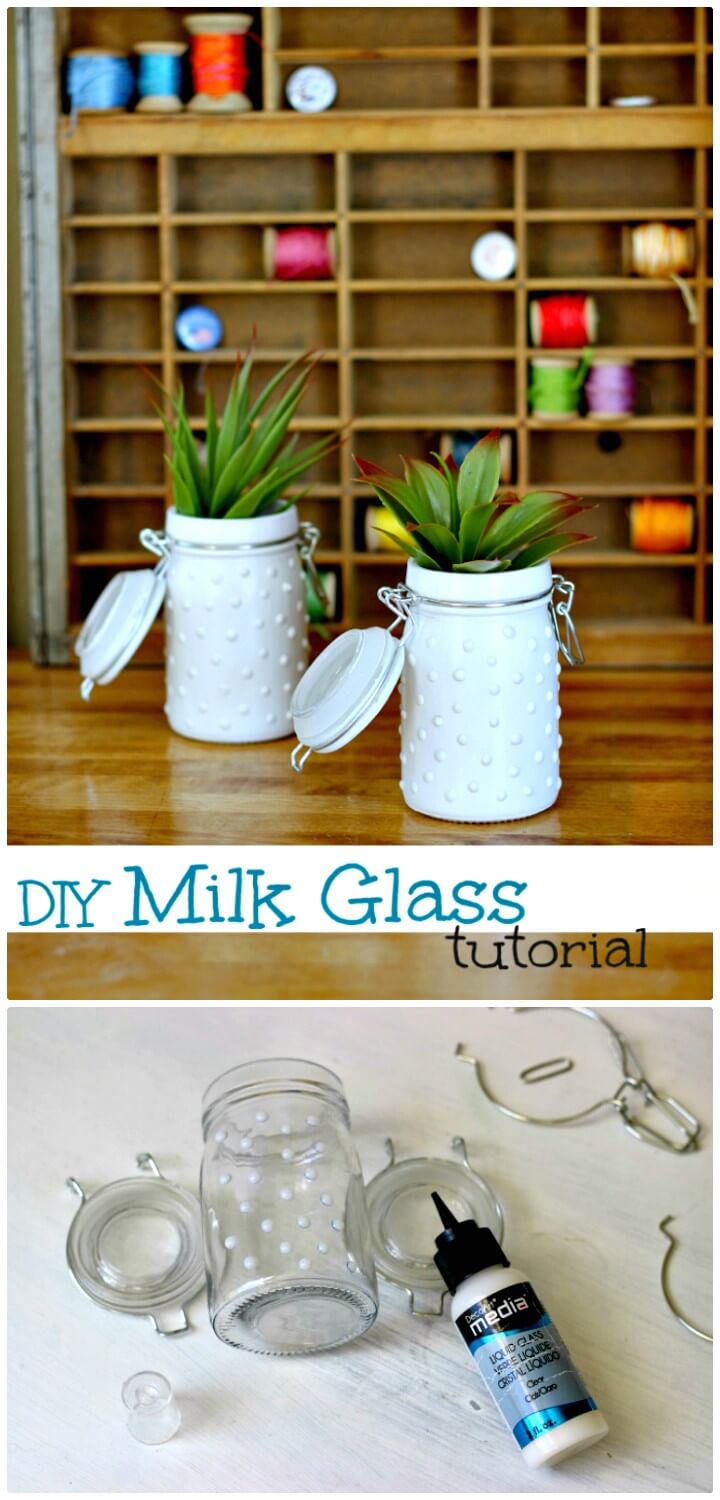 DIY Instructions: ribbonsandglue
Easy DIY Prism Mason Jar Light: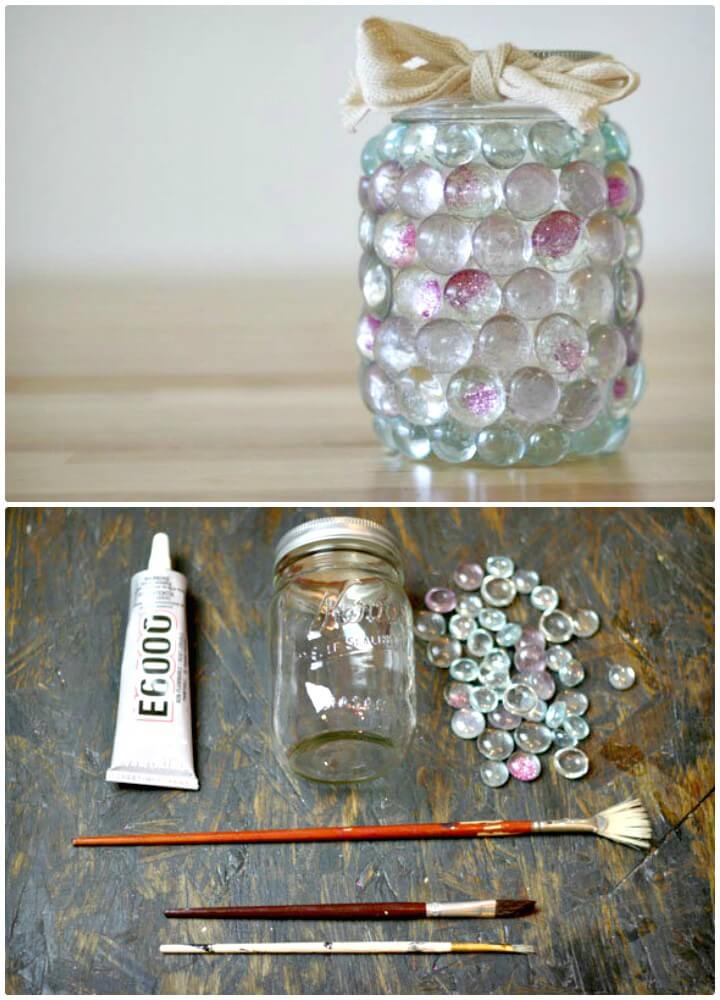 DIY Instructions: diyprojects
Make Your Own Mason Jar Herb Garden: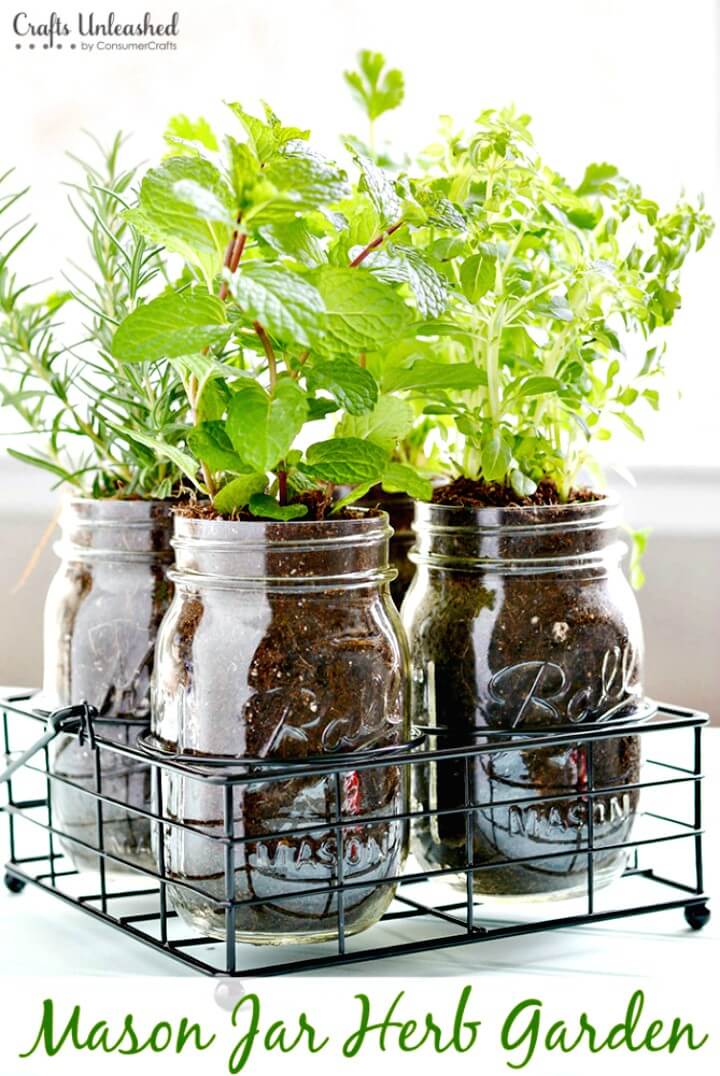 DIY Instructions: consumercrafts
DIY Mason Jar Table Lamp Tutorial: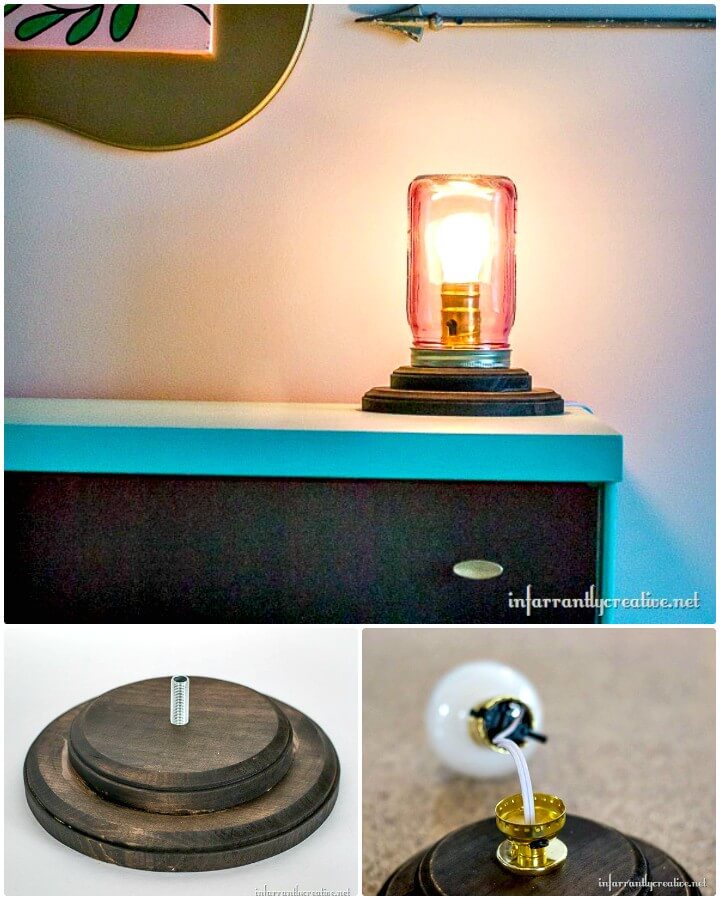 DIY Instructions: infarrantlycreative
Quick & Easy How To Turn Mason Jars Blue: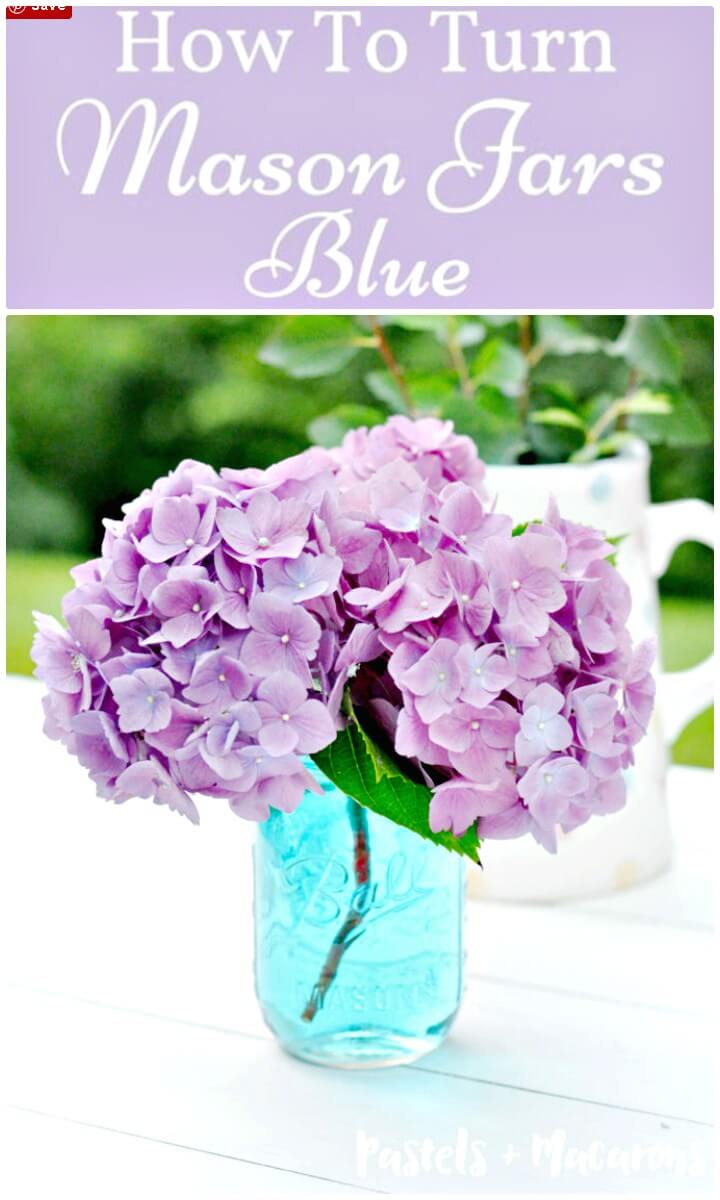 DIY Instructions: pastelsandmacarons
Easy DIY Epsom Salt 4th Of July Star Jars: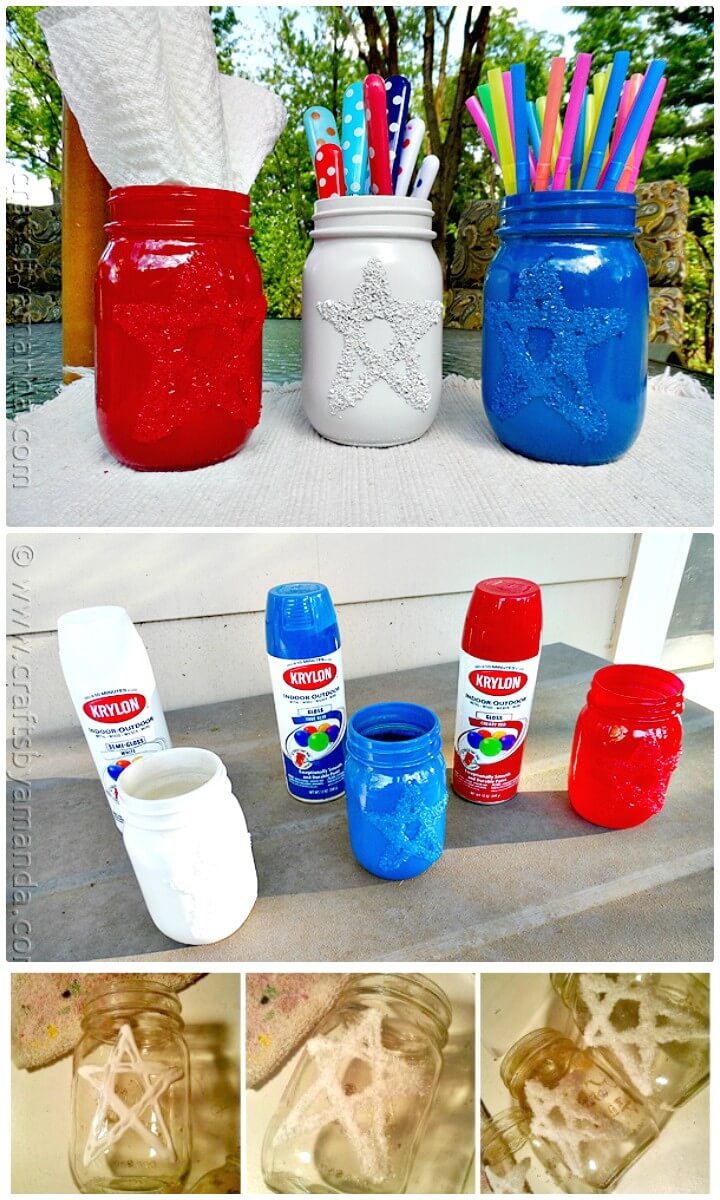 DIY Instructions: craftsbyamanda
Make Your Own Mason Jar Centerpiece: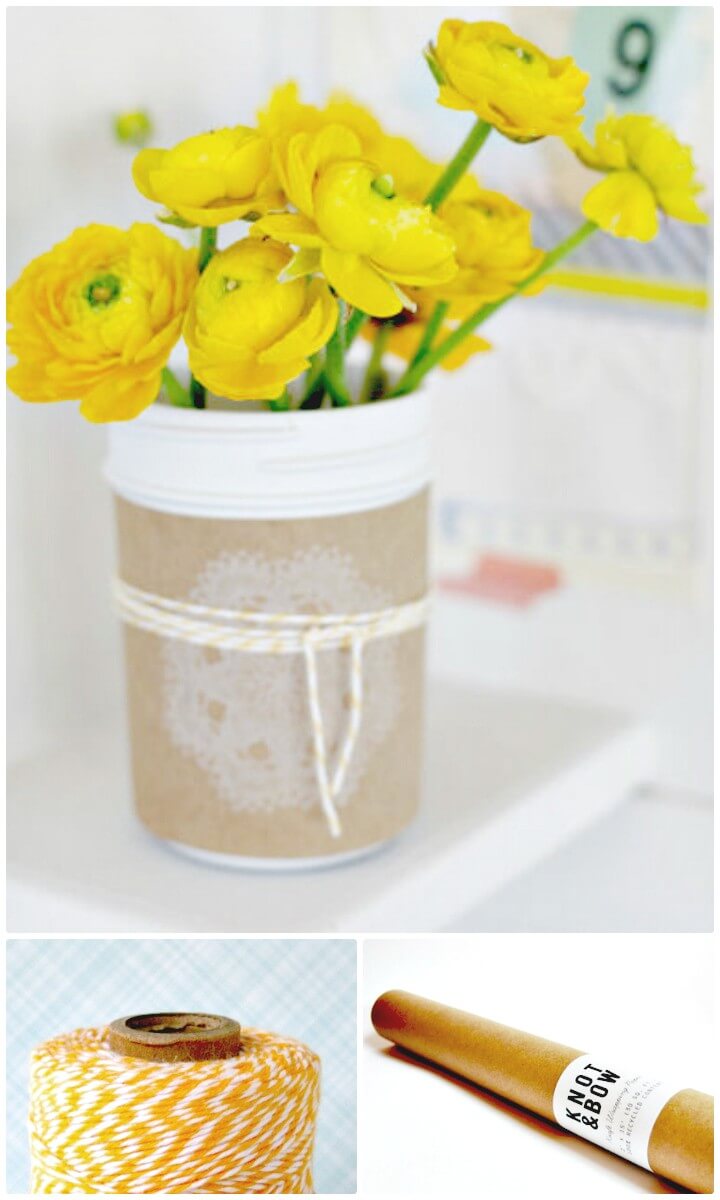 DIY Instructions: emmalinebride
Easy DIY Mason Jar Terrariums Tutorial: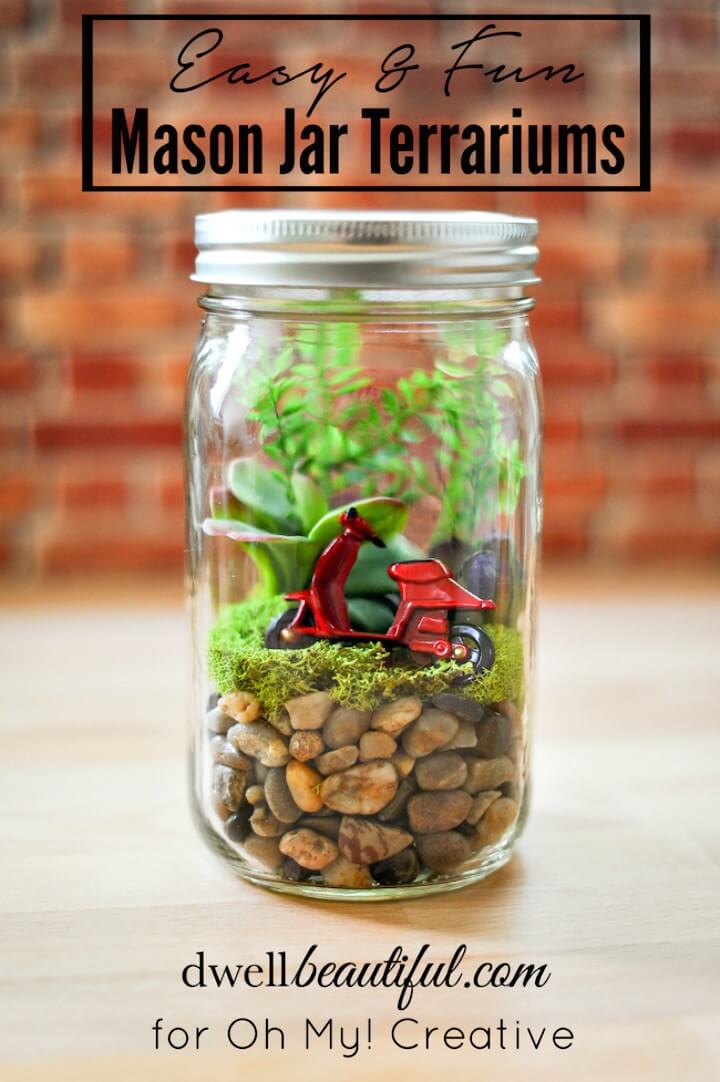 DIY Instructions: ohmy-creative
Make Your Own Mason Jar Fairy Lantern Tutorial: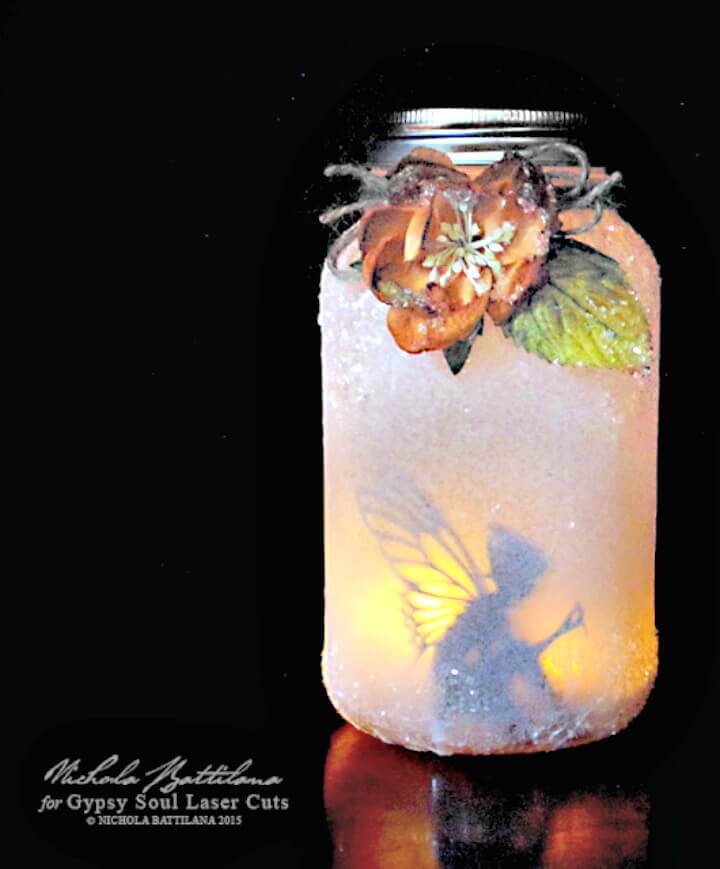 DIY Instructions: fabartdiy
Easy DIY Mason Jar Twine Holders Tutorial:
DIY Instructions: acasarella
Easy DIY Poured Mason Jar Candle: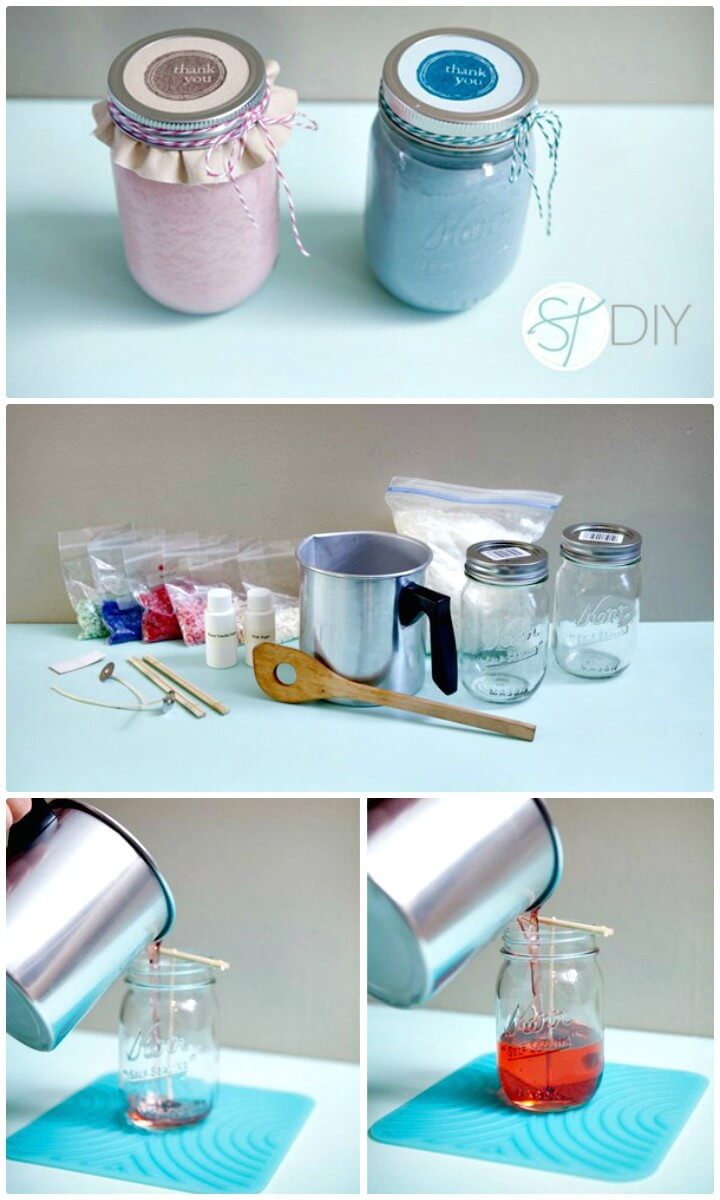 DIY Instructions: somethingturquoise
Make Your Own Mason Ball Jar Storage: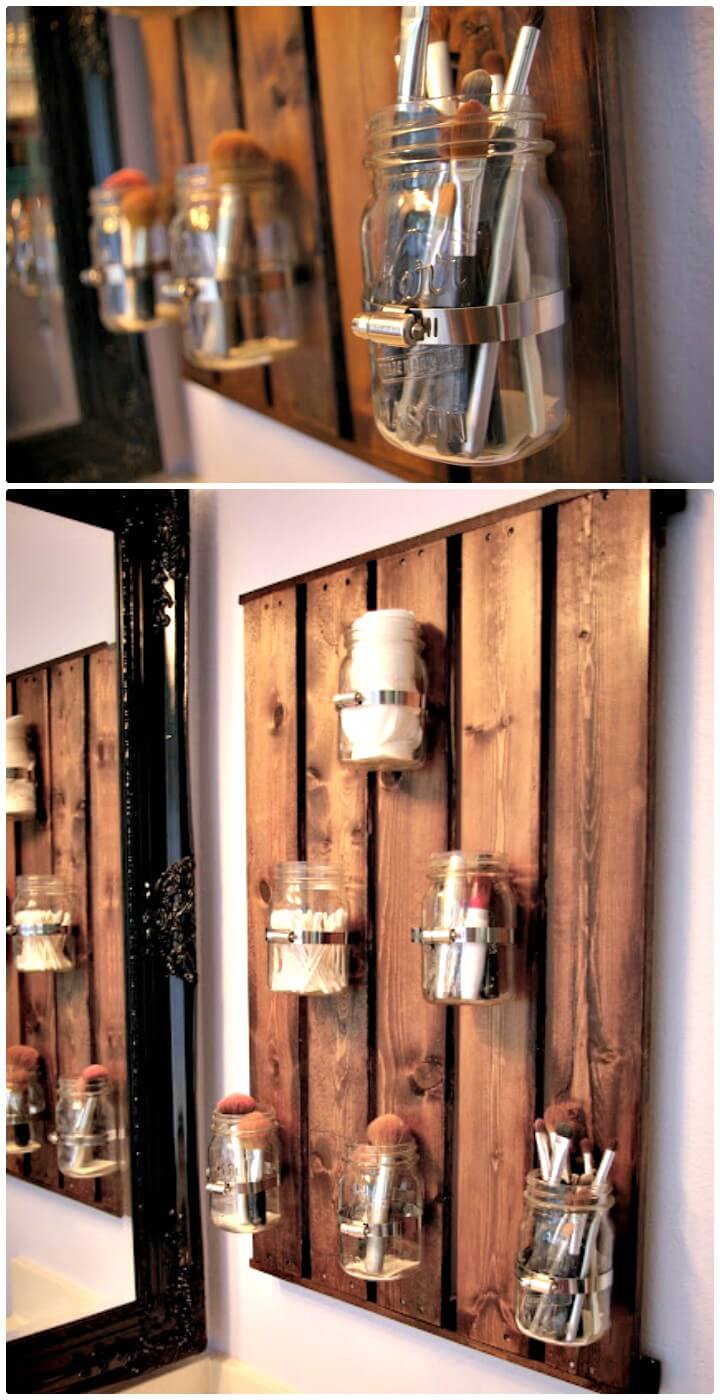 DIY Instructions: skinnymeg
DIY Mason Jar Monday – Cupcake Liner Storage Tutorial: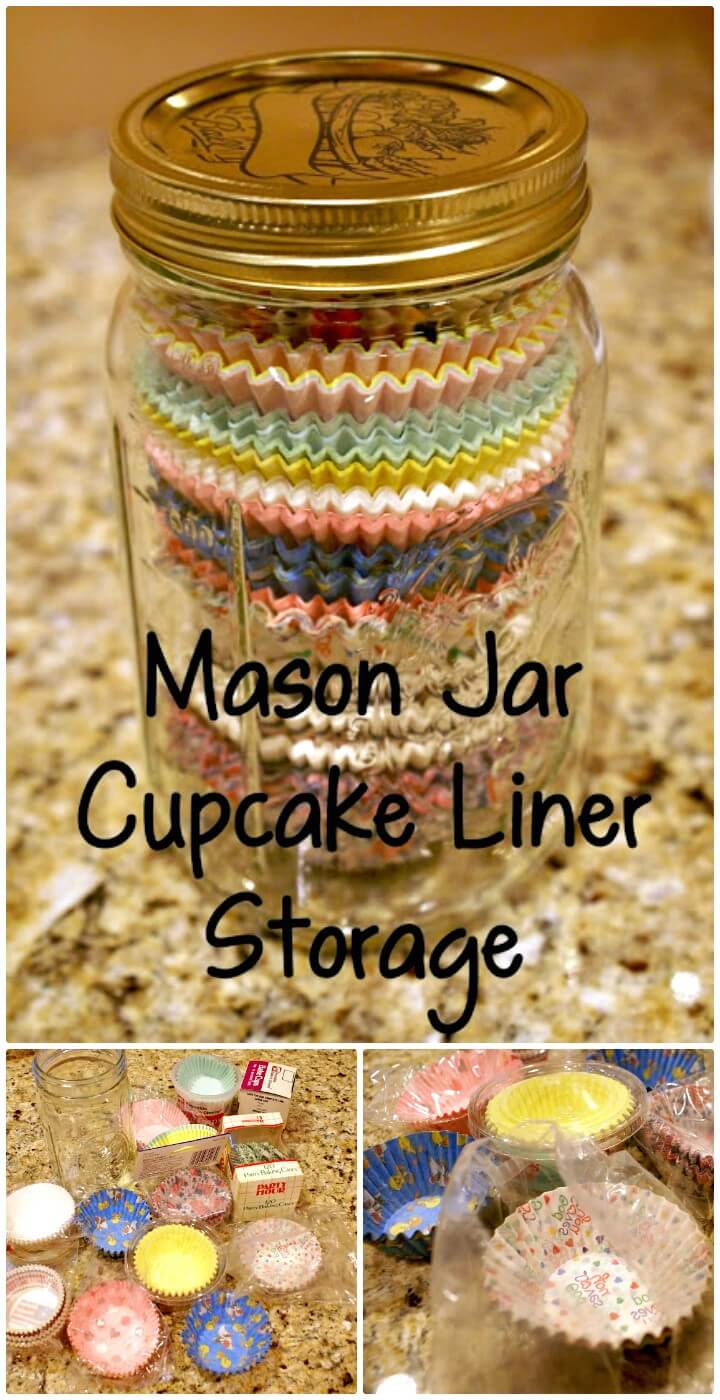 DIY Instructions: texasjoy
How To Make Stenciled Mason Jar Tumblers: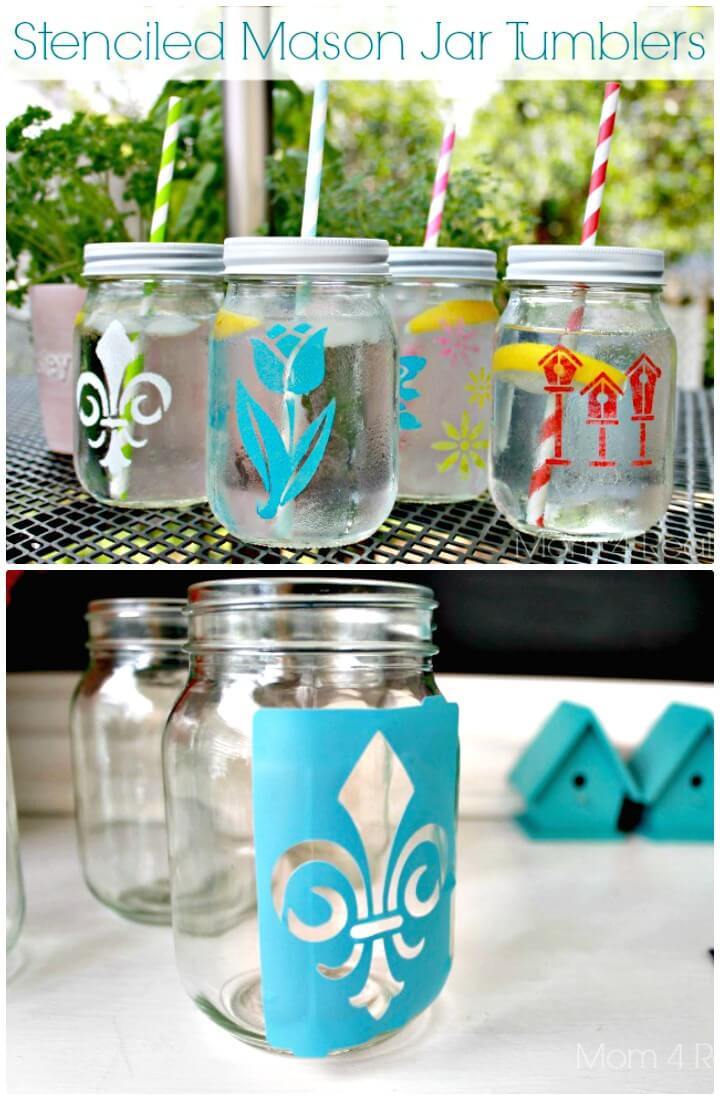 DIY Instructions: mom4real
Easy DIY Mason Jar Tiki Torches 5 Minute Project: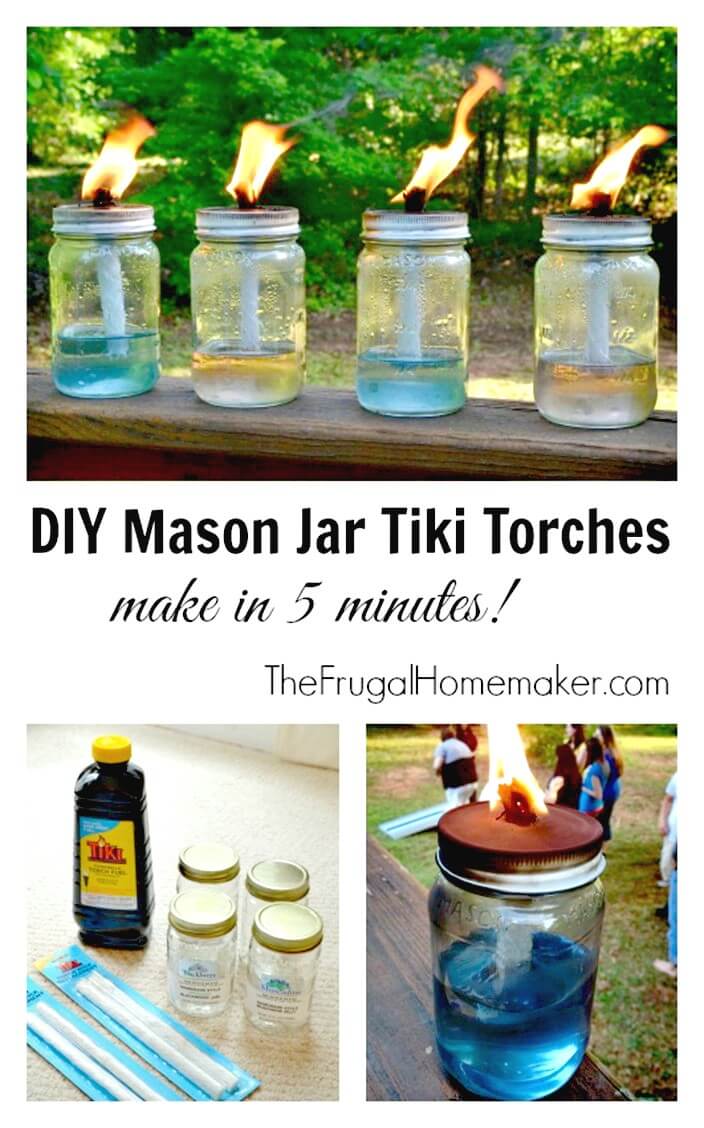 DIY Instructions: thefrugalhomemaker
DIY Homemade Mason Jar Candles Tutorial: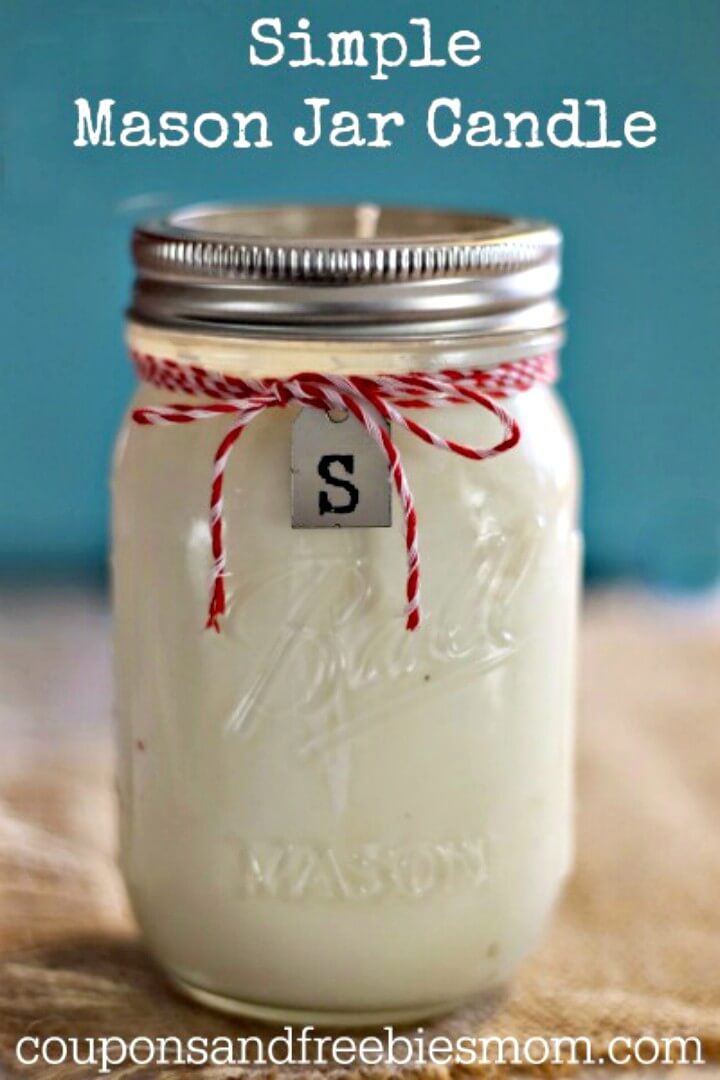 DIY Instructions: couponsandfreebiesmom
Easy How To Tint Mason Jars Tutorial: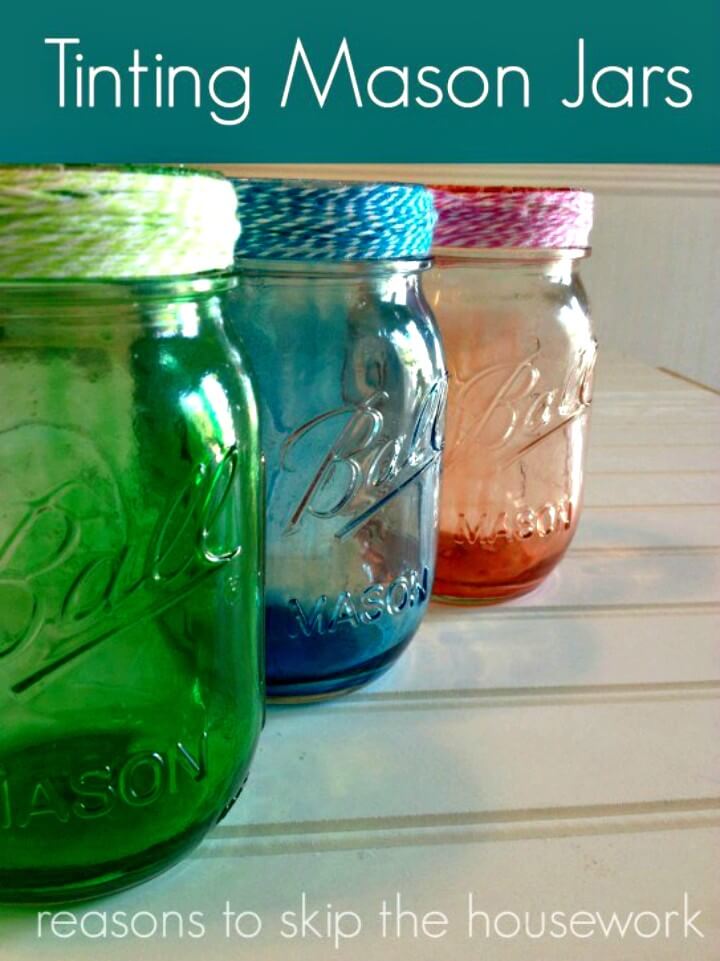 DIY Instructions: reasonstoskipthehousework
How To DIY Heart Mason Jar – Valentine Craft: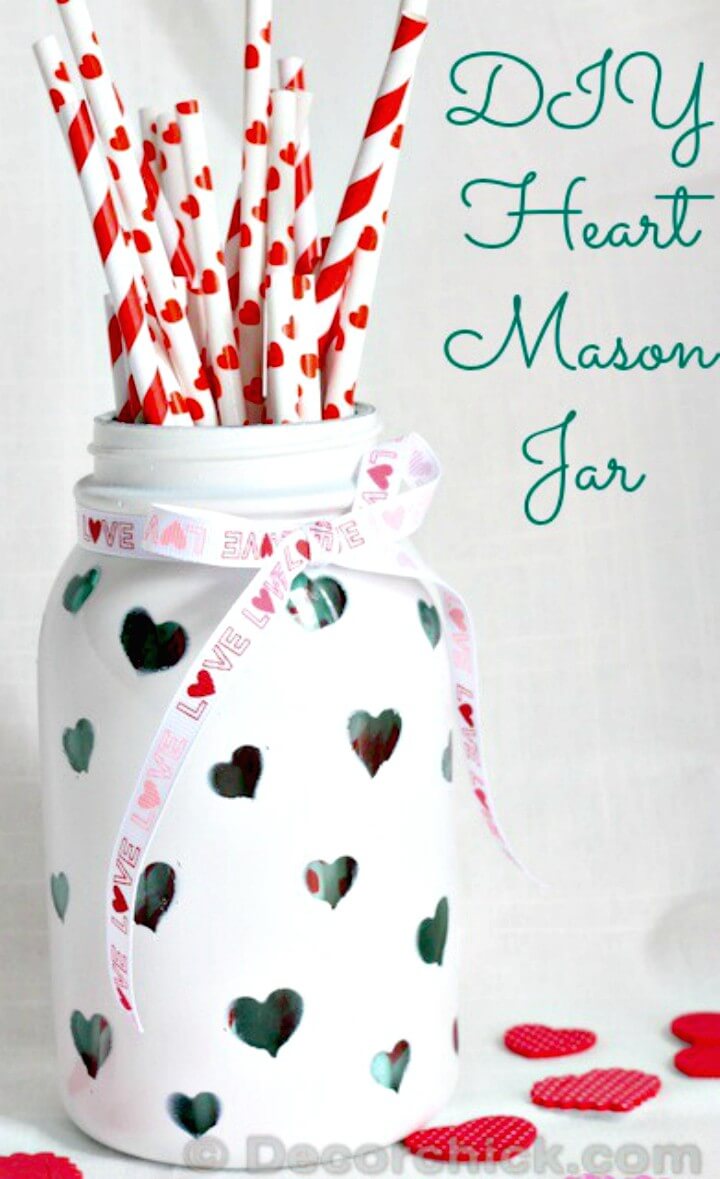 DIY Instructions: decorchick
Make Your Own Mason Jar Picture Frame Vase: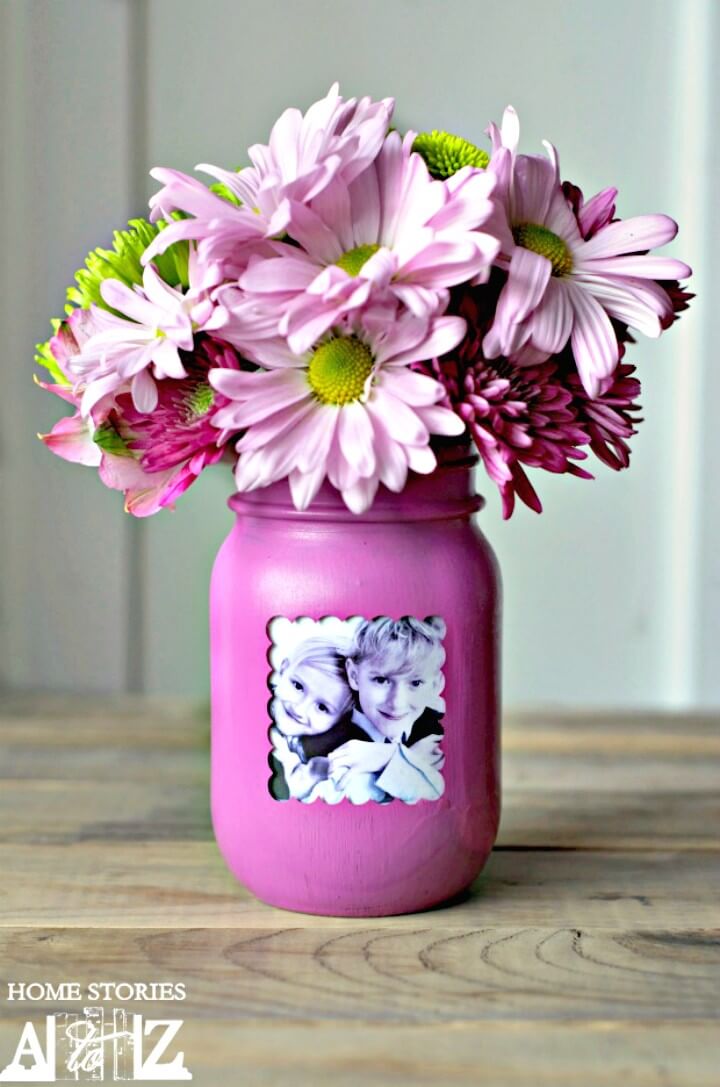 DIY Instructions: homestoriesatoz
Easy DIY Distressed Chalkboard Mason Jars: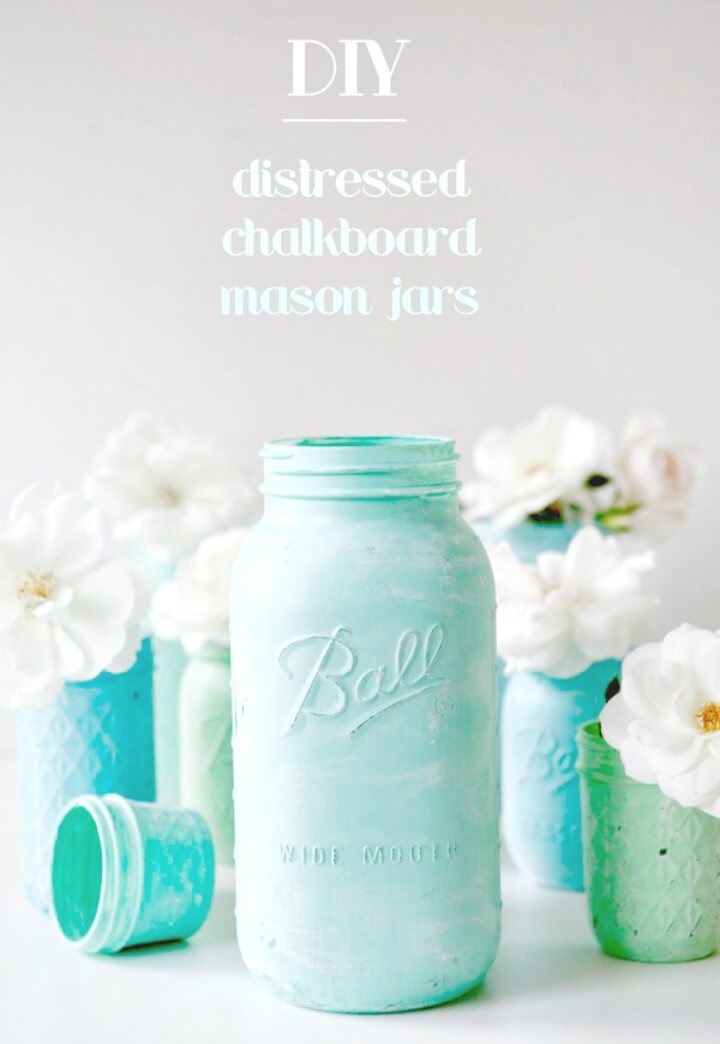 DIY Instructions: somethingturquoise
How To Make Mason Jar Candles In 5-minute: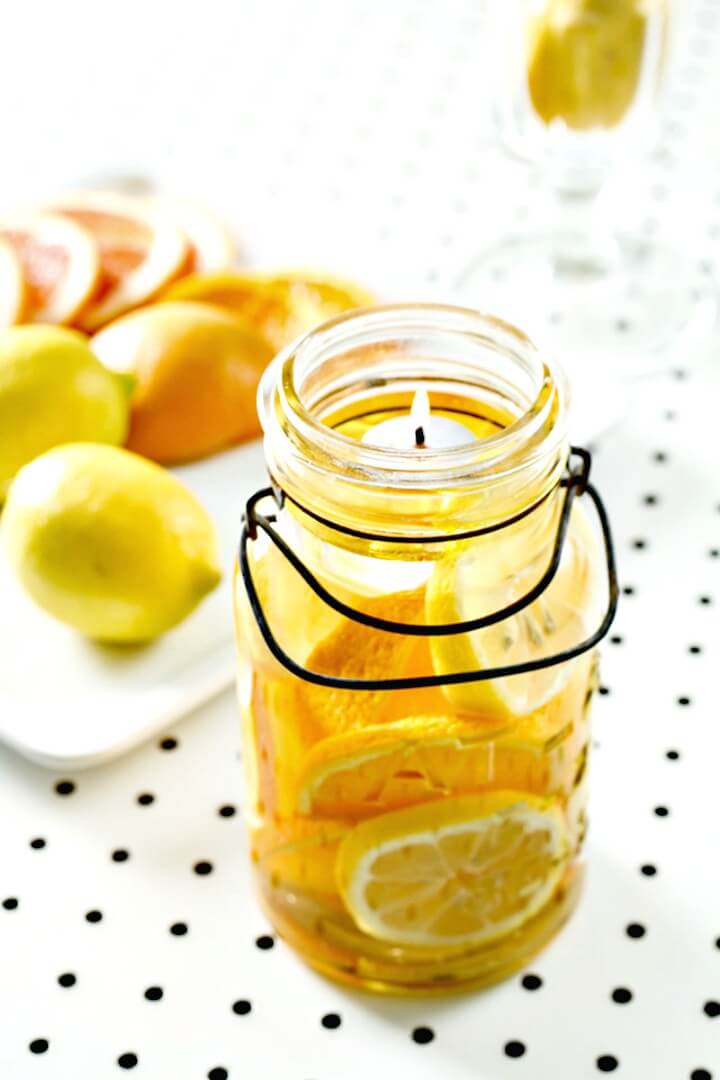 DIY Instructions: ahelloglow