Making your own tablet stand is super easy now with these 20 DIY tablet stand ideas and an iPad stand and holder made from wood, cardboard or recycled materials, you have a plethora of options. If you're looking for a stylish means to hold up and display your device, consider crafting your own diy tablet stand or diy iPad stand. By using basic supplies and some elbow grease, you can create a homemade tablet stand that's tailored to suit your needs and match your decor perfectly. To help get the creative juices flowing, be sure to explore these simple to make diy tablet holder stand ideas including step by step instructions and plans. You'll easily find what you need to build the perfect handmade device holder that brings some extra personality into your space.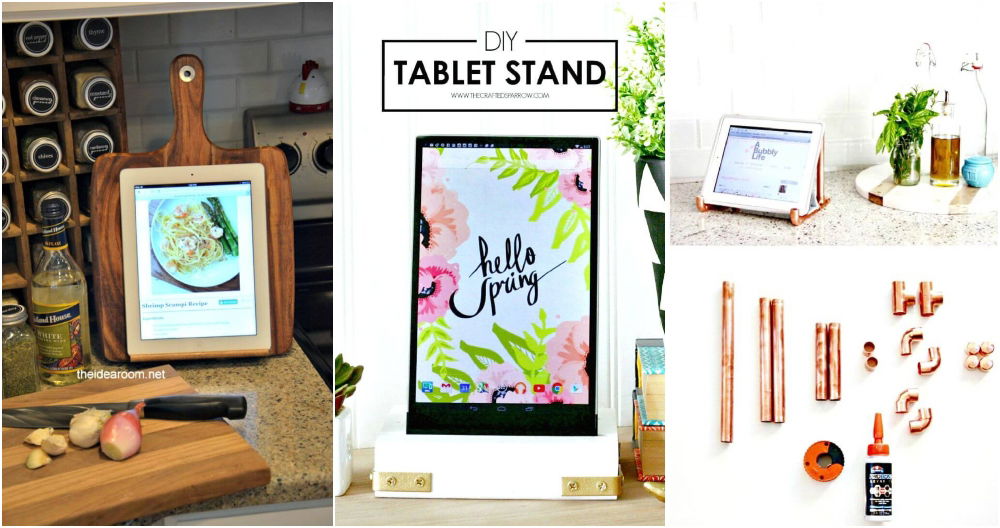 Looking for a creative way to stylishly display and use your tablet? Learn how to make a homemade tablet stand with these 20 easy DIY tablet stand ideas, including a DIY iPad stand and holder plans! With the right tools and materials, you can craft your own stand equipped with holders, mountings, and even adjustable angles. Whether you wish to reuse old wine crates or create a wooden frame using glue and nails, these DIY tablet stands offer an economical solution for all your tablet needs. Keep your device within reach and choose from our top 20 DIY Tablet Stand Ideas!
1. DIY Copper Pipe iPad Holder
To hold your Ipads and the tabs on your desks or the tables you need a nice and functional holder and now you can make one on your own. Yes using some copper pie you can easily install this quick and pretty looking Ipad stand to hold it nicely over your desks or the kitchen counters when you need to follow the recipe from it. abubblylife
2. Easy DIY iPad Stand
When not in use the tabs or the Ipads can be nicely hold on your desks or the tables over this colorful and totally gorgeous tab holder that you can easily make at home. You would need common and cheap supplies like the fabric and the cardboard to shape up this too cute Ipad holder which would add so much functionality and the decor to your spaces. You can check out the details of the idea right here mypatchwork
3. How to Make a Wooden iPad Stand
Its not safe to hold your tabs or the Ipads against the jars or the pots over the kitchen counter when you are wokring on a new recipe and following it from the mentioned gadget. So make this functional and safe stand for your tabs with the pieces of wood and thus bring not only the usefulness but the rusticity too in your kitchen decor. You can learn the complete tutoiral here to know how easily this wooden tab holder has been installed shanty
4. DIY Pencil iPad Stand
Its easy to work on the tabs either you are following a video or reading something when the tab is hold nicely over your table or desk and you have your hands free and easy to mover around. So here is how you can create this utterly genius and totally functional tripod stand for your tab and that too using the cheapest of the supplies which are the pencils and the rubber bands. You can follow the idea details right on this link geeky
5. Simple and Cheap DIY iPad Stand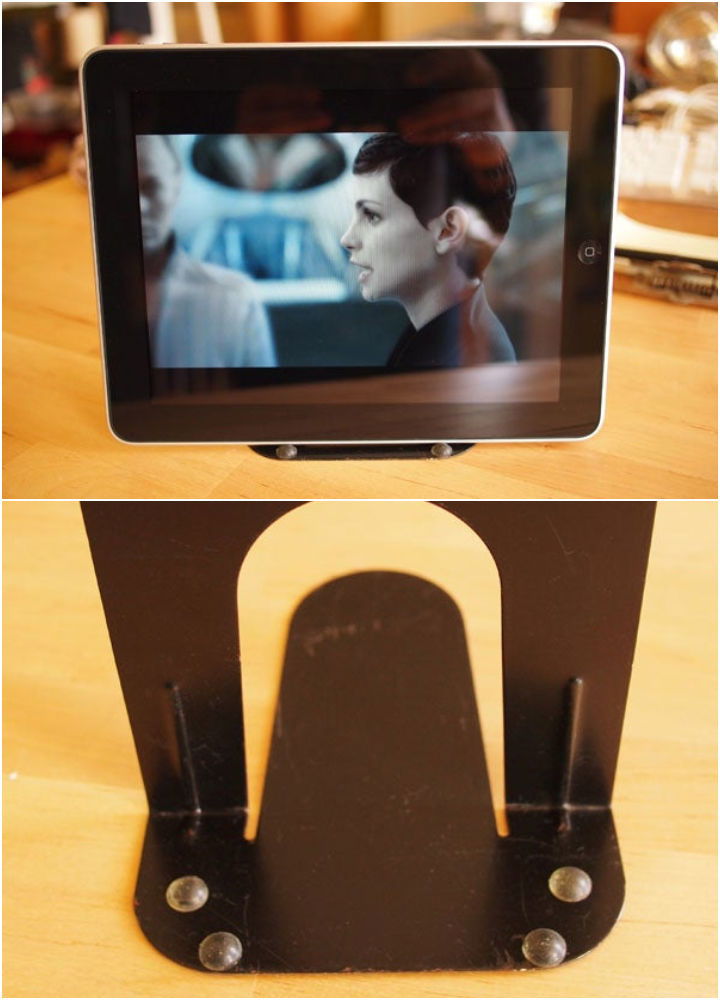 Make your desks or the working tables look more professional and well managed with the pretty display of your Ipad on it and that too with this handmade Ipad stand. You need simplest of the supplies to isntall this easy and fun stand for the ipad and those include a metal bookend and the rubber that you can easily avail from your nearby stores. Just combine the both items together and the chic, sturdy and cheap stand is ready to make an elegant display of your tab or Ipad. You can check out the details of the idea right here instructables
6. Homemade iPad Stand
Holding Ipad in the hands and leaning your neck down is not the safe position to use it. You should make the Ipad stand on the table and bring at the equal level of your eyes for the perfect and safe use especially by the kids. SO here is how you can create a cheap and easy stand for the Ipads having been made out the egg cartons with just a thin cut out on the top surface where you can stuck your tab or Ipad in. You can check out the details of the fun and feasible idea here piikeastreet
7. How to Make a iPad Stand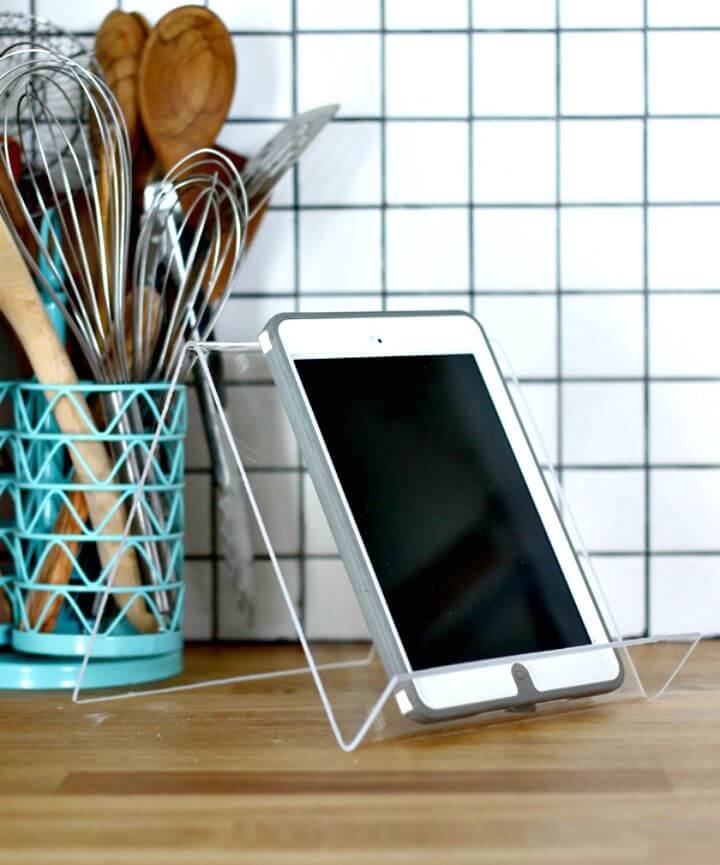 Ipad stands are the must possessions to keep your expensive gadgets safe on your counters when you are following a recipe from it. We brought you this fun and cost efficient idea of making a stylish and totally unique Ipad stand for your Ipad using the plexiglass with some easy cutting and gluing techniques. You can check out the details of the idea right here to own this lovely tab or Ipad holder for yourself theshabbycreekcottage
8. DIY Lap Stand For Your iPad
Reading, watching movies, gaming and a lot more is done on our favorite Ipads and it can be really tiring to hold them long in the hands so you should make a stand to hold your Ipad and set your hands free to carry the weight so long. So here is this brilliant idea of making a fun Ipad stand out of the feasible supplies lying around like the flannel, velcro and some plastic bands to hold the Ipad nicely in your lap and enjoy your fun time with your favorite Ipad activity. Check out the step by step details of the idea here evilmadscientist
9. Make Your Own iPad Pillow
Kids learn, play and have fun with the Ipads and now you can make it really easy and fun for them to hold their Ipads in their laps with these handmade pillow Ipad holders. This is the cutest and the most comfy idea to safely hold the Ipad and enjoy your fun activities on it and it has been done so easily at home. You would need a pillow, some cute printed fabric and the ribbons to make this Ipad holder that is comfy and so cozy to hold in your lap diybydesign
10. Easy DIY iPad Cover And Stand
We got this double functional idea of creating an amazing Ipad cover this weekend to satisfy your crafting urges in the most functional and fun way. This Ipad cover works both as the stand and the cover and thus would be really useful to get your hand son. So grab the supplies like the fabric, some card stock and the ring binders and get along the step by step instructions of this Ipad cover cum stand here practicallyfunctional
11. Making a Wooden Tablet Stand
The Ipad holders are so much fun and easy to make when you are a good crafting person. So here is this lovely idea of making a simple yet equally functional wooden Ipad holder with just tow simple steps. First you need to make a slot cut to your wooden board and then stain it in white and screw down at the corners with L brackets and its ready to be a pretty and useful part of your desk,table and counter decor. Complete details of the idea here thecraftedsparrow
12. Build Your Own iPad Holder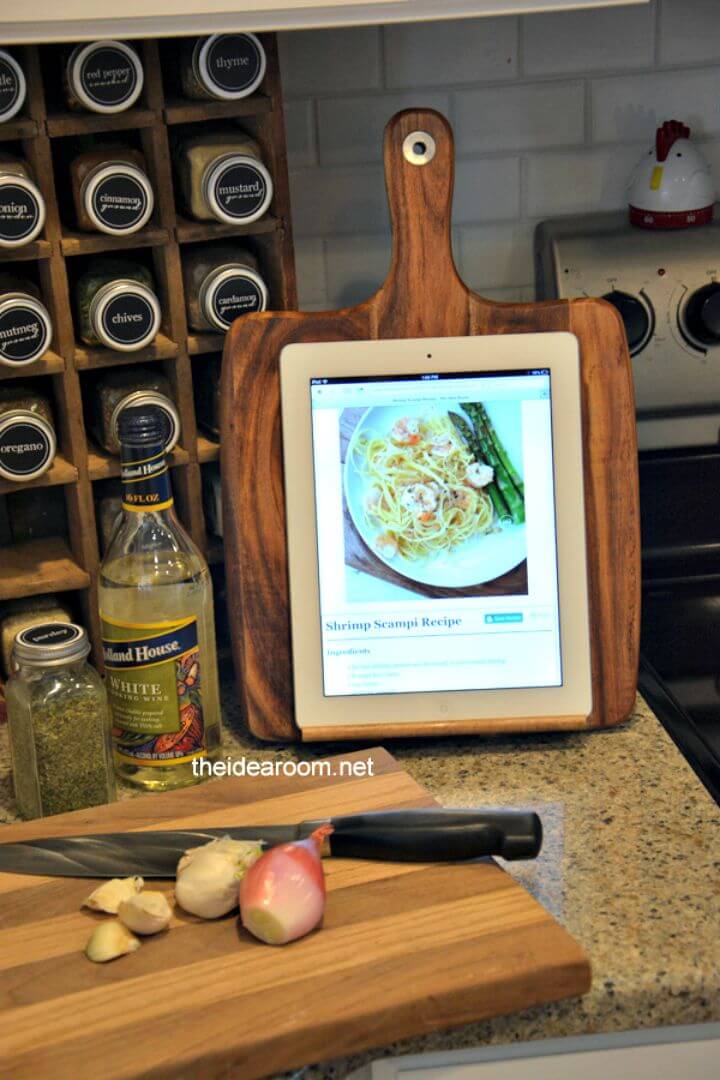 Here is another smart and totally gorgeous plan to yield an Ipad holder on your own at home and that too using the common things around. To make your recipe following easy for you in the kitchen this Ipad holder has been made out of the cutting board, a triangle wooden support at the back and the scrabble tile. It would look so stunning and matching to your kitchen decor with its rustic wooden appeal. You can check out the details of the idea here theidearoom
13. Beautiful DIY Tablet Stand
If you visit your nearby store you would surely find something like this shown in the picture called the wooden shelf or the sconce that you can easily turn into a quick and totally functional Ipad or the tab holder for yourself, for your hubby or for the kids. You just need to add a wooden edge to hold the Ipad behind it. To make it totally fancy and fun it has been stained in the vivid pink hues for that perfect appeal. sadieseasongoods
14. Easy DIY Prop Up Tablet
With some fabric and cardboard you can easily shape up this colorful and funky Ipad holder to enjoy more your Tab and Ipad activities. You can shape up this holder with the easy covering of the cardboard pieces with the fabric. Here is the link where you can check the complete details of the idea right here to make it more feasibly yourself at home. Details of the idea right here theinspiredwren
15. How to Make a Tablet Stand
If you are regular crafting person working on the wood then this ipad holder is so much easy and quick for you to work on and add the functionality to your Ipad experience be it reading, watching movies, gaming and more. You just need to made a slot in the wooden piece and then stain it and its done so effortlessly and cheaply. Here is how you can learn to make it more easily at home with the tutorials foreigncreatures
16. Best Tablet Stand Ideas
The wooden crafting persons can really make their routine things so much fun and functional with the left out pieces of the wood. Here is the sample of the Ipad holder that you can make with the remaining wooden boards by just stacking them and making slots. We brought you the easy details of the idea right here to catch them and make one right for you.You can check out the details of the idea here virginiasweetpea
17. Building a Custom Wood Tablet Stand
The wooden things are always sturdy and so much gorgeous to look at so if you are in need of a wooden Ipad holder then you should really be peeking into this idea of wooden Ipad holder made out of the wooden boards and some supportive pieces being nicely combined to each other. The walnut stain has really added oodles of rustic charm and fun to it and you can learn it all here with easy tutorial help studiograyhouse
18. DIY Tablet Stand with a Cutting Board
If your old cutting has been still in your kitchen cabinet we know how you can recycle it for a more better and practical use. Yes you can re-purpose it to get this immensely functional Ipad holder with just a few additions to the board.You just need to add an wooden edge at the front to hold the tab on and a triangle w3ooden piece support at the back to make it hold on the counter. Details with instructions are lying here diyforlife
19. Easy DIY Tablet Stand
Are you a cooking lover and love to try new dishes everyday from the internet? Then you should really get your hands dirty with this ipad holder to hold your Ipad on the kitchen counter and enjoy great feasible while working on your recipe and reading it from the Ipad in between. It has been made out of a wooden board and here is the link provided to check out the complete details of its making savoringthegood
20. How to Build a Tablet Stand
Here is an Ipad holder that would really contribute to the beauty of your house with its utter rusticity and sheer wooden appeal. With a wooden board, wooden appliques and the iron dowel rods this stand has been installed so nice and easily at home with an aexqusite rustic brown stain finish to jazz up it looks more. You can check out the details of the idea right here to own it for your desks, tables or the counters dlawlesshard
Related DIY Projects and Ideas
DIY Tablet Cases: If you're looking for a way to give your old tablet case or iPad cover new life, take a look at these unique DIY tablet cases and iPad covers that are so easy to make.
Plant Stand Ideas: A plant stand is a great way to display your plants and decorations. These creative DIY plant stand ideas are easy to make, inexpensive, and perfect for any home.
Scrap Wood Projects: Learn how to make amazing things with scrap wood. These simple scrap wood projects are perfect for beginners, and they are all easy to do in a weekend.
Small Entryway Ideas: The front door is one of the most important parts of a home. That's why we put together a list of fresh, creative small entryway ideas that are easy to DIY.
Hanging Table Ideas: Make a space to eat, work, and relax with these unique DIY hanging table ideas are perfect for small spaces or kids' rooms.
DIY Vinyl Projects: Personalize your home with these easy DIY vinyl projects! Transform a plain exterior, create a custom rug, or make your own personalized caddy. Whatever project you choose, vinyl is the perfect choice because it's durable and easy to clean.
Wood Projects to Sell: Find easy DIY wood projects that sell fast and are more decorative and easy to make, they're just as profitable and can be completed in a few hours.
Small Woodworking Projects: You'll find step-by-step small woodworking projects made from salvaged or reclaimed materials. Find ideas for a variety of home decorating, crafts, and gardening projects.
Upcycling Ideas: Upcycling is a great way to reclaim and reuse old materials that would otherwise be thrown away. Here are DIY upcycling ideas for your home decor.
Conclusion:
Whether you're looking for a stylish and sophisticated DIY tablet stand to show off your iPad or something simple and easy that can be whipped up in minutes, we've got you covered. With so many great DIY table stand ideas to choose from, there's sure to be one that fits your needs – and budget. So get crafting and enjoy the convenience of having your tablet at hand whenever you need it. Do you have a favorite DIY tablet stand? Let us know in the comments below!