Building your own aquarium stand can be a cost-effective and rewarding way to ensure your fish tank is well-supported, and you can customize its design, size, and colors. Learn how to build a fish tank stand with these 25 free DIY aquarium stand plans to boost your home decor and smartly showcase your aquatic pets. Choose your own adventure from simple DIY aquarium stands for beginners to the DIY 55 gallon fish tank stand for those seeking a bigger challenge.
Our carefully put-together aquarium stand plans are well structured and complete with easy, step-by-step instructions. Each DIY aquarium stand tutorial provides clear details about the materials required, including wood, screws, and paint. To help visualize the creative process and ensure successful assembly, we include illustrative images alongside detailed instructions in our DIY fish tank stand guides.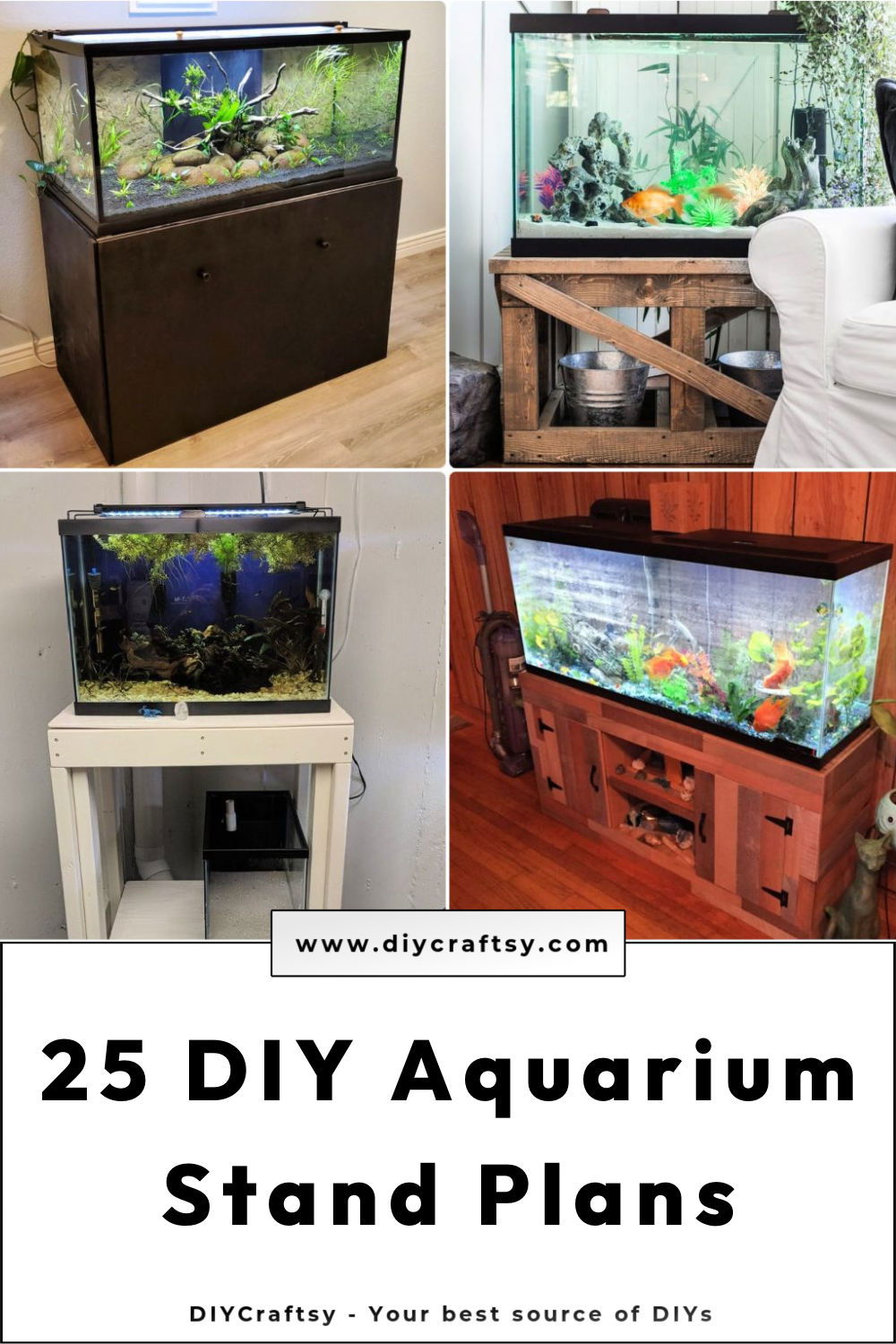 Make an impressive wood aquarium stand or try building an aquarium stand out of concrete blocks to suit your style and requirements. Whether it's a DIY 10-gallon fish tank stand or a handmade wooden aquarium cabinet stand, you'll find 25 free diy aquarium stand plans across various styles and sizes. So gear up for your DIY challenge – start crafting your very own unique DIY aquarium stand today.
Free DIY Aquarium Stand Plans
These DIY aquarium stand plans cater to various skill levels – from those new to DIY projects to seasoned hobbyists. It's more than just a functional item; it's a piece of decor crafted with your own hands! So, gear up, and let's build an aquarium stand.
1. Build an Aquarium Stand for a 100 Gallon Tank
Designing and building a DIY aquarium stand for a 100-gallon tank is the perfect opportunity to show off your creativity and craftsmanship! Using simple materials like 2x4s and plywood, you can build a sturdy and functional stand that prioritizes easy access and maintenance. You'll be well-equipped for this project with tools like a power drill, measuring tape, table, and miter saw.
The frame consists of two rectangles slightly larger than the aquarium's dimensions, supported by vertical 2x4s to bear the weight. After assembling the frame and adding horizontal brace pieces, wrap the stand with plywood and secure it with screws.
The front panel is attached with magnetic cabinet catches for convenient maintenance. Finish by sanding and painting the stand to match your aquarium's trim. This cost-effective and customizable stand will provide superior durability and functionality compared to store-bought options. odinaquatics
2. Inexpensive DIY 2×4 Aquarium Stand
Transform your tank into an aquarium oasis with this stylish, economic 2×4 DIY stand! Build a super healthy aquarium stand out of inexpensive 2x4s with a rustic twist. This guide provides step-by-step instructions for constructing a 65-gallon fish tank stand.
This project shares the experience of upgrading a small fishbowl gradually to a larger tank and using a recycled 65-gallon tank to build a custom stand. The stand is made from 2x4s and offers a sturdy and affordable option. The guide includes:
Selecting quality materials.
Cutting and assembling the stand.
Adding cross supports and a top.
Staining the wood for a rustic look.
The final result is a strong and visually appealing aquarium stand that complements any rustic-style home. funkyjunkinter
3. Handmade Wooden Aquarium Stand
Learn how to build a DIY aquarium rack to stack and display multiple aquariums efficiently. This cost-effective solution is perfect for fish enthusiasts with limited space or those looking to expand their fish room.
This tutorial provides a step-by-step guide on building a wooden rack using 2x4s and plywood, along with the necessary cuts and materials required.
Following the instructions, you can make a sturdy and customizable rack accommodating various tank sizes. With a budget-friendly approach and the ability to support multiple tanks, this project offers aquarium enthusiasts a practical and affordable solution. odinaquatics
4. DIY Pallet Wood Fish Tank Stand
Impress your guests with these amazing DIY aquarium stand plans with hidden storage and lighting. Discover how to build a reclaimed pallet fish tank stand with this detailed DIY guide. When the plastic support bar of a 55-gallon fish tank broke, the author decided to make a new stand rather than purchase an expensive one.
By collecting colorful and sturdy pallets from local factories, they built a strong frame using 2x4s and various tools, including circular saws, table saws, and clamps. The stand features a plywood top with a patchwork design from selected pallet pieces.
The sides, bottom shelf, face, and middle shelf are carefully constructed, with optional doors and a hidden shelf. The finished stand costs approximately $50 and provides a cost-effective and visually appealing solution for displaying a fish tank. instructables
5. How to Build a Wooden Aquarium Cabinet Stand
Let your fish swim in style by building a beautiful, DIY wooden aquarium cabinet stand fit for royalty! Whether you want to make a sturdy stand for your aquarium or a versatile piece like a TV stand or storage cabinet, this project will cover you. The materials you'll need include plywood, 2x4s, 2x2s, molding, hinges, screws, and more.
The step-by-step instructions walk you through building the sides and middle support of the cabinet, assembling the frame, adding the bottom and top, attaching doors, and finishing with trim and moldings. With this project, you can build a customized and functional cabinet stand for your aquarium or any other purpose you desire. woodshopdiaries
6. Free Aquarium Stand Woodworking Plan
Personalize your fish tank setup by building a custom stand with our comprehensive DIY aquarium stand plans. Build your own affordable, functional, and attractive aquarium stand with this DIY project. Designed to accommodate multiple tanks, this stand can be customized to fit your specific needs. You can build a sturdy stand in one weekend with minimal woodworking skills and simple tools like a saw, tape measure, drill, and level. The required materials include:
2×4″ dimensional lumber studs.
Decking or wood screws.
Wood glue (optional but recommended).
The stain you choose.
Large L-brackets for stability.
Follow the step-by-step instructions, including accurate cutting and proper assembly techniques, to ensure a secure structure capable of endowing the weight of your aquarium.
Don't forget to tie the stand to the wall using an L-bracket for added safety. By building your aquarium stand, you can save money and have a stand that perfectly suits your needs and style. aquascapingart
7. Making an Aquarium Stand With Cinder Blocks
Express your creativity with cinder blocks and make a DIY aquarium stand that stands out! This sturdy and customizable aquarium stands on a budget. Instead of spending hundreds of dollars on store-bought stands, use inexpensive cinder blocks and basic materials to construct a durable and aesthetically pleasing stand for your aquarium.
With the step-by-step instructions provided, you can build a stand capable of endowing the weight of a 55-gallon tank. The project costs around $45-60, making it a cost-effective solution.
Ensure your floor is level and can bear the weight, and leave space behind the stand for cords and filters. Once completed, you'll have a stable stand that beautifully showcases your aquarium and brings joy to your home. pinkaspen
8. Building Your Own Wooden Aquarium Stand
Let's make a splash in the home decor by building this DIY wooden aquarium stand! This stylish and functional aquarium stand has a cabinet designed to resemble a piece of furniture while providing ample storage for fish supplies.
The project requires tools such as a table saw, miter saw, router, drill, and materials like 4×4 posts, plywood, dowels, hinges, and drawer pulls. The step-by-step instructions include the following:
Cutting and assembling the legs.
Making side panels.
Adding stretchers and shelves.
Constructing the top.
Building drawers.
Finish the stand with staining and painting, and protect the surfaces with clear vinyl and contact paper. Elevate your fishkeeping experience with this customizable and practical aquarium stand. theprojectlady
9. How to Make an Aquarium Stand
Enhance your aquarium's aesthetic appeal while providing essential support using these innovative DIY aquarium stand plans. Learn how to build a unique and innovative DIY aquarium stand that surpasses store-bought options. This step-by-step guide showcases a creative design that combines aesthetics with functionality.
The stand provides structural stability while maximizing interior space using rectangular frames and a channel routing technique. The versatile design allows for different configurations, whether against a wall or in the middle of a room.
Innovative features include LED lighting, an automatic light switch, power cord management, and a flat threshold for easy access. You can make a custom aquarium stand that enhances your pet's habitat and home decor with detailed instructions, materials, and tools. instructables
10. Affordable DIY Wooden Aquarium Stand
Unlock the beauty of your aquarium with an affordable DIY wooden aquarium stand – a perfect combination of style and savings! This detailed guide provides valuable instructions and techniques for constructing a cabinet that can support the weight of your aquarium while looking aesthetically pleasing.
The materials used include SPF 2x4s for the frame, poplar lumber for the cabinet face and doors, plywood for the shelves and back, and various moldings and paints for the finishing touches. The guide will take you through building the frame, installing the shelves, and skinning the frame with poplar lumber.
It also covers making and attaching the doors and incorporating an electrical panel for organizing and protecting electrical components. The final result is a beautiful and functional aquarium cabinet that will enhance the appeal of your space. reef2reef
11. Building an Aquarium and TV Stand Step by Step
It's time to turn an ordinary living room into a 'sea-sational' experience with this easy DIY aquarium stand project! Build a versatile aquarium or TV stand with this simple and sturdy design. This stand is functional and adds a touch of beauty to your living room. It is designed to hold a 60-gallon aquarium or serve as a TV console.
Its strong construction can withstand any use you have in mind. The build includes wood products like boards, 2x4s, 2x2s, 2x10s, baseboard trim, crown molding, and chair rail molding.
Additionally, you'll need plywood of varying thicknesses and hardware supplies like concealed door hinges, drawer slides, door knobs/handles, pocket hole screws, and wood screws. Follow the provided cut list and parts guide to assembling this versatile piece that seamlessly fits any decor style. learn kregtool
12. Simple DIY Aquarium Stand With Secret Door for Sump
Show off your fish in style with this DIY aquarium stand, complete with a secret door to access your sump – adding some mystery! Say goodbye to unsightly stands and limited options! This step-by-step tutorial provides detailed instructions on building a sturdy stand capable of supporting the weight of a 55-gallon aquarium.
The secret lies in constructing the top and bottom frames, which utilize a "rabbet joint" and biscuit joiner technique for added strength. You'll learn to make the base and cap frames, join them using biscuits and glue, cut plywood panels, and assemble the front panel using dowels.
Additionally, the guide covers the creation of cabinet doors, the installation of hidden hinges, and the addition of a secret panel for easy access to the sump. With this project, you can finally have an aquarium stand that meets your needs and complements your home decor. Dive into this rewarding DIY adventure and take your aquarium setup to the next level! instructables
13. How to Build a Fish Tank Stand Free Plans
Choose from various styles and materials in our collection of DIY aquarium stand plans to suit your home decor. From the right materials to detailed instructions, this DIY guide will have you building your perfect fish tank stand in no time! This stand features a storage compartment and two front doors, adding a stylish touch to your aquarium. Designed to keep costs low and minimize effort, this project can be done in one weekend.
Choose weather-resistant lumber like cedar for longevity. Follow the detailed instructions, ensuring the components are aligned and symmetrical for a professional finish. You can finish the project in about a day with the necessary materials and tools. Check out the source for more premium plans and take your fish tank to the next level. myoutdoorplans
14. Inexpensive DIY Aquarium Stand Designs
Experience the satisfaction of building your modern-style aquarium cabinet with this DIY woodworking project. Designed with a tight budget, you can build this stunning piece using inexpensive tools and materials. The construction process is made simple through pocket holes, eliminating the need for specialized woodworking machines. Whether you're a beginner or a seasoned woodworker, this project is accessible and rewarding. Follow the tutorial video to learn the step-by-step process and unleash your creativity.
15. Handmade 10 Gallon Aquarium Stand
Ensure the safety and stability of your aquatic pets with these reliable and attractive DIY aquarium stand plans. Upgrade your space with this easy and durable DIY 10-gallon aquarium stand. Designed for beginners and requiring basic tools, this project is accessible to anyone. The sturdy construction of the stand ensures it can support more than just a 10-gallon aquarium, providing peace of mind for enthusiasts.
With a straightforward building process, this video tutorial will guide you through step-by-step instructions. Whether a beginner or an experienced hobbyist, this project is a great way to enhance your freshwater aquarium setup. Follow this guide accompanied by a video, and start building your aquarium stand today!
16. How to Make a 75-gallon Aquarium Stand
You don't have to be a master craftsman to make your DIY 75-gallon aquarium stand – follow this easy tutorial, and you'll be ready for your aquatic adventure! This tutorial focuses on the construction of the stand, providing detailed instructions and insights.
This guide will also direct you through the process, making it easy for DIY enthusiasts to make a secure and functional stand for their aquarium. Whether you're a beginner or an experienced woodworker, this video is packed with helpful tips and techniques.
Follow along and ensure your fish tank has a reliable base that complements your aquatic setup. Watch the full video for a comprehensive tutorial on building the perfect stand for your 75-gallon tank.
17. Cheap DIY Aquarium Stand For 40 Gallons
Unveil the perfect way to get a dream aquarium without breaking the bank with this DIY aquarium stand for 40 gallons! You can build a sturdy stand with step-by-step instructions and clear measurements to support your aquarium. The video provides all the necessary details, including tank dimensions and the lengths of boards needed for the project. Whether you're a beginner or experienced in DIY projects, this guide is helpful and informative. Follow along and make a customized stand for your aquarium setup.
18. Making a 125 Gallon Aquarium Stand
Let your imagination run wild and show off your DIY skills by building a custom 125-gallon aquarium stand! This is the perfect guide if you're a fan of do-it-yourself projects and want to build a sturdy and simple stand for your new 125-gallon reef aquarium. Follow along as this guide will take you step-by-step through the process, sharing tips and techniques. Whether you're a beginner or have some carpentry experience, this project is designed to be easy to follow and implement. Get started on building your dream reef aquarium stand today!
19. Build an Aquarium Stand With Wood
Take your DIY skills to the next level and build a DIY aquarium stand to make a statement out of wood! This informative video tutorial will direct you through the step-by-step process of building an 8-foot-long aquarium stand. This tutorial emphasizes the project's simplicity and provides helpful tips and rules.
If you want to build a sturdy and reliable stand for your aquarium, this video will guide you through the process. Whether you're a beginner or have some experience with DIY projects, you'll find this tutorial useful. Follow this easy guide and start building your aquarium stand today!
20. Concrete Blocks Aquarium Stand Under $120
Make your home a hidden paradise with this affordable DIY concrete blocks aquarium stand – under $120! This inspiring and unique video will teach you how to make a minimalist concrete stand for your shallow aquarium. This project utilizes concrete blocks, beams, boards, screws, and patience.
Follow along the process that showcases the finished stand. With the help of simple tools, you can do the project in just a couple of afternoons. The stand provides functionality and adds a touch of creativity to your aquarium setup. Get inspired and discover how to make your stand for around $120. Dive it a shot today!
21. Homemade Wooden Double Aquarium Stand
Unleash the beauty of the deep blue sea in your own home with this DIY wooden double aquarium stand! Learn how to build a stand for two large aquariums with this informative and engaging guide. The guide details a project that combines two 125-gallon aquariums into one stand to make space for a new tank. The step-by-step instructions and tips provide a clear path to success. Dive into this exciting project and make a sturdy and functional aquarium stand.
22. DIY Wooden Fish Tank Stand 55-Gallon
Save money and space with these clever diy aquarium stand plans that fit any size tank. Get this durable and efficient DIY stand for your 55-gallon fish tanks with this comprehensive, step-by-step guide. In the informative video, you'll learn how to construct a stand similar to the ones used in a professional fish room.
Following the instructions and using the recommended materials and tools, you can safely stack two 55-gallon tanks on this stand.
Whether a beginner or an experienced aquarist, this project allows you to maximize space while providing a secure platform for your fish tanks. Watch the video and start building your custom stand today!
23. Basic 20 Gallon Fish Aquarium Stand
Sleek and stylish, this basic 20-gallon DIY fish aquarium stand is the perfect backdrop for your aquatic paradise. Whether you prefer a basic stand made of 2x4s or a more polished cabinet-style design with plywood covering, this tutorial will get you covered.
With the 20-gallon fish tank measuring 24 inches in length, it's important to remember the dimensions during construction.
Additionally, I learned about the proper support for fish tanks and the significance of bottom rim support. Gain valuable insights from this tutorial that shares easy tips, making this guide a valuable resource for any aquarium hobbyist.
24. Easy and Universal DIY Aquarium Stand
With a little effort and supplies, you can be the proud owner of an easy-to-build, universal DIY aquarium stand! Learn how to build your aquarium stand with this easy-to-follow tutorial. Whether you're a beginner or an experienced DIY enthusiast, you'll find this project informative and engaging.
The stand is designed to be super strong and can be modified to fit aquariums of all sizes. The materials and supplies needed for this project are listed in the video description. Follow the step-by-step directions in the video to make a sturdy and functional aquarium stand to showcase your aquatic masterpiece.
25. How to Make an Aquarium Stand Like a Pro
Let's build a show-stopping DIY aquarium stand to make your fish the center of attention! Learn This tutorial provides step-by-step instructions to make a simple, strong, and easy-to-build fish tank stand.
Whether you're a beginner or an experienced DIY enthusiast, this project is perfect for anyone looking to showcase their aquarium.
The tutorial covers important aspects such as the height and dimensions of the stand, the benefits of building your stand, and the weight considerations for your aquarium. With guidance, you can make a sturdy stand to hold your fish tank securely. Get started on your aquarium project today!
Related DIY Projects:
Discover a wide range of exciting DIY projects to explore and try at home. From upcycling to crafting, find inspiration and ideas to stimulate your creativity.
Conclusion:
In conclusion, DIY aquarium stands offer a creative and budget-friendly solution for displaying your aquatic habitat. With numerous DIY aquarium stand plans available, you can craft a stand tailored to your needs, be it a simple DIY wooden aquarium stand or a versatile dual-purpose aquarium and TV stand. From homemade 10-gallon fish tank stands to robust 100-gallon tank designs, the options are endless. Whatever your skill level, explore our DIY aquarium stand plans and make a unique, customized stand to showcase your fish in style.