Do you often find the hooks of earrings tangled in other jewelry items? Solving this issue with these DIY earring holder ideas will help get your earring organized and make your entire dressing table clutter-free. Better storage will extend the life span of your expensive jewelry items that may get scratches and get damaged otherwise. Stop digging through drawers to find your best and matching earrings for party nights, using these earring organizers. Designs for earring organizers are endless. Check out the best of best in this compilation of 25 easy to make DIY earring holder ideas that help you to store earrings easily. You can also show off with your earring collections using these mesmerizing earring displays, as easy to build as falling off a log.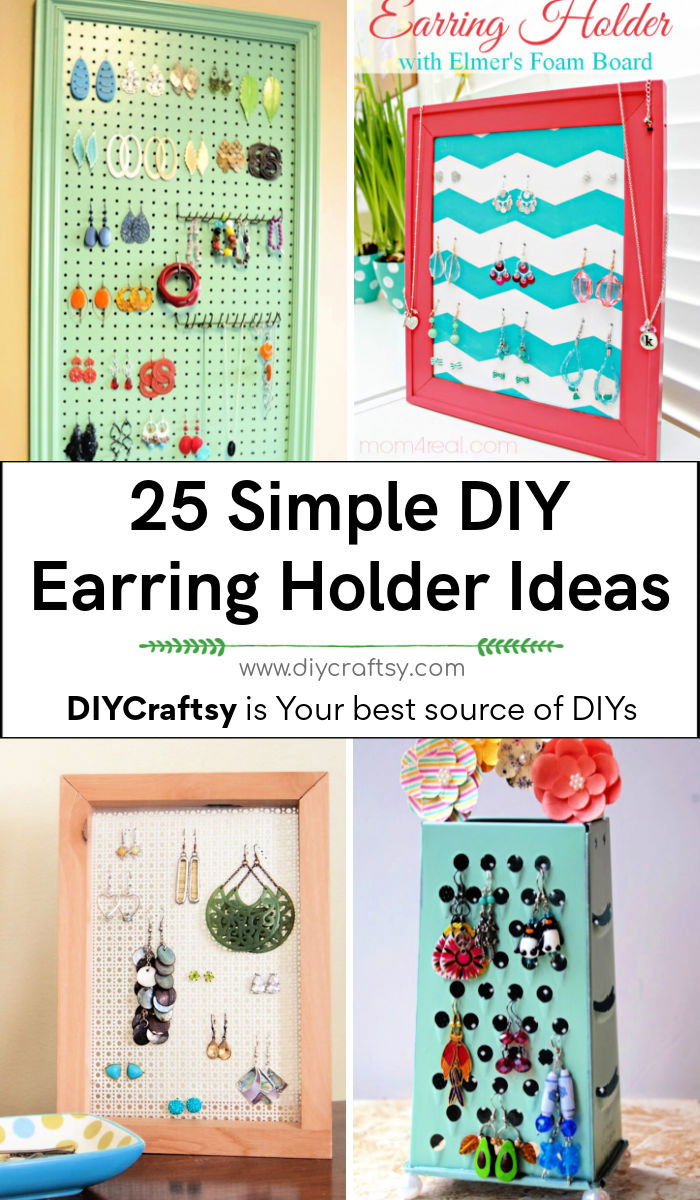 These DIY earring holder ideas will rock for your no-mess jewelry storage inspiration. You will have a great while going through easy construction steps and applying the smart DIY hacks. Don't miss out on these DIY earring organizers if you don't want to through the trouble again of finding the lost earring pairs. Add up the recycled picture frames with wire or plastic mesh to get cool earring organizers. Build also brass tubes pyramids, to use as the next most elegant earring holders, upcycle even the graters from your kitchen for the same purpose. Take a tour for more creative earring organizer inspiration.
1. DIY Picture Frame Earring Holder
Now you can proudly flaunt your collection of pretty and fun earrings with this gorgeous DIY picture frame earring holder. Grab a picture frame and add some aluminum sheet to the frame and then paint it up in some quirky hues. You can display this cute earring holder on your dressing table. Details here houseofhaw
2. Make a Cactus Earring Holder

No more tangling of your favorite earrings pieces when you have this cutest earring holder to solve your problem with. A chipboard cactus has been covered with a lot of cute, funky and colorful scrapbook paper to look just so fantastic and fun. Learn more of its details here thecraftpatch
3. DIY Earring Holder Using Frame

These are the prettiest and the most elegant-looking DIY earring holders made out of wooden frames. Yes with cute small wooden frames and some matching mesh you can easily create this adorable and eye-catching earring holder. Easy and fun details are right here eighteen25
DIY jewelry organizer: These awesome DIY jewelry organizer ideas are perfect to display your necklaces, earrings, and bracelets like beautiful wall art!
4. Amazing Acrylic Earring Holder

Here is this super elegant and stylish earring holder to make your pile of earrings gets nicely organized. The use of balsa wood, acrylic sheet, and the marble paper are the main things to use for this lovely earring holder. Learn complete details of the idea here abeautifulmess
5. DIY Wire Earring Holder

Make this frame like easy DIY wire earring holder on your own and get all your lovely pieces of earrings nicely sorted. With a few wooden board pieces and some wire mesh install this easy and simple square to hold your earrings on. Catch complete details here littleredwindow
6. Earring Holder Out of Picture Frame

Why get your jewelry pieces tangled to each other when you can organize them with some simple handmade crafts. Here is the idea of creating this earring holder out of a picture frame to not only hold your earrings but also bring some quirks to your décor too. Step by step details here 911dad
7. Earring Stand Under One Hour

The earrings add charm to the graceful personality of the ladies and this earring stand would add a style statement to your bedroom décor. With a few wooden boards and some decorative aluminum sheets, you can install this earring stand in just an hour. Find out the details right here housefulofhand
8. Earring Holder Using Foam Board

Here is how you can make the funkiest and cool kind of earring holder for your girls. With feasible and cheap supplies like a wooden picture frame, foam board and some chevron patterned tape you can easily work up this project. Check out the details right here mom4real
9. DIY Embroidery Hoop Earring Holder

This embroidery hoop earring holder looks more of wall décor for being so exquisite and elegant. So grab three embroidery hoops in different sizes. Paint these hoops in the matching hues of your décor. Put the hoops on the wall and they are ready to hold your earrings in so much style. Details here dreamgreendiy
10. Build a Wooden Triangle Earring Holder

These mini wooden triangle earring holders are going to steal your heart right away with their overloaded cuteness. So cut out some different sized triangles from the wooden pieces. Pierce some holes in the triangles to hold your earrings on. Paint them up in your desired hues for a complete customized look. Details are here marthastewart
11. Make Picture Frame Earring Organizer

Dedicate your weekend to this utterly gorgeous and eye-catching picture frame earring organizer and that too with your girls. The hinged picture frame has been awarded cross stitch fabric. Then using the rainbow hues of acrylic paint you can do all the fun and charming work. Details are here positivelysplendid
12. Turn Candle Holder Into Earring Holder

Save yourself a lot of time and money by making this gorgeous earring holder out of a candle holder. Yes, a metal candle holder has been molded into this gorgeous and totally unique looking earring holder. Mount it on your walls and hold your earrings on it and it's ready to rock your décor. Details here craftaholicsanon
13. DIY Earring Holder Under $20

This DIY earring holder is easy and simple to make at home and that too with the least amount of just 20 dollars. This giant size earring holder can hold more than 100 earring pieces altogether. You can also make a customized piece to suit your choices and needs. Here are easy and fun details allthingsthrifty
14. Shrink Film Leaf Earrings with Earring Holder

Making handmade earrings is the best gift ever and now you can make it with an earring organizer to use as a more fun gift. These gorgeous gold leafy earrings and shrink film organizer is the best thing to do this weekend and create a perfect gift for your favorite girls. Follow the details here liagriffith
15. Simple Picture Frame Earring Holder

If you have an old picture frame lying around then turn it into this gorgeous and simple DIY picture frame earring holder. Just replace the wooden center of the frame with some wire mesh. Refresh the look of this picture frame earring holder with some paint and it's done. Check out the details here ohsweetjoy
16. DIY Lace Picture Frame Earring Holder

This gorgeous small picture frame earrings holder would bring some really dramatic touches to your bedroom décor.  Paint your picture frame and add some lace to its center and it's ready to hold your earrings with so much style and charm. You can learn the details right here tattooedmartha
17. Earring Holder Using Skinny Wooden Sticks

No more hassle to sort out your entangled earrings and waste a lot of time as you can make this lovely earring holder on your own. Using some skinny wooden sticks this gorgeous earring holder or stand is super easy to install and use gracefully on your tables. Follow the details here paperandlands
18. Upcycled Cheese Grater Earring Holder

You are going to feel so amazement after watching this interestingly upcycled cheese grater into a lovely earring holder. The cheese grater has the holes already in it and you can thus nicely hold your earring pieces in them. Just give a little makeover to your earring holder with some paint and its ready to rock. Tutorial here turningclockback
19. Shabby Chic Dangly Earring Display

Flaunt your dangling collection of the earrings in style with this DIY shabby chic dangly earring display. A wooden frame has the tiers of thread in the center to hold a big bunch of your earrings. This pretty and simple earring holder would look so chic and spicy on your tables. Get all the details here kevinandamanda
20. Easy to Make Embroidery Hoop Earring Holder

Here is a kind of earring holder that is super cheap to make and is so eye catching to charm up your table décor for the bedroom. Just and embroided hoop and some embroided piece of fabric is the list of supplies you need to make this gorgeous earring holder. Learn the details here saritacreative
21. Cool Brass Pyramid Earring Holder

Give some geometric touches to your earring holder project with this DIY cool brass pyramid earring holder. Yes using the brass pipes you can easily shape up this cute pyramid and use it as the decorative and creative diy earring holder in your bedroom. Catch all its details here abeautifulmess
22. 10 Minutes Felt Earring Holder

This gorgeous and artistic looking earring holder is easy and fun to make in only 10 minutes. Grab a piece of the felt, some rope and two wooden dowels to make this earring holder. It would look so much of a wall décor piece while hanging onto your bedroom walls. Grab the details here blissmakes
23. Make Your Own Earring Display Tray

Make this super cute earring display tray for your girls when they have pierced their ears and started flaunting earrings. They can organize all their funky and cutely colorful studs on this display tray. You would need some wooden pieces and an aluminum sheet to shape it up. Details here ohmy-creative
24. How to Make Earring Stand

You can lose your favorite earrings or studs in case you do not have something to organize them. So here is the idea of creating this gorgeous wooden earring stand to get your hands on. Just drill some tiny holes in the wooden boards to let your earrings stuck in. Here is the complete tutorial themerrythought
25. DIY Color Splatter Earring Holder

If you are looking for earring holder ideas for your girl then this DIY Color splatter earring holder is just perfect. The earring holder looks like the horn of the unicorn and the sprinkle of rainbow hues really adds charm to it. So grab some clay and a bunch of bright hues of the paint and get it started. Details here enthralling