If you have been blissfully endowed with the crafting skills but you have not tried your hands on the DIY vinyl projects then let me just tell you that you are undone by this talent of yours. The range of the ideas and DIY projects to do with the vinyl and the silhouette machine is as wide as a sea. Every time you plunge into it, something unique and better comes out of it. So here we to draw your attention towards this interesting and useful genre of crafting so that your skills can cherish a new experience and get broaden up.
From home decor and embellishment to dressing up and beautify your common things you can do it all with a simple touch of vinyl. Moreover, you can make lots of handmade gifts for your family, friends, and colleagues using this amazing technique and save a lot on your hard earned money. With these 56 DIY vinyl projects to decorate your home at no cost and you would learn all the possible ways and techniques to create some amazing designs, patterns, shapes, images, numbers and letters from the silhouette machine and then cut them out of the vinyl for your perspective use.
The best of the ideas and projects regarding vinyl use have been rounded up right below and to ease it more for you detailed link have been provided for each project to check out the tutorials. Making wallpapers, headboards patterns, personalized quoted boards, family evening boards, labeling jars, spice containers, theme decor for parties, upgrading the look of your iPod, laptops mobile cases etc you can do it all with vinyl and that too with extremely low cost. The DIY vinyl ideas given below are limited but can inspire you for unlimited imaginative plans coming out of your thinking mind.So explore the vinyl projects below and in return expand your creativity and add your part to this lovely vinyl art.
Vinyl Letter Customization: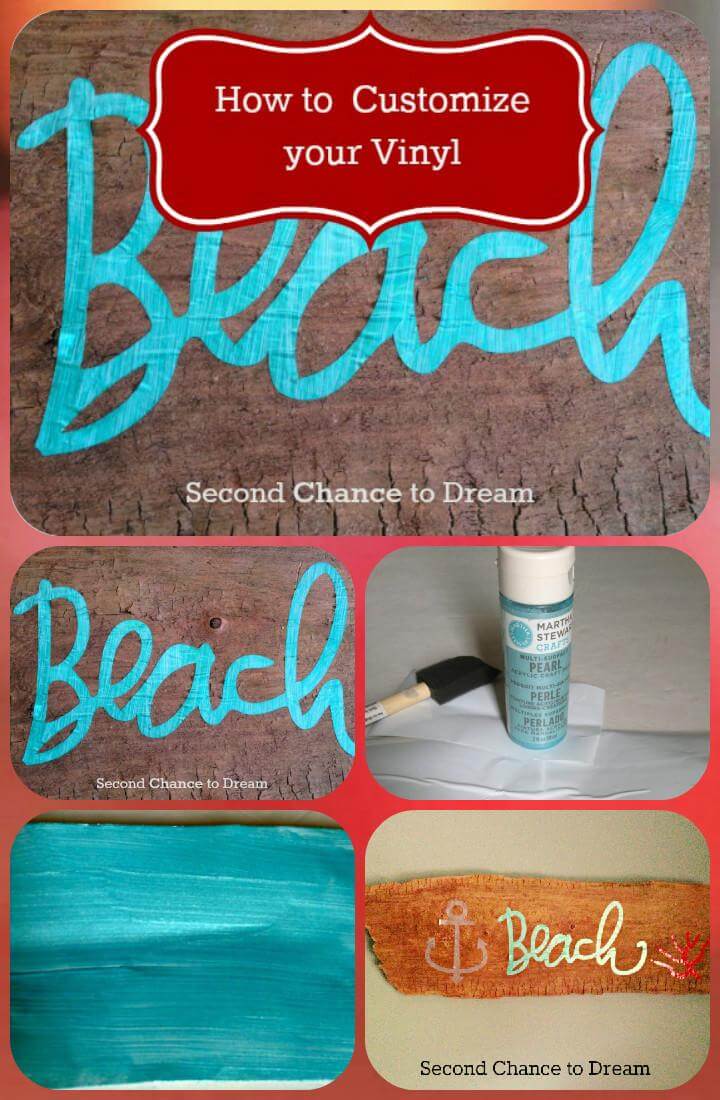 Using vinyl can be really frugal for your home decor if you use it for custom made decor projects like thi sbeach word being done on a wooden piece and attached in the bathroom to add some beauty to the decor there. Here lies the step by step tutorial of this vinyl secondchancetodream
Customized Vinyl Easy Football Field Party Table: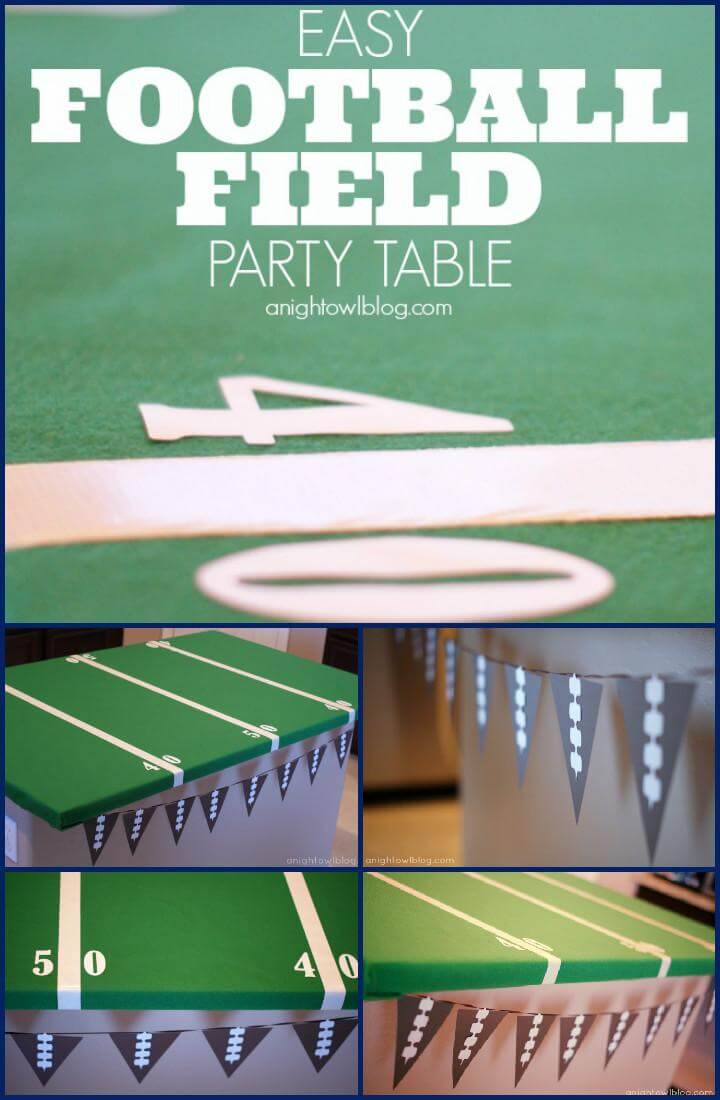 For the football lovers what can an ideal theme than this favorite game of theirs. And using vinyl you can easily create a football ground with numbers on the table and the cute brown buntings adding more fun to it. Step by step instructions to create this fun football party theme are right here anightowlblog
Vinyl Updated Vintage Industrial Bar Stools: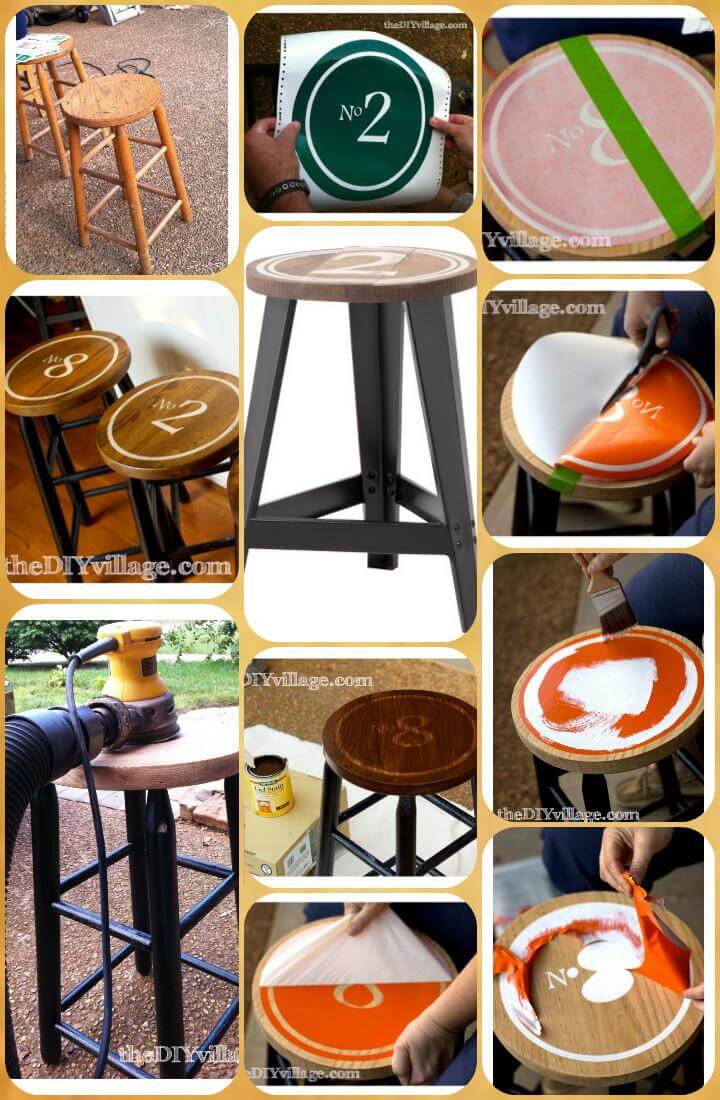 You can award totally an up todate look to your old stools by giving them numbers on the seats and using vinyle for the purpose would make your task much more easier and frugal too. We know you just fell in love with this idea so get the complete follow up of this idea here on the link thediyvillage
Vinyl Headboard Makeover: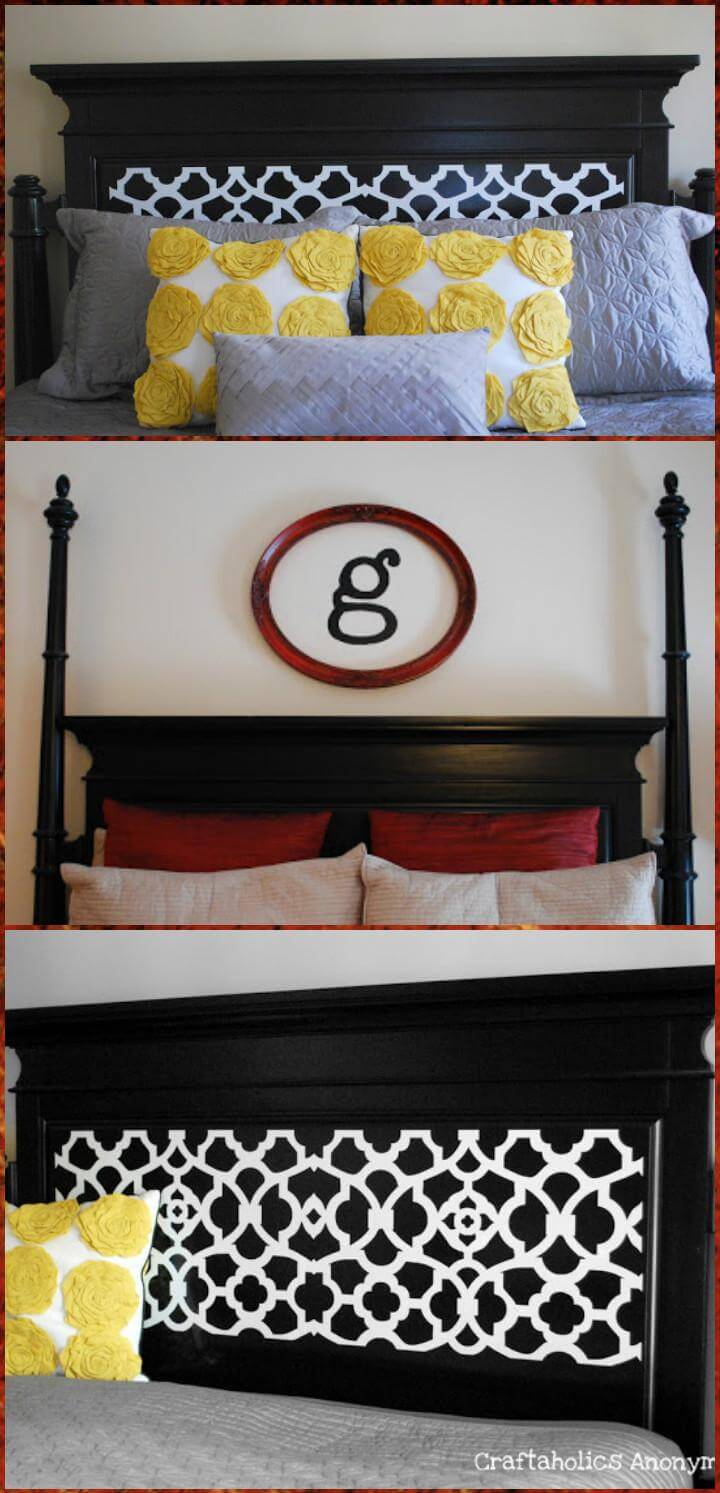 You can enjoy some cheap thrills in your home decor with the help of vinyl.For example for the bedroom gradation you can use a white vinyl pattern on the headboard and make it look lovely and gorgeous from boring and full in no time.Complete details of this project are here on this craftaholicsanonymous
Vinyl Lettering Side Table Makeover: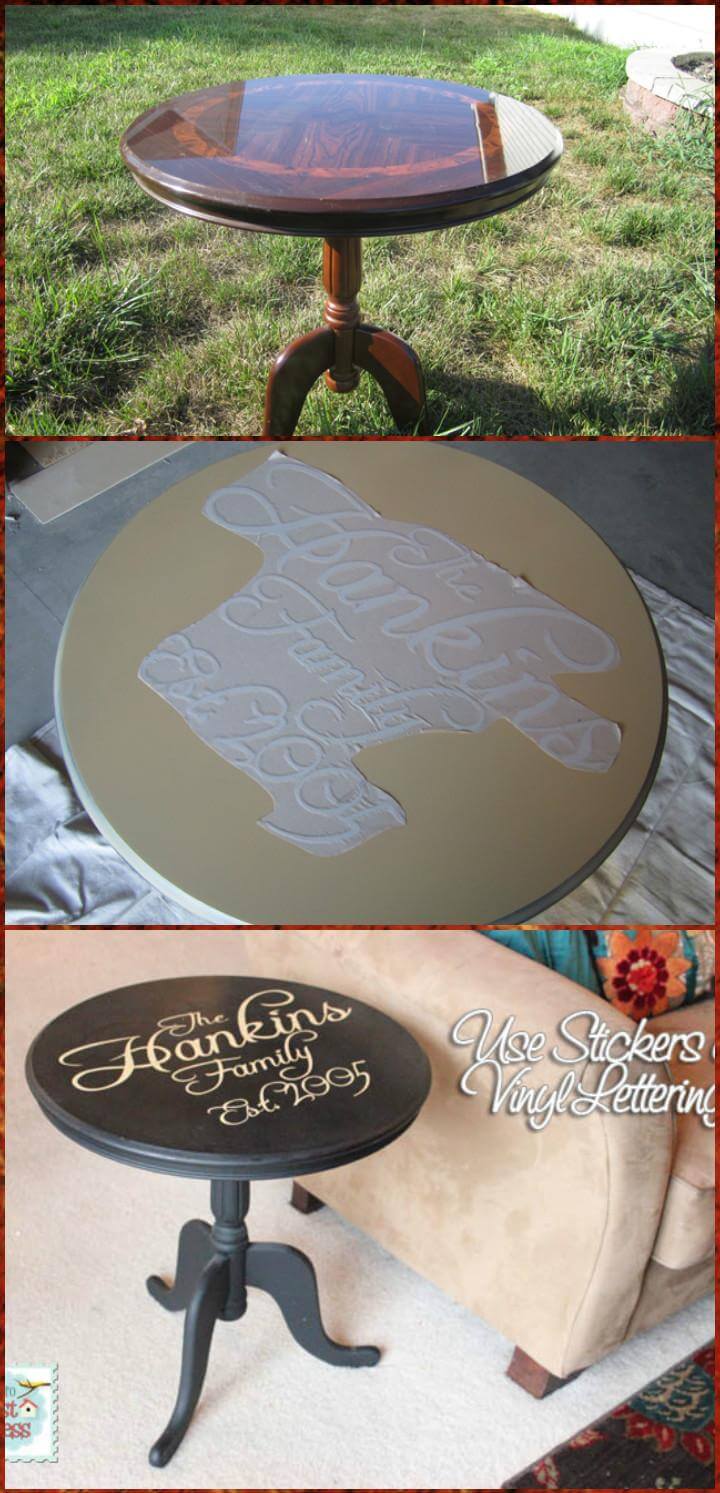 With some vinyl stickers and some paint you can lend such an awesome look to your old tables like you are watching in the above pictures and that too at the cheapest possible cost. Learn step step tutorial of this side table makeover right on this link howtonestforless
Vinyl Old Cabinet Door Laundry Room Sign: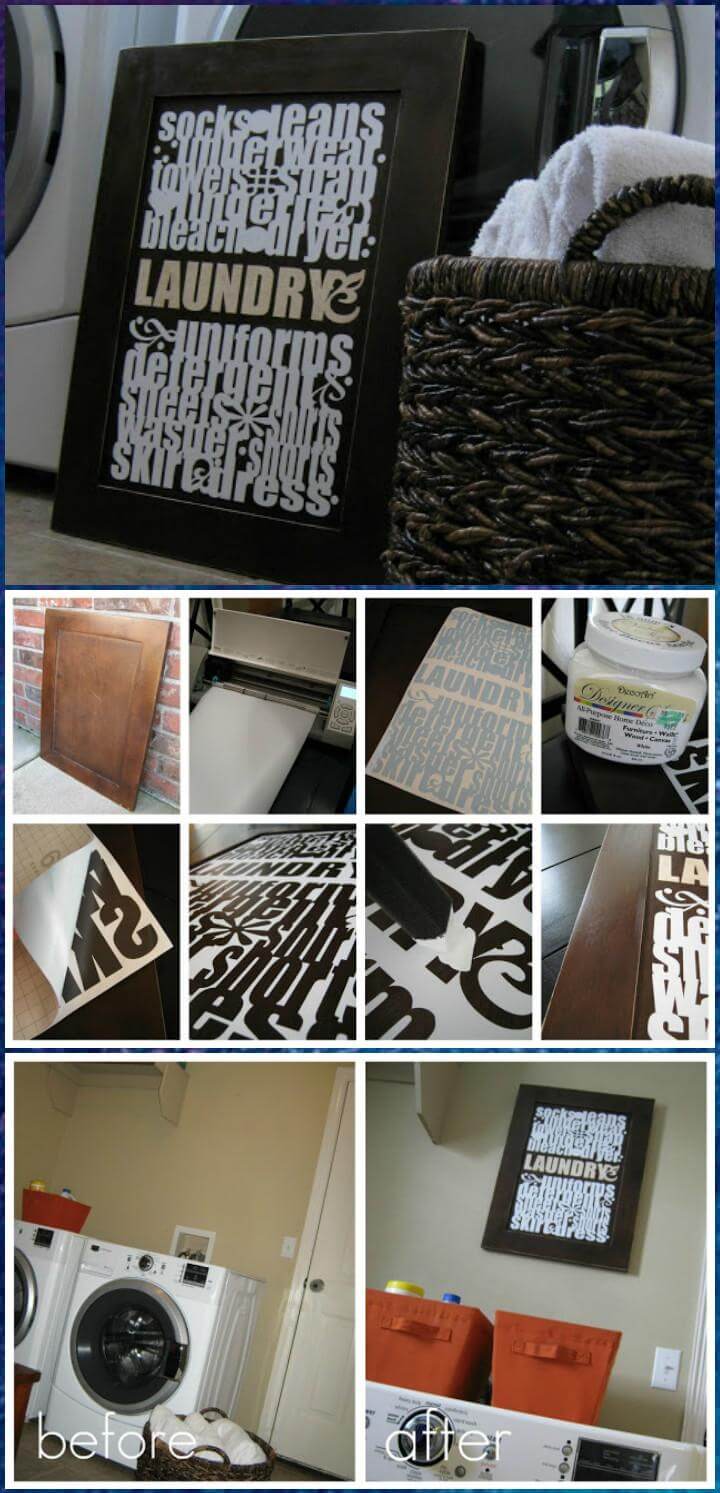 You can use some paint and vinyl stencils to give your laundry room this lovely and cute laundry sign and thus bringing customary and personalized decor to this section of the house and that too with your own hands. In a case you need to the details of this project we have the link here gingersnapcrafts
Beautiful Vinyl Canisters: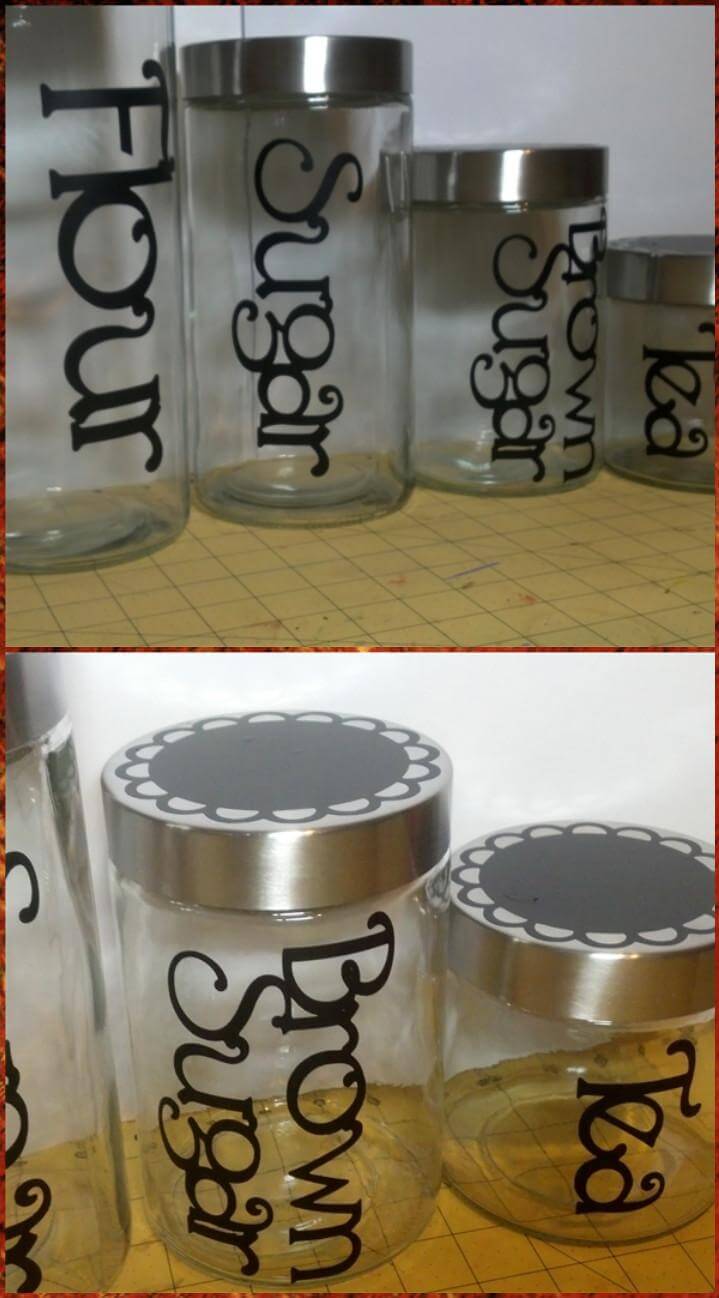 The best possible way to the vinyl stencils are to name the spice jars and other containers in the kitchen it would help you to approach the apt thing so that you don't get confused between the salt and sugar next time. Here is the details of this superb gorgeous and functional vinyl idea cricut
Self-Made Vinyl Family Name Tile: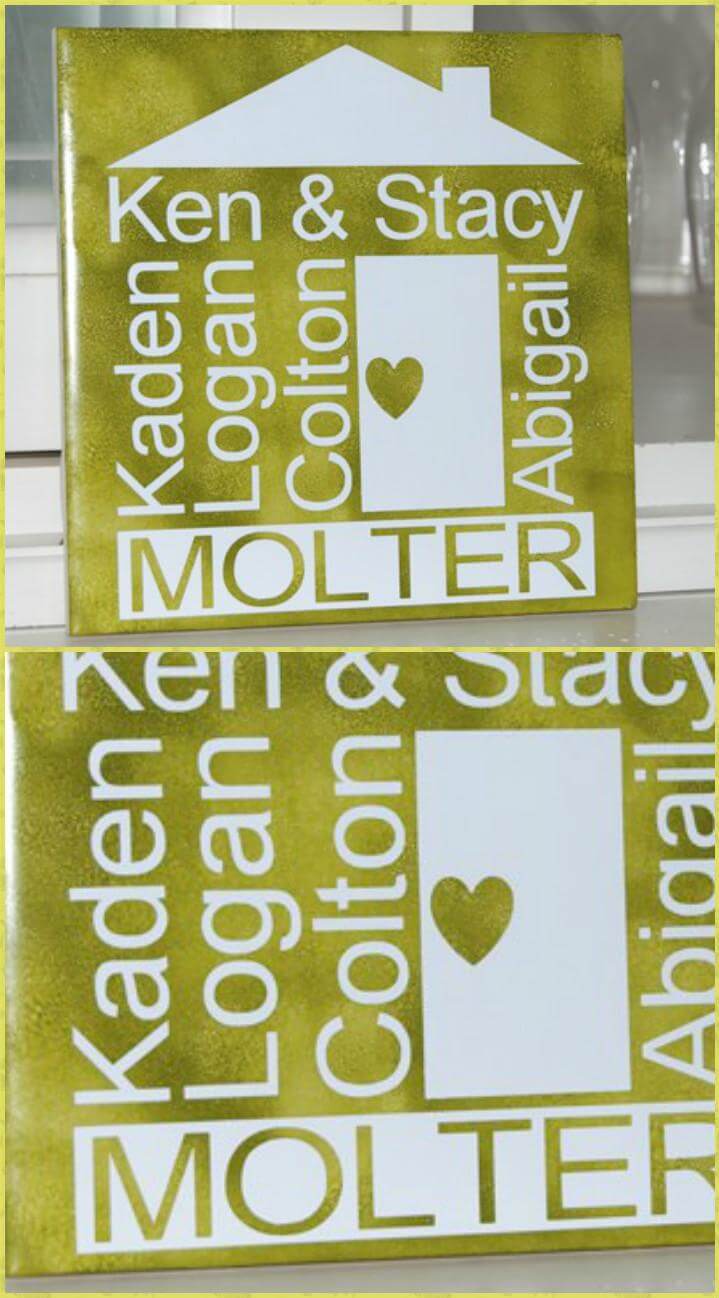 You must have this absolutely gorgeous family name plate in your home decor either indoor and outdoor and you can make it yourself at home using a tile, a silhouette design, vinyl paint etc with names of all the family members and a home roof sign adding more meaning to it. On this link you would get the step by step making story of it stacymolter
Vinyl Lettering Lake House Sign:
For your own house, lake house or the farm house nothing can be as good as a a handmade name plate made of your own. Just take a wooden plate and then use vinyl made stencils for the name and other symbols and you are free to choose the colors of your choice. Complete tutorial lies here sheskindacrafty
Beautiful Customized Vinyl Candles: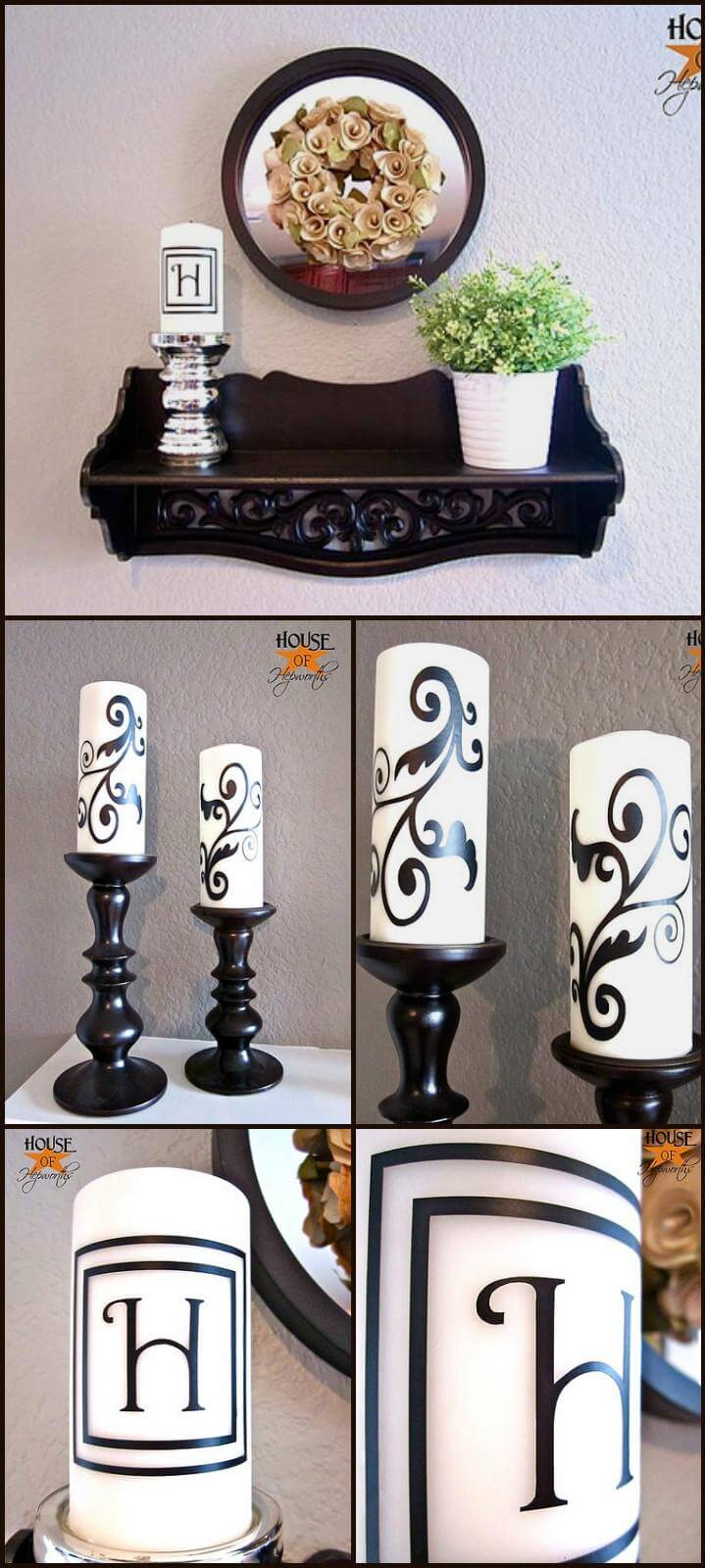 Make those white boring looking candles a whole new fresh and beauty looks with the vinyl and add some freshness in your home decor too. Just cut down the favorite design, letter or pattern from your silhouette pattern with your favorite vinyl paint on it. Here is the complete method of making such expensive looking candles so cheaply at home houseofhepworths
Vinyl Lettering Mother's Day Monogrammed Tray:
surprise your mother this mother's day with this handmade monogrammed tray as a gift. You need a tray, some duct tape and surely some vinyl to make and cut the monograms out of it. the colors here look superbly cute so you can do keeping in mind the favorite colors of your mum. Complete tutorial guide for this heartfelt project is here anightowlblog
Customized Vinyl Disney Bottles:
The water bottles for the school going kids can be made to look super cute and fun with some vinyl and Disney inspiration like you see in the pictures above. Vinyl has been used to make those Disney king and queen crowns with the stenciled names of the boys and girls. measuredbytheheart
Vinyl House Number for Front Door: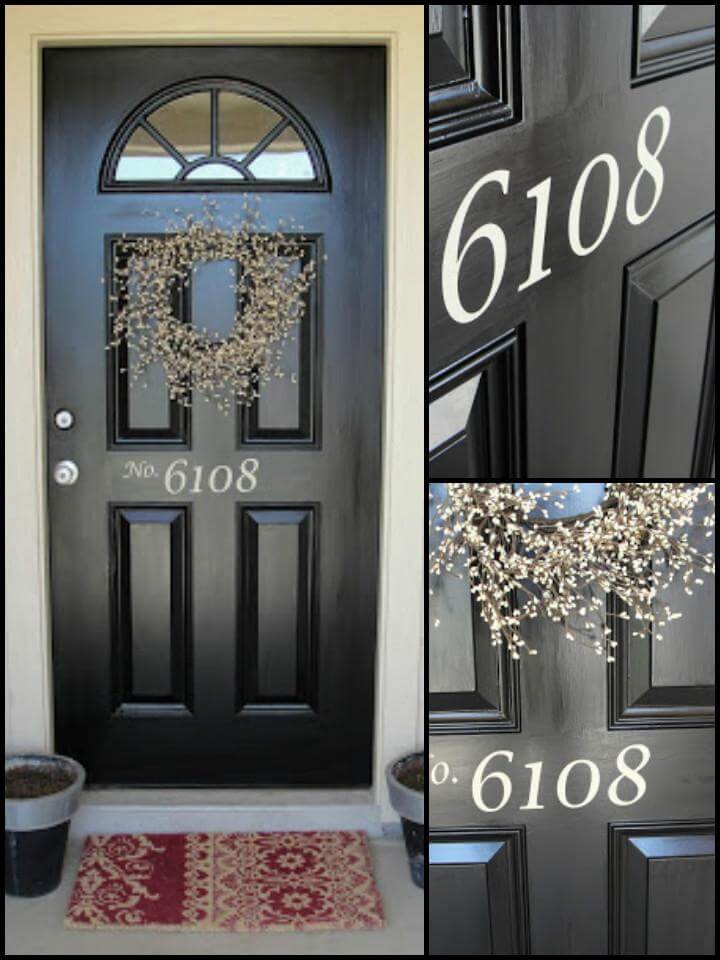 House numbers are common and are must so give your house doors a gorgeous looking number using the vinyl to cut out the numbers with your favorite matching color as the white colored number look so fancy on the black stained door here. piccadillypeddler
Vinyl Silhouette Phone Case: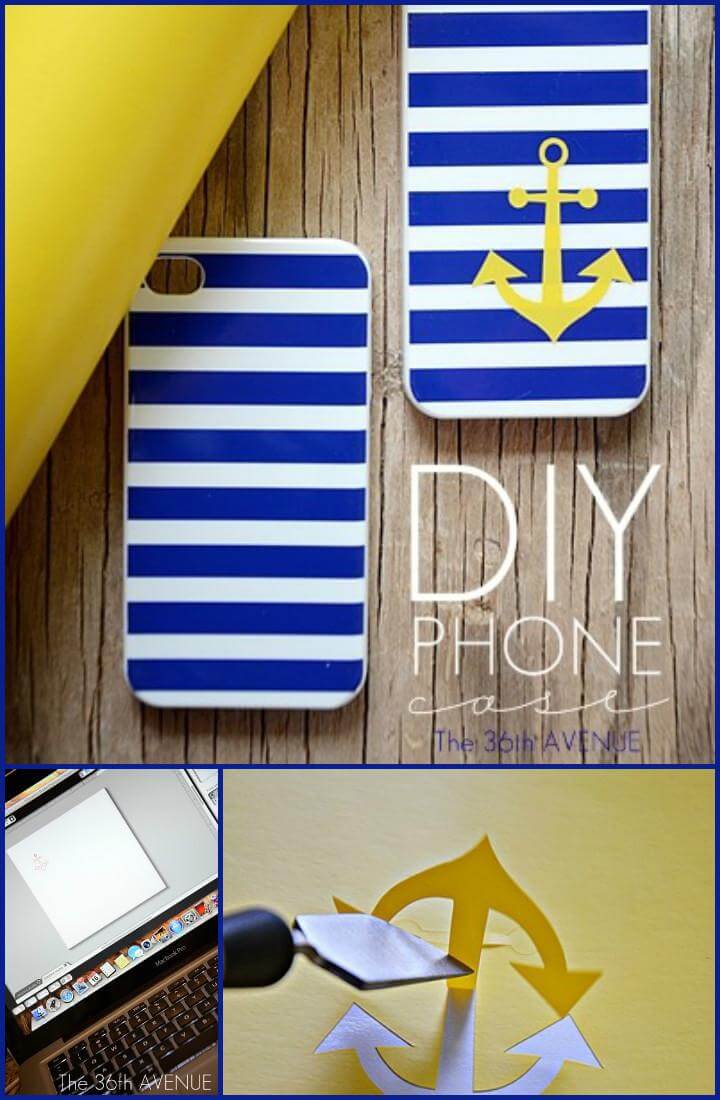 Make this utterly cute and and totally personalized piece of phone case using your silhouette and the vinyl to give it the color of your own choice. This is a funky nautical phone case and you can explore more of phone decoration using your imagination. Here are the step by step instructions to easily make this awesome nautical designed phone case the36thavenue
Vinyl Canvas Photo Wraps Baby Present:
On the arrival of your new born a handmade vinyl art canvas with stenciled birth date on it is the best idea to welcome the baby or babies in their home of in their rooms. This canvas art can be customized in more fun ways just once go handy with it and have fun. Here are the complete pictorial details to make this project so damn easily. agirlandagluegun
DIY Vinyl Qua trefoil Coasters:

This is again an amazing creation of the vinyl to have some custom made coasters for home use or as a gift idea. Some ceramic tiles with quaterfoil lace background cut in the silhouette and the initial of every family member name makes these totally personalized coasters. More details about this fun project are given here  disneydonnakay
Mother's Day Gift Vinyl Vase:

To make this simply gorgeous mother day vase gift all you need is a simple water glass, a few cut out vinyl flowers in pink and then gluing some white beads in the center of each vinyl flower, that is it. Inexpressive yet a precious mother day gift is ready to melt your mum's heart. Here is the complete tutorial of the cute vase apumpkinandaprincess
Vinyl Michigan Stemless Wine Glasses: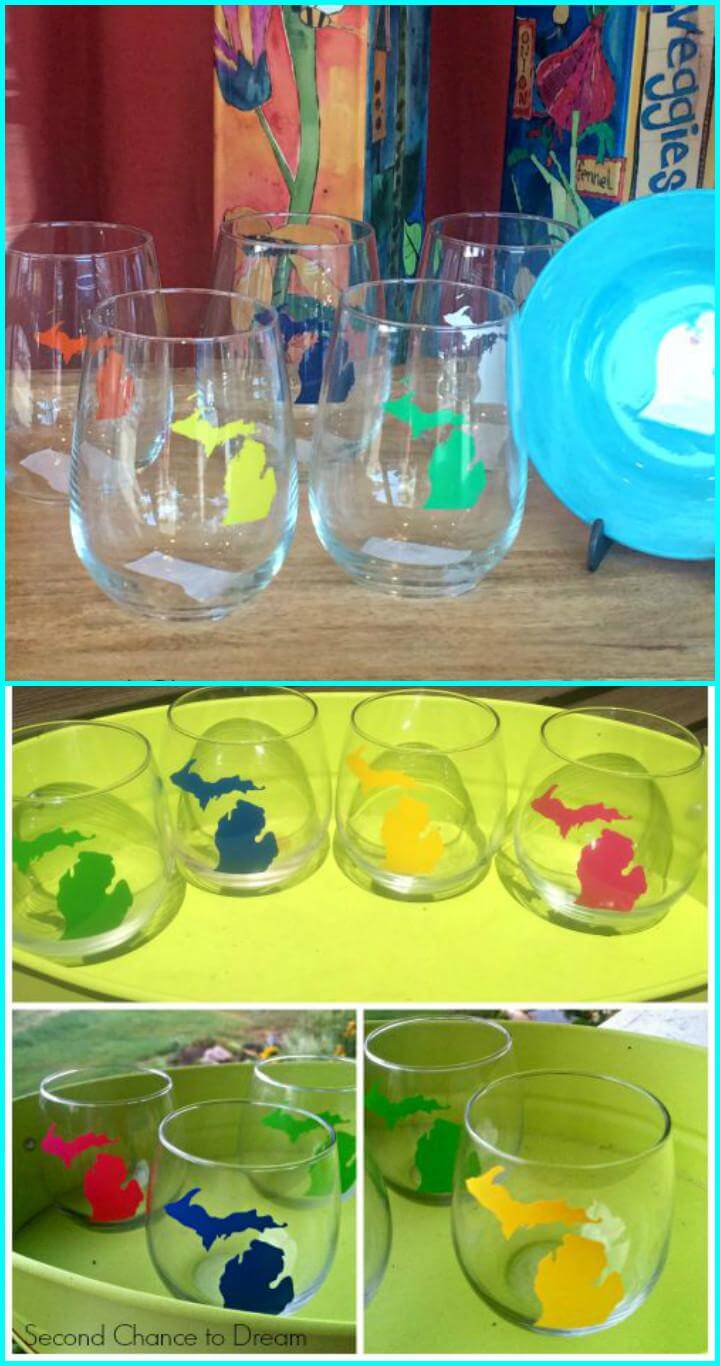 Any thing simple and boring and cab turned into instant excitement and thrill with a little creative approach. Like these stemless wine glasses have been provided with a vinyl cut out of state but in different colors making them look so funky and unique. check out the details of this project here if you face any confusion secondchancetodream
Inexpensive Dollar Store Vinyl Home Decor: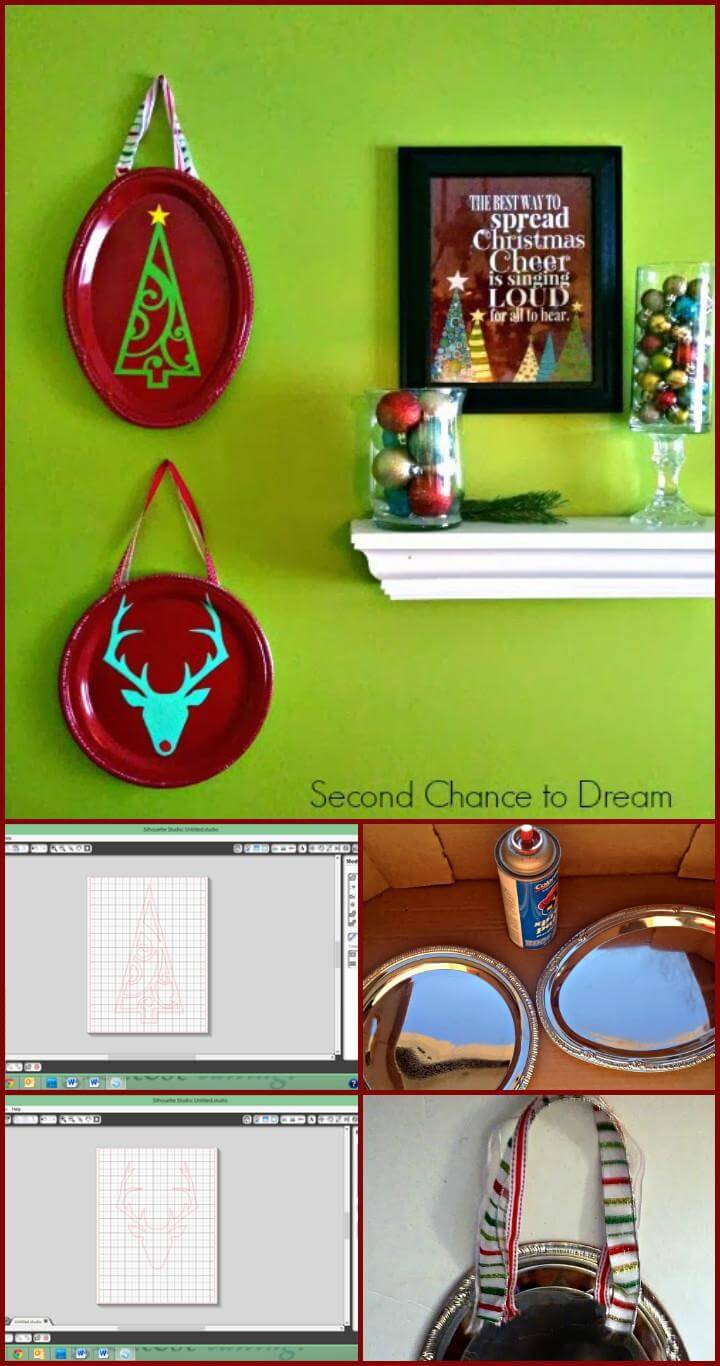 Do not go to a market for the purchase of some Christmas decor and save much on your money by making these personalized handmade hanging plates for the homey walls with custom paint and two silhouette designs on vinyl.Step by step process of making these hanging Christmas decor plates are right here. secondchancetodream
DIY Vinyl Customized Laptop:
once you have started working in the silhouette studio to create designs and then cut them out of the vinyl to beautify any of the thing like this laptop has been made to look so fun and interesting. Any other thing can be treated with vinyl for a spruced up look so get its details right here makeit-loveit
Vinyl Upgraded iPod:
A lovely flourish design in pink has been silhouetted and then cut out from the vinyl in pink to get wrap up around the iPod and make it look truly adorable. Now you can flaunt your i pod in a more fun way while taking it outside with you. makeit-loveit
Vinyl Updated Bathroom: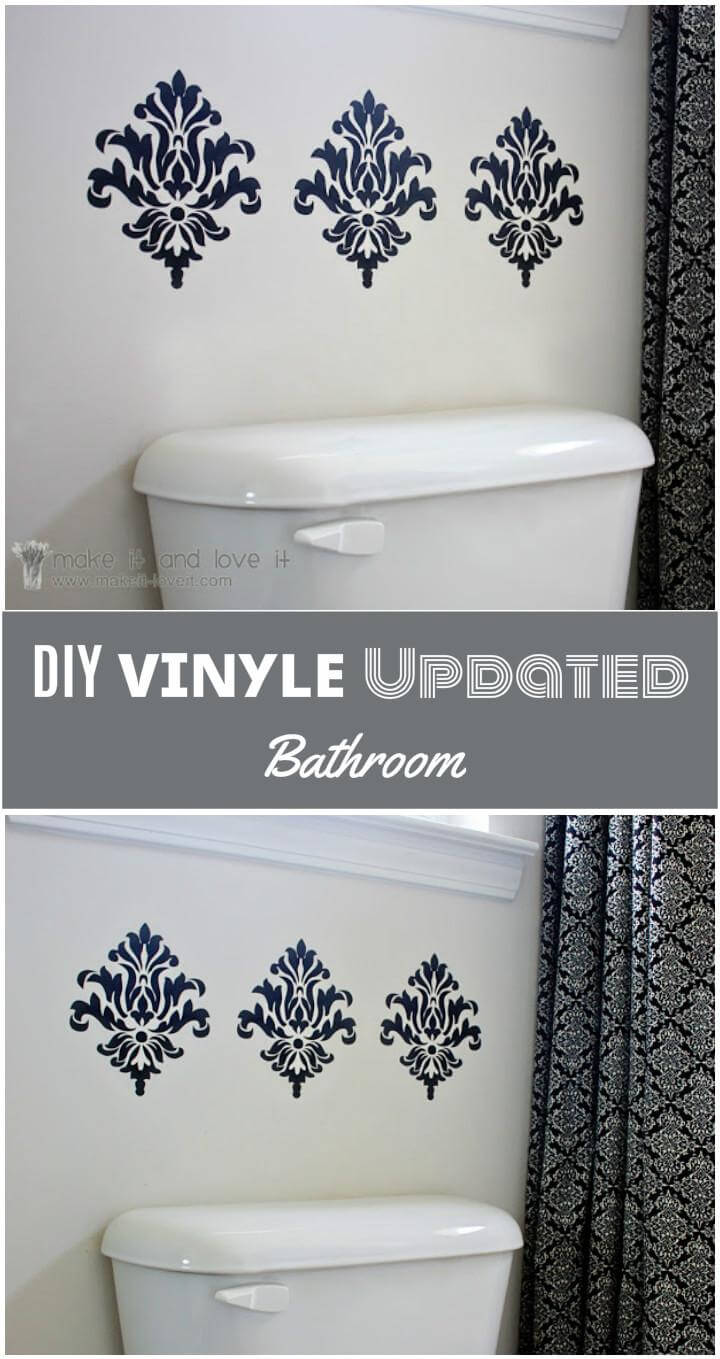 Vinyl can be a great creative way to decorate any section of the house like this bathroom area has been groomed up in decor with these silhouetted damask patterns have been cute out from the vinyl in black and placed above the toilet. makeit-loveit
Vinyl Kids Room Growth Chart:

One thing that is must on the walls of a kid's room is a growing scale to measure the height of the kid. And you can now make it in a fun way with vinyl like a stem of grass growing with inches numbers on the left. Here on this link you will find complete information about this cute and fun project. makeit-loveit
Vinyl Glass Etchings:

Here is an amazing and advanced project with the vinyl using a lovely silhouette design over a glass that you can use anywhere in the house with any of the paint colors and adding much to the home decor in any section. Here is the complete tutorial makeit-loveit
Vinyl Silhouette Faux Bathroom Floral Wall Paper: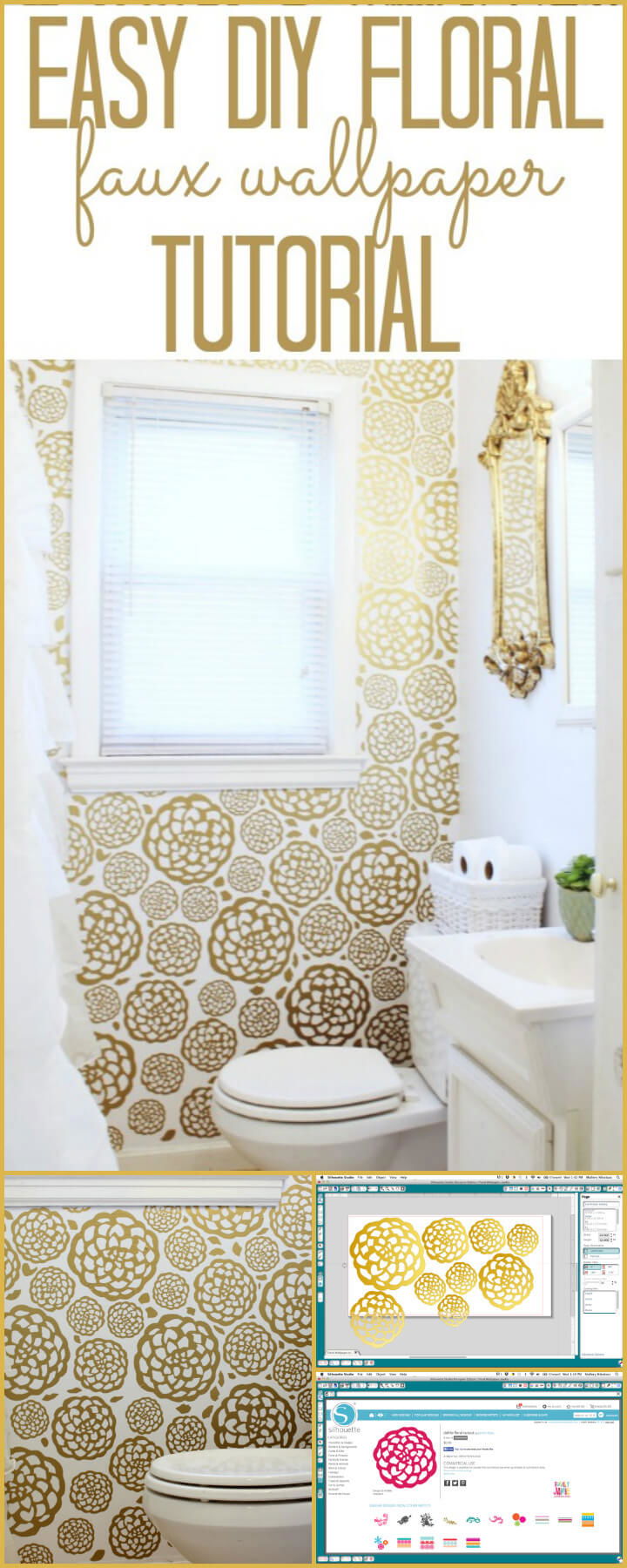 Give you bathroom space a sheer classy touch in decor with this absolutely appealing vinyl silhouette faux wall paper. Just get those flowers done in your silhouette studio and then cute them out of the vinyl in any of the colors like here is a classy combo of white wall with golden flowers. Here is the complete tutorial guidance of this project classyclutter
Vinyl Silhouette Customized Mug:

Now get handy with your crafting skills and try out the vinyl for the purpose this week. And you can make this gorgeous and totally custom coffee mug with some fun and personalized words on it. You can vinyl up the coffee mugs to make perfect gifts for family and friends too. bydawnnicole
Vinyl Paper Transfer Customized Water Bottles: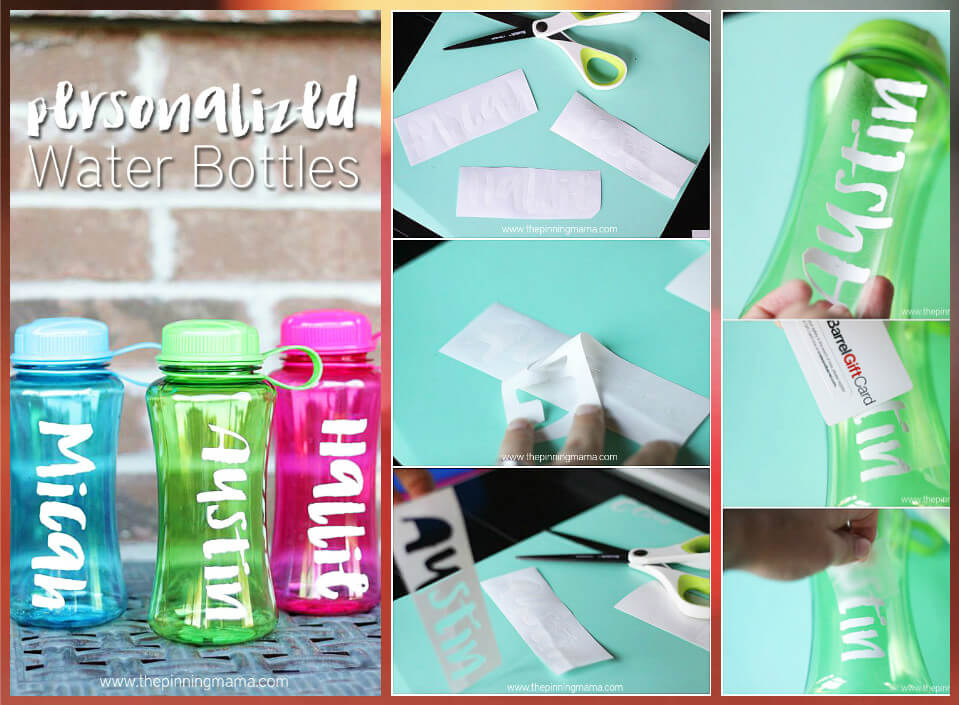 If you are a craft lover then you must try your hands on the vinyl projects of so many kinds and make your everyday things look really wonderful and amazing like these ordinary water bottles have been totally personalized with the kids name on each. Learn to do it step by step right here thepinningmama
Vinyl Sticker Wooden Slab Key Holder: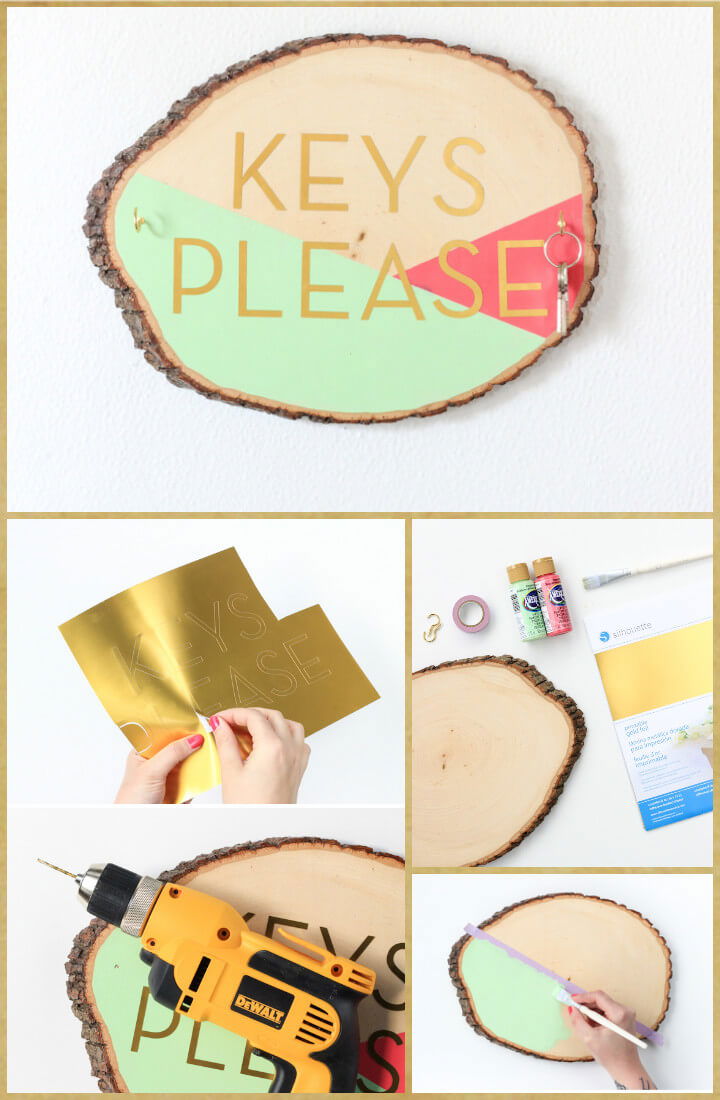 A piece of wooden slab, some vinyl cards in gold and two hooks and you would get this low cost yet awesomely gorgeous looking key organizer for your doorway walls so that you never lose your keys anymore. If still any doubt clear it with the details provided right here of this project thecraftedlife
Vinyl Lettering and Paint Abstract Art: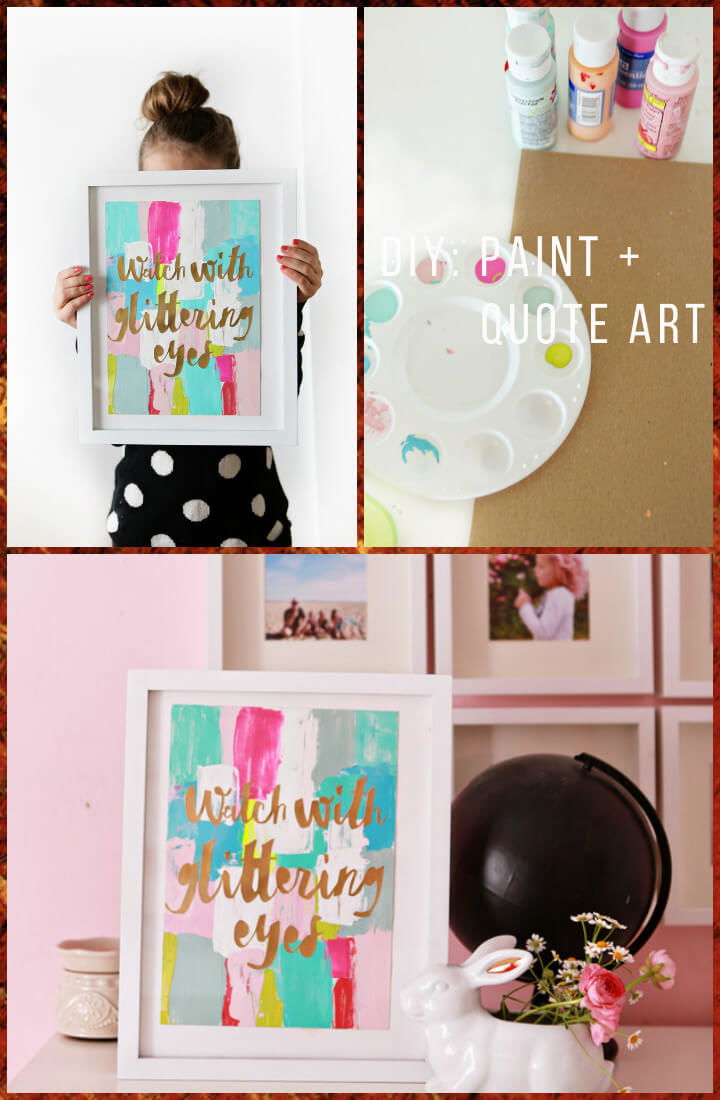 This cute project is so very easy to do even by the kids. You can help them with the quote words stenciled from he vinyl and they can paint the frame of their own. So in a short time this lovely and adorable piece of display is ready to get flaunted in the
Silhouette Cameo Vinyl Lettering Customized Coffee Jar: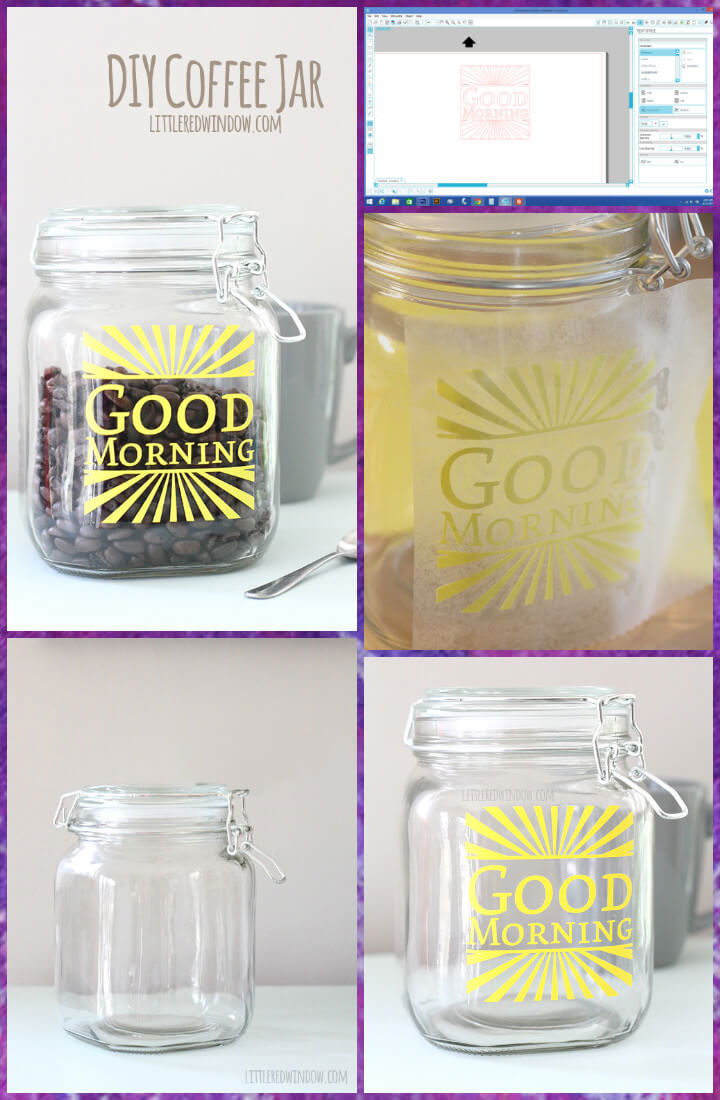 Its not a morning if you are waked up with a cup of coffee. So a coffee is must have for a kitchen and now you can beautify your coffee jar with custom touches using the vinyl art like we have done to the above one. Here are details showing you how we have spruced up this simply coffee jar to look that lovely.littleredwindow
Vinyl Lettering Days of the Week File Folders: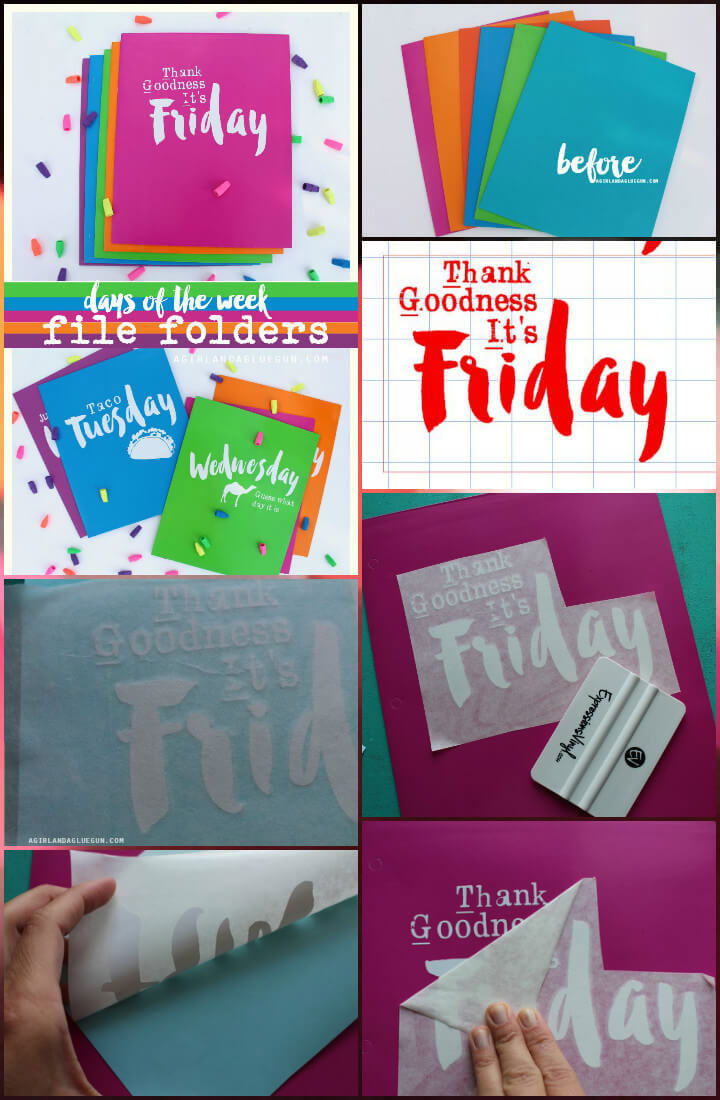 Either your office files or your college folders you can arrange them for a week with days name on them and thus making your weekly routine much more easier. And you can do it all with vinyl letters and some fun paint colors like shown above. To get complete tutorial guide you can browse this link agirlandagluegun
Vinyl Adhesive and Painted Canvas Backgammon Game:
Here is a double functional vinyl project for all the crafting persons to try this weekend. This is a DIY backgammon game and wall art for you to have fun in free time and make it display on the walls when finished playing. I know you just fell in deep love with this project so grab the complete tutorial right on this link.lovelyindeed
Vinyl Silhouette Birds on a Line Coat Rack:

A coat rack can be instantly restyled to look extremely fun and interesting if you find it boring. Here we have this bird on line coat rack idea to make from the vinyl and display above the hooks to lend it instant creative look. If you are new with the vinyl projects you can check the details of this project right here silhouettecraftingwithmartha
Vinyl Wedding Countdown Blocks: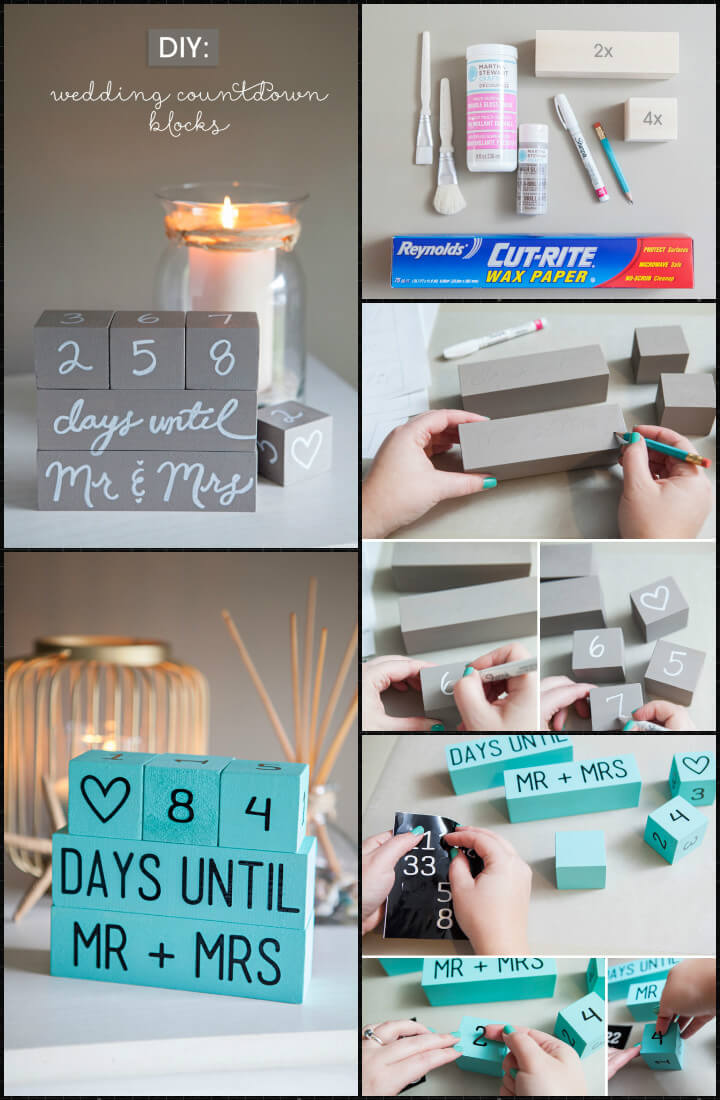 Even the small things can make your life so much fun like if you are going to tie the knot you can make this lovely DIY wedding count down blocks. You need to have wooden blocks, some paint and some vinyl to cut out the numbers and stenciled letters regarding the project. Here is the pictorial tutorial of this lovely idea somethingturquoise
Vinyl Lettering Thanks Giving Blocks:
Get some wooden blocks, paint them in your favorite hues, cover them with some nice scrap paper and then comes the turn of THANK YOU letters that have been cut from the vinyl to paste on each block and a table display set is ready for your party decor. Get the all the instructions right here gingersnapcrafts
Vinyl Lettering Grandma's House Knob Block:

This time when you plan to visit your grand mom's house take with you a handmade gift and bring a smile on her face. And we have this superb idea of house knob block saying some lovely and heart felt words on it. Its in black and white and you can make custom changes with words and colors. Get complete access on this project here gingersnapcrafts
DIY Expressions Vinyl Project Ideas:
This picture is provides to three different ideas regarding the fun and functional use of the vinyl on your daily things and make them look extra ordinary from their dull common look like the candle votiv and coat rack hooks with any color, texture and design. Browse this link to get more details of it gingersnapcrafts
Vinyl Lettering Back-to-School Clipboard: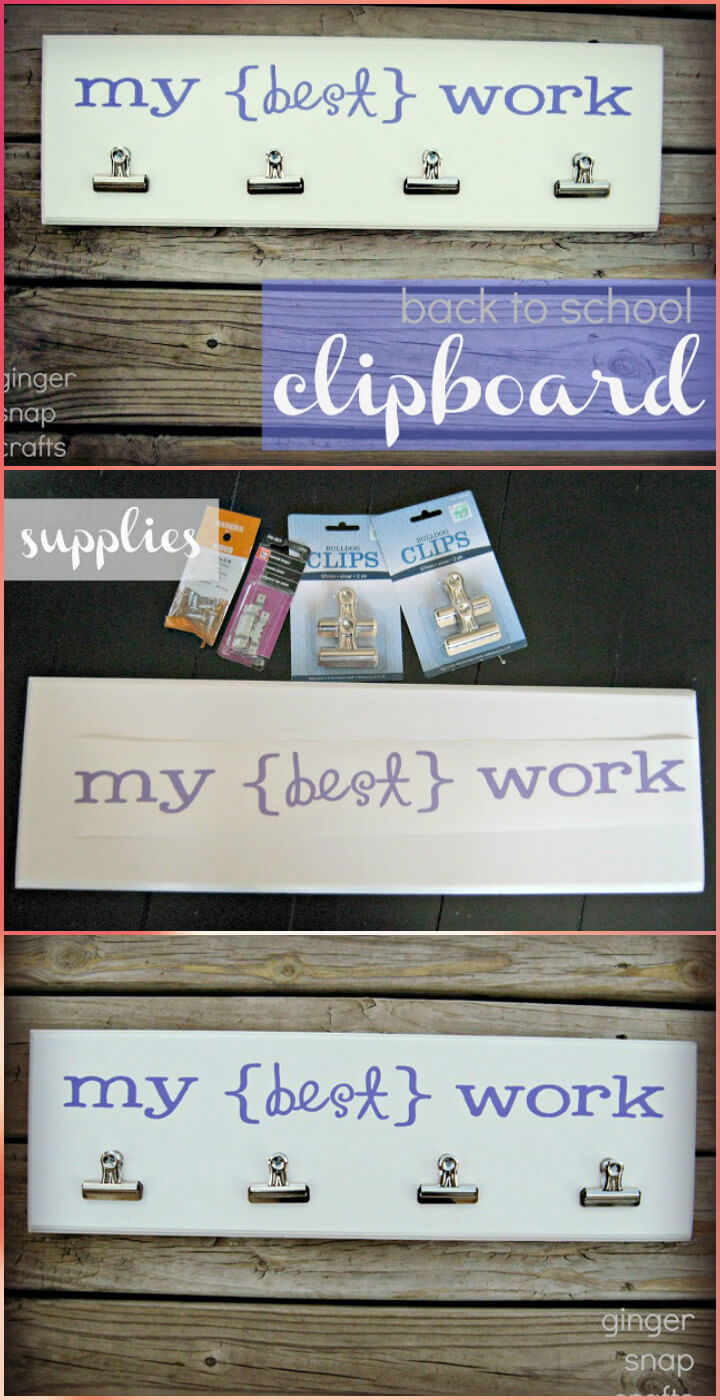 Give your kids something really fun to write on i mean a nice looking clipboard. Not from a stationery shop you can make such fun looking clipboards of your own using some paint and vinyl stencils like you are watching in the pictures above. So if you have school going kids do give a makeover to their clip board with the tutorial guide here gingersnapcrafts
Vinyl Lettering Diaper Cake Name Plate: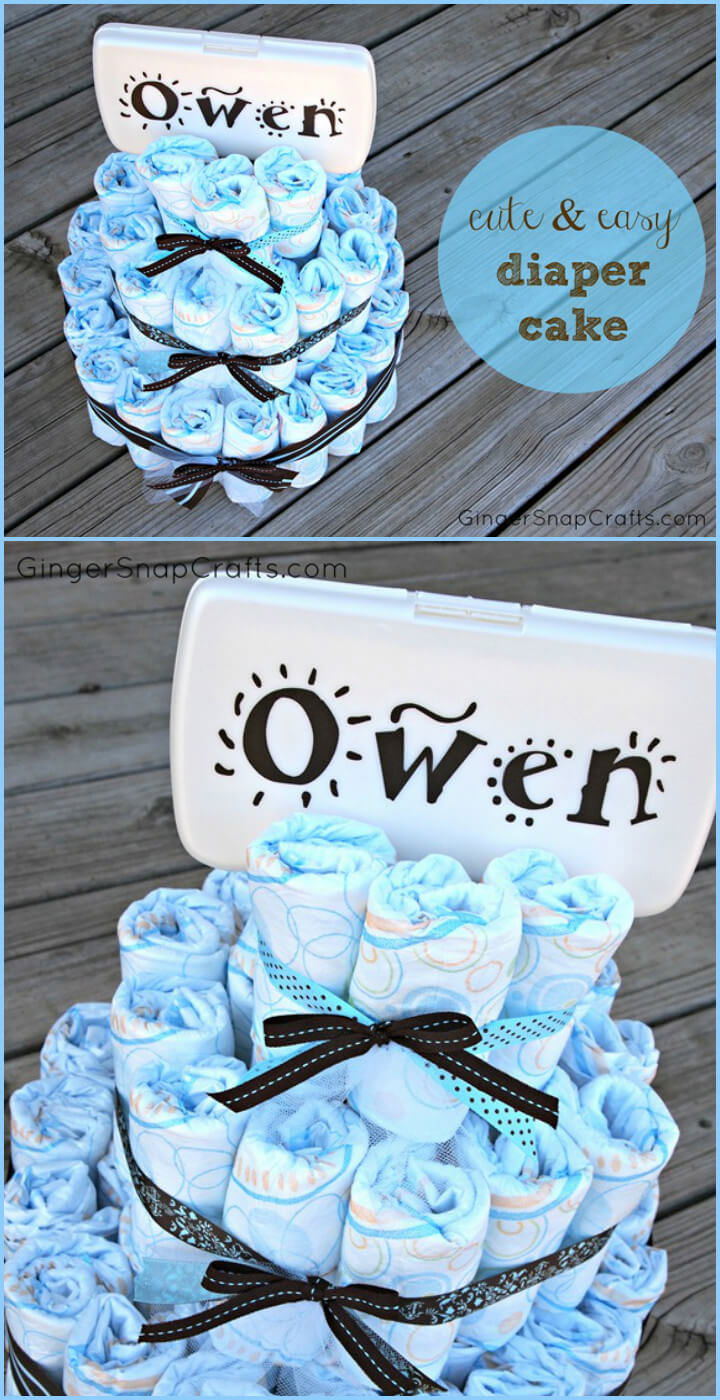 If you are to attend a baby shower in a few days or you are going to see a newborn in your family you need a gift. A   diaper cake with the kids name plate on the top is the best handmade gift idea you can ever come across. The name has been written with the vinyl letters. Though this project is easy but still here are the details of it gingersnapcrafts
Vinyl Back-to-School Desk Caddy:
Make your kids desk not only organized but also decorative with the addition of this lovely caddy to hold all the stationery items in it. Take a tray and layer it all with vinyl zebra color stripes and its done.In order to take a full visit of this fun project get along this link gingersnapcrafts
Vinyl Lettering and Wood Decor Art or Wall Sign: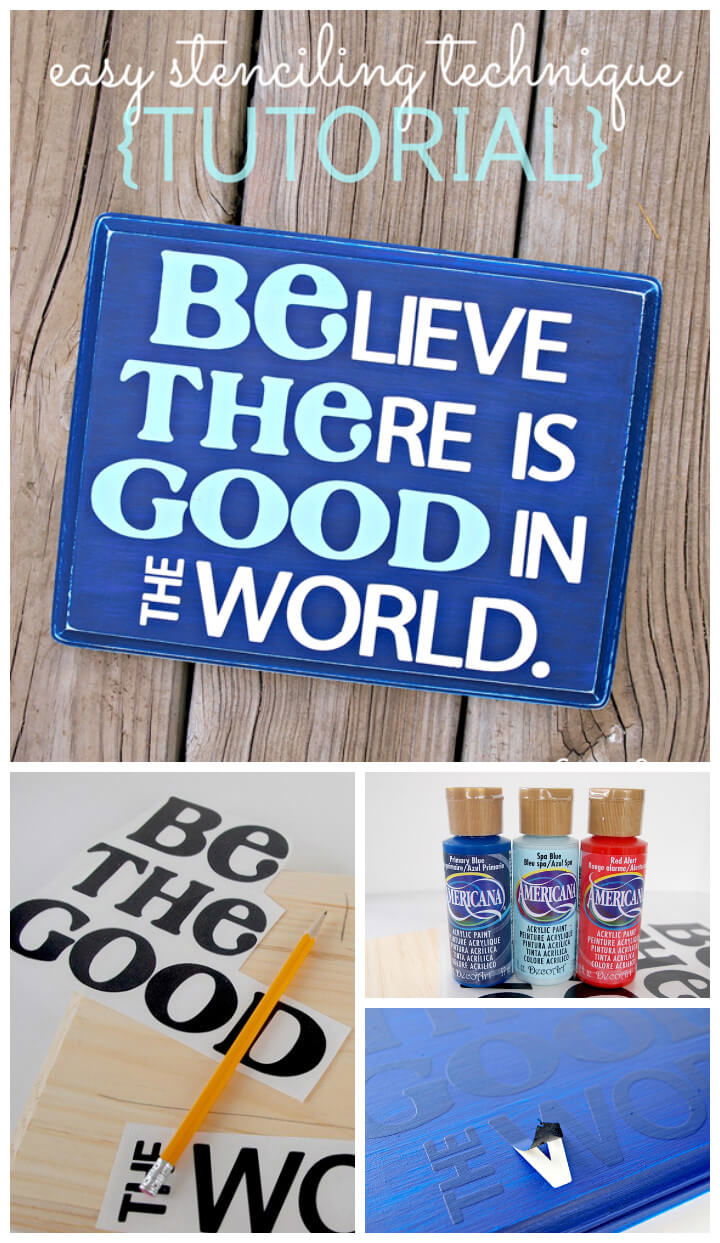 Making inspiring quoted boards is now damn easy with vinyl and here is a gorgeous one example with us with lovely and inspiring words on it. You can learn the technique and make custom quoted boards with your favorite words on them.gingersnapcrafts
Easy Vinyl Lettering Family Est Block: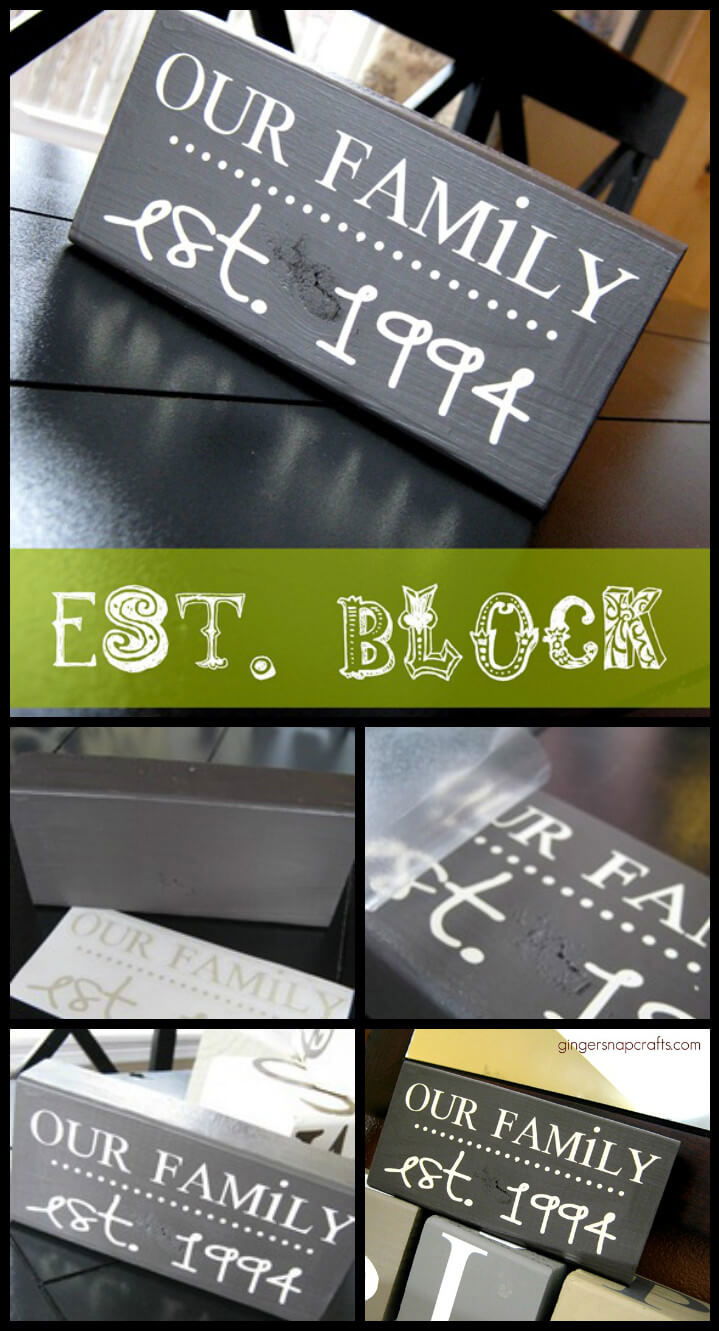 Make a cost free and easy to make family block est for your house using a wooden block, some vinyl for lettering and the paint. On this link you would see an amazing example and that too with pic by pic instructions. gingersnapcrafts
Vinyl Lettering Chalkboard Family Home Evening Board:
Songs, fun chats, treats, prayers and there is lot more on a family home evening and now you can show the family home evening tasks to everyone with this vinyl made family home evening board. Here on the link is complete tutorial guiding your step by step.
Vinyl Tin Can Cute Pencil Holders: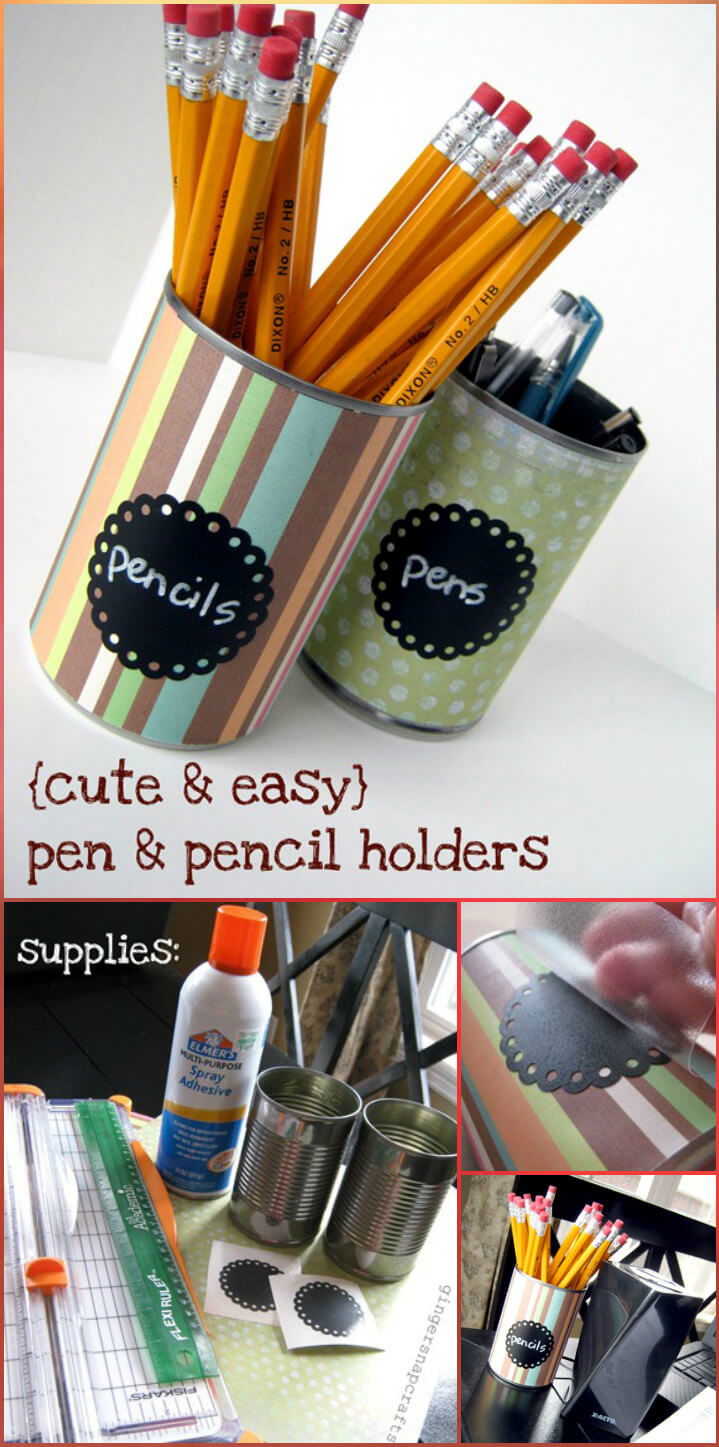 Get the table or desk of the kids organized so that they do their homework quite conveniently by making this lovely pencil and pen holders which have been named using the vinyl lettering This idea is super cute and cheap and would be so much fun to make also. gingersnapcrafts
Vinyl Lettering Fall Crawl Halloween Countdown: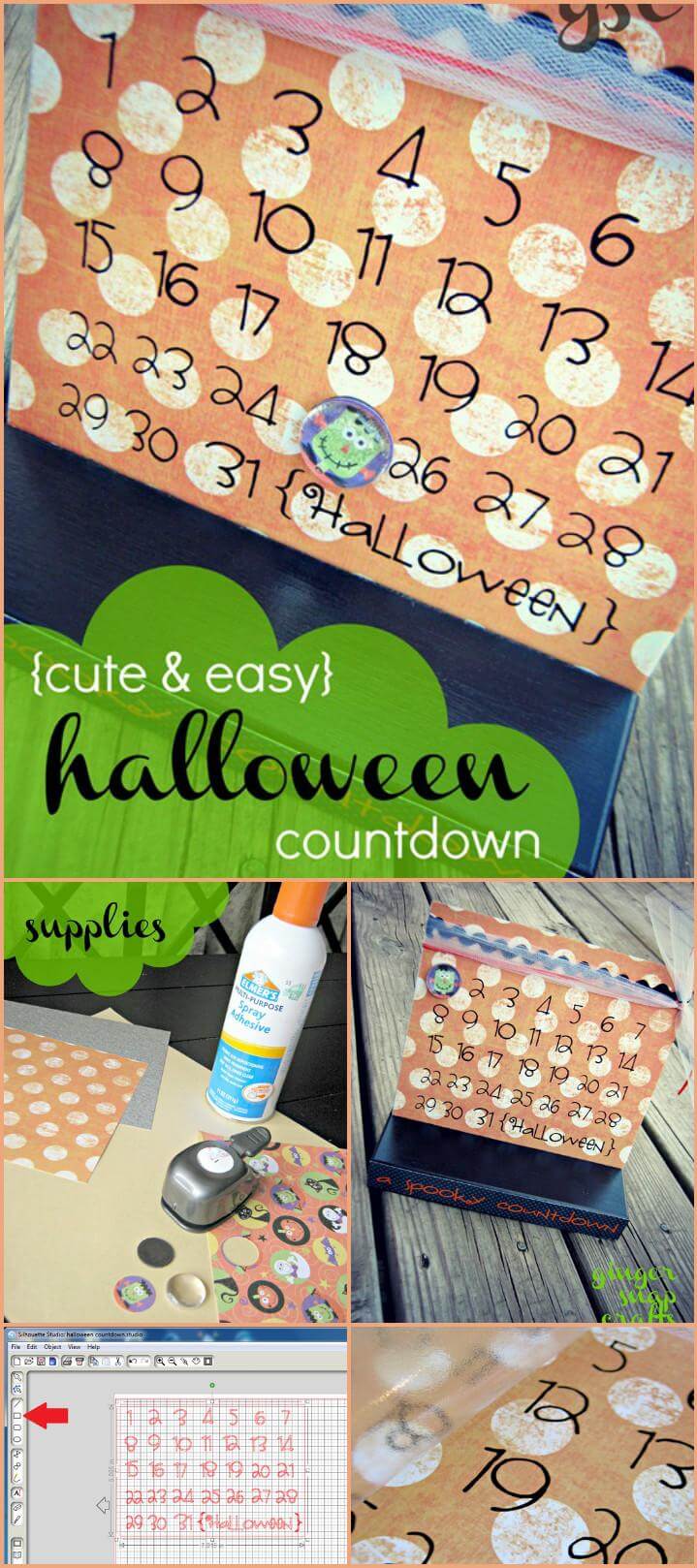 Make your irritating and impatient wait period for the Halloween somewhat interesting and fun with this homemade vinyl lettered fall crawl Halloween countdown. I know you desperately want to try this new idea and here is complete tutorial of this project so check it out gingersnapcrafts
Vinyl Omtwi Finale Block Nativity Set:
This nativity set is the mouthpiece of pure intelligence and creativity and you can make these artistic pieces and display them in your home decor with some really simple and easily available items like wooden blocks, vinyl and some paint. Here on this link you will get more information about this creative work.
Vinyl Sticker Monogrammed Pumpkin:

Pumpkins are the important part of our so many festive days and now you can make them look decorated uniquely with these vinyl initials on them. This would be easy and totally cost saving for your decor on the best days even for weddings.gingersnapcrafts
Vinyl Chevron Pattern Customized Shadow Box Jewelry Organizer:
Full Project here: gingersnapcrafts
Vinyl Circles Polka Dot Pot:
Flowers pots are integral for a home decor and now you can make them look utterly gorgeous and stylish so spruce up your home decor even more. Give your pots these lovely polka dots using the vinyl and save much of your money on the purchase of new ones. Here is the easy tutorial of its making gingersnapcrafts
Vinyl Temple Fab Friday Block:
This lovely vinyl temple fab Friday black has been made fort he kid's room to let them remember the spirit of the temple forever that they have visited in the holidays. You can replace the image from the places you have visited like churches, mosques and museum etc. This lovely project is here in detail so do make a visit gingersnapcrafts
Silhouette Vinyl Easy Wedding Gift:

Empty glass jars can be filled with some fun value able things to make a gift for your dear friend or family member for a wedding or birthday and you can add more beauty and style to with vinyl silhouette designs and lettering like you have seen in the pictures above. The complete making method is right here gingersnapcrafts
Vinyl Silhouette Family Home Evening Board: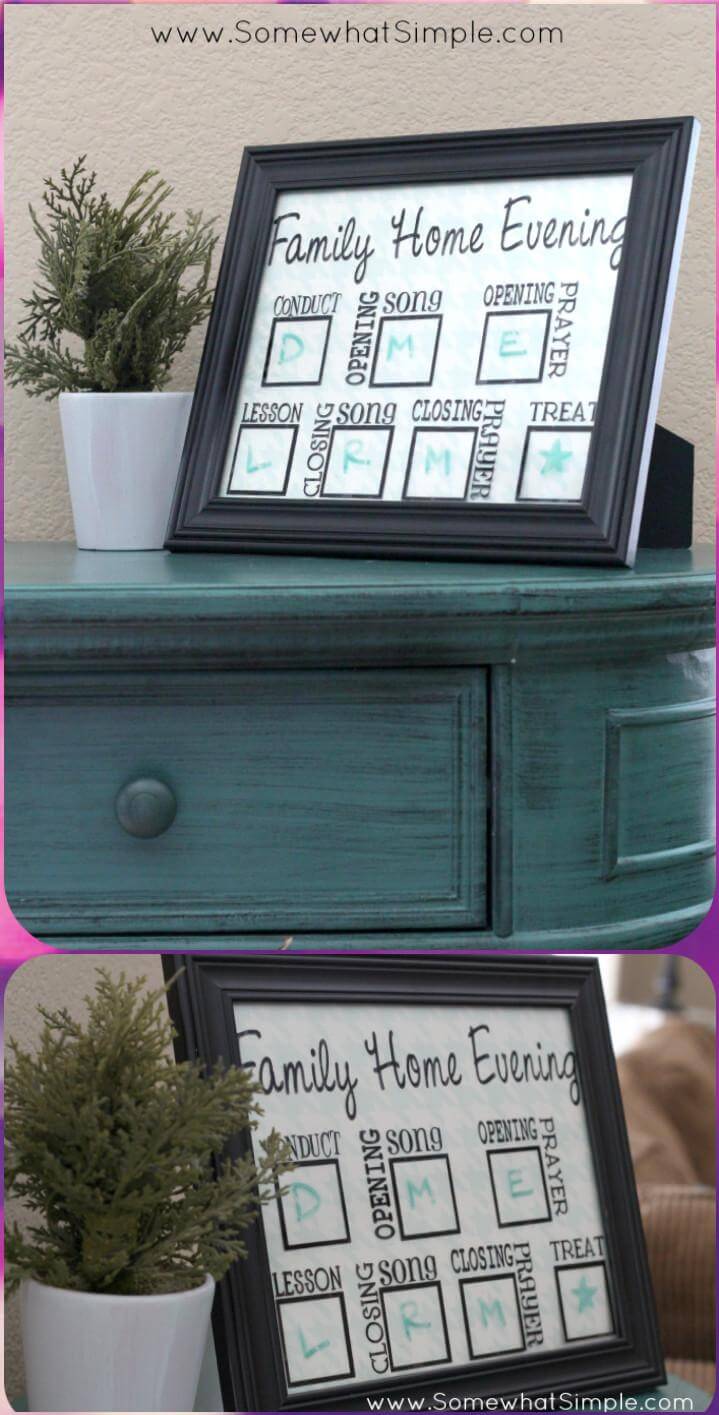 With some simple and fun projects idea or plans you can bring much happiness and joy in your family like this lovely and cute vinyl silhouette family home evening board with all the fun task written on that the family can enjoy in the evening. Pictor ail instructions here somewhatsimple
Vinyl Sticker Let's Celebrate Board: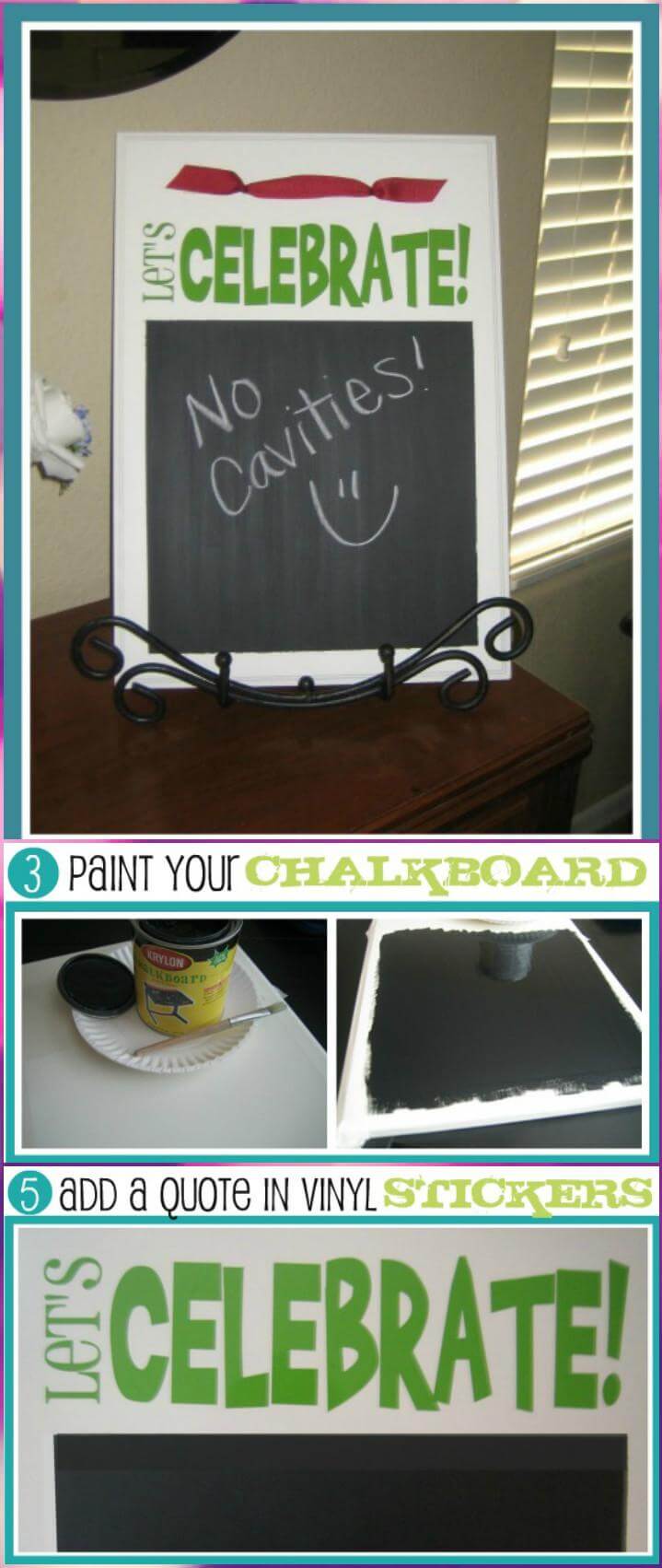 Make this lovely Lets Celebrate Board using a wooden frame, some paint and vinyl letters and you can enjoy some fun celebration time every day writing the reasons on this board. To know more about this project you need to click on this link somewhatsimple
Vinyl Customized School Paper Boxes:
To organize and keep the record of the kid's school files you can hack this brilliant idea.It suggests you to buy a plastic basket and put all the files in it and you can use vinyl technique to label and name up the files inside and also the basket outside with the kid's name. On this link lies the step by step tutorial somewhatsimple
Vinyl Lettering Magnetic Chore Charts: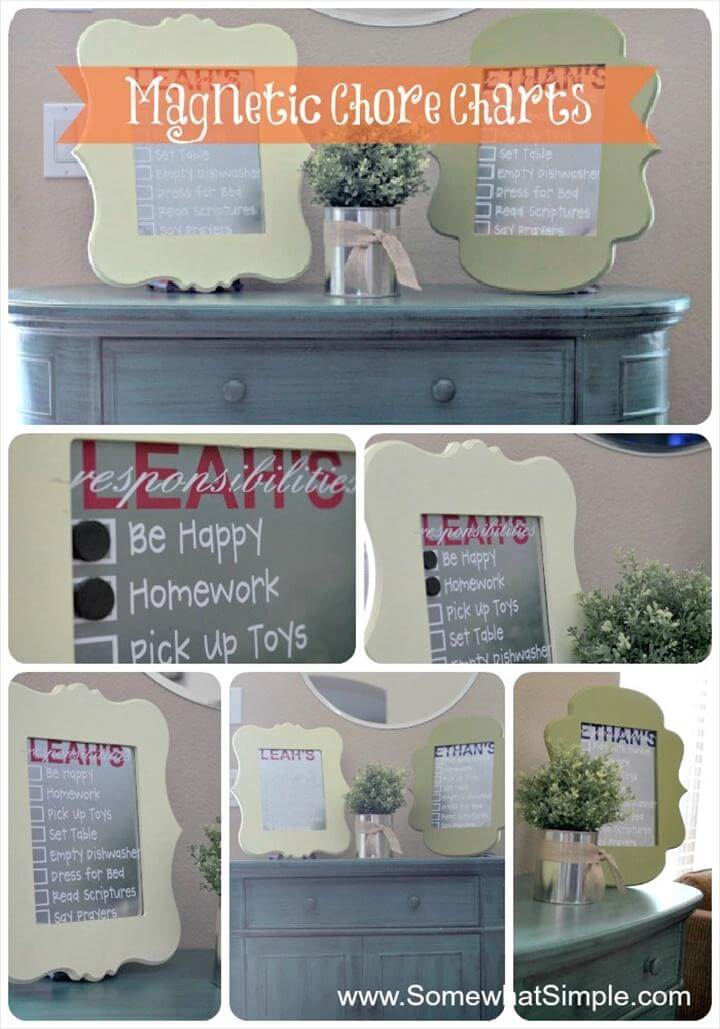 You would love this idea to the core if you have kids in your house as it would let you know what your kids are doing when they are home. These are cute magnet chore charts beautifully created with frames, metal sheets and vinyl lettering to let the kids put magnet on the chore they are getting indulged in at that time. Want to hack this idea? here is the full Tutorial somewhatsimple
Vinyl Lettering Dry Erase Glass Calendar:
Get your family more organized with this family schedule calendar and that too made at home using a frame, vinyl lettering and calendar print to write your weekly activities and get every body in the family be punctuate with them. Here is full detail of this project to let you do it more easily