These beautiful and easy to make 10 DIY mason jar lamp ideas are perfect for this season! If you're someone who likes to spend a lot of time inside the house during the winter season, it is a good idea to make it look cozy and warm. Lamps are the perfect way to do so, as lightning can almost change the whole vibe of a house or a room. LED strip lights have been really famous these days among teenagers, but most adults just crave the warm and vintage lightning that makes them feel fuzzy and nostalgic inside! Do you feel the same? Well, these mason jar ideas are for you!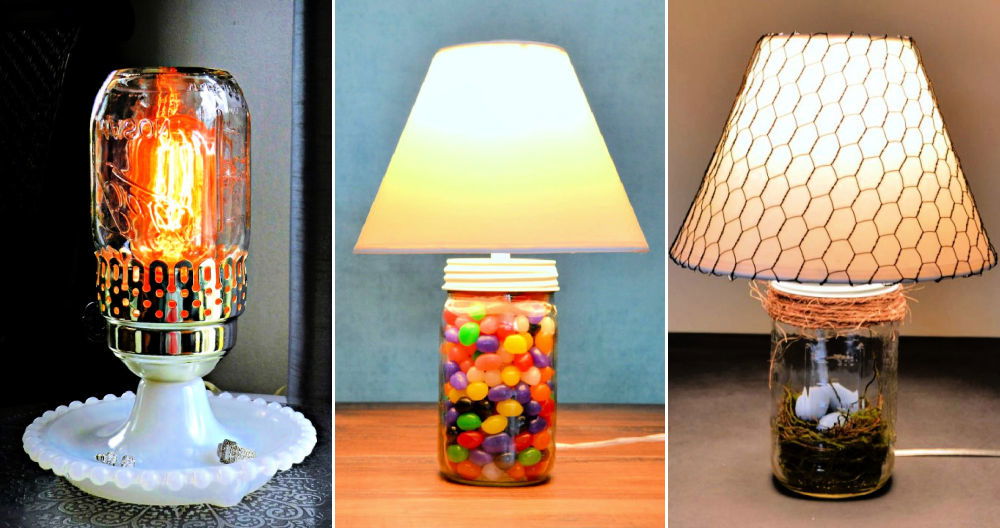 This article will cover a range of DIY mason jar lamp ideas, from vintage to bird nest themed ones; from summer to winter-themed DIY oil lamp ones; and from fall to spring-themed ones; also from jellybean to aquarium ones, and much more! Since the holiday season is still around, you can also wrap this up as a holiday present for a loved one who loves decor – it will be a really nice and thoughtful gift for someone like that! Moreover, these mason jar lamps are also super ways and quick to whip up, so you won't really have to worry about spending a lot of time on making them!
1. Vintage Mason Jar Lamp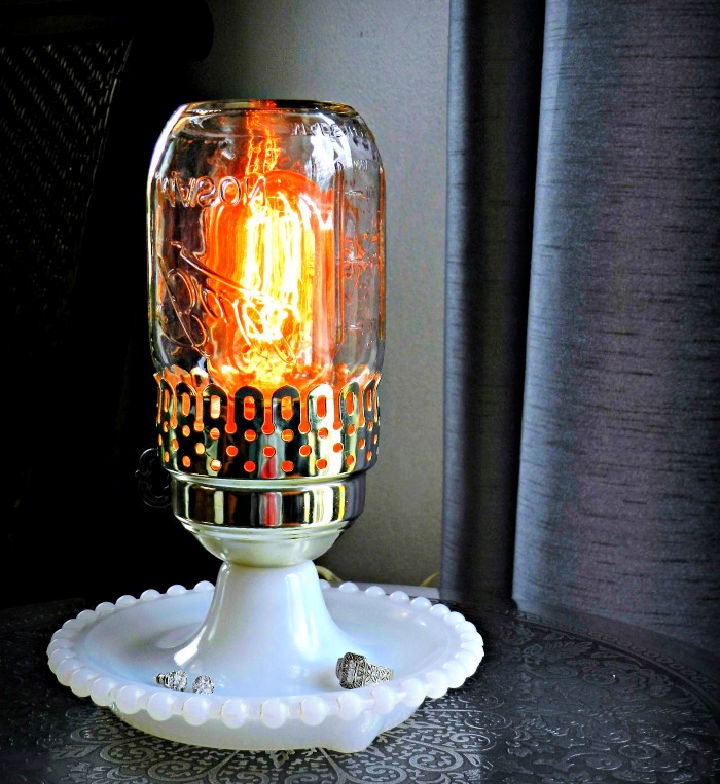 Here's a very vintage and beautiful lamp that you can re-create for just around $1.99! Isn't that just the best thing ever? A medium-sized vintage bulb is used in this lamp, so it will provide beautiful golden light all night long! Hobnail white glass votive holder, vintage Edison bulb – 25 watts, ball wide Mason jar, and a few other supplies will be required. redheadcand
2. Bird Nest Mason Jar DIY Lamp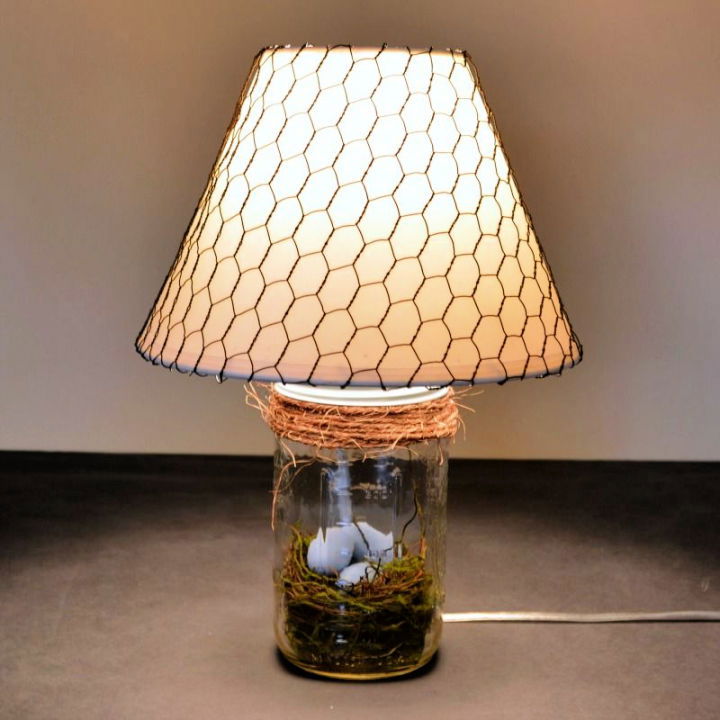 The bird's nest mason jar table lamp idea is definitely quite unique and like something that you might have never seen before! Don't you just love the best and small eggs along with the beautiful lampshade on top? A lamp adapter, lampshade, and a few other things will be needed to put this together. This mason jar table share a beginner-friendly project, so don't feel intimidated! consumercrafts
3. How to Make Mason Jar Table Lamp
Here's a table lamp idea that has a really pretty and rustic vibe to it due to the birch wood used inside it! Do you have minimalistic and simple furniture? This will work really well with that aesthetic! Half gallon Mason jar, light bulb, birchwood, burlap drum shade, wide mouth adapter, and a few other supplies are used to make it! thecountrychic
4. DIY Mason Jar Lamp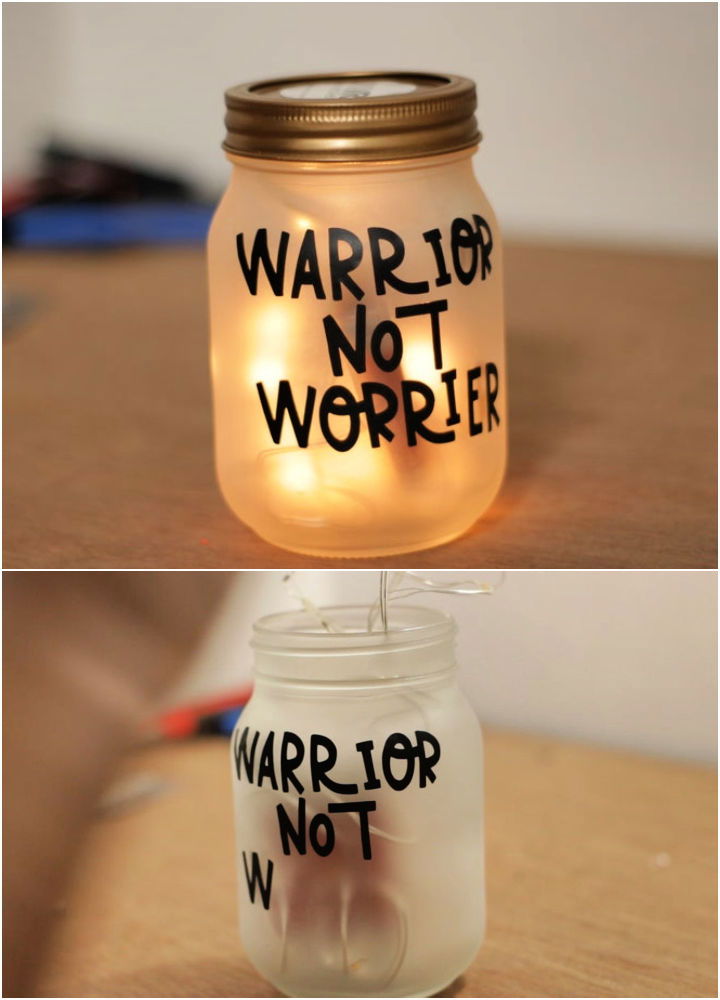 The "warrior not worrier" message on this mason jar lamp can easily be customized and changed into something else! Word affirmations are great to manifest your dreams, so you can always make a lamp like this one when you want a change of energy! LED fairy lights are placed inside the jar, and a printout of the letters is attached outside. instructables
5. How to Make a Fall Mason Jar Lamp
Fall season is all about making your house look warm, nice, and cozy! What's the best way to make your house cozy? Yes, by adding a lot of warm shaded lamps! Here's another absolutely adorable glass jar lamp plan as it had autumn leaves inside the Mason jar – how cute! Mason jar, fake fall leaves, lamp adapter, lampshade, and a few other materials used here. darice
6. DIY Mason Jar Oil Lamp
Here's a DIY oil lamp that will fit the summer theme perfectly! Are you feeling bored and want to make something beautiful for your backyard or room? Well, then this is the ideal DIY mason jar oil lamp plan for you to try out! Only a few basic supplies are required! Moreover, you don't even need to be a professional to make this project a success! planttherapy
7. Mason Jar Nursery Lamp
How cute is this plan – it will fit the cottage core aesthetic really well! You will need a Mason jar and LED attachment fairy lights for this project. Moreover, chalk paint is used to paint the outside, and it doesn't require any primer. Painter's tape will work the best for this plan, but you can also use any other type if you want. modifiedtot
8. Mason Jar Pipe Lamp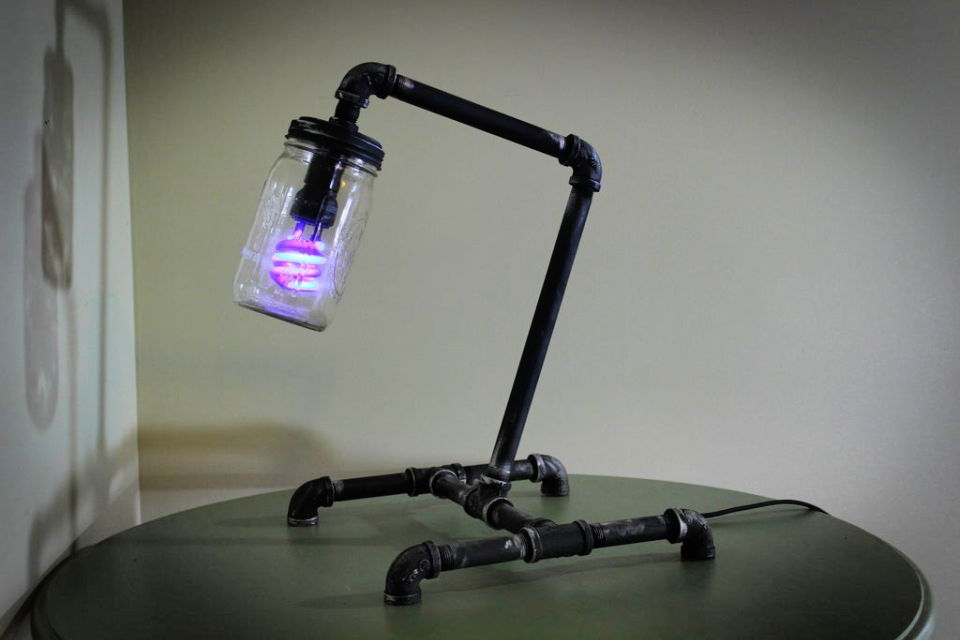 Don't you just love the way this pipe lamp looks? It has a colorful and vibrant light that will perfectly light up your room at night time! Does this mason jar table lamp excite you? Just take a look at this DIY lamp plan and gather all the supplies – you're going to enjoy making this beauty! Gift this to a loved one who studies at night and needs a good night lamp! instructables
9. 2 Minute Mason Jar Jellybean Lamp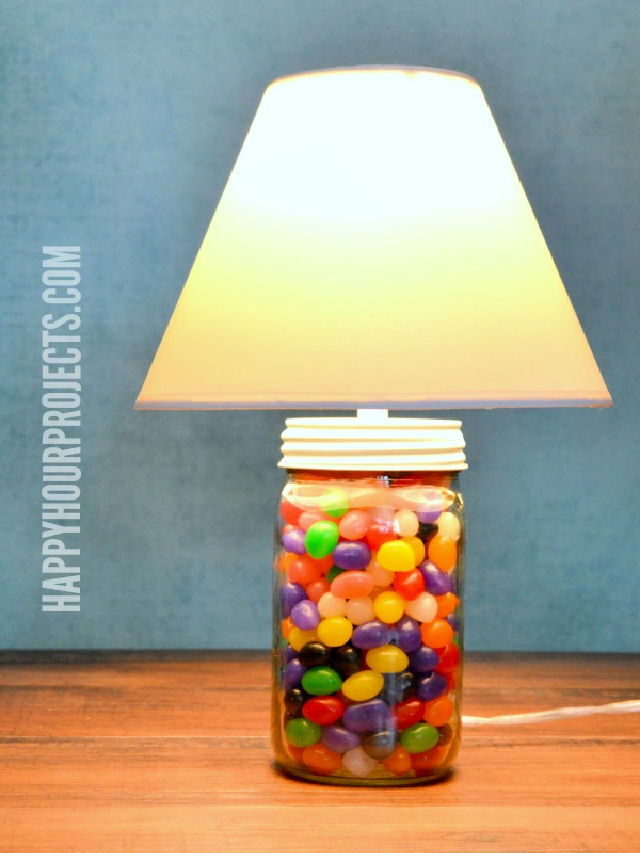 The jellybean idea can be made in less than 10 minutes, and you're going to love how it turns out! Quart Mason jar, light bulbs -. 60 watts, jelly beans, lampshade, lamp adapter, and a few other tools and materials will be used to nail this project! It's quite tiny in size in comparison to the other ones mentioned in this article. happyhourpro
10. Mason Jar Aquarium Lamp For Kids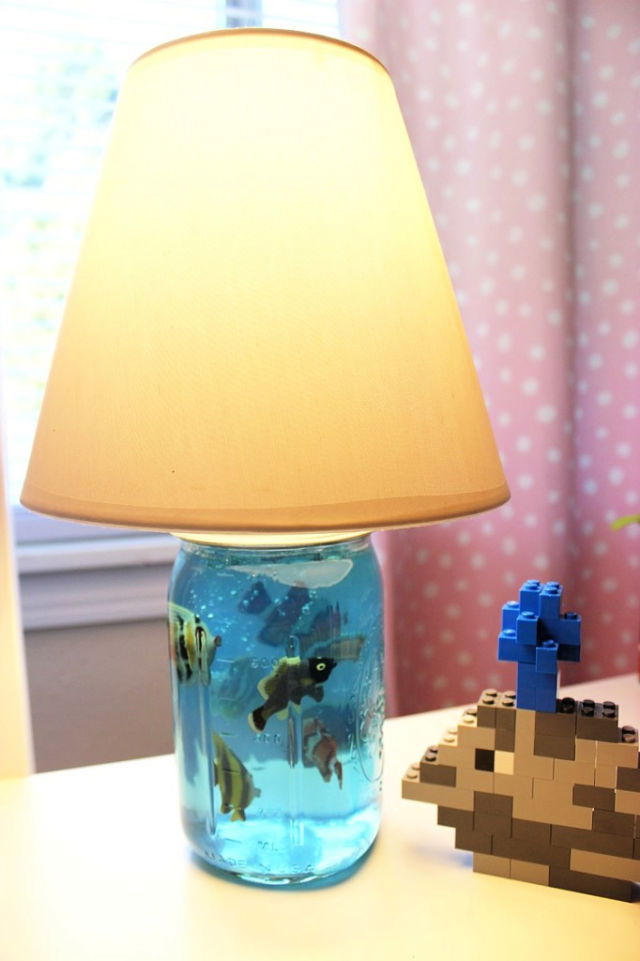 Last but not least, here's an aquarium idea that is very eye-catching and definitely super stunning! There is blue water inside it along with fishes inside it. A lampshade, Mason jar, light bulb, and a few other basic supplies are required to make this project a success! So, are you ready to give it a try? This is going to be fun! artzycreations
So, are you ready to give these DIY mason jar lamp ideas a try? These DIY lamps are not only super fun to put together, but it's also enjoyable to shop for them! Why is that? It's simply because you will be entering the arts and crafts section of the supermarket, which will definitely give you a boost of serotonin! Moreover, when you start putting it together – the real fun will start! Let's also talk about the satisfaction that you'll feel once you're finally done and get to place it on your nightstand, table, etc. Isn't this exciting? It's time to get started!