A TV stand or tv console is the most prominent piece of living room or media room furniture after the sofa set there! The sitting furniture sets bring comfort to the living room while a TV stand brings fun and entertainment there at the same time! If it comes in an attractive design and with outstanding unique and modern features, it would also be a piece that will establish sophistication to your living room ambiance! On the other hand, it can also be the most expensive piece of living room furniture if selected with modern design features! However, you can also use DIY alternatives to get your favorite designs of DIY TV stands easily and in a budget-friendly way! Check out 42 DIY tv stand plans and ideas that are all genius and would add new wings to your creativity! The entire collection of DIY TV stand ideas are full of step by step plans and easy tricks that will make you think like a genius just after you take a short roundup of these tv stands!
Go handmade with healthy looking wood and build sturdy wooden TV stands that can be added up to serve better in a particular rustic or modern environment! A new sample is the rustic TV console that comes on vintage cart style wheels is just perfect to go in a vintage styled living room interior! Repurpose the old dressers and rebuilt them into fantastic looking media console and entertainment centers, also do the manual wood constructions with lumber or pine wood to build adorable looking models of TV stands for your living room space!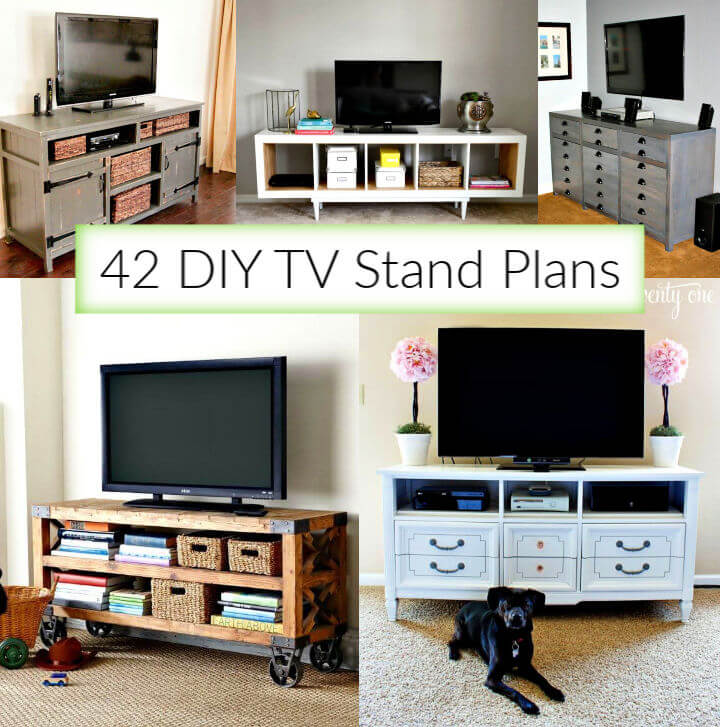 Even if you are a beginner, you can still do amazingly beautiful DIY TV stand project. A very handsome sample is the given media or entertainment center, painted in red and comes with a white painted hanging cabinet, would rock in modern living room interiors! Go handmade also with healthy looking wooden slats and build beautiful looking easel TV stands, get inspired by the given samples that come on hardware rolls and casters!
Go also with IKEA Kallax and craft apothecary style wooden media consoles that may also come with high looking blank wooden tops for an engaging appeal! Moreover, you can also use the IKEA shelves to build fantastic looking media stands and consoles for your living room space! Have a look at sample design to get inspired! The list also provides the mid-century inspired media table designs that can be built nicely at home using both new and recycled kinds of wood! And you will also find the various farmhouse style and shabby chic unique designs of TV stands in the list that will amaze your senses! You may also like these DIY coffee table for your entertainment or living room.
Browse these tv stand plans and add your favorite designs in your to-do list! Next, you can hit the attached source links to unveil the complete DIY tv stand tutorials, step-by-step guides, and free visual instructions for your selected DIY projects!
Easy DIY Rustic Console TV Stand Tutorial:

Give your living room interior a hypnotic vintage touch with this cart style rustic console TV stand that is made of old wood and comes on reclaimed vintage cartwheels! It becomes special due to certain more features like it provides too much storage space as it comes with two built-in shelves and it has also been assembled well with metal plates and other durable hardware of this kind! A very eye-piece and a functional furniture item to make at home! Complete guides and tutorial here mountainmodernlife
How to Build a Grey TV Console Tutorial:

Just by thinking like a genius, you could be able to design and make your own beautiful and functional looking TV consoles! An interesting sample is here, the charming grey TV console, built to rock and inspire! It is made of both wood and plywood and provides built-in shelves that have further been made extra safe by adding hinged doors! This entire handmade TV console looks much like the market-bought TV console and comes with an unbeatable price tag! Want to make it at home! Complete tutorial and instructions here fynesdesigns
How To Turn Dresser Into TV Stand Makeover:

You can think twice before you throw your retired and old furniture pieces to trash store! Just go smartly handmade a little with those old furniture items and turn them into very new and functional furniture items like this TV stand that is made of an old dresser! A brilliant furniture transformation project that every home lover can do who is deficient of a beautiful TV console! Get the full project details and free tutorial from here plasteranddisaster
Easy How To Build Your Own Rustic TV Stand Tutorial:

Look at this another beautiful DIY furniture creation, a self-made TV stand that is made of both durable wood and plywood! Here a custom design of TV stand has been made that will fit best to a custom décor style of a living room interior! In features, there are two built-in shelves and a robust top that will hold your display screen beautifully! Here an odd hue of this hand-built TV console has been created by painting then entire design in dark grey except for the top that appears in the blank wood shade! Another great homemade TV console design! Grab the full free guides and easy tutorial from here angelamariemade
Build Your Own Bachelor Pad TV Stand Tutorial:

If you are living in an ultra modern living room interior then here is a recommended TV console design for you, the gorgeous bachelor pad TV stand that appears floating on the wall! A huge red wooden background with screen holding system installed to its center, go enticing to eyes and the icing on the cake is the whole floating cabinet that appears at the bottom side that helps to organize all the media items by providing smart storage options! The hanging media cabinet appear in white that makes a beautiful contrast also to the red background! Another amazing DIY TV stand suggestion! Complete project details and easy tutorial here home
Easy How To Build Your TV Stand:

Getting custom TV consoles for your living room space or interior can get expensive! So, why trim down your expenditure by building some super functional looking TV stand designs at home? A brilliant one is given here, built manually using wood, and comes with various drawers that are sure to organize your items of interest carefully and nicely! This entire media console offers the pulldown drawer fronts that also add extra charm and beauty to the entire TV stand design! Looking forward to duplicating this design? Grab the full free tutorial and easy visual instructions from here makemeprettyagain
Easy DIY TV Display Easel on Wheels Tutorial:

If there are some unique and modern looking furniture items in your living room, then it would catch more eyeballs! You can start making your living room visually captivating by adding this TV display easel that is easy to build and is having all the legs raised on wheels so is touch-to-move also! Here you should focus on the durable hardware systems that will hold the TV screen the rest of the design is just like a child's play to build! Another fantastic design of DIY TV console that you can easily duplicate or clone! Complete project instructions and tutorial here remodelista
Easily How to Build a Rustic Corner TV Stand:

Just like the complete designs, you can build all custom designs of TV stands and console tables at home just making smart use of your creativity! Get inspired by this rustic corner TV  stand design that is robust and would fit best to your living room corner! You can vary the height and also the number of shelves in your case, and you only need some durable wooden boards to build this very nice looking TV console! Go with the blanket rustic wood appeal or paint it modern, this will also depend on the style of living room decors you are already following! Want to make it now? Grab the easy guides and free visual tutorial from here mimiberrycreations
DIY Apothecary Console TV Stand Makeover:

Look at this another fantastic design of TV console that is inspired by an apothecary counter or table! It provides several different compartments to display, store, and organize the media concern nicely and beautifully! You can do this project with both plywood and lumber or by mixing both two types of woods! Here the idea is to install the interior shelving frame first and then to add the sides, bottom, and top for a final structure! Here the top of this TV console appears in choco brown color that goes enticing with the milky white appeal of entire rest design! So, want to duplicate this milk-choco TV stand? Grab the full free guides and easy tutorial from here ashleygrenon
Easy DIY Ikea Hack Shelving Unit To TV Stand:

Check out here another fantastic and adorable design TV stand that is brilliant IKEA hack here! Here an IKEA Kallax unit has been grabbed and raised onto a new wood frame to serve as a TV console! The birch plywood has been used to cover the surfaces so that they will be scratch free! A little extra height has been given using the tapered legs that fit nicely to bottom frame! The milky white appeal mixed with the birch plywood tone creates a stunning hue of this entire TV console! Easy project guides and complete DIY tutorial here infarrantlycreative
DIY French Provincial TV Unit Tutorial:

May you are a big fan of French style decors! If you are, then you will give your first preference to this French provincial TV unit that is made of an old TV unit grabbed from eBay or garage sale! The exclusive new look has been gained through a complete refurbishment plan that may contain the re-sanding, polishing, painting and staining! Here this stylish TV unit appear in chic white but comes with a dark brown choco wooden top and hence gains a very stylish look! Complete project instructions and visual guides are here thewhimsicalwife
Easy DIY TV Console Tutorial:

Another fantastic TV console achievement here done by going through a manual wood construction! Here the robust wooden lengths build the entire frame of the console table while the surfaces like top and bottom have been made of plywood! The top has been got dignified with additional accent wood trim while the two doors have been installed to bottom side to gain some nice storage compartments! Another homemade model of TV console that is amazingly beautiful! Complete project instructions and tutorial here craftsmandrive
Easy DIY Mid Century Modern TV Console Tutorial:

There are various home décor styles out there, but the modern rustic mix décor styles are catching too much fame! If you are also following this type of interior décor styles then here is a gift for you, a mid-century modern furniture accessory that is purely hand-built! This is here a mid-century modern TV console that comes with angled legs and with a black painted hollow wooden box adjusted among the legs! This box provides attractive storage options and makes the design extra beautiful and fetching! Want to duplicate this another handsome TV console? Then find the full free tutorial from here rogueengineer
Quick and Easy DIY TV Console Tutorial:

Look at this another fan design of the TV unit that has been complete by building first the side frame! It is also a pure hand-built model of TV console and will be ready in just no time! This custom built TV console design also provides stylish storage options like the two main cubbies just underside the top, the mid-side built-in storage boxes and a sub-cabinet to each bottom side! Here a pretty vintage grace has been added to design using longer black vintage hinges! Create a custom appeal of the console table by going with custom shades of paint and stain and enjoy! Full visual tutorial and instructions here shanty
How To Build Your TV Console Tutorial:

One more gorgeous and spell-binding design of TV console here! This one also comes in two-tone appeal and hence gains extra visual attractiveness! Here the entire frame of  TV console is built smart using the custom wooden slats and boards while the front doors are the reclaimed window frames! After getting the entire design ready, the window frames have been resized to fit rightly and nicely in position! The top is thicker and comes in a natural wooden tone! Do duplicate this milk and honey model of TV console that provides several storage options too! Complete tutorial and visual instructions here twofeetfirst
Easy To Build TV Stand Tutorial:

Peek into details of this another fantastic TV stand that you will love to own! This entire model is also purely handmade, and custom wooden lengths have been put together to build the primary frame first! Next, the top and bottom surfaces have been installed that can also be made with plywood! Finally, you can install the dividers and custom shelving levels to organize your related accessories nicely and neatly! Just don't forget to paint your complete model to match your living room decors! Complete step-by-step tutorial and free plans are here buildsomething
Easy How to Make a TV Lift Cabinet Tutorial:

You will fall in love with the design features of this extraordinary TV cabinet that is purely homemade! Here this fantastic creation has been done using the birch plywood sheets, the durable hardware, and new screen holding systems! This is an ultra-modern design of TV console manufacture at home and comes in alluring white appeal! For holding the screen, the pop-up-TV-lift has been used, and the super smart storage options will surely make you a big fan! Want to see this TV cabinet next in your living room? Then duplicate it via free tutorial and instructions provided here instructables
Easy DIY Pottery Barn-inspired TV Console Tutorial:

Are you a big fan of pottery barn inspired furniture? If yes, then this pottery barn inspired TV console is surely going to win your heart! This is here a fantastic TV console made of durable wooden lengths and provides a long row of drawers to hold your media concerns! The natural wood tone would go eye-catching, and the bottom shelf will provide extra storage space for comparatively bigger items of media! Another fantastic design of hand-built TV console that you can easily duplicate! Complete project guides and easy tutorial here jenwoodhouse
DIY Easel TV Stand Tutorial:

This one is going to amaze your senses, and this is here the extraordinary easel TV stand that comes on rolling feet! Custom round wooden knobs, extraordinary design structure and lasting longer screen holding frame makes this TV console a one-of-a-kind piece, and you can also make it gift someone special! Furthermore, this special easel TV stand also provides a storage cubby where the user can store the TV remote and other items of this kind! Intending to clone this another fantastic design of TV stand? Grab the full free guides and easy tutorial from here houseandhome
How To Build Your TV Stand Tutorial:

If you are not handy at manual wood constructions, then you can still be able to make some outstanding TV stands at home without getting a bit expensive! The rest of the story will tell this fascinating TV console design that comes with surfaces made of durable wooden planks or lengths which have been supported with the concrete foundation blocks! Here this quick-to-build TV stand fits a living room corner and has been enlarged to one side to serve the purpose best! Complete tutorial and picture instructions here sofiaclara
DIY Barn Door Hardware Under 5$ Tutorial:

Look at this another fantastic model of TV console that is looking great due to outstanding stand and hue! This very exclusive TV stand design comes with top and inside shelves appearing in the natural blanket tone of the wood and the rest of the model appears in dark grey! Here the exciting feature of this TV console is the sliding barn door that has been installed with cheap hardware and is just looking much fantastic! Willing to duplicate this interesting looking TV stand design? Grab the full free guides and visual instructions from here amandakatherine
How to Turn Dresser into TV Stand Tutorial:

You are going to admire this fetching TV stand creation that is a remake of an old furniture piece! Here an old dresser has been modified to serve as a TV stand, and the final results are astonishing! The finally finished model comes with interesting storage cubbies and drawers and hence provides ample storage space! Just go with repainting, re-staining, and re-sanding to get better results and a very custom appeal of the TV stand! Willing to clone this handsome model of homemade TV stand? Grab the easy free guides and visual instructions from here twotwentyone
DIY Rustic Console TV Stand Tutorial:

If you are a big furniture lover, then you will surely fall in love with this homemade furniture eye-piece, the gorgeous TV console that appears in rustic wood appeal! It gains extra visual attractiveness due to stenciled surfaces and front, and you will be amazed to see that it has been recovered from an old and retired dresser! Another fantastic design of a TV console that will fit any vintage to rustic living room interior and would be center of attention! Get the full free tutorial and picture instructions from here darlingdoodlesdesign
How to Re-purposed China Hutch TV Stand Tutorial:

Recover amazingly beautiful and functional design of TV stands from the retired and crumbled pieces of furniture! A new example here is this given TV console that has been recovered from an old china hutch which has been modified smartly to serve the purpose best! Some shelving levels have been removed from the upper part to fit the TV screen, and a charming backing has been pasted to serve as charming background! Further, the bottom cabinet has been repainted and refurbished to match the room interior decors! One more fantastic and low-cost TV stand hack to try out! Complete project details and instructional tutorial here thenorthwestmomma
DIY Amazing Dresser Turned into TV Stand Makeover:

Every time you think about some home renovation projects, you first think about changing the old furniture! But the problem is what to do with your old furniture? Why not turn them into some other functional items of furniture? A smart sample here is this TV stand that is made of an old dresser and comes with a dark pink hue, black top and with crystal knobs to look just eye-captivating! Another great and creative DIY furniture transformation! Complete project guides and visual instructions here howdoesshe
How To Build Your Own TV Stand Out Of Pallet Tutorial:

Go handmade with recycled wood to build a custom model of TV stands and media console for free! In this case, the pallets can be a great option, look at this fantastic TV stand that is made of pallets and features a rustic hue! It comes with old creates installed as storage boxes and comes with a glass top for a little chic and modern appeal! Furthermore, there are narrower cubbies too that comes just under the top where the user can easily secure the CD and DVD players! Want to build this pallet TV stand? Grab the full free tutorial and guides from here funkyjunkinteriors
Industrial Rustic And Modern DIY TV Stand Tutorial: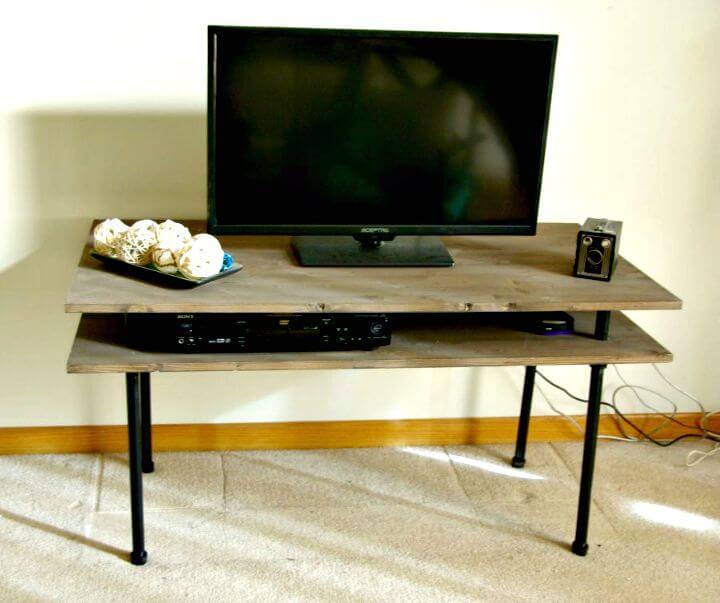 Are you a big fan of industrial furniture? If yes, then you will surely like this modern TV stand too that is both rustic and industrial look and is purely handcrafted! Here this fantastic design of TV stand is made of plywood sheets and plumbing scraps like metal pipes, floor flanges, and other custom fittings and joints! This exclusive hand-built industrial model of TV stand would just fit best to any room interior from rustic to modern and would last for years to come also! Want to own it for your living room? Full free tutorial and picture instructions here homedit
How to Build Your Tall Corner Media or TV Console Tutorial:
It can cause a great load on your pocket to buy the custom models of TV stands or medial consoles! But if you go with some DIY solutions, you can save a lot of your hard earned money! Just go handmade with recycled or new wood and build custom design of media stands that will fit best to your measure room space! An interesting example here is this corner media console that features smart storage options and a visually captivating hue, and the blasting good news is that it is purely handmade! Want this tall corner media console for your media room? Grab the full free instructions, free plans and visual guides from here ana
Easy DIY Corner Media Center Tutorial:
Look at this another fantastic design of media stand that comes with a beveled edged top that will make it fit best to corner space! Here the sturdier wooden lengths, planks, and slabs have been used to craft this fantastic model of the media center that will be a long time companion! This hand-built model of media stand with natural blank wood tone would make a great gift too if you like to do so! Paint it modern or go with the precious vintage appeal of it! Complete project guides, free plans and easy tutorial here rogueengineer
Easy How to Build Your TV Stand Tutorial: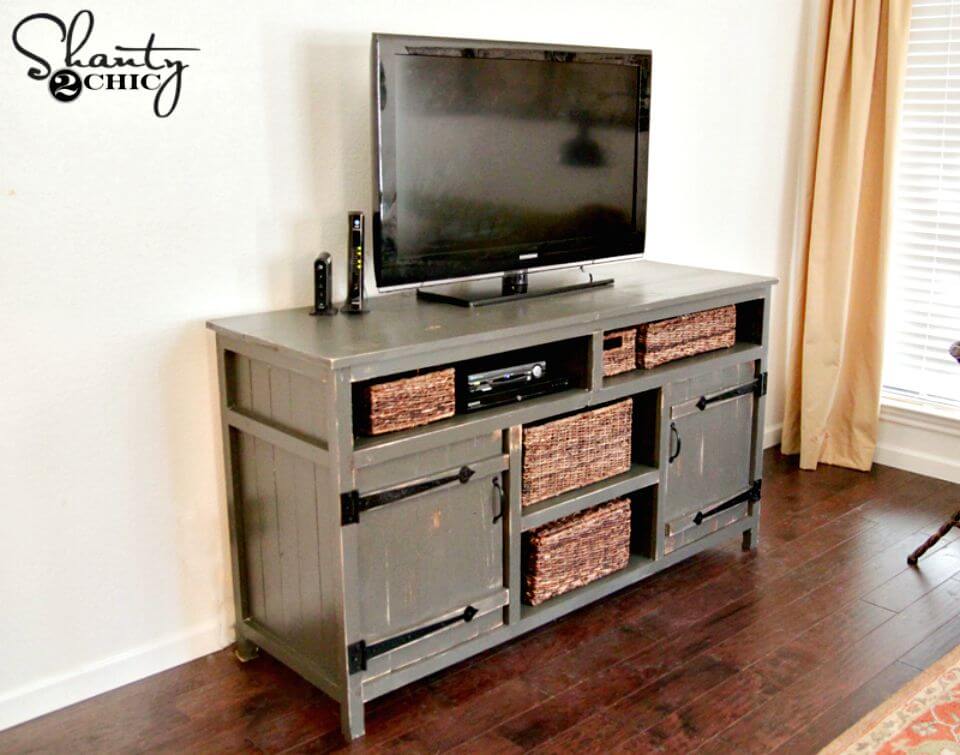 It is just impossible to establish sophistication in your living room ambient without adding a good looking and functional design of a TV console! So, time to build all the media console designs at home you like the most with the help of this given how-to TV stand tutorial! Just stare a little at this sample DIY TV stand that is grand, durable, and super storage friendly! It will rock in a vintage environment will be an excellent addition to modern living room interiors! Here is how to make it remodelaholic
Easy DIY TV Stand Makeover Tutorial: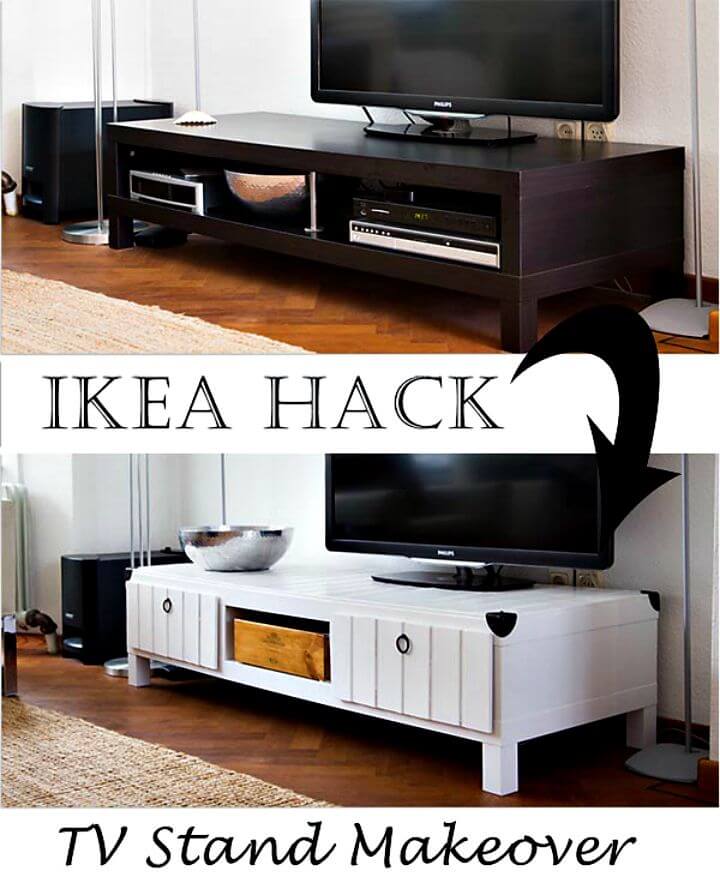 You will not find a TV stand more beautiful than this given one, a brilliant IKEA hack for a modern TV console that is long lasting! Here and IKEA TV stand has been covered smartly with cheap pine boards, and great tricks have been played to get some smarter storage options as you can see! Here the wood dividers have been added to partition already available storage compartments, and then custom boxes have been made with scrap wood and then added to design! Another fantastic TV stand design to hold your attention and to inspire your creativity! Complete tutorial and step-by-step instructions here songbirdblog
Easy and Simple DIY TV Stand Tutorial: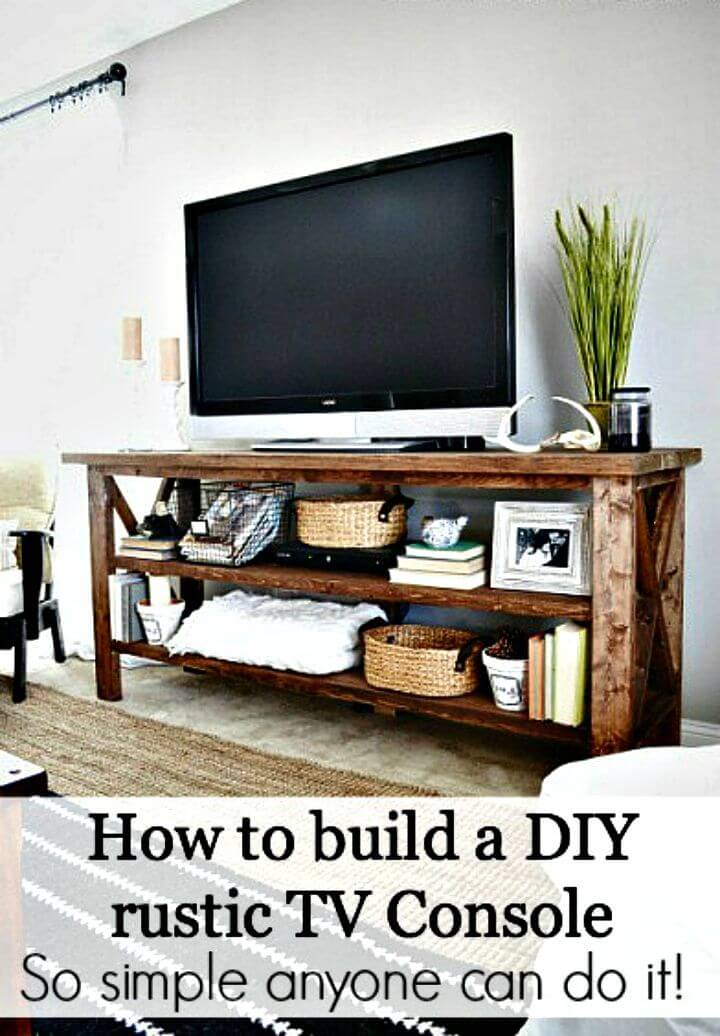 Are you sorting out a perfectly rustic model of TV console for your rustic media room? If yes, then you can do a little manual construction with old wood to build some custom models of TV stands at home! A very charming sample here is this given TV stand that features a rustic wooden hue and is purely handmade! Here it comes with side frames made extra durable by installing crisscross supports that also make the design enticing! Two built-in shelves and a grand top are the total assets of this self-made rustic model of TV console! Want to see it next to your media room? Grab the easy free guides and tutorial from here thewhitecottagefarm
Easy DIY Reclaimed Wood & Black Pipe TV Stand Tutorial: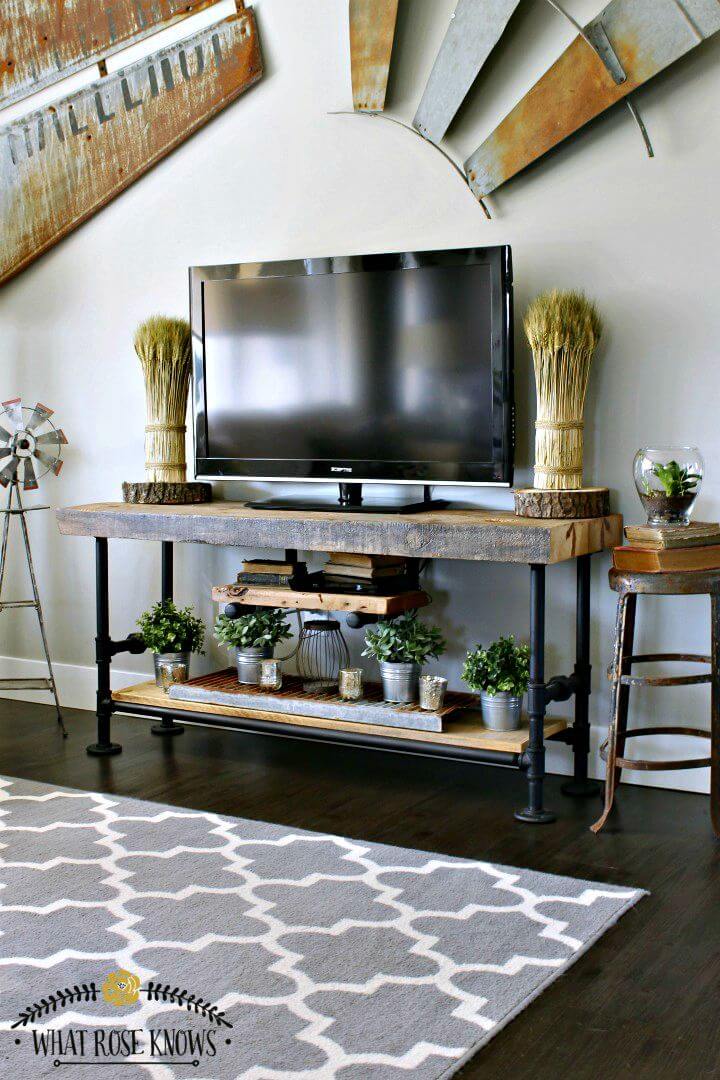 If you are willing to own a super durable and long-lasting media console, then why not go with this modern TV console that can easily be made at home! Here the plumbing scrap and durable wooden lengths have been put together to build this attractive design of media console! What makes it special is the little shelf that comes just underside the top and stays on the angled metal iron pipes! Black iron pipes blend beautifully in the natural tone of the wood, and hence this TV stand gains a gorgeous hue! Want to try out this fantastic model of DIY TV stand? Then get the step-by-step tutorial from here whatroseknows
How to Build Your Own an Industrial Console TV Table: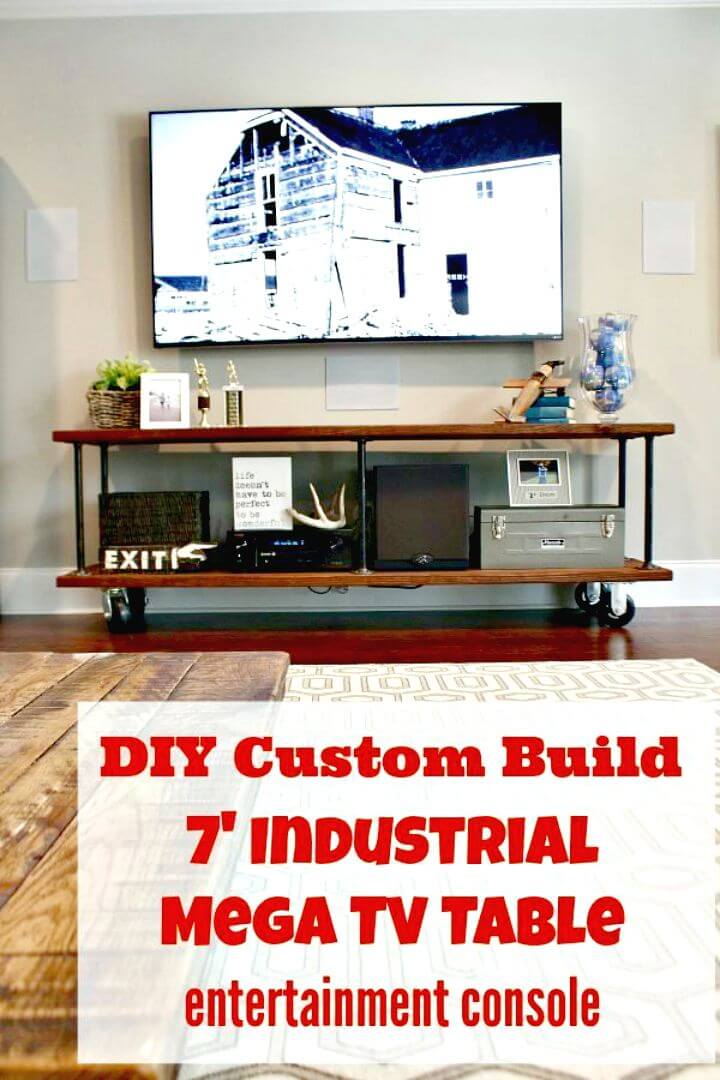 Check out here another adorable creation of a TV console that has been done to inspire! This is here a lovely industrial design made with metal pipe scrap and lumber boards! The metal pipes ending with floor flanges serve as vertical supports between both surfaces of the table, and finally, the caster wheels have been installed for a gorgeous modern and industrial appeal! This easy-to-drag homemade media console can be painted for any custom look or appeal and would live longer for sure! Intending to duplicate this interesting TV stand design? Complete project details and step-by-step instructions here refreshrestyle
DIY Crates TV Stand Tutorial: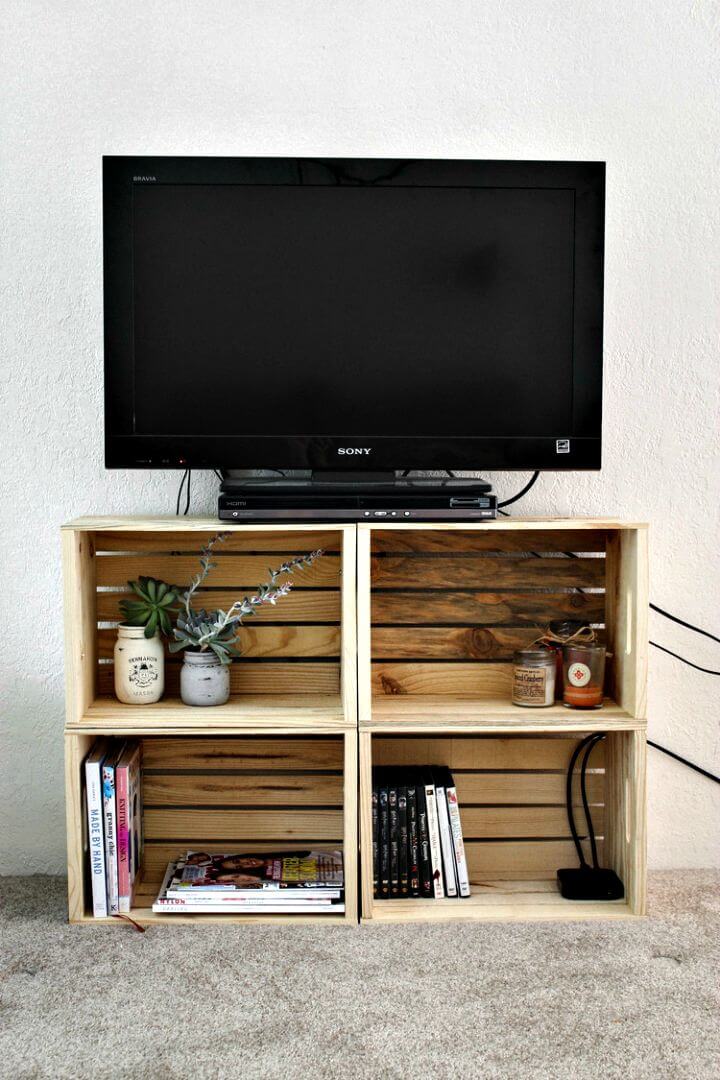 If not any smart DIY TV stand idea is coming to your mind, then you can also put together some old wooden crates to build an instant TV stand that will offer the same features and stability! Check out here this sample model, created by stacking four wooden crates and is as beautiful as one can demand! This media console would be ready in no time and will also cost you almost nothing! Another fantastic DIY TV console idea! Complete project details here cashmereandplaid
DIY Farmhouse Style TV Console Sideboard Tutorial: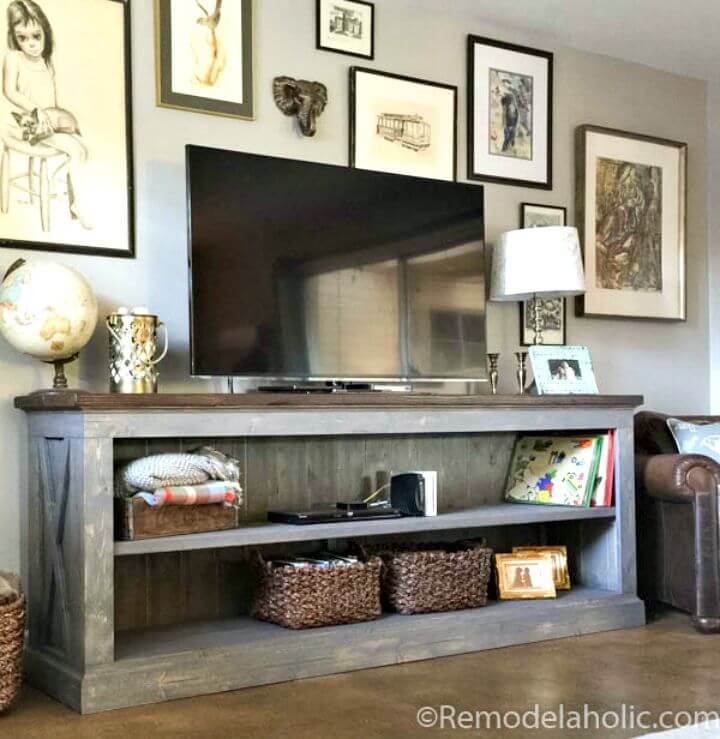 If you are a big lover of rustic and prehistoric interior spaces, then this exclusive wooden TV stand is only for you! This is here the custom farmhouse style TV console that would also work great as a sideboard and too eye-catching due to grey painted design and rustic wooden top! The built-in shelves would help organize your things better and in a neat way, and the criss-cross sides would add lovely visual details to the entire beauty of the design! Looking forward to duplicating this another impressive design of wooden TV stand? Then grab the full free guide and tutorial from here remodelaholic
DIY TV Stand Weekend Project's Tutorial: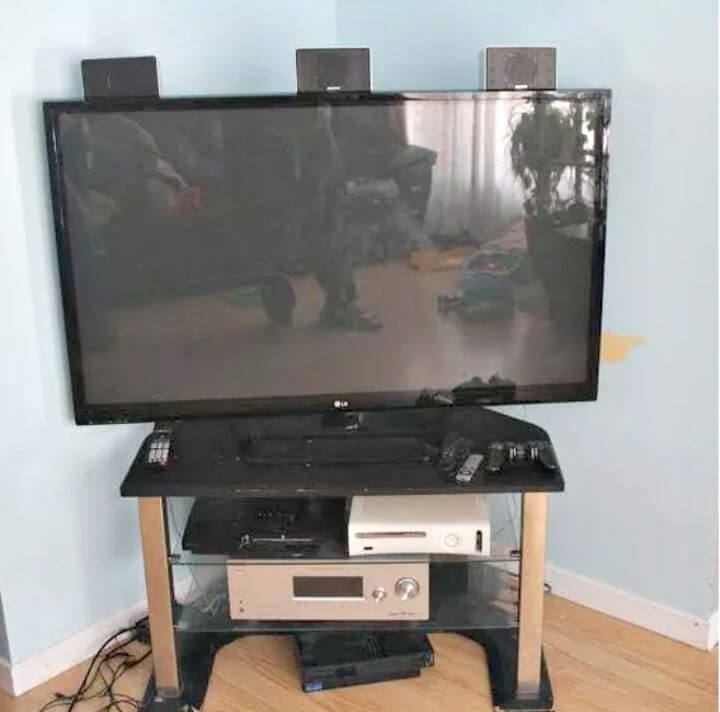 Have a look at this another super beautiful TV stand that has been built to inspire and is having mind-boggling design and features! Here it provides a choco black wooden top, two built-in glassy shelves and overall frame made of wood! It also ends up with a black bottom and has been constructed to fit a corner! This is here another fab and modern looking TV stand that will inspire your creativity! Want to own this TV stand? Then grab the full free guides and easy tutorial from here karrieann01
Easy DIY Antiqued TV Stand From One Sheet of Plywood: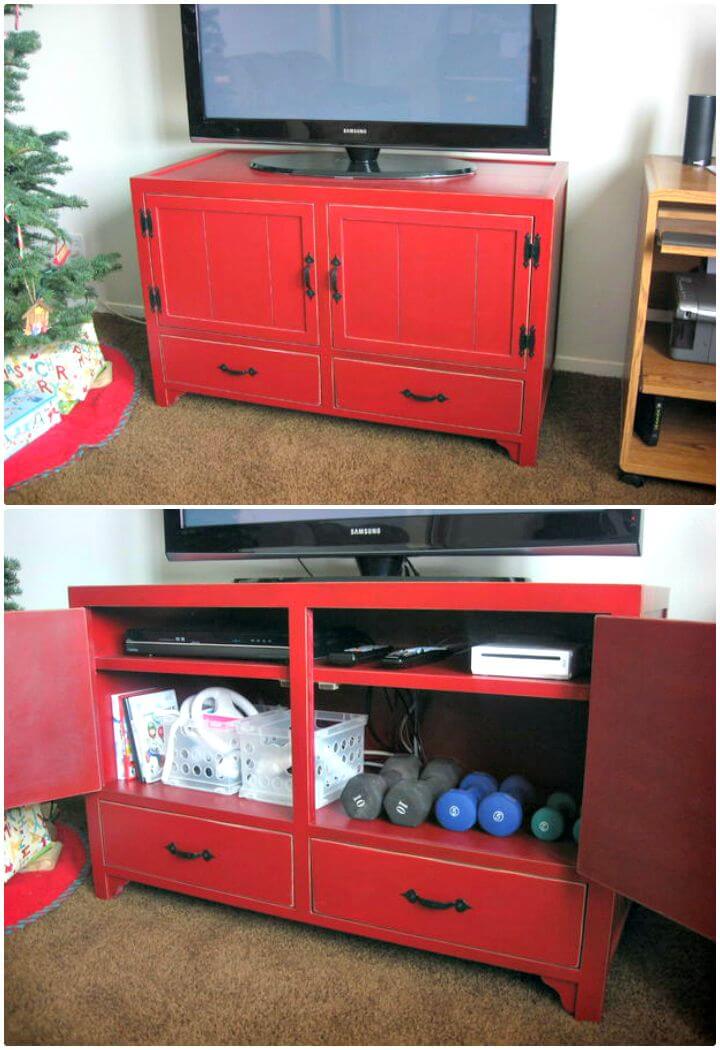 You can go handmade even with one sheet of plywood to built outstandingly gorgeous looking design of TV stands which can then be painted to gain a custom look and appeal! Check out here a brilliant one, the lovely plywood TV console that offers two sub-storage cabinets, two bottom drawers and a comes in a dresser like a shape! It has wholly been painted in red for an antique custom appeal and would go enticing to any media or living room! Willing to duplicate it? Then grab the easy free guides and step-by-step tutorial from here instructables
How To Build Your TV Stand Step By Step Tutorial: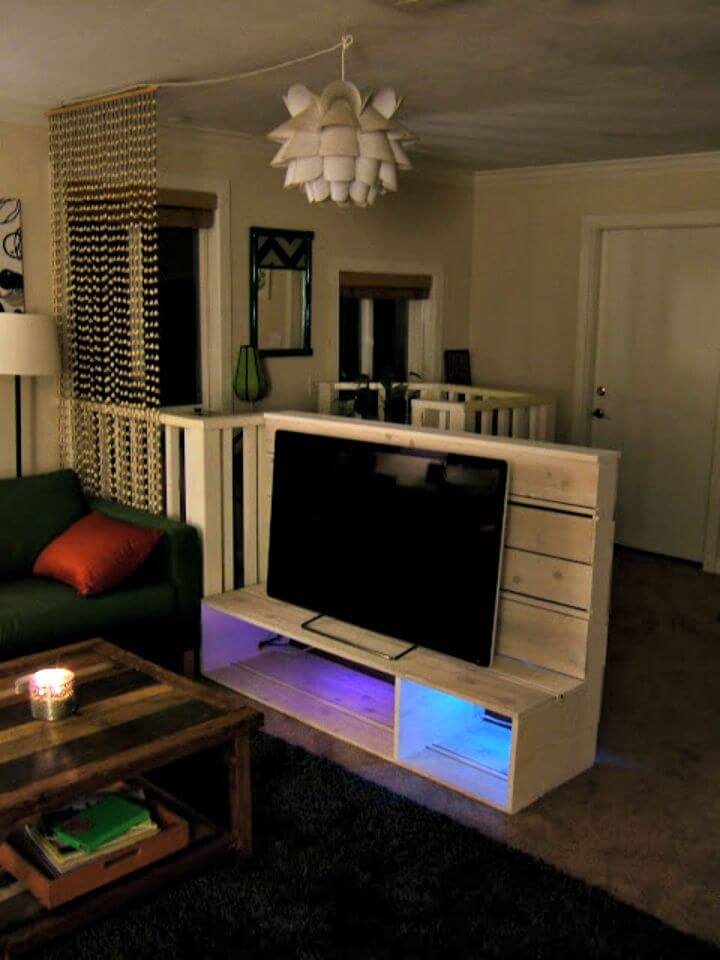 Have a look at this another great looking TV stand that is lovely and unique due to interesting design features! It looks like an L-shape sofa frame, and this also offers two built-in storage cubbies or boxes then have been lighted to look extra brilliant and gorgeous when got illuminated! This is here the super quick-to-build wooden TV stand that will make a great gift too for a home lover who is deficient of a TV console! Want to clone this modern looking TV console for your space? Then grab the easy free guides and visual instructions from here ninered
Easy DIY Barn Door TV Console Tutorial: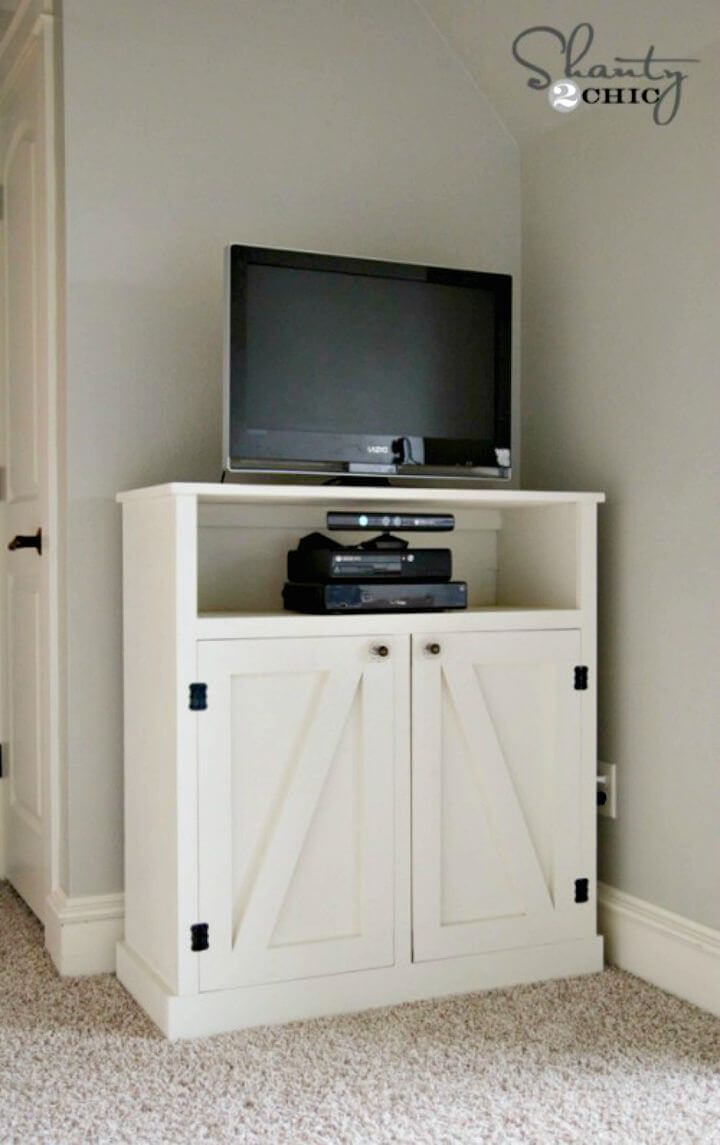 You can repurpose various items of old furniture to build outstanding looking TV consoles! You will fall in love with this TV console that is made of an old door and is looking damn gorgeous in precious white appeal! Here this hand-built wooden TV console also offers a storage cubby built just underside the top and also the two sub-storage cabinets secured with hinged doors! Excellent looking knobs have been added to doors for easy opening and closing and also for amazing visual details! Intending to duplicate this media console? Full free tutorial and step-by-step instructions are here shanty
Easy DIY TV Stand Step By Step Tutorial: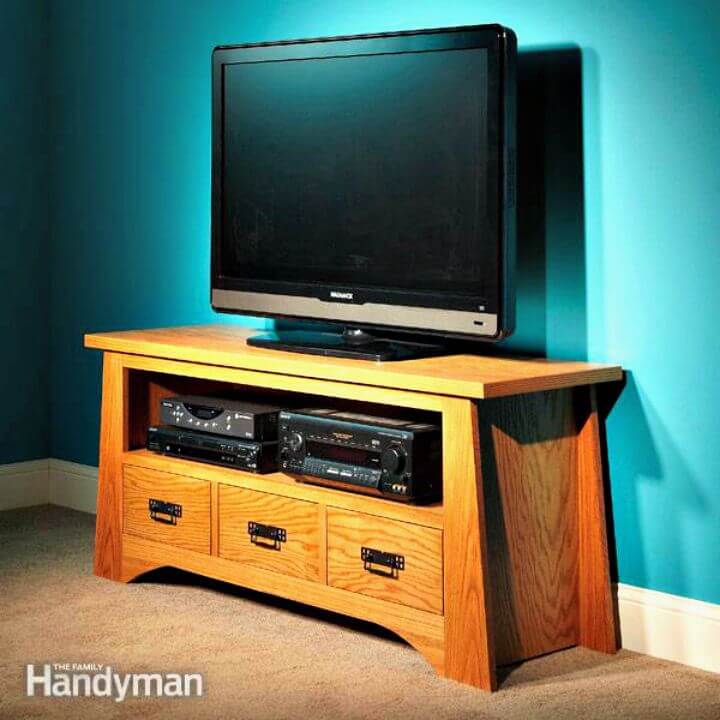 If you are a big lover of modern and artistic furniture, then you will surely fall in love with the design features of this TV stand! This is purely a hand-built edition of wooden TV stand that provides three drawers an edged wooden top and beautifully crafted sides!  This is here another fantastic looking design of wooden TV stand that has been crafted to rock and inspire! Intending to duplicate it now? Grab the easy free guides and full free tutorial from here familyhandyman