Creating a diy umbrella stand is an affordable way to enliven your outdoor space and ensure the wind doesn't take away your umbrella. Whether you're looking for a simple patio umbrella base or a stylish statement piece, these 15 homemade diy umbrella stand ideas and base plans have something that can accommodate your needs. All these homemade umbrella stand projects are relatively easy to construct, and most of them use common materials like wood, concrete blocks, or plastic containers, which makes them great ideas for any budget.
Learn how to make an umbrella stand and base with these 15 easy diy umbrella stand ideas, base plans, and instructions. Start by choosing one of these diy umbrella stands plans, gather your supplies, and enjoy the fresh air in style!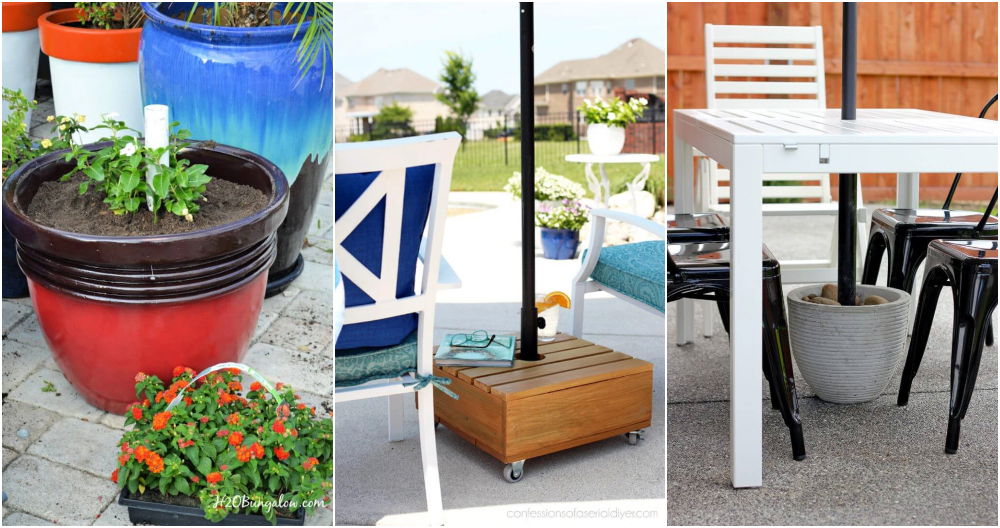 Homemade DIY Umbrella Stand
Want to keep your umbrellas stand firm, that too aesthetically? We have some unique DIY umbrella stand ideas for your patios, lawns, and gardens. With our collection of insanely inexpensive homemade umbrella base and stand ideas, you will never have to spend a fortune on buying these umbrella holders. It's like we always say why to buy when you can make the perfect thing yourself?
We have got plenty of unique DIY Umbrella stand ideas! From concrete planters, patio posts, portable Umbrella stands, wooden Umbrella stands, indoor Umbrella stands, and SO many more exciting options are there for you to see and choose from! You can get perfectly balanced, multi-purpose homemade Umbrella stand ideas from our collection.
Let's explore more by diving into the tutorial and adding an excellent deal of aesthetics to your decor game, both indoor and outdoor.
1. DIY Rolling Umbrella Stand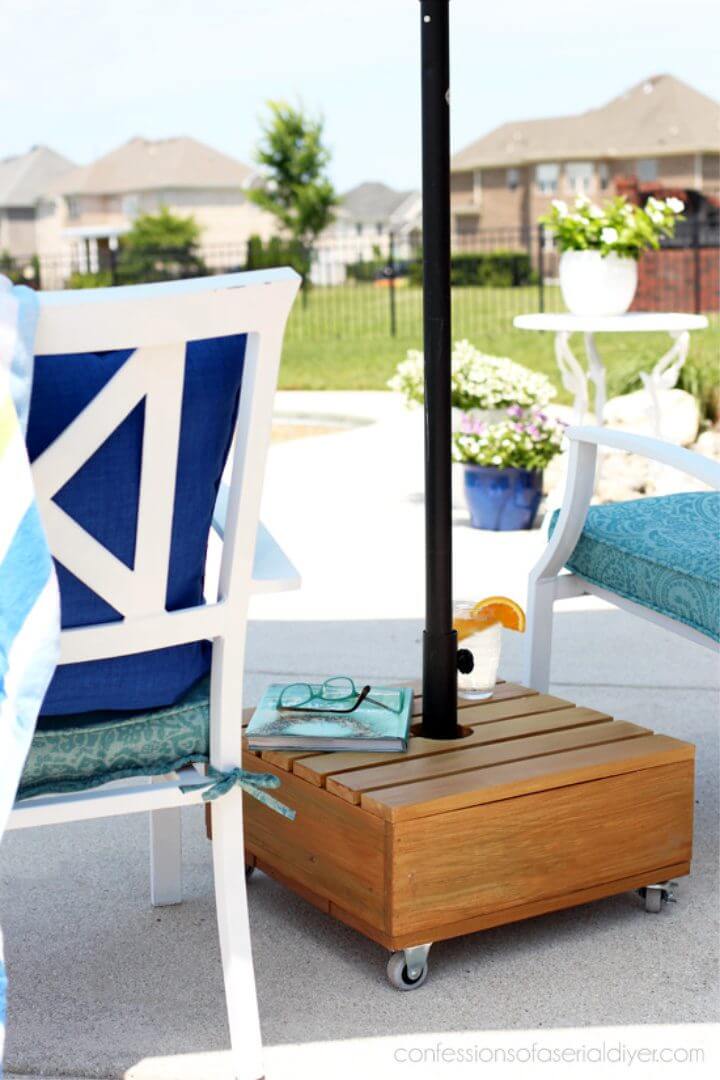 To match with the sturdy weather conditions that one might face living in some big-time unseen weather conditions, a portable umbrella stand would be like a savior. With this tutorial by Confessions , you can actually come up with a perfect DIY umbrella stand. confessions
2. DIY Patio Umbrella Base Without Concrete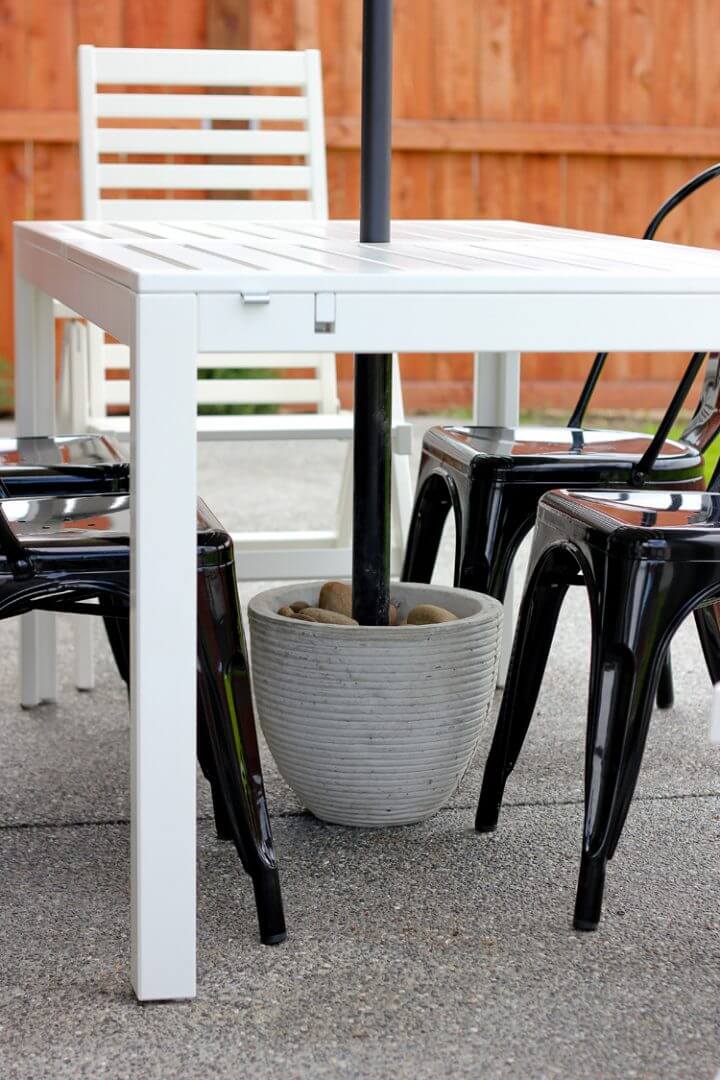 Spruce up your patio decor with this sturdy and cool umbrella stand. It will be your perfectly well-aligned companion for extra windy days especially. In just under $20, you can make sure that the wind doesn't take off with your umbrella stand! deliacreates
3. Making a Rolling Planter Umbrella Stand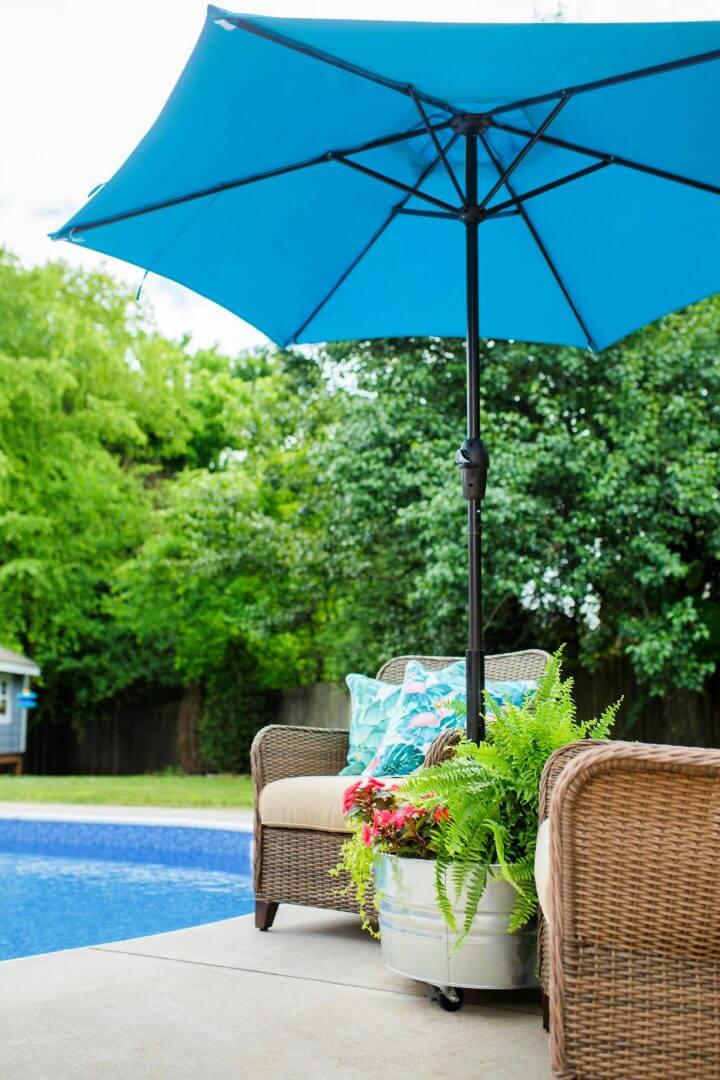 If you are DIY-ing, there is just SO much more extra touch of class and aesthetics you can add to it! Just look at this totally appealing and refreshing DIY Umbrella stand planter with rolling wheels. Move around freely! Get details in the tutorial. hgtv
4. Homemade Umbrella Stand from One Board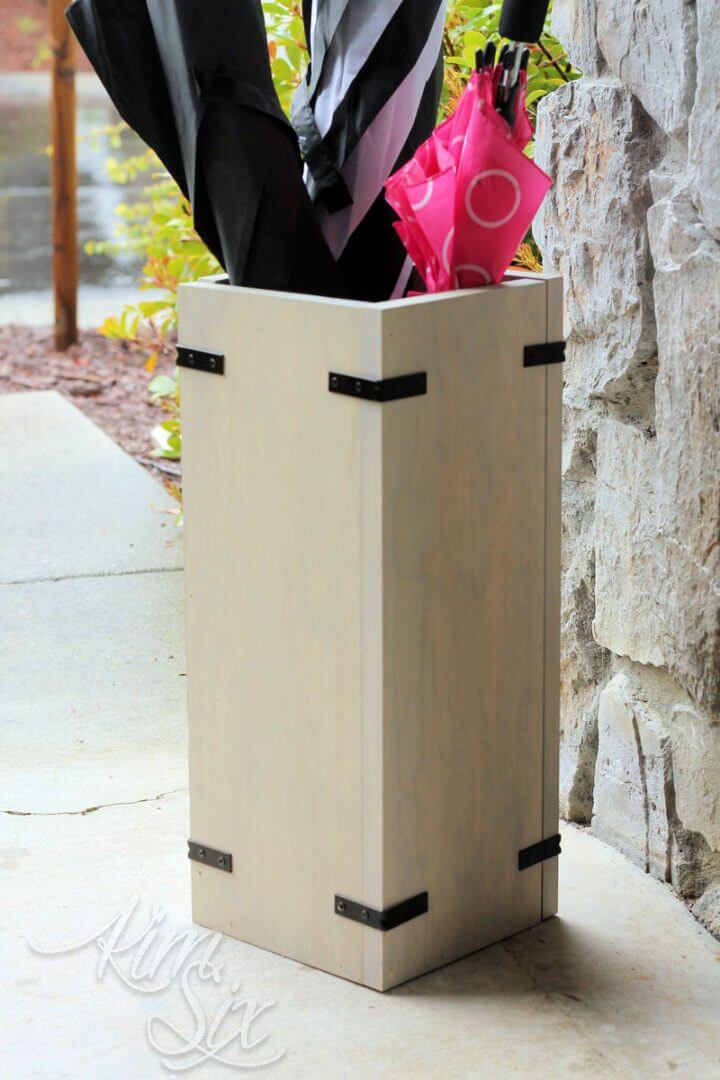 For the heavy shower days, each family member has got their own umbrellas stuffed in their bag packs. While back home, you wouldn't want them to carry around the drippy umbrellas across the floor! Set up this classy one board DIY umbrella stand in the porch! thekimsixfix
5. How to Make a Planter Umbrella Stand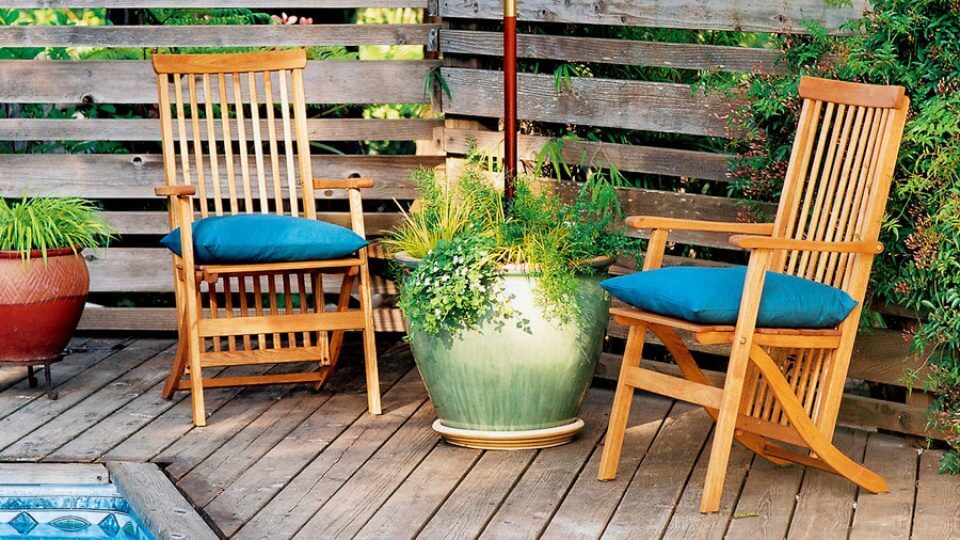 Imagine such a sunny set up for your patio! A large colorful umbrella all dressed up in a pot full of greens. This tutorial is going to elaborate on how you can easily make a pretty cool DIY umbrella stand in a planter! Hit the tutorial now. sunset
6. DIY Wooden Umbrella Stand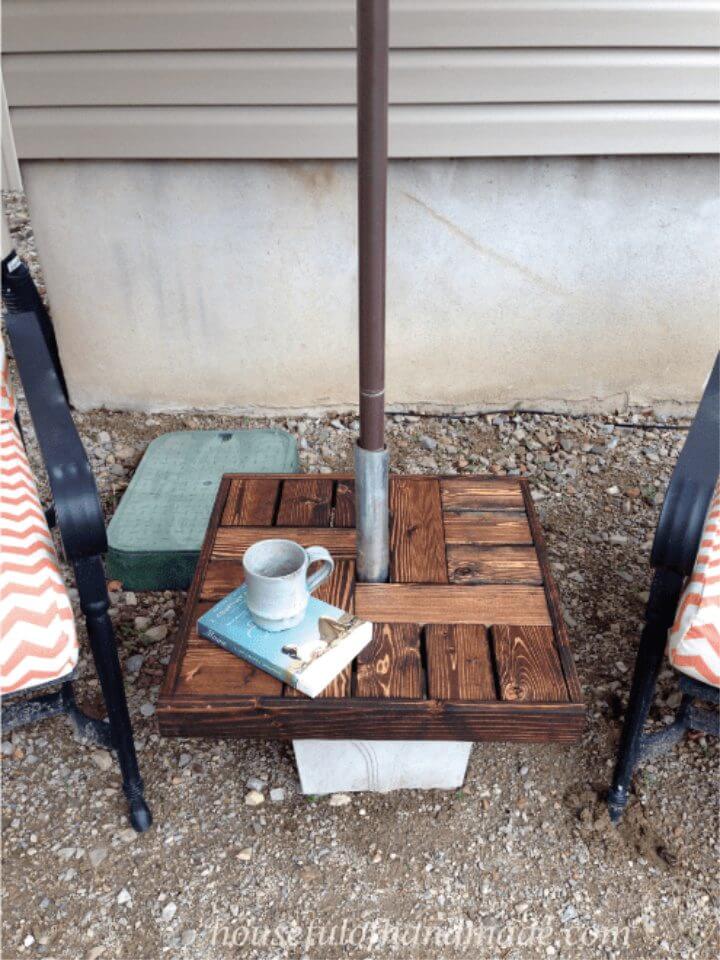 While you are at it by yourself, take the full benefits out of the DIY process! Make it multi-purpose. With this tutorial, you can not only make a cool and classy DIY umbrella stand but also a sturdy stand side table. Check details in the tutorial. housefulof
7. Make Your Own Umbrella Planter Stand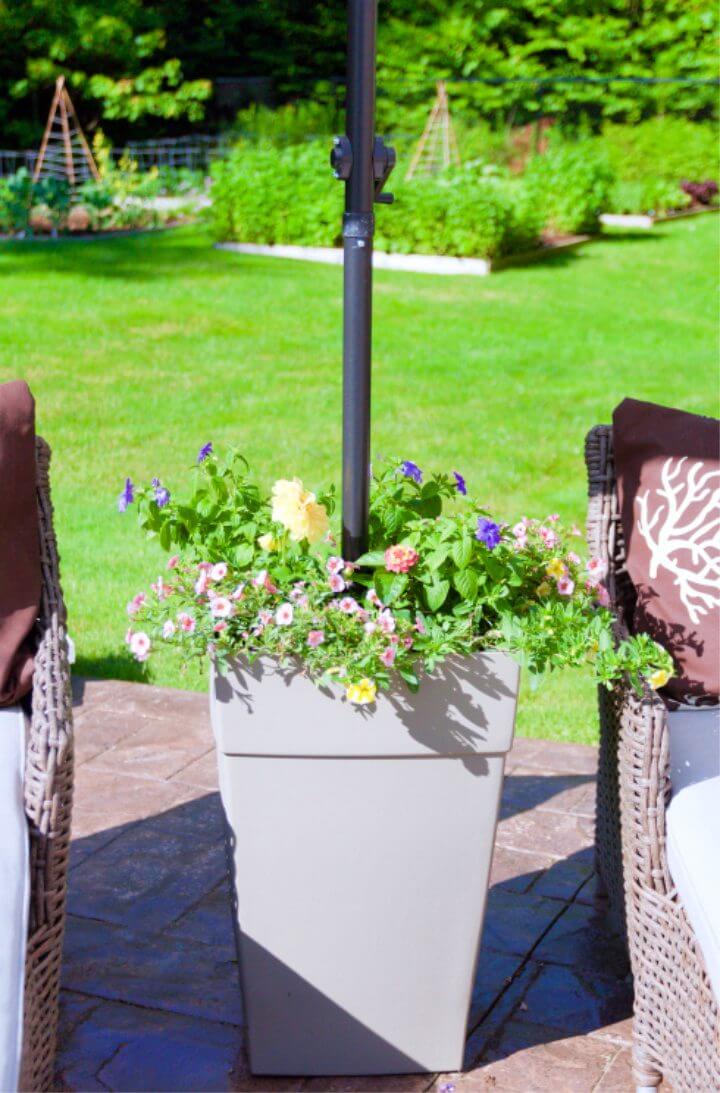 This stately and minimalistic DIY umbrella stand planter has us all drool-worthy! The tutorial elaborates on how using plywood material you can craft something this creative and handy! Head over to the tutorial now for full details. thehandyhome
8. DIY Lighted Umbrella Stand Indoor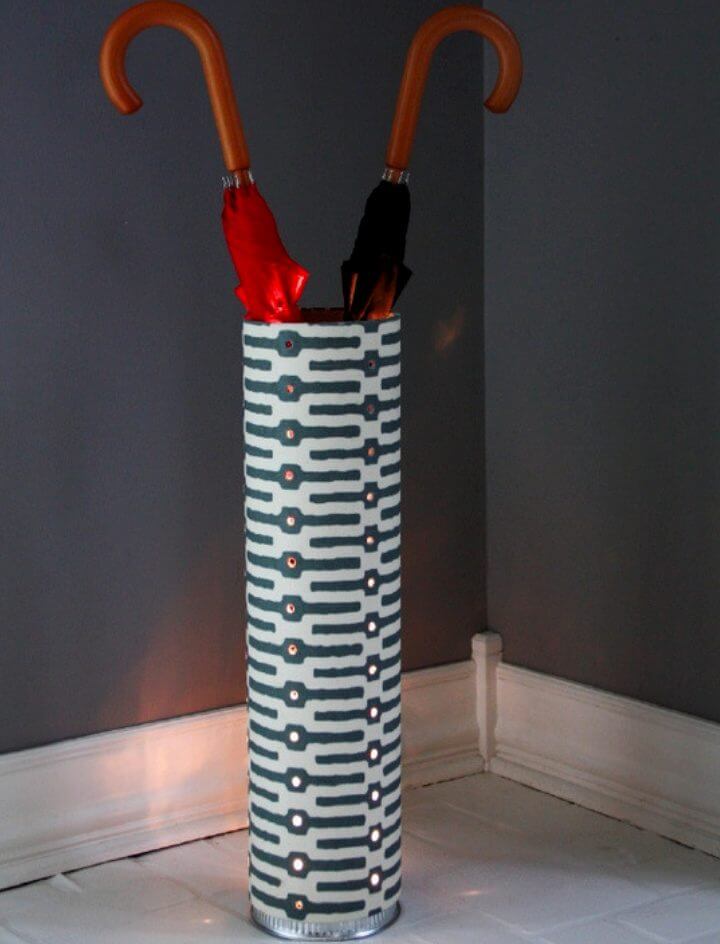 Check out this minimalistic yet so eye-catchy and sparkly umbrella stand. The most unbelievable part is that it is only made using PVC pipe as the main container base! That's right. Head over to the tutorial now for the complete step by step guide. curbly
9. Planter Umbrella Stand Ideas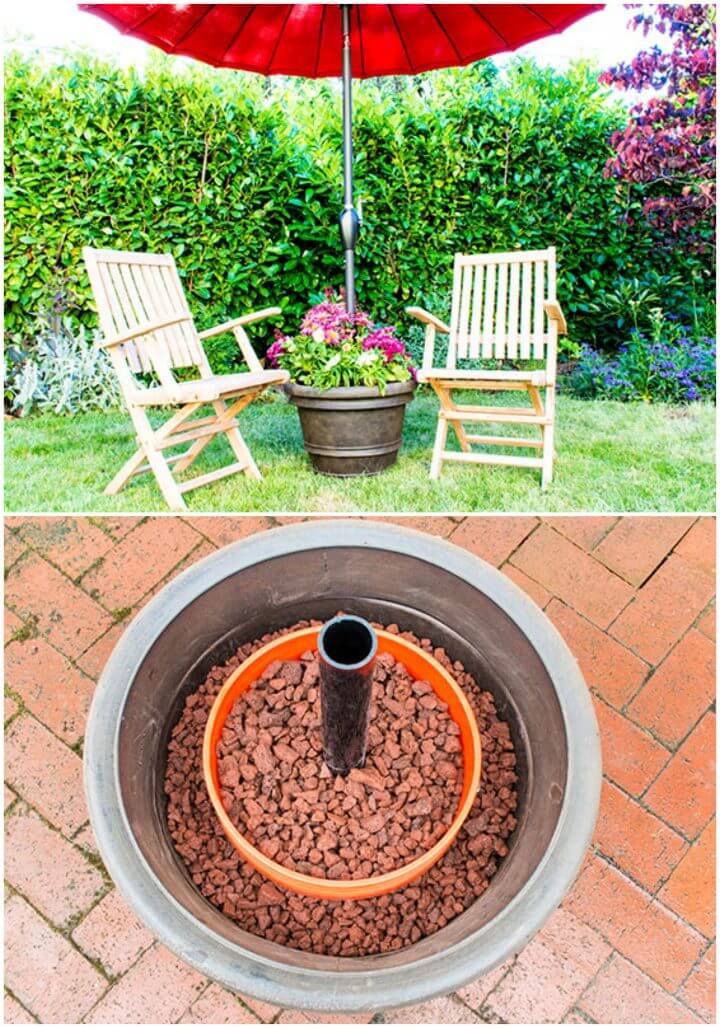 If you are not into constructions and time-taking projects, this very simple DIY umbrella stand will steal your heart, right away. You are just going to need to fit the pipe first using a bucket and then putting it in the planter! See details in the tutorial. gardenclub
10. DIY Patio Umbrella Stand (Hide the Ugly)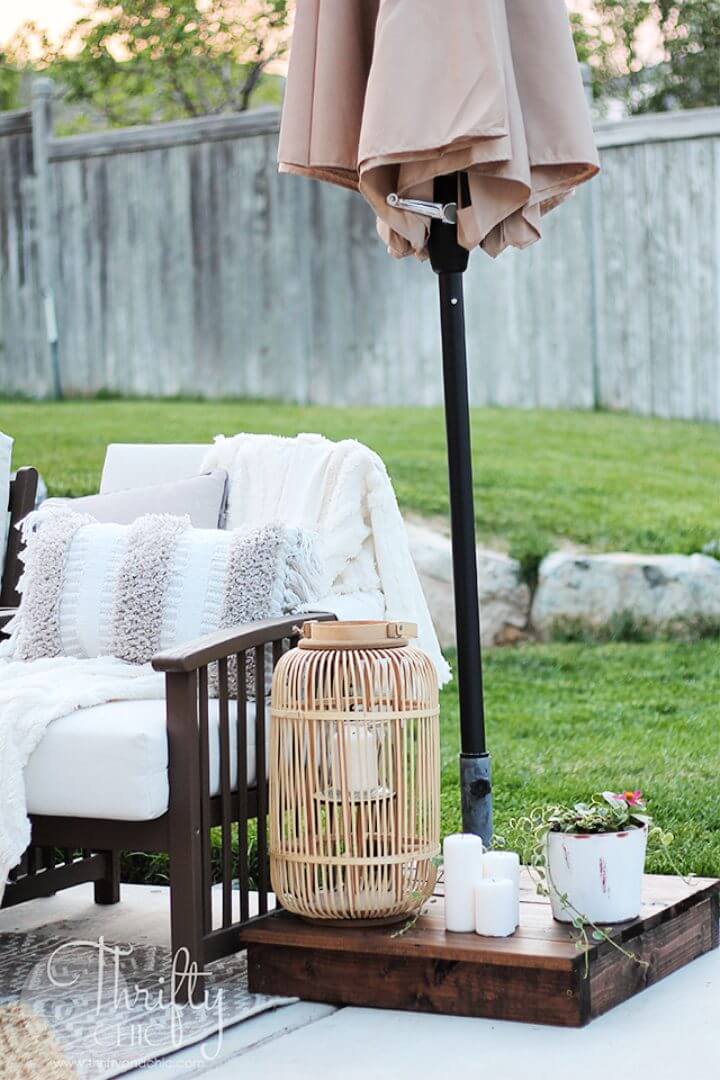 With this diy patio umbrella stand tutorial, you can redo your sturdy umbrella stands. Given that you are looking for ideas to hide the ugly! The tutorial will walk you through with the step by step guide on how using a wooden frame and wooden pallets you can spruce up your patio look. thriftyandchic
11. DIY Umbrella Stand Using Bucket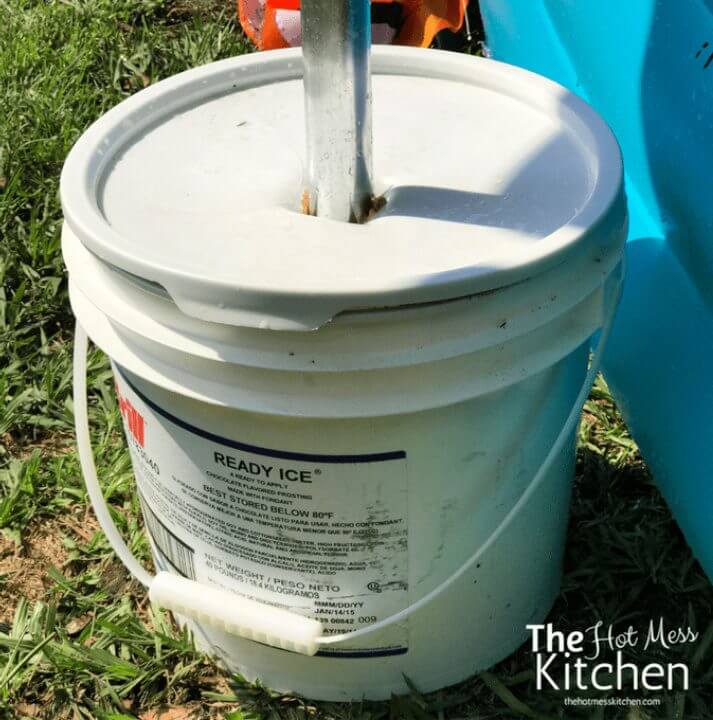 If you are not looking for too much right now and just want to get a sturdy and reliable DIY umbrella stand, look no more. With this tutorial, you can make a pretty simple but easily manageable DIY umbrellas stand using a 5-gallon bucket. thehotmess
12. Easy DIY Umbrella Stand and Planter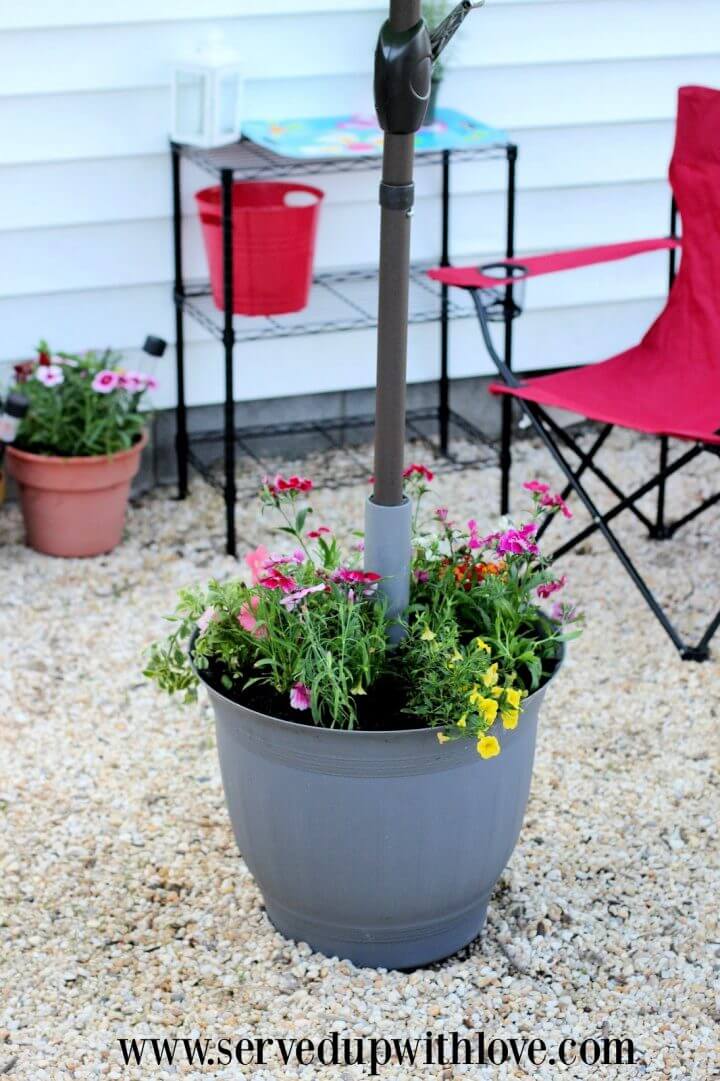 By using a flower pot, you can make a classy DIY umbrella stand quite easily. Coordinate the colors of the flower pot and the PVC pipe using spray paints! Add up rocks and planters fill to give it a sturdy and aesthetic look at the same time. servedupwith
13. How to Build a Wooden Umbrella Stand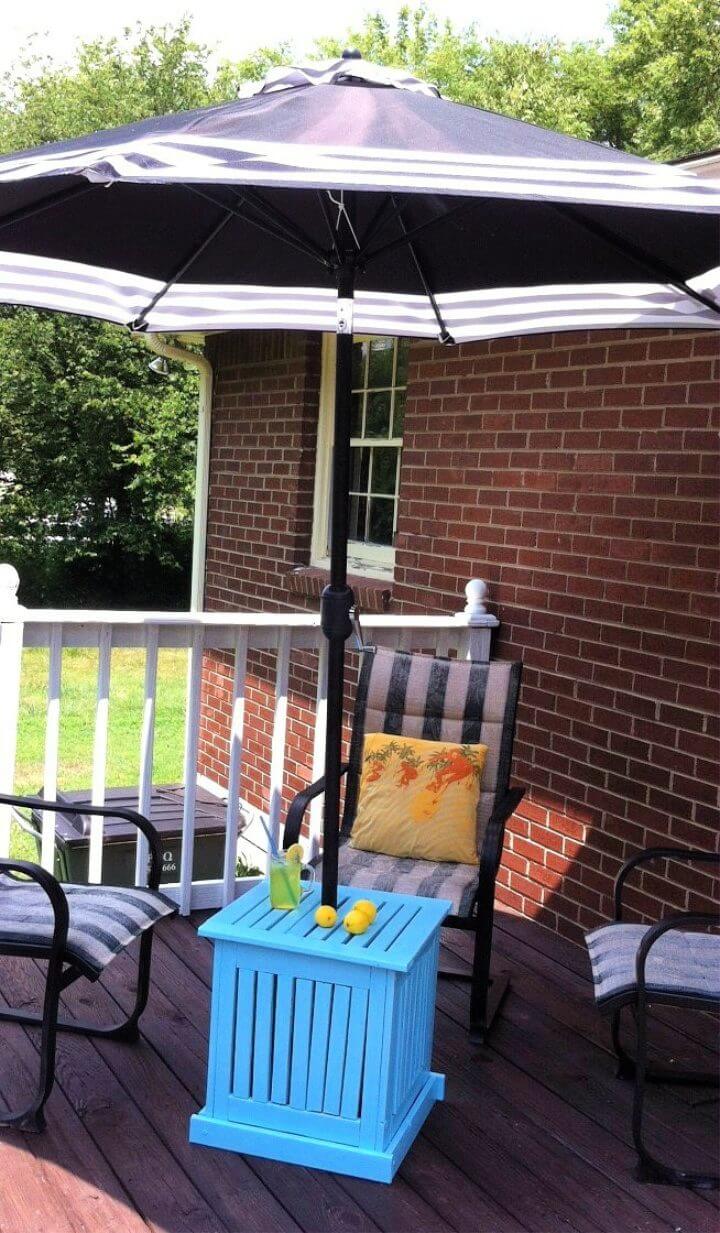 Check out this totally trendy and stylish DIY umbrella stand. If you have been looking around for Umbrella stands you must have noticed by now, they go as high as $400. Guess what? You can be making something this trendy in just under $15. Voila! mominmusiccity
14. Planter Umbrella Stand for Backyard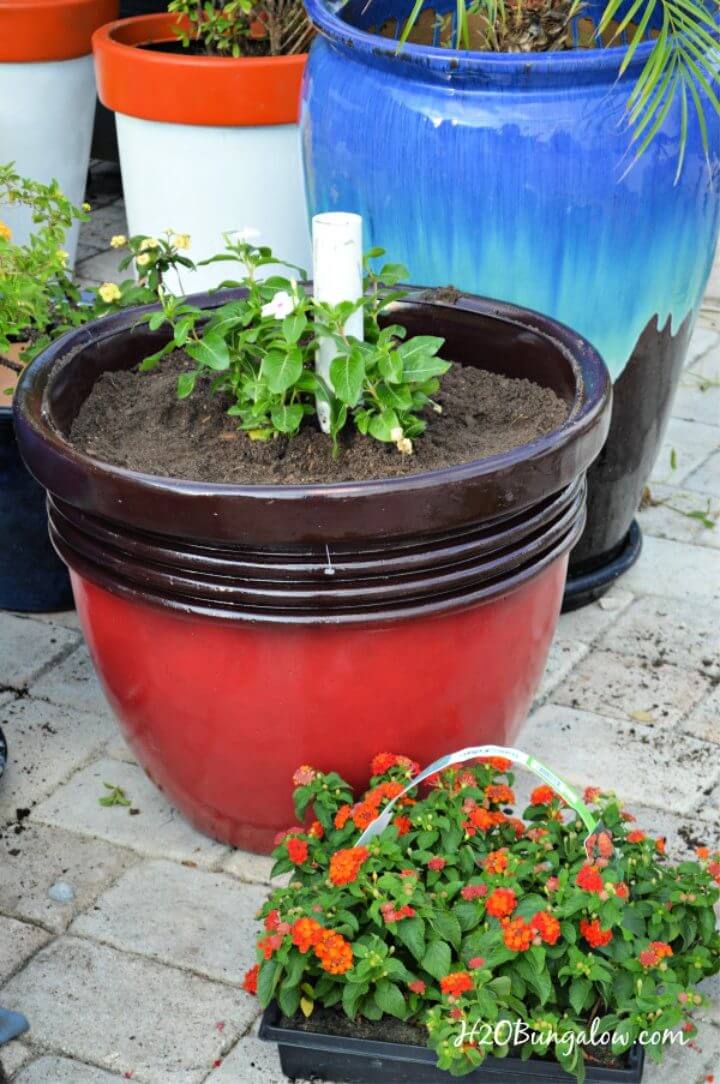 You can totally coordinate your umbrella stand with your backyard planters color plans. Spruce up your backyard decor and make your outdoor relaxation times aesthetically as fit as they can be. Check out full details in the tutorial. h2obungalow
15. Cheap DIY Umbrella Stand on Budget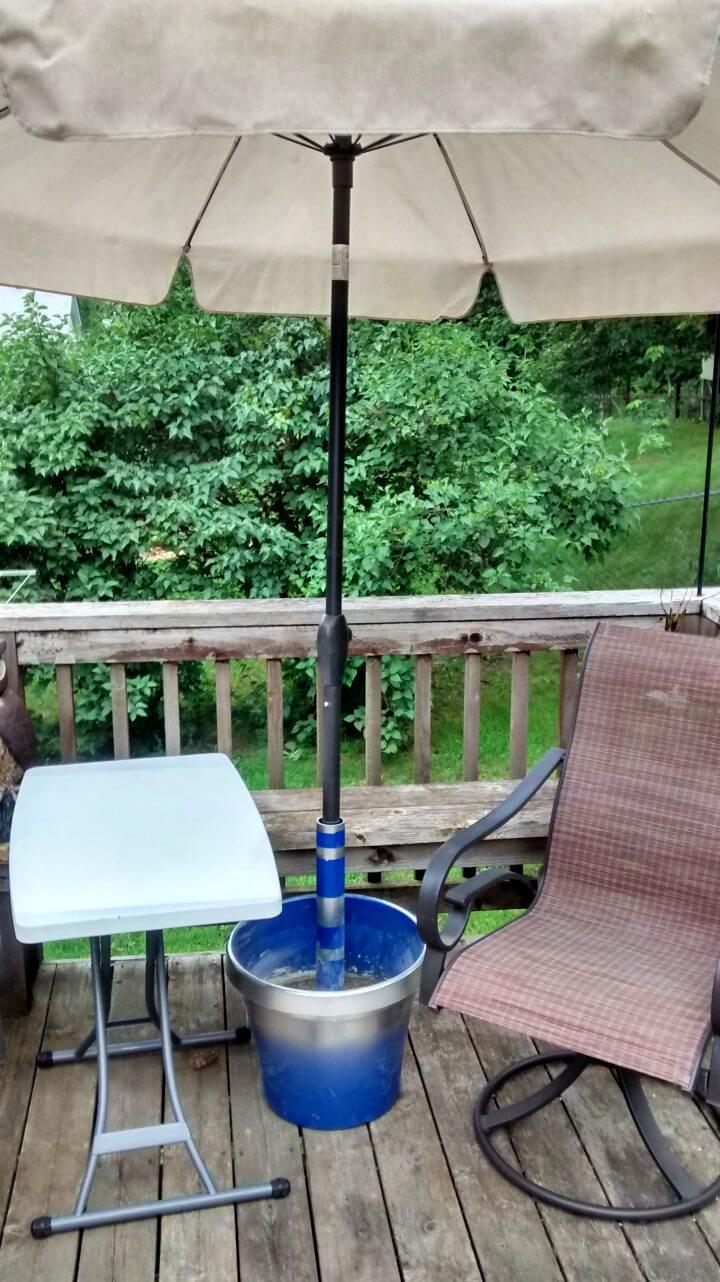 Don't want to go too fancy on an umbrella stand? Check out this totally easy to make but yet so perfectly color-coordinated DIY umbrella stand. Using a flower pot and a PVC pipe with coordinated paints! Check details in the tutorial. jennyd87
Related DIY Projects and Ideas
Plant Stand Ideas: Want to build a beautiful and functional plant stand for your home or garden? Here are best DIY plant stand ideas that you can build yourself.
Hammock Stand Plans: Looking for a way to make your backyard a little more inviting this summer? Here are free DIY hammock stand plans you should try this summer!
DIY Backyard Ideas: Whether you want to update your outdoor living space or start a new garden, these budget-friendly DIY backyard ideas will show you how to make your own hammock swing, trellis, fire pit, and more.
Free Arbor Plans: Are you in the mood for a building an arbor? Here are some of the most popular free DIY arbor plans that'll make your yard beautiful and your guests feel welcome!
Aquarium Stand Plans: Build your own aquarium stand to get the perfect home for your fish and other aquatic pets. These free DIY aquarium stand plans Include detailed diagrams and step-by-step instructions.
TV Stand Plans: Check out these easy DIY TV Stand Ideas that you can build yourself to save money and get the perfect TV stand.
Conclusion:
We assure after exploring our unique collection of DIY umbrella base ideas and stands, you are already planning to spruce up your patio or backyard decor! With these ideas in your hands, you will never have to pay more than $40 maximum for an umbrella stand! The best part is you can easily and aesthetically coordinate the color scheme with your decor. Plus, all of these DIY umbrella stand ideas are so easy to make and will hardly take an hour or so. Happy DIY-ing with our craft and trendy DIY Umbrella stand ideas, folks!