We all love taking pictures of the special moments we live and hence they become the sweet memories! Most of our memorable photos are display on the interior wall by making smart use of photo frames! Also, the photo galleries are made on the wall by putting the several photo frame together on the wall in a handsome and enticing configuration! Each home lover that loves so much to hang beautiful photos, DIY signs or art frames on the wall, will definitely have some old picture frames in the home! Picture frames are damn good for displaying your photos but they can be much more than just the accent frames for your pictures!
They can be a highly versatile crafting material from the DIY point of view and you can outstanding DIY projects with the picture frame and just to make you fall in love with the old picture frame crafts, we have a big surprise for you! Just have a look at these DIY ideas to reuse old picture frames for DIY Projects that are super creative and genius and will definitely boggle your mind with the smart tricks and hacks involved! You will definitely be digging your home trash store to find some old picture frames after taking a short tour of this list of these picture frame ideas! We can bet that you would have not ever thought of the making the items with the picture frames that will you are going to see in the list!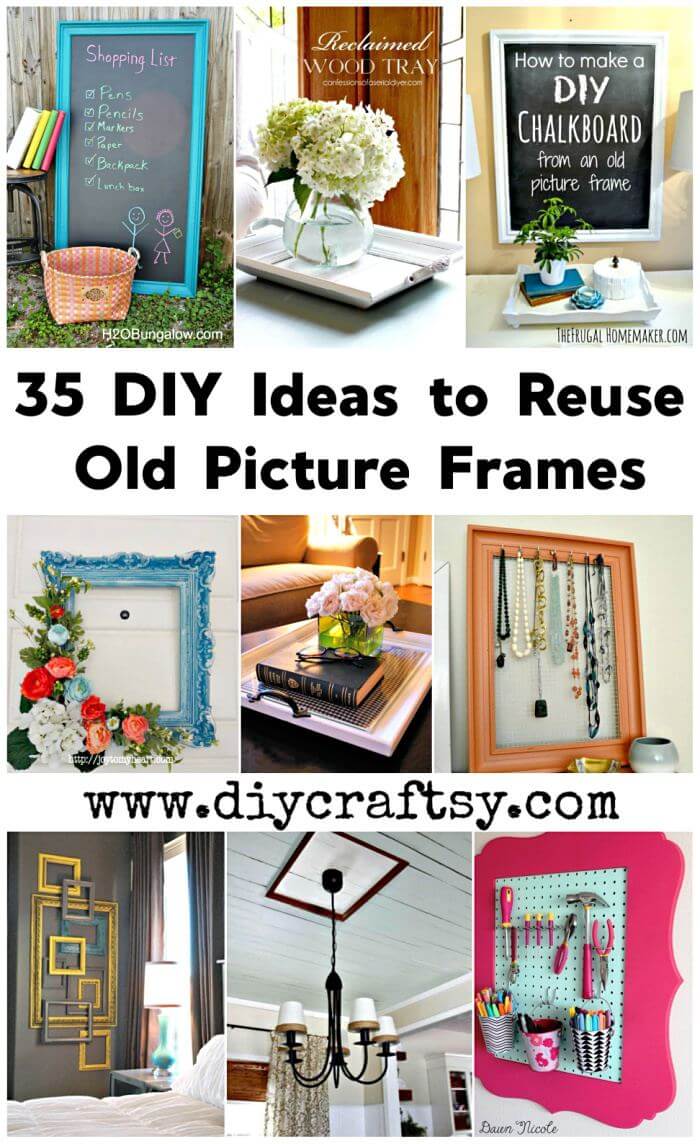 Make the accent ceiling frames for the chandelier and pendant light fixtures using the old frames and also go handmade with old picture frames to make tiered cupcake or cake stands in no time! White paint and distress the picture frames and then fit a custom photo or art painting in them to make a stunning wall art sign and also add up the picture frames with chalkboard or chalkboard painted backings to make cool chalkboard wall frames that will also make great memo boards there!
Install the chalkboard painted new backings to old picture frames and next finish the sides of the frame with accent metal drawer pulls or handles to make amazing trays that will love to cherish for years! Add the picture frames with chicken wire to make lovely memo boards, cover also the picture frame with fabric and finish with custom quotes or letters painted or stenciled over and make fabulous wall art pieces!
There is too much more to make with the old picture frame and check out the entire list to fall in love with your old picture frames! Also, visit the attached links to reach to full free project tutorials!
DIY Art Using Old Frames: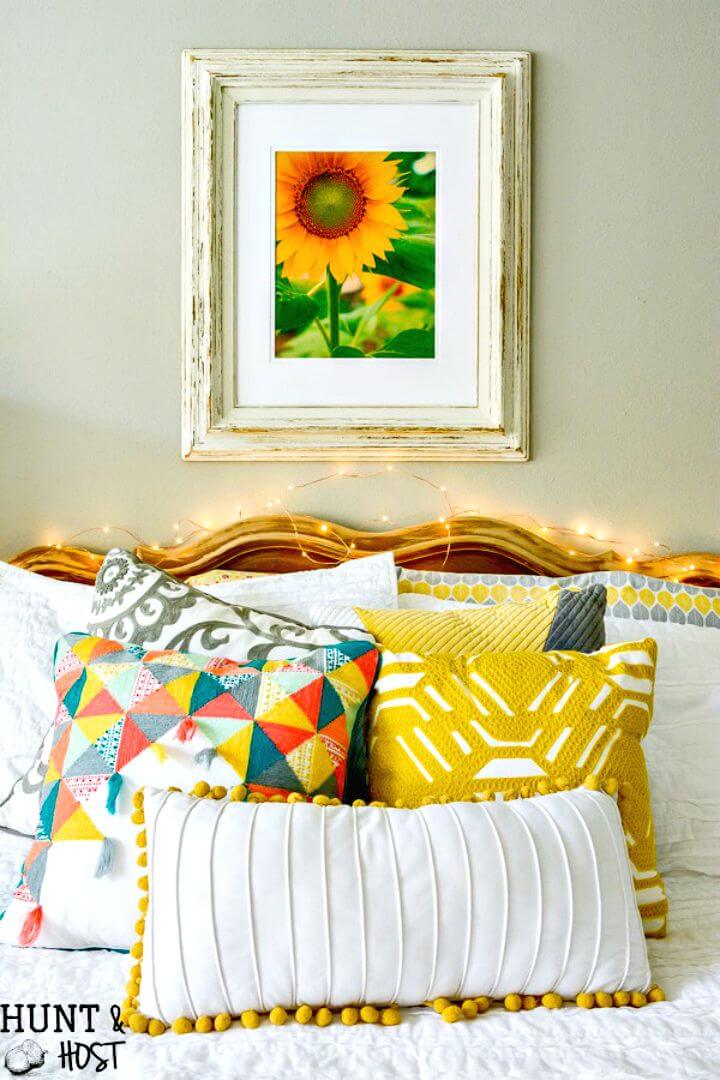 Are you sorting out some smart ways to reuse the old picture frames? Then make precious wall art pieces out of them that will definitely go eye-catching! Just put inside the custom art paintings and or scrapbook paper art in the old picture frames and make interesting looking wall art frame out of used photo frames! Take a look at the given sample! Full project instructions here huntandhost
DIY Chalkboard from An Old Picture Frame: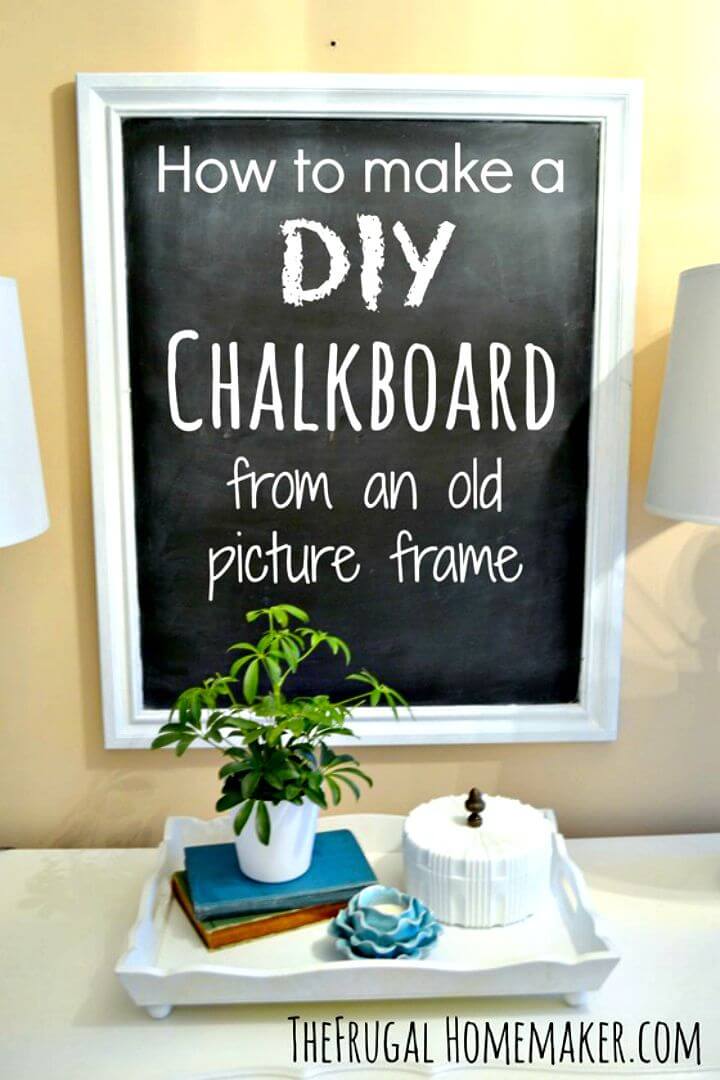 One more terrific transformation of a n old picture frame, a lovely chalkboard on which you can write anything special from custom quotes to family rules to love sayings for making a great wall art piece! Just remove the backing of your old picture frame and then paint it with chalkboard paint and gain a lovely chalkboard out of it! Full project instructions and tutorial here thefrugal
DIY Chalkboard Serving Trays from Old Picture Frames:
Make also the graceful chalkboard serving trays out of recycled picture frame they will definitely go enchanting to eyes! Just have a look at the given sample that is really beautiful to look at! Just grab a piece of plywood that will fit in the frame and just chalk paint it! Next fit it again in the frame to make a chalkboard tray, don't forget to add the metal drawer pull handles to both sides of the tray! Grab the full project instruction from here diynetwork
Make Table Organizer from Old Frame: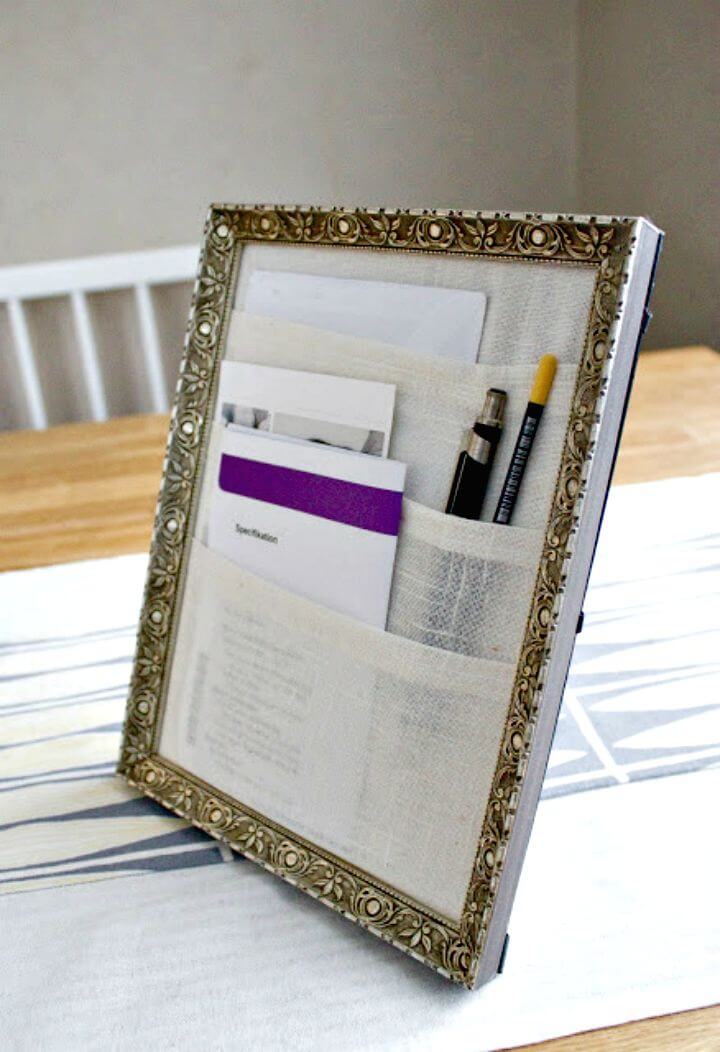 Add up also an old picture frame with custom fabric pockets and get a stunning table organizer out of it! Just have a look at the sample table organizer that comes with the white fabric pockets and is just super easy to make! Just install the fabric pocket to the picture frame backing and next put it back in place! Here is how to make this table organizer wishfultinker
Adorable DIY Frame Tray: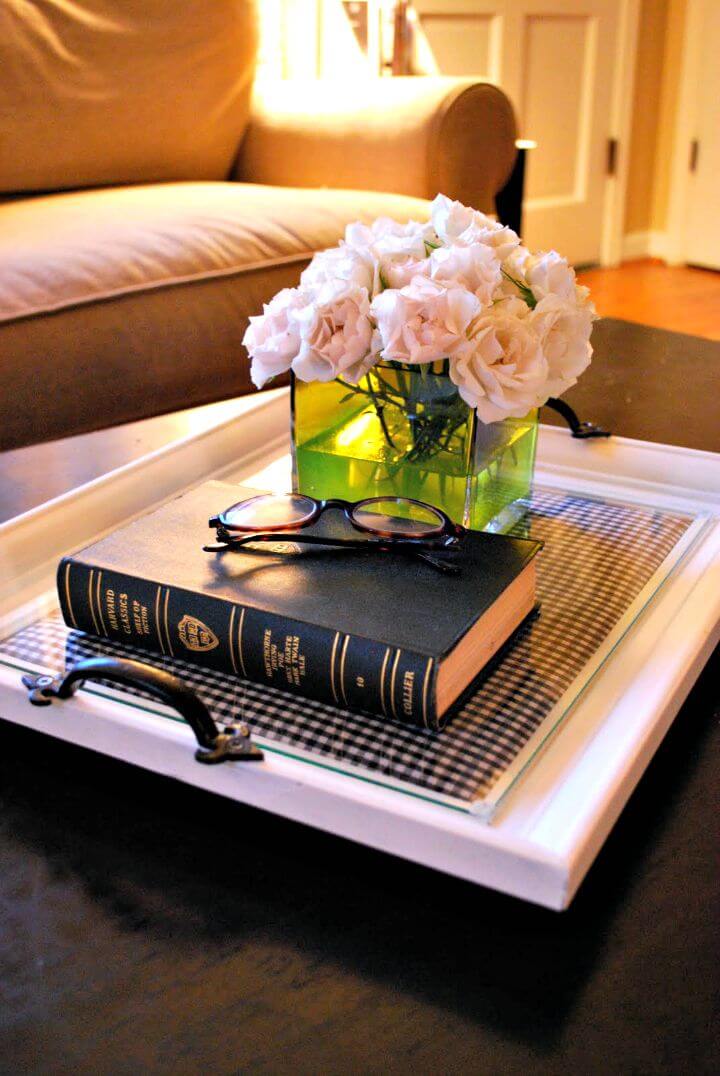 Check out here another great design of homemade tray that has been made out of an old picture frame! Here an old picture frame and some fabric scrap have been recycled to gain a lovely tray that will definitely rock to serve the food in a style! Just remove the backing of the frame, cover it up with your desired fabric and then fit it back in place to gain the lovely food serving tray! Complete project details here lemontree
How To Make Jewelry Organizer: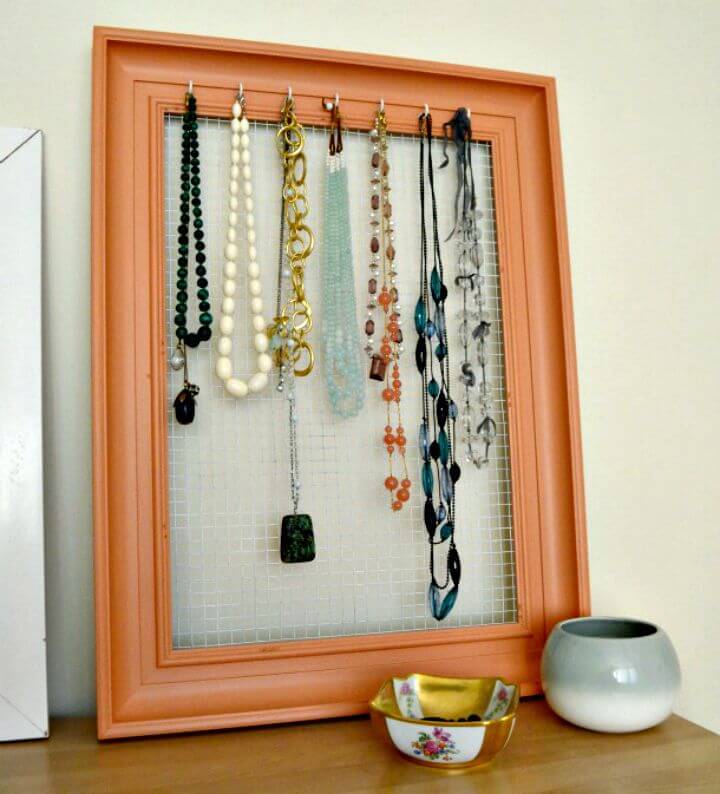 Repurpose also your old picture frame to organize your messy collections of jewelry! Just reuse the old picture frame to make fabulous jewelry organizers at home without getting a bit expensive! Just grab the old picture frames, cover them up with the metal wire mesh or hardware cloth and then add the custom hooks to the top side of the frame to make a lovely jewelry organizer! Do look at this given sample! Full project instructions here fromchina
DIY Chicken Wire Message Board:
Reclaim also the old picture frames to make enticing looking memo boards for your interior home walls that hold your photos, to-do lists and custom art toys in a style! Just peek into details of this given message board that is made of an old picture frame that comes covered with the metal wire netting or mesh so you can easily hang custom items on it! Here is how to make this lovely message board confessionso
DIY Hello Spring Fabric Art Using Old Frame: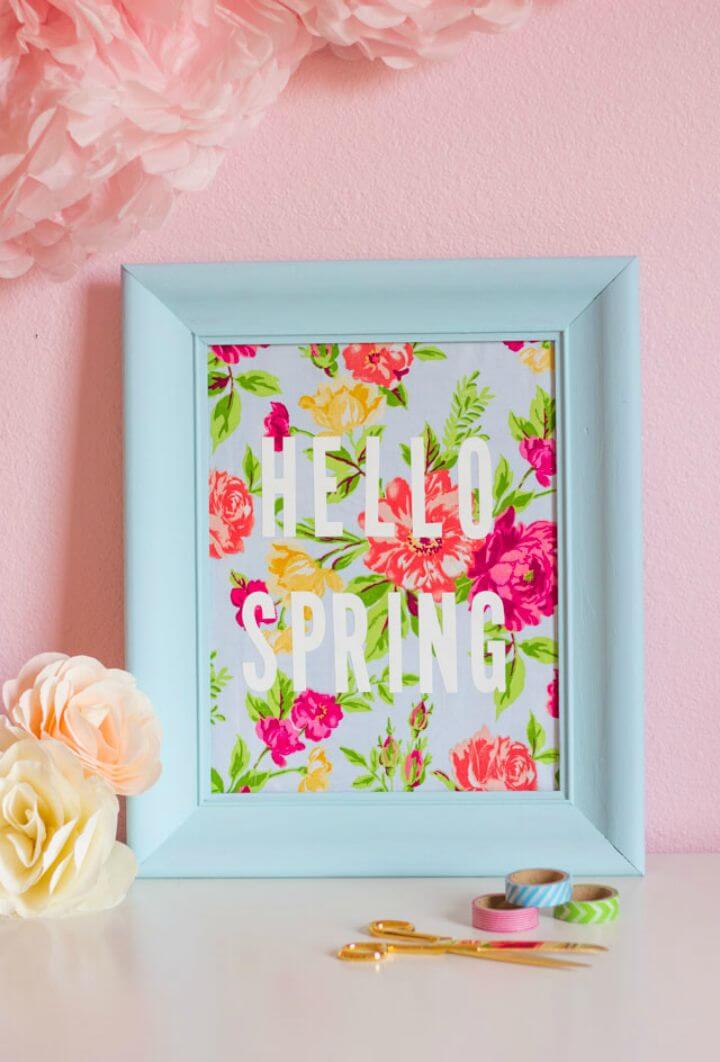 Go for a creative remake of the old picture frames and turn them into smart spring art pieces that will surely give a warm welcome to the season! Just cover the backing of the picture frame with colorful fabric, fit it back in the frame and then write custom quotes or letters on it to make a lovely fabric art out of old picture frame! Here this spring fabric art is made using the floral fabric and an old picture frame! Grab the full project details and tutorial from here designim
Make Framed Dessert Table Trays:
Get also smartly crafty with the old photo frames and make fabulous dessert table trays, another great old frame upcycling project to do at home! Paint your old photo frames and then fit their backings again in the back of the frame after covering them in colorful fabric! This will give you the enticing looking trays which you can use to serve the food also! Full project instructions here ruffled
Pretty DIY Picture Frame Wreath: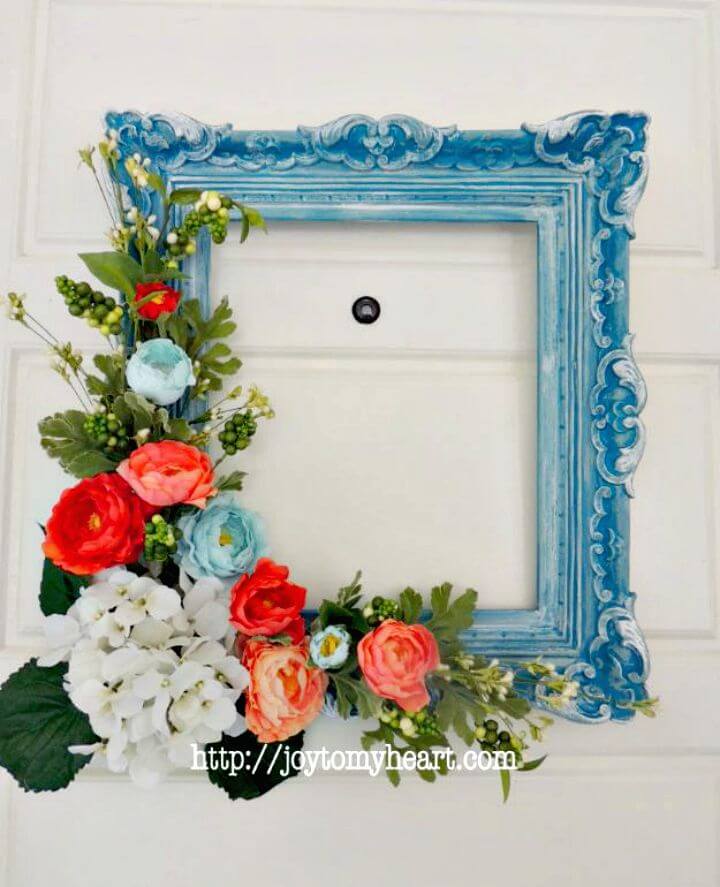 Boost also the decors of your home by going smartly handmade with old photo frames! Just refurbish your old photo frames for a glam look and then adorn them up by adding colorful flowers all around or to one side and make enticing floral wreaths for your interior home walls without spending even a few pennies from your pocket! Check out the sample picture frame wreath and do duplicate it! Complete project tutorial here joytomyheart
Turn Old Picture Frame Into Barn Wood Frame:
There are just unlimited smart ways to reuse the old picture frames! You can make just amazing home décor stuff also with old picture frame, have a look at this barn wood wall art frame that is made of an old picture frame who has been given a new thicker barn wood boundary that will also bring amazing rusticity to the frame! Here is how to make this barn wood frame at home apieceofrainbow
Adorable DIY Picture Frame Key Holder: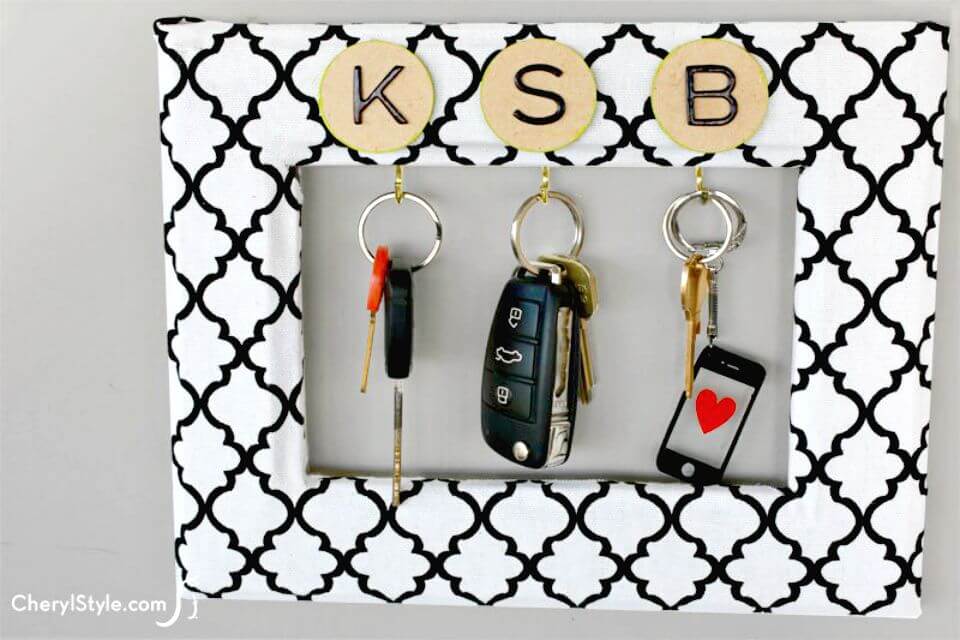 Go also smart with the old picture frames and make fabulous home wall organizers also that will help getting your home clutter-free! A very interesting example here is this given key holder that is a creative remake of an old picture frame! Just cover the frame in a lovely printed fabric using a spray adhesive and then install the cup hooks to your fabric covered picture frame to make a lovely keychain holder! Full project instructions here everydaydishes
DIY Shabby Chic Dangly Earring Display: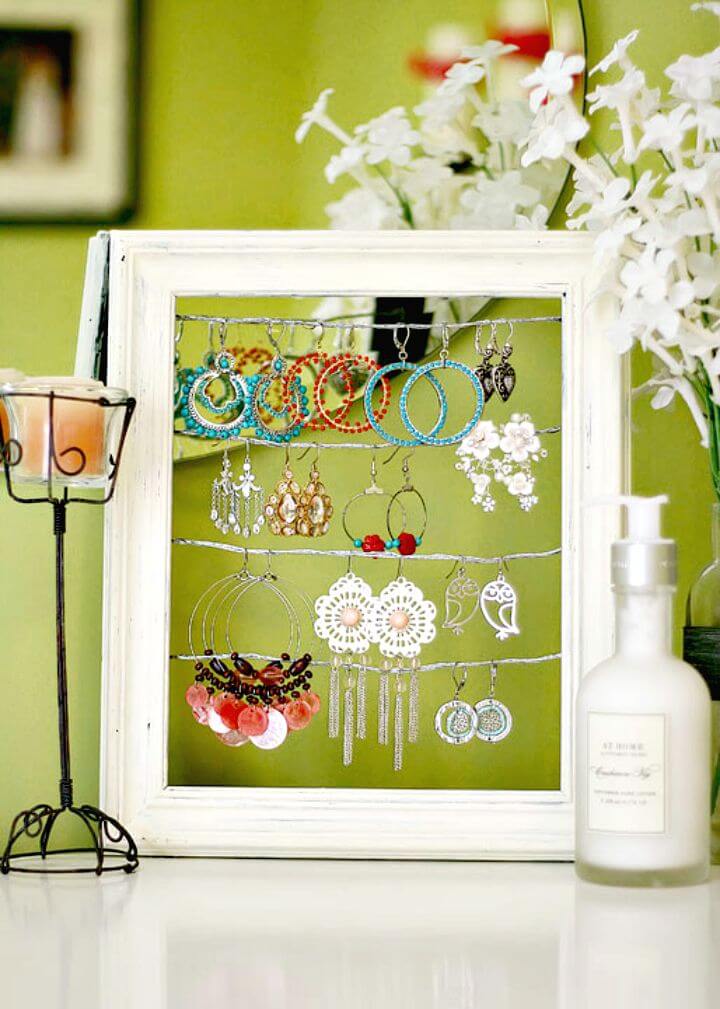 Also repurpose your old picture frame to organize the jewelry mess! Yes, you can create adorable earring displays and necklace organizers using the old picture frames and your creativity! Just add up the old picture frame with the horizontal metal wire strands and then just start organizing your items of jewelry on them! Just have a look at the sample earring display that is really cool and great! Full project instructions here kevinandamanda
DIY Thrifted Picture Frame Kid Chair:
You will be highly amazed to see this very innovative DIY furniture achievement that has been done using the old picture frames! This is here the precious kids' chair that is made of two upholstered picture frames, the round one makes the perfect backrest and the square shaped one build the comfy berth of the chair! Full project details here apartmenttherapy
DIY Tufted Picture Frame Headboard:
Raise also your bedroom decors by getting crafty with the old picture frames! Just grab the bigger picture frames and upholster them so they can easily be used as an accent head of your bed, a lovely decorative headboard! Just check out here a brilliant sample and do duplicate it for your bedroom! Full project instructions here vintagerevivals
DIY Framed Jewelry and Earring Organizer:
Are the untidy collections of your jewelry items annoying you? If yes, then also go handmade with the old picture frames to organize your items of jewelry like a pro! Yes, make the beautiful earring organizers and displays with the old picture frame, this can easily be done if you cover the old picture frame from backside using the metal lattice or hardware cloth! Get inspired of the given sample that is really cute and adorable! Full project instructions here martysmusings
DIY Inspiration + Mood Board: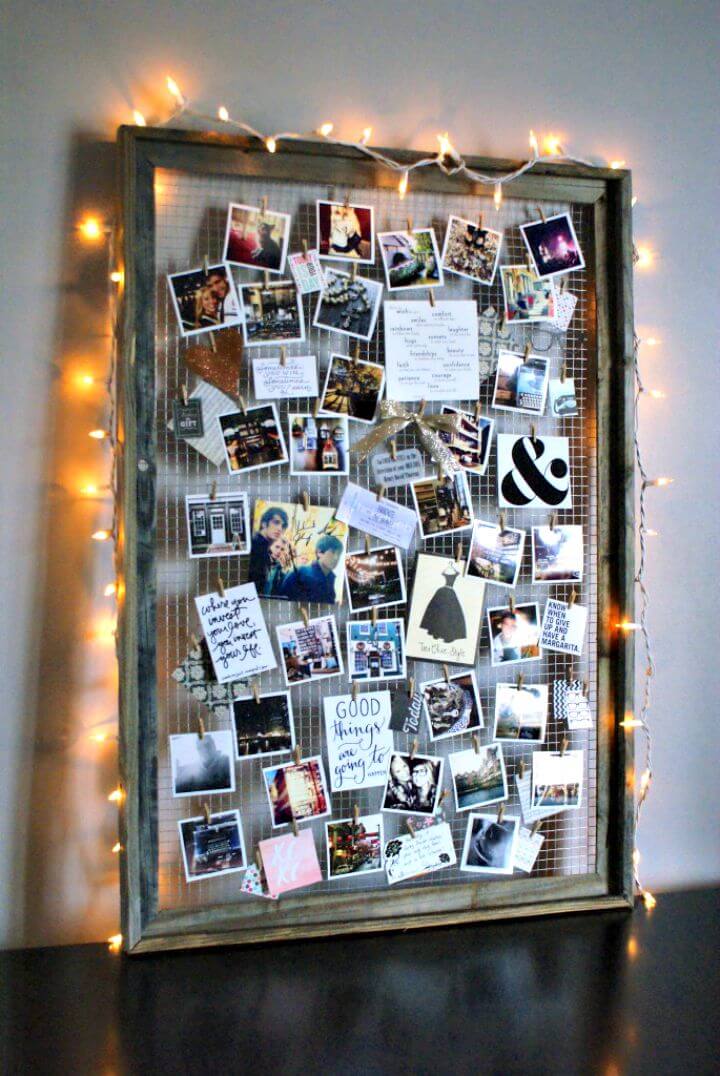 Cover your hollow old picture frames with the hardware cloth or with the metal lattice fabric and next hang your family photos, messages, notifications and even the to-do lists of tasks to make both a mood board and a memo board out of them! Peek into design details of the given sample that is really cute and adorable! Full project tutorial and instructions here theanastasiaco
Easy To Make Large Chalkboard with Picture:
Make also the lovely chalkboard out of the old picture frames that will come in handy to make quoted wall art pieces, custom memo boards and also the boards to write the to-do lists! Just grab a piece of chalkboard or wood that should be painted in chalkboard paint and next just fill your decided picture frame with it! Check out a lovely sample given below and do duplicate it! full project instructions here h2obungalow
Cute DIY Confetti Filled Frame:
Make also the outstanding art and centerpieces out of your old picture frames that will definitely help boost your home decors! An interesting example here is this confetti filled art frame that is made of simple glass frame which is having a little depth! Next, the colorful tissue paper confetti has been filled inside the frame for getting an adorable art piece! Full project instructions here apairandas
How To Make Frame Shelves: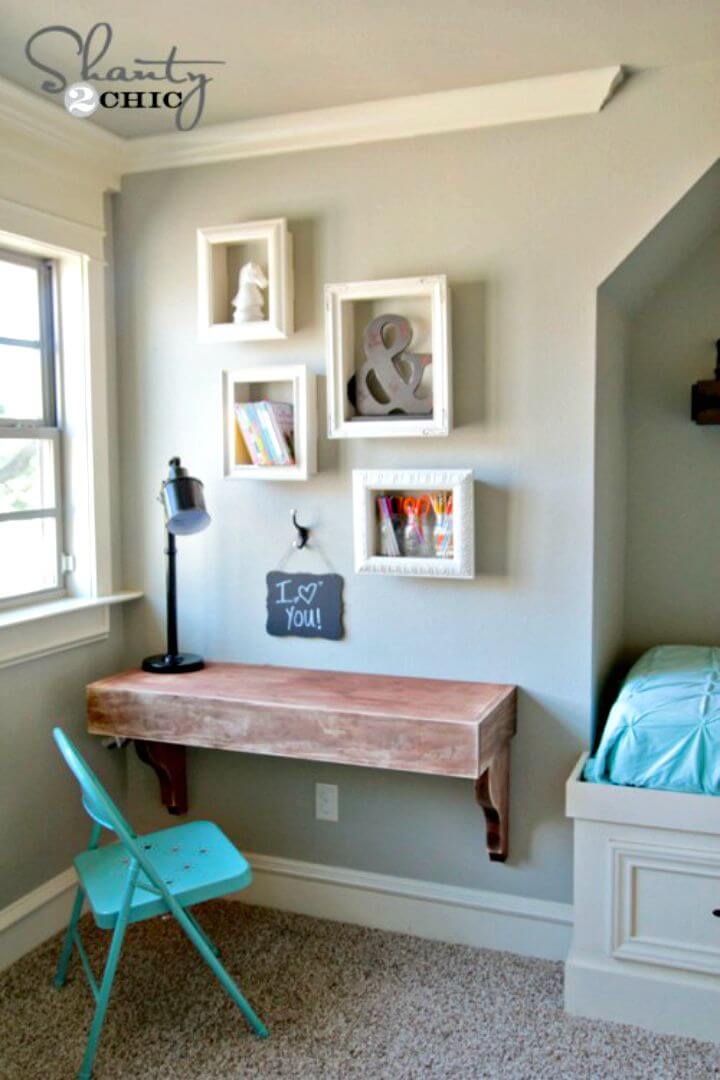 Here is another great and fabulous old picture frame craft that will definitely inspire your creativity! Also, make the custom box style picture frame wall shelves that will rock for display and storage purposes! Just make the custom wooden boxes in size equal to the picture frames and then add the picture frames in front of them for a brilliant appeal! Check out some interesting samples given below! Full project instructions here 2-chic
Turn Frames Into Organizers:
If you on a mission organization then you can also start organizing your stuff smartly using the old picture frames as they can be transformed into brilliant organizers just by using a little creativity! Just check out the sample tool organizer or tool rack that will really rock in your garage or workshop! Here all you need a pegboard, some hooks and an old picture frame to duplicate this organizer! Full project instructions here bydawnnicole
Make Your Own Picture Frame Tray:
Also turn your old picture frames into fabulous looking serving trays that will also make a great gift! Just repaint your picture frame and just fill them solid using additional wood or a rocking picture frame backing and next add custom hooks and handles for easy carriage of the tray! Just have a look at the given sample that is really looking lovely! Full project instructions here christinas
Turn a Picture Frame Into A Tiled Serving Tray: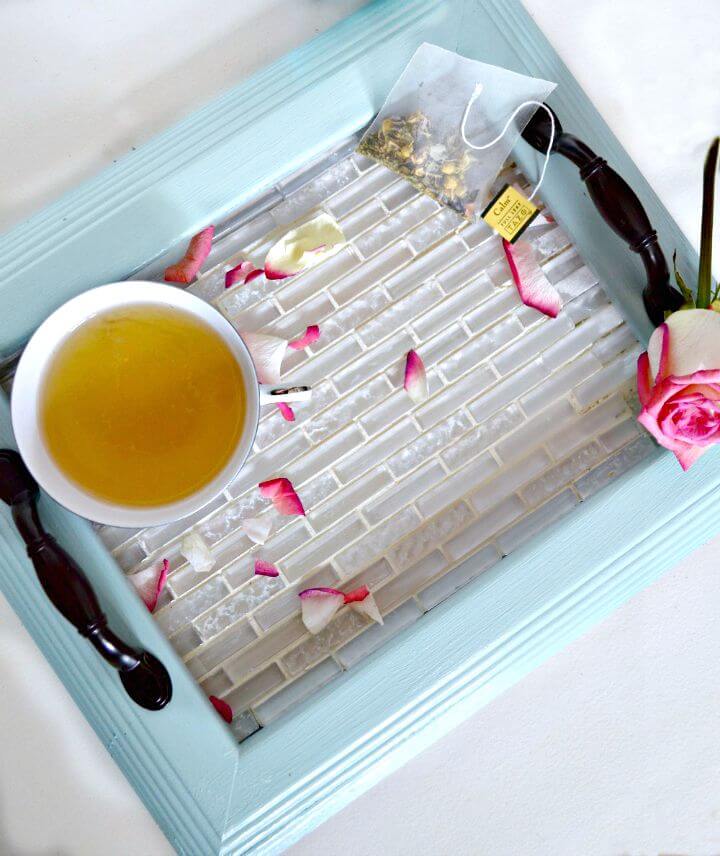 Here is another super smart and creative hack to make the outstanding-looking serving trays out of your old picture frames! Here a tiled serving tray has been made using a simple glass picture frame that is super beautiful to look at! Just glue the tiles on the glass of the frame until it gets fully covered, next apply the grout and final step would be to install some hardware handles onto both sides of the frame! Take a look at the given sample and do duplicate it via free tutorial provided here myuncom
How To Turn Old Frame Into Wall Art: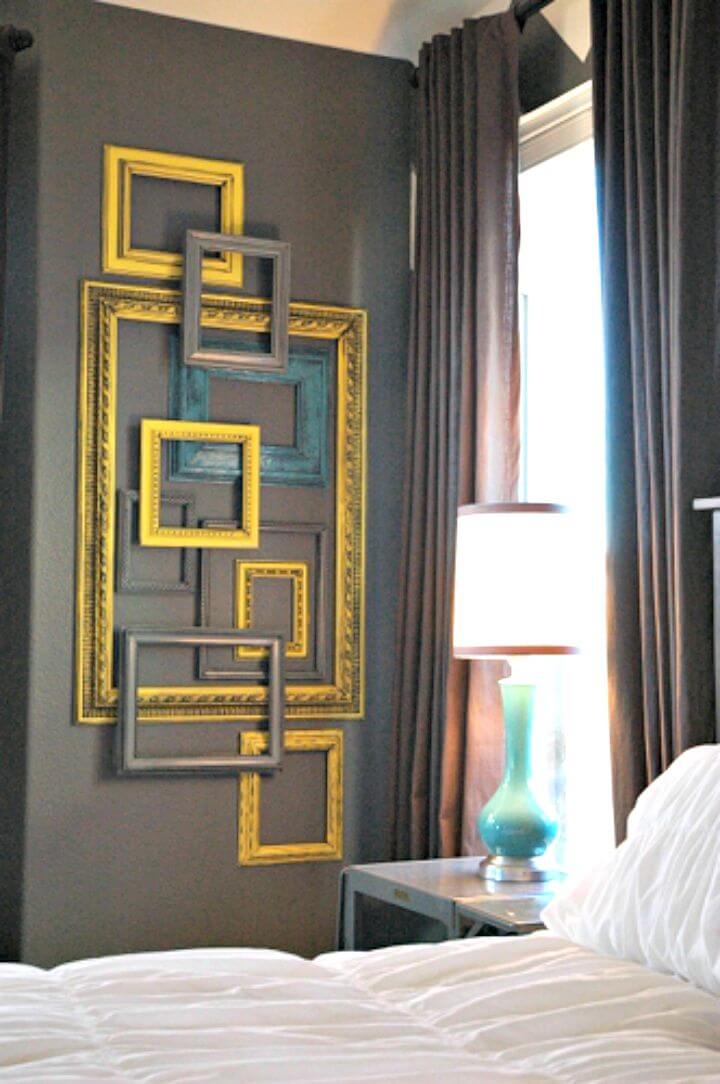 If you strive for the geometrical wall or interior decors then you can also go handmade with the old picture frames for bringing great geometrical décor statements to your interior walls! Just repaint the old picture frames in dashing colors and next put together on the wall in custom configurations like in overlapped manner for amazing geometrical wall art! Peek into details of the given sample art and do clone it for any of your walls! Full project instructions here makelyhome
DIY Old Frames A Lantern: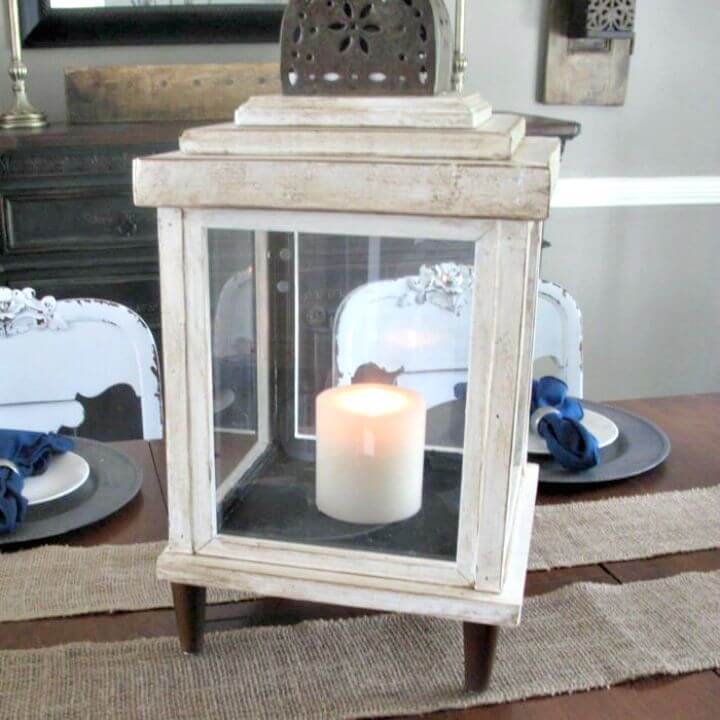 Put together also smartly the 4 glass picture frame of equal dimensions and make a fabulous glass box that can then be added with a candle or light inside to make a beautiful lantern or light gift! Here some plywood and pallet wood has also been used to make the adorable wooden base and roof of the lantern! Finally, the short metal hairpin legs have also been installed to the bottom side of the lantern! Full project instructions here myrepurposed
Inexpensive DIY Terrarium Using Old Picture Frames: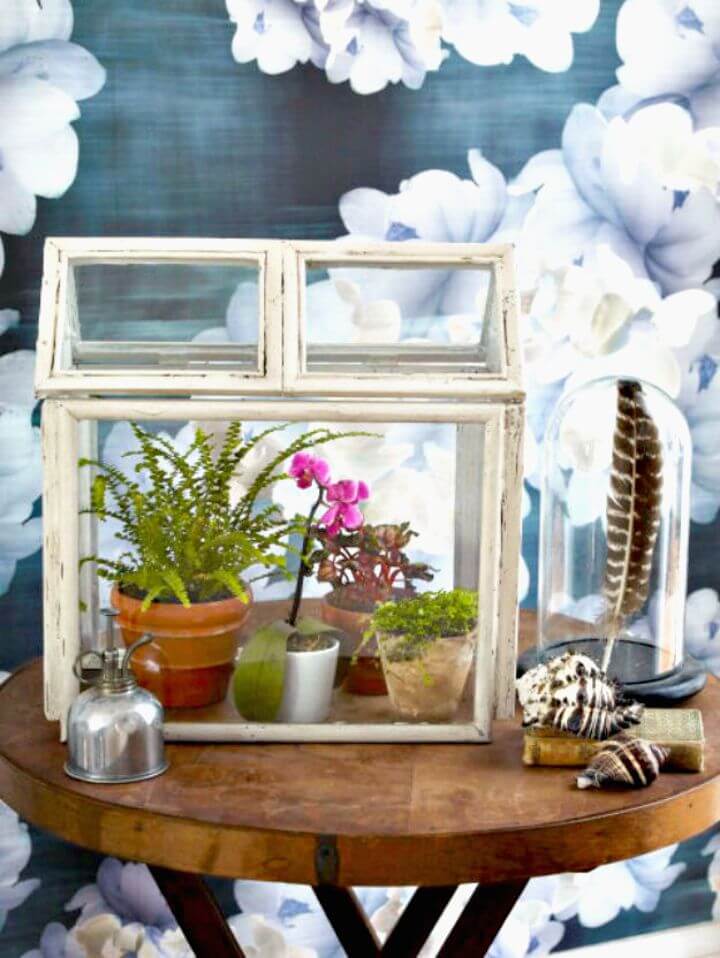 Also install the old picture frames together in a custom style and manner and make beautiful glass boxes or houses out of them in which you can place some green plant pots and vases to make the lovely terrariums that would make a great centerpiece, eye-piece and gift piece! Check out here a lovely sample given below! Full project instructions here countryliving
Make A Phone Charging Station from A Picture Frame:
Are you sorting out a perfect and safe charging dock or charging station for your home? If yes, they also make it using the old picture frames! Just check out a lovely given sample here that is made of a repainted picture frame, scrap trim pieces and of thick cardboard and the adhesive demands have been fulfilled using the glue! Full project instructions and tutorial here thediymommy
DIY Scrappy Flower Spring Wreath:
There are never-ending ways to make amazing decorative crafts and centerpieces out of old picture frames! Here is another great one to hold your attention! Just grab the old picture frames, and then glue the fabric flowers all over it that can easily be made using the scrap fabric pieces and buttons! Have a look at the given sample frame that is damn looking lovely! Full project instructions and tutorial here deliacreates
How to Make A Tray from A-Frame:
Another great tray design here to make with the old picture frame, this is here an all in the white tray that is made of an old picture frame! Just cover the frame solid using extra wood and then add the metallic hardware handles onto both sides of the frame and paint the entire tray using white paint! Full project instructions here confessionso
DIY Coffee Table Tray with Picture Frame and Scrapbook Paper: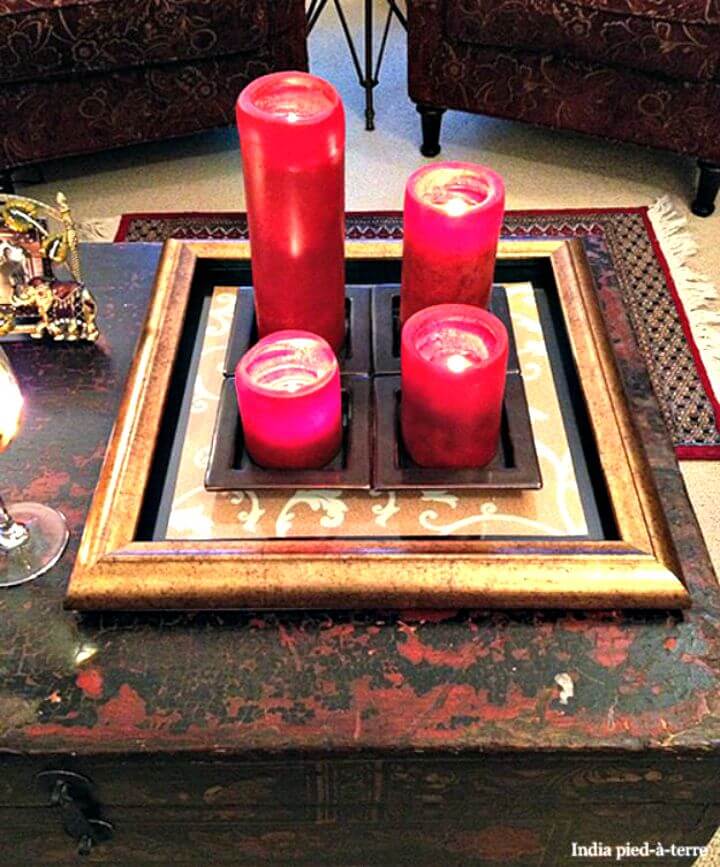 Make also very special looking coffee table trays using old picture frames! Just check out a brilliant one given here! Just grab a simple picture frame even the normal glass frame and then decorate it up using the scrapbook paper and paint and that's it! Have a look at the given sample that is looking damn lovely! Full project instructions here nomadicdecorator
DIY Picture Frame Into A Cork Message Board:
Intending to gain a lovely memo or message board at home? They also make it using an old picture frame! Just grab a picture frame and then cover it from backside using a fabric covered cork sheet or piece and net start adding your messages, notes and pictures on it using push pins! Decorate your message boards in your own way using custom embellishments and that's it! Full project instructions here diynetwork
Amazing DIY Old Frame Ceiling Medallion:
Here is another great home décor project to do with the old picture frames, make also the decorative ceiling medallions also using the old picture frames, just paint your picture frames using custom paint colors and next fix it to your ceiling around your pendant light lamp and that's it! Full project instructions and tutorial here hgtv
DIY Picture Frames Cupcake Stand: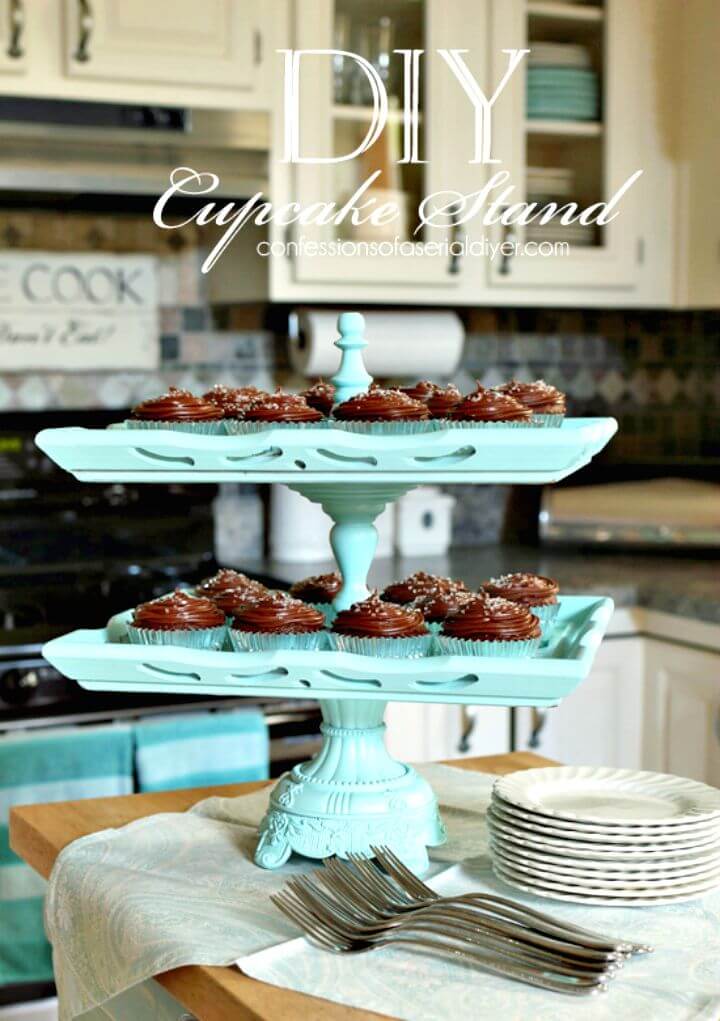 If you are looking for a super cool cupcake stand to put on your dessert table for a great and enchanting visual then you can also make some fantastic ones at home using old picture frames! Here two old picture frames have been painted and then have been tiered using candlesticks making a stunning cupcake stand! Full project instructions here confessionso
DIY Photo Frame Of An Old Picture Frame: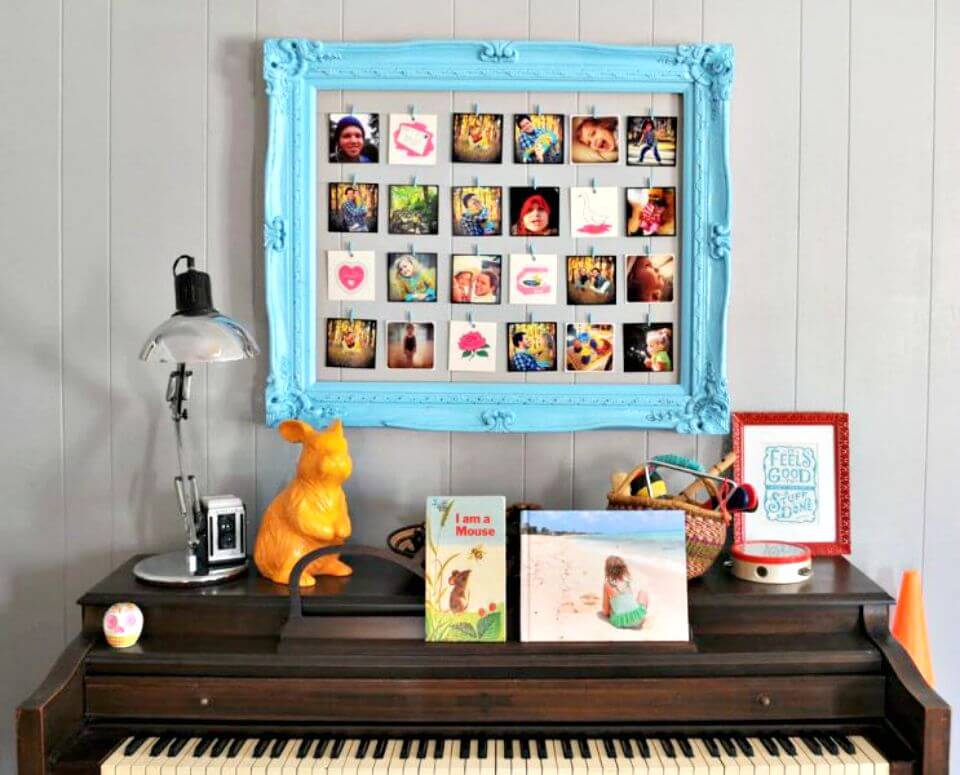 The old picture frames can also be used to highlight something beautiful on any of your interior wall! We would like to inspire you with this example of a photo frame that has been done by using an old picture frame and some square family photos! Here all you need is to string up the picture strands and then to cut them in equal lengths making precious photo strands! Now cover the picture frame with those photo strands and make a great picture frame! Full project tutorial here shelterness
DIY Fabric Covered Cork Board Frame:
Time to take your old picture frames out which you have put in the home trash stores as they can be the best alternatives to wall memo boards and message board! Yes, just grab an old picture frame and cork board sheet and next just fit back the fabric covered cork sheet back to frame and gain a lovely cork board on which you can easily showcase and display your photos! Full project tutorial here howdoesshe