Discover 30 fun and creative cookie decorating ideas that will inspire you to transform ordinary cookies into edible works of art. From frosting sugar cookies to crafting candy-filled baseball cap piñata cookies, there is a unique design idea for every occasion. Beginners and pros alike can learn how to decorate adorable bear cookies, delicious donut cookies, and even hammerhead shark cookies. Margarita cookie decorations, cute crab cookies, and artistically stamped cookies are just a few examples of these creative cookie decorating ideas.
Hatching chick emoji cookies, decorative ruler sugar cookies, bite-sized fruit and veggie cookies, delightful surfboard and wave cookies, and chalkboard cookie designs are also included in this comprehensive list. Embrace your culinary creativity with a range of innovative ideas such as cheeseburger cookies, brown butter heart cookies, matcha sugar cookies, nerdy cupcake cookies, watermelon sugar cookies, cute pirate cookies, ice cream cone cookies, and popsicle cookies.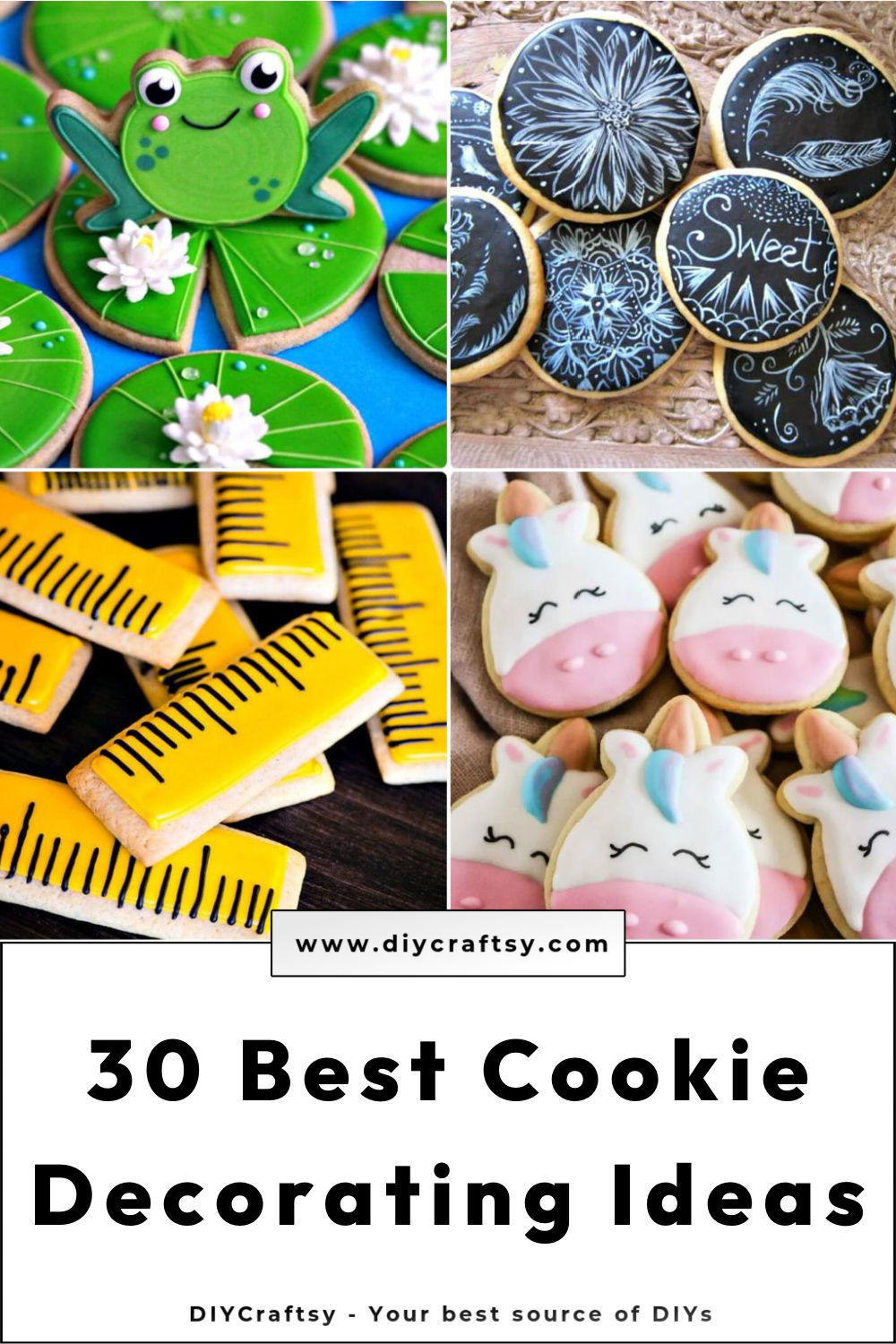 Elevate your skills and master cookie decorating ideas and techniques with tutorials on glace icing, fondant art, and, of course, creating easy and adorable unicorn sugar cookies. Dive into this treasure trove of cookie decorating ideas, and start creating your own amazing cookie designs today!
1. How to Make Frost Sugar Cookies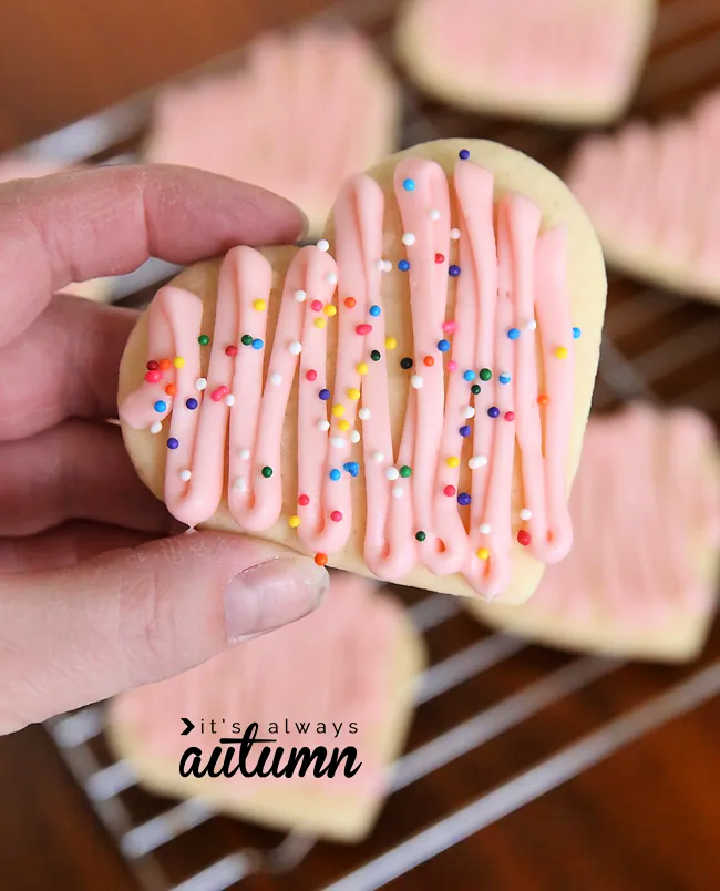 Elevate your holiday baking with this fast and efficient DIY method for frosting sugar cookies. Swap the knife for a zip lock bag to make beautifully frosted cookies quickly. Load your frosting into the bag, snip a corner, and begin piping in a zigzag pattern, ensuring even coverage and a stunning result. This technique paces up the process and makes it mess-free and enjoyable.
Start with a sandwich-size ziplock bag, and remember to adjust the size of your opening according to your frosting needs. Always prepare extra frosting to avoid running out midway, ensuring your sweet creations are generously covered.
Consider trying our soft sugar cookies and cream cheese frosting recipe for the perfect blend of sugary goodness. Step into the world of effortless baking today with this clever frosting technique. itsalwaysautumn
2. Candy Filled Baseball Cap Piñata Cookie Decorating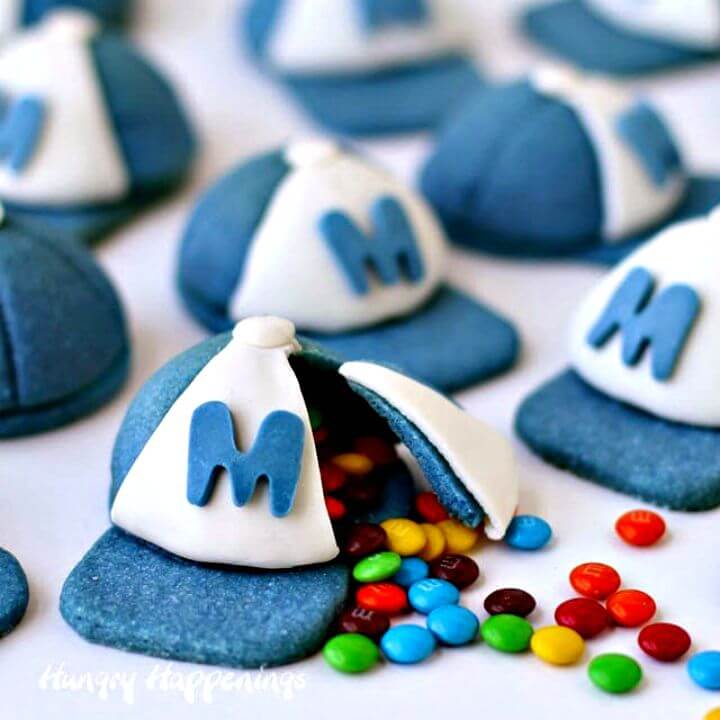 Looking for something special to add to your cookie decorating? Check out these unique cookie decorating ideas! Unleash the fun of baseball season with these delightful DIY candy-filled baseball cap piñata cookies, a hit with every sports fan. These three-dimensional baked delights are as entertaining to make as they are to devour. Enriched with flavors of vanilla and almond, these cookies can be custom-made to represent your favorite team's colors.
Filling them with candies that match the team's colors adds a surprise twist. The process involves baking cookie dough over a curved pan, such as a cake ball pan, or a mini muffin tin for flatter caps.
No matter your team's colors, whether blue and white or purple and yellow, these playful cookies are a festive addition to any baseball-themed event. The baseball season won't be complete without these fun, creative, and tasty treats. hungryhapp
3. How to Decorate Hammerhead Shark Cookies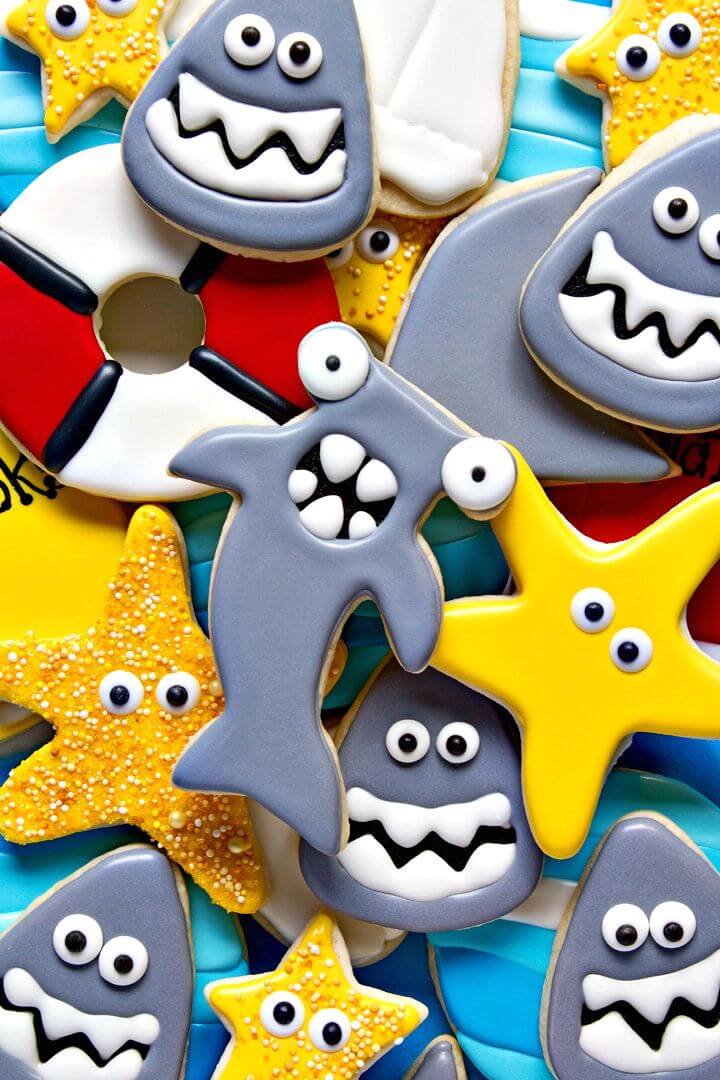 Want to impress your family and friends? Try these creative cookie decorating ideas for a wow-factor! Delve into the aquatic world with the delightful DIY hammerhead shark cookies! Inspired by the fascinating species, these cookies are fun to make and delicious to taste. With easily accessible supplies like a hammerhead shark cookie cutter, royal icing in gray, white, and black, and candy eyes, you can make these unique cookies at home.
Follow this step-by-step guide, from preparing the sugar cookie dough to painting the mouth area and shaping the teeth to craft these lifelike creatures. With the curiosity of hammerhead sharks infused in this culinary creation, these cookies are perfect for Shark Week celebrations or just as a treat for the wildlife enthusiast! thebearfoot
4. Adorable Bear Cookies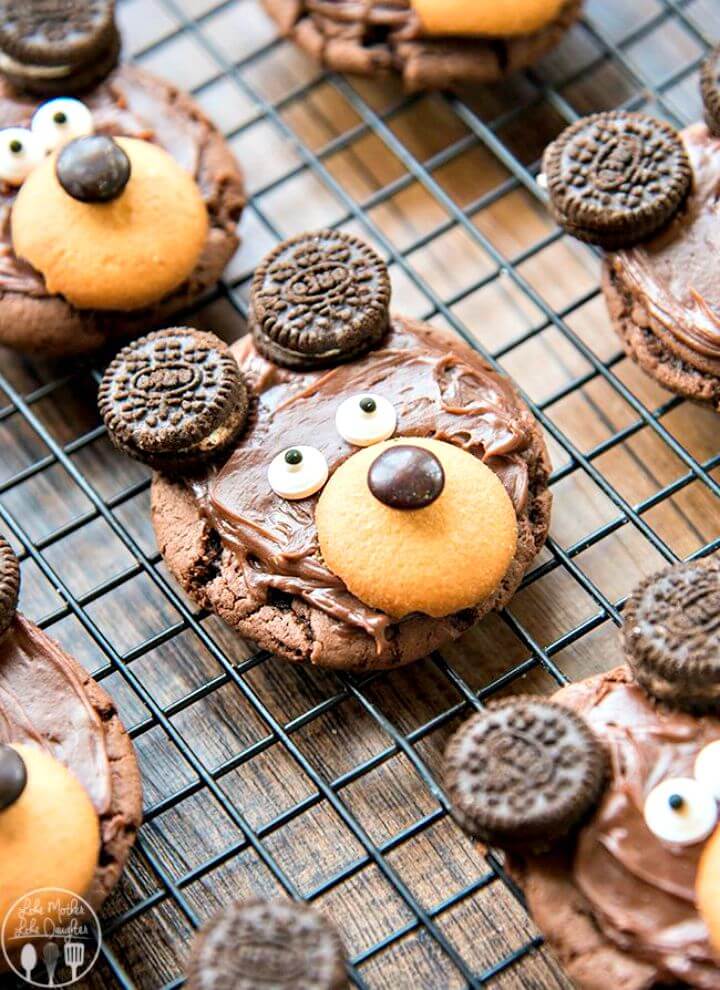 Make delicious and playful DIY bear cookies that are fun to make and eat! These cookies are perfect for a teddy bear picnic or a themed party. The recipe begins with a chocolate cake mix. But it doesn't stop there. The mix is improved with chocolate frosting, 'Nilla wafers, mini Oreo cookies, and M&M candy eyes. The result is a delightful character that accompanies each sweet bite.
The ease of assembly and simple ingredients list make it a family-friendly activity, with kids eagerly jumping in to help decorate—and subsequently devour—their creative masterpieces. So, pull out those mixing bowls, preheat the oven, and prepare to embark on a joyous baking adventure with these adorable bear cookies. lmld
5. Delicious Donut Cookie Recipe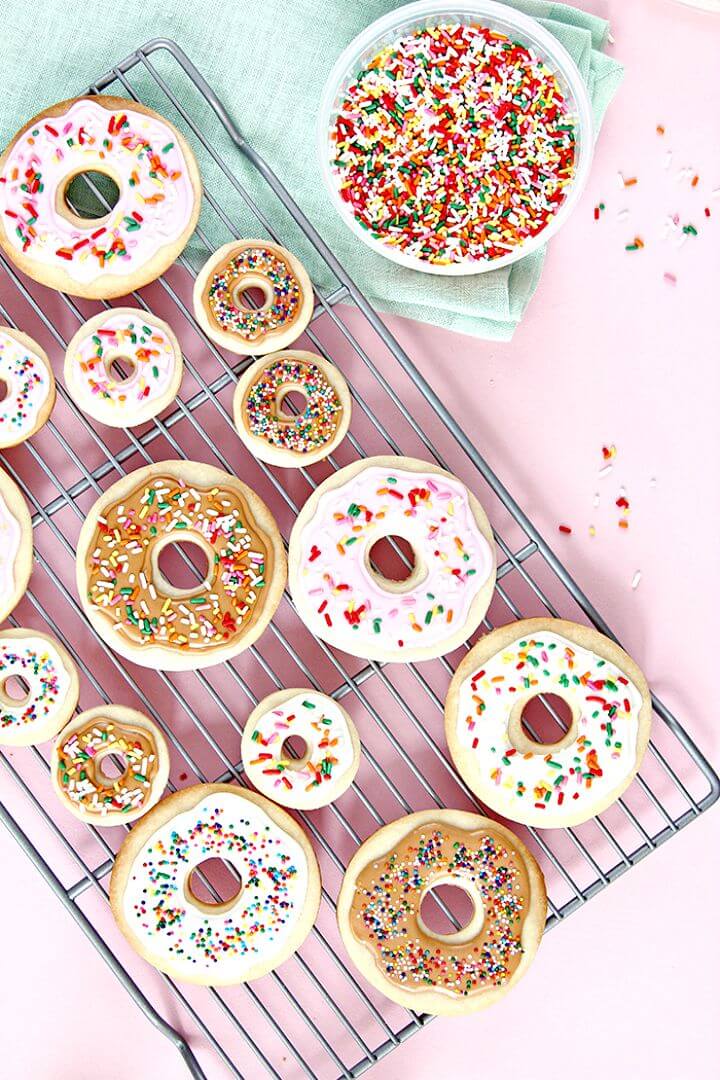 Learn the art of cookie decorating with fun and exciting ideas. Dive into the festive spirit by mastering the art of decorating Holiday cookies, specifically enticing donut cookies, with this easy DIY guide. These cookies not only taste delicious, but they also add a creative visual appeal to your festive spread. You'll need key tools and ingredients like royal icing, various sprinkles, food coloring, and a classic sugar cookie dough to set the stage for your cookie creation.
This step-by-step guide will direct you through the process, covering the basics of using royal icing and tips to make the perfect donut-shaped cookies.
The result? Beautiful and mouth-watering cookies that might surpass the deliciousness of actual donuts. This creative DIY project satiates your taste buds and adds charm to your holiday celebrations. Perfect your icing skills and surprise your guests with these cute, delicious, festive donut cookies. awwsam
6. Margarita Cookie Decorating for Beginners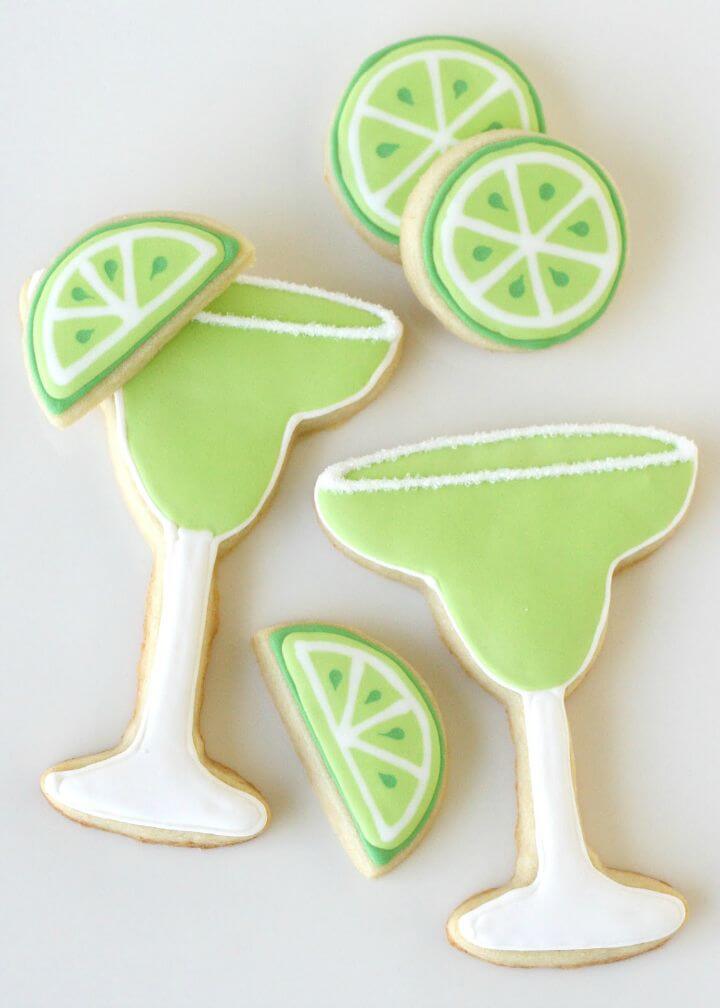 Savor the joy of homemade cookies with a delightful twist! Make your gatherings unforgettable with these DIY margarita and lime-shaped sugar cookies. These delectable treats carry the tangy essence of lime, creating an appealing fusion of flavors.
Not only do these cookies delight the taste buds, but they also serve as fantastic dinner favors, adding a unique and personal touch to any event. Pack them creatively, and you've got a memorable souvenir!
These cookies are an innovative twist to traditional sugar cookies, with the irresistible flavor of lime enhancing their appeal. Infuse fun into your baking and bring joy to your dining table with these deliciously shaped cookies. glorioustreats
7. Cute Little Crab Cookies Decoration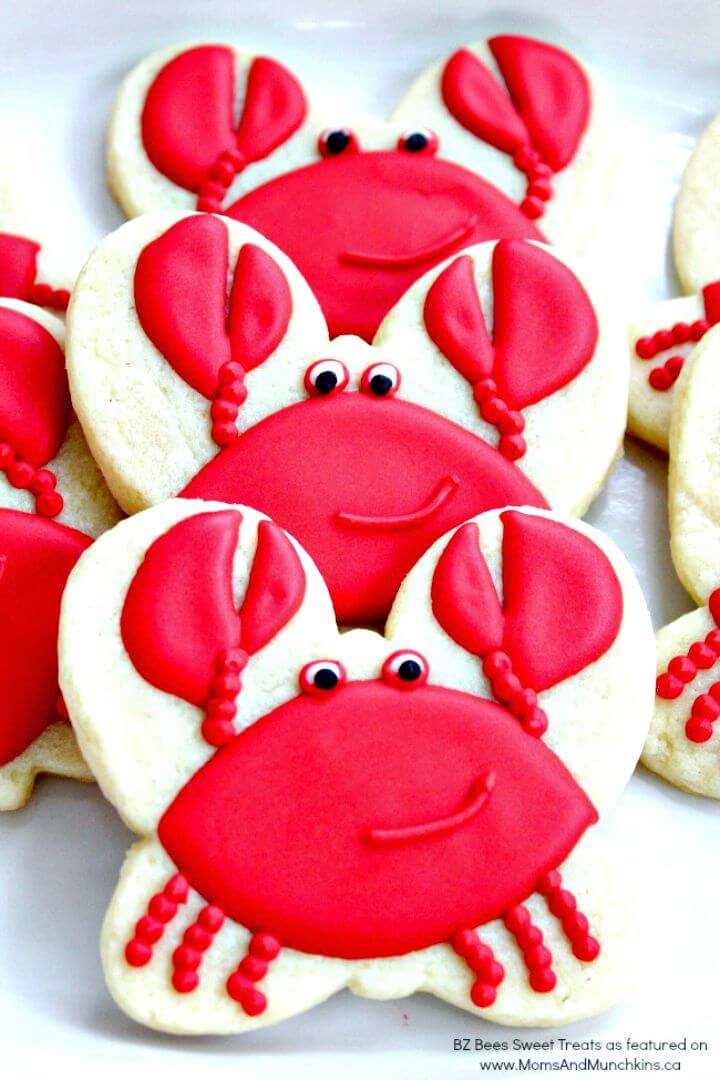 Kickstart your summer festivities with these charming and quick-to-make crab cookies! Designed to add a touch of the seaside to your Memorial Day spread or any other summertime gathering, these treats are sure to impress. These cookies, created without a crab cookie cutter, showcase how creativity can turn a butterfly cutter into a fun sea creature design.
Decorating each cookie involves crafting a football-shaped body, dual-clawed features, and six-legged details, all brought to life with googly eyes and a friendly smile. These delightful crab cookies taste delicious and add a whimsical touch to your summer dessert lineup. Fun, creative, and remarkably simple, these little crabs might become a baking tradition! momsandmun
8. Make Stamp On A Cookies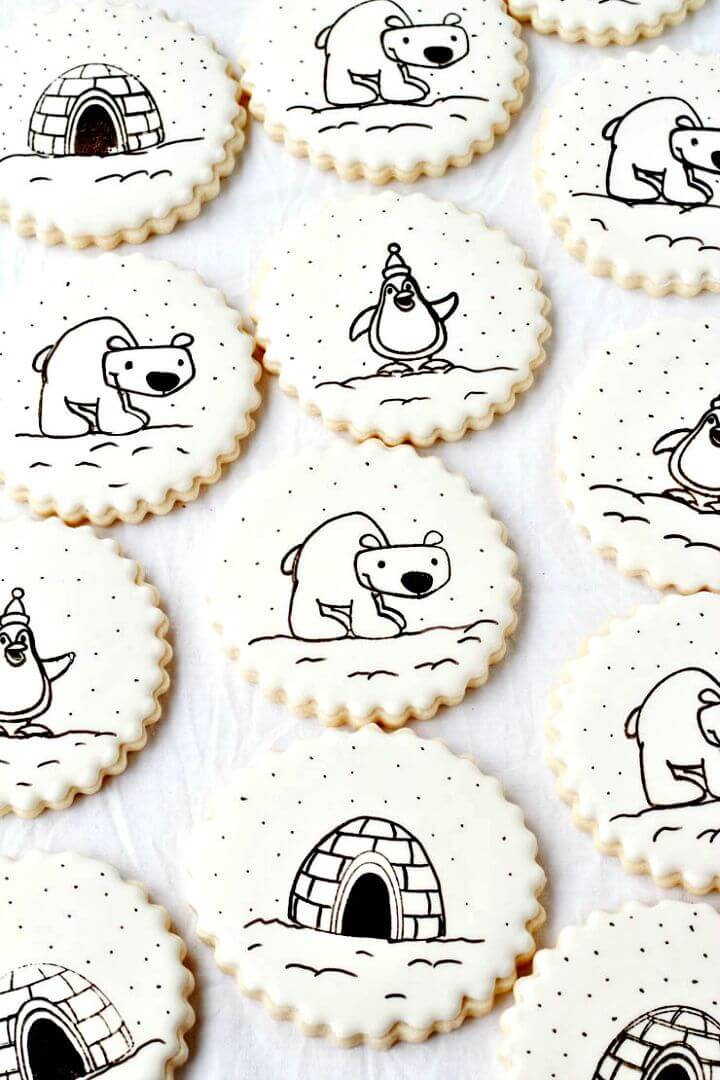 Immerse yourself in a unique baking experience with this innovative DIY method of cookie decoration – stamping! Embellish your cookies with charming designs using gel color and a stamp of your choice. This creative process involves making sugar cookies with dry icing, choosing a vibrant gel color and a delightful stamp, and carefully pressing the inked stamp onto the cookie.
Consider an Avery Reinkable Felt Stamp Pad Uninked and a Food Safe Marker for a seamless process. Each stamped cookie is a piece of art, a delightful treat that can double as a decoration or a creative name tag on gifts.
Remember, cleanliness is crucial for food safety, so opt for clear stamps with clear blocks which are easy to clean. Add a new dimension to your baking journey and decorate your cookies in an artistic, delicious way! thebearfoot
9. How to Decorate Hatching Chick Emoji Cookies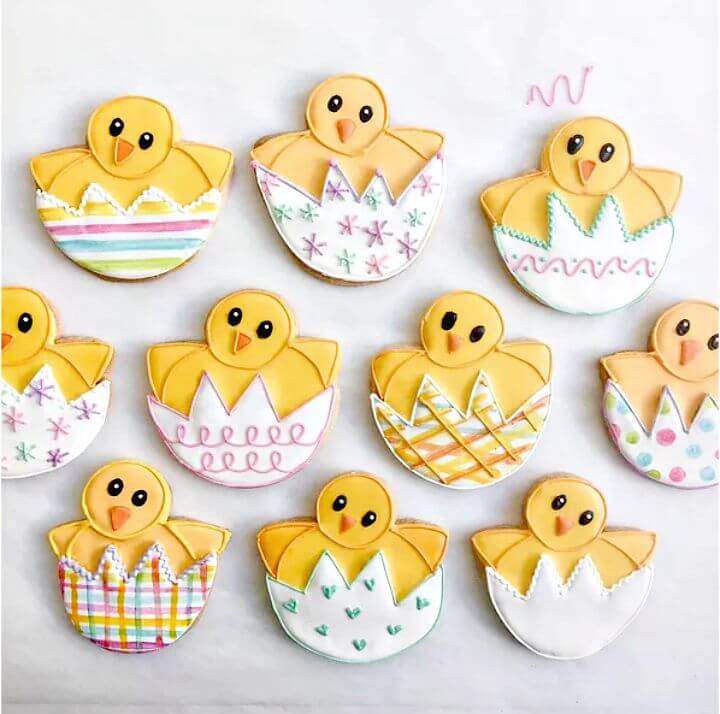 Bring a smile to everyone's face with these adorable hatching chick emoji cookies – the perfect way to decorate any celebration! You can easily shape a hatching chick using two circle cutters of different sizes and a heart cutter. Add pastel coloration to the eggshell using royal icing for an authentic Easter feel.
Sugar cookie dough, royal icing, food coloring, disposable pastry bags, pastry tube tips, and cookie cutters are all you require to make these adorable treats. Store-bought dough and icing can be a handy shortcut.
Once baked and cooled, use your icing to outline and fill in the chick and egg details, then get creative with shell decorations. Whether you leave it white or adorn it with pastel patterns, these cookies will surely bring a smile this Easter season. Get baking and enjoy the process of crafting these delightful hatching chick cookies. bakedideas
10. Cookies with Fondant and Art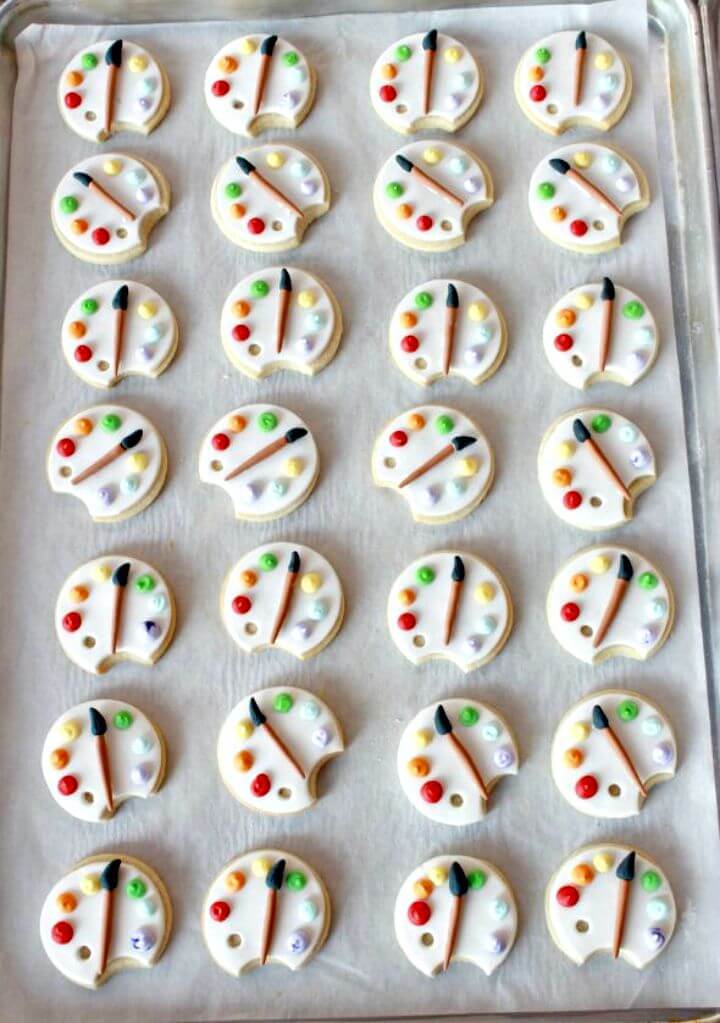 Design your masterpiece with some love and some dough- it's time to make your DIY cookie fondant and art! Indulge in these eye-catching and oh-so-creative art palette cookies that are just as delightful to look at as they are to devour! This insightful guide will walk you through the step-by-step process of preparing these cookies using a sugar dough base, fondant cover, and royal icing decoration.
The star of this bake is the fondant paint brush, intricately designed using black and brown fondant, bringing the art palette to life. This unique treat is not just a cookie but a sweet tribute to art lovers and a fun project! Discover the joy of making these edible masterpieces perfect for celebrating any art enthusiast. sweetopia
11. How to Make Decorative Ruler Sugar Cookies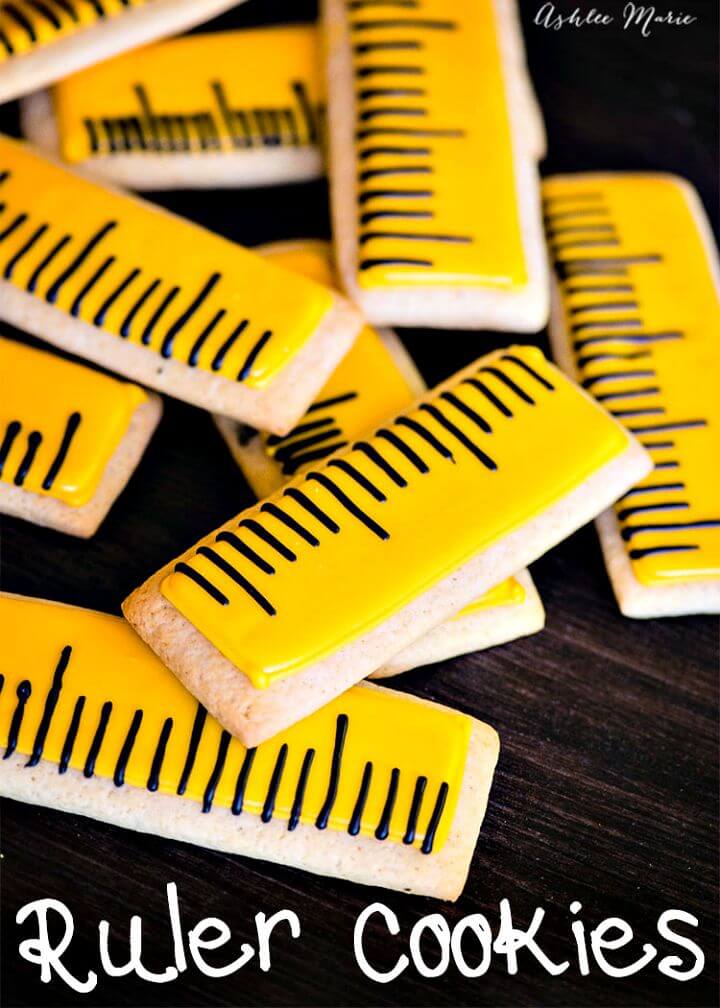 Revive the school year with an exciting DIY treat: homemade back-to-school sugar cookies. Fashioned like rulers, these cookies are a playful and delicious way to gear up for the academic season. They're easy to make – roll out your dough, cut rectangles, bake, and then apply icing for a perfect base.
The secret to flawless icing lines? Plastic wrap! Your kids will adore this sweet surprise, which might make an ideal teacher's gift. These cookies are a fun, convertible way to get the family involved in kitchen creativity, made with all-purpose flour, baking soda, salt, nutmeg, and a dash of love. Get ready to rule the school with these delightful cookies!
12. Best Bite-size Fruit and Veggie Cookies Recipe
Step up your baking game with amazing cookie decorating ideas. Swoop into DIY baking with these adorable fruit and veggie cookies, perfect for spring. Ideal for those with a penchant for healthier choices, these cookies imitate your favorite fruits and vegetables. The ingredients are easily adjustable to cater to various dietary needs, including vegan options.
Armed with cookie dough, royal icing, a 1.5-inch circle cookie cutter, food coloring, decorating supplies, and a hint of creativity, you can bring these delightful treats to life. They're as much delightful to make as they are to devour.
This hands-on baking experience offers a unique twist to traditional cookies and encourages balanced food choices, even in sweets. So, gear up to add a dash of fun to your regular baking routine with these charming fruit and veggie-themed cookies. thedecorated
13. Easy Cookies On A Stick Recipe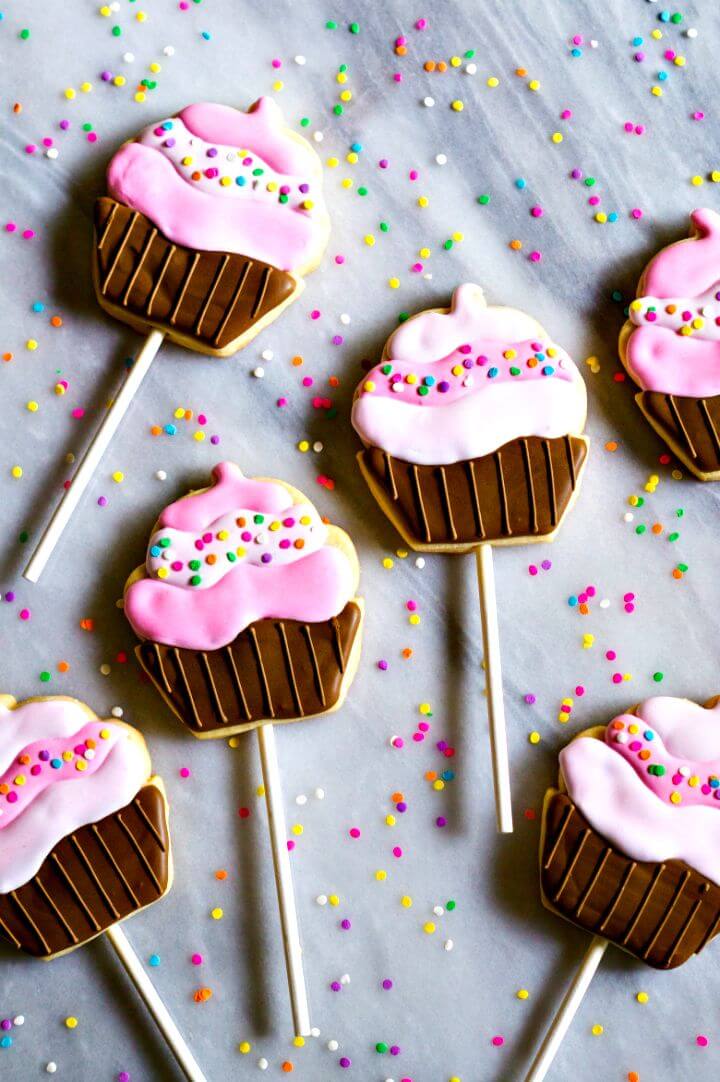 Get creative in the kitchen with cookie decorating ideas for all occasions. Engage in the delightful craft of cookie decoration with this compelling DIY guide to making your cookies on a stick. Beyond its delicious appeal, this intriguing treat provides your dessert collection with an elevated, playful aesthetic.
You can craft delightful cookies that double as decorative pieces using simple materials like cookie sticks, dough guides, and your choice of sturdy cookie dough. The process involves baking and inserting the stick, ensuring a firm hold.
You can use royal icing to embellish these treats, turning them into beautiful additions to any gathering. So embrace your creativity, treat your taste buds, and begin your cookie-on-a-stick journey today. thepioneerw
14. Ladies' Hat Piñata Cookie Decorating Tutorial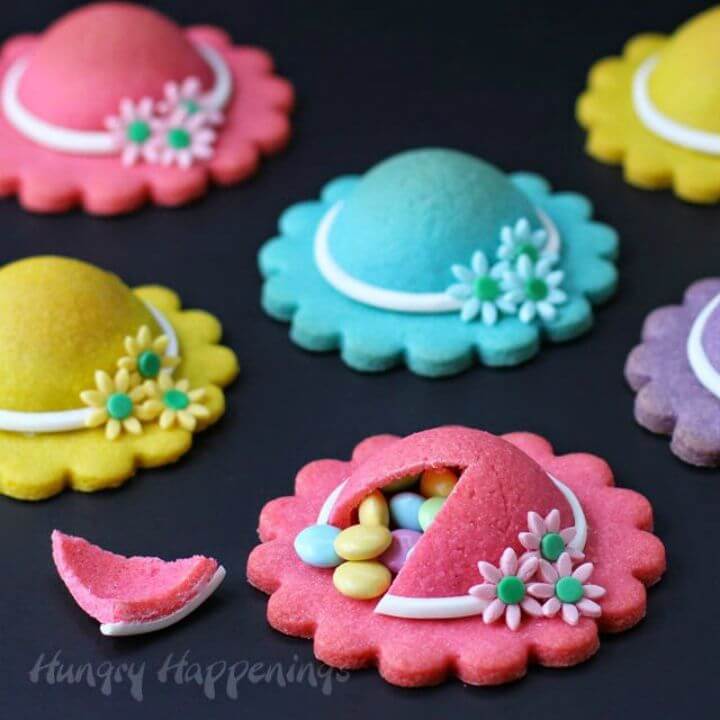 Get the best cookie decorating ideas for special occasions. Delight your guests with these charming DIY ladies' hat Piñata cookies, perfect for events like Mother's Day, Easter, or a Kentucky Derby Party! Evoking the nostalgia of bygone fashion trends, these treats are filled with candy and adorned with modeling chocolate daisies for a sweet surprise.
Utilizing everyday baking essentials like all-purpose flour, sugar, butter, eggs, and your choice of gel food coloring, alongside decorating ingredients like modeling chocolate, royal icing, and candy, the cookies come to life.
Tools required include a Bake Pop Pan or other cake ball pan, cookie cutters, and a small daisy plunger cutter. You can bake your batch of these delightful confections with patience and creativity, perfect for sharing or gifts during festive gatherings. hungryha
15. Sprinkle Sugar Cookies Recipe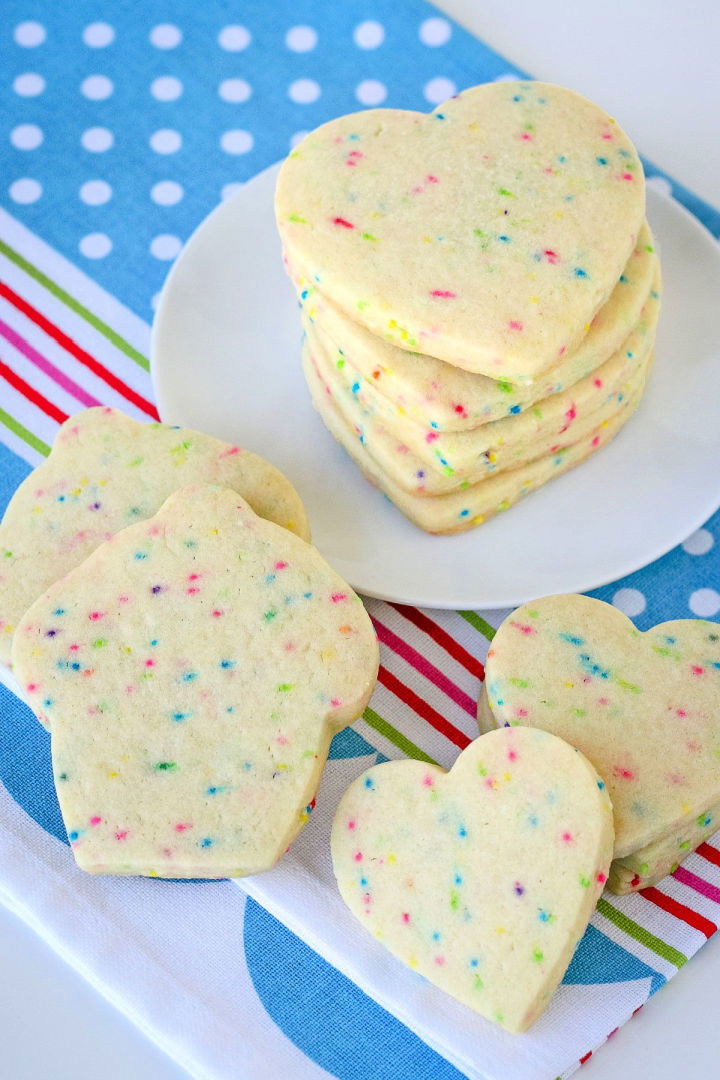 Gather your ingredients, preheat the oven, and prepare to make these DIY sprinkle sugar cookies that will fill your kitchen with sweet smells of success! Ideal for birthdays, Valentine's Day, or any occasion that calls for sweetness and joy, these sugar cookies are unique, with their delightful sprinkles baked right in.
Utilizing ingredients like unsalted butter, granulated sugar, large room temperature egg, vanilla extract, baking powder, all-purpose flour, and your choice of nonpareil sprinkles, these cookies are soft, flavorful, and maintain their shape perfectly.
Follow the step-by-step guide that involves mixing ingredients, chilling dough, rolling out to your desired thickness, and baking to perfection in 8 to 10 minutes. Enjoy these irresistible cookies straight from the oven or with your preferred frosting for added flavor. glorioustreats
16. Strawberry Shaped Decorated Cookies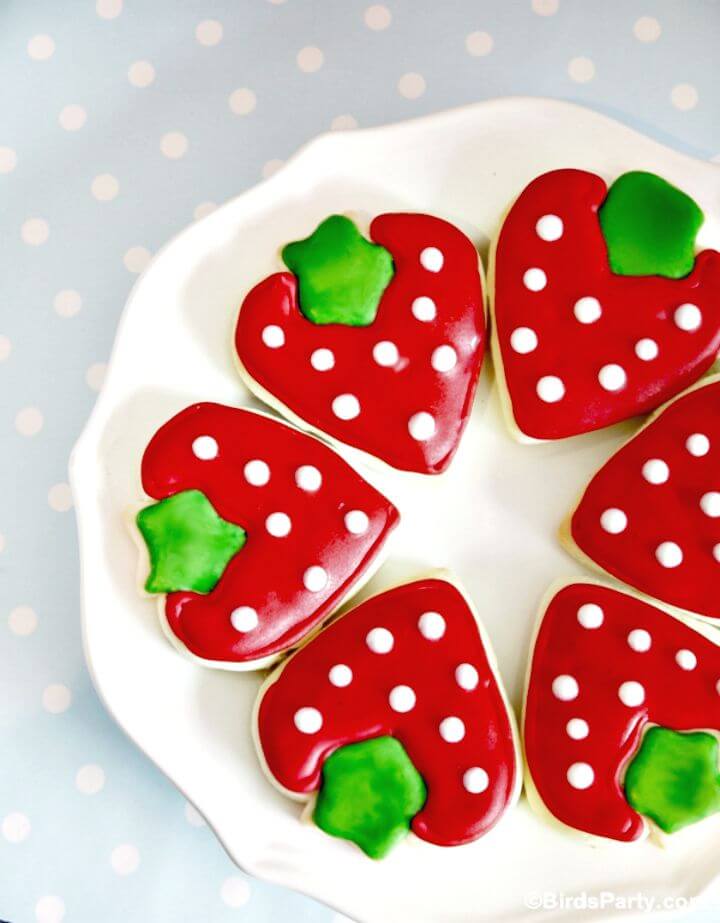 Jump into the whimsical world of DIY cookie decorating with this comprehensive guide to crafting delicious strawberry-shaped sugar cookies. Afraid of the complexities involved? Don't be! This step-by-step tutorial simplifies the process, making it an enjoyable activity for all ages.
Gather your key tools, such as food coloring, a piping bag, cookie cutters, and ingredients for the sugar dough and royal icing. Learn to mix the perfect shades of red and green, and master the 'flooding' technique for seamless icing.
Furthermore, discover two distinct methods to adorn your sweet creations with adorable polka dots. Make your next party unforgettable with these cute, homemade strawberry cookies. birdsparty
17. How to Decorate Surfboard and Wave Cookies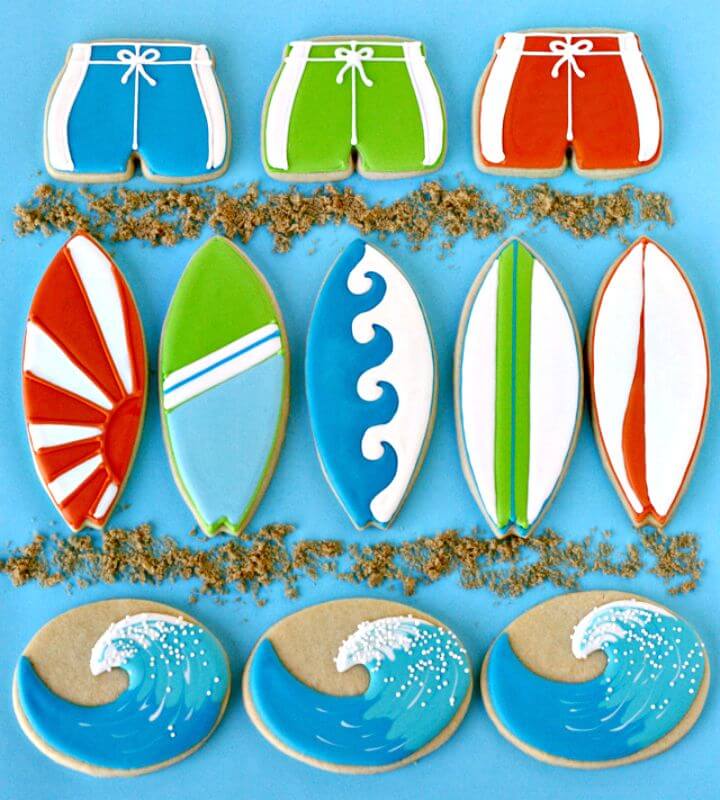 Get creative and go with the flow – decorate your surfboard and wave cookies with this easy-to-follow DIY guide! This project is fantastic for a baby shower or a summer party; these delicious treats taste great and double as attractive decor.
Crafted with love, these cookies incorporate vintage-style surfboard designs and lively wave patterns to infuse joy into your festive occasions. With a detailed guide on crafting the cookies, you'll need ingredients like our Perfect Sugar Cookie Recipe, Royal Icing, and food colors.
You can customize each cookie to make it distinctive, adding a personal touch to the celebration. Bake these exquisite Surfboard and Wave Cookies and let the fun-filled beach vibes wash over your celebration! glorioustreats
18. How to Make Chalkboard Cookies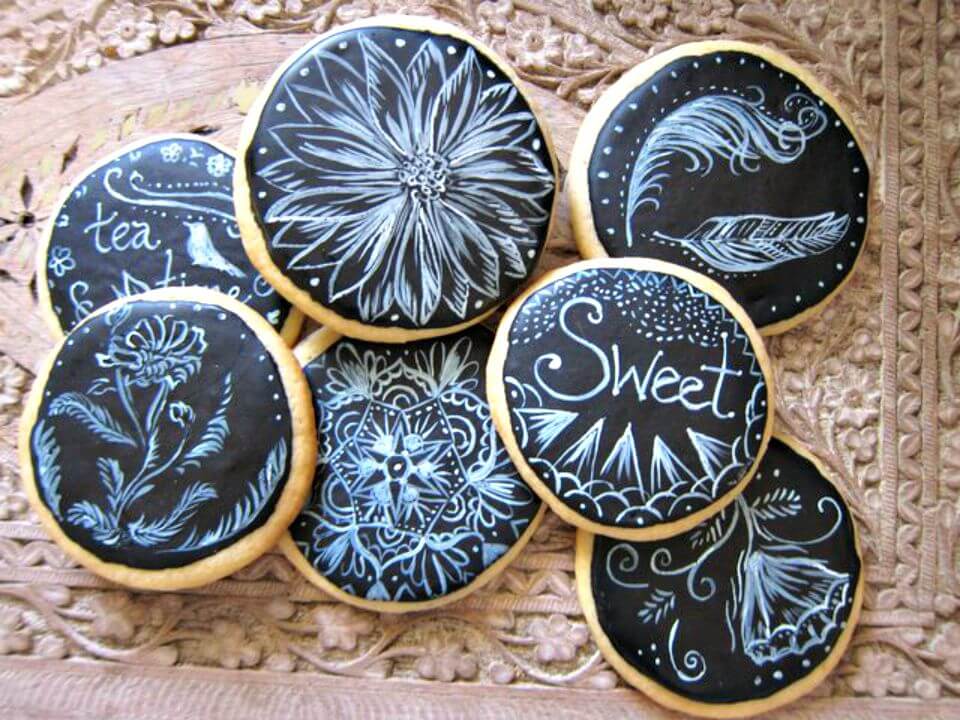 Get creative with cookie decorating ideas for your next celebration. Bring a personalized touch to your baking with these delightfully designed sugar cookies. Each bite invites you into a delicious experience of sweet and intricate artistry. The cookie-making process is straightforward – mixing dry and wet ingredients separately, combining them, and refrigerating the dough before shaping and baking your cookies.
What makes the cookies stand out is the detailed icing process. Make your canvas on each cookie using powdered sugar, egg white, and food coloring. Tools such as fine-tipped brushes and toothpicks aid in creating your edible masterpiece.
For quicker drying icing, consider using vodka instead of water. Remember, practice makes perfect – start painting on the less perfect cookies to hone your skills before moving on to the best ones. With these beautifully decorated sugar cookies, every occasion becomes more special. ehow
19. Delicious Cheeseburger Cookie Recipe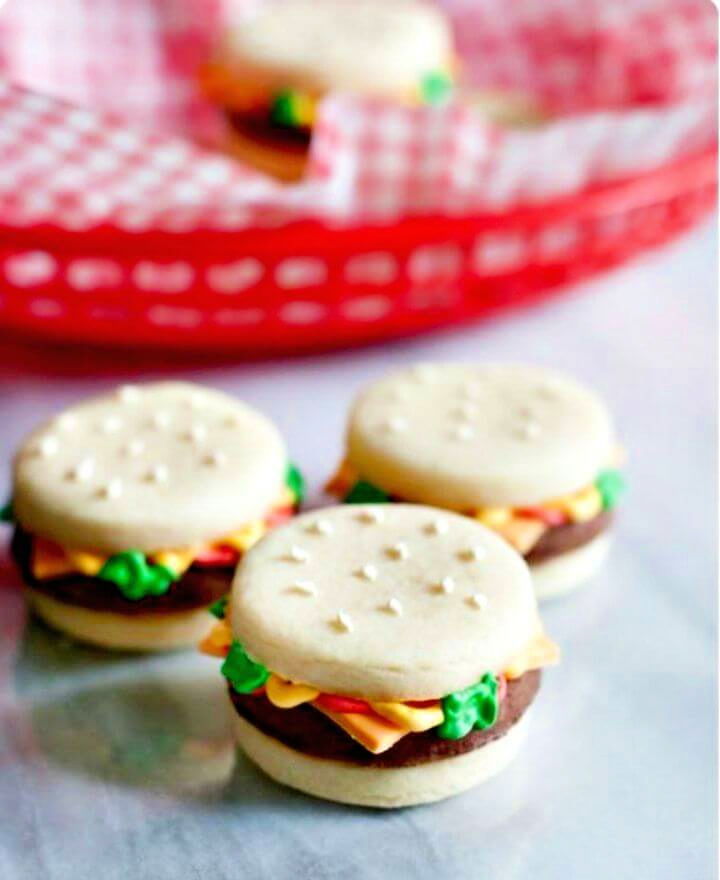 Express your creativity with this fun edible project- DIY cheeseburger cookies! These adorable treats emulate the classic burger but are crafted from vanilla and chocolate cookies, royal icing, and fondant – all stacked to perfection.
Your fondant is tinted to resemble cheese, while red, yellow, and green icing mimics ketchup, mustard, and lettuce. Use a leaf tip for lettuce texture and finish with 'sesame seeds' using ivory icing.
The best part is this project is simple to execute, particularly when the cookies are prepared in advance. Baked with love, these cheeseburger cookies are a fun, delectable twist on the ordinary, set to amaze your family and friends. Now you can 'hold your burger and eat it too'! bakeat350
20. Make Brown Butter Heart Cookies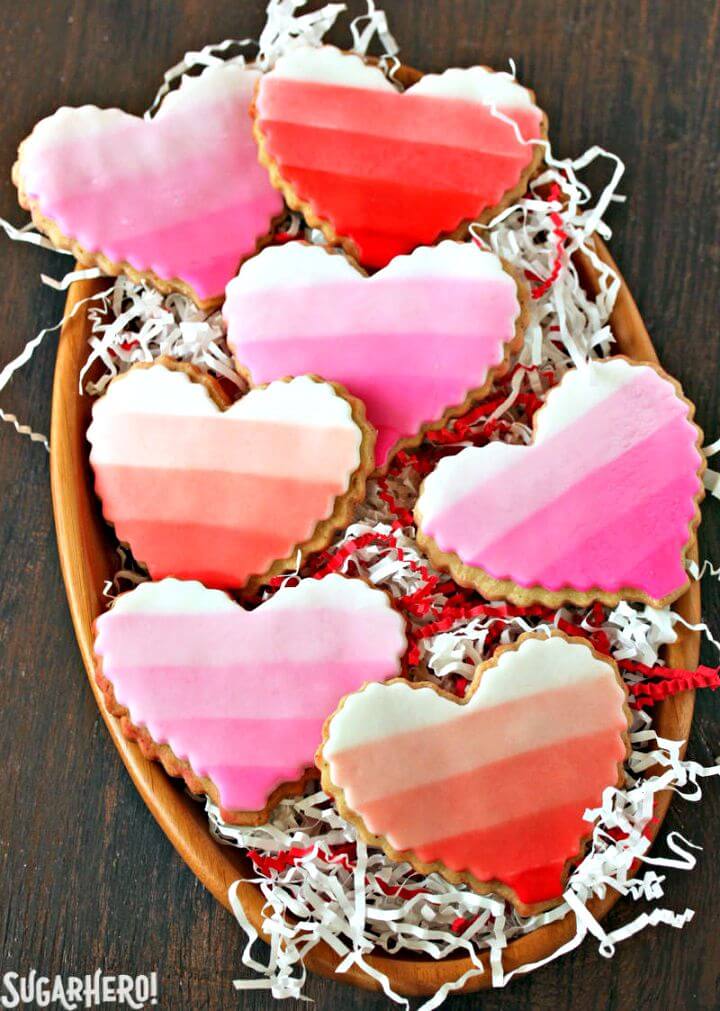 Surprise your loved ones with these DIY brown butter heart cookies, an exquisite spin on the classic sugar cookie! Infused with brown sugar and brown butter, these cookies flaunt a caramelized, nutty flavor that pairs perfectly with beautifully painted fondant designs.
A key factor that sets these heart-shaped delights apart is the sweet fondant topping, which is flawlessly balanced by the rich, brown butter base to prevent overwhelming sweetness. The brown sugar contributes a delectable caramel note and ensures the cookies remain soft for days.
Your kitchen will fill with a delightful aroma as these cookies bake, and the fondant adds a polished finish to these gourmet treats. Try the color mist sprays for easy airbrush-like effects. Enjoy the pleasure of creating these unique brown butter heart cookies! superhero
21. Matcha Sugar Cookie Recipe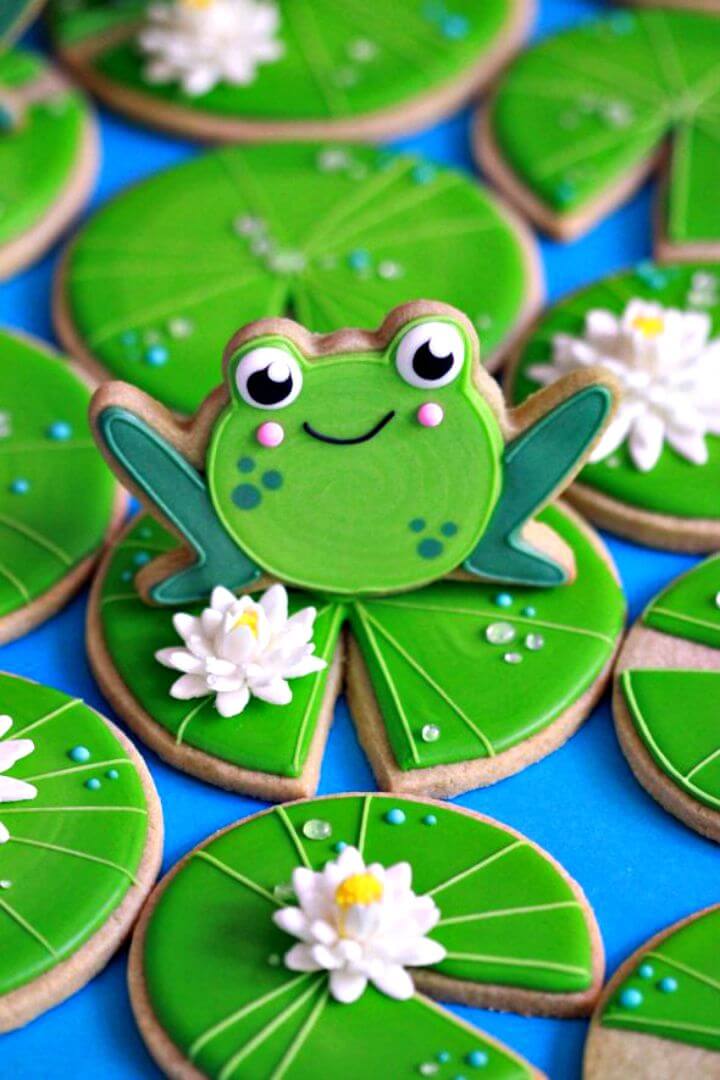 Boost your culinary creativity with this enticing DIY recipe for Matcha sugar cookies. These cookies integrate matcha's rich, earthy flavor, a powdered green tea lauded for its health benefits, into a traditional sugar cookie. This recipe is notable for its vibrant green hue and unique taste, proving that matcha isn't just for your morning smoothie.
For this bake, you'll need common kitchen staples like unsalted butter, granulated sugar, eggs, vanilla extract, all-purpose flour, baking powder, matcha powder, and salt.
Perfect for cookie enthusiasts wanting to try a different twist, these cookies offer a delightful balance of sweetness and the subtle umami essence of matcha. Get ready to preheat your oven and give your taste buds a new experience with this Matcha sugar cookie recipe. sweetopia
22. Nerdy Cupcake Cookies Recipe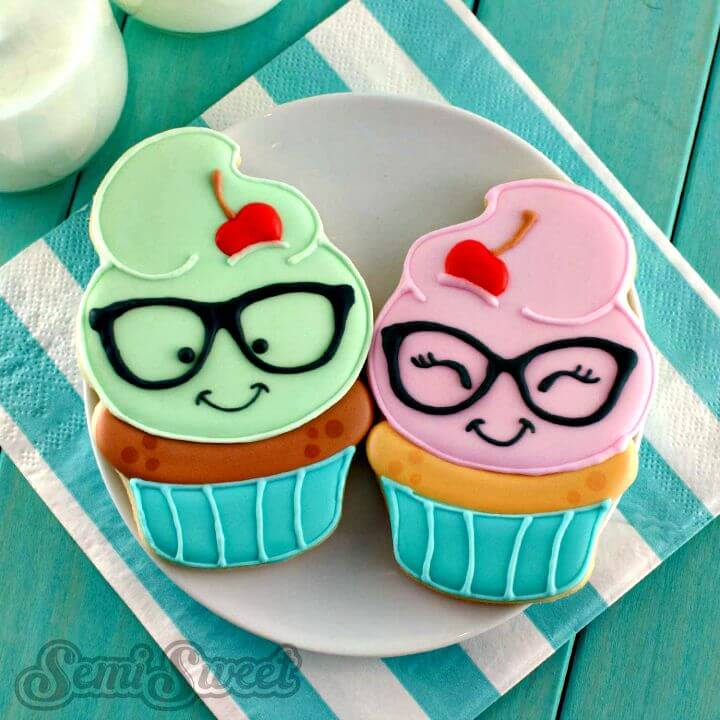 Delight in the process of crafting adorable DIY nerdy cupcake cookies that are perfect for any occasion – be it Teacher Appreciation Week or Back-to-School. These whimsically designed treats are sure to please, featuring special nerdy glasses and a playful face drawn on the whipped topping.
This guide offers an easy-to-follow method to make these unique delicacies using new cupcakes and plaque cookie cutters. Nail down the decorating process with the comprehensive PDF templates, including a nerdy boy and girl cupcake version.
Employ your choice of colored icing to bring these quirky cookies to life, and master the art of creating a complementary plaque cookie for an added flourish. Experience the joy of baking these unique cupcake cookies, adding a dash of creativity and a sprinkle of humor to your baking routine! semisweet
23. How to Decorate T-rex Dinosaur Cookies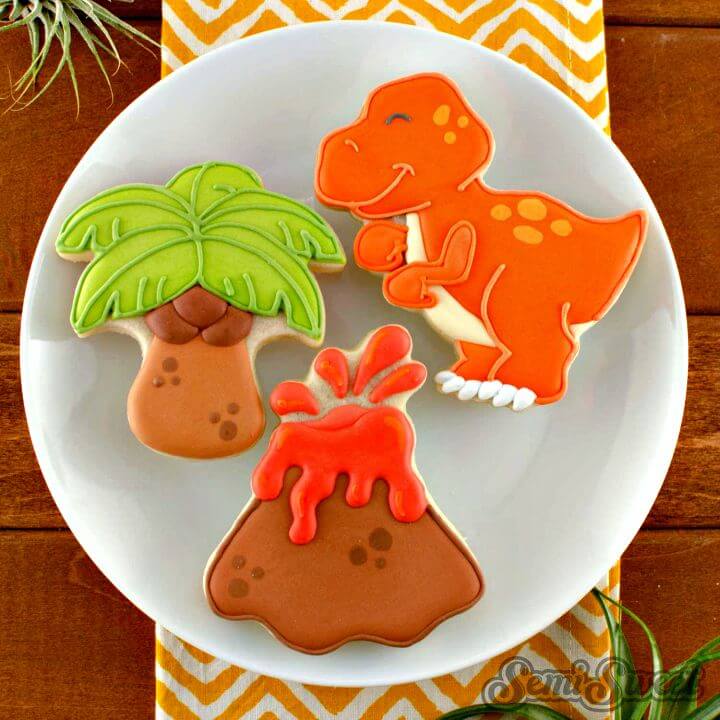 Explore the world of cookie decorating with simple ideas. Journey into a world of prehistoric sweetness with these delightful DIY dinosaur cookies! The post-Easter lull is the perfect time to venture into new and exciting cookie themes. Capitalize on this slower period by trying out six new dinosaur cookie cutter designs now added to the shop.
This collection includes a stegosaurus, brontosaurus, triceratops, and a T-rex, along with a palm tree and volcano for a complete Jurassic scene. All cutters are designed to ensure durability and cuteness, keeping your cookies intact while maximizing their appeal.
The accompanying PDF template guides you through decorating, and the informative tutorial makes creating these treats a breeze. Enjoy crafting these fun and unique designs today! semisweet designs
24. Prepare Watermelon Sugar Cookies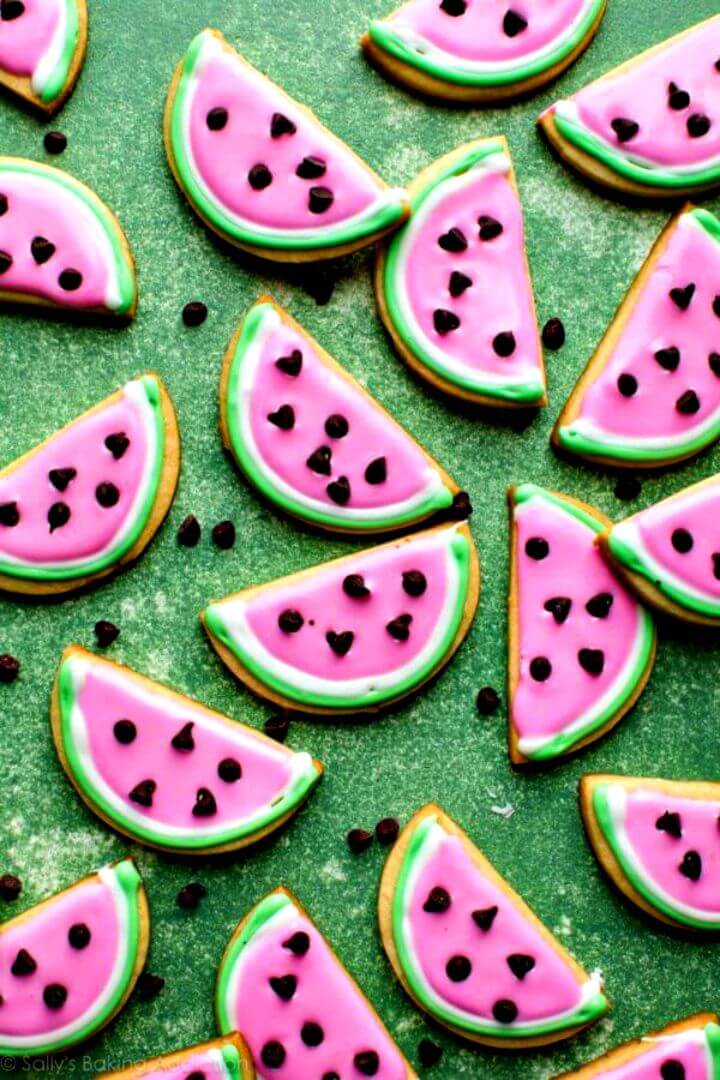 Submerge yourself in the sweet delight of these homemade watermelon sugar cookies! Baked from a quality sugar cookie recipe, these DIY cut-out cookies are fashioned like watermelon slices and topped with rich royal icing in pink, white, and green hues.
Mini chocolate chips are the perfect mimic for watermelon seeds, adding an unexpected dash of indulgence. Although watermelon extract is an optional addition, the cookies hold their own with their buttery goodness and sugary icing.
Prepare to be welcomed into the ranks of master cookie decorators as you make these fun and festive treats, perfect for picnics, barbecues, or any summer gathering. Make your celebrations a touch sweeter with these delightful watermelon sugar cookies! sallysbaking
25. Quick and Easy Cookie Icing Recipe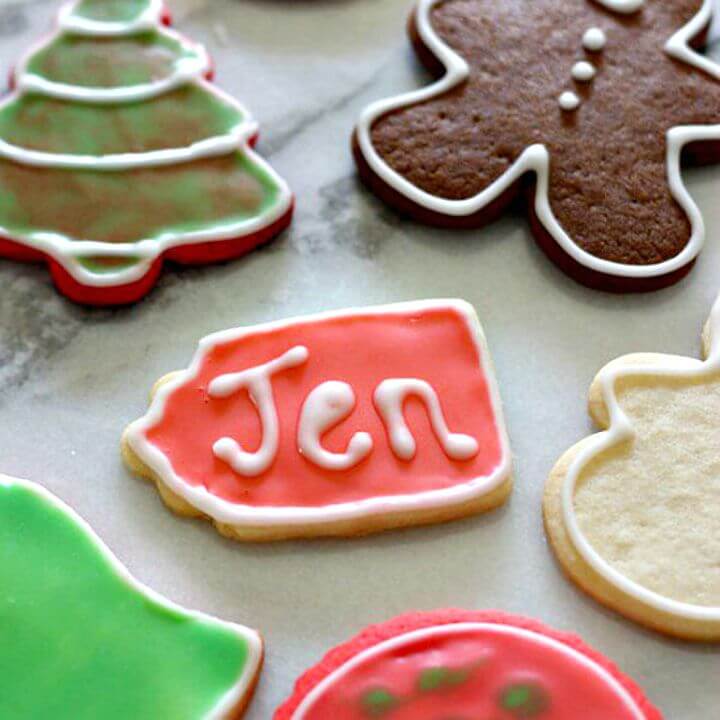 Unveil your inner artist with this easy DIY cookie icing recipe! You'll love the sweet taste that isn't overly sugary and the icing's texture that hardens just enough to prevent smudging without ruining the cookie's texture. This tutorial brings you an enjoyable and straightforward decorating method that will enhance the aesthetics of any cut-out cookie.
You can make stunning, mouthwatering cookie designs with basic ingredients like powdered sugar, vanilla extract, water or milk, and your preferred gel food coloring.
Don't worry about the icing consistency; this guide gives practical tips on achieving the perfect texture. Get ready to add an artistic touch to your baking journey with this easy, fun, and delicious cookie icing project! handletheheat
26. Cute Pirate Cookies Recipe
Introduce an element of fun into your next boys' birthday bash with these delightful DIY pirate cookies! Requiring only basic kitchen tools and a handful of ingredients like round sugar cookies, and marshmallow fondant, this step-by-step guide promises to make your baking experience enjoyable and fuss-free.
Experiment with different cookie varieties, or customize your fondant flavors and colors to match your party theme. Let your cookies cool completely before decorating to avoid any sticky mishaps.
You can safely store these cookies at room temperature, away from moisture and heat, for up to a week. So why wait? Embark on this culinary adventure and bring a smile to your little pirate's face! cakewhiz
27. Ice Cream Cone Cookies Recipe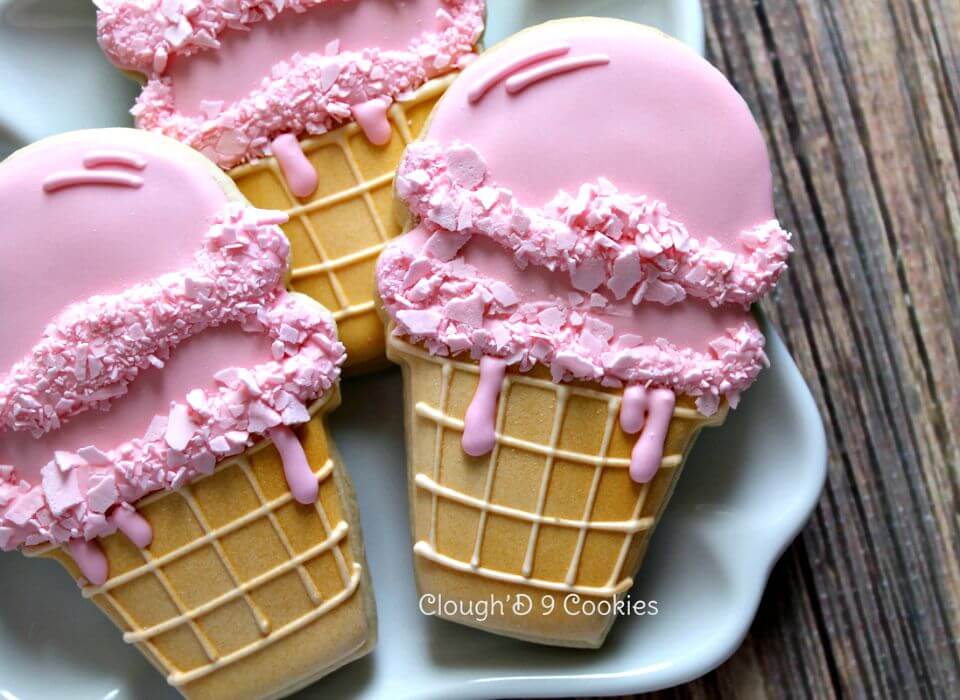 Spring into the delightful world of baking with this easy and fun approach to making DIY ice cream cone cookies. Start with your favored ice cream cone-shaped cutter, a tool that can turn your favorite cookie dough into a delightful summer treat. Make it come alive with light ivory royal icing, and give it an authentic feel with airbrushing using Amerimist Ivory.
Turn the leftover pink royal icing into a delectable strawberry ice cream topping by spreading it thinly on parchment paper. Once dried and crumbled, sprinkle the icing crumble on the dried ice cream base, followed by some creative touches like drips and lines on the dome.
Complement your cookies with real ice cream for a tasty summer delight! This creative technique promises a playful baking experience while delivering mouthwatering results. Treat yourself and your summer with these unique ice cream cone cookies! cloughd9c
28. How to Make Popsicle Cookies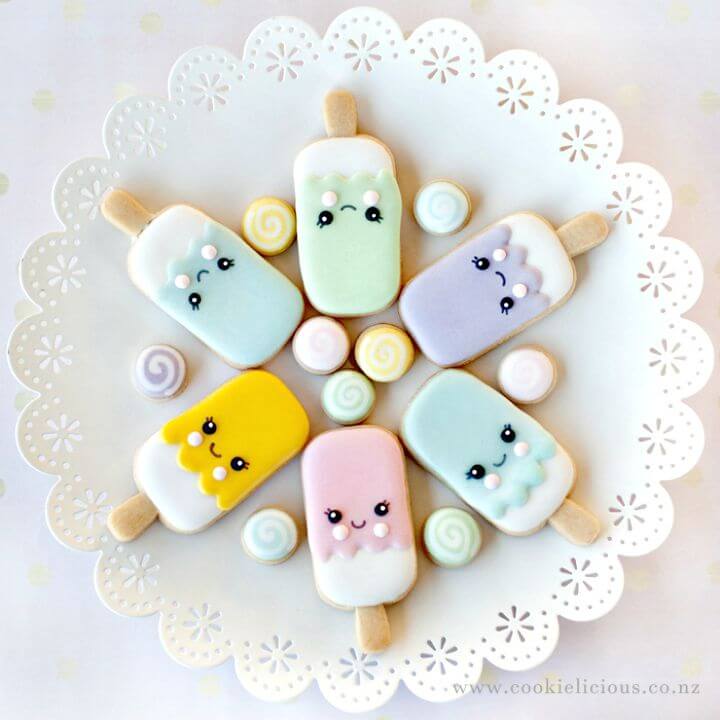 Winter season doesn't mean you can't enjoy ice cream, especially if they are adorable cookies! The recipe outlined in this DIY guide will show you how to make adorable popsicle and ice cream cookies, perfect for a school fundraising event or a cozy weekend at home. The process is super easy:
Just fill the cookie molds with icing.
Dry them.
Add additional layers and details to make them look more like popsicles.
Adding kawaii faces with black icing and an edible marker creates an extra layer of cuteness. You can also try various colors to make a delightful assortment of these sweet treats.
Despite minor accidents like a snapped handle, the outcome is undoubtedly adorable. Try your hand at these popsicle cookies and share your creative baking journey! cookielicious
29. Cookie Decorating with Glace Icing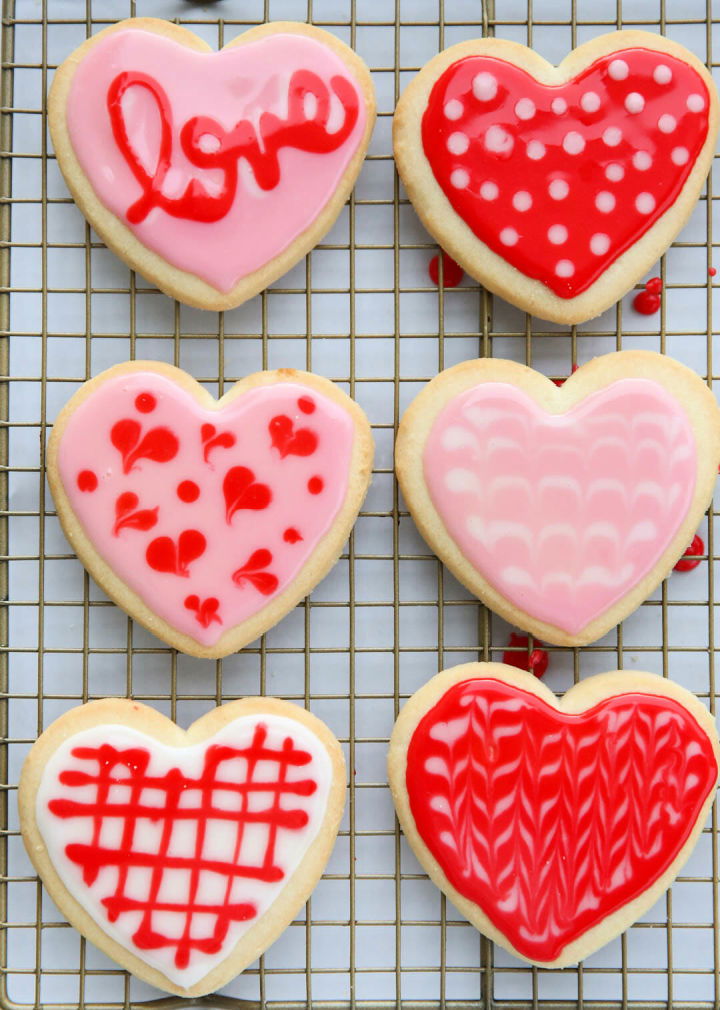 Find endless inspiration with unique cookie decorating ideas. Elevate your baking game with this foolproof DIY method for decorating sugar cookies. Combining creativity with culinary skills, this technique uses easy-to-make glace icing to make visually stunning and delicious cookies.
The ingredients required are simple: powdered sugar, milk, corn syrup, and an extract of your choice, along with some classic sugar cookies to decorate. The beauty of this icing is its versatility. It dries to a hard sheen, which allows for stackable and easily transported cookies, ideal for gifting or impressive displays.
Despite the sophistication of the results, the approach is highly forgiving, ensuring that no cookie looks unattractive. Why not give it a try? Start experimenting with glace icing and witness your sugar cookies transform into stunning edible art. ourbestbites
30. Easy and Adorable Unicorn Sugar Cookies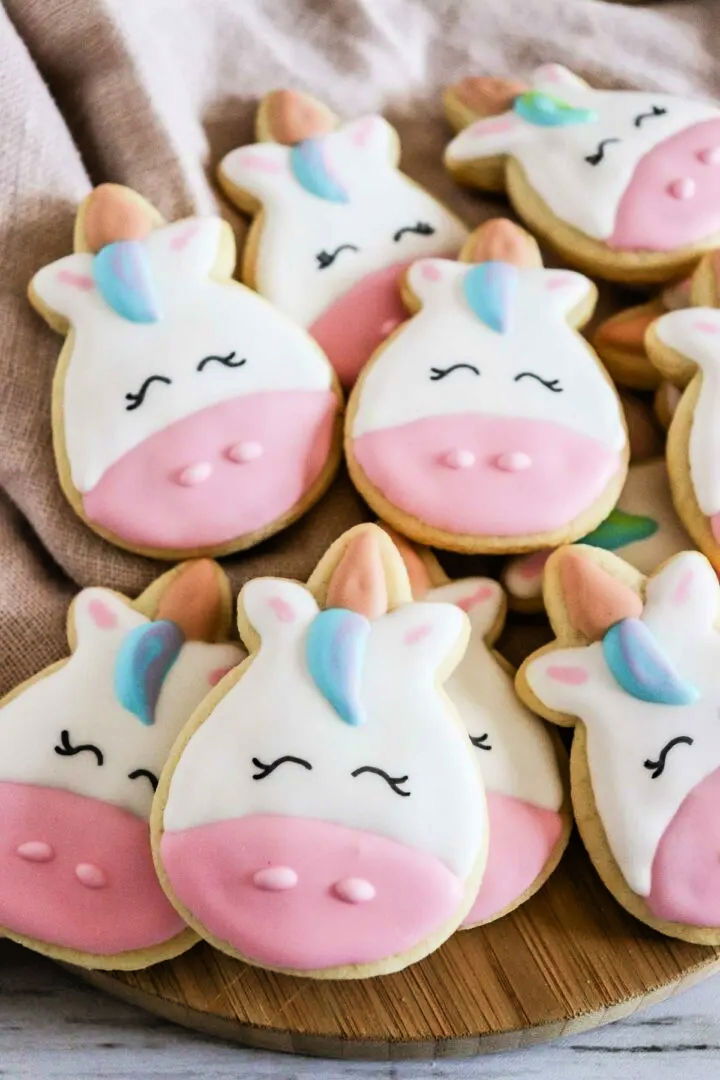 Unicorn sugar cookies are the perfect way to bring magic to any party or occasion. These DIY treats captivate the hearts of both young ones and adults alike with a delightful combination of a sweet, crunchy sugar cookie base and vibrant royal icing decorations. Get started with easily accessible ingredients like Pillsbury sugar cookie dough, flour, powdered sugar, meringue powder, and water.
Decorate the unicorn cookies to your heart's desire, making sure to have fun with colors for the nose, horn, face, and ears. These cookies are more than just an enjoyable baking process; they involve older children in the kitchen.
Plus, they are a guaranteed hit at unicorn-themed parties or as a special treat for anyone who loves unicorns' mythical, magical allure. Have fun creating and indulging in these DIY magical unicorn sugar cookies today! seasonedsprinkles
Conclusion: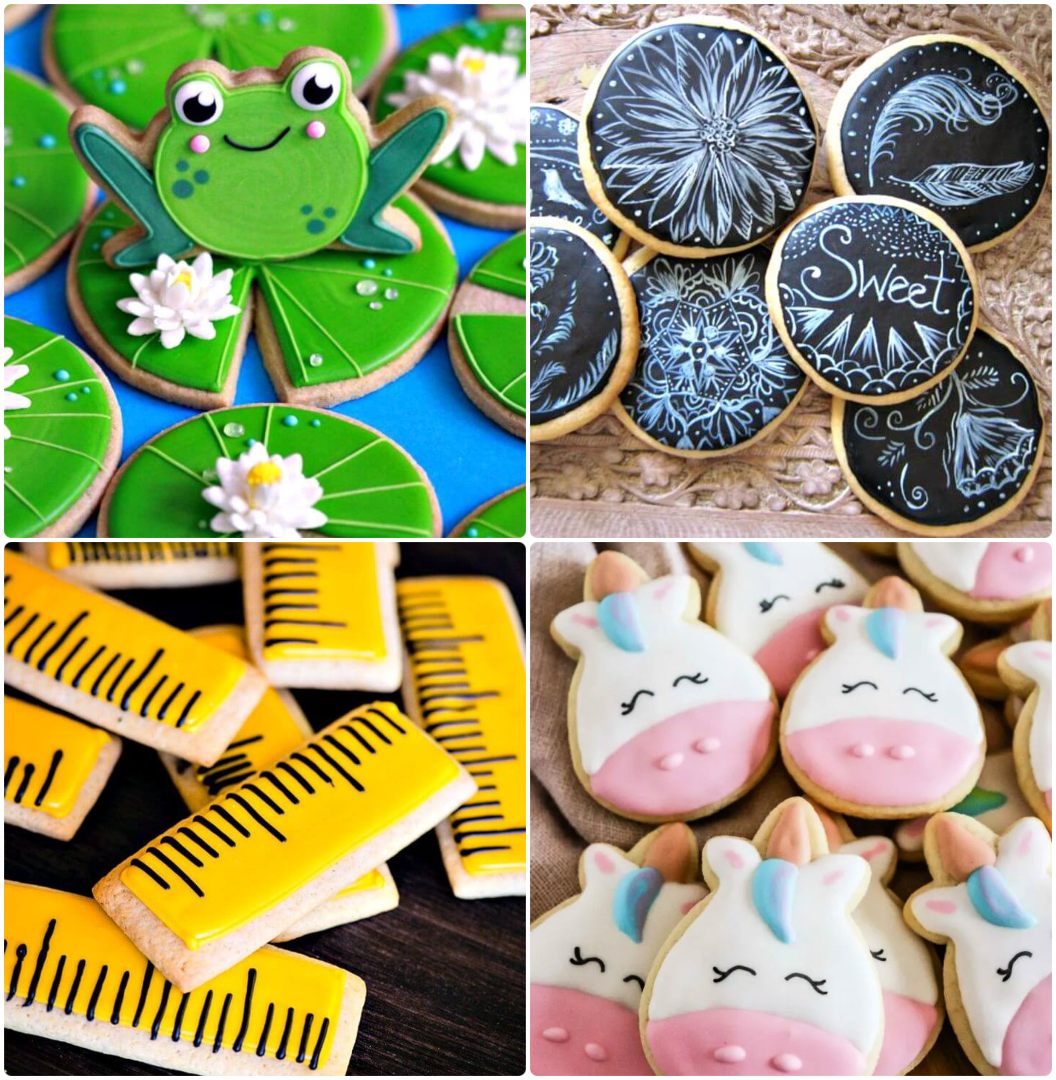 In conclusion, exploring various cookie decorating ideas, such as frost sugar cookies or adorable bear designs, can elevate your baking skills and bring fun and creativity to your kitchen. With a range of easy cookie designs and unique concepts, like Margarita cookie decorating or hammerhead shark cookies, you'll find inspiration for all skill levels. So why not indulge in cookies design ideas and experiment with fresh techniques, like decorating with fondant art or glace icing, and create delicious treats for all to enjoy.