Decoupage furniture is an easy and fun way to give new life to tired pieces of furniture, perfect for beginners and crafts enthusiasts alike. Learn how to mod podge furniture with these 25 easy decoupage furniture ideas to help you get started with your own DIY project. The possibilities for creatively transforming your pre-loved furniture are endless, from mod podge dressers to decoupaged side tables. With these easy decoupage furniture ideas and the use of wrapping paper, fabric scraps, photographs or specialized decor paper, you can give your furniture a new look with minimal effort. Whether you're looking for simple modge podge furniture or more decorative decoupage furniture ideas, we got you covered.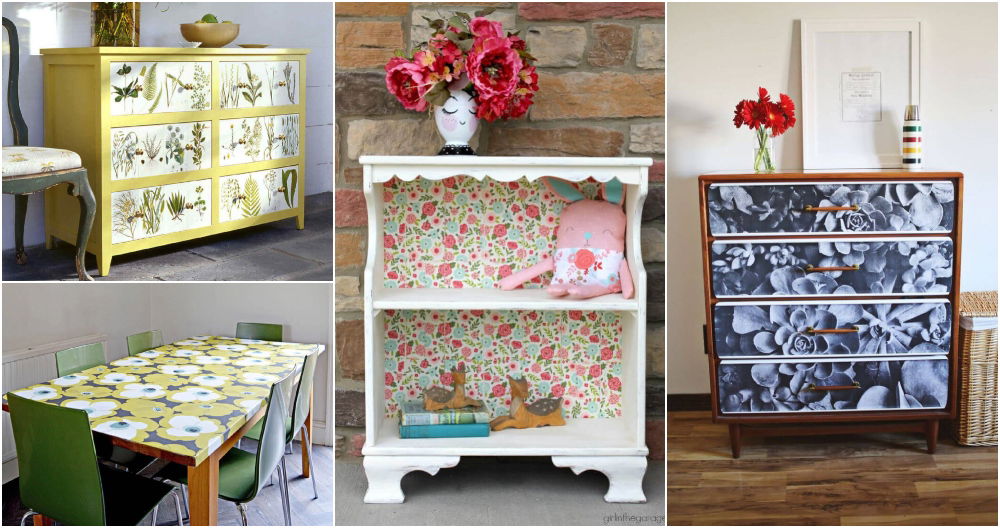 All these amazing decoupage furniture ideas are easy enough for beginners, with minimal supplies, such as mod podge, decoupage papers, and scissors. These creative decoupage furniture ideas will transform old furniture into decorative and beautiful pieces – from dressers to nightstands, chairs to tables. Decorating your pieces of furniture with decoupage can take them from drab to fab in no time!
So if you're looking for an innovative way to spice up your interior decor or repurpose your old pieces of furniture, decoupage may be the perfect solution for you. Try these 25 simple decoupage furniture ideas as a great starting point for your next DIY project!
What do you need to decoupage?
To decoupage, you will need an object to decorate, a design or pattern of your choice from an impressive list of decoupage furniture ideas, adhesive glue or Mod Podge, paintbrush(es), scissors/craft knife and some sandpaper. You may also choose to add embellishments such as jewels, sequins or other decorative items for extra flair! Ensure that the surfaces of your object and decorations are clean, smooth and free from dust before starting. Have fun!
Is Mod Podge and decoupage the same thing?
No, Mod Podge and decoupage are not the same thing. Decoupage is an art form that involves gluing paper or fabric to an object, while Mod Podge is a specialized type of glue used in decoupage projects. Mod Podge typically comes in several finishes such as glossy, matte, or sparkle. It is an essential element of decoupage projects.
What is the best material to use for the decoupage?
Decoupage can be done on almost any surface, but for the best results, it is recommended to use a smooth, sealed wood or metal surface. Acrylic paint and water-based varnish are also great materials for decoupage projects. For an even more durable finish, some crafters use polyurethane sealer on their decoupage pieces.
Is it easy to decoupage?
Yes, decoupage is a relatively easy craft to learn. It requires basic tools such as scissors and glue, a surface to work on, and some decorative paper. With practice and patience, you can create beautiful objects with decoupage techniques. Start with smaller projects like card-making or simpler designs before working on bigger items. There are plenty of online tutorials and tips to help you practice this craft. Enjoy!
What is Mod Podge use for?
Mod Podge is a type of glue used to protect and seal items such as paper, fabric, wood, photos and more. It can be used alone or in combination with other glues to create unique mixed-media art projects. Mod Podge is ideal for craft projects of all kinds; it's waterproof, dries quickly and leaves a glossy finish. Additionally, the glue can be used for decoupage projects to give items a special, vintage look. All in all, Mod Podge is an incredibly versatile and easy-to-use adhesive for various craft projects.
Is Mod Podge a sealant or a glue?
Mod Podge is a water-based sealant, glue and finishes used to decorate and protect surfaces. It can be used as an adhesive for paper, fabric, glass, wood, ceramics. It also provides a protective layer that acts as a sealer or varnish. Mod Podge is versatile, easy to use, and can create various decorative effects.
Does Mod Podge make things waterproof?
Yes, Mod Podge can be used to make items waterproof. It creates a protective layer that seals the item and prevents water or moisture from entering. When applied properly, it can be used indoors or outdoors and last for years without fading or cracking due to weathering. It is easy to use and highly recommended for crafting projects requiring a waterproof finish.
Can Mod Podge be painted over?
Yes, Mod Podge can be painted over. Once the first coat of Mod Podge has dried completely, you can apply acrylic paint on top of it. When applying the paint, use a foam brush for best results and allow each layer to dry fully before adding more layers or varnish. This method will ensure that your project looks at its best.
It is recommended to use a very thin brush and several thin layers of paint rather than one thick layer for intricate details. After the painting is done, seal it with varnish for added protection.
With the right technique and decoupage furniture ideas, you can create beautiful furniture and a professional finish with Mod Podge and acrylic paint.
What is best to decoupage furniture with?
The best material to decoupage furniture with is either paper or fabric. Paper provides a smooth surface, while fabric can allow for more intricate designs. Both require the use of an adhesive and a sealer to protect the design from wear and tear. For added protection, consider using a layer of varnish after applying the sealant. With careful preparation and attention to detail, you can achieve beautiful results with any of these materials.
Can you seal painted furniture with Mod Podge?
Yes, Mod Podge can be used to seal painted furniture. It is an all-in-one glue, sealer, and finish that creates a protective layer on the surface of your project. It dries quickly and clear, leaving a non-tacky finish with lasting protection for furniture pieces that have been handpainted or decoupaged. It's a great way to keep your furniture looking like new for years.
What does Mod Podge do to wood?
Mod Podge is a protective sealant that can be applied to wood. It helps protect the surface from scratches and scuffs and provides a waterproof layer. It also gives the wood a glossy finish, making it look more attractive and enhancing its natural beauty. When used properly, Mod Podge can help keep your wooden projects looking great for years to come.
How do you do decoupage on furniture?
Decoupage is a great way to add a unique and creative touch to furniture. Begin by sanding the surface of your piece before applying a coat of paint or primer. Then, choose decorative paper prints and use a decoupage medium like glue or varnish to attach them onto your furniture. Finish with several coats of sealant for added protection. With these easy steps, you can make your furniture stand out with decoupage!
What kind of paper can you use to decoupage furniture?
The best paper for decoupage furniture is acid-free, archival quality tissue paper. It is thin enough to allow the glue or other adhesive to penetrate but strong enough to give a smooth finish. Be sure to use high-quality, non-toxic adhesives and sealants with your project. Finally, choose colors and patterns that best fit the piece of furniture you are working on.
How do you seal decoupage on furniture?
To seal decoupage on furniture, use a brush to apply several coats of clear acrylic sealer or varnish. Start in the center and work outward. Allow each coat to dry completely before applying subsequent coats. Once the final coat has been applied, allow it to dry overnight before using the furniture. If desired, you can also apply a coat of paste wax for additional protection.
In addition, you can also apply a layer of polyurethane varnish or lacquer over the decoupage to ensure it is fully sealed and protected. Apply in light coats, allowing each one to dry completely before adding more. Once finished, sand lightly with fine grit sandpaper and wipe clean before using.
What is best to decoupage furniture with?
Decoupage is the art of decorating objects with paper cutouts. To decoupage furniture, you should use thin tissue paper, wrapping paper, or scrapbooking paper. Make sure the paper is acid-free, as this will ensure it doesn't discolor or deteriorate over time. Choose an adhesive that won't leave a residue, such as a decoupage medium or glue specifically made for decoupage. Lastly, use sealant to protect the paper and prevent wear and tear.
For best results, decoupage furniture with light- to medium-weight items such as wrapping paper, tissue paper, napkins (just make sure they are lignin- and acid-free), old book pages, or fabric cutouts. Decal papers and foils can also be used for a more dramatic effect. Ensure the surface is clean, dry and free of dust before starting. For a lasting finish, use an appropriate sealer when you're done.
Can you decoupage fabric on furniture?
Yes, you can decoupage fabric on furniture. Decoupage is a unique and creative way to give new life to old furniture pieces. All you need to do is cut out the fabric or pattern of your choice and glue it down onto the surface with an adhesive. Make sure the substrate is sanded down and smooth before decoupaging. The results can add a unique and eye-catching touch to the furniture.
1. DIY Decoupage Table Top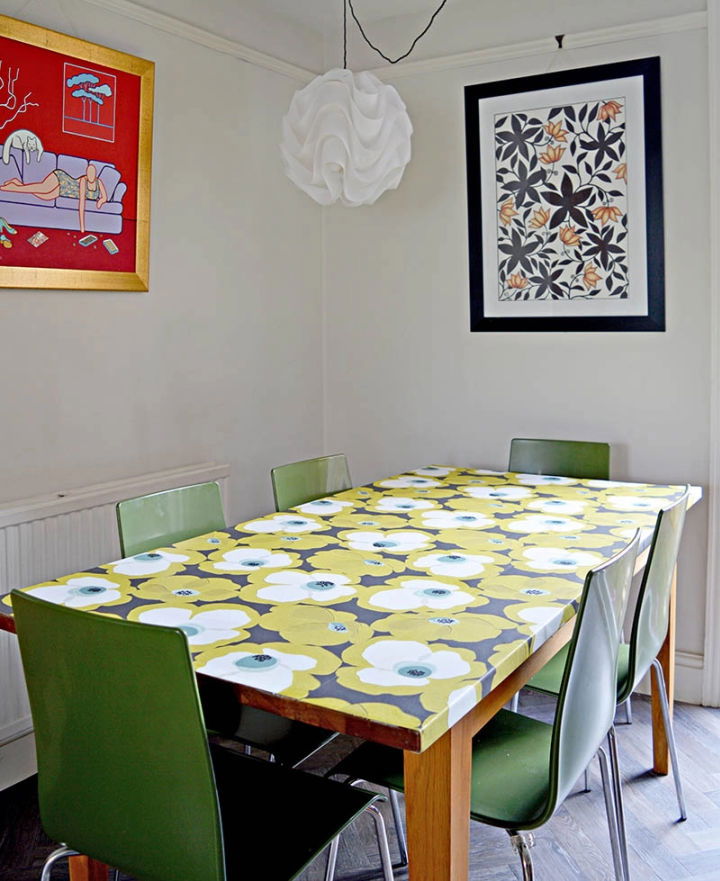 Looking for a budget-friendly decor revamp? Check out this DIY decoupage tabletop. Choose your favorite wallpaper design complementing the decor around, wallpaper paste, and a bowl to mix it in, paste brush, smoothing brush, rotary cutter, and wallpaper scissors with crystal clear indoor varnish. pillarboxblue
2. Homemade Decoupage Dresser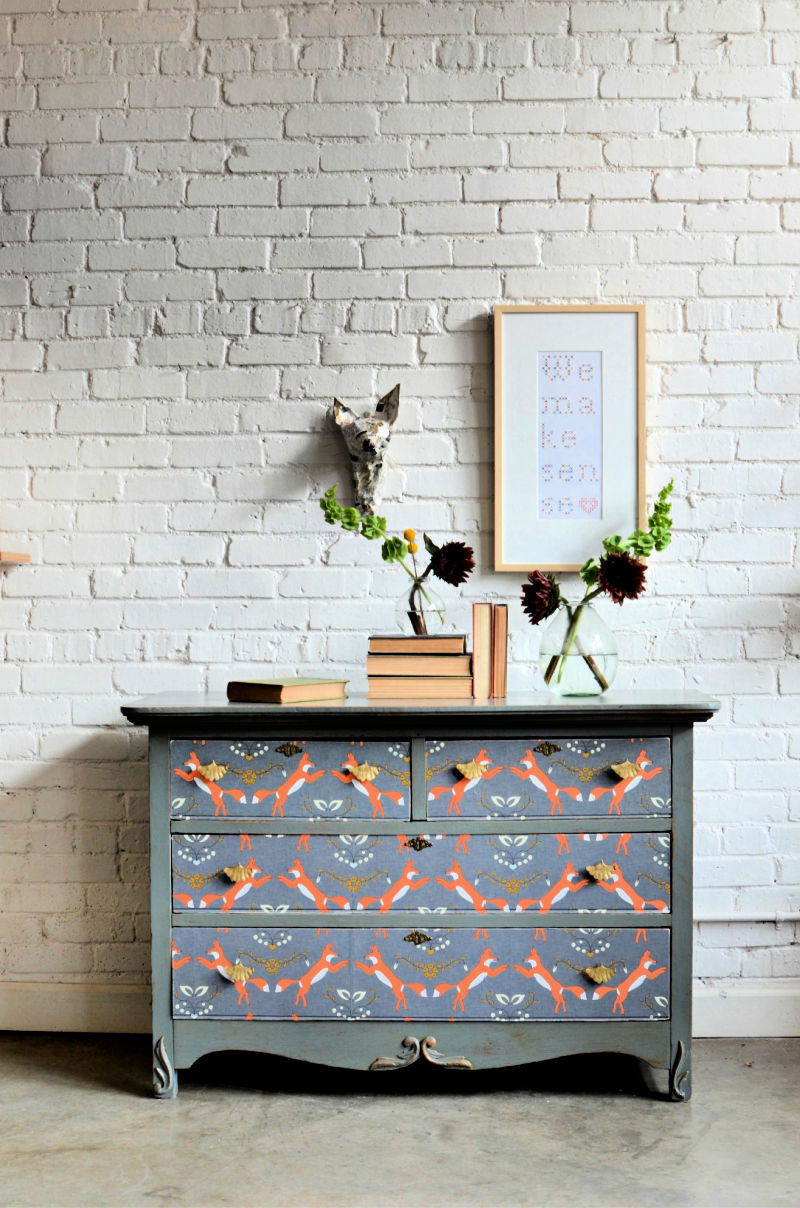 Check out this super charming decoupage dresser idea! It reminds us of the snow-white or our favorite magical movie decor! Select your wallpaper design, craft knife, shop towels, frog tape, paint, paintbrush, foam roller, mod podge, and a few more craft supplies. spoonflower
3. Floral Decoupage Bookcase with Napkins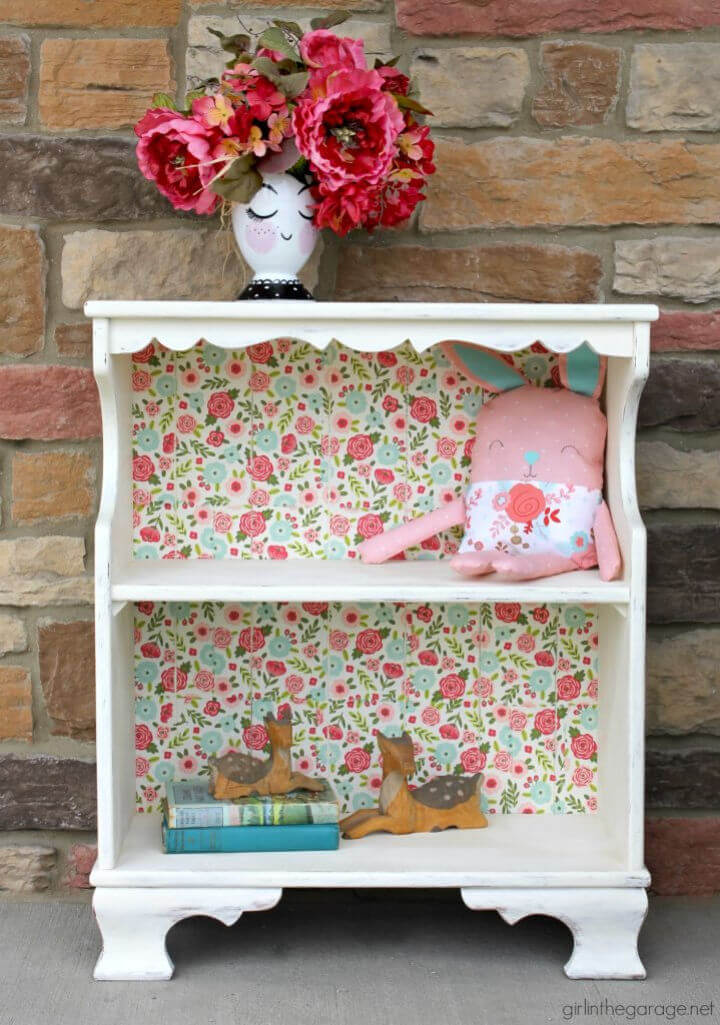 Let's transform this vintage bookcase into this floral textured, vibrant bookcase! This is actually just a combined version of cute floral napkins that are all glued together using mod podge. After that, just paint the whole thing white. girlinthegarage
4. Making a Marble Paper Filing Cabinet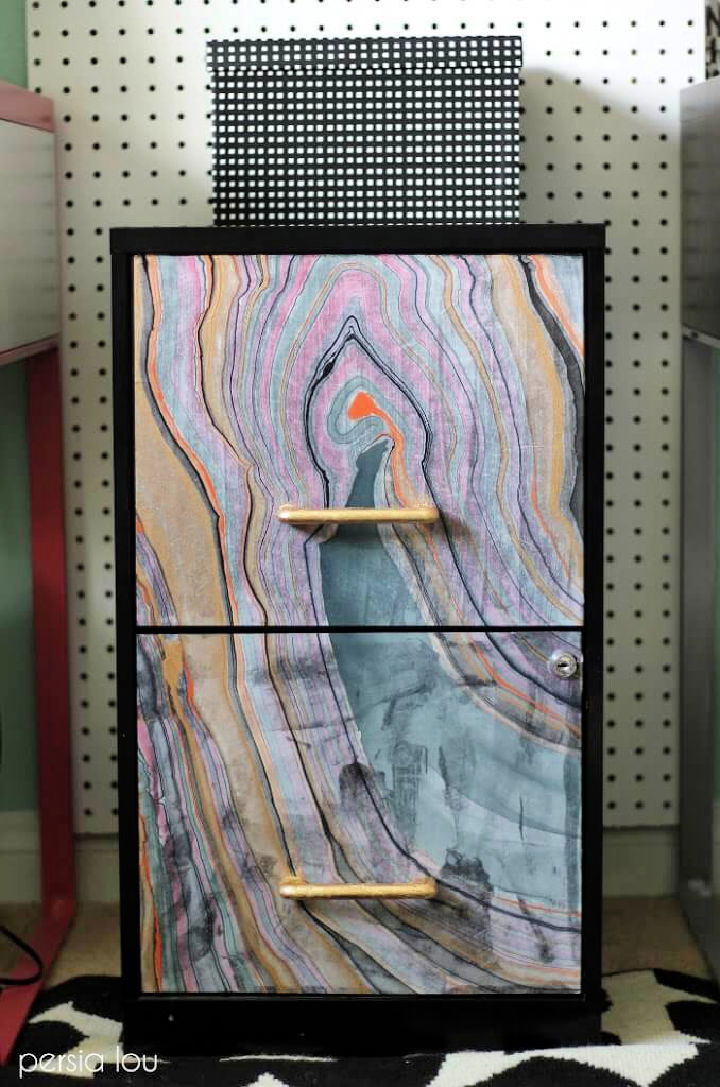 We are totally loving the artistic vibes of this marble paper. If you have an old filing cabinet, here are the few upgrades you can give to it. Marble paper, decoupage, gold leaf, metal leaf adhesive, metal leaf sealant, foam brush, and brush. persialou
5. Gorgeous DIY Decoupage Wood Chair
Getting bored of the old wooden chair? Let's redo the look by using this classy decoupage technique. You are going to need scissors, chairs, utility knife, sandpaper, paintbrush, painter's tape, and mod podge. Also, select the kind of paper you want to redo the chair's look with. diynetwork
6. DIY Decoupaged Fabric Table Makeover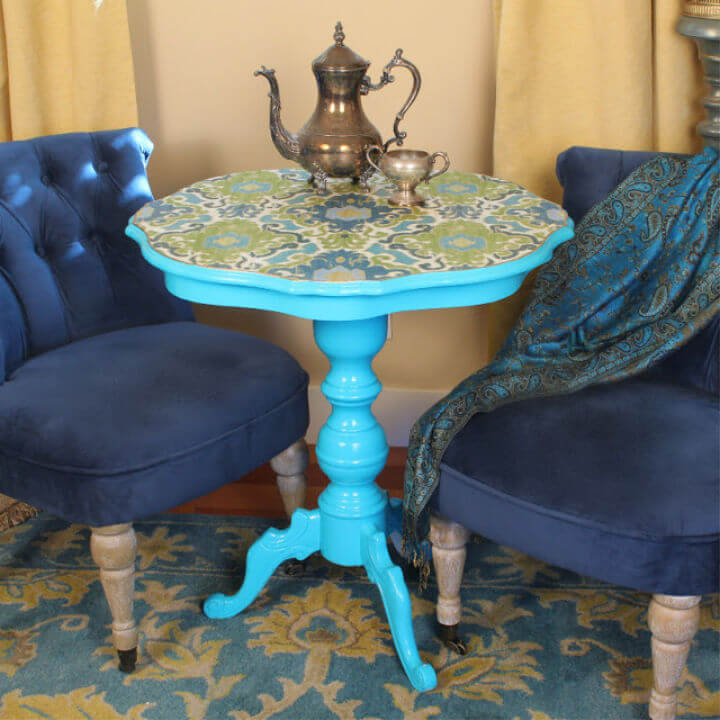 Thrift store table transformation alert! Doesn't it look oh so classy? Gather around your choice of fabric to cover the table, Americana Decor Maxx Gloss, Americana Decoupage in Gloss, paint brush, scissors, and a large sheet of butcher paper. markmontano
7. Ikea Hack Decoupaged Map Moppe
Check out this brilliant and cool revamp for the IKEA moppe by using a map! Get your hands on an IKEA moppe, furniture wax in dark color, mod podge, cutting board with a rotary cutter, leather strap to even make the look stand out, and upholstery pins with a hammer. pillarboxblue
8. DIY Decoupaged Palm Leaf Gold Table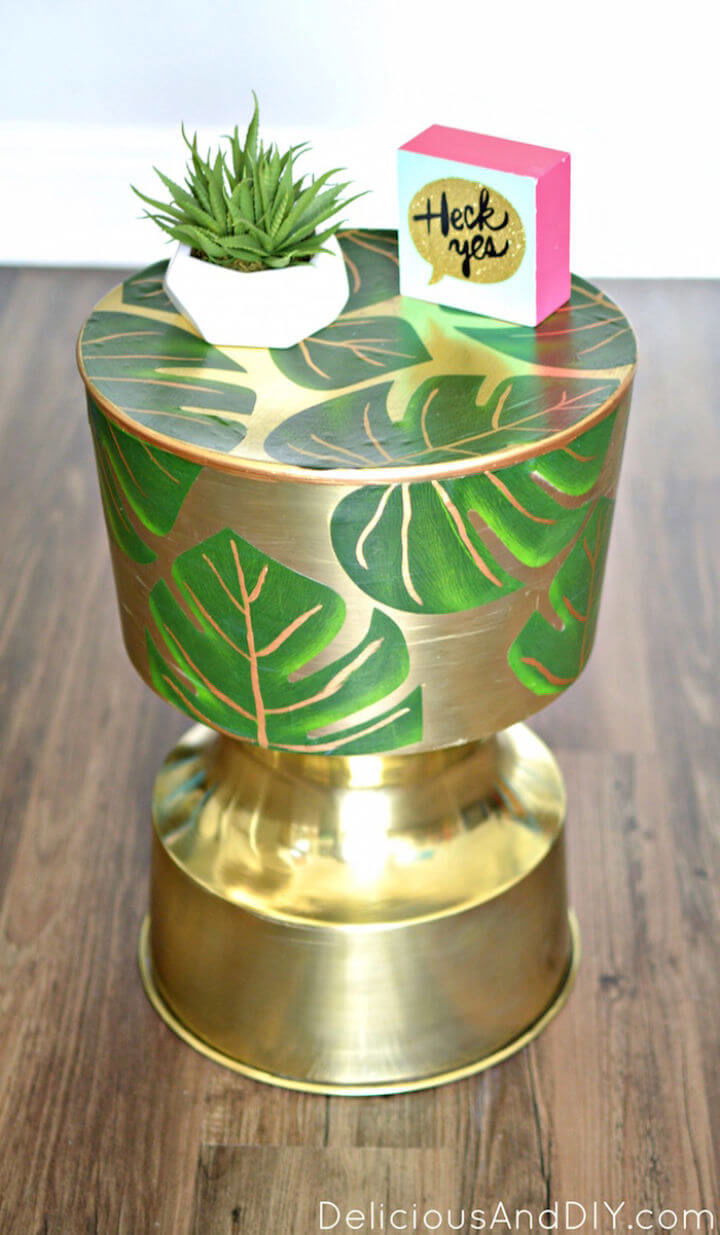 We love the whimsical #feels of this decoupage palm gold leaf table. Giving a furniture a decor redo is kind of very exciting in itself! You can transform your decor literally overnight! Using some palm leaves with other supplies, you can pull this off. deliciousanddiy
9. How to Decoupage on Wood Furniture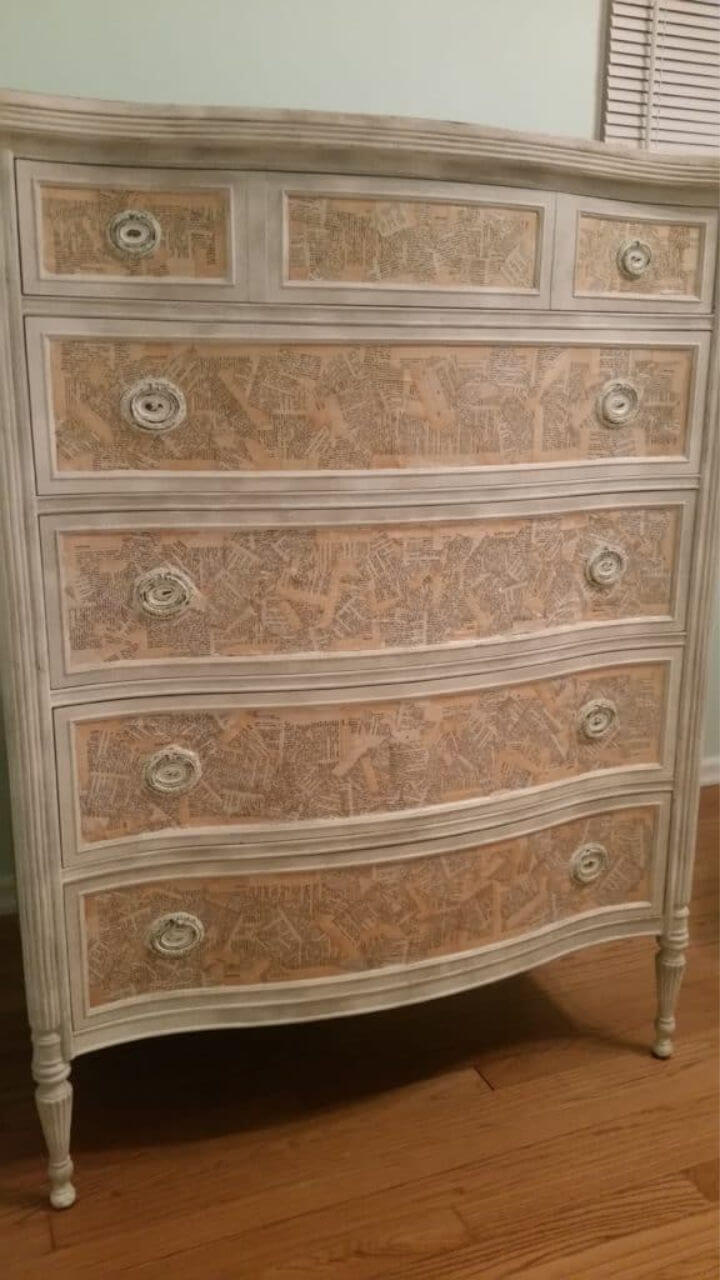 Every house has these old wood furniture items! Sometimes inherited by the family, and you can't give up them. But, you can definitely get them in line by sprucing up their look with the rest of your furniture items. Learn how, westmagnolia
10. How to Make Map Chairs
These elegant map chairs are totally drool-worthy! They can leave such an impact on your overall room decor that it will upgrade the entire appeal! You can work on some old school chairs, maps, mod podge, sandpaper, brush for glue, scissors, waterproof varnish, and screwdriver. pillarboxblue
11. Art Book Decoupaged Coffee Table with Gold Legs
How about adding a bit of texture and taste to your old furniture? This is quite a beautiful look by gluing the human body black and white anatomy pages on the table and painting the legs golden! Get full details with step by step guide in the tutorial. mrkate
12. DIY Floral Napkins Decoupage Desk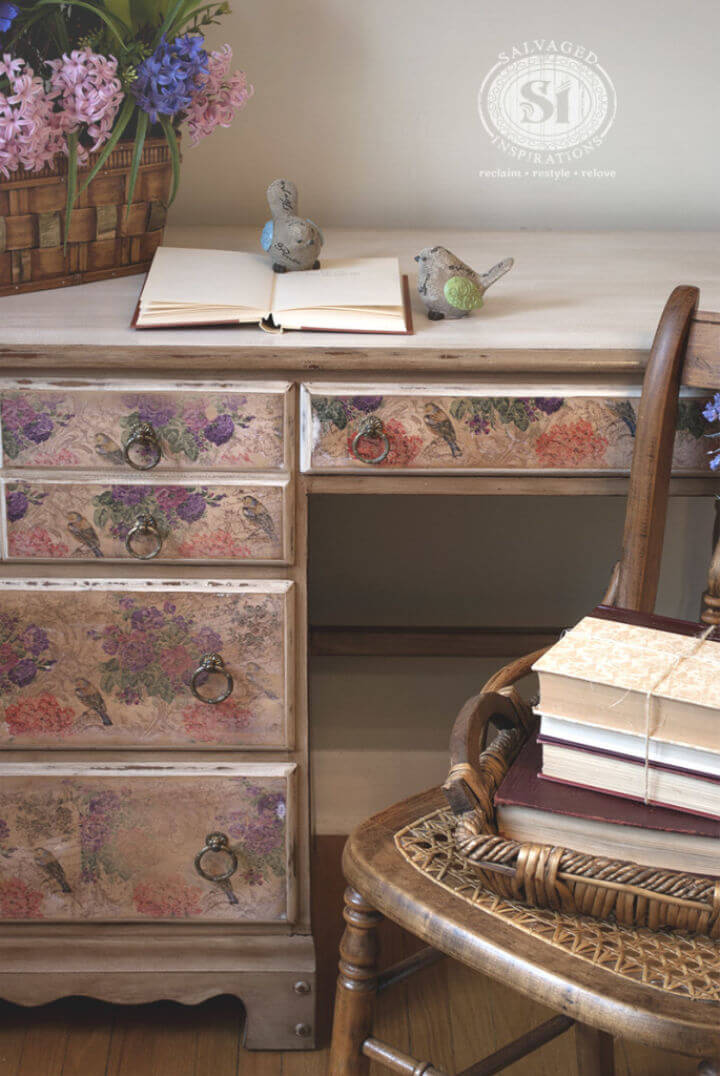 Isn't this old furniture desk giving the true French country charmer vibes? All done using floral bird napkins, sand the drawers down by using the old fashioned snow milk paint. Then carefully by using mod pidge, transfer the napkins on to the desk. salvagedinspirati
13. Handmade IKEA Kids Table Hack with Map
Transform your kid's table into this IKEA table hack by using an old map! Get the mirror image inkjet printed map, mod podge matt finish, glue brush, sponge, water, clear furniture wax, blue chalk paint, white chalk paint, and chalk paintbrush. pillarboxblue
14. Decoupaged Coffee Sack Furniture Cabinet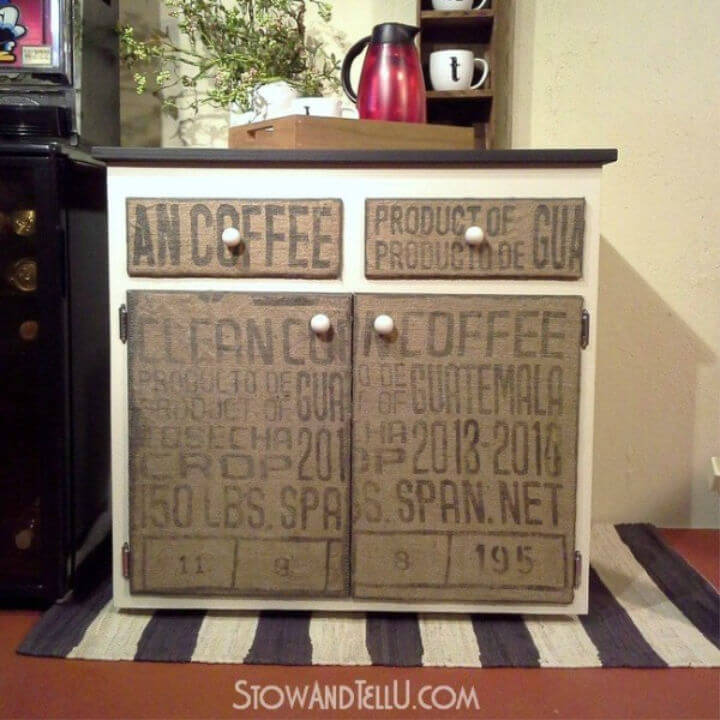 Isn't this rustic coffee sack vintage cabinet looking just darling? You need a cabinet or painted dresser, burlap coffee bean sacks, decoupage (or use mod podge), scissors, craft paint (in coordination with burlap, chalk paint would be best) and 2 small paint rollers. stowandtellu
15. How to Decoupage a Dresser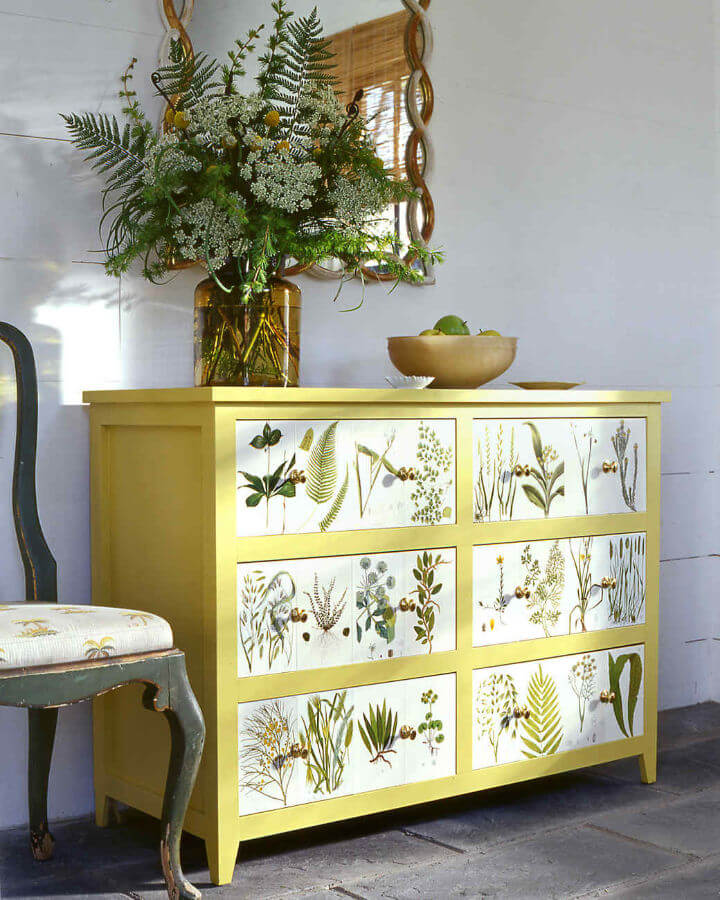 Transform an old dresser into this cool floral bliss! You will need latex paint, kraft papers, masking tape, botanical prints, water-based glue sealant, pencil, ruler, double-sided tape, and other basic craft notions. marthastewart
16. DIY Decoupage Vintage Map Table
Maps add this vintage and super cool appeal to any decor! Check out this vintage map table perfect for adding character to your living room decor. Imagine the classy vibe a vintage golden map will bring to a plain white table. annieselke
17. Unique Decoupage Dresser with French Fabric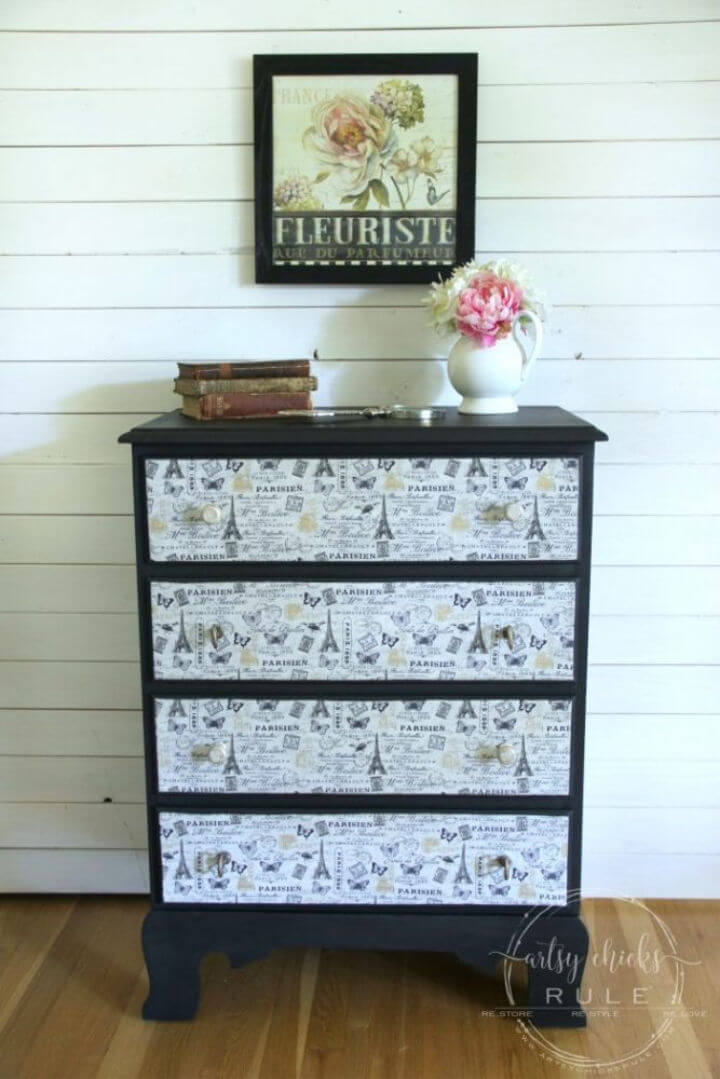 Revamp your old dresser with this beautiful French decoupage cover! Pick any fabric of your choice, X-acto knife, Mod Podge, graphite chalk paint, white chalk-style paint, gold paint, poly, wax, and stencil. artsychicksrule
18. DIY Marble Fabric Chairs
The texture of this marble fabric chairs can bring quite a minimalistic appeal. Get your hands on 1 to 3 yards of fabric, mod podge glue, 1.5-inch soft paintbrush, clear water-based polyurethane, Latex outdoor paint, scissors, and X-Acto knife. onekingslane
19. How to Decoupage Furniture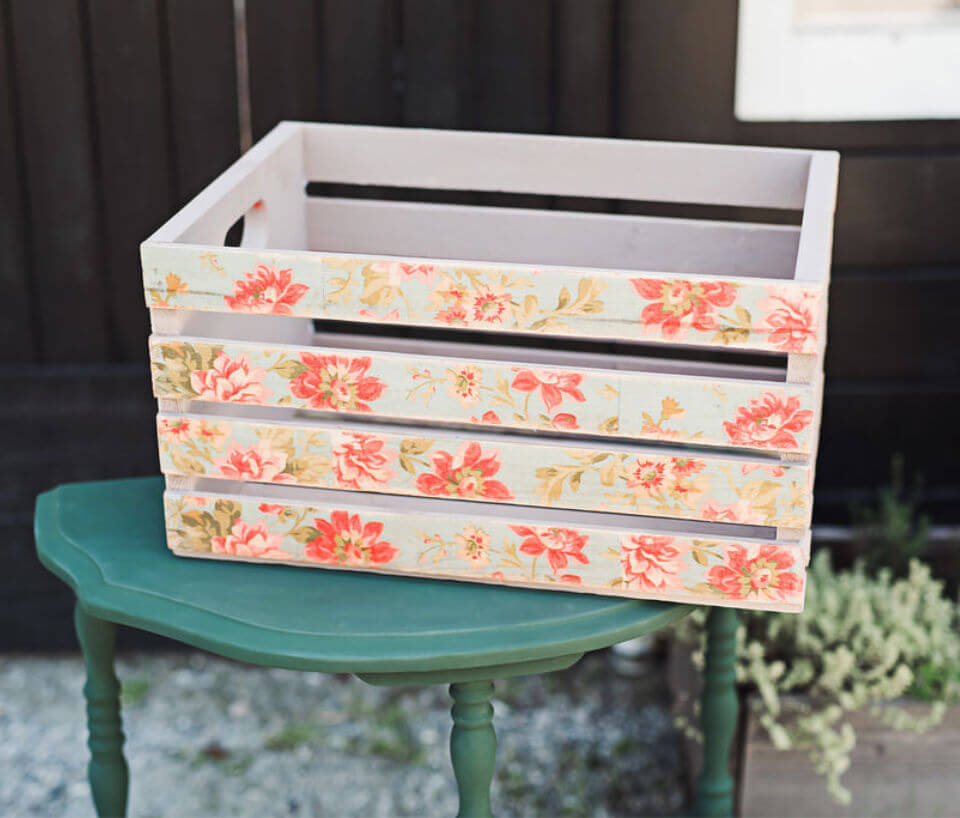 Got an old crate lying in the back of your garage? Do you think it has no good use and must be the fate of a trash can! But, choose your decoupage material and then cut it in the required sizes, ready to apply! Hit the tutorial for the step by step guide. instructables
20. DIY Patchwork Decoupage Table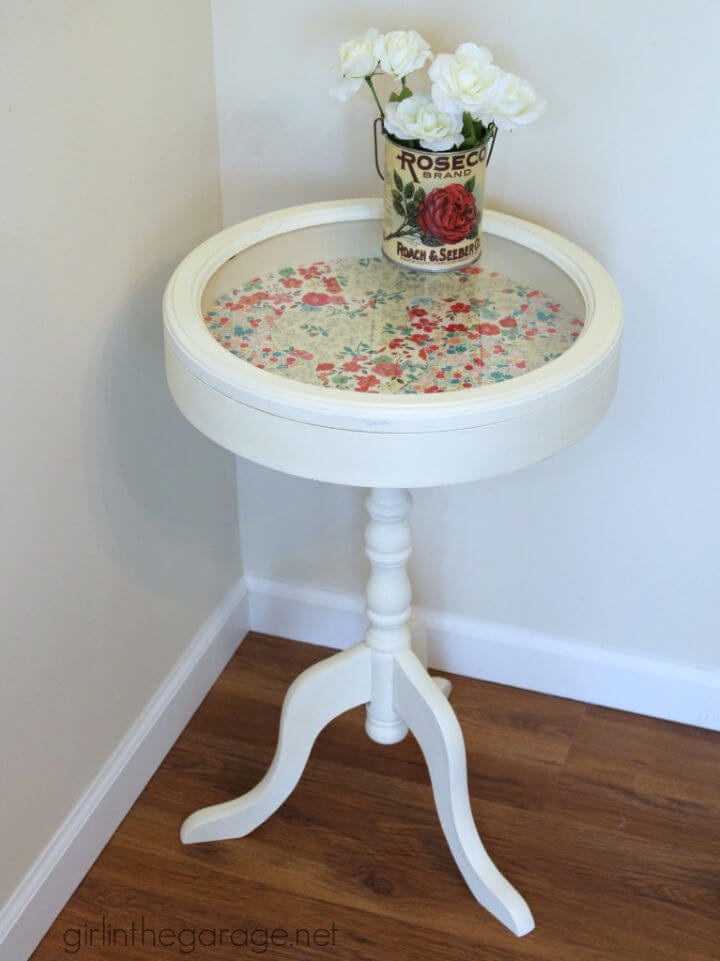 The tutorial features a beautiful patchwork decoupage furniture for making this table quite the life of the decor. So, choose your favorite scrapbook paper and by using some mod podge seal it on the surface and spruce up the table's look within a few minutes. girlinthegarage
21. Easy DIY Photo Decoupage Dresser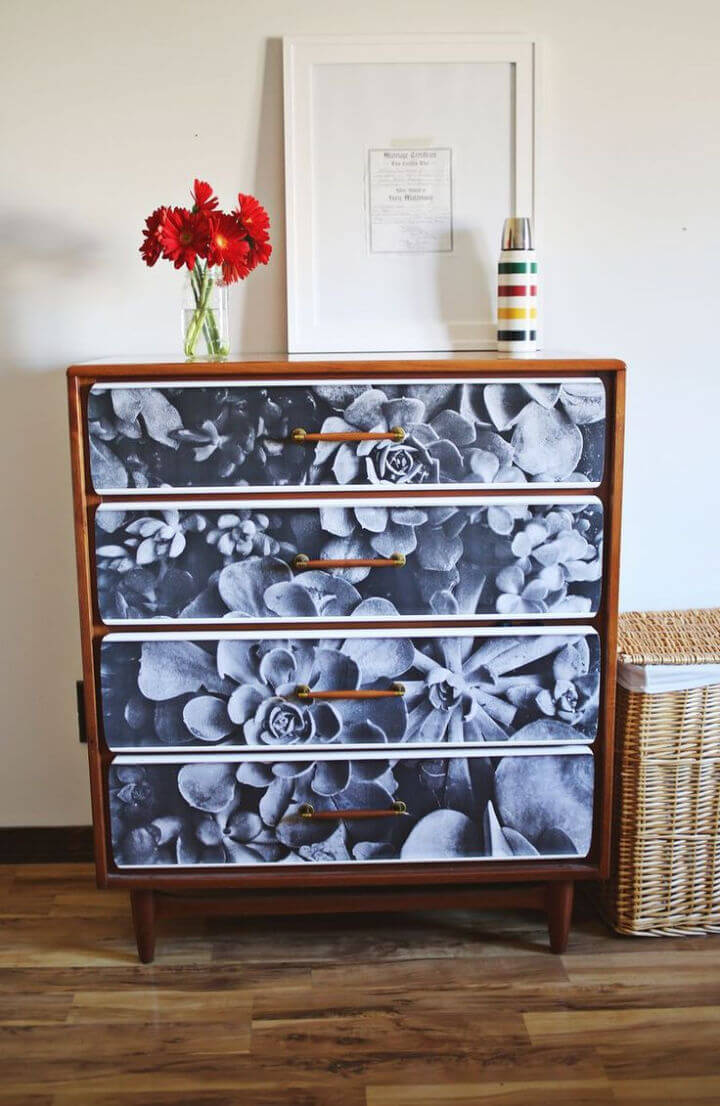 This is quite a lovely decoupage technique! Get a blueprint copy of the photo you love, like the beautiful floral touch here. Scrap paper, royal coat decoupage finish, foam brushes, and x-acto knife. abeautifulmess
22. How to Decoupage a Chair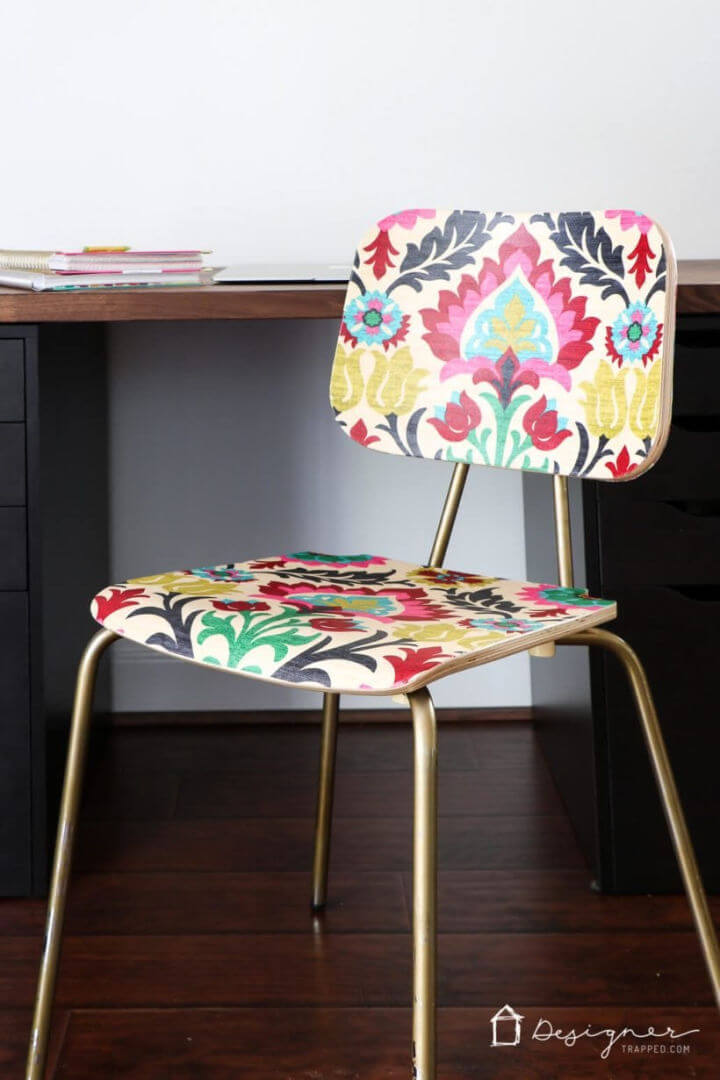 Add taste to your furniture without having to paint it! If you love the breezy vibes of this floral chair, you can get the fabric from the tutorial. Other than that, you will need a basic wood chair, matte mod podge, spray paint, and Exacto knife with a foam paintbrush. designertrap
23. Make Your Own Decoupage Table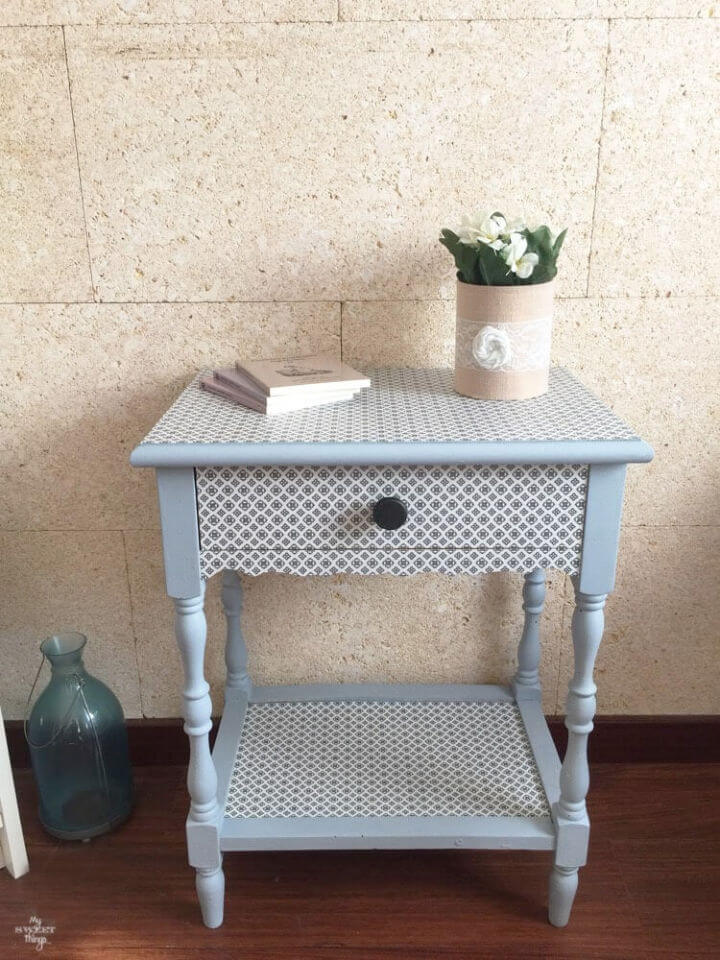 Sweet things have got this sweetest upgrade for your old, rustic table! You can totally upgrade the look from boring to oh so charming. The required supplies for this one include OFMP paint, extra bond, gift paper, glue, varnish, scissors, sandpaper, and brush. sweethings
24. Simple DIY Decoupage Furniture with Wallpaper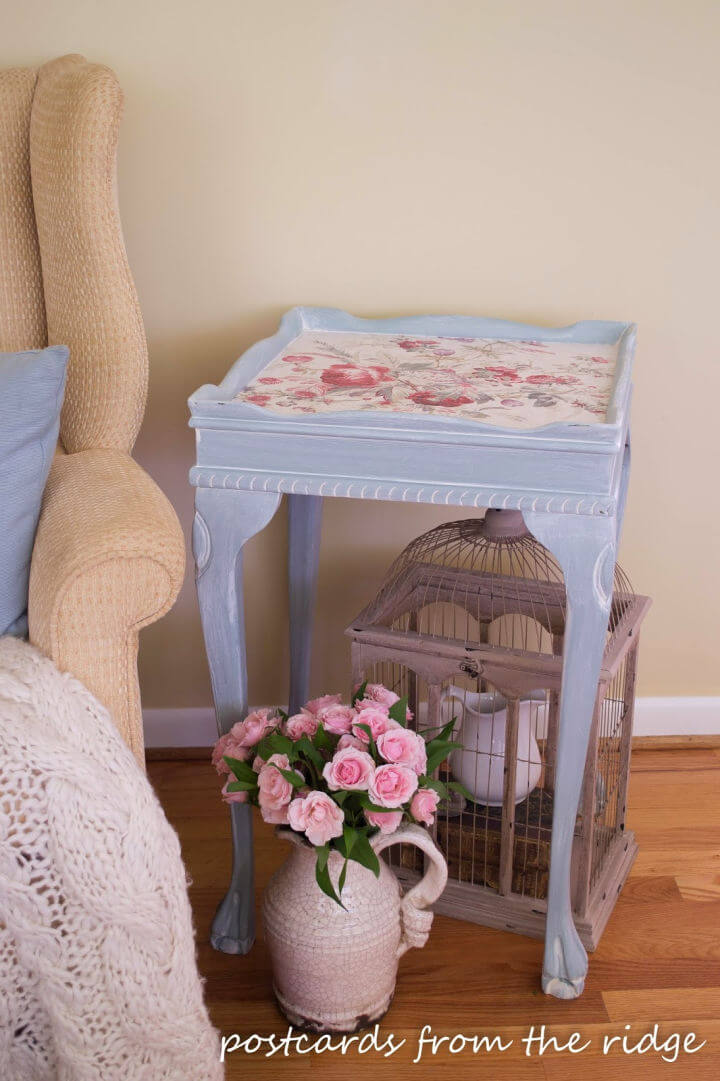 Accentuate the details of your side table or the corner table by making it look this charming with our decoupage furniture with wallpaper idea! Also, if here you are using a pre-pasted glue wallpaper, you might want to thin down the mod podge using water. postcardsfrom
25. Decoupage Bookcase – Themed Furniture Makeover
We love the minimalistic yet so impactful themed makeover decoupage idea for an old piece of furniture! Using the black and white theme in different patterns looks quite a charming addition to any decor! Get full details in the tutorial. girlinthegarage
Related DIY Projects and Ideas
Decoupage Mason Jar Ideas: Decoupage is a fun and easy way to decorate mason jars and a great project for beginners. Here are easy DIY ways to decoupage mason jars using mod podge.
Craft and Home Decor Ideas: Get crafty and try this list of cool DIY home decor ideas with a chevron pattern. These crafts are easy to do and give your home an elegant and modern vibe.
Free Dresser Plans: If you have a knack for carpentry and some free time, then these free DIY dresser plans will be great for you they are easy to follow and can give you the perfect dresser that fits your taste.
Burlap Crafts & Decor Projects: Here are best-ever DIY burlap crafts and decor projects for your home. You can easily create a burlap decor for your room or make a few gifts with simple instructions.
Sofa Makeover Ideas: Get your hands on some amazing DIY sofa makeover ideas to spruce up your living room and make it look chic!
DIY Furniture Projects: Build your own custom furniture for every room of the house. These cheap DIY furniture projects are quick and easy to complete, with step-by-step instructions.
Pallet Outdoor Furniture Ideas: This is a compilation of wonderful DIY pallet furniture ideas for your patio, backyard and more. These outdoor furniture designs will make your outdoor space look more luxurious and unique.
Conclusion:
With these 25 easy decoupage furniture ideas and just a few supplies, most of which include basic craft notions and your choice of wallpaper, fabric, or textured print, you can remodel your furniture in a quick triumph! So, choose your dresser or old table. You are exceptionally bored and get to some exciting revamping with our DIY decoupage furniture blessings!
Follow these 25 easy decoupage furniture ideas for beginners to encourage your creative side. With some mod podge, you can decorate and transform even the most ordinary pieces of furniture into something extraordinary. Whether you want to add a personal touch to store-bought items or breathe new life into old hand-me-downs, these simple yet effective decoupage techniques will have you well on your way to creating one-of-a-kind showpieces for your home.