If you are looking to enjoy more time outside with your friends and family, then a lovely and unique patio cover can add up to the whole experience pretty much. Check out these 60 lovely and pretty covered patio ideas that can totally spruce up your backyard look. Enhance your outdoor experience with these covered patio ideas. But before heading right into the building or choosing something carefully, consider the following points.
The architectural design of your house
Your decided budget
Location of the patio
The sun hours! This will help you decide on the orientation
Materials you want to use for building the patio
These 60 unique covered patio ideas are real-time proof that you can give your space quite the revamp without opening a huge construction war zone at home. You can use cozy and comfy patio furniture to amplify the whole experience and also make the place quite lovable. Add fire pits industrial-inspired completely, or partially covered patio places to make the most out of the place available to you! To give you the best news, designing your own version of a covered patio is a total win-win situation. You can make it your comfy spot or the place where you entertain your guests. It could be pretty much anything. So, let's take a tour down these 60 amazing covered patio ideas so you can choose the best that fits your requirements.
1. MCM Seattle Patio Cover

A well-designed Patio Cover is something that can enhance your Outdoor experience and increase the amount of time you spend outside. This MCM Seattle inspired outdoor cover is for all those who love to have some family get together all year long.
2. Modern Farmhouse Covered Patio

If you are someone who owns a small farmhouse, and you want to give it a complete makeover of a modern farmhouse. A patio cover is something that all you need to achieve what you are looking for.
3. Tuscan Farmhouse in Houston

Spending your quality time on a vacation in the countryside in a Patio covered Tuscan farmhouse is one of the best holiday spots! That includes some family dining, some pool time with kids, or also If you want to plan your retirement.
4. Cedar Pergola with Covered Patio

This stained Cedar Pergola patio cover is not just a beautiful addition to your outdoor living but also a perfect place for your entertainment, relaxing, or just simply daydreaming. Red Cedar is terrific in this case for those looking to invest in a structure that can last years.
5. Orange County Mediterranean

If you want to have a timeless and tasteful space designed, then check out this Exposed patio dining space! With Orange county, the Mediterranean inspired slate styled tile set in a diamond pattern, is perfect outdoor space.
6. Modern Industrial Entry Courtyard

Got a new office? Why not welcome guests with some fantastic architectural inspirations. Like this Modern industrial Entry Courtyard design, featuring some wooden slate walls and cedar roof with glass on top, perfect modern- industrial touch.
7. Aspen Creek Attached Covered Patio

If you are fond of outdoor living, this Aspen creek cover made up of plain, cold-rolled mild steel is the perfect option to go for. This patio can last for quite a long time since this steel doesn't corrode and is the best option to use in winters and rainy season.
8. Spanish Styled Patio Shade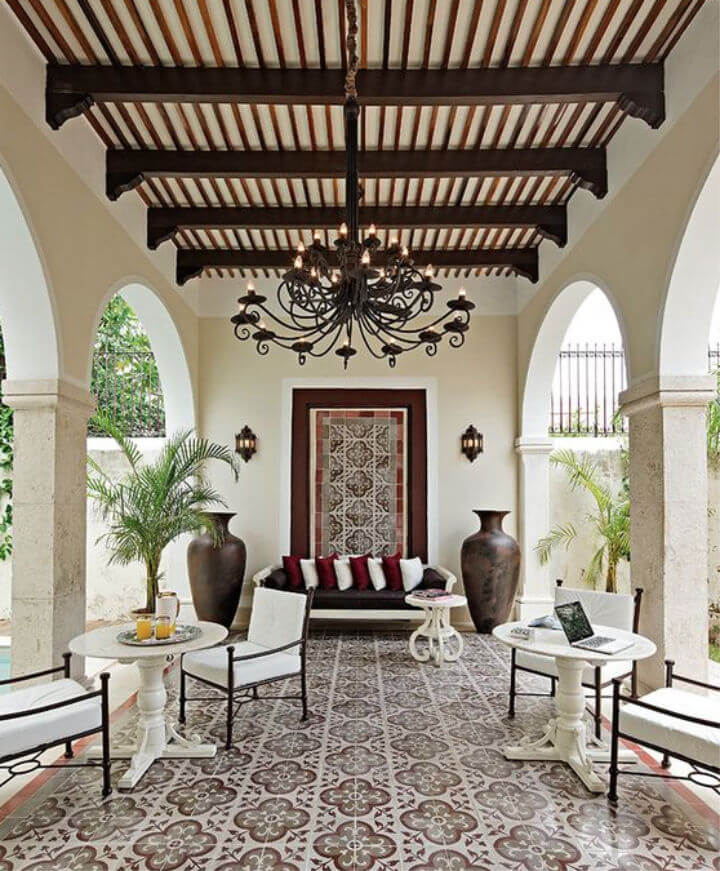 Want to add a luxury feel to your outdoor area, get it done in Spanish styled outdoor patio. This patio shade is best for those who want to stay close to nature, and also, it's a perfect way of bringing your loved ones together.
9. Covered Patio with Sliding Glass Door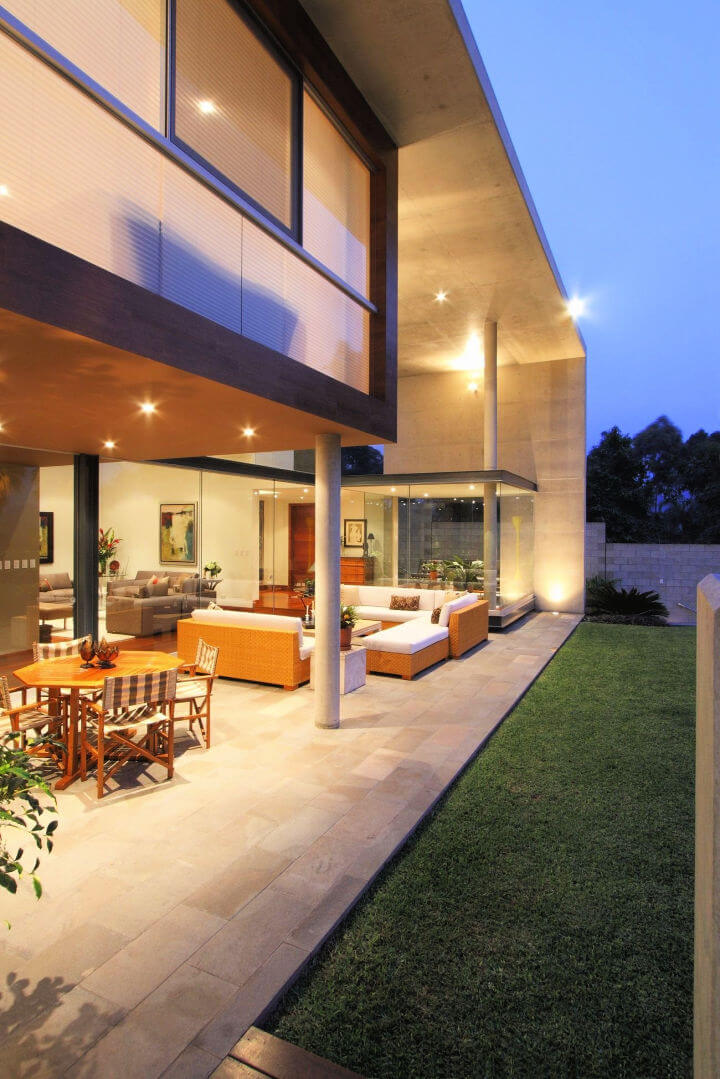 Summers are around the corner, and your lawn lacks a shade to it. Well, it's high time for you to make it yourself. By this easy DIY Covered patio tutorial, you can easily create your own shade, follow the steps, and you can enjoy the summer break.
14. Covere With Thatch-style Roof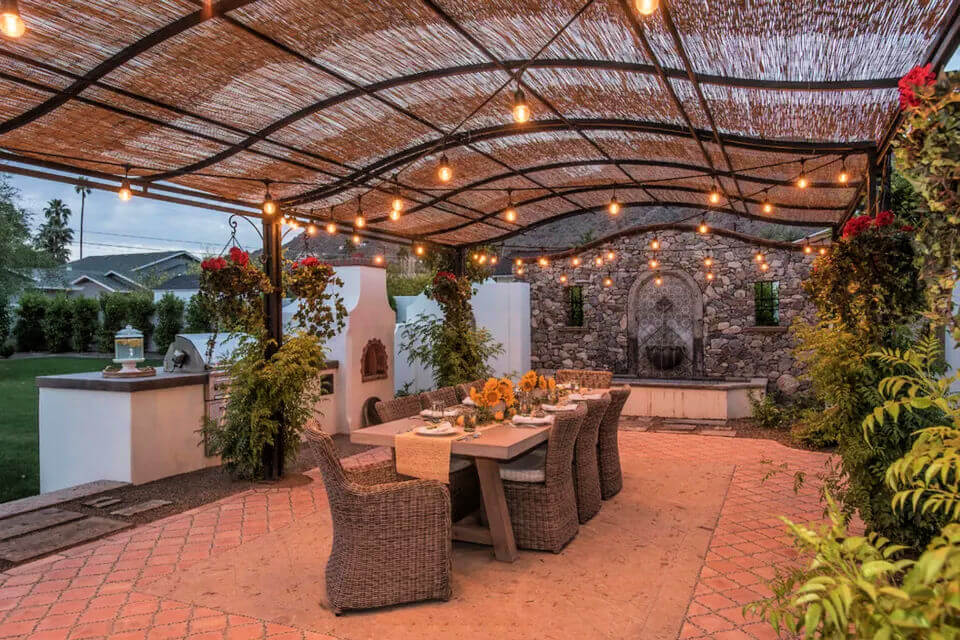 If you are going to plan an evening with the family in the backyard, then this thatch style covered patio is something you must consider. This roof style adds a rustic touch to your overall outdoor space and also is perfect for some family time.
15. Open-weave Solar Fabric Shade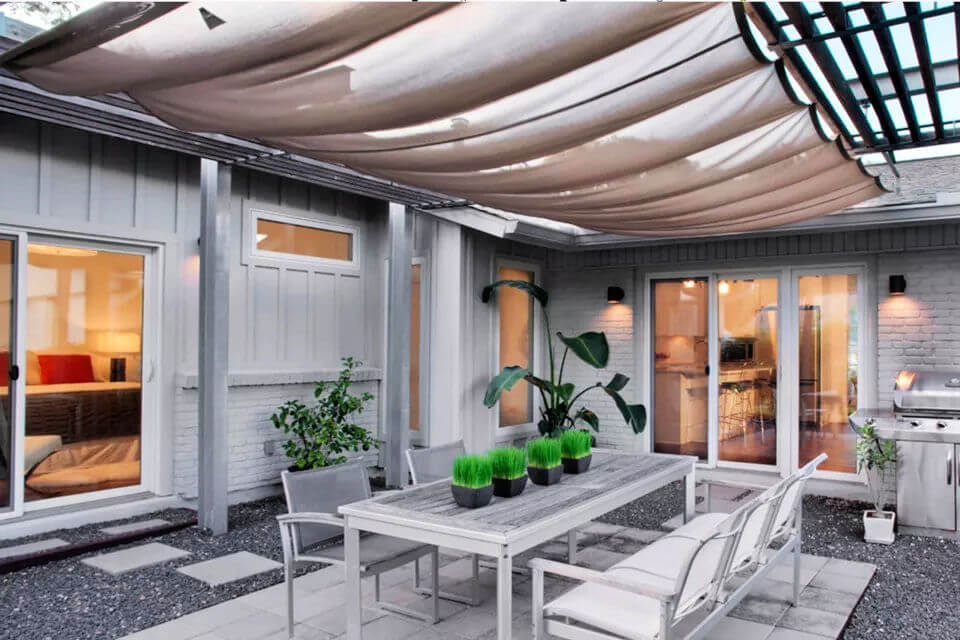 Open-weave Solar Fabric Shade is something that is usually used on windows or on sliding doors! To lessen the sunlight, what if they are used as a patio style cover over your outdoor space, like here.
16. Simple Wood-slat Shade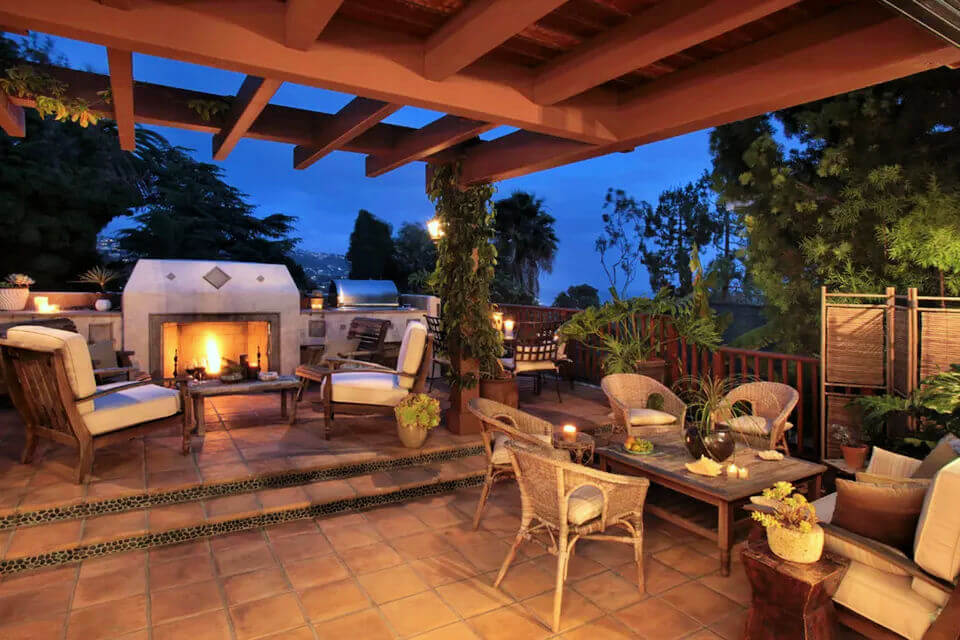 Simplicity is best, especially when used in outdoor living spaces. Add a simple wooden slate over cedar pergola and get your very own Wooden slate shade. Perfect space for you to dine out with family and friends.
17. Colorado Lifestyle Covered Patio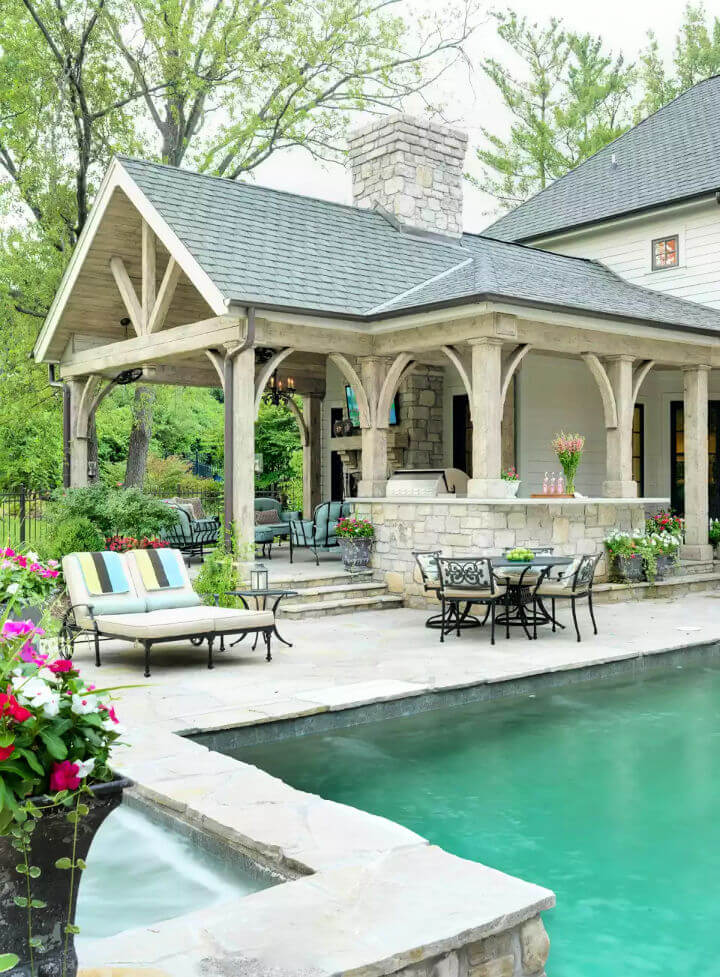 Outdoor dining spaces are the perfect spot for a family get together. This Colorado inspired outdoor space is built from woods with a covered patio over kitchen space, following the pool area and some seating space. Impeccable for quality family time.
18. Palo Alto Attached Patio Cover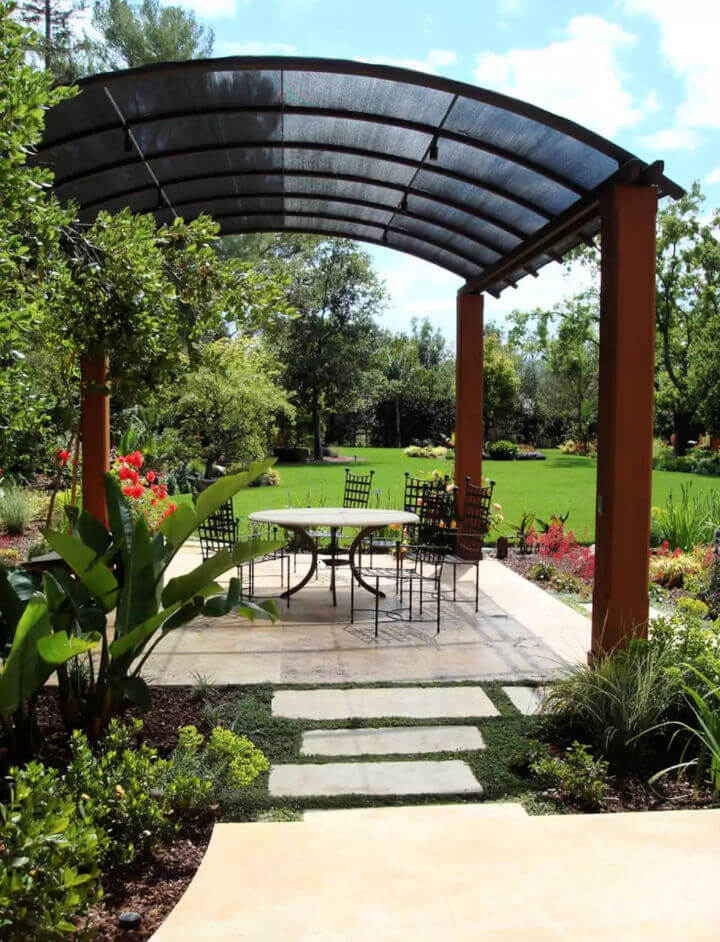 Steel patios come in a variety of options and themes. Still, this Palo alto Patio cover is undoubtedly a head-turner. This cover pergola is the best option to be placed in the backyard, for a romantic dinner or even some engagement party in the night!
19. Outdoor Covered Patio with Natural Beauty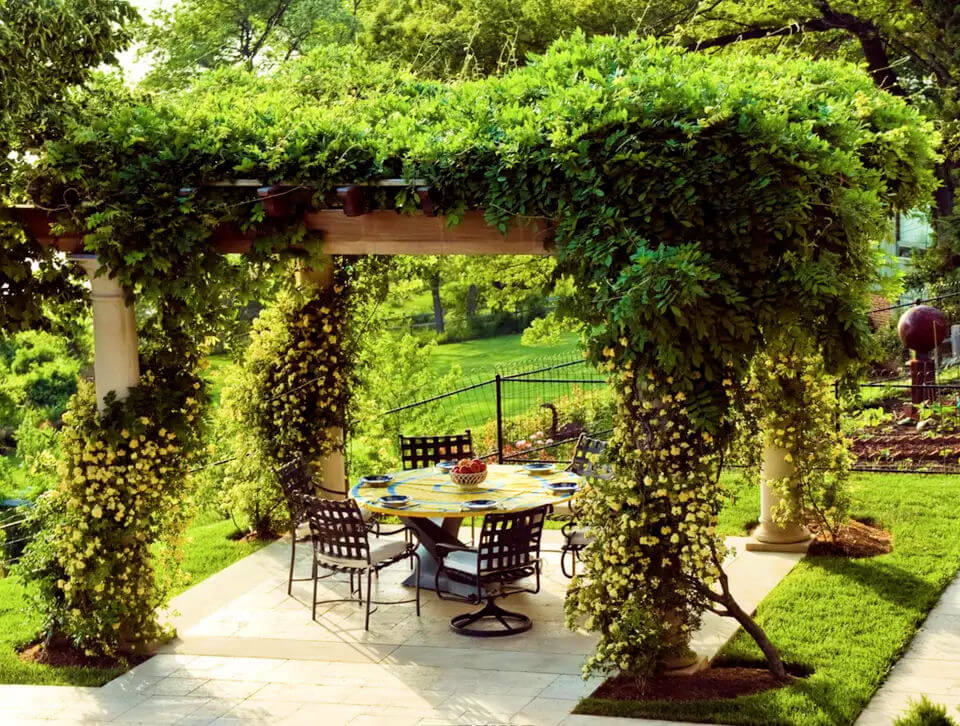 Who doesn't love to stay around some nature? Nature always has a warmth feeling attached to it. Why not use some of this nature as a patio for your outdoor seating space. Perfect for those sunny mornings and having a cup of coffee.
20. Beach-style Residence With a Wood Pergola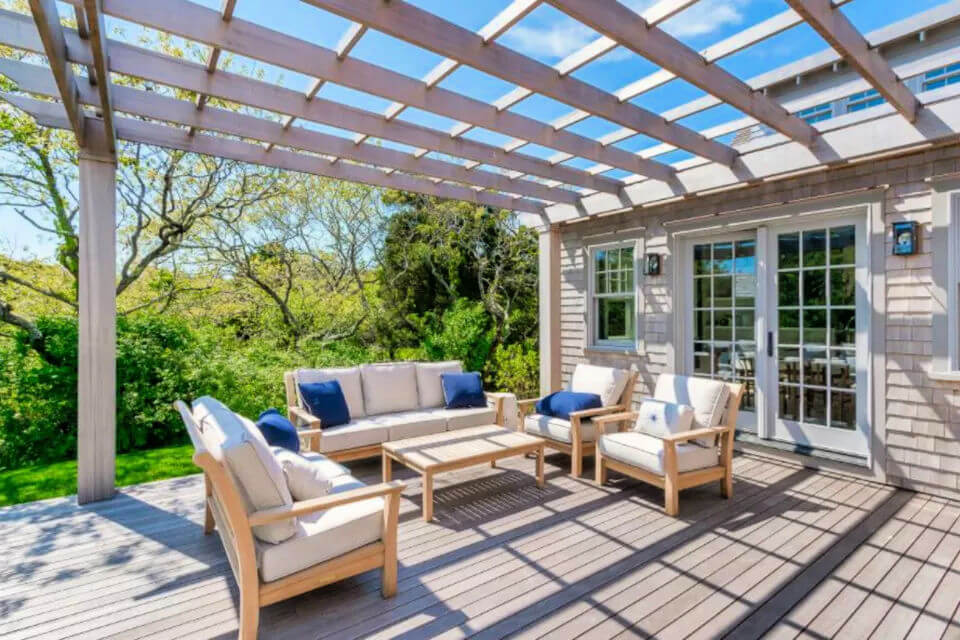 Beach styled outdoor spaces are not so common, though, but they look amazing in your backyard if appropriately constructed. Like done here with some wooden pergolas. This wood element enriches the overall look and feel of your rustic house decor.
21. Perth Pergola Cover for Your Patio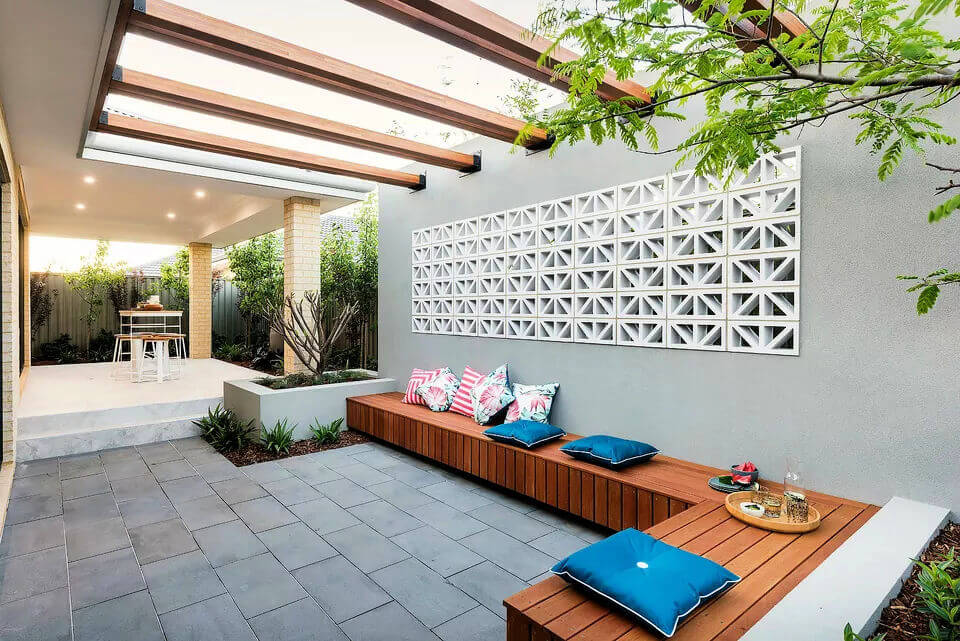 Patio pergola in the backyard gives an open space to enjoy some rays. Best outdoor layout to spend some time in summers or even spring. Wooden beams attached to eaves adds more beauty to the patio.
22. Covered Patio with Rich Wood Ceiling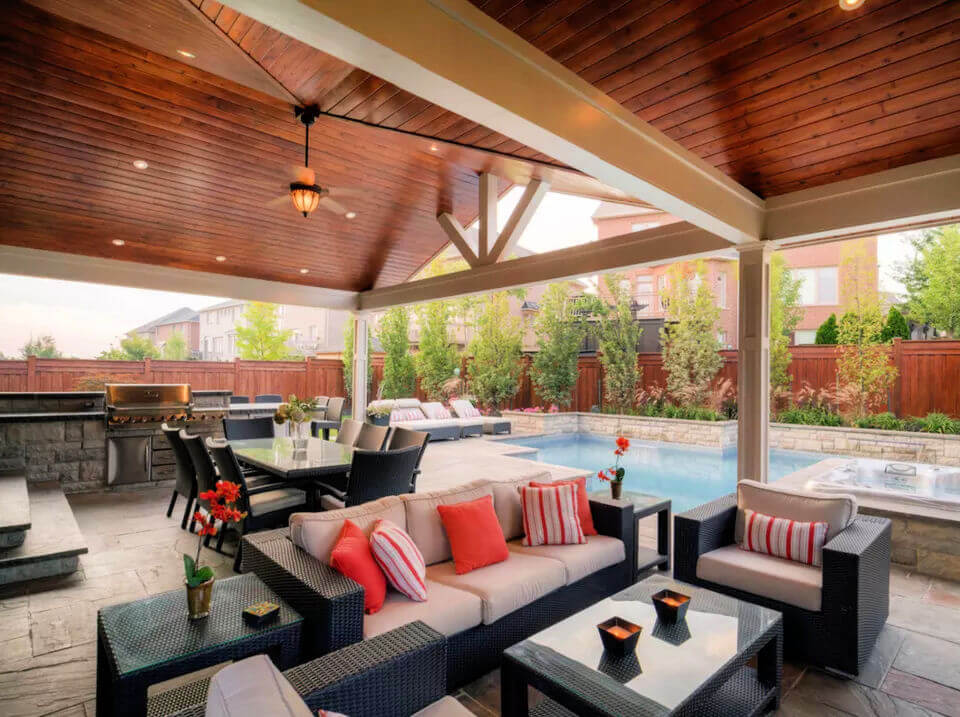 Sun and snow, if exceeds the required limit is always harmful. But with this wooden ceiling, you can enjoy the outdoor living space throughout the whole year. This ceiling protects you from all kinds of cold and heat.
23. Polished Wood Ceiling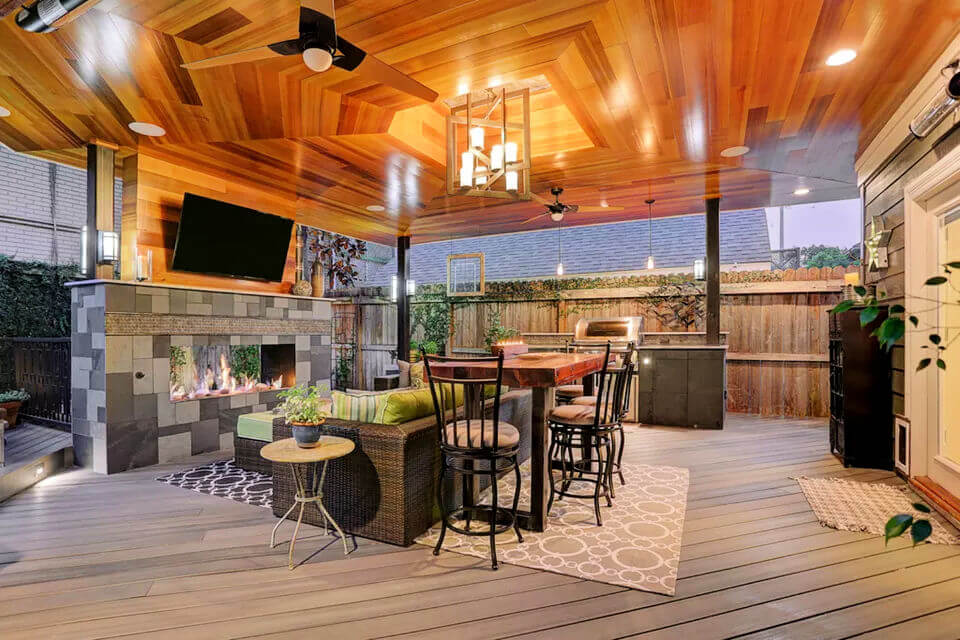 A well-polished wooden ceiling is the focal point of your outdoor space. Like done here, this ceiling complements the overall rustic feel of your open-air seating space. Add an industrial touch to this setting with wrought iron chairs with the dining table to complete the look.
24. Gorgeous Central California View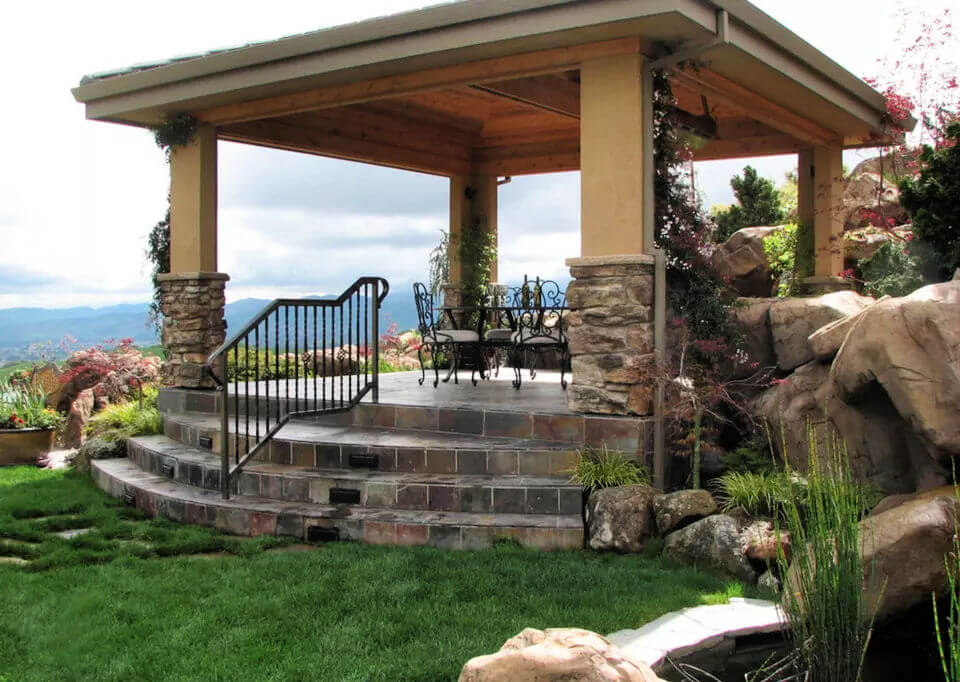 Dining was never so beautiful until this amazing scenery of central California came into our sight. An outdoor patio over this dining space will be a perfect way to enjoy the scenery to its extent.
25. Outdoor Covered Patio with Sold Roof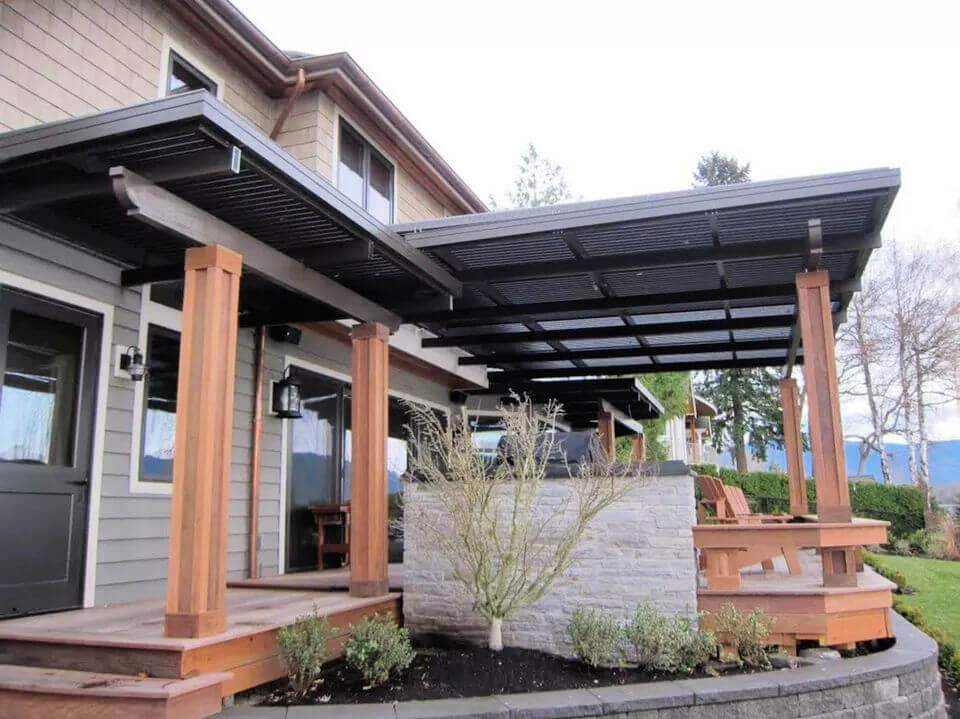 Wooden columns always add strength and support to a sold roof, which later helps to protect from harmful rays and Icey cold snow in winters. Perfect for some outdoor time with family.
26. Sun-drenched Outdoor Room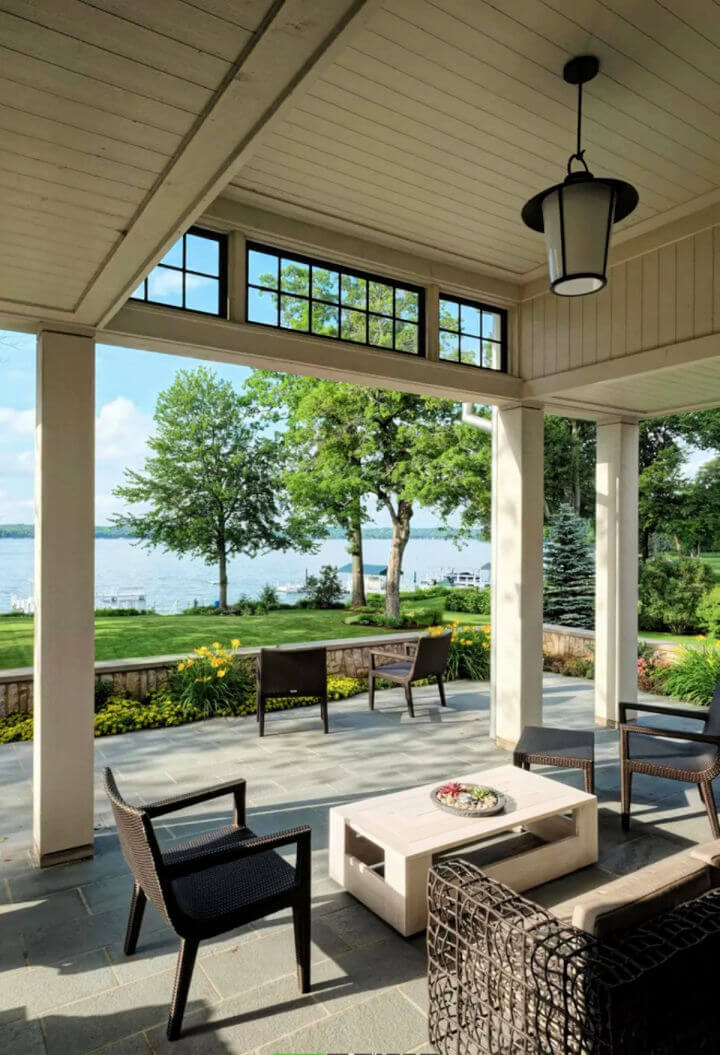 It's always lovely in winters to sit in the sun, absorb some rays. With this covered patio outdoor space now, you can have some sun drenching, with a cup of morning tea with some friends and family.
27. Australian Beach House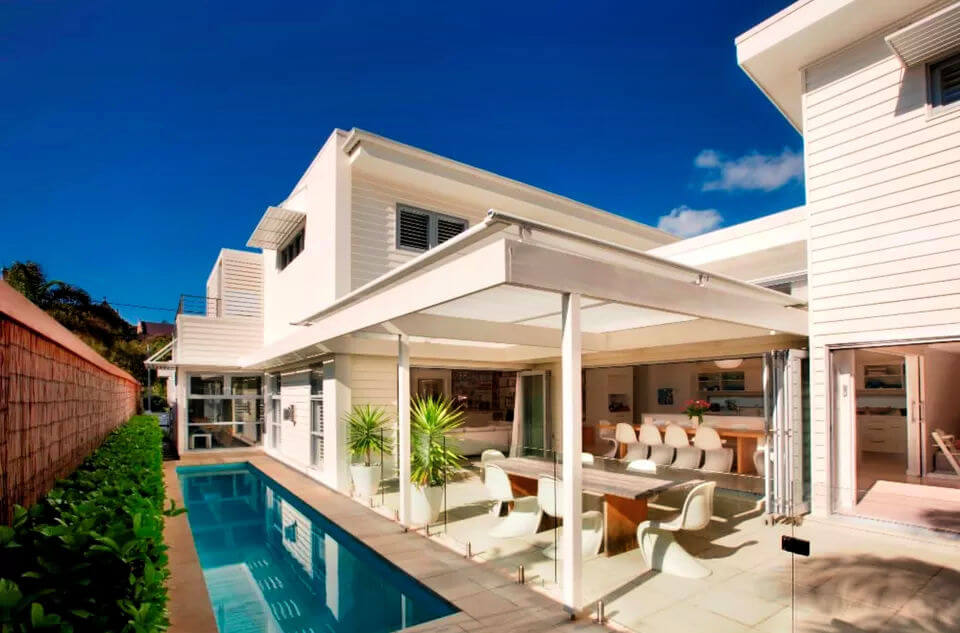 Pool parties are always fun, you invite your friends over for some quality time and some good food. It gets more pleasant when you invite them over a beach house with a separate covered patio dining space and some barbeque pit on the side for some cooking time.
28. Mexican-inspired Covered Patio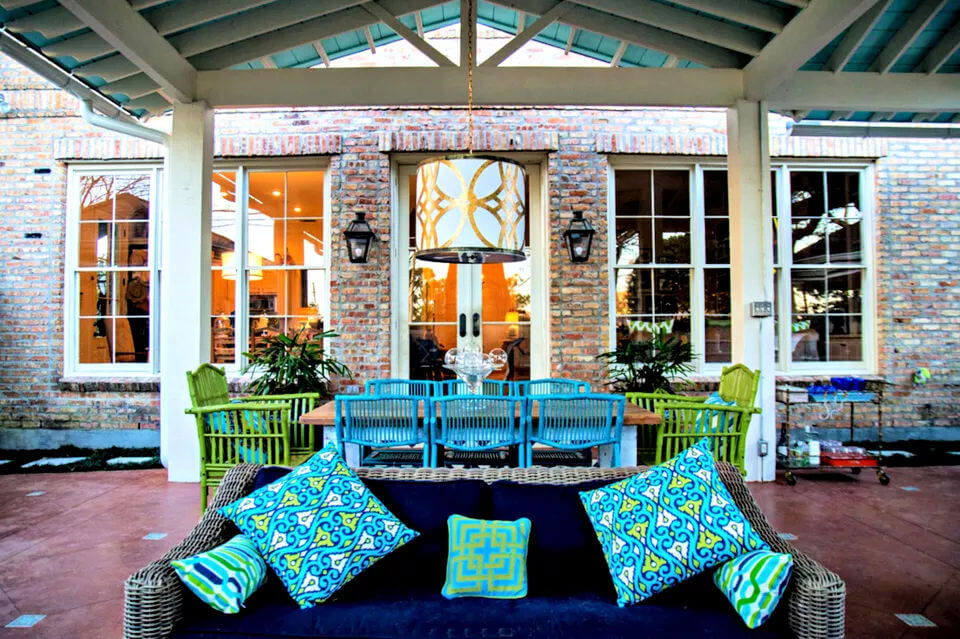 Mexican architect is one of those profound parts of the history over the last millennium, from extravagant buildings to historical places. Get your own Mexican inspired covered patio for your outdoor space to spend some time with family and friends.
29. Brighton Design for Covering a Patio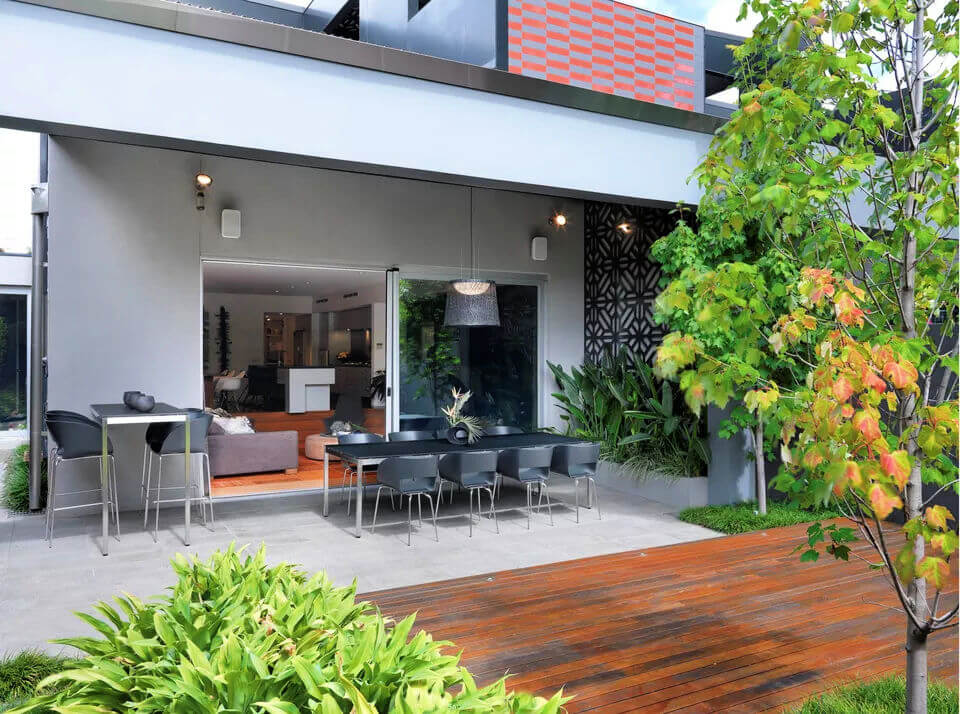 A nicely paved outdoor patio is something that is a must-have for every house.  This covered patio allows one to have a pleasant time with family and also feel the closeness to the nature.
30. Pergola with Covered Patio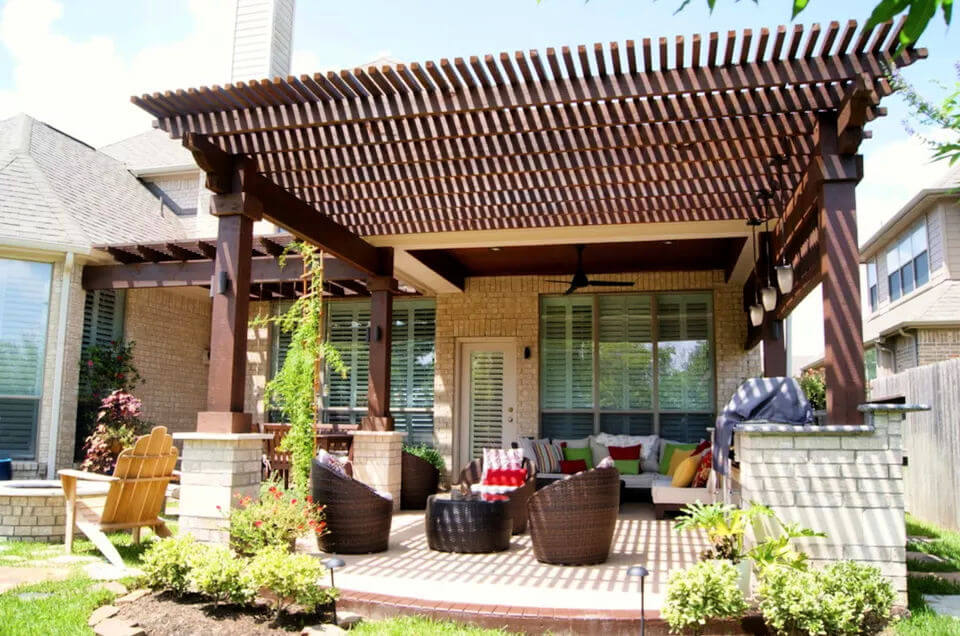 If you are someone who is in dire need to remodel the house backyard, then this pergola covered patio is for you. Perfect for outdoor dining and some me-time. The extended patio also makes it special to enjoy the day view and night stars view.
31. Cooling off in Scottsdale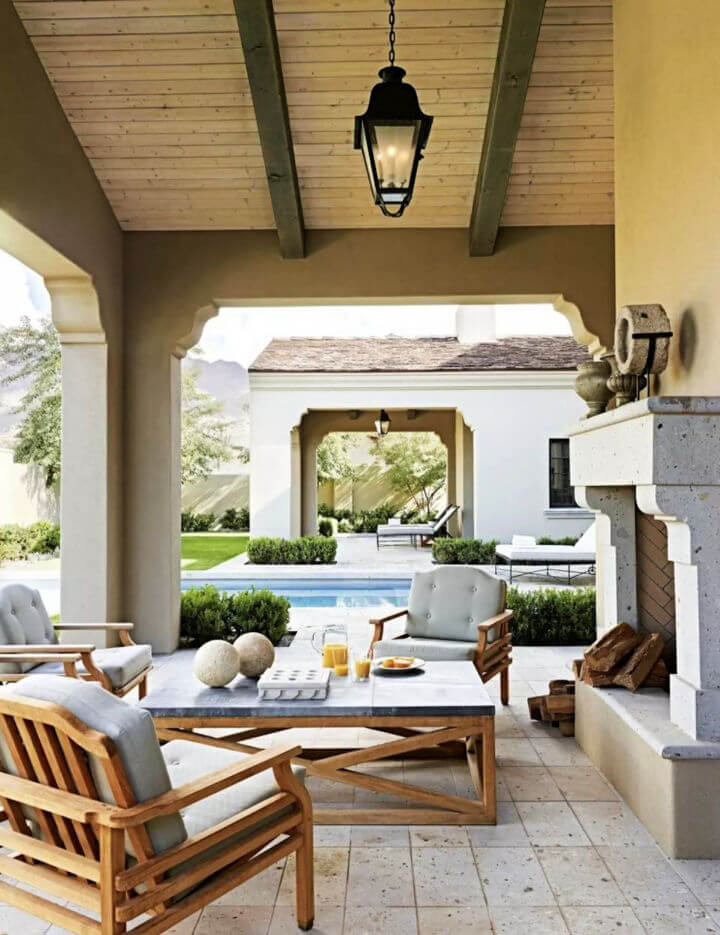 Summers is the perfect season to enjoy some pool time with friends, cool off some heat from your back with this covered patio by the pool. You can place some outdoor seating options or a lazy boy to relax and chill.
32. Covered Patio in Canada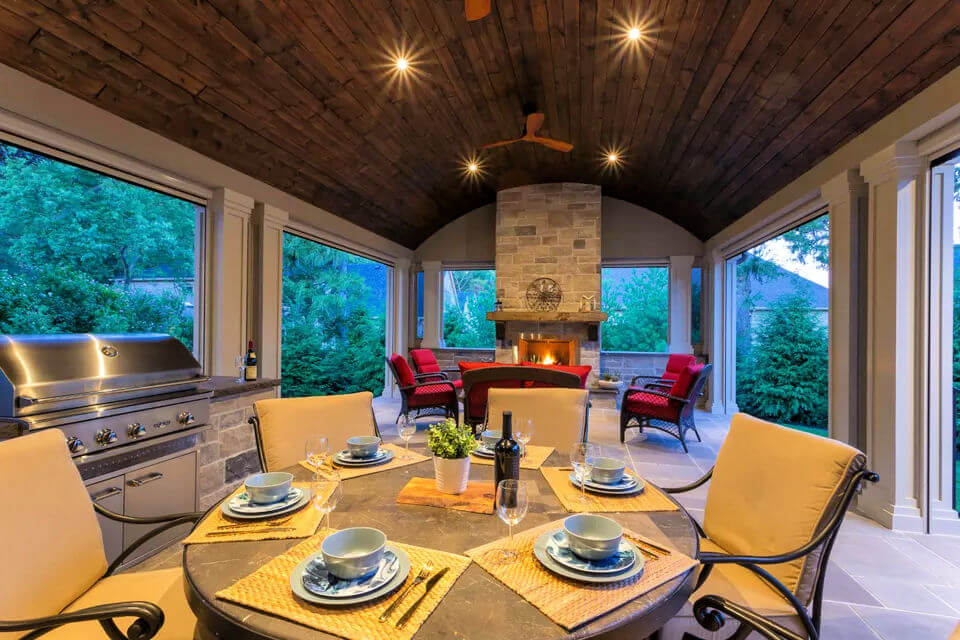 A covered patio is something that is perfect to be used in the space that is chilly most of the times! With this covered space, you can perfectly enjoy the outdoor view along with some excellent warm steaks or even some nice hot soup with your friends and family.
33. Patio Shade with Faux Slate Roof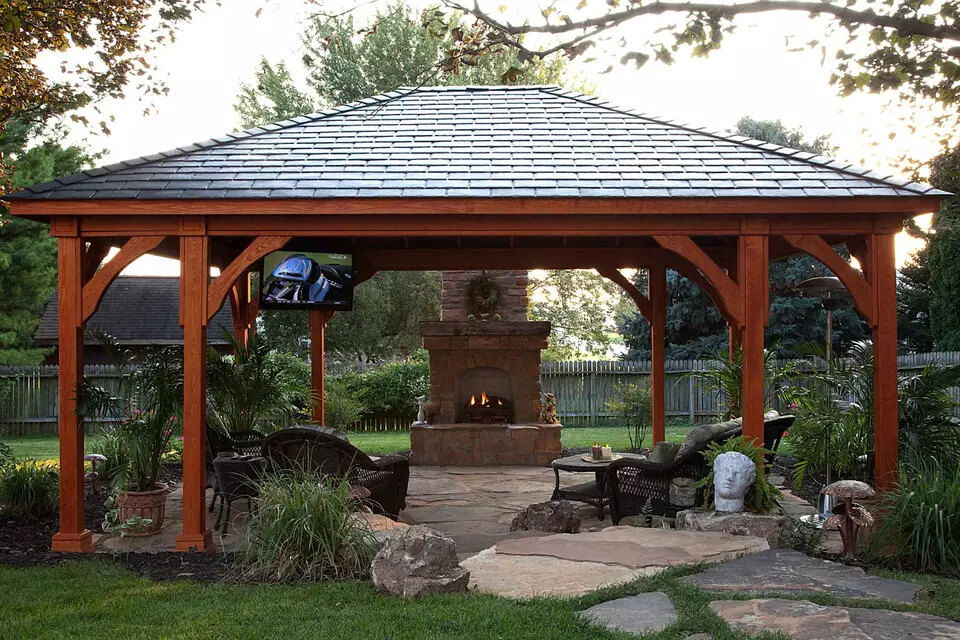 Faux slate covered patio made up of plastic and rubber are perfect for winters and rainy season. Enjoy some nice family time under this faux plate patio shade while sipping a hot cup of coffee.
34. Hipped Wood Roof Of a Gazebo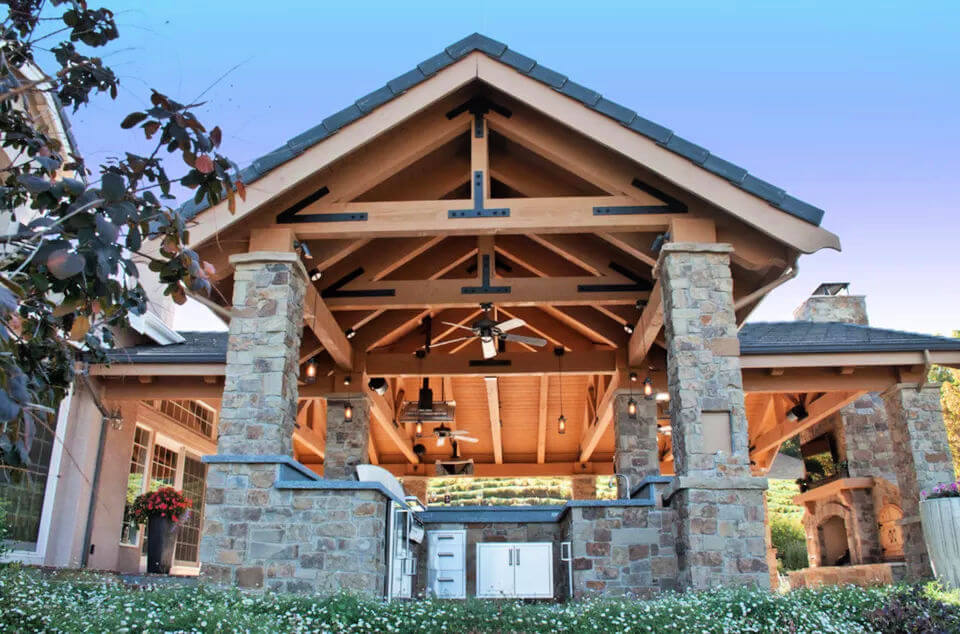 A Wooden gazebo is all you need for those chilly winter nights, perfect for you to beat the chill in winters while you can sit around a fire pit and warm yourself. Faux slate covering on it will add meaning to its purpose.
35. Portland Pergola with Covered Patio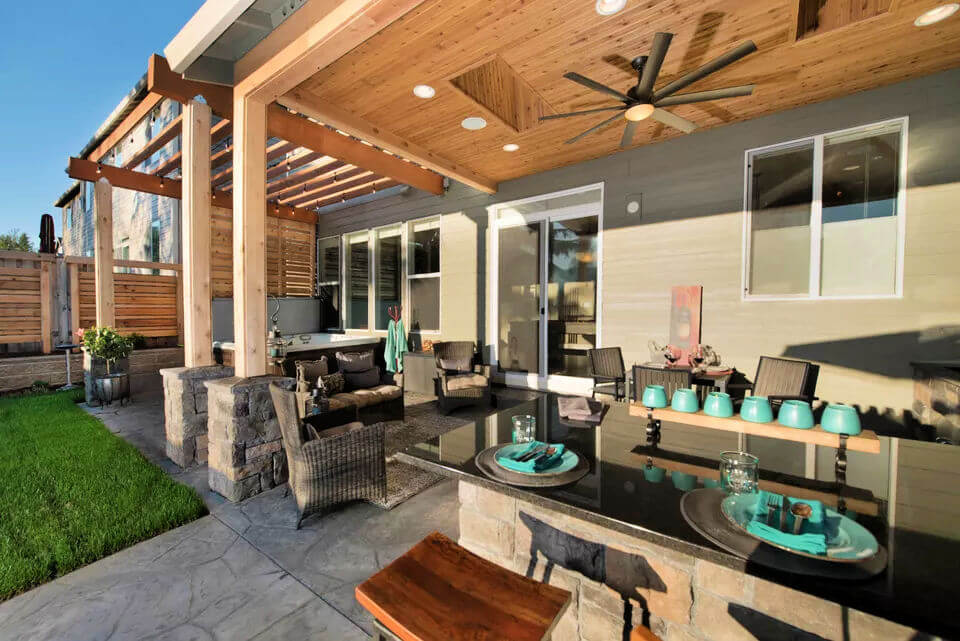 The best way to welcome winters is by adding a covered patio to your lawn. The courtyard in this scenario will be a spot for your family to sit together and have some quality time. You can even place some dining table in it so everyone can sit and dine together at any time of the day.
36. Designed Poolside Gazebo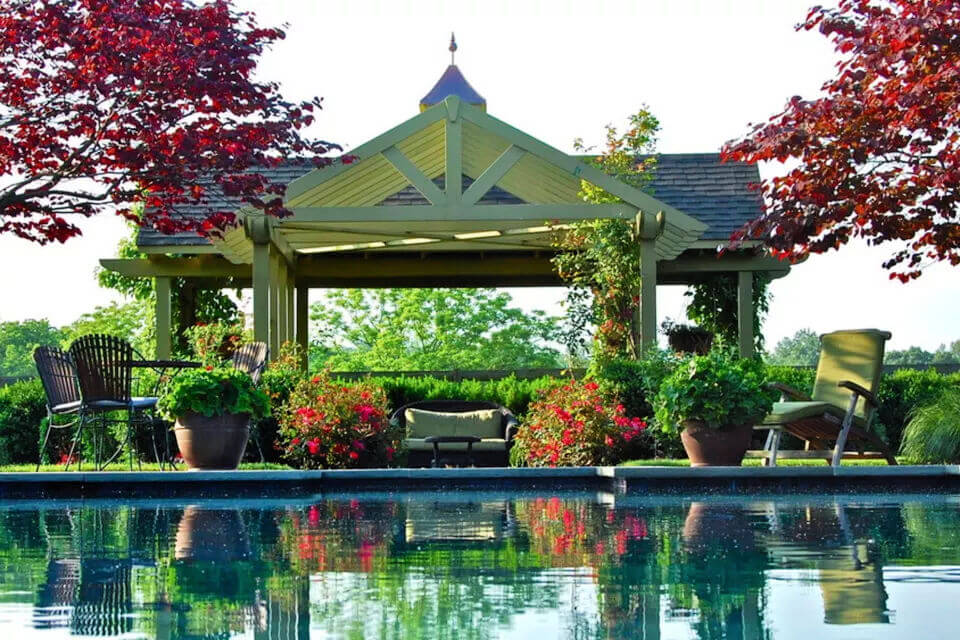 Summers and pool parties go side by side for those parties, and for your friends, what you really need is a gazebo by your poolside. A wooden gazebo will do so, protect yourself from all that summer heat.
37. Cover Patio by Opening An Umbrella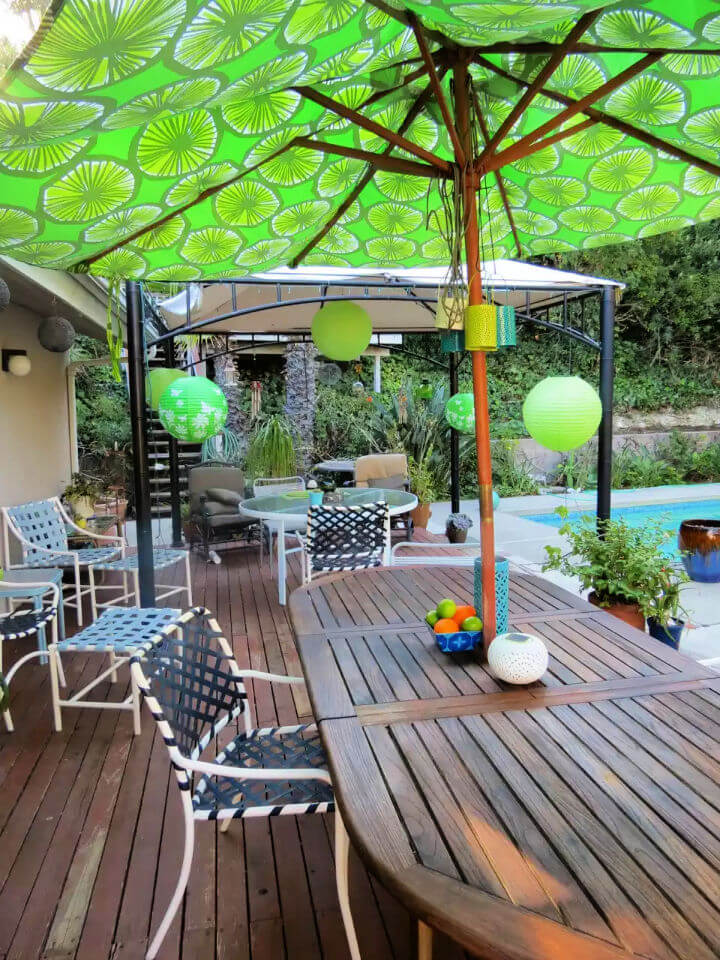 Opening an umbrella is the simplest way to add shade to any patio or any Outdoor space. But you need to be cautious that weight is adjusted in its bottom, in a way that it is anchored. Just make sure it is sturdy and anchored by a weighted holder.
38. Wood Slat Patio Cover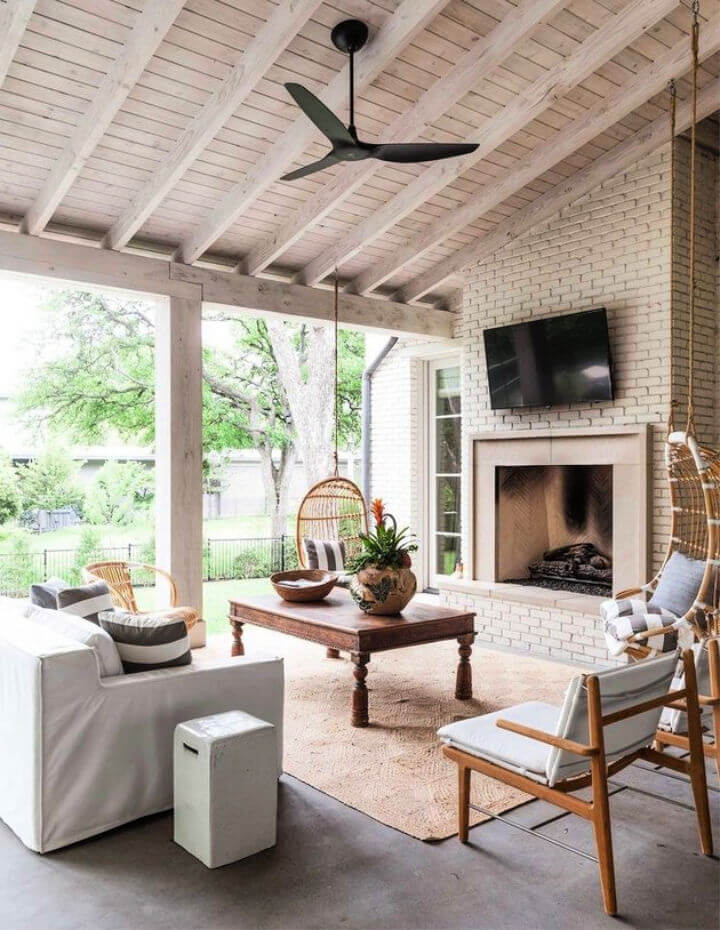 Give your home the touch of luxury with this rustic wooden slat patio cover. Wooden slates are a simple way to enhance any decor area of your choice. Add some fire area under it so winters can be enjoyed in this patio with the family.
39. Deck Style Semi-Enclosed Patio Cover
Your outdoor furniture should always look and feel comfortable and nice. So is your decor element. With this wooden deck styled semi-enclosed patio cover, you can give your outdoor a floating deck look or maybe an even surface.
40. Wide-Slat Pergola Patio Cover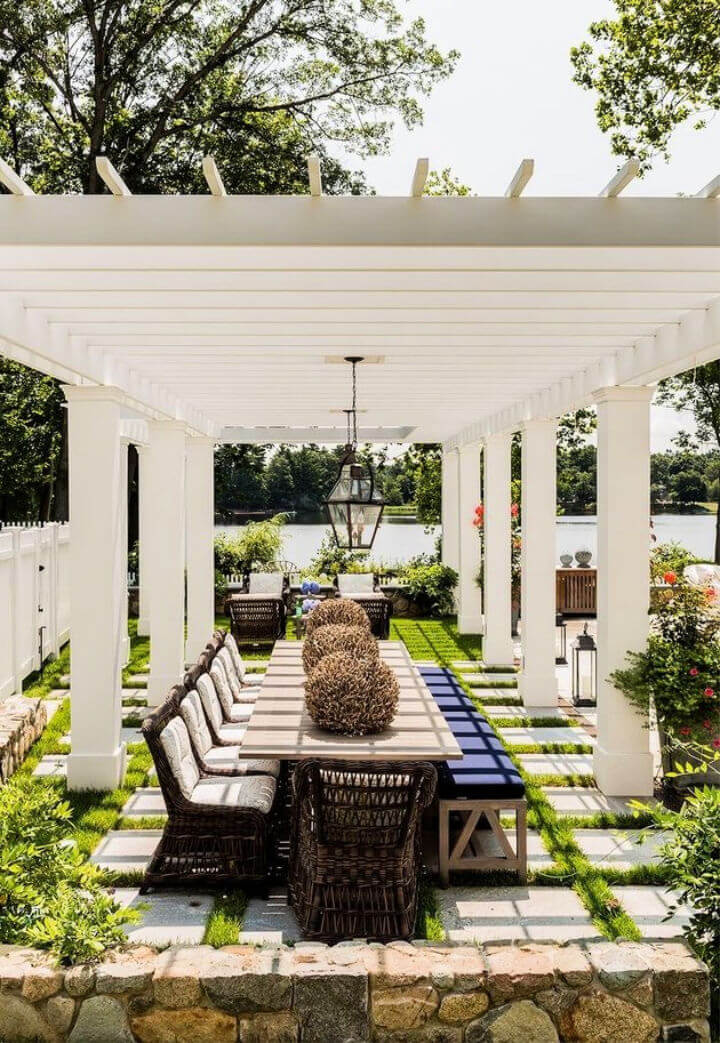 Check out this fantastic wide slat pergola cover. With wooden slats on top, this white pergola is an ideal way to welcome guests over fine dining!! Perfect spot for all family to come together and spend some quality time.
41. Modern Patio Cover in South Africa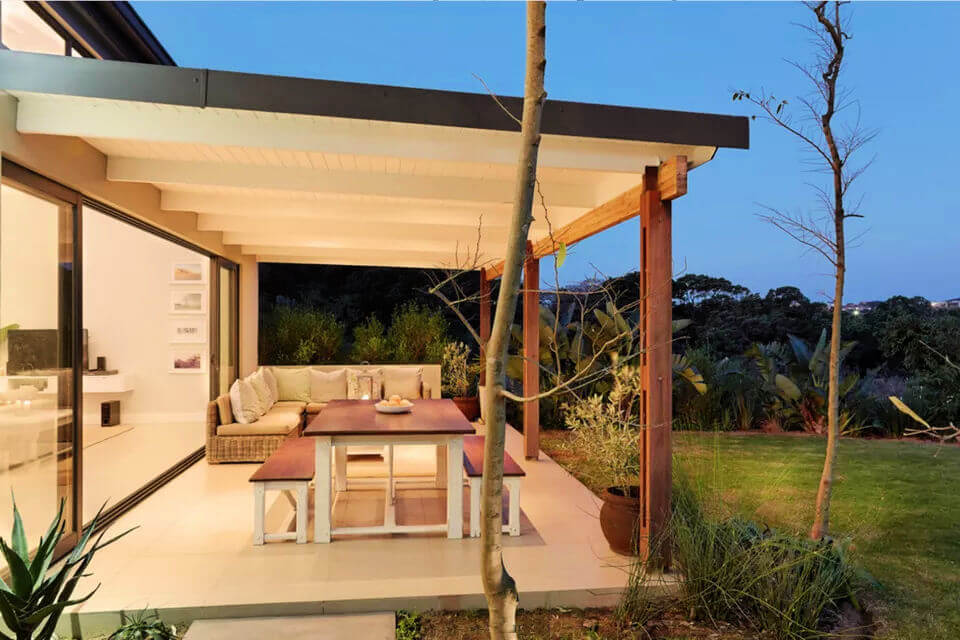 A modern patio for your outdoor space is all you want to last for all seasons! Perfect add on to be used as an extension for your outdoor area so you can spend some family time. Bring in some outdoor furniture to complete the look.
42. Moroccan-style Rooftop Patio Cover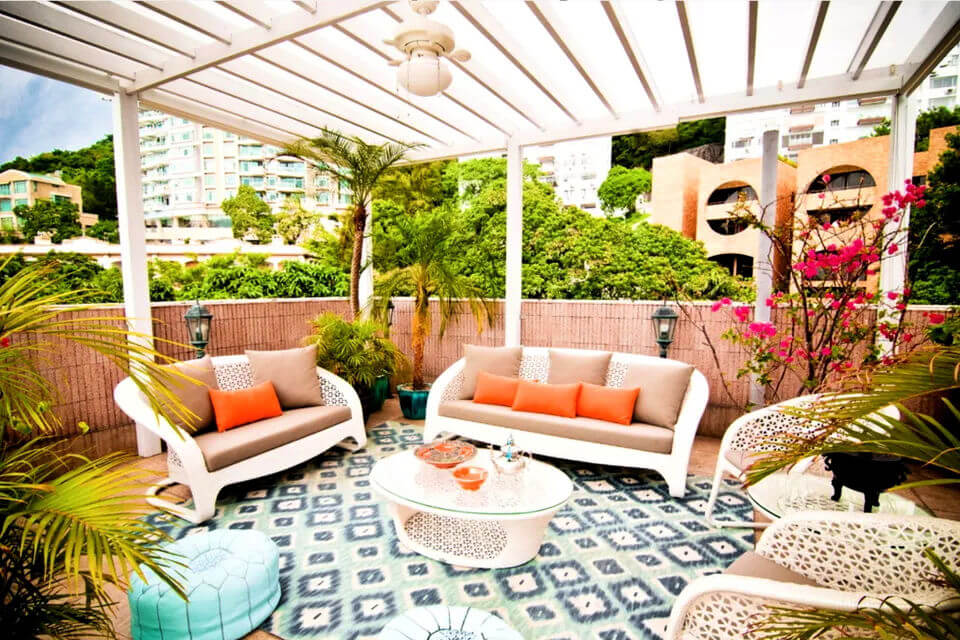 What's a better way to make use of the rooftop than to enhance it with a covered patio? A patio on your roof will stop all those excess sun rays in summers and become perfect protection in winter to have some family time.
43. Shade Cloth Patio Covers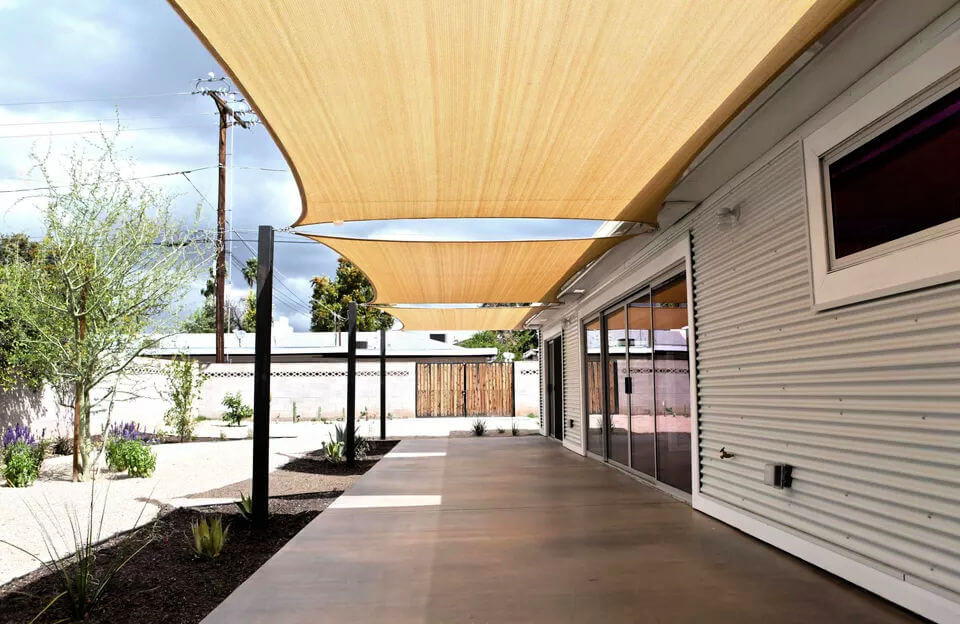 It's not compulsory to use a wooden slat, or any UV Based hard fiber plastic for a patio. It can be a simple shade cloth too. This shade cloth, if tied properly with roof corners it can act as a cloth patio in summers.
44. Santa Ynez Rustic Patio Cover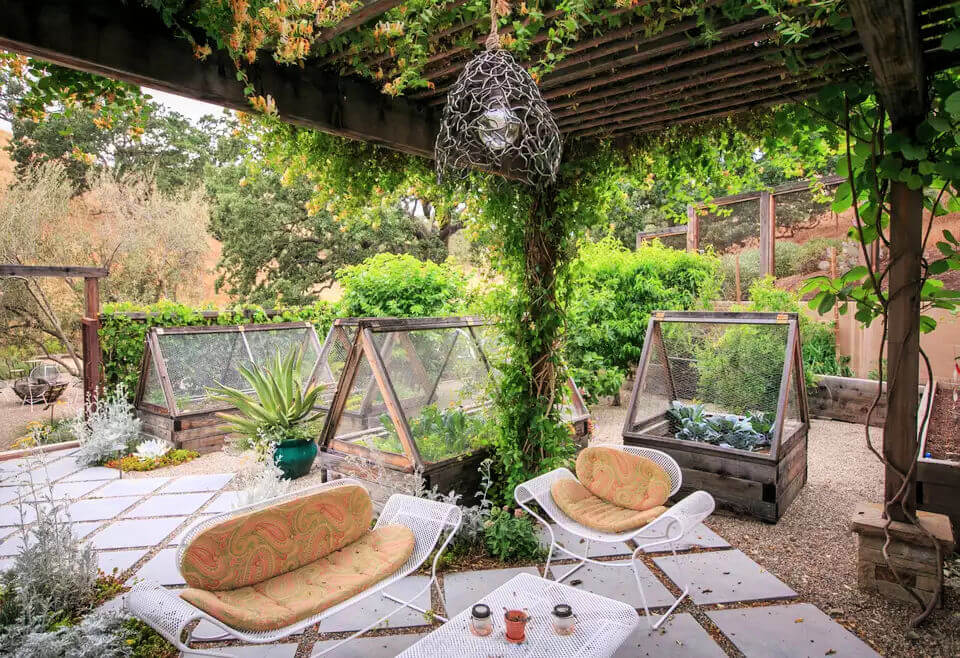 Check out this amazingly crafted eco- friendly outdoor space. The space consists of a wooden pergola, lush green planters, and a metal frame fire pit filled with stones to look like a gabion. Perfect outdoor space for you.
45. Bali House Patio Cover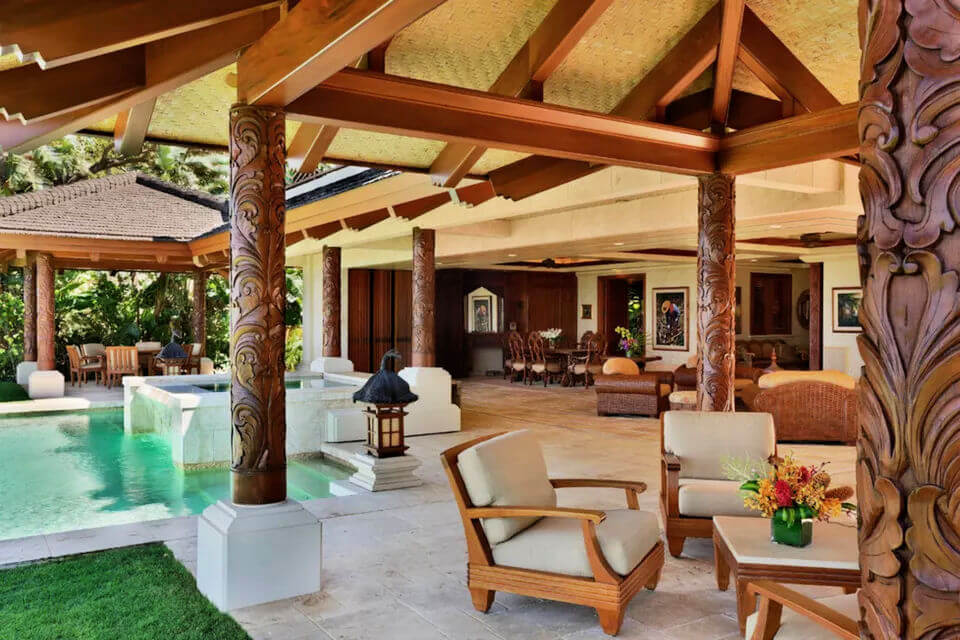 Nothing more like Bali craftsmanship. Handmade carvings, design on the poles. Perfect for holding heavy wooden patio to cover the outdoor spaces. A pool on the side ads more charm to the whole space.
46. Three-season Screened-in Porch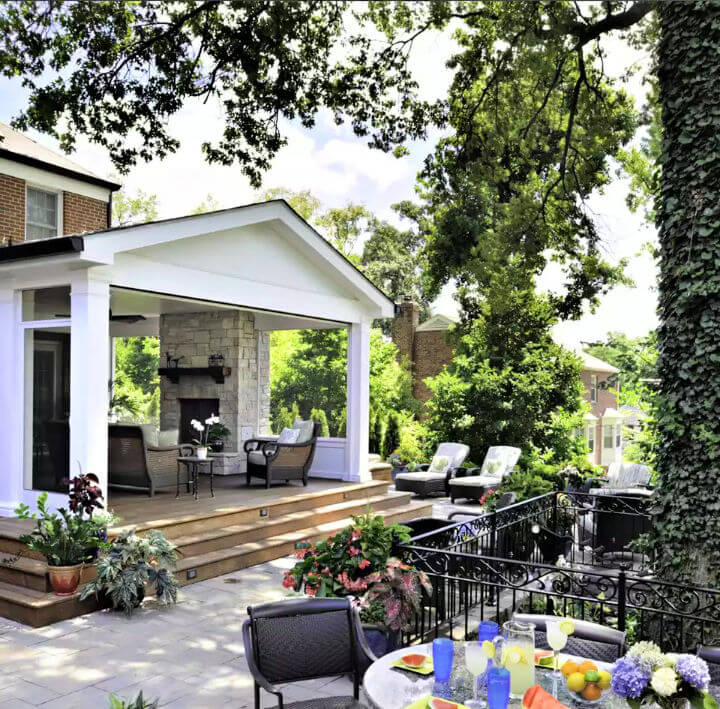 In this advanced time, no one has time to makeover the outdoor space for every season. While this patio here has got you covered throughout the year. With a small hot bathtub and extended patio, winters will be fun.
47. Modern Hardwood Flat-roof
If you are living in the mountains, then the view must be jaw-dropping. With this modern hardwood flat roof patio, you can always have a nice surrounding view. Invite some friends over dinner or even lunch and enjoy some view with them.
48. D.C. Farm Patio Cover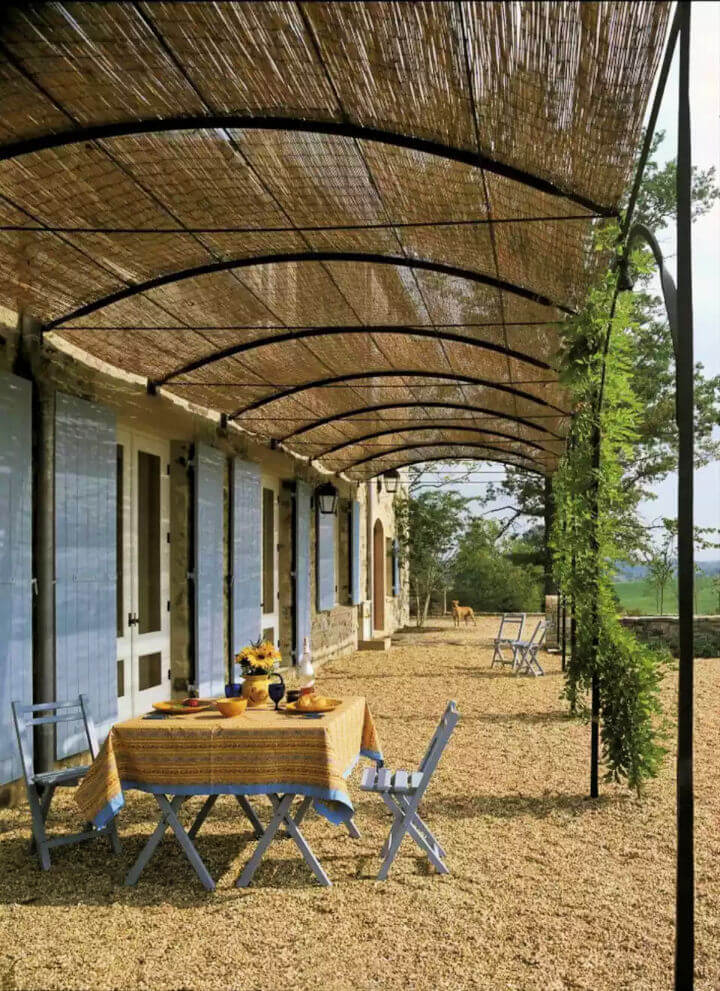 A farmhouse tends to have stuff related to the farm, like sheep and other cattle animals. Why not use the same farm essentials to create a patio cover, like create a metal arching framework supporting a reed- grass cover patio.
49. Covered Patio or Path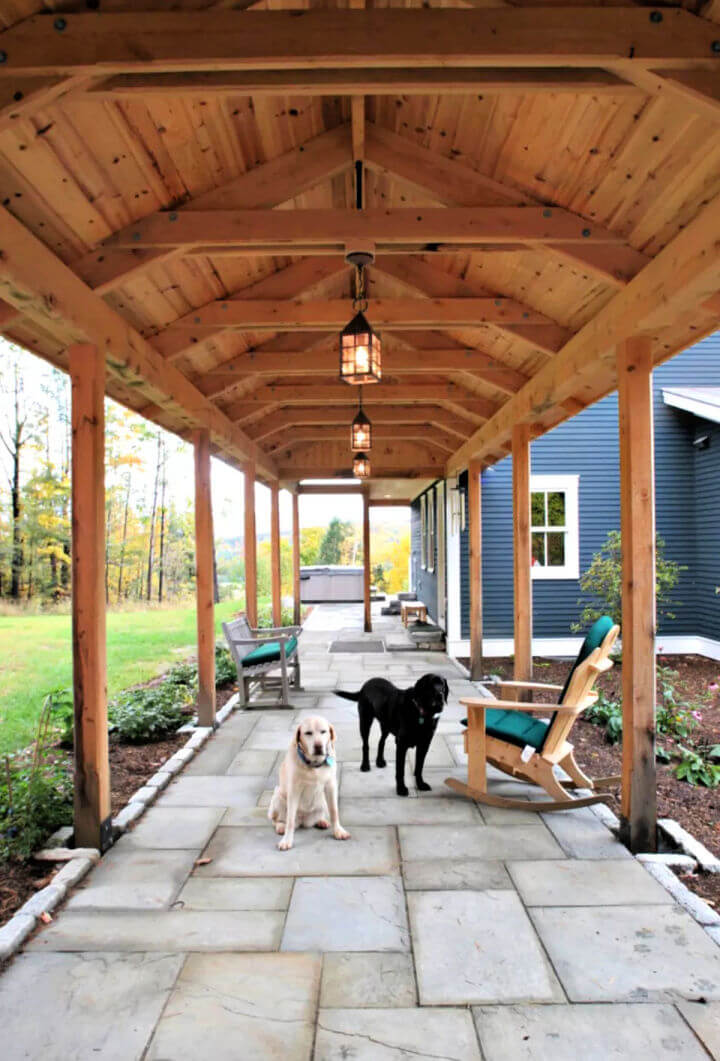 A house entrance is something one needs to take care of, that it is presentable, and sends an excellent impression to the guests. A Wooden covered patio over the pathway can be used as an entrance or exit way from your house.
50. Thatched Roof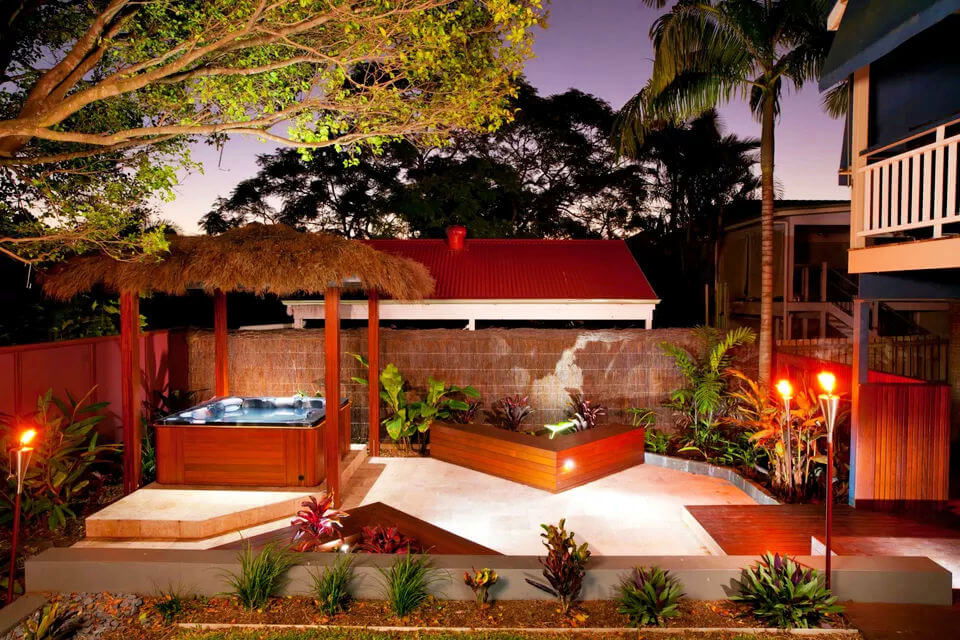 Add a summer feel to your backyard with this thatched-roof patio. Place this on a small bathtub so you can have a beach feel while you get comfortable in the water. Add some planters on the side to complete the look too.
51. Respite From the Texas Heat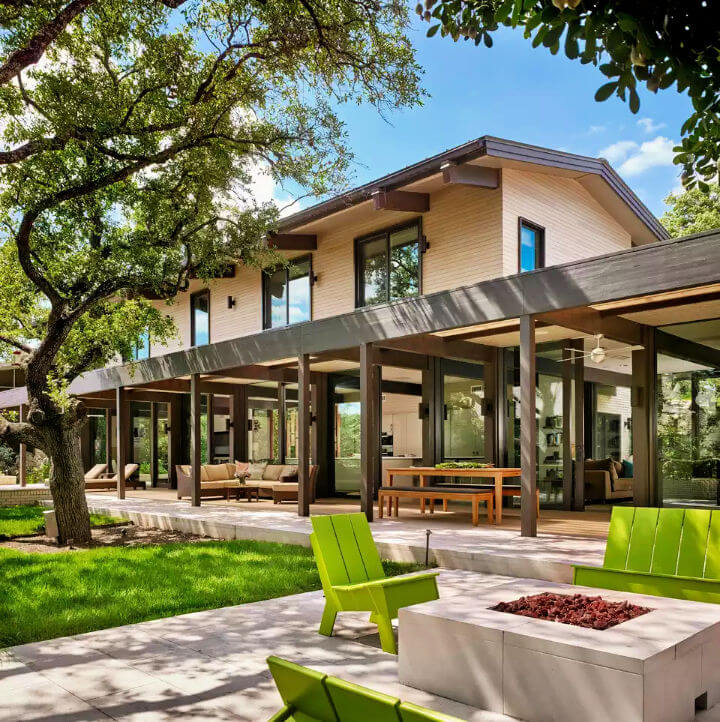 Summer heat is so scorching that you just need a nice shade to hide under this covered patio! It is a perfect place to stay under in summers and an ideal place in winter nights to have some friends over a barbeque party.
52. Light in Amstersdam with Covered Patio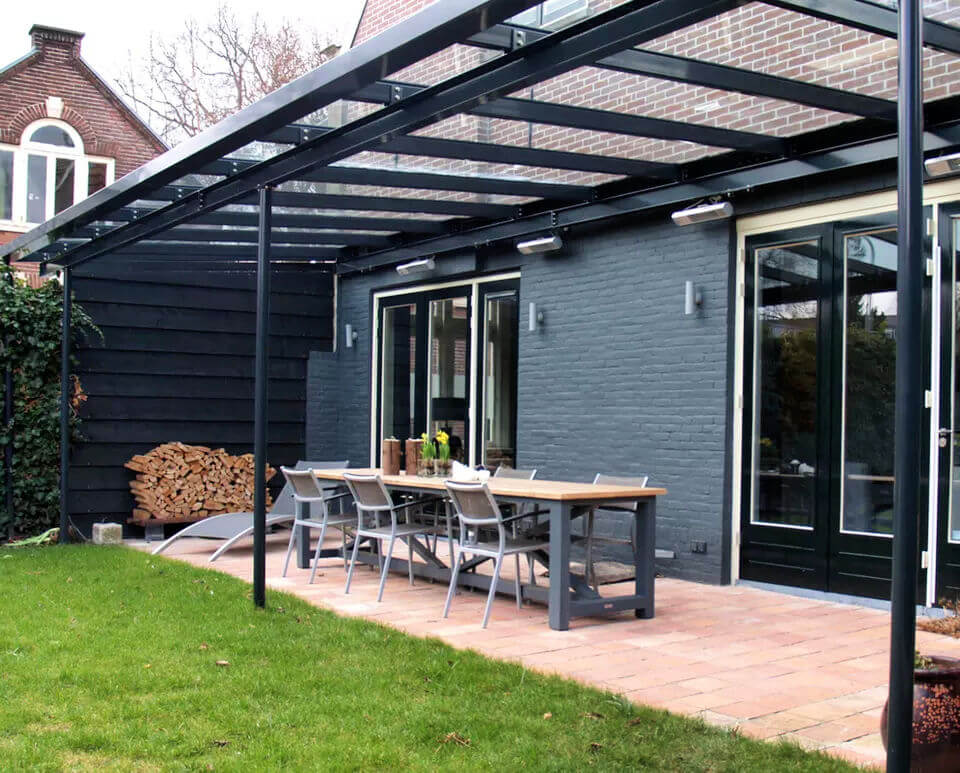 A patio is an outdoor space that, nowadays, every house must-have. This patio makes you close to the nature, and you can have some of your own time as well. The surface of the patio makes sunrays lighter and inside warmer.
53. Aspen Ranch House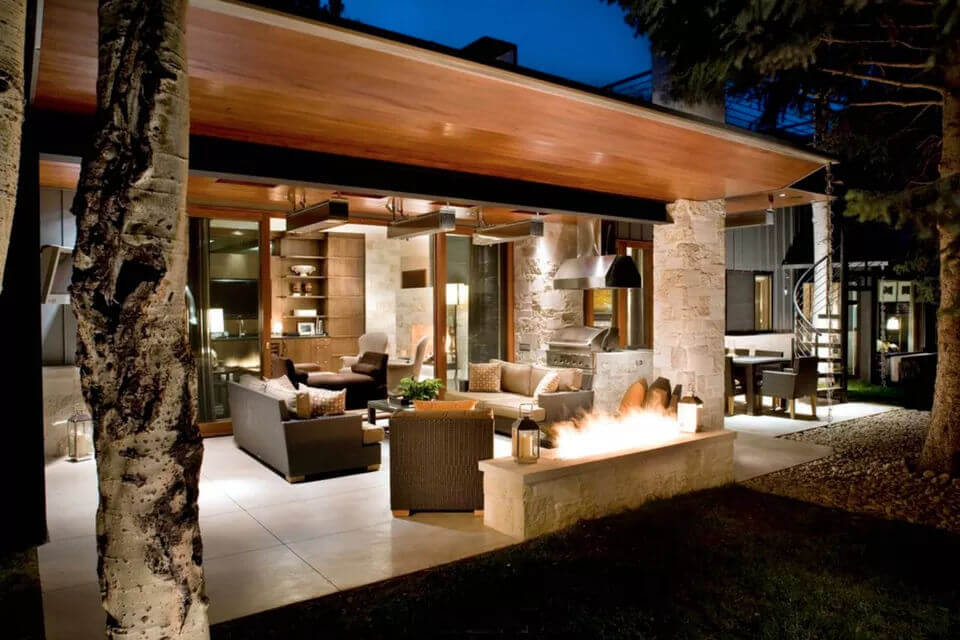 A rooftop patio needs to be part of every home, small or big, it should be essential. Polished concrete flooring, wooden ceilings, and limestone column along with Fire pit create it a perfect spot for the winter nights.
54. Modern Rising Glen House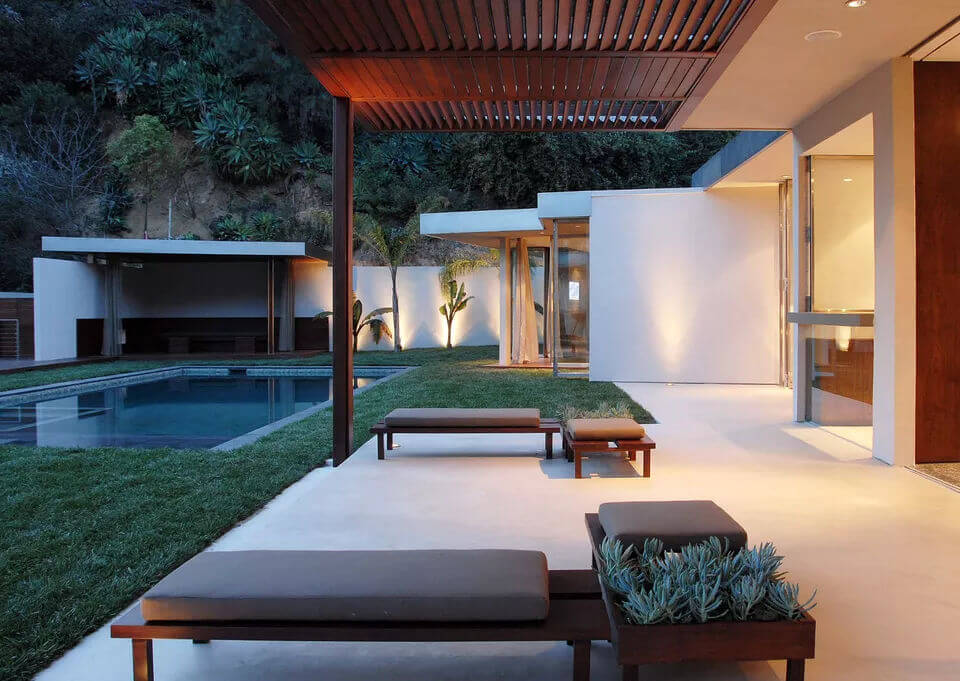 A custom-designed deck complements a patio, this patio looks more of a floating patio look. Add some wooden rest benches on the side of the pool to give it a complete by the deck look and feel.
55. Painted Structural Steel and Alaskan Yellow Cedar Patio Cover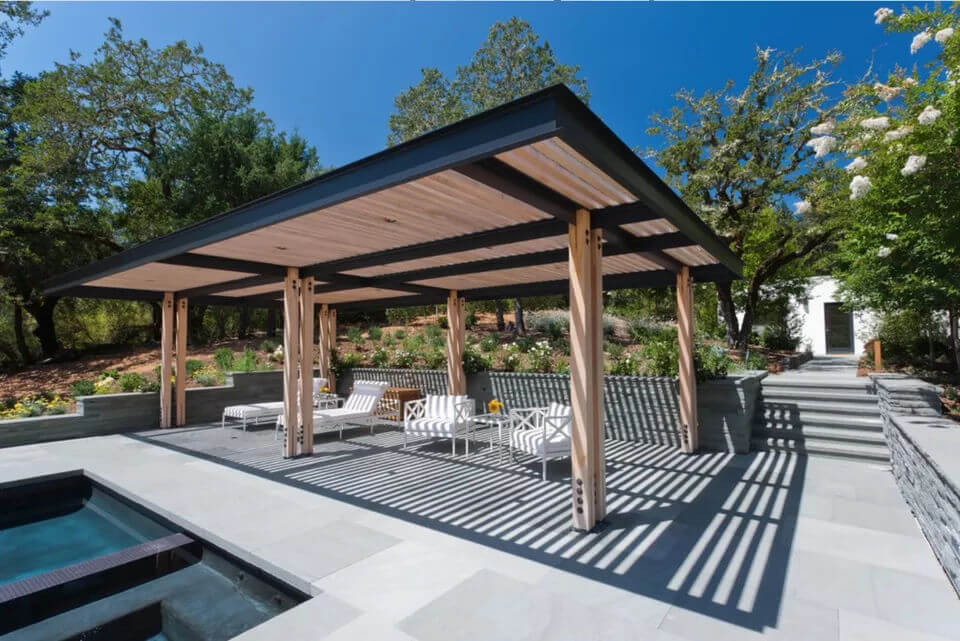 Nothing more elegant in a covered patio, then a stainless steel frame made with Alaskan yellow cedar cover theme! So cool to be placed in the backyard by the pool side, and create your own outdoor patio space.
56. Slate Patio Overhead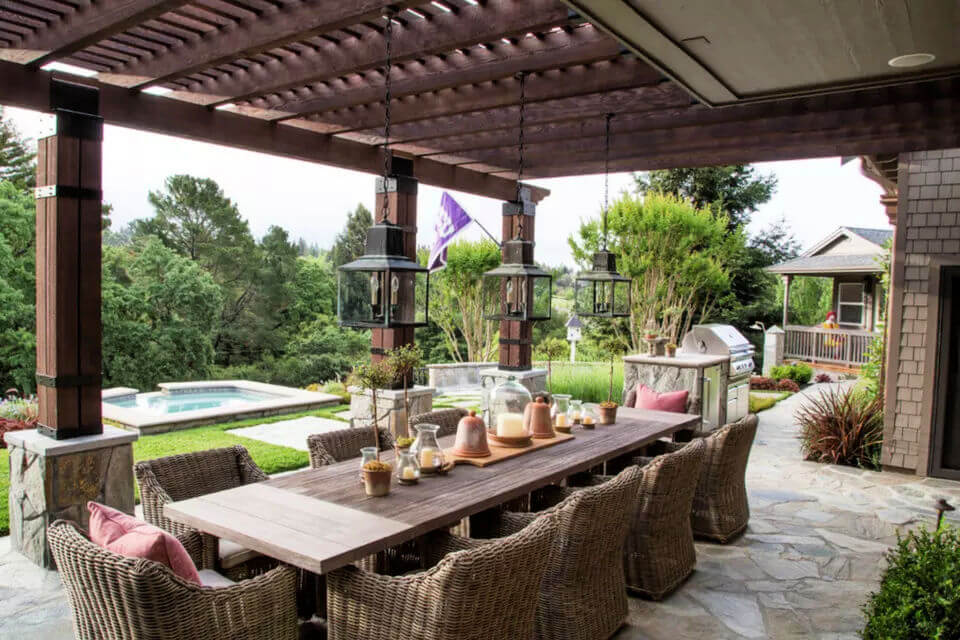 Wooden slates patio are an ideal representation of perfect rustic home decor. The slates will compliment your outdoor furniture and make your outdoor experience worth it.
57. Briar Bayou with Covered Patio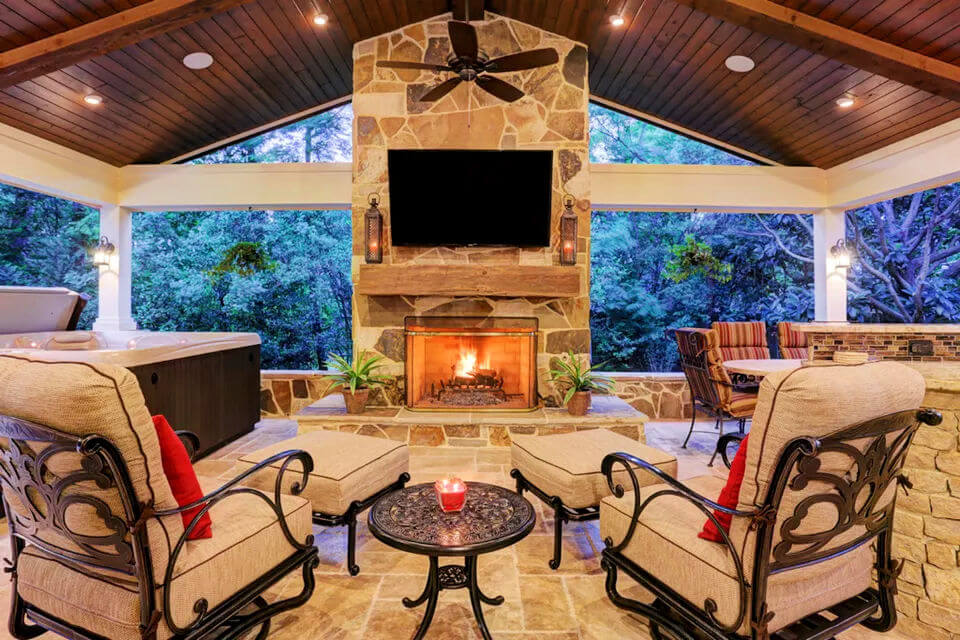 An outdoor living room is something that is not seen most of the time. Mostly living place in inside the house. But with this covered patio now, you can have a television mounted on the wooden slat, Firepit, outdoor kitchen, and seating all in one place.
58. Carolina in Cinncinati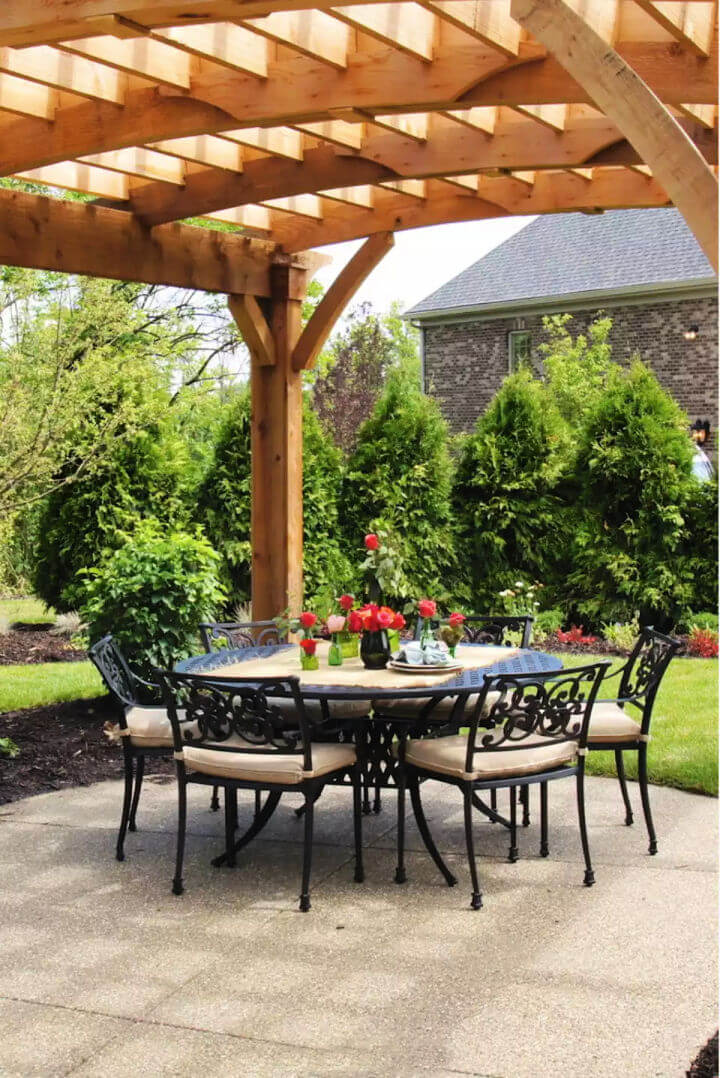 No one needs too much shade at lunchtime, which can make people uncomfortable. With this covered patio now, you can always make sure that outdoor wooden pergola allows the perfect amount of shade to enter inside, also an excellent dining experience.
59. Outdoor Covered Patio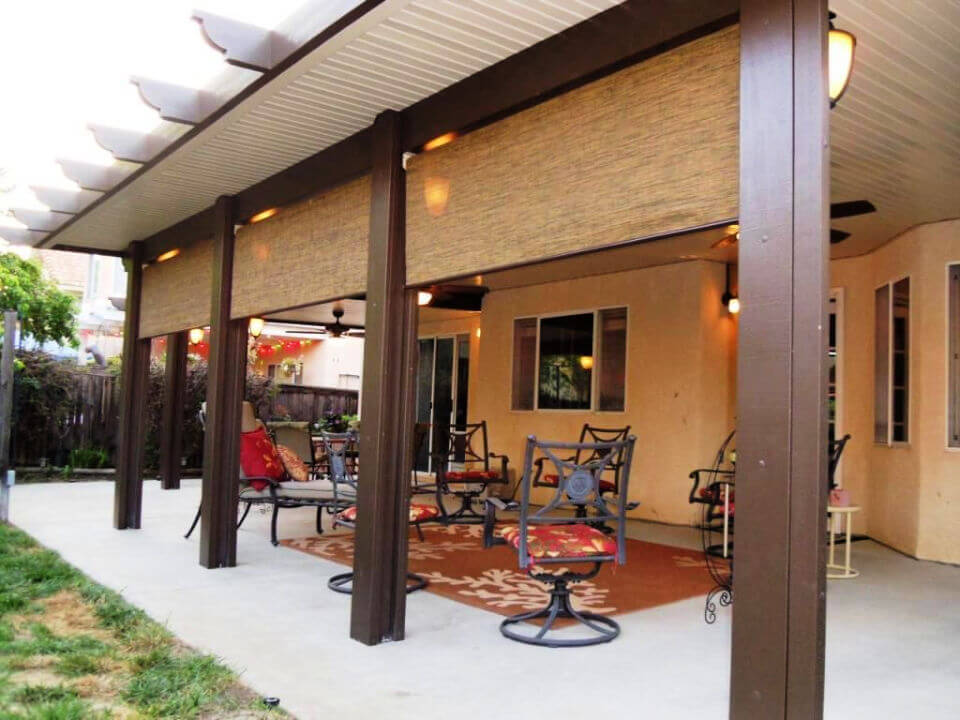 An outdoor patio cover surely saves host time to 50%. This space is a fun space, allowing guests to have an excellent time. With proper seating, one can have some comfort and fun while they dine in.
60. Elitewood Patio Covers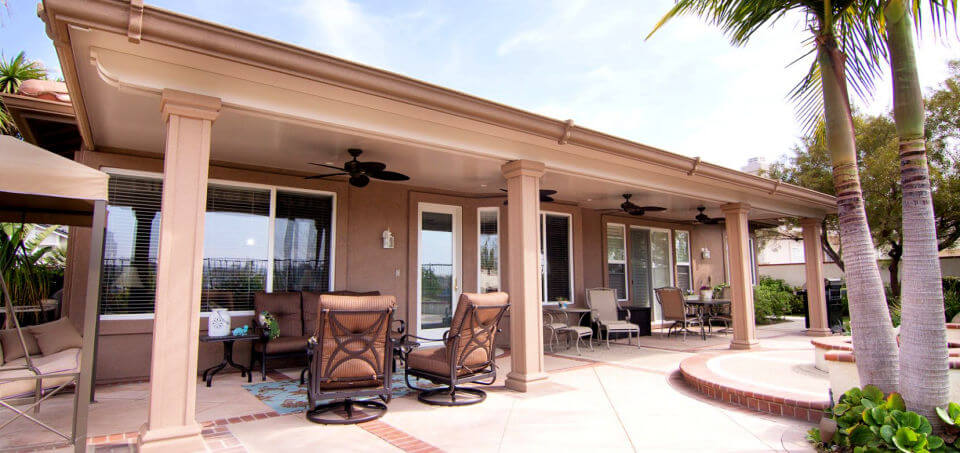 Quality comes up with a price. The better the quality, the higher the cost. This elite wood patio cover design is for all those interior inspired people who want to give their outdoor a unique makeover by staying in budget! Get best quality with restrained budget.
We promise with these 60 best patio covers, you can give your place quite the makeover by staying in your budget! We have not just laid down the best patio cover ideas for you but also shared the basis or the baby steps you need to take while deciding to choose what kind of a patio person are you!