The Closet of a fashion doll comes quite expensive, but if you know how to sew, you can easily nail this fashion closet like a pro! We are here for the rescue with these amazing and easy to sew 10 free Barbie clothes patterns to inspire you and take away your Barbie outfit problems! Your little girls are going to love the trendy outfits and the perfect fashion statement that each outfit will bring to their favorite Barbie!
Our collected free sewing patterns for barbie clothes come with free and downloadable sewing guides! You can put your piled-up fabric scraps to a trendy use! If you have got some old socks with worn-out holes, time to turn them into these cool and chic Barbie clothes. Our chosen patterns are so interesting and appealing that you are going to build a special interest in this fashion train hoped on with Barbie's! So gather around your basic sewing kits, some scraps of fabric, or your favorite designs, and let's get sewing.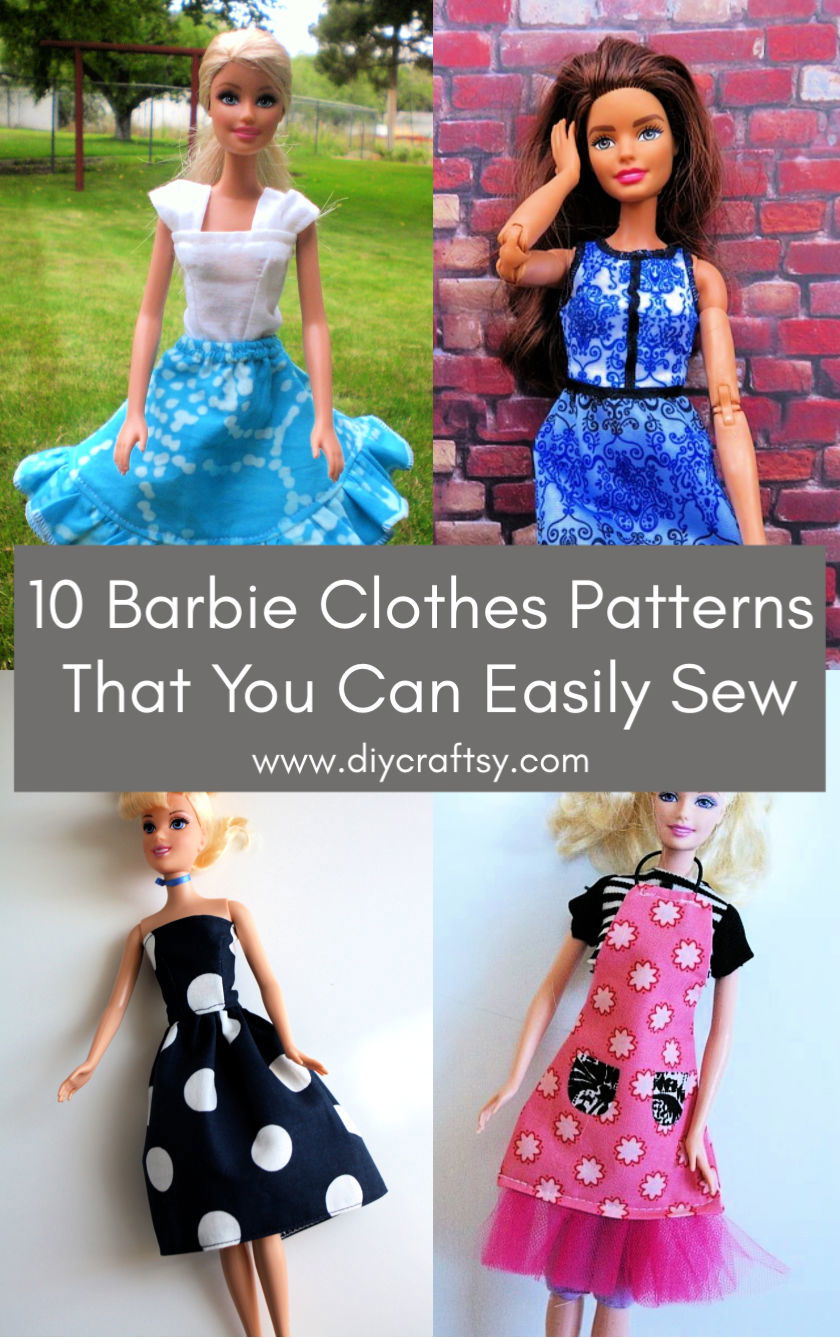 1. DIY Barbie's Cece-Inspired Circle Skirt: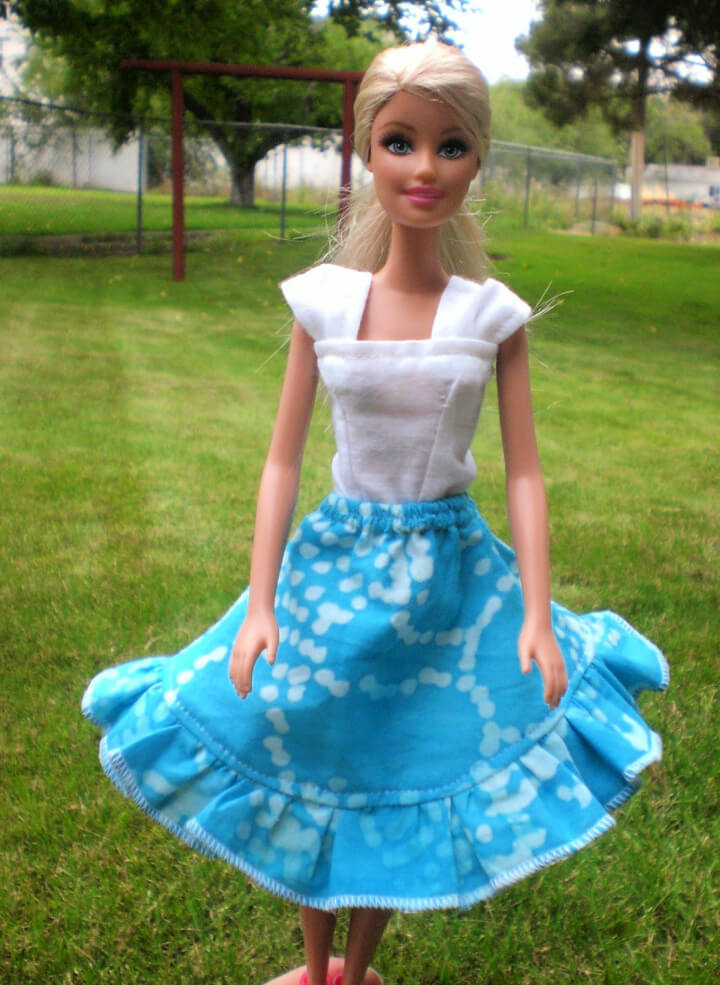 Build your daughter this chic DIY Barbie's Cece-Inspired circle skirt! She is going to love it so much that you are going to be so famous around the town. You are just going to need a small scrap of fabric, a long piece of elastic, matching thread, and get the pattern here. createkidscouture
2. Free Barbie Dress Sewing Pattern: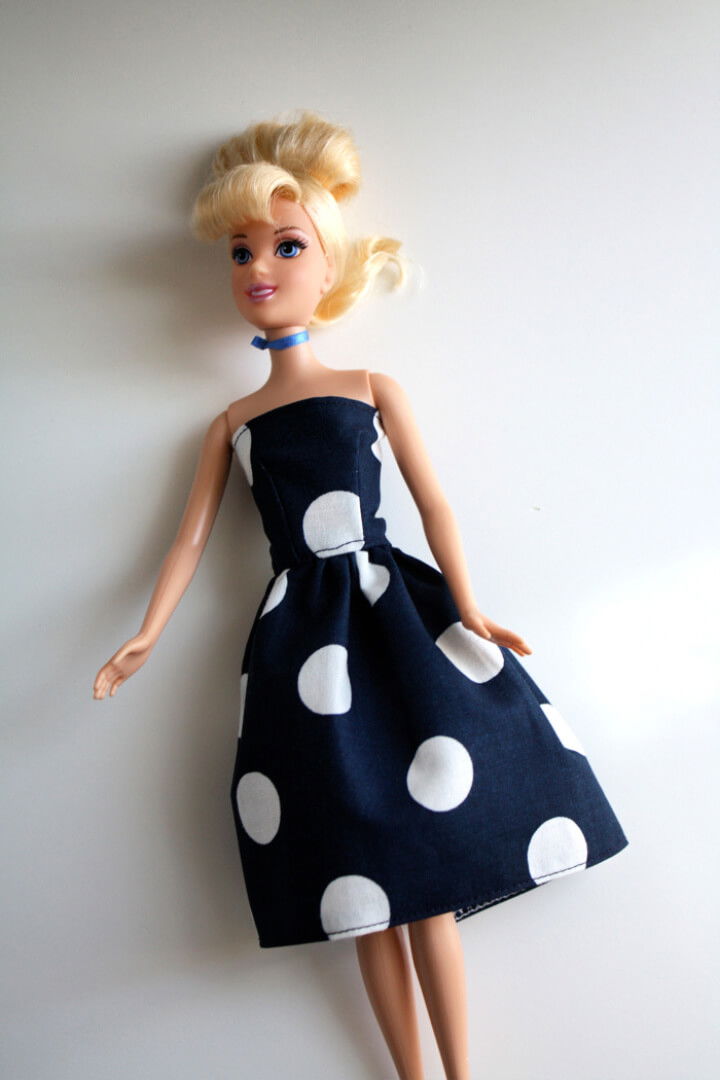 Check out this super cute and polka dots inspired denim dress for your little one's Barbie! It is made using 1 piece of 6" by 2.5″ for the bodice, and 1 piece of 5″ by 12″ for the skirt. Gather your sewing kit, including scissors, needle, thread, and sewing machine. craftinessisnotoptional
3. How to Sew Barbie Clothes:
Because every girl loves dressing up her dolls. So, what's better than saving up the cost and adding a personalized touch to the dolls' dresses with Sewing from Home. You can even use your kid's old fabrics and maybe their Barbie, and they can have coordinating dresses. sewingfromhome
4. Make Barbie Mermaid Barbie Outfit:
What's better than a simple Barbie doll? That's right, a mermaid Barbie doll. Gather around about ¼ yard of Lycra, 5T or larger old swimsuit, stretch needle, thread, and sewing machine. Start off by cutting the pattern for the mermaid outfit. sewspoiled
5. Sew Itty Bitty Apron for Barbie:
Time to put your scrap pile to great use with this Itty Bitty apron tutorial for the Barbie population in your house! They are not just pretty easy to build, but they will look darn adorable on the lovely dolls, and the little hands can easily work around the dress-ups. brassyapple
6. Upcycle Socks into Barbie Clothes: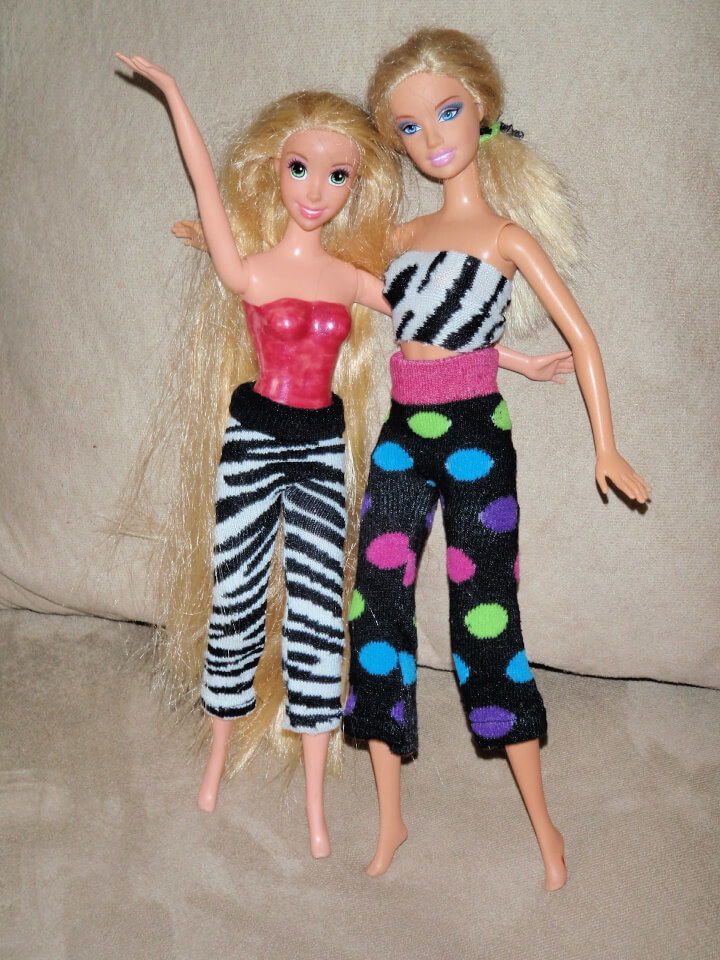 How about turning your old socks into your little girls new Barbie clothes? New and chic patterns of course. Start by choosing the old ankle socks that you no longer want to use. Or if you want to get a good fix to your worn out hole in the socks. michkascreativesolutions
Free Doll Making Patterns:
Crochet Barbie Clothes: If you're a crochet lover then you would love to have these crochet barbie clothes. Pattern attributes and techniques include: Buttons, Embroidery, Scrap yarn, Seamless, Top-Down.
Doll Patterns to sew: Using your originality and one of the free doll patterns and tutorials, you can sew a new play-friend for your little one.
Waldorf Doll Pattern: Follow this Waldorf doll pattern to make a beautiful doll for your cute girl. You need Cloth for doll skin, yarn for doll hair, Waldorf doll kits, patterns and instructions.
Rag Dolls: Rag dolls are old-time dears of children. They're super easy to make from old fabric that would otherwise be thrown out. Follow this free rag doll pattern that will help you to them as simple or as complex as you like.
Free teddy bear pattern: Download this free sewing pattern for a teddy bear and make it in an hour. Great beginner sewing project.
7. Sew a Barbie Apron and Oven Mitt: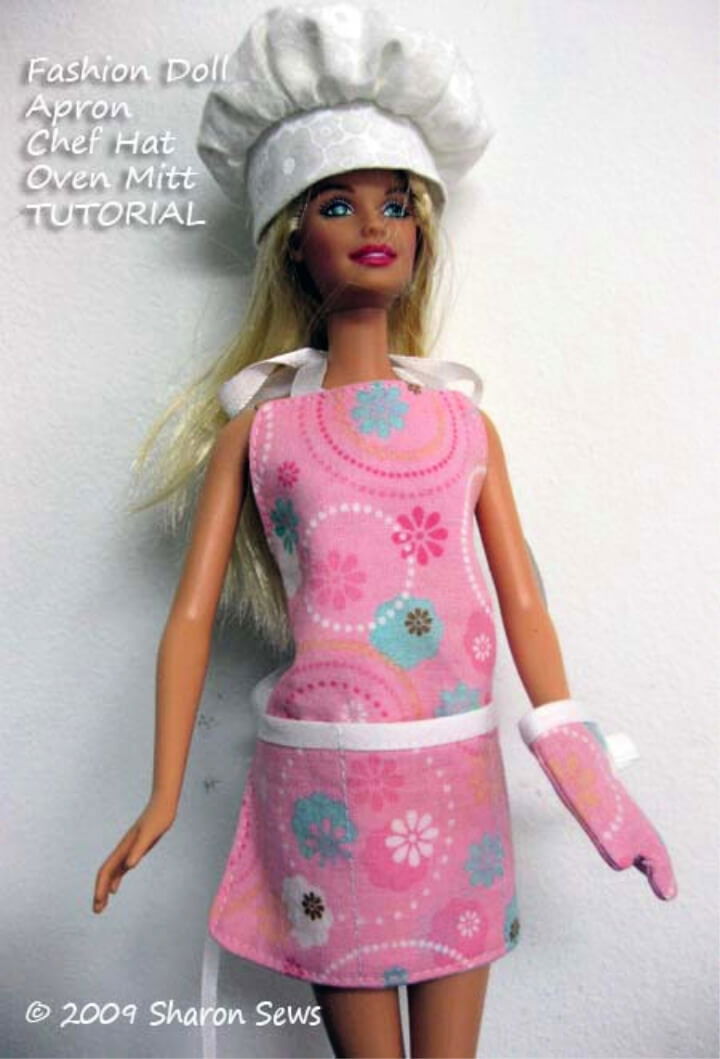 Little girls have this beautiful inclination towards baking! Apron and mittens are perhaps a girl's best friend. This tutorial has so much to offer you with a Barbie apron with pockets, chef hat, and oven mitt. Get the complete guide here. sharonsews
8. How to Make Barbie Doll Clothes: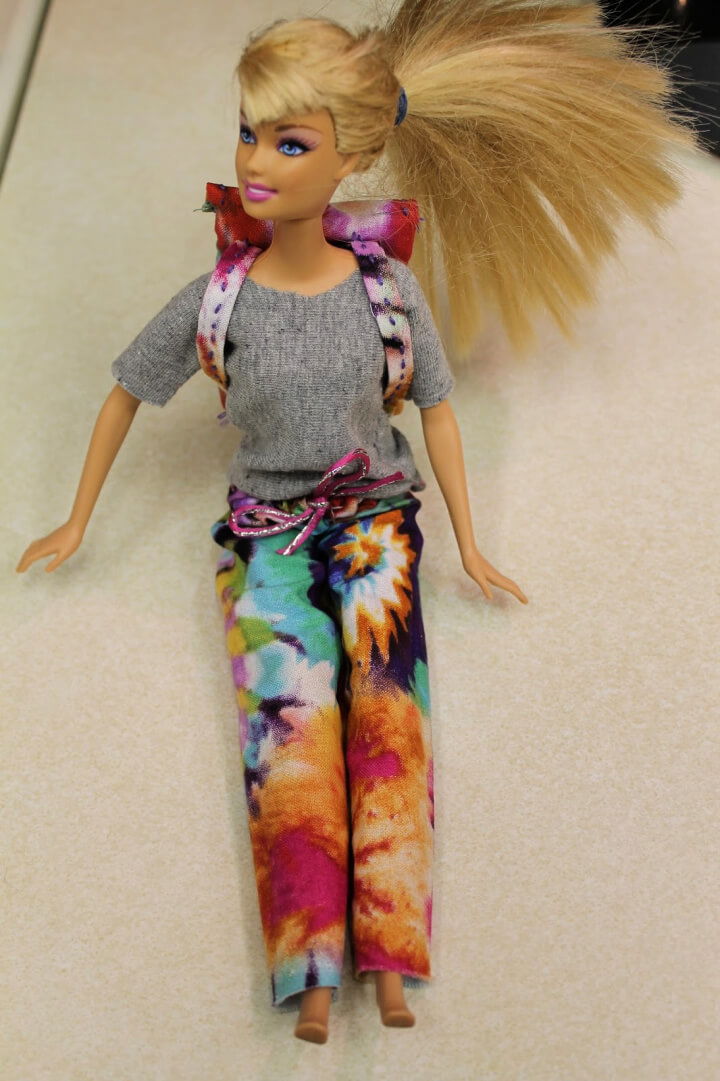 The best thing with able to sew Barbie clothes all by yourself is that you can introduce a major deal of dressing sense in your kids! This one here is exactly a version of that. With beautiful cozy lounge pants, a super easy T-shirt and a backpack. mycreativemommy
9. Free Curvy Barbie Pattern:
Here's a perfect solution to solve your curvy Barbie dress problem! The thing with curvy Barbie is that it doesn't fit in the regular dresses. Get the free Barbie clothes sewing pattern here and make some cute and stylish Barbie dresses. resinrapture
10. How to Make Clothes for Barbie: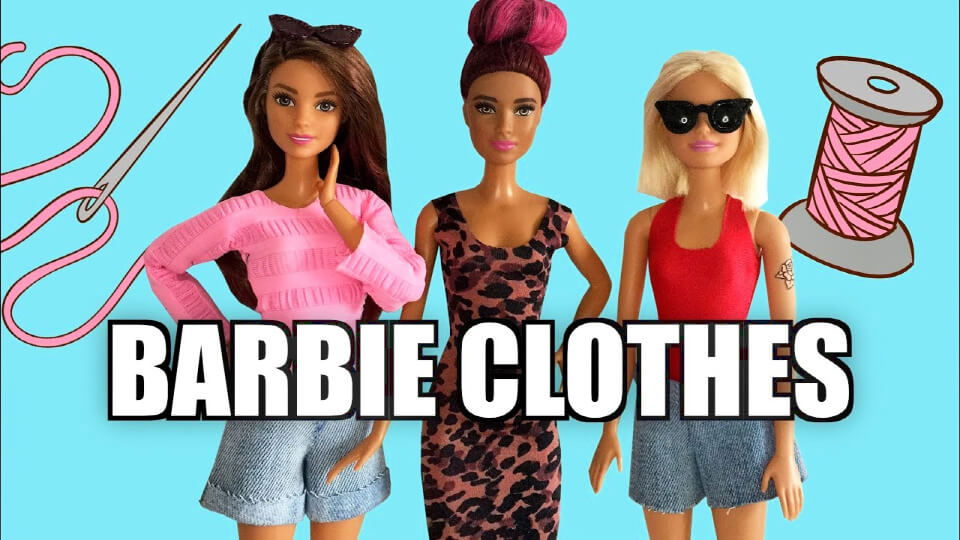 Have you just entered the Barbie world? And wondering how to manage with all the expensive closet that she comes with. Let's solve this right and with style. Get some amazing ideas and free sewing patterns for your Barbie clothes here.
Conclusion:
As promised, we are sure you must have adored these free Barbie doll clothes sewing patterns! They can also be a great bonding activity for you and your little girls. Almost all of these patterns are quite fun to make and pretty easy. Your little girls can help you in the process and might even choose their favorite fabric designs! From curvy Barbie to mermaid Barbie outfits, there are plenty of options to choose from. Make the cute apron and mitten outfits for the Barbie and your little girl to have some fun cooking and baking!