Learn how to make DIY baby onesies with these 35 fun and cute baby onesie ideas with step by step instructions for baby girl and baby boy. Whether you are searching for the perfect baby clothes for your baby boy or girl, these cute and fun DIY baby onesie ideas are tailored specifically for you. From simple sewing projects to decorating pre-existing baby onesies, these 35 fun DIY baby onesies are the perfect way to create unique, one-of-a-kind baby clothes that will stand out from the crowd. Whether it's a special occasion or just a day out at the park, these newborn baby onesie ideas will make your little one look adorable.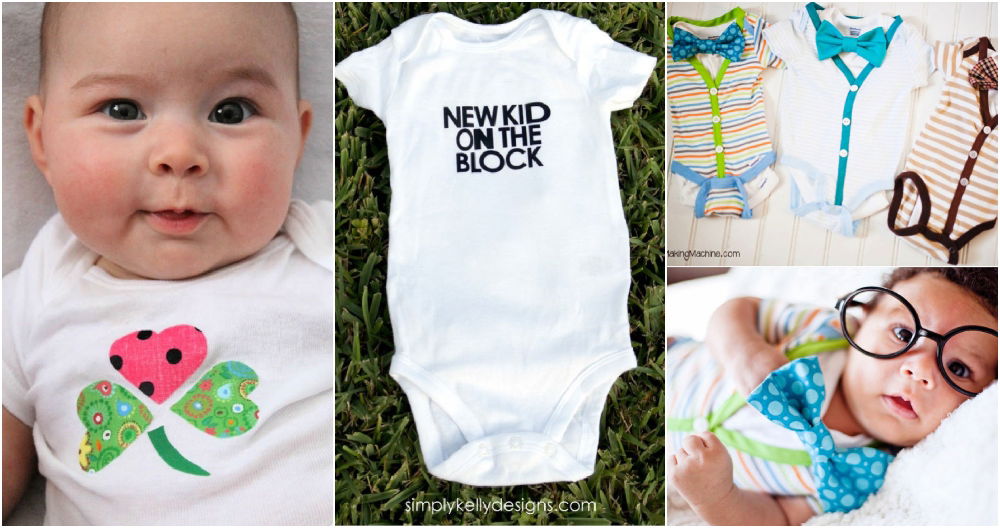 DIY baby onesies are a great way to create personalized clothing for the newest member of your family. From funny, unique, and cute baby onesie ideas, you can craft custom clothing for any baby! Even if you're short on time or don't have much crafting experience, simple baby onesie ideas like adding an applique with fabric paint, using iron-on patches or appliques, or simply stitching a monogram using colorful embroidery floss can still add that special touch to one-of-a-kind pieces. With plenty of baby onesie ideas to explore and make, it's never been easier to give your little one the best in fashion!
1. DIY No Sew Team Spirit Onesie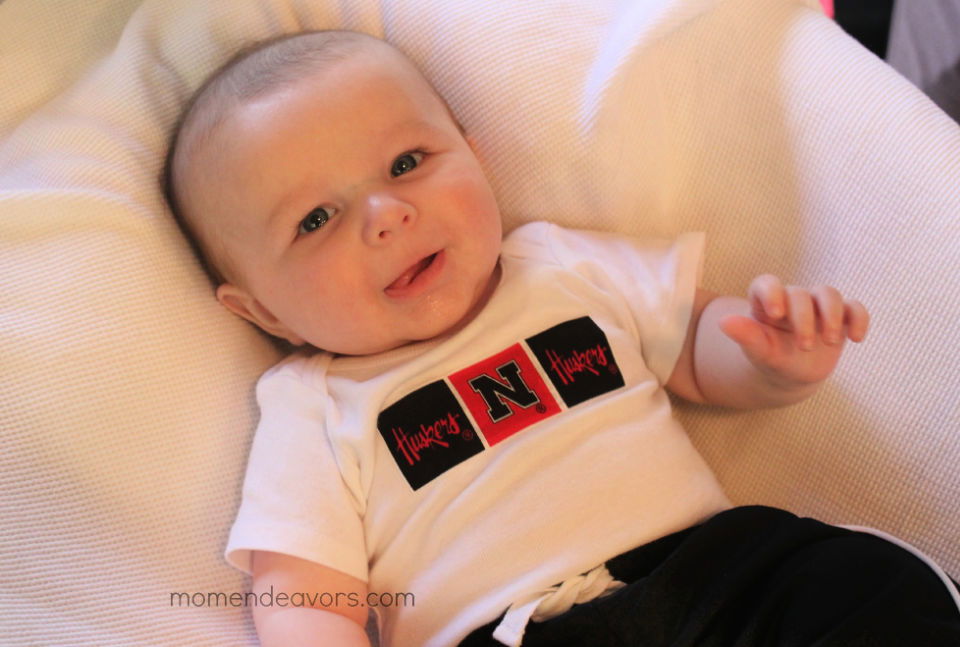 If there is a football party at your house and everybody is getting dressed in the cute football t shirts then why not your little bundle of joys should look like the cute mini foot ball players with these cute football onesie in white with those cute printable on it. Here is the link to get its details step by step and make it right this weekend momendeavors
2. Freezer Paper Stencil Onesie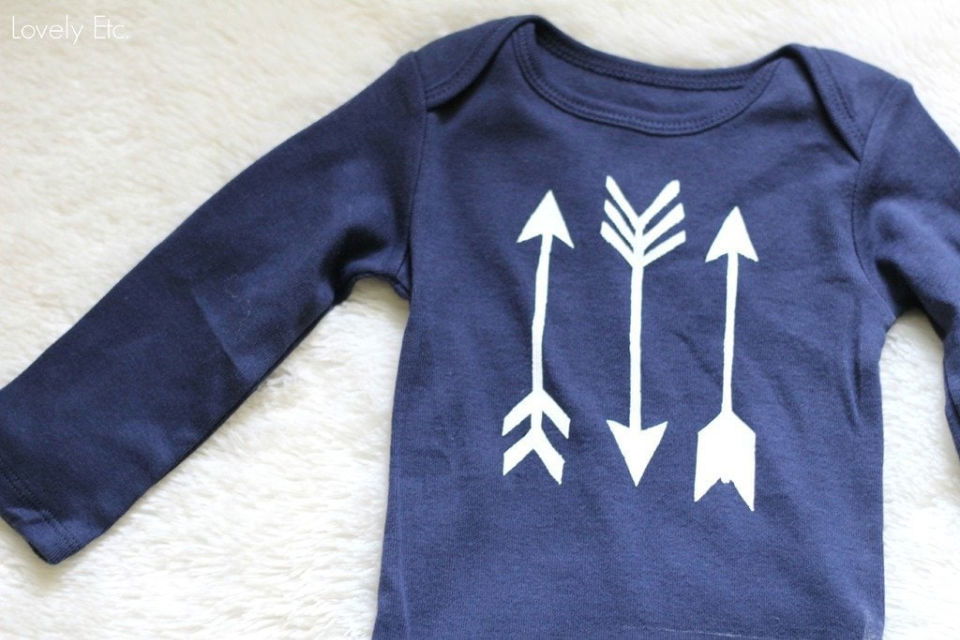 You do not have to buy those expensive t shirts for your little ones when you can make some cool and funky styled shirts for the boys and girls and that too on your own and here is this lovely arrow pattern for you to get your hands on and make this stylish onesie for your little ones or those in the family as a gift.Check out the details of printing the arrows here domesticsuper
3. Funny Baby Onesie Using Heat Transfer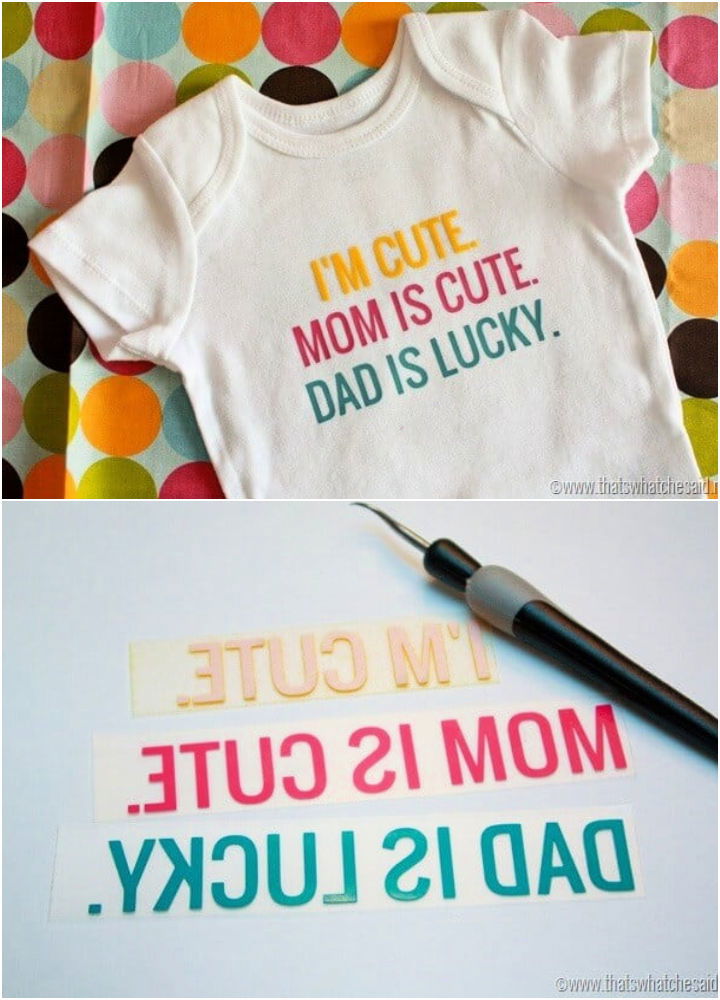 Now all the mommies out there can make the plain and boring white dresses of the babies look so much colorful and fun with the smart idea of silhouette heat transfer to create any of the cute lines and letters on their onesie and make them look so much adorable them wearing them around. The details of this lovely idea are right here thatswhatche
4. Easy DIY Rhinestone Onesie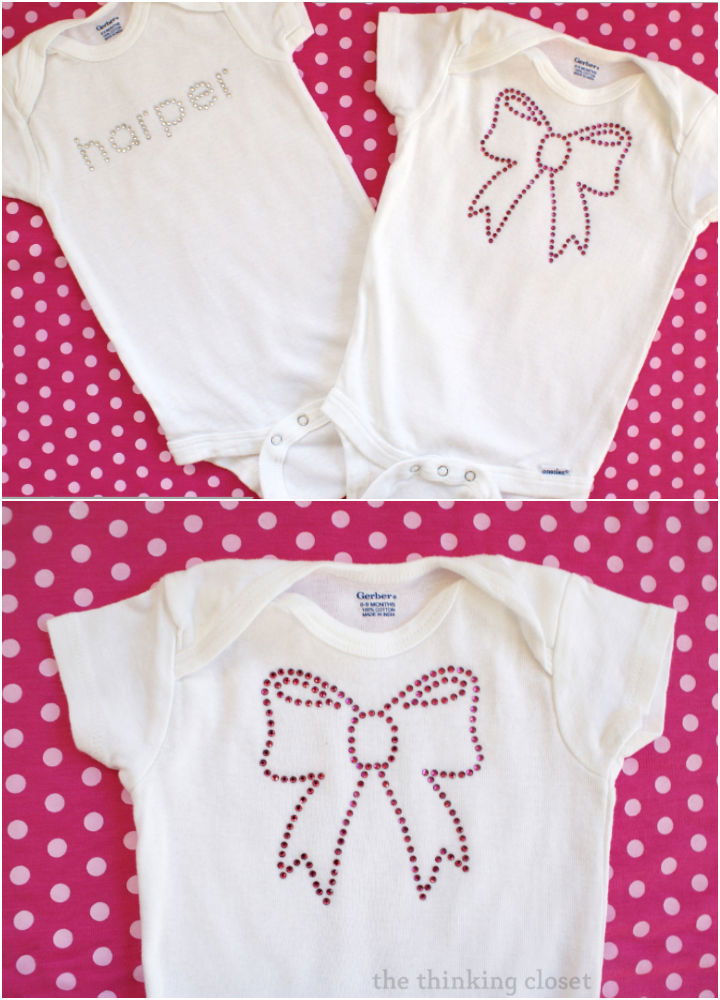 If you got some rhinestones lying around in your drawers of jars of knick knack collection then its time to get them out and create these exquisite dress up for the new born babies or the toddlers. Yes you can use these rhinestones to say any word on the onesie and thus make them look all stylish and fun and that too at no cost at all. Grab the easy details of this cool idea here thinkingcloset
5. Embellish a Plain Shirt With Favorite Characters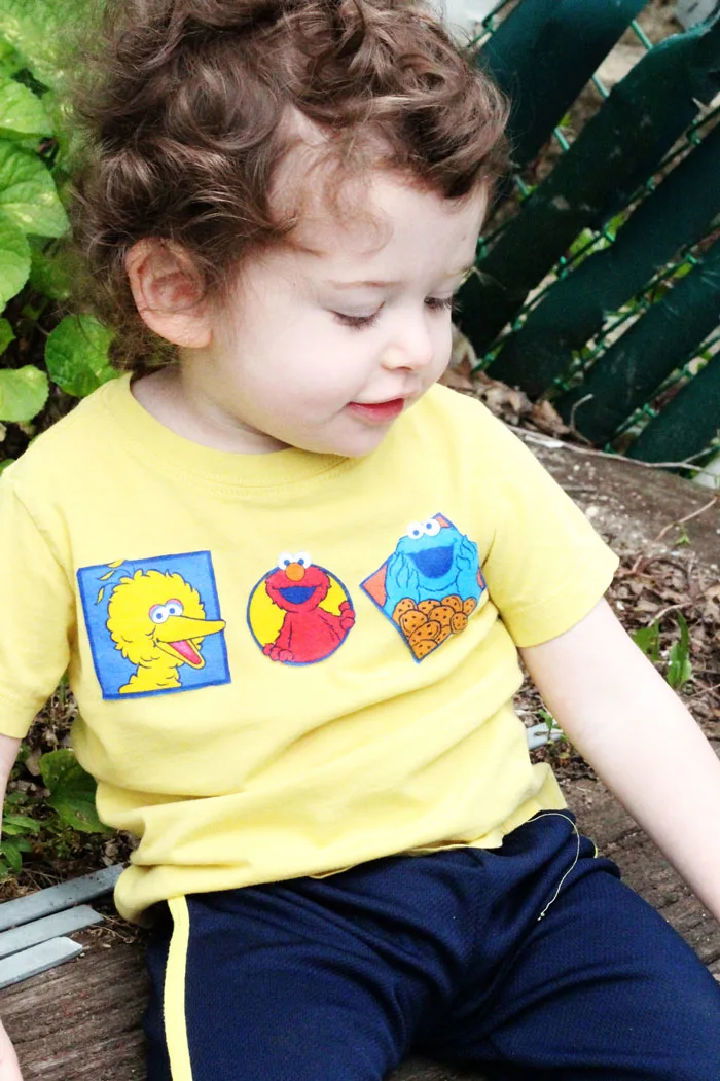 The plain and boring tees of your little one can be now all styled up in the chic way using some fun shapes being printd on them. Here is this lovely plain yellow tee having been made to look so cool and funky with some cute cartoon characters being nicely printed over them in a row. This ideas is so damn easy, quick and cheap to get your hands so have its details here momsandcraft
6. DIY Rosette Embellishments Onesie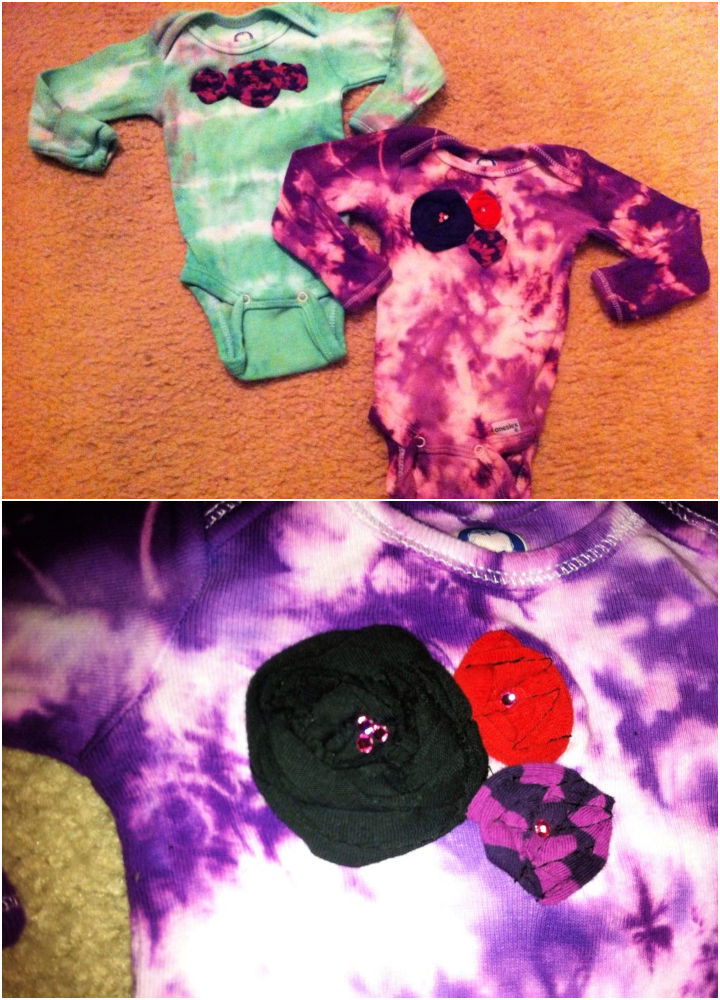 Now you can use the old t shirts to renew some of them for your kids and thus make them look so cute and fun for them. Here the old tees have been cut in the pieces and transformed into the cute and colorful rossets that you can use as the appliques on the old t shirts of the babies and make them look all beautified in a cute way.Details are lying here for a quick grab thetiptoefairy
7. Making a Baby Boy Onesie
A kids to change so many times a day and that is why they need a huge wardobe loaded with the clothes so that the mom is never short on them. So if a boy is going to be a new member of your family then you can create this cute bunch of the DIY t shirts for him multiple shades and featuring some boyish symbols on them for the perfect custom look. Here we have shared the cute and free templates that you can use and fashion up the plain onesie set in a quick and fun way lovelyindeed
8. DIY The Very Hungry Caterpillar T-Shirt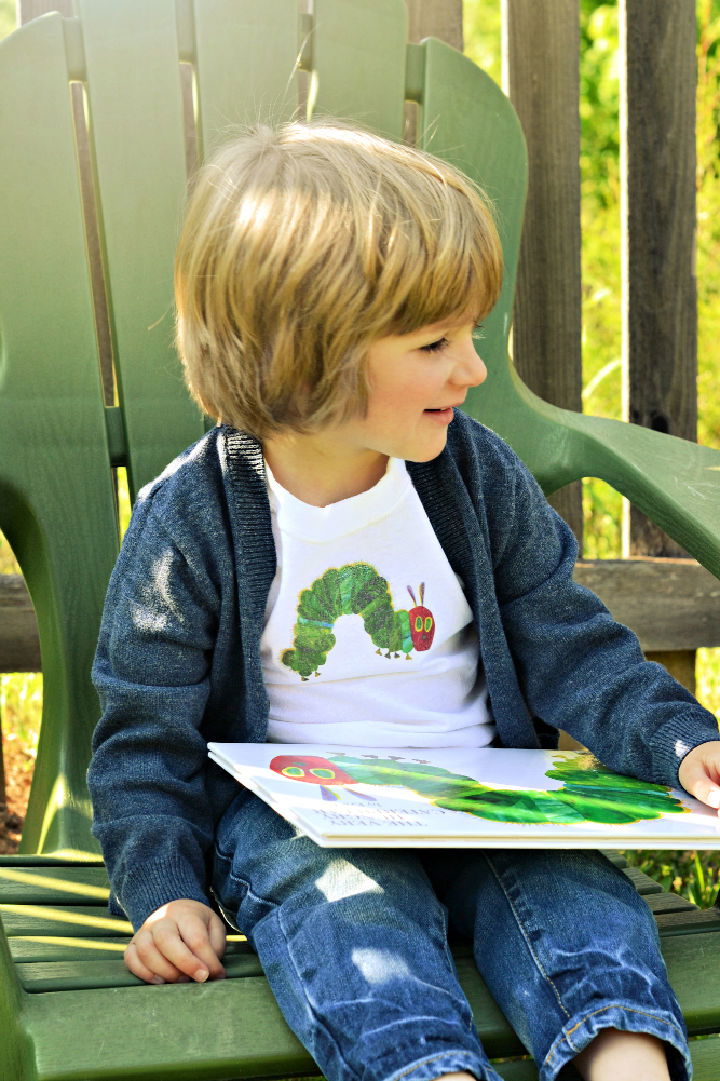 Kids are just in huge love with the stories and The Very Hungry Caterpillar is favorite of them all. And now you can bring that cute caterpillar on their t shirts and make them look so pretty and cute in that shirt. You can get easily the caterpillar printed on the shirt and thus getting a lovely shirt at the lowest of the cost and that too on your own. Here is the easy method to crate this adorable caterpillar pritable thelifeofjenn
9. Baby Pj's Out of Old Ones
You can now act as the smart mom by learning some refashion tricks to turn the old baby clothes into some new fun wears.So here is the idea of turning an old onesie into a cute and more comfortable pair of pajamas with a short and a top tee. You need to make a few cuts and few sew steps to complete this easy and cheap baby refashion. Complete tutorial is here to learn the details mylifeonthe
10. How to Make a Patriotic Baby T-Shirt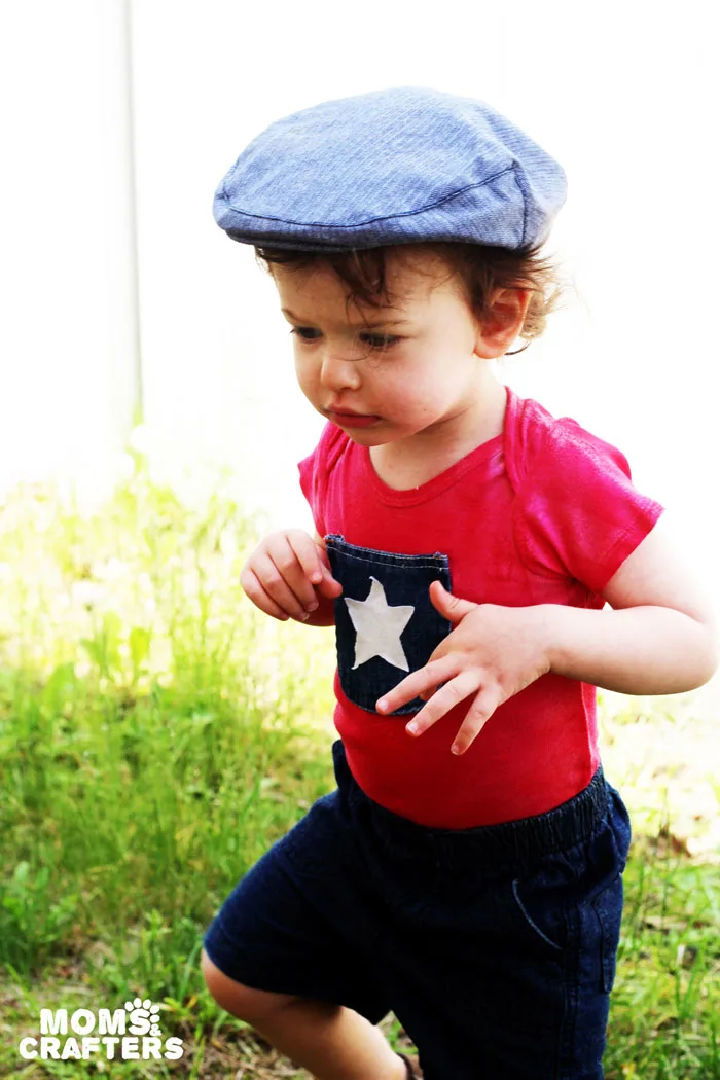 Get your babies dressed in the pure patriotic attire this 4th July with this cute DIY t shirt that you can easily make at home with now sewing involved. Just grab a plain shirt, paint it in red and then using an old jeans pocket with a fabric star glued on it can be stitched at the front and thus so awesomely you can get your girl or boy a patriotic dress up to flaunt around and get praised.You can get the details step by step right here momsandcraft
11. DIY Dyed and Freezer Paper Stencil Onesie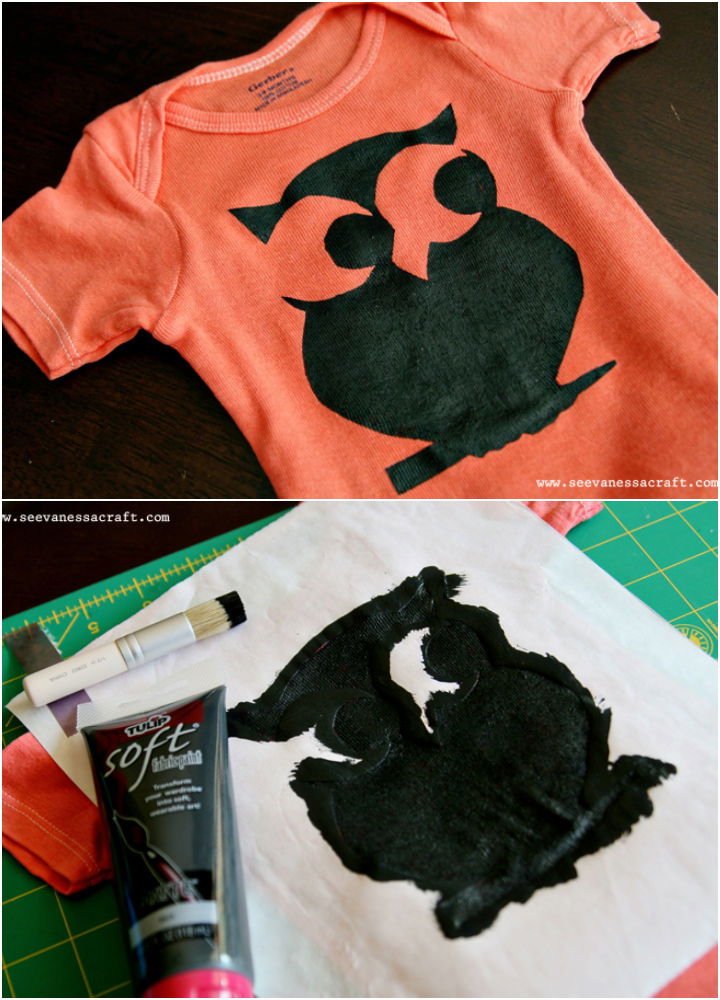 When it comes to the baby projects the animal imagery and the cartoon characters provide you enough of the inspiration and here is what you can do to the old t shirts and make them look transformed in a funky style. You can paint the shirts nd the stenciled them with the cute characters like the owls, mickey mouse and more using the paper and the stencil kit. You can know the complete procedure here and totally adore it seevanessacraft
12. Handmade Monogrammed Onesies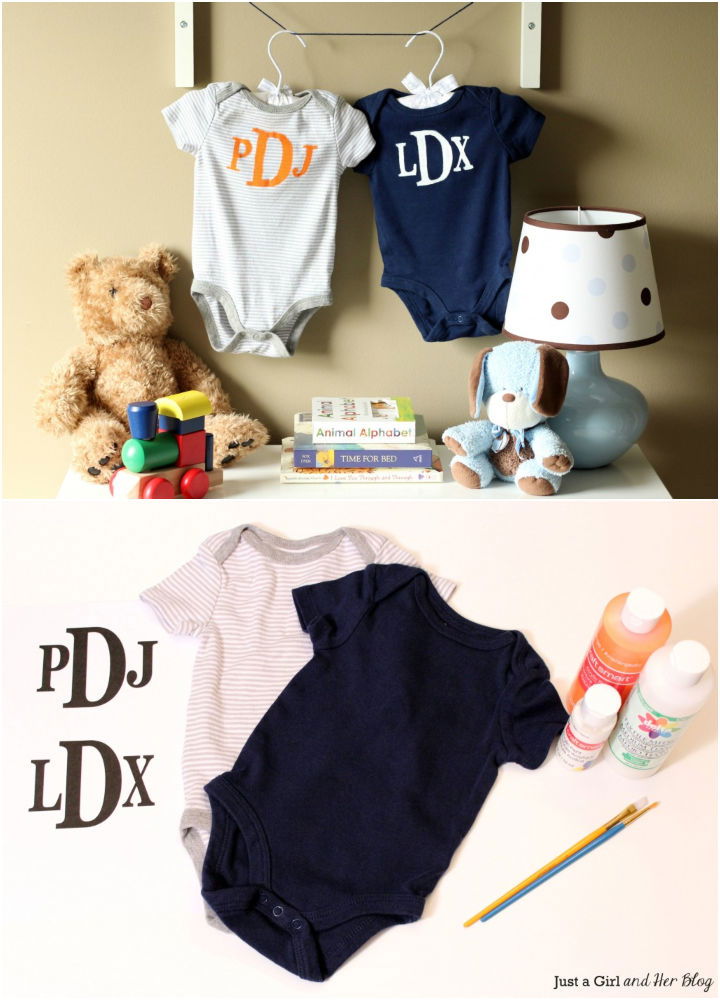 The cute DIY shirt makeover ideas are all the new favorites of the moms these days and here is another cute idea to be added to this fun collection. This monogram onesie idea is the best for the twin babies as it would be easy for the mom to sort out the clothes for them both and those pretty and cute monograms on them. You can easily paint the monograms or letters by getting the complete details from this link justagirlandher
13. Batgirl Halloween Costume Onesie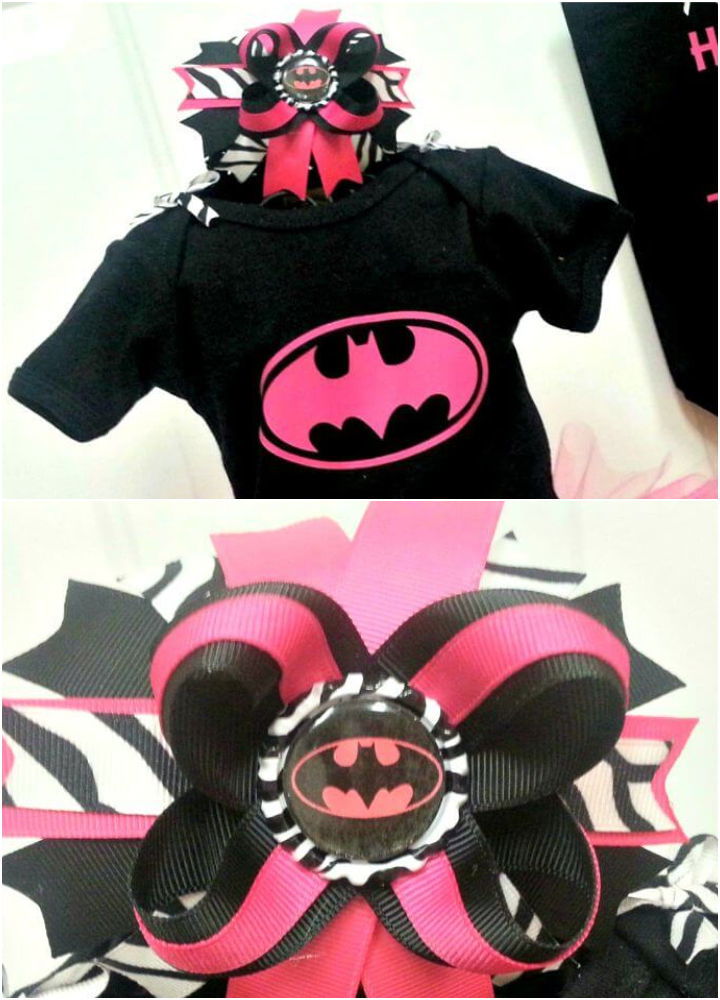 The super hero costumes are the first choice of the little ones for the fancy dress parties or for the Halloween and for your girl you can make this interesting and super cool bat girl costume yourself. You can get a black t shirt printed with the batman symbol and in pink and then pair it with a cute pink tutu and accessorizing it with a lovely pink and black headband for a complete super girl dress up.Fully detailed idea is here mypapercraze
14. DIY Sibling Shirts Of Babies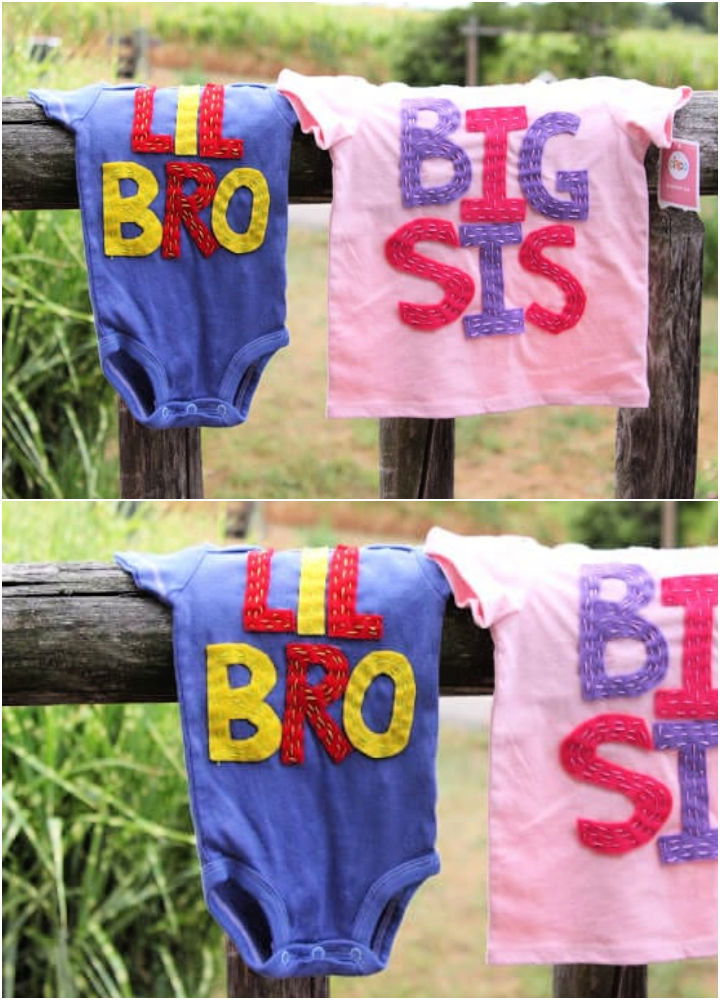 Show the sibling love in the cutest way with these singing t shirts for the elder and the new born saying elder brothers and little sis or vice versa. You can do it in two ways, either using the fabric made letters or you can paint them in cute bright colors using the stenciled letter art over the plain t shirts. You can grab the details of both ideas right on this link provided lifesewsavory
15. No Sew Heart Ruffle Onesie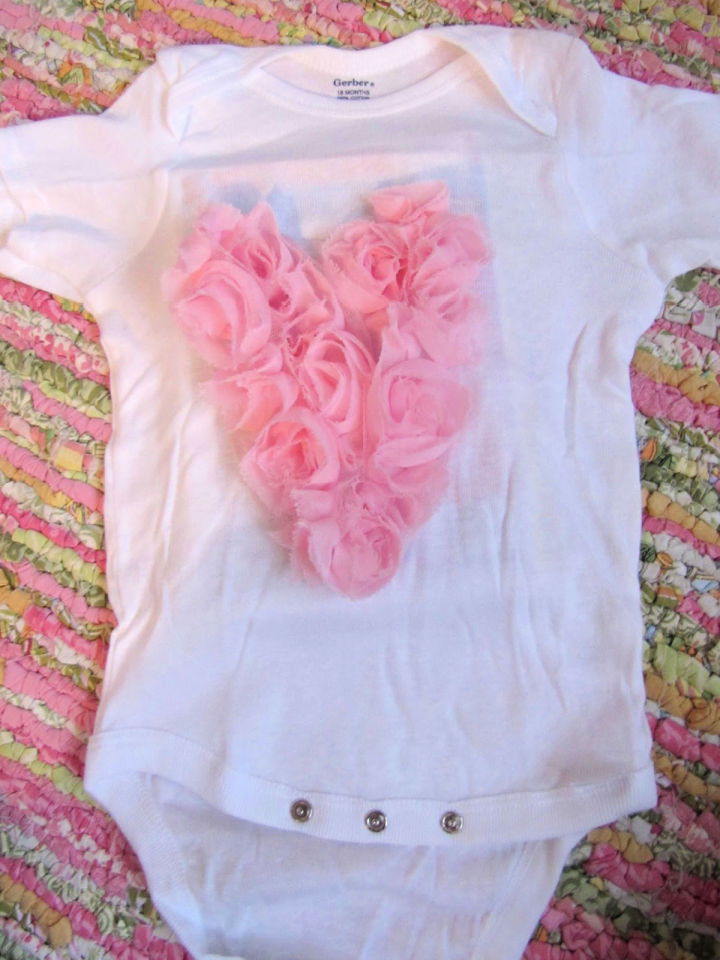 Got some fabric lying around in your stash? Here is how you can utilize in the best of the way for your little baby's stylish wardrobe. Yes you can use that fabric in pink to create these cute ruffled flowers and make a cute heart shape of them on a white onesie and thus easily beautify a simple dress into a heart melting one for as a Valentine day special gift.Check out its details and instructions right here schooltimesnip
16. DIY Fuzzy Baby Animal Onesies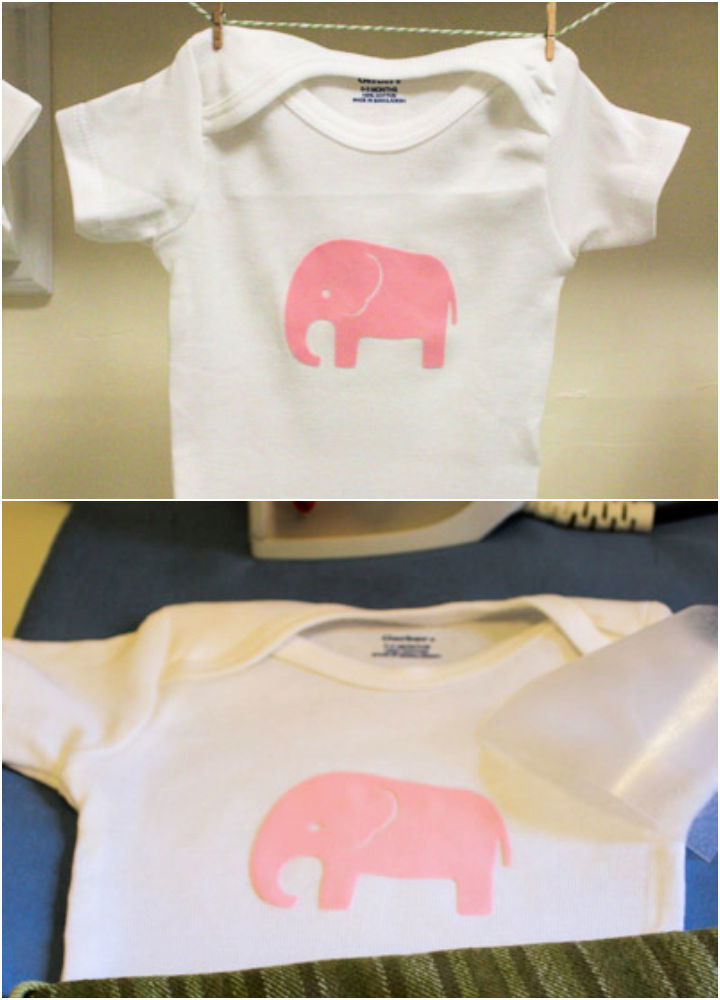 Now you can yourself style up the wardrobe of your little ones using some silhouette crafts and here is the one great idea to get your hands on.You can easily make those colorful and cute animal graphics on the white onsesie set and make them look so much fun and funky in no time. Elephant, sparrow, horse, octopus and more can be nicely printed on the white onesie and make them look all gorgeous and attractive.Here is the link for details and more practicallyfunction
17. "New Kid On The Block" Onesie With Free Cut File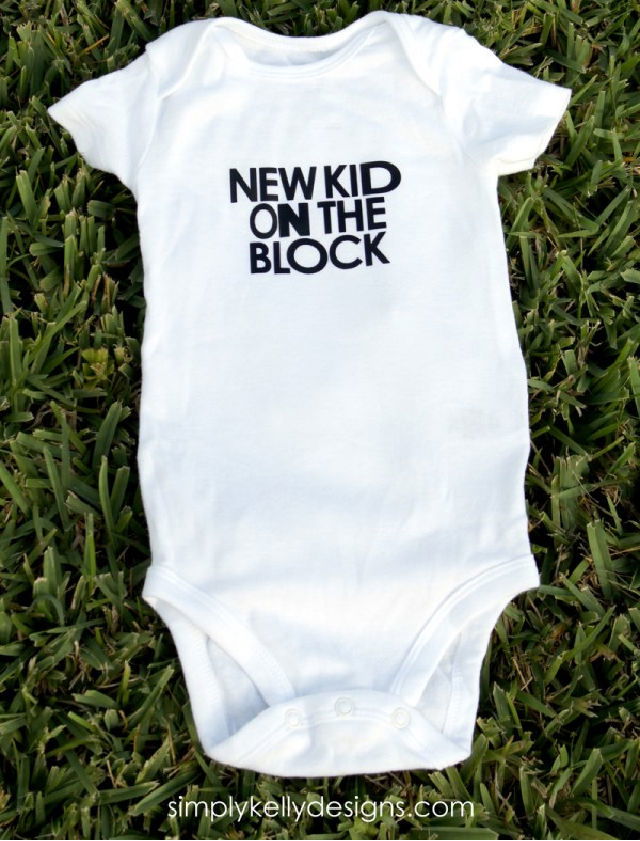 We love the music bands and who does not like the NKOTB and here is how you can express your love for the group in a really cute way. So get the plain white onesie of your baby and get it all printed with the NEW KID ON THE BLOCK and that too in black and to make it look an appealing dress for the baby.Details are here to follow simplykellydesign
18. Titi's Freezer Paper Stenciled Butterflies Onesie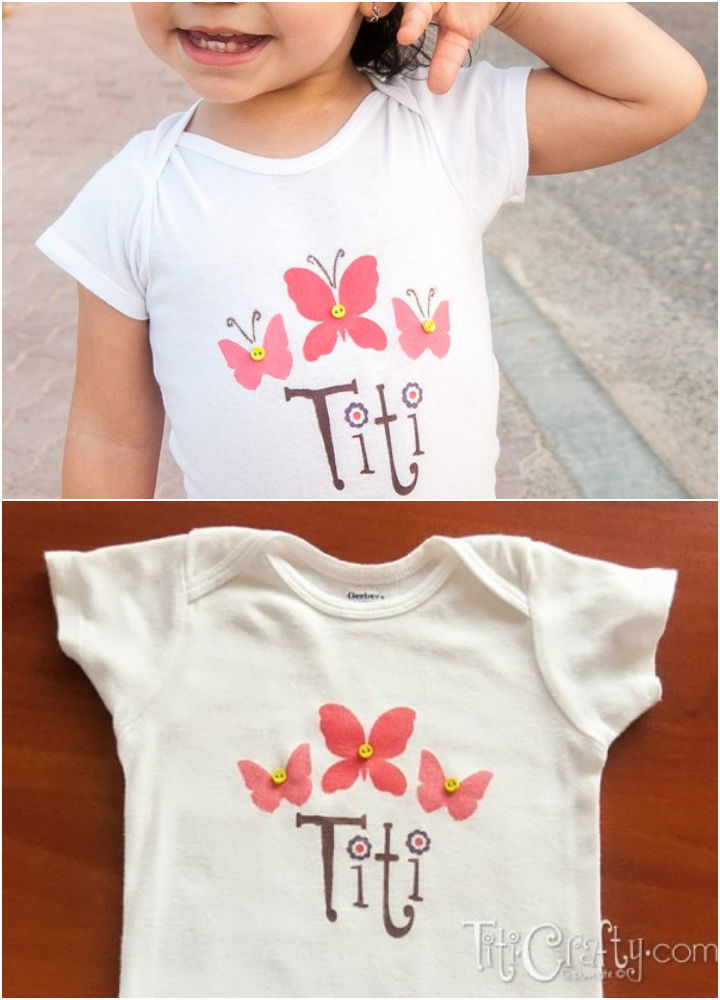 what can be cuter the butterflies to be on your little one's dress and making her look more gorgeous and fun. Here is the complete tutorial how you can paint those lovely butterflies on your daughter's plain white onesie and make it look so interesting and fun styled with the stenciled letters saying Titi under the butterflies. So grab some freezer paper, scissoers, fabric paint to start this project right now titicrafty
19. DIY Ice Cream Sundae Onesie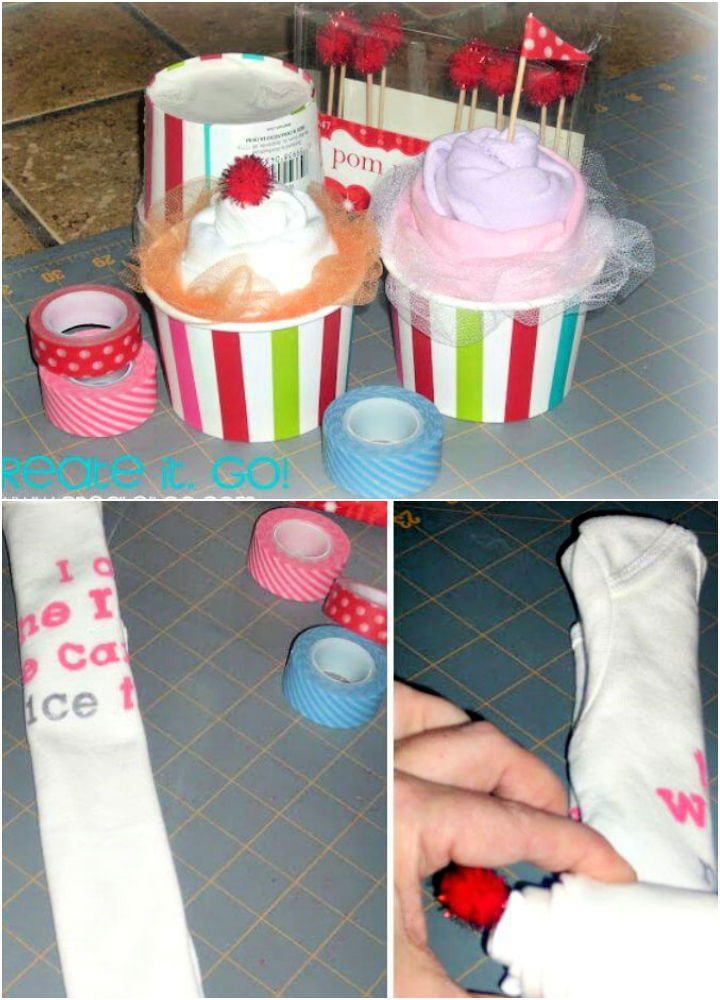 The cute oneise make the perfect gift for a new born or a baby shower and here we sharing how you can make some fun DIY onesie with the fabric painted letters on them and then wrap them in the quirky style of ice creams for an enchanting gift idea with awesome display. You can use the treat cups with rolled up onesie tucked in as the ice cream they are just cutely ready to go as the pretty presents.Details of this genius idea here createitgo
20. DIY Personalized Onesie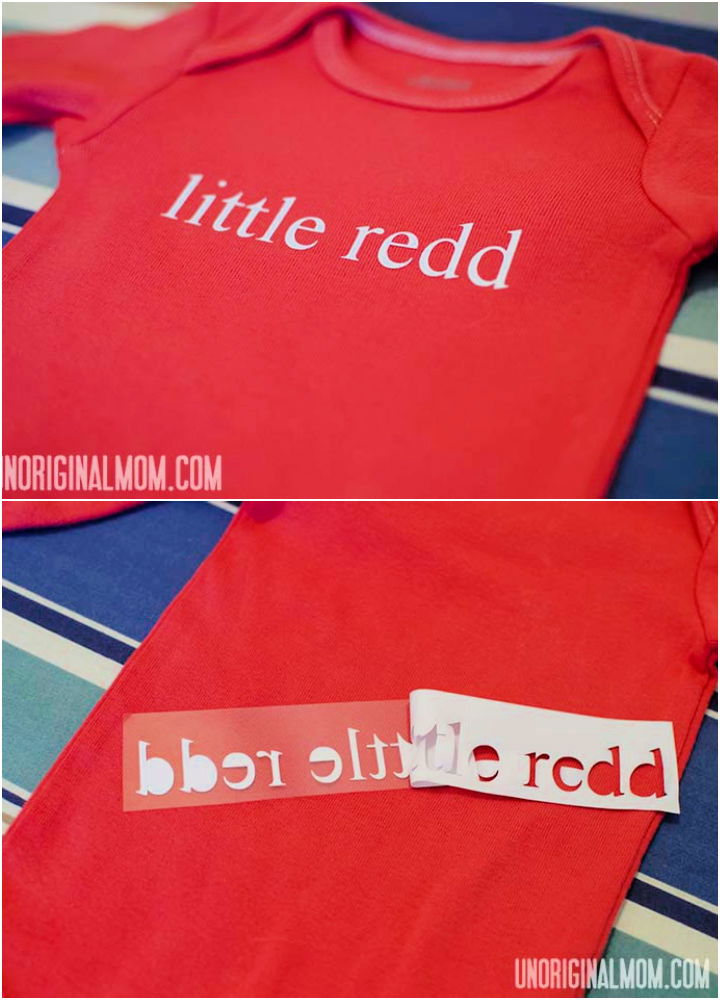 Making the handmade gifts is the best way to share your part in someone's joyful events and for a baby shower these cute onesie are just best ideas to warp up as the presents and handmade onesie are just the coolest gifts ever. Here we are showing you how you can turn a plain onesie into a cute and personalized dress up for the new born. This onesie has been styled up with the vinyl letters with the baby's last name and so you can do and the link is here unoriginalmom
21. Easy DIY Baby Animal Onesies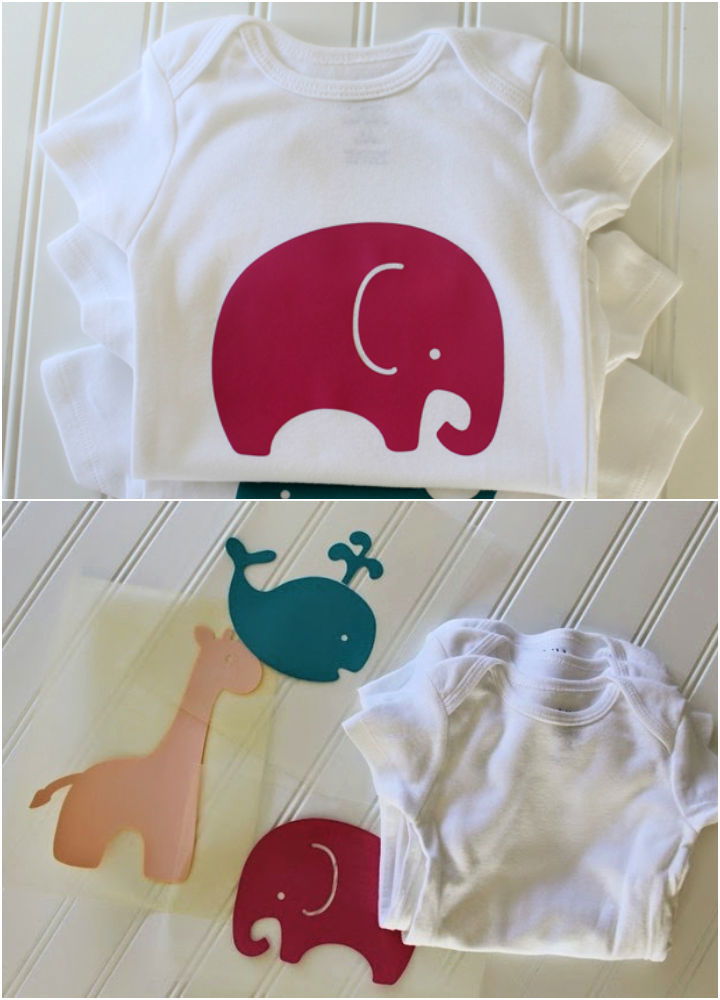 These onesie set now can made at home in really cute and fun style using some paint and some cute animal graphics. Here we have shared with you all a complete tutorial which shows step by step that how you can instantly make those plain white onsesie set look so much funky with the colorful animals being nicely printed on them. Link here for details gingersnapcrafts
22. Freezer Paper Stenciled Baby Onesies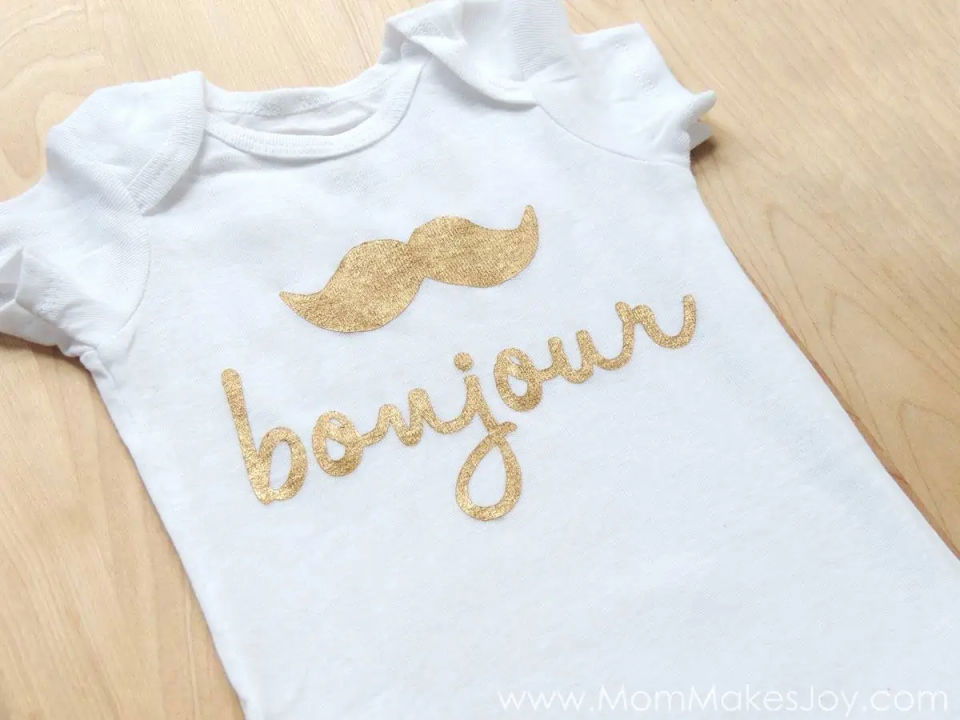 Like we add the cute flowers, butterflies and bows to the dresses of the girls we can use so many symbols and signs for the custom boy dresses too and the mustache is the best of them. So here is how you can welcome a baby boy in your family with this cute and glittery onesie saying bonjour with a mustache on the top. Here we got the link to let you grab the details step by step mommakesjoy
23. Skinny Tie Onesies with Fabric Paint Embellishment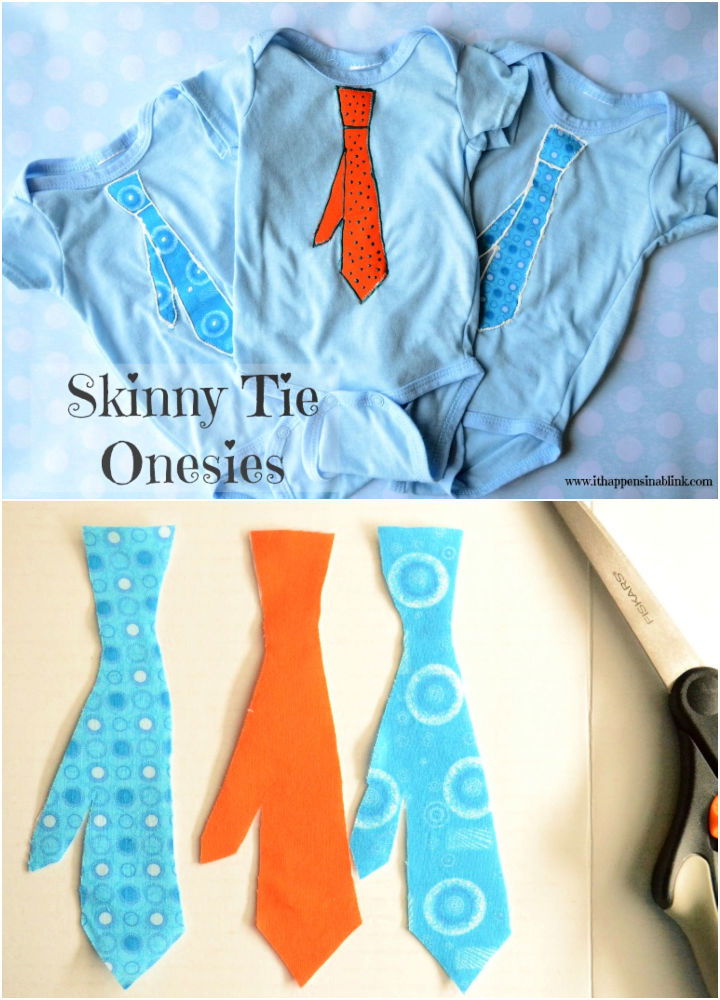 There are so many cute ways to add the cute boyish touches to the clothes of them and make them all cute and fun and here is this idea of adding the tie appliques to the set of the white onesie in multiple colors and designs and make them look so cute and pretty.It would be a great way to bust up your fabric stash too so get the plain oneseie set and get this project started ithappensin
24. Creative Plane Onesies Tutorial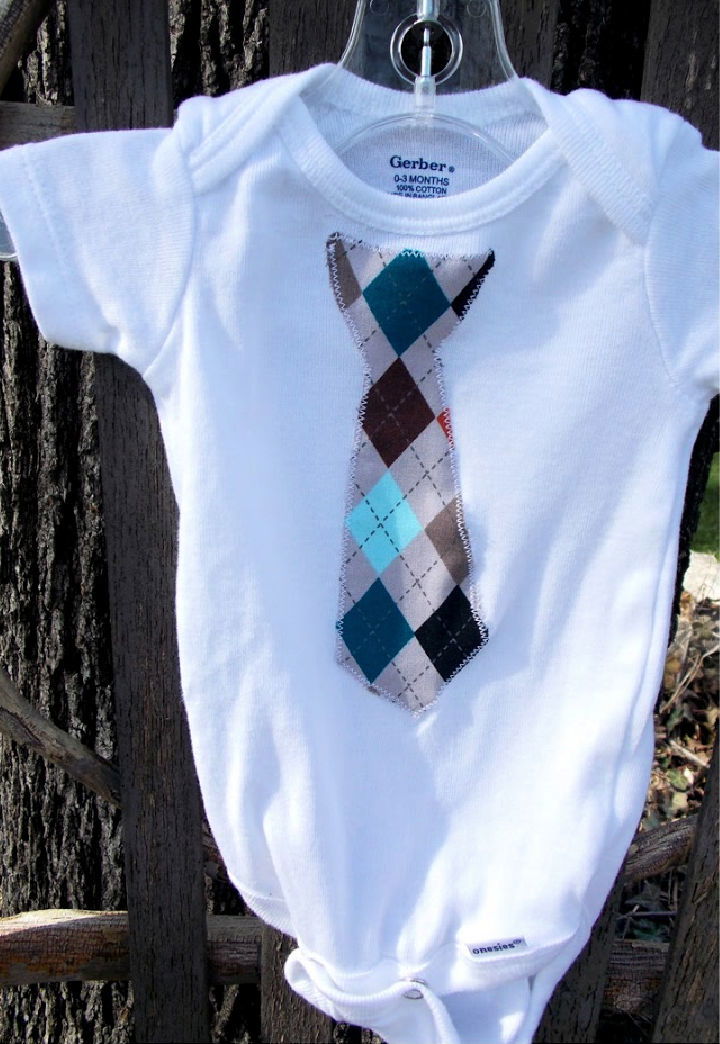 The ties are the most manly accessories fora man's dress up and now you can use them on the new born baby boys too and make them so much cute and adorable. Cut out a tie template an then place it on a fabric, cut it up and then stitch it and its ready to go on the onesie and make it look so much chic and cool in style. You can create such interesting symbols on all the onesei and thus get the baby's wardrobe personalized.Details here mamaging
25. Simple DIY Patty's Day Shirt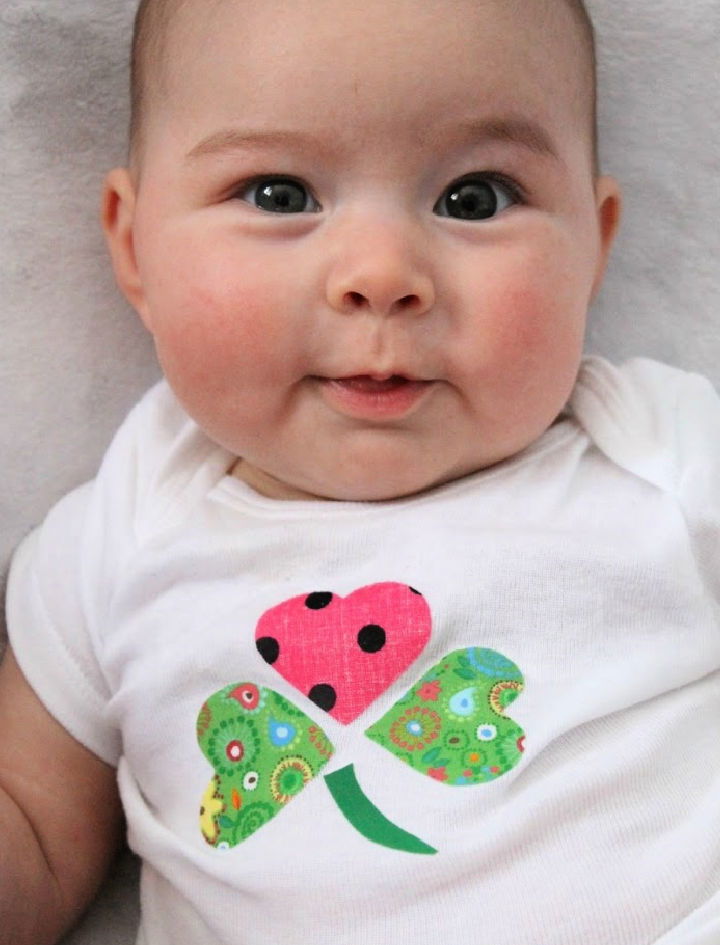 Now you can easily bring the cute touches of baby fashion to the clothes of the babies like these plain white onesie set has been made to look perfectly fun and cool with those amazing and cute shapes being heat printed on them. So cut out some favorite template of yours, heat transfer them on the fabric and then cute them out and they are ready to award the cute makeovers to the onesie. Here is the link to catch the easy details of this smart idea dosmallthings
26. Homemade Pine Apple Baby Onesie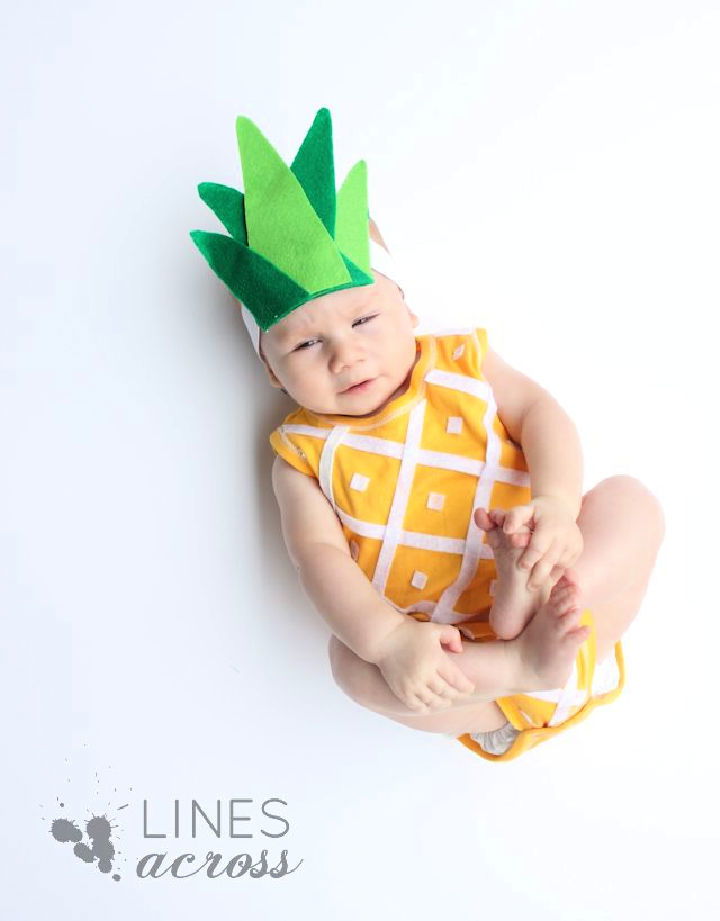 The babies can be made to look so much interesting for some special days and making them look like the cute pine apple would a fun way to spice theri dress up for a dinner or a party around. SO you would need a yellow oneise and you can add white flet thin strips on it in a certain pattern with the green felt cut out and shaped as the pine apple leaf crown for the head of the baby. Here is the link to grab details of the pattern and try it linesacross
27. How to Make a Cardigan Onesie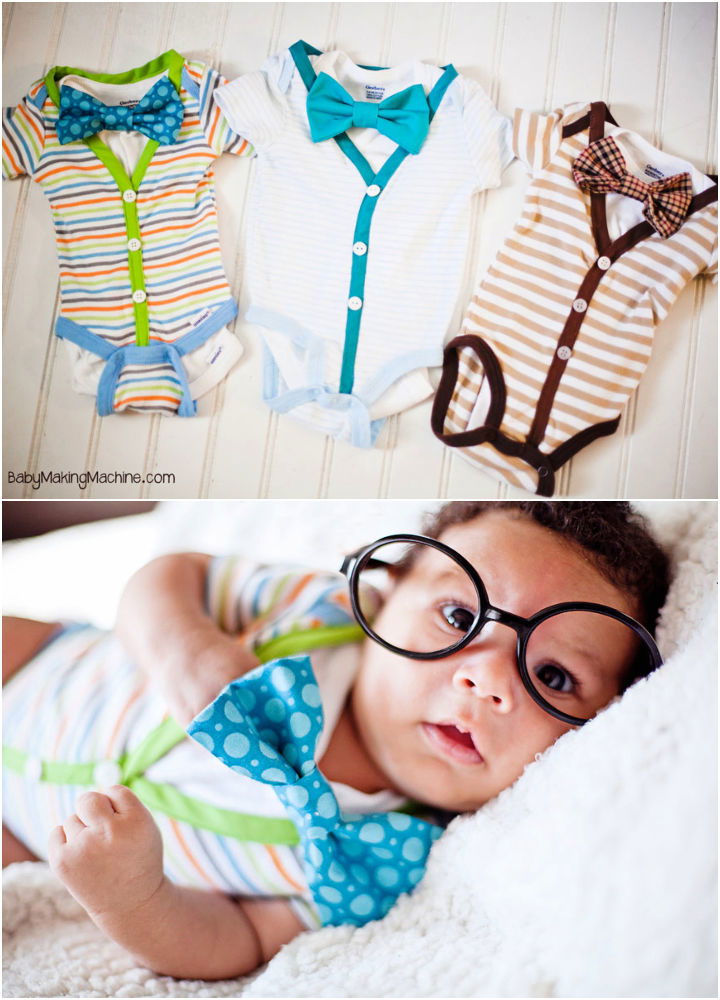 The onesie are the best kind of dress up for the babies as they are the most comfortable but you can make them look so much stylish and extra ordinary from being plain and simple. SO here is how the colorful bias tapes have been added to the onese with the embellishment of the buttons an the bows and thus making them look so much fashionable and fun in minutes. Complete tutorial here cherish365
28. DIY Ruffled Baby Onesie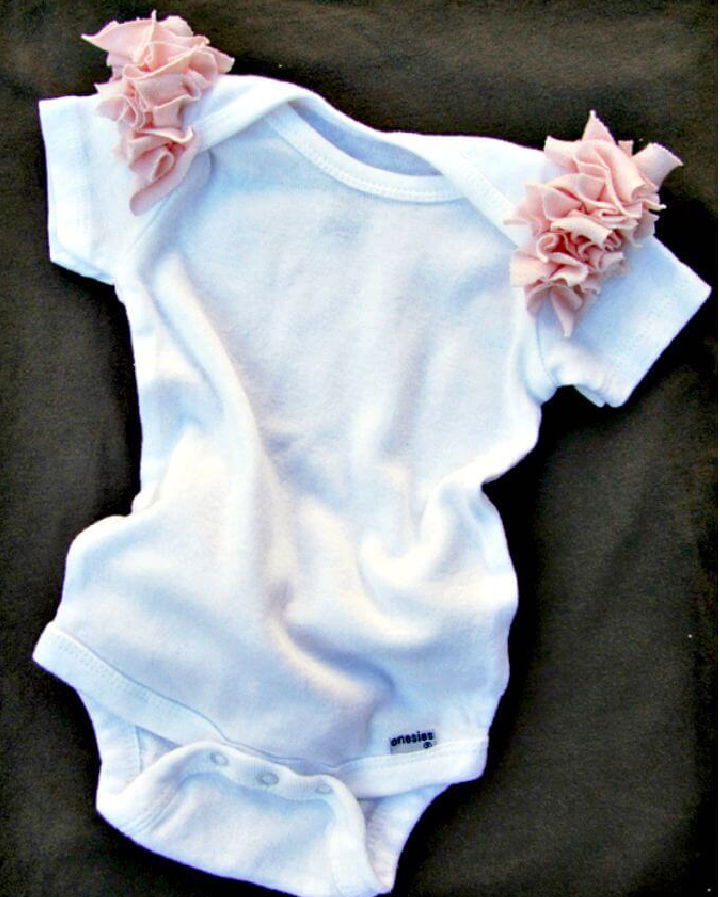 The onesie are the must haves for a new born for being the custom dress up for them and now you can make them look so much cute and personalized with the style of your choice. So if there is a baby girl coming to your family or have just arrived then this pretty ruffled oneesie would be the perfect gift for her to get dressed in. You would need and old shirt in pink to cut out some squares and then pinch them to make the flowers and then stitch then on the onesie shoulders and that is it. lovemaegan
29. DIY Baby Onesies using Iron-on Transfers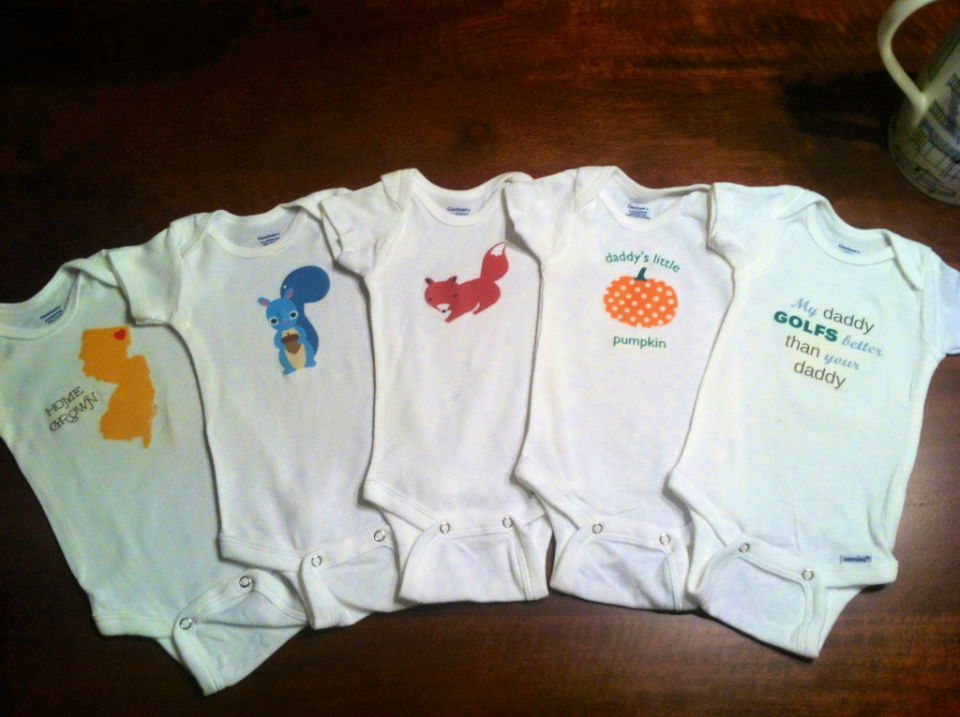 Its not a new thing to fashion up the cute little onesie for the new born of your family to add oodles of charm to their dress up. So you can use the trick of iron on transfers to make the onesie look cool and fun with some letters, animals or any other such image that you are fond of. So what are you waiting for just click on the link to grab the step by step details of the project handmade
30. DIY Bikini Baby Onesie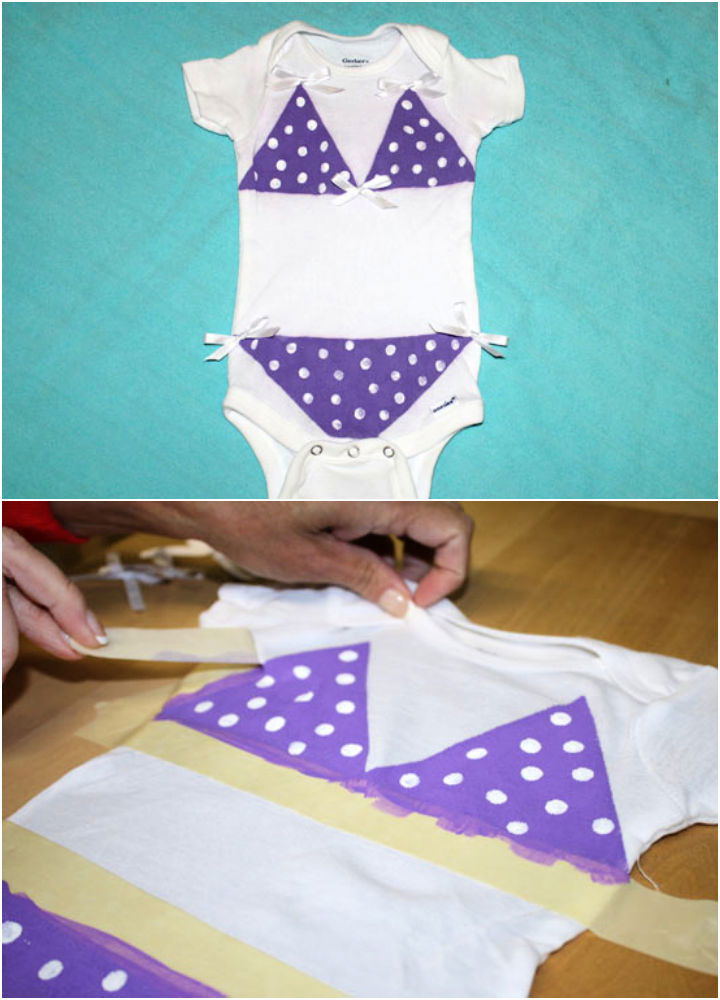 We know the new born can not enjoy the pool or beach fun but they can be dressed up so in the lovely beachy attires and for the girls this pretty and fun bikini onesie would the perfect idea for a beach day or pool party dress up. All you need is some pretty fabric in vibrant colors to be cut in the bikini pieces and then stitch them on the oneise and its done so easily and nicely. Here is the link for complete details and instructions factorydirect
31. Make Your Own Baby Onesie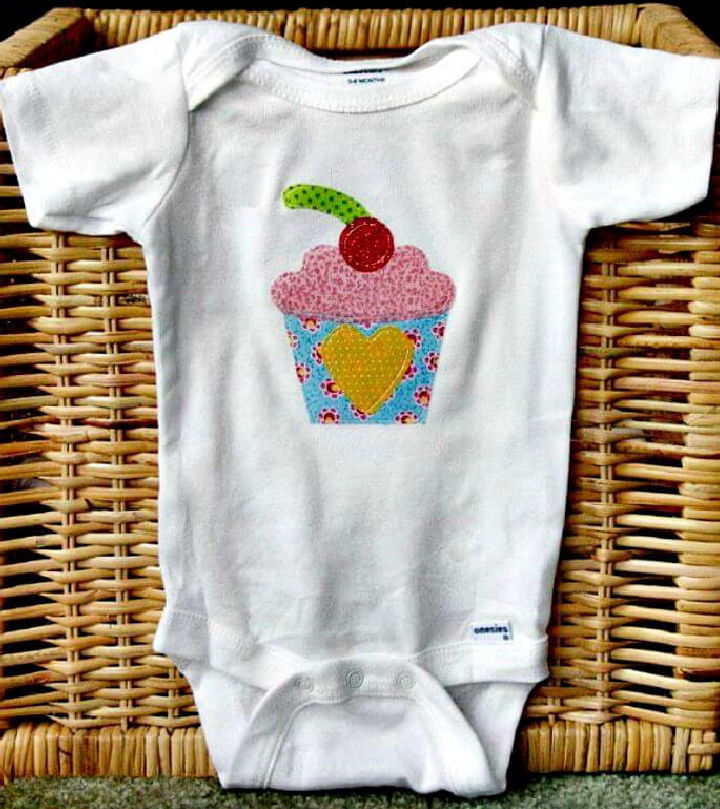 The plain and white onesie set now can be all modified to look so much fun, cool and funky for your little ones and here is how you can do it so nicely and easily at home. You can use the colorful fabric stash and create the interesting shapes out of them like the turtle, cu cakes, octopus, jelly fish and then use them as the perfectly cute appliques for the onesie set. Its so simple still we got the complete tutorial details here bumpsmitten
32. DIY Pleather Star Onesie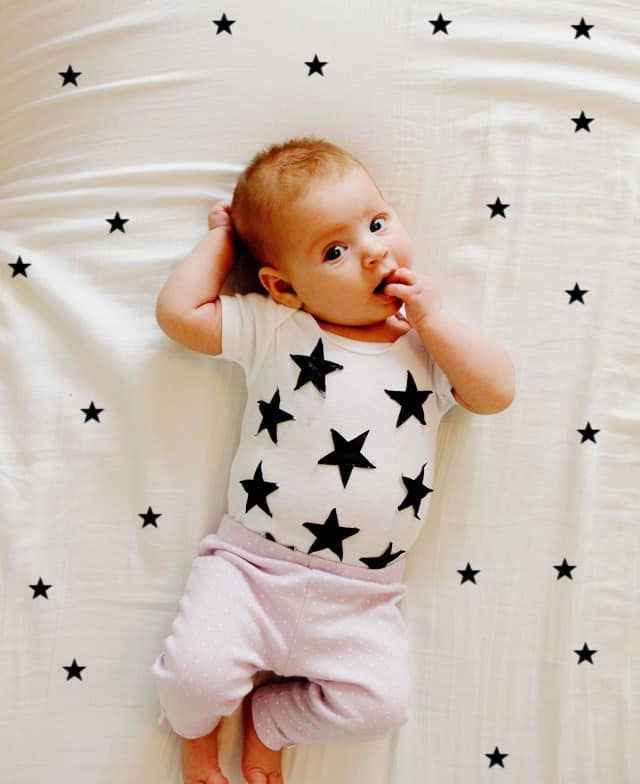 The handmade gifts are always the most valuable and especially for the kids from their mothers and where is the cute idea of elevating the style and look of the boring onesie and make them look all spruced up for the baby fashion. SO you have to cut the cute little stars out of the pleather and then add them on the onesie and that is it. Its easy yet you can find the details here seekatesew
33. How to Make Stenciled Onesies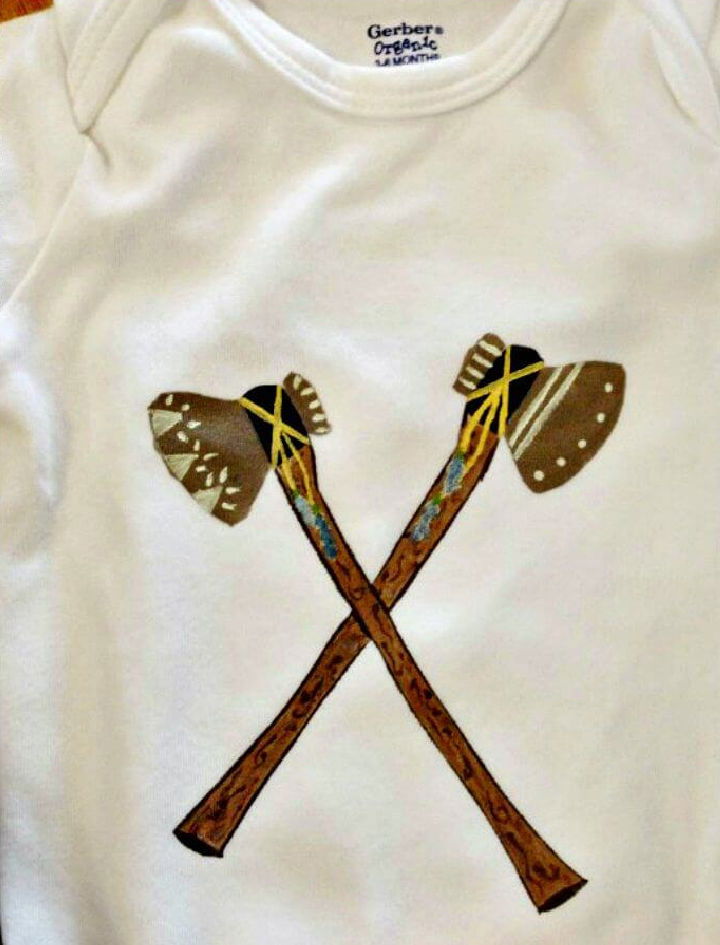 The DIY crafts have made the mommies so much happy as they can now style up the dresses of their little bundle of joys on their own using so many ideas and ticks and here is another one with the stencils. And from anything to everything can be printed on the plain onesie using the relative stencils and thus create the most unique and most impressive onesie collection for your babies. Get the cute tutorial here goinghome
34. Interchangeable Bowtie Onesie with Attached Suspenders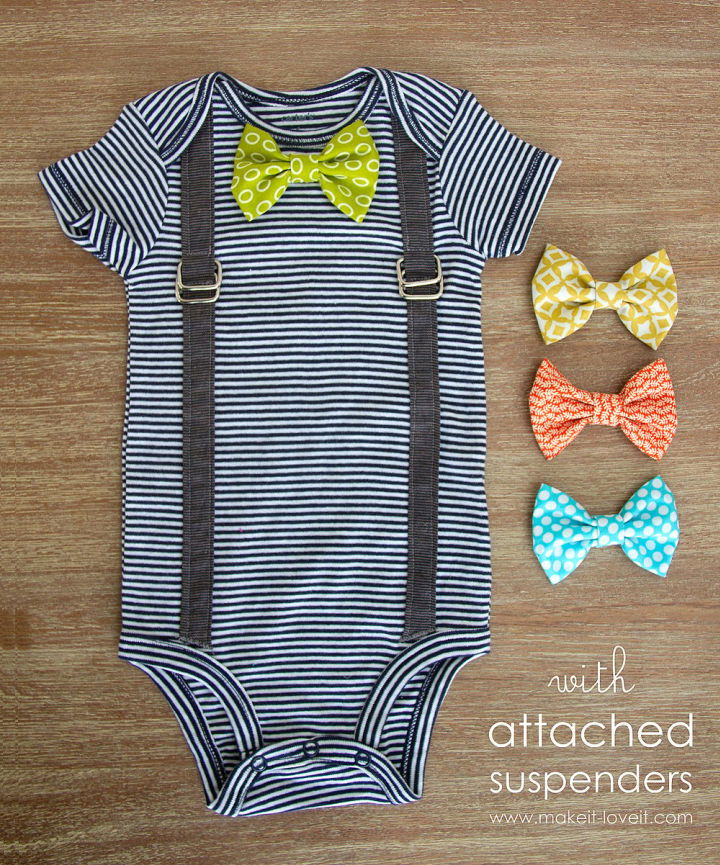 Everything about the kids is so much cute and interesting especially their tiny accessories and little clothes. The icing on the cake is that you can make their dress look more fun and unique with the suspenders and the bows added to the onesie in multiple shades and tada! The idea is just too smart to try instantly at home and use for your kids or as beautiful gifts for others makeit
35. DIY Appliqué Doilies On A Onesie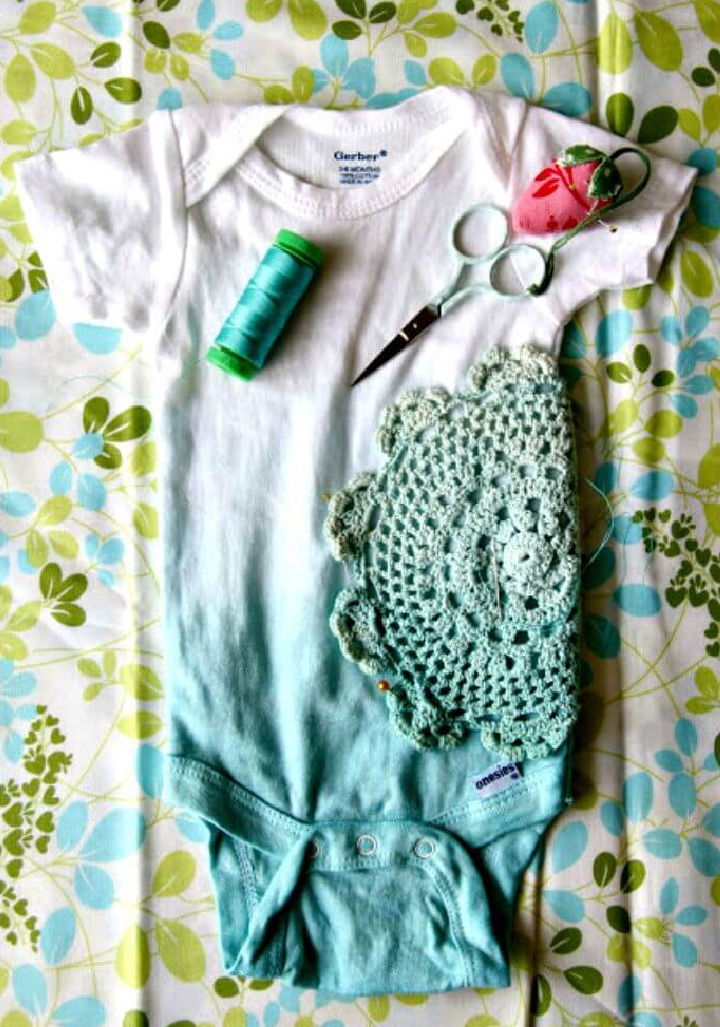 The crochet doilies are the old part of the home decor and you must ebe having htem in a bagful at the house and here we are going to share how you can use one to remodel a baby oneise. So grab a doily and add it to the side of the oneise in the center and then dye the oneise in any of the shades you like and the pretty oneise makeover is done. Details are given here for a quick peek through vanessachristen
36. Cute DIY Cardigan Onesies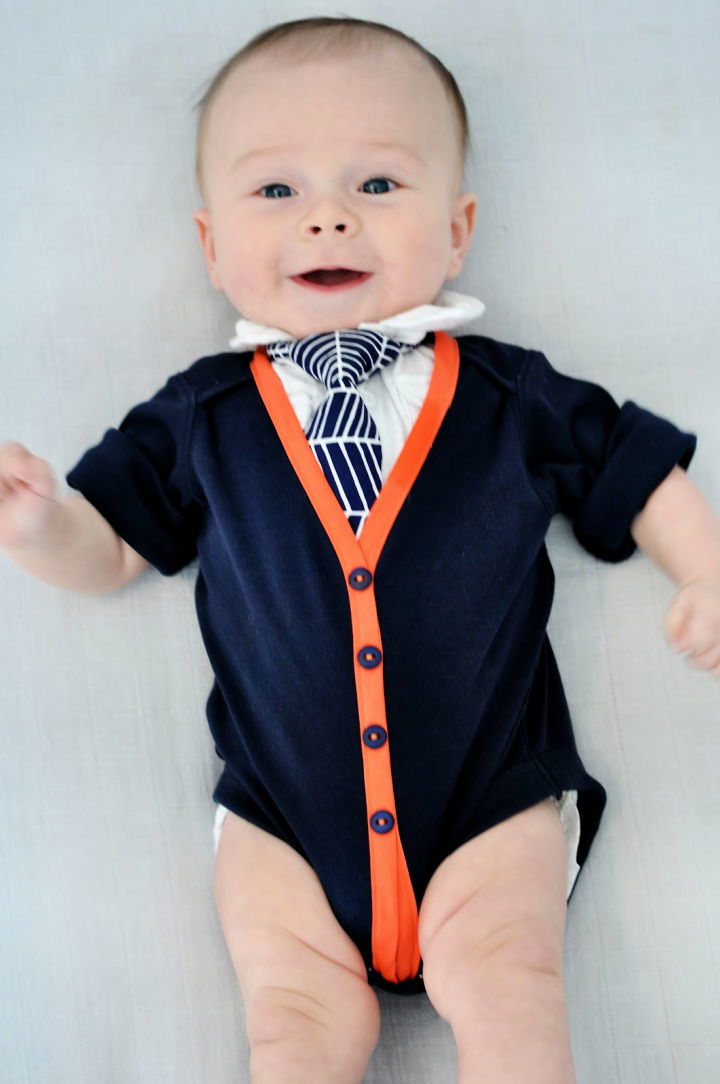 You do not spend you your hard earned money on expensive purchases of the kids from the pinterest as you can hack lots of them at home. So if you adoring these pretty cardigan onesie over there now you can make it yourself with some easy cut and sew techniques. So grab your tools and some buttons and the binding tape in the bright hues like the yellow and orange and get this amazing restyling onesie project started dieselinbloom
Related DIY Projects and Ideas
Baby Clothes Patterns: These free baby clothes patterns make it easy to sew the perfect outfit for your little one. From dresses and tops to coats, pants, and skirts, you'll find everything you need.
Babies Pants Patterns: Do you want to make your baby a precious pair of pants? Download these free baby pants pattern and start sewing.
Baby Bib Patterns: These free baby bib patterns are so easy to make, and you can use them for years to come. You will find everything from last-minute baby shower gifts to special presents for your child's first birthday.
DIY Baby Shoes: Here are handmade baby shoes with free patterns and tutorials. Whether you're a beginner or an expert in the field, you'll find a pattern to suit your skills and interests.
Baby Blanket Ideas: All you need are basic sewing skills and some scrap fabric to sew one of these adorable free baby blanket patterns that are a practical and stylish addition to any nursery.
Homemade Baby Wipes: You deserve to know exactly what you're putting on your baby's skin. These easy DIY baby wipes are perfect for sensitive skin, and they're chemical-free.
Baby Quilt Patterns: These free baby quilt patterns are perfect for beginners. You'll find simple, satisfying designs that are easy to construct and make a wonderful baby shower gift.
Conclusion:
If you're looking for some fun and unique baby onesie ideas, look no further! We've gathered a list of 35 DIY onesies that are perfect for any occasion. Whether you need a funny baby onesie for a themed party or something cute and sweet for your newborn, we've got you covered. And the best part is, most of these baby onesie ideas are easy to make with just a few basic supplies. So get creative and have some fun with your little one's wardrobe!