Learn how to make a hooded cloak with these 17 free hooded cloak sewing patterns for beginners with detailed instructions and step-by-step guidance to make your own captivating cloak. Whether you desire a simple hooded cape or a full-length, dramatic cloak, this selection of free hooded cloak patterns has something for every fashion preference and sewing skill level.
These hooded cloak patterns cater to various styles and materials, including lightweight fabrics, warm wool, and elegant high-low hems. Find the perfect pattern for your next project – from DIY costume fantasy cloaks to cozy winter capes, your sewing adventures await. With easy-to-follow instructions, these patterns guide you through the process of sewing a hooded cloak from start to finish.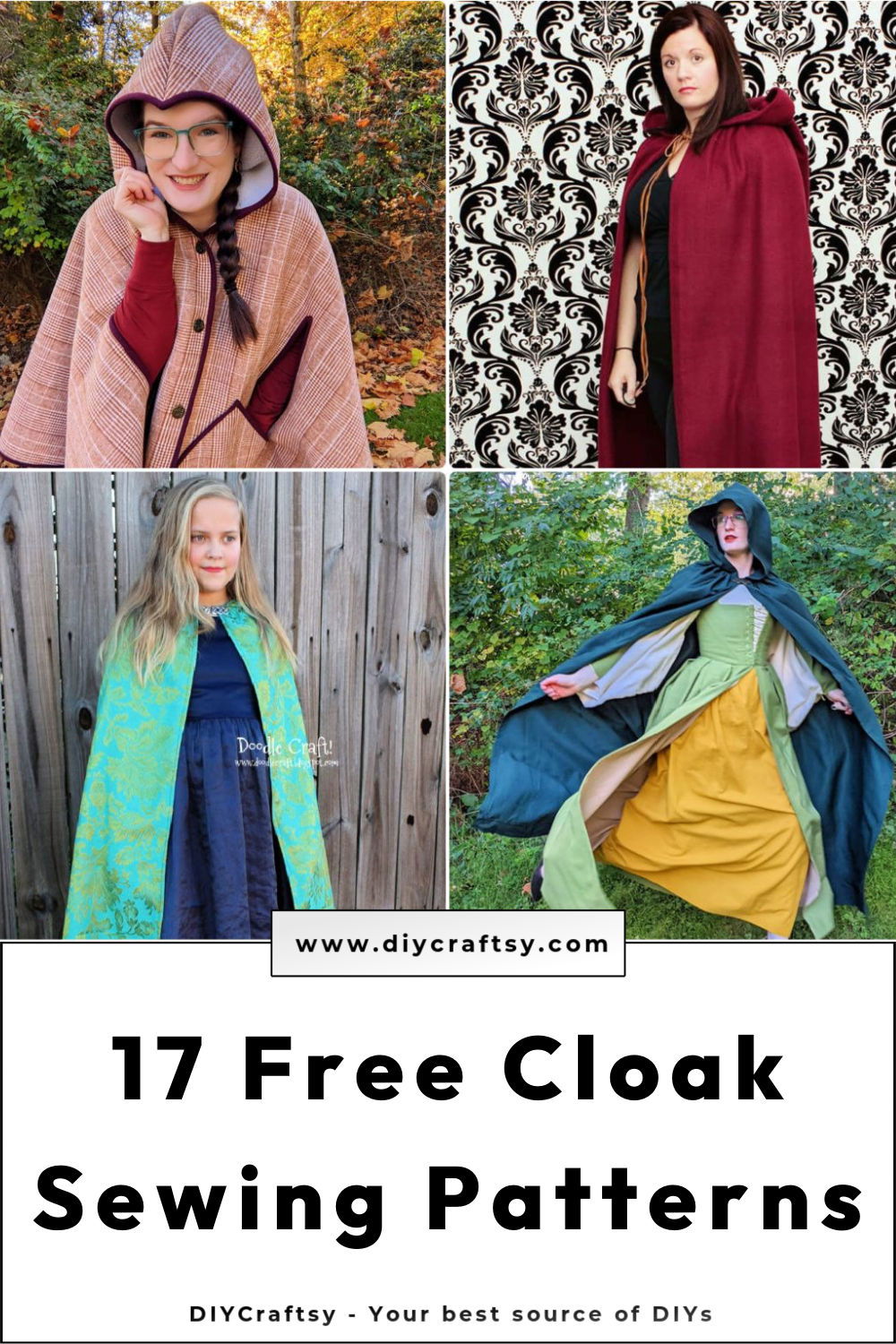 Making your own hooded cloak pattern allows you to customize the size, color, and texture to best showcase your personal style. So gather your sewing supplies, download a free hooded cloak pattern, and embark on your next sewing adventure today. Soon, you'll have a unique and stylish DIY hooded cloak to add to your wardrobe or wear as part of your costume collection.
1. How to Make Hooded Cape
Discover this easy-to-follow hooded cape pattern, perfect for transforming any outfit into a stunning, mysterious ensemble! Made from fleece, this cape is a comfortable and functional costume piece suitable for various occasions.
You'll need basic supplies such as 5/8 yard fleece for the hood, additional length depending on your desired size, thread, a rotary cutter, ruler and mat, and your choice of ribbon or leather cording for the ties.
You're good to go with a printout of the free pattern and some standard sewing essentials. You can customize the hood according to your preference by swapping it with the hoods from our other cape patterns. Let your creativity soar, and make your custom hooded cape today! fleecefun
2. Free Hooded Cloak Sewing Pattern
Unleash your style and warmth with DIY hooded capes and cloaks! These versatile pieces range from elegant to rugged, perfect for costumes, fancy attire, or simply staying cozy. Crafting your own is straightforward – a wonderful blend of functionality and fashion.
You'll need the fabric of your choice, a sewing machine, threads, and cape clasps. Follow the pattern guidelines to cut your cape, sew the pieces together, and make the hood. They're also excellent for keeping you warm during cooler weather. The standout material in this project is your chosen fabric, which can be as extravagant or as simple as you prefer. Using this guide, you can make a piece that's uniquely yours, tailored to your taste and needs.
Dive into this creative sewing project and enjoy looking awesome in your custom-made hooded cape or cloak! instructables
3. How to Sew Hooded Cape
make a unique and versatile Halloween costume with a simple hooded cape that can be customized to fit any individual. The cape can be adapted for a variety of costumes, from a red-riding hood to a witch, making it perfect for Halloween.
The materials required include fabric for the cape and hood, hood lining fabric, matching thread, ribbon, and sewing tools. Following the guide, you will first measure and cut your fabric, make the hood, attach it to the cape, and finish by adding ribbon ties. This hooded cape's custom-fit and flexible nature make it a creative and practical Halloween costume choice. weallsew
4. Free Black Cloak Sewing Pattern
Browse our selection of beginner-friendly DIY hooded cloak sewing patterns, designed to inspire and spark your sewing passion. Get a spooktacular DIY grim reaper costume with basic supplies and a dash of creativity. Perfect for those seeking a classic Halloween ensemble, this costume encompasses a black cloak, black attire, and a DIY scythe made from a broom.
Reusing materials like an old Harry Potter cloak, the costume comes together effortlessly. The costume also comfortably accommodates a mask, making it ideal for safe trick-or-treating.
A free robe sewing pattern, 3 yards of black and dark red fabric, a sewing machine, and sewing tools are required to make the cloak. Follow the step-by-step guide, wear black clothes and shoes, and enter Halloween as the grim reaper. heatherhandmade
5. Hooded Wool Cape Sewing Pattern
Elevate your winter wardrobe with an elegantly sewn wool cape featuring a generous hood. This simple yet stylish DIY project transforms a basic fabric into a striking outerwear piece perfect for milder winter days. You can craft this one-size-fits-all cape in no time by employing a few materials, such as two yards of 60″ wide wool or wool-like fabric and the provided free hood pattern.
Follow the detailed guide on cutting and sewing your cape, from preparing the hood to creating the body. Notably, the oversized hood doubles as a chic cowl, adding versatility to your look.
With a handy tutorial, sew a wool cape that pairs warmth with flair. Enjoy the elegance of your handmade fashion statement, good style, and comfort for the season ahead. lifesewsavory
6. How to Sew a Circle Cape – Free Pattern
Unearth the artistry of sewing with this comprehensive guide to crafting your circle cape, complete with pockets, armholes, button closures, and a detachable hood. You can craft a stylish and practical cape using materials such as fabric, matching thread, straight pins or hem clips, fabric scissors, and more.
The tutorial caters to your skill level and time constraints, offering notes for a simplified version perfect for costume events.
The intricacy of your cape depends on the features you incorporate. From a quick 2-hour project to a more detailed 15-hour creation, this guide allows customization to suit your needs. Uncover the joy of sewing with this versatile circle cape tutorial. craftematics
7. DIY Fall Cape for Girls
Welcome autumn in style with this DIY fall cape, an ideal addition to any outfit, providing just the right balance of warmth and comfort for your little girl. With materials like medium-weight woven fabric for the outer layer and lightweight woven fabric for the lining, fusible interfacing, essential sewing items, and four buttons or snaps, this cape promises easy movement and is set to become a favorite.
The best part is that the pattern is easily downloadable and free, promising a unique, handmade cape that looks beautiful and enhances the joy of creating something special yourself. Embrace the essence of fall by crafting this beautiful cape today! fleecefun
8. How to Make a Cloak
Transform your wardrobe with enchanting DIY hooded cloak sewing patterns, adding a touch of magic to any outfit. Immerse yourself in the fantastical world of Middle Earth this Halloween with an intricately crafted Nazgul costume designed to resemble the dreadful Ringwraiths from the saga trilogy, The Lord of the Rings. Master the art of distressing fabric to give your polyester cloak an authentic, centuries-old look, perfect for a timeless servant of Sauron.
Brandish a large, wooden sword skillfully crafted to appear metallic and battle-worn to become a terrifying force truly. Complement your ensemble with metal gauntlets constructed from lightweight foam for comfort and maneuverability.
This guide offers a budget-friendly way to make an impressive costume that will turn heads at any cosplay or Halloween event. Get ready to embody the mystery and menace of a Nazgul, the loyal servant of the Dark Lord, Sauron. simplepractical
9. Free Cloak Sewing Pattern for Women's
Uncover the art of cloak creation with this informative guide on how to sew a cloak, perfect for your next Faire garb or Halloween costume or to exude an aura of mystery. Explore the ease of sewing a rectangular cloak, showcased through two variations – a plaid wrap-around cloak with a lined hood and a solid green cloak with a central clasp.
You can bring this project to life with just a handful of materials like fabric for the cloak and hood, a closure for the front, matching thread, pins, rulers, scissors, and tailor's chalk.
Ideal for beginners wishing to elevate their sewing skills, this project allows you to master straight-line machine stitching, double-rolled edges, and pleating or gathers. Immerse in this creative endeavor and enjoy the pride of donning a cloak made with your own hands. craftematics
10. Free Cloak Hooded Cape Sewing Pattern
Unleash your creativity with DIY hooded cloak sewing patterns, perfect for crafting a one-of-a-kind statement piece this season. Delve into the whimsical world of fairytales with this step-by-step guide to making your little red riding hood costume. With this free sewing pattern, you can craft a charming cloak from woven fabrics like quilting cotton, chambray, linen, or satin.
Tailored to children's sizes 3/4, 5/6, 7/8, and 9/10, the pattern offers versatility with options for both pointed and curved hoods and waist-length and knee-length variations.
With a sewing machine, matching ribbon, button and elastic loop, and 2-4 yards of fabric, you can bring this classic story character to life! Don't forget the pattern is PDF, which means it can be reused over and over again. Sew a timeless cloak today, perfect for imaginative play, school plays, or a festive Halloween ensemble! heatherhandmade
11. How to Make a Hobbit Cloak With Hood
Step into the wonderful fashion world with an informative and entertaining comprehensive tutorial. The tutorial revolves around making a garment from about 4 meters of fabric and provides an in-depth, step-by-step guide to design and construction. You'll also learn how to make the most of leftover fabric, ensuring no wasted material.
Starting this engaging project requires some fabric, basic cutting tools, and creativity. As for the cost, it's not prohibitive; in fact, you might save money compared to buying ready-made clothes. Whether you love fashion design or DIY projects, this tutorial will engage and inspire you.
By following the guide, you'll have a one-of-a-kind garment and an enriched skill set to carry forward to your next creative endeavor. So, grab your fabric and tools, and start your DIY journey today!
12. Simple Half Circle Cloak Pattern
Swoop into the world of costume creation with this quick and easy tutorial to craft a half-circle cloak. Ideal for crafting enthusiasts inclined towards fantasy, this guide transforms simple materials like fabric and thread into a charming cloak, perfect for a hobbit or dungeon master role.
You can also make a trendy fashion statement, challenging the conventional norms of outerwear. The beauty lies in its simplicity – no sewing necessary!
All you need is the material of your choice, scissors, and a fastener for closure. Experience the transformative power of DIY and make your cloak today. Let your imagination soar with this creative venture.
13. DIY Costume Fantasy Cloak
Discover versatile DIY hooded cloak sewing patterns to elevate your costume game for Halloween or cosplay events with ease. Reinvent thrifted curtains into a stunning DIY fantasy cape with this creative approach. You only need basic sewing skills to turn a cheap curtain ($3.99 or less) into a stunning hooded cape for your outfits.
This guide will lead you step-by-step through cutting, stitching, and assembling this accessory, ensuring you have a bespoke piece tailored to your size and style preferences.
The result is a unique and budget-friendly cape, perfect for fancy dress events, theatrical performances, or to add a fantasy touch to your wardrobe. Make your costumes stand out with this brilliant, cost-effective idea.
14. Making a Hooded Cape Halloween Costume
Unleash your creativity with our versatile hooded cape pattern, designed to suit various costume ideas and stylish Halloween cape. Using simple materials like a durable fabric of your choice, scissors, and sewing equipment, this guide offers clear, easy-to-follow instructions.
The design allows for flexibility in size and fit, meaning it can be adjusted to suit anyone – perfect for those unique Halloween outfits!
The outcome is a festive accessory and a token of your craftsmanship that you can proudly wear. So, gather your supplies and immerse yourself in this exciting project to make your Halloween special.
15. How to Make a Cloak With a High-Low Hem
Crafting a personalized statement piece is effortless with our detailed hooded cape pattern, turning heads in any setting. Be the envy of your friends and make a show-stopping cloak with a high-low hem, sure to make you stand out from the crowd! Craft your statement piece with this step-by-step guide on making a cloak with a high-low hem.
This cloak can be made from the comfort of your home, perfect as a finishing touch for a unique costume or just for adding flair to your everyday outfits. You'll find the process straightforward and rewarding with the free pattern and basic sewing tools, such as scissors, thread, and a sewing machine.
The high-low hem adds a modern twist to this timeless accessory, offering versatility and style. Don't forget to download the free pattern and make your personalized cloak today!
16. Easy Fabric Cloak Pattern
This beginner-friendly hooded cape pattern ensures a cozy, fashionable cover-up, ideal for chilly evenings or themed events. Upgrade your cosplay or costume with a DIY cloak or cape. Add drama to any character with the perfect accessory. Ideal for masquerades or royalty attire, choose velvet or a superhero bright color. The best part? It's an easy sewing project, perfect for a last-minute Halloween costume.
The materials needed for this project include the fabric of your choice, 1.5 yards of 1-2 inch wide ribbon or trim, a sewing machine, ballpoint needles, thread, scissors, a walking foot (if you're using a stretch fabric), pins, and a tape measure.
No advanced sewing skills are required; a basic understanding of your sewing machine and how to sew a straight line will suffice. Be ready to don the role of a king, queen, prince, princess, or even a superhero!
17. DIY Hooded Cloak Tutorial
This tutorial will plunge you into the joinable world of DIY! We'll show you how to make an elegant hooded, lined cloak in just a few hours using standard sewing supplies such as fabric shears, thread, and a sewing machine. From material collection to the end stitch, all steps are covered in this guide, making it a must-have resource for DIY enthusiasts seeking to expand their craft repertoire.
The cloak made predominantly with the fabric of your choice, serves multiple purposes, from cosplay to cold-weather wear. Follow this easy-to-understand guide and make a uniquely stunning hooded cloak, adding a touch of elegance to your wardrobe.
You'll enhance your sewing skills and make an enduring piece that stands out for its comfort and design. Craft your hooded cloak today and bring your vision to life!
Conclusion:
In conclusion, a hooded cloak pattern is a versatile and stylish addition to any wardrobe, perfect for costumes, occasions, or simply staying warm. With 17 unique patterns available, including free options and easy tutorials, finding the perfect cloak with a hood pattern has never been more accessible. So why not embark on a creative sewing adventure and craft a stunning hooded cape to showcase your skills and flair? Embrace the excitement of sewing and elevate your attire with an exquisite hooded cloak.