You can be so productive in routine tasks when carrying the baby all around. It will make you less focused on everything when you are doing and can make life tough also. So, solve this issue by learning how to make a baby sling with these 15 easy DIY baby sling ideas that are the safer and comfortable DIY baby carriers letting you do the routine tasks easily and quickly while carrying your baby. These diy baby carrier designs will make both your hands-free and take the responsibility to hold the baby safe, and hence you can do whatever you want with the same speed and productivity.
However, these diy baby carriers can be made in various ways using a variety of fabrics and hardware. See them all by exploring this collection of 15 simple diy baby slings that are carrying some world's best baby carrier samples. From wrap baby carriers to pouch style baby carriers to mei tai baby carriers, you will learn to make all types of baby slings here. The baby ring slings are highly popular worldwide, and you will have all the info here to whip them up like a pro.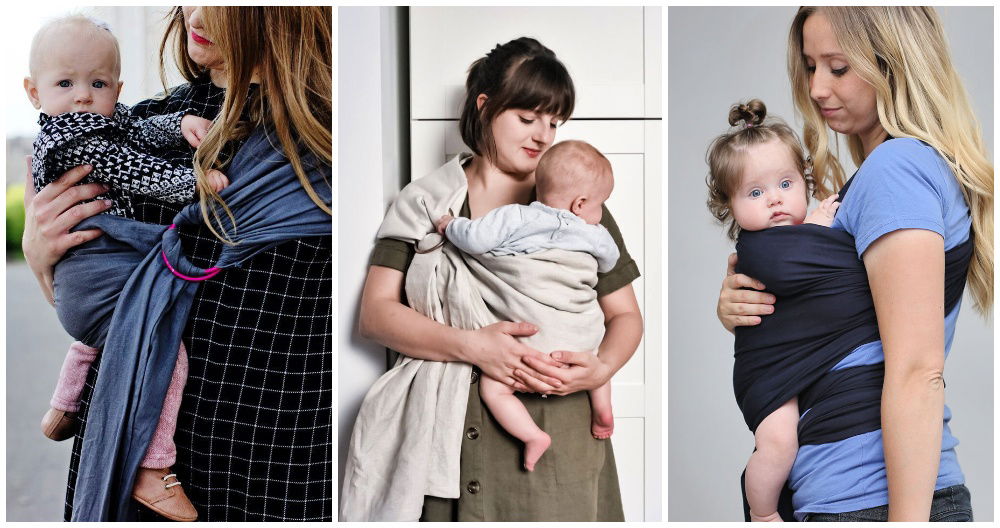 The first thing you need is the fabric. It should be long and durable enough to wrap your body, making a pouch or wrap on the front side. For no-sew models, you only need to wrap the fabric around the body creatively, and for the ring models, it involves a little sewing and doing the attachments. All the models will work great and will be safe for babywearing. These diy baby carrier patterns will explain all the DIY baby slings to you and the easy methods to make them. They will make better handmade gifts for the newly became mothers and make fun at home.
1. DIY Linen Ring Sling Baby Carrier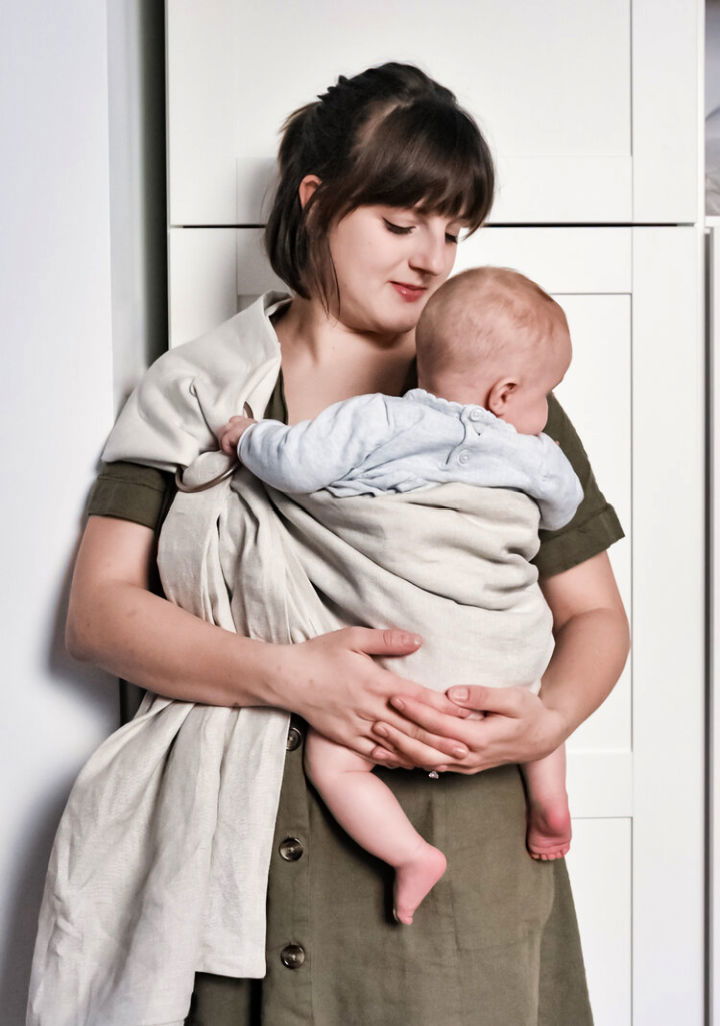 Make your newborn feel again in the womb with this linen ring sling baby carrier, will help give the warm touch of mother to the baby again. It will also make it easier to handle a 3 month or 4 month baby. So, lend yourself a big helping hand as a mother with this baby carrier that you can make your own using a few supplies. You need 2 meters of linen, two large sling rings, and other sewing supplies to make it. aboderie
2. DIY Baby Scarf Carrier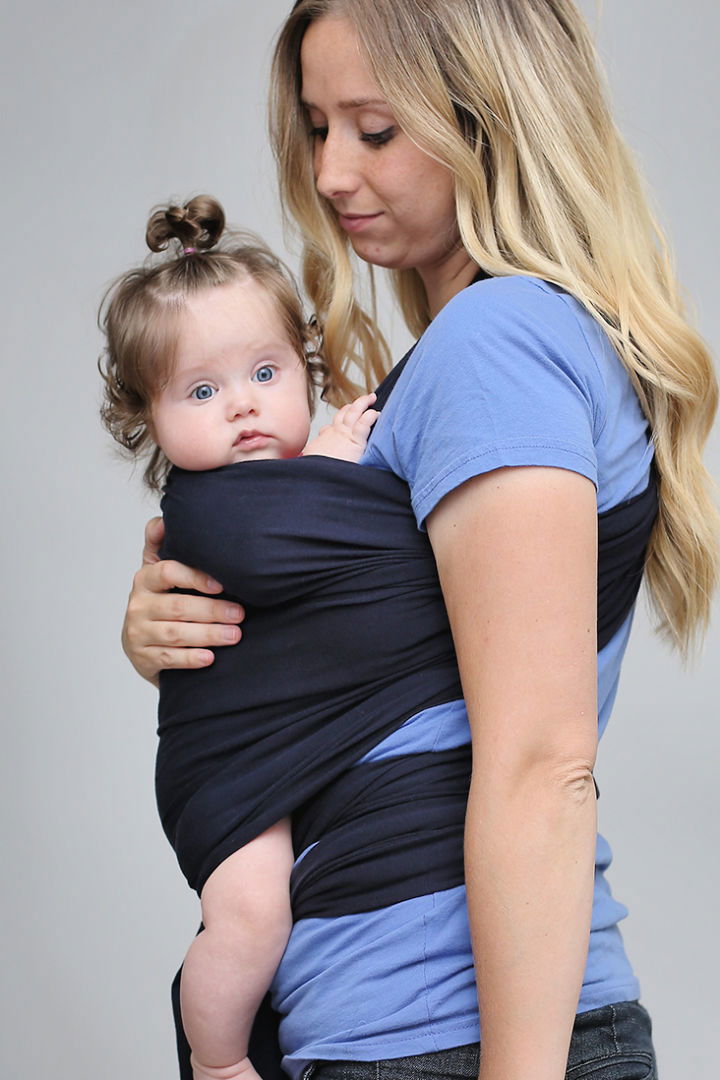 Help yourself be more caring as a mother with this crochet baby wrap or baby carrier, will help keep the baby with you and close to you easily and effortlessly. You can use any fabric to make this baby wrap, and it will help build stronger bonds between you and your baby. You can use the serger machine to sew the seams durable. The best DIY Baby Wrap to make for a 4-5 month baby. sewmuchado
3. DIY Baby Sling Carrier
It will not take much time to hook up this baby wrap that helps holds the baby so close to the womb again. It makes the baby again feel the body of you, promoting the love bonds between you and your mother. This baby wrap is to make with any leftover fabric and is a no-sew project that every beginner can do. One of the best baby slings to make in no time. hartsfabric
DIY Projects To Do for Baby:
Crib Sheet Pattern: Learn how to make a crib sheet so you can customize your bedding like never before! DIY crib sheets let you choose the perfect fabric for your style.
Baby sewing pattern: We've collected the best baby clothes patterns on the internet, just for you to give your cute baby a new look with handmade stuff.
Doll Sewing Patterns: Find our doll sewing pattern selection for the very best in unique or custom, handmade pieces from our sewing projects.
Baby closet dividers: DIY baby closet dividers is a cheap and easy solution to keep your baby clothes in a closet organized. They work especially well for baby closets.
Free baby shoes pattern: Make your very special set of DIY baby shoes with a free pattern from DIYCraftsy!
Baby Pants Pattern: Find Free Baby Pants Sewing patterns tested out, with pictures and fit notes alongside fun fabric choices.
4. How To Make A Baby Wrap Carrier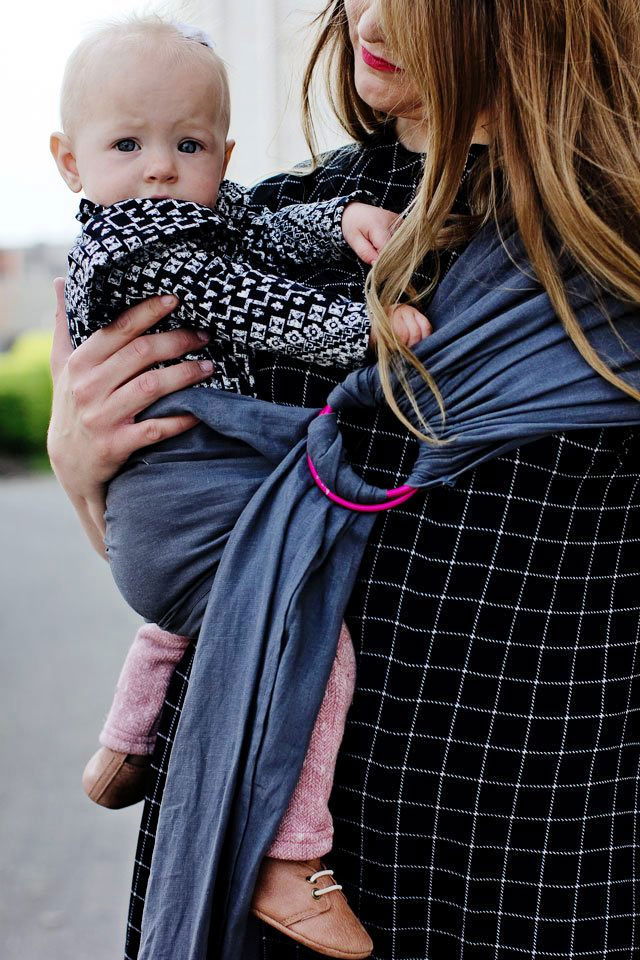 Pick your favorite fabric to make this quick wrapping baby carrier. Get here the video tutorial for each step to easily make this baby wrap carrier, will safely and easily hold your baby, giving that warm touch of mother's love again. This carrier will rock in the easy management and handling of your 3-4 month baby. It will cost you next to nothing, and the only thing required is the fabric that you can even recycle from home. seekatesew
5. Naturally Dyed Ring Sling Baby Carrier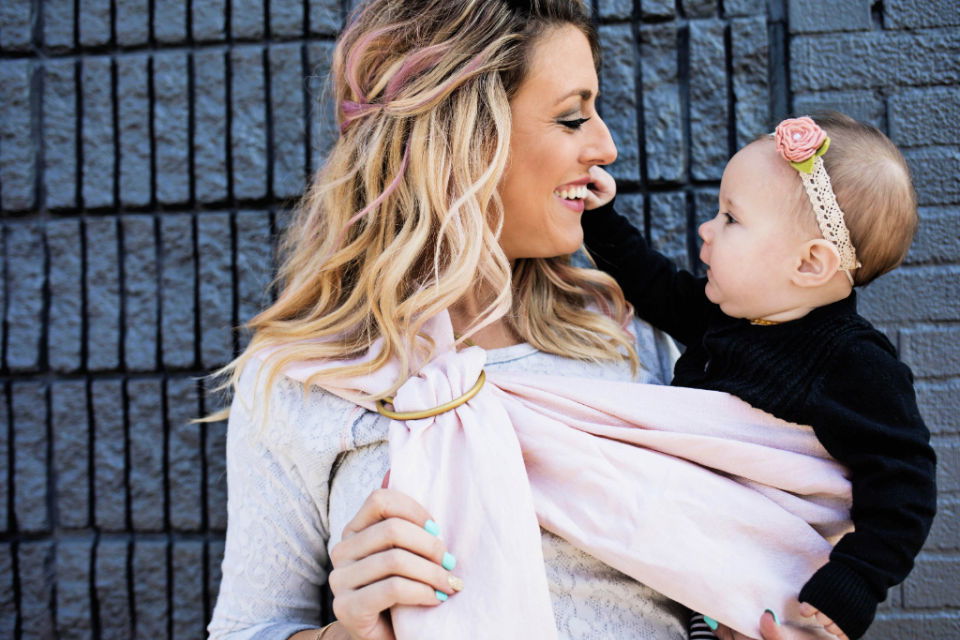 Are you a beginner and wishing to do some great beginner sewing projects? Work up this baby sling wrap that is to make with a ring and durable fabric. Pick the fabric in your favorite colors and with your favorite design prints, and wear it around the shoulder for your baby's easy and safe carriage. It will only take 3 yards of linen and 3″ sling rings to work up this sling baby carrier. abeautifulmess
6. DIY Childs Ring Sling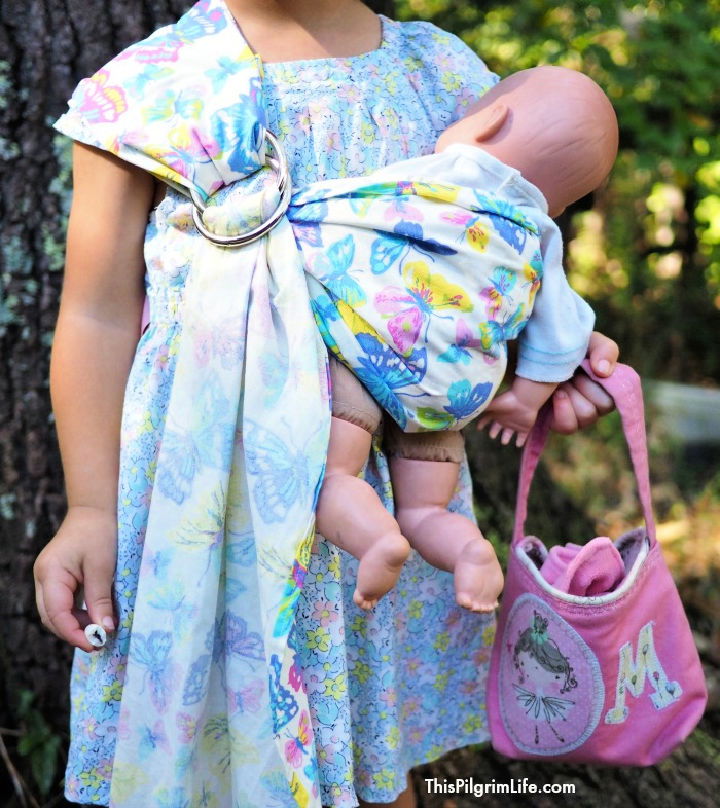 Play creatively with rings and fabric and work up this very beautiful sling ring baby carrier. This project is to do with the 100% cotton in favorite print, and you will require 2-2.5 yards for this project. Here the fabric is dyed naturally before getting into this project. You need lightweight cotton fabric and a pair of large aluminum or metal rings to whip up this very cute and beautiful baby carrier. Along with the sewing supplies, you also need the dyeing supplies for this project. thispilgrimlife
7. Making Your Own Woven DIY Baby Wrap
Follow here the quick sewing guides and instructions to work up the woven baby carrier. All moms will love this woven wrap, and you can simply make so many different sizes of it with the help of provided tutorials and instructions. The project is beginner-friendly and budget-friendly. You need 5 yards of Osnaburg cotton fabric cut to 30″ wide, fabric die, a small piece of lace or ribbon, sewing machine, etc to do this project. farmhouseon
8. How To Make A Baby Sling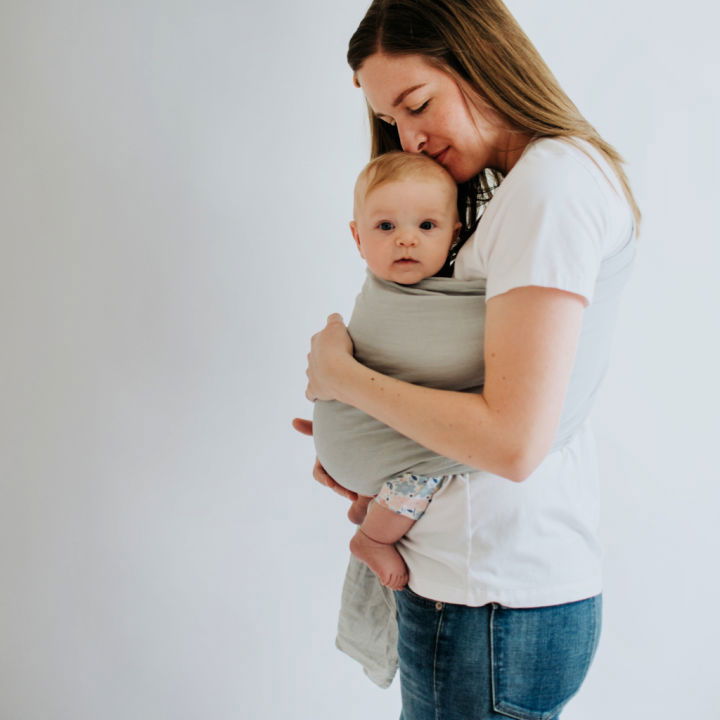 Bring tons of ease to your motherhood session with this DIY ring sling that an easy and quick sewing project. The best and cute baby carrier that will hold the baby much cutely and safely. The best way to feel the touch of your baby and you need heavy-duty rings and heavy-duty fabrics to hook up this carrier. You can make this pattern with fabric like linen, cotton, silk, lightweight twill, or denim. You need 2.5 yards of fabric and 2 medium or large aluminum rings to make it. thedoingthings
9. DIY Baby Sling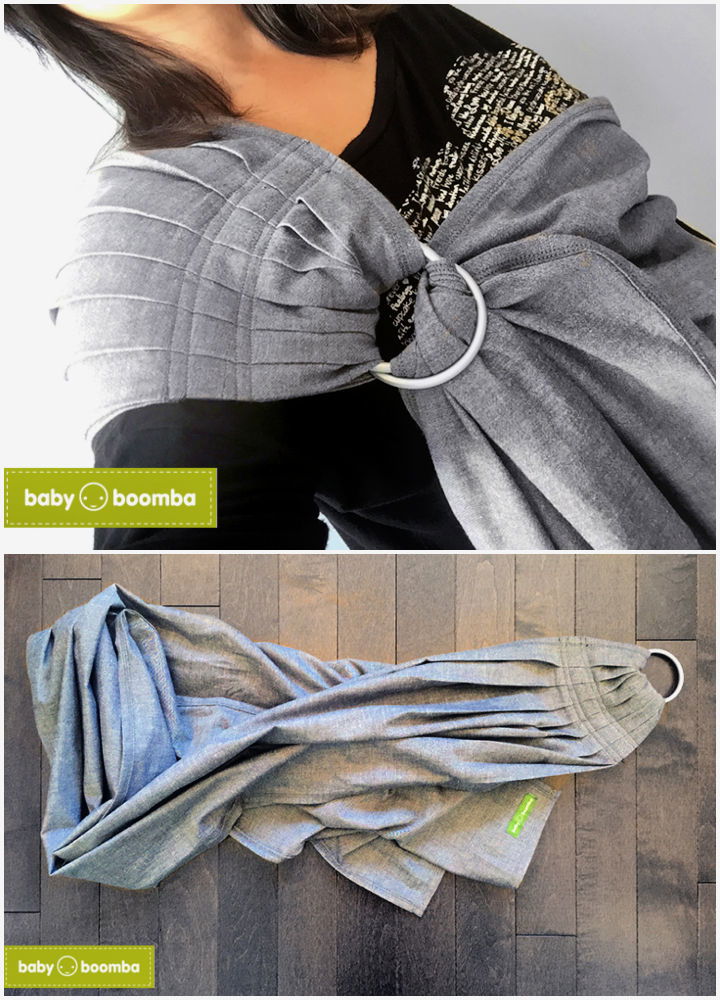 Follow here professional guides to make a durable yet stylish crochet baby ring sling. What is unique in the design is the pleated should, and it will surely make a better handmade baby shower gift. This is here a ring sling, but you can make it a pouch, wrap, and meh dai also. Complete this project using 2 meters of fabric, regular thread, heavy-duty polyester, and a pair of ring slings. The finished product will cost you about $36.20 CAD. babyboomba
10. Homemade Doll Ring Sling Carrier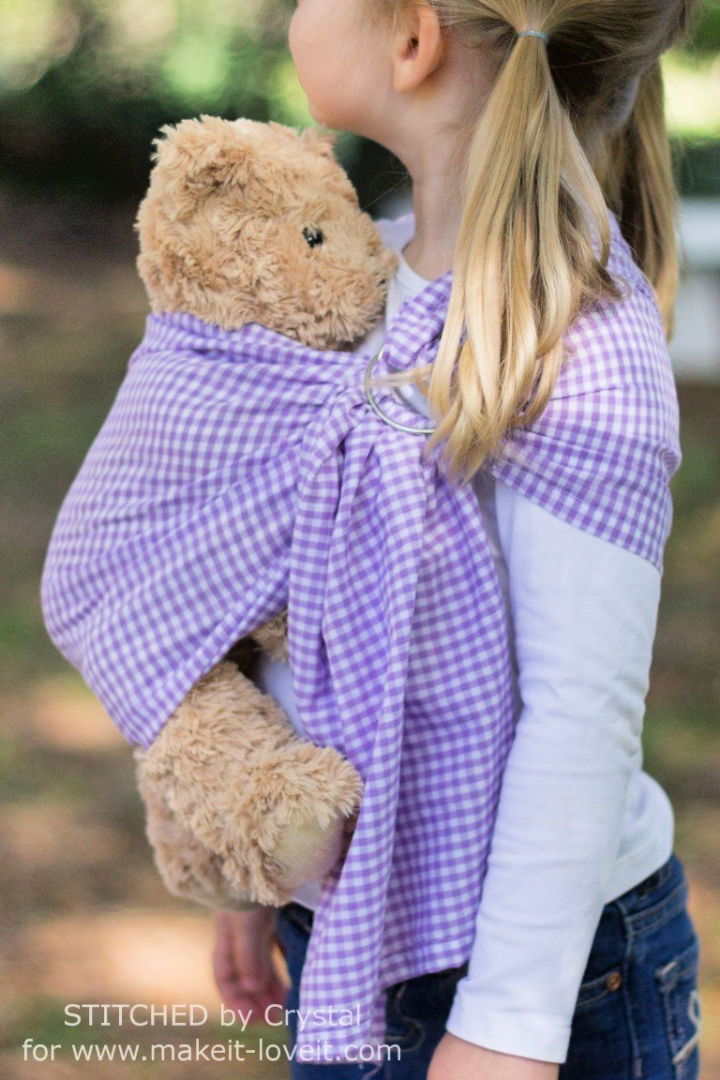 Whatever the moms do with their babies and toddlers, the doll-loving girls do with their dolls and other stuffed toys. So, why not crochet a baby ring sling for the little girl, will help her easily hold her dolls and other stuffed toys. Here again, you need a few yards of fabric and ring slings to make this baby carrier. The best babywearing to crochet for the little girl's doll. Here you need 1/2 yard of 44″ wide fabric, 2″-3″ rings, and sewing supplies to make it. makeit loveit
11. Quick and Easy Doll Sling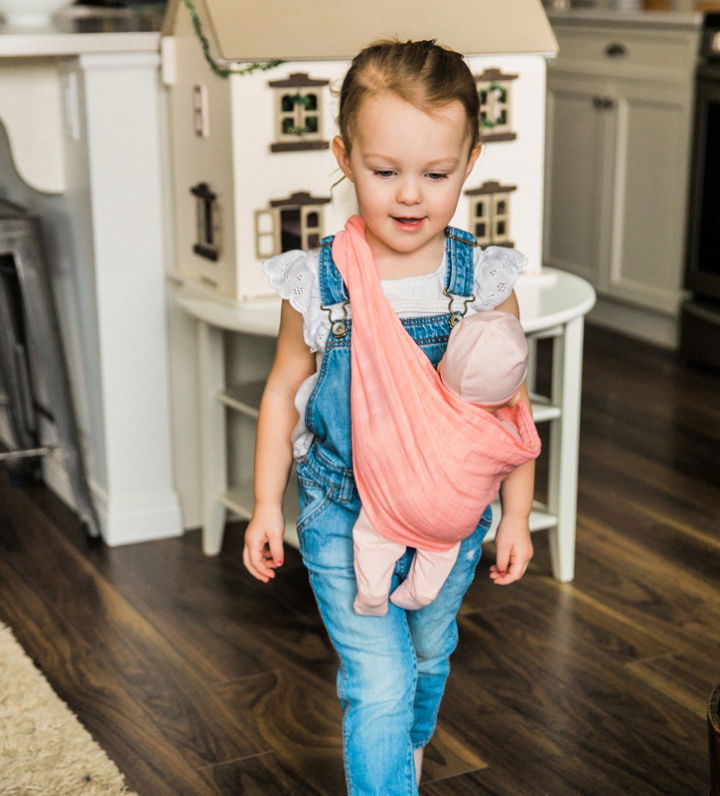 Maybe if you are not handy at sewing the best and durable doll ring slings. So, you can master the art by first making the doll slings. Start with this quick and easy doll sling project. The complete project will surprise all the doll-loving little girls. You need to use the 12″ piece of muslin with 45″ width to sew this quick doll sling. The project is all about precise and smart cutting and sewing. simpleasthat
12. DIY Mei Tai Baby Carrier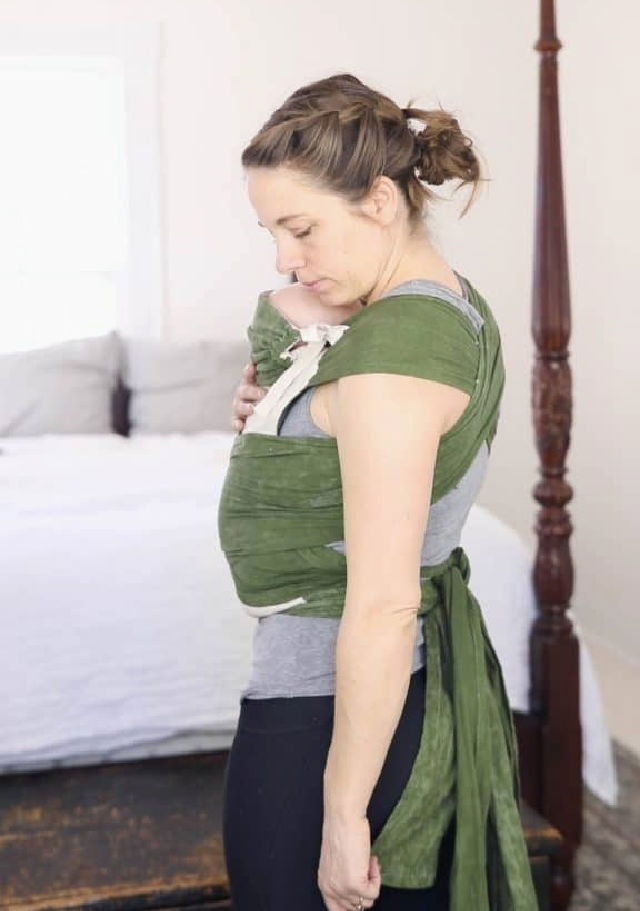 There a certain different type of baby sling rings like a wrap, pouch, and Mei Tai, and you can make them all at home. This project will guide you through sewing a mei tai baby carrier, will be the best motherhood gift to sew in no time. It will make the ladies like the baby is in the womb again. You need 3 yards of unbleached osnaburg fabric, fabric dies, thread, and sewing machine to sew this lovely and durably baby sling ring. farmhouseon
13. DIY Mesh Water Baby Carriers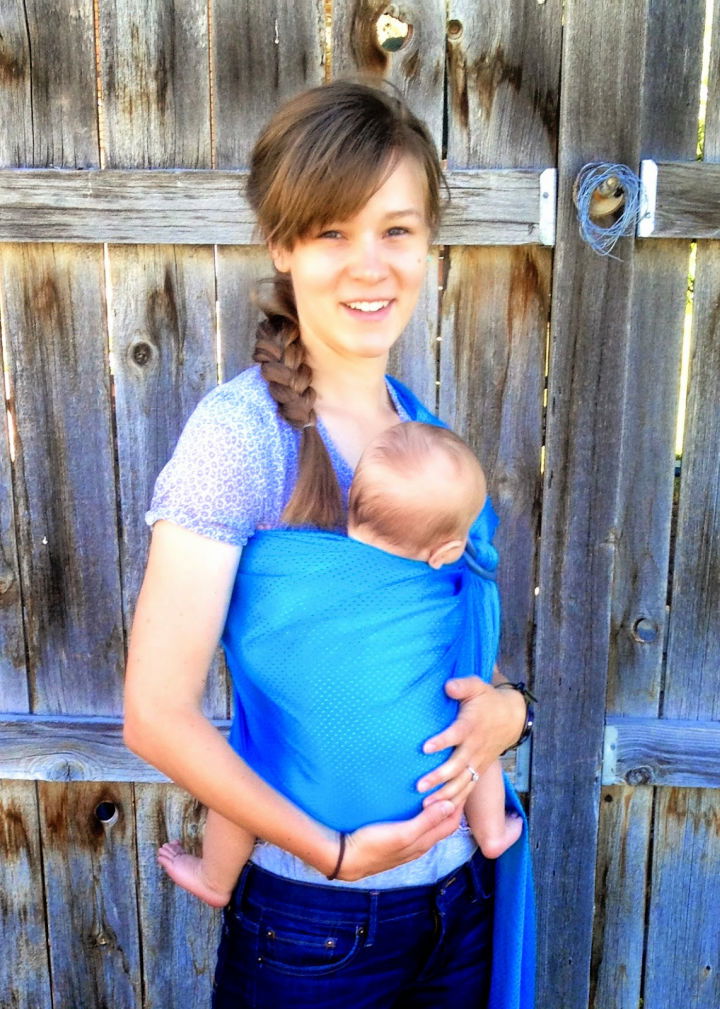 This baby sling ring is made with the athletic mesh fabric, and it enchants with the breezy fabric. Pick this fabric with a 60″ width to make a larger sling ring, and every beginner will love sewing it. It will take 5-5.5 yards or athletic mesh with 60″ width, 3-4″ of ribbon and thread to sew this meshwater baby sling carrier. The project completes fast and at a cost next to nothing. laceyparr
14. Stretchy Wrap for Newborn Babywearing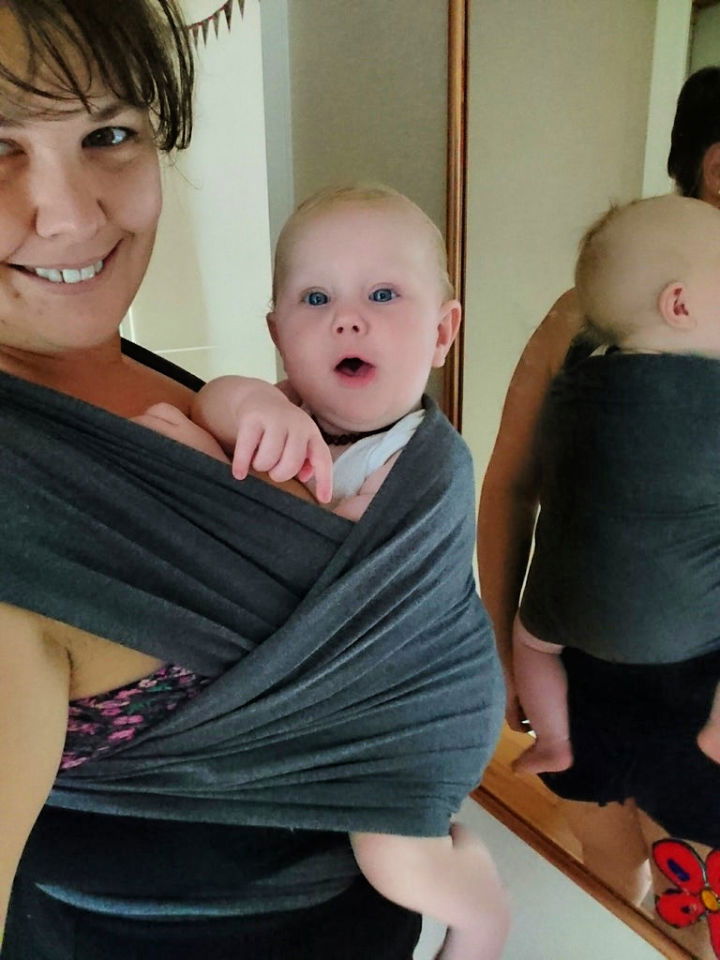 Grab the complete and comprehensive written and visual instructions here to sew a DIY stretch wrap for the newborn. It will rock for the safe and comfortable babywearing and is easy and quick to whip up. This no-sew wrap should be 60-70cm wide and will safely hold your baby for sure. Follow the provided guides to easily hook up this entire wrap. The inexpensive yet cute and practical gift for a newly became mother. instructables
15. Easy DIY Baby Ring Sling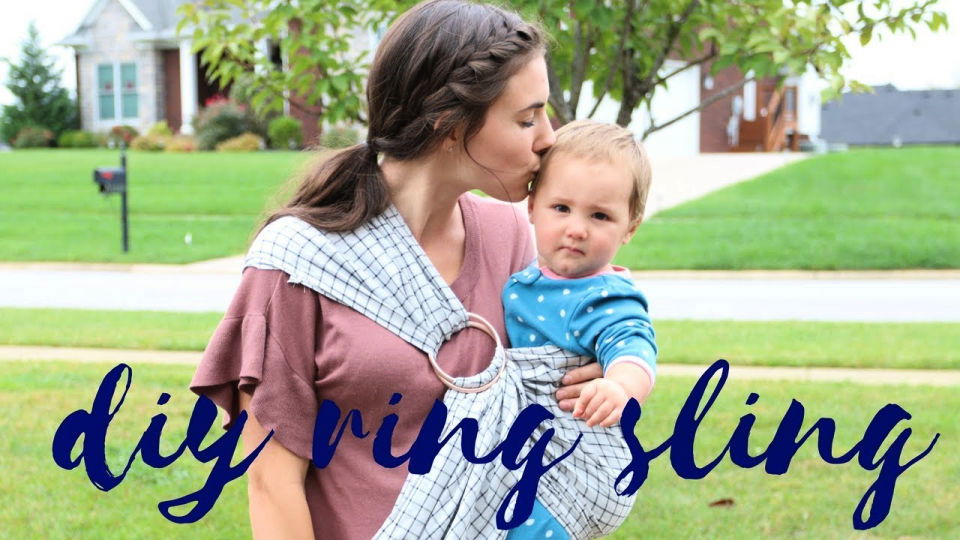 Finally, the ultimate video guides are here to make a durable and beautiful baby ring sling. Pick the aluminum ring from the hardware store in any color or shade like silver, copper, or gold, and then grab the 2.25 yards of fabric to make this baby ring sling. The pattern may come plain with your favorite design print on it. It will be rocking both ways. One of the best crochet baby slings rings ever made. youtube
Conclusion:
The DIY baby slings are the new safe and stylish trend of babywearing. They are to make with only fabric and with a little hardware involved and are a big game-changer for parenthood and motherhood. Just like the womb, these DIY baby carrier ideas will be the snuggle sacks to spot your baby again on the belly and in front of your eyes. The continues hug and touching will make the baby feel like in the womb, and it will be a great pleasure for the moms. So, they are a big need to develop stronger baby-mother bonds for sure. So, this episode of DIY Projects will share all the trade tricks to make a professional style DIY baby sling with only fabric or with fabric and rings. They will make brilliant homemade gifts to all moms having the newborn and small babies.