The dolls are one of the most useful stuffed toys when you please a little girl. Sewing is the best option to make dolls plushies. So, go with these 20 free doll patterns for sewing that will help you to make dolls at home at no cost. The doll designs will provide Free Doll Patterns sharing all the professional doll-making hacks and tricks. From baby shower to baby birthday to any particular occasion, these dolls will make highly pleasing and heart-winning gifts for all.
See a wide range of home-sewn dolls by exploring this collection of 20 simple doll patterns impressing with the readymade samples, sure to inspire your sewing creativity. Get inspired by any particular character or thing while crocheting these dolls. You will get here patterns for fruity dolls to mermaid dolls, to custom character-inspired dolls. Moreover, you will learn here to sew the best ragdolls, superhero plushies, and lovely doll costumes.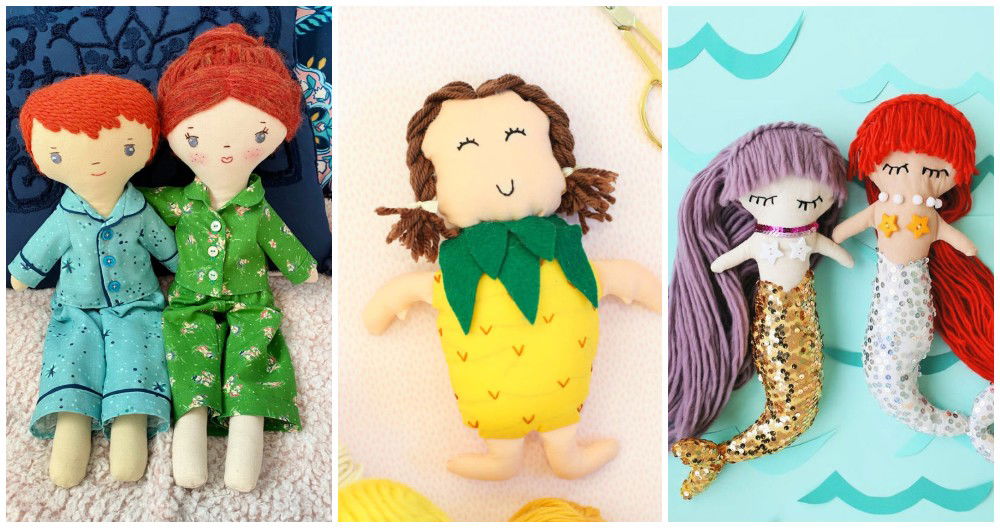 There are lots of material choices for making the dolls. Opt for the cotton fabric, felt and various other fabric to sew these beautiful dolls, will rock the little girl's dollhouse. From sewing the overall body parts to assembling them rightly, you will find comprehensive instructions for all steps. Adding details like the facial features, hairs and outfit will take some time and is also a precision-taking task. Learn a lot more about doll-making by looking through these Free Doll Patterns from the world's most genius and avid sewers. Pick these little stuffed toys for a baby shower and baby birthday gifting also.
1. Pineapple Doll Pattern Gift Idea For Kids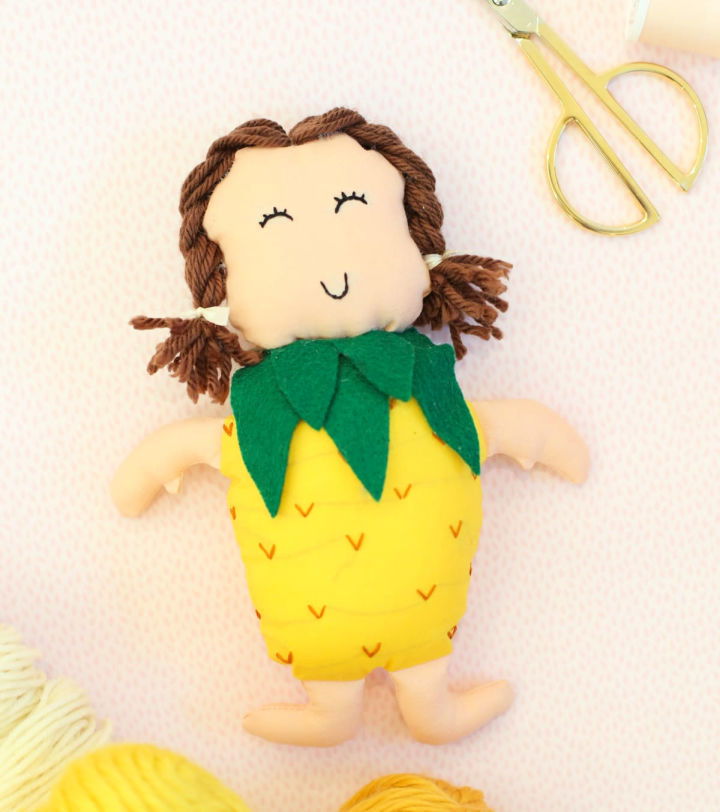 For little girls, nothing is more beautiful than dolls. So, willing to make the new dolls to gift to little girls in the home? Opt for this crochet pineapple doll that will be easier to make with the provided free pattern. You need skin-tone and yellow fabric, embroidery thread in black and tan, green felt, poly-fil, yarn, narrow ribbon, and other sewing supplies to whip up this pineapple doll. lovelyindeed
Waldorf doll pattern: Find step by step instructions on how to make a Waldorf doll, Sami or cloth doll.
Rag doll patterns: These free rag doll patterns can help you sew a doll your little one will love for years. Little girls and their mothers have been sewing rag dolls for thousands of years.
Barbie doll clothes: Here you'll find free, downloadable, printable Barbie doll clothes patterns to create your own looks of barbie dolls.
Crochet Barbie clothes: This collection of free crochet Barbie doll patterns includes clothing and accessories items to make.
Free teddy bear pattern: With a free teddy bear sewing pattern, you can make a cuddly teddy bear for your own child or as a gift for someone else. The best part is that no sewing experience is necessary! All free sewing patterns and instructions can be downloaded in PDF format.
2. Mermaid Plush Dolls With Downloadable Pattern
Win the little girls' heart by giving these mermaid plush dolls, which will be the best darling gifts for the little girls at home. The doll costumes are to make with sequin fabric, and they are perfectly shiny and graceful. In the rest of the supplies, you need mermaid patterns, cotton fabric, yarn for hair, acrylic paint, stuffing, buttons, and sequins to work up these plush mermaid dolls. abeautifulmess
3. How To Sew An Apple Doll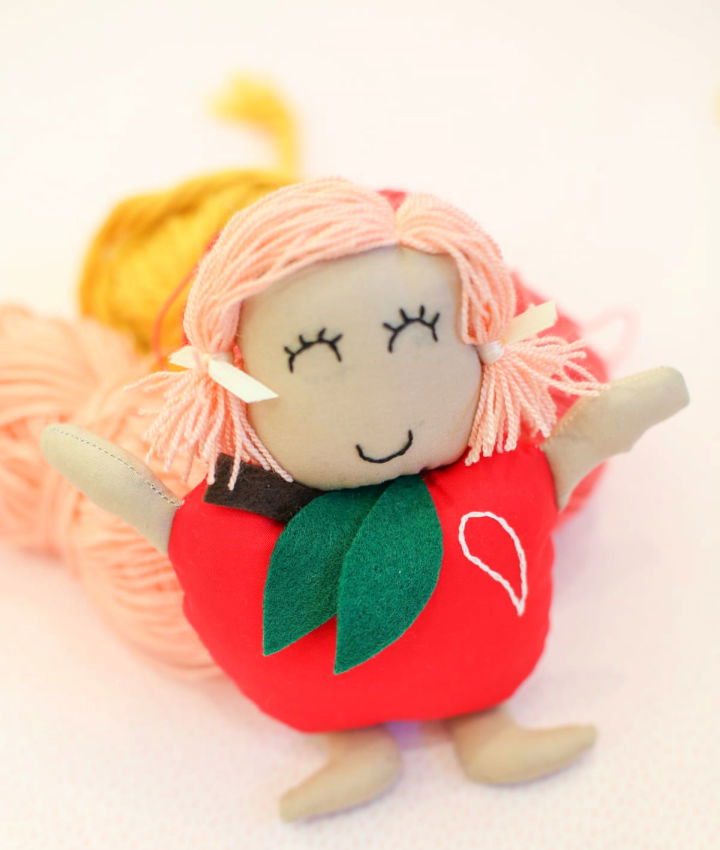 Make doll inspired of anything and character. Follow here guides and instructions to whip up an apple doll, will be the best fruity doll to make for the little girl's new dollhouse. This playful doll is much doable for a beginner, and do make it for the upcoming baby shower gifting. Opt for it to give as a lovely birthday gift too. You need skin-tone and red fabric, felt in brown and green, stuffing, narrow ribbon, yarn for hair colors, and embroidery thread in black and white to make this doll. lovelyindeed
4. Girl Boy Fabric Doll Sewing Pattern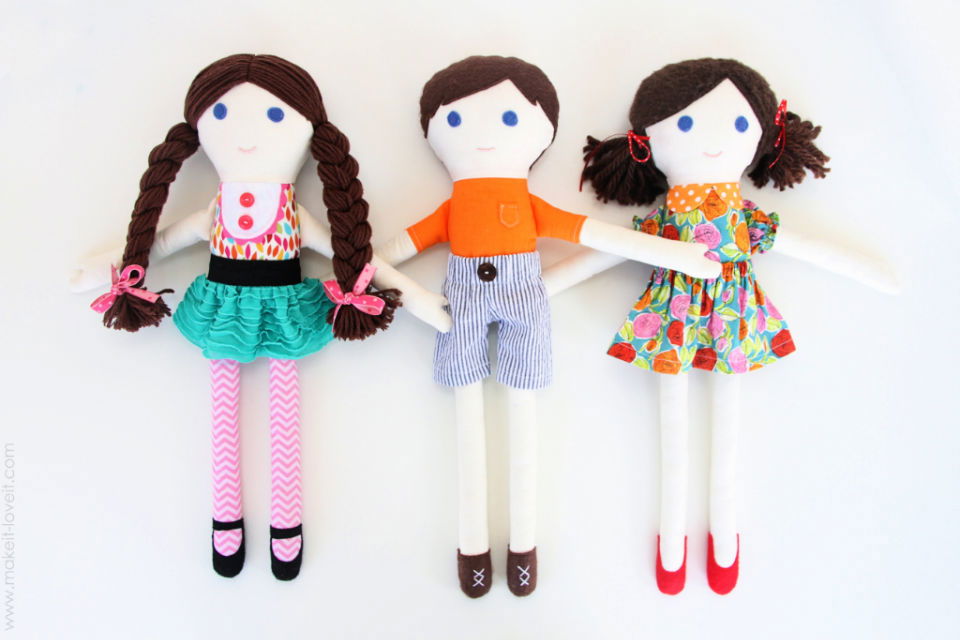 Once you learn the art of making a doll, you can make a whole family of dolls. Get the comprehensive guides here to work up a girl and boy doll, the sweetest crocheted for little girls and boys at home. So, this idea will rock for gifting dolls to the entire family and kids, and the whole doll-making process is pretty easy. Here you need yarn, felt, fabric, buttons, stuffing, and ribbon, etc., to work up these super cute looking dolls in no time. makeit loveit
5. Felt Paper Doll Pattern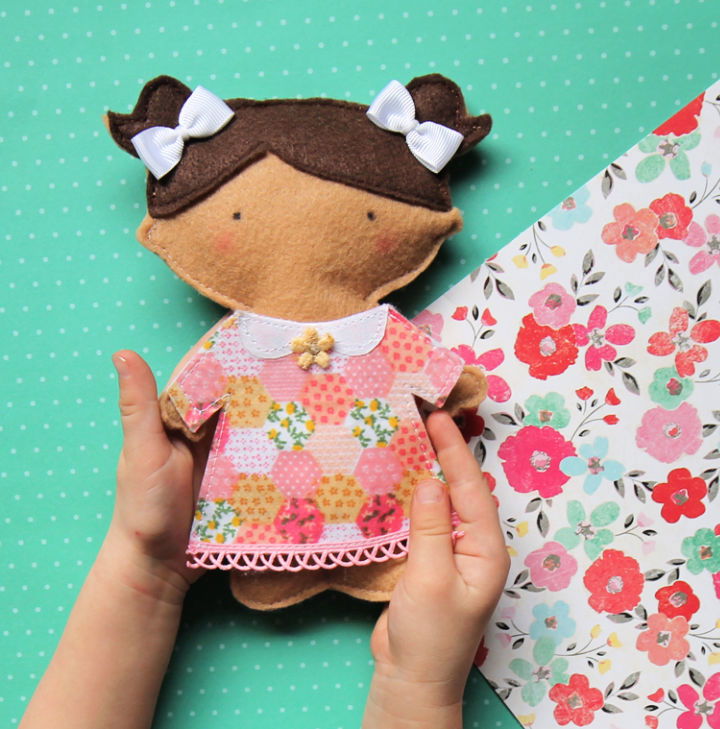 Get here the complete guides and instructions to make the felt paper dolls. They will be quickly there for your kids to play with. You need the craft felt in skin color, white and hair color, and some batting to work up this very precious and good-looking doll. The best to get for the new dollhouse for the little girl. You also need a free doll pattern to cut the pieces in accordance. In addition, you also need Heat'N Bond Iron on Adhesive, fabric scraps, oil pastels, and a sewing machine to sew this doll. thecraftpatch
6. How Do You Make A Hygge Doll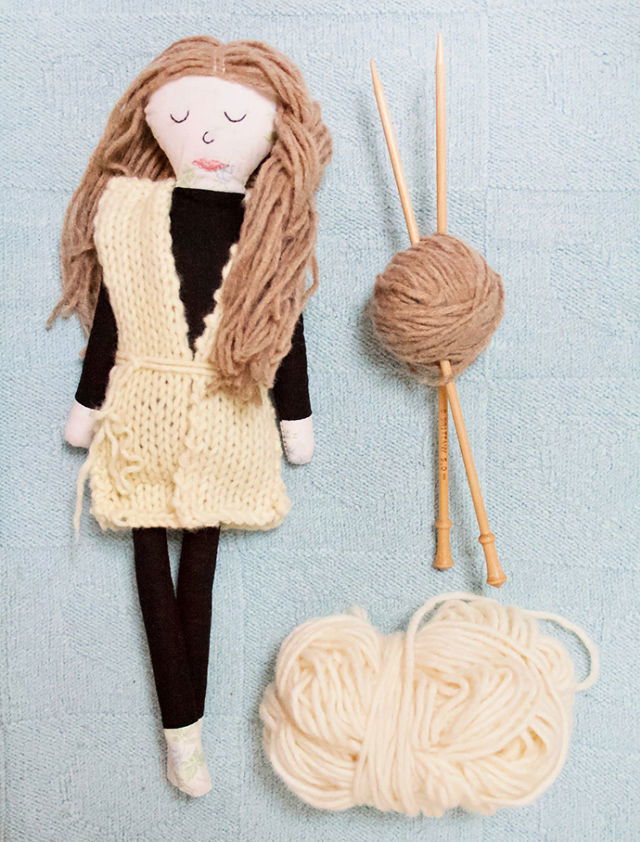 This pretty lady doll will be a new obsession of all the toy-loving little girls and is looking very stylish. It comes with open hair and is dressed very well, which makes it look double cute. You need the doll pattern, cotton fabric in the skin and black, 4″ embroidery hoop, balls of wool in pale brown and cream, 5mm knitting needles, stuffing, and other sewing supplies to make this doll. The best baby shower gift to whip up in no time. handmadechar
7. Sewing The Josephine Doll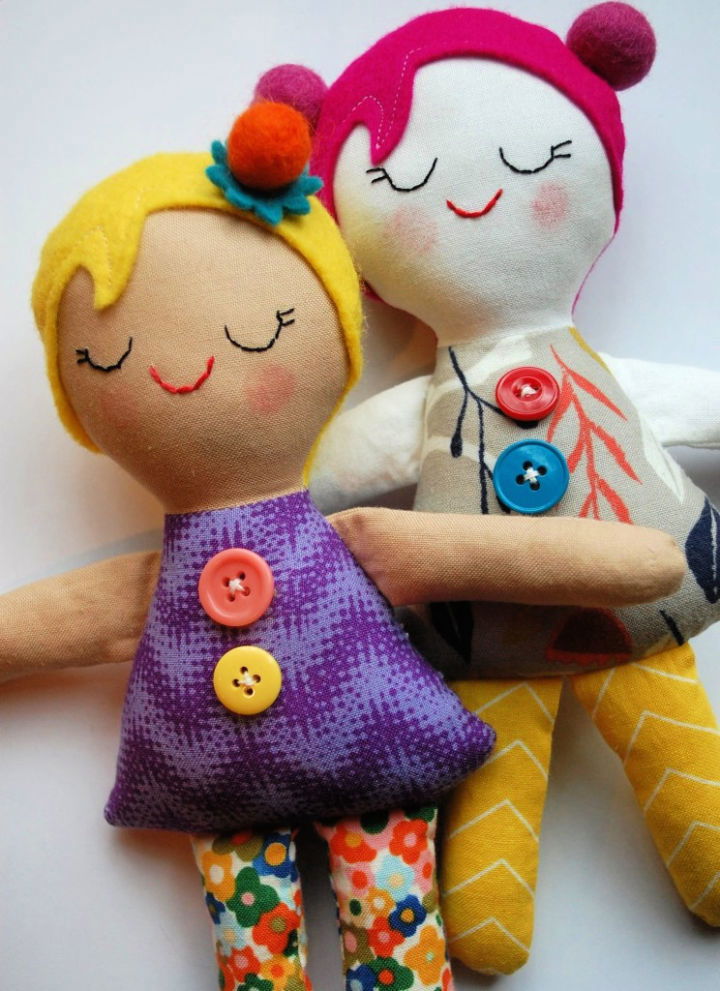 Every little kid will love to play with this stuffed buddy, the Josphine Doll, dressed very well and is super quick and easy to whip up. You need scraps of quilting cotton, wool-blend felt, fiberfill stuffing, coordinating thread, embroidery floss, 1.5cm wool balls, and buttons to work up this Josephine doll, will make a better handmade present to a favorite kid. Use lipstick to add cheek blushing. The felt hairs look just great on this doll. whileshenaps
8. Soft Doll Pattern Superhero Soft Toy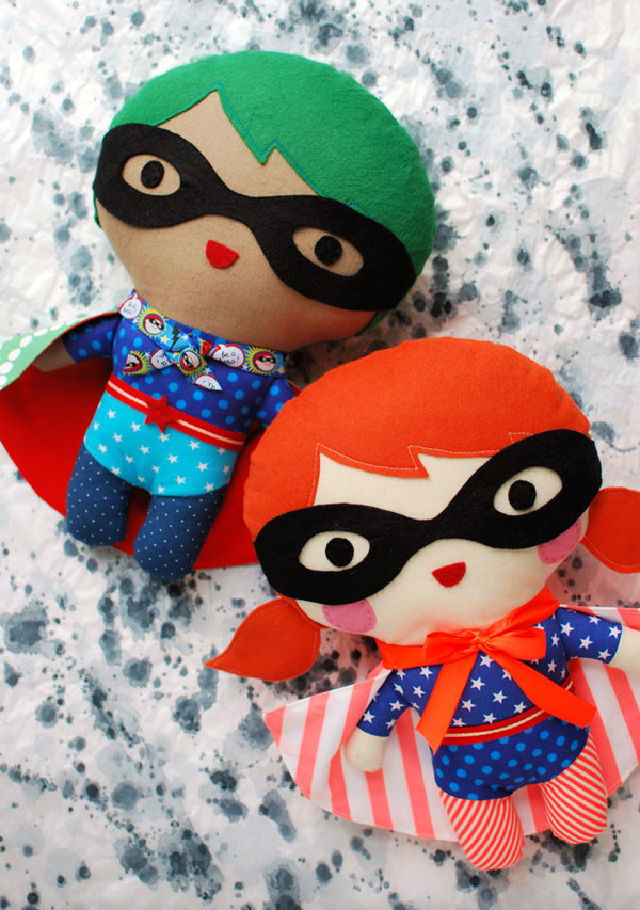 Kids are deeply in love with superheroes. So, why not make the superhero-inspired dolls gifts to earn extra love and respect for them. Fall in love with these superhero soft toy dolls that are amazingly cute and beautiful looking and are also wearing lovely superhero costumes. You need tons of different supplies for the superhero doll and superhero doll costume, which are explained well in the project. You need little advanced doll-making skills for this project. crafts tutsplus
9. Traditional Rag Doll Pattern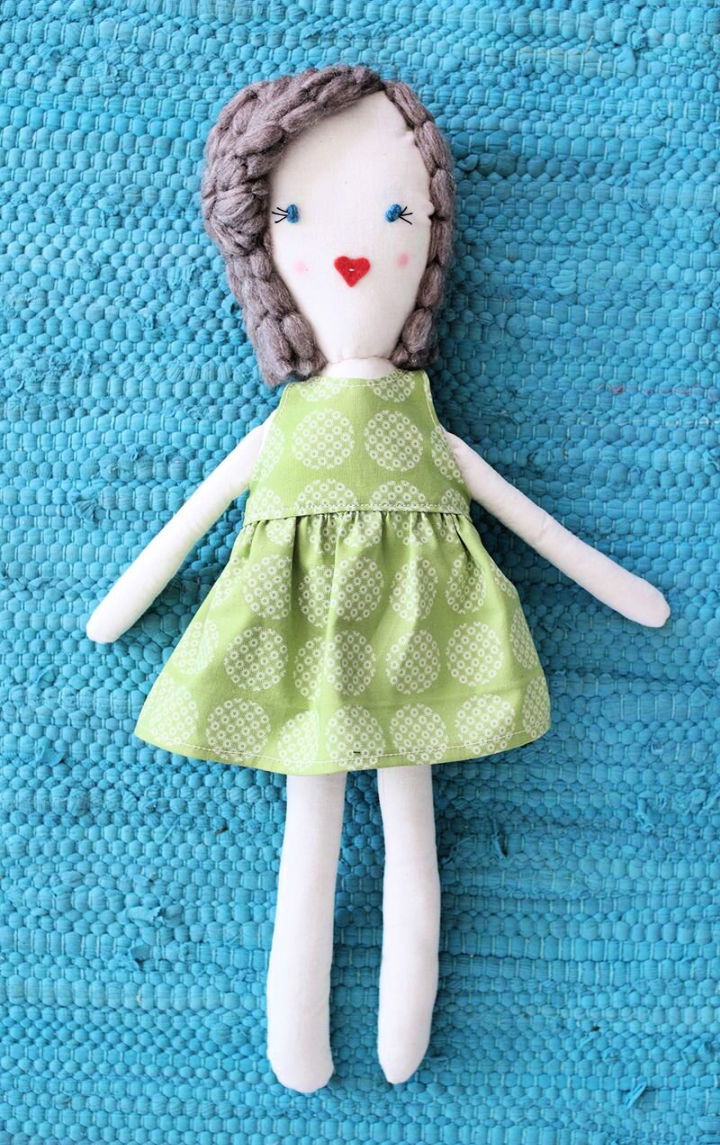 Every doll-loving kid will fall for this traditional rag doll wearing a cute dress. The red lips, cute hairs, and gentle personality are the prominent features of this doll. Kids will love playing with this doll, and it can be a big inspiration for all the kids. With grey hair, a white body, and a green dress, this doll looks precious. The heart-winning birthday gift to whip up for a favorite kid at home. You need medium-weight cotton fabric, fusible interfacing, cotton fabric, stuffing, yarn, buttons, felt scraps, glue, and a printable pattern for this project. abeautifulmess
10. How to Make Handmade Doll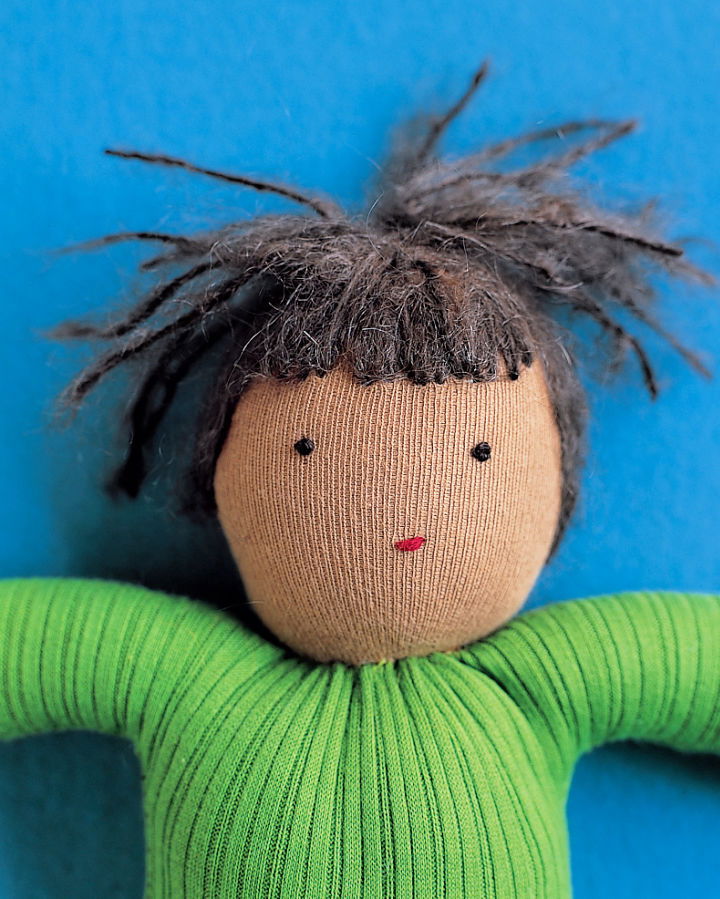 Making a doll is amazing art, and doll-making skills help to win the heart of your kids. Follow here the quick and creative guides to make a doll at home. The pattern will share all the basics of doll-making. They will sharpen your skills. You need the doll template, washable fabric piece 10″ x 18″, 10″ square of cotton jersey, polyester batting, chopstick, yarn, and embroidery floss to make this sweet and precious doll. Use the alpaca yarn for straight hairs. marthastewart
11. Adorable Free Stuffed Doll Pattern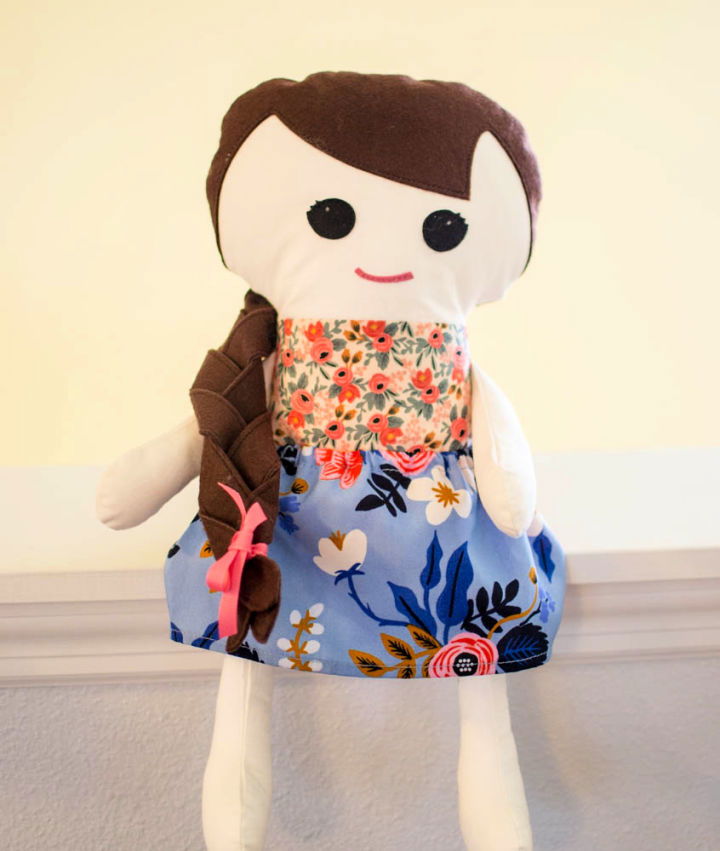 Making a doll can be a daunting task for many of us. But following these instructions will make it easier for you to work up a doll like a pro. The doll comes with the choco felt hairs and also impresses with the ribbon hair tie. The pattern is much doable for beginners, and you are all free to crochet any size of doll. You need 1/2 yard of cotton fabric, 1/4yard of cotton fabric, medium weight fusible interfacing, 12″ x 18″ sheet of brown felt, black and pink felt pieces, stuffing, elastic band, elastic, and ribbon to make this doll. sewcanshe
12. Simple and Cute Cloth Doll Pattern
Find here the easiest guides to make a ragdoll at home. It will surprise all the little girls at home. The doll comes with thick straight hair and gains attention with the accurately made body, dress, and other details. The doll is also wearing ballet shoes for added cuteness. Making this doll is a beginner sewing project, and it will make a better handmade gift for the little girls. Grab the 1/4 yard of flesh color fabric, fabric for a doll dress, stuffing, yarn for hairs, fabric paint, ribbon, and pattern for this project. crazylittleprojects
13. The Elegant Rag Doll Sewing Pattern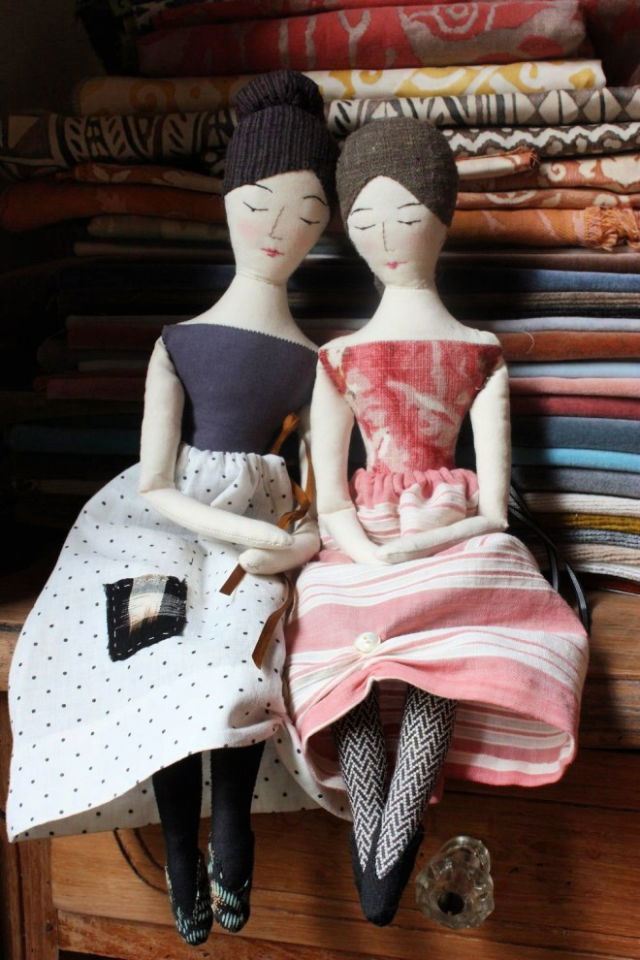 You will look again and again at this precisely crocheted doll, looks very pretty and elegant from head to toe. From face details to body language to dressing, the doll has all the features to impress the onlookers. The little girls will love to bring this doll to their new dollhouse. Want to clone it? Follow the free provided guides and also grab the free pattern to duplicate it for your kids. You need a 16×9″ piece of cotton fabric, ribbon or string, a basic sewing kit, and a doll and skirt pattern to do this project.annwoodhand
14. American Doll Skirt Free Clothing Pattern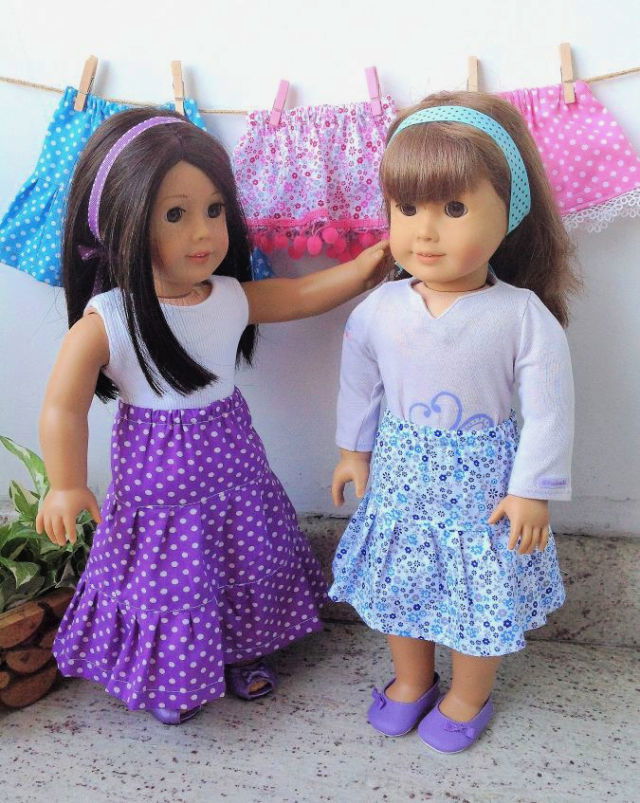 This pattern will guide you on how to sew the best skirt for the American doll. The instructions will rock to crochet any particular size from mini to midi to maxi, and it will not take much time to work up these skirts like a pro. This pattern will rock when you add the different beautiful skirts to the doll's closet or wardrobe. Create a new look of your doll daily with these doll skirts, an easy and quick sewing project. Don't forget to add the lacey edging for added visual grace and stimulation. sewcraftyme
15. Free Doll Pajamas Pattern For The Make Along Club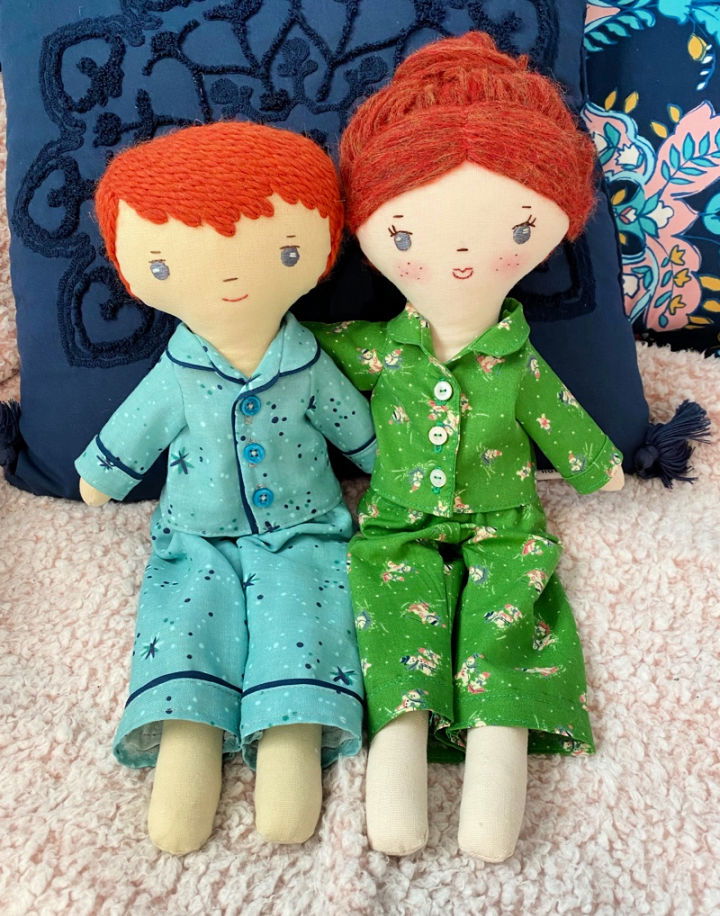 Compliment the love of a couple by making this quick pair of girl and boy dolls. This loving doll couple will be another darling gift for the little doll lovers at home, and it will also make a great anniversary gift. You will need the 26″ x 20″ cotton fabric, 9″ of 1/8″ elastic, three 3/8″ buttons, binding tape, and sewing supplies to make this wonderful and lovely couple of male and female dolls. The entire pattern will complete super fast. weewonderfuls
16. A Pirates Life For Me Muslin Doll Sewing Pattern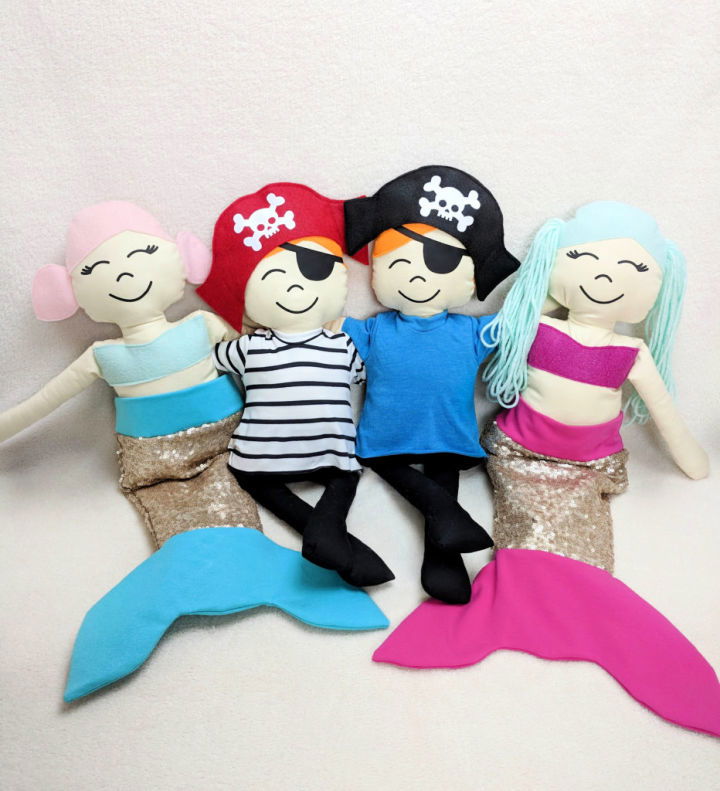 You can make the dolls of the various popular characters from the movies when being on the mission to please your kids. This time sew these dolls from A Pirates Life For Me, and the pattern is free and beginner-friendly. From mermaid dolls to pirate boy dolls, sew the whole set of dolls to give a lovely handmade present to a favorite little girl and kid at home. Use the cotton fabric in cream for the doll's bodies, and sequin fabric will rock for the mermaid tails. jenniemasterson
17. Soft Doll Sewing Pattern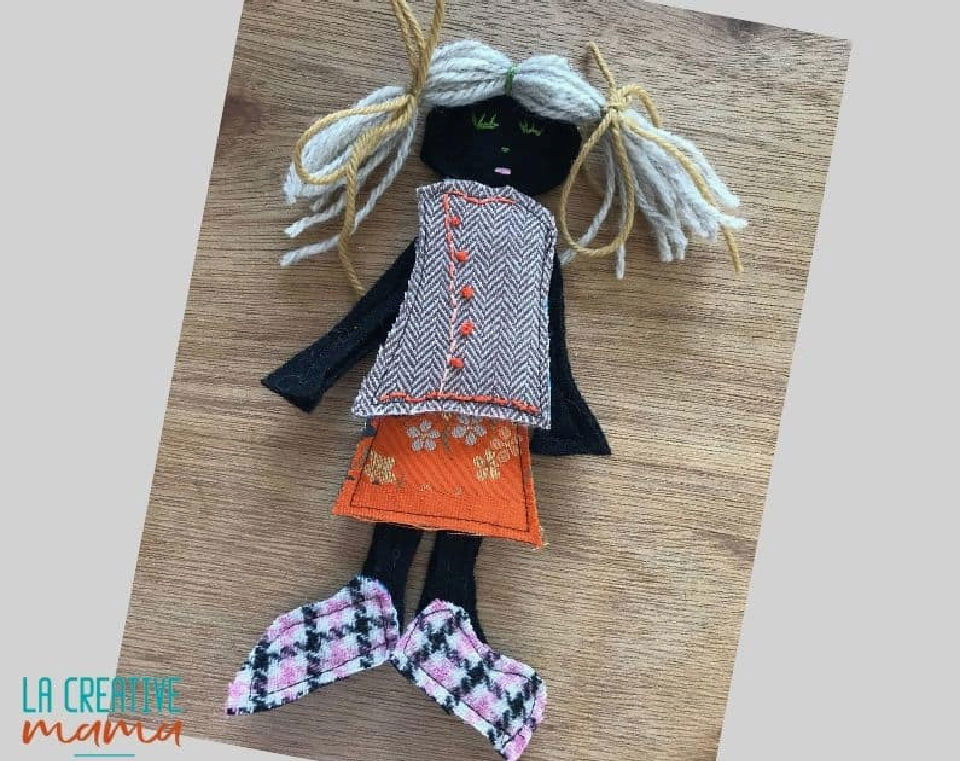 This pattern will teach you how to sew a perfect doll using a doll pattern, and it is going to be free. These dolls are unique due to being flat and are made of felt, and will be the most durable handmade gifts for the favorite kids at home. Kids will love to cherish these dolls for years to come, and you also need yarn, fabric, and custom sewing supplies along with felt to sew these one-of-a-kind dolls. You also need trims, fabric scraps, and velcro for the completion of these dolls. lacreativemama
18. Paola Reina Doll Top Sewing Pattern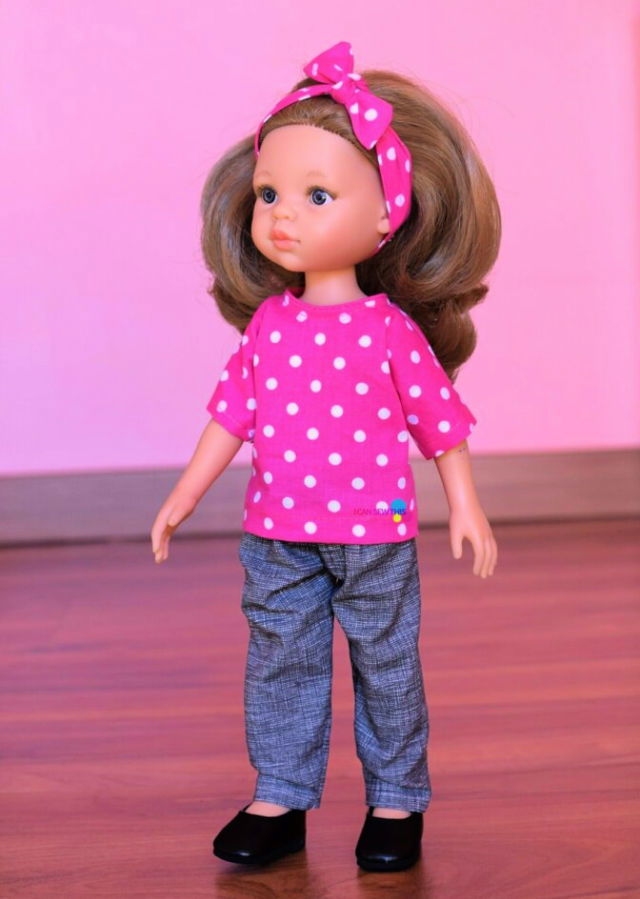 Not merely the dolls, you will learn to sew here the completely adorable doll costumes and outfits also. Grab here instructions to sew the Paola Reina Doll Top, which will create a wonderful personality for your doll. The best and fantastic doll fashion outfit appears in dark pink and white polka dots. You need cotton fabric scraps, Paola Reina Doll Top pattern, and sewing supplies to complete this doll top. icansewthis
19. Little Felt Mermaid Pattern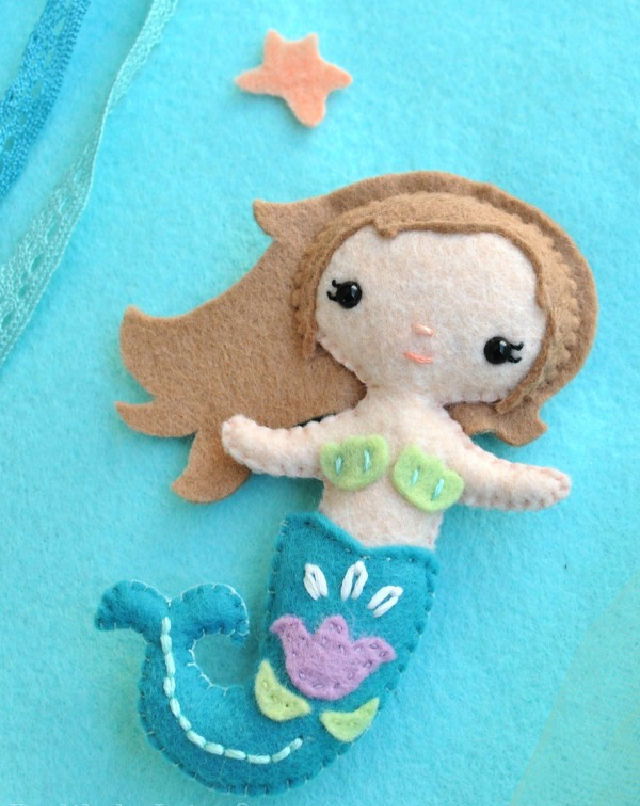 Surprise a mermaid lover with this cutest little handmade mermaid gift, a sweet mermaid doll to make in no time using the felt in respective colors. First, download the printable pattern provided here for free, and then start cutting and sewing the felt pieces to complete this sweet little mermaid felt doll. The cuter playful toy to sew for the little girls in the home. The very well stuffed felt mermaid doll ever made. redtedart
20. Simple Baby Doll Pattern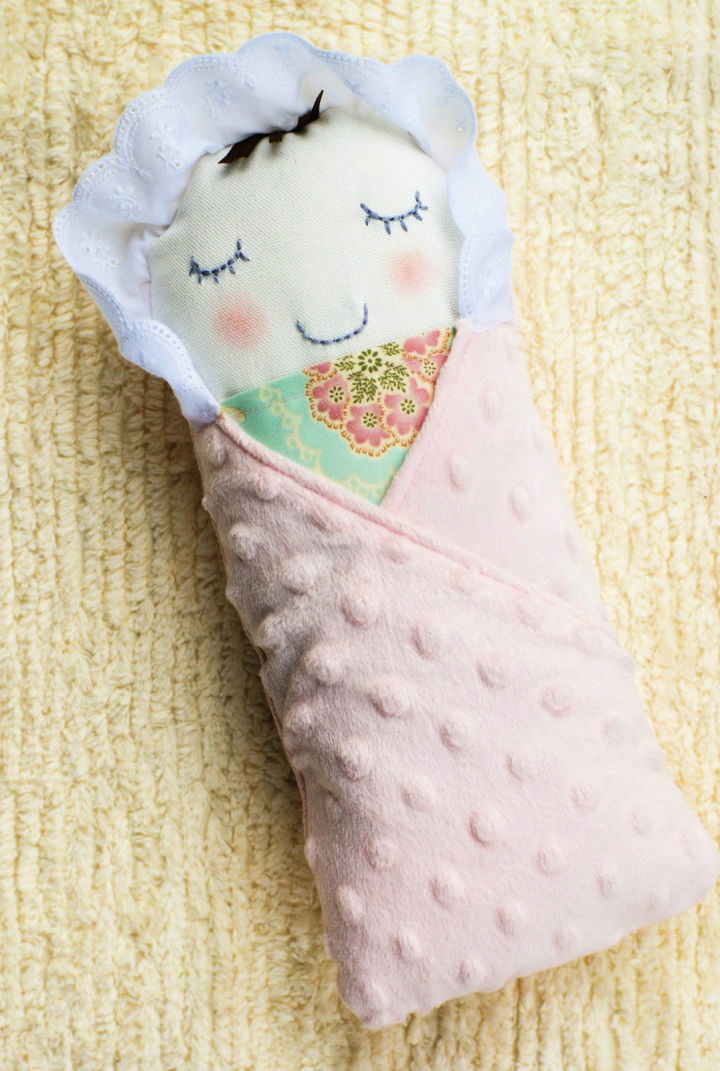 Maybe you have not gone through the process of making a lovely doll. Follow here the most accessible instructions to work up a baby doll, will be the best baby shower to sew quickly, and it is also super gift-worthy. You need batting, grey embroidery floss, canvas fabric, coordinating fabric, ruffle trim, and sewing supplies to complete this charming baby doll, the lovely handmade toy gift idea. verytrulyme
Conclusion:
The dolls are one of the most loved and most expensive stuffed toys. If you love sewing, then you will love these doll sewing patterns that are fun to do and involve sewing the dolls as the professionals do. From sewing the parts to adding or embroidering the facial features to stuffing the dolls, you will get comprehensive instructions here. You will get here complete free doll patterns, step-by-step instructions, and visual diagrams to lots of creative hacks to complete these doll projects expertly. You will get instructions here to work up the flat felt dolls also. From simple to intermediate to advanced, you will get here Free Doll Sewing Patterns for all skill levels.