Seasonal decors are what you go with always to celebrate a weather change! It is always a fall when the temperature gets cooler, and it would still be a great idea to welcome the fall just by adding some particular decors to your home that will speak volumes for the fall season! You just can't feel comfortable if you choose the expensive fall décor plans, so we are having here a super cost-effective solution for getting all mind-blowing fall decors! The idea is to do some handy DIY mason jar crafts using the recycled items, that would be your creativity that will change them into beautiful pieces of fall decors and you can even make and sell these crafts!
If you are puzzling at what type of reclaimed items would work great, then we just recommend you to go with glass jars or containers that will work best in this case! Have a look these 50 DIY Mason Jar Crafts for Fall Decor that are sure to hold your attention and to bind everyone under their creative spell! Time to enjoy more the awesome fall season with some handmade items of decors!
The idea is here to fill and decorate your repurposed glass containers with the fall-related stuff! You can go with the neutral hues, can mimic the fall leaves in multiple smart ways, and you can also give a precious touch of lovable fall items like of those pumpkins, rustic twigs or pinecones and even of fall flowers! Here you are going to view in details all these recommendations just by taking a look at multiple different Mason jar fall crafts showcased below!
Paint the Mason jars in orange and let the lids come in green, give a final decorate, wrap and create amusing fall pumpkin decors out of them! Embellish your Mason jars with pinecone flowers and also with a little twine wrap to make eye-catching fall decor centerpieces that can merely be on any flat surface to enchant all the onlookers! Create also distressed Mason jar fall centerpieces that would come with overwritten "FALL" letters and even fall craft leave candle votives that will genuinely be mind-blowing and fascinating! Spruce up your window sides with floating flower Mason jars that are super easy-to-make and also craft cute Mason jar turkeys that would make the knock-off of fall decor!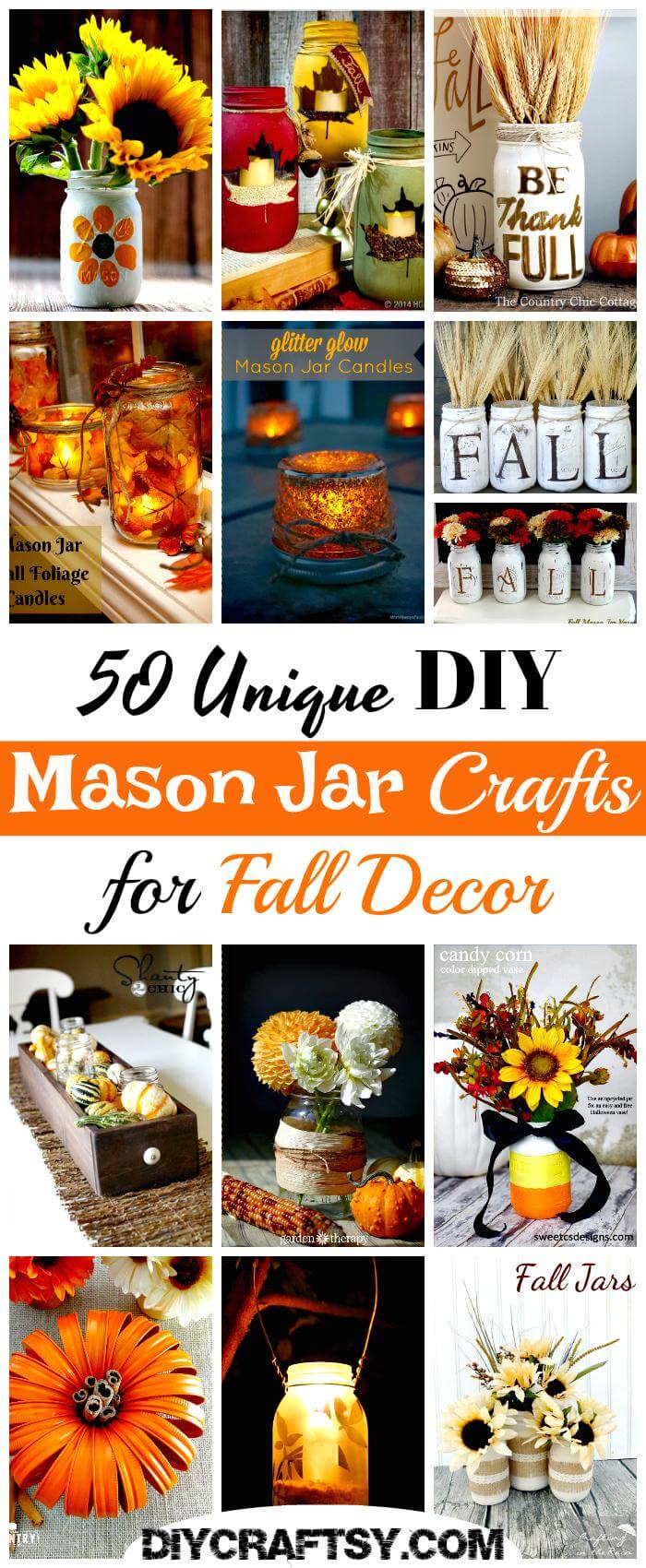 Create fall leaf inspired hanging lanterns that will bring a festive fall vibe to your spaces even at night, check out some mind-blowing samples give below! Another fantastic craft would be to make the mason jar pumpkin payday that will also make thanksgiving fall gift! Get yourself also inspired of glitter mason jar candles that are pretty quick to make!
All listed DIY mason jar crafts for fall decor comes with free tutorials, step-by-step instructions, and comprehensive visual guides will be available just with a single click, just hit the give source links for that!
DIY Pumpkin Jars:

The fall decor is just released without having those cute pumpkins in your house. Now you can make these utter jars on your and that too using the empty jars out of your kitchen. Just paint the jar in orange and lid in green along with a wooden stem stick glued to the lid for a more precise look of a pumpkin. You can create as many as you need for the complete fall decor of your house. Complete tutorial is here thescrapshoppeblog
DIY Pine Cone Flower Embellished Mason Jars:

The mason jars are the perfect kind of possessions to be turned into the vases and the plant holders. Just give them a touch of embellishing before using them in the decor, and we have this chic idea of using pine cone flowers for the purpose. Wrap up some rope around the jar and glue the pretty flowers at the front made out of the pine cone pieces. They look natural and warming for their rustic appeal so do make them. For details go to this link uncommondesignsonline
DIY Updated Fall Mason Jar Vases: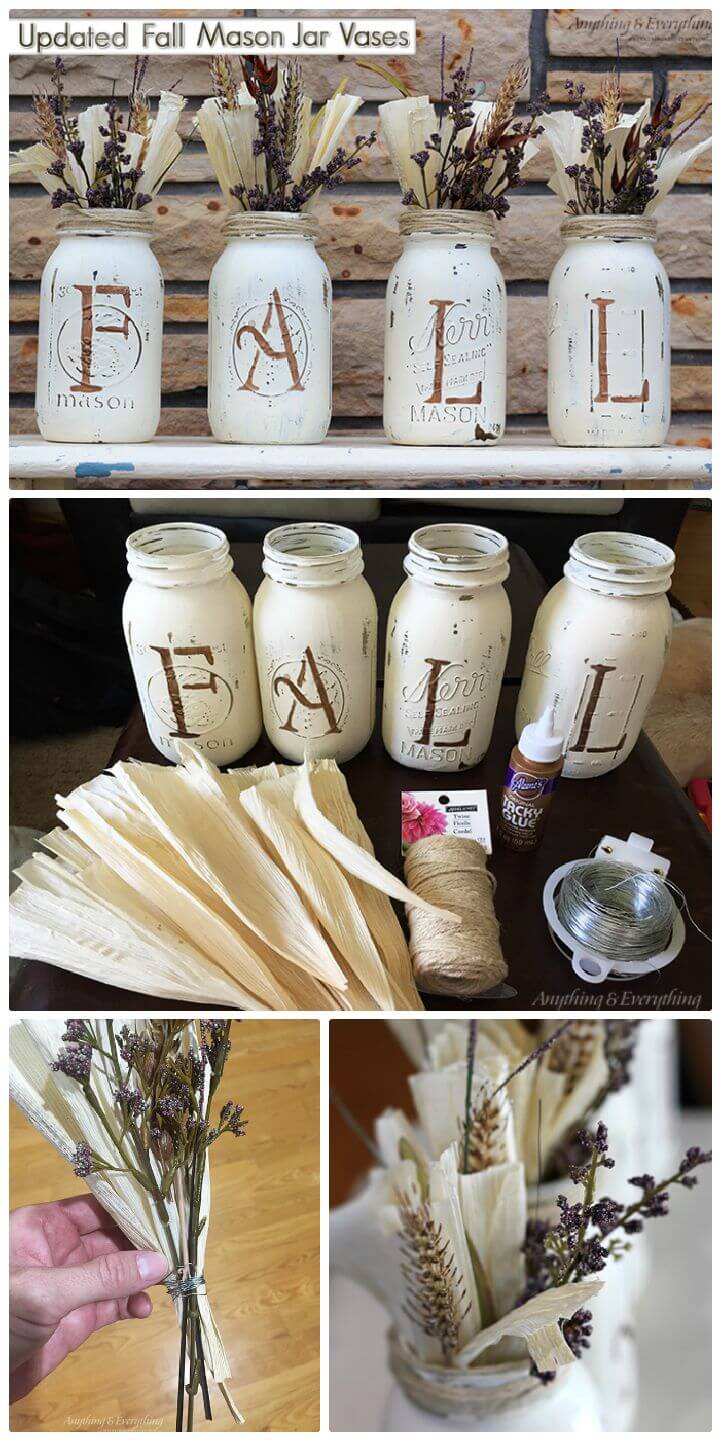 If you have been using the mason jars already for the decor as the vases then you can update them for the cute fall decor and that too so nice and easily at home. Just add the gold stenciled letters to each of the four jars, and together it would say FALL. To spice it up more you can wrap some rope around the top rim and create lovely flower accents out of the husk. Check out the full tutorial on this awesome mason jar update here myanythingandeverything
DIY Mason Jar Fall Candle Holders or Votive:

The fall decor can be all spruced up this time with the use of mason jars as you can create these amazingly colorful fall craft mason jars. They are just absolutely cute and adorable to look at and add a huge style statement to the decor as well. Just cut out a fall leave paper shape, place it on the front side of the jar and then paint the rest of the jar with your favorite colors. When you are finished, remove the fall leaf cut out, and it would be gorgeously visible on the jars in the unpainted section. Tutorial here sugarbeecrafts
DIY Floating Flower Mason Jar: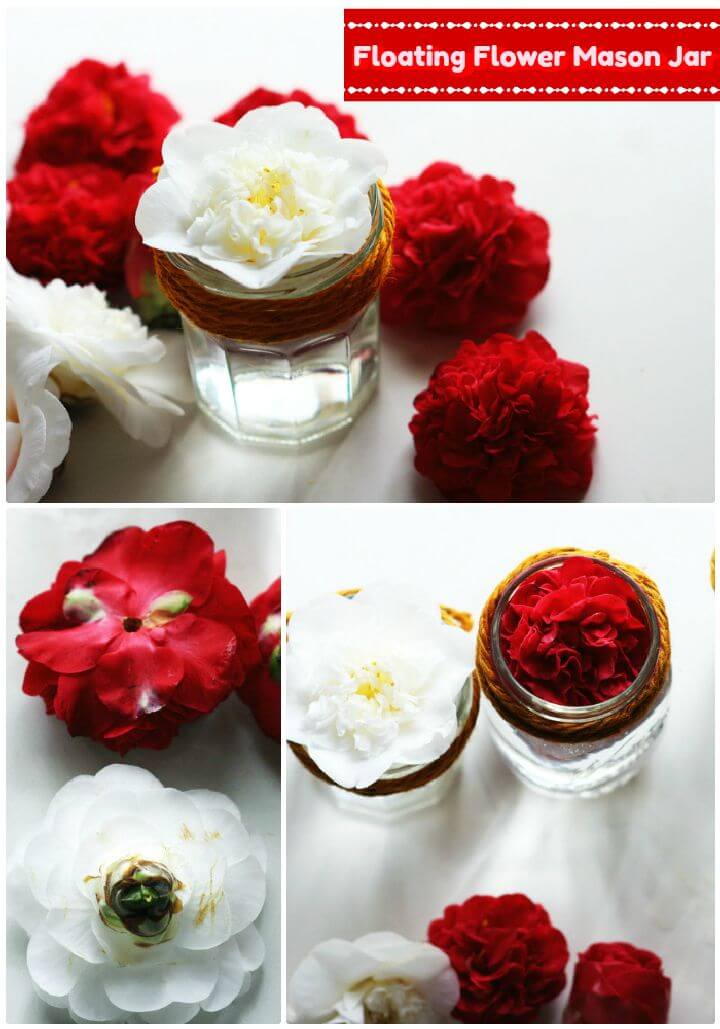 The pretty floating flowers now can be created into the mason jar and added to your home decor for a more fancy and fascinating look. Just grab the red and white camellias, empty jars and some rope to be wrapped around the jar mouths. Fill the jars with water and add the flowers at the top to let them cutely float and your perfect decor crafts are ready at the cheapest rates. Get to see more details of this lovely decor idea here thefreespirited
DIY Mason Jar Turkey:

Here is one of the cutest mason jar crafts you would ever come across. Grab a mini jar, fill it with your favorite candies, cut out leaves or petals of multiple colors using the construction paper and glue them to the back of the jar. Adding a paper nose and googly eyes the perfect thanksgiving crafts are ready with gratitude words being stated on the paper petals. So do hack this awesomely genius and adorable craft idea localadventurer
DIY Mason Jar Fall Centerpiece:

Create a lovely decor centerpieces for your fall decor using the mason jars and thus saving a big fortune getting spent on the market bought ones. Take the mason jars, use chalkboard paint, add burlap made flowers and the wheat husks inside and hold the jars in a roughly stained wooden basket and your rustic fall centerpiece is ready to rock your decor for any of the occasion. Catch the tutorial details here viewfromthefridge
DIY Fall Decor with Hanging Mason Jars: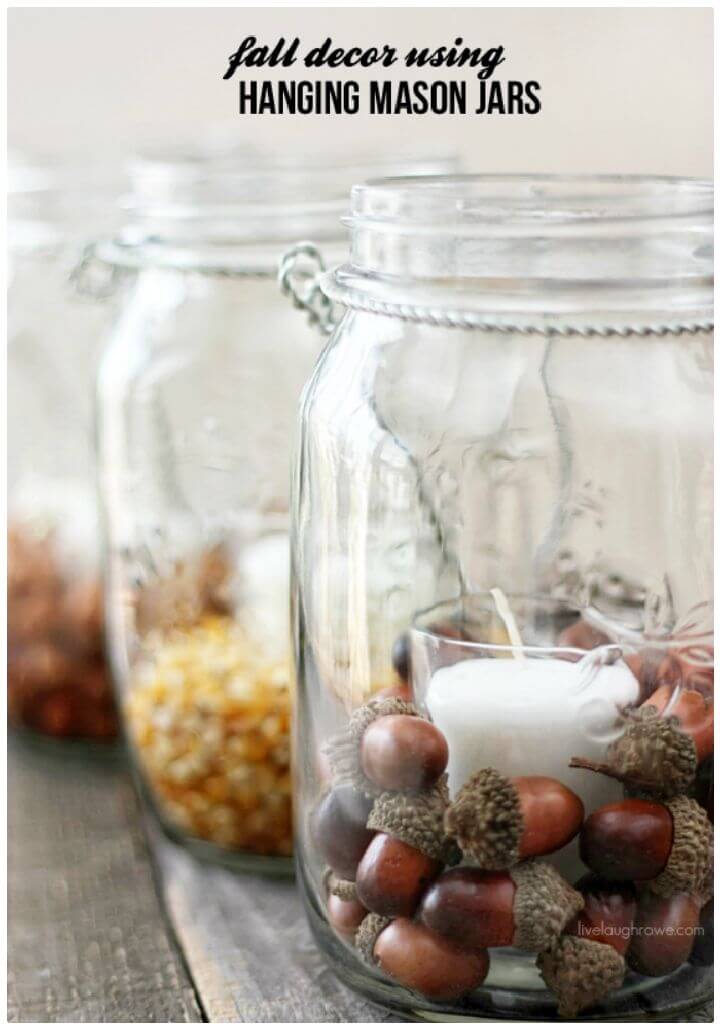 The hanging lights are the apt way to bring some light, warmth, and romance in your home decor in any of the spaces. Just grab mason jars, add the hangers to them and fill them p with the lovely popping kernels, acorn fillers, and the mini pompanos separately. Lastly, add your favorite candles inside the jars, and the perfectly enchanting hanging lights or lanterns are ready to add a huge temptation to your home decor. Check out the complete idea here livelaughrowe
DIY Fall Decor Mason Jar Lanterns:

The lanterns are can bring the magical touch to any of your decor and so to the fall. So here we have these immensely pretty fall lanterns made out of the mason jars that would add to the fall ambiance of your house created through the decor. Add faux fall leaves into the jars and LED moonlight strands and they are ready to make a charming display on the mantles, shelves or the table in your living. Here is the link to catch more details of the project consumercrafts
DIY Easy & Simple Fall Mason Jars: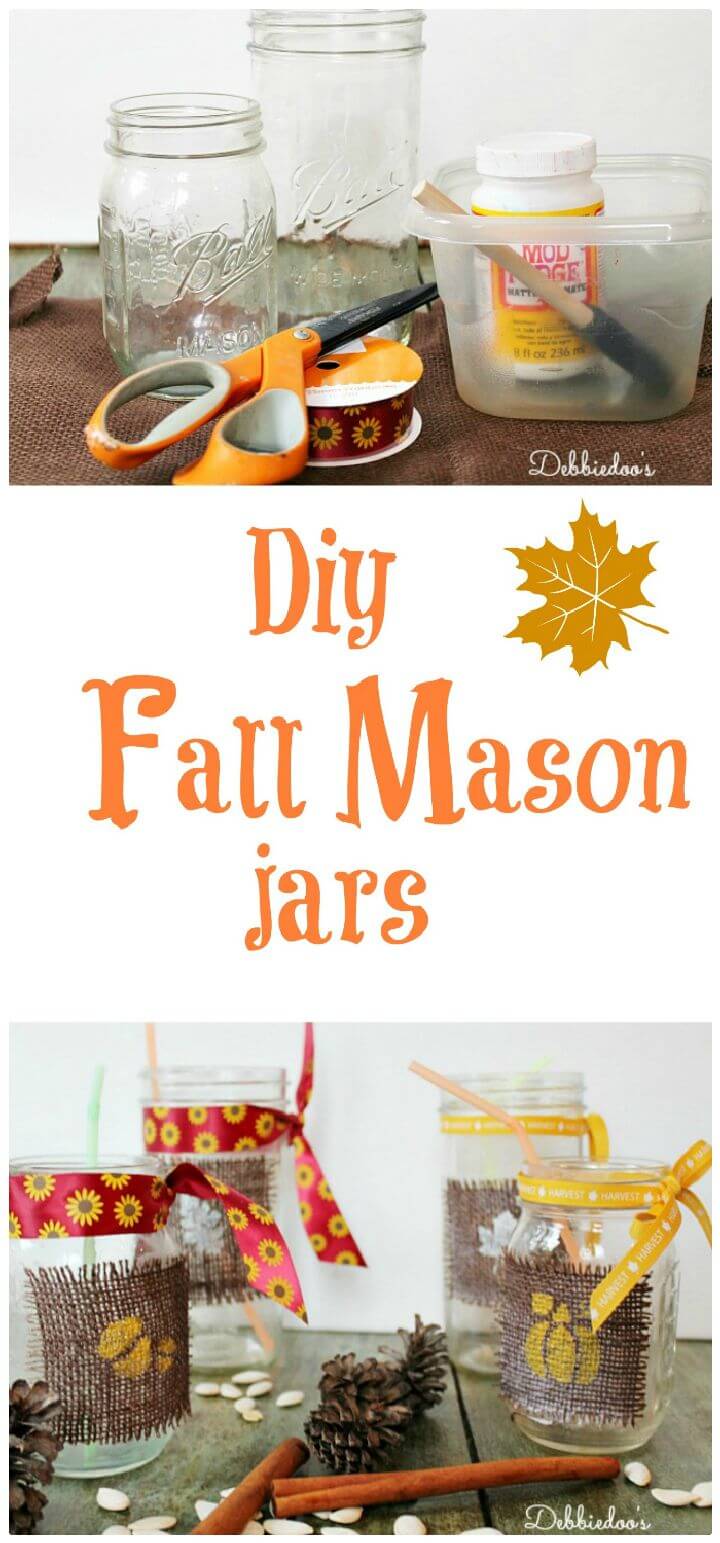 You are going to fall in passion with these super cute and adorable burlap mason jars for the perfect kind of fall decor vibes to be spread around your home spaces. All you need to make is cut a square from the burlap and then paint it any of the stenciled design, print or shape. Adding ribbons to the top rim of the jars would give the jar embellishing a finishing look. You can fill the jars with any of the accents like pine cones, kernels, acorn fillers, etc. and they are ready to be nicely displayed. Step by step instructions here debbie-debbiedoos
DIY Mason Jar Fall Table Centerpiece: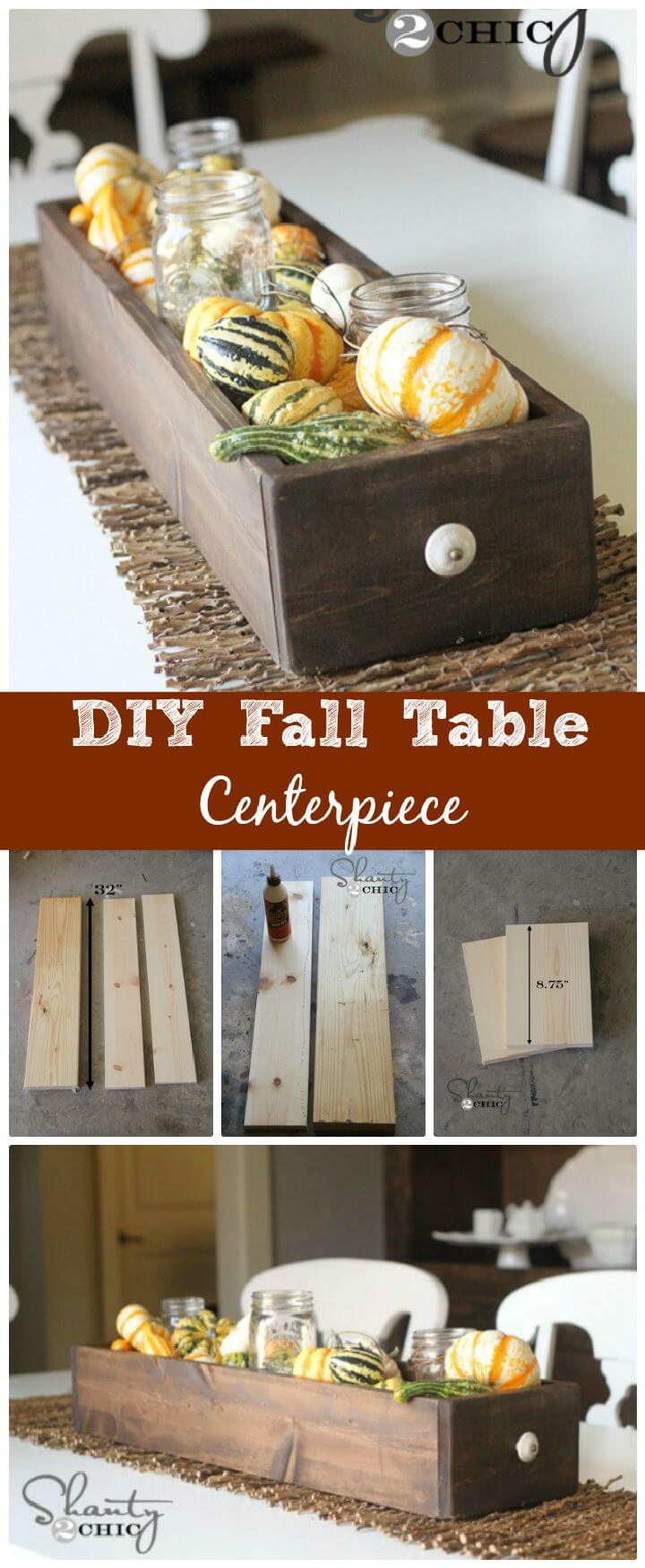 If you maintain a Thanksgiving dinner at your spaces, then we have this awesome and eye-catching centerpiece for your dining table crafted with the theme of fall. Using the wooden boards first, the centerpiece box has been created and then stained in rustic choco brown hues. Then it has been filled with the faux pumpkins and gourds of multiple colors and has been accentuated more with the added mason jar candle lights in between. You can get the tutorial guide of this project right here shanty-2-chic
DIY Acorn Mason Jar Votives: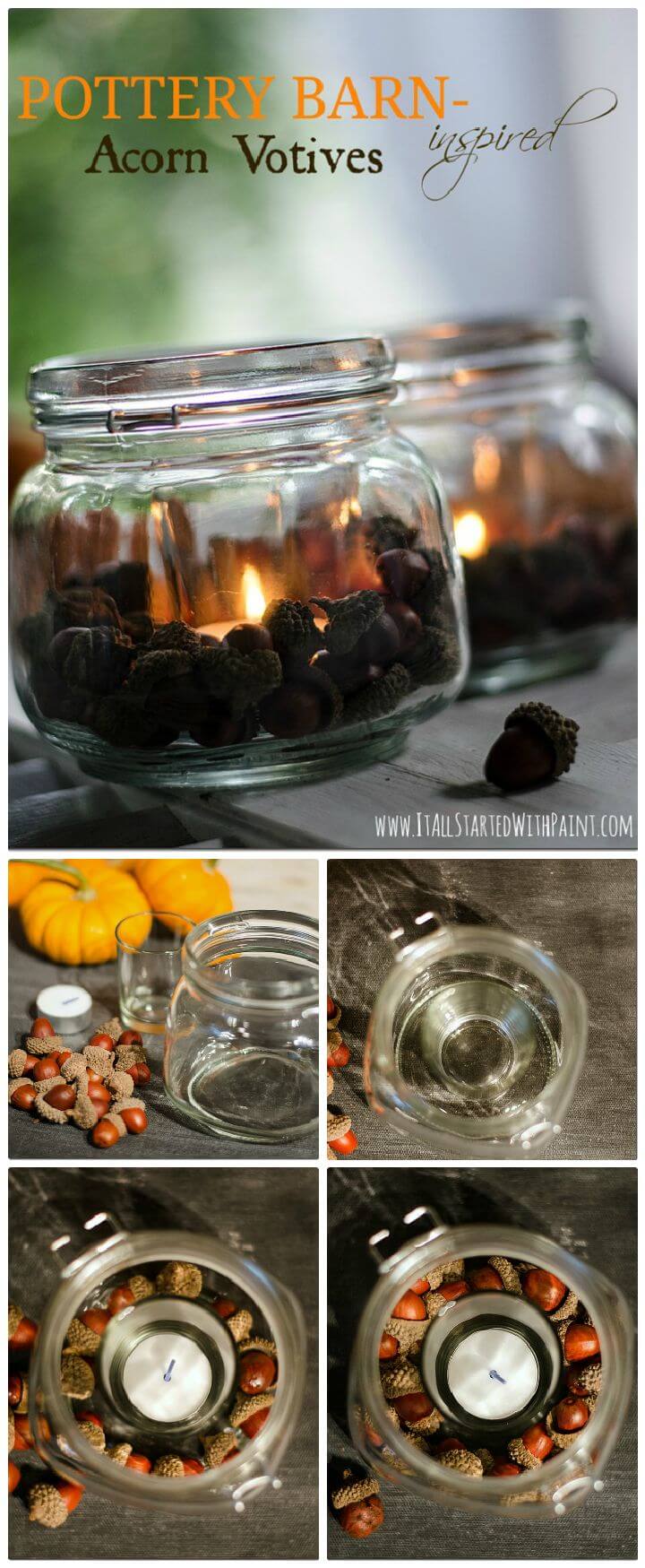 Candle votive are just the most delightful decorations for any of the event and celebrations. And you can craft them with the spirit of the related event to make them look more complimentary for the time you made them for. For fall you can take those cute and mini jars, add tea lights inside and then pour the adorable mini acorns inside and they are ready to be placed on the tables, shelves or mantles along with some pumpkins crafts. Check out the full tutorial here itallstartedwithpaint
DIY Maple Leaf Mason Jars: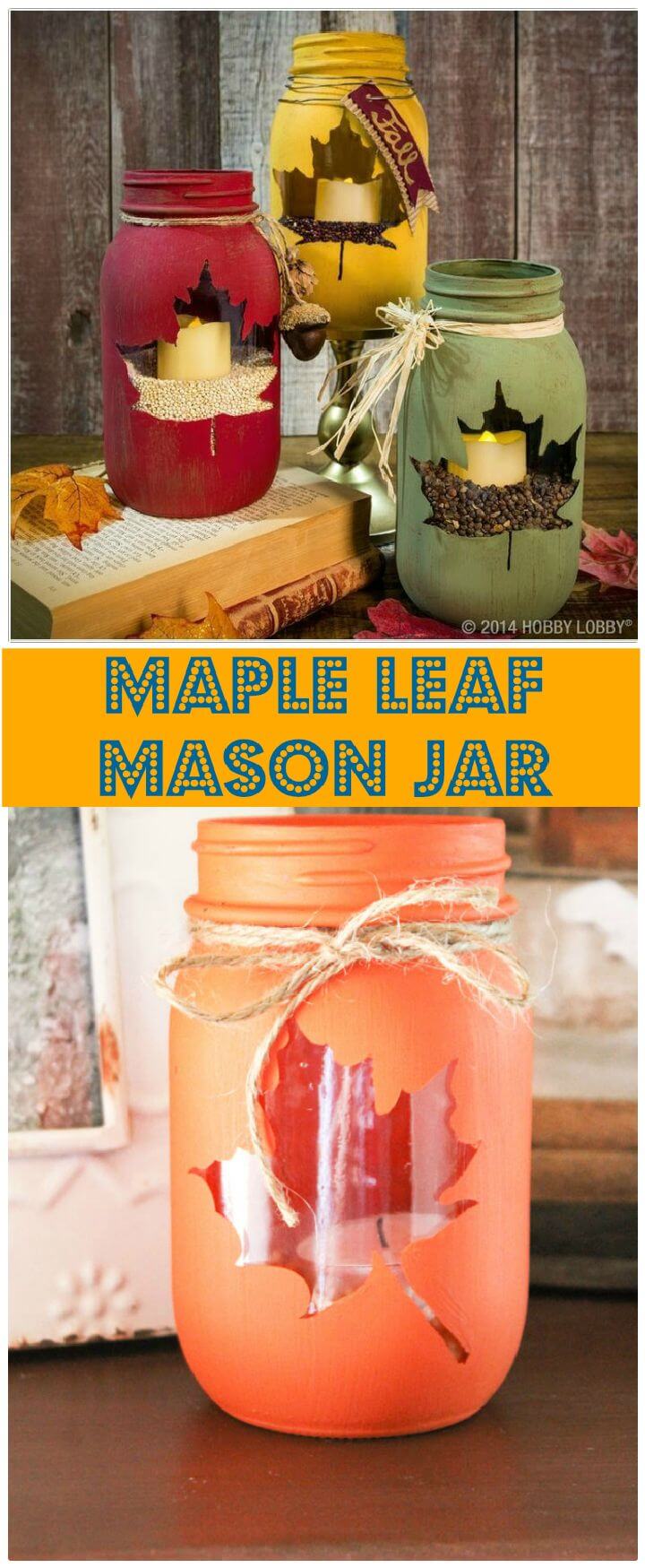 The fall inspired mason jar can be created in a lot of fun and decorative ways like these adorable maple leaf mason jars have been nicely crafted. Its much easy to create these decorative pieces with the feasible of the supplies. Just add a maple leaf cut out adhesive vinyl and place it on the jar, then paint it all in your favorite fall hues. When the paint is dry peel off the vinyl and its ready to get filled with acorns, tea lights and finish off with ribbon and rope at the top. Step by step instructional tutorial here masonjarcraftslove
DIY Mason Jar Pumpkin Payday: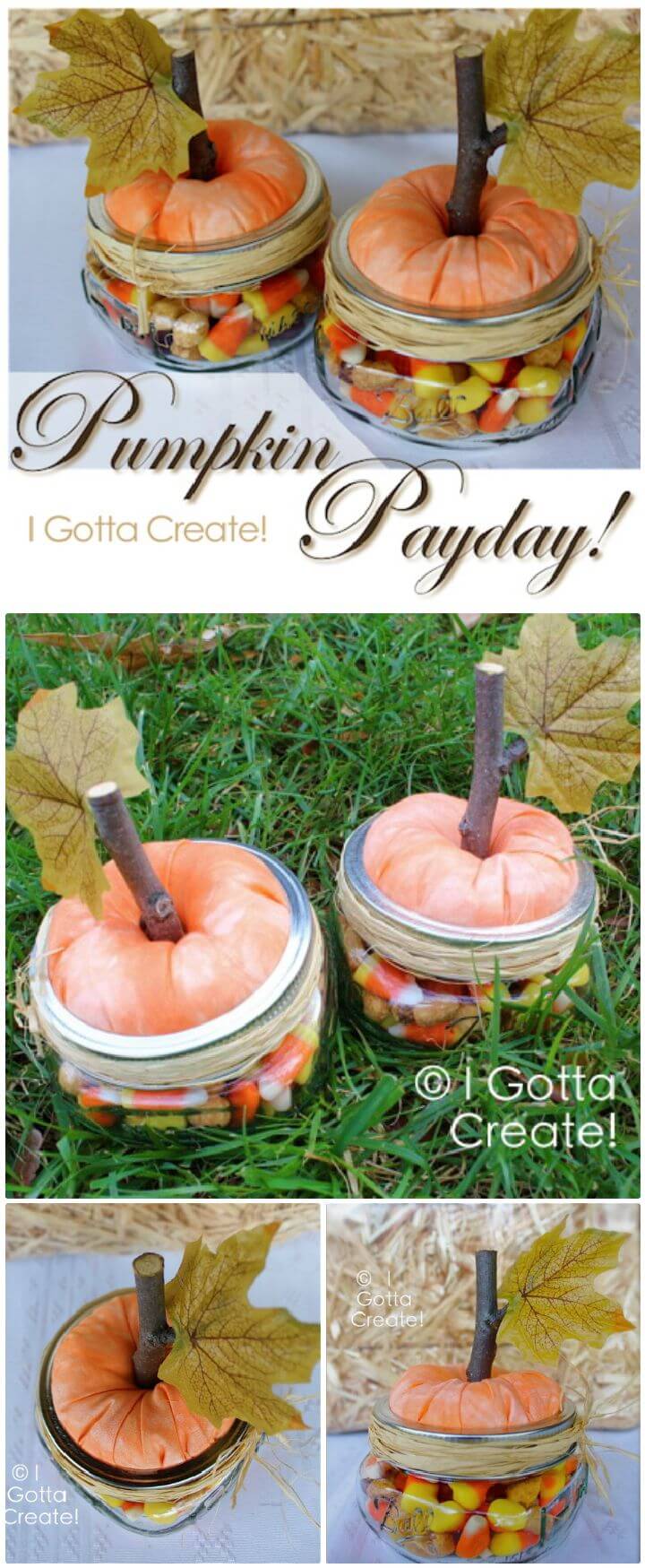 This colorfully delighted mason jar pumpkin inspiration is the cutest thing you would see in this collection. The lid of the jar has been covered with a fabric stuffing of orange color and a real stem with maple leaf has been tucked in it for the perfect pumpkin look. Fill the jar with the sweet and tasty candies and you got the perfect decor or the Thanksgiving craft for the gratitude payback. Here we got the link to catch the tutorial of this adorable project igottacreate
DIY Glitter Mason Jars with LED Tealight Candles Craft: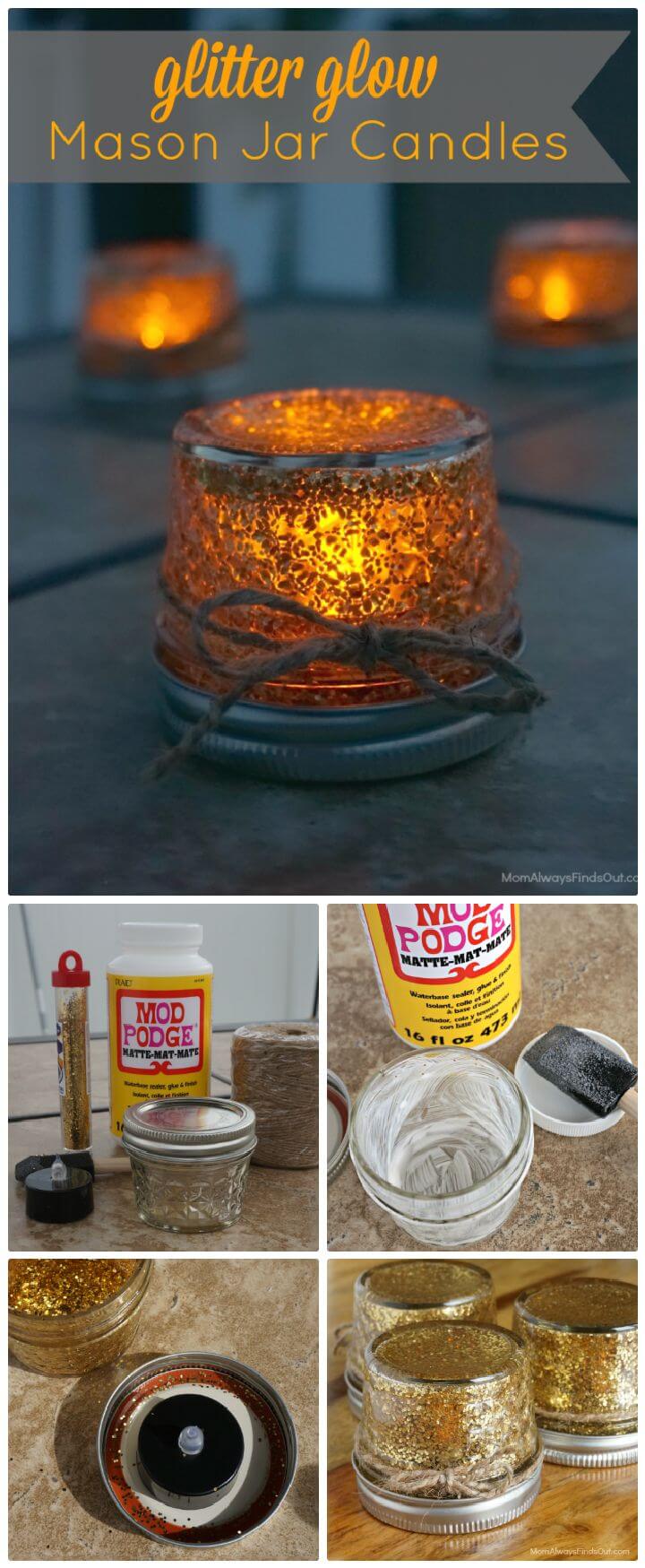 To glitter up the things on your hands is probably the most easy craft to do for any of the decor purposes. So adopt the glittering technique this fall and create these really tempting glitter mason jar for the perfect fall decor. Add a mode podge layer inside a mini jar, sprinkle the glitter, set a tea light inside and lastly a tie of rope bow on the top would give it a really rustic finish. Though too easy yet you can find the complete details of this feasible mason jar project here momalwaysfindsout
Rustic Fall Centerpiece Tutorial: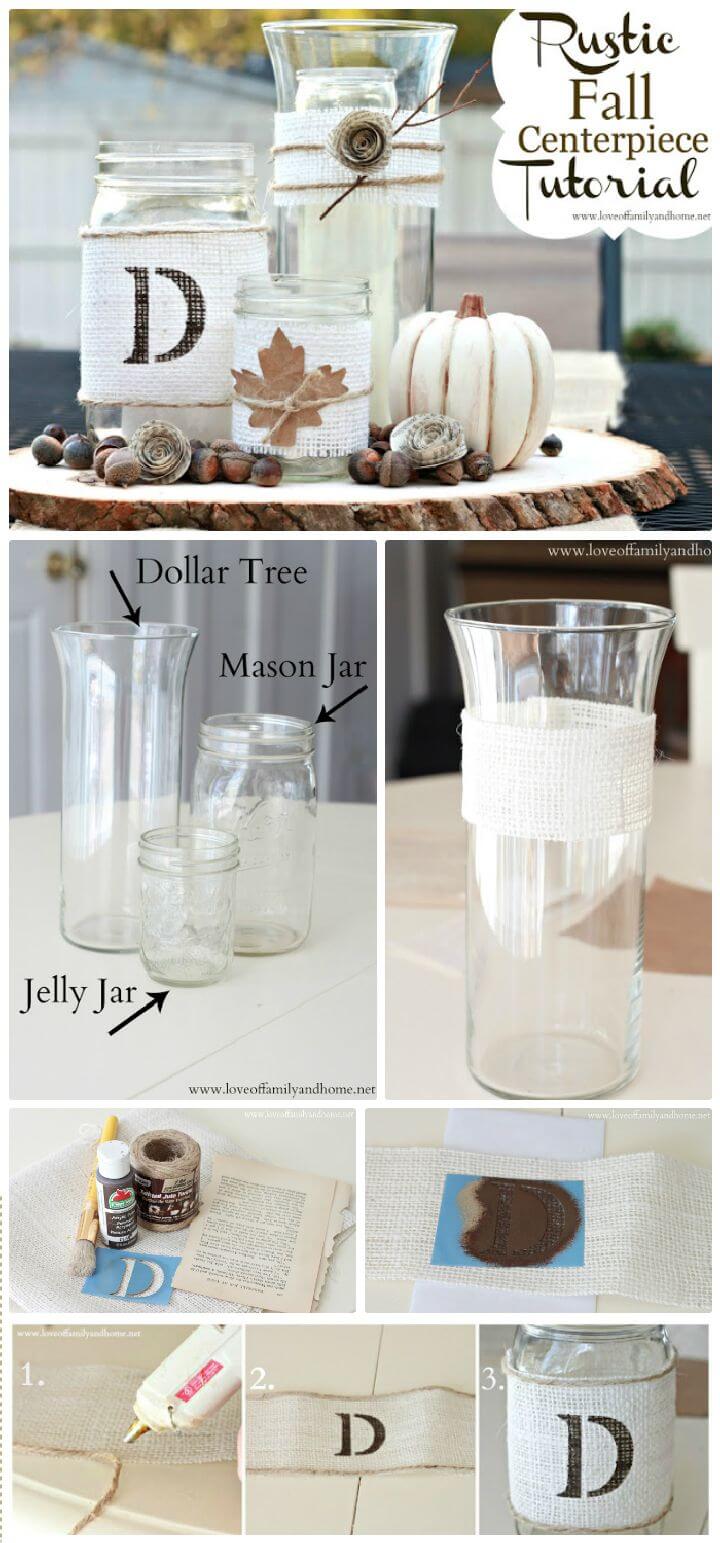 Along with the white stained pumpkins, the white burlap mason jar can really jazz up your fall centerpiece for sure. Just grab the mason jars of different sizes and shapes, add the burlap cutouts to them and then with the rope, maple leaf and with the stenciling letters you can spruce up the jars more. So do add the chic touch to your fall decor with these stylish burlap mason jars having all the tutorial details right here loveoffamilyandhome
DIY Fall Jars With Dollar Store Flowers:

Here is another awesome mason jar idea with the burlap embellishing making it look really a fancy and chic piece of the Thanksgiving or the simple fall decor. The jars have been painted in white and wrapped up with burlap pieces in the center. The pretty white lace has been added to the burlap sections which is really enhancing the charm and beauty of the jars to hold the gorgeous flowers in them and stand stylishly on your tables or shelves. Catch the detail here raftingintherain
DIY Corn Husk Wrapped Mason Jar Vase:

Here is the simplest and the easiest of the mason jar crafts for the decor of your spaces on the Thanksgiving. You would need to grab a mason jar, add layers of husk to the jar and tie them up with a rope and its done. Adding the cute and pretty flowers of your choice into the jars you can easily finish off this gorgeous and simple decor possession for the fall. Here is the link to peek into this immense easy tutorial and get grip over its feasible making at home gardentherapy
DIY Fall Decor Painted Mason Jars: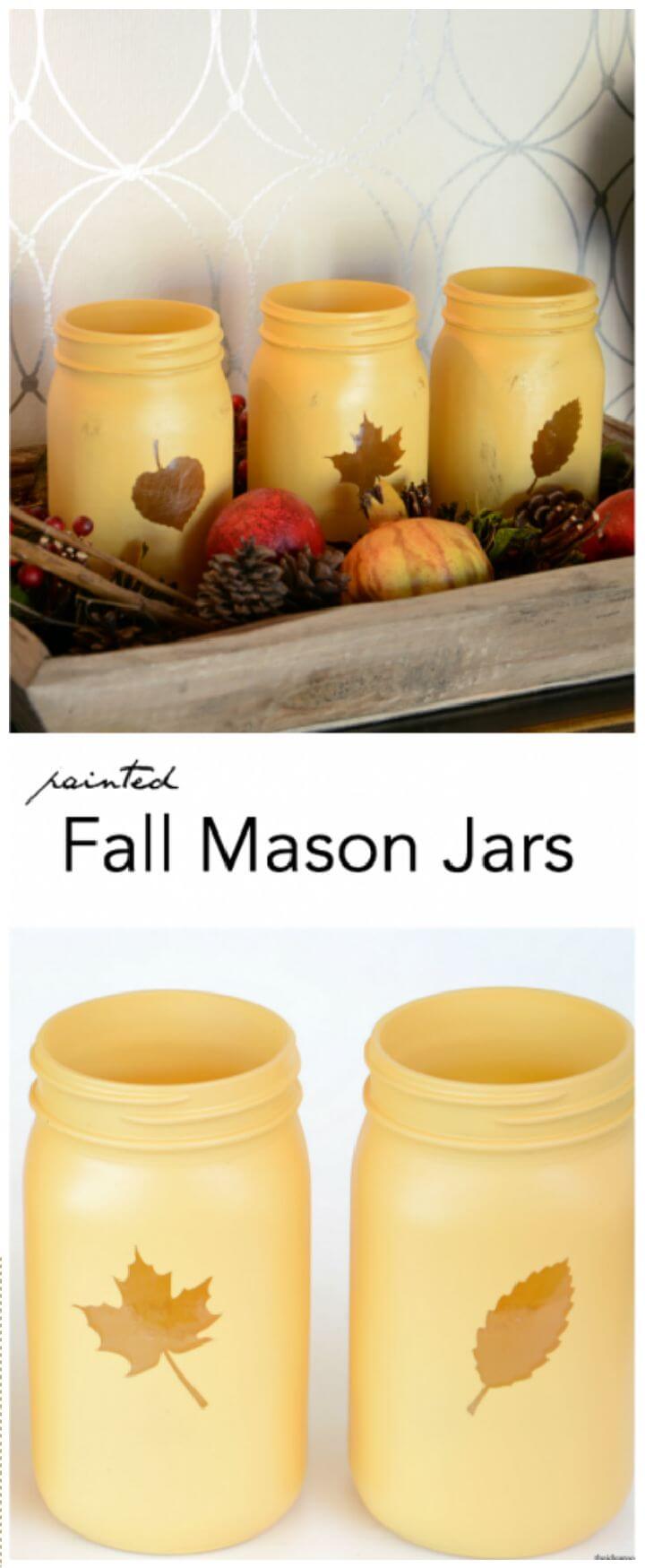 The mason jars have become the symbolic crafts for the fall and you can add more symbolic values to them with the gorgeous silhouette designs of the differently shaped leaves being printed on them. Here are the gorgeous yellow painted mason jar with cute leave prints on them in maple, heart and plain leaf shape and thus really adding to the fall decor sections you created over your mantles or tables. Grab the complete tutorial details here to learn it and make it theidearoom
DIY Fall Tree Snow Globes Craft For Kids:

Here is a new arrival in the collection of the mason jar crafts for the fall decor and you would love it to the core. A gorgeous fall tree has been created inside the jar and thus called the fall tree snow globe. You would need a tree branch with glued leaves to be glued to the lid at the inside section. Then fill the jar with glycerin and put the lid on and its all done to make a really unique yet enchanting display in your spaces. Peek into the detailed tutorial of this idea right here frugalfun4boys
DIY Caramel Apple In A Jar: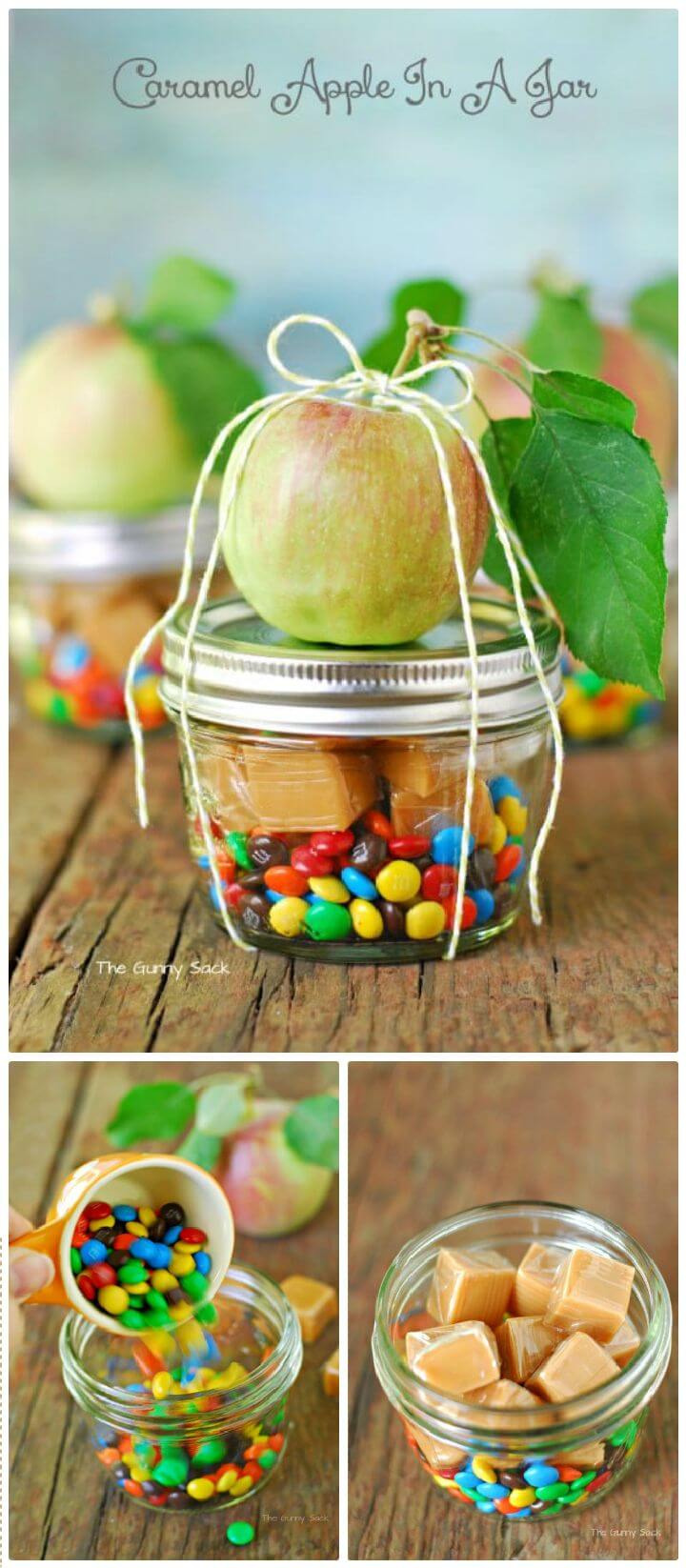 If you are looking for a cute gifting for the ideas on the Thanksgiving then the cute mini mason jars can really help you. You can create this lovely apple caramel jar gift for them by filling the jar with a lot sweets and caramels colorful gems. An apple at the top of the jar, tied with a rope would finish this yummy gift and make it ready to give away. To get more guidance and information about this easy and cost efficient idea you can click on this tutorial link thegunnysack
DIY Frosted Garden Lanterns: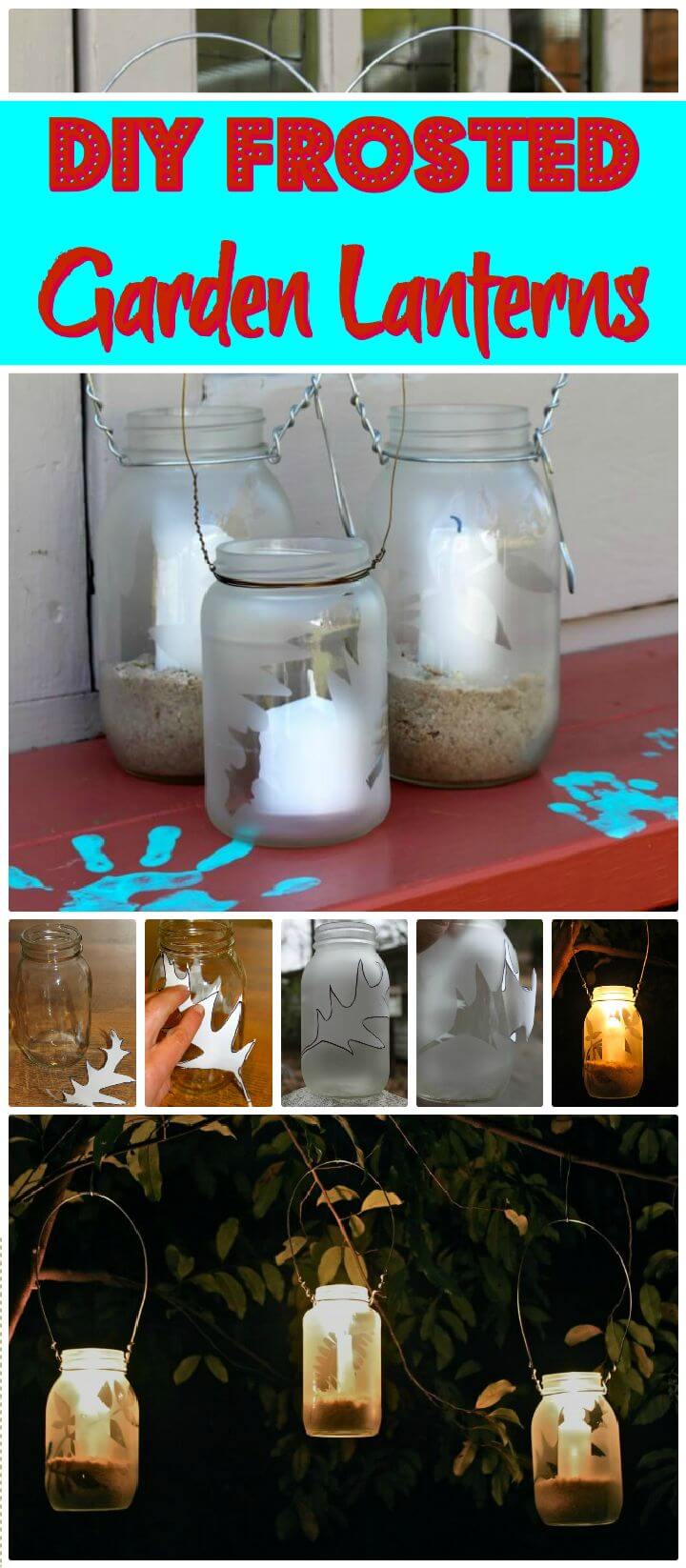 The outdoors can also be decorated with the lanterns to bring more decorative vibes in your spaces in the fall season. You can get your hands on this lovely frosted mason jar lantern idea which is immense easy, fun and cheap to create at home and bring a huge charm to the garden decor. Add a leaf shape adhesive,frost spray paint the jars and then take off the adhesive. Lastly fill the jars with sand and add the candles to and they are ready to hang on your garden tree branches and emit the perfect soft glow. Full tutorial here littlehouseinthesuburbs
DIY Easy Simmering Pot Recipe and Mason Jar Gift: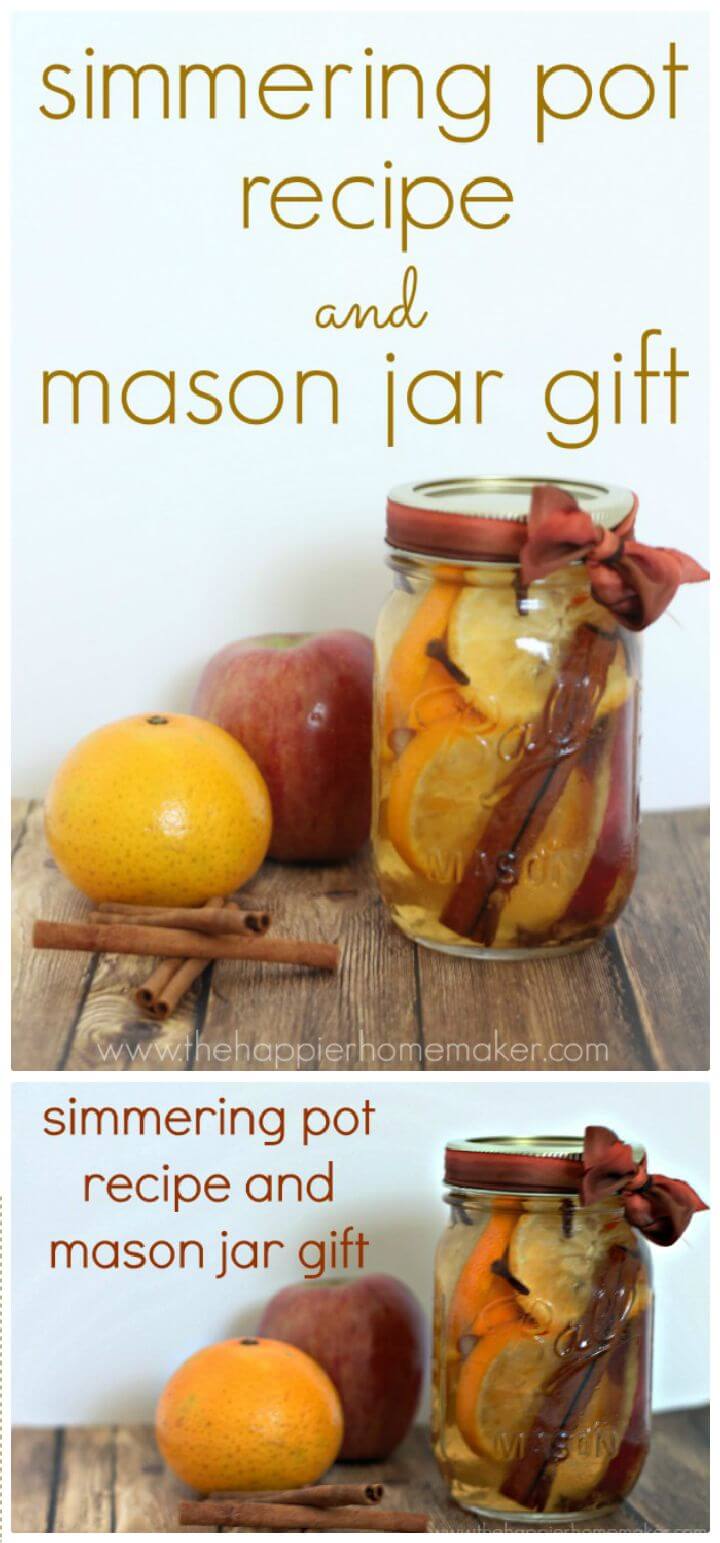 The simmering pots make the most gorgeous and accent gifts for your dear and near ones. You can use a mason jar and some of the things out of your kitchen to make these lovely scented simmering pots. Fill the jar with the water and pour sliced oranges, lemon, cinnamon sticks and the cloves and let your house smell so gorgeous and pleasant. Here is the link for complete details of this homemade home scent thehappierhomemaker
DIY Pumpkin Mason Jars: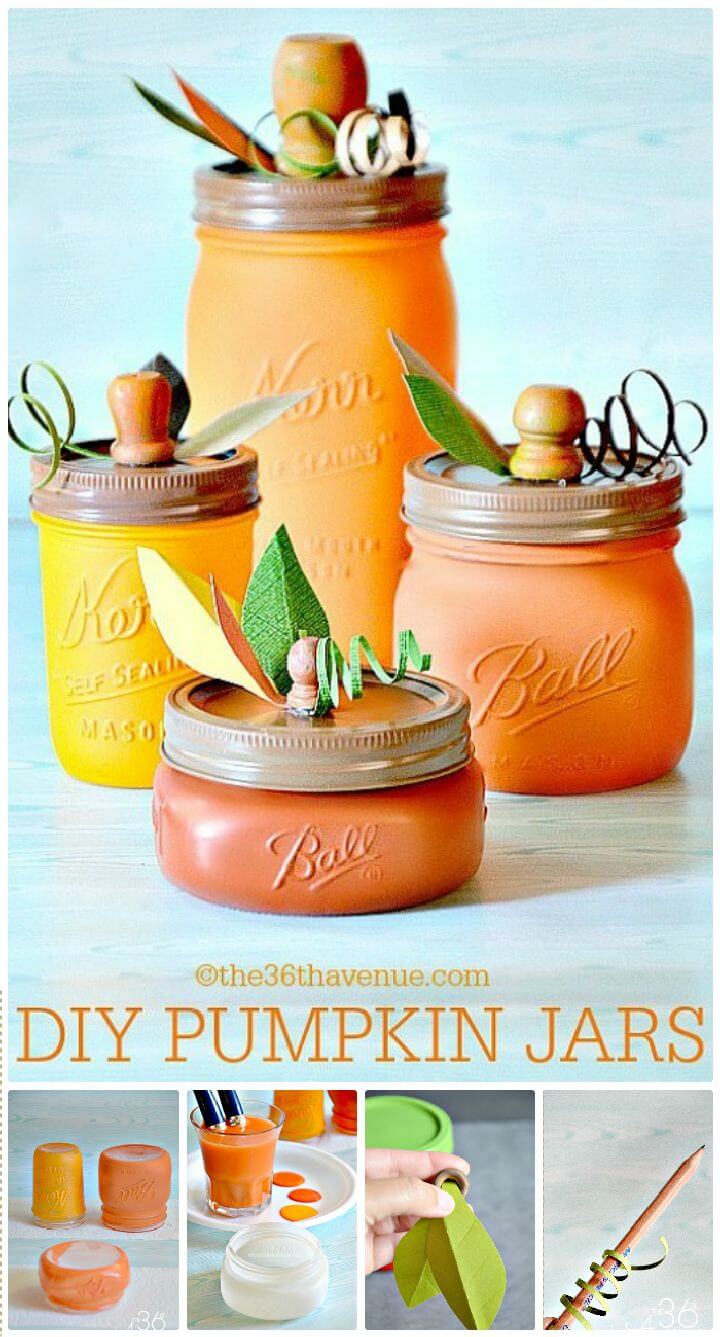 The mason jar make the perfect kind of crafts for the table and mantle decor for your places for the fall. Like here the cute mason jars of different shapes and sizes have been painted in orange and a wooden peg with cardstock green leaves have been glued to the lid of the jar and hence the pretty pumpkins have been created to be flaunted in your decor. Filling them with goodies or candies would really make a cute Thanksgiving too. Complete details here the36thavenue
DIY Mason Jar Foliage Candles:

The lanterns can add instant glow and glam to your spaces especially when there is an event. So now for the fall and the Halloween you can create these absolutely gorgeous and fun mason jar lanterns in different size and shapes and display them so beautifully on the window and bring the perfect fall touch to your spaces. Here is the link to know the step by step details of this so decorative and home styling project turtlesandtails
DIY Mason Jar Mini Cakes A Paper Crafts Giveaway: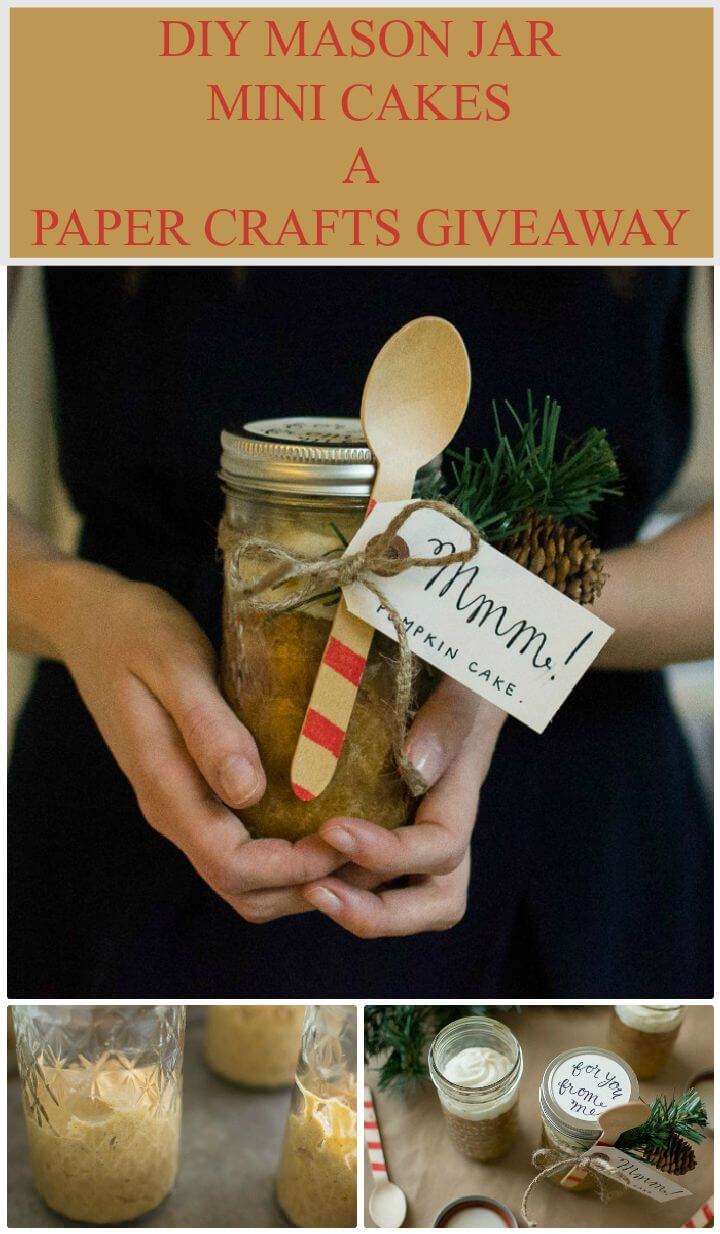 If you are good at baking then you can get your hands on these tasty and fun mason jar cake that is just too easy and quick to make and it would work as a great gift idea on the thanksgiving too. Just bake the favorite cake mix in the jar and then add a spoon and a tag on the top with the help of a rope and the yummy cake is ready to go. Here is the complete cake recipe with the baking tips and tricks. Check out the full tutorial here maurinedashney
DIY Mason Jar & Twig Home Décor:

The small and thin wooden twigs can be found right in your garden or any such space nearby so collect them and bring them home. Take an empty jar and glue the twigs all around the jar and a gorgeous and nature-inspired vase is ready to hold a bunch of your flowers in it and add a huge impact to your decor for sure especially for the Fall. Here is the link to grab more details of the project and try it to enjoy the rustic decor vibes in your places homedit
DIY Mason Jar Lid Pumpkins: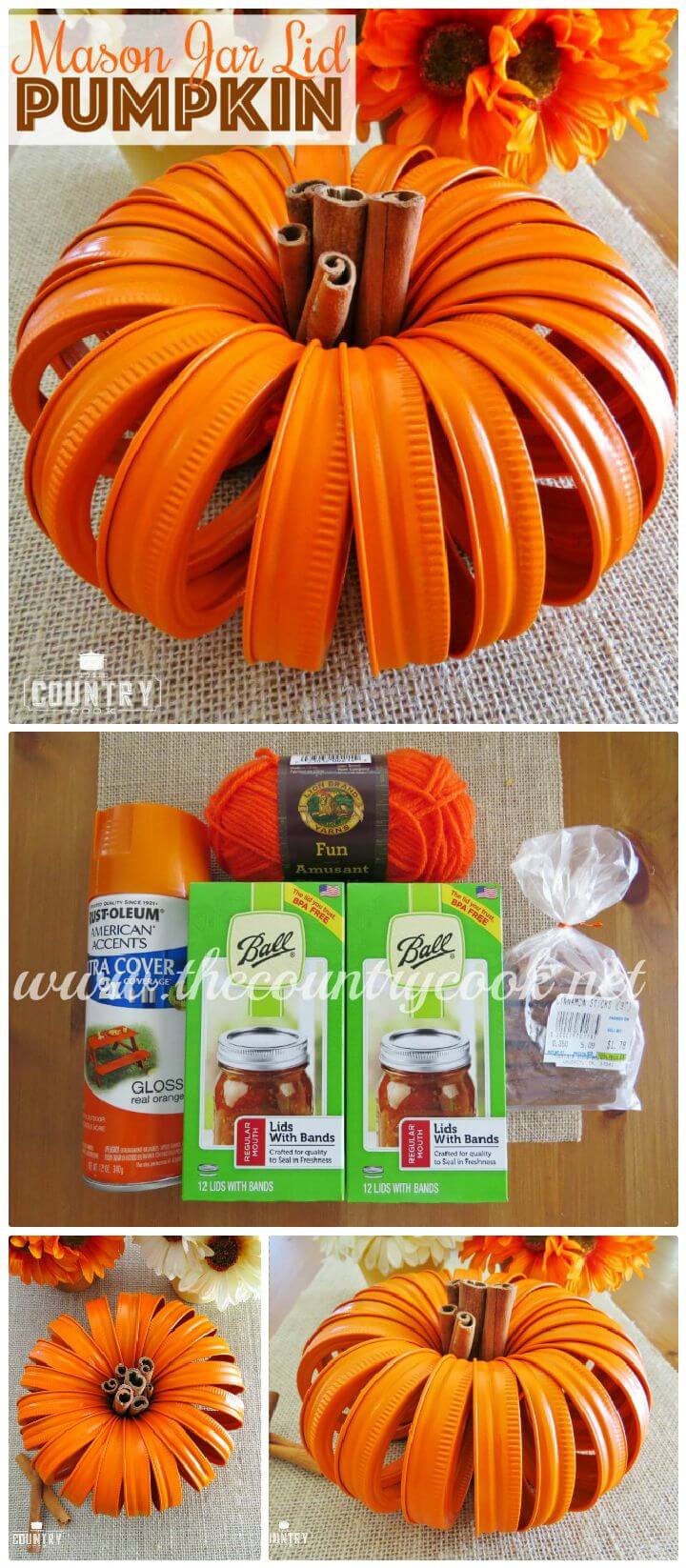 The mason jars are so good to be used for a lot of crafts and decor projects and not only the jars their lids are also as functional as they are. Here is this gorgeous Fall decor made out of the jar lids being spray painted in orange and then getting nicely stringed up in circle to form a really unique and cute pumpkin. Here is the really easy, fun and cheap tutorial to add a awesomeness to the fall or Thanksgiving decor thecountrycook
DIY Polka Dot Candy Corn Mason Jar:

Inspired from the cute and colorful corn candies this mason jar jar has been cutely created out of the paint layers of candy corn colors and the lovely polka dots making it look more jazzed up. It would look great along with your other Fall decor and crafts being gorgeously displayed over the mantles and shelves. Here is the link to get the step by step details of this project and include it in your Fall decor beeofgoodcheerblog
DIY Candy Corn Color Dipped Vase: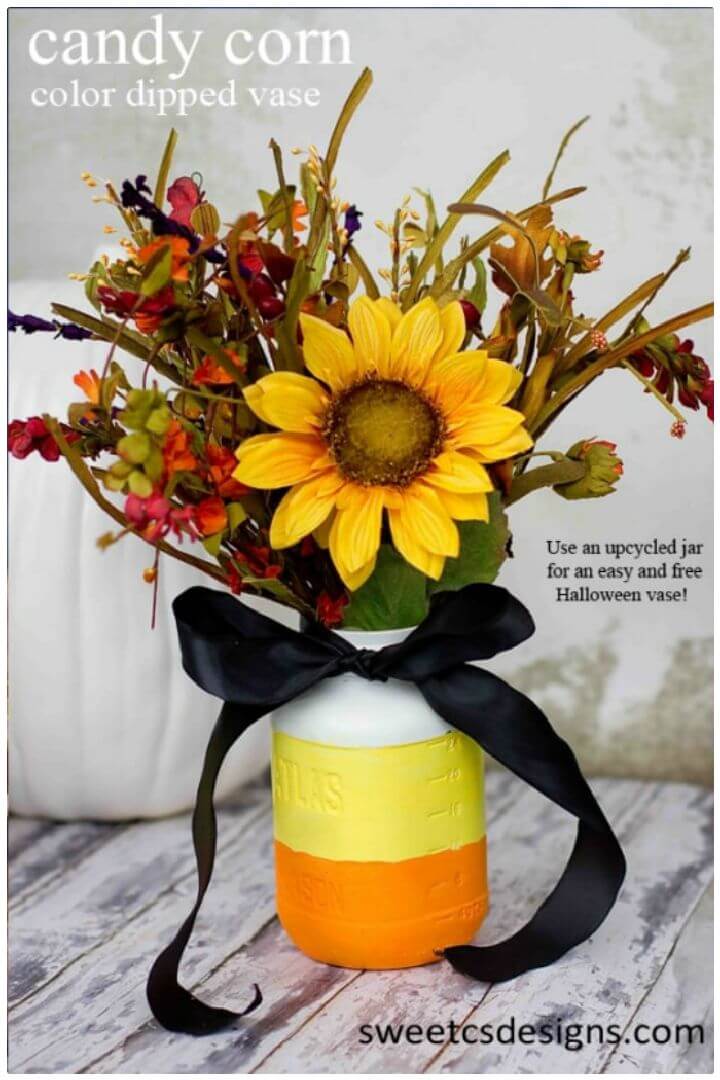 Inspiration can come from any of the things around to get yourself one of the most gorgeous and innovative kind of crafts for the decor. So as you see a bundle of tasty and sweet corn candies around the Fall, you can adopt their awesome color combination to create this pretty mason jar for the Fall decor corner to be created in your places. Orange, yellow and white paint layers along with a tempting black ribbon at the top really make the mason jar a breathtakingly beautiful Fall decor piece. Here is the link for full details sweetcsdesigns
DIY Fall Rustic Mason Jars:

Rusticity is the soul of home decor when the Fall is around and you can jazz it up more with the use of cheap and easy to find mason jar. Painting the jars in white and then adding Fall stencils to them would make the them the customary decorative pieces for your mantel styling and embellishing. The addition of the wheat stalks to the jars would enhance the rustic factor more. Here is the link to grab the tutorial details of this project sincerelyjean
DIY Thanksgiving Mason Jar Craft: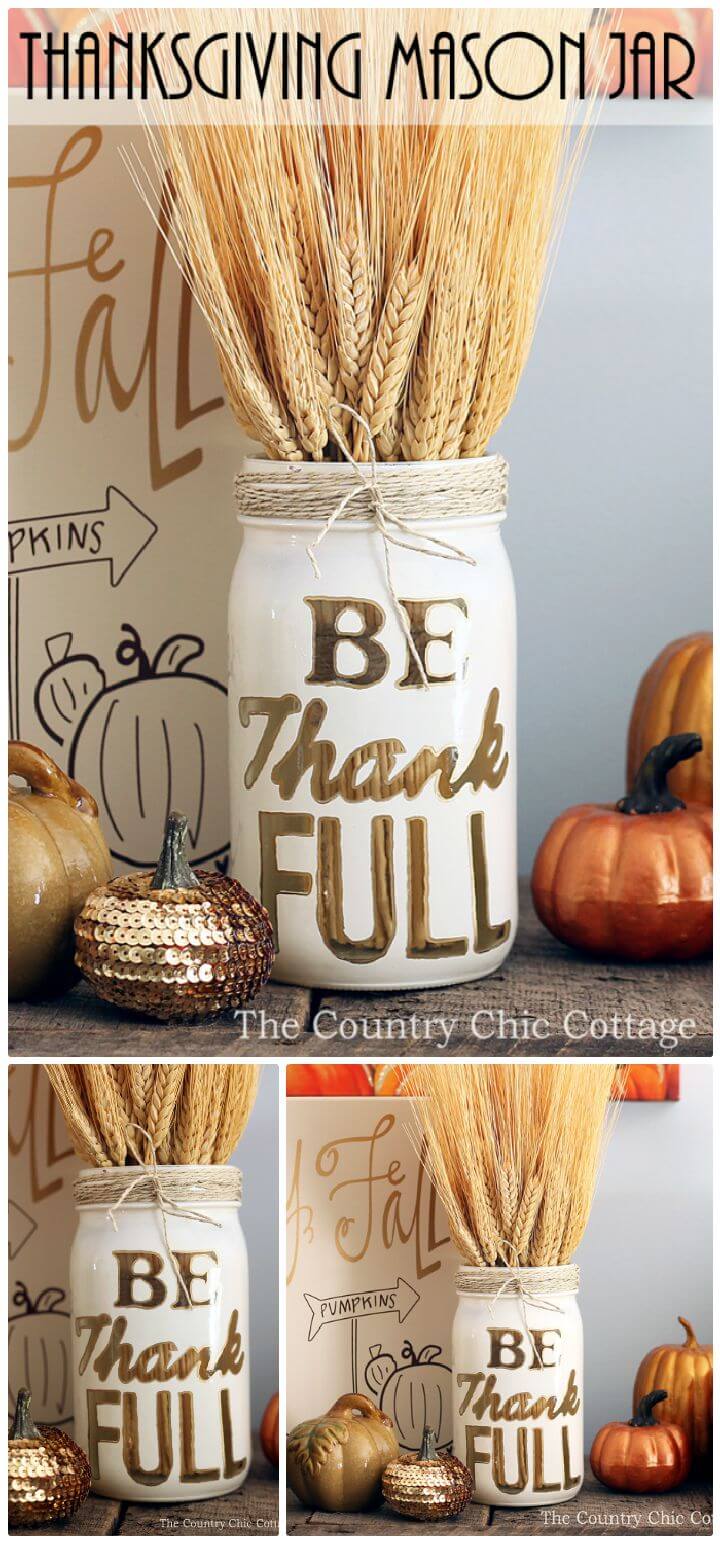 The Fall and its festivals are all about thanking the God especially the Thanksgiving to pay a huge gratitude and thankfulness to God for the food provision. So now you can say thanks to God through your decorative pieces too like these lovely Mason Jar with Be thankful stencils have been created with some paintwork, rope and the wheat stalks to get a proud spot on your fall mantel decor. The link for the complete details of this cute and fun project is here thecountrychiccottage
DIY Fall Mason Jar Centerpiece:

The centerpieces are the essentials for the Fall decor of your dining and now you can make them with the true spirit of the festivals of the fall and mason jars would be a great help. using the wooden board you can created a centerpiece holder and then hold some cute mason jar candle lights along with some other fall accents and it would be ready to serve as the most rustic and natural kind of centerpiece. Check out the stepwise details here addicted2diy
DIY Burlap & Feather Wrapped Mason Jars: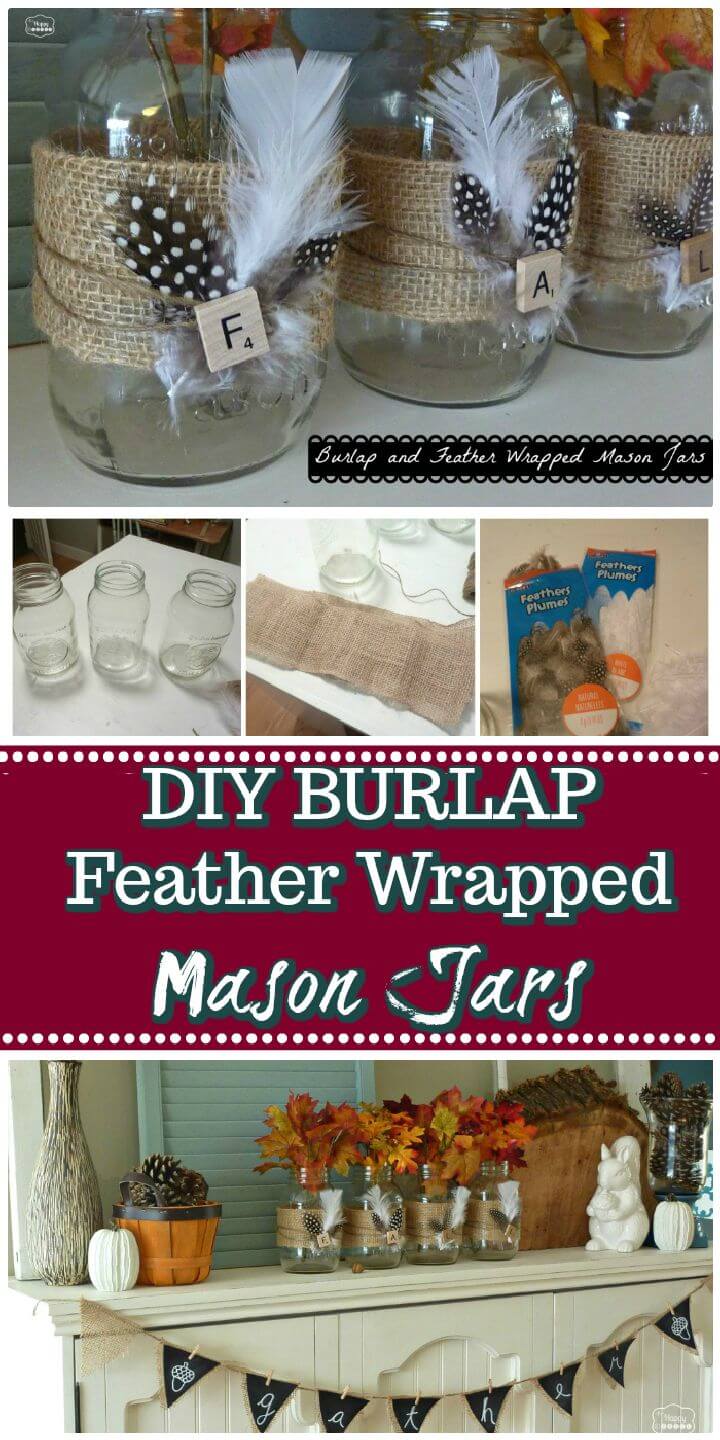 The mason jars getting wrapped up with the burlap are the old Fall decor ideas but using your creativity you can now give a really cool and fun twist to these burlap mason jar fall crafts and make them look fun and interesting for your spaces. Here the burlap wrapped jars have been also embellished with the feathers in black and white color which really makes the jars look adorable and cute to the core. Here is the link for fully detailed tutorial review thehappyhousie
DIY Thumbprint Flower Mason Jar: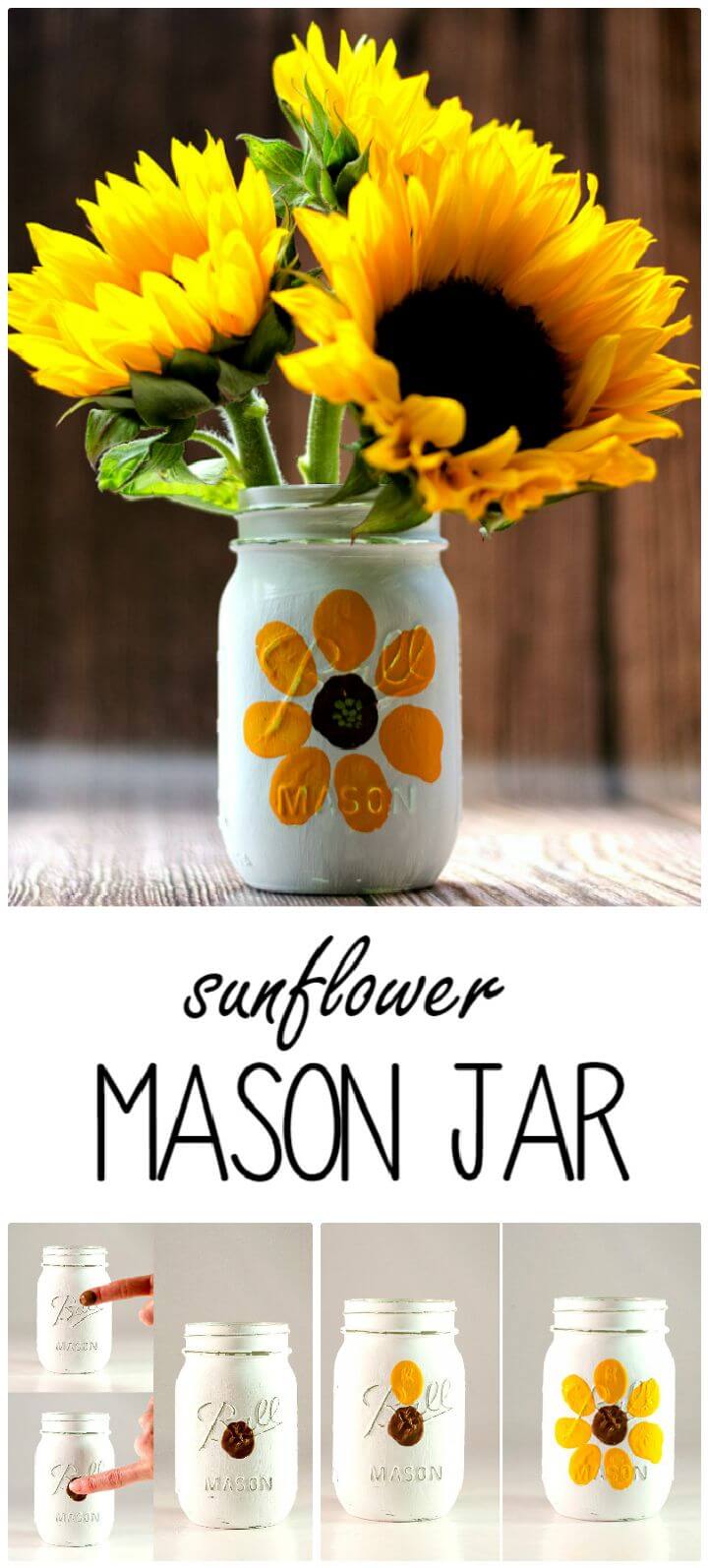 There is like thousands of ways to style up the mason jars and use them for any kind of decor in your houses. so using them as the planters it the real mainstream in the world of mason jar crafts and now you can adopt this sunflower theme to do that. Yes using the lovely yellow and brown paint, a white mason jar has been turned into a sunflower inspiration with the sunflower being created on the jar using paint dipped thumb and nail. The easy and fun tutorial is right here on this link masonjarcraftslove
DIY Gold Marbled Mason Jar:

You can try the amazing decorating and embellishing techniques on the mason jar so that you turn them out differently for your decor goals. Like here this lovely mason jar planter has been beautified with the marbled effect on the white painted jar and some glitter effect adding icing on the cake. You can nicely display this jar over your mantels and shelves or even the tables for a really enchanting look. here is the link to grab the details of the marbling thecountrychiccottage
DIY Mason Jar Planter Box Centerpiece:

Be it the dining table or the big coffee table in your living spaces they are just undone with the decor if you have not placed a gorgeous centerpiece to these tables. So here is a totally gorgeous and stylish kind of centerpiece that you would be enable to make at home on your own. Pine board would join up to form the planter holder and mason jar would be used as the feasible planters to get into the wooden planter box and thus so easily creating you a chic centerpiece. Tutorial details here howtonestforless
DIY Mason Jar Fall Craft: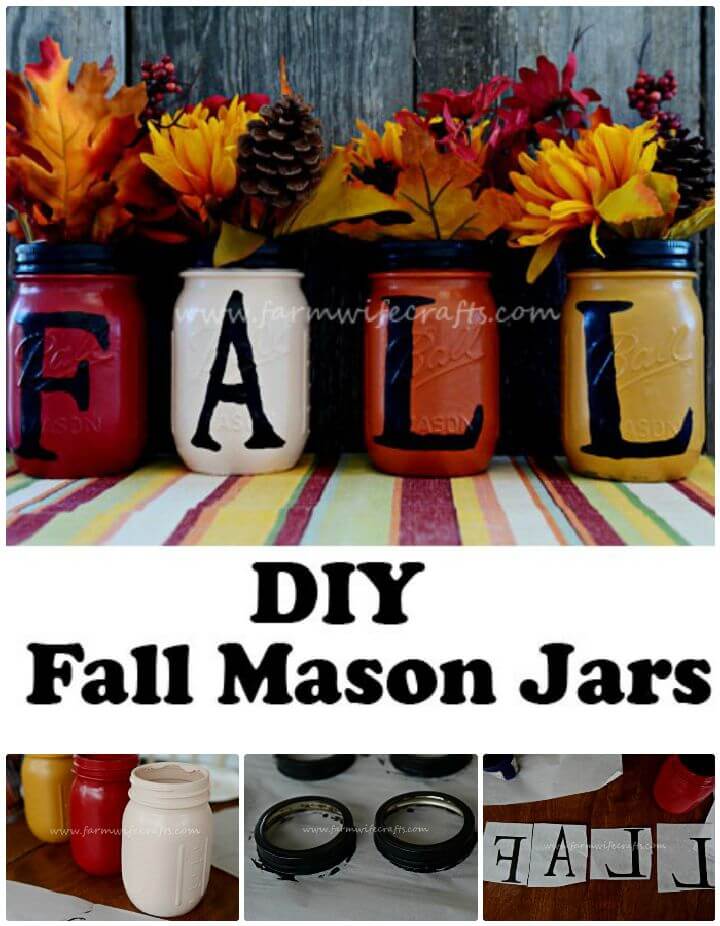 Mantel is the place to be loaded with the pumpkins, leaves and the jars to welcome the Fall in your house in a super gorgeous and stylish way. So for the possession of pretty flower holders or jar you can use the mason jars with the pure fall inspiration. Paint the jars in exciting and vibrant hues of red, yellow and white and stencil the Fall letters on each of them in black and they are ready to make an impressive display on your mantel holding a bunch of cut flowers in them. Tutorial details here farmwifecrafts
DIY Mason Jar Fall Luminary: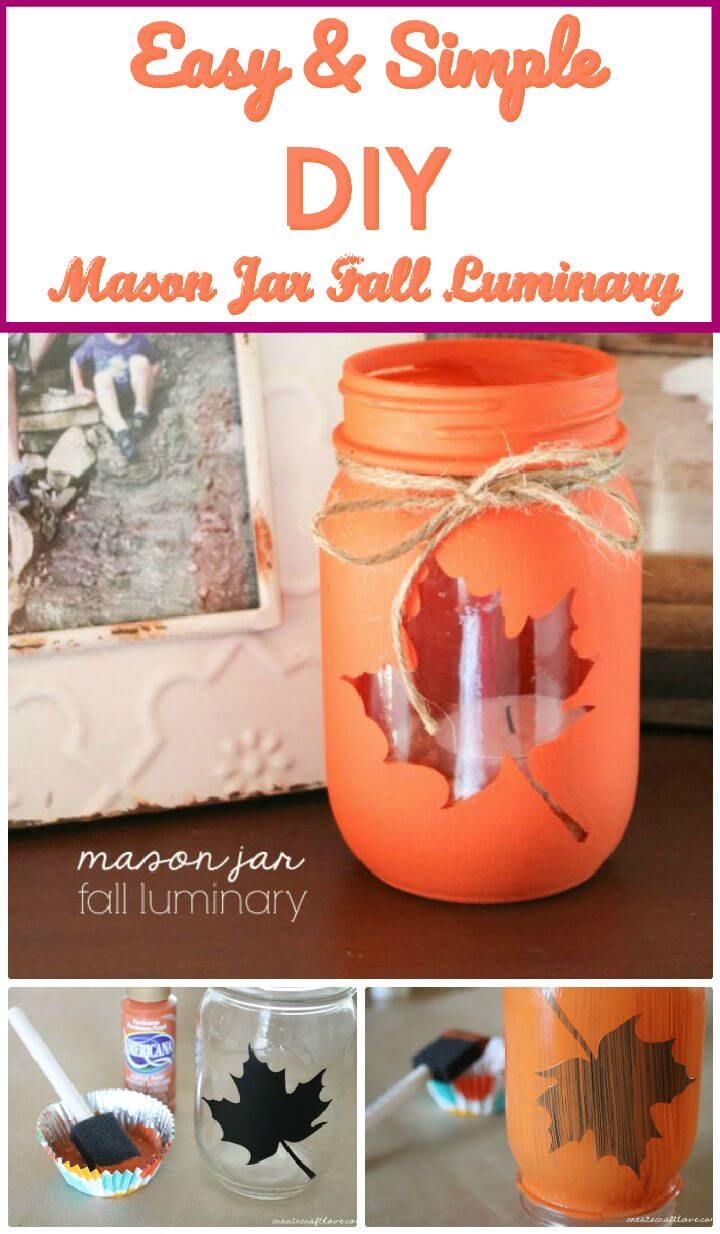 The night of the special events are just incomplete without the pretty lanterns, luminaries and the candle holders being nicely displayed in the decor to emit the romantic soft glow in your spaces. So for the fall this fall luminary is the apt thing to get your hands on. Just ad an adhesive maple leaf vinyl to the jar and then paint it all red, orange or in your favorite color. Then remove the vinyl and its ready to hold the tea lights or the candles inside and get nicely displayed on mantels. Tutorial here createcraftlove
DIY Make A Maple Tree Leaf Globe: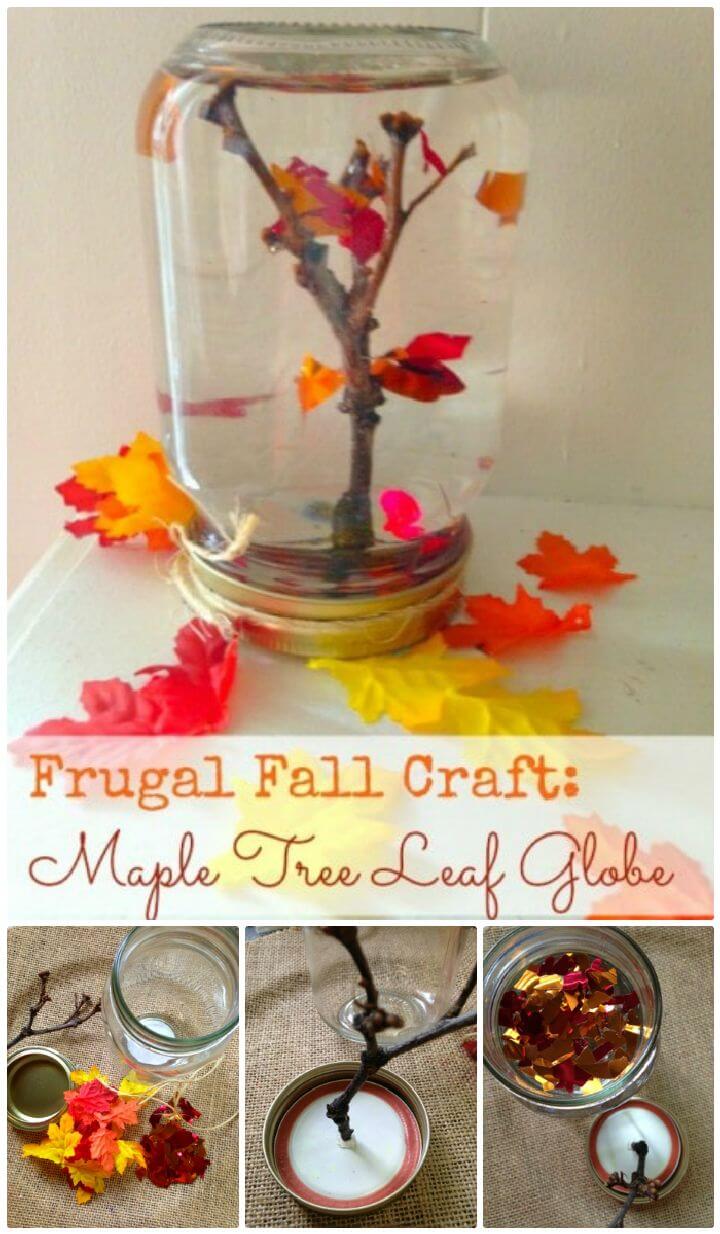 Inspired by the cute and colorful maple leaf this maple leaf mason jar craft has been created to bring the real Fall decor vibes in your spaces. You need to get some twigs and the colorful silk leaves to get this lovely craft done at no cost at all. It would really fun and easy to make at home with your kids involved in the making. Here is the link to get more information and guidance of this fun project premeditatedleftovers
DIY Autumn Leaf Mason Jar Candle Holder: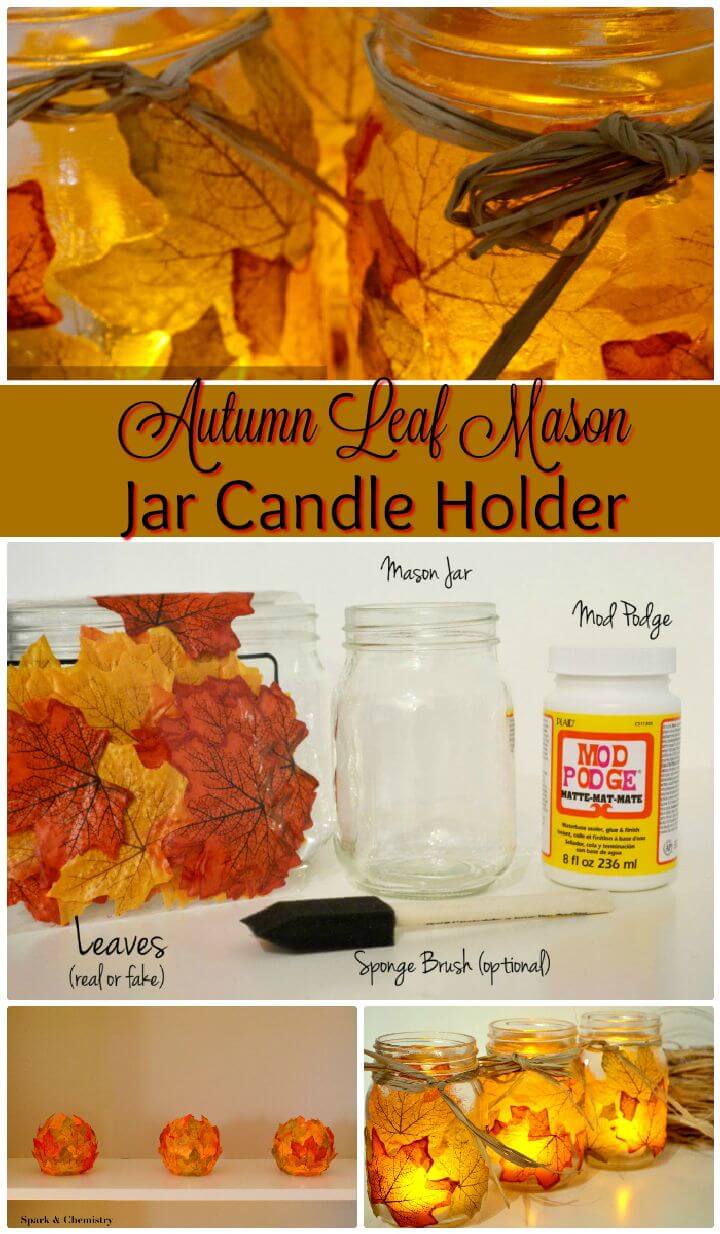 If you are busy and can not give much time to prepare your home decor for the fall welcome then you really get to peek into this immense easy and time saving craft. All you require to do is just grab some fall leaves fake or real and glue them inside the jar. You can simply display them like this or put the pretty tea lights or candles inside to turn them out as the lovely and charming lanterns. Here is the link for more details and guidance sparkandchemistry
DIY A Glimpse of Spring and an Embellished Mason Jar Vase:
You do not need to buy some special material or the supplies to create a cool craft as you can do it with the home lying items and thus save your money. Here is this lovely mason jar vases made out of the things lying around you like a piece of burlap to wrapped around the jar, rope to give an extra decor layer to the burlap holding an old key inside. Here is the link to catch more details of the project and make this this weekend to spruce up the home decor at no cost makinghomebase
DIY Halloween Drip Painted Mason Jars:

The drip paint technique makes things look more interesting and enchanting and its perfect to use for the Halloween crafts for that spooky kind of look too. here are the mason jar painted with the dark colors using the drip paint technique and no doubt they turned out so damn gorgeous and apt to the theme.They would look great on your shelf on mantles standing along some other ghostly crafts. Here is the link to know more about these Halloween jar to make and display in your decor at when the Halloween arrives. momdot
DIY Apple Mason Jars: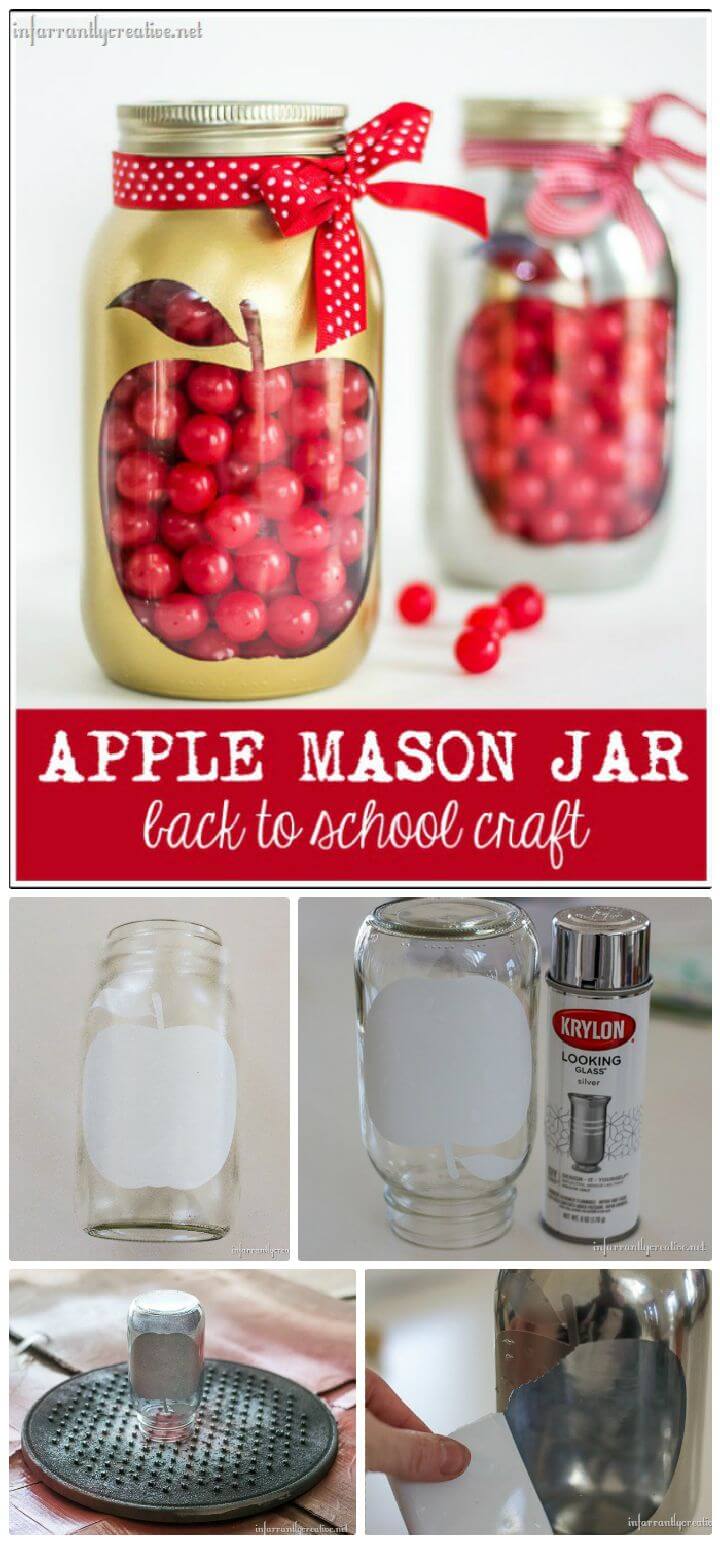 Kids just love apple crafts and here is another one to delight them up. You can make this lovely apple jar with the paint and the apple vinyl and use it as a perfect gift loaded with the sweets and candies. It would immense easy and fun to create yourself at home with the fun of the supplies and here is the link where you can get all the details of this project and enjoy making it on your own infarrantlycreative
DIY Football Party Mason Jars: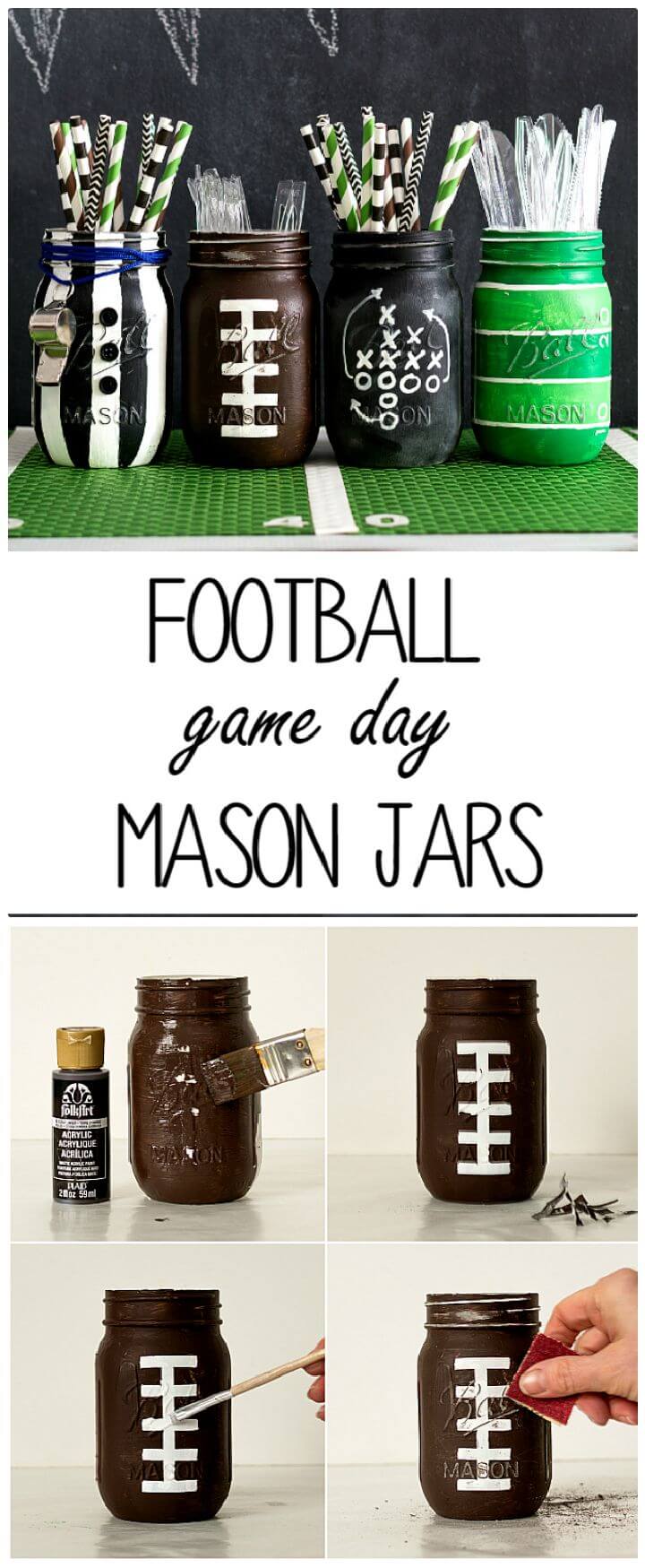 The football lovers are not hard to please for any of their special days as you can drew a lot of inspiration from the football to decorate their party with. here are the lovely mason jar being used to hold the party spoons and straws and having been painted in the theme of football and look really cute and fun. So if the birthday of your son is coming up you know you to throw a party and manage it all nicely. Check out the tutorial here masonjarcraftslove
DIY Pumpkin Spice Mason Jar Candles: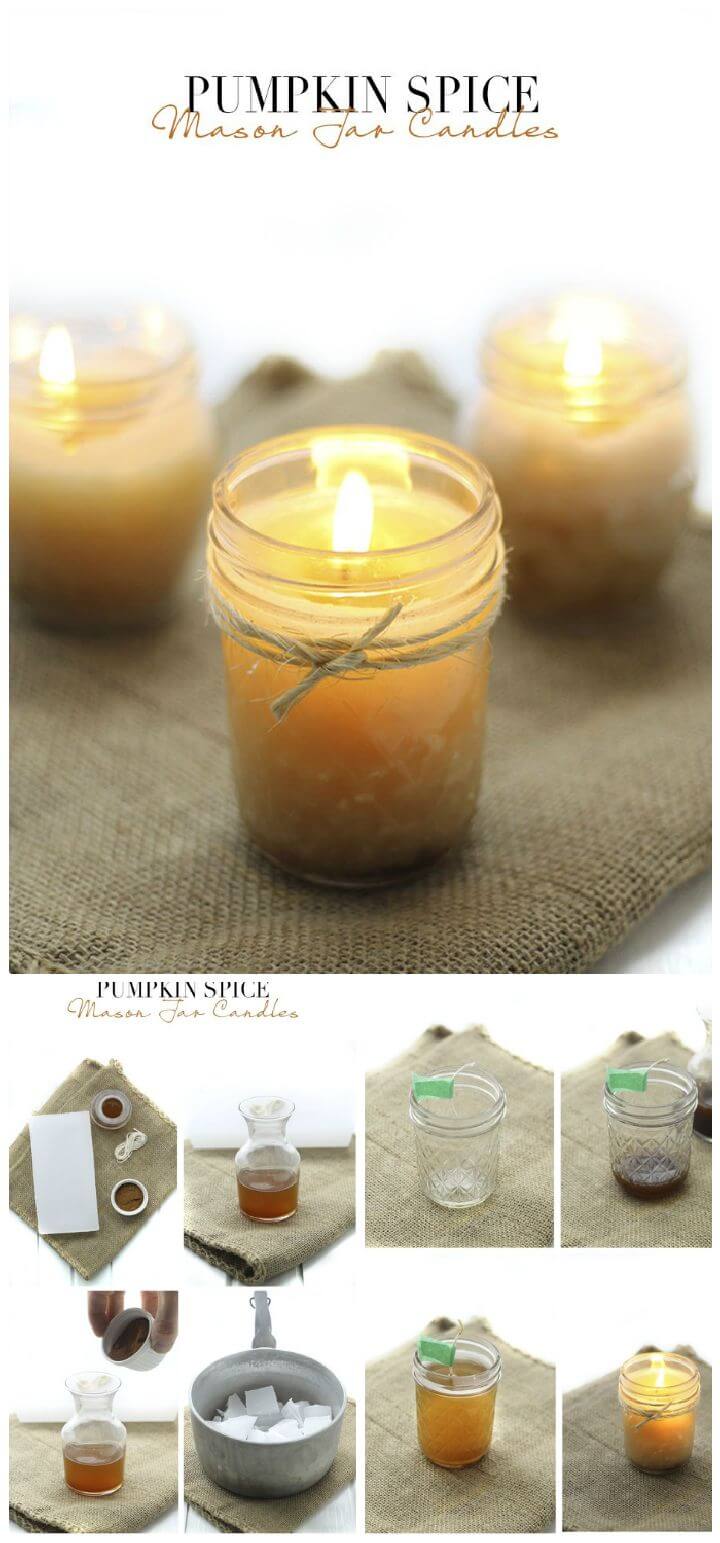 You can now make the handmade candles that not only light up your spaces but also spread a lovely and enchanting smell of pumpkin spice in your spaces especially when the fall is around. So here we brought this idea of making pumpkin candles for you to try it and make it at home using the mason jar of small size along with some feasible supplies like wax, pumpkin spice, oil etc.Here is the complete recipe for making it sheuncovered
DIY Mason Jar Firefly Lanterns: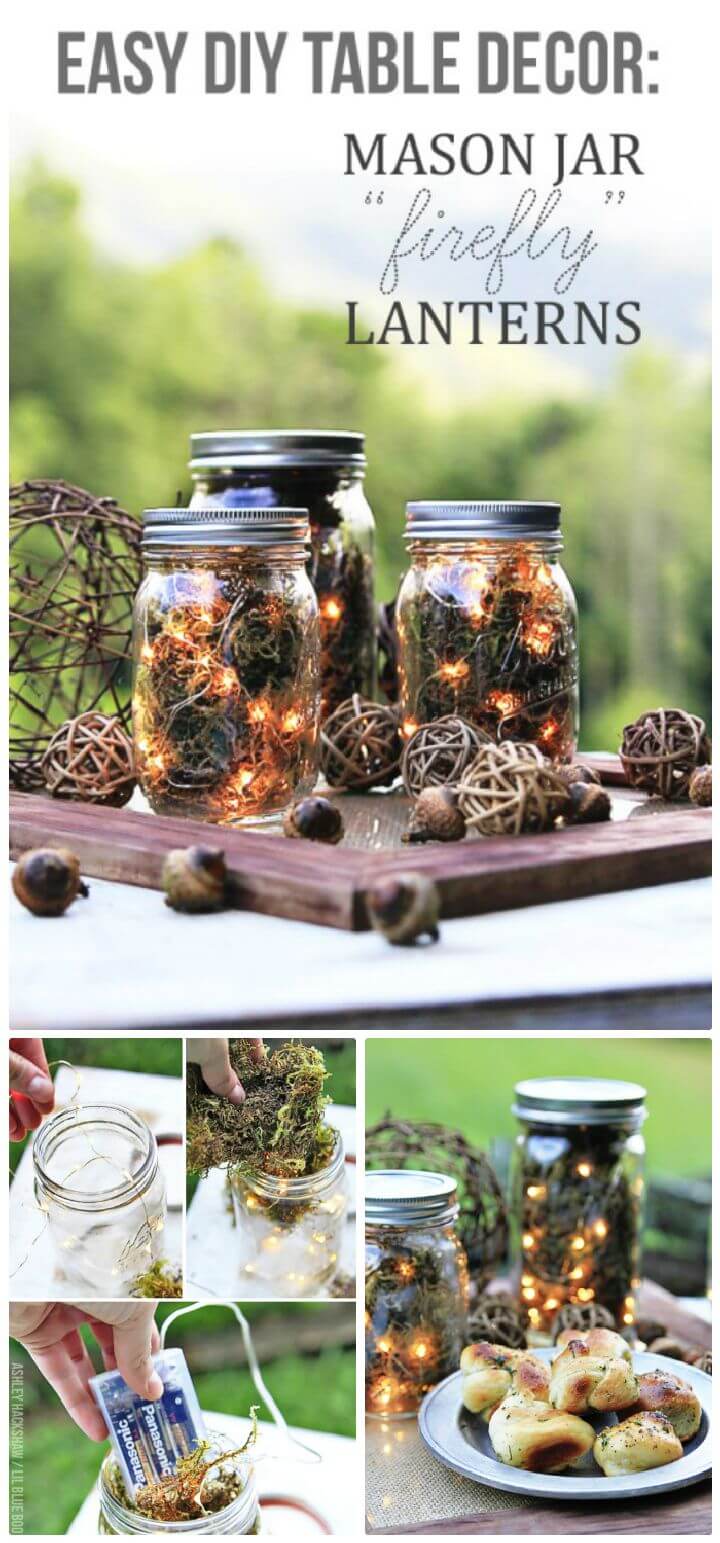 The cute lanterns would add the fall spirit to your table decor in the fall season for sure for being so rustic and fun. You can also make them at home and that too without burning a hole in your pocket. Grab an empty mason jar, fill it with the dried moss and the LED string lights and they are done. You can embellish them more by adding the acorns and other fall accents into it. Here is the link to get the complete information about this fun and easy tutorial lilblueboo
DIY Make A Cinnamon Orange Air Freshener: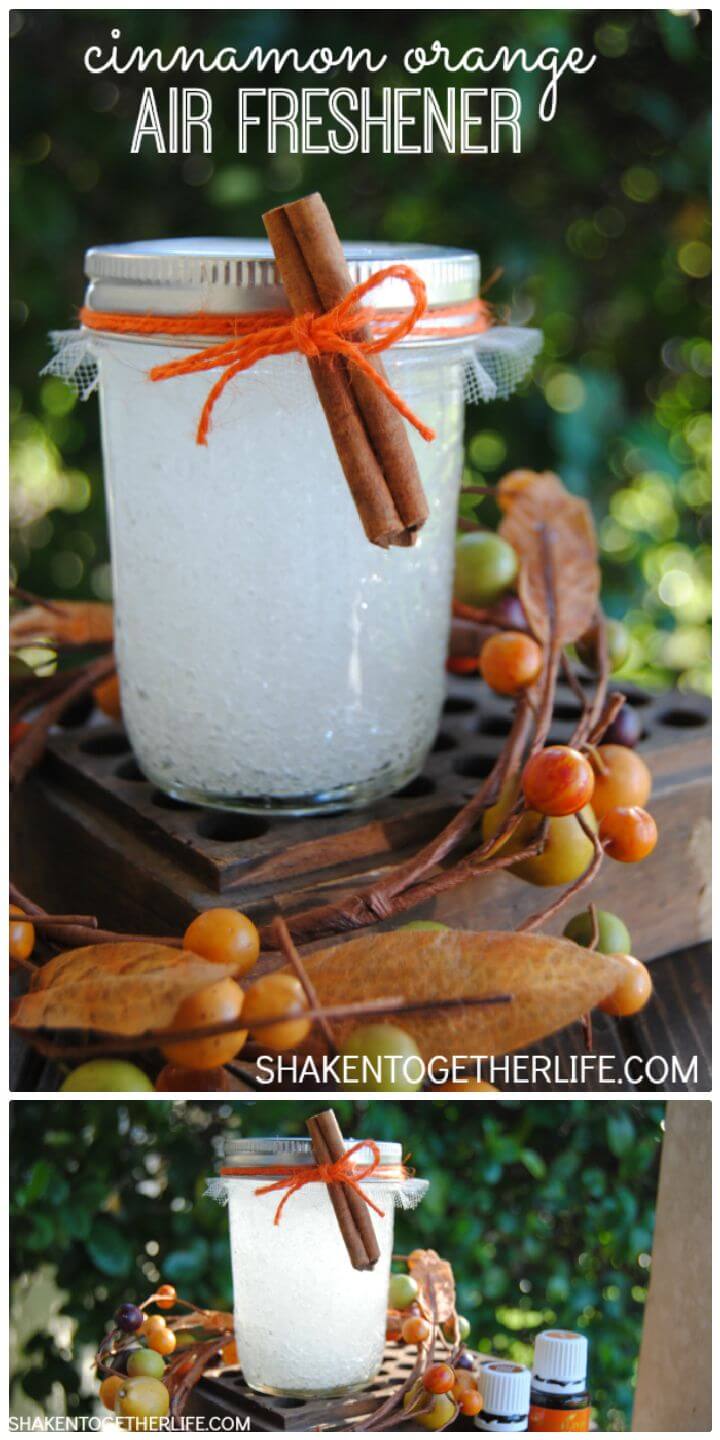 What can more good to breath in fresh and good smelling air in the house. Here is this lovely idea of making apple cinnamon air freshener in a mason jar.You can get all the supplies in the house or say it from your kitchen and make this lovely craft to make your house smell so romantic around the fall and when you are expecting guests. Here is the link to get more details of the project to make it enjoy it and also use it as a great gift idea shakentogetherlife
DIY Sparkling Cider Recipe Fall Party Food Vignette: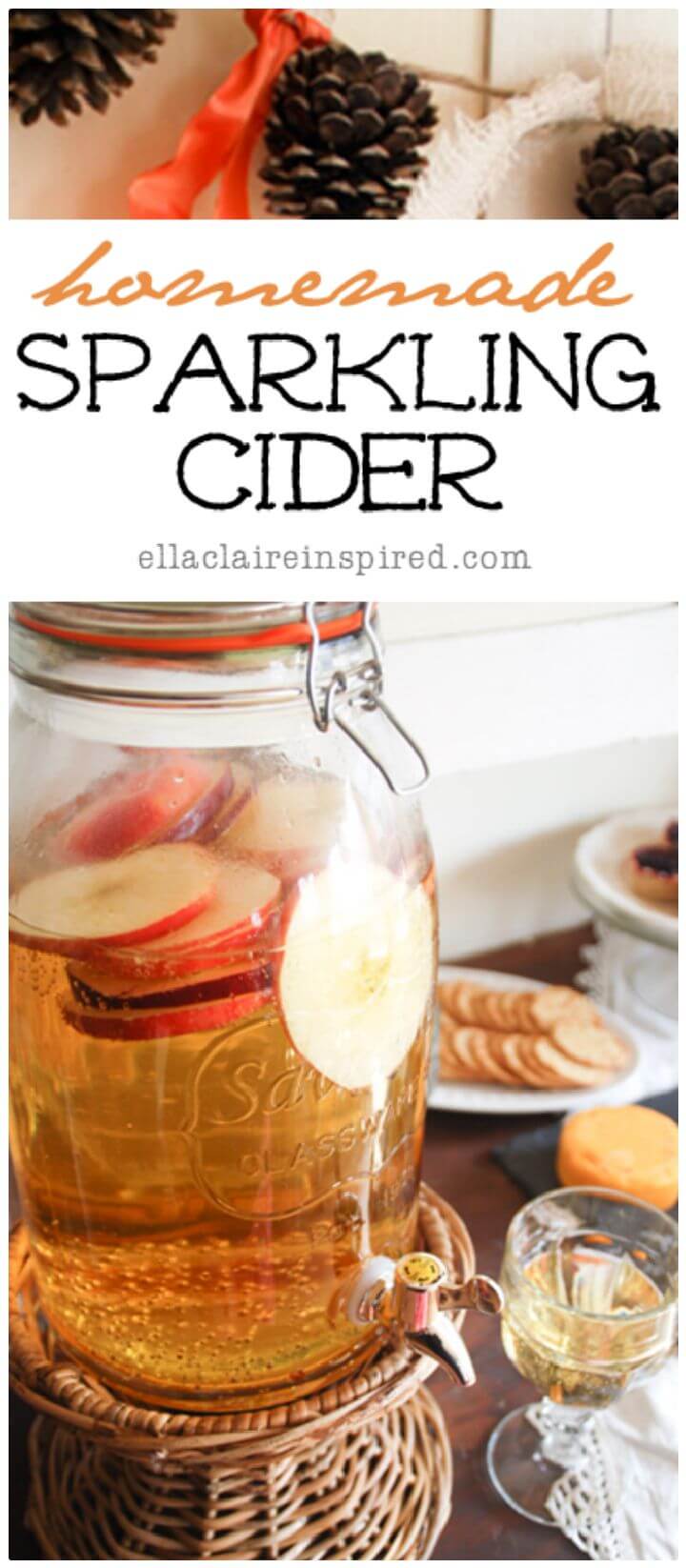 If you are throwing a party for anyone in the house and its fall then we have a perfect seasonal drink to make and add more fun to the party. This is apple cider drink in a big empty jar. It would be a great party hit for your guests for its unique and fun taste and also that perfect fall look it gives. So make it for sure and for the complete recipe details you can peek into this link for the details and information ellaclaireinspired
DIY Big Game Party Ideas using Mason Jar: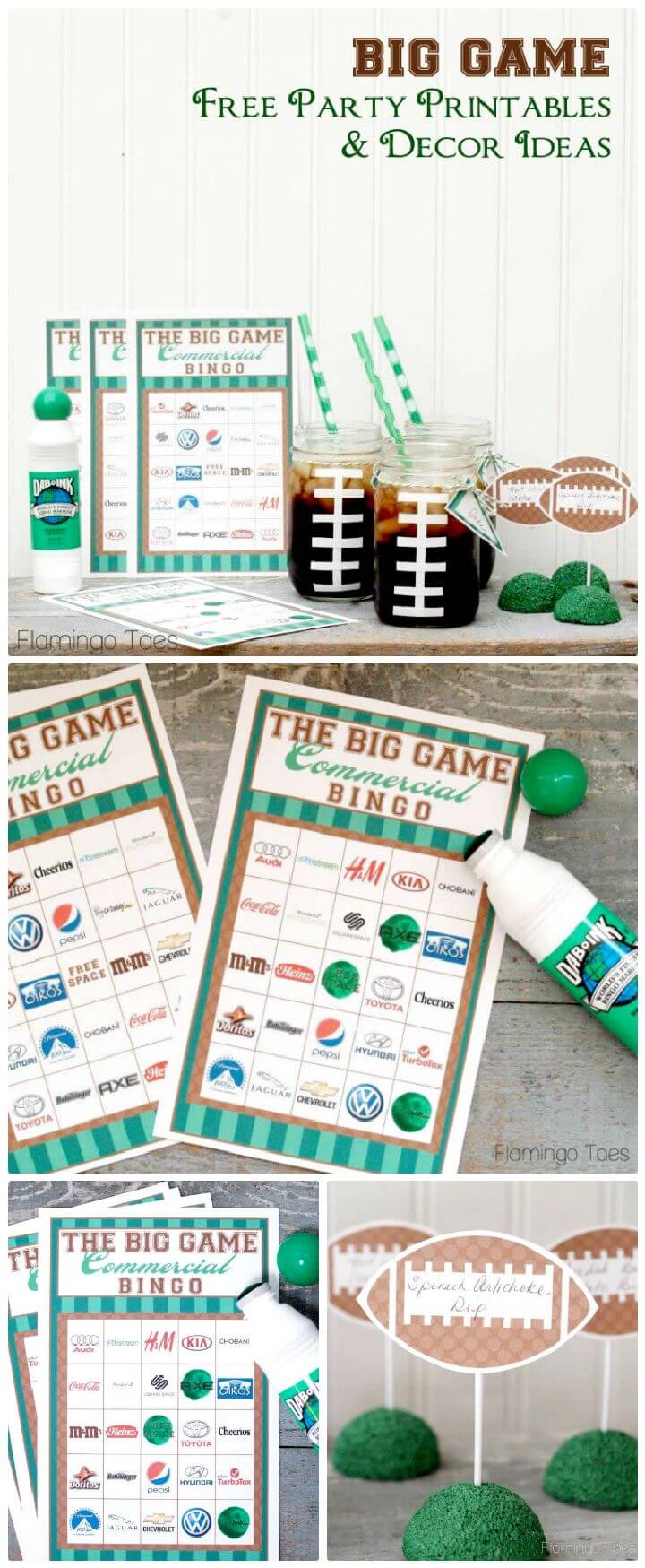 If your son is a big football lover then you should really throw a football theme party for him on his birthday or any other special day for him. The mason jars would really help you to work on the theme idea and create this lovely football inspired drink glasses for the big game. Here is the complete tutorial details to know not only about the mason jar drinks but a lot more about this big game theme party decor flamingotoes