It is always our kitchen where we mostly go out of space! We use lots of material and types of equipment in the kitchen for preparing and cooking the food and hence to see the messy collection of things in a kitchen is a general and common affair! We mostly see the spice jars scattered in the kitchen which we often need in our kitchen to cook the food! So, your spice jars should be organized well and should provide a great ease of pick so you can easily cook food without any trouble of finding the spice jars! To solve this issue you can simply opt for some spice racks that will help organize and display your spice jars nicely and hence can be added to your kitchen to gain a clutter-free look of your kitchen!
You can also buy awesome looking spice racks from the market but they can cost you big and you will not find the right dimensions of them to fit exactly into your targeted space! So how about making your own beautiful spice racks at home without getting expensive? You can recycle various items and materials to make adorable looking DIY spice racks in a couple of minutes and these amazing 12 DIY Spice Rack Ideas will really help you out to make your own favorite DIY spice rack at home in custom dimensions! Getting the spice racks was not so easy before but these DIY solutions are just great!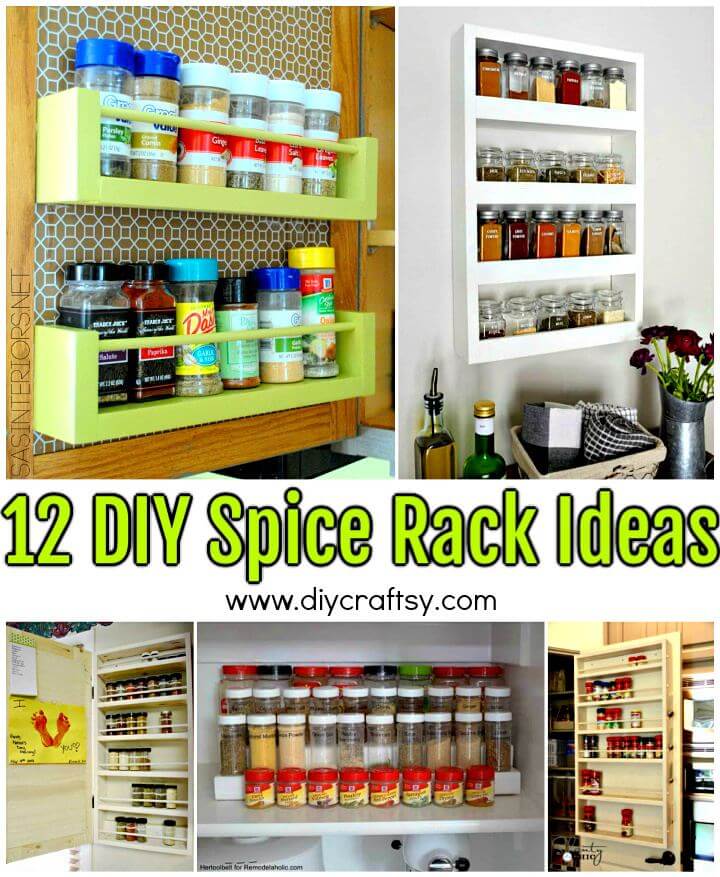 Here the ideas will show you that how you can repurpose different retired, expired, useless and old materials from home to make new looking and functional designs of spice racks that will bring great visual details to entire kitchen interior! Moreover, here you will also learn that you can get crafty with the custom pine wood boards or lumber to make a custom model of a spice rack with custom built-in shelves, a nice example here is given below that comes with chalkboard door!
Make the magnetic chalkboard spice racks that will be a unique and artful addition to your kitchen and also boost the functional behavior of your kitchen by installing the metal basket spice racks that will be a big delight to view also! Organize your spice by making the easy test tube spice racks and also make the tiered or stair style spice racks that will go much focally stimulating in your kitchen! Go handmade with wood and make custom models of spice racks with custom built-in shelves and also craft the wall mounted spice cabinets that will also keep the spice jars dust free! Build modern spice racks using the custom wooden planks and lengths and also fantastic looking spice shelves that will help organize your spice jars on your favorite kitchen interior wall!
More DIY Projects for Your Home:
Check out more DIY spice rack project below and get your creativity inspired! Make the list of these DIY spice rack plans you want to duplicate and next just browse the respective pasted links for getting complete tutorials, step by step instructions and visual guides!
Adorable DIY Chalkboard Spice Cabinet: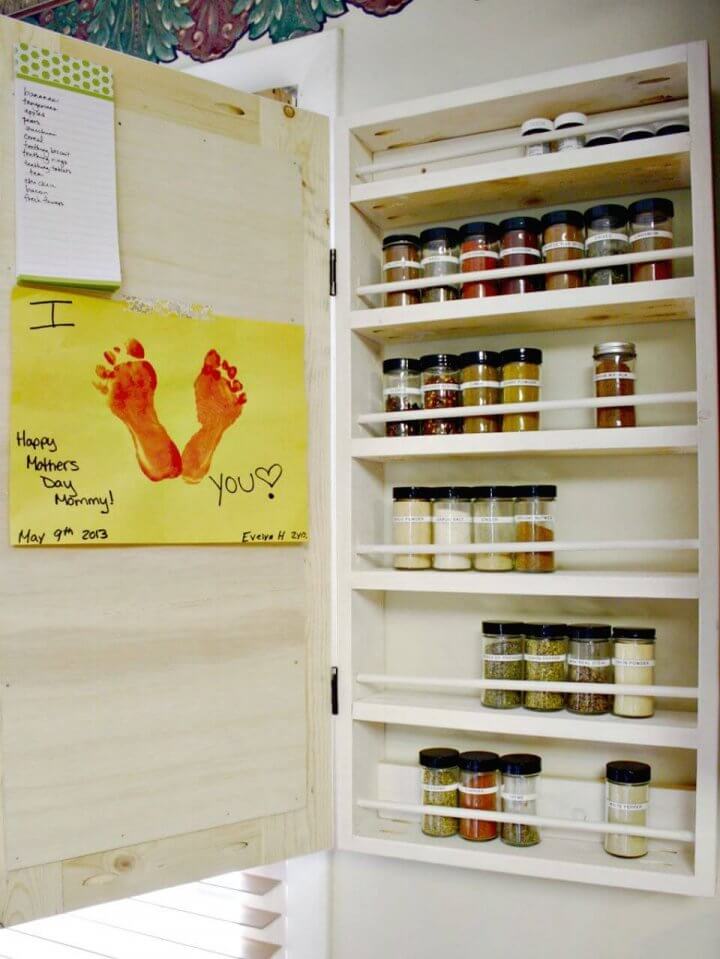 Build your own fantastic spice racks that will help in easy kitchen organization! Check out here the lovely looking spice cabinet that is dual functional due to having a chalkboard front door that has been hinged in place! Here the custom wooden boards have been put together to this spice cabinet and the construction has been started by building a rectangular frame and then the shelves have been installed! Extra wooden dowel supports or fences will not let the spice jar fall off and they also bring great visual details to the entire cabinet! A door of the cabinet is also made of custom wooden boards while the chalkboard back panel has been made with plywood! Complete tutorial and instructions here jenwoodhouse
How To Make Test Tube Spice Rack: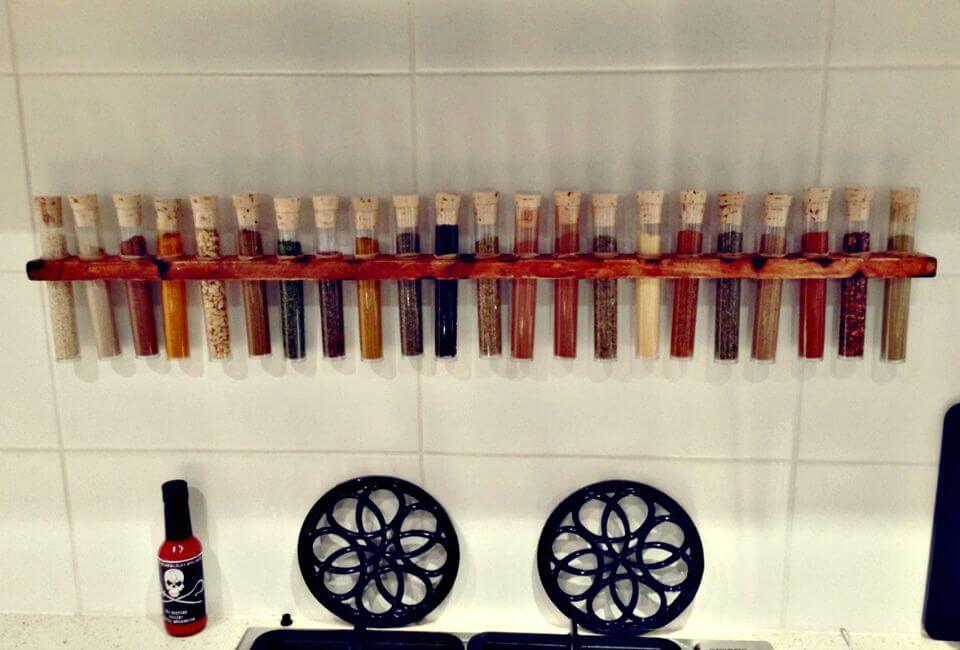 If you are all finding the unique ways to adorn and organize your kitchen then here is an innovative project that you can in this case! Just make the one-of-a-kind spice racks at home and add them to your kitchen as an eye-piece! A very interesting example here is this lovely test tube spice rack that has been done to rock the kitchen and is something super easy to make! Grab a piece or length of wood and drill holes in it to fit the test tube in and make sure that holes are equally spaced! Fill the test tubes with spices and then add wooden corks in their openings! Complete tutorial and instructions here helloyounglionsxo
DIY Wood Spice Rack: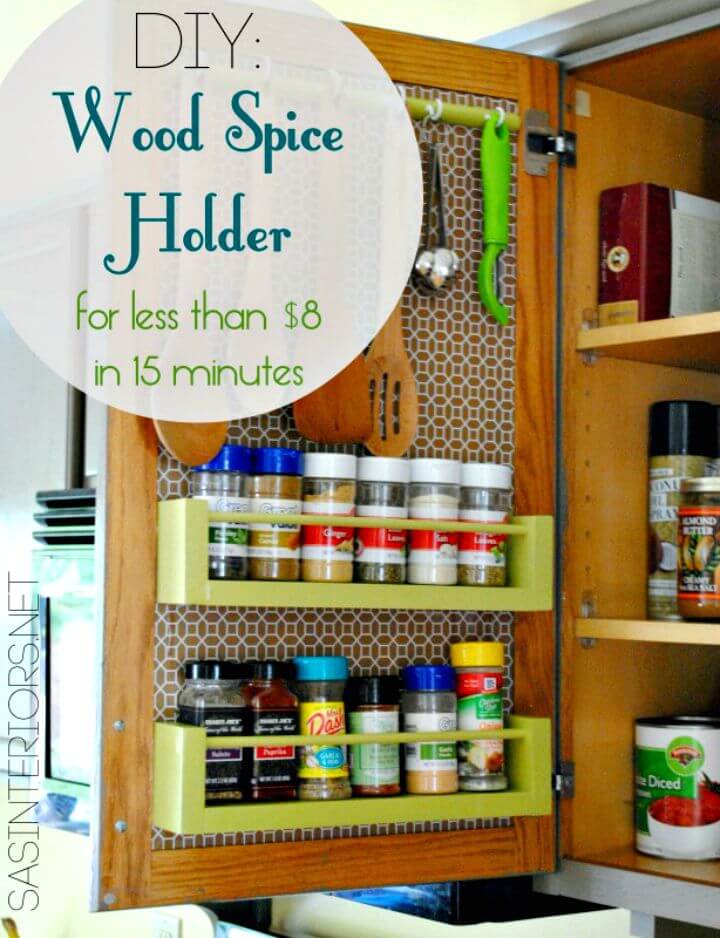 Here is another great and smart idea to organize your spices in the kitchen without using further the kitchen space! Just target the doors of the wall hanging cabinets to hang some wooden spice racks or cabinets there that will be hidden and this will also be a way to keep your spice jars dust free! Here only a wooden dowel and custom wooden pieces have been put together to make two wood spice racks that have installed to the inside of the kitchen cabinet door! Another great spice rack idea to duplicate! Complete tutorial and instructions here jennaburger
Easy DIY Spice Racks for $1: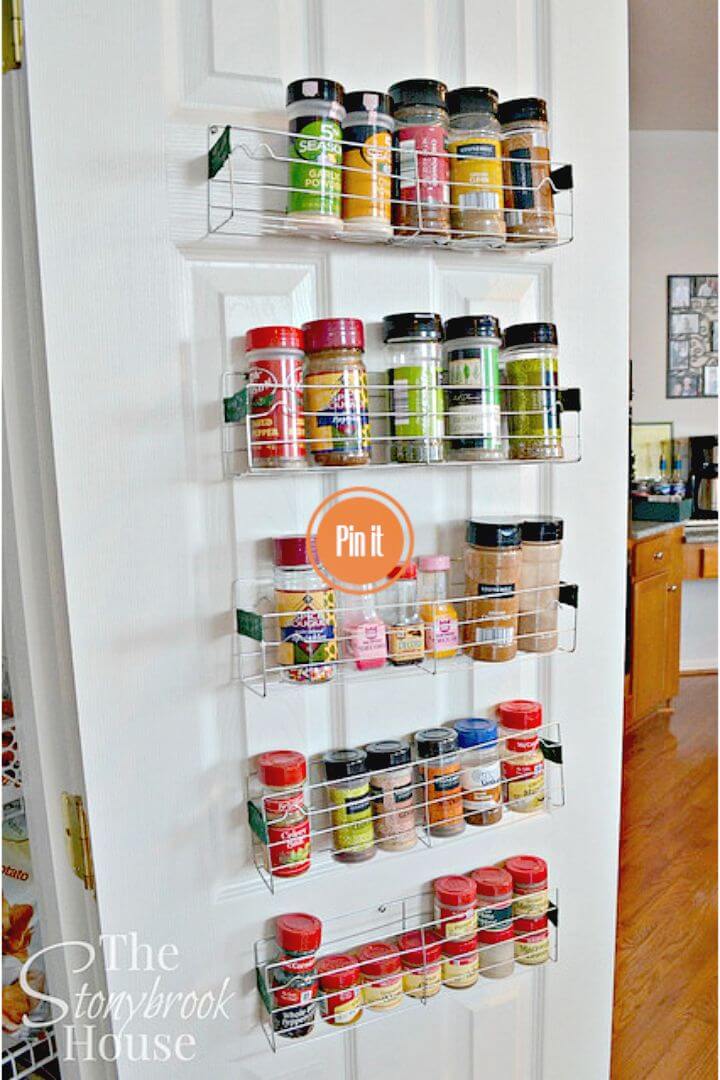 If you are on a mission to make some super cool looking spice racks that will also be super easy to clean then you can simply head over to spice cooling racks to make some fetching looking spice racks! Here the metal cooling racks have been brought to an L-shape first and then has been turned into a holding basket that makes a perfect spice rack! Make a set of such spice racks and just install them to your favorite kitchen wall! Complete project details here thestonybrookhouse
How to Build Spice Shelves: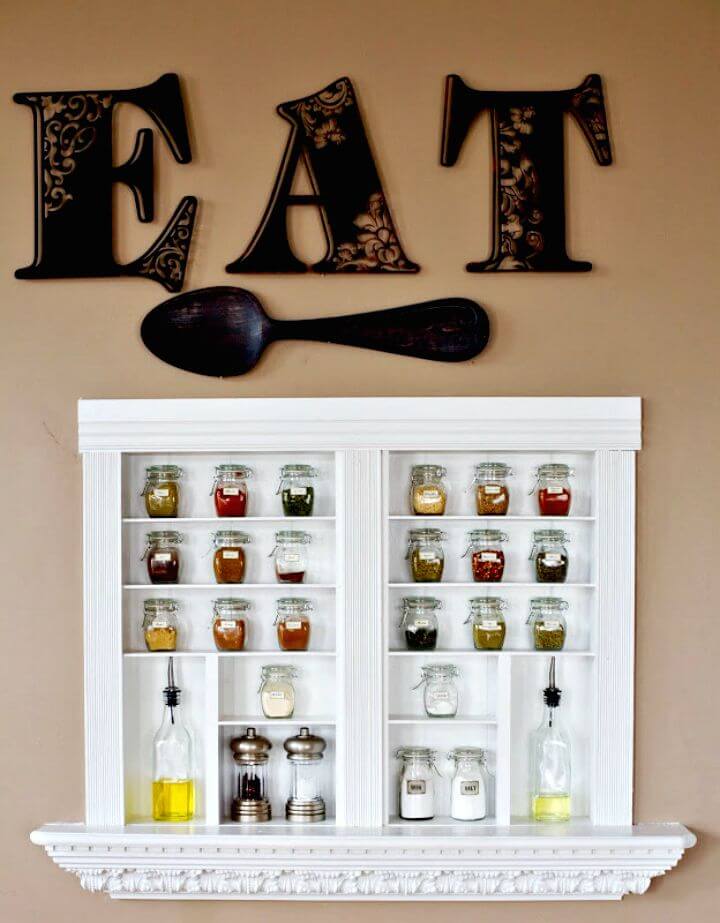 You will definitely love these spice shelves that have been made to rock and inspire and are looking damn beautiful! Here these spice shelves are made of wood and have been fitted in the wood by cutting them out the market area of the wall out! The handmade wooden spice shelves have been fitted nicely in the wall and next to the wooden trim has been installed that helps to gain a damn beautiful look of the spice shelves! Complete project tutorial here manditremayne
DIY Framed Magnetic Chalkboard Spice Rack: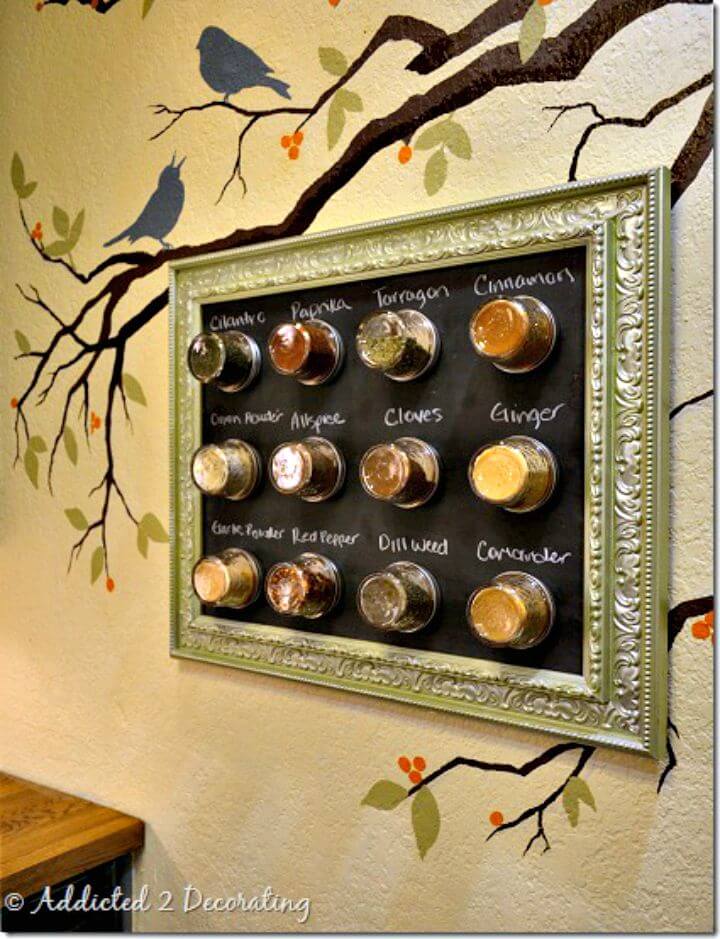 Check out here the one-of-a-kind spice rack that is looking damn beautiful and enticing! Here the spice jars come with magnetic lids that can be mounted on the magnetic board that hangs on the wall and has been painted with chalkboard paint! Grab a piece of plywood and cover it up with the metallic duct, next chalk paint it and also frame it up nicely using an old accent frame! Mount the magnets on the jar lids and next just mount your jars on the magnetic boards! Don't forget to write the names of the spices on the board! Complete tutorial here addicted2decorating
Functional DIY Tiered Spice Rack: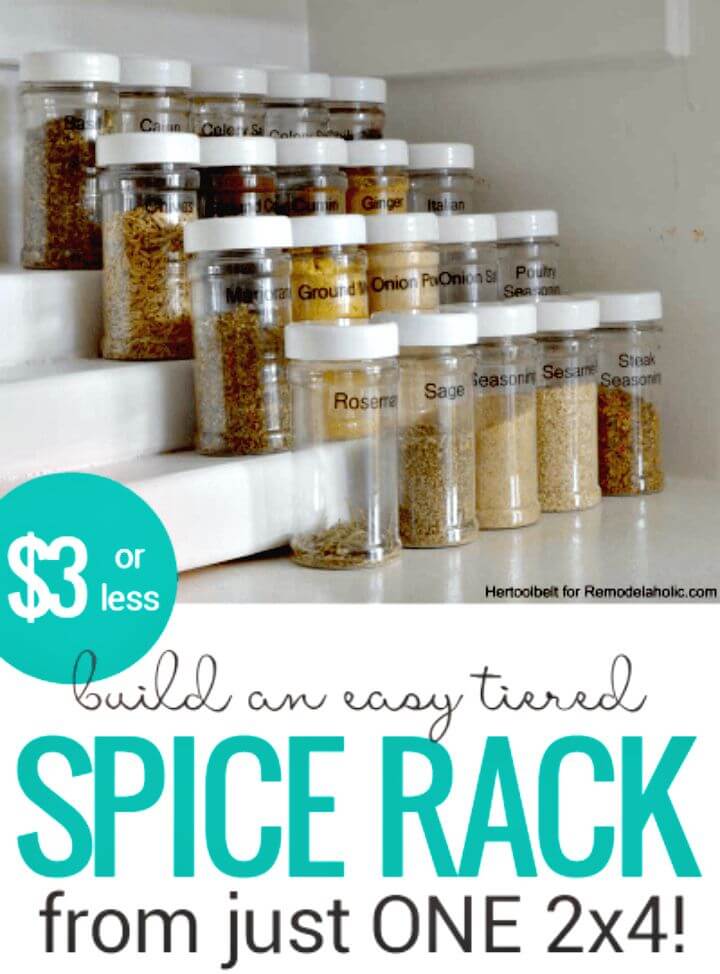 You will fall in love with the tiered arrangement of the spices here that have been put together in step style and hence the user also finds a great easy to pick the required spice jar! Here all you need to do is to put together the thicker looking wooden lengths together making the beautiful stairs and this would be your step style spice rack! Here the wooden boards have been painted in white and have been secured in place using wood glue and screws! Grab the full free tutorial and instructions from here remodelaholic
DIY Rustic Wall Mounted Spice Rack: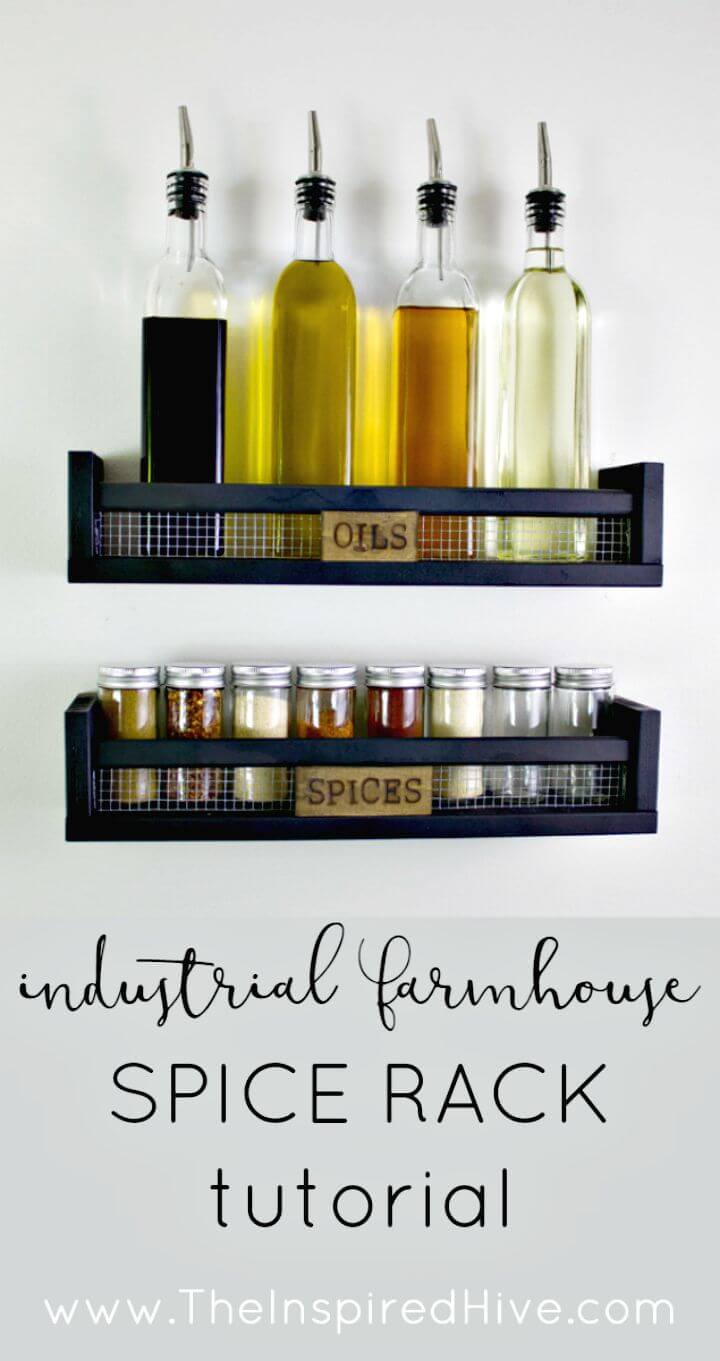 Check out here a smart IKEA hack that helps to gain adorable and stylish looking spice racks without getting expensive! Here the IKEA beckvam shelves have been covered from front side using metal hardware cloth and finally has been finished with black spray paint! Next custom letters have been burned in the scrap wood pieces to make the enticing labels for the spice rack and that's it! Grab the full free guides and visual instructions from here theinspiredhive
How To Build Spice Cabinet: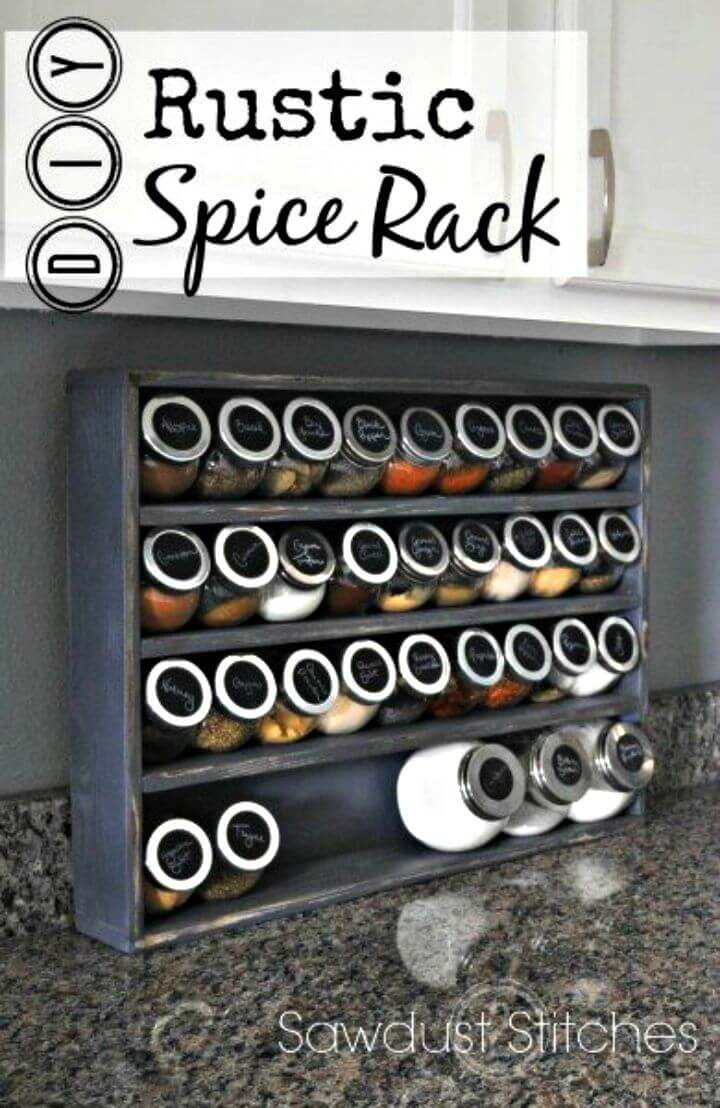 Do also super easy manual wood construction to build fantastic looking spice racks at home! Just get ready with your tools and go handmade with the custom wooden boards to make custom spice cabinets with custom built-in shelves! Add the paneling at the for a nice flat backing and next just paint you're finally finished spice rack or cabinet in your favorite color or stain it for a glam wood tone! Check out there the lovely spice cabinet that has been stained for a glam dark appeal! Here the tilted glass jars have been used to store the spices! Complete project instructions and tutorial here sawdust2stitches
How To Make Wall Spice Rack: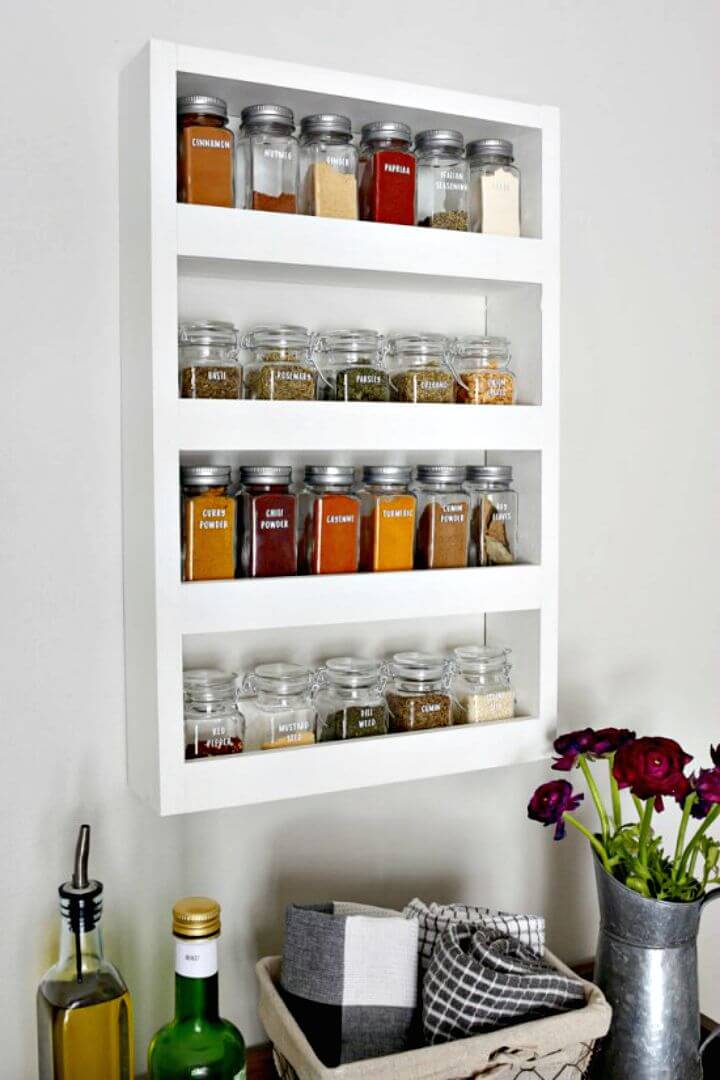 Check out here another great and lovely looking model of wall mounted spice rack that is purely self-made and comes with custom number of built-in shelves! Here pocket holes have been made in the wooden lengths which have been put together to make this spice rack! Finally the entire finished model has been finished with white paint for a modern chic look that is also the color of back wall! Another great model of handcrafted spice rack that is easy to duplicate also! Complete tutorial here angelamariemade
Build Your Own Spice Rack: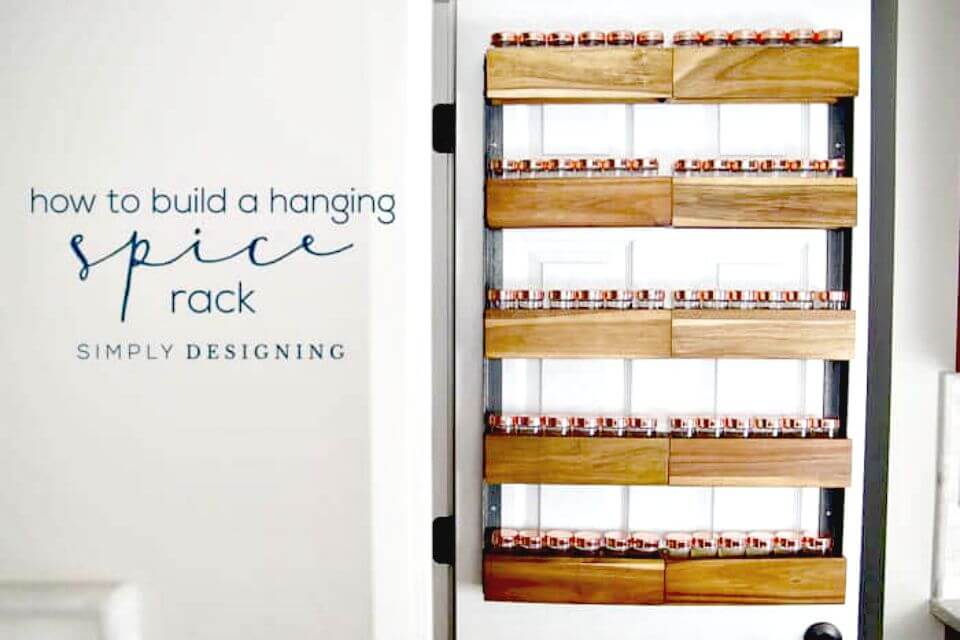 If you are intending to grab a large spice rack that will hold dozens of your spice jar together then you can simply duplicate this industrial model of spice rack that has been done to rock and inspire and is just looking fantastic! Here the custom wooden boxes or mini spice racks have screwed together to make bigger spice racks which have then been fitted in the angle iron frame in tiered arrangements making a lasting longer industrial styled spice rack! Complete project details and step-by-step tutorial here simplydesigning
DIY Spice Rack Tutorial: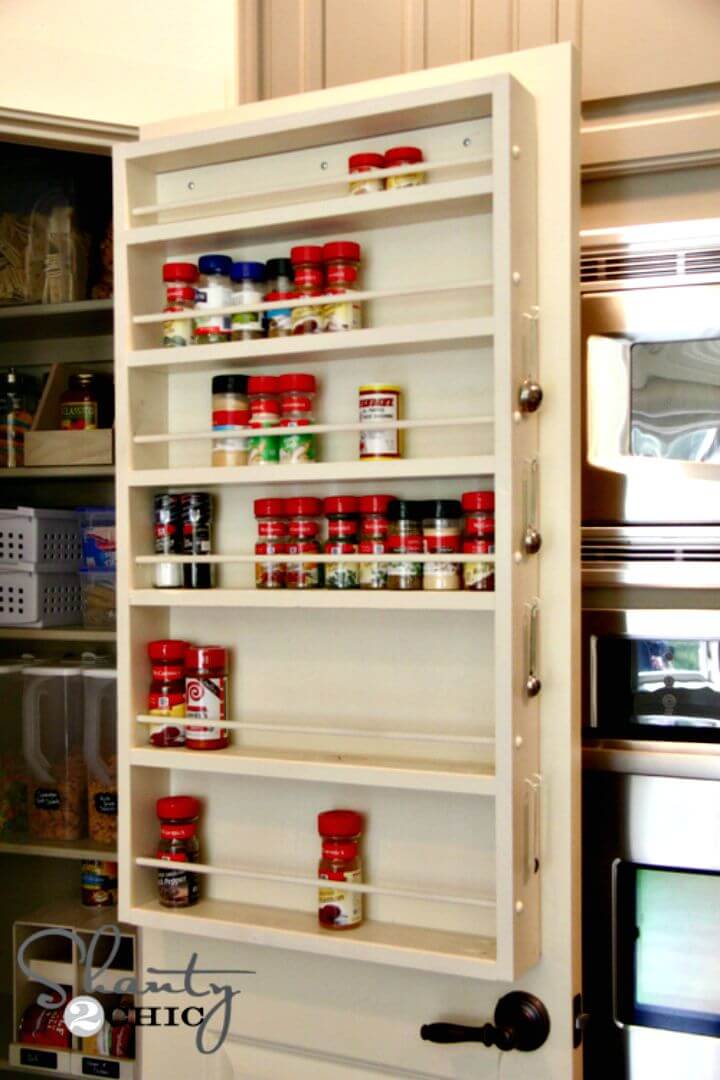 If you are all sorting out a custom model of spice rack that will fit best to decided kitchen area then you can simply do some easy wood constructions at home! Here very eye-catching sample here is this wooden spice rack that has been built in custom dimensions and is looking too durable to last longer! here the construction is pretty simple, first put together custom cut wooden boards together to build a hollow rectangular frame which can then be added with custom wooden shelves fenced with the wooden dowels as you can see! Paint you finally finished spice rack in a custom color and that's it! Complete project tutorial here shanty-2-chic