Smart cooking starts with a smart kitchen. You are an adventurous cook who keeps an endless spice stash on hand; these 35 best and cheap DIY spice rack ideas will help you organize your spices and declutter your kitchen quickly and easily. Having an organized kitchen is so important to saving time when cooking. Whether you love to cook, finding things quickly will make it better. So let's start with your spices! Check out these most useful and practical DIY Spice rack ideas! These can be done in just a few hours. Can you even imagine that there are many types of spice racks? Within each type, you can find many styles and designs. Just follow our spice storage ideas to build your own at a low budget.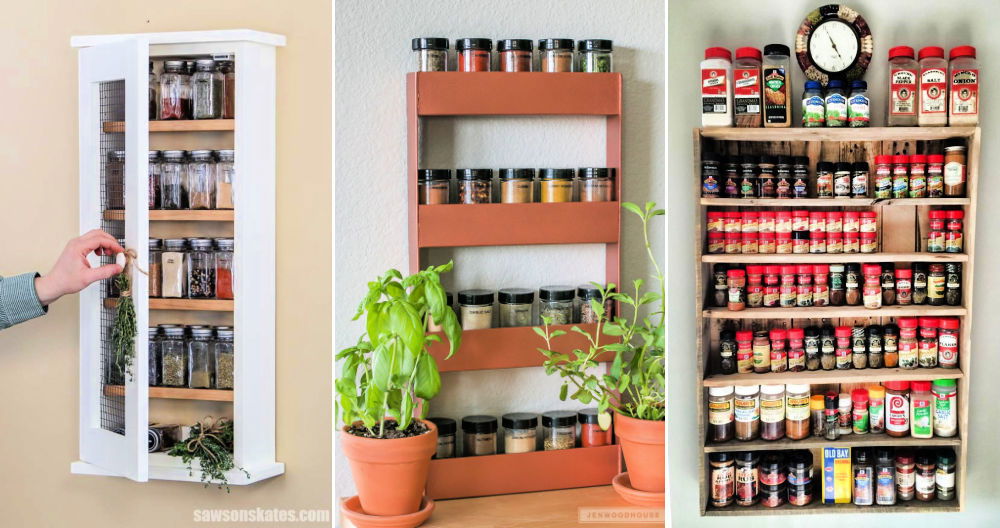 We have rounded up below you an epic list of different, clever, and practical spice rack ideas for your kitchen. These can easily manage your spice collection and make your kitchen unique with these amazing spice racks. Learn smart options for saving those herbs and spices. That's all possible with these DIY spice rack ideas, even if you have a tiny kitchen. You can give your kitchen a unique look with different spice organizer designs like a Cabinet spice rack, Door spice rack, and Wall mounted spice rack, pantry designs, Spice drawers, etc. Are you ready to grab these DIY spice rack ideas for your kitchen?
1. Wall-Mounted Spice Rack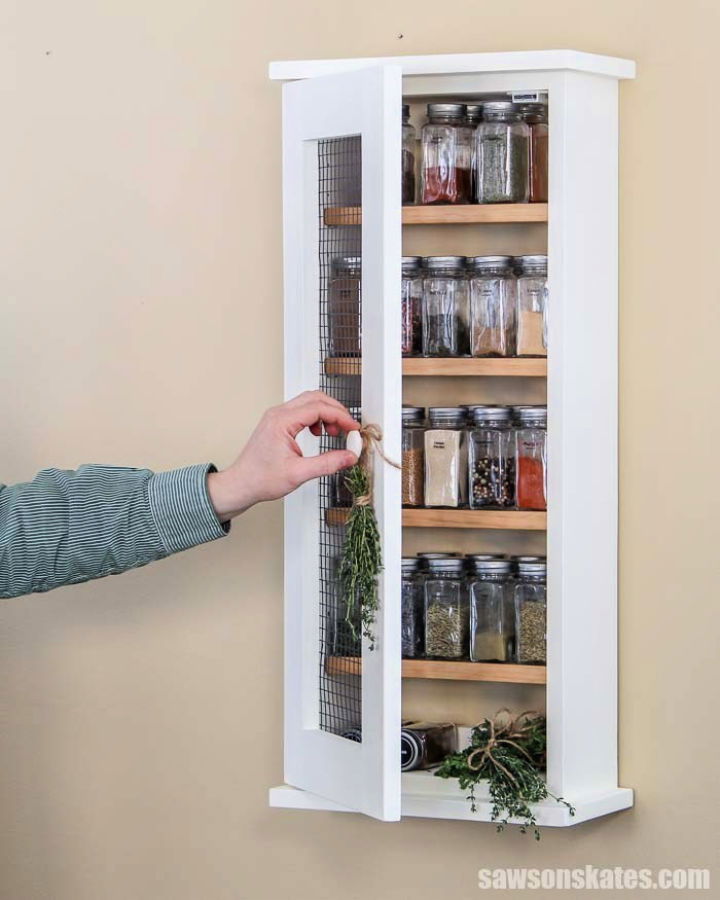 Follow this free plan to build a wall-mounted spice rack that will keep your seasoning accessible and easy to use while preparing your meal. It is simple and easy to spruce up within a few hours. Get supplies such as wood, screws, washers, glue, shelf pins, knob, hinges, and a magnetic catch. sawsonskates
2. Magnetic Countertop Spice Rack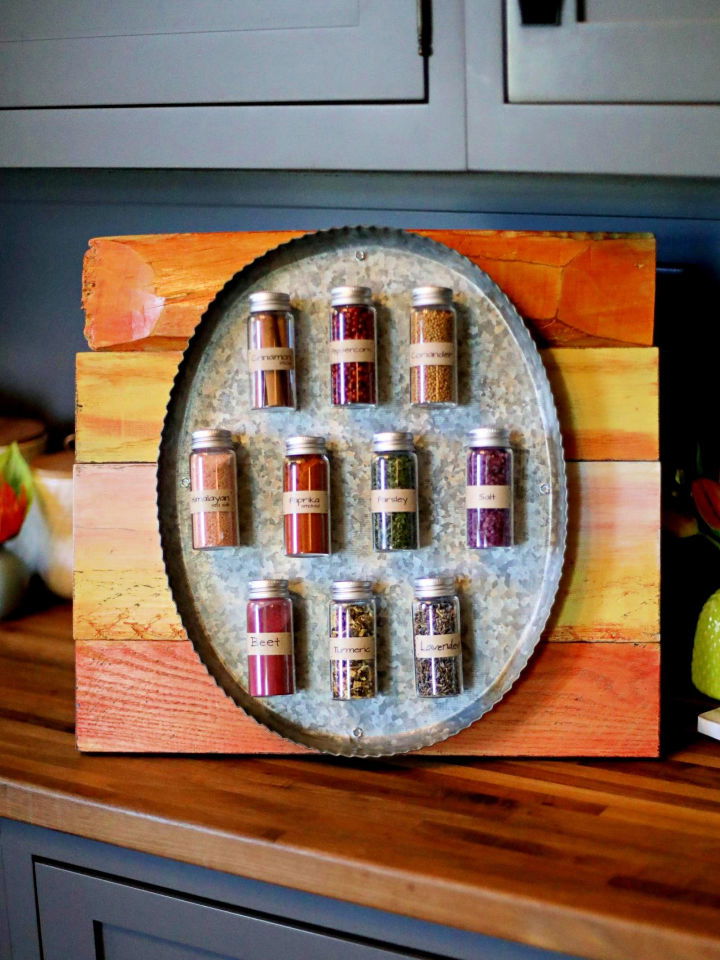 Get your spices organized and in one place by creating this magnetic spice rack. It's designed for the countertop so that they can be in your reach while you're cooking. This is a splendid piece of handcraft that you can easily make with your beginner's skill. Follow the steps here. hgtv
3. Wooden Spice Rack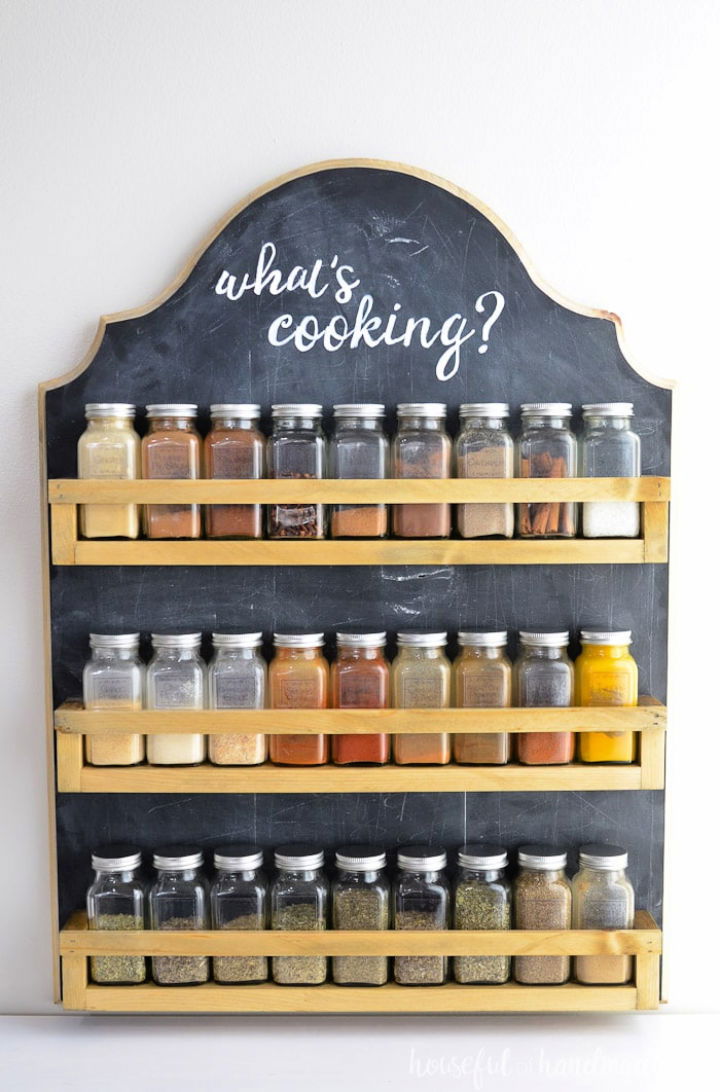 This free plan here on a wooden spice rack will make you save the seasoning and banish all the chaos in your kitchen. Such a charming hanging spice rack can carry all of your seasoning and herbs in one place without making you wander around the cabinet to cabinet. Hop on to the tutorial to get started. housefulofhand
4. DIY Pallet Spice Rack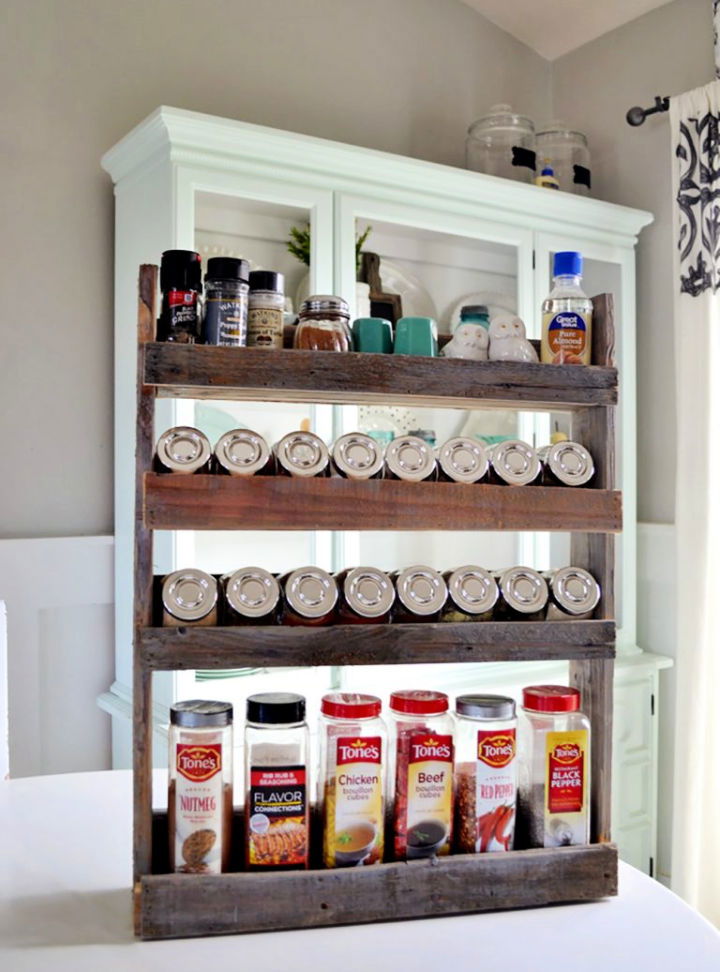 An organized spice rack will simplify your life while you are preparing the grocery list. With this DIY pallet spice rack, it will be convenient for you to have all the seasoning available at your fingertips. You'll need pallet wood along with a hammer, nails, saw stain, and a rag for sprucing this up. makeitloveit
5. Two-Tier Drawer Spice Rack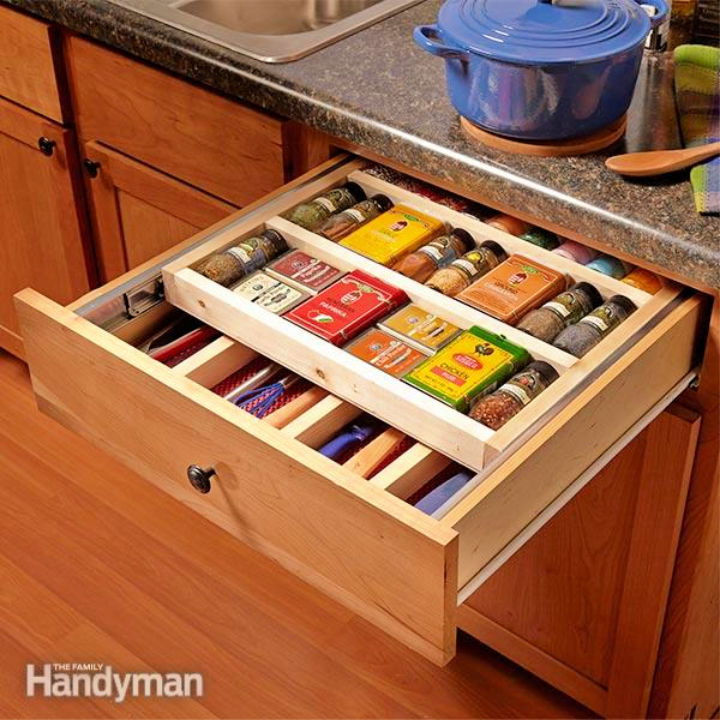 Finding an effective way of storing your spices from humidity and dust while keeping them within reach? Building this two-tier drawer as a spice rack will be an excellent option for you. It's a budget and time effective project that will be accomplished in a day if you follow the steps here. familyhandyman
6. How To Build A Hanging Spice Rack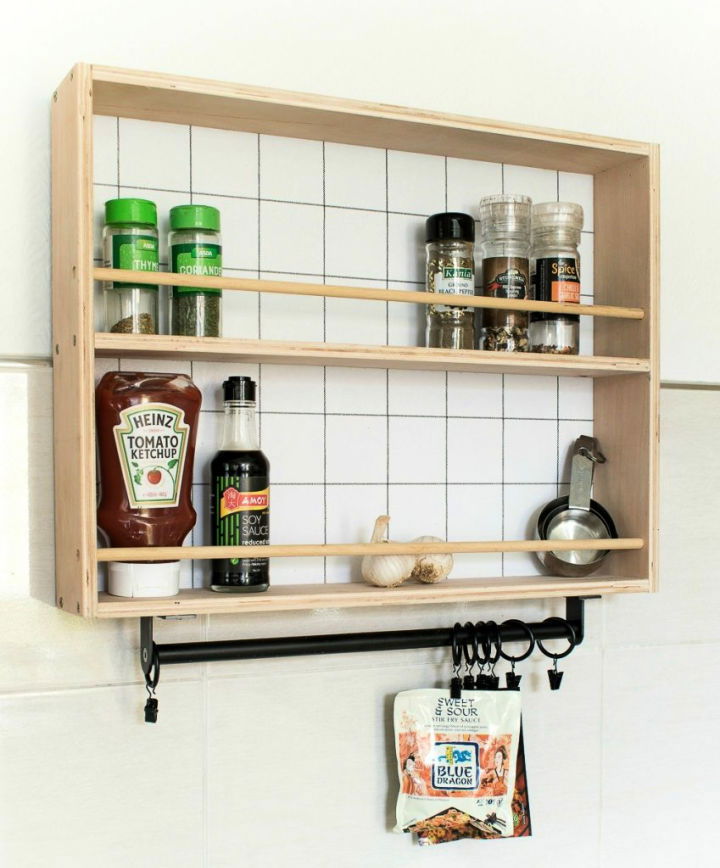 Keep your spices right where you need them to be with this hanging spice rack. It will add a healthy dose of charm to your kitchen décor. Plus, you will have all the spices you need to prepare the meal at one specific place. Grab the supplies and get going with this project. grillodesigns
7. Under Cabinet Spice Rack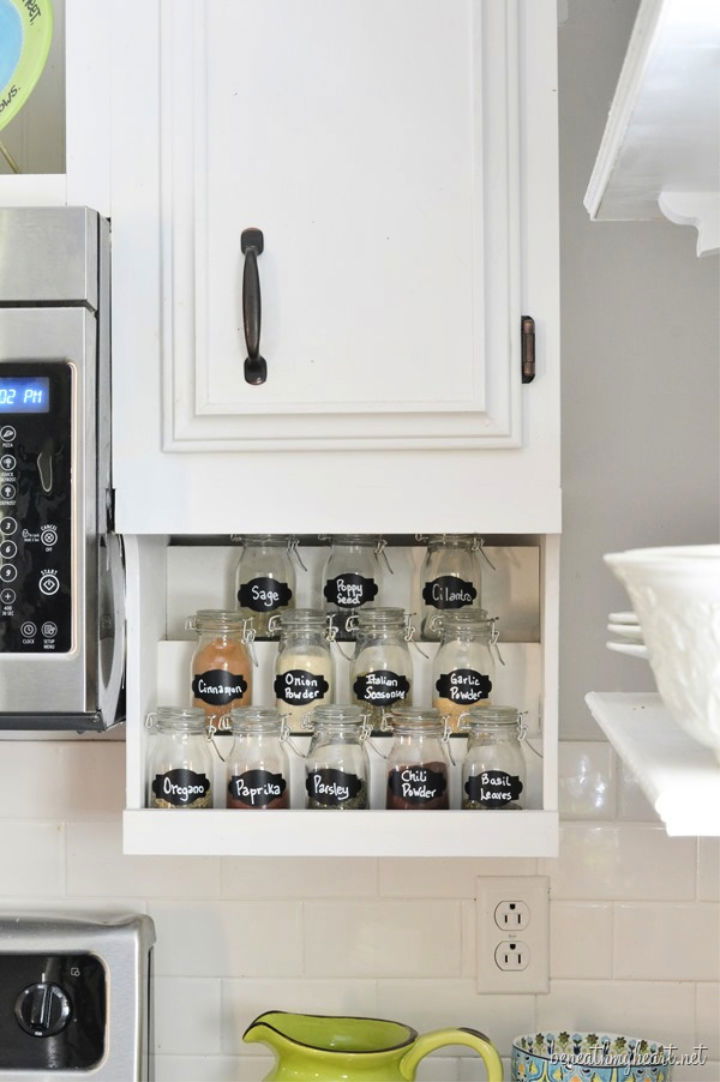 This spice rack will keep the spices easily accessible and not take up your counter's space. Plus, this under-mount rack will keep your seasoning collection within reach and make your cooking time super easy. The plan includes full fledge details on its building along with the tools and supplies. beneathmyheart
8. DIY 3 Tier Spice Rack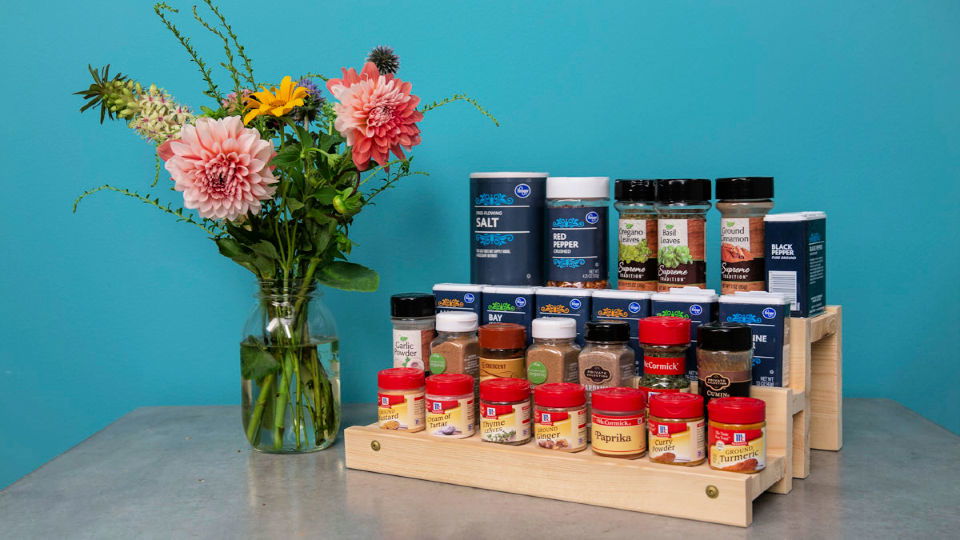 Running out of spices? Keep it in your notice with this 3 tier spice rack that will hold your all seasoning and sauces in a well-organized way. It will be such a cute addition on your countertop that will take part in your kitchen's décor. Go along the step by step instructions to complete it in an evening. diy dunnlumber
9. Tiered Spice Rack In Cabinet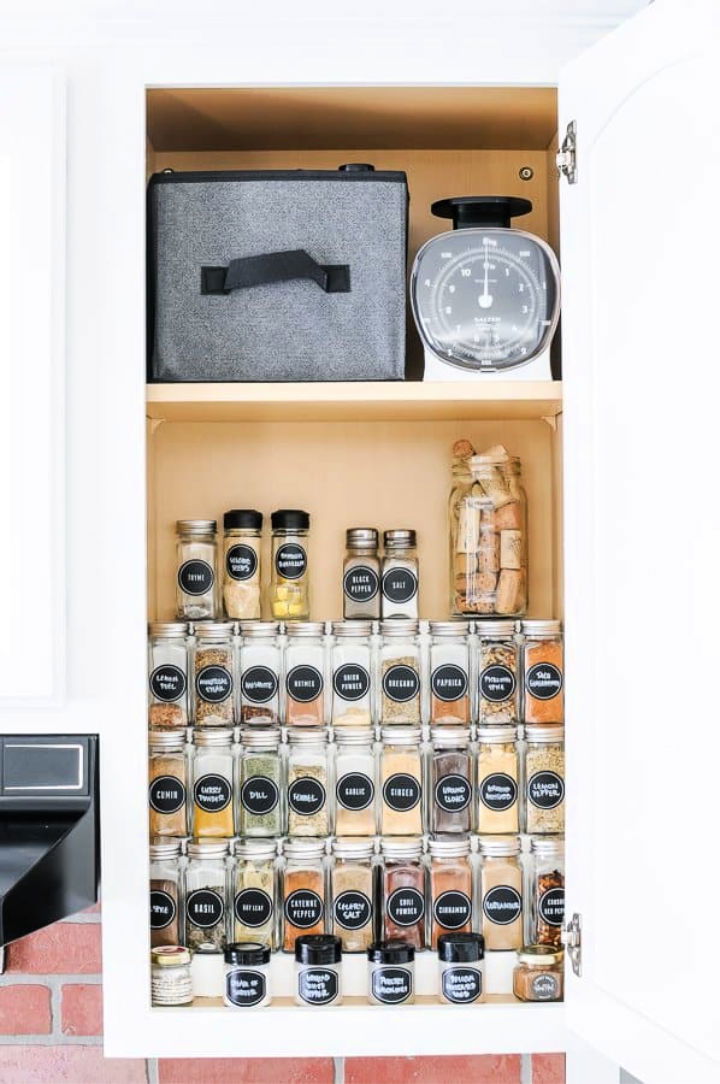 If you are short on counter space, you must be looking for a way to arrange your spices in the cabinet. Here is a perfect hack for you to organize the seasoning in the cabinet in a tiered way. To make this DIY tiered spice rack in the cabinet, you'll need supplies like plywood, primer, paint, clamps, and a nail gun. joyfulderivati
10. DIY Criss Cross Spice Rack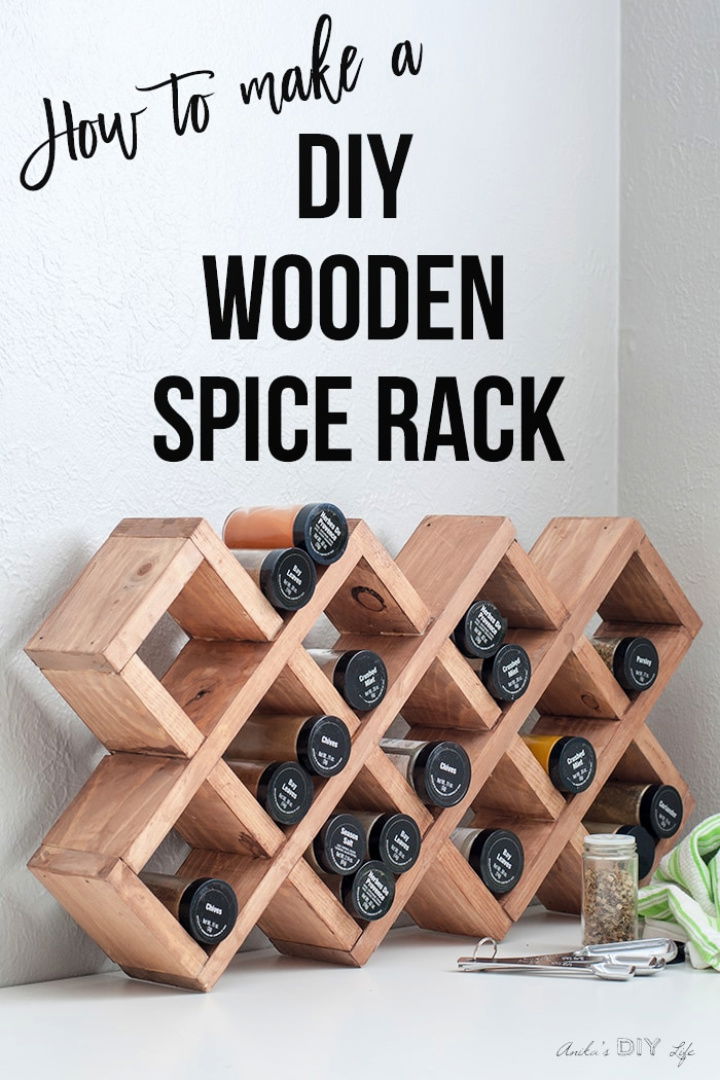 Crisscross spice racks will definitely give your countertop an amazing piece of art kind of look. It will be close-at-hand while you will be cooking anything. It won't require any installation, and you can easily track the bottle of seasoning. Build it up by following the directions provided in the video tutorial. anikasdiylife
11. DIY Concrete Spice Rack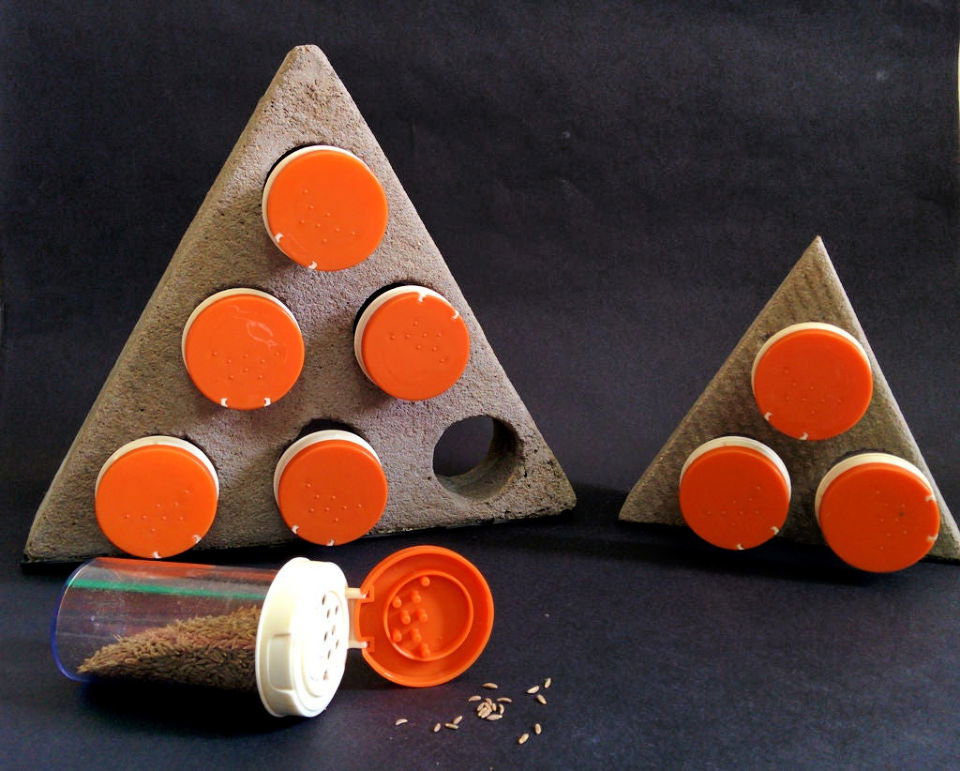 If you often buy spices that you already have, but you can't find them, building up this concrete spice rack will remedy the overbuying! It will be a durable rack that will live for years. Gather supplies such as duct tape, cutter, compass, sharp scissors, cardboard, and tire tube to get started. instructables
12. Spice Rack for a Drawer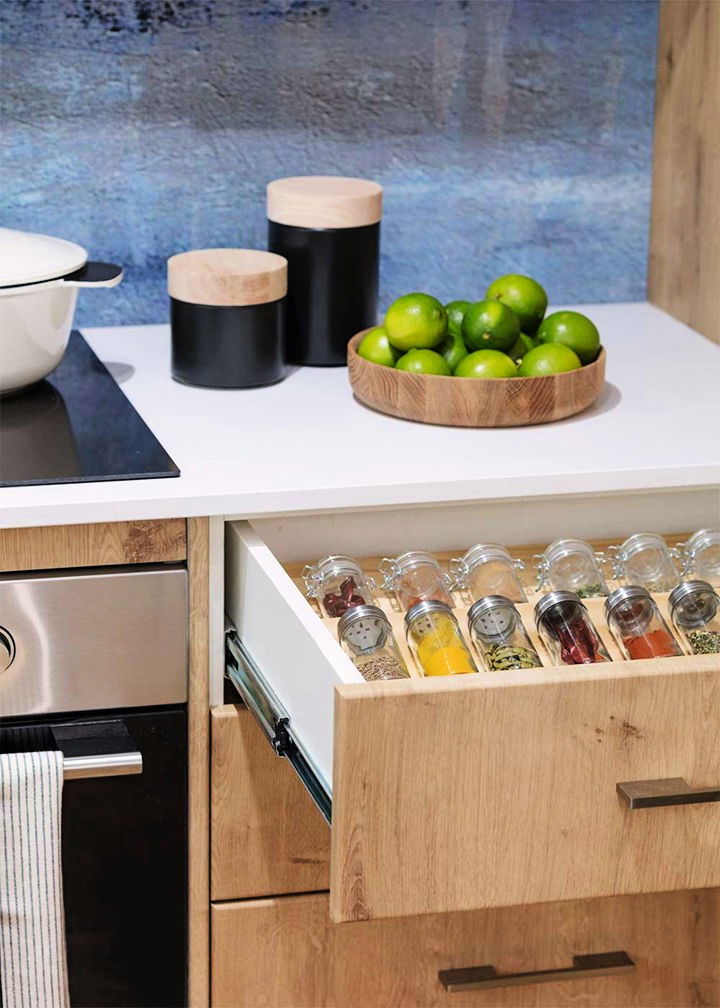 Keeping your spices in this spice rack drawer will keep them safe and out of the reach and sight of the kids. It'll be more affordable than getting a spice rack from the store. DIY this rack using supplies like dressed pine, power saw, screws, varnish, drill, bits, drop sheet, and sandpaper. bhg
13. Mason Jar Spinning Spice Rack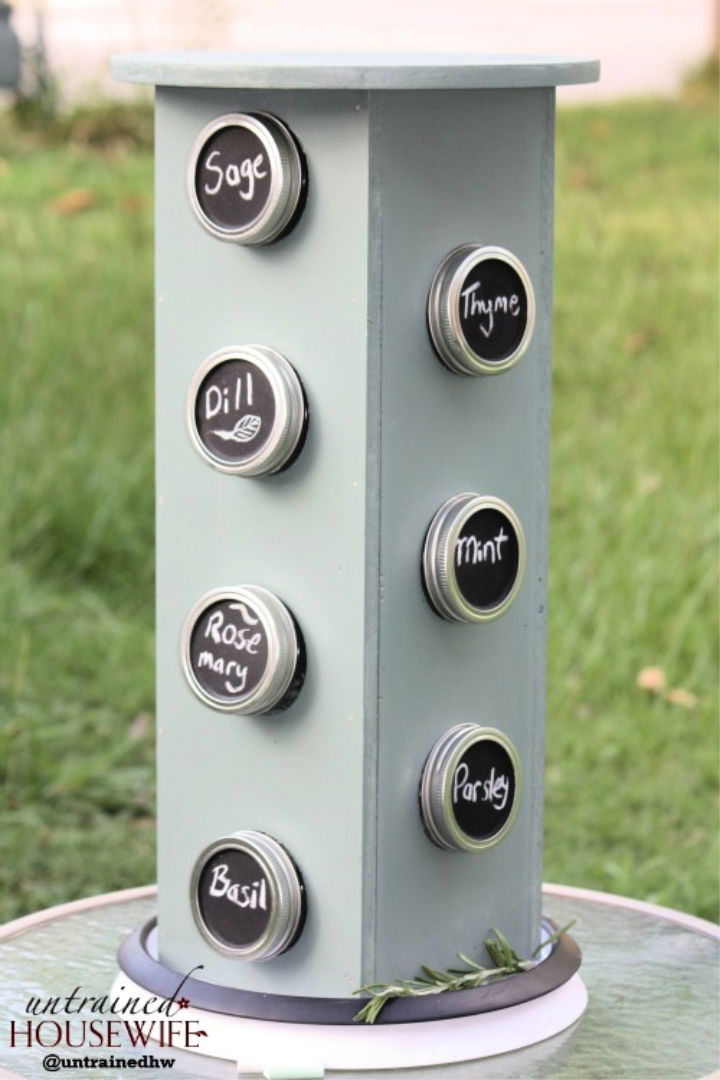 Hunting for a spice jar that is portable enough to take it on your camping tour or use it on the dining table or fix it in your kitchen? Here is this spinning spice rack that will perfectly serve you in all these very situations. The guide here will lead you to how you can spruce it up. untrainedhouse
14. Copper Spice Rack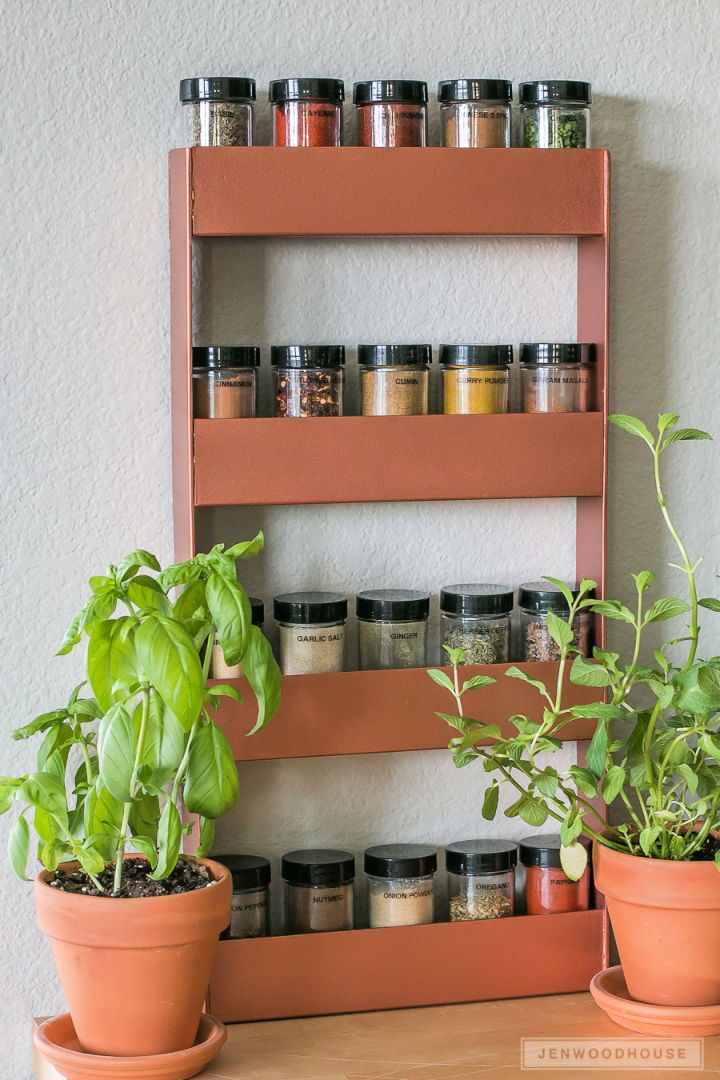 A spice rack made out of copper will be a durable project to invest your money and time in it. Place it on the counter top or mount it on the wall. The choice is yours. Build it up on budget and with supplies such as clamps, faux-coated, lubricant, spray paint, steel angle, and the drill machine. jenwoodhouse
15. Pantry Door Spice Racks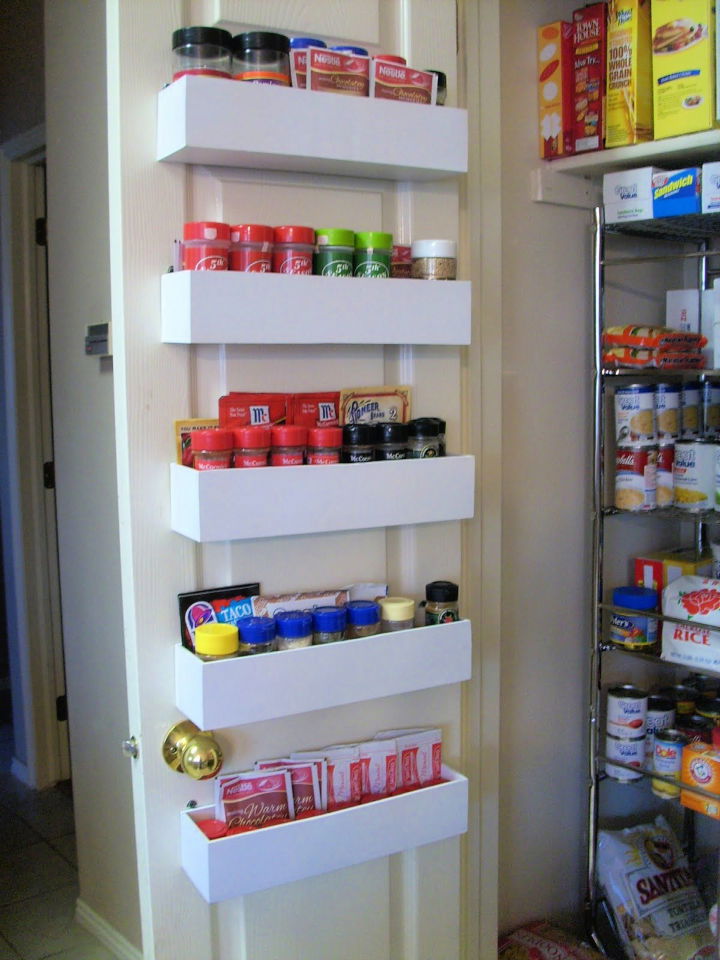 This pantry door spice rack is perfect for your tiny-kitchen that will save space. It will be a highly functional rack plus, affixing it on the pantry rack will keep you informed which seasoning you ran out of so that you can buy it on time. Pay attention to the instructions while sprucing it up. robbygurls
16. How to Build a Spice Rack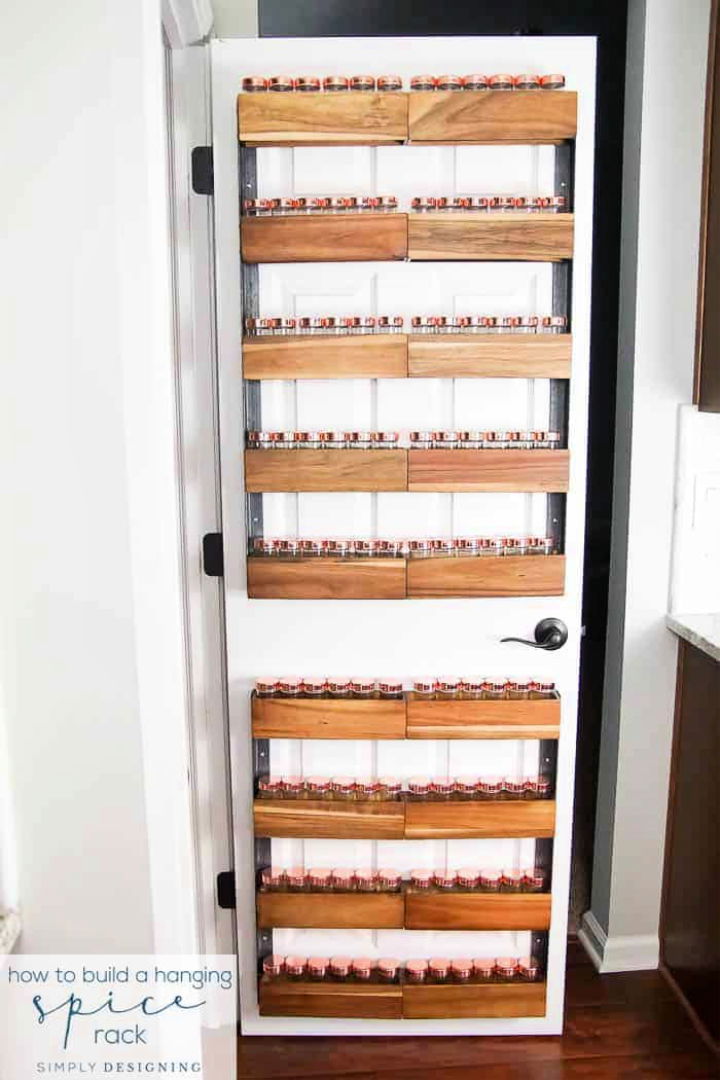 Having all your spices at one location while cooking will make it so much easier than hunting around for ingredients. Build your own DIY spice rack and get rid of the hunting problem. It's a simple woodworking project that can be spruced up on a budget. Walkthrough the instructions here. simplydesigning
17. Pantry Door Spice Rack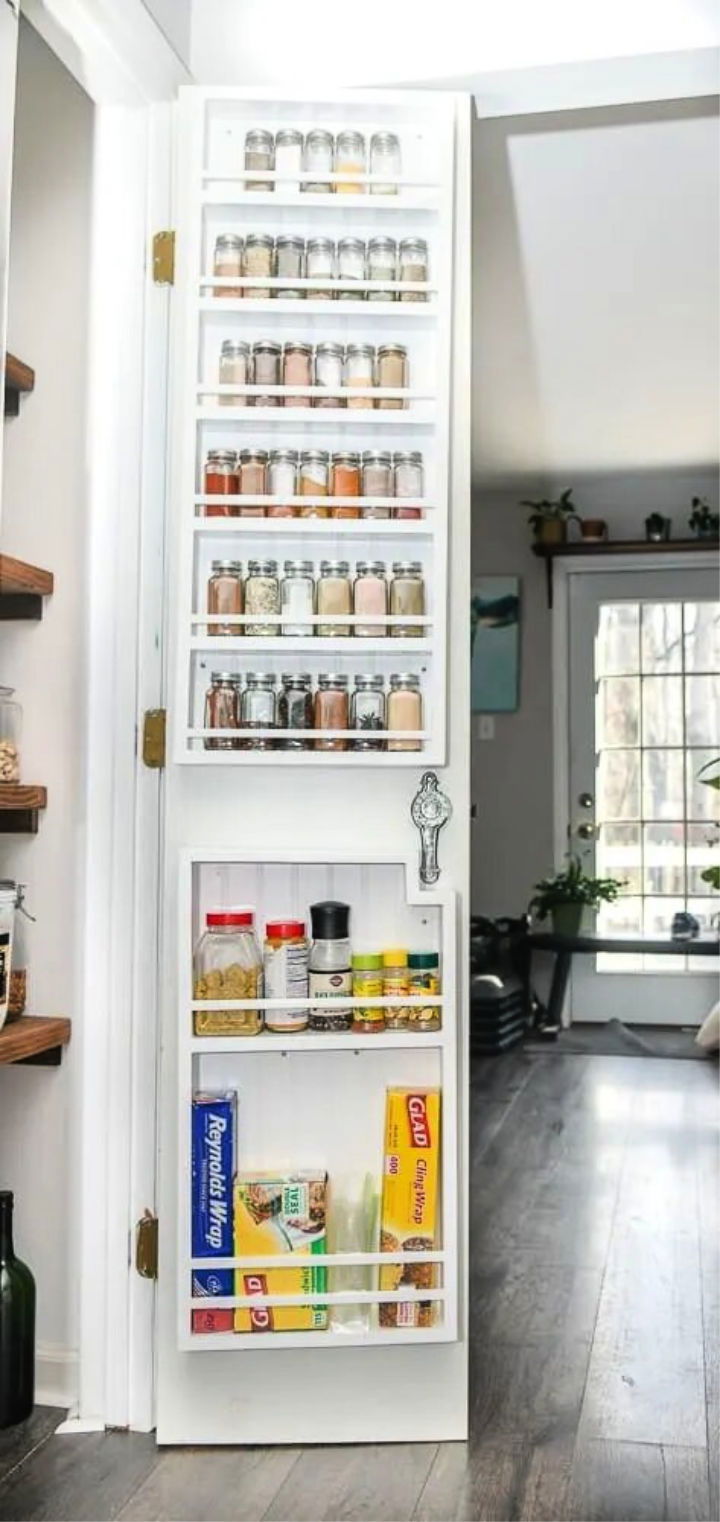 If you are a keen cook, then having a spice rack on the pantry door will simplify half of your work! It will save you time by keeping your spices at one specific place. The idea is all about the pantry organization and the spices. So, check out what supplies you will need and the how-to of this project below. marialouisede
18. How to Make a Spice Rack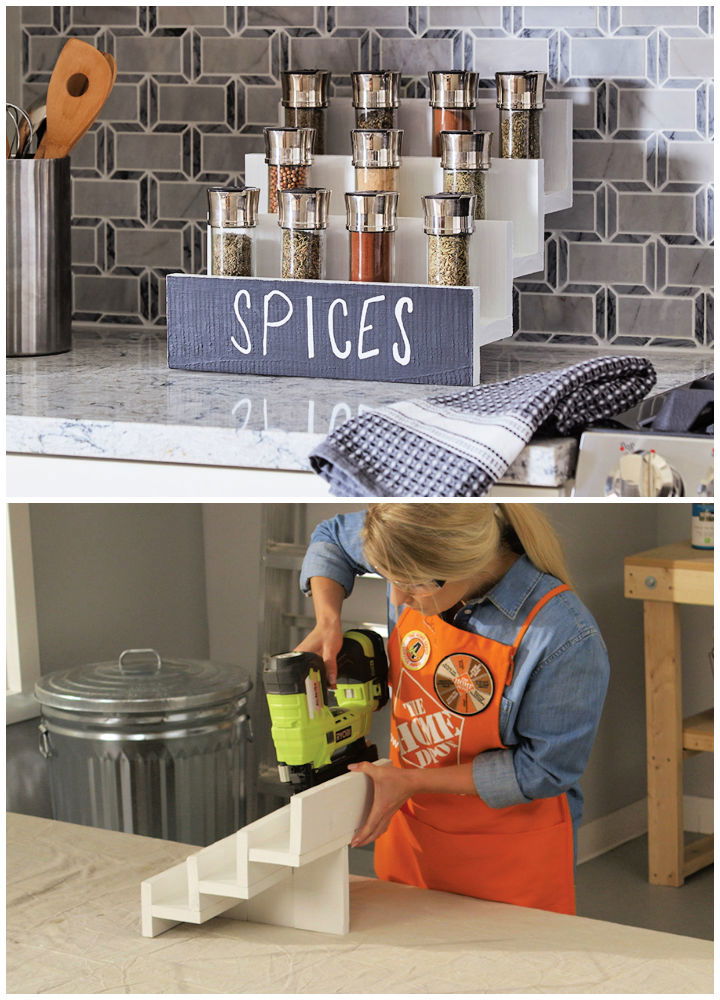 Learn how to make a spice rack so that you can arrange your seasoning neatly and at a specified place. This rack is easy-to-make, easy-to-clean, and can carry 10 to 15 spice jars at a time. If you are interested in this project, click the link to see how to get started. homedepot
19. DIY Minimal Wood Spice Rack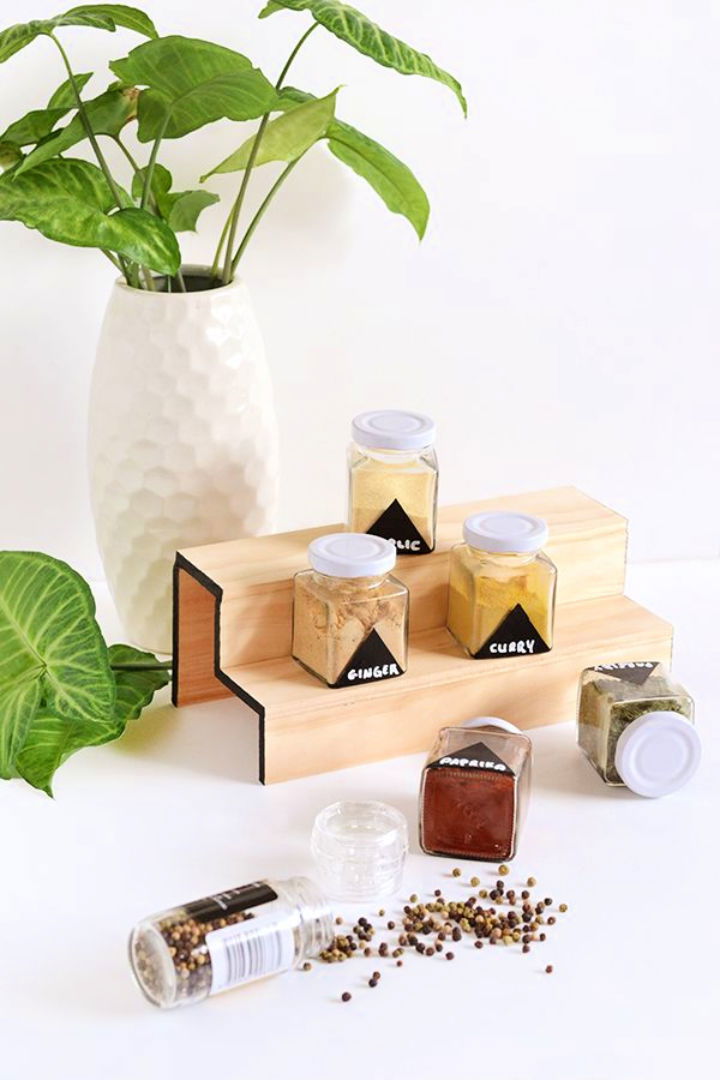 Look at this cute little spice rack that certainly has a wow factor. It's a minimal rack that won't take up much space on the countertop. Pretty lightweight that you can place it anywhere you like. It's absolutely a beginner's project. Construct it with supplies like a saw, sandpaper, ruler, wood, tape, and paint. curbly
20. Rustic Spice Rack
Why place your favorite spice jars in a closed cabinet? Display them on the wall by constructing these rustic spice rack ideas. They will surely add character and beauty to your cooking space. Moreover, they will be totally helpful in meal planning. Hit the link for details! theinspiredhive
21. DIY Pallet Spice Rack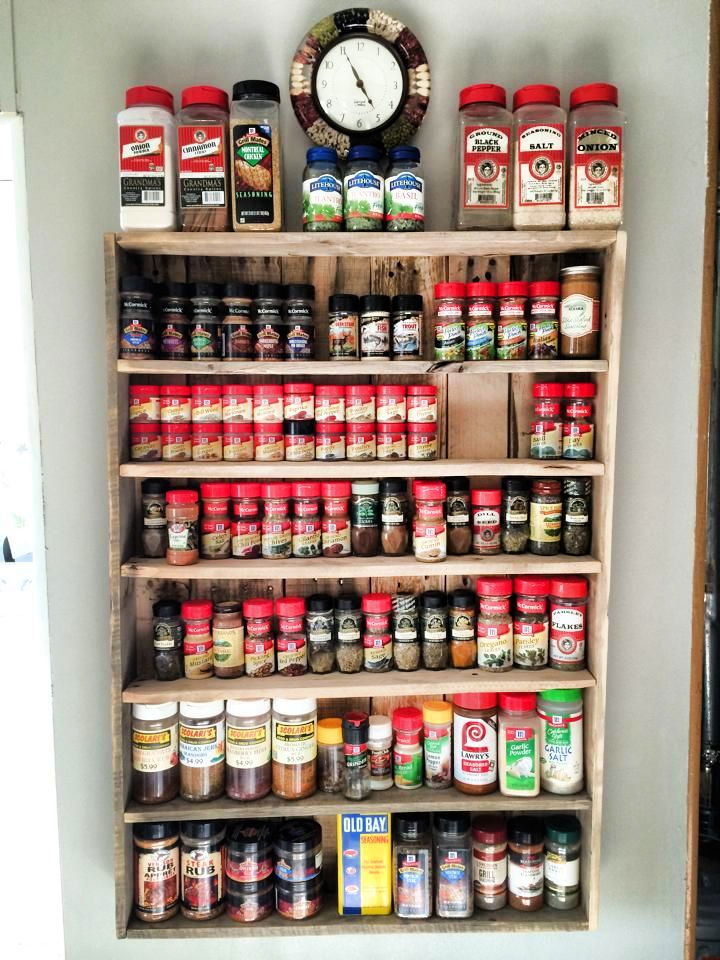 A pallet spice rack can be a major budget savior! Make as many DIY shelves as you want, and you would be surprised to see how well your kitchen looks. Hit the link for details and gather supplies to get started. instructables
22. DIY Wall Spice Rack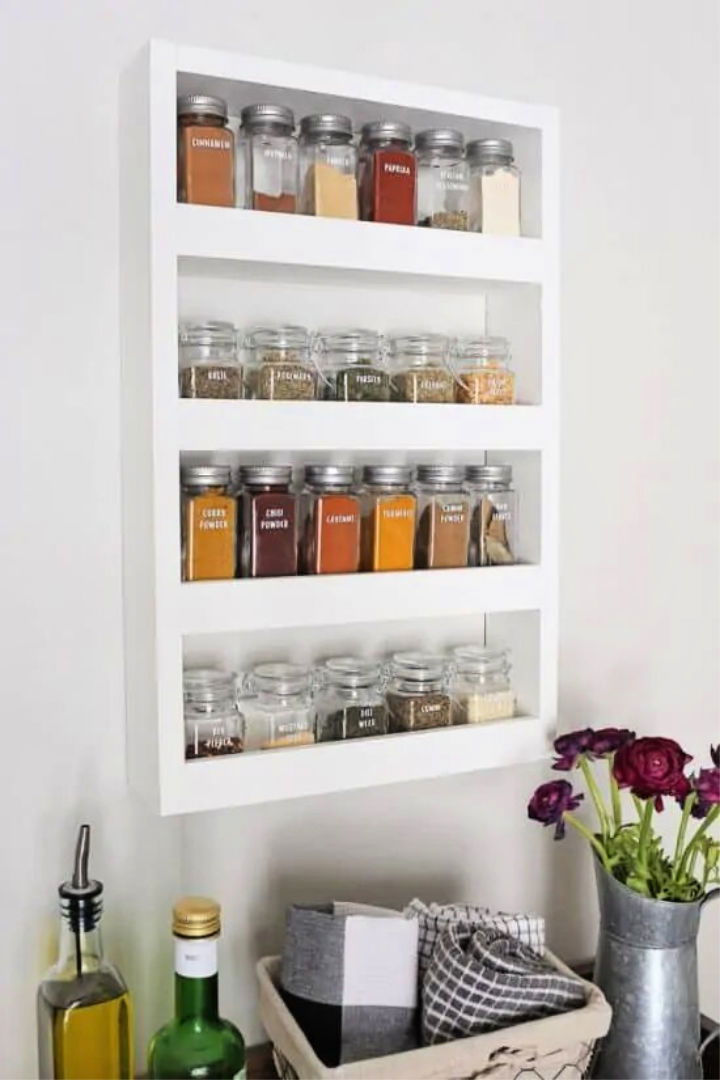 Spice up your storage. Filling up your collection of spices in an ideal place is #goals. If you don't have a big enough space, then this tutorial can be of great help! DIY wall spice rack with cute, labeled jars is going to be your next best solution. angelamariem
23. DIY Pantry Spice Rack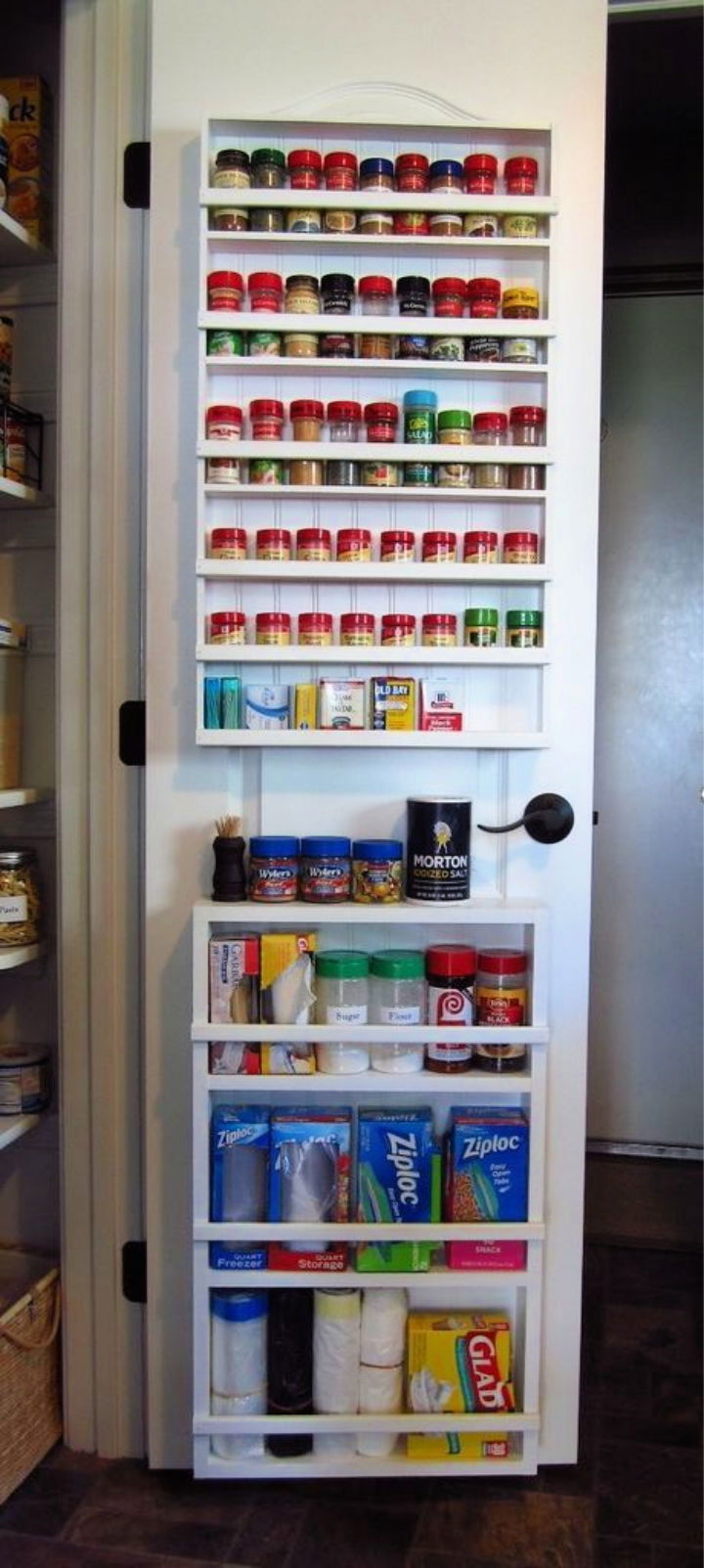 Tame your collection of seasonings with a genius spice organizer that fits drawers, cabinets, and countertops. To make a Pantry spice rack requires only basic carpentry skills. Just gather up all of the spices and other items that you want to store in the racks. homestaging
24. Coca-Cola Crate Spice Rack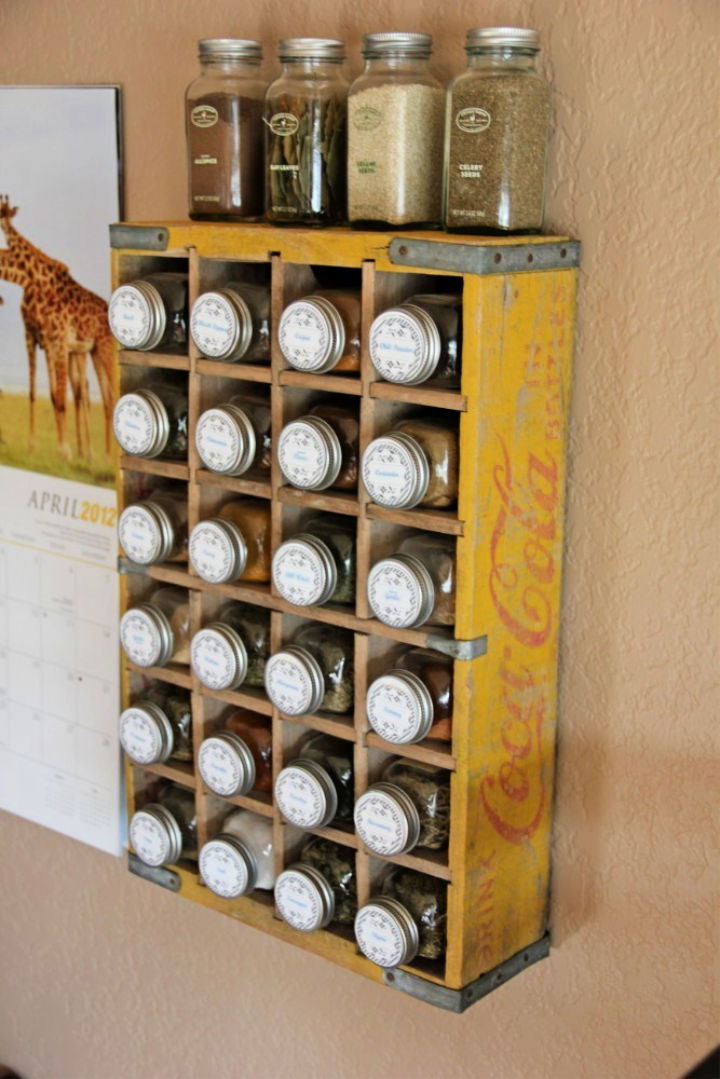 Putting all your spice jars into a rustic crate can be a great idea. Going crazy with the messy spice storage? Make your own Coca-Cola spice rack. Your kitchen is going to look oh so creative and so unique. bro haha
25. DIY Tiered Spice Drawer Insert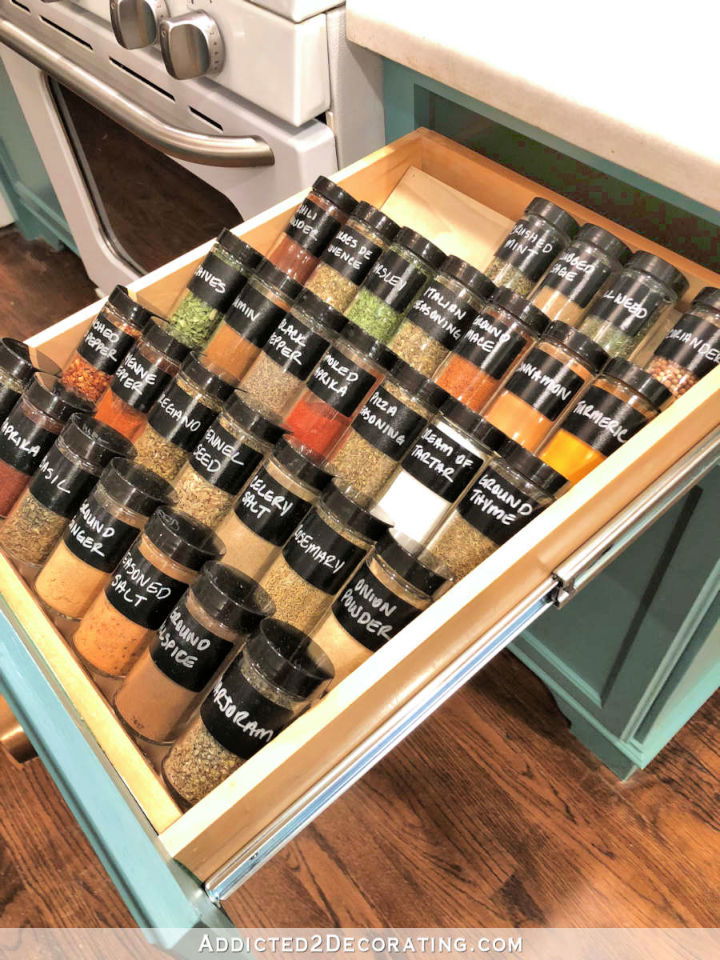 Organizing your pots and pans in a drawer can be great thinking. This spice storage doesn't only fit in a drawer but makes meal pep so easy! You can easily pick up the spices, given its tiered structure. Grab the supplies to get started. addicted2decor
26. Built-in Spice Organizer
DIYing a spice rack inside the wall can be a unique use of your empty wall space. You will be surprised that you can make it customized. Or also add a sliding door in it, which can be made by chalk or mirror. shanty 2 chic
27. Magnetic Spice Rack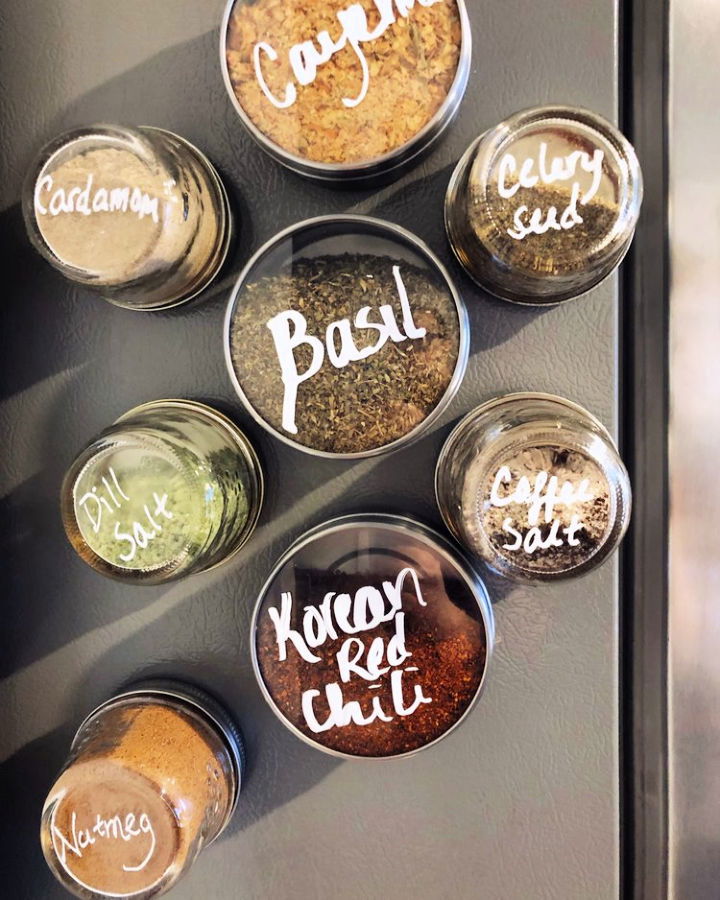 Think of massive corner cupboards and tiny openings! These can be used as your new magnetic spice rack. Magnets, Glue, and mason jars are only the supplies for making your kitchen corners so unique. aforagershome
28. Test Tube Spice Holder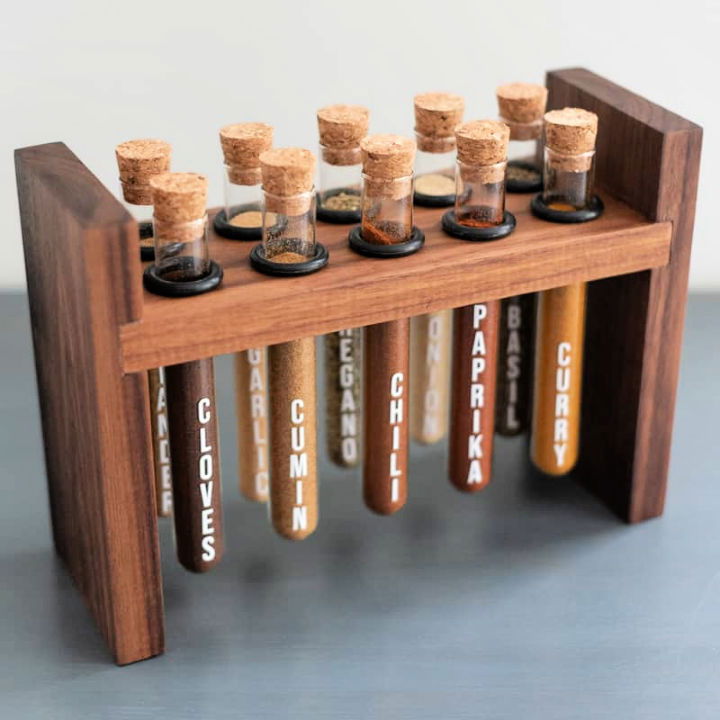 Imagine using a handful of test tube spice jars despite a cabinet full of spices. By using woods other than pine and plywood, you can make test-tube jars. Grab it if you want a better idea of utilizing your available space. thehandymans
29. DIY Wood Spice Rack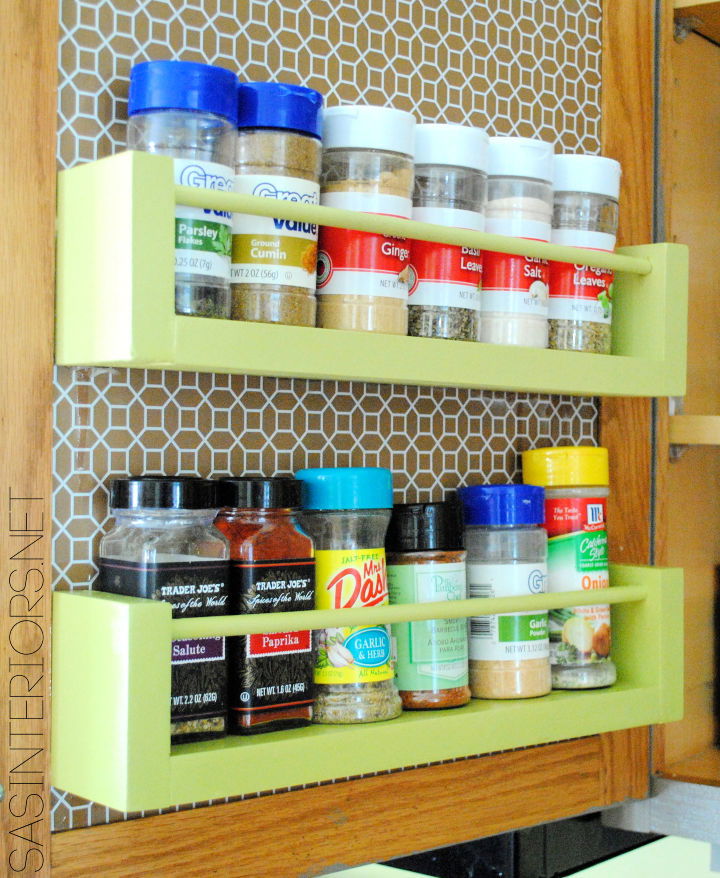 Wood spice rack ideas are the best to organize the rest of the cabinet, plus more kitchen interiors. Hit the link for details, and you can make your kitchen so organized. Supplies you need for this are epoxy glue' wood and jigsaw. jennaburger
30. Wine Barrel Spice Rack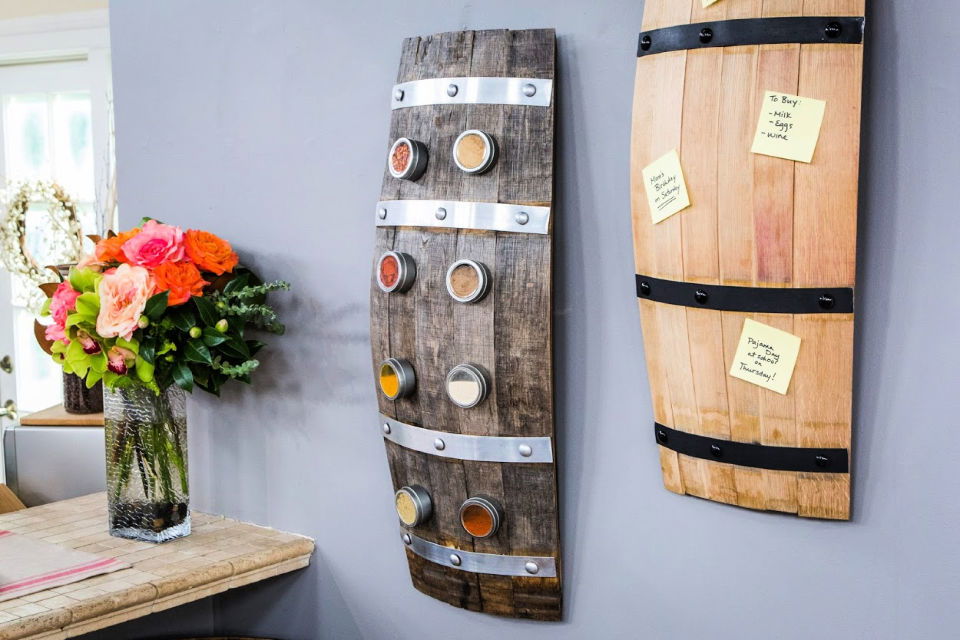 Spruce up your kitchen décor! This DIY wine barrel space rack is a lovely addition! Make your rack as strong as a metal piece. These racks are made from metal glass and aluminum mending plates, and the design is like a barrel. hallmarkchan
These simple spice rack ideas will show you how you can repurpose different useless and old materials from home to make functional designs that will bring great decor to the kitchen interior!
Organize your spices by making the easy test tube spice holder and make the tiered spice storage that will go much exciting in your kitchen! Go handmade with wood and make custom models with our spice rack ideas with custom built-in shelves!
Make the list of these DIY spice rack plans get your creativity inspired!
31. DIY Chalkboard Spice Cabinet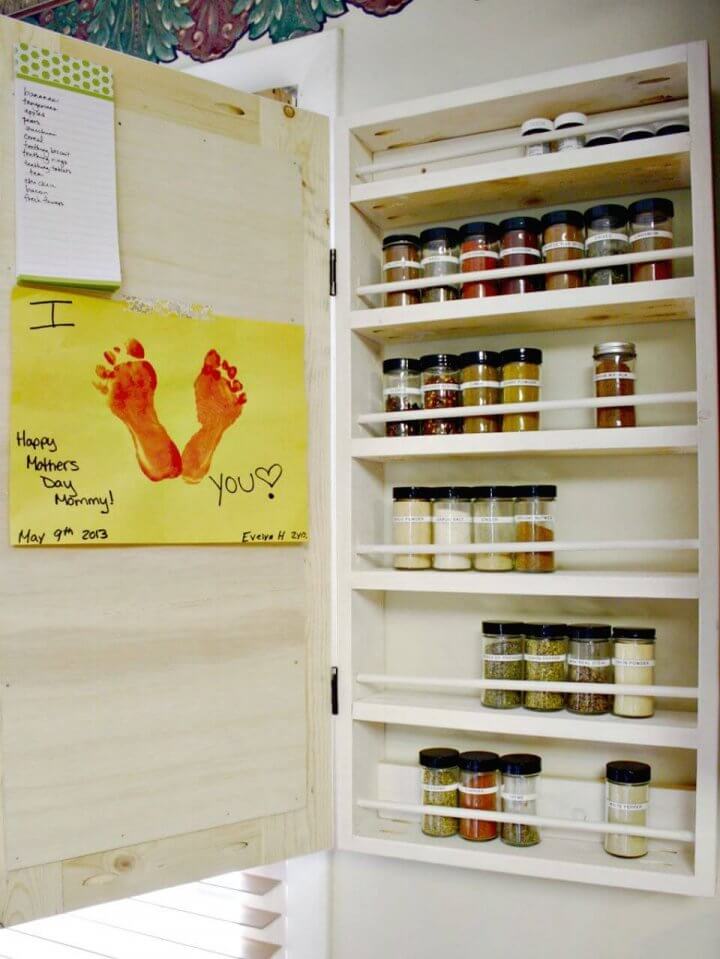 Build your own fantastic spice cupboard that will help in easy kitchen organization! Check out the lovely looking spice cabinet that is dual functional due to having a chalkboard front door hinged in place! Here the custom wooden boards have been put together to this spice cabinet, and the construction has been started by building a rectangular frame, and then the shelves have been installed! Extra wooden dowel supports or fences will not let the spice jar fall off, and they also bring great visual details to the entire cabinet! The cabinet's door is also made of custom wooden boards, while the chalkboard back panel has been made with plywood! Complete tutorial and instructions here jenwoodhouse
32. Test Tube Spice Holder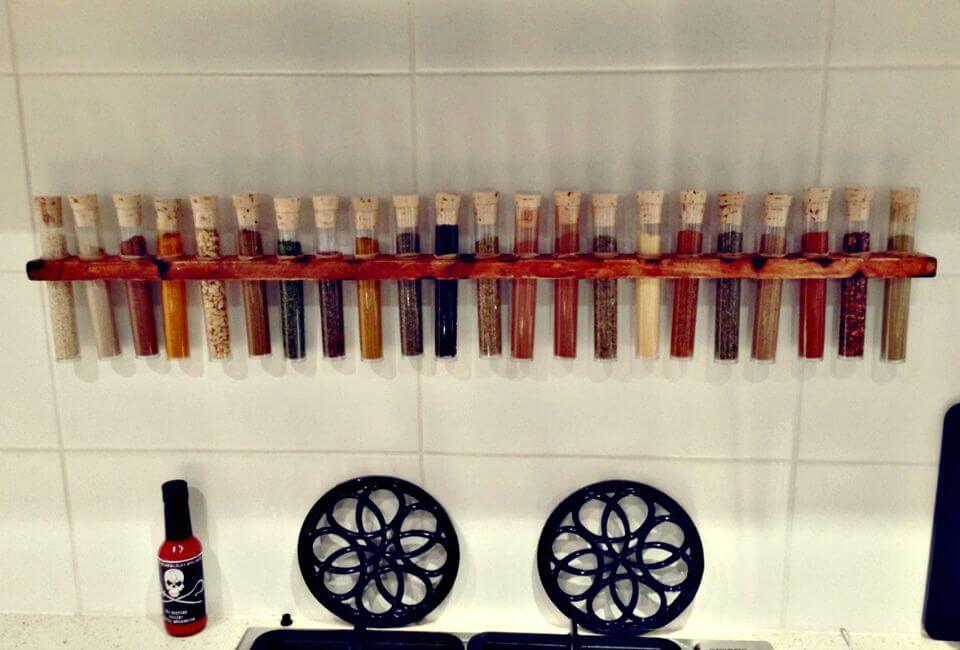 If you are all finding unique ways to adorn and organize your spices, here is an innovative project! Just make the one-of-a-kind spice holder at home and add them to your kitchen as an eye-piece! A fascinating example here is this lovely test tube spice stand that has been done to rock the kitchen and is super easy to make! Grab a piece or length of wood and drill holes to fit the test tube in, and make sure that holes are equally spaced! Fill the test tubes with spices, and then add wooden corks in their openings! Complete tutorial and instructions here helloyounglionsxo
33. Easy DIY Spice Holders for $1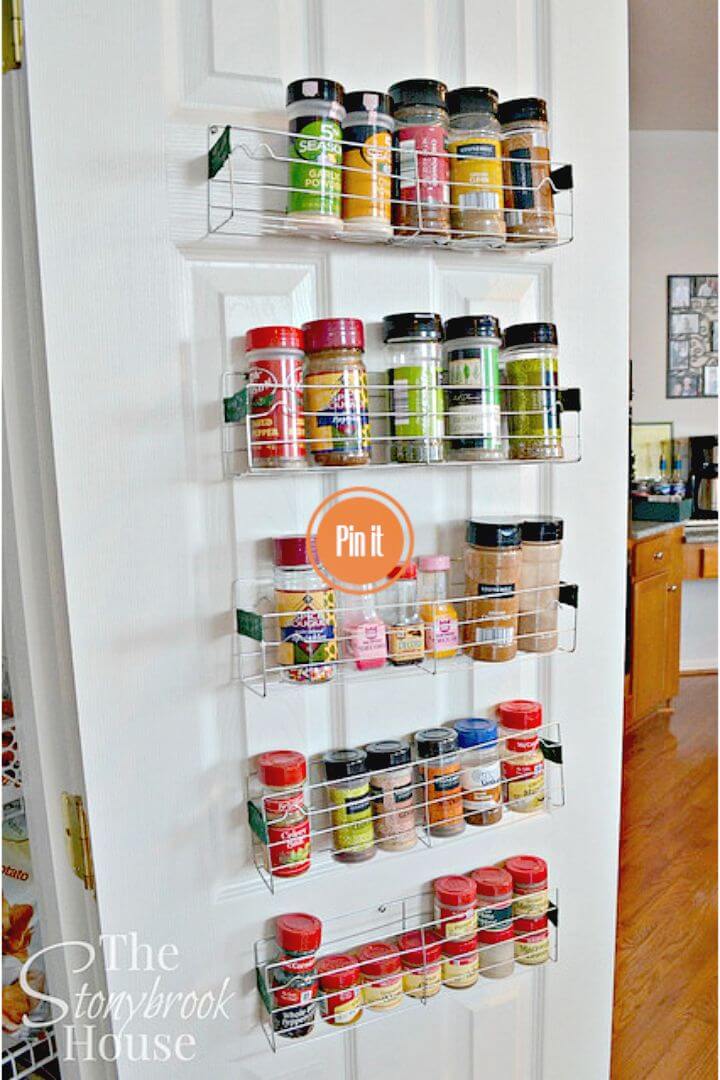 If you are on a mission to make some super cool looking spice shelves that will also be super easy to clean, then you can head over to spice cooling frames to make some fetching looking spice shelves! Here the metal cooling frames have been brought to an L-shape first and then turned into a holding basket that makes a perfect spice stand! Make a set of such spice stands, and just install them on your favorite kitchen wall! Complete project details here thestonybrookhouse
34. Spice Shelves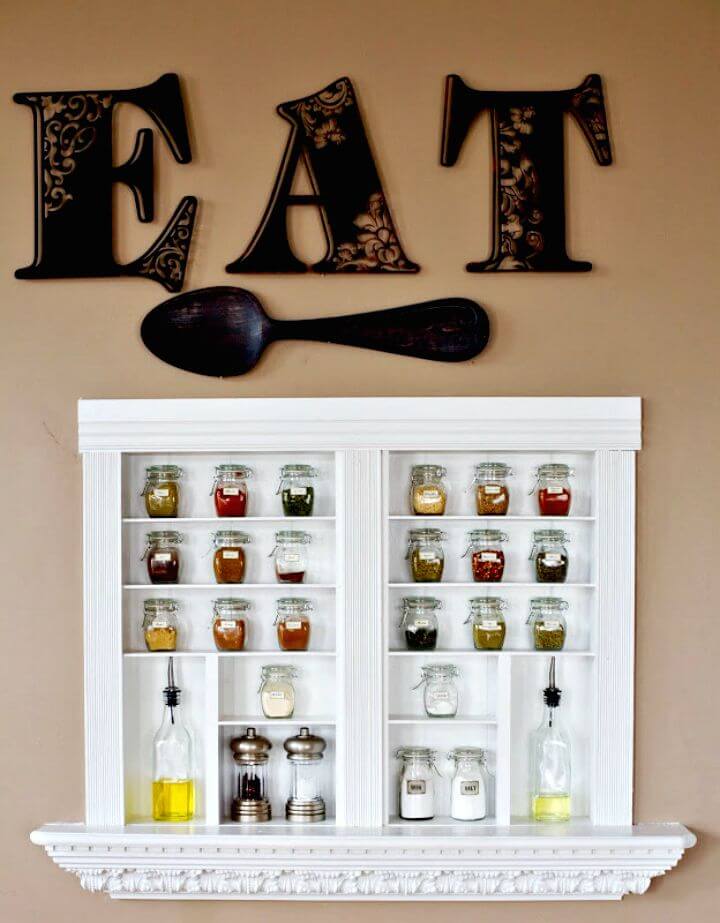 You will definitely love these spice shelves that have been made to rock and inspire. This spice cupboard is made of wood and has been fitted in the wood by cutting them out the market area of the wall out. The handmade wooden spice shelves have been fitted nicely in the wall and next to the wooden trim has been installed that helps to gain a damn beautiful look of the spice shelves! Complete project tutorial here manditremayne
35. Functional DIY Tiered Spice Rack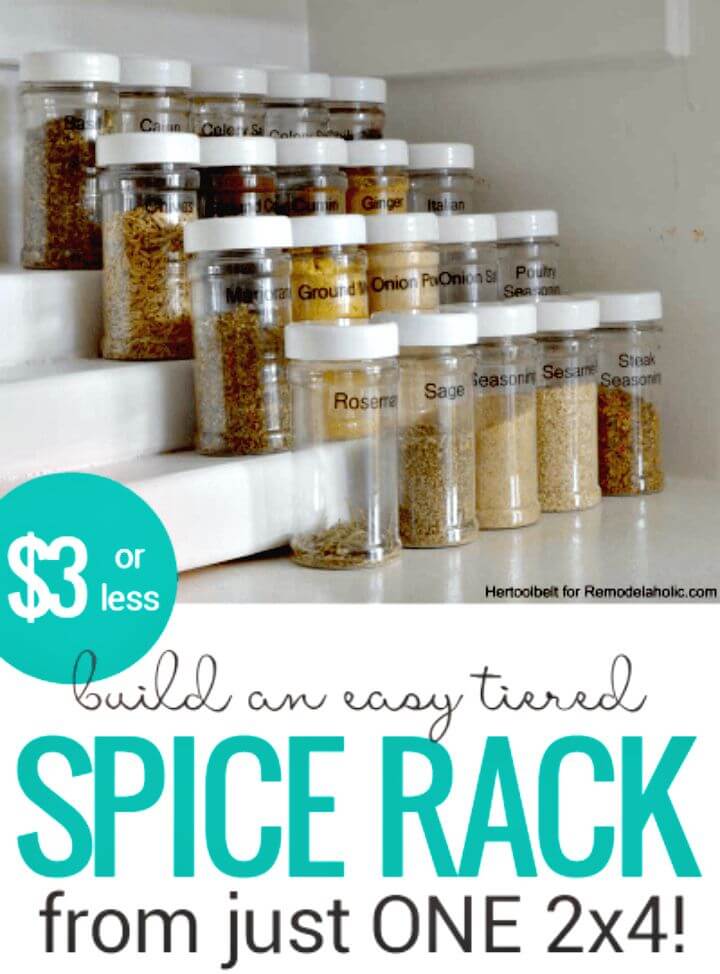 You will fall in love with the tiered arrangement of the spices that have been put together in step style. Hence the user finds a great easy to pick the required spice jar! Put together the thicker wooden lengths together, making the beautiful stairs, which would be your step-by-style spice shelf! Here the wooden boards have been painted in white and secured in place using wood glue and screws! Grab instructions from remodelaholic
Conclusion:
These easy to build spice rack ideas are great if you are one of those people who love to stay organized in the kitchen! With a few great Spice rack ideas, you can totally nail that plan. These spice organizers with easy and functional designs will certainly give you quick access to any spices you need for whipping up a perfect meal! Go crazy.