We all love the pennies due to the way the shine and they are made of both copper and silver! However, the extra pennies are also lost in the bottom of your purse or bag, and they keep on increasing after each shopping session! So, if you have just gathered a great stock of the leftover pennies then time to save them in a unique way that all will like! Just do some amazing crafts with the pennies and let them be part of your home decor! Just by benefitting the copper and silver luster or sparkle, you can make your custom items of interest shine with the pennies so they will look beautiful and eye-catching!
There are just numerous different DIY crafts to do with the pennies, and we have already laid some out of ordinary penny craft inspiration for you here! Just peek into details of these DIY penny projects that will make you learn the so many different ways to get crafty with the pennies to achieve custom goals or purposes! Decorate your photo frames by adhering the pennies all around the photo frame and also add the pennies to metallic chains through jump rings and make fantastic looking bracelets for yourself and also for your friends!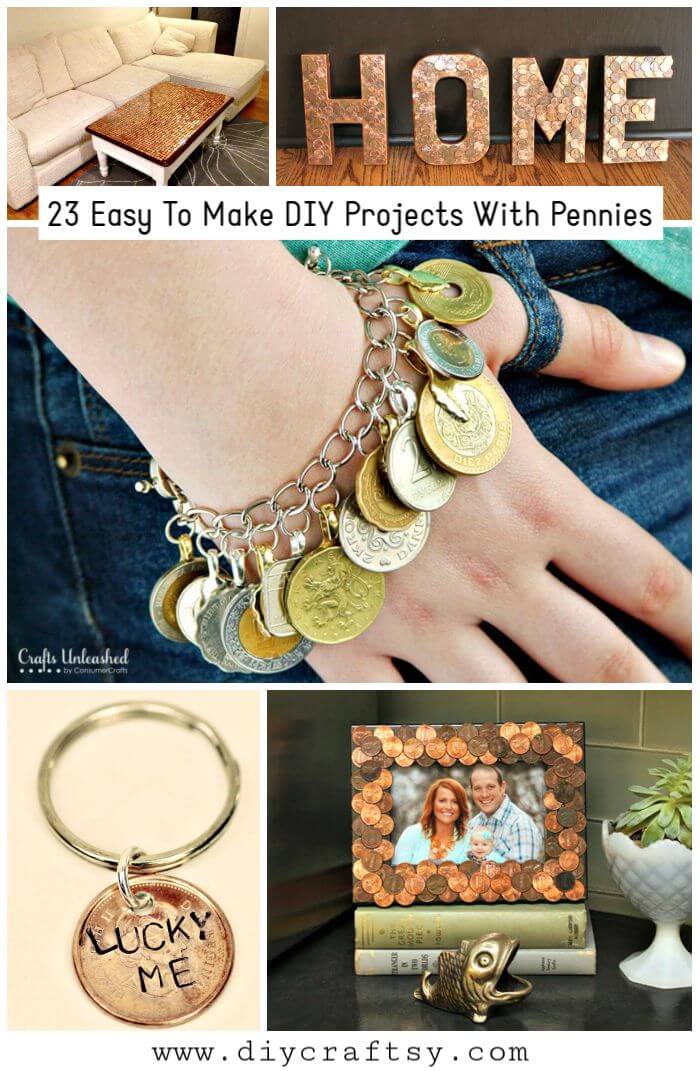 Grab a collection of new, old and rusty pennies and also make use of paint a little to make ombre penny art frames for your interior wall and accent tables! Drill holes in pennies and add them to keyrings and bigger rings through small jump rings to make cool keychains and wedding charms! Grab the custom balls like the styrofoam balls and cover them up with the shiny copper pennies and make a penny bowling ball and it will also rock as a garden accent ball that would make a great garden centerpiece also!
Just take a look at the given below sample that is truly eye-catching! Looking for some perfect window decor treatment ideas? If yes, they also make use of pennies to spice up your window sides by making penny cornice board for the windows! Put also the pennies all around the round wall mirrors to make fab looking sunburst wall mirrors that will go eye-catching and make the accent living coffee tables with lustrous penny tops that will go for bigger style statements in your living room! Just have a look at the given below coffee table sample that is super lovely and sweet to look at!
Give the accent side trimming to your picture frames using copper pennies and create as a stunning appeal of them! Please your friends and big jewelry wearers in home by making smashed penny bracelets that will also rock as a vintage piece of jewelry and also cover the custom wooden letters with the copper pennies and make fantastic home decor centerpieces with the pennies, just have a look at the given below 'HOME" penny letters that are graceful and super beautiful to look at! Visit also the attached links to reach to full free project instructions, tutorials, and step-by-step guides!
DIY Repurposed Foreign Coin Charm Bracelet:
With the pennies that you have collected over your foreign trips, you can create this cool and funky bracelet for yourself at home and add a lot to your boho personality and personal style. You would need some different size coins with versatile of the designs and patterns like round and scalloped, along with a chain and some glue to work upon this pretty and fun bracelet. consumercrafts
Awesome DIY Penny Photo Frames: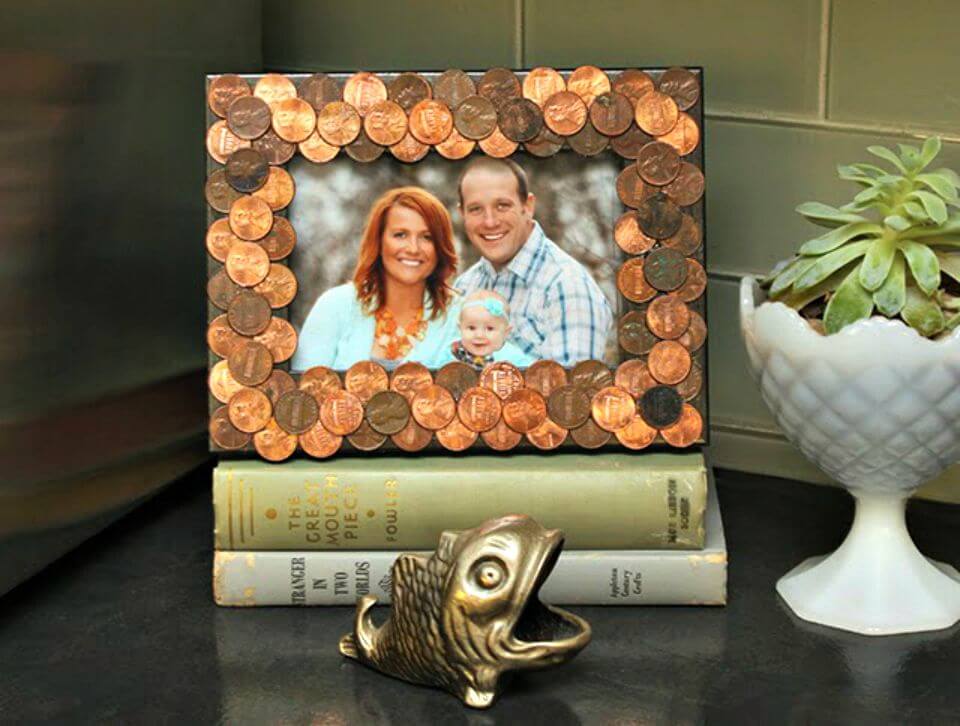 A photo frame on your table adds a lot to the decor and beauty of your spaces so you ought to have a fun frame there. You can grab some pretty shabby chic coins with or without rust and then glue them up around the boundary of your frame in double layers. If you do not have coins, you can buy them from the thrift store at the cost of a few pennies. You can get them at the cost of few pennies and here is the link to check out the details of the idea ohsolovelyblog
Cute DIY Penny Ombre Art: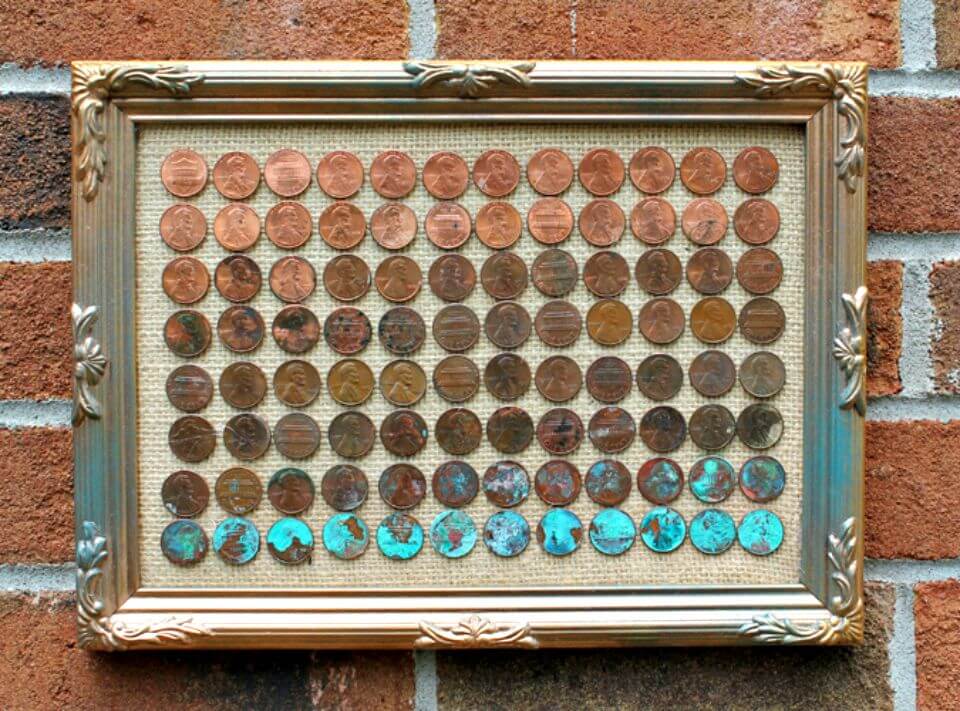 If you want to add some shabby chic appeal to your spaces then here is the perfect idea of doing it with the coins and a frame and create this lovely omber coin art for the walls of your spaces. You can grab a bunch of the pennies from being shiny and bright to brown, black and tinted and then layer them up on the frame in rows to create the lovely ombre effect. The frame would jazz up up the beauty and style of your spaces so do hack it all here iheartnaptime
DIY Lucky Penny His and her Wedding Charms: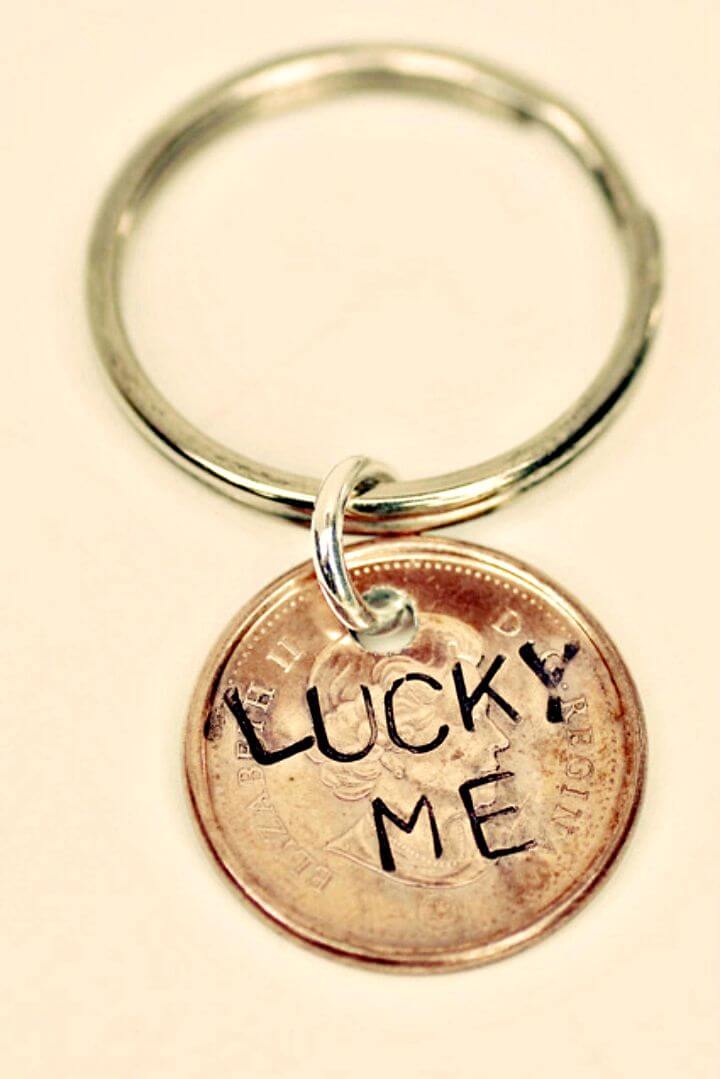 At your coming anniversary, you can make this lovely and cute wedding gift for you and your husband and celebrate your companionship in the loveliest way possible. Yes, you can create these pretty coin charms or the penny pendants using the coin of your marriage year with some lettering and then drilling and chaining it up to wear around your neck. Here is the link to grab the details of this awesome idea that can be used as an amazing anniversary gift idea for anyone intimateweddings
How to Make Penny Bowling Ball: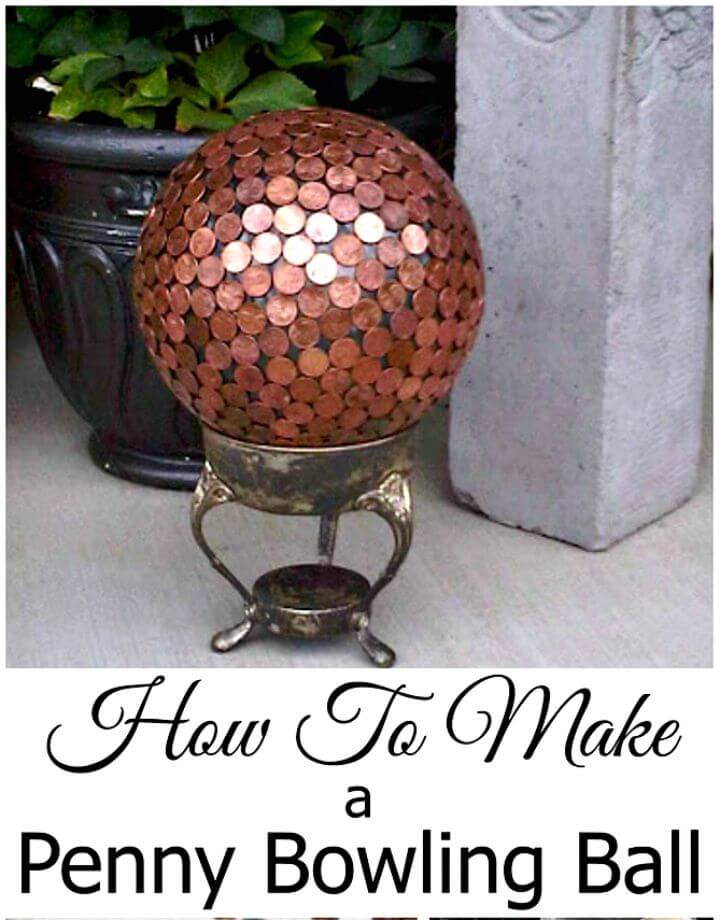 The garden bowls are getting popular these days to spruce up the beauty and attraction of your garden spaces with and there are lots of fun and chic ways to make them. Here is the coolest and yet the cheapest of the ideas that suggest making this funky garden ball with the coins. Yes, a bowling ball would be covered with the pennies all around, and your perfect garden bowel is ready to roll the eyeballs of everyone towards it. You can check out the details of this super fun project here houseofhawthornes
DIY Penny Cornice Board Window Treatment: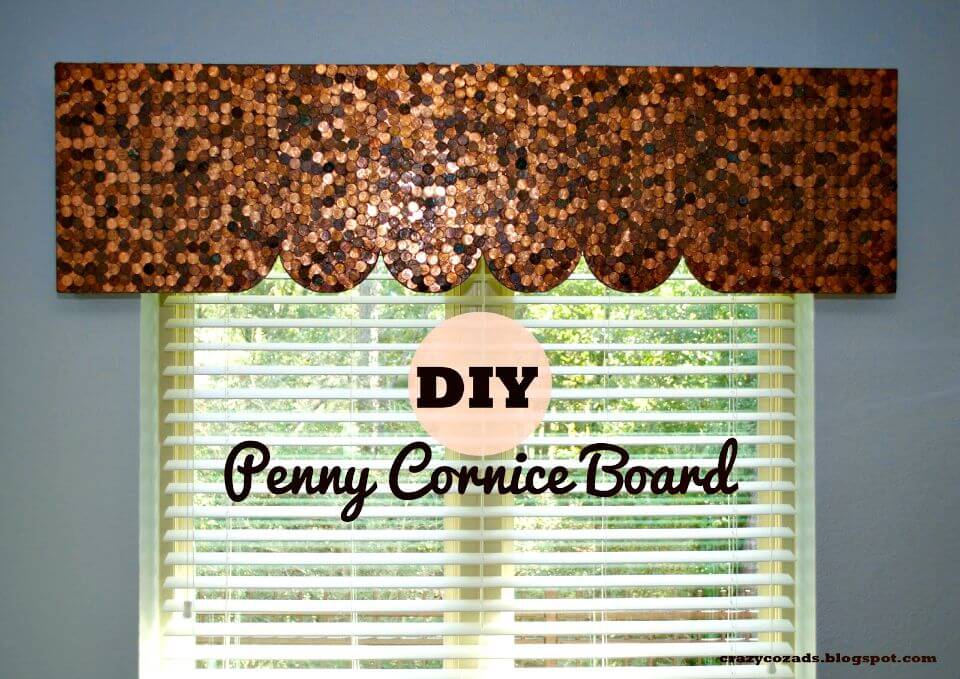 Windows are important spots of the house, and they can contribute to the decor and style of your spaces, and we got you this cool and fun idea to do with the pennies. You can get a scalloped shaped board and glue pennies on it to get it all covered, and it would be ready to make a funky and quirky display over your windows. So do hack this amazing idea and add some extraordinary touches to your decor setting. Tutorial details are all lying here crazycozads
Adorable DIY Penny Starburst Mirror:
A few pennies can award a million dollar look to your decor, and this penny mirror proves to that. With a bunch of the pennies, a wooden circle, and a mirror you can create this really cool, rustic and absolutely a versatile mirror piece for your walls and enhance the style and beauty of your spaces with it. The idea is straightforward, cheap and fun to do and here is the link to hack the complete details and the instructions of it realhappyspace
Awesome DIY Penny Top Coffee Table: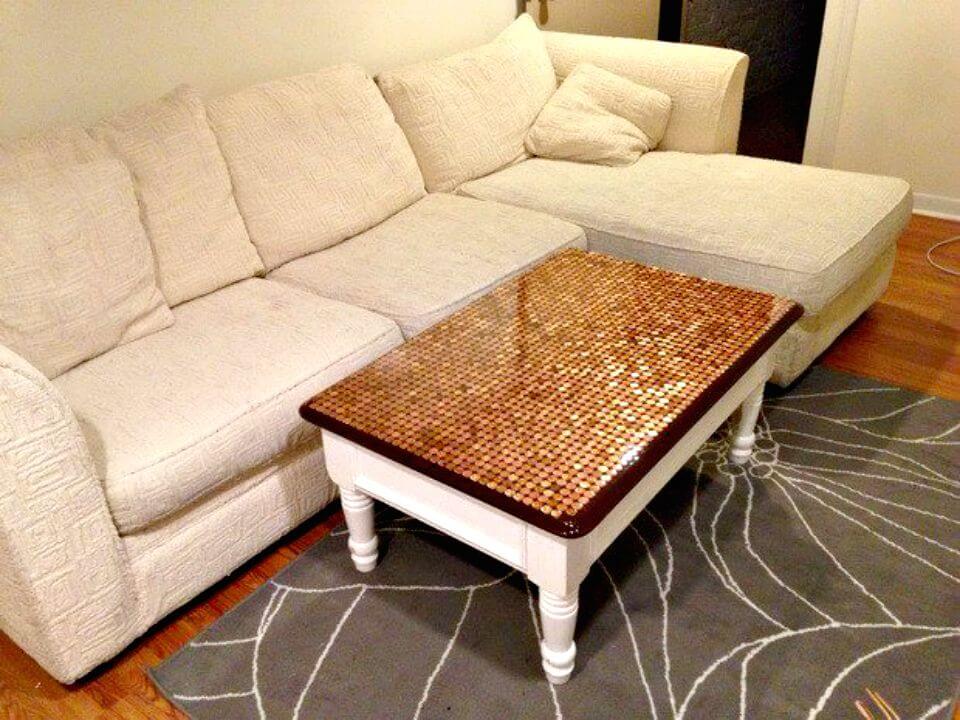 There are like plenty of ideas and ways to award a super impressive makeover to your coffee table and here is the super cool one to share with you. You can add pennies to the top of the table by covering it completely and then glazing it up nicely and Tada! you got the perfectly unique and fun looking coffee table for your living room spaces. You can achieve the details of this step with easy steps and the instructions right here to own one for your living room spaces removeandreplace
DIY Science With Kids + Penny Frame Craft:
You can create some cute and pretty wall art possession for your kid's room just like this Lucky penny art that would be not only fun but also scientifically informative for the kids too. By adding the old brown pennies into the salt and vinegar solution, you would get the bright and new looking copper coin that you glue up around the edges of the frame and then work it with some letters in the center and its ready to make a pretty display in your spaces. You can check out the details of the idea right here sisterssuitcaseblog
DIY Smashed Penny Bracelet:
You can make the funniest and the most boho kind of bracelet for yourself that to at the cost of few pennies literally. Yes with the smashed pennies getting into these resin squares would make an awesome piece of a bracelet with some beads and string to join them up. You can make one for yourself, or you can create a bunch of them to use as the lovely gift for your near and dear girls, Fully detailed tutorial is lying here with complete instructions to follow epbot
Easy DIY Penny Letters: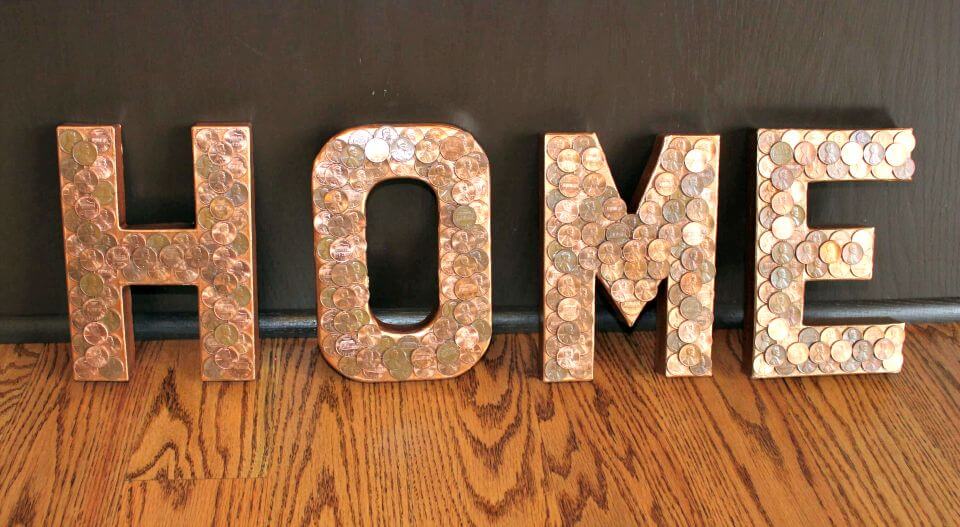 Creating home signs for your home decor is an old idea, but you can funk up this art in so many custom ways of yours. You can take wooden Home letters and get them spruced up with the pennies being glued all around to them. The idea is unique and fun, and you would find all the details of doing it home on your right ton the link given here sometimes-homemade
How To Create Penny Ring:
You do not need to buy those expensive rings now to make a style statement as you can do it now with a single penny. Using a penny being rounded up with a rhinestone trim you can create this awesome and pretty ring on your own to flaunt some custom style and personalized fashion. The idea is straightforward, fun and quick to do and you can check out all its details and instructions here trinketsinbloom
Make Your Own Penny Tray: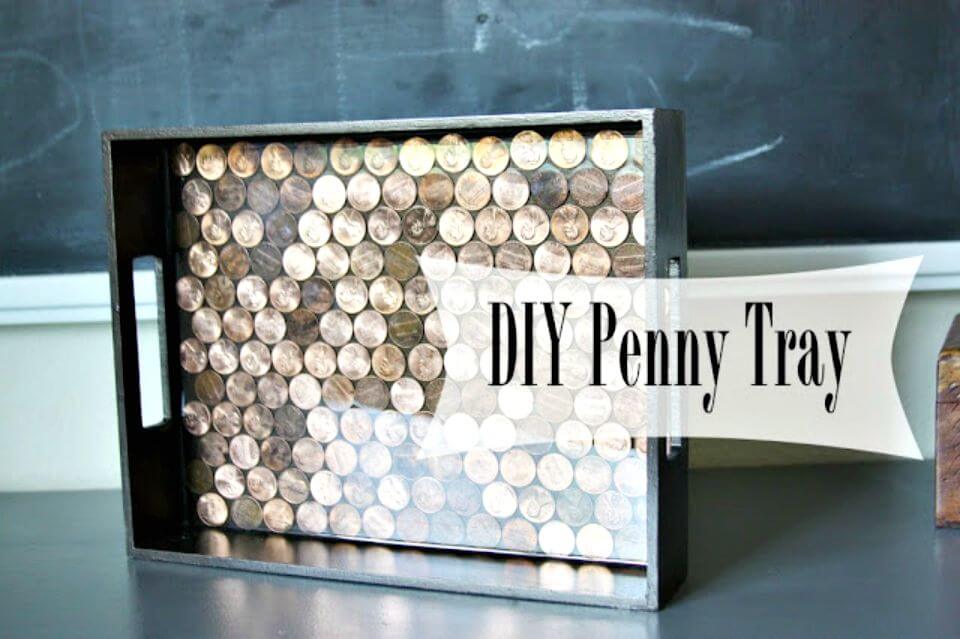 If you are also hearing and seeing so much about the penny projects and want to try one for yourself too then here is how you can do it so nice and easy on your own. The wooden tray has been stained, glued up with the pennies all inside it and then glazed up with a mixture to smooth it all up. You would love organizing your magazines, books and other knick-knack stuff in the tray and here is the link to catch the complete details of this idea to do it easily yourself at home beingbrook
How to Make Penny Art: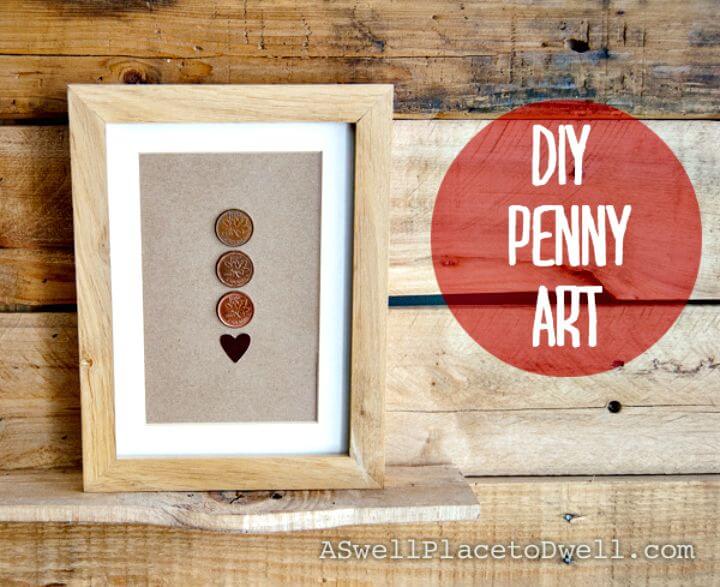 As the penny projects are all creating the internet rage, so you also get your hands dirty with a penny project and here is this one to add in your to do list. This is a cute penny wall art piece to adorn your blank and empty walls with. A wooden frame or board has been glued up with three pennies and acute heart at the end the pretty wall art is ready to rock your walls with. You can learn the complete details of the idea right on the link here aswellplacetodwell
Cute DIY Penny Coasters:
If you got some really cute and fun wooden coasters then here is the idea to jazz up their look more with the pennies. Yes by just gluing up the pennies to the coasters you can make them look so fancy, fun and innovative. You can also use a pack of them as the gift for your dear and near ones on any of the celebrations or festive. Learn to make them right on the link here with all the details and the instructions instructables
How To Make Tiled Penny Desk: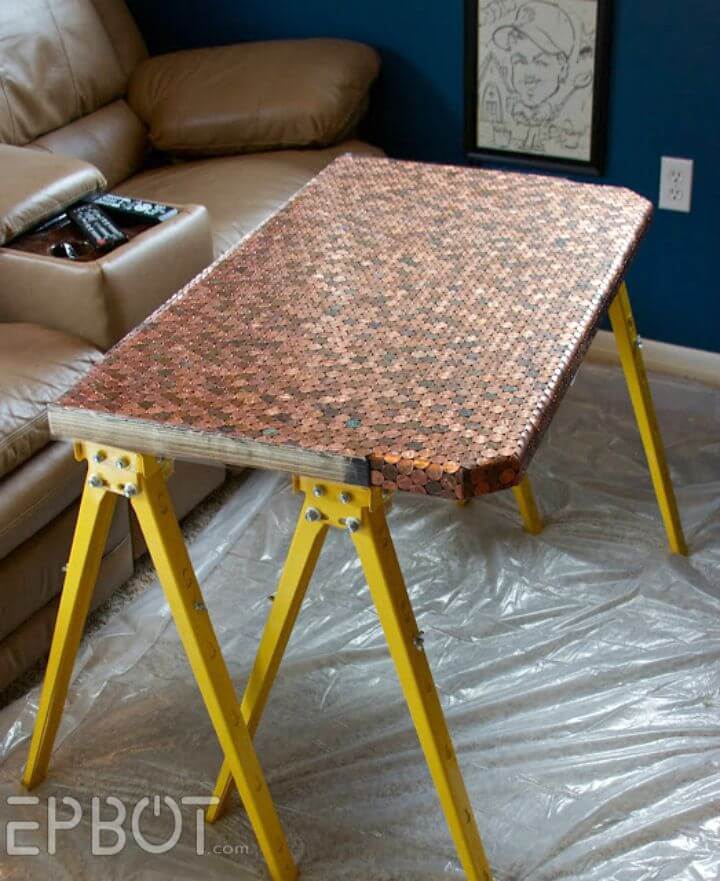 You can award a really interesting and chic look to your home desk, and all you need is a bunch of the pennies. Yes using a big pack of the pennies you can glue them all up on the desk top and make it look so damn fun and cool for the decor of your spaces. You can learn the details of the idea right on the link here so that you can perform this really awesome desk makeover plan easily at home. Link here epbot
How To Use Pennies For Coaster: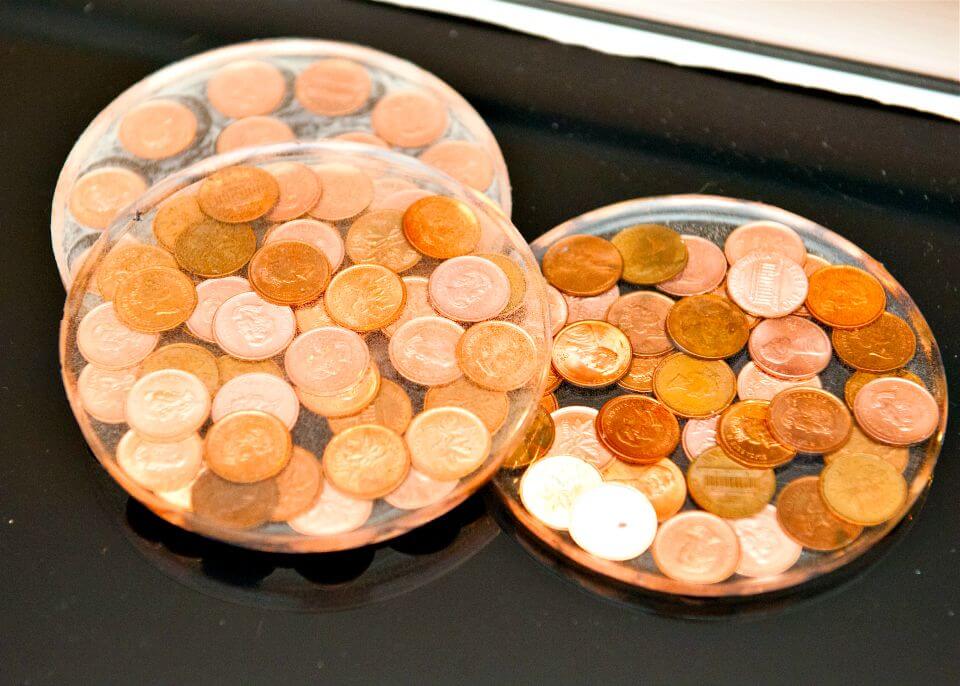 If you also got a huge collection of the coins and you are thinking to get rid of them nicely then here is the idea to deal with them by turning out these gorgeous an chic looking coasters out of them. You would need your pennies, coaster molds, and the resins to get them easily done on your own and to know about this really cool and fun idea you can check out the details and the instructions here seriouslyimthrifty
Make A Penny Mario Pixel Art: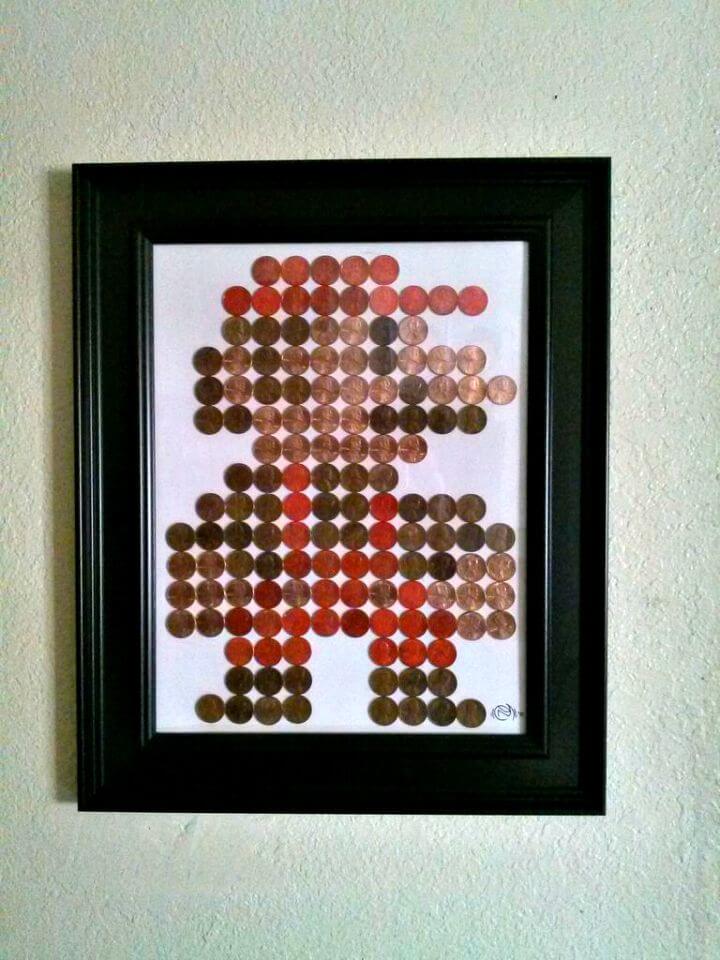 You can take inspiration and motivation from your favorite of the things and the characters while working on your diy projects as home just like this really cute and fun Mario pixel art pieces has been created to charm up the walls with. You would be surprise to know that a bunch of the pennies and a frame has been used to install this really cool and fun art pieces for the wall decor and home style. You can check out the details of the project right on the link here instructables
DIY Penny Napkin Ring Holders: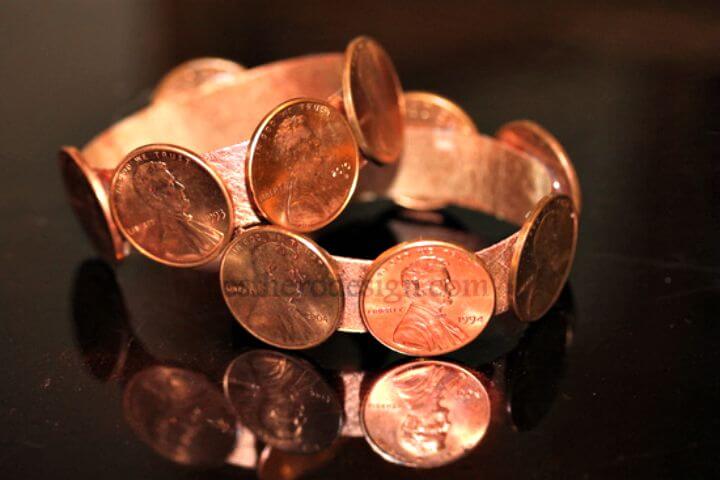 There are so many small details that add up and make your dining table decor and setting look perfect and stunning for a dinner or a party. So one of the things needed for the dinner table setting are the napkin rings and now you can make them on your own using the pennies around the empty paper roll. The complete project details have been shared here with easy steps and the instructions and along with the pictures too kosheronabudget
Awesome DIY Initial Penny Art: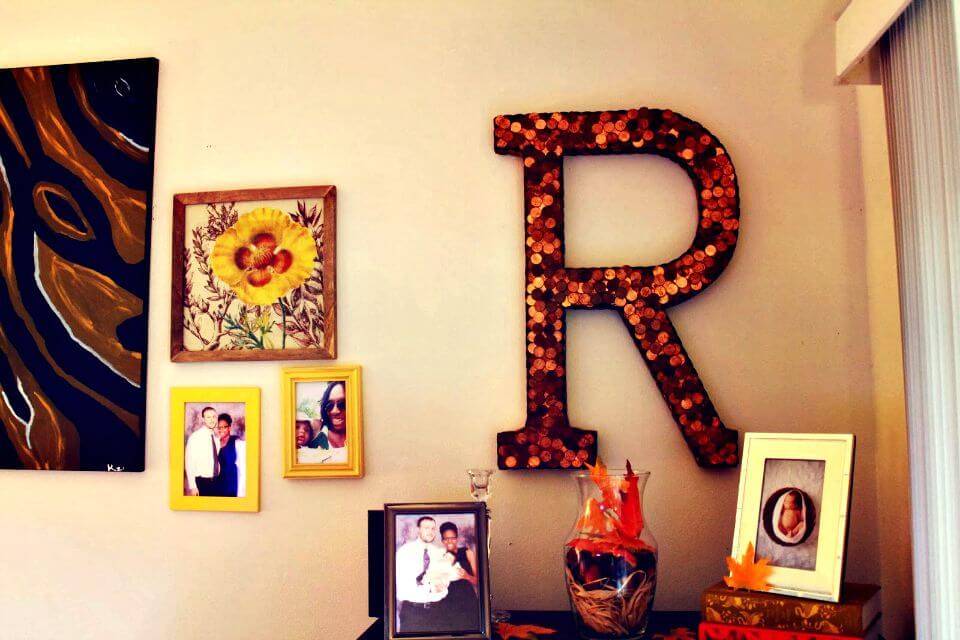 Using initials is the best way to personalize the decor of any room in the house so if you are working on the makeover or remodeling ideas of your son's room then this idea is going to really rock there. You can get a wooden initial of your boy's name an to get it all covered or filled up with the rustic brown coins and hang it up over the walls of his room and surprise him. Catch the pictorial details of this awesome idea here and bring some chic flairs in the room decor missmashdiy
Simple DIY Pressed Souvenir Penny Bracelet:
Compressed pennies are just great for the projects like these cute and pretty bracelets. With easy three steps, this cute and simple bracelet has been made and they are, drilling the penny, passing through the leather cords and the lastly adding the jump ring and the clamps on the cord sides and the bracelet is done. You can make for yourself, family and the friends as the token of your love on any of the days. Get guidance from the pictures and written details here dukesandduchesses
DIY Lucky Penny Keychain For $5: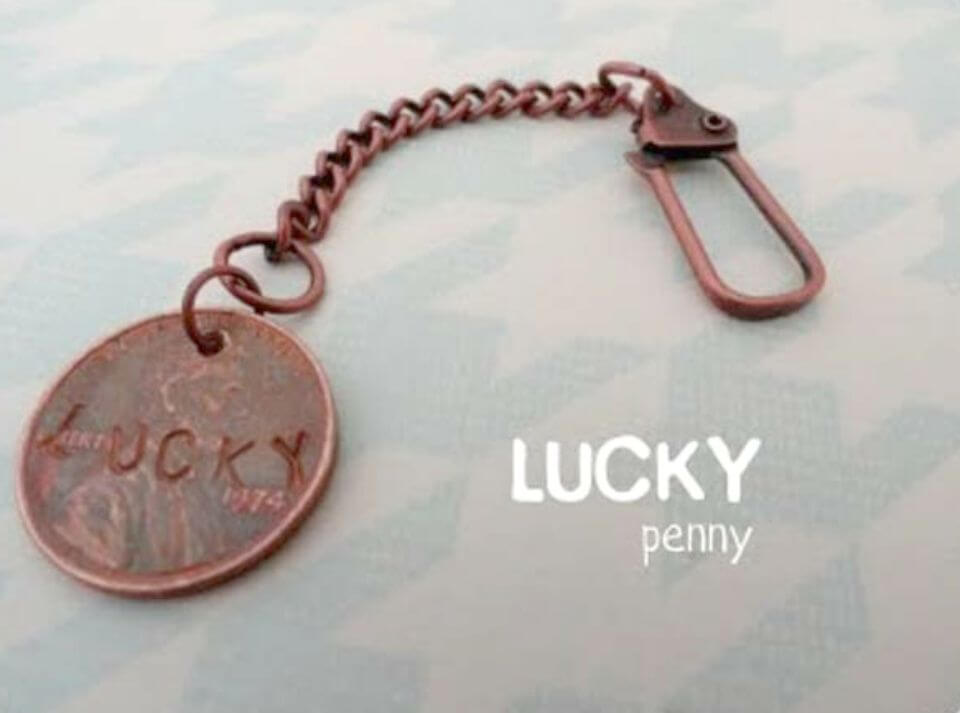 If you are in the mood of some cute gifts for your boyfriend, father or the brother then here is the idea to do is so simply and functionally by creating this so cool and shabby chic looking Lucky key chain for them. You would a chain, jump ring and this lucky penny with a hole and the project is done. You can hack the details of this idea with easy steps and instructions right here alittletipsy
Simple DIY Lucky Penny Votive Holders:
Candle votive or the flower votive is the need of each celebration and festive decor so you can make some on your own to bring the custom flairs in your decor of the tables or the mantle places. You need to add some old pennies to a cute little glass jar you can easily create these cute and personalized votive pieces to hold your cute candles in them. The idea is straightforward and fun to do, and you can check out the details of it here shakentogetherlife