Looking best ways to bring the rustic country look to your home? Find these cheap farmhouse decor projects out of plywood that will surely highlight the country decor theme. From building decorative farmhouse furniture to precious rustic decors, you will learn to make all with plywood.
Explore this compilation of the most genius 15 cheap plywood farmhouse decor ideas, a cool way to say a big thanks to the evenness and surface dimensional stability of plywood. These cheap farmhouse decor ideas are going to be the best way to cast a rustic theme in your home while using leftover plywood. No major investments are involved, so you can enjoy these plywood crafts without any hesitation. Time to take the remaining plywood sheet out from the trashed store to do these inexpensive farmhouse decor projects.
Stack plywood rounds for a cylindrical shape, drill a big hole in it and use it as a candle holder. Bring decorative wood warmth to any room ambiance by building a chevron plywood vent hood. Get an interior look impressive also by installing quick, sleek plywood floors.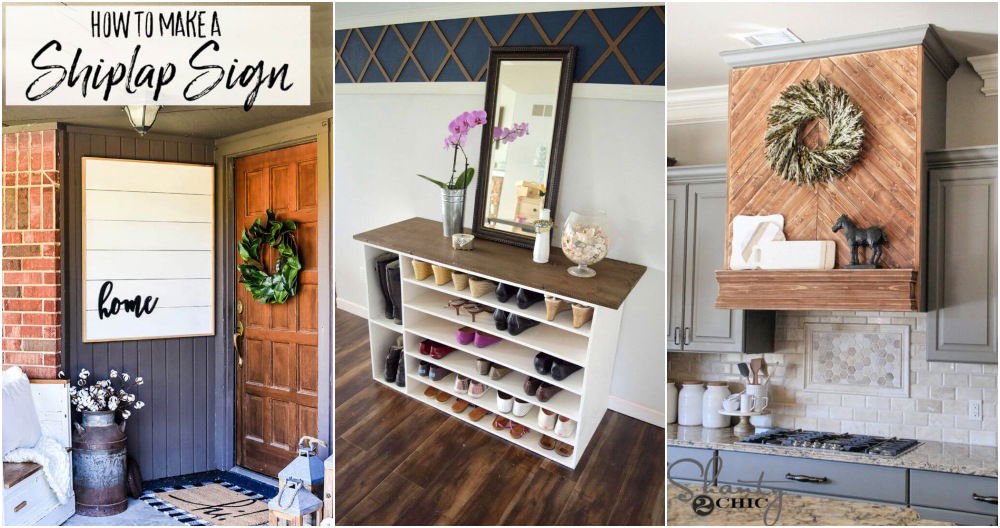 Build also farmhouse-style desks, shoe racks, storage bins, and rustic yet modern shoe rack systems. Make life easier by making cool, plywood laundry signs and framed accent wall shiplap. For more inspiration, check the whole list of cheap farmhouse decor projects out of plywood that provides free tutorials and instructions.
1. How to Build a Plywood Vent Hood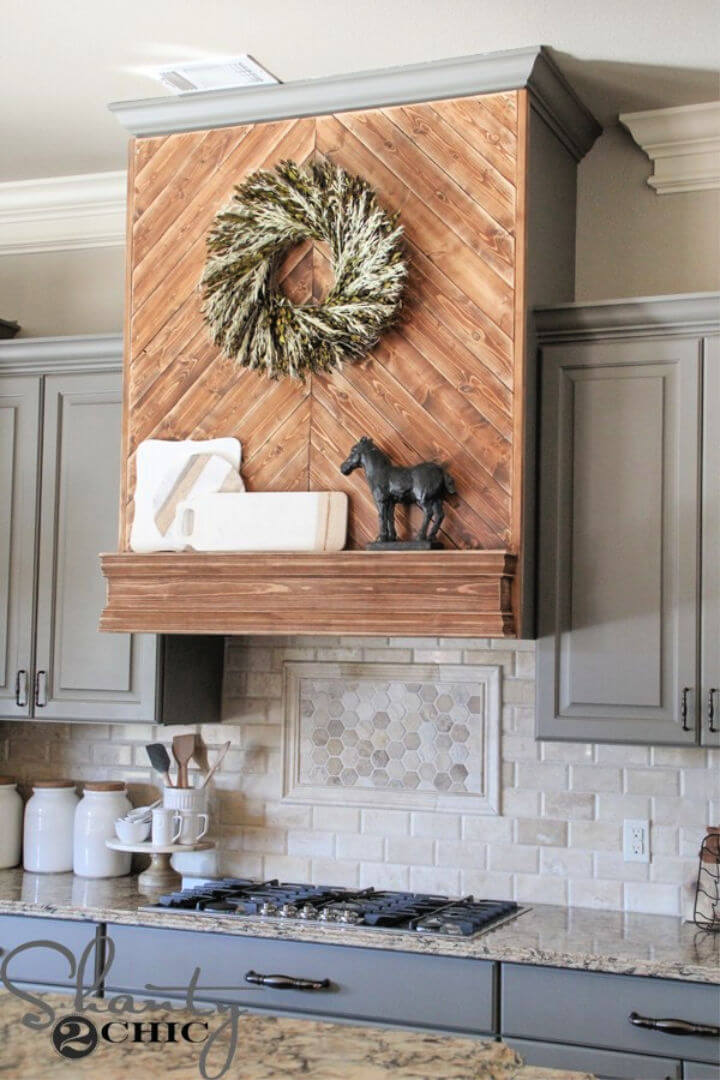 A smart hack is here to feature the farmhouse style touch in your kitchen. build this plywood vent hood, spruced up with a green wreath and an accent shelf. Plywood slats packed in chevron manner will also help satisfy your love for chevron. Complete guides and tutorial here shanty 2 chic
2. DIY Scrap Plywood Candle Holders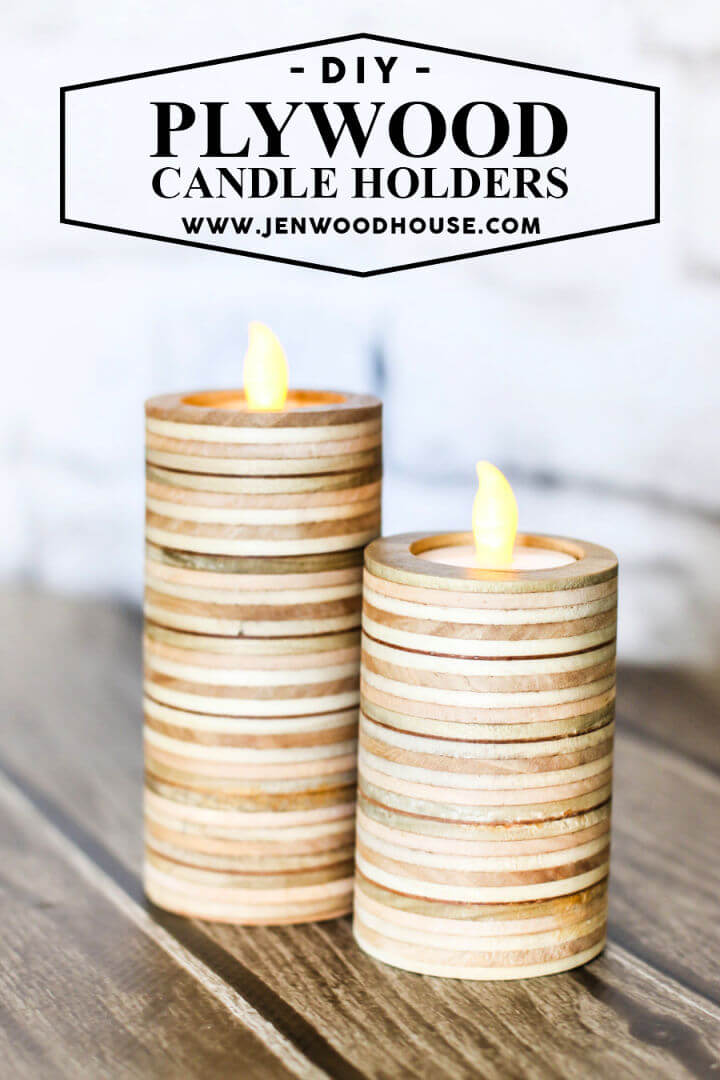 Turn the plywood scrap into treasure with this smart DIY hack. You often get the plywood circle scraps while drilling big holes in the plywood sheets. Stack them to make wood cylinders and next again drill big holes in them to make superb candle holders like given ones. Place them on your dining table to bring some romance and vintage vibes. Details here jenwoodhouse
3. Plywood Farmhouse Floors

Interior wood flooring helps to bring warmth to an interior and it is also a smart way to insulate an interior. So, why not use the plywood to install farmhouse style wood floors to your home, will be a pleasure to look at and walk on. Check out the sample flooring done to inspire. Complete guides here remodelandolacasa
DIY rustic farmhouse bathroom: Find farmhouse bathroom decor ideas, including farmhouse bathroom accessories and fixtures, shabby chic bath mats, vintage style shower curtains, and more.
Floating vanity: These DIY floating vanity ideas are the perfect space-saving bathroom storage solution! It's perfect for small spaces and it's easy to make.
Free Entertainment Center Plans: If you're looking for a way to save money on a farmhouse-style entertainment center, these DIY entertainment center plans are perfect. They're cheap, easy, and customizable.
DIY Dresser Plans: We have compiled a list of free DIY dresser plans for you, with extra storage space and other features. They are all free to download and some are even printable.
4. DIY Pottery Barn Inspired Armoire

Build also stunning PB inspired furniture knock offs to satisfy your love for PB furniture that is often to buy expensive. Go genius with the plywood you are having in home to get this pottery barn inspired armoire instantly made. A perfect farmhouse style furniture piece to make in no time and without getting expensive. Complete how-to guides here shanty 2 chic
5. DIY Large Plywood Sign

Spruce up your porch area also with this giant plywood sign, may be a smart way to convey custom messages to your porch audience. Grab a plywood slab, paint it in your favorite color and next trace your favorite letters on the sign using a letter template and fill the colors in them. Complete how-to tutorial here christinasadventures
6. Turn Plywood Scraps into Distressed Number Tags

Another smart reuse for the plywood scraps. Give smart cuts to the plywood odds and ends to get them in a tag shape, paint, and distress and then tie a custom rope onto tag holes for hanging it around anything. These number tags will be a smart way to style up any of your space. Full how-to guides here littlehouseoffour
7. Plywood Farmhouse Storage Bin

Organize also your things in this farmhouse storage bin, build with plywood. It will rock in your kitchen as a fruit and veggie organizer, has amazing design curves to impress. It all depends on final wood treatment to create a custom tone of wood. Full how-to guides here prodigalpieces
8. Low Cost Plywood Shoe Organizer

If you can't handle those messy collections of shoes then do opt for this plywood shoe organizer, built to last and inspire. It gains a pretty farmhouse style look due to having a white painted base and a rustic blank top surface. There are several different compartments to take good care of your shoes. Full how-to guides here ourhousenowa
9. DIY Farmhouse Plywood Laundry Sign

Make also your laundry room feel special with this chalkboard wall art sign, made of plywood. Personalize it with custom overwritten quotes and letters and it would be an ideal way to spruce up boring laundry room walls. A lovely farmhouse style laundry wall art sign. How-to guides here cedarlanefarmhouse
10. Modern Farmhouse Plywood Desk

Build also this lasting longer farmhouse plywood desk that is something truly mind-blowing to look at. It features a great design, a finely painted look and lots of storage options like built-in drawers and open storage compartments. Accent metallic drawer pulls will also add in the overall beauty of the design. Complete guides here anikasdiylife
11. DIY Plywood Hardwood Flooring

Featuring the plywood in your interior home spaces will also help bring a farmhouse-style touch to your home. Just make use of plywood hardwood and install the wooden floor, will also help insulate that particular interior along with bringing a glam touch of wood. Complete how-to guides here theothersideofneutral
12. Tiered Stand from Repurposed Junk

Get also crafty with the plywood circles, pie plates and wood spindles to make tiered stands or organizers. Duplicate this farmhouse style tiered stand made from repurposed junk and plywood, something you will to grab for a better display of your accessories. Full how-to guides here prodigalpieces
13. Farmhouse Chalkboard with Rustic Wooden Frame

Get great help from here to incorporate a farmhouse decor touch to your interior home spaces. Build this rustic chalkboard frame using rustic frame and plywood and next hang a Mason jar flower vase in its front side. This will make you get with brilliant farmhouse decor for sure. Full how-to guides here knickoftime
14. Farmhouse Style Framed Shiplap

Fancy up your accent walls more with this shiplap frame, will also make great wall art. This plywood shiplap frame should be your first choice when need to bring the farmhouse style vibes to a decided interior space. Another great plywood project to highlight the farmhouse style in your home. Complete how-to guides here ourhandcrafted
Conclusion:
So, if you're looking for some cheap and easy ways to add a touch of farmhouse style to your home, be sure to check out the inexpensive farmhouse decor ideas above. With just a few cheap farmhouse decor and simple changes, you can create a warm and inviting space that's perfect for relaxing and spending time with family and friends.