In fall or winters, we all the thick and bulky yarn products in stores and nearby fashion shops! The arrival of chilly months, just makes us think all about warm fashion clothing and body warming foods as nobody wants his/her legs trembling! So, if you are a style loving woman then all your business would be to figure out what to wear this winter to catch more eyeballs! The homey persons all love to think about the cozy home decors! If you are expecting to attend a baby shower or willing to please your kids, then you may wish also to have some pretty cozy gifts and toys!
You can produce all the winter stuff your need by getting busy with your crochet hook! As killing cold days makes you stay longer inside the home, so why not try out a few of crochet patterns you like to avoid getting bored? Are you a master crocheter waiting for new and cool crochet inspirations? Are you very new to the art of crocheting? No matter, whether you are master hands in crocheting or a dedicated beginner, this grand list of Top 50 free crochet patterns will make all of you a big fan of it! All these latest crochet patterns come along with the free patterns, so it will be all easy for you to clone an idea from the list with your own favorite crochet hook! Don't shy to clone the entire list also! The difficulty level of all these crochet ideas ranges from easy to medium!
With the help of these ideas and crochet patterns, one can crochet awesome cardigans and coats that will make you look like a celebrity this winter! Follow the easy crochet amigurumi patterns and crochet amazing stuffed toys for your kids like the given amazing choo train! Make your events and festivals more special with your hooks also, crochet amazing winter party decors and winter festival decors using your favorite colored yarn weights, the given Halloween bats are a great inspiration in this regard! There are plenty of inspirations more to check out on the given list of free crochet patterns!

Moreover, these crochet inspirations will also guide the style loving girls about how to crochet fashion-worthy shawls, shrugs, boleros, sweaters, scarves and cowls! All will cozy you up in a style-worthy way this winter! In addition, crochet the winter slippers using yarn in your favorite colors and weight and make your toes feel soft and warm in a fashion way! See all inspirations by taking a short roundup!
New Alluring Crochet Shawl: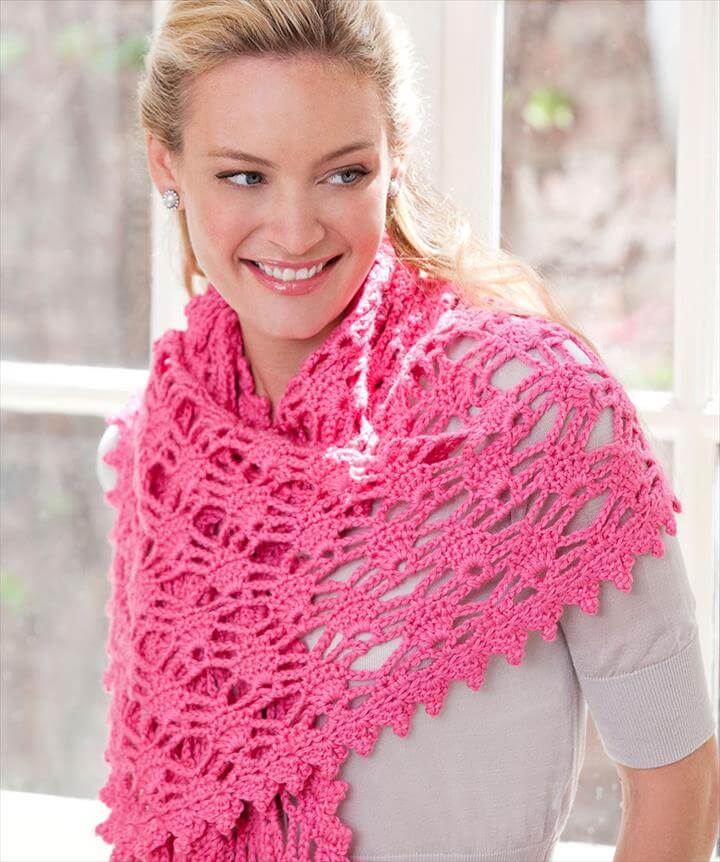 Dying to look pretty awesome this winter? You crochet hook can make it done without getting expensive! Put out your colored yarn strands and crochet this alluring crochet shawl! Would all be a fashionable stuff to spice up your winter dress up! Full Pattern and Guide Here Redheart
Crochet Soothing Comfort Shawl:

Brainstorming that how to cozy yourself up this winter in a style? This easy-to-crochet shawl is next to win your heart in this regard! Want to crochet it now? Here is the full guide and pattern Redheart
Cute Crochet Baby Hat: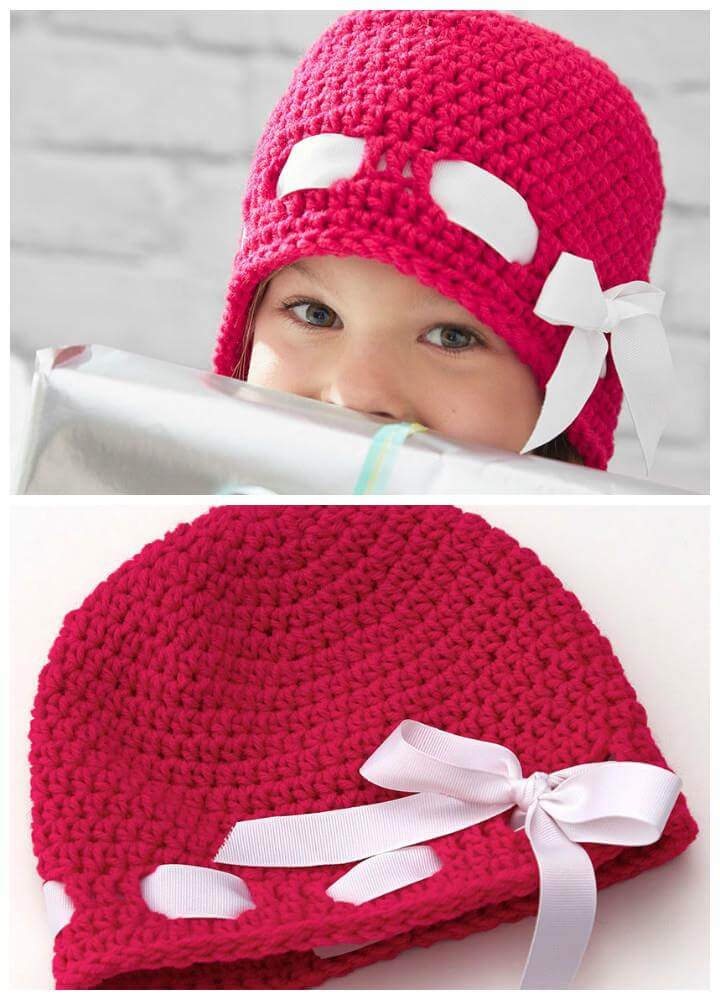 The foreheads of babies and kids are much sensitive to cold! So, a crochet hat can be a great way to keep your kid's forehead warm along with making them look extra cute! This hot red crochet hat can be next on your child's head if you have a little crochet experience! Complete DIY Guide and Pattern Here Redheart
DIY Crochet Warm Aviator Hat: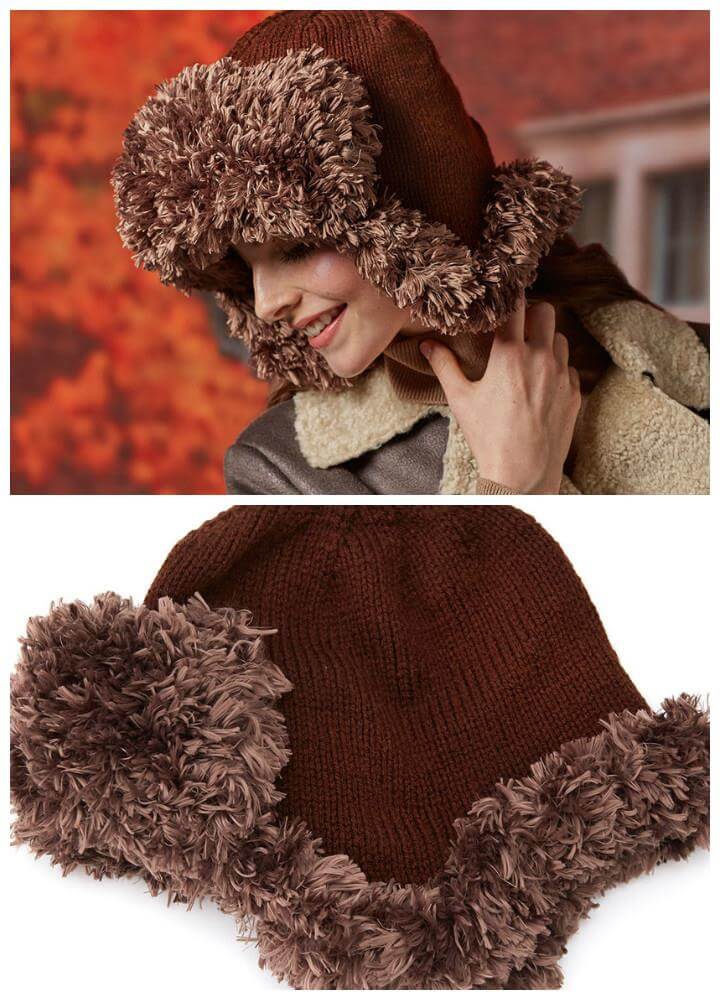 We would recommend you to this new winter aviator hat if you need a warm and stylish winter accessory! Without losing any fashion points, it will cover your forehead and ears as well! Detailed Guide and Free Pattern Redheart
Precious Crochet Coatigan in Grannies: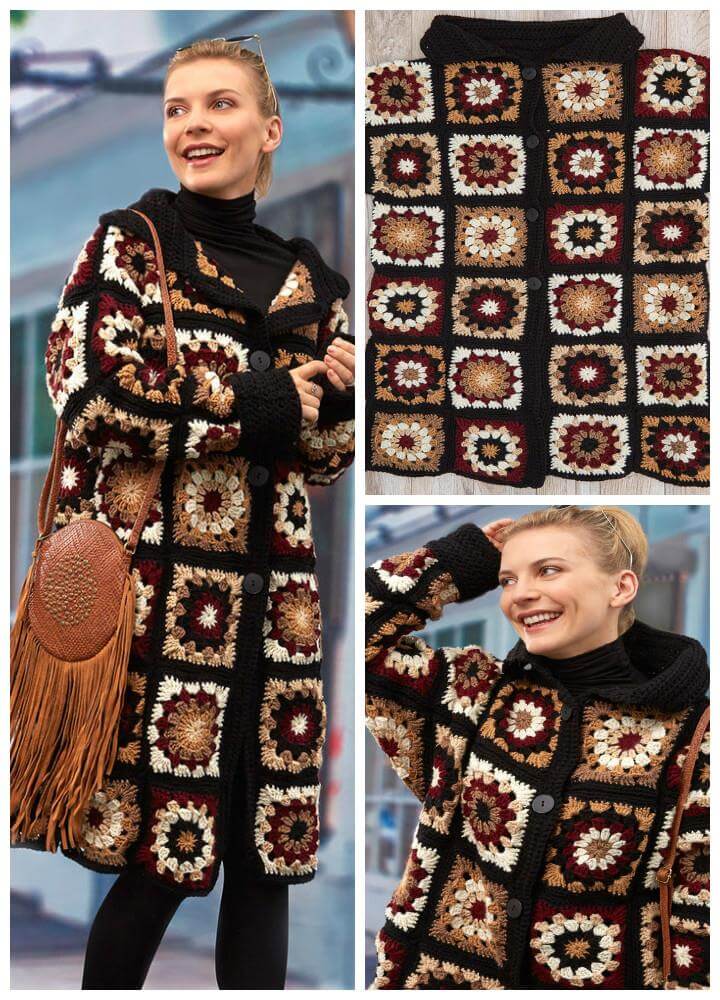 This is sure to create a celebrity look of you this winter! Here custom crocheted granny squares have been put together for a fashion-worthy coat that is inspired of a designer coat! Experiment it using different yarn colors and granny squares! Here is a complete DIY pattern Redheart
Fashion-Worthy Crochet Touch Down Scarf: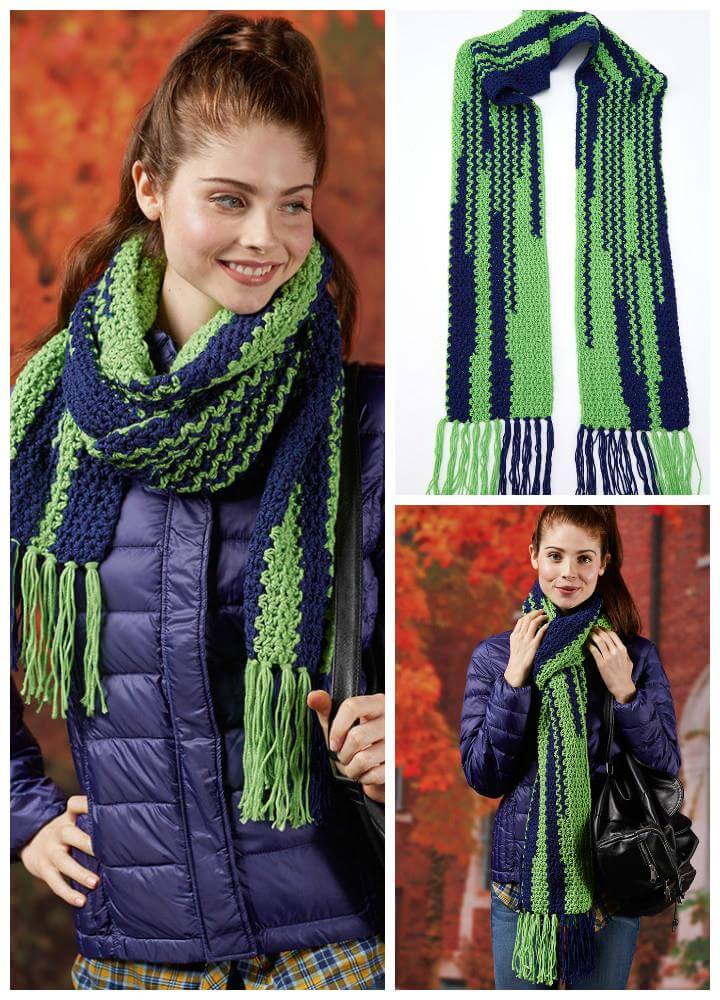 A special crochet gift for all style-conscious girls! Beautiful touch down winter scarf crocheted using blue and light green yarn strands! It is all a fashion winter accessory, a neck-warmer and a pleasing winter gift! Full Pattern is here if you need to clone it Redheart
Crochet Tassel Tote for Style Loving Girls: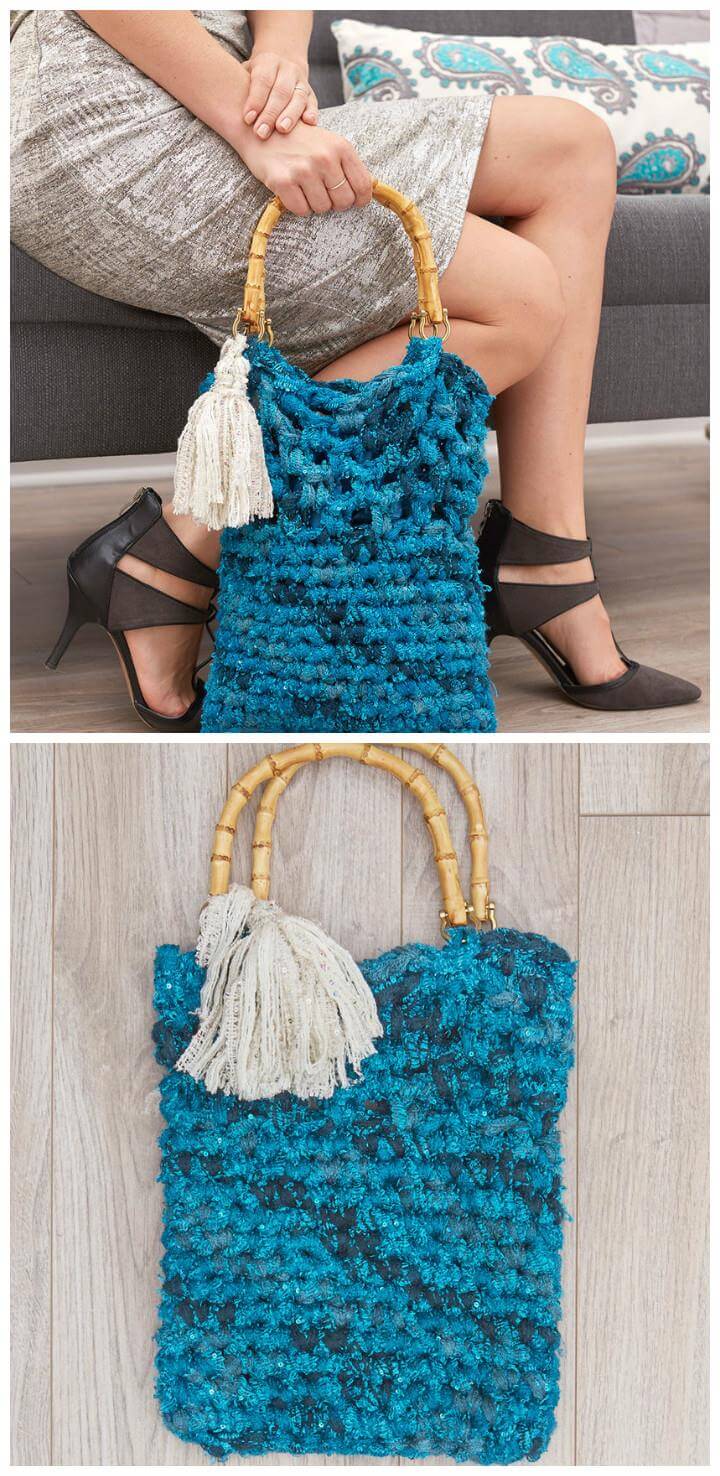 Beautiful tuft of bulky blue yarn strands, appearing as a fashion-worthy tote!! Would be a center of attention for all style-loving women! Crochet it at home using your favorite colored chunky yarn strands! Free complete pattern for this tote is here Redheart
New Crochet Baby Cardigan: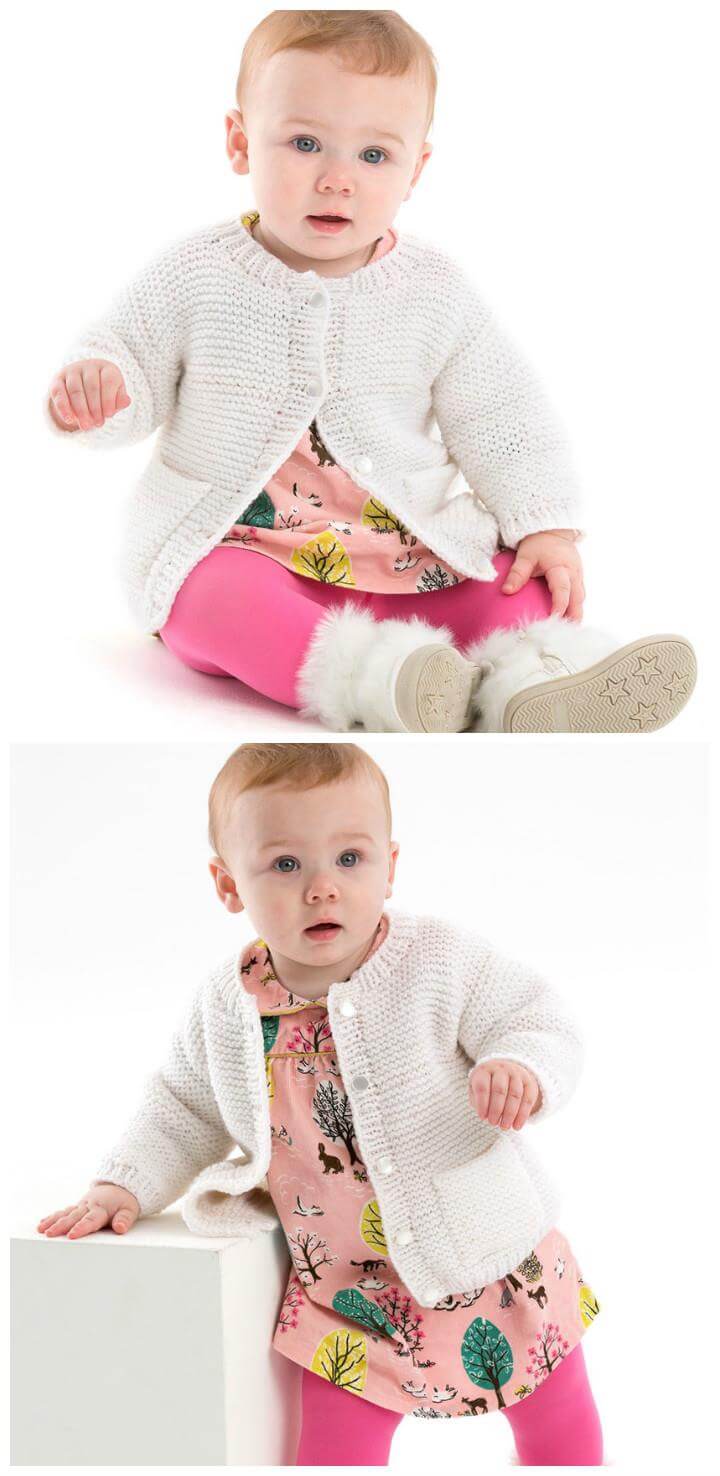 Especially in winters, all the moms remain worried about protection of their kids! But this is not an issue for moms who are handy at crocheting! This crochet baby cardigan is a perfect winter warmer for your kids! Grab your hook and just crochet it, complete detailed pattern is here Redheart
DIY Crochet Glamour Wrap: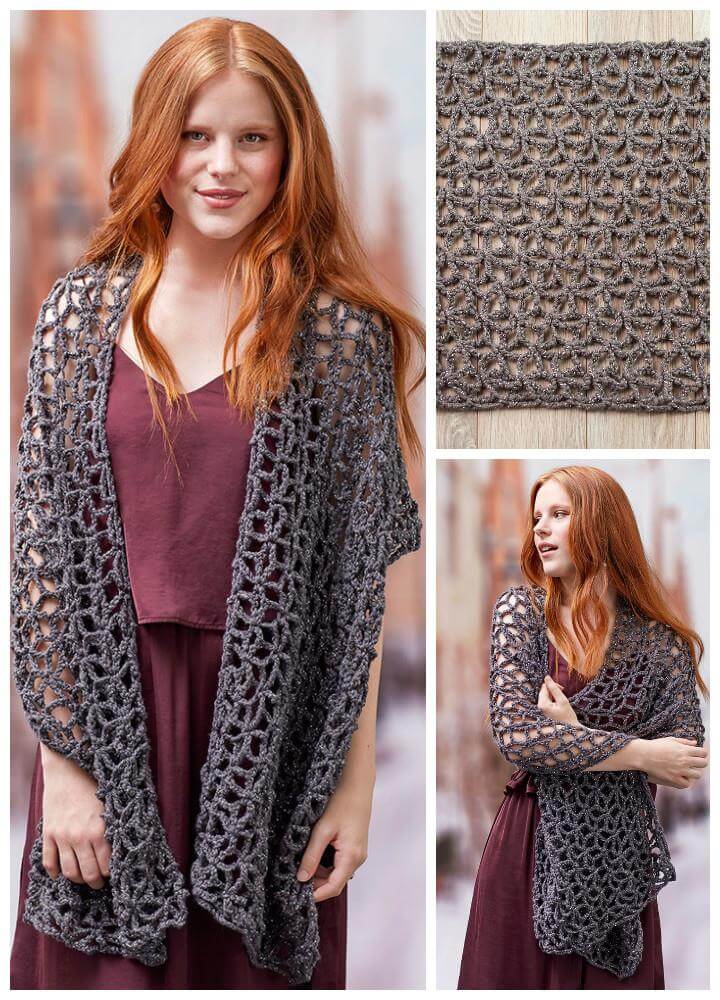 Feeling passionate for upcoming winter passion! Don't forget to make this glamour wrap a part of your winter dress up! It will style up amazingly along with necessary amount of warmth! Here is the complete free pattern for it Redheart
Stylish Crochet Sweater Coat in Grannies: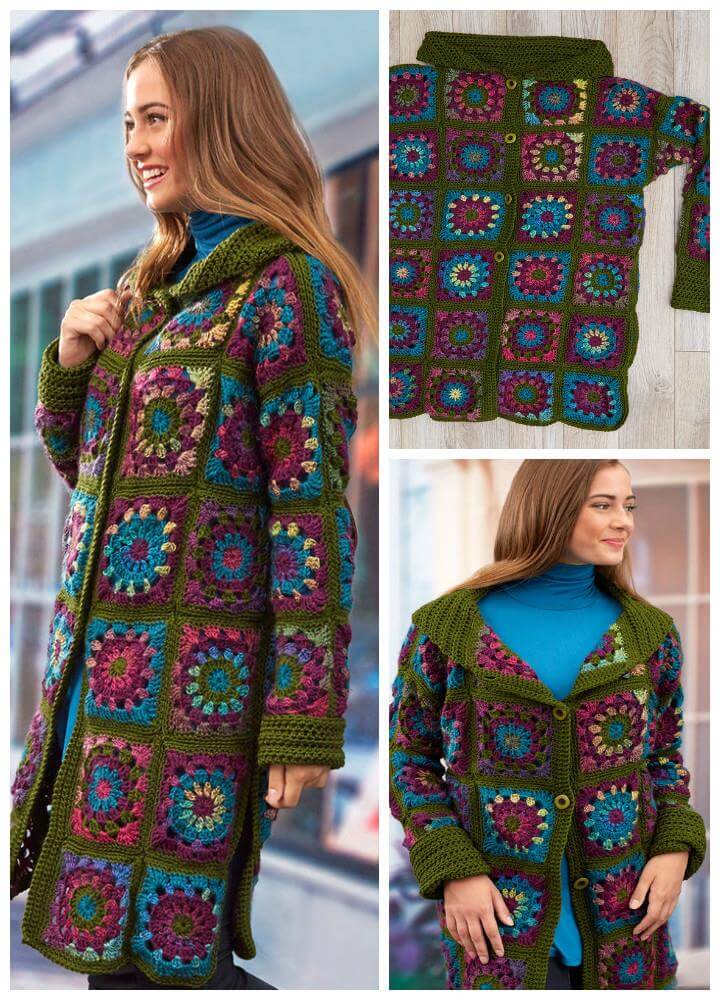 Again here are the multicolored crochet granny squares to hold your attention! A highly fashionable designer winter coat has been made by joining the granny squares in a neat way! This all has been done using a crochet hook! Want to try it? Full DIY guide and complete pattern is here Redheart
Dual Colored Crochet Jolly Kid's Sweaters: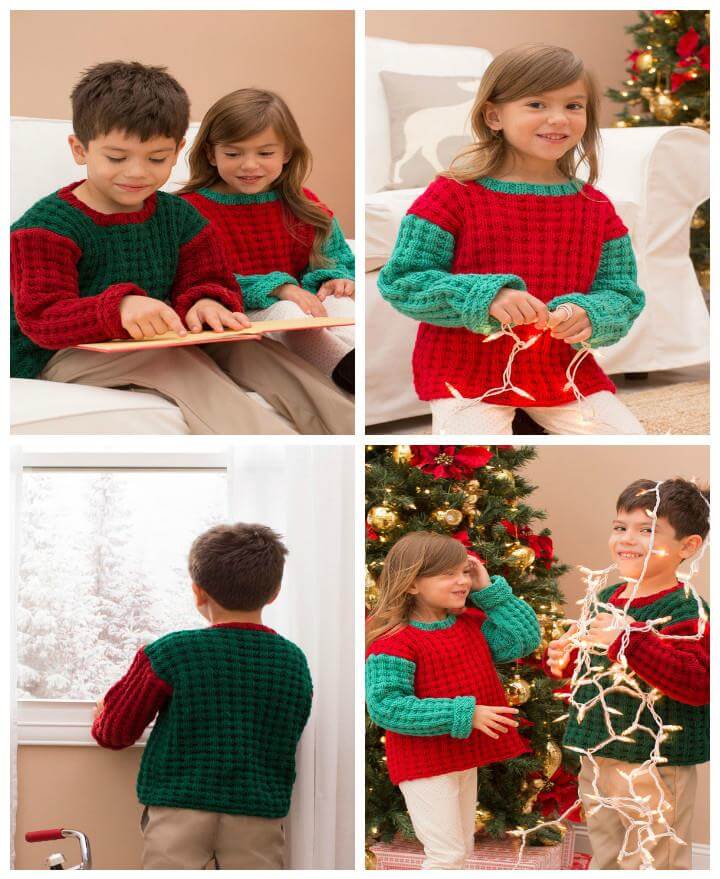 Crochet soft and comfortable yarn for this eye-captivating kids sweaters! Dual color appearance just fancies up the appearance more! Would be all special for your kids to wear during the holidays or on a special winter event! Redheart
DIY Crochet kid's Mermaid Blanket: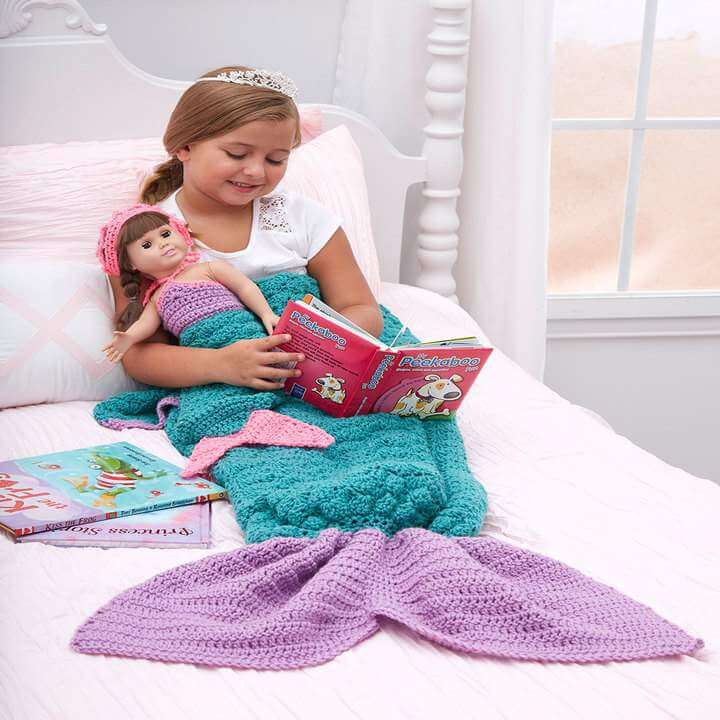 Want extra cute looks of your kids? So why not crocheting this mermaid blanket? Would make your little girl feel warm in  killing cold days but in a precious style! It will allow your kids to escape to world of imaginations they like! Here is a full DIY guide and pattern details Redheart
Beautiful Crochet Cowl: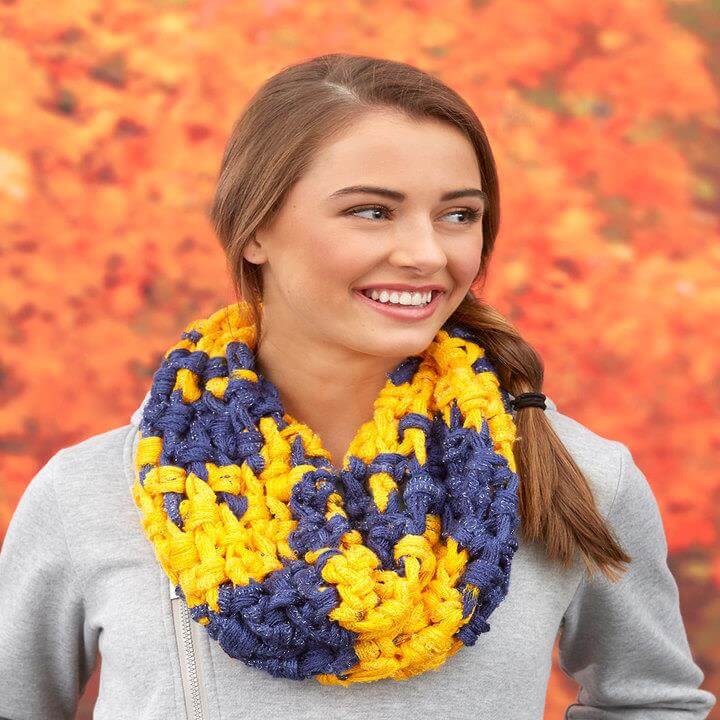 Outstanding crochet cowl done in dark blue and yellow colors! You can complete it in any color combo you like to wear casually in home, at schools or on a event in chilly days! It is all easy-to-crochet, complete guide and full free pattern is here Redheart
Impressive Tea House Crochet Wrap: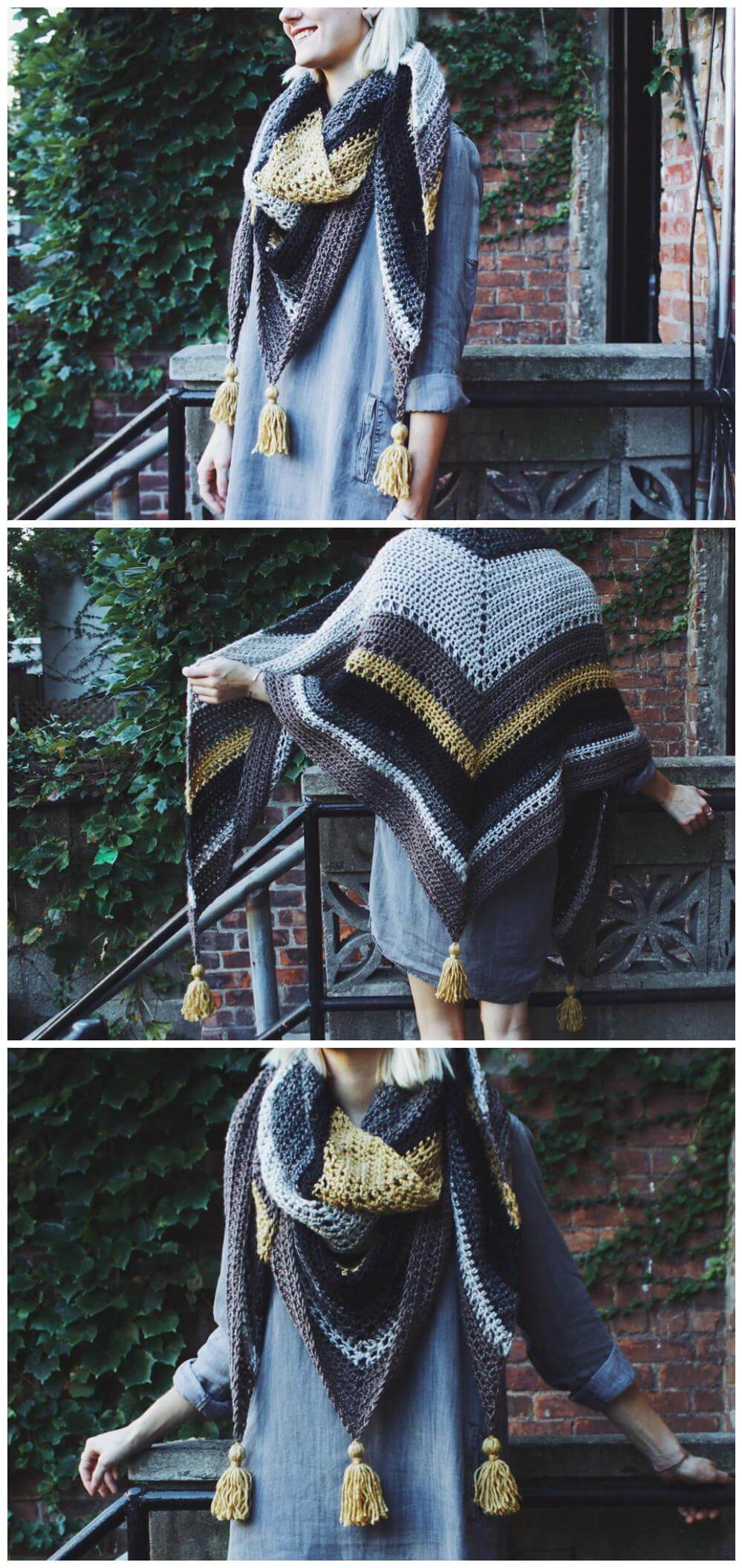 Lovable and easy-to-crochet winter accessory! While being around your neck, will create impressive winter looks of your personality! Just imagine you are taking tea while being wearing it in a style as neck warmer! Totally fabulous crochet craft! Complete guide and pattern is here if you want to duplicate it Lovecrochet
Cluster Stitch Wrap Crochet Pattern: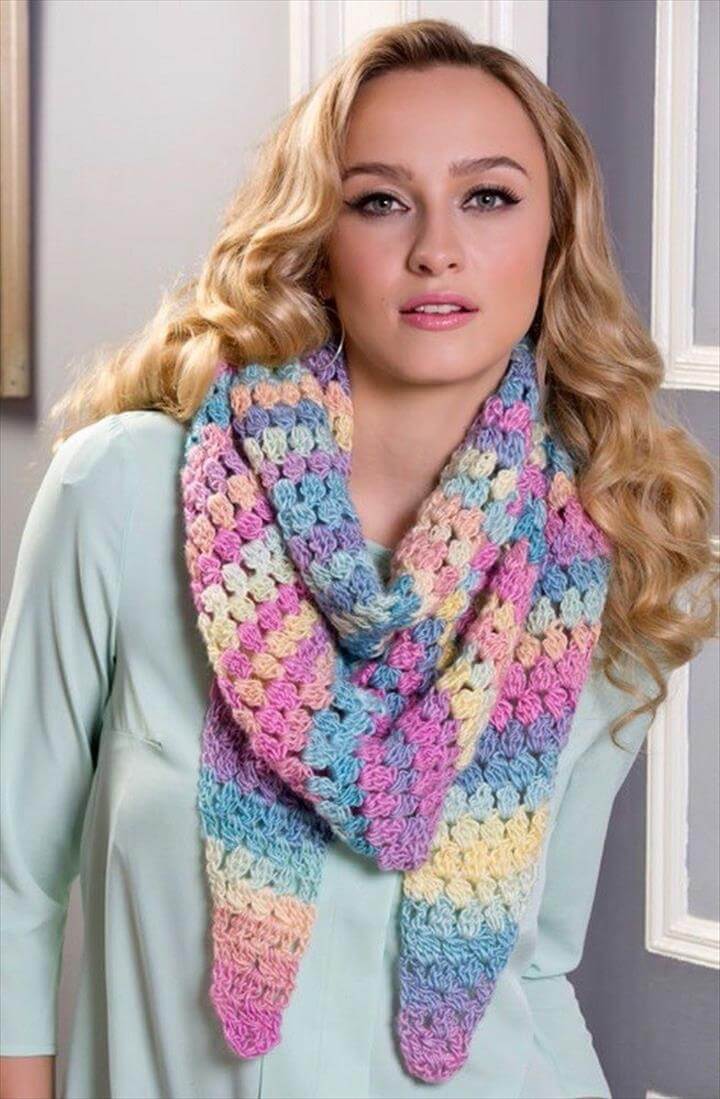 Feel confident this winter with this stylish crochet wrap! Complete it by going with the cluster stitch! Perfect gift-worthy item you can crochet wit your own hook! Want to know more about the stitch style and about the yarn details? Complete step by step guide and pattern is here Lovecrochet
Crochet Baby Snood and Blanket: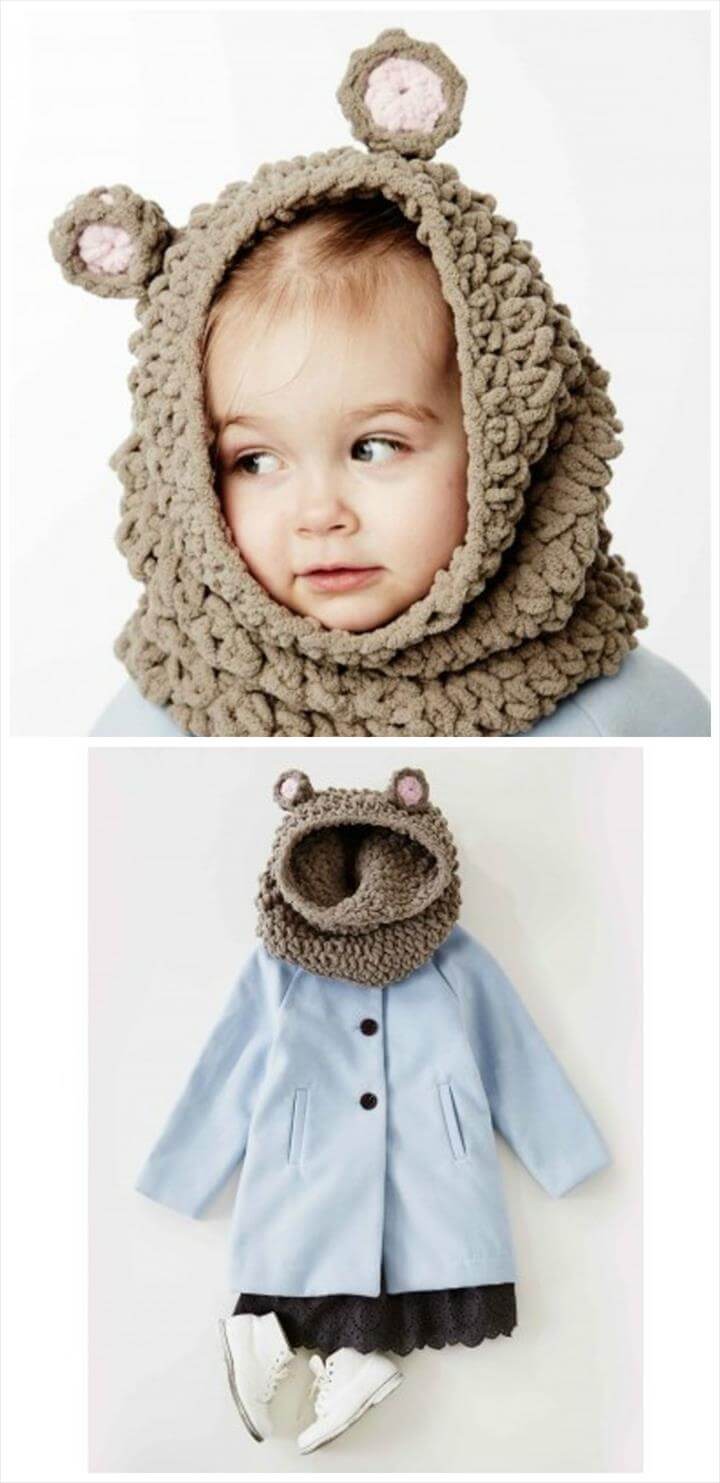 Make your baby look like a cute mini mouse by making him wear this mousie snood! As it will create a fun face so all the fun loving kids will like to wear it! Winter protection a crazy fun way, just amazing! Here is the complete and easy pattern for it Lovecrochet
Easy-to-Crochet Fuji Aran: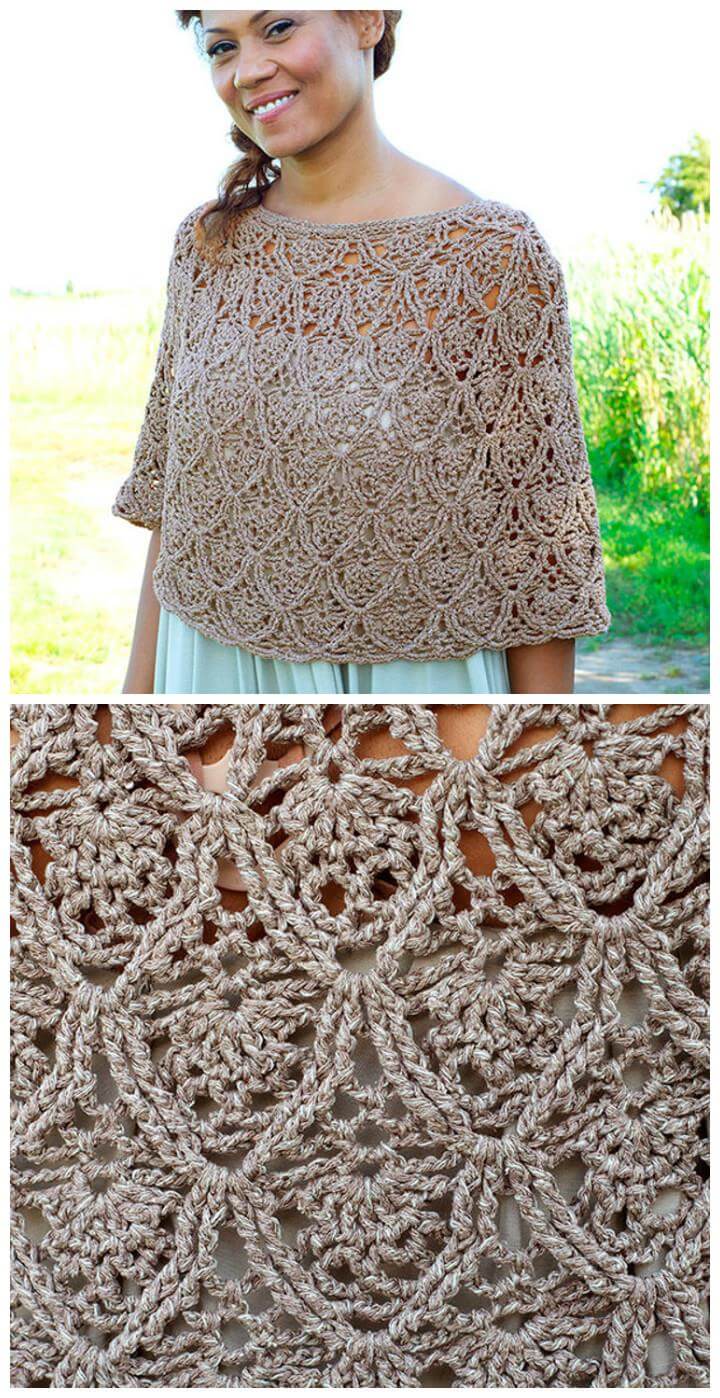 Jazz up your dress up in less chilly days with this self-crocheted aran! Perfect and easy winter accessory to cozy up your upper body! Total cost of it is equal to spend some time with your crochet hook! DIY complete guide and aran pattern is here Lovecrochet
DIY Crochet Jackalackachie Hat: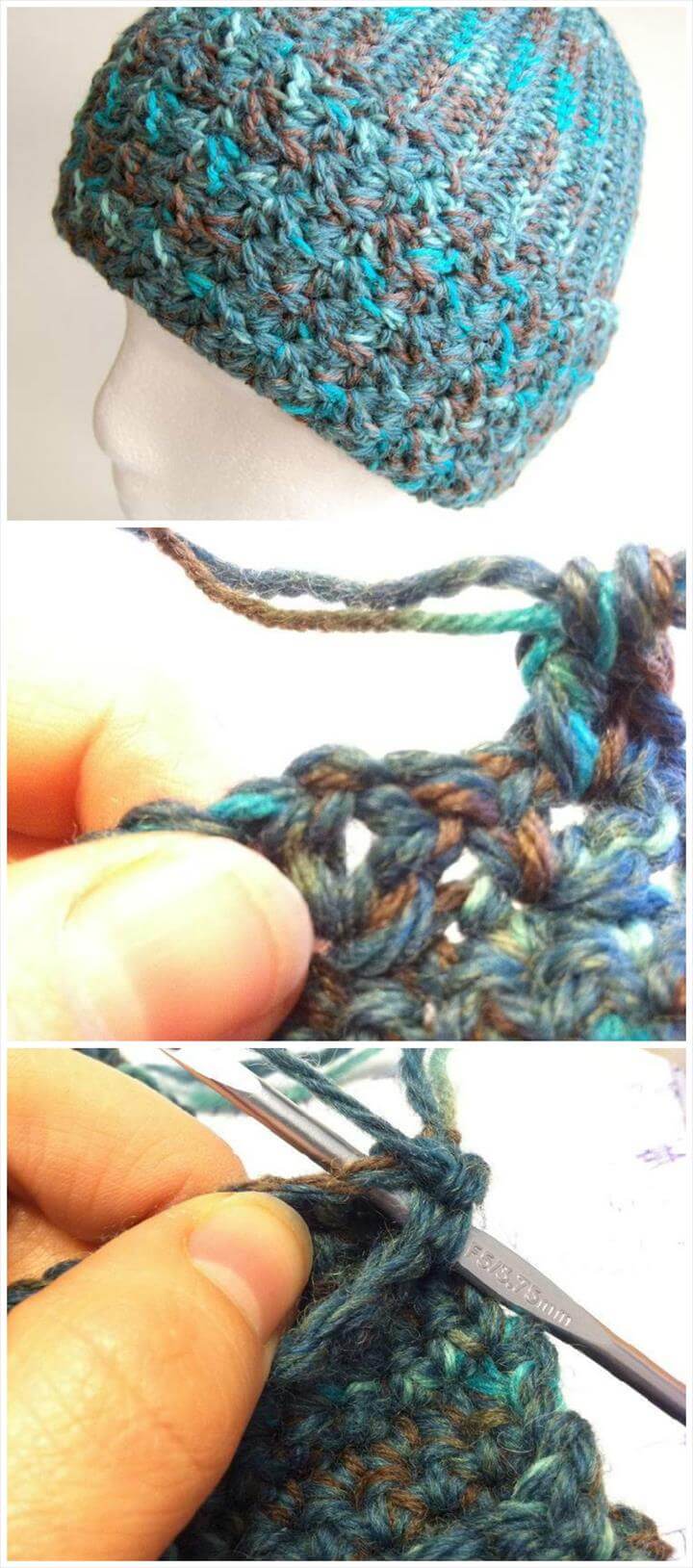 Special winter accessory to wear for funky looks along with forehead winter protection! As stylish as it is warm! Crochet it also using custom yarn weights and colors, easy DIY guide and complete pattern is here Lovecrochet
Scary Crochet Halloween Bats: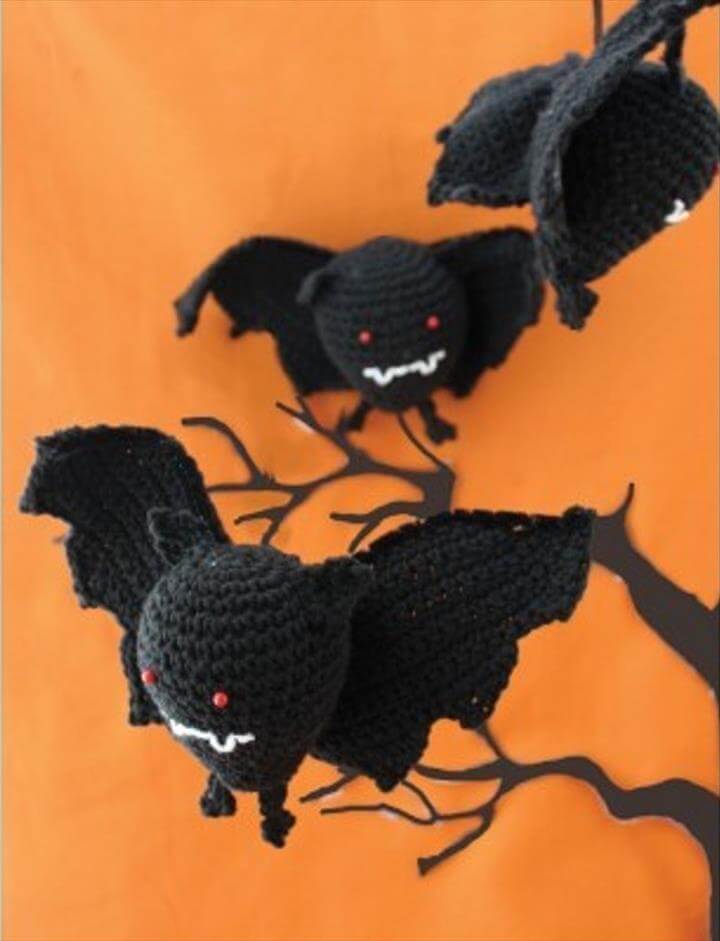 Spooky crochet bats, will tingle your spine by making you frightened pleasurably! Great crochet decor for upcoming Halloween! Need to clone it? Complete DIY Guide and Pattern is Here Lovecrochet
Rainbow Crochet Baby Vest: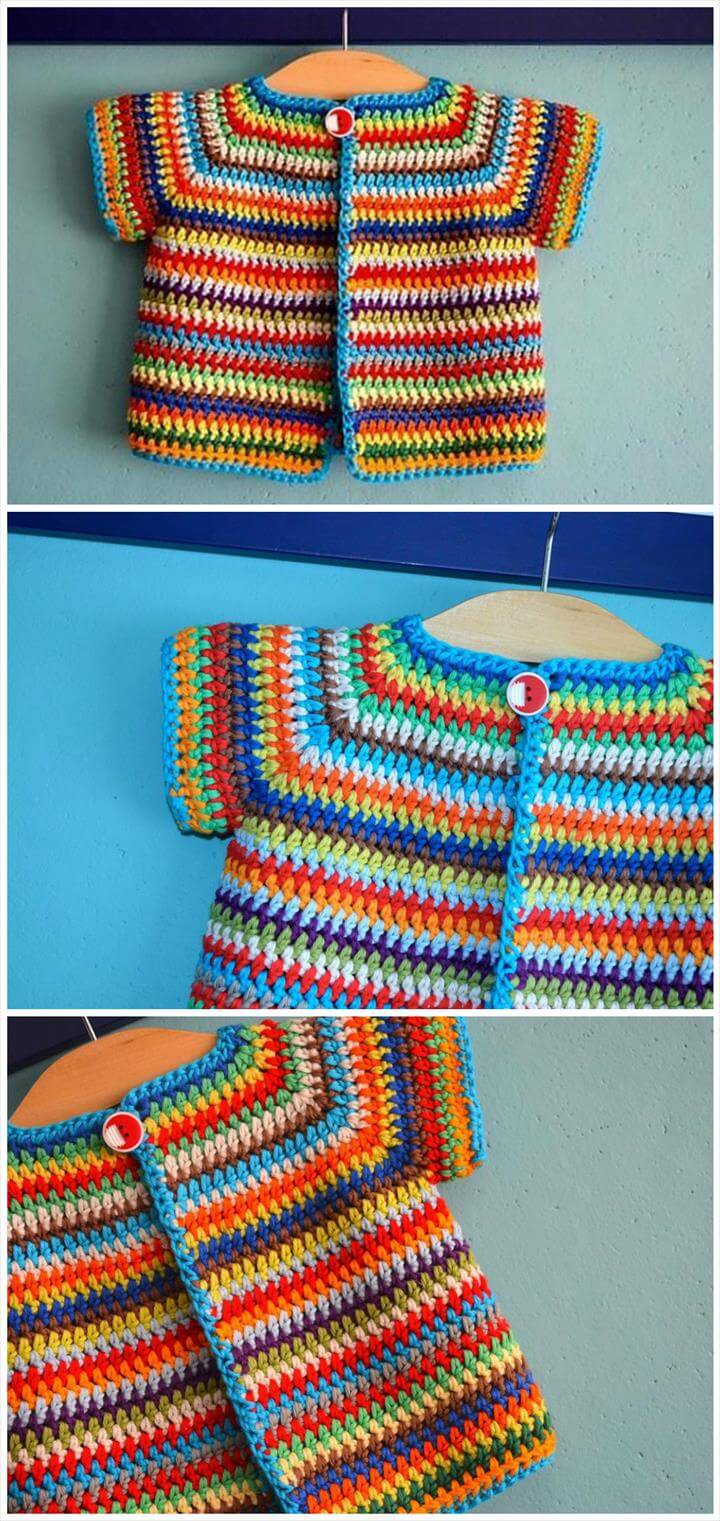 Rainbow crochet sweaters, all the kid's eye balls will like to stare at it! This vibrant colored winter accessory can be next on your baby's body! All you need is to grab a hooks and to follow this free baby sweater pattern Lovecrochet
Super Cute Crochet Hooded Baby Jacket: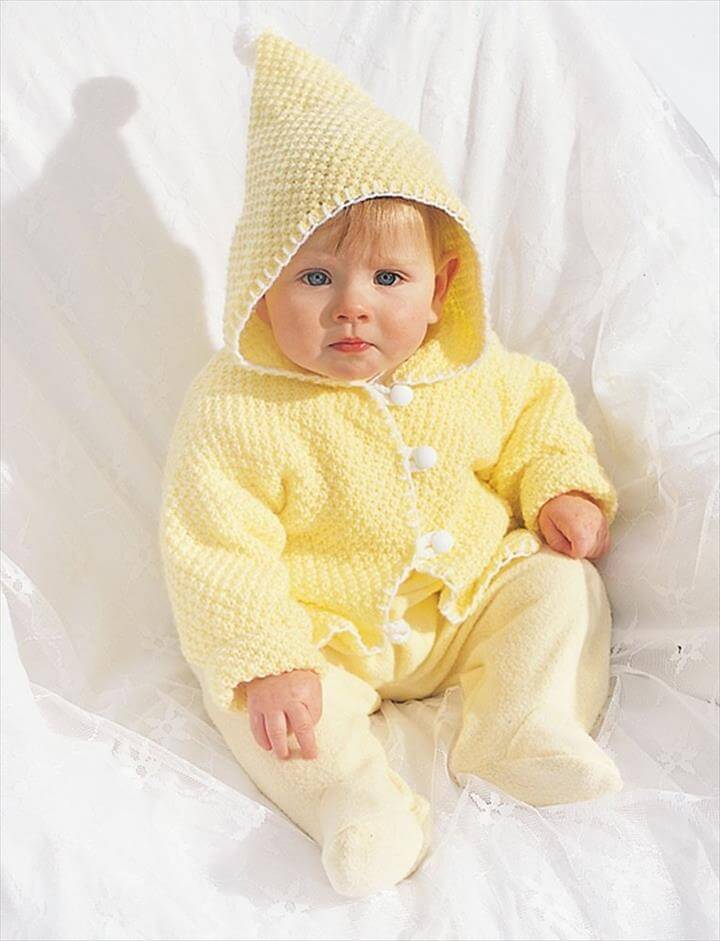 Nothing can make your baby look extra cute but this hooded crochet jacket! Crochet it with soft yarn as done here! Want comprehensive details about hooks to use and also about the yarn weight and stitches? Here the complete free pattern Lovecrochet
Basket Weave Crochet Baby Set: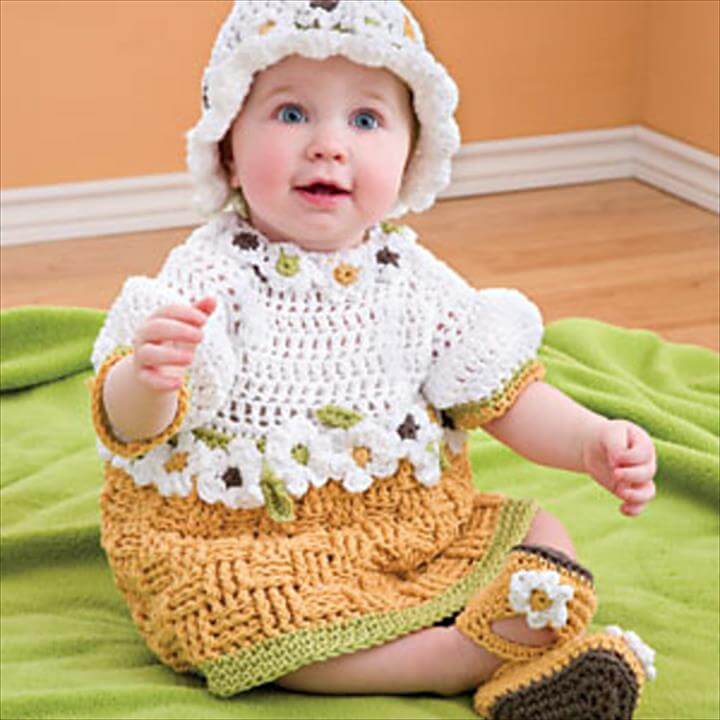 All the loving moms who are having master hands in art of crocheting can clone this full baby set! A hooded baby sweater and soft crochet slippers will take good care of those soft tiny toes! Crochet custom flowers and doilies to add as accents! Complete guide and pattern here for this winter warm baby set Ravelry
DIY Crochet 50 Star Afghan: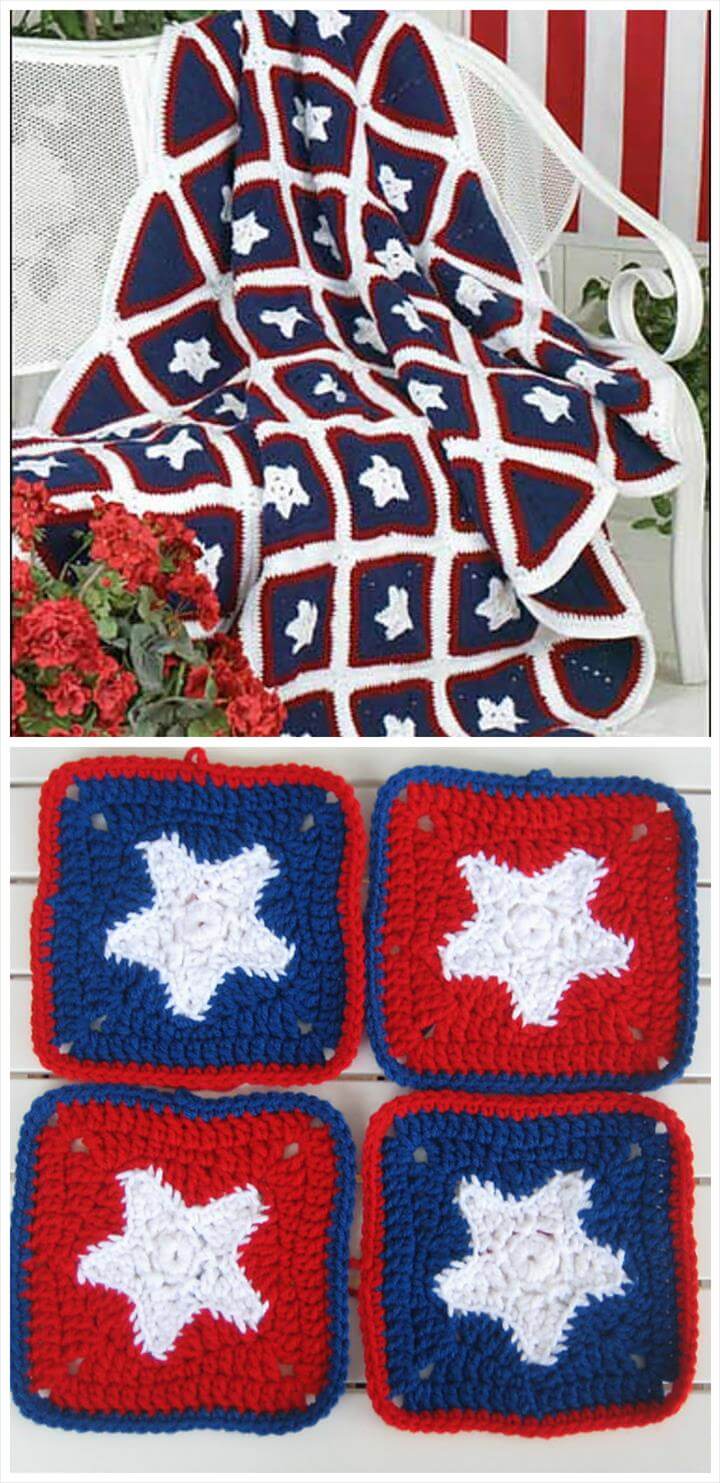 Crochet custom squares or even the granny squares and simply patch them up for cute baby blankets and afghans! Instead of using the white, blue and red colored yarn, experiment this 50 star afghan with a different yarn color combo! Head to tale DIY guide and free pattern is here Ravelry
Fashion-Worthy Crochet Baby Blanket: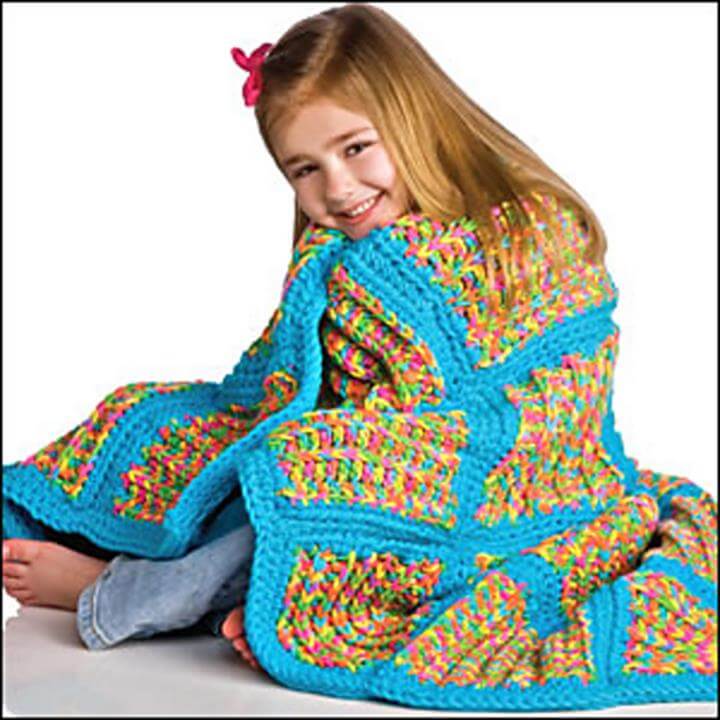 This is going to be a handy crochet craft for crocheters having the medium skill level! A beautiful kids blanket to use as winter warmer! It can also be a great baby shower gift! Free crochet pattern for this blanket is here Ravelry
Cute and Warm Crochet Baby Dress: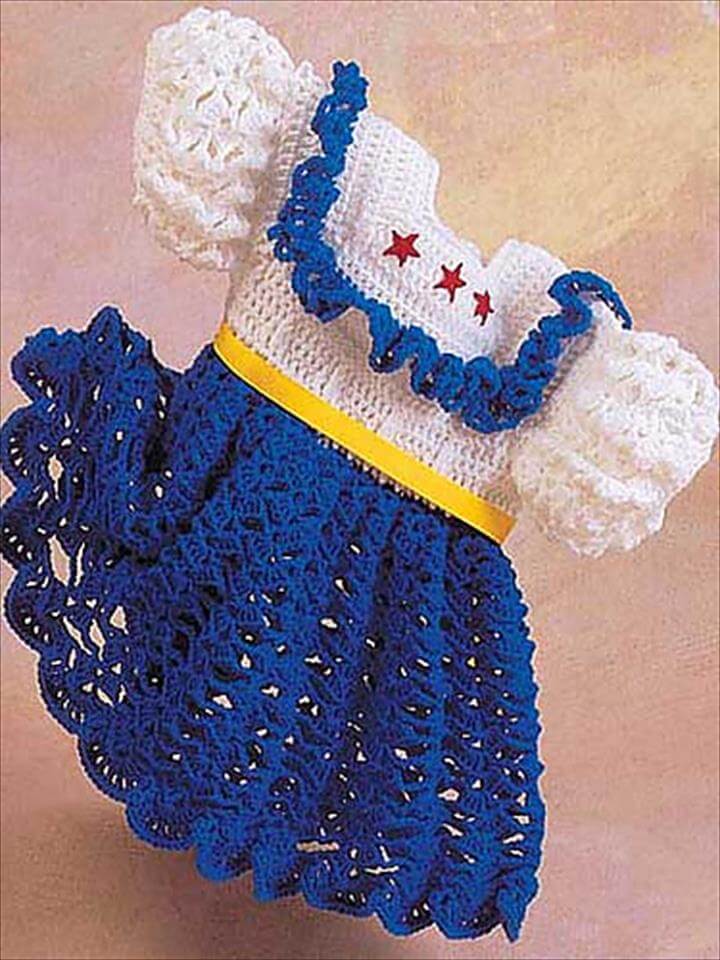 Best gift for a mother-to-be! A crochet baby dress which is all soft and comfortable to wear! Crochet it for a best baby shower gift from your hook! Here is the DIY guide and full pattern  Ravelry
Crochet Birdhouse Towel Topper: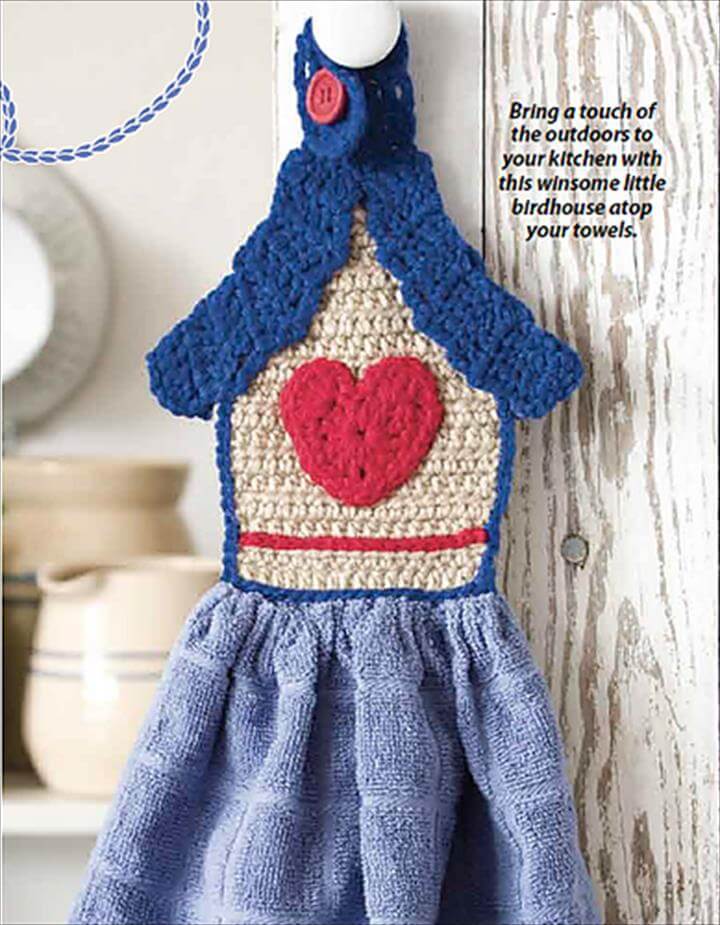 Want you towels hanging like a precious art piece while not in use? Simply patch it up with this crochet birdhouse topper! Detailed guide and free pattern here Ravelry
New Crochet Blue Blitz Jacket: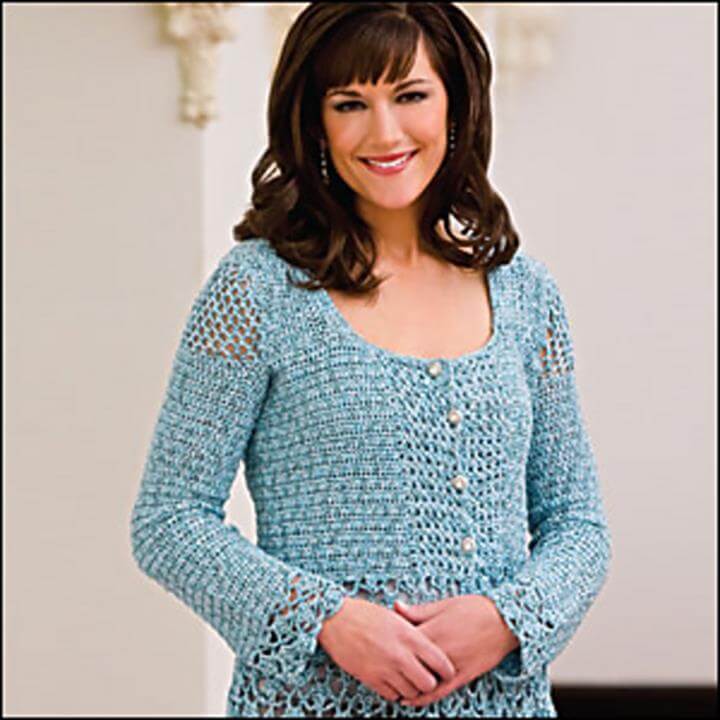 We tend to wear lots of cloths in winters to feel warm! Multiple cloth layers makes us look chunky and we just lose some fashion points in this way! We recommend you to wear this stylish crochet jacket will make you feel cozy without losing the precious look of you! Crochet it now by following this free guide pattern Ravelry
Breezy Duster – A Smart Crochet Project: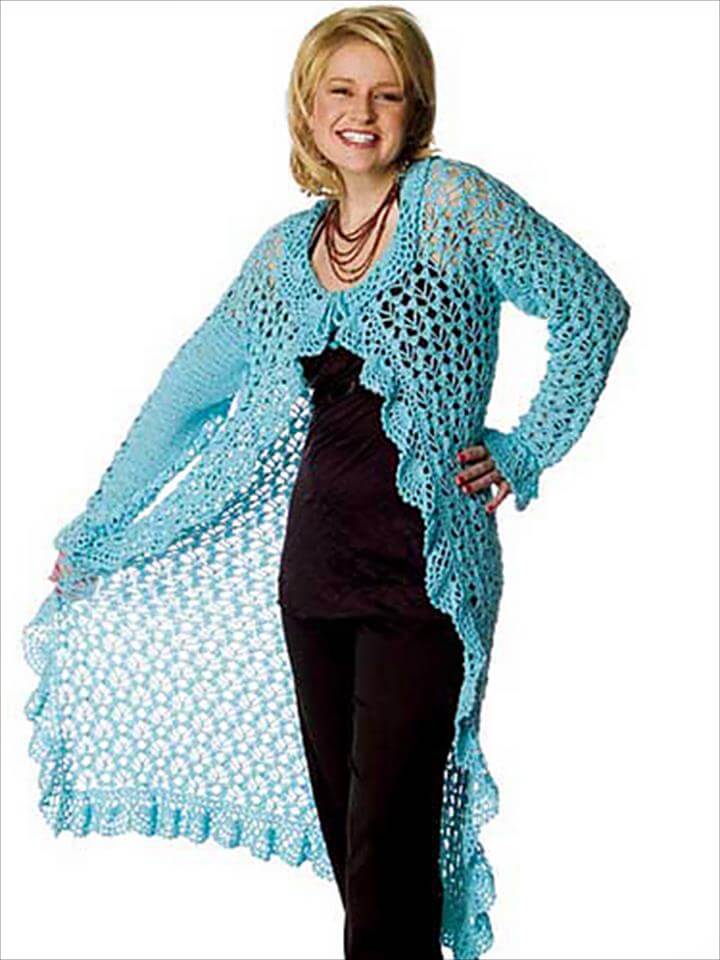 Amazing crochet achievement and a fashionable winter accessory, will be soft to wear also! A cozy breezy duster for all fashion loving teens and style loving women! Willing to clone it? Complete free pattern is here! Ravelry
Easy-to-Crochet Cabled Cousins: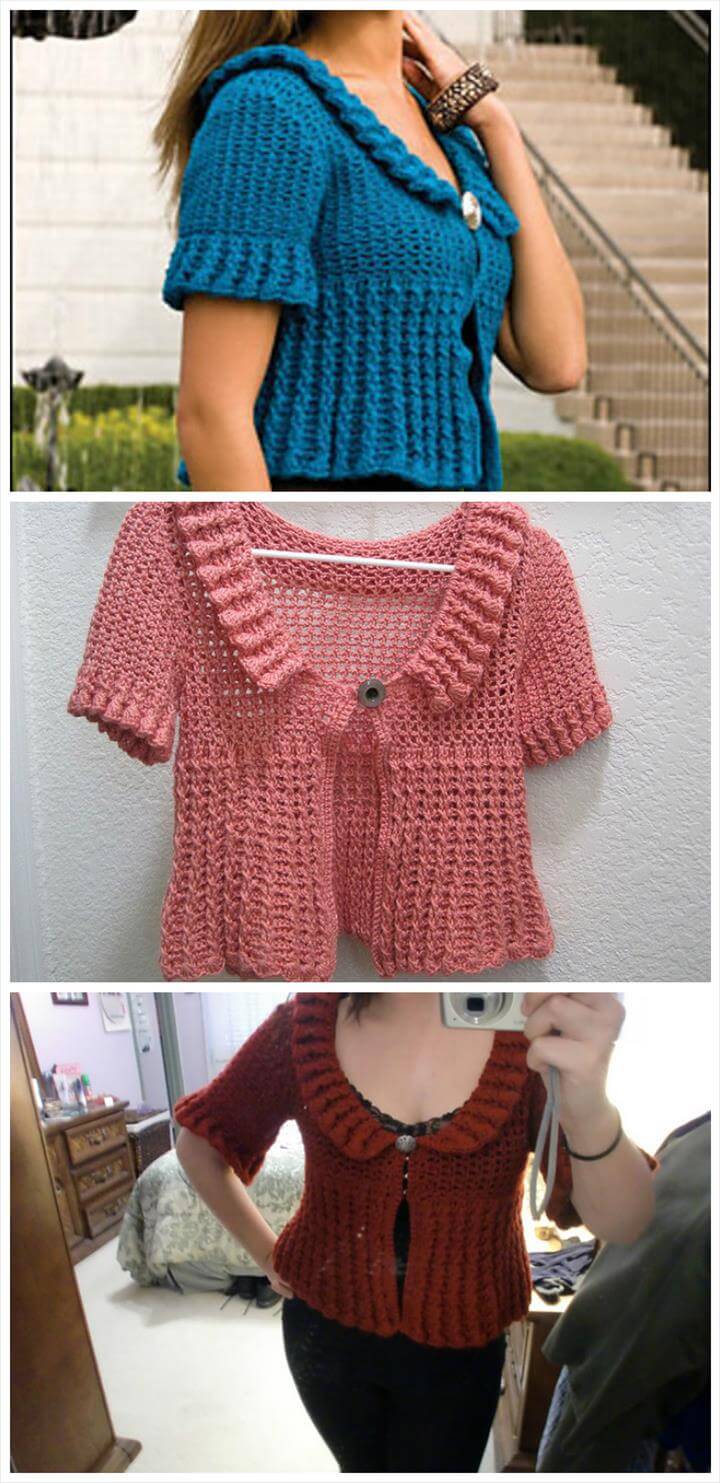 Awesome cabled cardigan or sweater, is going to make you feel much special this winter! Perfect fashion accessory and winter warmer to make with your own crochet hook! Free pattern for this cabled cousins is here Ravelry
Crochet Cabled Sweater Vest: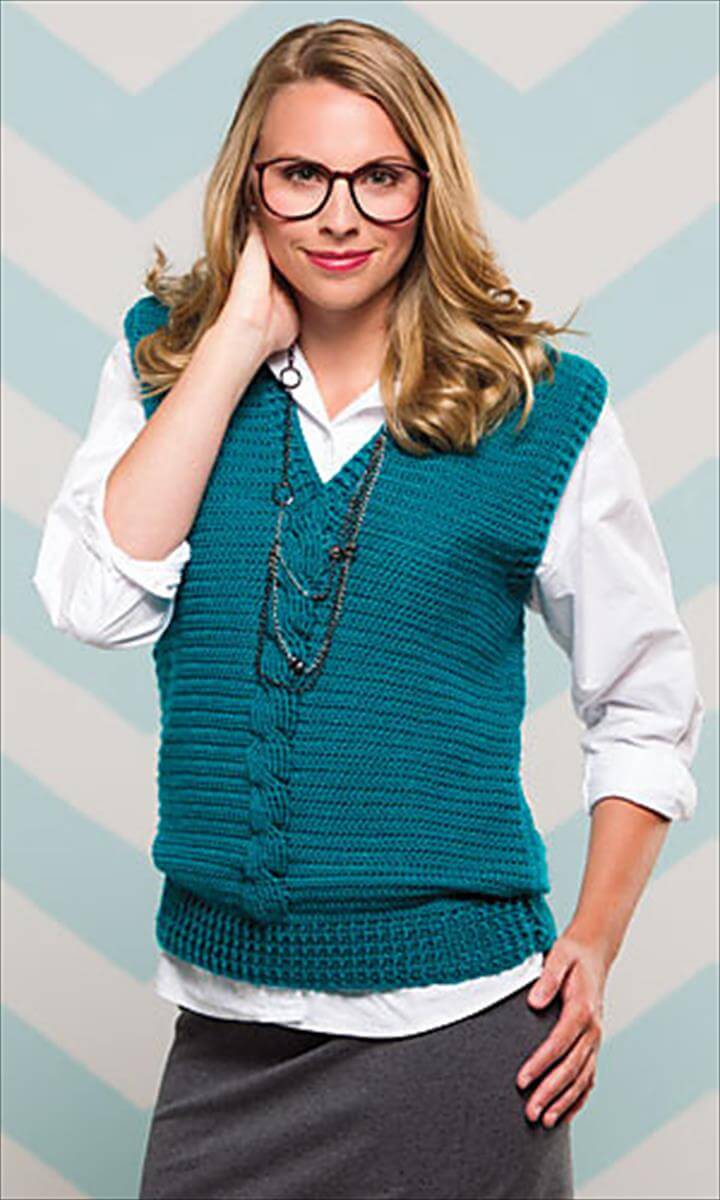 This is surely going to be special for office women! A stylish winter warmer in shape of crochet sweater vest! Want to copy it with your hook? Duplicate it by following this free DIY pattern guide Ravelry
Bizarre Crochet Cardigan with Wooden Buttons: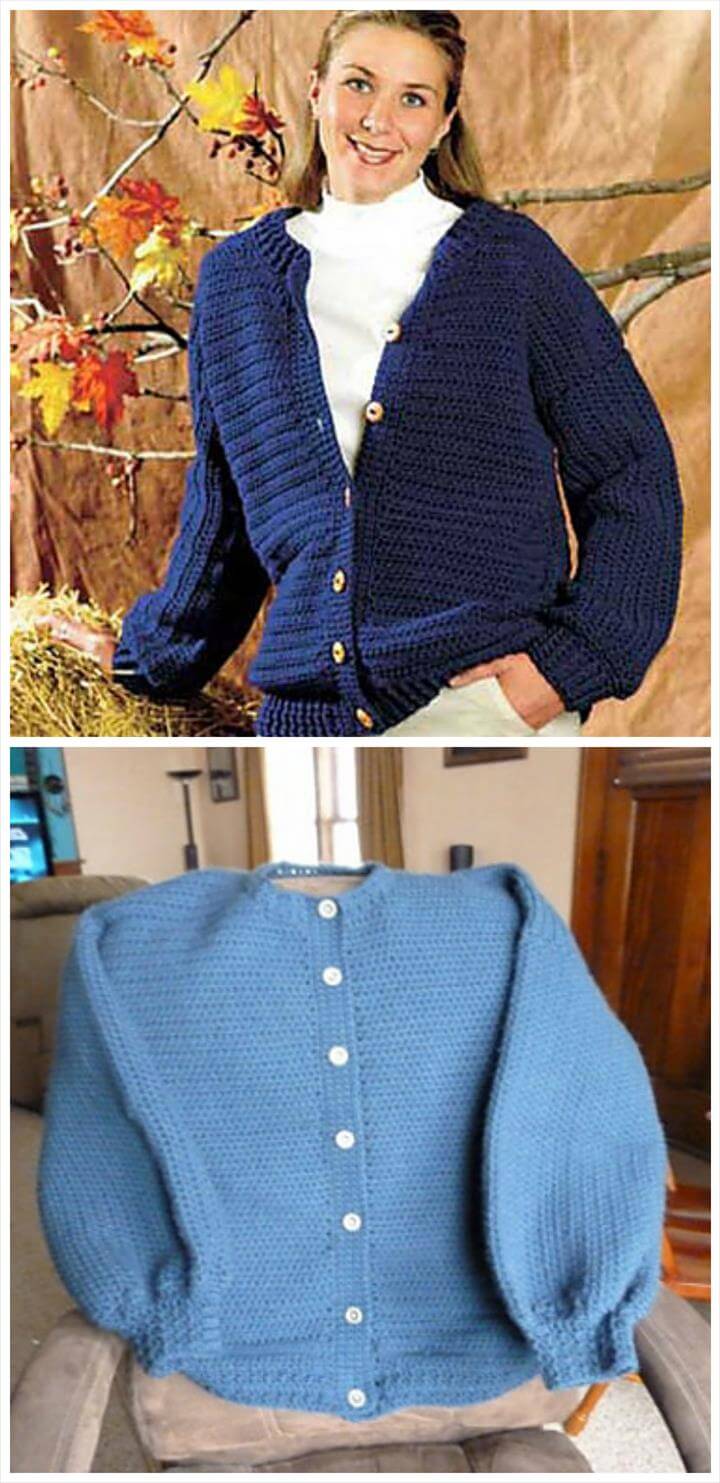 Special crochet cardigan for office and home ladies! As fashionable as it is soft and warm! Graced up with wooden buttons! For all comprehensive details about hook-selection and crochet stitching, here is the free pattern Ravelry
Crochet Cardinal – Crochet Amigurumi: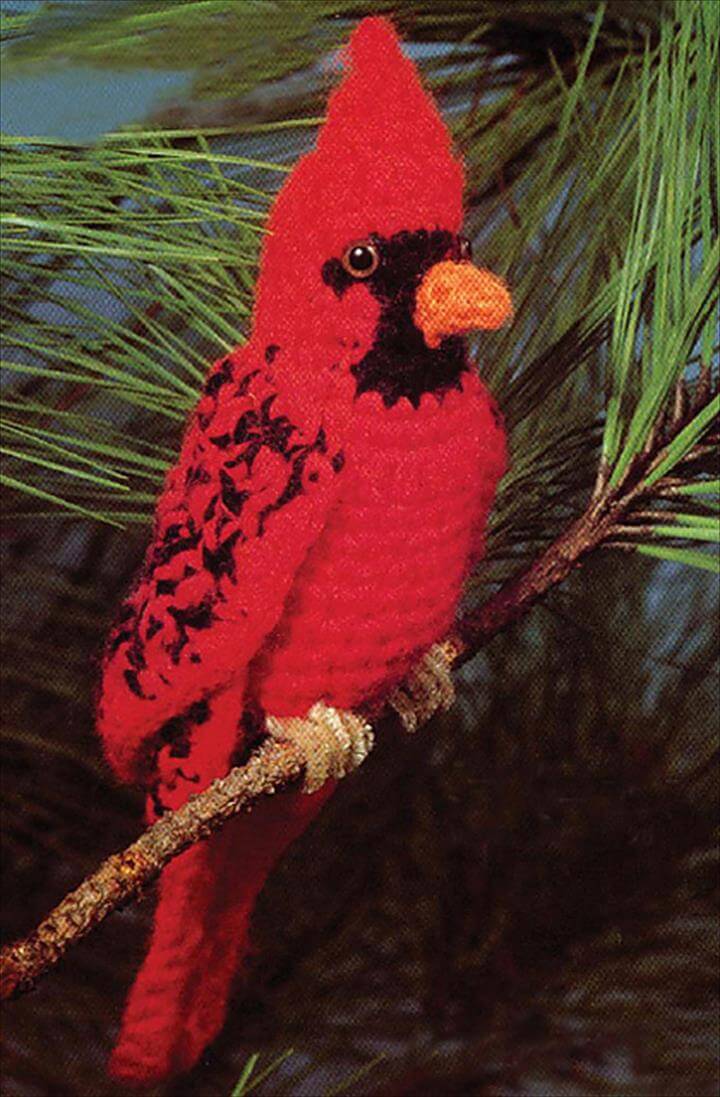 Free crochet stuffed kids toy! A precious amigurumi cardinal! A toy gift for the kids and a precious winter decor for a home! A small but clever crochet achievement! Clone it now by following the complete pattern guide here  Ravelry
New Crochet Cascading Shells Bolero: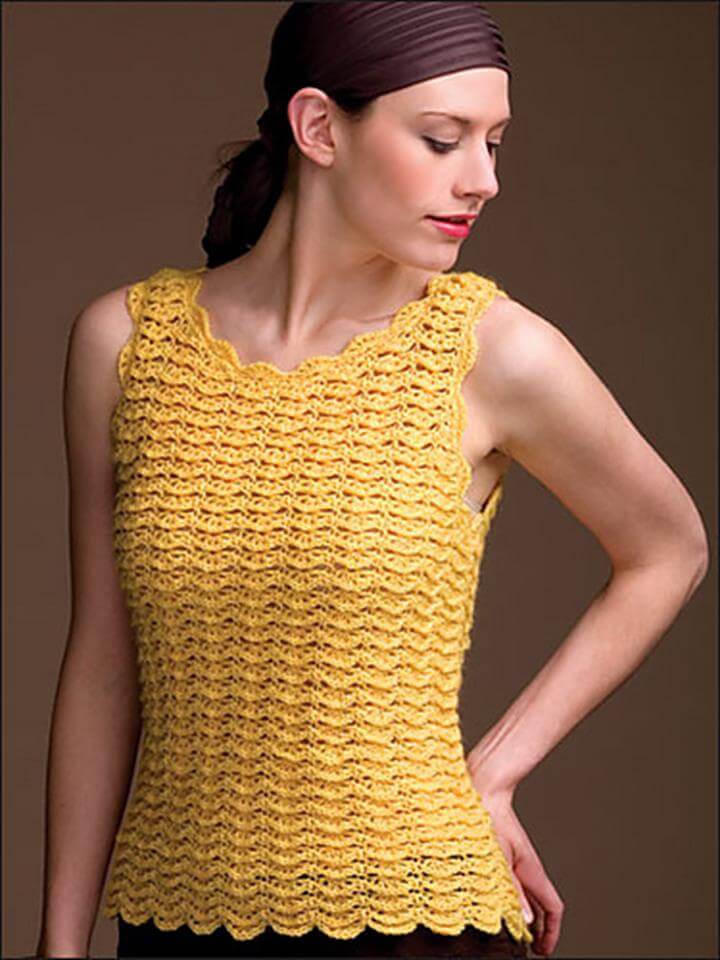 All fashion-worthy crochet sleeveless top, made eminent through cascading shells! A worthy winter gift for all fashion-loving girls and women! Need to clone this winter warmer? Complete free pattern is here Ravelry
Crochet Amigurumi Choo Choo Train: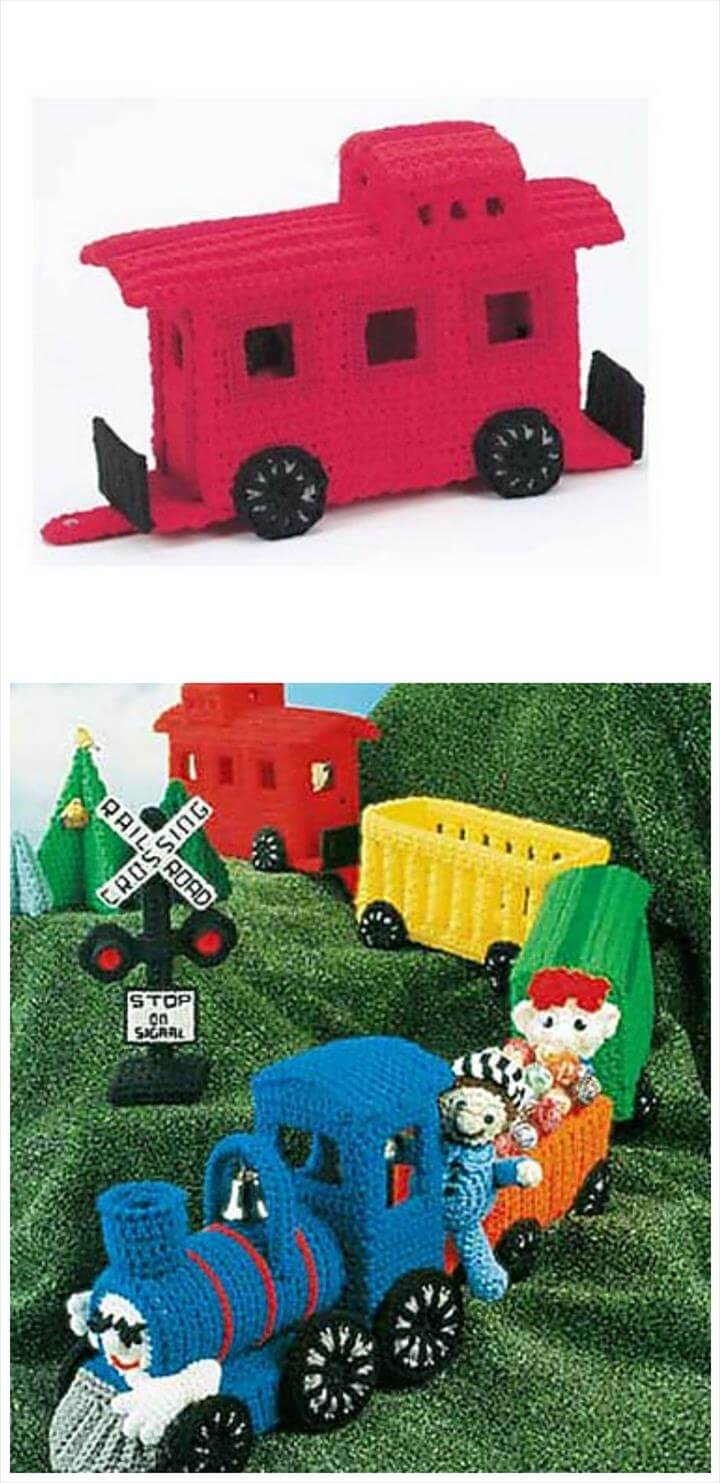 A highly gift worthy amigurumi, stuffed crochet choo choo train! Please your kids this summer with this special gift and earn more love of them! Full DIY pattern and guide for this crochet project is here Ravelry
Ombre Crochet Shawl: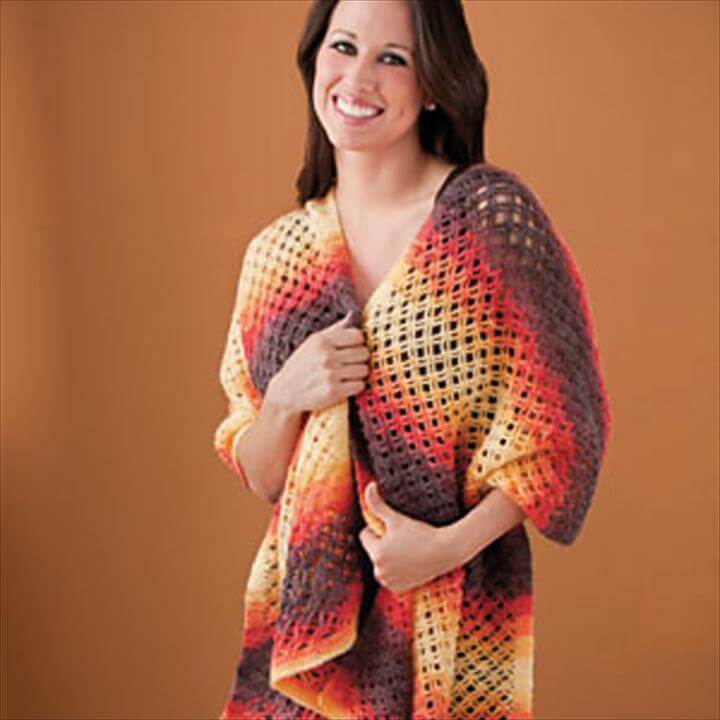 Crochet ombre shawl, use it also as a neck warmer and as a wrap! Perfect winter accessory to add to your wardrobe if you want more eye balls to stare at you! Spend some time with your hook and just get it for free, complete pattern here Ravelry
Hot Pink Easy Crochet Bolero: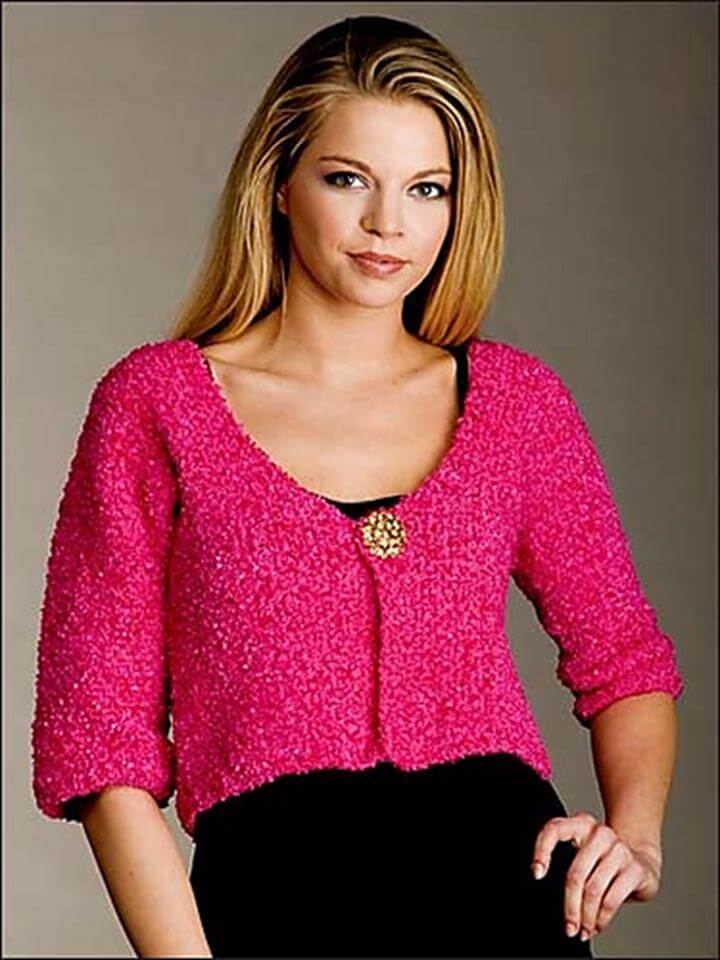 This hot pink winter shrug would all be special addition to you winter dress up if you want a celebrity look! A fashionable self-crocheted bolero to style you up this winter! Want to add this to your wardrobe? Clone it using this free pattern Ravelry
Crochet Basket Weave Bag or Clutch Graced with a Rose: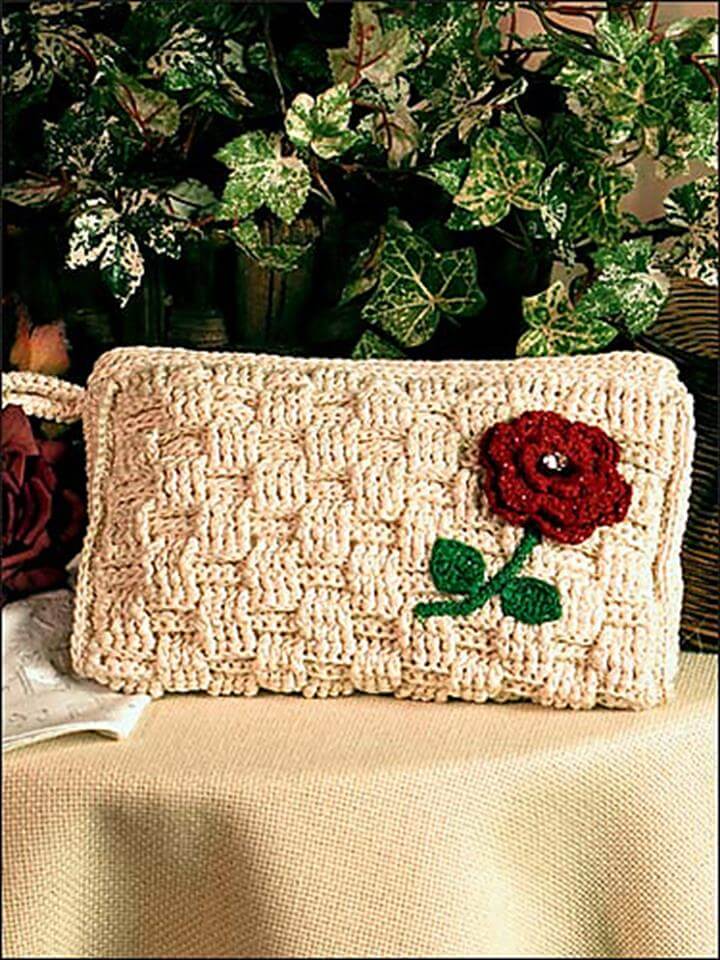 Complete your glam look this summer with this special basket weave clutch! Dignified with a crochet rose in front! It is also a gift-worthy so time to please your beloved ones with your crochet hook! Free pattern for this hand bag is here Ravelry
Impressive Crochet Amara Shawl: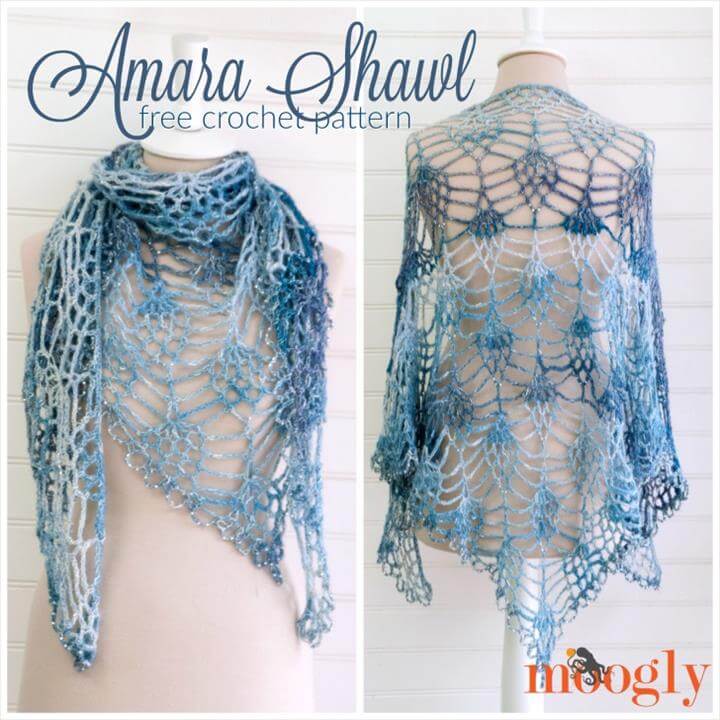 Participating in winter fashion shows! Why not make this crochet Amara shawl a beauty part of your fashion show dress up? Use it for casual winter dress ups also for gaining more respect! Want to copy this impressive crochet craft? Here is the detailed guide and free pattern mooglyblog
Crochet Ombre Fingerless Mitts: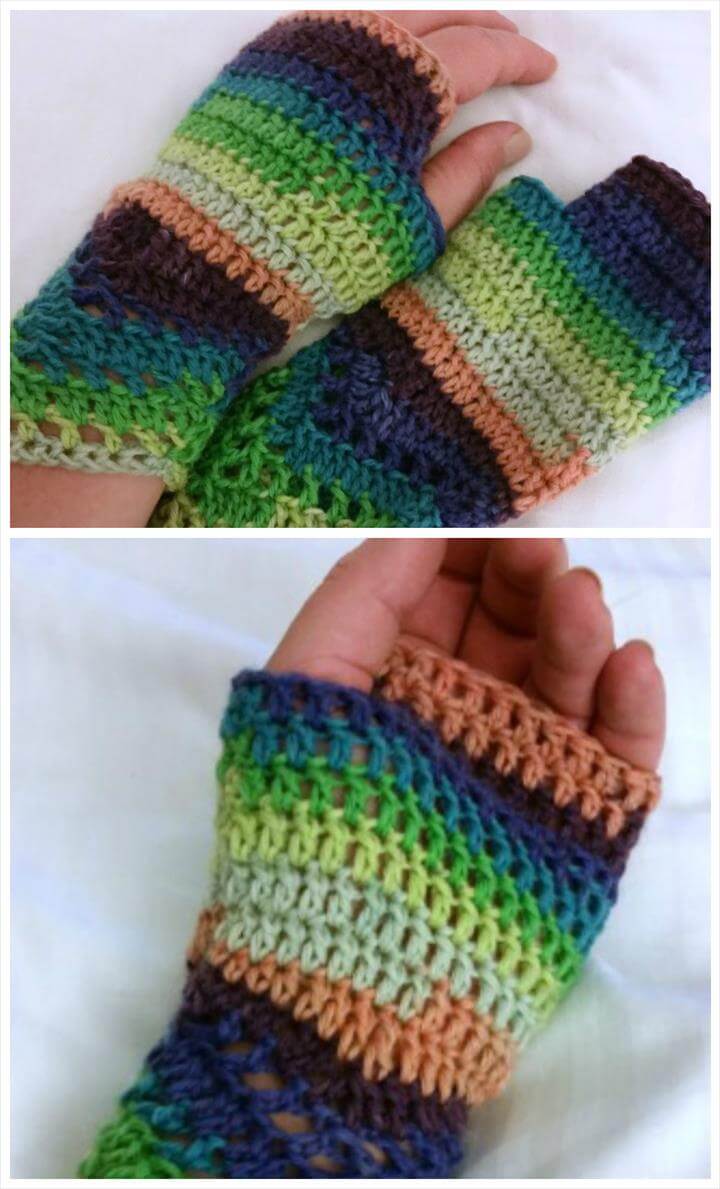 Ombre mitts, inspired of both beauty and winter need! Fashion-worthy winter warmers for your forearms and can be worn along chilly day sleeveless winter dresses! Add it int your winter wardrobe now! Free pattern for it is waiting for you here mooglyblog
DIY Buffi Crochet Beanie Project: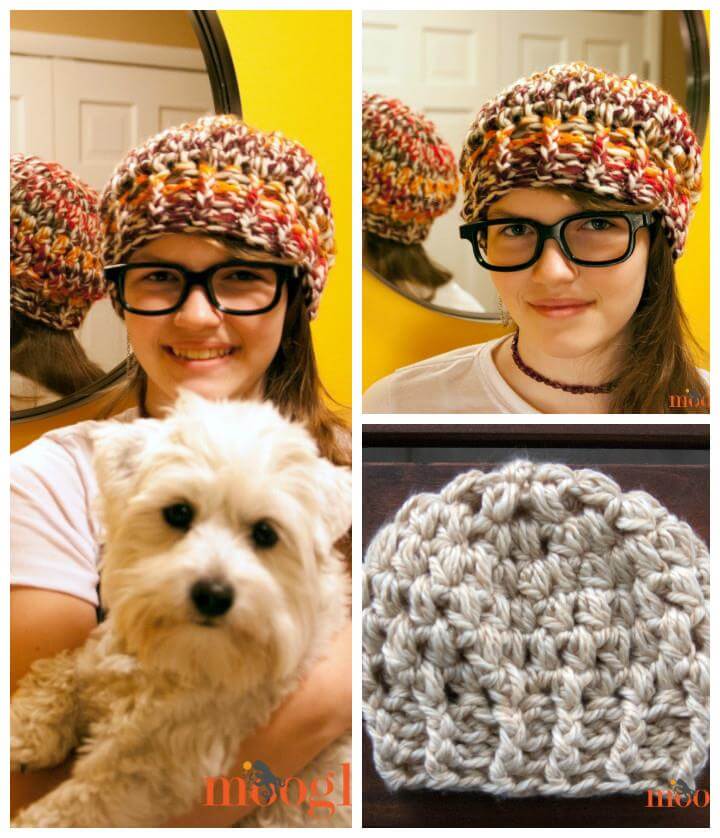 Crochet bulky yarn weights for extra warm and cozy winter hats! One extra smart example is this buffi crochet beanie which has been crocheted to inspire and also for cute winter look! Crochet it in custom dimensions for best fit to your forehead or just turn it into a slouchy beanie! Free pattern for this precious crochet is here mooglyblog
Crochet Fairy Tale Poncho Project: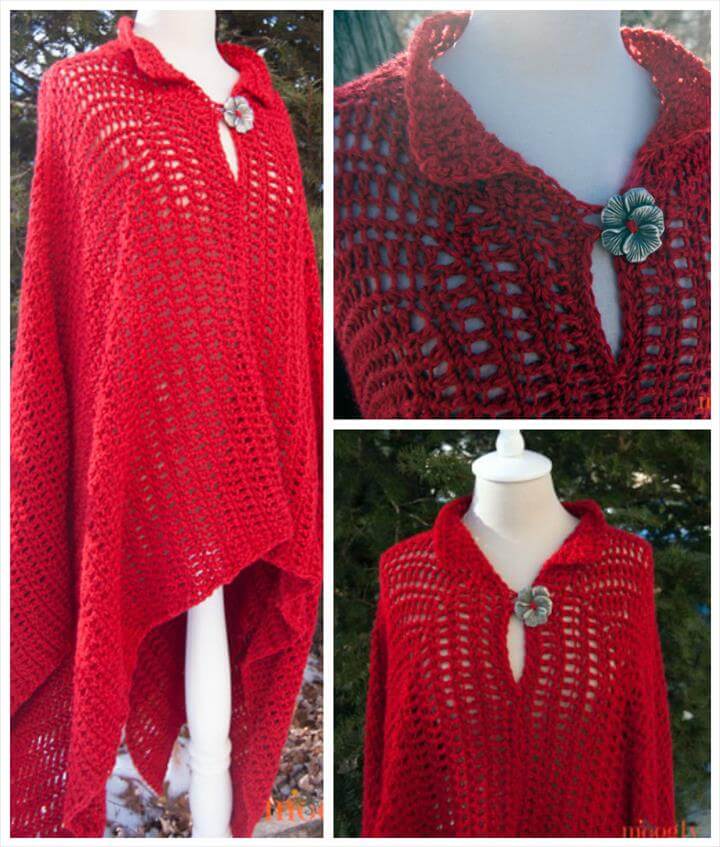 Hot red crochet fairy tale poncho! Worn it along with jeans and boots and get praising comments this winter! All mind-blowing winter fashion accessory that will suit both small and big bodies! To know about the mitered stitching used in it and also for rest of details, follow this complete DIY pattern guide mooglyblog
Multi-color Crochet Infinity Scarf: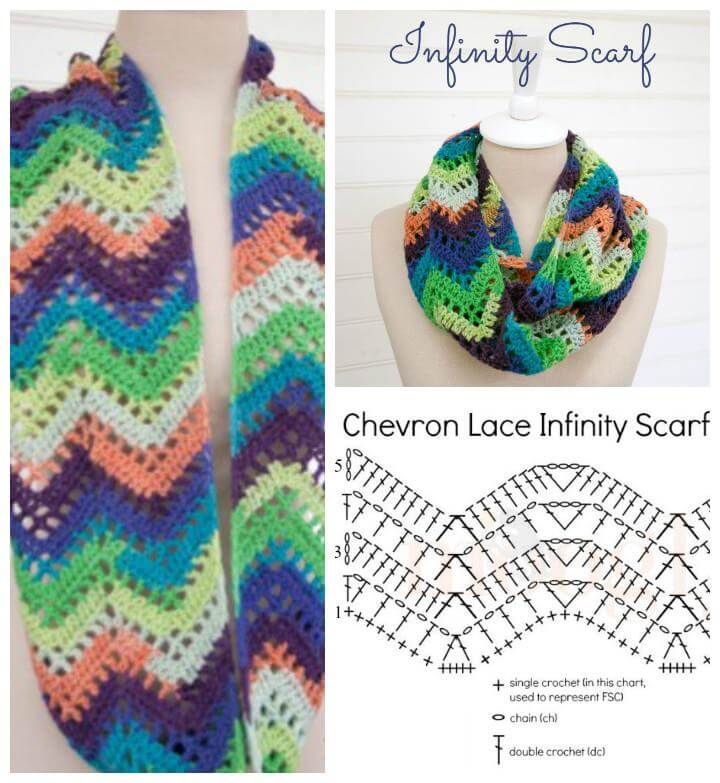 While talking about the crochet winter accessories, how can we forget about the infinity scarves! Here is a precious one done by crocheting multicolored yarn strands! Cozy up your neck by wrapping it around or use it whatever way you want! Full pattern here mooglyblog
Cool Crochet Fall Poncho: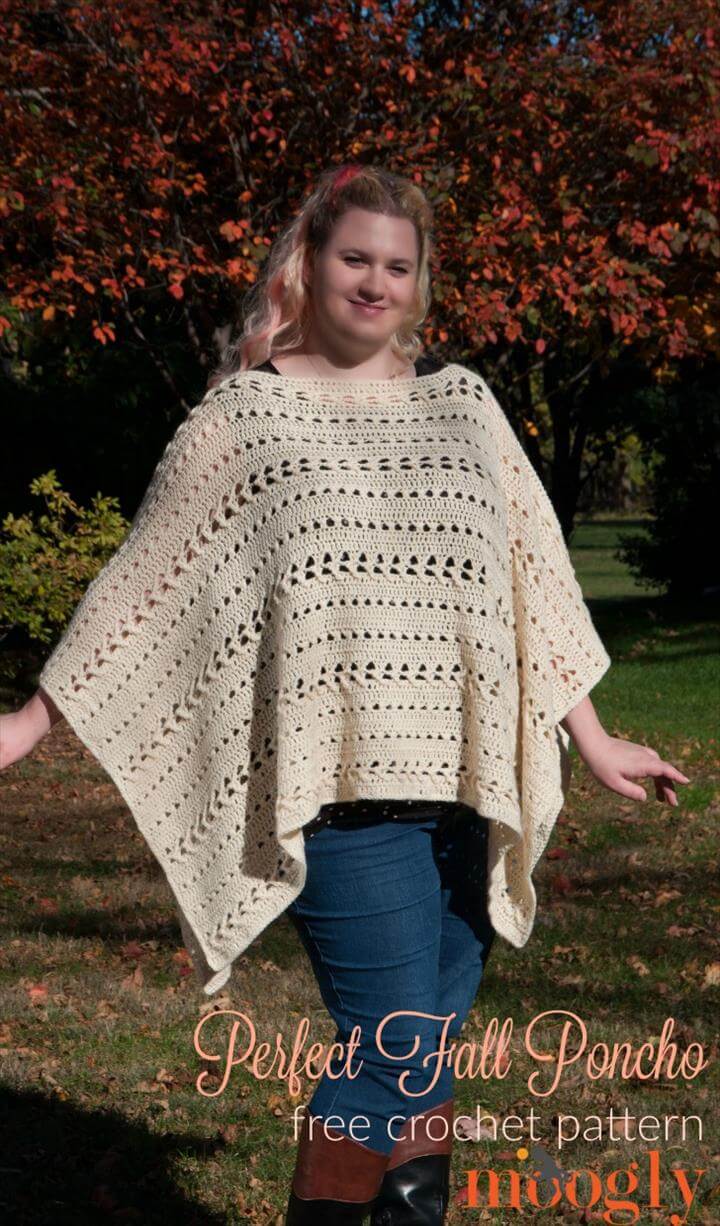 Perfect adult winter accessory to crochet with your hook! Will dress you up for respectful winter look along with a cozy feel of comfort! It would be all easy to crochet with the help of this free pattern mooglyblog
Crochet Scarlet Winter Shrug: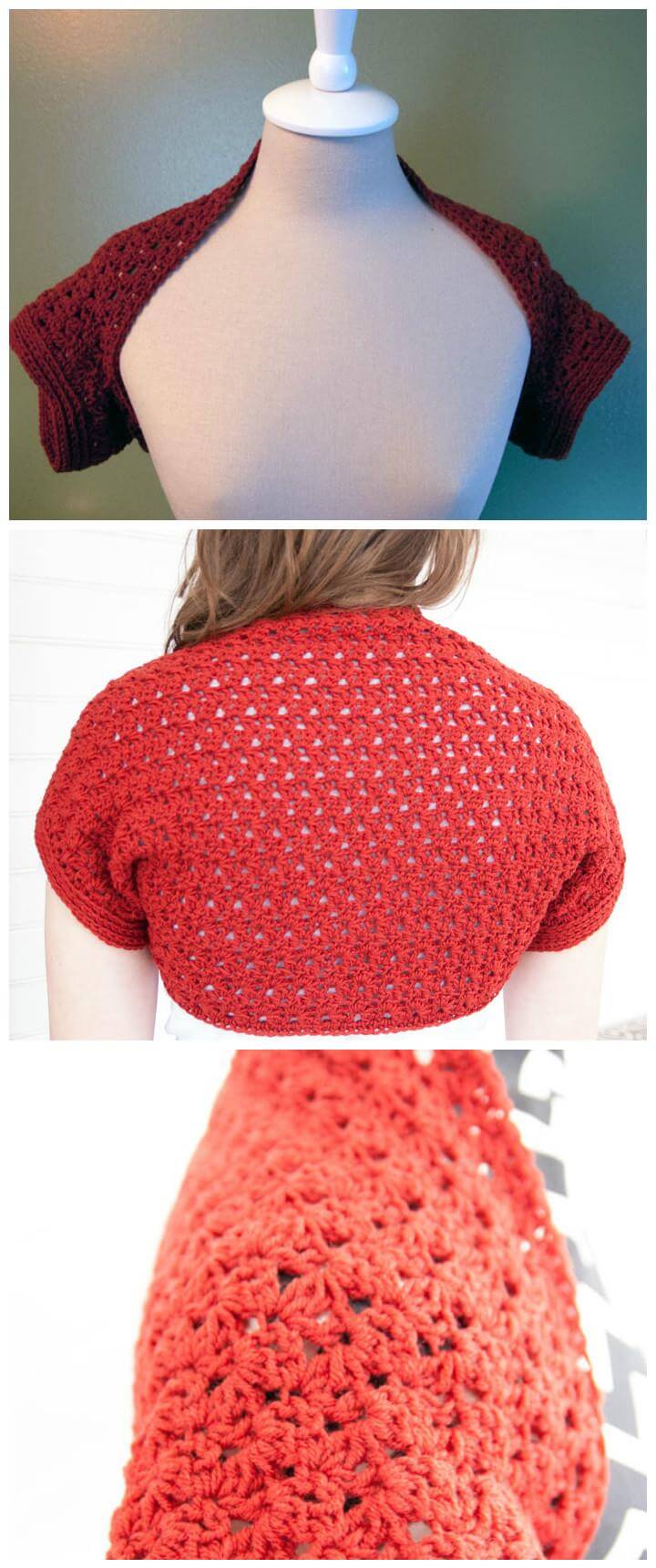 Shrugs are most used winter accessory by the style loving women! Here is a perfect winter shrug sample crocheted using a scarlet yarn color! Achieve this special winter gift by making creative use of your hook only! Full DIY free pattern is here! mooglyblog
Pretty Crochet Slippers: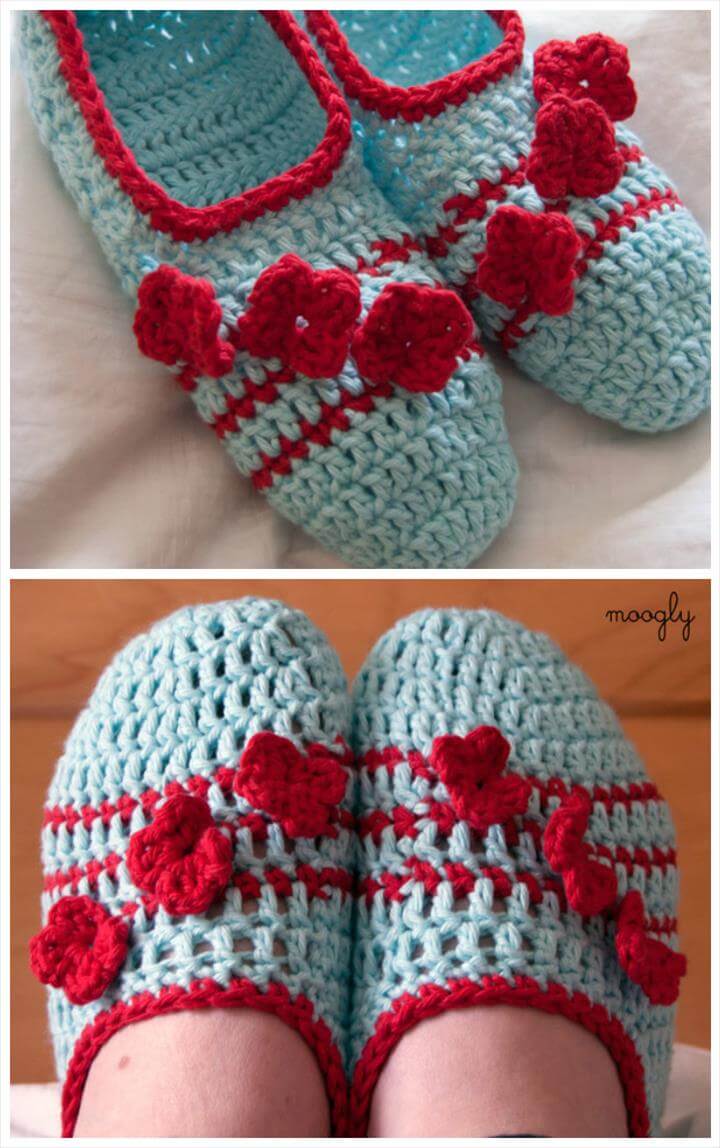 Comfy crochet slippers for adults and kids! Wear these shoes in all seasons for pretty looks of your toes! Best winter gift to make with your hooks if you are to please someone this winter! Complete free pattern here  mooglyblog
Crochet Rainbow Pouch For Kids: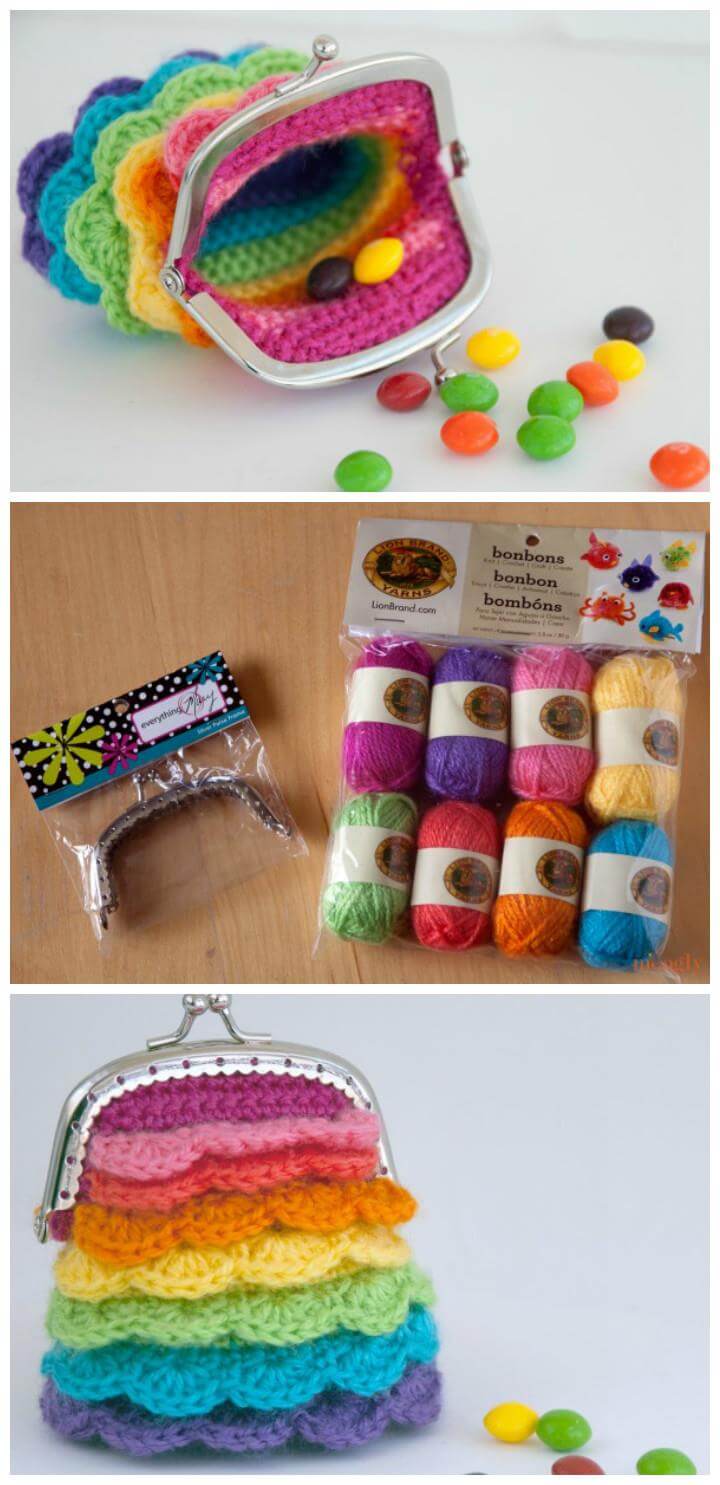 A gift pouch for the kids from medium of crocheting! Bright yarn colors will flatter all the kids eyes! It comes with a rainbow look due to addition of multicolored yarn! Grab the free pattern from here mooglyblog
Crochet Champagne Carrier for Girls: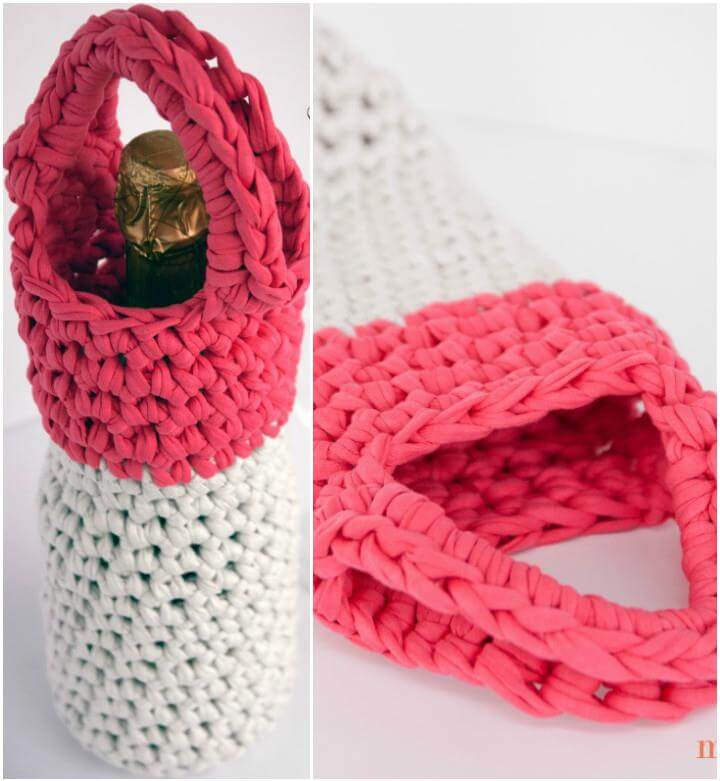 This unique crochet craft has been done by having the basic needs of party-loving girls in mind! Perfect pouch for the girls to hold their beverage bottles while going for a party night out! Try to use pink yarn extra to boost the feminine touch! Step by Step Guide and Free Pattern Here mooglyblog
DIY Crochet Kid's Backpack Project: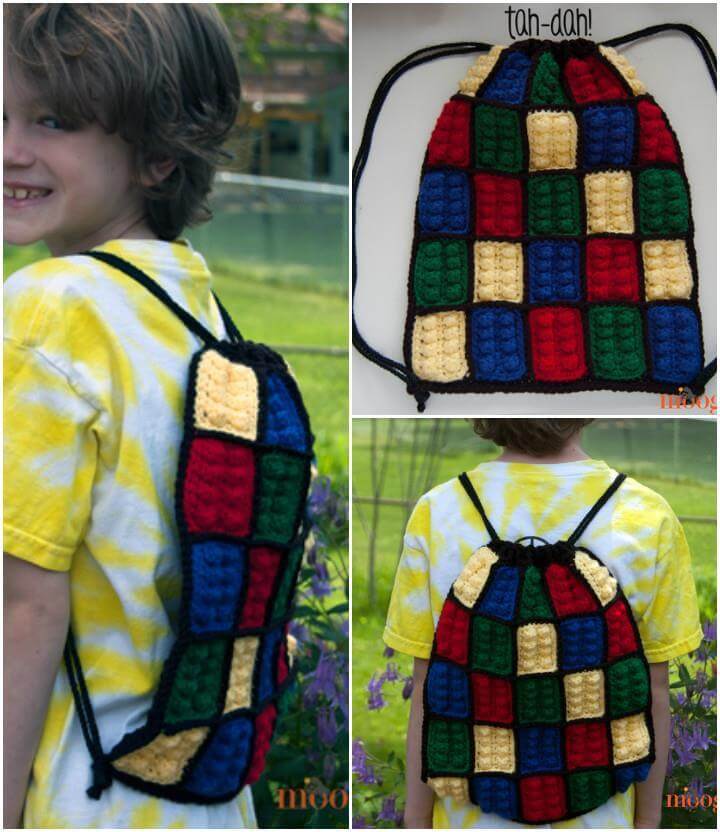 Multicolored backpack for the kids, inspired of building blocks! All pretty easy to crochet and would make a fetching gift for the kids! Moms can try crocheting it with the help of this free pattern mooglyblog