Crocheting is an art to overcome boredom! While getting busy with your crochet hook, you all forget about the worries of life! So, along with enhancing you creativity and meditation, the art of crocheting is also a way to get busy in a style while ignoring all the negative feelings you are suffering from!
On the other hand, crocheting is also a great medium to gain winter fashion accessories in a thrifty way! Your hook can make you self-sufficient in winter fashion as you can crochet mind-blowing stuff like the crochet shoes, dresses, scarves, boleros, blankets, shrugs, amazing winter crochet hats, and sweaters!
Really want to sort out that what's new in crocheting? Especially in crochet blankets or leg warmers? Obviously, the answer would be the mermaid tail blankets! These blankets are a big hit and a way to snuggle up in a beautiful and funky style! Mermaid tail blankets are equally popular in both genres and are too much fun to cuddle in! If you want to experiment your crochet skills by crocheting a super cool mermaid blanket or afghan or even a mermaid tail baby cocoon then these 22 free mermaid tail crochet blanket patterns will be a total help! Each listed idea is unique and comes also with a complete step-by-step guide, there are also video tutorials linked to some of the listed free crochet patterns!
Vary the yarn weights if you want your blanket less or warmer! This will also depend on whether you are going through chilly days or killing cold season of the year! 2ndly, you can experiment the given patterns with your own selected yarn colors to get a vibrant or fade look!
Want more Free Crochet Patterns?

Why the mermaid blankets? Here are the few reason for their so raised popularity!
1. These blankets make an awesome gift for the kids and even for a baby shower!
2. The mom can get them also for a very first winter photo shoot of their kids!
3. Main purpose of these blankets is to hold your legs well and to warm your feet as if your feet are warm, your whole body will be!
4. These blankets just lay smoothly across your lap giving you a high value comfort! So kids can get into them to snuggle up on a sofa or on a bed while enjoying their favorite TV shows or reading their favorite book!
5. They are simply a mind-blowing way to mimic the mermaids, the most fun-raising feature of these blankets!
Crochet Mermaid Tail Blankets for Kids: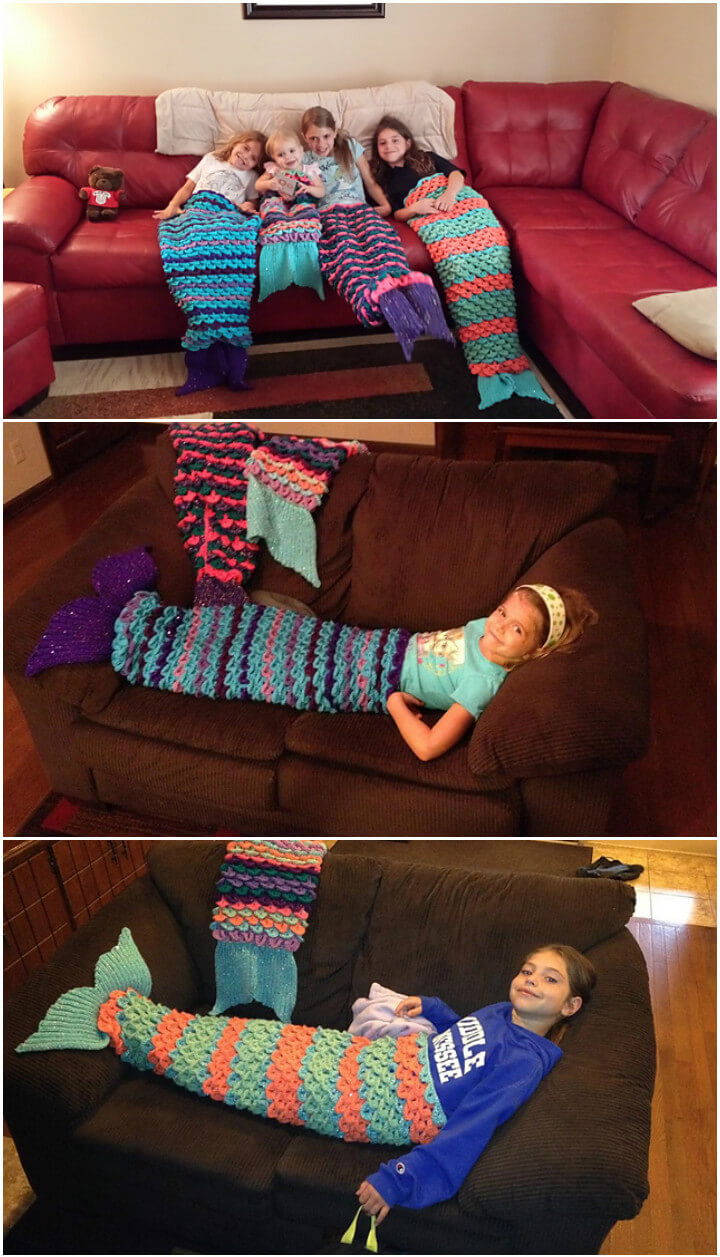 Let your kids get into this mermaid blanket so that they will enjoy more the TV shoes and movies by feeling snug! Crochet it also for a gift to a little princess you love so much! Clone it with the help of this free pattern ravelry
Easy Crochet Mermaid Newborn Cozy:
Perfect mermaid tail for the the newborn, will beautifully wrap around the lap! Just imagine your baby snuggling up on a cold night, would be a precious winter warmer ever! Complete free pattern for it is here ravelry
Blue Crochet Newborn Mermaid Tail: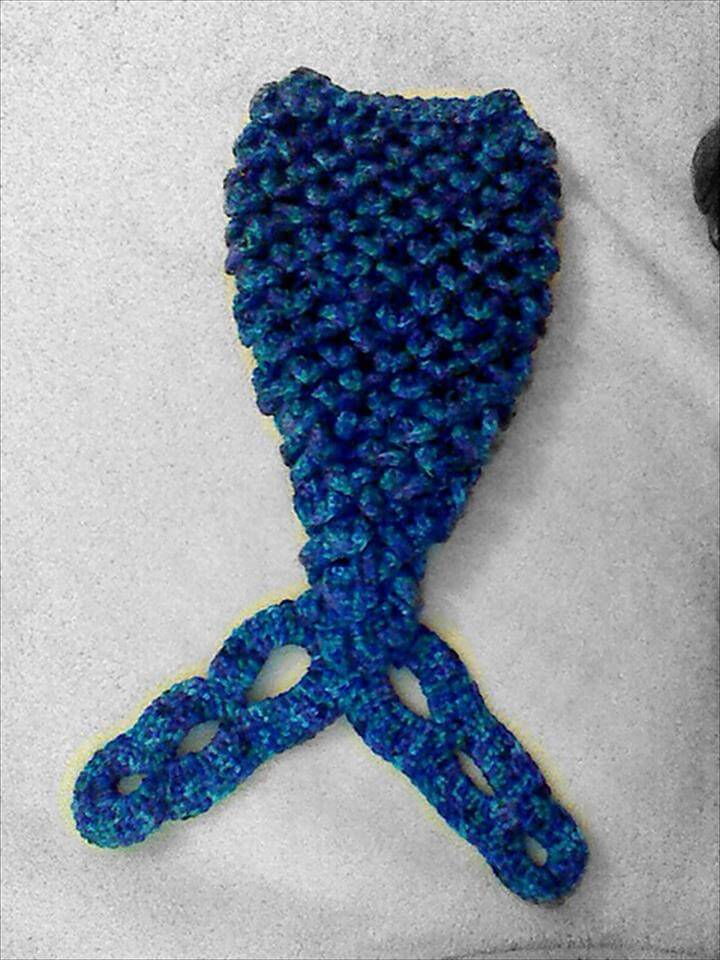 All perfect and pleasing gift for a baby shower! A cozy mermaid tail for the newborn, an ever unique and cute winter warmer! Free pattern is here ravelry
Crochet Mermaid Blanket or Sack: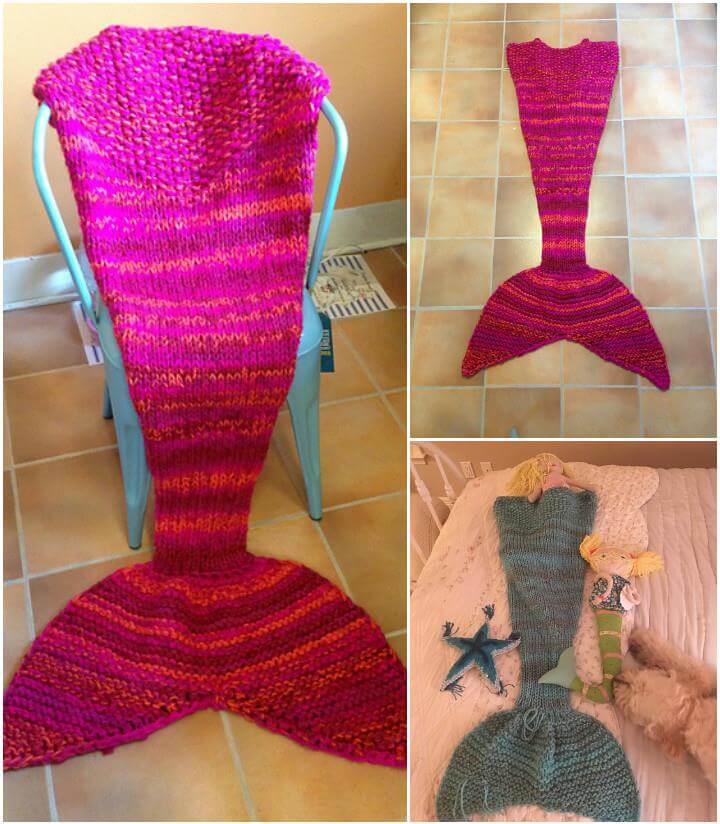 Stay warm in a style with this mermaid tail blanket! Would make an all lovely gift for a child or a preschool aged kid! Let your kids watch the movies without trembling in killing cold days without losing any fashion point! Remarkable crochet achievement! Grab the free pattern for it here ravelry
Crochet Mystic Mermaid Cocoon: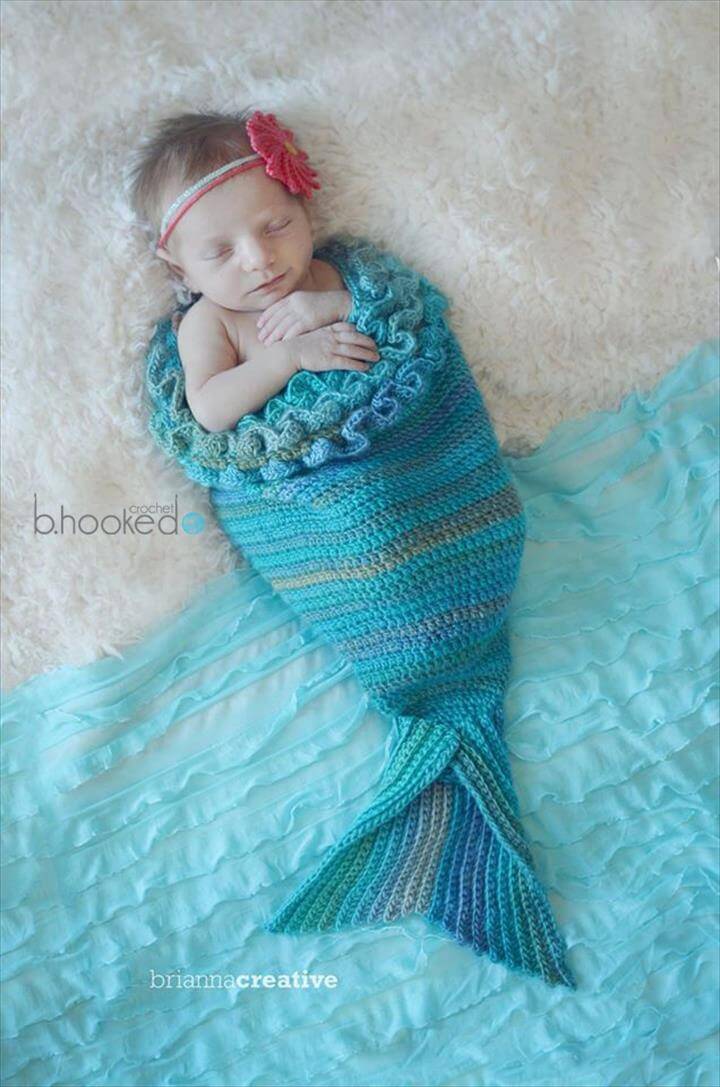 Wrap your 6 month baby up to shoulders with this mermaid tail cocoon! Time to cozy your baby in a pretty way! Here is the complete guide and free pattern for it bhookedcrochet
Crochet Adult Sized Mermaid Tail Lapghan: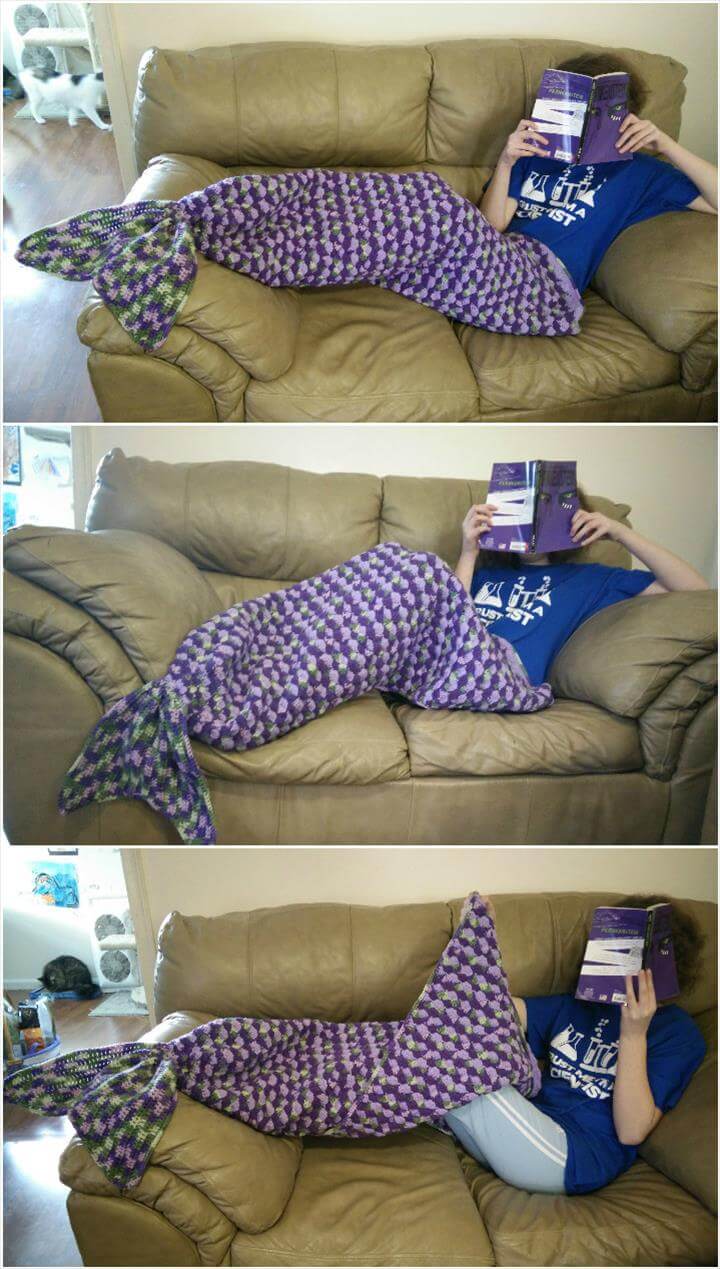 Stay relaxed while enjoying book-reading by laying half down on a couch! The mermaid tail blanket will hold your legs tight but in a comfortable way and will lay smoothly across your lap! A fashion-worthy and cute winter accessory to get the necessary amount of warmth in chilly days! madhooker
Cute Crochet Mermaid Tail Blanket: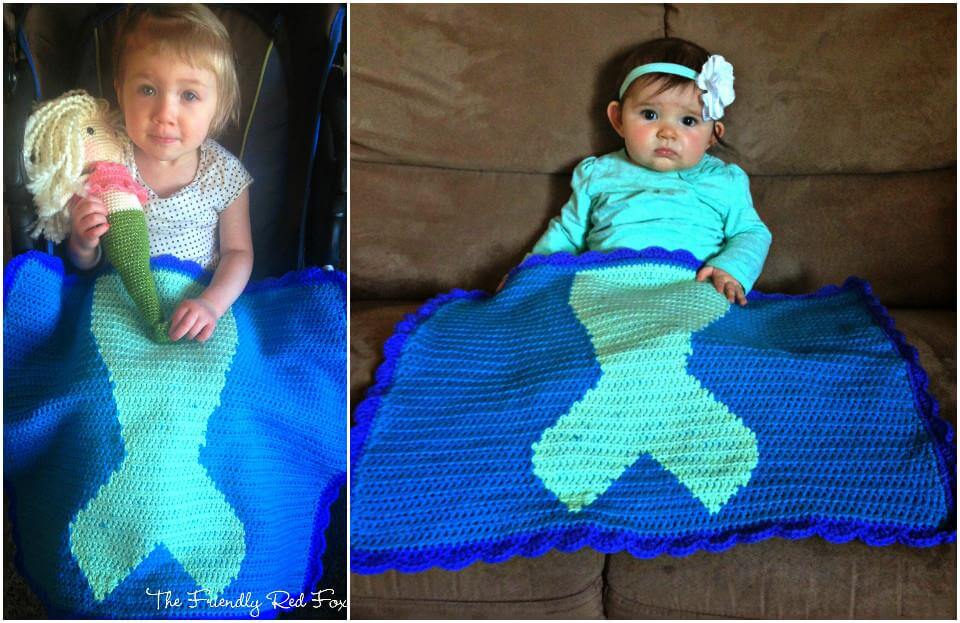 Another pretty one, not the real mermaid tail but the blanket with fish tail print! Will give a beautiful illusion that your kid is just a sweet little mermaid along with providing him the required amount of heat and warmth! thefriendlyredfox
Crochet Mermaid Tail Fin: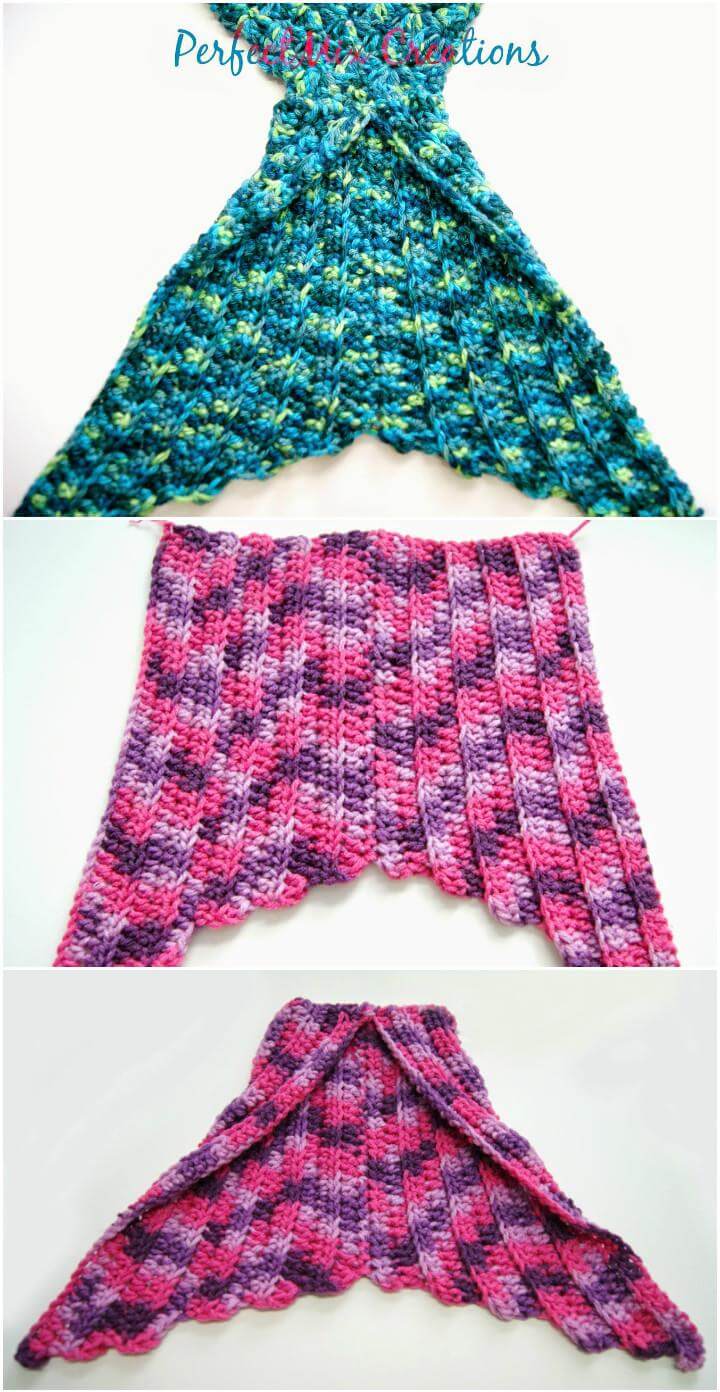 Most of people are supposed to be puzzle at crocheting the mermaid fins! So this mermaid fin tutorial and pattern guide would all help you to do error-free crocheting! Here is the pattern guide for it daperfectmix.blogspot
Crochet Mermaid Tail Baby Blanket or Cozy: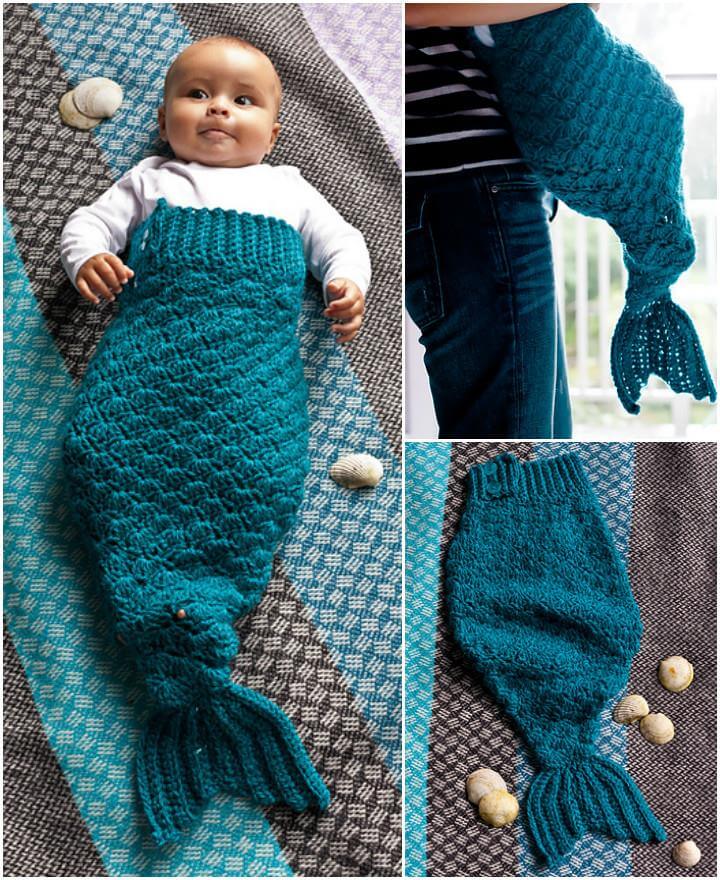 Brainstorming that how to cozy up your baby in a style while going through a winter night? This funky mermaid blanket or cozy is the perfect solution for it! Will be a fun to crochet with the help of this pattern ravelry
Crochet Mermaid Afghan: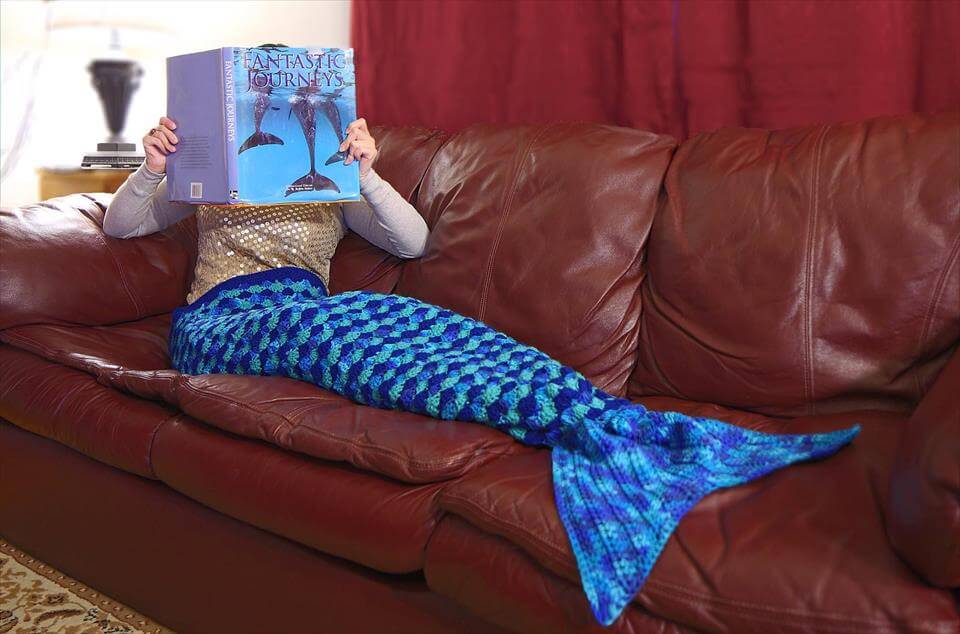 Precious mermaid afghan for adults, will cause your body stop trembling sweetly! By getting into it, you will only left with the comfort! What's special? You will appear like a precious mermaid to every onlooker! Duplicate it by following this easy and free pattern guide and video tutorial yarnutopia
Crochet Shark Mermaid Afghan: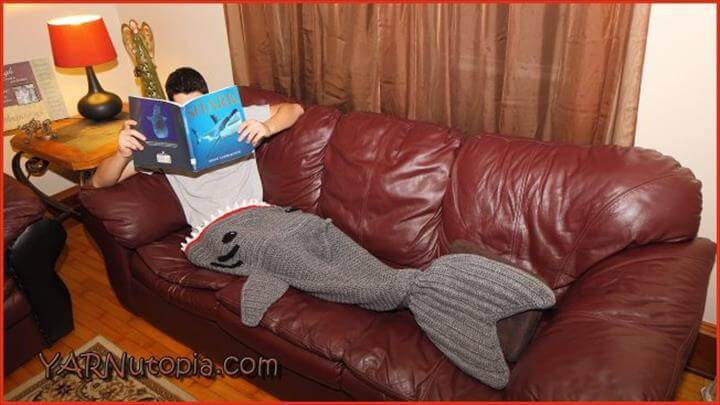 It is terrible while we see killing sharp teeth which are just to attack! But these soft yarn shark teeth will provide you pleasing feeling of comfort by being across your lap! A perfect shark mermaid blanket for adults! Full video tutorial and pattern here yarnutopia
Crochet Mermaid Tail Afghan: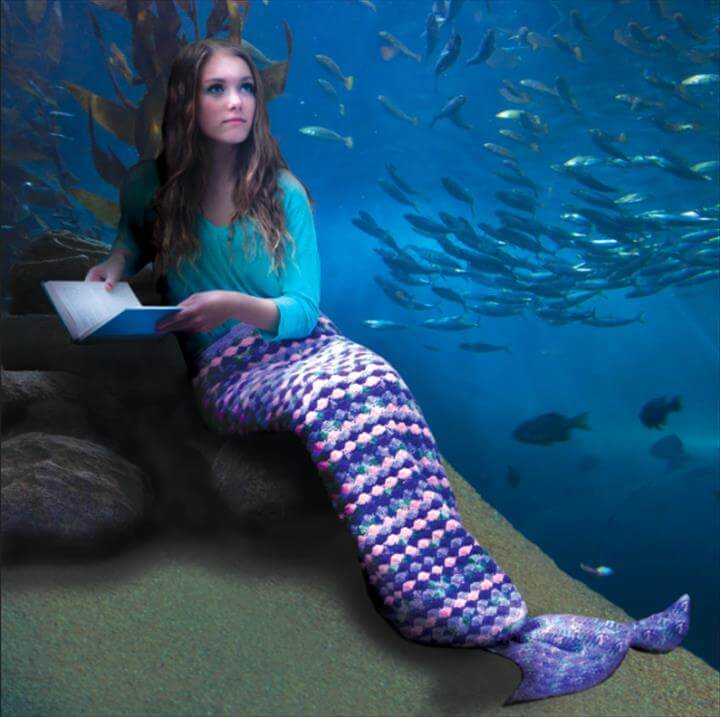 By varying the weights of yarns and also the colors, one can give amazing variations to these mermaid blankets! This bulky one has been done with chunky yarn weights, will be as warm and comfortable as it beautiful! Full and free pattern guide here makezine
Crochet Mermaid Snuggle Sack: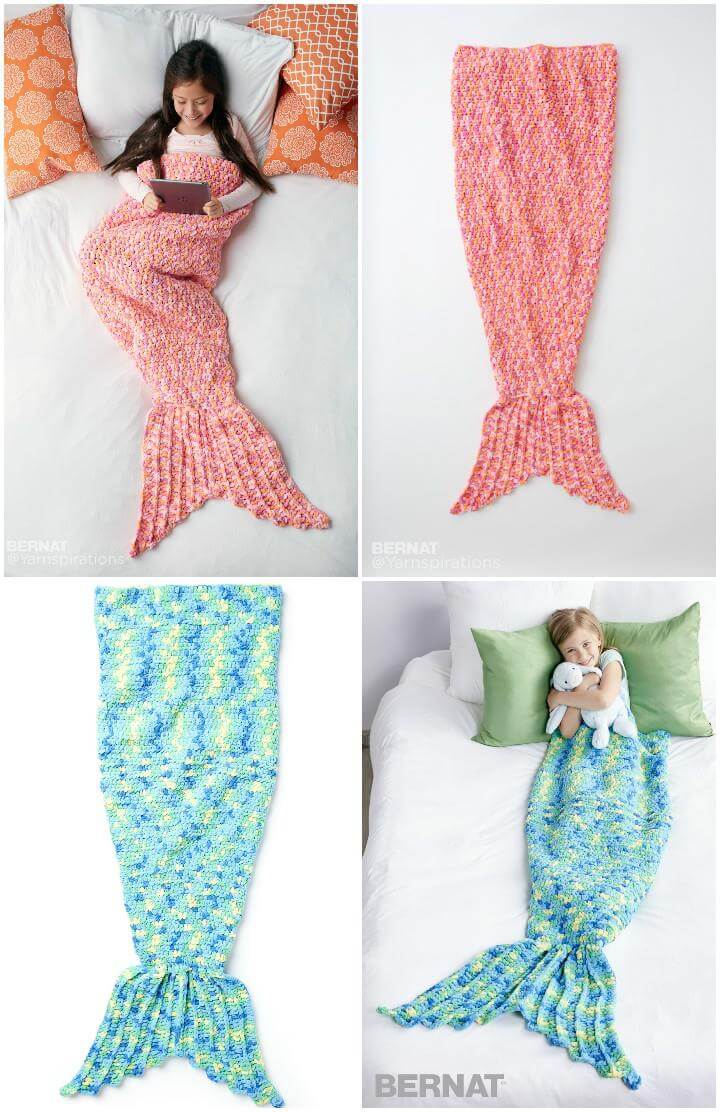 Are your kids are no more interested in old blankets? Want an kids-friendly replacement to old blankets? We recommend you to gain these mermaid blankets, the kids will not like to come out from these blankets! Crochet these mermaid tail blanket at home using this step-by-step guide and free pattern  yarnspirations
Crochet Mermaid Baby Costume: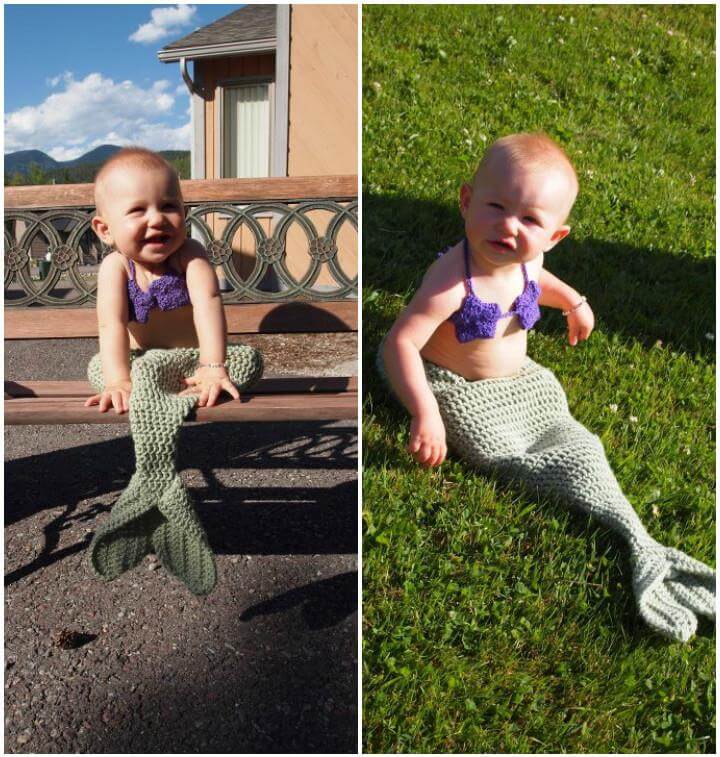 Want something special this winter to please your kids more than ever? Choose this mermaid tail costume as a gift, will be an ever cute winter outfit for your baby! It would be perfect also if you are going for a very first photo shoot of your newly born baby! Own it through your own hook, complete guide here wichecraft.blogspot
Adorable Crochet Mermaid Tail Cocoon: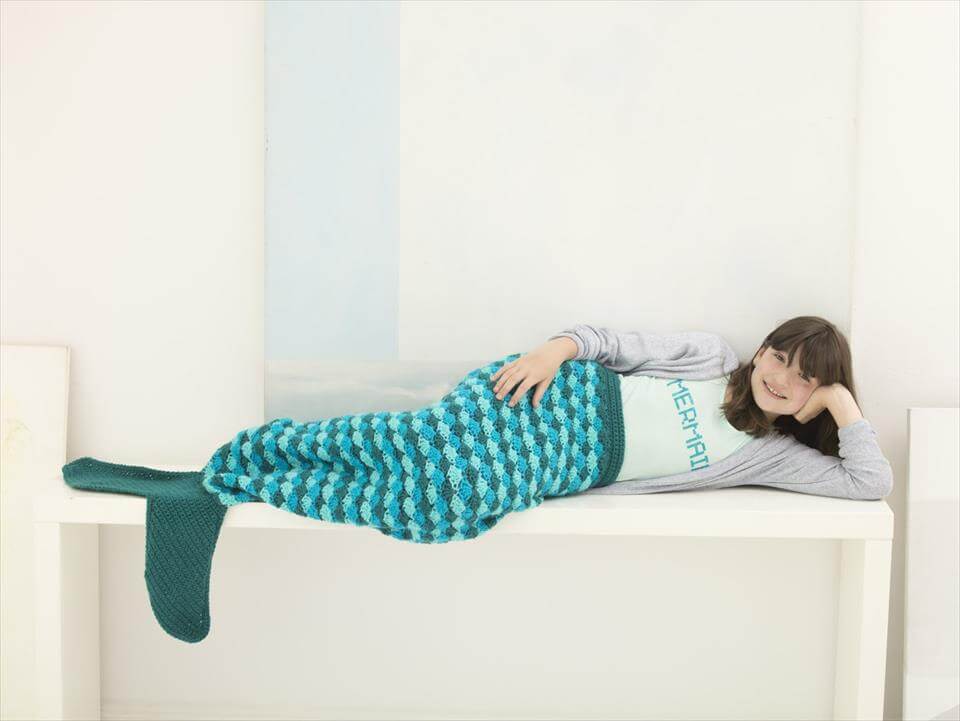 The most fun-raising winter accessory is here, crochet mermaid tail cocoon for children, can also be crocheted in infant and adult sizes! Best ever gift for a baby shower or to please a fun loving kid this winter! Complete free guide and pattern here lionbrand
Pink and Blue Crochet Mermaid Tail Cocoon: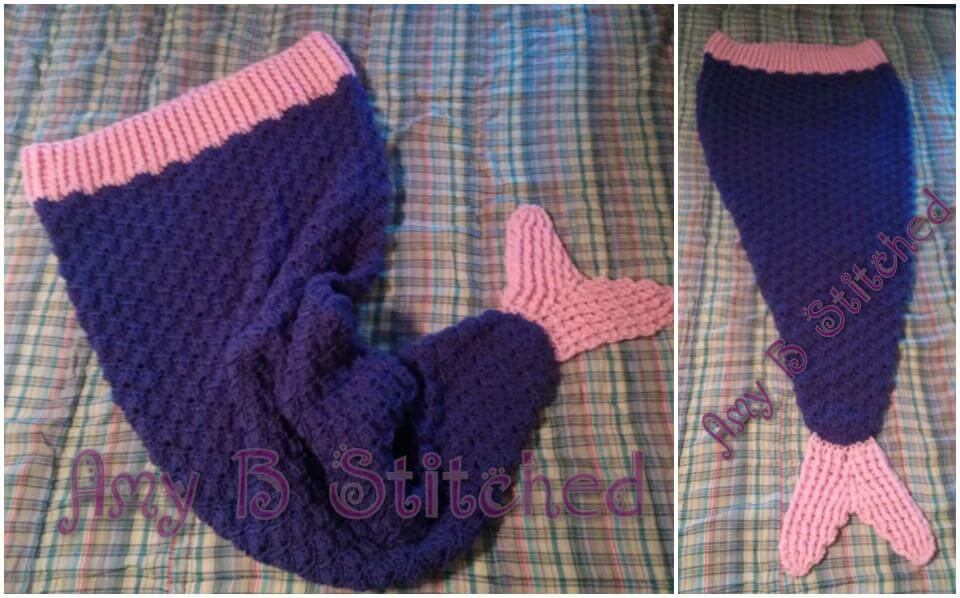 Have not get yet a cool winter leg warmer for your trembling kid or baby? Crochet this mermaid tail blanket, will be an ever fancy and stylish leg warmer! Full free pattern here amysastitchatatime
Arm Knit Mermaid Tail Blanket: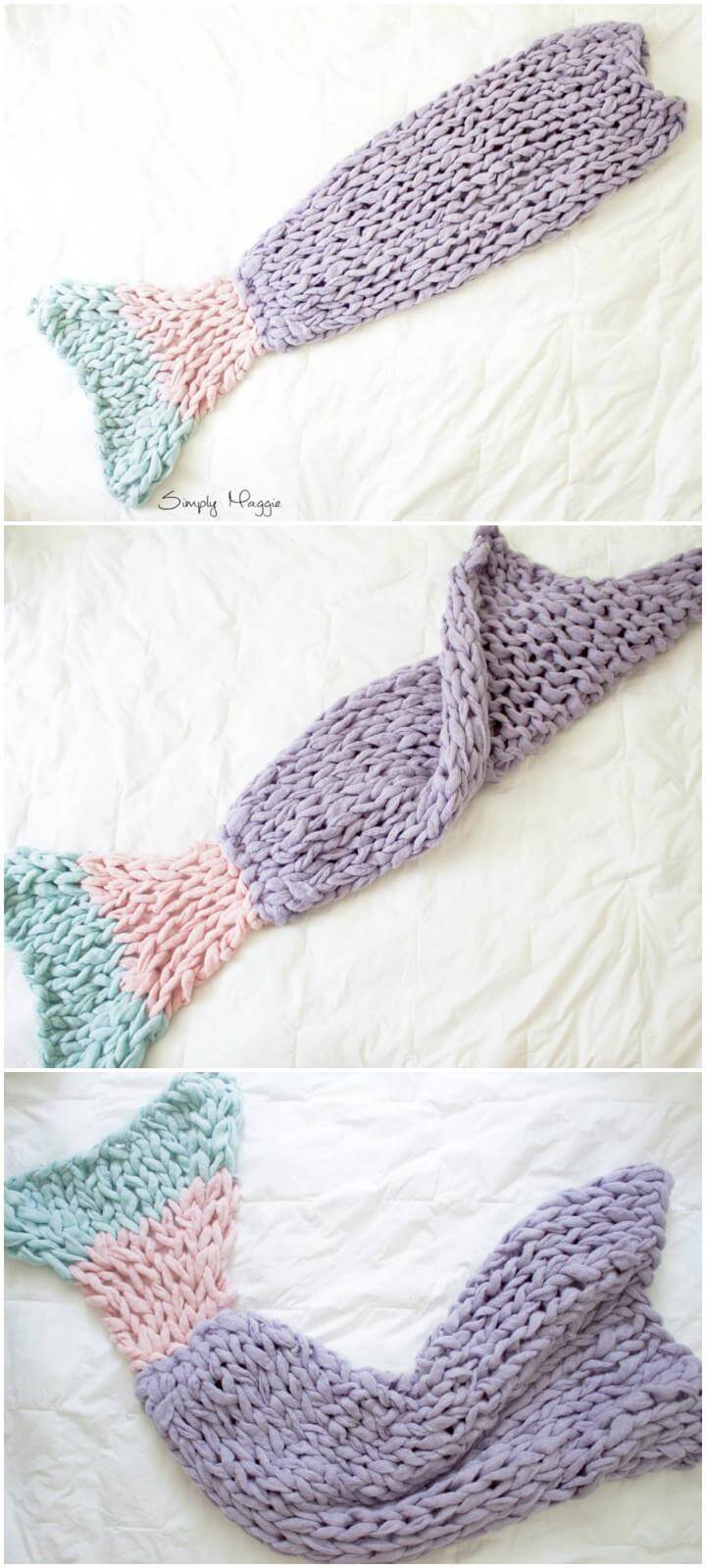 If you are a knitting expert then here is a arm tail mermaid blanket as a new inspiration for you! You can watch the video tutorial of it as a full step-by-step guide! Video tutorial here simplymaggie
Easy Crochet Mermaid Lap Blanket: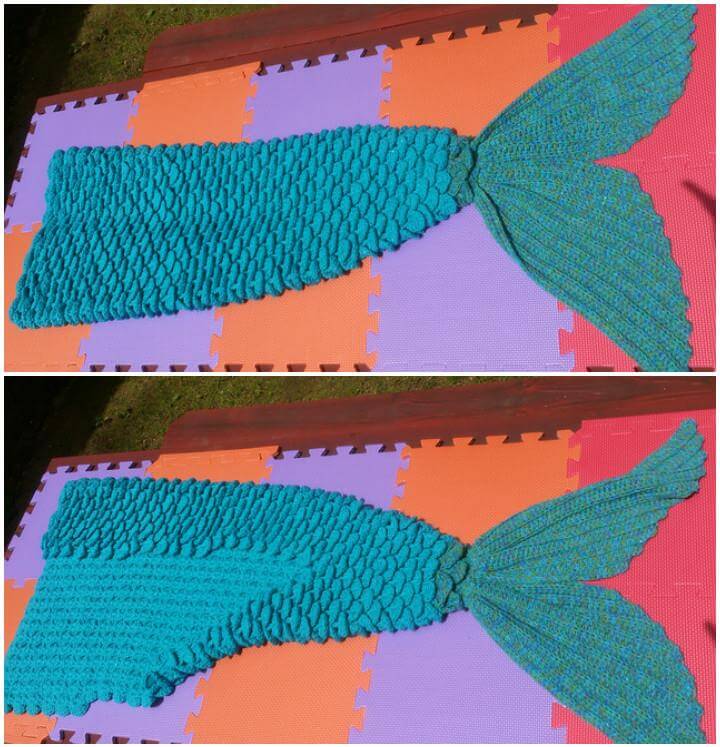 Comfy up your lap and also the lower legs of your kids by putting them into this style-worthy mermaid tail winter blanket! Winter protection and funky looks at the same time! Here is the free pattern for it ravelry
Green Crochet Mermaid Tail Cocoon: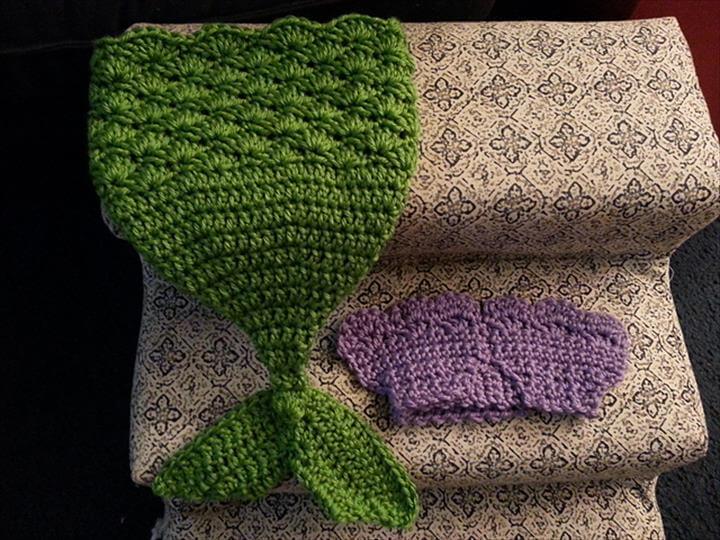 Set of a mermaid tail cocoon and a headband! A self-crocheted gift for a mother-to-be! Get crafty a little with your hook to crochet both of these stylish baby winter warmers! Complete guide and free pattern here ravelry
Single Colored Crochet Mermaid Tail Blanket: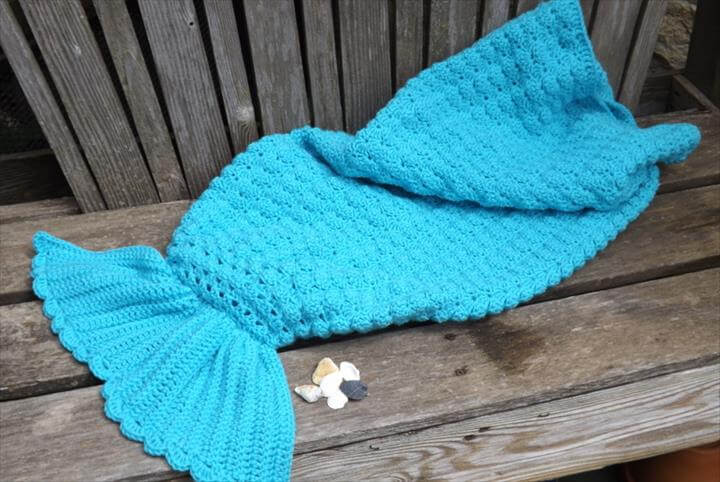 Need something special to snuggle up on a cold night? What you will say about this mermaid tail blanket? It is all easy to crochet! Experiment it with different yarn colors, free pattern is here thecrochetcrowd
Super Cute Crochet Mermaid Tail Cocoon and Headband: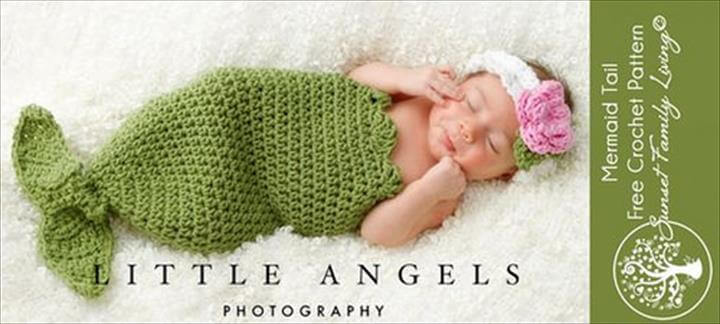 Insanely clever crochet inspiration! A mermaid tail baby cocoon, ready to comfy up your newborn baby! It is something beautiful to pretty up the infants! Full free pattern here sunsetfamilyliving
Crochet Shark Mermaid  Blanket or Snuggle Sack: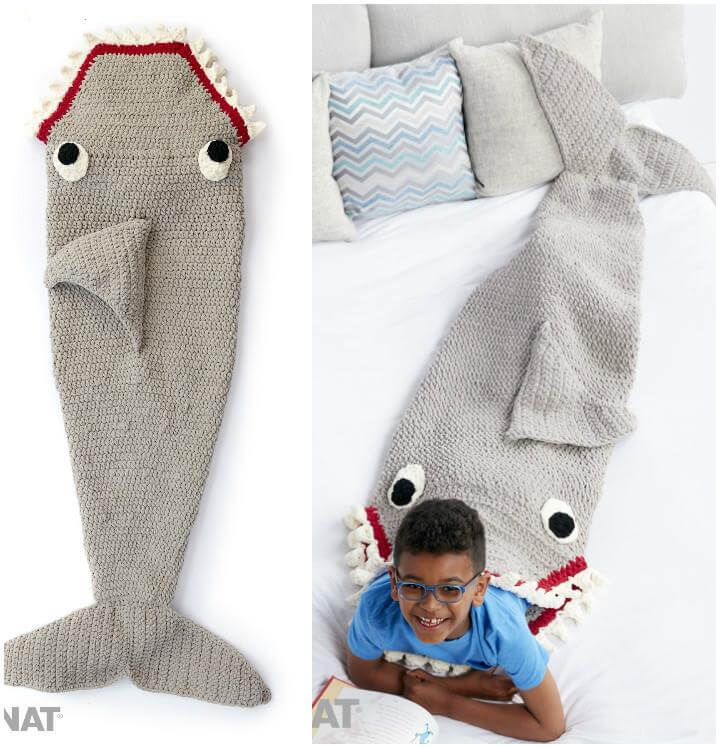 A cool gift for the boys, an eating deadly shark snuggle sack or a shark mermaid blanket! A highly gift-worthy item to crochet this winter with your special hook! Free pattern here yarnspirations