Concerned about the kitchen decors? You can also raise them using them the dishcloths! Yes, dishcloths are not only for the cleaning the dishes and kitchen utensils, if come in enchanting appeal, they can also bring great visual details to your kitchen! The dishcloths can be mostly seen on the kitchen countertops, racks, and kitchen walls so you can select them in enchanting colors and patterns so they will make a perfect décor for your kitchen too! So, you can buy the good looking dishcloths from now as they have the very direct involvement in your kitchen decors! But, you can also make some outstanding looking dishcloths at home that using the scrap fabric and even your knitting, embroidery and crochet skills!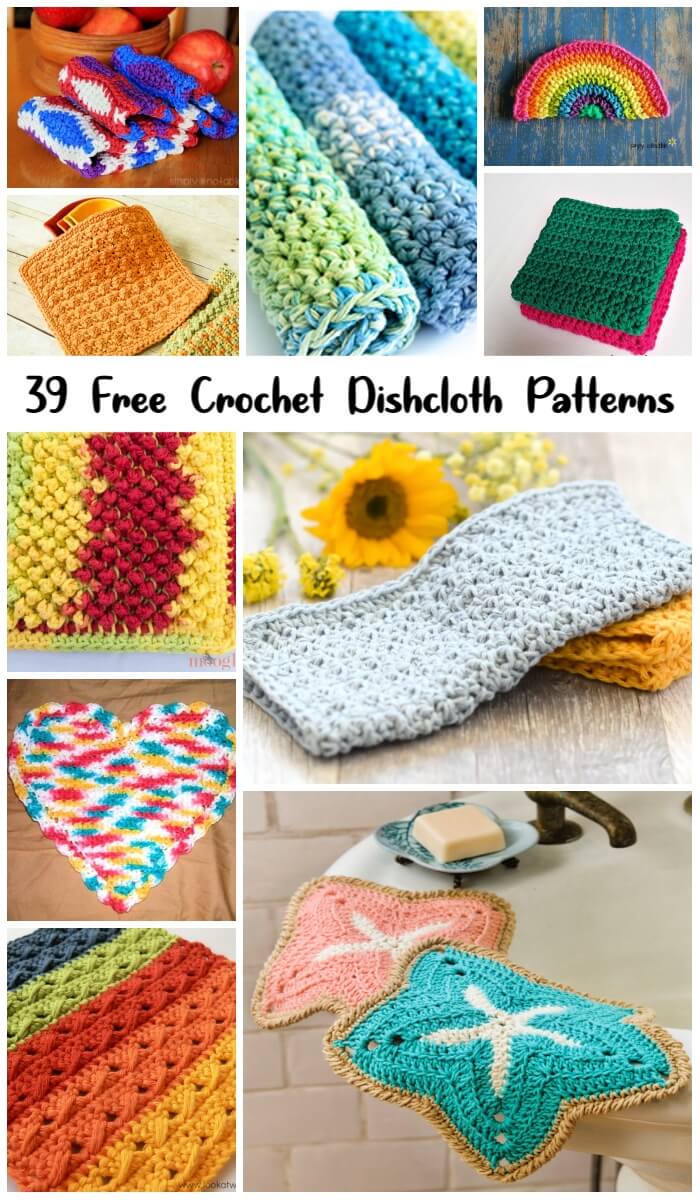 Here we'll only talk about the crochet dishcloths that would be thicker, soft to touch and would be enticingly colorful! The very blasting good news is that you can make your favorite crochet dishcloths at home that help washing your utensils in style and will also provide better results! Need some latest crochet dishcloth patterns? Then check out here these 39 Free Crochet Dishcloth Patterns that have only been selected for you and all these given patterns are too innovative to inspire your hook! By crocheting these dishcloth patterns, you will not only put your skills on a test, but you will also learn about more crocheting hacks you have never seen or thought before!
Moreover, these patterns would also be great for the beginner crocheters as they are super comfortable and simple and will work up super quickly!
Free Crochet Pattern:
Crochet the textured dishcloths at home that will bring great charm and style to your kitchen and also crochet the single color farmhouse style dishcloths that would also be super quick to crochet, check out a lovely given sample below that features a neutral hue! Crochet the angel dishcloths that will even come with a loop or hole to be easily hanged on the wall hooks! Moreover, to crochet the starfish dishcloth that will be super beautiful to look, get inspired by the given lovely samples that are cute!
Crochet also the simple square shaped dishcloths that will be a delight to view and hold in hand and to crochet the waffle dishcloths that will go enticing to your kitchen interior! Work in cable stitch and crochet lovely striped dishcloths that you will definitely look at twice and also make the fruit inspired dishcloths that would make great kitchen decors, an interesting sample here is the pineapple dishcloth that is looking cute and beautiful!
Here all these self-crocheted dishcloths can also be used in gift giving! They would make a perfect housewarming gift for a new homeowner! So, you can crochet and pack a set of dishcloths, and next can give them an enticing gift wrap to gain a lovely housewarming gift! Check out lots of more crocheted dishcloth designs in the given below list and also visit the attached links to grab the full free patterns, visual instructions, and step-by-step guides!
Crochet Textured Dishcloth – Free Pattern: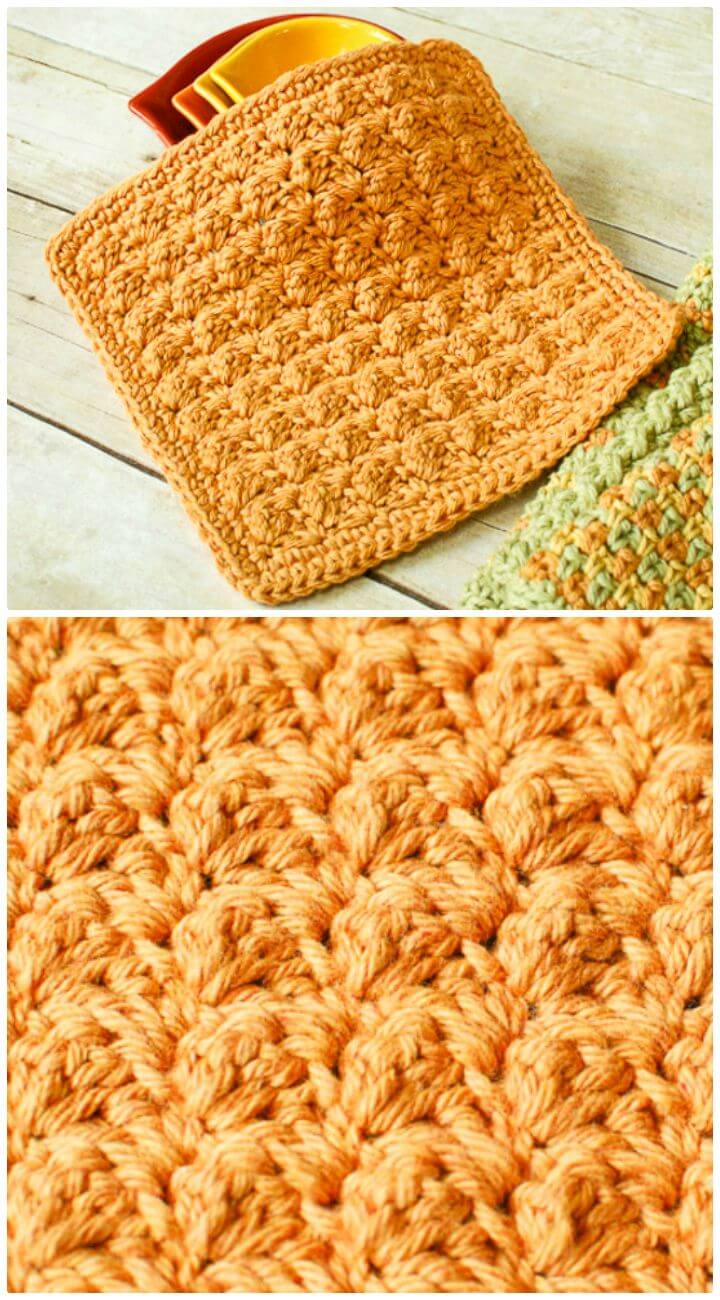 Dish clothes are the integral to the kitchen and now you can crochet one to get some soft treatment to your hands while cleaning your dishes. Here is this lovely and textured dish wash with a very neat and fine stitched pattern which is so much easy and fun to crochet on your own.Free pattern and details here petalstopicots
Crochet Farm House Washcloth – Free Pattern:

Here is another cute and simply beautiful dish wash to make your kitchen chores more easy and fun. It has been crocheted with the spider stitch using single stitch and chain stitch technique and can be easily followed even by a beginner so here is the link to follow the free pattern and get this huge size dish wash for your kitchen in any of your favorite hues mamainastitch
How To Crochet Angel Dishcloth – Free Pattern: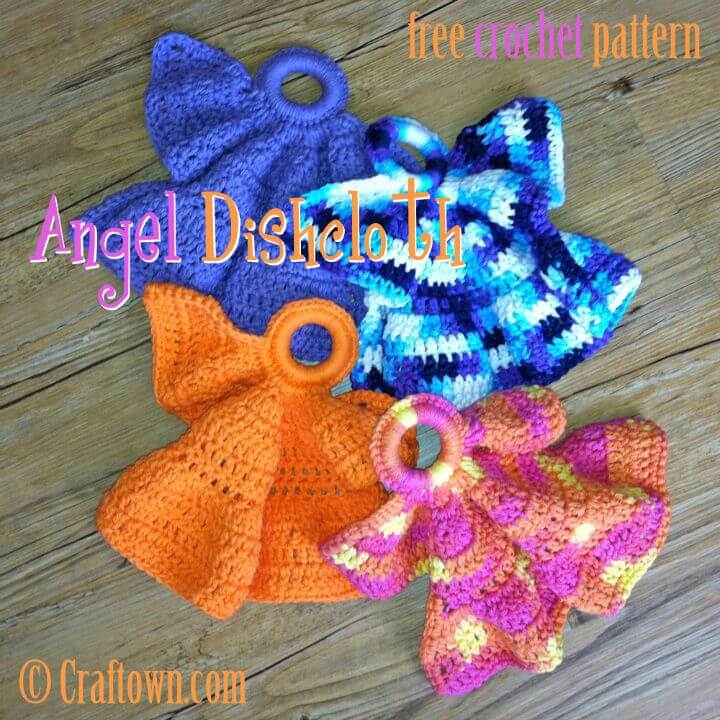 When you are a crochet person you should really be experimenting with the things around. SO its time to turn the boring dish wash clothes in your kitchen into some gorgeous and decorative possessions with this adorable and colorful crochet angle dish wash avatar. They would make a great gift for a kitchen lover so make a bunch of them this festive season to give away.Free pattern and details here craftown
Crochet Starfish Dishcloths – Free Pattern: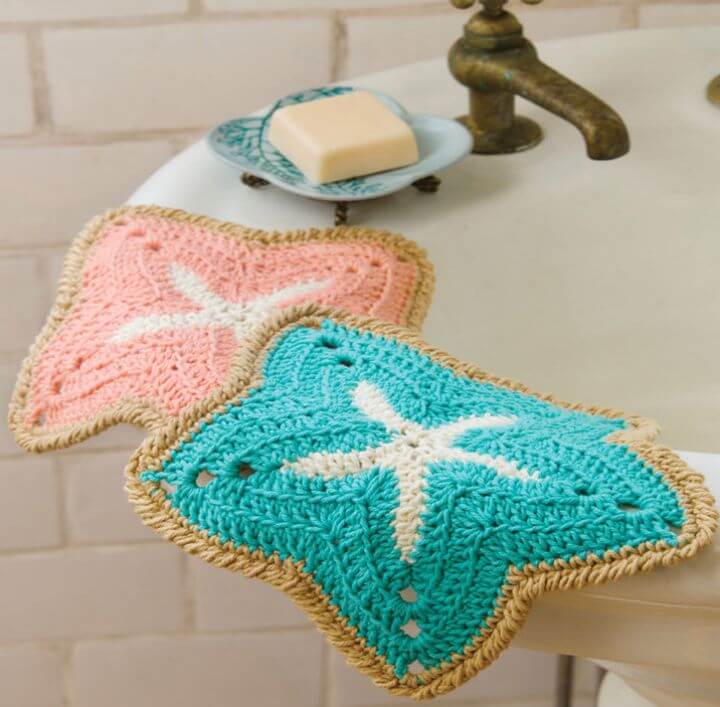 Summers are so much fun for the beach parties and your home decor should really reflect this love with the nautical and beach possessions there. So here is the idea of crocheting this starfish designed crochet dish wash for your kitchens to clean out your dishes in a really fun and cute way. And when not in use they would look great resting on your tables or kitchen counters redheart
Easy Crochet Dishcloth – Free Crochet Pattern:

Unlike the dish wash we bought from the stores the handmade crocheted dish wash are best as they are custom made and really soft on hands and thus making dish washing really easy and fun for you. You can check out the details of this totally cute and simple dishcloth crocheting here with the free pattern and stitch details along with the written instructions to get it followed easily myhobbyiscrochet
Free Easy Waffle Crochet Dishcloth Pattern: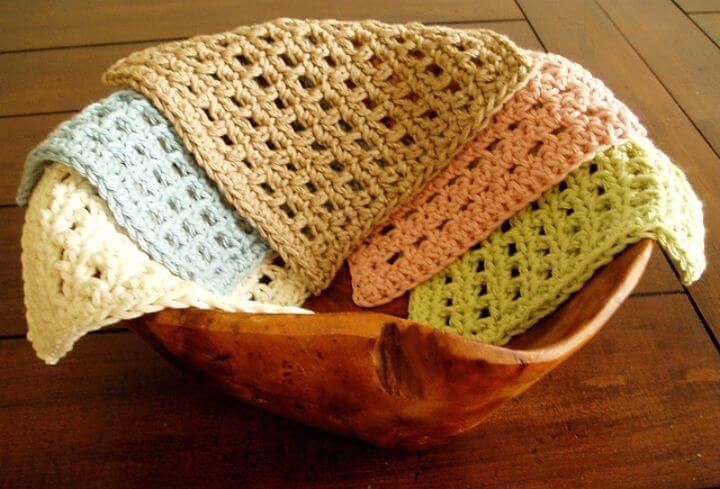 Creating your own dish wash is so much cost efficient and fun and now you can try some stitches that would make your dish wash more functional to use. Here is the waffle stitch creating the holes in the dish wash and thus giving your more scrubbing power and also making them dry soon.You can check out the free pattern and the waffle stitch details right here ravelry
Free Crochet Cable Stitch Dishcloths Pattern: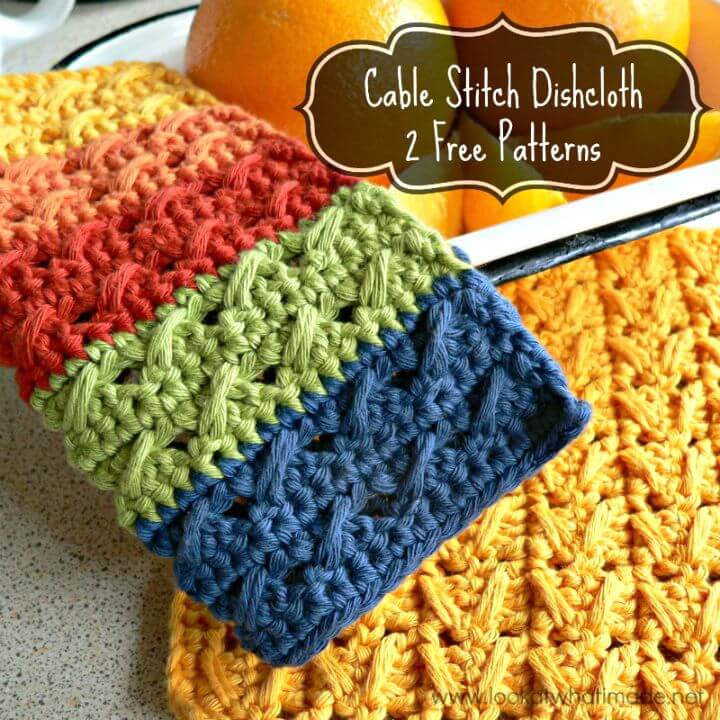 If you are a regular crocheter then you must be well aware with the cable stitch and know how easy it is to crochet. Here is this awesome collection of the colorful dish clothes which is really feasible to be stitched with cable stitch and thus get yourself some pretty dish cleaners in the kitchen and a pack of them would really make a nice gift too.You can check out the details o of the stitch and the pattern here lookatwhatimade
Crochet Easy My Star Dishcloth Free Pattern: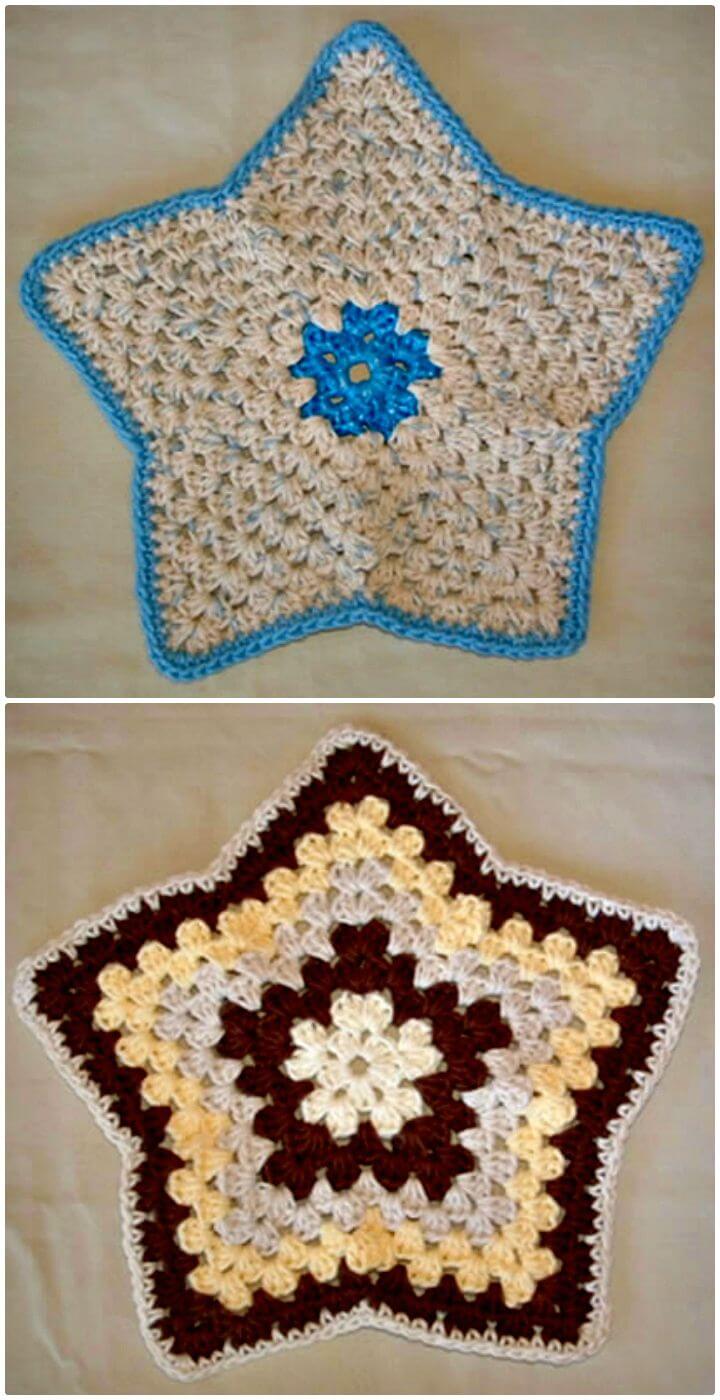 When everything around the house is getting beachy around the summer why not your kitchen should reflect some summer beach fun, and these crochet starfish dish wash are the best to get your hands dirty with. You can use multiple shades to bring the most amazing touches to the starfish dish washes, and they would turn out to be so pretty and fun.Check out the easy pattern and details of it all here myrecycledbags
Crochet Pineapple Washcloth And Applique-Free Dishcloth Pattern: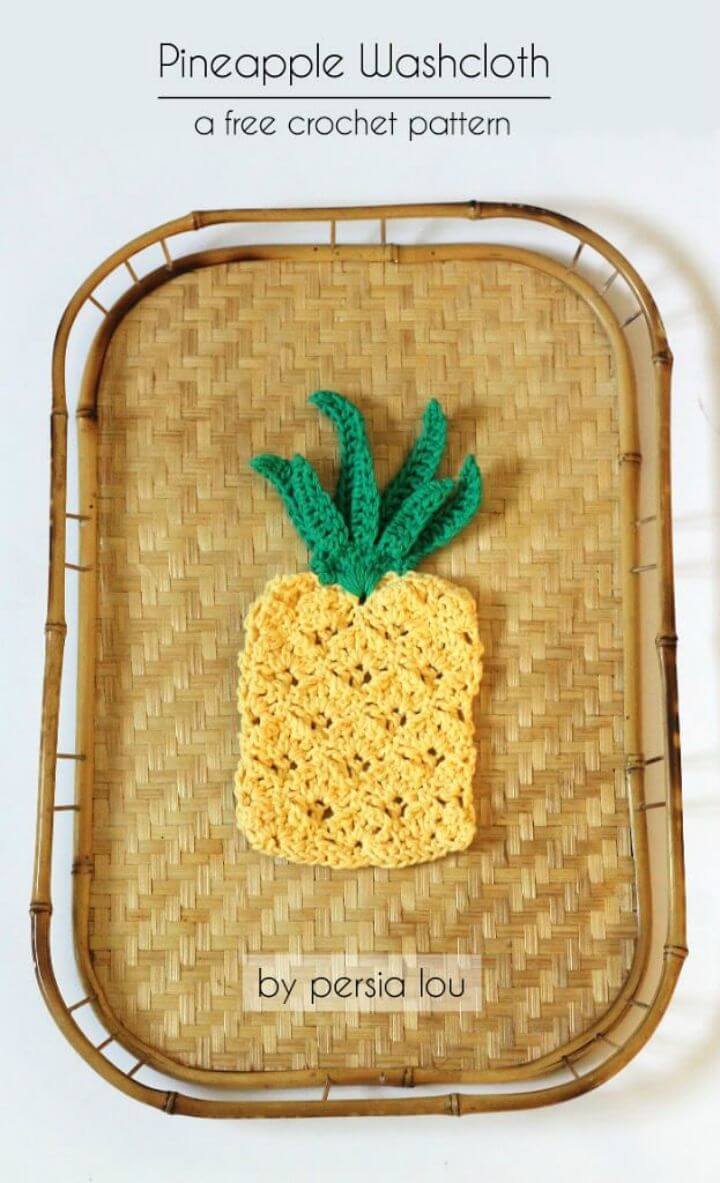 Is pineapple the favorite fruit to be in your kitchen fruit basket because you love it? So its time to bring this pineapple love to your crochet art and make this lovely and functional crochet dish wash clothes for your kitchen which would really look interesting and cute and would also make a perfect gift for your aunt, friends or the teachers too.You can learn the free pattern and complete details of it persialou
Crochet The Water Lily Dishcloth – Free Pattern: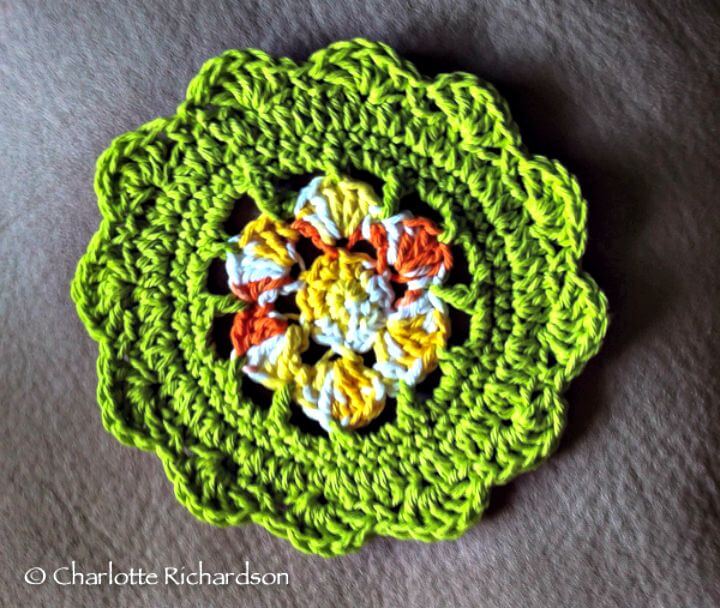 Lilies are the beauties and they can make anything look beautiful and cute even the boring and dull dish wash clothes in your kitchen and this cute crochet lily dish wash is the perfect example to peek into. With adorable bright hues of the yarn this lovely dish wash has been easily and quickly crocheted and you can make a bunch of them for personal use and to give away as gifts too.Check out the cute Lilly pattern with all the details here tangledyarns
Crochet Free Rainbow Dishcloth – Free Pattern: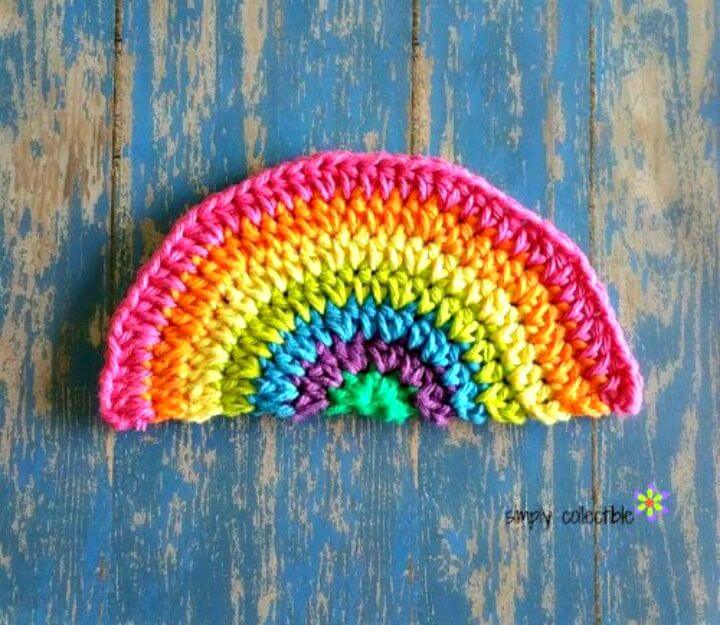 Colors are just so much enchanting especially when put together and rainbow the mouthpiece to this fact. So if you are planning to crochet some dish wash for your kitchen use then do it with this cute and really pretty rainbow colors and patterns and enjoy a great decorative possessions for kitchen decor too. You can check out the details of the pattern here simplycollectiblecrochet
Crochet Apple Scrubbie And Dishcloth – Free Pattern: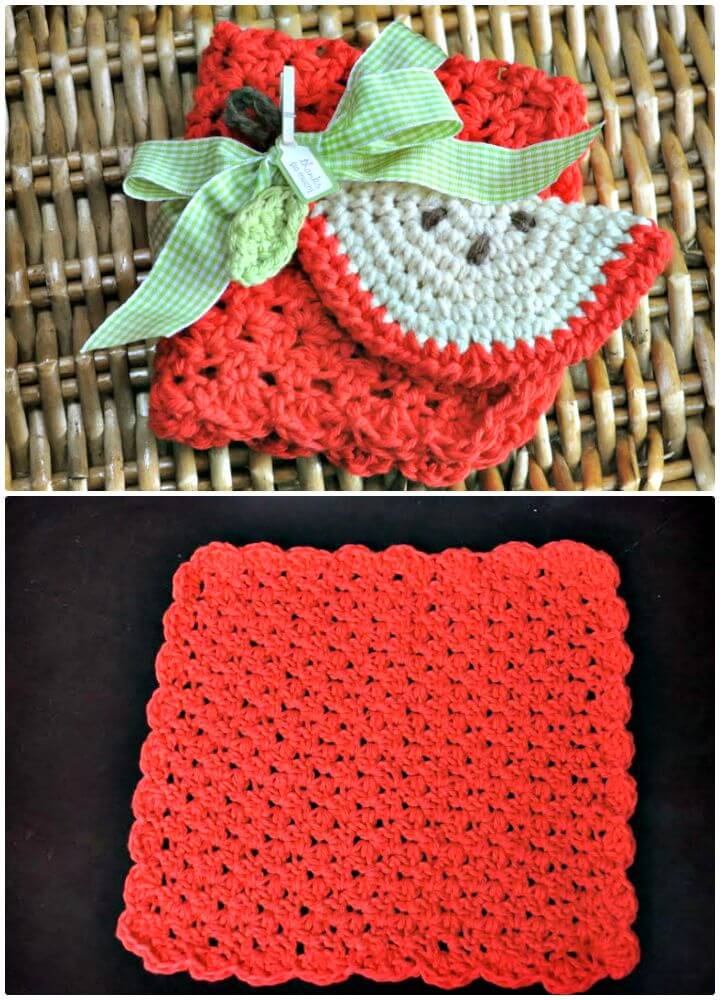 If you are looking for a nice gift idea for the teacher's day then we got this lovely crochet apple patterned dish wash project for you to work on this weekend. You can crochet it in the custom apple colors of red and green or do it with the colors you like and the result are surely going to be really cute and lovable. You can check out the details of the complete project here along with the free pattern and instructions about the stitch littlebirdiesecrets
Crochet Heart Dishcloth – Free Pattern: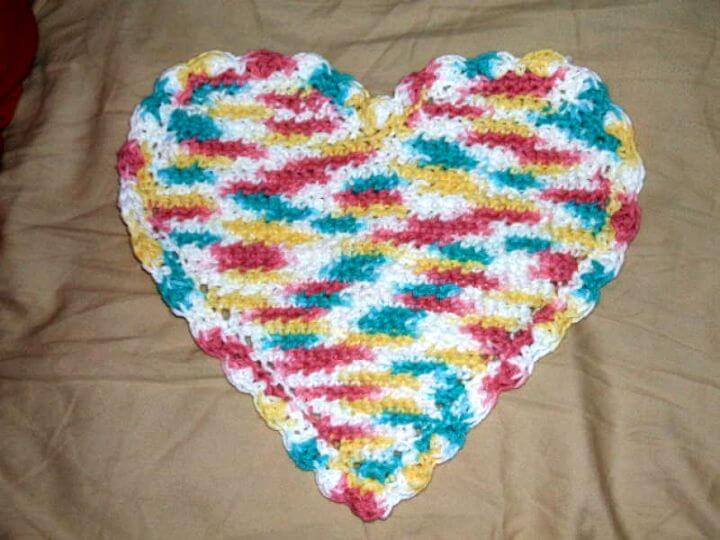 The heart shape is widely used in the crocheting art to make some really heart melting and heart touching crafts out of it. So why not create heart shaped crochet dish wash for your kitchen and bring fun to your dishwashing. A pack of these colorful heart shaped dish wash would really make an adorable and functional gift for your lady loves. Here is the link you can check out the free pattern and details of it dishclothdiaries
Crochet Fabulous Fish Dishcloth – Free Pattern: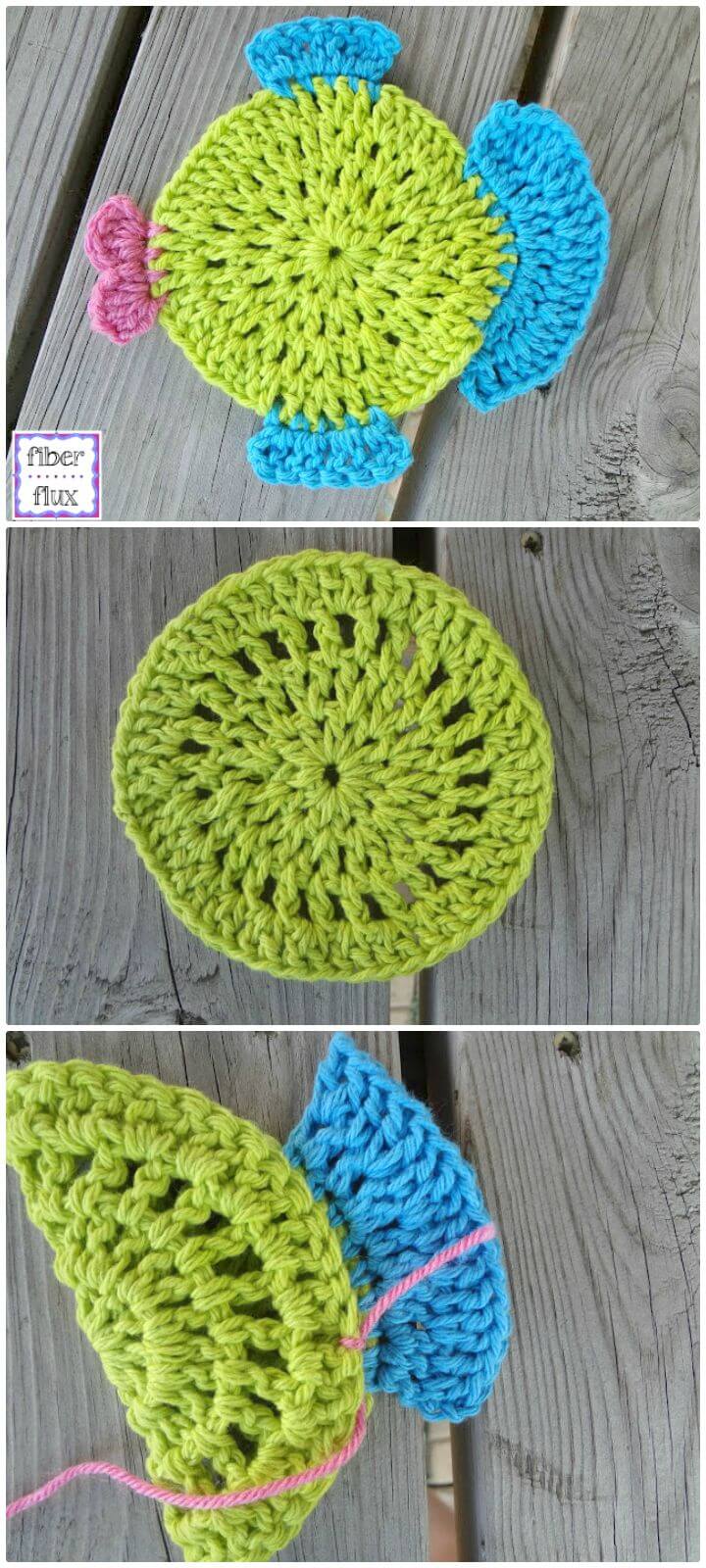 Exciting shapes can add oodles of charm and fun to any of the boring and dull possessions around and here is the perfect sample. The boring and common possession of your kitchen called the dish wash can be now made to look so much fun and cute with this adorable fish shape with so much colors and texture details of the stitch.You can check out the details o the complete project here fiberfluxblog
Crochet Circle Point Washcloth – Free Pattern: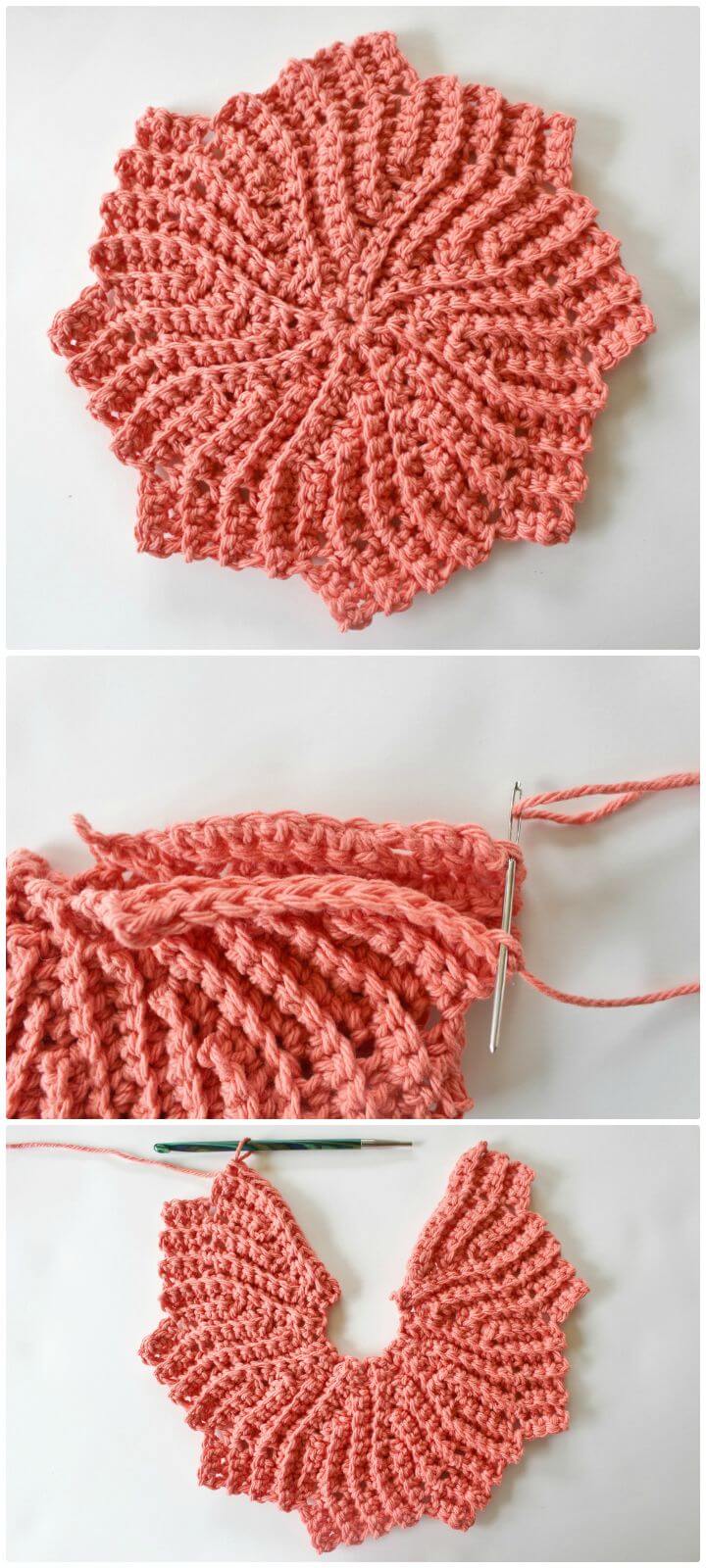 You can make anything look beautiful and fun with the crochet experimentation when you have the grip on this art. so this time when you would be getting your hands on the dish wash projects you really should be giving this exquisite circular point pattern which has turned out to be really adorable and enchanting. Get the complete pattern details and instructions of the stitch here glamour
How To Crochet Easy Dishcloth Free Pattern: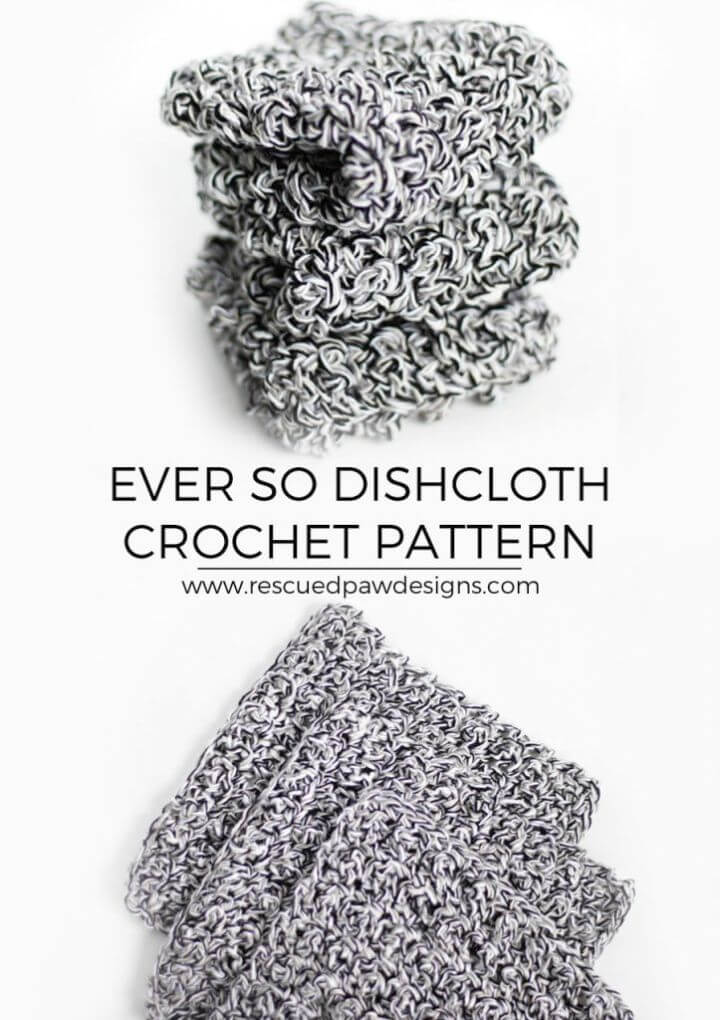 The yarn made crochet dish wash are best for the hands as they are soft and thus maintain the hand care of yours. SO here is this lovely and cute crochet dish wash pattern with a texture pattern that would be really helpful in washing your dishes and making them clean very nicely due to the bumpiness in the stitch work. The easy and fun pattern can be learn all here with free availability of the pattern and more rescuedpawdesigns
Crochet Forked Half Double Stitch Tutorial And Dishcloth Pattern: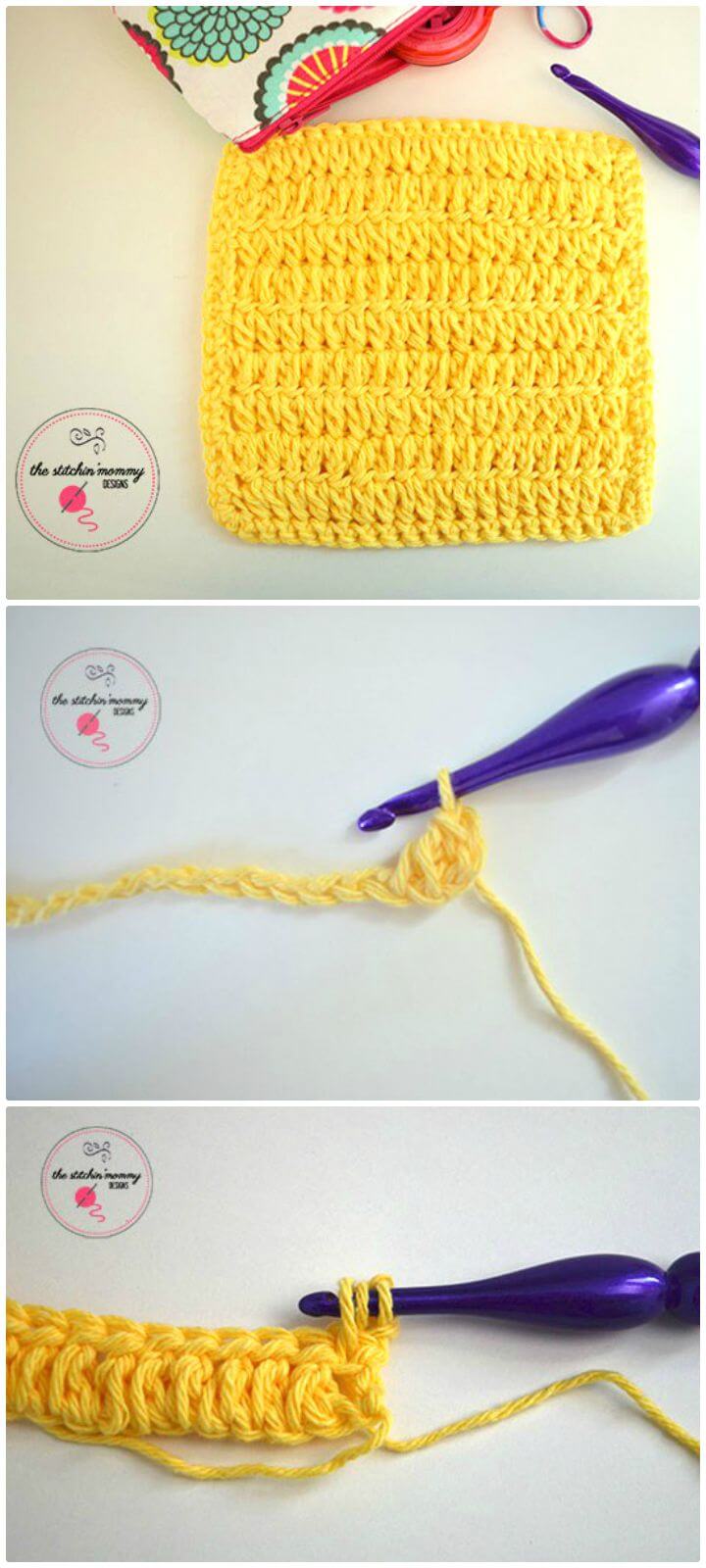 Here is the half fork stitched dish wash that would give you a well knit cleaner for your dishes in the kitchen and also keep your hands really soft and cared. The pattern is really easy to work on and you can create the pattern in any of the size and color you want. You can learn the stitch details here with written instructions and the pictorial guide too thestitchinmommy
Crochet The Ideal Dish Cloth – Free Pattern: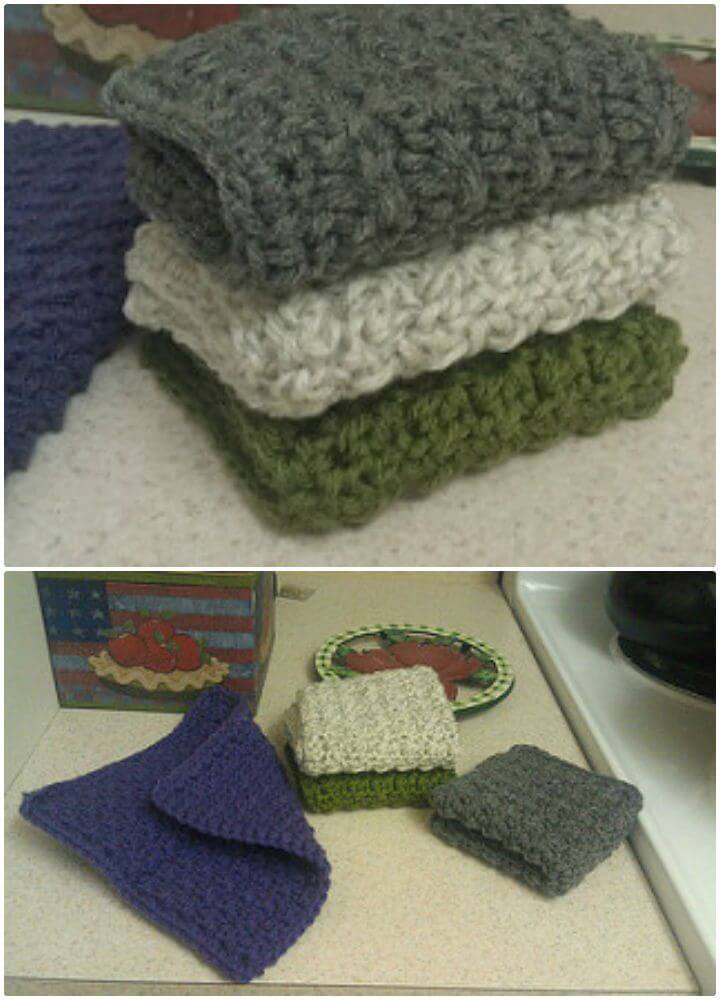 Now you can save lots of money over your so many homey things that you buy from the market but now you can make them at home on your own using your crochet skills. Here is how you can crochet this lovely bunch of functional dishwashers on your own and that too in any of the pretty colors you like and here missedstitches
Crochet Modified Sedge Stitch Tutorial And Dishcloth – Free Pattern: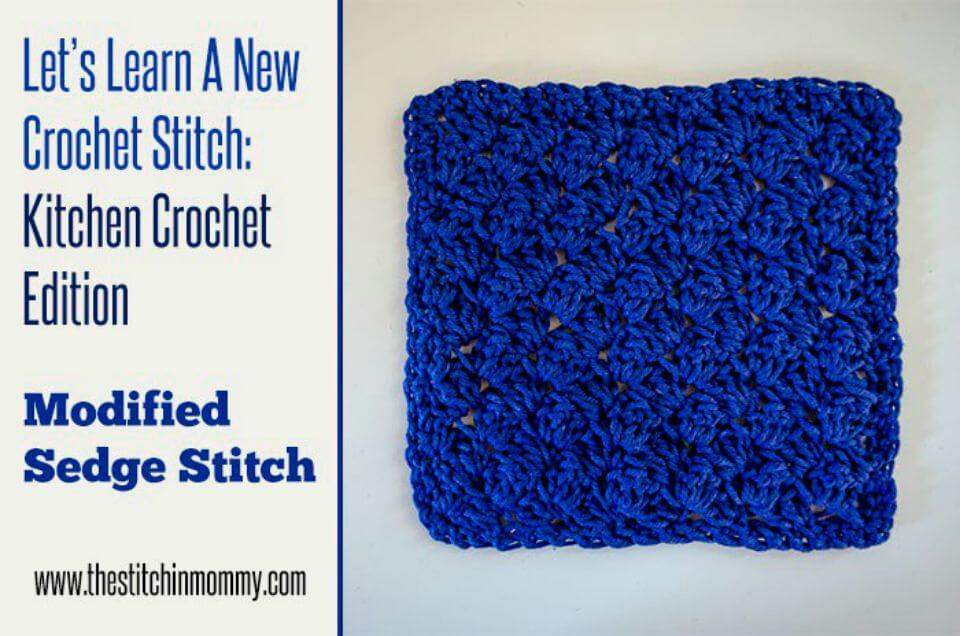 Here is the new version of the sedge stitch to let your crochet a functional dish wash for your kitchen dishwashing. The patterns turns out to be really thick and strong and would really rub your dishes well removing all the stains so nice and clearly.You can check out the details of the stitch twist here with free pattern availability too thestitchinmommy
Free Crochet Orange Explosion Dishcloth Tutorial & Pattern: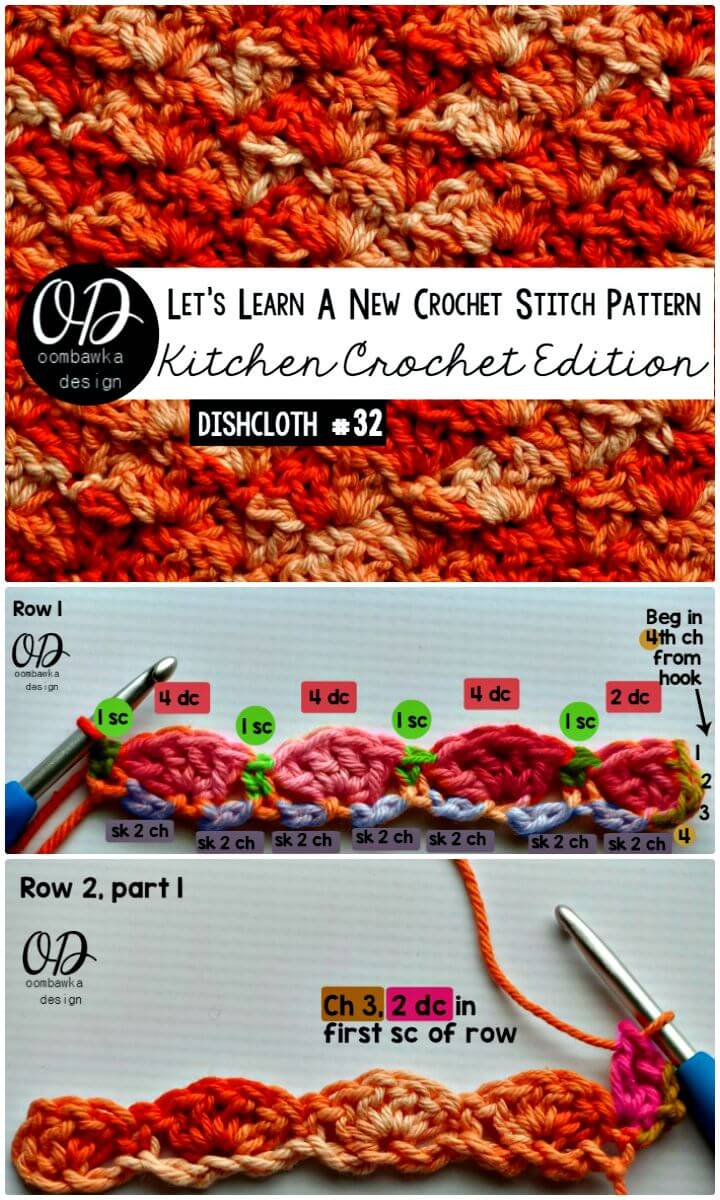 Scalloped stitch is really famous in the world of crocheting and here is it has been used in a thick pattern to create this really gorgeous and useful dish wash for the kitchen use. You can combine any of your favorite yarn hues to work up these really cute and quick to make crochet dish wash cloth which would also make a nice and pretty gift too.You can check out the details of the project here oombawkadesigncrochet
Crochet Little Starbursts Dishcloth – Free Pattern: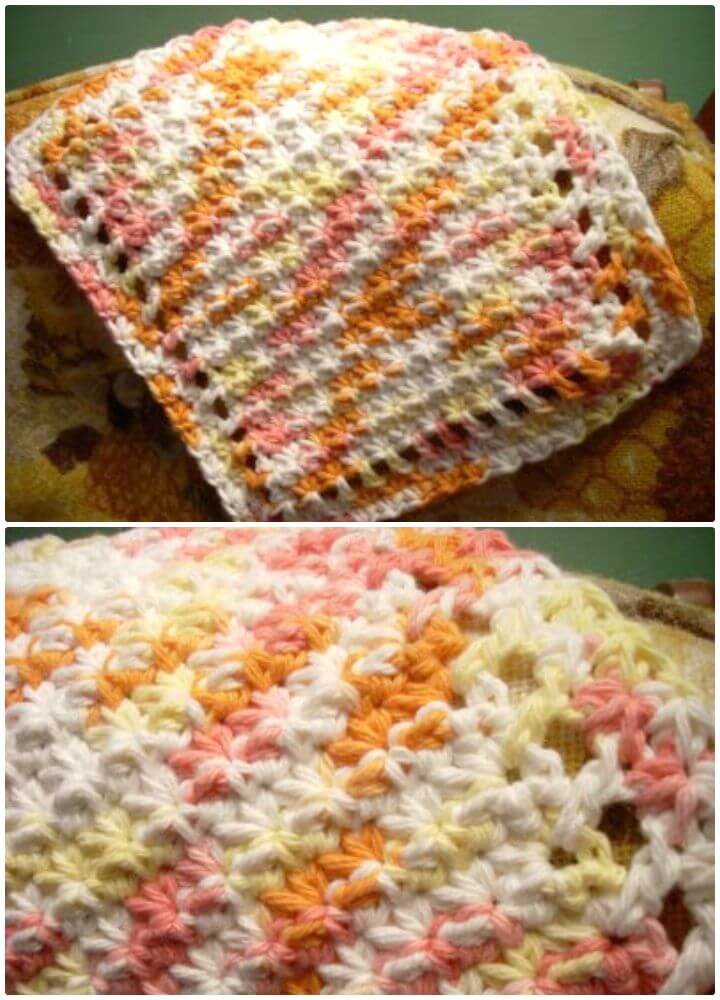 Here are the perfectly beautiful and fun looking dishwashers for you to get your hands on and it has been made up with the star stitch by mixing so many pretty hues in the white, and the results are just so spell bounding. You can check out the details of the idea here with free pattern and more bloomingpatterns
Crochet Rainbow Sherbet Dishcloth – Free Pattern: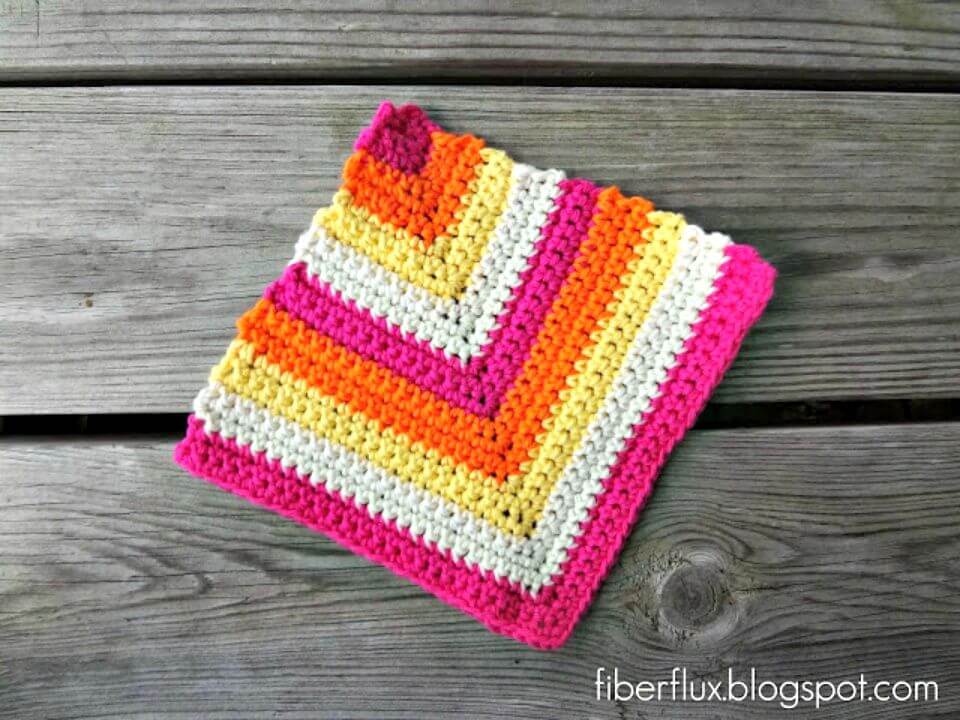 The summers are all about the beautiful colors and bright hues to be spread all around so why not they should be added in the kitchen of your house too. Here is this lovely sherbet crocheted dish wash that would really bring the pretty shades of the summer to your kitchen decor and that too in a really pretty and fun manner. You can check out the details of the idea right here fiberfluxblog
Crochet Striped Dishcloths – Free Pattern: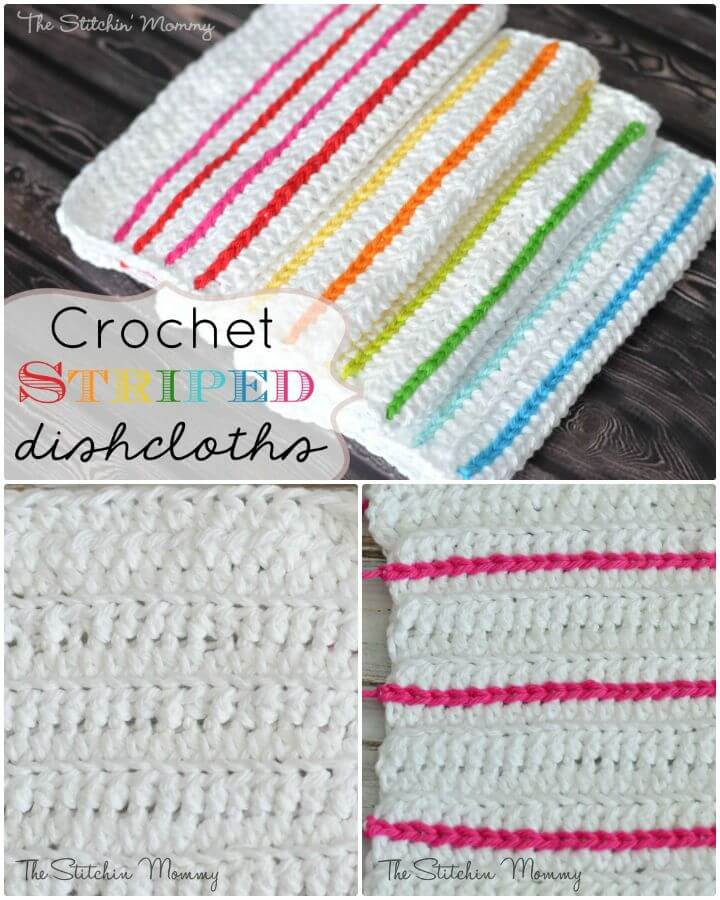 White color blends well with other vivid and cute colors so here is how you can make this adorable dish wash with the colorful stripes on a white base crochet piece and thus enjoy the pretty and cute possessions for your kitchen. You can learn to introduce the colorful strips in the white right on this link here thestitchinmommy
Crochet Party Cake Dishcloths – Free Pattern: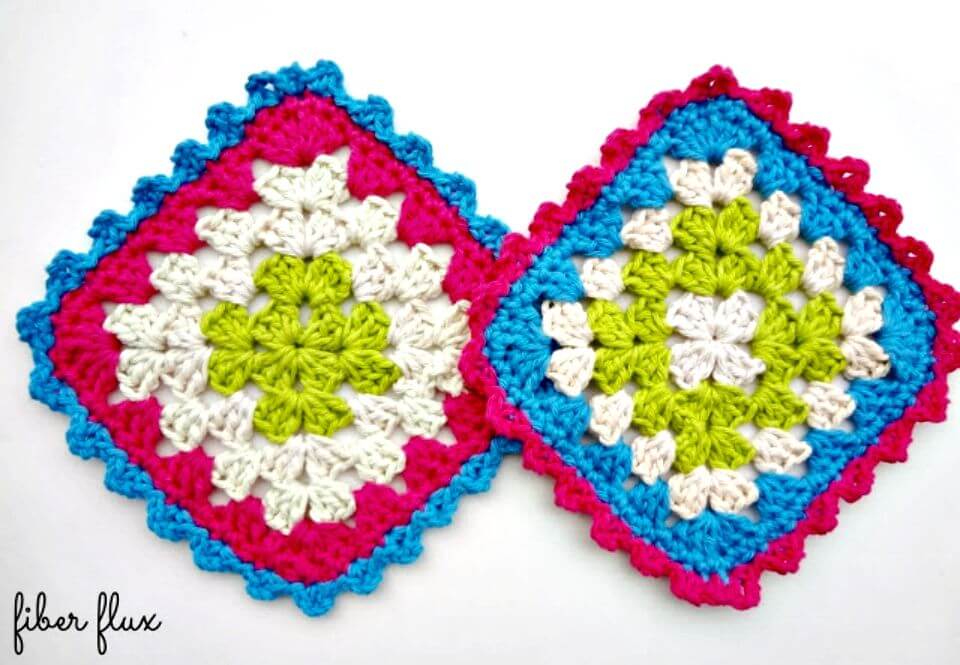 These gorgeous dish wash in the square shape really make us remember about the cute festive cakes and they are just too easy and fun to create yourself at home with some really nice and spruced up yarn hues. Its just a simple crochet granny square pattern with the pretty and colorful edging adding the pretty pattern delight to it. You can check out the details of the idea right here fiberfluxblog
Free Crochet Spring Granny Dishcloth Pattern: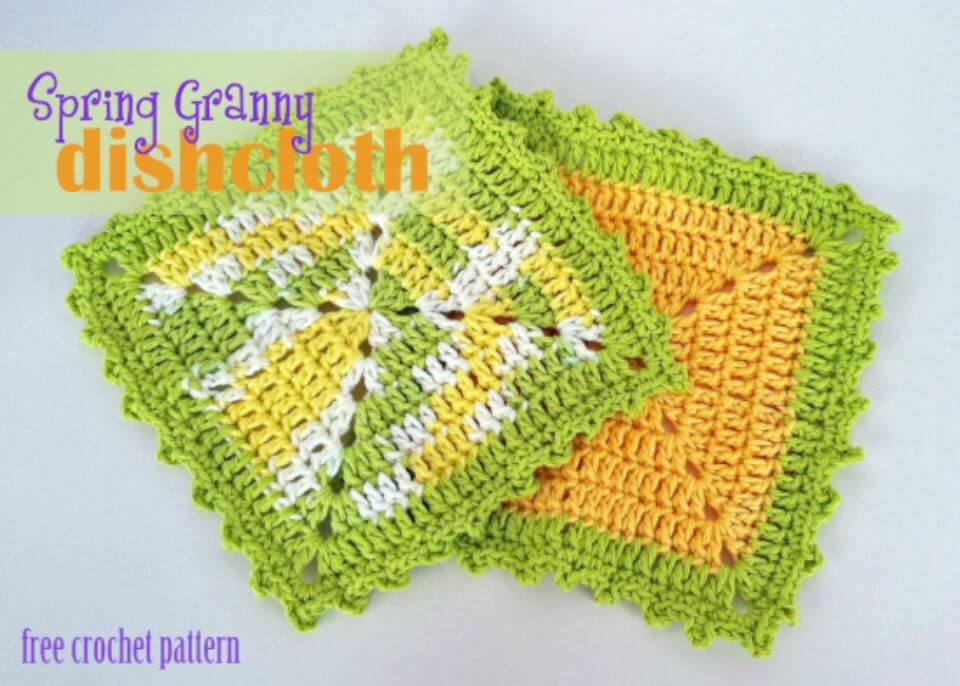 Granny squares are the most fun and the most traditional kind of patterns that the crocheting introduces at first to a crochet person so all the crocheters know how to stitch them up. So here are these easy and quick to make crochet granny squares dish wash clothes to be a part of your kitchen decor and more. Here is the link for details and the free pattern craftown
Crochet Nubby Dishcloth – Free Pattern: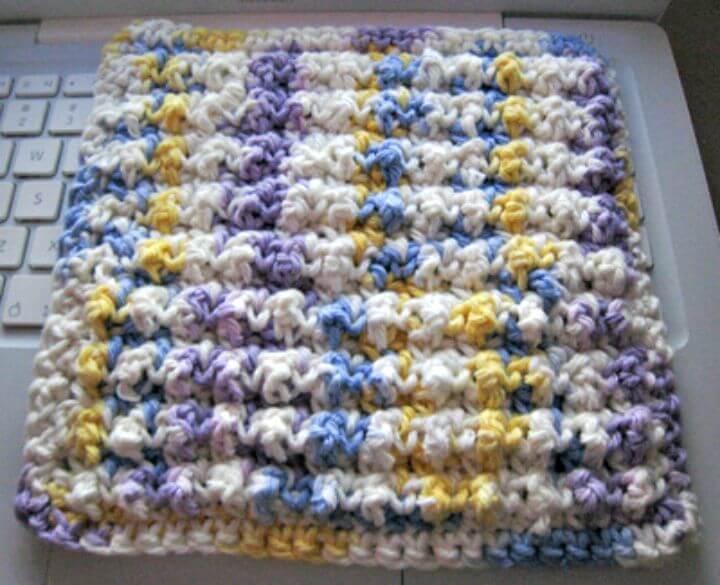 A dish wash should be a nice scrubber to the dishes too so here is this lovely crochet dish wash having a nubby texture that would really provide you a good scrubbing power while cleaning your sides at the sink. The pattern is really simple to follow with easy stitch details and you can learn it all here with easy instructions and guide tangledyarns
Crochet A Groovy Dishcloth – Free Pattern: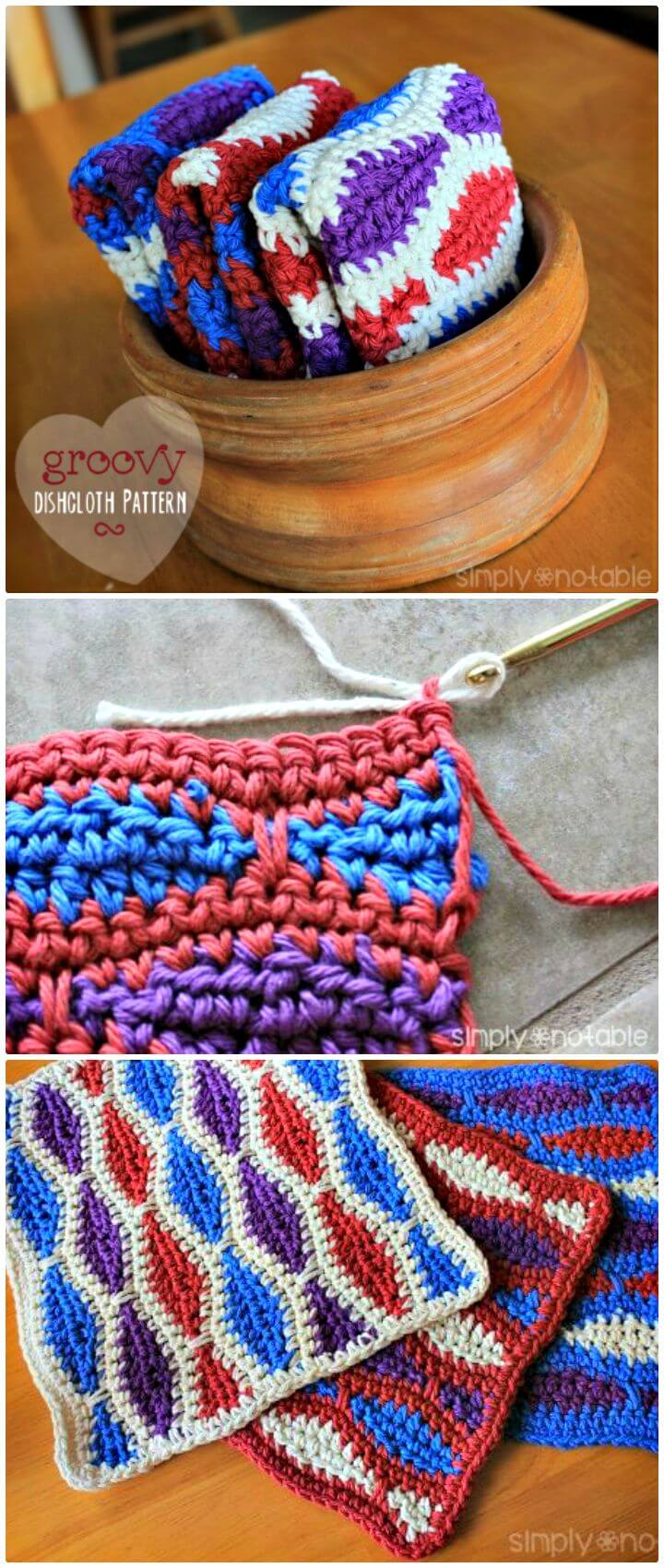 We all love the colors and now you can add some color perks to your kitchen decor with these really beautiful and fun looking groovy crochet dish wash clothes that would look really nice resting on your sink counter while drying or waiting to be used for the dish wash task. You can check out the details of the pattern all here simplynotable
Crochet Lazy Waves Dishcloth – Free Pattern: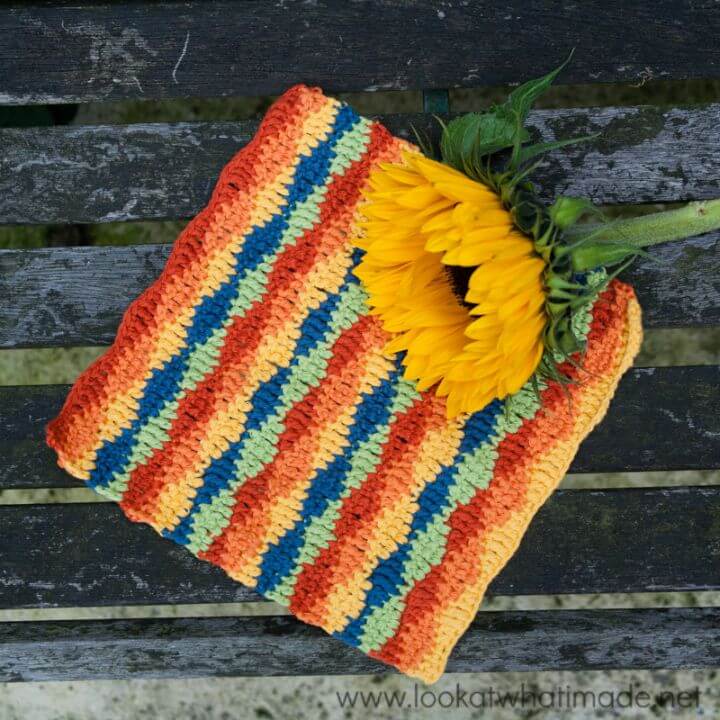 We love the beach fun in the summer and after coming back you can add the beach touches to your home decor and here is something that would add a lot to your kitchen decor. This is a wavy patterned dish wash being nicely crocheted in the fun summer hues of the soft yarn and thus making the kitchen chores really easy and fun for you. Check out the full pattern details here lookatwhatimade
Free Crochet Cheerful Clusters Tutorial And Dishcloth Pattern: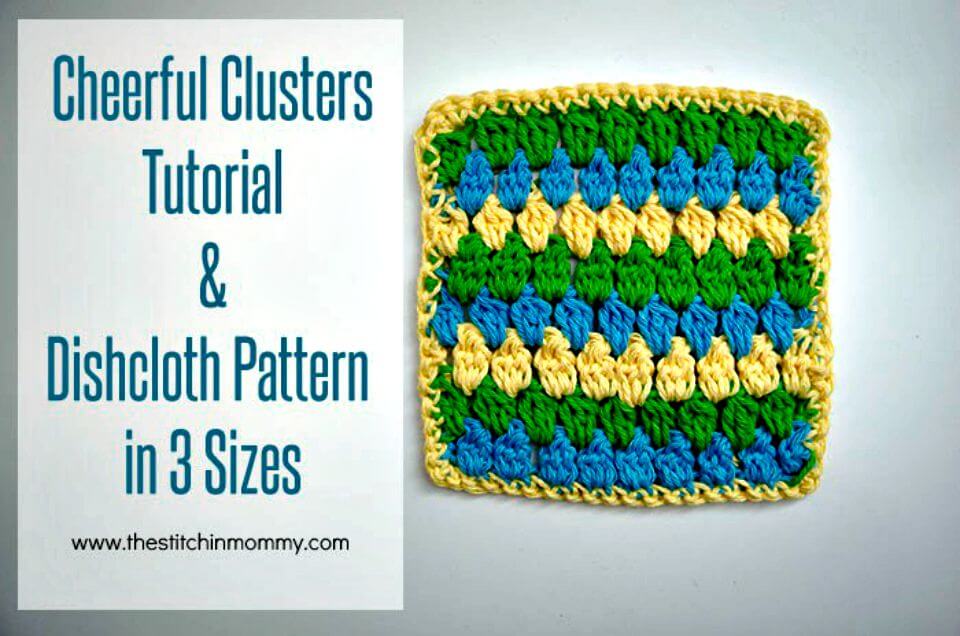 Here is another amazing pattern for the dish clothes to be in your next to do list as it really cool, colorful and fun. You can cluster up some cute colors of the yarn that you like and work up this really easy and quick pattern to work up and then get yourself a bunch of the dish washers which are so exciting and fun to look at. You can quickly crochet them so do hack all the details and the free pattern here thestitchinmommy
Easy Thick Free Crochet Wash & Dishcloths Pattern: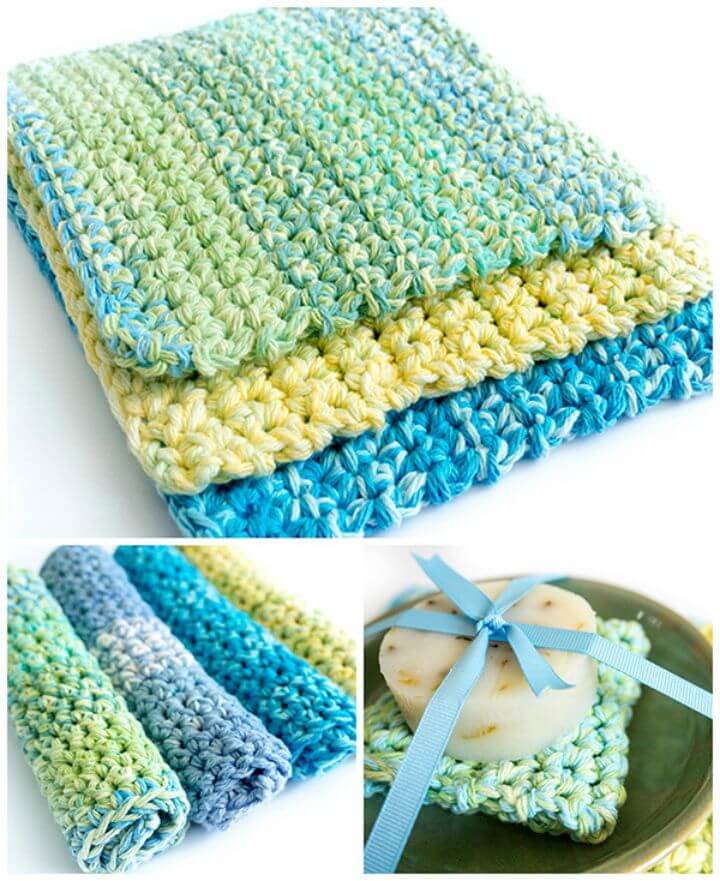 If you are looking for a nice gift idea for your kid's teachers the crocheting these really nice, cute and useful dish wash clothes is the best idea that you can opt for.All you need is some perfectly whimsy yarn hues and the crochet these dish wash in square pattern with the thick texture that would be really functional for your dish wash kitchen tasks. The pattern is really simple and easy to follow and you can check it out all here dabblesandbabbles
Crochet Multi- Color Dishcloth – Free Pattern: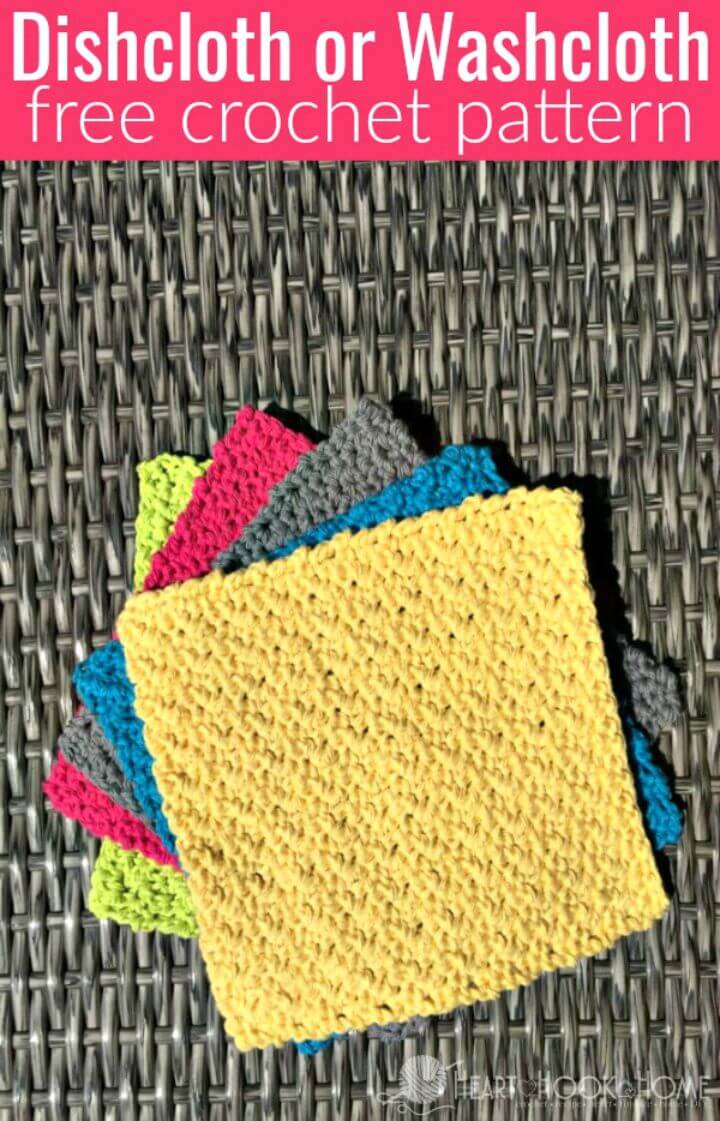 If you are going to a party and you need a nice and cost efficient gift the host then you should really be considering making this adorable set of the colorful dish wash clothes and the host would be more than happy to receive this utterly fun and useful gift in her kitchen. Get all the pretty and bright shades of the yarn and get this lovely set of crochet dish wash done.Details with the free pattern and more here hearthookhome
Crochet An Easy Dishcloth – Free Pattern: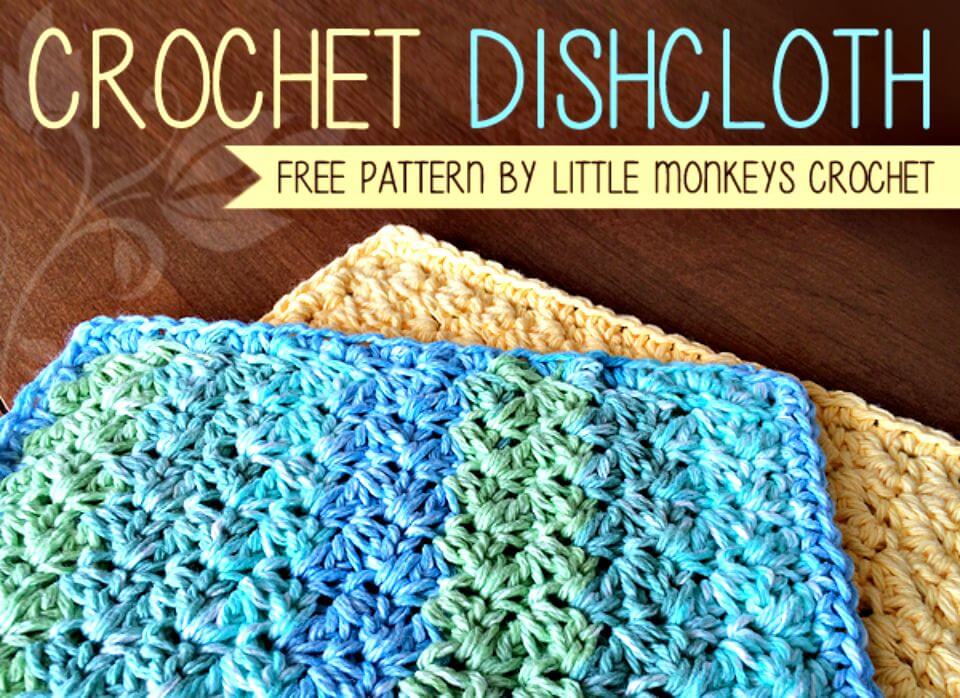 Sometimes the combination of the two easy and simple stitches really create a big beauty difference for your crochet projects and this lovely dish wash really confirms to the logic. Here is this set of cute and functional dish wash clothes having been made out of the easy and quick 1+sc and 1+dc combination of the stitches and you can follow it all here with easy details and free pattern littlemonkeyscrochet
Free Easy Crochet Dishcloth Pattern: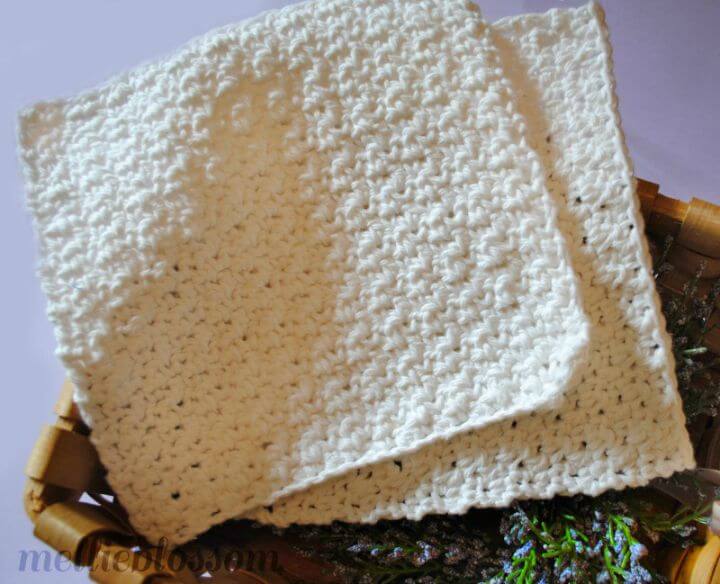 Here is another cute and simple dish wash pattern for you to work up your crochet hooks on and get your kitchen some really cute and fun dish wash possessions. These white dish wash clothes are not only for the dishes you can wash your face with it too as it has been made out of the cotton yarn and would feel so much soft and gentle on your skin.You can check out the details of the pattern right here to own a bunch of it mellieblossom
Free Crochet White And Red Dishcloth Pattern: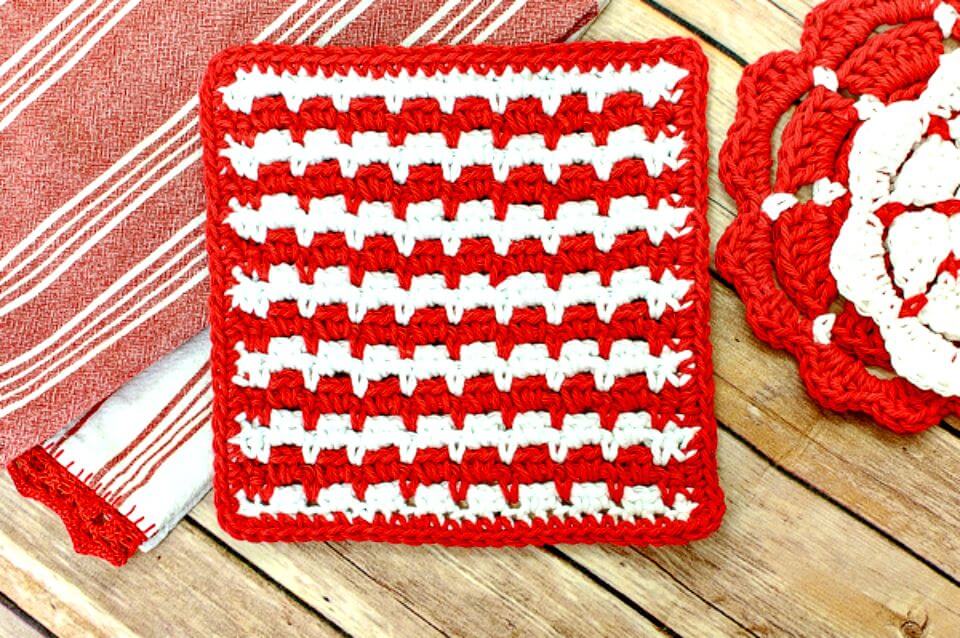 Colors really create big impacts on any of the crating project you are working on and here is this colorfully enchanting piece of dish cloth having been made up in red and white and it turns out to be really pretty and fun with those gorgeous strips being so neatly and nicely done. You can create this pattern in any of your favorite two yarn hues and get the custom pieces come out as the fabulous result. Free pattern and details here petalstopicots
Free Crochet Dishcloth – Written Instructions: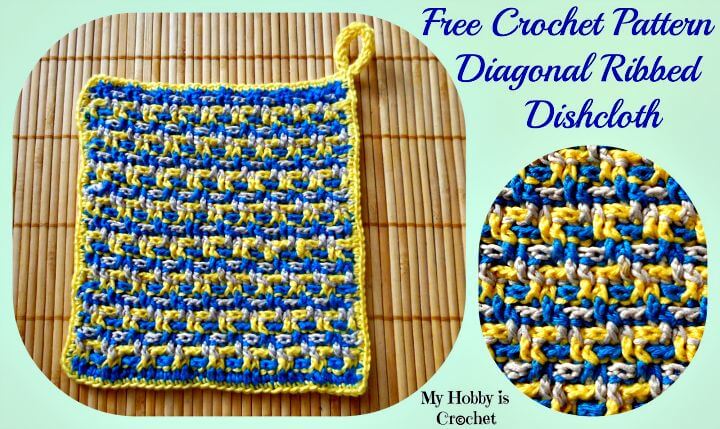 Those small rounds of the skeins should really be used to get rid of them and make space for the new and here is the idea of creating the pretty and colorful double shaded dish wash for your kitchens. With the lovely shades and the colors combined you can get exciting results and enjoy some great gifts for the festive season too to be given away as the perfect thank you gifts.You can check out the details of the idea here myhobbyiscrochet
Crochet Trivet And Dishcloth Set – Free Pattern: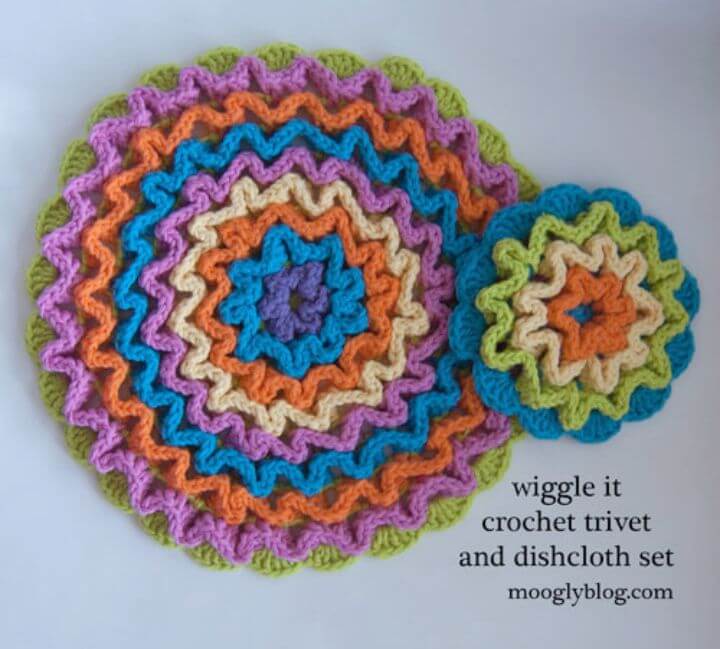 If you are left with lot of yarn pieces in your stash basket then its time to bust it up really nice and cool. Here is this utterly gorgeous, fun and colorful looking round shaped crochet wiggle dish wash with really cute zig zag lines in circular pattern.You can check out the details of this really cool and pretty pattern here and it can also be used as the lovely coaster set and gift idea too.Grab the complete project here with all the details and more mooglyblog
Crochet Rainbow Flower Scrubby Dishcloth – Free Pattern:
Without the scrubbers, the dishwashing has been so much difficult to remove those hard gravies from your pans and cookers. Here is this heart melting idea of the flower scrubby that would really make you wash your dishes nice and easily and in a really cute and adorable way. This lovely flower scrubby would look great lying on your kitchen tables or sink counters with its pretty colors and flowery appeal.You can check out the complete details of the project here mooglyblog
Crochet Tunisian Pebbles Dishcloth – Free Pattern: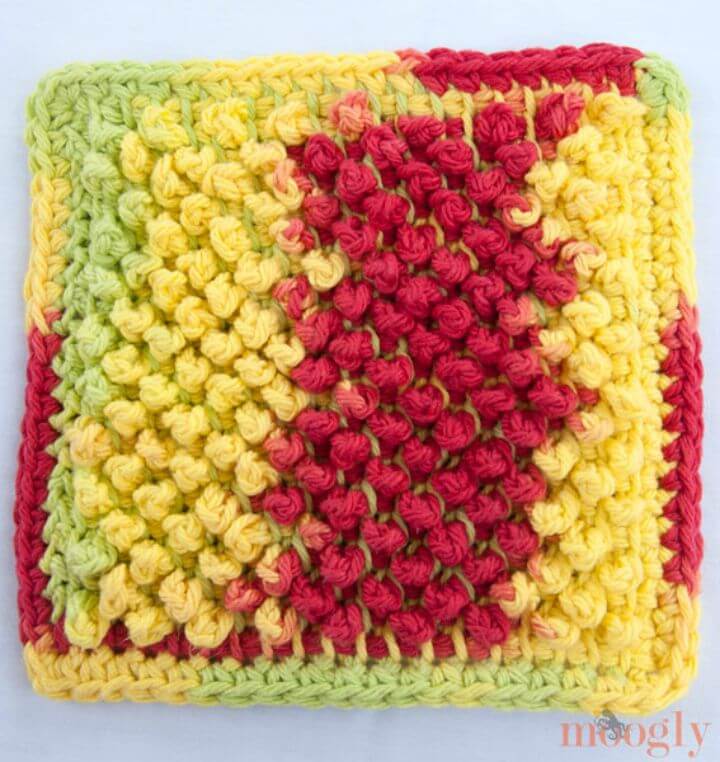 Here is a thick stitched crochet dish wash having been made to look so much fun and with the pop out bobbles on it, your dishes would get washed so much easily with it. The bright yellow and red colors of the yarn and the pebble pattern really makes this project a worth a try this weekend. To learn out all the details and the instructions of this dish wash here to own it for your kitchen mooglyblog
Crochet Strawberry Basket Tunisian Dishcloth – Free Pattern: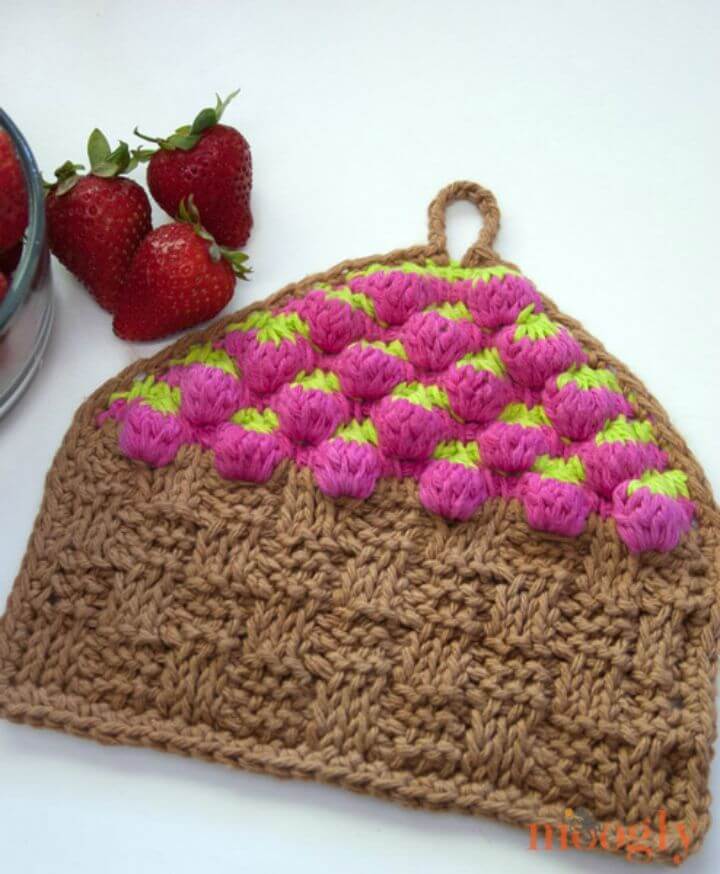 When you want to make things for the kitchen you can get inspiration from the kitchen things too and here is the perfect kind of dish wash to be added in your kitchen. Here is the cute and fun looking strawberry dish wash that would be so apt to match your kitchen decor and would make a really pretty gift for your girlfriends.Check out the details of the idea here with free pattern and details here strawberry