Crocheting a shawl is a great way to add a cozy statement piece to any outfit or occasion. Now, Learn how to create crochet shawls with 30 free crochet shawl patterns, it has never been easier to make beautiful and unique garments right at home. Whether you are a beginner or an advanced crocheter, you can find a free crochet shawl pattern to suit your skills and style. There's no need to break the bank when creating distinctive pieces; free crochet shawl patterns mean crafty, thrifty fashionistas can stay on trend without sacrificing quality. Get inspired today and explore free crochet shawl patterns that will make you stand out from the crowd!
These 30 free crochet shawl patterns will help to create beautiful and unique crochet shawls. The collection includes patterns for all skill levels, from beginner-friendly pocket shawl to more advanced pocket shawl patterns. Each pattern comes with detailed instructions, photos, videos and helpful tips to achieve great results every time.
From traditional lacy shawls to trendy oversized wraps, this selection of free crochet shawl patterns has something for everyone! Whether you're after an elegant evening wrap or a cozy cover up for those chilly days, you'll find it here. Get creative with colors and textures – try adding fringe or tassels to give your project some extra flair. With gorgeous free crochet shawl patterns available at your fingertips, there's no limit to what you can make!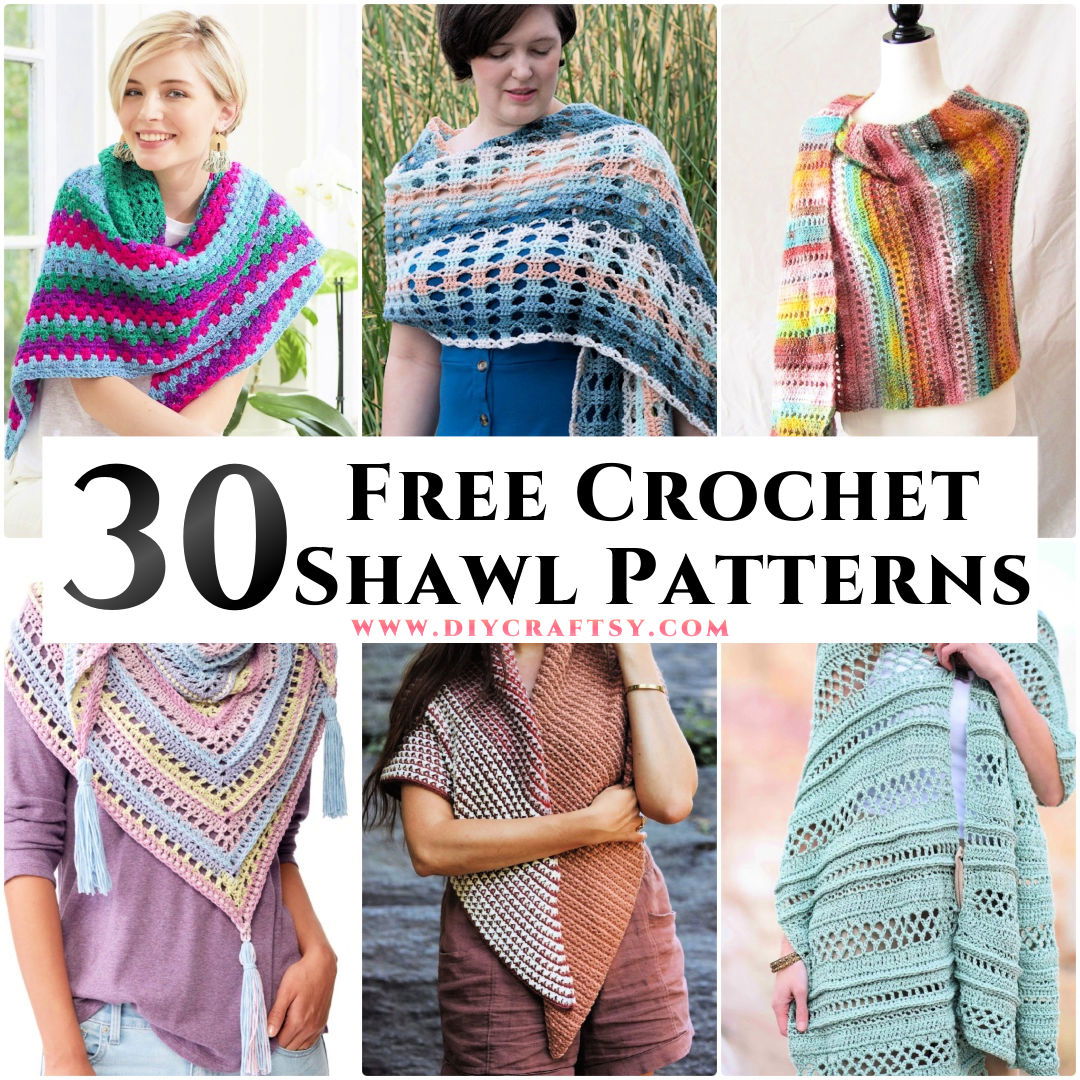 Free Crochet Shawl Patterns
Looking to add an extra touch of warmth and style to your wardrobe? Look no further than these 30 Free Crochet Shawl Patterns! These beautiful crochet shawl patterns are perfect for summer, springtime, or even a chilly fall day. With easy step-by-step guides and PDF tutorials, these free crochet shawl patterns are great for beginners – you don't have to be an experienced crocheter to make them. From cozy wraps that will keep you warm on those winter days to lightweight shoulder coverings just right for summer breezes, we've got every kind of crochet shawl pattern at your fingertips. Wrap yourself up in something special with one of our 30 free and easy crochet shawl patterns today!
The Different Types of Crochet Shawls
Crochet shawls come in many shapes and sizes, and you can create one from various materials. The most common type of Shawl is the rectangular Shawl, which is typically worn draped over the shoulders. Rectangular shawls can be made from a variety of different yarns and can be crocheted or knit.
Triangular shawls are another popular option and are often worn as scarves. Triangular shawls are easy to make and can be crocheted or knit from a variety of different yarns.
Circular shawls are also popular and are often worn as wraps. Circular shawls can be made from a variety of different yarns and can be crocheted or knit.
The Ponchos are another type of Shawl that is popular, and they are typically made from a single piece of fabric draped over the shoulders. Ponchos can be made from various fabrics, including wool, cotton, and acrylic.
Favorite Crochet Shawl Patterns
We have shared 30 different crochet shawl patterns below to choose from! Whether you're looking for something simple or intricate, there's definitely a pattern out there for you. And the best part is that many of these patterns are available for free!
Here are some of our favorite free crochet shawl patterns:
Granny Shawl – This classic granny square shawl is perfect for beginners or anyone looking for a quick and easy project.
Lacy Crochet Shawl – This pretty Shawl features a lacy stitch pattern perfect for summer evenings.
Ripple Crochet Shawl – This beautiful Shawl is made with a ripple stitch pattern, giving it lots of texture and interest.
Filet Crochet Shawl – This elegant Shawl is made with a filet crochet technique, which creates a lovely openwork design.
Shell Stitch Shawl – This cozy Shawl features a shell stitch pattern perfect for cool weather days.
How to Crochet a Shawl
Assuming you know the basic stitches, crocheting a shawl is not complicated. Shawls are typically rectangular or triangular in shape and can be made as small or large as desired. They are also one of the most versatile items to crochet because you can crochet them with any type of yarn and hook size. As a result, shawls make great projects for using up leftover yarn.
To start, you will need to decide on the size, shape, and yarn weight for your Shawl. Once these details are ironed out, you can begin cropping your Shawl according to your chosen pattern or instructions. You will simply crochet for a basic rectangular shawl until the piece measures the desired width. For a triangular shawl, you will need to increase stitches at the beginning of each row until the required width is reached, then decrease stitches until only two remain (these will form the apex of the triangle).
Once your Shawl is complete, all that remains is to weave in any loose ends and block them (wet blocking is best for woolen yarns). Blocking helps even out stitches and allows your finished project to reach its full potential. After blocking, your Shawl is ready to use and enjoy!
30 Free Crochet Shawl Patterns
With the help of these free crochet shawl patterns, you have no limit on the style of Shawl you create for yourself or someone else. For freezing weather protection or an extra layer of warmth, take advantage of these free crochet shawl patterns and start with this rewarding craft today!
1. Easy Lightweight Crochet Shawl Pattern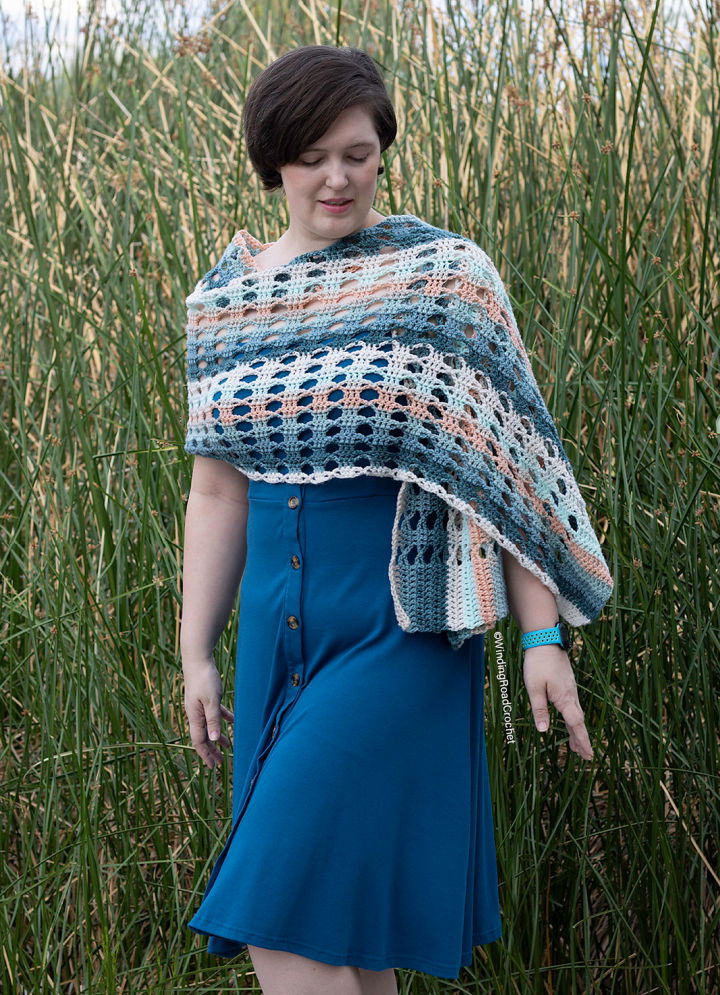 Create a beautiful and versatile accessory with this free crochet lace shawl pattern! This easy-level one-skein project is perfect for any lightweight yarn. The detailed video tutorial walks you through the 2-row repeat so you can quickly master the technique. Wear it as a shawl or 1/3 of the rows to make a delicate lace scarf – whatever your style, this pattern will help you look fabulous in warmer months. You'll need caron skinny cakes (size three yarn), an H 5mm crochet hook, scissors, and a yarn needle. Stitch count may be complex, but no worries – the video tutorial covers you! Get started on this crochet shawl today! windingroadcrochet
2. Granny Stitch Crochet Shawl – Free Pattern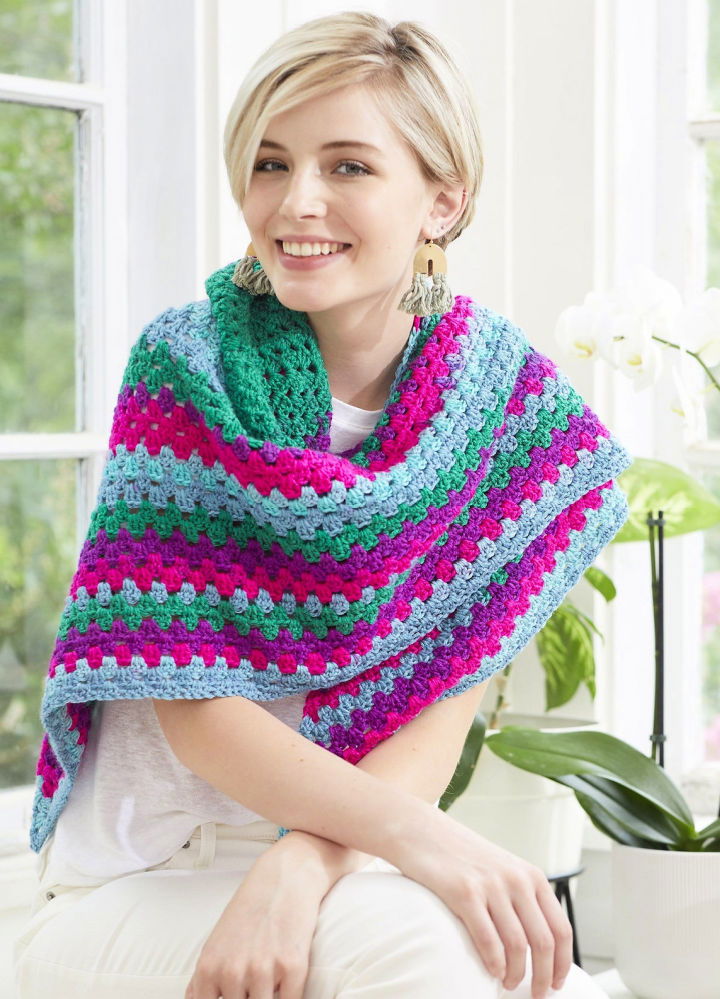 Are you looking for a cozy, lacy shawl to add to your wardrobe? Try this easy crochet granny stitch shawl pattern! This free step-by-step tutorial will help you create a beautiful piece that starts at the center back neck and grows towards the lower edge. All you need is premier yarns anti-pilling dk colors yarn, and a 4.0mm (G) hook, and when finished, you'll have an eye-catching shawl measuring 60in x 37.5in – perfect for wrapping up in warmth or wearing as an elegant accessory. Get started today creating your unique shawl with this easy crochet pattern! premieryarns
3. How to Crochet Fall Shawl With Pockets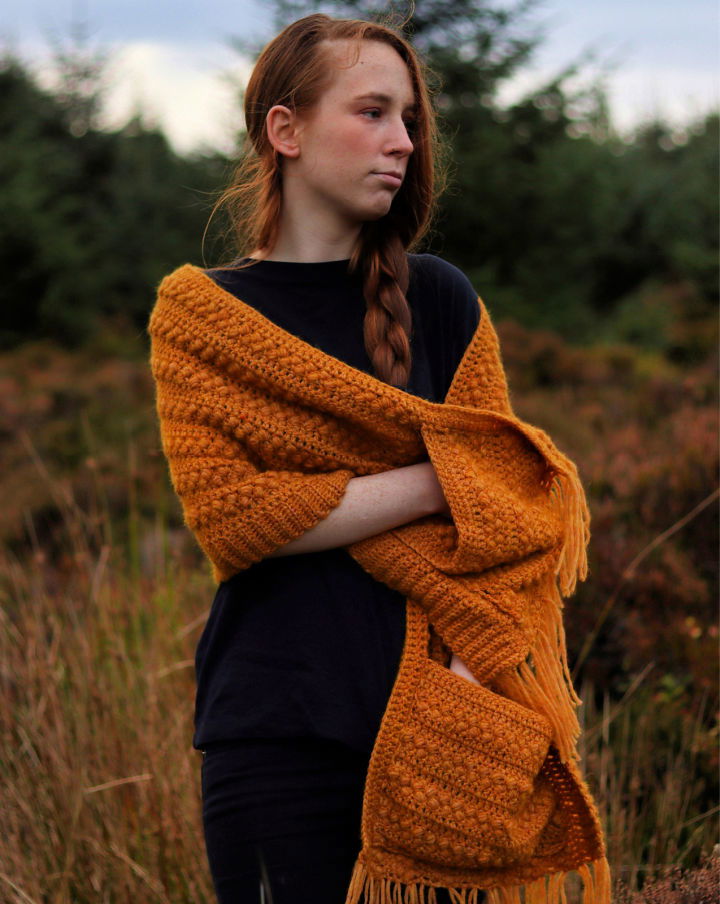 This free and beautiful crochet fall pocket shawl pattern is the perfect project for any beginner crocheter. Combining simple yet timeless stitches, it's easily customizable to fit both tall and petite gals alike. With a clear video tutorial included, this shawl will be ready in no time! You only need six balls of hobbii divina yarn and a US H/8 (5mm) hook. Get ready to add texture to your wardrobe with this quick, easy pocket shawl pattern! crochetwithcarrie
4. Quick and Easy Modern Boho Crochet Shawl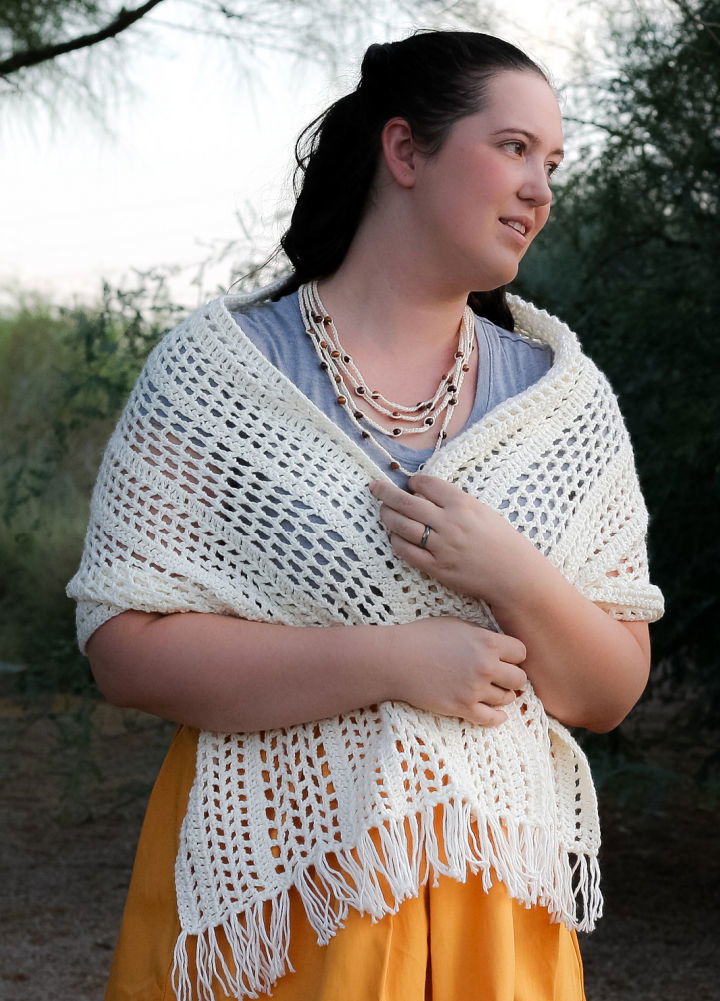 Find a stylish way to keep warm this fall with this free crochet boho shawl pattern. This easy pattern uses only chains and double crochet for a beautiful result. Perfect for protection from cooler fall winds, this will make the perfect accessory to tuck in your purse when you need it. With 605 yards of size three yarn, a size h 5 mm hook, needle and scissors – get ready to relax with this simple row repeat pattern full of blocks and fringes. Get creative today! windingroadcrochet
5. How to Make a Triangle Shawl – Free Crochet Pattern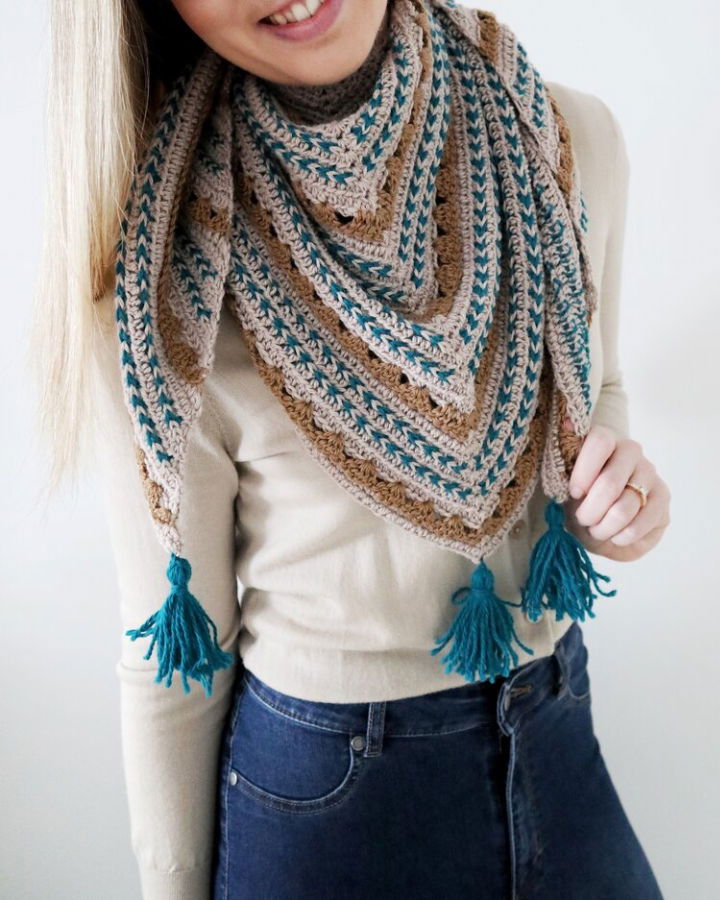 This free crochet pattern makes a stylish triangle shawl/wrap perfect for any season. Using wool and the gang sugar baby alpaca yarn, you will get a soft and luxurious piece of clothing in no time! This pattern is suitable for intermediate or adventurous (advanced) beginners who can follow the step-by-step instructions, including photos, to create their unique version. Get ready to show off your beautiful handmade shawl with finished measurements of 125 cm x 94 cm / 49″ x 37″. coffeeandcrocheting
6. Evening Shades Shawl Design – Free Crochet Patterns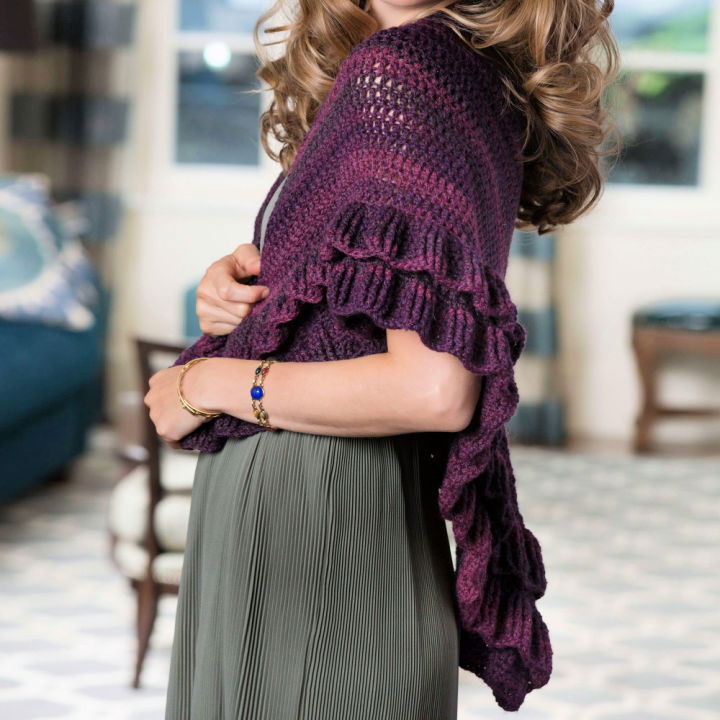 Add a touch of sparkle to your evening look with one of our free crochet shawl patterns. The miter design highlights the beautiful shading of red heart boutique midnight yarn and keeps you cozy in all kinds of outfits, from sundresses to jeans or formal wear. With easy-to-follow instructions and a finished size measuring 56″ wide x 28″ long, you'll love creating this stunning piece. Get the free pattern today and start stitching up something special! yarnspirations
7. Rectangle Granny Stitch Crochet Shawl Pattern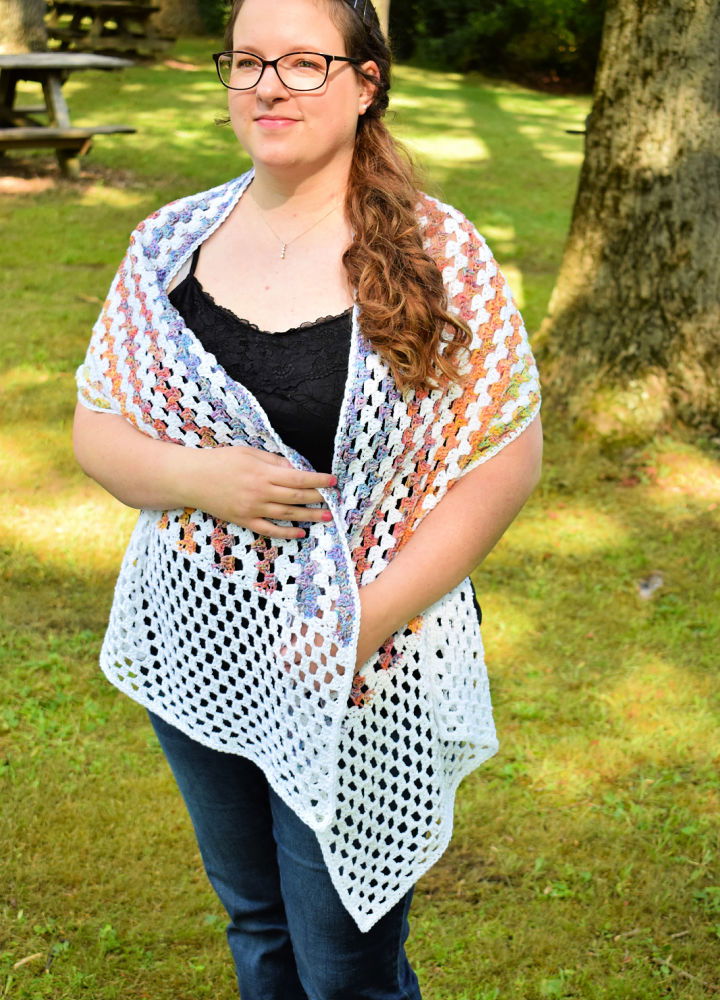 Create your own beautiful granny stitch shawl with this free crochet pattern! This rectangular shawl uses slight increases to create a trapezoid shape. The granny stripes are combined with lacy edges for a unique piece. All you need is five colors of lion brand color and cotton-fetti yarn and a hook size 5.0 mm (H). Your complete quickly; the size is 75 x 13″. Start crocheting today and make something special! simplyhooked
8. Wildflower Chunky Shawl Crochet Pattern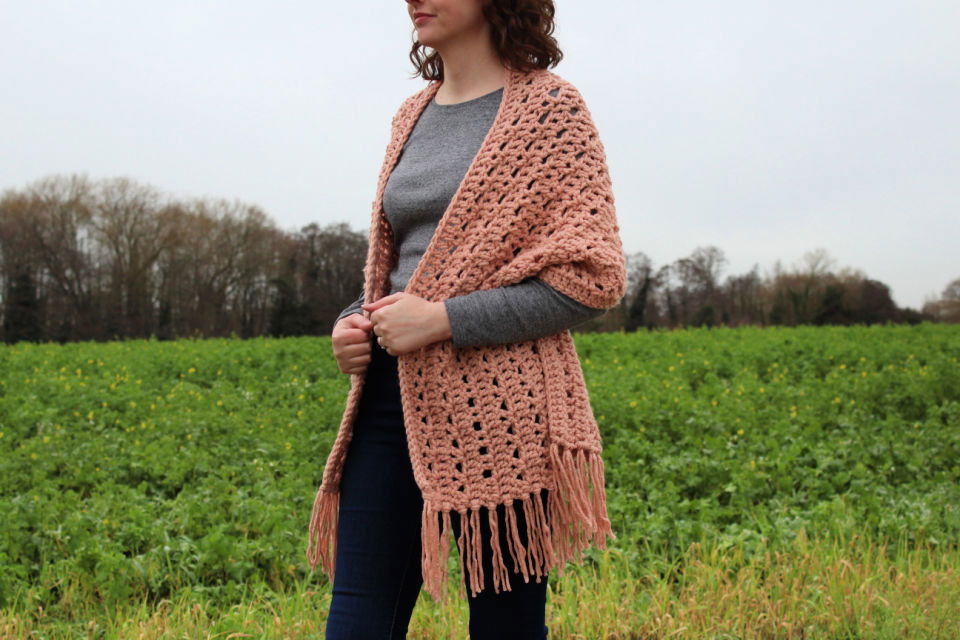 Grab your crochet hook and create the stunning wildflower chunky shawl! This free crochet pattern is easy to make, featuring simple stitches and a 6-row repeat. Work up this fun crochet shawl pattern quickly with lion brand hue + me yarn. You can add tassels on the ends for an extra bit of flair then you're done in no time – perfect for gifting or wearing yourself on special occasions. Whether you're a beginner or an advanced crocheter, this chunky shawl patterns sure to impress! Get started now with a 10mm crochet hook and some Lion Brand Hue + Me Yarn. trulycrochet
9. How to Crochet Triangle Shawl – Free Patterns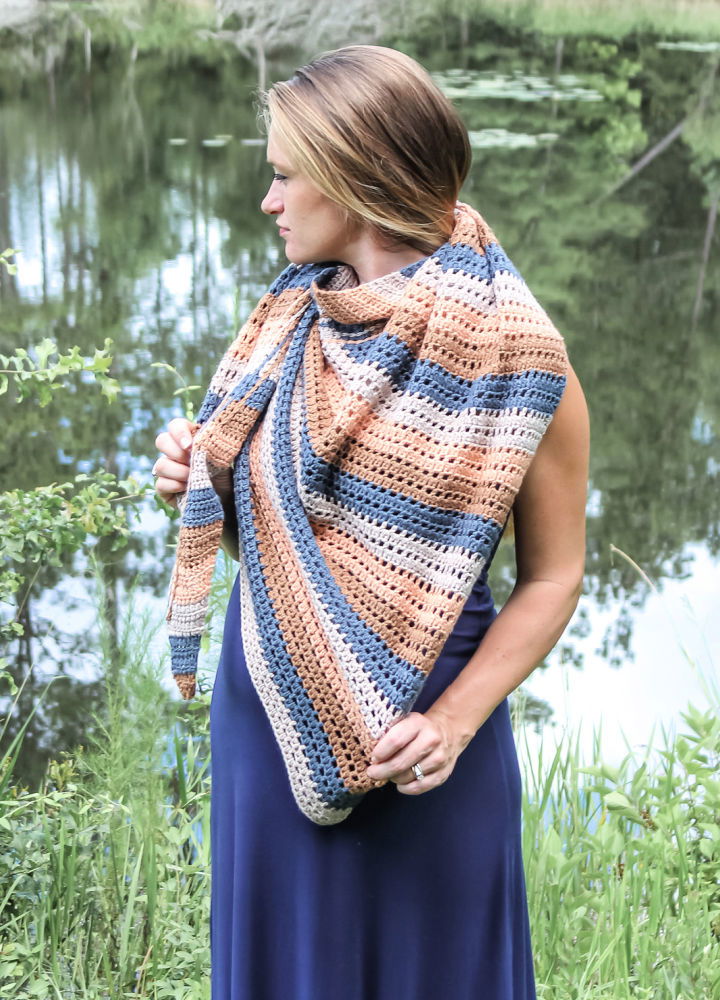 Are you looking for an easy beginner crochet pattern? Look no further! This free triangle shawl crochet pattern is perfect for those just starting. This stylish crochet shawl pattern features stripes that add a nice touch to the simple project. All you need is lion brand color theory yarn, 4.5mm hook, 12 stitches, and 11 rows = 4 inches in hdc to make this 52″ x 57″ triangle shawl. Feel free to work from a rectangle to a triangle – it's easier than you think! Start with the wide end of the triangle and work your way down with decreases until your masterpiece is complete! lifeandyarn
10. Diagram Triangle Shawl Crochet Pattern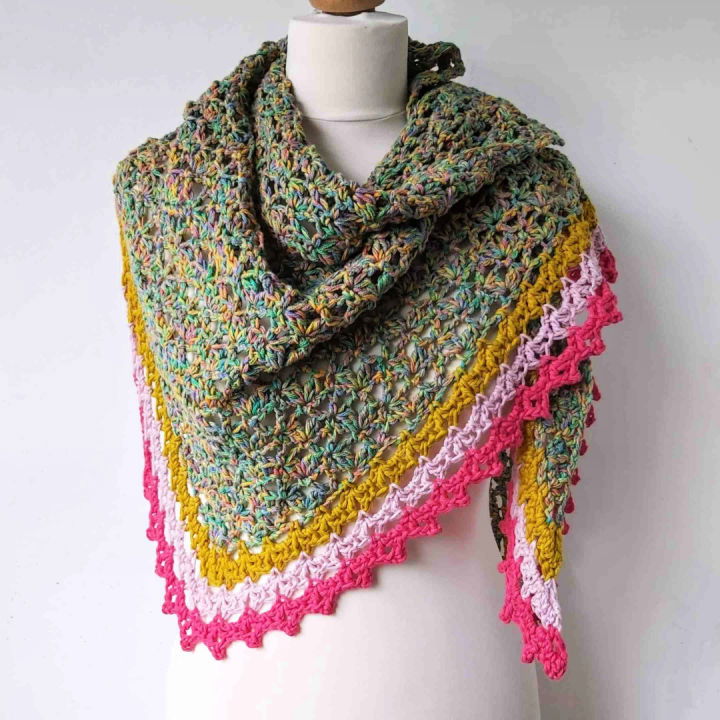 Add a cozy twist to your outfit with this free pattern for the easy crochet triangle shawl! This spindle shawl uses an open lace crochet stitch and bottom-up construction for easy memorization. Customize the size by adding more repeats, and choose from any worsted-weight yarn of your choice (no gauge necessary). Finished measurements are 72in x 24in, giving you the perfect weight and drape around your neck to keep you warm all season long. Whether it's a pop of color or extra warmth, grab this free pattern today! anniedesigncrochet
11. Crochet Orchid Shawl for Wedding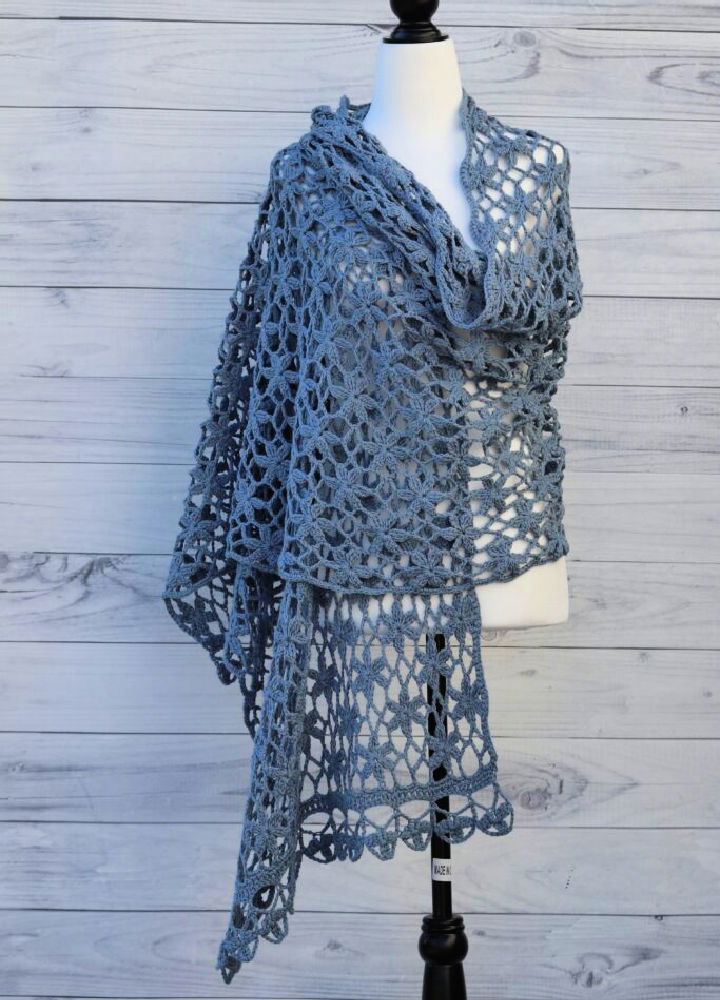 This beautiful orchid shawl crochet pattern is the perfect way to add a touch of elegance and sophistication to any outfit. Featuring delicate lace flowers along its lengthwise design, this rectangular shawl will be sure to make an impression at weddings, special events, or summer evenings. Although it is classified as an intermediate pattern due to the varied stitches and lace accents, don't worry. A free video tutorial is linked below, the written pattern that can help guide you through each step! With cotlin yarn from Knit Picks and measuring 22 inches by 98 inches once completed, get ready for stunning results with this crochet pattern! richtexturescrochet
12. Tulip Square Crochet Shawl Pattern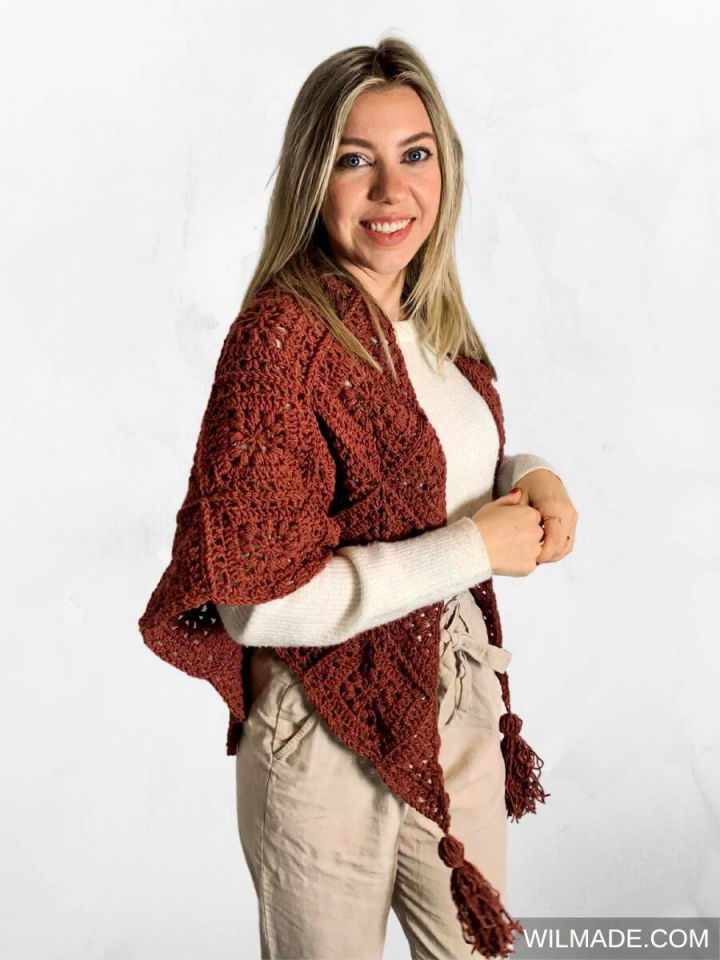 Make a unique crocheted shawl with this free tulip square shawl pattern. This pattern includes 36 squares and nine triangles slip-stitched together to create a beautiful design featuring stitches resembling tulips. The included video tutorial will walk you through each step of the pattern, making it easy for even beginner crocheters to make their granny square shawl. Add more squares or triangles for bigger designs – but note that additional yarn may be required! You'll need lion brand color theory yarn, a 6mm crochet hook (US J/10), a tapestry needle, scissors, and a blocking mat + pins (optional). Get started on your special crochet shawl today with this one-of-a-kind tulip square shawl pattern! wilmade
13. Vintage Crochet Healing Prayer Shawl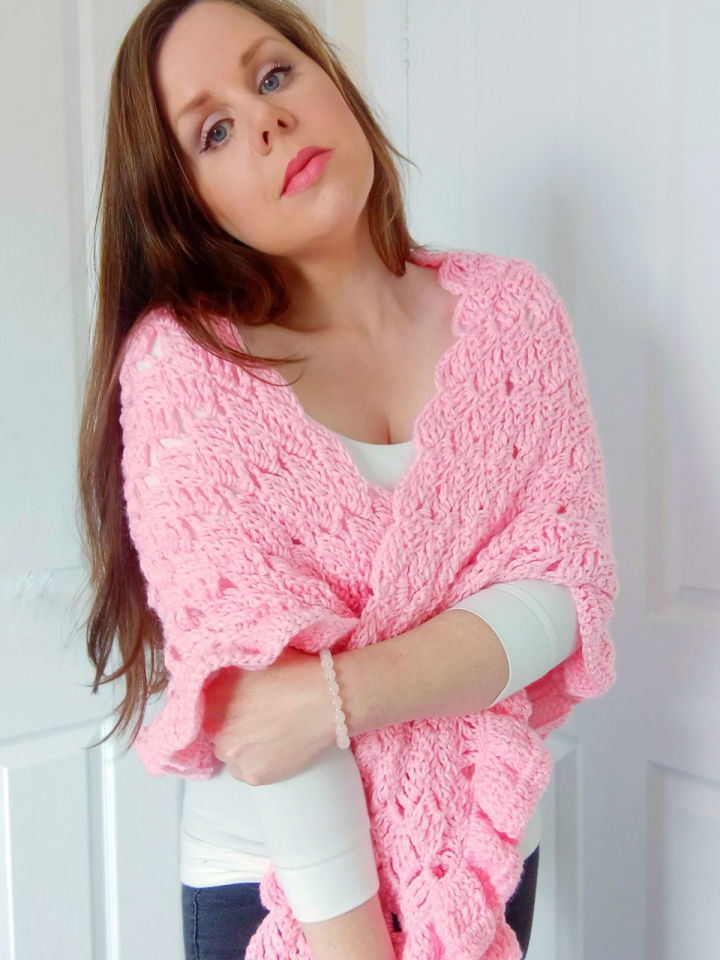 Crochet the perfect vintage-inspired prayer shawl with this free pattern! This easy project is suitable for beginner crocheters and uses a simple treble c2c stitch to create a beautiful shawl featuring soft frilly edging. Perfect as a gift, it keeps its recipient warm and cozy on cold days or nights. Materials you'll need include red heart soft baby steps yarn and a 6mm crochet hook – get started on creating this lovely feminine piece of art today! selinaveronique
14. Crochet Light Crochet Shoulder Wrap for Summer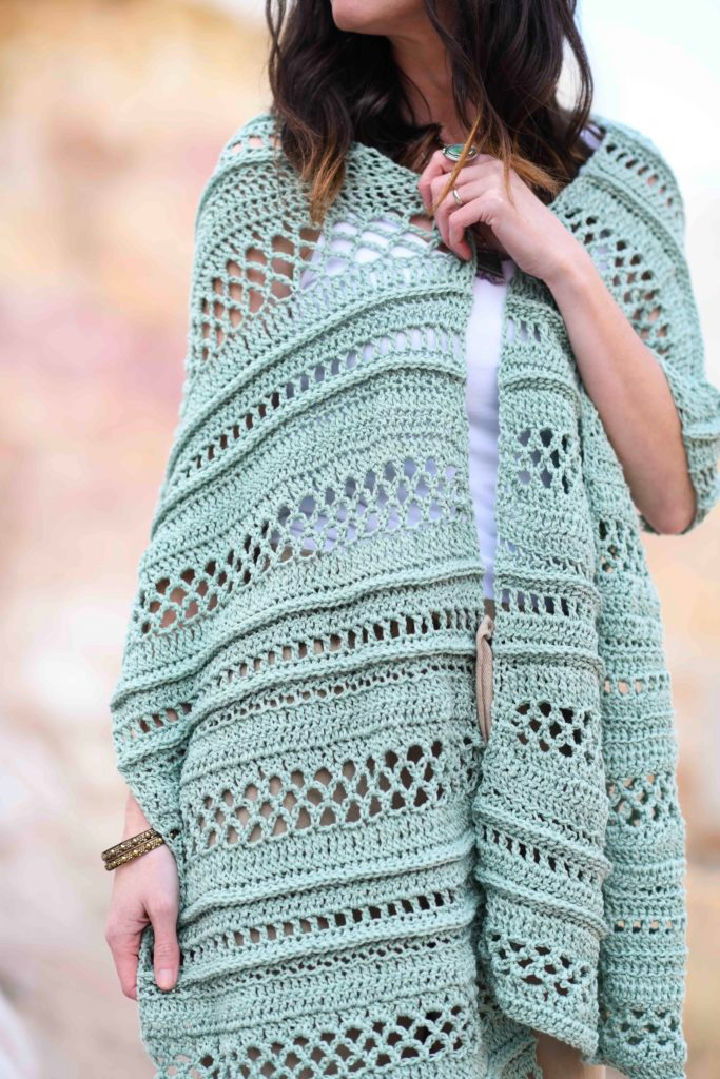 Welcome summer style with the perfect light crochet shawl – summer tide wrap pattern. This beautiful oversized wrap features intricate stitchwork and a luxurious drape that looks great paired with tanks or maxi dresses. Even better, the various stitches and textures make this modern accessory interesting to crochet while also providing an easy skill level – count stitches and be comfortable with basic crocheting! You'll need a size J, 6.0mm hook, lion brand low tide yarn (approx 340g), measuring tape, tapestry needle & scissors for crocheting this 16″ x 65″ masterpiece! mamainastit
15. Free Crochet Daybreak Wrap Pattern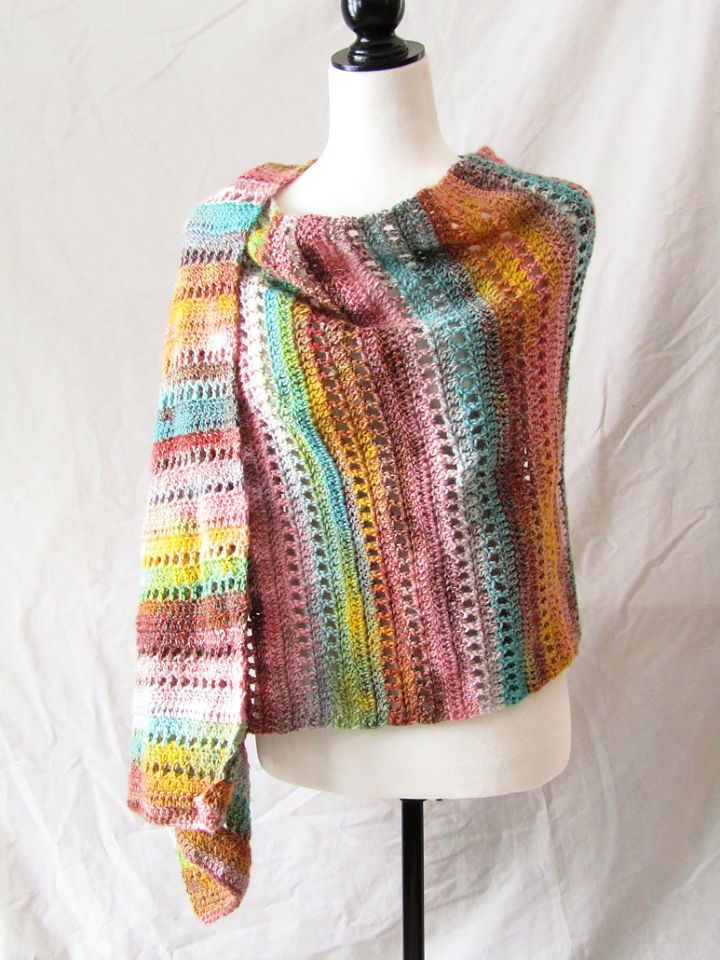 This daybreak wrap crochet pattern is perfect for a gift for any occasion. It's easy to make and comes with step-by-step instructions, so you can get it done quickly! You'll need sirdar jewelspun yarn, a US 7 / 4.5 mm hook, scissors, a yarn needle, measuring tape, and a stitch marker. This wrap measures 60″ x 20″ when complete – the perfect size to keep warm, whatever the season! Get started today with this beautiful daybreak wrap crochet pattern and show your family member/friend/loved one how much they mean to you! cmdcrochet
16. Crocheted Wichita Shawl Pattern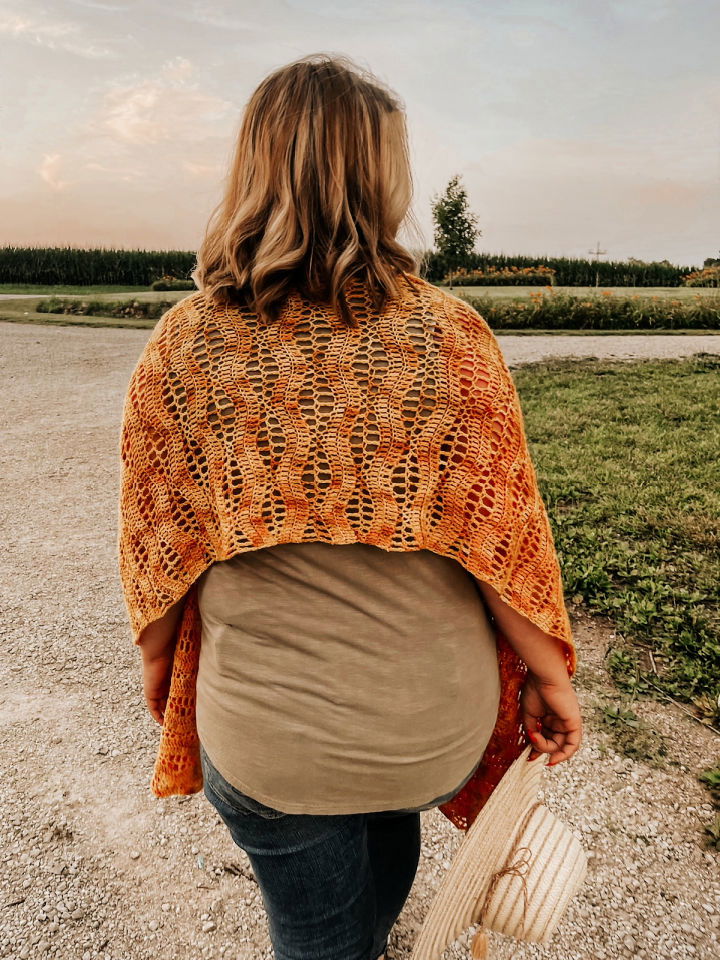 Are you looking for a unique shawl pattern for the fall? Try the wichita shawl, a free crochet pattern that combines stitches of varying heights to create an eye-catching and visually striking piece. Working in the back loop adds texture and depth, making this one-piece shawl perfect for your handmade wardrobe. Materials needed: wecrochet stroll tonal or similar fingering weight yarn (1250 yards), 3.75mm (US F) crochet hook, darning needle & scissors. Get creative with this crochet shawl pattern – adjust the size as desired! hookedhazel
17. Simple Crochet Shawl Pattern for Beginners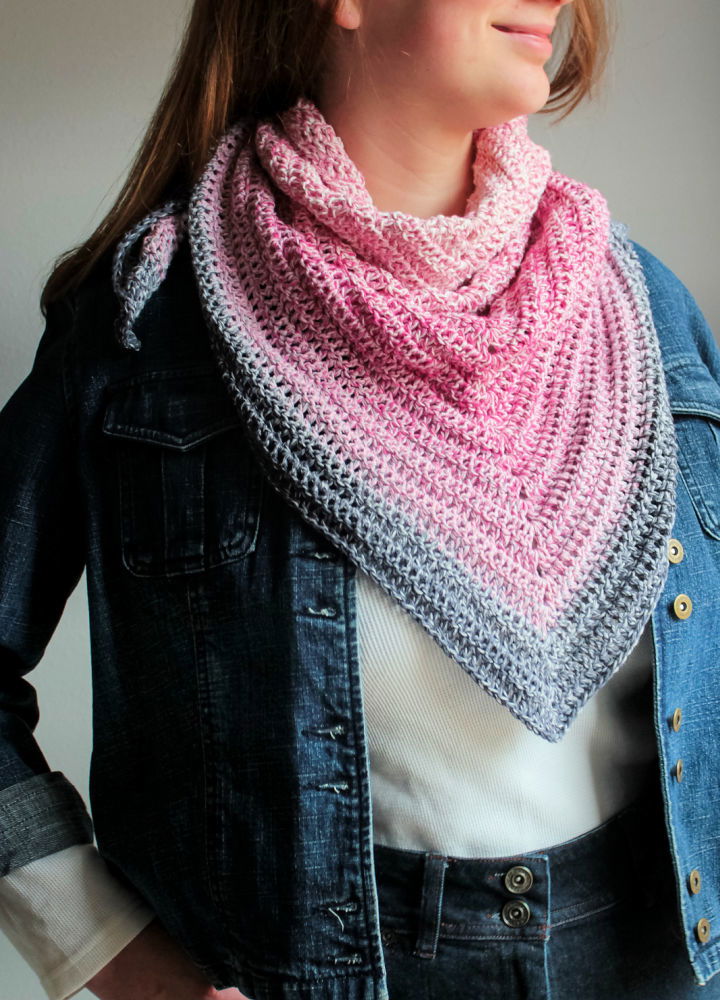 If you're starting with crochet or want a simple, one-cake project to enjoy, this free pattern for a simple crochet shawl is perfect! You'll need rainbow wrapsody yarn in 'the slate sivide' and an H (5.0 mm) hook to make this 42″ wingspan x 24.5″ tall shawl. All you need to know is the double crochet stitch – it's all worked in one row, so it's easy enough for beginners and also great if you're looking for something relaxing to work on. Customize your shawl however you like to – get crocheting today! nanascraftyhome
18. Crocheting a Dragonfly Stole Shawl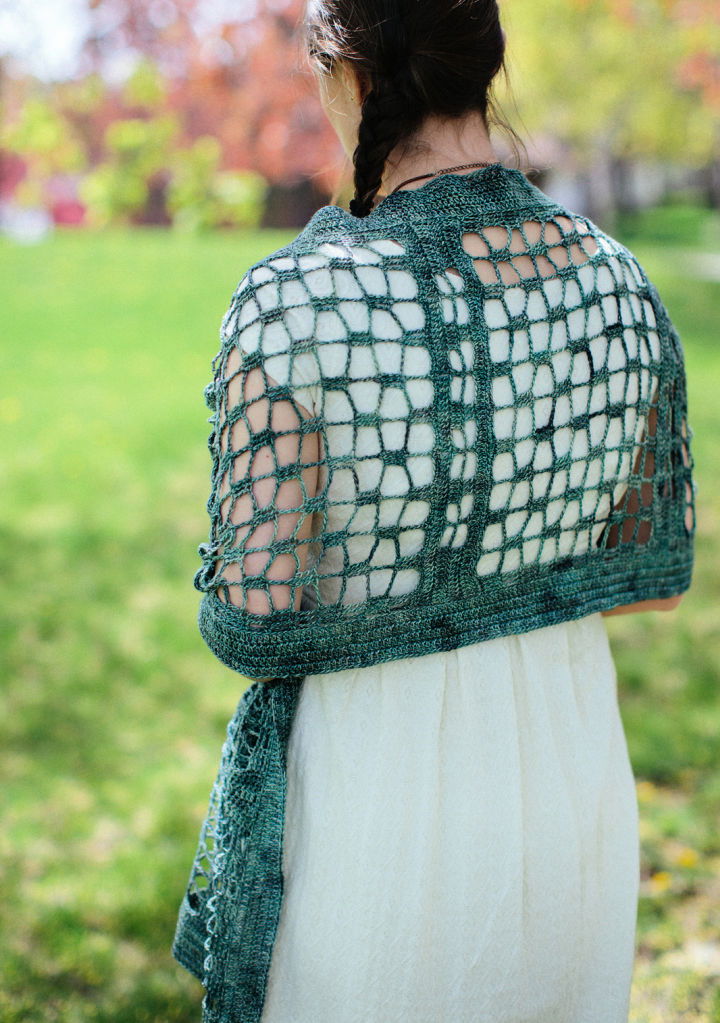 Elevate your look with this sophisticated and imaginative dragonfly stole! With special stitches inspired by a dragonfly's intricate network of veins, this eye-catching design will surely add a beautiful, whimsical touch. Crocheting using dragonfly fibers pixie yarn, you'll be able to create a one-of-a-kind stole that's perfect for any special occasion. Intermediate crocheters can try their hand at basic and special stitches to complete this delicate task. fireflyhook
19. How to Crochet a Polaris Shawl – Free Patterns
Wrap yourself up in elegance with the Polaris shawl. Inspired by the stars of the winter sky, this free crochet pattern creates a beautiful lace shawl that can be worn for any occasion. Crocheting using bulky yarn and repeating rows works quickly and provides an extra layer of warmth while watching your favorite show or movie. To make the Polaris shawl, you will need a J-10 hook, bulky yarn, scissors, a tapestry needle, and a tape measure. The finished size is approximately 24 x 57 inches (61 x 145 cm) without fringe so that you can keep cozy all night long! pinkplumeriamaui
20. Crochet Mediterranean Lace Shawl Wrap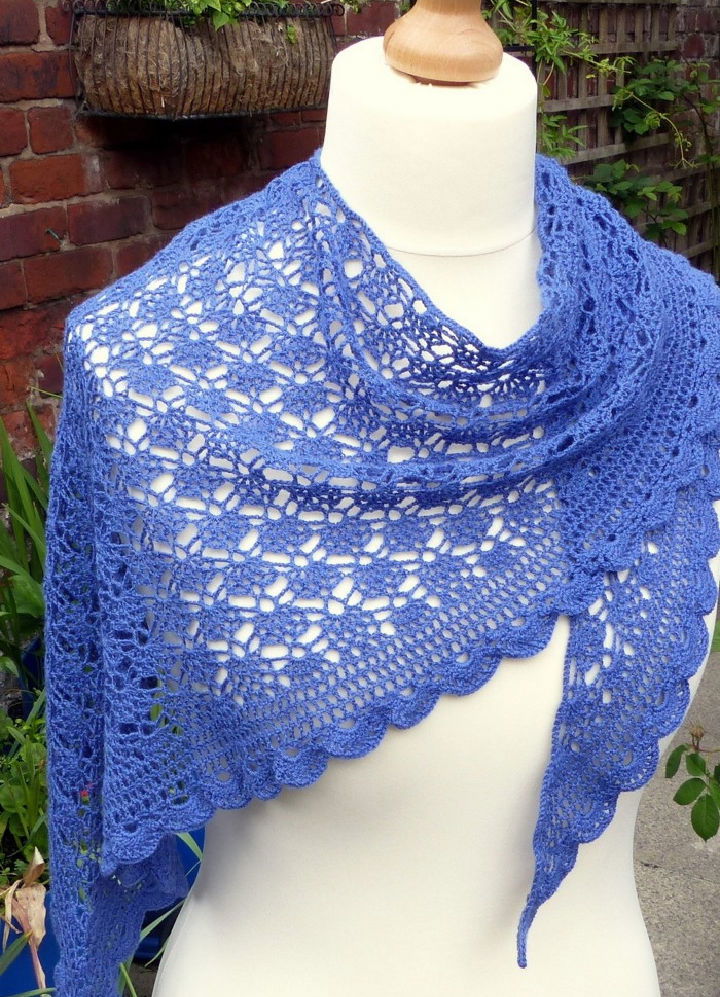 Create a beautiful crochet mediterranean lace shawl with easy, free step-by-step instructions. This shawl features an unusual arrowhead shape that allows it to sit perfectly over the shoulders and back. Using debbie bliss rialto lace yarn, this crochet shawl pattern is perfect for those on a tight budget or using gradient yarns. You can choose your preferred hook size; the gauge isn't critical as long as you crochet until you reach the desired size. The stitch pattern is surprisingly simple – just two rows repeat! Get creative with color and create something unique today! makemydaycreative
21. Free Crochet Spring Blanket Shawl Pattern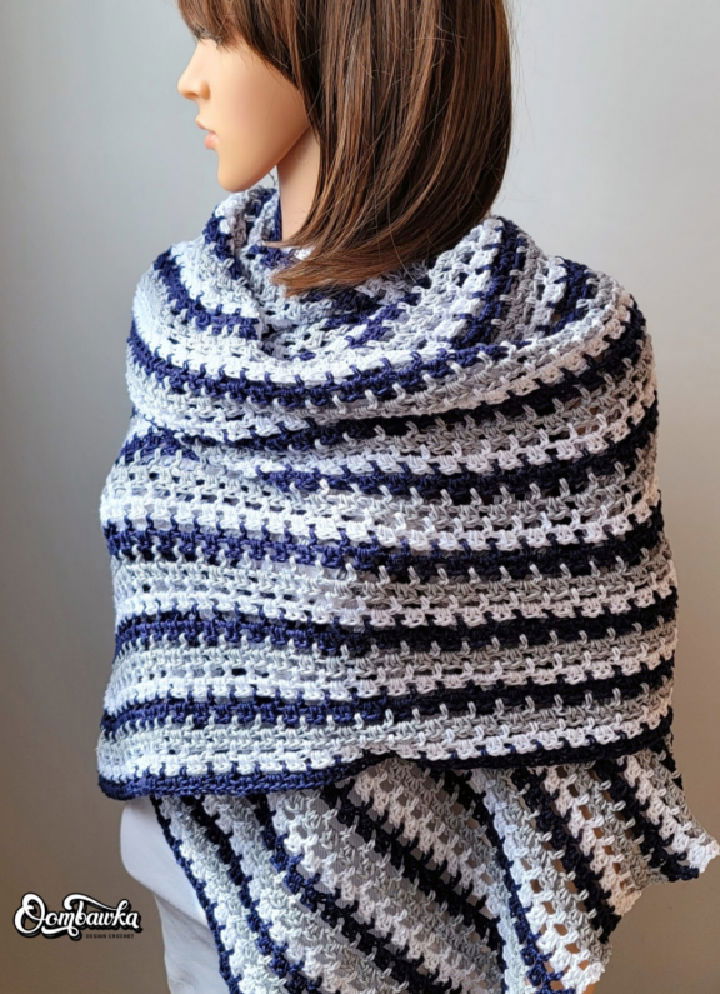 Bring spring into your home with this easy-to-crochet beginner pattern for a beautiful blanket shawl. Make it in one color or use three different colors of king cole cottonsmooth DK yarn. It works quickly; the finished size is approximately 84 inches x 27 inches. Supplies you will need include a 4 mm (G) crochet hook, scissors, tapestry needle, and stitch marker (optional). Take on this project today to make an elegant statement that is perfect for any season! oombawkadesign
22. Crochet Rectangle Shoulder Shawl Pattern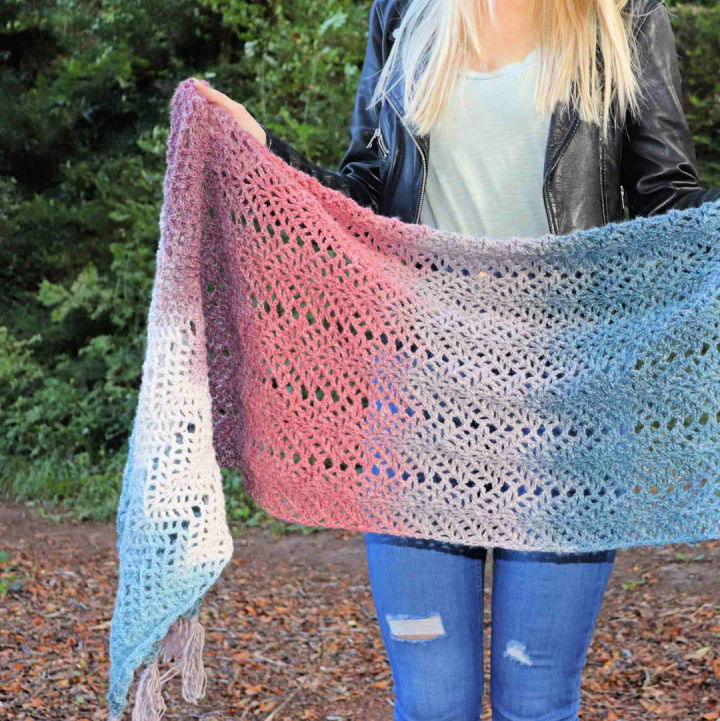 Stay cozy and stylish this winter with a free crochet omna shawl pattern that creates a gorgeous blanket scarf! This easy design is perfect for any level of crocheter and requires only king cole curiosity double knitting yarn, a 4.5mm crochet hook, and your time to create. Detailed step-by-step photos help you along the way as you make it longer or wider by working extra pattern repeats (the amount of yarn will vary). The finished shawl measures 70in (178cm) in length x 18in (46cm) in width. Get your needles ready and start crocheting now! anniedesigncrochet
23. Cozy Wrap Around Shawl Crochet Pattern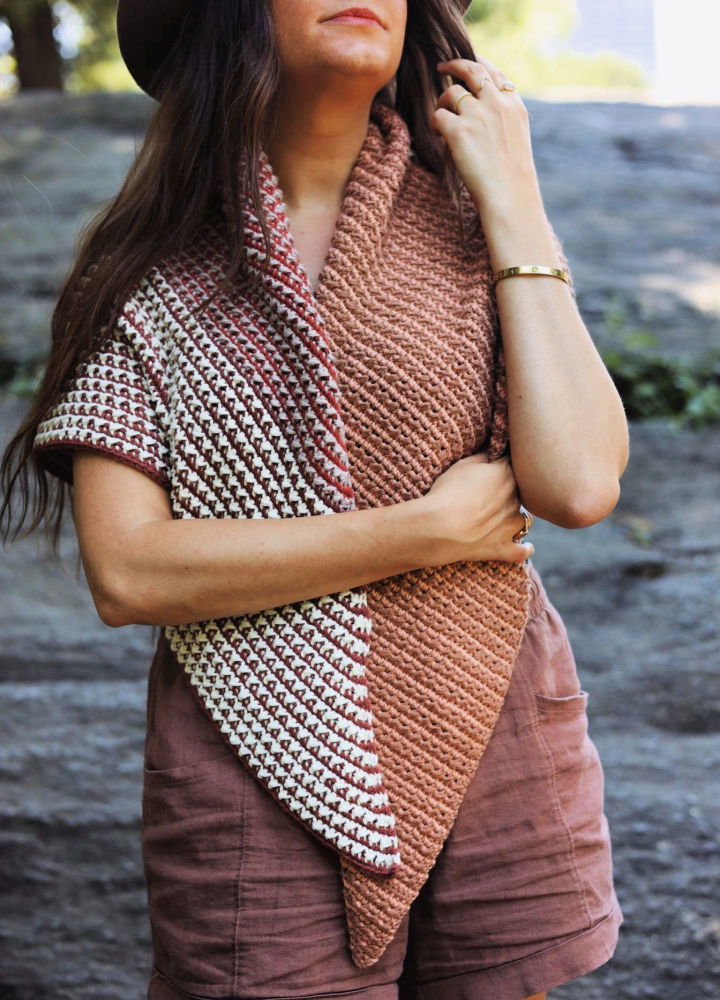 This free crochet pattern is perfect for the modern fashionista who prefers bold and unique accessories. Create your omna shawl, a two-way fade triangle scarf featuring brilliant color combinations and an eye-catching pebbled texture that will turn heads wherever you go. The easy-level pattern involves basic techniques such as single crochet, half double crochet, slip stitch, increasing along an edge, and changing colors. With finished dimensions of 28″/71cm length to point & 62″/157.5cm width using lion brand color theory yarn, create something truly special today! twoofwands
24. Free Crochet Shawl and Shrug Pattern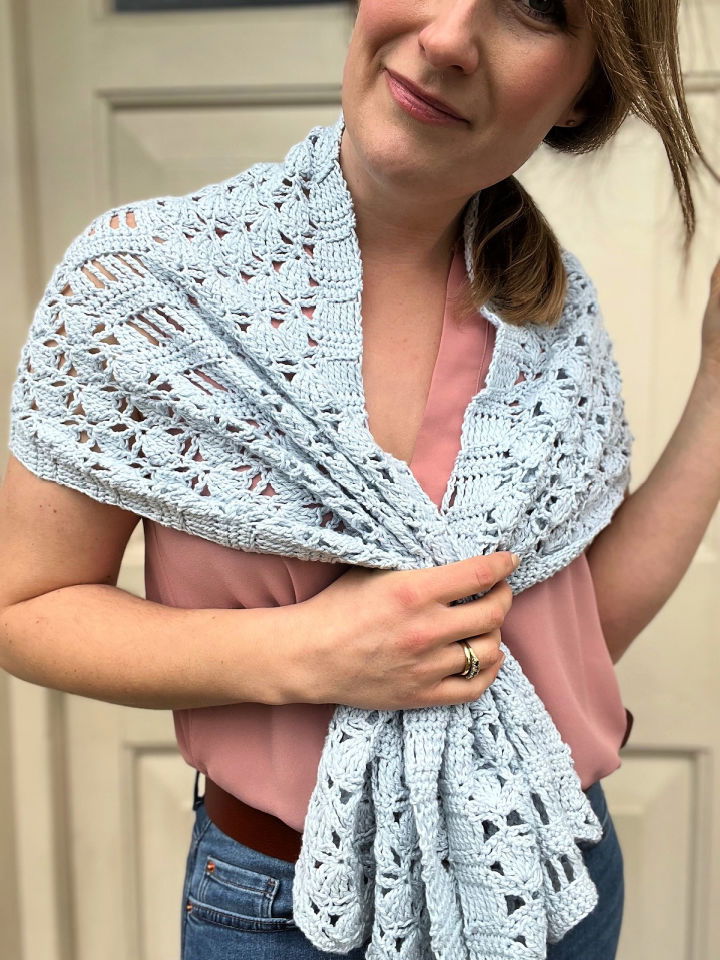 Make your summer wardrobe shine with this lacy crochet wrap pattern, the Evelyn wrap. The evelyn wrap with sleeves combines shell stitches, chain spaces, and easy section repeats to create a beautiful shawl that you can wear to a wedding, date night, or beach day. Using the versatile 4mm (G) hook and knit picks cotlin yarns, this wrap is bound to become your favorite accessory! The intermediate difficulty is great for those looking to expand their skill set! Finished measurements of 36cm by 152cm will ensure you always dress in style. hanjancrochet
25. How to Crochet a Helen Shawlette – Free Pattern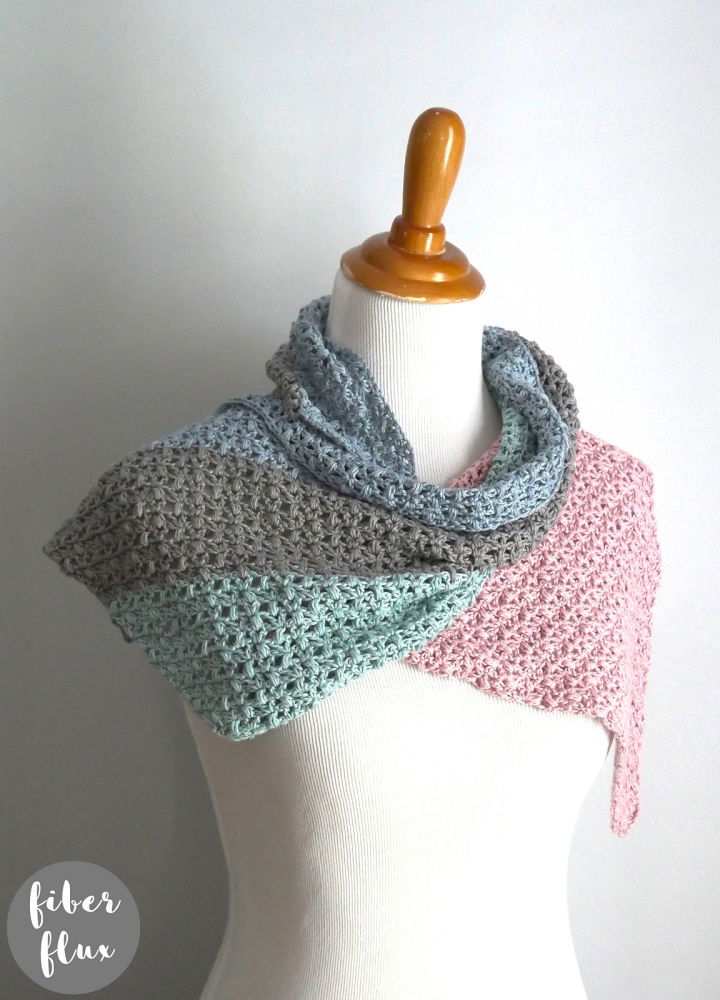 Crochet something special for yourself or a friend with this free pattern for the Helen shawlette. This beautiful wrap features alternating puff and v stitches that create an eye-catching texture perfect for any season! The step-by-step full video tutorial shows you how to easily make your crochet shawlette in cool, supersoft cotton using a 3.75 mm f crochet hook and hobbii baby cotton organic yarn. Plus, the finished shawlette has measurements of 40 inches along the top edge, 28 inches from the bottom point straight up and 34 inches along each side of the triangle – making it truly one-of-a-kind! fiberflux
26. Free Crochet Outlander Shawl Patterns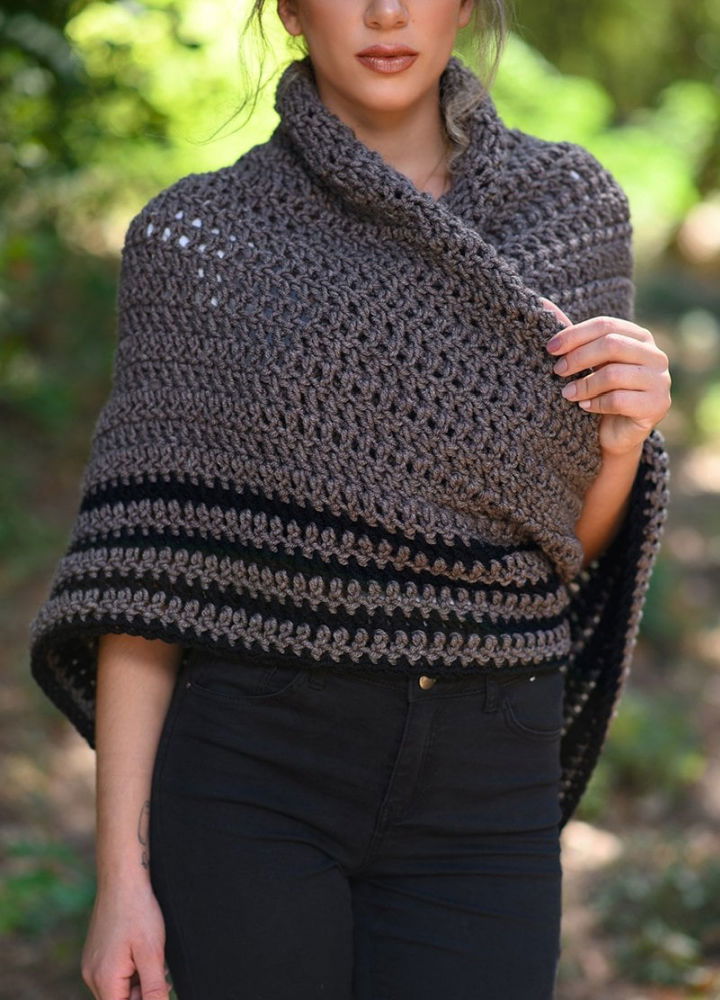 Make your outlander shawl with this free crochet pattern! Inspired by claire fraser from season 4, episode 1 of outlander, it's an easy pattern to create a beautiful triangle shawl. This will work from the top down in double crochet and grows in size through increases at each end and in the center. Strips are added by changing colors when you reach a certain size! Get started with alize superlana maxi yarn and hook 8.0 mm (L). Create something special for yourself or as a gift for someone else – start crocheting today! handylittleme
27. Caron Cakes Sunset Dreams Crochet Shawl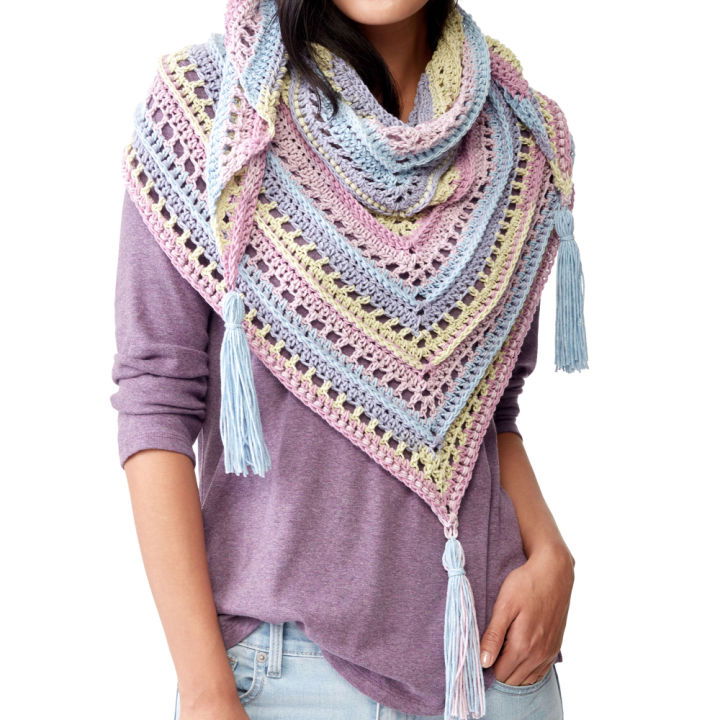 Let your creativity take flight and make a stylish triangle-shaped crochet shawl with the free caron cakes sunset dreams shawl pattern. With each side and center increase, you'll watch as your work comes to life using single, double, chain and slip stitches. The beautiful gradient effect of caron cotton cakes yarn in stunning sunset shades enhances the ridged pattern. You'll need a 6mm (J) hook size for this project that, when finished, will measure 60″ wide x 30″ deep. Check out our free pattern now! yarnspirations
28. Crochet Child Shawl With Sleeves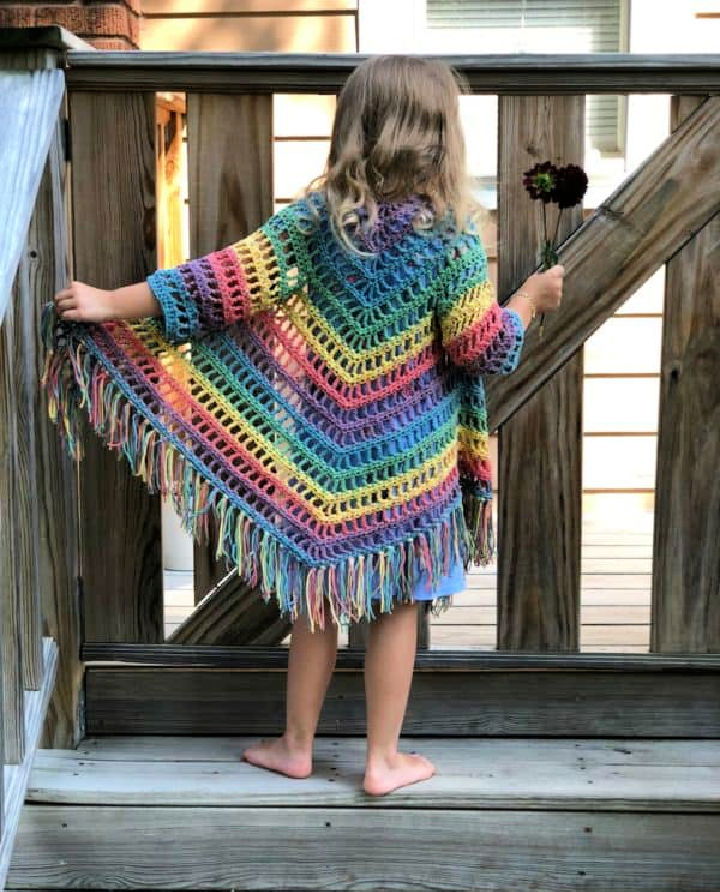 This stylish sleeved triangle shawl is perfect for keeping your little one warm and cozy! Crochet it in a lightweight DK yarn with a size J/6mm hook to make an extra special garment. With its swishy fabric and beautiful drape, this pattern will create the perfect accessory for any child aged 4-6. When finished, the shawl should measure 7″ wide and 4″ from row 1 to the center stitch of row 6 – so grab your materials today, and make something truly special for your little one. hearthookhome
29. Half Double Crochet Shawl Pattern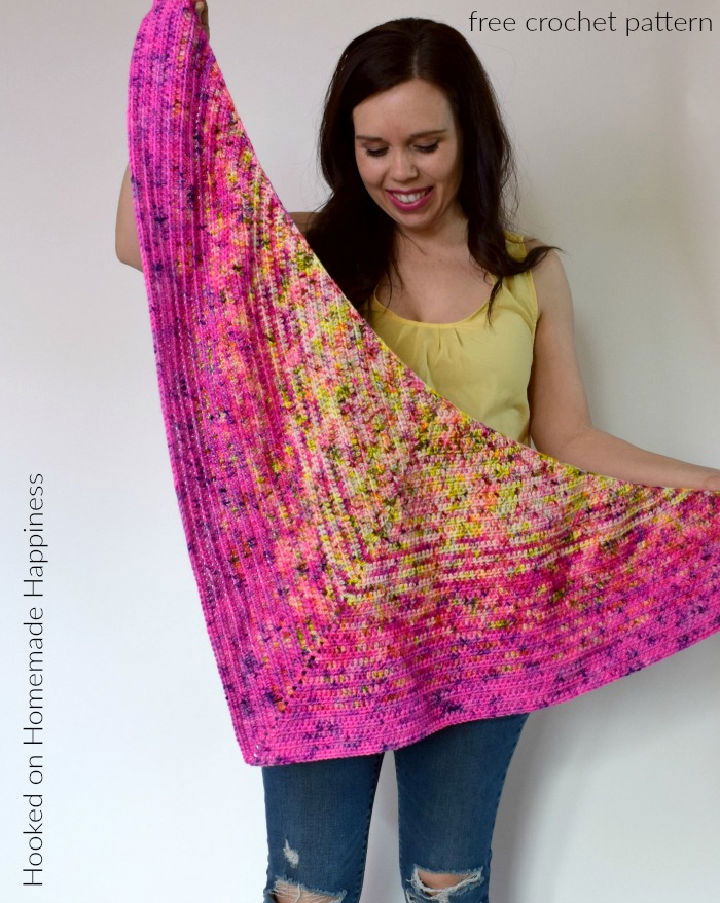 Add a beautiful handmade shawl to your wardrobe with this easy-level hdc all-day triangle shawl crochet pattern. Perfect for beginners, it uses just one stitch and 1-row repeat, so you'll be able to create a stunning finished piece in no time. Use three colors of 100g skeins of DK weight yarn for an eye-catching fade effect, or choose one solid color to make your unique crochet shawl pattern. It measures approximately 38″ x 19″ when complete. Gather the materials — H/5.0 mm hook, yarn needle, scissors and DK weight yarn — and start crocheting today! hookedonhome
30. In the Garden Thread Shawl Pattern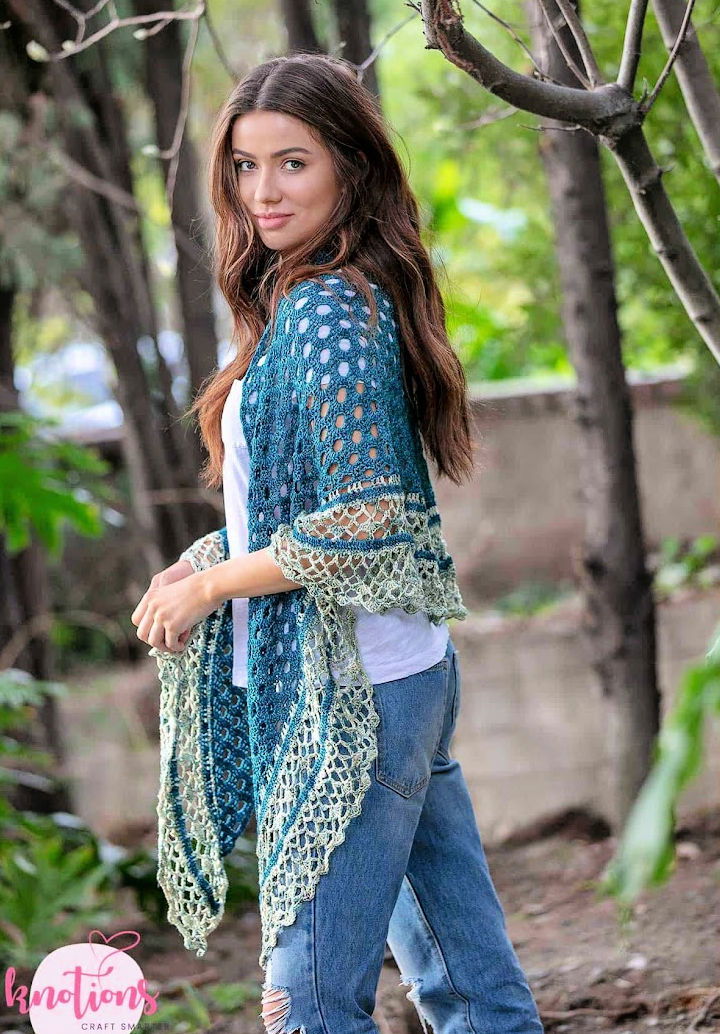 Add a flair to your wardrobe with this free, beautiful, easy crochet in the garden shawl pattern. This colorful crescent-shaped shawl is worked from end to end with increases and decreases to make the crescent shape. Once the main body is complete, the lacy border is worked back and forth along the curved edge. Complete this project using a US 7 (4.5mm) hook with yarns such as hazel knits artisan sock, miss babs yummy 2-ply, loops & threads woolike, or malabrigo yarn mechita for an adjustable size finished of 27″ deep by 80″ wingspan (68.5 cm deep x 203 cm wingspan). knotions
31. Free Crochet Casual Small Shawl Pattern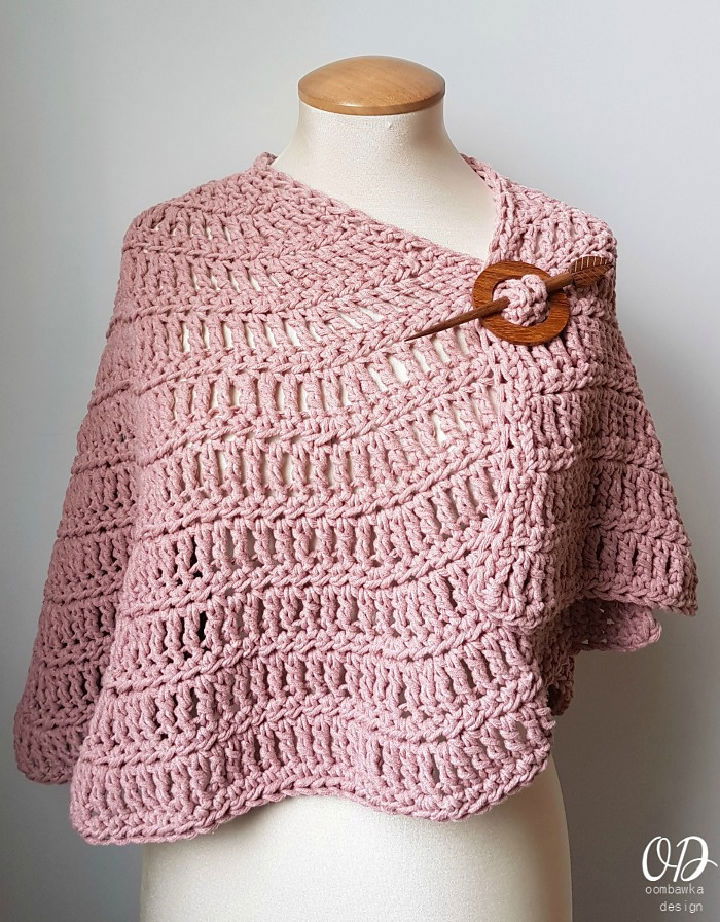 This free pattern teaches how to crochet a beautiful, lightweight, and casual shawl! The simple casual small shawl uses mary maxim simply casual yarn – a cotton/acrylic mix that makes it breathable and comfortable to wear. It's great for summer evenings, or you can customize the project by continuing in the same pattern sequence until it reaches your desired size. With supplies like a 7 mm (L) furls lemon candy shop hook and 24″ x 24″ finished size, create an amazing accessory that will bring comfort all year round! oombawkadesign
32. How to Crochet a Virus Shawl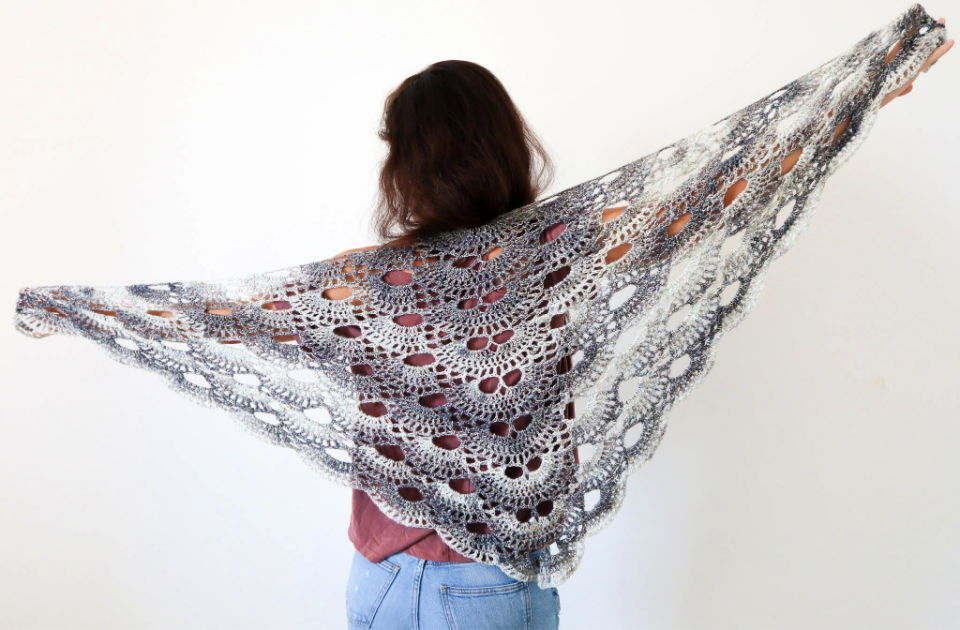 Crochet the virus shawl with ease using this step-by-step video tutorial! Learn how to make a beautiful, relaxing shawl using the lion brand's shawl in a cake yarn and your trusty 6mm US I 9 hook. This project is perfect for beginners – complete it in just 5 hours without sacrificing quality or intricate detail. Follow along with the easy instructions and create your virus shawl today! thesnugglery
33. Mary Hooded Shawl Crochet Pattern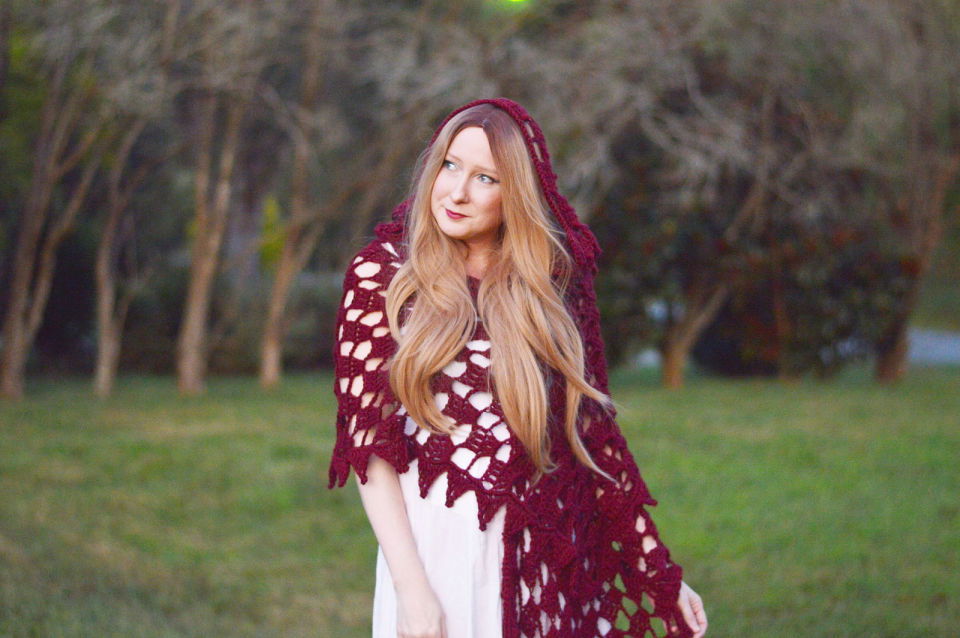 Stay cozy and warm with this easy-to-make mary hooded shawl crochet pattern! This oversized rectangle scarf has a lace checkerboard pattern and a fun, whimsical border. It's worked up using a size J (6.00mm) crochet hook, so it won't take long before you're cuddled in your shawl. You need yarn from Mary Maxim Woodlands, a darning needle, measuring tape, and scissors, and you're ready to go! The finished shawl measures 24″ x 86″ with the borders before blocking – make yours today for an extra layer of warmth throughout the season! withalexofficial
34. Mandala Yarn Crochet Shawl Patterns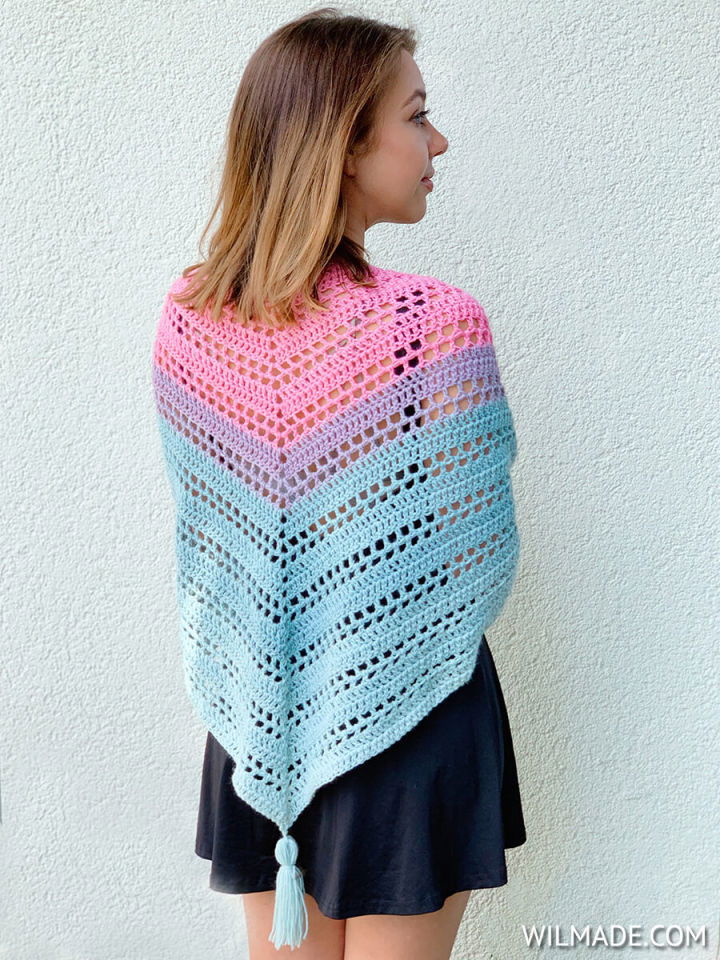 Crochet your stylish accessory with this easy-to-follow pattern for the 'such simple shawl.' This beginner-friendly shawl is made using lionbrand mandala yarn and only double crochet stitches and chains. You can customize your shawl by making it bigger or smaller or adding tassels or fringes. The pattern is suitable for all skill levels and includes a video tutorial to help you get started. Download the PDF in English, which has three pages, including the cover page and make a 65cm/25.5″ high x 165cm/65″ wide shawl! wilmade
35. Handmade Victorian Shawl – Free Crochet Patterns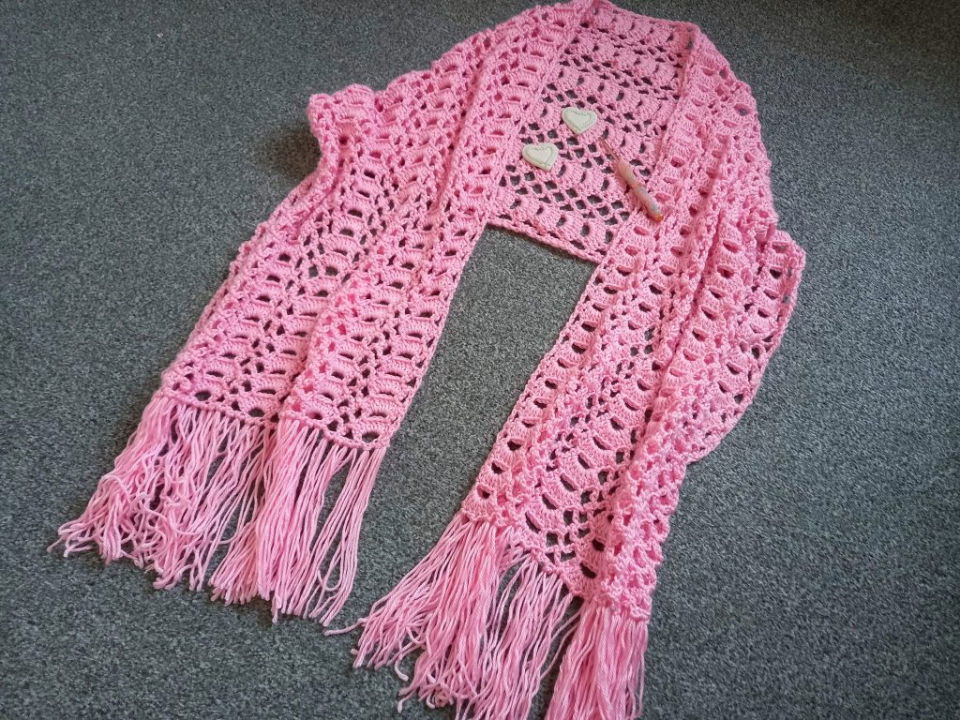 Discover the beauty of crochet with this free victorian shawl pattern! Also known as the leopoldine shawl, this intricate yet simple project is perfect for beginners and features a two-row repeat using fans and treillis stitch. You can crochet from 4 skeins of red heart soft baby steps yarn; you'll need a 5 mm crochet hook, tapestry needle, scissors and plenty of patience to complete this beautiful wrap which measures 63″ x 16″ when finished. Get started on your stunning shawl today by downloading this free pattern! selinaveronique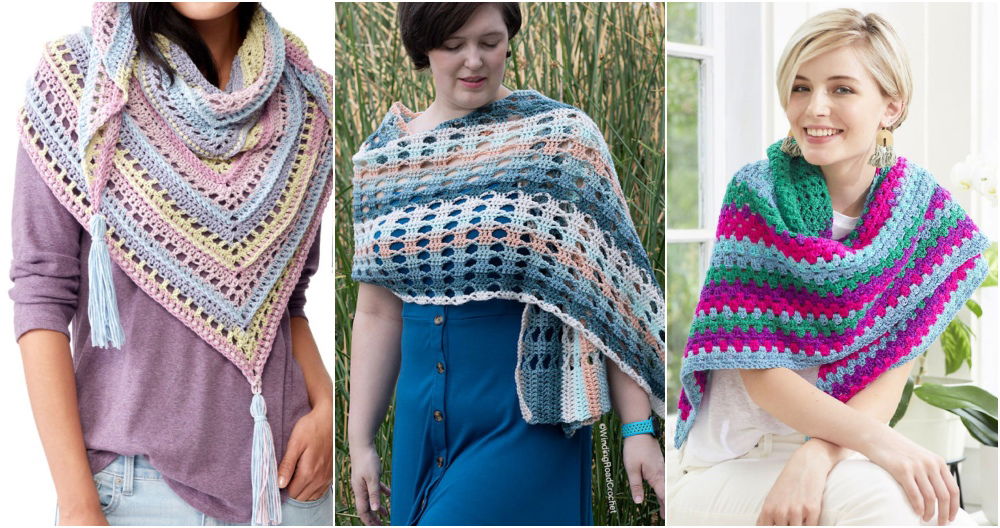 Frequently Asked Questions:
Discover free crochet shawl patterns to create stylish and elegant garments. Get answers to your questions about yarns, stitches, sizes and more with our FAQs!
What is the best crochet stitch for a shawl?
A half-double crochet stitch is a great option for crocheting a shawl. It creates an elegant drape while still maintaining structure. Plus, the combination of loops and post-stitches works well to add texture and interest to your project. The open weave of this stitch makes it lightweight and comfortable to wear, making it ideal for warm weather seasons. With its adaptability, it's no wonder why the half double crochet is one of the most popular stitches for shawls!
Is it hard to crochet a shawl?
Crocheting a shawl can be relatively easy or quite challenging, depending on the pattern's complexity and the experience level. It is important to read through the instructions thoroughly and choose a yarn weight and hook size that is appropriate to your skill level. With patience, practice, and guidance from experienced crocheters, it's possible to make beautiful crochet shawls.
What size should a crochet shawl be?
The size of a crochet shawl depends on personal preference. Consider the body measurements of the intended wearer and desired fit, then adjust accordingly to achieve the best result. For an adult shawl, a width of 48-60 inches (122-153 cm) and a length of 56-72 inches (142-183cm) is recommended. Have fun experimenting with different sizes!
How many skeins do you need to crochet a shawl?
The amount of skeins needed to crochet a shawl depends on the type and size of the shawl. Generally, you will need 4-5 skeins for a small or medium-size shawl and 6-7 skeins for a large-size shawl. For an extra-large size, 8-10 skeins may be required. Always check the pattern instructions to determine the exact number of skeins needed. Additionally, yarn weight also plays an important role in determining how much yarn will be used. Using thinner strands can help reduce the number of skeins required.
How wide should a crochet shawl be?
A crochet shawl's width depends on the size you want to make it. Generally, crocheting a shawl wider than 52 inches will create ample fabric that can be draped around your shoulders comfortably. Consider the yarn weight used in your project and what type of garment you're creating when deciding on the right width for your shawl. Experimenting with different sizes and stitches allows you to find the perfect fit!
Adding fringe to the bottom edge of a shawl gives extra texture and could add up to 8 inches or more to its overall width as well. Keep this in mind when determining how wide your crochet shawl should be. Happy crafting!
Is it easier to knit or crochet a shawl?
It really depends on the knitter or crocheter's experience level and personal preference. Both methods require skill and patience. Knitting is typically more complex than crochet, but it can be faster because of using two needles instead of one. Crochet can give a more intricate look to projects, while knitting takes less time to complete them. Ultimately, it comes down to which you enjoy practicing the most!
What weight yarn should I use for a shawl?
The type of yarn to use for a shawl depends on the pattern and the desired drape of the fabric. Generally, lighter weight yarns are preferred for shawls, such as worsted or DK weight. Sport and fingering weights can also be used but may require more yardage to achieve a larger size. Experiment with different yarn types to find what works best for you!
How many yards do I need for a crochet shawl?
It depends on the size of the shawl you plan to crochet. Generally, an average-sized shawl requires around 400-500 yards of yarn. If you want a larger one, then you may need more yardage. Remember to factor in the type of yarn and pattern used as well. It's best to have extra, just in case!
Do crochet shawls sell well?
Yes, crochet shawls sell well. They are extremely popular items as they offer both warmth and style. Additionally, the basic skills for making a crochet shawl can be easily learned by beginners, making them an attractive craft to take up. With the many possibilities for creativity and design, crocheting is a rewarding skill that produces top-selling shawls.
What is the average size of a crochet shawl?
The average size of a crochet shawl can vary greatly depending on the style and pattern, but typically they range between 30-60 inches wide and 30-70 inches long. These measurements allow for plenty of coverage while still being lightweight enough to drape comfortably around your shoulders. Experiment with different shapes and sizes to find the perfect fit!
How do you start a crochet shawl?
To begin a crochet shawl, start by obtaining the necessary supplies: yarn, a crochet hook and scissors. Make a slip knot to secure your yarn onto the hook. Create a chain stitch as long as you want your shawl to be wide. Then, single or double crochet each row until it is long enough for you. Lastly, finish by tying off the end with a slip stitch and weaving in the ends.
How do you make a simple crochet shawl?
To make a crochet shawl:
Start by chaining the desired number of stitches.
Work in rows of single crochet to create the body of your shawl.
Finish with a border stitch and add any other embellishments you wish.
Block and enjoy your handmade crochet shawl!
How to crochet a shawl
Crocheting is an incredibly rewarding craft that allows you to create beautiful garments and accessories with just some yarn and a crochet hook. While you can do many different projects, one of the most popular is crocheting a shawl. Shawls are a great way to add a touch of elegance to any outfit, and they're surprisingly easy to make. Find step-by-step instructions on how to crochet a shawl and tips for creating your own unique design. So grab your supplies, and let's get started!
The basics of crocheting a shawl
If you're new to crocheting or just looking for a simple project, a shawl is a great option. Crocheting a shawl is relatively easy and can be done with just a few basic supplies. Here's what you'll need to get started:
Yarn: Choose any yarn you like, from thin and delicate to thick and bulky. Just ensure it's the appropriate weight for the size crochet hook you use.
Crochet hook: Again, the size of your hook will depend on the weight of your yarn. A good rule of thumb is to use a hook one size larger than the recommended hook size for your yarn.
Scissors: When you're finished crocheting, you'll need these to cut your yarn.
Now that you have your supplies let's get started! The first step is to make a slip knot in your yarn, then chain stitch until your chain is about as long as you want your shawl to be wide. Once you've reached the desired width, turn your work and single crochet in each chain stitch until you reach the end of the row. Turn your work again and repeat this process until your shawl is as long as you want it to be. When you're finished, cut your yarn, leaving enough length to weave in any loose ends, then fasten off by pulling the tail of the yarn through the
What you will need
If you want to crochet a shawl, you will need some supplies. First, you will need yarn and a crochet hook. You will also need a tapestry needle, which is used to weave in ends and sew on buttons or other embellishments. Additionally, you will need scissors and a ruler or measuring tape.
Now that you have gathered your supplies let's get started!
The crochet stitches you will need to know.
There are a variety of crochet stitches that can be used to create a shawl, but some basics that you will need to know are the chain stitch, single crochet, and double crochet. The chain stitch is used to create the base of your work, and the single and double crochet stitches are used to create the body of your shawl. To create a more textured look, you can also use the half-double crochet stitch.
More advanced techniques for crocheting a shawl
There are many different ways to crochet a shawl, and you can get creative with your stitches and patterns. Here are some more advanced techniques to try out:
Crocheting in the round: This technique creates a circular shawl. To do this, you will need to start in the center of the shawl and work your way outwards in a spiral.
Filet crochet: This technique uses a grid of squares or diamonds to create an openwork design. It's a bit more challenging than traditional crochet, but it's perfect for creating lightweight shawls.
Tunisian crochet: This type of crocheting creates a fabric that looks similar to knitting. It's perfect for making warmer shawls that will keep you cozy all winter long.
Finishing your shawl
Once you have crocheted the body of your shawl, you will need to finish it off by adding a border. To do this, crochet around the entire edge of the shawl using any stitch you like. A simple single crochet or scalloped edge would look nice. Once you have finished crocheting the border, fasten off your yarn and weave in any loose ends. Your shawl is now complete!
Shawl care
Here are some tips to take care of a crocheted shawl:
Untangle any knots carefully. You don't want to damage the yarn.
Hand wash it in cool water with mild soap. Lay it flat to dry.
Out of synthetic fibers? Then machine wash on the delicate cycle in cool water with a mild detergent. Tumble dry on low or lay flat to dry.
Related Free Crochet Patterns:
Free Crochet Patterns for Beginners:
Conclusion:
Overall, these free crochet shawl patterns are a great way to create something unique and beautiful with your own two hands. With dozens of different crochet shawl patterns available above, find a shawl pattern that fits anyone's style or skill level. Most of these free crochet shawl patterns use easy-to-follow instructions, making them ideal for beginners just starting their crochet journey. Plus, there is no better feeling than wearing something you have crafted from scratch!