To gain necessary coziness may also be a reason but women just love to wear crochet shawls to look gently stylish! Shawls around a woman's shoulder just boost up the feminine factor of her personality and help her to catch more eyeballs! Shawls are a great part of women fashion as style loving ladies just love to pair them with every outfit and this is often to happen in winters! However, there are amazingly lovely shawls too that can be a part of your dress up in spring and summer season, such a shawls are always like breathy, lacey and airy! No matter through which season your region is going, here we have brought this 100 free crochet shawl patterns collection that is going to be a big surprise for crochet lovers as well as for the fashion enthusiasts! Whether your intention is to look outstanding casually or you are willing to go for a party, the given collection comes with shawls that are perfect for each and every occasion and also for daily fashionable looks!
All these shawls are lovable and would get your first priority if you have decided to add an extra layer of cozy warmth to any outfit! There are free pattern links provided under each shawl inspiration, so one can just click them up to grab the respective easy crochet shawl patterns for free!
Choose and crochet your favorite shawls and compliment your style! In the given collection, there are shawls to wear for beach walks and park visits! You will also get amazing crochet shawl designs to cover yourself warm during the cold months! Some fancy crochet shawls are also on the list that is just perfect for the cool summer evenings and for summer afternoon adventures! In short, the collection will provide you beautiful shawl designs to wear both indoor and outdoor!
You can also sort out the designs and patterns for the particular time period to suit and fit more your personality so that your style statement is jazzed up accordingly. For example, the bulky and heavy yarn shawls would look great in the intense cold days of winters while to warm up yourself gently from the chilly breeze of summer nights, fall or spring the shawls with lacy and airy patterns are just perfect to adapt.
Want more Free Crochet Patterns?

In short each and everything related to crochet shawl is right here in this giant free crochet shawl patterns collection and thus this post is a must one to get clicked on and browsed for detailed free crochet patterns and tutorials and instructions ahead leading you to your dreamy shawl possession.
Crochet Lisa's Shawl: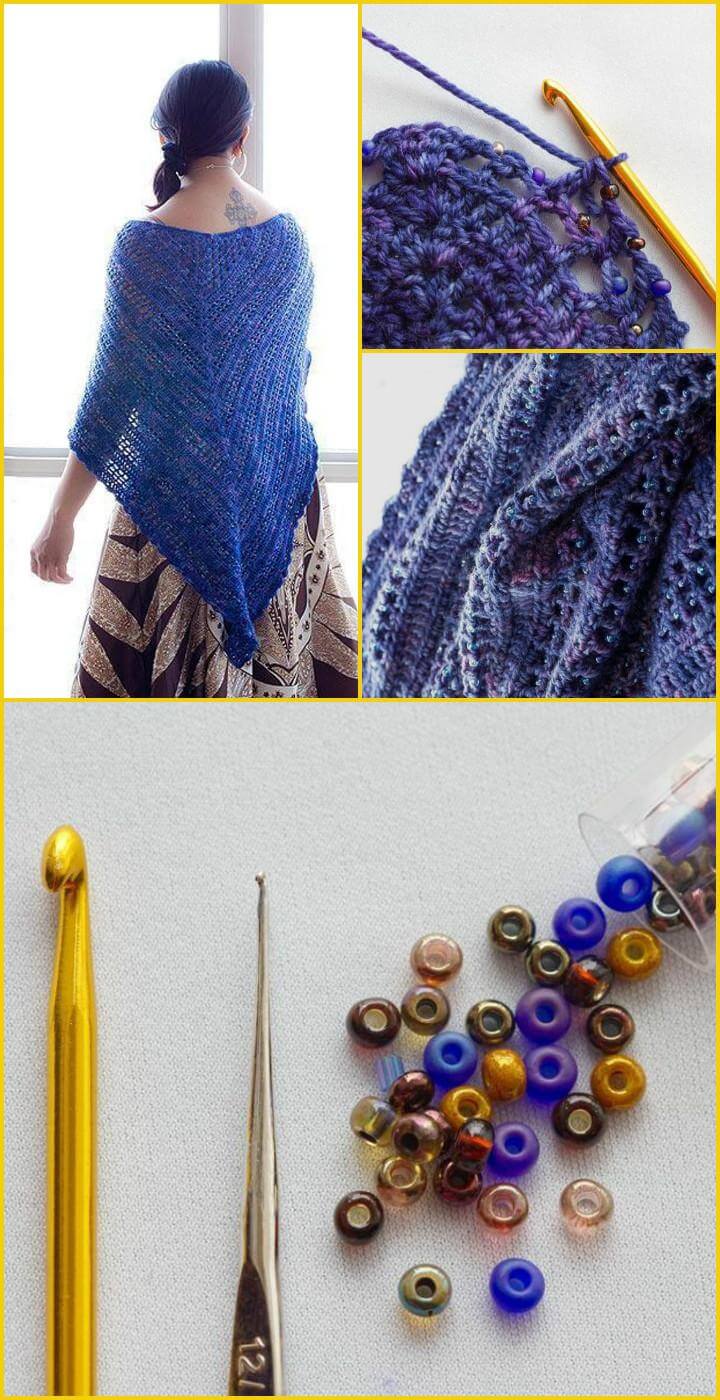 Either you are going to crochet a new shawl or want to style up your old one this idea is best for both of plans which is adding beads to the shawl and making it look instantly eye catching and exciting. Here is the complete tutorial of it craftsy
Easy Crochet Refracted Lace Shawl:
Walk around in the fall with this lovely shawl wrapped around your shoulder to make you look stylish and to make you feel cozy at the same time. Get rest of the details of this spread shawl right on this link craftsy
Crochet Refracted Lace Shawl:
This lovely shawl with flowery patterns looks really stylish and so would it make you look like a style diva for your formal and informal get ups. We you loved this design so hurry to get its details here on the link craftsy
Crochet Augusta Shawl by Andrea Mules:
This multi colored scarf would grace up any of your dress up with its simplistic style and design so you must know to crochet it for yourself to add something stylish in your wardrobe. Here is the link to access the details craftsy
Breathy Crochet Pineapple Shawl:
This pineapple stitched shawl looks really awesome in the pattern and design and its worth to make anyone fall in love with it with the very first thought so include it in your next to do list with all the details and help on this link ravelry
Crochet Lacey Arches Stole:
The college going girls would find this simple yet super gorgeous shawl really fascinating with with the lovely stitched pattern as it would delight up any boring dress up in seconds be it a top, tank or a simple dress of yours. So get its crocheting directions right here craftsy
Crochet Leaflines Shawlette:
This crochet shawl reveals a very narrow knit in pattern like you witness in the leaves and would be easy one for you if you have worked with crochet sticks before. So pick up the crochet needles and start this shawl crocheting with the details right here craftsy
Crochet Three Triangles Shawl:
This top down shawl with a mix up of a few yarn colors would add so much fashion to your regular dress up with simple and basic crocheting technique and you can also introduce new color combination with the same pattern for some personalized results. Catch the details here craftsy
Crochet Boho Triangle Shawl:
This totally fun and funky looking shawl is something really worthy to be a must part of a girls wardrobe as it looks chic in fashion, can be wrapped in a variety of ways and lastly it can also be used as a beach bikini cover up so do approach it here craftsy
Crochet 'Margaret's Hug' HealingPrayer Shawl:
This stunning shawl design is best for the winters to wrap you up all over and then making you feel quite warm and cozy either you are inside of the house or strolling in your garden with that awesome dark shade. Get its details here on the link craftsy
Crochet Scrap Yarn Shawl: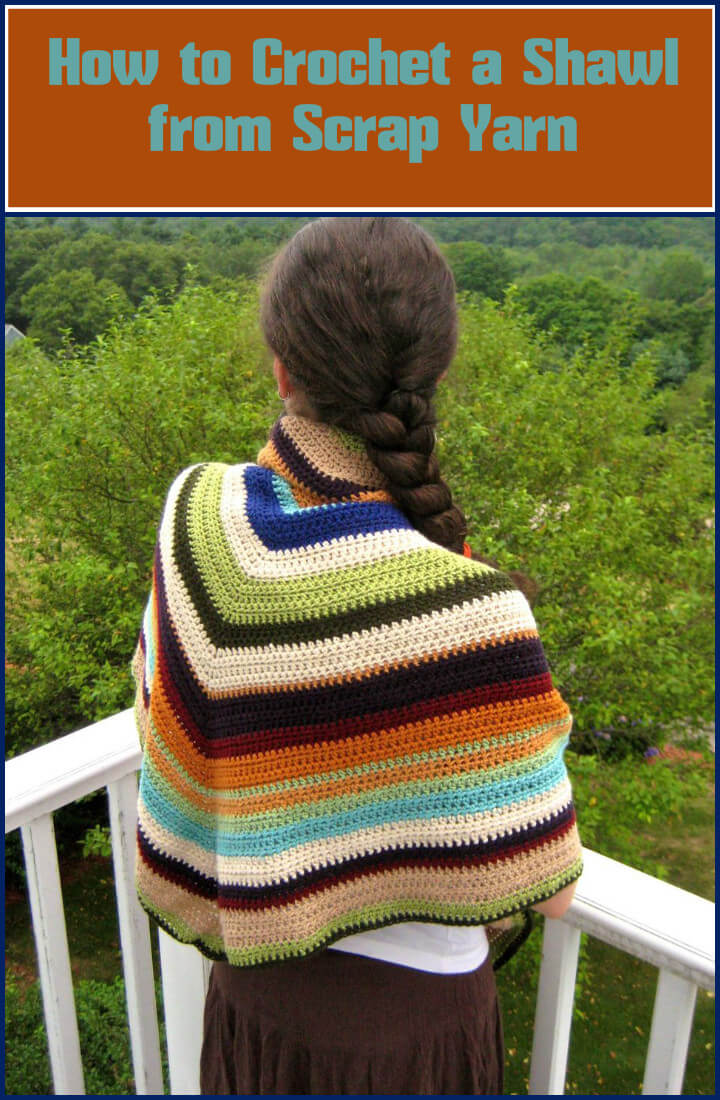 This shawl looks totally interesting as the different yarn colors make it look so delightful like a rainbow.So grab the yarn of your favorite color and start crocheting it with your basic crocheting skills with further help and guidance right here thespruce
Stylish Crochet Stole:
Here is a free pattern to this lovely scarf that reveals so much flowers all over the design making it look really a fancy piece of fun crochet art so get it, learn the directions and make one for yourself, for your mom, friend or sister. thespruce
Autumn Leaves Filet Crochet Shawl:
This shawl pattern with those lovely leaf design at the sides make it look just wow piece and the selection of so much adorable colors is adding more style and grace to the design. It assures a visit so here is the link for quick approach to it abc-knitting-patterns
Crochet Butterfly Stitch Prayer Shawl:
This triangle crochet scarf is really an amazing addition to this round up for being super gorgeous in pattern that is stealing the hearts with the very first glance on it and so are the jaw dropping colors. So hurry to hack this pattern for free from this link ravelry
Crochet Pineapple Doily Shawl: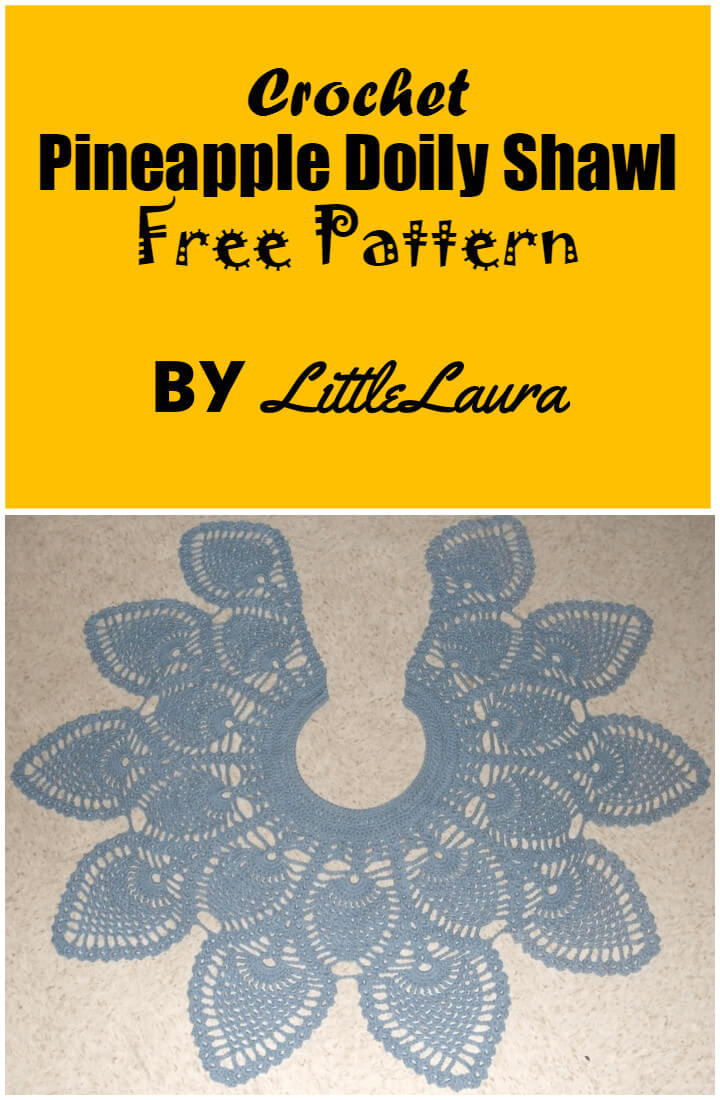 If you have ever crocheted a doily for your house than this doily shawl with pineapple pattern is something really inspiring and easy project for you to get warm and cozy in style this winter or fall. Here is the complete instructional link of it yarnythings
Crochet Juliette Shawl: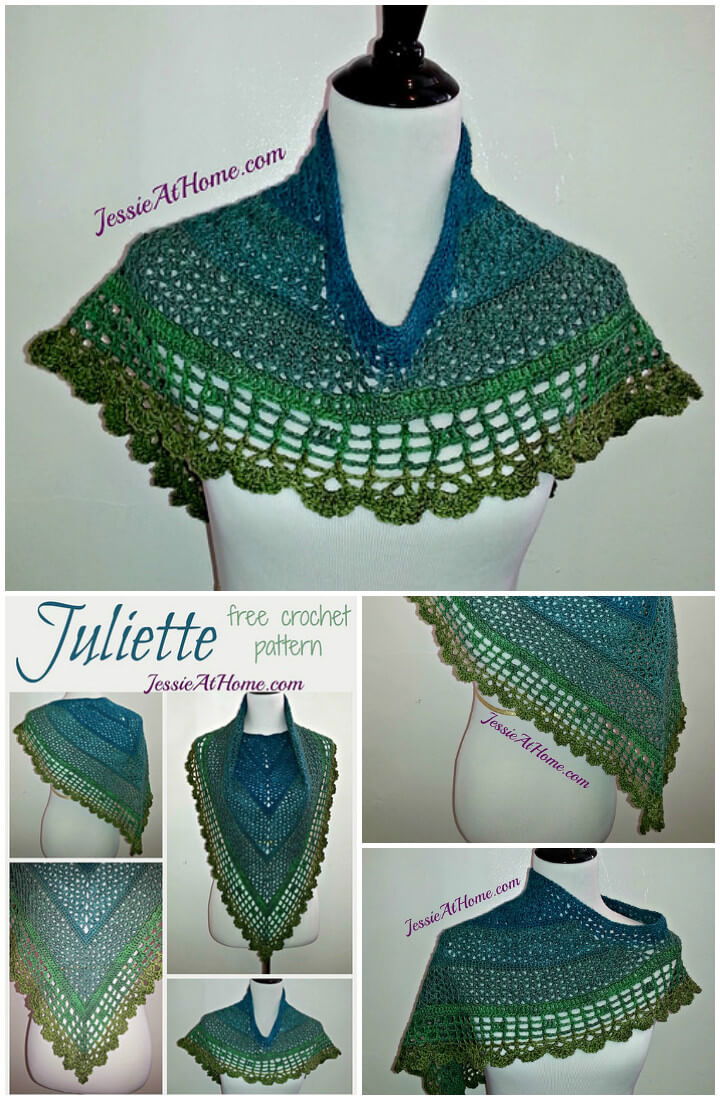 Feeling cold while going outside? then you need this lovely shawl to wrap around and make yourself feel warm in style as the shawl looks super chic both in design and the color scheme so here is the link to get it crocheted easily and simply at home jessieathome
Crochet Heart Shawl Made from a Heart Scarf:
You will surely lose your heart to this heart patterned shawl as it looks absolutely gorgeous, funky and artistic in its design and pattern and you would wrap it around your body proudly to make every on looker surely jealous of it sheet beauty. Get its details right here psychogypsycat
Crochet Coral Fringe Triangular Shawl:
A simple and boring dress up in spring, fall or even in the winters can be instantly spruced up with this adorable crocheted shawl having a diamond pattern and fringes at the ends. Here is the link to get complete access over this project undeniableglitter
Crochet Bernat Yes Yes Shawl:

This bright yellow crochet shawl is just perfect for the mild season like fall and spring with the custom color of it and the lovely triangle design. So the young girls should must have this gorgeous shawl in their wardrobe. TO make it get along this link for free pattern yarnspirations
Crochet Caron Openwork Shawl or Wrap:
Being the favorite color of almost every girl this pretty black shawl would take every girl's breath away for being so fancy and elegant at the same time. Its damn easy to crochet yourself at home with basic crochet techniques and instructions which are here on this link yarnspirations
Crochet Women's Shawl:
This simple and adorable grey shawl has been made with sequined yarn and thus its too light weight to carry around on your shoulders and feel completely cozy and calm . Here we have brought to you the link to have a quick approach of its free pattern yarnspirations
Crochet Caron Spider Stitch Wrap:
This simple, elegant and long shawl would win everyone's heart with the very first glimpse of it. It has been crocheted with the spider stitch all over so here we have brought the link to grab the free pattern and crochet it of your own at home yarnspirations
Crochet Patons Shawl:

This gorgeous shawl seems to come directly from a celebrity wardrobe for being so unique, stylish and fashionable and every girl and lady out there would want to have it so get its free pattern of crocheting here on the link and create it quickly yarnspirations
Crochet Caron Out of the Box Shawl:

This simple, cute and comfortable shawl pattern is perfect for the ladies to wrap around the upper body with full arms and back covered. Having boxes motifs it look a bit extra ordinary and stylish so get its free pattern downloaded here on this link.yarnspirations
Crochet Caron Garden Flowers Shawl:
This gorgeous flowery shawl would be like symbolic to wrap around in the spring as it has been made from the crocheted flower motifs all over being stitched together. You can change the color and flower type for a more personalized touch yarnspirations
Crochet Patons Ruffle Edge Wrap:

Here is this lovely shawl design that would cover you from neck to back with a simple pattern with sequins and ruffles at the edges making it look much more than just simpler. So hurry and get the free pattern right on this link yarnspirations
Crochet Bernat Cool Poncho: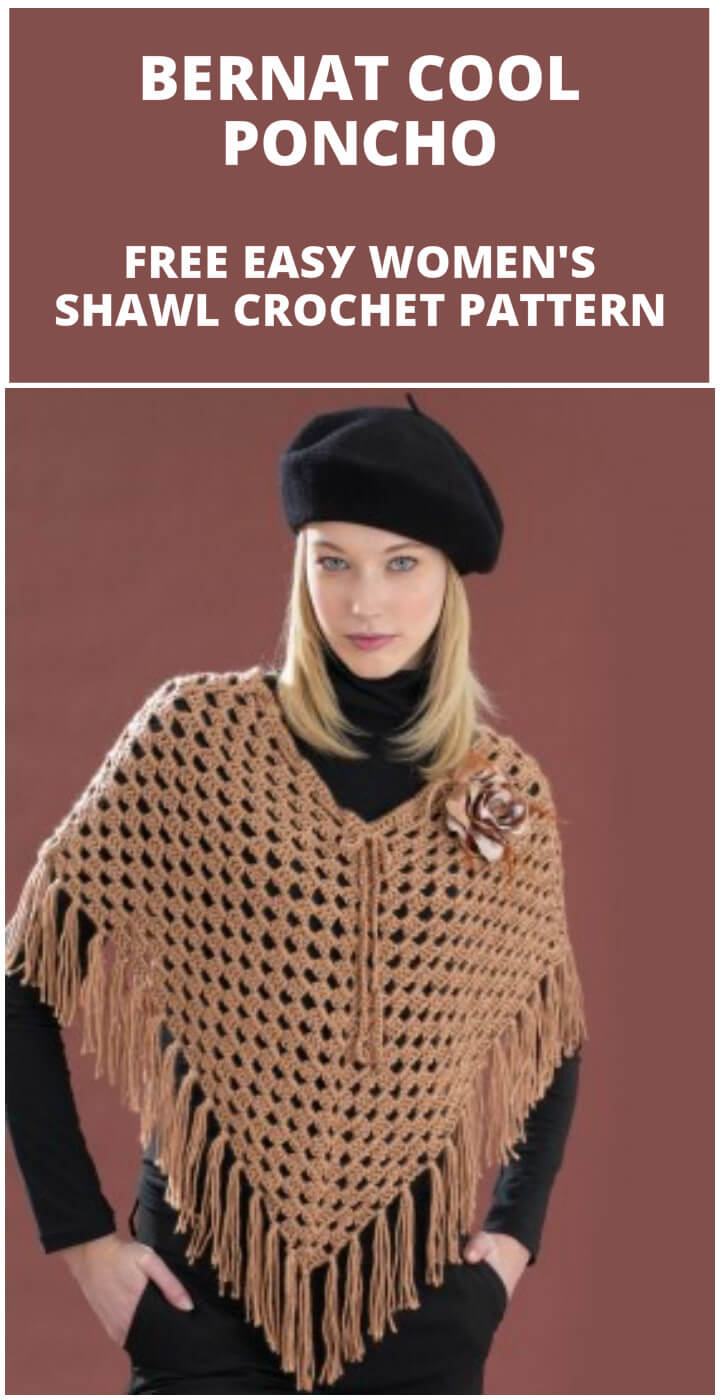 This is one of the most popular poncho design and is damn easy to crochet yourself at home than buying one from market. So get along with us and crochet it of your own with that gorgeous close knit pattern, fringes and a neck tie. Details are here for quick approach to the free pattern yarnspirations
Crochet Triangle Shawl:
This fluffy shawl looks really a chic piece in style and design so a perfect addition to your modern wardrobe to make your everyday look more enchanting with it on your shoulders. The details of all types about this triangle shawl are here yarnspirations
Crochet Patons Waves Wrap:
This simple and short shawl comes up with feasible pattern of crocheting but very exciting and fun colors of waves all over it making it look really an interesting piece of shawl to suit and match your different wardrobe pieces. Details are here of this cute shawl project yarnspirations
Crochet Patons Summer Stole: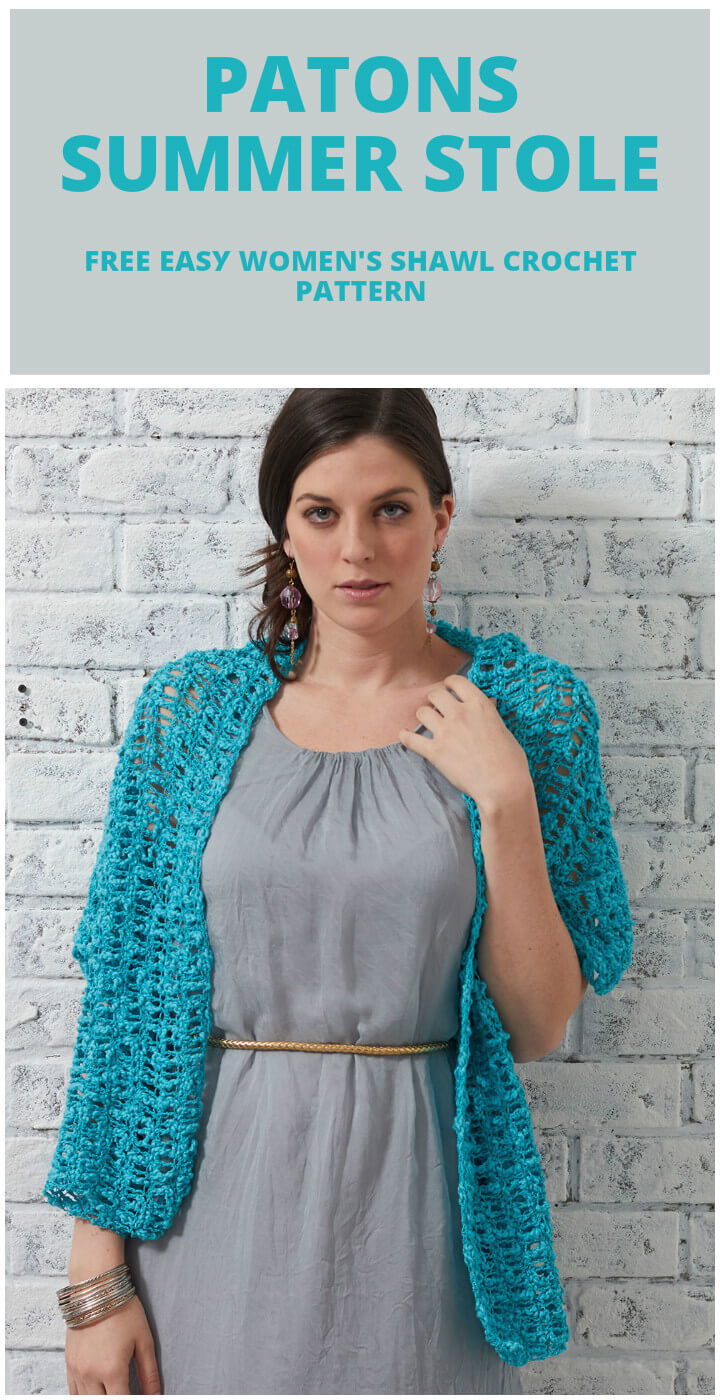 This simple and lovely shawl features a very close and tight crocheted pattern making it look really a professional fashion piece to wear over your long gowns, maxies and lot more dresses and adding much style to them all. Get its free pattern right here yarnspirations
Crochet Caron Summer Flowers Shawl:
This caron summer flowers shawl would be a delightful addition to any girls wardrobe as it can go with lots of dressing styles like with jeans, tops, skirts, tanks etc. The colors of flowers add making the shawl look too much adorable so if you want this explore this link for details yarnspirations
Crochet Bernat Wrapster Shawl:
Staying up stylish in the cold or chilly weather is no more a hassle as you can wear this lovely crochet shawl wtih flowery edging adding more beauty and grace to the design and pattern. This is a must one to hack so get its free pattern here yarnspirations
Crochet Bernat Flower Power Granny Poncho:
This poncho looks completely thrilling and interesting in its design with those square motifs added on the top and bottom lengths with a delightful pink and black contrast adding so much style and class to it. The complete tutorial guide is here yarnspirations
Crochet Flowing Angelic Shawl: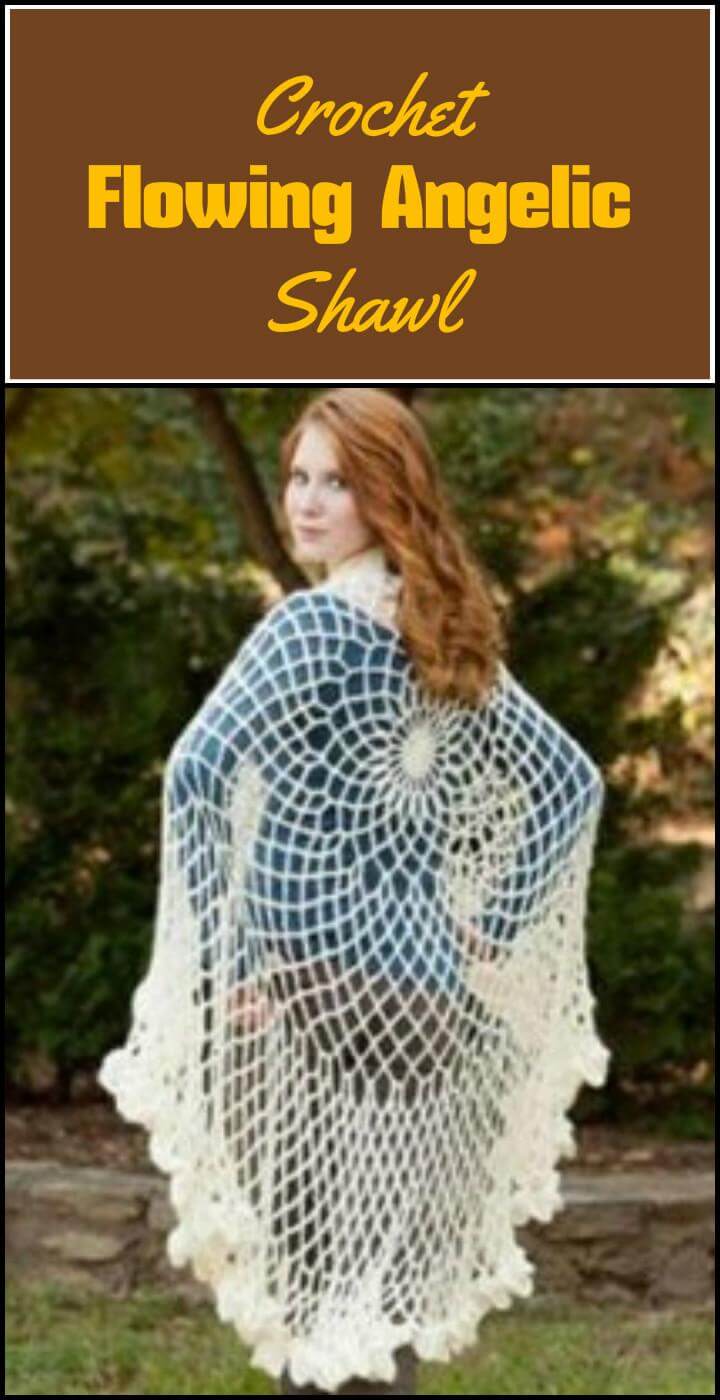 The pattern and design of this flowing angelic shawl is truly mesmerizing for being too delicate and airy. It comes up down to your knees at the back so your whole body is comfortable in it. Catch all the details of this gorgeous free pattern right here allfreecrochet
Crochet Lacy Hairpin Shawl:
Give yourself a dazzling look for your fun time for wedding or party with this stunning white shawl on your shoulders adding stultification and glam to your dress up style and that too quite simply and easily. Check out this link for the complete details allfreecrochet
Crochet Open Air Shrug:
When the winters are bidding farewell there is a chill in the breeze so cover up yourself with most beautiful, simple and stylish shawl to work or rest around the house. The simple pattern with feasible instructions lies her allfreecrochet
Crochet Date Night Shawl:
Ant night function in the cold season or mid season can not stop you to have fun with this lovely and acutely simple date night shawl to make you look super cute and lovely on your especial day and also keep you away from chilled air. Details are here of this project allfreecrochet
Crochet Swanky Crochet Kaftan:
This swanky crochet shawl is a perfect wrap for your body when there is an outdoor party or dinner in the chilled season to make you feel comfy and stylish at the same time. So the night party lovers must have and to crochet it yourself see details here allfreecrochet
Easy Crochet Goddess Shawl:
This crochet goddess shawl worth its great title for being extremely gorgeous, stylish and feminine to give a super glam up touch to any of your spring or fall dress up either for regular or occasional avatar. Its like a must possession so get its free pattern right here allfreecrochet
Crochet Glam Purple Shawl:

Not only the expert crocheters but the beginners can also do well while making this simpler blue shawl to complete your pre summer look with a lovely pink flower broach adding more beauty and grace to it.More details are here beacrafter
Crochet Lace Poncho: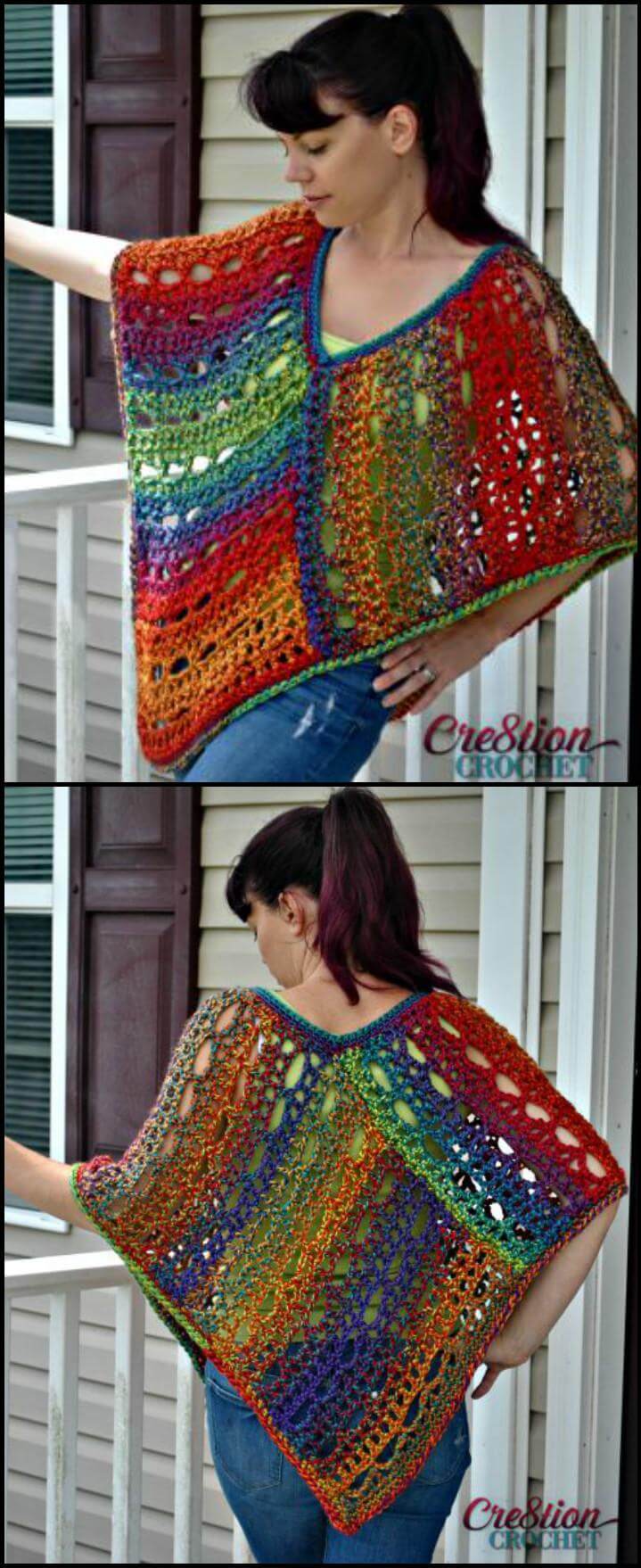 With a simple crochet pattern you can make this absolutely stunning and colorful poncho for yourself or any other lady in your life to use a shawl for the chilly evenings and cold nights of mid season. The crocheting directions are here so check them out cre8tioncrochet
Crochet Emerald Lace Fling Wrap:

This simple and straight shawl is a superb way to get yourself covered with a soft warmer for the spring or fall when you love to take long walks in the evening in the outside spots. Here is the complete tutorial of its easy and feasible crocheting. crochetkim
Crochet Butterfly Fling Wrap:

This cute butterfly fling shawl comes with a wide gap patterns between the crocheted rows so it would be perfect for the mid season to get a bit cozy effect for your arms and upper body. Details of this cute crocheted shawlette is right here crochetkim
Crochet Beach Vacation Shawl:

For summer vacation this lovely shawl can be really a useful thing in your bag as it can be a shawl in the cool evening walks on the beach and a sim suit wrap too. So get this double functional shawl right here on the link with free pattern poshpoochdesignsdogclothes
Crochet Elise Shawl: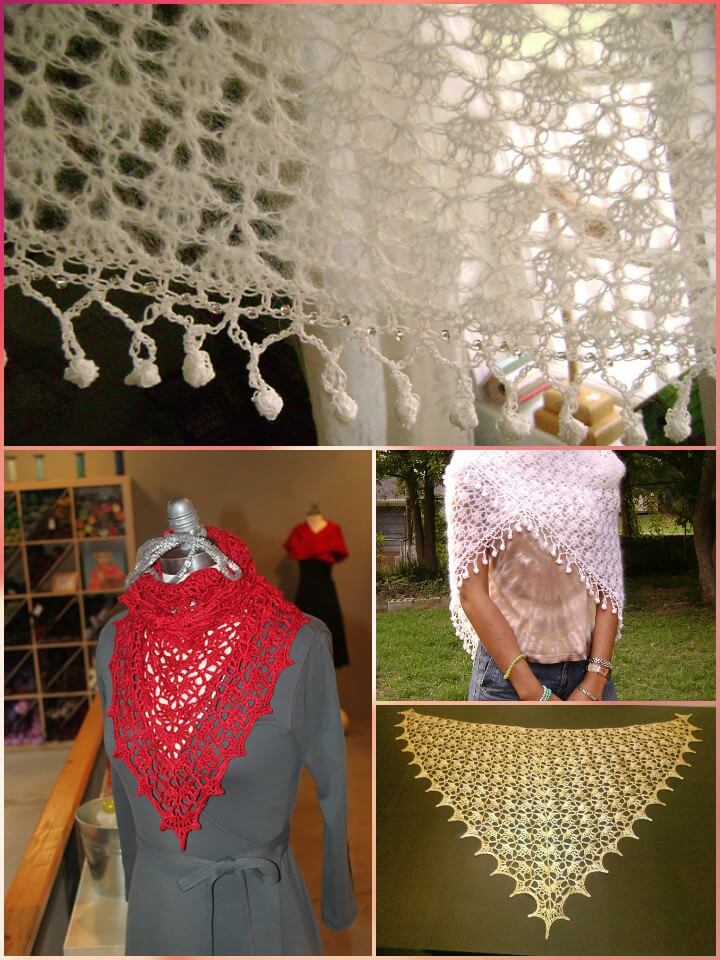 This utterly cute and lovely short shawl comes with an airy pattern and would wrap around so gorgeously around your neck to spruce up any of your dress up look. The pattern lies totally free here on the link so get the details and make it any personalized color ravelry
Crochet Baktus: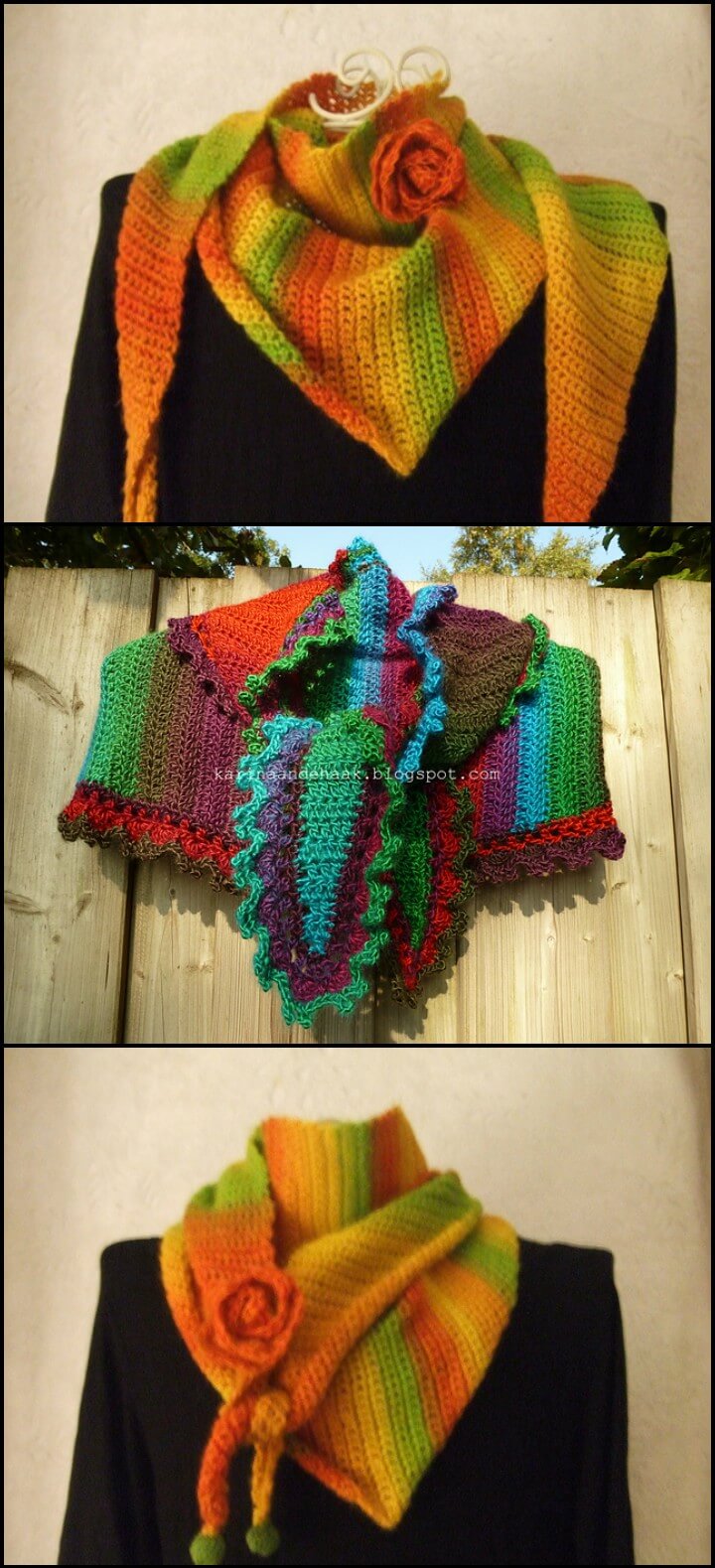 This scarf or shawl touches the extreme of beauty and style with its gorgeous design, flowery pattern and the enchanting colors. You can get the free pattern of this scarf tight here to make one for yourself and flaunt the stylish side of yours. Link is here ravelry
Crochet Little Wing Shawlette:
This lovely lacey scarf is the right thing to crochet for yourself especially if you are a outdoor person as it can worn in three different styles and that too on many dress up styles. So check out its details right here and make it in your next idol pursuit. crochetuncut
Crochet CloudBurst Shawl:
This totally ravishing and cool type of shawl pattern is a must try for you all even for the crochet beginners as it is super easy and a super fast project to do for you all. The crochet techniques and details are lying right on this link ravelry
Crochet Neptune's Tears:
Here are three in one shawl patterns for your informal to formal dress up for the chilly days so that you can style up yourself and warm up yourself at the same time with these gorgeous shawls on your shoulders. Link is right here for details ravelry
Wingspan Crochet Shawl: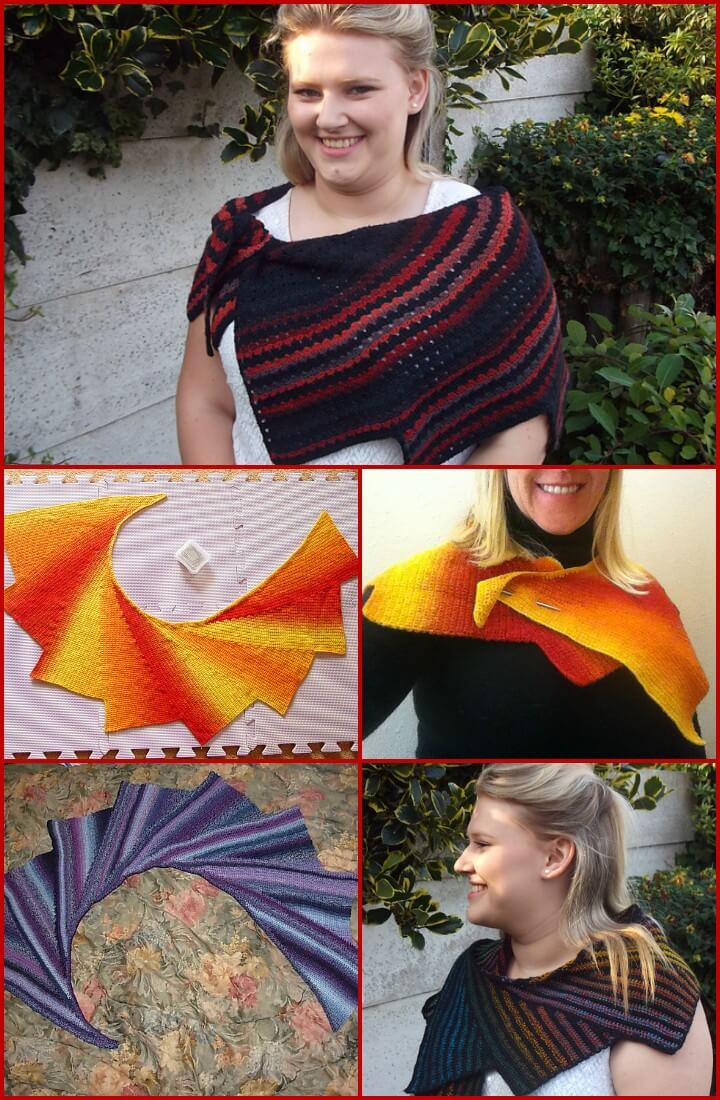 If you don't want to have a boring and old shawl pattern then this incredibly new and fashionista wing span shawl is the thing you need to cover up your shoulders in fall with a choice to change the size. Every inch detail is right here on this link ravelry
Pico Bandito Shawl:
This is something really unique and fun in the world of shawls or scarves. So do have this crescent shape shawl or scarf in your wardrobe and rock your dress up style in the chilly days. Details of pattern and design are here so hurry ro cath jonboy1987art
Crochet Morning Has Broken Shawl:
This absolutely gorgeous piece of shawl is just superb in style, design, pattern, beauty and so in the colors so hurry to have it with all the details given right on this link to let you crochet it so damn easily. ravelry
Crochet Sezession I Granny Style Shawl:
Even the mothers and grand mothers can style up themselves in the cold with this lovely crocheted shawl pattern in two different color schemes. So grab your crochet tools and sit to make this shawl with all the details right here in the link ravelry
Skylark in Wonderland Crochet Shawl:

This shawl is just wow in all the related aspects be it shape, design and of course the brilliant color combination so make sure it enters to your wardrobe soon. Need details of this project? here is the link don't you worry at all jessieathome
Crochet Shawl With Pockets:
This scarf is not only gorgeous but also a functional one for having pockets at both sides to let put hands in them and keep up yourself completely warm and cozy. Here is the link to this bulky crocheted scarf to make it your own. mimibazar
Crochet Rosary Prayer Shawl:
This one shawl is just super classy in its design and shape and would looks so lovely even for the formal get ups with those gorgeous diamond patterns and the knotted fringes at the ends. Here is the link to grab the full details of this project. girliescrochet
Gorgeous Lace Crochet Shawl:
Without a crocheted shawl a lady's wardrobe is just incomplete so add one in yours with too much beauty, style and elegance and this lacy shawl patterns comes up to ll these requirements. The crocheting details about yarn, tools and pattern are here crochet-shawls
Phoenix New Beginnings Crochet Shawl:
If you have read about the phoenix bird then you would surely like this shawl having been inspired from this historical bird with an adorable pattern and those sparkling and charming colors having been gorgeously combined. Details and directions are here ravelry
Crochet Amara Shawl:
This amara shawl has been made to look with a special addition of beads to the pattern and the result is right before you looking so awesome and gorgeous. So hurry to hack this before your fashion rival do it and here is the link to catch its detail mooglyblog
Knitting Shawl with Sleeves:
A crochet shawl with sleeves is just a new addition to the world of shawls and it looks too functional and too beautiful as shown above. We know you just fell in love with this idea explore it more with the provided link of tutorial loveknitting
Crochet Pineapple Peacock Shawl:
If you love peacocks then this peacock pattern shawl must be in your wardrobe to make you look as beautiful and delicate as the peacocks are. You can blend in or differ in the color scheme for a more interesting result. Result is here universalyarn
Crochet Spider Stitch Shawl:
The V stitch pattern is the most famous one pattern when it comes to crochet the shawls or scarves so here is this lovely and elegant white V shape shawl with a big wrap up to cover almost all of your body. Here is the link to learn its crocheting directions lacycrochet
Crochet Shell Chain Stitch Shawl:

This one is a unique and one of a kind shawl looks like the scales on an alligator back and thus stands out in the pattern and design perspectives. To know the techniques and tricks to crochet it easily at home we got its link for you here solicroch
Stylish Crochet Lacy Shawl:

Hey girls if you are getting prepared for you special night of date or dinner this lovely pink lacy shawl would look perfect on you giving you an accomplished, decent and cozy look. Its simple to crochet but still there is the link to know the instructions mbutori
Crochet Skull Halloween Shawl:
For those who are in love with bohemian style and fashion this skull crochet shawl is the best thing to opt for this winter or fall for being super unique and totally one of a kind. Need the crochet directions for it? don't worry the link is right here crochet
Crochet Pacific Rim Shawl:
This crochet pacific rim shawl rolls up differently to give you a new look every time you wrap it on your shoulders on a particular dress. Its damn easy to crochet even for the beginners and here we have the link providing you all the needy directions for it makemydaycreative
Crochet Catona Flower Shawl:
This eye catching shawl is like a small garden where you would find flowers of all colors with knotted fringes at the edges giving it a more enchanting look. So crochet it and enjoy a pretty addition to your styling clothes. Link is here atty-s
Crochet Falling Leaves Shawl:
You would look no less than a style dive when this lovely falling leaves shawl would be on your shoulders over you gorgeous dress. The chic, stylish and elegant pattern of this shawl is here so catch it and make one for yourself now redheart
Crochet Sophia's Shawl:
These revealing shawls are best if you want to get covered up but still want to flaunt your new bought top, tank or any other dress. You can crochet them in many patterns like shown above so if you liked them click on this link and get all the details ravelry
Crochet Atlantic Lace Shawl:
The colors in this lovely Atlantic lace shawl are just breath takingly beautiful with a smart design to let you wear and wrap it in lots of fun ways to suit your different dress up styles. The close knit work in the main and lacy net work at the edges adds immense beauty and style to it. makemydaycreative
Crochet Chiffon Soiree Shawl:
Get noticed easily with this gorgeous and elegant soiree style shawl which is long enough to wrap and flip at the back to coming down to your feet with adorable lace work pattern adding more class and charm to the shawl. Here is the link to catch its details beatriceryandesigns
Crochet Watercolor Forest Shawl:
Either you are feeling cold at home while doing home chores or you are about to go out in the evening or night this lovely water color forest shawl would make your feel cozy in the most feasible and comfortable way. Here is the link to catch its details poshpoochdesignsdogclothes
Crochet V-Stitch Scallop Shawl:
This V shape scallop shawl features simplicity and beauty to the peak so have it in your wardrobe as you can carry it anywhere with you while stepping outside the house for being suitable for all dress up styles. Here is the detail of the pattern redheart
Crochet Hexagonal Motif Shawl:
Here is this over size shawl wrap in triangle shape with a hexagonal pattern and knotted fringes at the edges. Details about tools, yarn type and crochet patterns for this project are right here abc-knitting
Maple Leaf Crochet Shawl:
Experiment with the design and patterns of the shawls like this one has been made by getting hugely inspired from the maple leaves so you can do with your favorite colors and yarns and with custom size too. Here is the link to grab all the needy details of it ravelry
Crochet Ocean Breeze Light Summer Wrap:
Summer nights or days under the A.c you might feel a bit cold so here is the stylish and gorgeous solution with these summer breeze shawl coming in two lovely colors with blue as dominant and white at only edge. Here is that link this shawl comes from stitchandunwind
Crochet Rich Rose Shawl: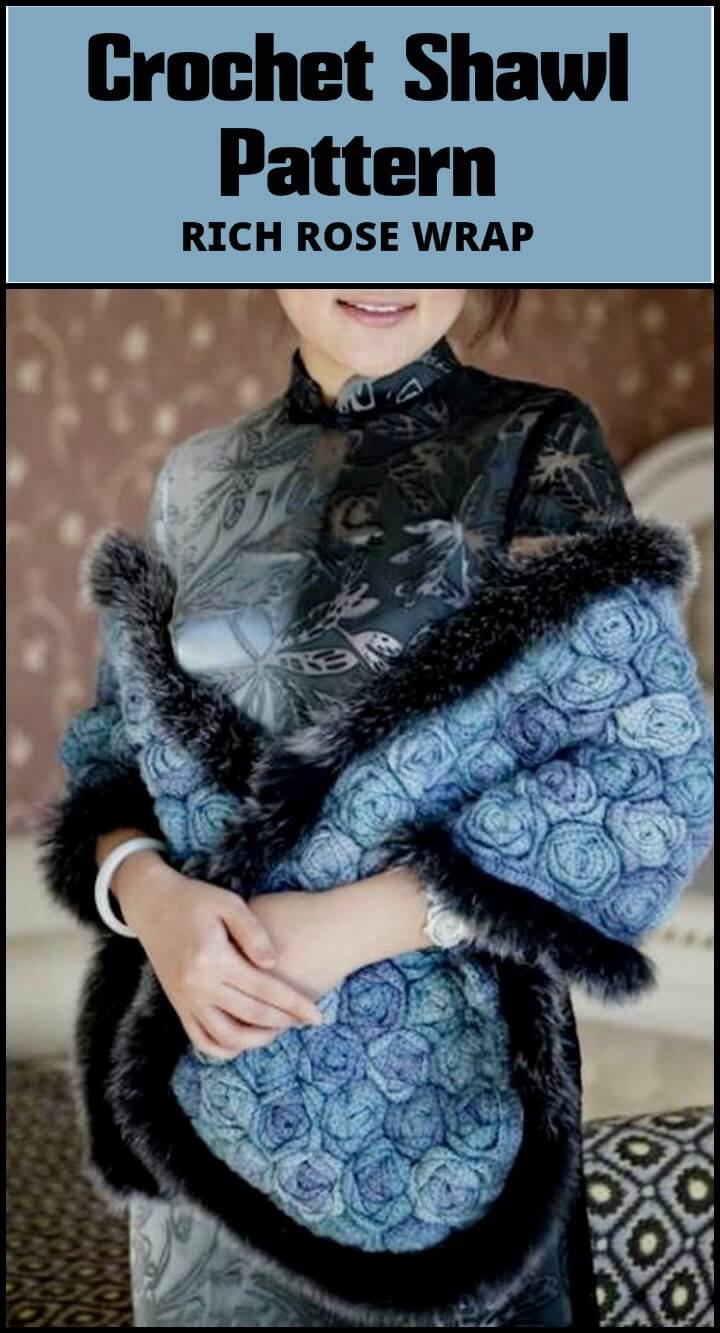 This crochet shawl is ultra modern in looks and would suit more your modern attire with those fabric flowers and that soft, fluffy edging on the four sides. You can totally customize and personalize it with the colors of your choice crochet-shawls
Crochet Semicircular Lace Shawl:
This long and lovely shawl is just apt for the mind seasons like spring and fall and that too with the bright yellow color making it more suitable for these times of the years. The well crochet semicircular pattern is available for free here crochet-shawls
Filet Crochet Shawl:
You can give an instant boost to your dress up for festive, party or an informal dinner with this absolutely adorable crocheted shawl that stays around your arms and shoulders and completes your look. Here is the link where the shawl pattern lies for free crochet-shawls
Crochet Lace Shawl Wrap:
Style up your short dress with this amazingly crocheted shawl and enhance the charm of your get up for the party or dinner. The pattern of this classy shawl comes with crocheted flowers and fringes and the edges. Here is the link to access it completely crochet-shawls
Crochet Pattern Of Classy Shawl:
Crochet this light and airy patterned shawl for yourself to easily wrap around you and walk outside when there is chill in the air. So browse the link given to know the details of this classy shawl pattern crochet-shawls
Fabulous Crochet Lace Shawl:
These lacy patterned shawls are just perfect for your modern and trendy clothes to be on top and make your look more fashionable so here are three types of these lacy shawl wraps and to get access on the complete post you need to click on this crochet-shawls
Modern Chic Crochet Shawl:
This chic shawl is just at the peak of style, fashion, glam and beauty and every girl or lady would want it so desperately to wear and flaunt around so get along this link to get the details and make it of your own at home with lovely crochet flower motifs. crochet-shawls
Crochet Alpaca Wrap/Shawl:

This gorgeous crochet Alpaca shawl patterns are so damn pretty that they are only to be seen in the expensive markets or boutiques only but now with some instructional help and pattern guide you can crochet your scarf of your own and enhance your style statement mooglyblog
Crochet Lacy Pineapple Shawl:
Holidays are great to spend some fun time with crocheting and here we have this lovely pineapple crochet motif pattern to get your hands dirty with and prepare some fun shawl gifts for the girls in your family or your group girl gang. Here is the pattern details for this quirky shawl undergroundcrafter
Crochet Penelope's Flirty Shawl: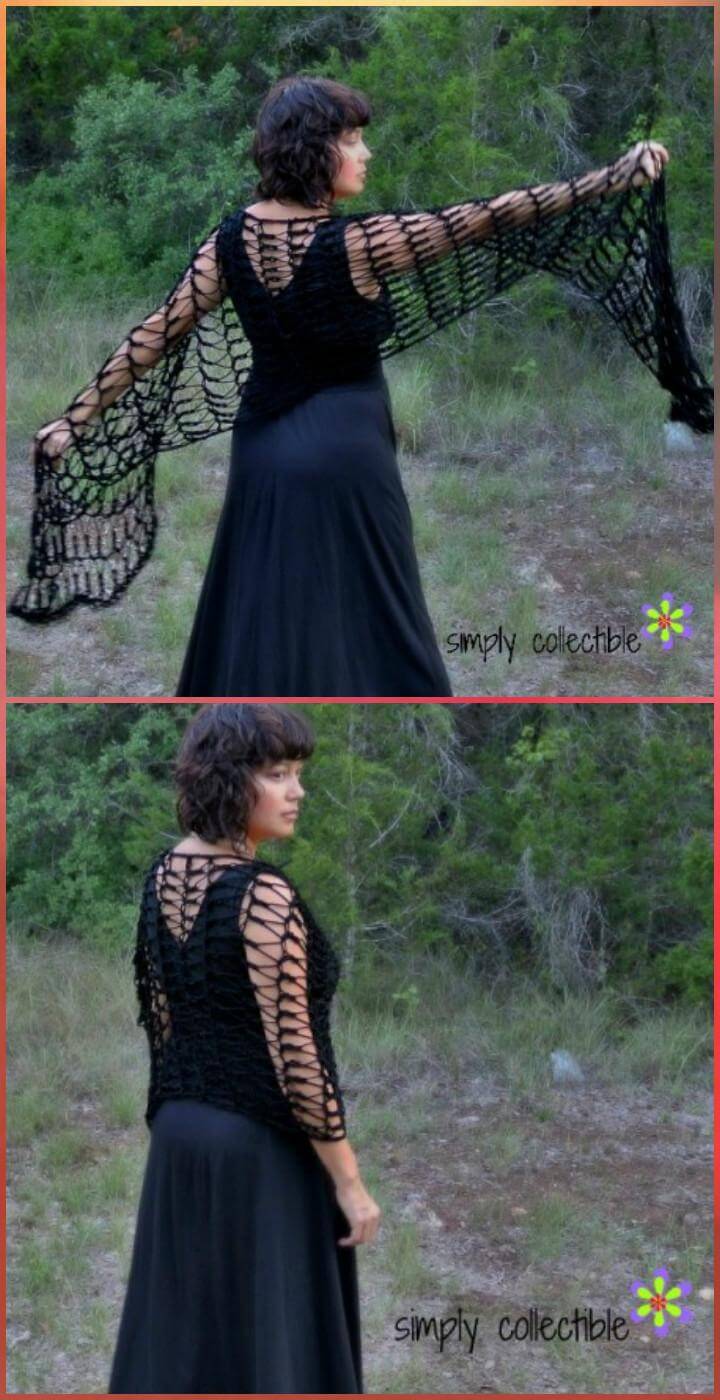 This totally unique in pattern and ravishing ins style flirty shawl pattern would give your formal dress up a complete Fashionable look for being super funky and cute with that immensely breathy pattern in black.You can get the free pattern here with authority to change the color and size. simplycollectiblecrochet
Crochet Mariposa Lace Shawl: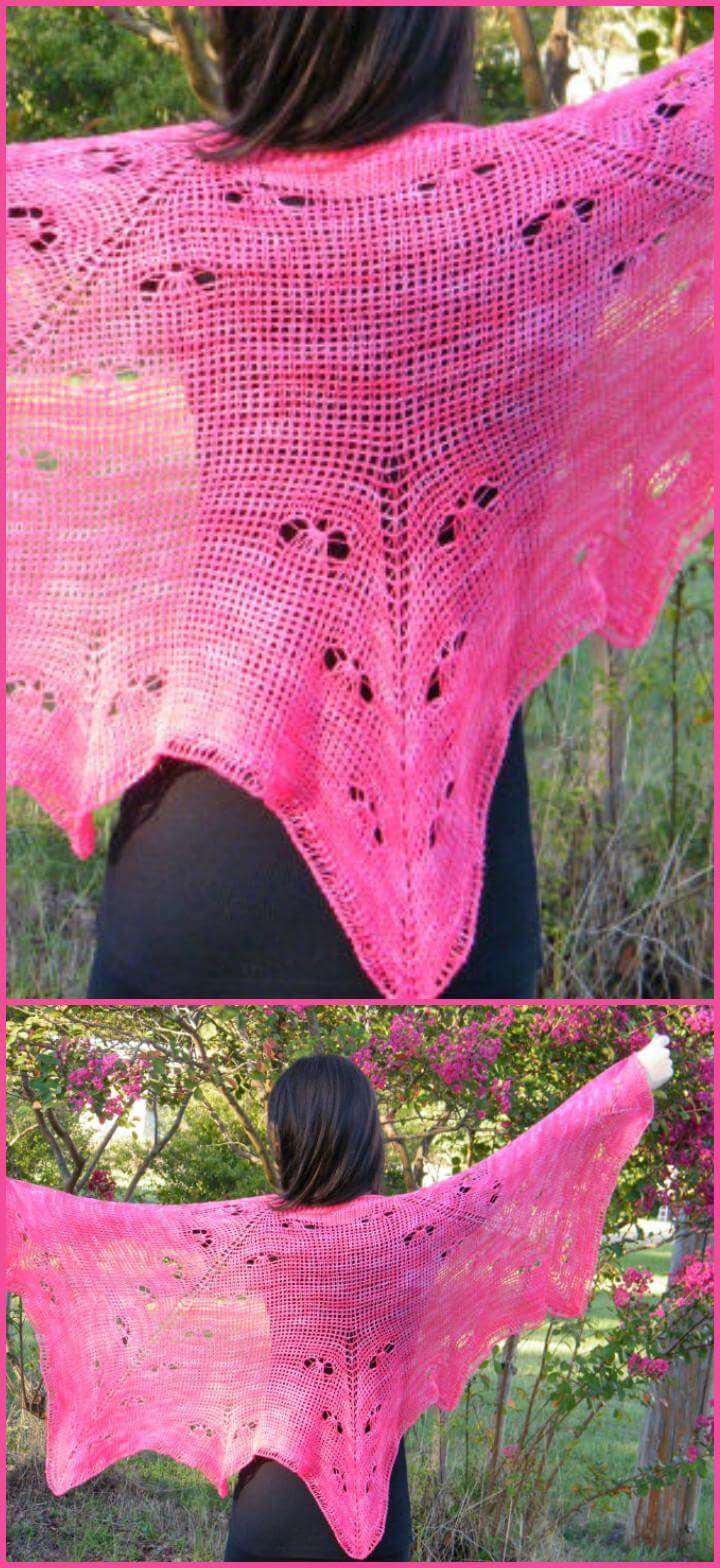 For more details: crochetkim
Crochet Grace Prayer Shawl: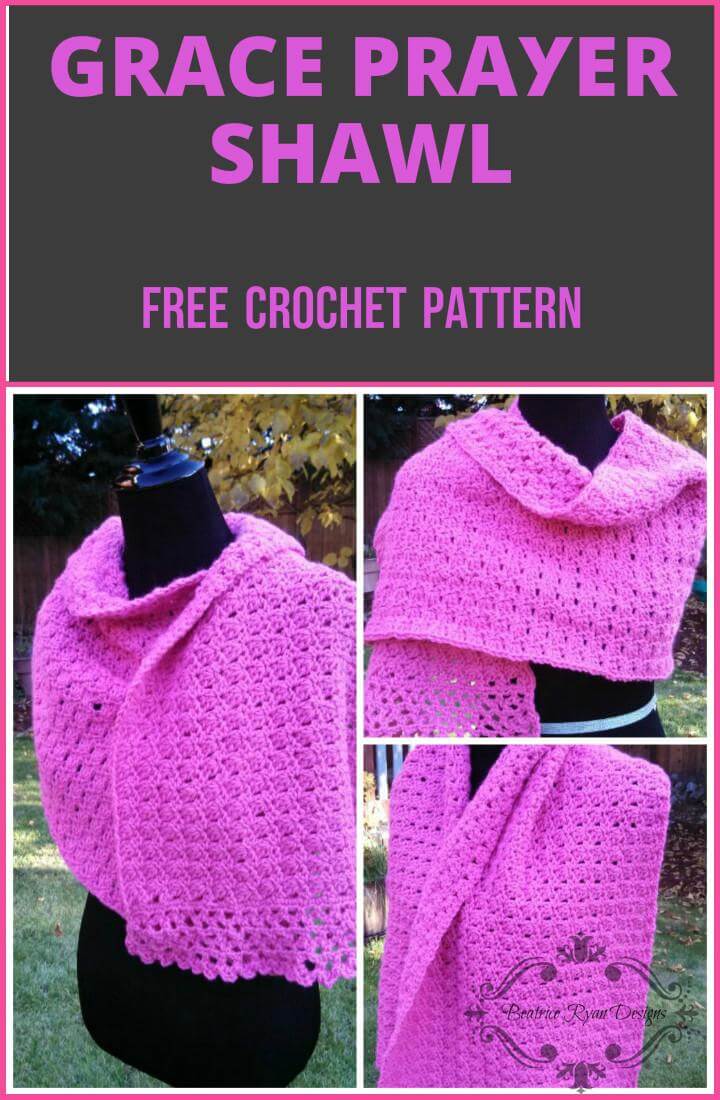 If you are a regular church going person then you need this pretty prayer grace shawl to wrap around while heading out for the church so that you can feel so much comfortable and comfy during this outdoor trip.Here we have shared the pattern which you can approach for free beatriceryandesigns
Stashbuster Blarf or Crochet Rectangular Shawl: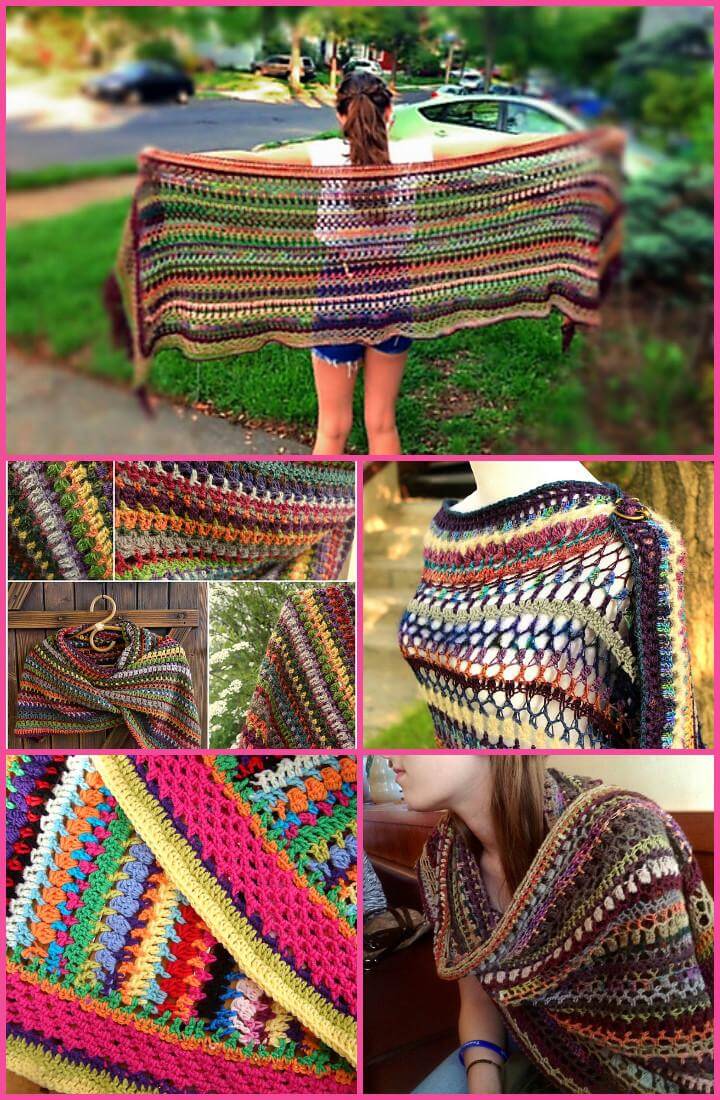 This lovely shawl is so nice and the reason behind its being colorful is that it has been made up from the left over pieces of the yarn from your other crochet projects so its is the best thing to crochet with your leftover yarn and get rid of it so damn creatively and functionally. ravelry
Seraphina's Breathy Crochet Shawl: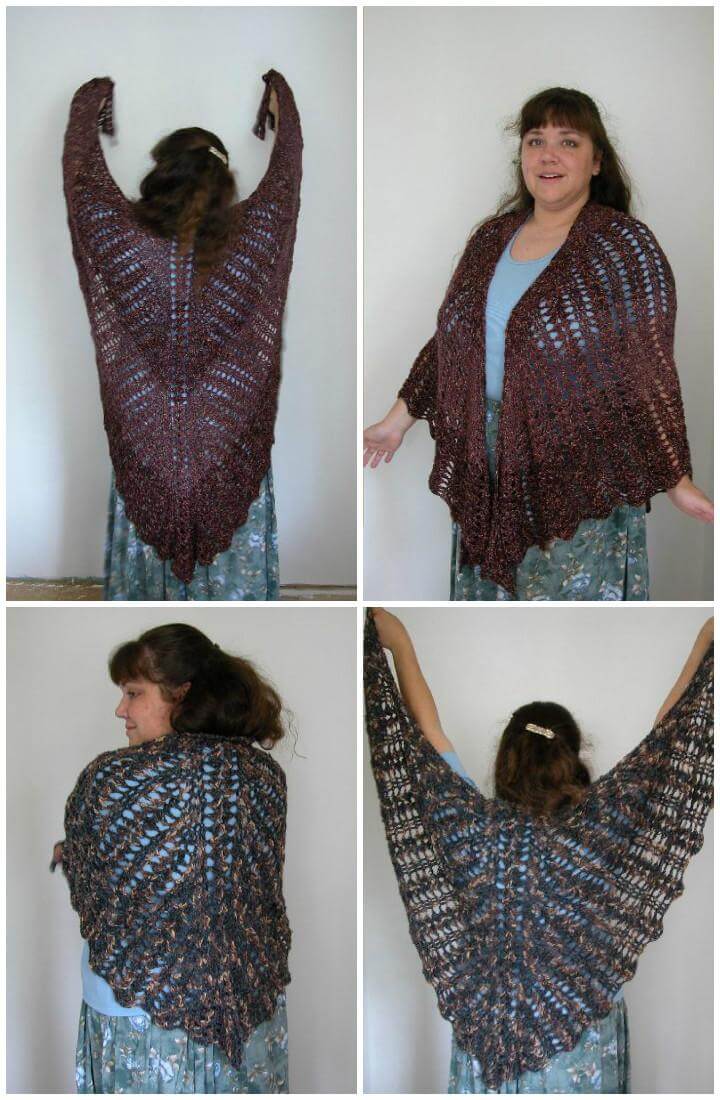 If you do not like the crocheted things for being heavy and bulky then you need something like this seraphina's breathy and airy shawl pattern which is light and easy to carry around with you. You can get the pattern for free here and also make customize changes in the color and size angelfire
Crochet The Lydia Shawl: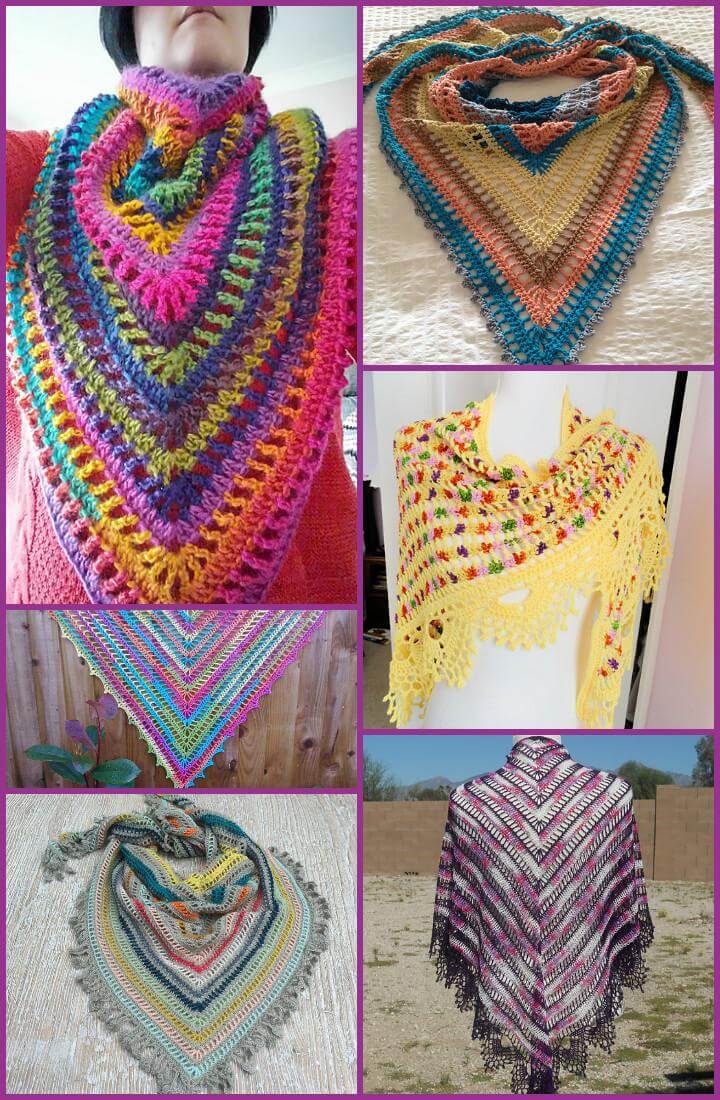 This triangle shaped scarf pattern with simple pattern but multiple colors is something that must be a part of your wardrobe for being super stylish and fun and for being able to wrap up in many different styles with different dress ups. Get its all information right here ravelry
Crochet Friendship Shawl: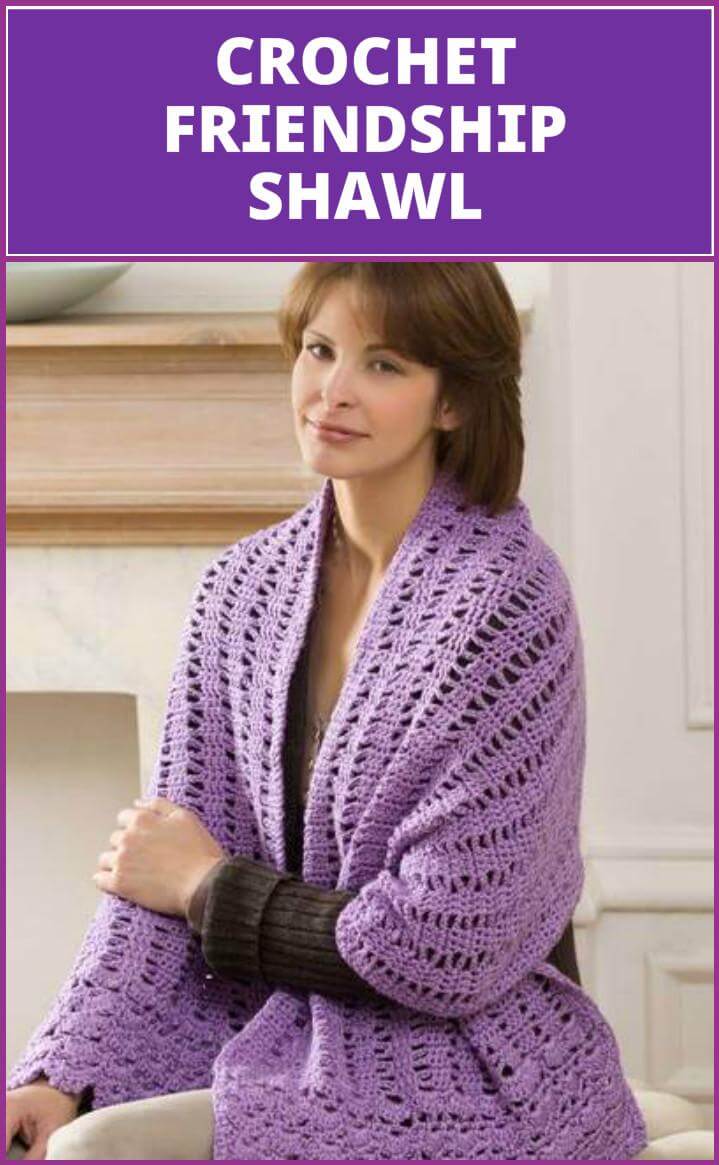 If anyone of your friends is going through some hard time or depressed time, make her feel a little comfortable and cozy with this heart warming handmade crochet shawl gift that is like a consoling gesture from your side…Here is the link to get its pattern and free instructions allfreecrochet
Crochet Open Wave Shawl: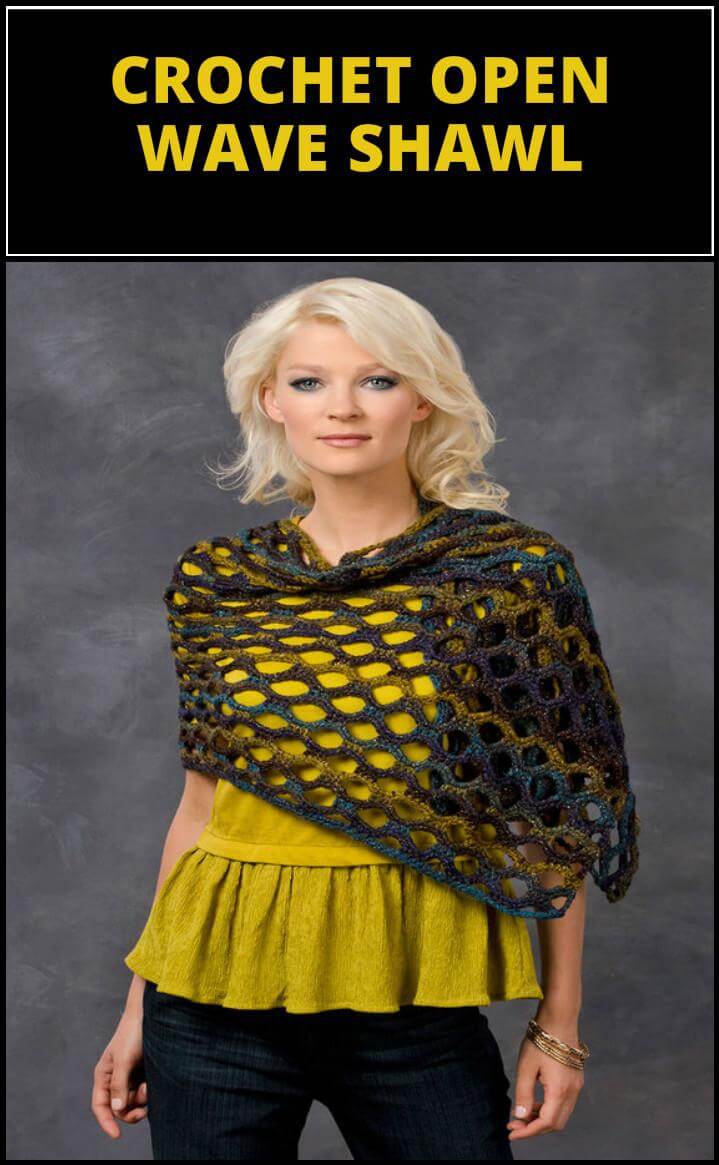 This color mixed diamond pattern shawl is super funky in its style and design and is totally apt for those girls who love to try with new fashion things and look different from the crowd. Here is the full pattern details given catch them and make it to groom yourself up. redheart
Crochet Wrap and Go Shawl: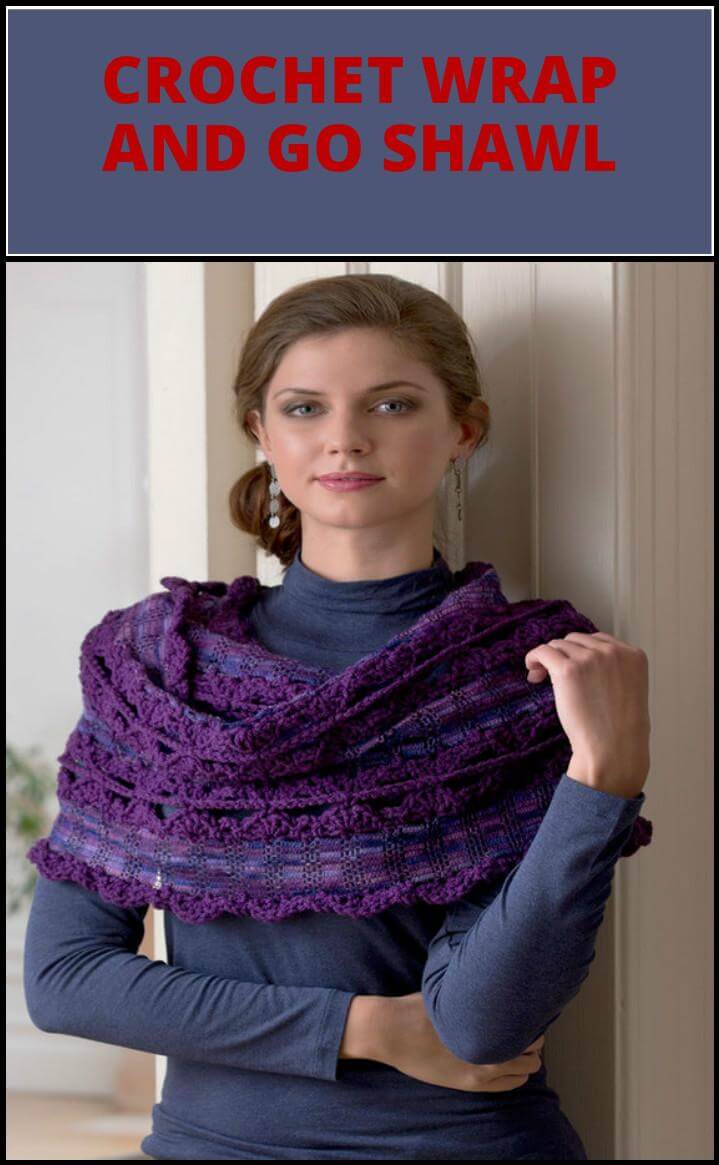 This totally simple and small shawl is for instant wrap up when you are hurriedly going outside and you need something to put one and look a bit styled up. Coming up with simple pattern and subtle design you can copy this shawl pattern right from here with printable instructions redheart
Crochet Bridal Shawl: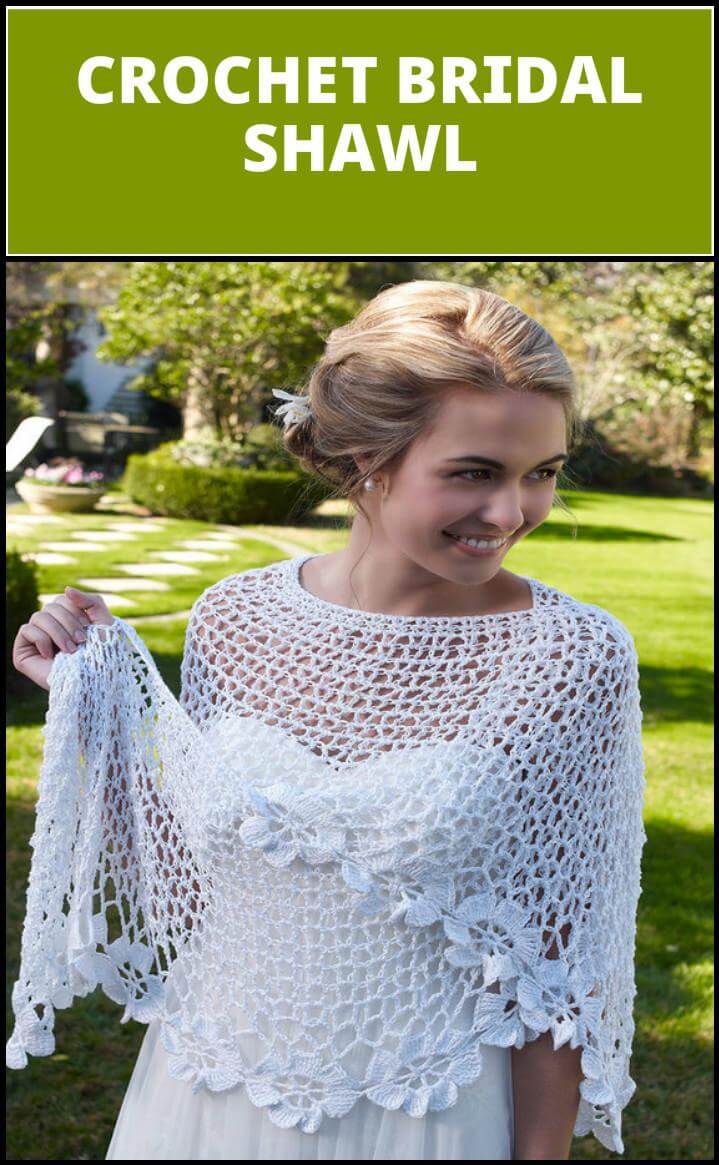 Make your bridal dress look really stunning, unique and totally graceful with this adorable and pretty drape pattern having crochet petals at the edging so here is the link to grab this pattern for free and copy it for bride or even for the bride's made with some colors. redheart
Crochet Romantic Pineapple Shawl: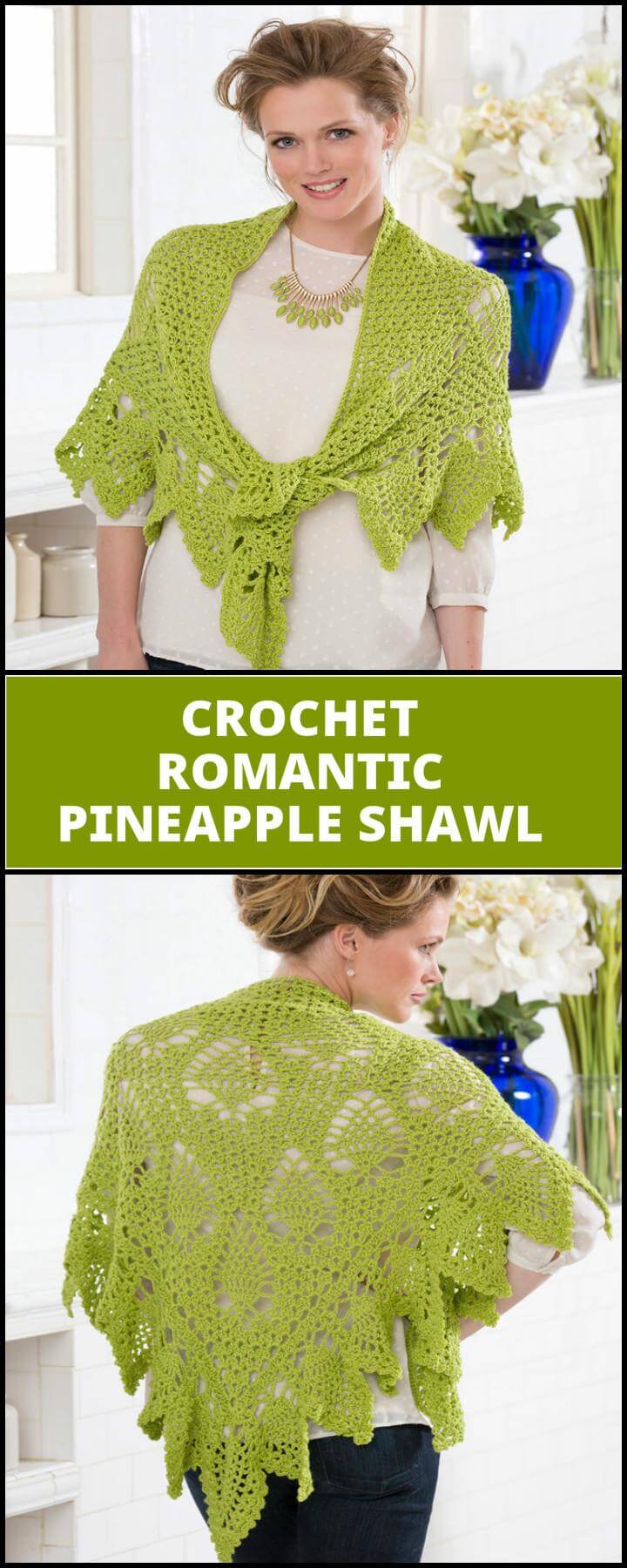 The pineapple crochet motif is something really traditional but with a modern design you can turn it up into a stylish and modern shawl wrap up for you to grace up your regular wear with and feel like a diva while heading outside of the house. redheart
Crochet Extended Ripple Shawl:

Give your winter look a bit more style and charm with this lovely and decently designed extended ripple shawls for youu and that too in nay color and any size. so hurry up and grab the favorite yarn color and your crochet sticks to crochet it for yourself or for anyone else in the family. jessieathome