A DIY kitchen island certainly serves a kitchen in so many different ways! How? Well, it comes with a fantastic design so it would definitely create a great focal point in your kitchen! These 35 free DIY kitchen island plans will add extra storage and sitting space in your kitchen. Best part? They come with separate DIY countertops for easy meal preparation shenanigans! Make your kitchen island a station to work with different kitchen appliances and electrical tools. Feel free to add any electrical outlets for them! Whatever your purpose may be, a kitchen island is always a kitchen's must-have. So, you should not miss it out in any way!
If the higher market prices are a big hurdle in your way to spruce up your kitchen decor game, don't worry! Get your hands on these functional designs of DIY kitchen island plans. Make your own beautiful, featured, and fully functional design of a kitchen island at home without spending a lot of money. Here we have rounded up these 35 simple DIY kitchen island ideas packed with custom added features and details. Get started with some awesome hacks and tricks guaranteed to inspire your creativity!
Choose a modern kitchen island table or a farmhouse-inspired rustic appeal. Go with wooden cabinets, artistic modern tops made of concrete, marble, or other materials. It's all here. Let's just dive in. 
1. Kitchen Island Plan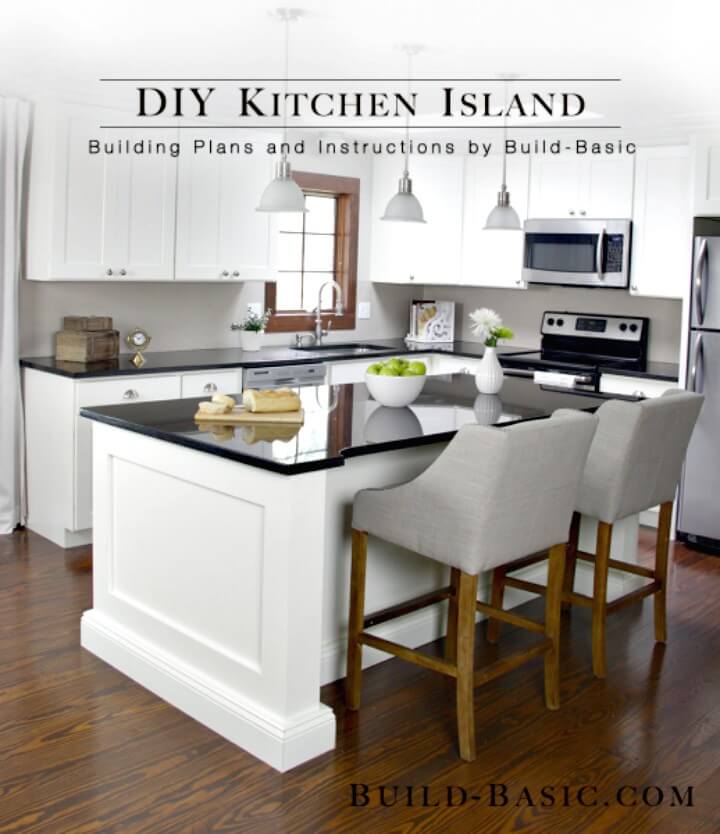 Your kitchen is incomplete without such a lovely looking and functional island table! Let's remedy that, shall we? Get ready to raise the charm and utility of your kitchen space on your own by building up this beauty at home! Learn the detailed instructions of this kitchen island's plan, here build basic
2. White Wood Cottage Kitchen Island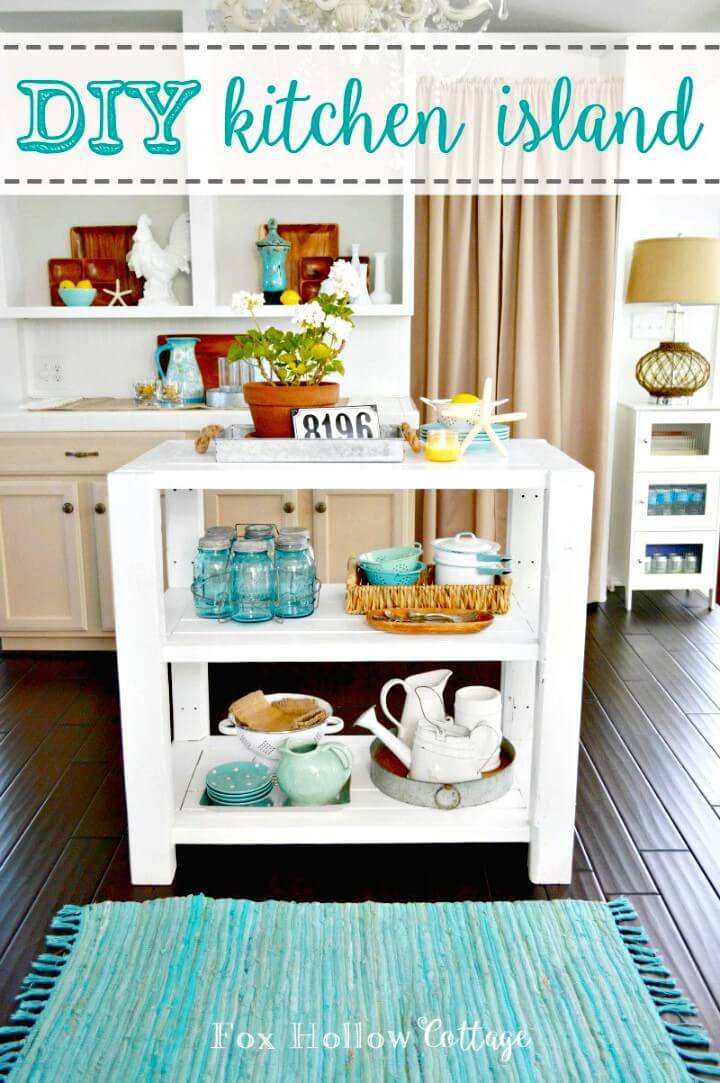 If you are a subtle minimalist, you're in for a treat! This lovely kitchen island comes with lots of storage under the top which certainly makes it quite a charmer! As there's nothing like TOO much storage for a homemaker. Right? You can learn to build it all on your own here foxhollowcottage
3. Kitchen Island with Trash Storage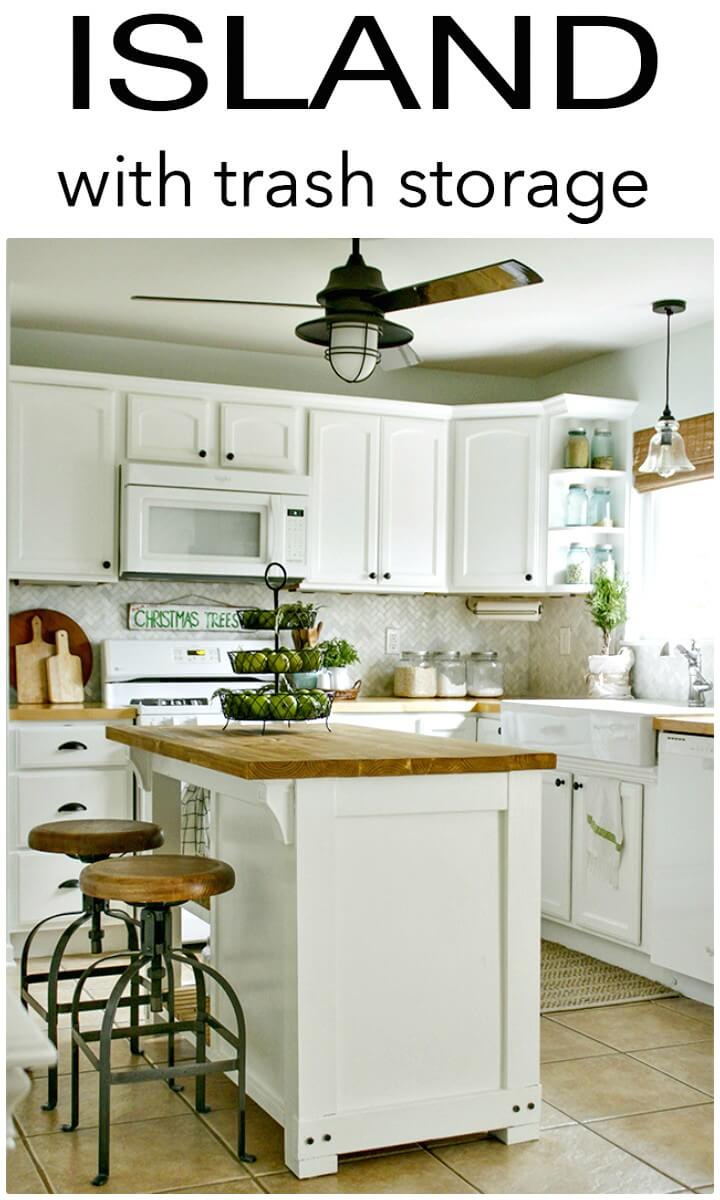 Now you can prepare for your meals more conveniently with this totally functional and exquisite looking kitchen island table. The best part is that it comes with trash storage sections so you can keep your kitchen space all easily manageable. Whether it is while preparing food or cleaning afterward. You can check out the details of this island structure here shadesofblueint
4. How to Make a Kitchen Cart Island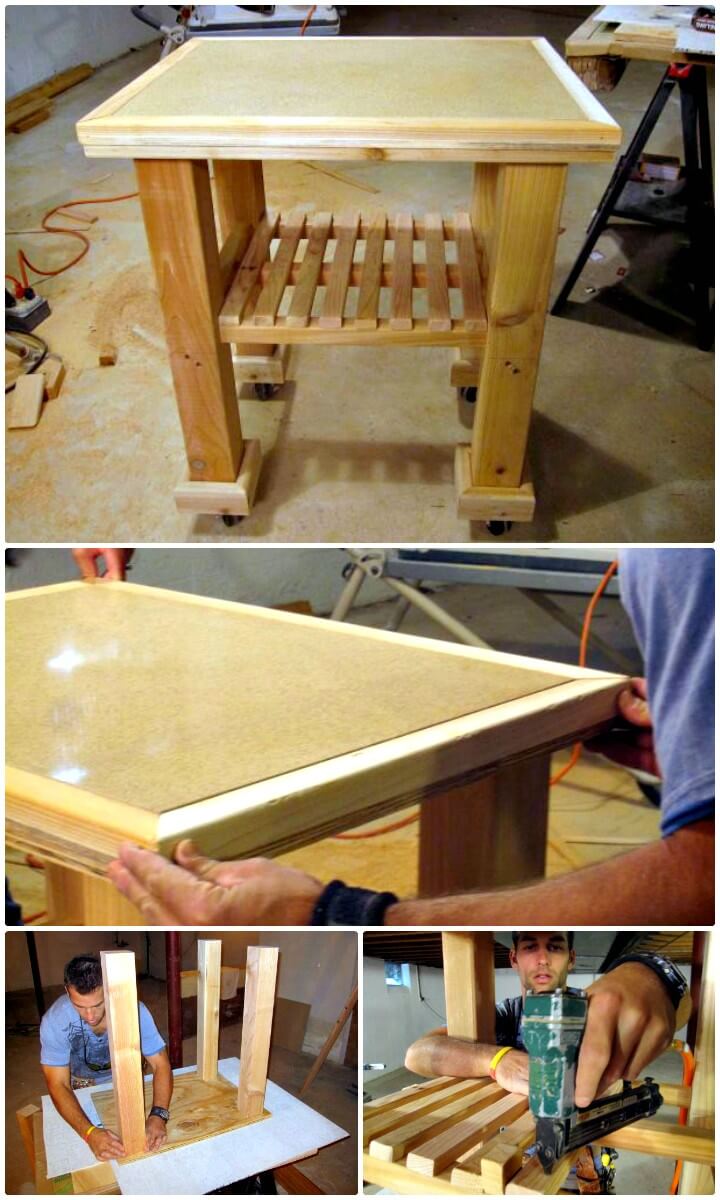 Here is an utterly durable and functional kitchen cart that would add the utmost feasibility to your kitchen chores. From preparing food to storing up the kitchen essential on its base shelf. You can easily install this simply made kitchen cart using some planks. Hit the link for the complete step by step guide. diynetwork
5. Building A Kitchen Island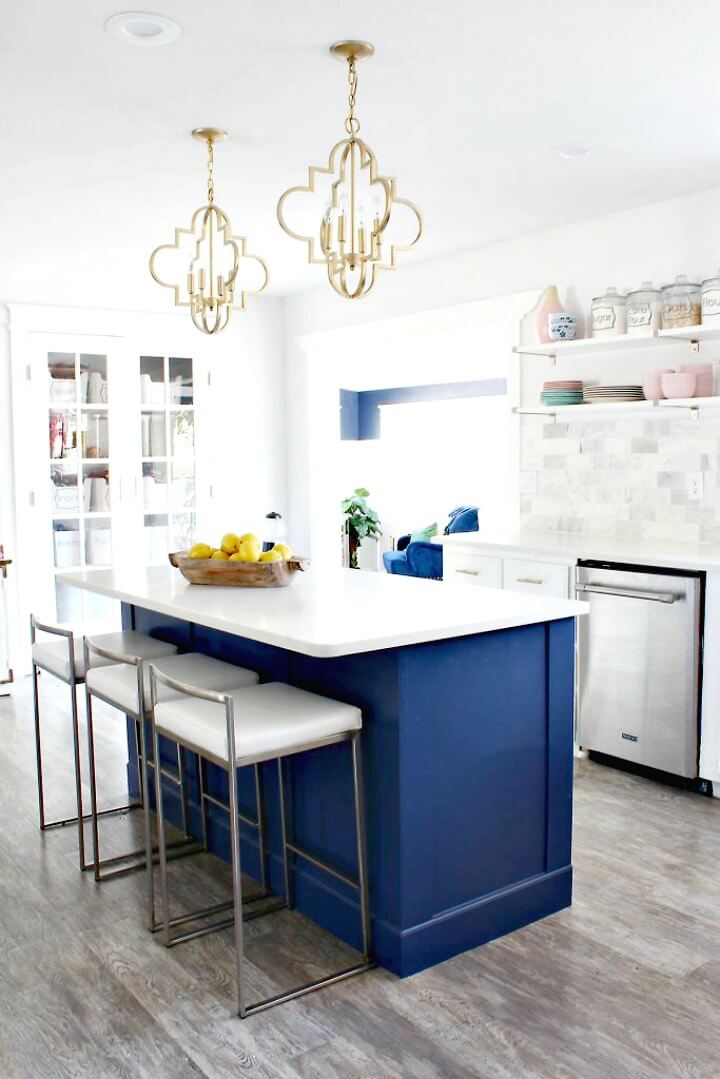 Doesn't this look just super gorgeous and stylish? Now you can bring the same kitchen island vibes in your space! Yes, you can spruce up this functional kitchen island yourself with the white painted top and the blue base, adding tons of modern charm to your kitchen. Learn the complete tutorial and details here classyclutter
6. 2x4s Kitchen Island for $30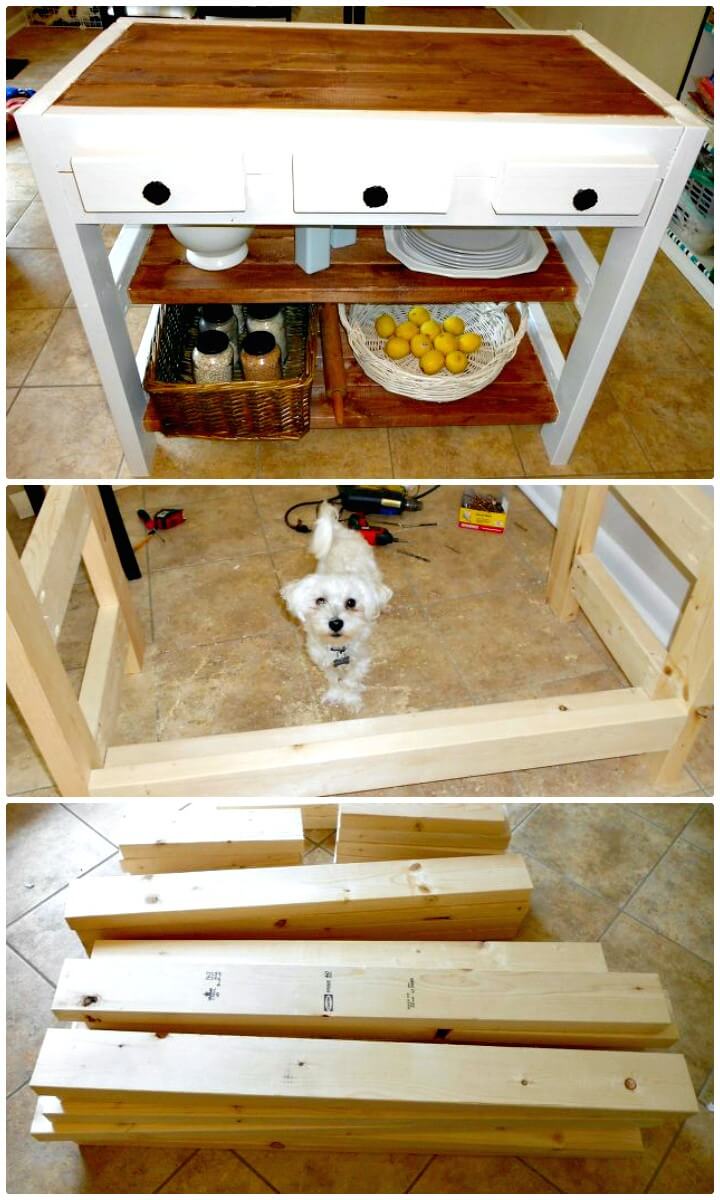 Looking for some extra counter space in your kitchen? How about just spending 30$ by using 2x4s and some other supplies to bring extra space and character to your kitchen. Enjoy a spacious top shelf to work on and extra storage on the base shelve. Catch the complete details of this lovely idea here mominmusiccity
7. Custom Rolling Kitchen Island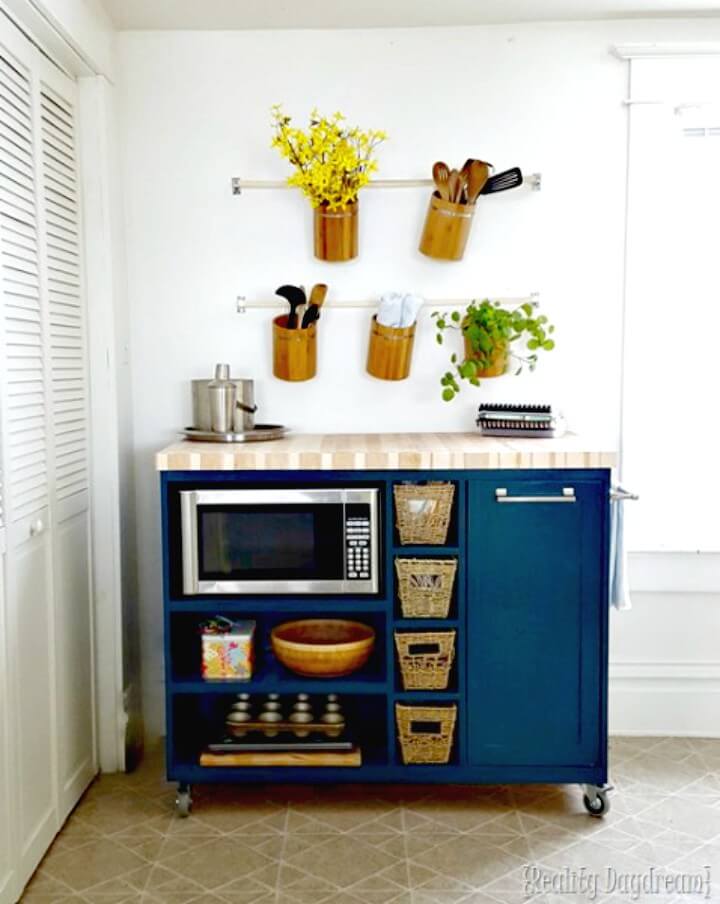 Have you ever seen anything as gorgeous as this custom rolling kitchen island? Feel free to roll it outside for a BBQ party or a poolside meal day. You can easily make it fit your kitchen space by altering the size and measurements accordingly. However, this one is made using 3/4″ plywood. It's storage features are just like adding icing on the cake! realitydaydream
8. Make Your Own Kitchen Island Cart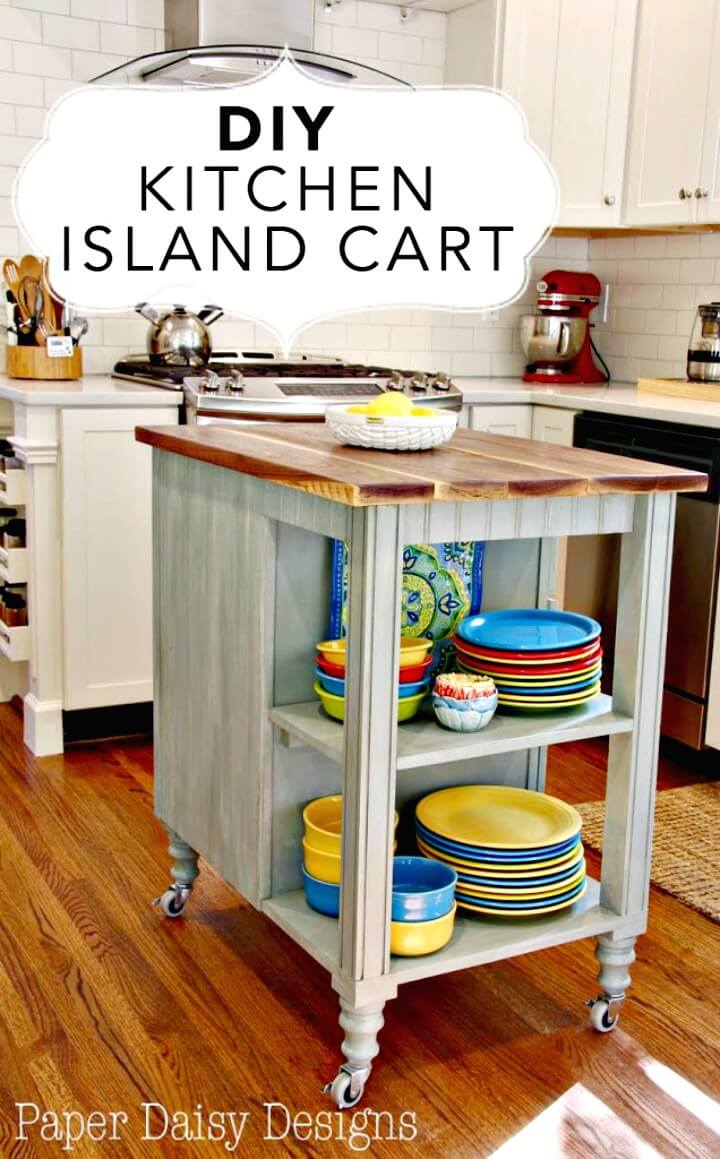 Stunned by this utter beauty, sheer style, and awesome storage features of this DIY kitchen island? We know, right! All your chop-chop veggie times are going to be much fun on this lovely island. Find your dream storage shelves, roll it as you please. You can learn to install this lovely and robust kitchen island right here deeplysouthern
9. Build a Kitchen Island on Wheels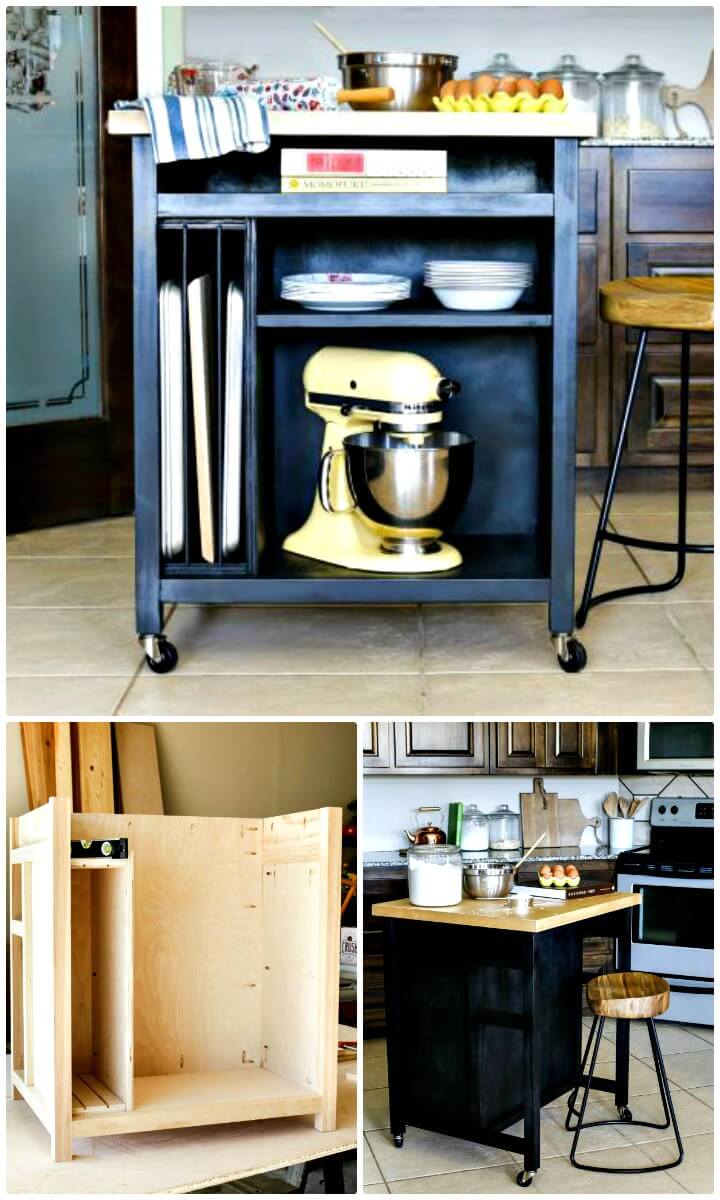 Short on kitchen space but hung over a kitchen island? Well, well if this kitchen island on wheels isn't just the ideal choice for you! You can easily roll it in the kitchen, use it, and then roll it out to maximize your space again. With the added charm of the top cutting board, the side storage, and the slides.  You can learn to build it on your own and the complete structure plan is given here for free hgtv
10. Simple Kitchen Island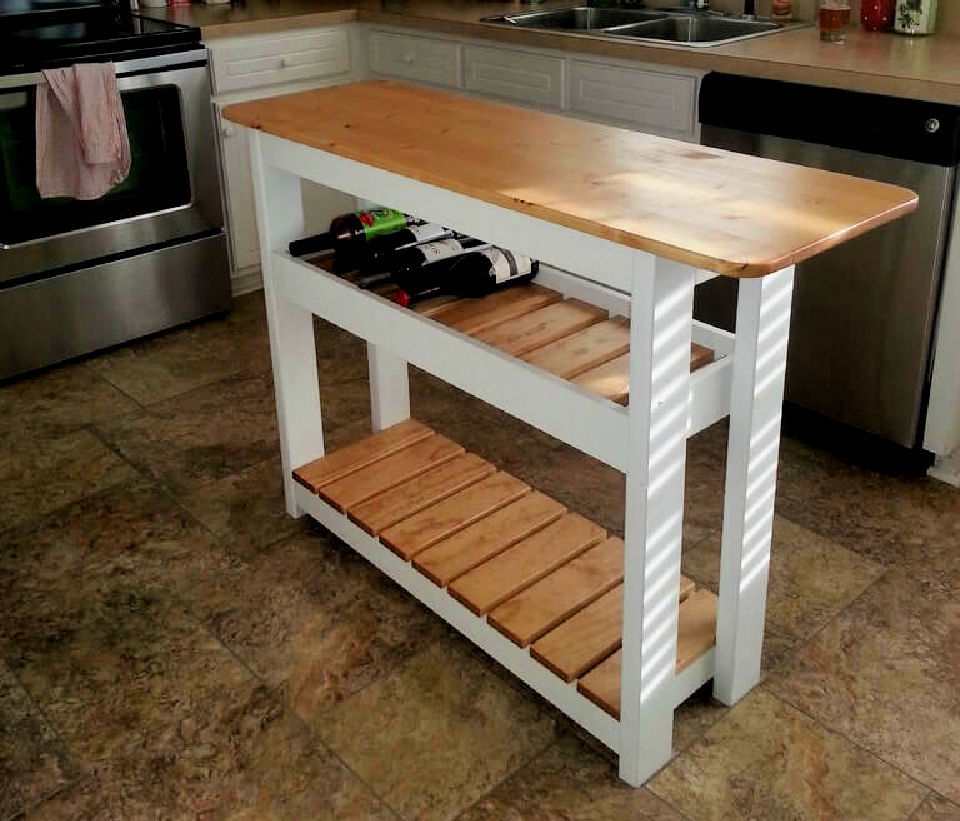 For every minimalist reading this, you are going to love this simple yet does the work just fine, DIY kitchen island. With a wide and spacious working top, this functional island also features built-in shelves under the top! Feel free to store your wine collection stacked in one fine place. So learn to make it on your own here with some cheap wood and required crafting tools. homestratosph
11. Turn Vintage Dresser To Kitchen Island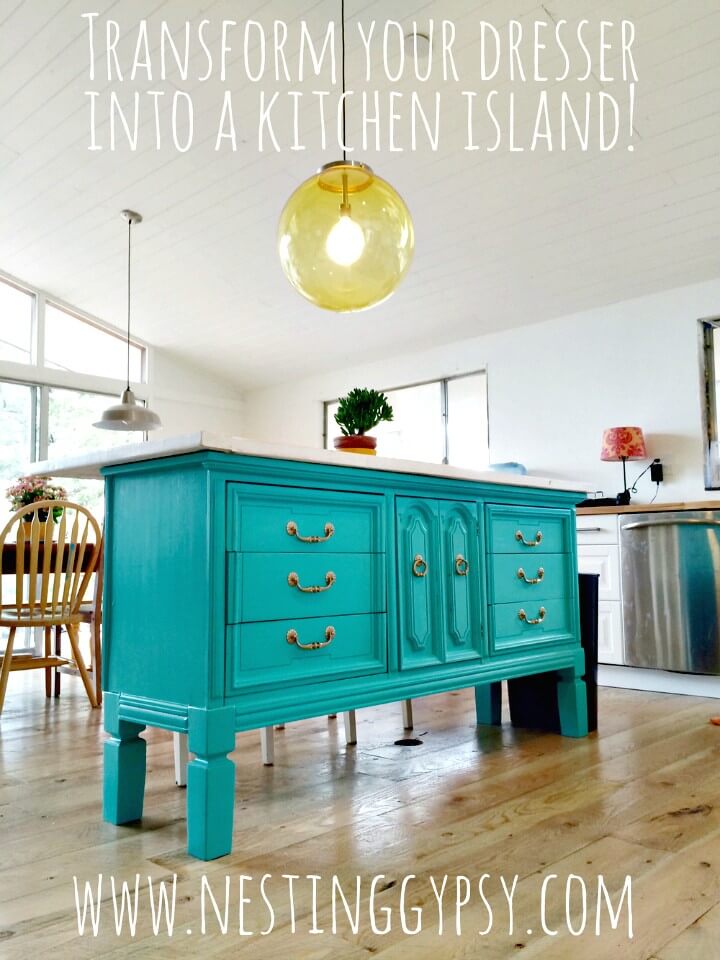 Got an old dresser and planning to throw it away? Hold on! How about you transform it into a functional kitchen island with SO much character. Use the top of the dresser as the top shelf, paint it with such lovely white and blue hues or any color that tops your decor game. You can grab the details of this idea right here to get one for your space too nestinggypsy
12. Drop Leaf Kitchen Island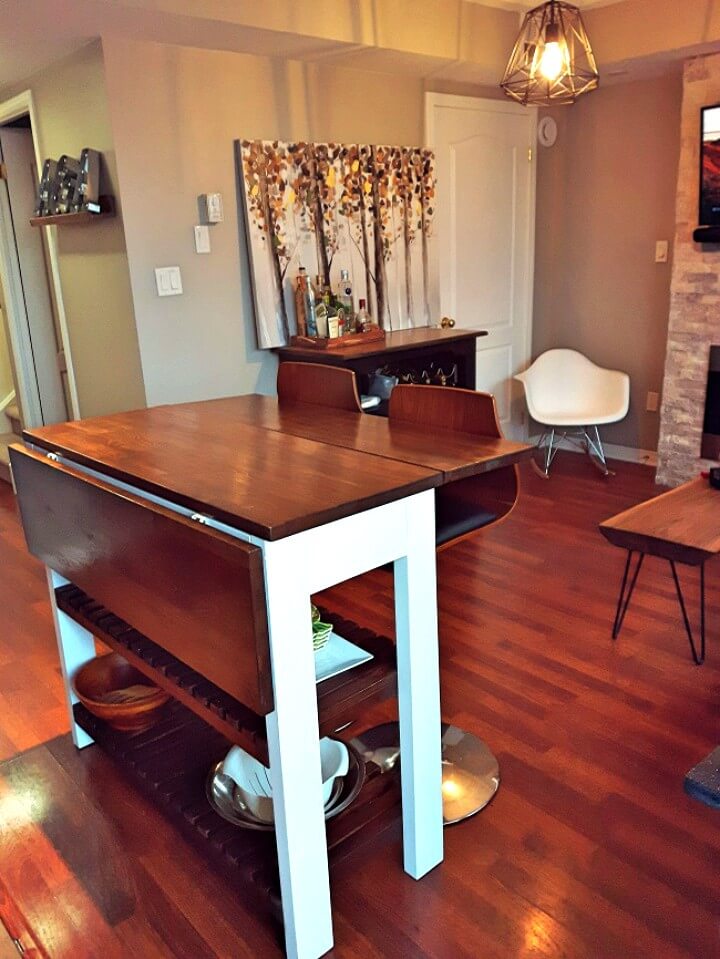 Like your decor sleek and functional? Isn't this drop leaf kitchen island just all those things? We bet it is! Prepare your meals on the top and store your kitchen pots in the base shelves. It's rich stain finish really makes it quite a delightful addition to any kitchen style. Learn its structural plans here to get it for your own kitchen bacheloronabudget
13. How To Make Gaby Kitchen Island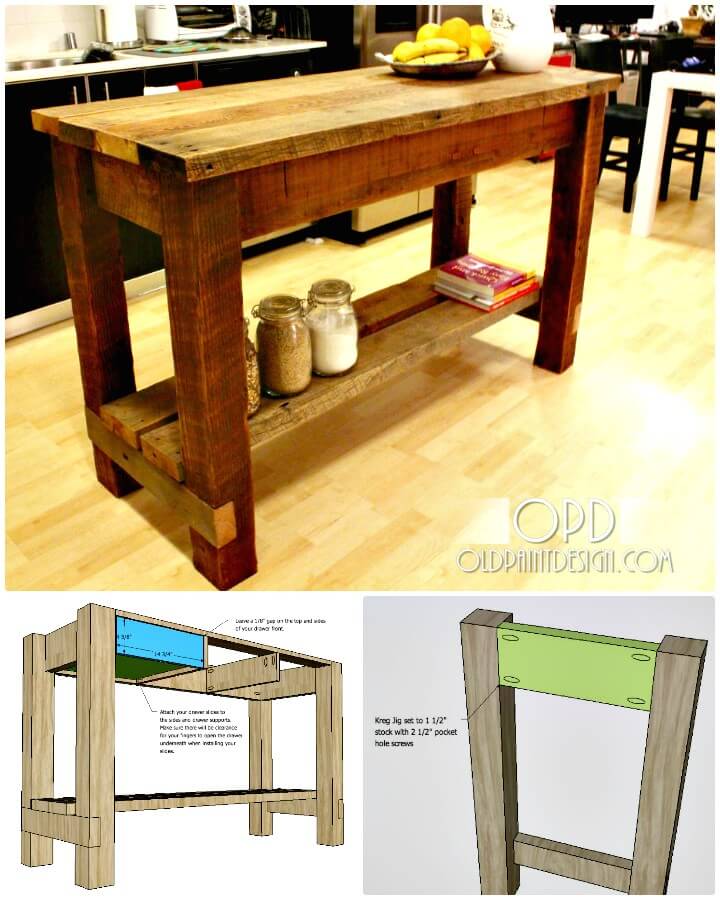 Check out this simple and rustic in style wooden island table! With its slim body and structure, it would really suit your space if it is tight and compact. A perfect example of how you can transform reclaimed wood into something this functional. You can check out the details of the idea right on this link oldpaintdesign
14. Build Your Own Kitchen Island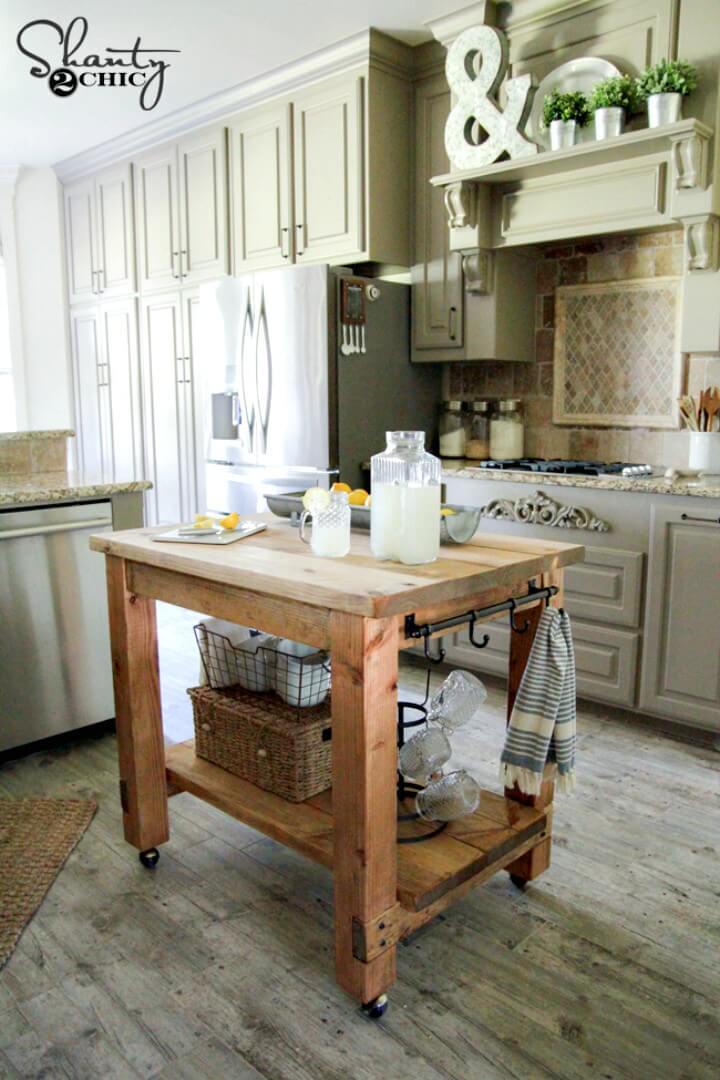 Way to maximize the space and utility of your kitchen spaces with this beauty! Start by cutting the legs using 4×4 pieces of lumber, the side hooks are certainly a show-stealer. In addition, wheels make it even more useful to use around your kitchen wherever you need it the most! Learn the complete details here shanty 2 chic
15. Farmhouse Kitchen Island & Bar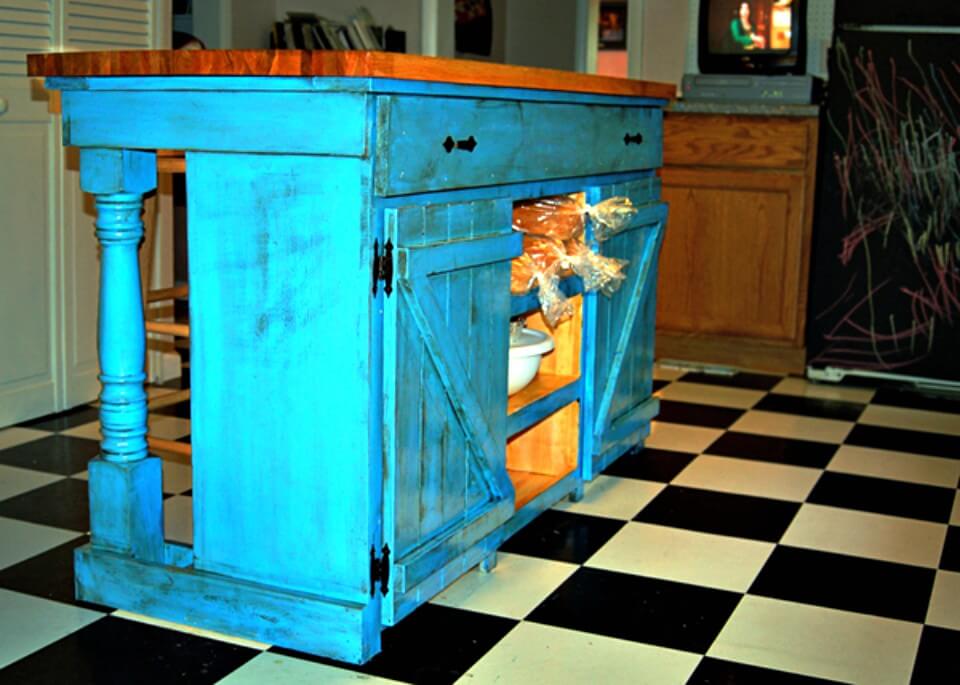 Check out this farmhouse-inspired kitchen island plan! It has got a large single drawer, 2 spacious cabinets, and a bar! Most importantly, this kitchen island can prove to be a mood booster any day you are feeling low. Those shabby chic stain hues with a charming distressed look is certainly a charmer. Feel free to adjust the measurements as this one is 24″ wide, 35.5″ tall, and 60″ long. ana white
16. Rustic Kitchen Table Island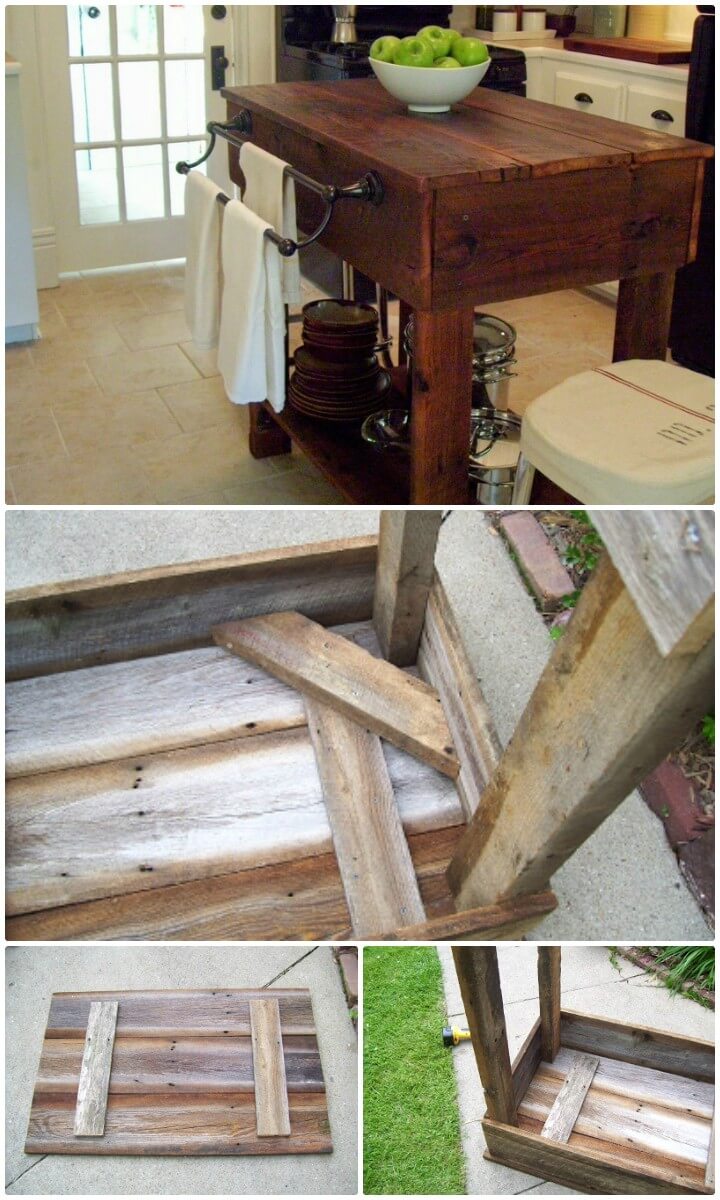 Bring some rustic love and farmhouse appeal to your kitchen with this wooden kitchen island table! You just need some distressed wood to make this beauty out of the wooden planks being nicely stacked to each other. It comes with a storage base and a towel rack. Get details here at ourvintagehome
17. Simple and Easy Kitchen Island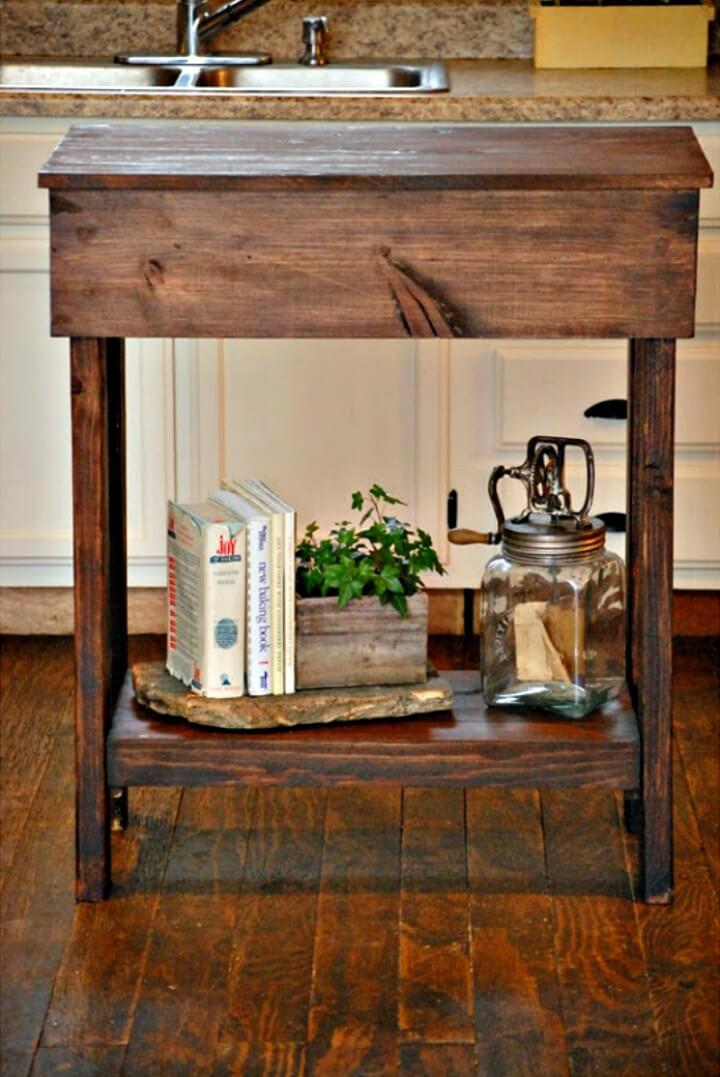 Get your hands on some large wooden planks, and transform them into this pretty island table. Enjoy complete autonomy over your kitchen space and it's decor. Here is this simple, small, and easy to build wooden island table for your kitchen that you can easily get your hands on. The rich brown stain hues certainly makes this one quite a stunner. Details here cedartreefarmhouse
18. Build Your Own Kitchen Island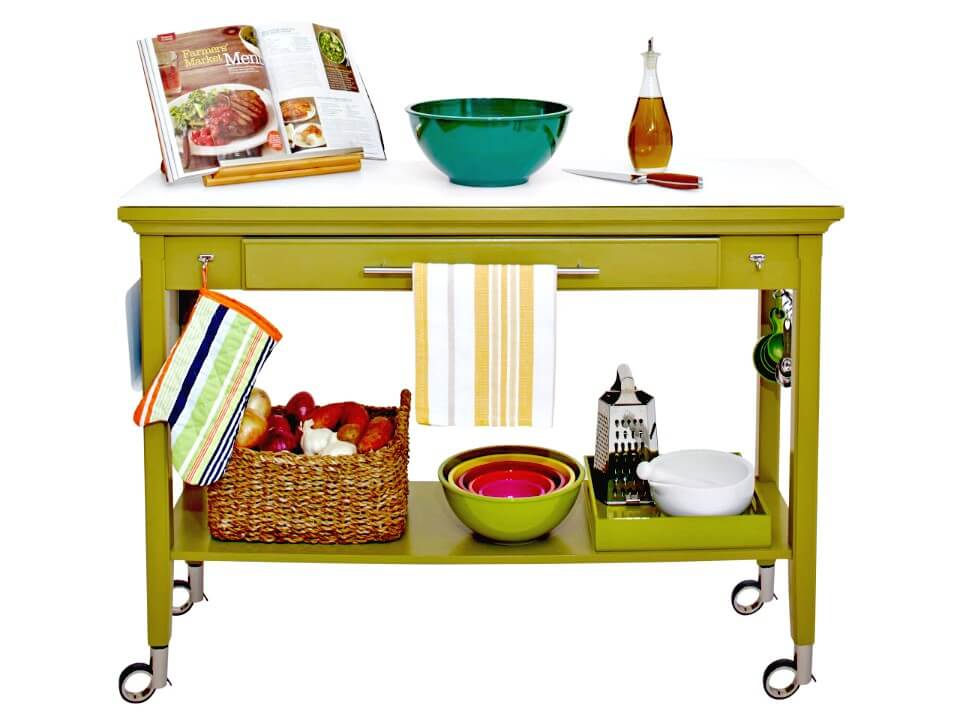 The re-purposed ideas are just simply amazing! Nothing says exquisite like a sleek console table transformed into a really fancy and functional island for the kitchen. With some additions and the changes and lastly that vivid green stain hues, take your kitchen decor game to a whole new level. You can learn the details of this idea right here hgtv
19. How to Make Kitchen Table Island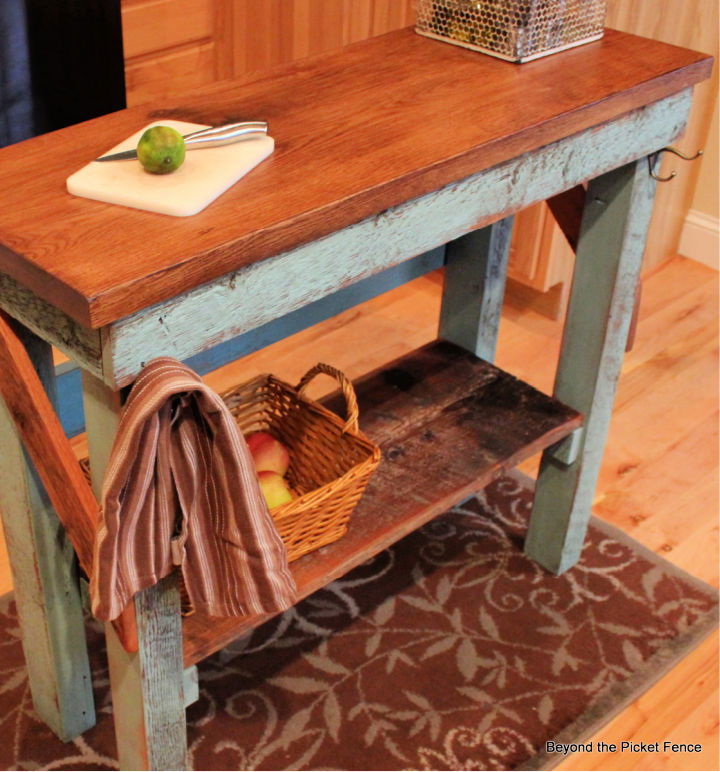 If you have some recycled wood lying around then it's time to do some functional DIYing! Assemble the wooden pieces together using screws and nails. Finalize the look with distressed hues of stain! Add this rustic piece of kitchen decor and enjoy the subtle vibe it brings. Hit the link for more details beyondthepicket
20. Industrial Kitchen Island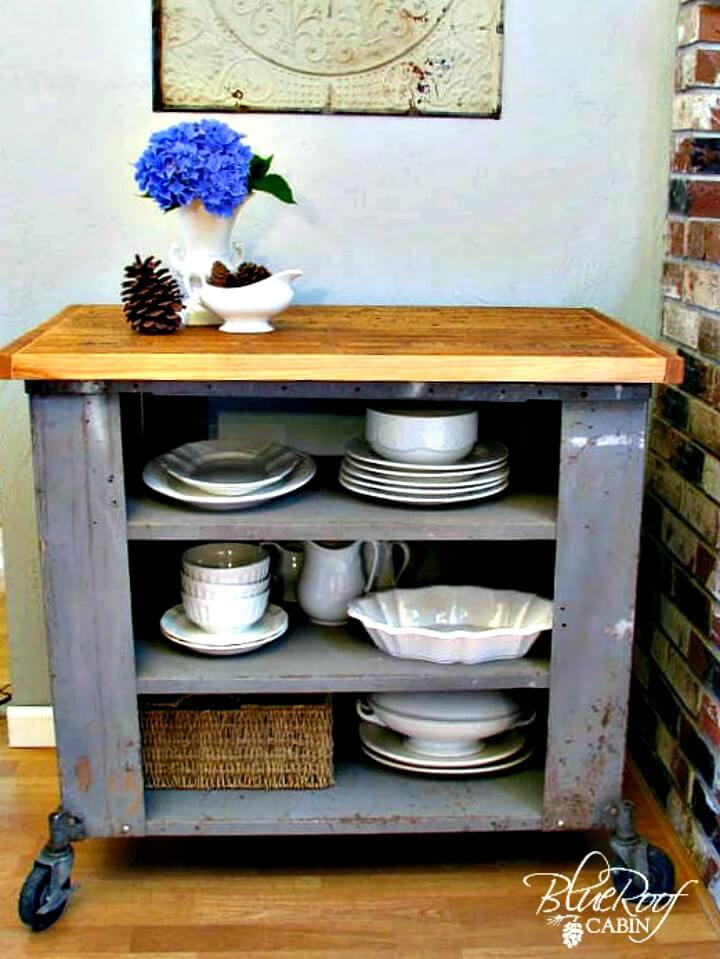 Fond of the industrial decor that's been trending quite a lot lately? Well, this industrial kitchen island with wheels is going to steal your heart then. With the wheels, you can easily make your island move in and around the feasible spots of your kitchen. Maximize the storage with its shelves at the bottom. Get the details here blueroofcabin
21. How to Build a Kitchen Island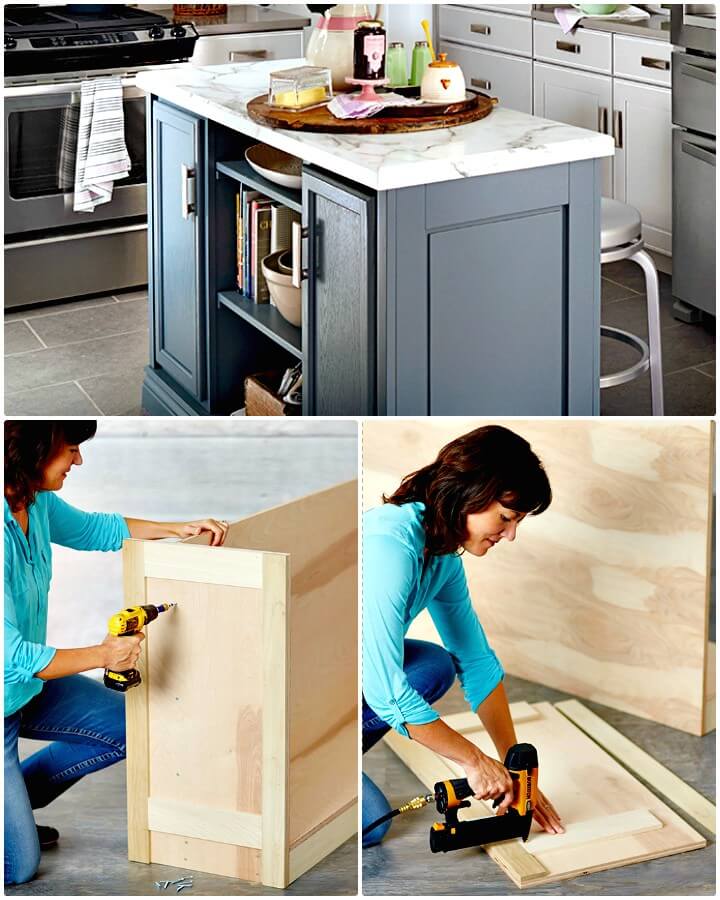 There are some really cool and fun hacks to building a DIY kitchen island!  Just like this detailed and fully featured kitchen island table with oh so many cabinets and a marble top. Get your hands on some wooden boards and planks with other basic carpentry tools. Don't forget to know more about its structure and stain finish details, here: lowes
22. Functional Kitchen Island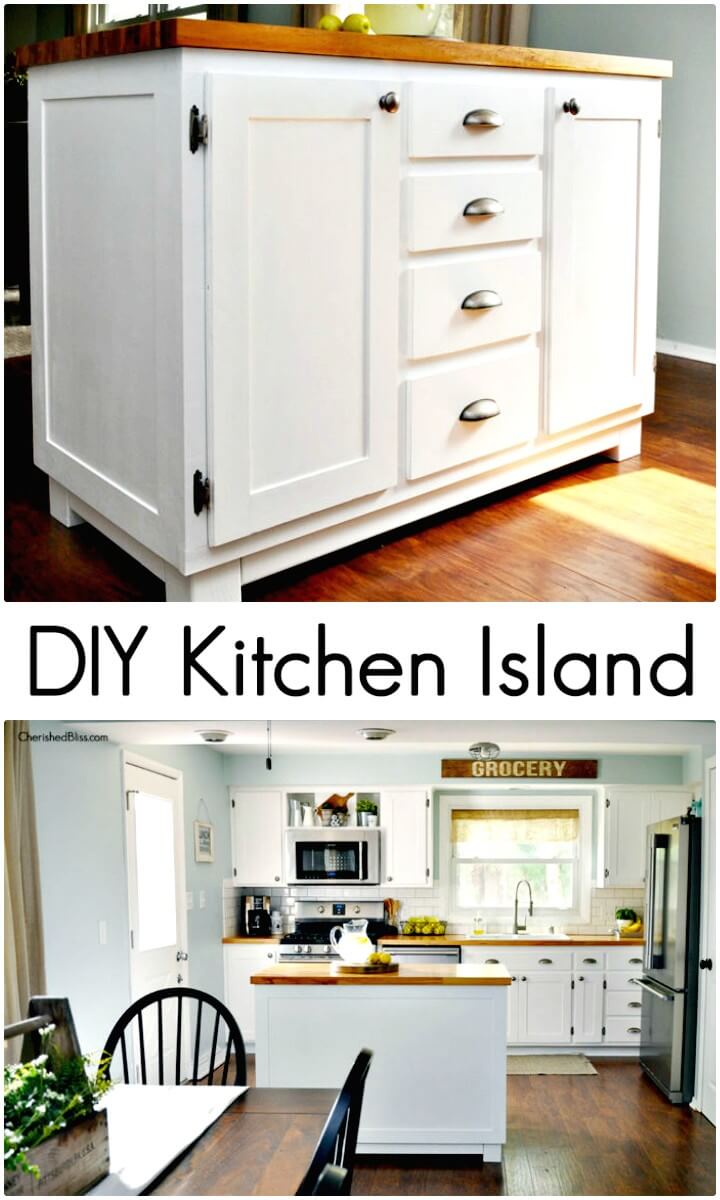 A kitchen island is not only a functional place for you to make your food preparations on it but it can be much more than that! For a quick snack time or your baking wonders. This chic in style dazzling white kitchen island is just the right thing to get your hands on..Bring some really functional charm to your space. You can hack all the details, here: cherishedbliss
23. Easy Kitchen Island Plan
Like we say there's nothing like too much storage for a homemaker! If you are looking for a wide and spacious top, with drawers, cabinets, and aesthetically appealing design, here's your winner! While this one many looks intimidating to build given its size, that's so not the case! It comes with a simple and easy plan. See for yourself, here addicted2diy
24. Up-cycled Kitchen Island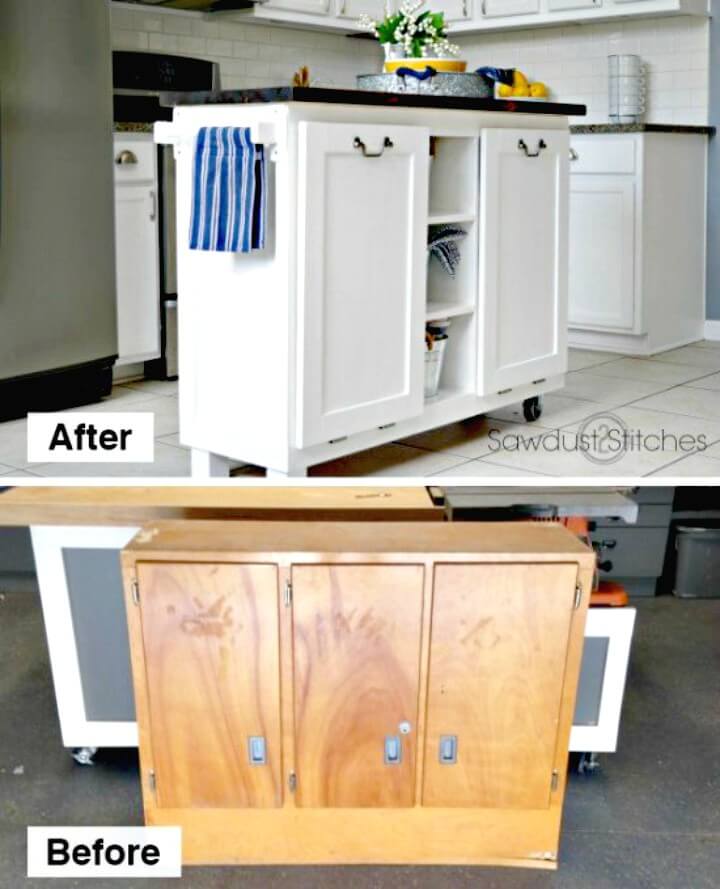 In the world of DIYing, upcycling is quite a sexy option! If you are looking to update your kitchen decor game, this is your clue. Packed with the updated design, extra storage, and wheels, it will certainly upgrade your decor game! Just get your hands on a garage cabinet, pour in some alterations, and stylish stain sessions. You are all good to go! upcyclethat
25. How to DIY Kitchen Island X Design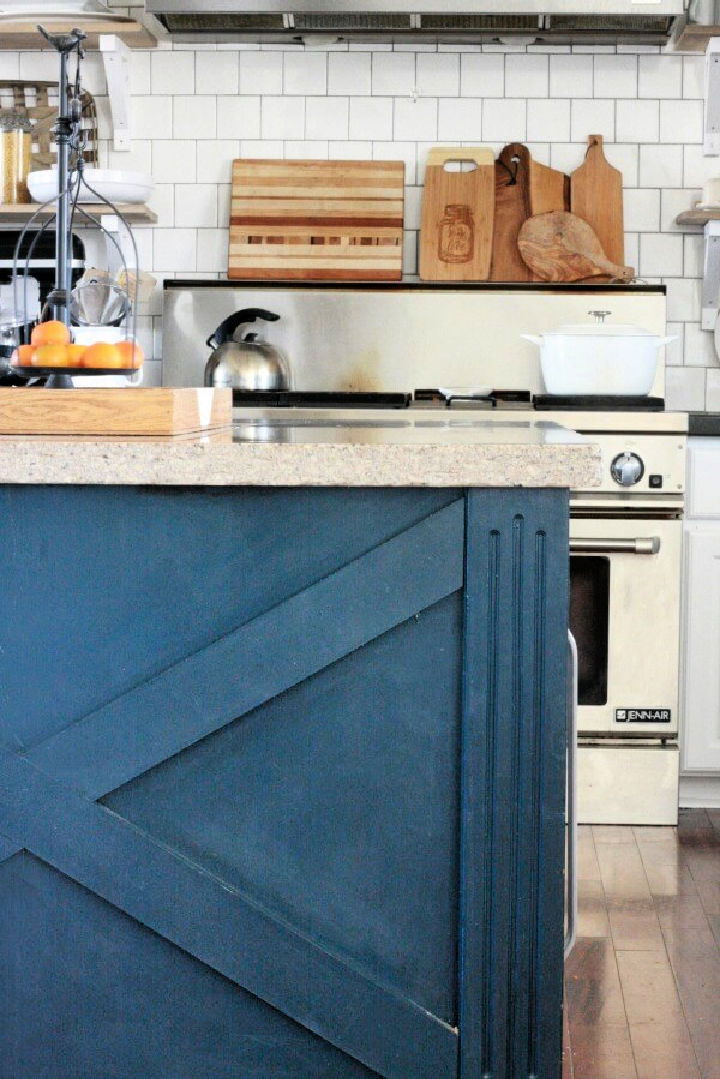 Looking for some farmhouse style addition in your kitchen? This X design can truly spice things up. You can use any wood around you, start by taking the measurements and cutting the pieces accordingly. Use your basic carpentry skills and nail it like a pro! Get the tutorial for details twelveonmain
26. Make A Kitchen Island Cart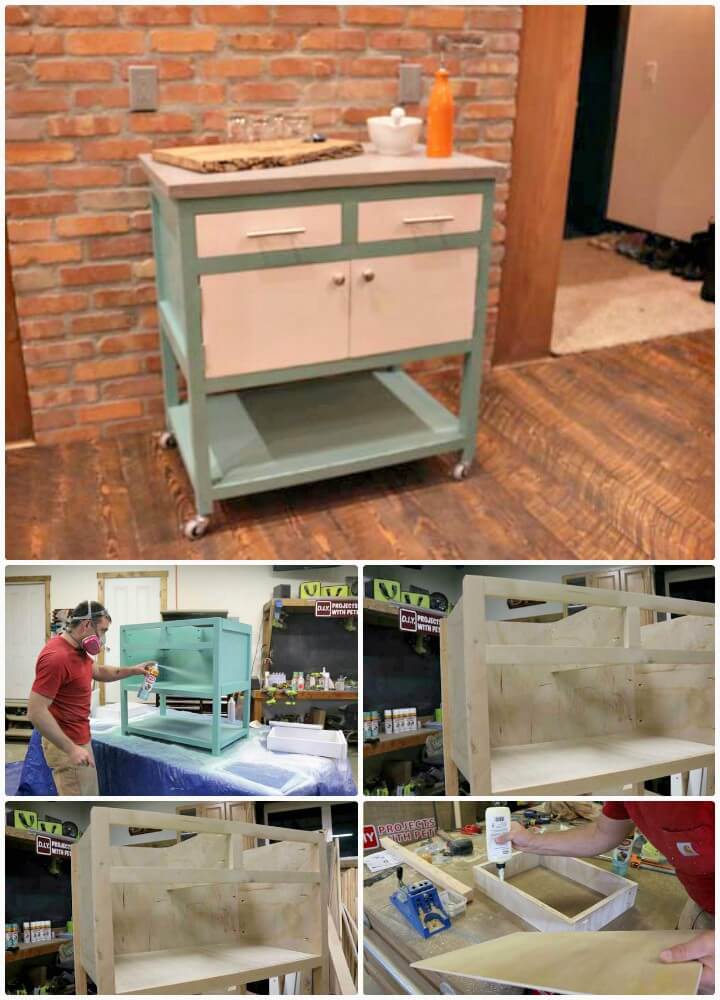 A small yet functional kitchen cart island can be a game-changer! How? Well, it can amplify your decor game while being super functional to maximize your storage space. Get your hands on supplies including plywood, 2×2 boards, cabinet handles, wood screws, hinges, and a few more tools! diypete
27. Island Table For Your Kitchen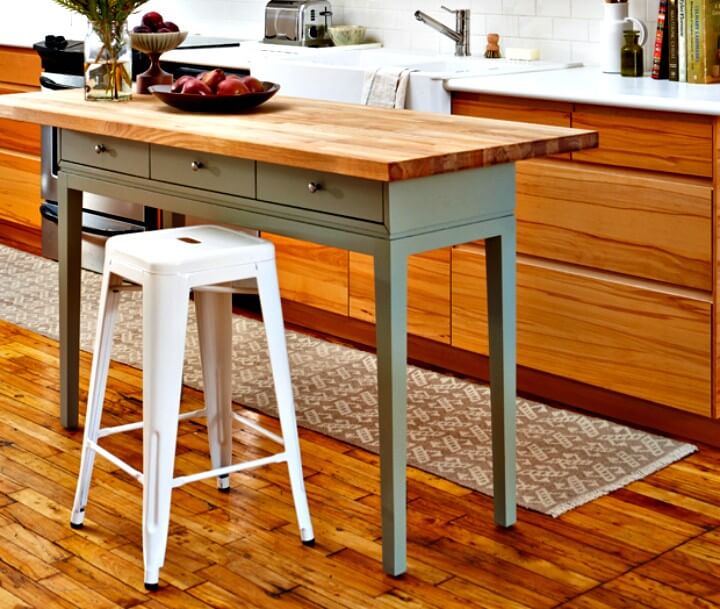 A sleek design with optimum storage and stunning design! It can easily fit in any space given its sleek structure. This gorgeous table has been made by upgrading an old console table with a butcher's top on it. Those subtle hues are certainly adding up to its entire appeal. Get details, here: houseandhome
28. Kitchen Island with Pantry Storage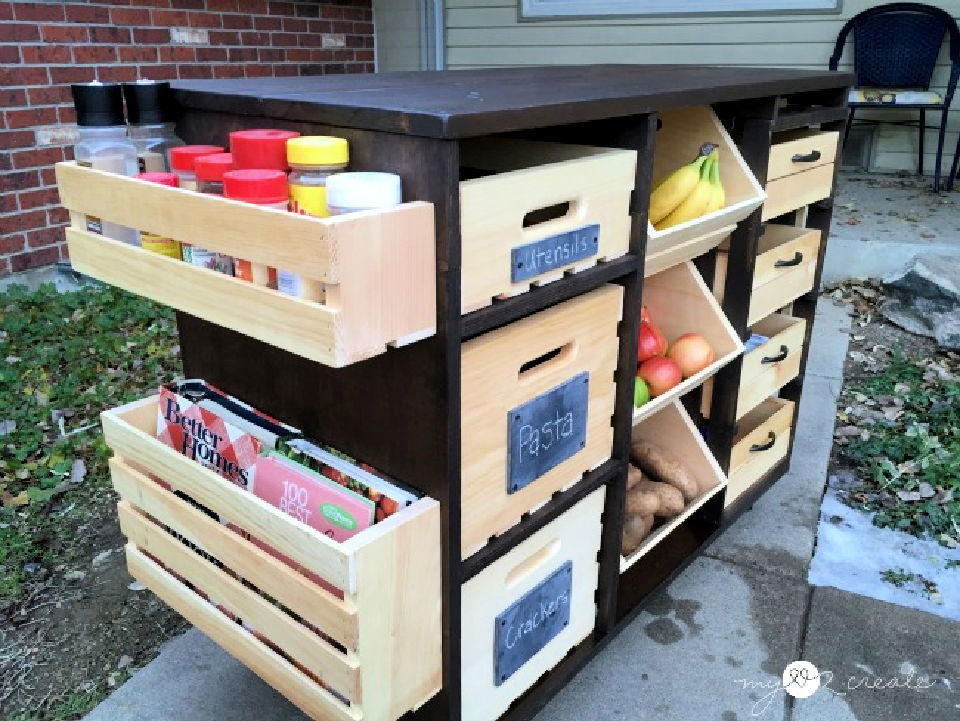 Sounds too good to be true, a DIY kitchen island with pantry! Get creative with some larger wooden board, plank pieces, and pre-made crates. Have fun tagging the drawers with chalkboard paint boards. If you want fewer sections feel free to make any changes in the design! Know the basic details, here. mylove2create
29. Wooden Kitchen Island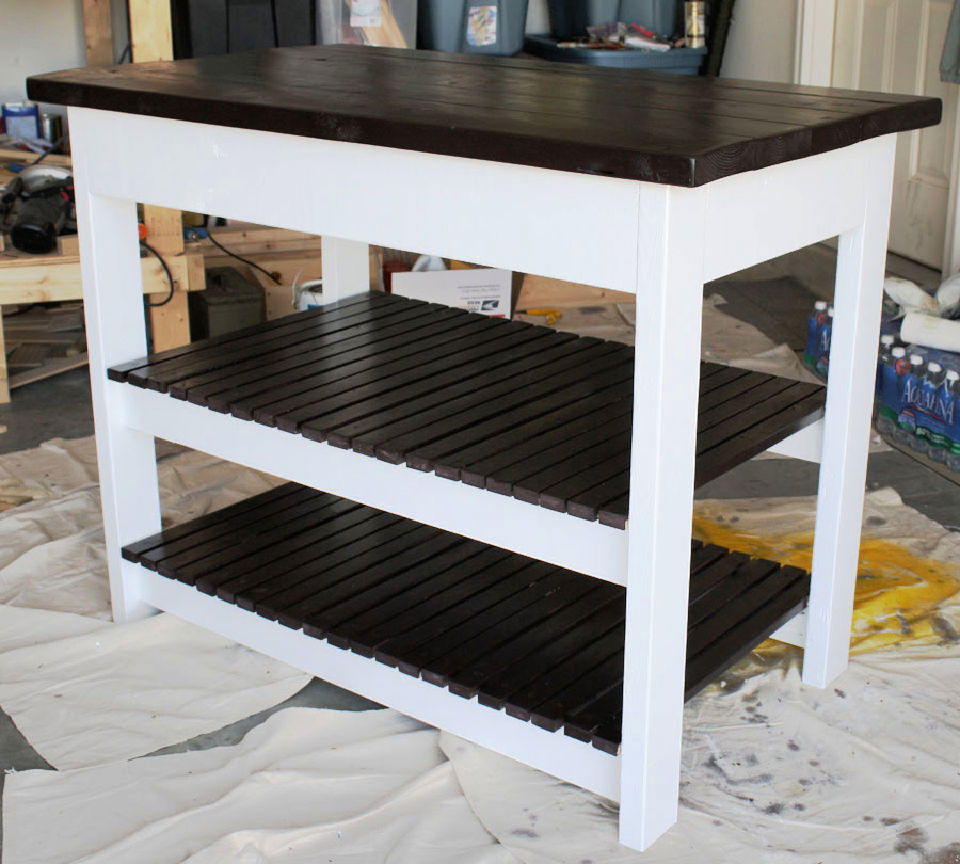 Bring some more functionality to your kitchen with this minimalistic wooden kitchen island. Shape up this lovely table using larger wooden boards and planks. One pro tip: the tutorial suggests cutting your board pieces as you go along instead of making all the cuts at one time. This way you can save more lumber, work more efficiently! Learn more about it here:  jenwoodhouse
30. Kitchen Island Makeover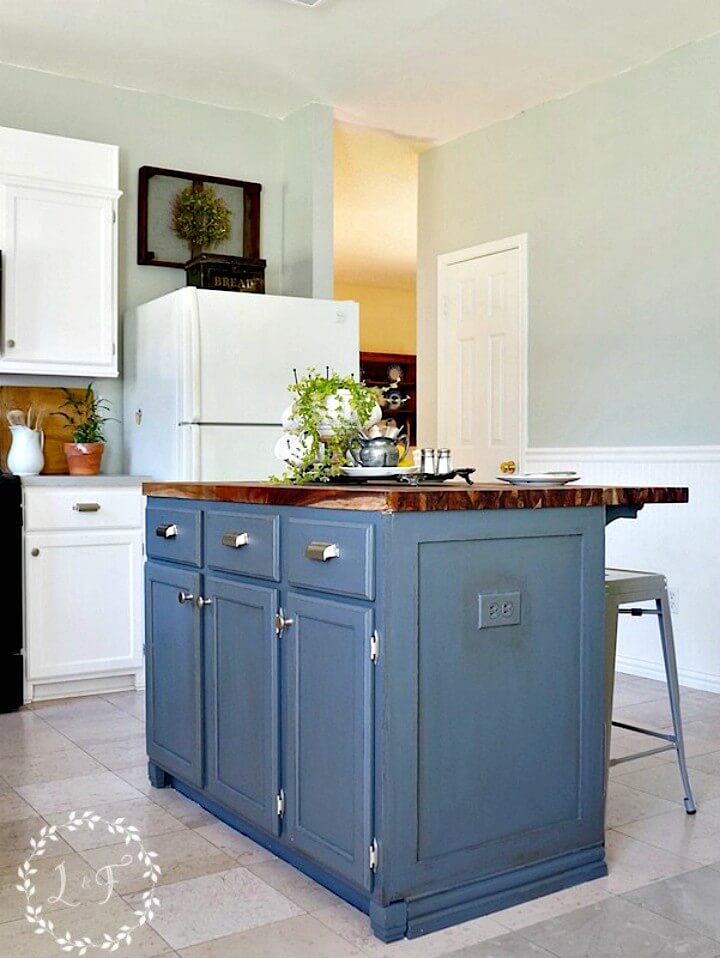 Here is how you can award your kitchen with a really refreshing and delightful look! Just a simple and promising change by giving your kitchen island table a makeover. It has this vintage-inspired appeal with a grey avatar transformation from being boringly brown before. Learn the details of this makeover here lostandfounddecor
31. Kitchen Island With A Concrete Countertop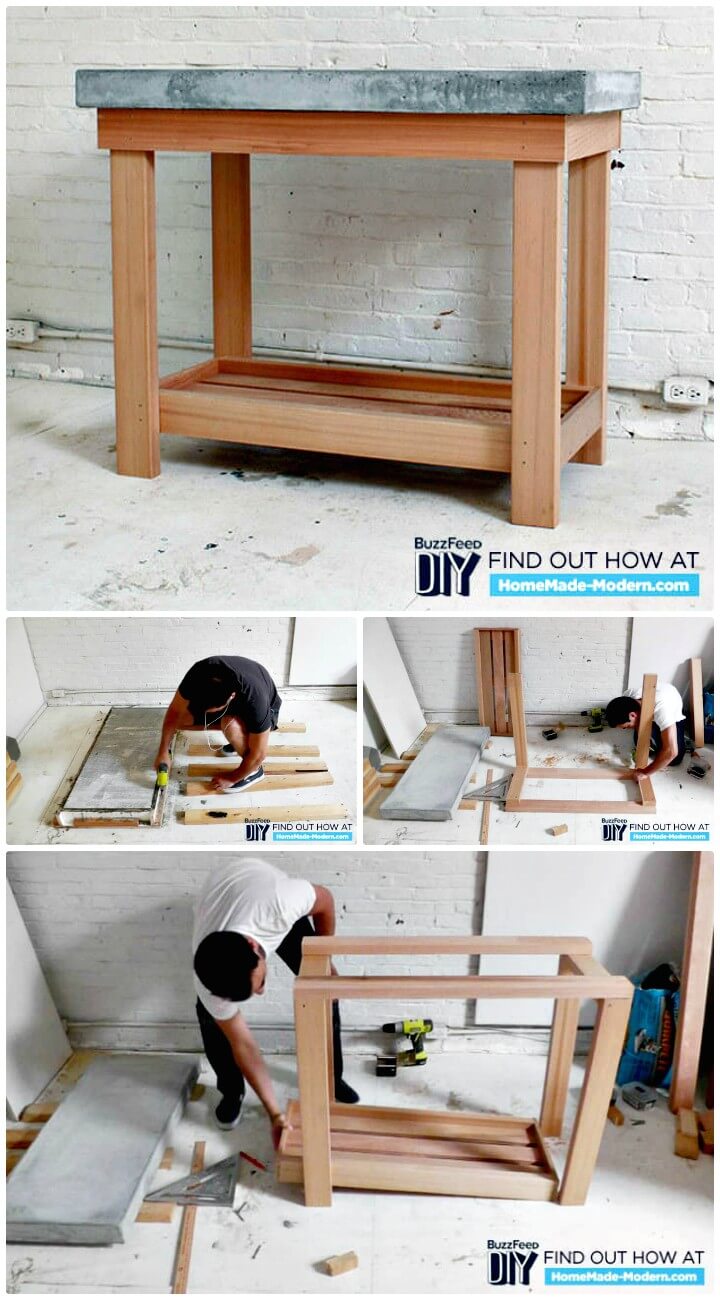 Concrete countertops have been topping the popularity charts lately! If you have been getting inspired by all those kitchen islands, here is your chance to build one yourself.  Gather supplies including countertop mix, square fir balusters, melamine board, stainless screws, and 2x4s and 1x4s. buzzfeed
32. IKEA Kitchen Island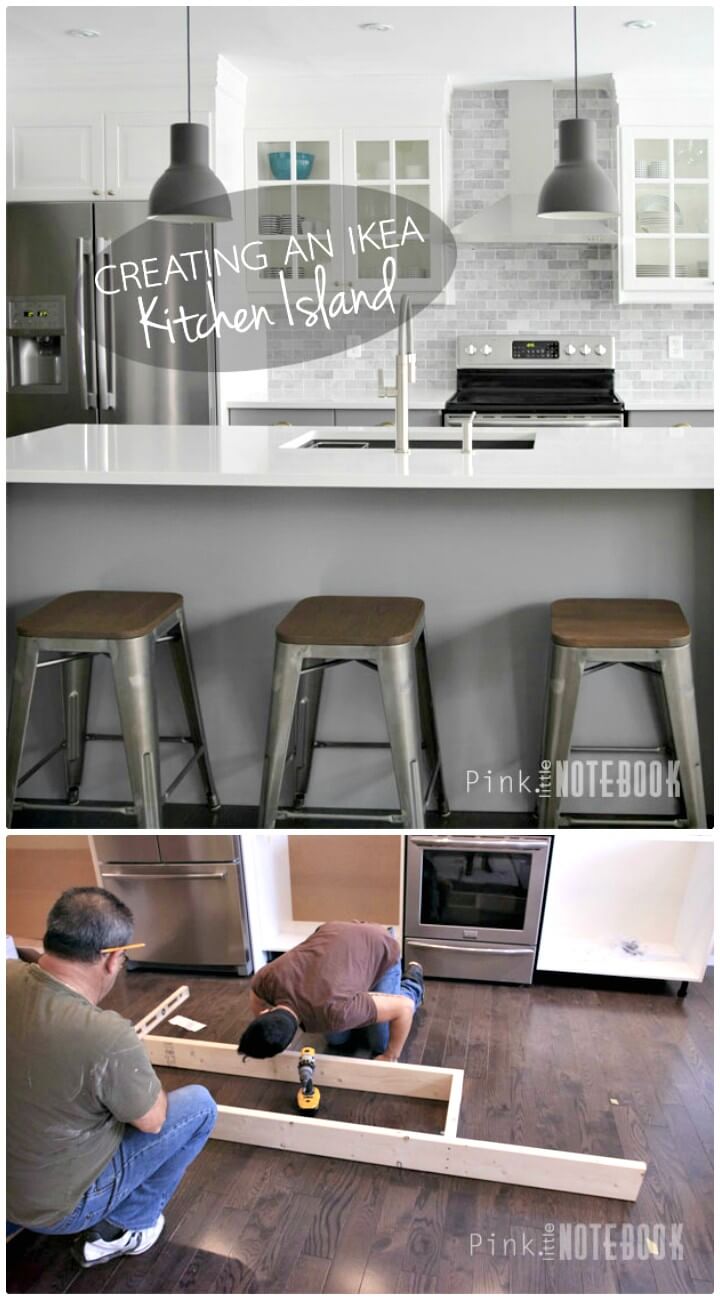 This looks like something super expensive to have, right? But guess what, with this tutorial, you can have this ultra perfect kitchen island for your place! It comes with a 30″ storage area, sink 30″ and dishwasher 24″. The best part is that IKEA's base cabinets have adjustable legs so you can easily get started with these in no time! pinklittlenote
33. Marble Top Kitchen Island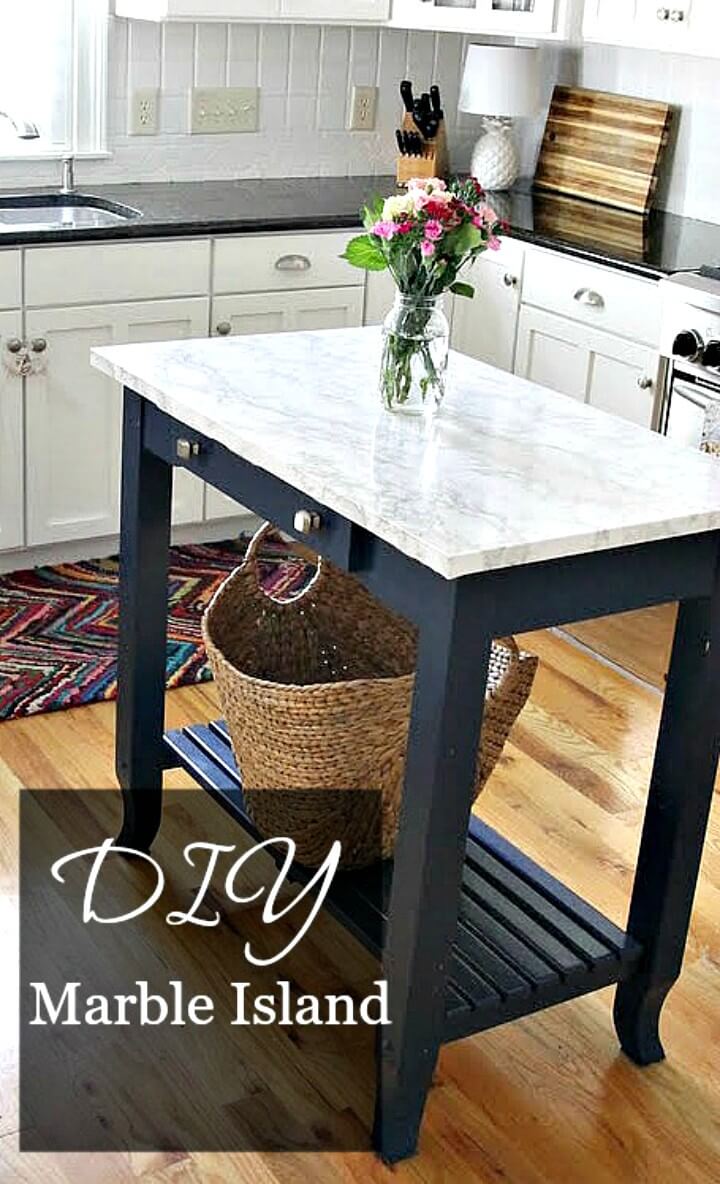 I like Jordan and Janette here you also adore a marble top with a reasonably sized kitchen island, this one's your winner! Way to make your kitchen eat-in times more fun with such a sleek design. This pretty combination of marble and wood has really come out as a hit with its rich shabby chic appeal.Check out the complete tutorial here the2seasons
34. Turn Bookshelf into Kitchen Island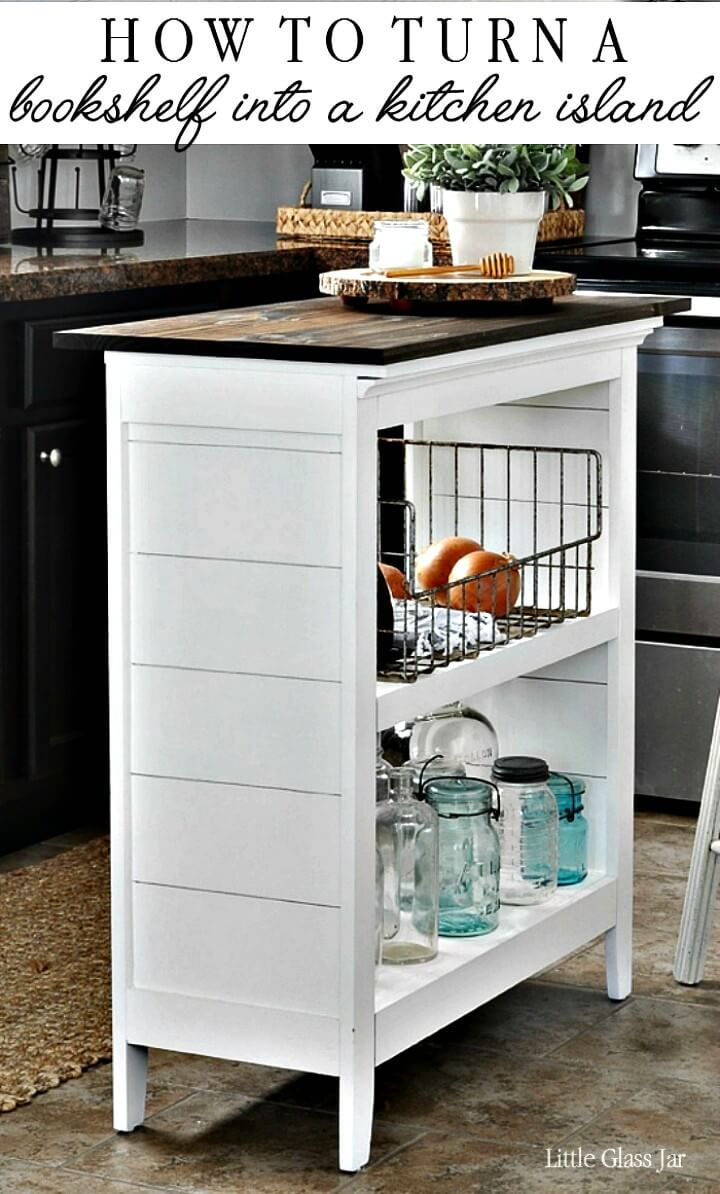 If you have an old bookcase lying around, it's time to revamp it with your new and lovely looking DIY kitchen island! Talk about looking chic with style, eh? All you need is to remove the back and the shelving section of the bookcase and then get to the staining part. Put in some baskets on the shelves or jars, whatever makes your decor look complete. littleglassjar
35. Rustic DIY Reclaimed Wood Island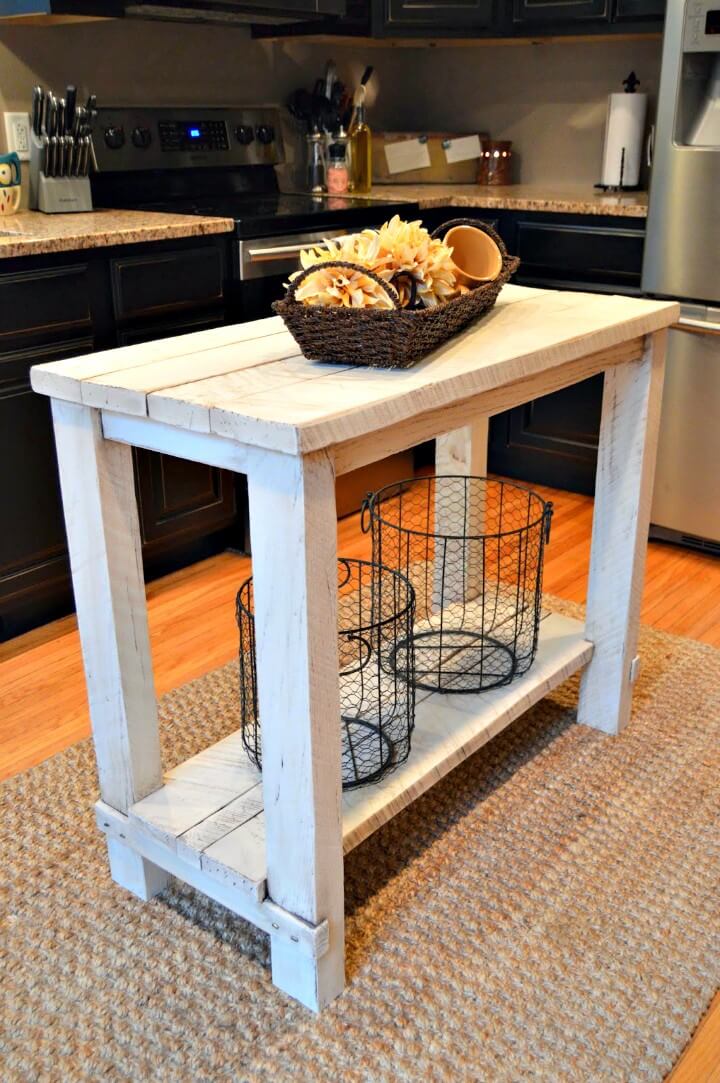 Nothing sounds as pleasing and fulfilling as transforming some reclaimed wood into your next best project ever! Just like this rustic looking kitchen island with a minimalistic appeal. Don't worry to lose the naturally distressed look, all you need to do is to focus on removing any splinters. How to ace that? The tutorial has everything you need to know krusesworkshop
Conclusion:
So are you ready to get crafty and make any of these free DIY kitchen island plans at home? Certainly, any of these kitchen island plans would make an enchanting addition to your kitchen space! Whether you go for a kitchen cart island or a simply installed island, you'll see the stunning difference in your decor game yourself. Notably, the best part is that all these have custom design dimensions so feel free to fit them best to your targeted space! Enjoy the custom storage features and get the complete autonomy over your kitchen space like never before.