Find 37 free crochet fish patterns include crochet jellyfish, crochet starfish, fish amigurumi, stuffed fish toys and different accessories. Each crocheted fish comes with PDF to download. So, who will not want to have their hands a nice-looking crochet fish pattern? These are not only appealing to the eye, but they have so much more to them! Are you obsessed with fish aquariums? Then this is the right place for you, as just by following some very easy steps, you can create your own little ones.
Want to add vibrant colors to your living room? These crochet fish patterns are all that you will need to do so! They come in half double crochet, double crochet, and triple crochet stitches. Consisting of wonderful designs, these free patterns have a list of choices to choose from just according to your liking.
You don't have to worry as it is no rocket science. Once you start working on them, you won't even realize, and they'll be all ready to go in front of you! There are about 15 beautiful and extremely trendy fish patterns to choose from simple to extra, as you may like.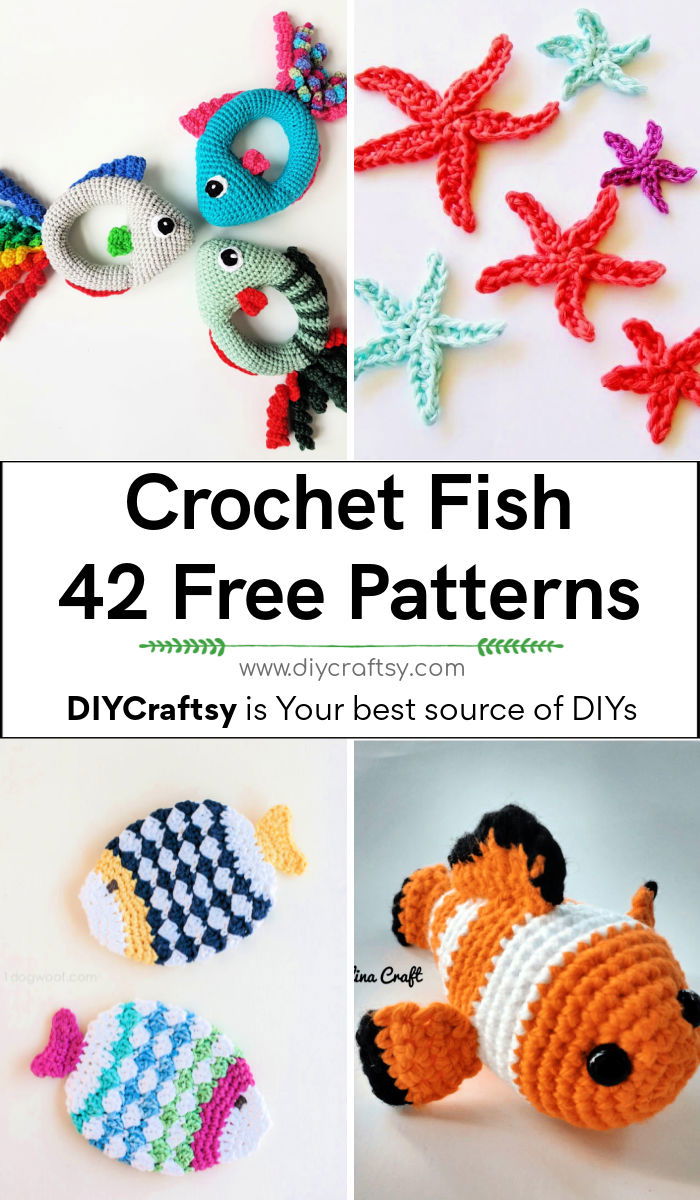 Moreover, they come with a complete guide to help you get along with. Aren't you already excited to begin? Then what are you waiting for? Slide through the options and select your favorite one from the collection to start off with. From cute fish applique to fish rattles, pendants and crochet keychains, there is a lot to choose from!
1. Crochet Little Fish Amigurumi
Here comes the very first pattern – crochet little fish Amigurumi. This crochet fish pattern comes in the brightest colors, which will surely not fail to be the center of attention! Yes, they absolutely are the cutest new addition to your living room. Not only that, but they are also very easy to crochet just except for the fins where different crochet stitches are needed to be done, which makes the task a little complicated. But don't you worry if you are dedicated enough, it might be just a piece of cake for you! amilovesguru
2. Crochet Fish Scrubbie Washcloths
Did your friend just moved into a new place? Here is the perfect yet the sweetest housewarming present for them! You guessed it, right? These cute crochet fish scrubby washcloths are all you need. They come in two very lovely designs, the shell-stitch followed by the stripped scrubbie! However, they are not only restricted to be washcloths. You may decorate your side table or even hang them on your kitchen wall. Once you start working upon them, it may take you less than an hour to be done! As they come with an easy-step guide to follow as you proceed along. 1dogwoof
Yarn: Sugar n' Cream cotton yarn
Hook size: 5 mm
Other materials: scissors and an embroidery needle
3. Crochet Fish Applique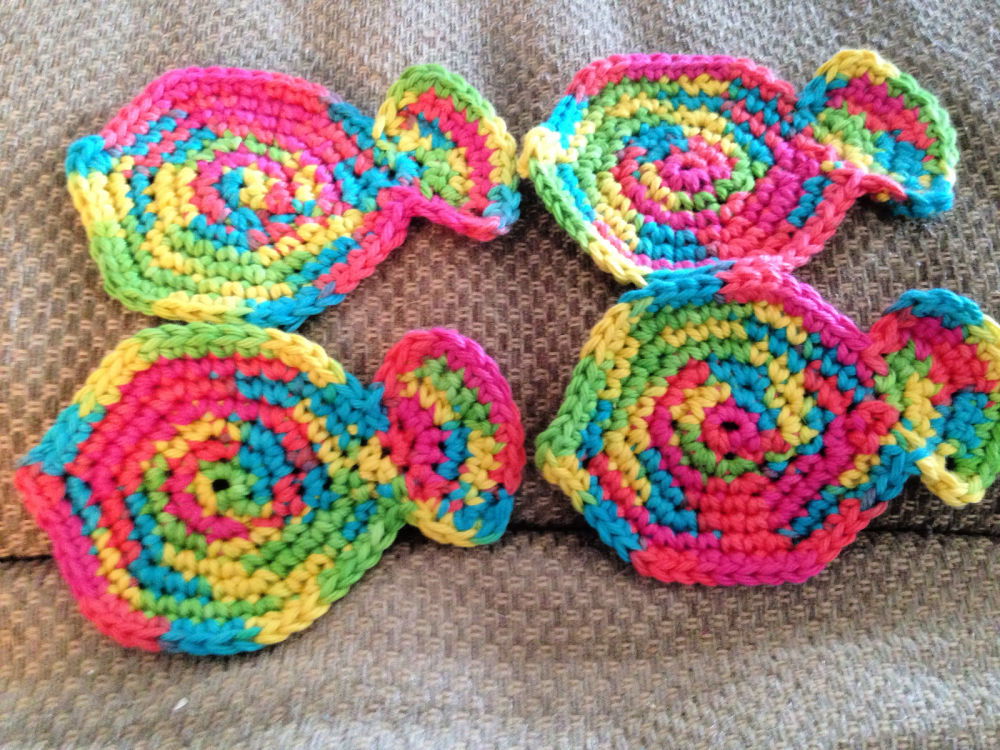 We have the most gorgeous crochet fish appliques for you to go with! Who doesn't want a little pretty fishy look on their daily routine essentials? These crochet fish patterns can be put up literally anywhere you like! Be it your favorite cozy blanket or your school bag to make it look aesthetically pleasing. Come up with your most wanted color contrasts and crochet away your personalized designs! crochetspot
Skill level: easy
Size: 6" long 4" tall
Yarn: medium weight
Hook size: 5 mm
Gauge: 1"
Materials: Yarn needle
4. Fish Rattle Crochet Pattern
When you hear the word rattle, what do you associate it with? You are right, A Baby! Here comes an aww-going fish rattle crochet pattern for your little one. There is absolutely nothing to worry about as it is entirely safe for your angel to play with; in fact, it's worth falling in love with, as it's crocheted in a way that involves no sewing. If you are new at it, you do not have to worry as it comes with detailed instructions to let you know how to go about it! ravelry
5. Crochet Puffer Fish Pattern
How cute is a Pufferfish? Very, one might think. Now imagine a crochet pufferfish pattern sitting on your bed. That might be the cutest thing to ever exist, right? This crochet fish pattern is exactly what you would want to have. It's crocheted with the softest wool to make your little fish as cozy and cuddly. A simple scalloped pattern with your favorite color, what do you think? You need not to worry as it comes along with a very helpful guide to get you started. cutoutandkeep
Yarn: France Ideal yarn
Hook: D3
Other materials: safety pin, toy stuffing, and tapestry.
6. Crochet Mystery Fish Pouch
This orangy looking crochet mystery fish pouch seems like a must-have. Is your friend's birthday around the corner? What better present than a personalized crochet fish pattern? How much would one love it if received this as a gift, no? Put your everyday essentials in this trendy yet gorgeous pouch. So get started and crochet. It's not only very unique but also a useful gift to go with. Grab your pattern before it's too late! moogly
Hook size: 4 mm
Yarn: worsted weight yarn in 3 colors
Optional materials: 2 small buttons
7. Crochet Fredde The Fish Amigurumi Pattern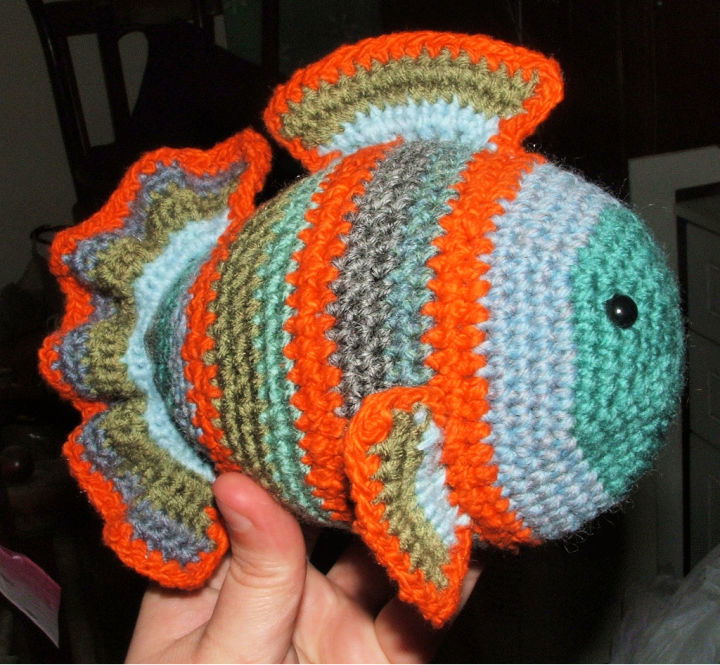 Isn't this Freddie the fish amigurumi pattern just so adorable? It can be the cutest addition to your child's toys! It comes with easy step-by-step instructions to help you make it in no time. So, what is keeping you from it grab it as soon as possible and surprise your little one. The vibrant colors make this fish crochet pattern even more desirable. In addition to this, the striped pattern shown is an easy way to go with; however, you may also vary the design according to your liking, so no worries! apocalypseknit
Hook size: 3 mm
Other materials: safety eyes
8. Free Crochet Fish Dishcloth Pattern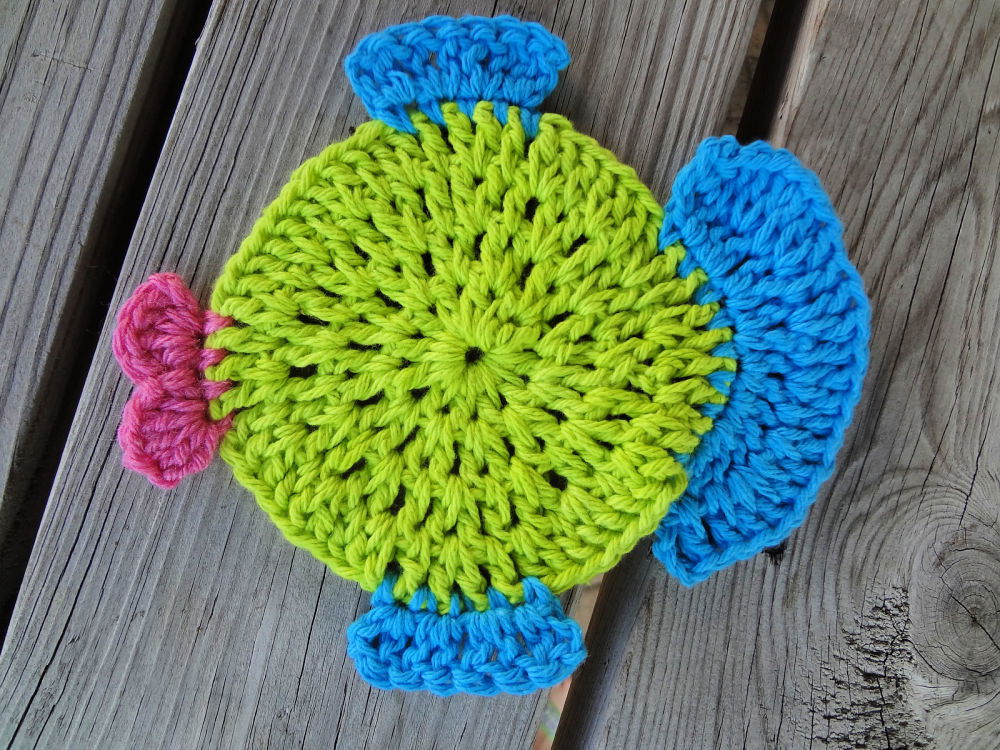 Dishcloths, as we know, are a vital element to every kitchen. Presenting to you the most minimalistic yet beautiful crochet dishcloth fish pattern! Now your kitchen can be as colorful as you want it to be. So, start working on your very own little dishcloths with these easy to follow crochet fish patterns along with pictures. This one will not take any of your time, so try it out right away! fiberflux
Hook size: 5 mm
Yarn: Peaches n' Crème
Size: 7.5" 6.5"
Other materials: Tapestry needle for weaving in ends
9. Crochet Fish Amigurumi – Free Pattern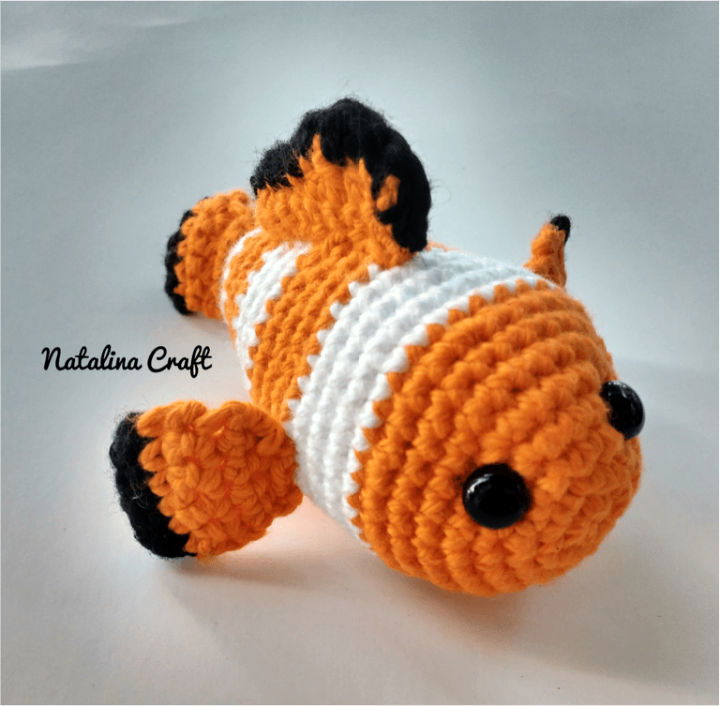 This captivating crochet Amigurumi fish is to fall in love with! The cutest tiny little piece you can add to your bedside. It is easy to make crochet with all the steps you need to follow in one list! Nemo, our all-time favorite buddy, is now just a click away to be yours. It comes in its very own colors, orange, white, and black, with the best quality wool indeed. The wait is over; start with your fish pattern crochet right now. natalinacraft
Hook size: 3.5 mm
Other materials: stitch markers, tapestry needle, 2 black safety eyes
10. Quick and Cute Crochet Fish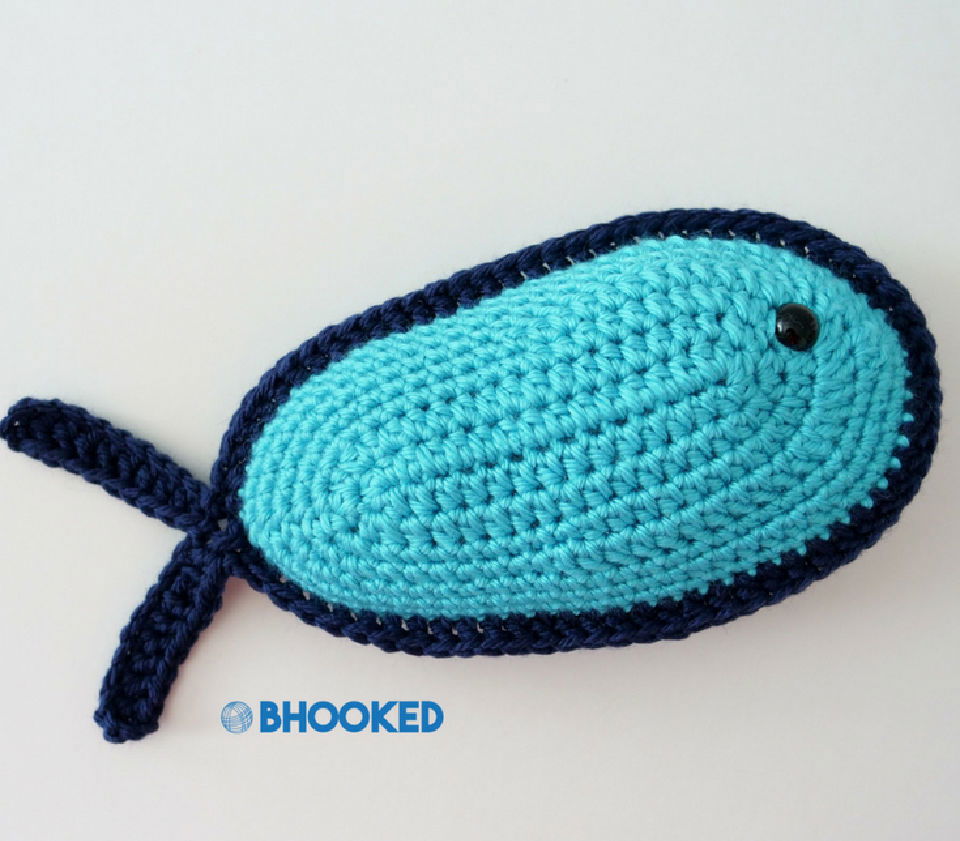 This quick and cute crochet fish pattern is not only exquisite but also very easy to follow! This pattern comes in absolute light and dark blue color, which makes you fish crochet fit for wherever you want to hang it. The guide which comes along with this pattern is detailed and will help you go along. Its great quality wool will make you love it even more. So, weave away your cute and quick fish crochet just now! bhookedcro
Hook size: 4.5 mm
Other materials: darning needle and scissors
11. Three Little Fish Crochet Appliques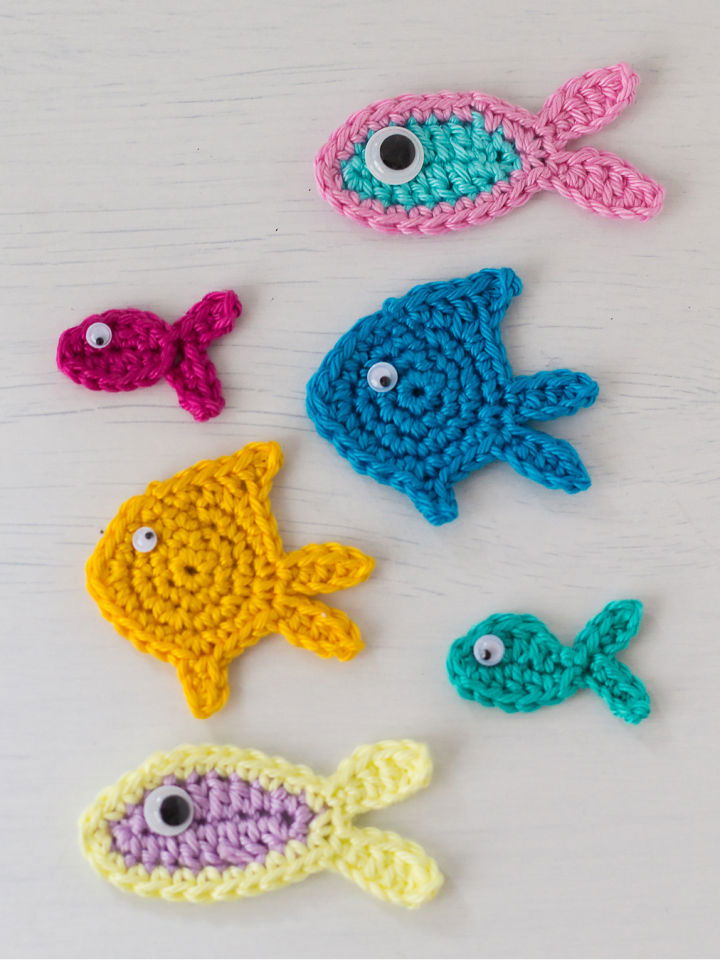 This free pattern is about all about three little fish crochet appliques, which are an absolute treat to the eye. You must think these tiny ones are difficult to go with; however, it can be just a matter of an hour if you stick to the detailed steps given alongside. Cute little things are always on the bucket list of our aesthetic, so what's the wait for? These fish crochet patterns can be the perfect fit for most of your little girls' outfits. Hurry up and grab your crochet kit right now! mycrochetpro
12. Crochet Fish Pendant or Necklace
Are you looking for something minimalist with all your go-to attires? This the right place for you! This crochet fish pendant necklace is exactly what you need. You may like to gift it to your best buddies too. Moreover, you can personalize all your T-shirts as well as dresses by wearing these awe-going pendants over them. Don't you like them? Also, they are just as simple to crochet. All you need to do is follow the instructions, and you're set to go! craftpassion
Skill Level: easy
Size: 3.5" x 1.75"
Hook size: 2.2 mm
Other materials: stitch marker and a tapestry needle
13. Fish Keychain Amigurumi Crochet Pattern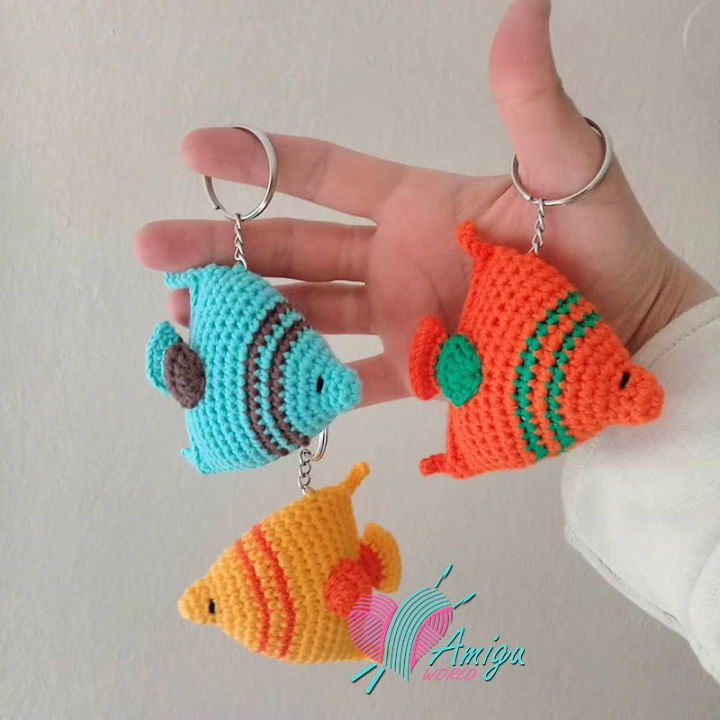 Do you also have a crazy obsession with keychains? Exactly, who doesn't! Here you have the perfect fish keychain Amigurumi crochet patterns. These are all you need to tackle your addiction towards keychains. No one likes to lose keys, so what we do is find ourselves pretty keychains, right? So what better way to have a little fishy tangling down your key. You just reduced the chances to ever lose your keys! amiguworld
Yarn: Yarn Art Jeans
Hook size: 2.5 mm
Other materials: sewing needle and scissors.
14. Little Fish Amigurumi Crochet Pattern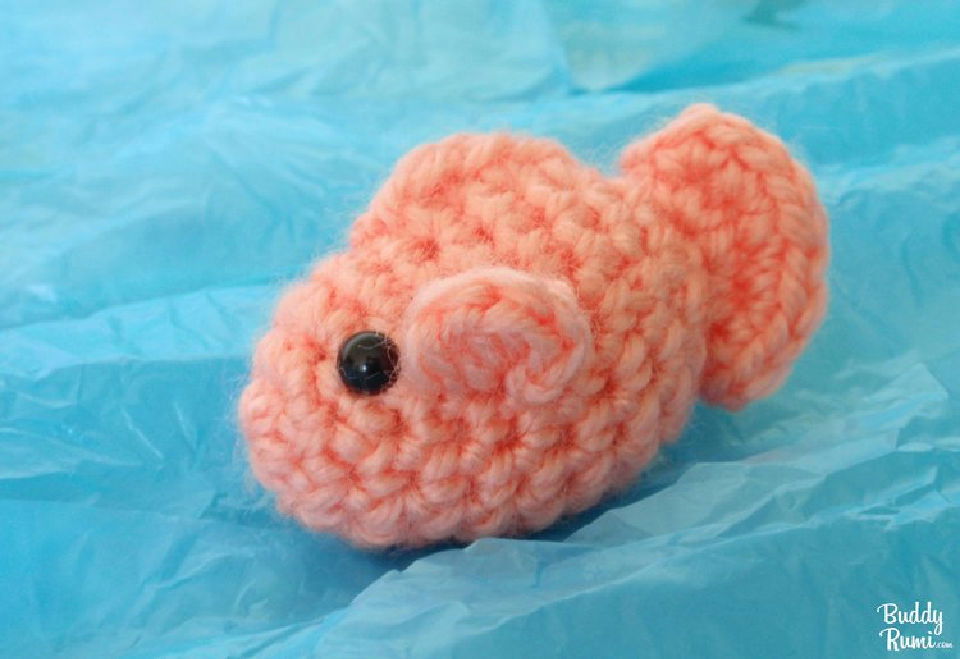 This Little fish Amigurumi crochet pattern is one that you will drool over! Even though it is so tiny, you will want to have it as desperately. They can even work as your stress-relief partners, as even looking at these gorgeous babies will bring a smile to your face! Not only that, but they can also be used to decorate your room, workplace, or wherever you want them. So what is keeping you from doing so? Grab your crochet kit, and way to go! buddyrumi
Hook size: 3.5 mm
Yarn: Medium weight color of your choice
Other materials: stuffing and a tapestry needle
15. Free Crochet Amigurumi Fish Pattern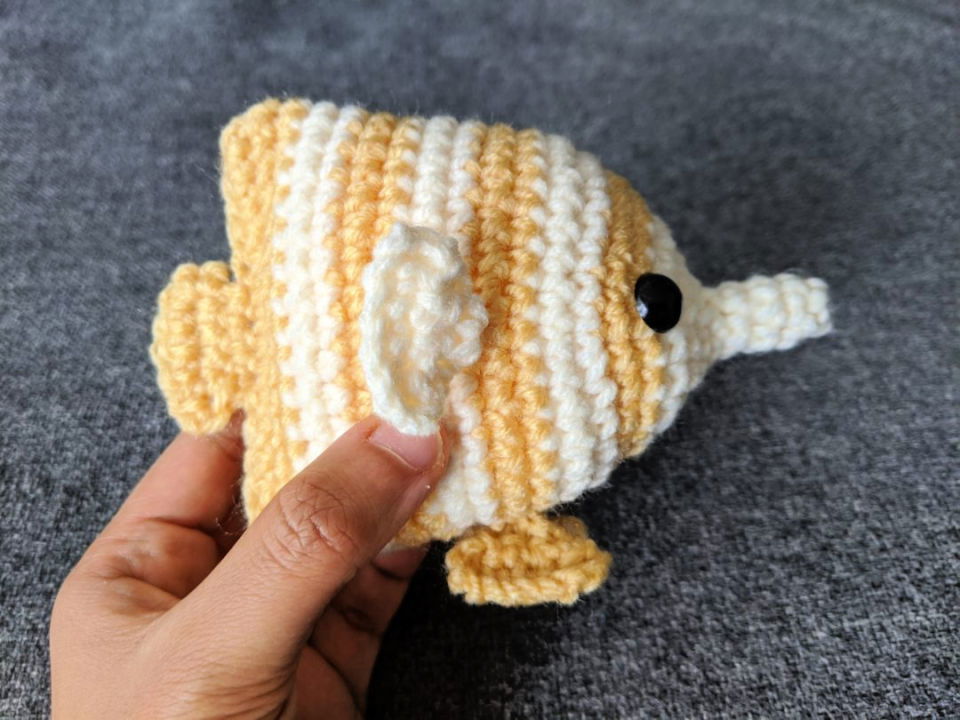 Presenting to you this free crochet Amigurumi fish pattern in the best pastel color! If you are looking for a quick and acute fish crochet pattern, then this is for you as you can go with any color of your choice to make your little fellow. It can be used as a bag charm or a locket as a gift for your dearest friend. It can be done in a couple of hours just by following the easiest steps! asmihandmade
Hook size: 4 mm
Other materials: Large eye, tapestry needle, and stuffing
16. Free Crochet Chubby Fish Pattern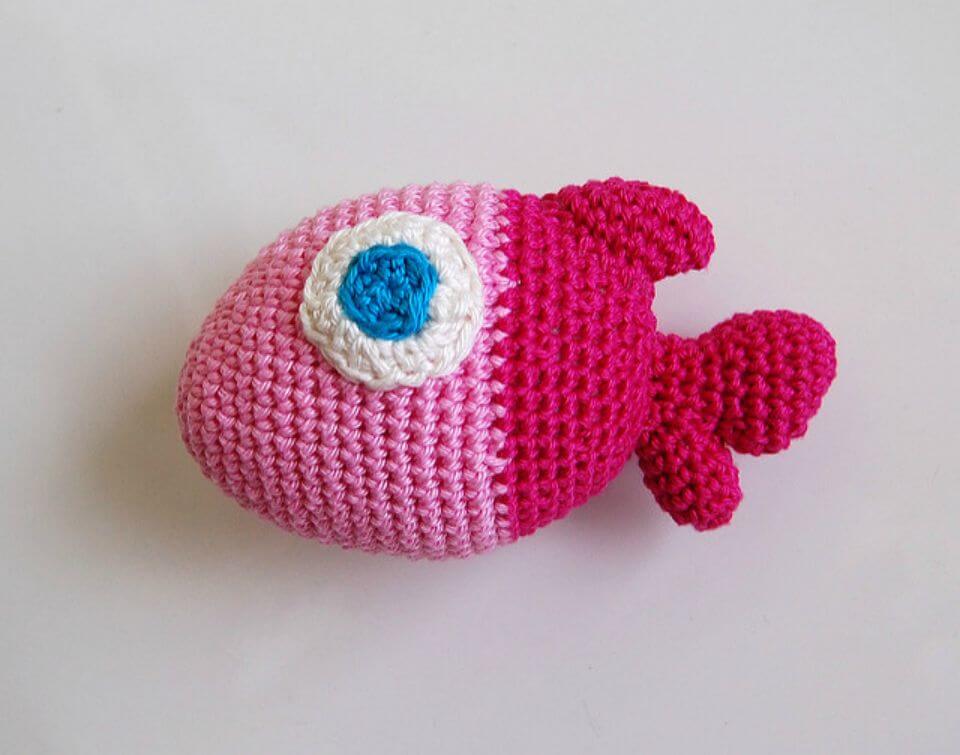 The yarn toys are just perfect for your kids to play with and have fun at home that too without getting harmed. So get your little one this cute fish so nicely crocheted with the lovely yarn hues used for the tail part, body, and eyes. You kid would love to play, cuddle and squeeze his new yarn buddy. So do make this cute little-crocheted fish for your little ones or the other kids in your family to use as the perfect gift. Details of the pattern are here cinnamonpurl
17. Crochet Goldfish Applique For Hat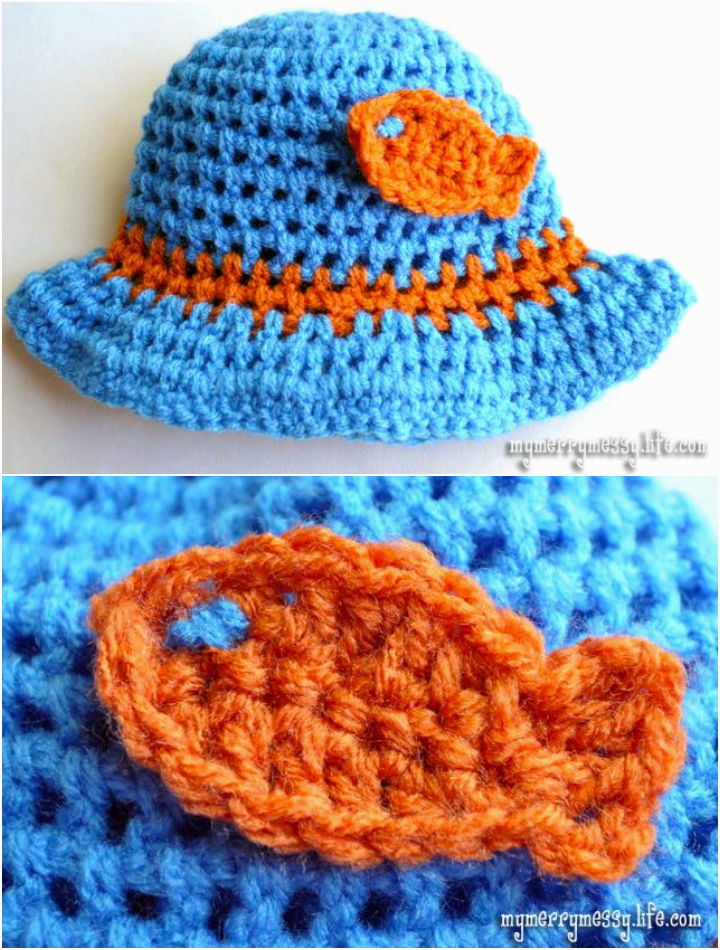 The golden fish is the tiniest and most adorable fish type and the most adopted one in the home aquariums. So now you can crochet a cute little golden fish and use it as the applique on your hats and make them look so unique and quirky to flaunt it around. Especially the kids would love this crochet hat with the Goldie fish on it so that it would make a perfect gift too. You can hack the details of the pattern for this crochet goldfish here mymerrymessylife
18. The Littlest Bashful Starfish Crochet Pattern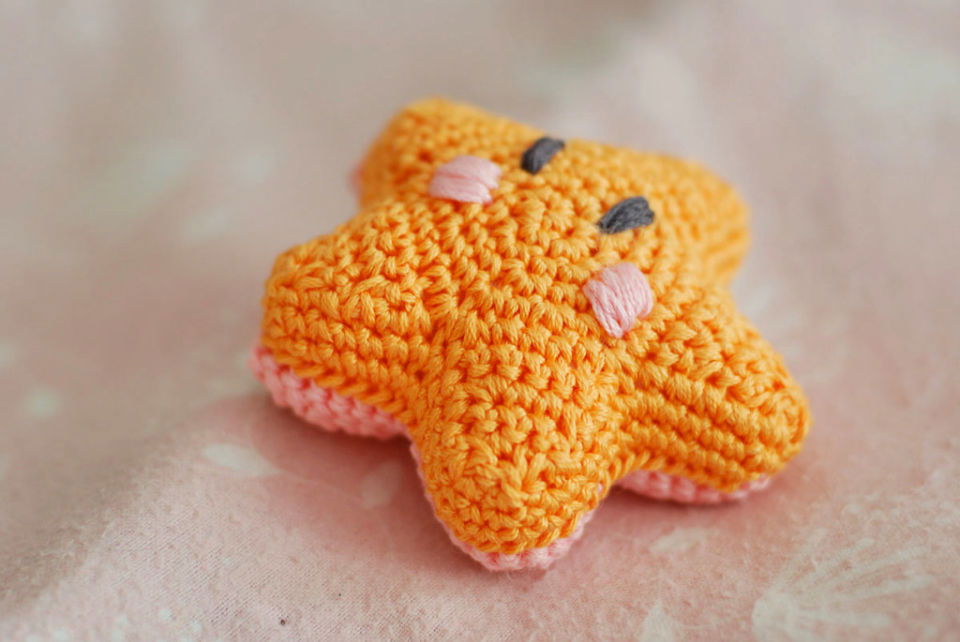 Starfish are also one of the amazing and the most adorable sea creatures, and kids love them. So now you can crochet a starfish for your kids that they can use either as a toy or a soft pillow for their beds to calmly and comfortably sleep on, or it can serve them both. The double layers of the colors on the front and back and the cute face features make the starfish look lovely and fun. You can check out the details of the pattern for this starfish right here nettness
19. Crochet Jellyfish Jam Pattern
We can not resist praising the creativity of God when we witness some marvel creatures of him, and the jellyfish is one of them. So bring this so much exceptional sea beauty to your home by crocheting a cute jellyfish pattern for your kids to play with. So here is this cute jelly wish the head and the tentacles to be crocheted separately and then stitched together, forming a complete jellyfish delight. You can do it in any of the favorite hues of your kid as this blue one is so custom for the boys. Check out the free pattern and the details here bittersweet
20. Crochet Cute Pink Jellyfish Jam – Free Crochet Pattern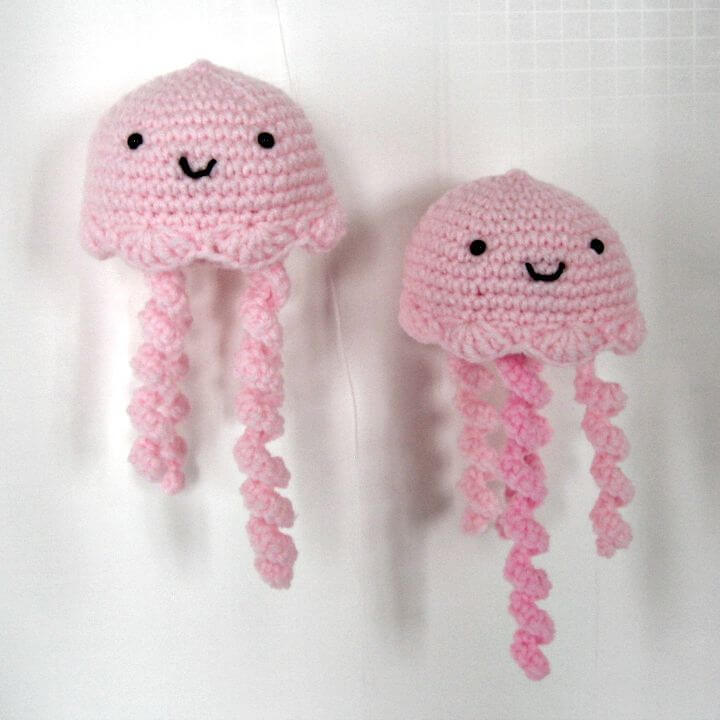 If you are decorating your girl's room and you need some cute wall hanging to fill up the walls nicely, these jellyfish are the best things to jazz up the walls with. The pink color makes it more apt for the girls, and they would adore it to the core. The hat-like jellyfish head and the curled tentacles are easy and fun to crochet, even for beginners. So grab your crochet hooks and start working up this cute project with the help of the tutorial provided here crochetnplay
21. Free Crochet Clown Fish Pattern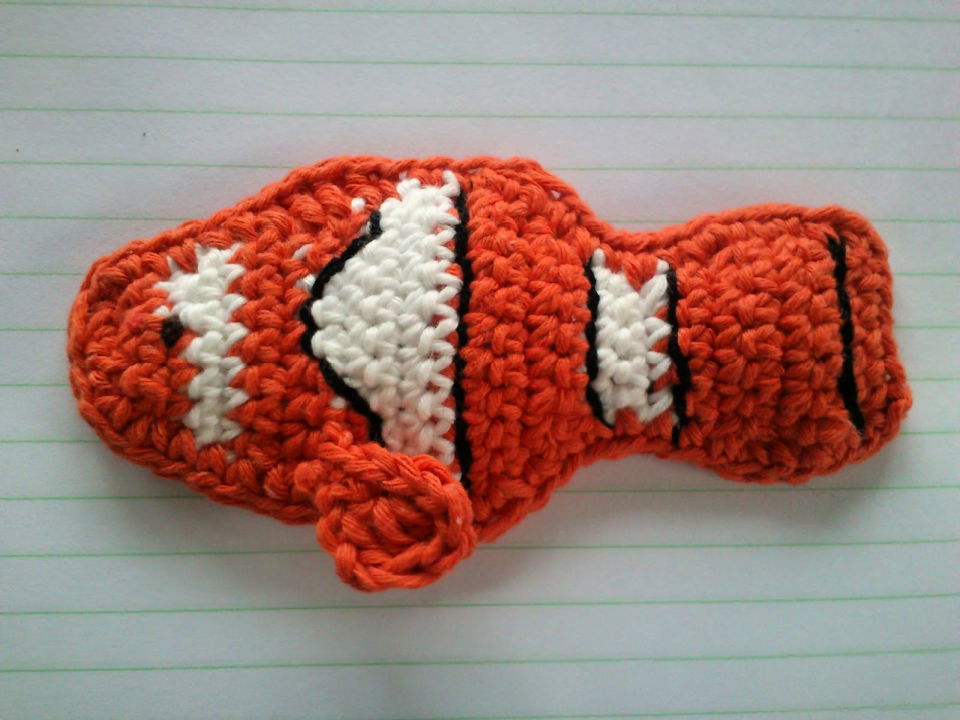 After Finding Nemo, the fish received more love and likeness from the kids, so it would be so much fun to work up your hooks on this Nemo fish pattern and get the cute fish to use for so many purposes. This crochet fish pattern is nicely covered with easy stitches rows and the custom Nemo fish colors of orange, white, and black. It can be hung on the walls, used as appliques, or stuffed to get a fun toy out of it. Grab the free pattern for this lovely striped fish right here! yarnoverhook
22. Crochet Lots Of Little Fishes Pattern
The crochet buntings are getting popular for being so colorful and soft to bring the pretty vibes in your party decor. There are so many shapes and designs to get your crochet buntings in, and the cute fish are the new arrivals in this department. You can easily work up these tiny and colorful bunch of fish and then string them together to form an adorable bunting display over the walls or your party table. Check out the details and the free pattern here thegreendragonfly
23. How To Crochet Fish Potholder – Free Pattern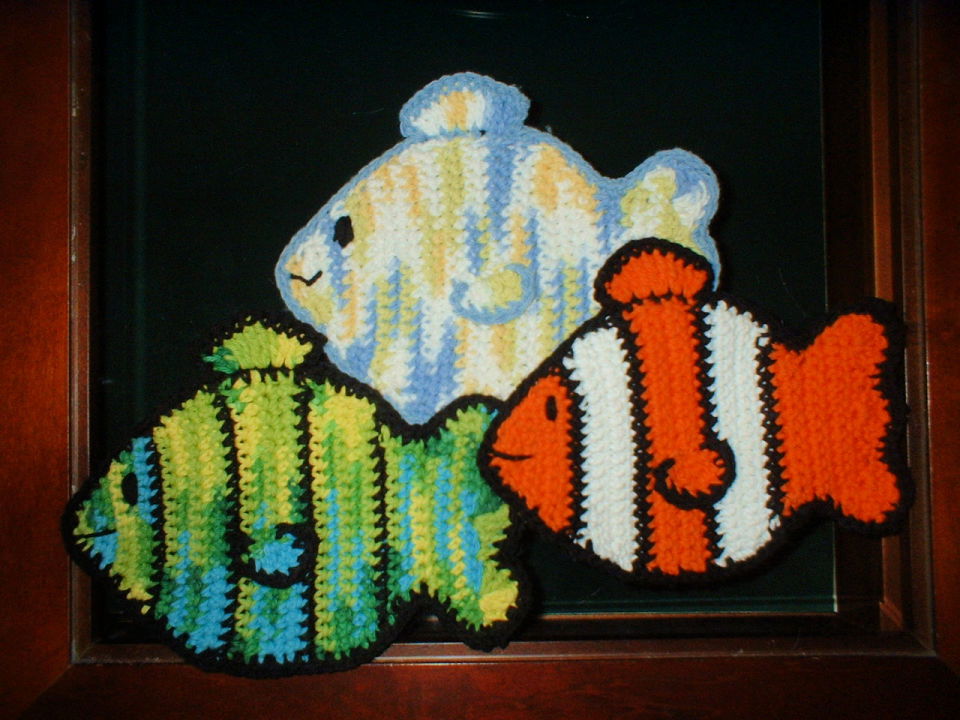 Like the real colorful and soft crochet, fish is the same with so much pretty yarn hues and the soft yarn. You can crochet a lot of fun fish patterns, and here is this one to be used as the cutest and the prettiest crochet potholder and add oodles of charm to your home decor. The pattern is the same but varied in different shades to enjoy the adorable variety for your fancy and fun potholders. wwwlubbock
24. Crochet Fancy Goldfish Amigurumi Pattern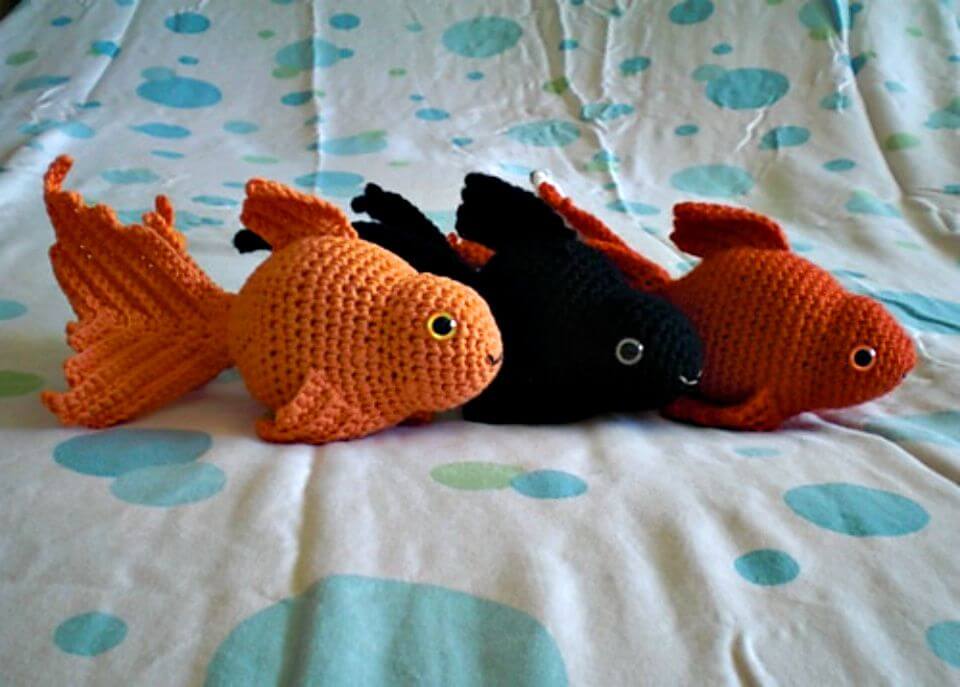 Hold your breaths as we got along these wonderfully gorgeous crochet fish to bring the color and yarn fun to your spaces. You can choose any color you like to crochet this fabulous fish pattern to work up your crochet hooks. The body involves the round stitch work, and the fins are crocheted with the front and back crochet stitch. The lovely double hues buttons are adding the lifelike eye appeal to the fish. They would look so great to be used as pillows or the squishy for your kids too. You can check out the details of the pattern here ravelry
25. Free Crochet Walter the Blue Fish Pattern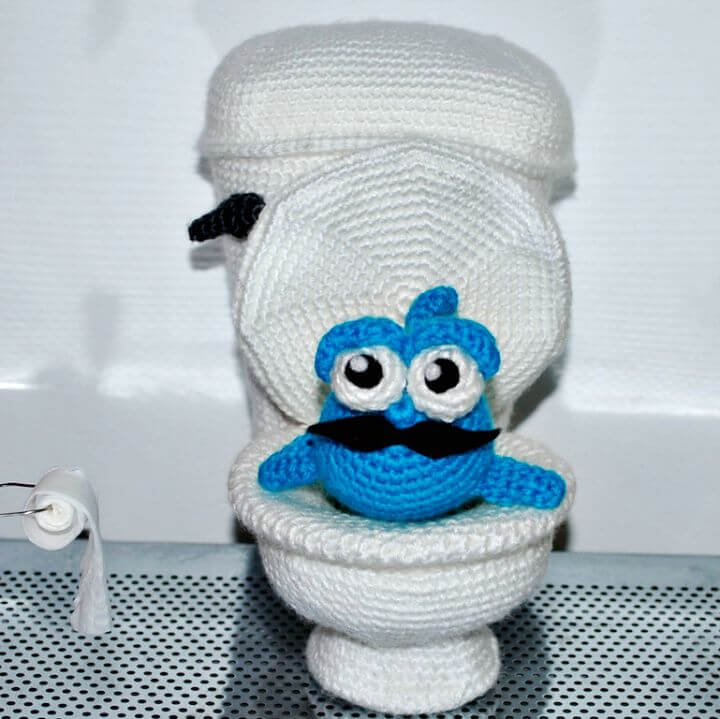 If you have made your little girl a dollhouse with the bathroom section filled with the crochet toilet seat, we got you something that would bring more fun to this area of the dollhouse. This is the cute Walter blue fish with the big round eyes, the heavy eyebrows, and that cute mustache where he can get flushed and go to the sea and find his fellows. the girls would love it, so do make it by grabbing all the details and the free pattern right here kimlapsley
26. Free Crochet Baby Fish Pattern
Suppose you have already crocheted the Walter fish, then it's time to get this cute and manly fish its kids and make him not feel alone while staying at your places. Here are the cute babies of Walter in purple and gold with the pouted lip to look so like their father, and that angry fellow at the side is Garth. It would be so much fun to create this adorable fish family and bring fun to your kid's playing and his room decor too. You can check out the details of the project here kimlapsley
27. Easy Crochet Fish Applique Pattern
You can crochet and use so many things as cute appliques for your crochet hats, caps, baby dresses, shoes, and so many decorative things around you. So instead of the flowers, this time, make these pretty and cute fish appliques to beautify your things and make them look so beautiful and adorable. These tiny little fish are so cute and fun to crochet yourself, and the details of the pattern would make it easier for you to get your hands on. So check out the details here jennyandteddy
28. Free Crochet Fish Blanket Pattern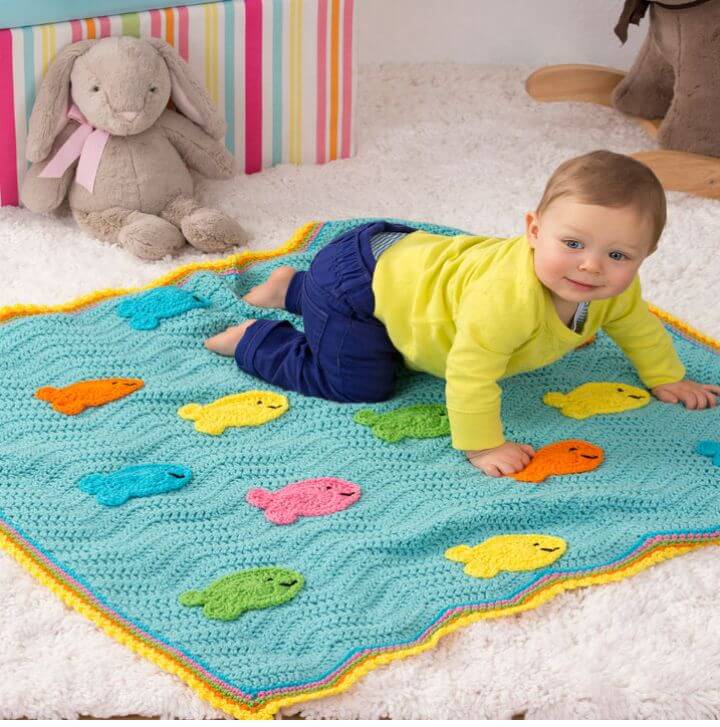 Toddlers are so attracted to the colors and now you can make them learn the colors in the most cutest way with this crochet fish blanket. The whole sea has beauty has been poured on this blanket with the blue base and the ripples for water and the colorful fish appliques swimming on it. Not only the colors but the counting can also be made so much fun to learn with this lovely crochet baby blanket pattern to roll on for the toddlers. You can check out the details of the fish applique patterns and more here redheart
29. Crochet Fishing Game Kids Toy
Kids love fishing, and now they can enjoy fishing anytime with this adorable and fun fishing kit crocheted by you. Yes, a blue flattens bag would work as the pond with colorful crochet fish inside, and a wooden pole with a crochet hook would be used to get the fish out. Magnets have been used inside the fish and the hook on the pole to make the finishing so much real and fun. The easy and fun details of the fishing game pattern and designs are here allicrafts
30. Red Heart Crochet Starfish Dishcloths
Crochet dish clothes are a blessing for the ladies as they really make the dishwashing so much soft and easy. And once you are finished with your dish wash task you can make the dish clothes display with their beautiful crochet pattern and the colors of the lovely yarn. This starfish dishcloth would really spruce up your kitchen decor for sure with its cute design and delightful shape and get hung up on the walls once they have finished their task. You can learn to make them here and also use them as a nice gift for your friends and neighbors too yarnspirations
31. Crochet Starfish Amigurumi – Free Pattern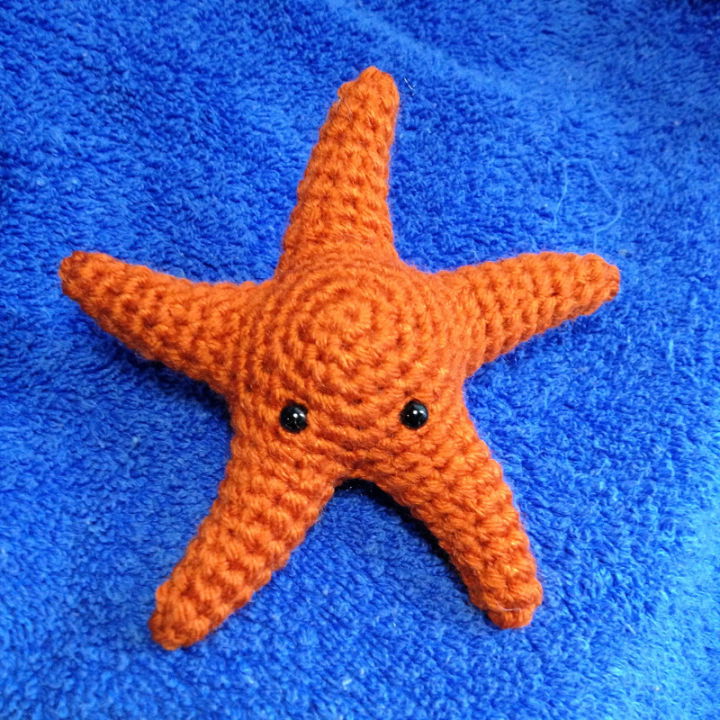 Kids want a treasure full of toys for them in their rooms, and it's never enough for them to get more and more toys. So to let them play with the safest of toys, you can crochet them a bunch of the playing staff, and here is what you can add to your next to-do crochet list. The delightful pattern and the pretty colors are so appealing to attract the kids, and they would love spending some fun time with this sea buddy of them. You can check out the easy pattern details and instructions here ravelry
32. Easy Crochet Starfish Pattern For Beginners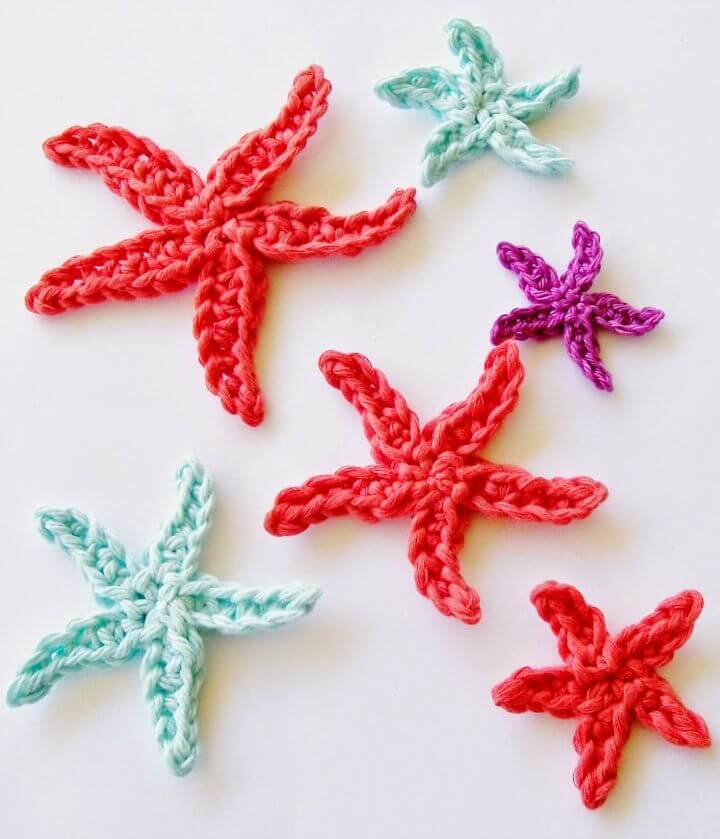 Are you looking up for colorful and fun things to be added to your empty walls and boost up the wall decor? How about crocheting this adorable bunch of the starfish in the exquisite shades of the bright yarn and thus create an exclusive hand art corner on your walls. Especially the summer decor would be so much elevated with these cute crochet starfishes being hung up n your walls and reminding you of all the beach fun you could have in summers. You can catch the details of the pattern right here to follow this lovely wall art project yourself at home flowergirlcottage
33. Crochet Little Amigurumi Fish Pattern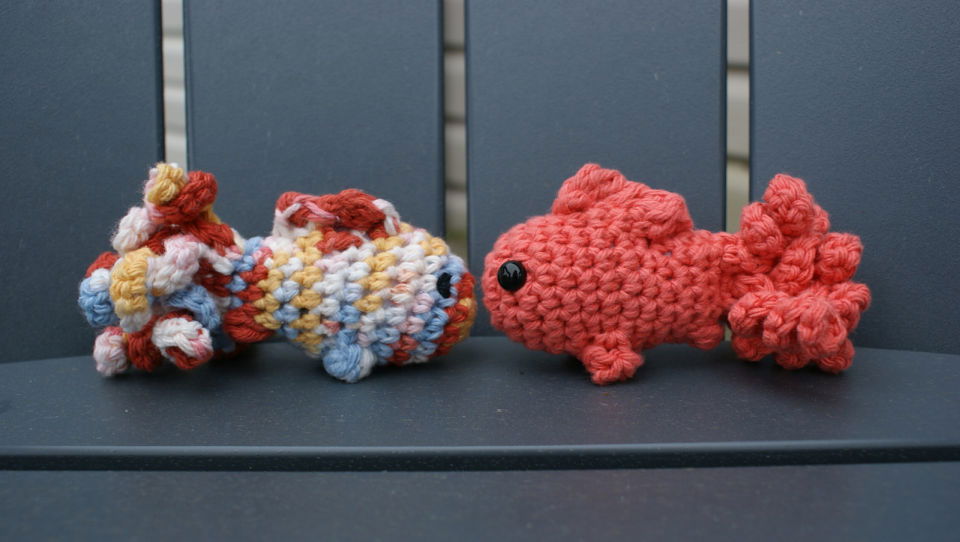 Imagine this cute pair of fishes looking so pretty and fun on the desk or the table or even on the shelves if there are some in your kid's room. You can work this cute fish pattern so easily with the multiple shades of the yarns involved for that adorable look and cute appeal of the colors. There is nothing tough in this fish couple pattern, just the easy rounds of the stitch and you are done within an hour getting the cute fish delights for a subtle display. Check out the fully detailed pattern here oombawkadesign
34. How To Crochet 20G Fish Free Pattern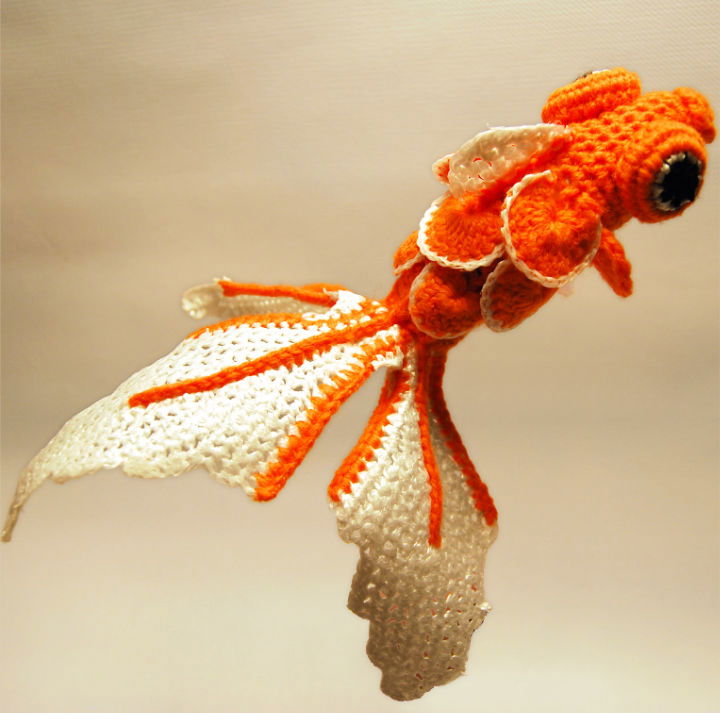 The real fish squid might not look so cute, but it's like the most exquisite fish creation ever made out of the yarn when you crochet one. Here is this 20g fish squid to get your hands on and bring some really captivating details to your home decor. This colorful and totally softy squid would look so much whimsy along with your lamps, vases and other decorative crafts to add so much texture and appeal to your styling details. the free pattern lies here with all the details and more ravelry
35. Crochet Air Plant Jellyfish Pattern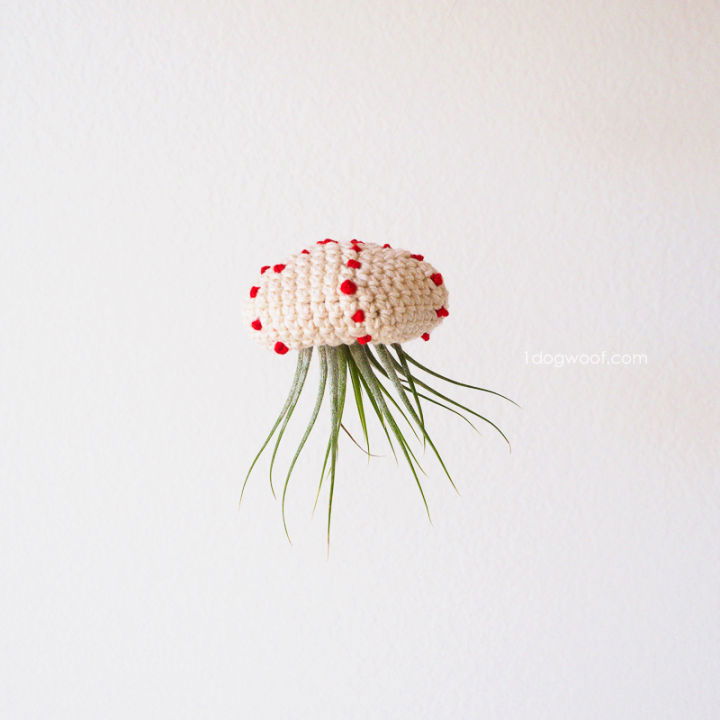 Do you have an air plant? If yes, then it's time to flaunt it around your home decor and that too in the most whimsical manner that you could ever think of. Yes, you can crochet this amazing crochet jellyfish to hang your air plant in your spaces and add oodles of charm and beauty to your interiors. You can vary your jellyfish with the colors and yarn of your choice, and to get your hands on this pretty project, and you need to grab the easy free pattern here 1dogwoof
36. Free Crochet Stuff and Spill Fish Bowl Pattern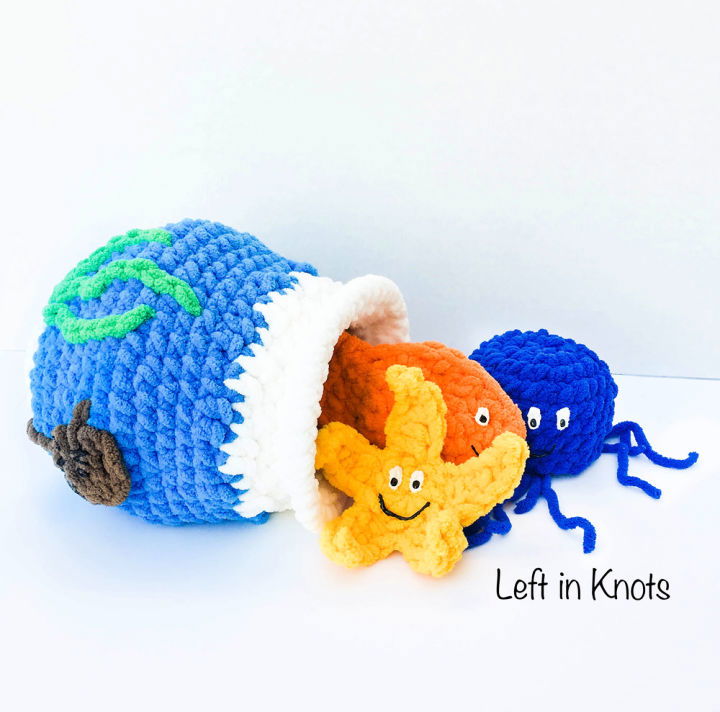 When you have toddlers, there are just so many toys and amigurumi that you can crochet to let them play with, cuddle, squeeze and more. So this time, get some sea inspiration to crochet these fun fish toys for them with this lovely fishbowl to hold them nicely inside and solve your storage problems in the most pretty manner. A simple fish, starfish, octopus, and so many other sea creatures can be made with the pretty yarn hues and hold in the fishbowl to let the kids have so much to get excited with. leftinknots
37. Happy Jellyfish Amigurumi Crochet Pattern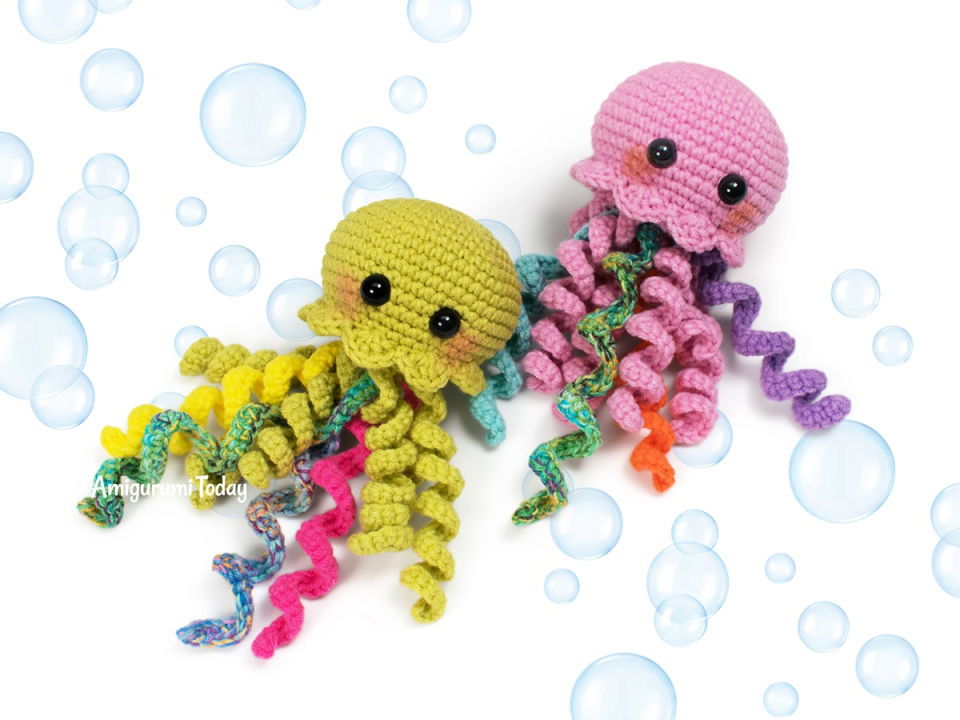 If your kid is bored with his existing toys and he wants something new and more fun to play with, then we got some special treat for you in this regard. Yes, we talk about this adorable jellyfish amigurumi to your kid's new fun fame. You can easily crochet this pretty jellyfish with a cap-like body and curly tentacles with any favorite yarn hues of your kid. It would be a great gift for the baby shower, too, so it really is a fun project to work up your crochet hooks on. Free pattern and details here amigurumi
38. No Fuss Fish Free Crochet Pattern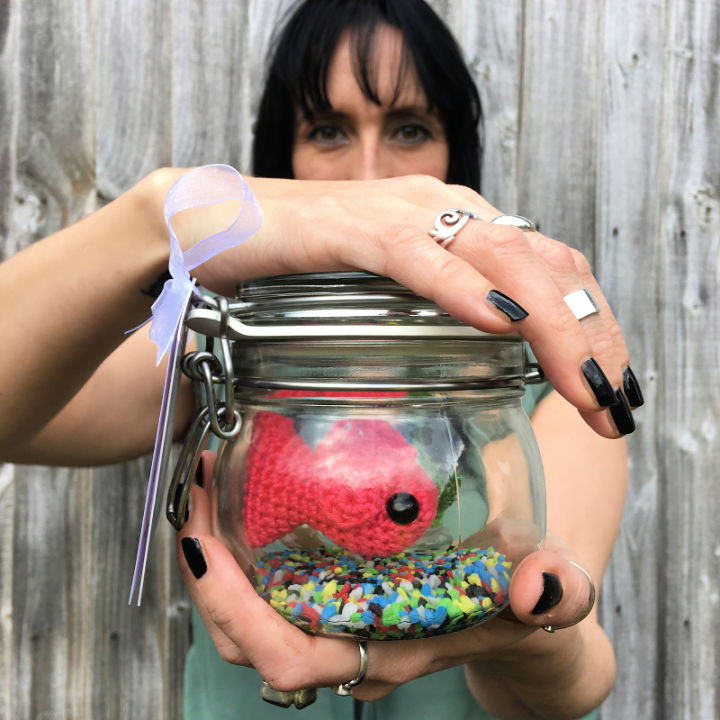 Those cute fish bowls resting on the side tables, sideboards and shelves really add to the pretty and peaceful home vibes. But having a cat does not make it possible for you to have fish, but you can still enjoy the fishbowl charm to your spaces with a cute fish in it too. So grab a jar, fill it with the stones and then let this cute crochet yarn make it her cute and funhouse. It is one of the cutest and charming ways to let your interiors reflect some really whimsical touches. You can learn to crochet the cute and quick tiny fish here, edenreborn
39. Free Crochet Fish Candy Pattern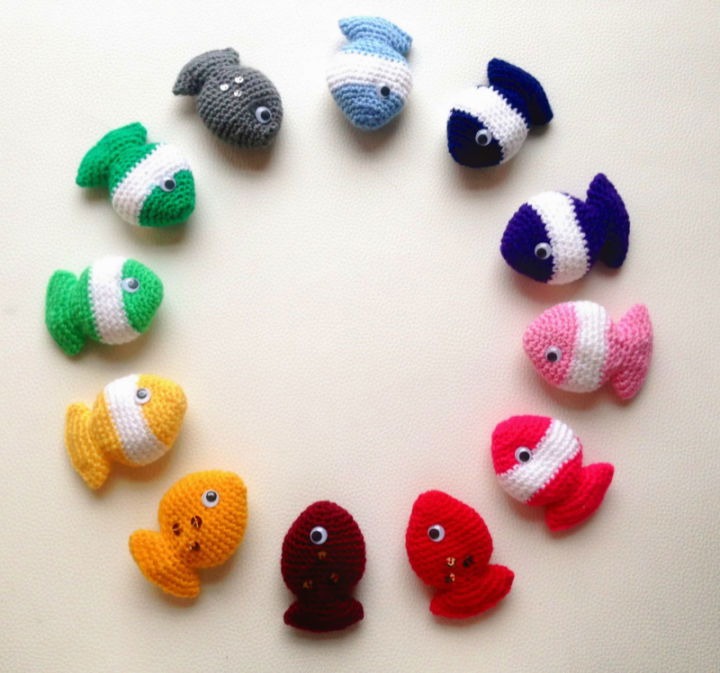 When the festive season is here, the happy vibes of decorating your house, sending invitations and arranging the get to gathers prevail all around with so many colors and delights. So for the decor, this time, you can get your hands on these tiny but a cutest bunch of fish made up with the lovely candy inspiration we got out of the candies. The fish collection would really add pleasure to your decor with the lovely candy stripes and the bright yarn colors, especially in the kid's places. You can check out the details of the pattern here lilyrazz
40. Crochet Heart-shaped Fish Applique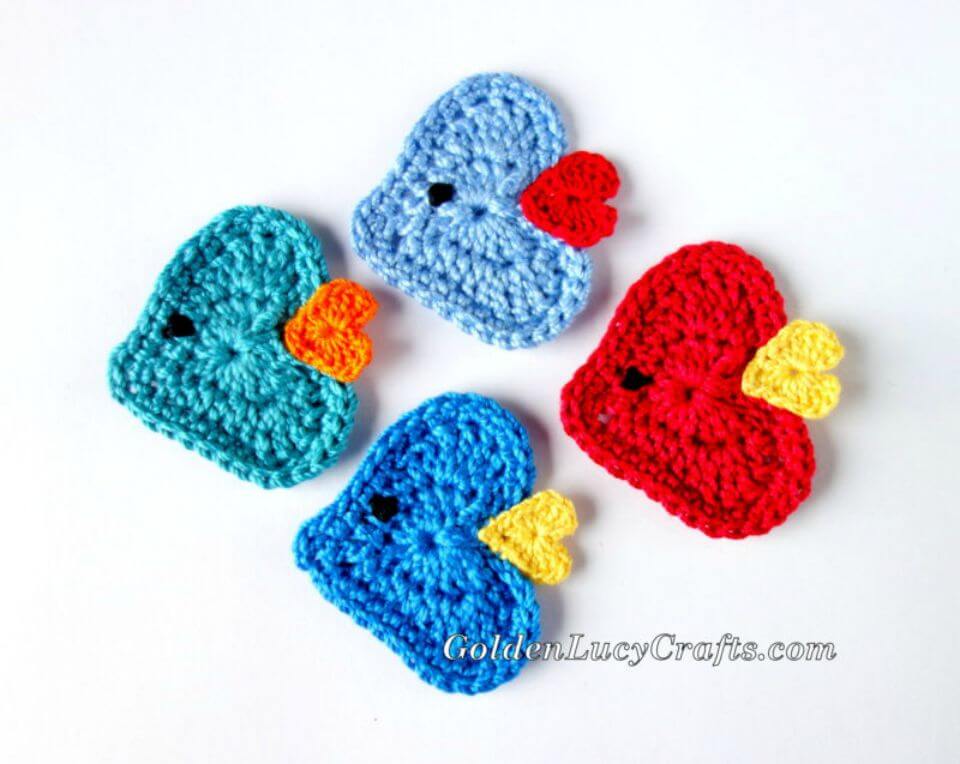 From your scarves, shirts, hats, shoes and gifts, vases and candles holder these crochet heart-shaped fishes can award a gorgeous styling look to any one of these with their adorable shapes and bright colors. especially the baby boots, shirts and caps would look more fun and pretty with these fun fish appliques which are just too fun, easy and quick to crochet a bunch in just a little time. Here is the link to get the detailed tutorial of this functional and fun idea goldenlucycrafts
41. Free Crochet Rainbow Fishing Game Pattern
To engage your kids in the fun indoor game activities, you can create this fun fishing game to fish and have fun catching those colorful fishes in the basket. Especially the summers would be so much more enjoyable with this lovely activity to be performed in the garden or patio area. Just crochet a bunch of cute and colorful fishes with a pretty crochet basket to hold them like a cute little pool. You can add magnets to the fishes and the fishing stick so that they easily fetch doubt by your little ones. Details of the fun idea here with the free patterns too illhookyouup
42. Crochet Star Stitch Fish Bath Mitt Pattern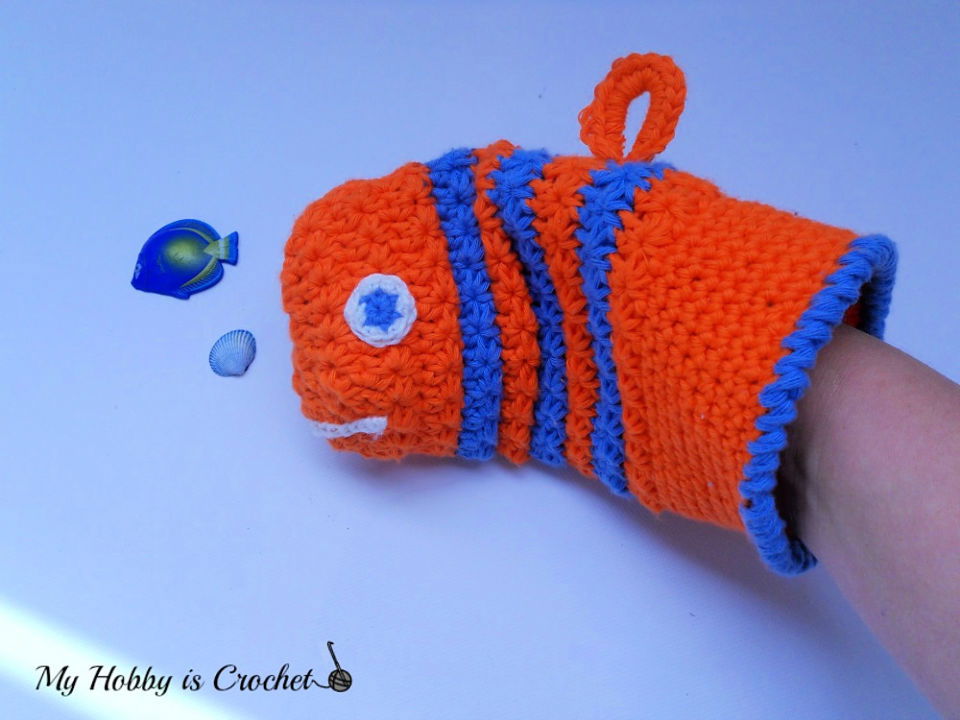 Bathing time is enjoyable and exciting for the kids used to the toys in the fish tub, and now there is something more to add to their bathing fun. This is a cute, crocheted mitten crocheted in an adorable fish pattern. With the pretty shades of the yarn and the strips on the mitten, the fish pattern comes out as a pretty possession, and your kids would love to spend some more time in the bathtub due to the soft and cute fish mitt. To own this awesome fish avatar, you need to check it out all here with the instructions, details and the free pattern myhobbyiscrochet
Conclusion:
There you go with a range of the prettiest free crochet fish patterns to choose from! You must be confused about where to start from because all of them are worth a try and as aesthetically beautiful as they are. Make sure to use all the correct supplies needed for the patterns to make them exactly as you want them to be! This is the perfect way to enrich your living with your favorite colors and adding an endearing vibe to your daily life. Make sure you know the sequence of steps before proceeding with your pattern. You are all set to go now, have a lovely day; Happy Crocheting!