You can't stay long bareheaded at outside in the dead of cold! The direct interaction of winter coldness to your ears, head, and nose can make you sick! So, ensuring winter protection will surely demand your head to be covered warm perfectly! And if you want to do it in style, then you must go with crochet hats that are colorful and will wrap around your head as an accent winter warmer! Looking for some adorable hats to crochet at home? Just check out these brilliant 16 Free Crochet Cap patterns that are good-looking and are sure to make a beautiful winter head warmer!
Crochet the simple yarn hats in a single color or just go with the multiple yarn colors and prefer the different patterns of the striped pattern to make you hats look a bit more unique and eye-catching! Check out some precious sample hats are given below! Crochet the cute beanies or the slouchy beanies that will make you wear the winter protection in a style! Boost your style by crocheting beautiful hats with short brims or in cap style that would be a big delight to wear also!
If you are all on a mission to catch more eye-balls this winter, then you must go with the crochet turban hats that will spice up the head of any style loving teen along with covering warm your forehead! Moreover, these crochet hats will spruce up any of your winter outfits hence making you gain extra fashion points!
Intending to cover up a bad hair day without losing your style and fashion? These crochet hat will also be an excellent solution for it! Furthermore, you can also prefer the crochet bun beanies or hat that will help maintain a cool hairstyle even when you are wearing the hat over the head! Check out some extra brilliant and amazingly beautiful sample crochet bun hats given below! A lot more crochet designs are presented below that you would like to add to your winter wardrobe!
This list of crochet hats provides you cool hat inspiration for every age groups from toddler to teen to matures! Moreover, there are provided guides that will provide you the latest techniques and all smart tricks of the trade to change the size of the crochet hat and the design texture as well!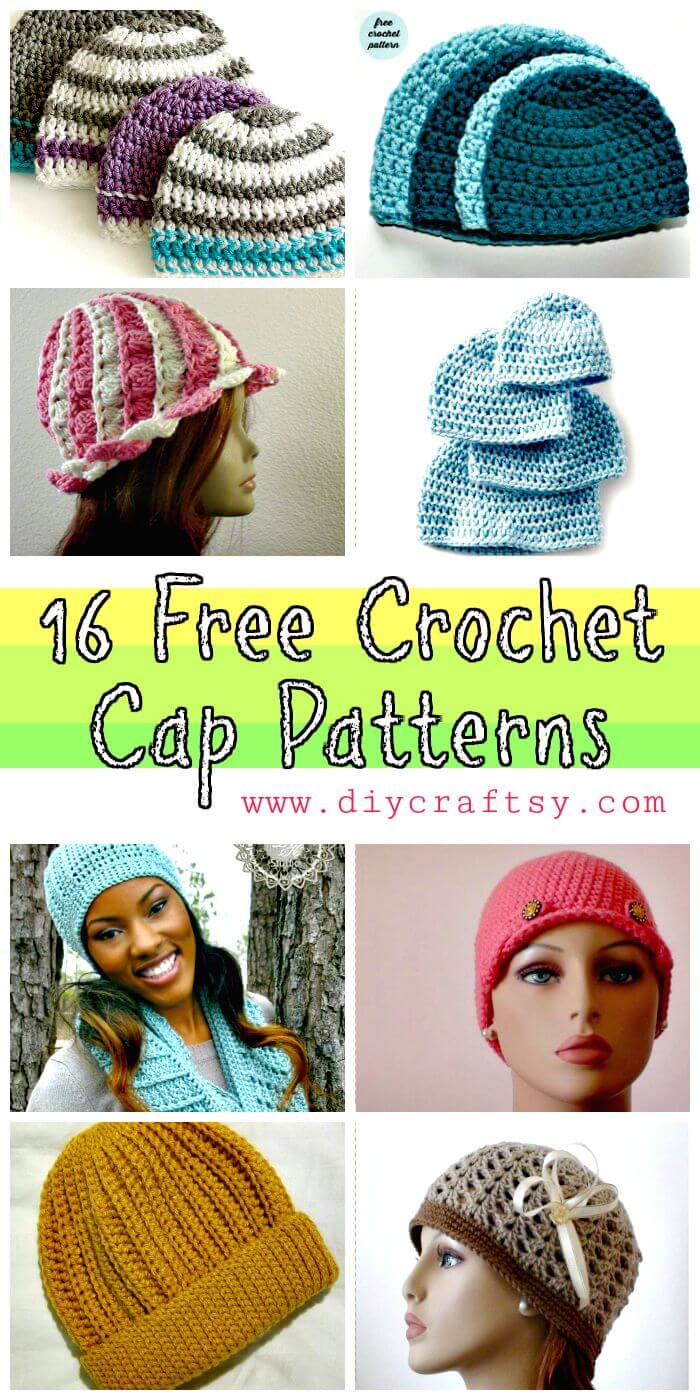 If you are just sorting out some perfect gifts for a baby shower, for a baby's birthday or an about-to-be-mother, then these hats will rock as they are super gift-worthy! There are provided links for each showcased hat design which you can browse for further project details, visual instructions and also for complete free tutorials!
Want more Free Crochet Patterns?
Crochet Caron Teeny Weeny Cap – Free Pattern: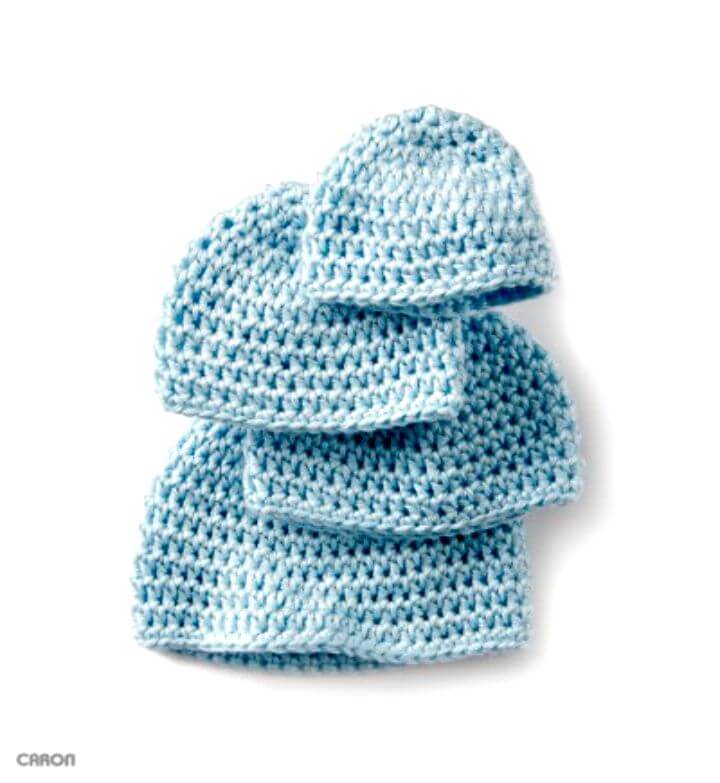 The caps are the integrals part of the kids dress up for the summer so you should put your hands on this simple yet chic and pretty in style crocheted caps for the kids. You can vary the size from the newborn to 6 months, one-year-old and the early walker depending on the size and age of your kids. You would find the complete details of the pattern right here yarnspirations
Crochet Super Simple Newborn Beanie – Free Pattern:
The lovely beanie hats are the favorite pattern and design for the kids of the mothers, and they are the first choice to get their hands on for crocheting when there is a need for a cozy hat fort he younger ones. SO here is this simple and cute pattern of the beanie hat which is suitable both for the baby girls and boys with the change of the color. Purple for the girls and the blue for the boy so do catch its details from this link provided littlemonkeyscrochet
Simple Double Crochet Hat – A Free Crochet Pattern: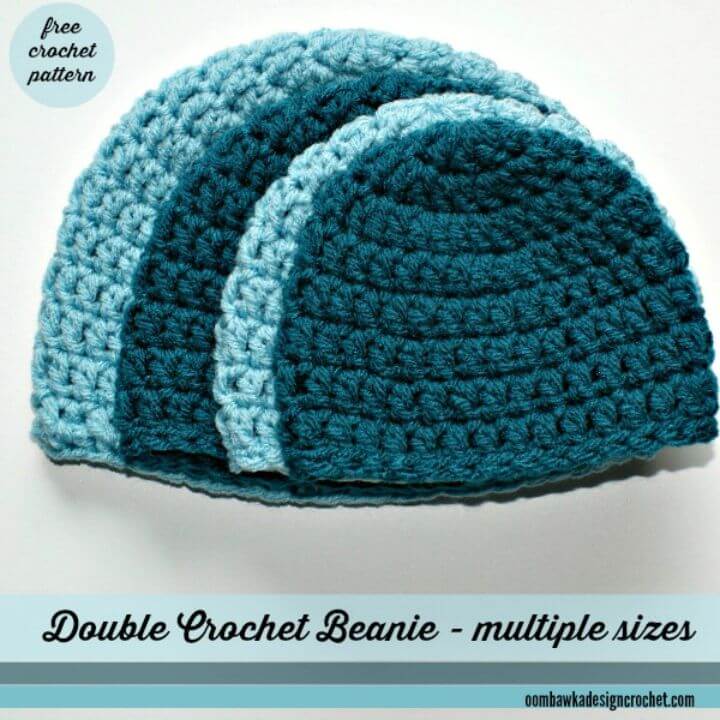 Need a beanie hat for your kids? do not wander here and there as we got this simple and easy crochet beanie pattern for you that would look just great on the tiny heads of your little ones. The double crochet beanie would be so much easy and fun to crochet yourself and thus make your kids feel cozy and warm while heading outside. You can pick the yarn and colors of your own choice to bring out the more personalized results out of this beanie hat free pattern oombawkadesigncrochet
Free Crochet Caps For A Cause Pattern: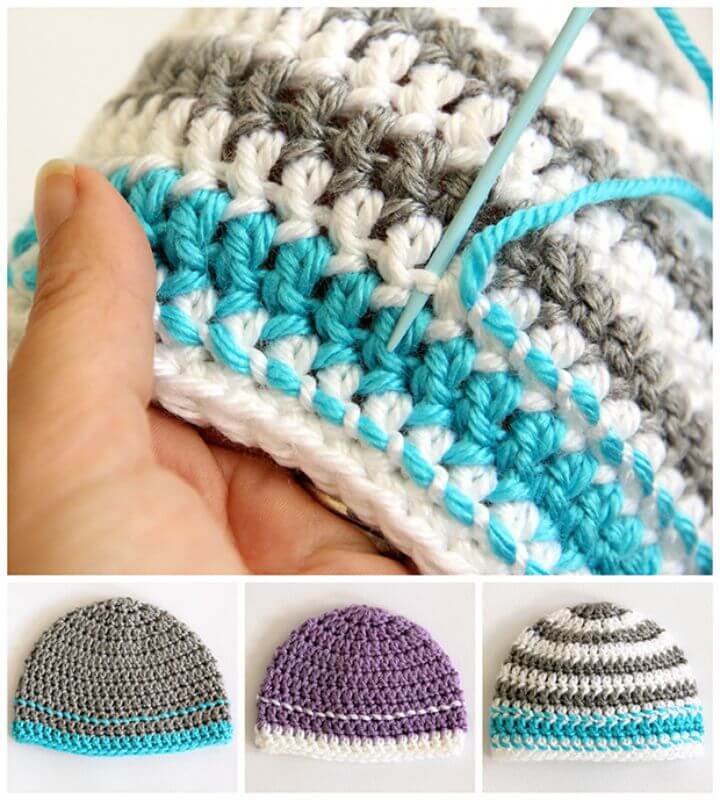 Though the beanie hats are so simple and easy to crochet yet, you can award them fun pretty look by just mixing up some cute yarn shades in a variety of the ways. You can give the beanie hat a colorful edging, or you can just form up the colorful stripes.Both the ways would work so amazingly to make your beanie hat look cute and stylish. Grab the free pattern with the stitch details right here dabblesandbabbles
Free Crochet Turban Pattern: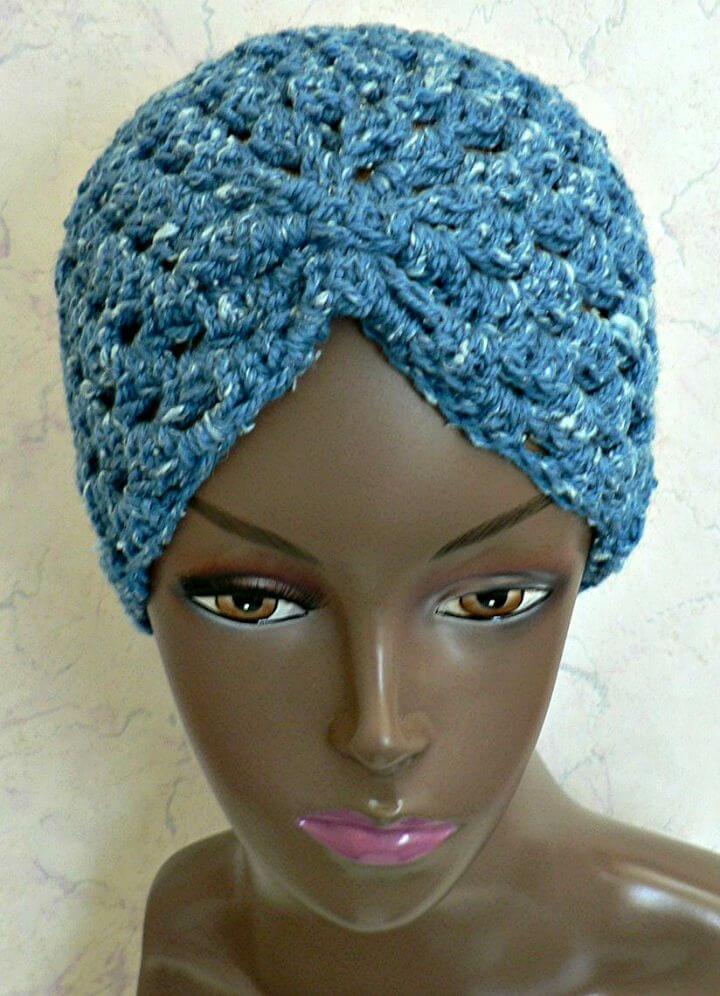 Here is how you can look beautiful and stay warm too during the winters with this pretty and simple crochet turban style hat for yourself. for your girls and your friends too as it would make a lovely gift idea too. You can choose to crochet the hat in any of your desired hues and for the free pattern or  the details you can check out it out all  here headhuggers
Free Crochet Mystic Beanie Pattern: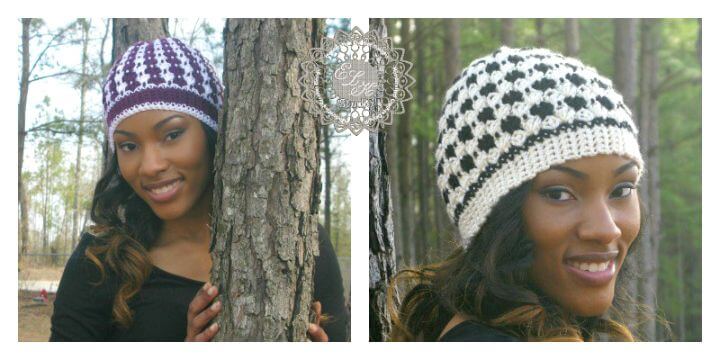 Beanie hats are simple in looks but still, you can manage to make the huge style statement with them by varying the colors, mixing up the colors and also stitches too. Here is how you can crochet the beanie hats in four different styles and hues and thus make yourself different with each of them when worn with the matching dresses. You would find the all these four patterns lying free here so catch and crochet and get styled up for no cost in the winters elkstudiohandcraftedcrochetdesigns
Crochet Cap Blaise – Free Pattern:
Inspired by the fun baseball hats this cute crochet blasie hat would be a lovely addition to your winter wardrobe. You can wear it anywhere and with anything, and it would just add the simply cute touches to your dress and winter style. Especially the young girls would adore this lovely pattern and that too in pink and white stripes for that perfectly awesome look.So do grab its free pattern with all the needy details here crochetgeek
Crochet For Cancer's Basket Weave Vertical Stripe Cap: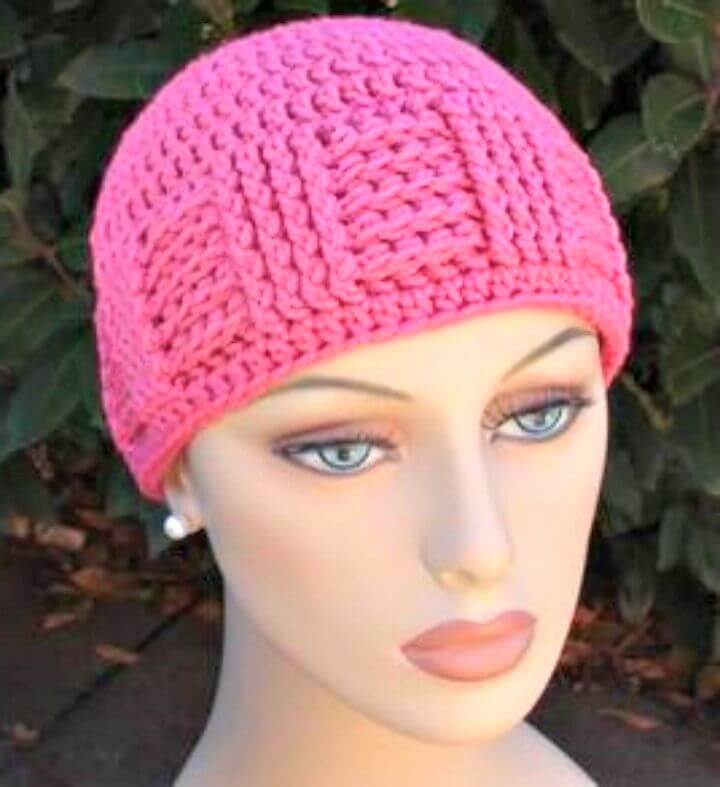 Supporting a cancer cause is so appreciable and not only money you can do it in some other fun ways too like bringing in use your crochet skills. You can crochet these simple and cute crochet cancer hats for them and give away to the cause so that the lady patients can wear them feel themselves all pretty in spite of losing their hair. To help you out with the design and the pattern we got all the details here crochetforcancer
Crochet For Cancer Ladies Chemo Cap Pattern: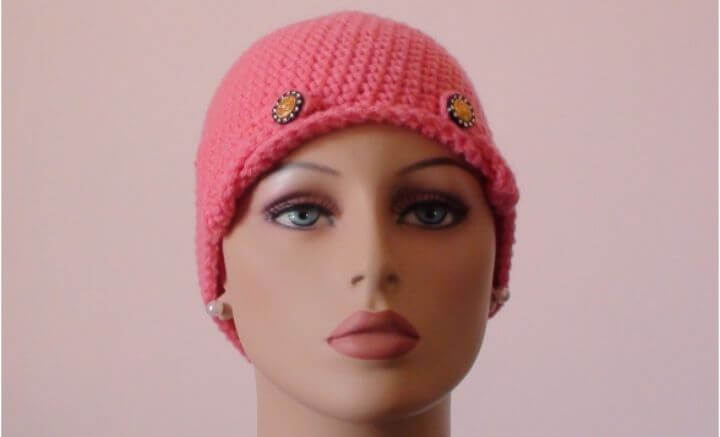 The chemo session is just so hard for the cancer patients when they lose all their hair but here is how you can still manage to bring a smile on the faces of cancer patient ladies. You can crochet this simply gorgeous crochet chemo cancer hats for them and let them look beautiful and cute and feel happy about themselves. You can make a bunch of them give to charity, so you need to catch the pattern here crochethooksyou
Free Crochet Beanie Cap Pattern: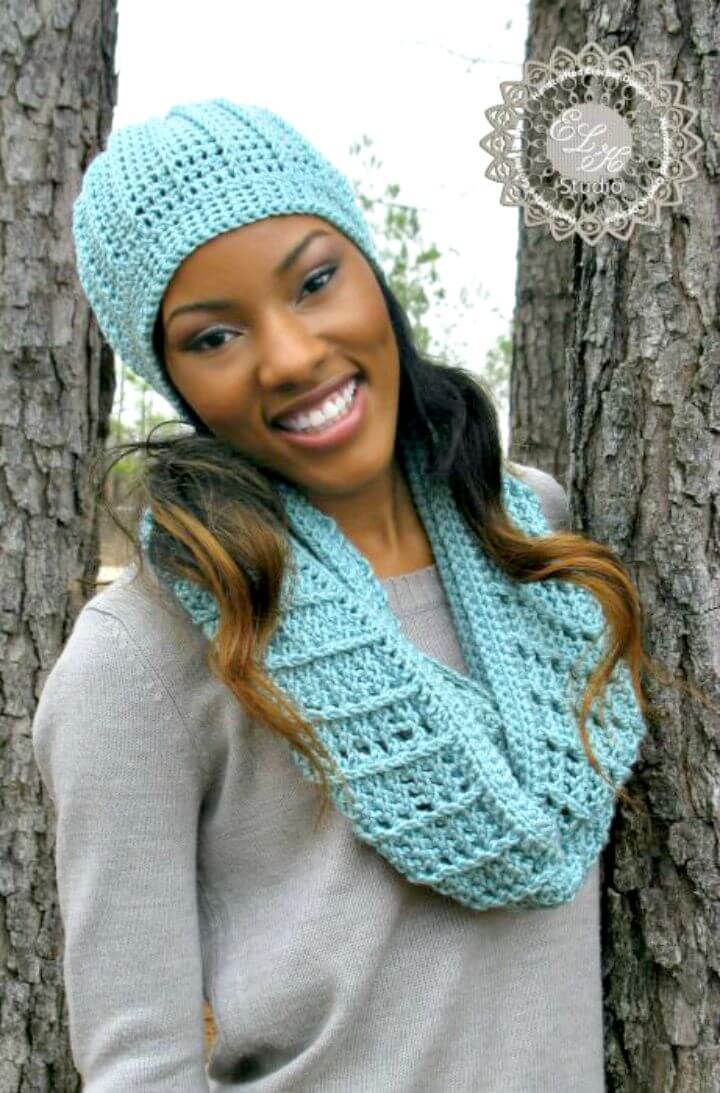 The lovely beanie caps can be so much stylish and fashionable to wear when paired with the matching scarf or cowl around your neck and thus making you look no less than a winter diva.Here is this just simply gorgeous and adorable crochet beanie cap covering your head and ears in the cute style. So do not let your style statement get down this winter and for that, you can catch the free pattern of this beanie hat here elkstudiohandcraftedcrochetdesigns
Crochet Shell Beanie Cap – Free Pattern: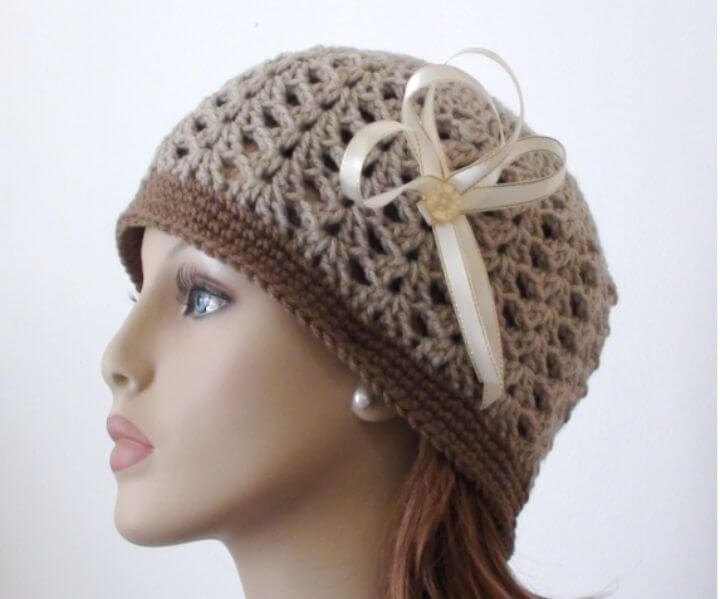 Are not the shells so cute and pretty? and so is this lovely shell patterned crocheted beanie hat to add oodles of charm and elegance to your winter dress up this year. And what makes this look more enchanting is the lovely dark brown adding and that ribbon flowers adding the pretty flairs to the cap here.Here is the link where the details of this lovely shell pattern are given step by step crochethooksyou
Crochet Messy Mom Bun Beanie – Free Pattern: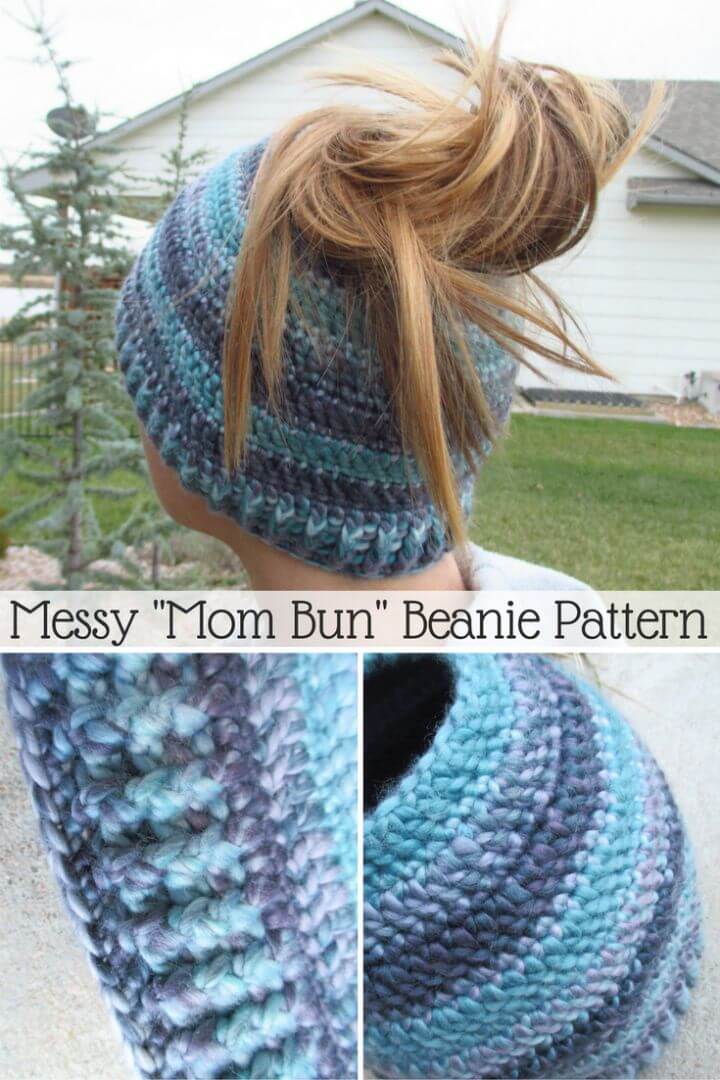 Messy buns look cute and really add to your girly style and now either you are doing home chores or playing the soccer outside, your hair can no more tingle you on the face and divert your attention. So this crochet messy mom bun beanie hat is just perfect to keep your head and ears warm but keeping your hair all out to form that lovely messy bun and add a lot to your funky style statement.Details here for the free pattern and much more hearthookhome
Crochet Seafarer's Cap – Free Pattern: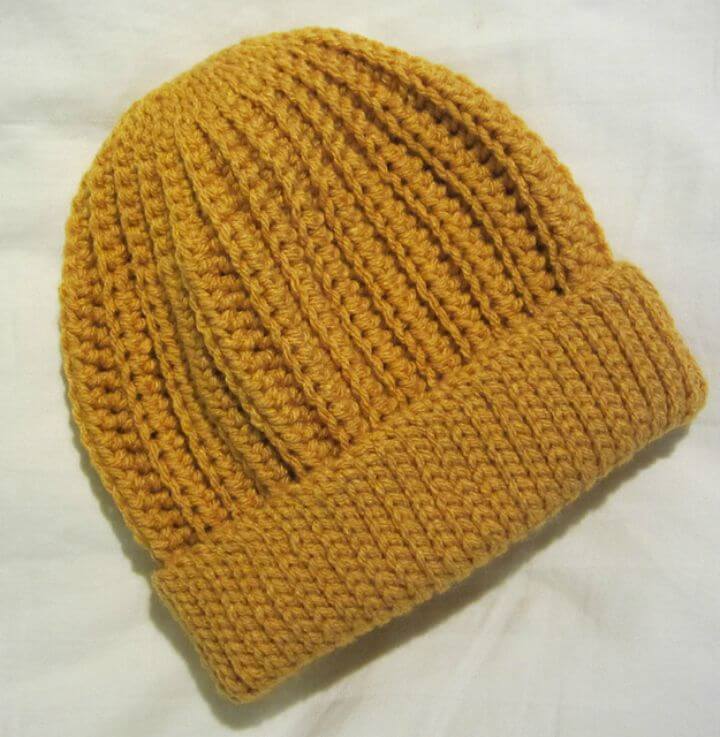 You can create the hats or caps in so many designs and patterns for yourself or for anyone in the family and thus spend the winters in style. Here is this lovely seafarer's cap with the up folding edge making it look really a cute and pretty styled hat. You can do it any of the color of your favorite yarn and thus so simply and cheaply bring the charm to your winter dress up.Here is the link holding the free pattern and details right here ravelry
Crochet Quick Chemo Cap Pattern – Free Pattern: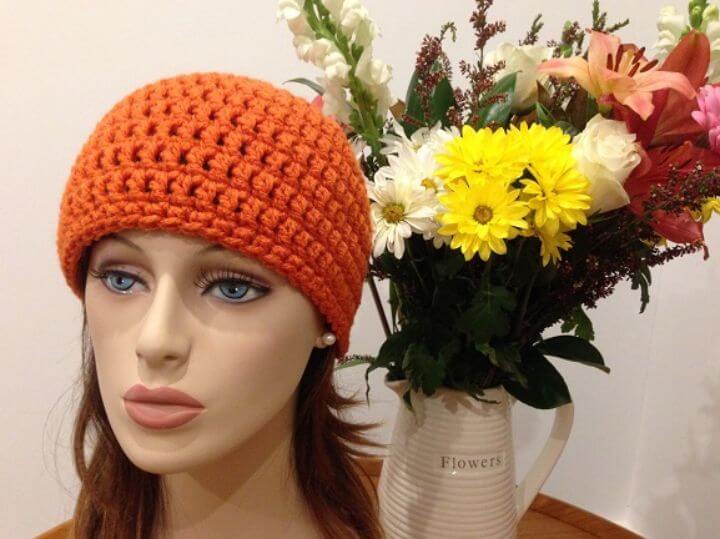 Chemo caps are not only accustomed to the cancer patients only, their simple pattern makes them perfect for all of the ladies. So wearing this adorable and simple cute with our hair all open, you can manage to look so great in fashion. You can crochet the hats in multiple hues so that you can match them with your versatile wardrobe possessions. Here is the link to visit and catch the easy free pattern with easy instructions crochethooksyou
Crochet Single Beanie For Beginners – Free Pattern: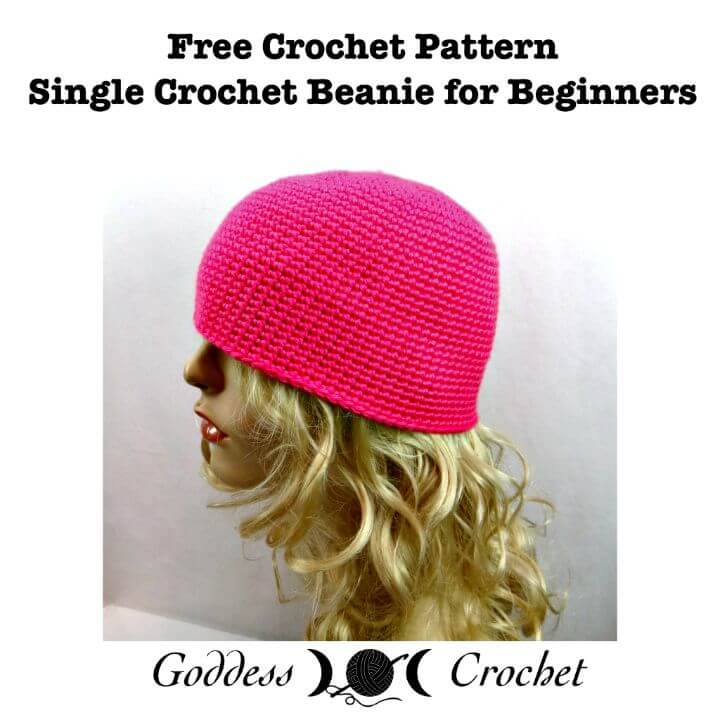 Don't worry you beginners we got this lovely and immense easy to crochet beanie pattern for you to try your hands on so that you can also enjoy the cold weather fun in super style and cuteness. The adorable pink hat would be much easy to work up your hooks on and here we have brought to you the complete details to peek into and hack the details and find it much more easier to crochet goddesscrochet
Crochet North Country Caps – Free Pattern: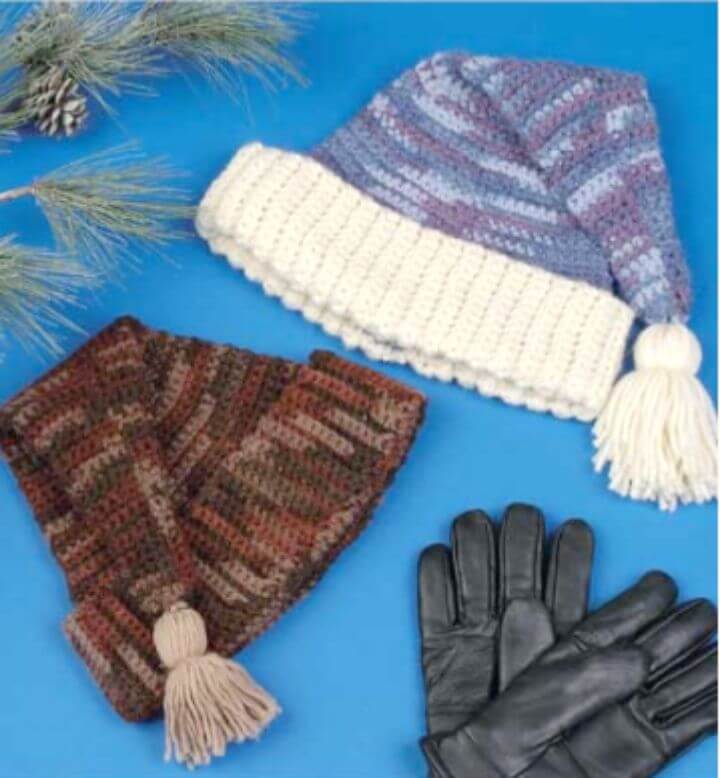 Do not let the outdoor fun be stopped and enjoy it to the fullest by skiing, sledding and having those cute snow fights. What can save your head and ears from being cold and let you enjoy the outdoor fun in style are these pretty north country caps looking like the Santa caps with the adorable tassels at the ends adding the loads of charm to the pattern and design of this fun hat. You can catch all its details right here with the complete instructions too crochet