All the kids are cute and have the super soft skins that are always delicate to harsh weathers! So, if you are willing to make your baby winter-protected then you definitely cover them warm and if you are willing to do this without losing the cuteness and style then hooded ponchos would be a great choice! Crochet hooded ponchos would be the more graceful and enchanting alternatives to winter jacks and if talk about the kids hooded ponchos, they will just make the perfect accessory for all kids wardrobes!
A hooded poncho will just eliminate the need of an extra hat and it would serve as 2 in one winter accessory that guarantees also to make your kids double cute and extra beautiful! So, will add some hooded ponchos to your kids' closet this winter? Then why not crochet them at home using your own crochet skills? Yes, you can easily do so to win the heart of your kids and if you need some smart inspirations and ideas in this case then just check out here these Free Crochet Baby Hooded Poncho Patterns that are highly cute and adorable and you will just love crocheting these hooded ponchos for your babies!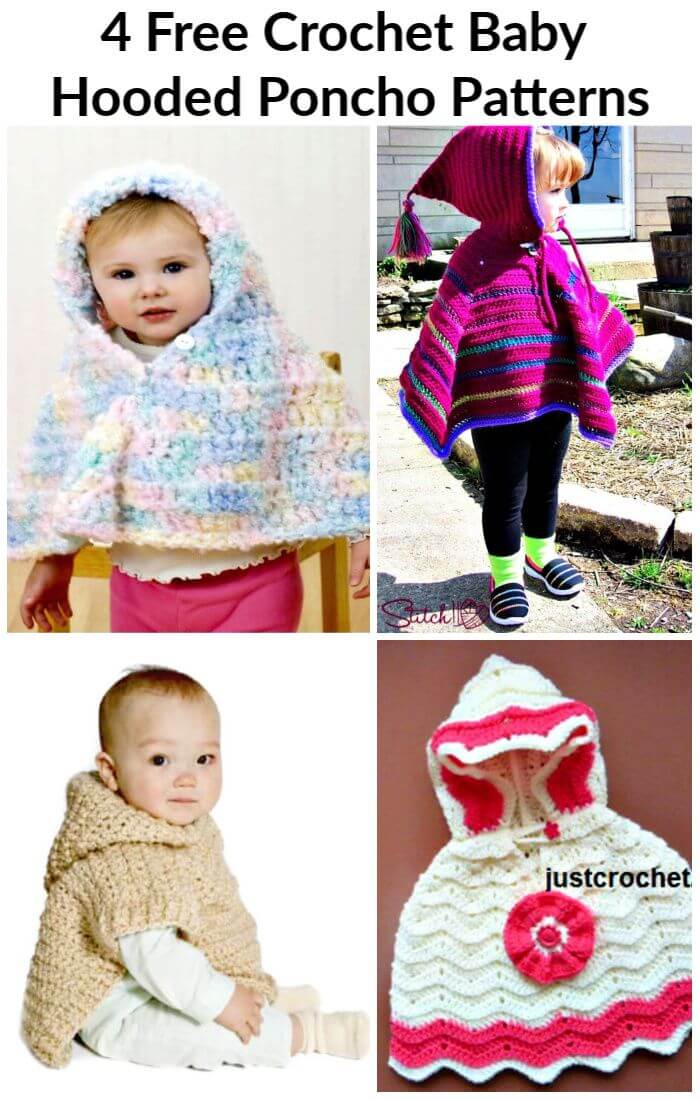 Ponchos are not only for kids, they are equally stylish for the style-loving teen, women and also for both genres! They bring amazing winter style and lots of warmth to you if crocheted with chunky yarn weights! And you can just wear them on occasions and also for bigger statements of casual fashion! But here these complied poncho patterns are baby special and they will truly hold the babies warm without sacrificing their cuteness even a bit! Here this list will just provide you so many different designs to choose from they also vary from simple to complicated and you can easily choose the fun that fits best to your skill level! Time to put your hook on the test by crocheting these amazing crochet baby hooded ponchos!
Free Crochet Patterns for Kids:
Not only for deadly cold weather, but you can also crochet fantastic looking ponchos for the summer and spring season and also for less chilly days just by selecting less chunky yarn weights and next you can also leave extra spacing among the stitches and chains to gain your finally finished product airy! Just crochet the hooded baby poncho at home using neutral yarn hue that will rock for the fall season and crochet the colorful hooded poncho with the enticing tassels that will go double cute!
Crochet the wee hooded poncho for your baby's wardrobe and also make striped hooded ponchos that will go extra eye-catching! Here all these Crochet Baby Hooded Ponchos will also make a fab gift for a mother-to-be! Check out all the given designs and do duplicate your favorite one at home! Grab the free crochet poncho patterns and tutorials by clicking once the attached links!
Easy Free Crochet Hooded Baby Poncho Pattern: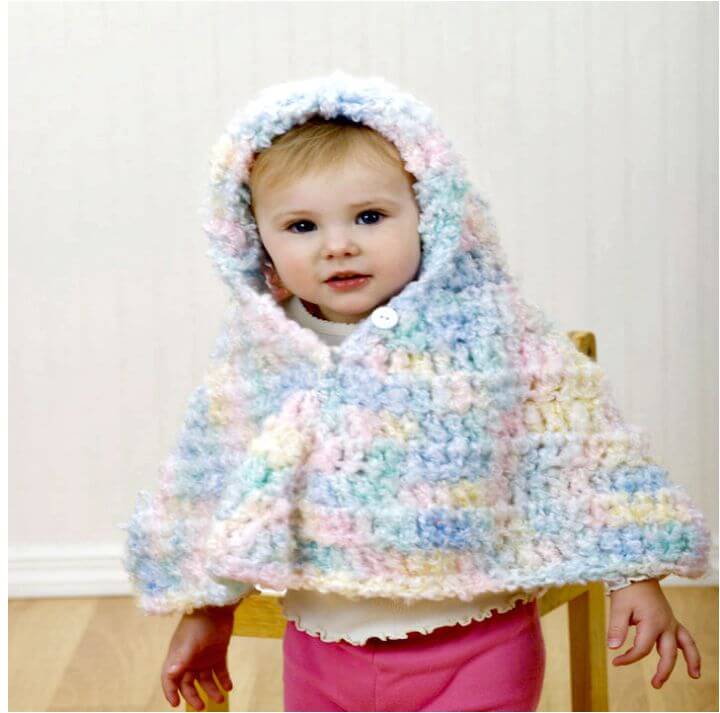 There is a huge variety of the crochet possessions to keep the babies warm in the winters and here is the cute and functional addition to that collection with this adorable hooded poncho. Yes with the soft yarn and the subtle hues this lovely poncho has been worked up quickly with the easy stitch pattern to keep the stylish, warm and cozy in the cold. You can learn the details of the pattern right here redheart
Easy Free Crochet Toddler Hooded Poncho Pattern: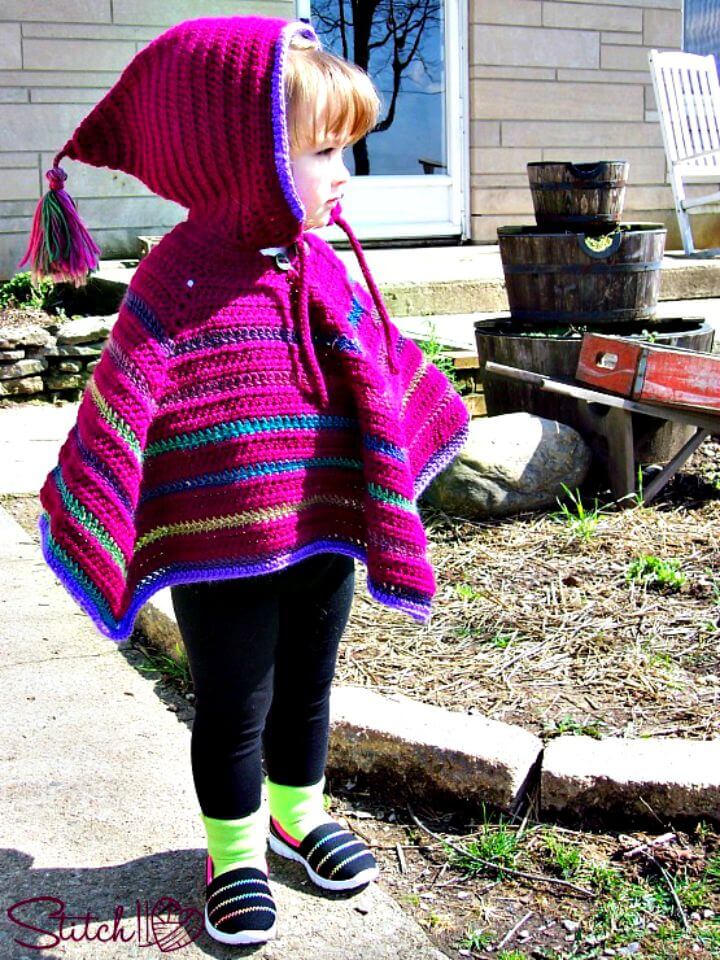 Not only the adult ones but the little ones can also show the huge style statement with the adorable and colorful crochet ponchos. Here is this pretty poncho for the toddler girls along with the hood and thus looking cuter and acting more warm and comfortable for the little ones. You can easily work up this poncho pattern and that too in the favorite hues of your girl so click here to get the free pattern and more stitch11
How to Free Crochet Wee Hooded Poncho Pattern:
Not only for the girls but the baby boys can also pull off the amazing crochet ponchos and that too with the hood which makes it extra warm and functional for the little bodies. Here is this nude shaded crochet poncho pattern for your little bundle of joys to stay warm in and look so much adorable and cute in it too. For the free pattern and the stitch details you need to visit the link here lionbrand
Free Crochet Baby Poncho with Hood Pattern: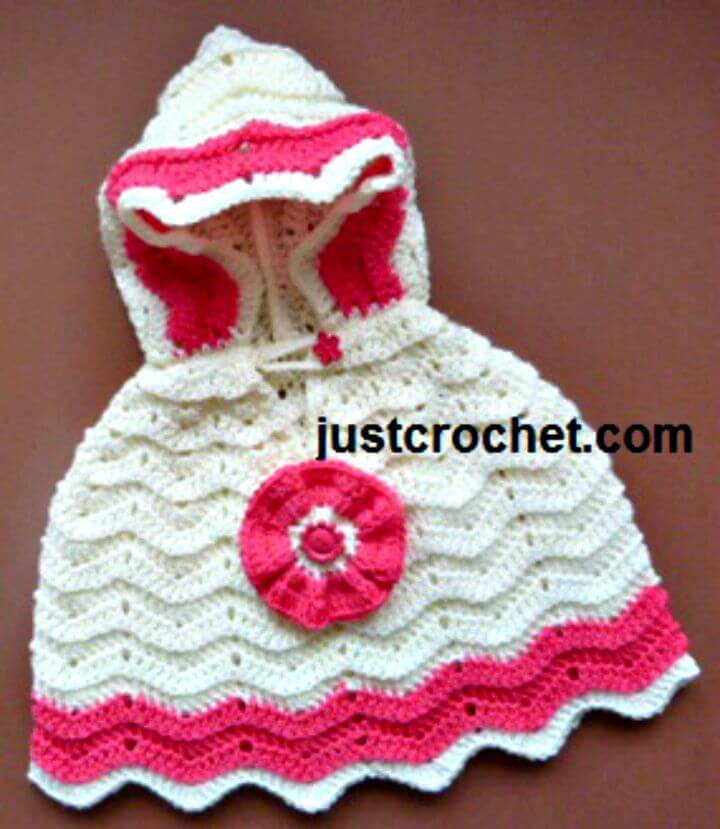 The crochet art covers the baby department the most with a huge variety of items like hats, shoes, booties, sweaters, gloves and so much more. And to add more here is this lovely and excitingly colorful pink and white poncho with hood for the little girls to defend the cold in a pretty girly style. They would love wearing it and flaunting it all around and you would be satisfactory as well as it is so much warm and comfy to stay in. You can learn to create this amazing pattern right on this link justcrochet