Make your pet's lives easier with these 20 easy DIY dog bowl stand ideas that will make it easier to feed the dogs without creating a big mess. The dogs mostly drag the ordinary bowls, and hence there is always a need to wipe out the beverage and food spills after each feeding session. So, going with these elevated dog bowl stands will not let the dogs slide these stands out. They will raise the food to a comfortable height where the dog, even going through certain medical conditions, can feed easily and quickly.
So, before you buy an expensive dog feeding station, browse this collection of 20 best DIY dog bowl stand ideas that are handmade and added with custom features to suit the needs best. From rustic to farmhouse style to mid-century modern designs, this collection provides all the dog bowl stand designs to choose from. Most of them are simple, easy, and straightforward wooden constructions, and others may involve a little painting, carving, and decorating.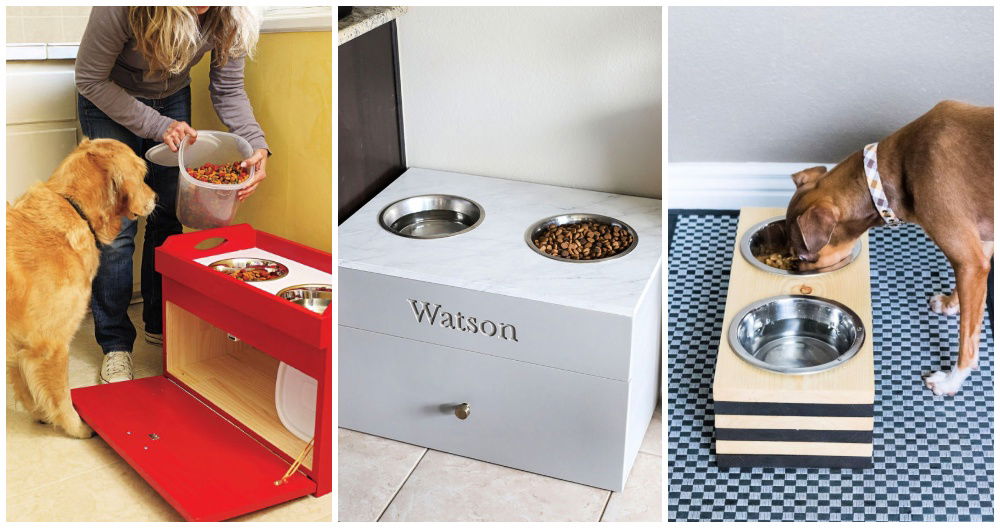 You will get free DIY dog bowl stand plans, visual diagrams, detailed instructions, and even complete video tutorials to build a dog bowl feeder like a pro. Paint and decorate the wooden slabs, fit bowls in them and finish with custom metal or wooden legs to build a dog bowl riser stand. Build dog bowl feeders with storage to gain a whole brilliant dog feeding station, and you will get here manual constructions also for building solid concrete-wood dog bowl riser stands in no time. So do take a quick roundup of all these listed diy dog bowl stand projects to learn a lot more.
1. DIY Dog Bowl Stand With Hairpin Legs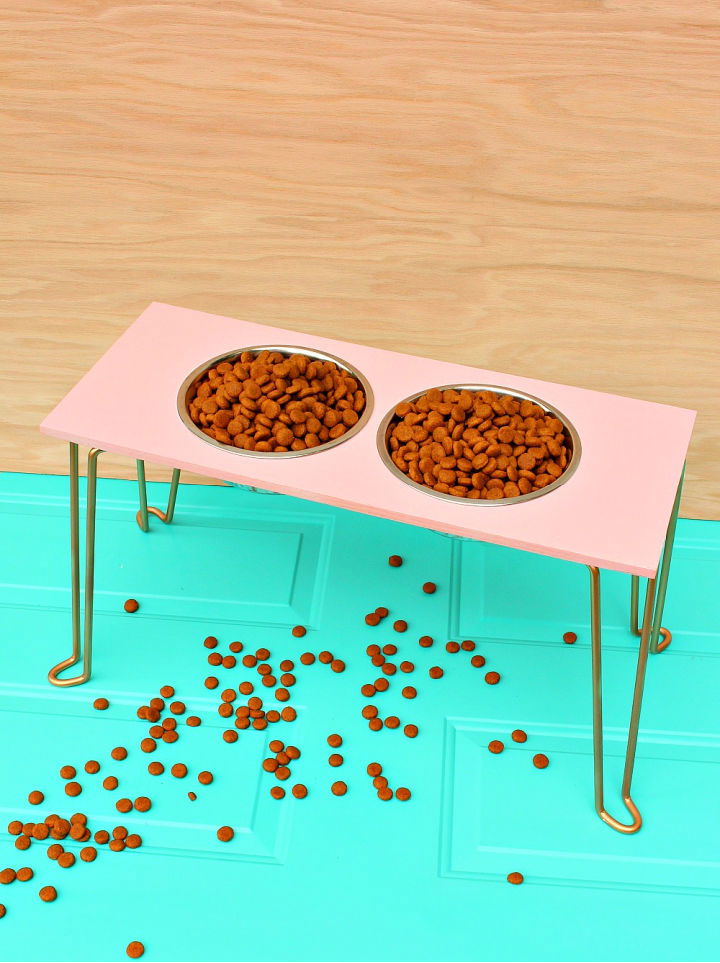 Giving your dogs ease of eating and swallowing by building this dog bowl stand will ensure their better posture while getting the feed. This dog feeder will not easily slide around on the floor, so don't let the dog create a big mess. Spray paint a cut size plywood sheet using Krylon Metallic Gold and Rust-Oleum Gloss Candy Pink, cut to big holes in the center to fit bowls, and finish with 4 hairpin legs, and that's it. danslelakehous
Keeping pets can be great fun but also demands extra care! This DIY pallet dog bowl stand just makes it super easy to serve your dogs.
2. DIY Elevated Dog Bowl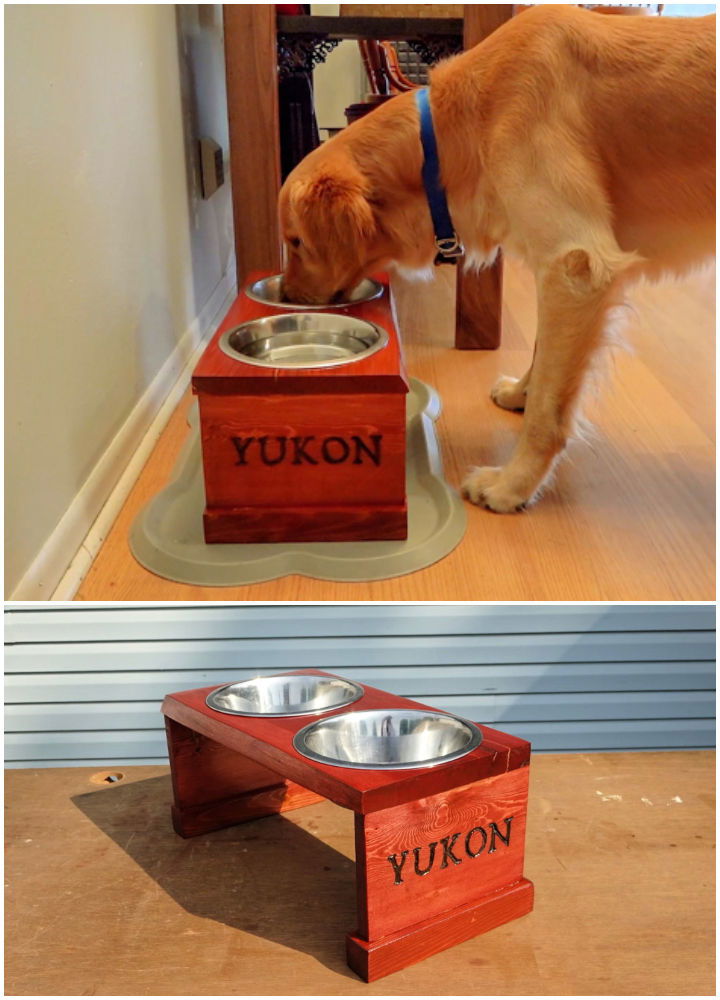 Get crafty even with the scrap wood pieces to make the lovely elevated dog feeders, which will help in the easy eating and drinking of your dogs. They will raise the food to an easy height level for easy feeding and prevent neck pain or back pain. Trace big holes on a piece of wood and cut them out. Attach the wooden legs and next carve the dog name letters on one side. Fit the bowls and then finish it with the stain and with few coats of shellac. wildrevelation
DIY dog house: Build your dog a shelter of their own with these free DIY dog house plans that include sketches, photos, building instructions, and materials/cut lists.
3. Build A Dog Bowl Stand Under $25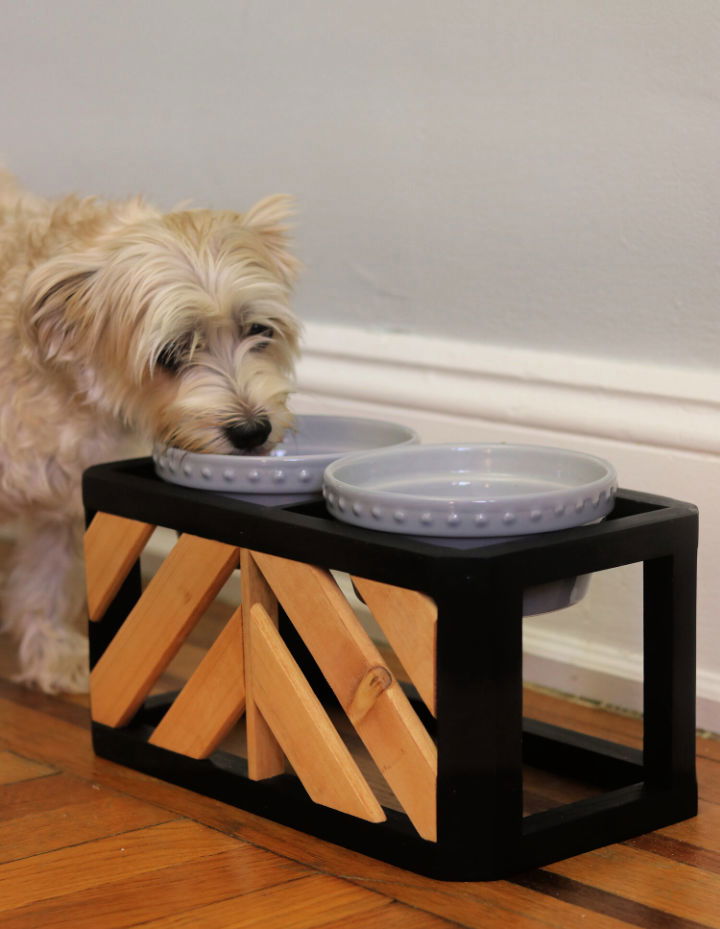 Make it super easy and quick to feed your dogs without any neck and back paint using this dog bowl stand. It will nicely elevate the food to a height level that is comfortable for the dogs. Building this dog bowl stand will cost you under $25, and it will prevent your dogs from creating a big mess. The dog feeding stand will also bring a touch of chevron elegance to space. You need 1×4, 2×2, scrap wood, dog bowls, paint, stain, and wood glue to build it. A modern and super beautiful dog bowl stand design. simplyhandmade
4. DIY Raised Dog Bowl Stand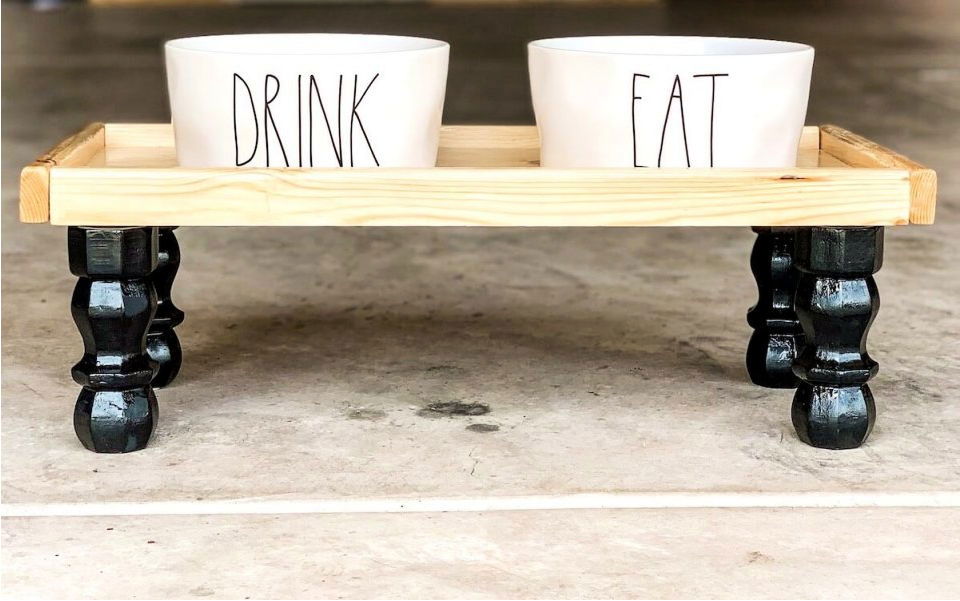 Don't let your dogs slide the dog bowls all around the home, creating a big mess. Just make it easier for them to eat the food and drink the water using this DIY Raised Dog Bowl Stand that is a superior crochet creation and will surely impress a very first look. The stand gains beauty from the alluring black painted legs and looks double cute with the natural wooden top tray top. You need 1x6s, 1x2s, 4 wooden legs, glue, straight leg plates, satin finish, and dog bowls to build it. freckledwren
5. How to Build a Dog Food Bowl Stand
Provide the ease of drinking and eating to your dog by building a dog bowl stand. Keep in mind your dog's size or the dog breed when willing to build a dog bowl stand. You can even use the leftover wood to build an instant beautiful dog bowl stand. Build this model using a piece of wood 12″ wide x 30″ long, hairpin legs, dog food bowls, and polyurethane. It will not take much time to build it. instructables
6. Homemade Dog Feeder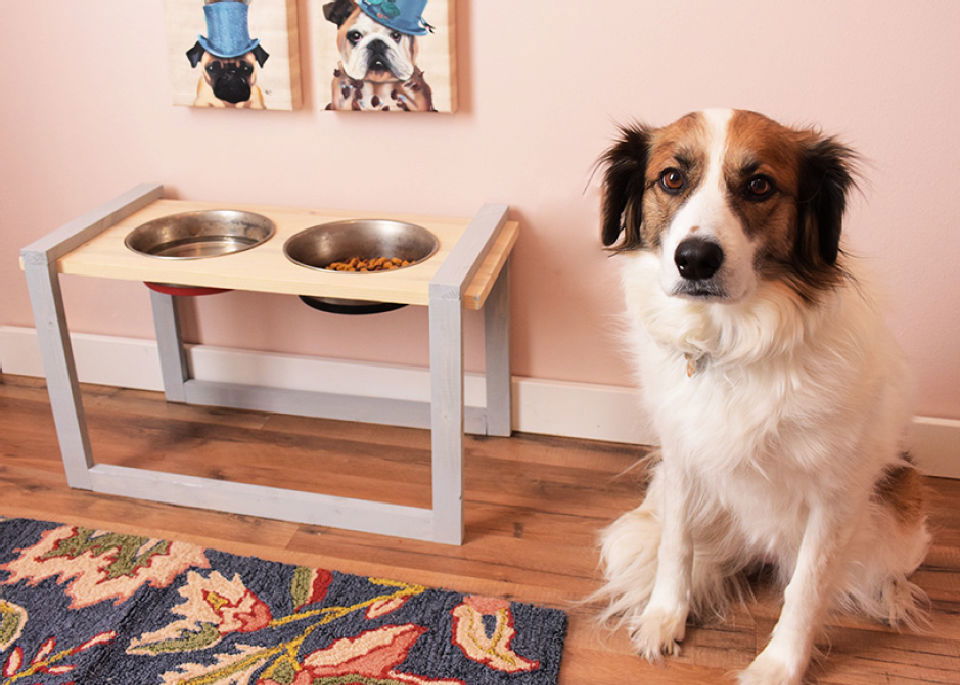 Follow here the guides and instructions about building a modern and minimalist wooden dog food bowl stand. The model enchants with the frame that comes in a contrasting tone and then gains attention with the nice wooden top that nicely holds the dog bowls in it. Grab the DAP RapidFuse Wood Adhesive, DAP Wood Filer in Natural, 1x2s, 1x12s, 4 corner braces, dog bowls to build this dog feeding stand. You can even build it to give to a dog-loving friend. dap
7. Wooden Elevated Dog Feeder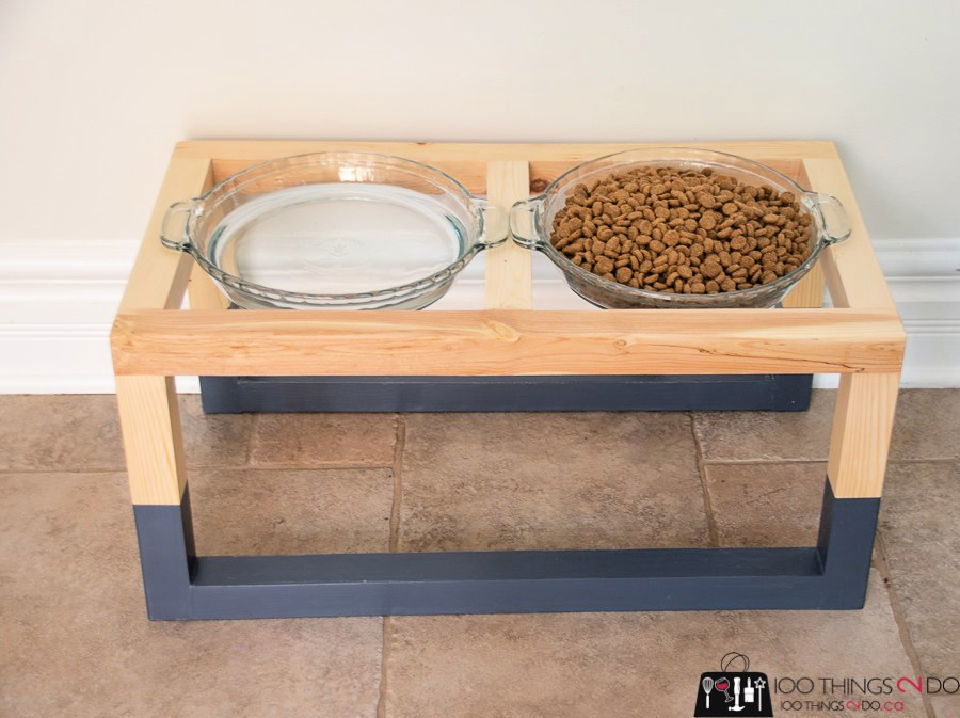 It will not take much time to duplicate this another fantastic raised dog dish that impresses the dipped painted design. You can even use leftover wood and leftover paint to build this stunning dog bowl stand model. Put together the equally thick and wide wood planks to build this lasting, longer and stunning dog feeding stand, which will impress a very first look. It will surely give the dog a better posture. 100things2do
8. DIY Dog Bowl Stand For Your Puppies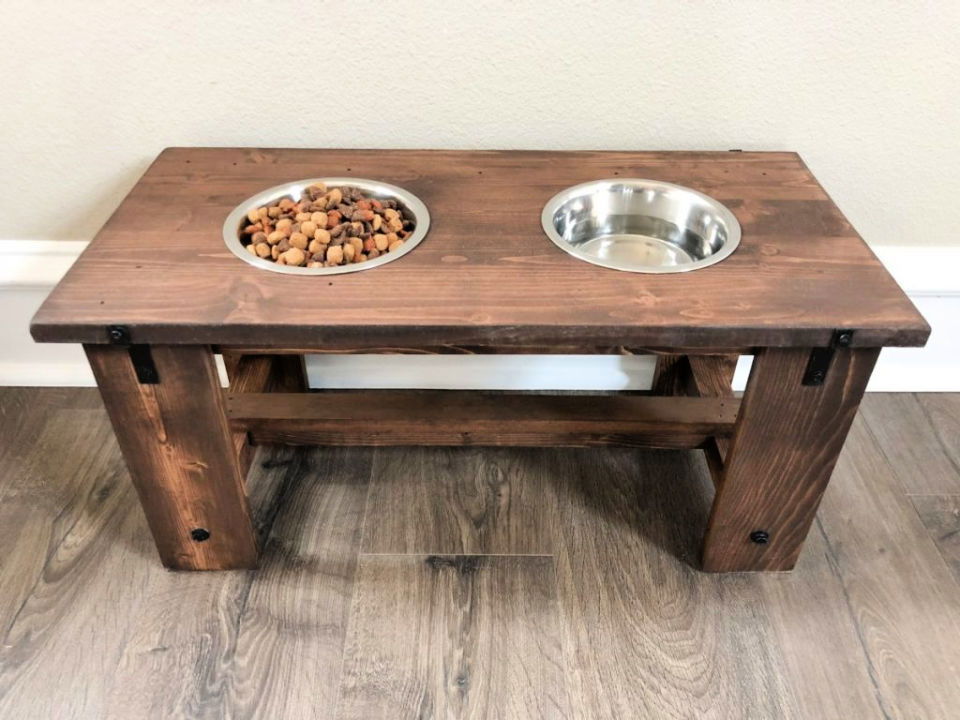 This dog bowl stand is solid and rustic and comes strengthened with metal plates. Here, it is the industrial farmhouse style dog bowl stand, provides quite an easy construction work. You need a 16″ x 48″ laminated pine panel, 1x4s, 1x3s, decorative hardware, and wood glue to build this epic farmhouse model of the dog bowl stand, will work up super quickly. Cut out the 6″ holes in the top to fit the steel bowls. One of the best dog bowls stand ever made. shanty 2 chic
9. How To Make A Dog Bowl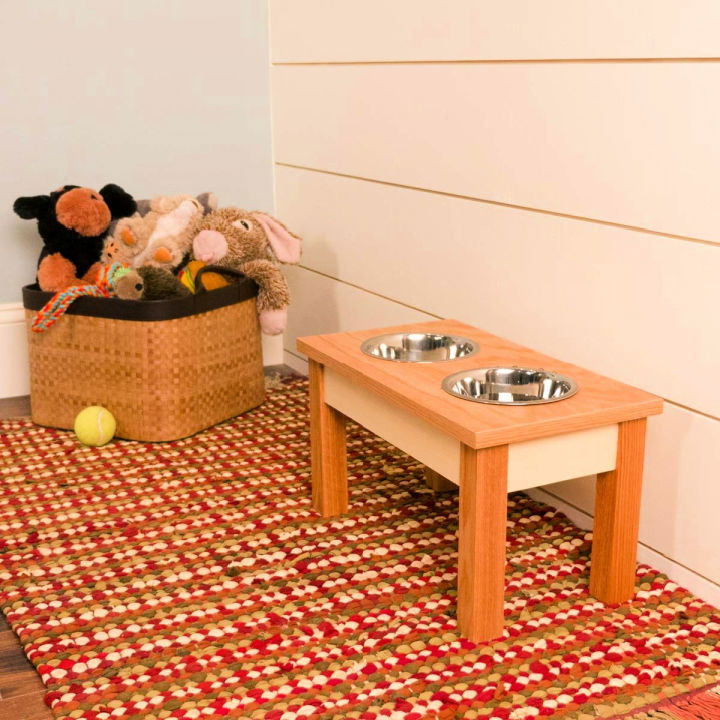 Puzzling at how to build a dog bowl stand? Follow the easy instructions to build a durable wooden dog bowl stand and make a bizarre handmade gift to a special dog-loving friend. The project involves the pocket hole joinery to work up this brilliant dog bowl stand model. You need a beginner skill level to work up this model in a few hours. Grab the 2x2s oak, 1x3s, 3/4″ oak plywood, and some creativity to build this fantastic dog bowl stand. familyhandy
10. DIY Dog Food Stand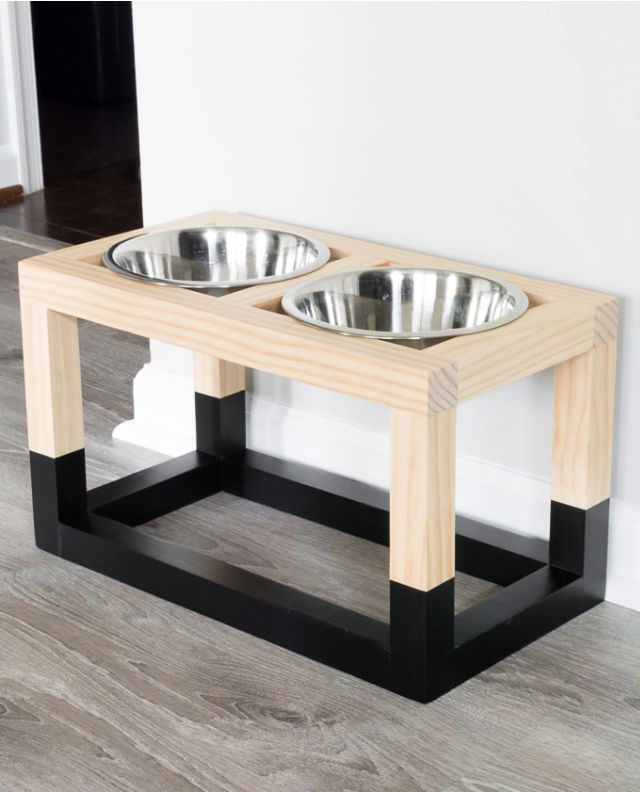 Ease your dog in daily eating and drinking routines by building this instant beautiful feeding station. The precious wooden dog bowl stands raise the bowls higher to be easy to access by all the dogs. Use the black paint to create a gorgeous black dipped appeal of the stand, and you will love having this dog bowl at home for comfortable and mess-free dog feeding. You need 2×2 lumber, dog bowls, stain, wood glue, and right angle clamps to build this dog bowl stand. anikasdiylife
11. DIY Raised Dog Bowls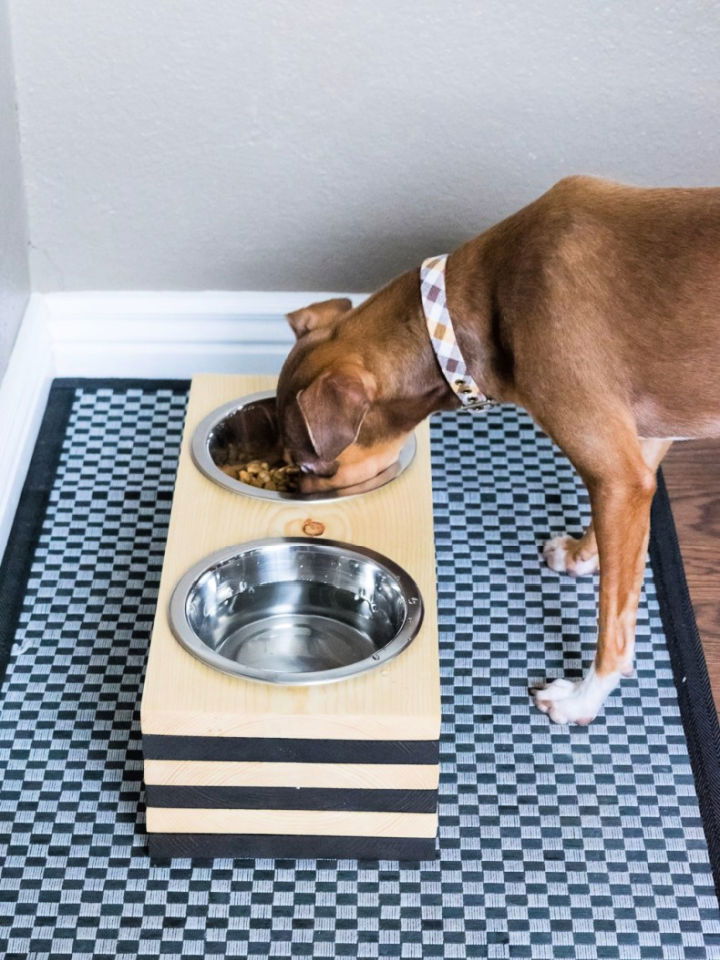 Clone this exceptionally beautiful wooden dog bowl model also featuring black stripes in the bright tone of wood. Take equally thick and equally long wood slabs and then cut the holes in them at equal points. Stain half of them in the dark and then stack them alternating with white wood slabs. So, you will get the raised wooden dog bowl stand featuring precious modern white design lines. The best gift for a dog owner. garrisonstreet
12. Elevated Dog Feeder With Storage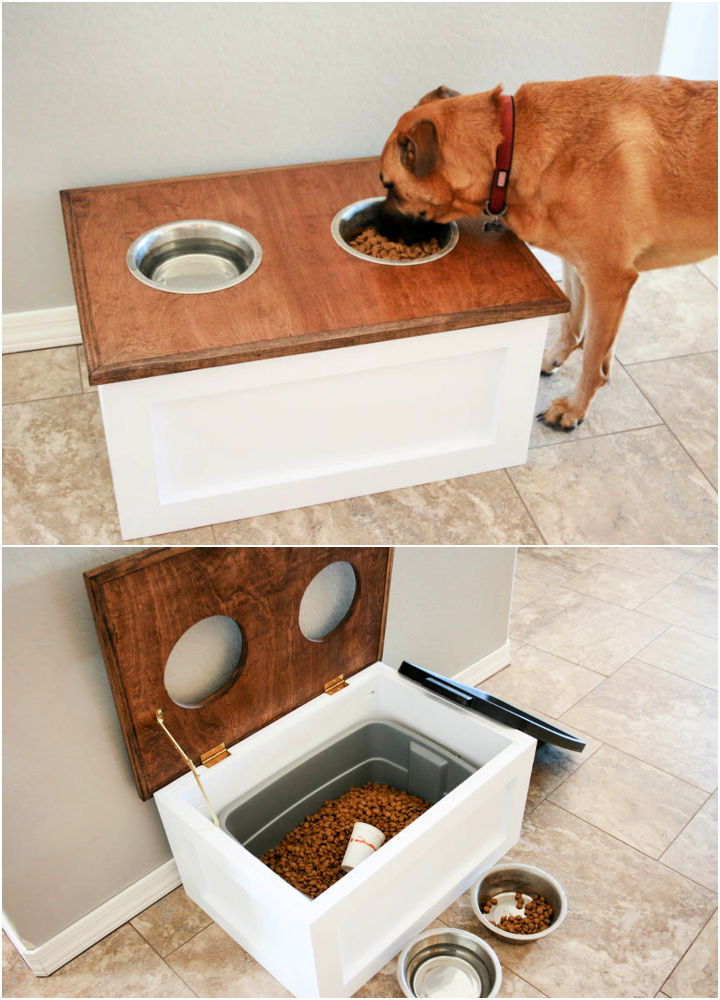 Trying to build a custom model of dog bowl stand at home? Why not duplicate this given dog food station that provides hidden storage also for storing dog food. The design is just like a big wooden box having the steel bowls fitted in the top. The rest of the box is appearing in white and provides wide space for dog food storage. Simply, life up the hinged lid to reveal the inside storage. You need plywood and 1×3 pine boards to build this epic dog bowl stand with storage. addicted2diy
13. Dog Food Bowl Stand For Small Pups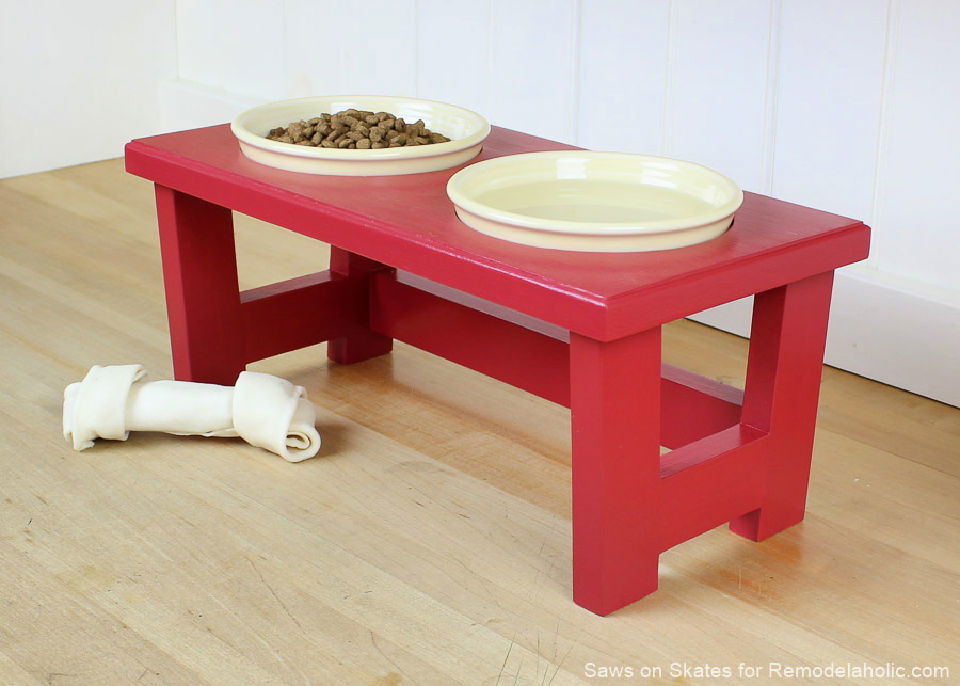 Make it easier for the puppies to eat the food or drink the water by building this dog bowl stand appearing in gorgeous red color. Get crafty with 1x2s, 1x3s, wood glue, cereal bowls, and pocket screws to build this epic model of elevated dog bowl stand, look like a miniature wooden table. The design is achievable even if you are a beginner and will impress at a very first look. Must get it for mess-free dog feeding. remodelaholic
14. Mid Century Dog Bowl Stand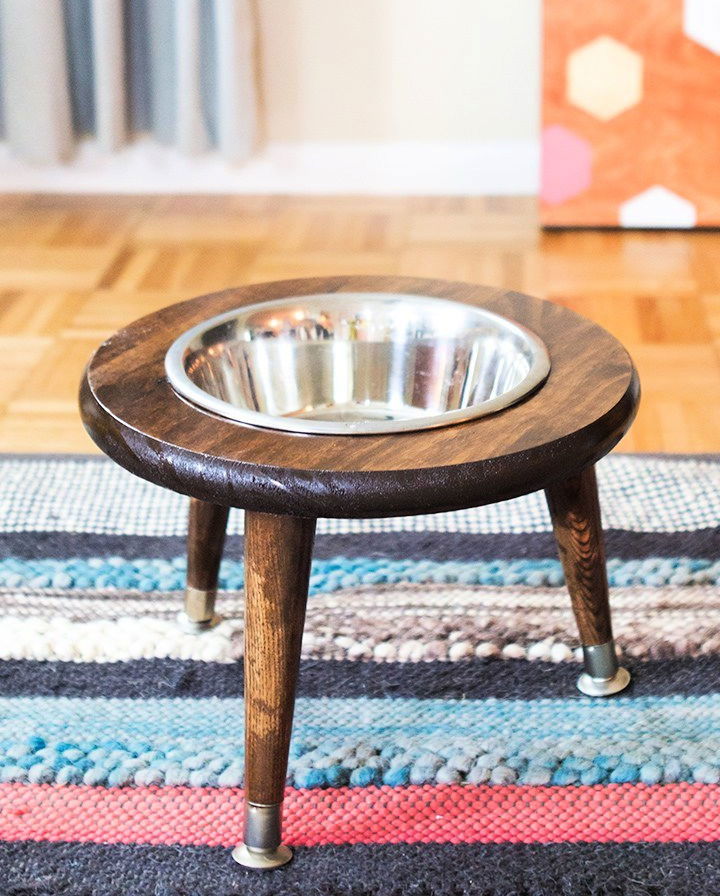 This handsome dog bowl stand comes with 3 legs, and it impresses with the unique and adorable design. The looks like the miniature 3 leg round table that is having a steel bowl fitted in the top. It will not take much time to duplicate this fascinating model of wooden dog bowl stand even if you are a beginner. You need 12″ wooden board round, 8″ tapered table legs, angled table leg plates, wood stain, polyurethane, foam brushes, fine sandpaper, and a metal pet bowl to build it. sarahhearts
15. Raised Dog Bowl Stand With Mid-Century Mod Style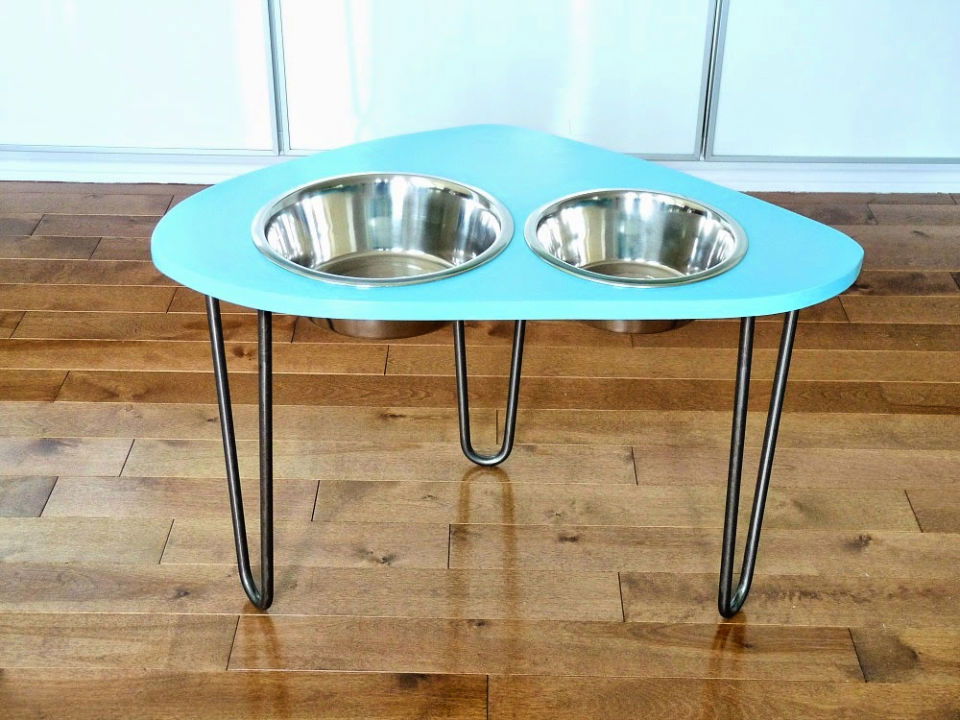 Duplicate this another epic model of mid-century raised dog bowl stand, the mod style dog feeder having the beautiful metal hairpin legs. The design comes with a big and a small steel bowl fitted in the wooden top. Every dog lover will love to clone this superior model of mod dog bowl appearing in the eye-catching turquoise yarn color. Here, you need three hairpin legs, plywood, pre-glued edge tape, primer, semi-gloss latex paint, a 2″ paintbrush, two metal dog bowls, and some patience to build it. danslelakehouse
16. How to Build a Dog Feeding Station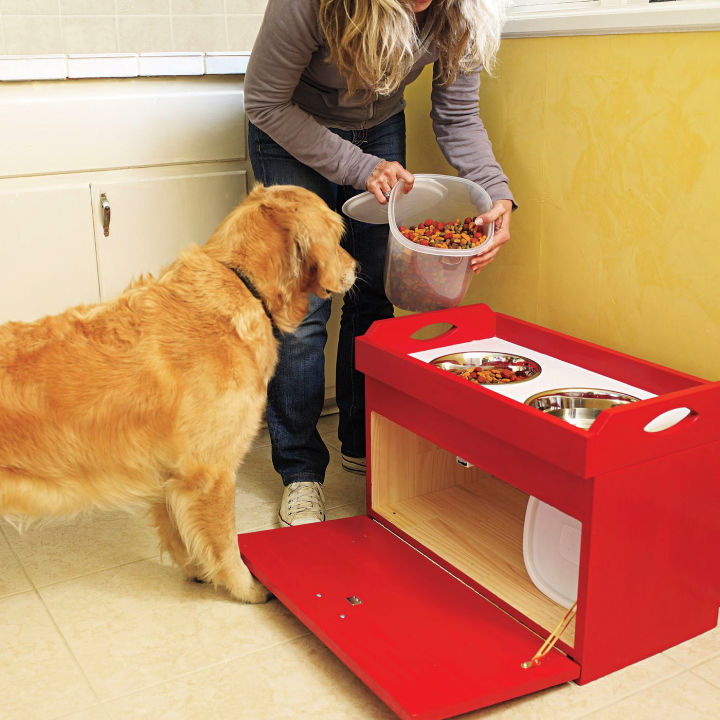 Slow down your fast-eating dogs with this elevated dog bowl stand, will also help the dogs eat easily when going through some medical conditions. These stands will make it easier for the pet friend to reach the bowl to get the food. So, build this smart DIY dog bowl that comes with underside is hidden storage also. So, you can plan this entire model to store and feed the dog food. You need an easy skill level and a $40 cheap budget to build it. thisoldhouse
17. Raised Dog Bowls from Vintage Suitcase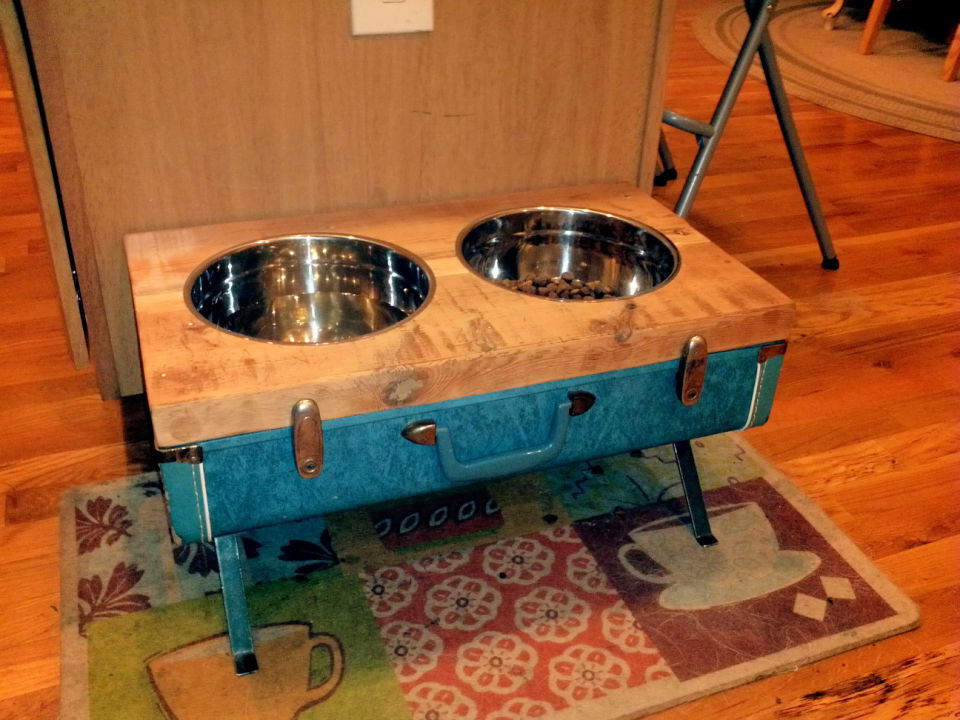 Upcycle also the vintage suitcases to make instant beautiful dog bowl stands without getting a bit expensive. Here all you need is to fit a wooden slab on the top of the vintage suitcase to build this lovely dog bowl stand. Cut out big holes in the slab to fit the steel bowls, and it will help manage your dog food supplies also. Don't forget to finish with custom legs for amazing style statements. The easiest and quickest DIY dog feeder to build in no time. imgur
18. DIY Pet Bowl Stand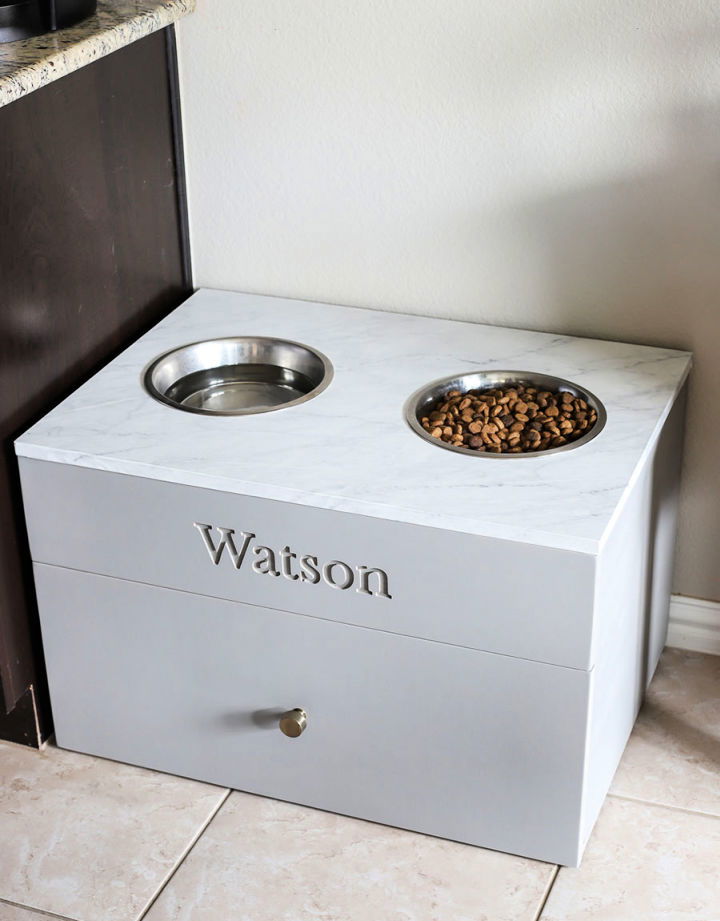 Please your pet friend also with this super handsome model of hand-built dog food stations that comes with dog food storage also. The design looks completely professional and commercial but is super easy to achieve with minimal crafting skills. You need plywood sheets, drawer knobs, drawer slides, pocket screws, brad nails, and wood glue to build this exceptionally beautiful model of wooden dog bowl stand. The best handmade gift for a dog-loving friend. buildsomething
19. Concrete and Wood Dog Food Table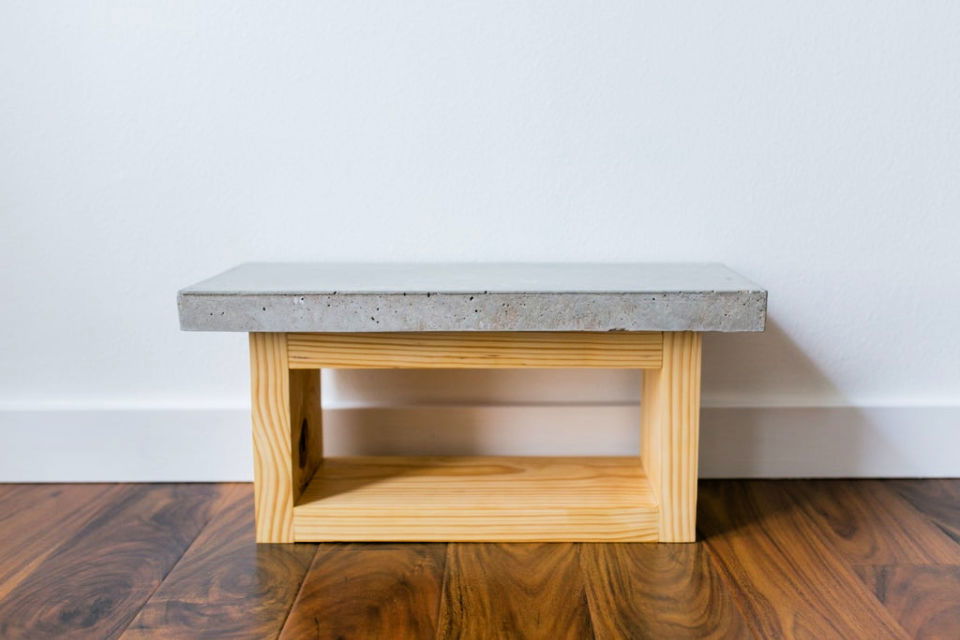 Make your dogs super comfortable to eat and swallow the food using this very beautiful dog bowl stand. The design is a mind-blowing combination of cement and wood and will complete super quickly. Build the whole wooden base using the 2x8s and then use concrete to build the solid opt of this dog bowl stand. You also need melamine boards, matte poly finish, and wooden dowels to complete this dog feeding station's outstanding design. instructables
20. 3 Dog Bowl Stand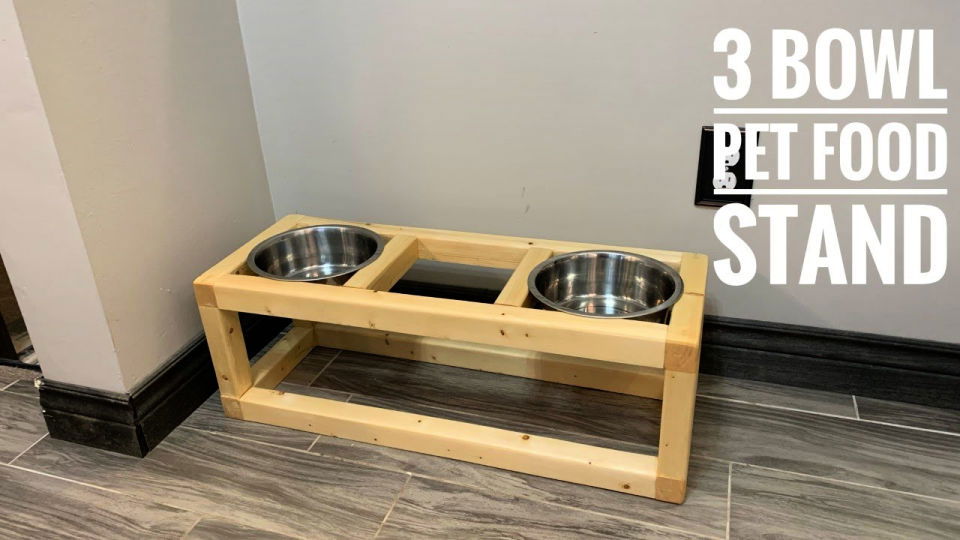 Get here the video instructions about how to build a 3 bowl pet food stand. It will be equally beautiful for both dogs and cats but may differ a little. Build the entire base of the model using the 2×2 wooden boards or slats, and next, you can finish it with a lovely wooden top having bowl holes nicely cut out. This pet stand is gorgeous, and do consider it to give as a great homemade gift to a pet-loving friend. Paint and stain it in the way you like for a brilliant appeal.
Conclusion:
It can be difficult to feed the dogs and to clean after while using the ordinary bowls. So, take your dog feeding game to the next level with these DIY elevated dog bowl stands, will not let the dog create a big mess. Most of the designs come with built-in storage to manage the dog food supplies, and all the designs are much achievable with beginner woodworking skills. The collection shoes lots of amazing designs to choose from, and you can build most of them using recycled, repurposed, and leftover wood. So, learn all the hacks from the list and build a unique dog feeding station model of yours with the desired number of bowls fitted in.