Are you intending to raise some chickens in your backyard? Or willing to build a little poultry farm? Then you just need a special chicken coop where you chickens can live happily without any danger.  A chicken coop should have certain features like nice ventilation, a nesting box for egg-laying, roost, an attached chicken wired yard and a heart in the winter. You can also build your own chicken coop using our free chicken coop plans. But, you should have a fully functional chicken coop that must-have the DIY chicken feeder and waterer with.
No doubt, your chicken can hunt insects in the attached protected yard but you need to install some DIY chicken feeder in the chicken coop. which will easily feed the chickens so they will be healthy and will produce extra chicken meat. So, if you have built or bought a big chicken coop to raise dozens of your kids then you should definitely add a nice chicken feeder in it to raise the chickens without any issue or problem.
So, are you intending to make your own DIY chicken feeder? Then we recommend you to go with these 6 best DIY chicken feeder and waterer ideas that will help gain you the perfect DIY chicken feeder at no-cost. Because most of the chicken feeders you will make at home will be based on recycling of old, deleted, discarded and retired materials.
But here we have these best DIY Chicken Feeder Ideas that will open up all the genius hacks and smart details for you to build a featured design of chicken feeder at home.
How to make a chicken feeder and chicken waterer at home?
Make use of recycled PVC pipe and custom PVC joints to make amazing and low-cost chicken feeders at home. Check out a lovely sample that is a no-spill chicken feeder and would definitely bring the great charm to your backyard or to your chicken coop.
Repurpose also the old plastic buckets to make fantastic looking chicken waterers and also go manually with the wood to make the chicken waterers and feeders like a pro, just have a look at the given treadle chicken feeder that has been done to inspire and too beautiful to win your heart.
You can really go handmade with so many different materials to make super functional and no-spill chicken feeders at home and the PVC scrap and the old 5-gallon plastic buckets would be the ideal choice to make perfect chicken feeders and waterers.
Just browse the entire collection to see some more interesting design of homemade chicken feeders. Also make a single click on the attached links to get the full project tutorials, step-by-step instructions, and full free visual guides.
Adorable DIY No-Spill Chicken Feeder: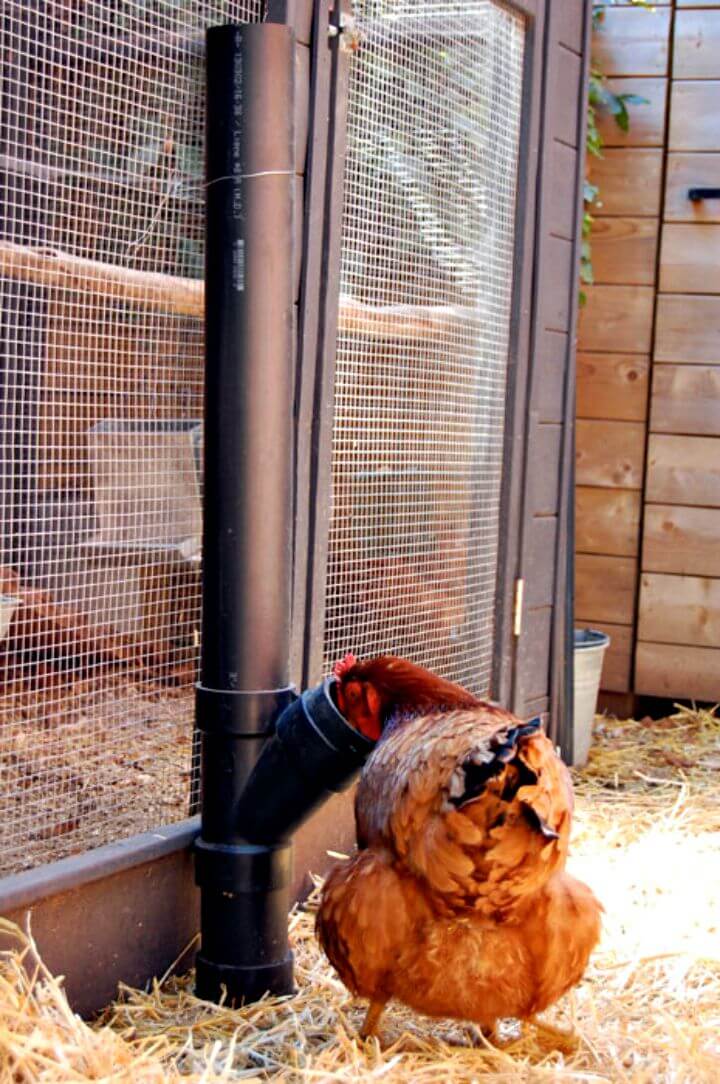 If you are keenly interested in poultry and are just willing to make some chicken coops then must learn to make some chicken feeders and waters that will be a crucial part of every chicken coop.
Here is a brilliant suggestion for a chicken feeder that will not create even a little mess.
This is here a superb PVC chicken feeder made of bigger PVC pipes and it offers a branch facing outward in which chicken can put their faces to pick the food.
Here is how to make this no-spill chicken feeder theartofdoingstuff
How to Make a PVC Chicken Feeder: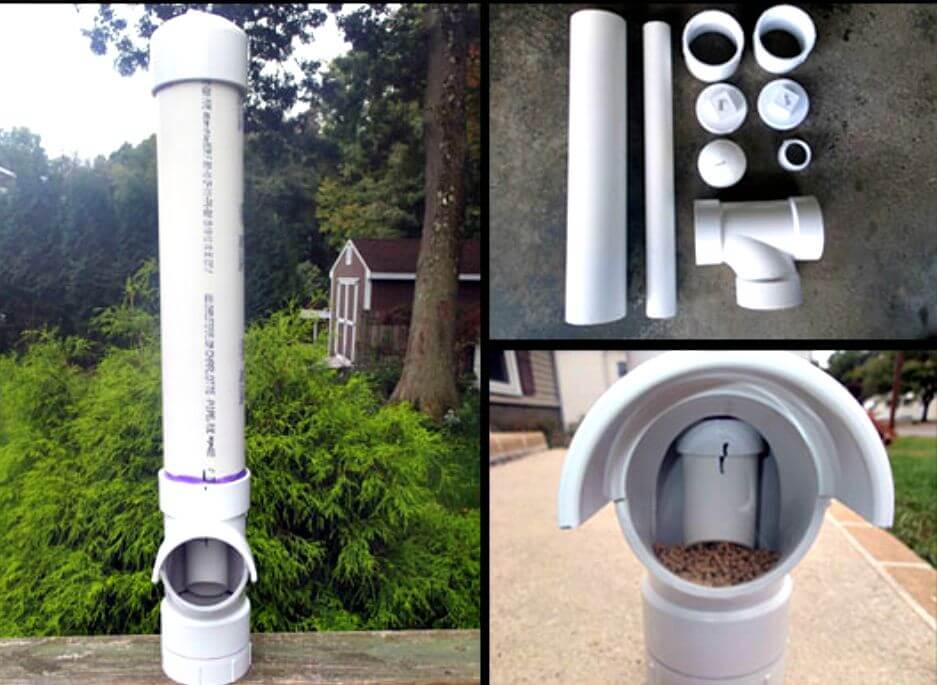 Check out smart chicken feeder that has been made by fitting the PVC pipes smartly. Here PVC pipes in different lengths and also with different thickness have been used to craft this adorable looking PVC chicken feeder that will also feed the chickens smartly with any food spill.
Use also the custom, PVC pipes and connectors to make the smart fittings.
This chicken feeder would also make a great gift for a poultry loving friend and it would also be a smart way to recycle your PVC scrap from home that is lying for nothing.
Complete project tutorial and instructions here prepforshtf
DIY Chicken Nipple Waterer using a Plastic Bucket:
This is another wonderful DIY chicken waterer that you can easily make at home.
Just repurpose an old plastic bucket and fit the push style chicken nipples in its bottom using the grommets and then fill the plastic bucket with the water and hang them on a decent height level.
That will be easy-to-reach for all the chicken you are raising in a chicken coop or in the poultry.
Willing to duplicate it now? Grab the full free guides and visual tutorial from here happymoneysaver
Build a Treadle Chicken Feeder: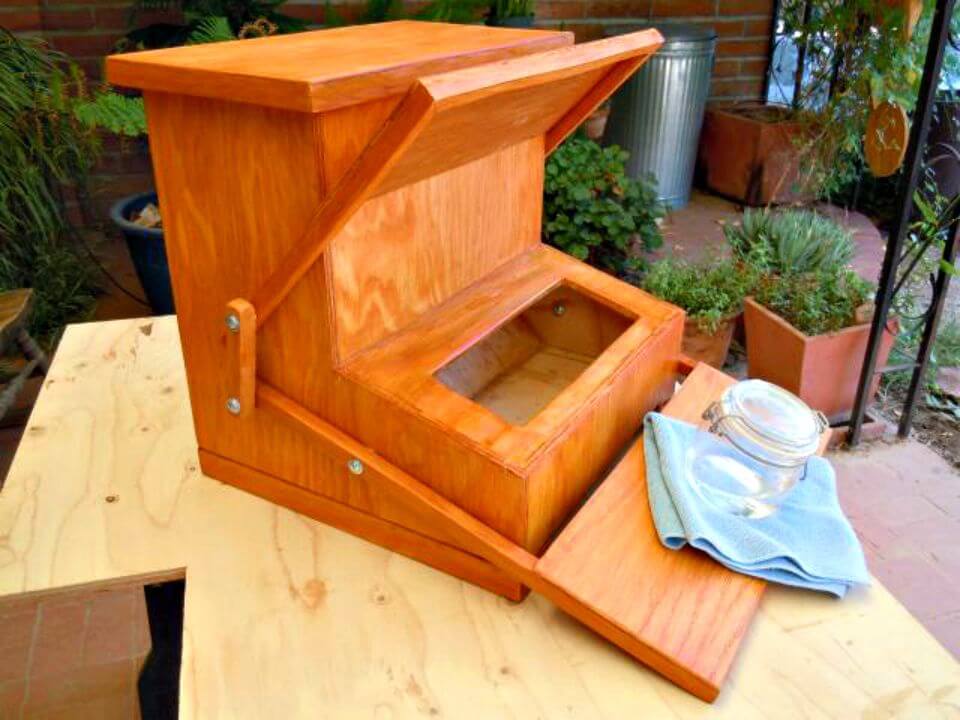 Do a little engineering with the wooden scrap pieces and make highly functional chicken feeders at home that will put every onlooker in big amazement.
Amaze your senses by taking a look at this treadle chicken feeder that is really a handsome and innovative wood creation.
Make a bigger vertical box with tilted bottom and then add another mini box to its bottom side and let both come with the lids and that's it. Here is how to make this treadle chicken feeder backyardchickens
Easy DIY PVC Chicken Feeder: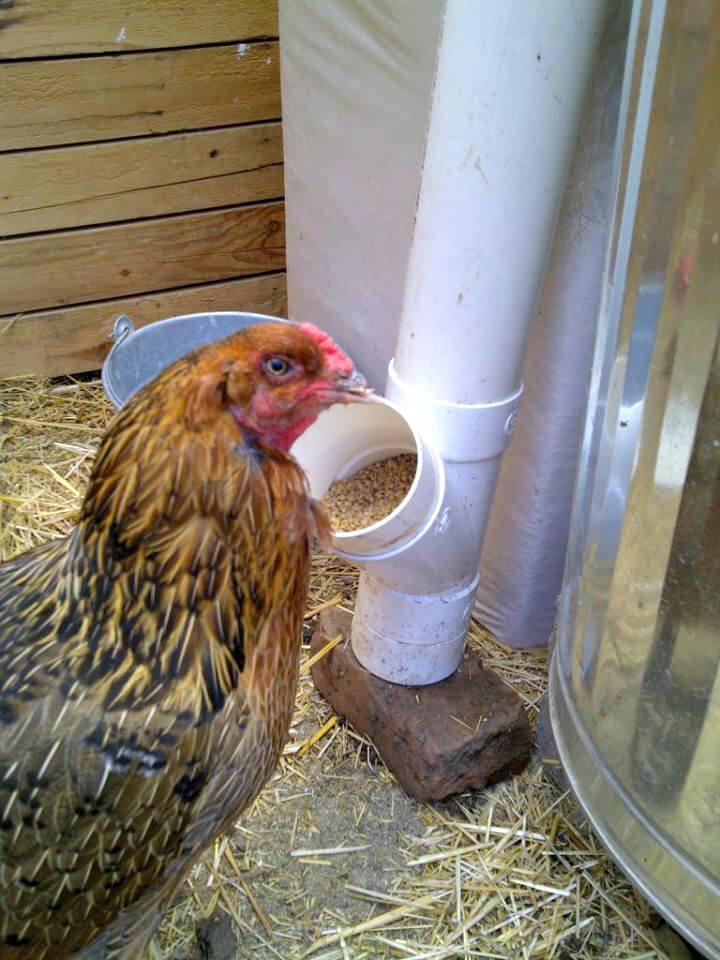 Fall in love with this another great chicken feeder that is made of PVC pipe and is a really no-mess chicken feeder.
Here the PVC pipe has been finished with an edged out arm fixed to the bottom side that comes filled with the chicken food and beaks of chicken can easily reach the food without making any food spill.
Here all you need a little PVC scrap to duplicate this chicken feeder project. Complete tutorial here instructables
How to Make Chicken Waterer and Feeder from 5-gallon Buckets: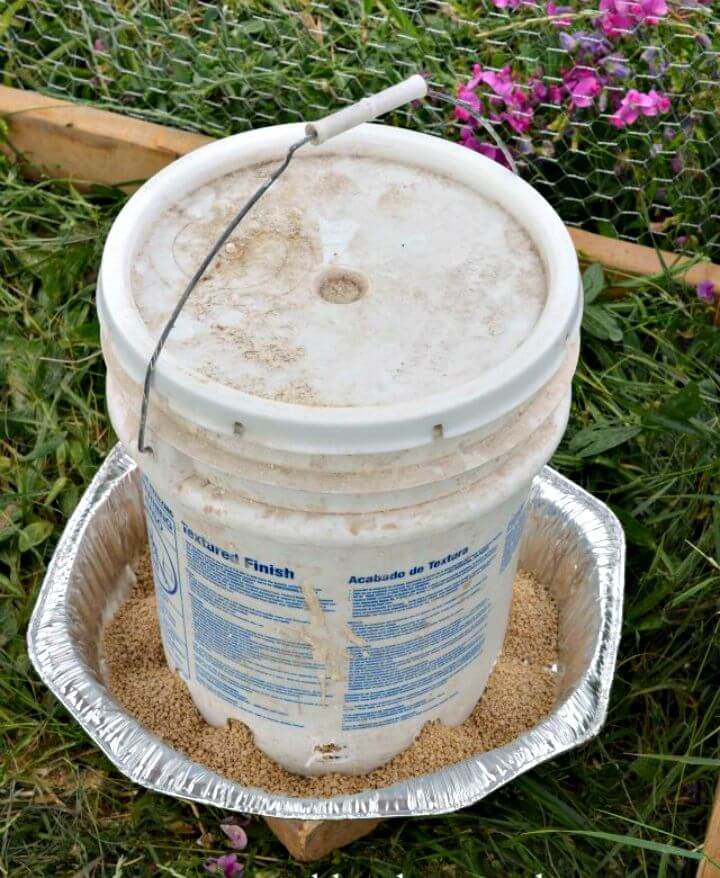 Recycle also the plastic buckets to make precious looking chicken waterers and feeders at home without getting a bit expensive.
Just duplicate this given chicken waterer and feeder that will cost you next to nothing and is really a no-spill chicken feeder.
Just poke holes in the bucket filled with chicken food and next place it in a tray or bowl. Complete project tutorial here blessthismessplease