A DIY reed diffuser adds a touch of natural fragrance to your home! Learn how to make diffuser using essential oils with 25 homemade DIY reed diffuser ideas. With these DIY diffuser ideas, including detailed step-by-step instructions and essential oil recommendations, you can make your own natural and customized reed diffusers without any hassle. A homemade reed diffuser not only fills your home with a pleasant aroma but also serves as an aesthetically pleasing decoration.
DIY reed diffusers are a wonderful way to incorporate essential oils into your home without the use of candles or electricity. By combining your choice of essential oils with a carrier oil and reed sticks, the fragrance is absorbed and diffused by the reeds, filling your space with an inviting scent. The DIY reed diffuser ideas included here feature various styles and designs, suitable for any room or décor style.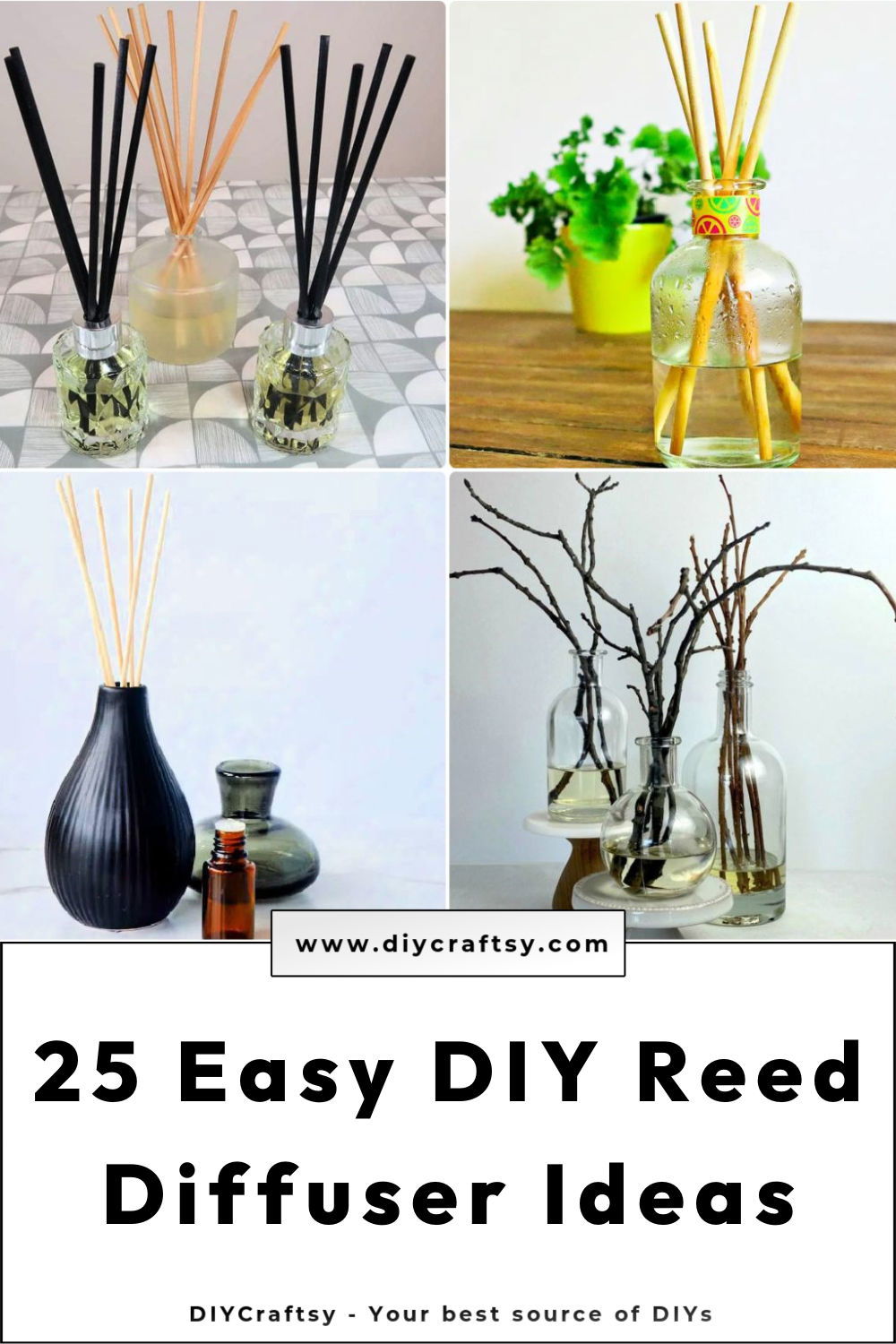 By making your own DIY reed diffuser, you have full control over the ingredients, ensuring a natural and eco-friendly option for your home. Plus, it's a fun and creative project that allows you to experiment with different scents and combinations. So why wait? Start exploring these 25 homemade DIY reed diffuser ideas and enhance your living space with delightful natural fragrances today!
1. DIY Reed Diffuser in 10 Minutes
Dive into the rewarding process of crafting a DIY reed diffuser that fills your home with captivating fragrances. Learn how to easily make a great diffuser, which often leads guests to ask how it is made. Unlike many store-bought options, these homemade diffusers offer a delightful aroma and are free from preservatives and harmful chemicals.
A simple mixture of Diproylene Glycol, perfumer's alcohol, and a selection of fragrance oils poured into a diffuser bottle, with added reeds, is all it takes. Recycle spent store-bought diffusers or source glass containers from thrift stores to keep your project sustainable and cost-effective.
These homemade reed diffusers make for perfect gifts and offer an easy way to ensure each room of your home carries its unique scent. Enjoy mixing and matching fragrance oils to achieve a scent profile that is uniquely yours. savvyhomemade
2. How to Make an Aromatherapy Reed Diffuser
This DIY guide outlines how to craft your own DIY aromatic reed diffuser, introducing a personalized touch of aromatherapy into your living space. The creation process is simple, mess-free, and wonderfully fragrant, using essential oils, rattan reeds, and a carrier oil such as sunflower.
The diffuser with a wide range of essential oils can easily be customized to your scent preferences. Not only does it serve as an excellent addition to your home, but it also makes for a thoughtful gift.
Moreover, the projected lifespan of the diffuser extends to a couple of months, offering prolonged enjoyment of your chosen fragrances. Make your aromatic masterpiece today with our easy-to-follow reed diffuser guide. hearthandvine
3. Homemade Reed Diffuser With Essential Oils
Introduce tranquility into your space with this elegant and simple DIY reed diffuser, perfect for your nightstand. This versatile piece not only emanates calming fragrances from essential oils but is easily customizable to your room's vibe and purpose. Crafted in minutes, it is an ideal spot for economical yet aromatic essential oils like lavender, lemon, or peppermint.
Enhance the scent as per your preference by adding more essential oils. Wake up to the refreshing sweet orange and peppermint aroma, or unwind to the calming blend of lavender and patchouli.
Whether you're after a sweet floral note with jasmine absolute or a refreshing touch with lemon and grapefruit, this diffuser caters to your every mood. This project offers a perfect blend of fashion and functionality; this reed diffuser offers an effortless way to infuse your surroundings with serenity and sweet dreams. hellonest
4. DIY Natural Reed Diffuser
Refresh your living space naturally with this DIY reed diffuser, utilizing the power of essential oils and materials you likely already have on hand. Easy to make and eco-friendly, this diffuser subtly eliminates household odors, from pet smells to damp hallways.
The highlight of this project is the use of completely natural elements, saving you from the overpowering, artificial fragrances of store-bought air fresheners. Enjoy the aromatic, therapeutic benefits of your chosen essential oils as they waft through your rooms, promoting relaxation and well-being while purifying the air.
Essential oils also contain antimicrobial properties, making your diffuser a natural pathogen cleaner. With this simple DIY reed diffuser, your home can embody freshness and tranquility daily. gardentherapy
5. How to Make an Oil Stick Diffuser
Discover the joy and wellness benefits of making your DIY essential oil reed diffuser. With store-bought diffusers often containing harmful chemicals, making your diffuser using pure and natural essential oils becomes not just a creative pastime but a health-conscious choice.
The making process is simple, and you can personalize your diffuser with various essential oil blends based on your preference – like energizing peppermint and wild orange or fresh and clean lemon, peppermint, and eucalyptus blends.
This homemade reed diffuser can help purify your air, boost your mood, and leave your rooms smelling fantastic while offering a cute decorative touch to your space. Making a reed diffuser is a fun, simple, and healthy way to enhance your living environment. So why not switch from synthetic fragrances to the natural, therapeutic power of essential oils? desertnaturals
6. Make a Reed Diffuser for $5 in 5 Mins
Unveil a simple and cost-effective way to enhance your home's ambiance with a DIY reed diffuser. Making this natural air freshener using readily available ingredients such as a narrow-necked bottle, reeds, and essential oils takes less than five minutes. You can even recycle an old diffuser bottle for this purpose.
Not only will it fill your space with pleasant aromas, but it also delivers the aromatherapy benefits of the essential oils used. Choose either a water or oil base to diffuse the scent. If you opt for an oil base, consider thinner oils like grapeseed or sweet almond oil for better diffusion.
Alternatively, a water base requires the addition of vodka to help mix the essential oils. Your homemade reed diffuser not only offers a personalized blend of fragrances but also serves as a thoughtful, inexpensive gift. Freshen up your home naturally and enjoy the creative process along the way! frugalandthriving
7. DIY Natural Reed Diffusers
Make a relaxing atmosphere with a DIY diffuser, perfect for any room, and easy to customize with your favorite scents. Free from harmful chemicals in most air fresheners, these homemade reed diffusers utilize essential oils to provide a lasting and uplifting aroma throughout your home. Especially perfect for bathrooms, closets, or other areas that can't accommodate diffusers.
You can choose from essential oil blends such as lemon and lavender, lime and thieves, or citrus fresh to suit your preferences. The process involves a mixture of 30% essential oil and 70% carrier oil, like sweet almond oil, which gets soaked up by the reeds and releases the scent.
You'll be amazed at how these diffusers keep your home smelling great naturally. Use antique bottles or mason jars for a chic look, or pick any narrow-mouthed glass jar for your reed diffuser. Get started today and enjoy the power of aromatherapy in your own home! makinglemonade
8. Make Your Own Essential Oil Reed Diffuser
Experience the magic of homemade reed diffusers with this easy-to-follow DIY guide! These eco-friendly diffusers are a perfect addition to your home, exuding a delightful scent while being light on your pocket. Made from everyday items like a bottle, reeds, carrier oil, and your chosen essential oils, these diffusers are a breeze to create.
You'll be thrilled with the fresh scents filling your home while taking pride in crafting them yourself. Not only do they serve as a fantastic, aromatic treat for your senses, but they also make for unique and thoughtful gifts. The best part? You can customize your scent! With a little effort and creativity, transform your space into a fragrant paradise. sherisilver
9. Easy DIY Reed Diffuser – Step-by-Step Instructions
Discover the convenience and benefits of crafting your DIY reed diffuser with essential oils! It is simple, but you can personalize the fragrance and control the ingredients. Utilizing a jar, reeds, water, optional alcohol, and your chosen essential oils, you can bring a delightful aroma to your home safely and flamelessly.
Using a reed diffuser is straightforward: place the reeds in the fragrance-filled liquid, and the scent will permeate your surroundings. It's a great alternative to candles or wax melters and can last for up to six months with regular maintenance, such as adding more water or oils and flipping the reeds occasionally.
Whether you prefer the scent of cinnamon, orange, and cloves or fancy a combination of lavender and frankincense, the choice is entirely yours! It's a wonderful addition to any room, lending a pleasant and natural fragrance to your living space! homemadelovely
10. Lemongrass and Ginger Reed Diffuser
Experience the aroma of nature within your home with a DIY reed diffuser using all-natural ingredients! This chemical-free, easy-to-make diffuser uses fractionated coconut oil, ethanol, and a blend of pure essential oils, making an exquisite fragrance while being kind to your skin, respiratory system, and the environment.
A blend of lemongrass, lime, coriander, ginger, and patchouli essential oils offers a delightful scent for bathrooms or small spaces. Bottles with narrow necks are recommended to slow evaporation and prolong the aroma. Enjoy the serenity that comes from knowing what's in your diffuser, and luxuriate in the divine smell of your creation. ascensionkitchen
11. Homemade Reed Diffuser
Learn to make a unique, eco-friendly scent diffuser for your home using everyday items and essential oils with this comprehensive DIY guide. Emphasizing the benefits of natural over synthetic scents for your health and the environment, this project offers an easy yet effective method to bring delightful fragrances to your living spaces.
With ingredients like dried twigs, a small jar, essential oils of your choice, and sweet almond oil, you can make a charming homemade reed diffuser that not only elevates the scent of your home but also adds a rustic aesthetic touch.
Follow the four easy steps from twig preparation, oil mixture creation, and twig infusion to the final assembly. This homemade reed diffuser is an excellent addition to your home and makes a thoughtful DIY gift for loved ones. This simple yet beneficial project creates a healthier and more naturally scented environment. pipmagazine
12. How to Make Reed Diffuser in 5 Minutes
Enjoy a refreshing aroma wafting through your home with a DIY reed diffuser, a fun and simple project you can make in just 5 minutes. Not only is this a budget-friendly endeavor, but it also uses common household items, making it a perfect weekend project.
Opt for this natural alternative to keep your house smelling fresh and cozy without synthetic perfumes. A reed diffuser is an interesting device that uses the principles of ancient incense burning to purify your air. It requires a diffuser bottle; carrier oil preferred essential oils, and reed sticks.
Making your reed diffuser saves you money and offers the satisfaction of a personal touch in every room of your house. Bring natural freshness into your home today with this quick and easy project. sugarandcloth
13. Quick DIY Reed Diffuser With Essential Oils
Transform your home into a fragrant haven using simple ingredients for a cost-effective and personalized DIY diffuser project. Immerse your living space in an aromatic ambiance with a homemade reed diffuser. Not only are they cost-effective and a breeze to create, but they also offer an eco-friendly alternative to artificial fragrances. This DIY project uses everyday items like a small glass jar, reed diffusers, and your favorite essential oils mixed with sweet almond or fractionated coconut oil.
For binding, opt for vodka, rubbing alcohol, or witch hazel. The process involves a simple mix, swirl, and fan-out method, resulting in a light, refreshing scent perfect for small, enclosed rooms. Remember to refresh the reeds every few days and replace the oil monthly for optimal results.
Experiment with your favorite essential oil blends to tailor the aroma to your preference. This reed diffuser is an aesthetic and olfactory enhancement to your home decor and makes for a thoughtful gift. simpleliving
14. How to Make Reed Diffuser at Home
Exalt the ambiance of your home with a DIY reed diffuser! This easy-to-make air freshener incorporates your favorite essential oils to ensure your space smells fresh and appealing. Lavender is a popular choice; its calming scent provides a soothing environment.
Using easily accessible materials such as carrier oil, essential oil, a jar, and some sticks, you can craft this alluring diffuser in no time. There's room for personalization, too – add a string to the top of the jar to match your chosen essential oil for a visually pleasing display.
These reed diffusers are versatile and work well anywhere in the house, from your living room to your workspace. Enjoy the aromatic benefits and elevate your home decor today with a reed diffuser! makeandtakes
15. DIY Essential Oils Reed Diffuser
Discover the benefits of aromatherapy by crafting a DIY diffuser, promoting well-being and enhancing your living environment. Bring a soothing atmosphere to your home with this easy-to-make DIY essential oils reed diffuser! This diffuser will fill your home with invigorating, natural aromas. With a few essential ingredients like wooden reeds, essential oils, vodka, and a glass bottle, you can remake the tranquil ambiance of a spa right in your home.
The process is easy and cost-effective – mix vodka and essential oils, add water and place the reeds in the bottle. Beyond infusing your space with captivating scents, this project adds a touch of aesthetic appeal to your desk or any room.
Notably, it's a non-toxic and eco-friendly alternative to conventional air fresheners. Fantastic as a gift for loved ones or a treat for yourself, this reed diffuser brings the refreshing essence of nature indoors. cupcakesandcutlery
16. How To Make Oil Reed Diffuser
Unearth the pleasure of making your homemade reed diffuser with this simple, easy DIY guide. Enrich your surroundings with your choice of essential oils using an old glass bottle and some reed sticks. This project repurposes a forgotten bottle and serves as an eco-friendly air freshener, enhancing your space with a natural scent without relying on chemically induced fragrances.
This eco-conscious alternative to standard air fresheners presents a safer option, especially for homes with small children. Use the sweet aroma of rosemary and grapefruit essential oils, or choose your own to add a unique touch to your bathroom or any small area in your house.
With the bonus of serving as an innovative gift idea, this reed diffuser tutorial promises a fun, rewarding experience. Don't forget to keep the jar away from children and pets to enjoy your homemade diffuser safely. moralfibres
17. Make a Liquid Reed Diffuser
DIY your space with a liquid reed diffuser – the perfect way to add an inviting fragrance and atmosphere! This project lets you control the scent, its intensity, and even the materials that suit your preference. Select a base liquid – water is recommended as it absorbs easily and avoids messy spills. Next, choose a binding agent – rubbing alcohol works just fine – to bind the water and essential oils.
Opt for cost-effective bamboo skewers over specialized diffuser reeds; they're just as effective. For the scent, unleash your creativity with essential oils. This guide recommends a citrus blend of lemon and orange for an energizing aroma.
Make sure to use a bottle with a small opening to slow down evaporation. Whether refilling an existing diffuser or making a new one, this tutorial empowers you to craft a reed diffuser tailored to your desires. themakeyourown
18. Simple Reed Diffuser Step-by-Step Instructions
A DIY diffuser not only adds a pleasant aroma to your home, but it also makes for an eco-friendly and budget-conscious choice. Imbue your home in enchanting scents without the exorbitant price tag with this DIY reed diffuser. The allure of essential oils meets the charm of hands-on creation. Use everyday materials like glass jars, rattan reeds, almond oil, rubbing alcohol, and your choice of essential oil.
This simple, cost-effective solution brings the aromatic experience of a spa right to your living room. This informative guide details each step, from picking the ideal jar to adding reeds. You can tailor your scent preferences from calming lavender to energizing citrus.
Moreover, you don't need to fret about overwhelming scents, as the guide helps you balance the intensity. Make a customized, aromatic haven with this easy, fun reed diffuser. practicallyfun
19. How to Make Your Own Reed Diffuser
Revitalize your living spaces with a DIY reed diffuser, an excellent and cost-effective alternative to artificial air fresheners and candles. Harnessing the power of essential oils, this handy device can emit your favorite aromas, turning your home into a tranquil haven. It is ideal for small spaces and adds a charming touch to your interior décor while promoting a pleasant atmosphere.
You can make a lasting, fragrant ambiance by repurposing a glass vase and using materials like sweet almond oil, fractionated coconut oil, or safflower oil as carrier oils. Customize your reed diffuser with essential oil blends such as Vanilla, Cedarwood, Lavender, or Eucalyptus, depending on your preferences.
The beauty of this homemade reed diffuser is its simplicity, low maintenance, and flexibility, allowing you to replace or switch scents as desired. Enjoy the therapeutic benefits of aromatherapy at home with this creative project! essentialoils
20. Easy DIY Aromatherapy Reed Diffuser
Make a serene atmosphere with a DIY reed diffuser from 100% non-toxic aromatherapy ingredients. Discover how easy it is to customize your signature scent using essential oils. Enhance relaxation in any room by placing this natural diffuser wherever you desire a little aromatherapy.
Say goodbye to chemical-laden plug-ins and embrace the goodness of natural ingredients. Follow this step-by-step guide to make your reed diffuser and enjoy the dreamy scents that elevate your mood and make a calming ambiance. It is fabulous for personal use or a thoughtful gift for loved ones. lydioutloud
21. DIY Reed Diffuser With a High-End Fragrance
Learn to elevate your homemade reed diffusers into exquisite olfactory experiences without breaking the bank. This DIY guide unveils five creative techniques that will help you craft reed diffusers with captivating and distinct fragrances. From exploring a wider range of oils like vetiver and grapefruit to incorporating flower waters as cost-effective alternatives, these methods will add depth and uniqueness to your scented creations. Unlock the secret to filling every room with its signature scent. aboderie
22. How Do You Make a Reed Diffuser
Struggling to find a simple and cost-effective DIY project? Learn how to make your DIY reed diffuser in just minutes. Store-bought options are often filled with synthetic fragrances that can disrupt hormones, but with this homemade version, you can make a low-tox alternative.
All you need is a narrow-style jar, reeds (easily found at affordable prices), essential oils, carrier oil, and witch hazel water. Customize the scent and color to your liking by choosing the right essential oils. Flip the reeds occasionally to ensure a long-lasting fragrance.
Perfect for small spaces like bathrooms, this homemade diffuser will add a touch of creativity and freshness to your home. Discover more cleaning recipes and explore the world of essential oils. Start your journey today! katrinaleedesigns
23. Heat-Free Fragrance Reed Diffuser Tutorial
Relish a flame and heat-free home fragrance option and learn how to make reed diffusers with this step-by-step DIY guide. Reed diffusers are easy to customize and offer a continuous scent without flame or heat, making them ideal for households with children or pets.
Discover the ingredients, preparation process, and instructions for making these elegant, low-maintenance home fragrances. Find out how reed diffusers work and which fragrances are compatible.
Enhance your candle line or add value to your home with reed diffusers. Don't forget to package them in stylish containers and customize your labels for a professional touch. Start making your reed diffusers today! candlescience
24. How to Make a Reed Diffuser
Transform your home into a relaxing oasis with a homemade reed diffuser – the perfect DIY project! Learn how to make a reed diffuser and fill your home with natural, customizable fragrances. This cost-effective method allows you to control the ingredients and offers a flameless alternative to candles.
In just a few minutes, you can make your reed diffuser using a small container, essential oils, a light carrier oil, vodka (optional), and reeds or sticks. Place it in any room to enjoy a delicate, long-lasting aroma. Discover various scent combinations, such as eucalyptus, spearmint, lavender, and lemon, and follow the simple instructions to make your space more inviting. simplehealthy
25. Making Your Own Reed Diffuser
Unlock the power of aromatherapy in your own home with a custom-made DIY reed diffuser! Get the joy of making your reed diffuser with this easy-to-follow guide. Save money and customize scents to match your style. All you require is a glass container with a narrow opening, light oil like apricot kernel or safflower oil, essential oils of your choice, alcohol to help oils travel up reeds, and reed sticks.
Find a container from garage sales, thrift stores, or craft stores. Follow the step-by-step instructions to mix the ingredients, insert the reeds, and enjoy the soothing aroma. It's perfect for small rooms and makes a delightful gift. Get creative and let your unique scent shine! essentialcom
Conclusion:
In conclusion, making a DIY reed diffuser is an affordable and customizable way to bring delightful scents into your home. With 25 unique homemade DIY diffuser ideas listed here, you can experiment with different essential oils and concoct personalized blends to elevate your atmosphere. From quick 10-minute projects to luxurious, high-end fragrances, A homemade reed diffuser offers an eco-friendly alternative to store-bought options, allowing you to indulge in the captivating aromas of essential oils while contributing to a more sustainable lifestyle.