Are you looking for fun DIY projects to work on over the weekends? So, Look no further! As we bring you these lovely as well as simple 15 DIY oil lamp ideas with step by step instructions. They will work as a blessing in disguise. Moreover, they are made from sweet-smelling essential oils, olive oil, and much more! Bound to add elegance and unique addition to your modern home decor. They will consume less time and instead DIY olive oil lamp give you something beneficial and super pretty in return. On top of everything, these DIY oil lamp ideas are effortless to work on and require a few raw materials which you can easily find on your hands!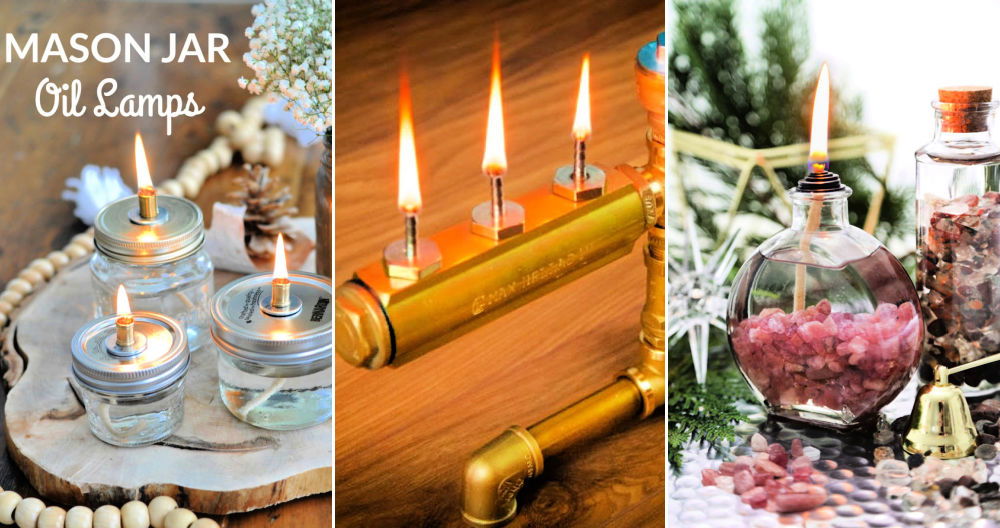 From a mason jar oil lamp to an eco-friendly DIY oil lamp and making your oil lamp to a 1930's oil lamp, there are different options to choose from! Go with your favorite oil lamp and make it right away to enhance the overall look of your room. They will add the coziest winter vibe to your nights. Also, these make the best holiday gifts to give to your family members and friends. Honestly, anyone would adore having a lovely DIY oil lamp. Finally, it is time to bring in your best-liked essential oil and add a little sweetness to your life with these mason jar lights.
1. DIY Essential Oil Lamp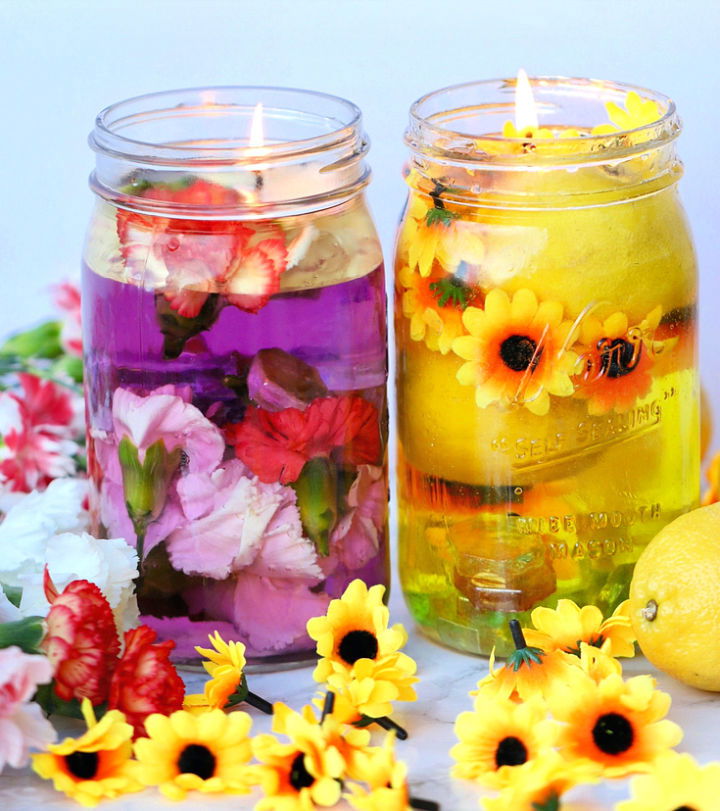 A DIY essential oil lamp is the most straightforward project to work on! It is ideal for a beautiful smelling house and can be recreated in minutes. All you need is to take a mason jar with your decorations in it, fill it with water and olive oil, put a few drops of essential oil, and food coloring. Finally, get a mason jar lamp with a floating wick! annmariejohn
2. Make a Mason Jar Oil Candle Lamp – Gifts for the Holidays
Make this DIY candle lamp that makes perfect gifts for the holidays! All you need to do is put olive oil, dried orange slices, cinnamon sticks, small pinecones, and essential oil in a mason jar. Add some water to raise the oil level and light a candle using a floating wick! hearthandvine
3. Eco-Friendly DIY Oil Lamp From Scratch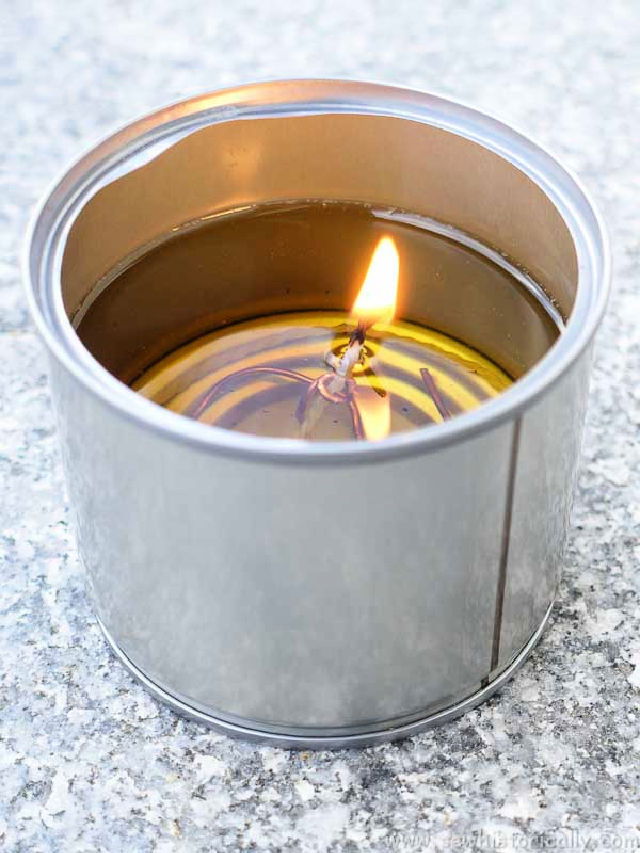 This eco-friendly DIY oil lamp from scratch using only vegetable oil, cotton string, a wire, and a tin can. It can be used both indoors and outdoors. This lamp can be made 5 minutes using floating wicks during emergencies such as power outage or even for a simple sweet-smelling atmosphere around you! sewhistorically
4. Mason Jar Oil Lamp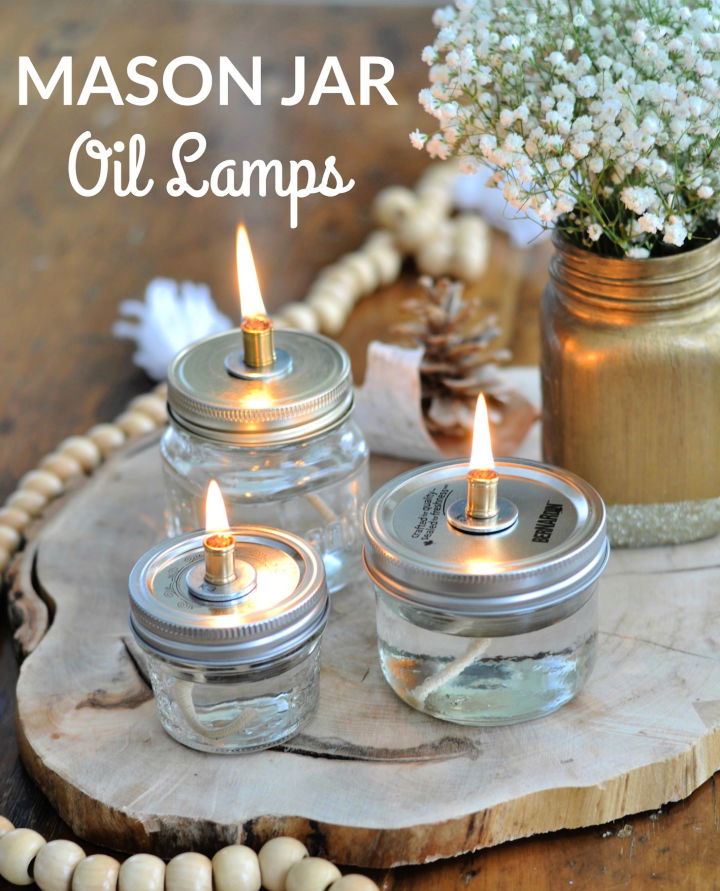 How to make mason jar oil candles? Mason jar oil lamp is simple to make and so beautiful! Perfect to light up a small indoor occasion or can be used as a wedding centerpiece as well. Spark up your summer evenings with these beautiful DIY oil lamps. All you will need is paraffin lamp oil, nipples, cotton lamp wicks, couplings, washers, and a mason jar to make one! lifeisaparty
5. Magical Mason Jar Oil Lamp – DIY Oil Candles In 2 Minutes
Magical mason jar oil lamp is the perfect DIY oil candle you can make in just 2 minutes! They are so pretty yet, straightforward to make. Also, you will find them safer than candles, only as bright and long-lasting. All you will need to do is put essential oil, some water, 1 tbsp. Of vegetable oil, and a large floating wick in a mason jar! apieceofrainbow
Solar lights: These mason jar solar lights can be made simply at home with just three materials.
6. Turn Booze Bottles into Mood Lighting
You can turn your essential booze bottles into mood lighting! You will need an empty booze bottle with a flat base, put a foot-long flat cotton wick, pour an odourless lamp oil with a funnel, and top it with a bottle wick which will be the stopper which holds the wick in place. Enjoy your very own mood light! food52
7. DIY Oil Lamp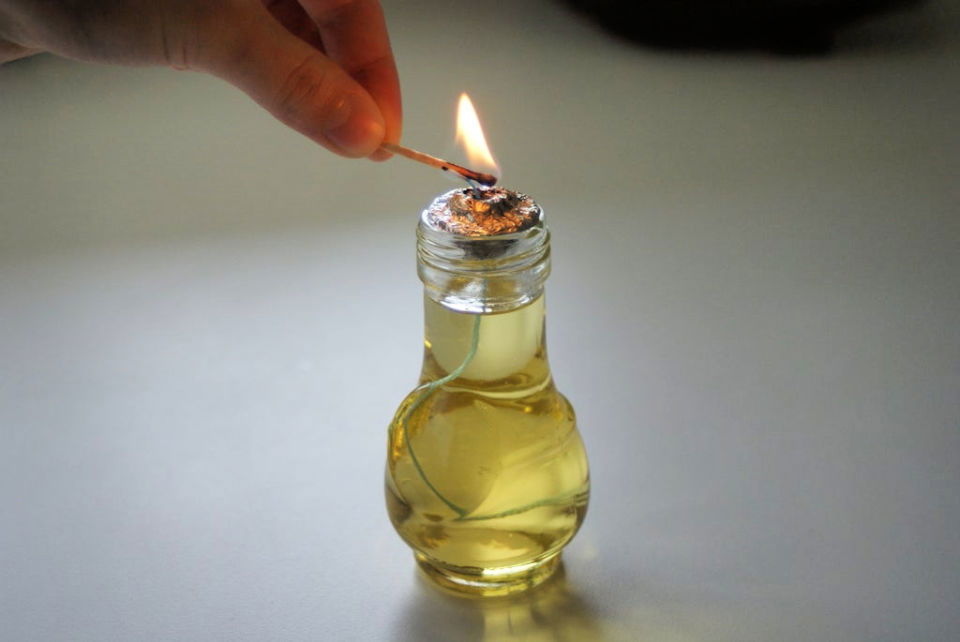 This DIY oil lamp is a super easy one to make! All you need is a small glass jar, a wick, and some aluminium foil to go about. Make a stopper for the pot with the foil consisting a centre hole for the wick. Fill the jar with oil and add the plug with the wick through the hole and you're done! instructables
8. DIY Oil Lamp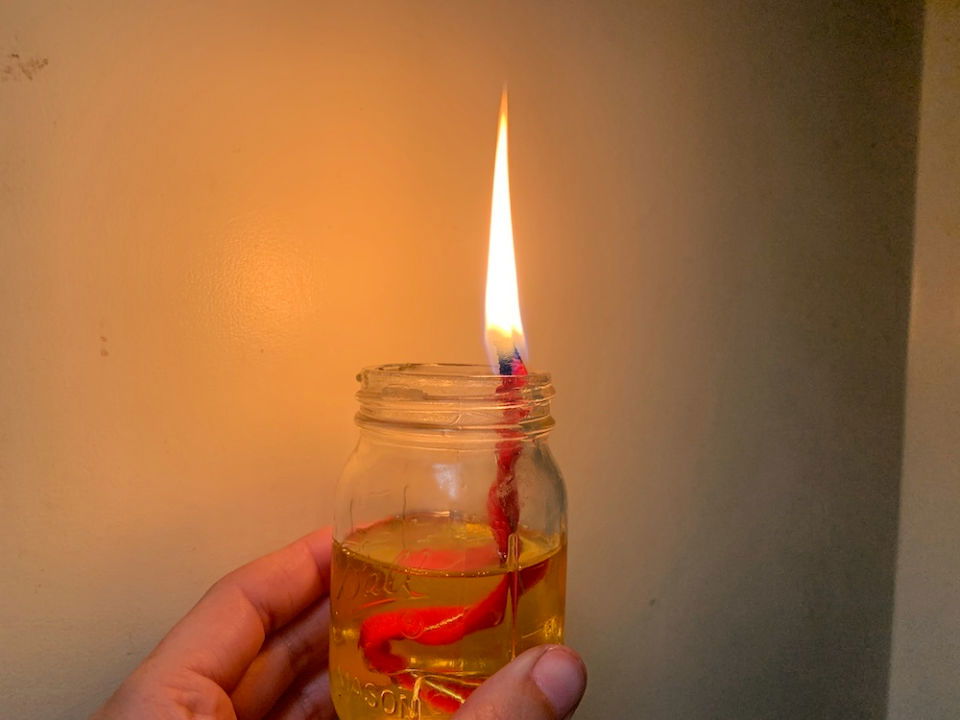 How to make an olive oil lamp? Making your homemade oil lamp is very easy! All you need to do is get your hands on a small mason glass jar and fill it with olive oil. Take a wire and wrap it around a thick cotton wick to make the olive oil lamp secure. Please place it in the pot and finally light up! rogueprepared
9. Homemade Glass Bottle Oil Lamp
Homemade glass bottle oil lamp is a simple yet, useful craft! You will need a large glass bottle with a metal screw lid on top, a cotton wick, and olive oil. Make a hole using a sharp needle in the metal lid to pass the wick through. Fill the bottle with oil and water. Your oil lamp is ready! instructables
10. DIY Semi Precious Stone Oil Lamps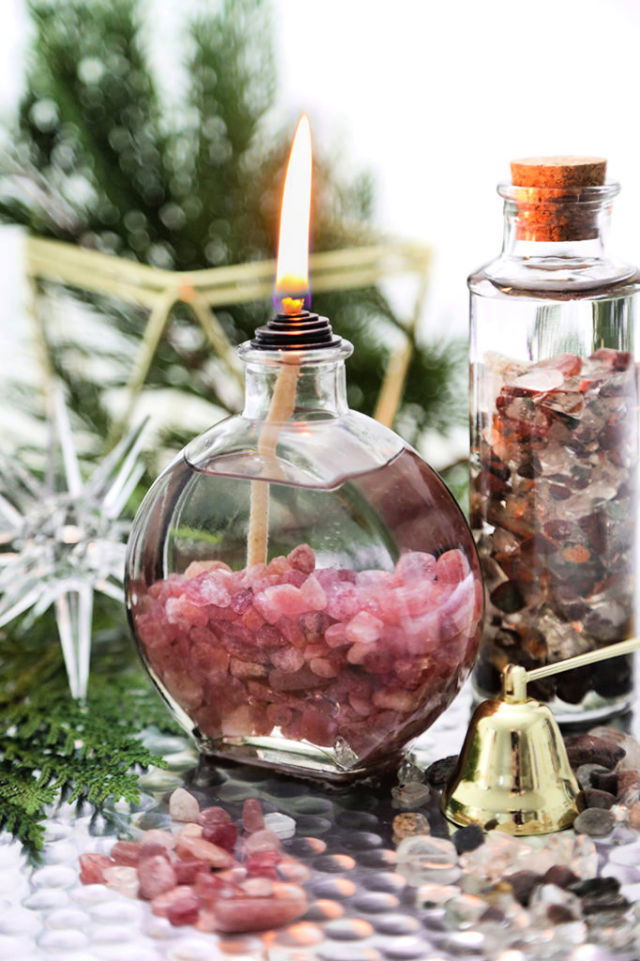 DIY semi-precious stone oil lamps are adorable! All you need to do is take a medium glass bottle and place a candle wick in it. Fill the bottle halfway with stones and fill it further with lamp oil using a funnel. Finally, make the wick holder with washers. Light up your pretty oil lamp and enjoy! confettifix
11. DIY Oil Lamp From A Mason Jar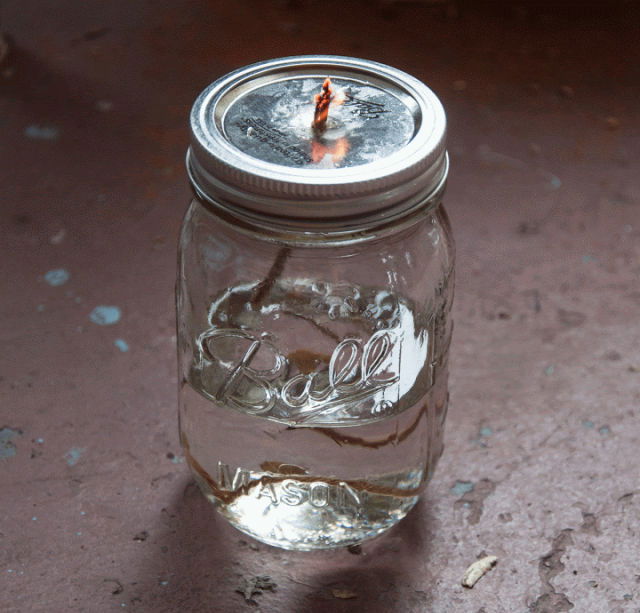 DIY oil lamp from a mason jar is very simple to make! All you will need is a mason glass jar with a metal lid, cotton wick, and paraffin oil. Punch a hole in the lid's centre, pour oil in the pot, and place the cotton wick through the hole inside and close jar for it to absorb the oil. There you go, it's ready! somethingvintage
12. Farmhouse Oil Lamp Wall Art With Grain Sack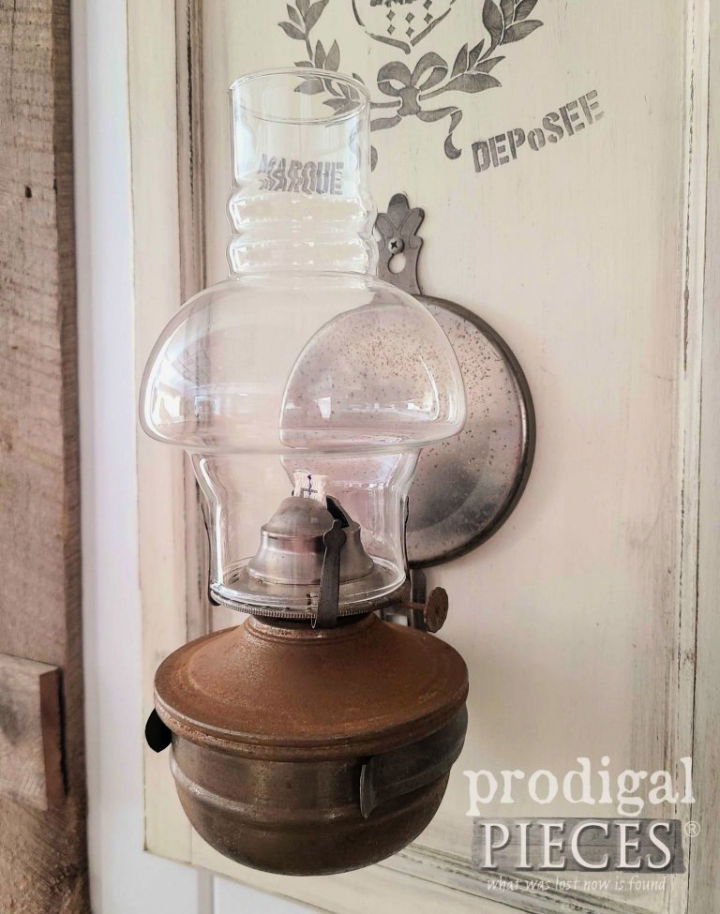 This wall art with grain sack is a fun DIY craft to perform! All you need to do is find a background for your oil lamp and coat it with white latex paint. Use a grain sack stencil and a stencil brush with acrylic paint to give your touch. Lastly, cover with grey wax to add texture. Light up your oil lamp and enjoy the rustic look! prodigalpieces
13. How to Make a Lamp Out of a Vintage Oil Can
Here's how to make a lamp out of a vintage oil can! You will need an old oil can, de-greaser, drill, metal file, 3-way socket, metal threaded nipples, hex nuts, cord set, and a bulb to make a lamp. Attach the socket to the can and cord set and attach the bulb to create your very own light! mylifeonkay
14. 1930's Oil Lamp Gets a Modern Makeover
1930'S oil lamp gets a modern makeover that is perfect for enhancing your living room's elegance! You can update your old vintage lamp onto a beautiful modern-style one to perfectly fit your home decor. Please give it a unique simple touch by painting in your favourite colour which would complement the furniture! pinkfortitude
15. DIY Steampunk Industrial Pipe Oil Lamp
DIY steampunk industrial pipe oil lamp is a fascinating project to work on! All you will need to do is set up an industrial pipe with as many oil lamp holders as you may wish to. Take a piece of thick cotton wick for each and make sure to fit perfectly. Pour in lamp oil from the opening and lighten up the wicks! youtube
Now you have around 15 fascinating DIY Oil lamp ideas that will go a long way! They correctly add up to your winter night vibes and can make any moment just memorable. Add your favorite decorative materials that can be inventive beyond measure to add the bespoke touch to your mini oil lamps. These are cheap, easy, and possibly romantic to spend a lovely breezy night! Also, they make beautiful last minute gifts for a special friend. These DIY oil lamps are not just pretty, but also resourceful, and a great way to lighten up your mood and have a relaxing time at home. So, what are you waiting for? Grab your supplies right away and make one. Happy sweet sensations your way! 😊