The elephants are the only wild animal that is huge in size but does no harm mostly at least until they get angry! They are the most loved animal by the kids too when they go for a zoo visit and if talking about the ancient times, they were all the royal rides for the kings and princes and this is not the limit, the elephants can still be seen as a featuring animal in the various traditional festivals and occasions and also in the ceremonies! Why they are mostly the center of attention of the kids?
It is due to the reason that they have been a great part of the kids story books and cartoon series and hence it would be a great kid's crafts to do with these 20 Creative DIY Elephant Crafts for Your Kids that will also be great for the World Elephant Day 12 August and will also rock for the 22nd September that an Elephant Appreciation Day! This list will provide you the most genius and cost-efficient ways to make a toy or the glam paper art of your favorite elephant using the items and materials that you mostly have in your possession! And these crafts are also going to rock as the best rainy day kids crafts and as lovely summer kids crafts!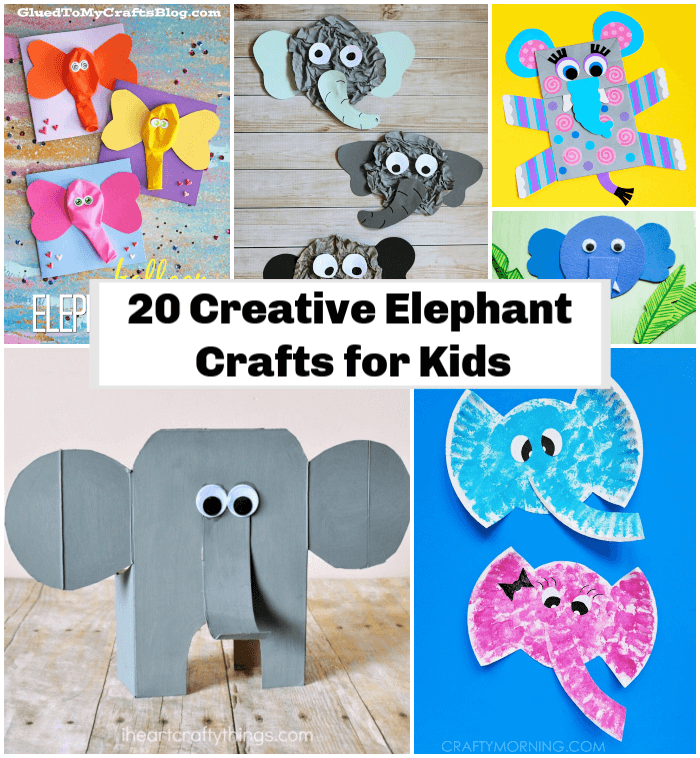 If you are willing to get only the colorful elephant symbols or art to display on the wall and also as a monogram on several of your items of interest then you can quickly draw the elephant on paper and then fill it up with the colors! Also, cut out the elephant body or face parts out of the cardstock by following a template and then put them together and finish with googly eyes and also with the balloon or other custom noses to make cool elephant crafts! If you are concerned with the elephant kids' toys then do a little sculpting of the cereal boxes or cardboard boxes to turn them into cute looking elephants and also make the lovely elephant succulent planters out of the elephant toys!
Crafts for Kids:
Use also the paper plates to make quick cute elephant faces and also adhere to the cutout elephant on a canvas frame to make the lovely elephant wall art pieces! You will be finding more amazing elephant crafts if you browse this entire collection and click once the attached links to grab the how-to instructions and tutorials!
DIY Balloon Elephant Card Tutorial:
Boost the crafting sense of your kids by doing these awesome elephant crafts with them, make these card and balloon elephant that will be super easy to craft! Place the balloon on the paper as the head and nose of the elephant, add card ears and googly eyes and get the fantastic elephant card craft! Details here gluedtomycraftsblog
DIY Elephant Craft for Kids: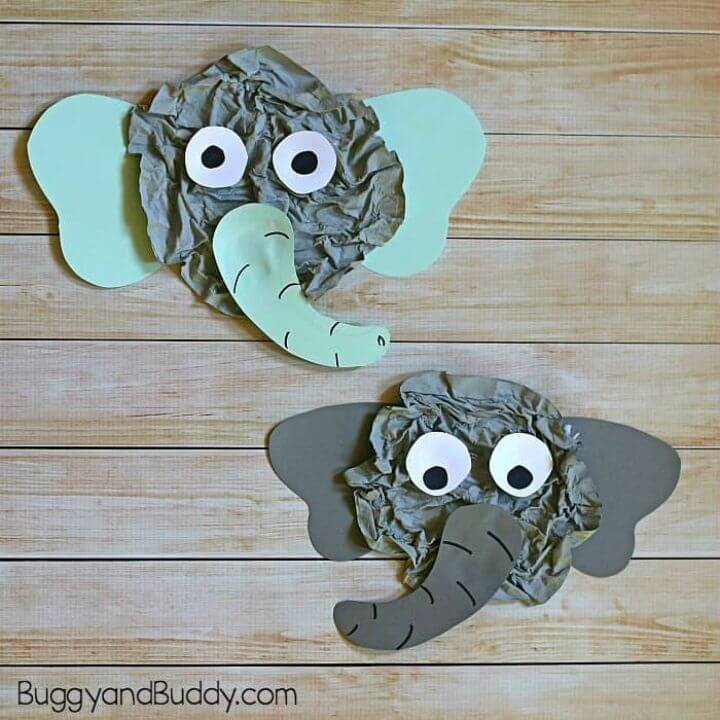 Double up the fun of your kids by doing this elephant craft with your kids that will be a piece of cake to do! Get a round piece of randomly ruffled paper and add it up the card elephant ears and nose and then finish with the paper eyes to make a cool elephant craft in no time! buggyandbuddy
Make Paper Plate Elephant Kids Craft: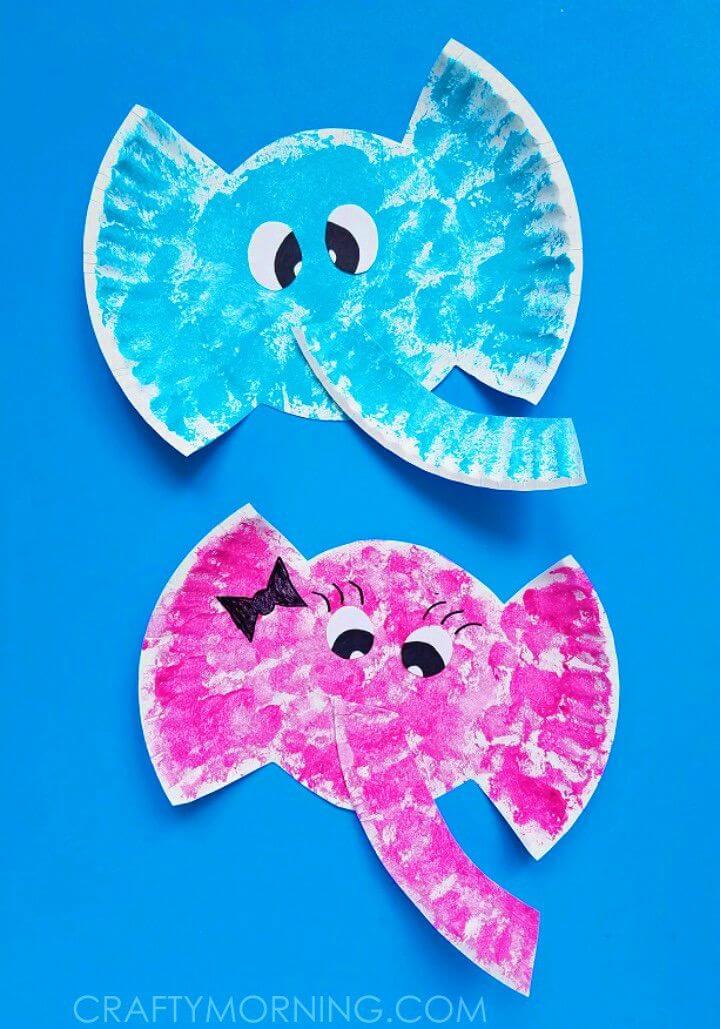 Also, go handmade smartly with the paper plates and make alluring and cute elephant crafts that will make enticing decors for the kids' rooms and will be a matter of seconds to make! Do a little tracing on the paper plate and cut the parts out so you will left with an elephant ear and next add a plate strip nose and finish with faux eyes! craftymorning
Easy DIY Elephant Craft with Printable Template:
Develop a great creative sense in your kids by doing this another great elephant craft with them that involves a little use of computer and print! Just download the printables and print out parts of elephant face and then glue them together making a cool elephant craft! Here the head and nose of the elephant is made of felt! artsycraftsymom
Awesome DIY Cereal Box Elephant Craft: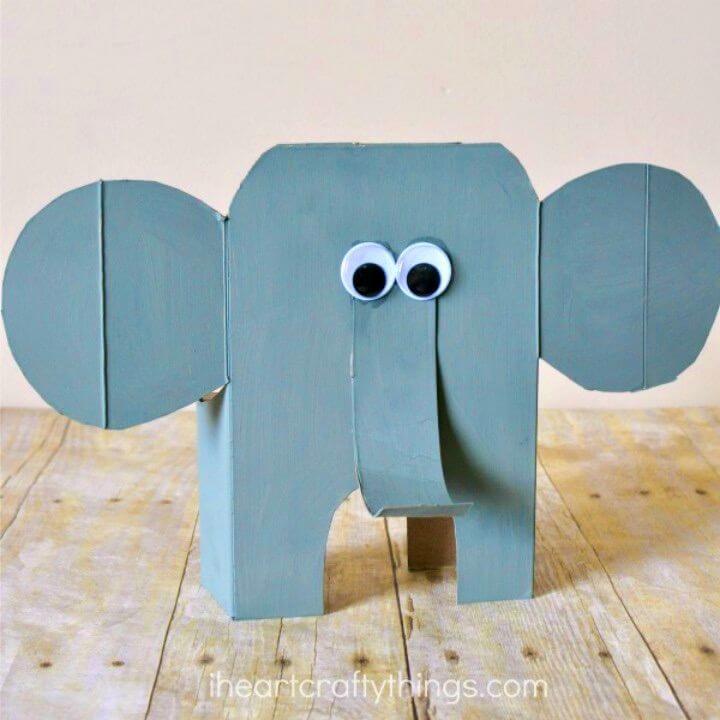 Also, go smart with the cereal box and craft a cute looking elephant décor craft that will make great décor for the kids playrooms and also a cute handmade gift to them! Cut smartly the folding sides of the cereal box to make ears of the elephant and use a cereal box strip to make the nose of the elephant! Next, add the googly eyes! iheartcraftythings
Pretty DIY Paper Plate Rocking Elephant:
Get inspired by this another cute elephant craft that all kids do to give an instant boost to their creativity! Get crafty with the paper plates and craft this rocking paper plate rocking elephant that you can paint in your beautiful colors! Here this project is all about a little tracing, precise cutting, and painting! Details here thejoysharing
Quick DIY Madhubani Elephant Folk Art Bookmark:
This is here the most beauteous model of paper elephants ever made, it will make a perfect craft for the kids also! Here all you need is to draw a folk art elephant on white cardstock and next you can fill colors in it and cut it out to make a precious elephant fold art bookmark that will be loved dearly by all the book lovers! artsycraftsymom
DIY Paper Bag Animal Puppets:
All kids will love to do this amazingly cute and precious paper elephant craft project that will make you get a lovely animal puppet! Teach your kids the perfect art of origami by making this paper bag animal puppet with them that is cute and come in lots of enchanting colors that will hold much dear to the eyes of the kids! blitsy
How to Make Button Elephant:
Another cute and creative addition o kids elephant crafts, also get crafty with the colorful buttons to make epic elephant crafts that will make a great art craft for the kids and also great décor for the kids' room walls! Here this button elephant holds the button balloons and is walking n green button grass! bustedbutton
DIY Mysore Dasara Elephant Paper Craft:
Craft all sorts of elephants you and your kids like at home using paper and paint! Duplicate this Mysore Dasara elephant that is sure to be loved by all the kids, and it is definitely going to be a creative paper craft for all the kids, and it will also make a great rainy day craft for the kids! Here is how to make it artsycraftsymom
Make Your Own Elephant Bookmarks:
Make also the elephant-inspired bookmarks at home using the paper and cardstock and gift them to the book lovers in your home! If your kids love the drawing and painting crafts then they are going to love this elephant bookmark that involves cutting, drawing, and painting! Experiment this elephant bookmark with any color of card or paper! Details here pysselbolaget
DIY Sponge Painted Elmer the Elephant: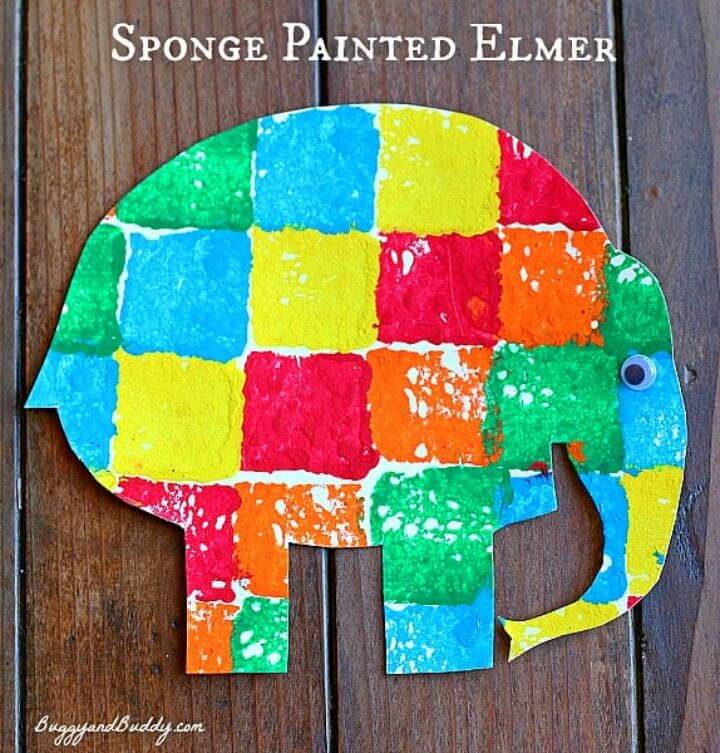 For all painting loving kids,  presenting here a lovely elephant craft that is colorful and will make your kids busy in a fun way! Trace and cut out the Elmer the Elephant out of paper or card and then sponge paint the colorful squares on it as per demands of the Elmer the Elephant look! Get inspired by the given sample! Details here buggyandbuddy
Make a Paper Elephant Craft:
For everyone who lovers the paper crafting,  this paper elephant craft would make the best choice to practice his skills! Here the black paper has been used to make this brilliantly beautiful paper elephant that will make great décor for the kids' room as it can stand alone! Make the teeth of the elephant using white paper! instructables
DIY Suncatcher Elmer the Elephant:
Want to incorporate the elephants into the kids' room decors? Then here is another smart way to do so! Make the Elmer the Elephant suncatchers that will make precious décor in the kids' room and would be pretty easy to craft for every kid! Make this lovely Elmer the Elephant Suncatcher using the baking paper, colorful tissue papers, and paper or card! Details here craftsonsea
Cute DIY Cupcake Liner Elephant Craft:
Using your creativity, you can do fabulous elephant crafts with various materials lying around like the paper plates, cupcake liners, cereal boxes, and paper! Make this super cute elephant using the cupcake liners, and it will be super easy to craft! Use a small and a big cupcake liner to make the head and body of the elephant and make the nose, tail, and legs using the card! iheartcraftythings
Make Toy Elephant Succulent Planter:
If you are a big fan of elephants and want to bring them to your home and then here is a brilliant way to do so! Make this succulent elephant planter that is sure to be loved by all the homey persons who want to upgrade their home decors! Grab a hollow elephant toy and cut it out from the top and then fill the potting soil in it! makeit-loveit
DIY Handprint Elephant Craft:
Here is the super easy elephant craft that little kids do with the siblings to have great fun in the spare time! This will also be a super fun craft for the painting loving kids! Let your kids paint handprints on the card and then paint little tail and eyes to turn the handprints into beautiful elephant paper crafts! Details here craftymorning
Make Dumbo the Elephant Lunch Bag:
Here is another excellent and creative elephant craft that you can do with your kids for fun! Make the dumbo the elephant lunch bags at home that will make cut gifts to kids and will be another excellent paper elephant craft that every kid will love to do! Here is how to make this elephant lunch bag! Details here craftideasforall.blogspot
Quick to Make Elephant Canvas Art:
Also, do the fantastic elephant crafts to boost your interior wall decors! Make the fabulous elephant canvas wall art frames at home that will instantly upgrade your interior wall decors! Grab a canvas frame and then paint the elephant art on it and that's it! This elephant canvas art comes with the gold glittery elephant art that showers the colorful polka dots through the nose! withinthegrove
DIY Paper Plate Elephant Craft:
Check out here another great and amazing elephant craft that all kids can do to have a big value fun! Add up a painted paper plate with the paper plate ears and nose and finish with googly eyes to make this lovely and cute elephant art craft! Details here notimeforflashcards