Do you know why we take pictures? Because being in a special situation or special time zone you feel the ultimate joy be it in the company of nature, family, and friends or of your own self. So the picture taken at that special happy time keeps you reminding those fun and joyful moments together and even work as mood delighters when you are sad or anxious. And the best way to feel the positive and happy vibes of those happy and memorable times is to display the pictures at certain spots where every eye can look at them. And for this purpose, you need a cute and gorgeous picture frame that now you can make of your own with a more custom and personalized touch. So check out these stunning 20 DIY picture frame ideas to frame up you're your best-captured picture in.
When there is a DIY project to do you at home there is like endless possibilities for the creativity and personalized to manifest in that project. You can use anything that you think can act like a frame and hold the pictures nice and firmly in it. Here in the following given ideas you would lot of fun and functional ways to frame your pictures in the best beautiful way and display them on your walls, tables, shelves or mantles. Whenever you would pass by these pictures or happen to have an eye on them you would surely go on a roller coaster ride of the memories.
For a rustic and natural appealing DIY Picture frame you can use the free found pallet wood, cut it into slats and then stack the pieces together to form a frame like the structure of desired size and shape. For a simple yet cute idea, you can simply dress up the existing frames with washi tape, maps, old books and magazine paper. Those who are looking for the smart and unique one ideas should really follow the brag book, mason jar and the photo luminaries projects to satisfy their creative urge.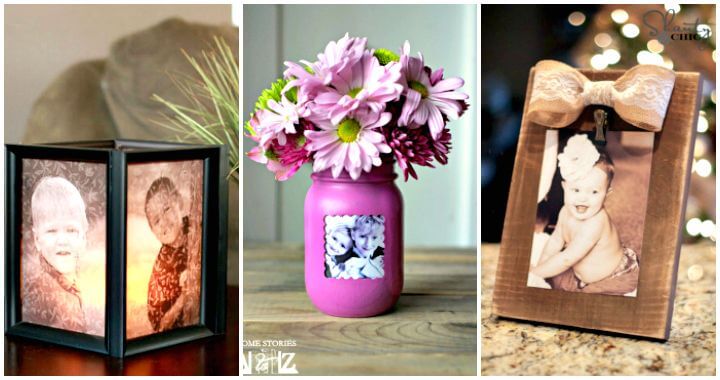 All the easy craft ideas are loaded with the tutorial details, guidance and stepwise instructions and to approach them you need to click on the links below each picture.
DIY Chippy Wooden Picture Frame Tutorial:

Getting wooden chips in thin and a bit long size, gluing them together, staining in the brown and white the rustic wooden frames are ready to display your pictures on and make them a proud part of your wall decor. Though easy yet full tutorial of this wooden frame lies here shanty-2-chic
DIY Beautiful Photo Book:

If you have some old books in your library that you are in no mood to read again, here we have a recycling purpose for them as you can make lovely and unique photo frames out of them and call them photo books. Get more details and the tutorial here bhg
DIY Photo Wood Transfer Tutorial:

Transferring your family photo into onto a wooden block would the most innovative kind of photo frame ever and thus you can use this idea as a perfect gift plan if there is a celebration coming up in the family be it birthday or anniversary. Adding wooden monogram is making it look more lovely so get its tutorial here diyjoy
DIY Striped Washi Tape Photo Frame Tutorial:

This totally chic and trendy looking photo frame would look great resting on your side table or night stand and has been made to look that gorgeous so cheaply by just using a set of striped washi tapes in a certain arrangement. So you can do with your favorite color and design in washi tape. Tutorial here bombshellbling
DIY Wood Pallet Picture Display:

If there are pallets available near you, then you must opt for them as they can make a lovely rustic wooden frame for your family photo collection so that you can look at lots of memories together while passing by it. Here is the simplest tutorial of it simplykierste
Handcrafted Picture Frame Luminaries:

What a beautiful idea, would be your words after checking out this picture luminary project that is unique, enchanting and above all really easy and cheap to make yourself at home with your memorable pictures in it and when lighted it would create a whole magical vibe. o do give it a try with tutorial lying here thatswhatchesaid
DIY Bow Picture Frame Tutorial:

These wooden rustic frames are made from simple wooden boards being painted rustically  and then pasting pictures and adding a burlap made bow tie is the final cuteness touch to finish of these frames so damn gorgeously. Know the details and pictorial instructions here shanty-2-chic
DIY Mason Jar Picture Frame Tutorial:

Mason jars are always coming handy for the art and craft projects and here they have been used so indicatively to serve as a cute and adorable picture frame and all you have to do is just paint a mason jar and then add a picture to its center with the help of a vinyl shape. Complete directions here homestoriesatoz
DIY Yarn Wrapped American Flag Photo Frame:

This double functional craft idea is too fun to try yourself as it would not only bring some patriotic vibes in your home but also a cute picture frame that is sure to grab everyone's attention towards it. You would need american flag color yarns to wrap on the frame and some cute stars as well. Rest of the details are here callmemamaleisha
DIY Old Window into Picture Frame:

If your old wooden window is getting ruined in the store just grab it as we got this fun functional role for it to use it as the picture frame for the whole family to display their pictures in each window penal. Here is the full instructional tutorial iammommahearmeroar
DIY Decorating Frames Tutorial:

Old books and maps in your house can be really a cool idea to make some fun and unique frames for your cute and memorable photos. All you need is just cut the book pages and maps and then wrap them nicely and neatly on the frame and that's it. Here are  the complete directions alyssabyoung
DIY Rolled Newspaper Picture Frame: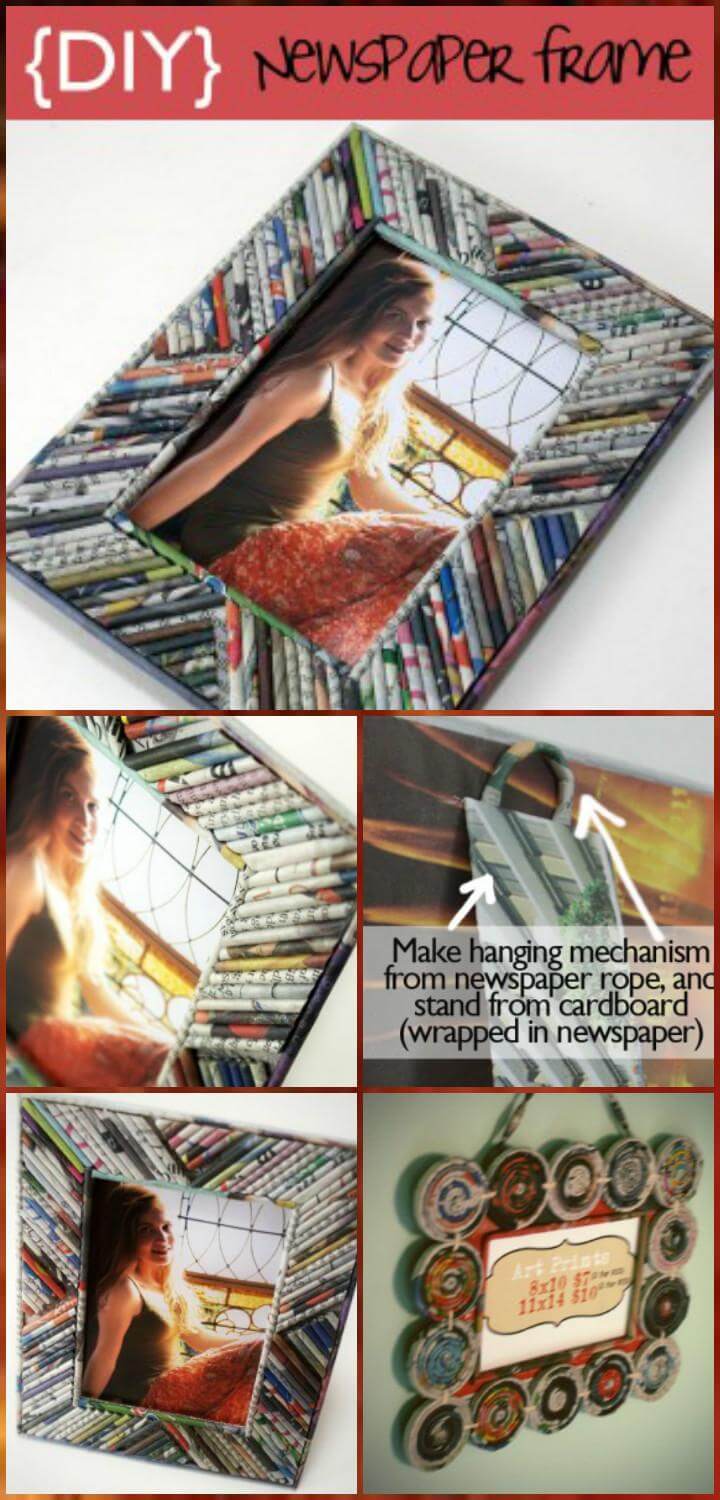 You would find totally awesome and unique idea here to style up your frames uniquely and here is another one with the rolled up news paper and thus it would be totally cost free project to do easily at home. Get full pictorial guide her and enjoy making it soon savedbylovecreations
DIY How To Download, Print and Frame A Chalkboard:

Wooden frames are the favorite of everyone and they are really getting popular and look really creative too so here is another addition to this awesome fame collection with this simple and rustic wooden frame easily made out of the wooden slat stacking. Get its complete tutorial here dearlillieblog
DIY Brag Book Tutorial:

This cute brag book for the display of baby picture is the best idea you can opt for as it super cool and unique and looks really interesting as well. All you need is some board to make the frames and some polka dot fabric scrap for the book cover and a ribbon to tie it well. nalleshouse
DIY No Sticking Picture Frames Tutorial:

There is no dearth of the cute and innovative picture frame ideas once you open up this collection and here is another fun addition to it with these no sticking frames that you can make in so many colors and thus make a superb display on the walls of the house. kreativbuehne
DIY Popsicle Stick Picture Frame:

These totally chic, fun and interesting photo frames have been made out of the Popsicle sticks, washi tape and some magnets and all these tools and supplies are way to cheap and thus you can make these cutest and eye catching frames for your teenager kids to rock their room walls with. Full tutorial hereeighteen25
DIY Cement Letter Photo Holders Tutorial:

This is by far the coolest idea you would find for the photo holders and its too simple and easy for you to pull of yourself if you manage to get the needy supplies which are listed here in detail along with the step by step tutorial so do click and try making these cut lettered photo holder this weekend. ispydiy
DIY Rustic Pallet Photo Frames Tutorial: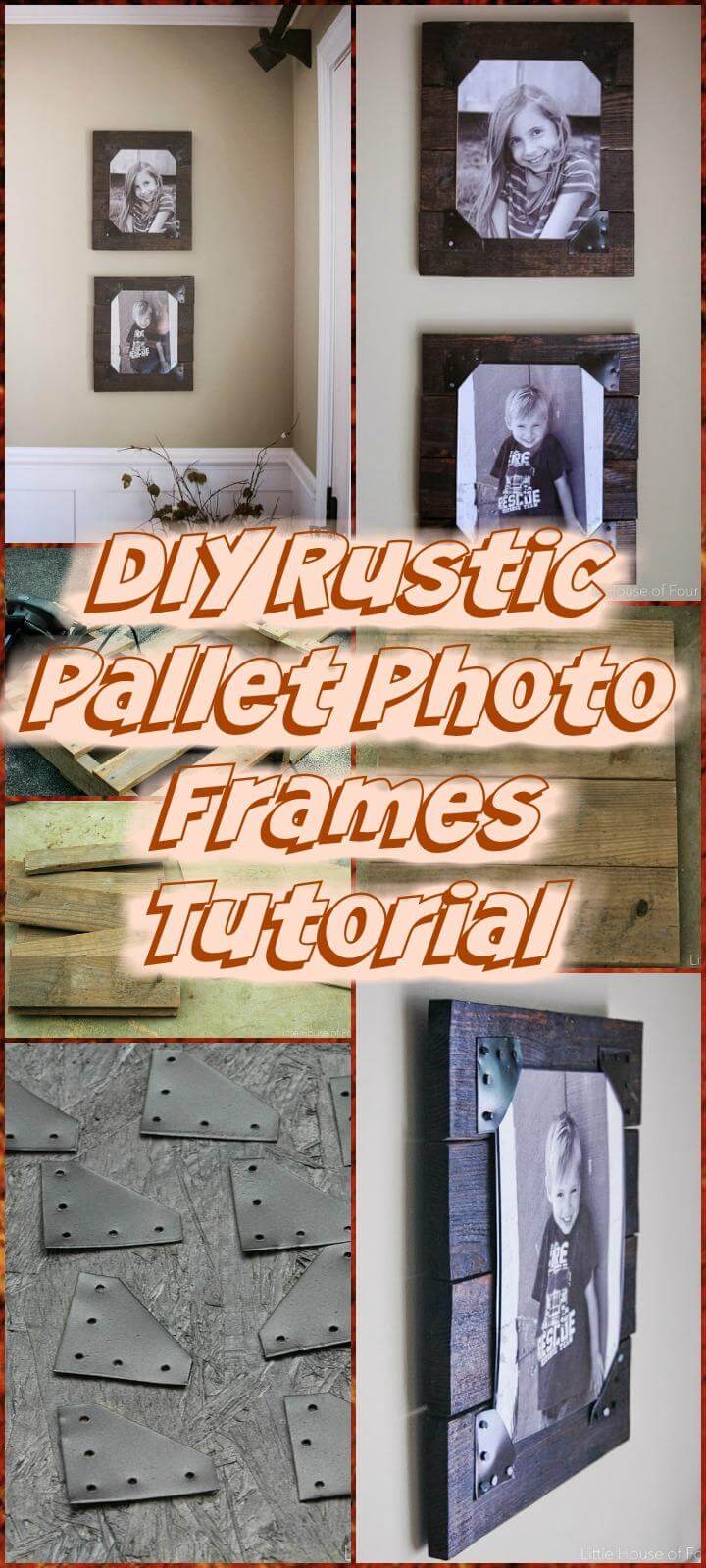 If you love getting creative with the wood projects then this wooden pallet made cute photo frame must be in your to do list this weekend as they are too adorable, easy and totally low cost to make yourself at home. All the needy instructions and directions are here to follow littlehouseoffour
DIY Wooden Frame Step-by-Step Tutorial:
Making cute and small frames out of the wood pieces is really very easy. Just stack together the custom cut wood pieces and then stain them in your prefer hues and then add the pictures on them with extra embellishing of flowers or other such things. Get more to know about these frames here agirlandagluegun
Easy DIY Wood Plaque Picture Frames:

Wooden plaques make a great substitute to the picture frames but look really gorgeous and unique as well so here we offer you to make these pretty and rustic wooden plaque frames with personalized paint and designing and make them nicely display on your side tables and night stands hometalk