Do you want to make your own DIY picture frames? Then these 70 easy DIY picture frame ideas are the best ways to recall the fun and happiest moments of your life. By looking at your family photos and pictures, you feel so close to your family, just by remembering those past events that have made you laughed and cried happily. So, it can be the best idea to display your photos on your interior walls! So you will live those past fun moments again in your imaginations just by looking at them. But the style of displaying your photos on your wall matters as if framed beautifully; It would catch more eyeballs for sure.
Ordinary picture frames are often more common, and everybody is using them, so to be stand out in the crowd, go with some unique picture frames. So, if you are interested in DIY home projects, then you can make your own DIY picture frames at home without power tools. To make you think like a genius, we have brought these 70 easy DIY picture frame ideas that will give a spark to your creativity for sure. All these homemade picture frames would showcase your memorable photos with a personal finishing touch of your decided decor.
How to make picture frames without power tools?
Make a bulletin photo wall frame by using a soundboard, now paste your square photos on the board and create a bulletin. Use custom painted or Washi taped covered popsicle sticks also to add alluring backgrounds and frames to your favorite pictures; See an interesting sample given below. Repurpose the wooden pallets to build rustic picture frames in just no time! That will rock on vintage interior walls and will bring a rustic decor touch to your modern wall areas, get inspired by the given sample frames.
Make rustic wood frames to showcase your art and paintings. Create beautiful plexi frames for your photos using plexiglass, a wooden board, and a decorative ribbon that will go modern to your interior walls. Decorate blanket wooden frames with printed fabric or with patterned papers to gain more graceful looking photo frames, look at the given sample below.
These DIY picture frames provide you with the great hacks for amazing makeovers of your photo frames. So you can instantly turn your boring looking picture frames into some fantastic looking ones. The old CDs mosaic picture frames and the striped Washi tape frame are great examples here. There is just too much more in the list about creating and decorating your DIY picture frames smartly and in a budget-friendly way. So take a short tour of this collection of best DIY picture frame designs. Check out the source links that will open the complete tutorials and comprehensive project details for you just on a single quick click.
DIY Bulletin Board Wall:
Living room walls should be filled up artistically as you really need to make this area look the perfect of all for being the social hub of the visitors. And this giant picture DIY bulletin board would be the great idea to bring some artistic and lively touches to the walls and also reminding you of all the beautiful moments captured in the pictures. Here is the step by step written and visual tutorial of this idea itsalwaysautumn
DIY Popsicle Stick Frames:
What can be cheaper than the pop sickles? With these utter cheap supply, you can create one of the valuable possessions for your decor, and that is a cute picture frame. Wrapping up the pop sickles with the colorful Washi tape and then gluing them together to form a frame structure and lastly adding your pictures to it and its ready to be displayed over the walls or the side tables. Easy tutorial details here eighteen25
Rustic Picture Frames out of Wooden Pallet:
Pallet wood is really helping the people to get some rustic possessions for your home decor and furniture. Here is this simple yet gorgeous rustic picture frames made of the easy stacking of the pallet pieces together. It would really bring some natural texture to your decor by hanging nicely on the walls. Check out the easy and fun pattern here littlehouseoffour
How to Make Wooden Picture Frames:
Not only the memorable wooden picture frames but there are so many other crafts that you can display with the help of some fun frames on your walls and let your walls speak out louder for your decor and home style. So, here are these wooden picture frames with the letters, quotes and paintings to add a perfect charm to the living, bedroom or hall area by hanging over the walls.Grab the details of the idea here agirlandagluegun
How to Make a Plexi Frame:
The plexi frames are widely available in the market and look stunning and modern and now you can make a custom one at home to display in them the cute pictures of your kids. All you need is a wooden board, a plexi glass a cute ribbon and some paint to get the frame stained in the right color of your choice. You can easily learn the making method of this cute frame here howdoesshe
DIY Picture Frame with Tutorial:
How to make a wood picture frame? that you can craft yourself and add to the decor of your walls, tables, or the desks. It has been glued with a dotted paper, embellished with a paper heart fluff at the right, and a love wrote on a paper and entered the center square. Here is the link to grab the easy details of this simple crafting frame idea auntielolocrafts
DIY Foam Frames of Awesomeness:
The foam board is really a fun material to make your own picture frame. So, if you want to make some cute frames then you ought to get your hands on the foam board and shape up these awesomely designed frames in multiple shades of the spray paint to add the vivid hues to your decor and rock it up. Get the details of this amazing idea right here sugarbeecrafts
DIY Wooden
 

Picture Frame Tutorial:
Get any of the wood lying around like the tree wood or the logs and cut it out into the four lengths and then square them to form a gorgeous and naturally textured picture frame to be on your walls and bring the most warming the rustic vibes to your modern and chic decor. Do not paint the wood sticks let its natural flairs charm to the decor. Details here morningcreativity
Art Print Frame In 5 Minutes:
If you are looking up for some photo frame ideas for your home decor, then we got one for you. With this pretty diy poster frame or LOVE art on your walls, you can add the perfect touch of chic style to your walls. They have supported the colorfully printed LOVE print with two wooden bars and hung up on the walls using a fancy pom pom chain. All these make your own frame by features add up so beautifully to turn out this wall's decor as a huge hit. Grab the details here minted
Wood Burned Photo Frames Tutorial:
The shelves are incomplete without some decorative crafts being displayed on them along with your storage possessions. I have personalized these cute wooden frames in fun shapes with the polka dots, arrow lines and the star stitch like design made out with the wood burner and thus add the vintage vibes to your chic decor. Details of the complete frame craft here abeautifulmess
Farmhouse Style Picture Frames:
There is something appealing and attractive about the rustic wood and the natural beauty they carry with it. So if you find some dead or salvaged wood around then grab it as you can really rusticate your decor with it and making these pretty farmhouse style frames would be the genius way to do that. You can check out the details of this farm house frame craft here livelaughrowe
Striped Washi Tape Photo Frame:
Thanks to the Washi tape for making our crafts and art sessions so much easy and fun. They are a great thing to spruce up the boring and dull look of your decorative possessions like the frames, and here is one cute example. The frame has been covered all over with the striped Washi taped in the matching hues of your decor themes and they look just so adorable.Here is the link to grab the details so you can easily make your own frame at home bombshellbling
Mosaic Frame from Old CDs:
Here we got an easy way to bust the stash of your old Cds in the most fun and functional ways. So grab some cds, crush them and then glue the broken pieces on the wooden frame and thus get the most personalized piece for your tables, walls and the shelves with your cute family pictures in them. Here is this lovely idea with all the details and instructions lovethispic
Flickering Firefly Picture Frame:
You can make the custom frames with the season vibes too like here is this summer frame for the fun picture of your kids enjoying the summers. You can make a picture frame with a cardboard with two sides. Get one side glued with the picture and the other with a Mason jar print on it. It would look so on your walls so have it details learn from here consumercrafts
Picture Frame out of Old Window Door:
We can use the old windows for so many projects of home makeover and home styling! Here the old windows have been joined to each other, and they have added the family pictures to each panel of the window to create a lovely wall art gallery for your walls and make them look so fun and great. Check out on how to diy large picture frame? iammommahearmeroar
Photo Frame With Maps:
Have some old maps lying around and you want to get rid of them? We got this perfect idea for you to use those old maps in the most decorative and fun way. You can check out this lovely idea of restyling your old frames with the pieces of old maps and then showcase your pictures in rustic picture frames in an exciting and fun way. Here is the link to get you the details of this map frame idea alyssabyoung
How to DIY Picture Frames with Old Newspapers:
The old maps and books are so much fun to use and bring some unique and mind blowing touches to the home decor. Here is an exciting treatment of of the old magazines being turned int to eh coils and then stringed up around a frame to make it super cool and fun in looks and add oodles of charm to your wall decor. You can check out the details of the pattern right here to hack the idea and boost your wall decor with it savedbylovecreations
Easy DIY Picture Frame Tutorial:
The woodish possessions really bring the natural appeal in the home decor and instantly make a mundane room or space to look happy and lively. SO here is this lovely wooden picture frame to add perfect wood charm to your walls of the living and that too in a  chic way as the reclaimed wood used has been stained in the white for that modern look. You can check out the step by step details of the project here. itsoverflowing
DIY Photo Frame Using Your Silhouette Cameo:
Not only the walls and the shelves, the mantle also looks great with a pretty picture frame resting on it and surround by other decorative crafts. Just get a wooden rectangular, place your vinyl design on it and cut it out, stain in any of your favorite hues and then attach your picture inside and its ready to spruce up the decor fun of your mantle spaces. Complete tutorial link here gingersnapcrafts
Wood Frame For Photos and Printable:
Making things on your own really allows you to bring the custom and personalized touches to the thing you are making with your crafting hands. So is the case with this simple wooden picture frame having been installed with wooden slats together. YOU can make it apt for your decor and walls by staining it per your color theme and also personalize it with stencils, letters, quote and appliques. Step by step details are here
DIY Map Nautical Chart Art:
Bring the nautical vibes in your home decor with this map being nicely framed up and displayed around your living by either resting over the walls or just standing against the walls. IT would be the best way to depict your love for travelling in your home decor. So grab a map and frame it up with the wooden slats and then stained in the rustic brown hues for that perfect nautical vibes. So here is this lovely map frame tutorial for you blueroofcabin
Pallet Photo Frames:
Pallet is one of the cheapest materials to get your hands and whip off some brilliant decor and furniture hacks and here one to share with you all. This is a rustic picture frame full of natural beauty and warmth of wood with your lovely family photos being nicely displayed on them. Just cut out equal in size pallet pieces and glue them together to form one frame and using this workable method you can make as many as you want to fill up your walls and to give away as gifts too.Details here southernrevivals
How to Recycle Old Picture Frame:
The DIY picture frames are not just to display your lovely pictures they can be used for so many other fun crafts too like here this lovely idea of using an old picture frame to organize your make up essentials on it and thus get easily made up when you can find everything on its right place. You can beautify the frame with paint and wallpapers with your favorite colors and design to hold the make up accessories on it with the help of magnets. decozilla
Mod Podge Fabric Frames:
That stash of your left out fabric lying around can be used for so many cool crafts and here is one to lighten up your decor in a cute and fun way. You can make the adorable fabric chalk board frames using the cheap wooden frames in geometric shapes and give them a fancy makeover with these fabric pieces using some mode podge. You would surely have some much fun while making them so try making them with all the details lying here for your aid number
DIY Photo Frames for Kids:
How about decorating the room of your craft loving girl with some cute handmade crafts? It's really a great idea and cool picture frames made of the cardboards, decorated with markers and embellished with some pretty possessions like butterflies and paintings and hung with the help of twines to create and amazing craft section on the walls of her room. Fully details thegoldjellybean
Picture Frame Wallpaper:
Kids love to draw and paint and there are so many ways to replace their wall chalking with a fun craft session and here is the one that you can display in your decor too. Using a butcher paper and drawing some cute frames on it in different sizes and shapes you can ask your kids to fill up the frames with their portraits and arts and then display this paper proudly on your walls to create the gorgeous frame gallery with the most personalized and cute touches. The complete details of the project are here artfulparent
Picture Frame Ideas on Pinterest:
We all witness the gorgeous home decor crafts on the Pinterest with the wistful eyes and wish to have them bu their hefty price tags make it impossible to have them. You can now make those Pinterest inspired picture on your own using some cool picture frames, cutting them in your personalized, size and shape and then painting them in white for that perfect chic appeal to be added on your walls and in your living room too. You can find the complete details of the project here smartschoolhouse
How to Make Your Own Wood Photo Block:
The LOVE art is just so famous and so timeless to use for the home decor in various pretty ways and here is another one with the more exciting touches and more tempting appeal. Here the cut out wooden LOVE letters have been glued up with the amazing picture collection the baby and has been gorgeously displayed on the sideboard. To own this frame you can check cut all its details here homemakingrebel
How to Make a Concrete Picture Frame:
After, the concrete planters here we offer you to get your hands on this another concrete project to bring some unusual charm to your wall decor so here is this concrete frame to display your pictures in the unique yet exciting way. It would surely catch the eye balls on it for being so out of the mainstream of the decor and it would be so much fun to make! You can make it any size and shape, and for that you can get the details here apieceofrainbow
How to Make Book Picture Frames:
Hey, you book lovers its time to bring your old books out of the box and use them for some recycling projects as its not good to throw them out. You can use them as the frames and then display them on your side tables or night stands for the perfect unique look added to your decor. The cut out space of the picture frame on the book has been lined up with twine and hence looks more rustic and cute at the same time. Grab the complete details here leahkoenig
Chippy Wood Frames:
If there is a furniture store near you, then you can easily get a bunch of the wooden chips to use them for some fun home decor crafts. The wooden chunks have been glued to each other and then shaped up like a frame to paint it and then paste your pictures on it. You can make a pair or a bunch of them to display in every room of the house. Here is the tutorial to let you catch the step-by-step details of the project. shanty
Picture Frame Memory Wreath:
The way you display your picture frames really add some perks of style and beauty to your decor and here is this pretty fun and unique way to display them around your spaces and feel so much excited about them. Just grab all the frames of the house, pour your favorite pictures in them and then tie them around a wreath and you're the most amazing collage of your memorable family photos is ready. infarrantlycreative
Great Gift Picture Frame:
There are many people who dislike those ready-made frames for the home decor as they are so common and dull and have nothing to get excited about. It is only the custom or personalized picture frame ideas that can bring the stand out touch to your decor like these handmade pciture frames for your walls and the shelves. You can grab a wooden frame, paint the base with your favorite color, and then create any design using the stencil and it's done. Details of the project here 2beesinapod
Bottle Cap Picture Frames:
The bottle caps are the cheapest oft he recycles things one can get his hands on and bring some fun to the decor with the cute bottle cap crafts. Here is this lovely collection of your favorite family photos being displayed on the walls or on the bulletin board looking so cute and unique in the bottle caps. You can use magnets or the push pins to make them hang or stick to the walls or any of your display frame there. Check out the details of this quirky idea here craftandcreativity
Picture Frame Clock:
You can combine the clock and the frame art and bring some cute, innovative and adorable touches to your decor. Especially the bedroom and the living room decor would be so much prettified with this clock fame being nicely displayed over your nightstand and the side tables. So catch a frame, a background, and the clock machinery to get this cheap and so much fun project done. You can check out the details here onelmon
DIY Polaroid Picture Frame:
The art of displaying pictures is really contributing to the overall decor of your house, especially of the living area of the house and the bedrooms. You can glue up some bigger wooden pieces together and stain it in grey then tie around the twines at the both lengthy sides of the frame and hang your picture on the rope or twine using some cute tiny clips. So spruce up your decor with this cute idea of picture display frame rockmywedding
Recycle Your Old Zine into Picture Frame:
Its time to get your old magazines out of your magazine basket and make space for some new. You can use the old ones to beautify your frames and here is the easiest way shared to do that. You can just cut out the pages, roll them up and from pencil in like structure and then glue them on the picture frames and hence so easy you can add the super cool looks to your old and boring frame and also get rid of the old magazines. Details here heartmadeblog
DIY Hand Distressed Painted Picture Frames:
It's time to give some makeover looks to your home decor, and it's super easy to do that as you can just paint the old frame of yours in some exciting and bright hues of the stain and then display them at some new spot and Tada. It would a great way to spruce the old and boring look of your decor so do it around the holidays or the festive. You can check out the details of this cute project here florencefinds
Little Picture Frame:
If you are thinking to decorate your girl's room with the pictures, then this idea is apt for you to get your hands dirty with. You can ask her to give you her favorite photos and then you can display at them in these cute and simple wooden frames. The fun is displaying them with the ribbon on the peg rack in her room and they would bring oodles of adorable beauty to your princess's room. Easy details are here to follow campclem
DIY Picture Tiles With Step By Step Tutorial:
No more frames revolutionize your picture framing fun to a more advanced level. To get a more awesome look and exquisite display of your pictures on the walls, you can turn them out as the tile photos. Just get the plain tiles of any size, cute the picture the same tile size and glue it on using mode podge and it's done. You can arrange them on walls in multiple patterns and lines for a more interchanging and fun look. Details are to grab crunchybetty
DIY Stenciled Frame Tutorial:
On mother's day it would so great to add a cute picture of mother and daughter on the display and let it reflect nothing but pure love. Here is this simple frame with a picture of the mother daughter but still it has been made to look so one of a kind,  immensely pretty and adorable and the reason is that lovely flower round in sweet colors and cute stencil. YOu can customize your frame with personalized stencils and the colors. Pictorial details here mysocalledcraftylife
Gigantic Polaroid Frame Ideas:
Instagram is the biggest source these days to share our life experiences, adventure, and so much more with others through the pictures. So it would a great idea to bring those momentous Instagram pictures to your home decor and let them add the most custom touches to your living room decor. So choose the best of the Instagram picture, print them out and make a huge collage of them on a frame and display it on the behind wall of your living and let it remind you those fun moments you had in your life with your beloved ones. Tutorial detail and instructions here thehandmadehome
How To Mount A Photo To Canvas Gift Under $5:
There are so many other accessories and craft invented by the decor lovers to display the memorable pictures of the family in the most wistful and fun way for an impressive addition of them to the decor. SO here are these adorable print out pictures mounted up on the canvasses using mode podge and hung no the walls for an eye-catching display. You can use different sizes of the canvasses to create a complete gallery on your living room or bedroom walls and thus beautify your decor so cheaply. Details are here hellocreativefamily
DIY Instagram Photo Wall Display:
If you there is an empty wall in your living and it's really give the feeling of undone 4decor, then it's time to fill it up beautifully. The most heart-warming way to decorate it would be creating a cute photo wall with your Instagram favorites using a wooden frame, some rope to hang the photos on using the cute tiny clips. You can check out the fully detailed tutorial of this pretty photo wall here classyclutter
Barn Wood Picture Frames:
Add some natural wood touches to your modern and chic decor and enjoy the warmth of wood and texture of rusticity at peak with this gorgeous wooden picture frame hanging proudly on your walls. You can get any rustic available near to you be it pallet, tree wood or more to get your frames done. DO not paint or stain as they would lose their natural charm and rustic appeal. You can find the details of this pretty craft here chadchandler
Coaster Picture Frames:
It would a fancy wall art with a big picture frame in the center and some cute tiny little ones around it. You can learn to make the tiny photo frames all here and that too using the coasters lying in your kitchen cabinet for so long. They have glued the pictures to the back of these tiny coasters and they displayed on the walls around the big art and they turned out so great and pretty. You can check out the tutorial details here dragonflightdreams
World's Easiest Picture Frame:
Here is this easiest idea of creating a perfect photo frame for your room decor and that in the less time of half an hour. You just need to paint a wooden board with your favorite paint hues with a base and then clip up your picture on it and its done. No efforts or hassle work just a teeny tiny fun with the paint an paint brush. Still, we got the link here to catch the easy details of cheap and fun picture frame idea vmg206
Old Windows Into Rustic Picture Frames:
It's time to give those old windows of your a whole new style treatment and dazzle up your decor with as you can reuse the old windows and turn them out as the most cheap and exciting kind of photo frames to create some gallery art touches to your home decor. Those wall papers of photos with natural scenes have been frame up in the windows and used all around the foyer, living and hall to give some artistic touches to the home ambience. Details are lying here to follow keepsonringing
DIY Light Photo Frame:
Here is another exciting and beautiful picture frame idea to lighten up your decor literally because we are talking about this pretty picture frame with the lights. The lovely black and white pictures have been randomly glued to a specific corner of the wall and then the frame line has been created with the string of lights to shape it out as a light photo frame and thus add the most outstanding photo display ever to make everyone say WOW. Details are with easy instructions redheadcandecorate
Computer Keyboard Photo Frame:
Here is an outstanding photo frame idea using the discarded materials. Just grab and an old photo frame and rub it well with a piece of sandpaper to get it splinter free. Next just get an old keyboard and take it into separate buttons that can simply be glued all around the old wooden photo frame making a beautiful computer inspired photo frame that will stand out in the interior wall decor. Checkout here a brilliant sample, crafted to inspire and is as cute as you want. Willing to duplicate this handsome handmade photo frame? Grab the full free guides and visual instructions from here hannahackroyd
Magnetic Picture Frames:
Another super genius and outstanding picture frame idea for home lovers. Just grab a piece of magnetic metal and cover it up with a cool-looking piece of fabric. Next, poke holes and secure them with eyelets. The next step would be to pass the ribbon through the holes that will help finally finished picture frames hang smoothly on the wall. Willing to duplicate these beautiful picture frames for any of your interior wall? Complete free tutorial and visual guides are here mparsche
DIY Wooden Picture Frames:
Once again a beautiful picture frames idea using the canvas stretchers. Checkout here a set of these frames that is making the whole wall looking enticing and attention grabbing. All these six handmade picture frames will just rock to display the six different photos of a same person with a different expression, checkout here brilliant sample photos of a little girl that will truly look cute to everyone. Finally, you can paint these picture frames in any of your favorite colors that will rock your interior wall. Complete tutorial and instructional guides are here skunkboyblog
Chicken Wire Photo Holder From A Thrifted:
Here a thrift store wooden frame has been added with chicken wire making an outstanding photo holder as you can see. Next, you can use the clothespins to display your favorite photos on the frame as they will help to hold them in the right place. Another great and extraordinary chicken wire photo frame holder here to inspire your creativity. It would also make a great gift for a beloved one. Further project details and easy tutorial here anoregoncottage
Pedestal Picture Frame Trio:
If you are on a mission to display your family photos outstandingly then you can simply go with this pedestal picture frame trio, purely handmade picture frames that are super-cost effective also. Here all you need the wooden candle sticks, black paint, the gorilla glue and wooden doll pin heads that would make the great accents. Next you can make use of glue to assemble all the parts together as you can see. Grab the full free guide and instructional tutorial from here consumercrafts
Fabric Photo Frames:
Looking forward to craft some very adorable looking wall photo frames that will match to your interior decor also? Checkout here the mind-blowing samples, the fabric photo frames, here by using the mod-podge, colorful fabric have been pasted on the frames creating an adorable look of them. Another smart and super cost-effective idea for getting fantastic looking wall photo frames. Grab the full free guide and picture instructions from here thewonderforest
Ladder Picture Frame:
Another outstanding way here to display your favorite photos in any corner of your room. They base this idea on the smart use of tree branches that have been used here to create a ladder and each spindle of this ladder comes up with an eye-hook that hold your selected photo vertically in a hanging position as you can see.
Here is how to create a fantastic and attractive montage of your favorite wedding photos. This is also here a mind-blowing idea to repurpose the tree branches. Grab the full free guide and make your own photo frame here ambitions
Picture Frame No Sawing Or Cutting Required:
Another smart hack for ideal looking picture frame here, use the canvas stretcher bars to build a great-looking wall frame, no cuttings or sawing will be needed. Just paint the canvas stretcher bars in your favorite color and then fit them together, making outstanding frames.
Place your print or photos inside and then add them back which can be then be stapled in place. The final step would be to install the eye-hooks, which will support picture hanging wires. Willing to duplicate this adorable picture frame? Free tutorial designertrapped
Easy Paper Picture Frame:
Here you will see a brilliant DIY makeover of a wooden picture frame. This idea would work great to turn the ordinary frames into modern looking ones that will make your interior wall look stylish and attractive.
For this frame, roll some papers and then glue those paper rolls one by one on the wooden picture frame till you get a fully covered photo frame. Intending to clone this elegant paper picture frame? Full free tutorial kiwico
Rustic Weathered Picture Frame:
Looking for some outstanding wall frames that will rock in rustic or vintage interiors? Here is a cool idea using free pallets, turn the pallets into mini wooden squares, and then paste your favorite pictures on them.
You'll get amazing rustic weathered picture frames that will also blend in beautifully to modern wall decor if you like to do so. Check out here the sample frames and get inspired. Comprehensive project details here wifeinprogressblog
Tape Picture Frames:

Interior wall decor matters when decorating your home, and you can get your interior's wall look fantastic without installing costly frames. If it is getting expensive to buy good looking picture frames, then go with a DIY alternative to save lots of costs.
Use Washi tapes to frame up your pictures on the wall, and this would be a great idea. Grab the complete project designsponge
Best DIY Picture Frame Ideas:
Do you know why we take pictures? Because being in a special place you feel the ultimate joy be it in the company of nature, family, and friends.
The best way to feel positive and happy vibes of your happy and memorable moments is to display the pictures in your home. And for this purpose, you need a cute DIY picture frame that you can make of your own with a more custom and personalized touch. So check out these beautiful picture frame ideas to frame up you're your best-captured picture in.
You can use anything that you think can act as a frame and hold the pictures nice and firmly in it. In the given picture frame ideas, you would find a lot of fun and useful ways to display your pictures your gallery wall, tables, shelves or mantles.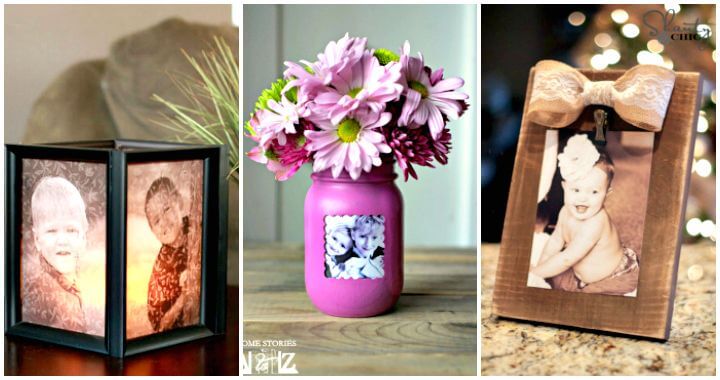 For a rustic and natural appealing DIY Picture frame you can use the free found pallet wood, cut it into slats and then stack the pieces together to form a frame like the structure of desired size and shape. You can use washi tape, maps, old books, and magazine paper for best picture frames. Those who are looking for the smart and unique picture frame ideas should really follow the brag book, mason jar and the photo luminaries projects to satisfy their creative urge.
All the easy craft ideas are arranged with the tutorial details, guidance, and stepwise instructions and to approach them you need to click on the links below each picture.
DIY Wood Pallet Photo Display:
If there are pallets available near you, then you must opt for them as they can make a lovely rustic wooden frame for your family photo collection so that you can look at lots of memories together while passing by it. Here is the simplest tutorial of it oldsaltfarm
How to Make Picture Frame Luminaries:
Try this picture luminary project that is unique, enchanting and easy to make yourself at home. Add your memorable pictures in it and when lighted it would create a whole magical vibe. thatswhatchesaid
DIY $3 Burlap Bow Picture Frame:
These rustic wooden picture frames are made from simple wooden boards being painted rustically. Then pasting pictures and adding a burlap made a bow tie. Get the details here shanty2chic
DIY Mason Jar Picture Frame Vase:
Mason jars are always coming handy for the art and craft projects. They have been used so indicatively to serve as a cute and adorable picture frame and all you have to do is just paint a mason jar and then add a picture to its center with the help of a vinyl shape. Complete directions here homestoriesatoz
Picture Frame Out of Cardboard:
This double functional craft idea is too fun to try yourself as it would not only bring some patriotic vibes in your home. But a cute DIY picture frame that is sure to grab everyone's attention towards it. You would need American flag color yarns to wrap on the frame and some cute stars as well. callmemamaleisha
DIY Chalkboard Picture Frame:
Wooden picture frames are the favorite of everyone and they are really getting popular and look really creative. So here is another addition to this awesome picture frame ideas with this simple and rustic wooden frame easily made out of the wooden slat stacking. Get its complete tutorial here dearlillie
Make a Brag Book for Picture Frame:
This cute brag book for the display of the baby picture is the best idea you can opt for as it is super cool and unique and looks really interesting as well. All you need is some board to make the frames and some polka dot fabric scrap for the book cover and a ribbon to tie it well. nalleshouse
DIY Picture Frames With Paper:
There is no shortage of the cute and innovative picture frame ideas once you open up this collection and here is another fun addition to it with these no sticking frames that you can make in so many colors and thus make a superb display on the walls of the house. papershape
DIY Cement Letter Photo Holder:
This is by far the coolest idea you would find for the photo holders and its too simple and easy for you to pull of yourself if you manage to get the needy supplies which are listed here in detail along with the step by step tutorial so do click and try making these cut lettered photo holder this weekend. ispydiy
DIY Wood Plaque Picture Frames:
Wooden plaques make a great substitute to the picture frames but look really gorgeous and unique as well. So, here we offer you to make these pretty and rustic wooden plaque frames with personalized paint and designing and make them nicely display on your side tables and nightstands. hometalk